Ultimate Wild Atlantic Way Route Ireland: A WAW Road Trip
The Wild Atlantic Way route sits along the West Coast of Ireland, covering 2700 kilometres – the longest defined coastal route in the world. The WAW encompasses 9 counties each and every one of which is stunningly beautiful. Planning an Ireland road trip itinerary can take an immense amount of time and energy. Hopefully, this article will give you some ideas on how to make your Wild Atlantic Way road trip a little easier.
Planning a Wild Atlantic Way itinerary can be a challenge it's a hell of a long route but it is well worth taking 2 weeks to explore. It is not possible to explore the wild Atlantic coastal drive in a few days the distances are just too vast and although you can easily use Google maps to plot your route I guarantee you – you will get lost but that is part of the joy of travelling in Ireland, and when you do get lost you will stumble across some of Ireland's off the beaten path sites that you may not have found otherwise.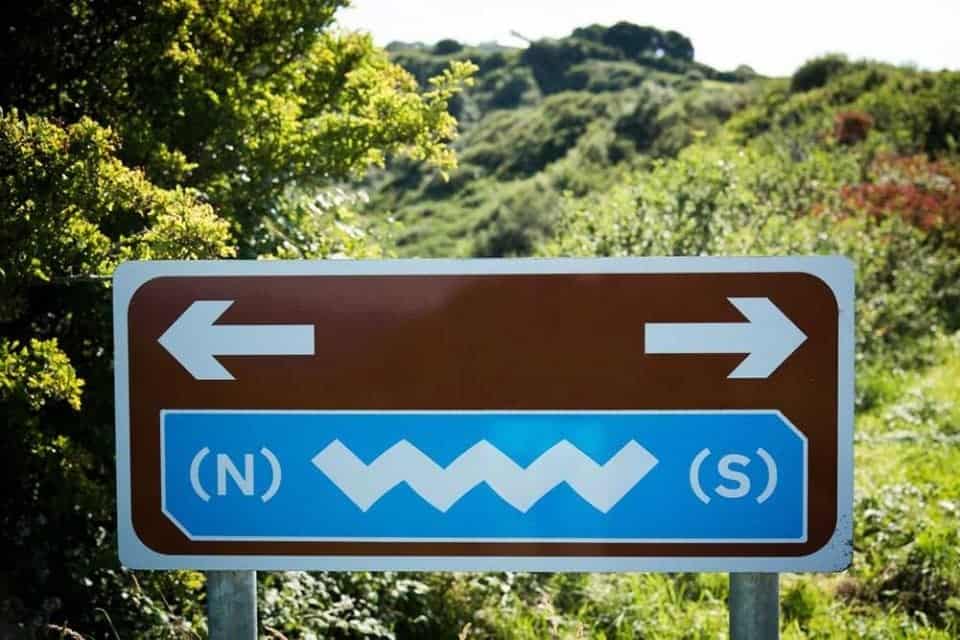 101 Landmarks in Ireland to see
Wild Atlantic Way road trip map
One of the descriptions for the Wild Atlantic Way is "where land and sea collide" which is apt as many of the views along the Wild Atlantic Way route are stunning scenes of the waves of the Atlantic crashing on Irish shores.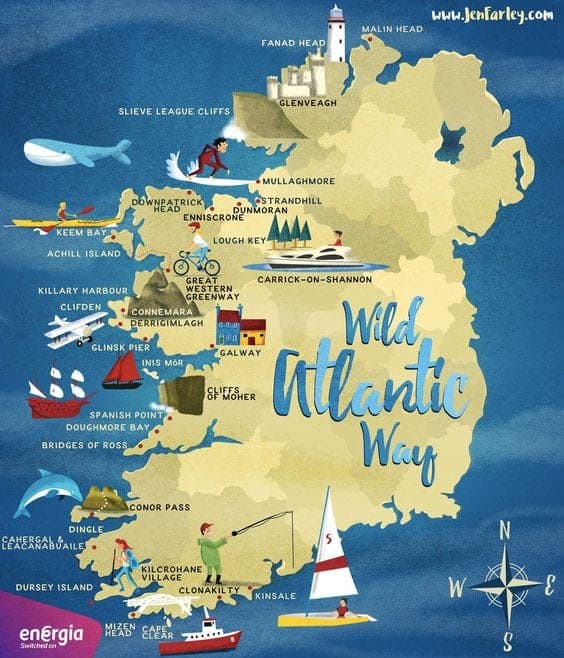 Planning a dream trip to Ireland? Everything you need to know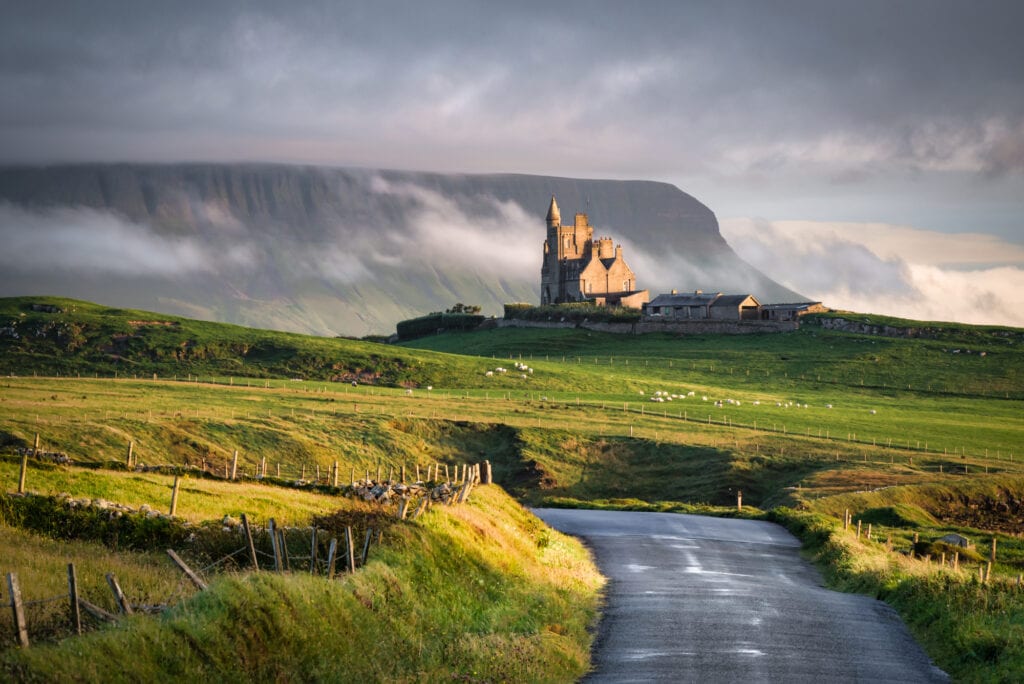 Xyuandbeyond is reader-supported. When you buy through links on our site, we may earn an affiliate commission. You can read my privacy policy here.
Planning your Wild Atlantic Way Route
Where does Wild Atlantic Way start and finish?
Technically the Wild Atlantic Way leads along the Irish west coast starting on the Inishowen Peninsula in County Donegal and ending in the little town Kinsale in County Cork. This Wild Atlantic Way route planner will help you choose the places to see that are important to you.
How many miles is the Wild Atlantic Way?
The Wild Atlantic Way route is over 1600 miles long (2600 km)
How long does it take to drive the Wild Atlantic Way in Ireland?
The west coast of Ireland or the Wild Atlantic Way Route covers 2700 kilometres and to plan a road trip of a week or two to cover the entire route is almost impossible unless you plan on staying for at least a month. The Wild Atlantic Way route is the longest-defined coastal driving route on earth. It's easy to navigate and understand, but there are a few things you should know before you go.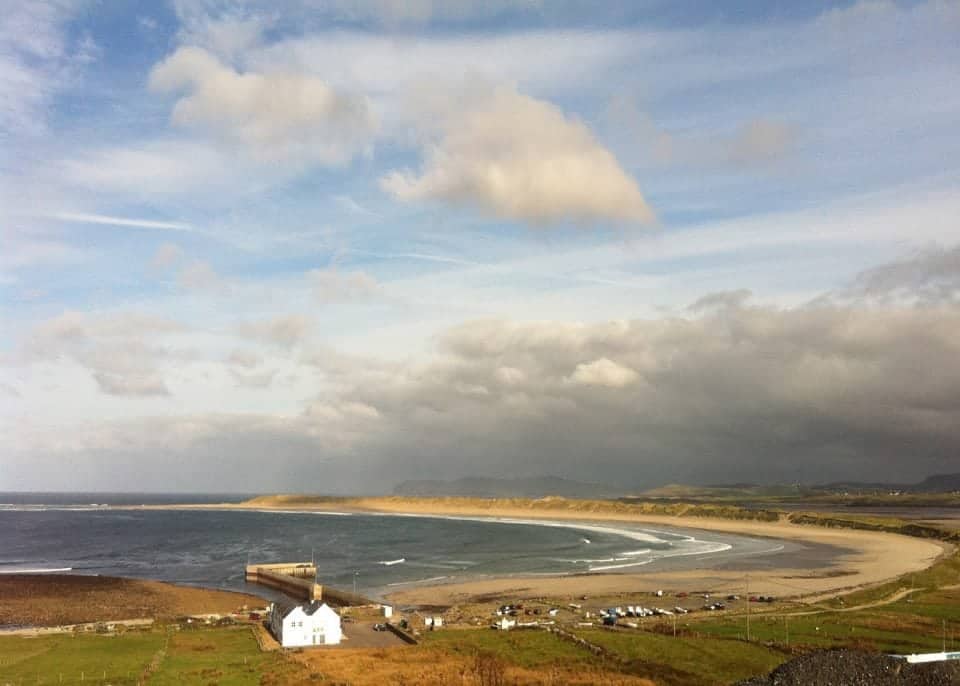 Can you walk or hike the Wild Atlantic Way?
Hiking the Wild Atlantic Way is possible but then you would have to plan to stay for several months. This part of Ireland is known for its narrow roads where barely a car can pass and there are many areas that are private land which you can't walk through. There are several hiking locations where you can do parts of the Wild Atlantic Way route. There are even cycleways that you can ride a bike through for example the Greenway in Mayo is perfect for bike tours.
When is the best time to travel the Wild Atlantic Way route?
All I can say to that is it depends. If you love a beach and the WWA has many fine blue flag beaches then go in the summer months. You will find it much more touristy during the summer and to be honest I preferred late April and May or September. You are still going to find the weather but just pack some waterproof clothing and good hiking boots and you will be good to go.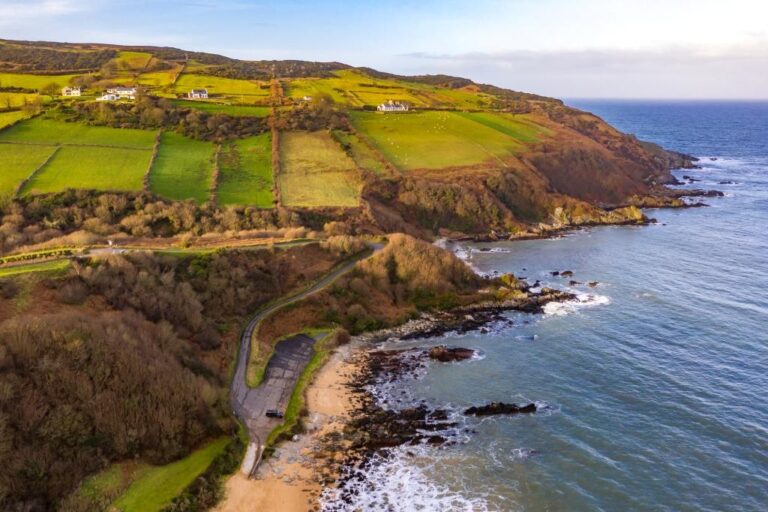 Where to stay on the Wild Atlantic Way route
If your road trip on the Wild Atlantic Way route takes place during the off-season, which is from late October to the end of April you can probably improvise and book into places along the route. However, if you plan on going in the summer high season months book in advance.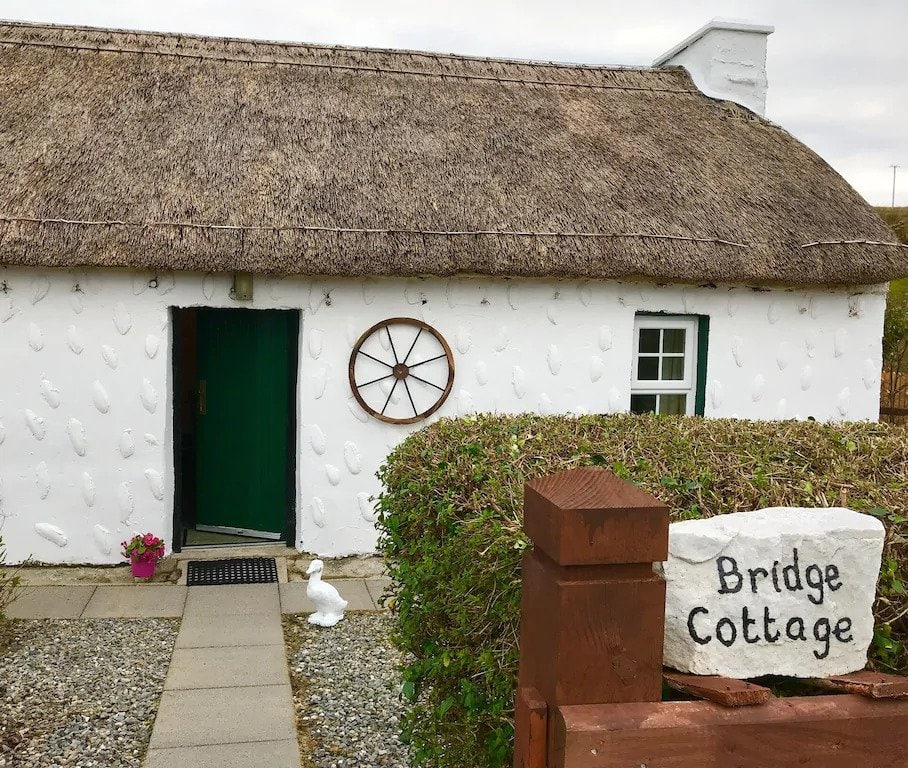 Places to stay on the Wild Atlantic Way vary from small cosy B&B's to luxurious castles and manor houses and even lighthouses. There are as many types of accommodation as you could ask for. From camping to Glamping to a spa, stay in a luxury 5-star hotel it's all here. Rates will vary from as low as €20 per person and up to as high as €500 per night. Here are a few of my articles on where to stay on the Wild Atlantic Way.
33 of the most fabulous Hotel Castles to stay in Ireland
Perfect traditional Irish cottages for your holiday
35 of the Coolest & Unique Places To Stay In Ireland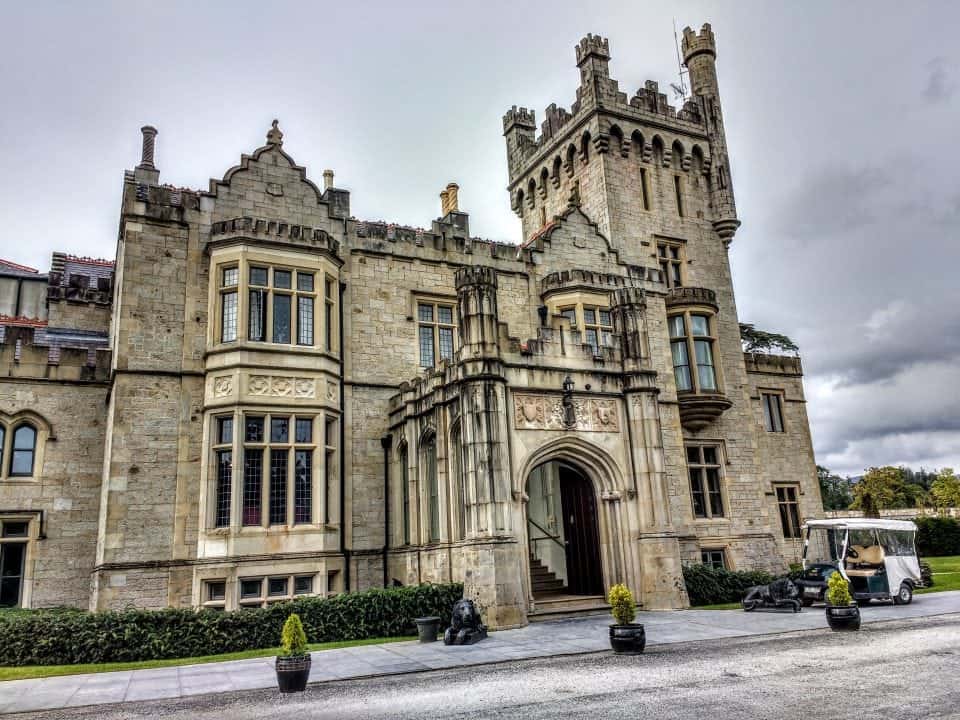 Best time to travel Wild Atlantic Way
I don't believe there is a best time to travel anywhere, particularly in Ireland. We experience 4 seasons in one day here on the west coast and as long as you are prepared for the weather you will be just as happy with your Ireland route no matter what the season.
The one thing I might suggest is that in some areas such as the Ring of Kerry or the Dingle Way those super-hyped tourist sites will be jam-packed and it may make travelling a little harder in the summer months.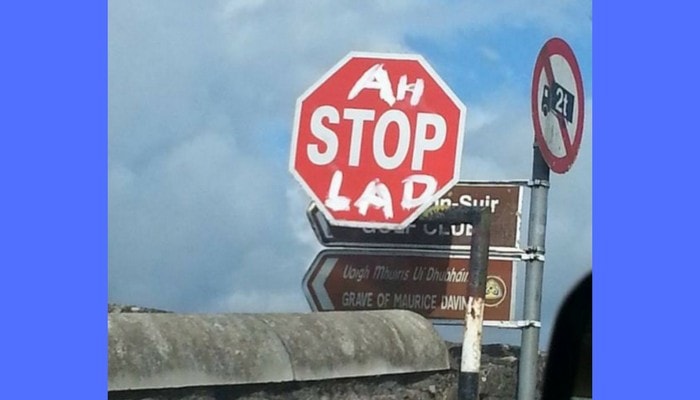 Driving the Wild Atlantic Way Route
A Wild Atlantic Way road trip should be taken in a car – it is impossible to do this Wild Atlantic Way itinerary on public transport as many of these areas simply don't have a means of public transport. Don't be fooled by those cheap rental car sites and aggregators offering you a rental for $5 a day.
Car rental, with all the insurance you need in Ireland it is going to cost an average of around €600-800 for a week to 10 days. The Wild Atlantic Way route can be quite narrow and tough going for those not used to driving on Irish roads so take your time and simply pull over as far as you can.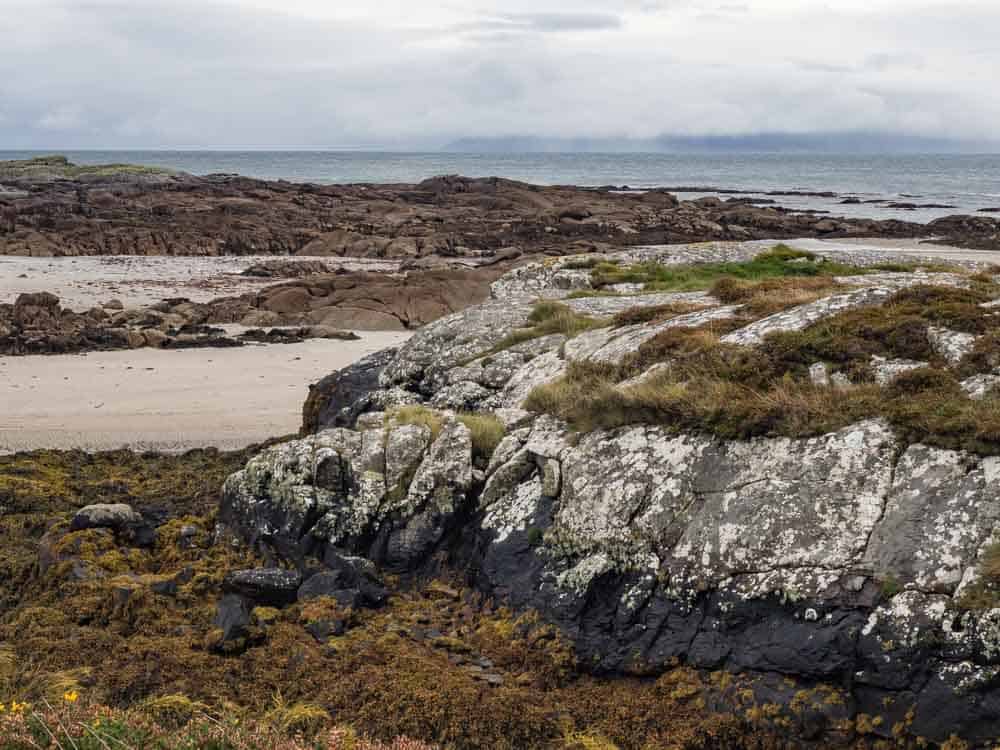 The best way to save money on car rental in Ireland is to pick and choose wisely when you need a car. Don't for example drive in cities like Dublin or Belfast and you could take public transportation to some site you may want to see. There are many tour companies that offer great value and you don't have to waste time or hours on buses and you don't have to wear yourself out driving.
A fabulous way to go is the Wild Atlantic Way motorcycle route – you can follow the entire 2700 km on your bike and say you have driven the best bike route in the world – it's sort of Ireland's route 66 but way better.
Wild Atlantic Way tours
While I believe if you really want to see Ireland's west coast you need to drive the Wild Atlantic Way but it can be scary driving on some of those tiny roads. There is a tour you can take from Dublin that takes in the Cliffs of Moher, the barren beauty of the Burren, and you can stroll through the grounds of Killarney National Park and stay overnight on the Dingle Peninsula.
6 Regions of the Wild Atlantic Way Route
There are six basic regions to the Wild Atlantic Way and each of these regions has its attractions and stunningly different scenery.
Donegal – Northern Headlands
Donegal & Sligo – Surf Coast
Bay Coast – Galway and Mayo
Cliff Coast – Galway, Clare & Kerry
Southern Peninsula – Kerry & Cork
Haven Coast – Cork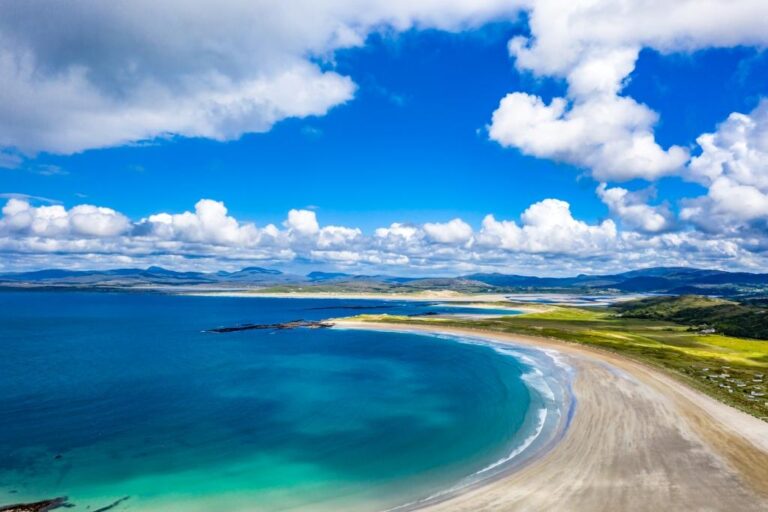 Wild Atlantic Way best stops
Faqs & highlights of County Donegal
Donegal is called the Coolest Place on Earth according to National Geographic
Bundoran is called the surfing capital of Ireland
Donegal's Slieve League Cliffs are the highest Cliffs on land – 3 x higher than the Cliffs of Moher
Donegal folks favourite saying is "it's different up here"
Donegal is also known as the forgotten county – most of the county was fully electrified until the mid 1970's
Letterkenny is Donegal's largest town but Lifford is the County Town
There are 512 named mountains in County Donegal. The highest and the most prominent mountain is Errigal.
Home to Star Wars at Malin Head
Tory Island off the coast of Donegal is the home of Ireland's last King
Is the ancestral home of the Patron Saint Colmcille
And most obviously is the home of Donegal Tweed
Where does the Wild Atlantic Way start? Obviously lol it starts in Donegal and I am a tad biased when it comes to Donegal after living here it does make you want to brag to the whole world about what an incredible place it is. I've covered a few highlights here but if you really want an in-depth guide to Country Donegal you need to read my article 46 Fantastic things to do in Donegal Ireland.
I recommend basing yourself in Donegal Town there are many things to see in the area and it's just a few hour's drive to the Inishowen peninsula.
Malin Head
The northernmost point of Ireland is at Banba's Crown in Malin Head on the Inishowen Peninsula. Located on the Wild Atlantic Way in the Inishowen Peninsula, Donegal. A rugged raw coastline where you can see 1.7 billion-year-old rock formations and if you're lucky and the day is clear you may even see Scotland.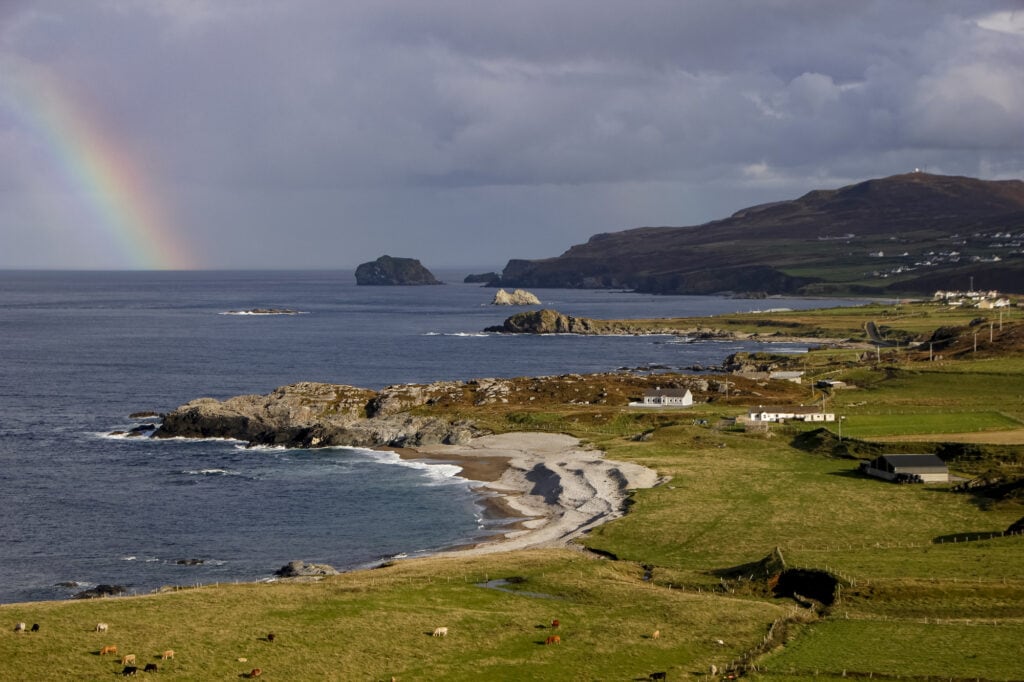 Malin Head is now famed for its role in the Star Wars film The Last Jedi. North of Trawbreaga Bay, you can see Five Finger Strand, which is home to some of Europe's largest sand dunes. At low tide, try and spot the wreckage of the 'Twilight', which sank in 1889 while sailing to Derry.
Malin Head is also one of the best places in Ireland to spot the Northern Lights. I have had absolutely no luck in photographing Auroras but I have promised myself one day I will learn.
Visit the Doagh Famine Village in Inishowen and discover how the Irish survived the Famine and learn the history of the area from those times to the present.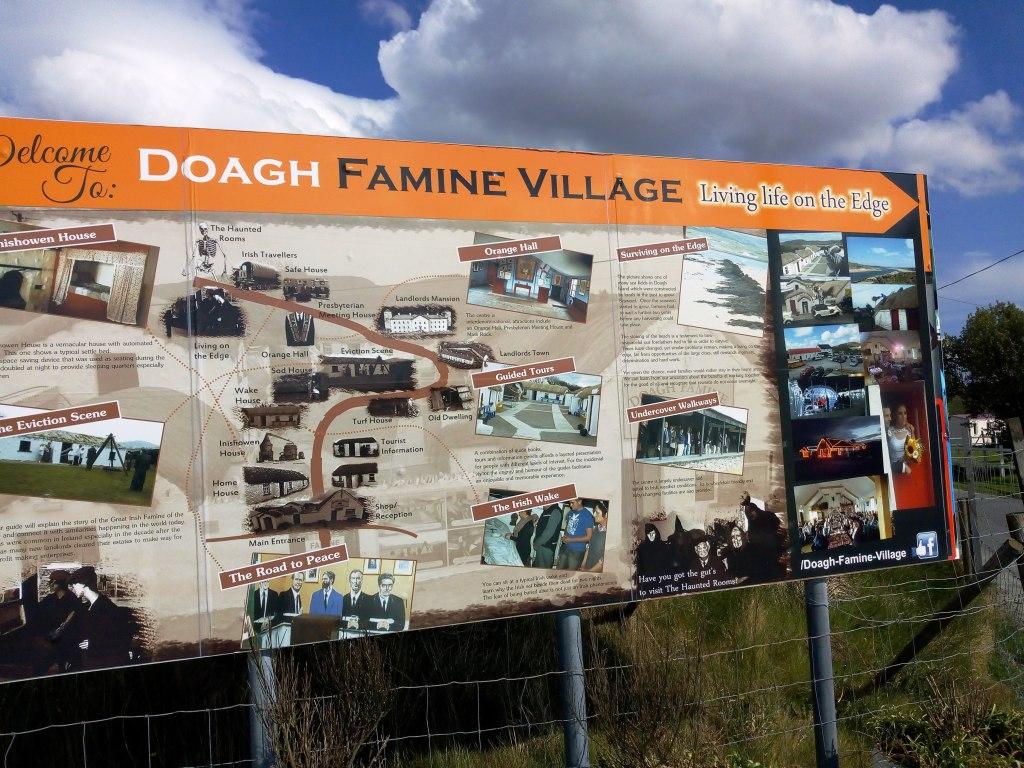 Glencolmcille
Glencolmcille is located on the Slieve League Peninsula at the southwest point of Donegal – an area starting to be known as the Donegal Highlands and part of the Wild Atlantic Way coastal drive. The area is bounded on the south by the mountains of Slieve League (Sliabh Liag) and Leahan and on the north by Slieve Tooey. To the west lies the restless Atlantic Ocean.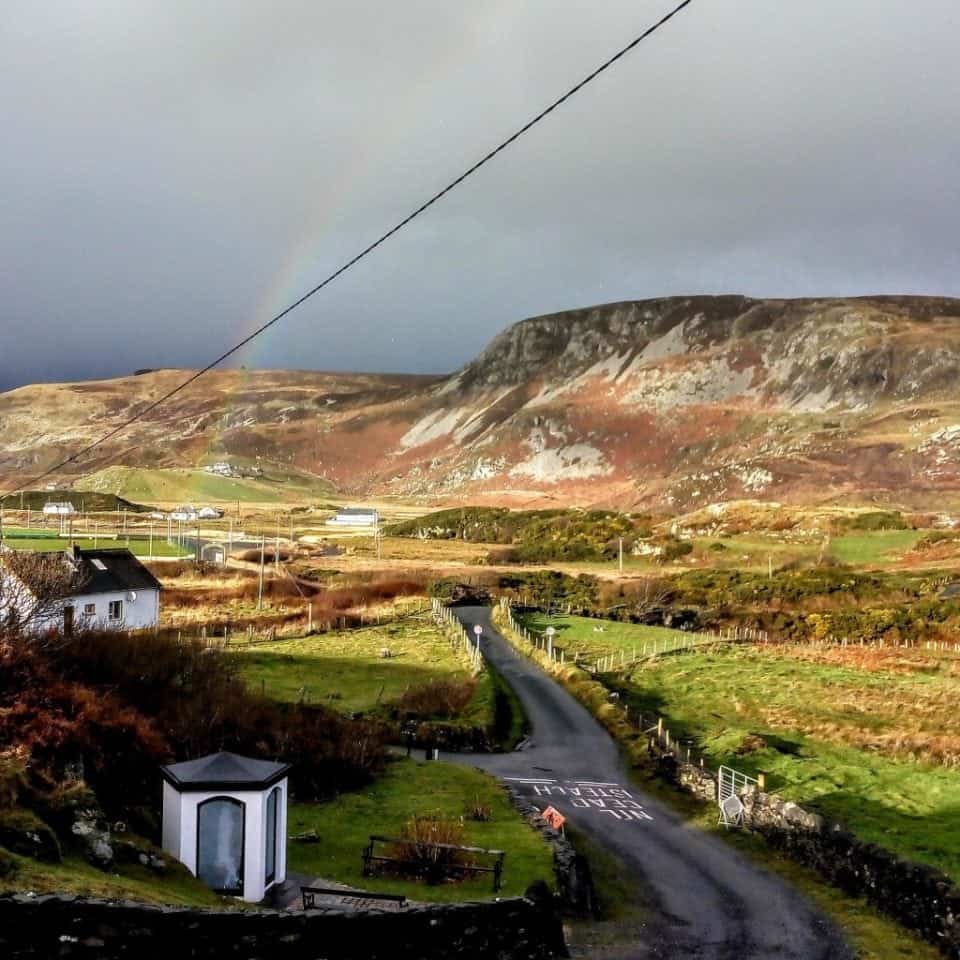 Saint Colm Cille, or Columba, is one of Ireland's three patron saints (along with Saint Patrick and Saint Brigid). Colm Cille and his followers lived in the valley for a time and the ruins of several of their churches can still be seen there.
Check out the Folk Village if you are there in the season (spring-summer) it's a microcosm of what life was like in Ireland at the turn of the century. There are also a couple of great pubs in Glencolmcille to have a Guinness at.
Some of the best beaches are to be found in Donegal – here are the Top 10
Glenveagh National Park
One of the Wild Atlantic Ways' best places is slightly off route and in the centre of Donegal. Although truth be told even in the centre of Donegal you are not far from the wild coastal route. Glenveagh is a designated Special Area of Conservation and Special Protection Area under EU and Irish Law. The 16,000 hectares of Glenveagh includes most of the Derryveagh Mountains, the Poisoned Glen and part of Errigal Mountain and is a beautiful place to walk the hills and follow trails. There's even a shuttle bus to help lift walkers to the different hiking trails.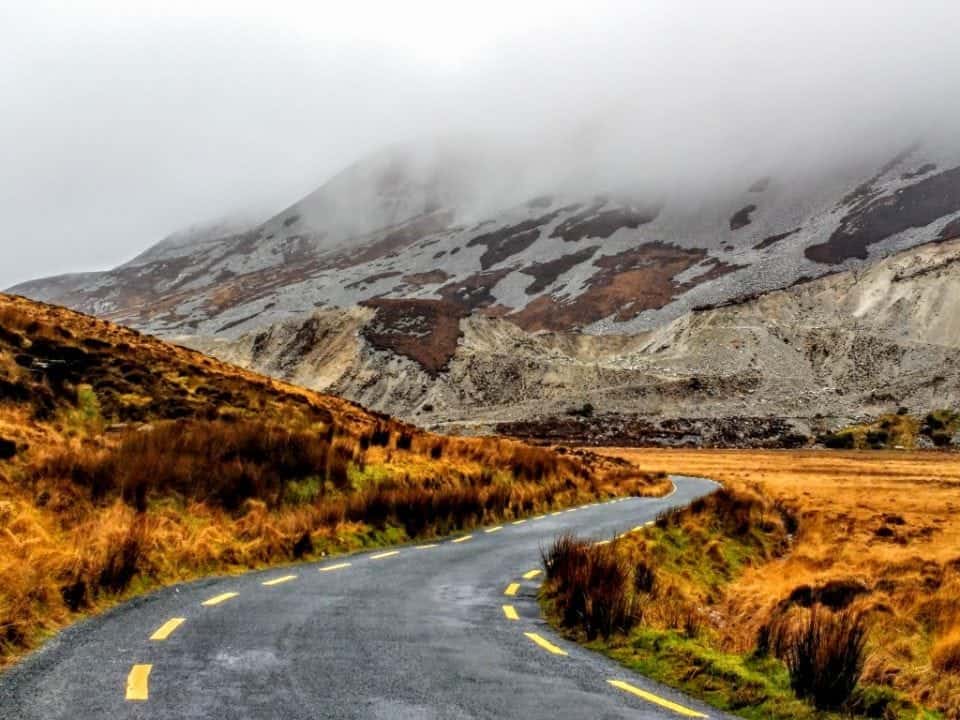 The Park is a place of stunning beauty from raw mountain landscapes to rushing waterfalls. The National Park is free to enter and there are many hikes around the area that make for a great day out. There is a visitor's centre in the car park from which you can walk to Glenveagh Castle and gardens and see where famous celebrities like Marilyn Monroe swam in the lochside pool.
Glenveagh National Park is a remote and hauntingly beautiful wilderness of rugged mountains, pristine lakes, tumbling waterfalls and enchanted native oak woodland in the heart of the Derryveagh Mountains in the northwest of County Donegal.
Glenveagh Castle
At the centre of the Park on the edge of Lough Veagh is Glenveagh Castle, a late 19th-century castellated mansion, built as a hunting lodge.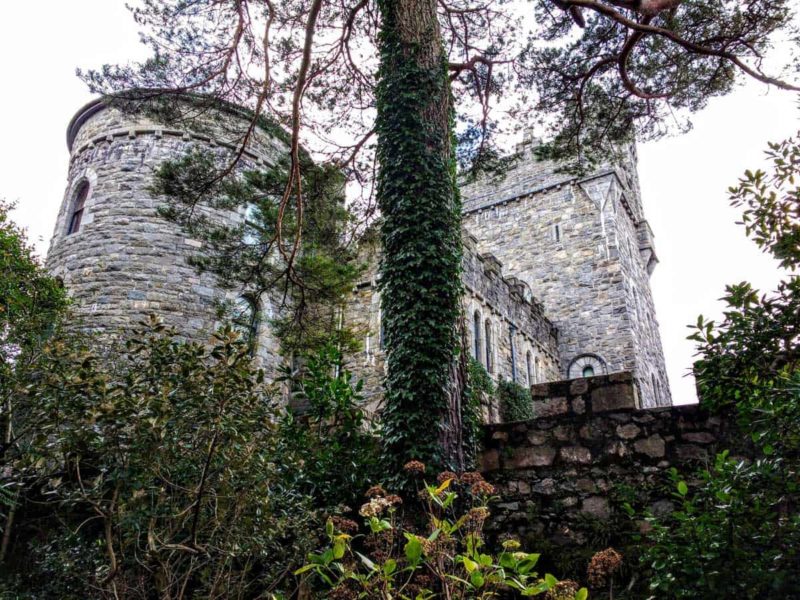 Fanad Head
Fanad Head is a small peninsula jutting out into the ocean in County Donegal which is one of the wildest Wild Atlantic Way best places to visit. The most famous site on Fanad Head is the lighthouse, which overlooks Mulroy Bay and Lough Swilly. There is much to see in the area apart from the lighthouse though. Part of the epic scenery of the area is the Great Arch, a stunning viewpoint that is one of the best places in Ireland to catch sight of the grey seals and whales.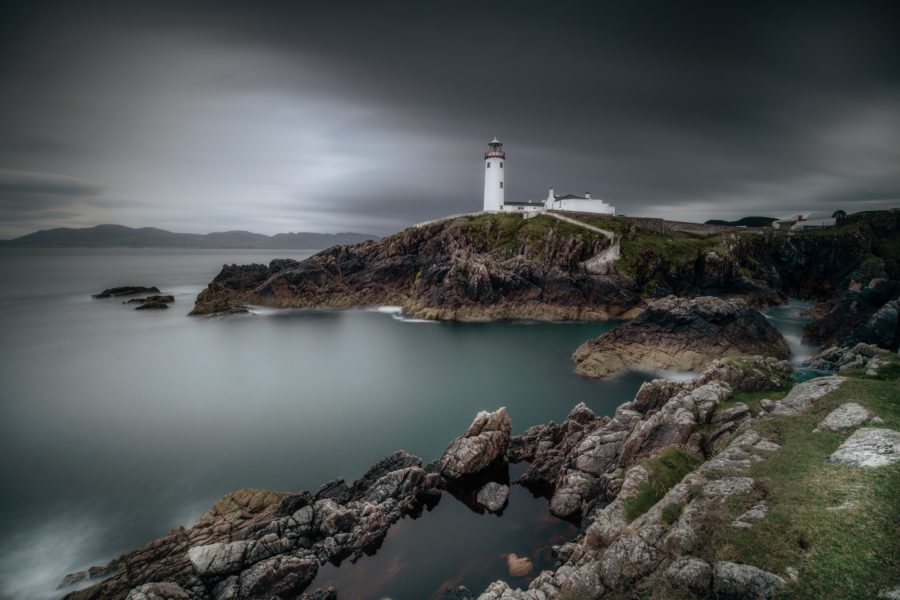 For beach, lovers go and find Ballymastocker Bay, near Portsalon. Named one of the best beaches in Ireland this blue flag beach is a great place to swim and just relax.
Slieve League
The highest sea cliffs in Europe and even more impressive than the Cliffs of Moher. Slieve League is one of those undiscovered beauty spots in Donegal. They have now built a visitors centre that will help maintain and sustain the Cliffs for future visitors. You can drive your car right up to virtually the top of the Cliffs, park and admire some of the most stunning views ever. Just make sure to shut the sheep gate behind you.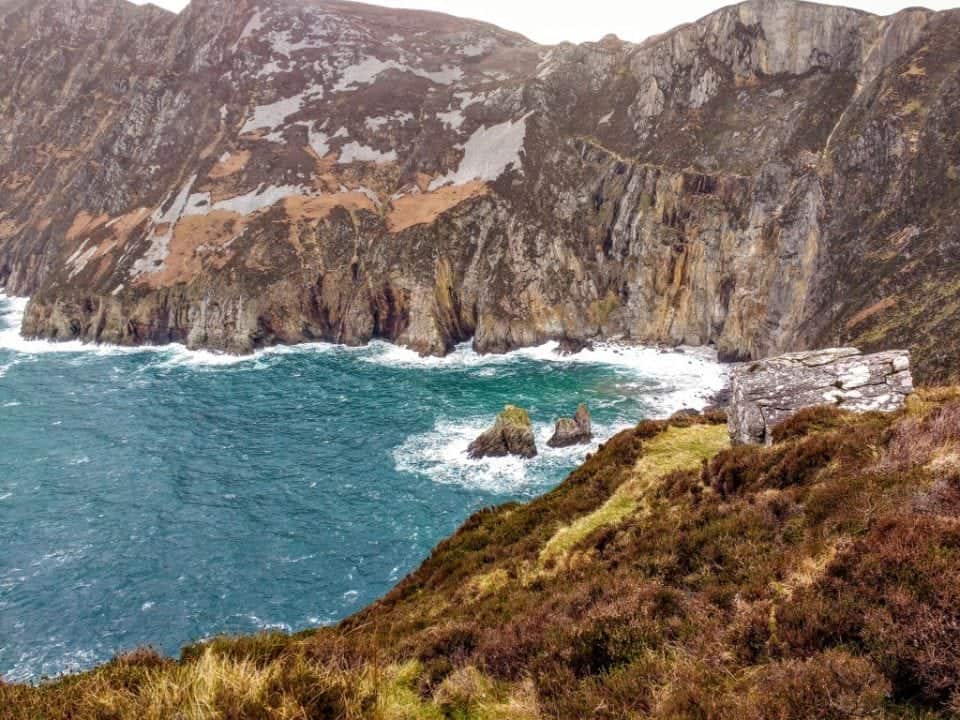 Grianán of Aileach
This restored Cashel or ring fort is over 23 metres in diameter with surrounding earthworks and sits atop Grianan Hill with 360-degree views across Lough Swilly, Lough Foyle and the gorgeous countryside of the Inishowen Peninsula. On a clear day, it is believed that the view includes 5 counties. At 3.9 meters thick and 5 metres tall, the dry stone walls of the "Stone Palace of the Sun" have three interior walkways, which are easily reached by several inset stairways.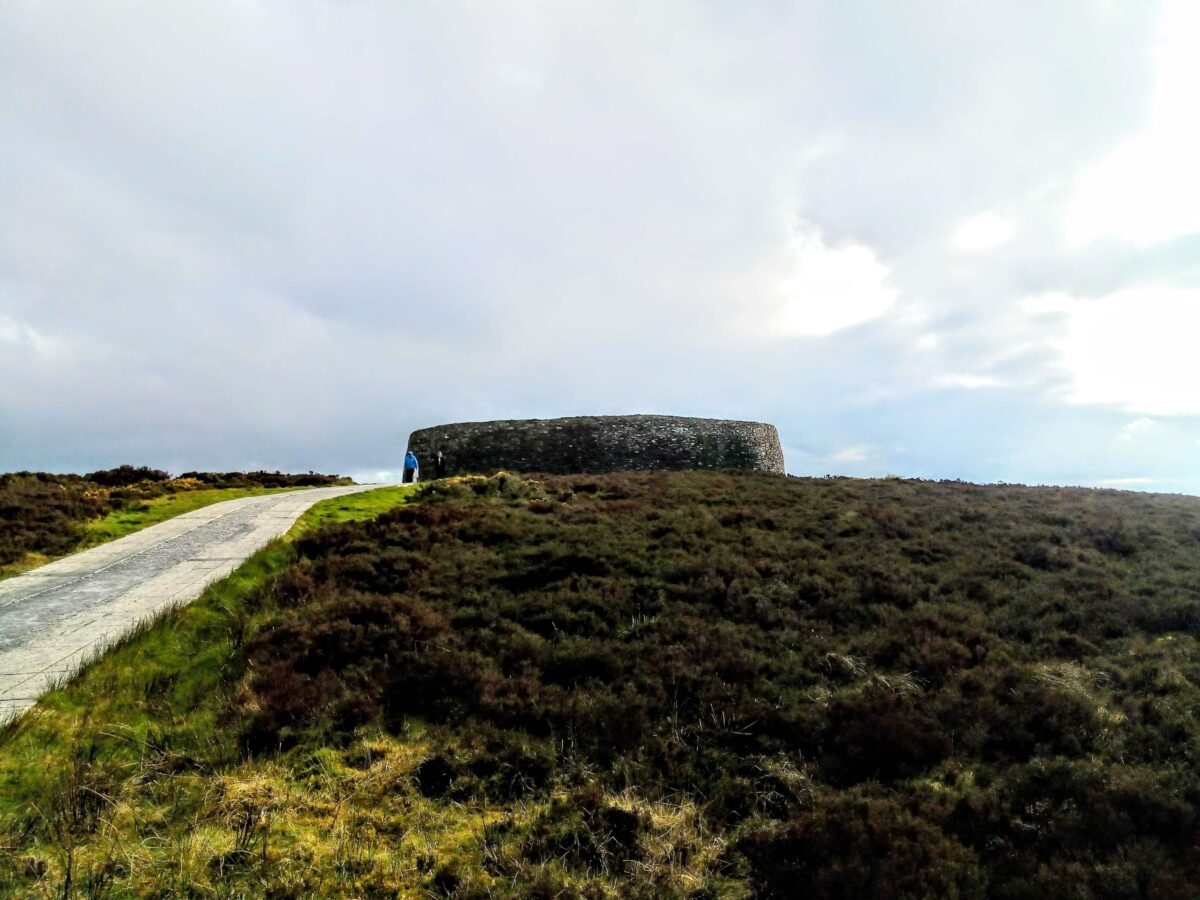 The views from here are simply stunning and nearby if, you fancy the walk you can visit a cairn and a holy well.
Donegal Castle
Fully restored in the '90s the Castle sits near the centre of Donegal Town. Built by the O'Donnell chieftains in the 15th Century, beside the river Eske in Donegal Town, Donegal Castle was rebuilt in Jacobean style in the 16th Century by Sir Basil Brooke, after Hugh O'Donnell burnt it to the ground rather than let it fall into enemy hands. Information panels chronicle the history of the castle and guided tours are available. The cost of a visit to the castle is €4.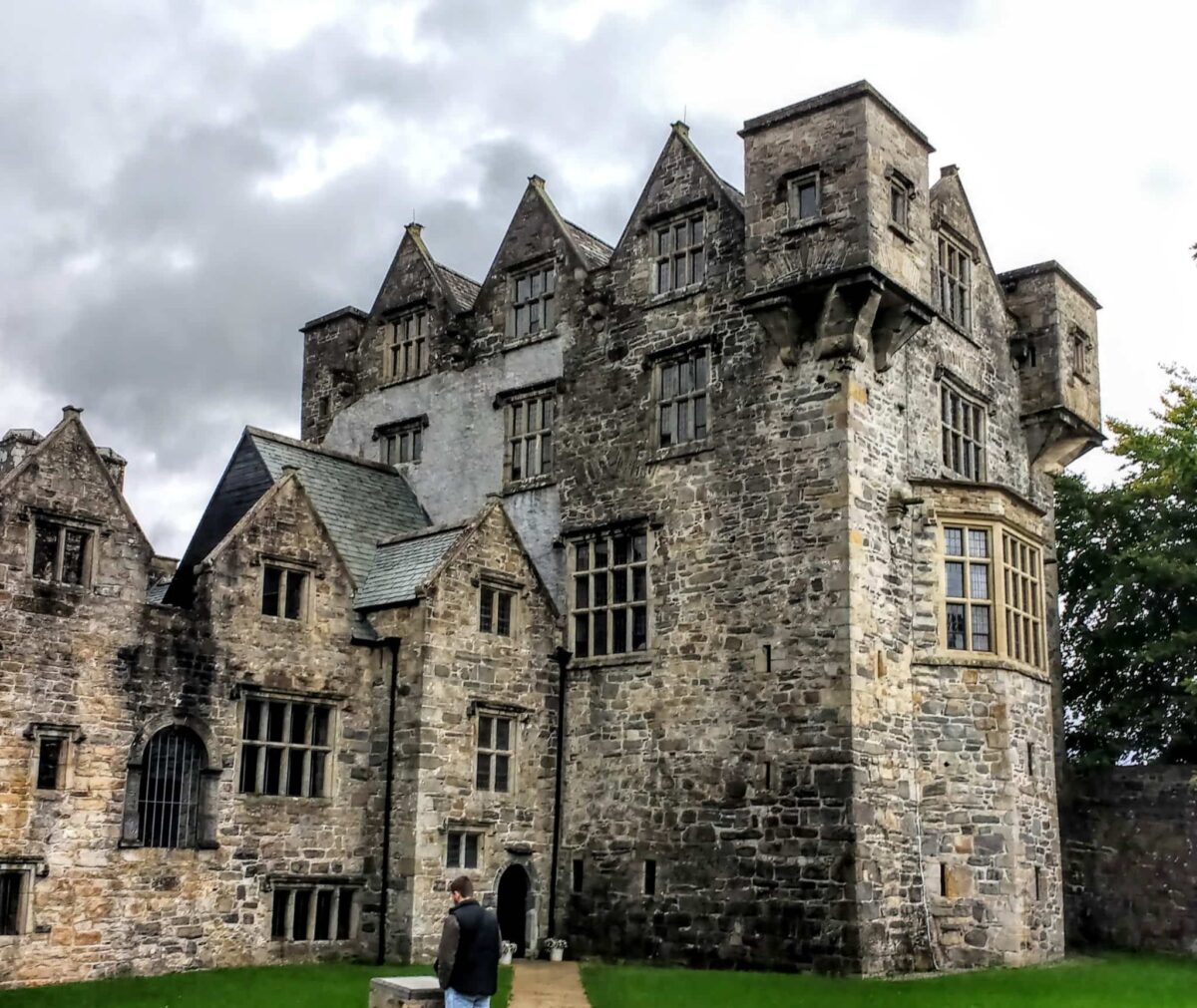 Tullan Strand & Bundoran
Framed by the Sligo Leitrim Mountains Tullan Strand is known as Donegal's best surfing beach (well one of them at least). But Tullan Strand (located in Bundoran) has much more to offer than surfing. Check out the Fairy Bridges and the Wishing Chair.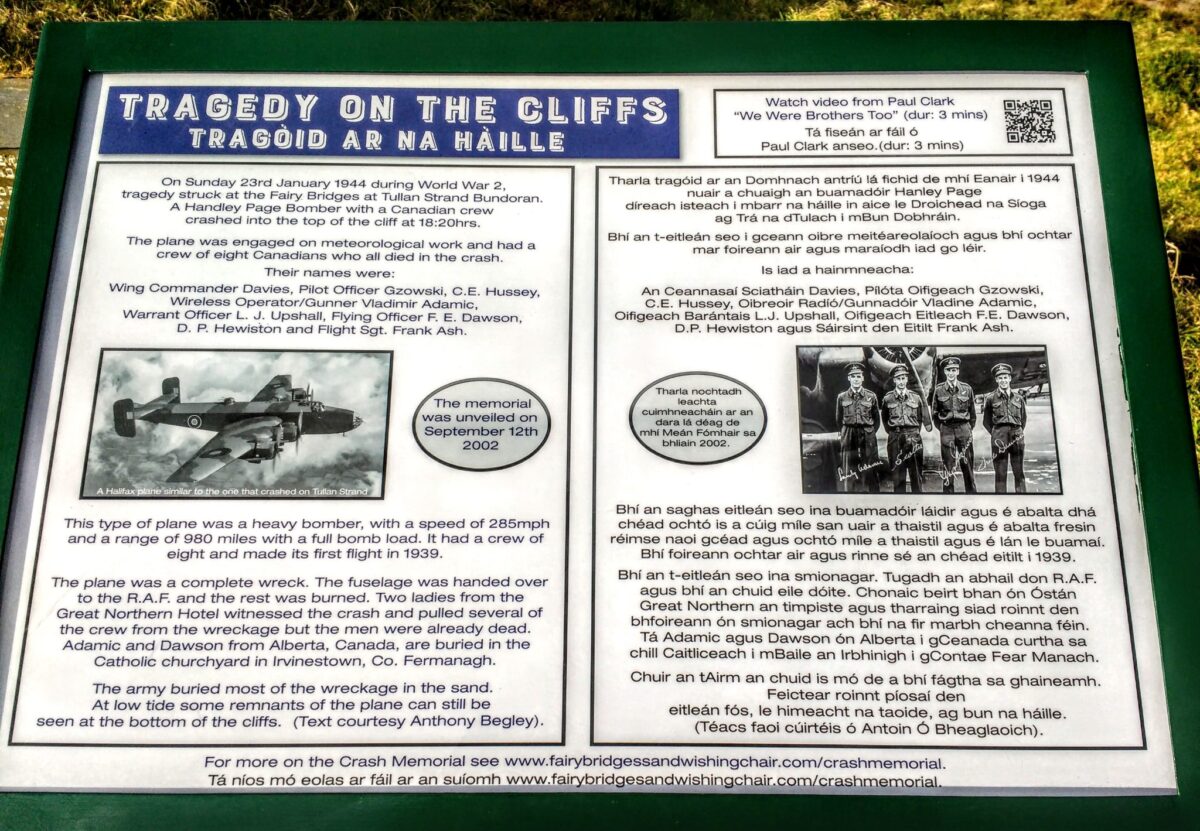 There is also a very poignant memorial to some Canadian pilots that crashed here during WWII. There are some WWII secrets kicking around as well given that the Republic was not supposed to be involved in the war. This is a glorious beach and a great place for an overnight stay at a quintessential Irish seaside vacation. The town of Bundoran has a lot to offer and you can just kick back relax and treat yourself to some ice cream.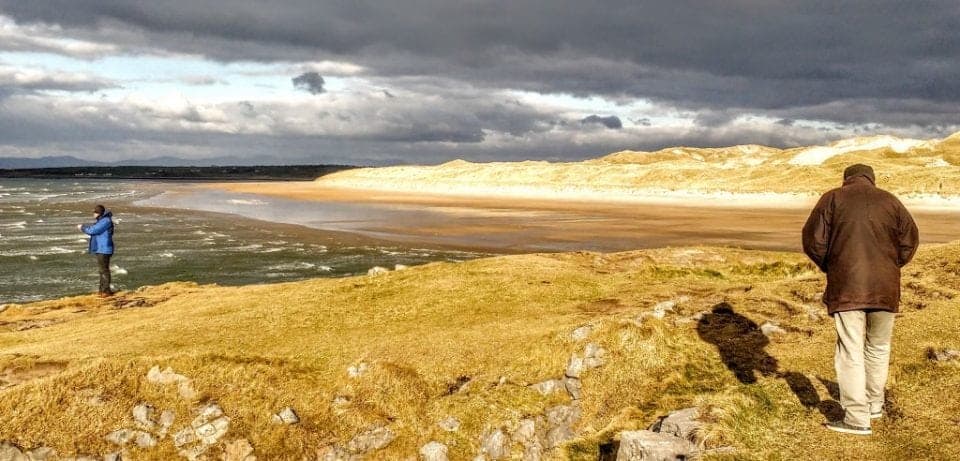 Donegal has some of the finest surfing beaches in Ireland. There are ancient sites such as the Beltany Stone Circle, Court Tombs, abandoned villages, Bad Eddie the iconic shipwreck in Dunfanghy. You can climb Mount Errigal or wander through the Poisoned Glen.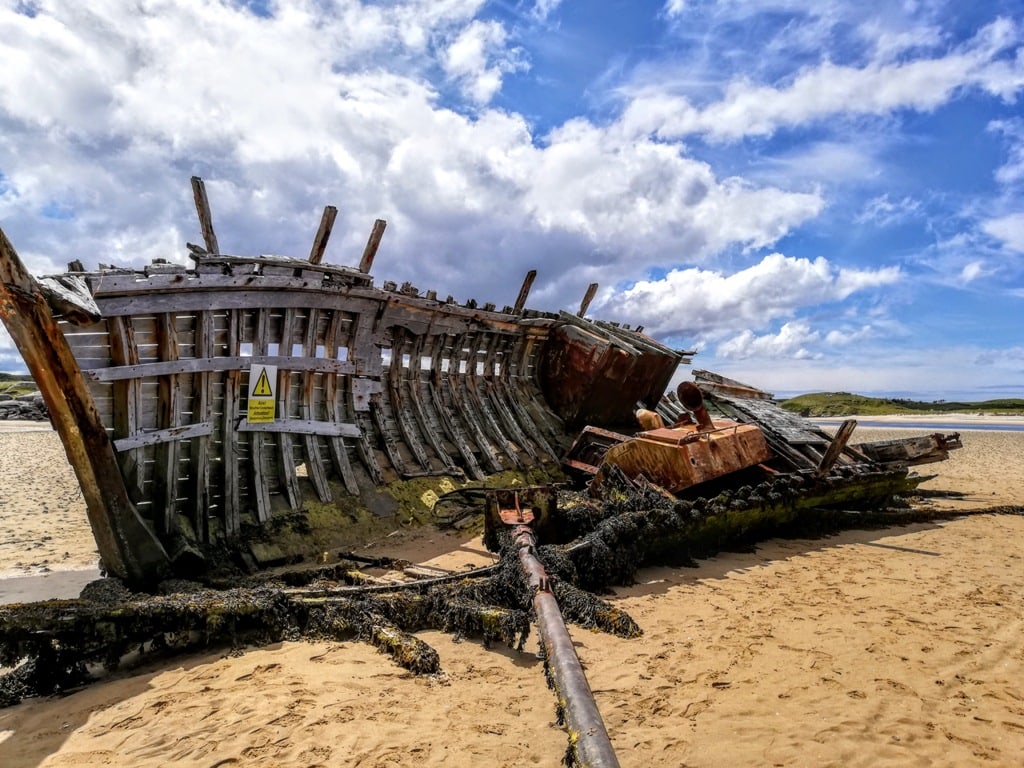 If you are looking for a tour of Donegal and want a guide I highly recommend Tours by Locals there are 3 local guides that live, eat and breathe everything Donegal has to offer. You will never be disappointed if you book a tour with them.
Faqs & highlights of County Leitrim
Leitrim has the smallest population in Ireland
Leitrim is bordered by 6 counties: Donegal, Fermanagh (Northern Ireland/UK) to the north-east, Cavan to the east, Longford to the south, Roscommon to the south-west and Sligo to the west.
Leitrim has the shortest length of the coastline of any Irish county that touches the sea.
The county town is Carrick-on-Shannon it sits on the River Shannon and there are hire boats to explore the Shannon-Erne Waterway
The famous Glencar waterfall is immortalized in Yeat's poem The Stolen Child
Leitrim is a tiny County and probably not really worth basing yourself here – the reason I say this is that you can drive through Leitrim on your Wild Atlantic Way route and if you blink you will miss it. I suggest you head to Sligo city where you can stay a day or so and enjoy all the country has to offer.
Glencar Waterfall
With the number of rivers, canals, lakes and waterfalls across the entire county it seems like the best place to start. The absolute gem in the crown is Glencar Waterfall, located just on the county line between Manorhamilton and Sligo. A short path from the car park brings you to the small pool, which lies beneath the falls. There is no charge to visit the waterfall. You can stop into the tearooms for a quick snack or a cup of tea and traybake after your walk.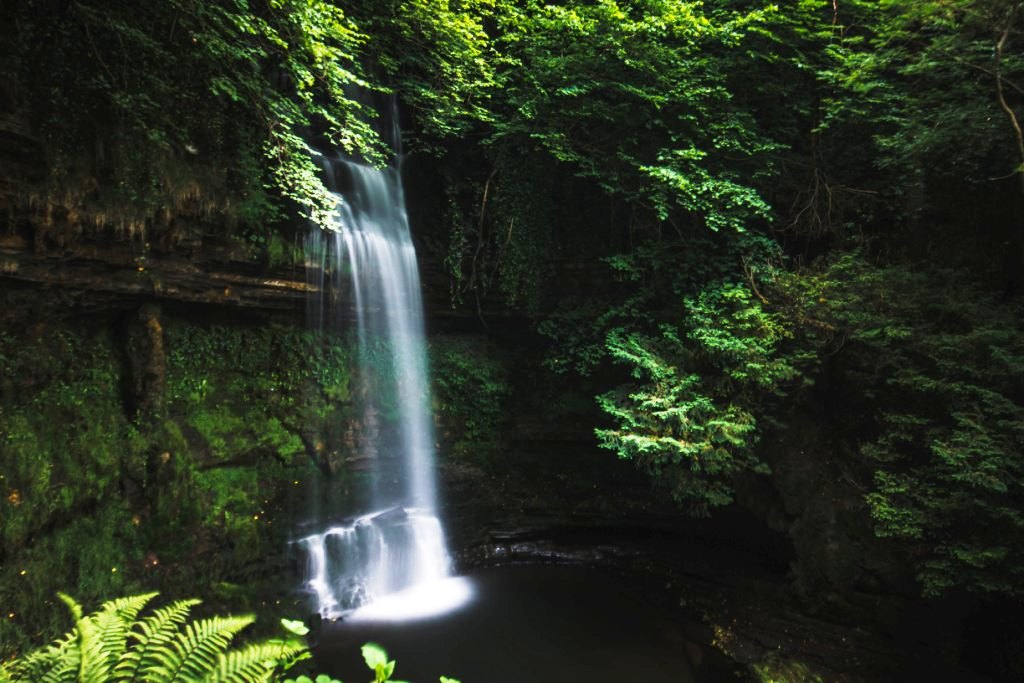 Parke's Castle
Just outside the town of Dromahair, along the shores of Lough Gill, stands Parkes Castle. The three-story castle, which dates from the 1600s, is now a museum, which is open to the public during the summer season from March to September. A nominal admission fee applies.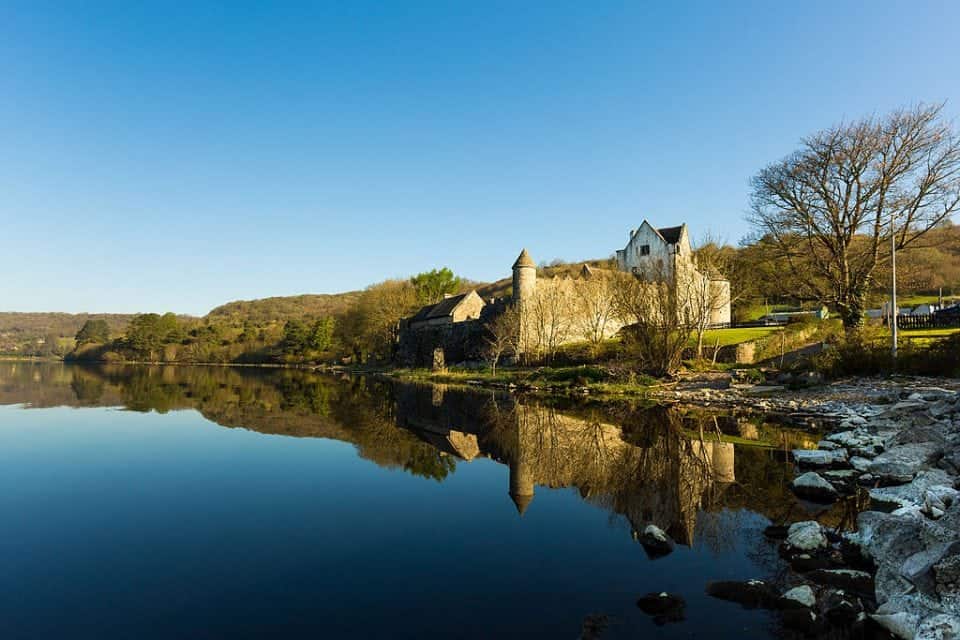 Glenview Country House
Glenview Country House and Folk Museum is located just outside Ballinamore along the Shannon Erne Waterway. Glenview Folk Museum is a private collection of over 6000 antique, historical and novel items ranging from pre-famine Ireland. There is an impressive array of farmyard equipment, a collection of horse-drawn agricultural machinery, and a thrasher.
A street scene has a number of reconstructed shops and a pub; all stocked, jam-packed with an assortment of products and equipped, as they would have existed in the past.
Faqs & highlights of County Sligo
It is noted for Benbulben Mountain, one of Ireland's most distinctive natural landmarks
Yeats Ireland's famous poet is buried in Sligo under Benbulben at Drumcliff
The megalithic cemetery of Carrowmore is located in County Sligo
The tomb of Queen Maeve, Miosgán Médhbh, dominates the western skyline from the crest of Knocknarea Mountain.
I've always loved Sligo and its proximity to Donegal Town makes it an easy trip. There is a lot do see in Sligo and some of the best seafood around can be found here. I would suggest staying in Sligo Town and exploring from there.
Ben Bulben and the Glencar Waterfall
Ben Bulben sits in both Sligo and Leitrim and can be accessed from either side by walkers and hikers. A paved path starting at the Glencar Waterfall has a gentle slope for an easy walk. There is a unique variety of plants growing on the mountain, including some found nowhere else in Ireland.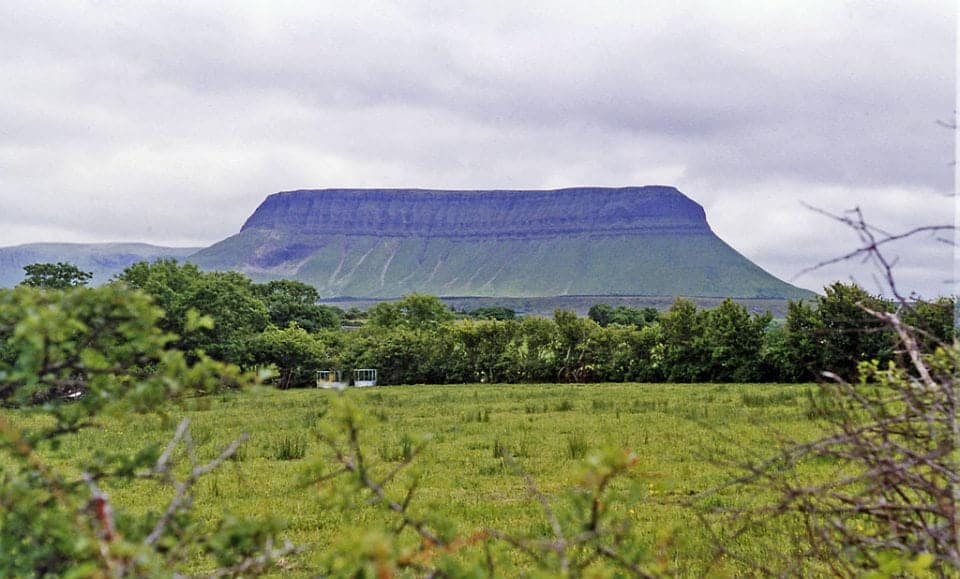 At 526 metres high, it's no small task to climb Sligo's famous mountain. The journey to the summit takes about two hours, but the views you get at the top are jaw-dropping. Undoubtedly, Ireland's most iconic mountain, Ben Bulben is the most distinctive peak in the Dartry range; it was formed during the ice age by massive glaciers segmenting the landscape.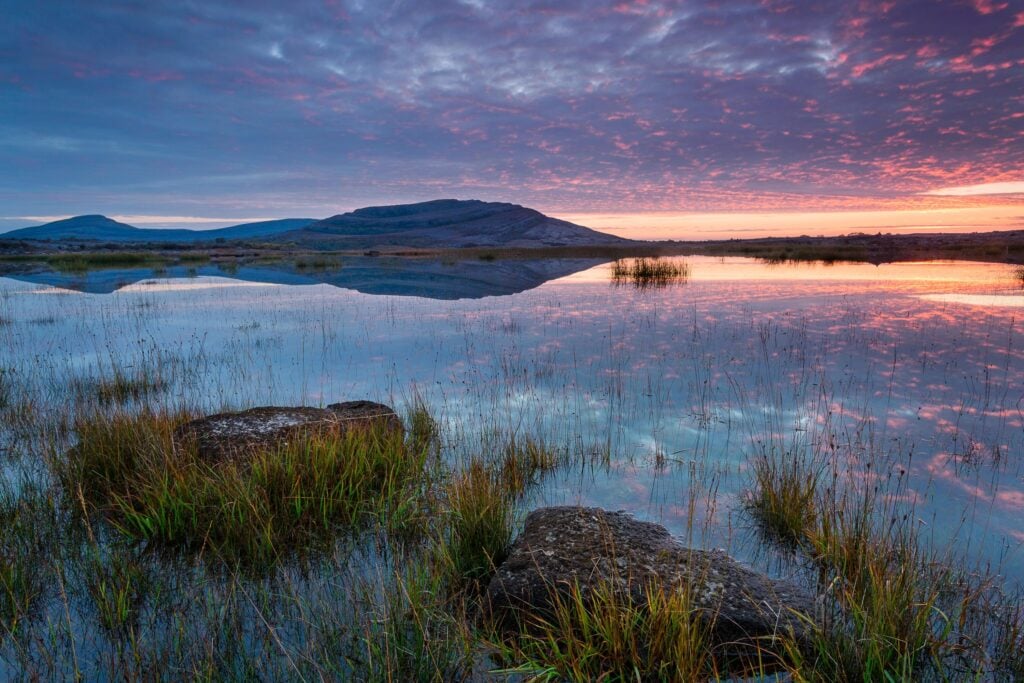 Strandhill
Strandhill is a growing tourist destination thanks to its stunning sandy beaches. Why not try some of the spas on the seafront and enjoy a seaweed bath or massage. You can make Strandhill your central stop and enjoy a visit to Queen Maeve's grave at the top of Knocknarea.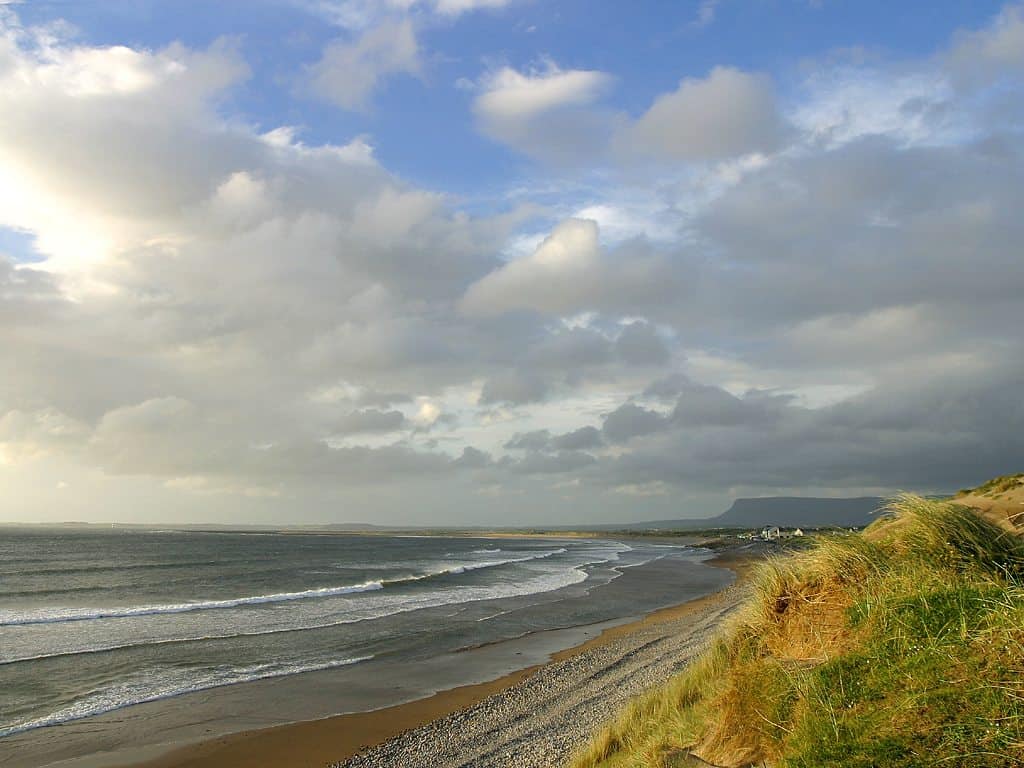 Irish legends state that Knocknarea is the burial place of the beautiful Warrior Queen Maeve of Connaught. She is said to be buried upright in the cairn at the summit of Knocknarea, spear in hand, still facing her enemies in Ulster. Until 2014, those wanting to visit Queen Maeve's cairn on the summit of Knocknarea had to use the rugged path from the car park on the south side of the mountain.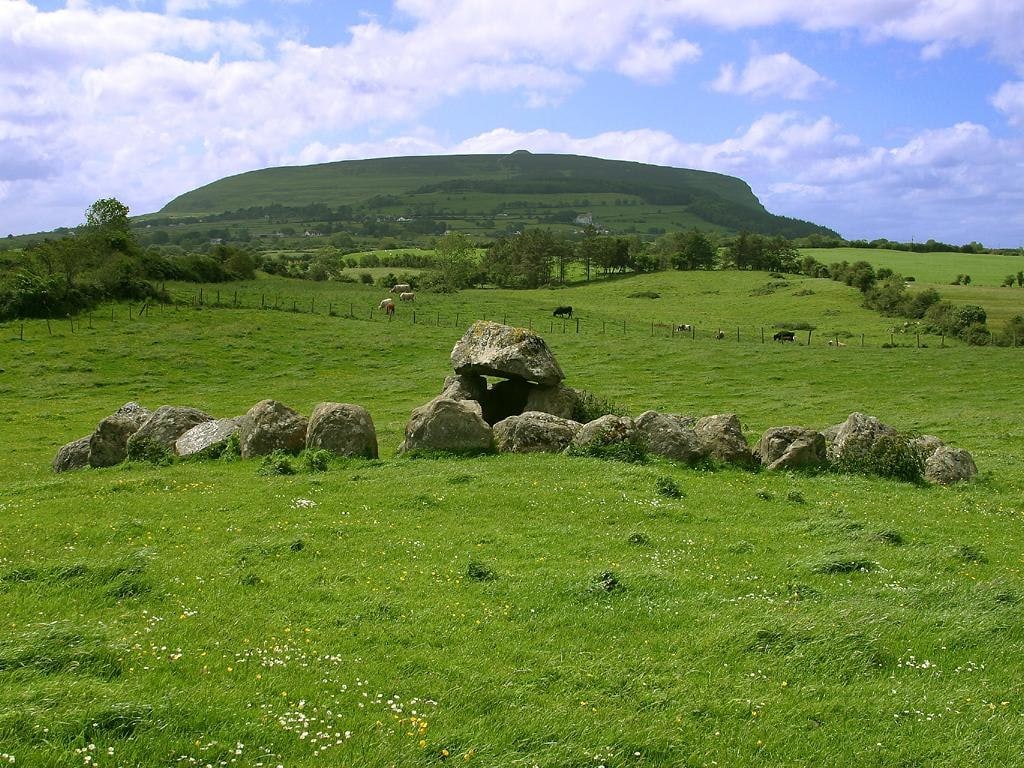 Another highlight of Strandhill is visiting Ireland's largest megalithic tombs at Carrowmore. The megaliths of Carrowmore, located just southwest of Sligo town, are at the heart of the Coolrea peninsula and are one of the greatest megalithic complexes of ancient Ireland.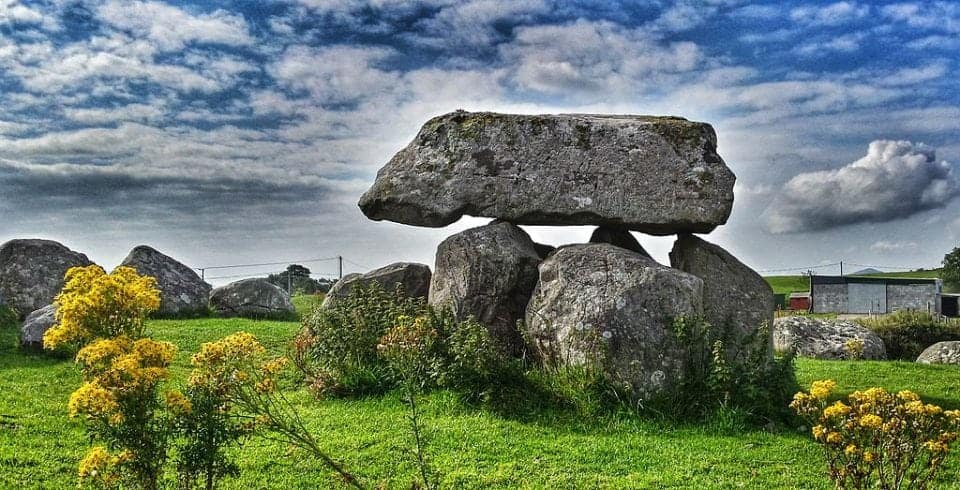 This peninsula on the Wild Atlantic Way coastal route is bounded by water on three sides – Ballisodare Bay to the south, the Atlantic Ocean to the west and Sligo Bay to the north. Twenty-seven monuments remain today, in varying states of preservation. The remains of at least 65 monuments are known, though it was thought by earlier researchers that there may have been up to 100 monuments at Carrowmore. The sites were extensively damaged in the early years of the nineteenth century by land clearance and quarrying.
Visit Yeat's Grave
W.B Yeats was laid to rest in 1948 under the shadow of Ben Bulben Mountain in Drumcliffe, County Sligo. An unassuming grave holds his remains in the Cemetery of St. Columba's Church. There is no cost to view the grave or to enter the church but donations are always welcomed.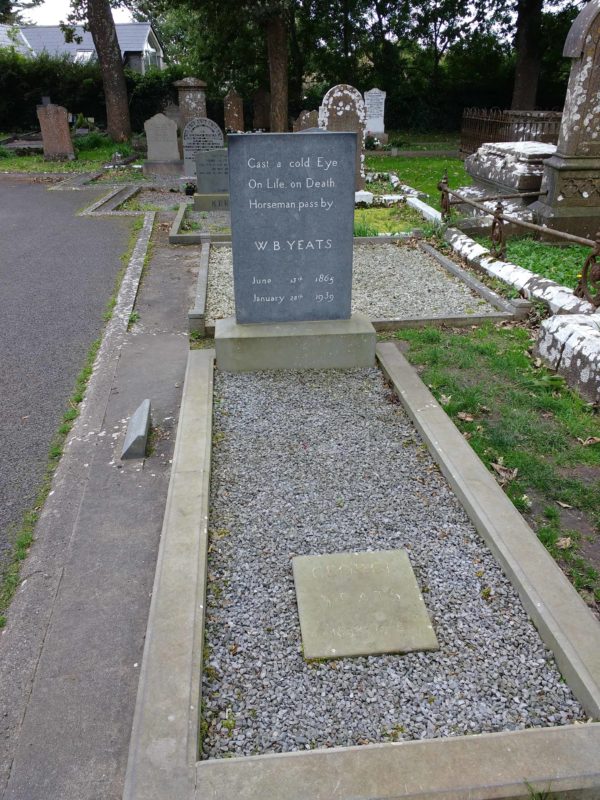 The Yeats Complex includes a tearoom, gift shop and of course, the Church that Yeat's family worshipped at for many years as well as preached in. Yeat's grave and an information centre about the area and Yeat's love of Sligo.
If you are looking for a tour of Sligo and a Wild Atlantic Way day tour and want a guide I highly recommend Tours by Locals there are 2 local guides that live, eat and breathe everything Sligo has to offer. You will never be disappointed if you book a tour with them.
Faqs & highlights of County Mayo
The term "boycott" originated in Co. Mayo. Boycott was a 19th-century British land agent for an absentee landlord, Lord Erne. Boycott was frozen out by his local community in Ballinrobe, Co. Mayo during the Irish Land War
Mayo is the birthplace of Ireland's most famous Pirate Queen – Grace O'Malley
The famous Quiet Man movie was filmed in Cong Mayo.
Mayo is home to the iconic pilgrimage sites Croagh Patrick and the Knock Shrine
Ireland's largest island is off the coast of Mayo -Achill Island
The Céide Fields in Mayo date back over 5000 years and are one of the largest Neolithic sites and field systems in the world
Mayo is a stunningly beautiful County and my favourite place to stay is in Westport near Clew Bay. There are views of Croagh Patrick to die for, lots of ancient ruins and famine sites to see and it makes a great base for travelling the County.
The Céide Fields
The Céide Fields in North Mayo will certainly give you a unique experience. The Céide Fields are the oldest known field systems in the world, over five and a half millennia old. It is a unique Neolithic landscape of world importance, which has changed our perception of our Stone Age ancestors. The remains of stone field walls, houses and megalithic tombs are preserved beneath a blanket of peat over several square miles.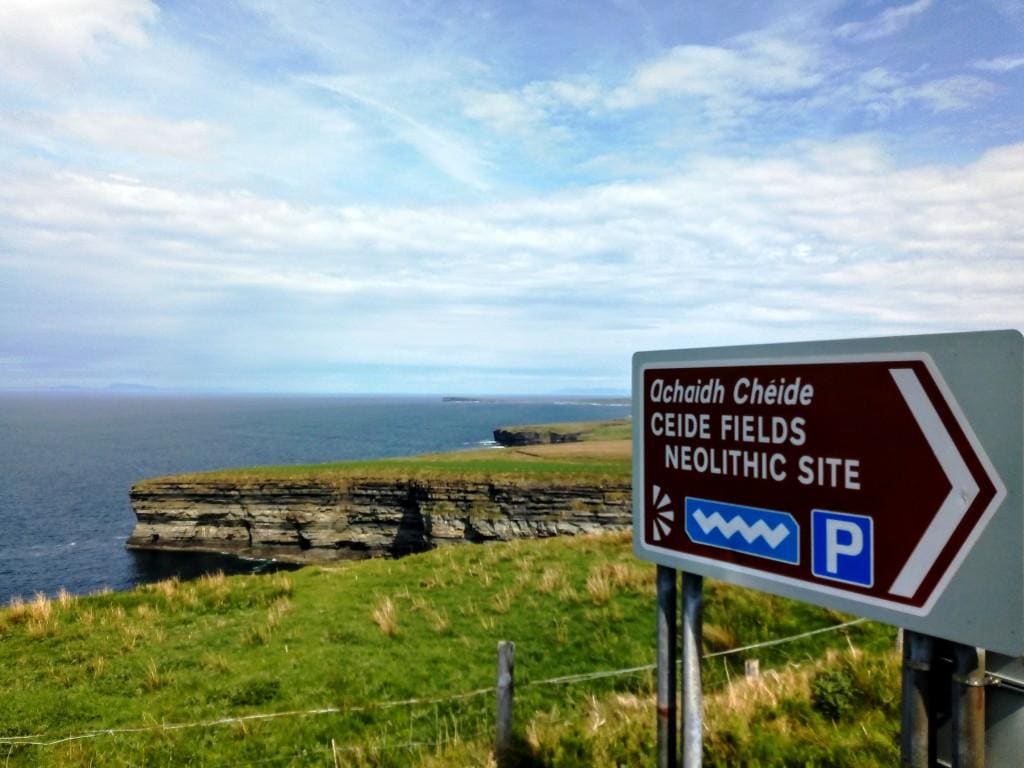 Village of Cong & Ashford Castle
Cong is the home of Ashford Castle, a luxury hotel converted from a Victorian lakeside castle, built by the Guinness family. Ashford Castle is a tourist attraction in its own right. The castle offers a variety of activities for its guests including Falconry, cycling and sailing. If you fancy spending the day there – book a meal at one of the restaurants so you can explore the castle itself. The library holds a collection of interesting books, paintings and letters from famous visitors.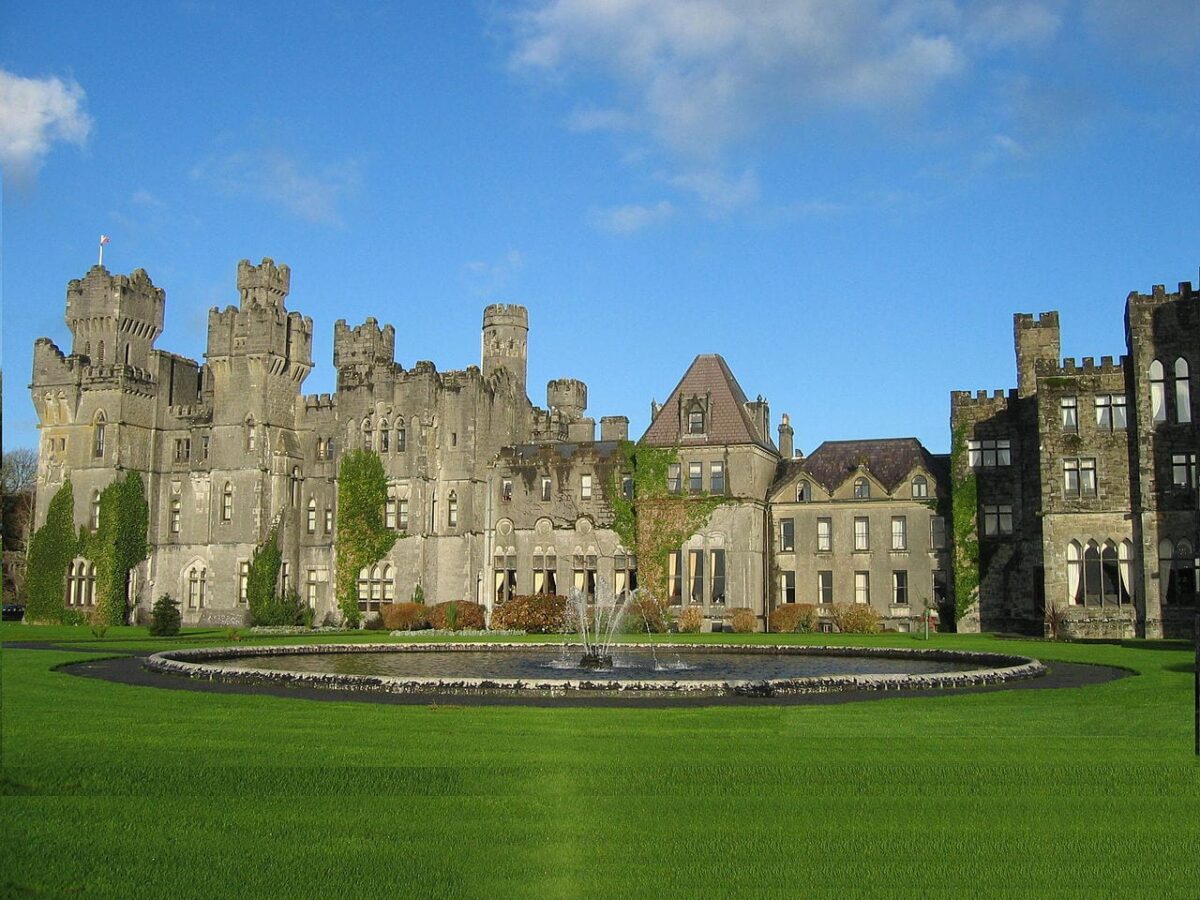 Cong also features a ruined medieval abbey, Cong Abbey, where Rory O'Connor, the last High King of Ireland, spent his last years. It also is the origin of a piece of Celtic art in the form of a metal cross-shrine called the Cross of Cong. The original 'Cross of Cong' is now held in the National Museum of Ireland, Dublin. There is a High Cross in the village.
The Quiet Man
Perhaps the most famous thing about Cong is the 1951 movie The Quiet Man starring John Wayne, and Maureen O'Hara, which was made there.
The Quiet Man Cottage Museum gives visitors a total Quiet Man experience as if they were actually 'on-set'. Located by the river at Circular Road, Cong, between actual locations used for the filming, the ground floor of the cottage has been designed as an exact replica of White-o-Mornin' Cottage.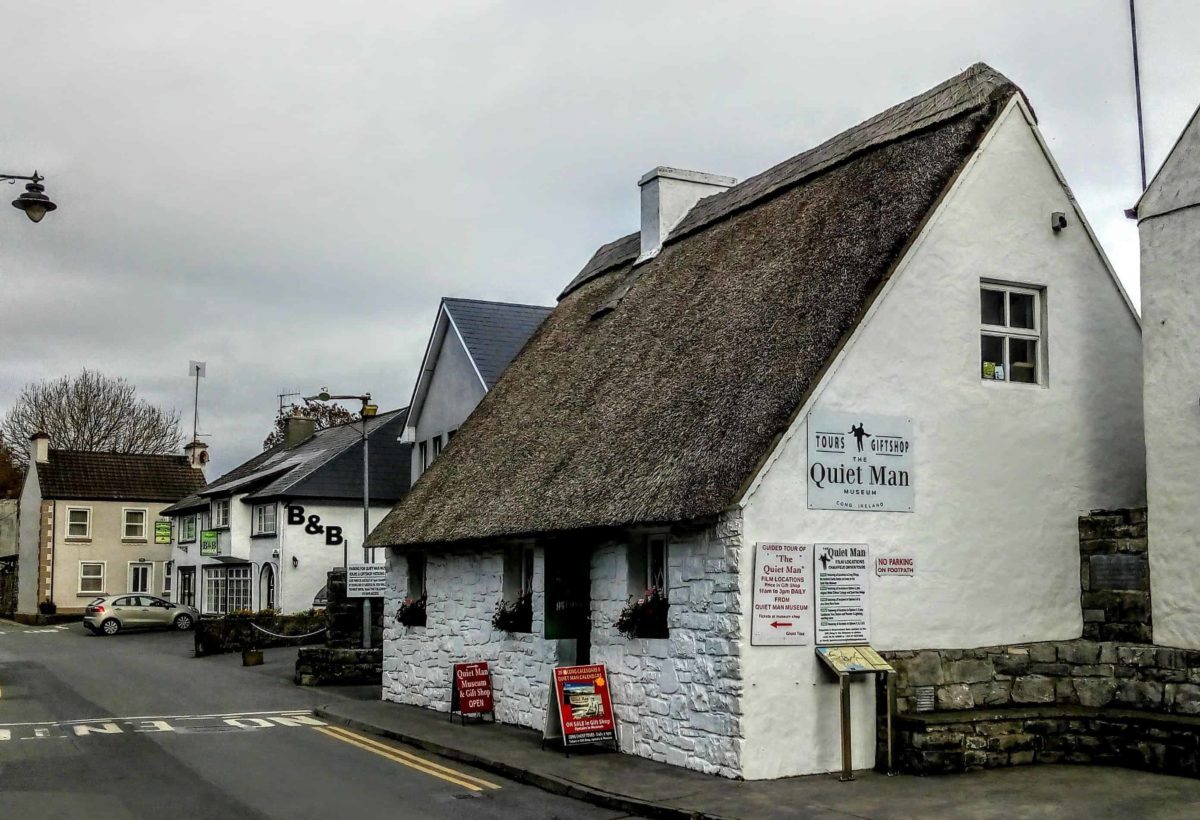 Painstaking effort has ensured that all the furnishings, artefacts, costumes, etc are authentic reproductions. The four-poster bed and the tables and chairs which Mary-Kate cherished, the thatched roof, emerald green half door and white-washed front combine to charm all those who visit it.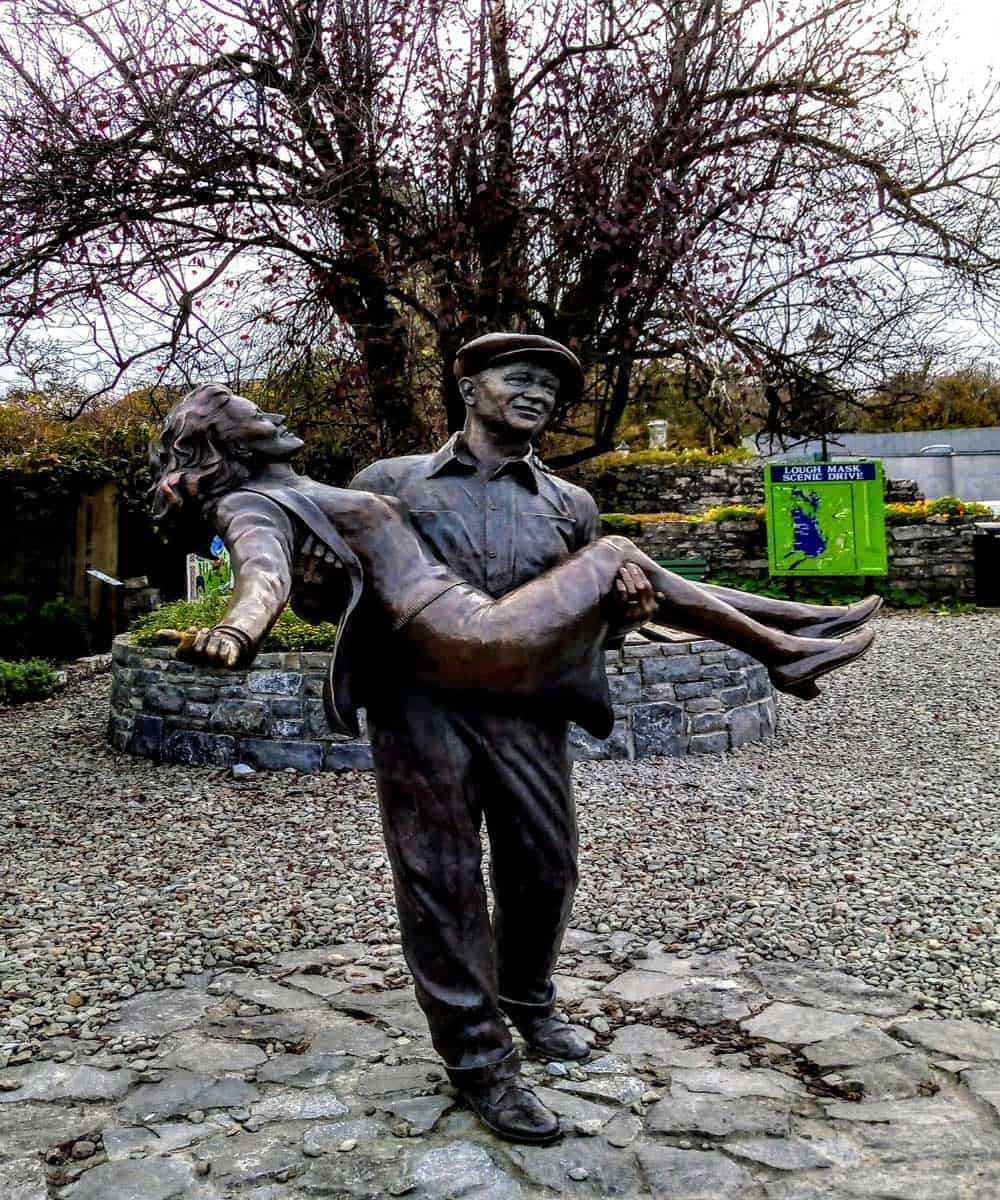 Croagh Patrick
Every year on the last Sunday of June, thousands of pilgrims take to the slopes of Croagh Patrick in Mayo. Walking, crawling or going barefoot to honour their patron Saint Patrick.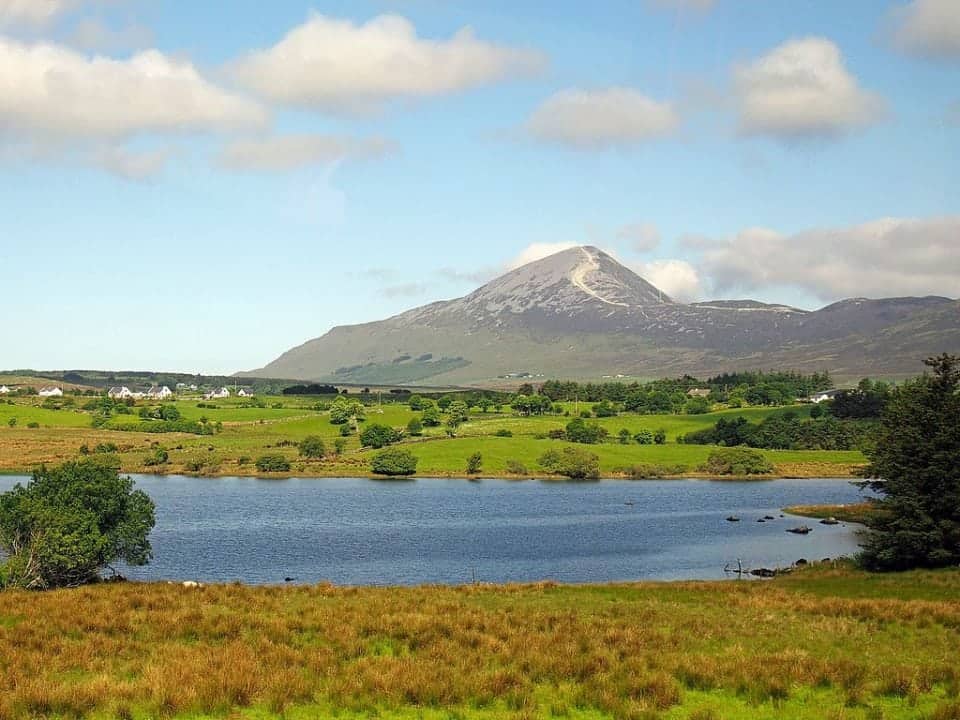 The hike to the top is quite steep and even though the peak is (only) at a height of 764 meters (2.507 feet), the path goes pretty much straight up. The rocky hiking path cuts across several fields and it gets a lot trickier towards the top as the ground becomes more unstable and "pebbly" like walking on slippery gravel.
Westport
Historically Westport was the home of the pirate Queen Gráinne Mhaol (Grace O'Malley). The dungeons from the ancient O'Malley fortress can still be seen in Westport House. The 18th Century Westport House is a privately owned historic home and Pirate Adventure Centre. It's a great place for anyone with a love of pirate lore.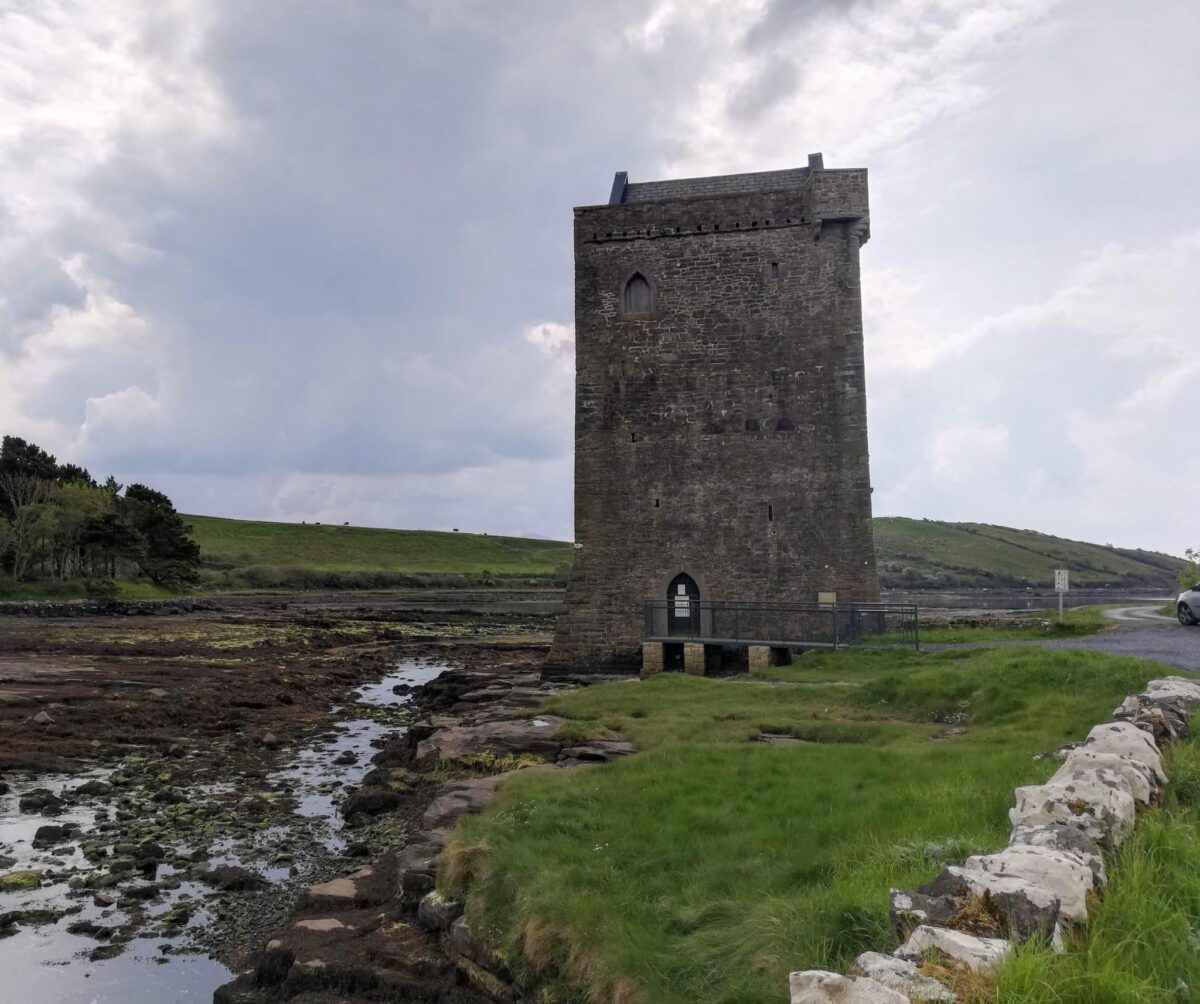 Downpatrick Head
Just outside of Knockaun, 80 meters off Downpatrick Head stands a colossal, 50 meters in height, sea-stack called Dun Briste (The Broken Fort). The surrounding cliffs, including the rock formation, were formed about c. 350 million years ago when the sea temperatures were much higher than today.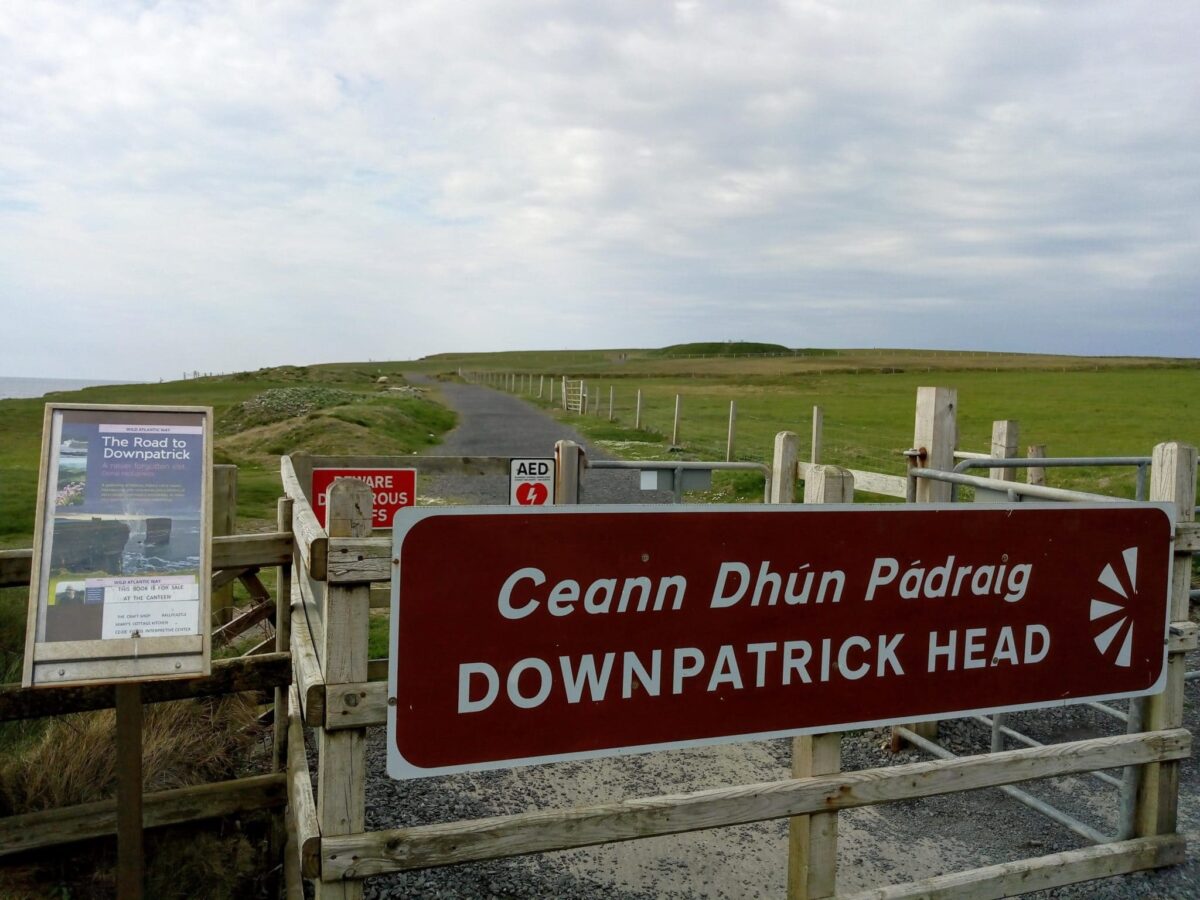 One legend has it that the place where the stack now stands used to live an ogre Geodruisge, He was a most obnoxious character, often making life difficult for St. Patrick, who used to pray at the church on Downpatrick Head. The saint became agitated and prayed to God to get rid of this tyrant. The next day the stack with the ogre's residence was separated from the mainland. Geodruisg couldn't escape and so he vanished.
If you are looking for a tour of Galway, Limerick, Clare or Kerry and want a guide I highly recommend Tours by Locals there are 8 local guides that live in these areas who would love to show you their home County.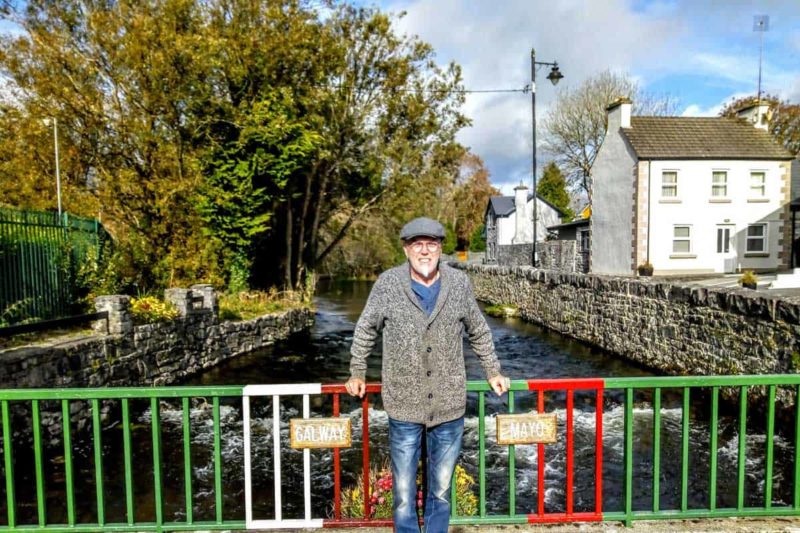 Faqs & highlights of County Galway
Galway is famous for being the festival capital of Ireland with 122 events throughout the year
In 1477, Christopher Columbus visited Galway
In 1473 Galway was almost destroyed by fire.
Bubonic plague was introduced into the city by a Spanish ship in 1649 and killed at least 3,700 of its inhabitants and forced many Galway residents to abandon the city temporarily.
The cannons on display on Eyre Square were captured from the Russians during the Crimean War (1853-56)
Galway was one of the counties most affected by the Great Famine (1845-47); approximately 20% of the population died.
The longest place name in Ireland is Muckanaghederdauhaulia, a townland found in County Galway.
There are 35 heritage sites, 31 museums and 10 art galleries in Galway City and County.
689 kilometres of Galway's coastline is part of Ireland's Wild Atlantic Way including Connemara.
Connemara marble, which is also known as Connemara Green, is estimated to be 500 million years old. It is quarried at the Streamstown Marble Quarries near Clifden.
There are three breeds of horses indigenous to Ireland. These are the Connemara pony, the Irish draft and the Irish hunter.
Galway has the largest Gaeltacht (Irish-speaking community) in Ireland.
Well, what can you say about Galway this is the place that every tourist wants to head to and there's a reason for that. Galway City is the best place to base yourself and then you are free to wander the pubs listen to some traditional music, shop and move out of town when you want to explore the highlights of the County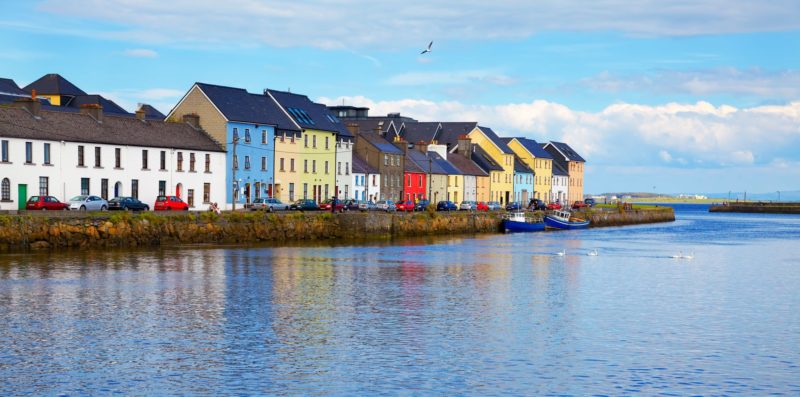 Galway City
Galway city, on Ireland's west coast, is known for its great pubs, local Irish culture, and plenty of craic. It's an amazing city to explore on its own, but it also serves as a perfect base for exploring this section of the Wild Atlantic Way.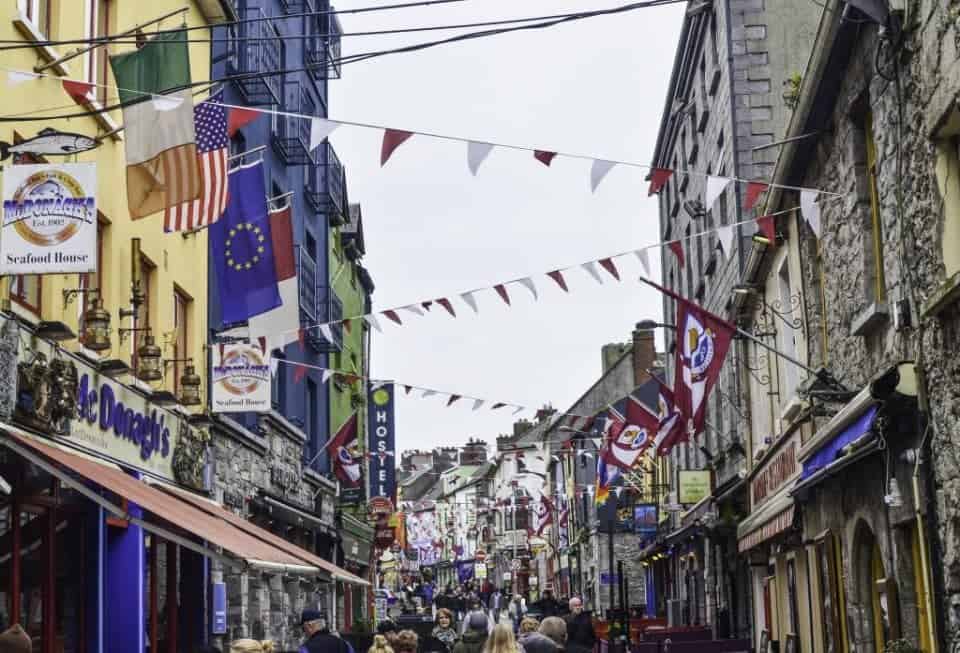 Galway City itself can be explored in a day. It's a charming place with plenty of free attractions and sites. Plus, Galway is easily walkable and best explored on foot. Make sure to check out the Galway Cathedral, Eyre Square, and the Latin Quarter. Make sure to spend your evening at one (or a few) of the many live music pubs.
Loop Head
The Loop Head Drive; is a scenic road trip with great photo stops and a limited few other travellers. Watch the waves for dolphins and whales and be sure to stop at the lighthouse and Carrigaholt Castle.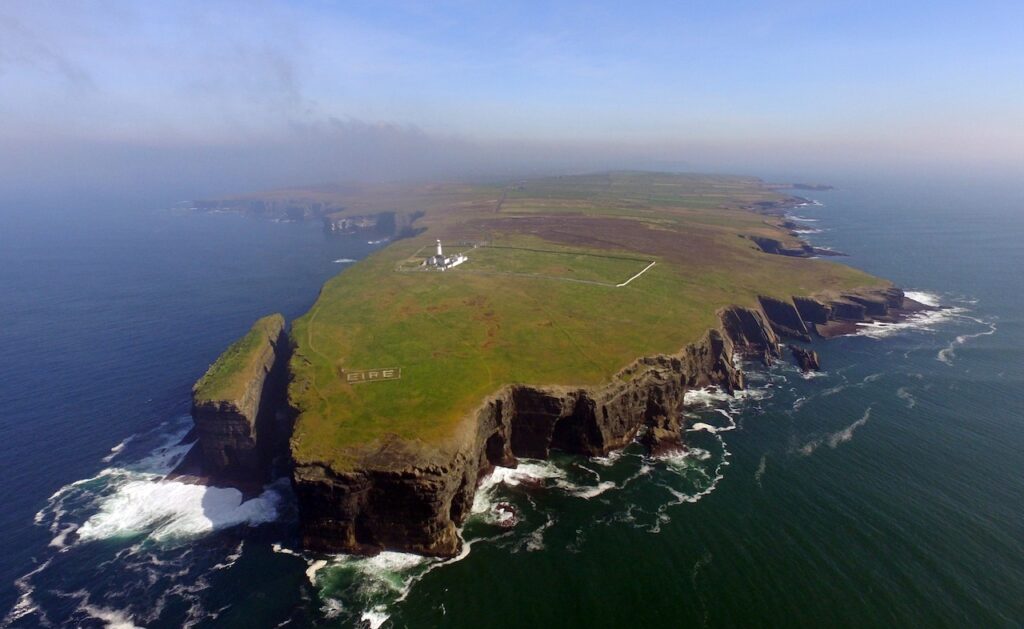 Aran Islands
Inis Mor; is the largest of the Aran Islands. The Gaelic language, historic forts, and thatched cottages give this part of the country an old-world Ireland feel. It can be explored by bike, horse and carriage ride, or you can book a tour with a local. Inis Mor can absolutely be seen on a day trip, but if you have time to spare, I do recommend staying overnight. Most tourists don't spend the night so it promises to be a good local Irish experience. From Hannah of Ireland Stole My Heart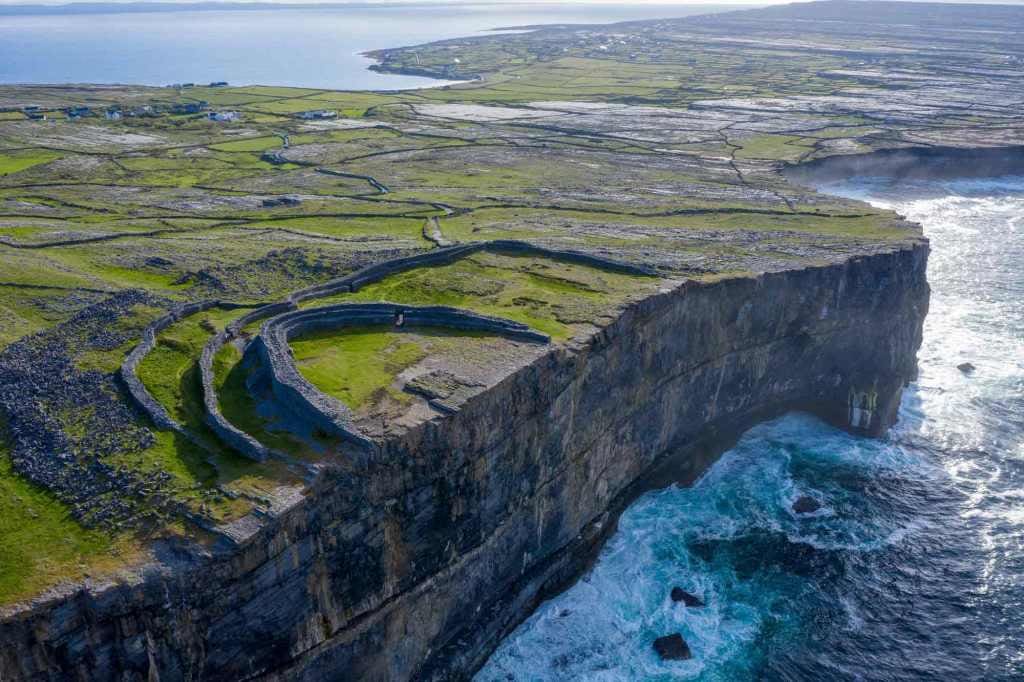 Need to watch some Irish movies before you go? Here is my list of my favourite top 43 Irish movies
Galway-to-Connemara Loop
The Wild Atlantic Way (WAW) has 1,500 miles (2,500/k) of coastal roads that start in Kinsale and goes all the way up to the border with Northern Ireland. The most popular sections of the WAW include the Ring of Kerry, Dingle and the Cliffs of Mohr (as noted elsewhere in this piece). These sections of the trail are beautiful to be sure but I found the section of road between Galway and Clifden to have its own intimate beauty and it's far less crowded.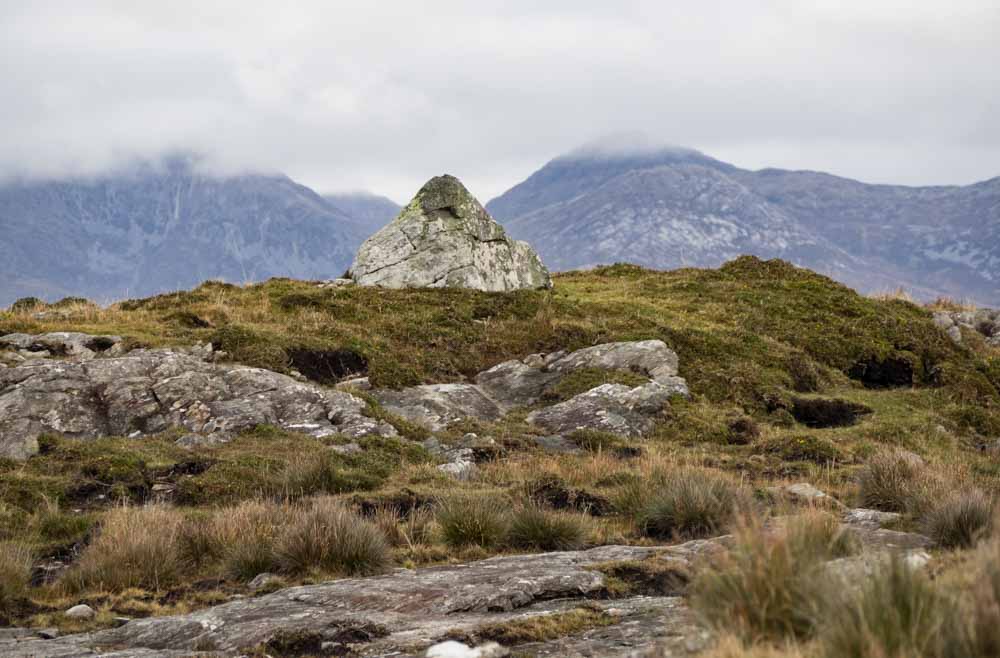 My Wild Atlantic Way itinerary zigzags along the WAW west of Galway, through Roundstone, Clifden, up to the Sky Road and back to Galway via the northern Connemara road. Popular stops on the route include Roundstone's harbour, the Marconi transatlantic transmission station, the Clifden Sky Road, Connemara National Park and the Victorian Kylemore Abbey.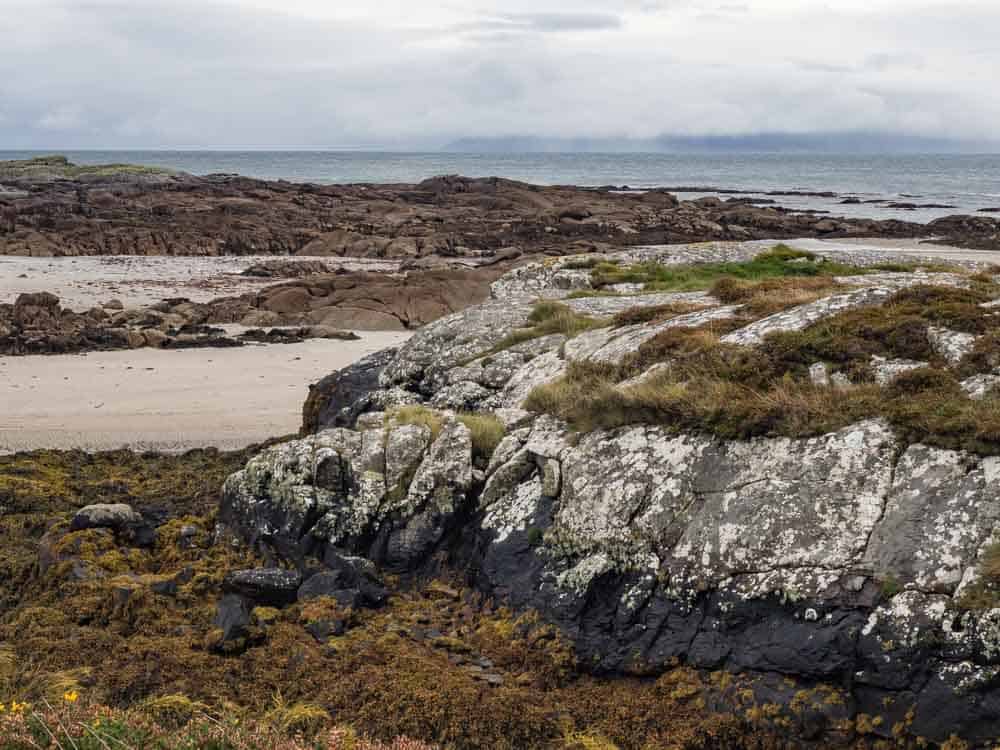 But what makes this road trip worth it is all of the views in between those stops. Some people do this route in one day and you can indeed get to Clifden in 1-1/2 hours on the fast road, but that's not the point. The true value of this road trip is taking the slow, meandering way along the coast road and through the bogs. The landscape here has a stark quiet beauty that will creep up on you. Going down the side roads and getting deliberately lost in Connemara is always worth it. Get more detail on this Galway to Connemara road trip here. contributed by Carol of Wayfaring Views
Kylemore Abbey
Kylemore Abbey is quite possibly one of the most photographed places in Ireland on the Wild Atlantic Way route. Its stunning location on a lake and its beautiful pristine grandeur and welcoming appearance make it a number 1 place to visit in Ireland.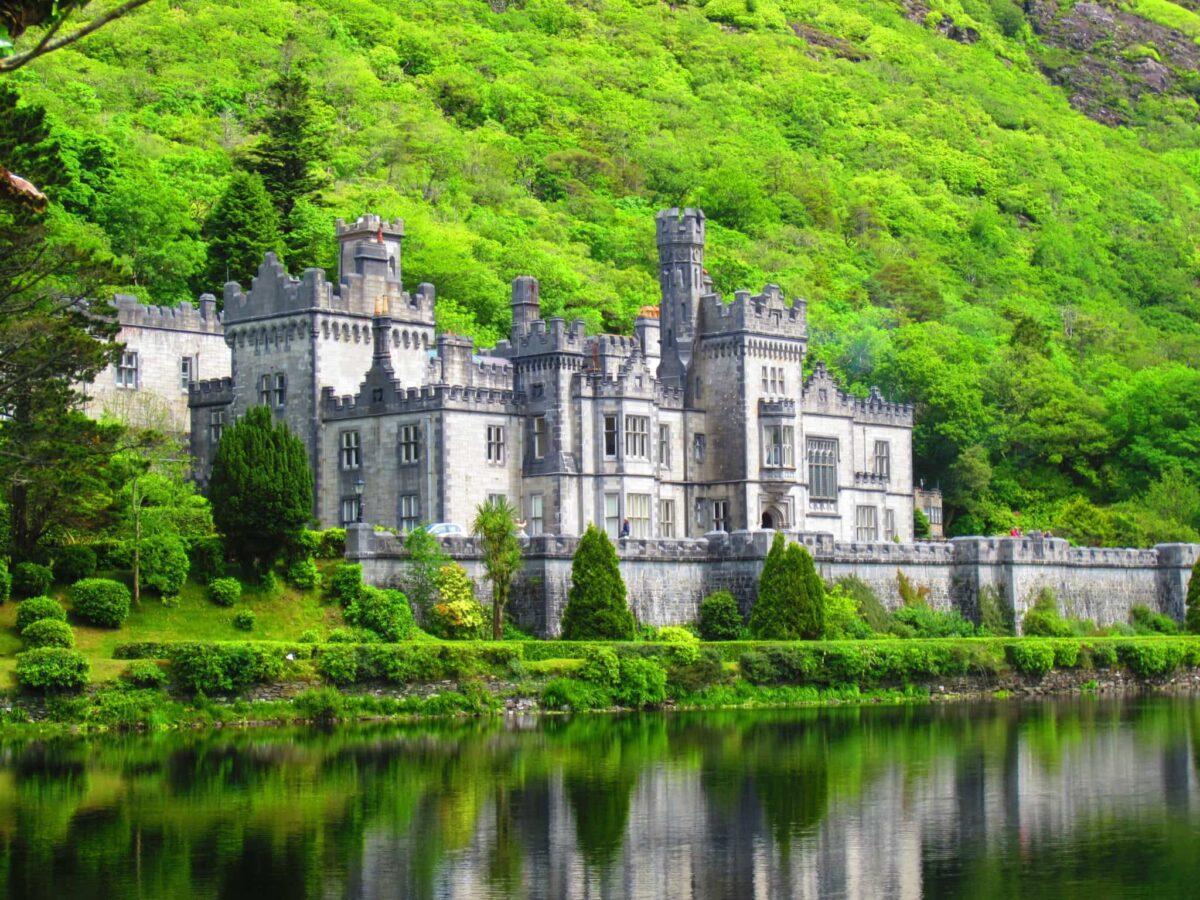 Killary Fjord
A Fjord cruise takes only 90 minutes and you can even have lunch on the boat if you want. It is one of three glacial fjords that exist in Ireland and you can see dolphins sometimes swimming around the boat. After that, you can go straight to Kylemore Abbey. The cost of the cruise is €20 per adult and it is an absolutely stunning way to spend 90 minutes.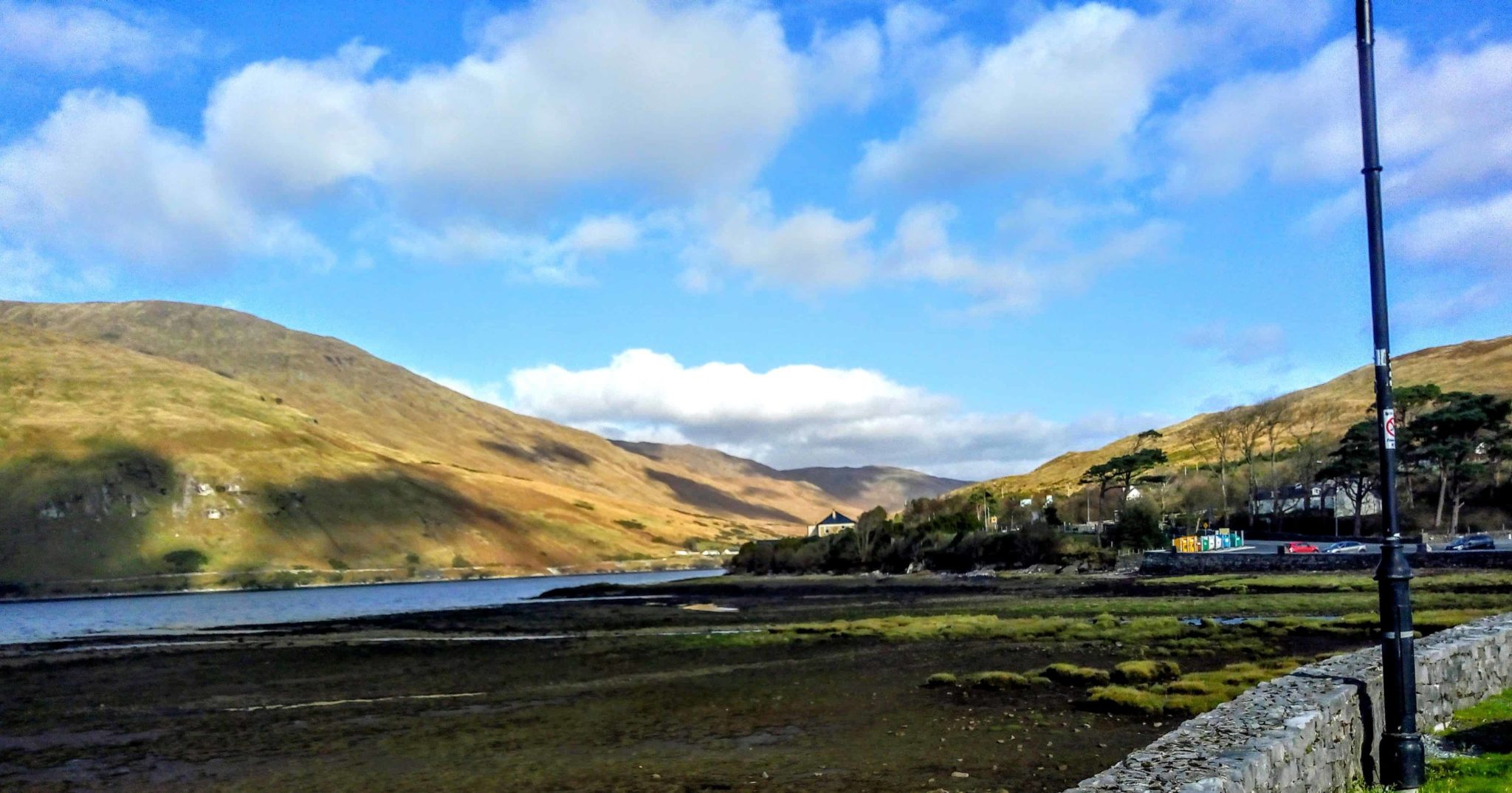 Like to know more about Galway City and what to see? Janet has written a great post on 23 Fun Things to do in Galway City on her blog Your Irish Adventure.
Faqs & highlights of County Clare
In 1881, in County Clare, John Philip Holland was the first person to successfully launch a submarine.
Muhammad Ali's great-grandfather was born and raised in Ennis, Co. Clare
The Cliffs of Moher in Clare are one of the most popular tourist attractions in Ireland
County Clare is home to the miraculous Burren
The inventor of the submarine was from County Clare.
My favourite place to stay in County Clare has got to be one of Ireland's perfectly charming villages Doolin. It is the epitome of Irish charm and has some great craic in the local pubs. Not only that but it's easy to get to places like the Cliffs of Moher and the Burren.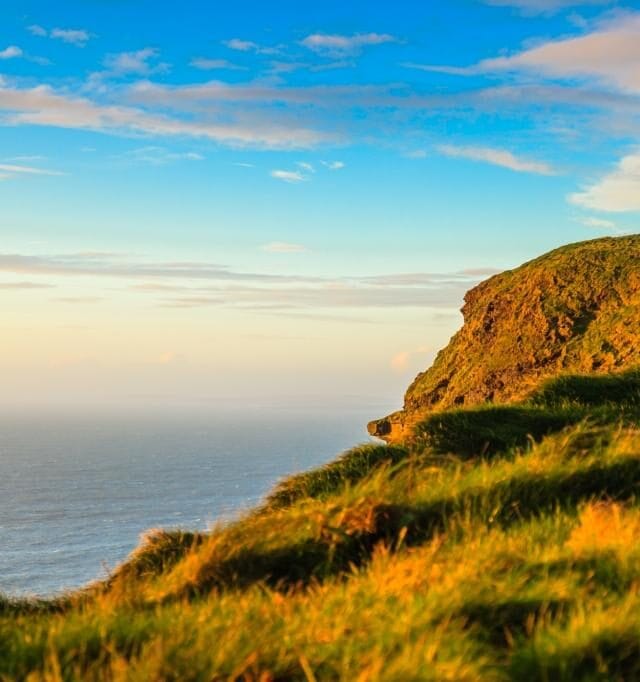 Bunratty Castle
Bunratty is the most complete and authentic medieval castle in Ireland and an absolute must-do when in Ireland. With its impressive castle, stunning Folk Park and the new fairy gardens Bunratty will keep the whole family occupied for hours.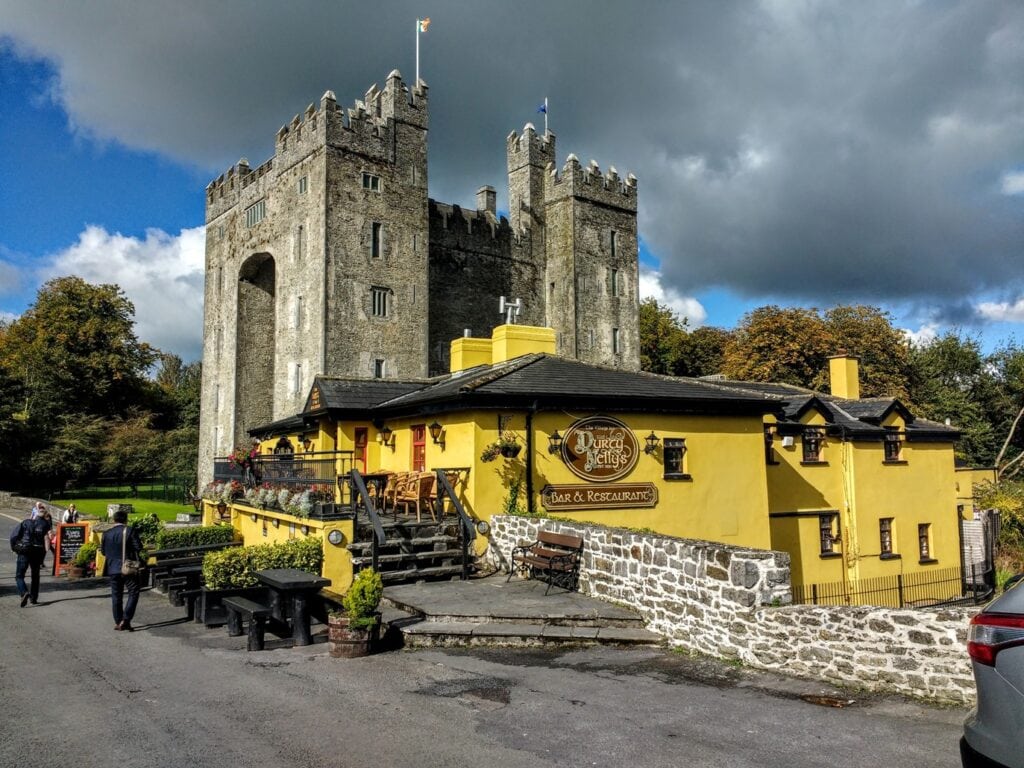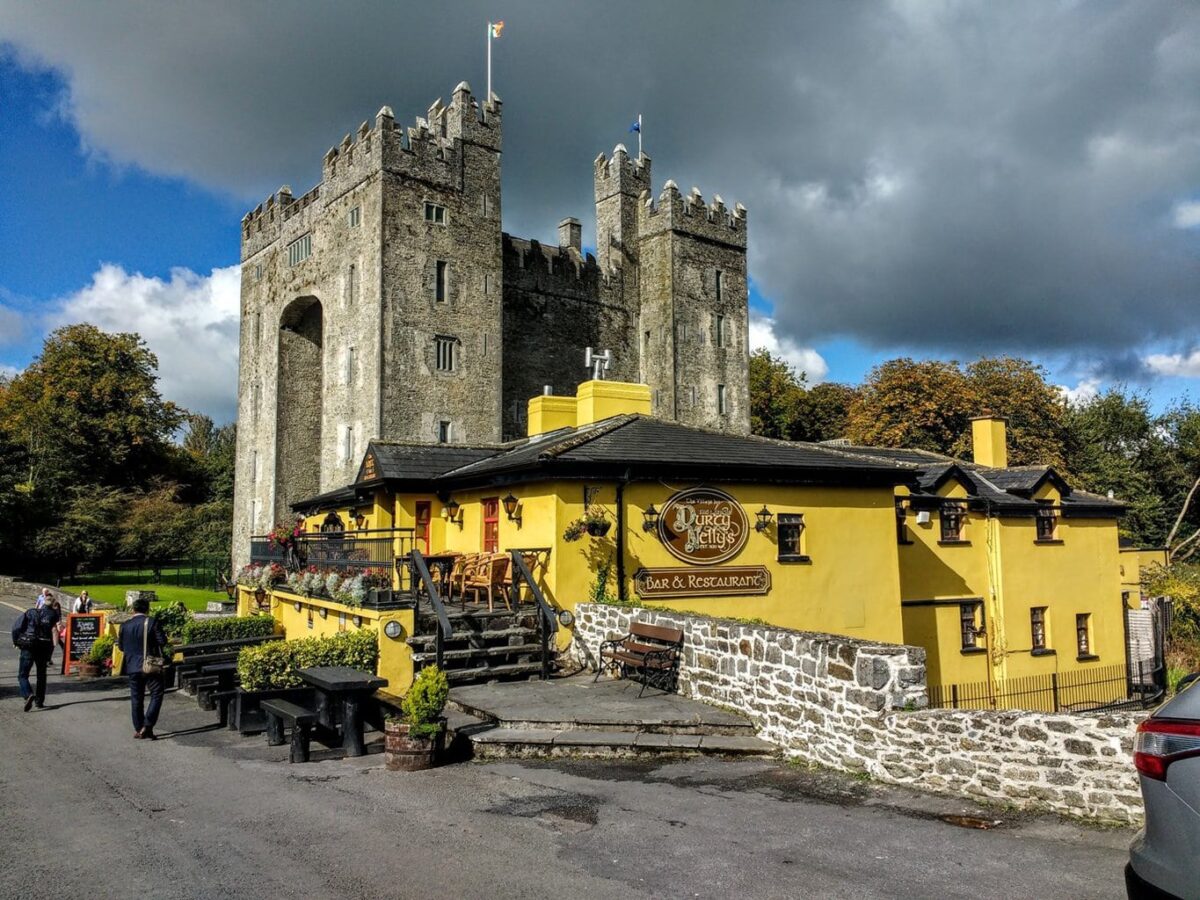 The Cliffs of Moher
I planned out my trip to Ireland in great detail and was so excited when we finally arrived. The itinerary included major sites as well as small surprises. After landing in the morning in Shannon, it began with the dramatic Cliffs of Moher, after which we drove on to Cong to overnight at Ashford Castle.
There we took a lesson in falconry and explored the tiny village and after two nights continued on to the Dingle Peninsula, where we spent one night in charming Dingle Town. The next day we drove the rustic Ring of Dingle and then moved on to Adare, a village of thatched-roof buildings, for the night. Then it was on to Dublin for four nights and the unusual Art Tea at the lovely Merrion Hotel, plus a lot of sightseeing. I am quite pleased with all we saw in such a short time. From Carole at BerkeleyandBeyond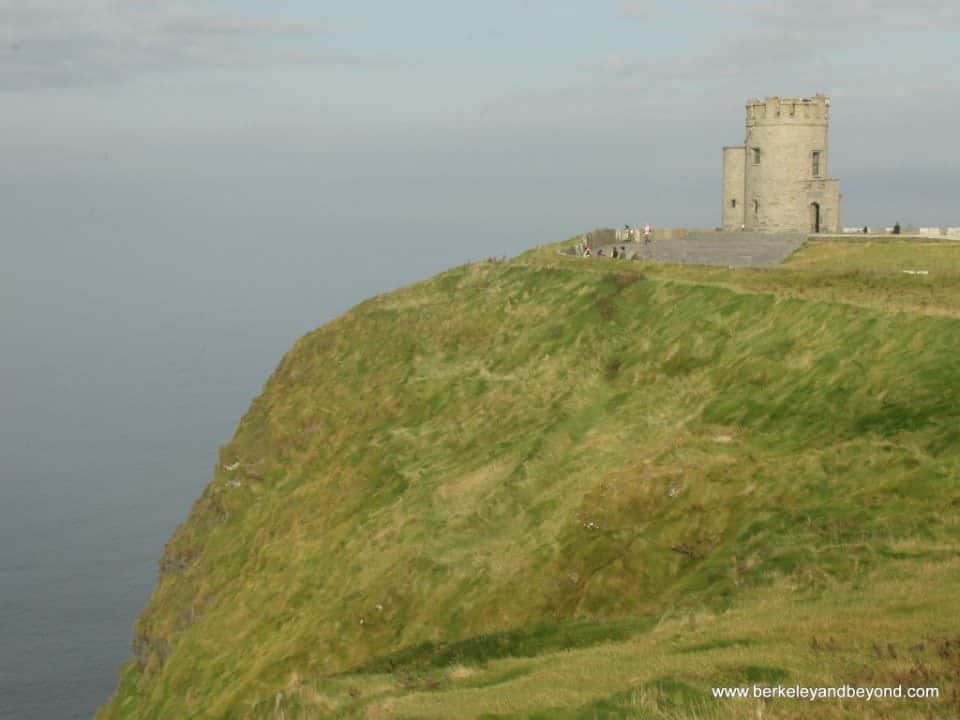 The Burren
Sites like the Burren on the Wild Atlantic Way encourage the imagination to wander. The Burren appears to be a desolate, moonscape but it holds a curious beauty. It intertwines with the Cliffs of Moher, which stand proud against the ravages of the sea. Birds whirling overhead clash with the crows that seek out tourists to scavenge for food in some of these heavily visited areas. Some of the best bird watching in the world can be found in this region hard up against the Atlantic waters.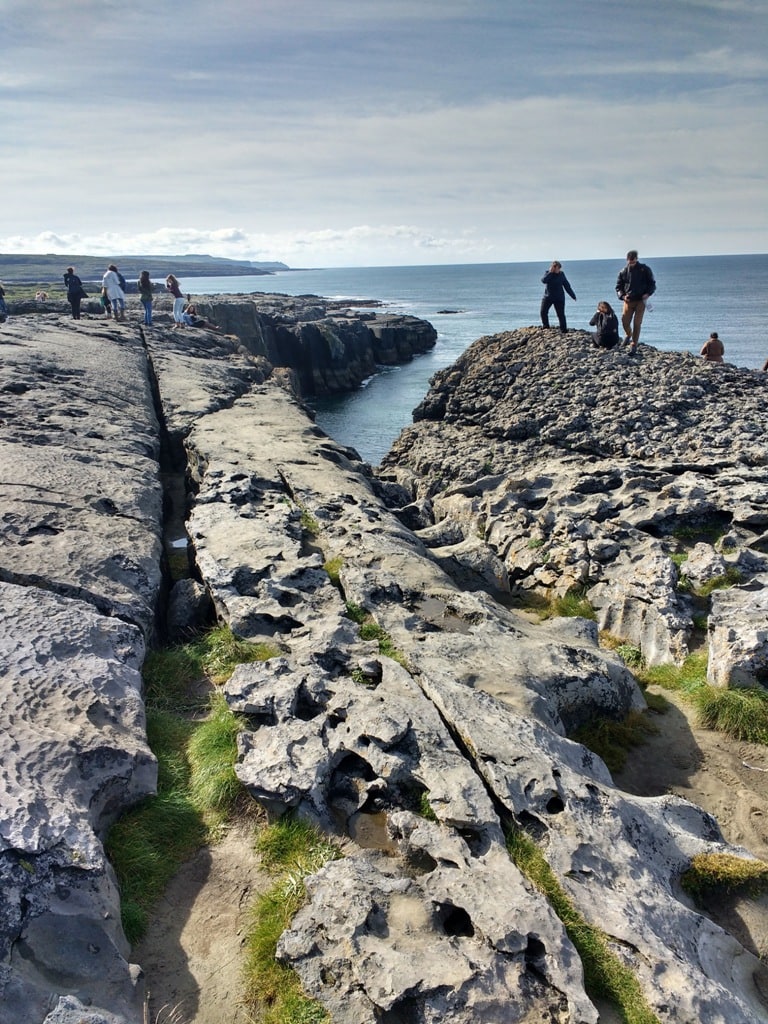 If you are planning a trip to the Cliffs of Moher on a day trip make sure you check out Bruna's post-Dublin to Cliffs of Moher, she has some great tips on getting there and more.
Doolin
Doolin is often called the most perfect Irish village on the west coast. Doolin is a fantastic jumping-off point for exploring the Cliffs of Moher, the Burren and the Aran Islands. Adventure beyond the usual by taking a horseback ride through the Burren, or head to one of the two pubs in town: McGann's and Fitzpatrick's and enjoy some great Irish craic.
Doolin is picture perfect and finding things to do in Doolin is not difficult you can take a cruise, visit the Arran Islands, grab some great Irish food or simply hang out in the pubs.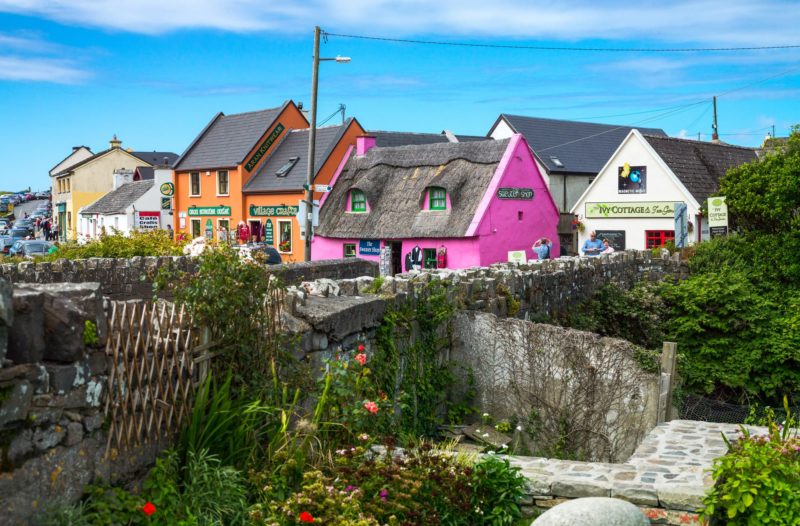 Loop Head
Often touted as better than the Cliffs of Moher – Loop Head is a relatively short drive from those cliffs. Loop Head, however, is worlds apart. Here you will find very little traffic, no parking lots and virtually no tourists. What you will find is the true virtually undisturbed Irish views and cliffs that you have dreamt about. If you wish to avoid shelling out high prices for tours of the Cliffs of Moher, explore on your own, go, and find Loop Head.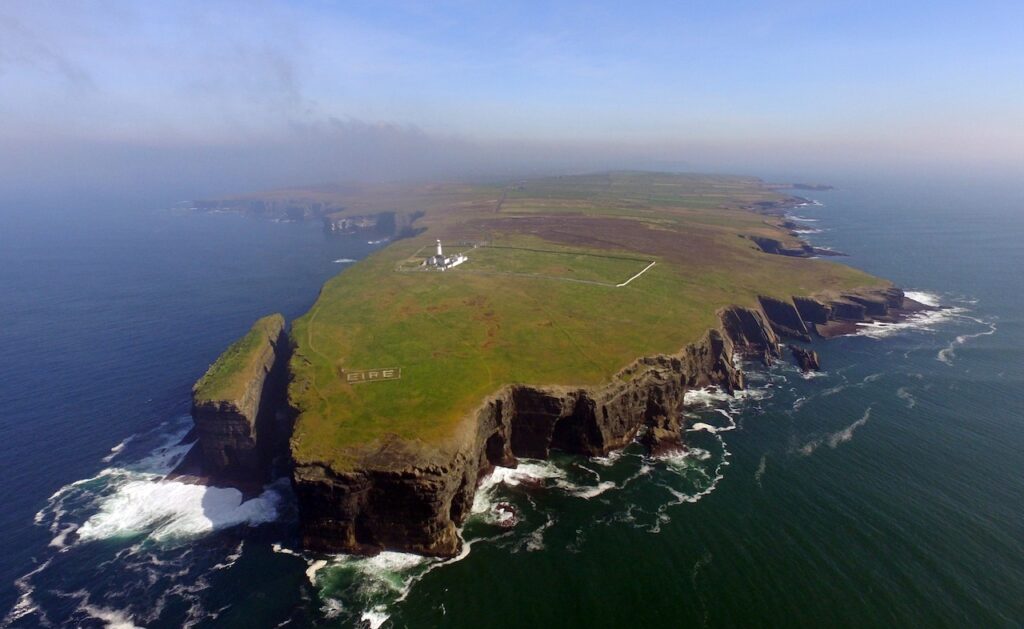 Faqs & highlights of County Limerick
Limerick is home to the longest footbridge in Ireland on the campus of the University of Ireland, this footbridge pans across the River Shannon, connecting the university grounds on either side of the river.
The world-famous Irish Coffee was first made back in the 1940s in the small port village of Foynes, Limerick
King John's Castle is the most Western castle in Europe
The Vikings invaded Limerick around 800 AD and called the area Hlymrekr
Limerick is the only Irish town to give its name to a style of poetry
Limerick was once declared a Soviet City – During the War of Independence, the British government declared Limerick a Special Military Area under the Defence of the Realm Act and the Irish responded by claiming the city was the Irish Soviet
As much as I like shopping at the Milk Market Limerick City is not one I would choose to stay in. I would head to Adare where you can stay in a very luxurious castle or perhaps Ennis which is another very pretty Irish town.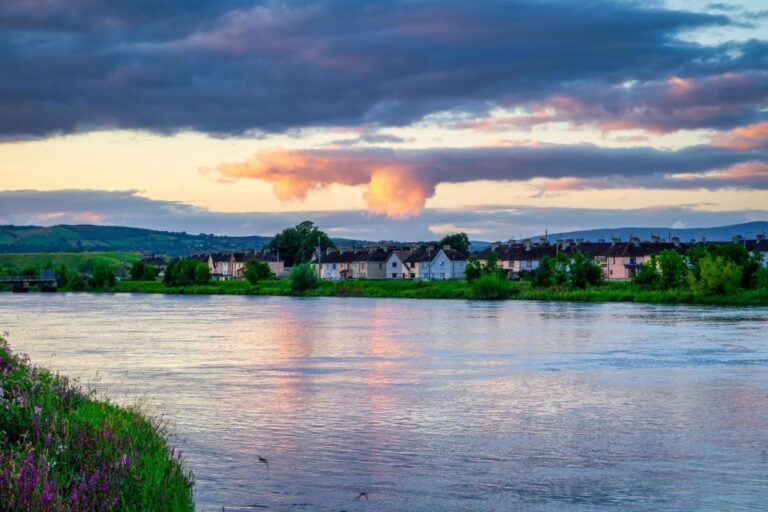 King John's Castle
King John's castle dates back to the 13th century and is one of the best-preserved Norman castles in Europe. The interactive visitors' centre offers to pull out drawers filled with artefacts including weapons and coins (minted in the castle) to dress up areas for children and cannonball games.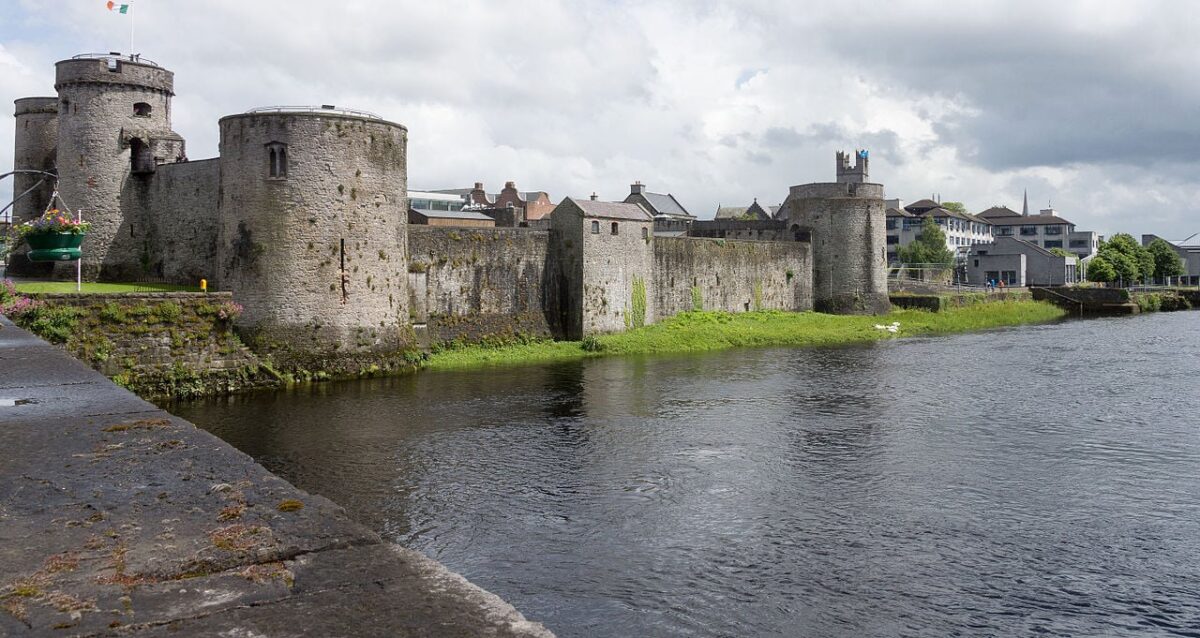 In the main courtyard of the castle, you can watch a blacksmith at work in his forge from the sidelines of a 17th-century siege. The castle itself has been restored beautifully, which allows you to climb several viewpoints that offer a 360-degree view of Limerick.
Lough Gur
Lough Gur, in Ballyhoura close to the village of Bruff, is a beautiful little lake with several archaeologically significant sites. At the Heritage Center, there are many displays that prove this was one of the oldest settlements in Ireland. Hundreds of ancient objects emerged, including a bronze shield, pottery fragments and spearheads.
The Lough Gur Stone Circle, located on private land, can be seen from Route 512 a short distance from Bruff. The circle, 46 meters in diameter within a perimeter mound, is the largest of its kind in Western Europe, estimated to be over 4000 years old.

The Limerick Milk Market
As in many countries, Ireland is working to emphasize buying local, buying fresh and supporting small producers and the Limerick Milk Market is the epitome of that ethos.
A bustling foodie mecca the Milk Market Limerick has something for everyone. From special events to foodie tastings and cooking classes the Milk Market covers the gamut of gourmet events in the area.
The freshest locally grown produce speciality bread from gluten-free to beautifully presented wheaten and sodas. The pastries, cakes and traybakes (what the Irish call things like brownies and dessert bars) this market has some of the best in Ireland.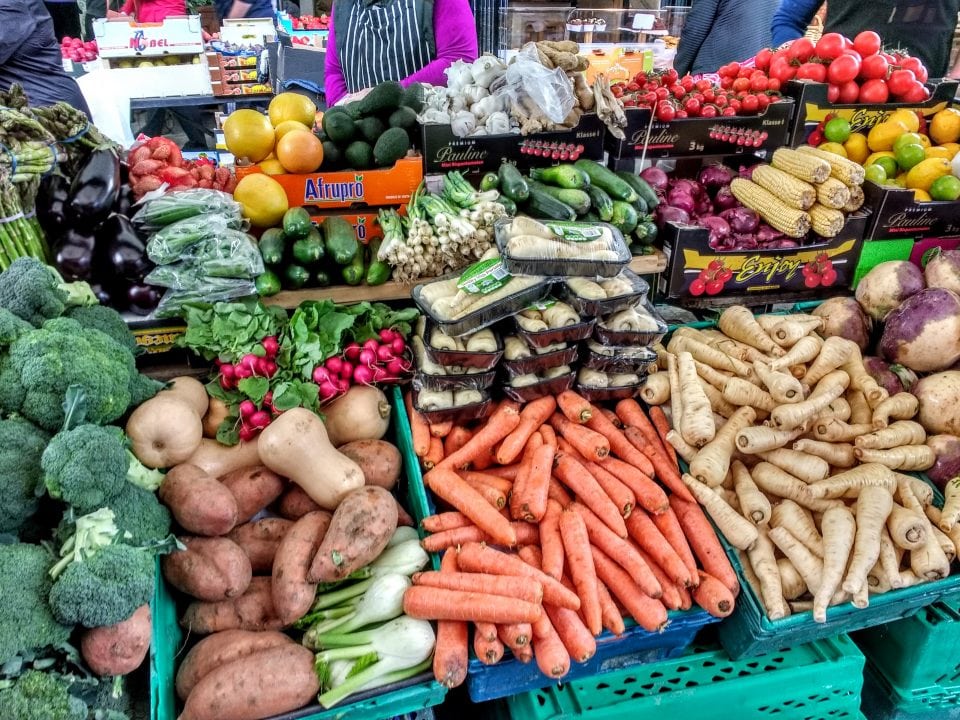 Faqs & highlights of County Kerry
Rural County Kerry is home to stunning natural sites like the Ring of Kerry, the Dingle Peninsula and the Skellig Islands.
Kerry is one of the most mountainous regions of Ireland and contains two of its three highest mountains, Carrauntoohil, part of the Macgillycuddy's Reeks range, and Mount Brandon, part of the Slieve Mish range.
Just off the coast are a number of islands, including the Blasket Islands, Valentia Island and the Skelligs. Skellig Michael is a World Heritage Site, famous for the medieval monastery used in Star Wars clinging to the island's cliffs.
Kerry contains the extreme west point of Ireland, Dunmore Head on the Dingle Peninsula
The most westerly inhabited area of Ireland is Dún Chaoin, on the Dingle Peninsula.
My absolute favourite place to stay in Kerry is Killarney. From here you can explore the Ring of Kerry, the Dingle peninsula and take a boat trip out to the Skelligs from Port Macgee. Don't forget to take a jaunting cart around the Ring but if you drive it go counterclockwise so you don't get stuck behind a bus. You can read my Ring of Kerry itinerary here.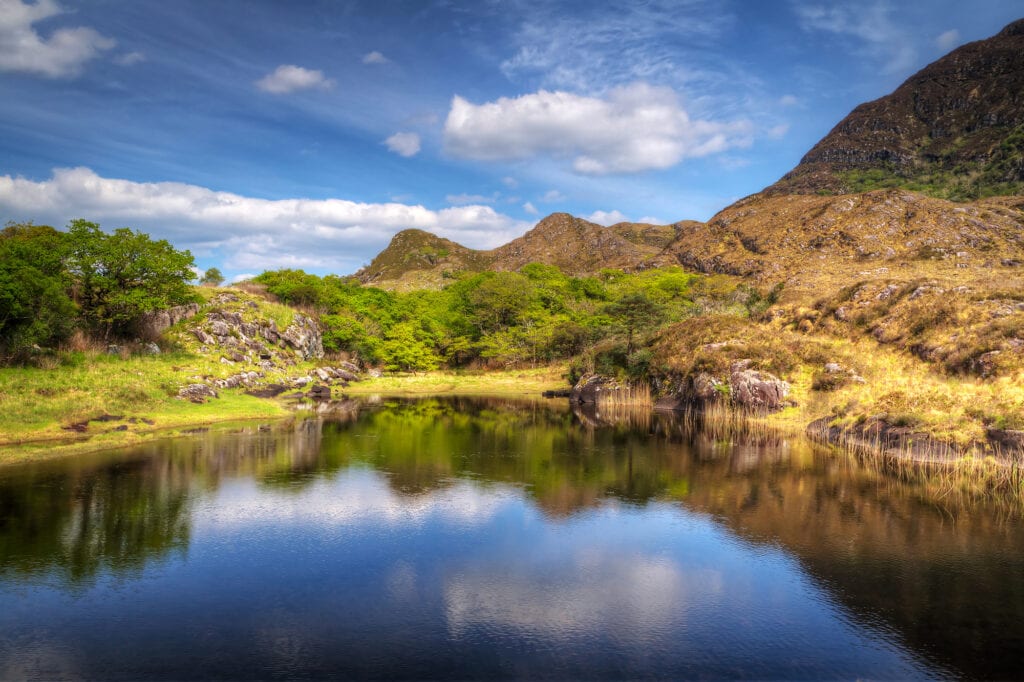 Dingle Peninsula
Lonely Planet says that Dingle is truly quaint without even trying. Dingle is famous for its traditional music pubs of which there are a number of as well as some great cafes and restaurants. It is, after all, an Irish "seaside" town and to the Irish, that means a visit for some Murphy's Ice-cream made only from Kerry cattle.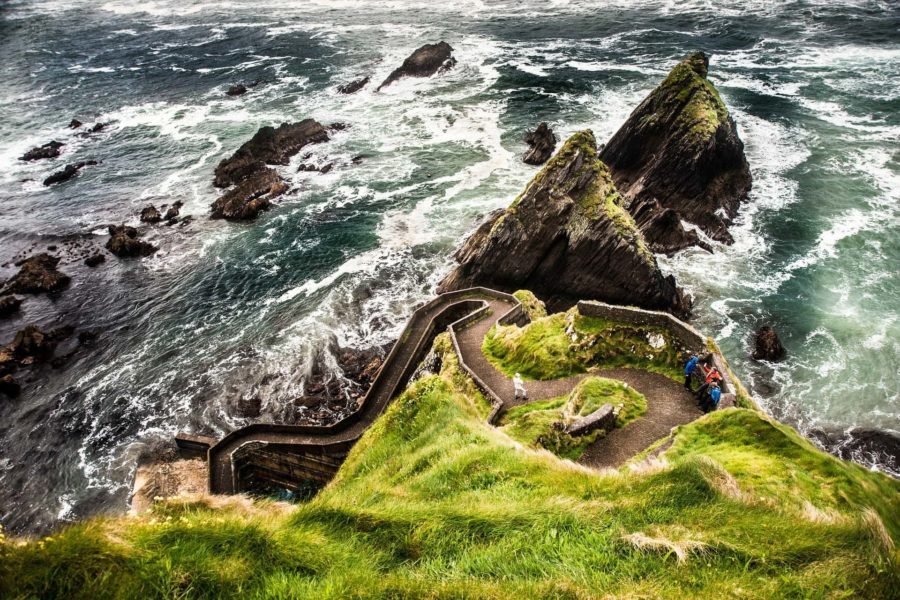 Ring of Kerry
The Ring of Kerry is a scenic drive around the Iveragh Peninsula in southwest Ireland's County Kerry on the wild Atlantic way coastal route. Taking you through some of the most breathtaking vistas in Ireland the route is a circular 179 km.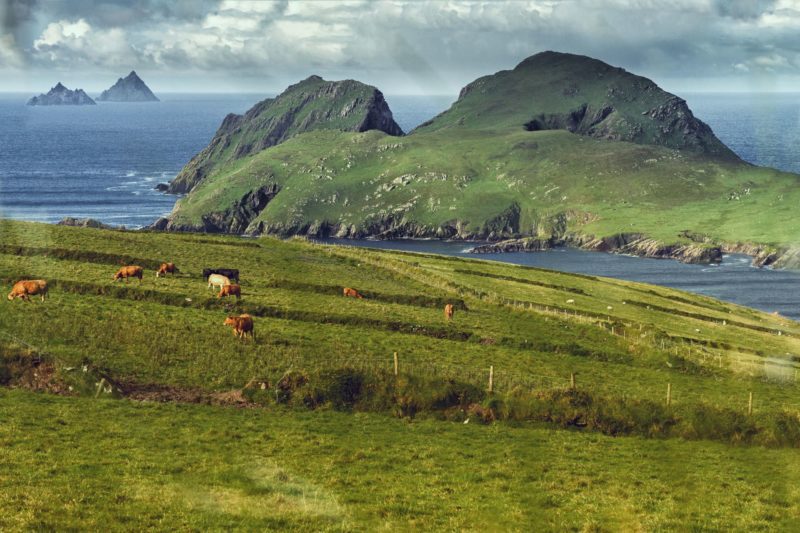 Beginning in the Killarney National Park, we started from Killarney. Staying in Killarney makes it a grand jumping-off point for the Ring of Kerry and you can easily book a jaunting cart to tour the Ring.
The Gap of Dunloe, Killarney
Everyone has heard of the jaunting carts and the trip through the Gap of Dunloe. This narrow mountain path sits between Purple Mountain and the evocatively named MacGuillycuddy Reeks. You can also do a boat tour from Ross Castle through the lakes and you can get dropped off at Brandon's Cottage. From there you can grab a cart or walk the 6 miles between the mountains if you fancy it.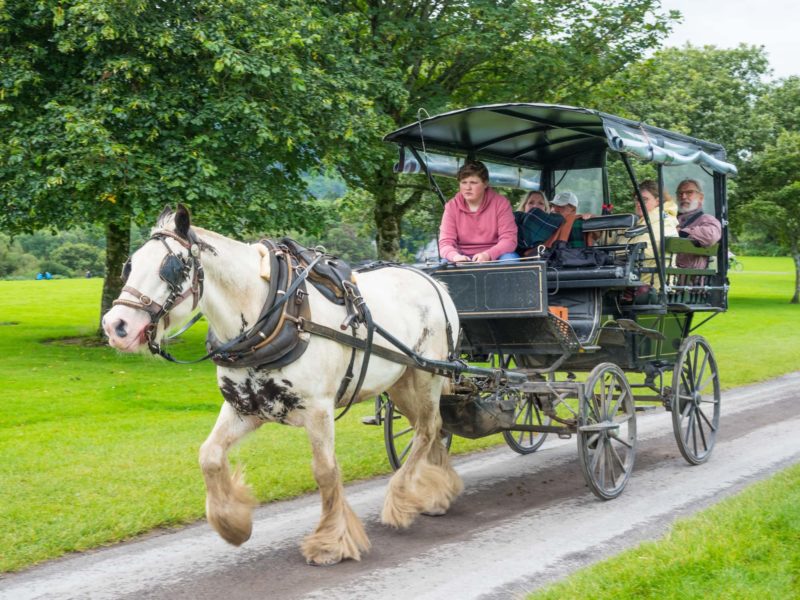 Driving the Gap of Dunloe in a private car can only be done during the off-season and should only be attempted by the brave! The single-lane road leaves little room for passing and blind corners will test your nerves to the breaking point.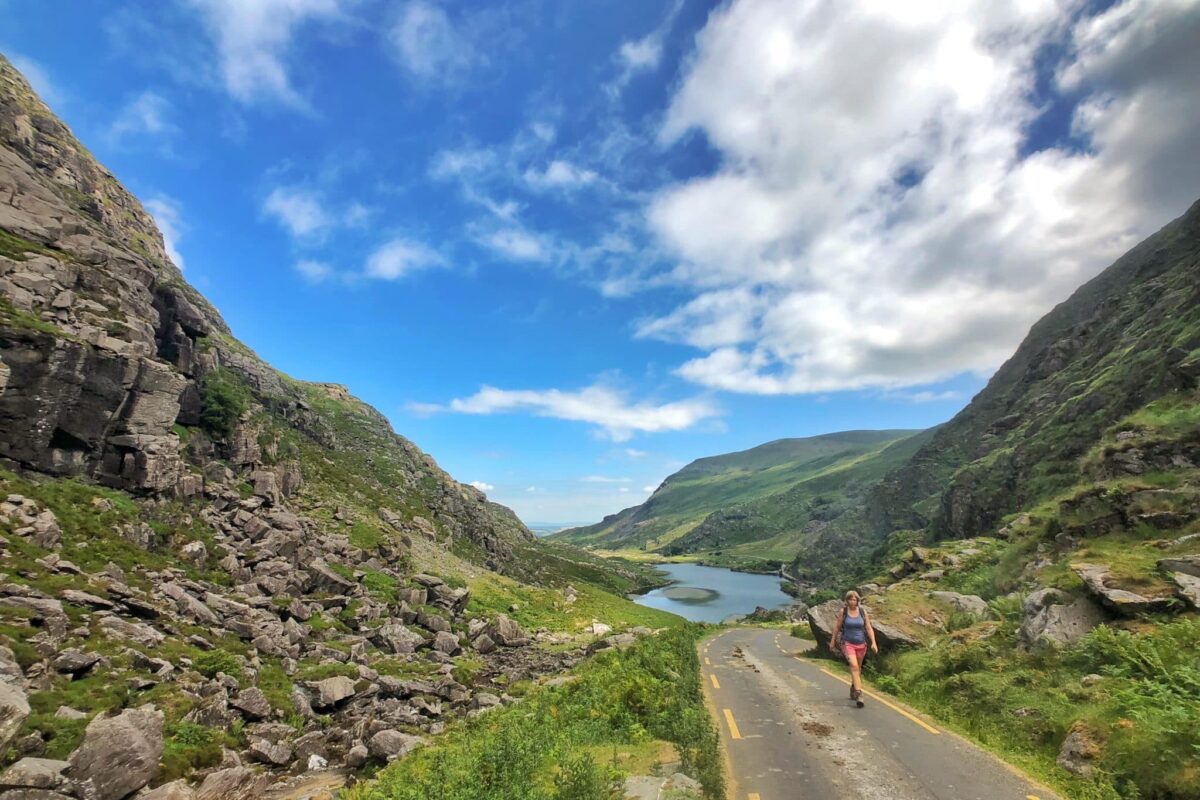 The Skelligs
Skellig Michael & Small Skellig lie 13 km from the southwest coast of Valentia Island. Weather permitting you can head to the Skelligs by way of boat. Over 1400 years ago Skellig Michael became home to a small group of men seeking religious solitude and isolation.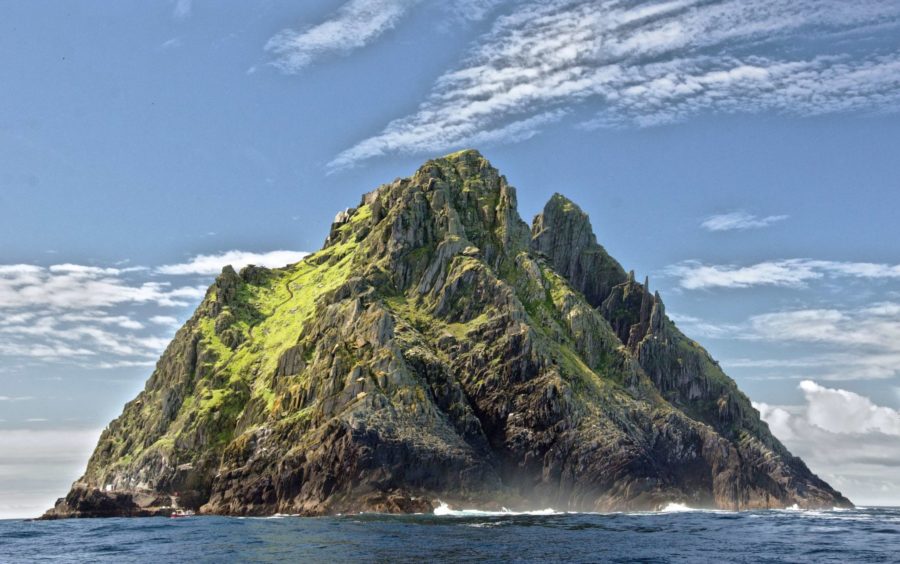 You can take two types of tours to the Skelligs. The cruises of the Skelligs are usually 2 hours long & run between April & September. You should book a trip around 6 months in advance but be prepared for the wild Atlantic Way as there is no predicting whether or not the boats can sail.
Faqs & highlights of County Cork
The Royal Cork Yacht Club is the world's oldest yacht clubThe Crosshaven club is said to be the oldest yacht club in the world. It was originally founded in Haulbowline Island in 1720.
The Dursey Cable Car is the only cable car to be found in Ireland
The first steamship to leave Ireland and cross the Atlantic sailed from Cobh
The first documented immigrant at Ellis Island came from Cobh
In 1903 Cobh hosted the first motor boat race
Skibereen was home to Europe's first Temperance Society.
The first potato was planted in Cork by Sir Walter Raleigh, the man who is said to have brought the potato crop to Ireland from the Americas, is said to have planted the first potato near his home in Youghal around 1588.
Cork is high on everyone's list and of course, a visit to Cobh where the Titanic left on its fateful voyage is a must-do. I wouldn't stay in Cobh though as it is a very short drive from Cork. Cork is a really vibrant town with lots of trad music pubs and a great foodie scene.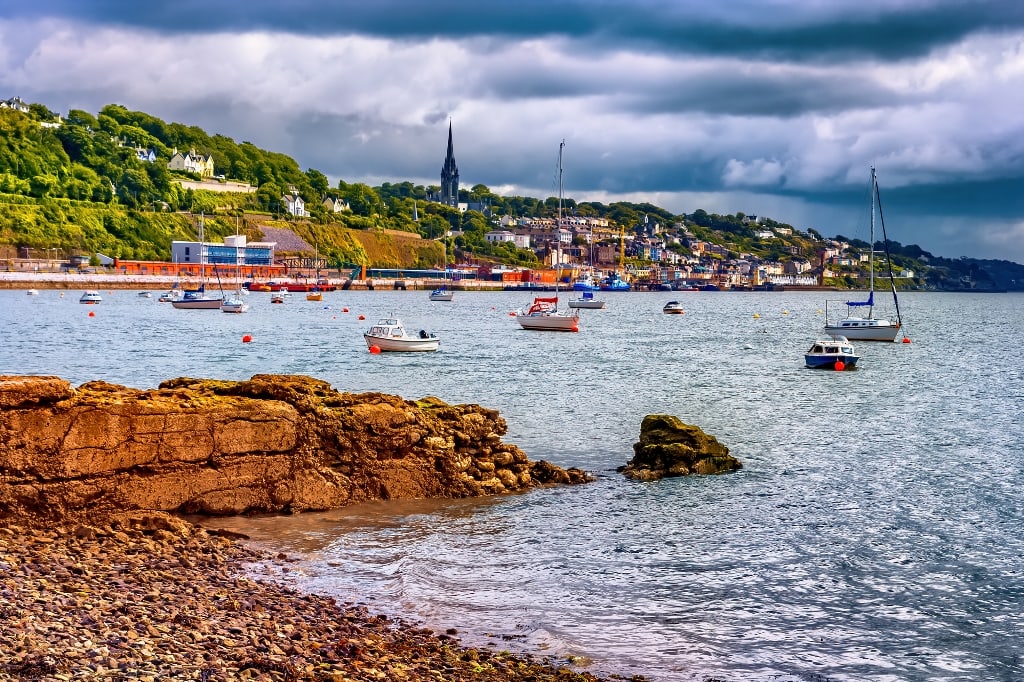 Kinsale, Old Head
Ever since I moved to Ireland, one of my favourite places to visit is the cliffs at Old Head in Kinsale as it is the perfect day trip. For me, this place totally represents Ireland – beautiful nature, lots of green and fresh air.
The best way to get there is either by car (if you rent one) or by bike since it is located about 10km away from Kinsale city centre. You can walk/climb around the cliffs on both sides, while one is more open and the other one quieter and wind safe. There is no fence protecting you from the edges since this place is pure nature. So, be careful in case you are there on a windy day.
After visiting the cliffs, it is worth exploring Kinsale. It is a very small town; you can literally walk through within 30min. On Main Street, you should grab a bite at the Lemon Leaf cafe/restaurant to finish off your trip. From Sixtine of Six Miles Aw
Blarney Castle
Probably one of Ireland's most famous landmarks the legend of the Blarney Stone is one that many tourists pilgrimage to. Not my idea of fun as you have to hike up many stairs and then take care that someone has a good grip on you as you literally bend over backwards to kiss the stone. But it does seem to be high on many a bucket list.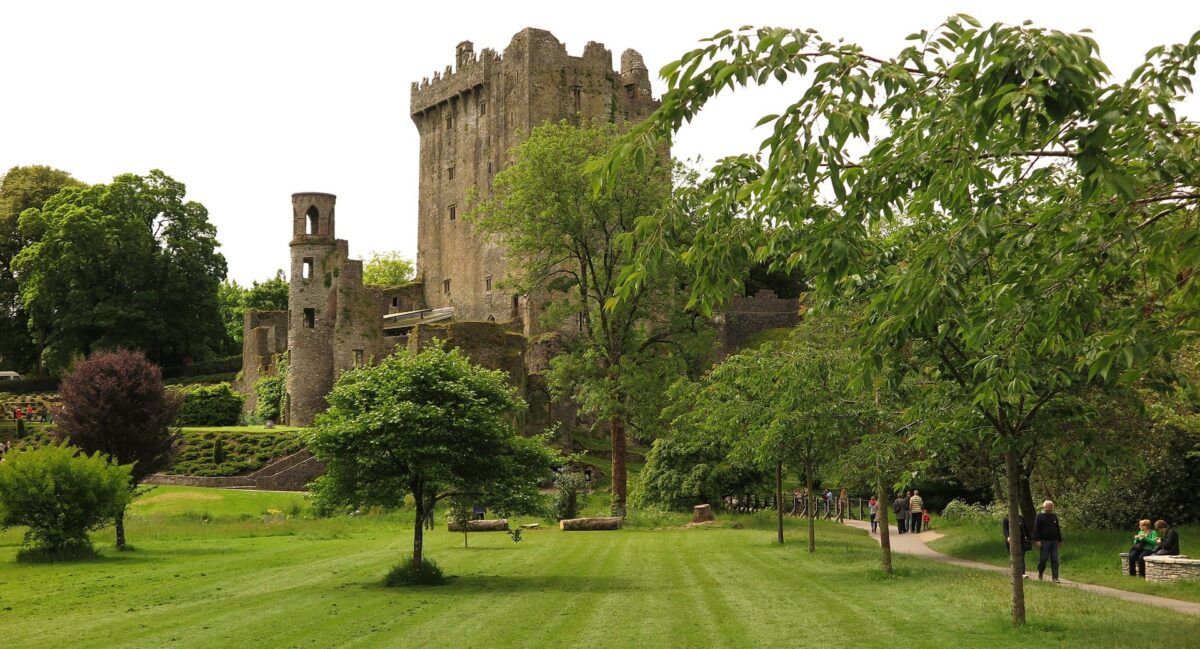 Gougane Barra
On a small island in the middle of a beautiful lake sits one of the most romantic places in Ireland. Never has there been a prettier location for a church (Glendalough included) than St Finbarr, patron saint of Cork's Oratory. This has to be one of the most beautiful places to visit on the Wild Atlantic Way route but beware of its tiny little single-lane roads if driving.
A deep U-shaped valley carved out of the mountains of West Cork at the end of the last ice age, Gougane Barra is also, where the Lee River rises. Up until the 1930s, this area was covered with smallholdings, with farmers and shepherds following the pilgrim paths for 100s of years.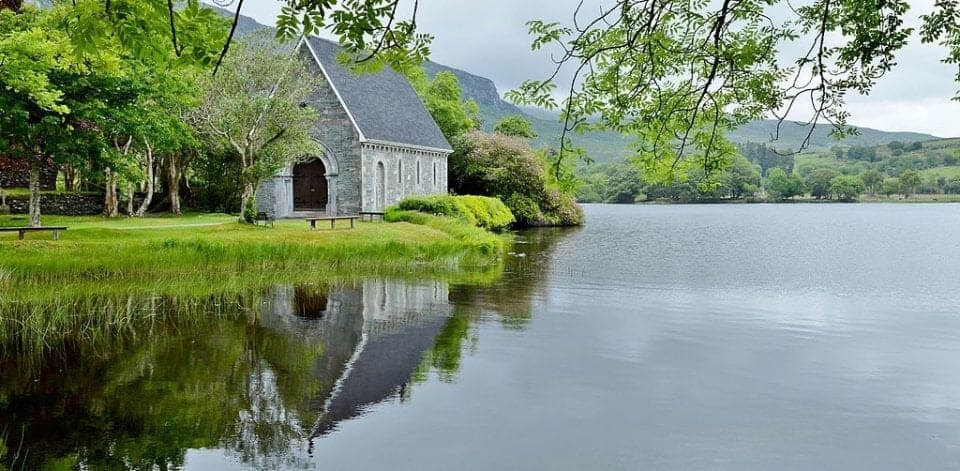 Gougane Barra Park has developed more of a recreational focus and is the only National Park in Ireland that you can actually drive into and around for a small charge. Although it is a lot healthier and more environmentally sound obviously, to leave your car and walk. There are 5 km of roads and 10 km of hiking/biking trails.
Ring of Beara & Dursey Island
The Ring of Beara is a stunning circular drive in southwestern Ireland, lesser-known than the Ring of Kerry just to the south. The trail around the Beara peninsula begins in Kenmare and takes in some beautiful panoramic views.
At the end of the Beara Peninsula is Dursey Island & Ireland's only cable car, which connects Dursey Island (County Cork) to the mainland. You can visit the Island via cable car and you can find the opening times of Dursey Island Cable Car here.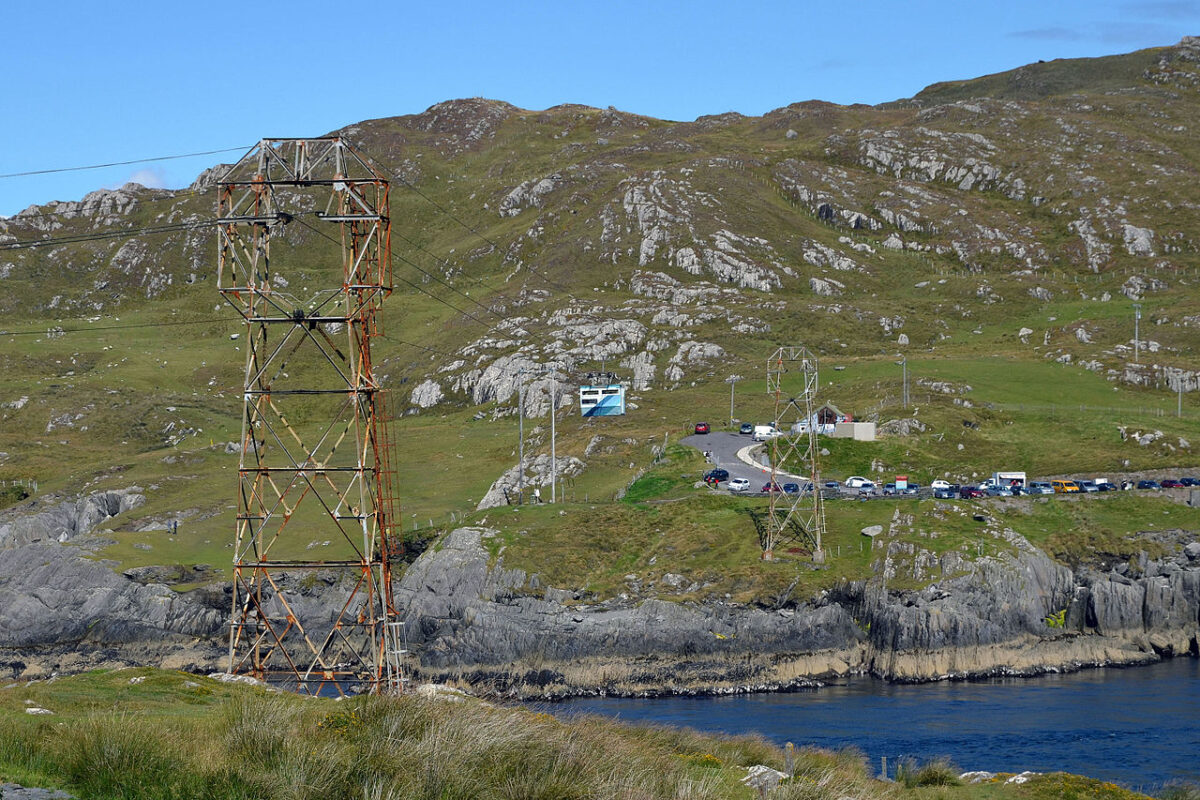 There are perhaps half a dozen occupied houses on Dursey Island, mostly small crofting farms, along with holiday cottages you can rent. Please note though there are no shops, pubs, restaurants or anywhere else to buy anything, so do take any food & water you might need with you.
Martello Tower
The Martello Tower is over 200 years old and stands on the top of Western hill. It was built as a lookout for French invasions during the Napoleonic Wars. There are towers dotted along the whole coastline, each insight of each other. They would each have a fire built and ready on the roof, and if enemy ships were spotted the fires would be lit, the signal travelling tower to tower to rapidly send the message back that an invasion was imminent.
If you would like to read more about the Beara Peninsula take a look at Naddya's article on the Beara Peninsula: Spectacular Views, Kind People, And Delectable Food.
The English Market in Cork
The English Market is intricately linked to the city of Cork and over its 218 years of history, it has been a bastion of Irish food traditions. To this day, even among the "foodie" trends of the middle class the Market still supplies old-school favourites like crubeens, drisheen and tripe to its customers.
For those who don't know crubeens are boiled, battered and fried pig's feet, drisheen is a type of black pudding made from a variety of animal blood, black pudding is sausages made from pigs' blood and white sausages are made from the fat from pigs. Tripe is from a cow's stomach when I was a kid my grandfather used to boil it on the stovetop for hours (yes, it was disgusting).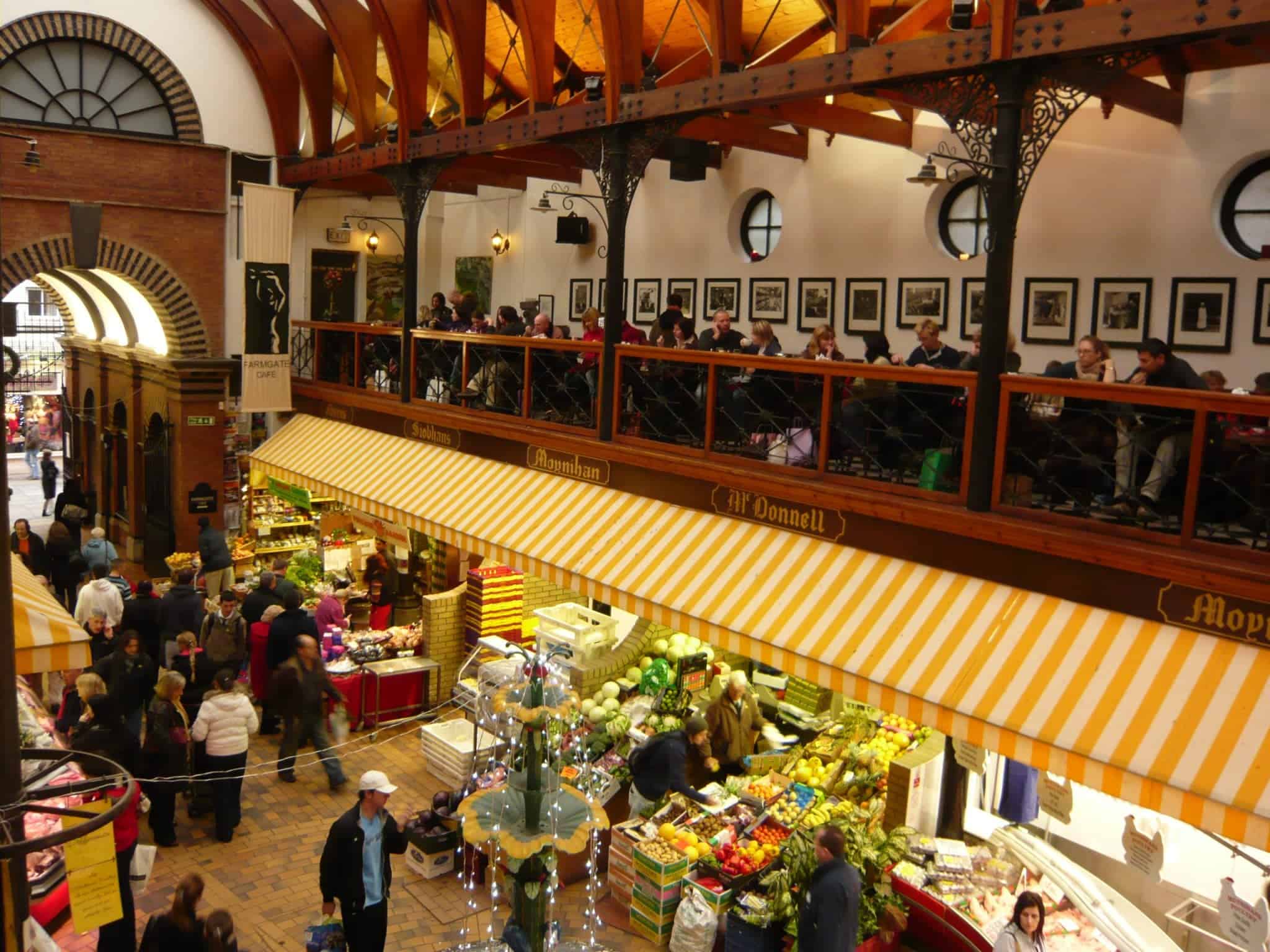 Mizen Head
If you're short on time in Ireland or simply want to experience a great mixture of amazing landscapes, incredible history, and charming Irish towns in a short period of time, the Haven Coast leg of the Wild Atlantic Way is a fantastic place to start. This itinerary takes you past colourful villages, for a tour through the star-shaped Charles Fort, to weather-beaten headlands, past stunning beaches, and leads to amazing ancient artefacts.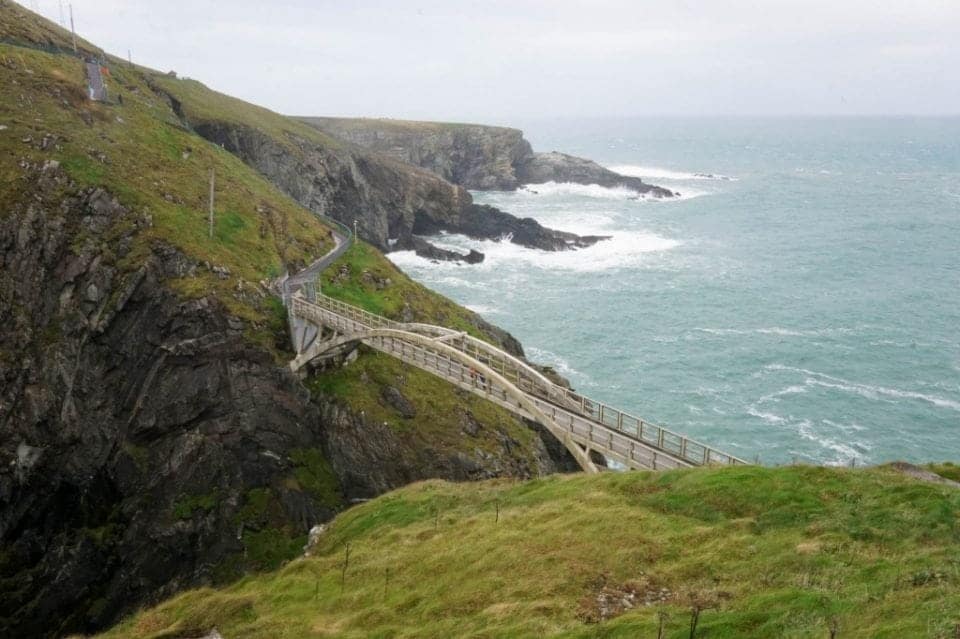 It's entirely possible to drive this route in a day, but I'd recommend spreading it out over two or three days to appreciate the sights on the way. I particularly enjoyed spending time at Mizen head with its walkways and breathtaking viewing platforms, and Gougane Barra, which is even more spectacular at night. Written by Nadine of Lelongweekend
Cobh
Cobh makes a perfect day trip from Cork and you can enjoy the fascinating Cobh Heritage Centre, talk an uphill walk to the Cobh Cathedral and check out the colourful houses, enjoy sailing on the bay, and learn about the tragedy of the Titanic.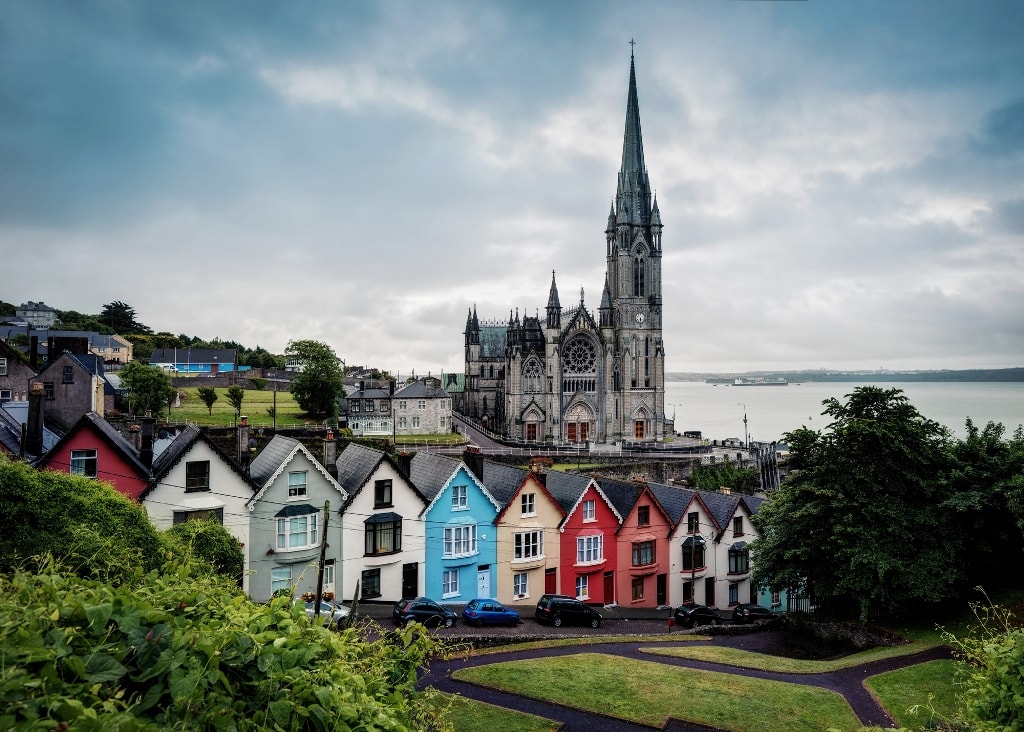 There you have it – not by any means a complete guide to the Wild Atlantic Way but some of our favourites along the route. You can also pick up a free Wild Atlantic Way guidebook. This great 24-page guide will help you plan your next trip to Ireland. It has pages for each county along the coastal route showing county maps of the official Discovery Points plus more detail about the main Signature discovery points in that county.
Touring the Wild Atlantic Way is an unforgettable experience that offers visitors a glimpse into the untamed beauty of Ireland's rugged coastline. From breathtaking landscapes and charming towns to rich cultural heritage and warm hospitality, this 2,500 km route has something for everyone. Whether you're exploring ancient ruins, hiking along cliff tops or indulging in fresh seafood, you'll be immersed in the natural wonders of this stunning region. So pack your bags and hit the road to discover the magic of the Wild Atlantic Way for yourself!
What's your favourite place on the Wild Atlantic Way route?
More articles to read before visiting Ireland
27 Things to do in Galway in 2 days
A Traditional Irish Breakfast – the lush full Irish breakfast
101 Landmarks in Ireland to see
Ireland's Ancient East – an epic road trip
Ancient Ireland 30 sacred places
Cool things to do in Dublin off the beaten path Ireland
Ultimate Ireland Road Trip Itinerary in 14 days
Pin it for Later

Latest posts by Faith Coates
(see all)