Best Things to do in Galway City
Have you been to City of Galway on the Wild Atlantic Way yet? When planning a trip to Ireland most tourists want to visit Galway and see all the attractions and enjoy a taste of Irish life. If not here is a brilliant Galway itinerary for spending 2 days in Galway. Galway is full of surprises and there is a ton of things to do. Recently named the European Capital of Culture Galway is planning some brilliant events and hoping for some great craic.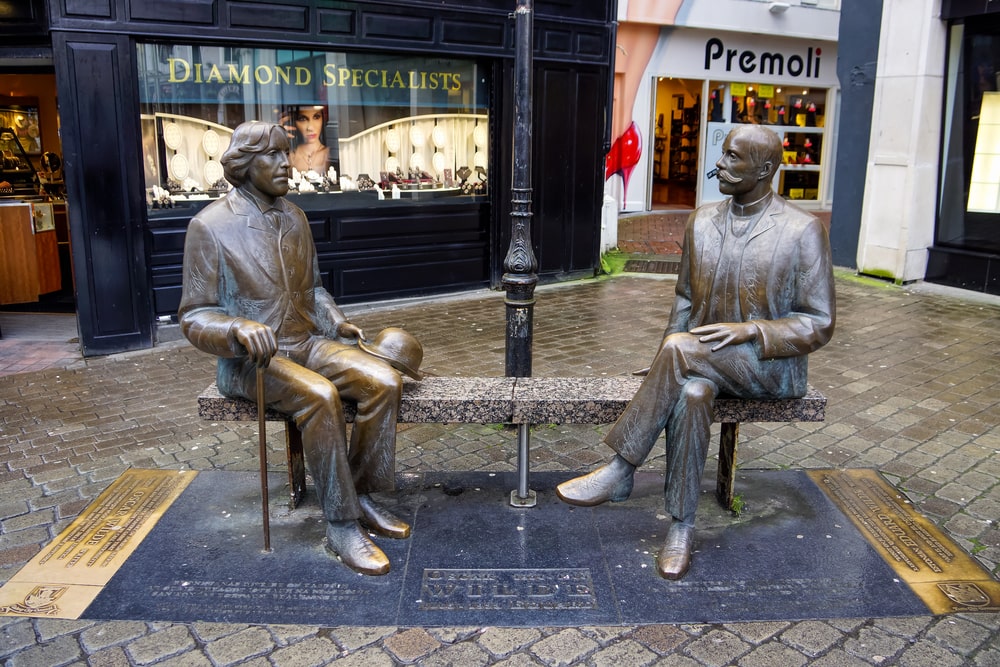 This promises to make Galway City one of the best places to visit in Ireland. Spending 2 days in Galway may not be enough but for a first-time visitor, 48 hours in Galway will make you dream of coming back for years to come.
How many days do you need in Galway? You can see most of what Galway City has to offer in a couple of days. But if you want to explore beyond the city you may need 3 or 4 days but be smart and rent a car to get the most out of the area.
A must do is to head to some pubs for live Irish music in Galway and if you are in Ireland for Christmas check out the Galway Christmas market.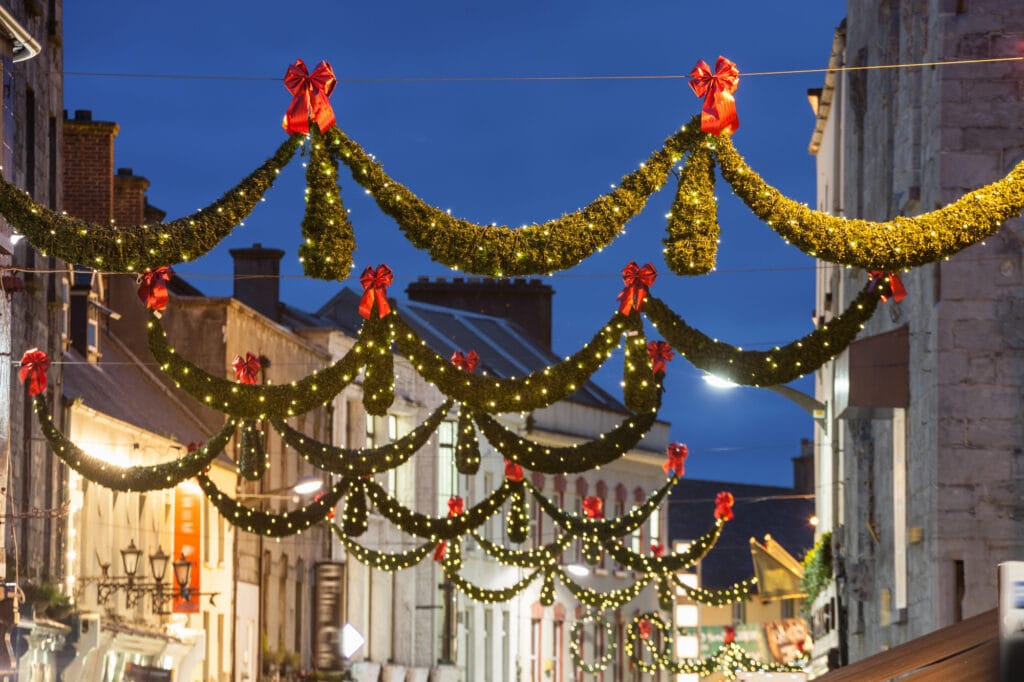 Galway is one of those cities that live for music. Wandering the streets of Galway you are bound to find a busker or 6 performing on all the corners of the main pedestrian area. Just one of the many reasons to love Galway. My Galway bucket list always includes finding out where the best traditional music is played.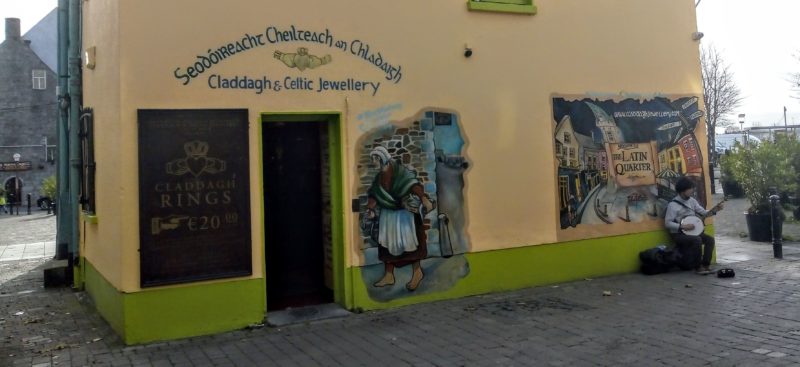 My second reason for loving Galway is the riot of colour found everywhere. Galway City is a treat for the eyes and they make the most of colour from top to bottom. The craic is mighty in Galway and the soul of the city dances in the streets most days even when raining.
Galway is a great place to use as a jumping off point to visit some extraordinary sites. My third reason for loving Galway is its proximity to fabulous places to visit such as Westport a gorgeous village that everyone should see and the distance from Galway to Westport is just an hour's drive. There are also the Aran Islands and Connemara National Park and of course the famous Kylemore Abbey within an hour and a half drive.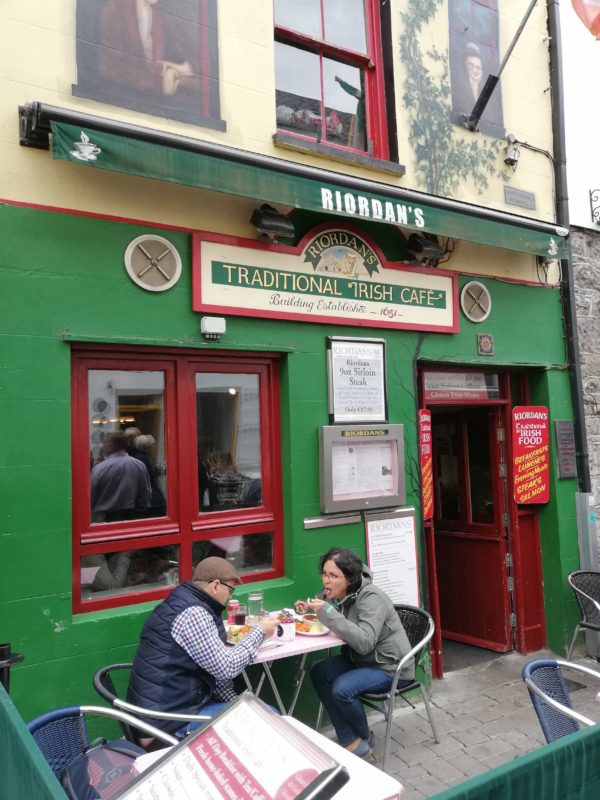 Xyuandbeyond is reader-supported. When you buy through links on our site, we may earn an affiliate commission. You can read my privacy policy here.
Dublin to County Galway
Best airport for Galway? Shannon Airport is the obvious choice but it can cost a lot more to fly into Shannon. The drive from Shannon to Galway is only an hour long so very convenient.
How to get from dublin airport to Galway? Galway is about a 3-hour drive from Dublin and there are plenty of buses and trains that can get you there via public transport if you don't want to rent a car.
If you want to take a train from Dublin to Galway you need to get to Heuston Station in central Dublin. The train journey takes around 2 hours 45 minutes, and prices usually range between 18-22 euros each way. Trains run between Dublin and Galway every day and are operated by Irish Rail. Trains depart Heuston Station in Dublin bound for Galway every two hours.
From Shannon Galway is about an hour's drive although of course, you can add some time if driving into Galway to your hotel.
Bus Éireann services run from both Dublin Airport and Shannon Airport and the bus ride to Galway from Shannon takes about 2 hours and from Dublin around 3 or more hours. You can get the train from Heuston Station in Dublin if you are in the downtown area and that will take around 2 hours as well.
You can see Ireland by rail and bus but it can be a total chore if you are outside a major city. Not to mention the bus schedules and train schedules are pretty limited and it can add so many hours to a journey it's just not worth it. I will always recommend renting a car here, yes, it can be more expensive than you thought as there are no rent-a-wreck places and insurance can be pricey. However, the sheer bliss of being able to go where you want to go when you want to go is brilliant. Google maps, by the way, can be loaded onto your phone and used offline.
Things to do Galway city center
Here are some of the best things to do in Galway for 2 memorable days in this Irish town.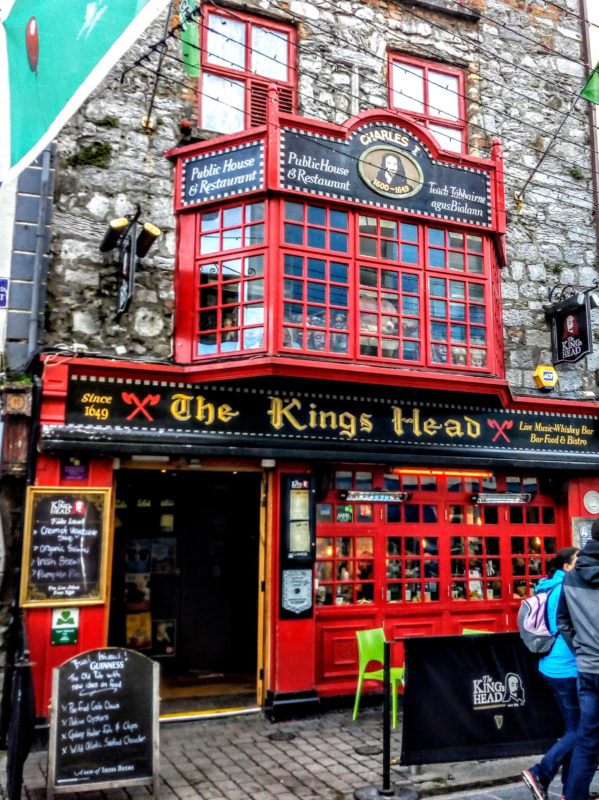 How to hire a rental car in Ireland
Things to See and Do for 2 days in Galway City Centre
Head to a Galway Festival
Visit Galway Cathedral
hit Shop Street for some shopping and watch buskers
on Shop street find Treasure Chest one of Galway's oldest shops.
grab a coffee and people watch on Shop Street
Visit Charlie Byrne's Books and inhale the rich smell of the printed word
visit the Claddagh Museum
See Santa Claus's Church
head to Galway's colourful Latin Quarter
try some world-class Irish Cuisine at Ard na Bord Nimmos
revel in Galway's history at the Galway City Museum
Take the Long Walk
take a long luxurious afternoon tea break at Cuppan Tae
stroll through Eyre Square officially renamed John F. Kennedy Memorial Park in 1963.
Stroll the ancient quads of the National University of Ireland
Take a cruise in a hooker
Festivals in Galway
One of the best things to do and see in Galway is a festival. Always a hopping City Galway is known for its grand variety of festivals and special events here are just a few you could attend. If you only have 2 days to visit Galway check out some of these festivals that will fill the city with music, laughter and good times.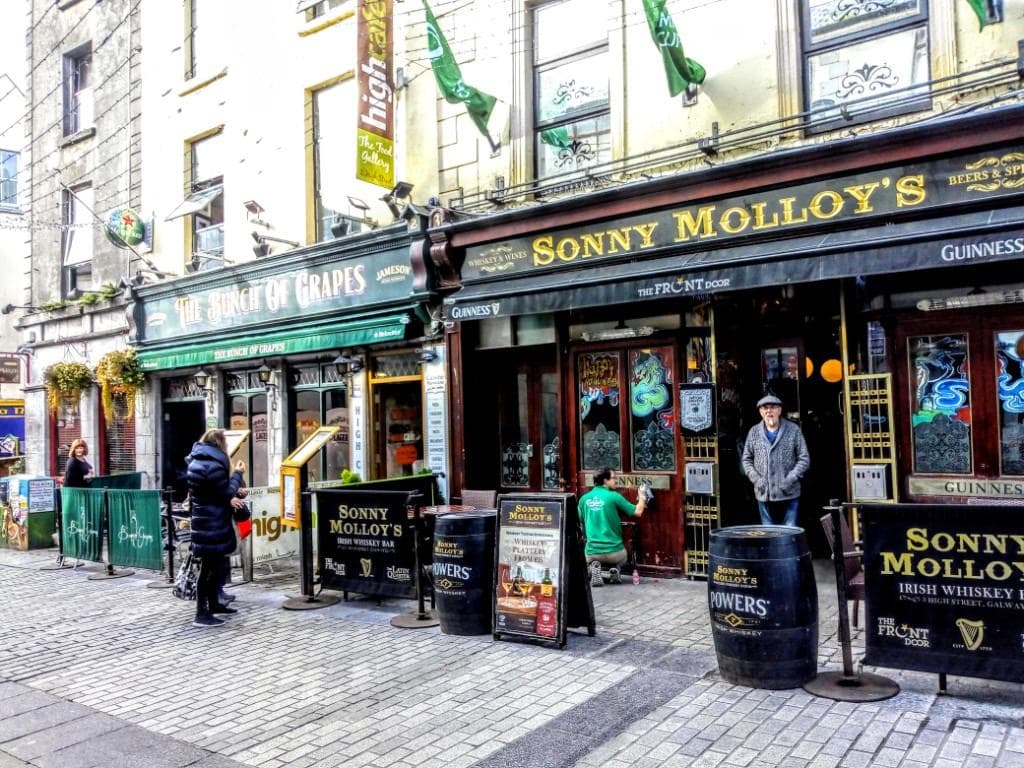 Seafest Maritime Festival
Celebrating the sea and everything that comes from it. Cookery workshops, tour ships, watersports and demonstrations. Takes place in early July.
Galway International Arts Festival
A huge artistic spectacle with theatre and circus performances including a Big top and stunning visual arts exhibitions. Takes place in mid-July.
Galway Fringe Festival
Local, national and international artists will take to the stages around Galway for intimate shows and presentations of art, music, theatre, dance, literature, comedy, cabaret, and more. Takes place in late July.
Cruinniú Na Mbád
Also known as the Galway Hooker Festival, the traditional Galway sailing vessels – some new, some over a century old – turn out for this celebration of age-old commerce, friendly sailing competitions and more. This takes place down the road in Kinvara which is about a 15-20 minute drive.
The Galway International Oyster & Seafood Festival
The Corrib River runs through the center of Galway and connects Lough Corrib, the largest lake in Ireland, with the Atlantic Ocean. The Inner Galway Bay is a shallow sheltered part of the larger Galway sea bay with numerous inlets and small islands and is internationally renowned for its oyster fisheries. One of the best Galway top attractions is the annual four-day event is held each year on the last weekend of September in the centre of Galway City. The world's longest-running Oyster Festival and expected to take place from Friday, September 25th to Sunday, September 27th 2020 at the Nimmos Pier Marquee.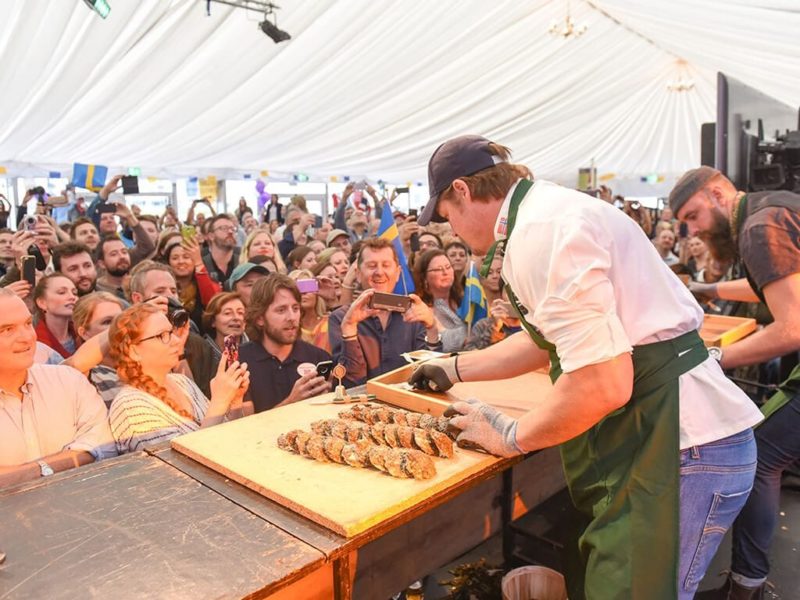 Galway Cathedral
Galway Cathedral is one of the largest and most prominent structures in Galway, situated on Nun's Island along the western side of the River Corrib, near the Salmon Weir Bridge.
The Cathedral of Our Lady Assumed Into Heaven and St Nicholas is one of Galway's most iconic buildings. Finished in 1965, the cathedral isn't very historic and it has received some terrible reviews calling it a "monstrosity" but it is the last stone Cathedral to be built in Europe. It does have some lovely stained glass windows and a pretty cool mosaic of JF Kennedy.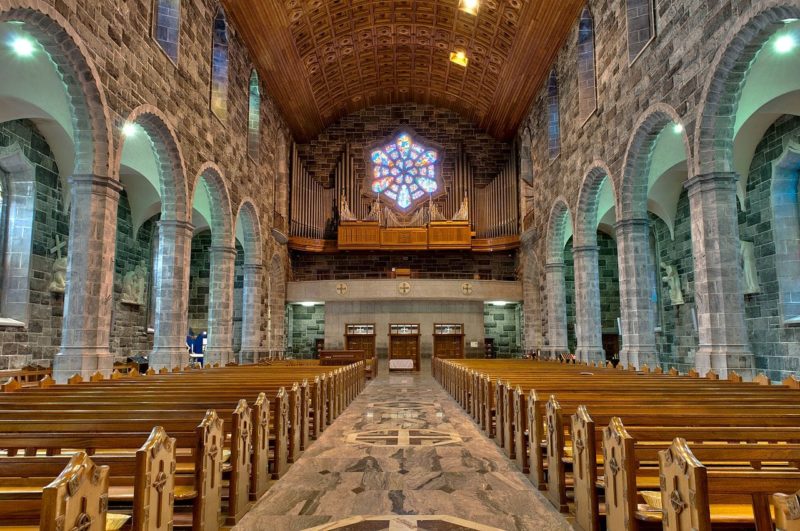 Shop Street
An absolute riot of colourful buildings, wonky stone and cobbled pavements and some really fine shopping. Shop Street is currently undergoing a lot of renovation as the sidewalks have heaved over the years and for the mobility challenged they make walking very hazardous unless you keep your eyes on the ground at all times. The streets are also quite dirty, garbage pick up or even putting in a bin doesn't seem to be a priority for Shop Street.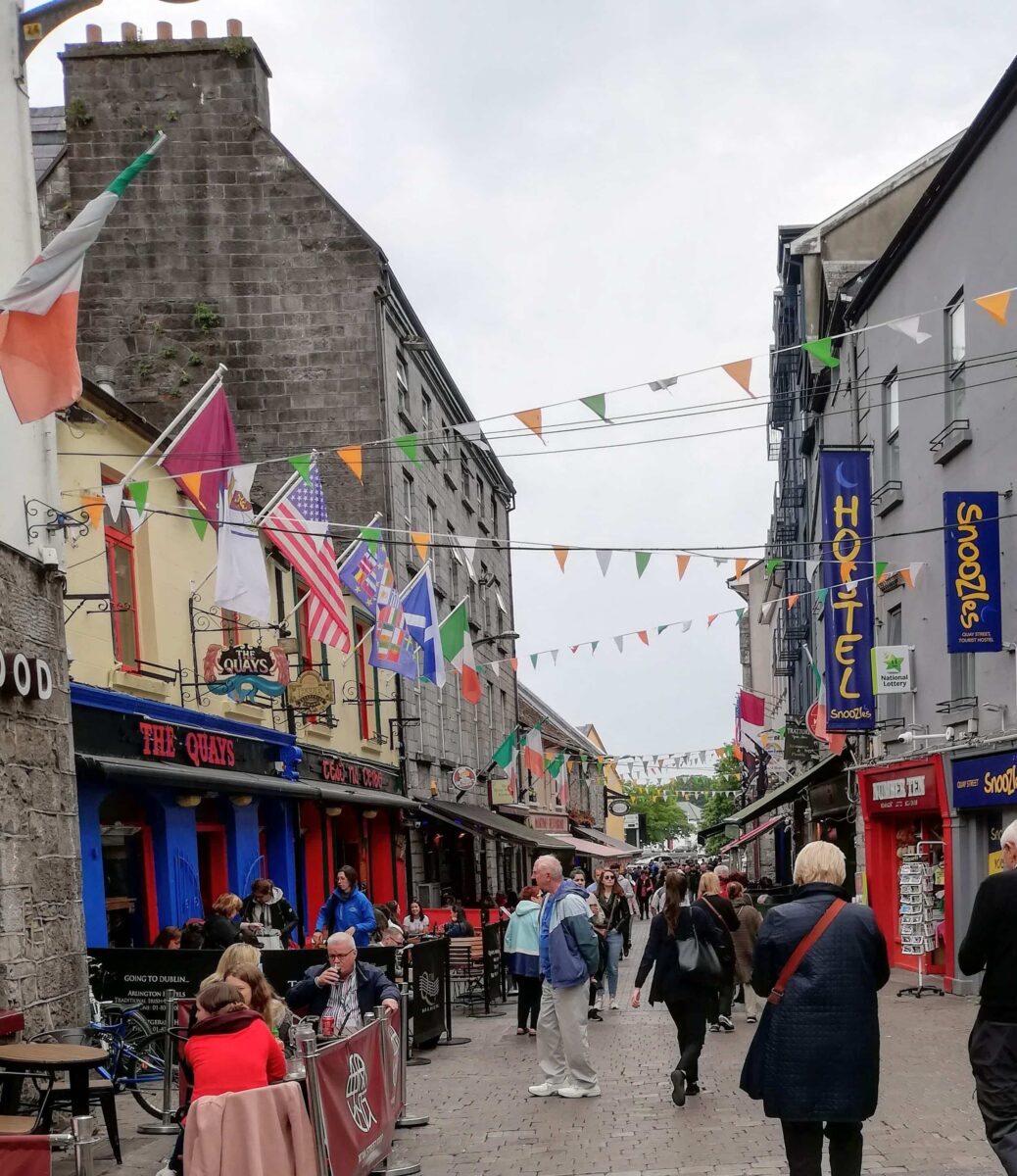 What Shop Street does have though is some great stores from Brown Thomas one of Ireland's top luxury department stores to McCambridge's, an Irish delicatessen (not like an N. America Deli though) but it's been a foodie hangout forever and a great place to big up some truly authentic Irish jams, chutneys, sauces and ingredients like seaweed and sea salts.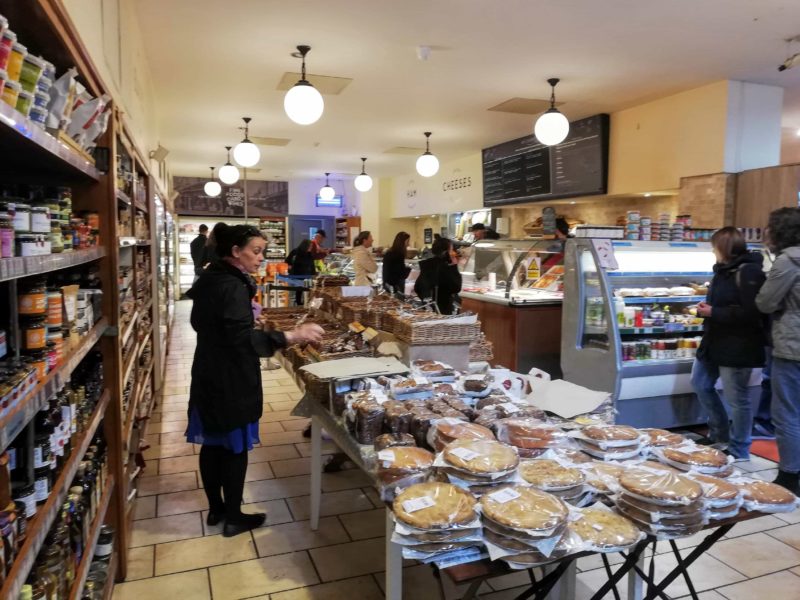 Visit Charlie Byrne's Bookshop
You will find Charlie Byrne's Bookshop just off Shop Street on Middle Street and it is here you will be in awe of their selection of 10,000 books to select from. In the warren of rooms, you will find every genre of fiction and non-fiction you can imagine.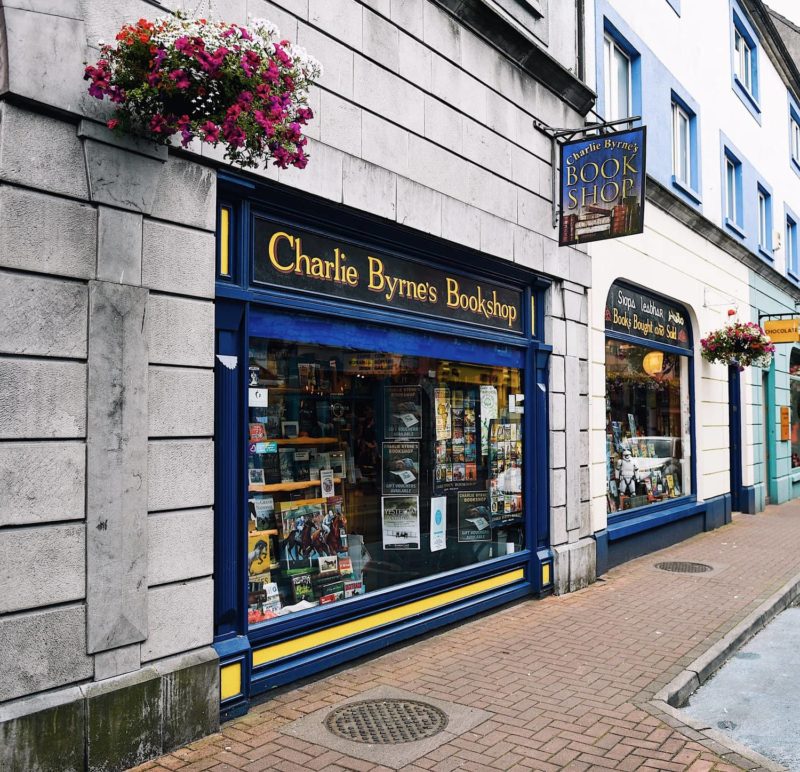 Claddagh Museum
At 26 Shop Street, you will spot the Claddagh Museum. There's a small museum in which you can sit and watch an interesting film on the Claddagh legend and there are examples of Claddagh rings and their meanings when worn different ways. The shop also houses a workshop where you can see rings being made. This is the perfect place to pick up your Claddagh ring.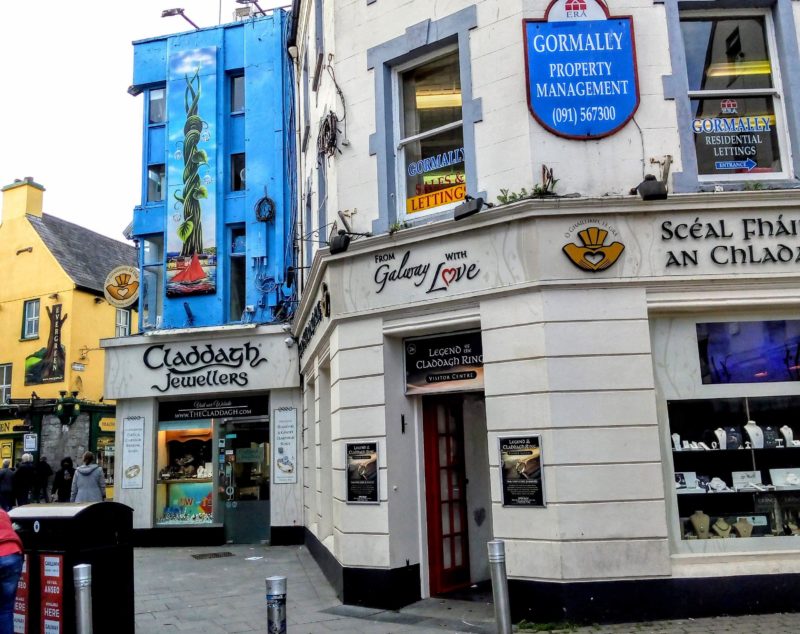 Can't get to the Claddagh Museum? Purchase your Claddagh ring or even a Claddagh door knocker from Amazon. Just click on the photo for a closer look.
Beautifully delicate ladies Claddagh and a heavier men's Claddagh both in gold.
A beautiful men's Claddagh Ring
St Nicholas of Myra Church
Down a little side alley from Shop street, you will spot the 14th century Church of St Nicholas of Myra, built from Connemara Marble and local limestone and named for the saint otherwise known as Santa Claus.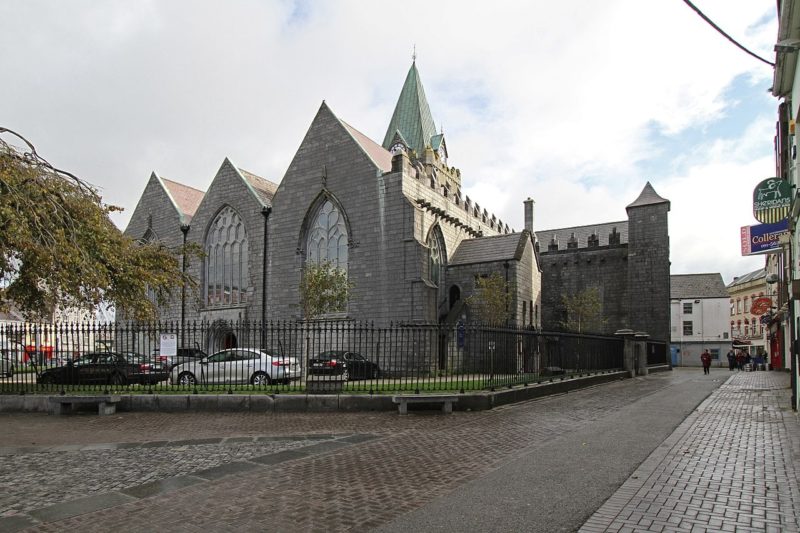 If you are in Galway on a Saturday the area outside the church will be a hive of activity as a weekly market takes place there. A lovely little market that showcases a lot of locally produced food and crafts and it's well worth coming into the city for
Wander Around the Latin Quarter
The city also bears the nickname City of the Tribes / Cathair na dTreabh, because "Tribes" (merchant families) led the city in its medieval period. The term Tribes was originally a derogatory phrase from Cromwellian times.
The Latin Quarter is a district of cobblestone streets in the old city center of Galway, on the left bank of the River Corrib and dates back to this time period. The Latin Quarter of Galway City extends from the Spanish Arch to O'Brien's Bridge to St Nicholas' Church to Middle Street and features many beautiful examples of the city's medieval heritage with 2 arches from the City walls left . The main street is called Quay Lane, and it's is a pedestrian area lined with shops, cafes, and restaurants.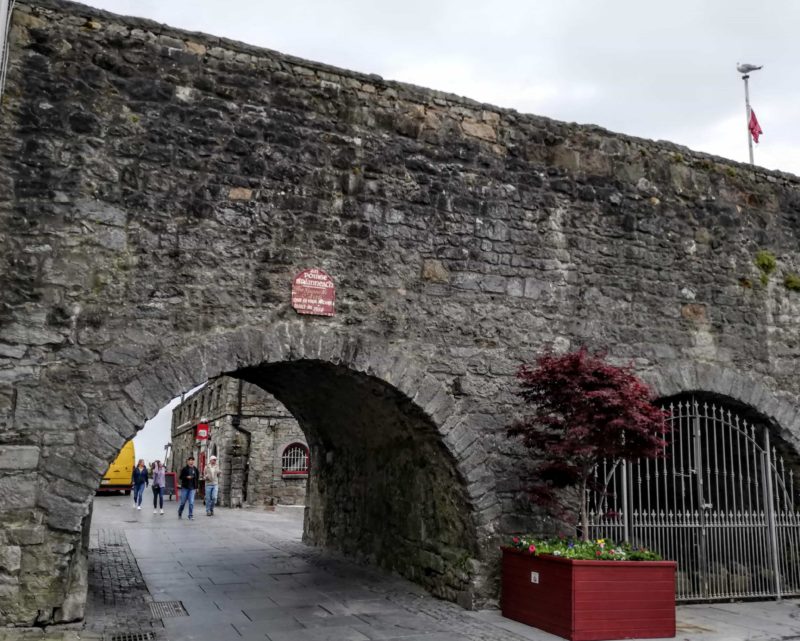 Here you will spot many of Galway's great buskers and this street entertainment is carefully thought out which is really nice. No busker is too close to another and so there is no competition for noise level.
The Spanish Arch
Head down towards the water where you will pass the Galway City Museum which we are saving for after lunch.
This area used to be really run down and grubby but the new developments have made the area trendy.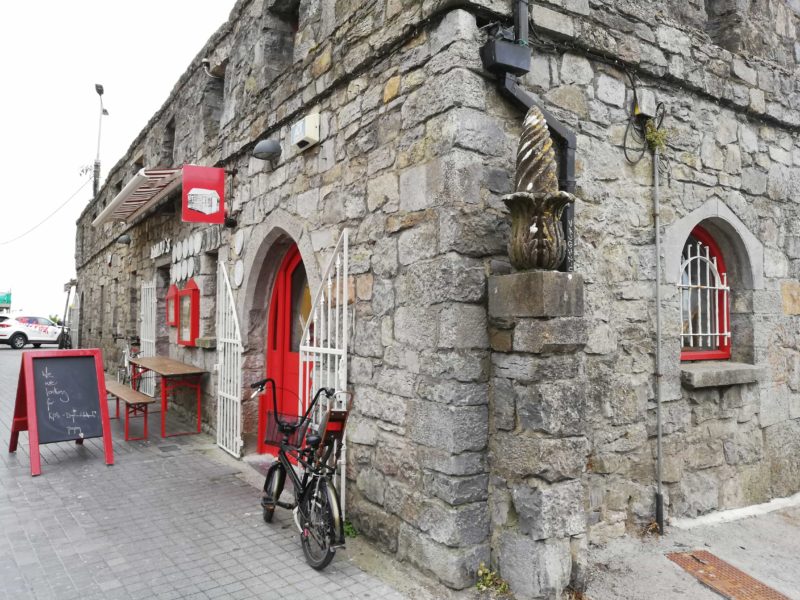 The Spanish Arch was built in 1584, to give access to an extension to the Quays known, still, as The Long Walk. It is believed that the name came from the Spanish traders who used the harbour but nobody is quite sure.
Lunch at Ard Bia Nimmos
Ard Bia Nimmos sits beside the Spanish Arch on the waterfront. A small restaurant with huge reviews they serve up a great selection of seasonal dishes.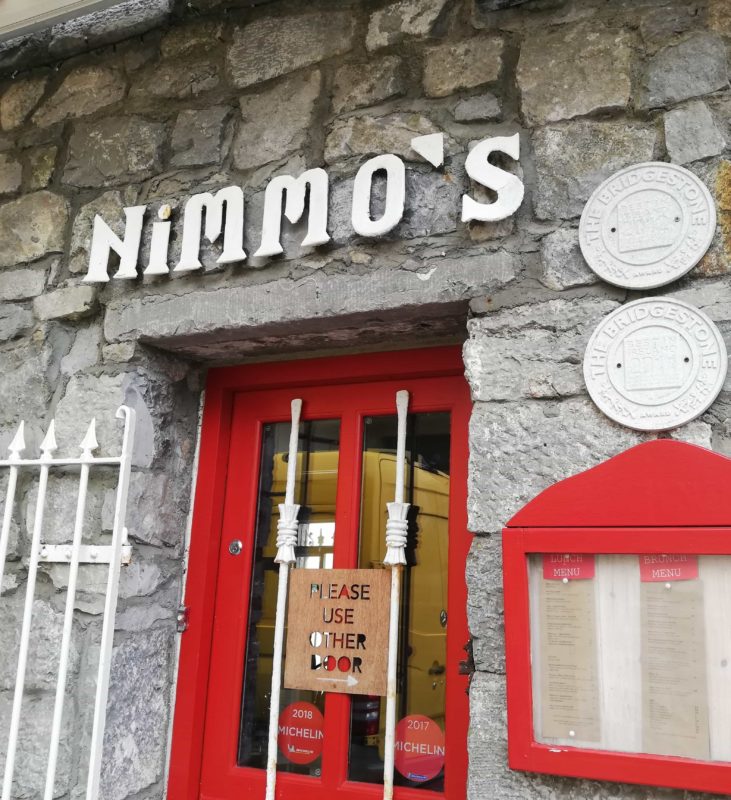 The Galway City Museum
Which you will spot from the Spanish Arch. It's free to visit with 3 floors of exhibitions all relating to the history of Galway. If that hasn't worn off your lunch and you're not ready for a nap head out on the Long Walk.
Take the Long Walk
The Long Walk is quite probably the most iconic Galway attraction. This stretch of colourful houses facing the river can be seen near the Spanish Arch. A lovely relaxing walk.
The famous song Galway Girl begins with the line 'I took a stroll by the old Long Walk..' and was recently made popular again by Ed Sheeran. Even though the Ed Sheeran version is not a cover of the original Galway Girl which is a Steve Earle original.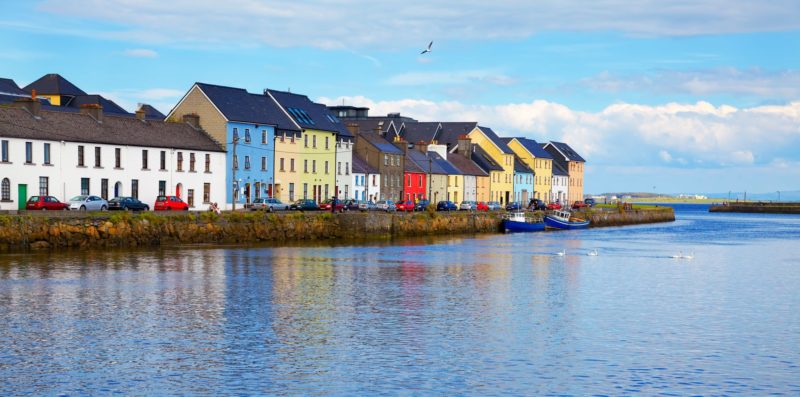 Once you walk through the Spanish Arch, you'll see a long stretch of colourful homes and the river. It is a bit of a "long walk" (sorry couldn't resist that) to the end and back but it does make for a nice walk if the weather is good. After your walk head back towards Quay Lane.
The Claddagh in Galway is located to the west of the City on the Bay. The Claddagh has a long history here and was an old fishing village with its own Kings and Queens and they spoke Gaelic.
Afternoon Tea At Cupan Tae
One place to visit in Galway that I love is Cupán Tae. An elegant afternoon tea awaits with a huge selection of loose-leaf tea served up in a pretty teapot. Afternoon tea for two costs €25 per person.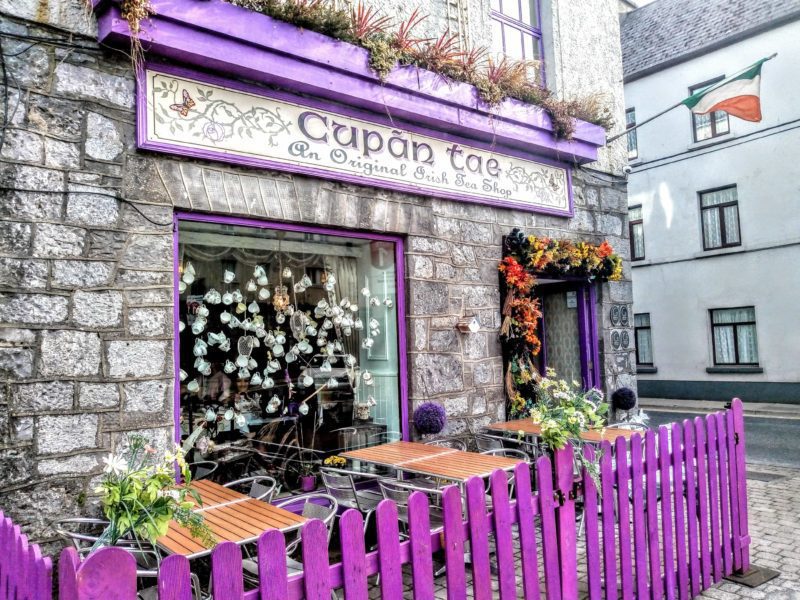 Eyre Square Galway Ireland
Stroll up to Eyre Square from Shop Street – there's always something happening here. In 1965, the square was officially renamed "John F. Kennedy Memorial Park" but locals still refer to it as Eyre Square.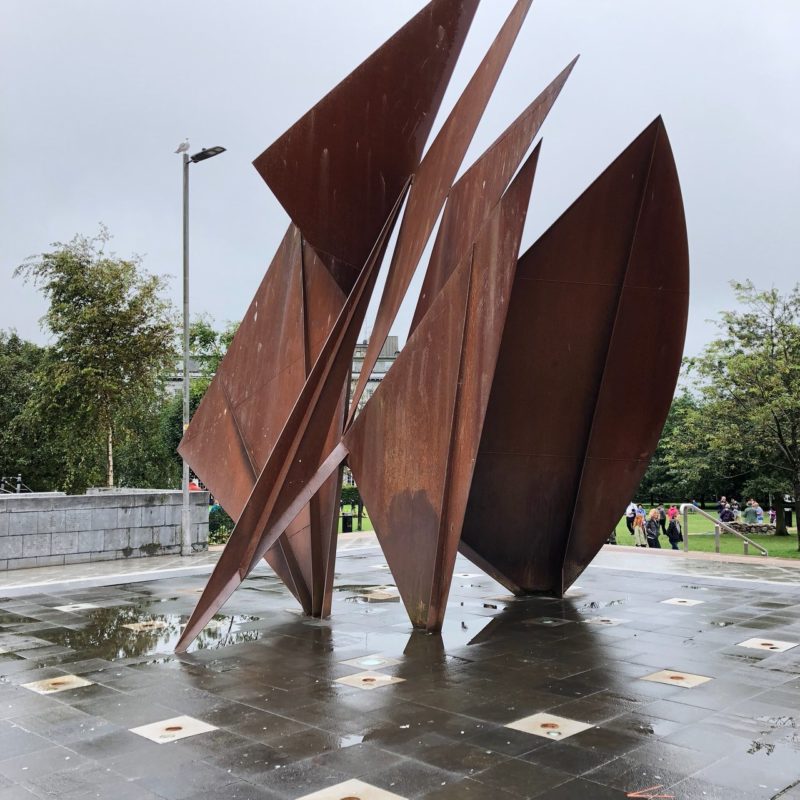 The lovely Quincentennial Fountain features a sculpture of a Galway Hooker which is a traditional fishing boat of the area. Sadly the fountain has been broken for nearly 8 years now and hopefully will be fixed with the influx of new money for the City of Culture 2020. In December, there's a small Christmas Market at Eyre Square.
There are many festivals held in Eyre Square including the Arts Festival and at Christmas time there is a market and other seasonal events that take place.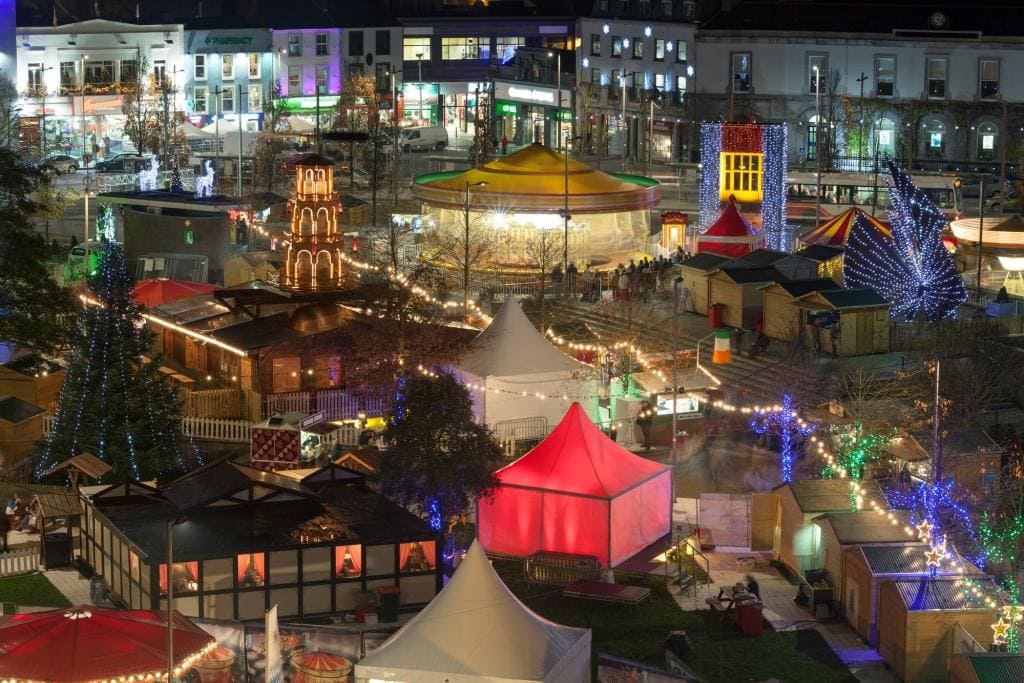 Angel wings are seen painted on walls all over the world and in Galway, there is a pair painted by Kelsey Montague, #WhatLiftsYou. You will find the wings beside O'Connell's bar at 8 Eyre Square. Kelsey Montague is originally from Colorado her street art and murals are unique in that they are interactive and invite the viewer to become a part of the artwork.
Take a cruise on a Galway Hooker
One of the most unique things to do in Galway is to take a cruise on Galway Bay and the Connemara Coast on a Galway Hooker is one of the most distinctive activities to experience in Galway. The Galway Hooker boat, easily identifiable by its dark red or rusty brown sails, is a common sight in Galway Bay. These boats are well-known for their beauty and resilience and are a beloved symbol of Galway's deep connection with the sea. The name "Galway Hooker" originates from the traditional fishing method of using long lines of baited hooks that were pulled behind the boat, resulting in the capture of fish when they took the bait.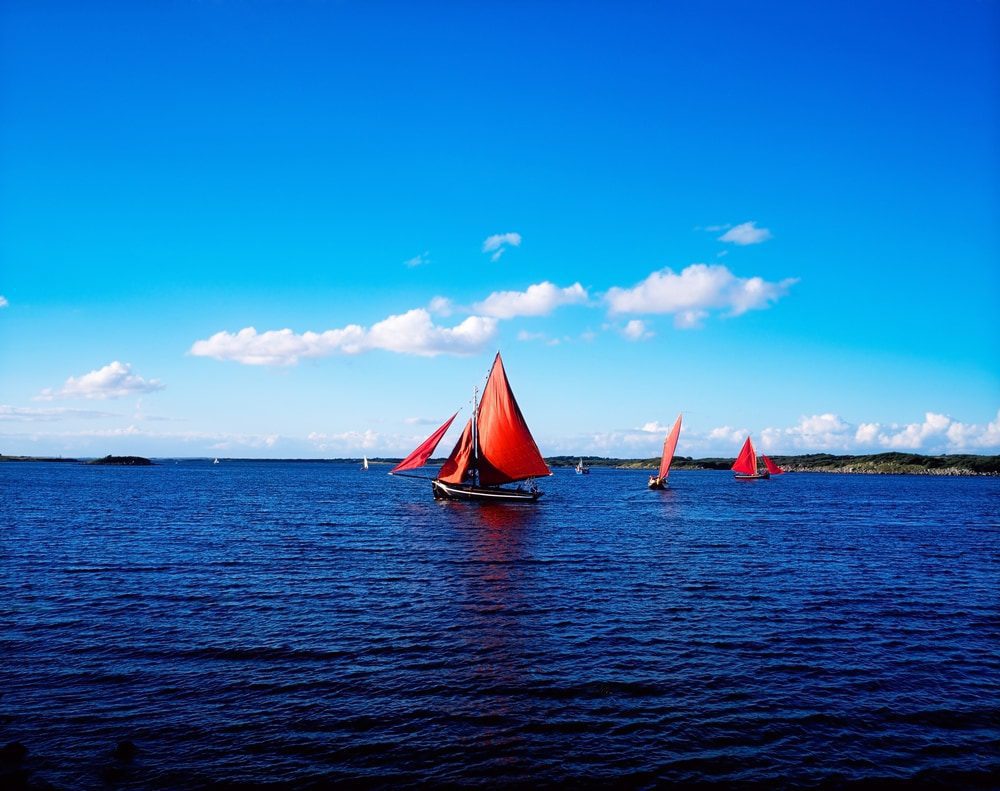 Visit the National University of Galway
Guests have the opportunity to take a relaxing walk around the university grounds that can be found in the heart of the city and extends alongside the River Corrib. The quad area is an imitation of Christ Church, a division of the University of Oxford, and holds the title of being the oldest section of the Galway university.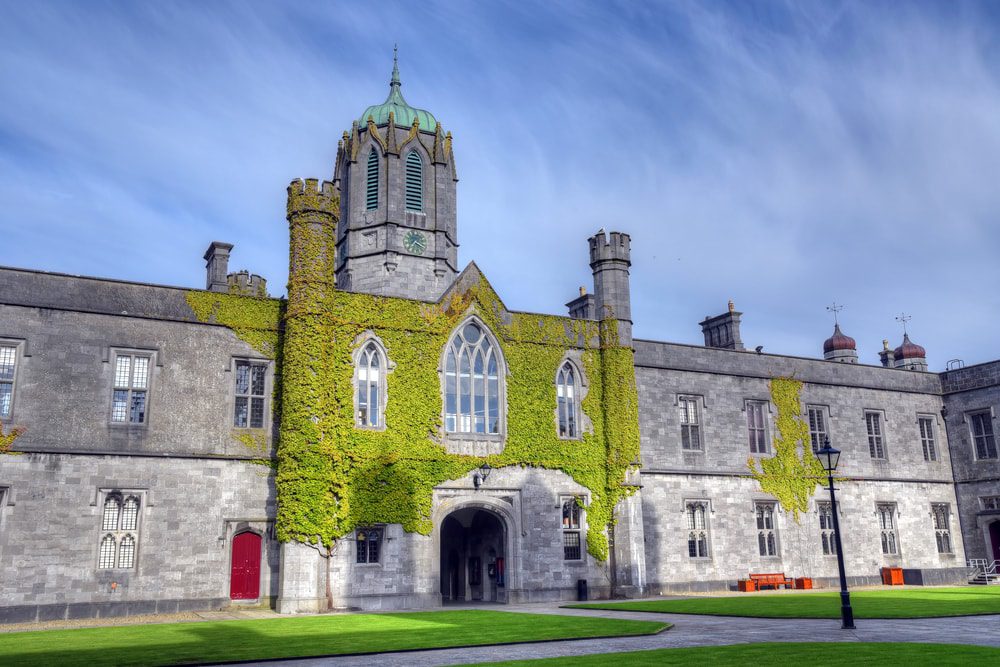 Within the university are museums, art galleries and the school hosts several special events throughout the year.
Where to eat in Galway City
There are so many options you won't know what to choose. Every single restaurant and cafe in all of Ireland is more than aware of allergies and free from ingredients. So don't worry if you are gluten-free or intolerant to some ingredients the menus all list every potential allergen. There is also a huge amount of vegan and vegetarian dishes to choose from.
Jungle Cafe
If you need a quick coffee or tea break head to the Jungle Cafe on the side street just below the bus/train station – the scones are nearly as big as your head. They also do incredible smoked salmon and scrambled eggs or indulge yourself with a full Irish Breakfast if you have just stumbled off the train or bus and need coffee and food.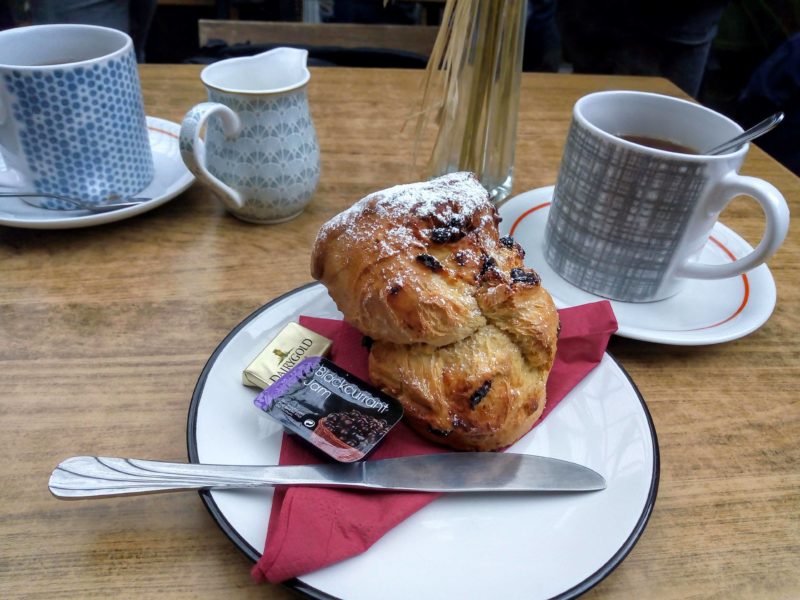 McDonagh's on Quay Street
Loved by locals and tourists they serve the best fish and Chips in Galway. Take it to go or sit on one of the bar stools at the windows and people-watch.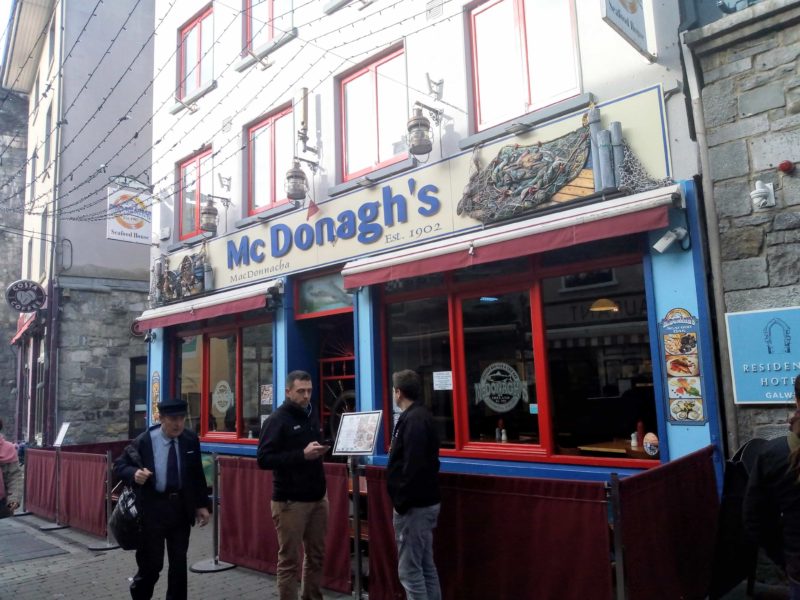 Dough Bros
The best pizza I've had in Ireland has been at The Dough Bros. Made by hand with the finest ingredients and an actual wood-fired pizza oven – heaven.
Caprice Café
With marble tables, colourful lunches and amazing cakes, Caprice on Church Lane is every Instagrammer's dream. It's the perfect place to grab a coffee while you're shopping.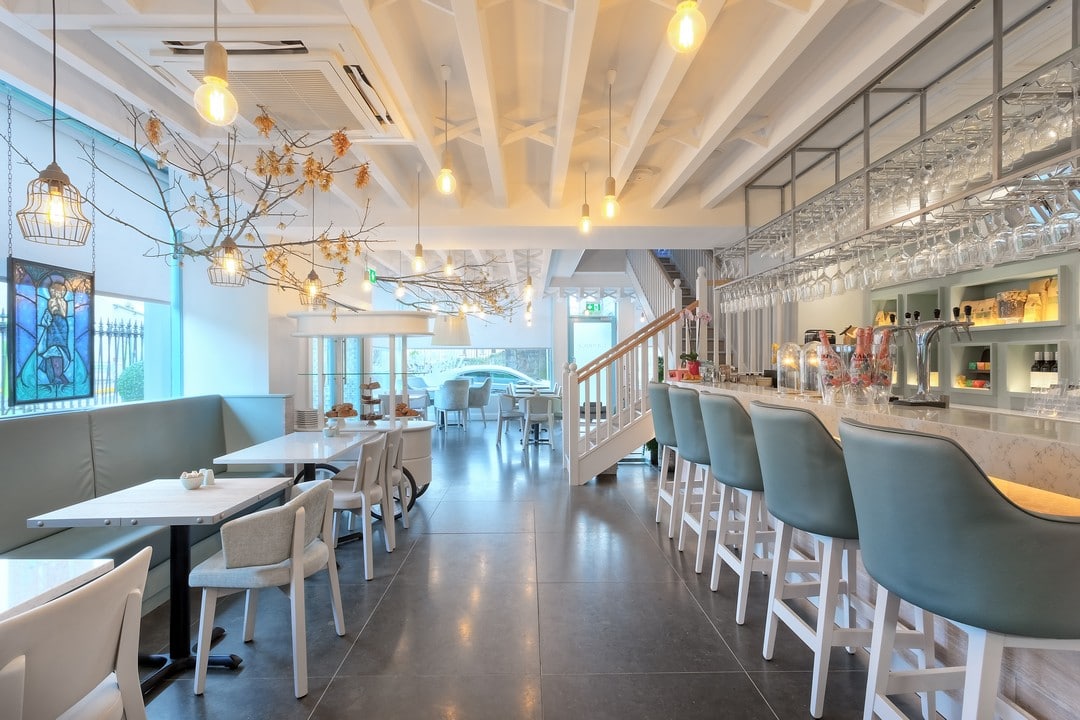 What to do at night in Galway – Best pubs in Galway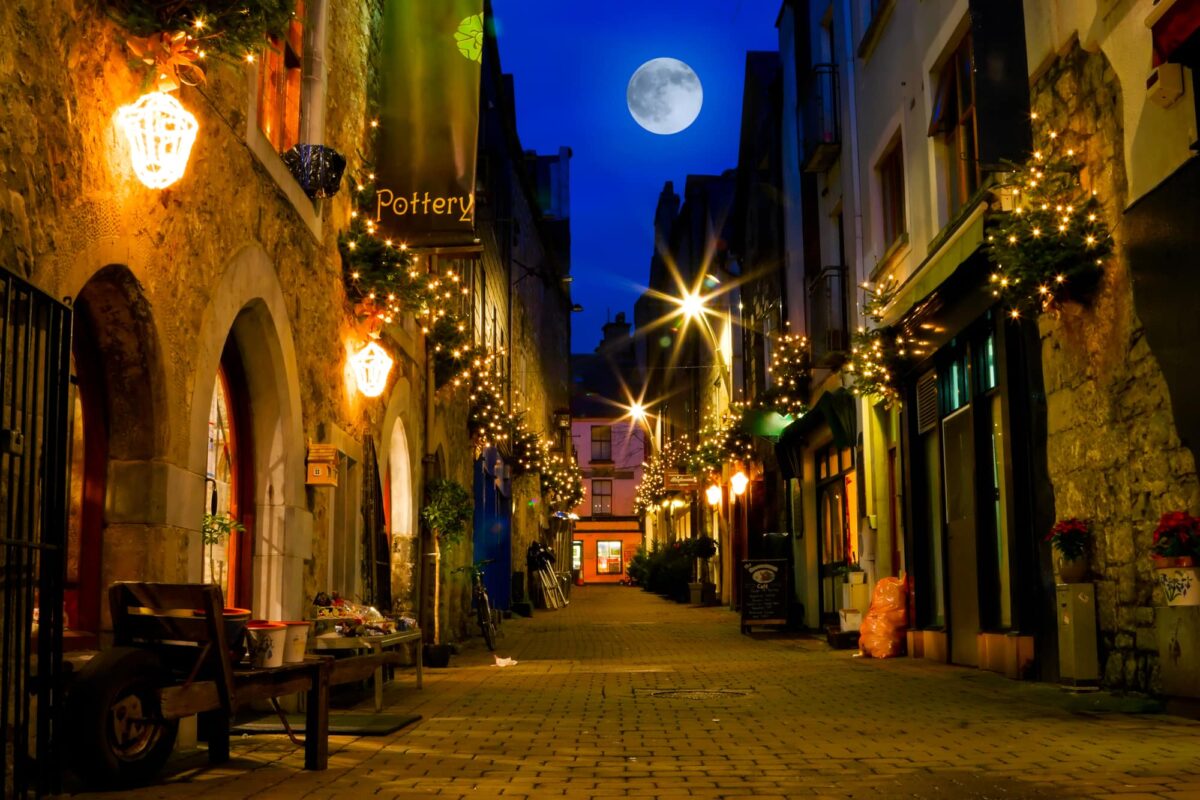 A must do is to head to some pubs for live Irish music in Galway. Galway is known for its pubs, most of which offer live music, including trad music, at least a few nights of the week. Many of Galway's pubs have a 'best' night to visit, so it's always worth asking the locals where a good spot to go is for the night you are visiting.
During the summer months, the roar of noise from the pubs and clubs can be deafening and quite a few people complain about the "havering" in the streets from the youngsters with a bit too much to drink.
Tig Coili
Great craic, huge crowds and brilliant trad music. Tig Cóilí has it all, great atmosphere, music and craic.
Taaffes Bar
Taafees is one of Galway's best-known bars and it is mobbed in the season with tourists who've been told to visit. They have trad music sessions 7 nights a week so it is a place to hang out and listen to some great tunes but it can be overwhelmingly busy.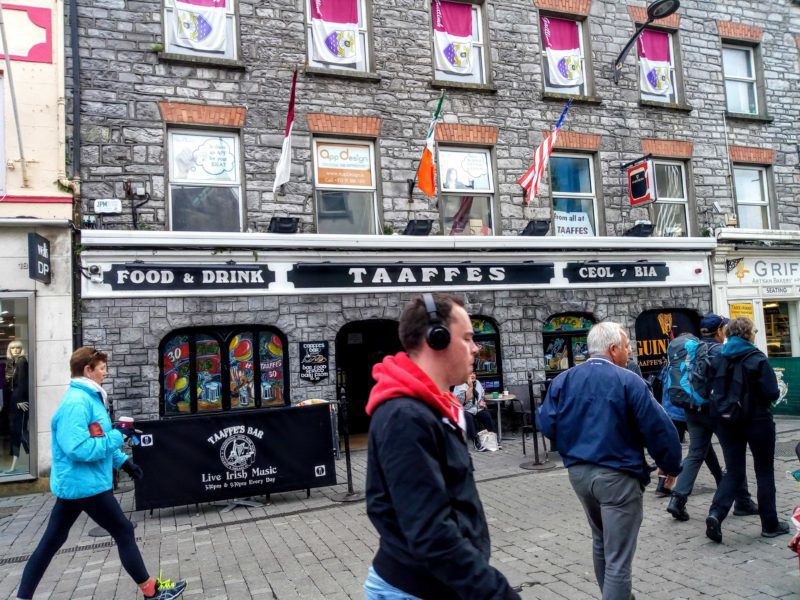 Tigh Neactain (Naughtons)
This pub comes highly recommended by virtually every tour book and guide to Ireland you can find. It is hugely popular with a diverse clientele and it gets super crowded.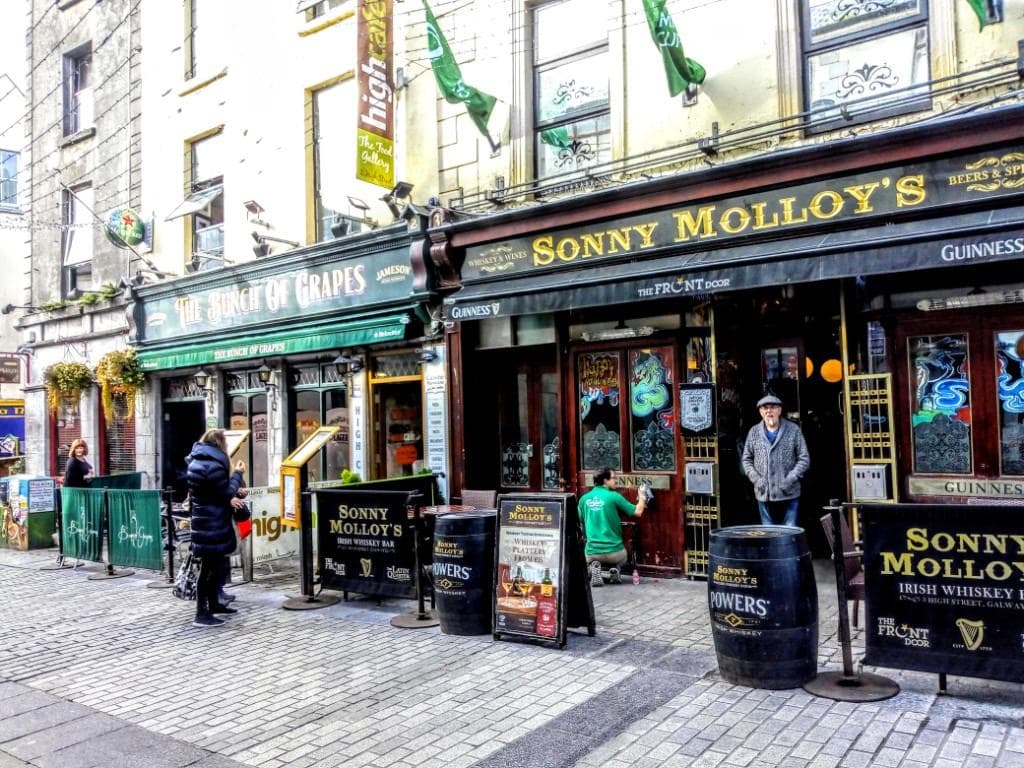 An Púcán
An Púcán is a huge bar just off Eyre Square. It looks like a traditional colourful pub from the outside but appearances can be deceiving. There is a huge party area and stage for the nightly live music and further back is a massive beer garden (by Irish standards). This place appeals to the young and those who love dance and a party.
The Quays
The Quays is a bit of a local institution and a great place to grab a chair outside and people-watch.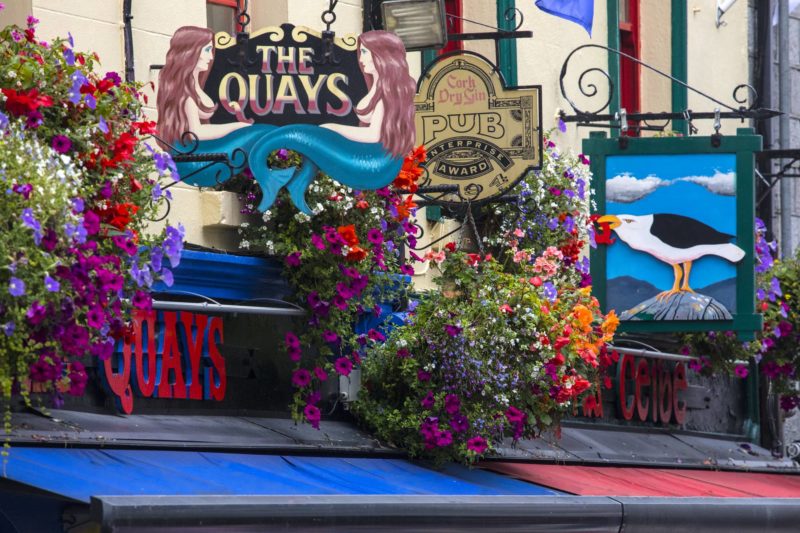 Roisin Dubh
The most popular and well-known live music venue in Galway City. "Roisin Dubh" means meaning Dark Irish Rose in English. It was a symbol of the ancient Druids who wore black and red robes on which their symbol, the Róisín Dubh, was visible. It is also became over the years an Irish political song that lamented the troubles of Ireland under English rule.
Galway City Map
Where to stay in Galway – Best area to stay in Galway
When booking a hotel or hostel in Galway take into account that within the central area of Galway City the prices can be considerably higher than outside the City. Also, keep in mind that depending on the events taking place Galway books up very fast. Many Irish spend a weekend in Galway as a staycation and it can be enormously difficult to find accommodation.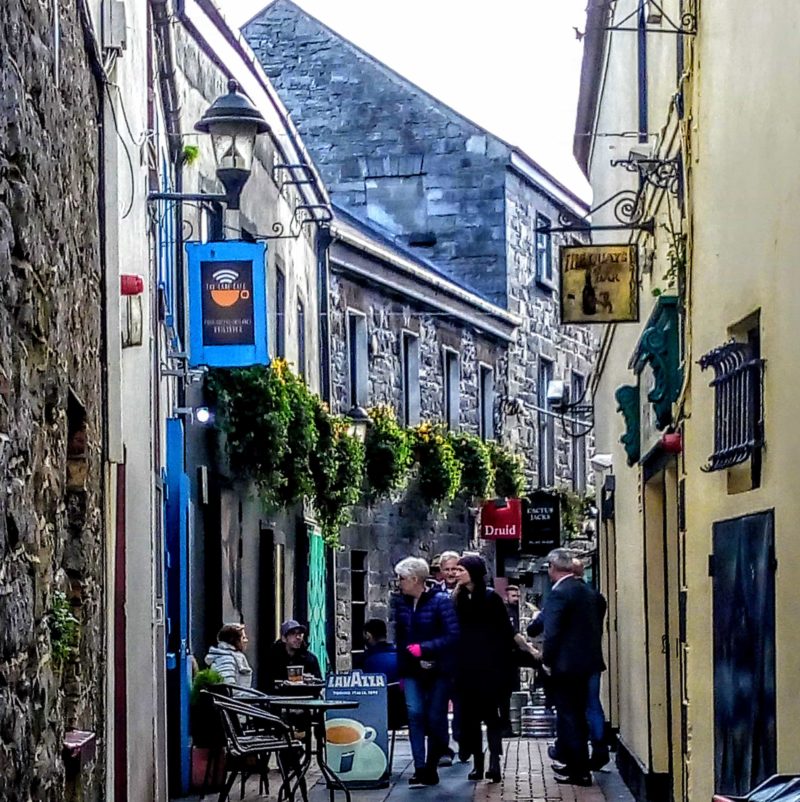 To give you an example my husband was in Galway Hospital and I needed to find a place to stay – this was in February. I ended up calling on 11 BnB's and hotels to find a room and luckily found one close to the hospital that had space for 2 nights I then had to change to another hotel for the next 2 nights in Salthill because the weekends were booked solid.
Many places in Galway actually advertise as BnB's but don't serve breakfast so make sure you check this out before you book.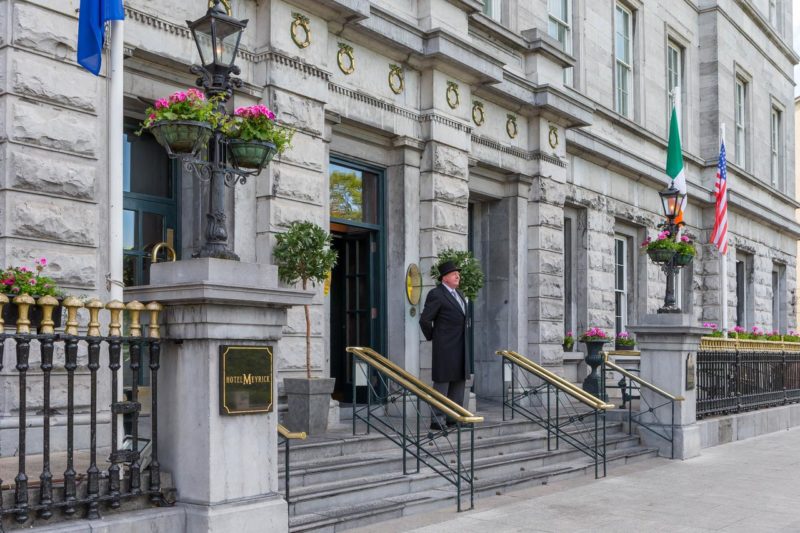 Galway City is an incredibly bustling and happening city with many fine hotels, hostels and BnB's.
Book the Hotel Hardiman (formerly The Meyrick) – True luxury, centrally located right on Eyre Square in the heart of Galway City.
Book the Residence Hotel – right in the heart of The Latin Quarter
Book the House Hotel – steps from Shop Street
Book Jurys Inn – views of the Spanish Arch and a great beer garden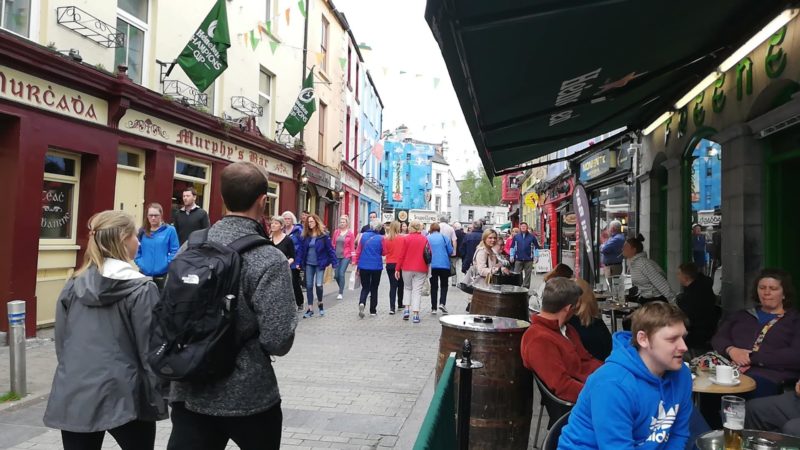 Salthill Promenade
To the west of Galway City centre, Salthill is a small seaside village with some great ocean views and a great deal of budget and boutique accommodations. Salthill is around a 20-minute walk to Eyre Square or a 15-minute bus ride.
Book The Nest Boutique Hostel – Flexible rooms for families or groups as well as individual en-suites.
Book the Clybaun Hotel – midway between the City and Salthill it even has a Canadian hot tub on the roof.
Book the Salthill Hotel – A luxury hotel overlooking Galway Bay with a swimming pool and fitness centre.
Sightseeing & attractions near Galway
Galway is a perfect base to explore the wide range of attractions around County Galway. From the mountains of Connemara to Killary Harbour and the lovely village of Cong where the Quiet Man was Filmed on the border of Galway and Mayo Glaway has it all. You can even head to a gorgeous Castle to stay in like Ashford.
Galway is divided into two regions by Lough Corrib. To the west is Connemara – a region of superb scenic grandeur, dominated by the rocky mountains known as the Twelve Pins. Many Connemara inhabitants are Irish speakers and much of the ancient Gaelic culture is preserved in this Gaeltacht region. To the east are the flat plains leading down to the River Shannon, Ireland's longest river and one of Galway's best natural attractions.
Galway is a city full of life and cultural diversity. From its historic landmarks to its buzzing nightlife, there is something for everyone in this charming Irish city. Whether you are interested in exploring the natural beauty of the Aran Islands or indulging in some traditional Irish cuisine, Galway has it all. So, if you're looking for an unforgettable experience that combines history, culture, and entertainment, be sure to add Galway to your travel bucket list!
13 Must have items when packing for Ireland
#1. What to pack for Ireland – a great carryon bag
So, personal experience tells me that I need a carry-on bag with those twisty wheels that go in all directions and has both carrying handles and a pull-out drag bar thingy. I want sturdy fabric, preferably in a day-glow colour so I can see the damn thing if I do have to check it. I also want soft sides that give a little – just in case. My recommended one? Well, I pick the azure blue TravelproTravelpro Maxlite 5 19″ Expandable International Carry-On Spinner. I know it's a mouthful but a great case.
#2 Taking care of the personal
Now this one may seem a little odd but I see a lot of N. Americans complaining on the Irish forums that most hotels and B&B's don't have washcloths. Well, that's true I mean after all who wants to use a used washcloth? Take your own these are great quick-drying washcloths that are reusable and environmentally friendly.
Now if you are really concerned about the whole liquid issue why not take solid shampoo bars and body wash bars. These products are paraben and SLS free, TSA approved (so to speak) perfume-free and chemical-free. That makes them very environmentally friendly and they are so easy to use.
Next, for me are the all-important shoes. I want shoes that are well made comfortable and above all will last for a while and can be used for a lot of walking. Most people want to know if they should bring hiking boots, dressy shoes and runners but really try and make one pair do you the entire trip. Unless of course, you are a hiker and avid walker then you will need some great hiking boots but I suggest you wear them on the plane and put your less heavy daytime shoes in your case.
#2 Keeping your feet warm and dry
The ones I do like are Timberland walking boots, waterproof and comfortable but not only that a little stylish and can be worn when strolling through Dublin with a pair of Jeans or on the Cliffs of Moher in the rain and fog.
Most of the types of weather you have to watch out for here in Ireland is wet, wetter, and damp. But I am also a believer in making a coat do double duty so I won't buy a parka style or one of those coats that just won't work over a nice outfit if I'm going out.
# 3 Packing A Windproof Jacket Will Save You In Ireland
I love my multipurpose Craghoppers 3 in 1 jacket. It's windproof, waterproof and breathable and has a drawcord at the waist which helps me look like I have one.
It's easy to use (the inner coat zips out easily) and although not light, it isn't bulky which for those of us carrying their own bulk is perfect. The fabric is called Texapore Cotton Touch, which has a high proportion of organic cotton.
The attention to detail is really impressive with a load of pockets. It is stylish and yet practical and the cost is good, as the coat will last for years. It also comes in a nice navy colour so much better than boring black my wardrobe staple.
#4 What power adaptors to pack for Ireland
Now you are going to need a 110v to 220v voltage converter so you can plug in hairdryers, phones, laptops or tablets and so on. My personal favourite and one that has lasted me 4 years is the Tessan Universal Travel Adapter.
It has 4 ports for charging tablets and phones and a UK/AU/US/EU worldwide plug adapter, so bloody useful. It's more expensive than most but well worth the price.
# 5 Don't forget a power bank
Okay now, this one is going to be more important than you can believe. I have the Anker portable charger which I love, super quick and works on most of my electronics. Anker is ultra-light, portable and works under any situation.
# 6 Bring lots of photo storage when packing for Ireland
You are also going to need memory cards, trust me you will have more photos than you can store on either your phone or your camera and you don't want to be deleting any to take more before you get home.
This Ultra Scandisk chip will work under adverse weather conditions (we get a lot of those here) and keep your photos or drone footage totally safe.
A flash drive for your Smart Phone will also come in very handy. This picture keeper comes with a flash drive but it's also a software package that finds all your photos from your computer, laptop, or tablet.
# 7 Bring your drone to Ireland
I'm not going to recommend cameras or other types of photographic equipment such as a drone because – well because I am a crap photographer who uses a good cell phone for most of my photos. Now I want a drone but I have to admit I haven't bought one yet. So I was reading all kinds of reviews and know which one I want this a Holystone 1080P Drone….sigh if only. This has a huge flying time of 26 minutes.
Now if you have a drone it can be flown in most places in Ireland. If you plan to fly above 15 meters (49 feet) and your drone weighs more than 1 kilogram (2.2 pounds) you must register your drone. You can register on the IAA's website here. Registered drones may not be flown above 120 meters (394 feet). Registered drones may not weigh more than 25 kilograms (55 pounds). Drone pilots must maintain a direct line of sight with their drone during operations, and may not fly more than 300 meters (984 feet).
We all know the rules for liquids and stuff in suitcases, but I say to hell with it bring your favourite face cream and you can pick up what you need in Ireland so cheaply you won't worry about it. Or get some of those solid shampoo and shower bars. Some folks recommend a first aid kit but again why bother I mean really a pack of Ibuprofen here costs around €1 for 12 so why take up the room?
They don't have drugstores like those that you do in N. America so you won't find a Shoppers or a Rite Aid. In some major cities, you may find Boots but it does tend to be a UK brand. Most pharmacies here are called Chemists and you will find everything you need. Don't expect to be able to pick up aspirin and the selection of non-prescription remedies in a grocery store they tend to carry just a few items.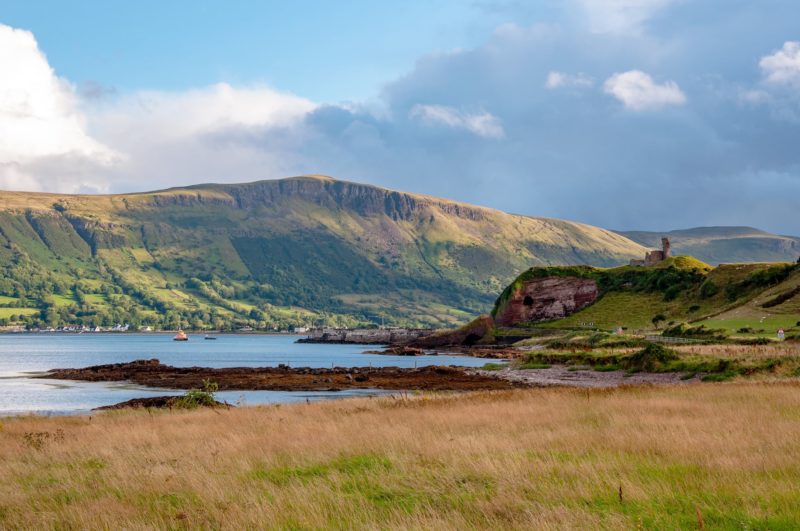 I would strongly advise getting your phone unlocked before you leave if it is not already. Load your phone with What's App and you can call anytime to anywhere free of charge. When you arrive, pick up a SIM card at the airport 3IE is brilliant, €20 all-you-can-eat data and it's good for a month and the coverage is excellent. So save yourself that stupid $10 a day from your N. American phone service is simply outrageous. Just remember to keep your SIM card in a safe place so that when you return home you can pop it back into the phone.
#8 Making your packing for Ireland easier
You cannot pack properly without packing cubes that reduce the size of your stuff substantially and come in so damned handy for organizing. These Tripped Travel Gear are the ones I like. Lightweight, ripstop nylon virtually indestructible.
#9 Get a waterproof phone case to pack for Ireland
I would recommend a Universal Waterproof Phone Case this is great you can still use your phone's touch screen and camera and yet it keeps your phone nice and clean – safe from rain and that Irish mist. If you drop it, you won't get it dirty and wet and you will be good to go.
#10 Bring a portable charger
This little beauty is a Lipstick-Sized Portable Charger, which is an absolute, must-have when travelling. I keep mine charged and then bring it with me just in case. There is nothing worse than running out of juice when you are snapping some of the best views ever. You will never be out of power with this charger.
#12 Pack a windproof umbrella
Here in Ireland a Windproof Umbrella will save your hair and clothes and is a requirement. I really like this small portable travel umbrella. It's windproof, waterproof, and folds down super small and will fit into any purse or suitcase.
#12 Don't forget a great flashlight
I never would have dreamed of bringing a flashlight with me to Ireland, but when it's dark here man it's freaking dark. So one night we wanted to go and see the Northern Lights up in Donegal but we didn't have a torch. Shopping for one here in Ireland became a journey to 5 stores and each one more expensive than the last. This torch is perfect it has 5 modes, is rechargeable, super lightweight and waterproof you couldn't ask for more.
Last but not least in my mind is books. I have a full reading list that I settle back and enjoy before my trip and these are the books I would highly recommend on Ireland.
You can never go wrong with a Rick Steves's Book and his Rick Steve's Ireland 2019 is about as updated as it can get.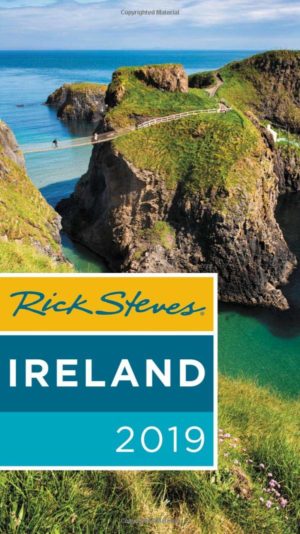 This one Ireland the Best an Insiders Guide is brilliant newly released in Sept. 2018 it has some great tips, and places to eat where to wild camp. It is perfect for the foodie on your gift list or just keep it to yourself. John McKenna has written about Ireland's food culture for almost 30 years and has won many awards. The Wall Street Journal described him as "Ireland's most authoritative food writer."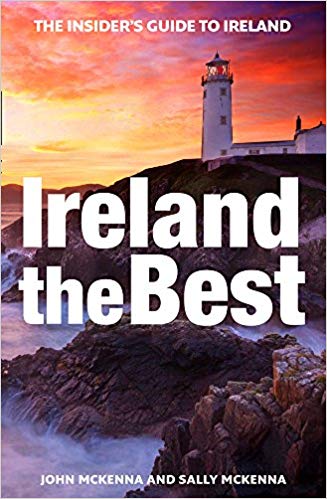 This is the best book on Irish history you can buy R. F. Foster's Modern Ireland from 1600 to 1972 recommended by Historians throughout Ireland this is stuff you should know if you are an Ireland lover.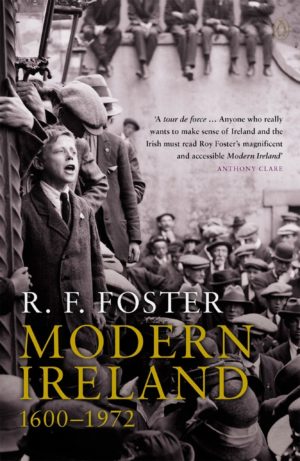 This one I just couldn't resist the Irish Swearwords Colouring Calendar for Adults we could also use a bit of craic in our lives.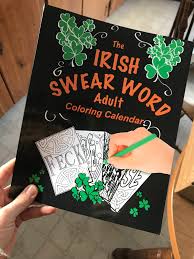 Galway, in the Republic of Ireland is a vibrant city and it offers plenty of things to see and enjoy. If you're looking for things to do in Galway start by exploring the charming cobblestone streets of the city center, where you can find traditional Irish pubs, colorful shops, and lively street performers. The vibrant arts scene in Galway is a must-see, with numerous galleries and theaters showcasing the best of Irish talent.
As a jumping off point for touring the Wild Atlantic Way from Galway you can head to Cong where the Quiet Man was filmed that sits on the border of County Mayo and County Galway. Head to the famous Cliffs of Moher in County Clare, find the Fjord in Connemara, and visit the iconic Kylemore Abbey.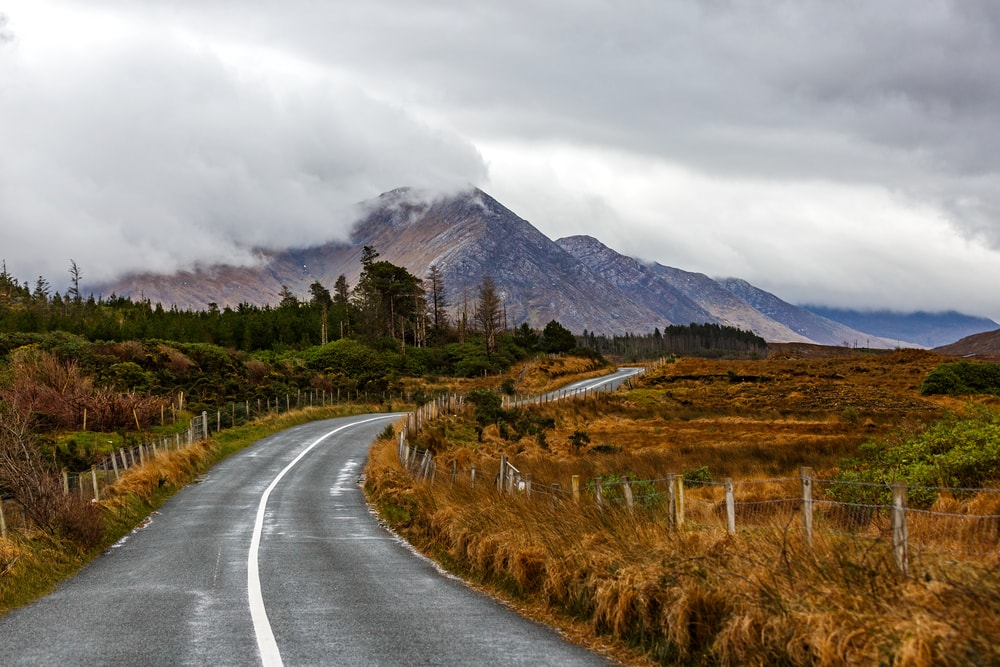 For those seeking natural beauty beyond the city, a short drive from Galway you can visit the breathtaking Connemara National Park. Or take a bicycle and wheel along the banks of the Corrib to Menlo Castle an ancient ruin. And of course, no visit to Galway is complete without experiencing its famous festivals.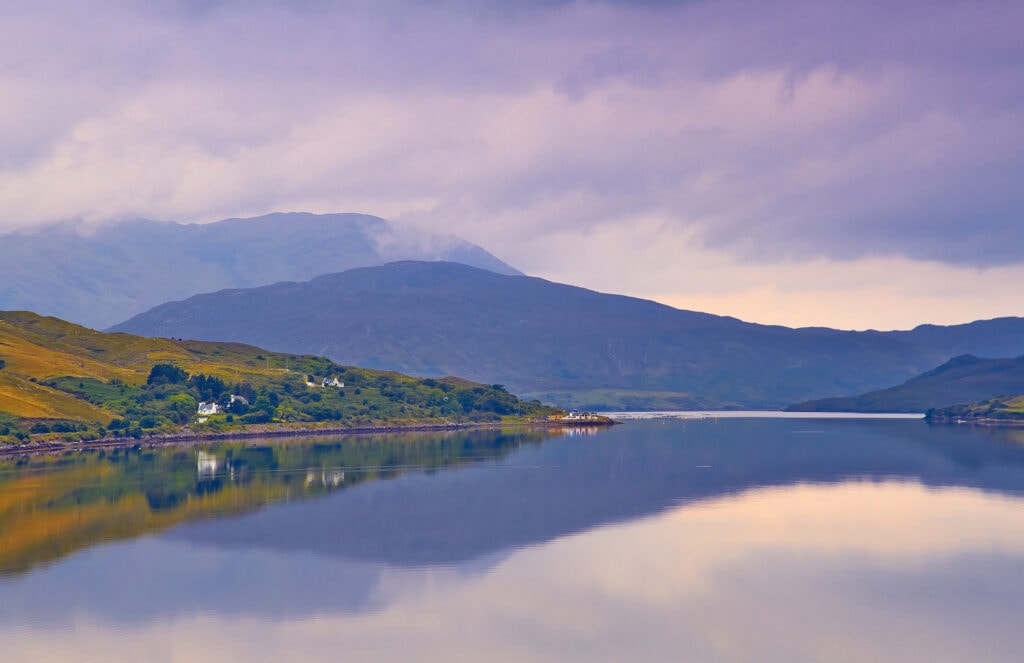 From the Galway International Arts Festival to the Galway Oyster Festival, there is always a celebration happening in this lively city. Finally, don't forget to indulge in the local cuisine, and enjoy a full Irish breakfast. Whether it's exploring the city streets, immersing yourself in the arts, or enjoying the stunning natural landscapes, Galway has something for everyone.
So what areas of Ireland haven't you explored yet? If you are interested in an itinerary being created specifically for you by a local – let me know and I'll see if I can help.
You might be interested in these articles if you are visiting Ireland
7 Day Road Trip from Wicklow to Cork on the Celtic Coast
7 Days in Ireland the Ultimate road trip from Dublin to Waterford
Absolutely have to stay in a Castle? Here's a list of the finest castles in Ireland to stay at.
101 Landmarks in Ireland to see
15 Dublin Don'ts – a little bit of Irish craic for you
The best of Irish slang and 100+ Irish slang phrases
Pin it for later.
More articles on Ireland