36 Islands of Ireland – the ultimate guide
Ireland's Islands contain ancient worlds that you won't see anywhere else. Ireland is, of course, an island itself but did you know that Ireland has its own islands? There are a grand total of 80 islands off the Irish coast and only 20 of them are inhabited. The islands of Ireland have much to offer and it can range from amazing scenic views to ancient ruins and new ventures that are creating opportunities amongst the islands of Ireland.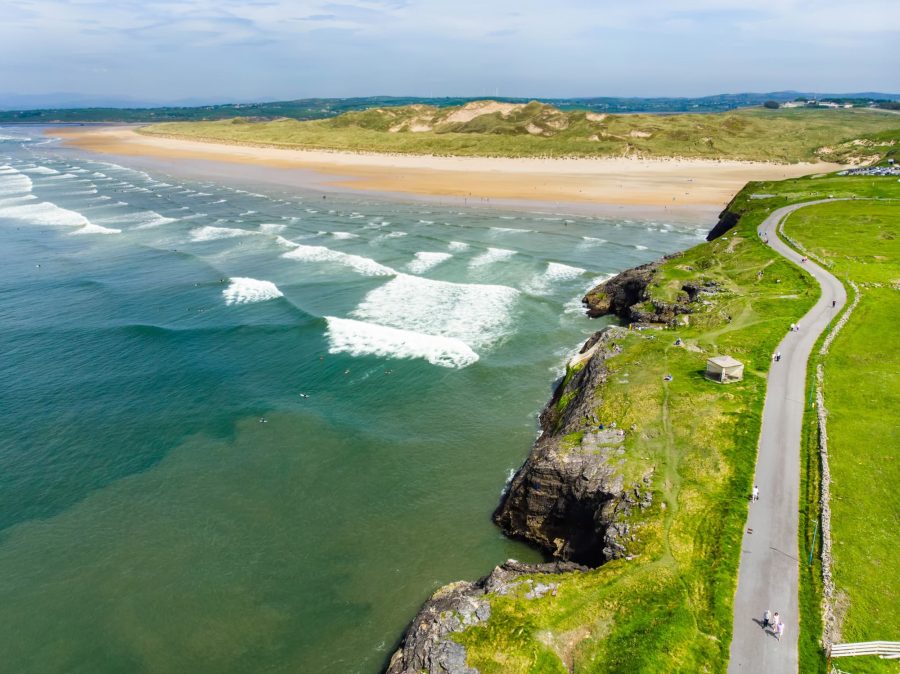 When planning your dream trip to Ireland you should pick up a Heritage Card so you can see all the sites on your list and don't forget when in Dublin to go and see some of the more off-the-wall sites. On many of the island you can find camping grounds and even glamping experiences.
In no particular order, these are some of the best islands to visit off Ireland. There are several islands to visit in Ireland so do your research to figure out which ones you want to visit – since I'm a tad biased and living on the Wild Atlantic Way in Donegal where we have some of the most visited islands we will start there.
Here are all the do's and don't for renting a car in Ireland
Planning a dream trip to Ireland? Everything you need to know
Irish islands list
Irish Islands of Donegal
Tory Island
One of the most famous of islands off the west coast of Ireland and one of Ireland's best island to visit is Tory Island is the most remote inhabited island in Ireland sitting off the coast of Donegal. It's a rugged and wild landscape in Donegal and Tory Island is one of its majestic sites. Given the weather and remoteness of Tory, it can only be visited from around the middle of April until October. It is accessible all year round but for tourists who plan a visit those are the best months to plan a visit. No cars are allowed on the Ferry which can take up to 70 passengers but bikes can be rented on the island.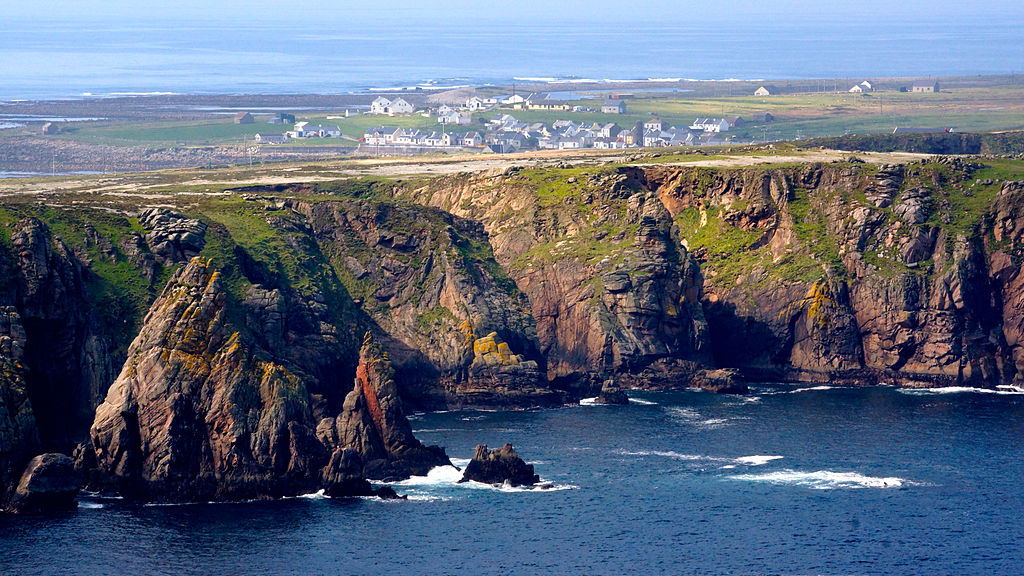 Tory sits around 9 miles from the coast and it used to have its own King however the last King died in 2018 and no new King has been crowned. The King of Tory has no formal powers but he was the island's official spokesperson and welcomed visitors to the island.
Gola Island
Gola Island is located just 0.62 miles off the coast of Gweedore, which is located in the Irish Gaeltacht. Up until the '60s the island was inhabited but most have now moved off-island and the houses there have been converted to holiday homes.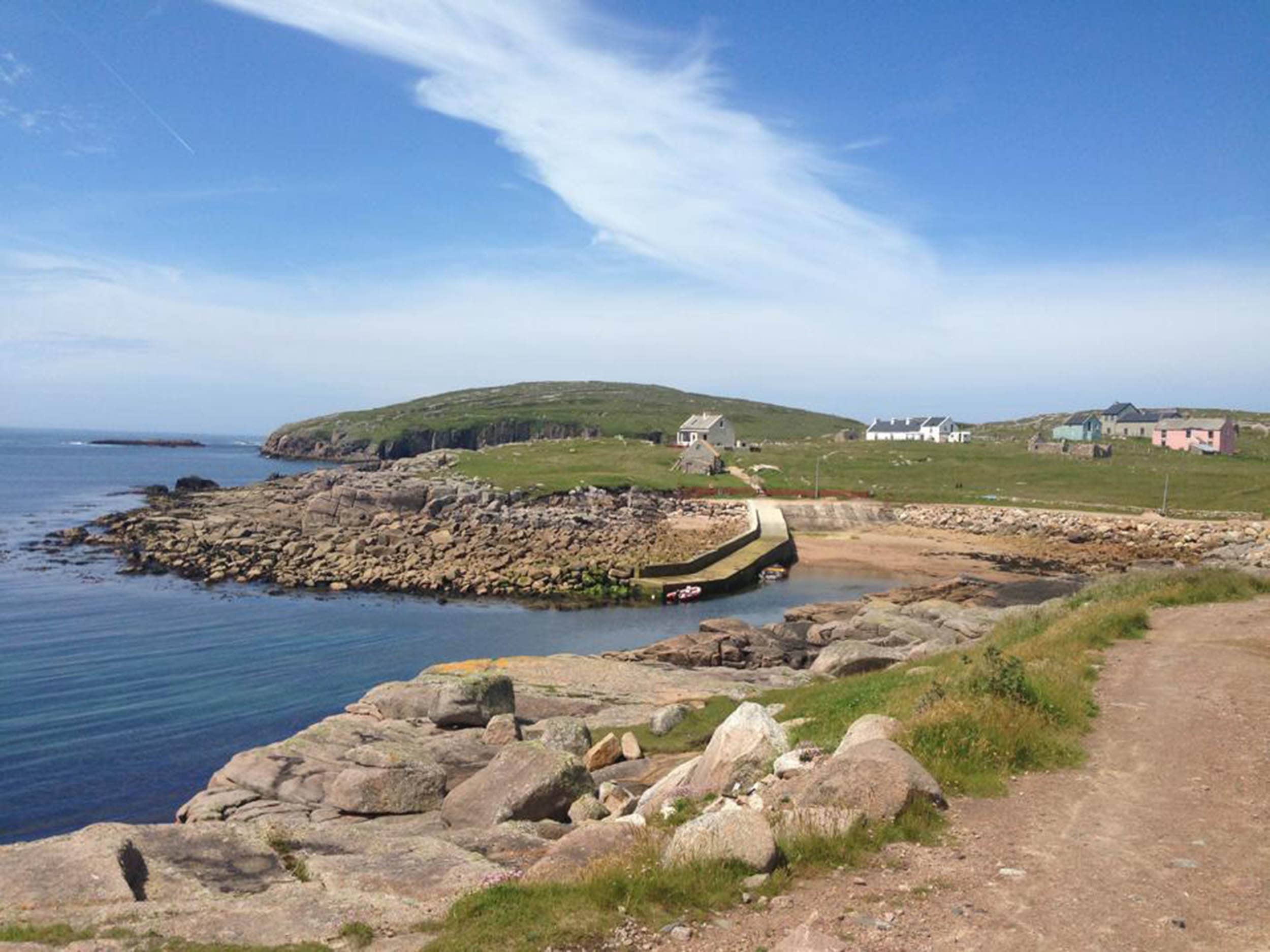 The island is only around a mile long and it is the perfect place for walking and contemplating life. There are ferries to the island but again they only run through the season from April to October.
Arranmore
One of the most famous islands off the west coast of Ireland is Arranmore (there are Aran Islands but they are located off the coast of Galway). Arranmore Island is famous for its traditional music and lively pubs and serves as a hub for Irish students learning Gaelic. If you want to hear traditional Irish music from Donegal you can take the ferry over to the island and you can even bring your car.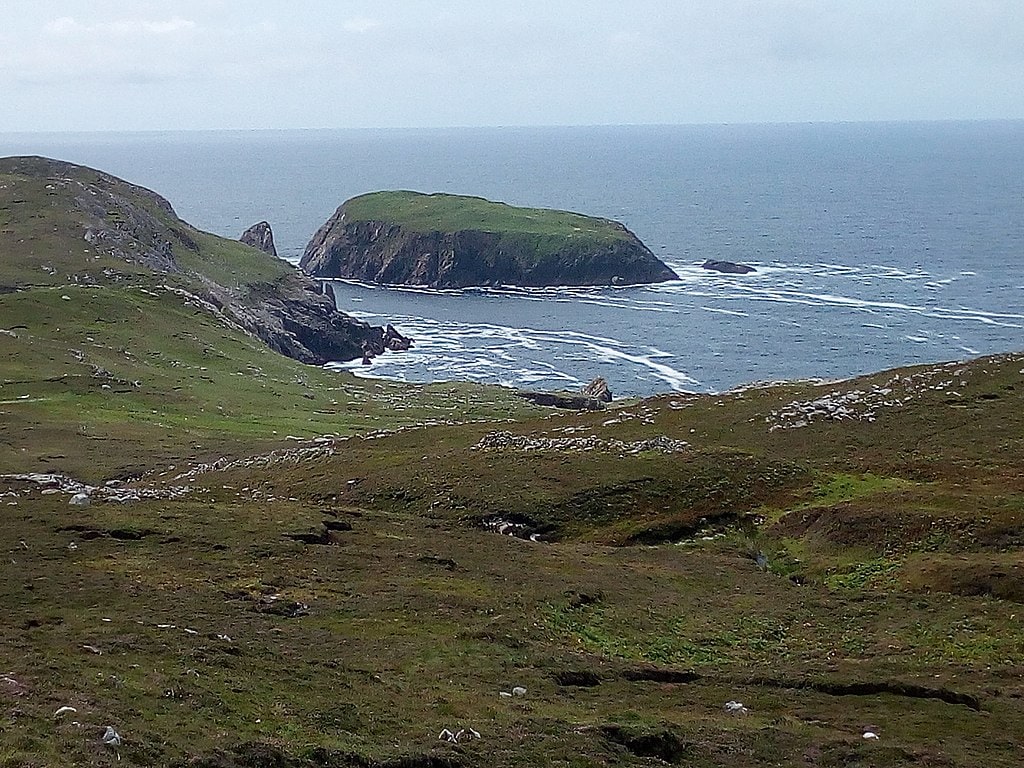 Inch Island
Inch Island lies in Lough Swilly, just off the southwestern coast of Inishowen, near the village of Burt. Inch Island is connected to the mainland by a causeway road, known as the Inch Banks. The remains of a portal tomb with a nearby burial chamber, constructed using parts of the original tomb, is located near Carnaghan and the 15th-century castle, known as Inch Castle, stands on a cliff overlooking Lough Swilly.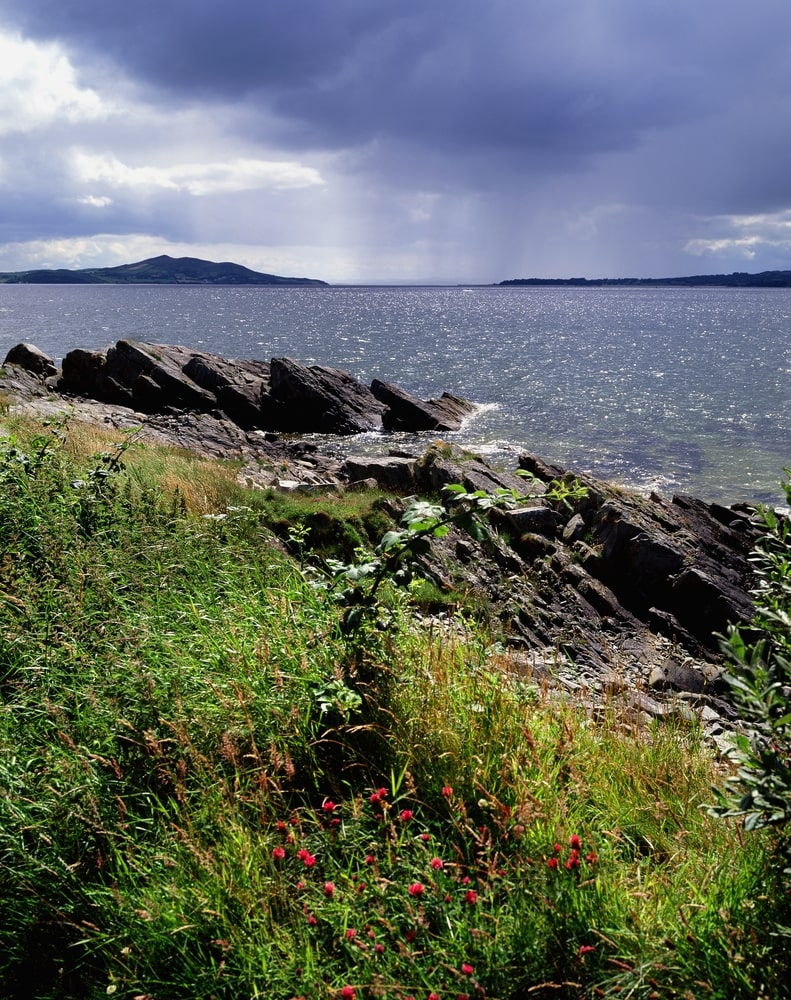 St. Patrick's Sanctuary Island
Lough Derg is a small island and is variously called Lough Derg (Lake of the Cave), Purgatorium Sancti Patricii (St Patrick's Sanctuary or Purgatory).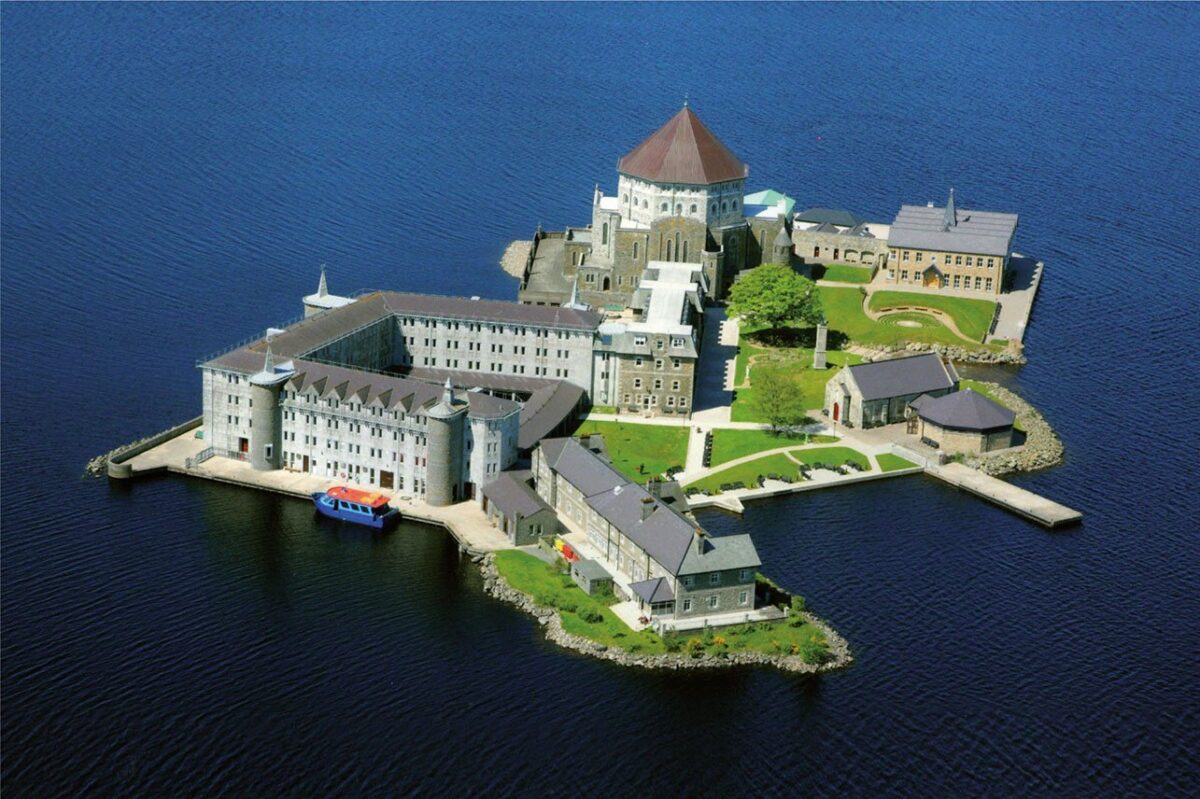 The Island receives individual pilgrims and organised groups for the Three Day Pilgrimage, One Day Retreats and Special Retreat Days. Outside the programme of Pilgrimage and Retreats.
Cruit Island
Cruit (pronounced "Critch") Island, which can be found off the coast of West Donegal near Kincasslagh, is a small island measuring roughly 3 miles by one mile. It is approached by a bridge so access to it is easy. Beside the road bridge, there is a smaller pedestrian bridge. There are no shops nor pubs on Cruit but the drive back to Kincassalgh is very short and there you will find a shop and pubs. On the island, there is the Cruit Golf Club which has its own bar.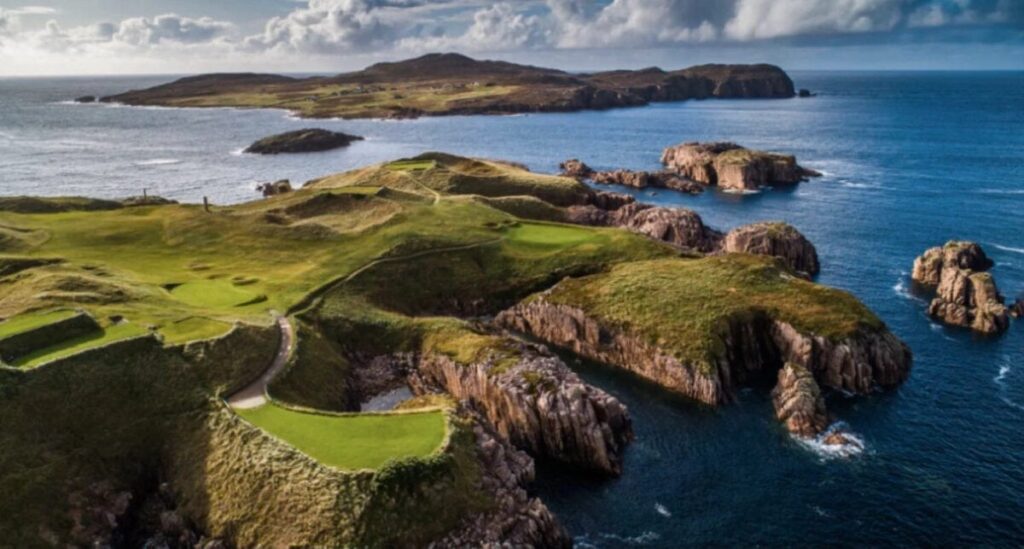 The island is very beautiful and is dotted with sandy beaches all around its coastline. In fact, there are about twelve beaches on this tiny island. There is a small pier and a couple of slipways. During low tide, it is possible to walk to the mainland at Bellcruit.
Don't forget to stop by Donegal Town on your way through the county it's a great location to find a BnB or simply hang out and have some craic with the locals.
Islands in Northern Ireland
Moving northward a little you will find the only inhabited island in Northern Ireland and one of my personal favourites. There are several lake islands in Northern Ireland including Devenish and Boa Island where you will find the ancient Janus Head. Rough Island which is accessible at low-tide, providing magnificent views of Strangford Lough and is an excellent view point for bird watching.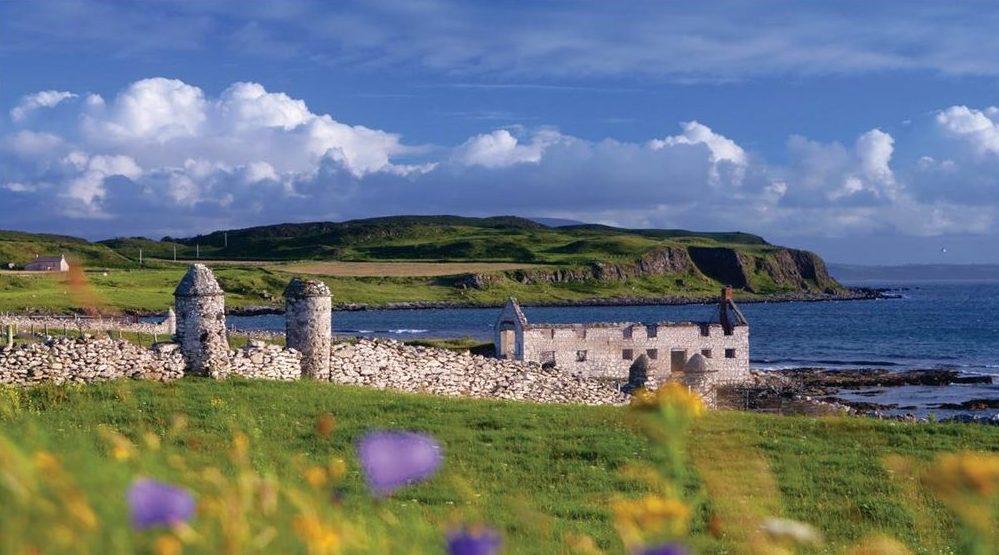 Rathlin Island
Head up to Ballycastle Northern Ireland where you can take the ferry across to Rathlin. This is the place to find puffins in season and Rathlin is known to have the largest seabird colony in N. Ireland. Bert's bus will take you straight from the ferry to the seabird centre where you can observe many after heading down the multitude of steps to the upside-down lighthouse.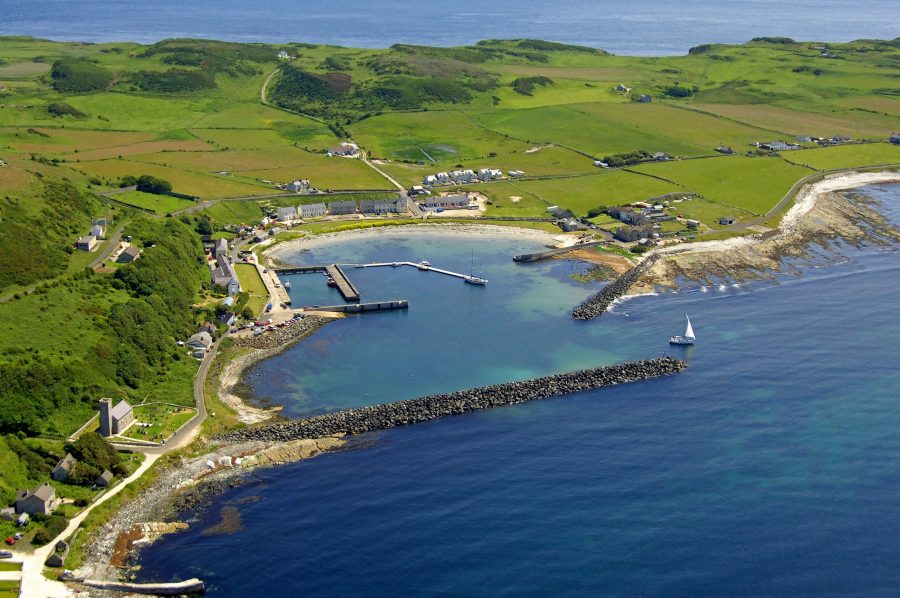 If you are planning on taking the Wild Atlantic Way route then head to Sligo from Donegal and down the outstanding western coast of Ireland where you will find many an Irish Island.
Irish Islands of Sligo
One of my favourite counties in Ireland Sligo is simply breathtaking and utterly undertouristed which makes it a fabulous place to get away from all the usual tourist sites and scenes.
Innishmurray Island
Inishmurray Island can be found on the coast of beautiful Sligo. It is one of several uninhabited islands in Ireland with an early Christian monastic settlement dating back to the 6th century. The island was inhabited until 1948 when the last islanders left for the mainland. You can take a boat trip to the island from Streedagh in Sligo.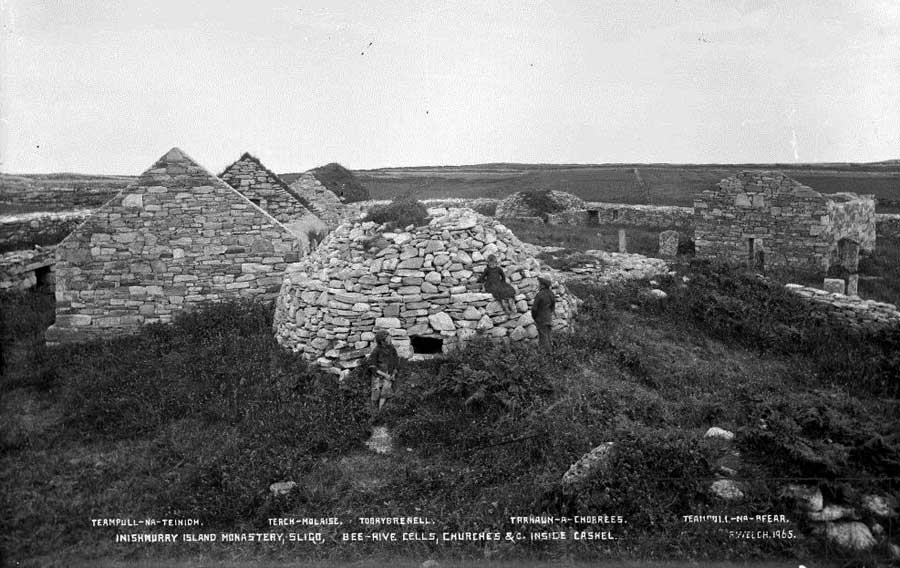 Coney Island
Coney Island is also located off the coast of Sligo and yes the name travelled to the United States. Coney is an English word for a rabbit as the island apparently had lots of them back in the day. If you head to Strandhill in Sligo you can drive to the island but beware the tides can trap you. The island has one pub and is a perfect place for a picnic and a pint or even better a horseback ride across the beach.

Dernish Island
The two other islands in the harbour are Conor's Island and Dernish Island. Both can be reached by various methods from Horse Trekking to Kayaking.
Many a visitor to Ireland has a dream of riding a beautiful Irish horse on a deserted beach. Well here on Dernish, your dream can come true. You get to cross an Atlantic channel on horseback to Dernish Island and explore the island's ancient sites, check out the young herds of horses and cattle and simply enjoy your trek.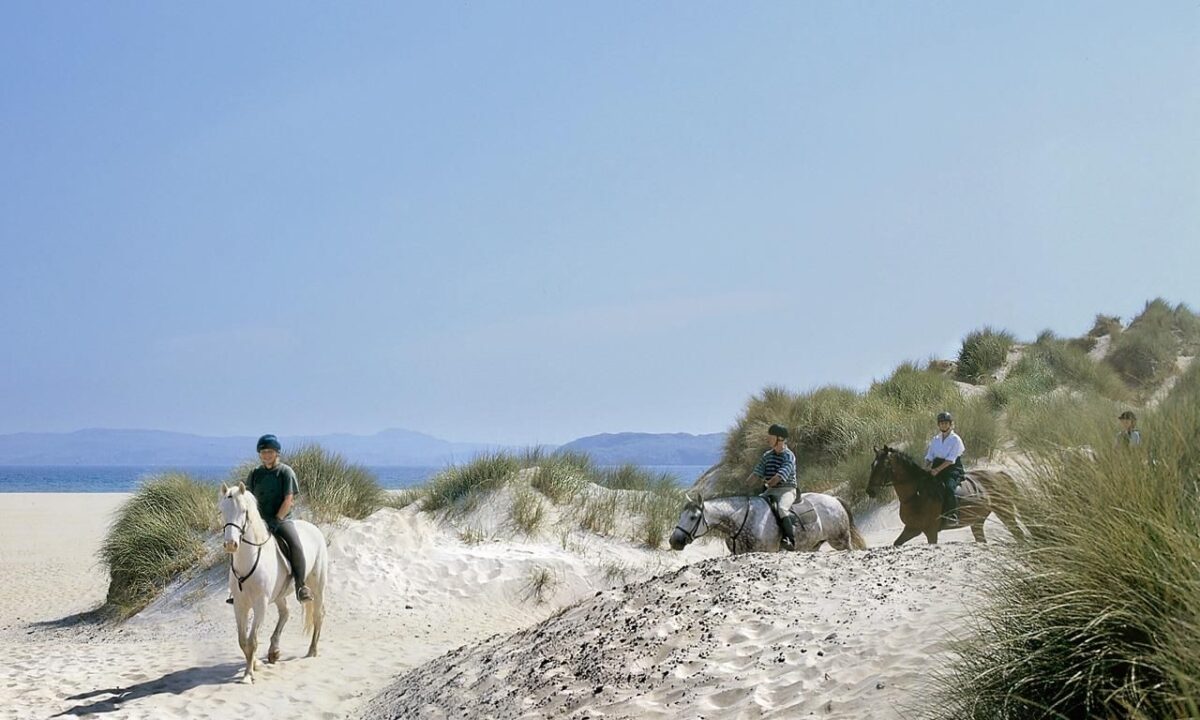 There is wild camping on Dernish Island which is not accessible by car only boat and there is room for up to 10 tents with a bunkhouse and a small store. The views are simply phenomenal from wild seals basking on the beach to surfing the awesome breaks of the island. This is an experience for those of you who love the simple life of camping with no mod cons.
Oyster Island
Oyster Island sits just off the coast of Rosses Point and got its name from the many oyster beds that were to be found along its shores until the end of the 19th Century.
Oyster Island Lighthouse is located on the north shore of the island and was built in 1932. Oyster is separated from the larger Coney Island by Sruth na Mile, the channel of a thousand currents. Sruth na Mile's tidal eddies give it an unusual whispering sound, which changes with the ebb and flow of the tide.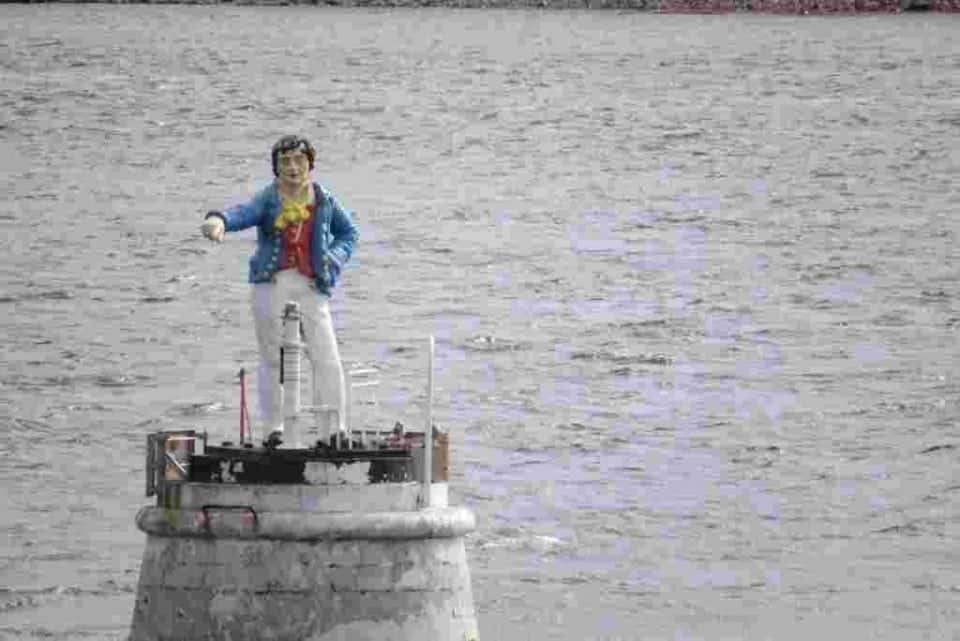 Probably the most unusual light in Ireland, the Metal Man was ushered into being after a number of wrecks on the Perch Rock near Oyster Island and Rosses Point. 12 feet tall and weighing seven tons, this naval petty officer was one of four cast by Thomas Kirke in 1819.
Irish Islands of Mayo
Following the WAW route, we head into Mayo, home of the Pirate Queen Grace Gráinne Ní Mháille whose home was on Clare Island according to the stories.
Clare Island
Clare Island the home of the O'Malleys guards the entrance to Clew Bay in Mayo. Accessible by a ferry from the Roonagh Pier, this is the hiker's island. You can visit Grace's grave and take a look at the medieval wall paintings in the Cistercian Abbey or climb to the top of Knocknore Mountain.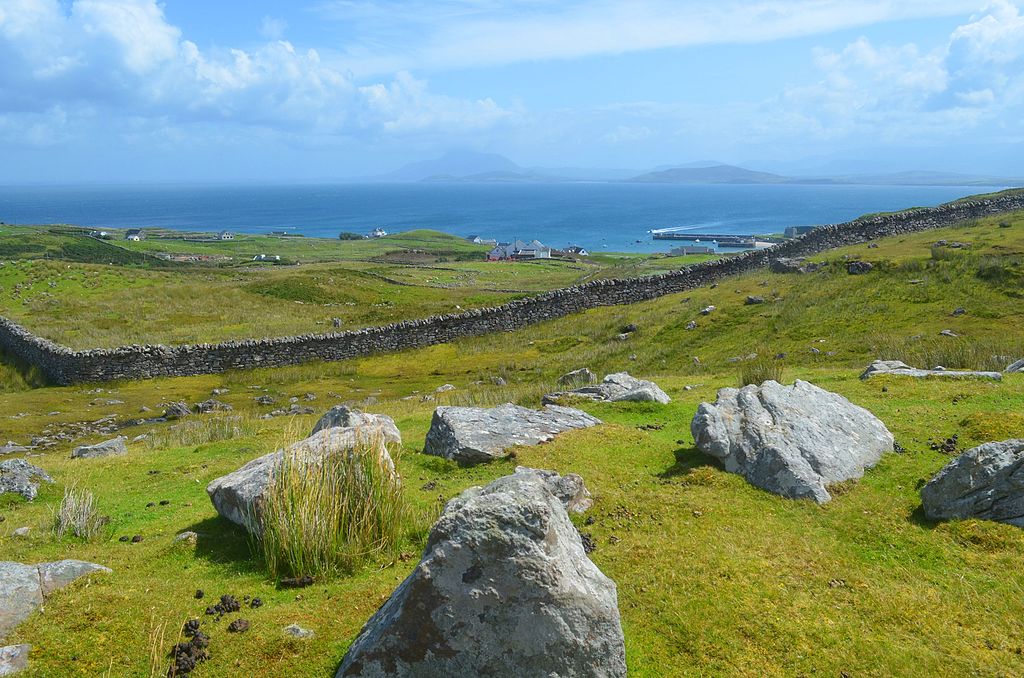 Caher Island
Caher Island can be visited by boat from Inishturk or Ronnagh Pier it holds the ruins of a chapel adorned with the original 7th-century Celtic crosses. There are also hermitage sites which historians believe were inhabited by the followers of St. Columba. A pilgrimage takes place every August to the Island which is part of the annual Croagh Patrick pilgrimage. Sunday in July.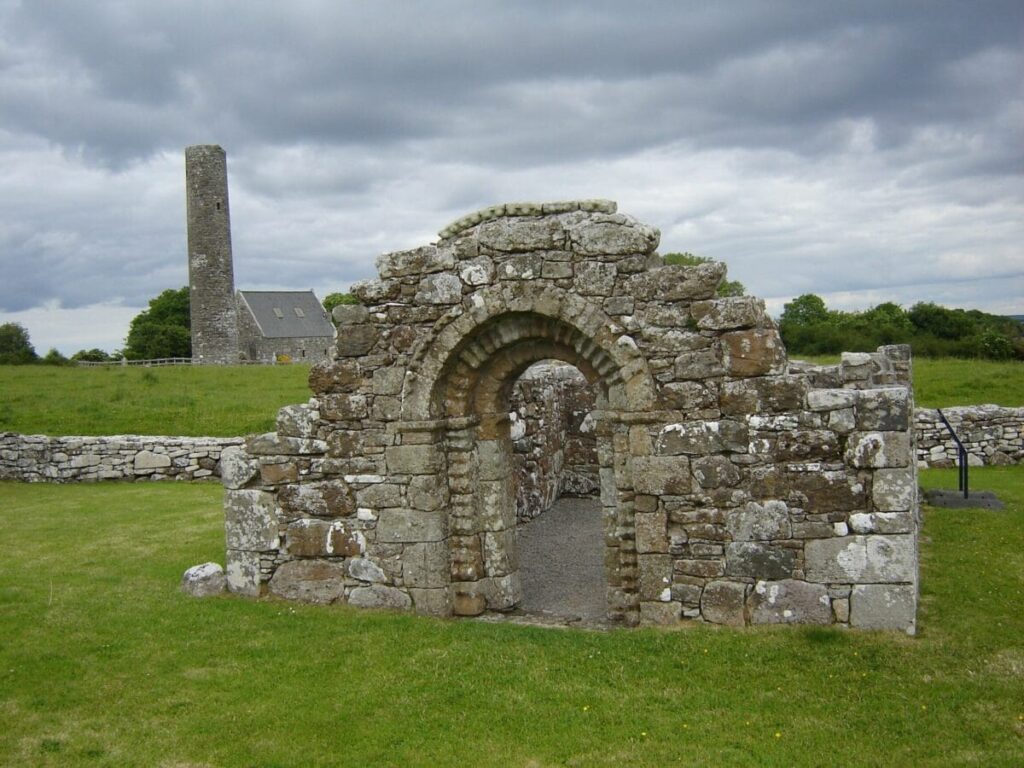 Inishturk
Inishturk is to be found about 9 miles off the coast of Mayo and it is famous for its sports field that the islanders carved out of the mountain. Inishturk in English means Island of the Wild Boar and it contains Ireland's smallest primary school and a Community Centre which is also a pub and a library. Inishturk is famous for its cliffs and sea stacks Buachaill Mor and Buachaill Beag which can be found when following the clifftop from Dromore Head.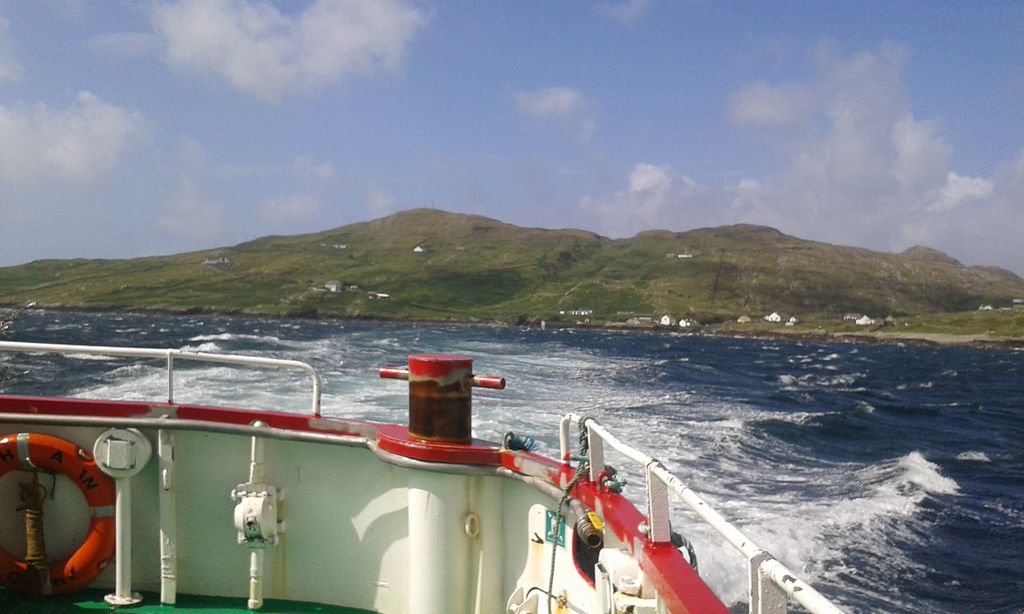 Achill Island
One of the best islands to visit in Ireland is Achill Island where most of the filming for the Banshees of Inisheeran was filmed. The largest of the Islands in Ireland it has a coastline of nearly 80 miles. Achill is one of the few Irish Islands that you can get to overland as it is connected to the mainland by a swing bridge.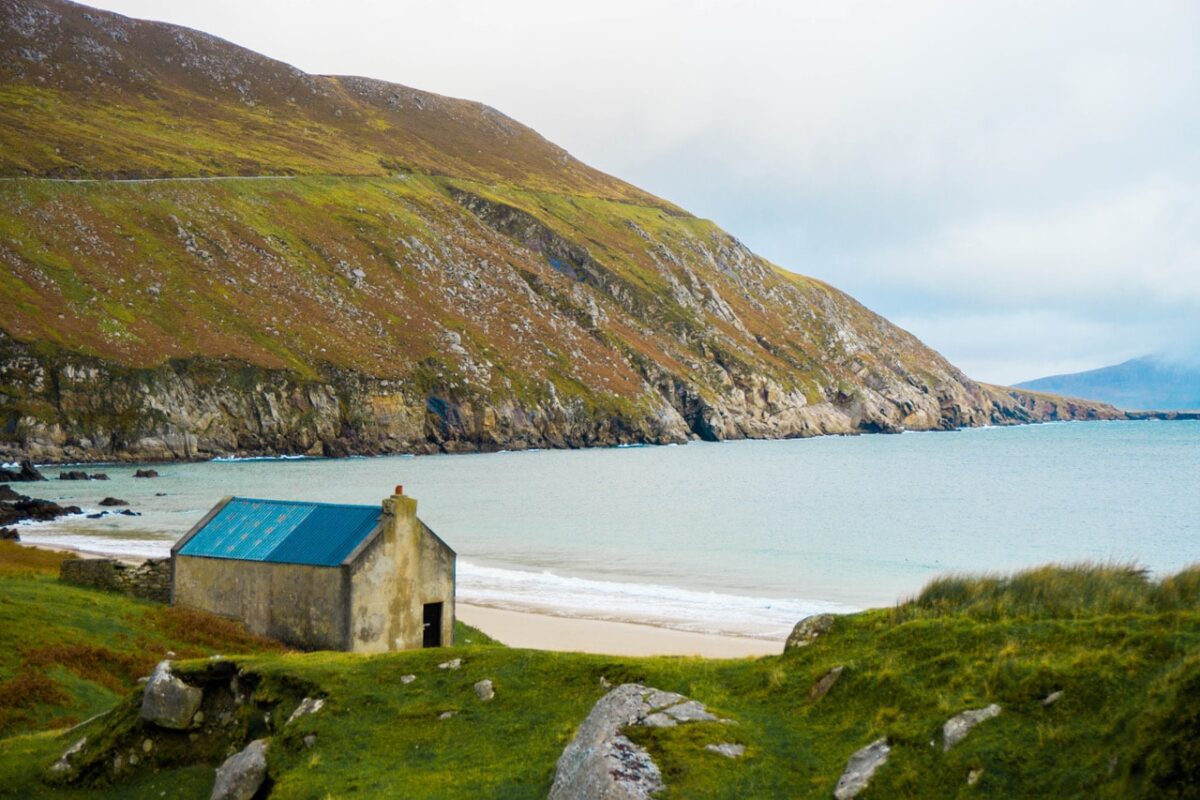 Achill is home to two stunning beaches Keel Beach which is perfect for surfing and Keem Bay which looks like a beach you might find in the Caribbean surrounded by gorgeous mountains and lots of sheep.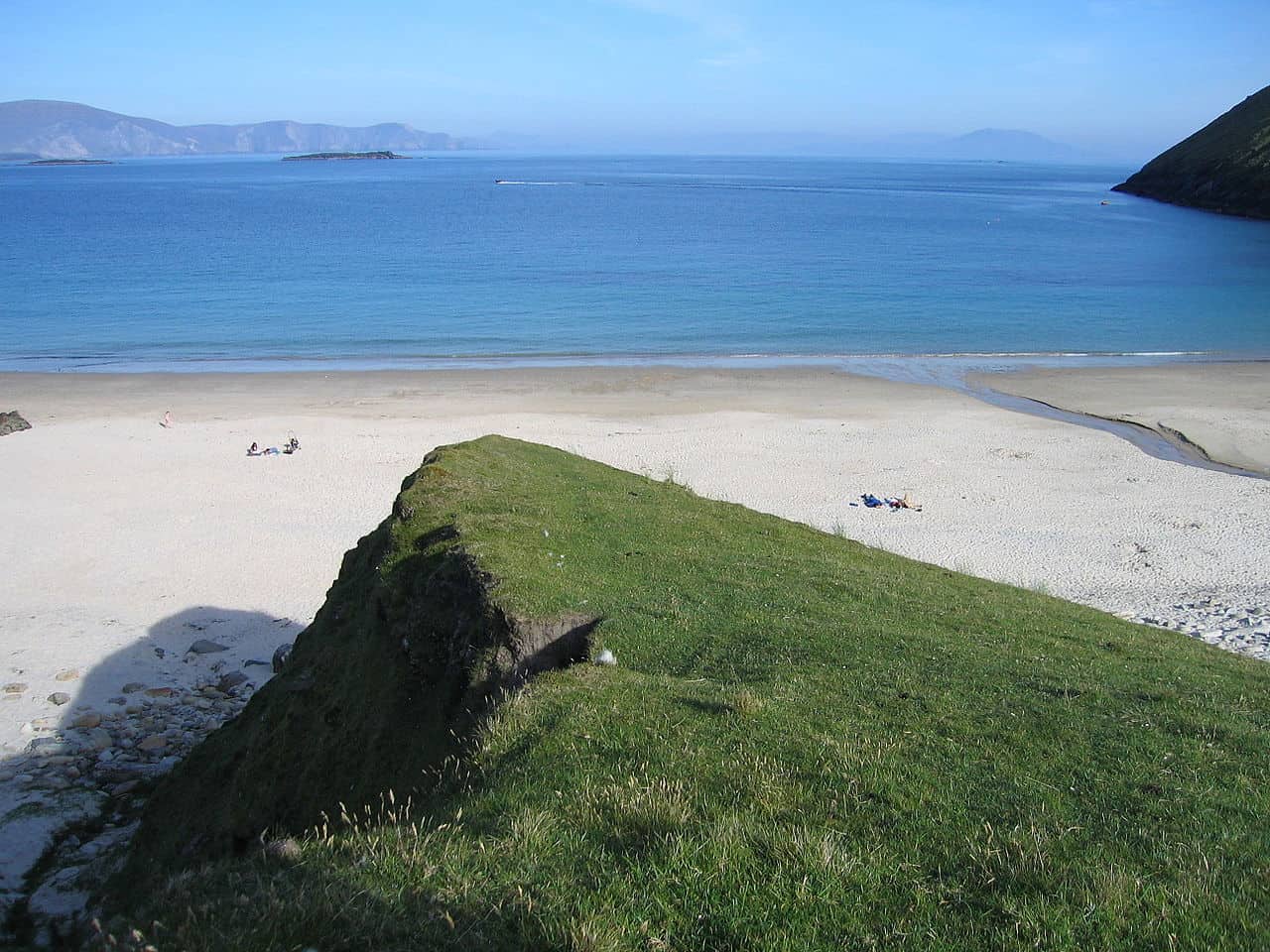 These are some of the best beaches in Ireland and on Achill, you can swim, windsurf, kiteboarding, kayak, surf and canoe, and outdoor adventure lovers paradise. For those that love ancient history, there are megalithic tombs, majestic hiking in the mountains, ancient forts, and ruins alongside historic churches. Achill is of course also famous for its Deserted Village which was abandoned in 1845 and the village is open to the public.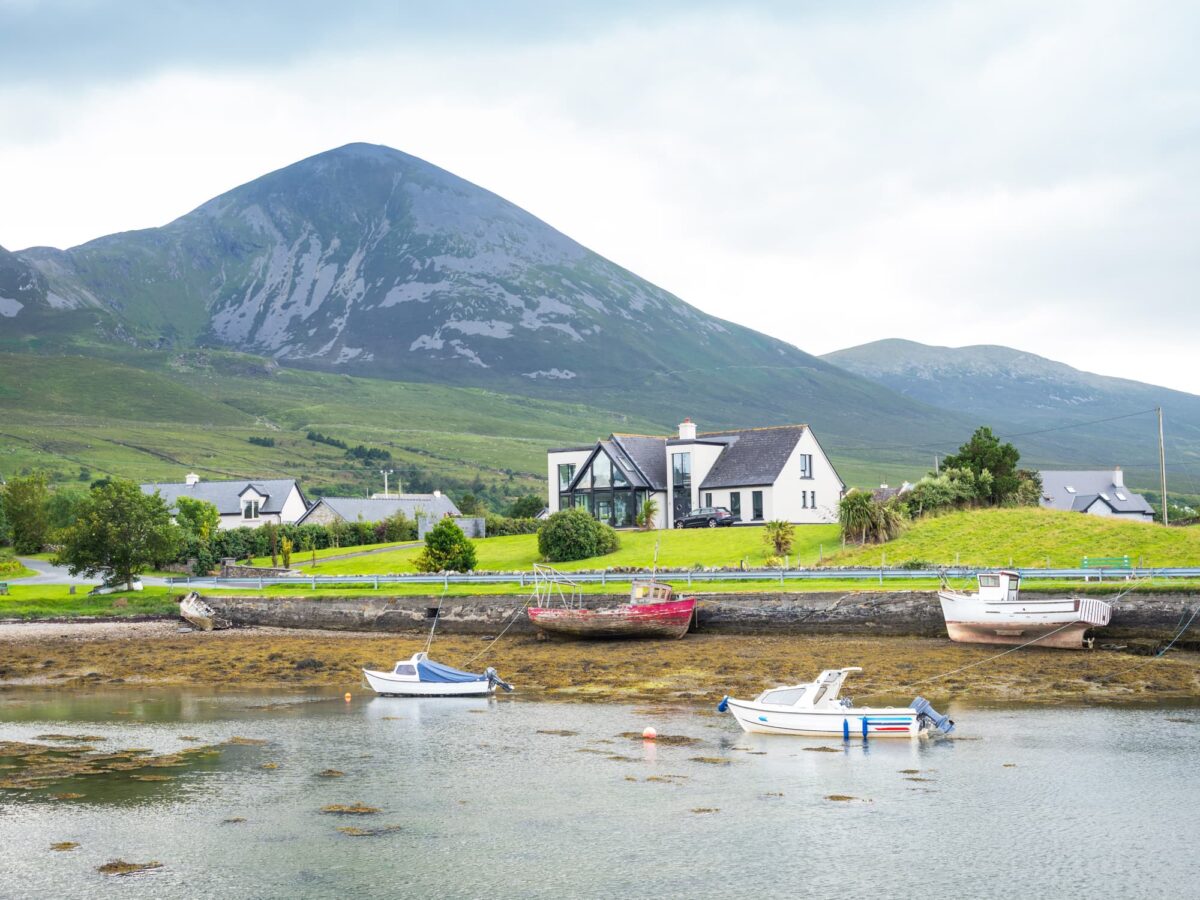 Inishbiggle
Inishbiggle Island is one of those Irish gems found just off the coast of Ballycroy. It is inhabited with around 20 people living there mainly sheep and cattle farmers along with winklepickers and fishing folk. There are ferries to the island and Inishbiggle loop walks begin at the pier at Bullsmouth, where the ferry from Achill Island docks, and at Gubnadoogha, where the ferry from Ballycroy arrives.
Irish Islands of Clare
Many people visit Clare for no other reason than to race to the Cliffs of Moher but you should really stop and take your time to visit such a glorious county. Go see the Cliffs of Kilkee and visit the Burren which are simply amazing.
Scattery Island
In 1978, Scattery Island the last inhabitants of the Island left but this is a truly unique Island experience and holds a wealth of historic sites. In 2017 it was awarded the Destination of Excellence and you can visit five Churches, a Cathedral, a magnificent Round Tower, Napoleonic War Artillery Battery and a working Lighthouse.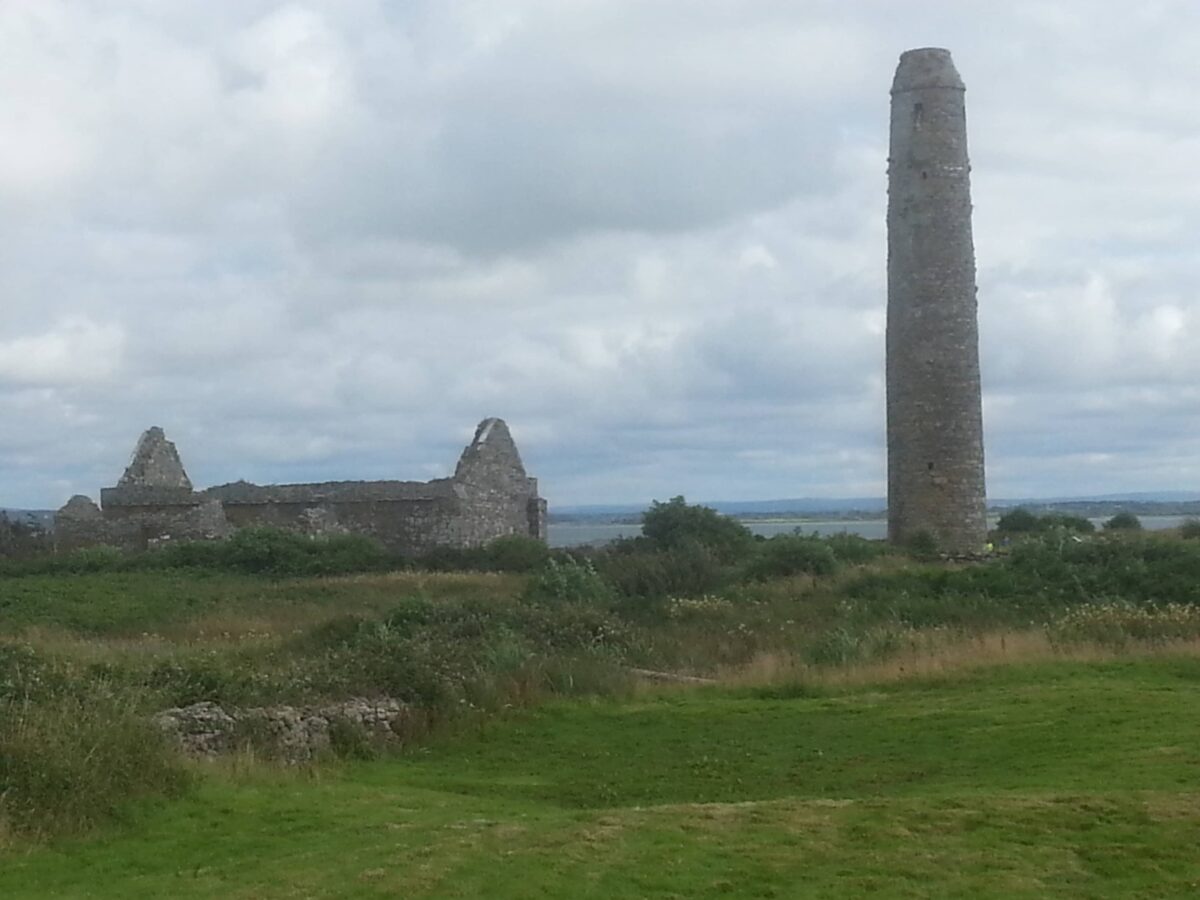 Irish Islands of Galway
From Mayo, we now head into Galway and some of Ireland's most famous islands. Of course, a stop in Galway City for some trad music and fantastic shopping is also required.
Inishmaan
Inis Meain or Inishmaan is the smallest of the Aran Islands (not to be confused with Donegals' Aran Island) and obviously famous for its Aran sweaters. The least visited of the Islands it has some absolutely outstanding views of the Cliffs of Moher and some fascinating early Christian and ancient Celtic sites. Recently the Island has become a diver's paradise with its clear waters and marine life.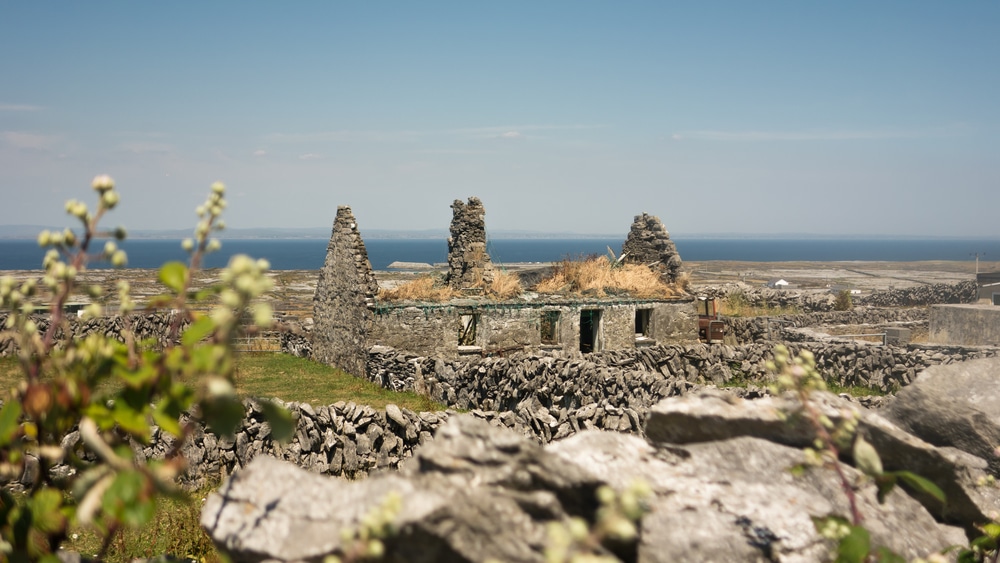 Inishmore
Inishmore is the biggest island in the Aran Islands chain and it is inhabited and reached easily by ferry from Galway Bay. Inishmore does have a rather unusual microclimate and you will find plants ranging from alpines to the Mediterranean and the arctic growing side by side. There are many things to do on Inis Mor so try and spend a day on the island if you can.
Here you will find lots of tourists taking advantage of the cosy bed and breakfasts, bike rentals to tour the island, and horse-drawn carriages allowing you to see the island without all the walking and hiking. You can sample poitín from the local distillery and visit historic ruins and thatched cottages for that Instagram photo. Of course, no visit to Inishmore is complete without a trip to Dun Aonghasa perched on the edge of the cliffs. Over 3000 years old half has now fallen off the 100-metre cliff into the sea.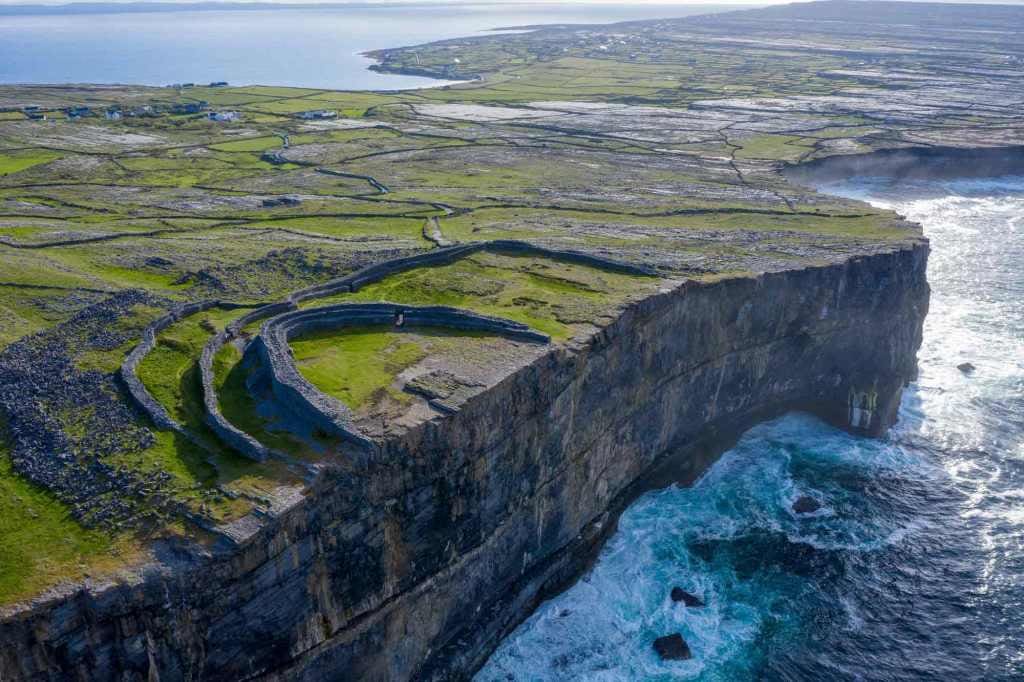 101 Landmarks to visit in Ireland
Inisheer
Inisheer Island is where the earliest evidence of human settlement was found in Irelan in 1885. A burial site datings back to 1500 BC were unearthed. A great place for a solitary visit as this Irish island is not visited often by tourists) you will find beautiful celtic crosses, a castle ruin a holy well, and a ruined castle to visit. There's also the old church ruin that was covered by sand from the Atlantic winds.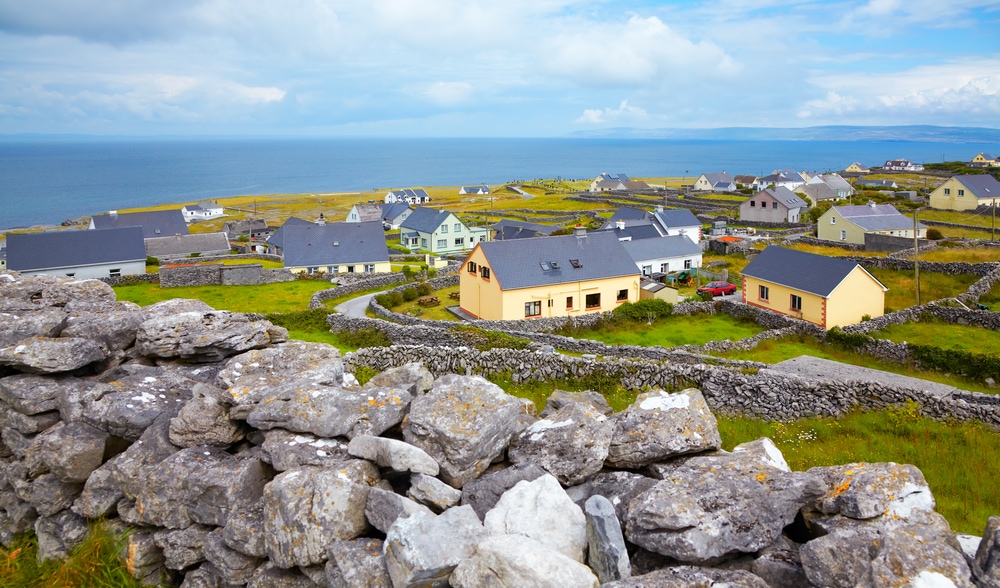 Inishbofin
Inishbofin was probably inhabited back as far as 8000–4000 B.C. The Island makes a great day trip or you can stay overnight at one of its BnB's, there are 5 restaurants and 4 pubs on the island and the island hosts an Arts Festival, a Regatta, a Walking Festival and of course the greatly anticipated Trad Music & Set Dancing weekend in September you are sure to be kept well entertained.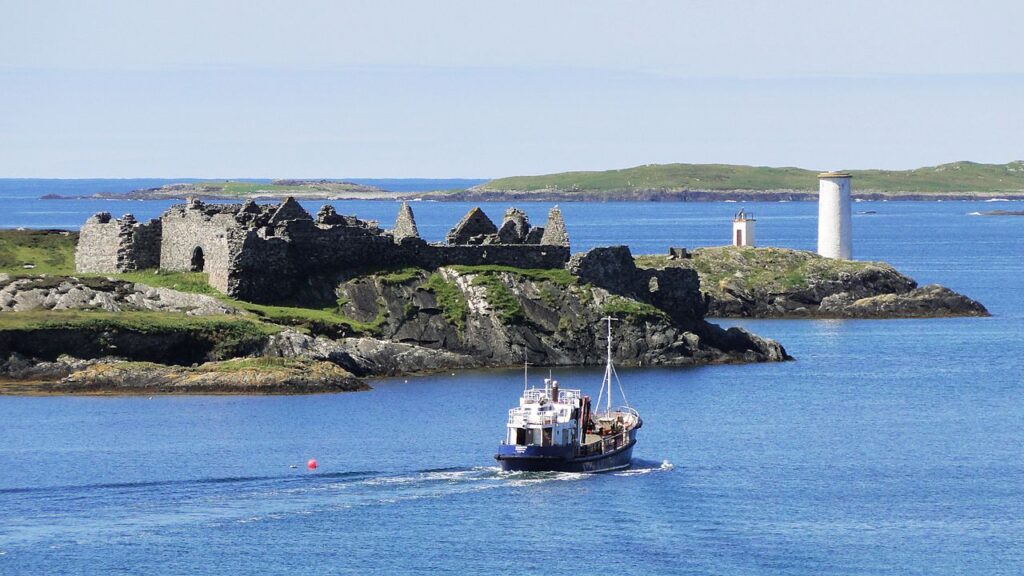 Lettermullan
Lettermullan Island is reached by a landbridge and you can visit the very interesting Lettermullen and Garumna Heritage Centre, which exhibits the rich heritage of the local area in Caladh Ghólam. There is a great exhibition of tools and instruments from long ago to be seen in the centre as well as blacksmith, carpentry and farming tools to name but a few.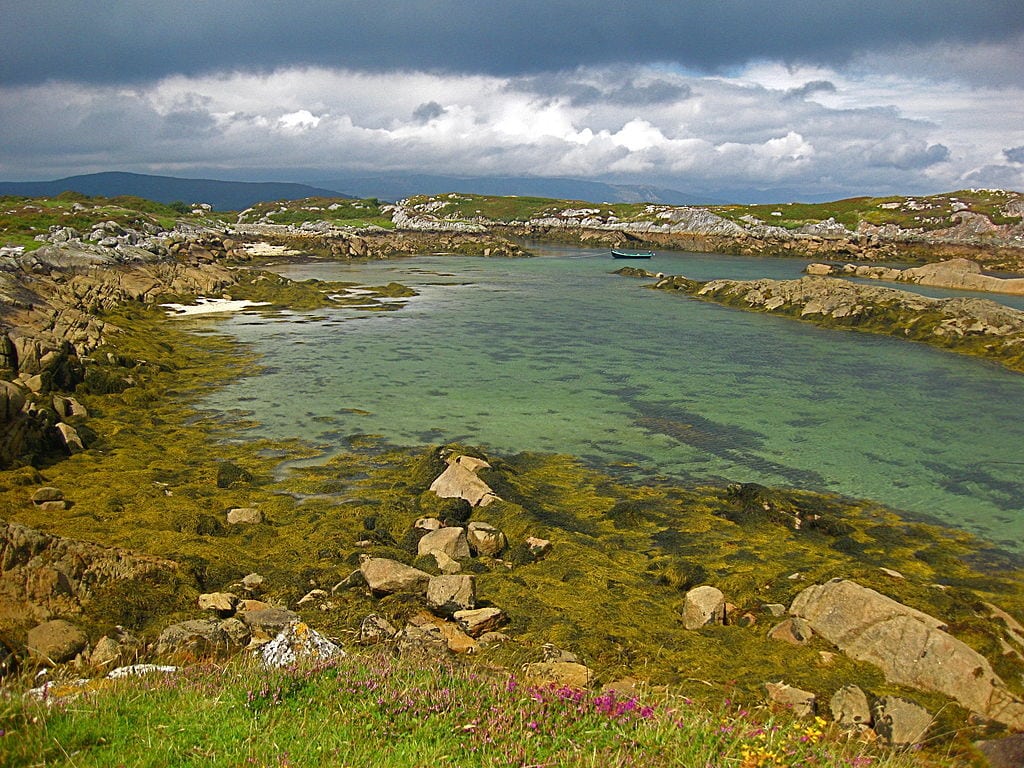 Irish Islands of Kerry
From Galway, we head into Kerry where you can't not do the Ring of Kerry or Dingle Peninsula tour along with a visit to some of its most famous islands.
Great Blasket Island
Great Blaskets evacuation took place back in 1953 when the last few people left for the mainland. You can take a ferry to Great Blasket and walk the island completely in a natural paradise (with no internet). You may have heard of Great Blasket as a short time ago it was advertising for a caretaker couple to come and live on the Island. They are the only inhabitants but see a great number of visitors in the season who come out to Great Blasket to enjoy a peaceful reprieve from city life.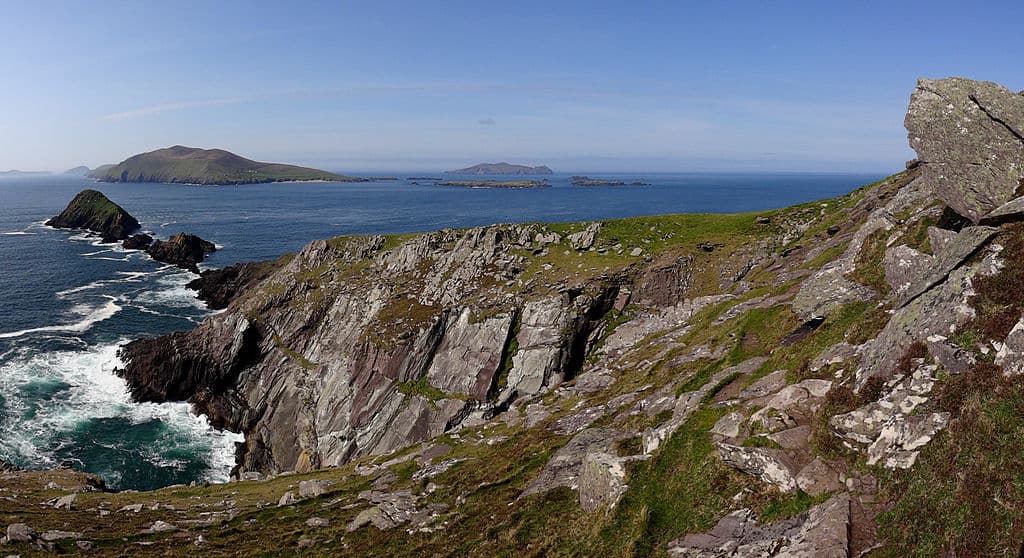 You can hike around Great Blasket but be prepared for a steep climb to the old abandoned homes and around the island but as a reward for your hard work, you may see dolphins, basking sharks, and grey seals along with an abundance of birdlife.
Valentia Island
Home to just under 700 folks Valentia Island has some jaw-dropping views of Skellig Michael and the Wild Atlantic Way coastline. Valentia Island is accessible by road bridge from Portmagee and by car ferry (April – Oct) from Renard Point, Cahersiveen.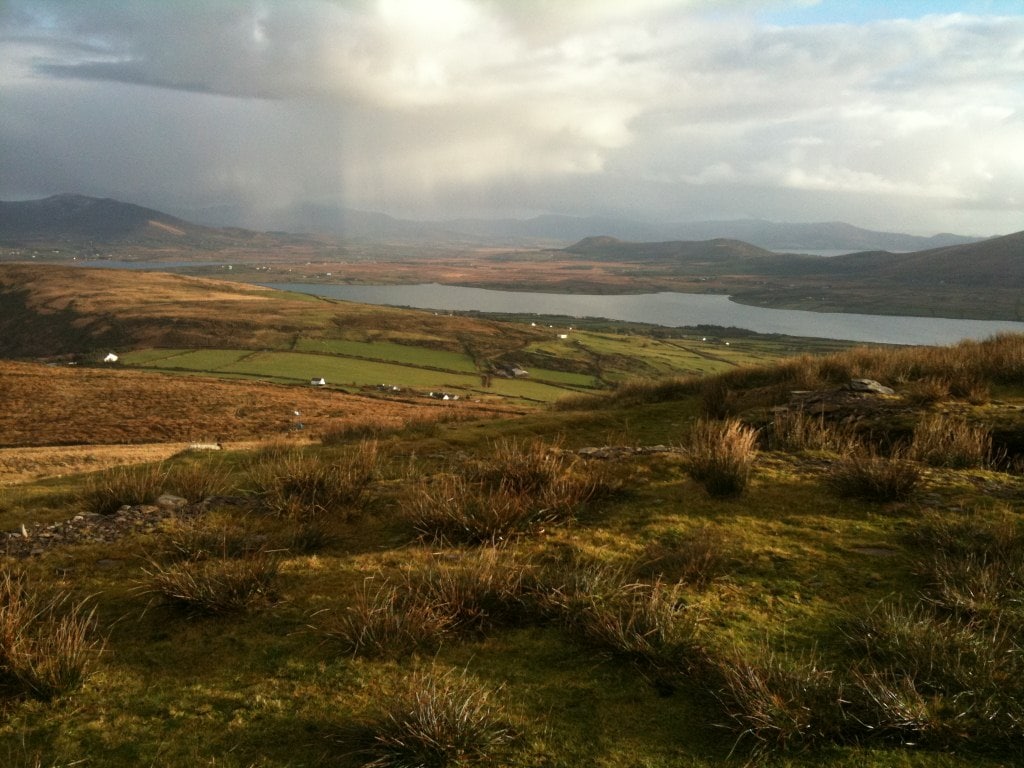 Visit the Slate quarry or the Lighthouse at the Cromwell fort is a nice walk climb on Geokaun Mountain with spectacular views and you could drive up if you want to. Visit Signature Point on the Wild Atlantic Way is a fantastic place to see the Skellig Islands and there are well-established walks starting from there.
Skellig Michael and the Skellig Ring
The famous Skellig Michael where Star Wars was filmed is out of bounds in 2020 due to a rock slide but you can still take a boat out to view the Skelligs from a distance. The 6th-century monastic site is a UNESCO heritage site and can be reached by climbing over five hundred steps of the old stone stairway.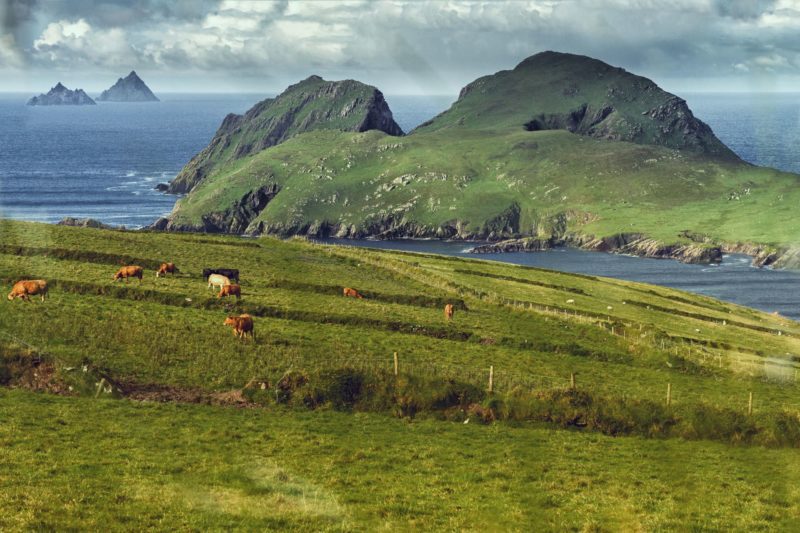 The ring of Skellig is an extension of the famous Ring of Kerry and is a real hidden gem – a small, 20-mile route the Skellig Ring detours west off the N70 just north of Waterville, and hooks back up to the Ring of Kerry just south of Caherciveen. If you want to go to Valentia Island or take a boat to the Skellig Islands, you'll be heading this way, anyway.
Irish Islands of Cork
From the delights of the Ring of Kerry and the Dingle Peninsula, your Irish Island hunt will take you along to Cork.
Cape Clear
Ireland's southernmost inhabited Gaeltacht island, Cape Clear lies 8 miles off the coast of West Cork. Saint Ciarán, the island's patron saint, allegedly the earliest of Ireland's four pre-Patrician saints, was born on Cape Clear. Saint Ciarán's well is one of the first features you encounter on arrival at Trá Chiaráin where the Islanders gather each year on the 5th of March to celebrate his feast day. The most notable feature of the island is a signal tower dating from the Napoleonic Wars. The ruins of a 12-century church also stand near the island's main pier.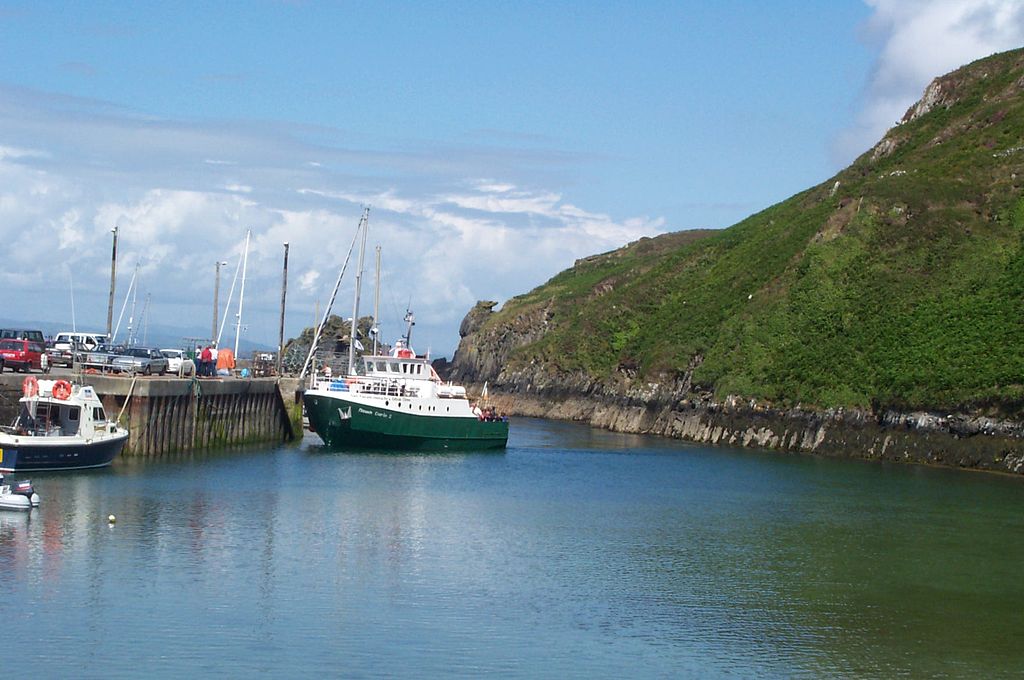 To the northwest is Mizen Head, Ireland's most southerly point. Cape Clear's remote island location is the foremost centre for bird watching in Ireland. Whales, leatherback turtles, sunfish, dolphins, and sharks are spotted regularly every year.
Garnish Island
Garnish Island is famous for its beautiful gardens designed by Harold Peto for the island's owner at the time, John Annan Bryce, who purchased the island from the War Office in 1910. The island is also home to a Martello tower which dates back to the Napoleonic Wars. This is one of several abandoned Irish islands but its garden and tower attract many tourists, especially during the summer months.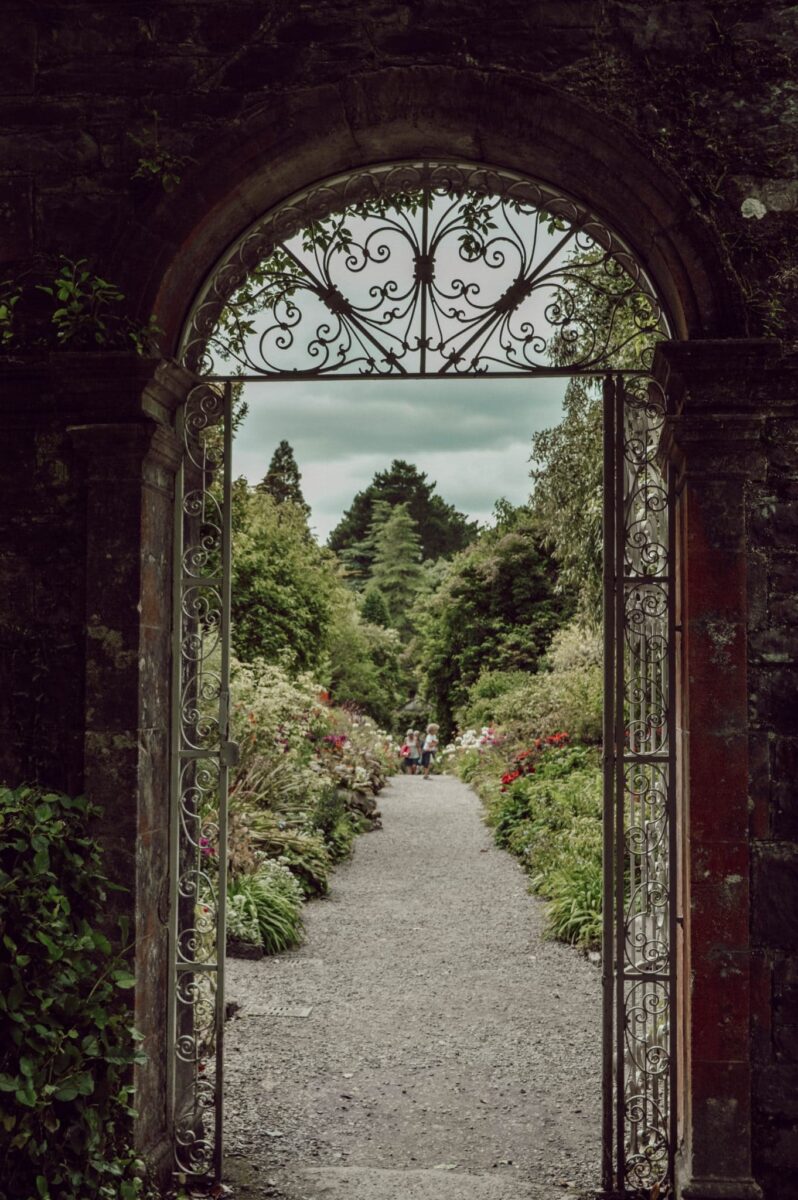 Sherkin Island
Sherkin Island has suffered a steady decline in population since the famine although in the summer months many Irish return to their summer homes here. The island is home to a great range of artists from writers to musicians and painters alongside the summer folk, teachers, doctors, fisherman, and farmers.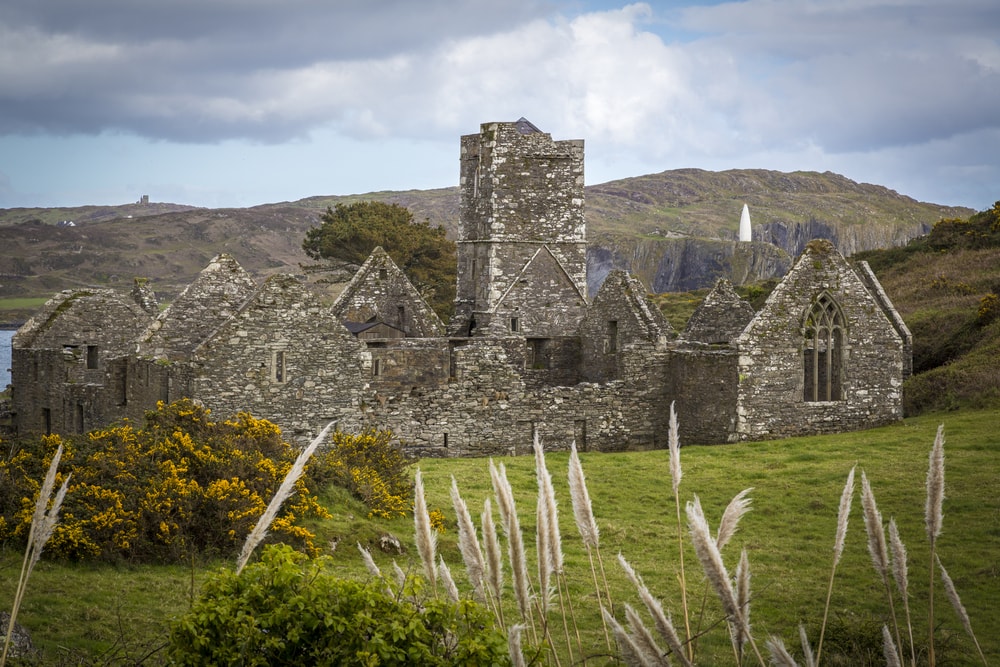 Dursey Island
Dursey Island is one of the few inhabited islands that lie off the southwest coast of Ireland. Located on the western tip of the Beara Peninsula Dursey Island is separated from the mainland by a narrow stretch of water called the Dursey Sound. This peaceful island, with only a handful of semi-permanent residents, is connected to the mainland by Ireland's only cable car.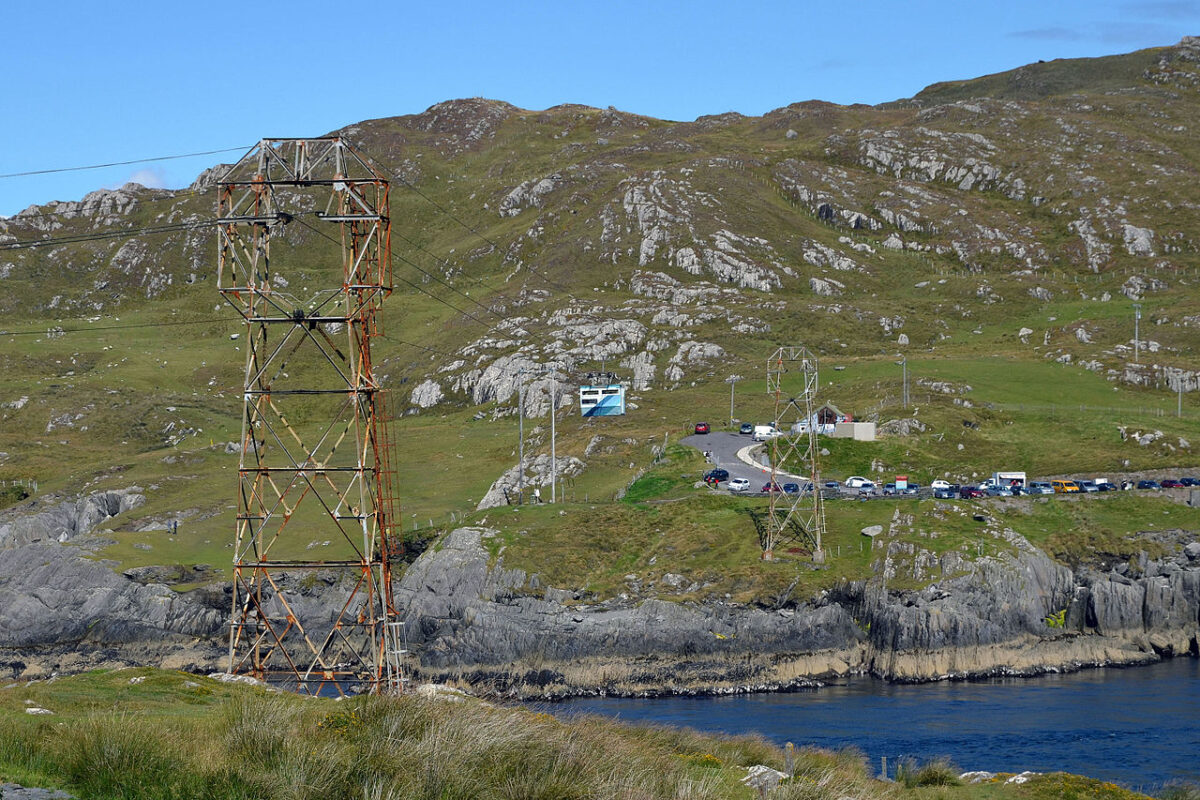 Dolphins and whales are regular visitors to the rich waters that surround Dursey, in addition to a wide range of different types of seabirds and butterflies.
Dursey has no shops, pubs or restaurants, so visitors are advised to bring food and water if they plan to go for a walk. There is a coffee dock open at the cable car landing area during the Summer months. Bus service is available on the island.
Bere Island
Bere Island is located off the Beara Peninsula at the entrance to Bantry Bay and has a population of around 200 people. There are a church and graveyard located in the village of Ballinakilla and the main harbour, Lawrence Cove, is located in the island's main village of Rerrin. The Slieve Miskish and Caha Mountain ranges of the Beara Peninsula tower over the island providing a dramatic backdrop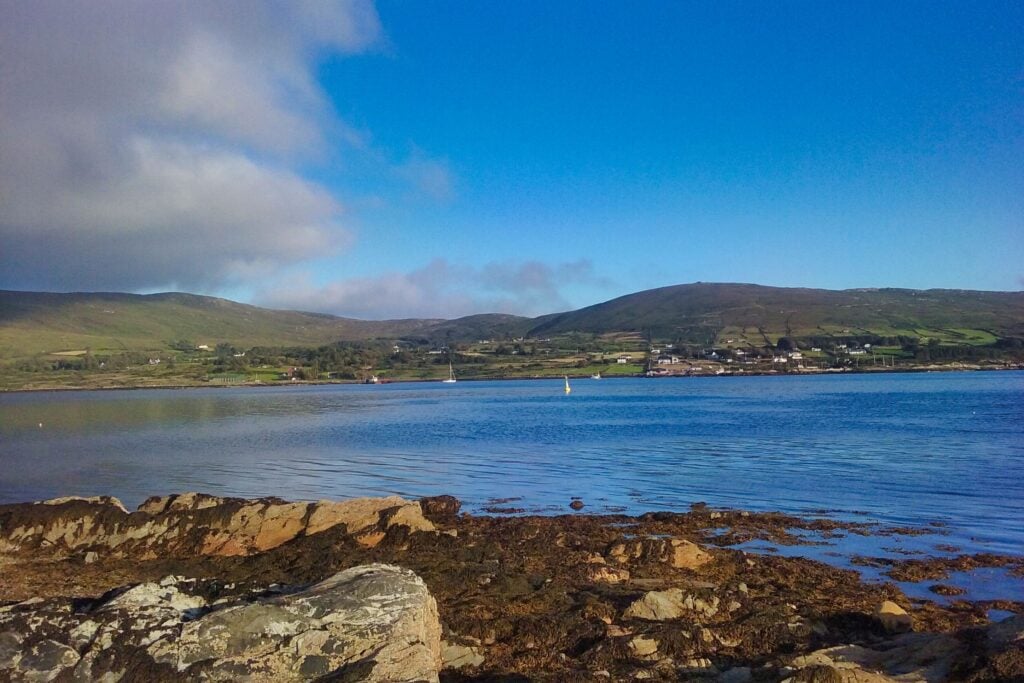 Whiddy Island
Sadly Whiddy Island is most famous, for the worst maritime disaster in Irish history. On January 8th, 1979, a French tanker was unloading crude oil at a Whiddy Island terminal when it exploded killing 50 people.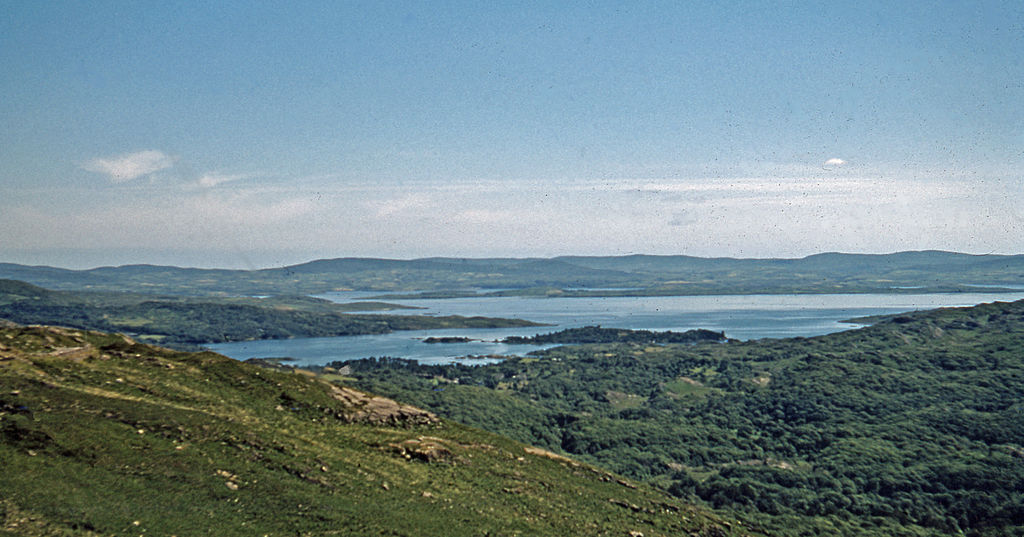 At the Kilmore lakes, you will find a holy well, church, and graveyard dating from the sixth century. In the early 1500s, the great chieftain Donal Cam O'Sullivan Bere built Reenananig Castle on the island. The castle was bombarded during the Cromwellian Wars, and finally collapsed in a 1920 storm; however, three magnificent forts have survived.
Whiddy Island prides itself on being a place where you can escape to birdwatch, walk and boat and simply enjoying the peace of the island at the local pub.
Heir Island
Heir Island is a rugged and wild place with a profusion of roadside fuchsia and wildflowers, stunning scenic walks, and a range of activities from swimming off sandy beaches, cooking classes, sailing and all manner of water sports the island is making its comeback.
Heading up the east coast of Ireland you will find a slew of interesting Irish Islands to visit.
Irish Islands of Wexford
With its Blue Flag beaches, the Dunbrody Famine Ship the Hook lighthouse and the Irish National Heritage Park Wexford needs you to spend a few days exploring.
Saltee Islands
The Saltee Islands are located approximately 5km off the coast of Kilmore Quay County Wexford. The larger island, Great Saltee, is the most famous bird sanctuary in Ireland and is very popular with both day-trippers and birdwatchers alike.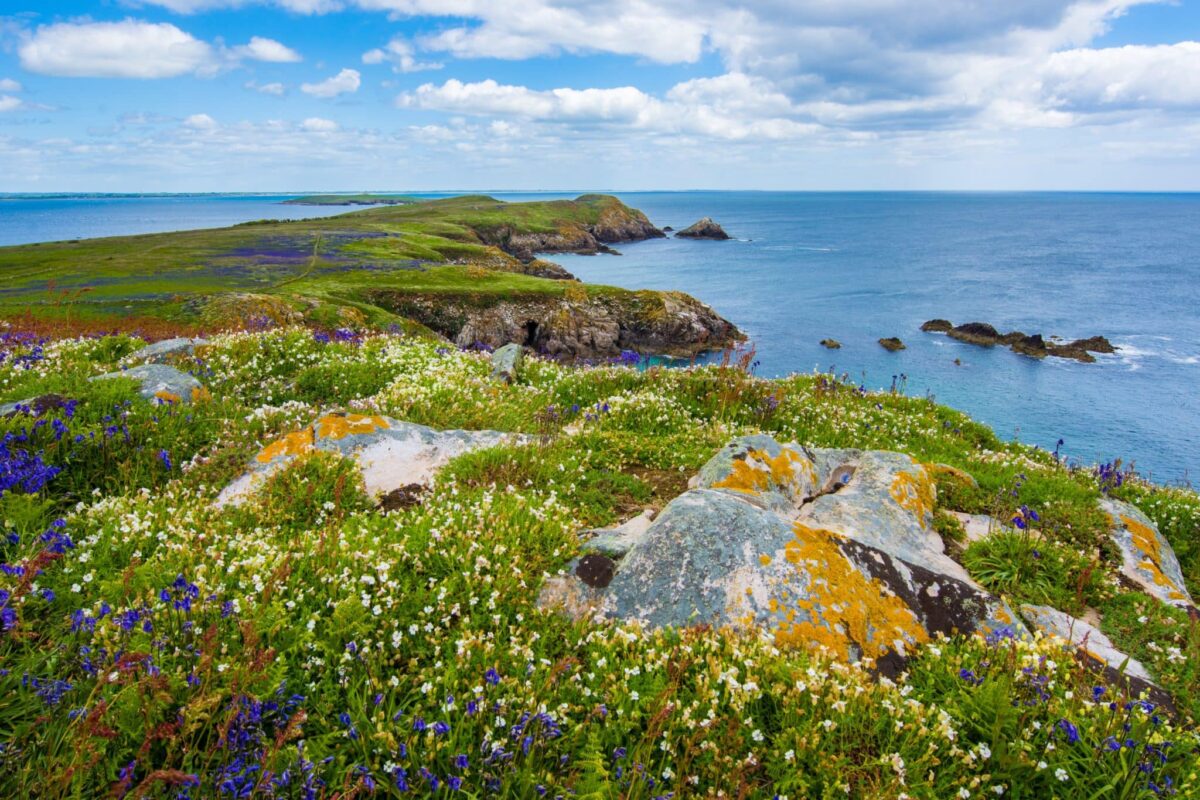 This is not an Island for the mobility challenged, it is difficult, slippery and wet and there are no good marked paths. There are also no facilities on the island so what you bring make sure you take them back with you.
Day visitors are allowed on Great Saltee between 11 am and 4:30 pm only.
Irish Islands of Dublin
Ireland's Eye
Ireland's Eye is a small island off the east coast of Ireland from Dublin. A 15-minute boat ride from Howth on Dublin's northside will take you to this beautiful and mostly untouched island.
The only signs of human activity on Ireland's Eye are two structures: a Martello Tower and the ruins of a church. However, this is one of the few places you will find Puffins on the eastern side of Ireland.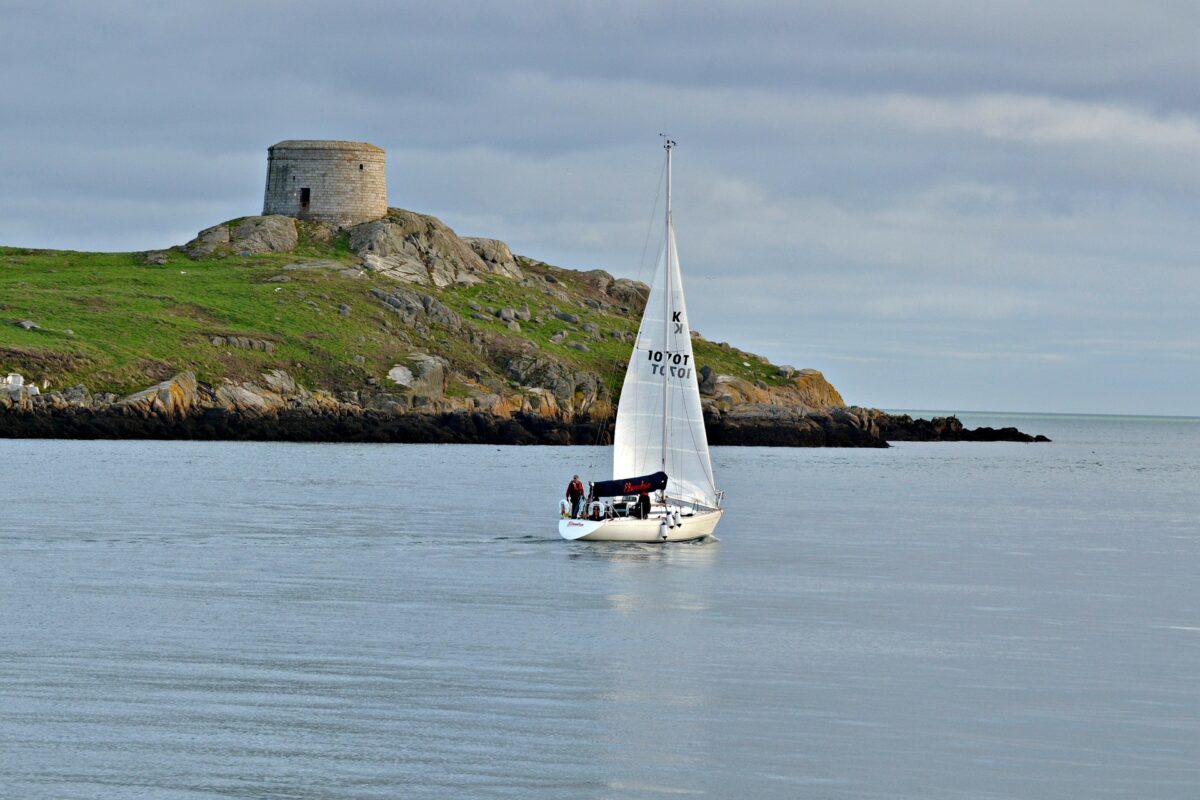 The only access to Ireland's Eye is by a regular small boat service that runs during the summer months from the west pier in Howth Harbour. The landing point is on the north side of the island, close to the Martello Tower. When you disembark follow the path that runs along the north end of the Island. It will be covered in bracken and weeds and can be very slippery so take care. From this path, there are several viewpoints where you might see the nesting puffins but the area at the back of the Martello tower has some good views.
Lambay Island
Lambay is the largest island on the east coast of Ireland Lambay and is privately owned. Lambay accepts a limited number of pre-approved day visitors between the months of March and November. Island visits are subject to the tides, weather, and availability of the resident Baring family members, who personally host all island guests.
On Lambay (if you are allowed) you can stay in any one of 23 bedrooms designed by Ned Lutyens a 16th Century castle, the Babylon guest house and old coastguard cottages, six private events spaces, a games room, a dining room with vaulted ceiling, a club room, a drinks bar, open fires, stunning gardens, and a private members club.
You could visit the Lambay Whiskey Distillery, or take some fabulous walks and see Seals, deer, wallabies, and puffins. The Wallabies got here when Dublin Zoo ran out of room in the zoo in the 1950s.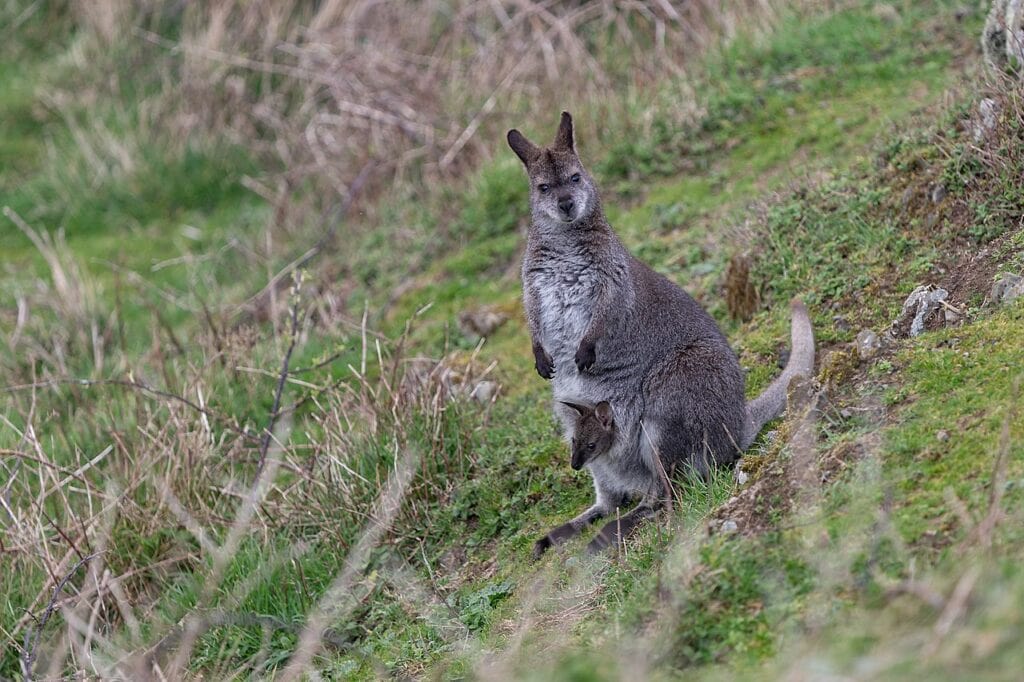 Bull Island
Bull Island, is famous for its incredible beach called Dollymount Strand running the length of the island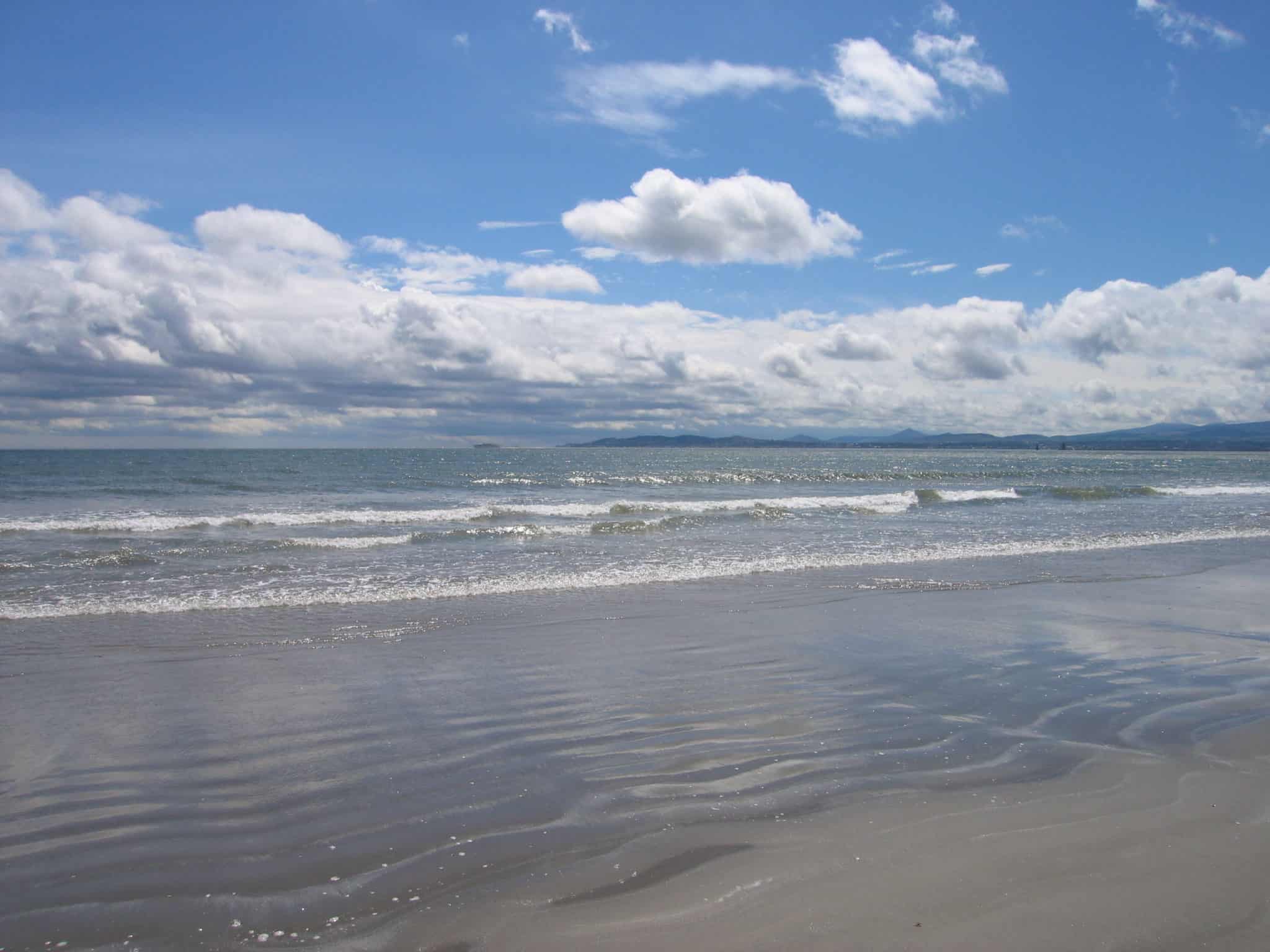 Bull Island has the most designations of any site in the country, as a National Bird Sanctuary, a biosphere reserve, a National Nature Reserve, a Special Protection Area under the EU Birds Directive, and a Special Area of Conservation under the EU Habitats Directive, while also being the subject of a Special Amenity Area Order.
Ireland's Island the FAQS
This is only 36 of the Islands of Ireland that you can visit, many of the others are uninhabited or impossible to get to and some you can only get to by boat.
Which Islands of Ireland have you visited? Do you have a favourite?
Pin it to save it

Latest posts by Faith Coates
(see all)