38 best things to do in Sensational Sligo
Sligo Ireland is a much-overlooked County on the Wild Atlantic Way and is apparently the least visited of all the counties on the west coast of Ireland. there is, however, so many things to do in Sligo you could spend several days here on your tour of Ireland. What a great loss to all the visitors who don't know the area and miss all the places to visit in Sligo. Here is my list of 38 Sligo attractions and what to do in Sligo Ireland.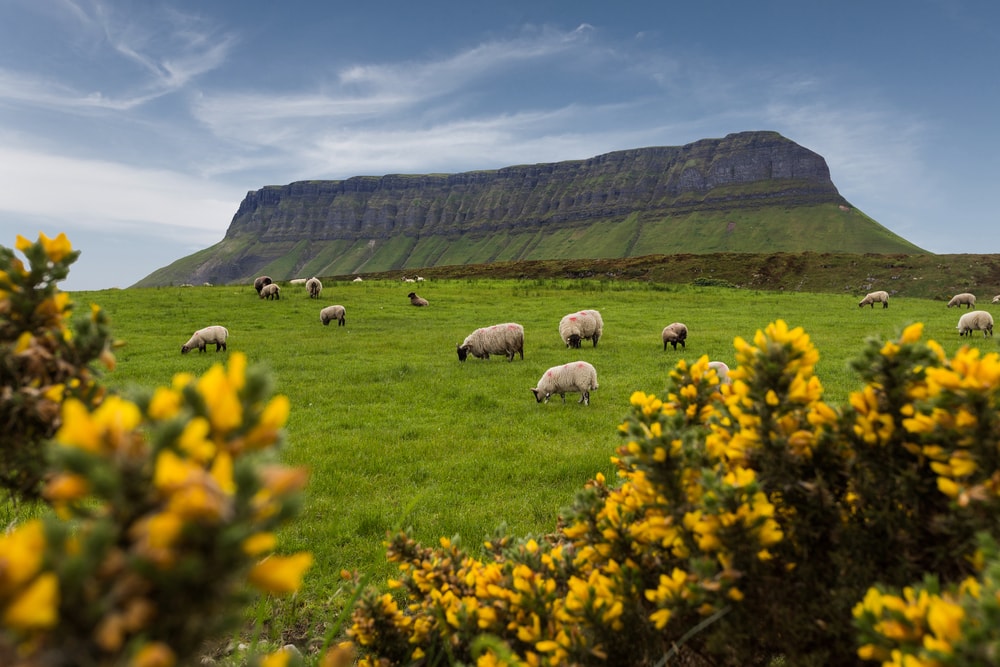 William Butler Yeats called Sligo the Land of heart's desire and his poetry inspired travellers and adventurers to seek out the wilder hidden parts of Sligo. Although I think, many just managed a trip there in their imaginations.
Much of Sligo is underappreciated and unexplored. It is a land of rugged outlooks from the incredible views of the Mountain Benbulben to the thousands of years of humankind's history buried deep in the bogs and valleys of the county.
Xyuandbeyond is reader-supported. When you buy through links on our site, we may earn an affiliate commission. You can read my privacy policy here.
Interesting facts about Sligo
Sligo is the capital of County Sligo and is the gateway to the North West and Northern Ireland (UK).
Sligo is a popular surf destination – it has the most consistent swell of anywhere in Europe – the slow and regular movement of the sea in rolling waves that do not break. There are seven beaches within 10 km: Enniscrone, Streedagh, Strandhill, Rosses Point, Easkey, Mullaghmore, and Cullenamore.
In Irish, Sligeach means 'place of shells'.
The Norman knight Maurice Fitzgerald, the Lord Chief Justice of Ireland, is generally credited with the establishment of the medieval European-style town and port of Sligo, building Sligo Castle in 1245.
It is the only Norman-founded Irish town to have been under almost continuous native Irish control throughout the Medieval period.
The battle of Credran Cille in 1257 at Ros Ceite (Rosses Point) between Godfrey O'Donnell, Lord of Tirconnell, and Maurice Fitzgerald, effectively halted Norman expansion in the northwest of Ireland.
Sligo Abbey, the Dominican Friary, is the only medieval building left standing in the town. Much of the structure, including the choir, carved altar (the only one in situ in Ireland) and cloisters remain.
County Sligo was especially badly affected during the Great Famine of Ireland, between 1845 and 1850. More than 52,000 people from the locality either died of disease or starvation or else emigrated during this time.
One of the most famous historical events of international interest in the Sligo region occurred in 1588 when three ships of the Spanish Armada, fleeing from a failed invasion of England, were wrecked at Streedagh Strand, near Grange, Co. Sligo. Over 1,800 men were lost with many being put to death by English soldiers.
Disaster struck again with the cholera epidemic in 1832 causing more deaths in Sligo than anywhere else in Ireland. People were left dead in the streets and whole families were wiped out. Bram Stoker (the author of Dracula) had his macabre imagination fired by his mother, a Sligo woman, who told stories of coffin makers knocking on doors in the night looking for corpses and of victims being buried alive.
In 1868, Countess Constance Markievicz was born. She was the first of the five children of Henry Gore-Booth, the fifth Baronet of Sligo, and his wife Georgina. Born into great wealth and privilege in Lissadell, she is most famous for her leadership role in the Irish Easter Rebellion of 1916 and the subsequent revolutionary struggle for freedom in Ireland.
The most famous name associated with the resurgent romantic nationalism is that of William Butler Yeats. He spent his school holidays in Sligo with his grandmother and listened to her many stories of the ancient Ireland of myth and legend. From Tourism Sligo
53 Ultimate Ireland travel tips
Things to see in Sligo Ireland
Sligo's Coastline
Sligo Ireland has some of the greatest stretches of pristine white sandy beaches that are full of the remains of shells dating back tens of thousands of years, and thousands of years ago, people more than likely settled in the Sligo estuaries thanks to the huge abundance of shellfish and seafood.
There are so many places of interest in Sligo you could spend your entire vacation here. I have visited Sligo many times and as it is so close to Donegal Town where we now live I can get there in less than half an hour. I have found so many Sligo attractions it's mind-blowing. The hikes and walks around Ben Bulben are phenomenal, the waterfalls and history deep in these ancient hills and mountains will keep you busy for months.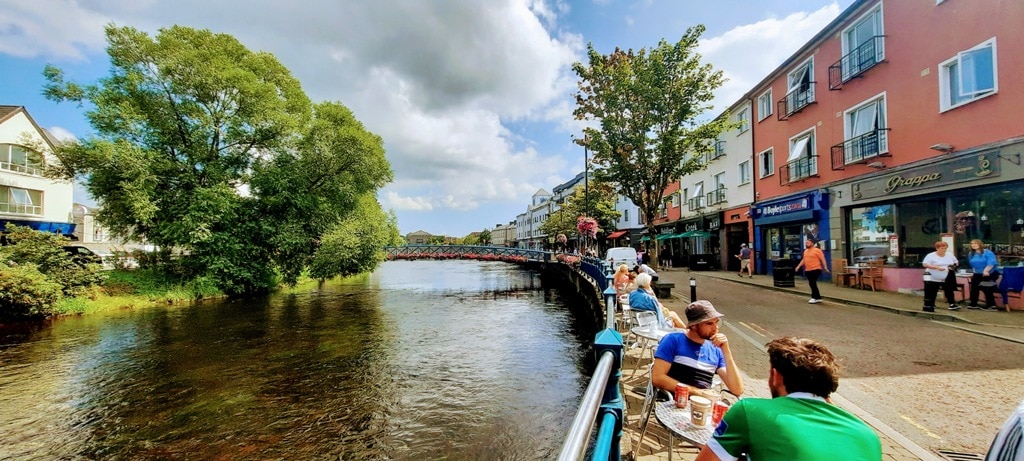 Planning a dream trip to Ireland? Everything you need to know
How to get to Sligo
From Dublin the drive, if you rent a car takes around 3 hours and the Iarnrod Eireann InterCity rail system serves the North-West town of Sligo 10 times a day from Dublin's Connolly Station, the journey of just under three hours. You can also catch Bus Eireann directly from Dublin Airport.
38 Fun Things to Do in Sligo
Ballymote Castle
Ballymote Castle is a little further than the Folk Park and was built by Richard de Burgo, the Red Earl of Ulster, in 1300AD and it was considered the strongest fortress in Ireland. The castle is a large enclosure castle, the most symmetrical of all the Irish "keepless" castles. The Castle is in Southern Sligo around 15 miles south of Sligo City.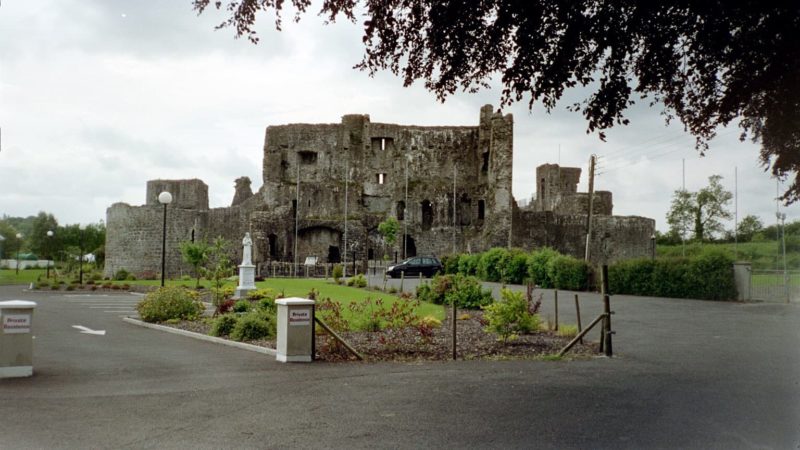 Local legend suggests that underground passages connected Emlaghfad church with the castle and with the nearby Franciscan Abbey. From Ballymote to Carrowkeel is around 15 minutes.
Sligo Folk Park
Sligo Folk Park is set on the grounds of the restored Millview House, which was originally built in 1873 by George Reid, a farmer, shoemaker and church sexton. The Park houses one of Ireland's finest collections of rural history and agricultural artefacts. One of the highlights is Village Street, a recreated streetscape consisting of a creamery store, grocery shop and pub. On a personal note, the many reviews I read that were not impressed with the Folk Park have put me off visiting it.
Around an hour's journey from Folk Park is the glorious coastline of Sligo from Enniscrone Beach.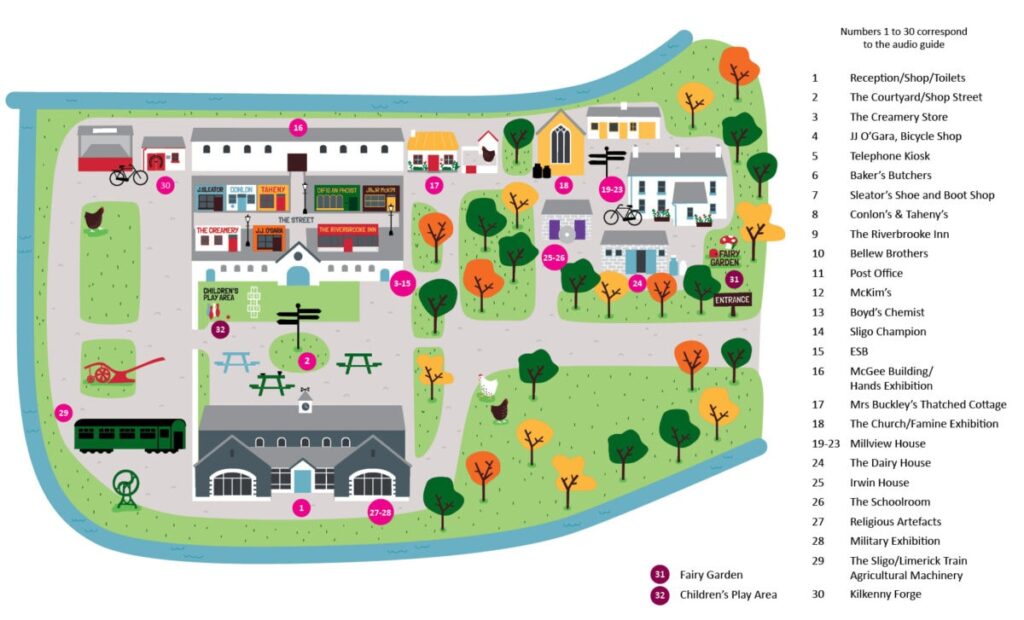 Things to do near Enniscrone – Enniscrone Beach
Sligo's coastline has many beaches but the four most popular include Enniscrone which is the perfect family beach. Enniscrone encompasses 5 kilometres of sandy beach, a lovely traditional seaside town and a golf course.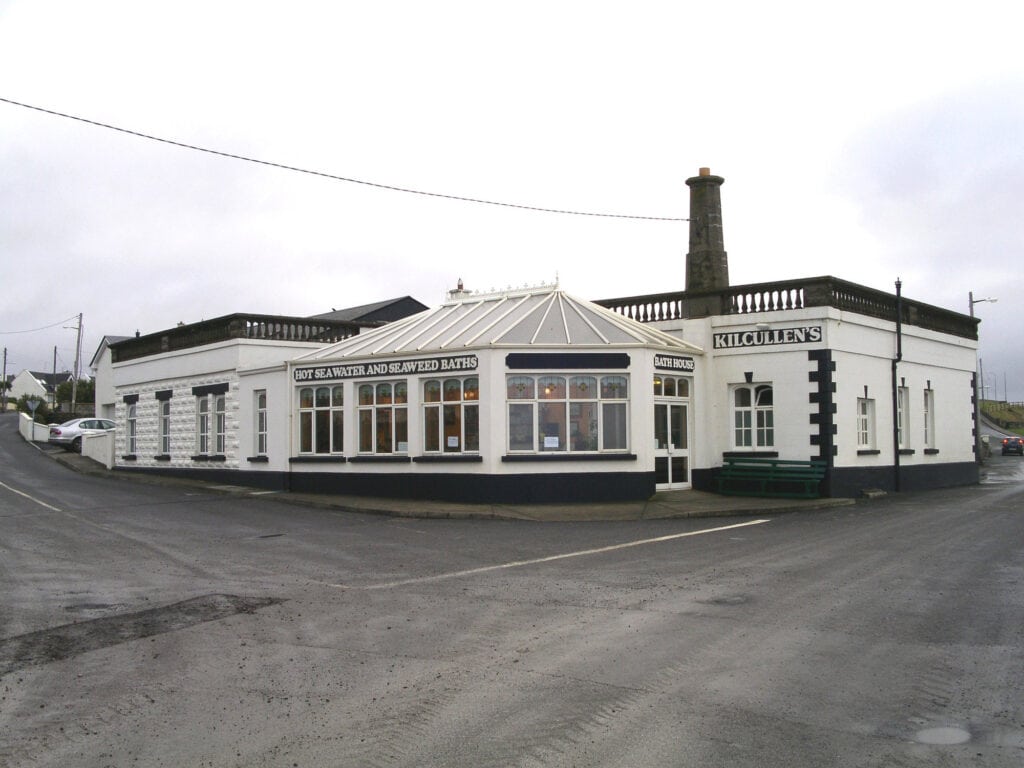 Enniscrone – Kilcullen's Seaweed baths
Kilcullen's Seaweed, If you are looking for something a little more traditional, why not avail yourself of a true Irish Seaweed Bath? Freshly harvested Atlantic seaweed is a traditional cure for modern life's stresses and strains. From the natural therapeutic properties of seaweed's high concentration of Iodine to the moisturizing benefits and natural anti-ageing properties – seaweed is up there with the world's most important natural emollients.
Check out Justin and Lauren's piece on Why you must visit the seaweed bath in Enniscrone.
Ireland used to be home to over 300 seaweed bathhouses but although growing in popularity again today, there are still very small numbers of them remaining and some of the best are in Sligo. Traditional seaweed baths are available at award-winning Voya Seaweed Baths at Strandhill and Edwardian Kilcullen's Seaweed Baths at Enniscrone.
Stay in the Lighthouse Penthouse in Enniscrone
The Lighthouse Penthouse that can be found at Enniscrone, Co. Sligo in Ireland is a five-star luxury at its finest. Completely remodelled to have an undistracted view of Kilala Bay, and since it is a few meters away from the beach and is large enough to sleep a minimum of eight people, it is ideal for those who love vacationing beside the water and travelling with friends and family .4 beds 4 baths no pets price not listed max 8 guests
Easkey Beach
Your next stop, which is around 15 minutes from Enniscrone is Easkey which is a lovely traditional village in the western part of Sligo known for its reef breaks and in being the headquarters of Surf Ireland. It is a really tough beach to surf and recommended only for professionals but the beach itself makes for a lovely family day out.
Take a break at Pudding Row Cafe before you head out to check out Easkey's sights. The cafe is an Irish award winner and you simply have to try some of the home-baked goods with a fabulous coffee or tea.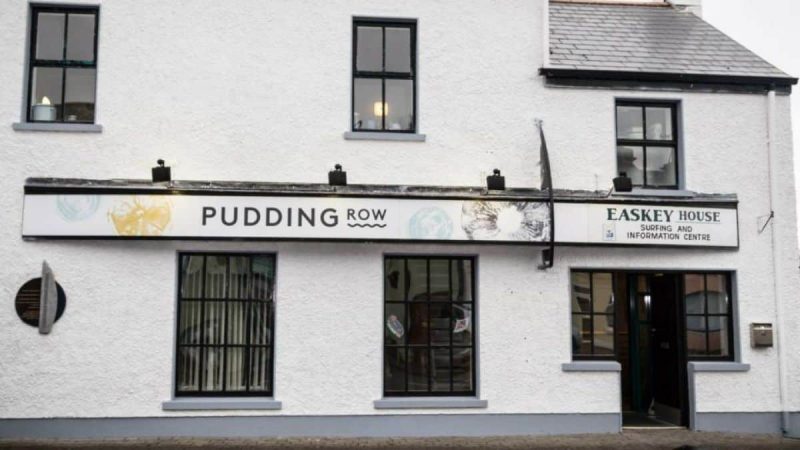 O'Dowd Castle & Easkey Abbey
Around Easkey there are a few interesting ruins to wander around. O'Dowd Castle was built around 1207 and although much of the original building has been lost to time the main body of the building remains and stands at 63 feet high. There are workhouse ruins and the Medieval Easkey Abbey and cemetery are set right in the heart of the village.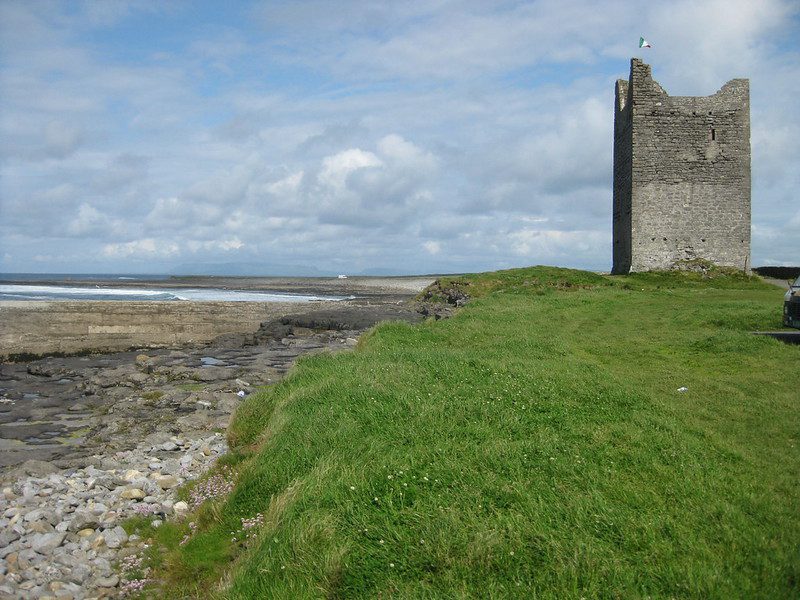 Dolly's Cottage
Dolly's Cottage is about 10 minutes from Knocknarea and it is the only one of its kind in the area, which is open to the public during the summer months.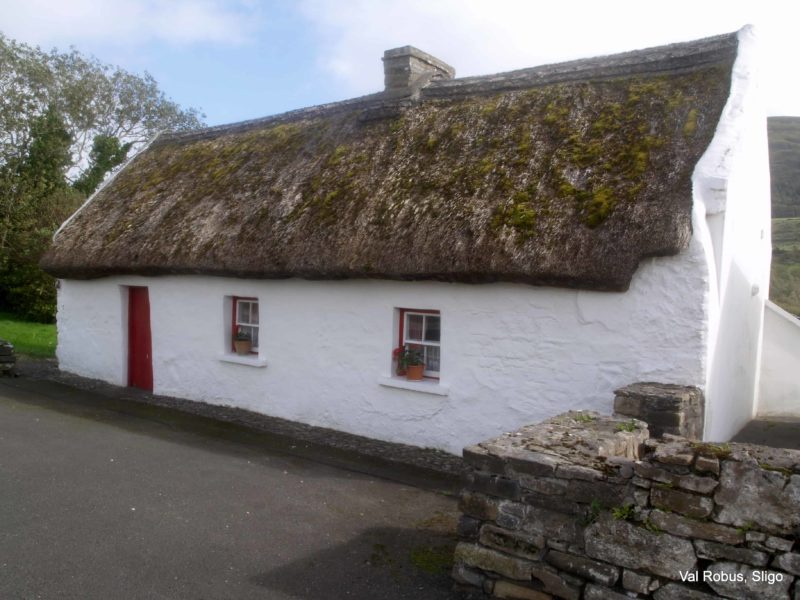 It is a stone-built cottage with two rooms and a loft with original walls, roof, roof beams, fireplace and pouch bed. When you step through the little red door, it's like stepping into the past. The cottage is named after Dolly Higgins, the last person to live here.
She was a genial soul, well-loved by young and old in the area. When Dolly died in 1970, the cottage was purchased by the Strandhill guild of the Irish Countrywomen's Association, with a view to preserving it for future generations.
Strandhill Beach
From Dolly's Strandhill is around a 2-minute drive and it is considered one of the best surfing beaches in the world. Its great breaks attract attention from surfers every year and Strandhill is the perfect places to learn how to surf and perfect your technique. It is also a fantastic place to go sea kayaking and SUP Boarding.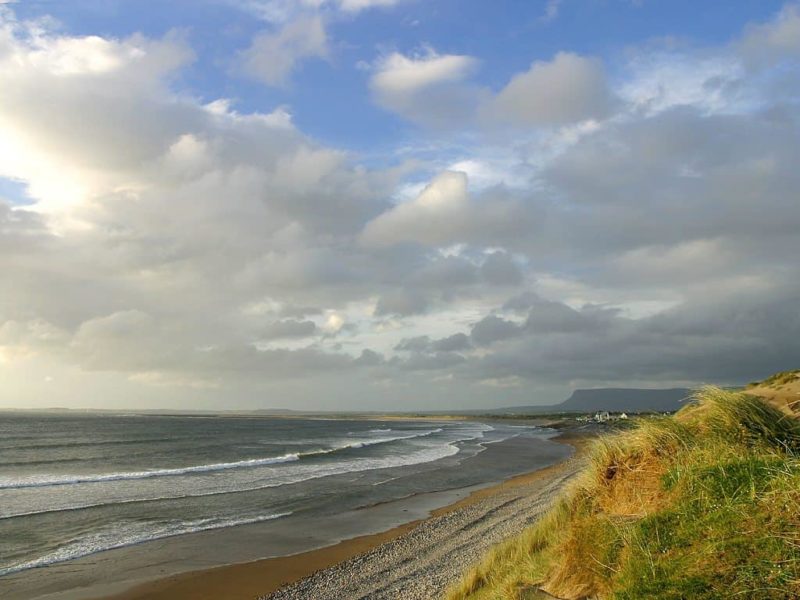 When you are in Strandhill check out the People's Market it takes place over at Sligo Airport in Hangar 1 it's only a few minutes from the beach. The market is open every Sunday from 11 am to 4 pm and is full of creative food stalls, from home-baked goodies to cheeses, teas and of course some fabulous meats and veggies. Don't forget the crafters, artists and makers spaces to grab some amazing handmade gifts.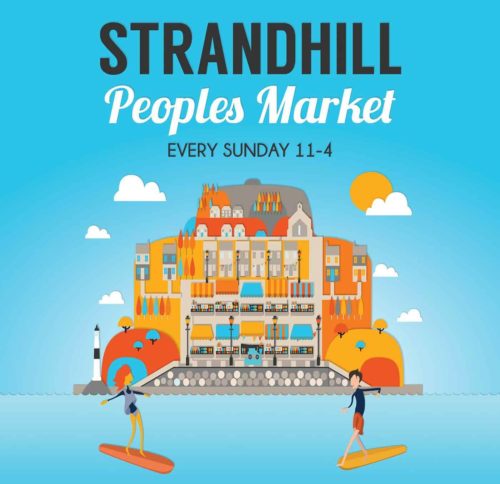 If you are in need of a break hit up Shells Cafe for some fabulous coffee and great baked goods – you can even take some coffee home with you. All Shells goods are baked and made at the Cafe, the eggs are organic and free-range and they have a great selection of wheat and gluten-free goodies.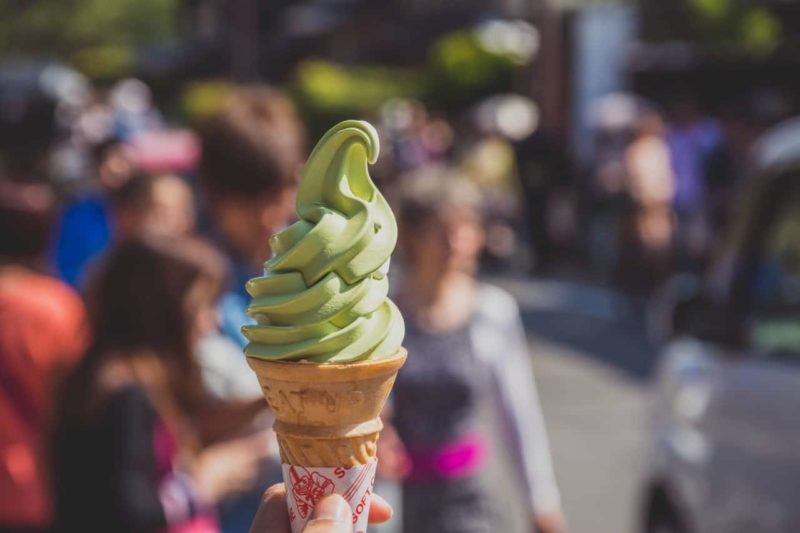 No one turns down ice cream – Mammy Johnson's has been around in Strandhill since the 1830s. Creating and developing some fabulous ice cream and gelato flavours Mammy's is an old family favourite when walking the Strandhill beaches. The menu includes crepes, both savoury and sweet, outstanding coffees and hot drinks, doughnuts, fresh baked goods and pastries and of course some seriously good scones.
Sligo Town things to do
From Strandhill, it's around a 15-minute trip into Sligo Town, which is a quintessential Irish town. Lots of colour, bridges over the river decorated with hanging baskets and lots of greenery.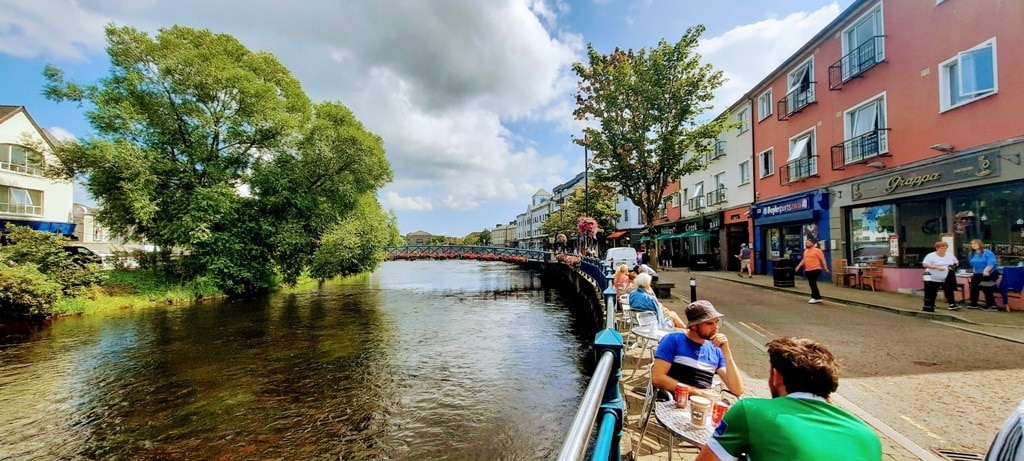 If you live in Sligo you know that the Irish for Sligo is Sligeach which means a shelly river (slig = a shell) and of course below Sligo town is the river estuary of the Garavogue River.
If you need to stop for a break in Sligo Town and you are a foodie then you must check out Hooked with beyond a shadow of a doubt the best Eggs Benedict I've ever eaten. You should also spend an extra day in the area and head to Eala Bhan on the Garavouge River – fantastic seafood and steaks and again serving Irish produce, meat and a Rack of Lamb you could kill for.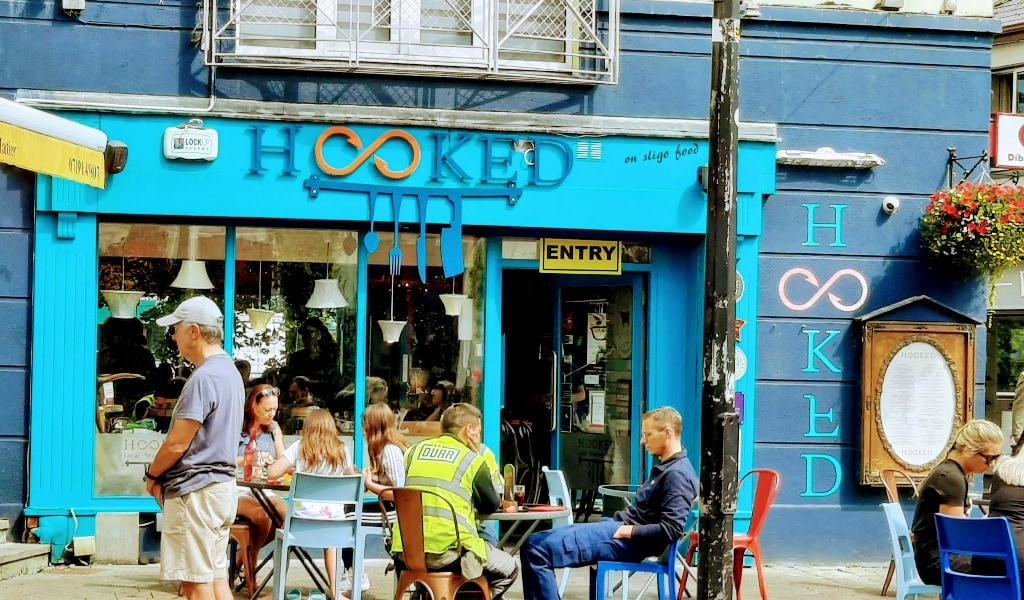 There is plenty to do in Sligo Town as well from the Famine Memorial, to Sligo Cathedral and the Sligo Walking Tour is the perfect way to see the town.
The city of Sligo, known affectionately as Sligo Town, is a great place to start your walking fun before exploring further afield. The largest town in Ireland's North West, it is a welcoming place with rich history evident in landmarks such as the Cathedral of the Immaculate Conception, the Courthouse, which served as a carpenters' shop during the cholera epidemic, and Sligo Abbey, the towns only surviving medieval building (built circa 1252). A bronze statue of William Butler Yeats stands watch on Hyde Bridge, while City Hall, with its Renaissance-style architecture, dates back to the 1860s.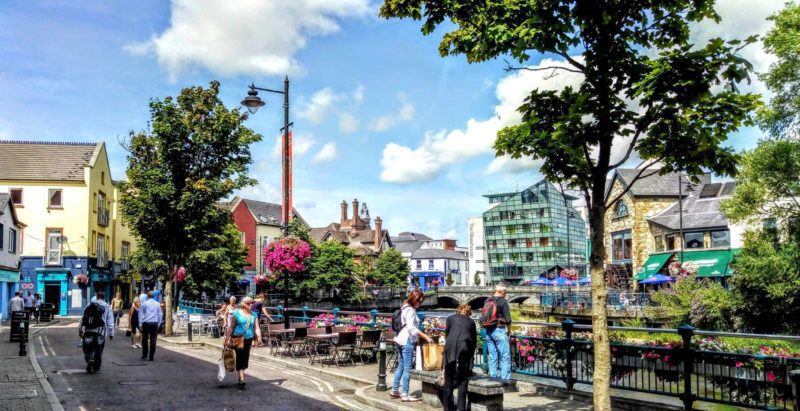 The Sligo Town walking Route
The walking tour of Sligo is approximately 4.5km in length, is looped in nature, and provides access to the city's most significant sites.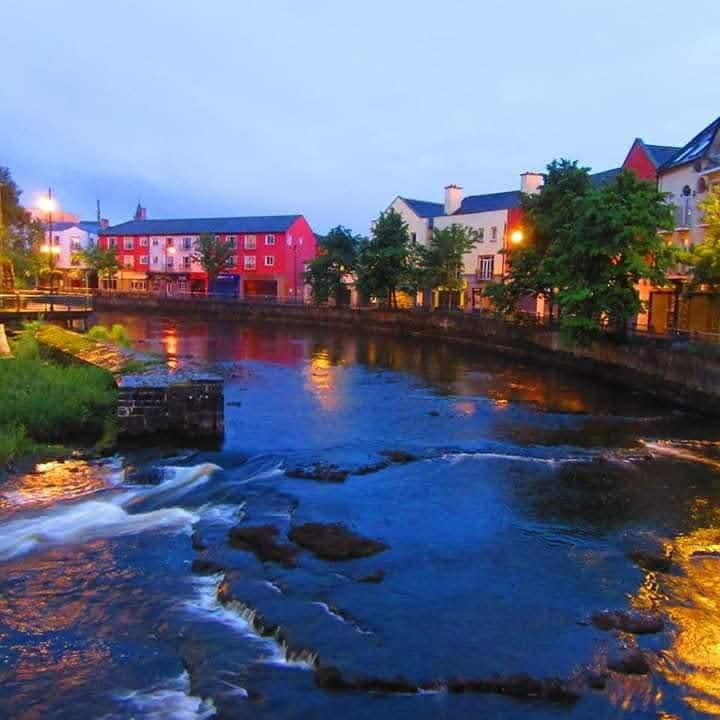 Did you know? The cholera epidemic in 1832 caused more deaths in Sligo than anywhere else in Ireland. People were left dead in the streets and whole families were wiped out. Bram Stoker (the author of Dracula) had his macabre imagination fired by his mother, a Sligo woman, who told stories of coffin makers knocking on doors in the night looking for corpses and of victims being buried alive.
Home to The Yeats Room, memorabilia and artefacts associated with Countess Markievicz, plus her sister – Eva Gore-Booth and paintings by well-known artists, Sligo Country Museum is one not to miss.
See the complete collection of W.B. Yeats' poems between 1889 and 1936, as well as a copy of his Nobel Prize-winning medal of 1923.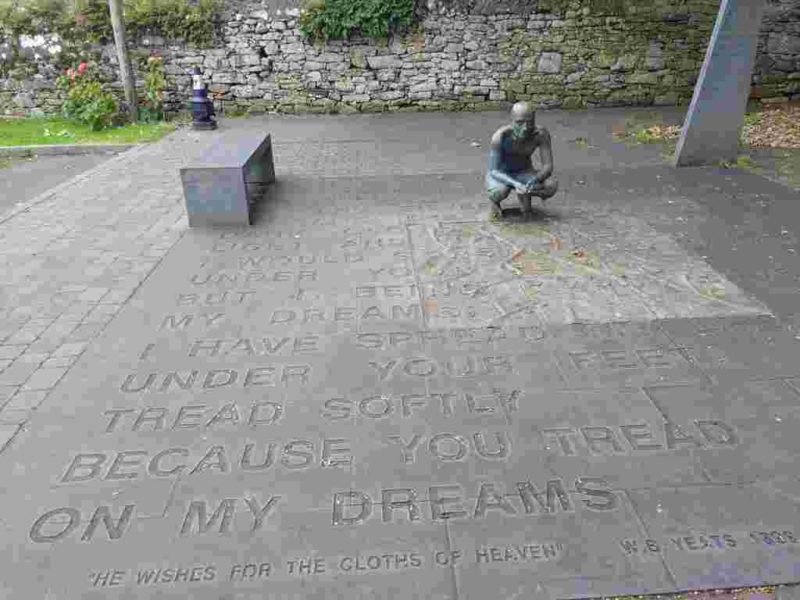 Originally built as a Model School in 1862, today the Model Arts Centre is home to the Niland Collection, which is one of Ireland's most important art collections.
Ice cream I heard you say. Well, check out Fabio's is an authentic Tuscan Gelato shop owned and operated by the Italian Fabio and his Irish wife Maura. Trained in Italy Fabio's fabulous gelato includes flavours like Bulls Blood a dark chocolate, orange and cayenne flavoured gelato to Figs and Walnut. You will find Fabio's in the heart of Sligo town.
Yeats Memorial Building and Art Gallery is located on Hyde Street; it is a beautiful 19th-century red brick building, the home of the Yeats Society Sligo, which exists to support local community art and to promote the Yeats Heritage in Sligo. The building contains a permanent exhibition and a beautiful library.
Parke's Castle
Parke's Castle is located within half an hour's drive from the town of Sligo. Parke's castle sheltered at least one survivor of Spanish Armada ships remaining at a time when Spain and England were on the brink of war. It is full of history and definitely worth a visit. Technically Parke's Castle is in Leitrim but the signs to it are posted on the main Sligo route so it's one of those places you shouldn't miss regardless of where it really is.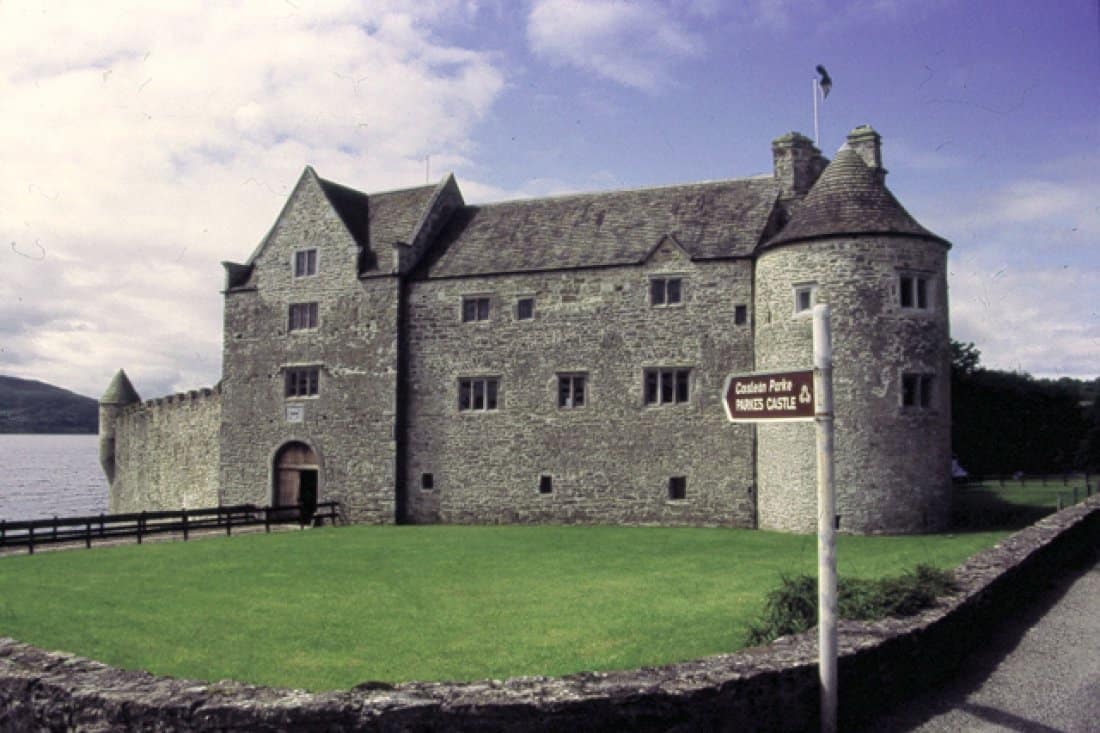 If you travel to Dublin from Sligo on a Sunday evening or are anywhere near the coast you will begin to wonder if Sligo is home to every surfer in Ireland. The amount of vehicles with boards attached to the roof indicates that there is some secret in the Sligo waters.
The truth is that Sligo has a ton of unspoilt beautiful beaches some are so empty you feel like you are alone on the planet. Sligo also claims some of the absolute best-surfing beaches in the world.
Lough Gill
Situated in both County Sligo and County Leitrim Lough Gill is the home of the Legend of the Silver Bell. Legend has it that when Sligo Abbey was damaged after the Rebellion of 1641, worshippers salvaged the silver bell and threw it into Lough Gill. They say that those who are free of sin can still hear it peal.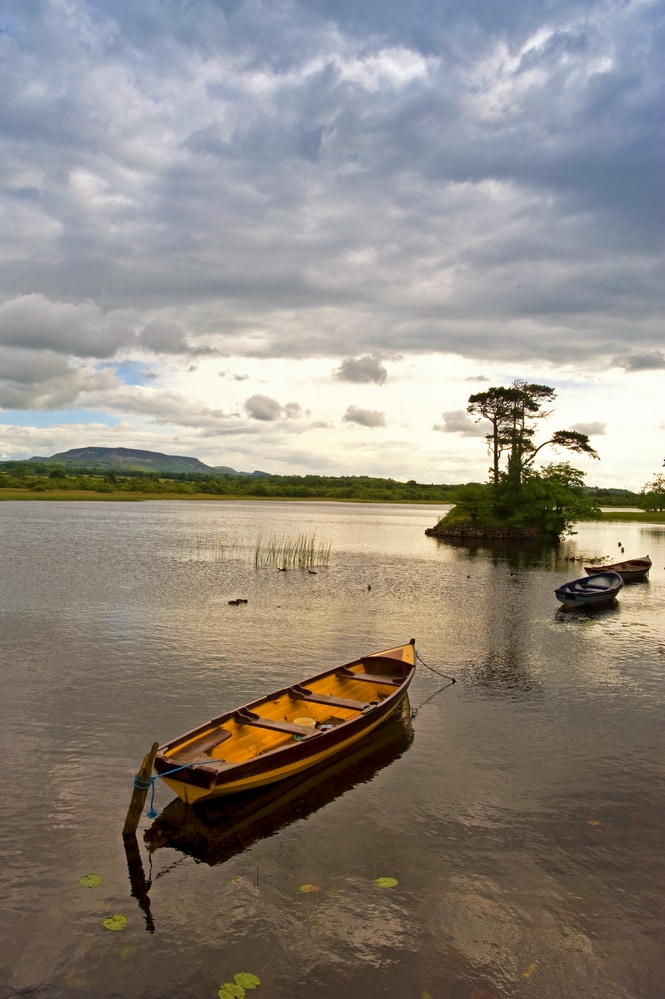 This stunning lough is surrounded by a ring of wooded hills and mountains, and not surprisingly a large number of historical and archaeological sites. Another legend is that the old city of Sligo lies at the bottom of the Lough. many legends are associated with the lake, even the story that the old city of Sligo lies at the bottom of its deep waters. It is overlooked by the fortified manor house, Parke's Castle.
Rosses Point Beach & the Sligo Yacht Club
Heading north from Sligo Town your first stop should be Rosses Point and a few of the Islands off the coast of Sligo.
The Sligo Yacht Club makes it home at Rosses Point and the bay is often used for competitive surfing as well as Yacht racing. This beach is fantastic for windsurfing and it does have lifeguard patrols. There are some amazing cliff walks that are easily accessible and the beach throws up some grand seashells for your collection. There is a lovely little seaside village complete with coffee shops, pubs and some great dining options.
The Islands of Sligo
With a great variety of boat trips around the harbour, you can head out deep-sea fishing, seal and dolphin watching, or visit the islands in Sligo Bay.
Inishmurray Island
The island of Inishmurray is located 6km off the coast of Sligo it is quite remote and can be difficult to access but it is truly one of Ireland's hidden gems.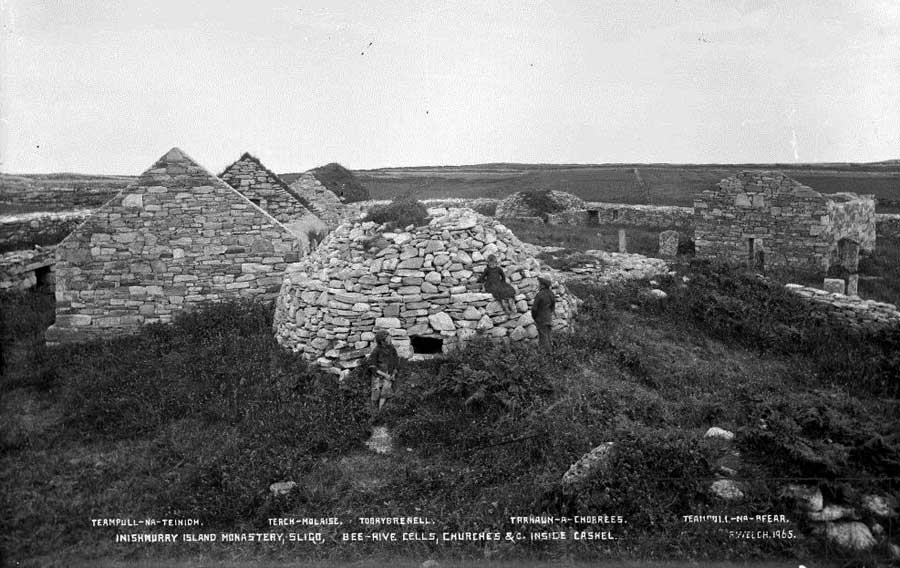 The history of the island dates back to the 6th century when a Christian Monastery was founded – the remains of which are still relatively intact today. In 1588 when three ships of the Spanish Armada were wrecked off the coast of Sligo, the monastery was still inhabited by Monks. The Island remained inhabited up until the 1940s.
Ruins of 19th-century houses are all around the island, the altars, the maledictory or 'cursing stones' and the women's church and burial ground.
Many local licensed charter boats and operators run day trips to and from Innishmurray and they also do day trips for fishing, seal watching and more. You can contact Sligo Boat Charters and Inishmurray Island Trips for more information.
If you would enjoy a tour by a marine, Archaeologist contact Seatrails Inishmurray. Fishing your passion? Well, have a chat with Sea Fishing Sligo to find out about their sea trips.
Coney Island Sligo
Coney Island (Inishmulclohy) lies in Sligo Bay between the coastal villages of Strandhill and Rosses Point. At low tide, you can drive or walk across Cummeen Strand to the Island following the causeway, which is marked by 14 large stone pillars, which were put up in 1845 to guide people to the island from the mainland following several drowning deaths in the previous years.

Local legend has it that Captain Peter O'Connor of Sligo used to sail between Sligo and the USA and he is the one who named the NY Coney Island after his hometown version. The name it is said comes about due to the fact that the Coney Island in Ireland was swarming with rabbits (coneys) as was its namesake in the US.
St Patrick was said to have resided here too and visitors are encouraged to make a wish on his wishing stone – a big boulder you can sit on – if you can find it.
Oyster Island
Oyster Island sits just off the coast from Rosses Point and got its name from the many oyster beds that were to be found along its shores until the end of the 19th Century.
Oyster Island Lighthouse is located on the north shore of the island and was built in 1932. Oyster is separated from the larger Coney Island by Sruth na Mile, the channel of a thousand currents. Sruth na Mile's tidal eddies give it an unusual whispering sound, which changes with the ebb and flow of the tide.
Probably the most unusual light in Ireland, the Metal Man was ushered into being after a number of wrecks on the Perch Rock near Oyster Island and Rosses Point. 12 feet tall and weighing seven tons, this naval petty officer was one of four cast by Thomas Kirke in 1819.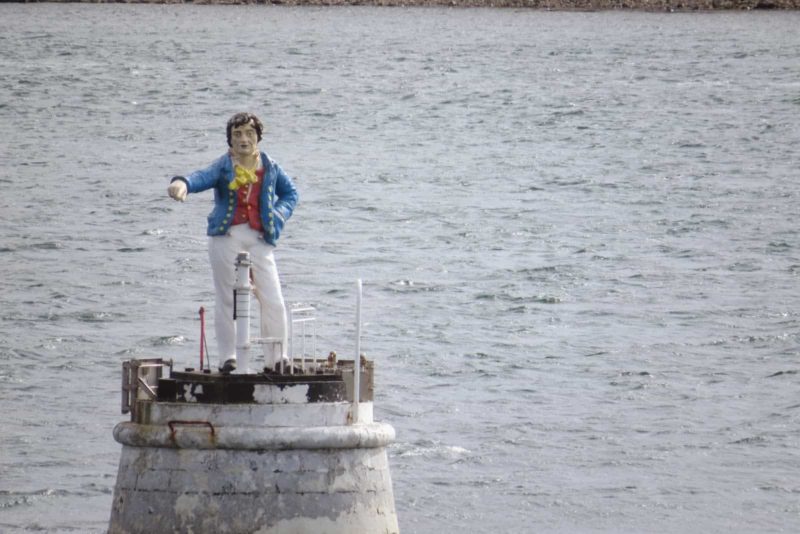 Conor's Island & Dernish Island
The two other islands in the harbour are Conor's Island and Dernish Island. Both can be reached by various methods from Horse Trekking to Kayaking.
Many a visitor to Ireland has a dream of riding a beautiful Irish horse on a deserted beach. Well here on Dernish, your dream can come true. You get to cross an Atlantic channel on horseback to Dernish Island and explore the island's ancient sites, check out the young herds of horses and cattle and simply enjoy your trek.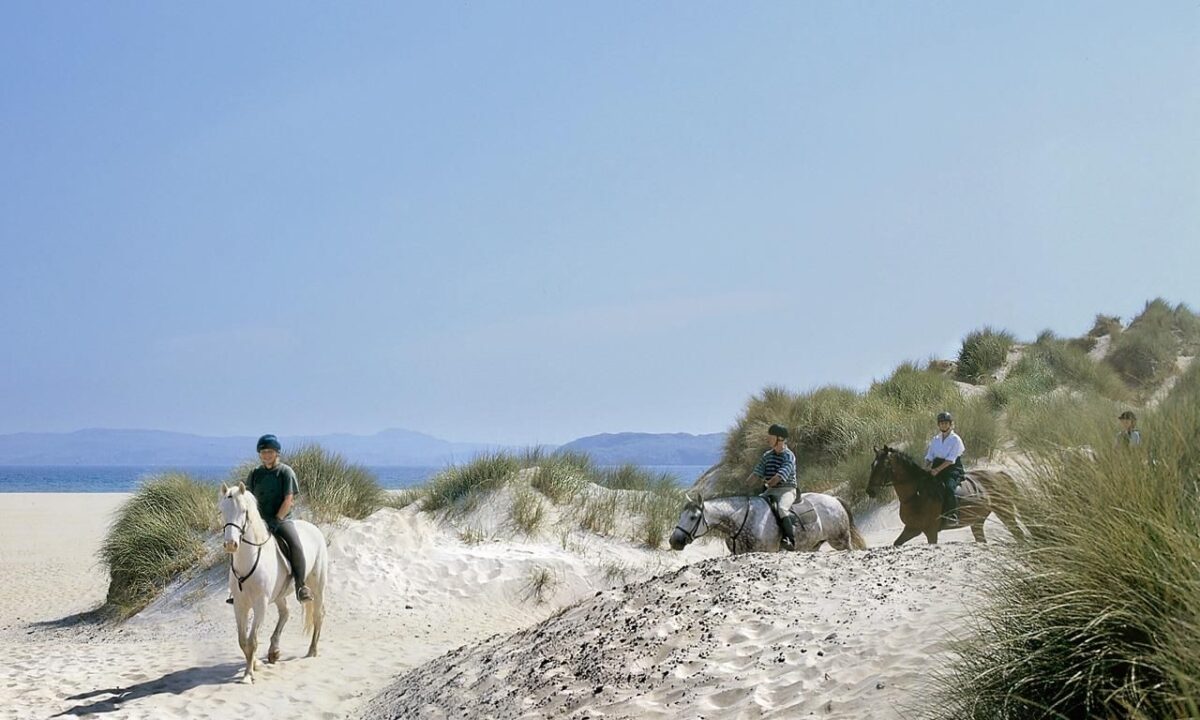 There is wild camping on Dernish Island which is not accessible by car only boat and there is room for up to 10 tents with a bunkhouse and a small store. The views are simply phenomenal from wild seals basking on the beach to surfing the awesome breaks of the island. This is an experience for those of you who love the simple life of camping with no mod cons.
Drumcliffe Sligo – Yeats resting place
From the Islands of Sligo and Rosses Point, we now head out on a 15-minute drive to Drumcliff where W.B Yeats was laid to rest in 1948 under the shadow of Ben Bulben Mountain. Did you know that Sligo's nickname is Yeats Country?
An unassuming grave holds his remains in the Cemetery of St. Columba's Church. There is no cost to view the grave or to enter the church but donations are always welcomed.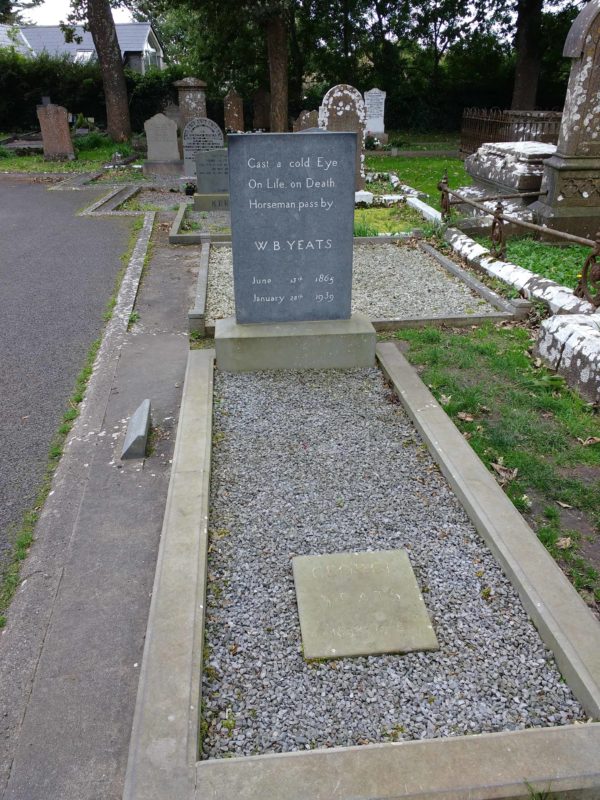 The Yeats Complex includes a tearoom, gift shop and of course, the Church that Yeat's family worshipped at for many years as well as preached in. Yeat's grave and an information centre about the area and Yeat's love of Sligo.
Lissadel House
21 minutes away from Drumcliff is Lissadel House one of the most historic homes in Ireland and was home to the Gore-Booth family. Constance Gore-Booth went on to become the famous Irish Nationalist. W.B. Yeats immortalized Lissadell in the opening lines of his poem in memory of the ladies of the Gore-Booth family – Constance who became a famous Irish Nationalist (Countess Markievicz) and Eva who was a suffragette and involved in the labour movement.
The house is now presented as it was back then, and it is a major Sligo attraction.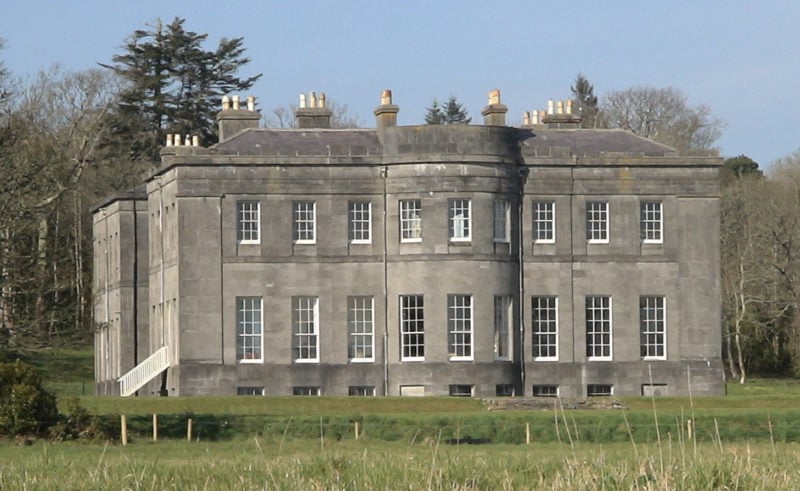 Streedagh Beach
Streedagh is a beautiful 3 km long beach with outstanding views of Ben Bulben. Streedagh is known as the perfect surfing beach all year round because it is exposed to great reef breaks that make for the "perfect waves". It was on Streedagh that three Spanish Armada ships were wrecked in 1588.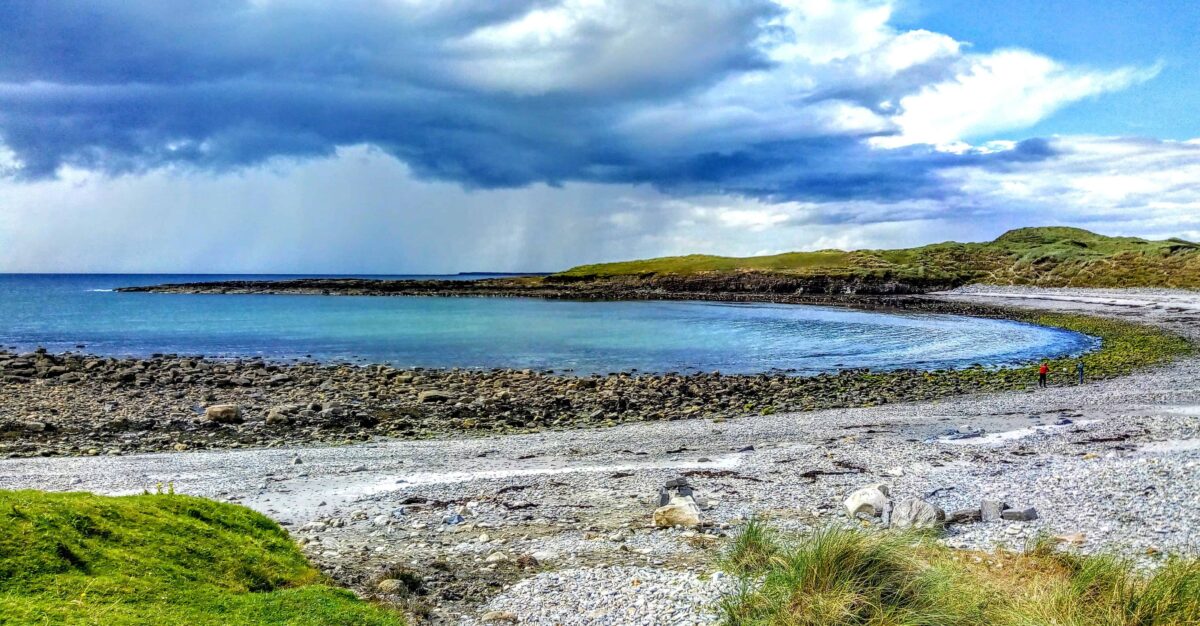 Mulllaghmore Beach Sligo
Mullaghmore is a very popular family beach with amazing ocean views and a fabulous skyline dominated by Ben Bulben. This is a great beach for surfing, along with sailing and fishing. Known as the home of the "prowlers" which are waves with swells said to be up to 100 feet high. It was Mullaghmore Head who hosted Ireland's first surfing contest back in 2011.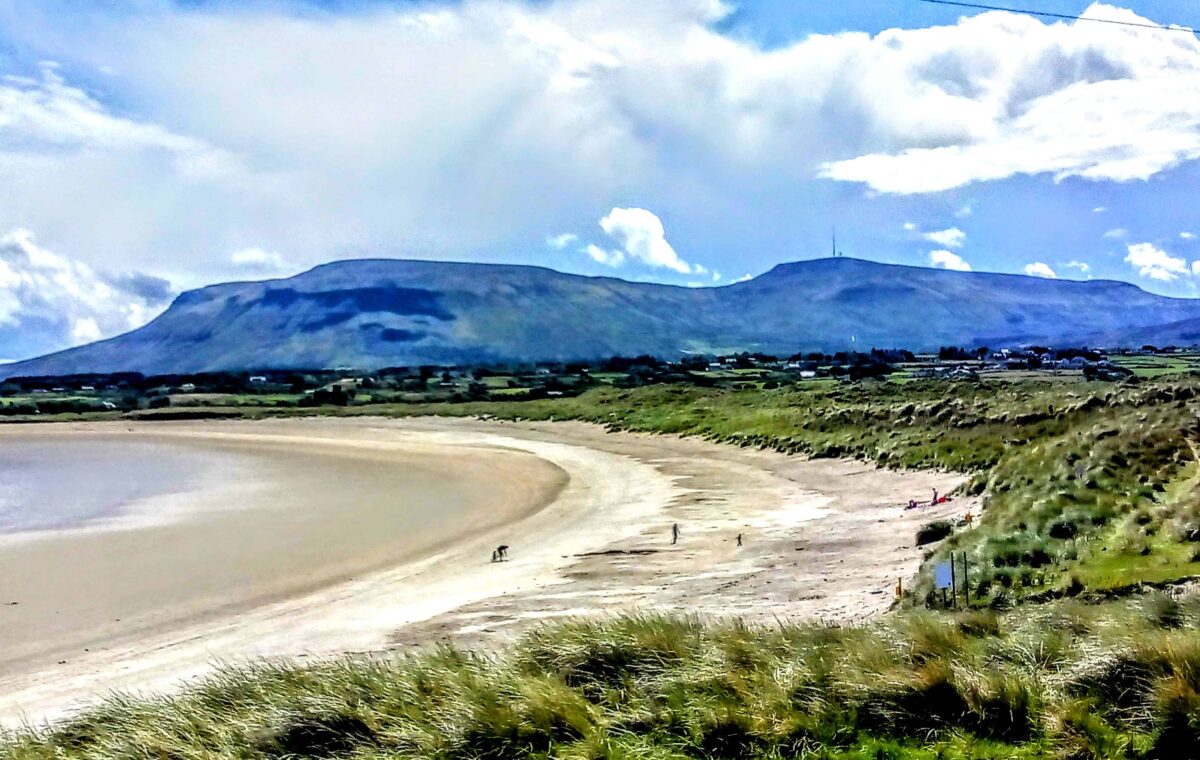 Oh and if you want some superb seafood you must try Eithna's By The Sea an award-winning Seafood Restaurant that overlooks the harbour in Mullaghmore. Established for over 16 years, Eithna's By the Sea won the Georgina Campbell and BIM 2014 awards for its seafood, shellfish and lobster dishes as well as Eithna's use of seaweed in both savoury and sweet dishes.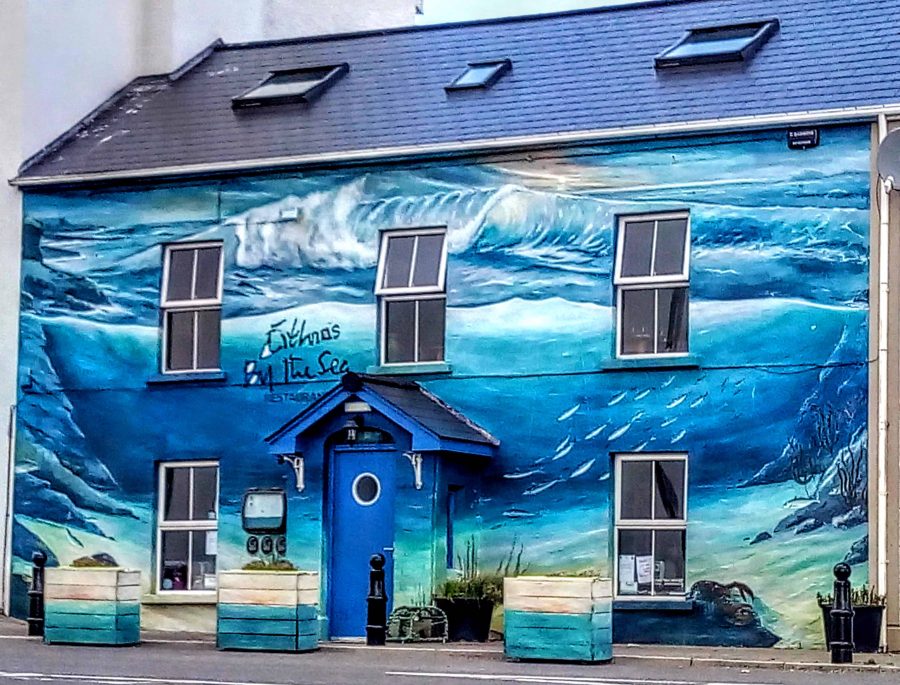 Ancient Sligo
The history of human inhabitance in Sligo has been traced back to as early as 5000 BC. Approximately 5km south of Sligo airport stands Europe's largest collection of Megalithic and Neolithic tombs. You can't visit Sligo without taking a hike to visit these megalithic tombs.
Creevykeel Court Tomb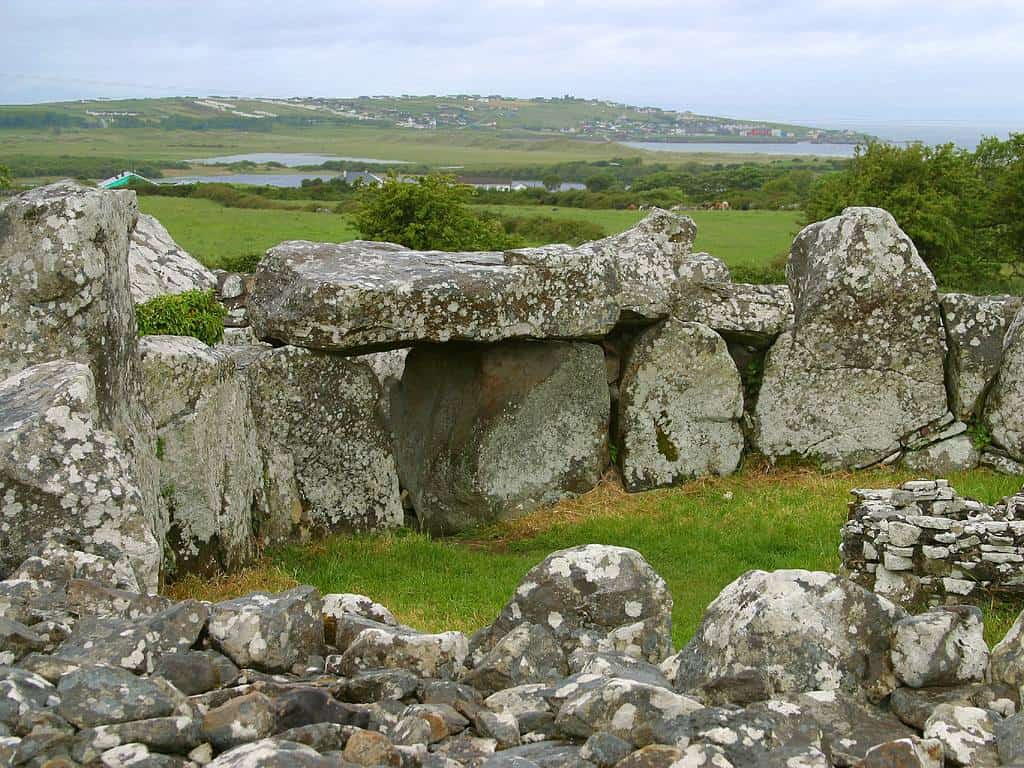 Creevykeel Court Tomb is one of the best examples of a court tomb in Ireland. It consists of a long, trapeze shaped cairn, enclosing an oval court and a burial chamber of two compartments.
Kilturra Barrow
Hundreds of years after the barrow was created a u-shaped hollow was cut into the southeast edge and used as a holy well. While the rituals associated with healing waters may have pagan origins, this holy well is associated with St Attracta (Naomh Adhracht), a County Sligo saint associated with hospitality and healing. (15 minutes to Ballymote)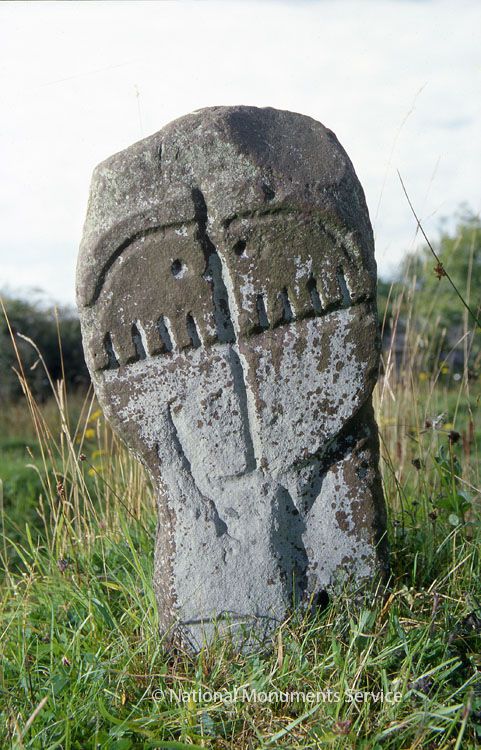 Carrowkeel
Carrowkeel is situated on the west side of Lough Arrow, overlooking the village of Castlebaldwin. It is easy to find, as it is signposted from the main Dublin/Sligo (N4) road. There are 14 Neolithic cairns, dating from around 3,500 BC to be found in the townland of Carrowkeel, and several more on the hilltops to the west.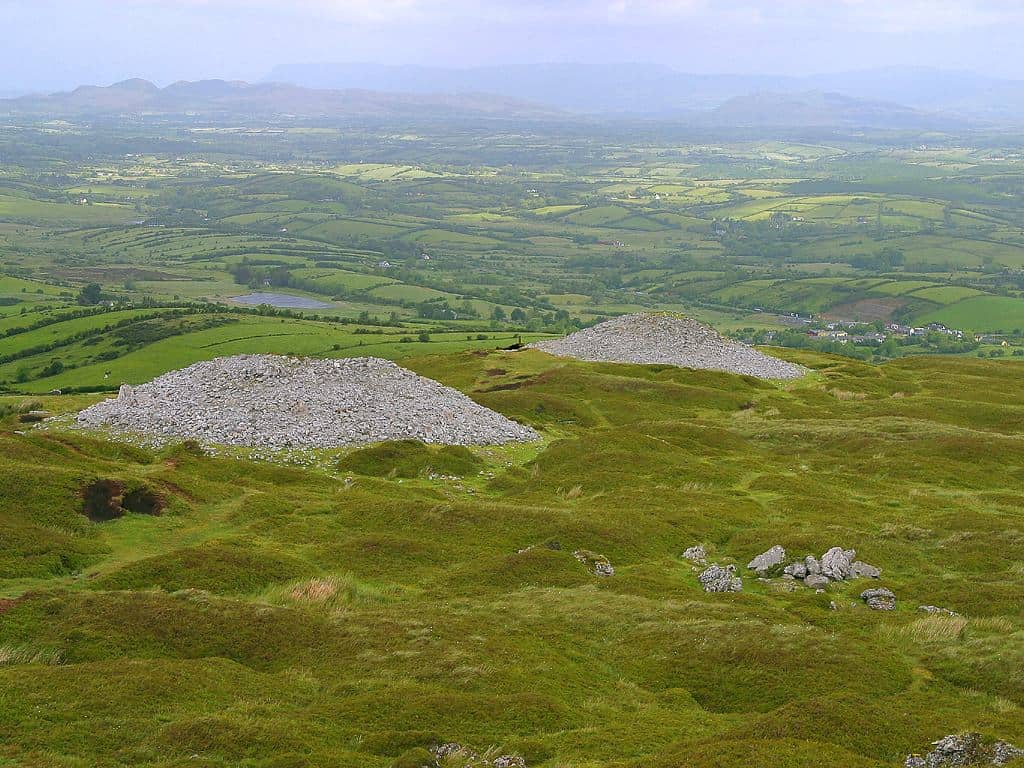 Moytura, Kesh & Heapstown Cairns
The Cairns include Moytura, the Kesh Corran caves and Heapstown Cairn. Traditionally, the largest and most important Lughnasa festival in Co. Sligo was held near the Kesh Caves. The last event was held in 1986 so pretty recently.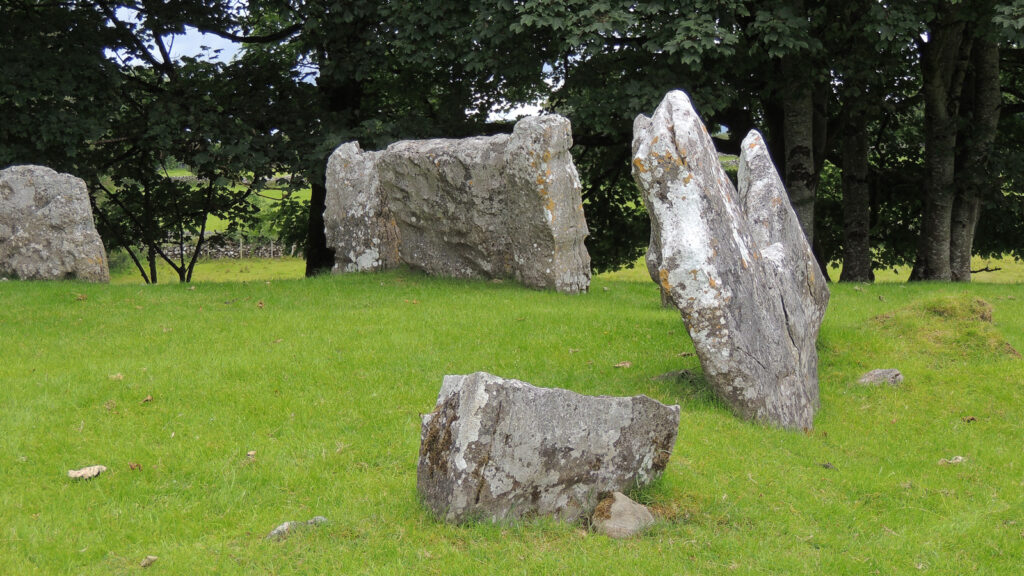 The great Irish battle of Moytura is said to have left great granite pillars on the battlefields. These pillars are said to be the slain warriors of this great battle of good vs. evil.
Heapstown Cairn an unopened Neolithic cairn by Lough Arrow in County Sligo is the fourth largest cairn in Ireland. In both location and mythological imagery, Heapstown bears many similarities to Newgrange in the Boyne Valley. From here to the Sligo Folk Park is around a 10-minute drive.
Split Rock
A mile south of Easkey is a rather unusual stone from the ice age known locally as Split Rock. Area legends say that split rock is the result of an argument between two giants and if a person passes through the split, 3 times the rock will close on them.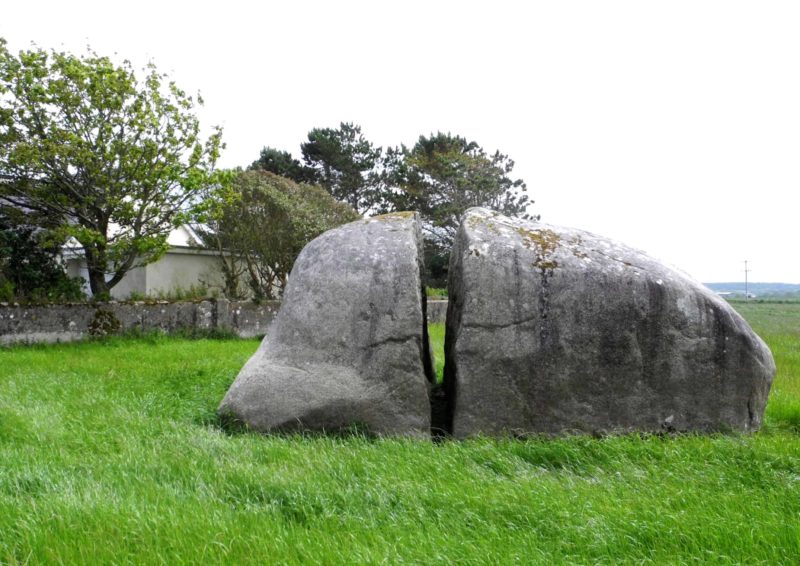 Tobernalt Holy Well
From the joys of Easkey, we travel east to the Tobernalt Holy Well which is now a Catholic place of pilgrimage. This is about a 40 drive from Easkey.
Tobernalt began life as a pagan place of celebration. The name tobernalt is derived from the Gaelic "tober" which means well of the cliff. The natural well here at Tobernalt springs from the base of Cairns Hill in a small wooded area.
There are two cairns here dating back to Neolithic times. Legend says that the ancient pagan festival of Lughnasa, which is celebrated at the beginning of the harvest season, began here. In the 5th century, the well became Christianized and the Lughnasa Festival became the Garland Sunday a Christian Festival.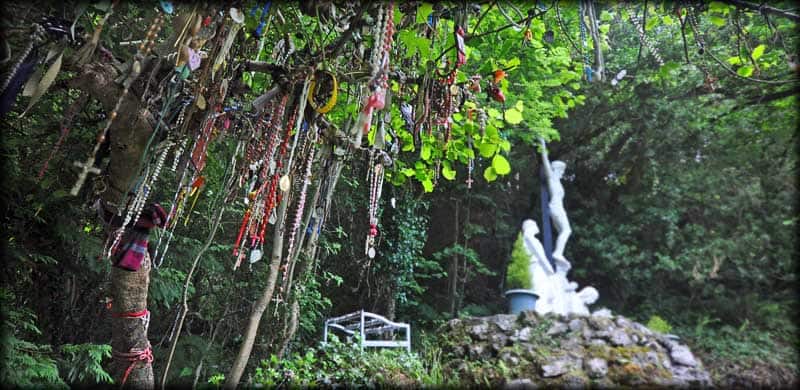 From Tobernalt we travel to Neolithic Ireland and the home of the largest and oldest collection of stone circles and dolmens known from Neolithic Ireland. These are found at Carrowmore, a collection of burial monuments at the centre of the Coolrea peninsula three kilometres west of Sligo town. Carrowmore is located at the heart of the Cuil Irra peninsula.
Carrowmore Megalithic Cemetery
This is the largest cemetery of megalithic tombs in Ireland and is also among the country's oldest, with monuments ranging from five thousand to five thousand eight hundred years old. Archaeologists have recorded over 60 tombs of which 30 are visible. A restored cottage houses an exhibition relating to the site. Access to the tombs may be difficult for people with disabilities. Visitors are advised to wear shoes suitable for walking on uneven terrain. Guided tours are available and take around 45-50 minutes.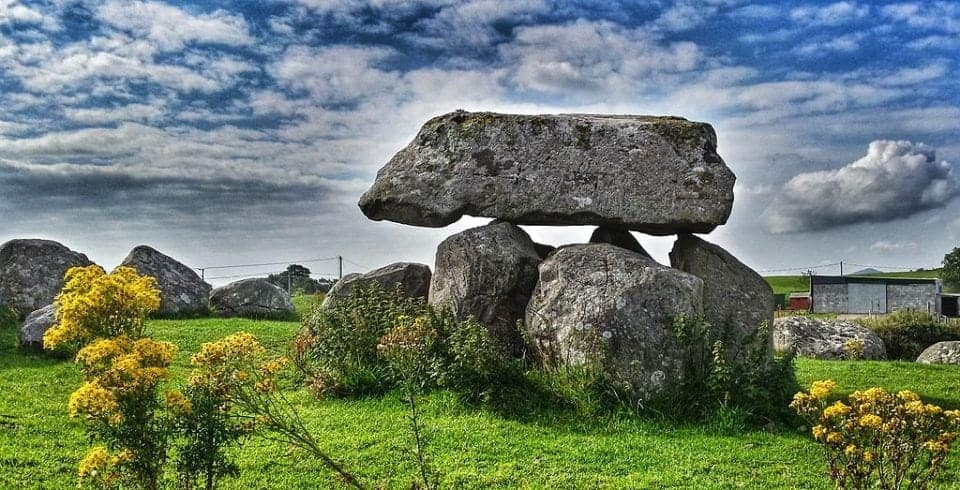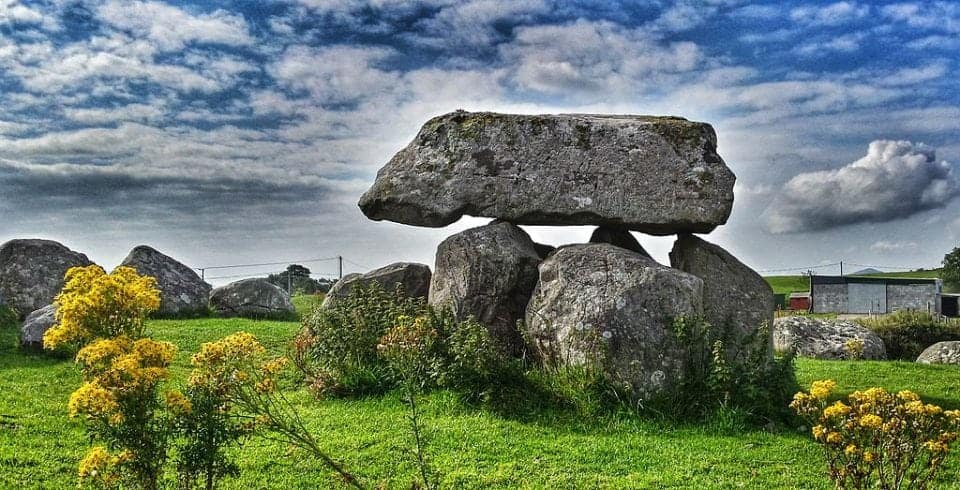 Knocknarea Mountain
The stunning cairn-topped mountain of Knocknarea is 4 km to the west of Carrowmore, while the smaller, but equally important Cairns Hill is 4 km to the east. There are more Neolithic buildings on the summits of the Ox Mountains to the south.
The flattish summit of the mountain Knocknarea is topped by the massive Queen Maeve's Cairn, believed to be the final resting place of Ireland ancient Queen. The ancient stone cairn looms over Sligo town. From the parking lot, it is a walk up a neat path and it takes around 40 to 45 minutes to reach Queen Maeve's Cairn. The cairn is about 10 meters high and is visible for miles around. It has not been excavated but it is thought to cover a passage tomb similar to that of Heapstown Cairn.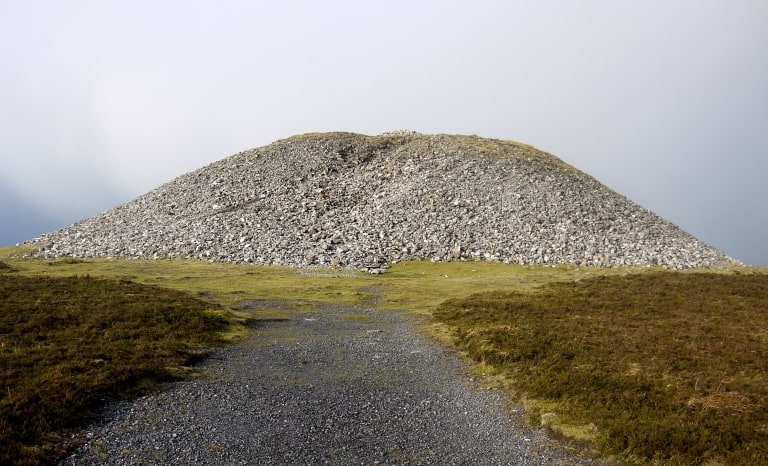 Queen Maeve and Knocknarea Mountain are mentioned in several of Yeats' poems and are of keen interest in Irish myth. With its placement at the summit of Knocknarea, the ancient peoples turned the whole mountain into a massive monument to a great Queen.
How to get to Benbulben Mountain
The easiest and practically the only way to get to Sligo is by car. The drive from Dublin to Sligo takes around 2.5 hours (200km, 124 miles). There are no signs pointing to Benbulben, but when you are in Sligo, it's kinda big to be missed.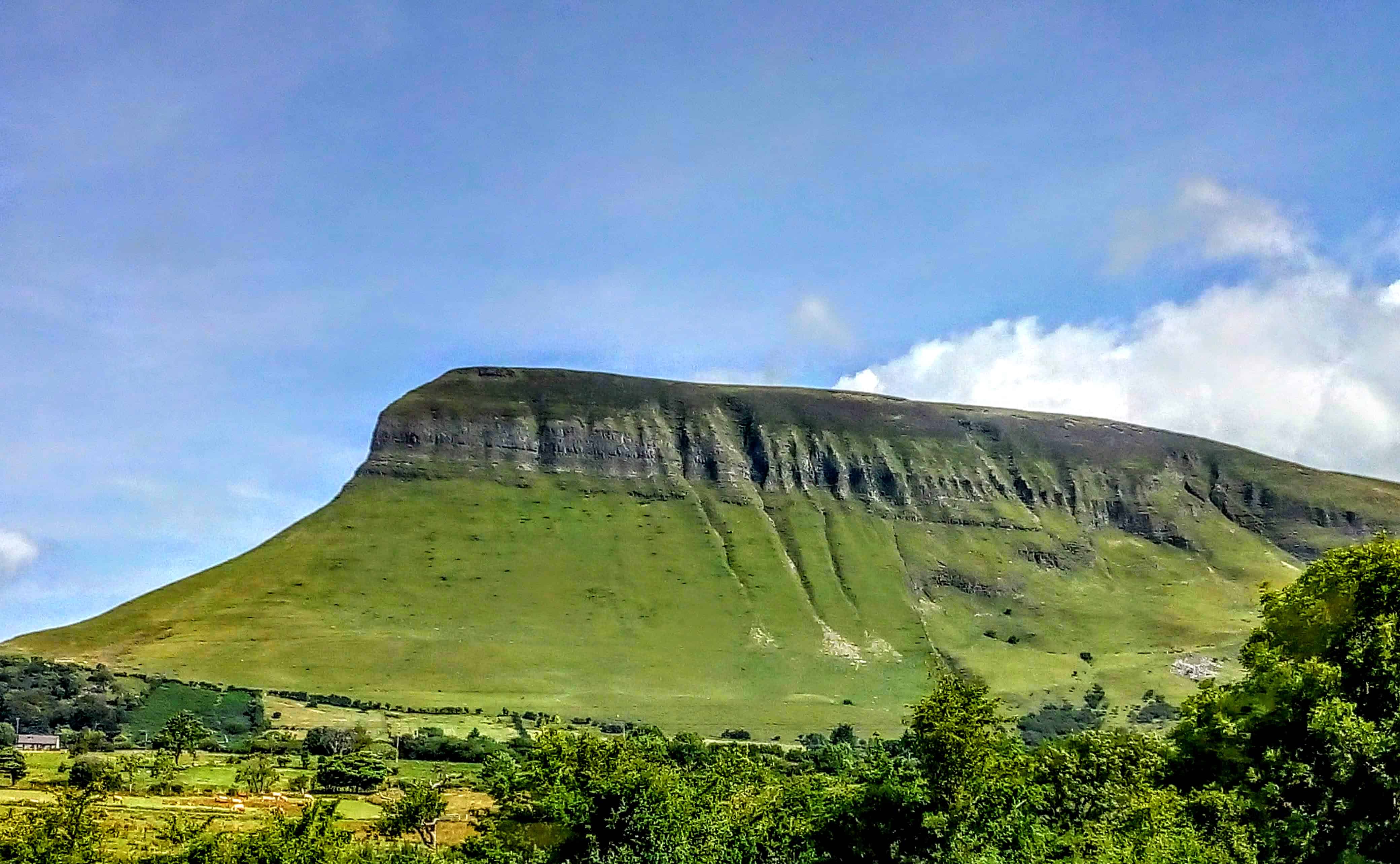 Once you've passed Sligo (the town) from the Southern end, keep following the main road along the coast and when you get closer to the mountain, turn right in one of the little roads (towards Ballintrilick) and you will come across a water treatment station there. Keep driving until you get to a stone bridge on a stream, follow the stream and there you can park your car and start climbing.
If you are coming in from Donegal to North Sligo just follow the N15, which will lead you directly to the Mountains.
BenBulben sits in both Sligo and Leitrim and can be accessed from either side by walkers and hikers. A paved path starting at the Glencar Waterfall has a gentle slope for an easy walk. There is a unique variety of plants growing on the mountain, including some found nowhere else in Ireland.

At 526 metres high, it's no small task to climb Sligo's famous mountain. The journey to the summit takes about two hours, but the views you get at the top are jaw-dropping. For stunning views take the Benbulben Forest Walk, it takes around 1.5 hrs to do and you will be rewarded with incredible views.
Undoubtedly, Ireland's most iconic mountain, BenBulben is the most distinctive peak among the Dartry range; it was formed during the ice age by massive glaciers segmenting the landscape.
Sligo's Magic Roads – Gleniff
What to see in Sligo Ireland you may ask and if you have heard of the Magic Road then the place you are looking for is on the Gleniff horseshoe road in Ballintrillick. The best way to get there from Sligo town is to drive out the N15 towards Bundoran. Drive past Cliffoney village and you see a pub called Gorevans (It has a sign on it saying it's the "last pub in Sligo"). There is a crossroads at this pub. Turn right at the crossroad, you will then be driving directly toward the mountain.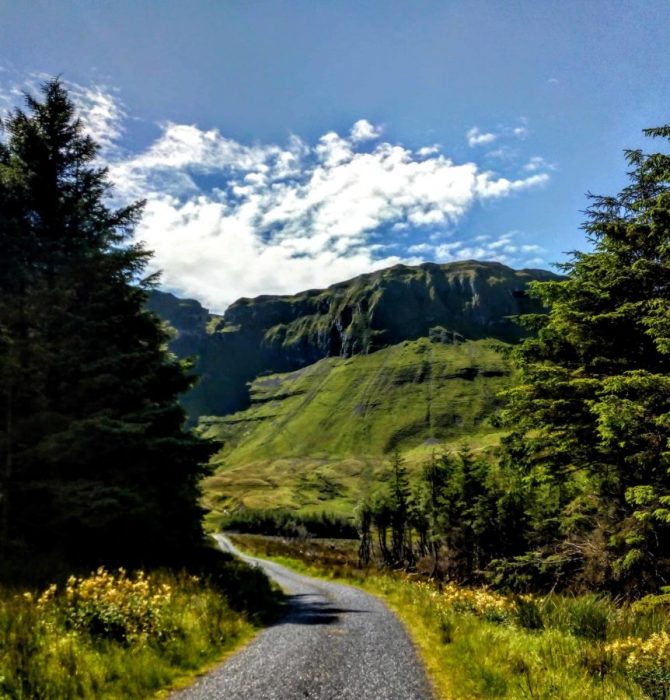 Drive straight on for about 3 miles and you will come to a crossroads that has a shutdown pub and shop, to the right you will see the signpost to Gleniff. The signpost here sort of points to the left road – but that's not the right one go straight ahead (not to the left or right) and you will find yourself on the right road.
You will see the remains of an old Mill on your left-hand side and as you continue up the road, you will see the mountains before you. Tievebaun, Truskmore and Benwisken. At this point, you may be lucky enough to be on what has become known as the Sligo Magic Hill.
Apparently, on the magic road, you can park your car, let off the handbrake and the car appears to move uphill. Obviously, it is some kind of optical illusion and to be honest, we never found the exact spot so we couldn't test out the magic sadly.

The drive is around 10 kilometres long and it is a single lane all the way, fortunately, there isn't much in the way of traffic but everyone is polite enough to shift over to let you pass or you do the same.
Grainne's Cave Sligo
The road loops around and you think you are at a dead-end but you take a sharp turn to the right and drive on to the 1200 foot cliff where Grainne's Cave is located high up to your left.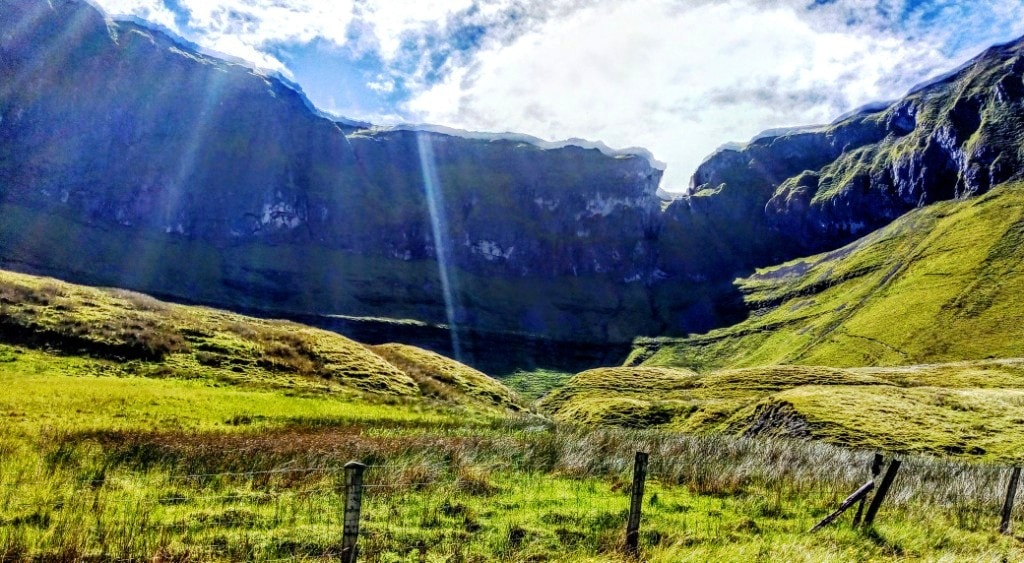 After you turn right, keep your eyes on the left-hand side to get a somewhat clearer look at Grainne's Cave. These are the cliffs of Annacuna, which are at the back of the Gleniff Horseshoe. The Gleniff Horseshoe is actually a glacial valley behind the mountain Benwisken.
Grainne's cave is one of the highest in Ireland but it is on private property and it is a very dangerous climb. If you are going to try to climb it, make sure you get the owner's permission. (There is also a Grainne and Diarmuid-related Sea Stack on the Loophead Trail.)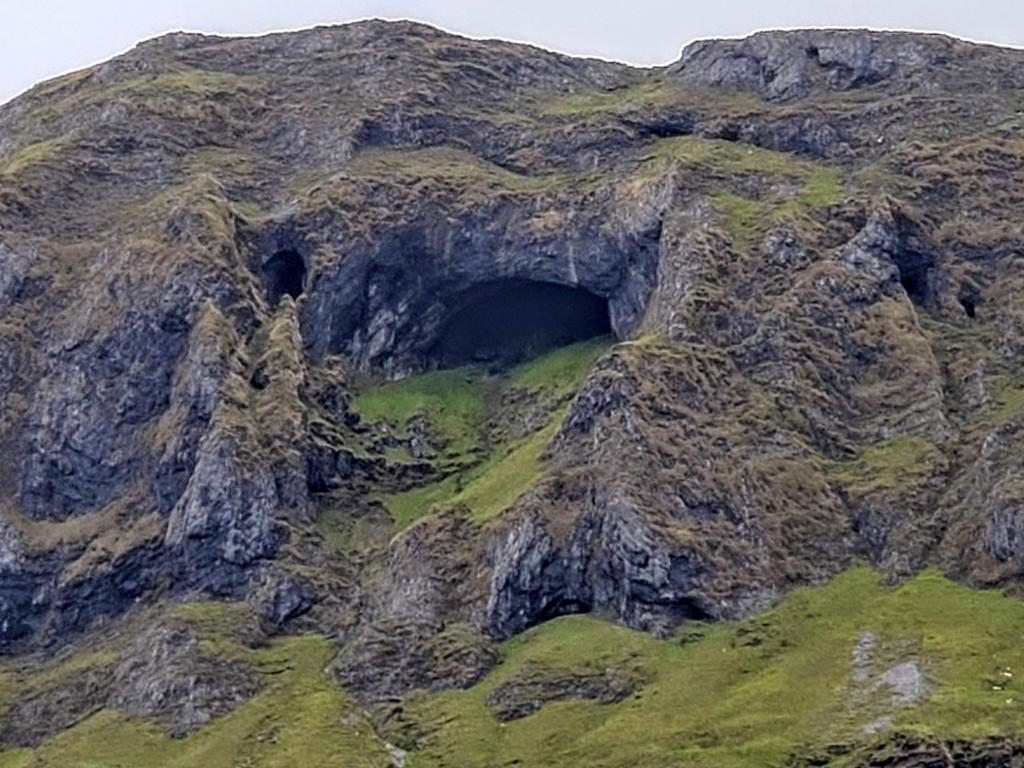 The legend goes that Grainne was to marry a great warrior and king called Fionn McCool but instead fell in love with one of his handsome warriors Diarmuid and placed a spell on him. The legend is similar to that of Lancelot and Guinevere.
For many years after fleeing together Grainne and Diarmuid lived in a variety of caves and hidden places in the mountains. One day a heavily pregnant Grainne was confronted by a wild boar – the only animal it was said could kill Diarmuid.
Fighting off the boar to save Grainne, Diarmuid was gored and lay dying in Grainne's arms when Finn and his men came upon them. Grainne begged Finn to get some water which cupped in his hands apparently became magical. Finn refused and was eventually challenged by his son Oisin to a duel to save Diamond's life. By the time, Finn agreed it was too late and Diarmuid had died.
Sligo's own Beer
Finally Beer yes an artisanal brew made in Sligo – the White Hag. According to their website, the White Hag team is an award-winning young team with a master brewer from Ohio of all places.
The White Hag has been voted Best New Irish Brewery by Global rating platform RateBeer.com and Best Irish Brewery by the Irish beer organisation, Beoir. They've got a haul of medals from The Dublin Craft Beer Cup, and several other festivals around Europe. Trust me it is well earned I am a great fan of the Fionnabhair – Irish Wit beer absolutely delicious.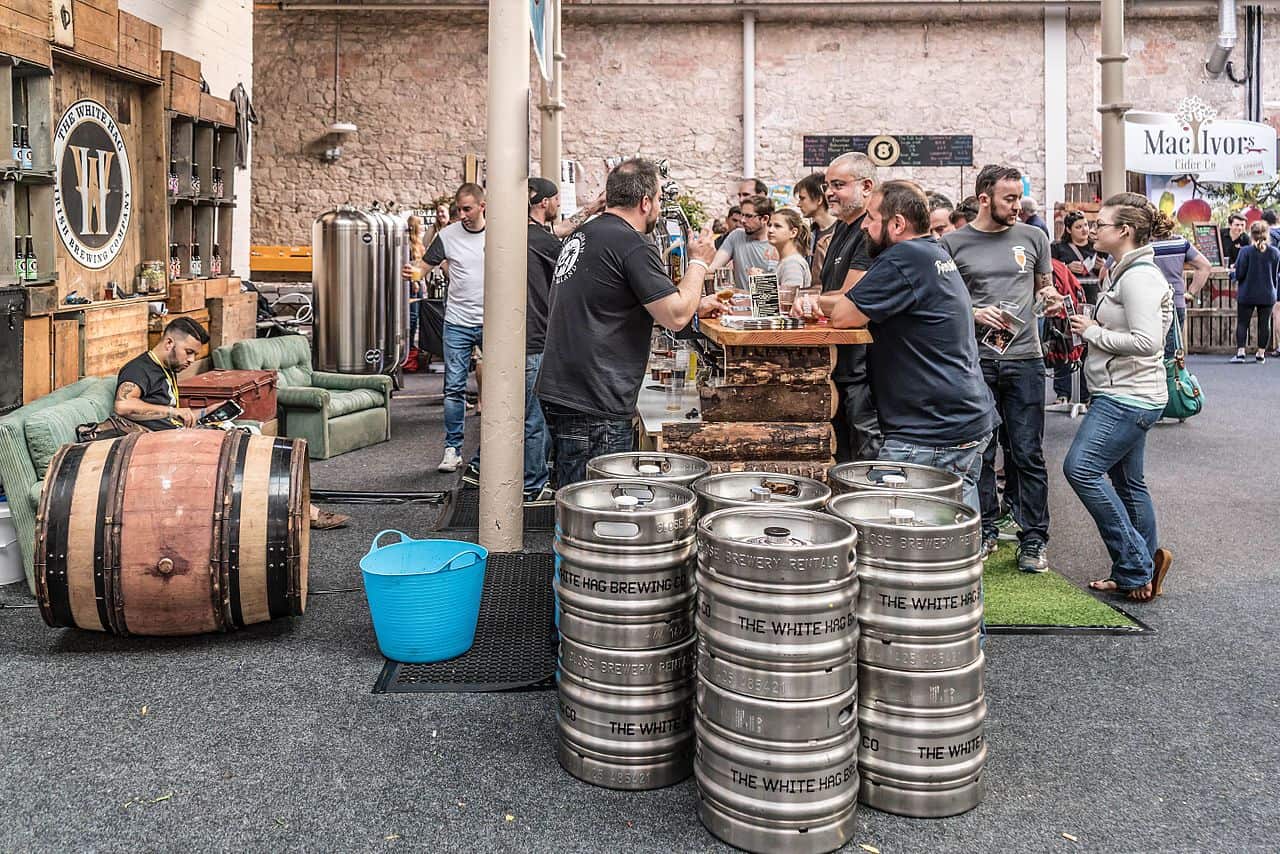 If you are an absolute dyed in the wool foodie like myself, you must check out the Sligo Food Trail I can't rave enough about this amazing organization. If you check out their website you will see a host of really cool events you can indulge in, from learning how to make bread from scratch to whiskey, beer and gin food tastings and food tours – Food Trail Sligo offers something for everyone.
Where to stay in Sligo
Lislary Cottage
Lislary Cottage is a 3-bedroom cottage with a garden. Lissadell House is 3.7 km from the holiday home, while Sligo County Museum is 18 km from the property. The nearest airport is Ireland West Knock Airport, 70 km from Lislary Cottage on Wild Atlantic Way.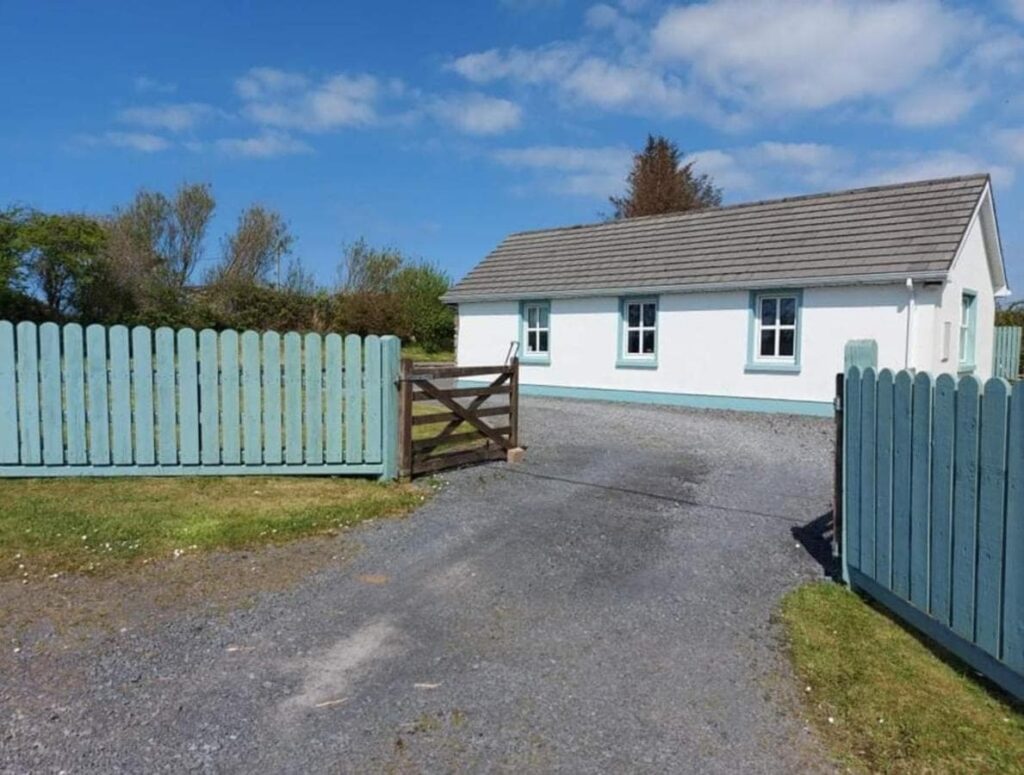 Lily's Cottage
A charming 3-bedroom cottage Lily's is located in Carrowleam. There is a large garden and from the cottage, you can explore Yeats Memorial Building is 23 km from the holiday home, while Sligo Abbey is 23 km away. The nearest airport is Ireland West Knock Airport, 33 km.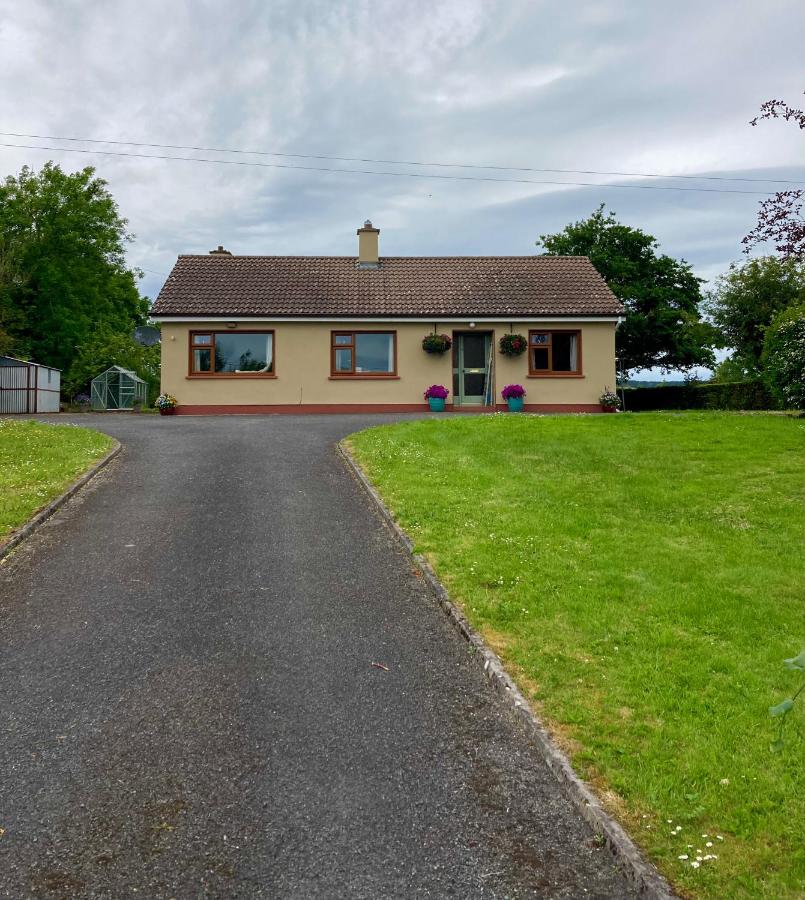 If you want some real insider information on where to stay in Sligo you need to read Megan's Sligo Accommodation Guide it has absolutely everything from B&B's to luxury hotels.
So now, you can see why you must make a visit to Sligo and the sooner the better. I'm sure I have missed a ton of stuff that is the beauty of Ireland you get to explore and discover the secrets of these places by yourself.
Ultimate Wild Atlantic Way Route
When is the best time to go to Ireland?
101 Landmarks in Ireland to see
46 Fantastic things to do in Donegal Ireland
Unique Gifts from Ireland – 32 of the best souvenirs of Ireland
Pin it for later