Beautiful places in Ireland to visit
It's not easy putting together a post about the amazing sites in Ireland. There are so many beautiful places in Ireland to visit it would take months to see all of them. Once in a lifetime experiences in Ireland come easy in this country so take your time and make sure you plan to visit often.
Planning a dream trip to Ireland does take some time and there are things you should consider in your planning process. I would highly recommend renting a car in Ireland, in order to be able to go where you please and choose the sites you want to see. You can also find the best prices on flights to Ireland from Skyscanner which is the program we use to pick all our flights.
From the most magical places in Ireland to the coolest places in Ireland the country covers the gamut of sites. Here are 27 travel writers' choice for best places to see in Ireland.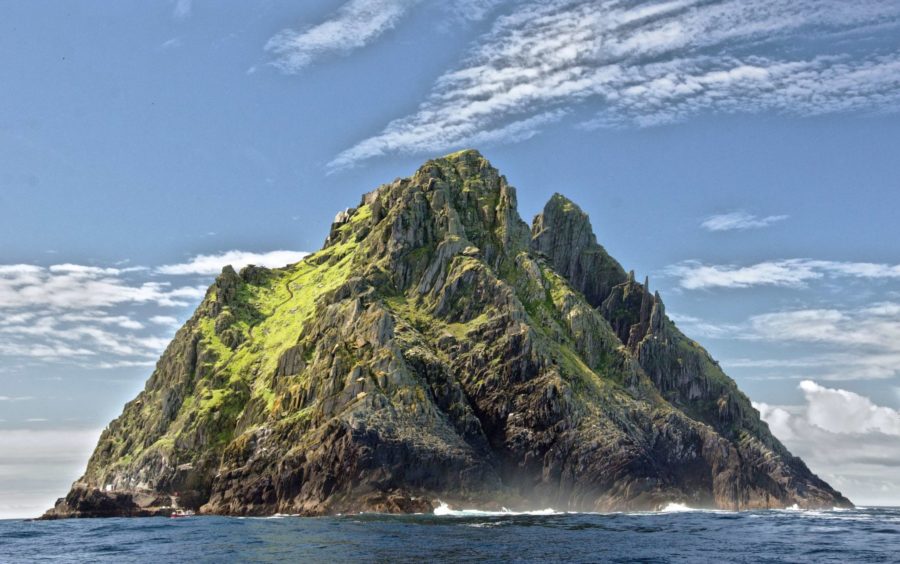 Losing your heart to Ireland is not an uncommon thing among travellers. For many, the desire to return again and again to Ireland is fueled by the deep green peacefulness of its fields and meadows, the crashing rawness of its coastline, the depth of emotion held in music nights down the pub. Ireland casts its net wide over the world and its influences touch many deep in the heart.
Xyuandbeyond is reader-supported. When you buy through links on our site, we may earn an affiliate commission. You can read my privacy policy here.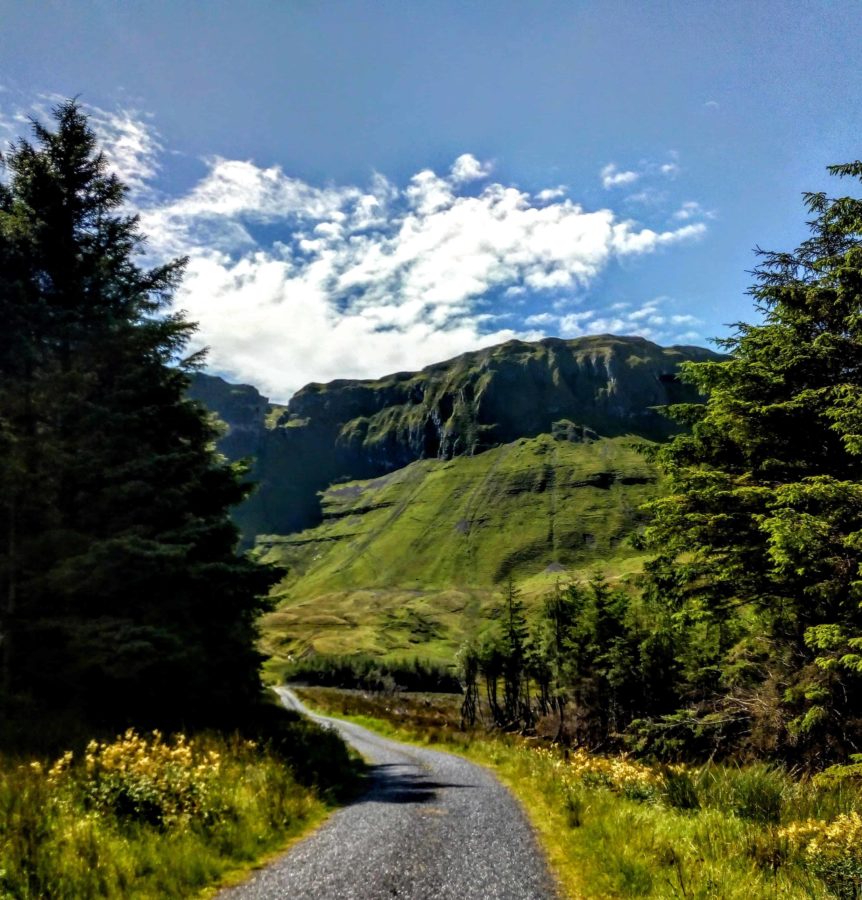 Xyuandbeyond is reader-supported. When you buy through links on our site, w0e may earn an affiliate commission. You can read my privacy policy here.
This article has been produced by 25 writers who love Ireland and have a favourite place to see in Ireland. Be it north or south the political divides become irrelevant when confronted by a smiling donkey in a field above the savage Atlantic.
"When I come out on the road of a morning, when I have had a night's sleep and perhaps a breakfast, and the sun lights a hill on the distance, a hill I know I shall walk across an hour or two thence, and it is green and silken to my eye, and the clouds have begun their slow, fat rolling journey across the sky, no land in the world can inspire such love in a common man."
Frank Delaney, Ireland
27 Must-See Ireland Locations
1 Coasteering in County Mayo
Would you think of extreme adventure travel in Ireland? It definitely was not on the top of my "must-do"s in the country, but thanks to Wavesweeper Adventures, I learned what Coasteering was and how awesome it is an experience, despite the frigid waters off the coast, in October!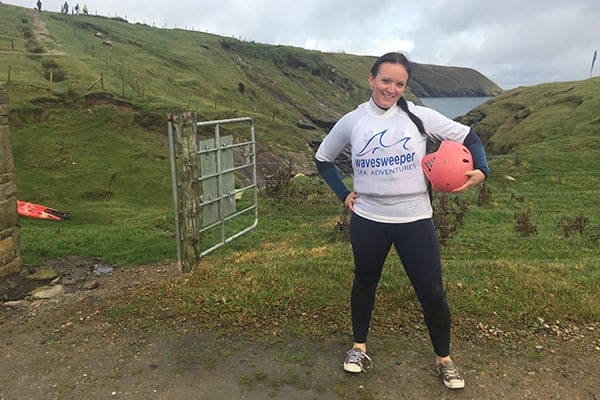 So what is Coasteering? In short, it is a rapidly growing adventure activity in the region that involves climbing rocky cliffs and jumping into the water. Armed with a wetsuit, helmet and a lifejacket expect to be swept with currents, some fear for sure and an adrenaline rush!
Along with an expert guide (who has survival gear if needed and some hot black currant juice) and a small group, you will jump and climb off cliffs of varying heights and swim into places you would otherwise miss from shore! Laughing, screaming and cheering are three things you are sure to find while Coasteering! All of this while enjoying the Irish Coastline! by Verne of Kayakingfisherman
2 Inis Mor
Many of the top places to visit in Ireland are the islands and my favourite place to see in Ireland is Inis Mor; the largest of the Aran Islands. There's something special about this small, wind-swept island. Perhaps it's the lack of tourists compared to other Irish sites and attractions. Or maybe it's the gorgeous scenery; clifftop views at Dun Aonghasa, the cold ocean spray from the Worm Hole, and the colony of curious seals that like to people watch from the waves.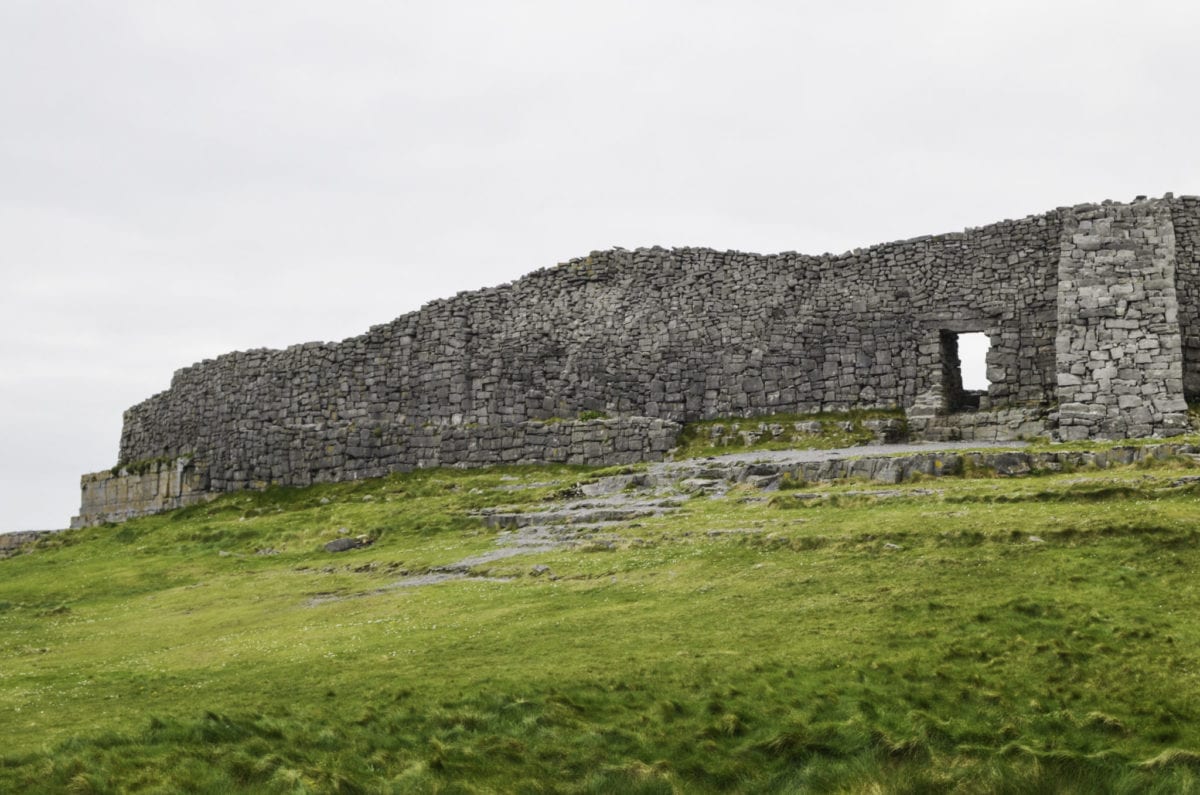 It might even be the locals, who speak Gaelic over English, follow a more traditional way of life, and absolutely live up to the hospitable and kind stereotype that the Irish people are known for. Most likely, it's a combination of all of the above that makes Inis Mor so magical in my eyes. Without a doubt, this Irish island has managed to steal my heart over the years.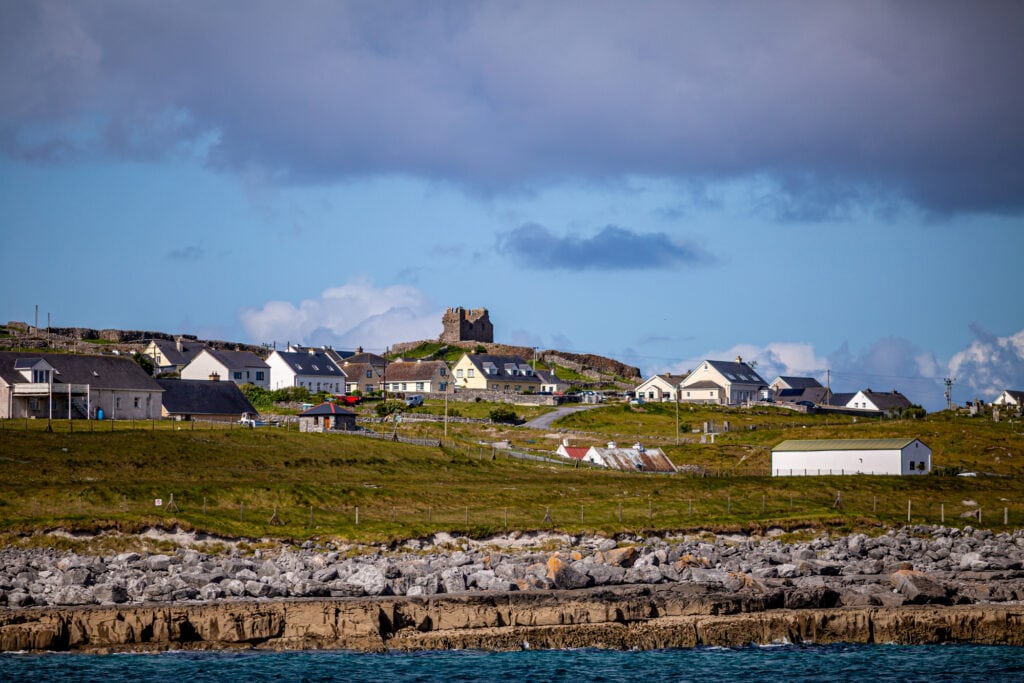 Inis Mor is located off the coast of the western island. Most people go from Galway; taking a local bus or driving to the port where a ferry can take them across. While it's not always the easiest to get to, a visit to Inis Mor is absolutely worth the effort, especially if you can spend the night and really experience the island without the crowds. Keep an eye on the weather though; the charm of Inis Mor is nature and being able to spend the day outside, it's not a great pick for exploring in the rain. by Hannah of Ireland stole my heart
3 Cliffs of Kilkee
The Kilkee Cliffs vs Cliffs of Moher my must-see in Ireland would be the Cliffs of Kilkee on the Loop Head Peninsula. The Cliffs of Moher are the usual go-to cliffs to visit for tourists, but what people don't realize is that the Cliffs of Kilkee are just as impressive but without any crowds! The jaw-dropping cliffs rise hundreds of feet out of the ocean on Ireland's famous and scenic Wild Atlantic Way.
With no obstructed view and cow pastures leading up to the cliffs, you can't help but just be blown away, hopefully not literally with unpredictable Irish weather, by the beauty. You can enjoy the cliff walk from Kilkee town up past the pollock holes to the cliffs. Mind the wind and weather.
During our visit, we had strong winds and rain which made it feel a bit sketchy at moments and the need to have a tight grip on the railing. However, the rain happened to clear up a bit and the wind settled so we could get a bit closer to the edge for a good and terrifying look!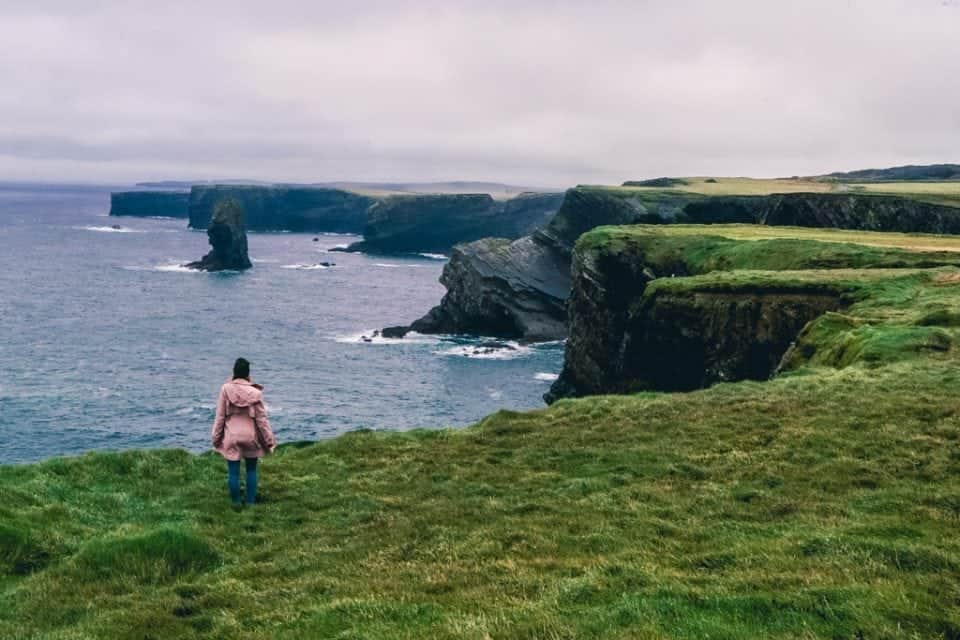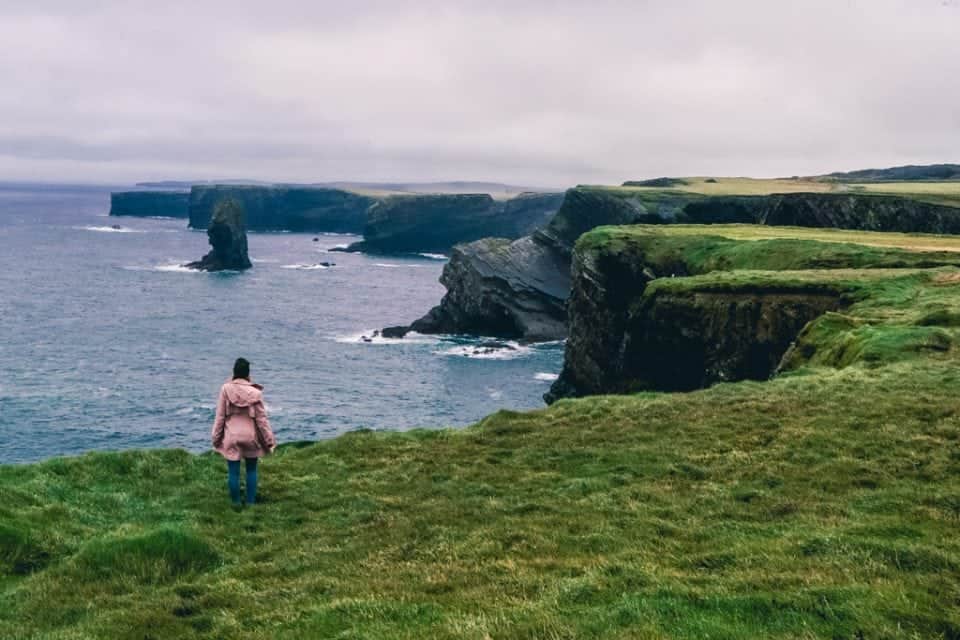 Part of the cliffs are best enjoyed by car. While there is no exact pull off the roads are so empty at this time you can get away with pulling off to the side a bit and peeking over the cliffs. You won't want to be trying to look and drive at the same time as that could be a fatal end.
Kilkee town also has a small-town charm to it and is only home to one thousand people. The locals are what also make this spot special around the Loop Head Peninsula because of their efforts for sustainable tourism.
Besides having famous cliffs, there are also other amazing small fishing towns to see along the Loop Head Peninsula including Kilbaha, Carrigaholt, and Riverside. Not to mention Star Wars filming locations, a beautiful lighthouse, and outstanding seafood. by Megan of Bobo and Chichi
4 Bunratty Castle and Folk Park
There are so many things to do in Ireland and visiting castles is just one of many. Bunratty Castle and Folk Park are one of our favourite places in Ireland. Located in County Clare, just 20 minutes from Limerick city, Bunratty Castle has a lot to offer visitors. Not only is this beautiful 15th-century castle located there, but there is a folk park on the same site for visitors to experience 19th-century village life in Ireland.
Bunratty Castle, the most complete medieval castle in Ireland, has many floors and rooms to explore. The rooms have mainly 15th and 16th-century furnishings and tapestries to give visitors a feel of what it would have been like when it was first built. The castle, however, closes each day at 4 pm in preparation for one of the best experiences you can have at a castle, the daily Medieval Banquets.
These feasts are just that, a four-course meal with honey mead, all while enjoying folk songs, music and dancing. My husband and I had the pleasure of experiencing one of these during our honeymoon and highly recommend this experience to anyone visiting Bunratty Castle.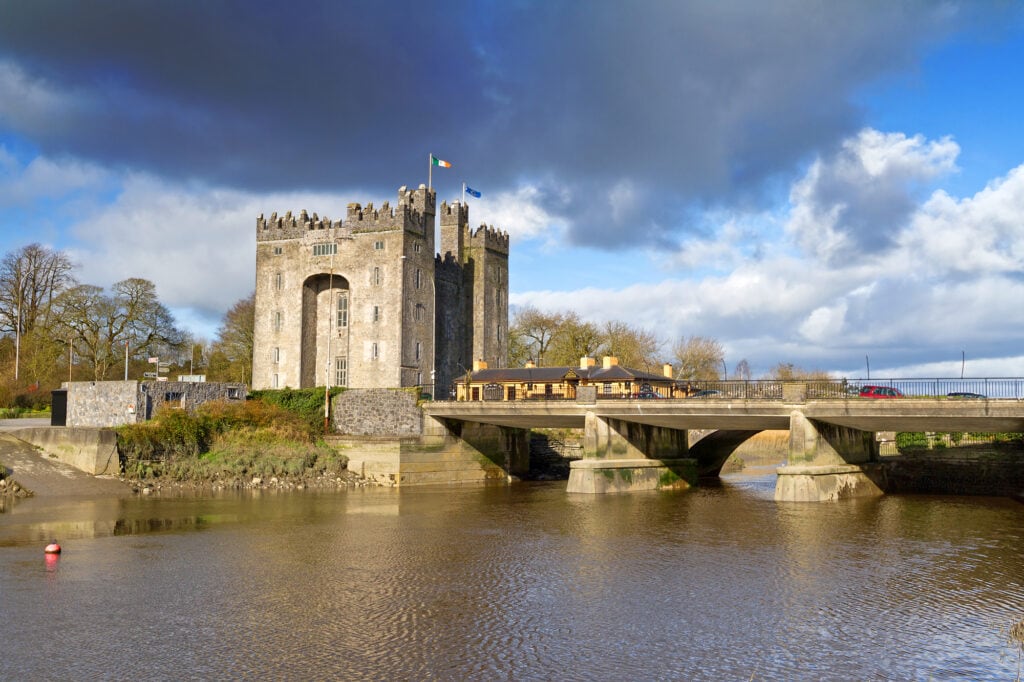 The folk park which is on the same site as Bunratty Castle is an impressive park with over 30 buildings that depict both village and rural life in 19th century Ireland. Houses, shops, and even blacksmith workshops have been reconstructed and each building is accessible to visitors.
Between the furnishing and peat fires, you get a real feel for life over a century ago for the villagers and farmers. I visited with my son for the first time recently and he was fascinated by the furnishings and lack of stairs in many of the houses. It's a must-see place in Ireland. by Cath BattleMum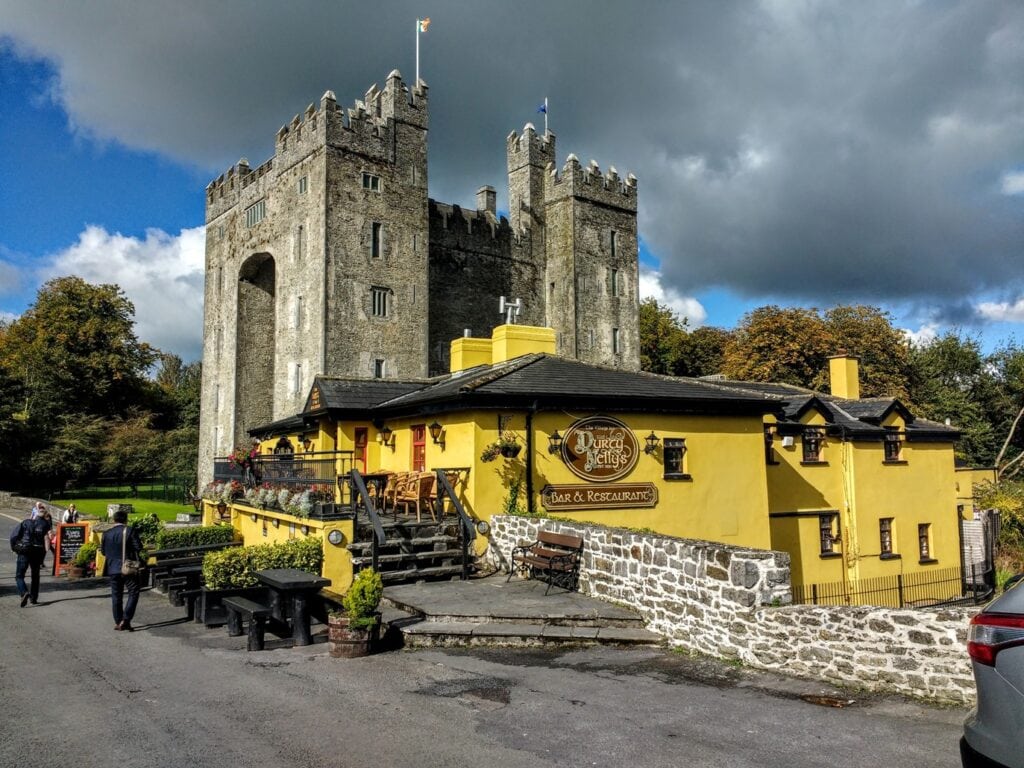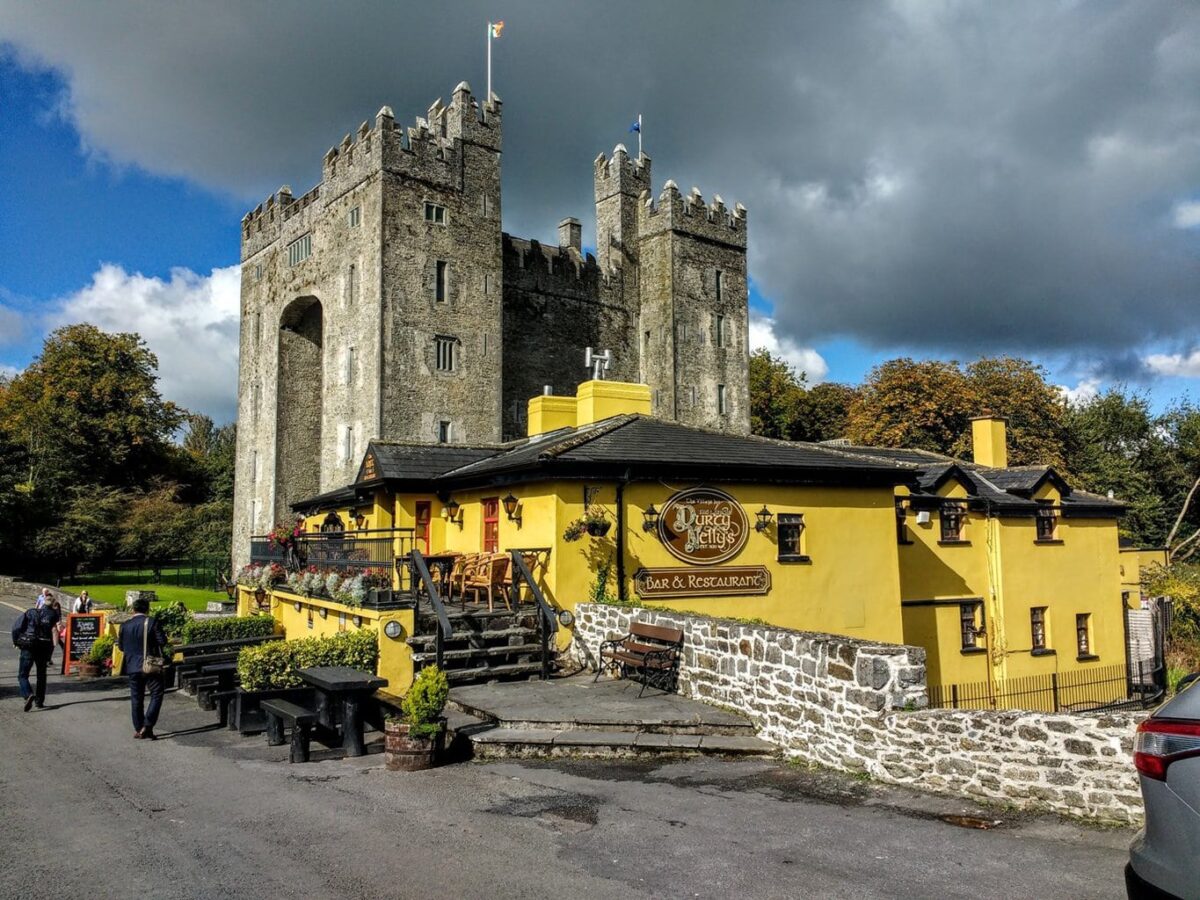 5 Afternoon Tea at Ashford Castle
When thinking about bucket list items to enjoy while in Ireland, you cannot miss the opportunity to experience a traditional afternoon tea. What better way to appreciate this than at a castle! Ashford Castle, located in Cong, Ireland, has a noteworthy afternoon tea with a history that leads back to 1868 when Lord and Lady Ardilaun owned the estate.
They would meet each morning in The Connaught Room to discuss their daily plans over tea. Today you can sit in that same room admiring the many fine details including luxurious furniture, cosy oak fireplace, and crystal chandelier.
Ashford Castle offers a wide selection of teas to sip on and you can try as many flavours as you'd like! If you are wanting something a bit more lavish you can even add on a bubbly champagne tasting.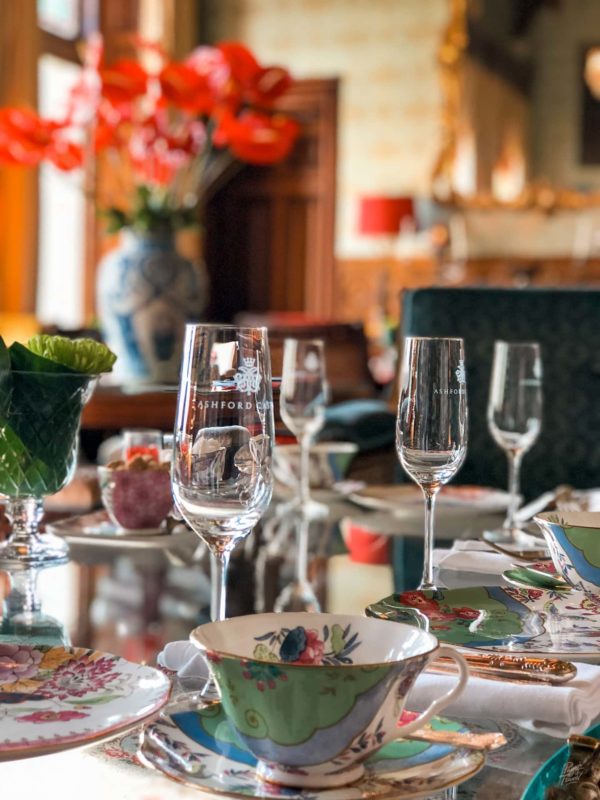 After ordering tea, you will receive a preset menu that includes a variety of savoury finger sandwiches, sweet pastries and finishes off with freshly baked scones. Something else we enjoyed about this experience is that you are able to ask for seconds on any of the items you received during afternoon tea, therefore we can promise you won't leave hungry!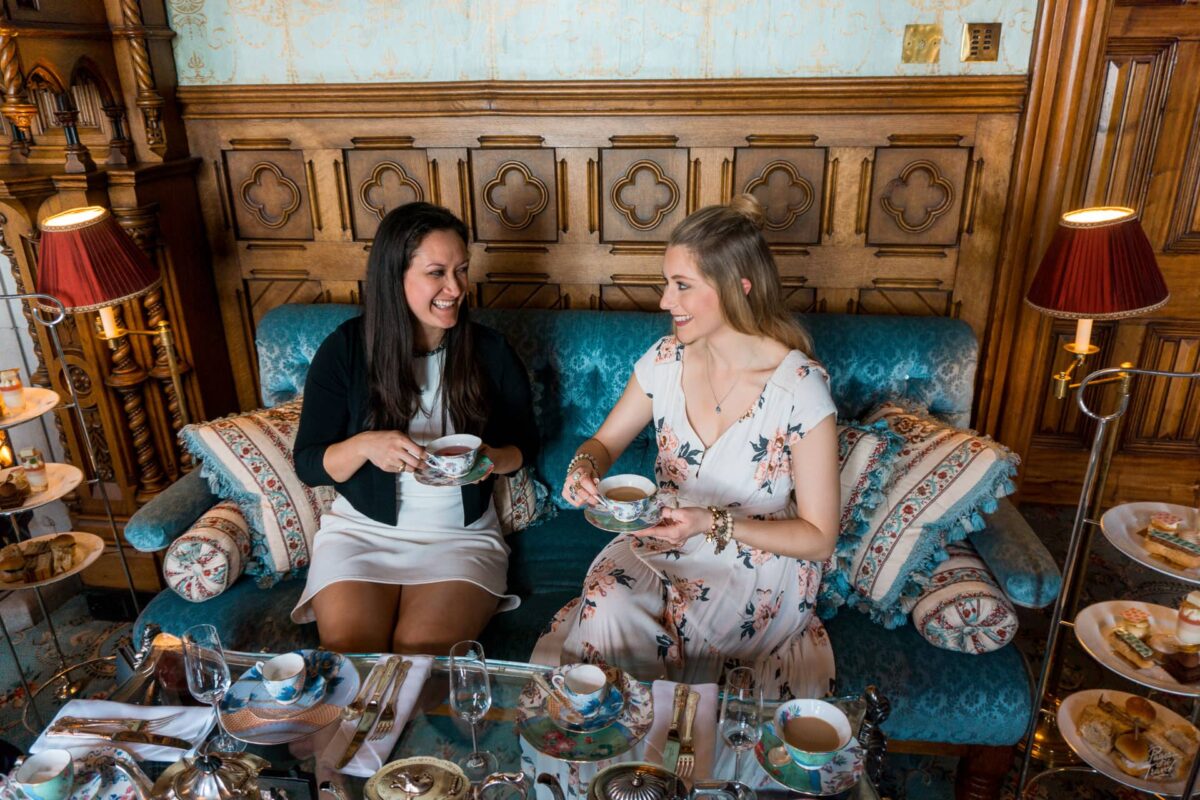 After having afternoon tea, we encourage you to explore the estate or you could even opt to stay the night at Ashford Castle if you book in advance! Start by heading outside to the castle grounds and garden and be blown away by the beauty of the exterior of the castle. Inside Ashford Castle, there are two other dining areas for guests.
The King George V Dining Room is a stunning banquet room that offers a menu of renowned dishes from their chef, Philippe Farineau. If you are wanting a more casual dining option there is also The Dungeon which offers a bistro-style menu.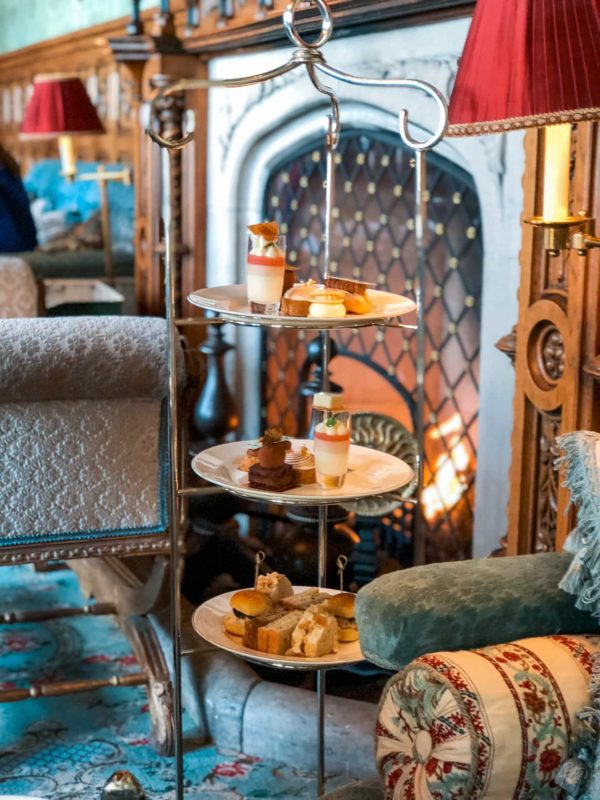 Some other highlights at Ashford Castle are the 32 seat cinema that shows classic films and our personal favourite, the wine cellar, which is located in the secret passageways of the castle and has private dining options which is incredibly romantic. Regardless of how you enjoy Ashford Castle, you are sure to have a one-of-a-kind luxury event! When you have had your tea head out to Cong where they filmed the Quiet Man with John Wayne and Maureen O'Hara it makes a beautiful walk from the castle. by Kallsy Page, Pages of Travel
6 Visit Dingle
Last time in Ireland, our most memorable and favourite time was spent exploring the charming town of Dingle. If you are going to Dingle, make sure you give yourself a half-day to enjoy the Slea Head Drive. This scenic route takes starts and ends in Dingle. Along the way, you can stop at as many or as few places as you would like. There are beehive huts, beaches, cafes, pottery shops and other gorgeous places to pull over and enjoy the breathtaking views of the ocean, island and the Kerry peninsula.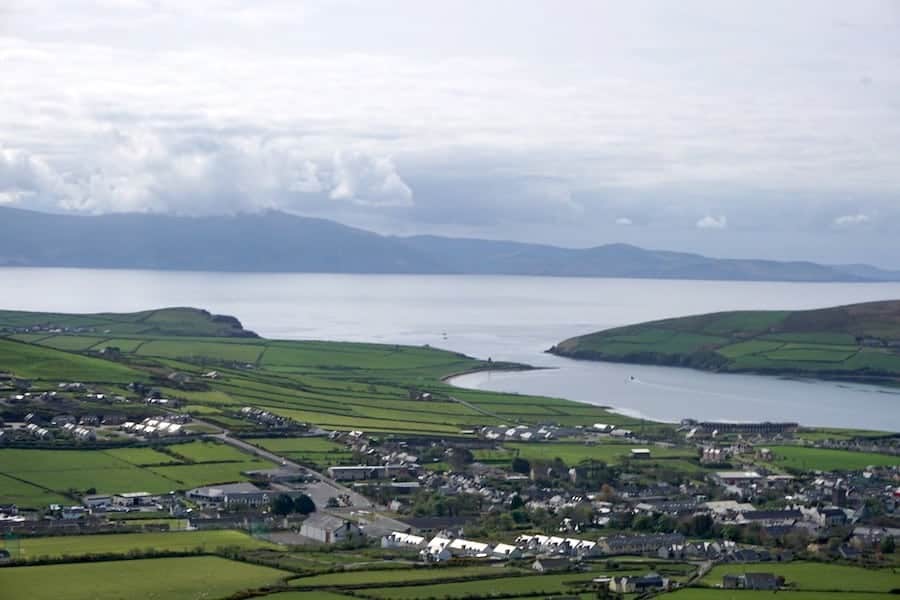 Dingle is a small town and quick to explore. Make sure you enjoy some ice cream at Murphy's while you are there. For dinner, take advantage of the plethora of fresh seafood options and in the evening, be entertained at one of the local pubs, mainly Murphy's or Paul Geaney's.
After getting acquainted with the town, we went on quite an adventure by going kayaking. We kayaked up against the cliffs and rocks and then made our way into a small cove through a cave. It was a clear day and we could see to the bottom of the sea in the cove. At the end of the trip, we backed into one other cave and just as we sat there watching as the local dolphin, Fungi, beached right in front of us!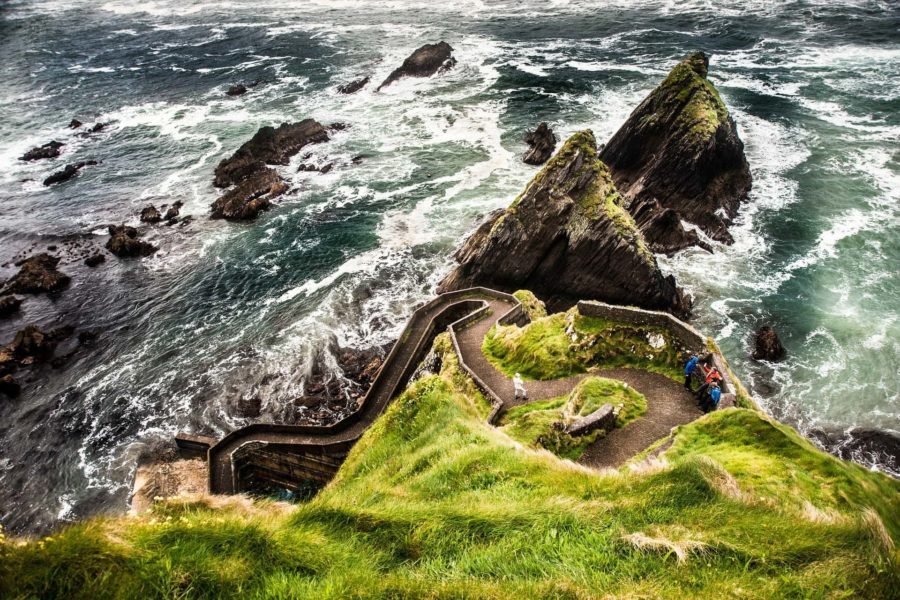 Going horseback riding is another recommended way to enjoy the local landscape of the area. For two hours, we rode at a fairly leisurely pace with some trotting mixed in to keep things interesting. We made our way to the hills behind Dingle and started making our way up, leading us to amazing views of the entire harbour, Skellig Michael (where the scenes of Star Wars were filmed) and the hills and fields that went for miles. Along the way, we passed several sheep who were also making the trek up the hills and made the journey that much even more enjoyable. by Dan HoneymoonAlways
7 The Rock of Dunamase
Ireland has an amazing amount of castle ruins that are not on the tourist radar at all. Dotted all over the country in farmers' fields, some not accessible without permission, you might see the high walls and battlements of a 12th Century Norman Castle in the distance and yet no signpost will guide you to it!
It is very frustrating to feel like you're missing out on some epic sites that could be highlighted by our tourist board, but then again, they wouldn't hold that same sense of mystery and the feeling of having discovered a hidden gem all by yourself, if everyone knew about them! Fortunately, we do have plenty of castles and ruined forts that are easy to find and not packed with busloads of tourists. One of our favourites is The Rock of Dunamase.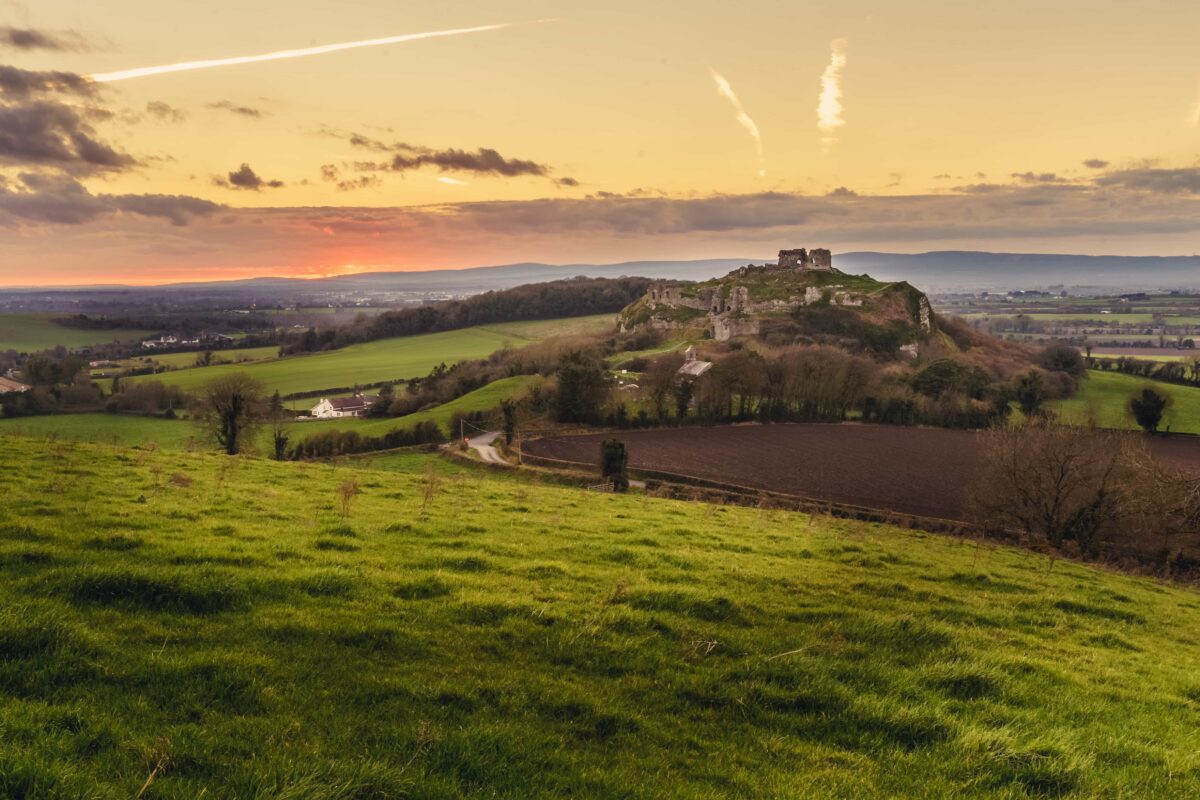 The Rock of Dunamase is in Co. Laois, about an hour and twenty minutes from Dublin's city centre by car. There's no direct public transport but you can get to the nearest local town, Portlaoise, by bus or train from Dublin and from there, rent a bike and cycle for about 20 minutes to the site. It's a perfect location for a picnic, with stunning views of the surrounding landscape.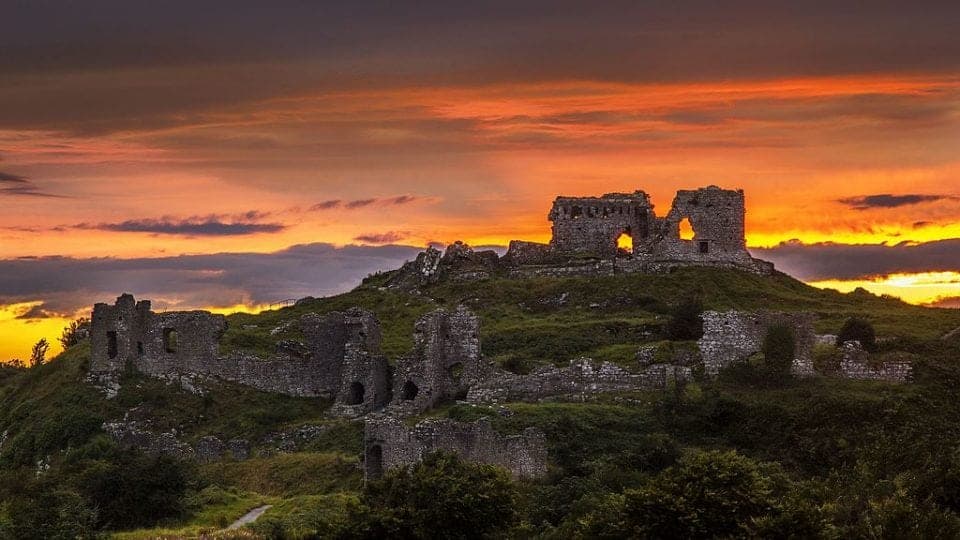 Originally a fort built on this high rocky outcrop, it was a strategic defence position for Gaelic chieftains. From the 12th Century onwards it became an important Anglo-Norman settlement and was further developed by the heirs of Aoife (the daughter of Ireland's High King of Leinster) and Strongbow (Ireland's Norman conqueror).
The ruined condition today is due to a bombardment of a canon by Cromwellian troops in the 1600s after it had been retaken by another Gaelic rebellion. It has seen a lot of change and sad times over the last 1000 years or so but we're lucky we have this fantastic piece of history that is a must-see in Ireland to explore and enjoy for generations to come. by Orla from All the ways you wander
12 Ancient Ring forts in Ireland to visit
8 Trinity College Library
Of course one of the best places to visit in Ireland is Trinity College in Dublin. In an imposing 18th Century stone building, over the cobblestones and just off the university's Parliament Square, the Old Library of Trinity College Dublin is a book lover's dream. It consistently makes it onto lists of the most beautiful libraries in the world, and for good reason.
The Library holds copies of more than 6 million books, and 200,000 of those are on display in the Long Room, which is the part of the Library open to the public. The room itself is 65m long, and two stories high, packed to the rafters with gorgeous oak shelves and some of the oldest books they own.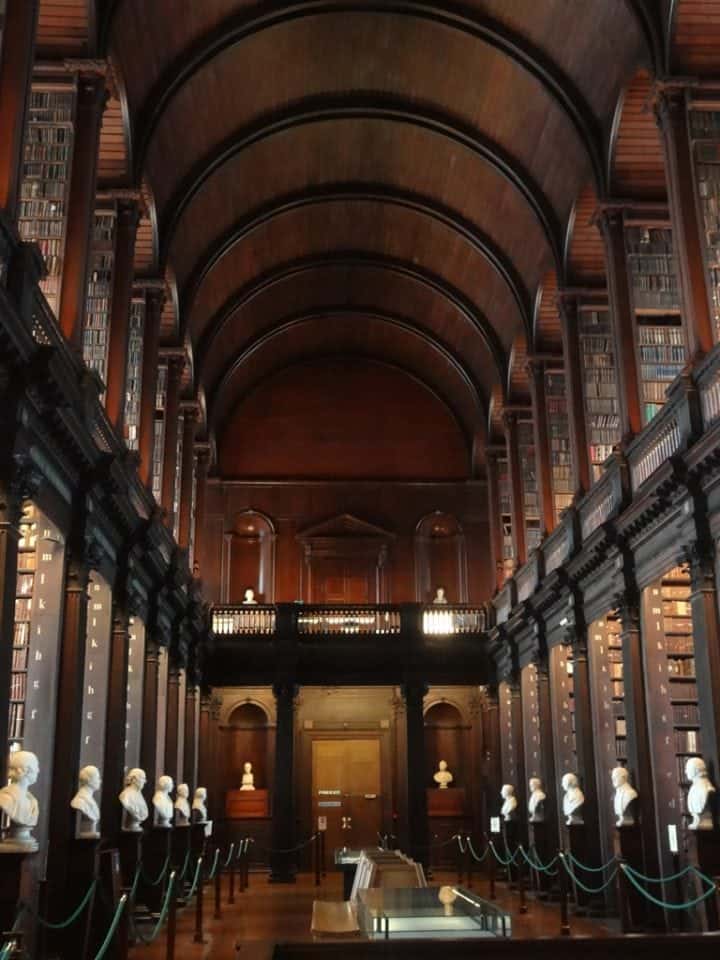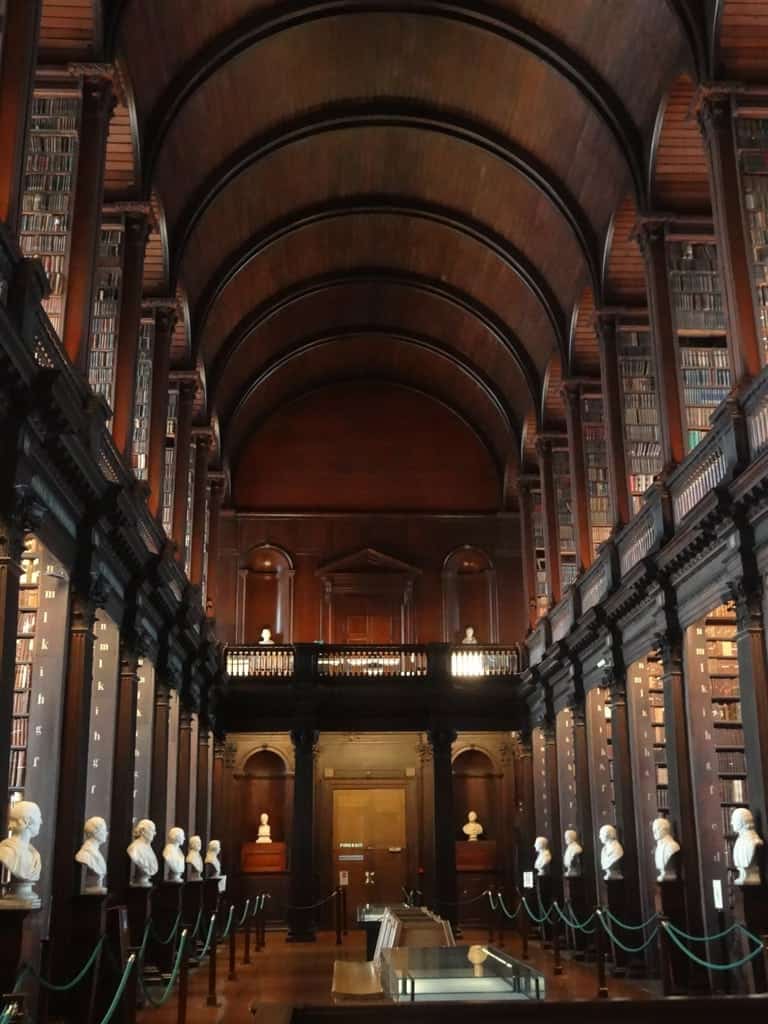 Fans of Beauty and the Beast will appreciate the moveable ladders, for reaching the higher shelves, and the barrel-vaulted ceilings also add to the grandeur. There are marble busts of famous literary and philosophical figures along the gallery walls, including Aristotle, Shakespeare, and Gulliver's Travels author, Jonathan Swift, as well as significant artefacts from Irish history on display, such as a copy of the 1916 Proclamation of the Irish Republic, and a 15th Century harp that was the model for the Irish emblem.
The Library is also home to the Book of Kells, a 9th Century gospel manuscript, which is thought to have been brought to Ireland by monks who saved it from a Viking raid. After such an adventurous life, residing in a library is a fairly mundane existence, but more than half a million people visit the exhibit each year and see the exquisitely hand-worked text.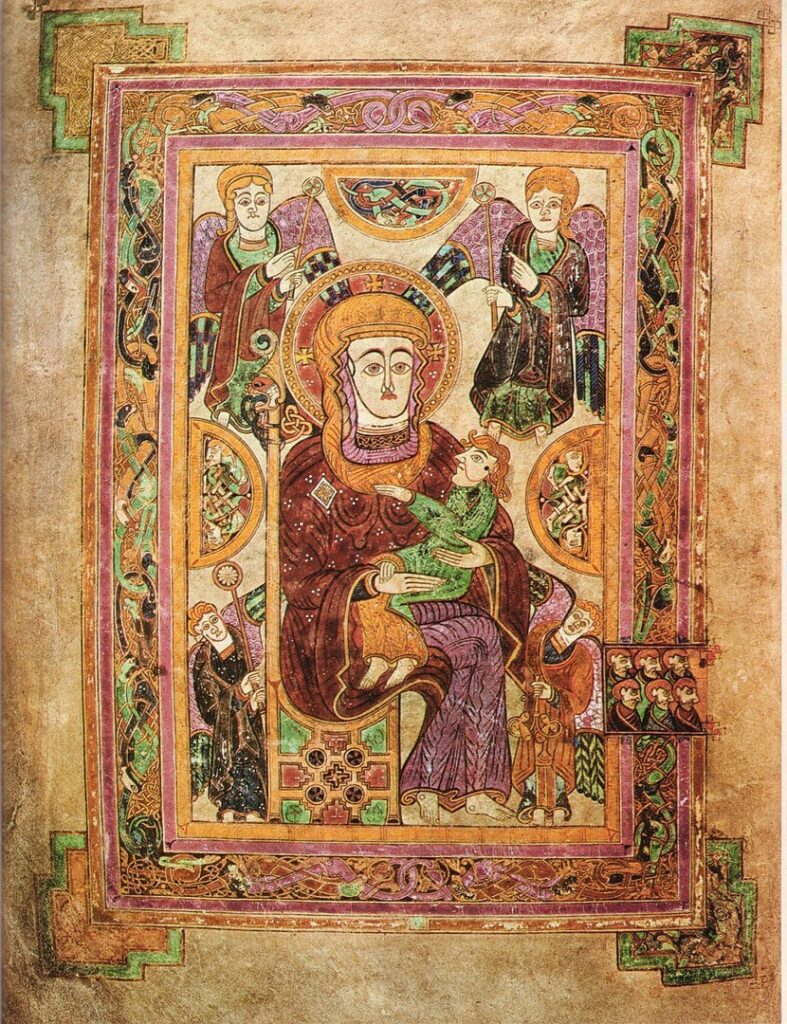 The Old Library and Book of Kells really is a must-see attraction for anyone visiting Dublin. by Jo of Beyond the Lampost
9 Achill Island
If you're planning on spending any time in Mayo County in Ireland you truly can't miss Achill Island on the Wild Atlantic Way. This special island is actually Ireland's biggest, but despite its size, it's not that crowded with tourists. The result is that Achill Island feels very untouched, like your own special piece of Ireland.
When on Achill Island you truly can't miss Keem Beach, which looks like a real-life postcard with its craggy cliffs, turquoise waters, and pale yellow sand. On a sunny day, it almost looks more like someplace out of the Caribbean than Ireland (the water temperature, however, will definitely not fool you).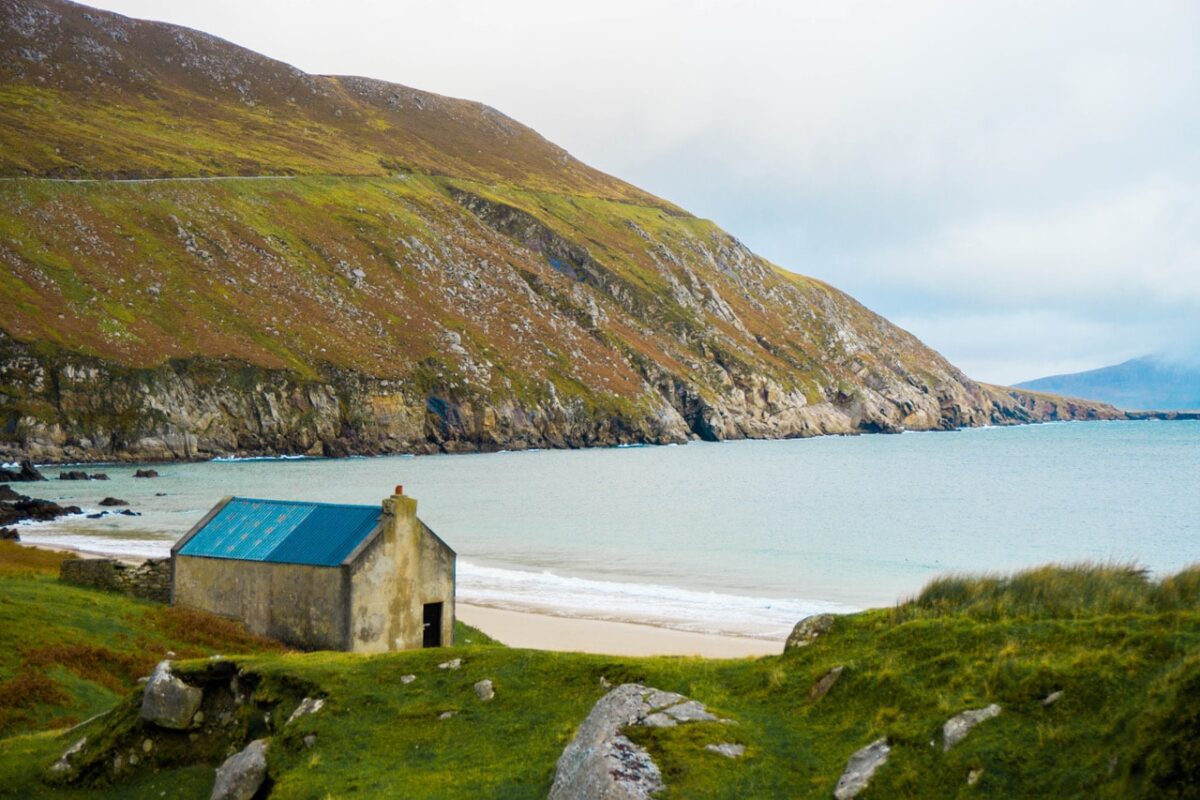 Keep an eye out for wandering sheep, who enjoy overtaking the road because let's face it — this is really their island! They're not afraid of cars at all, so you'll have to be patient and manoeuvre around them. You should also visit the sea cliffs of Croaghaun, which are the highest sea cliffs in Ireland and the UK and the third highest in all of Europe.
Unlike the famous Cliffs of Moher, however, these sea cliffs are not very touristic, so you'll be able to have a much more special and enjoyable experience. If you're into standup paddleboarding or windsurfing, Achill Island is also a great place for you! by Allison of Eternal Arrival
10 The Cliffs of Moher
The Cliffs of Moher are one of Ireland's most visited natural sites and attract over a million visitors every year. The Cliffs are located on the edge of the Burren region in County Clare and are one of Ireland's west coast must-sees.
The magnificent ruggedness of the Cliffs contrasting with the vibrant green of the Irish countryside and the blue of the ocean are a breathtaking sight. The cliffs rise up out of the sea to a height of 214 metres (702 feet) with the Atlantic Ocean crashing at their feet.
From the clifftop, you'll be spoiled with superb views spanning nearly five miles along the Irish coast. The Cliffs have three viewing platforms and O'Brien's Tower, the north platform, has the highest vantage point. Climbing up to the tower's turret you'll see Galway Bay, the Aran Islands and epic views of the cliffs.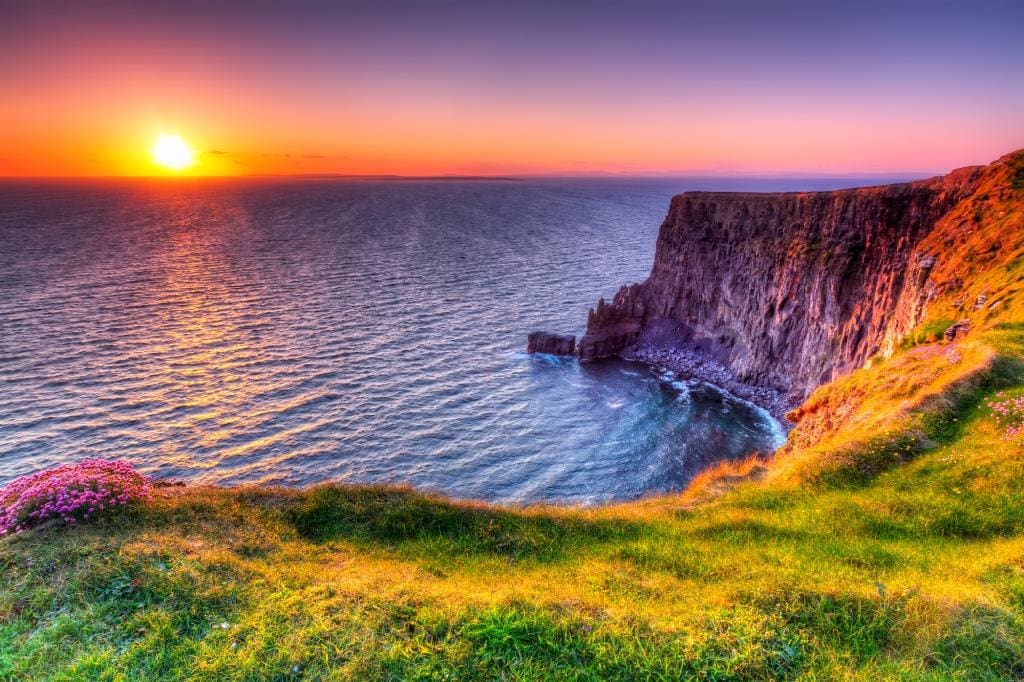 The cliffs are a prime spot for bird watching and are home to over 30,000 birds, including nesting birds, sea birds and a colony of Puffins which can be spotted from the South Platform. Hawks, guillemots, gulls and Choughs can also be seen as they nest on Goat Island which you can see from the viewing platform.
The Cliffs of Moher Visitor Experience is worth exploring. The state-of-the-art underground centre features interactive exhibits, images and displays which are suitable for adults and children alike and will fill you in on the history and geology of the area. by Suzanne at The Travel Bunny
11 Muckross Abbey
We visited Muckross Abbey just because we had the time and we were close by and it was definitely worth it!
As an abandoned abbey in ruins, it can be a little bit creepy depending on the time you visit (or what hallways you wish to cross) but it's stunning!
There's a beautiful tree, one of the most beautiful ones I've ever seen, still growing in the courtyard – the only living thing there. It's almost magic.
There are many doors and windows to explore, and a few hallways to wander around if you're daring enough!
It's open for visits and since it costs nothing, it's an awesome place to visit!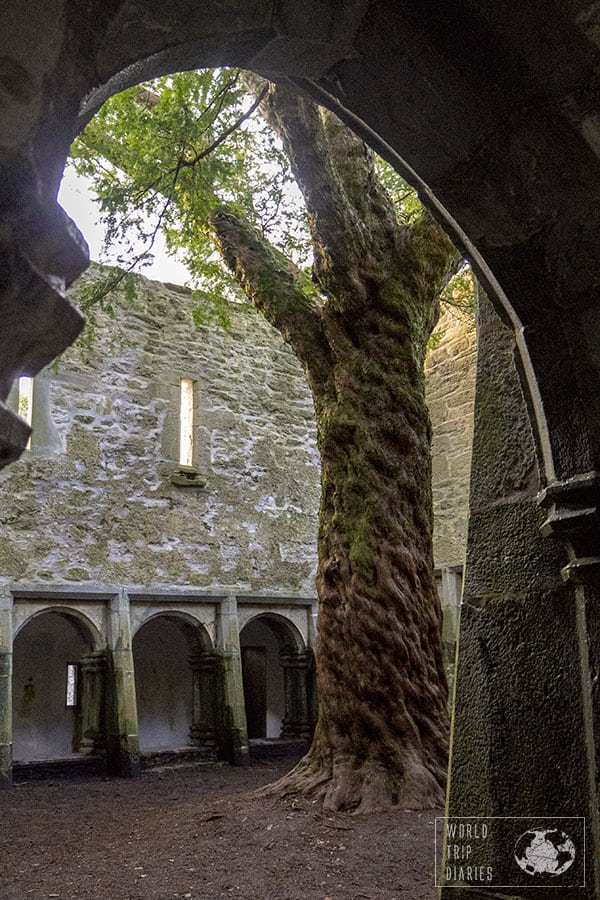 When you get tired of the abbey (or just scared, like me), you can go ahead to the lake and watch the sunset from there (if it's not raining) because it's beautiful! You can watch the sunset from the abbey, which must be just as beautiful.
Or you can just enjoy a walk around the beautiful park and enjoy a little bit more of the place. There are many paths to choose from
If it's raining, it can get a little muddy, so wear suitable clothing and footwear and enjoy it. It is a lot better when the sun is shining, though. Contributed by Thais at World Trip Diaries
12 Molly Gallivan's Farm
I've spent about a month exploring all over the Emerald Isle, and one of my absolute favourite things to do is to visit a traditional Irish Farm like Molly Gallivan's in Bonane near Kenmare. The owners, Stephen and Frances, bring you into their home and explain the history of the farm.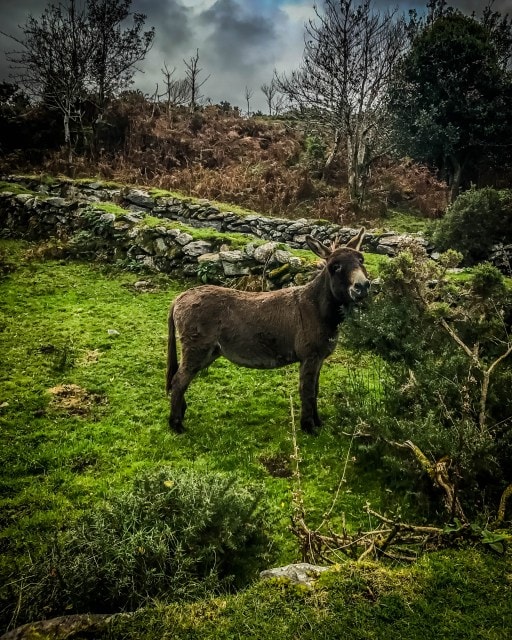 Highlights include learning about the famine at the famine house on the property, meeting the wonderful farm animals like their pig Black Pudding and their rascally donkeys, and watching a bread-making demonstration. When you're done with your visit, you can shop in their gift shop and buy local wool products like beautiful sweaters, or if you're adventurous try their homemade moonshine. If you are ever in southwestern Ireland, I highly recommend putting Molly Gallivan's on your itinerary. From Stephanie at Fangirl
13 Ballybunion Cliff Walk
The Wild Atlantic Way is filled with stunning walks, but one of the most beautiful stretches of coastline hugs the cliffs just outside the town of Ballybunion in County Kerry. The well-marked winding path leading north from town will allow you to take in beautiful vistas of vibrant green cliff-sides and wild beaches set against the raging Atlantic Ocean (you can even try your luck surfing in it if you dare).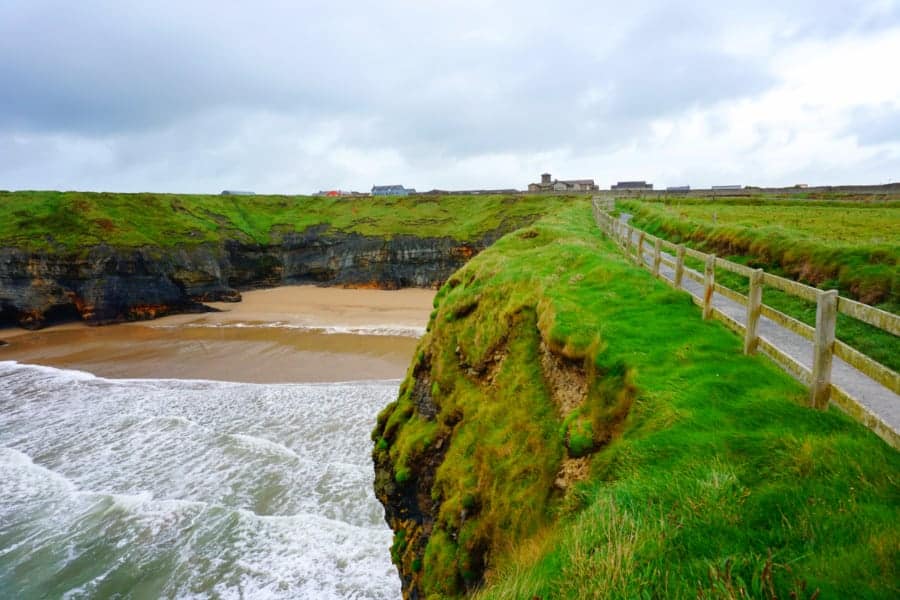 Some of the rock formations along the way are true delights, as the rough ocean water in places has worn offshore cliffs into odd shapes and arches. Be sure to cover up for the walk, as the elements can be a bit strong along the walk, but the stunning vistas will be well worth it. Best yet, the path is often relatively empty so you may find that you have this gorgeous corner of Ireland all to yourself.
The walk makes for an excellent free thing to do during your trip to Ireland and is sure to leave you with some spectacular photographs and incredible memories. After you've completed the 1-2 hours long loop of the Ring of Kerry, head back to Ballybunion town and duck into McMunn's pub for a pint or three to warm you back up! by Nate of Travel Lemming
14 Guinness Storehouse in Dublin
It doesn't matter how many times I've visited Dublin, I go to the Guinness Storehouse every single time. It's not a typical visit to a brewery. It's more like a mini theme park for adults. The experience starts with a short introduction that will familiarize you with the place. There are seven floors to Storehouse which you can explore at your own pace.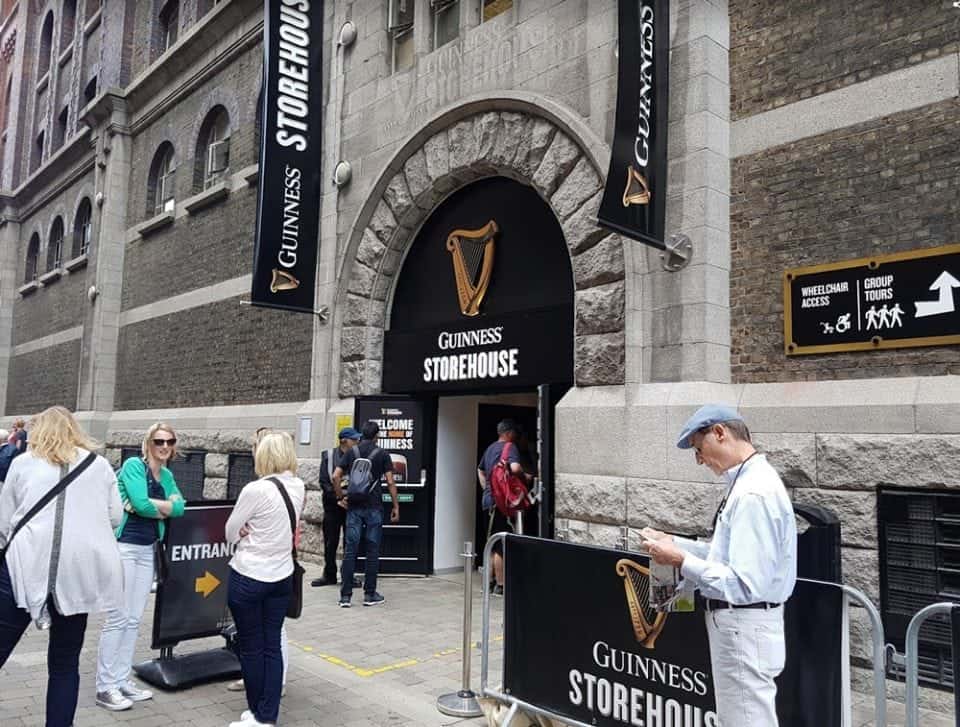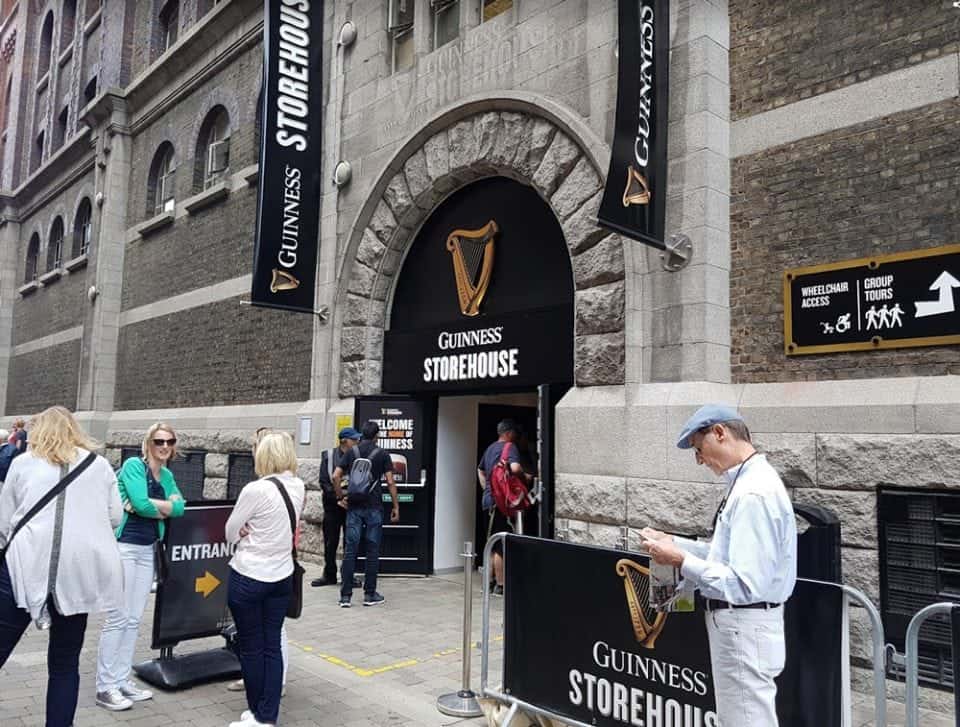 You can walk through displays and exhibits that teach you the process of making beer. After you've soaked up all the knowledge, you'll have an opportunity to pour your own perfect pint of Guinness (yes, there's an art to it), and participate in a taste experience that introduces you to the various aromas associated with beer so you can identify different characteristics in the beer.
After that, you can watch some Irish dancing at the Connoisseurs bar, or head straight up to the Gravity Bar on the top floor to sip a pint of Guinness with a fantastic view of the surrounding area. Of course, they also have several bars, cafes and restaurants in case you want to try some beef and Guinness stew for lunch.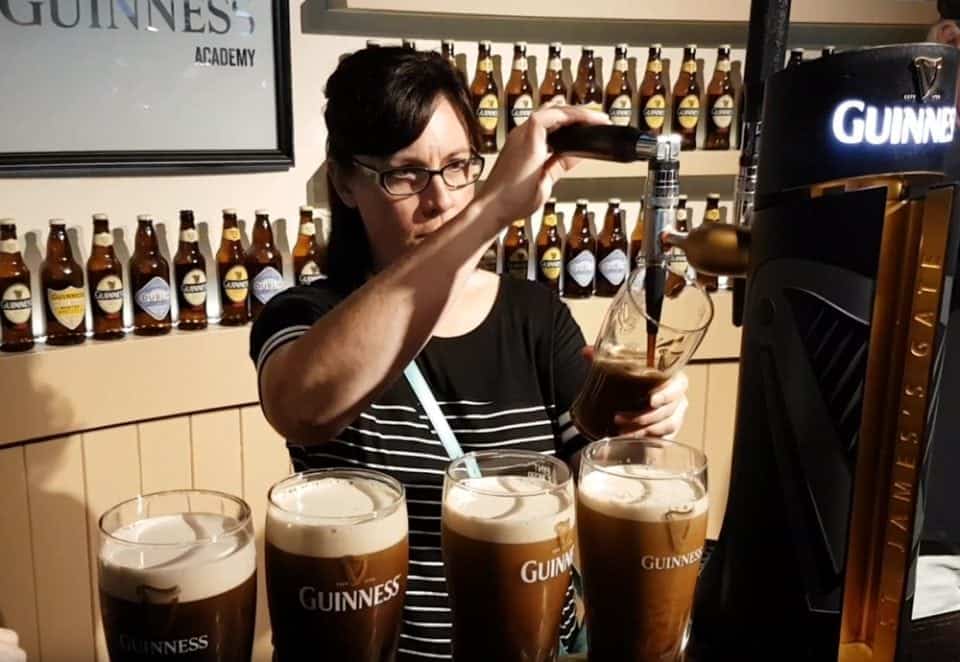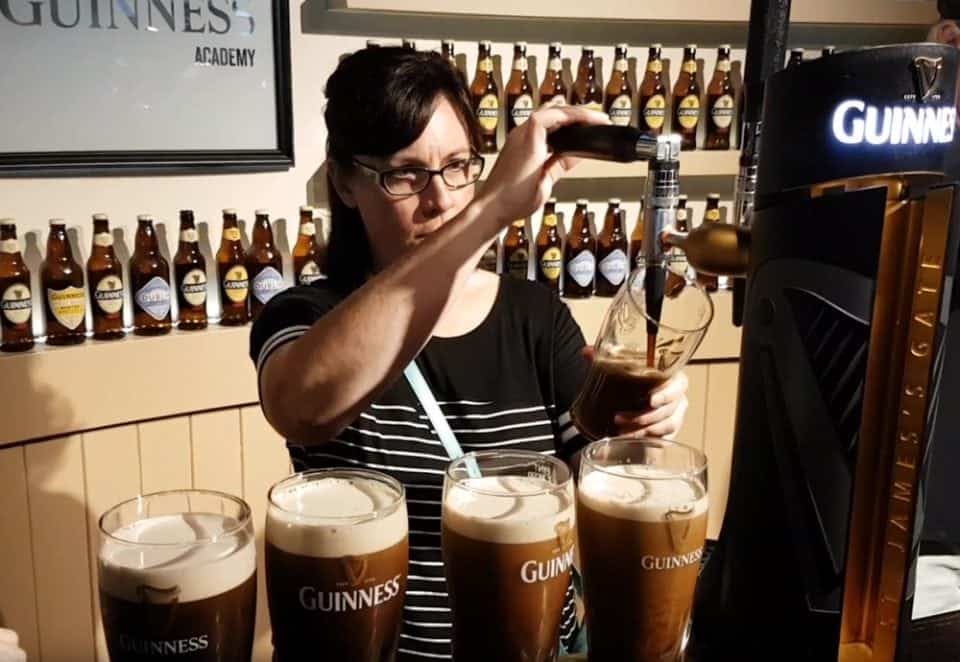 The Guinness Storehouse is open year-round, 7 days a week. Tickets cost around 20 euros for adults and can be purchased at the door or in advance (sometimes at a discount). from Laura of Savored Sips
15 Visiting Galway
When I decided to visit Galway to see a friend of mine, I wasn't sure what to expect. I didn't know much about the city, I had no idea what you could do there. I was very much in the dark. Turns out, Galway is one of the most interesting places to visit in Ireland!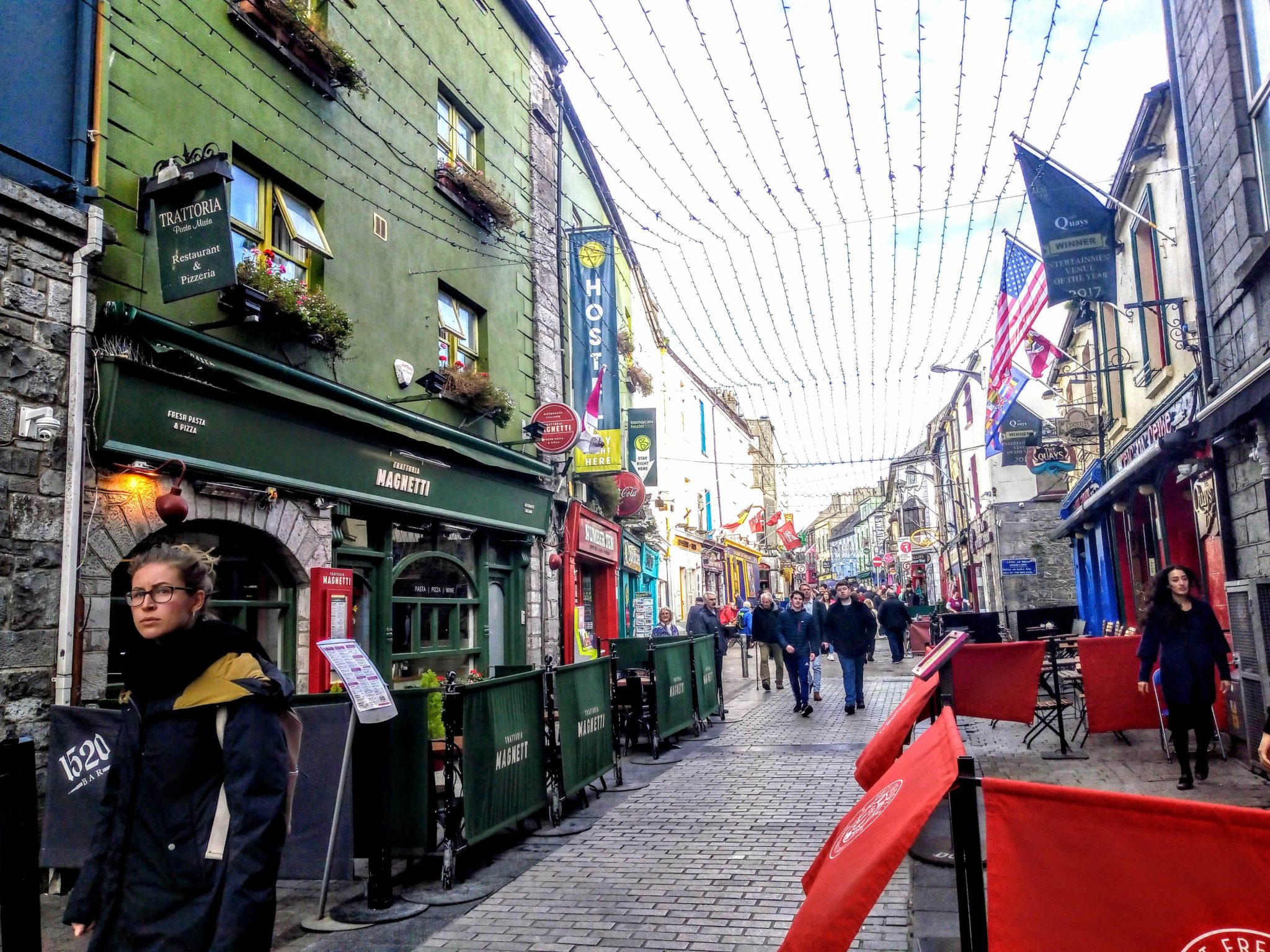 It may not be the biggest city, but it's one of the liveliest in Ireland. Walking around the city centre, there was always something, no matter the time. Whether it was live music, dancing or just merriment, there was never a dull moment in Galway!
There are numerous pubs and bars which must check out if you like a good time, and sample the Guinness. The Spanish steps are worth seeing, as is the Latin Quarter, where you have to check out the excellent restaurants close by!
One of the best things about Galway is that it's close to some of the best spots in Ireland. Connemara and the Killary Fjord is not far away, with its brooding hills and trails. While the Cliffs of Moher are an hour's drive away in County Clare. Galway is a great base to explore interesting areas in Ireland, and there are plenty of great day trips you can do from the city!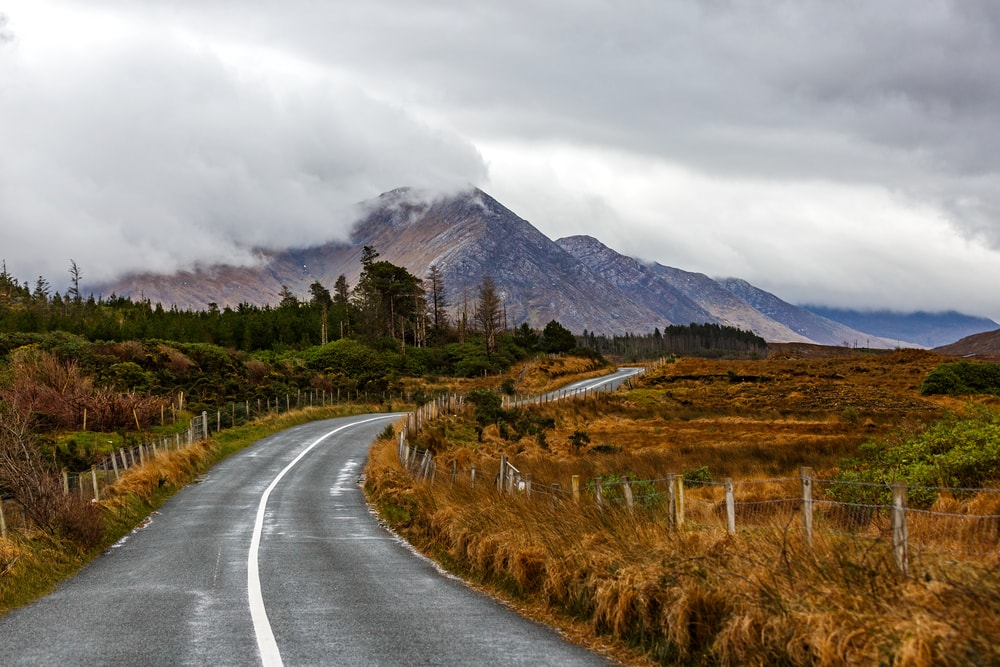 Galway was one of my favourite spots in Ireland, and one you should visit too if you get the chance! from Tom at The Traveling Tom
16 The Dark Hedges
My favourite place in Northern Ireland is the popular 'Dark Hedges' are just off the Causeway Coast, and they are an avenue of twisted and gnarled trees. It's a little eerie (even on a sunny day), which is probably why it's one of my favourite places to visit.
And hey, someone else must have liked it here too as it was used as a filming location in the popular HBO series, Game of Thrones. The 'Dark Hedges' became the Kingsroad where Arya disguised herself as a boy.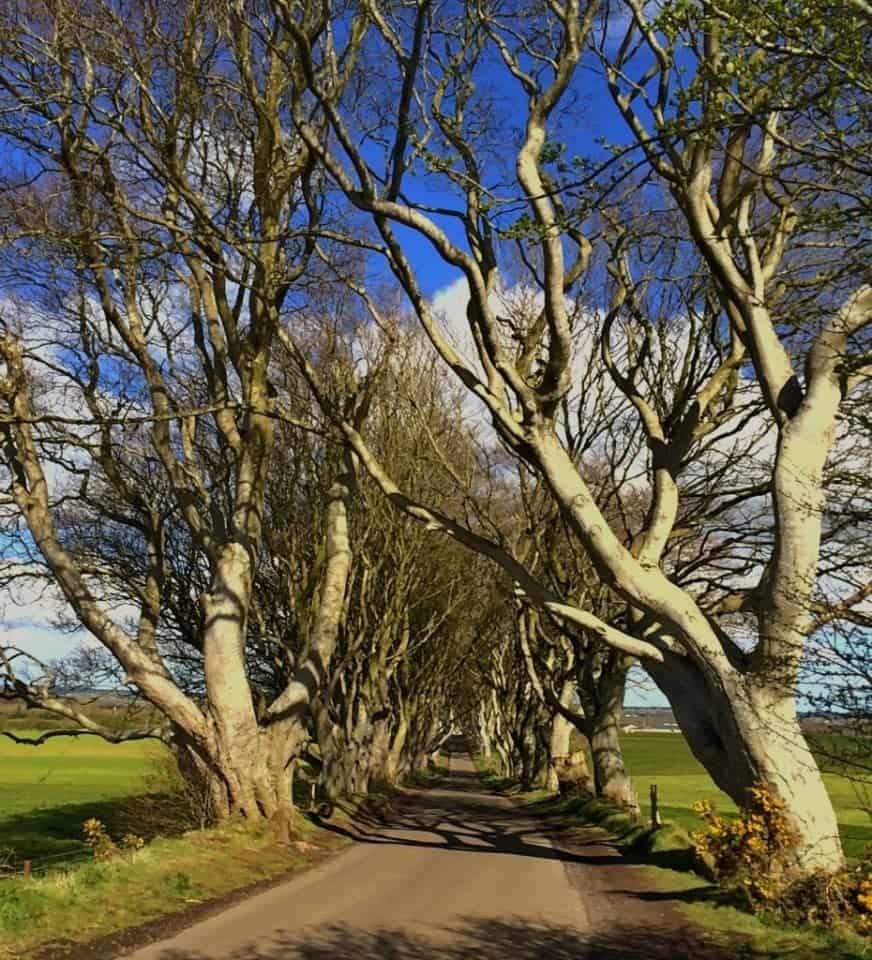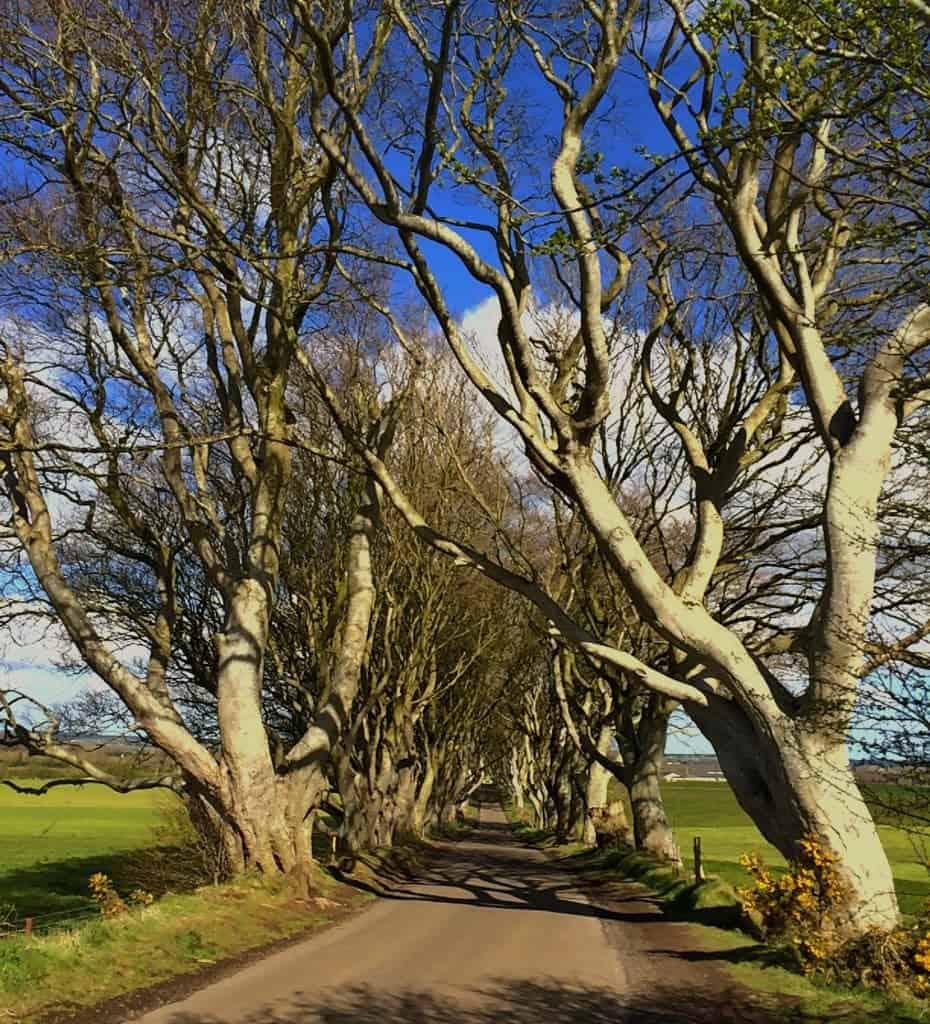 In the past, you would have had to contend with coaches and multiple cars parked along the road, ruining your chances of a decent photo. However, traffic is now banned from driving through the 'Dark Hedges' with motorists facing a fine of up to £1,000 if they do. What this means now is that you can get an interrupted view (and photo) of the full stretch of road.
If you're driving to the 'Dark Hedges' or taking a coach trip there, then you'll need to park or get off the coach at the Hedges Hotel, which is only a two-minute walk away.
As a note, now that the 'Dark Hedges' are an internationally recognised tourist attraction, most coach tours heading to Giant's Causeway or the Carrick-a-Rede rope bridge will include a trip to the 'Dark Hedges' as part of their itinerary… and it's so worth it! by Justine of Wanderer of the World
17 Causeway Coast
No visit to Northern Ireland should be without a trip to the Causeway Coast, a coastline famous for its sandy beaches, rugged cliffsides, and of course the world-renowned Unesco World Heritage Site at the Giants Causeway.
But these days the focus for tourism has shifted slightly towards the famed filming locations of the 'Game of Thrones franchise, including the cosy harbour of Port Ballintoy, the setting for the "Iron Isles', as well as the now-iconic Dark Hedges, which are found just a short journey inland. The mind-blowing Carrick-a-Rede rope bridge and of course Mussenden Temple. And just the views along the way, such as the cliffside ruins of 'Dunluce Castle', look like they are straight out of the fantasy franchise.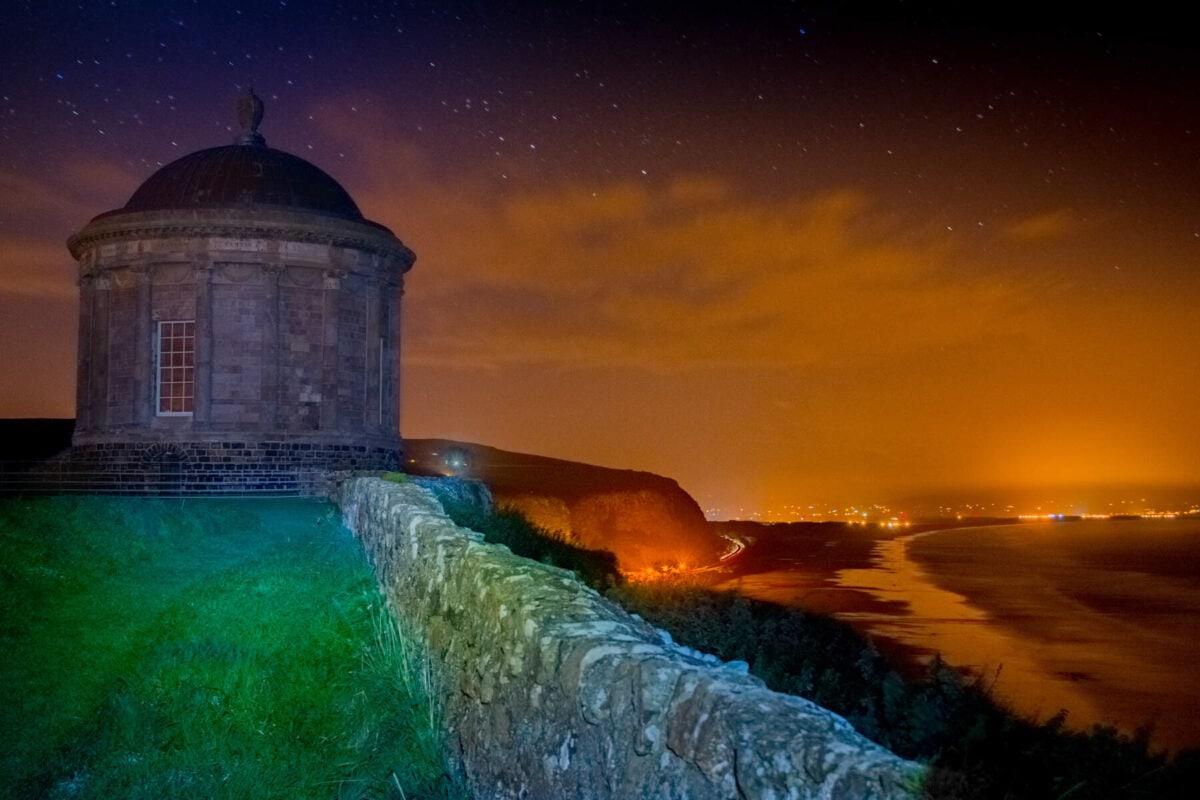 Otherwise, the entire coastline is just fascinating to explore, and to date, I have covered the main attractions of the area, on various visits, including the boat trip out to the nearby Rathlin Island to look for puffins.
An attraction that can be included on a day trip, although maybe best to give a full day to explore and cover the various corners and attractions of the island. And there is something for everyone along the Causeway Coast, for example, a tour of Bushmills Distillery, a personal favourite of mine, and then there are the drive-on beaches at Portstewart or Downhill Demesne that are perfect for families on a sunny day.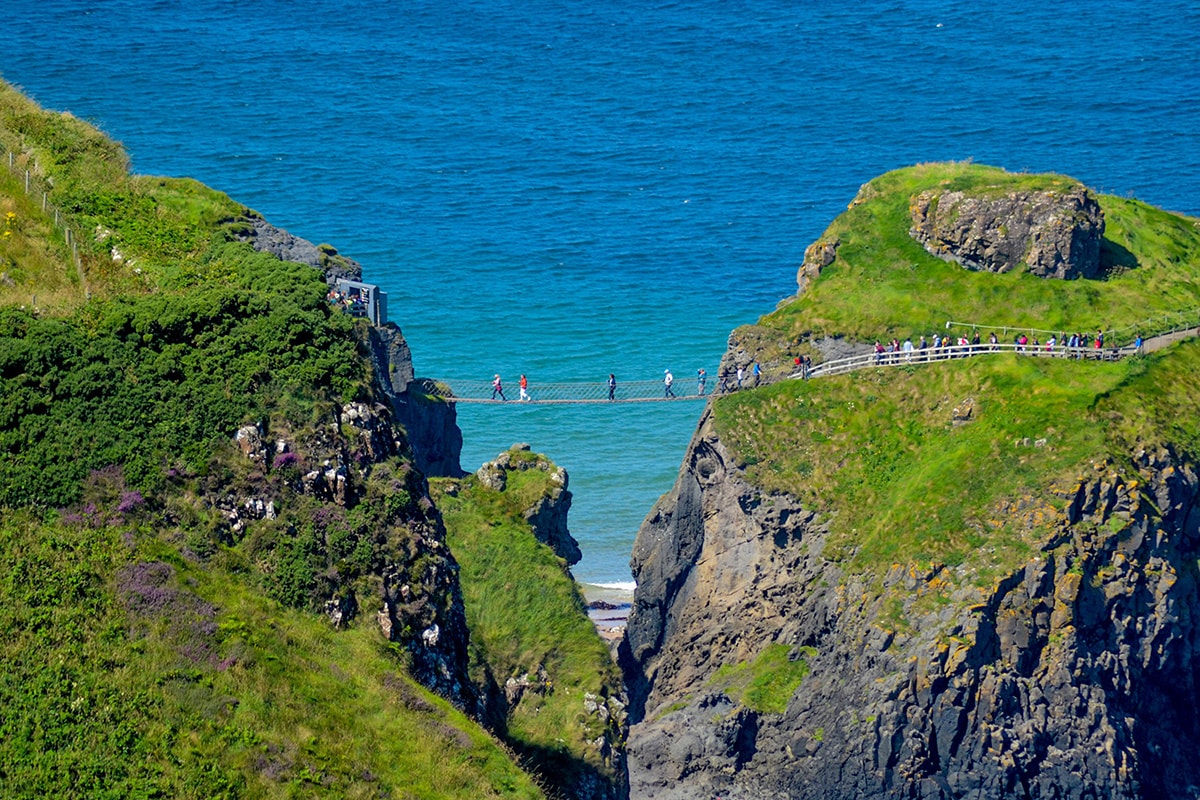 Then, for travel, I would always recommend visiting independently by car, allowing for a more personalised itinerary. Although the coastline is by far the most popular tourist attraction in all of Northern Ireland, meaning there will be all sorts of tours and itineraries catered to personal interests and ideas, along with the big generic bus tours which leave from all the main travel hubs of Belfast (e.g. Donegal Square station). by Allan of Live Less Ordinary
18 Howth
Howth is a quaint fishing village on the northern end of Dublin Bay. It is actually a suburb of Dublin and is easily accessible by the DART from the city centre but feels far removed from the hustle and bustle. With a scenic, waterside location, much of the activities here focus on fishing and nature making it a great excursion for outdoors enthusiasts from busy Dublin city.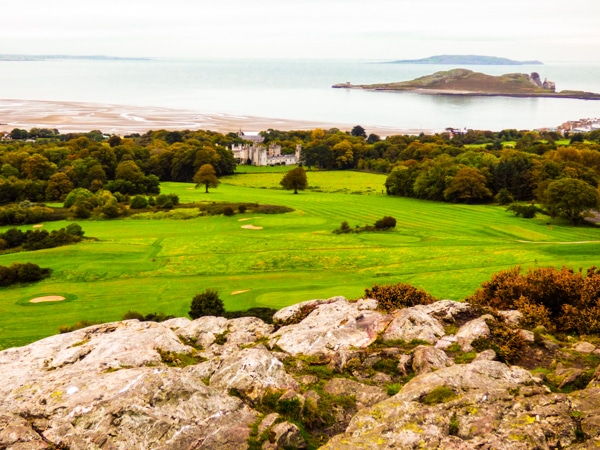 A good day out in Howth should start with a scenic walk along the Bog of Frogs Loop. There are four route options offering amazing views of the cliffs, Lambay Island and the Bailey Lighthouse as you trek through wooded trails and pretty fields. Next, head down to the marina for a fresh seafood lunch at one of the restaurants or fish and chip shops. Octopussy's Seafood Tapas Bar is a favourite with incredible food and a view of the fishing boats coming and going.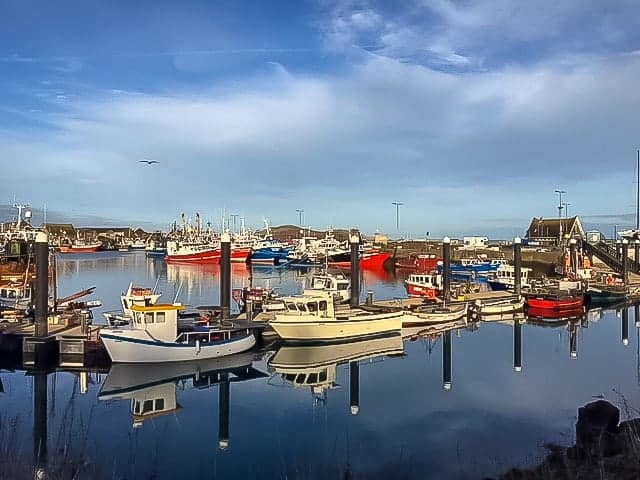 After lunch take your pick from a stroll along the pier, a boat ride to Irelands Eye island or shopping at Howth Market. History buffs will also not want to miss a visit to Howth Castle and the beautiful surrounding gardens. If you like to cook there are also cooking classes in the impressive Georgian kitchens.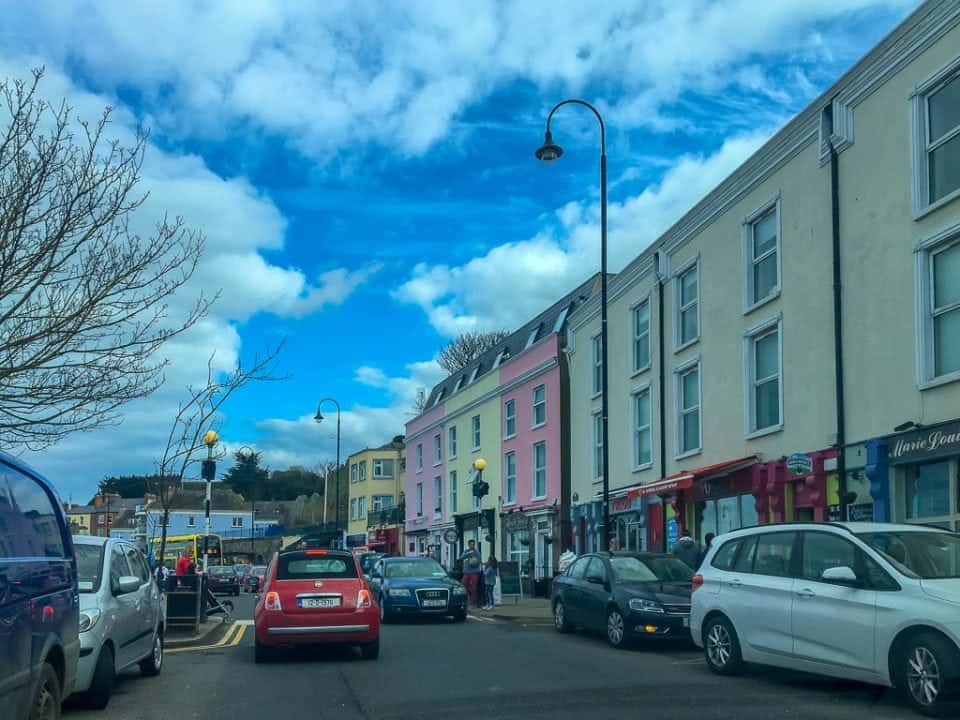 After a full day exploring Howth treat yourself to a fine dining experience with lovely views at Aqua. If you still have the energy head over to The Abbey Tavern or Bloody Stream for some live music and dancing. by Sarah of Live Dream Discover
19 Killarney
Lush green fields, beautiful mountains, lakes, grazing sheep, a castle, abbey ruins, and a historic mansion all surround a friendly and photogenic town – What more can you ask for in a visit to Ireland? Killarney, Ireland has it all. Not only is there a lot to do in town. The Town is located on the Ring of Kerry and a short distance to the Dingle Peninsula. Both drives offer spectacular scenery.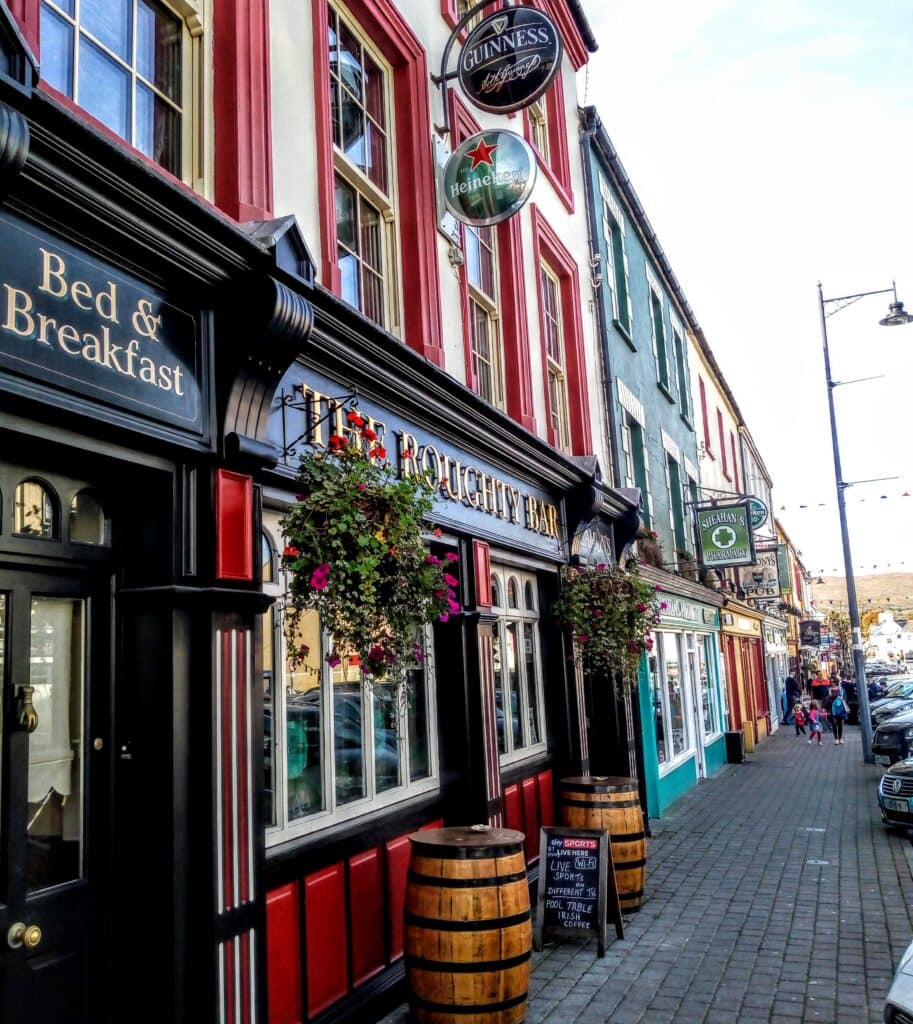 I recommend finding an Air BnB in town. The downtown area of Killarney is very walkable with cute shops (stock up on wool) and many restaurants. If you would rather just stroll and see the sites you can do that too.
For a full day of exploring consider a combination of carriage (jaunting buggy) or biking through the Gap of Dunloe – check directions/ followed by a boat tour through Killarney National Park and end up at Ross Castle. Ross Castle is a restored beauty. I recommend the castle tour. The guides do a really good job explaining what life was like in the maybe not so good ole days. The castle grounds are beautiful.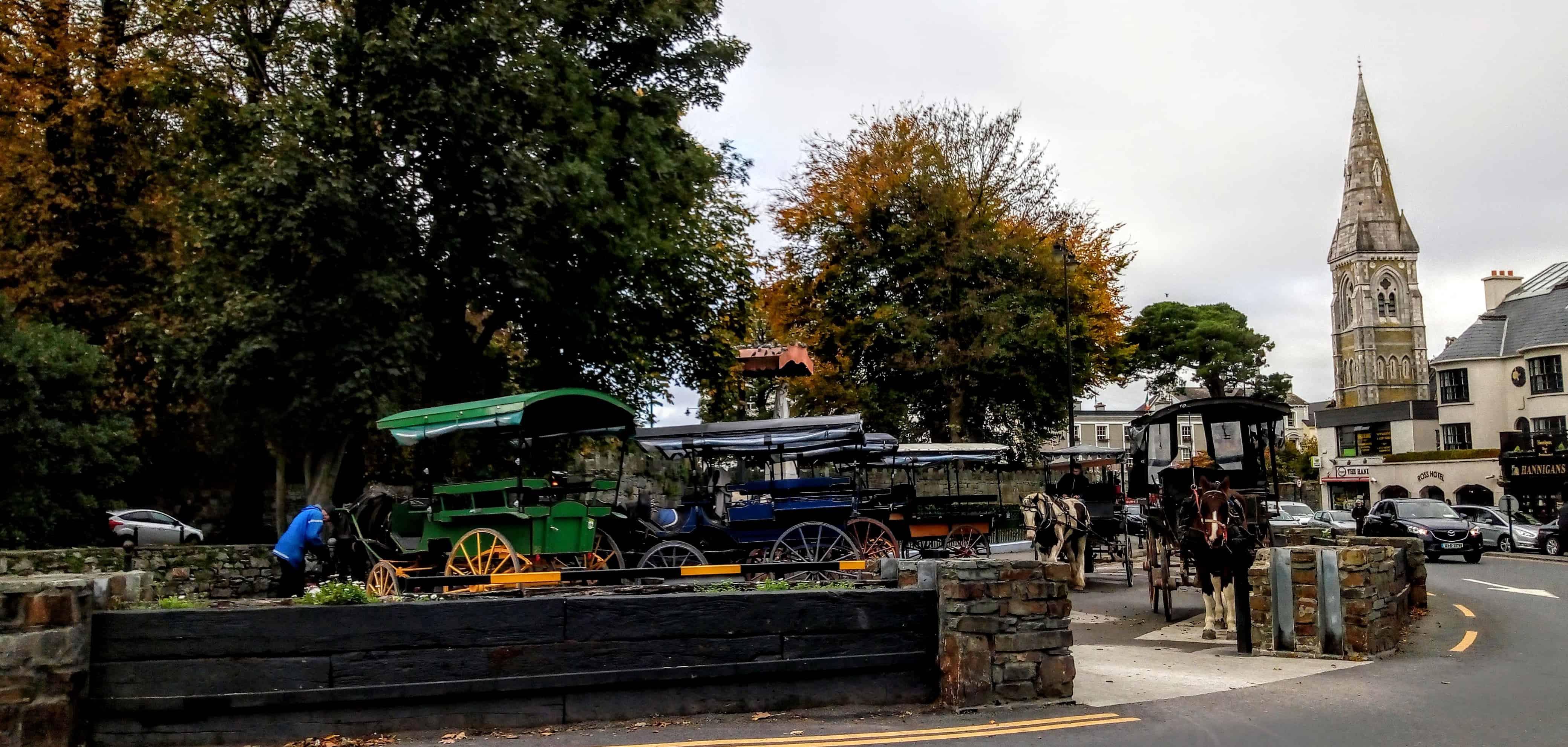 The scenery in this area is spectacular. Take your time and enjoy it. If you have daylight left Muckross Abbey, Muckross House and Waterfall are also wonderful visits. If you're not driving you should be able to get to each of these by jaunting cart.

The grounds of Muckross House are fun to explore and there is a nice cafe for a bite to eat. The Abby is a ruin surrounded by a graveyard. It's worth a stop and can make some great photos. Consider bringing a flashlight and make sure you climb up to the second story – the interior is really pretty. The trail to Torc waterfall is exactly how I picture an Irish forest to look. It's a very nice walk and I'm sure would be a perfect home for fairies.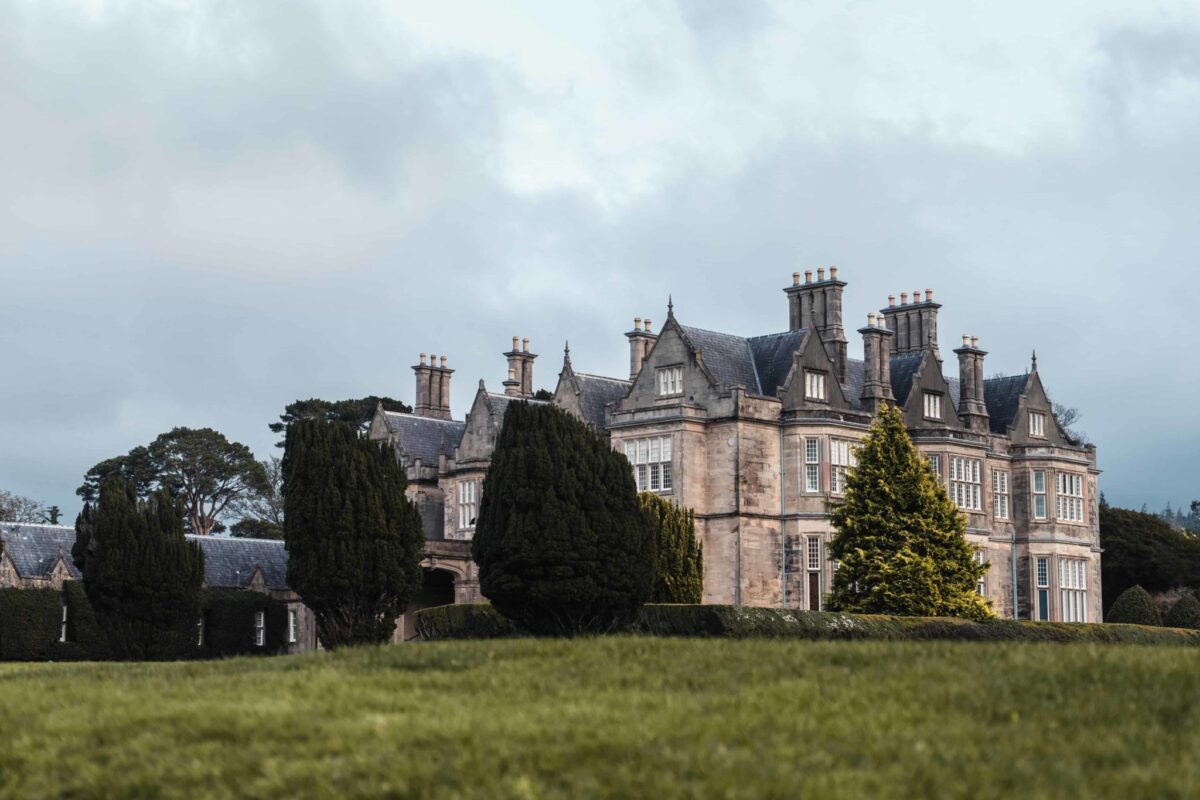 Killarney is a wonderful Irish town with amazing vistas and lots of activities. It's a great home base for a memorable Irish vacation. by Lori from Fitz 5 on the go
20 Cahir Castle
It's difficult to pick one favourite spot in Ireland – the countryside is breathtakingly beautiful and the people are extraordinarily friendly. However, I'd have to pick Cahir Castle as a favourite Irish destination. Cahir Castle has an idyllic location on the River Suir. Built in 1142, the history of this building is extensive, it even survived a Siege by the Earl of Essex in 1599.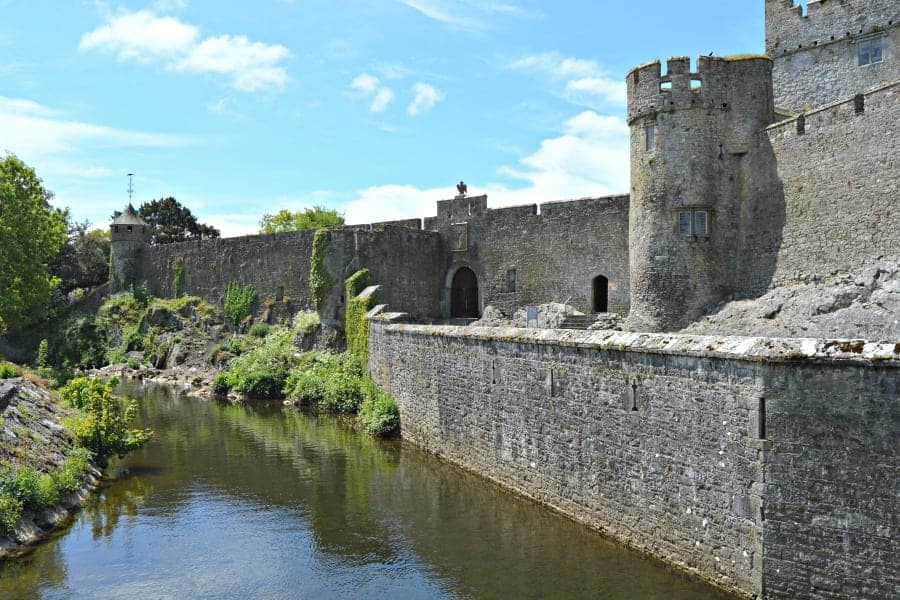 When visiting Cahir Castle, allow at least 90 minutes. You will be able to tour various areas of the castle, a banquet hall, and a tower. The castle has numerous steps and small openings, so people with disabilities will have trouble visiting. Our young boys enjoyed the cannons that were staged throughout the castle courtyard, this added to imagining life back in the Middle Ages & Renaissance period.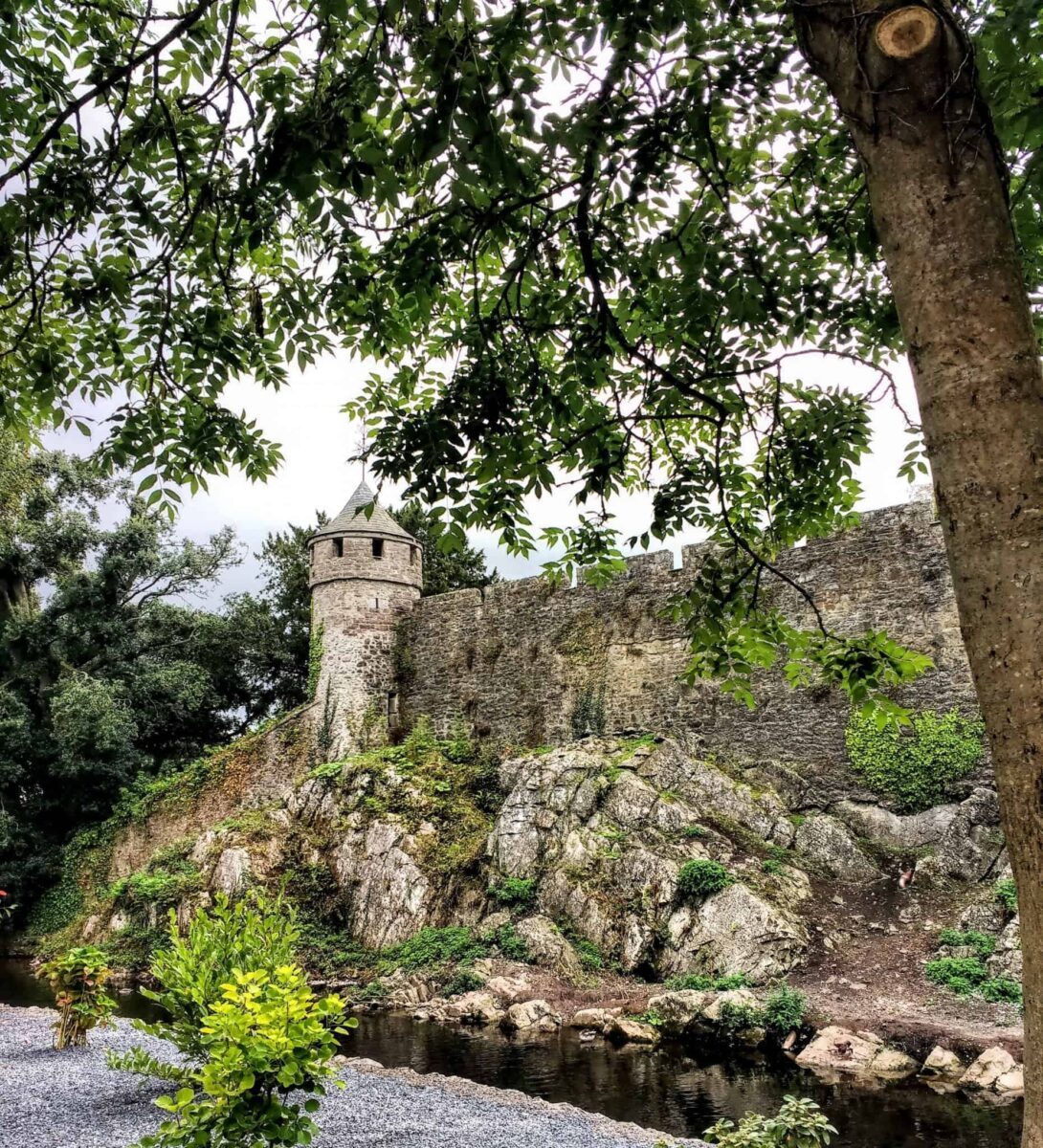 Cahir Castle also contains a small museum where one can learn about local life for women and children during the Middle Ages. Also, don't miss the upstairs display which shows a re-creation of the Siege of 1599. You'll leave with a better understanding of why the castle was attacked and the location of weak points. Better yet, see history come to life, as one of the cannonballs is still lodged in the castle walls.
One of my favourite parts of Cahir Castle was walking around the massive castle walls. Don't forget the pretty town of Cahir, too! A short walk up the hill takes you to the historic W.H. Irwin pub- a great spot for sharing memories over a pint. by Leah Yoder of Yodertoterblog
21 Bram Stoker Festival
The Bram Stoker Festival in Dublin was one of the highlights of our trip to Ireland. It's fun, fiery and everything this Halloween lover could dream of in one big celebration all over the city.
The annual four-day event in late October celebrates the life of Irish author Bram Stoker and his acclaimed 1897 gothic novel, Dracula.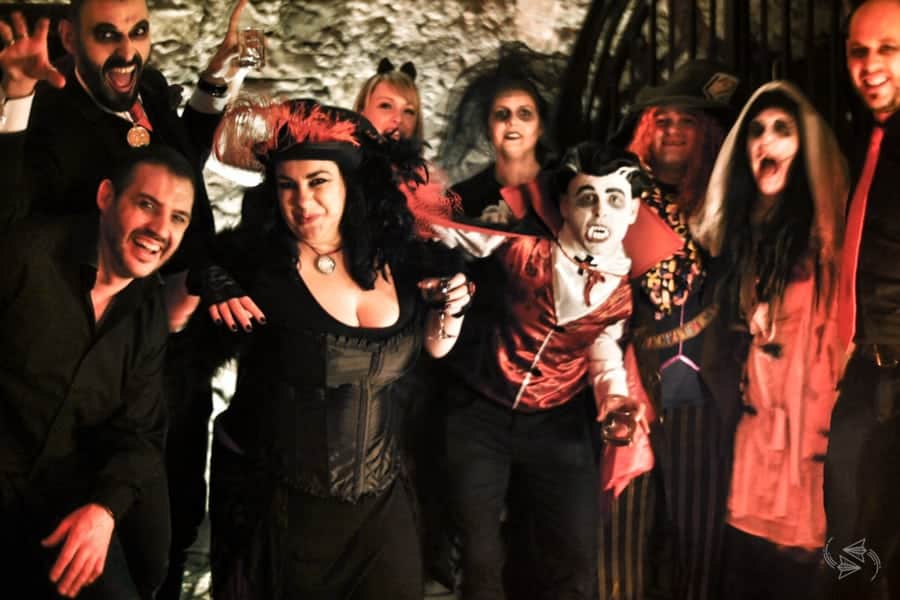 In perfect timing for Halloween, Dublin turns on a spectacular show of ghoulish fun, with the city's landmarks lit up in a bloody red glow and events both day and night to get you into the spirit of Stoker's most famed character.
I adore puzzles and scavenger hunts so I couldn't go past the Vampire Hunt, a team event in which you compete to answer questions about Stoker and his life in Dublin. Grab your clues and most ghastly garbs, and visit some of Dublin's most iconic attractions to find the answers you seek.
In the evenings, don't miss out on the Fire Garden on the grounds of Dublin Castle, where you'll be met by fiery flame displays and all manner of otherworldly characters. And, if you can get tickets, do not pass on a chance to go to Bram's Banquet.
Bram's Banquet is a five-course soiree hosted by Count Dracula himself in the crypt of Christ Church Cathedral, and it is phenomenal – think candelabras, amazing costumes, Bloody Mary's and a wicked dance floor.
Making our way from the crypt back into the silence of the churchyard, it felt as if we had just emerged from some secret society meeting, with the people of the city having no idea of the raucous banquet that had just been held right underneath them.
If you're in Ireland on Halloween, you absolutely cannot miss this spooky spectacle! by Jessica of Notes of Nomads
22 Ennis
When planning your visit to Ireland, you may want to consider stopping off for a short stay in Ennis, the largest town in County Clare. Ennis is a beautiful medieval market town where you can still visit an open market every Saturday to enjoy the produce of the area.
The name Ennis means "island." The island was formed by the River Fergus which runs through the town. On the island, you find the ruins of the 13th-century Franciscan Abbey built by the then-ruling family, the O'Briens.
What you may not know, Ennis is the centre of traditional Irish music.
In late May, every year since 1974 Ennis hosts the Fleadh Nua, a festival of Irish music, culture and dance. If you love Irish music, then make sure you plan your itinerary of Ireland, to attend this festival. You won't be disappointed.
You can enjoy concerts at Glor Theatre or visit one of the many local pubs to sit back and enjoy the enchanting Irish music of local musicians. With a Guinness in hand and your foot tapping along to the beat, you may not want to leave.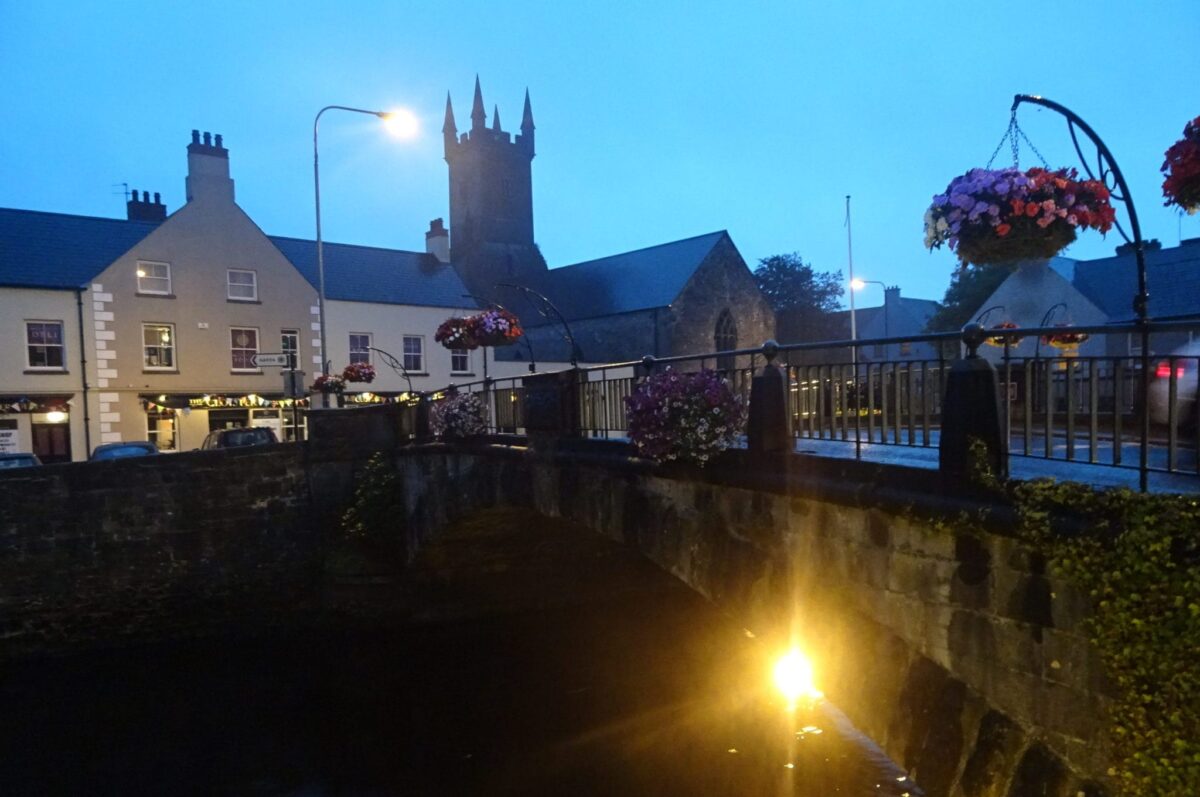 In 2016 and 2017, the Fleadh Cheoil national competition of traditional Irish music was held in Ennis. Ennis swelled to over 400,000 people in the nine days of competition. And we were able to enjoy the best of Irish traditional music.
Ennis makes a great place to base yourself to visit the Cliffs of Moher, Galway, Limerick and the Shannon River. And with bus and train links to Galway, Cork and Dublin, Ennis can be easily reached.
So, come and enjoy traditional Irish music in this quaint Irish town of Ennis. by the Travel Kiwis
23 Kylemore Abbey
Kylemore Abbey was one of my favourite stops on the western part of the Wild Atlantic Way last year mostly because it's so photogenic. This part of Ireland gets far fewer visitors though it's no less beautiful, in my opinion than the rest of the country.
There's a scenic drive that you can take to get to the Abbey, once there, walk around the grounds and take photos of the reflection on the lake. You can also go into the gardens and have a scone at the cafe. My pro tip is to get there right when it opens to enjoy the Abbey without any people around! by Kristen of Be My Travel Muse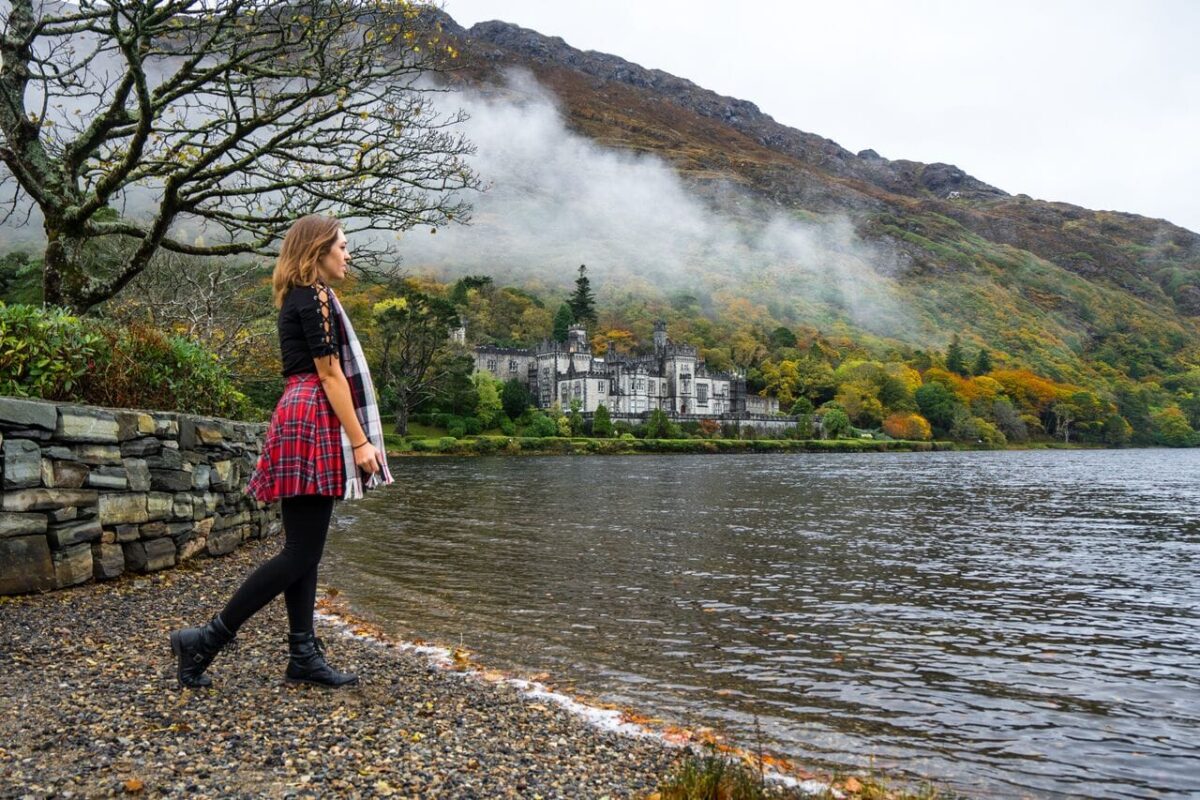 24 Merchants Arch Pub Dublin
Merchants Arch is a pub located in Dublin's Temple Bar area. Temple Bar is a must-see in Ireland because it is full of Irish pubs playing live music and serving up Guinness. However, Merchants Arch is easily my favourite pub of them all. If you walk into Merchants Arch on a busy night, you can barely get through the door, let alone make it all the way over to the bar.
Once you do, though, you'll quickly realize that it's all worth it. As you stand and sip your drink while listening to incredibly talented musicians strum away, group after group of tourists will flood through the door. Normally that is something that makes me run in the other direction; at Merchants Arch, however, it just adds to the atmosphere.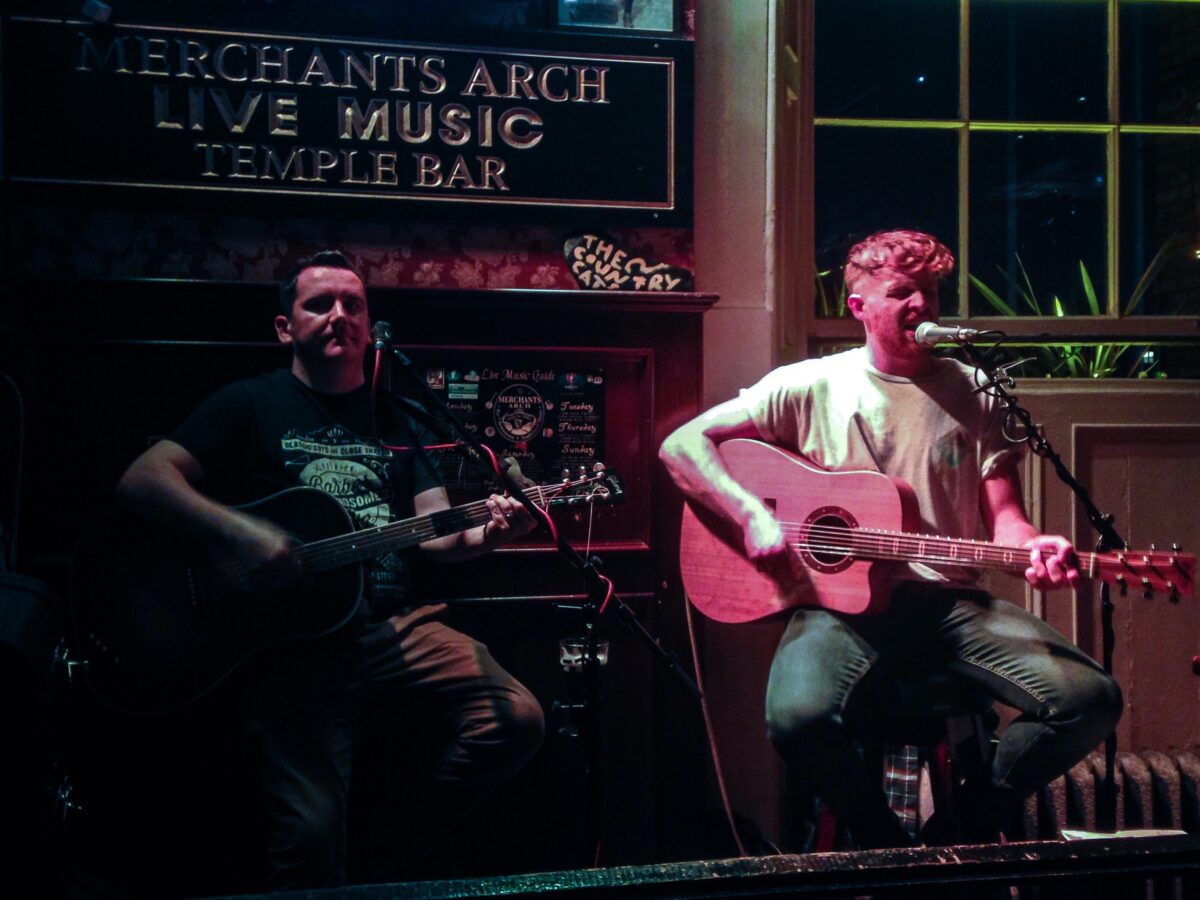 I've been to plenty of pubs in Dublin for live music, but Merchants Arch always has the best musicians. It also has an incredible vibe and you'll quickly find yourself singing along to all of the songs with everyone else in the pub. If you want live music or are looking for a place to start a night out in Dublin, Merchants Arch is hands down the best place to go! by Kelly of A Pair of Passports
25 Dunluce Castle
If you are looking for an absolutely unique and epic place to visit in Ireland, Dunluce Castle is the place to visit! Dunluce Castle looks like something out of a fairy tale and it is overlooking the Irish Sea on the top of a mountain! Dunluce Castle is located in Northern Ireland along the Causeway Coast. Located less than 2 hours from Belfast, Dunluce Castle is a unique place to visit and very easy to get to!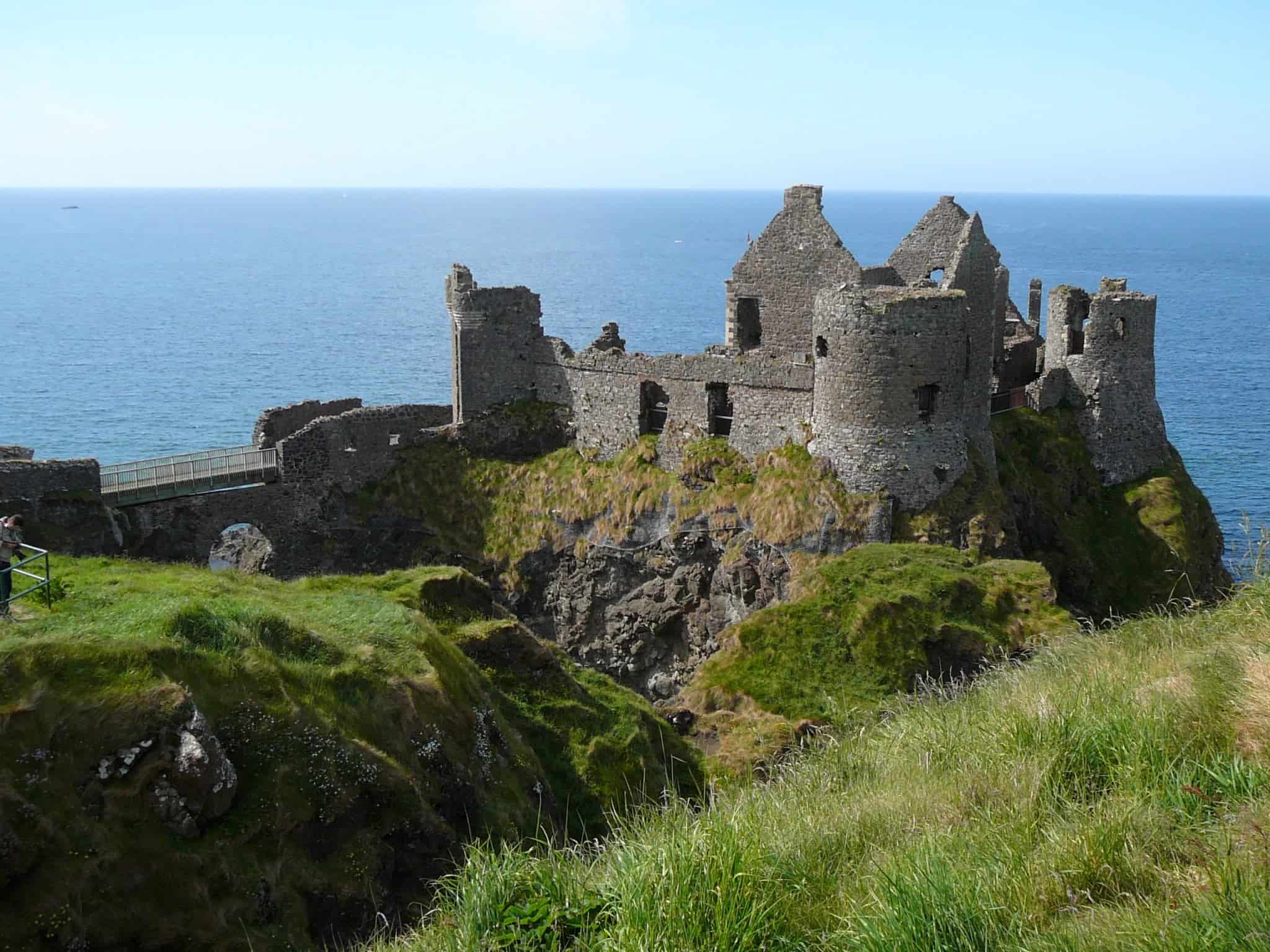 You can make it a day trip or spend the night in a nearby town and continue to explore the surrounding area! It is best if you have a car of your own, but if you don't, you can see Dunluce Castle on a tour from Dublin or Belfast. You can also hire a taxi and take a quick visit from a neighbouring town if you are visiting there.
The castle has a rich history of bloodshed and war, and there are lots of panels to read and information to absorb when you visit. It is also a Game Of Thrones filming location which is pretty cool if you like the show! Plan for spending about 1.5-2 hours exploring Dunluce Castle and there are many things to see in and around the building! It is such a unique and wonderful thing to do in Ireland! by Victoria of Follow Me Away
26 Kilkenny
If asked what to see in Ireland any list of Irish favourite places to visit must include a visit to Kilkenny.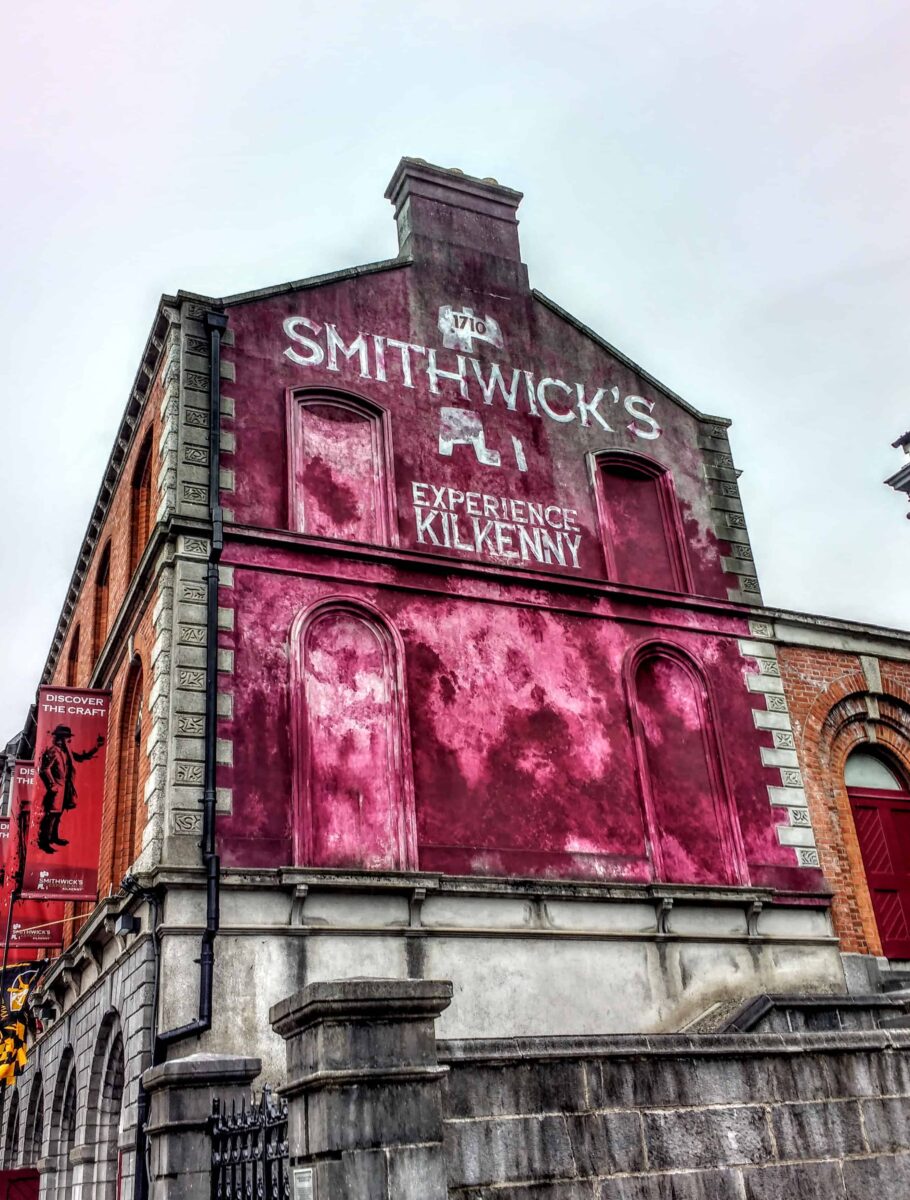 Kilkenny was the capital of Ireland for 9 years until Cromwell began his conquest in 1649. It is located in the southeast of Ireland in the province of Leinster. The county of Kilkenny has three major rivers running through it, known as the Three Sisters: the Nore, the Suir and the Barrow.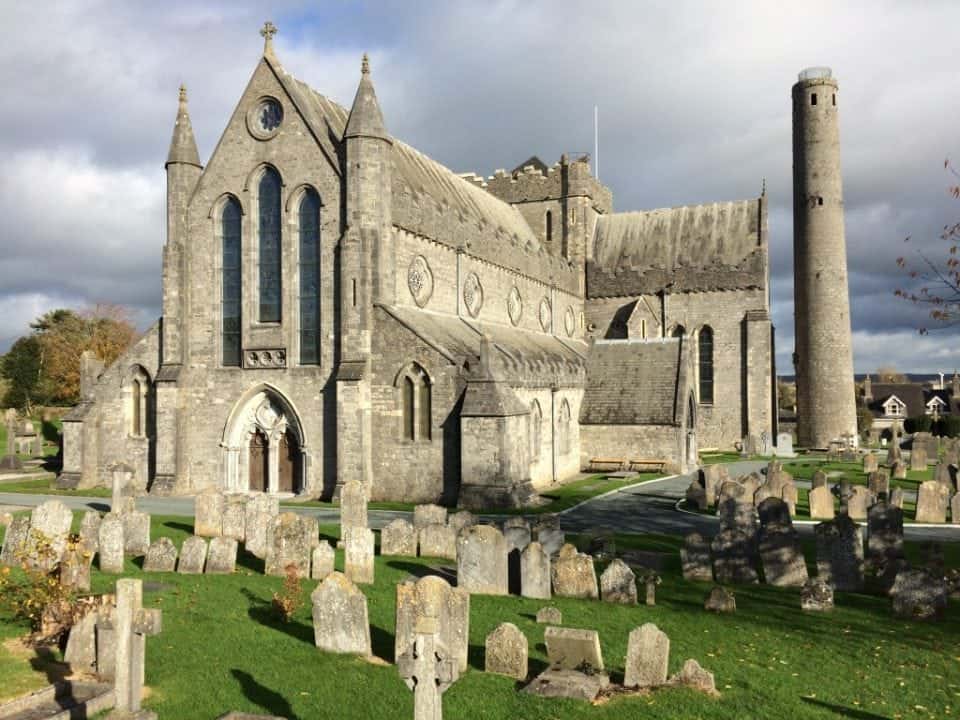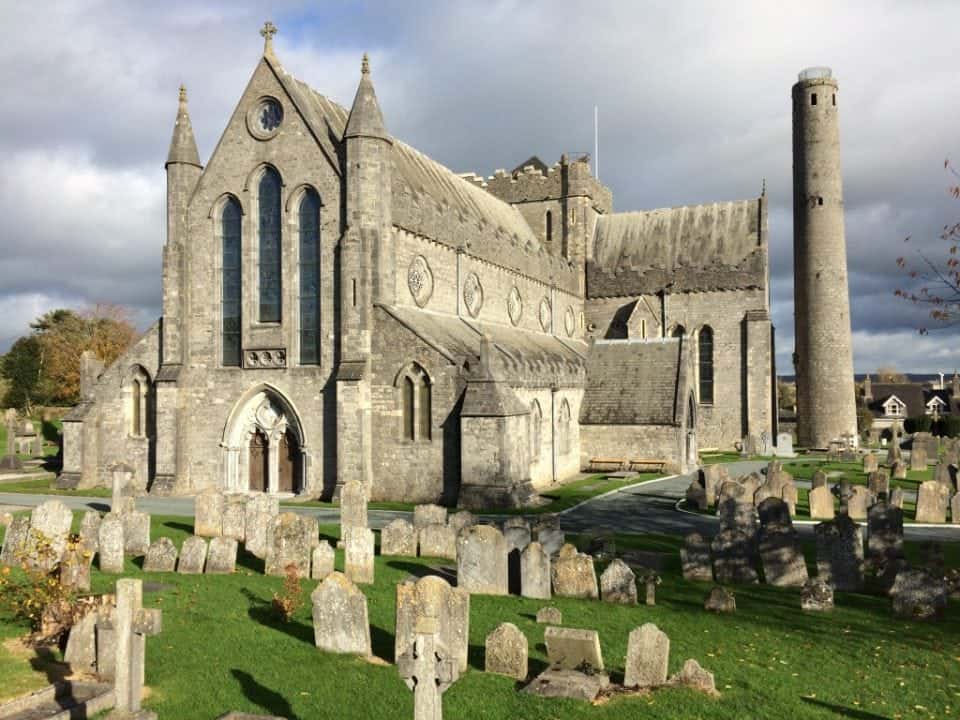 The City is known for its Medieval Mile and St. Canice's Cathedral and it is also known as the Marble City because of its distinctive black marble. When walking the Mile you will see medieval slipways or alleys, a Tudor Inn, a Dominican Abbey and a fine example of a 17th-century merchant's house and the only example of its kind in Ireland. Don't forget to have a tour around Kilkenny Castle while you are there.
27 Donegal
Last but most definitely not least my personal favourite is Donegal. From its fabulous beaches to Slieve League Donegal is truly the wild west of Ireland. The Wild Atlantic Way route that runs through this county takes in some of the rawest and most beautiful coastlines of Ireland. You can stay in Ardara and hear some of the greatest musicians playing traditional music. Stop in Donegal Town to see the oldest pub, or travel to Glencolumbcille stopping at incredible stone tombs, and ancient crosses, and check out the lighthouse at St. John's Point where you can even stay for a while, or indulge in some of Ireland's freshest seafood in Killybegs.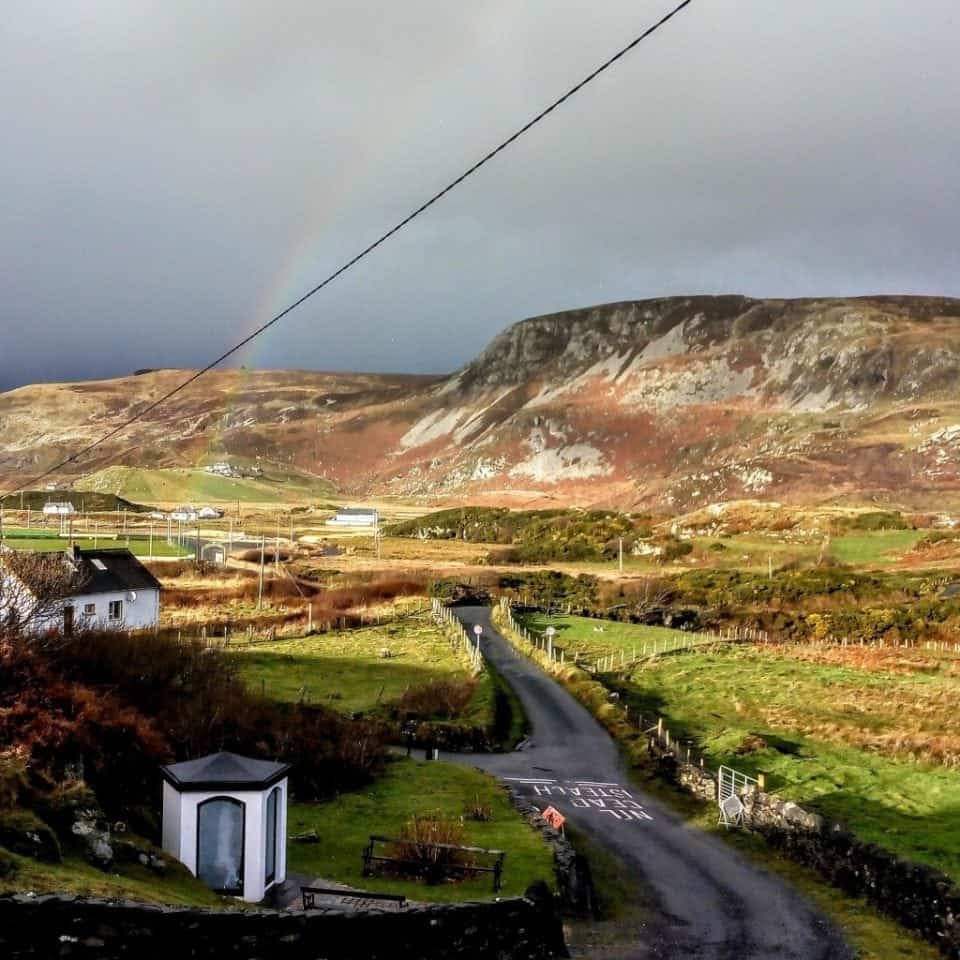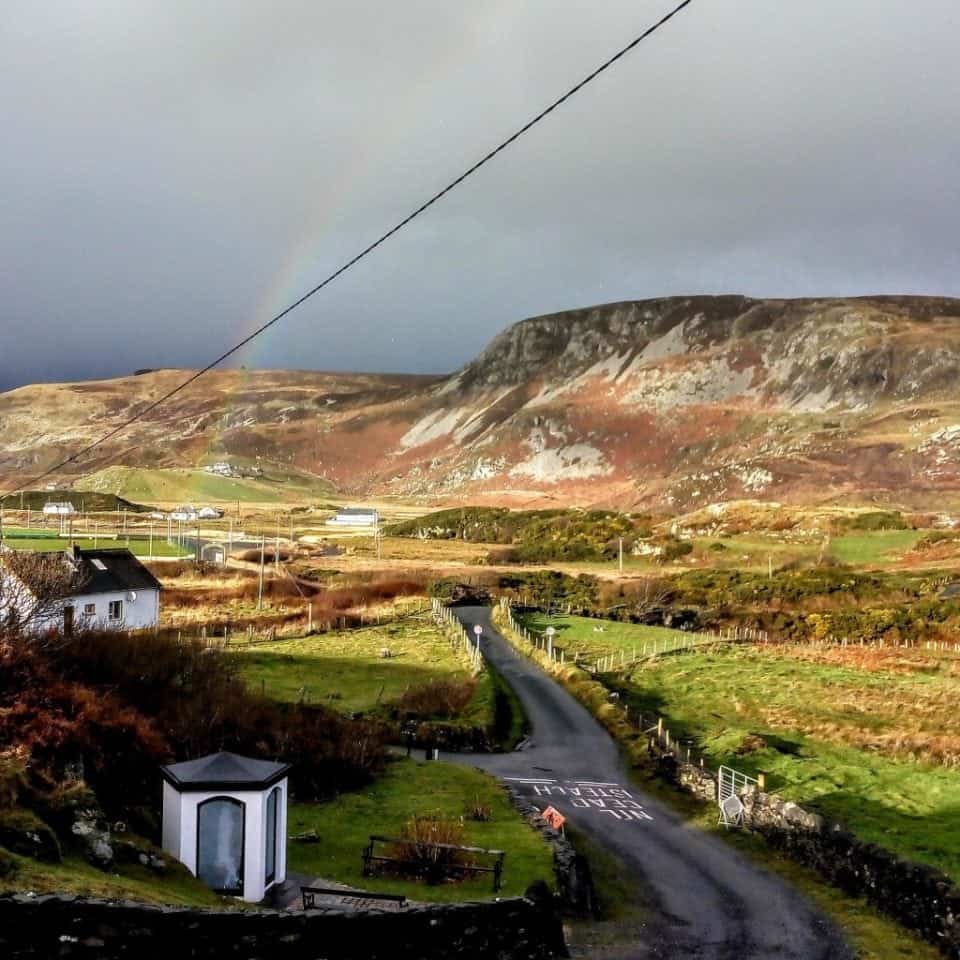 The Inishowen Peninsula in Donegal is also a hidden gem, and offers a captivating blend of untamed beauty and cultural treasures, making it an ideal destination for those seeking an authentic Irish experience. From the majestic cliffs of Malin Head to the ancient fortresses and picturesque beaches, Inishowen has something for everyone.
28 Choctaw Ireland statue
A beautiful memorial sculpture was commissioned in 2014 to commemorate this great debt owed to the Choctaw Nation. Alex Pentek, the sculptor has created an incredible piece in the shape of an empty bowl signifying the 'soup pots' that were the only food relief given to the Irish during the famine surrounded by Eagle Feathers as a symbol of the Choctaw Nation. The Sculpture can be seen at Bailic Park, in Midleton, Co Cork.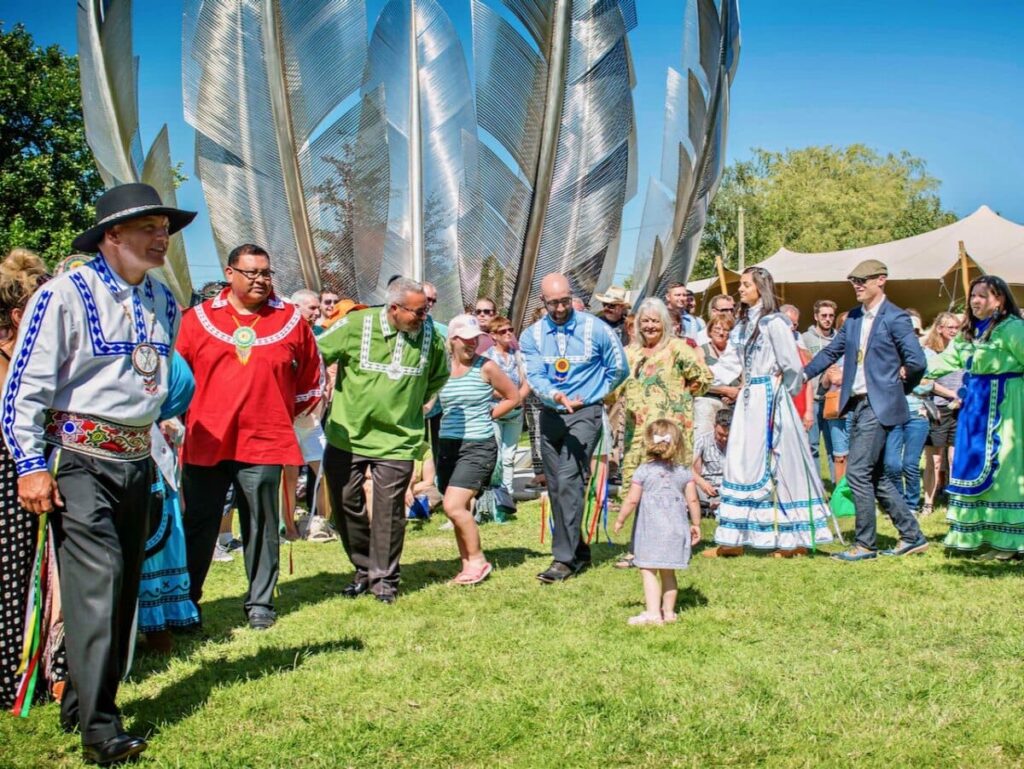 This is obviously by no means a definitive list there is so much more to Ireland than these places I would strongly recommend you check out this article which talks about Ireland's Ancient East as there is so much to visit and see to be honest there isn't a best place to see in Ireland as there are just so many magical places to visit. If you are fascinated by stone circles and neolithic monuments you will find dozens if not hundreds to visit. If you love ancient Irish history or want to know about Irish witches or follow in the footpaths of the Saints you will find it all here.
These are a mere drop in the bucket of Ireland attractions not to miss when you visit. Do you have a list of the best places in Ireland to visit? Let us know and we can add it to the list.
You might also like
101 Landmarks in Ireland to see
Traditional Irish food 25 of the most popular Irish dishes
Ultimate guide to Glendalough Ireland an ancient monastic heritage
Ultimate Wild Atlantic Way Route
wiThe best things to do in the Wicklow Mountains
Pin it for later