Monasterboice – the finest high crosses in Ireland
Monasterboice (Mainistir Bhuithe) Ireland and Kells are both 14th-century monastic sites are situated in County Louth which is very close to Dublin and is very easy to find and get to if you have rented a car and are driving. Monasterboice is home to several famous high crosses in Ireland which are the finest Celtic crosses in the country.
Kells which is near Monasterboice monastery is, of course, the original home of the Book of Kells which is now in Trinity College's library in Dublin. Both locations are relatively close to each other and make a great day trip from Dublin. You can also take a trip to Mellifont Abbey which is closely linked to Monasterboice, and Kells which is where the Book of Kells was found.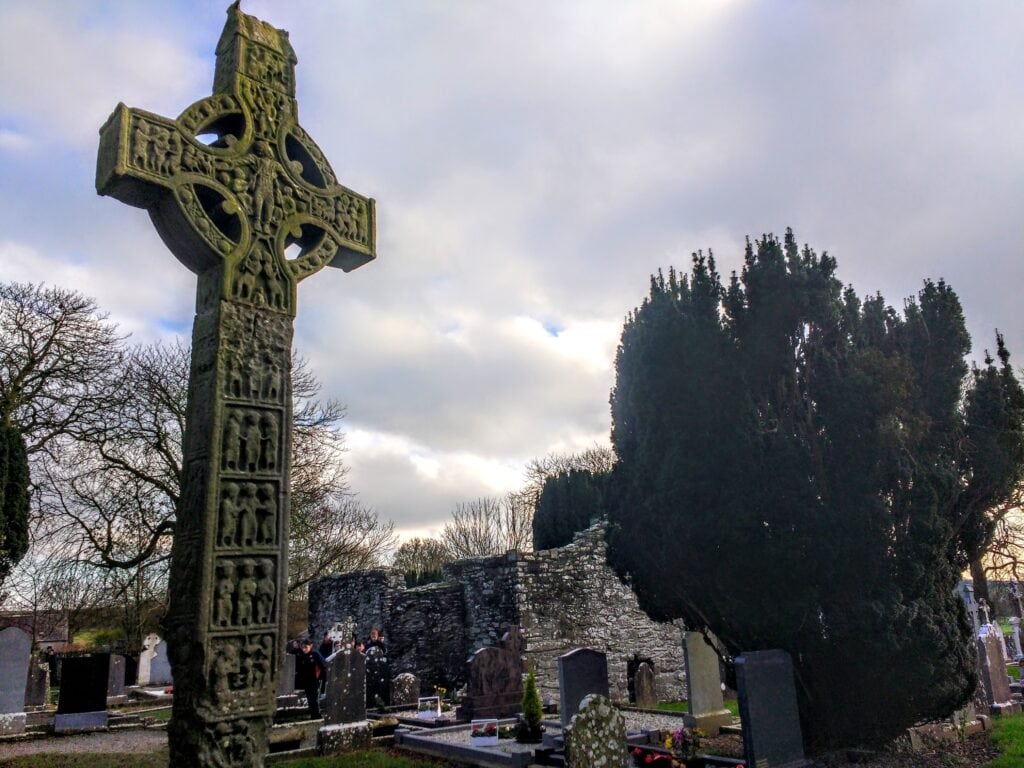 Monasterboice is one of Ireland's historic monastic centres and one of the earliest Christian sites with its round tower, high crosses and its displays of Irish Christianity. If you get a chance a visit to the nearby Mellifont Abbey is well worth the extra time. If you have rented a car and are driving the Boyne Valley look for the signs to Monasterboice it's easy to find.
Where is monasterboice in Ireland?
Monasterboice County Lough is near Drogheda about an 11 minute drive from the Boyne Valley. These impressive ruins include a large cemetery, two churches, one of the tallest round towers in Ireland and two of the tallest and best high crosses.
In Monasterboice you will find some of Ireland's finest high crosses. In particular, the West Cross is the tallest high cross in Ireland at over 7 metres high. Irish high crosses were status symbols, either for a monastery or for a sponsor or patron, and some were also teaching crosses featuring Biblical carvings and may have had other functions. Some have inscriptions recording the donor who commissioned them, like Muiredach's High Cross and the Bewcastle Cross.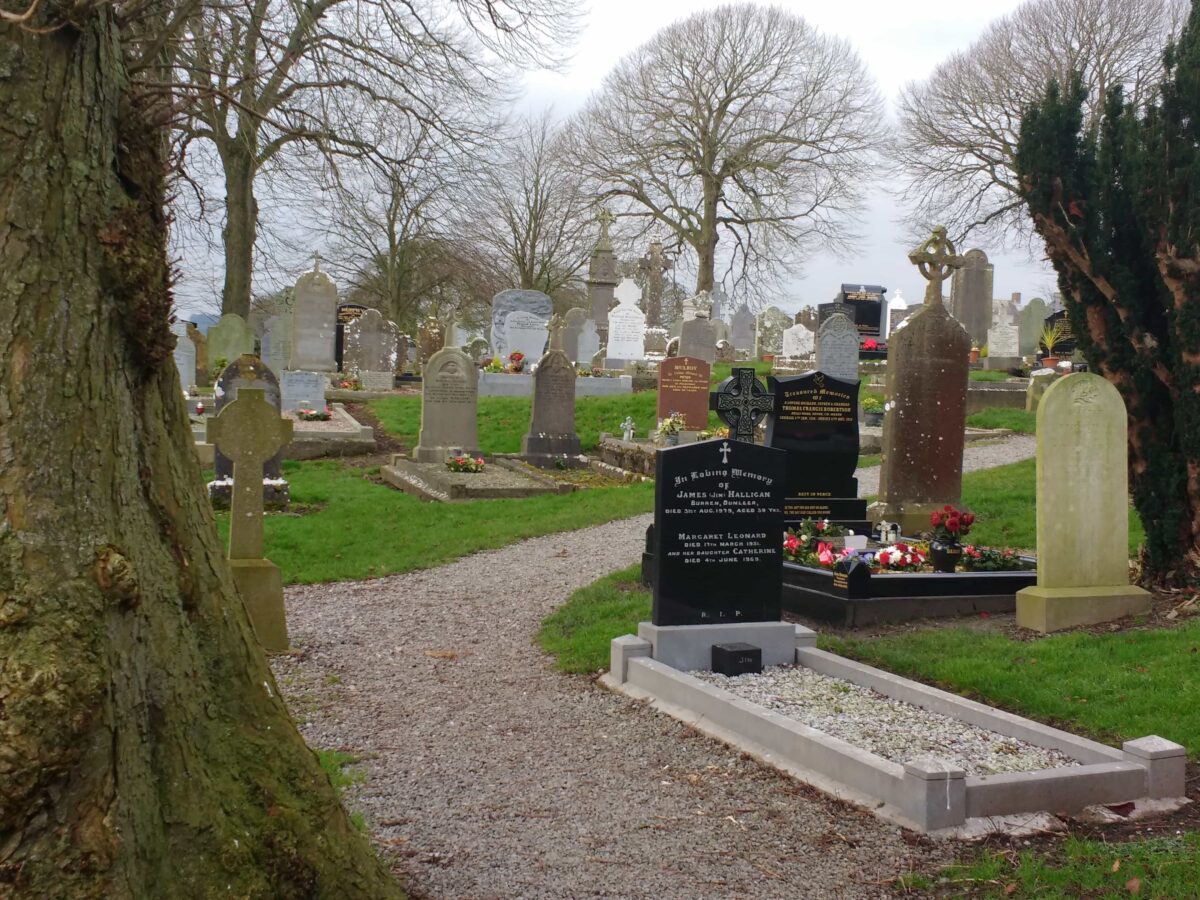 Getting to Monasterboice
This is not an easy task by public transit and could take you up to 4 hours or so. You would have to get a bus from Dublin to Drogheda then from Drogheda get to the Monasterboice Inn where you could walk to the site in about 30 minutes or so. The Inn is a lovely place to stop for a drink or a meal, serving folks on this road for 200 years the old coaching house retains all its personality within perfectly modern walls.
The site itself is still used as a graveyard to this day and its location sits down a country road and the site ists just behind a lovely cottage style property. With sweeping views of the countryside, Monasterboice is a quiet peaceful retreat that hides some incredible Irish history.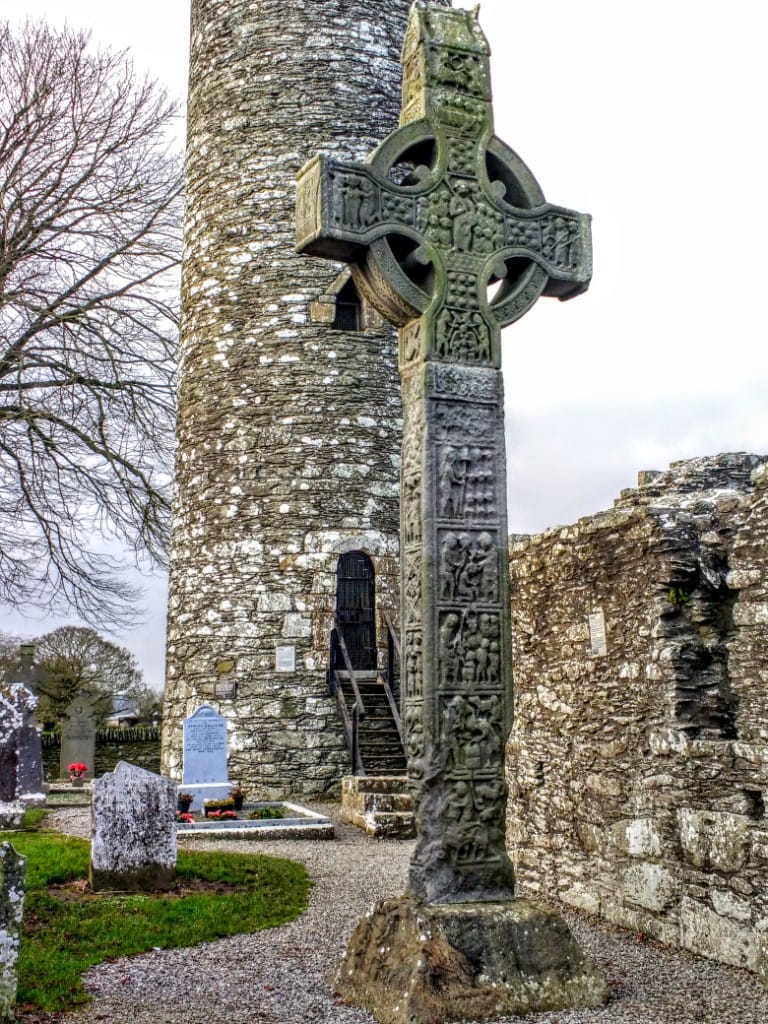 I do think it is rather a shame that Tourism Ireland has not made the most of this amazing site. With the most impressive high crosses in Ireland, a 1000 foot round tower and some of the best medieval ruins in the country the site is surprisingly neglected with bad signage and very little to encourage the tourist or traveller. This is what the sign at the gate reads:
The monastery was founded by St Buite who died c.AD 521. No building of so early a date survives here. The oldest monuments [are] all dating from the 10th century. Beyond (sic) a list of abbots little is known of the story of the monastery.
With a little creativity and some better signage that would indicate the richness of the site and the true importance of this area as an Irish monument, Tourism Ireland could actually let the people know that they are proud of their heritage and not dismissive.
When I was researching Monasterboice prior to my trip there I found this written by Alfred P Smyth a former pro-vice-chancellor of Canterbury Christ Church University, former warden of St George's House, Windsor Castle, and emeritus professor of medieval history at the University of Kent.
"Welcome to Monasterboice. You are about to visit one of Ireland's truly ancient and historic monastic centres where the precious lamp of learning was kept alive throughout the Dark Ages when the rest of Europe was devastated by Barbarian Invasions.
This monastery was founded by the Irishman Buite, as long ago as 521 AD at a time when there was still a flourishing Roman Empire in the eastern Mediterranean and a hundred years before most of England had become Christian. Here there was a home to a thriving and wealthy community of monks and scholars, artists, poets and craftsmen, for more than six centuries – chief among whom was Flann of Monasterboice (Flann Mainistrech) who died in 1057. Flann was described in his lifetime as Chief Learned Man and Professor of History in Ireland. Many of Flann's original poems and historical writings still survive and are found in medieval manuscripts housed in great libraries in Dublin, Oxford, London and elsewhere."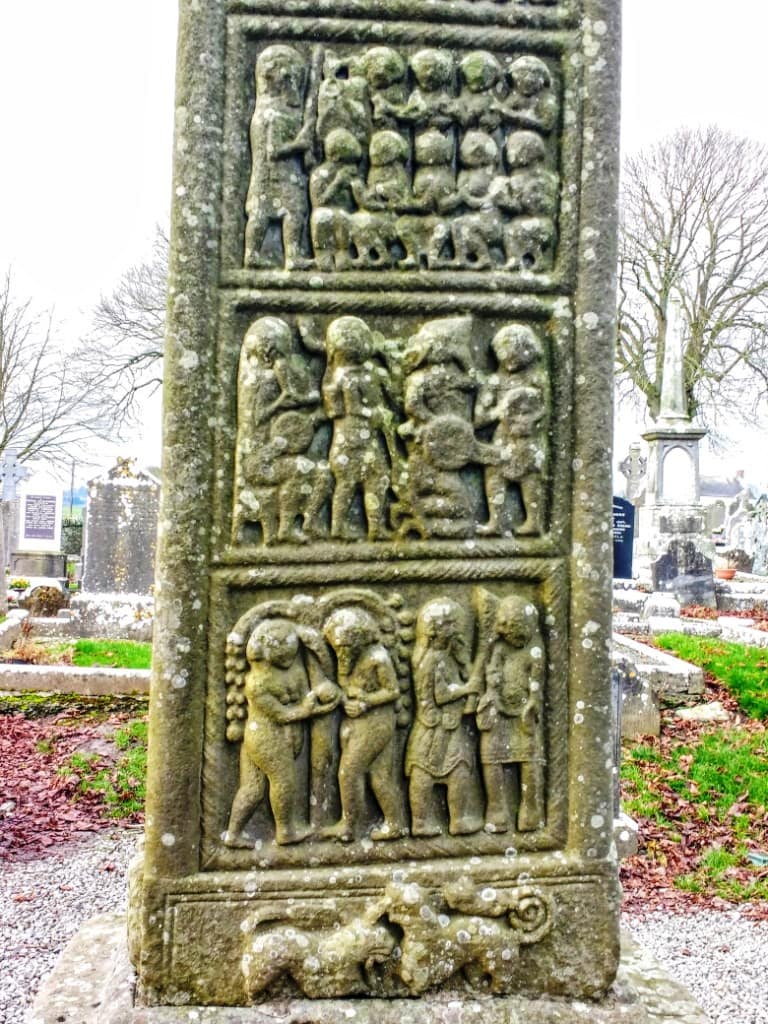 Wow doesn't that just get the imagination jumping????
So we wandered down literally the garden path to the site behind this little Irish cottage of a country lane to the ruins of the churches and the graveyard, Monasterboice cemetery is still used to this day as a graveyard and it is a beautifully haunting place. Set in the country just outside Dublin it is immensely peaceful and a beautiful place for a walk. The day we visited we saw a troupe of students from a local school taking pencil rubbings of the monuments and crosses.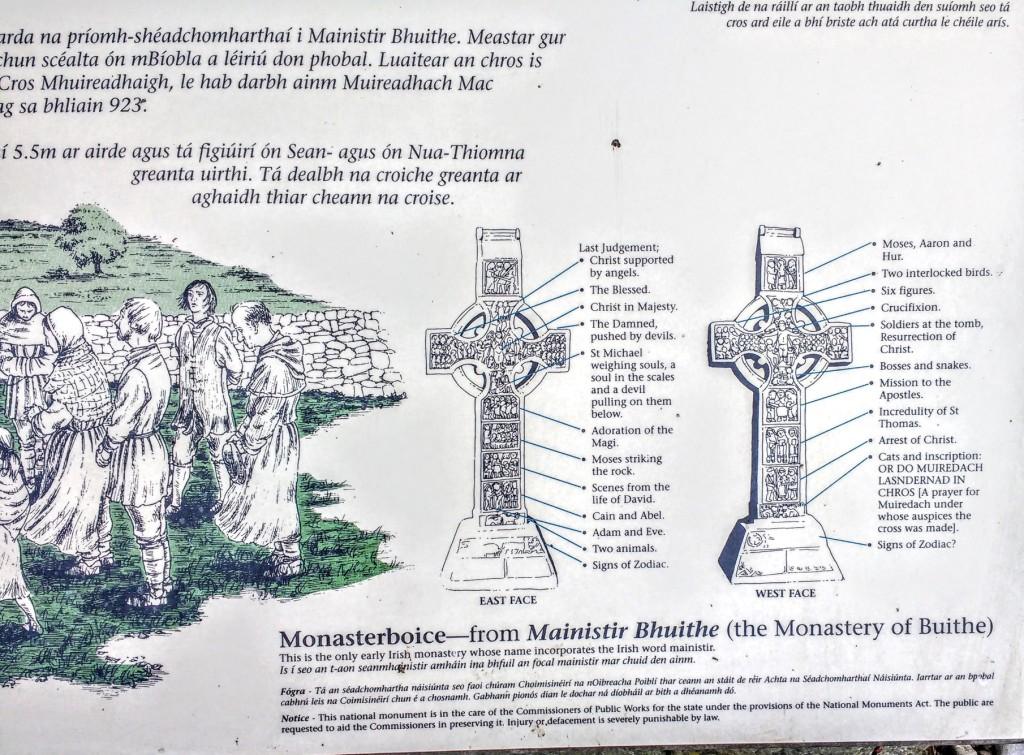 Monasterboice is near Drogheda, and it was founded in the 5th century by St. Bhuithe, one of St. Patrick's original followers. Today the ruins are known for one of Ireland's best collections of high crosses, in particular, The South Cross or Cross of Muiredach, the Tall Cross or the West Cross.
Cross of Muiredach
Muiredach is the patron of the diocese of Killala which is located in County Mayo. Legends say that he was an "old man", perhaps a presbyter or priest, in Saint Patrick's household (late 5th century), who left to be abbot-priest or bishop in north Mayo and west Sligo.
He may also have been the founder of a monastery on the island of Inishmurray off the coast of Sligo, near Mullaghmore. Here the ruins include a wall, an oratory, beehive cells, altar stones and crosses. It is the most complete example of an early Irish monastery.
Professor Smyth's description of the Cross of Muiredach is as follows:
"As you pass by the High Cross of Muiredach, you are gazing at one of the most significant stone carving from Early Medieval Europe with imagery inspired by ancient Egyptian Christianity. One of its panels shows Viking warriors dressed in lederhosen arresting Christ and brandishing distinctive Norwegian swords. It was to provide a refuge from these same Viking barbarians that the great Round Tower was built during the height of the Viking Wars in the 10th century."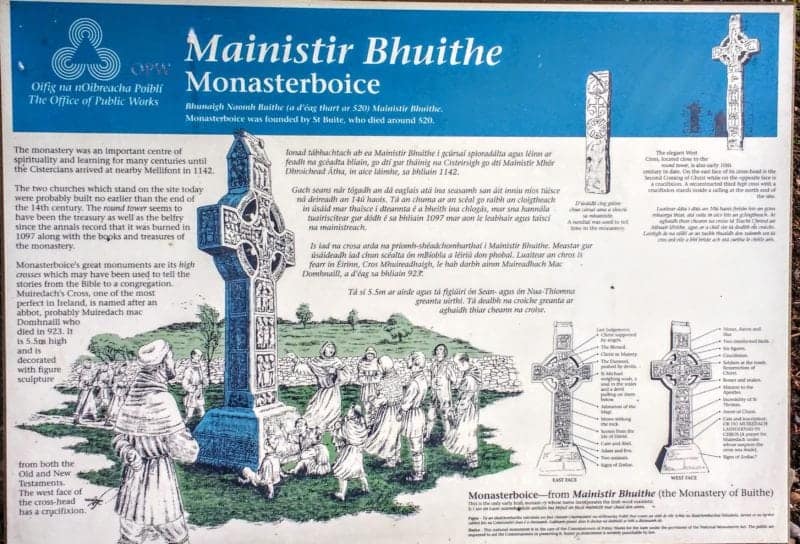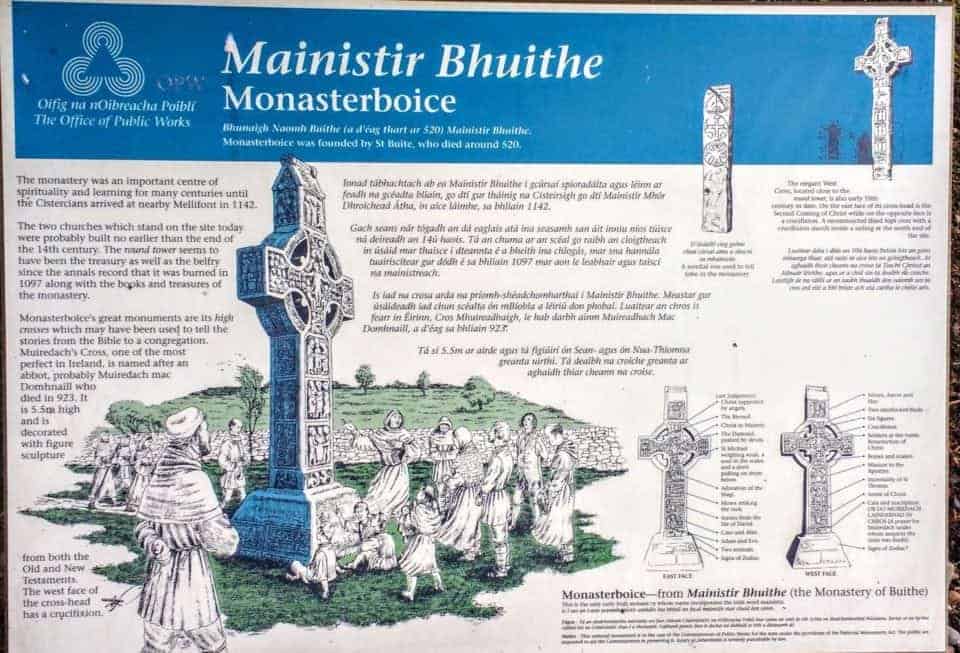 The high crosses of Monasterboice
The site is best known for its collection of High Crosses. The three crosses include the South Cross (or Cross of Muiredach) and the West Cross (or Tall Cross). The northeastern corner of the graveyard is home to the simpler North Cross, which was probably smashed by Oliver Cromwell's forces. It has only a few carvings compared to the first two.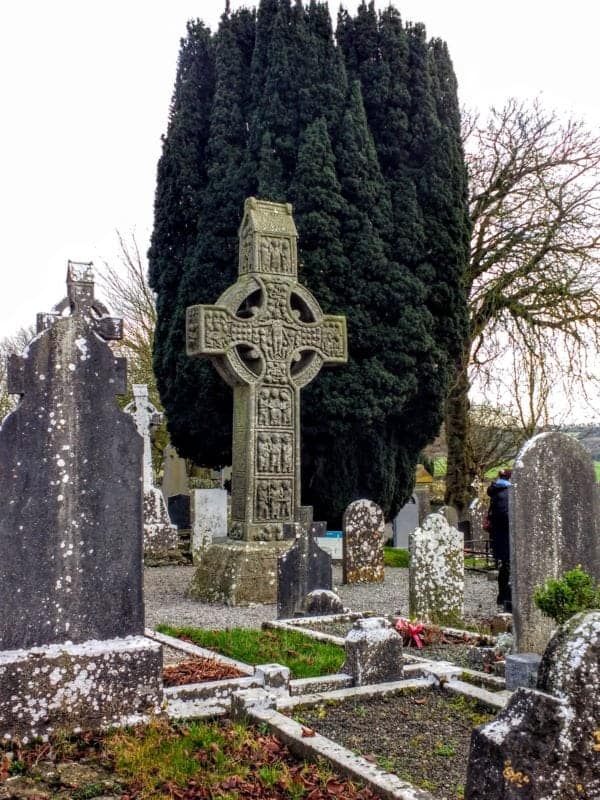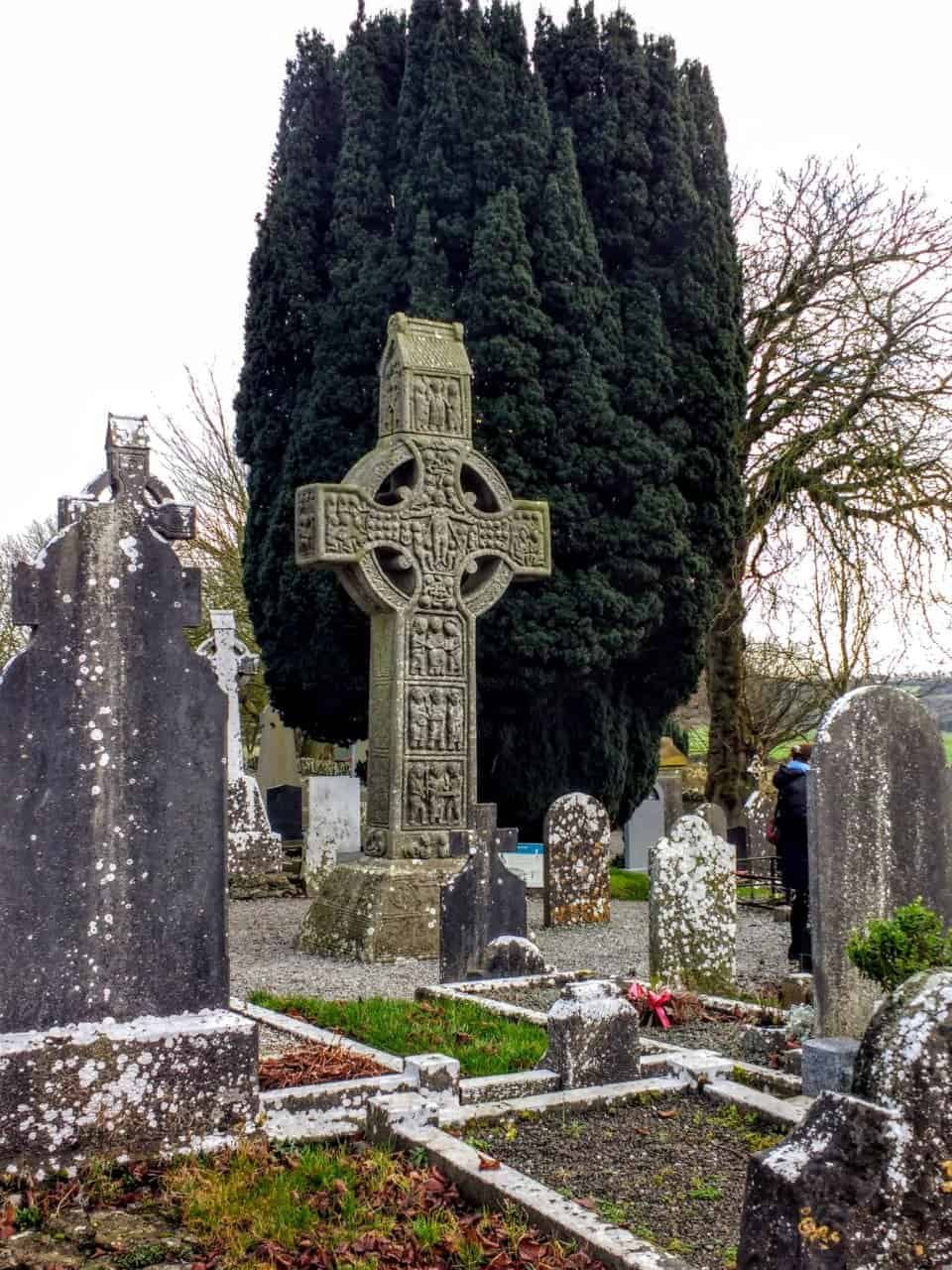 These crosses depict stories from the Old and New Testaments that it is believed would have been used to educate early Christians, as there were no books or bibles at that time. Local volunteers will give you a tour of the site and take you through the images carved into these majestic crosses. These guides will also tell you the local legends such as on one side of the South cross head there is an image of a hand local tradition says that if you stand under the hand God will answer your prayers.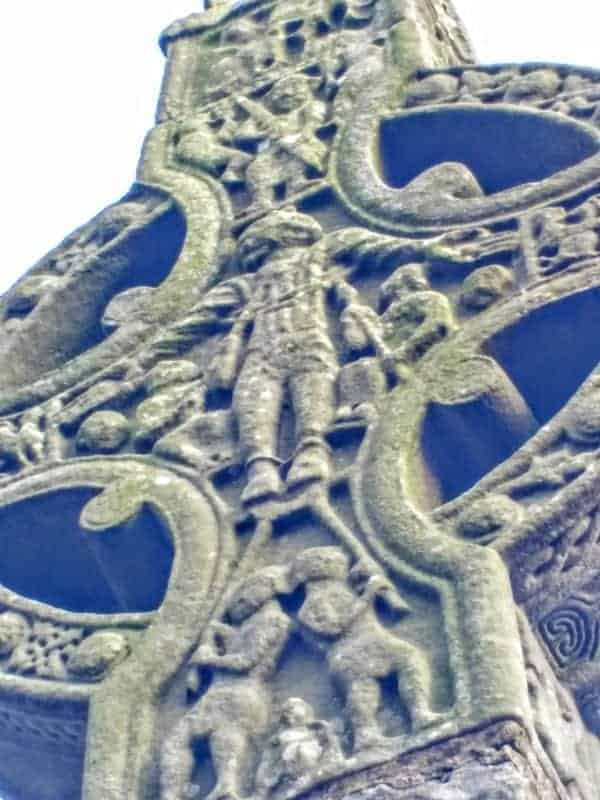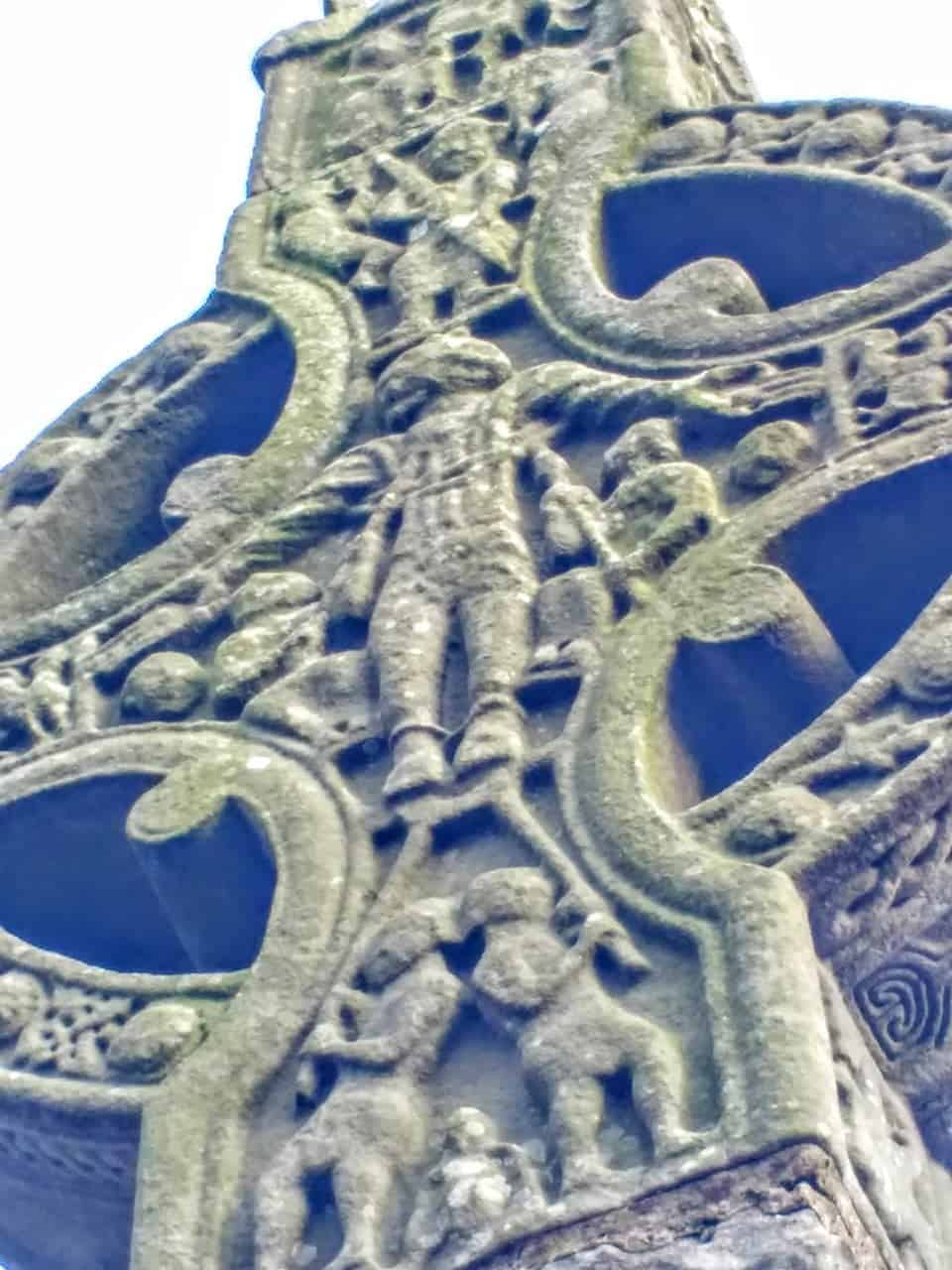 The West Cross has a well-preserved head but the stem is quite damaged. It is believed that the head of the Cross may have been stored indoors which has helped to preserve it as you see it now. The missing pieces are still considered a mystery but locals believe that those emigrating during the Great Famine took a chip of the stone to take a piece of Ireland with them.
History of Monasterboice
There is evidence at Monasterboice that prior to its 'founding' by St. Bhuithe in the late 5th century is said to have been a significant place for pagan Celts.
Vikings captured the settlement in 968 AD and were expelled by Donal, the Irish high king of Tara. St. Bhuithe's Monastery was an important centre of spirituality and scholarship until the Cistercians arrived at nearby Mellifont Abbey in 1142, after which Monasterboice became neglected.
Monasterboice has many interesting features to explore, but the clear highlight is its superb10th century high crosses. Like murals and church sculptures, these magnificent examples of Celtic art brought the Bible to life for those who could not read (which was most people).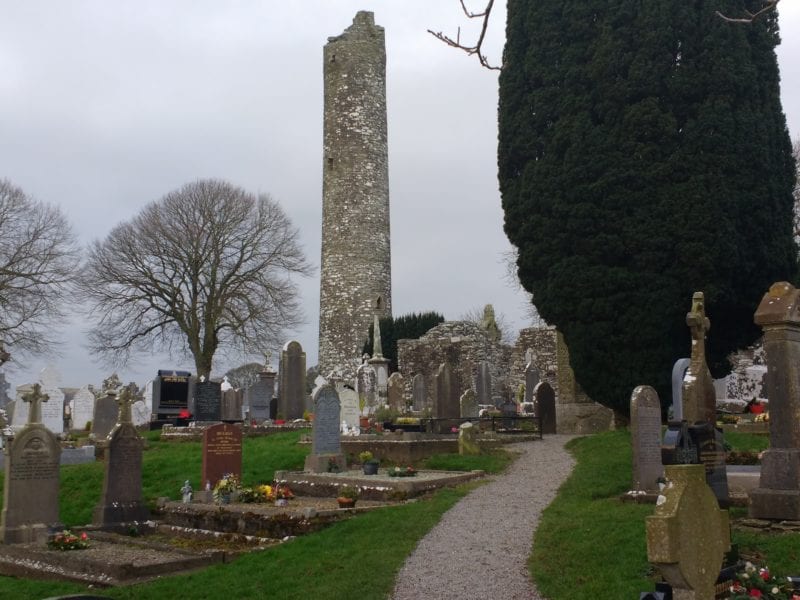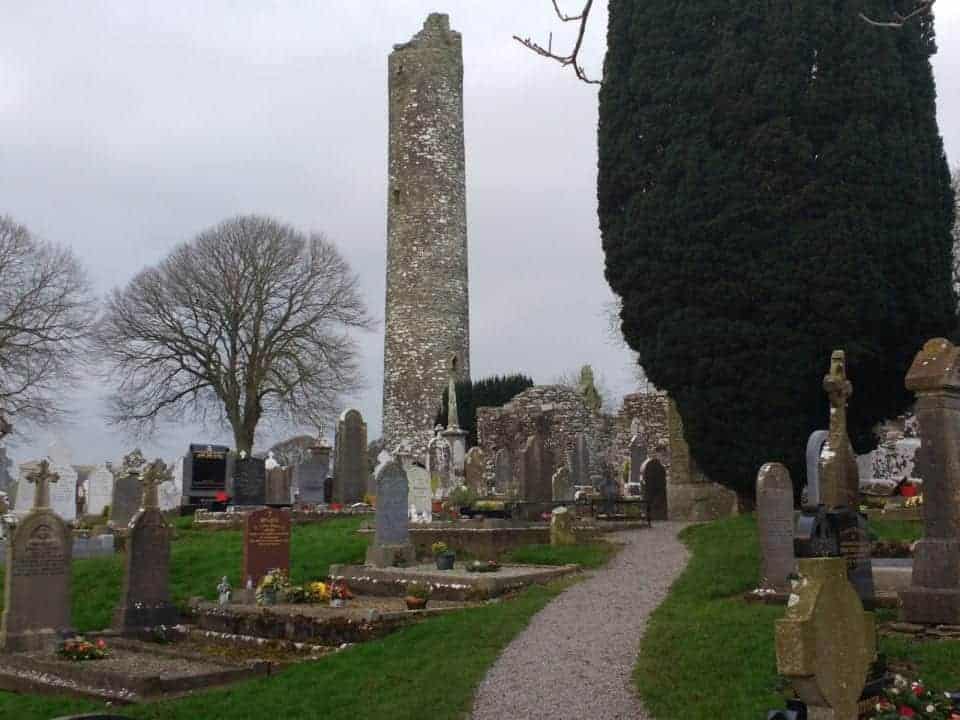 Monasterboice's round tower is over 30m (110 feet) tall and was divided into four or more stories inside, connected with ladders. As with other round towers in Ireland, this was used as a belfry, watchtower, and a refuge for monks and valuables during times of Viking attack. Records indicate that the interior went up in flames in 1097, destroying many valuable manuscripts and other treasures. The tower is currently closed to the public.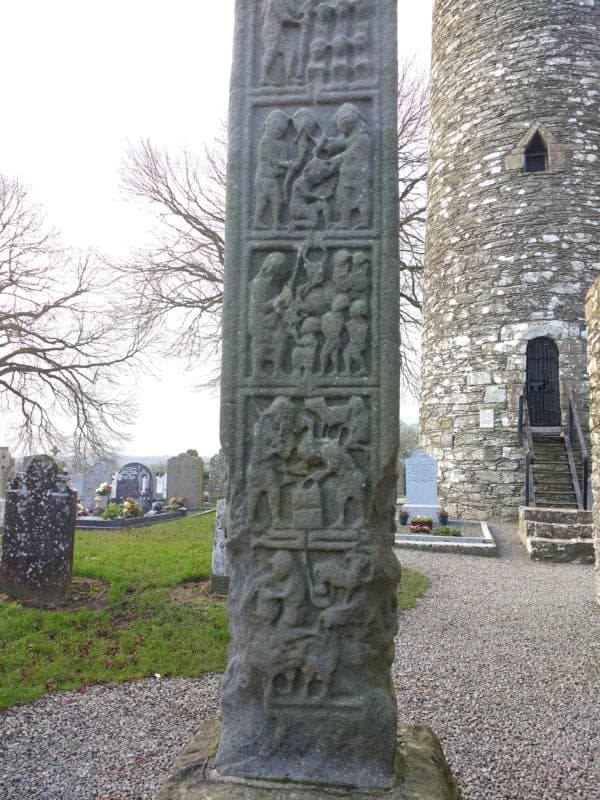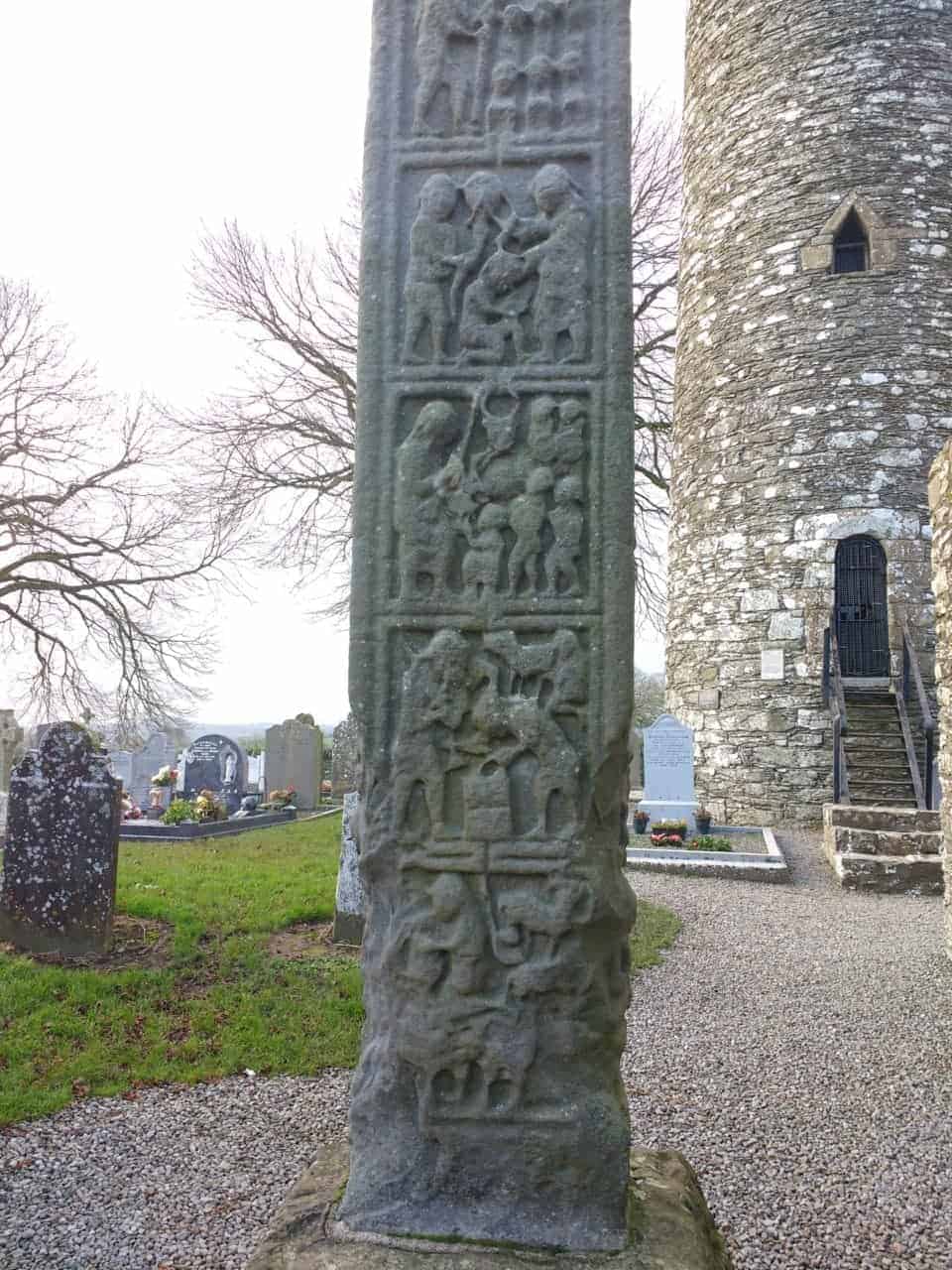 A trip to Monasterboice is an unforgettable experience that offers a glimpse into Ireland's rich history and heritage. The site's ancient ruins are not only breathtakingly beautiful but also tell the story of early Christian monasticism in Ireland. Visitors can marvel at the intricate Celtic crosses, explore the remains of an impressive round tower, and discover fascinating details about life in medieval Ireland. Moreover, Monasterboice's peaceful setting provides a serene escape from the hustle and bustle of modern life. A visit to this historic site should be on every traveller's bucket list when exploring Ireland.
You might also like
The Celtic Cross – an iconic symbol of Ireland
Kells Priory exploring an evocative Irish ruin
The Rock of Dunamase – visiting these magnificent ruins
Pin for later