Best Beaches in Ireland: 31 Beautiful beaches in Ireland
Many of Ireland's best beaches are well off the beaten path and don't have nearby villages or towns full of amenities. The beauty of this is that these pristine top beaches in Ireland are absolutely magnificent and you don't have to share them with anyone. There are many beautiful beaches in Ireland and you can easily find a beach that fits your beach lifestyle.
Ireland is home to dozens of Blue Flag beaches. The Blue Flag is an international environmental award made to beaches and marinas throughout the world that demonstrate good environmental standards and have good sanitary and safety facilities. Blue Flag began in Ireland in 1988 with 19 beaches and 2 marinas being awarded. Since then the Blue Flag programme has grown from strength to strength with 84 beaches and 10 marinas being awarded in 2023.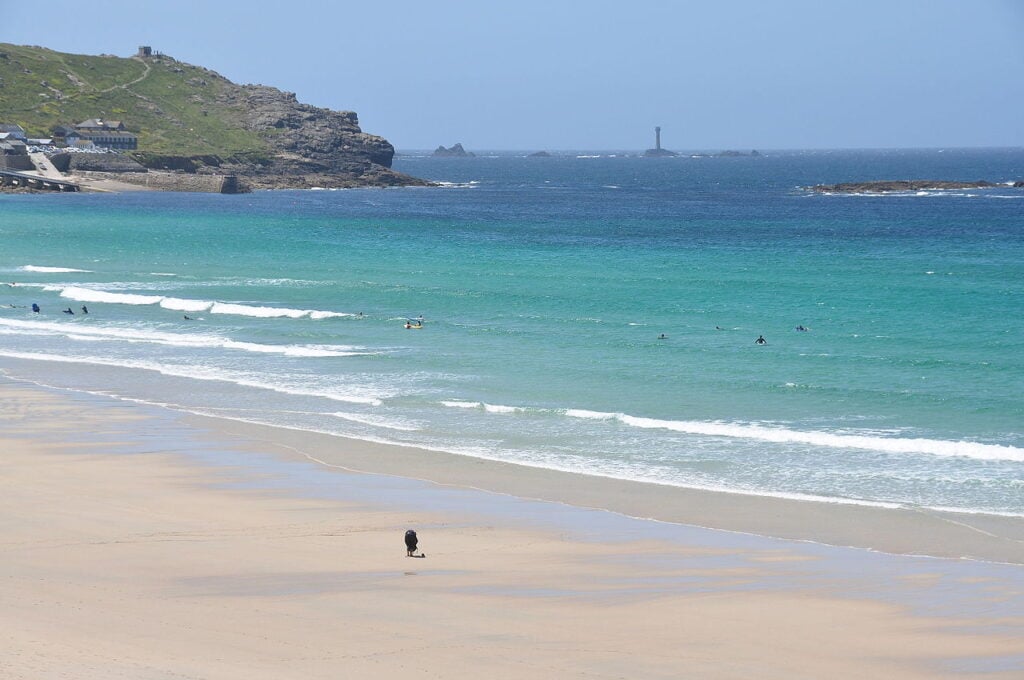 Ireland is also famous for its surfing beaches, glorious rock formations, crashing waves and waterfalls that plunge to the ocean. There are areas where you can rock climb above the ocean, hang off the edge of cliffs, dive into the clearest blue Atlantic waters and surf phenomenal waves. Ireland has some of the best beaches in the world. Some beaches you are allowed to wild camp near and others are located nearby with some incredible glamping sites.
Xyuandbeyond is reader-supported. When you buy through links on our site, we may earn an affiliate commission. You can read my privacy policy here.
Beautiful beaches in Ireland: 31 of the Best Beaches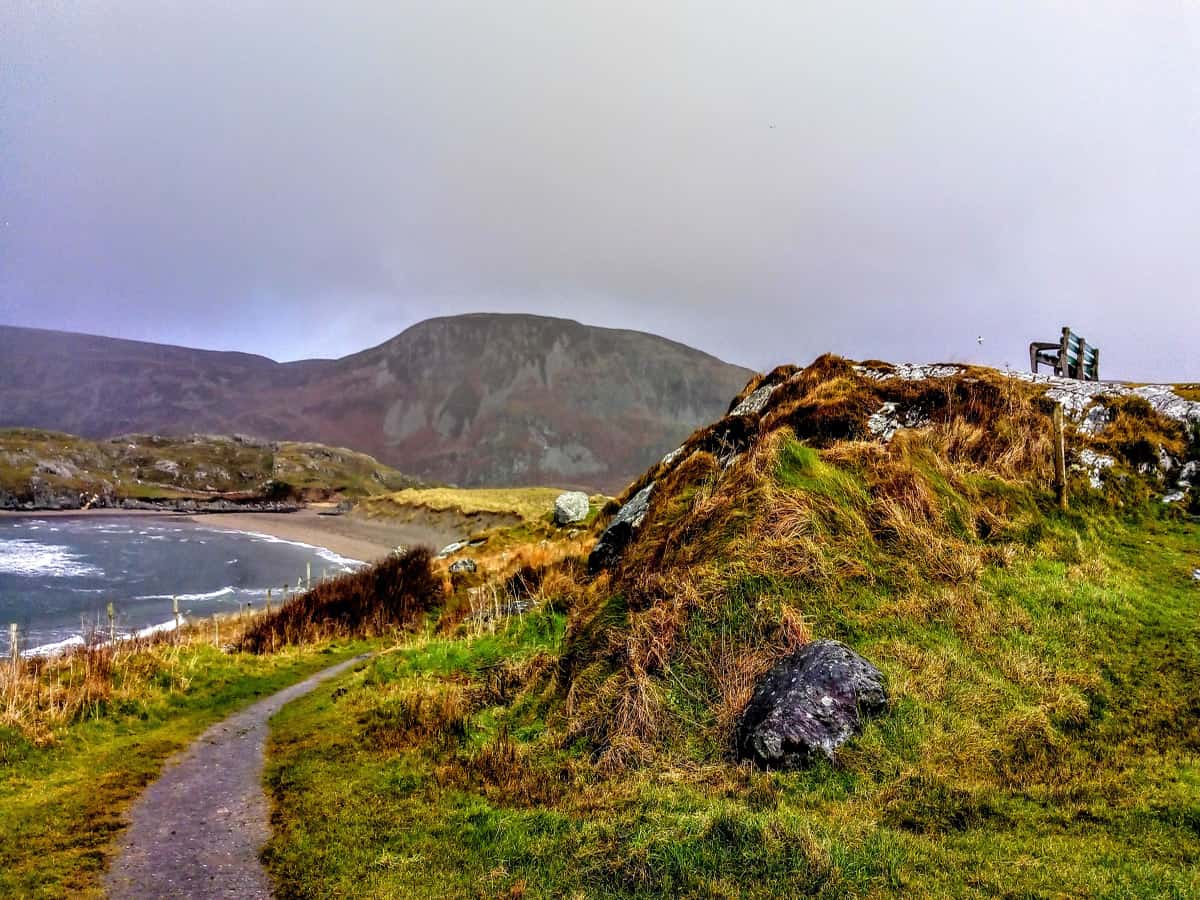 Best beaches County Dublin
There are many fine beaches near Dublin but they sometimes tend to be just a beach with limited facilities. Some Irish beaches are rugged and wild and some are golden sandy beaches these are the best beaches near Dublin of all kinds.
Portmarnock Beach
Portmarnock is the only beach in Dublin to make Trip Advisors Top 10. It has a phenomenal 5-mile long beach with one of the best golf clubs in Ireland nearby. It's north of Dublin and because its the perfect spot for swimming it tends to be packed out when the summer hits. Portmarnock is named the velvet strand because of its glorious soft sandy beach. There's plenty to do in the area as well and this is one of the most popular public beaches near the city.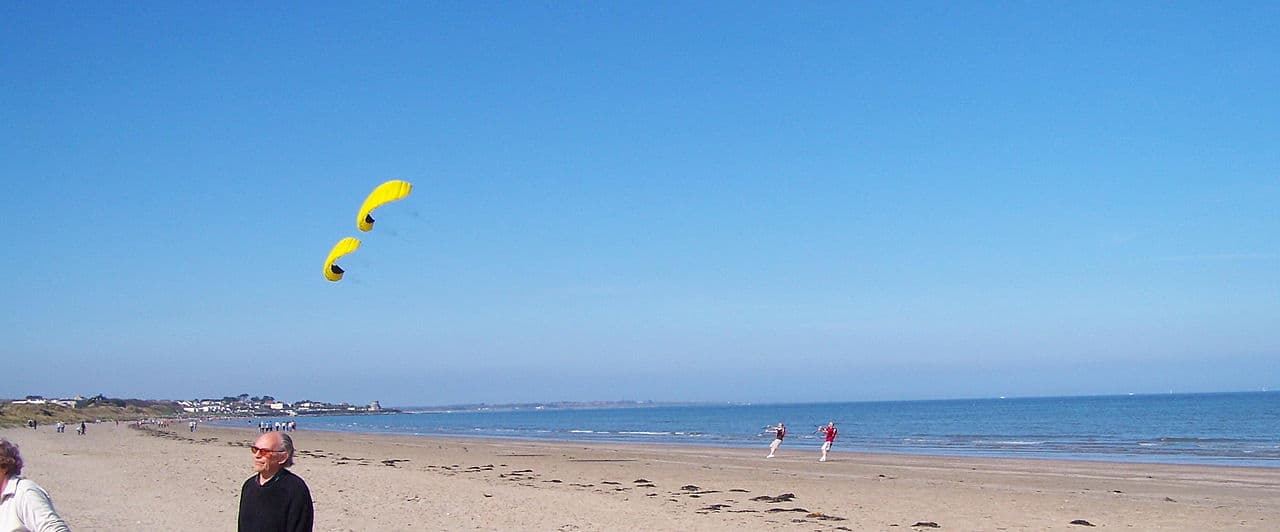 Portmarnock celebrates its history as an aeronautical hub with a huge sculpture of the globe, which has a copper needle through the centre of it that points to the North Star. The sculpture can be seen beside Portmarnock Strand and it's called Eccentric Orbit.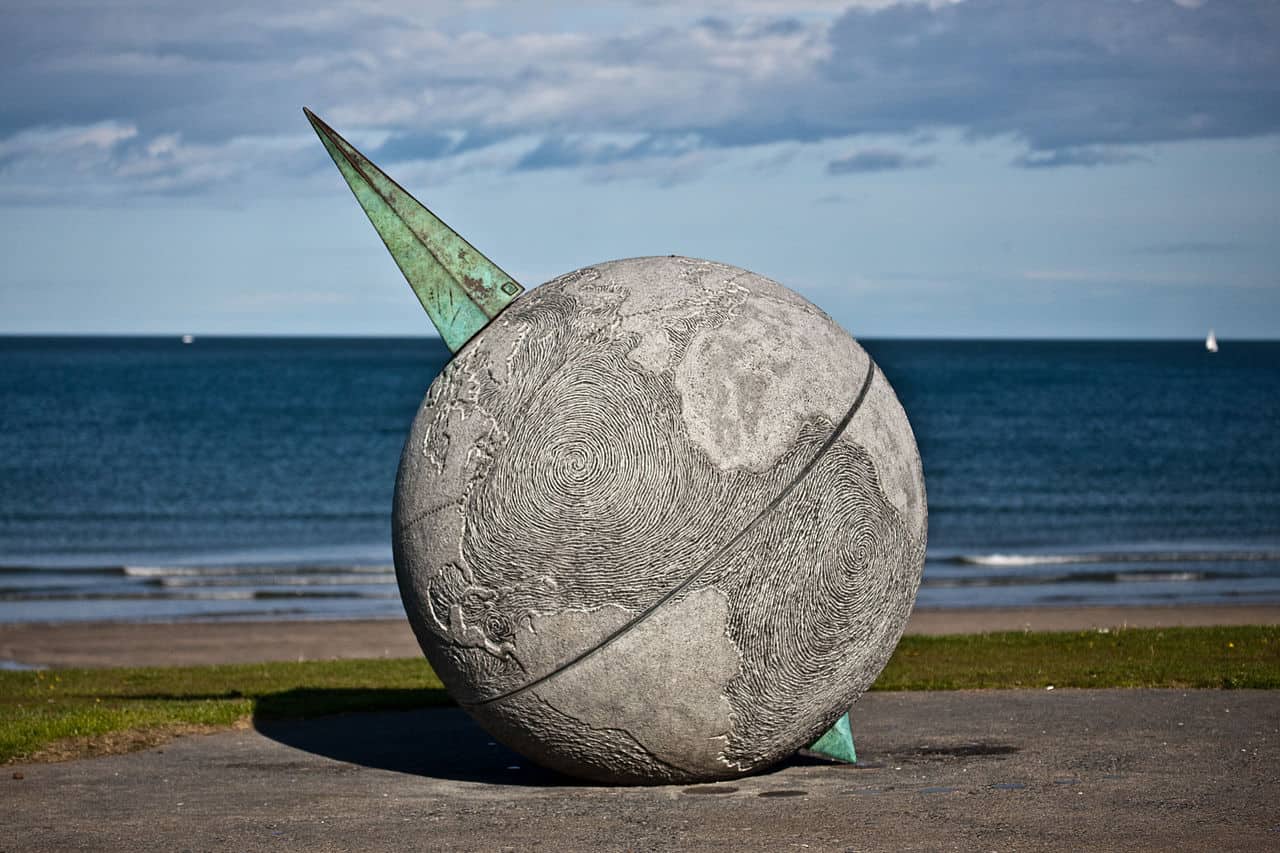 Apparently, you can also get some of the best pizza in Dublin at Portmarnock's Brezzi Woodfired Pizza.
Sandycove Beach
This secluded seaside village is south of Dublin and is home to a Martello Tower. These towers were used during wartime to keep an eye out for potential invaders.
In Sandycove, the Martello Tower is famous for being the place where James Joyce once stayed and he used the Tower in the opening scene of Ulysses.
Sandycove is also famous for being the Christmas dip at nearby Forty Foot. It's a lovely shallow beach for kids with beautiful views.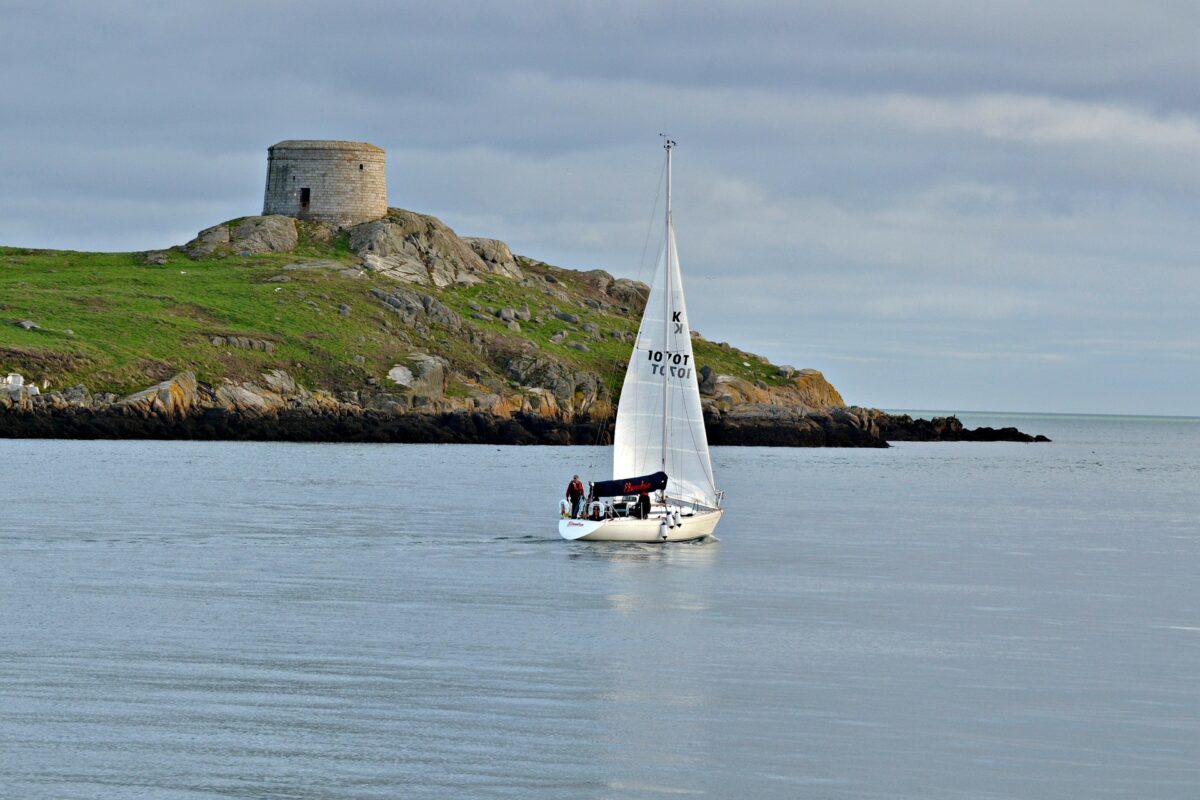 Sandycove is a foodie haven with fabulous restaurants and coffee shops in the Village. There's a pretty cool giant bronze sea urchin statue on the beach and the place abounds with great buskers. You can grab a pint at any of the nearby pubs or hit up Ireland's best Indian restaurant for a gorgeous curry.
Dollymount Strand Beach
Dollymount Strand on Dublin's north side stretches right across the bay and is immensely popular in the summer months. This is one of the best Irish beaches around Dublin. A super popular spot with surfers and stand-up paddleboarders the place bustles with visitors in the summer months and there are plenty of bars, and pubs. and great restaurants.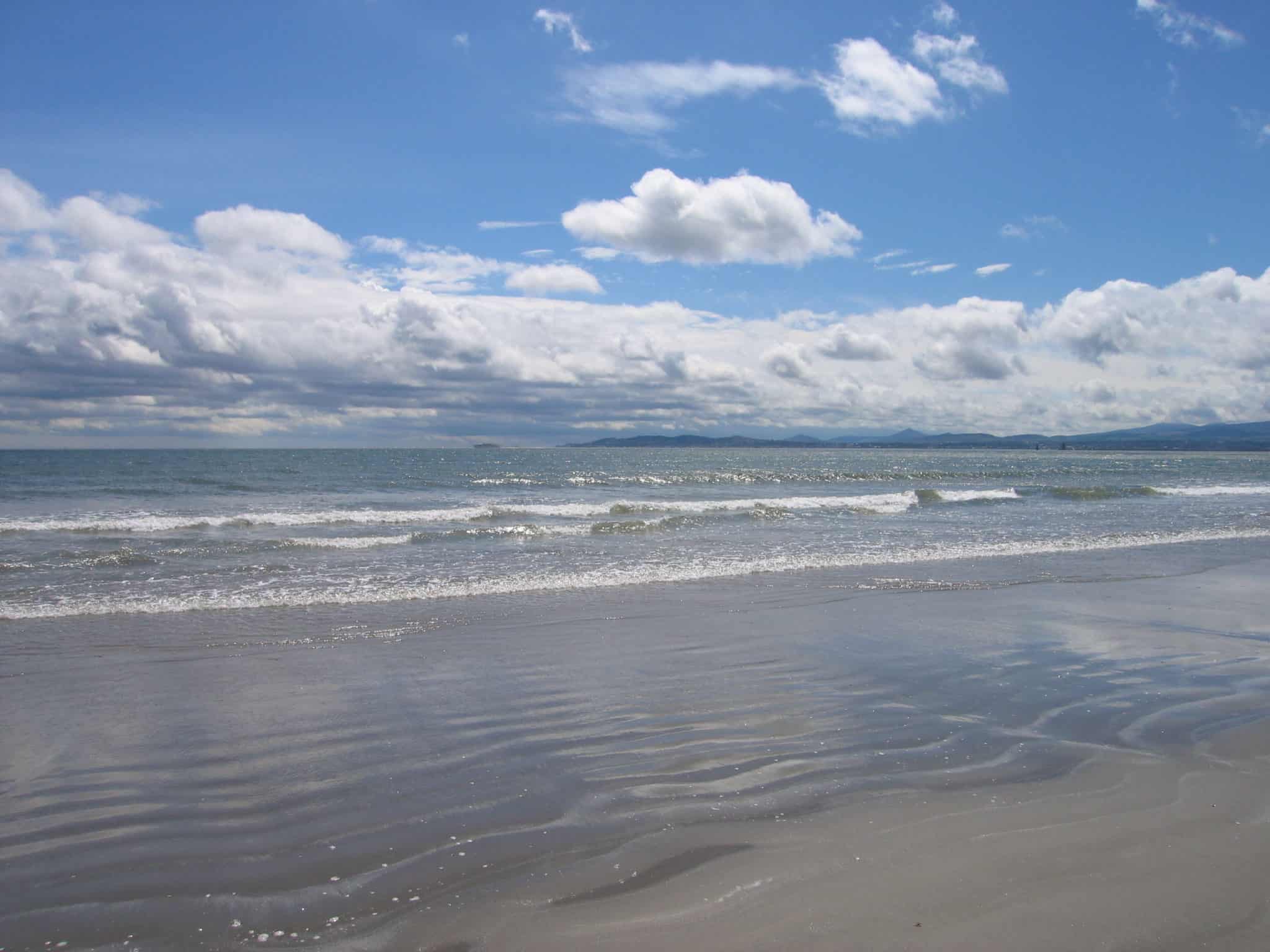 Dollymount beach is a long stretch (5km) of golden sand with views to Howth in the north and the Wicklow Hills and Sugar Loaf to the south.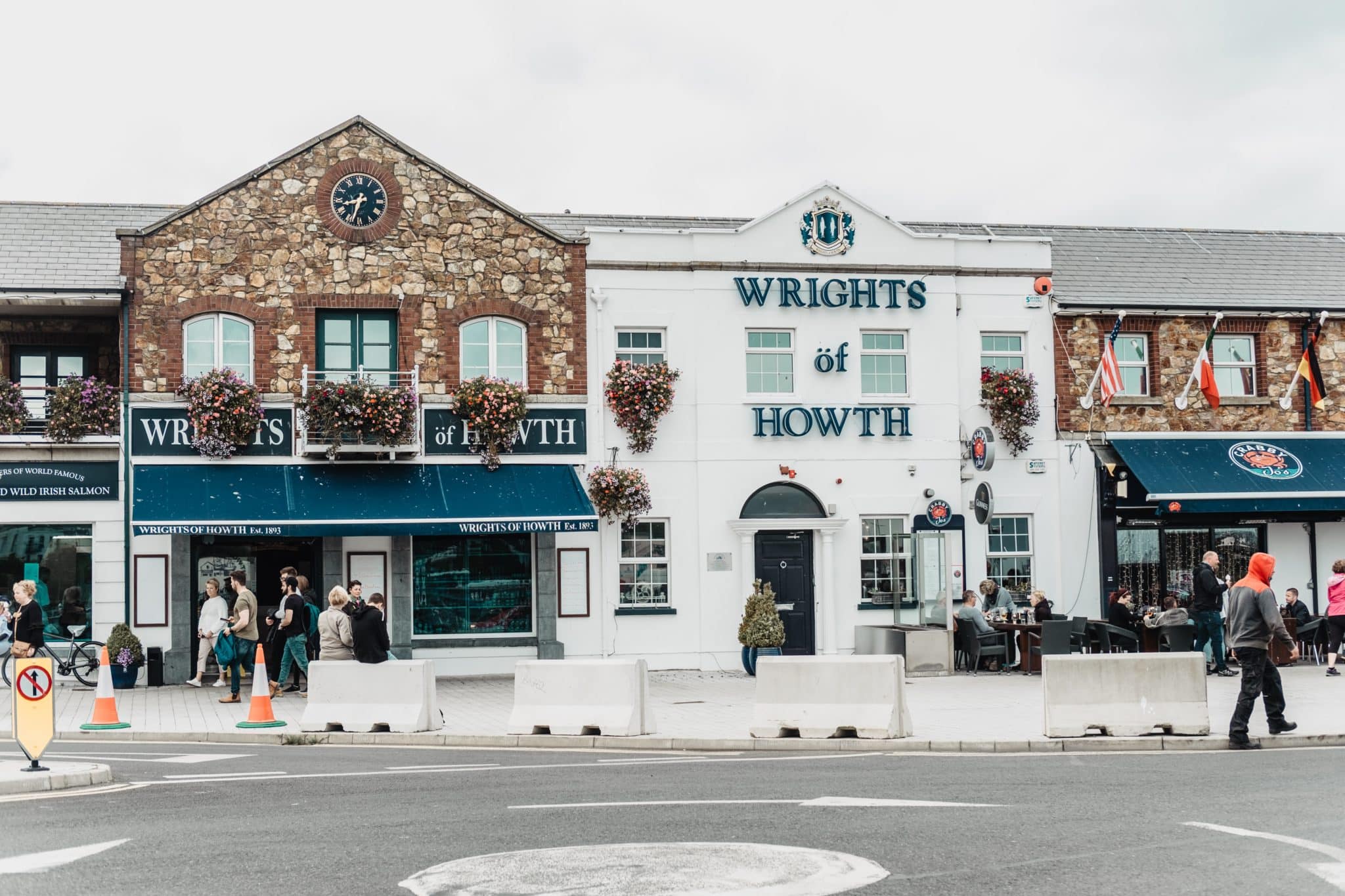 Killiney Beach
Killiney is home to many celebrities including Bono and the gorgeous beach here is a Blue Flag one. The beach is a long stony stretch with fabulous views of Bray Head, Sugar Loaf and Dalkey Island. At the far end of the bay, is White Rock, which provides an isolated getaway for those, who want some peace from the crowds.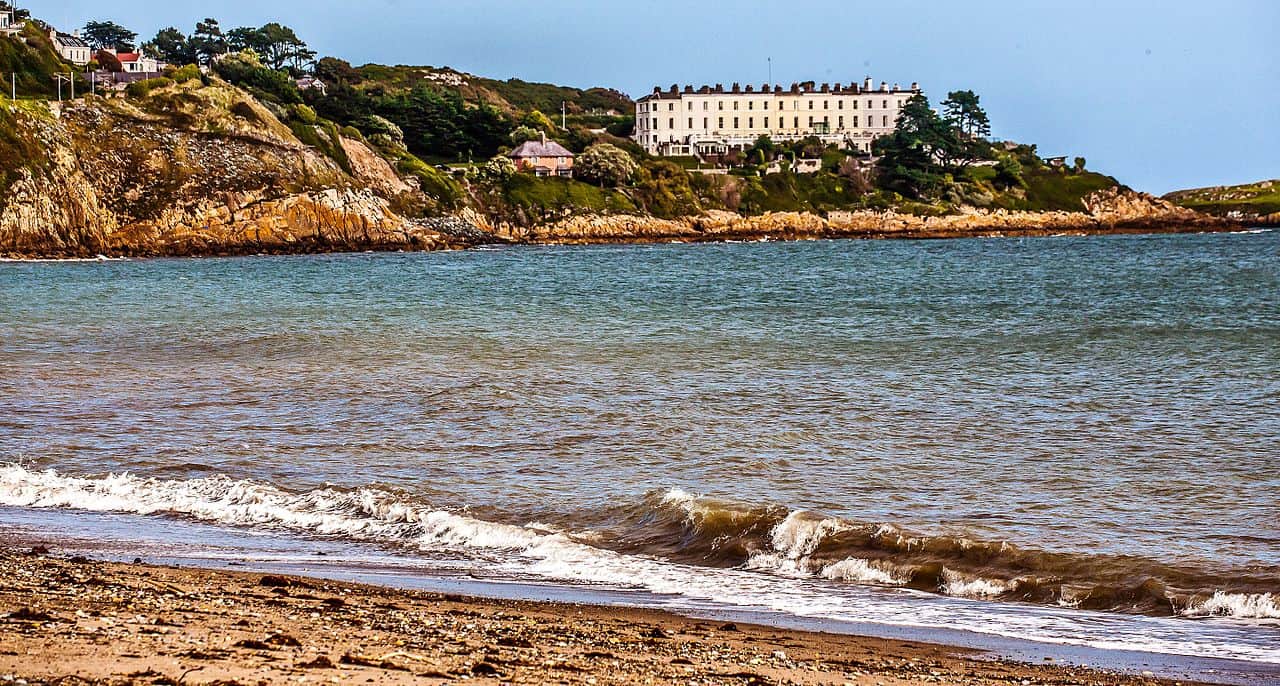 Best beaches on the Islands of Ireland
Keem Bay Beach, Achill Island
Achill Island was supposed to be the island where I did a lot of high-octane water-based activities, but as soon as I drove into the area it felt more like an area to relax, go on walks, and interact with the locals.
The weather was not on my side, but the dark clouds overcasting Achill Island made for a hauntingly beautiful experience. Keem Bay is one of the best beaches and lauded as the most beautiful beach in Ireland, took up the entirety of one of my days in Achill.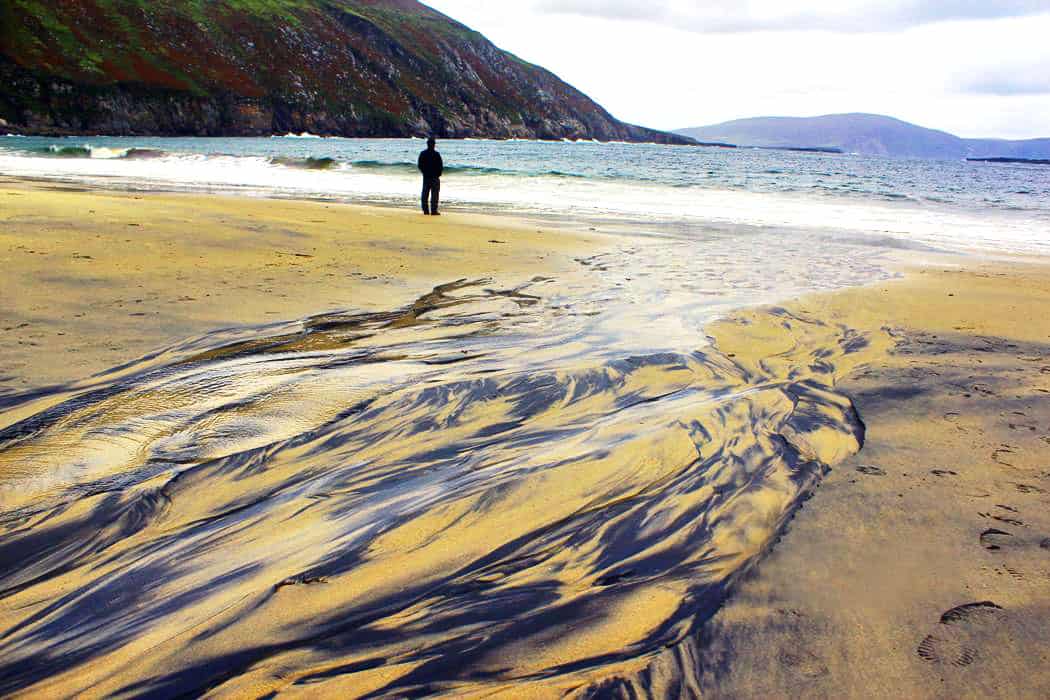 While the water was way too choppy and cold to get into when I visited, having a little picnic while watching the constant flow of waves wash over the sand was enough. I also found the time to read chapters on my kindle and the background sound of the crashing waves made it difficult for me to pack up and head off to reality.
For those that want to visit, the drive to Keem Bay is magnificent in its own right. I found myself parking off the side of the road to take in the view of the beach from atop the driving path. I wish I had a drone back then to capture it properly. written by Zeegoes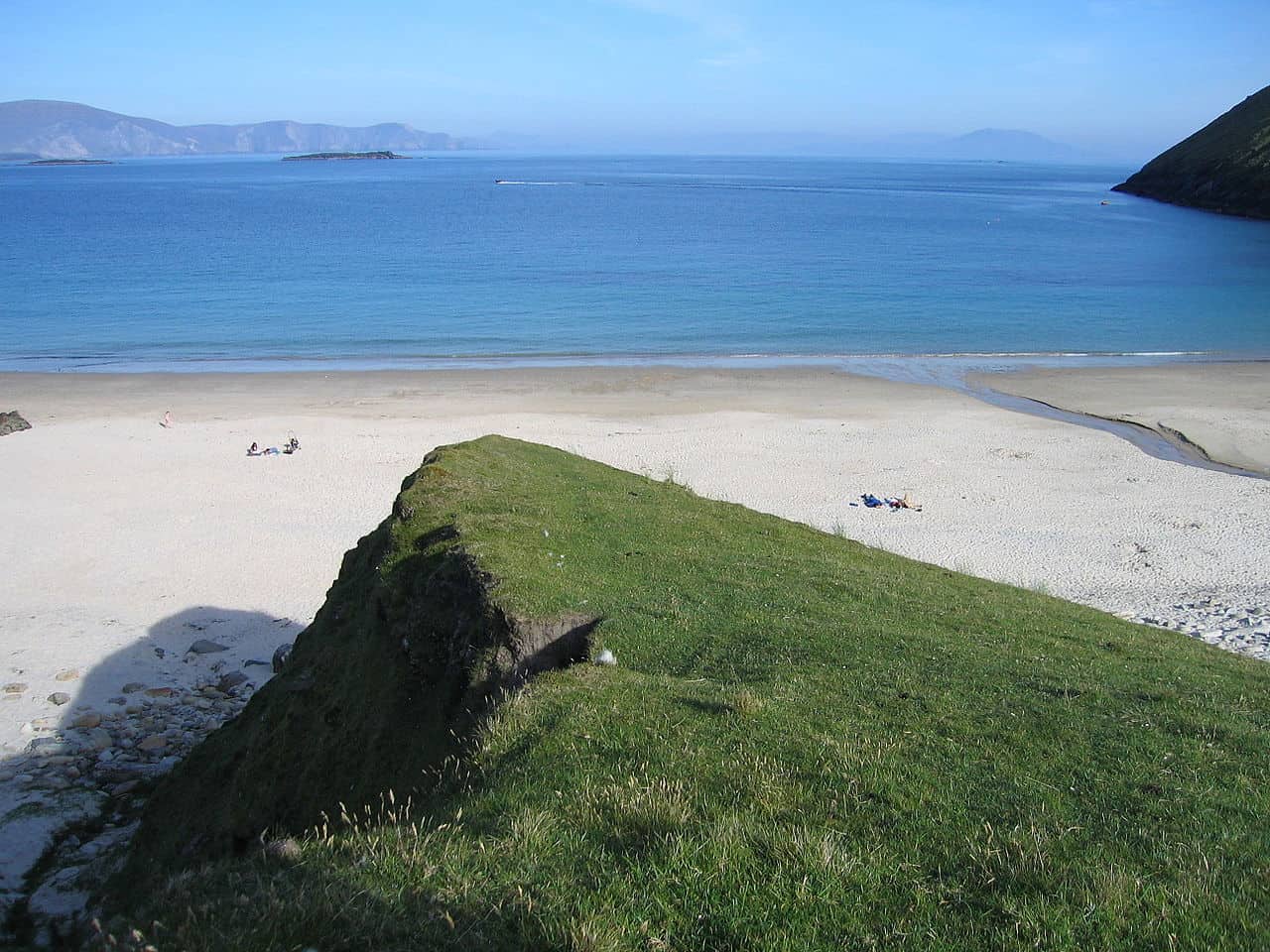 Kilmurvey Beach, Galway
Inis Mor Island Galway, Kilmurvey Beach is a beautiful white sand-sheltered beach just off the road between Kilronan and Dun Aengus. The beaches are within a cove and are perfect for families and young children. The glistening waves are gentle, crystal clear and have no strong currents.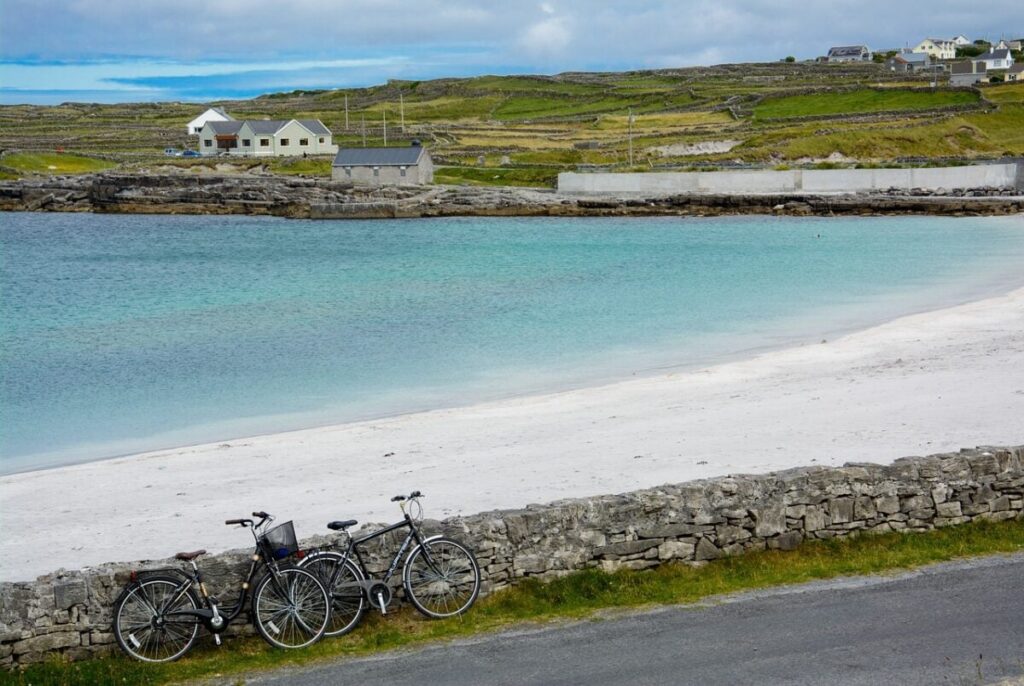 Inis Oirr/Inisheer Beaches, Galway
This island has two beaches, which are Green Coast awarded. They are called An Trá and Trá Poll na gCaorach both are beautiful bleached white sand strands. Very popular for swimming, water sports or just hanging out by the sea.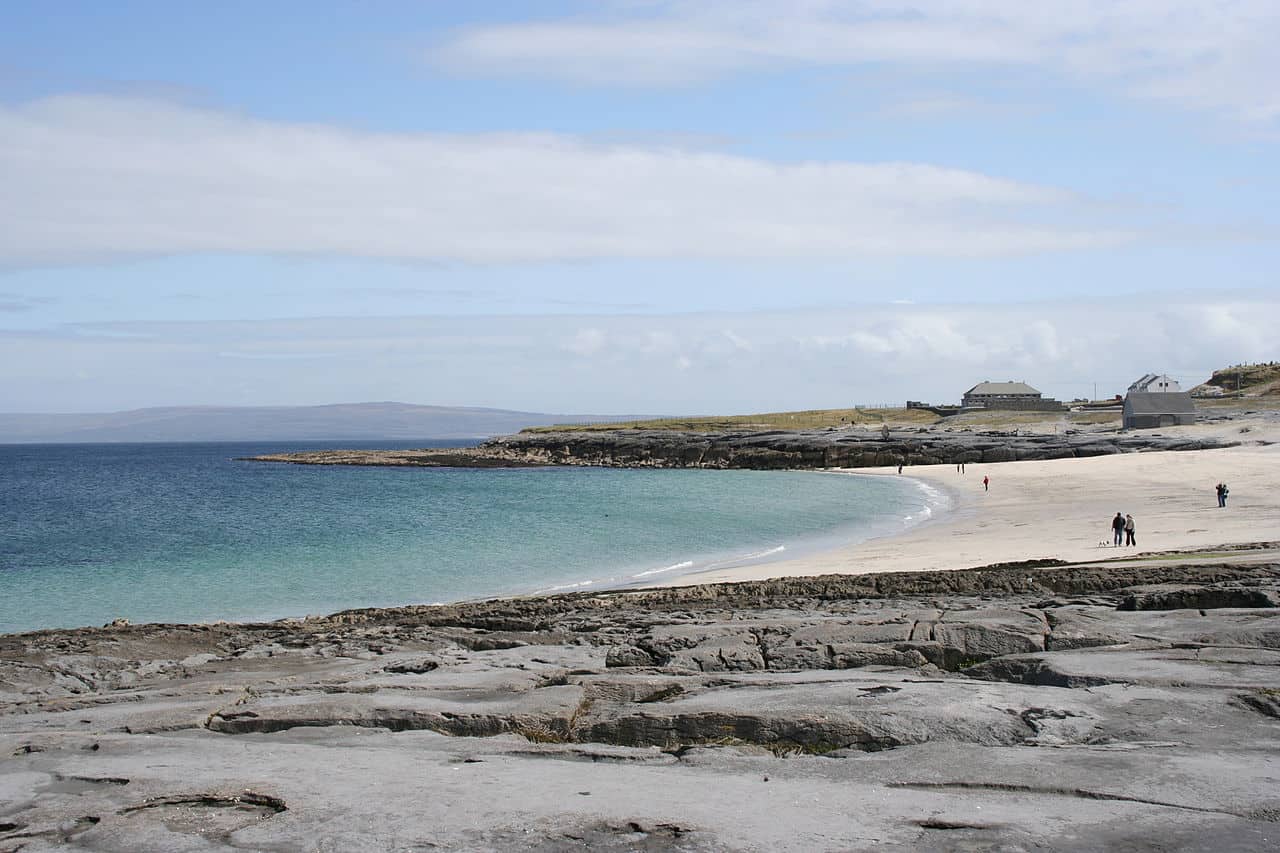 Inis Oirr is fortunate to have a stunning beach located adjacent to the pier and on the edge of the main village. Largely uncrowned its clean sandy beach and clear, blue and unspoiled water, which is sheltered and safe is a great place for swimming.
Dernish Island, Sligo
Many a visitor to Ireland has a dream of riding a beautiful Irish horse on a deserted beach. Here in Sligo, your dream can come true. There are numerous horse riding tours on the beautiful Irish beaches of Sligo. Drive down the motorway and chances are you will see a few you can stop at and arrange a ride.
Sligo does have some outstanding Irish beaches and I consider it one of the best secret beaches on the Wild Atlantic Way. Its silver sand beach is perfect for swimming, fishing and wild camping.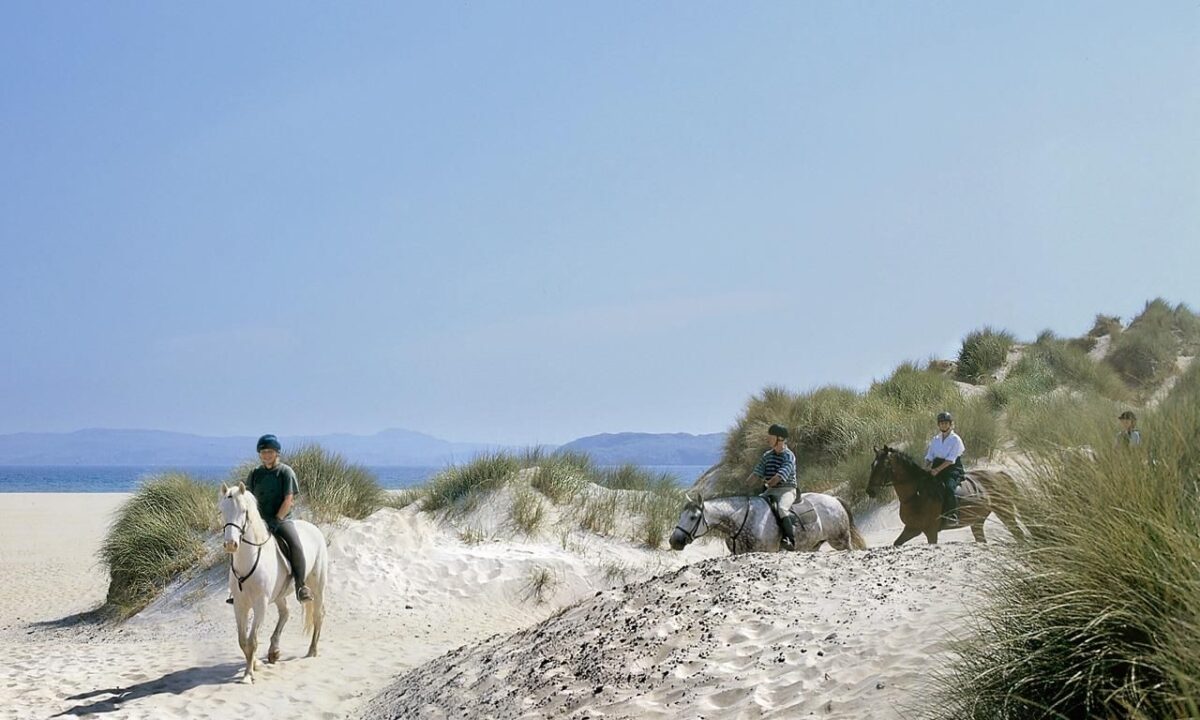 Dernish is one of the Irish beaches you have been dreaming about. You get to cross an Atlantic channel on horseback to Dernish Island and explore the island's ancient sites, check out the young herds of horses and cattle and simply enjoy your trek
Trá Bán, Great Blasket Island, Kerry
An uninhabited island since 1953 the Blasket Islands are on the north side of Dingle Bay. Trá Bán is Gaelic for the white beach and green hills and it's a polar sunbathing spot for the seals.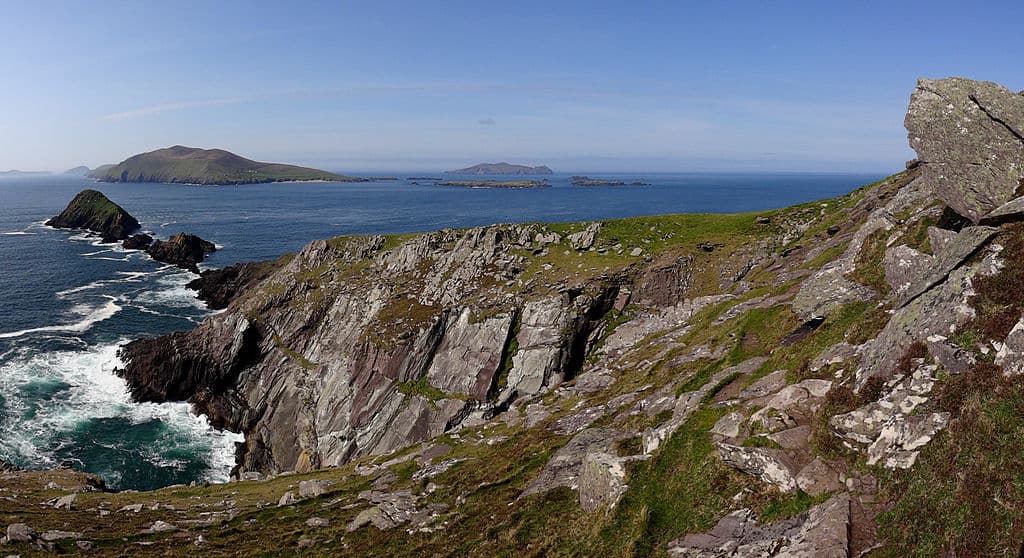 Mweenish Island Beach, Galway
This is like having your own private island. Most folks leave Mweenish on the 5 o'clock ferry and the population of the island is only 140 so the coastline and views are virtually unspoiled. A great spot for fishing or watching the sun go down over the Atlantic Mweenish is pretty impressive but you won't find much in the way of amenities here.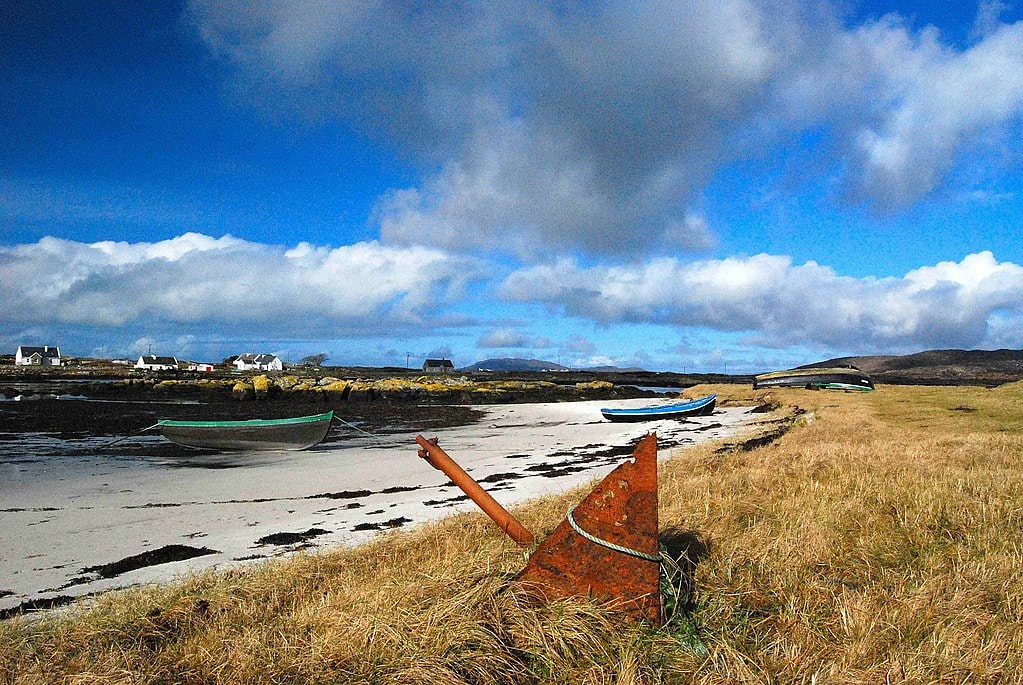 Coney Island, Sligo
Fourteen pillars guide your way out to Coney Island, Co Sligo, at low tide. Connected to the mainland via a causeway, this isle is accessible by shank's mare (walking), car or on horseback – the most exciting way to arrive and something you can do as part of a week-long riding holiday through Ireland on Horseback. You gallop out and are back before the tide turns.
On your trip to Coney Island be aware of the tide times, as the bay empties and fills two times a day and it can take you unawares. There have been many stories down the years of motorists who had cars stuck in the tide of people who had to stay out on the island because they hadn't taken into account the tide times.

Best Beaches Ireland County Sligo
Strandhill
The seaside village of Strandhill, Sligo really has it all. The beach isn't safe for swimming due to the strong currents but it has great breaks for surfers and there are several surf schools in the area. It is considered one of the best surfing beaches in the world. Its great breaks attract attention from surfers every year and Strandhill is the perfect place to learn how to surf and perfect your technique. It is also a fantastic place to go sea kayaking and stand-up Paddle Boarding.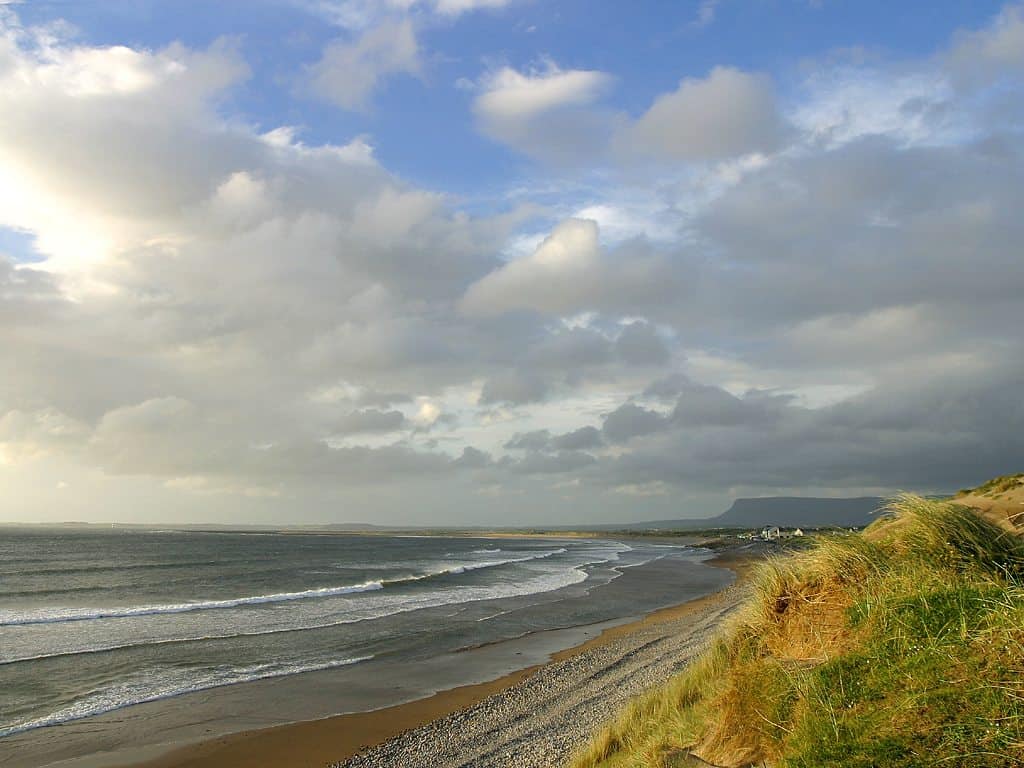 Rosses Point Beach
Beneath the heights of Benbulben Mountain and the Dartry range, one of the highlights of Sligo County has to be Rosses Point, a prominent destination on the Wild Atlantic Way, with blue flag beaches and scenic coastal walks.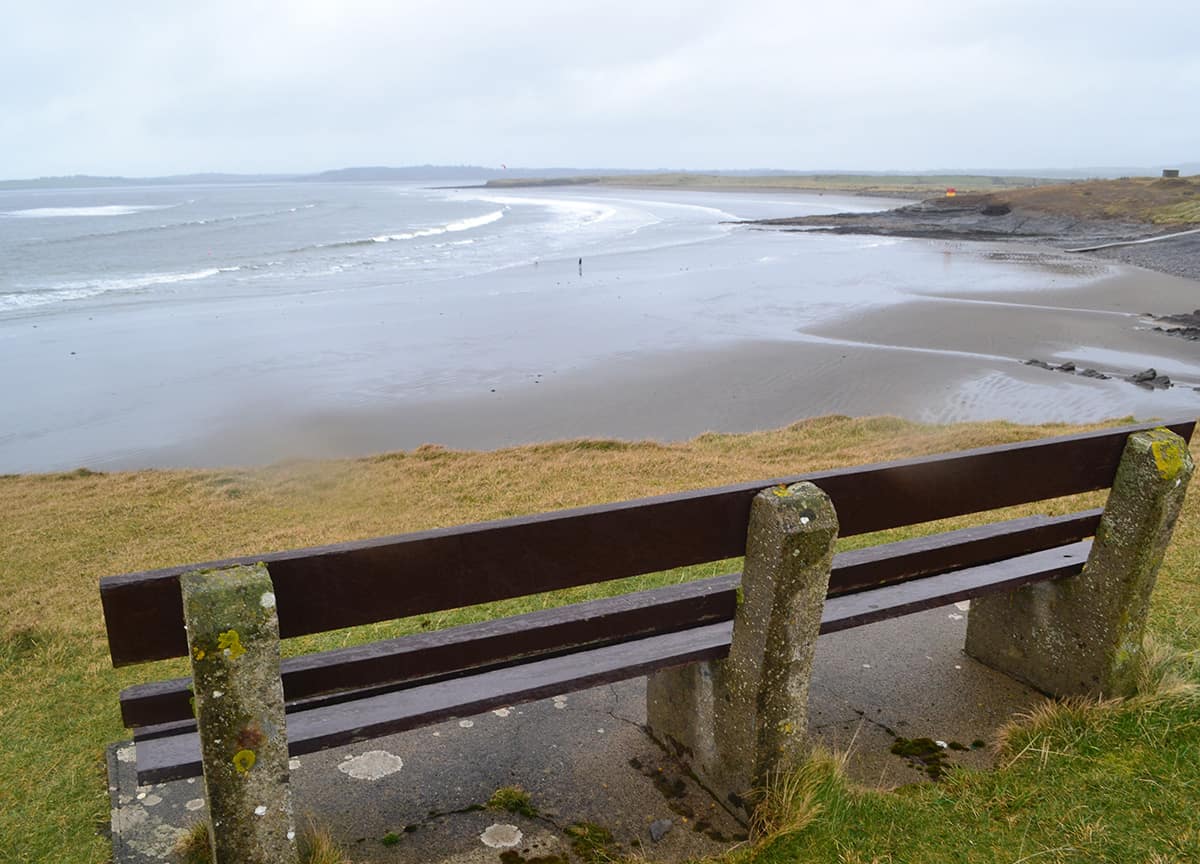 This is also 'Yeats Country', named after W. B. Yeats the renowned Irish poet and literary genius of the 20th century, who would spend summer holidays by Rosses Point Beach (Elsinore House), where the local scenery is said to have inspired many of his (and his brother Jack Butler Yeats') works. And many references to the poet are found along this shoreline, including The Yeats Country Hotel and Spa.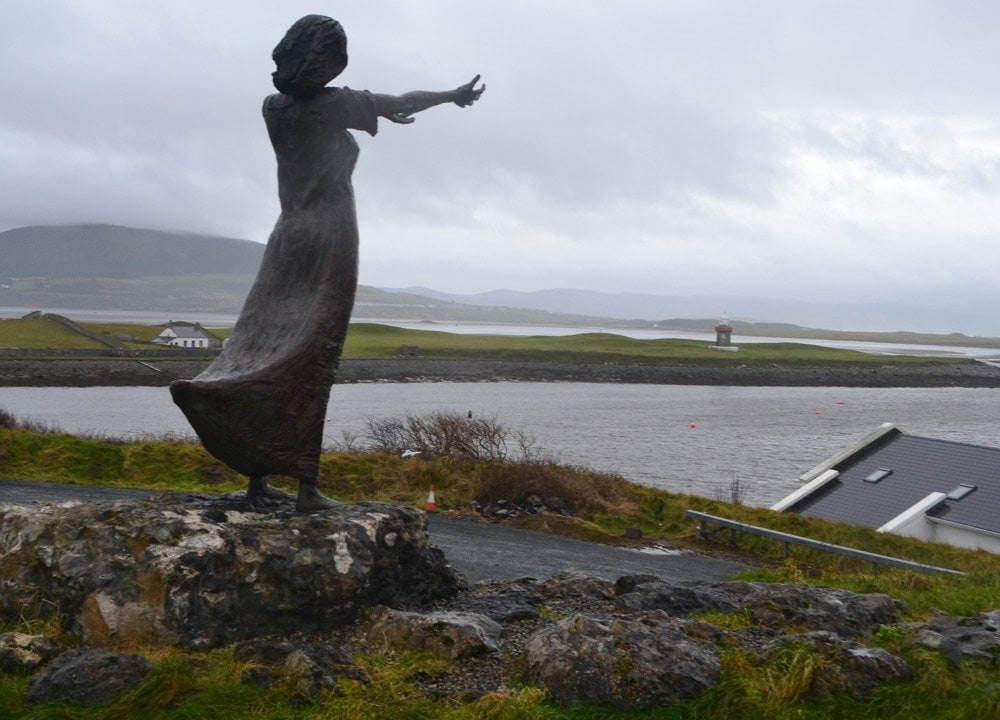 Otherwise, one of the more standout features next to Rosses Point Beach would be the 'Waiting on Shore Monument', a bronze lady statue with outstretched arms, which symbolizes the memory of those lost lives at sea. Written by Allan of It's Sunny Bangor.
Enniscrone
I recently had a chance to visit the wonderful county of Sligo in western Ireland and I was blown away at all that existed for travellers there. But not many things impressed me as much as hanging around the beautiful beaches and golf courses at Enniscrone.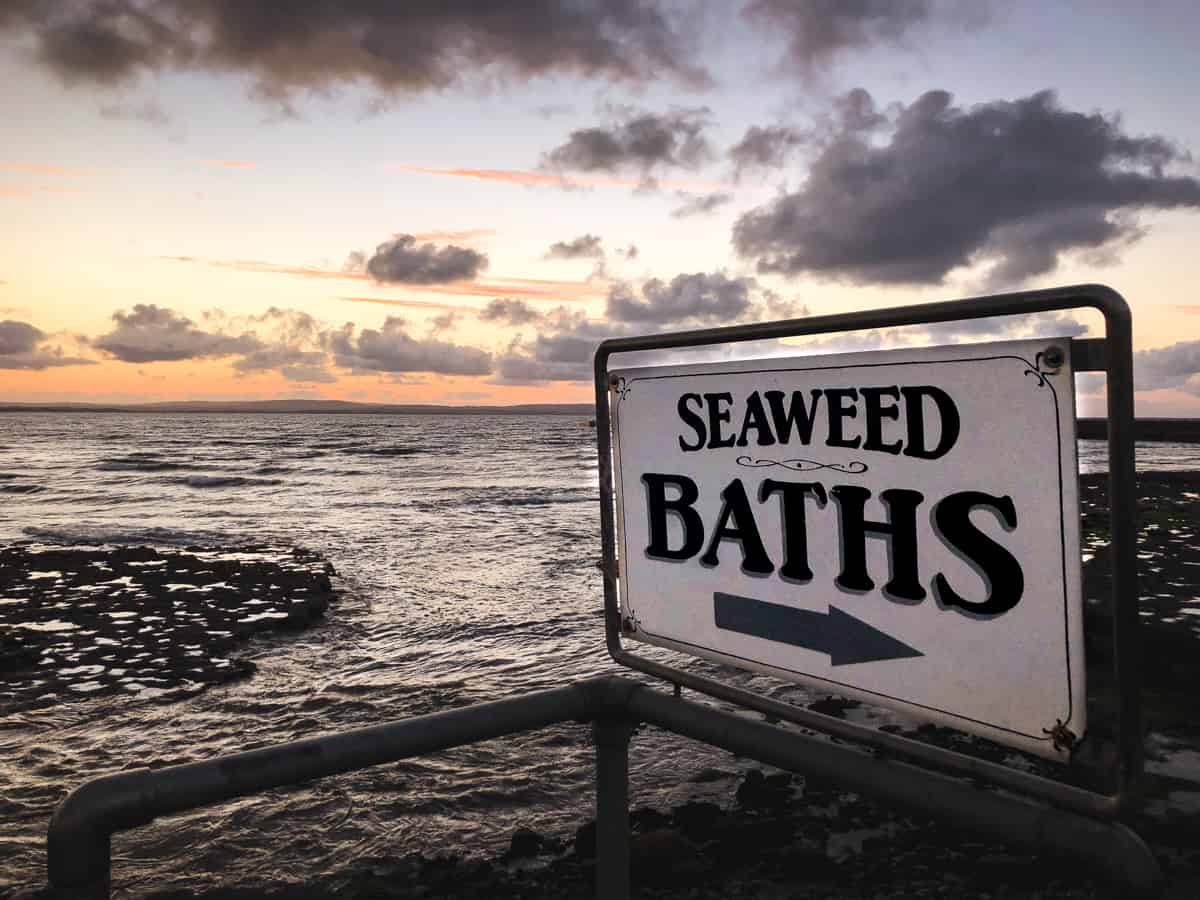 The beach is massive and the tides are extreme and it leaves for a picturesque view any time of the day, especially if you manage to catch one of its colourful sunsets! Visitors to Enniscrone can go surfing, golfing, relax, or even take a seaweed bath right at the beach.
There are many things to do in Sligo, but I highly suggest taking a day to relax and enjoy the beautiful beaches in and around Enniscrone. Written by Megan Starr of Megan Starr
Streedagh Beach
Streedagh beach is a charming sandy beach that spans 3 kilometers in length and is rich in historical significance. It is the final resting place for three ships and almost 1,800 men from the Spanish Armada.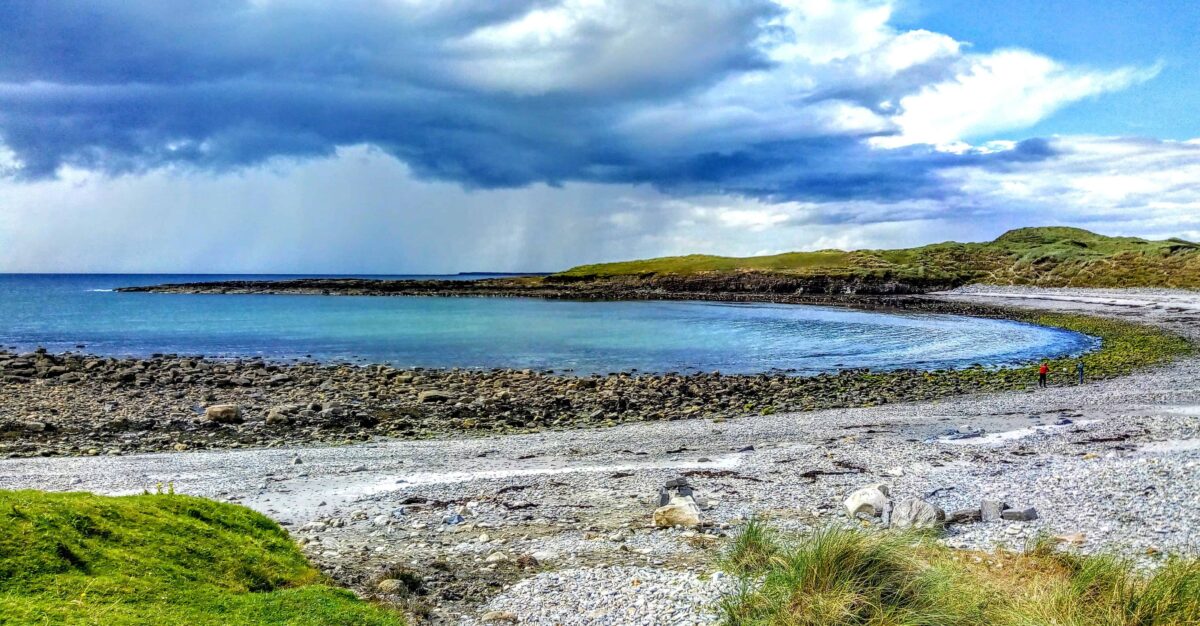 Prior to reaching the beach, you will come across a monument on the right-hand side that serves as a tribute to the three ships that were wrecked during a powerful Atlantic storm while seeking refuge. However, the intensity of the storm was so great that the three ships were carried onto the shore and completely destroyed. This beach is exposed and features reef breaks, making it an ideal location for surfing throughout the year.
Best Beaches Ireland County Mayo
There is at least 12 Blue Flag beaches in County Mayo several as noted above are on Achill Island.
Silver Strand Beach
The stunning Silver Strand Beach in County Mayo is located in the hidden town of Louisburgh, providing a perfect opportunity for a visit after completing the scenic Leenane to Louisburgh Drive. Adjacent to the beach, there is a convenient parking space, and a brief stroll is all it takes to reach the soft sand. Due to its lack of online recognition, compared to other Mayo beaches, it remains peacefully tranquil. It is advisable to arrive early during weekends and the summer season.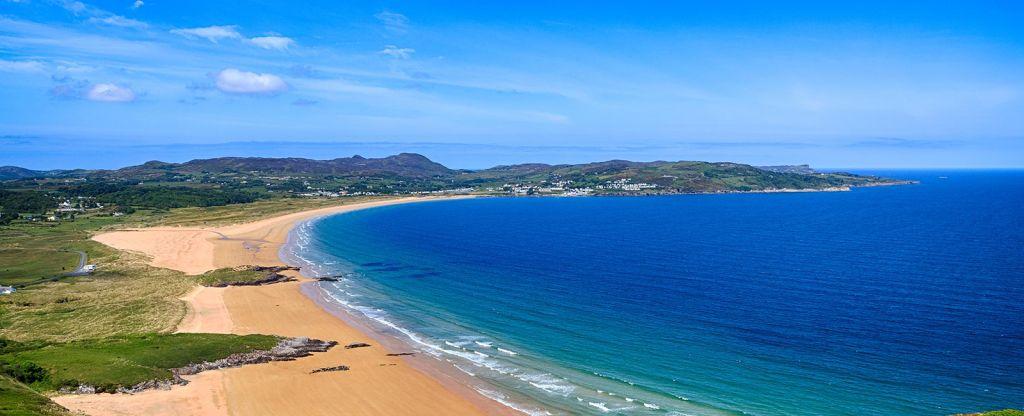 Best Beaches Ireland County Donegal
Murder Hole Beach
Murder Hole Beach in Co. Donegal is an absolute hidden gem along the Wild Atlantic Way. It is one of the most rugged and remote beaches in Ireland but its beauty more than rewards the effort of getting to the secluded beach – it is accessed from the nearby town of Melmore and visitors must hike across local farmland and descend some hills and dunes to get to the beach. You must obtain the permission of the farmer to cross the fields to access the beach and sometimes there is a bull grazing there so it can be dangerous.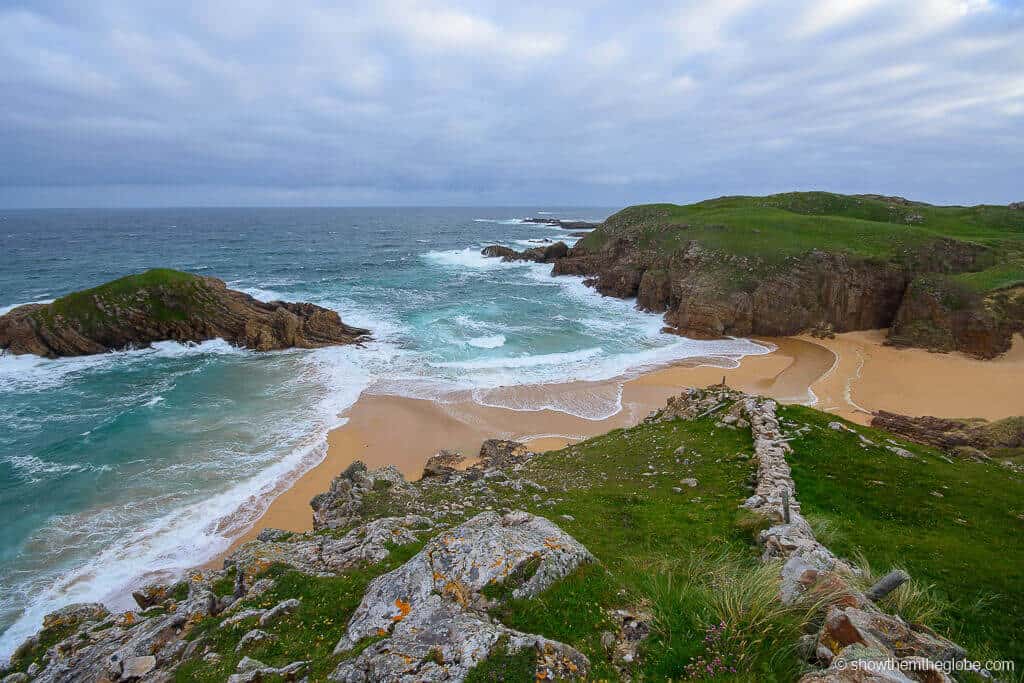 Officially known as Boyeeghter Bay, the beach at Murder Hole is dotted with small caves and surrounded by stunning cliffs. When the tide is out the bay splits into two beaches and the smooth sands and deep green crashing waves of the Atlantic Ocean are mesmerizing. No one is really sure how it came to be known as Murder Hole Beach but most agree that it's due to the extreme conditions and powerful waves that are often experienced along the coast. Written by Elaine & David of Show Them The Globe
Maghera Beach
Just outside Ardara are the Maghera Caves and the gorgeous waterfall Eas a' Rance (Assaranca). The road is quite a long way in but keeps going and eventually, you will spot the waterfall.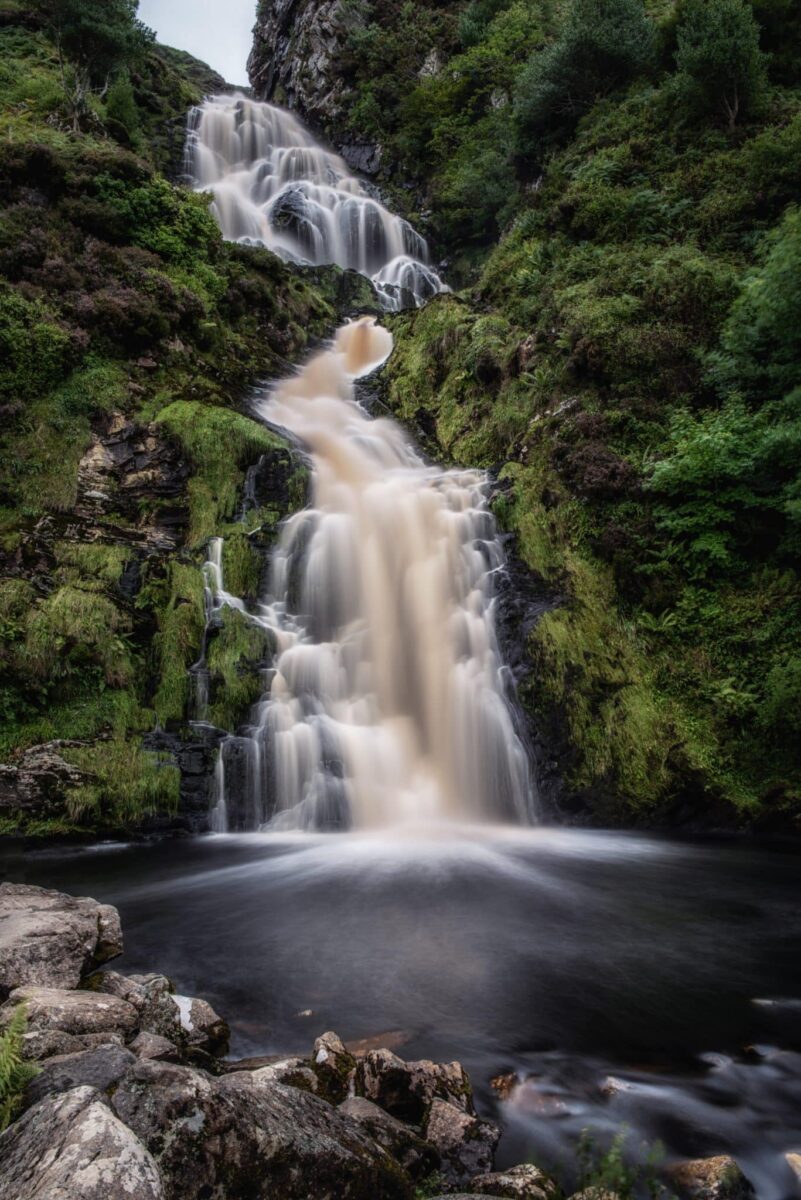 Around a kilometre from the falls is the Maghera Caves, which are underneath the Slievefooey Mountain. The caves are accessible from the beach at low tide but you have to be very careful of the tides, as they have trapped several people.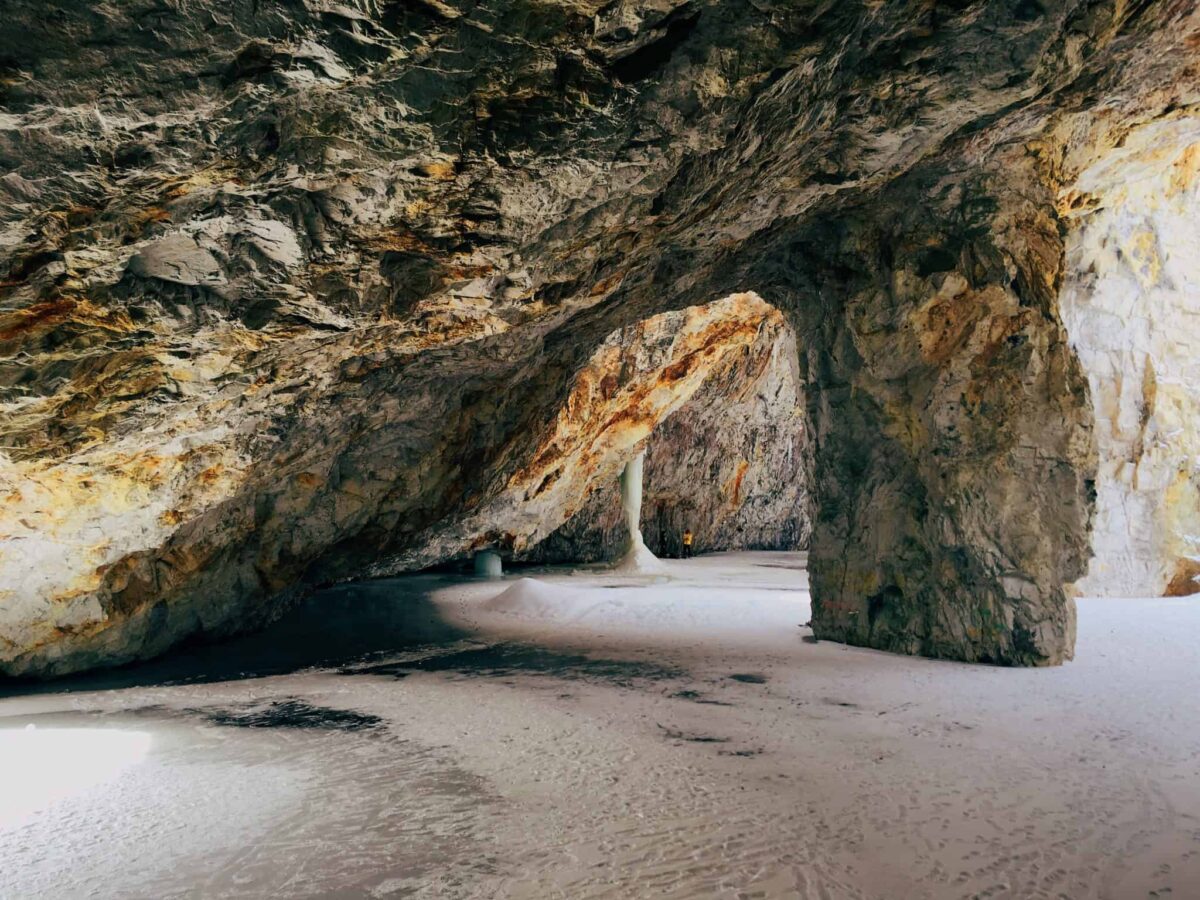 There is a car park and the caves are a short 400-meter walk from the parking lot.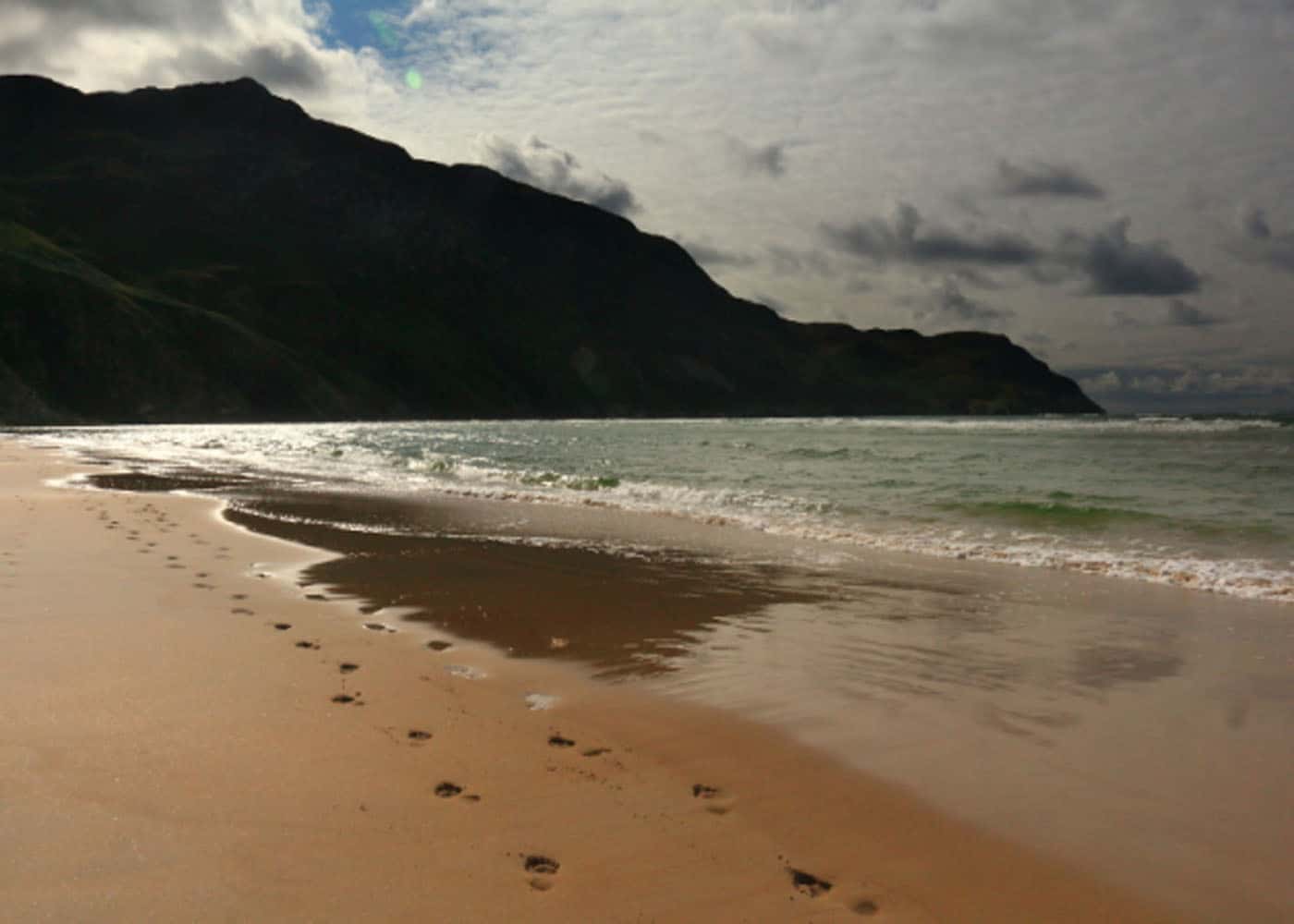 Old stories tell of a time when there was a massacre in these caves as local people hid from Cromwell's troupes, but the truth is they never came this far North and it is more likely the story dates back to Viking times.
Fintra Beach
Fintra is a sheltered sandy beach that does get a lot of tourists during the summer months and is also enjoyed by the local community.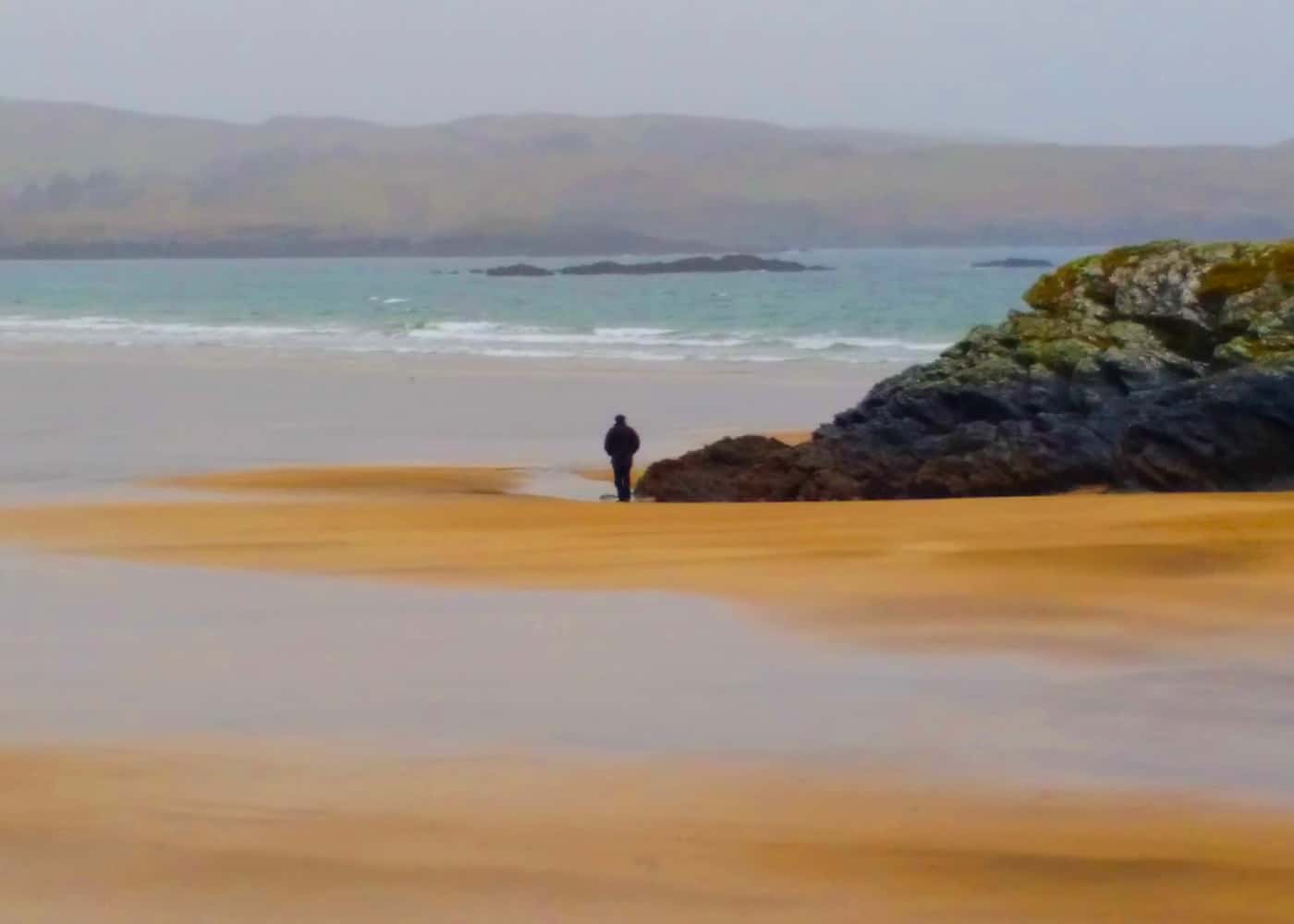 Fintra beach is short drive from Donegal Town and a beautiful sandy beach a couple of kilometres outside of Killybegs. There is a pretty steep road down to the beach but the views from here are incredible. You can see as far as Sligo with the remarkable Benbulben Mountain from the top of the hill.
Portsalon Blue Flag Beach
Portsalon Blue Flag Beach is also known as Ballymastocker Beach. This is long stretch of a white sandy beach located on the western side of Lough Swilly between Rathmullan and Fanad Head and has fabulous views towards the Inishowen Peninsula. The best views can be best seen from the viewpoint on the Knockalla coast drive. It was once voted the second most beautiful in the World by readers of the Observer Magazine.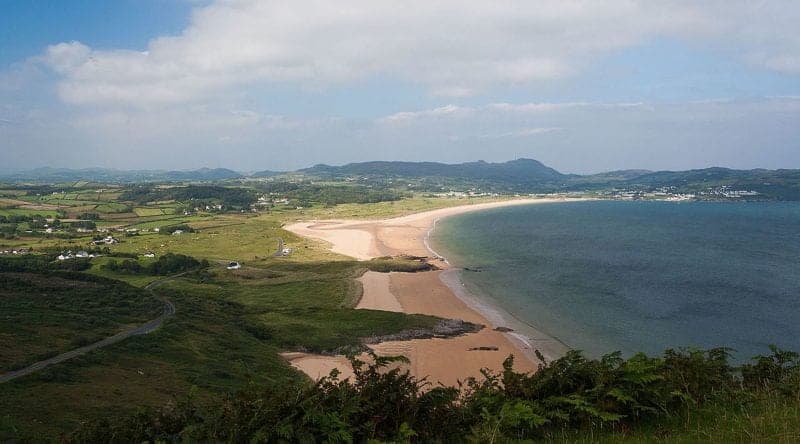 Tullan Strand and Bundoran
Tullan Strand Bundoran is a glorious golden beach that surfers flock to when the waves are high. Located on the Donegal coast in Bundoran and one of the many beaches that can be found here.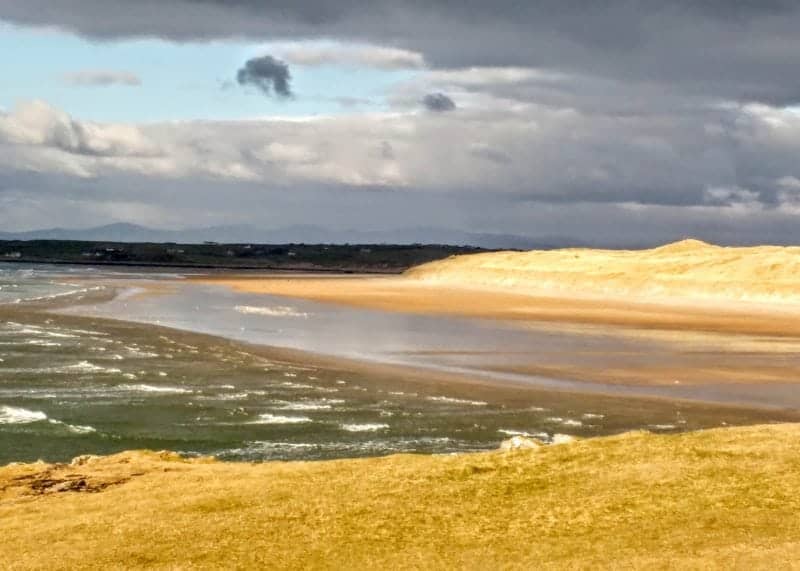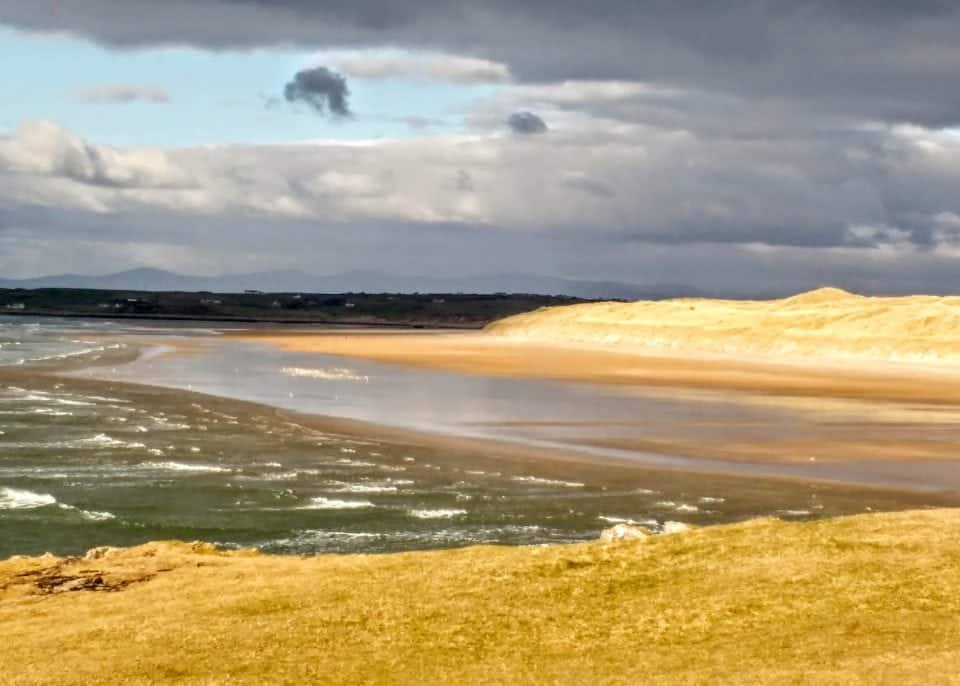 You can see County Sligo and across to Donegal and the Slieve League Cliffs which easily outstrip the Cliffs of Moher for their lack of tourists.
Bundoran is a lovely little Irish seaside village to spend some quality time in. From the Wishing Chair and Fairy Bridges at Tullan Strand to surfing on the magnificent waves, Bundoran is the perfect beach experience.
Best beach County Waterford
Trá na mBó and Bunmahon Beach
Trá na mBó can be found tucked away on the Copper Coast in Waterford on Ireland's Ancient East, not too far from Bunmahon. Bunmahon offers a spacious and well-liked beach that curves gracefully. Protected by cliffs on both sides, it attracts families and may not be as appealing to adventurous swimmers. However, a brief stroll from there to the secluded Trá na mBó is sure to be satisfying.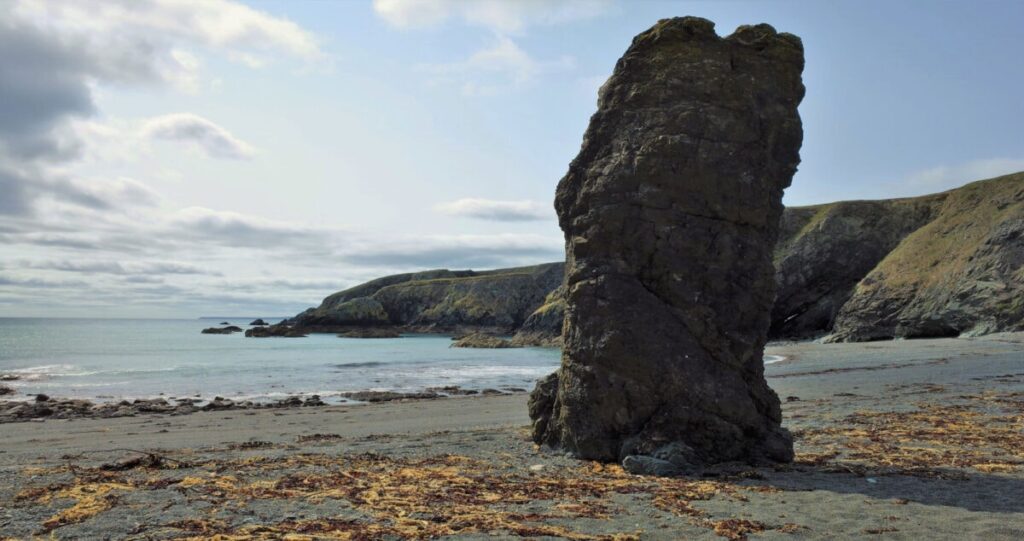 Best Beaches Ireland County Kerry
Derrynane Beach
While travelling for 5 months in our 5-berth motorhome, we made our way to Ireland. We decided to start north and drive the full outer circle around the emerald island! We were fortunate to find many beautiful places to park our home on wheels overnight. None was as beautiful and scenic as Derrynane Beach, part of the Ring of Kerry, and located in Derrynane Bay.
It's a bit tight to squeeze through the national woods but we made it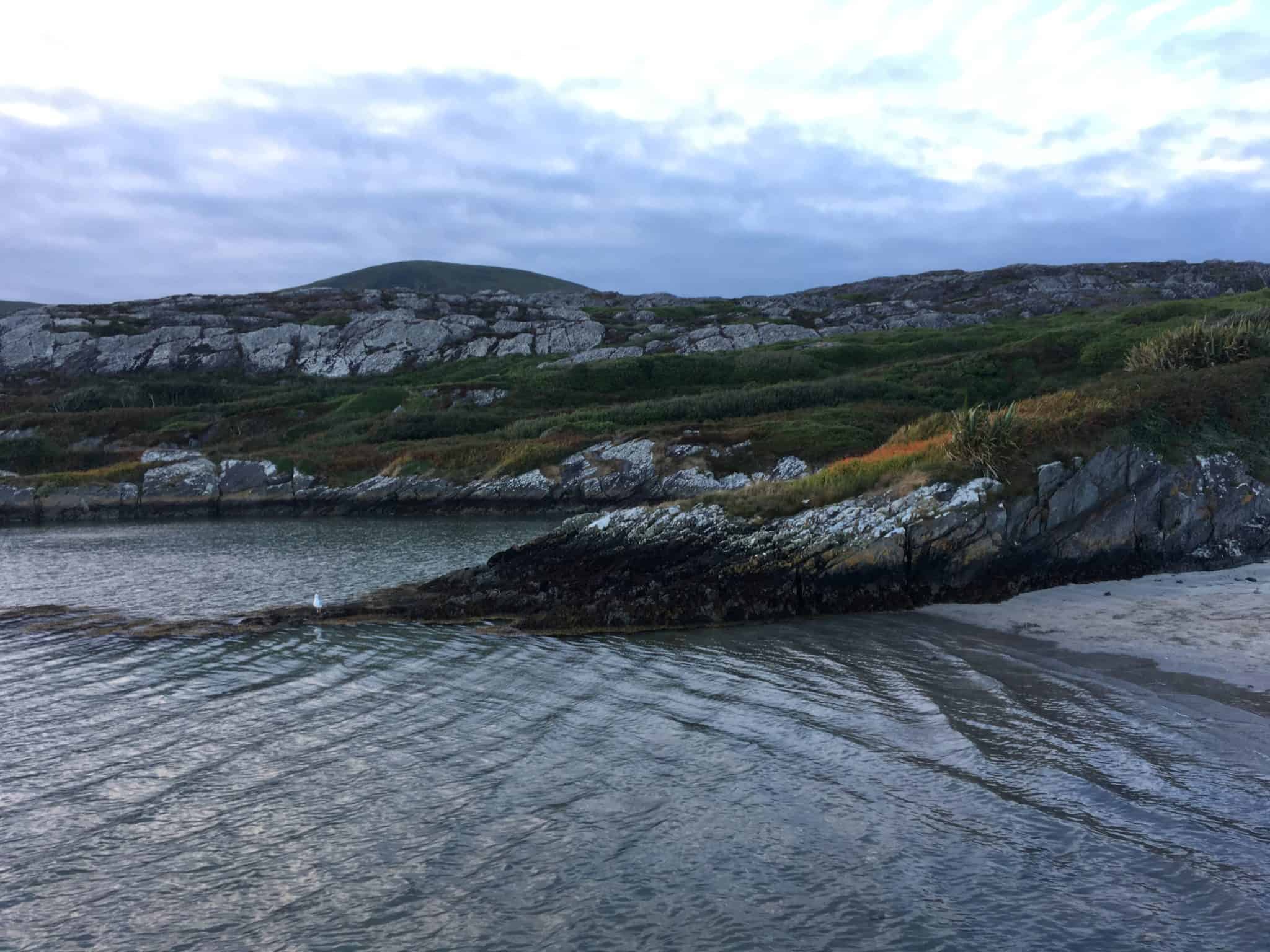 through the tunnelled forest to see the sand dunes and turquoise water open up before us! There were other campers here, in motor homes, vans, and tents. The water was chilly but many kids were screaming with delight as they splashed around! Campers were enjoying beach bonfires and beer while the small beach pub played tunes worthy of pirates everywhere!
This is a great place to unwind and unplug since you don't have any signal! Written by Maegan of the WanderlustDietician
Inch Beach
Located on the Dingle Peninsula in southwest Ireland, Inch beach is a must-visit on your tour of the best beaches in Ireland.The main attraction of Inch or An Inse is its stunning Blue Flag beach. A vast and windswept sand dune system extends along this breathtaking sandbar as it stretches towards Rossbeigh Beach and the northern coast of the Iveragh Peninsula, presenting a splendid panoramic view.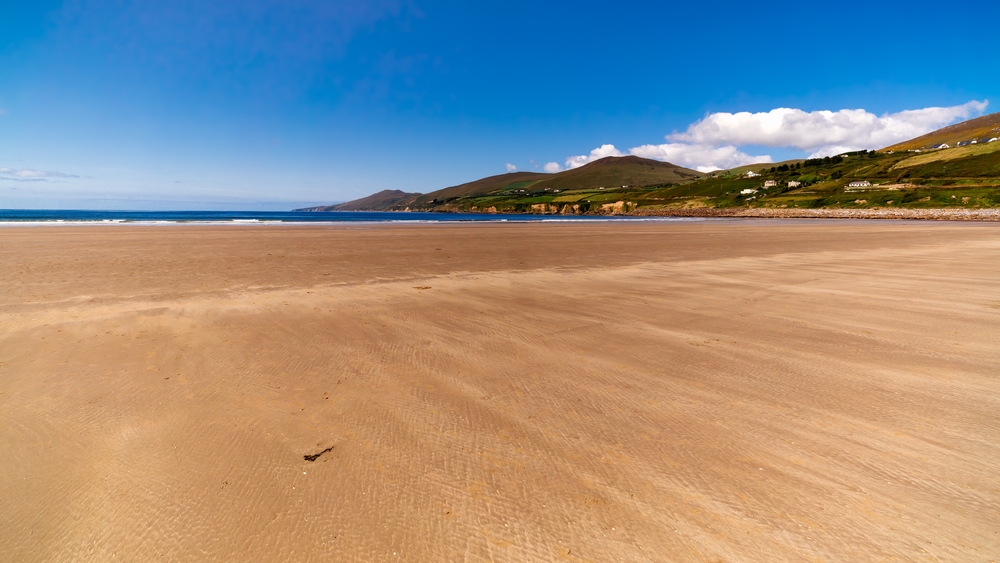 Coumeenole Beach
Beautiful and dramatic this small cove catches the full force of the Atlantic and strong currents make it unsafe for swimming. Coumeenole is renowned as one of the most famous beaches in the Dingle Peninsula. Recognized as a filming spot for Ryan's Daughter, this destination is frequently visited by travelers exploring the Slea Head Drive.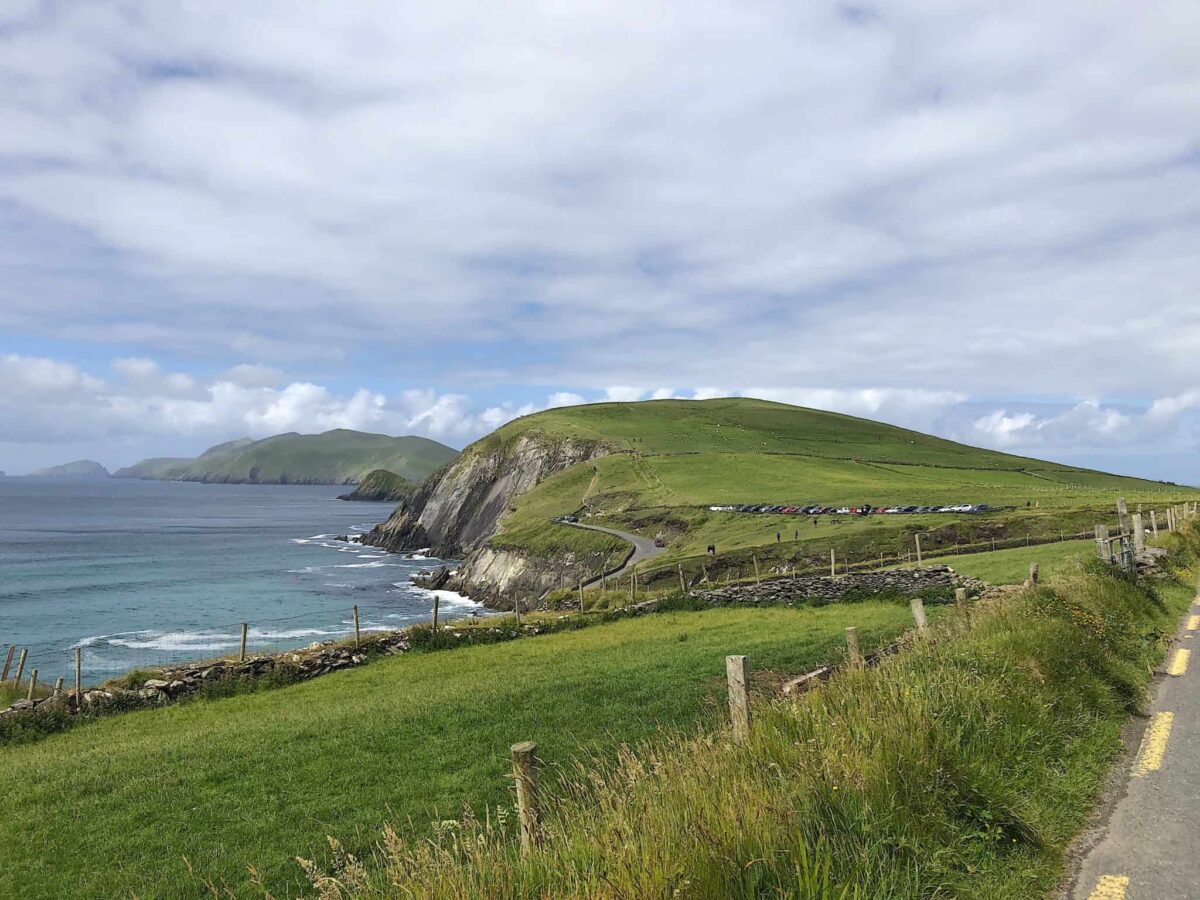 With crashing waves, majestic cliffs, refreshing sea mist, and immaculate sandy shores, this location serves as an idyllic retreat from the outside world. A parking area awaits atop the cliffs, with a steep descent down a narrow road – just remember, the climb back up is required!
Every direction that you look, there's a beautiful view either out to the sea and the Blasket Islands or to the green countryside dotted with grazing white sheep. The pace is slow which makes it feel relaxed. The best thing about Dingle is the friendly locals. Make sure to visit a local pub for a "pint Guinness" for a real taste of the culture. Taking a tour (don't attempt to drive on this road) around the Dingle Peninsula is a must- the sites and views are remarkable. It's no wonder why Dingle is many people's favourite Irish seaside town.
The Slea Head Drive is an epic road trip where you will see Dingle, beehive huts, gorgeous beaches and views that will take your breath away. Written by Whitney of GoFam Travel, a Family Travel Blog
Banna Strand Beach, Tralee
Banna Beach is 7 miles North West of Tralee. A perfect beach for children it stretches for miles with gorgeous views of the surrounding mountains. This is a walker's paradise with amazing views to Kerry and Dingle and out to sea where Mucklaghmore Rock lies. The sand dunes are a designated conservation area with rare plants and animals. It's is a popular surfing spot with surfing lessons and summer camps.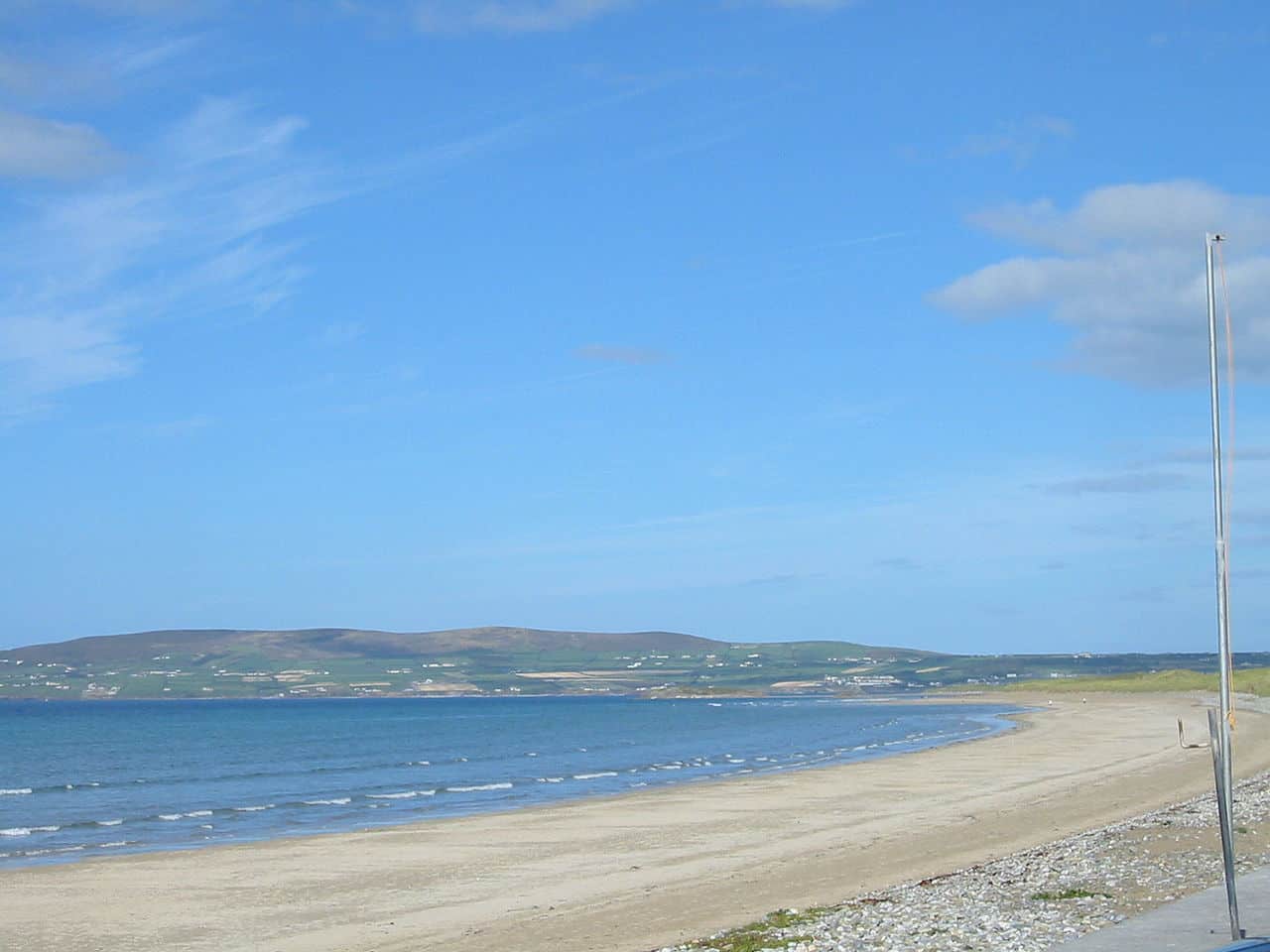 The picturesque village of Ardfert is nearby and you can visit the Ardfert Cathedral and Friary. Lot's to do with many restaurants and coffee shops plus of course great Irish ice cream.
Best Beaches Ireland County Galway
Dog's Bay Beach and Gurteen Beach
If you're looking for beautiful white sand, turquoise blue water, and a distinct lack of tourist crowds while searching for the perfect Irish beach, then you can't go wrong with Dog's Bay and Gurteen Beach.
Located in the wild Connemara region in County Galway, just a few kilometres outside of the fishing village of Roundstone, Dog's Bay beach is one of the best-hidden gems in this already under-visited corner of Ireland. It is easiest to reach this beach by car, where parking is free (which is great if you're visiting Ireland on a budget!) and it is only a short walk to the beach.
Dog's Bay and Gurteen Bay Beaches were in the news recently for being named by the Lonely Planet Guide as one of the top 10 beaches in Ireland. Described as "separated by a dog-bone shaped sand spit and tombolo are the golden sands of Gurteen Bay and Dog's Bay, made up of dazzling white sand.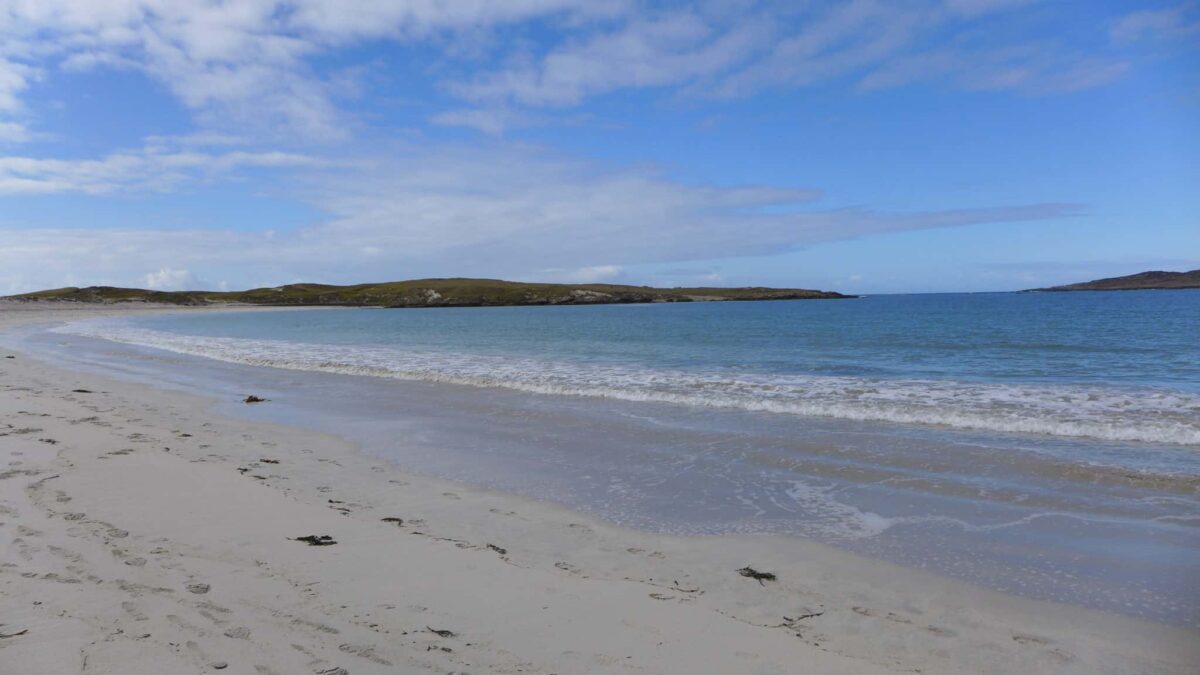 Despite the fact that it is one of the most beautiful beaches in the entirety of the Emerald Isle, it is more frequented by locals and it is entirely possible that you have the entire stretch of sand all to yourself — especially if you are travelling outside of peak season.
Dog's Bay is also located just off the main road en route to the biggest town in Connemara, Clifden, so it is a great stop if you're planning on driving the famous Sky Road in the same day.
All in all, if you're looking for the best beach in Ireland, Dog's Bay beach might very well be it. Written by Maggie Turansky of TheWorldWasHereFirst
Best Beaches County Cork
Barleycove Beach, Schull
Barleycove is a large beach backed by sand dunes. These days the dunes are partially eroded but are protected land with the European Designated Special Areas of Conservation.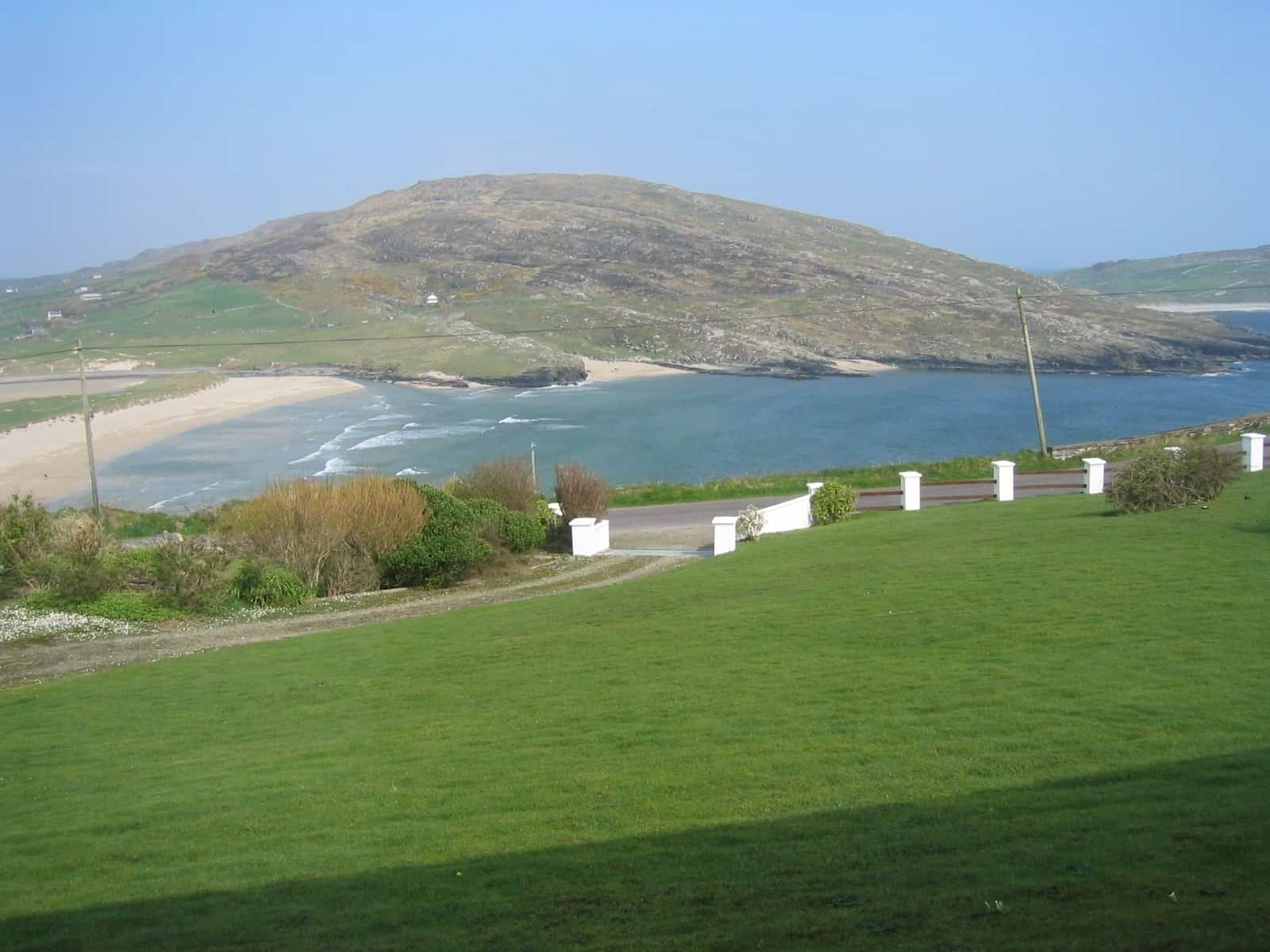 It is a very remote beach that is accessed by a floating bridge to the car park. Very safe for swimming there is a lifeguard during the summer months.
Inchydoney Beach and Island
Easily the best beach in Cork the Wild Atlantic Way Discovery Point known as Inchydoney Blue Flag Beach located near Clonakilty in West Cork has garnered recognition from international travelers as Ireland's top beach, as voted on TripAdvisor multiple times, most recently in 2019. It has been praised as a picturesque and untainted destination.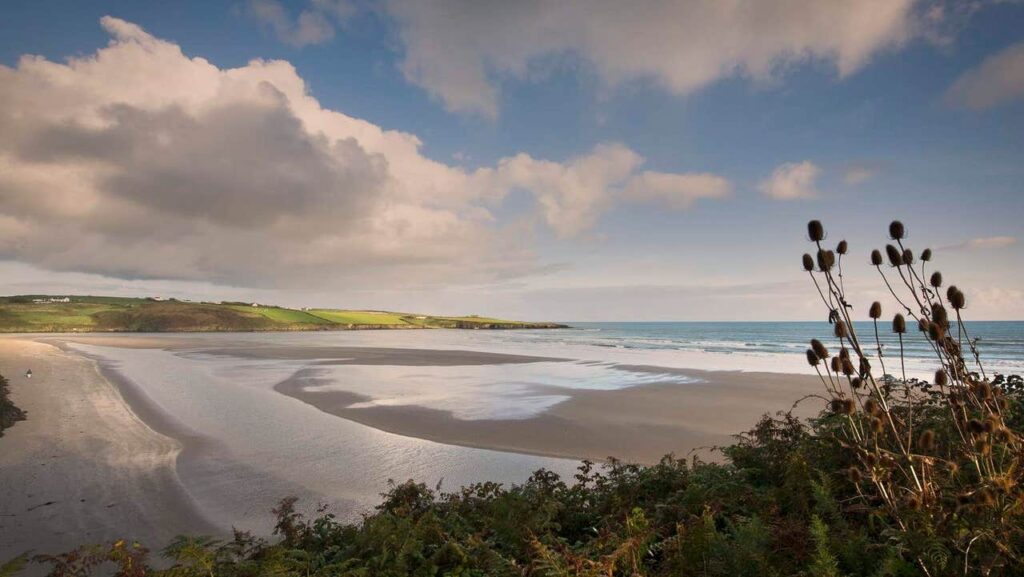 This beach is particularly popular among surfers, and there is a surf school at the beach that offers rental services for surfboards and wetsuits. During the summer months, lifeguards are present to ensure safety. Visitors will find amenities such as a public parking lot, restrooms, and access to the beach through ramps and steps.
Best Beaches Ireland County Wicklow
Brittas Bay
This beautiful beach is actually split into two parts, north and south. Both are incredibly popular with sun-seekers on the eastern seaboard, with sand dunes stretching over 100 hectares. With its 5km of white sandy beach and its designation as a proposed Special Area of Conservation (SAC). It is an area of ecological importance and habitats of interest include sand dunes, ferns and grassland areas.
Brittas Bay also makes a great break from visiting Glendalough or seeing all the HBO Vikings sites in the Wicklow Mountains.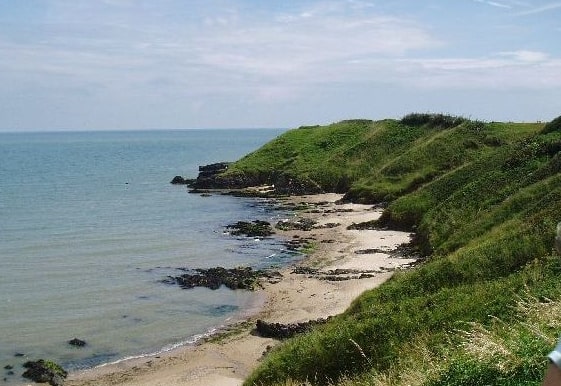 There is so much to choose from when looking for a beach in Ireland. From the magnificent Wild Atlantic Way beaches to the beaches on the Causeway Coastal route of Northern Ireland. When you are in the North of Ireland look for Whiterocks Beach, Benone Strand near Derry, Ballycastle Beach, Port Stewart and Port Rush you will absolutely be spoiled for choice.
You might also like
Cliffs of Slieve League the magnificent sea cliffs of Donegal
Glencolmcille the rugged soul of Donegal
What's your favourite Irish beach?