42 best places to go glamping in Ireland
Glamping in Ireland can be anything from Safari tents to yurts, eco-cabins to pods there are so many options to go glamping and camping in Ireland you will be spoilt for choice.
Glamping is one of those trendy words that simply combines camping with glamorous. Meaning levels of luxury not associated with a leaky tent and sleeping on rocky ground in an unpadded sleeping bag. Places to go glamping these days are found in a myriad of sites across Ireland and can include romantically styled yurts with fairy lights and wood stoves, bubble domes where you can see the stars or Northern lights to vintage VW vans or wooden caravans, tipis and hobbit holes.
Xyuandbeyond is reader-supported. When you buy through links on our site, we may earn an affiliate commission. You can read my privacy policy here.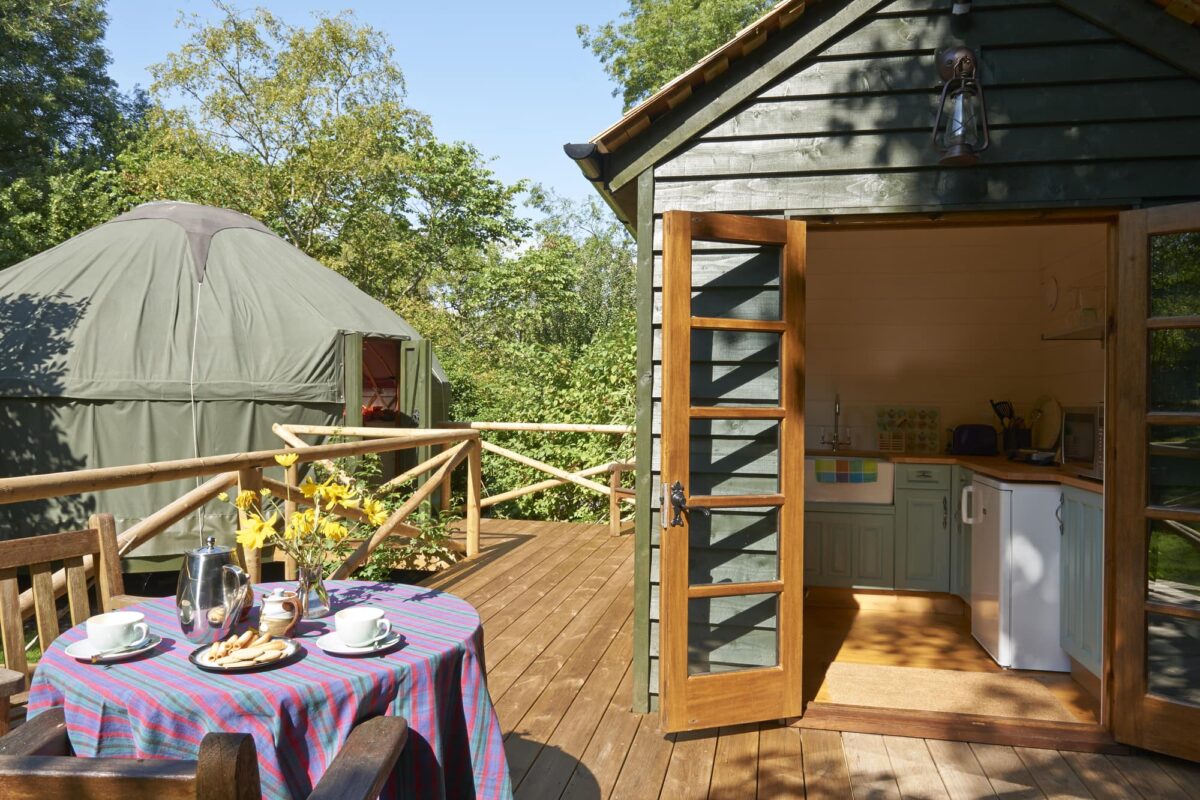 Glamping sites in Ireland can include loads of things for kids to do from clubs to aqua parks. Even grown-up adults only have beautiful swimming pools or spa facilities nearby and most sites are self-catering. Several glamping sites will include a luxurious glamping experience with hot tubs and saunas or swimming pools. So if you plan on glamping in Ireland make sure you check the facilities, there is nothing worse than stumbling out of a yurt and attempting to find the washrooms on a dark Irish night.
Camping and glamping in Ireland you will be spoilt for choice. Glamping has become increasingly popular in Ireland as a luxurious alternative to traditional camping. Many glamping sites in Ireland offer unique accommodations such as yurts, treehouses, and eco-pods. These glamping locations often provide guests with stunning views of the Irish countryside or coastline while still maintaining all of the amenities of a hotel.
For those looking for adventure, many glamping spots also offer activities such as kayaking, water sports, and hiking. Some even have access to nearby beaches where guests can enjoy water activities like swimming and surfing. With such a wide variety of glamping options available, it's no surprise that many visitors to Ireland are choosing to embrace this trend and experience the natural beauty of the country while enjoying all of the comforts of a luxury stay.
I have listed my top 38 picks for glamping in Ireland below, hopefully, there is one here to suit you.
42 of the Best places to go glamping in Ireland
Glamping Northern Ireland
Orchard Luxe Glamping Pod: County Tyrone
Orchard Luxe Glamping Pod is a sustainable luxury tent in Dungannon, where guests can make the most of its garden and barbecue facilities. This property offers access to a terrace and free private parking. On clear days, guests can head outside to enjoy the luxurious glamping tent's outdoor fireplace or simply kick back and relax. The luxury tent comes with a TV. The kitchenette is equipped with a microwave, a toaster and a fridge, as well as kettle. The luxury tent offers bed linen, towels and daily maid service. Guests at the luxury tent can enjoy a continental breakfast. The luxury tent has a picnic area where you can spend a day out in the open. Saint Patrick's Catholic Cathedral is 10 km from Orchard Luxe Glamping Pod, while Saint Patrick's Church of Ireland Cathedral is 10 km away. The nearest airport is Belfast International Airport, 59 km from the accommodation.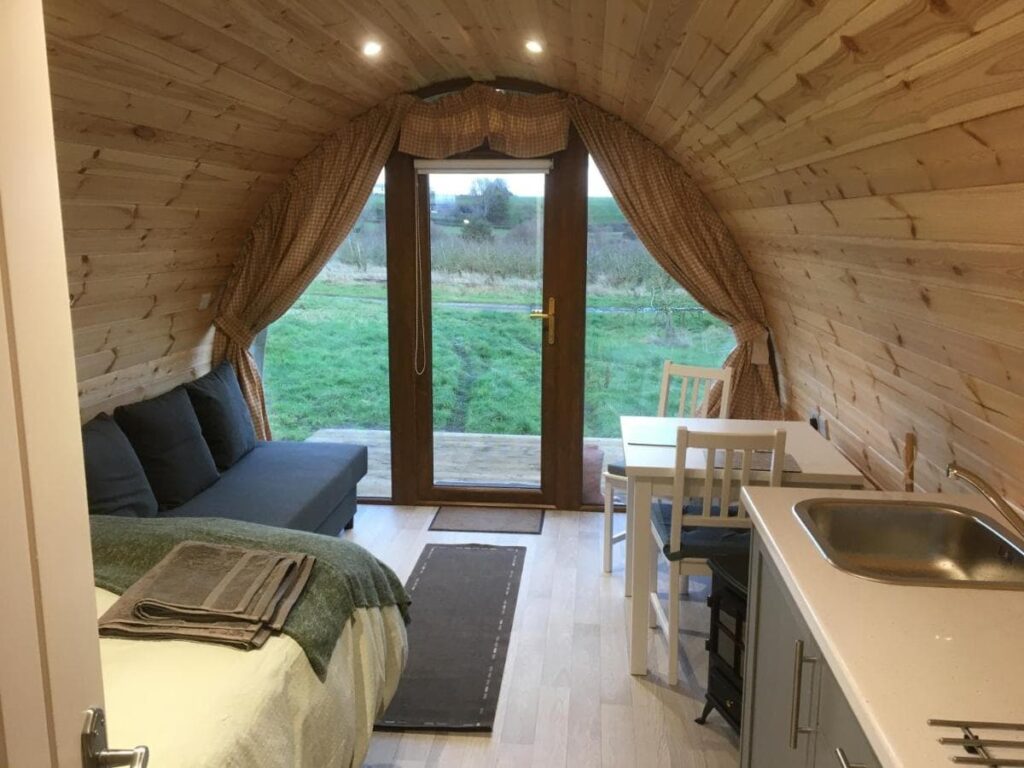 Rathlin Glamping Pods: Rathlin Island
Want an alternative to hotels? Then Rathlin Glamping pods are for you. Each beautiful pod can sleep up to 4 people and has its own ensuite. Now that's my kind of camping, and the views of the Sea of Moyle are outstanding.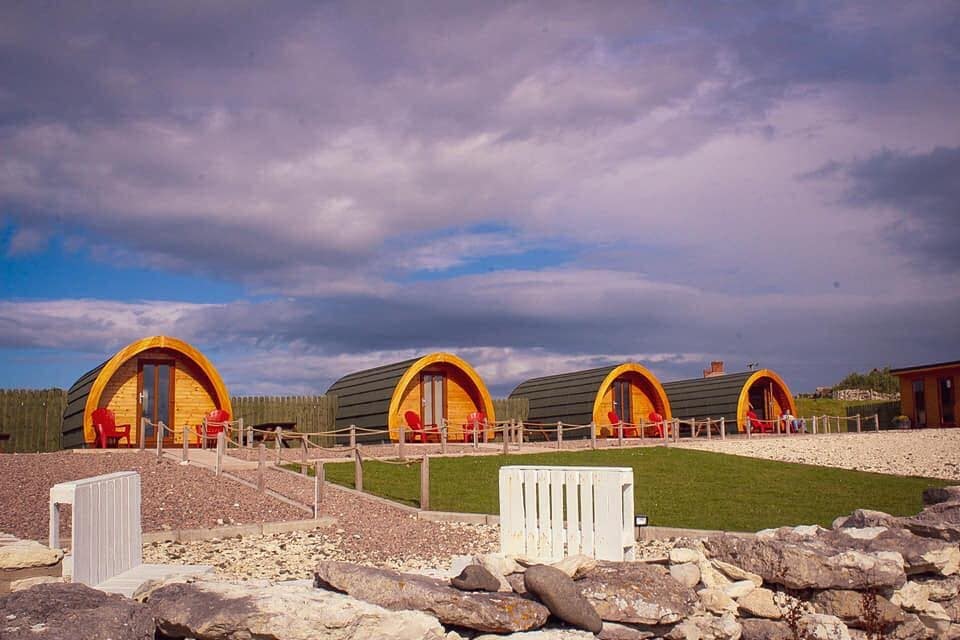 Bluebell Lane Glamping: County Armagh
Near the Ring of Gullion, an Area of Outstanding Natural Beauty Bluebell Lane is situated in 26 acres of native woodland. There is a fully fitted communal kitchen, playparks for the kids, and lots of walks nearby. This gorgeous Shepherds Hut sleeps 2 and has a full bathroom. You could also glamp in a converted double-decker bus.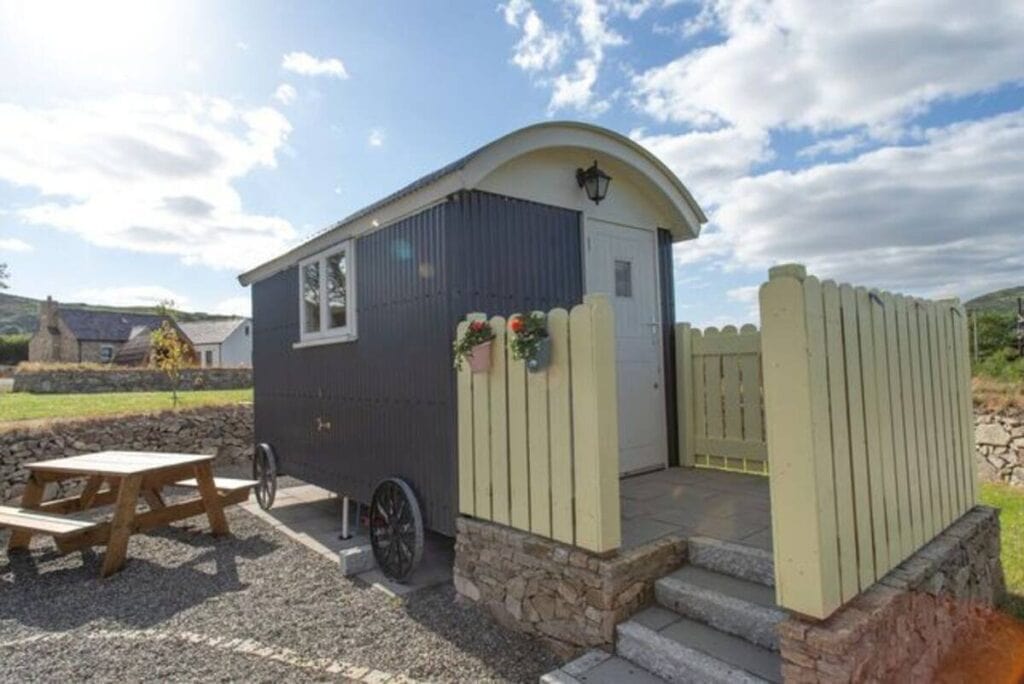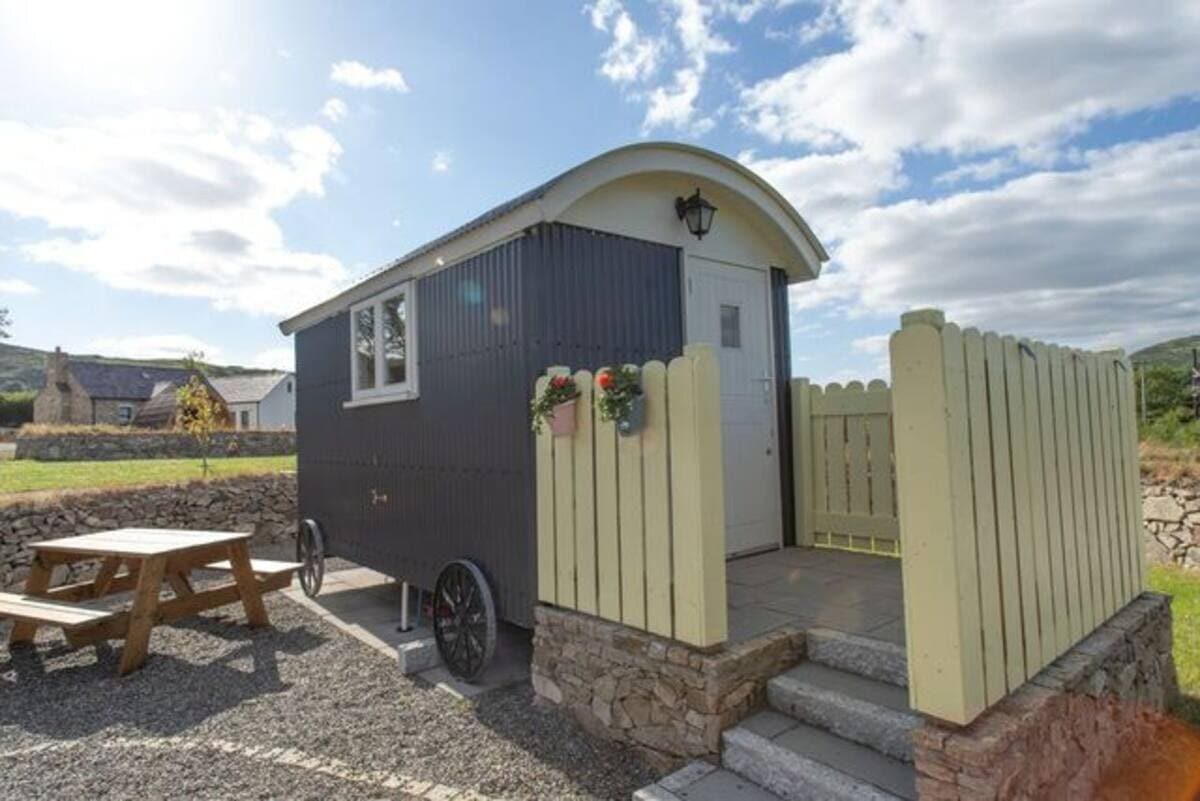 Glenarm Castle: County Antrim
Within the grounds of the historic 17th century Glenarm Castle you can stay at some luxuriously decorated Glamping pods which offer ocean or woodland views. Each pod is individually decorated and includes luxurious beds and bedding as well as an en suite. A short drive to Belfast, the Causeway Coast route with attractions like the Gobbins and Carrick-a-rede rope bridge this is luxury glamping at its finest.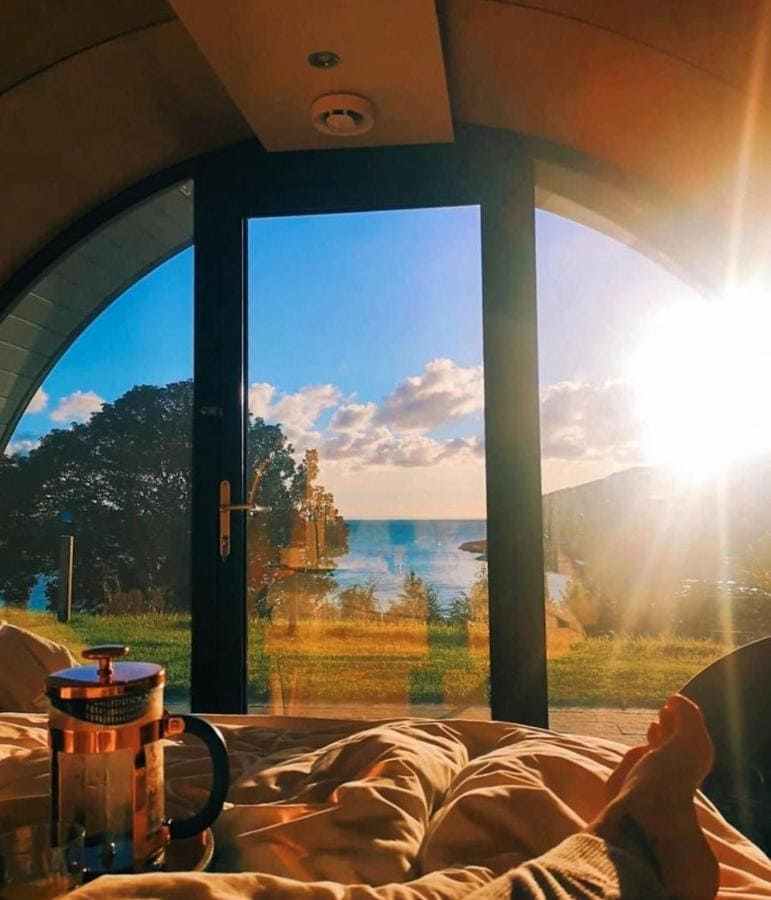 1952 Saurer Swiss Army truck: County Antrim
A Swiss Army truck that has been brilliantly renovated and adapted for a sleeping space complete with a log burner. There is a sun deck and sauna and shower room and the truck's name is Myrtle.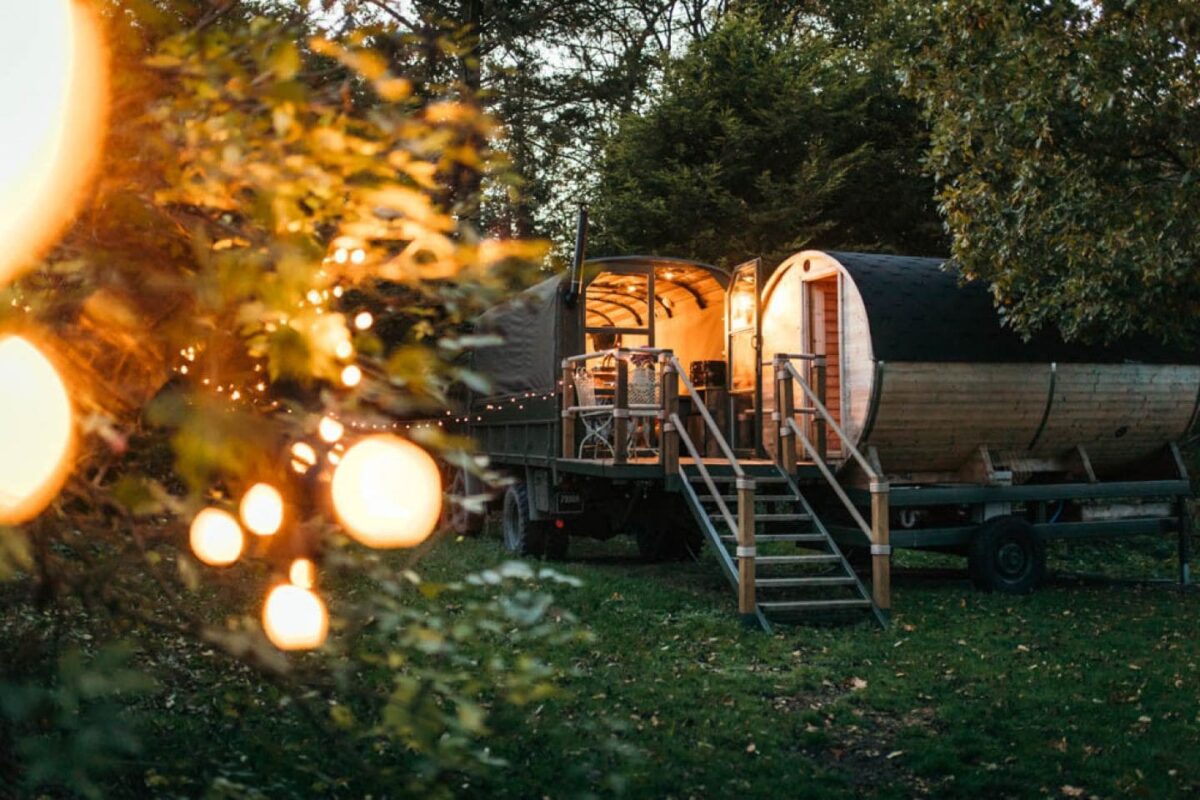 Seal Cabin: Strangford, County Down
Strangford holds a special place in the hearts of locals and has been cherished by families and friends for many years. Tucked away on the outskirts of Strangford village, Seal Cabin offers a serene escape from the constant hum of the internet and the distractions of television. This secluded retreat provides the perfect opportunity to unwind and reconnect with nature.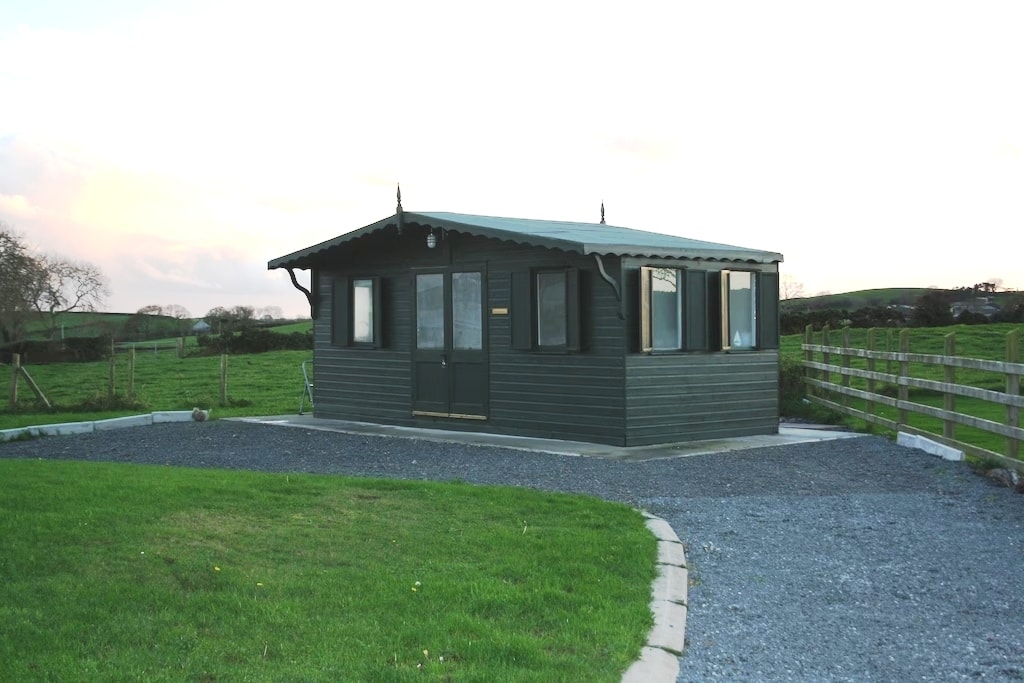 Nestled by the seaside, Seal Cabin exudes a cozy and intimate atmosphere. It accommodates up to four people, making it ideal for a small group or family. The open plan living space ensures that every corner of the cabin offers breathtaking views of Strangford Lough, with the Irish Sea stretching out beyond.
Greenview Glamping Pods: County Louth
Located in the picturesque town of Bannvale, just a stone's throw away from the historic Carlingford Castle and the enchanting Proleek Dolmen, you'll find Greenview Glamping Pods. This charming accommodation option is nestled amidst a lush garden, providing a serene escape for its guests. Conveniently, the property also offers free private parking for those traveling by car.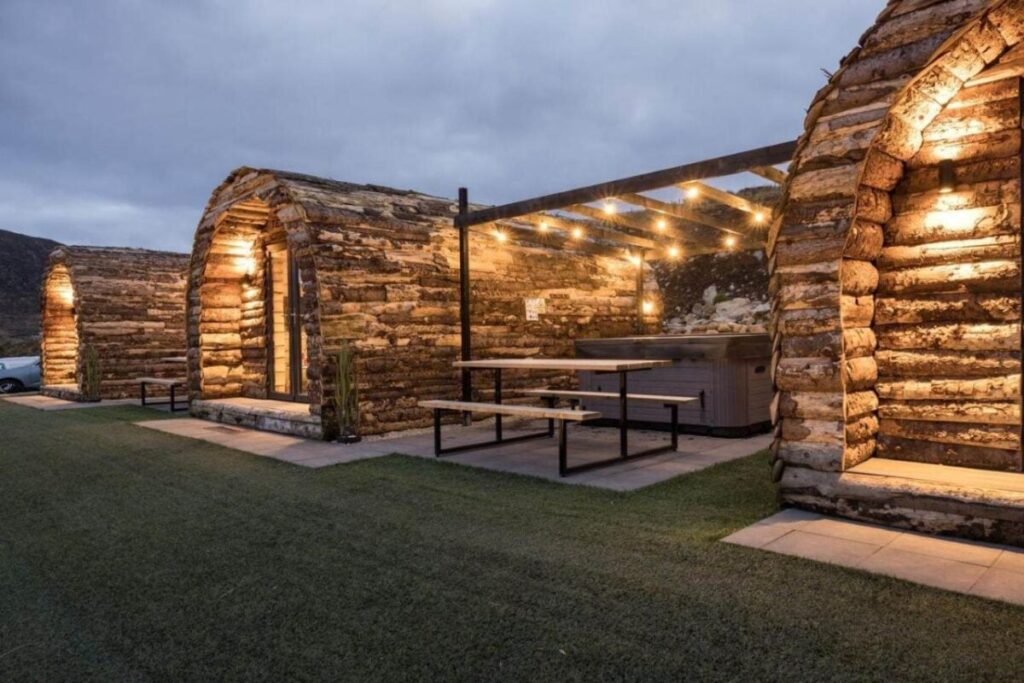 Greenview Glamping Pods offers breathtaking views of the surrounding mountains, creating a truly immersive and awe-inspiring experience. In addition to its natural beauty, the property is situated a mere 39 km away from the renowned Louth County Museum, allowing guests to easily explore the area's rich cultural heritage. For those seeking spiritual solace, The Cathedral of Saint Patrick and Saint Colman is a mere 18 km away, providing a tranquil sanctuary.
Finn Lough Forest Domes: County Fermanagh
One of the most unique glamping pods in Ireland can be found at Finn Lough, the 180-degree glass dome comes heated with an en suite, bathrobes, and a view of the stars that can't be beaten. There is a coffee machine and on-site you will find a spa, lots of watersports and a fabulous restaurant.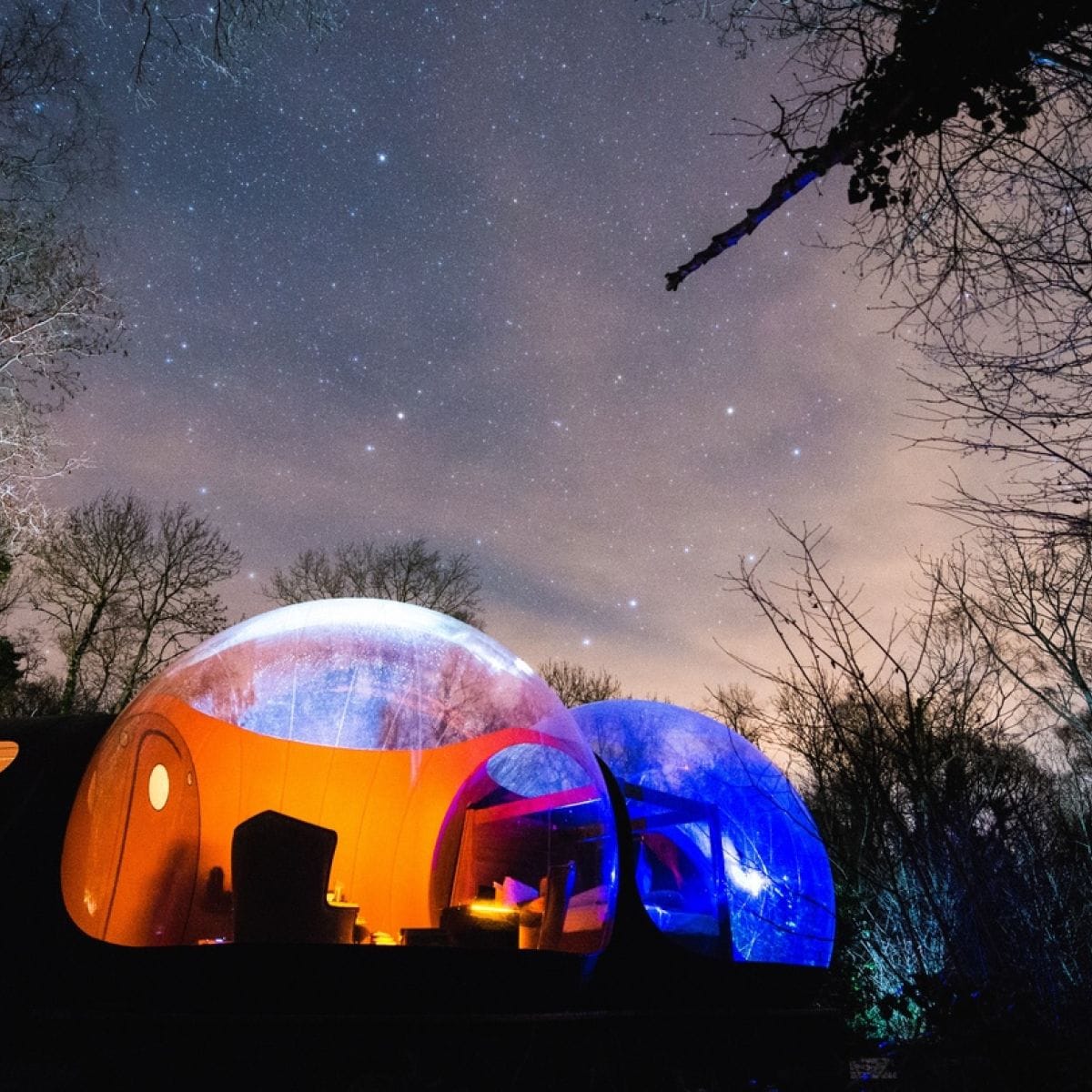 Glamping in Ireland
The Fox Pod: Killaloe, County Clare
The Fox Pod is one of two luxurious timber frame structures known as Pods, situated on a scenic area of a family farm which is perfect for family glamping. These Pods offer breathtaking panoramic views of the rural countryside, adorned with rolling hills and lush green fields. Each Pod boasts a patio area outside, inviting guests to unwind and embrace the fresh air, tranquility, and natural beauty of the surroundings.
Inside, the Pods are thoughtfully equipped with a convenient kitchenette area, featuring a mini fridge/freezer, kettle, toaster, microwave, sink, and all the necessary crockery and utensils for a comfortable stay. Additionally, each Pod includes a private en-suite facility complete with a toilet, sink, and shower, ensuring utmost convenience and privacy for guests.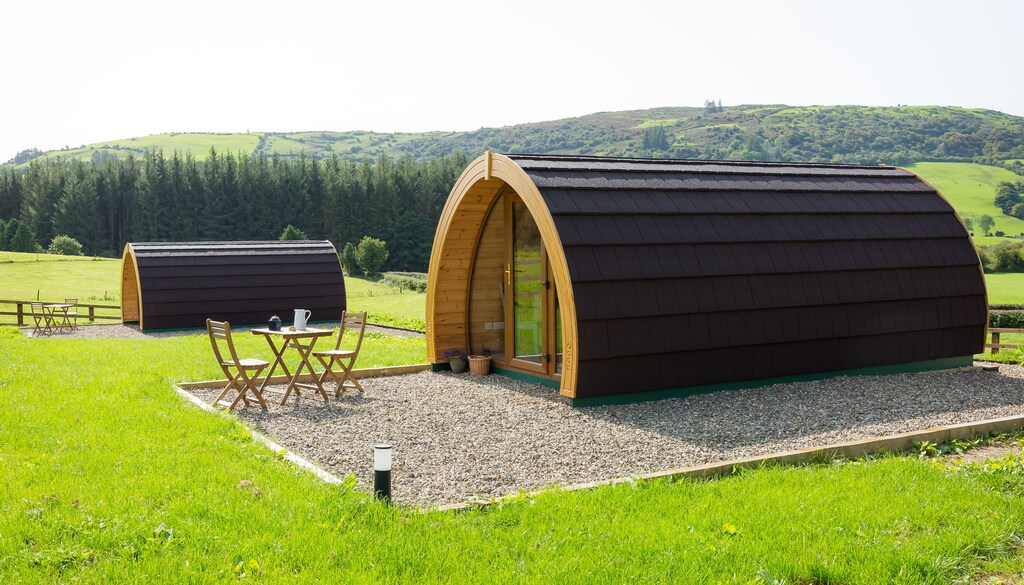 The family farm is conveniently located near the charming village of Kilbane, which is home to a traditional rural pub, offering a taste of local hospitality. Just a short 5-kilometer drive away lies the village of Broadford, where guests can find two additional pubs and the renowned "Country Store." This local gem not only houses a restaurant and bakery but also provides a variety of essential goods.
For those seeking further exploration, the picturesque town of Killaloe awaits. Nestled along the banks of the River Shannon on the western side of Lough Derg, Killaloe is connected by a bridge to its "twin town" of Ballina on the opposite bank. This idyllic setting offers a delightful backdrop for leisurely strolls, scenic boat trips, and memorable experiences.
Wildflower Glamping: County Cavan
You can glamp in the Daisy Yurt the Wild Rose Wagon, a Hobbit Hut, a Shepherds hut, a caravan and the Foxglove Tent.
All overlooking the beautiful Cavan countryside with amazing views of the sunset in the evening. Where you can sit outside on the deck with a glass of wine and enjoy the beautiful red & orange skies.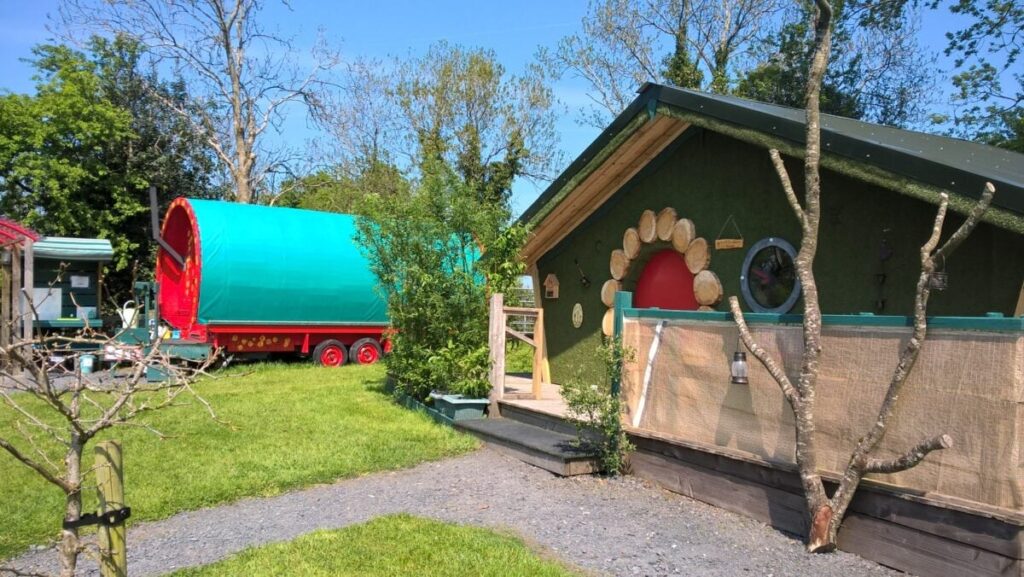 'The Lookout' is a communal area. There are two large 6ft picnic tables and seating Areas inside. The Lookout is weather proof and perfect for chilling out in on those rainy days. There are two communal fridge/ Freezers, and a Microwave, some kids Board Games, Toys and Books. All the windows over look the stunning countryside .
The Accommodation units each have their own kitchen areas. The Hobbit Hut & Sheperds Hut have a kitchen shed located next to their unit, and each Unit has two gas camping stoves, kitchen sink with running water and storage area for your food.
Luxury Safari Tents: Connemara
If you're yearning for the camping experience but prefer the comfort of a real bed, then look no further. This glamping site offers a luxurious retreat under canvas with spacious safari tents and each of the four tents features three bedrooms, accommodating up to six adults comfortably. Complete with en-suite bathrooms, its own living/dining room and kitchen area equipped with a 2-ring induction hob and fridge freezer. Unwind on your verandah, savoring a refreshing drink as you take in the distant sea views. Additionally, there are USB points in each tent for convenient device charging.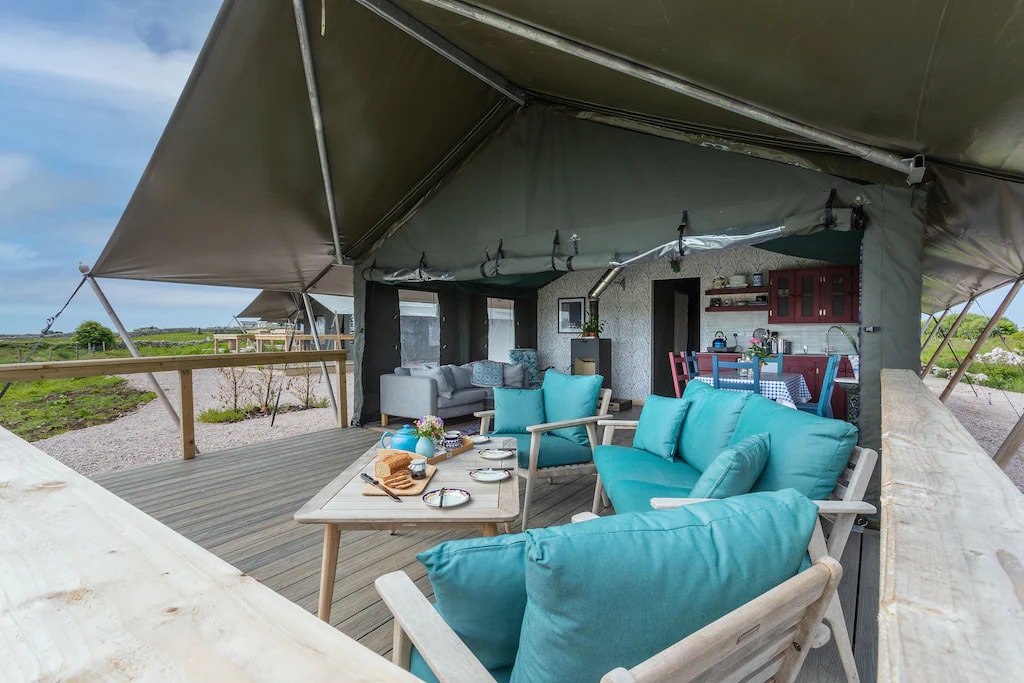 Nestled in the heart of Irish culture, South Connemara is an area where the Irish language flourishes, immersing you in an authentic cultural experience. A short stroll away, you'll find a safe and sandy beach the site also provide fantastic opportunities for walking, both on-road and off-road cycling trails, fishing, and golf, all just a short drive away. In less than five minutes, you can reach the ferries or planes to the Aran Islands.
The location allows for convenient day trips to nearby attractions. Explore the breathtaking landscapes of Connemara, the unique wonders of the Burren and the Cliffs of Moher, or visit notable sites like Kylemore Abbey, Patrick Pearse's cottage, Connemara National Park, Clifden and the Sky Road, Killary Fjord, Cong, and Ashford Castle. If you're in the mood for a beach outing, Roundstone and Dog's Bay beckon with their sandy shores.
Carrowmore-Lacken: County Mayo
Relaxing luxury getaway Glamping Pods with spectacular views, get away from it all and unwind with a nice walk or swim in the ocean, or a little stargazing , fully en-suite one bedroom with double bed Glamping pod with separate sitting room/ kitchen with double sofa bed ( can sleep up to 4 people) with smart TVs and WiFi.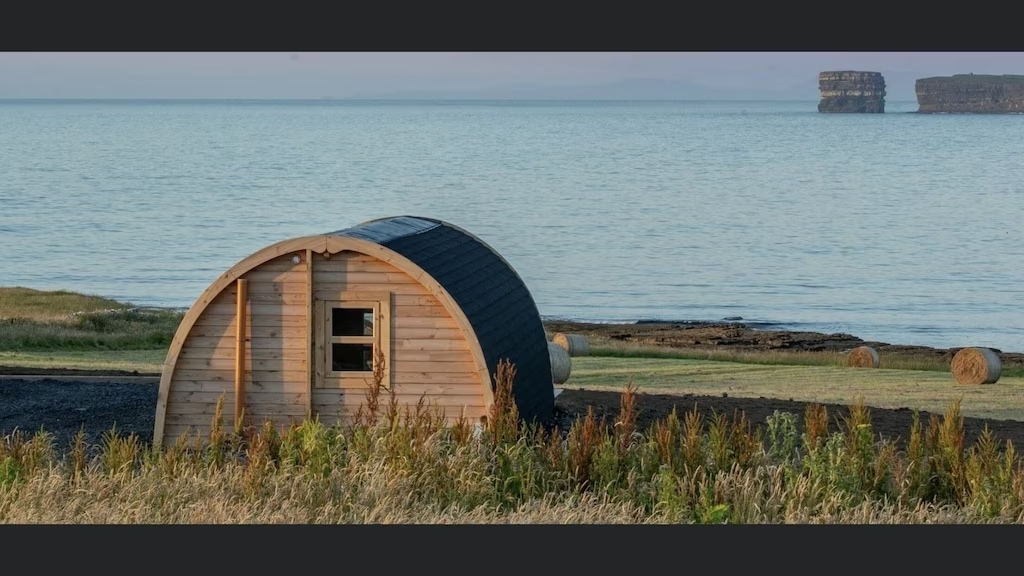 Coolaness Glamping Pods: County Donegal
43 km from Donegal Golf Club in Irvinestown, Coolaness Glamping features accommodation with access to a hot tub and beauty services. This property offers access to a terrace, free private parking and free WiFi. The campground consists of 1 separate bedroom, 1 bathroom with bathrobes, a seating area, and a living room. Guests can take in the views of the mountain from the balcony, which also has outdoor furniture. A selection of options including fresh pastries, pancakes and fruits is available for the continental breakfast. The campground has a picnic area where you can spend a day out in the open. Beltany Stone Circle is 46 km from the campground. The nearest airport is City of Derry Airport, 82 km from Coolaness Glamping.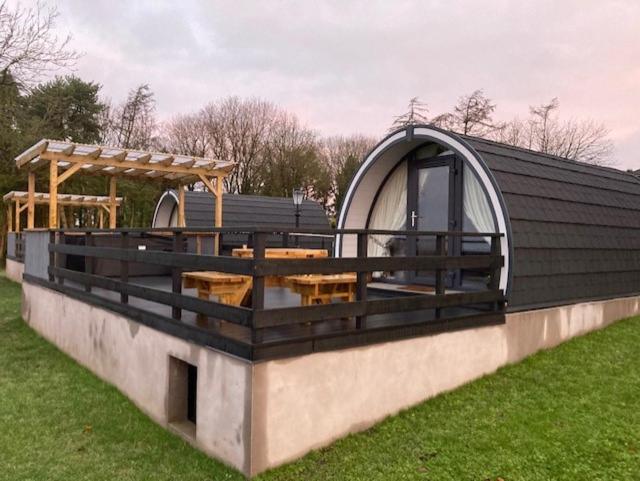 Teapot Lane: County Sligo
Teapot Lane glamping is an adults only sustainable luxury glamping ground in Sligo on the Wild Atlantic Way, where guests can make the most of its garden and terrace. Perfect for romantic glamping as it is adults only. There is private parking is available on site at this recently renovated property. The property is non-smoking and is located 20 km from Lissadell House. The kitchen is equipped with a microwave, a fridge and kitchenware, as well as coffee machine. There is also a seating area and a fireplace. Available daily, the breakfast at the property includes continental dishes along with a selection of fresh pastries and juice. Guests can take advantage of the warm weather with the property's barbecue facilities.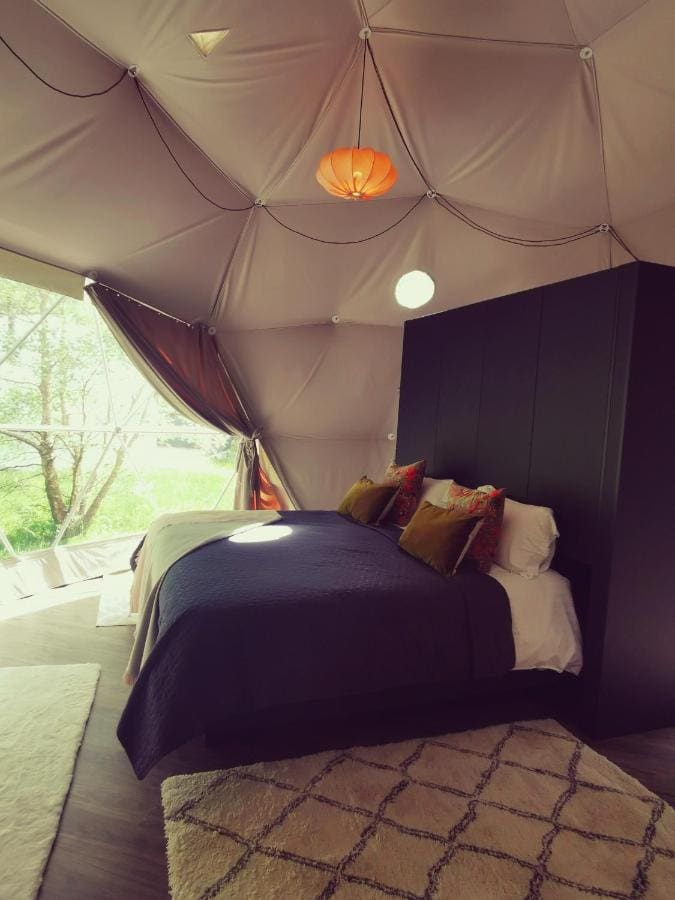 South Kerry Glamping Pods: County Kerry
The Pod is a unique glamping experience. Small but perfectly formed, space incorporates a luxurious double bed, shower room, kitchenette, and couch inside. With a large deck for sitting out and BBQ, these perfect pods are found in Cahersiveen where you can explore the Ring of Kerry at your leisure.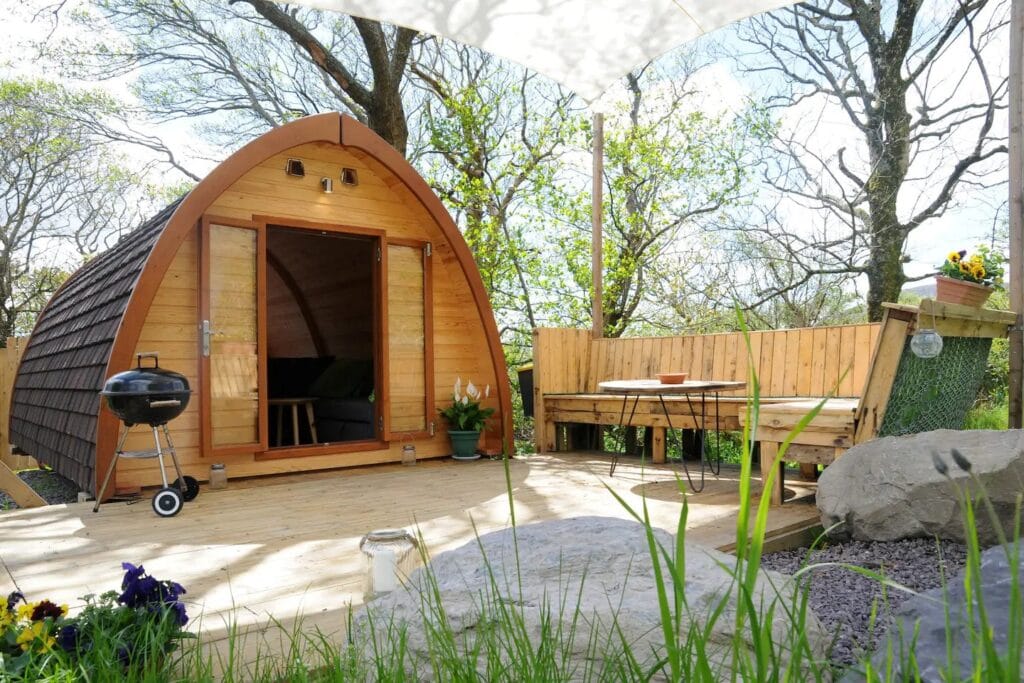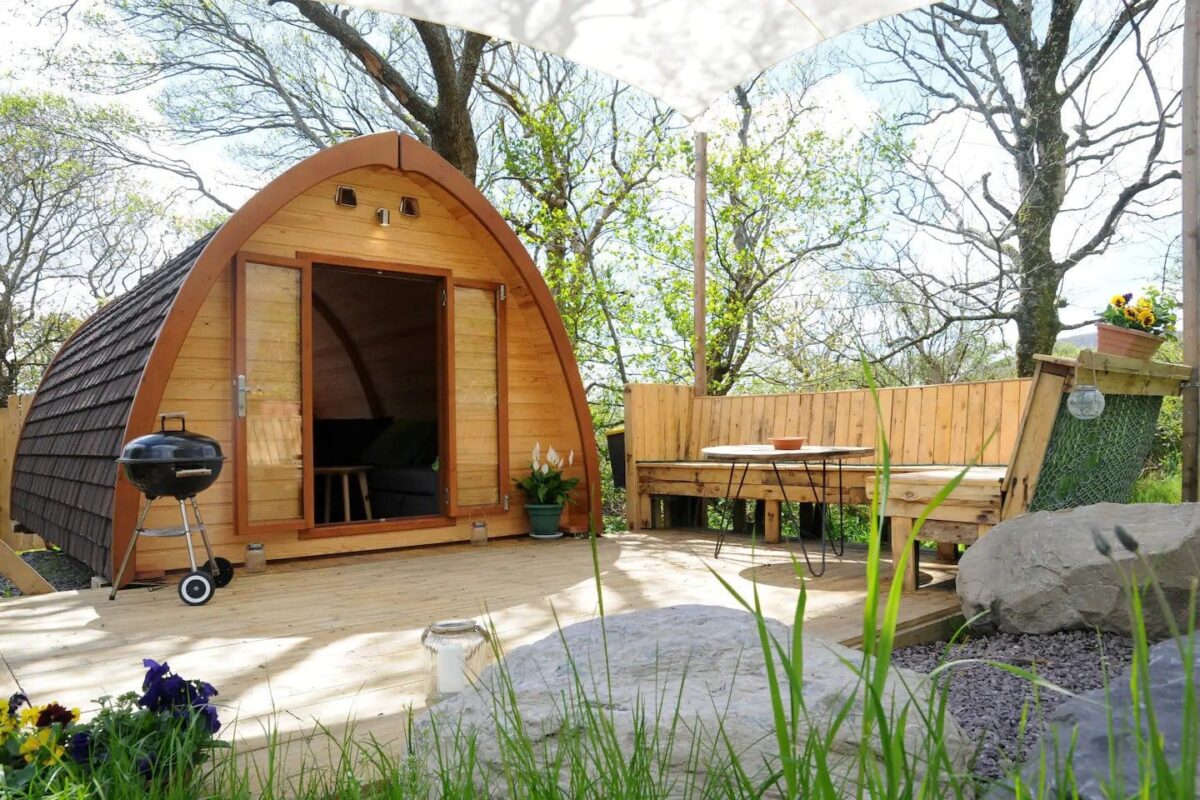 Dromquinna Manor: County Kerry
An ultra-luxurious glamping experience the gorgeous tents at the Manor were custom made by safari tent experts with excellent facilities from the Log base Wilderness bed and goose down duvet and pillows, to a covered deck with comfy chairs to enjoy the evening from. A breakfast hamper can be delivered in the morning with fresh coffee and tea, croissants, juice, and yogurt. There are wash facilities in a central location as well as a nearby washroom for evening trips.
There is also a Boathouse Bar and Pier Restaurant so you don't have to cook or mix your own cocktails.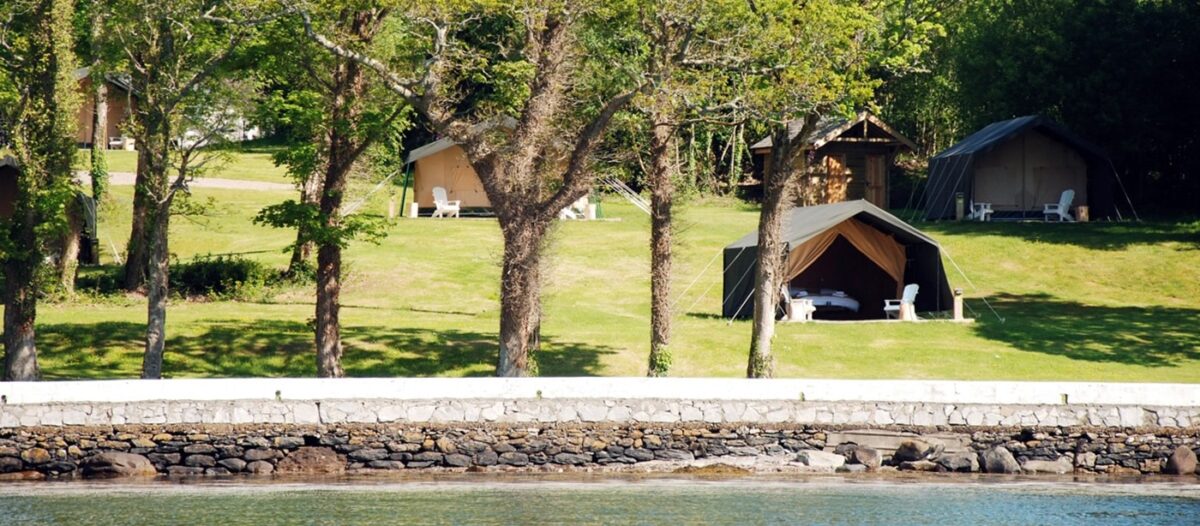 Cosy Crann: County Galway
Nestled in the serene town of Loughrea, Cosy Crann is an eco-friendly campground that offers a tranquil getaway. Surrounded by lush greenery, this property boasts a beautiful garden, providing a peaceful ambiance for guests. Conveniently, the campground also offers free private parking and features a terrace, allowing visitors to fully immerse themselves in nature.
At Cosy Crann you'll find an outdoor fireplace and a rejuvenating sauna, adding to the overall experience of relaxation and well-being. The campground offers a cozy and sustainable retreat, with 1 bedroom and 1 bathroom equipped with a hot tub. Towels and bed linen are provided, ensuring a comfortable stay. Additionally, there's a seating area and a fireplace, perfect for cozy evenings and warm conversations.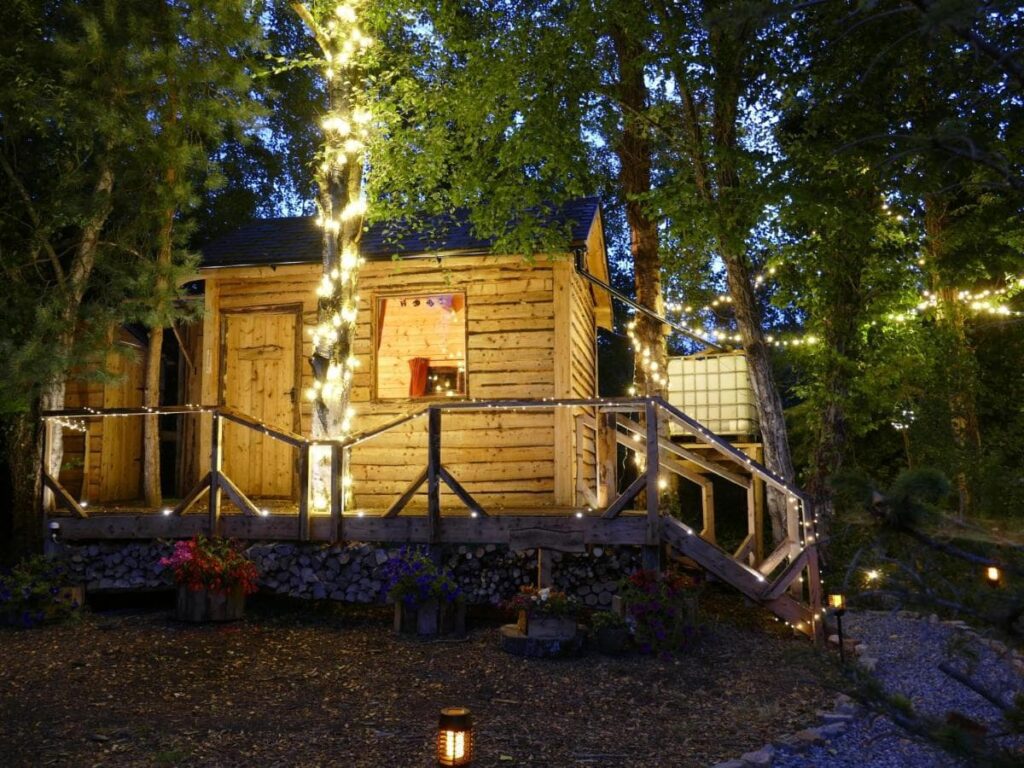 Killarney Glamping at the Grove: County Kerry
Killarney Glamping presents a range of accommodation options tailored to suit individual preferences, including Glamping Suites and Luxury Lodges. The Glamping Suites are perfect for a romantic getaway and offer a spacious and cozy bedroom featuring heating, a comfortable double bed, en-suite private bathroom a covered outdoor kitchen equipped with a gas barbecue, gas hob, mini-fridge, dining table, and bench.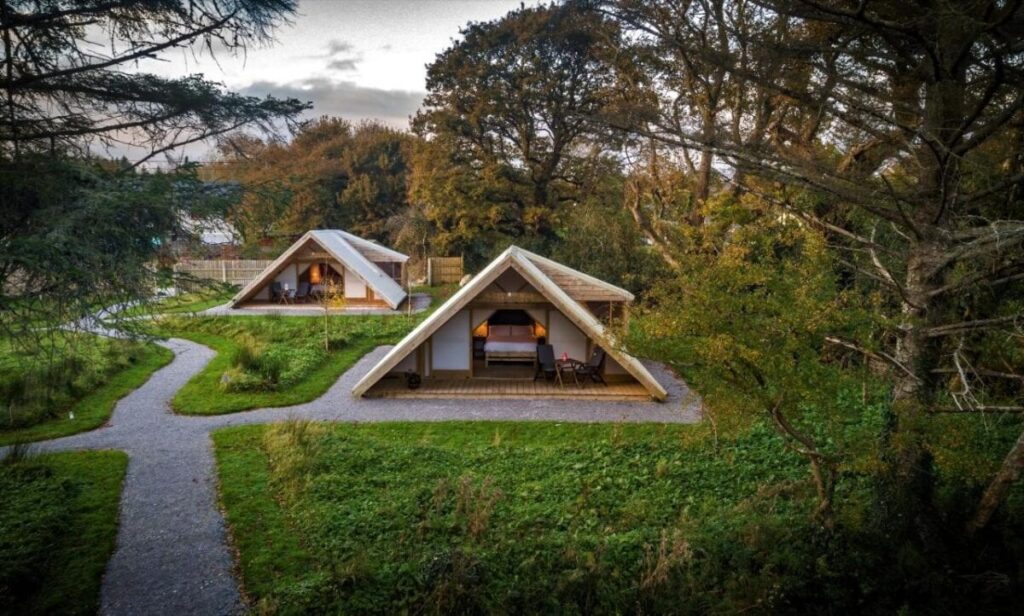 For those opting for the Luxury Lodges, they will find indulgence in the bedrooms, featuring spacious king-size beds, private bathrooms, and large walk-in wet room-style power showers. The kitchenette is fully equipped with an electric hob, fridge/freezer, toaster, Nespresso machine, and a bar-style seating area, providing a space to prepare and enjoy meals. Outside, a decked patio awaits, furnished with lounge seats, mood lighting, and heating facilities, creating a serene outdoor retreat. Guests will also have their own private BBQ area adjacent to the patio, perfect for grilling and dining al fresco.
Brushers Adirondack Shelter: County Wicklow
During the summer months, Wicklow National Park and the Wicklow Way can become quite crowded, but as the weather gets colder and darker, the crowds tend to dissipate. This means that if you choose to stay overnight here, you might very well have the stunning Wicklow Hills all to yourself.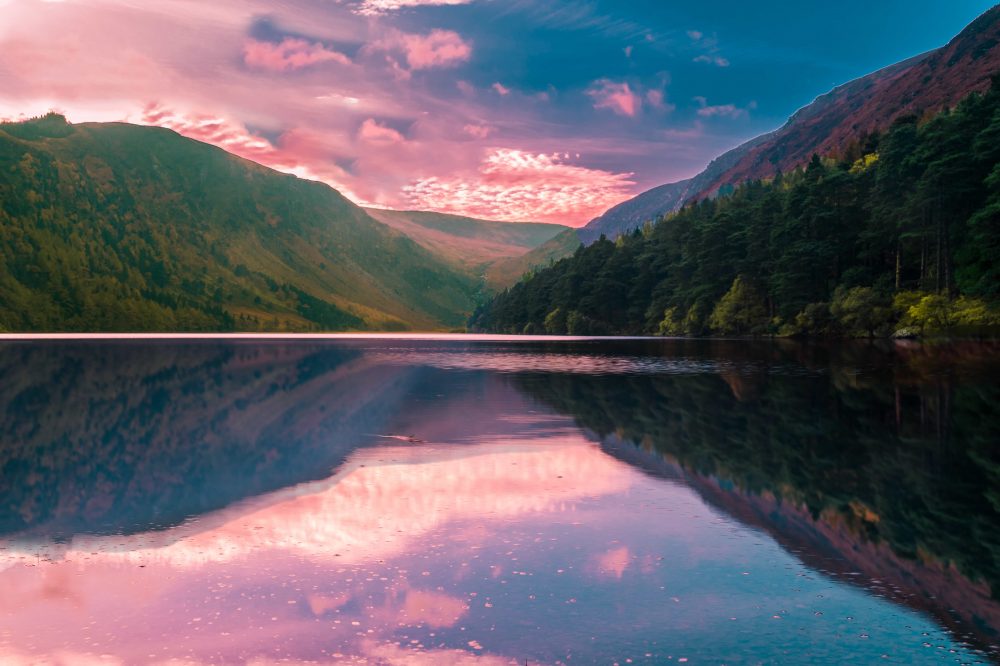 Several Adirondack shelters have been constructed in remote areas by a group of ecological volunteers. These three-sided shelters are ideal for long-distance hikers and provide a basic sleeping area that can accommodate up to five people. One of the most frequently visited huts is located at Brushers Gap and can be reached by a 90-minute hike from civilization. This hut includes a fire pit, water tank (though the water may need to be treated before drinking), and picnic table. Two similar huts can be found at Mucklagh and Mullacor.
Glamping at Treegrove: County Kilkenny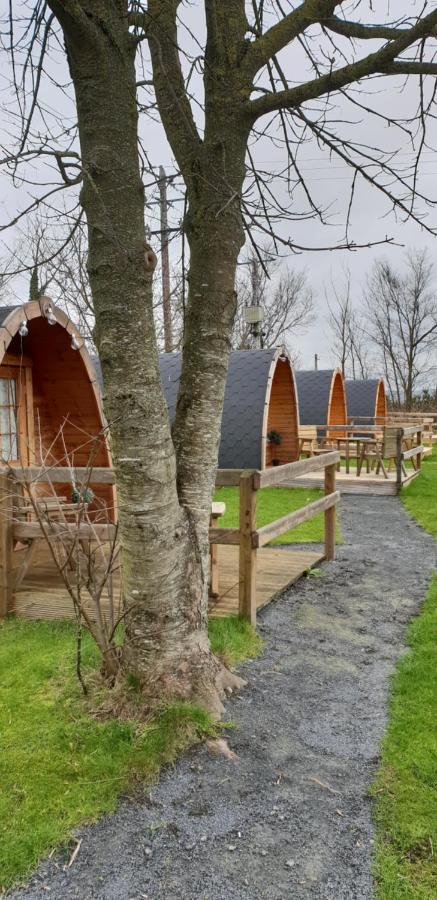 Nestled near the charming city of Kilkenny, just a short distance of 2.1 km from the iconic Kilkenny Castle, Glamping at Treegrove offers enchanting accommodations with picturesque mountain views. Guests can enjoy the convenience of free WiFi and complimentary private parking during their stay.
Desart School Garden Chalet: County Kilkenny
Desart School Garden Chalet offers a charming and eco-friendly accommodation option surrounded by a lush garden. Situated just 16 km away from Kilkenny Railway Station, the chalet also provides convenient bicycle parking for guests. Embracing nature, the property features a tranquil picnic area for guests to enjoy, and offers complimentary amenities such as free WiFi and free private parking.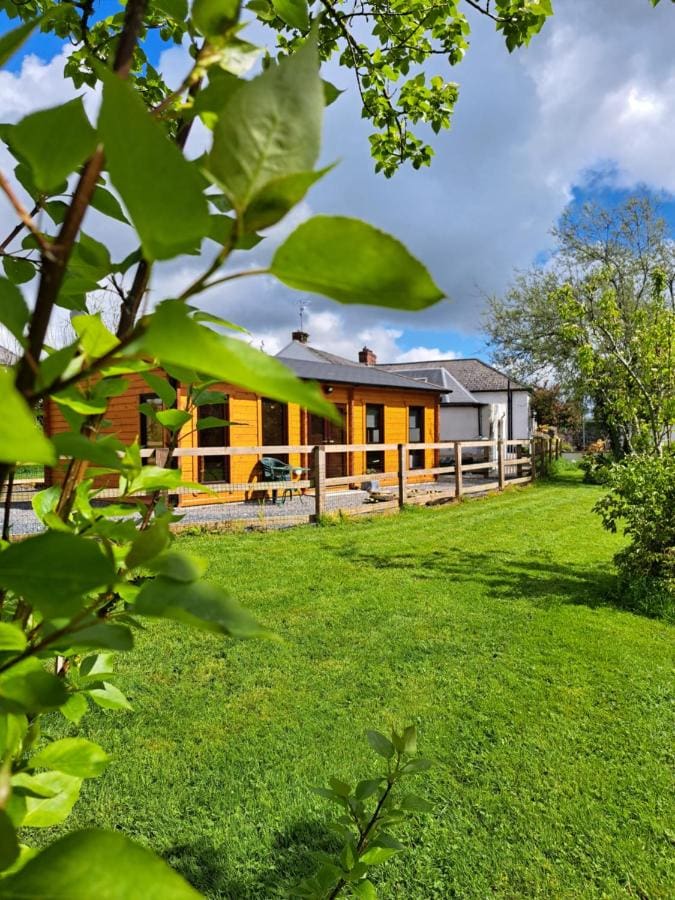 The chalet boasts a delightful terrace where guests can relax and admire the serene garden views. It consists of 1 bedroom, a cozy living room, and a well-equipped kitchen complete with an oven and a microwave for those who wish to prepare their own meals. The chalet also includes a modern bathroom with a refreshing shower.
For those interested in exploring the area, Kilkenny Castle is a mere 16 km away, offering a glimpse into the city's rich history and architecture. Golf enthusiasts will find Mount Juliet Golf Club just 20 km from the property, providing an opportunity to indulge in their favorite sport.
bathrobes and free toiletries. Towels and bed linen are provided in the campground. The property has an outdoor dining area. Clonalis House is 27 km from the campground, while Claypipe Visitors Centre is 31 km away. The nearest airport is Ireland West Knock Airport, 39 km from Barn located in the countryside.
Glamping Podumna Village: County Galway
If you prefer kicking-back in the security of an urban setting but want to try your hand at glamping, Podumna Glamping Village in Galway offers the best of both worlds.
Glamping pods, shepherd's huts, and cabins are arranged in a woodland community with an onsite kitchen, dining room, toilets, hot showers, playroom, drying room, and workshop.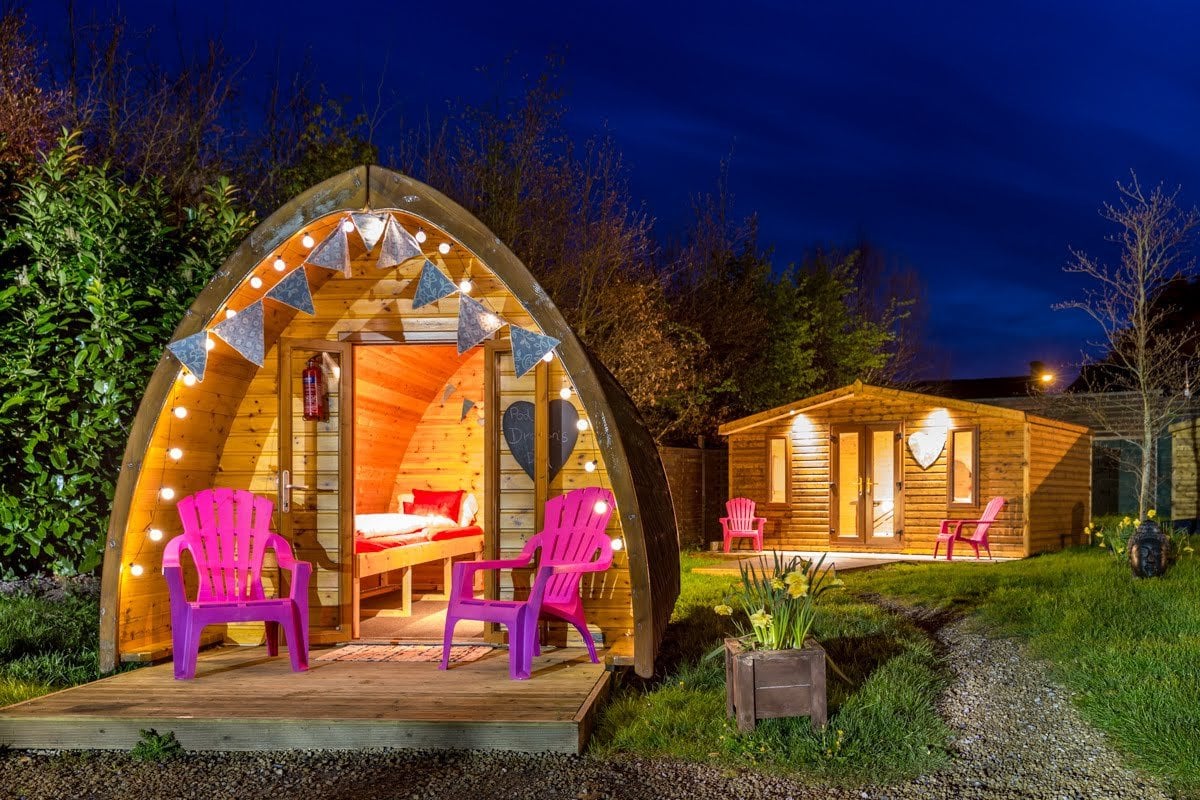 Glasson Glamping Farm: Athlone, County Westmeath
Offering a garden and river view, Glasson Glamping Farm is situated in Athlone, 15 km from Athlone Train Station. This farm stay features free private parking and a shared kitchen. Boasting family rooms, this property also provides guests with an outdoor fireplace. Some units in the farm stay have private entrance and are fitted with wardrobe and outdoor furniture. Some accommodation includes a terrace with lake views, a fully equipped kitchen and a shared bathroom with hot tub. At the farm stay, units include a private bathroom. For guests with children, the farm stay offers an indoor play area. Guests at Glasson Glamping Farm can enjoy table tennis on-site, or go cycling or walking tours in the surroundings.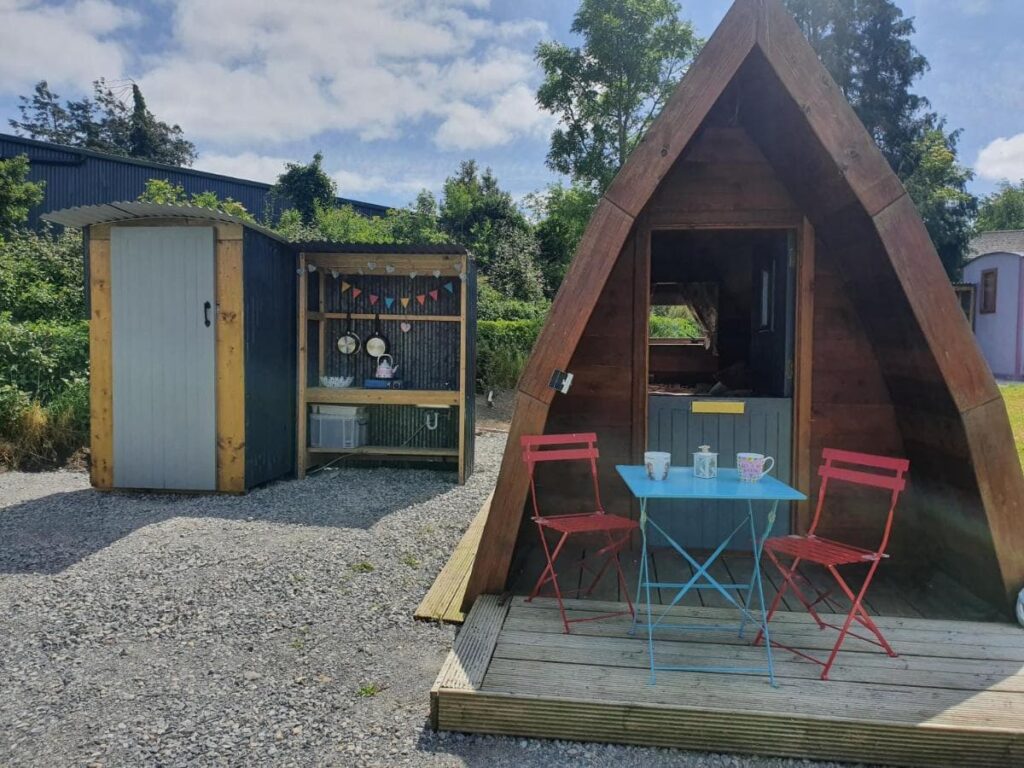 Purecamping: County Clare
Purecamping is a glamping retreat located in Loop Head and you can choose from bell tents complete with a deck and firepit or one of the lovely wooden cabins. This is an eco-conscious campsite on the borders of a lovely woodland to explore and views of the Shannon Estuary as it flows out to the Atlantic. There is a geodesic dome, modern facilities a wood-fired pizza oven and you can do Yoga classes with the owner.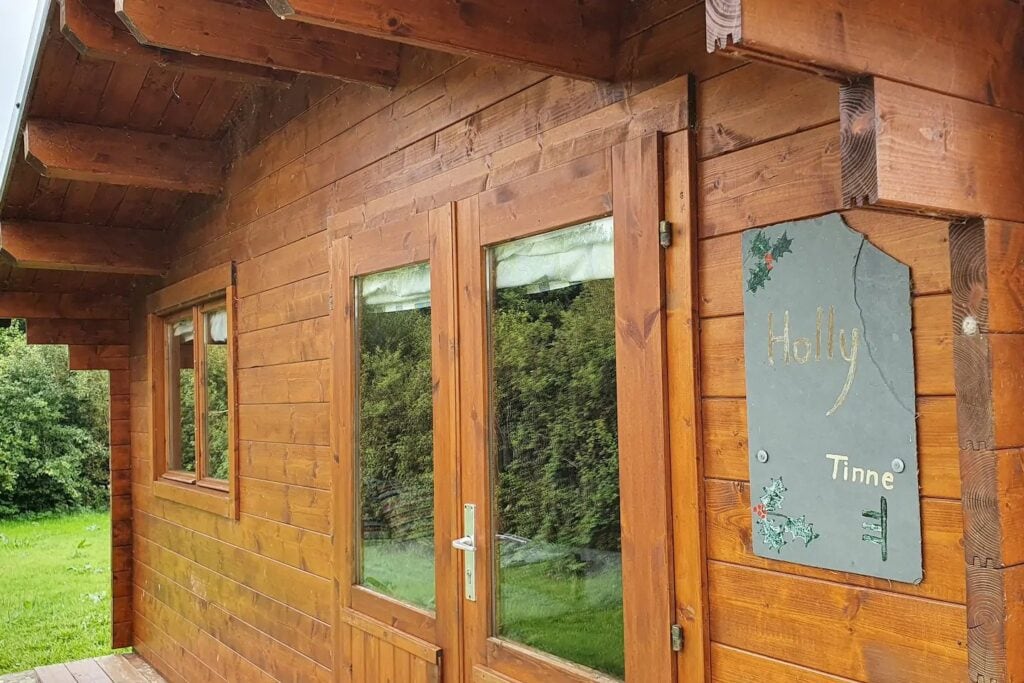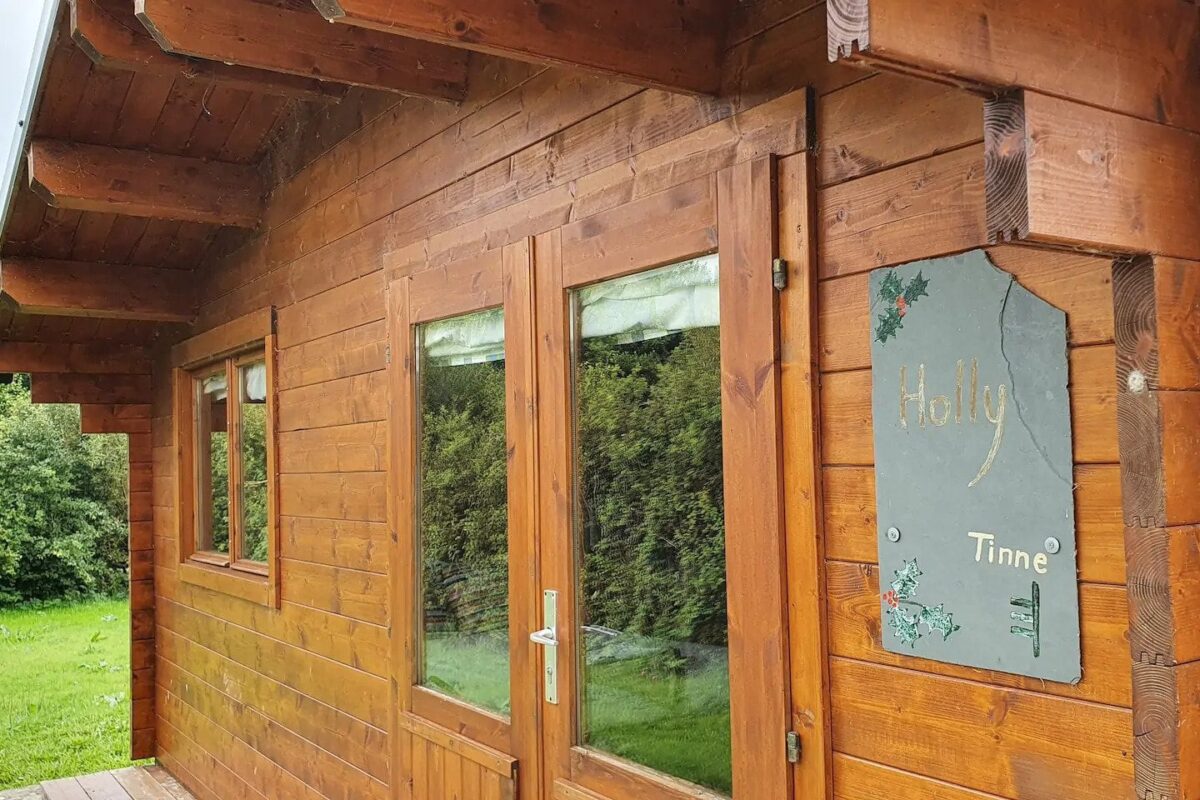 Shanagarry / Ballycotton Glamping pod: County Cork
Set in Cork and only 26 km from the Fota Wildlife Park, Shanagarry / Ballycotton Glamping pod offers accommodation with sea views, free WiFi and free private parking. Guests can benefit from a patio and a sun terrace. The property is non-smoking and is situated 30 km from Cathedral of St. Colman. The campground has a flat-screen TV. There is a seating area, a dining area and a kitchen complete with a microwave, a toaster and a fridge. The property has an outdoor dining area. Barbecue facilities are at guests' disposal at the campground, and guests can also relax in the garden by the communal fire pit or go on a picnic in the picnic area.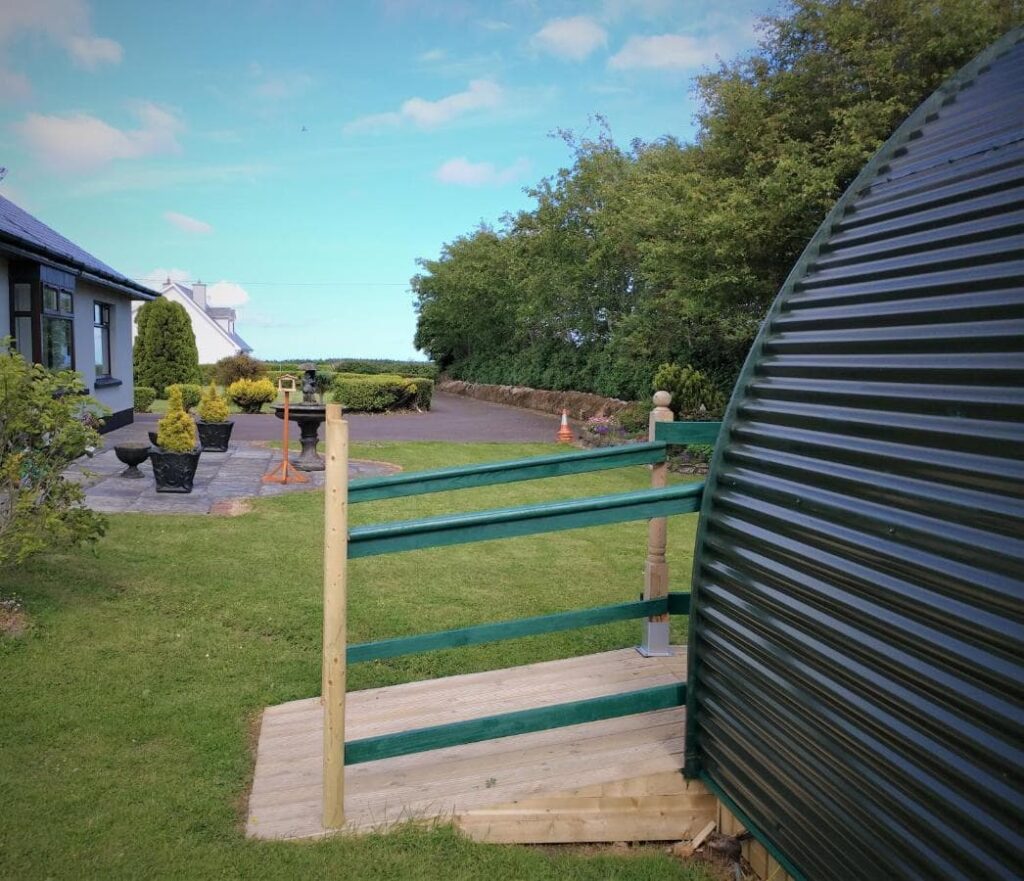 Ballyvolane House: County Cork
A true luxury glamorous camping experience with a glamping "ark", or bell tents. Ballyvolane Country house provides a full-service glamping site with all meals, afternoon tea and drinks served in the house, and you are given a glamping box filled with the essentials.
You can request turndown service with hot water bottles and there is a fully heated washhouse. A full Irish breakfast is served in the house until noon so you can have a lovely sleep in.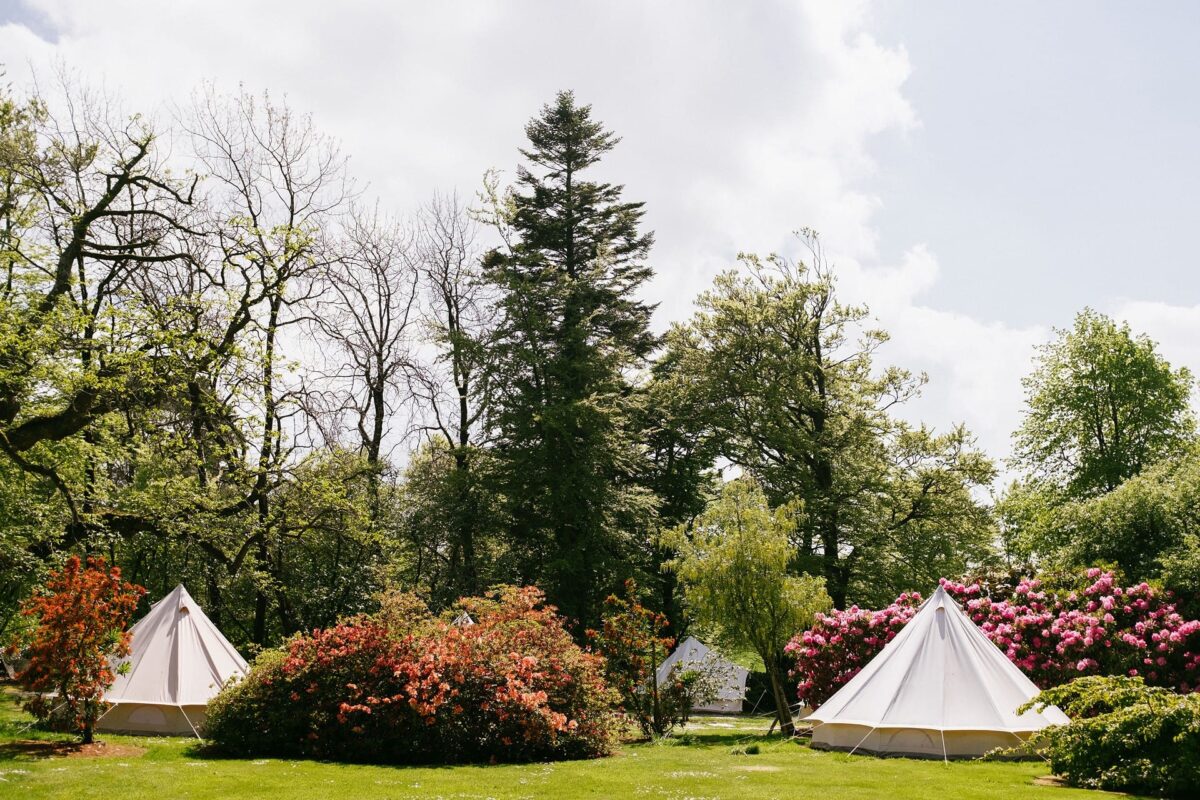 Top of the Rock Pod Park & Walking Centre: West Cork
Farm glamping is ideal for families and Top of the Rock has a range of standard and luxury glamping pods to choose from.
Walking, cycling and cross country walking can be enjoyed from your glamping pod which has comfortable beds, a toilet, a mini kitchen, a dining table, a pull-out sofa, heating, lighting, and an outdoor deck.
Kids will love to pet the sheep, hens and ducks along with the playground, maze, hayrides and trainee Farmhands Experience.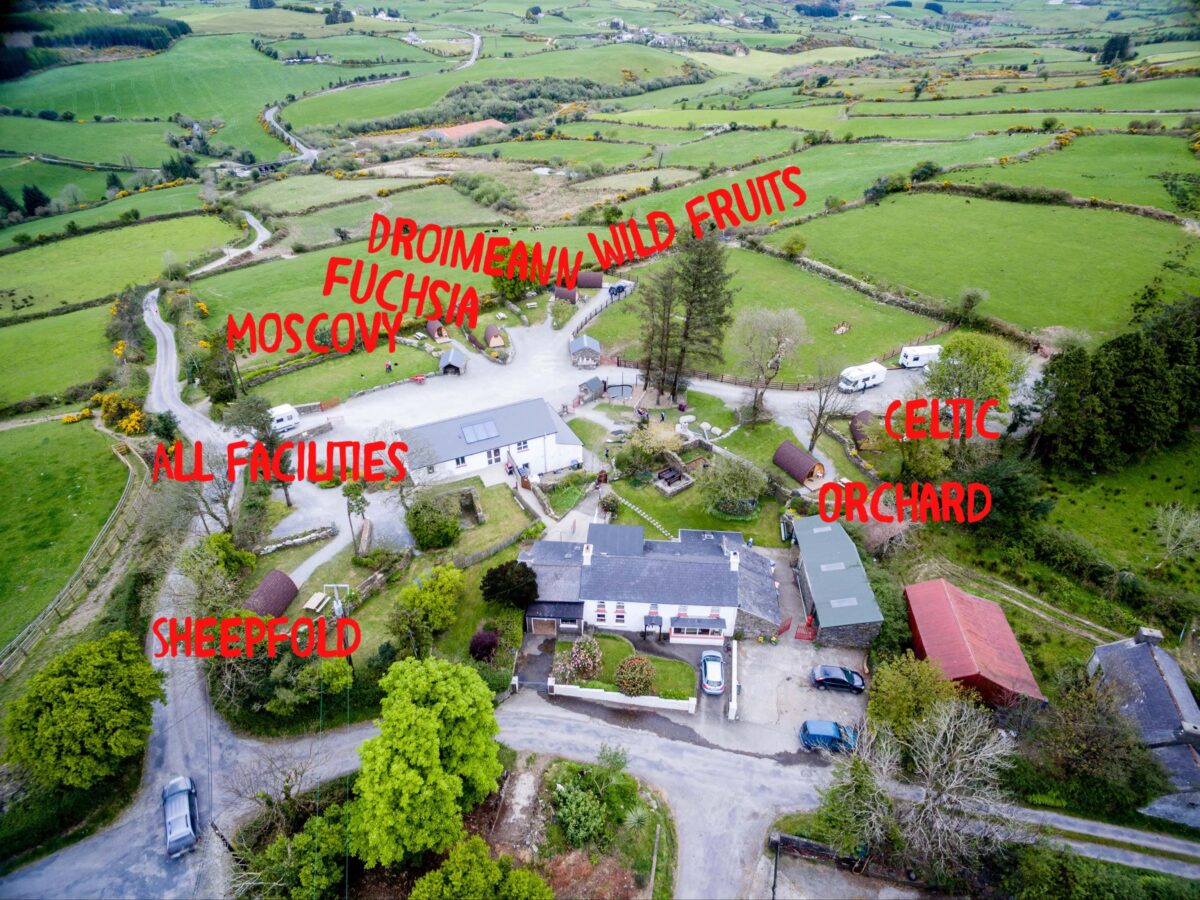 Nire Valley Eco Lodge: County Waterford
Nire Valley has 5 eco-cabins with outstanding views of the Comeragh Mountains. The cabins are furnished with large beds and have an ensuite and mini kitchen. Breakfast can be delivered every morning that comes with fresh bread and locally sourced foods.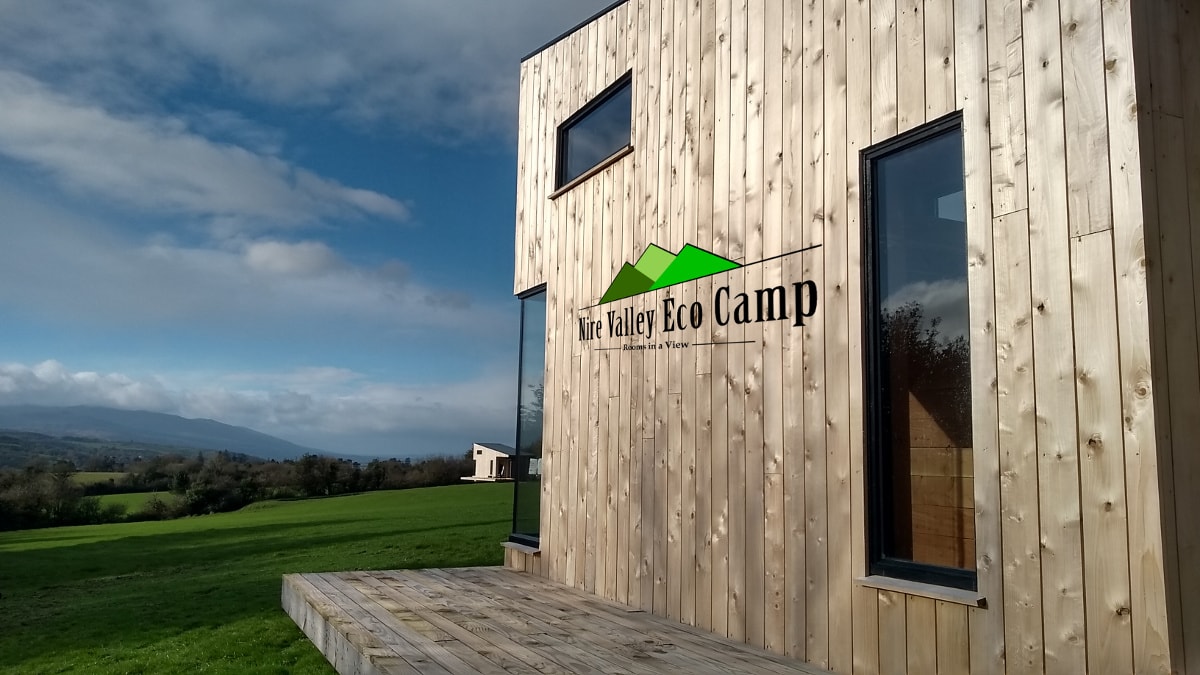 Portsalon Glamping: County Donegal
As we say in Donegal "it's different up here" and you can appreciate that saying when glamping at Portsalon. The luxurious yurts are close to the wild and raw Atlantic way on the coast of North Donegal. Yurts come with carpeted floors, king-size beds, and wood-burning stoves. There is a deck outside your yurt with hammock, BBQ area, and fire pit and of course those views.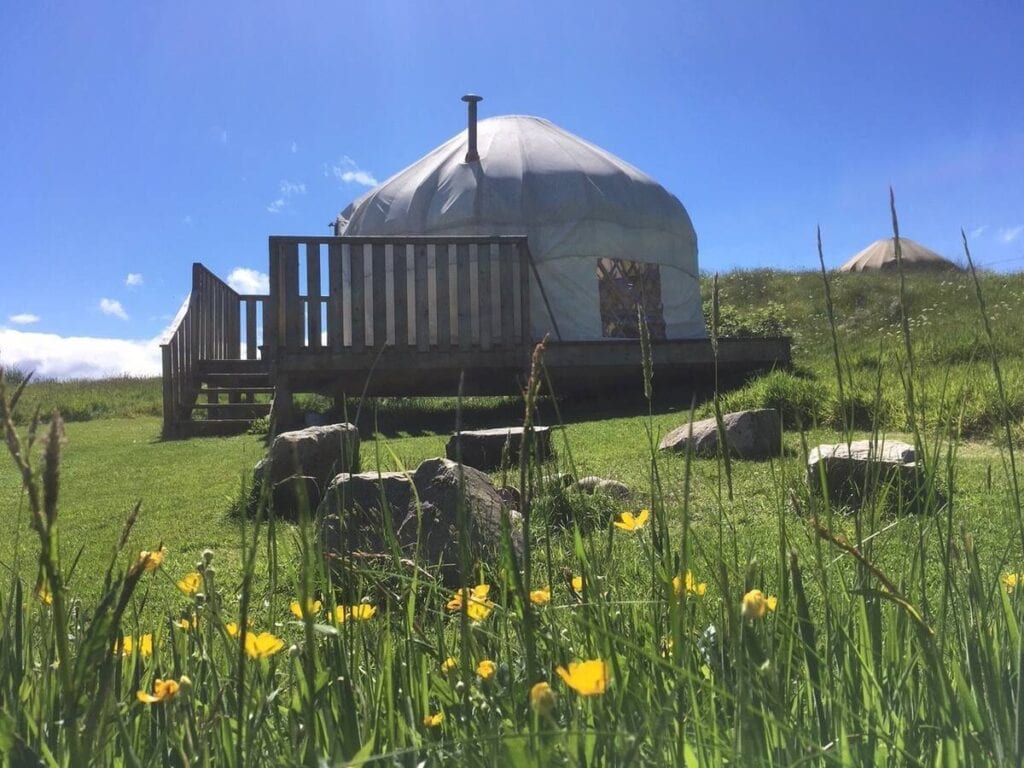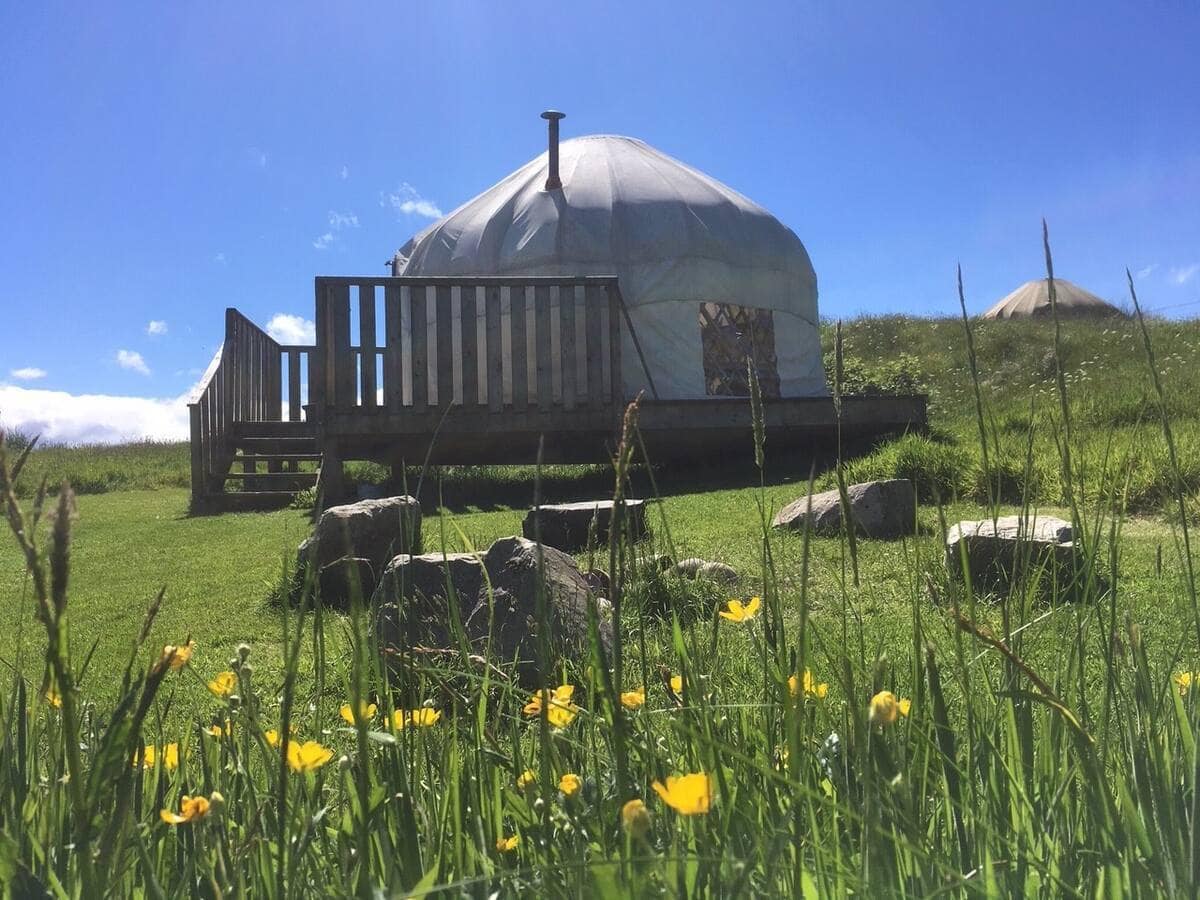 Aran Islands Glamping
Located on Inis Mor you will find glamping pods near Kilronan and the amazing Frenchman's beach. There are also glamping pods that come complete with en suite and kitchenette.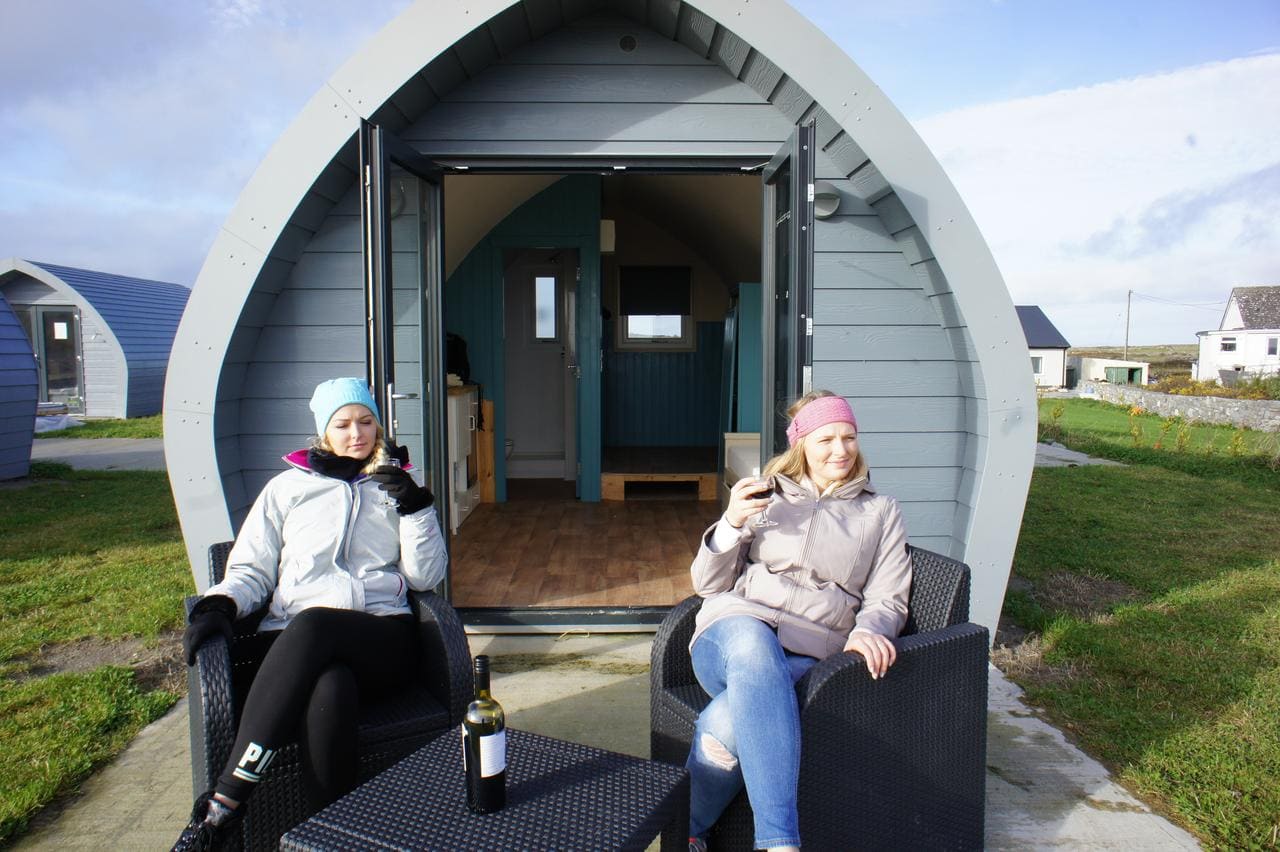 Westport Estate Glamping Village: County Mayo
Offering a garden and a bar, Westport Estate Glamping Village is a sustainable luxury tent in Westport, not far from Clew Bay Heritage Centre. Among the facilities of this property are a restaurant, a 24-hour front desk and a shared kitchen, along with free WiFi throughout the property. The luxury tent features family rooms as well as facilities for disabled guests. Units are complete with a shared bathroom, while certain units at the luxury tent also have a seating area. For guests with children, the luxury tent offers indoor and outdoor play areas. The luxury tent has a picnic area where you can spend a day out in the open.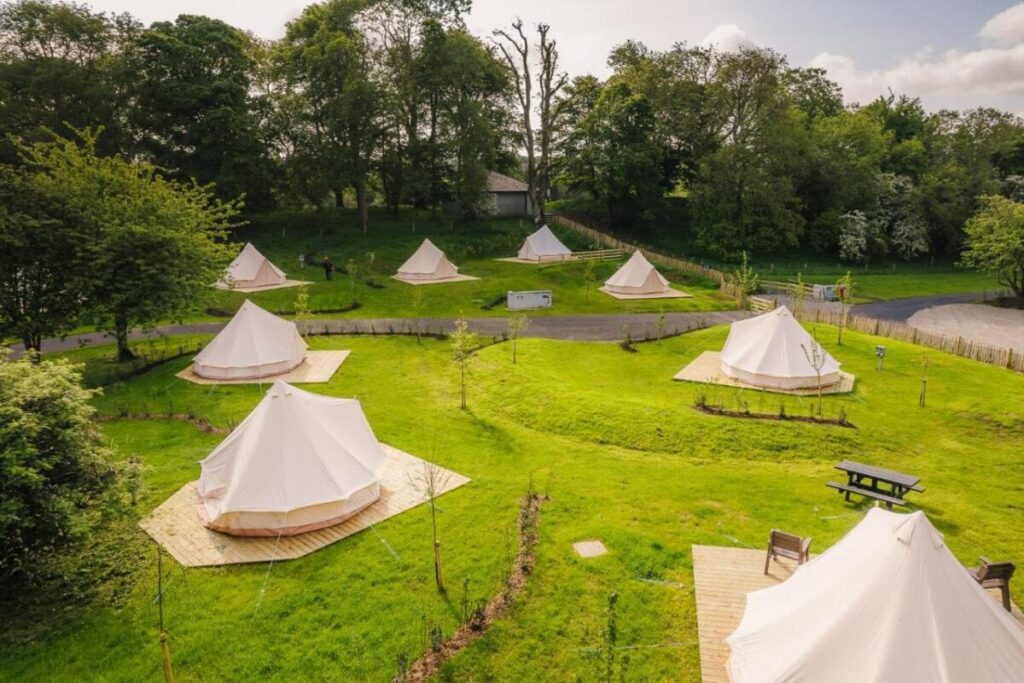 Mayo Glamping: County Mayo
Located just outside Castlebar town Mayo Glamping has a variety of novelty accommodation for that perfect getaway, suitable for couples and families alike!
Each of our handcrafted accommodations offers a harmonious blend of rustic charm and contemporary elegance. Whether you choose a stylishly appointed hobbit hut, a cosy A frame cabin, or the luxurious fairy hut, you will find yourself immersed in an ambiance of understated luxury. Picture cooking a pizza in our wood fired oven, relaxing in our hot tub jacuzzi and wood fired sauna, and then finishing the night by roasting marshmallows on a firepit Infront of your hut.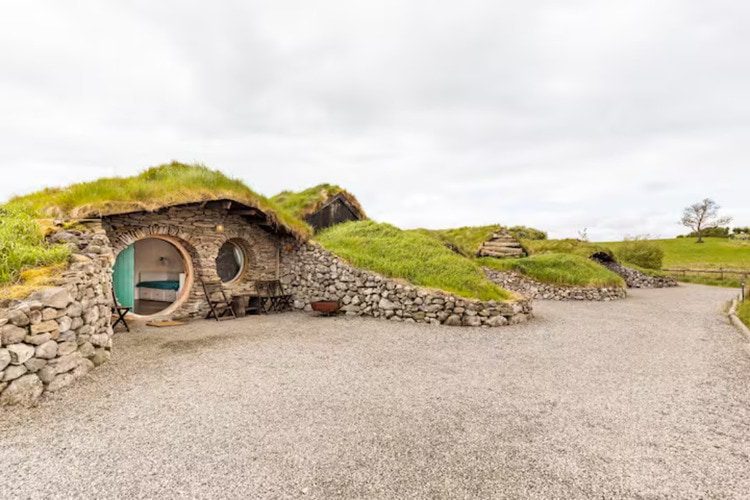 Chléire Haven Glamping: County Cork
Ireland's most southern island If you fancy escaping to Ireland's southernmost Irish speaking island for a night or two, then get yourself to Chleire Haven on Cape Clear Island.
You'll need to take a 45-minute ferry ride to get here, but when you arrive you'll be treated to sea views along with seemingly endless tranquil natural scenery.
Those that visit can spend the night in a spacious circular yurt that's furnished with double beds, solar-powered lighting, a stove and a mini kitchen.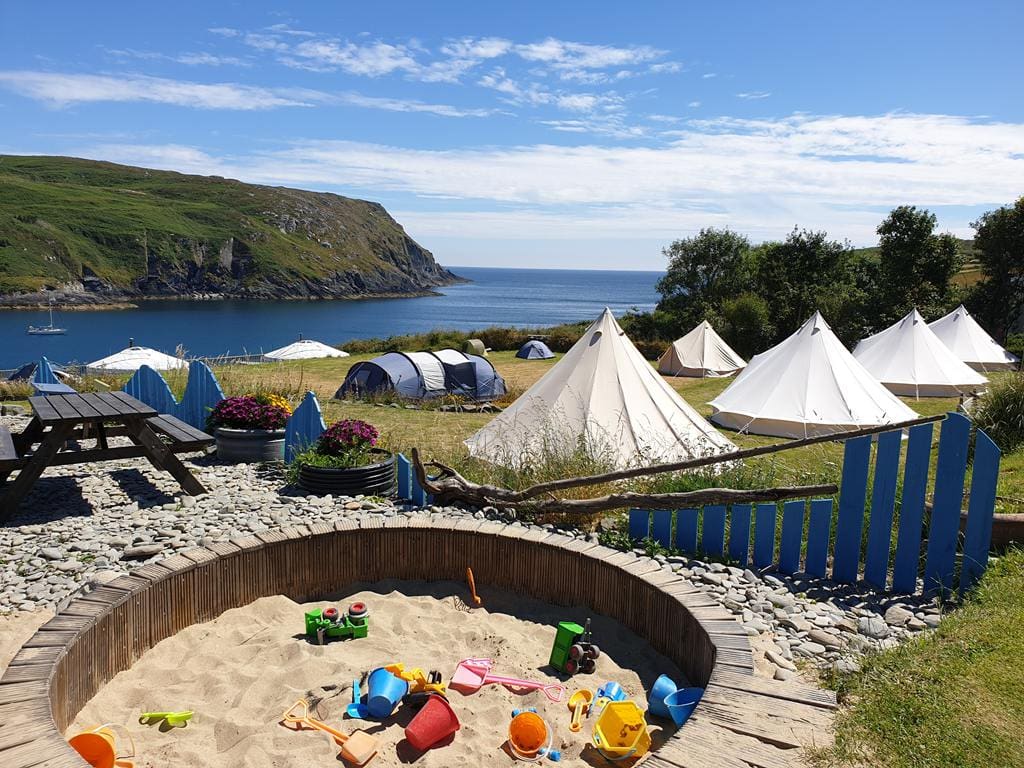 Belmullet Coast Guard station: County Mayo
Belmullet Coastguard Station Glamping, self-accommodation pods are set in the heart of Erris on Claggan Island. This glampsite is set in the heart of Erris, in County Mayo, on Claggan Island where it overlooks the Atlantic Ocean and Achill.
Claggan island offers a unique Glamping experience. The pods are located in the heart of a working farm so you can wake up in complete luxury only yards away from all the farm animals.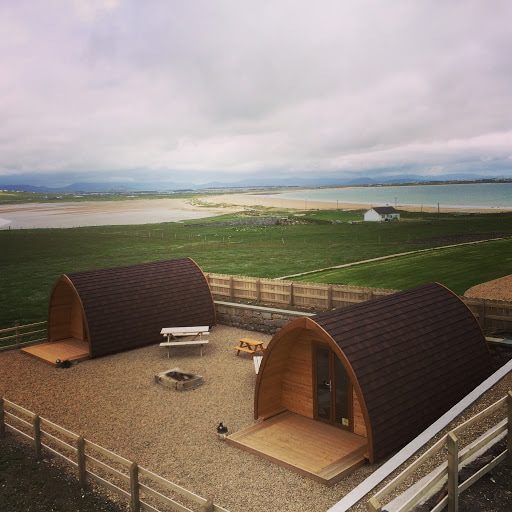 Little Green Glamping: County Leitrim
Set 11 km from Parkes Castle, Little Green Glamping offers accommodation with free WiFi and free private parking. The property is around 18 km from Sligo Abbey, 19 km from Cathedral of Immaculate Conception and 19 km from Yeats Memorial Building. The property is non-smoking and is located 14 km from Drumkeeran Heritage Centre. The campground consists of 1 bedroom, a living room, a fully equipped kitchenette with a toaster and a coffee machine, and 1 bathroom with a shower and free toiletries. Towels and bed linen are featured in the campground. The property has an outdoor dining area.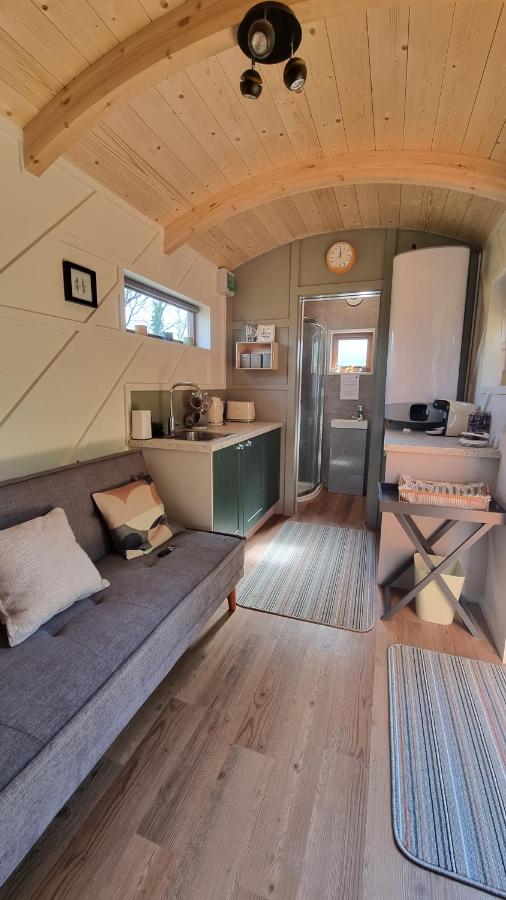 The Old Forge Glamping: County Wicklow
Set on the grounds of a historic Georgian house and farm overlooking the rolling Wicklow Mountains. There is a small log cabin that can sleep 6 and 4 yurts available. There are hammocks in the trees, a Hendricks gin bar and fire pit. Each yurt or cabin has its own BBQ area and firepit and the showers and bathrooms are in the farmyard building.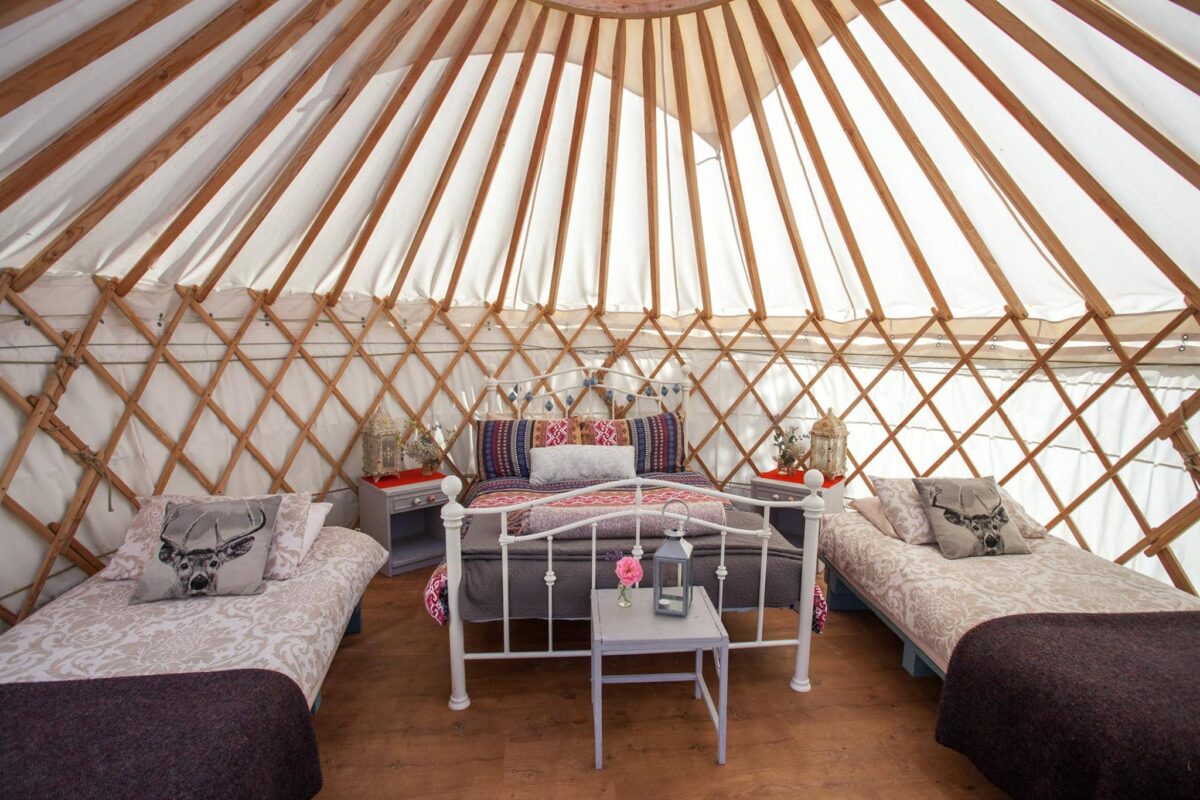 Rock Farm Slane: Boyne Valley County Meath
Rock Farm Slane is a boutique glamping site that has five yurts and two shepherd huts on a 150-acre farm along the banks of the River Boyne. Suitable for everyone including children these luxurious yurts and shepherd huts are beautiful. There is a communal kitchen dining area and bathrooms and a large communal firepit with a pizza oven and you can swim in the river or use the outdoor hot tub.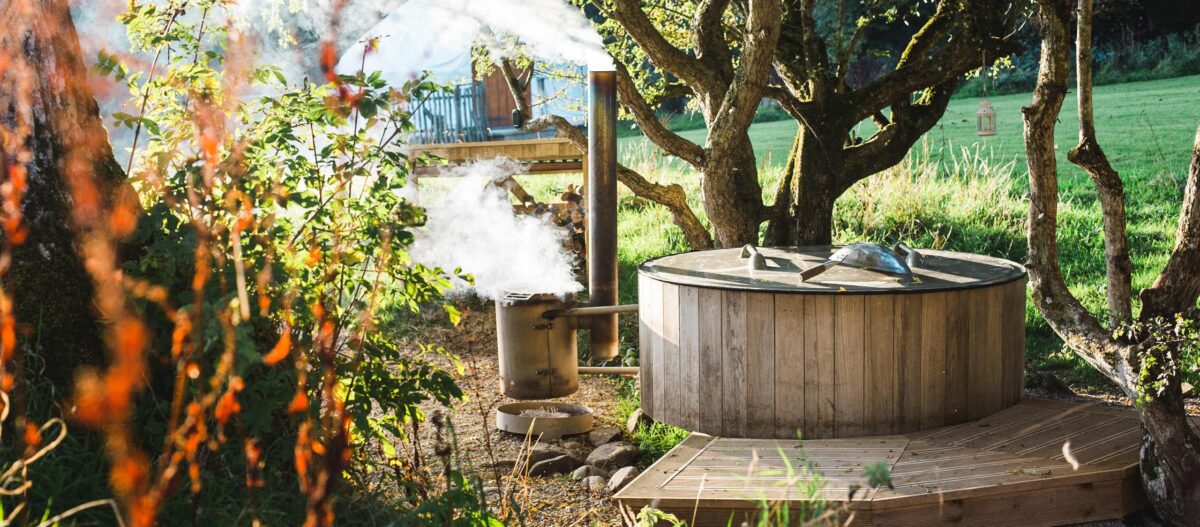 This glamping site is located near some fantastic historic sites in Ireland including: Newgrange, Monasterboice where you can see some of the oldest Celtic crosses in Ireland, Kells Village and the ruined Mellifont Abbey.
Glamping Under the Stars: County Laois
An award-winning campsite Glamping under the stars has a shepherds hut, bell tents and wood lodges. There is a communal "Glam house" with a kitchen and dining area, which comes with a BBQ deck, campfire area, children's playhouse, sandpit and fairy house it's a great choice for families.
There's lots to do on the doorstep, from walks in the woods to wild swimming, animals, games & mazes at the pet farm, bike trails in the Slieve Bloom Mountains, climbing ancient ruins at the Rock of Dunamase to splashing around in the outdoor pool at Ballinakill.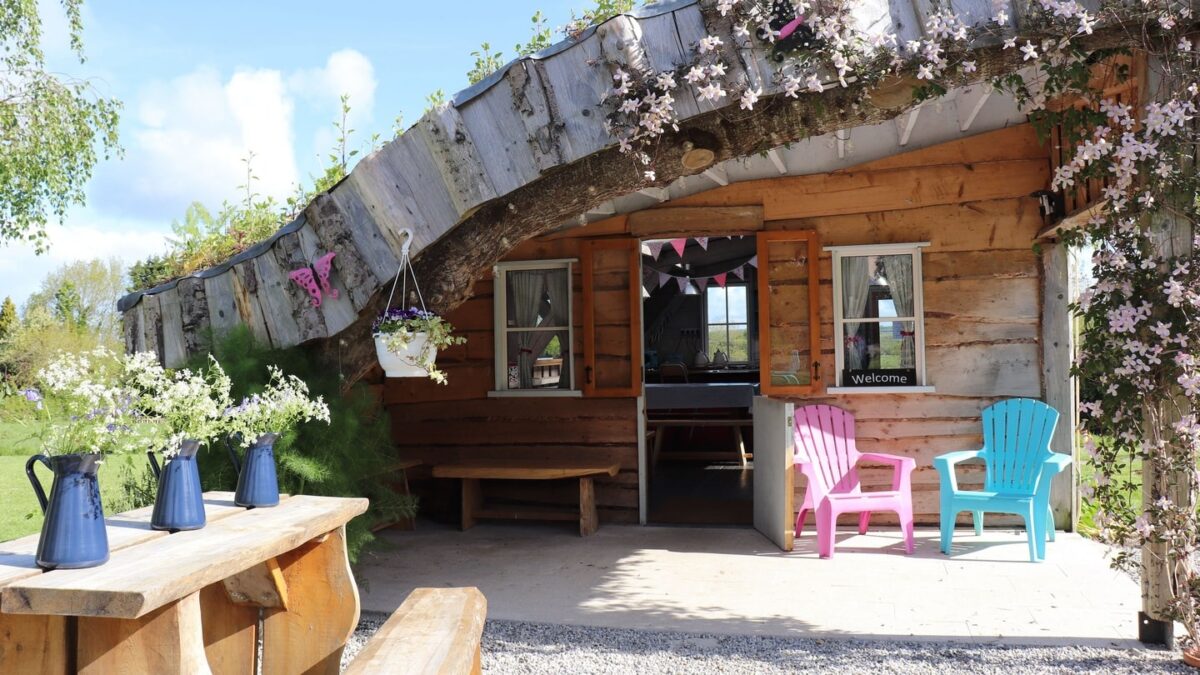 River Valley Holiday Park: County Wicklow
River Valley Holiday Park has a wide selection of glamping accommodation options including tree houses, lodges, and a Kukoo hut. There are lodges without washroom facilities but there is a communal shower and washroom facilities nearby. You do need to supply your own linens, towels as well as dishes and cooking utensils.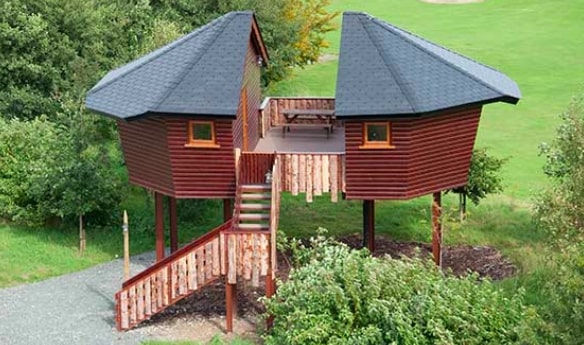 Knockrobin Glamping: County Wicklow
Knockrobin Glamping is found on the grounds of the award-winning Tinakilly House Hotel, which means you'll have the best of both worlds: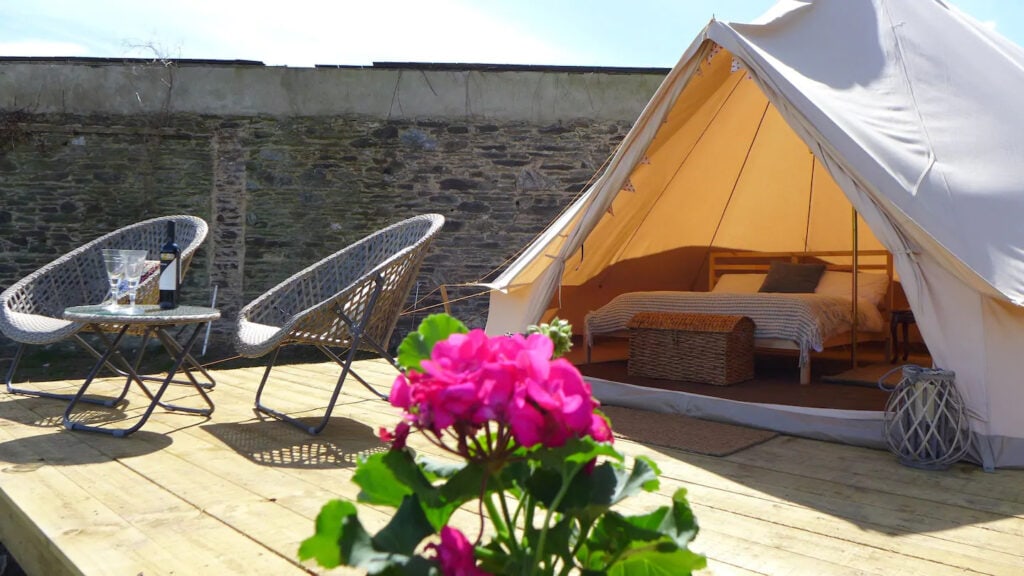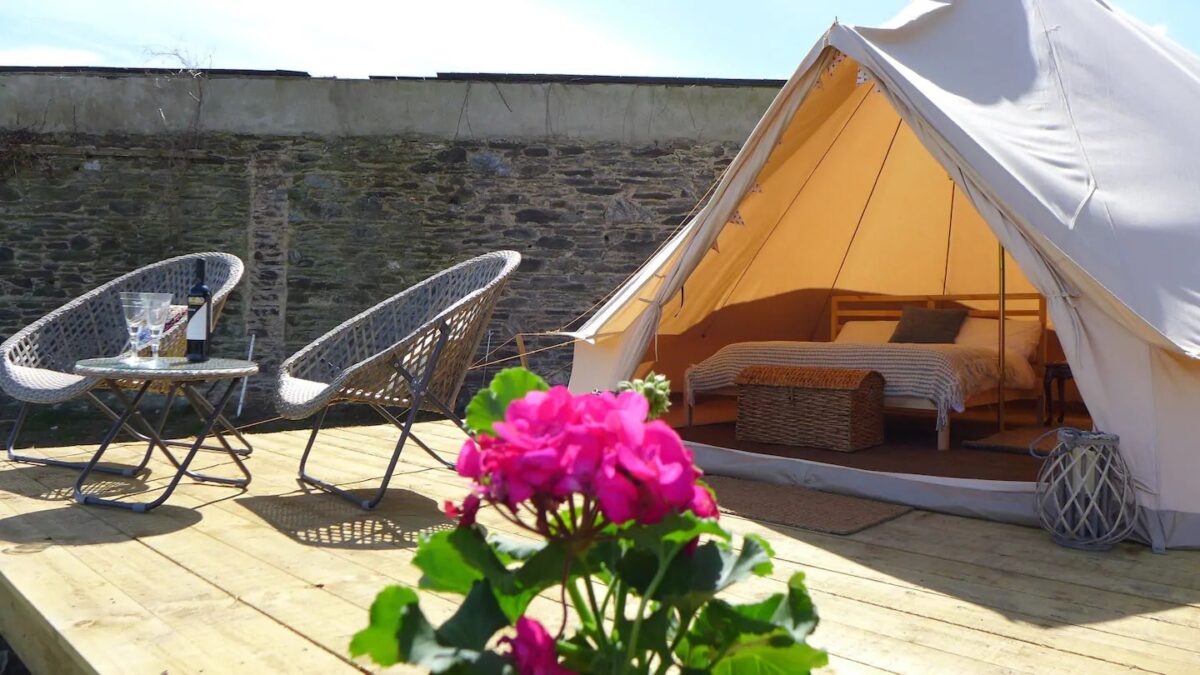 The tents are furnished and decorated tastefully with comfy king-sized beds and each has its private bathroom with hot showers and underfloor heating. Electricity is in the tents for lamps/phone charging etc. Included in the price is a full breakfast for 2 in Tinakilly House.
Glendalough Glamping: County Wicklow
Featuring a garden and views of garden, Glendalough Glamping – Adults Only is a sustainable campground set in Laragh, 2.7 km from Glendalough Monastery. Boasting a shared kitchen, this property also provides guests with a picnic area. The campground also offers free WiFi, free private parking and facilities for disabled guests. The units in the campground are equipped with a kettle. A terrace with an outdoor dining area and mountain views is offered in each unit. At the campground, the units are fitted with bed linen and towels.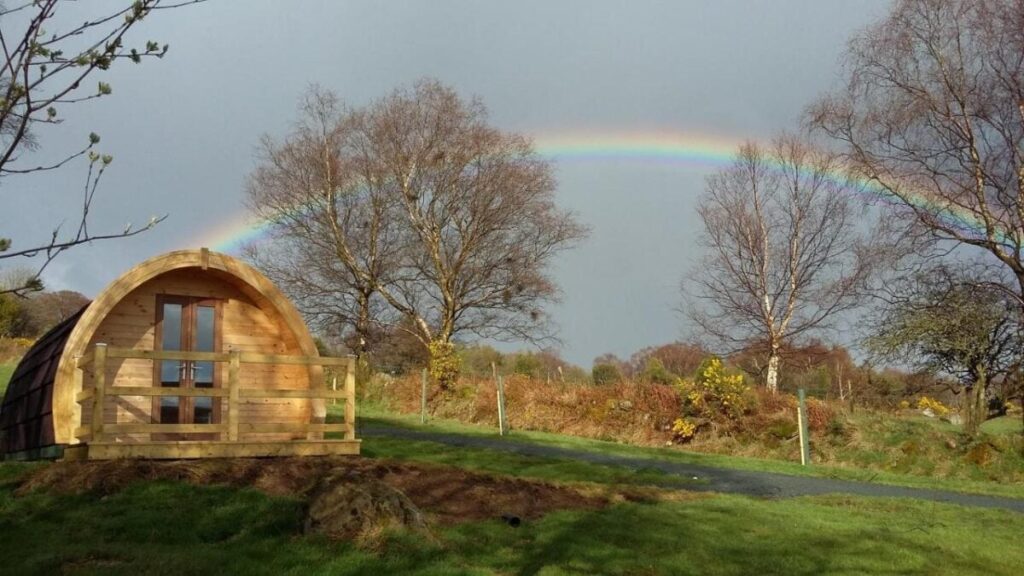 Legan Castle Farmhouse: County Kilkenny
Legan Castle farm house is an Irish glamping site that comes with a 200-year-old farmhouse. The house sleeps 6 and there are 3 luxury bell tents in the garden with king-size beds.
Legan Castle is a well-known foodie location and you can have a cooked breakfast served in the house, evening meals are also available. There's loads to do around here from horseback riding to fishing, kayking and canoe trips.
It's only a 15-minute drive from Kilkenny, so remember to head into town to visit Kilkenny Castle and the Medieval Mile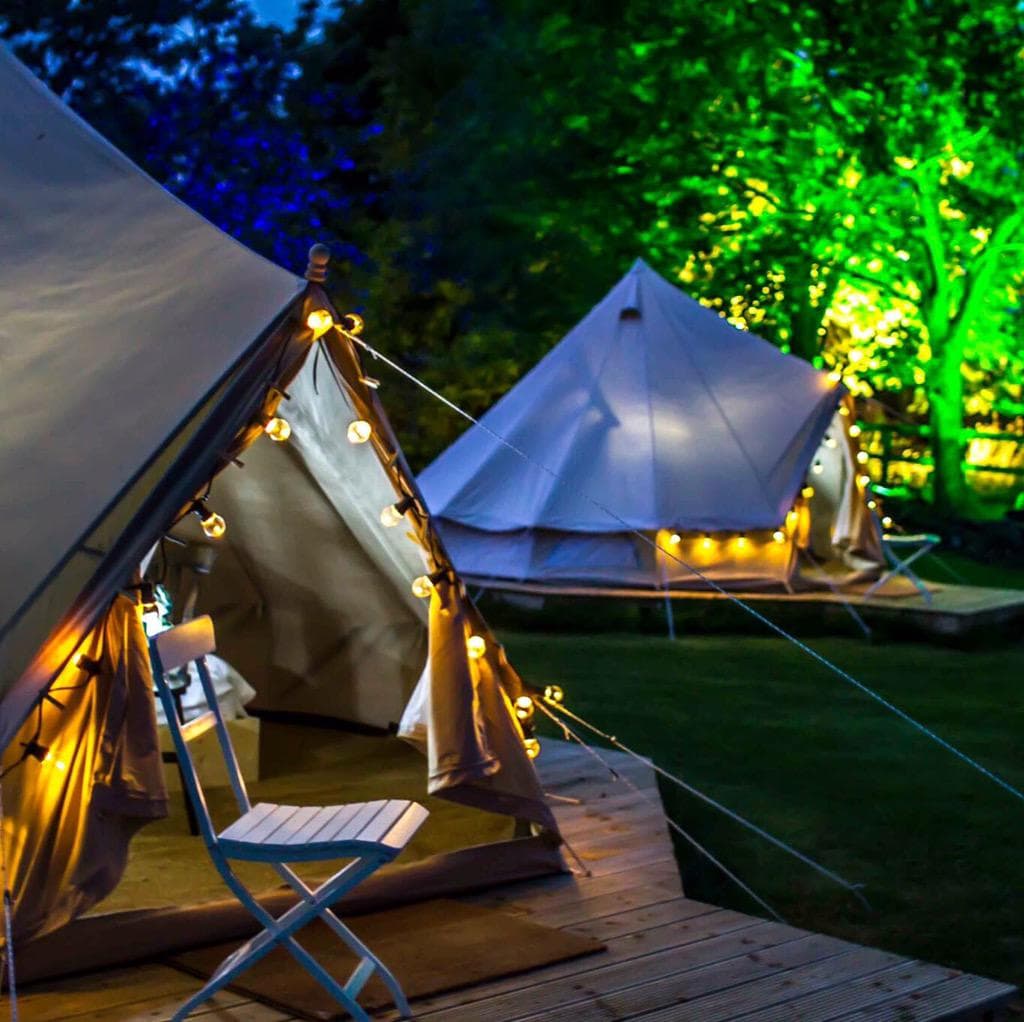 Belmullet Coastguard station: County Mayo
Belmullet Coastguard Station Glamping, a place that's perfect for those in search of a place to glamping in Ireland that's surrounded by magnificent scenery.
This glampsite is set in the heart of Erris, in County Mayo, on Claggan Island where it overlooks the Atlantic Ocean and Achill.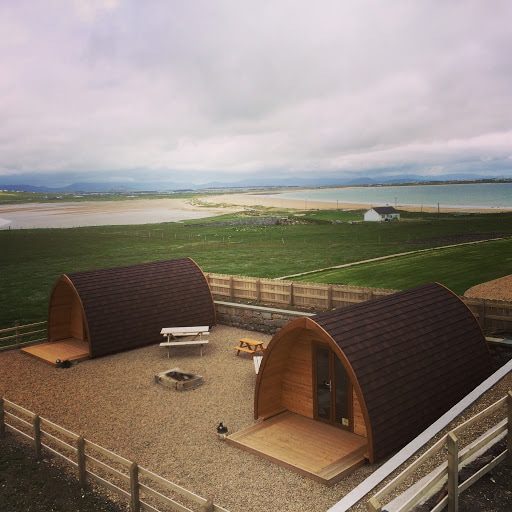 The pods here sleep up to 4 adults in a light and airy space with comfy couches, a private toilet and an outdoor space that's perfect for kicking back and admiring sunsets.
For those looking for a unique and luxurious camping experience, glamping in Ireland is the perfect choice. With a variety of options throughout the country, from tipis to a treehouse, yurts to castle suites, glamping allows visitors to enjoy the great outdoors without sacrificing comfort.
Many glamping sites come equipped with private bathrooms, comfortable beds, and even hot tubs. Some sites also offer unique experiences such as stargazing or farm-to-table meals. In Ireland, glamping offers the opportunity to explore the stunning countryside and coastline from a cozy and chic basecamp Ireland caters to a variety of interests and budgets. So grab your hiking boots, pack your bags, and enjoy the best of both worlds with a glamping trip in Ireland. Whether you're looking for a romantic getaway, a family adventure, or a solo retreat, see what Ireland has to offer for glamping.
Pin it to save it