36 Brilliant things to do in Kilkenny
We were house-sitting in Tipperary and on a beautiful sunny day we decided we were going to start the day by visiting Kilkenny a must-stop on any Irish road trip. We had heard all about Butter Slip Lane, Kilkenny Smithwicks, the witch of Kilkenny and of course, the Castle and Abbey so we headed off to check out our list of things to do in Kilkenny City a charming Irish City.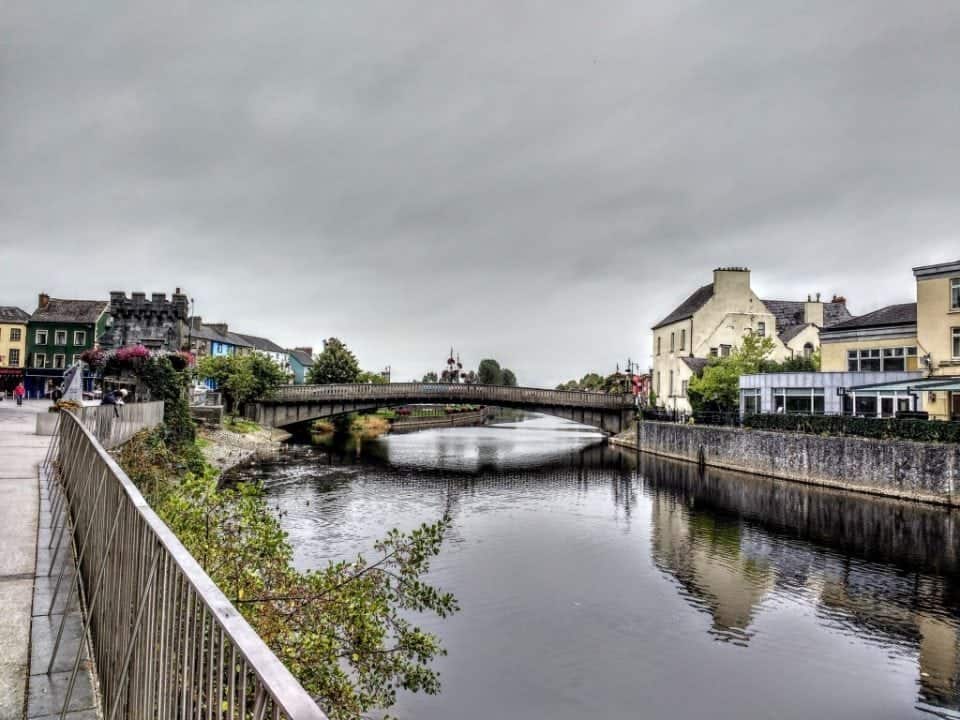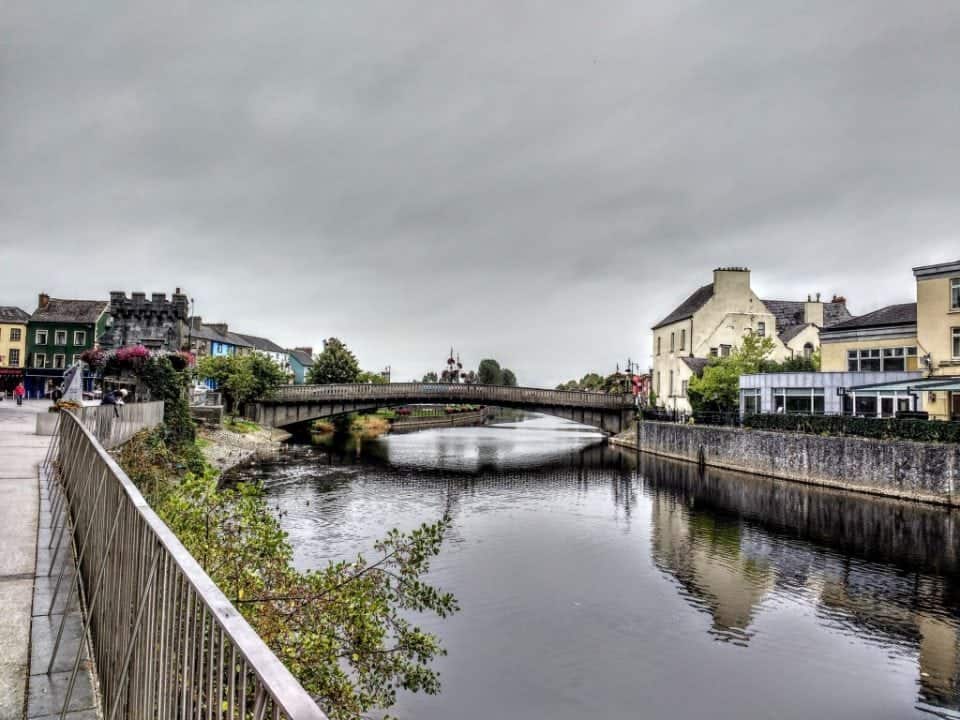 Something to keep in mind though, Kilkenny is not just a city in Ireland it is also an incredibly beautiful county and there are so many things to do in Kilkenny it can keep you busy for days.
How to get to Kilkenny from Dublin
If you are planning your visit to Ireland and you are renting a car from the airport you may want to head straight to Kilkenny. If you are planning on spending a day or two in Dublin then I would recommend picking up the car the day you leave. You could also plan a trip around the South coast of Ireland that will include Kilkenny, Waterford, Wexford, Hook Head and several other major sites along the way.
Kilkenny train from Dublin
When visiting Kilkenny getting there is pretty easy it is around an hour and a half drive from Dublin. You can also catch a train from Heuston Station in Dublin to Kilkenny's Macdonagh Station at a cost of around €13 euros return for one person. The train journey is also very fast and only takes an hour and a half. Buses also run to Kilkenny and in the summer months, the Xpress service on Bus Eireann takes around 90 minutes for €10 Euros per person.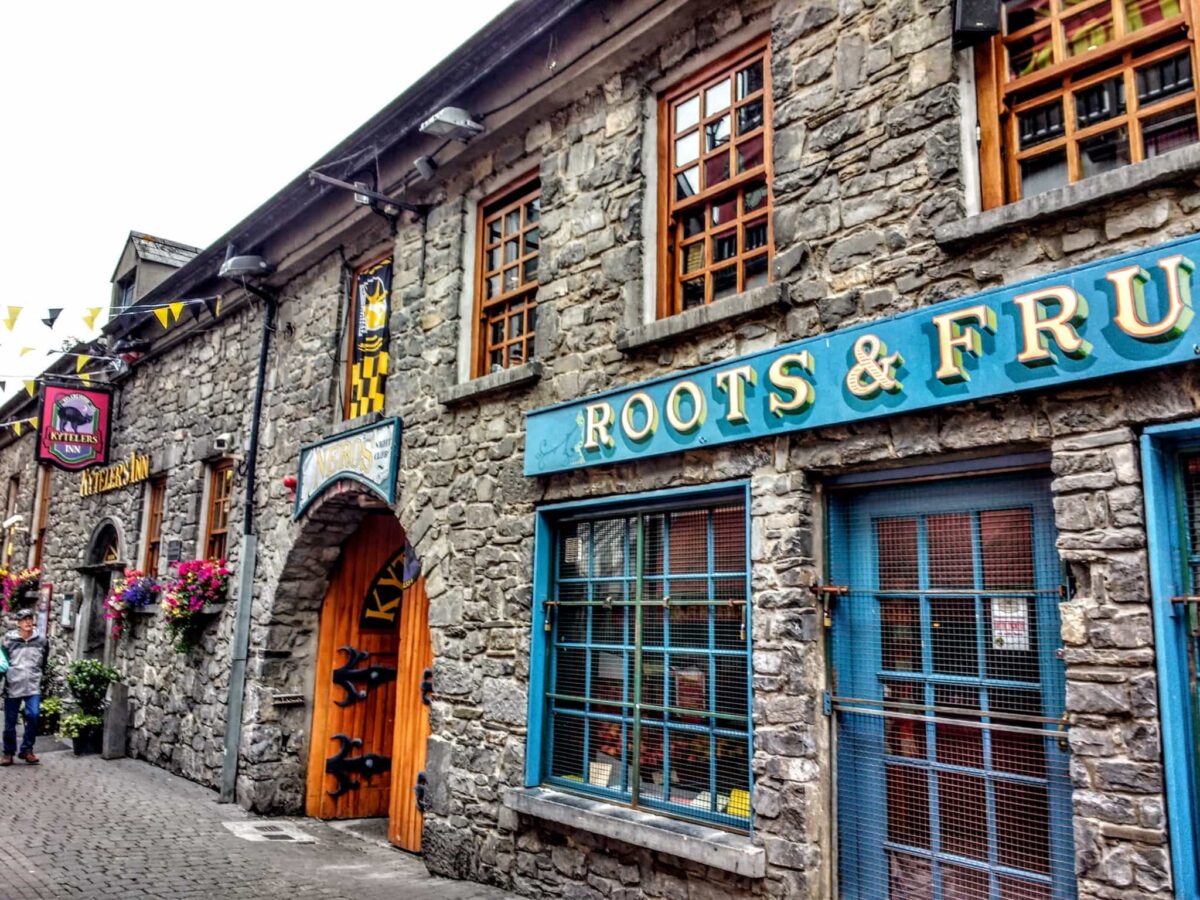 Xyuandbeyond is reader-supported. When you buy through links on our site, we may earn an affiliate commission. You can read my privacy policy here.
What to do in Kilkenny Ireland
Kilkenny Road Train Tour
There are so many attractions in Kilkenny that you may want to save your feet a little before you really explore so take the Road train tour. At a cost of €8.50 Euros for adults, this is a great way to get around Kilkenny if you are mobility challenged. This small road train does tours all around the city starting off at Kilkenny Castle and does a 30-minute tour of Medieval Kilkenny.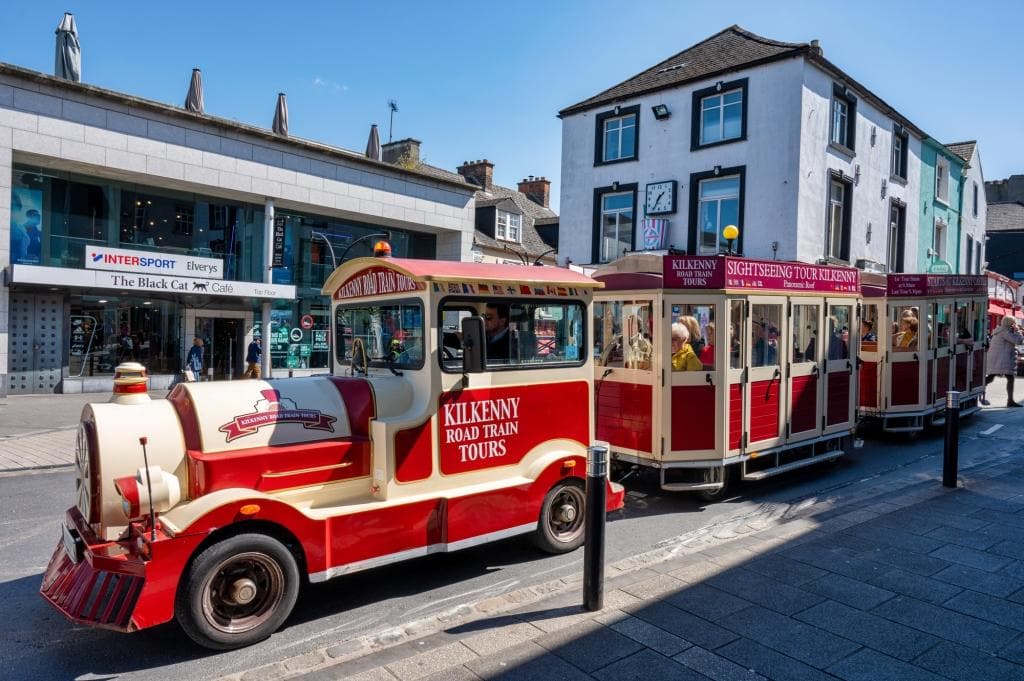 While onboard you will get a full commentary on all the Kilkenny City landmarks giving a historical and fascinating insight into the history of Kilkenny.
The Rivers of Kilkenny
Kilkenny was the capital of Ireland for 9 years until Cromwell began his conquest in 1649. It is located in the southeast of Ireland in the province of Leinster. The county of Kilkenny has three major rivers running through it, known as the Three Sisters: the Nore, the Suir and the Barrow.
Kilkenny's Medieval Mile
Kilkenny's most famous tourist attraction is the Medieval Mile and also as the Marble City because of its distinctive black marble. When walking the Mile you will see medieval slipways or alleys, a Tudor Inn, a Dominican Abbey and a fine example of a 17th-century merchant's house and the only example of its kind in Ireland.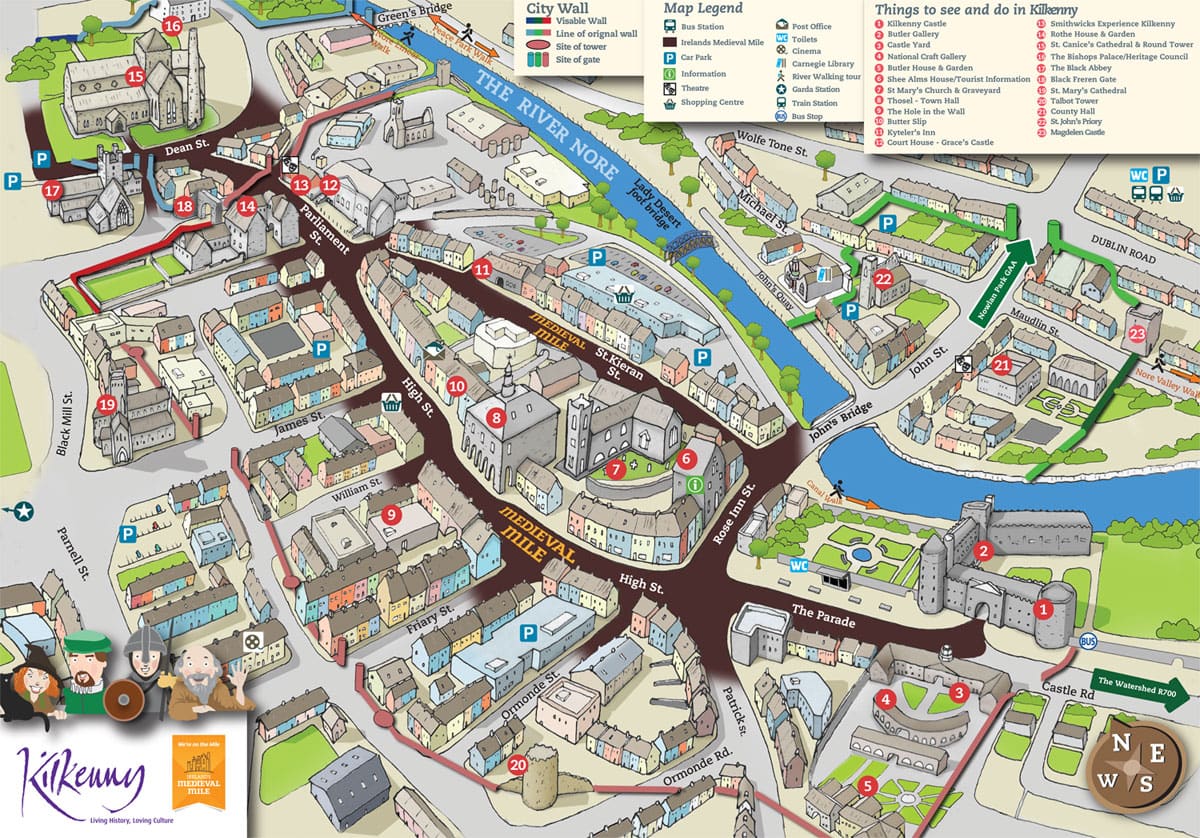 Planning a first time trip to Ireland? Here's everything you need to know
There are lots of ancient sites well worth visiting in Kilkenny including the Dunmore Caves in Ballyfoyle, the ruins of the monastery in Kells, St. Canice's Cathedral and Kilkenny Castle.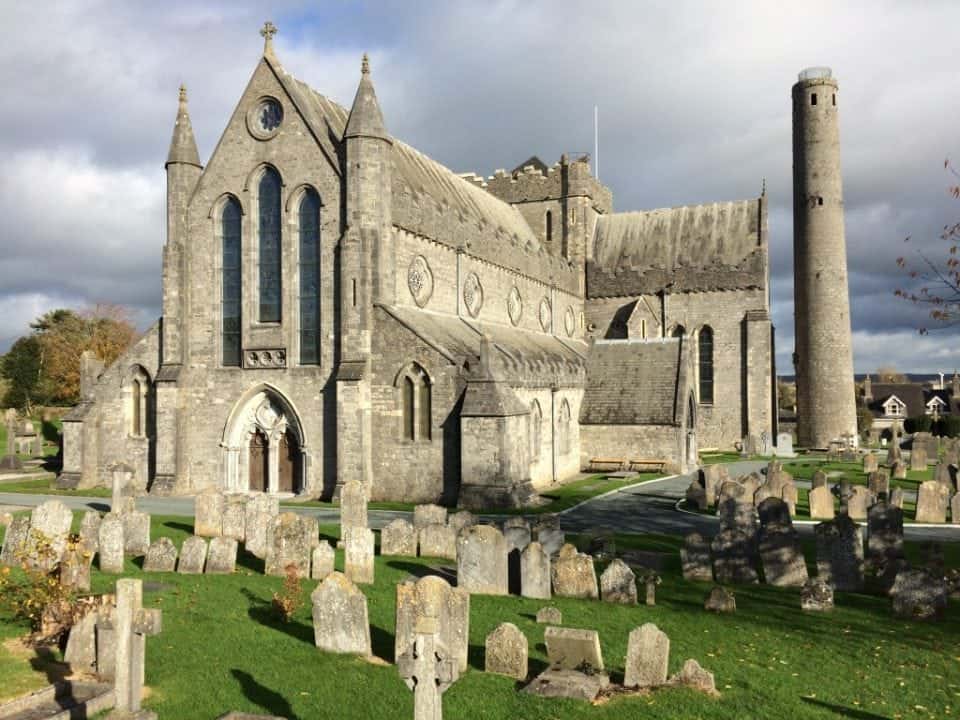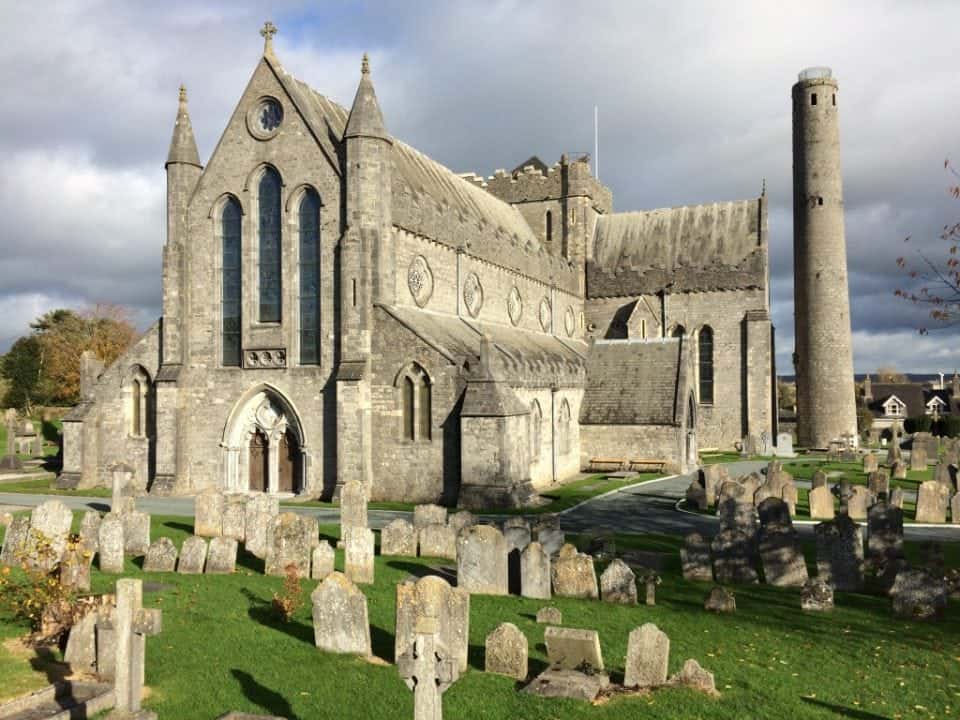 Need to rent a car to travel throughout Ireland – Here's everything you need to know
Places to see in Kilkenny
There are so many places to visit in Kilkenny You can visit a recreated medieval garden, climb St. Canice's Round Tower (the oldest standing structure in the city), and take a glimpse inside the lives of the Butler family and their servants at Kilkenny Castle. Or feel the hairs rise and your heart beat faster at tales of witchcraft in Kyteler's Inn here since 1324.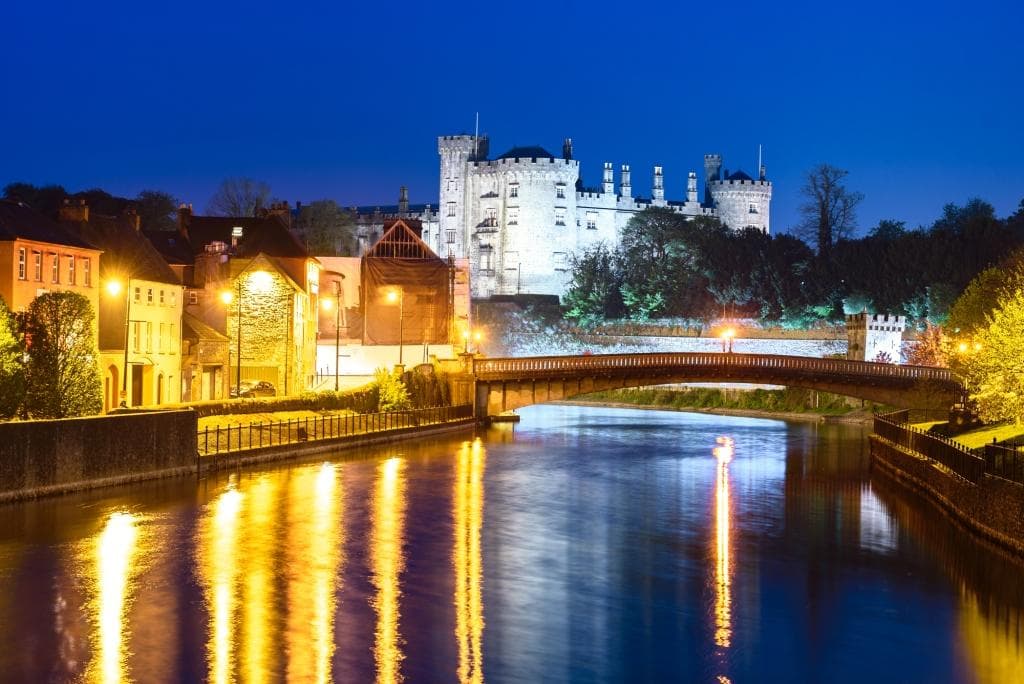 Kilkenny Castle
One of the best things to do in Kilkenny Ireland is to visit Kilkenny Castle stands dramatically on a strategic height that commands the crossing on the River Nore and dominates the 'High Town' of Kilkenny City. Kilkenny Castle is a complex structure that has evolved over 8 centuries and contains many architectural styles. The cost to enter the castle is €8 and you can join a free guided tour and these are conducted in a wide variety of languages.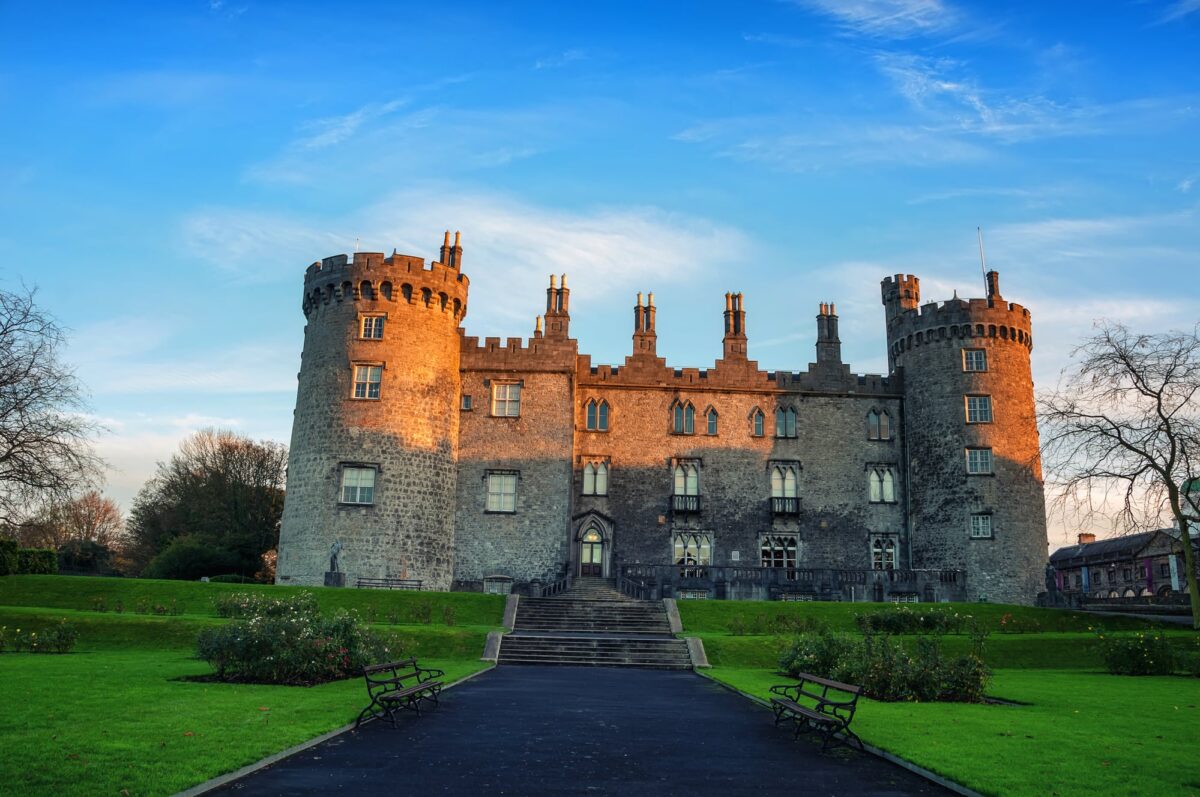 The original Anglo-Norman stone castle was built for William Marshal, 4th Earl of Pembroke in the first 10 years of the thirteenth century. This is one of the greatest Irish Castles you can visit and it's one of my favourite things to do in Kilkenny.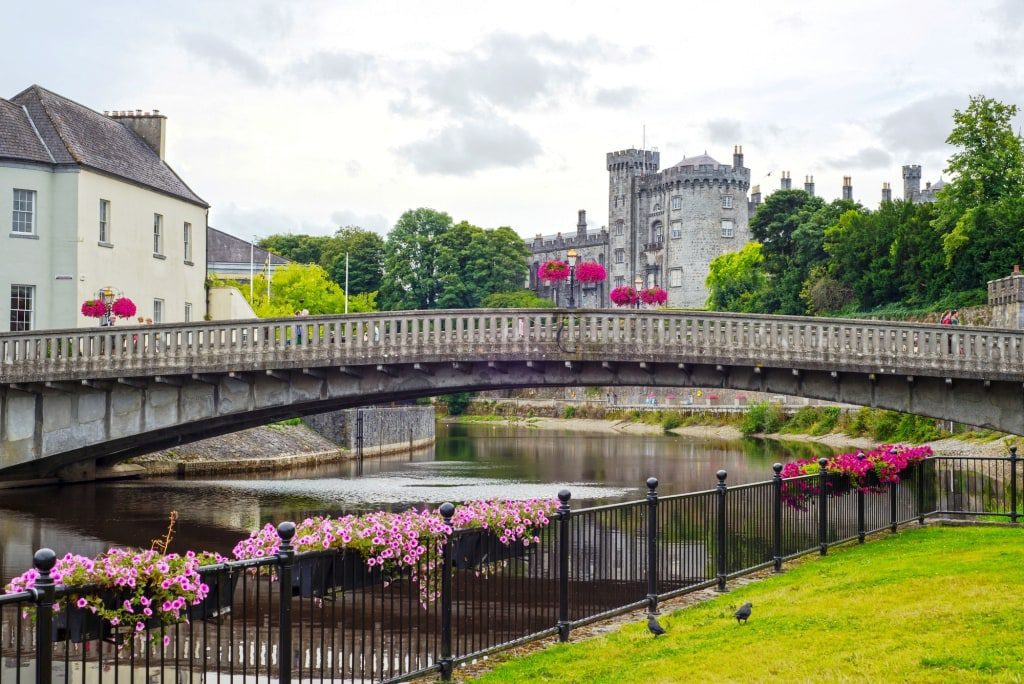 Kilkenny Castle later became the principal Irish residence of the powerful Butler family for almost 600 years. Their ownership began when James the 3rd Earl of Ormond, purchased the castle around 1390 and lasted until 1967 when Arthur, 6th Marquess of Ormonde presented it to the people of Kilkenny in return for a token payment of £50.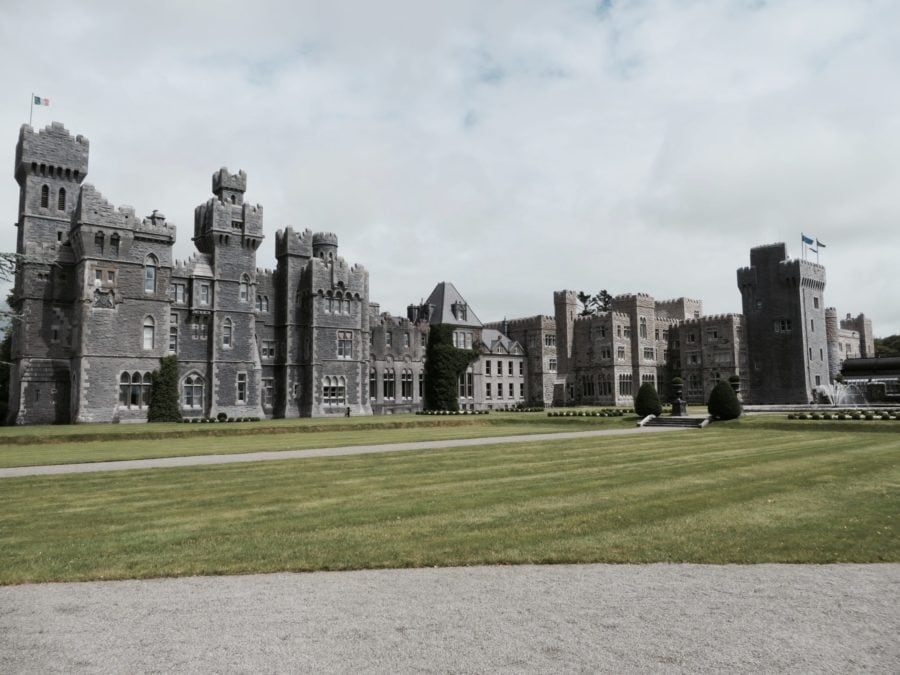 Kilkenny Castle Rose Garden and Park
The Kilkenny Castle Parkland boasts both formal and informal gardens. Set in Kilkenny City, the estate overlooks the Nore River and includes mature trees and shrubs as well as an ornamental lake. All areas are free of charge.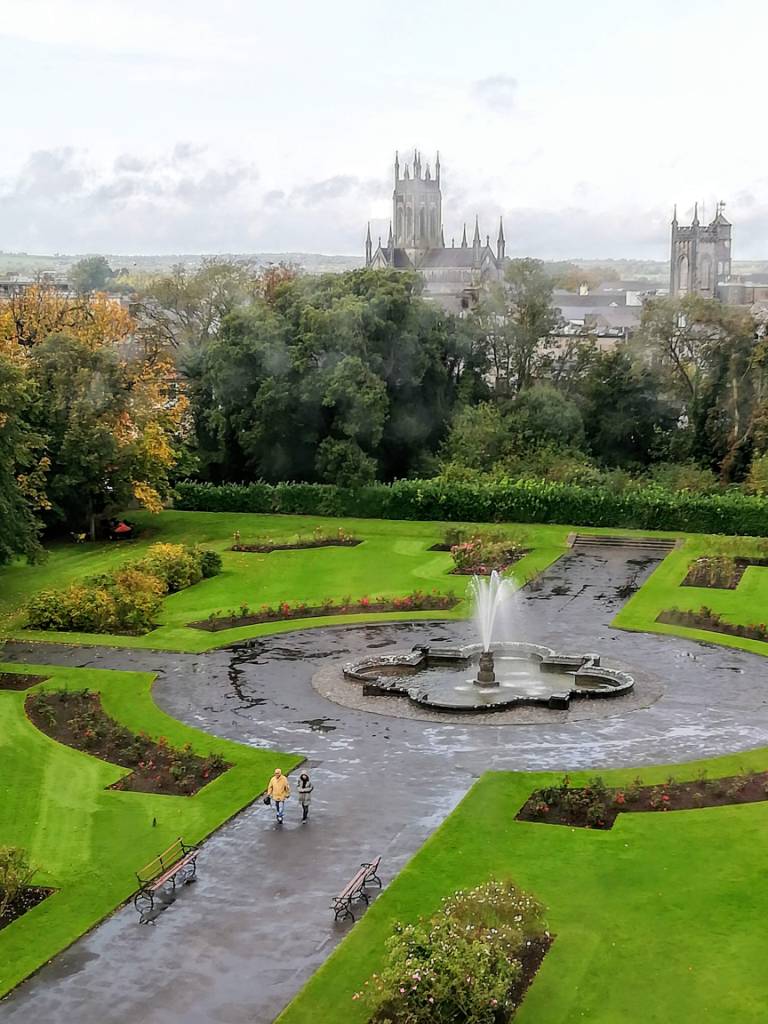 The Butler Gallery
Has relocated in 2020 to Evans' Home, John's Quay, Kilkenny which will open in summer. The Kilkenny Art Gallery is unique in Ireland. In the Butler Gallery, it has one of the finest exhibition spaces in the country. The gallery serves not only as a particularly fantastic venue for visiting touring shows but also originates some formidable exhibitions. It has an impressive, representative collection of nineteenth and twentieth-century Irish art.
The Shee Alms House
Shee Alms House was founded by the Shee family in 1582 'to accommodate twelve poor persons in the city of Kilkenny, this significant Tudor Period Almshouse.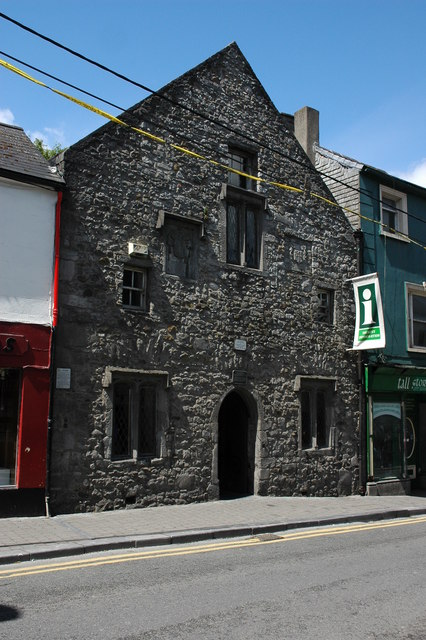 Kilkenny Design Centre
Kilkenny Design Craft Gallery offers an amazing selection of Irish and international artists handcrafted gifts. The Centre is Ireland's most prestigious source of Irish gifts of exceptional quality, all chosen with a discerning eye for quality, uniqueness and style. Located directly across the road from Kilkenny Castle it houses a fabulous restaurant upstairs called Anoch and a cafe downstairs where you can enjoy fresh baked goods and dishes prepared by Ireland's finest regional producers.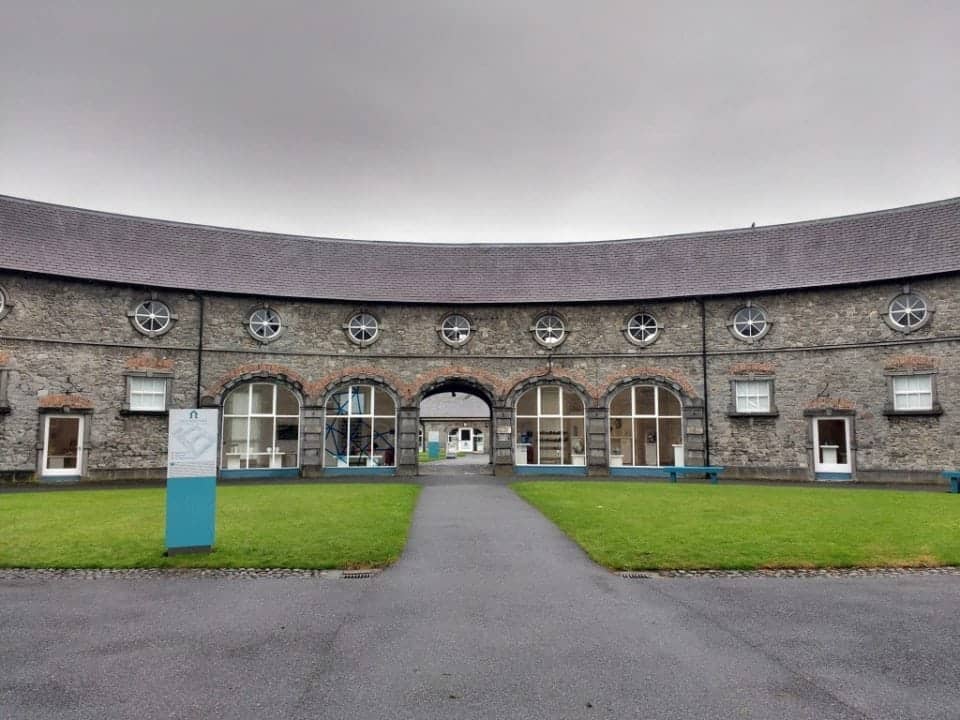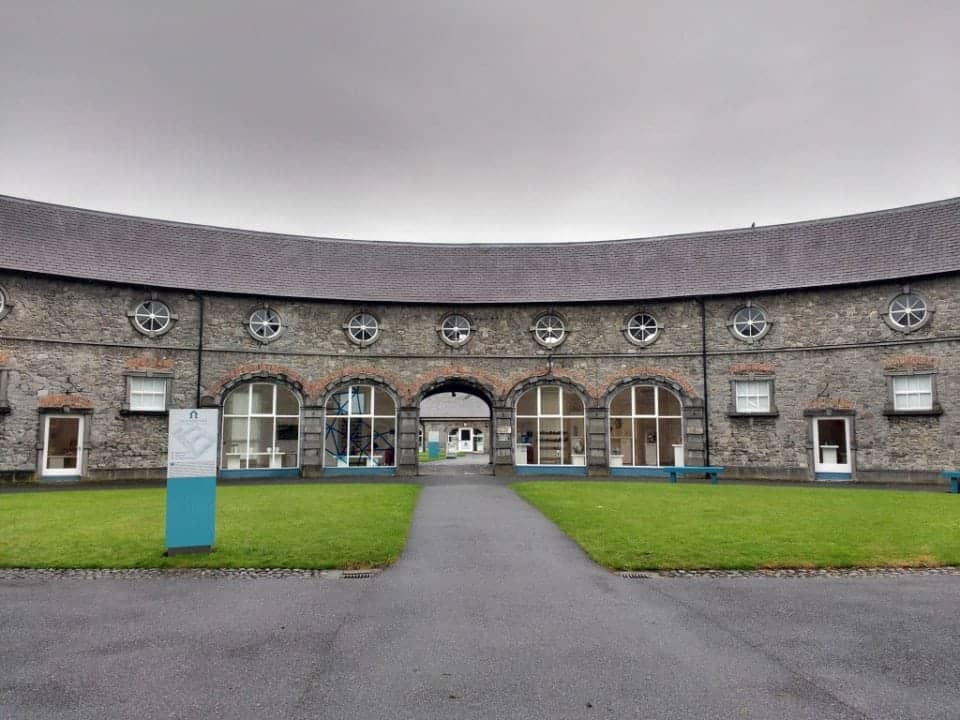 Comhaltas Ceoltóirí Éireann
Comhaltas Ceoltóirí Éireann is the largest group involved in the preservation and promotion of Irish traditional music. Their Summer Entertainment Show with Ceoltoiri Kilkenny at Kilkenny Castle each Wednesday evening from June – August.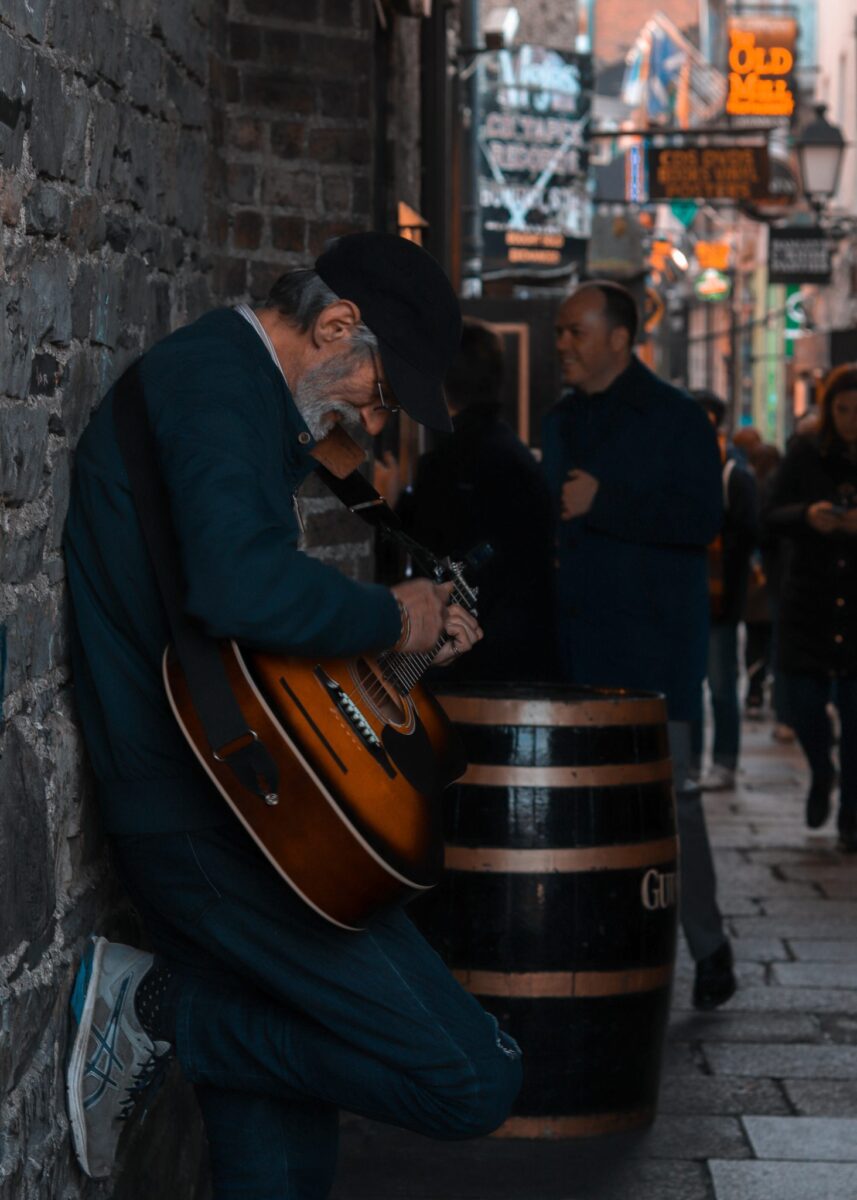 Famine Heritage of MacDonagh Junction
The historic nature of the MacDonagh site is well documented. On the site was the former Union Workhouse built in 1842 to accommodate up to 1,300 local poor. When the potato famine began in 1845 the Poor House quickly became the City Famine Workhouse.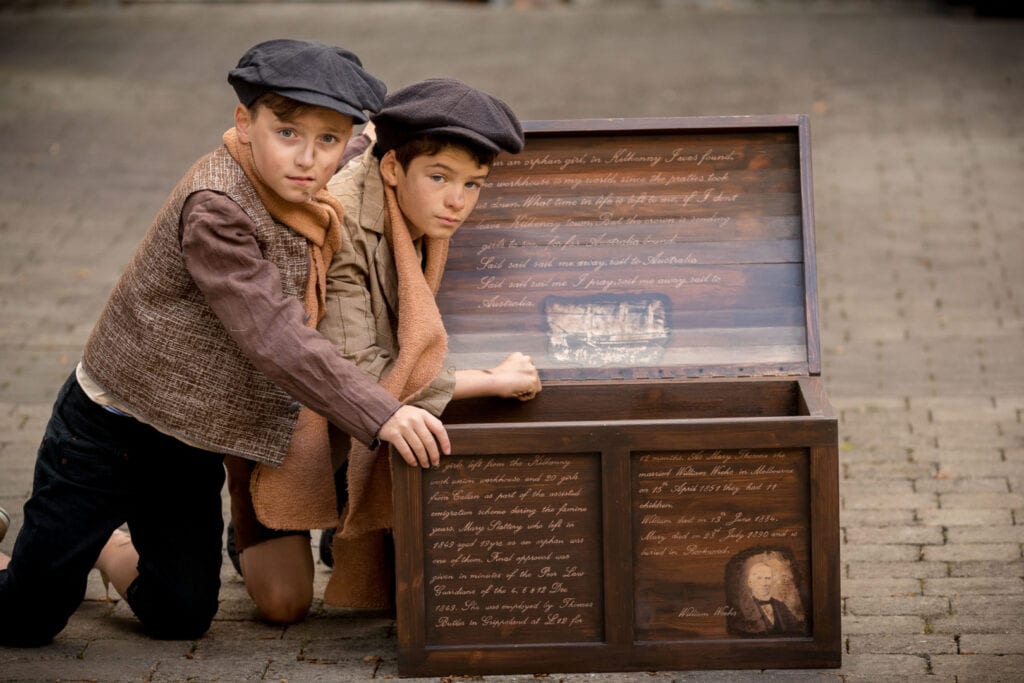 You can visit the Kilkenny Union Workhouse, now beautifully restored as MacDonagh Junction Shopping Centre in the heart of Kilkenny City, to take a free self-guided audio-visual tour at the Kilkenny Famine Experience.
Kilkenny Jail & Courthouse
The building is on the site of an ancient castle built around 1210. This was replaced in 1566 by the present building, which was eventually given to the authorities by its owner for use as a jail. It became a courthouse around 1792 and still houses the local district and circuit courts. The foyer also functions as an exhibition venue during the Kilkenny Arts Festival in August.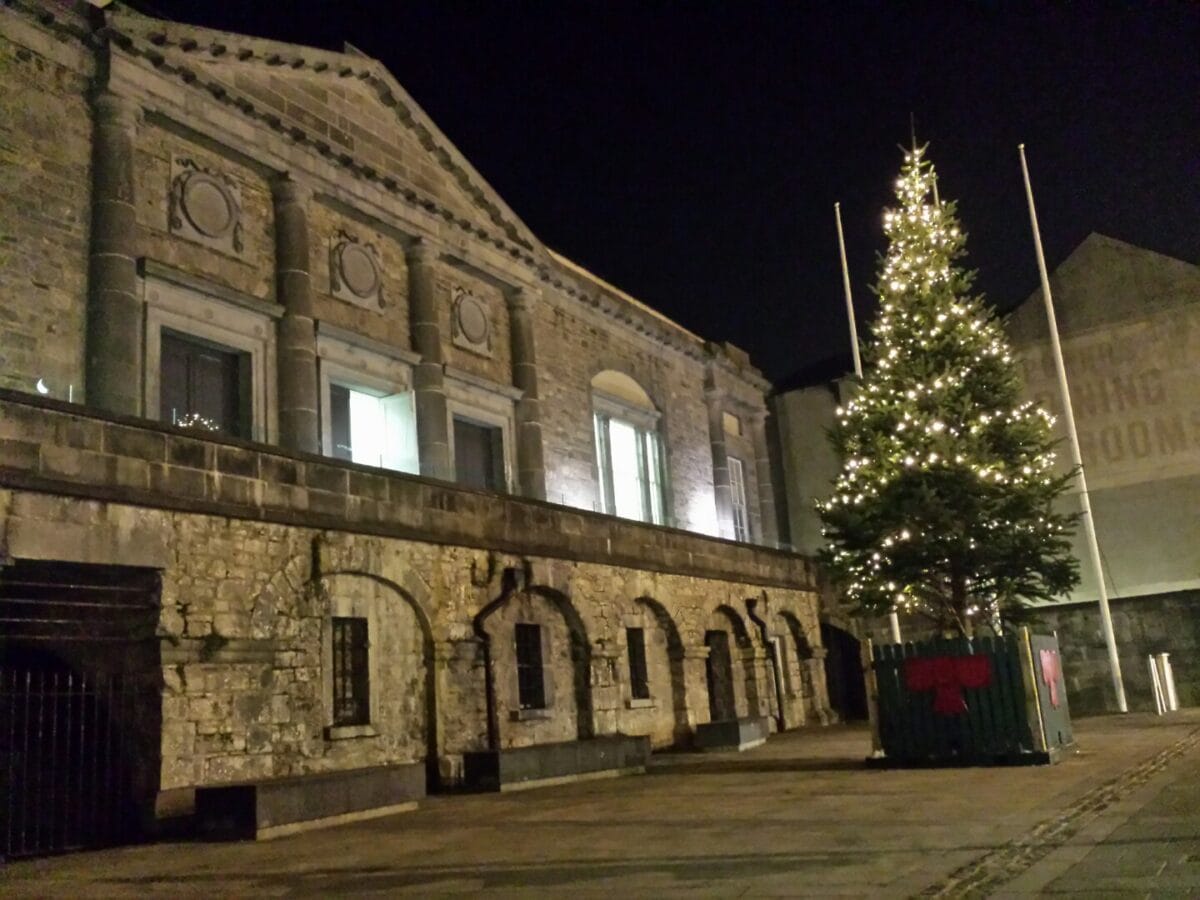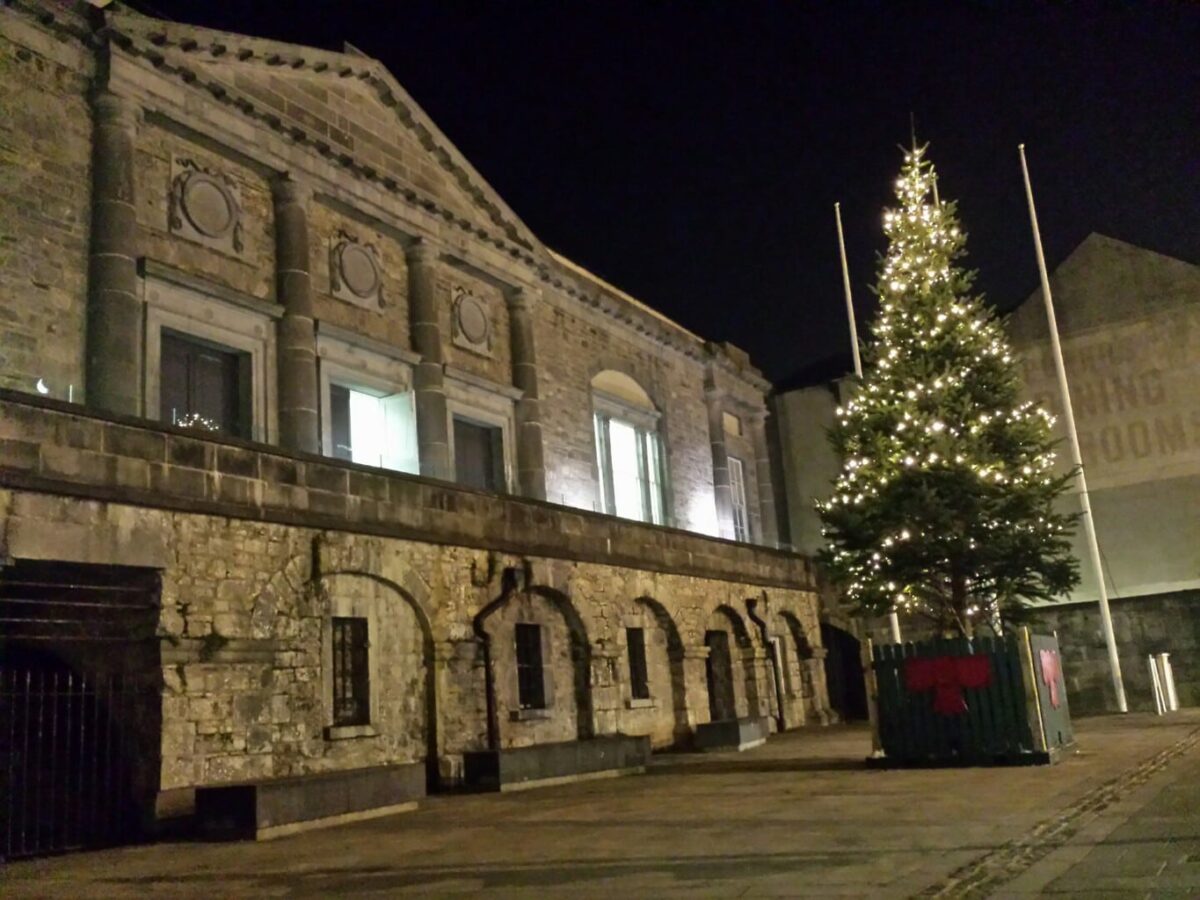 Medieval Mile Museum
The former St Mary's Church has been converted into a modern museum and is also a venue for select events and exhibitions. The Museum provides interactive displays and exhibits designed to tell the story of Kilkenny and its medieval history. Kilkenny's civic treasures are on display as well as some replicas of Ossory High Crosses.
The 13th century St Mary's church and graveyard in Kilkenny is the finest example of a medieval church in Ireland.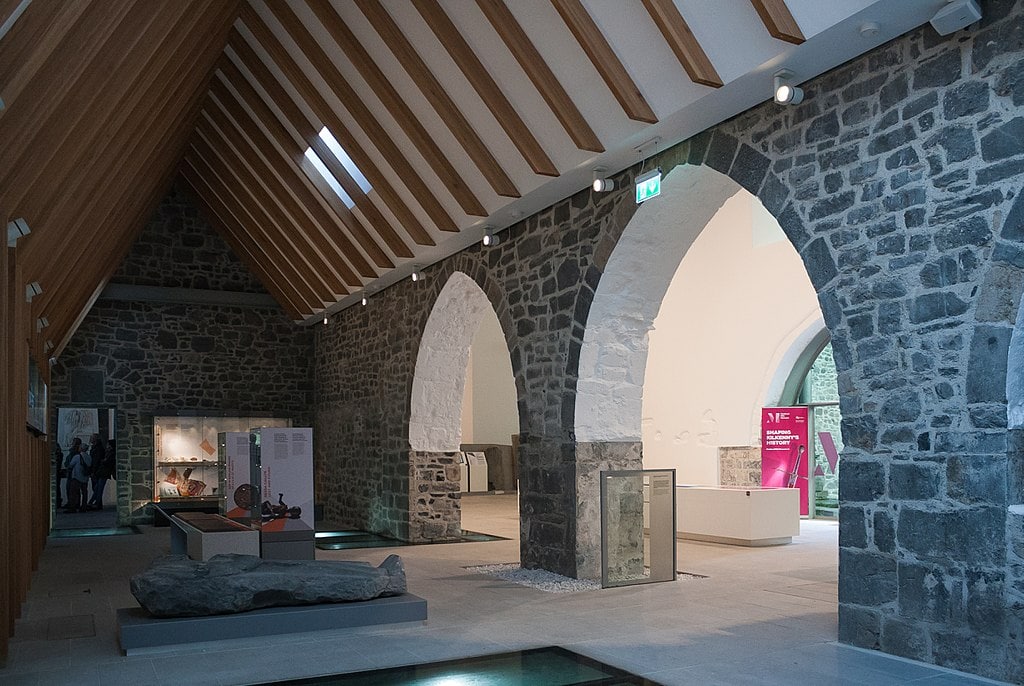 Ktyeler's Inn
Kyteler's in Kilkenny is one of Ireland's oldest inns. It has a unique story, great food, artisanal beers, live music and of course a ghost and today is a unique Kilkenny pub you can enjoy the craic in.
BOOK YOUR HISTORICAL HISTORICAL WALKING TOUR OF KILKENNY NOW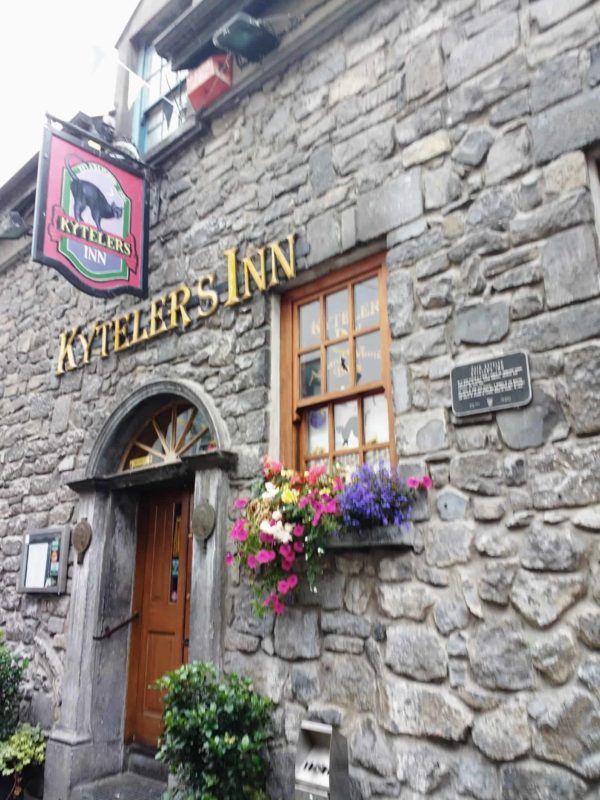 Dame Alice de Kyteler was accused of witchcraft by her husband's children who believed she had poisoned him to get to his money. This was the first known Witchcraft Trial in Ireland, and through torture, the church obtained confessions and Dame Alice was sentenced to be burnt at the stake, but the night before her burning in 1325 Dame Alice escaped. It is believed that Dame Alice went to London but nothing more was heard of her after her escape.
Butterslip Lane Kilkenny
Butter Slip Alley is a tiny dark walkway that connects the High Street to the Low Street, now known as St Kieran's Street. The narrow medieval cobblestone alley was built in 1616 and was home to butter vendors.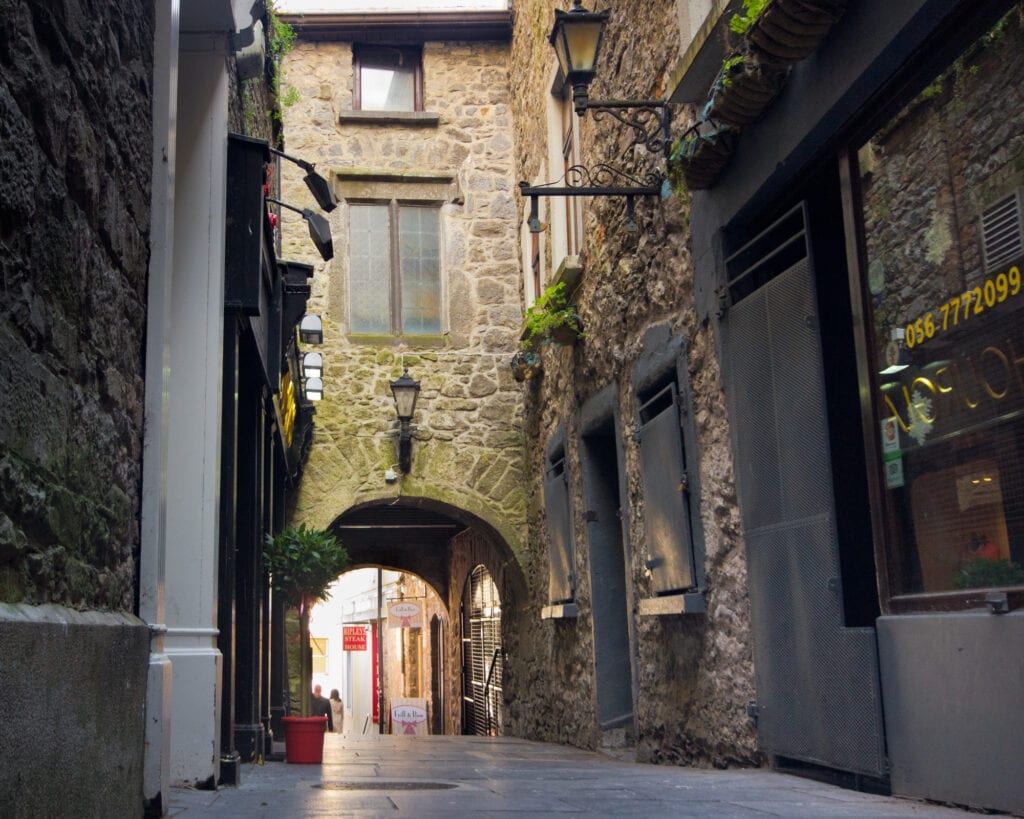 Rothe house and garden
On St. Kieran's street, you will see the Tudor Rothe House. It is said to be one of Ireland's best surviving examples of a 16th Century merchant's house. Today it is maintained as a museum with artefacts from Viking and Celtic times. The cost to enter the museum is €5.50 in the museum you can see exhibits of costumes, and artefacts from around the area.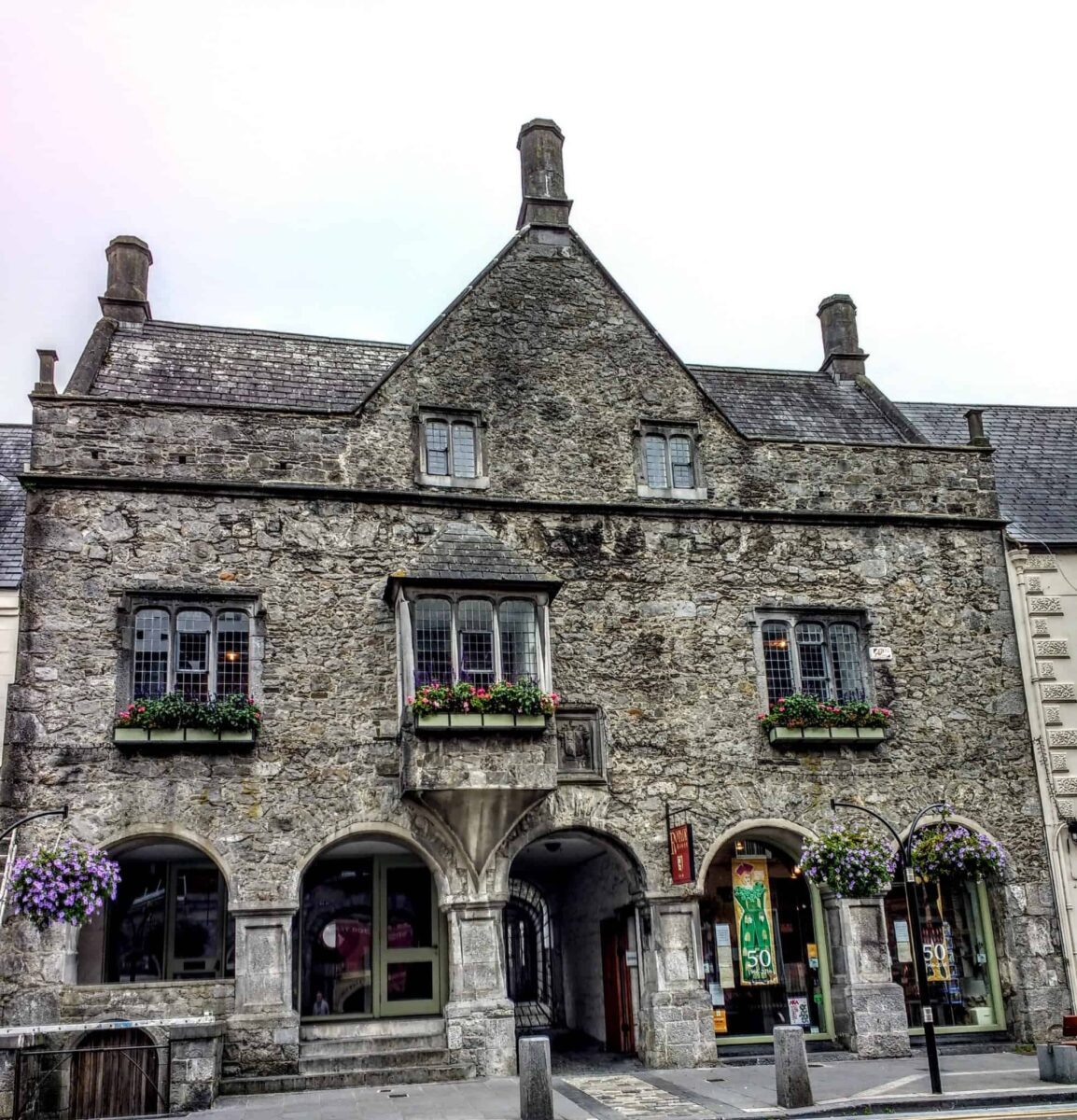 The garden at Rothe House is a faithful recreation of the Rothe family garden. Restored it as it would have appeared in the early 17th century. Rothe House garden is now the only urban garden of this period which is open to the public. The long, walled burgage plot runs from the rear of John Rothe's house on Parliament Street to the city wall. Archaeological excavations in 2008 uncovered the original layout of the garden. Even the seeds and pollen of the plants of the 17th century were discovered.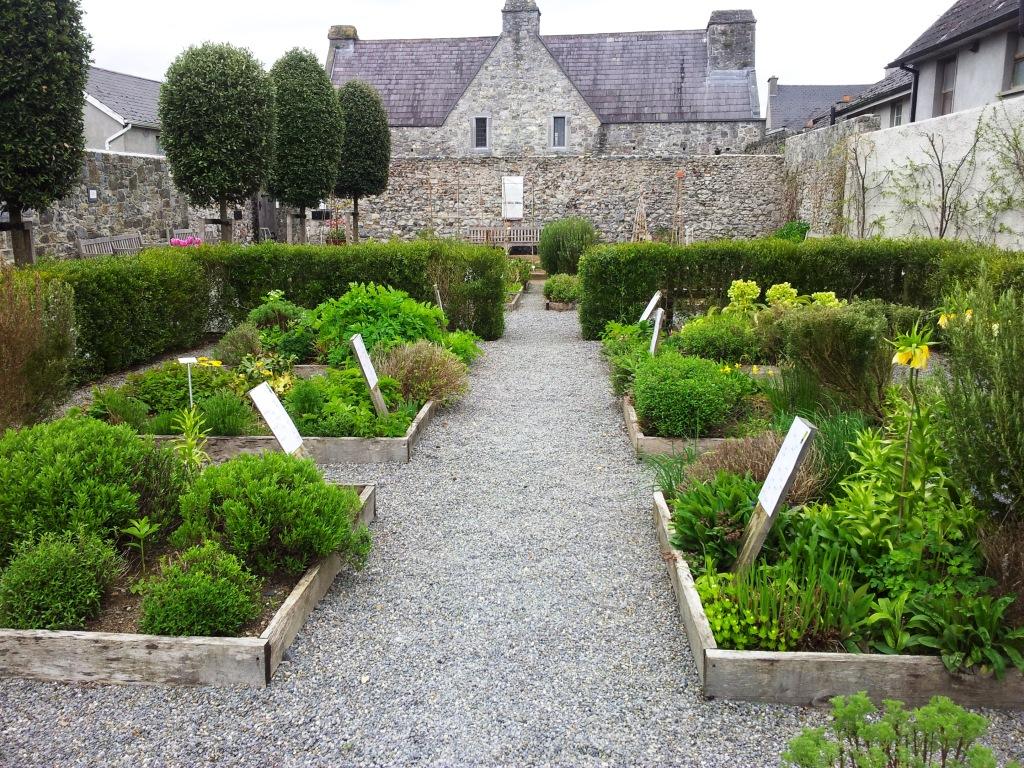 Genealogy Services Ireland
If you are visiting Kilkenny you may want to look into your Irish family history. With over 200,000 family history parish and civil records, Rothe House is the genealogical research centre in Kilkenny city and county. For those with Kilkenny ancestry, this is the place to start your search, or even add to your existing knowledge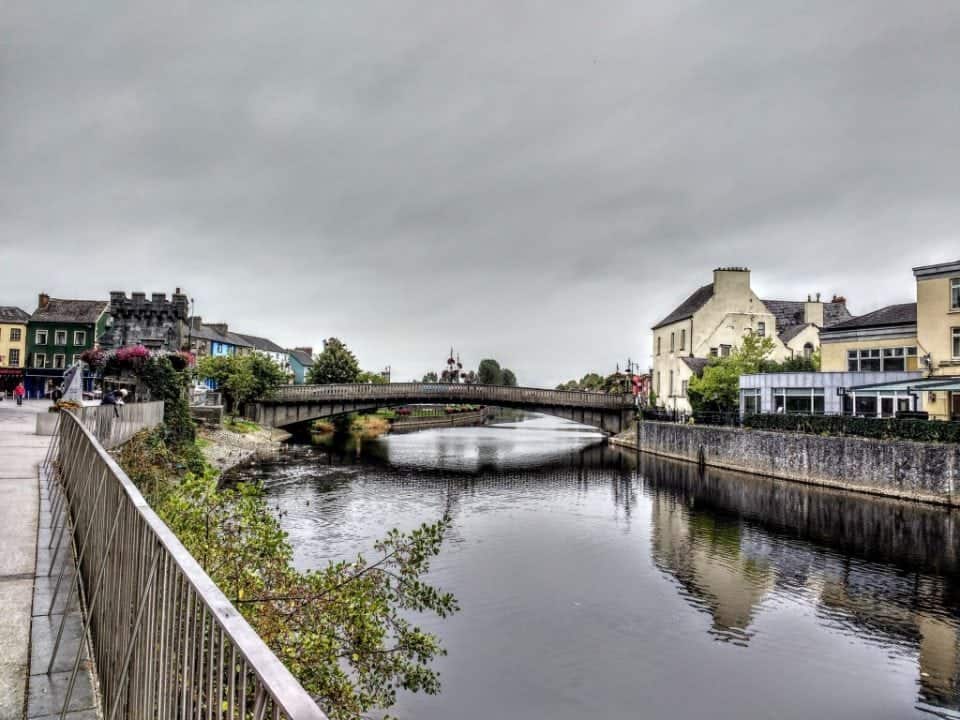 Canal Walks
The perfect way to stroll the day away is to take a walk around Kilkenny's lovely canal. The canal promenade begins at Canal Square near John's Bridge – remember your Ghost tour walk guide told you about the 16 souls lost when the bridge collapsed in 1763. and runs along the lower wall of Kilkenny Castle following the River Nore for miles into the countryside. Take the trail until you reach the pedestrian bridge and cross over the river to return back to town on the Lacken walk. There are several hotels, restaurants and pubs if you fancy a cold pint or coffee on your leisurely stroll.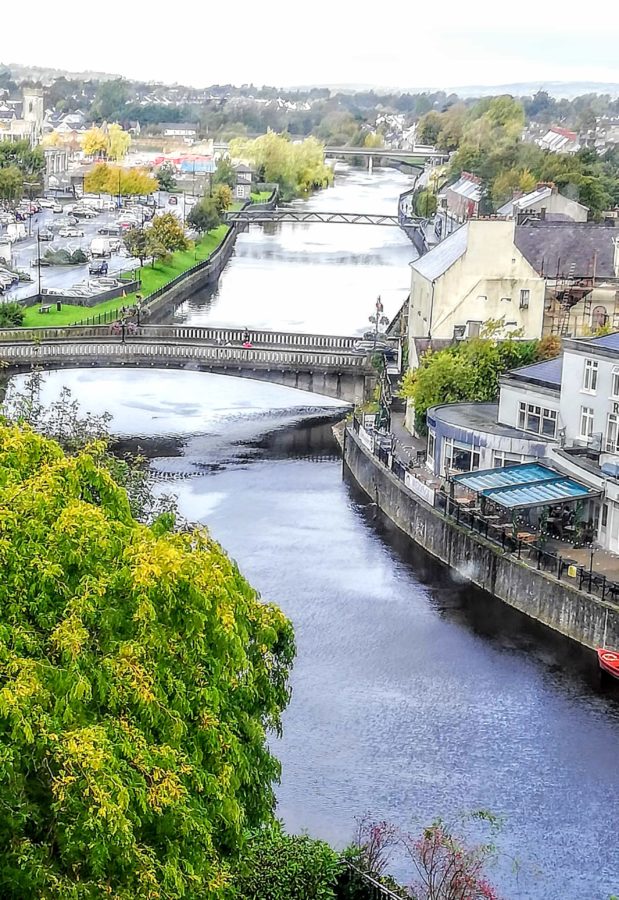 Smithwicks Experience
One of the High Street's main attractions is the Smithwick's Experience which can be found at the old Francis Abbey Brewery Learn the tale of 300 years of brewing tradition that has led to this rich deep ruby red-coloured ale. If you book your tickets online before you go you will save at least 10% and the cost is around €18.00.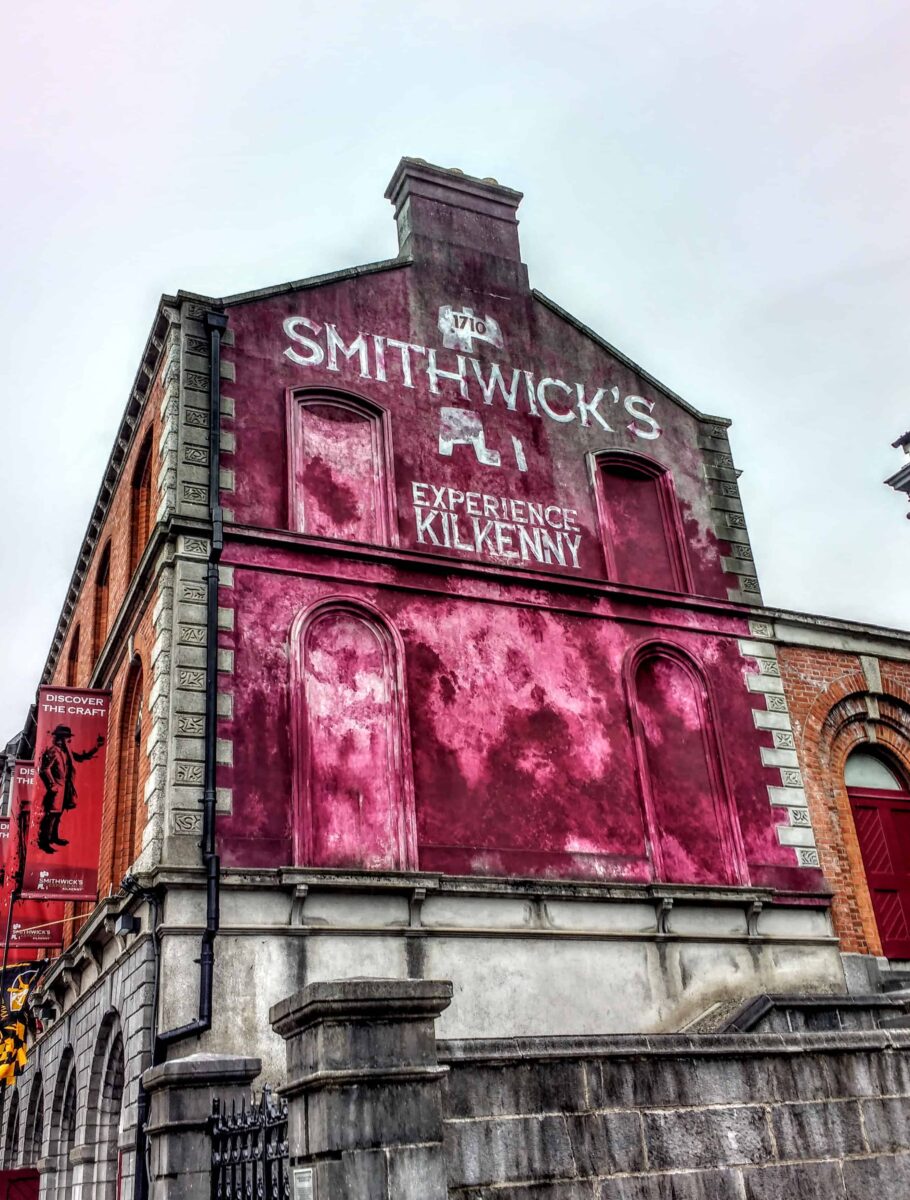 Black Abbey
The Dominican Black Abbey in Kilkenny was founded in 1225 by William Marshall, Earl of Pembroke. The church has since been beautifully restored to its original splendour with a spectacular coloured stained glass window.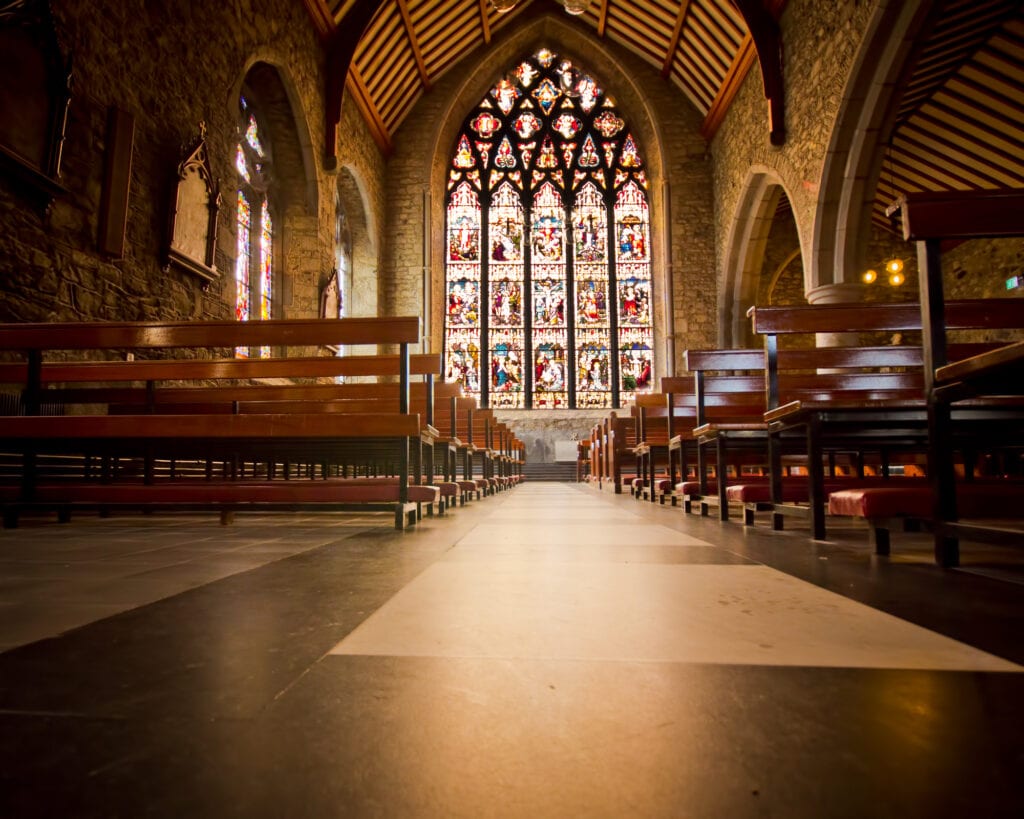 The Black Abbey was part of the Dominican Priory and derived its name from the Black Friars, as the Dominicans were called.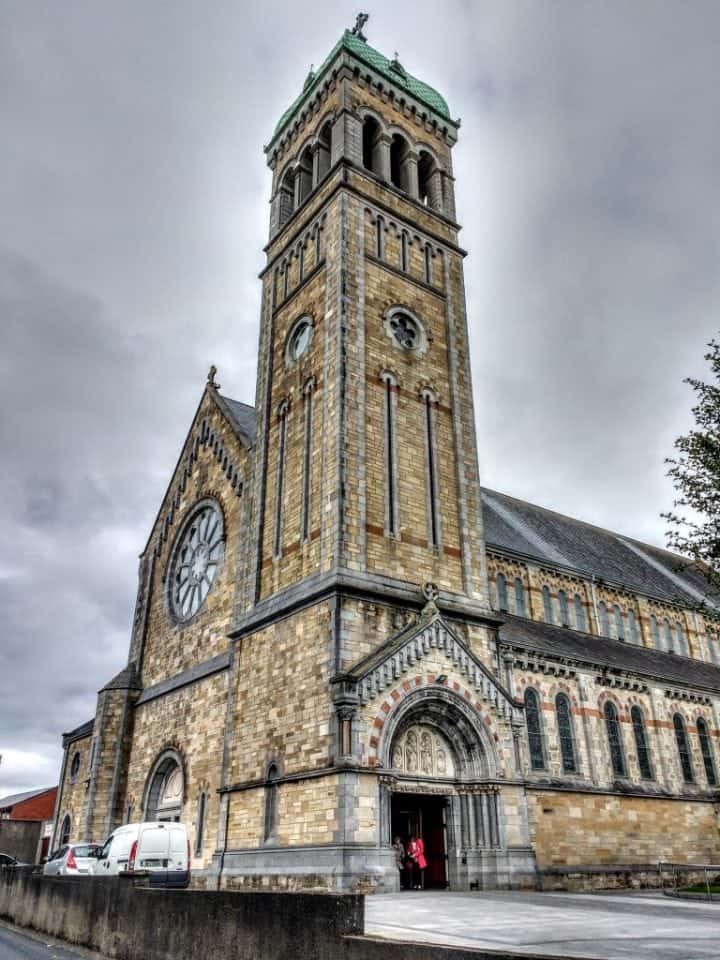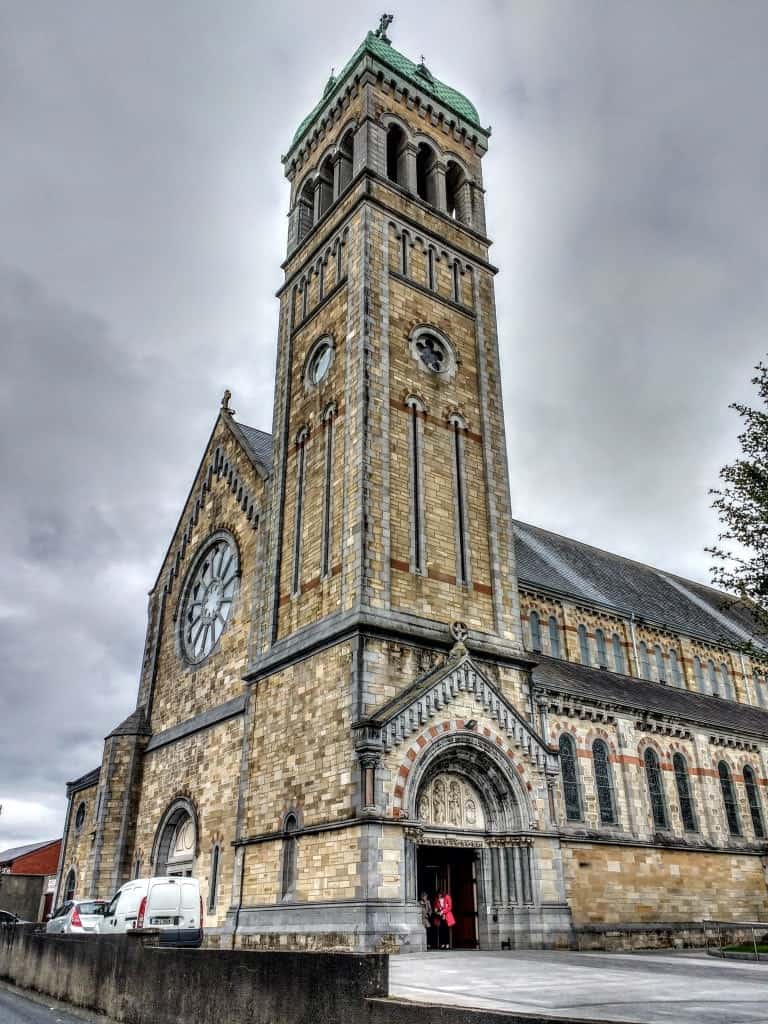 From the Mile, you can stroll down to Black Abbey, named for the Monk's black garments and the famous St. Canice's Cathedral which is the second largest in Ireland. The first monastery was built here around the 6th Century by St Canice, Kilkenny's patron Saint. St Canice's Cathedral is now home to the burial site of President Obama's 6th generation grand Uncle and Bishop of Ossory.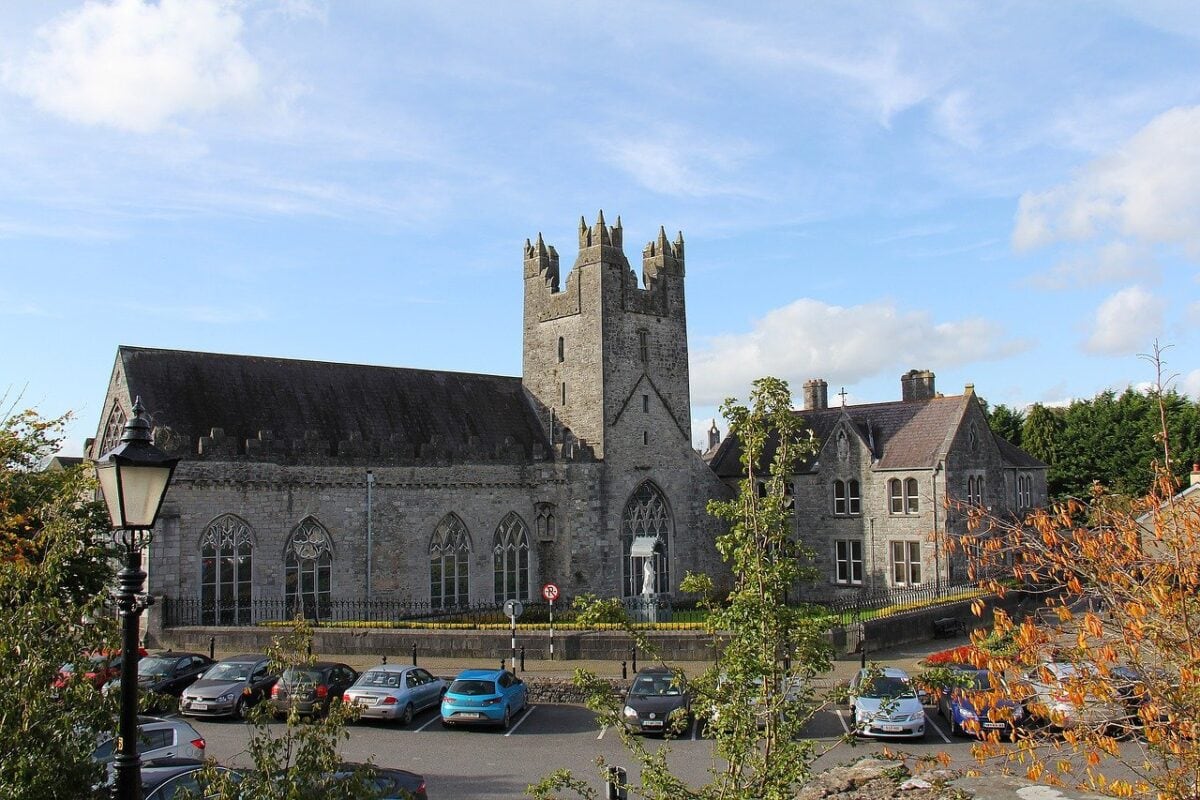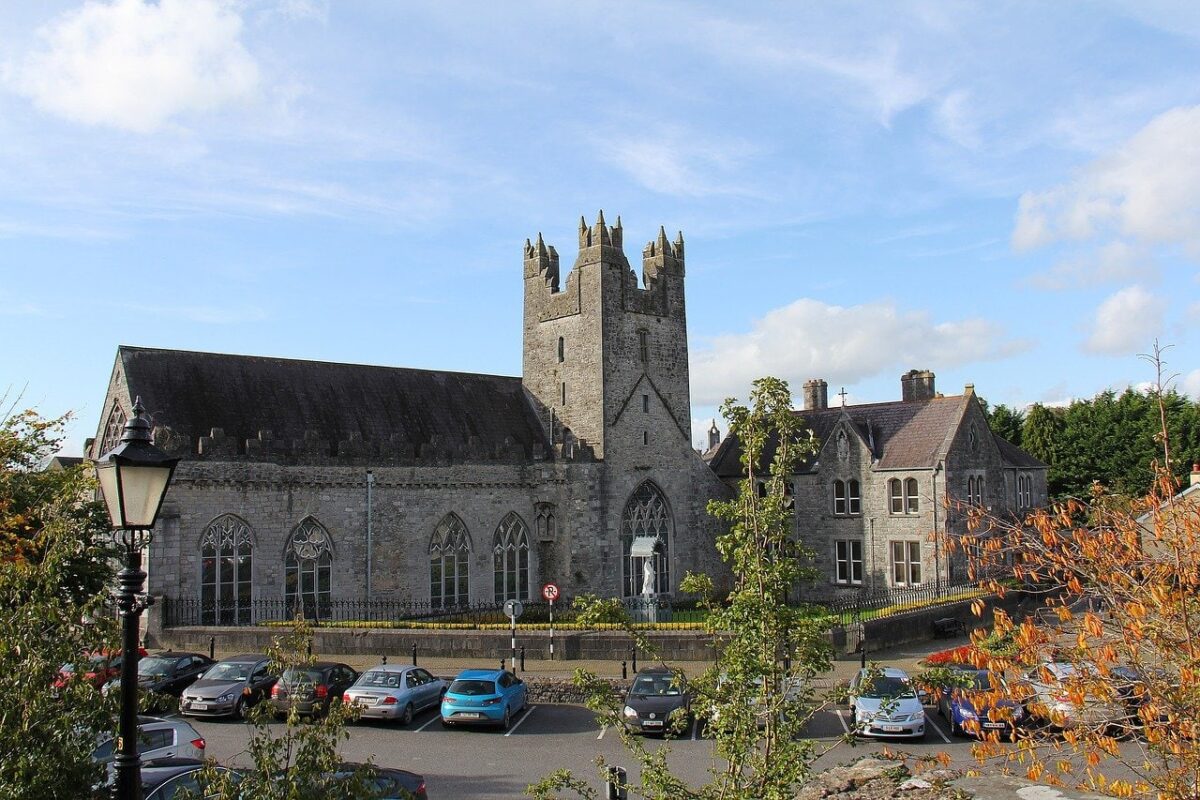 St. Canice's Cathedral and Round Tower
St Canice's Cathedral is one of the most prominent sights in Kilkenny, and it is believed that construction began in the 1250s and was completed in 1285, but the religious roots of the site extend back to the 6th Century when the Church of St Canice stood here.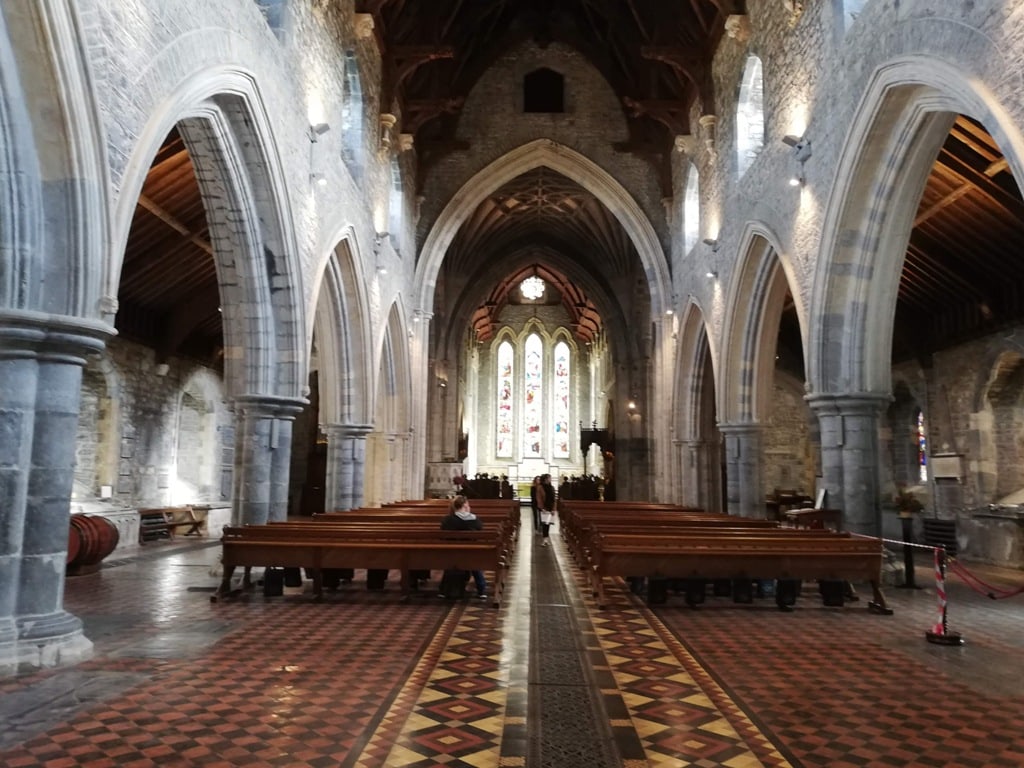 We noticed many tourists just rushing through the place but it is well worth at least an hour of your time. From the round-headed stained glass windows to the absolutely fascinating tombs made of black marble, this Cathedral is stunning.
Climb the round tower
The round tower, thought to have been built in the 9th Century, is the oldest standing structure in Kilkenny City. It is also one of only two round towers in all of Ireland that visitors are allowed to climb, weather permitting. From the top of the 30 metres tower, people can take in wonderful views of Kilkenny and the surrounding countryside. The cost for a ticket to both the Cathedral and the Tower is €7. Weather permitting, the views from here are simply incredible making it one of the best things to do in Kilkenny.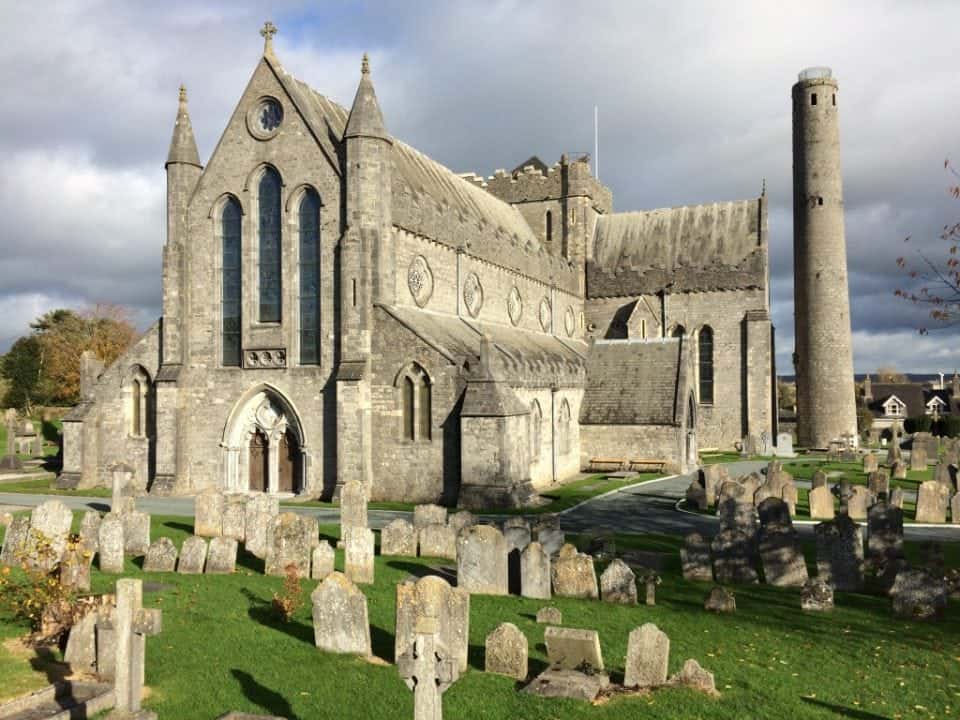 St. Mary's Cathedral
Located on the highest point of Kilkenny, St. Mary's Cathedral is built in the early gothic English style. It is believed the architect and builders constructed the Cathedral as a copy of the Gloucester Cathedral in England. This impressive Cathedral is created from cut limestone, all of which was sourced locally when it was built in the 1800s.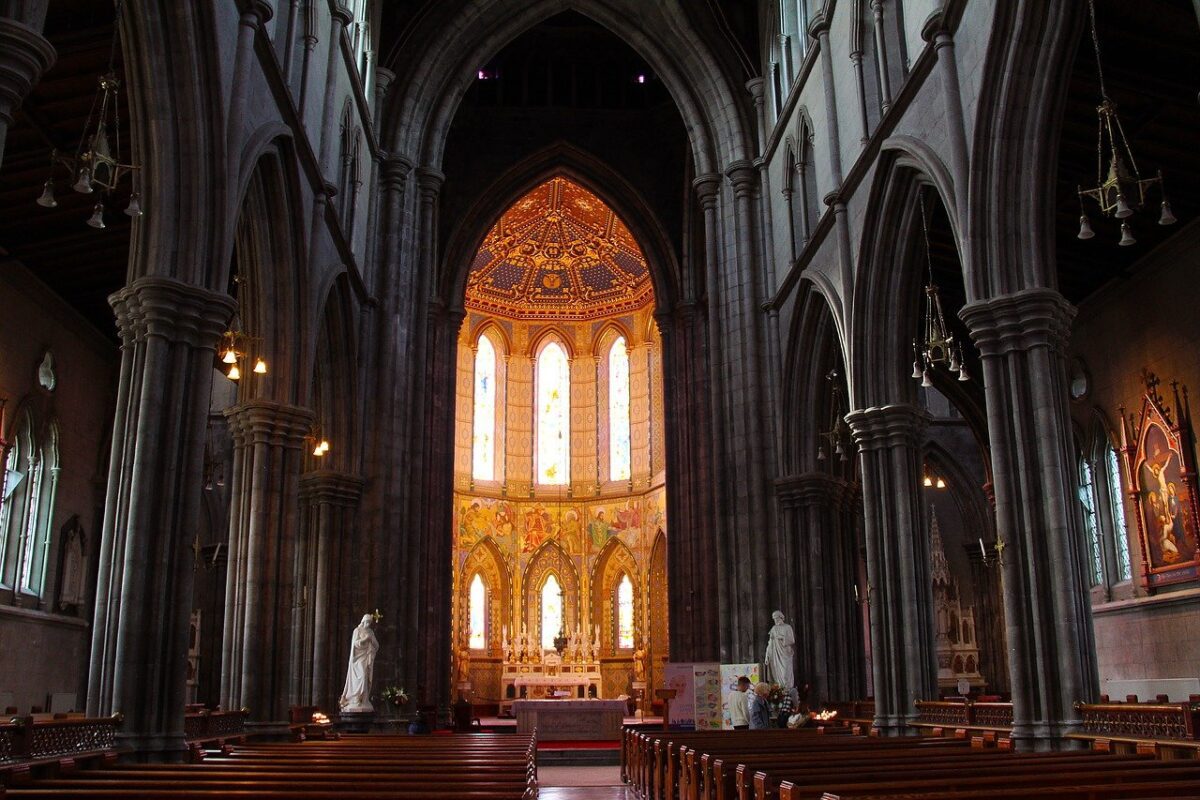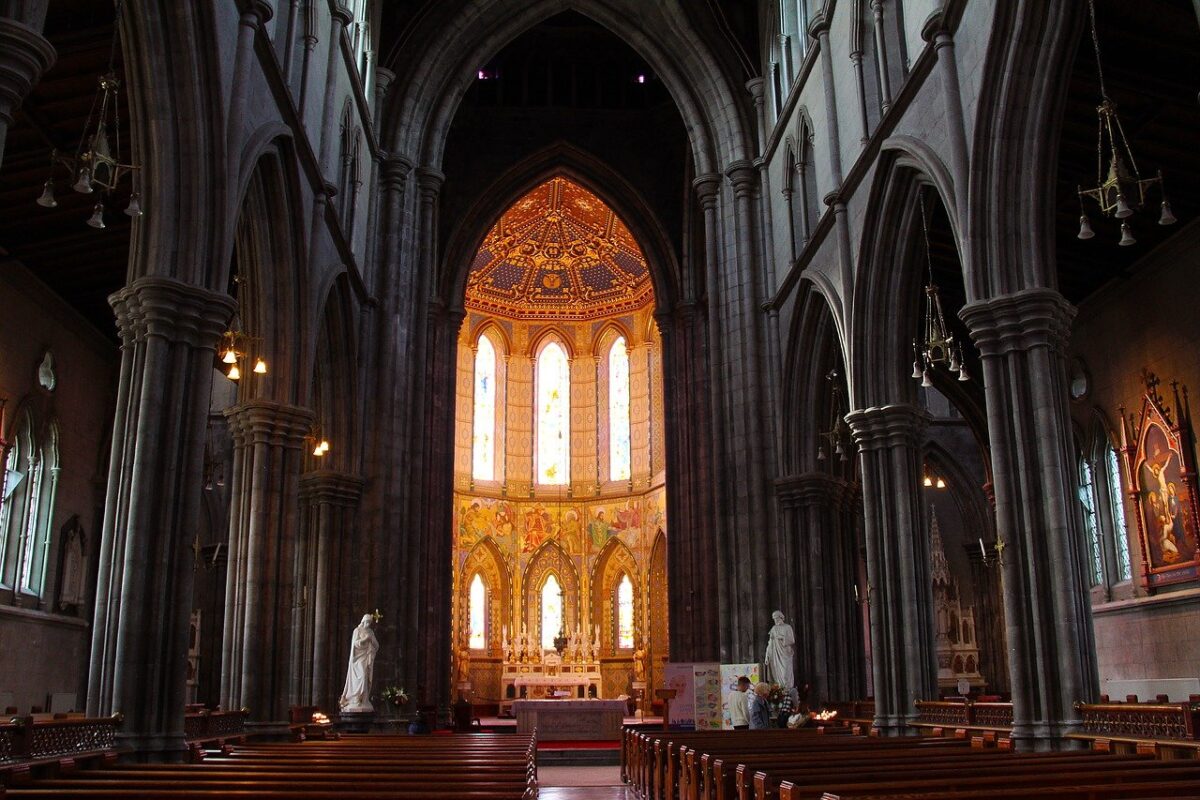 The Thosel or City Hall
The Tholsel was built in the 1700s as a toll collection point, these days though it acts as Kilkenny's City Hall and its lovely arcade it is the place to come and see the buskers of Kilkenny.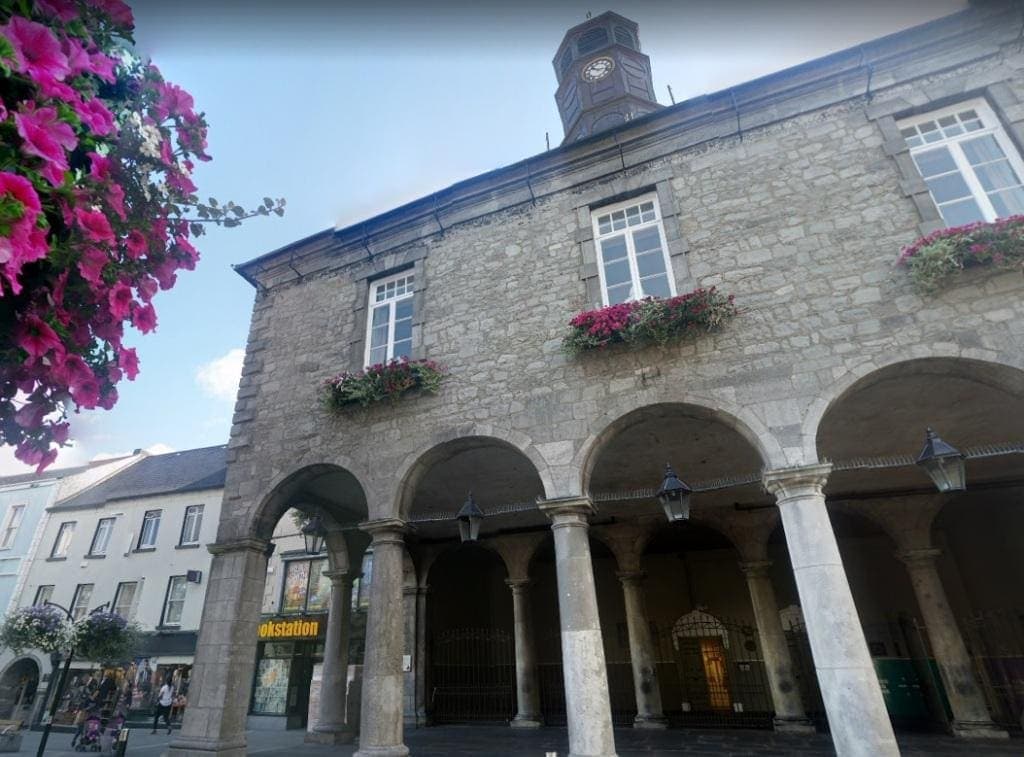 Kilkenny Ghost Tours
No shortage of ghostly tales and legends in Kilkenny. If you are a fan of the thin places then take a Ghost Tour and learn all the ghostly tales. You can also take a Medieval grave tour of open tombstones and ghastly graves within the City's famous churchyard.
The Ghost tour was one of my favourite things to do in Kilkenny. Hear tales and folklore handed down through the generations, such as the curse of Sir Richard Shee and Dame Alice Ketyler's infamous witch trial in the 14th century. Take in historic sites including the imposing Kilkenny Prison, St Mary's Cathedral, Rothe House and the stone tombs of Black Abbey, and perhaps bump into ghostly apparitions along the way.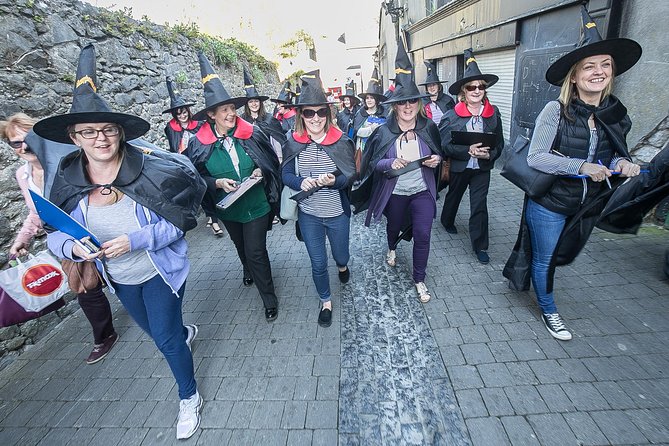 According to the guides, you will "experience the ghostly presence of the highwayman, James Freney, the Irish Robin hood, the monk and Dr Death. Arriving at Kilkenny Castle visitors like those before them may encounter the white lady or even hear the screams of the Banshee herself. "
Read more about Kilkenny Ghost Walking Tour
Kilkenny pubs
Looking for an archetypal Irish pub? Look no further than Lanigan's Bar and Hostel is the best-located hostel in Kilkenny, safe, comfortable and clean for visitors on a budget. It is approved by the Irish Tourist Board and it is in the heart of Kilkenny City. All rooms are ensuite, and they have female-only rooms, there is one of Ireland's award-winning traditional Irish pubs & restaurants attached for some great drinks and craic. Rates at Lanigan's Hostel start from €16.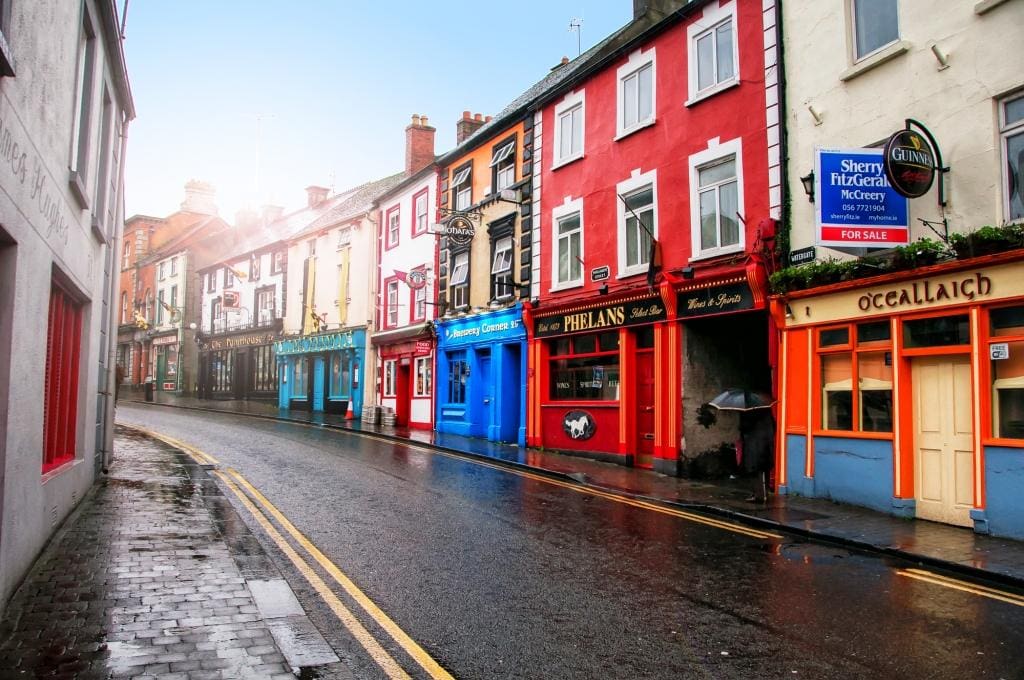 If you want to visit an authentic Irish pub then you can't go wrong with Lenehan's. This fabulous little pub has been in the Lenehan's family since 1911 but the building dates back to the 17th Century. This is exactly how Geri envisioned such Irish pubs.
Ireland is known for its traditional (trad) music, or as the folks here in Donegal call it the "diddily I di". Some of the best can be found at Matt the Millers across the River Nore from the Medieval Mile and also in Kyteler's and the Field.
Kilkenny's famous 1620 tavern. It is housed in the oldest surviving townhouse in Ireland – the 1582 Archer Inner House, 17 High St. Fully restored over the past 10 years, its tavern, snug and Archer room are now open to visitors.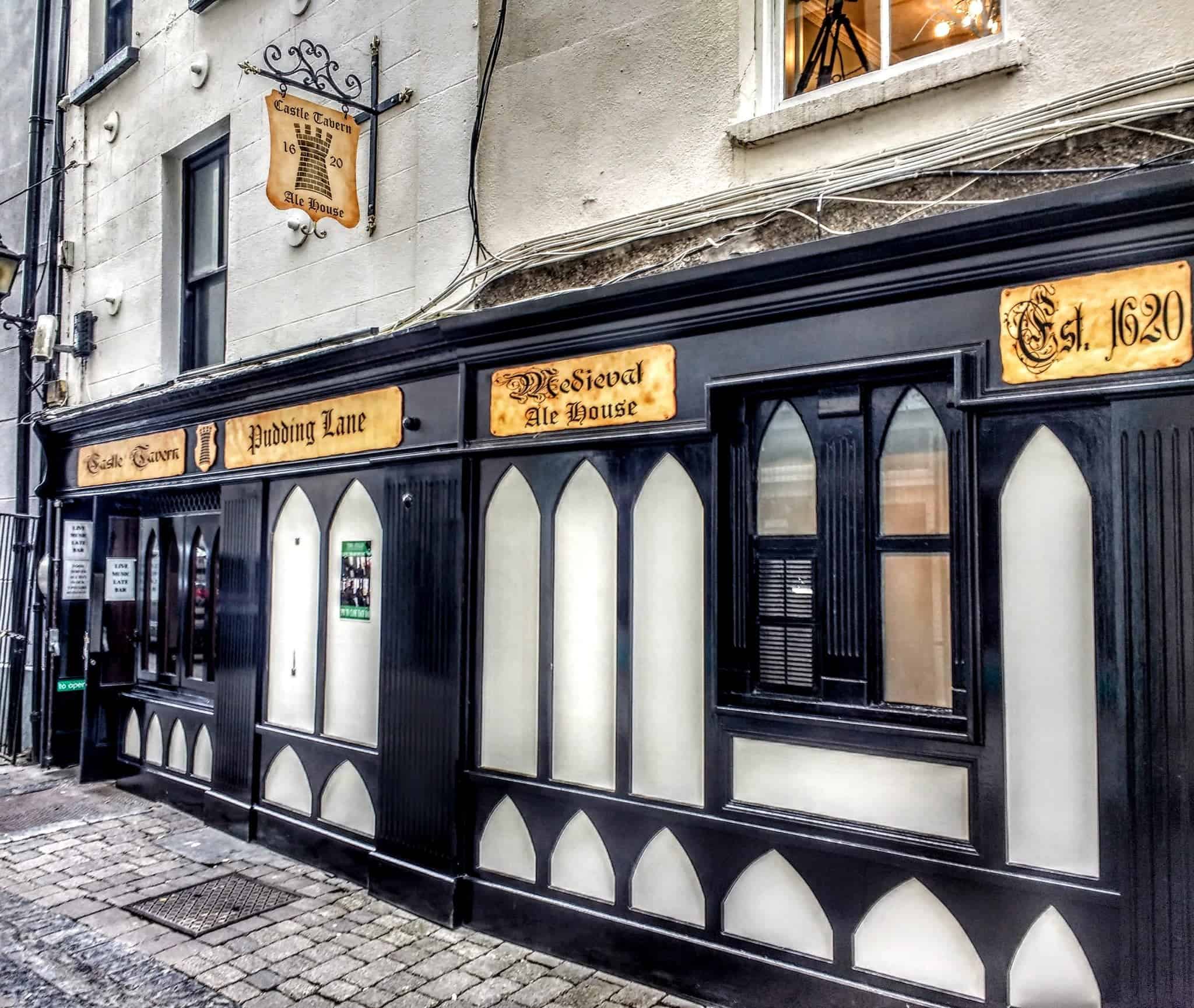 Kilkenny Hurling
Hurling is Ireland's national sport and pretty much everyone plays or is a fan. The sport of hurling is over 3000 years old and you can learn all about the sport with Kilkenny Hurling Way Experience. There are 2 hour long tours which will give you an insight into the game and how it is played as well as packages that include a meal and a game.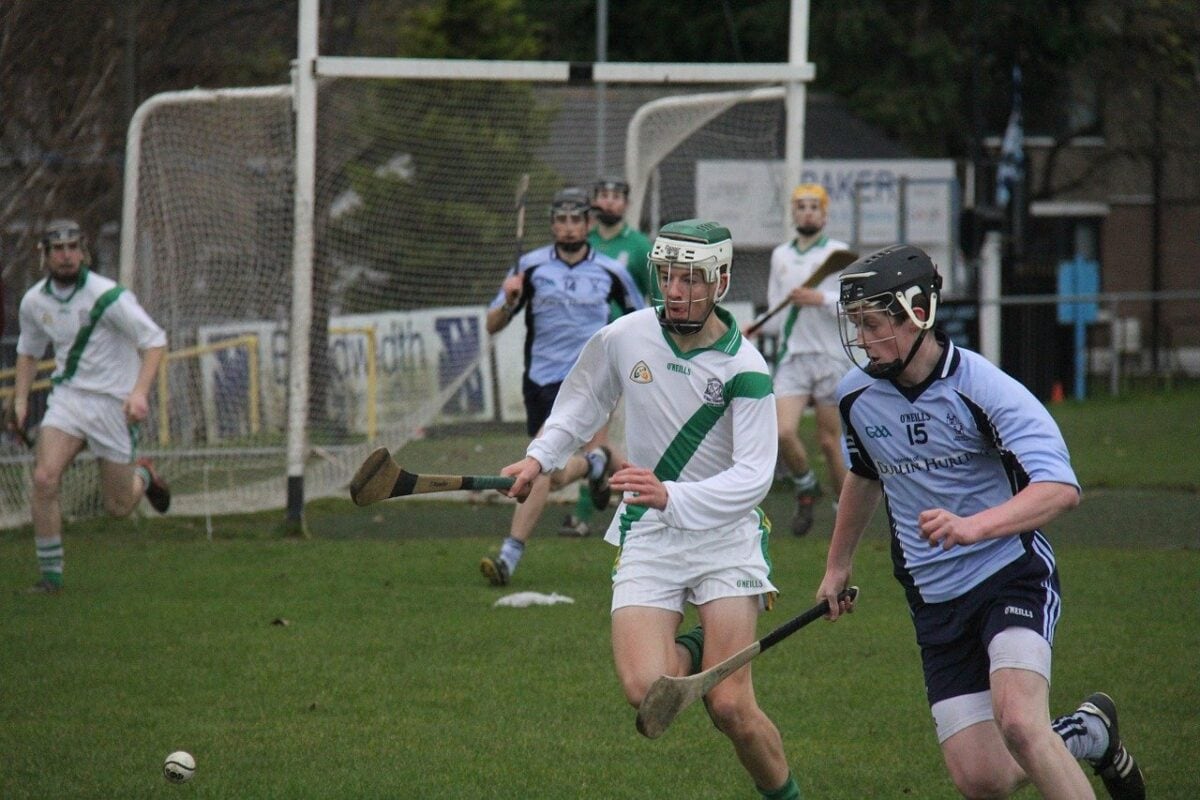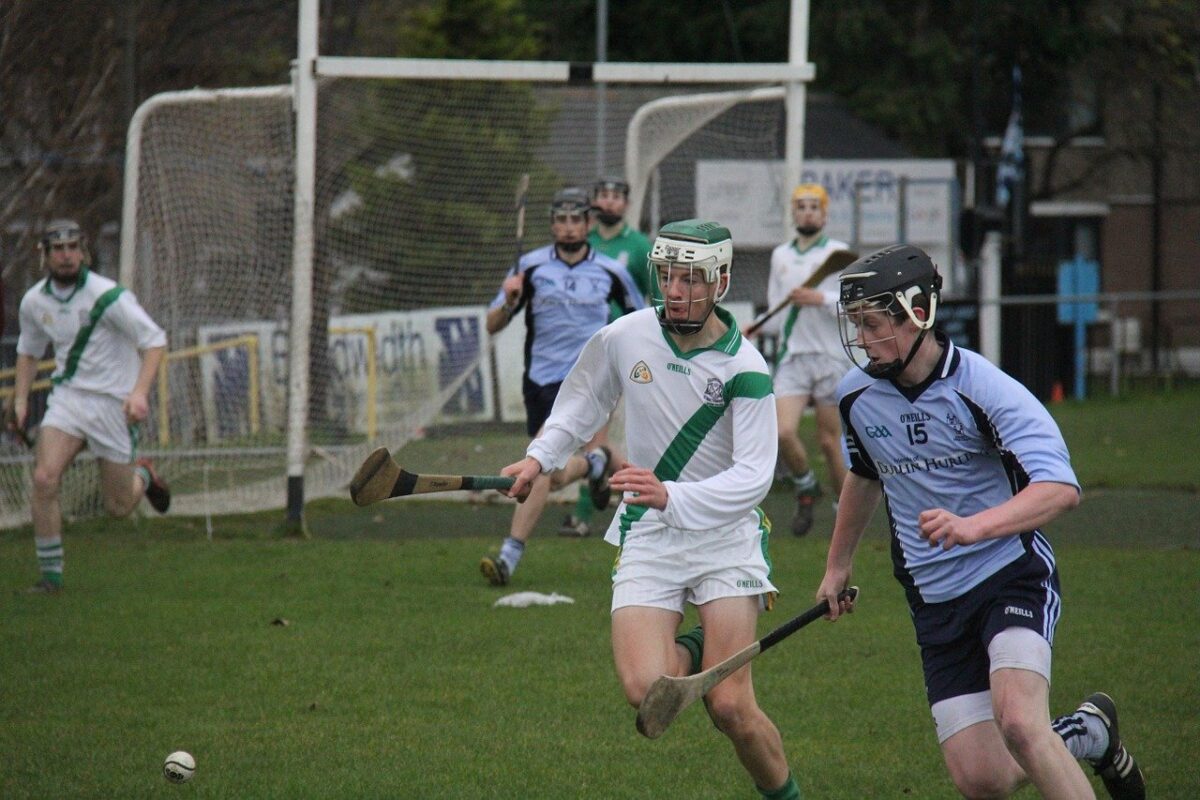 Things to do near Kilkenny
Kilfane Waterfall & glen
Located in Thomastown just outside Kilkenny city the Kilfane Glen and Waterfall dates back to 1790. Created by Sir John and Lady Power the garden used the existing features of ravines, streams and woodlands. The waterfall was added by diverting a stream and winding paths leading to a thatched summer house. A perfectly romantic place the gardens are open to the public from May to September.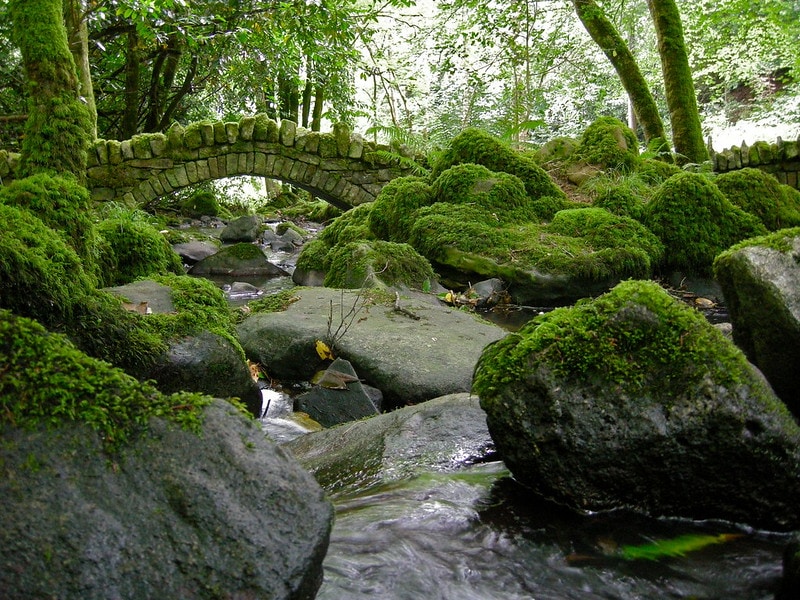 Tullaherin Folk Museum
The Tullaherin monastic site contains a 9th century round tower, an 11-13th century ruined church and two ogham stones. The round tower was once much taller and had a pointed cone roof which is now missing. The round tower was used probably used as a refuge from Viking or Gaelic Irish attack and as a bell tower. The site is reputed to be the site of the burial of St. Kieran. The monastic site is now protected by Duchas and the ogham stones are now housed in the Tullaherin Folk Museum.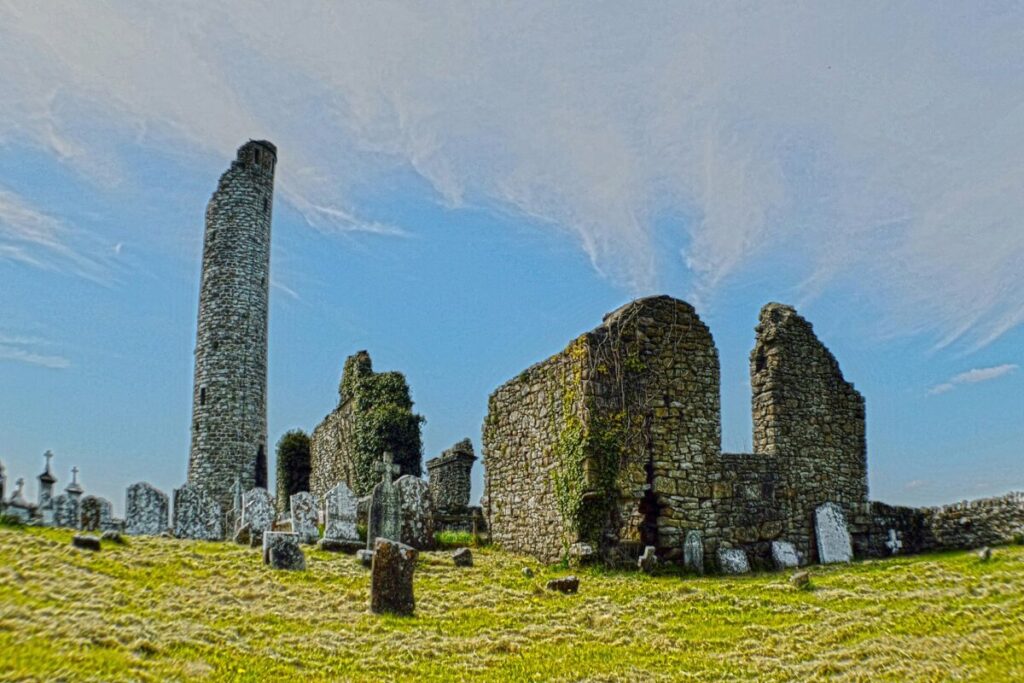 Golfing at the St. Juliet Estate
For mad keen golfers, you can't beat the St. Juliet Estate for playing a few rounds. A 180-acre estate and golf course designed by Jack Nicklaus the St. Juliet grounds have hosted Tiger Woods and the Irish Open. The course is owned by Marriot Hotels and is a first-class luxury hotel and fine dining establishment.
Mount Juliet Estate
Mount Juliet is located near the beautiful village of Thomastown in county Kilkenny and it sits on the River Nore. It was built in 1757 by the Earl of Carrick in compliment to his wife, Lady Juliana (Juliet). The estate has very strong Norman associations and in particular with the great Butler family.
Mount Juliet is one of Europe's most highly regarded destinations. It is an escape from reality and a luxurious retreat. Mount Juliet is elegant, filled with antiques, paintings and historic artefacts and it has a world-class golf course.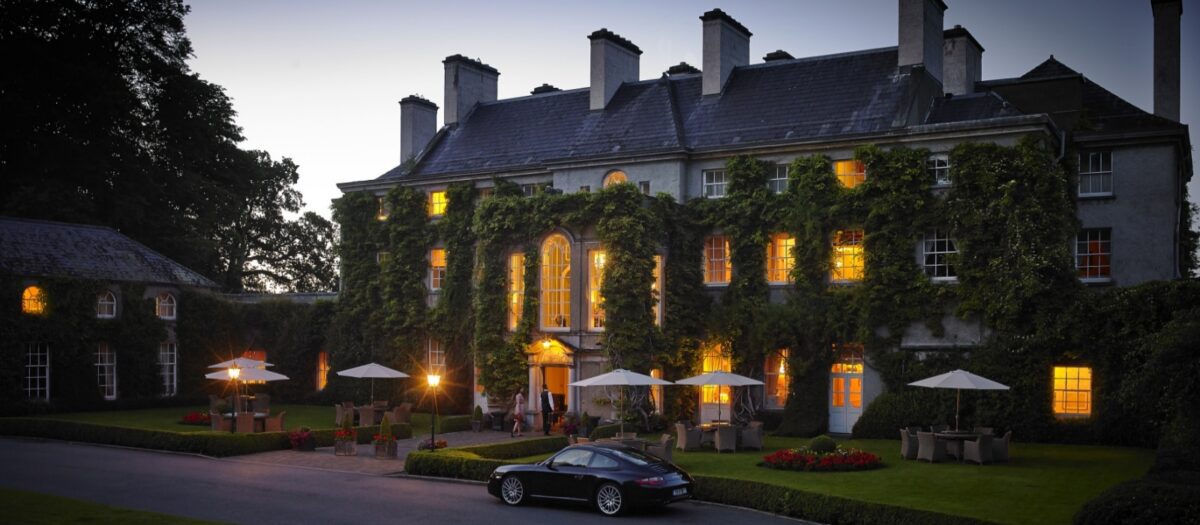 Woodstock House and Gardens
Woodstock House & Gardens sits outside one of Ireland's prettiest villages Inistioge. There is a vast array of gardens from the informal to the formal which include an arboretum, walled garden, terraced garden, yew walk and rose garden, as well as two incredible avenues, the Monkey Puzzle Avenue and Noble Fir Avenue, a fountain and a cast iron conservatory. The cost is for car parking fees which are €5 per vehicle. When the gardens are open there is a lovely little tea room for scones and cream.
Kells Priory
If you plan on visiting Kilkenny take some time to see the sites along the way. The Priory sits along the King's River beside the village of Kells, about 15km south of Kilkenny. One of the most striking features is a collection of medieval tower houses spaced at intervals along and within walls that enclose a site of just over 3 acres. These give the priory the appearance more of a fortress than of a place of worship and from them comes its local name of 'Seven Castles'.
The Celtic cross dates from the 9th century and stands over the burial site of Niall Caille, the High King of Ireland.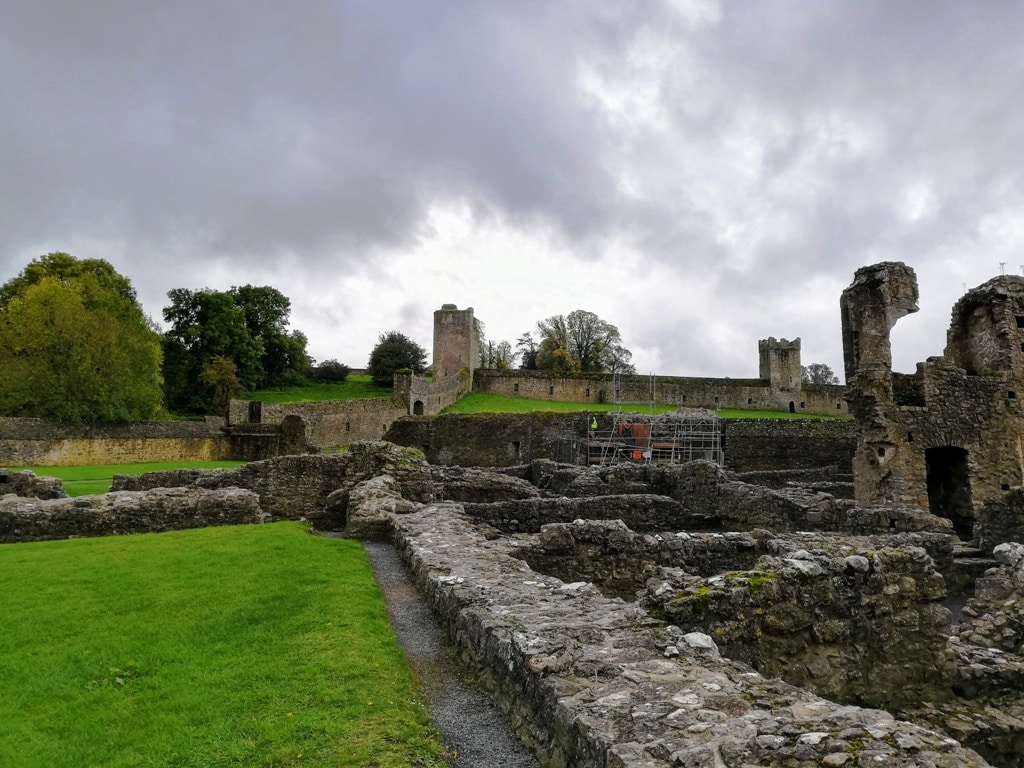 Ballykeefe Distillery
Ballykeefe Distillery is situated in the heartland of Ireland, adjacent to its medieval capital, Kilkenny city. A tour of Ballykeefe Distillery is a must for anyone with an interest in Kilkenny's historical association with Irish Whiskey.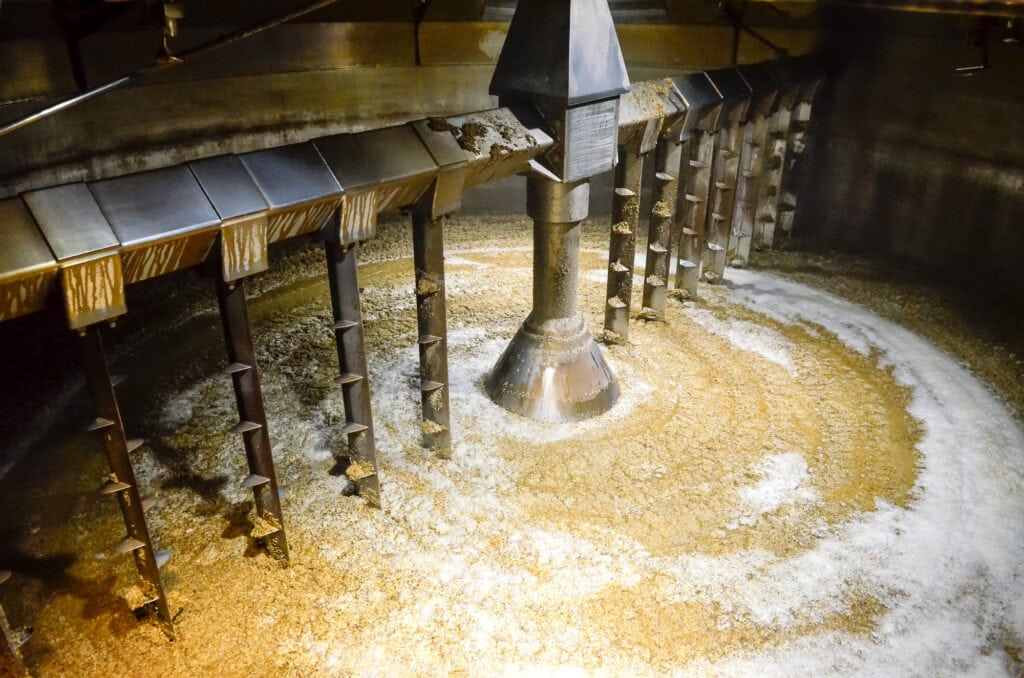 A fully operational distillery, with a behind-the-scenes tour teaching the fine art of distilling and of course a tasting of their award-winning white spirit range, Poitín, Vodka and Gin the tour costs €25.
Jerpoint Abbey
Jerpoint Abbey isn't in Kilkenny City, but if you have rented a car it's absolutely worth taking a drive out to these 12thcentury monastic ruins. The Abbey, which is a national monument, is open from April to October. There is a visitor's centre with an exhibition and of course, you can visit the ruins of the abbey itself. Founded in the 12th century, Jerpoint Abbey is one of the finest examples of a medieval Cistercian Abbey in Ireland. The tower and cloister date to the fifteenth century.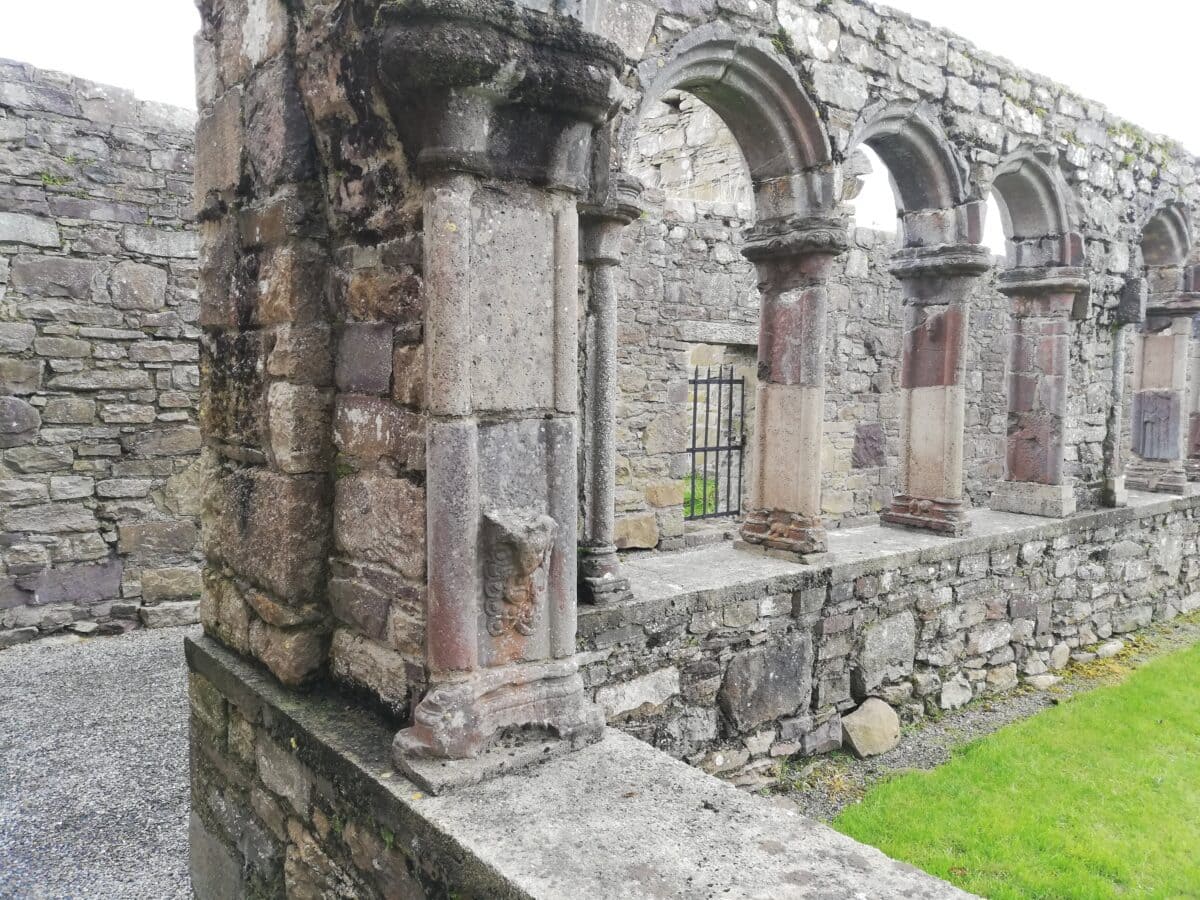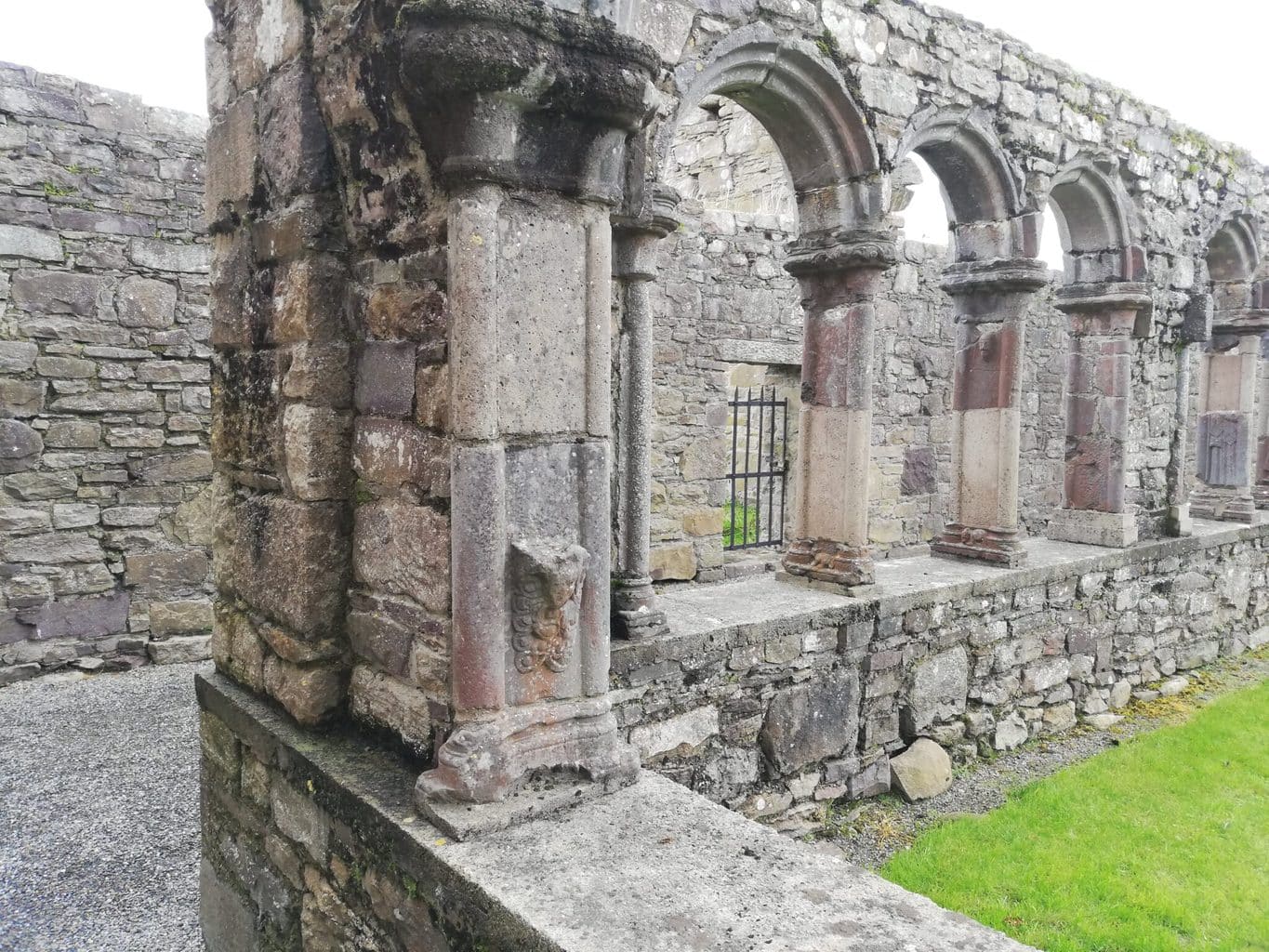 Jerpoint is renowned for its detailed stone sculptures found throughout the monastery. There are two incredible tombs depicting 13th-century knights and the cloisters are decorated with effigies and memorials. There is a small visitor centre that has some incredible finds from the archaeological digs at the site including carved heads, carved stone and much more.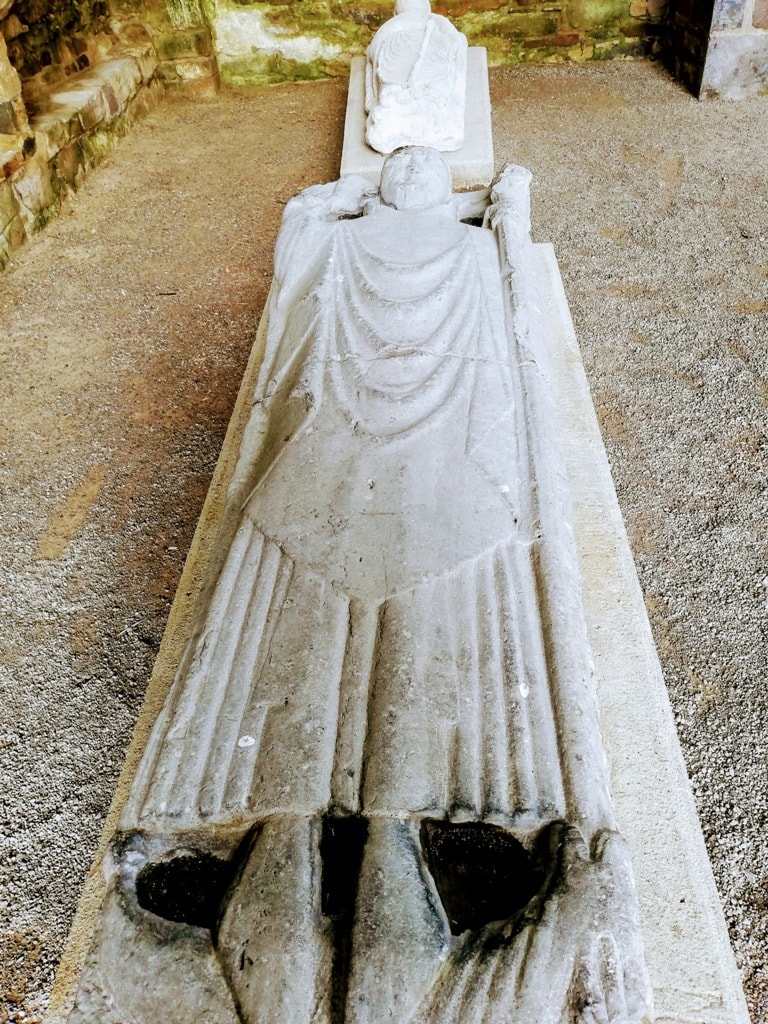 Castlecomer Discovery Park
Visitors can explore 6km of woodland trails in Castlecomer Discovery Park that have been colour coded into three looped walks. These trails extend into a number of interconnecting paths that play host to wooden sculptures which imitate the wild animals who live in the woods.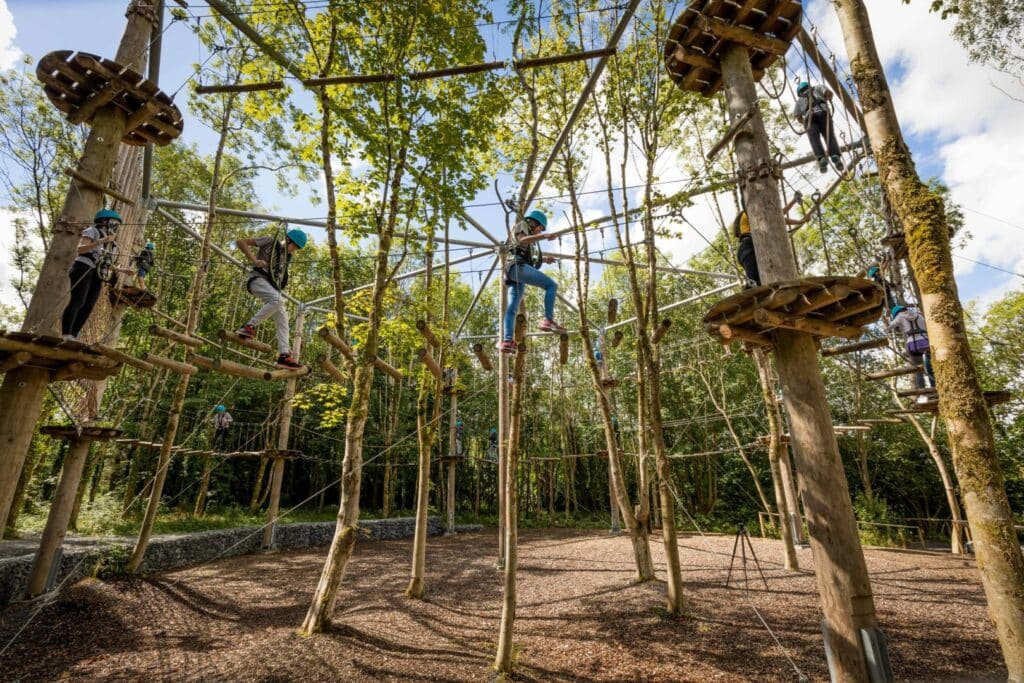 Dunmore Caves
History and geology blend at Dunmore Cave to give an interesting and unique insight into this landmark. Consisting of a series of chambers formed over millions of years, it contains some of the finest calcite formations found in any Irish cave. These particular caves have played a great role in Irish History since the 9th century.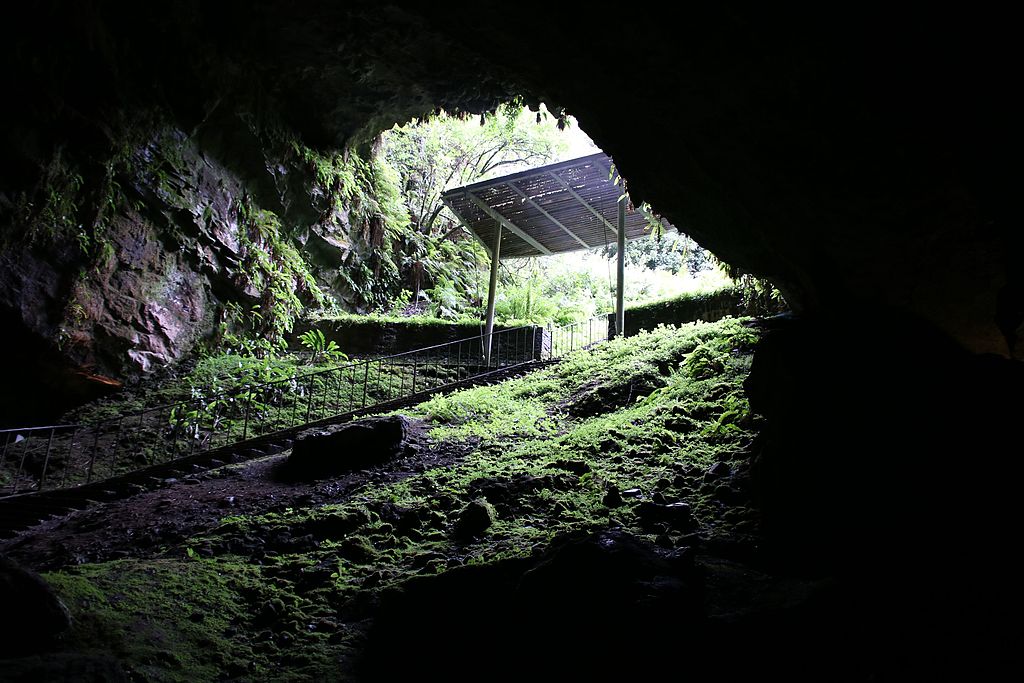 Best places to stay in Kilkenny Ireland
The Butler House in Kilkenny comes highly recommended. A 4-star guesthouse with 13 luxury rooms and gorgeous gardens and grounds The Butler House is a great location.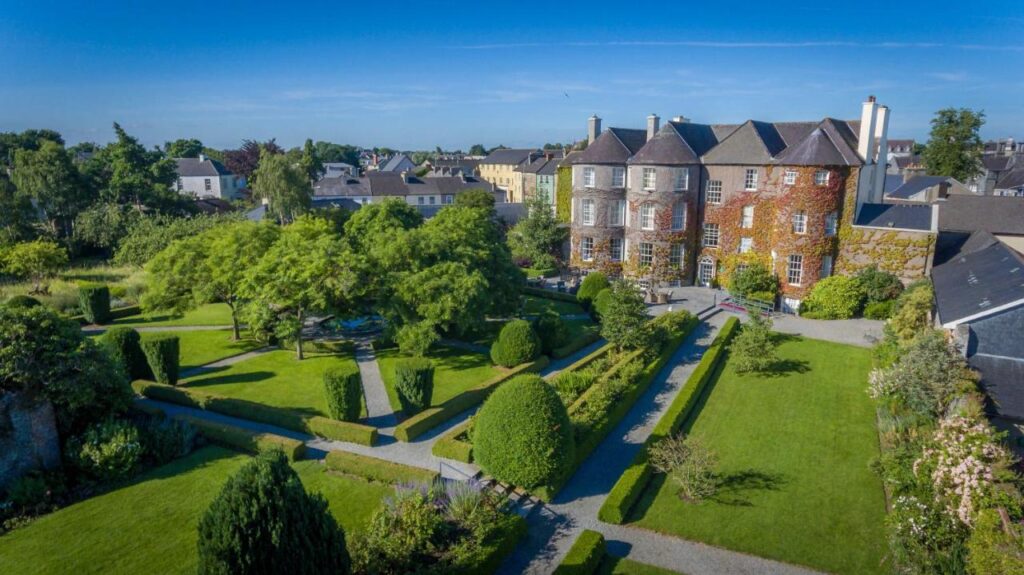 The 4-star Newpark Hotel rests on the edge of medieval Kilkenny city, a cultural gem of festivals and historical sites. This is a gorgeous Irish country house to explore the area.
On over 40 acres of parkland, offering luxurious accommodation, a Health Club & Spa and fun-filled kids' activities, this family-friendly hotel is the ideal base for exploring Kilkenny.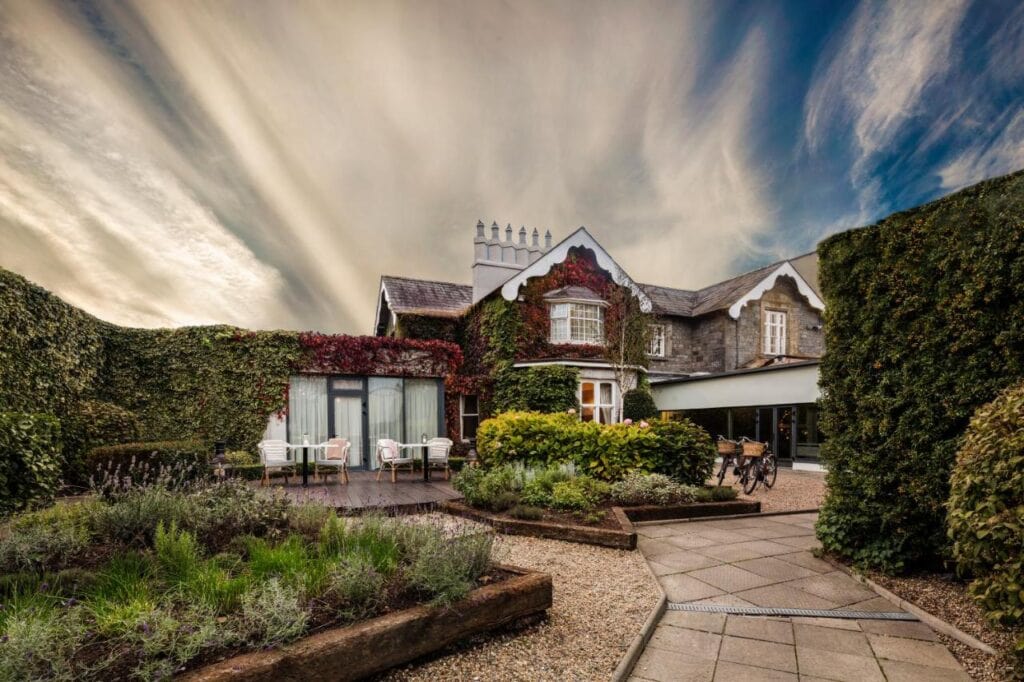 The Hibernian House is a Georgian Guest House situated on Lower Patrick Street in the centre of Kilkenny's cultural quarter and just a stone's throw from the hustle and bustle of city life. Kilkenny Castle and Gardens is a 2-minute walk. Attractions like The Smithwick's Experience and the Medieval Mile are also within a short walking distance.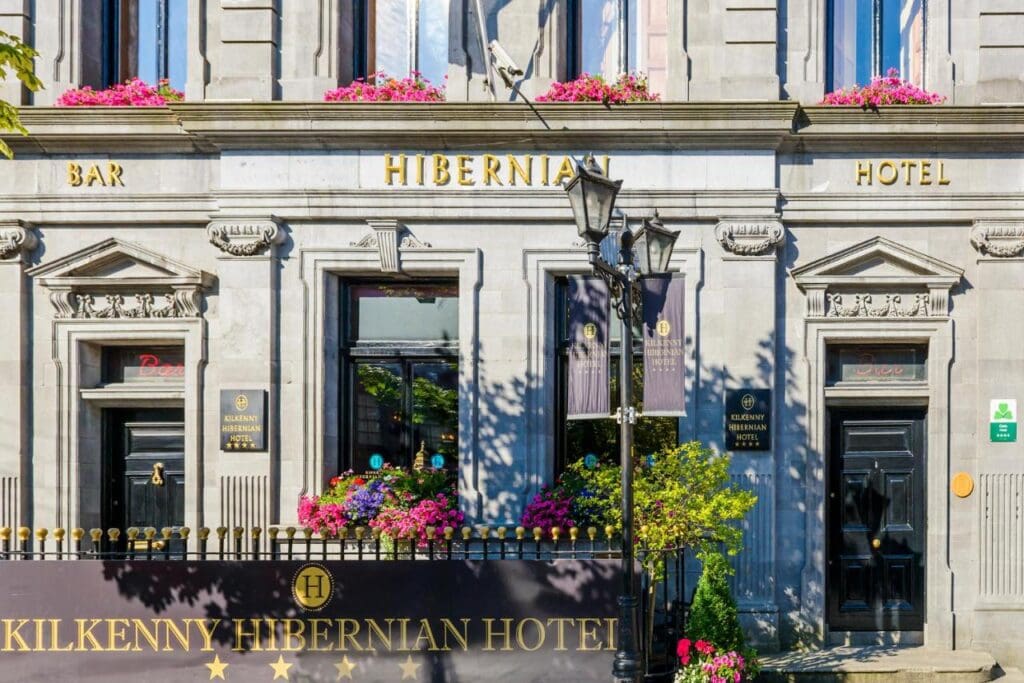 The Kilkenny ­Ormonde Hotel is a 4-star city centre Hotel, located right next to Kilkenny City landmarks such as the Kilkenny Castle, the intriguing Medieval Mile Museum, St. Canice's Cathedral with its Round Tower offering incredible views of the City.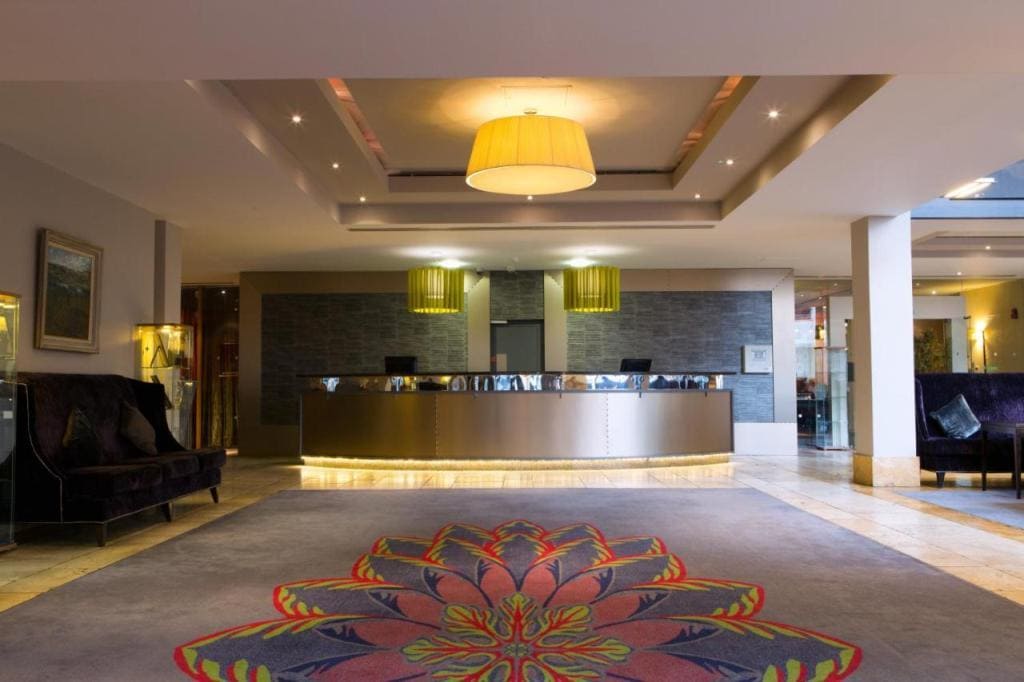 For the more budget-minded traveller here is a great hostel to stay at for around €17 Euros a night.
MacGabhainns Backpackers Hostel is one of the top 10 hostels in Ireland and number 1 in Kilkenny. Located in the City Centre only minutes from the bus and train stations. They are noted to have the best showers in the city and lots of freebies, such as free breakfast, parking, security lockers, internet access, Wi-Fi and even a free map of the city! Breakfast includes porridge, cornflakes, toast, butter, jam and tea or coffee. You can also have as much free tea and coffee as you want, all day long!
Kilkenny is a city that is rich in culture and history, offering visitors an abundance of things to do and see. Whether you are interested in exploring medieval castles, enjoying traditional Irish music and dance performances or indulging in delicious local cuisine, Kilkenny has something for everyone. From the charming streets of the old town to the stunning natural beauty of the surrounding countryside, there is no shortage of places to explore and discover. So if you are looking for a unique travel experience that combines history, culture and natural beauty, be sure to add these places to your list of what to see in Kilkenny!
How many things to do in Kilkenny did you find?
You might also like
Planning a dream trip to Ireland? Everything you need to know
Medieval Ireland – the Crusaders in Limerick
Fethard – Ancient Walls and Sheela na Gigs in Tipperary
Irish Witches – famous Celtic witches
Ancient Ireland 30 sacred places
Ultimate Wild Atlantic Way Route
Ireland's Ancient East – an epic road trip
Inspired pin it for later

Latest posts by Faith Coates
(see all)