Exploring St Canice's Cathedral Kilkenny
sSt. canice's cathedral and round tower in Kilkenny contains some of the finest ancient monuments in Ireland and surprisingly to many is not a Catholic Cathedral but a Church of Ireland building.
The Cathedral of St Canice Kilkenny is one of the most well-known sights in Kilkenny, which was once a Medieval centre of Ireland. The roots of St. Canice's Cathedral extend back to the 6th century when the Church of St. Canice stood here.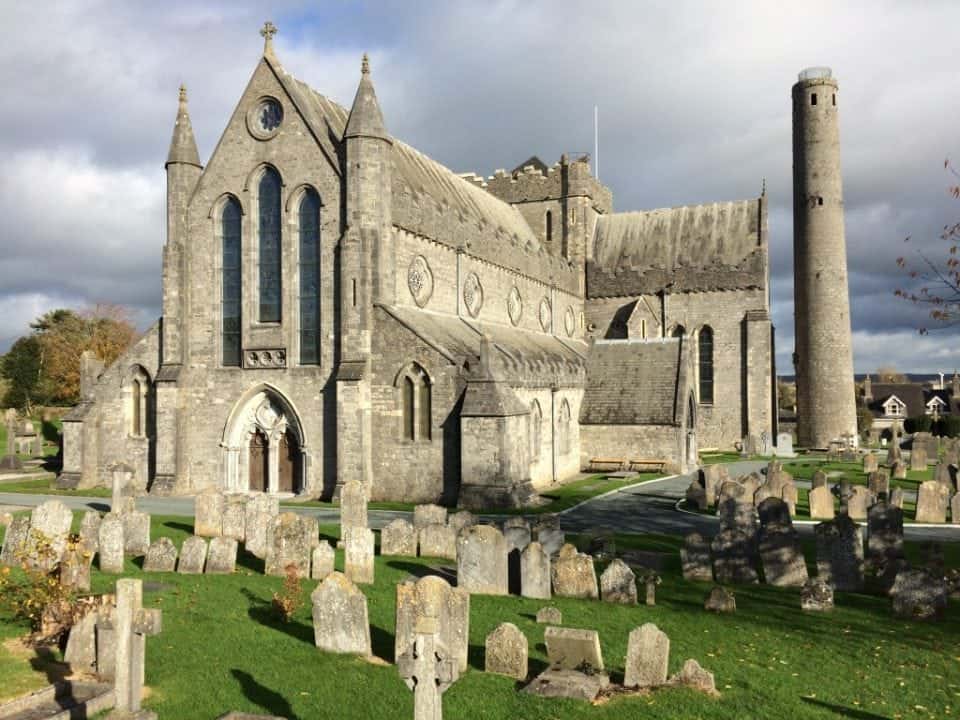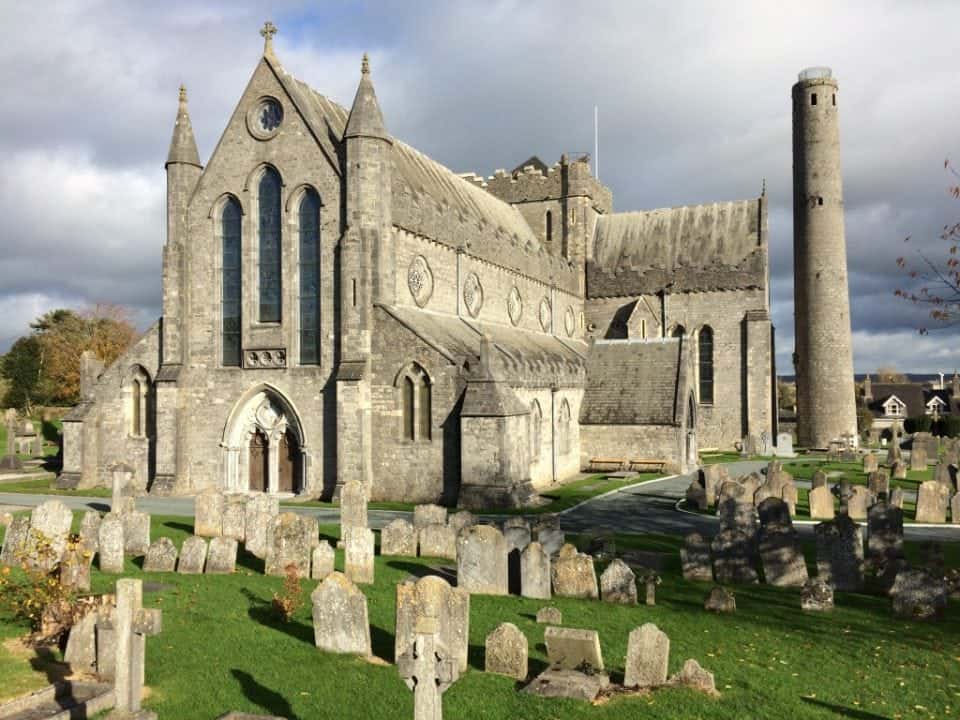 When was St Canices's cathedral built? It is believed by historians that construction on St. Canice's Cathedral began around 1250 and was completed by 1285. It retains many of its 13th-century features despite the collapse of the central tower in 1332 and Oliver Cromwell's troops destroying many religious sites during the Reformation.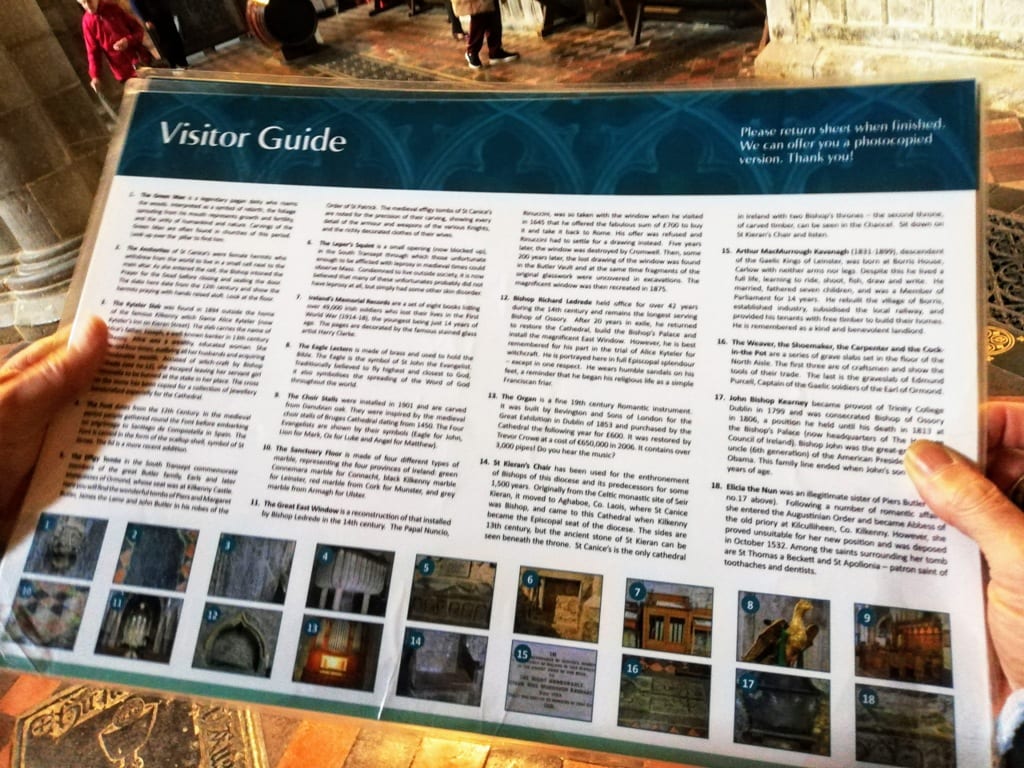 The 9th Century round tower that stands beside the Cathedral is the oldest standing structure in Kilkenny.
Xyuandbeyond is reader-supported. When you buy through links on our site, we may earn an affiliate commission. You can read my privacy policy here.
How to get to Kilkenny from Dublin
If you are planning your visit to Ireland and you are renting a car from the airport you may want to head straight to Kilkenny. If you are planning on spending a day or two in Dublin then I would recommend picking up the car the day you leave. You could also plan a trip around the South coast of Ireland that will include Kilkenny, Waterford, Wexford, Hook Head and several other major sites along the way.
When visiting Kilkenny getting there is pretty easy it is around an hour and a half drive from Dublin. You can also catch a train from Heuston Station in Dublin to Kilkenny's Macdonagh Station at a cost of around €13 euros return for one person. The train journey is also very fast and only takes an hour and a half. Buses also run to Kilkenny and in the summer months, the Xpress service on Bus Eireann takes around 90 minutes for €10 Euros per person.
Where is St. Canice's Cathedral
St Canices church Kilkenny is a hidden gem on Kilkenny's Medieval Mile. Kilkenny is even named after this magnificent Cathedral, which has been a site of Christian worship since the 6th century and was known as the last stronghold of the druids before that. Each stone of this 12th-century gothic cathedral tells a story.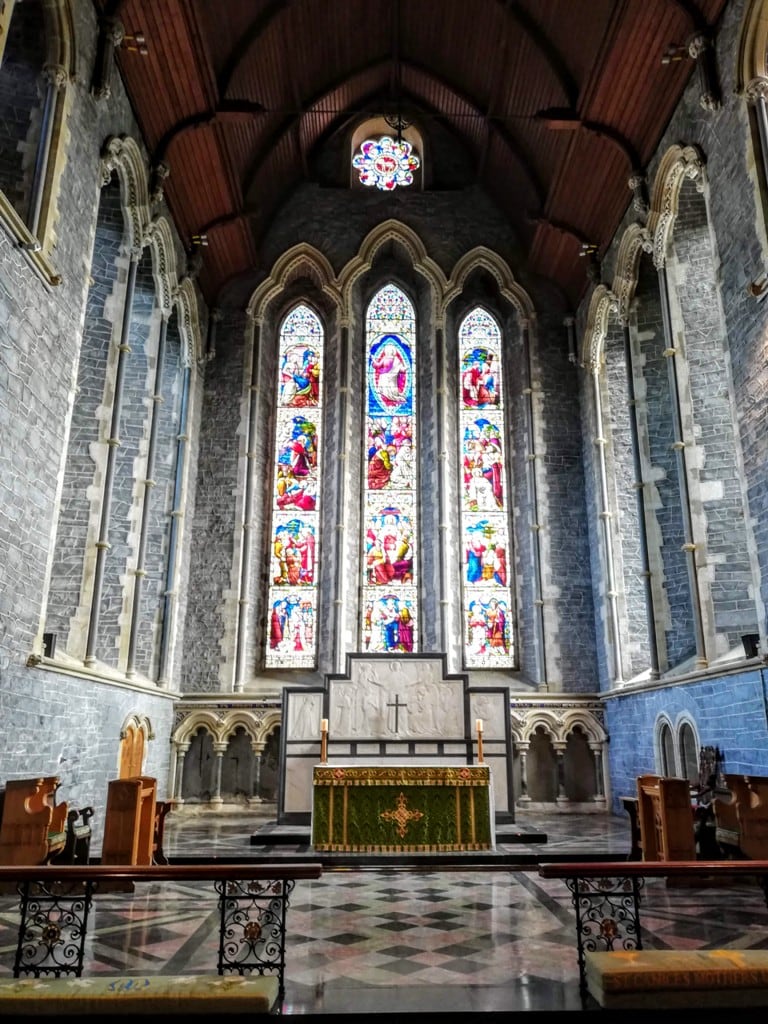 You can spot St. Canice's from virtually every corner of Kilkenny and if you walk up the road from Kilkenny Castle you will eventually spot the Cathedral.
Map of St. Canice's Cathedral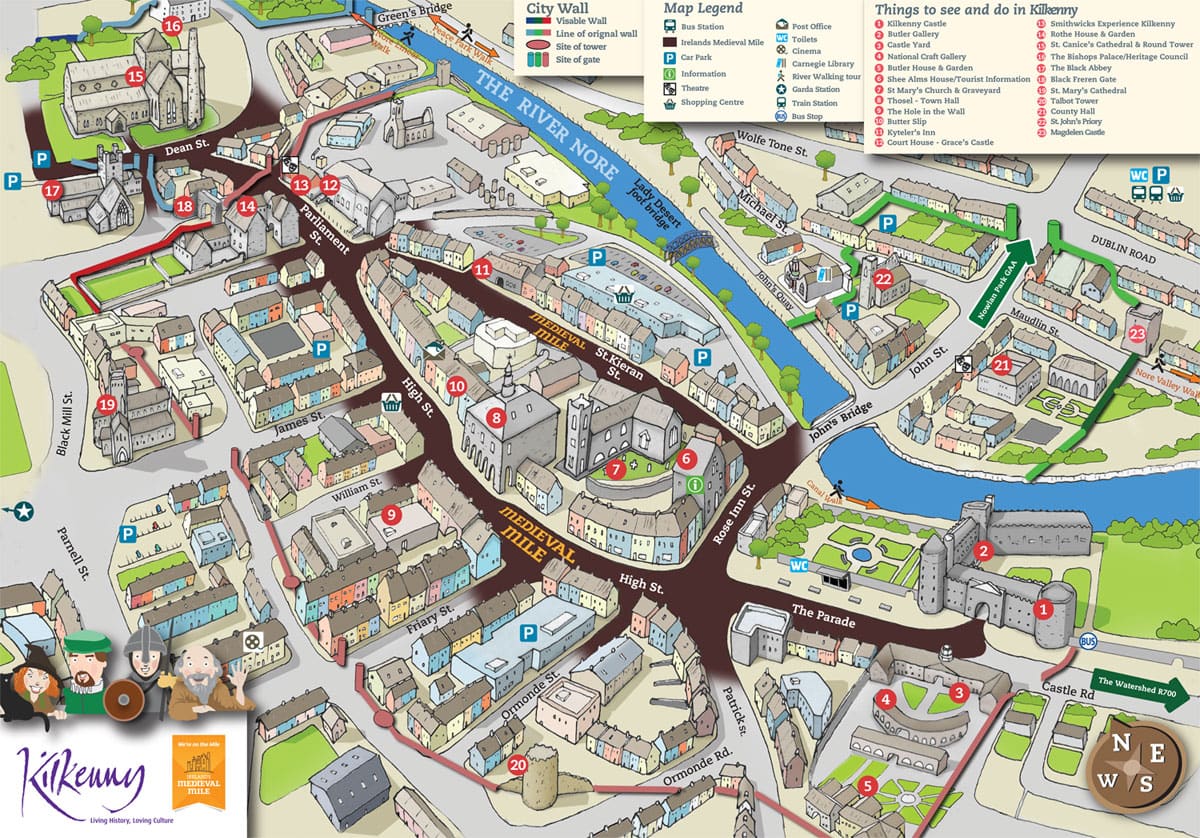 Tickets to experience St Canice's
A combination ticket for an adult covers entry to the cathedral and round tower. A family ticket covers entry to the cathedral and round tower for two adults and up to three children aged over 12 and under 18. Under 12's are not admitted to the Round Tower. A combination ticket for adults costs €4.50.
History of St Canice's Cathedral, Kilkenny
Kilkenny was previously the cathedral of the Diocese of Osraí (Ossory in English) which was a medieval Irish kingdom. The Kingdom was located in what is now Laois and Kilkenny. It survived from the 1st Century until the Norman invasion of Ireland in the 12th century.
When was St Canice's cathedral built? Built between 1202 and 1285, St Canice's has been preserved in its original style and form. Worship has taken place here for over 800 years. See the wonderful stained glass and the largest collection of ancient monuments.
Who built St Canice's cathedral? The first monastery was built here in the 6th century by St Canice, Kilkenny's patron saint.
Why was St Canice's cathedral built? It was built to protect the treasures and the people of the area.
Who is St Canice?
Who was St Canice? St Canice of Aghaboe is Kilkenny's secondary patron. It is Canice who has given his name to the city of Kilkenny (Cill Cheannaigh = Canice's church). He is also known in Scotland as Kenneth or Kenny.
The old stories say that Canice was an Ulsterman or possibly a Pict. He was born at Keenaght near Dungiven, Co Derry, in Northern Ireland in 527 his father Lugayd was a distinguished bard. While Canice's earliest years seem to have been spent herding flocks, he went as a pupil of St Finian's monastic school at Clonard, Co Meath in 543, where he became a friend and companion of St Colmcille. When plague devasted that community, tradition says he went as a monk to Llancarfan in Wales, under Saint Cadoc, where he was ordained. He is said then to have set out for Rome to get the blessing of the reigning pope.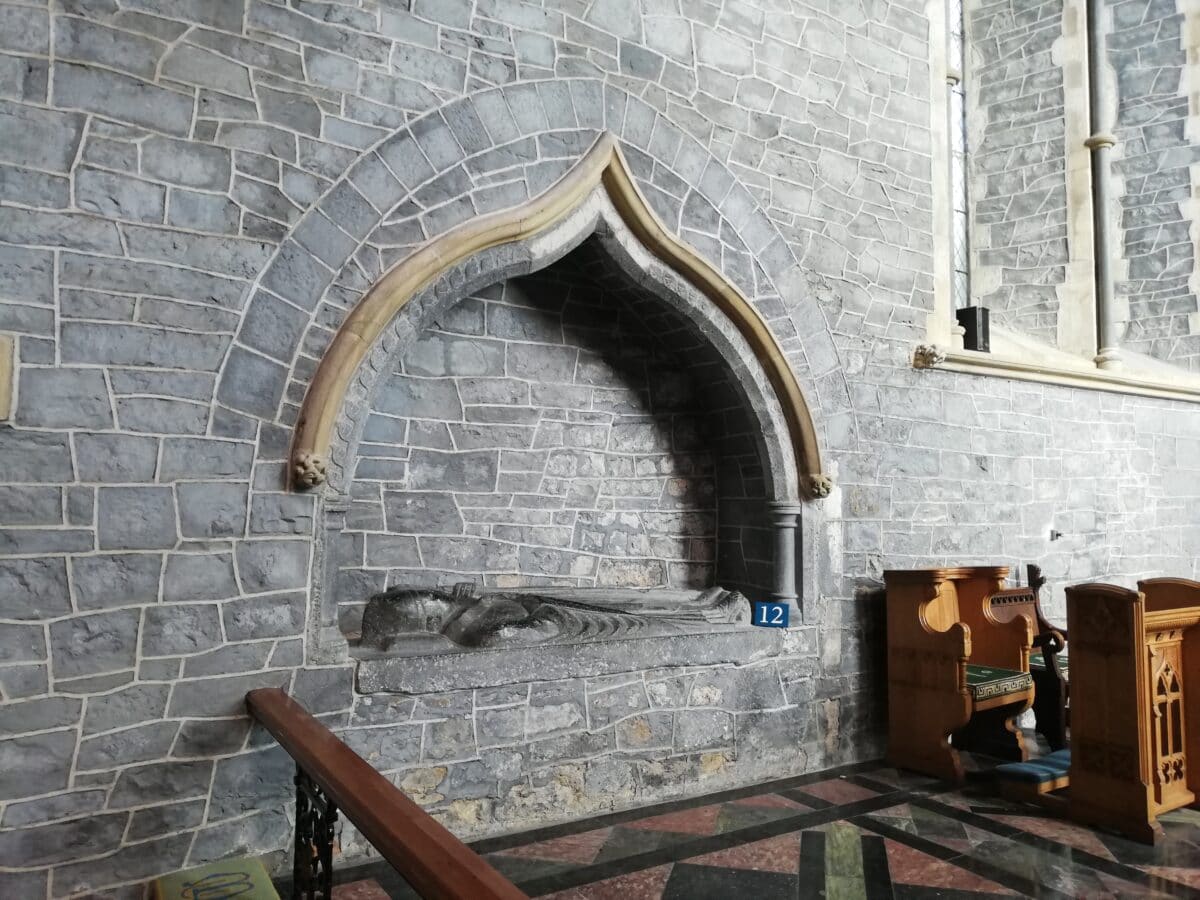 The present St Canice's church dates from the 13th century and is the second-longest cathedral in Ireland, after St Patrick's Cathedral, Dublin. Beside the cathedral stands a 100 ft 9th-century round tower. St Canice's tower is an example of a well-preserved 9th-century "Celtic Christian" round tower. It is dedicated to St Canice.
These round towers were built to protect the treasures and people who lived in the area. The St. Canice's round tower is only one of three remaining towers in Ireland that can be climbed; the other two being Kildare Round Tower in Kildare Town and Devenish Round Tower in County Fermanagh.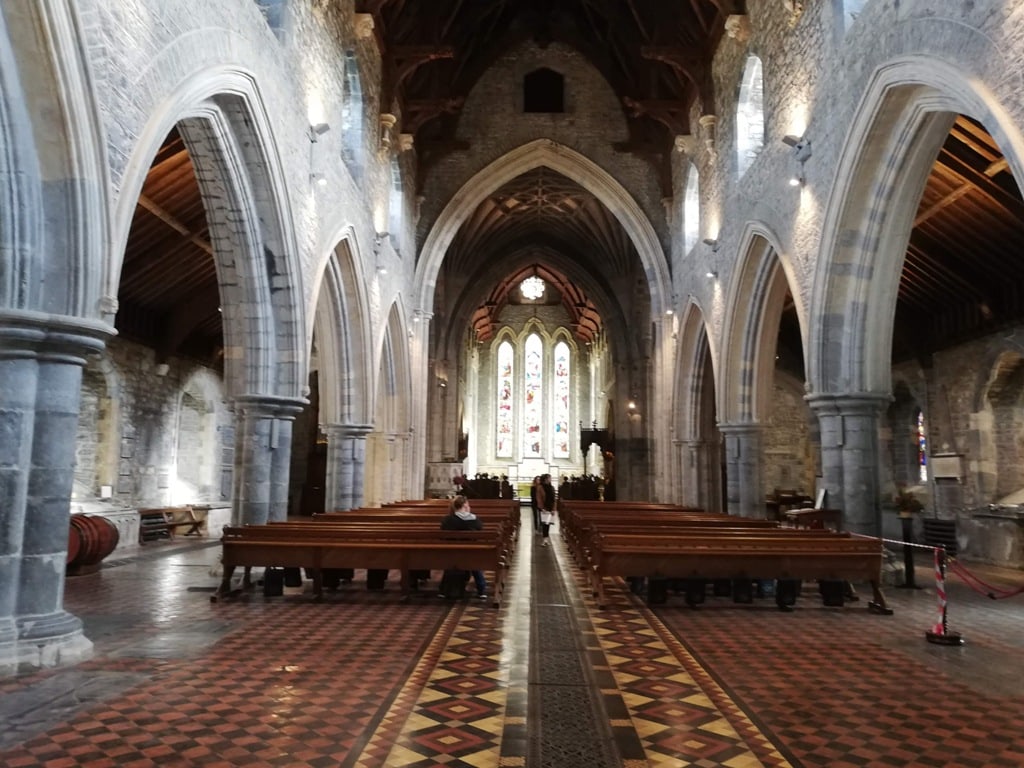 The Tower itself stands 30 metres high with some incredible views of Kilkenny and the surrounding landscape. The climb is very steep with narrow steps and is quite an exhausting climb, make sure you are fit before you attempt it.
What can I see at St. Canice's Cathedral?
Gothic Doorway
St. Canice's is a relatively plainly designed church. It is built in the standard cruciform or cross shape around a low central tower over the Altar. The real treasures of St. Canice's are inside the building which is full of monuments, effigies, statues, stained glass and ancient artefacts.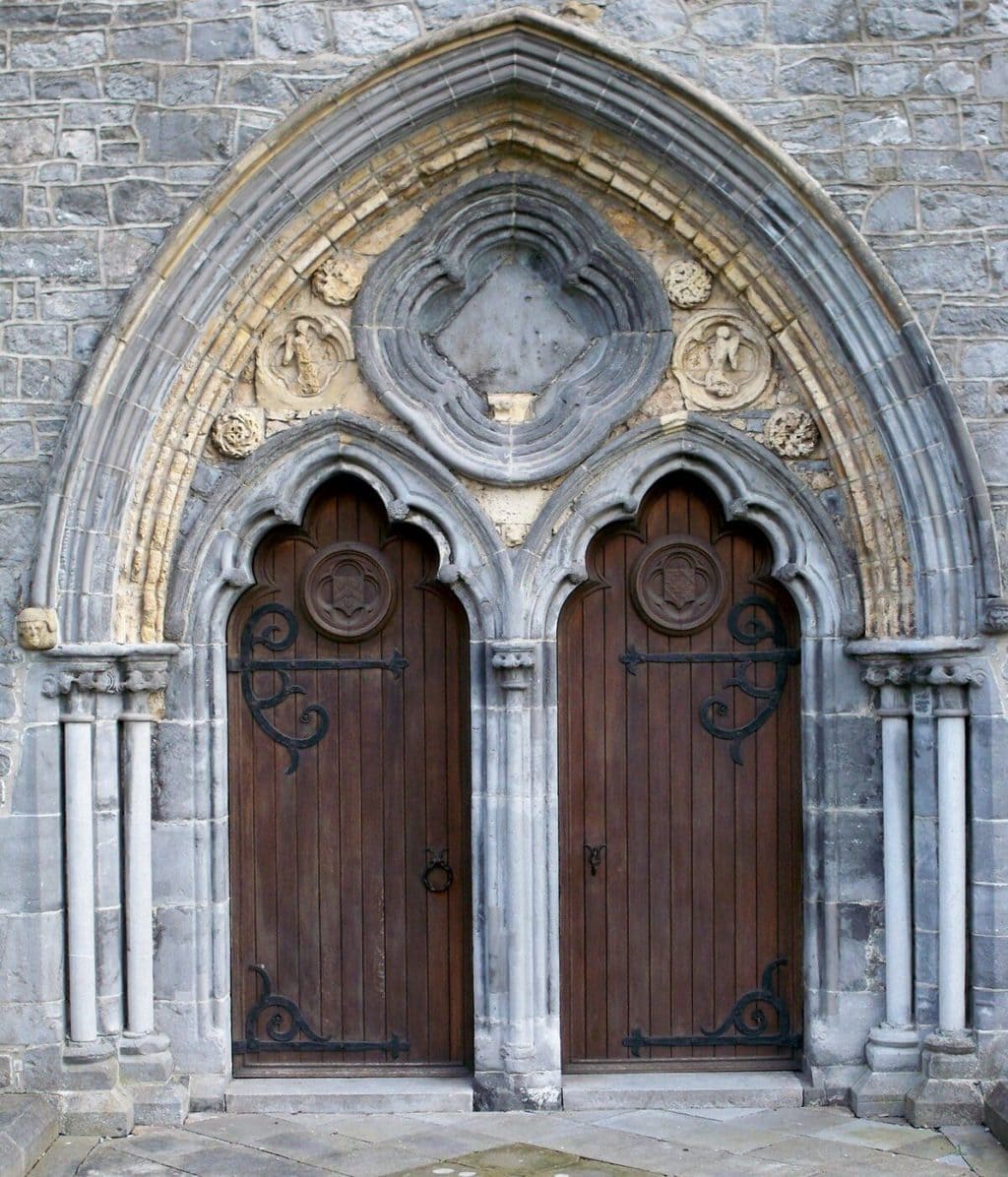 The west doorway of the Cathedral is the finest Gothic doorway in Ireland. It is believed to have been carved by an unknown craftsman named the Gowran Master who was also credited with the beautiful carvings at St. Mary's Church in Gowran.
Tombs and Effigies in St. Canice's Cathedral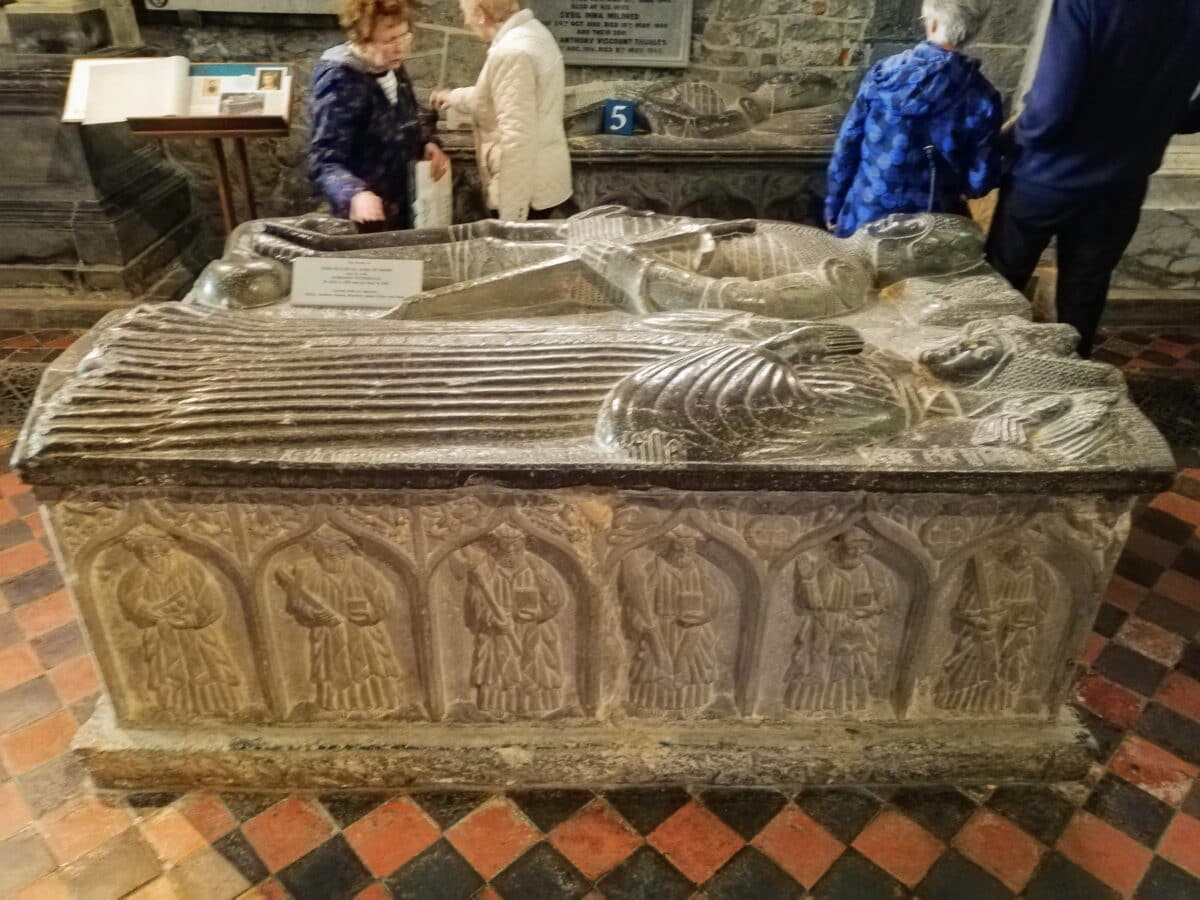 You will see many effigies within St. Canices. There is Margaret and Piers Butler's tomb that dates from the mid-1500s in the South Transept.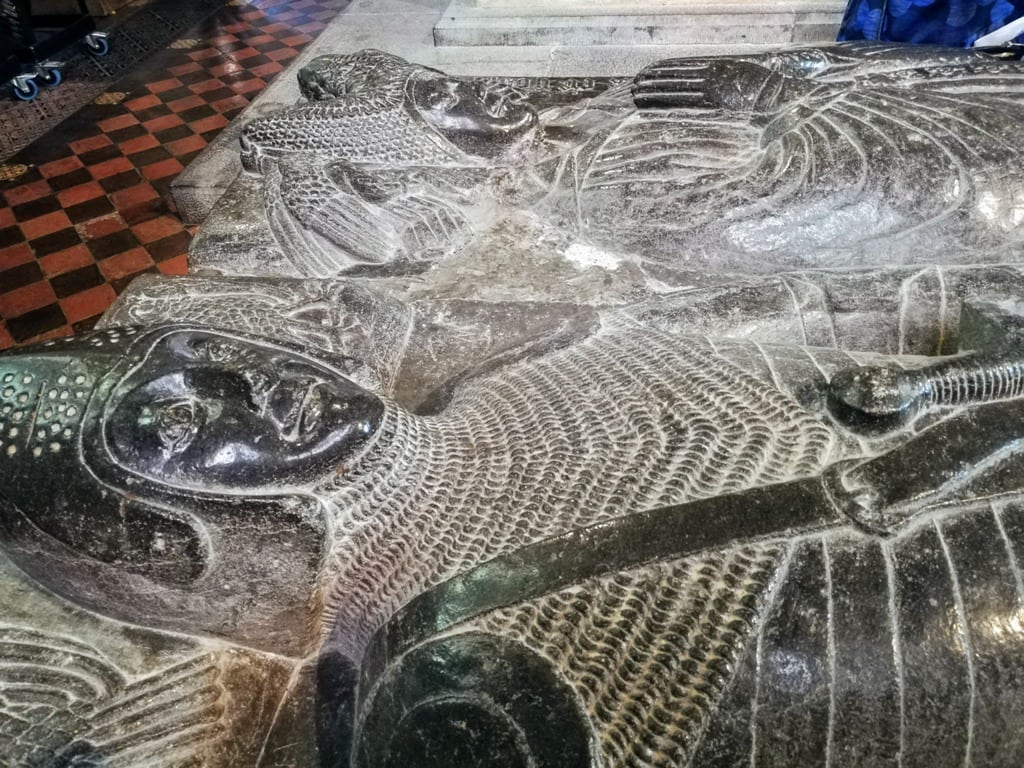 There are many members of the famous (and infamous) Butler family with tombs here in St. Canice's.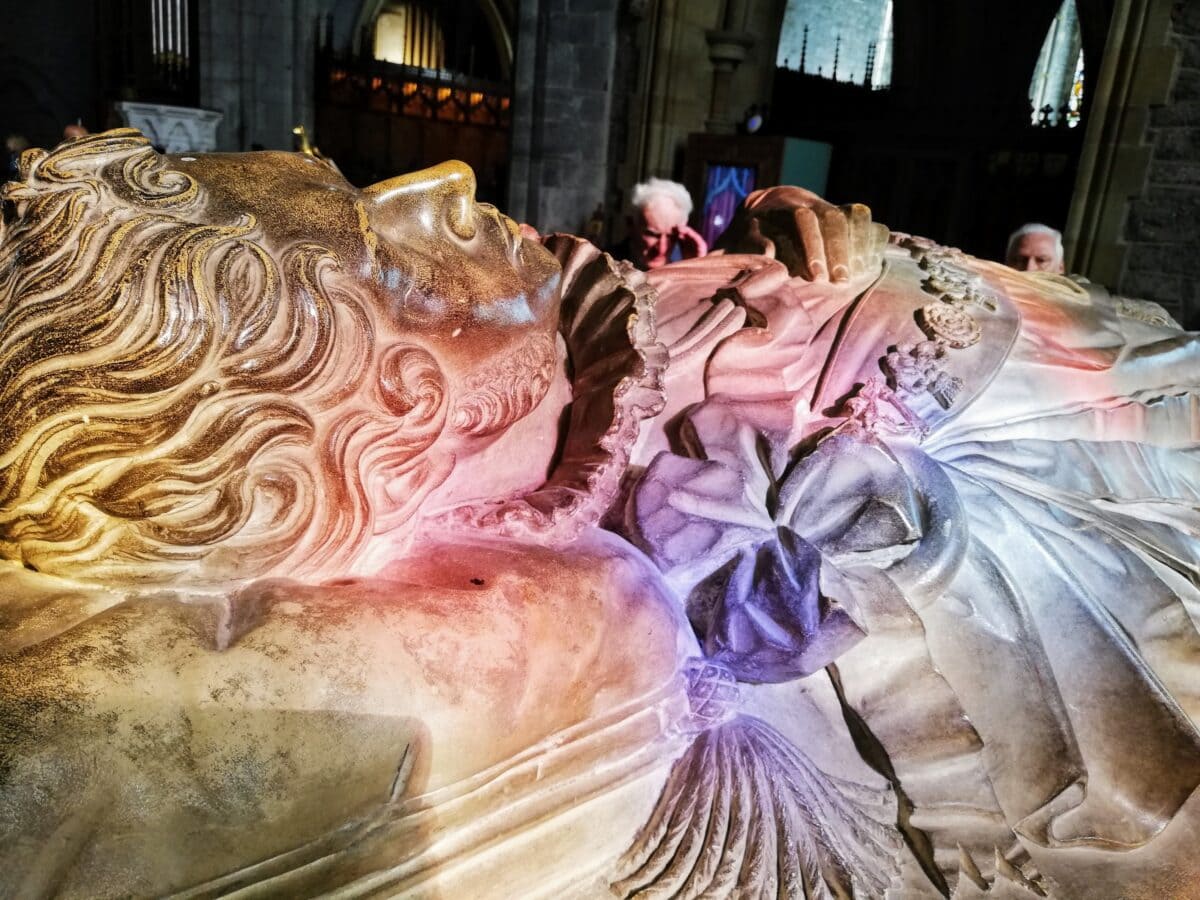 Look for the plaque on the wall marking the tomb of John Keaney (1741-1813), Barack Obama's great great great great great-granduncle.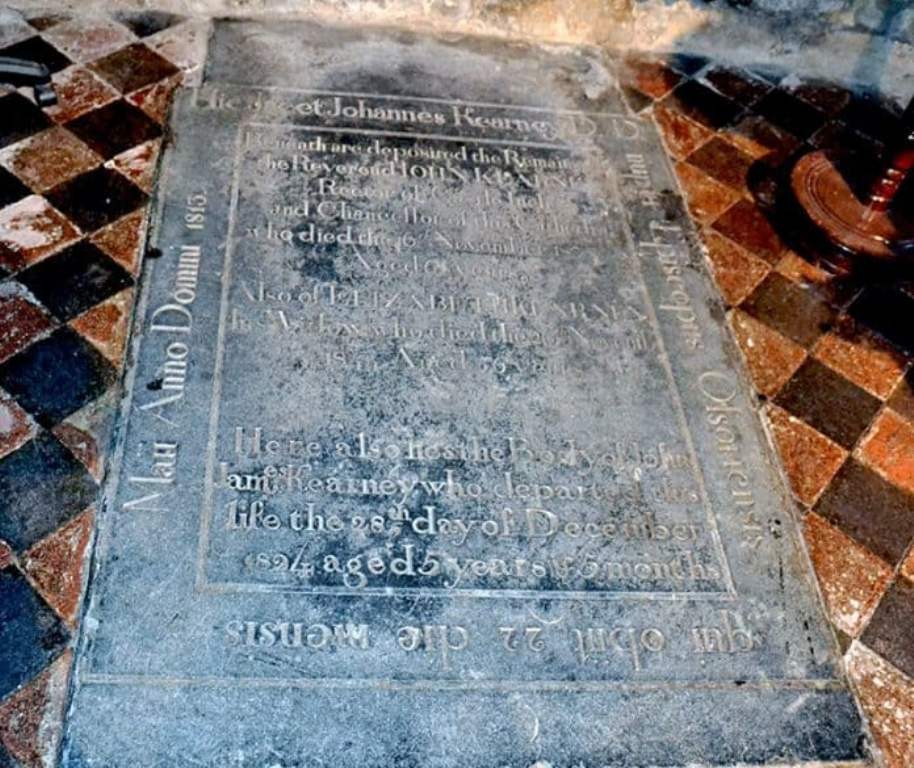 Honorina Grace's tomb is beautifully carved with tomb weepers – these are the figures carved around the sides of the tomb, including St. Phillip, St. Simon, St. Thaddeus, St. Matthew and St. Mathias. Honorina's tomb dates to 1596.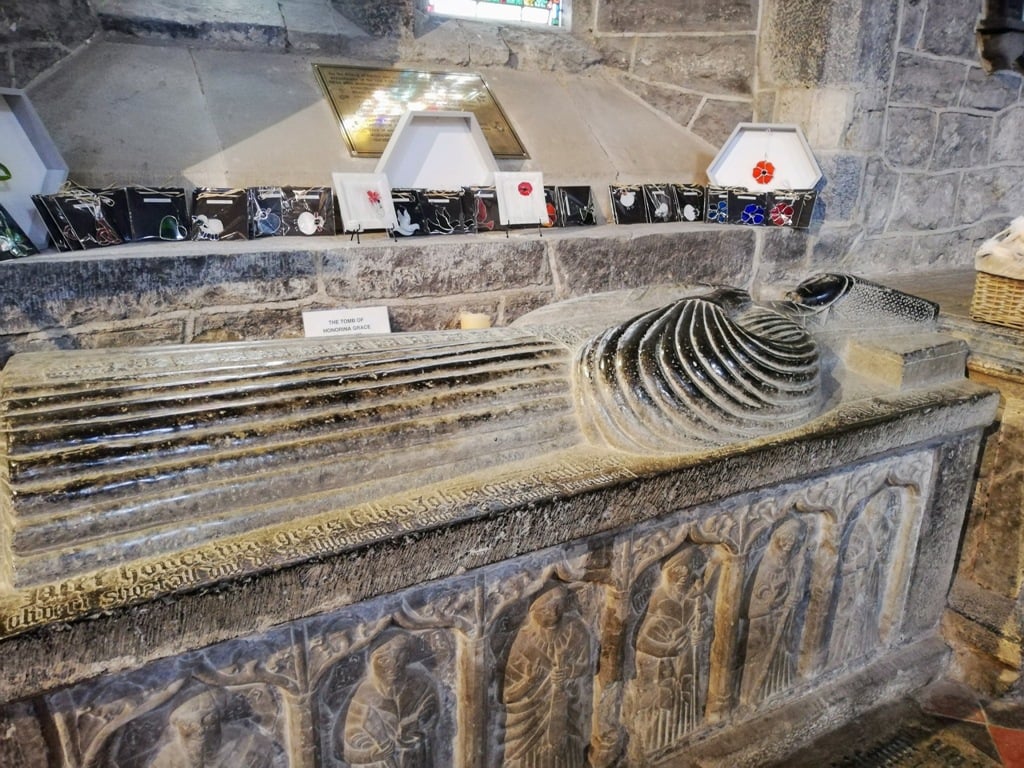 The floor also contains carved slabs that represent the various craftsmen of the time. Incorporating raised reliefs of the tools used by each craftsperson they include a weaver, shoemaker and carpenter.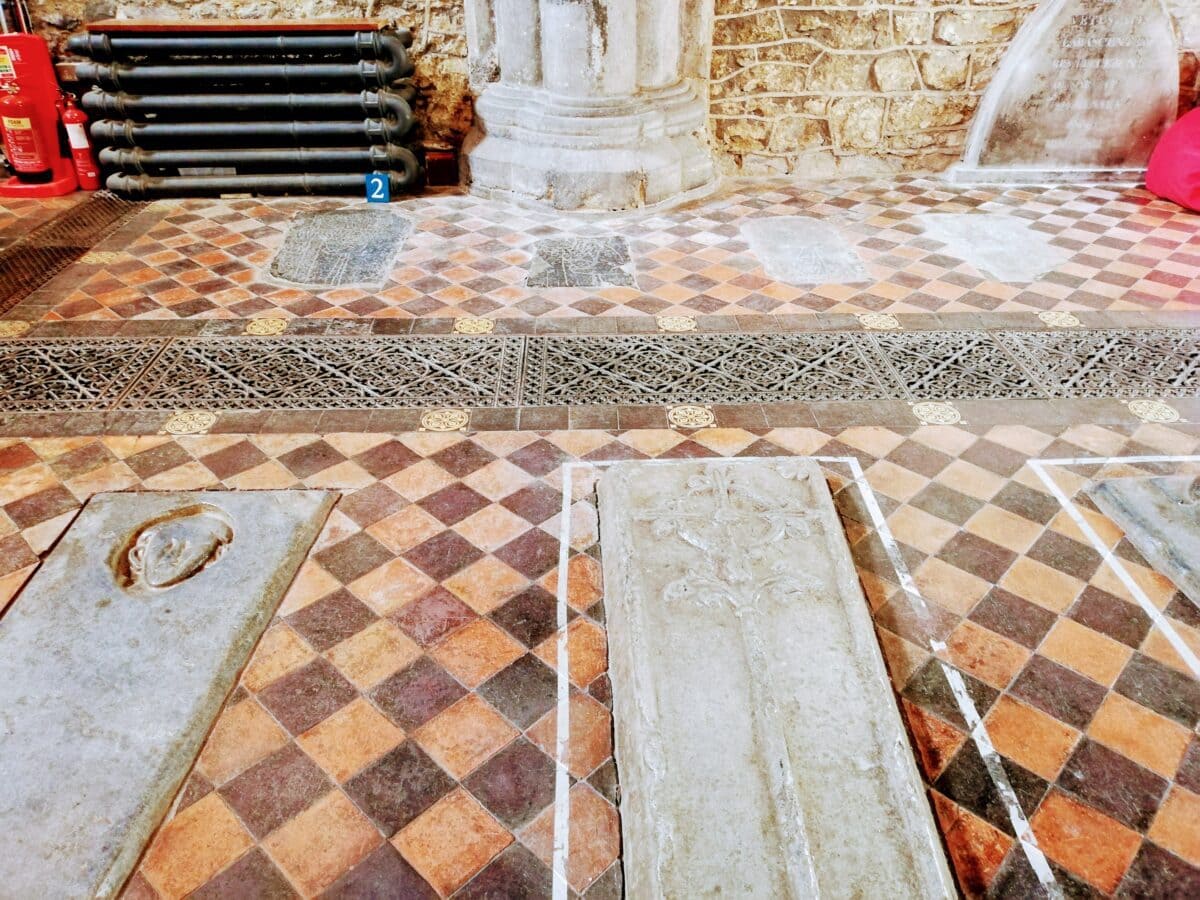 Chair of St. Kieran
One of the many items found within the Cathedral is the ancient stone Chair of St Kieran, which is still used today to enthrone the Church of Ireland Bishops.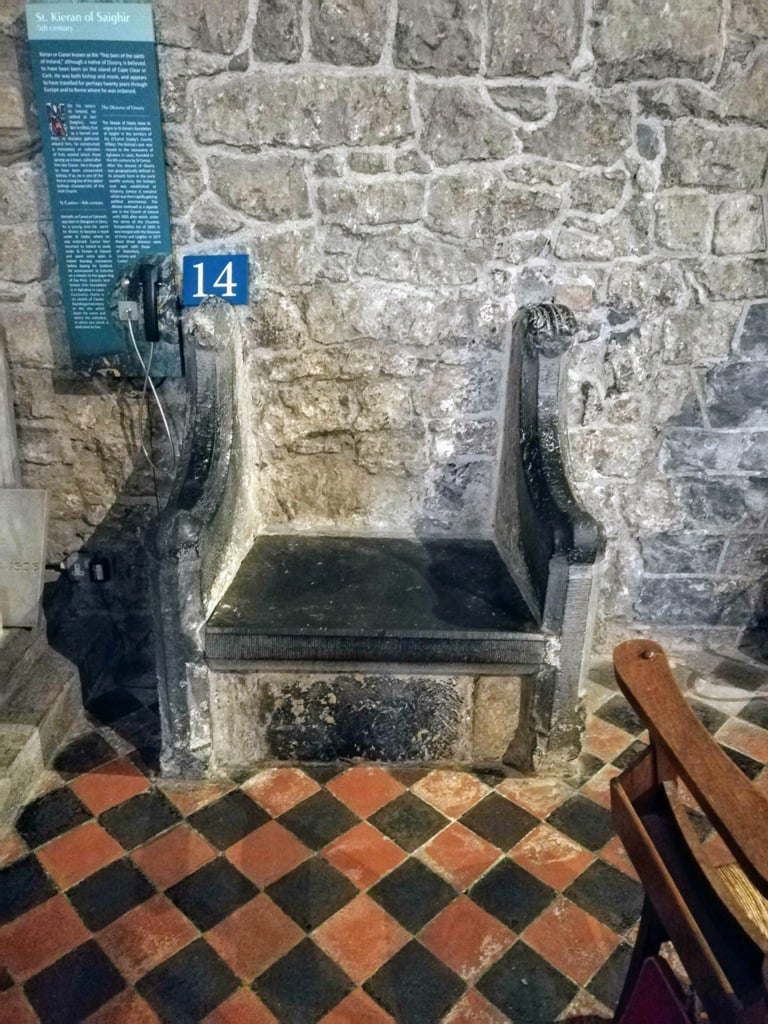 Intricately carved choir stalls
The choir stalls are made of oak, hand-carved in Bruges, Belgium in 1899 and based on the Bruges cathedral stalls of 1470. End panels depict scenes from the history of the cathedral. The four evangelists are represented by the Eagle for John, Lion for Mark, Ox for Luke and Angel for Matthew.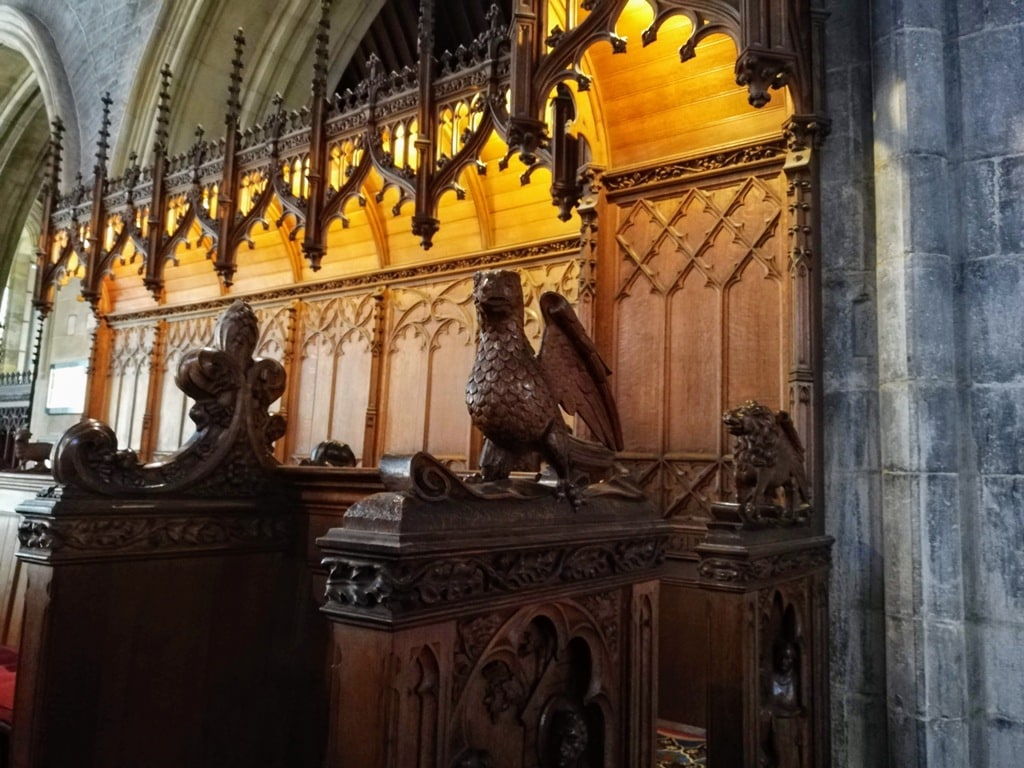 The Bevington Organ
The organ is a stunning 19th-century Romantic instrument. Originally built by Bevington of London for the Great Exhibition of Dublin, it was bought in 1854 for £600. The organ remained in regular use but gradually fell into disrepair. In 2005, a major restoration project was carried out on the organ at a cost €650,000. When we visited there was an organist playing and the sound thanks to the Cathedral's acoustics was incredibly moving.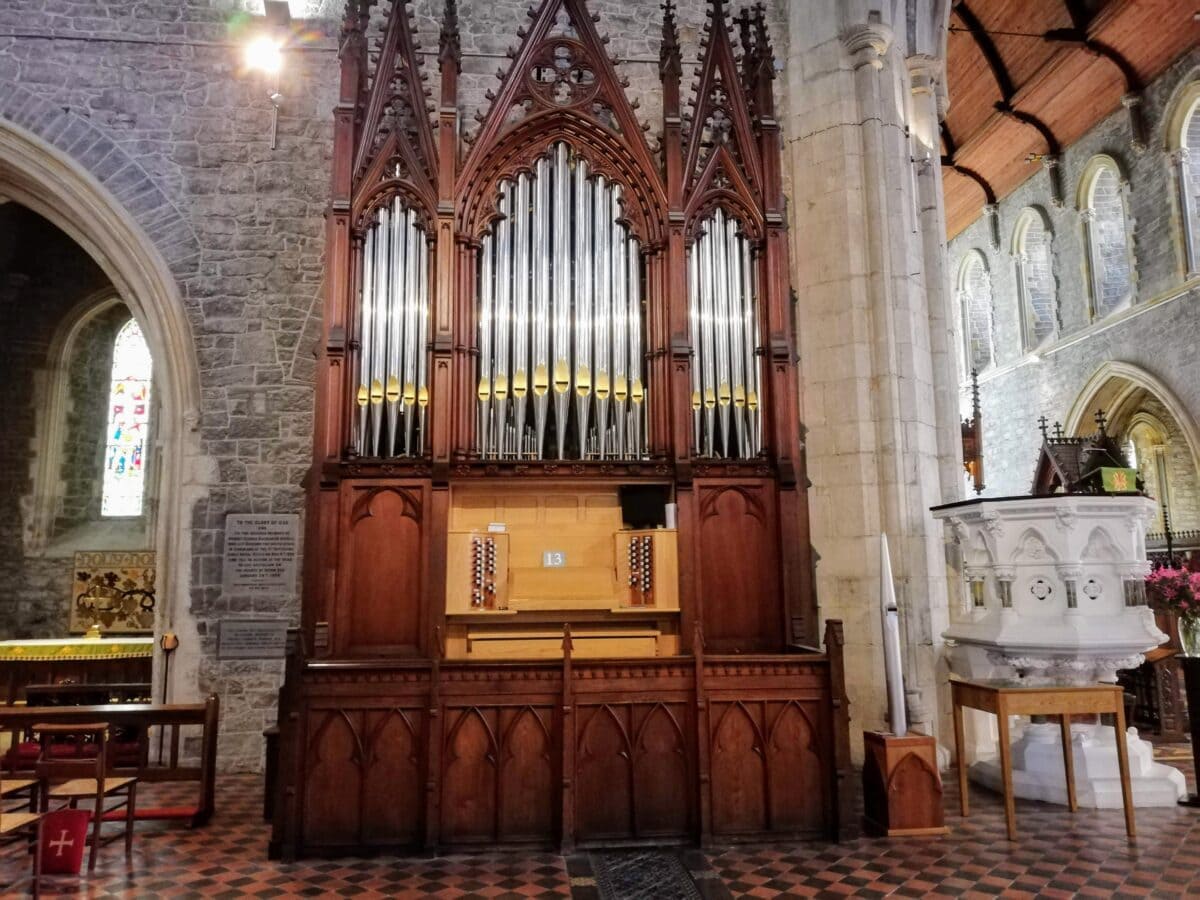 Jose de Keteller grave marker
Along the northern wall of the Cathedral, you will see a large slab with the name 'Jose de Keteller', who died in the year 1280. Historians believe that despite the spelling this was the father of the 'witch' Alice Kyteler.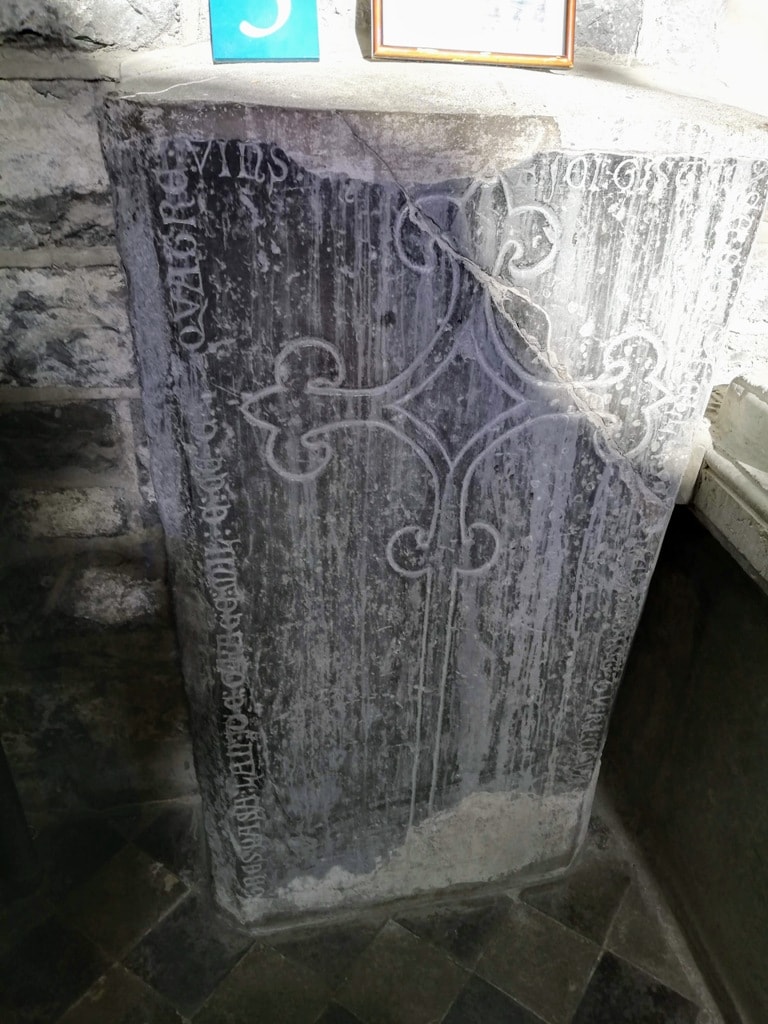 In 1332 the central tower collapsed and was somehow linked to the famous Kyteler Witch trial. The Bishop at the time tried to have Dame Kyteler and her maid tried for this crime and both were condemned to death. Sadly only Petronella was burned at the stake as Alice escaped. As penance for his mother escaping William was ordered to repair the church roof. He had the roof repaired but the re-leading was believed to have been too heavy thus causing the collapse of the tower which fell onto the side chapels and choir causing massive damage.
Baptismal Fonts
Look for the 12th and 13th-century Baptismal Fonts the square one is called the Ossory Font and it was broken by Cromwell's soldiers after their horses had drunk from it. The smaller one is from Inchiologhan Church.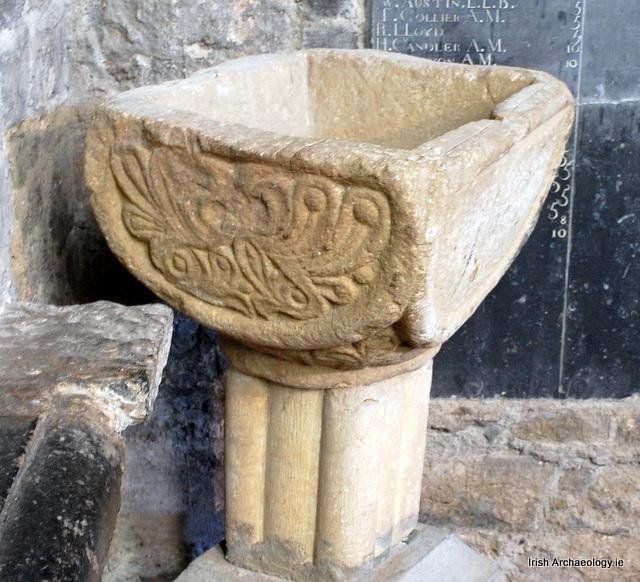 Stained Glass
The cathedral has many stained glass windows, including the fine East window, which is a replica of the 13th-century original. Two of the windows are from the famous Harry Clarke Studio in Dublin.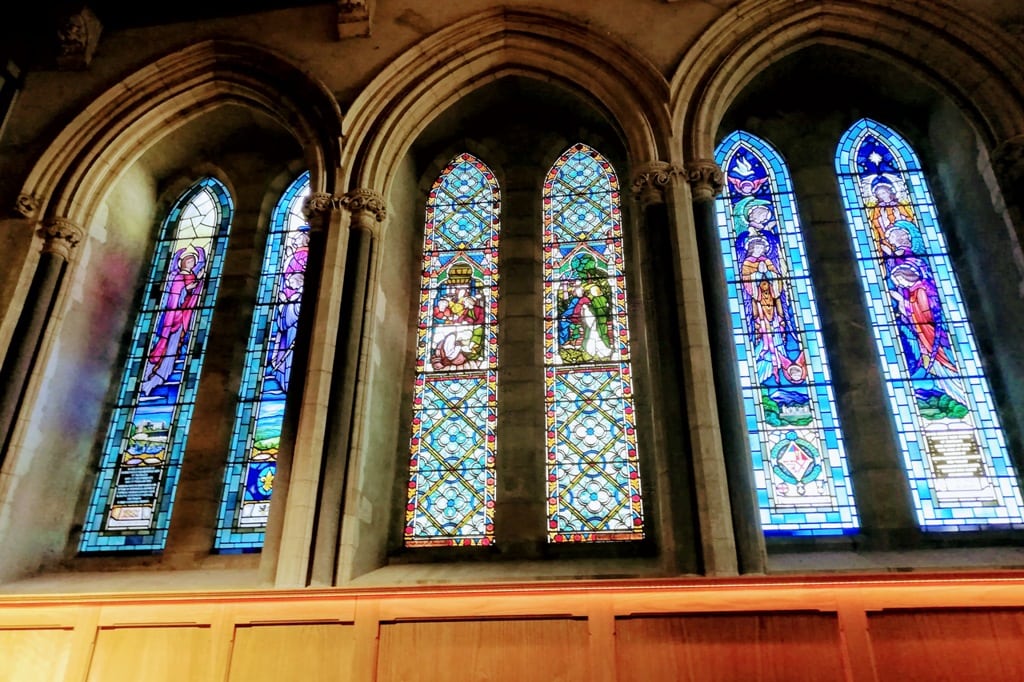 The Bells of St. Canice
The Bells of St. Canice were first mentioned in 1322 when the belfry collapsed into the church destroying the roof and bells. By 1650 the tower contained 5 bells, but these were stolen by Oliver Cromwell. In 1674 a ring of 6 bells was cast for the cathedral, and in 1892 this was augmented with the addition of two new bells. There is a small peephole into the bellringers room where you can peek at a video of the bellringers and the glorious sound of St. Canice's bells.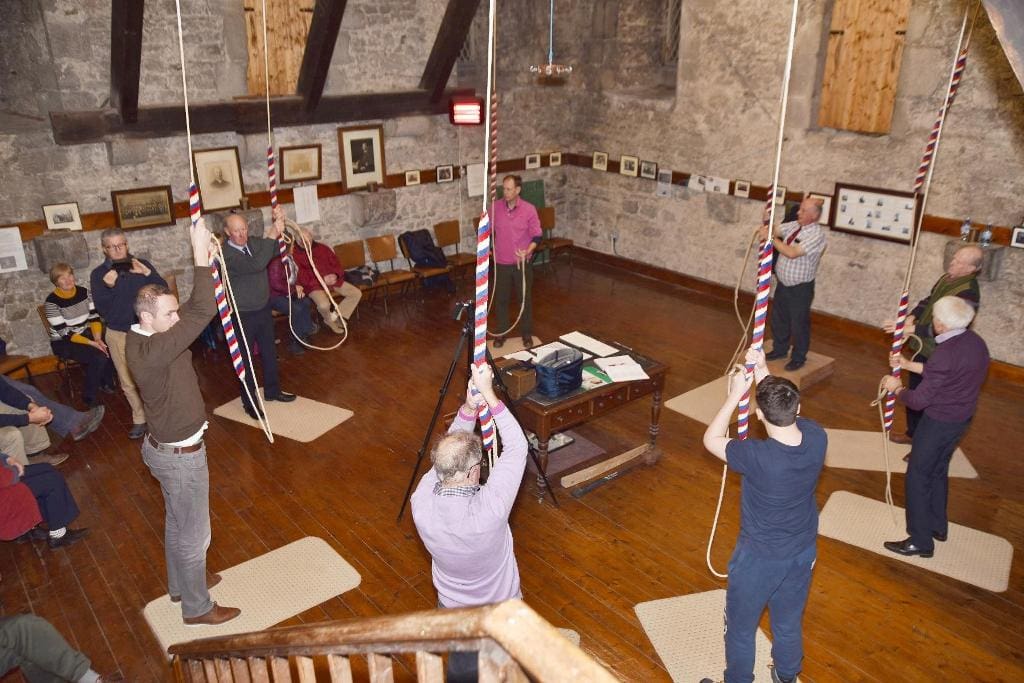 The bells are rung every Sunday, on feast days and for weddings and funerals. On New Year's Eve the bells are muffled to ring out the old year and before midnight, the muffles are removed to ring in the New Year with a clear peal.
Visiting St Canice's Cathedral
The Cathedral is open to visitors seven days a week except during services. Visitors may attend services, though there are no tours while they are in progress. There is an excellent choir and organist resident in the Cathedral, well worth hearing for anyone with an interest in church music.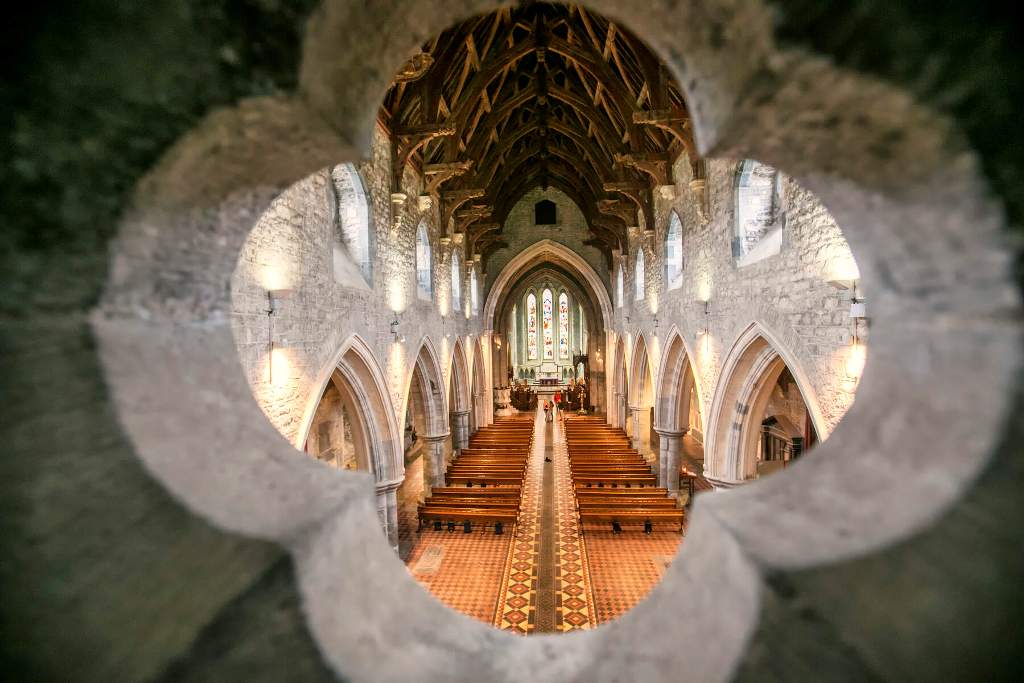 St Canice's Cathedral service times are as follows:
Sunday – 8.00am Holy Communion (Traditional Language), 11.30 am Sung Eucharist, 3.00 pm Choral Evensong
Wednesdays 10.30 am Holy Communion, and Holy Days & Saints Days 10.30 am Holy Communion
Visiting times at St. Canice's Church
St Canice's Cathedral is open on Saturdays 10 am – 4 pm (closed for lunch 1-2 pm) and Sundays from 2 – 4 pm for visiting. The hours of opening are seasonal however so do check on the website. An adult entry fee for the Cathedral is €4.50 and for climbing the round tower the fee is €4.00 but you can buy a combined ticket for €7.00.
Where to stay when visiting Kilkenny
The Butler House in Kilkenny comes highly recommended. A 4-star guesthouse with 13 luxury rooms and gorgeous gardens and grounds The Butler House is a great location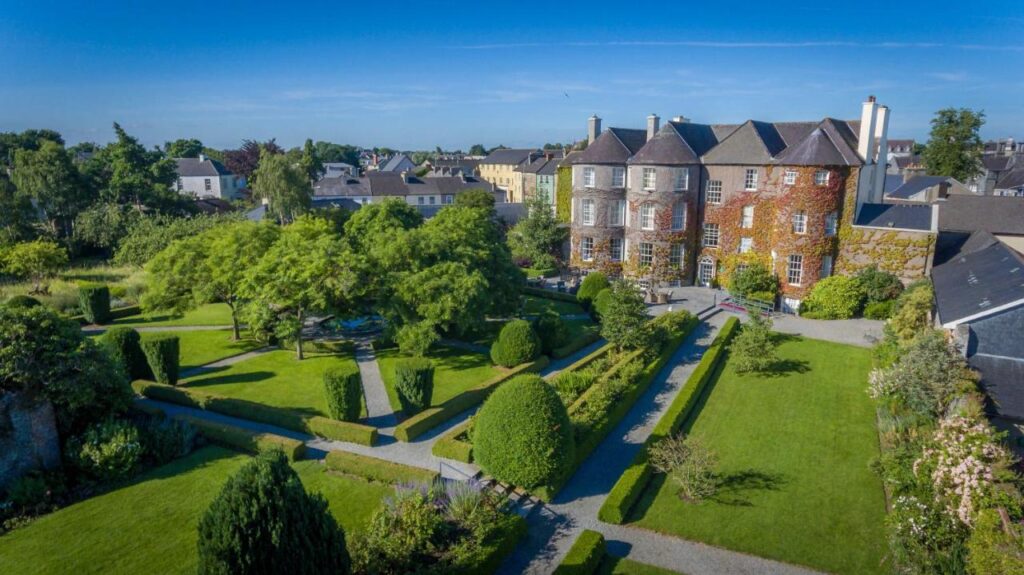 The 4 star Newpark Hotel rests on the edge of medieval Kilkenny city, a cultural gem of festivals and historical sites. On over 40 acres of parkland, offering luxurious accommodation, a Health Club & Spa and fun-filled kids' activities, this family-friendly hotel is the ideal base for exploring Kilkenny.
The Hibernian House is a Georgian Guest House situated on Lower Patrick Street in the centre of Kilkenny's cultural quarter and just a stone's throw from the hustle and bustle of city life. Kilkenny Castle and Gardens is a 2-minute walk. Attractions like The Smithwick's Experience and the Medieval Mile are also within a short walking distance.
The Kilkenny ­Ormonde Hotel is a 4-star city centre Hotel, located right next to Kilkenny City landmarks such as the Kilkenny Castle, the intriguing Medieval Mile Museum, St. Canice's Cathedral with its Round Tower offering incredible views of the City.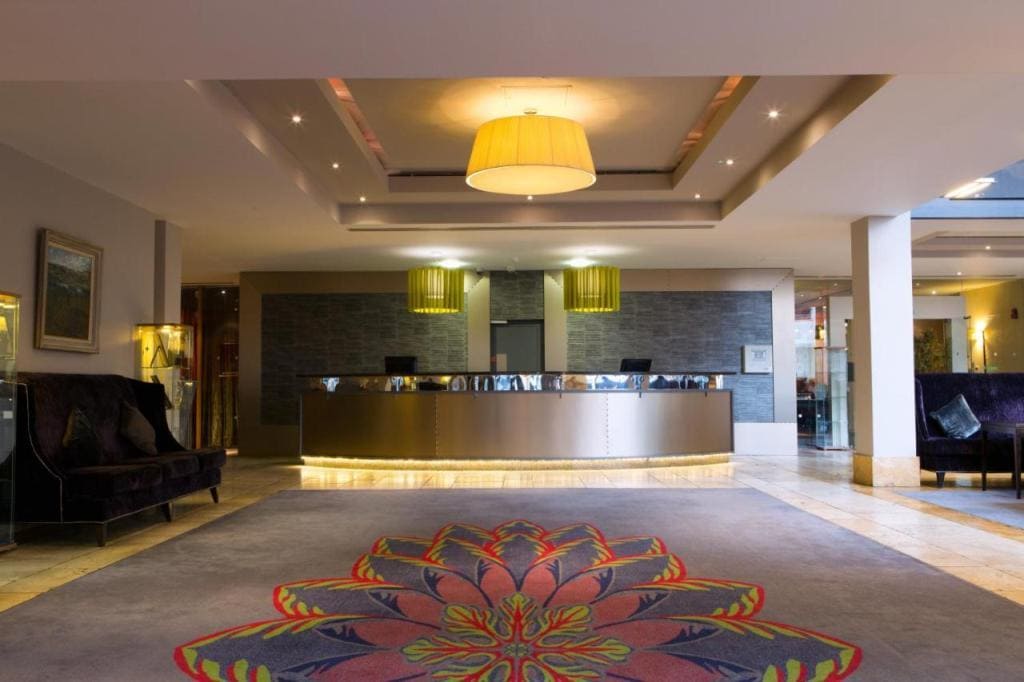 For the more budget-minded traveller here are great places to stay at from around €25 Euros a night.
MacGabhainns Backpackers Hostel is one of the top 10 hostels in Ireland and number 1 in Kilkenny. Located in the City Centre only minutes from the bus and train stations. They are noted to have the best showers in the city and lots of freebies, such as free breakfast, parking, security lockers, internet access, Wi-Fi and even a free map of the city! Breakfast includes porridge, corn flakes, toast, butter, jam and tea or coffee. You can also have as much free tea and coffee as you want, all day long!
Lanigan's Bar and Hostel is the best-located hostel in Kilkenny, safe, comfortable and clean for visitors on a budget. It is approved by the Irish Tourist Board and it is in the heart of Kilkenny City. All rooms are ensuite, and they have female-only rooms, there is an award-winning pub & restaurant attached for some great drinks and craic. Rates at Lanigan's Hostel start from €16.
You can find St Canice's Cathedral facebookhttps://www.facebook.com/stcanicescathedral
Have you made it to Kilkenny's Medieval Mile or climbed the Round Tower at St. Canice's Cathedral yet?
You might also like
Kilkenny Castle Ireland one of the world's most beautiful
The Ultimate List of awesome things to do in Kilkenny, Ireland
A Traditional Irish Breakfast – the lush full Irish breakfast
Visiting Jerpoint Abbey Kilkenny
Irish Witches – famous Celtic witches
Majestic Mellifont Abbey and the legend of Ireland's Helen of Troy
Pin it to save it

Latest posts by Faith Coates
(see all)