Ultimate Guide to Hiking the Stairway to Heaven, Ireland
Everything you need to know before you go
You may have heard of the Stairway to Heaven in Northern Ireland, or you may have seen photos online of an immense set of stairs up a mountain. The non-hiker in you might cringe at the thought of hiking up a mountain but you really don't have to hike the whole 33km Cuilcagh Way.
The staircase to heaven or Stairway to Heaven not to confuse it with the Led Zeppelins song of the same name was nicknamed this after a photo taken from the top of the Cuilcagh boardwalk went viral four or five years ago. It is one of the best walks in Fermanagh Northern Ireland.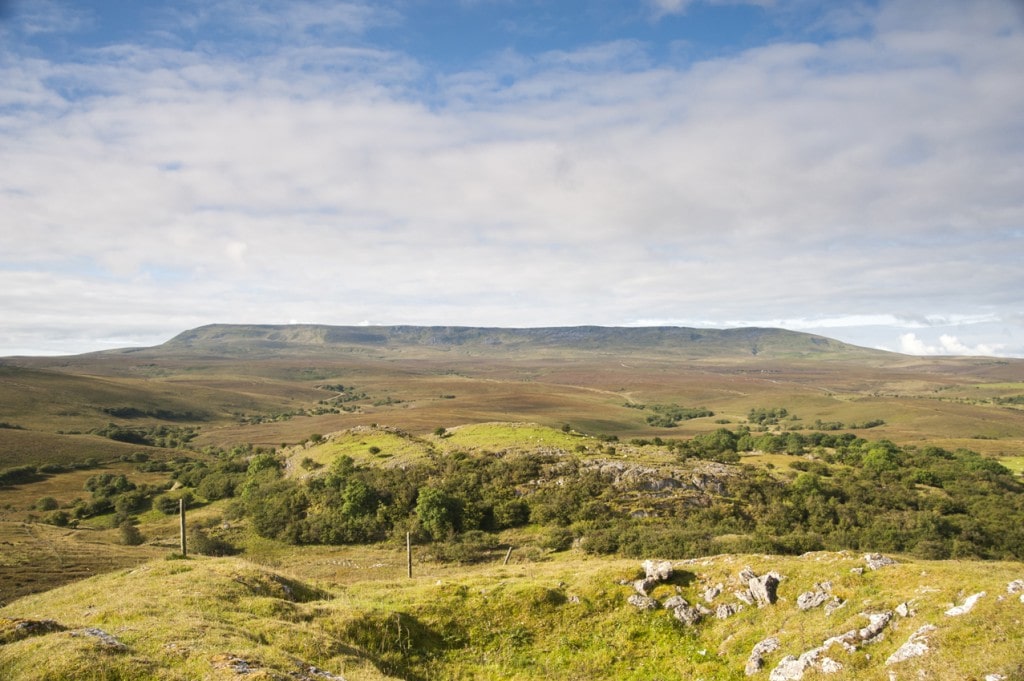 The Stairway to Heaven is located in Fermanagh Northern Ireland – THE CUILCAGH LEGNABROCKY TRAIL – is its official name and it is from Gaelic which means "chalky peak and it is Fermanagh's highest mountain – Cuilcagh mountain as it is called.
60 Best Northern Ireland tourist attractions
Xyuandbeyond is reader-supported. When you buy through links on our site, we may earn an affiliate commission. You can read my privacy policy here.
HOW TO PLAN YOUR DREAM TRIP TO IRELAND
What is the Stairway to Heaven?
The outstanding hike that is the Cuilcagh Boardwalk / Cuilcagh Legnabrocky Trail is referred to as the 'Stairway to Heaven Ireland'.
A few years back an Instagram post naming the hike the Stairway to Heaven went viral and since that time it is one of the most popular walks in Ireland.
In this guide, you'll learn everything you need to know if you're planning on hiking Ireland's 'Stairway to Heaven', or the Cuilcagh Boardwalk / Cuilcagh Legnabrocky Trail, as it's officially known.
Walking The Stairway to Heaven, Ireland
Stairway to Heaven Fermanagh how long does it take? How long is the Stairway to Heaven hike you ask? Given that the Stairway to Heaven trail is a14.8 km (9.2 mi) there and back it could take you up to 4 hours to do this hike.
How many miles is the Stairway to Heaven walk? The wooden boardwalk begins after a 5km (9.2 miles) walk along a gravel path from the car park, before winding across the bog to the wooden staircase up the side of the mountain to the summit plateau known as the stairway to heaven. While this 'stairway to heaven' has made the final 1.5km of the trek to Ireland's 165th highest peak less of a slog, the 450-step wooden structure is designed to protect the ecologically important hilltop blanket bog from erosion.
Cuilcagh mountain walk directions
Cuilcagh sits right along the border of Cavan in the Republic and Fermanagh in Northern Ireland. Legnabrocky is the townlands where the walking trail begins. In 2001 the Cuilcagh Mountain Park was joined with the Marble Arch Caves (where Game of Thrones filmed some scenes) and the Claddagh Glen Nature Reserve to make one of the first UNESCO-recognised European Geoparks.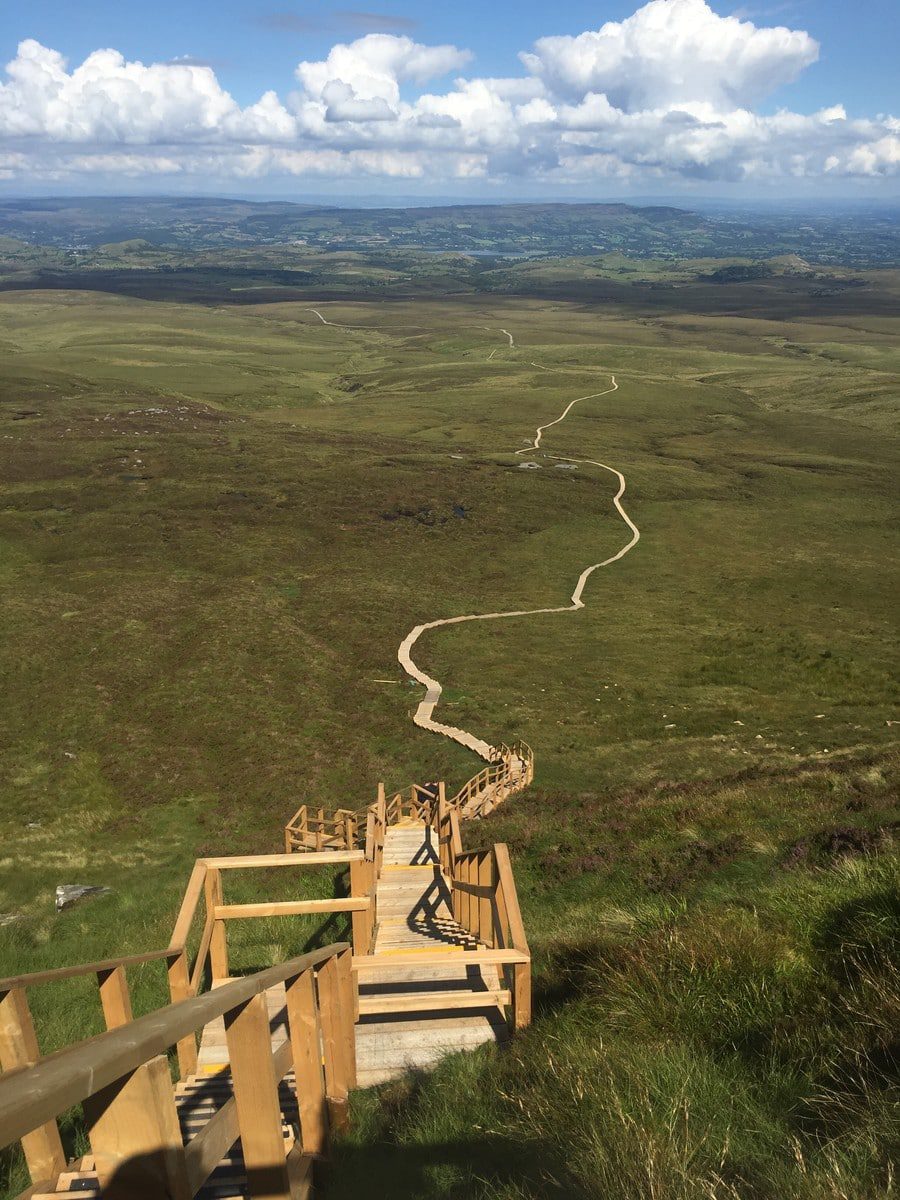 In 2008 the Marble Arch Caves Global Geopark was expanded into County Cavan, making it the world's first transnational cross-border Geopark and management of the Stairway to heaven Fermanagh became part of the Geopark.
In 2016 a 1.6 km boardwalk was created to protect the blanket bog from erosion by the walkers taking the Cuilagh Way hike. In 2017 a photo of the boardwalk and the steps up the Mountain went viral on Instagram and since that time walkers and hikers have visited the Stairway to Heaven Ireland in droves. I'll give you an important tip here choose the best comfy daypack for hiking as there are a lot of stairs here and you want something light.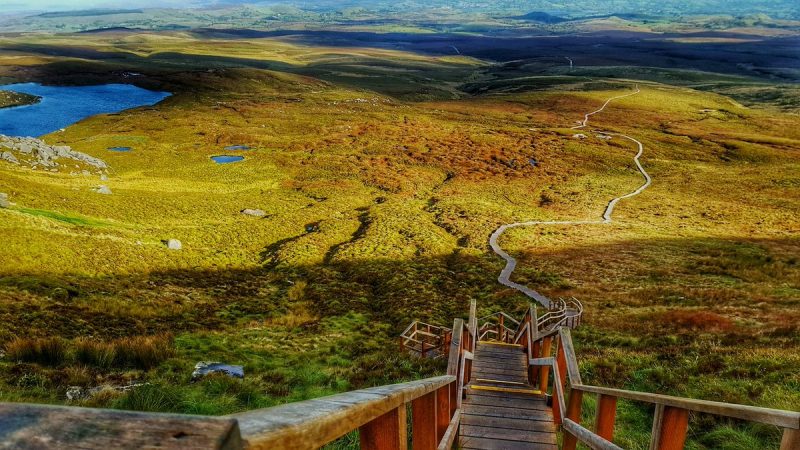 Getting to Northern Ireland's Stairway to Heaven
Dublin to Stairway to Heaven
From Dublin, the drive will take around 2.5 hours you can simply google map it and you will be shown several optional routes to take. The route through Kells will allow you to stop and view copies of the Book of Kells where they were actually found. You could also take a trip to the incredible Monasterboice which contains some of Ireland's finest high crosses.
Stairway to Heaven Ireland map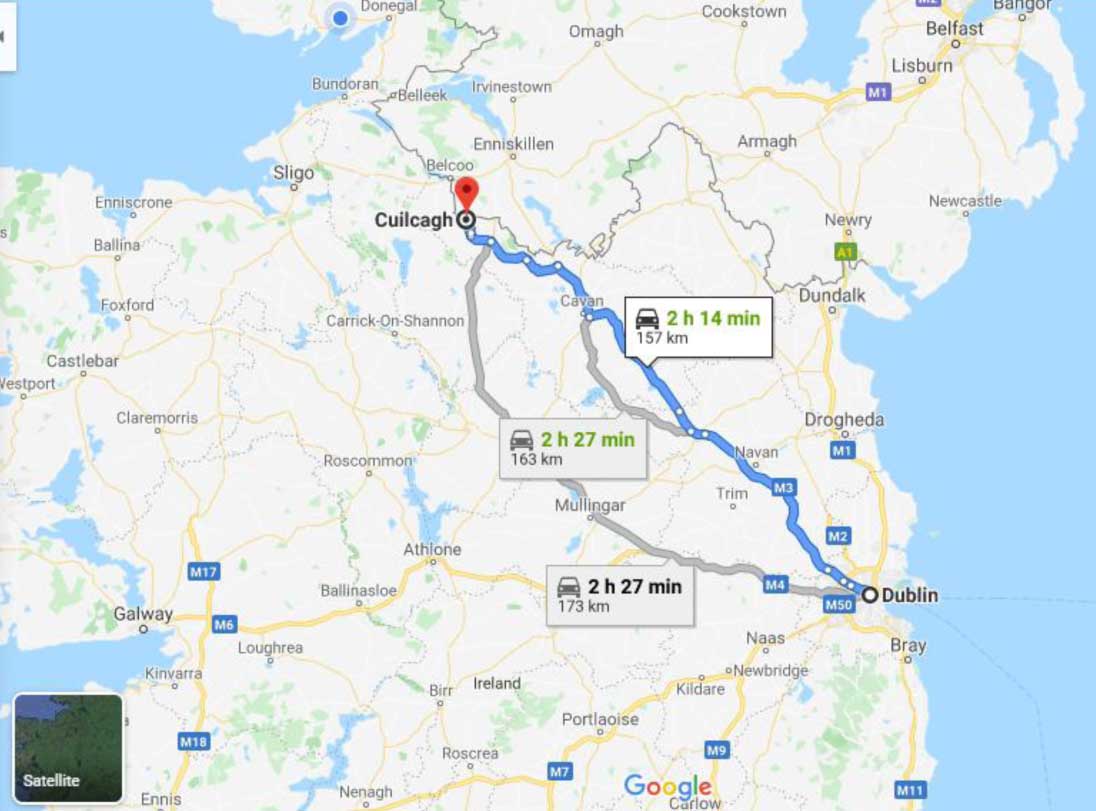 101 Landmarks in Ireland to see
Stairway to Heaven from Galway
A little longer drive the trip from Galway will take around 2.75 hours but you could stop in Athlone and have a drink at Ireland's oldest pub Seans.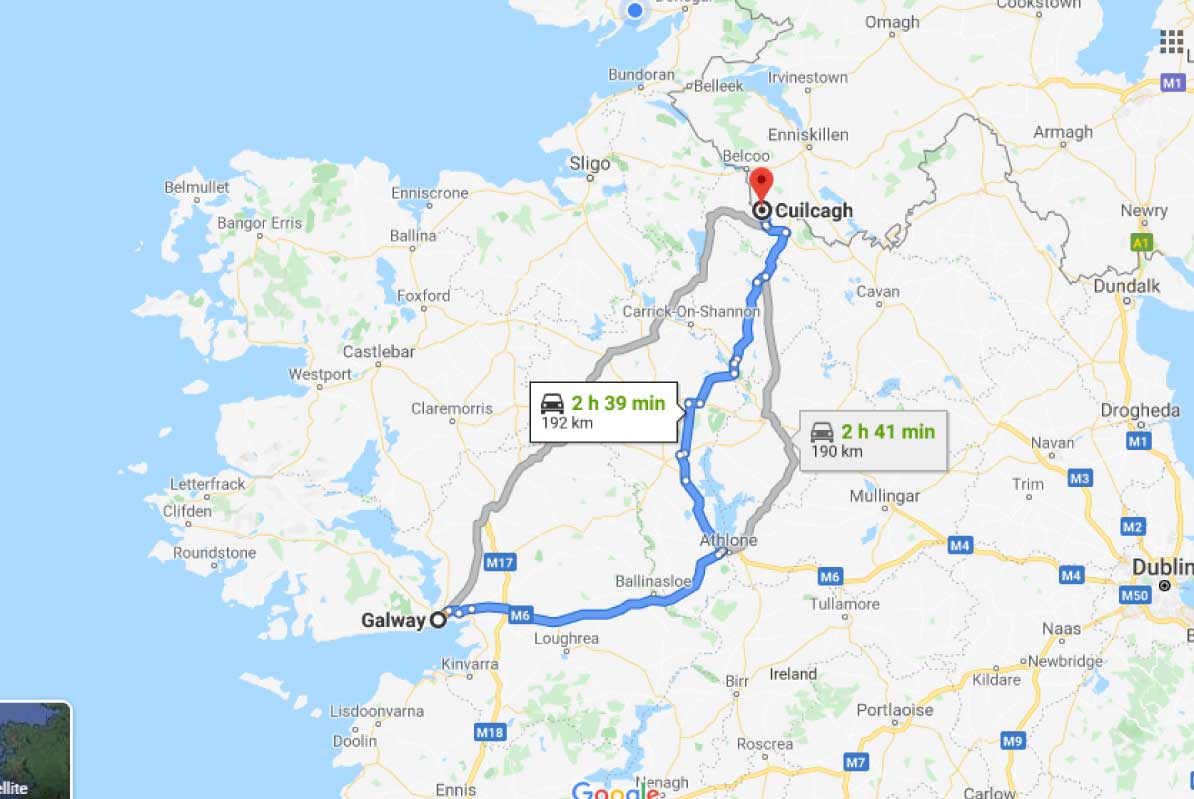 Stairway to Heaven from Belfast
The Stairway is 2 hours and 15 minutes away from Belfast and some routes pass by Enniskillen, where you can see Enniskillen Castle or have a nice lunch at Blakes pub and take photos of the Game of Thrones Doors from the Dark Hedges.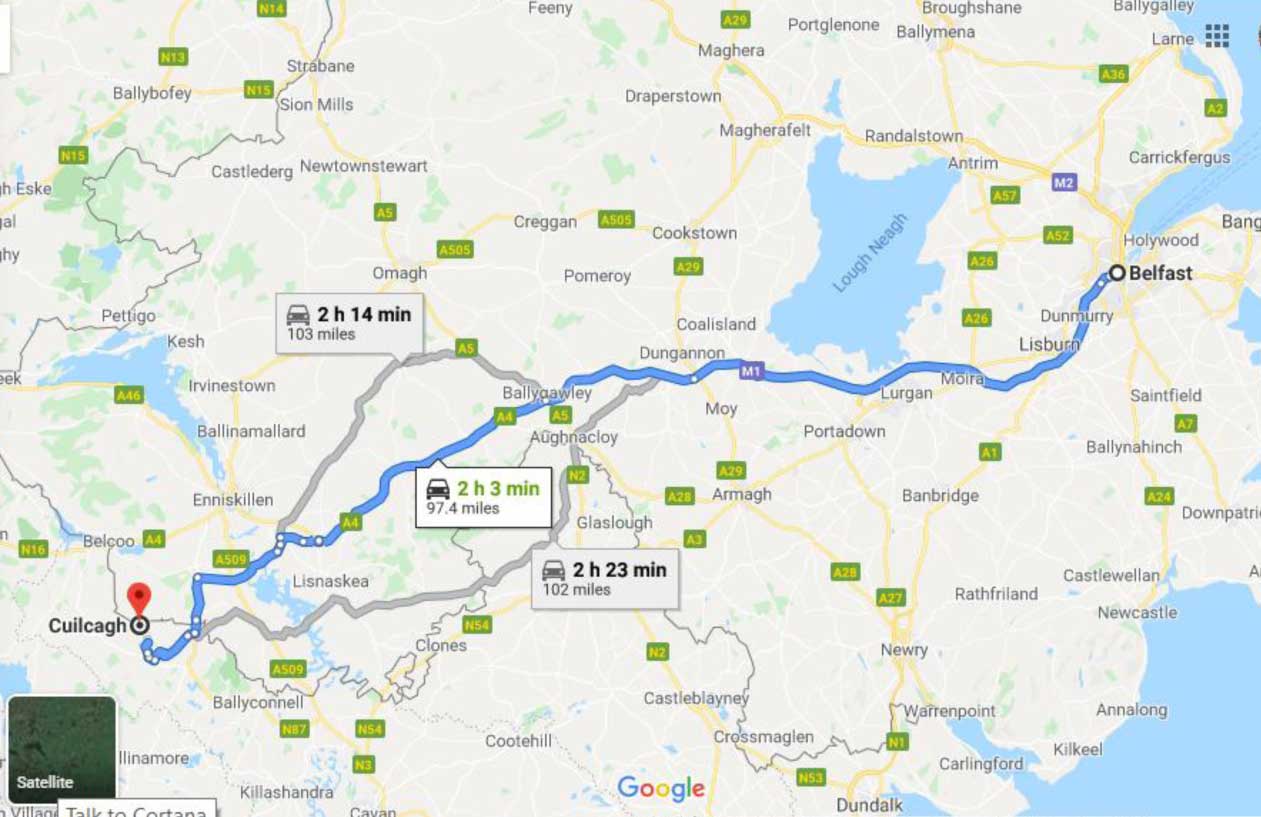 Don't forget if you are driving from Galway or Dublin you will be entering another country as N. Ireland Fermanagh is part of the UK. Probably the only way you will be able to tell that is that the speed signs will change from km to miles. Don't forget to get a few sterling before you go as well for coffee and car parking.
Stairway to Heaven Ireland tours
Many tour companies such as Discover Ireland, Hidden Dublin Tours and 365tickets offer 'Stairway to Heaven Ireland' tour packages from Dublin. Tickets range from 30 to 60 euros.
How long does it take to walk the Stairway to Heaven?
The walk itself is about 2 hours long but that doesn't take into account the walk from the carpark to the boardwalk which is another 1.2 km. A round trip up the boardwalk and the Stairway takes about 4 hours to do if you have a moderate level of fitness. Yes, you do need to be somewhat fit to take on that kind of walk.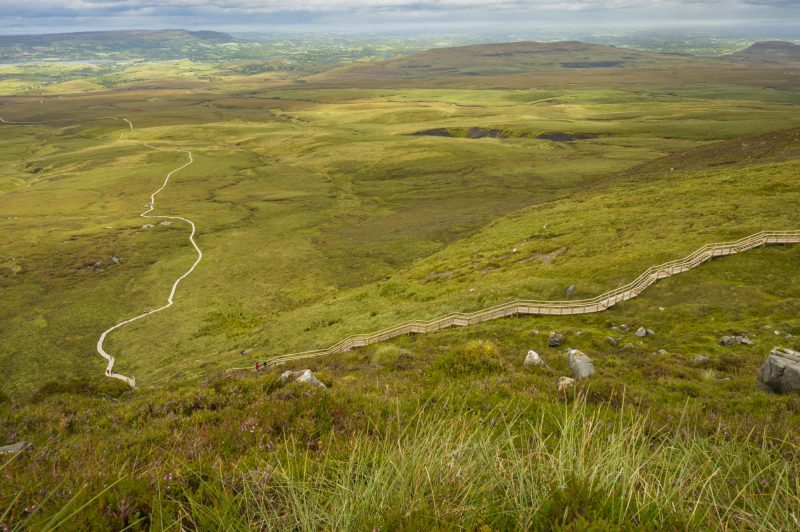 Stairway to Heaven Ireland car park
Cuilcagh Boardwalk carpark is the first carpark at Cuilcagh Mountain it is called the Marble Arch Caves Car Park and it will cost £5, but they'll take five euros if you haven't any sterling.
The actual Stairway to Heaven hike starts at the 2nd parking lot of the Legnabrocky car park. There are in fact 2 car parks on the trail. The first adds another 1.2 km to the hike but the Legnabrocky car park is very small and gets full quickly.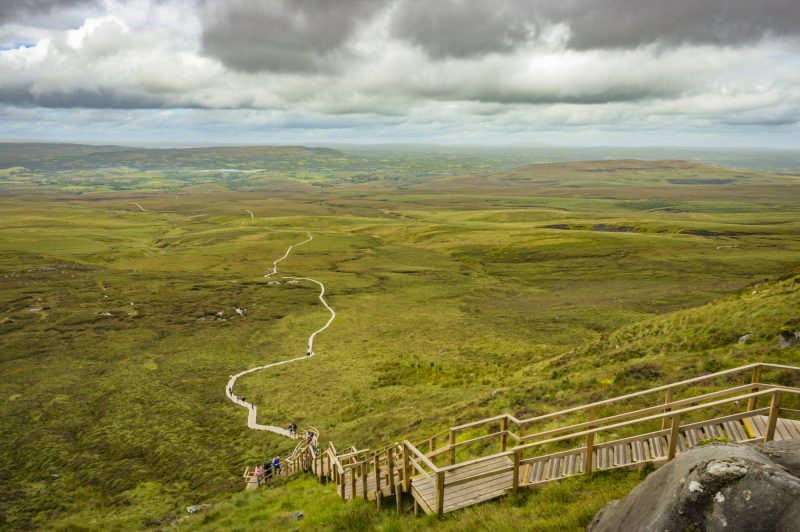 You won't see the boardwalk but you will pass a river and at the end of the gravel road you will spot Cuilcagh Mountain and where the boardwalk begins. The boardwalk is around 1.6 km long and it is literally an uphill climb. As mentioned before lots of stairs to manage but the views are simply phenomenal so stop and rest and take loads of photos.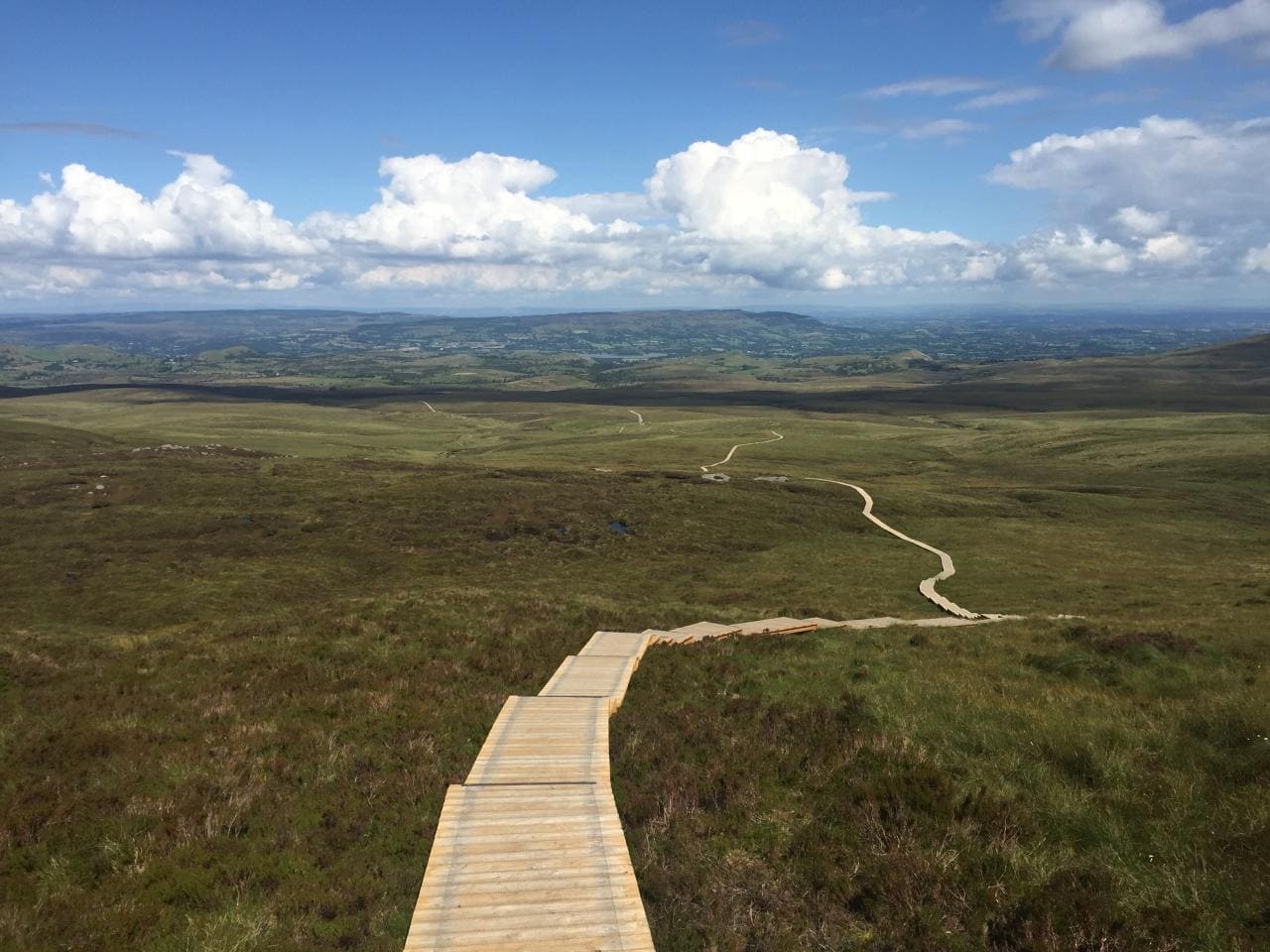 You will see views of Fermanagh for miles and be able to get some great shots of Lough Atona. This Loch was formed during the last ice age and is over 1300 years old.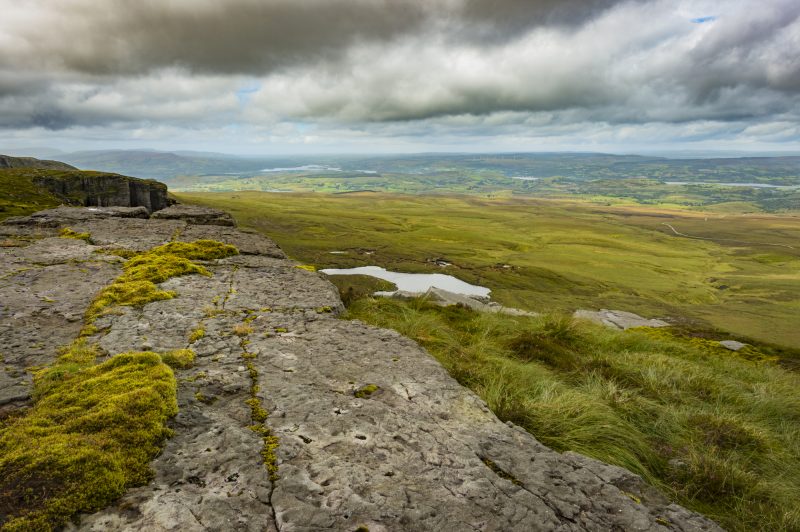 How many steps does the Stairway to Heaven have?
450 steps in total and yes it takes some stamina but there are small platform rest points along the way so you can stop and get some stunning photos.
What should I wear hiking the Stairway to Heaven?
The Cuilcagh Mountain walk will be subjected to a variety of weather conditions – it's Ireland so remember 4 seasons in one day. Wear a good pair of sturdy shoes or hiking boots as the boardwalks can be slippery when wet. I would also advise a good wind and waterproof jacket that has a hood.
What should I bring with me to hike the Stairway to Heaven?
You can bring a drone with you to Cuilgagh but if it is over 1 kg it must be registered with the Aviation Authority otherwise you are fine to fly a drone here.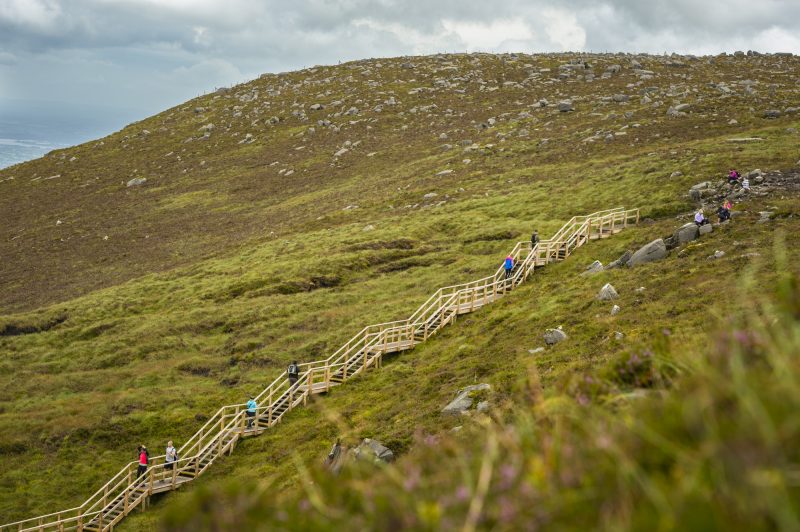 Don't forget your camera either a cellphone one or a good photography camera will come in very useful.
Pack a lunch drop into a Spar or other type of shop along the route and pick up some snacks or sausage rolls to munch or bring a full lunch to have a picnic at the top of the summit. Don't forget extra water the hike can be quite dehydrating.
When to visit the Stairway to Heaven
Oh and get there early particularly in high season as it can get very busy. If you are going in the off-season check that the boardwalk is open as sometimes it has to be closed due to snow and ice build-up.
This is not a hike for anybody with mobility issues or no stamina, trust me I only made it a few km but hubs went all the way – thank god he can take a decent picture.
Don't forget to take the weather into account as well and check it before you go and dress accordingly these stairs to heaven can (like most of Ireland) contain 4 seasons in one day.
Cuilagh's Unique Habitat & Wildlife
This is one of the largest blanket bogs in Northern Ireland and one of the most intact blanket bogs in Western Europe. A blanket bog is a place where peat forms from the decayed remains of plants and mosses. These bogs support a unique variety of bugs, plants and other animals that have adapted to the waterlogged areas. One of the rare birds found at Cuilcagh is the Golden Plover, you may also spot skylarks, hen harriers and meadow pipits along with hares foxes and snow buntings.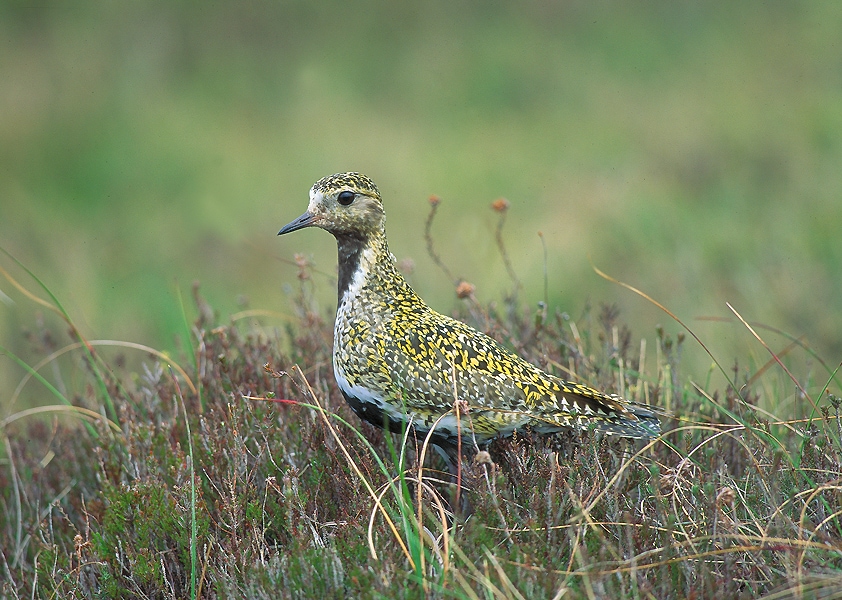 This is without a doubt one of the more impressive of Ireland's hikes and walks. Have you hiked it yet?
You might also like
HOW TO RENT A CAR IN IRELAND NORTH OR THE REPUBLIC
The best of Irish slang and 100+ Irish slang phrases
101 Landmarks in Ireland to see
101 Landmarks in Northern Ireland
Ultimate Wild Atlantic Way Route
Ireland's Ancient East – an epic road trip
Cliffs of Slieve League the magnificent sea cliffs of Donegal
Christmas in Belfast how to spend a fabulous holiday here
44 of the best things to do in Belfast
The perfect Ireland and Scotland Itinerary
So have you managed the hike at the Stairway? If not what was your favourite hike in Ireland?
Love it? Save it for later pin it.
More Irish posts