Awe-inspiring Stone Circles in Ireland
Stone Circles in Ireland are much easier to find these days. Back in the day taking a road trip around Ireland to visit the stone circles was an adventure, to say the least. We often found ourselves driving or wandering through fields that signs pointed to only to find well – nothing.

Ireland's winding lanes and ancient roads can lead to incredible ancient monuments from the Stone Age onwards. Shrouded in mystery and kept safe by legends these ancient monuments are a source of intrigue for both the Irish and the tourists.
I went looking for Ossian's Grave a few years back which is near Cushendall in Country Antrim, Northern Ireland and ended up in a field of sheep poop up an unnamed country track – never did find the court tomb. The tomb itself is named after the mythical warrior and poet Ossian, a son of Finn MacCool (of Giant's Causeway fame). It is supposed to be easier to find these days but you need to look for the Lubitavish Court Tomb which is marked.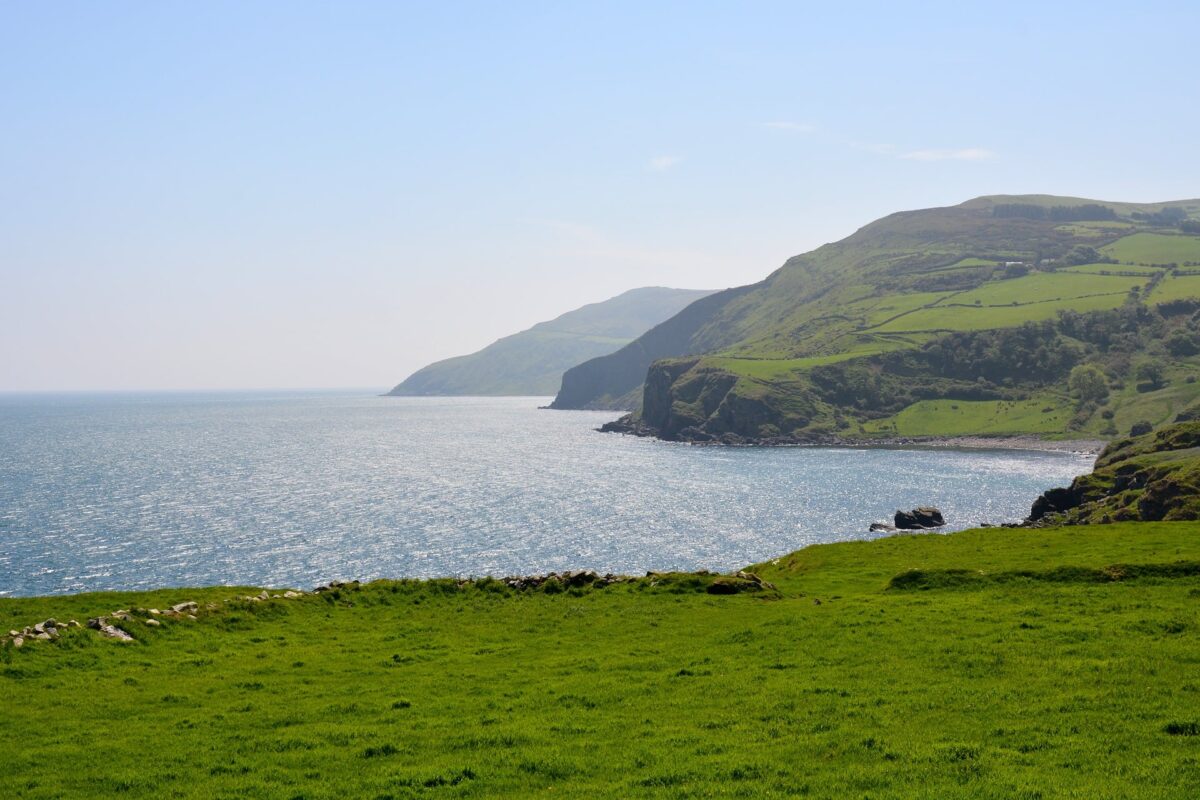 What was the purpose of stone circles? These stone circles were of great importance to prehistoric peoples. Often a place of ritual or ceremony they were used as astrological markers, areas of tribute, trading sites or gathering places.
Found all over Ireland and dating back tens of thousands of years Irish stone circles tend to be much smaller than places than stone circles found in Britain. Many are on private land and can be difficult to find and hard to get to.
Some circles are described by archaeologists as axial stone circles – they are a ring of stone designed in a particular way and aligned to a northeast-southwest direction and usually found in Cork and Kerry. Axial stone circles have an odd number of stones with two stones placed on either side of the axis, they also have what is called a portal or entry stone to the ring. Occasionally you will also spot an Ogham stone near a stone circle, but most often they have been re-used or moved to churchyards.
Xyuandbeyond is reader-supported. When you buy through links on our site, we may earn an affiliate commission. You can read my privacy policy here.
How many stone circles are there in Ireland?
In the Republic of Ireland, 187 stone circles have been found. The majority of these circles are in County Cork where there are 187, County Mayo which has 11 and County Kerry with 20.
In Northern Ireland, there are over 147 stone circles and standing stones listed with various heritage and historical sources.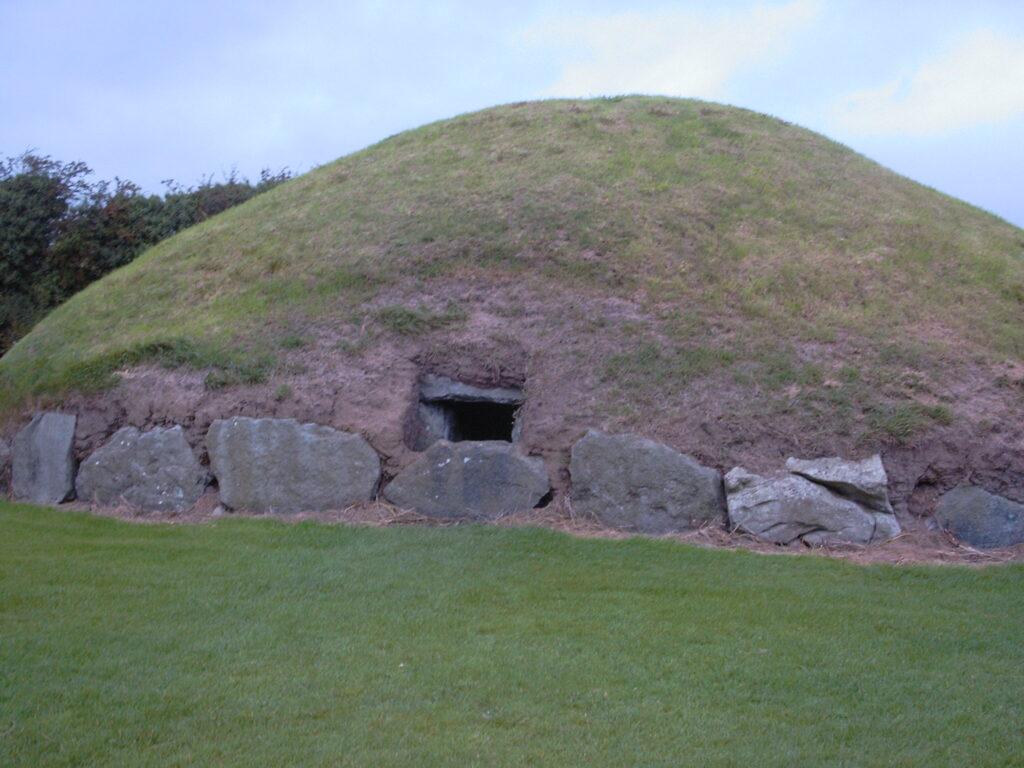 What's the difference between a stone circle and a standing stone?
The best-known stone circles are of course Stonehenge and Avebury in the UK. These are not the type of stone circles typically found in Ireland. A henge is unique – it is a Neolithic or early Bronze Age circular enclosure, up to 400 metres across with banks and usually an internal ditch.
A stone circle is a circular alignment of standing stones within which can sometimes be found a central stone which may be an altar of some kind. A standing stone is a large upright stone found across the UK, Ireland and much of Europe. In France, these standing stones are known as menhirs. Standing stones can range from a full stone circle to rows of stones or simply singular stones.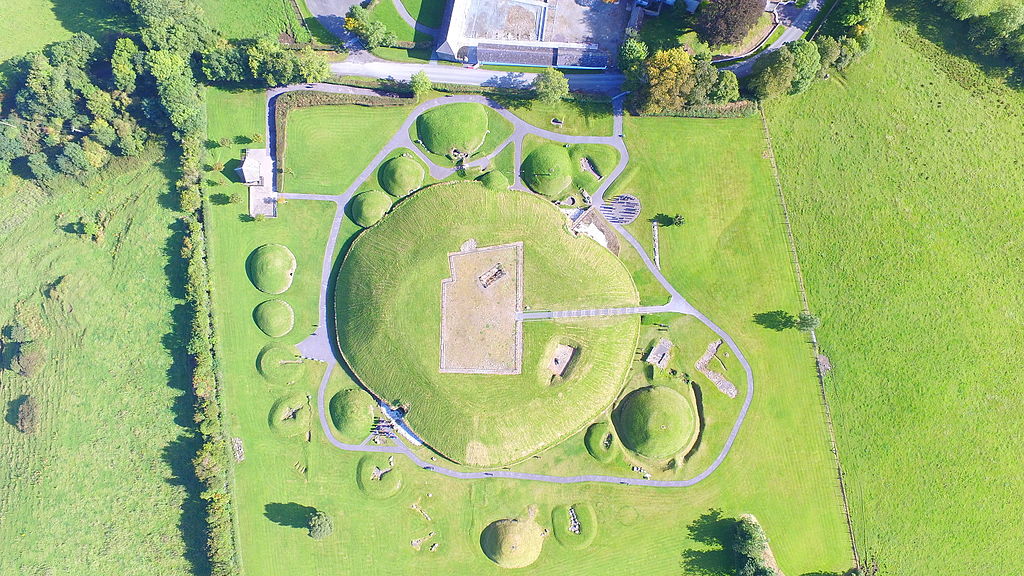 What were stone circles used for?
Archaeologists and historians believe that most of the stone circles were built around 3000 to 1500 BC but it is not really clear what their purpose was. Sometimes bodies (bones really) or grave goods have been found but not enough to suggest these locations were burial grounds. Newgrange tomb was found to have bones but it is not considered a burial site.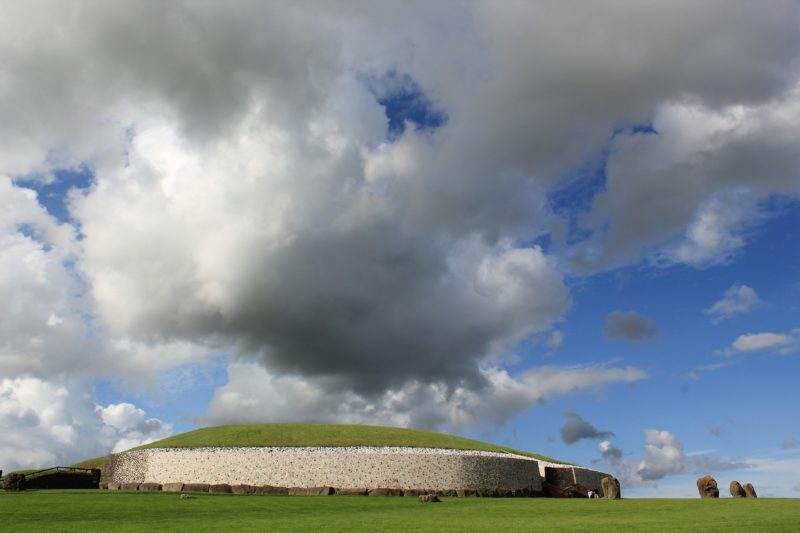 Excavations of standing stones and stone circles have revealed some artefacts such as pieces of jewellery or pottery but these do not seem to have been of everyday use but possibly pieces brought to the site and broken or lost by the visitors.
What is agreed upon is that these sites had a religious or ritual function. There is a theory that says they were astronomical observatories and are placed to maximize views of the setting or rising sun, celebrate the solstices or equinoxes or track the stars through the seasons.
Megalithic maps – stone circles
If you are interested in finding more megalithic sites in Ireland check out the Megalithic Ireland site for tons of fascinating information and maps.
21 Stone Circles in Ireland to see
Map of Stone Circles Ireland
Stone circles Northern Ireland
The Giant's Ring
Easy to find and only around 7km from Belfast centre The Giant's Ring is a massive monument believed to be one of Ireland's few henges. It is thought that the Ring was built by the late Neolithic people and was a centre of great ceremonial and ritual importance. Within the centre of the enclosure which is a high bank is a small passage tomb and to the east of that is a huge broken standing stone.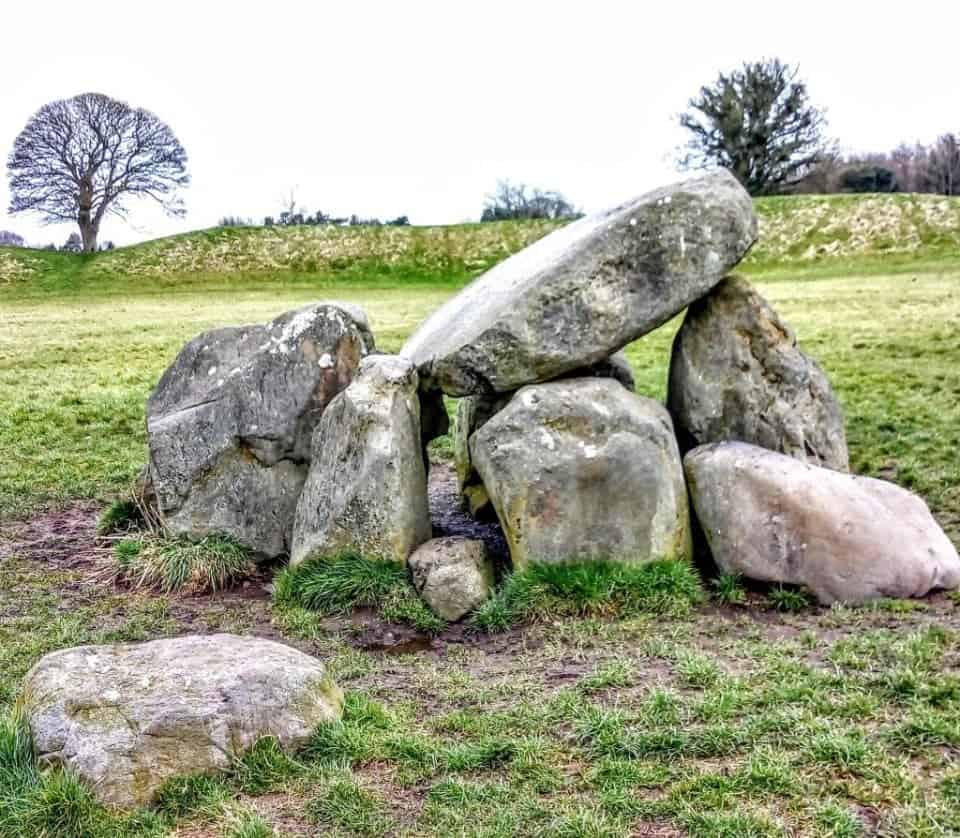 Ballynoe stone circle
Ballynoe Stone Circle is the oldest stone circle in Ireland and it can be found around a kilometre from Downpatrick near the old train station where there is a long footpath to the circles. This is a very large site with over 50 closed-spaced stones in the stone circle. Within the circle is a small mound of stones supporting a platform.
There were two large "kists" (which are burial spaces or stone coffins) in which were found cremated bones.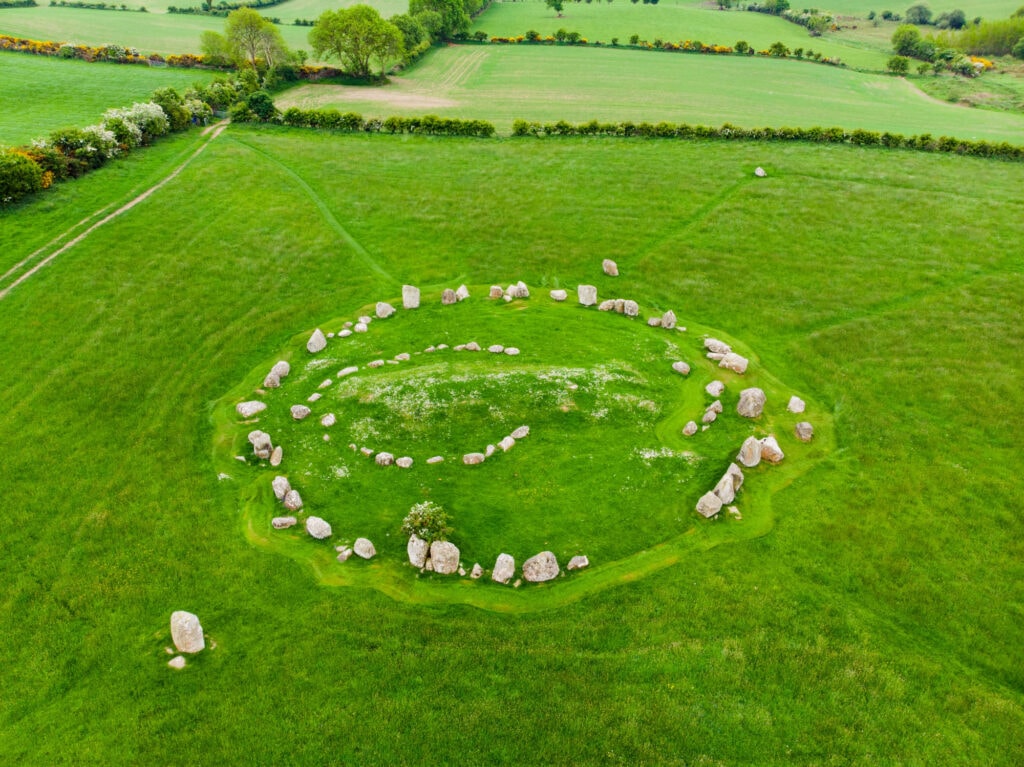 Drumskinny stone circle
There are many stone circles located in Ireland but Drumskinny County Fermanagh is one that is easily accessible with a path to the actual circle. Drumskinny is listed as a State Care Historic Monument and probably dates back to 2250 BC. There are 39 stones and a small round cairn at the site.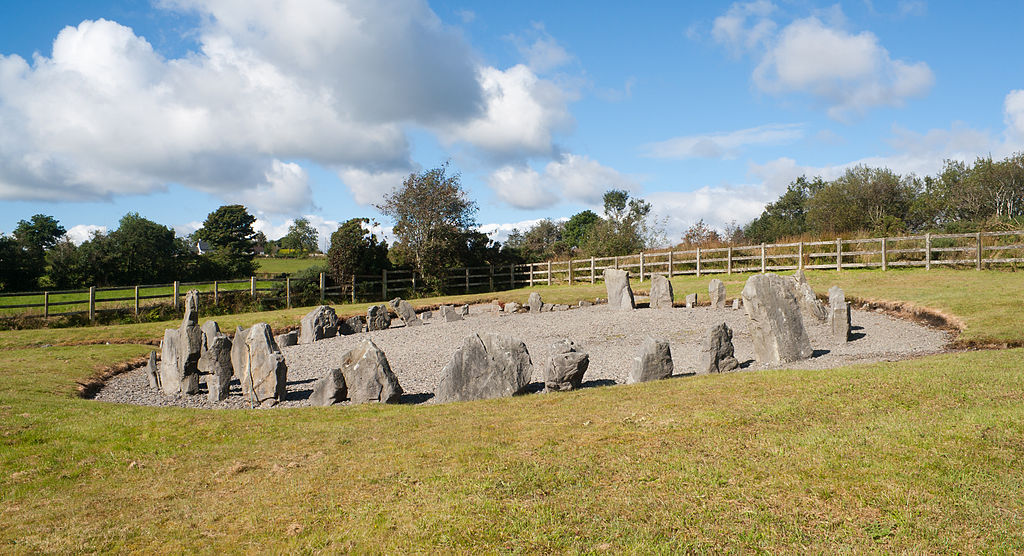 Beaghmore Stone Circle
Beaghmore is found in County Tyrone and has seven circles within it along with stone rows and cairns. One of the stone circles is called the Dragon's Teeth and it contains more than 800 small stones. The site was found when some peat cutters were out digging in the 1940s.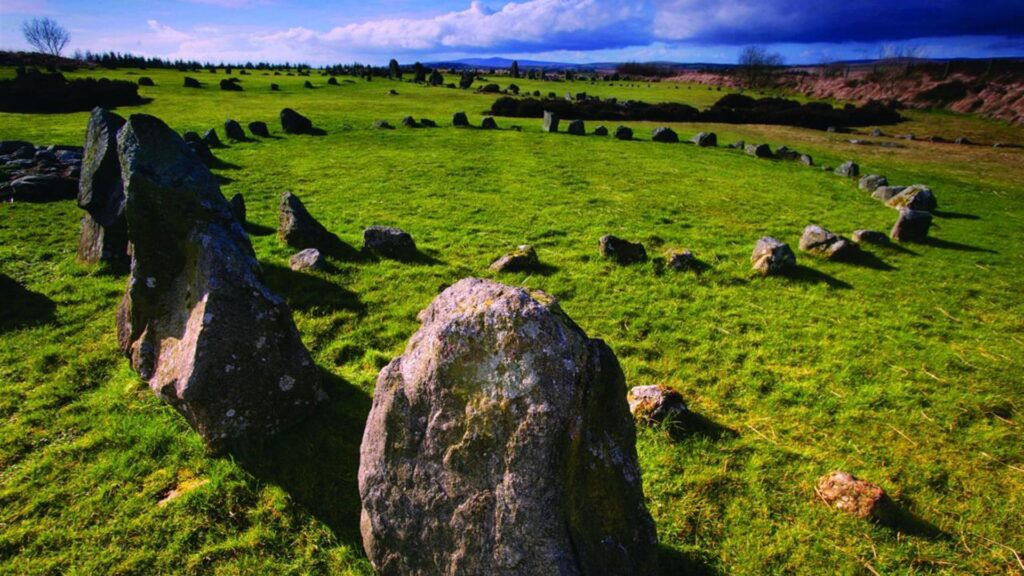 Clogherny Wedge Tomb
Near Plumbridge Omagh in County Tyrone, you will find this well-preserved stone circle. There is a wedge tomb surrounded by 11 standing stones and believed to date back to the early Bronze age around 2000BC. This site is a Scheduled Historic Monument.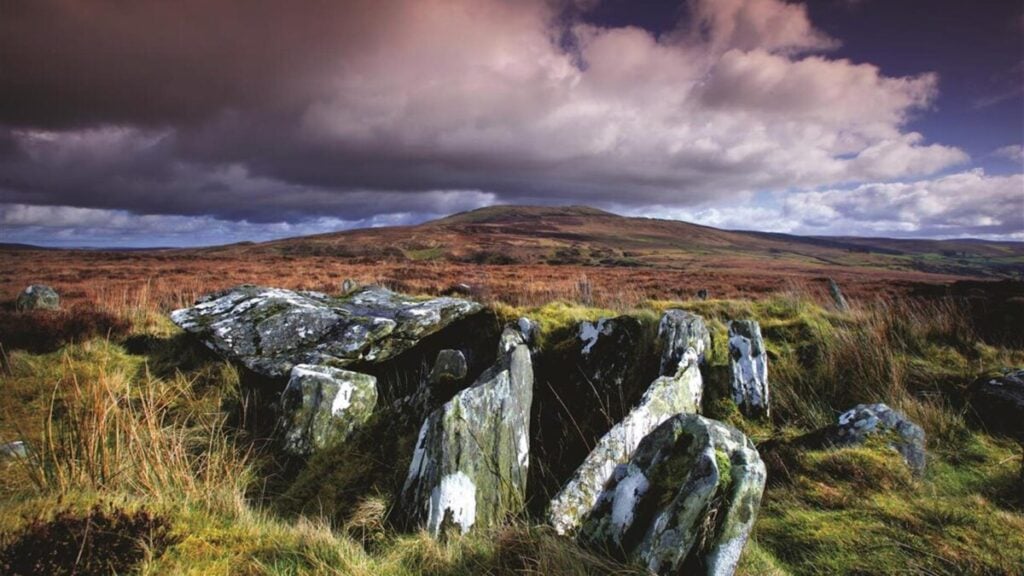 Aughlish Stone Circle
Located in County Derry is a group of 5 circles and stone rows with what are believed to be a number of small cairns which you can see as the small grass-covered mounds nearby.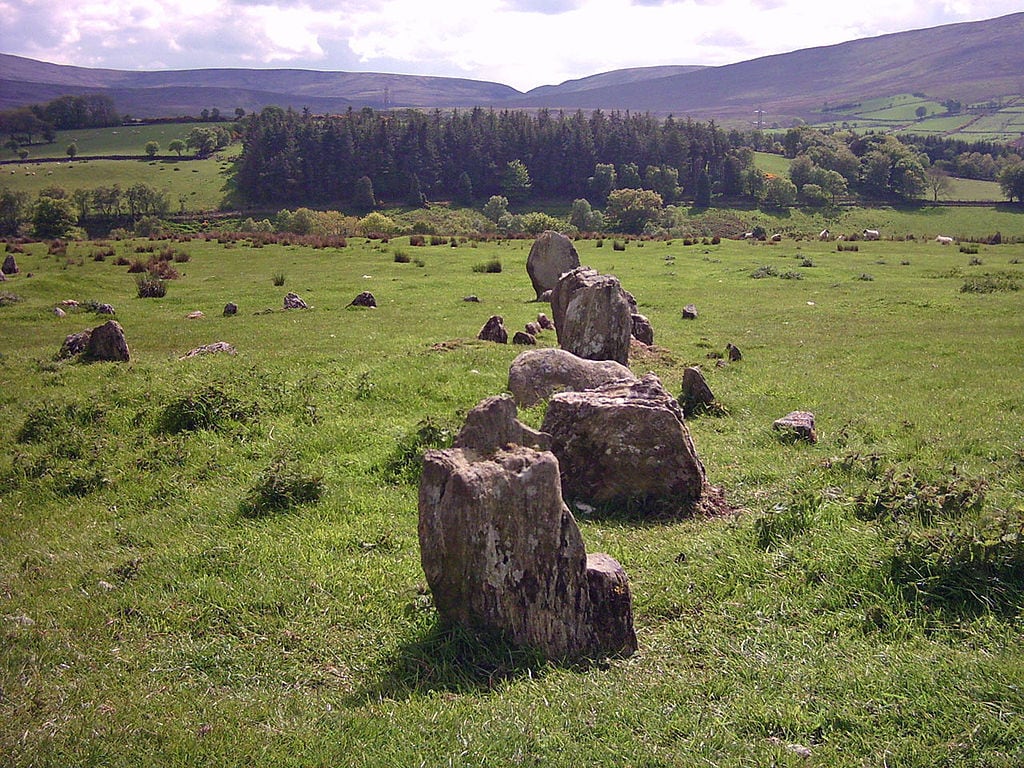 Where to find Stone Circles in Ireland
Beltany Stone Circle
Beltany stone circle is very easy to find and well-marked. Just a kilometre or so from Raphoe, County Donegal there is a small parking area at the base of the slight hill. This was the first stone circle that I visited in Ireland and I have to say it was an experience. You trek up a slight incline to the circle which was surrounded by many sheep. There are 64 stones although it is believed that there used to be 80 or more.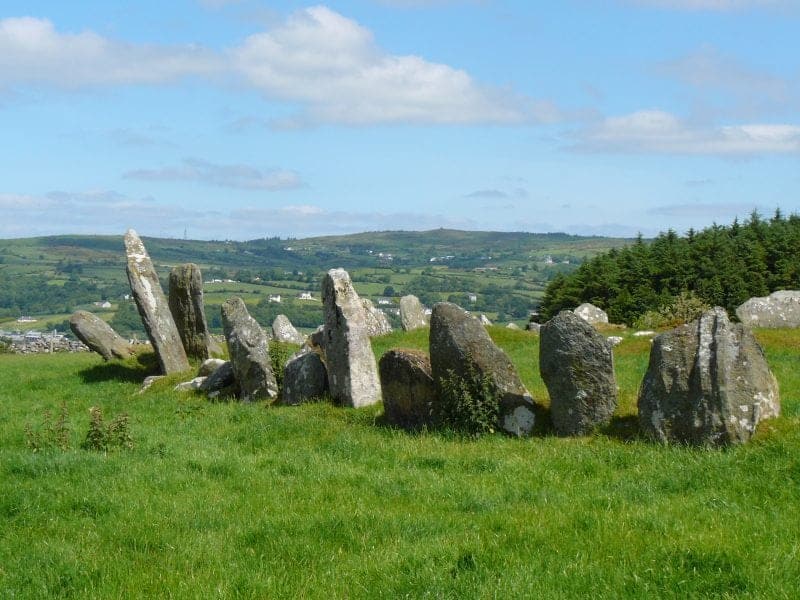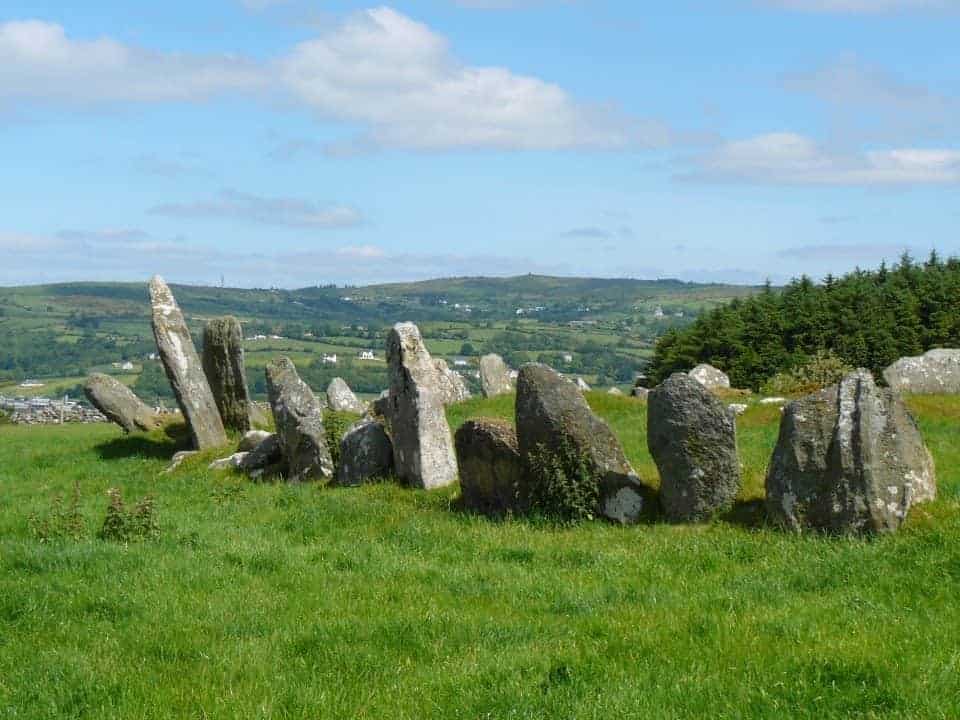 The stunning panoramic view from the hill is inspiring overlooks Croaghan Hill, where – in Irish legends, the warrior Itha, the uncle of Milesius, the first of Ireland's legendary invaders, was laid to rest in the passage tomb on its summit after he was killed in the Battle of Magh Itha, the initial war against the Tuatha De Danaan.
Gorteanish – Ahakista Stone Circle
This multi-stone circle is situated in an area of outcropping rock with dense furze and brambles that overlooks Dunmanus Bay. The stone circles was cleared when it was re-discovered in 1995 and it is an incomplete circle with 4 standing stones and 7 horizontal slabs.
Bocan Stone Circle
The Bocan stone circle is found on the Inishowen Peninsula county Donegal and it dates back to between 1500-2500BC. It is believed that there were 30 or more standing stones within this circle but some have disappeared over time. In 1816 is was reported that graves had been uncovered but not much information has been found on these. This stone circle is now classified as a national monument.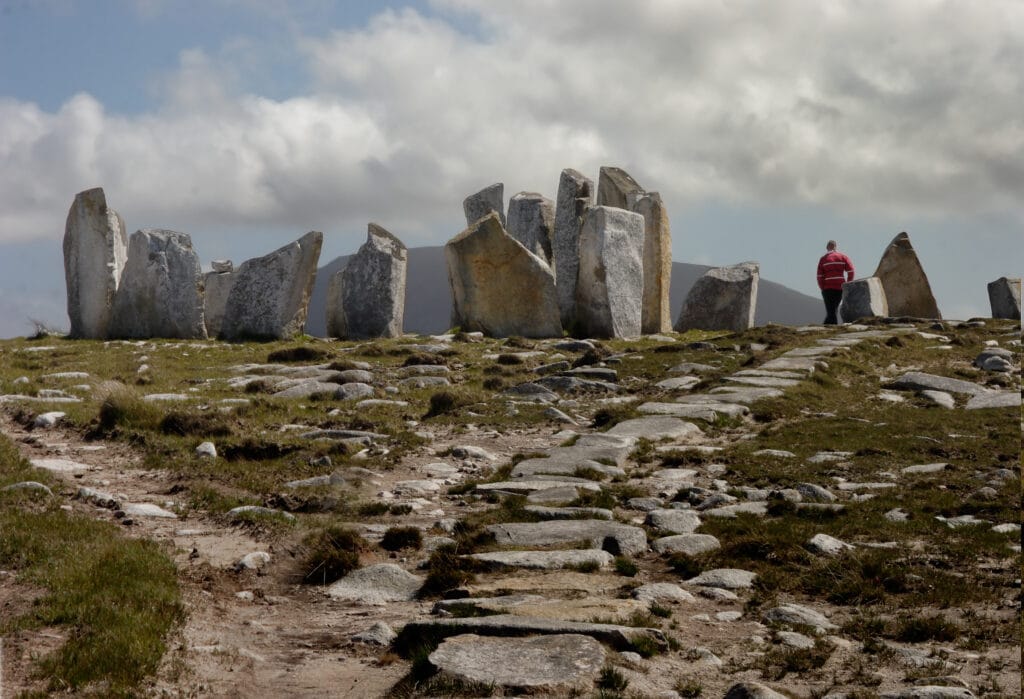 Carrowmore Stone Circles
County Sligo is home to the largest and oldest collection of stone circles and dolmens known from neolithic Ireland. These are found at Carrowmore, a collection of burial monuments at the centre of the Cuil Iorra peninsula three kilometres west of Sligo town. You can see a virtual tour of Carrowmore and its collection of stone circles.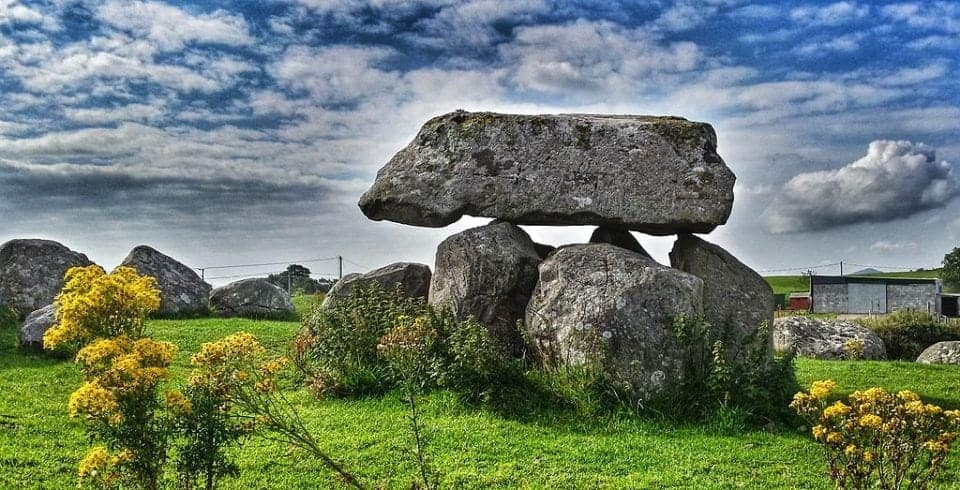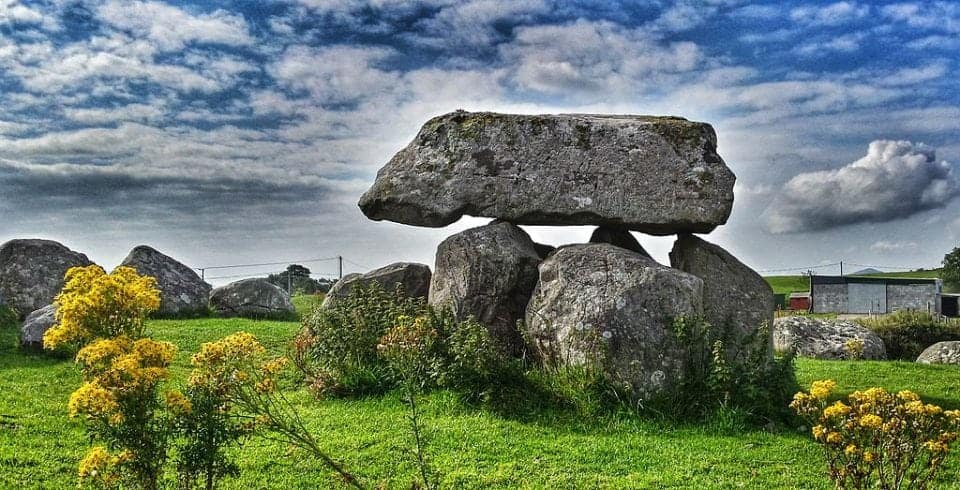 Carrowmore is the oldest stone circle in Ireland and historian George Petrie counted over 65 monuments in 1837, but due to land clearance, these days only 40 or so remain. Most of the remaining stones are passage tombs and stone circles. There are also forts and standing stones in the area. It is believed that the oldest stone is over 6000 years old.
On the site, you will find a cool exhibition in a restored cottage but it is a rugged hike to the area so be prepared.
Knockarea Stone Circle and Tombs
I couldn't talk about Sligo's Carromore stone circles without mentioning Knocknarea or Queen Maeve's tomb. This lies 4 kms west of Carrowmore within the Carrowkeel complex of tombs and stone circles. This is one of the largest monuments in Ireland and the cairn is closest to the top of Knocknarea and is estimated to contain 30,000 tons of stone. Sadly much of the tomb has been damaged by tourists clambering over the stones – so please DON'T climb the tomb.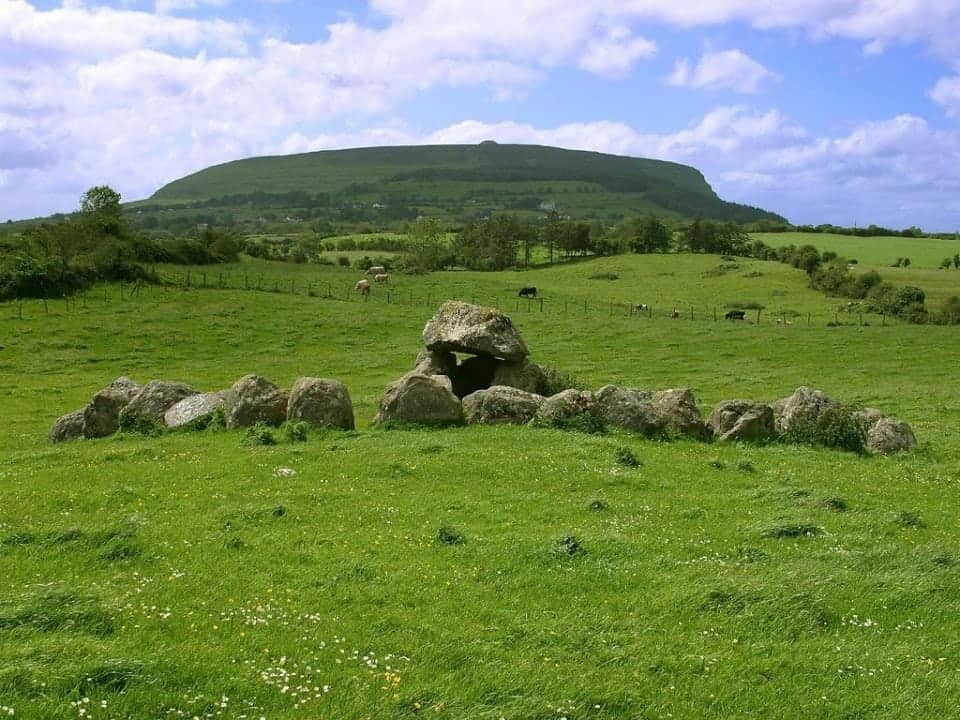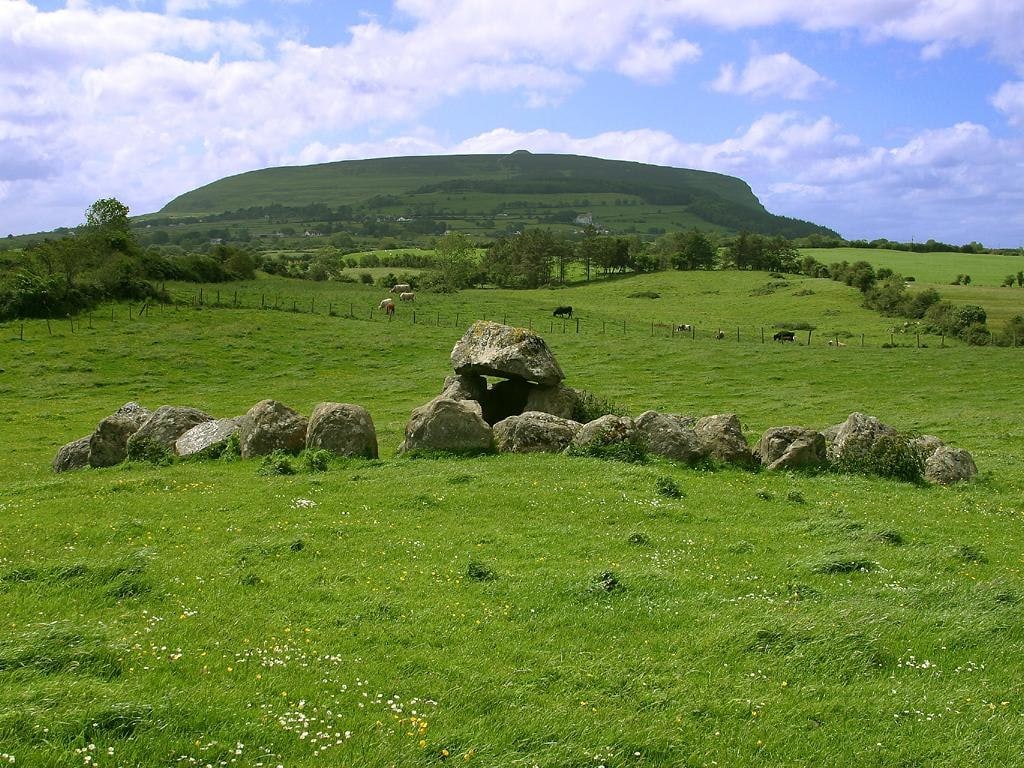 Aside from Queen Maeve's cairn, there are six more neolithic monuments, five on the summit, while an overgrown stone circle is on the edge of the lower ledge to the east. A megalithic researcher Michael Poynder noted that Knocknarea, Carrowmore, Sliabh Dá Eán, Sheebeg, Loughcrew, Tara and the Hill of Howth are all on a great ley line crossing the country from west to east.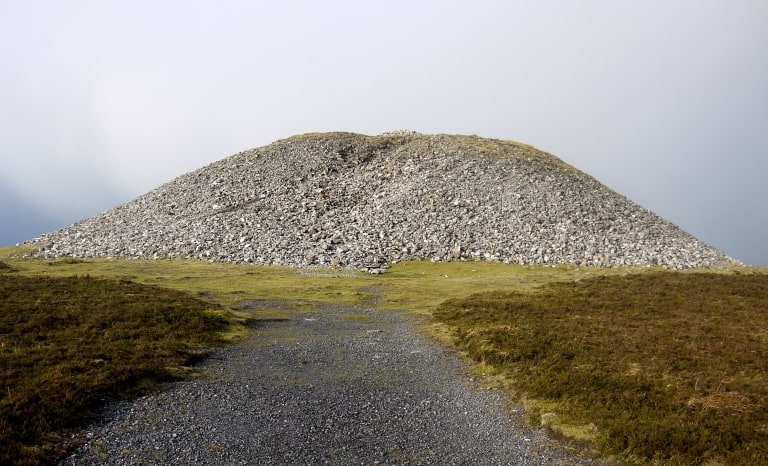 Glebe Stone Circles
The Glebe Stone circles are found in County Mayo Glebe where you can see a group of four of these just north of Cong. There are a large number of cairns, standing stones, caves, forts with cashels and these 4 stone circles with the Gleve North Stone Circle are the easiest to find and visit.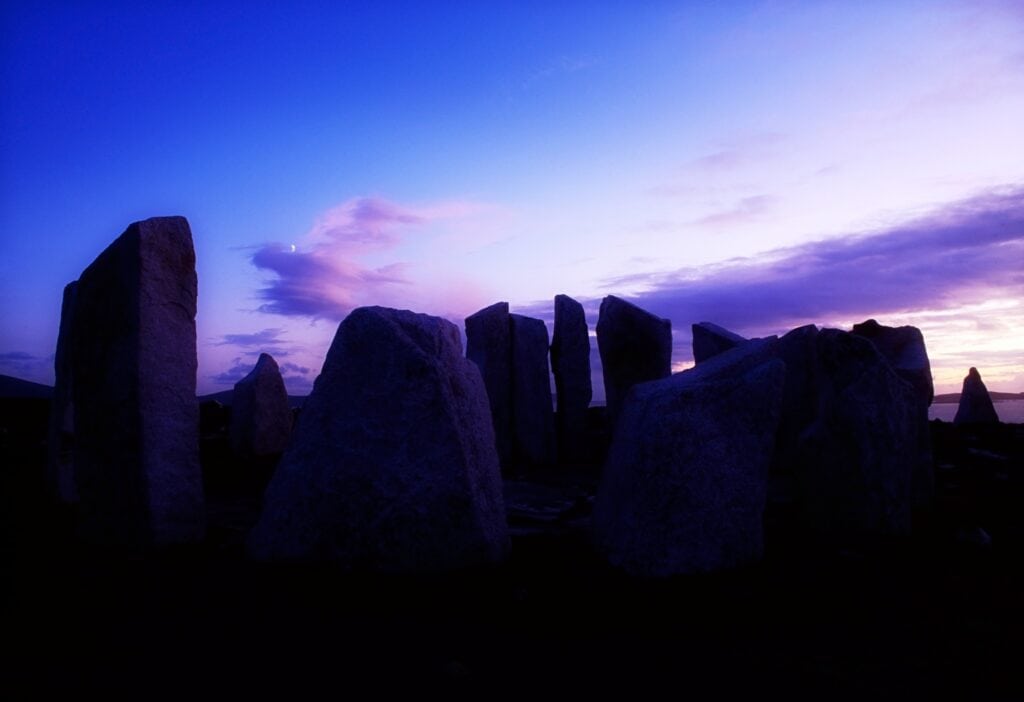 Knappogue Stone Circle
This stone circle can be found beside the gatehouse of Knappogue Castle, the area is also home to at least another standing stone, two wedge tombs, a stone row and of course the famous castle. The stones here are from limestone and appear sculptured by the ferocious wind and weather from the Wild Atlantic Way.
Drombeg Stone Circle
The Drombeg Stone Circle near Rosscarbery in Co Cork is very easy to find – simply follow the crowd of tourists making their way to the site which is Ireland's most famous stone circle which is known as the Druid's Altar. Drombeg is a protected site under the National Monuments Act.
Drombeg is known as one of the recumbent stone circles which means the stones are positioned in order of height.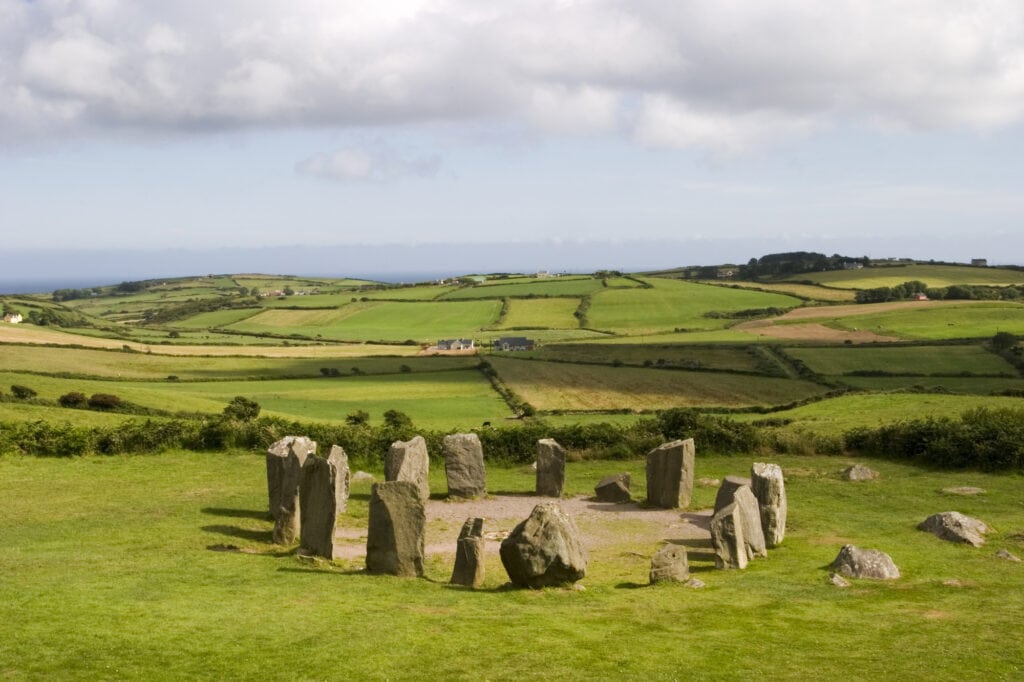 Drombeg is aligned to sunrise at the Winter Solstice and 13 stones of the original 17 are still standing and was excavated in the late 1950s. These excavations found human bones and an ancient communal cooking pit called a 'fulacht fiadh'.
The Grange Stone Circle
The Grange stone circle Lough Gur in County Limerick is one of Ireland's most impressive stone circles with its almost perfect shape and a post hole found in the very centre of the circle. There are 113 standing stones in this circle with a huge pair of slabs that lean towards each other to form a V.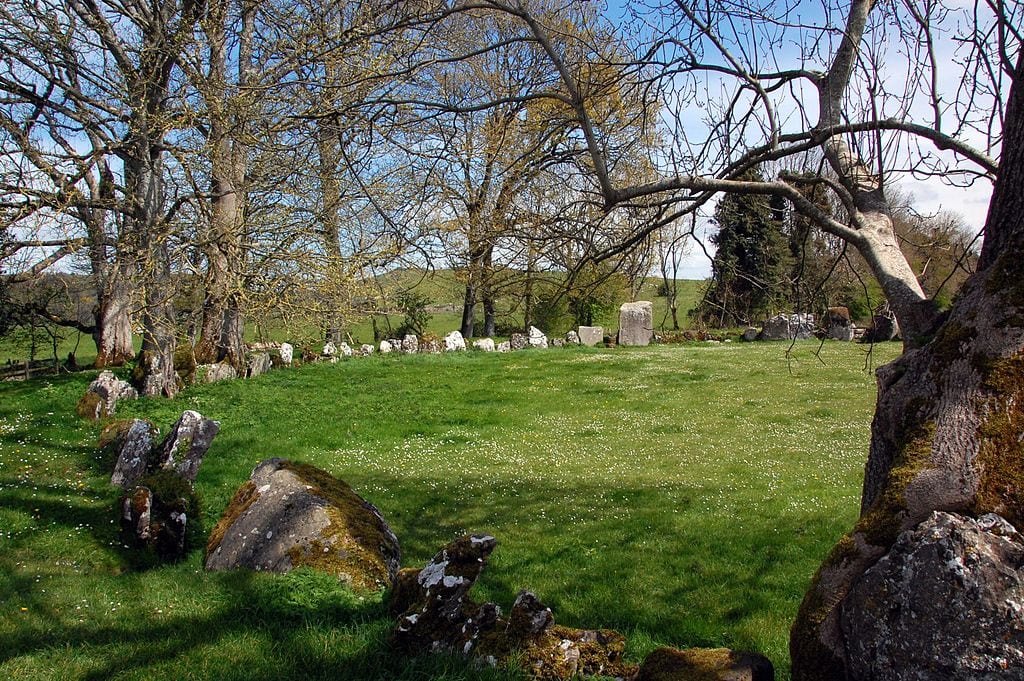 Scientists have calculated that these stones are aligned with the Samhain sunset in late October early November. The Grange Stone Circles has been compared with the British henges and like those align with both solar and lunar events in the pagan calendar.
Kenmare Stone Circle
This stone circle is called The Shrubberies and is located just a five-minute walk from the town centre. This is one of the largest stone circles in Ireland and unusually it is egg-shaped. There are 15 standing stones and a dolmen in the centre with a giant capstone.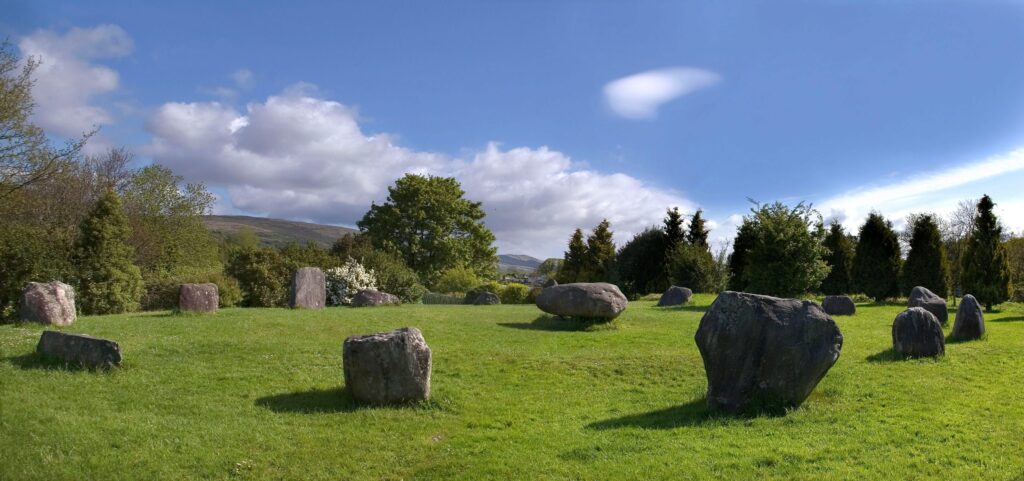 The site used to have stunning views of Kenmare Bay and the surrounding mountains but these are now blocked by fir trees. It is on private lands and the landowners ask for a donation of two euros towards the upkeep of the grounds.
Kealkill Stone Circle – Breany More
This is a small stone circle with 5 stones, two of which are over 4 metres high but are now broken. Found just 800 metres southeast of Kealkil Village on the Ring of Kerry it is easy to find as it is within walking distance of Carriganass Castle. It is a pretty strenuous walk but the views of Bantry Bay and Knockboy Mountain Cork are pretty stupendous.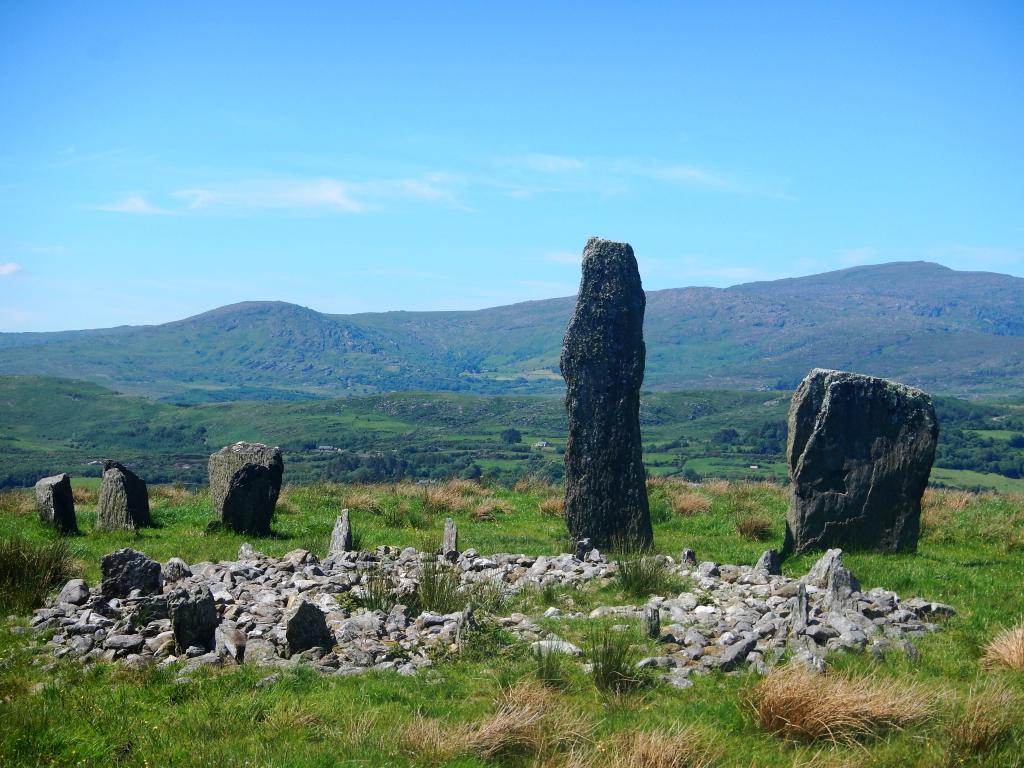 Inchireagh Stone Circle
Another small stone circle with only 5 stones is quite hard to find and is on private land surrounded by an electric fence around the field so ask permission. It sits around 3 km north of Dunmanway.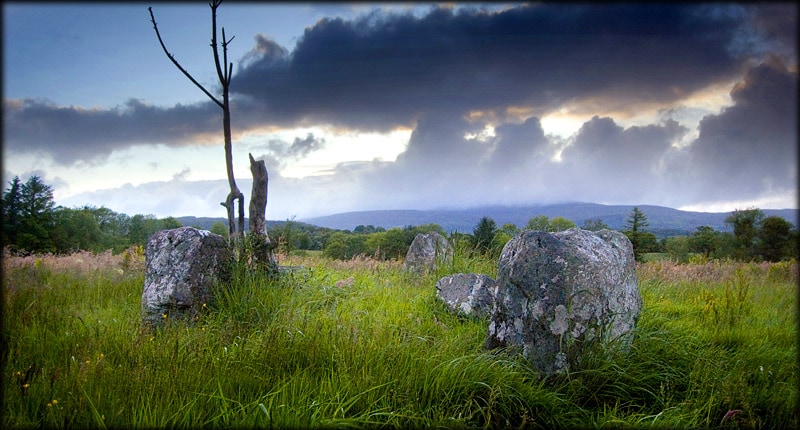 Uragh Stone Circle
A small but stunningly beautifully situated stone circle the Uragh is a small one with 5 stones that are dominated by a massive standing stone. To get to the Uragh stone circle you can climb the path that leads to the hilltop where the views of Kerry and the Inchaquin Waterfall with astound you. The Uragh Stone Circle is located near Derrynamucklagh, County Kerry.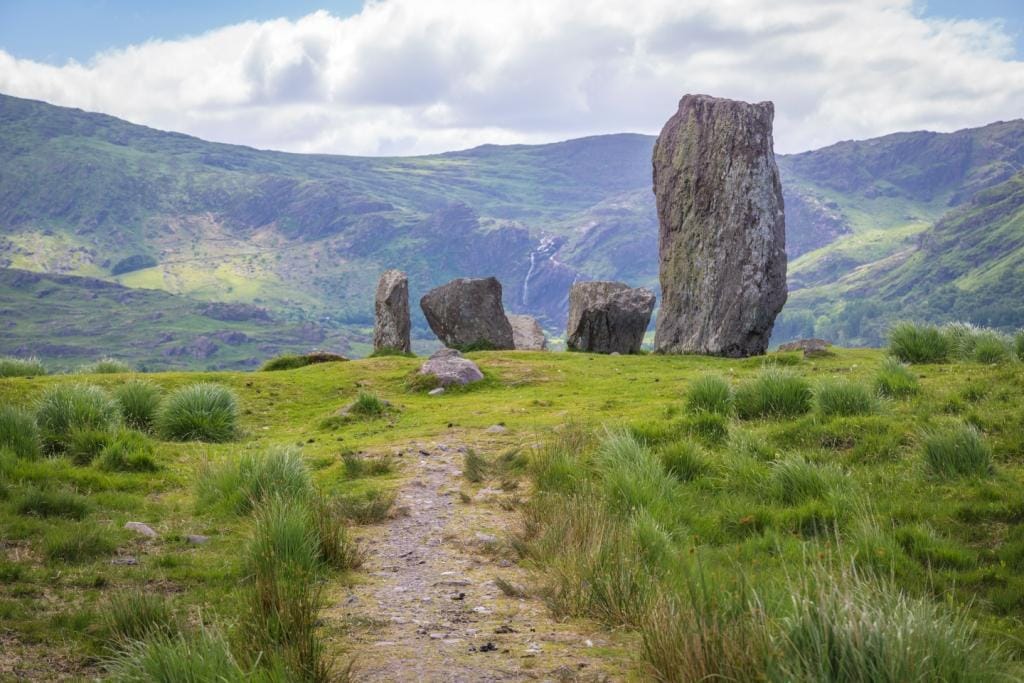 Ardgroom Stone Circle
Located near the village of Ardgroom in County Cork on the Beara Peninsula this circle has 9 stones that are standing and a flat slab within the circle. The views over Kenmare Bay and the Beara Peninsula are outstanding.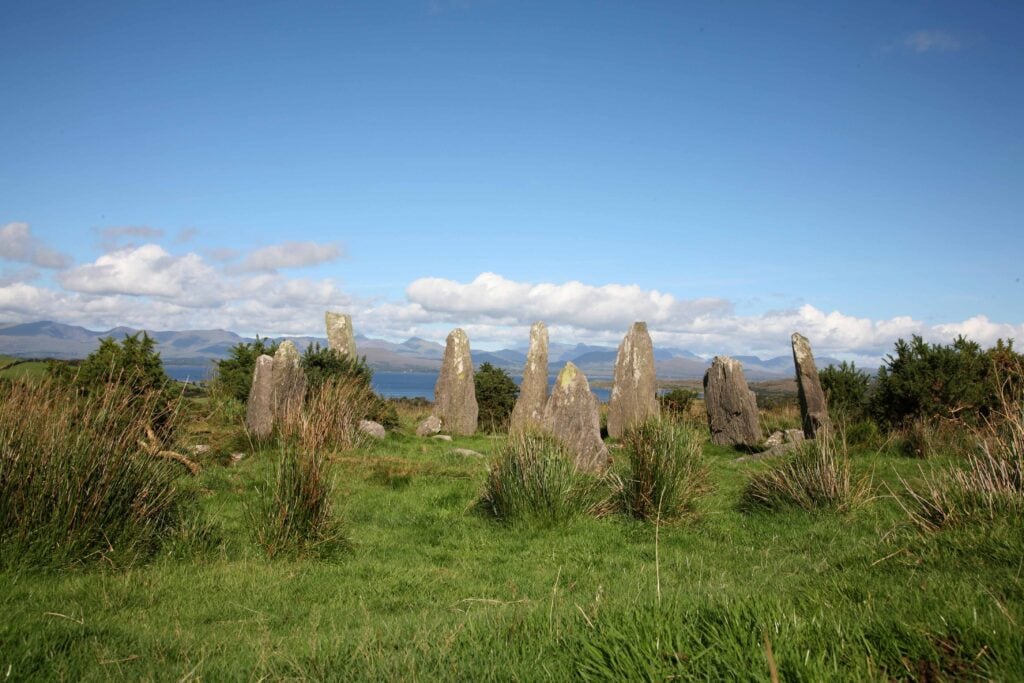 Athgreany Stone Circle
The Piper's Stones or Athgreany stone circle is located in County Wicklow. The name comes from local legends that say the stones are the petrified remains of a piper and dancers who stayed out on the Sabbath and were turned to stone. There is an aura around this site that will make you believe in the Irish faerie folk with whom the site is associated. There are 14 stones here out of an original 17 and it is believed that there used to be another stone circle within the fields.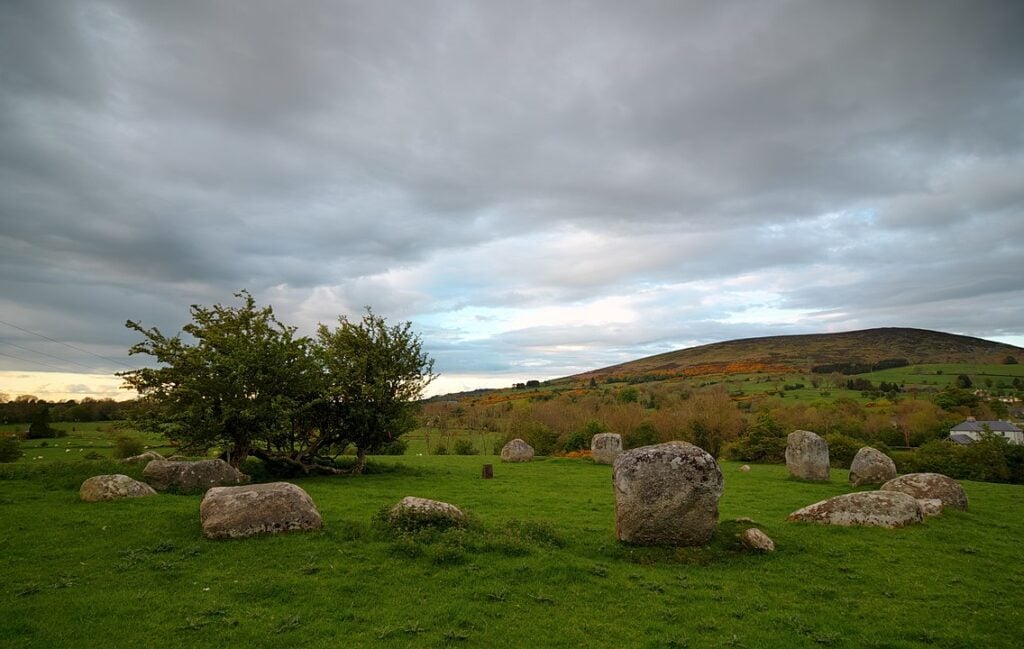 Athgreany or Achadh Greine in Irish translates to Field of the Sun there is a magical good luck hawthorn tree within the centre of this circle. It is believed that the circle was used to celebrate solar events such as the Equinoxes and the Solstice.
Achill Henge
Achill Henge is a unique and controversial structure located on the island of Achill Island, off the west coast of Ireland. It is an ambitious and modern-day interpretation of the ancient stone circles and henges found throughout the British Isles.
Constructed by artist and farmer Joe McNamara, Achill Henge is a circular stone monument that spans over 4,500 square meters (almost 50,000 square feet). It consists of towering stone columns arranged in a circular pattern, with large slabs positioned horizontally across them.
The monument is positioned on Slievemore Mountain, offering panoramic views of the surrounding landscape and the Atlantic Ocean. Its location adds to the dramatic and enigmatic atmosphere surrounding the site.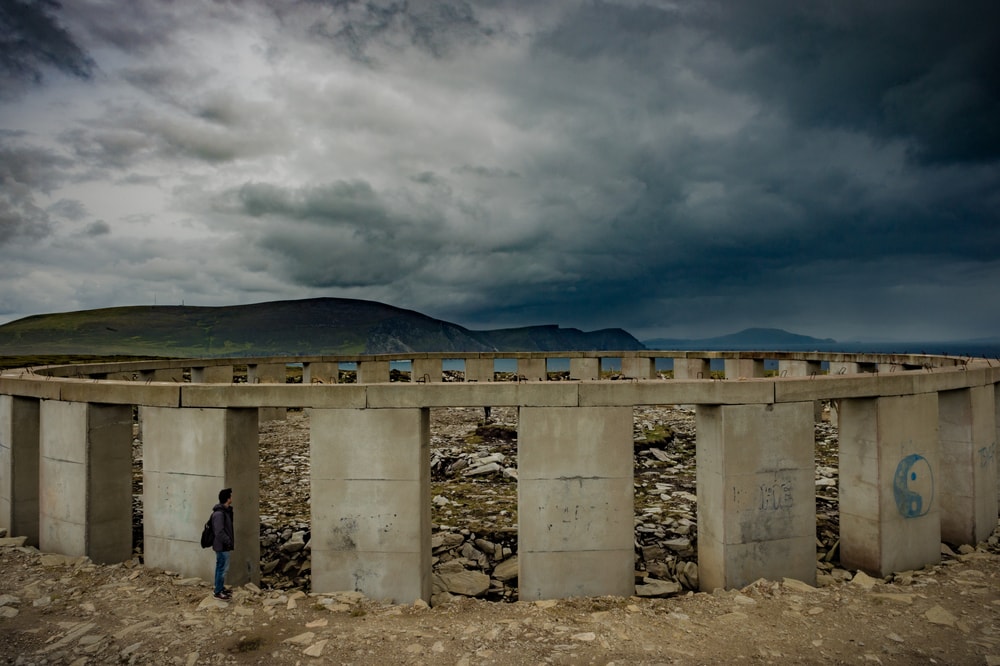 Achill Henge draws inspiration from the ancient megalithic structures of the Neolithic and Bronze Age, which served various purposes such as ceremonial or astronomical observation. However, unlike its ancient counterparts, Achill Henge is a modern artistic creation, with the intention of blending the past with the present.
I find that there's always a sense of that notion of the otherworld mysteries at stone circles. They are usually in quiet places that allow for reflection and meditation and thoughts of those who came before us thousands of years ago. Perhaps they somehow connect us with our pagan past and allow us to escape the regimentation of the existing realms of religious belief.
What do you think?
You might also like
The Celtic Cross – an iconic symbol of Ireland
Ancient Ireland 30 sacred places
Best tips on visiting the awesome Newgrange Tombs in Ireland
Planning a dream trip to Ireland? Everything you need to know
Pin it to save it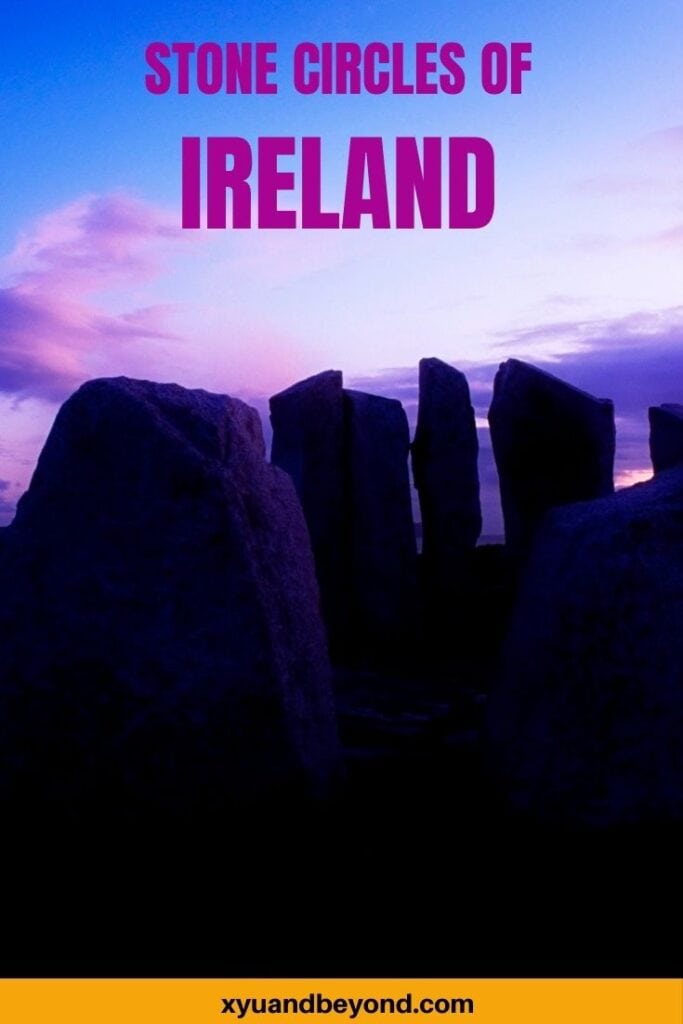 Latest posts by Faith Coates
(see all)