Things to do in Killybegs Ireland
Living just down the road from Killybegs in rural southwest Donegal Ireland we often make the road trip there just for a day out. Killybegs is located on the Wild Atlantic Way and thanks to its very deep harbour you can see many cruise ships sail into the town. Because it is a fishing port you can often catch the waft of stinky fish from the processing plants on the way into town. But the smell quickly dissipates once you get into the town itself.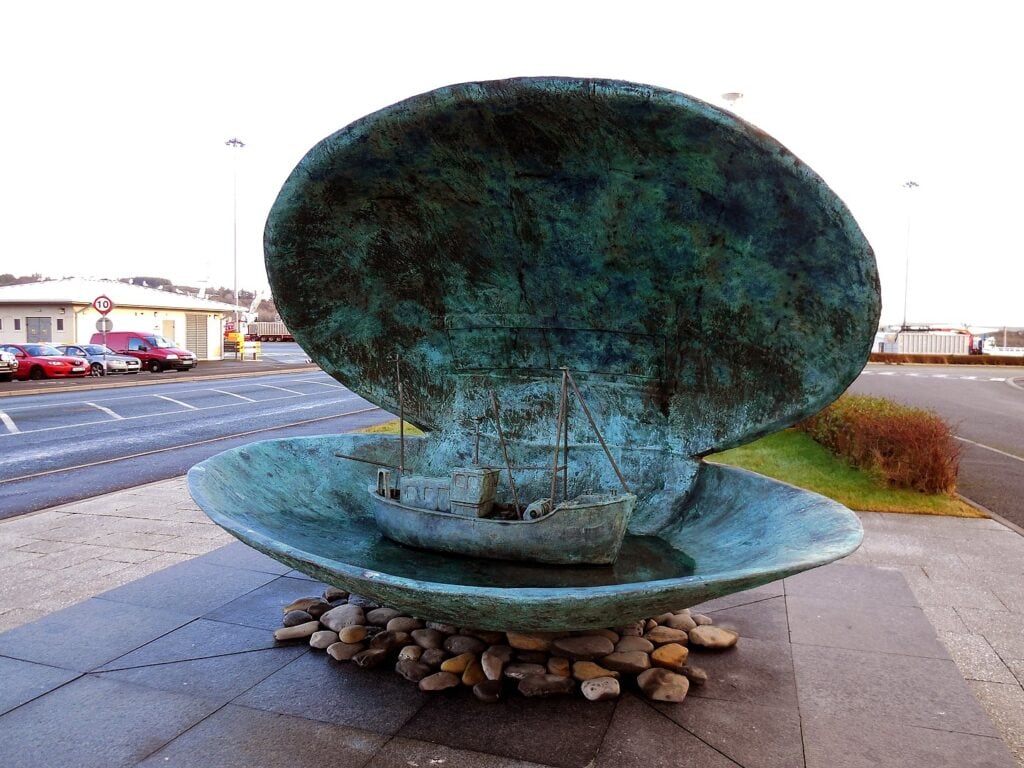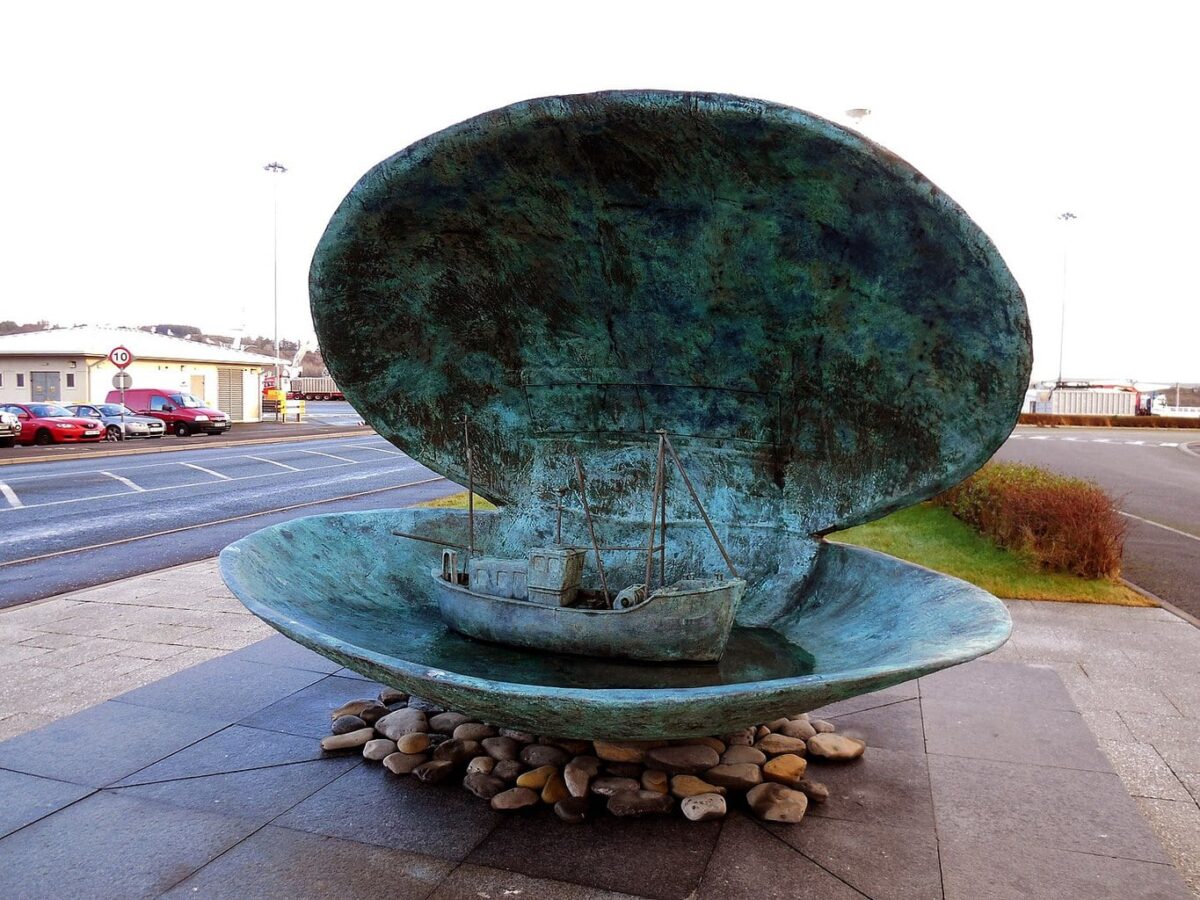 Where is Killybegs in Ireland? Killybegs is a port town of around 1500 people, located on the south coast of County Donegal. Killybegs has a long history of being one of the most important fishing ports in Ireland and is Ireland's deepest harbour
The name Killybegs comes from the Gaelic or Irish "Na Cealla Beaga" which translates to "the little cells" — referring to the early settlement of monks in the area who lived in little stone "cell" dwellings. These monks, believed to be some of the first settlers in the area, were responsible for dedicating a well in honour to St. Catherine of Alexandria.
Xyuandbeyond is reader-supported. When you buy through links on our site, we may earn an affiliate commission. You can read my privacy policy here.
How to get to Killybegs
Many folks will arrive at Killybegs on a cruise and they are many and varied. If you are driving you will find Killybegs on google maps on the Wild Atlantic Way. I would recommend renting a car and driving the WAW as Killybegs and many other locations in Donegal are not reachable by public transport and there are no trains to Donegal anymore.
From Donegal Town or Letterkenny, you will take the signposted N56 which will take you directly to Killybegs.
Dublin to Killybegs
You can grab a bus at the Dublin Airport to Killybegs but it will take around 5 hours given all the stops. It's much quicker to rent a car and drive to Donegal.
By Air
Regular flights are available from UK airports and many European destinations to
Donegal Airport is approx an hours drive from Killybegs.
The city of Derry Airport approx a 1 hour 20 mins drive from Killybegs.
International flights available to
Knock International Airport 2 hours and 20 minutes drive with public transport connections.
Dublin Airport 3 hour 15 mins drive with regular public transport services available.
Belfast International Airport 3 hours 30 minutes.
Belfast City Airport 3 hours 30 minutes.
By Bus
Bus Eireann have a regular bus service to Donegal from many locations including main cities and towns.
By Rail
Irish Rail offers train services to Sligo Town, and from Sligo, it is possible to catch a bus service to Killybegs or arrange car hire.
Killybegs tours
I highly recommend choosing Tours by Locals when you are coming into Killybegs on a cruise ship or simply visiting the area. These tours can be tailored to what you and your party want to see and they will make sure you get back to the ship in time. May I just say if you plan on taking a cruise ship anywhere in the British Isles and Ireland please spend your money locally. Eat at the local restaurants, and buy in the local shops these small areas need your tourist dollars to survive and continue to be here in the future.
Map of Killybegs, County Donegal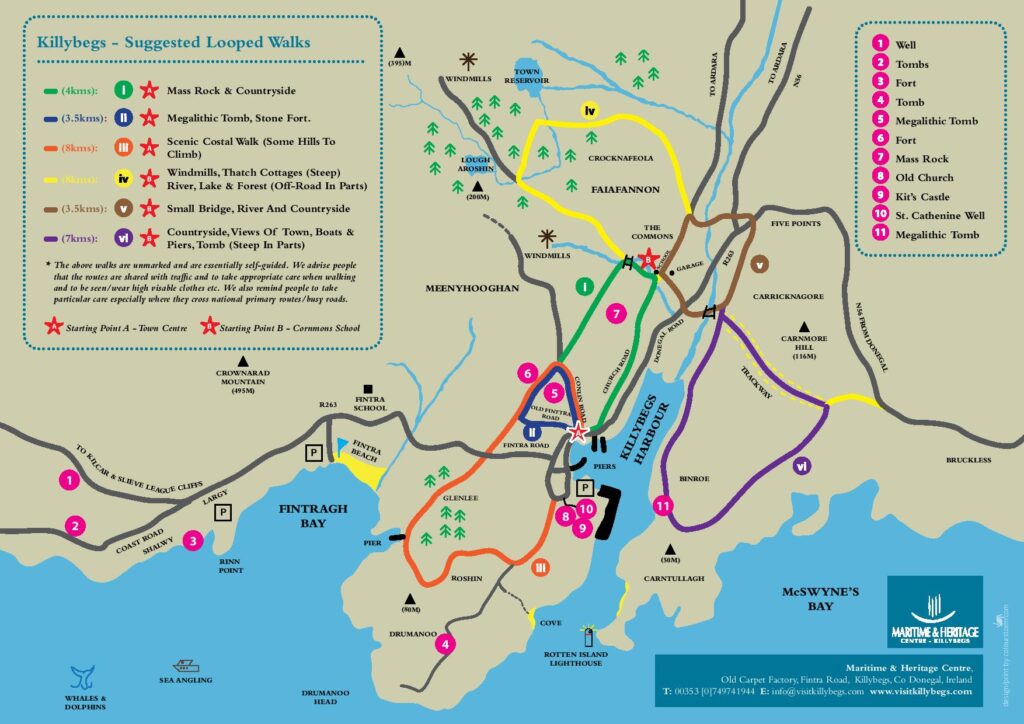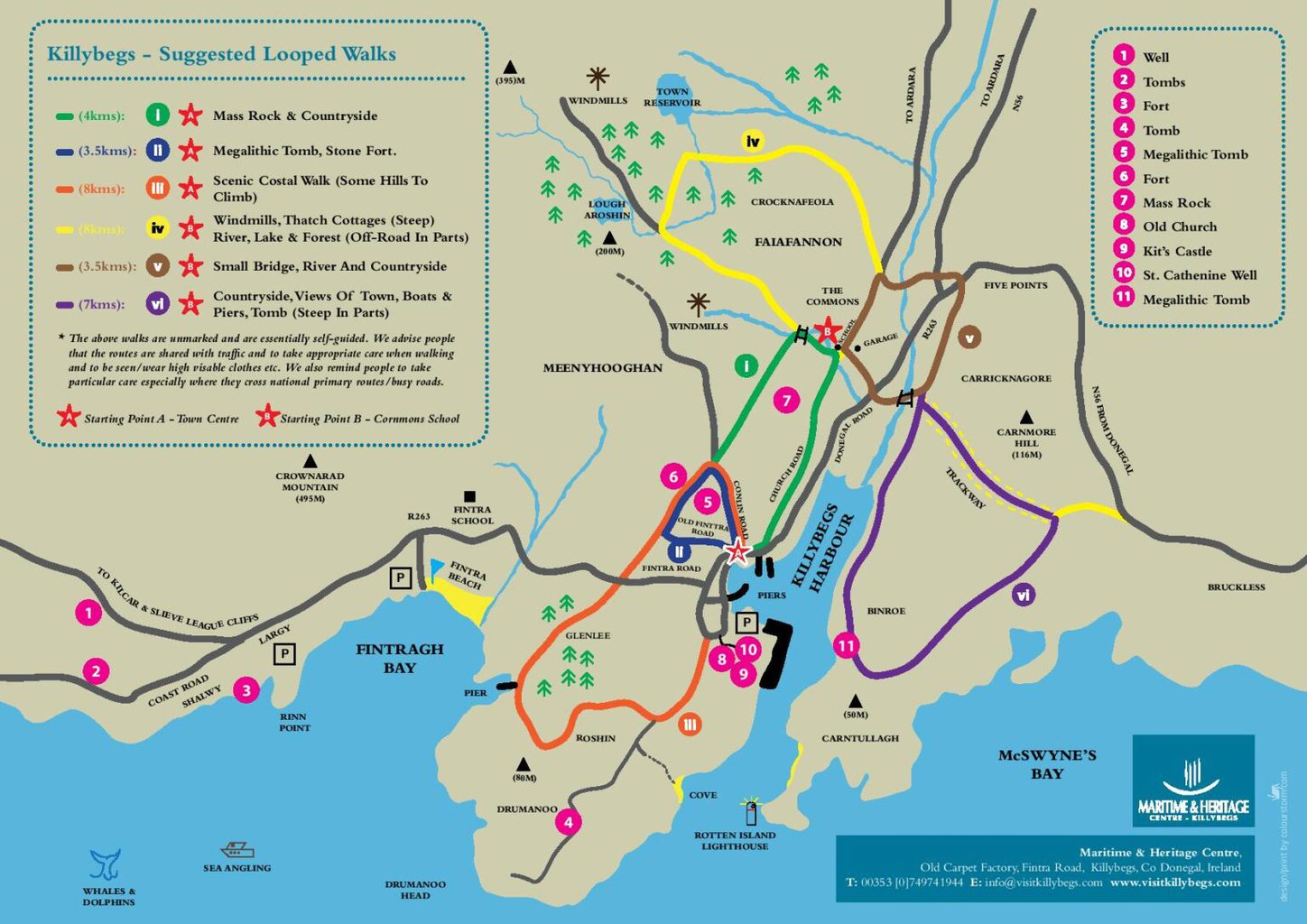 Things to do in Killybegs – Heritage Trail
Clochan Huts
On your drive into town from the N56 which leads you along the Wild Atlantic Way through Donegal Town, you will spot some beehive huts or little cells. These are reproduction Clochán huts. The Clocháns are round dry limestone huts that were very common in early Irish settlements as they were easy to build and used by the monks who built them.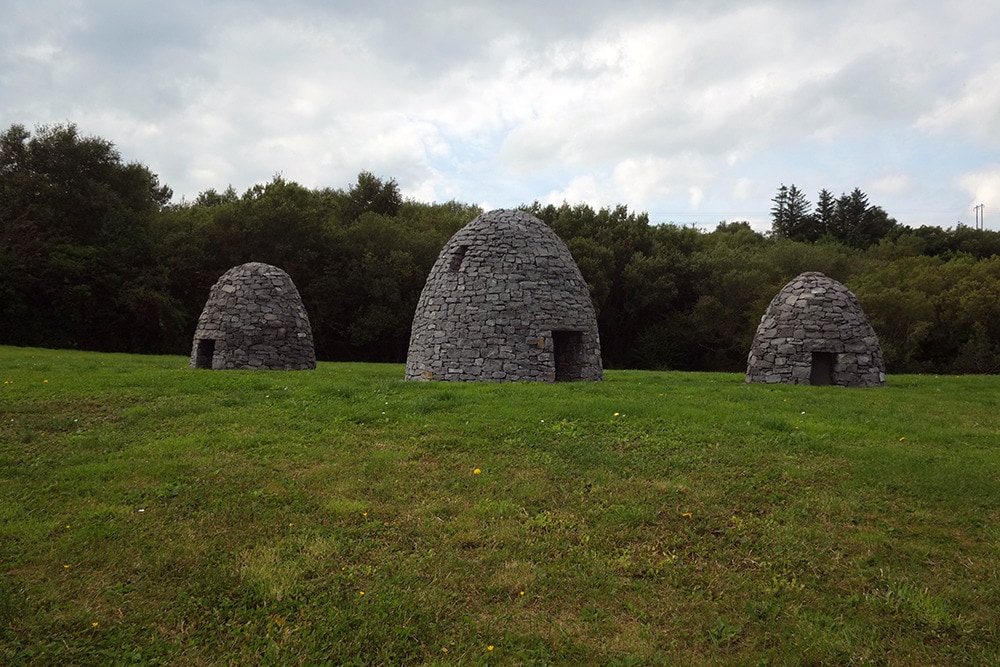 The area around Killybegs with its deep fjord-like harbour has been inhabited since prehistoric times and archaeological evidence of as many as 20 ring forts has been found near the harbour areas.
Christianity arrived in the 6th century with the arrival of St Columcille who eventually made his way to the area now known as Glencolmcille and a settlement developed there.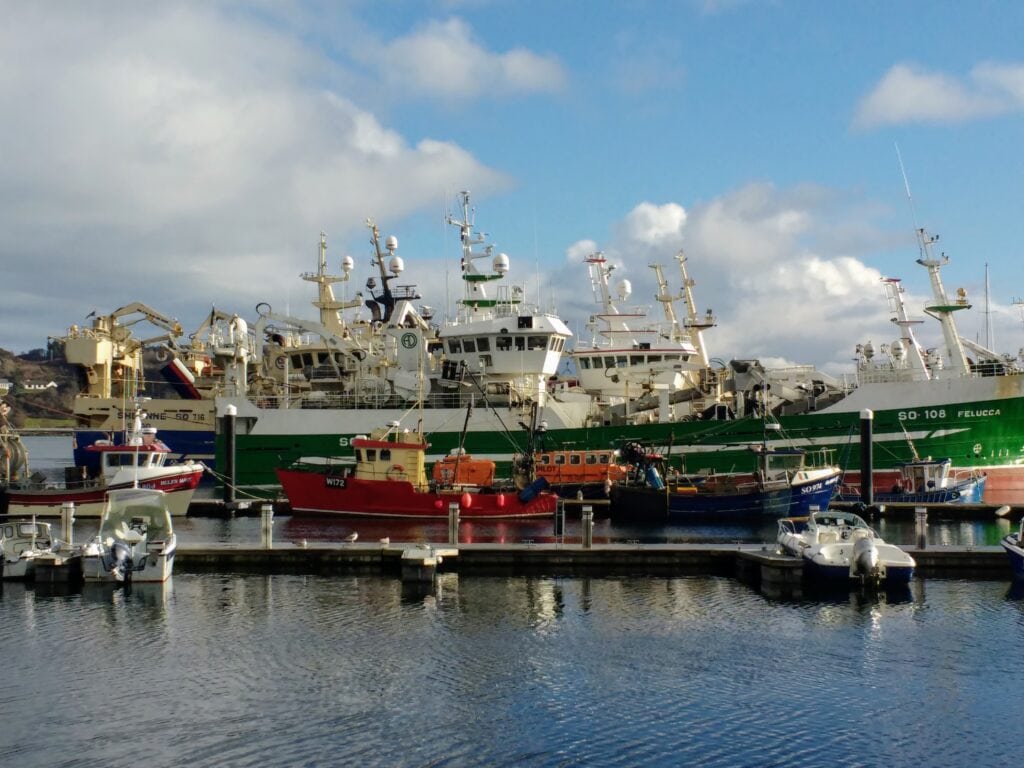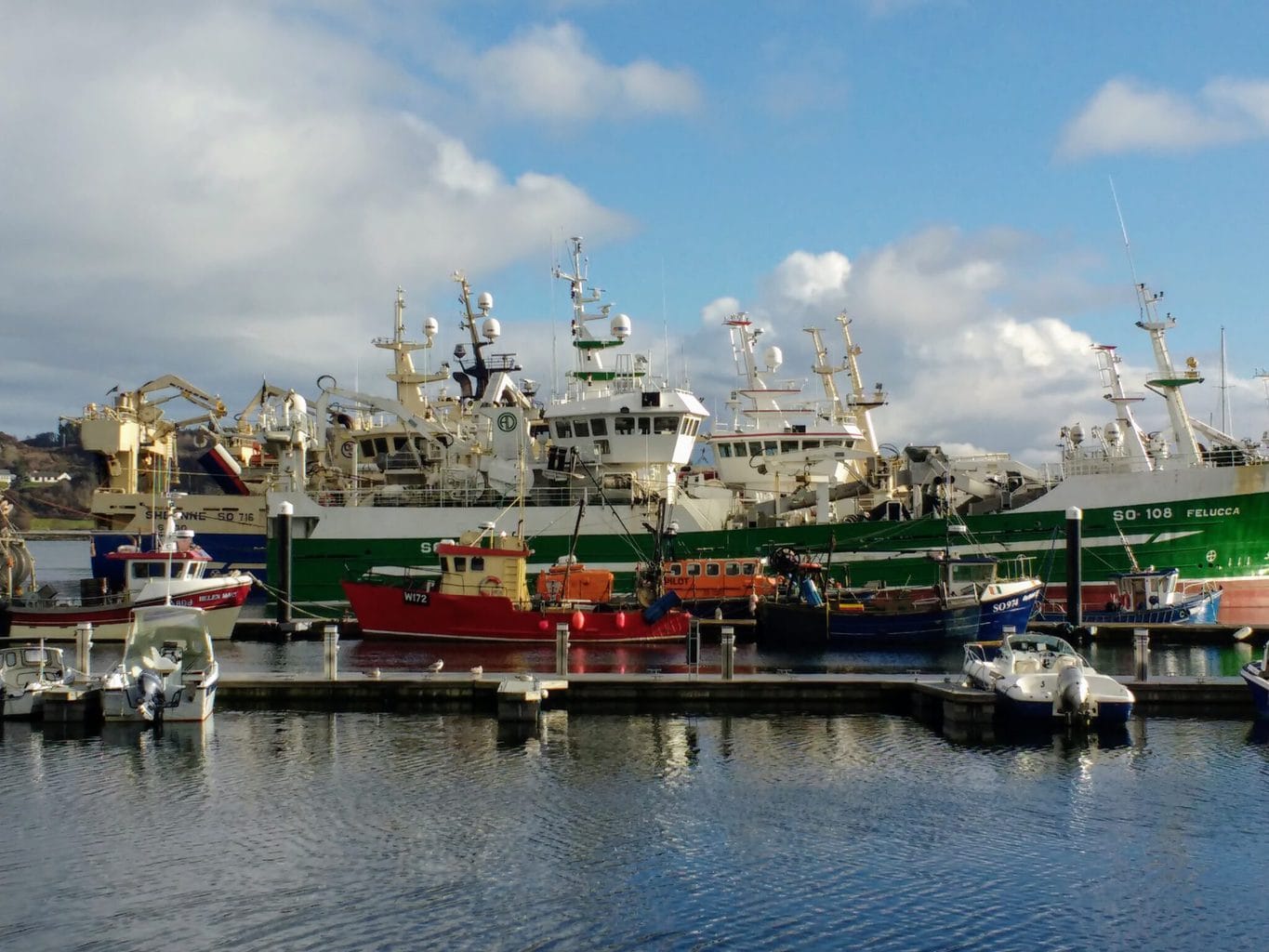 St. Catharine's Holy Well
The long tradition of fishing and seafaring in Killybegs is associated with St. Catherine of Alexandria who is the patron saint of seafarers and there is a holy well dedicated to the Saint at the edge of Killybegs.
The well was built by three monks who washed ashore after a bad storm. Legend has it that the monks prayed and promised to build a well for St. Catherine if they ended up safely on land.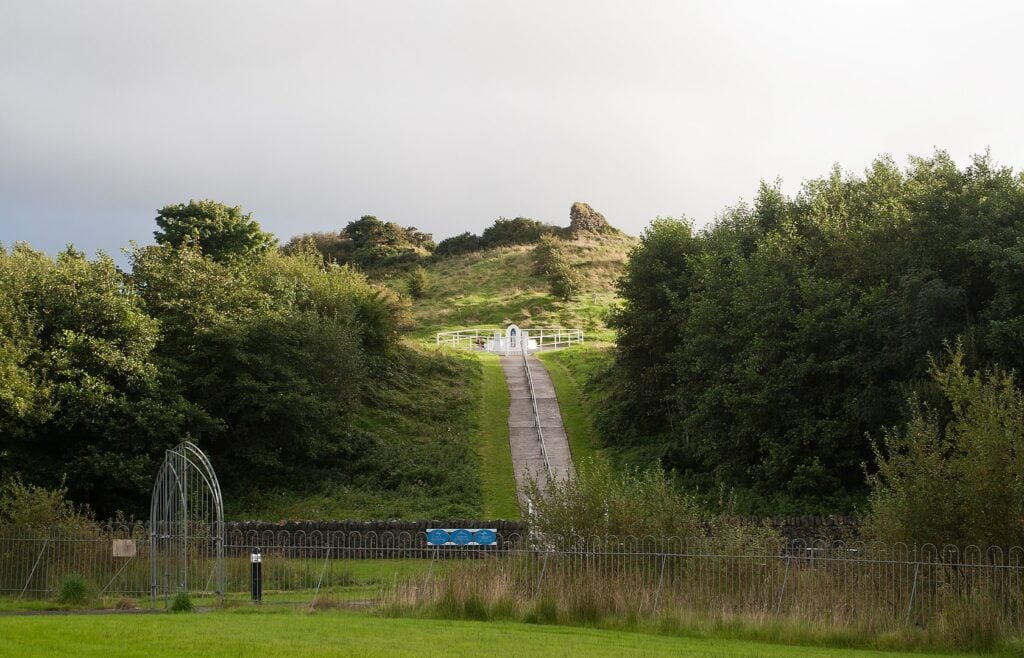 St. Kit's Castle
Above the well stands a National Monument which is the ruins of the 14th century Kit's Castle and the ruins of the 12th century St. Catherine's Church and graveyard.
Kit's Castle was built in 1355 as the residence of the Bishop Pádraig Mac Maonghaill of Killybegs, who died in 1367, and historians believe that originally it would have stood up to three storeys high with an entrance on its west side.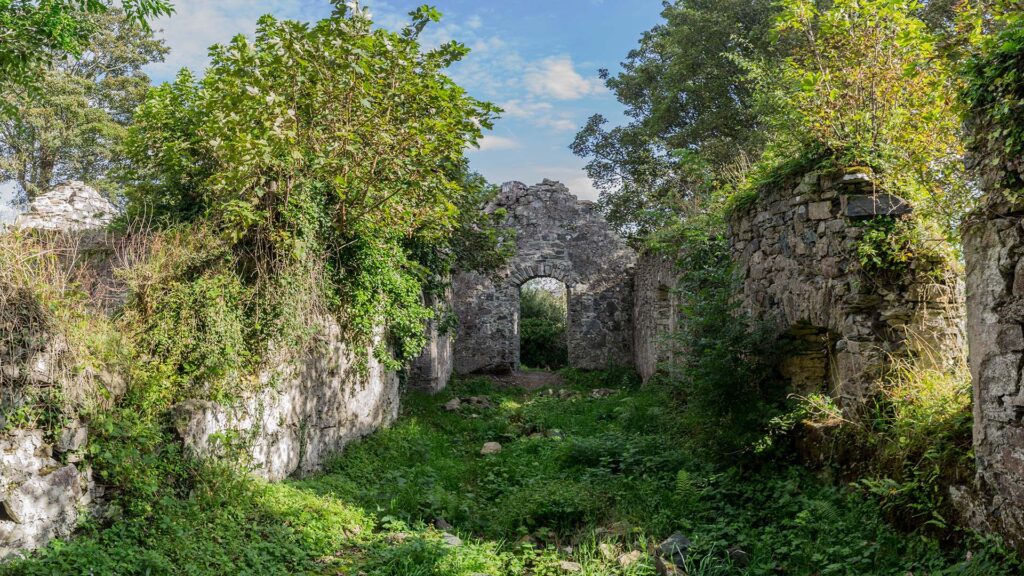 According to the Annals of the Four Masters, Killybegs was attacked by the notorious Irish pirate Grace O'Malley (of Galway) and her crew in 1513 when the men of the village were off fighting. Killybegs was the chief port of Tír Chonaill in the sixteenth century when the O'Donnell chieftains were known as the "best lords of fish in Ireland".
Spanish Armada & Killybegs
In 1588, when the Spanish Armada was sailing around Ireland to attack the British three ships sailed into Killybegs port including "The Girona". With the help of MacSweeney Bannagh, a Killybegs Chieftain the Girona's sailors were fed and the rudder of the ship was repaired and the ship set sail for Scotland. Sadly the ship was wrecked off the coast of Causeway Coast of Antrim and all 1300 lives were lost.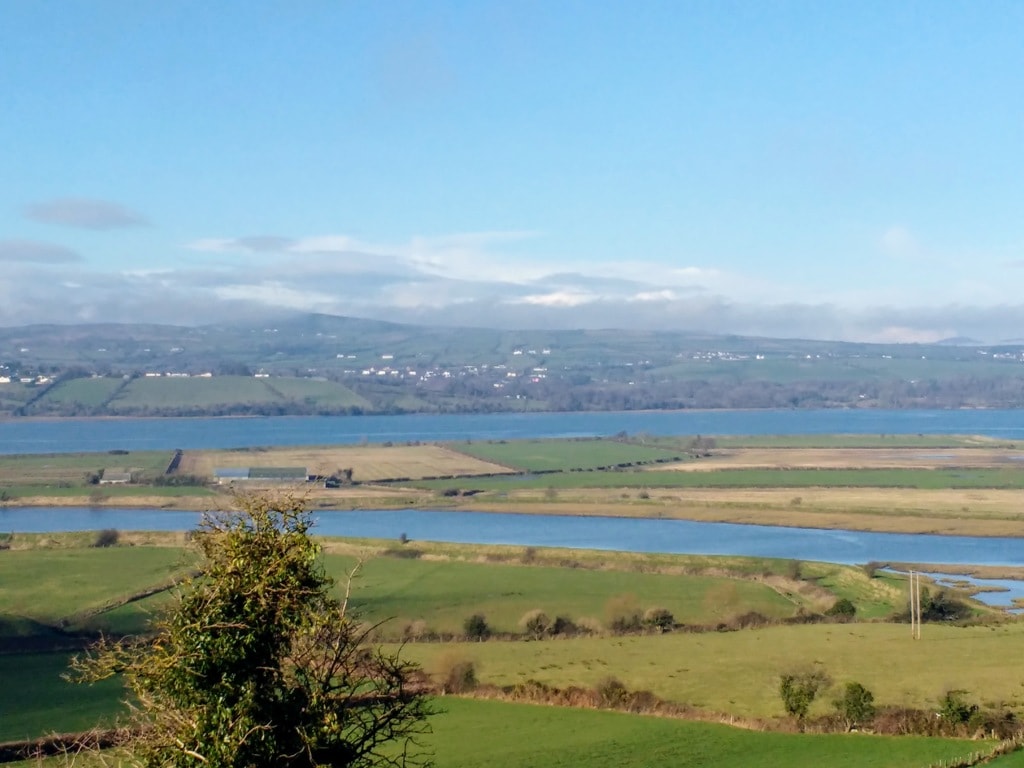 Killybegs Information Centre
Killybegs was famous for its tapestries and carpets, some of which were produced on the world's biggest carpet loom at the Donegal Carpet Factory. The factory was renowned for its Turkish-style hand-knotted carpets known as Donegals which are still in place at Buckingham Palace, the White House and the Vatican.
Sadly the factory closed in 2003 and the building now houses the Killybegs International Carpet Making & Fishing Center, which offers tours and information on local attractions in Killybegs, carpet making and the fishing industry. The centre also offers a modern ship simulator that allows both children and adults to test their navigation skills.
The Pirate Queen Boat Tour
In recent years the Pirate Queen has been making trips around the Donegal coastline to Slieve League where you can see See Europe's highest sea cliffs from below. Look out for dolphins, seals, tuna, basking sharks and many species of bird.
The ship also does a harbour and coastline sail that includes Rotten Island Lighthouse which was built in 1838 and is still an important part of maritime safety on the Donegal Coast. You will also pass St. John's Point Lighthouse constructed in 1831 and still operating and you can also book a stay in one of the lighthouse keepers cottages.
Coastguard Station
The Killybegs Coastguard Station was built in 1875 when the British Coastguards left the Irish Free State in 1922, their 109 stations passed to the Provisional Government together with the lifesaving and rocket apparatus. Some of the stations were destroyed or badly damaged during the Civil War and others were sold for conversion to residences, including the one at Killybegs.
Niall Mór Grave Slab
Niall Mór Mac Suibhne – the Great Niall MacSweeney, chief of his clan, died peacefully at his castle December 1524 and was buried at the Franciscan Friary at Ballysaggart, St John's Point. His ornate and unusual gravestone was removed to Killybegs in 1868 and erected inside St. Mary's Church near the rear wall. It can be seen against the west wall of the church (in the small gate and down the steps) to the left of the main door.
St. Mary's Church
The church was dedicated to St Mary of the Visitation by the Archbishop of Dublin in 1854. Some 20 years after the dedication, three stained glass windows were placed in the chancel above the main altar. The centre window depicts St Catherine of Siena, on the left is featured the Mother of God and on the right the patroness of Killybegs, St Catherine of Alexandria.
The Robertson School
This is one of my favourite buildings in Killybegs and it was built in 1819, as the first school in the area. The teacher and his family lived on the ground floor and the schoolrooms were upstairs. It is now a private home although to be honest it looks pretty deserted and could use some garden work.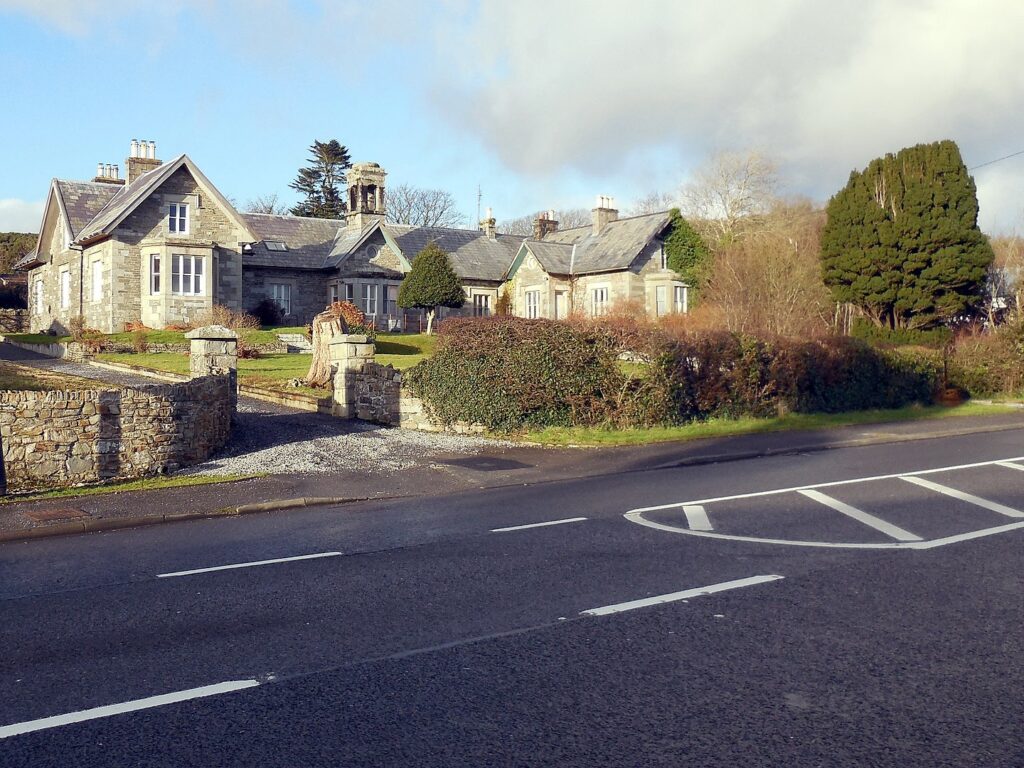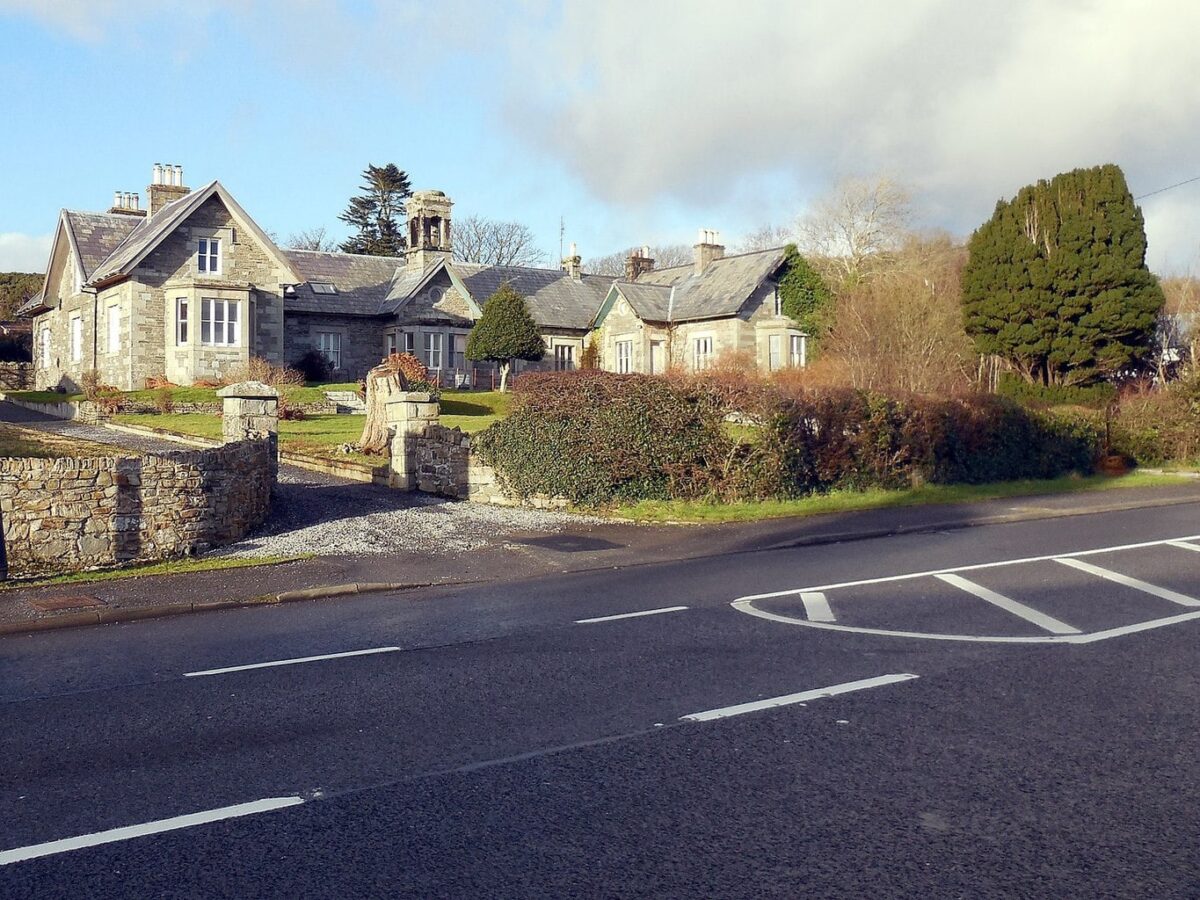 Visitors to Killybegs can get information and recommendations from locals by stopping into the Killybegs Information Center, which is located on Shore Road. The information centre offers detailed descriptions of local attractions, plus a map showing Looped Walks around Killybegs.
Killybegs Restaurants
Fortunately for us locals, Killybegs offers some fantastic food options. From fresh-caught seafood to breakfasts to inhale it can be found here.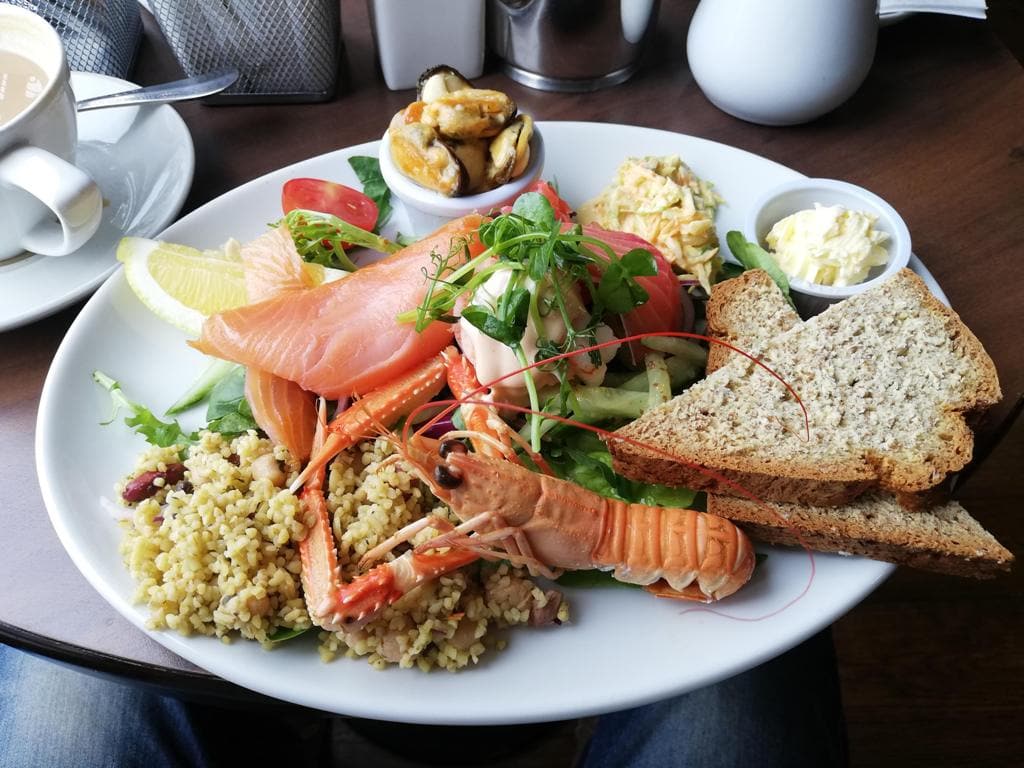 Ahoy Café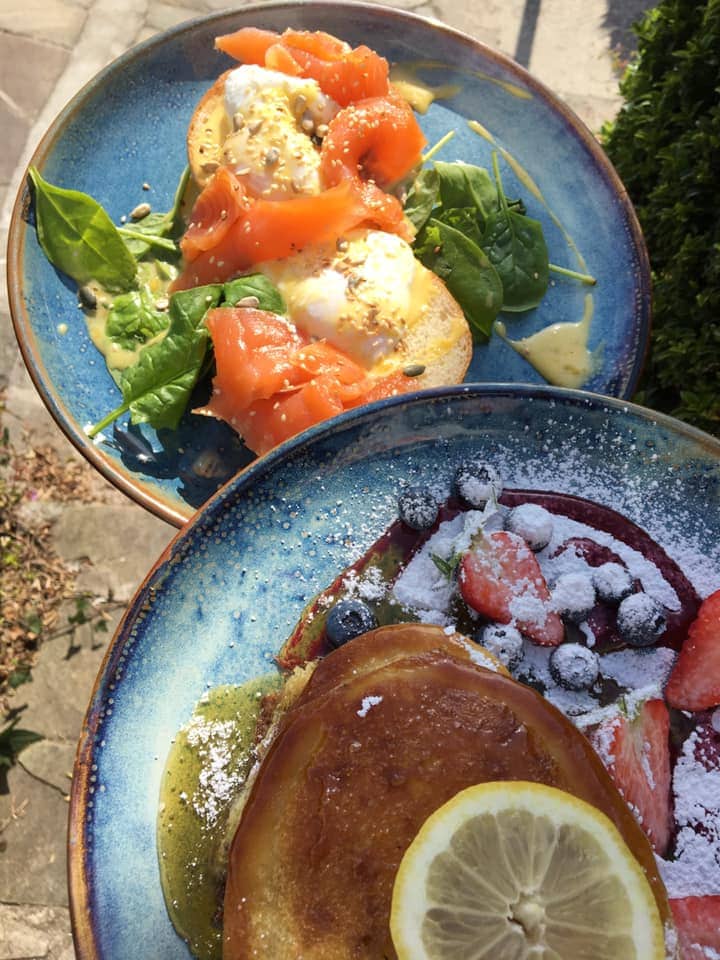 A fabulous little café further down the main road in Killybegs with views of the fishing boats and cruise ships. This little café has a glorious outdoor space that is perfect for people-watching and enjoying a lovely lunch or even better brunch on a sunny day. The food is extremely good and you can't beat the views.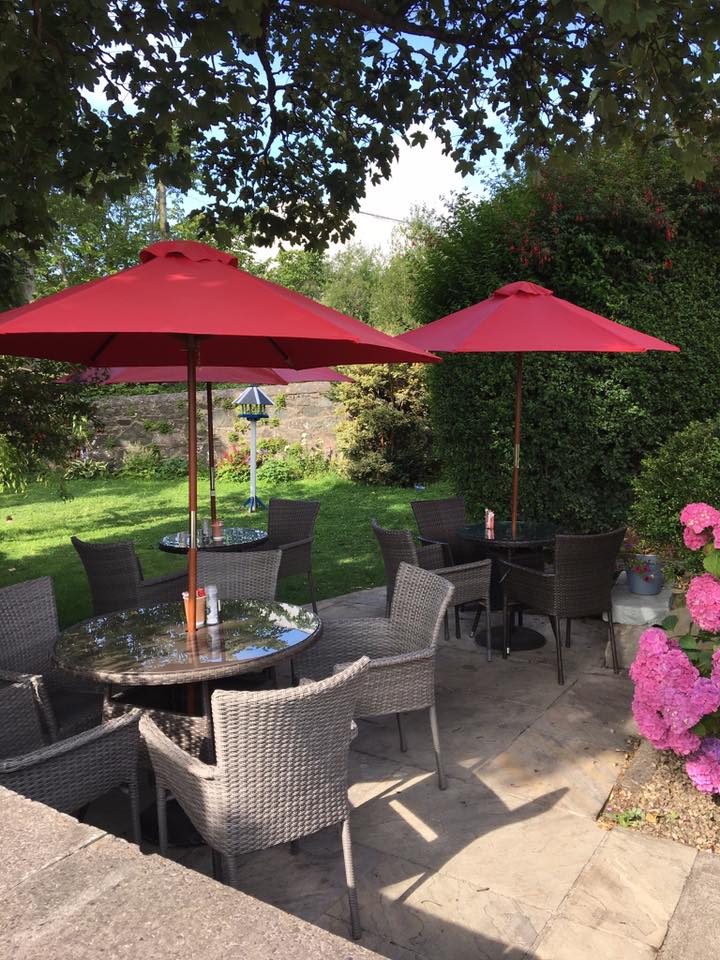 Mrs B's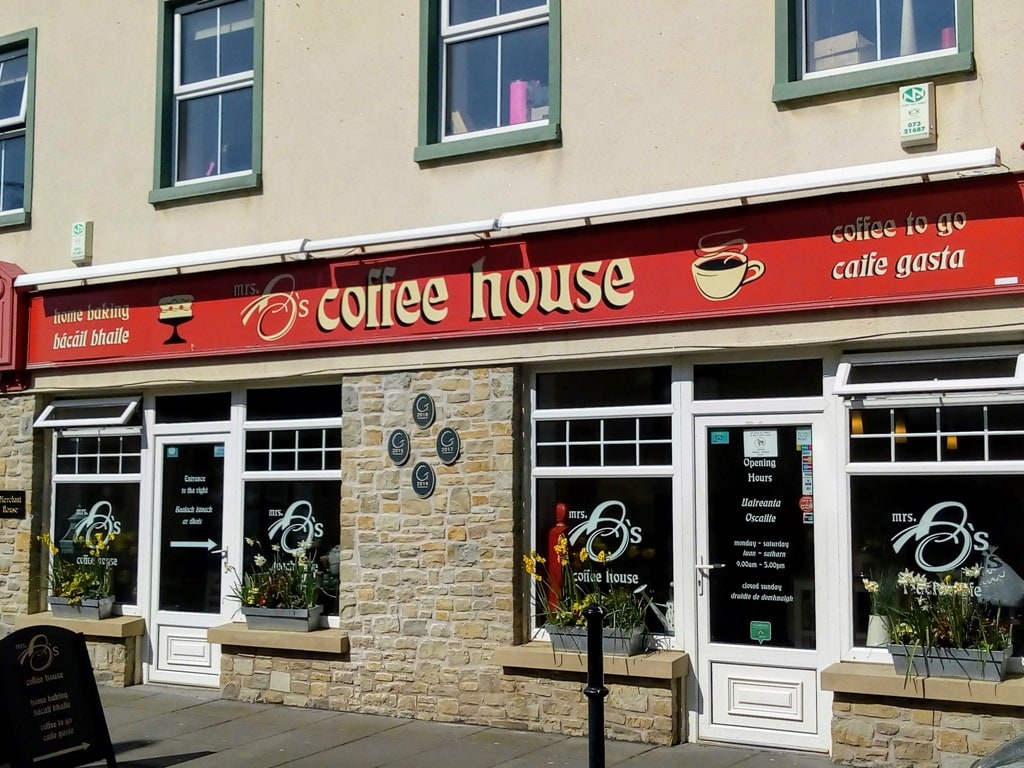 Not on the main road but on the Main Street of Killybegs (which sits behind the main harbour road) Mrs B's is known for its amazing bakes, fantastic coffee and homemade food. It's a lovely little café with a couple of tables outdoors in the summer months and a very pretty interior with warm and welcoming staff.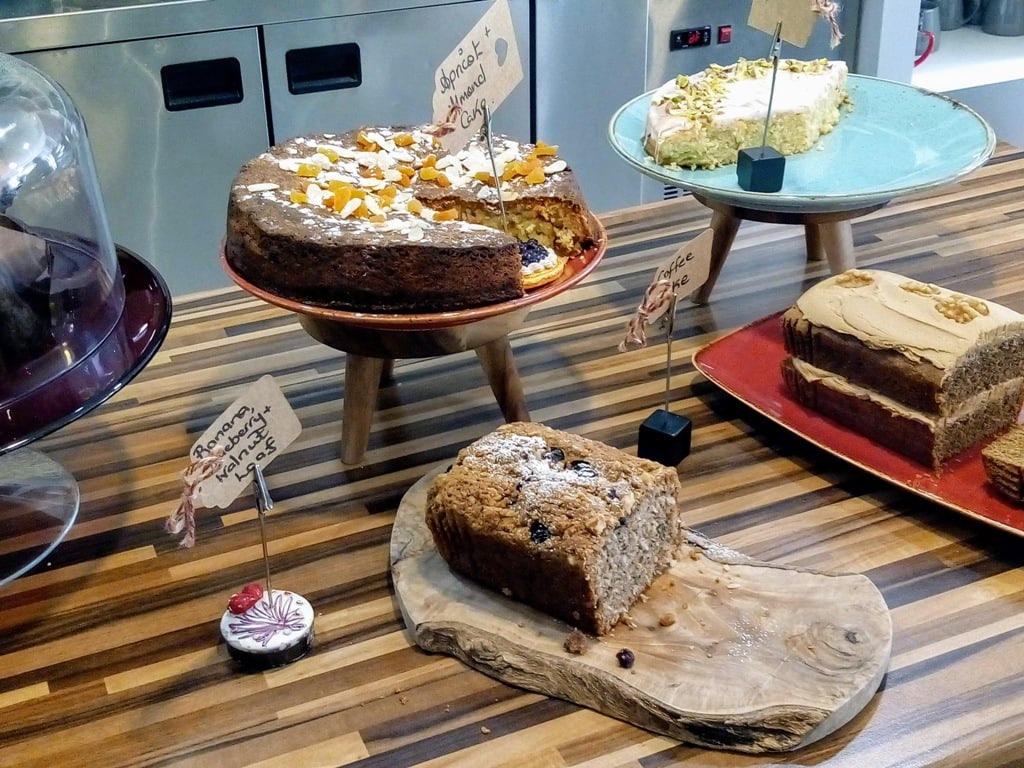 Seafood Shack
You can't miss the Seafood Shack as you drive into Killybegs located right on the harbour front this small street food truck offers some of the best and freshest seafood you can eat while walking the harbourfront. Fresh calamari, fish and chips and an award-winning chowder. We all miss the Shack when it's closed.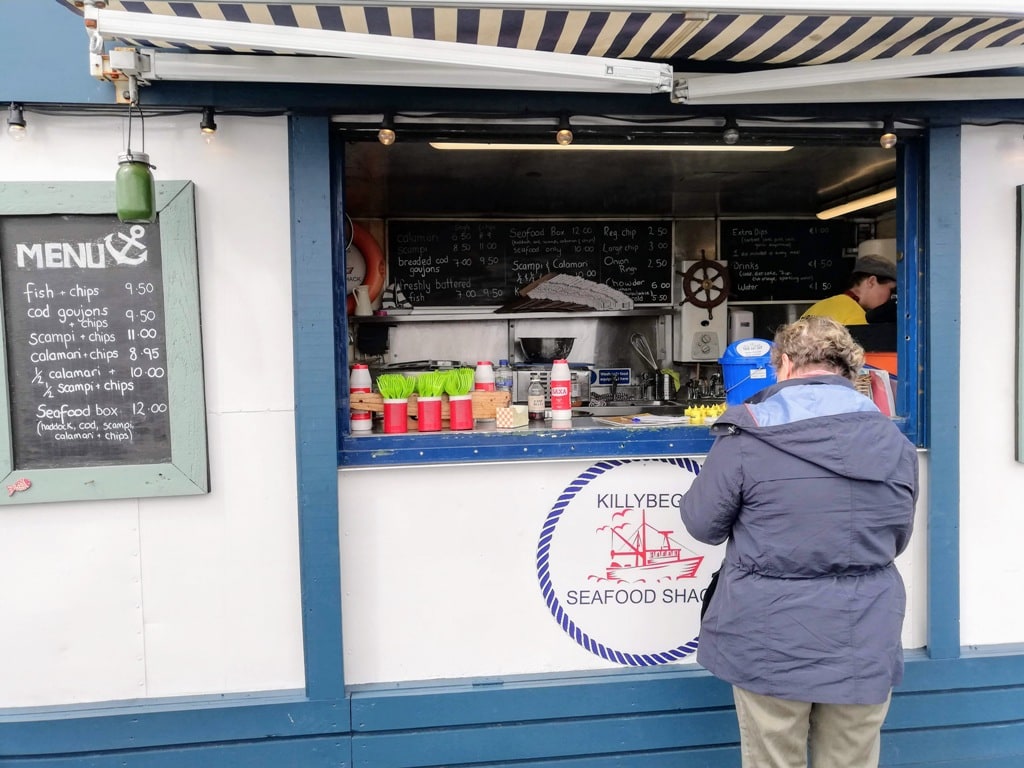 Anderson's Boat House Restaurant
A relative newcomer on the Killybegs dining scene the Boat House was the brainchild of the folks that brought us the Seafood Shack. The Boathouse is all about offering the freshest local seafood, gorgeously tender Irish steaks and poultry with tons of flavour. They have a lovely cobblestone courtyard and you can enjoy an alfresco meal with local craft beers, whiskeys and gins.
What to see near Killybegs
Killybegs is a great location from which to tour the Wild Atlantic Way and Co Donegal, if you are coming in on a cruise ship you don't have much time so I would strongly recommend a tour of Slieve League. If you get a chance to rent a car and are touring Donegal these are some areas along from Killybegs up to Slieve League that you should visit.
From Killybegs to Donegal Town the drive is only 25 minutes and the town has some great restaurants and cafes as well as sites such as Donegal Castle, the Abbey ruins, and a famine graveyards. It's also a great place to take in some local trad music and enjoy the craic in several pubs.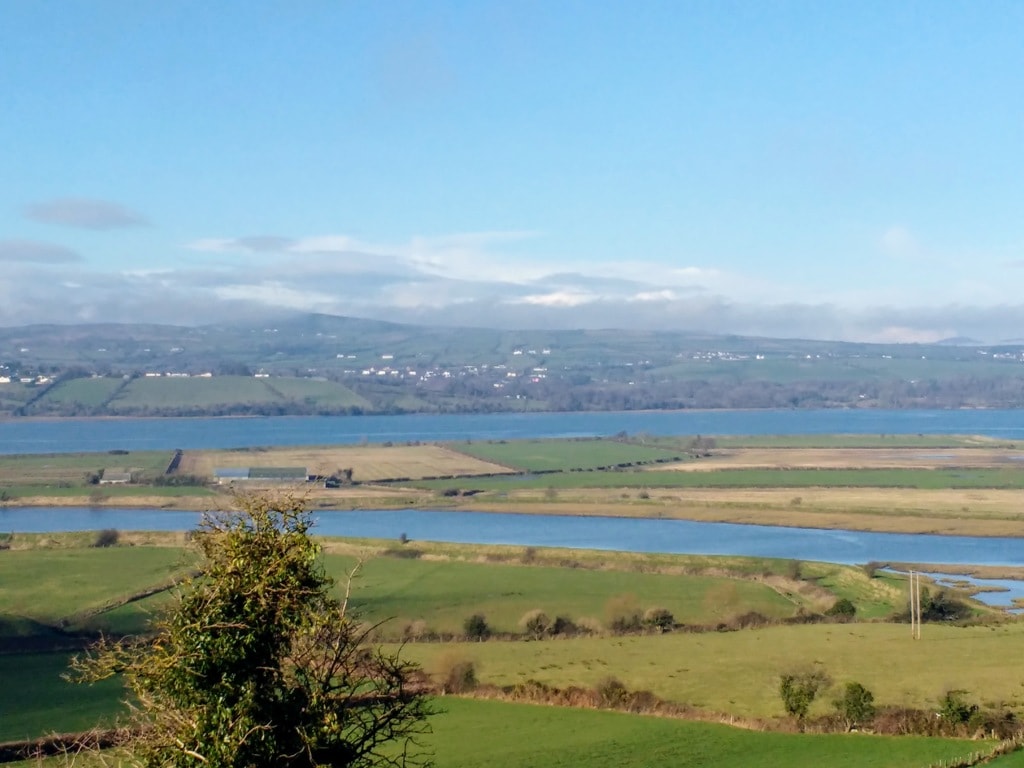 Fintra beach Killybegs
There are a few beaches near Killybegs and Fintra beach is one of the finest beaches in Donegal (and it has many) it is a registered blue flag beach on the outskirts of town. You drive down a steep hill to a small parking lot which opens up to a vast golden sand beach which is immensely popular with the locals here. It is a fine swimming and sea sport beach with a lifeguard during the summer season. You will see horseback riding on the beach and many walkers just enjoying the environment on one of my favourite beaches in Donegal.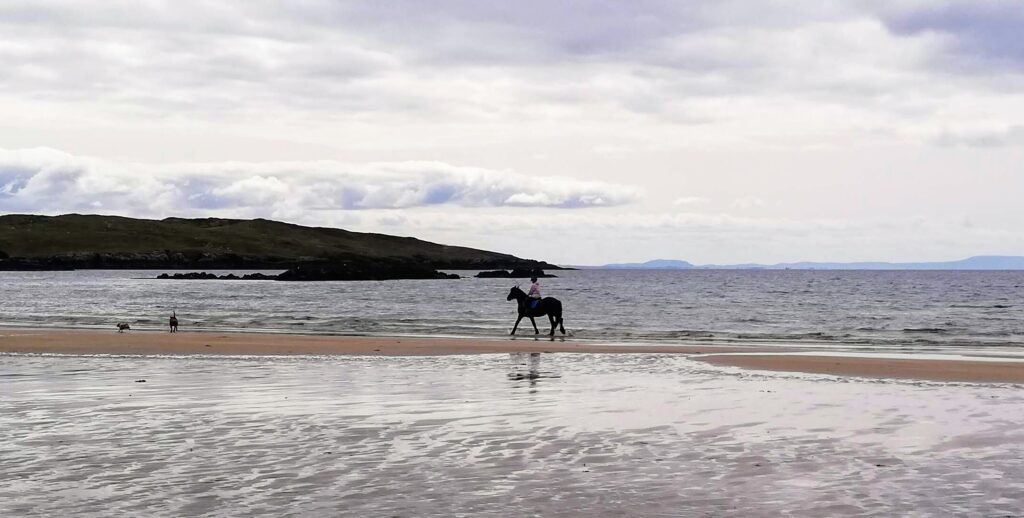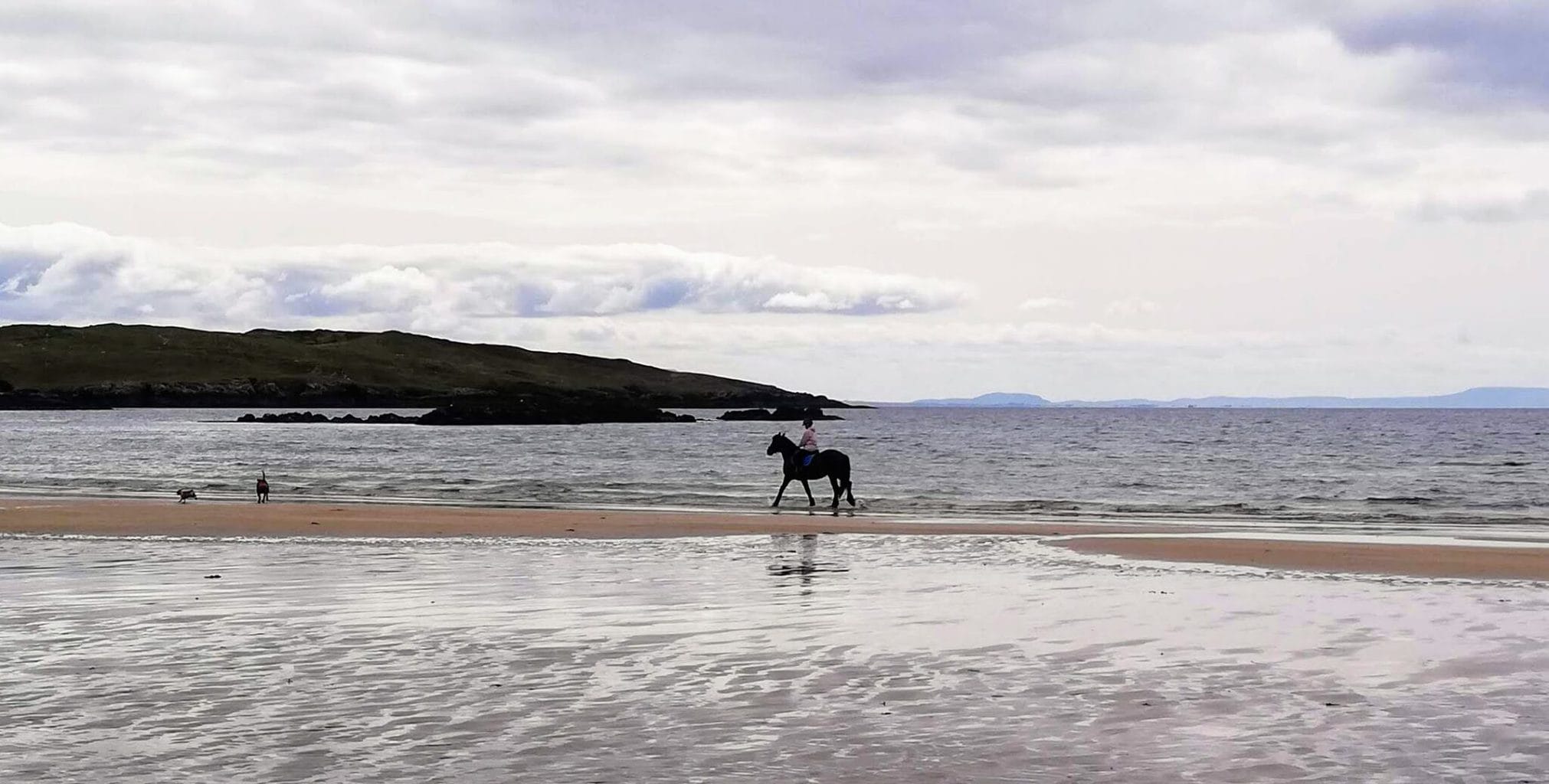 Donegal's Secret Waterfall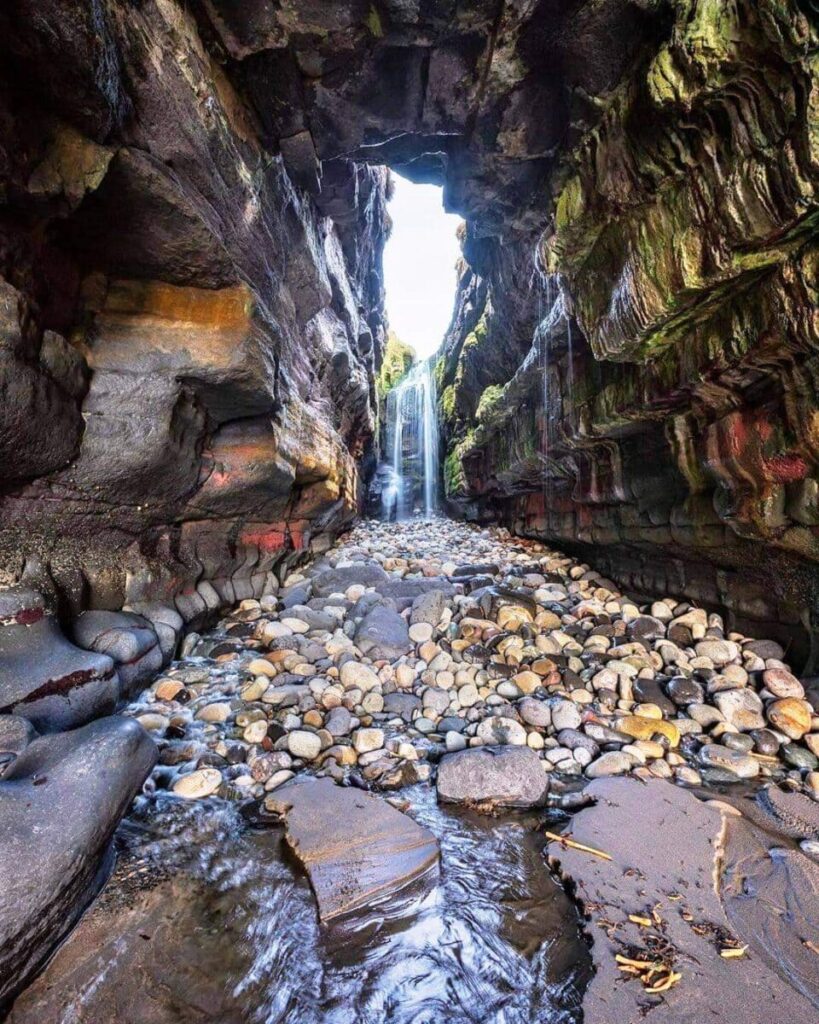 Seems like the secret waterfall is not so secret anymore. Found just down from Largy Viewpoint there are some things you should keep firmly in mind.
Park at the Largy viewpoint if you can't park because there are too many cars don't park on the side of the road, come back and try again it is a dangerous curve with many cars passing.
ONLY, visit at low tide this cannot be stressed enough you can't arrive and try to find the waterfall at any time you could get trapped by high tide. The waterfall is inside a cave and if you don't check you take your chances.
You will find the location on Google maps marked Largy Waterfall so you walk back from the Viewpoint to this spot. The access is through private land and you should get permission to pass through the farmer's land it is a major faux pas to just go traipsing across the land.
If you do get permission to cross the land down to the water, turn right and walk along the coast. This is not a walk or hike for anyone with difficulty navigating slippery, stony terrain it is quite a difficult walk.
Largy Viewpoint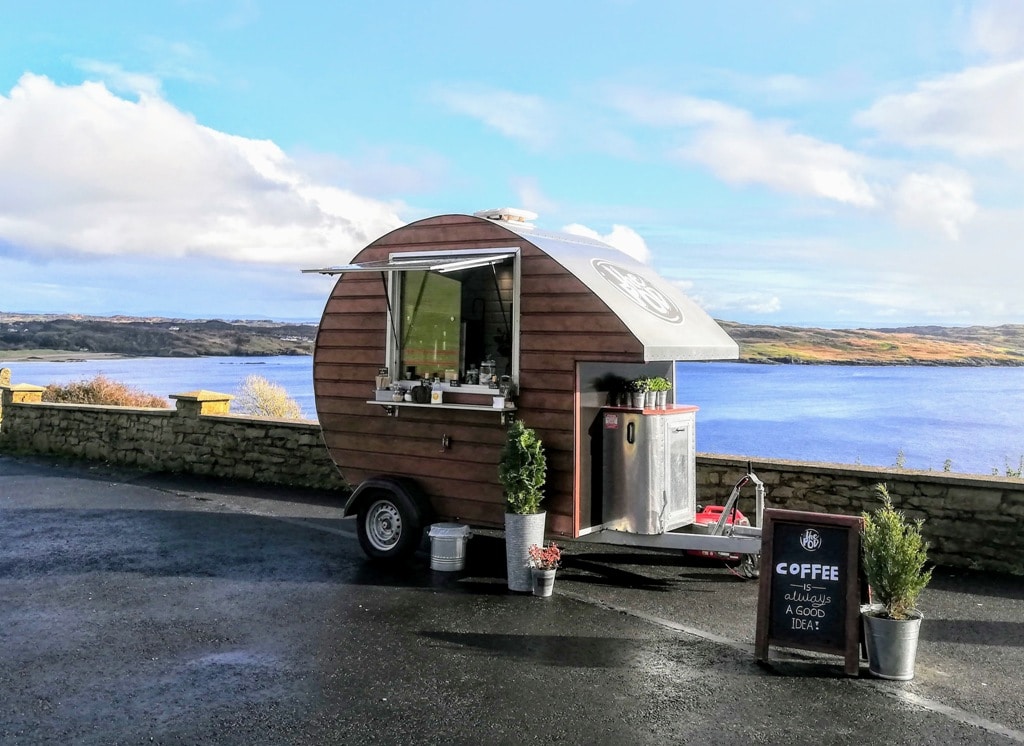 One of my favourite viewpoints in Donegal and a fabulous place to catch a sunset. You can spot dolphins playing if you have a clear view and you can see 4 counties from the Largy viewpoint – Mayo, Sligo, Leitrim and of course Donegal.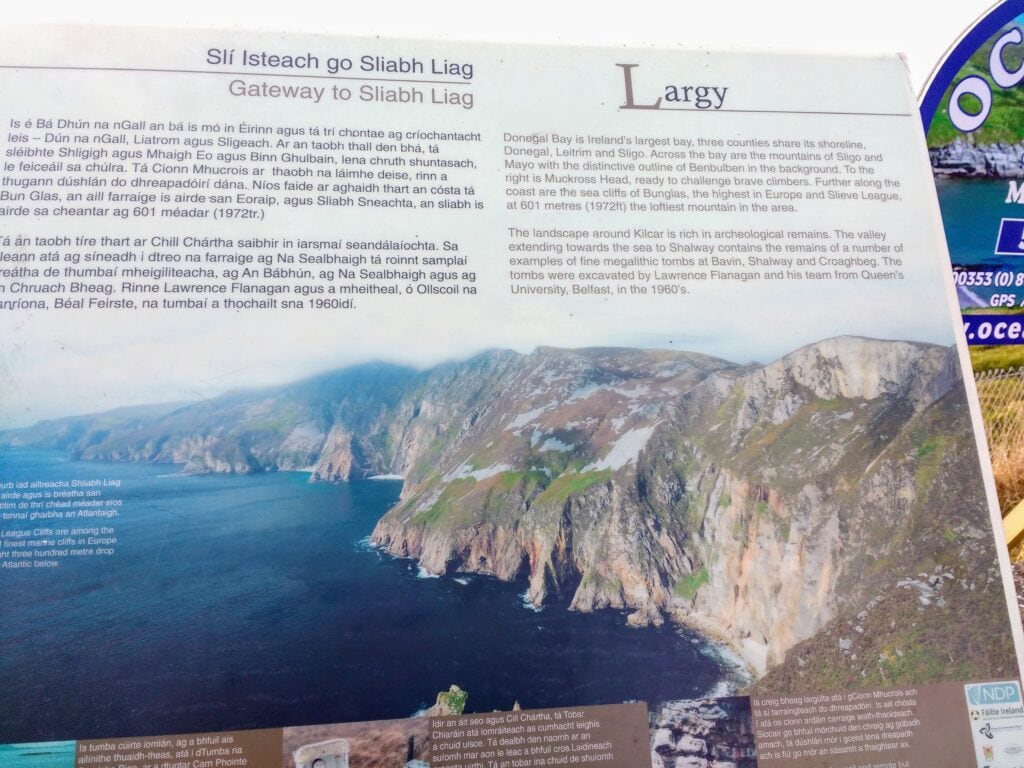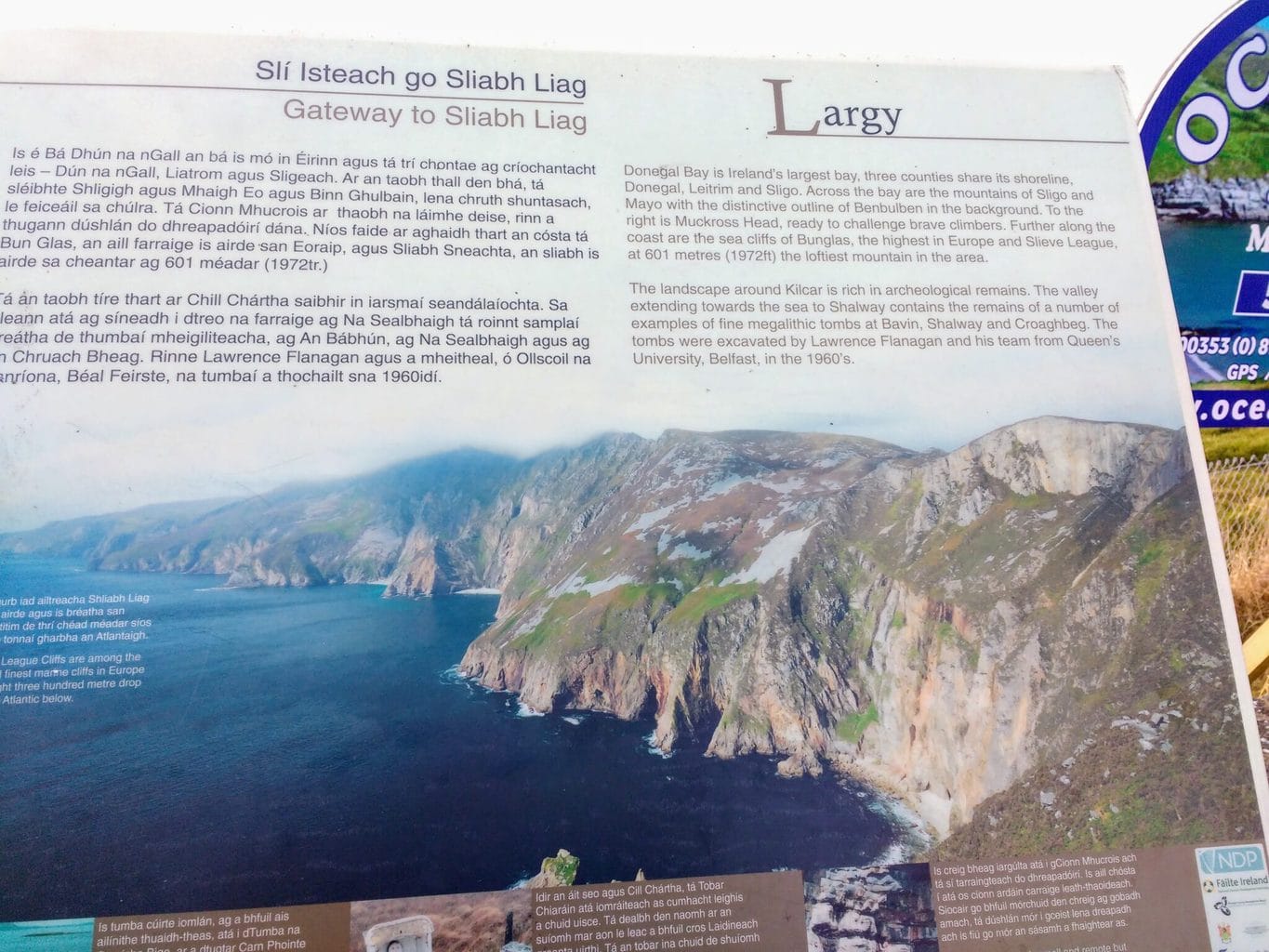 Kilcar
Kilcar is a small village in the Donegal Gaeltacht, a beautiful place with views to die for and home to Matthew Broderick and Sarah Jessica Parker when in Ireland. The area has unspoilt beaches, superb walks, and megalithic tombs, and offers great craic in its traditional pubs.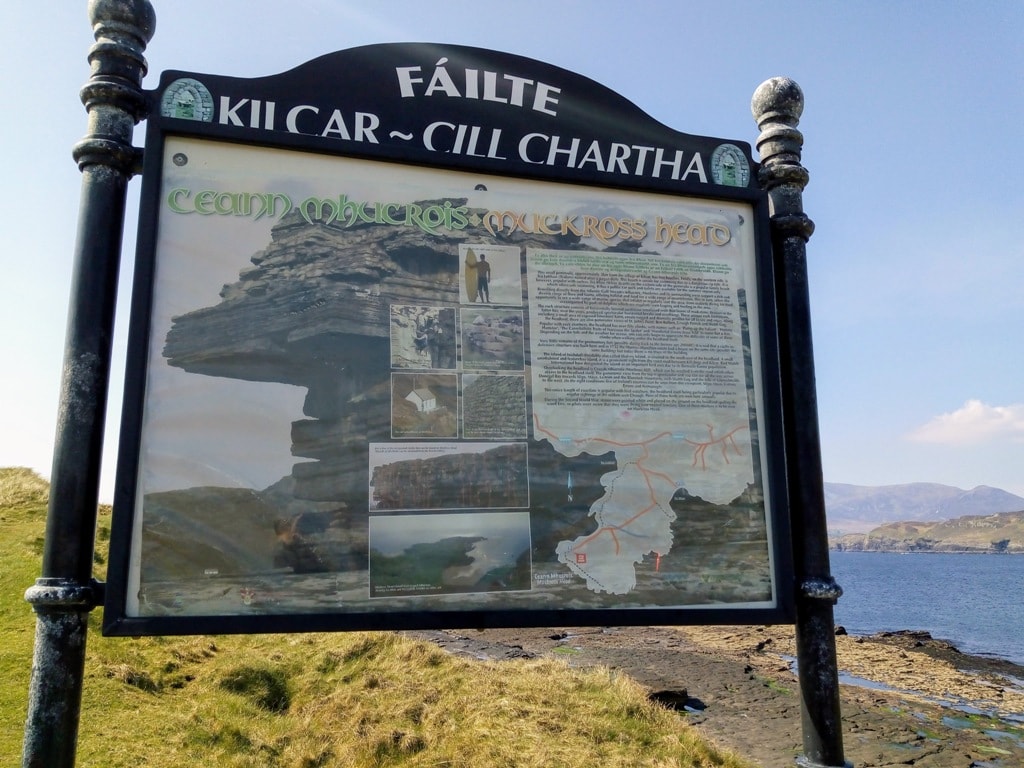 Kilcar hosts a traditional Irish music festival on the August bank holiday the Kilcar Fleadh and the village is packed out. If you are in Kilcar make a stop at studio Donegal which is a family-run hand-weaving and clothing business. Visitors are invited to tour the facilities and observe hand-weavers at work Monday to Friday. Admission is free. In the factory shop, you can find tweed throws, clothing along with Donegal Yarns knitting wool and a selection of contemporary and traditional knitwear.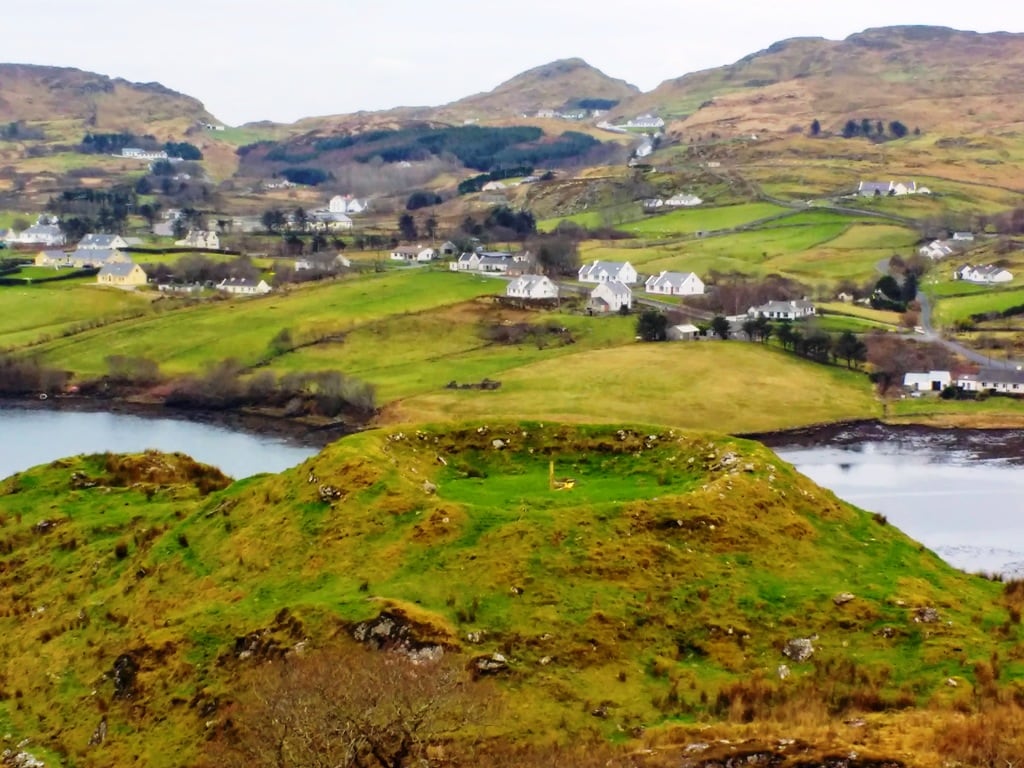 Kilcar Viewpoint
You can check out the Kilcar Viewpoint which is marked on Google maps it's a lovely little beach and a small cliff area. It provides pristine views of the ocean and you can find one of the famous "Eire" signs to found along the Irish coast, a remnant of aviation navigation support from World War II.
Rusty Mackerel
A must-stop on your way to Slieve League the Rusty Mackerel Irish pub offers fantastic food, fabulous traditional Irish music sessions and great conversation and craic.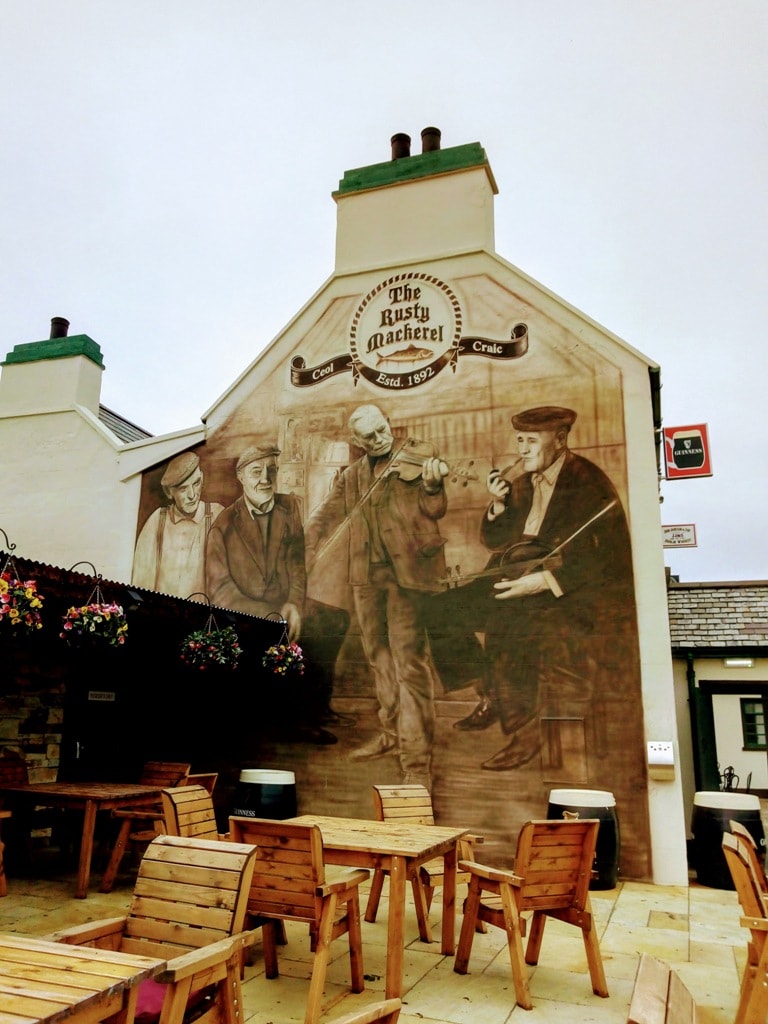 Teelin
Teelin is the place to go to catch a boat tour around Slieve League. Teelin is another Gaeltacht village located at the northwest end of Donegal Bay. The village is famous for fishing, traditional music and scuba diving. There is also an Irish language school here called Coláiste Aoidh Mhic Bhricne, which brings in students from all over Ulster and has been located here since 1955.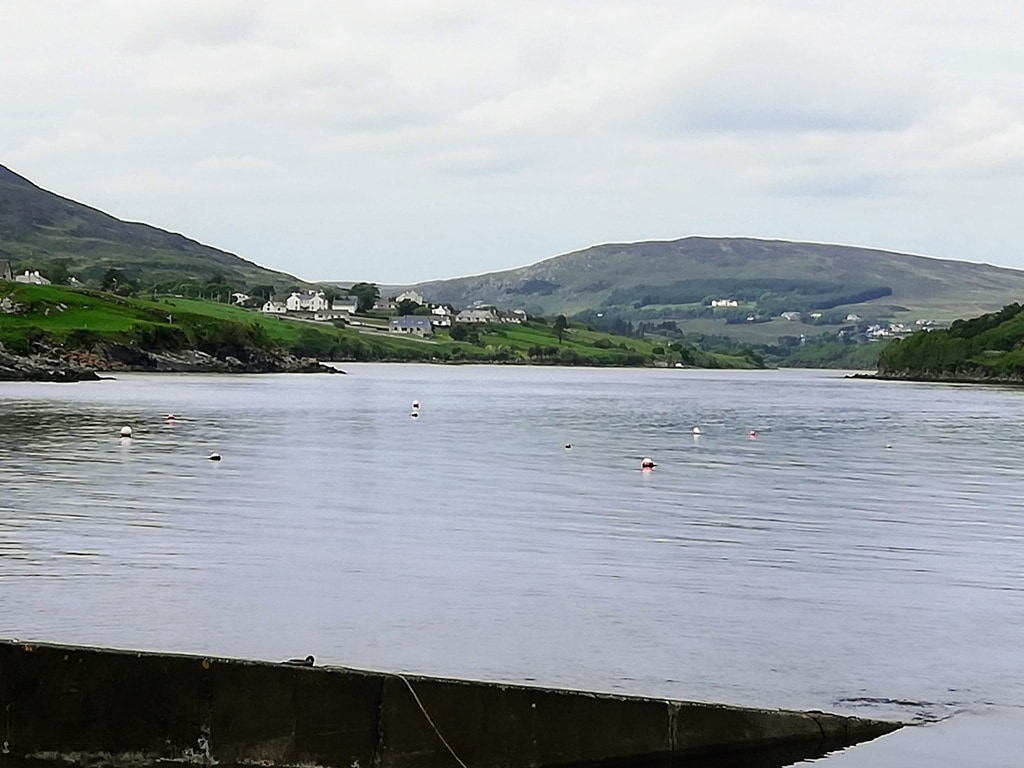 Teelin Boat trips offer trips around Slieve League for € 25 per adult or you can rent the boat for a full day private day tour. You can do diving trips, angling trips or sunset voyages. If you're lucky you may get to see basking sharks, playful dolphins and some of Ireland's famous seals.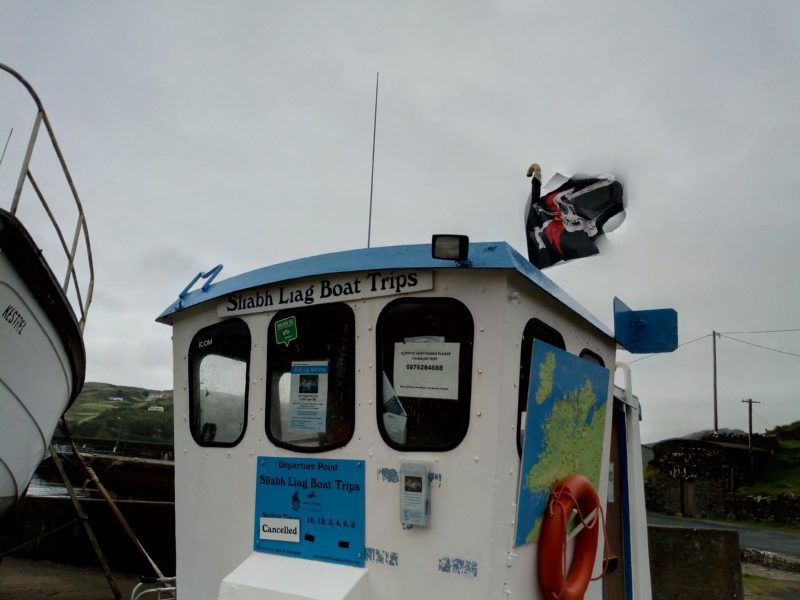 Muckross Head Peninsula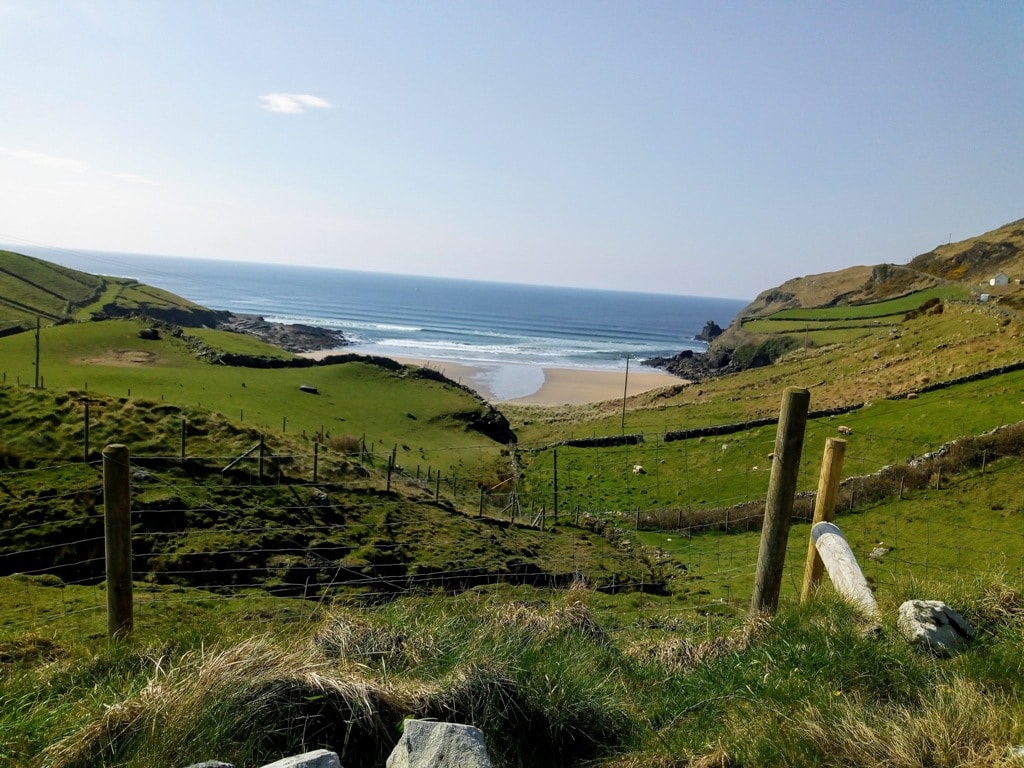 Follow the directions on Google to get to the Muckross Head Peninsula which you will see on your way to Kilcar. There is no charge for this viewpoint and there is a car park at the end of the head. Follow any of the several footpaths that will lead you out to the edges. Muckross is an unusual area and a very popular climbing location. The rocks are comprised of horizontally layered sandstone layered with mudstone that has eroded faster and produced the overhangs that climbers love.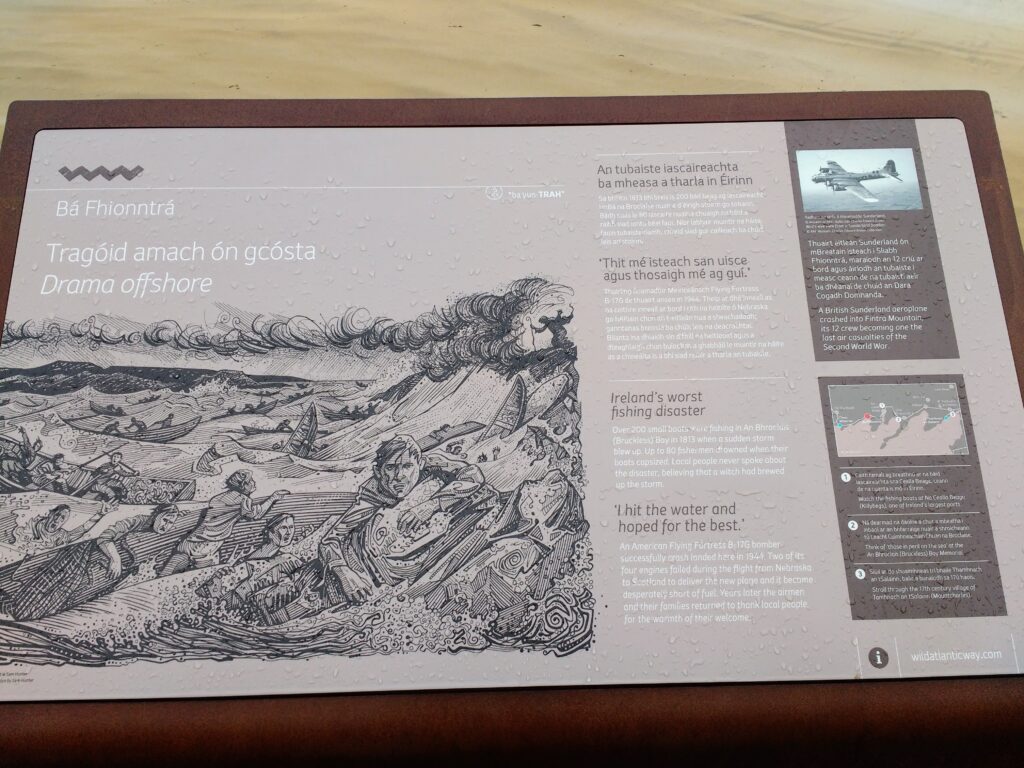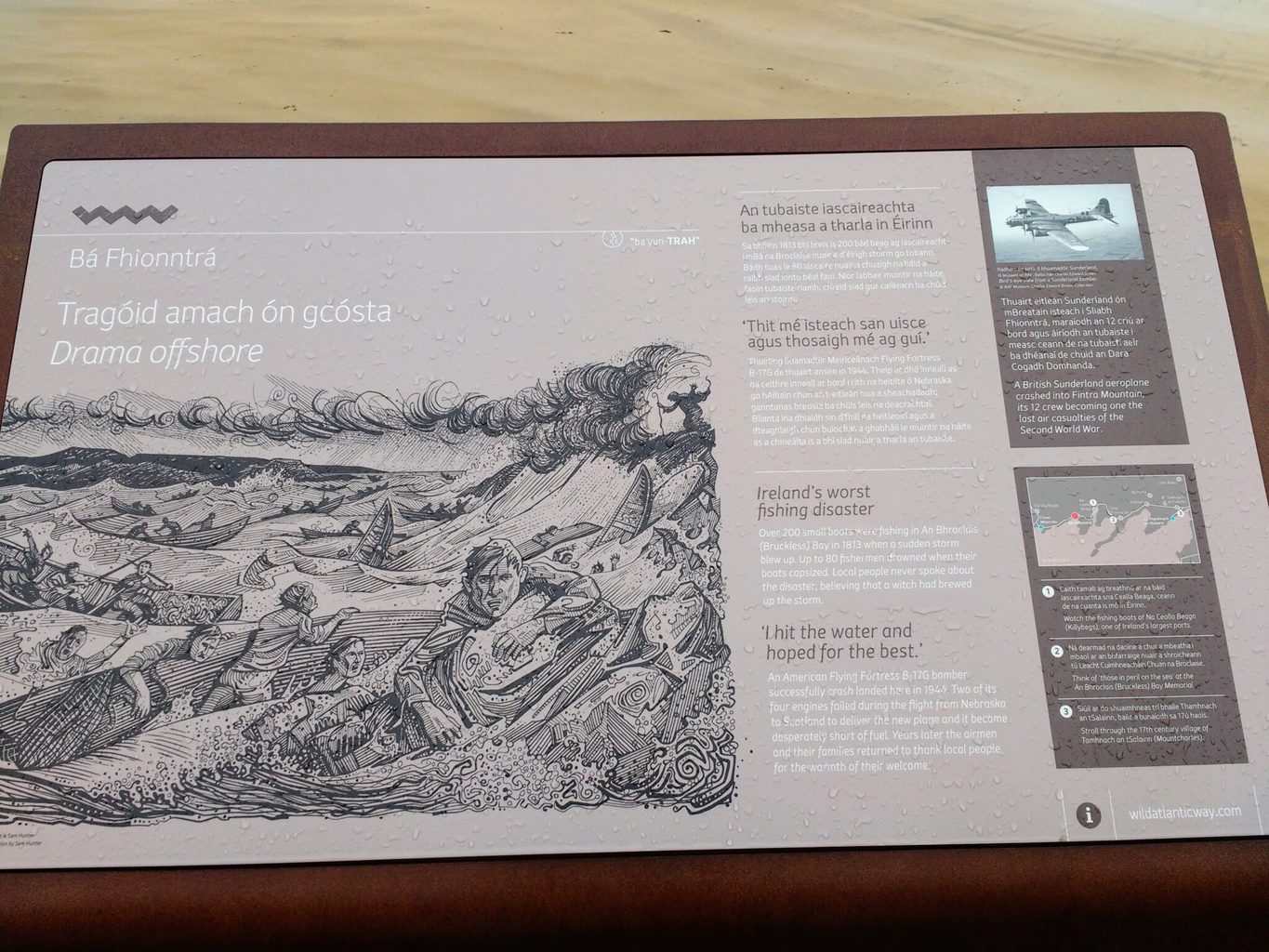 There are two beaches one is a fantastic surfing beach called trá na nglór in Irish, or "beach of the noise") does have a riptide so care must be taken. The second beach is called trá bán, meaning "white beach" is a popular family beach that is safe for swimming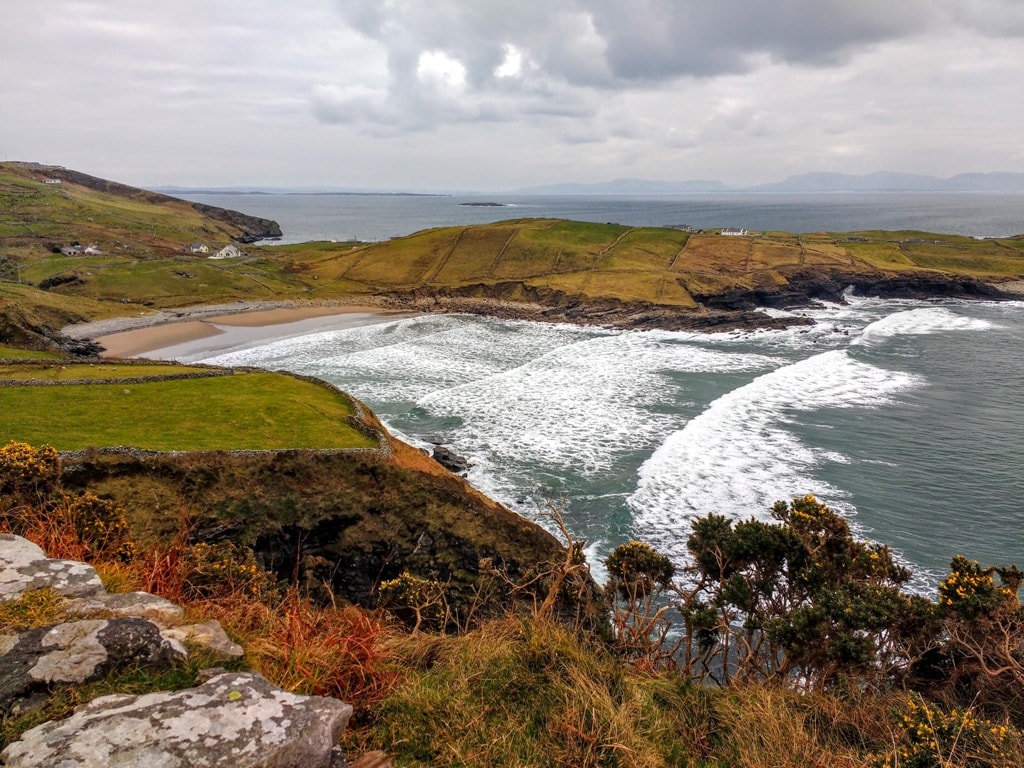 Sliabh Liag (Slieve League) cliffs
Killybegs has always been considered the gateway to the Sliabh Liag cliffs. Ireland's highest sea cliffs on the Island these cliffs right to 1,972 feet. The panoramic views overlooking Donegal Bay are only 12 miles from Killybegs and during the cruise season, there are many day-trippers visiting the area. Slieve League is nearly three times higher than the Cliffs of Moher and currently are still FREE to visit.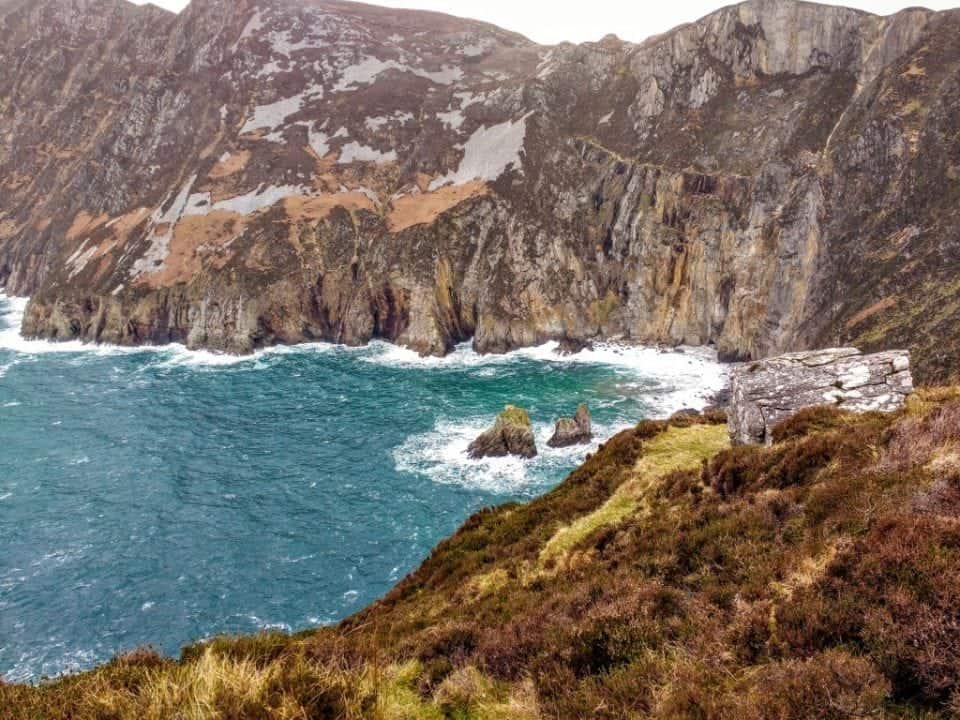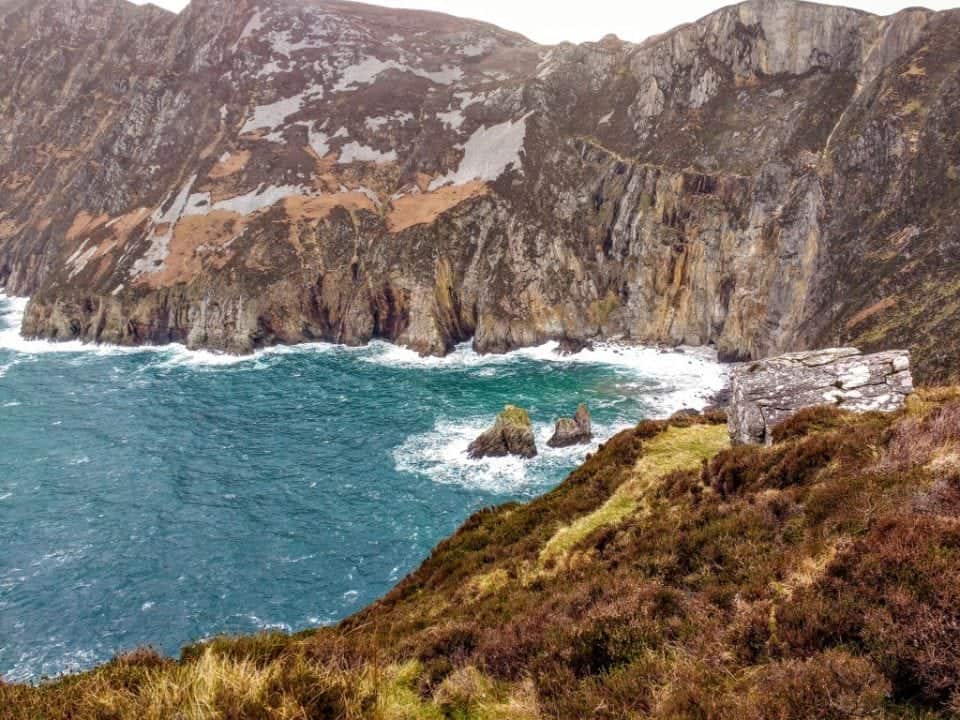 If you are a bit of an adrenaline junky try walking the'One Man's Pass' which takes hikers to the highest point of Sliabh Liag I dare you – I couldn't do it lol.
Where to stay in Killybegs
Killybegs is a charming and picturesque town that offers plenty of activities and sights for visitors to enjoy. From exploring the stunning coastline to learning about the area's rich history and sampling delicious seafood, there's something for everyone in this hidden gem of Donegal. Whether you're seeking relaxation or adventure, Killybegs has it all. So why not plan your next trip here and see for yourself what makes this town so special?
So have you been to Killybegs or Slieve League what was your favourite part of this Wild Atlantic Way route?
You might also like
Westport Ireland – home of the Pirate Queen
All the best Restaurants in Donegal Town
Ultimate Wild Atlantic Way Route
Things to do in Derry the ultimate guide
Cliffs of Slieve League the magnificent sea cliffs of Donegal
Pin it to save it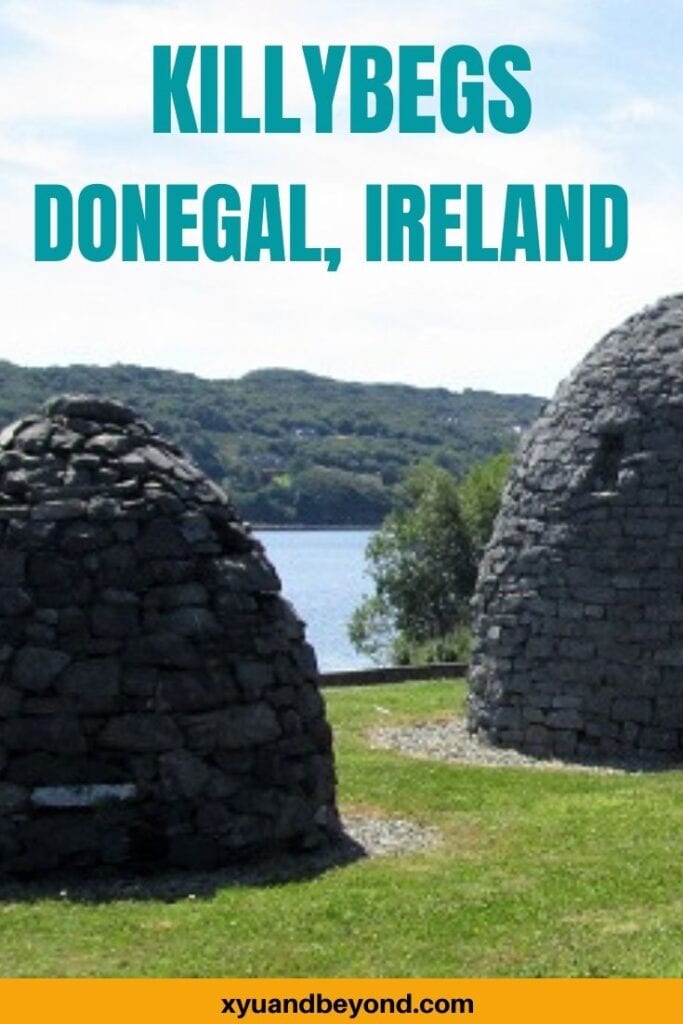 Latest posts by Faith Coates
(see all)