Visiting Glenveagh National Park
Glenveagh Castle lies deep in the heart of the Glenveagh National Park in Donegal which is the second largest national park in Ireland. With a dark history, Glenveagh Castle today and the grounds of the Glenveagh National Park provide some stunning walking and hiking trails.
You will get to experience the final trail of those who had to leave their beloved country to travel to the Americas. Stand on the bridge of tears and understand how your ancestors felt when they had to leave.
How to get to Glenveagh National Park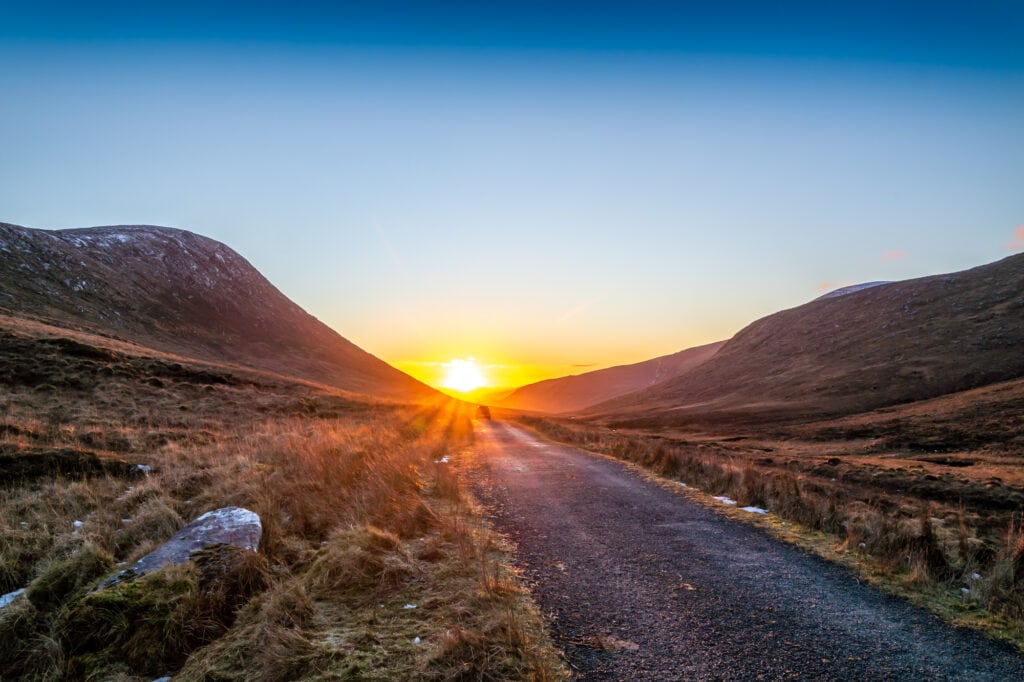 Glenveagh Castle is located within the National Park which is 24km northwest of Letterkenny, Donegal and can be reached driving through the villages of Kilmacrennan or Church Hill.
To get to Glenveagh Castle from Letterkenny, if you are in Derry simply follow the signs to Letterkenny and then take the (N56) road through Kilmacrennan, turning left on to the Gweedore road (R255), or alternatively via Church Hill, and past Gartan and Akibbon lakes (R251). From Donegal Town, we take the N15 and it's about an hour and a bit drive.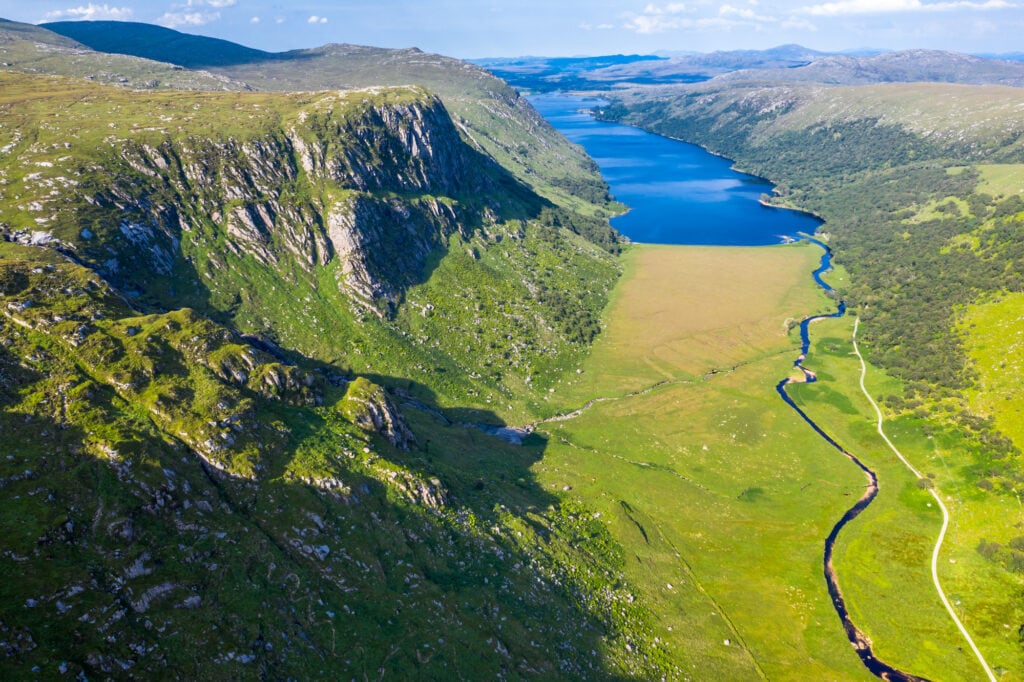 If you need a cup of tea or coffee or simply a rest to enjoy the stunning views you can stop where the little pod The Mini Bean pulls up and serves refreshments all day.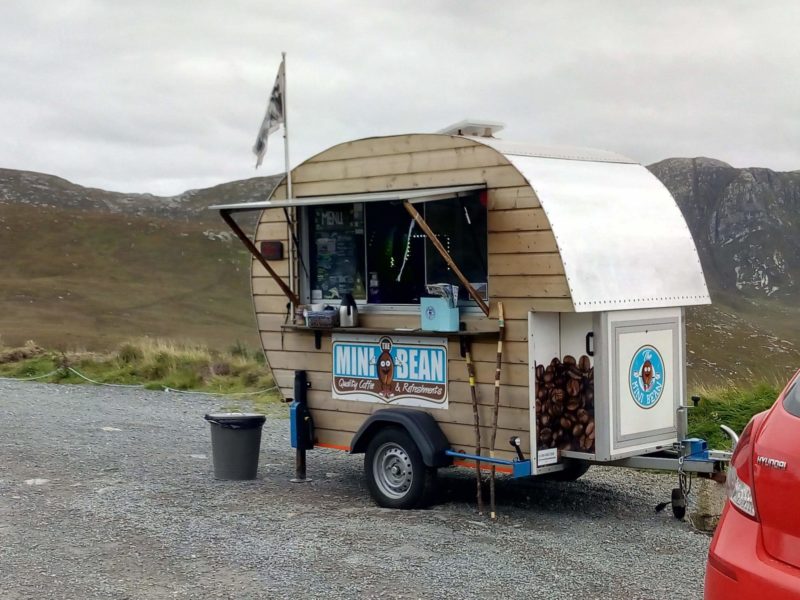 Or you can stop at Mary Alice's and enjoy some of the best tea and scones in Donegal.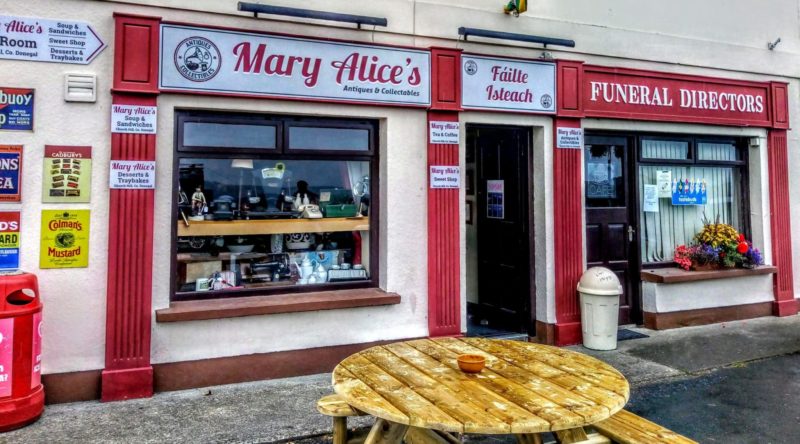 On your way to Glenveagh Castle, you will pass a gorgeous little stone bridge with spectacular views of Muckish Mountain and to the side of the road, you will see a large stone with writing on it. The writing these days is barely legible and it is written in Irish Gaelic.
The Bridge of Tears, Donegal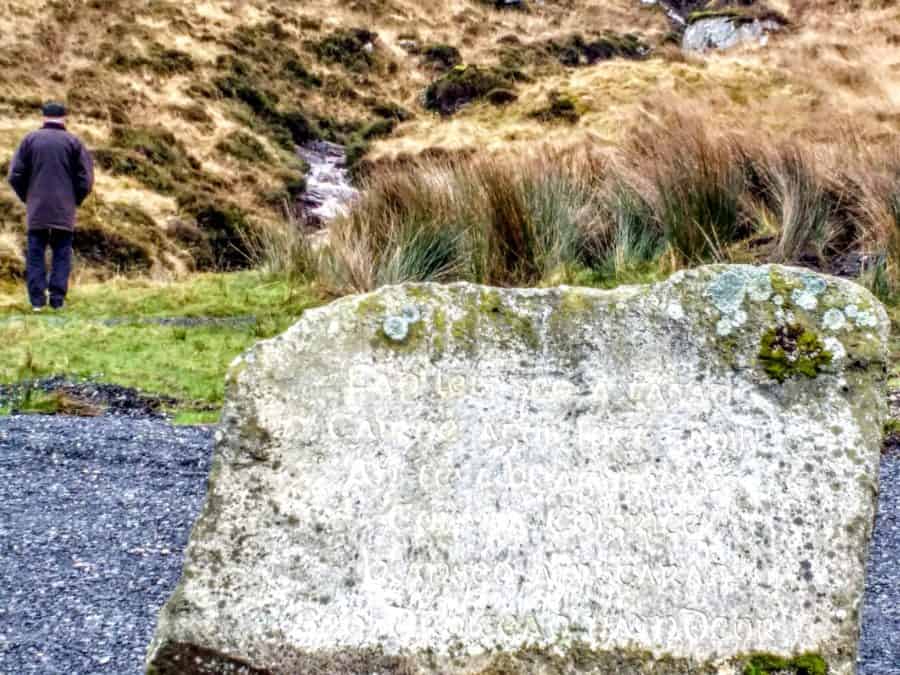 The translation is roughly as:
"Friends and relatives of the person emigrating would come this far. Here they parted. This is the Bridge of Tears".
This route used to lead to Derry from where the ships would depart for new lands in America, Australia, Scotland and England. The family of those emigrating would walk with them towards the Muckish Gap and here they would say goodbye. Crossing this bridge meant that the family would never see their loved one again and there is a sense of longing and loneliness that hangs in the air here.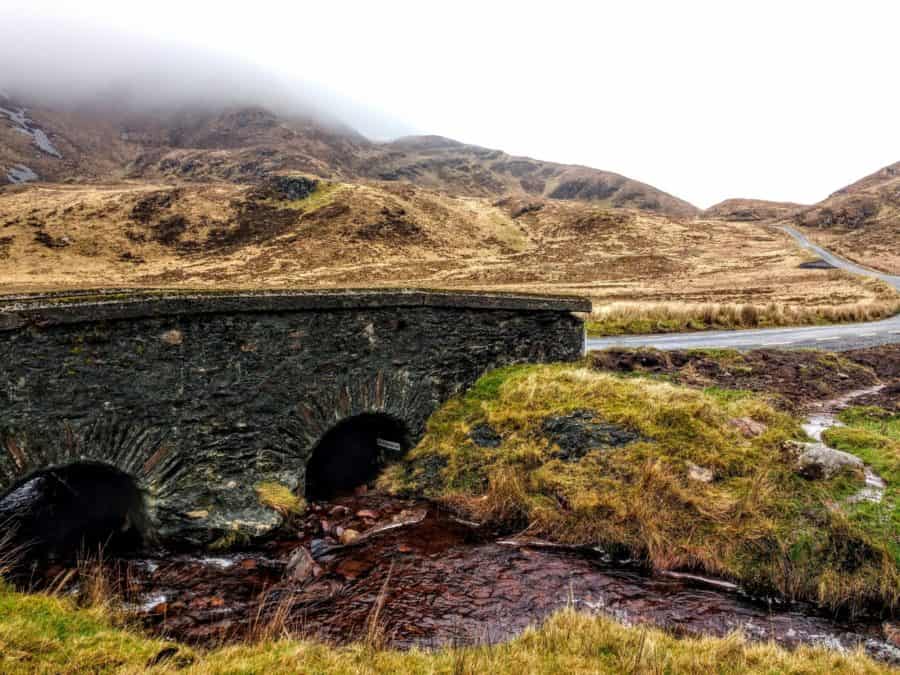 The Bridge inspired Percy French to write one of his most famous songs "The Irish Mother", and inspired Clannad's beautiful "The Bridge of Tears".
Glenveagh National Park
The Park is the second largest National Park in Ireland with over 170 square kilometres of the hillside above Glenveagh Castle on the shore of Lough Veagh. It is a drive of just under 50 minutes from Letterkenny.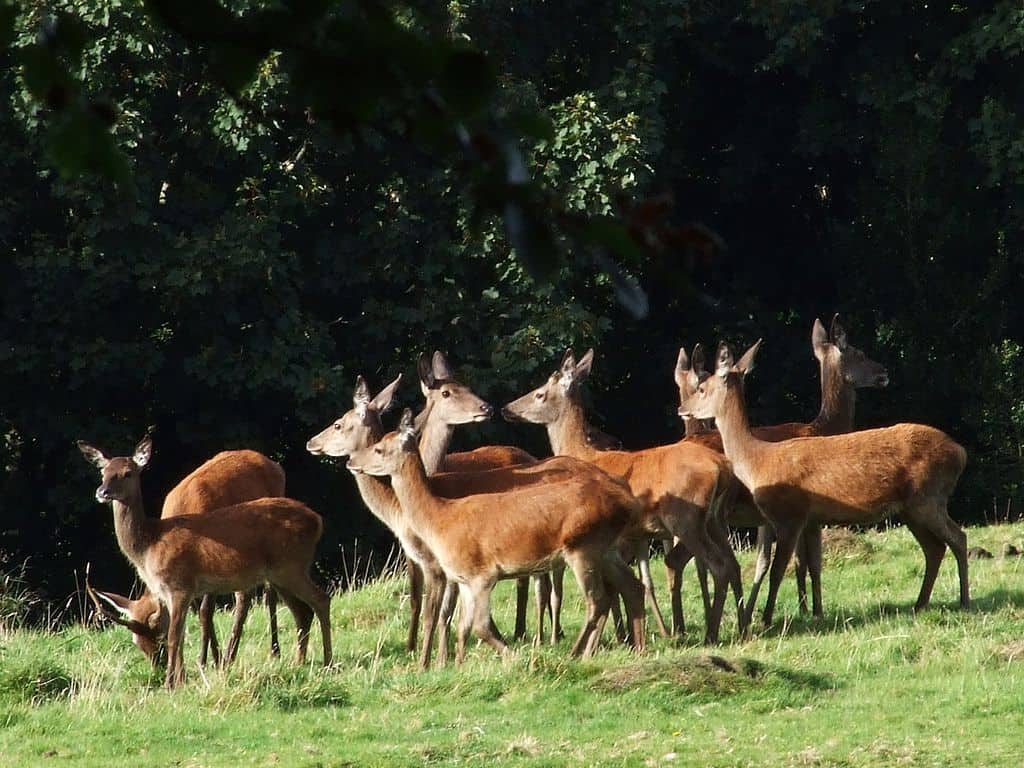 The park is home to the largest herd of red deer in Ireland and the former locally extinct golden eagle was reintroduced into the park in 2000.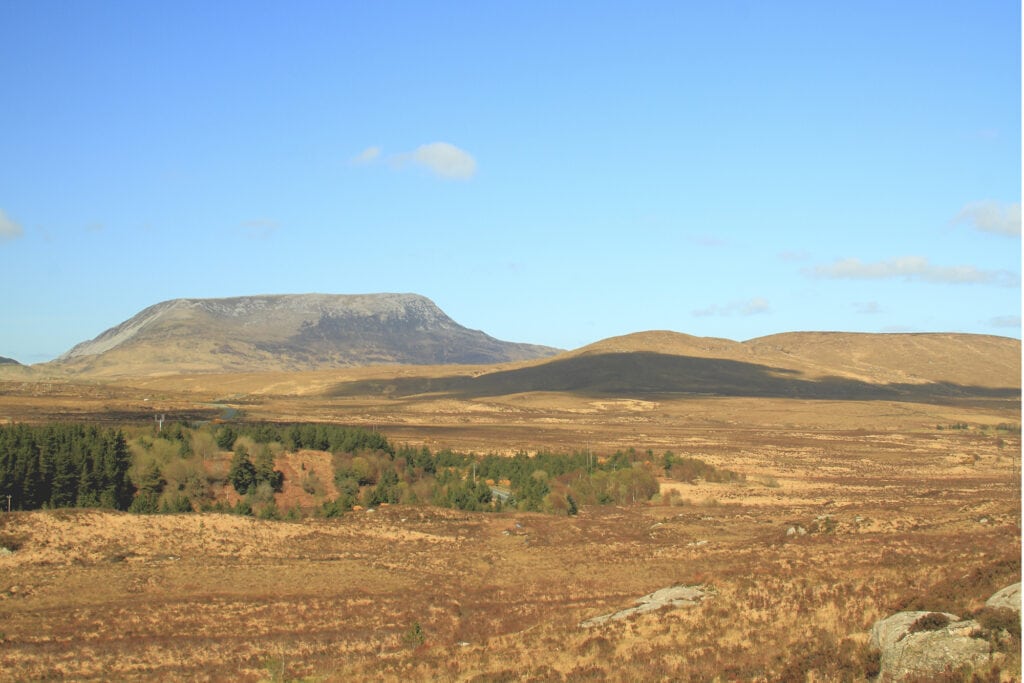 Glenveagh National Park is an extraordinarily beautiful place to visit. The park has a wide variety of walks and trails and this place is truly one of the wildest and most beautiful places in Ireland to visit.
Glenveagh National Park is second only to Connemara in size and its largest feature is the stunning Lough Veagh which is a deep and long lake fed by the River Veagh. This area is among the densest woodland in all of Ireland and its environment includes moorland, bogs, mountains, forests and lakes.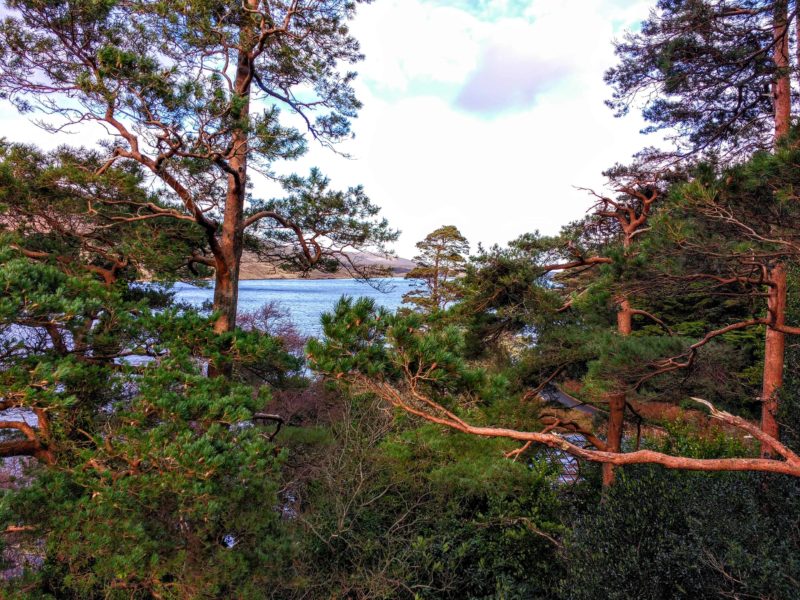 Errigal and surrounding areas are within Glenveagh boundaries, and the main entrance lies a 10-minute drive from the Errigal Car Park. There is a visitor's centre where you can obtain walking maps of the trails that are marked throughout the park, as well as grabbing a cup of tea and a shuttle bus to visit Glenveagh Castle.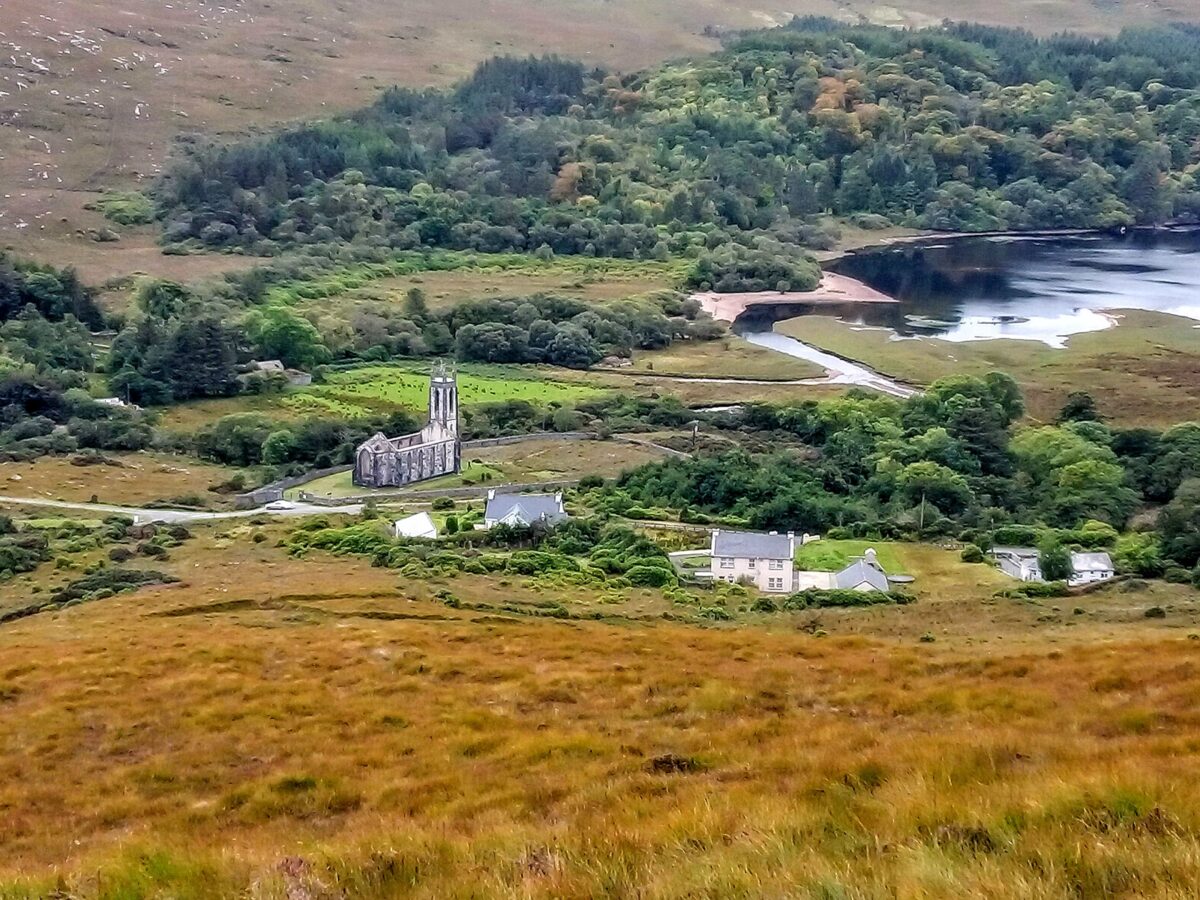 From the visitors' centre, you can catch a Walker's Bus that runs to the Lough Inshagh Trail in Gartan & the Head of The Glen near Lough Barra every Saturday, Sunday & Bank Holidays Monday all year round at 10 am. (Weather Permitting).
The visitors' centre provides an introduction to the Park and its natural history through audiovisual shows, displays and exhibits.
Facts about Glenveagh National Park
Address: Churchill, Letterkenny.
Location: 24 kilometres north-west of Letterkenny.
Opening Hours: March to Early November: Daily:10.00-18.30. Last admissions 17.00.
Garden and Parkland access: Free of charge.
Visitors Centre: free exhibitions, information, and a 45-minute audio-visual presentation.
Restaurants: Visitors' Center and Castle Tearoom.
Who owns Glenveagh National Park? In 1975, the National Parks and Monuments Service purchased the lands of Glenveagh from Mr McIlhinny. He later presented Glenveagh Castle and gardens to the Irish Nation.
Do you have to pay into Glenveagh National Park? Not to enter the park itself but if you want to tour Glenveagh Castle there is an entry fee. You can tour the gardens and site without visiting the castle – the shuttle bus to the Castle gardens, which are amazing by the way, costs around 2 Euros and the tour of the castle are an additional 7 Euros.
Can you drive around Glenveagh National Park? Yes, you can drive around the park.
Is Glenveagh National Park in Northern Ireland? No, but it is further north in Ireland than Northern Ireland but it is part of Donegal and within the Republic of Ireland.
Can I camp at Glenveagh National Park? Camping within the main Glenveagh valley is strictly prohibited. There are no serviced camping or caravan sites within Glenveagh National Park. Overnight camping in Camper Vans is not permitted within the car park unless permission has been granted in exceptional circumstances.
What can I see in Glenveagh National Park? Glenveagh National park includes most of the Derryveagh Mountains, the Poisoned Glen and part of Errigal Mountain and is a beautiful place to walk the hills and follow trails.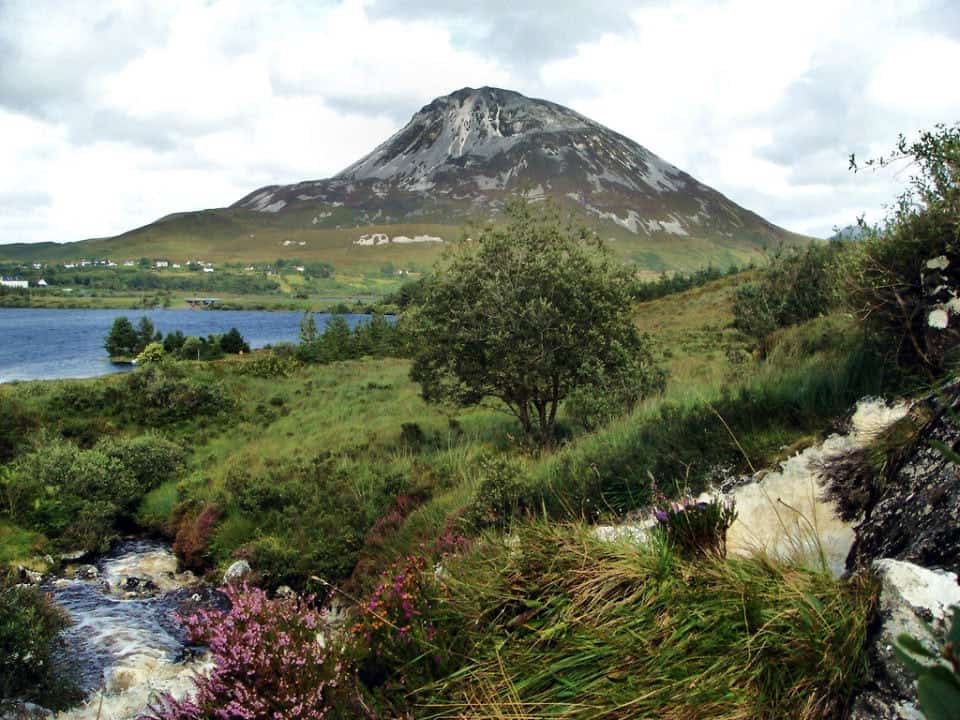 This is incredible hill walking country and the mountains set in this rugged landscaper will entrance any climber. From Errigal to Muckish. Slieve Snaght, Loch Veagh and Lough Garten you will find views beyond anything you can imagine. I would highly recommend that you stay in the area and take at least 2 days to really see this part of Donegal County.
Glenveagh National Park walks
The Lakeside Walk is a 3.5 km trail that is considered fairly easy on a flat gravel path and it takes around 40 minutes. The trails take you from the visitor centre to Glenveagh Castle and continue along the shores of Lough Veagh. The Owencarrow River that you pass is full of breeding salmon, trout, freshwater mussels, otters and eels. Following the trail, you will pass a blanket bog, wet heath habitats including peat bogs and get some wonderful views of the castle and the valley of Glenveagh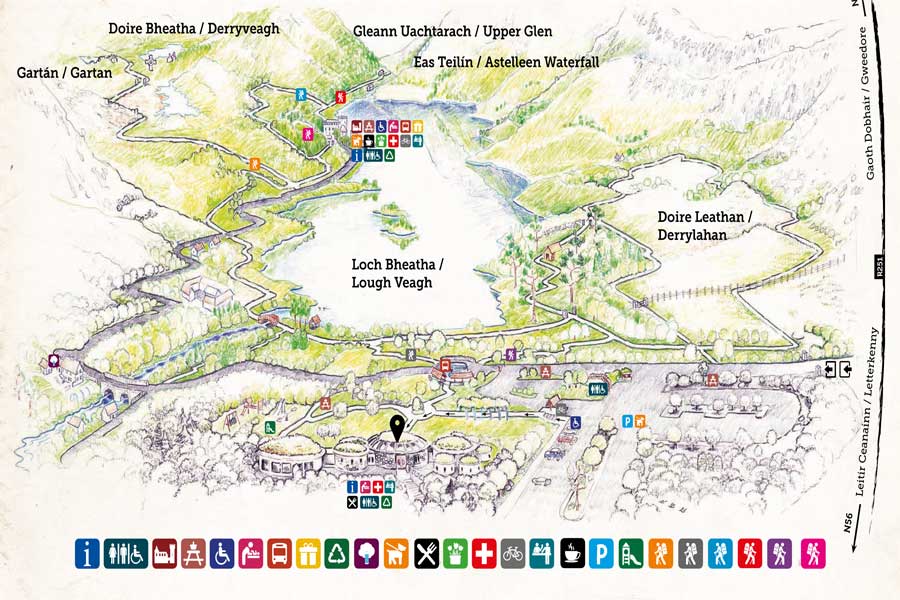 The Derrylahan Nature Trail is around 2 km and takes about 45 minutes it is considered a medium walk on a gravel path that can be steep in some places. Similar to the Lakeside Walk you will see both planted and native Scots Pine woodlands and a section of the blanket bog with brilliant views of Glenveagh Valley.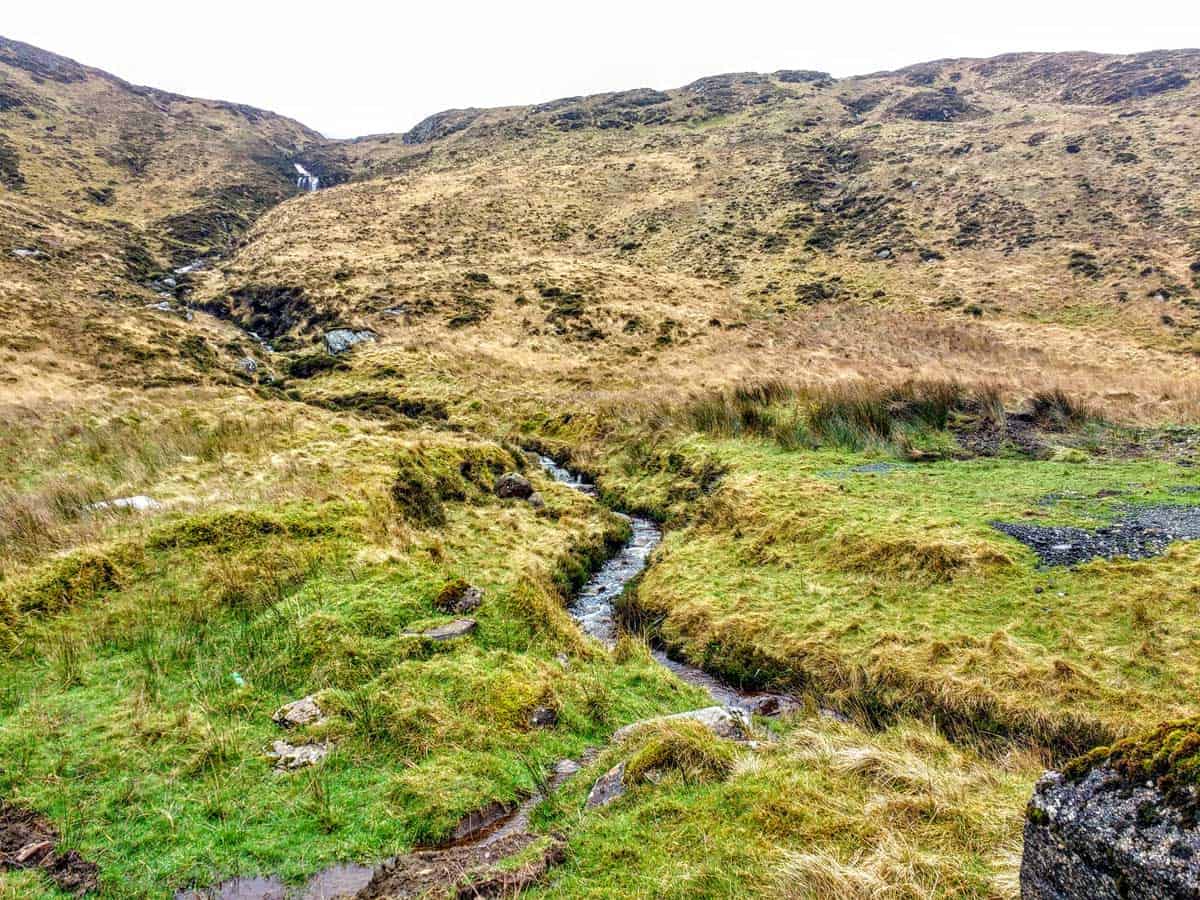 The Garden Trail at Glenveagh National Park is a well-marked route and takes you around the magnificent gardens of
Glenveagh Castle. The walk is around an hour via a gravel pathway. It is wheelchair accessible but there are some steep areas.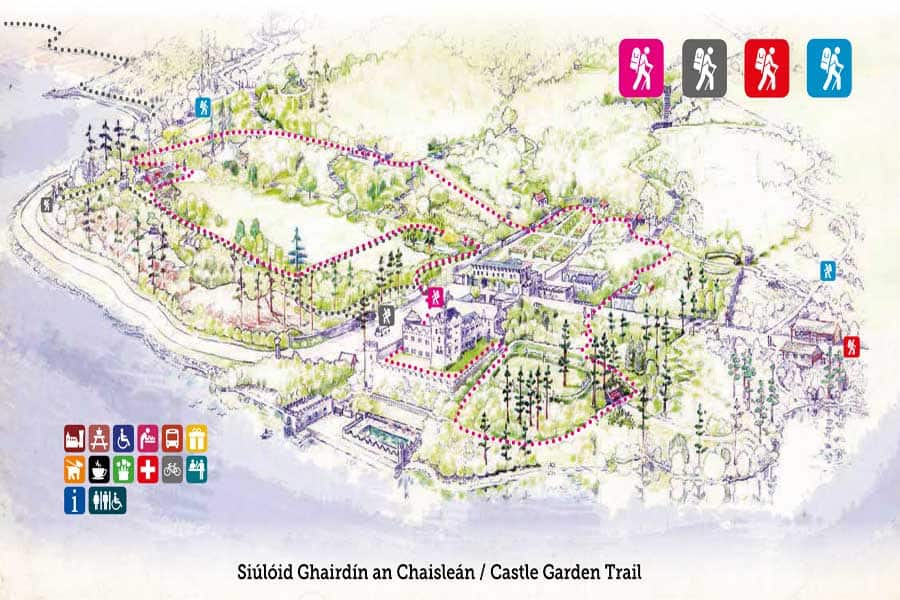 The ViewPoint Trail is a short walk and it leads to a viewing point with incredible views of the rugged landscape below. The walk is around 1.5 km and takes around an hour or so. The gravel surface is pretty good although it can be bloody steep in places.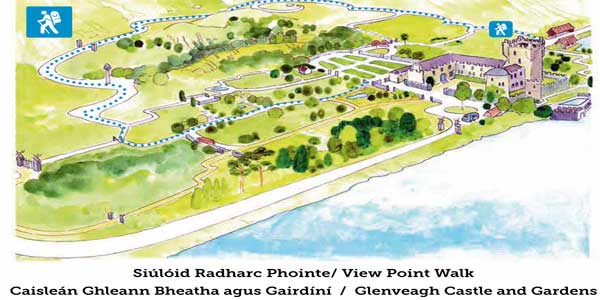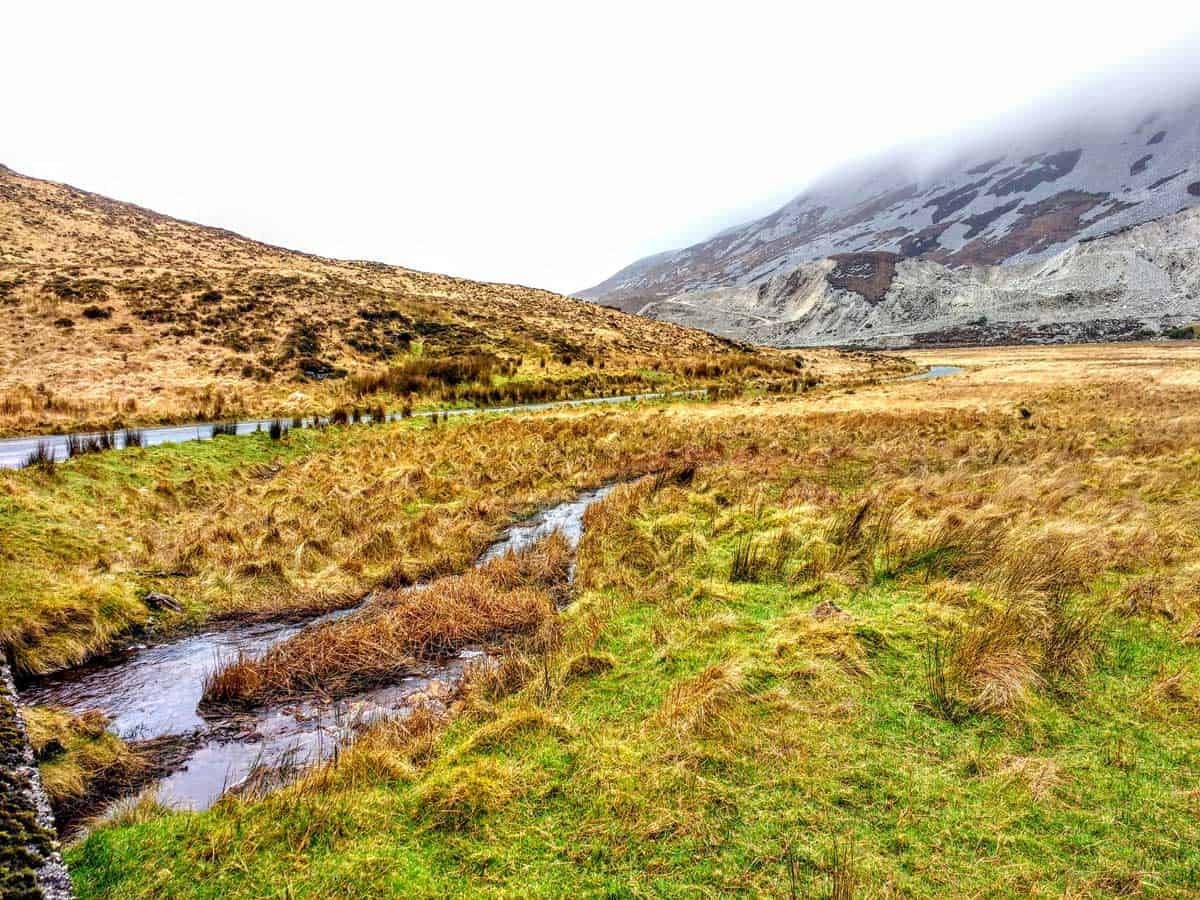 The Glen or Bridle Path Walk is not a looped walk so you can arrange a pick up by the Walkers Bus. This walk is around 8km and takes approximately 2 hours or more. It rises pretty gently towards the end of the walk. Along the walk, you will see the old derelict settlement and stands of oaks with outstanding views of Lough Veagh.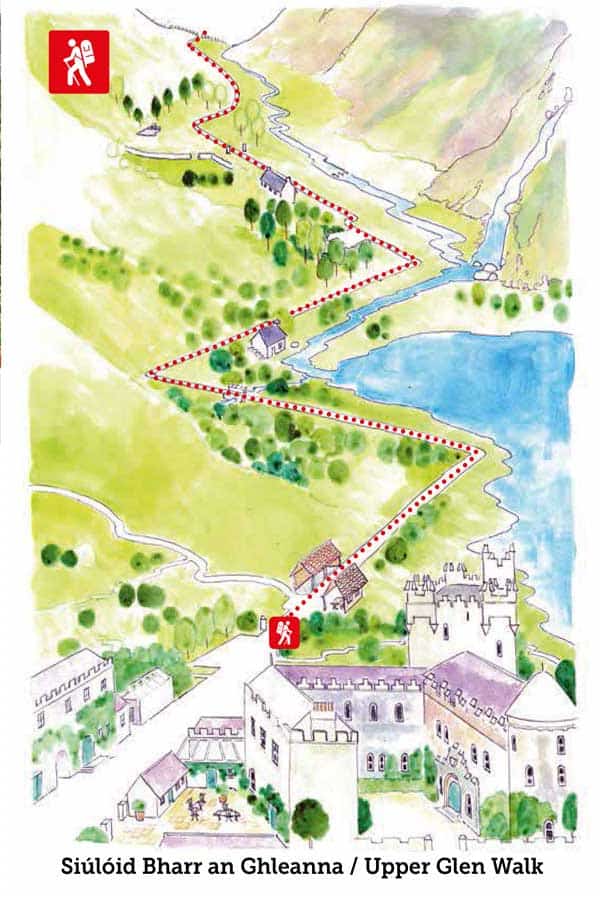 The Lough Inshagh Walk is another non-looped walk so not only do you walk for an hour around the km you must walk back or arrange a car pick up at Gartan where the walk ends. This path used to connect Glenveagh Castle to the village of Church Hill. It is a supremely peaceful walk and you may be lucky to spot some red deer on the path. The wild landscape takes you past the bogs and you may see some Golden Eagles and Ravens. You will end up at St. Colmcille's birthplace in Gartan.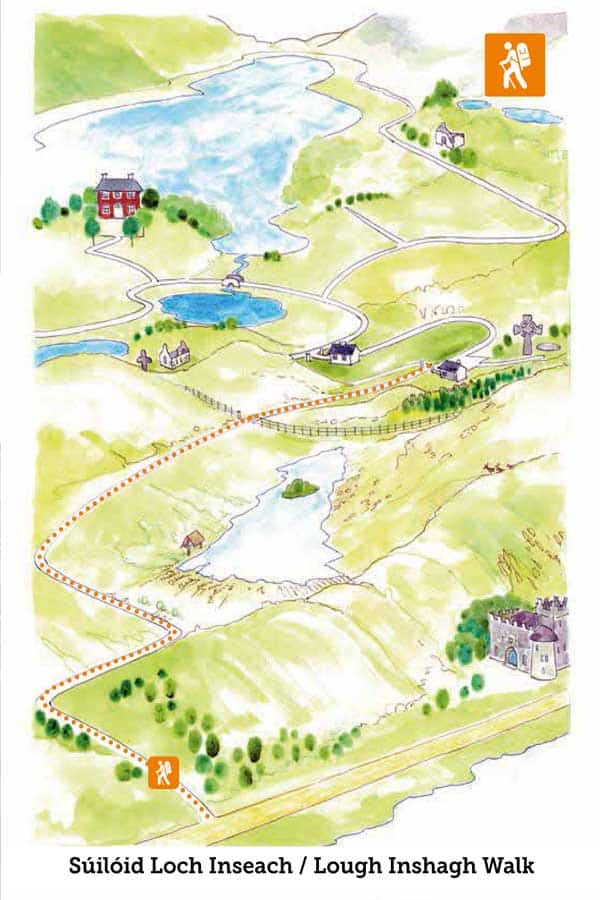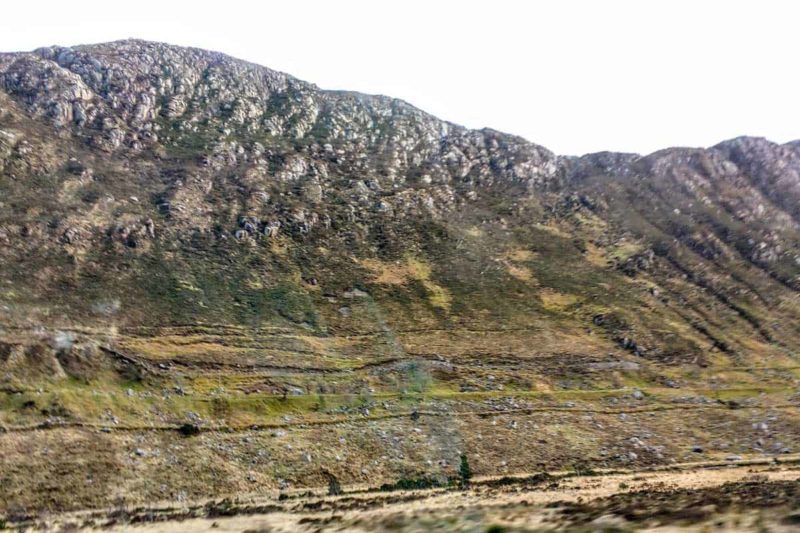 Glenveagh national park castle
Glenveagh Castle tickets
Adult Castle Ticket €7.00
Concession Castle Ticket €5.00
Family Castle Ticket €15.00
Bus to Castle: Euro 2.00 Euro per adult.
65 years & over, a student with a valid student card & children over the age of six years
Castle Tours will be limited during the off-peak and busy season
The last tour of the castle is at 4.30 pm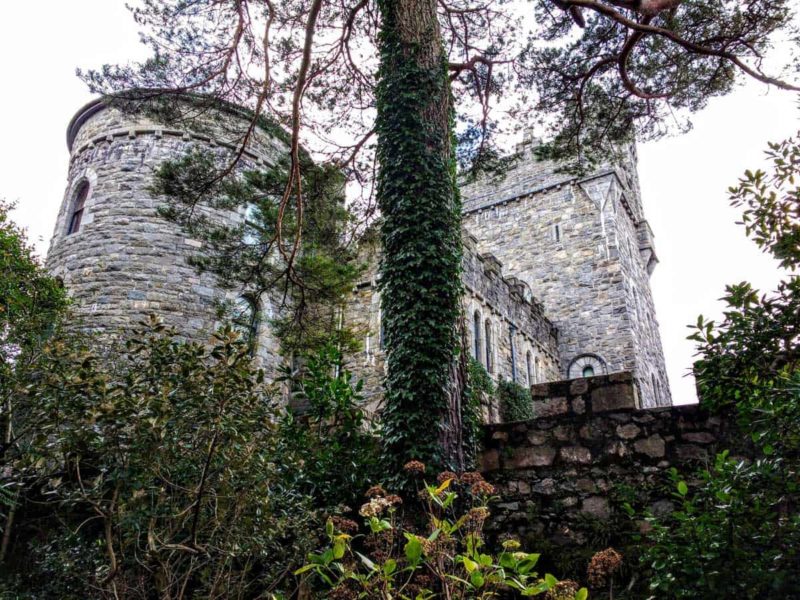 Glenveagh Castle History
Glenveagh has a dark history in its stones that isn't talked about when you take the tour of the castle, but in the area, legend has it that the place is haunted.
The builder, John George Adair, of Glenveagh Castle was considered minor gentry who had done very well for himself and ended up marrying an American heiress. The castle was built in the 19th century and designed to look like Balmoral, Queen Victoria's favourite castle in Scotland.
Adair's first glimpse of the Glenveagh loch and valley was blown away by the site and he was "enchanted by the surpassing beauty of the scenery". So Adair bought several tracts, land, formed the estate, and brought his new bride Cornelia Wadsworth of New York to live at Glenveagh.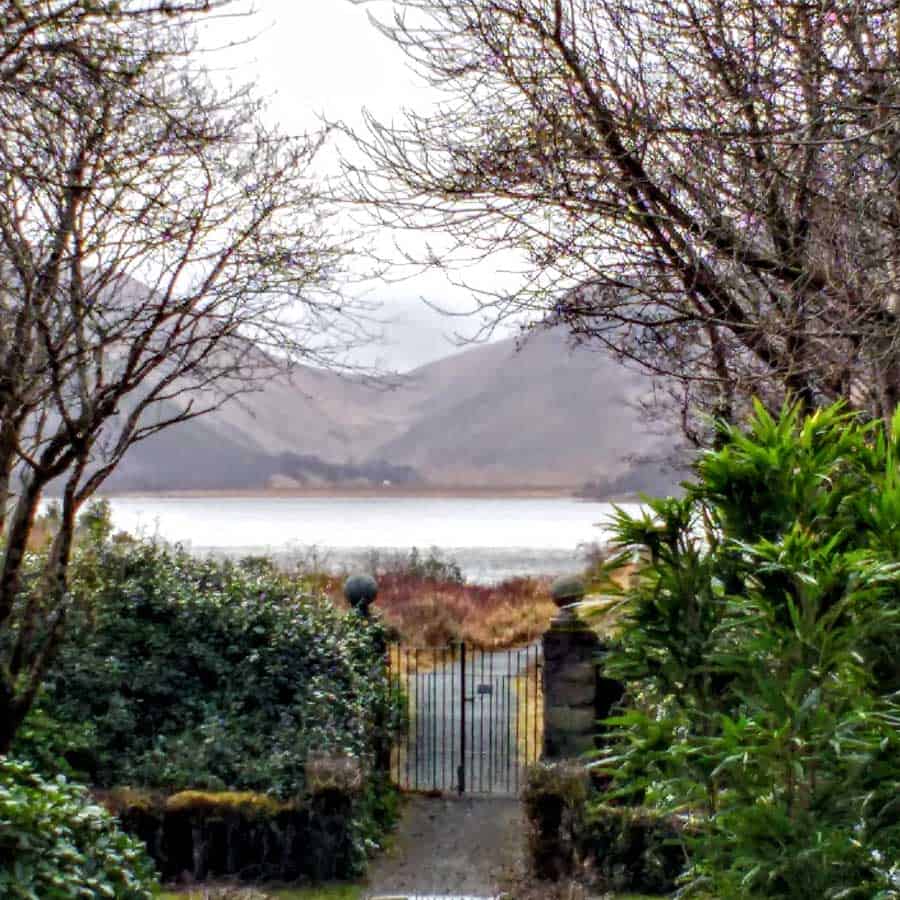 During the building of the castle in 1861, John Adair decided to clear the land of its tenants. Nobody is sure why he suddenly decided upon this action. Stories have it that it may have been the murder of his steward James Murray or an incident that took place with the tenants. Apparently, while hunting one day Adair was surrounded and intimidated by his tenants. This was not due to the great Irish Famine but happened many years later. Whatever the reason a nasty, bitter eviction took place in which 244, men, women and children were forcibly evicted from their homes and left to fend for themselves.
As a result of this horrendous eviction the Donegal Relief Committee was formed and they paid for passage for any person evicted, (who wanted to go) to Australia where they were given plots of land to farm.
In 1873, the castle was complete but the couple spent more and more time in America. In 1885, on the way back to Ireland from Texas, Adair died suddenly in St.Louis, Missouri.
Cornelia, John Adair's widow was a much kinder landlord and was known to be very generous with the poor of the area. Cornelia added a round tower and a new wing to the castle as well as beginning the development of the gardens. She added what were known as "Pleasure Grounds," in Victorian times and these were quite separate from the kitchen gardens.
During the first World War, Cornelia opened the castle up to house and shelter wounded Belgian soldiers and continued to live in the castle herself until 1916.
In 1929, the Castle was sold to Arthur Kingsley Porter, a Harvard professor of Fine Arts. Porter came to Glenveagh to study Irish archaeology and culture. He and his wife Lucy moved among the wealthy art and literary cliques of their day and entertained them royally at Glenveagh.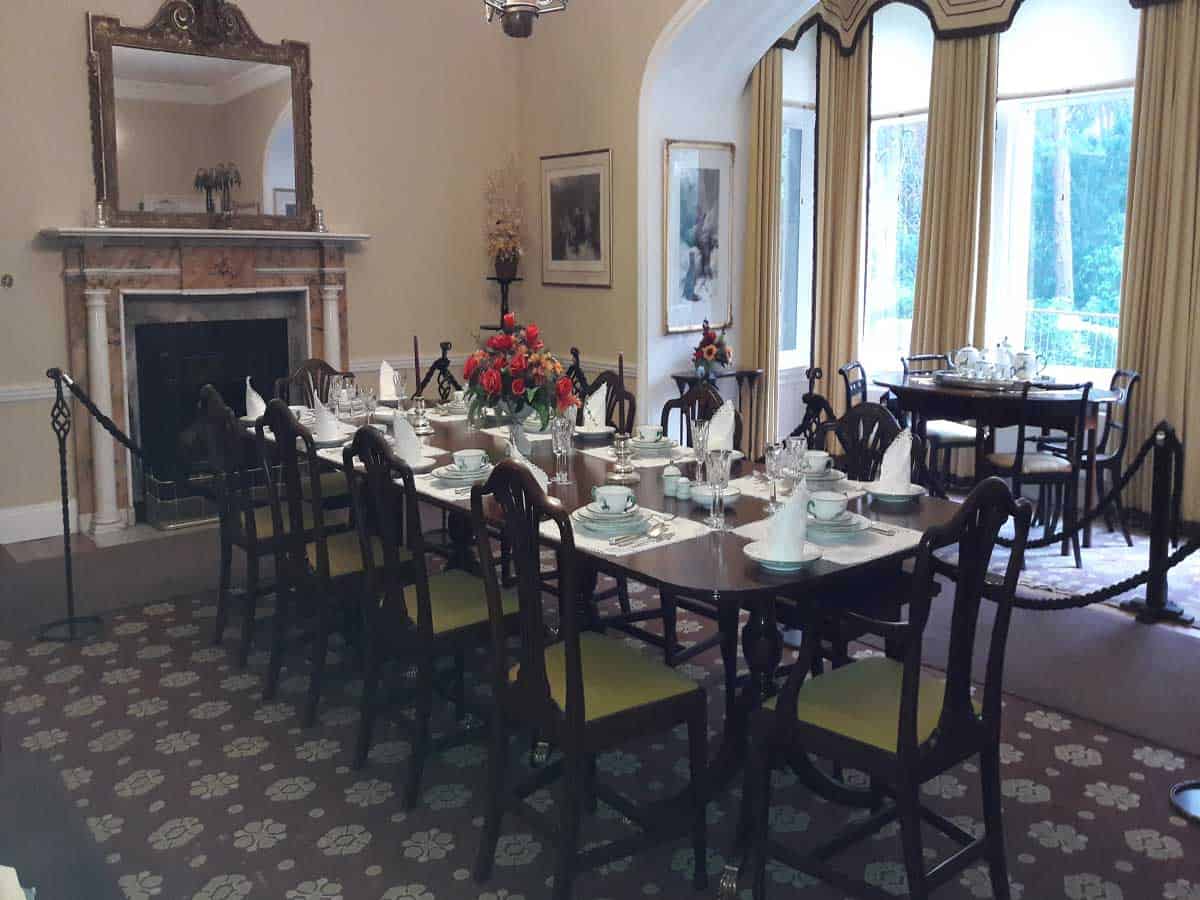 Unfortunately in 1933 while visiting Inishbofin Island Porter went for a walk and never returned. His wife leased the castle to Mrs McIlhinny from Philadelphia and her son Henry and returned home to America. In 1936, Henry who loved Glenveagh returned to Ireland and bought the estate.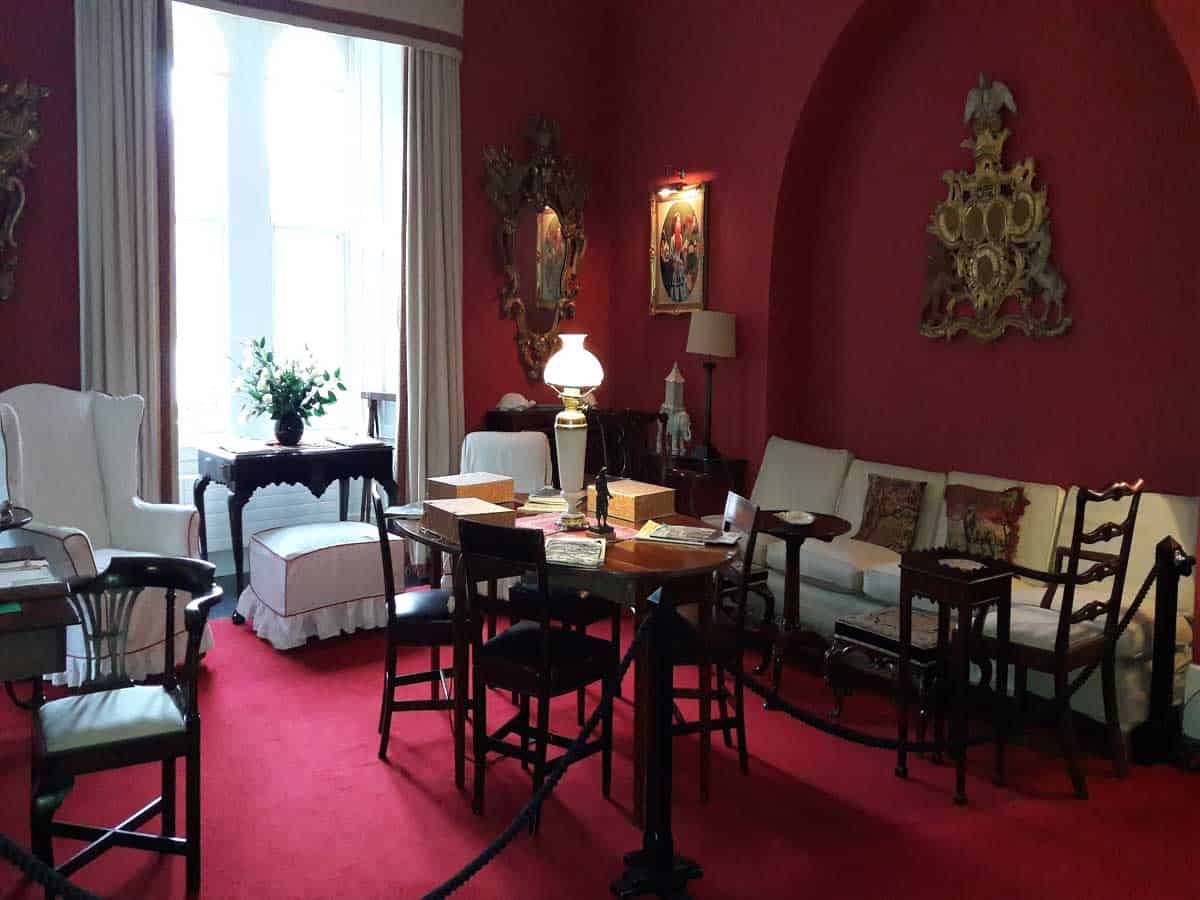 The McIlhinny family is quite famous in the US for both the invention of the gas meter and Tabasco sauce.
Henry McIlhenny loved a party and invited many a celebrity to come and stay at the castle. Guests included Greta Garbo, Marilyn Monroe, Rosemary Clooney, Yehudi Menuhin, and many more.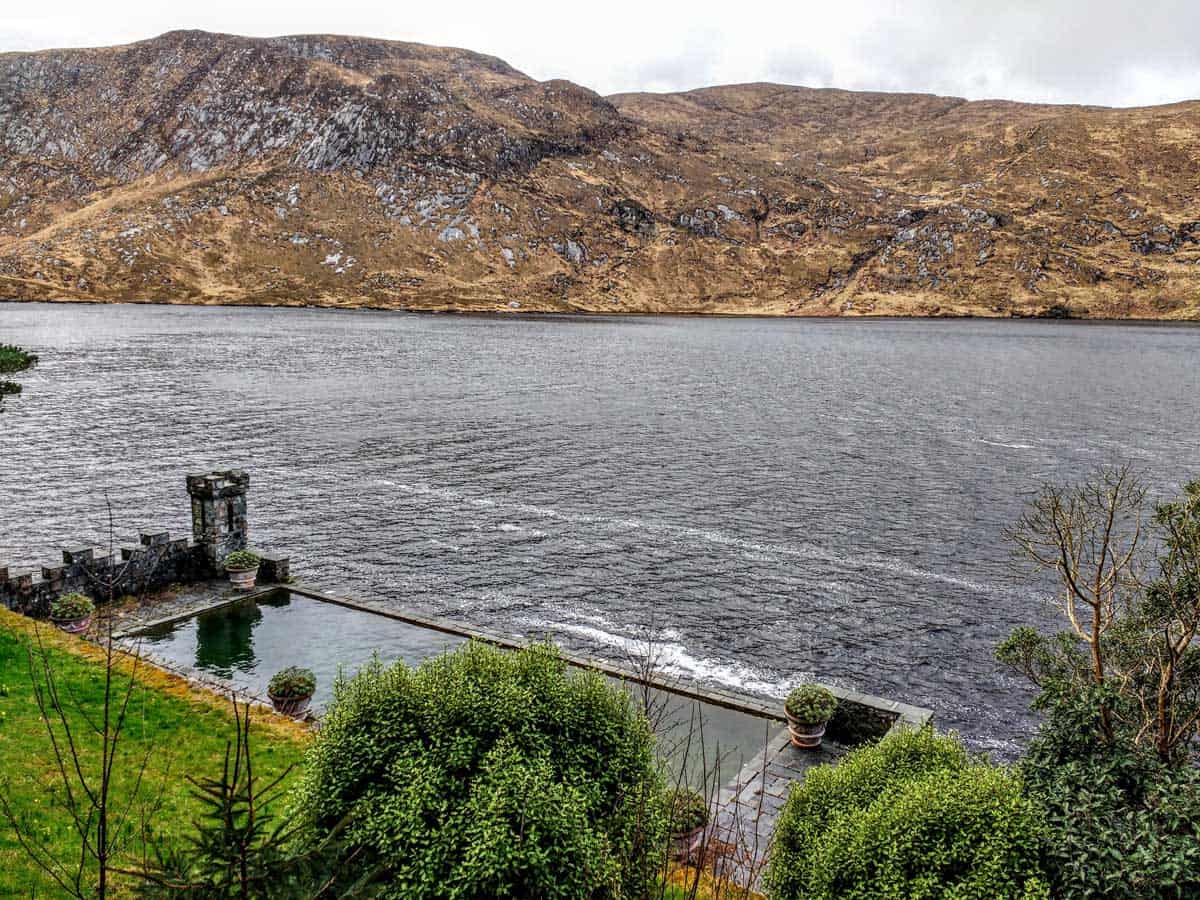 It was a lavish lifestyle and McIlhenny was said to be a "very kind" employer. There were 12 indoor staff, 8 gardeners, chauffeurs, and kitchen staff all to take care of the many guests. The swimming pool was heated, extravagant parties were held and the guests spent their days having picnics, deer-hunting sessions, afternoon teas and very formal dinners with live entertainment and dancing. Jazz king George Melly and English artist Derek Hill were just some of Glenveagh's guests.
Marylin Monroe and other famous Hollywood celebrities partied at Glenveagh Castle and swam in the pool at the edge of the loch. Henry brought about a glorious return to the "big house" lifestyle with picnics, deer-hunting parties, afternoon teas and formal dinners.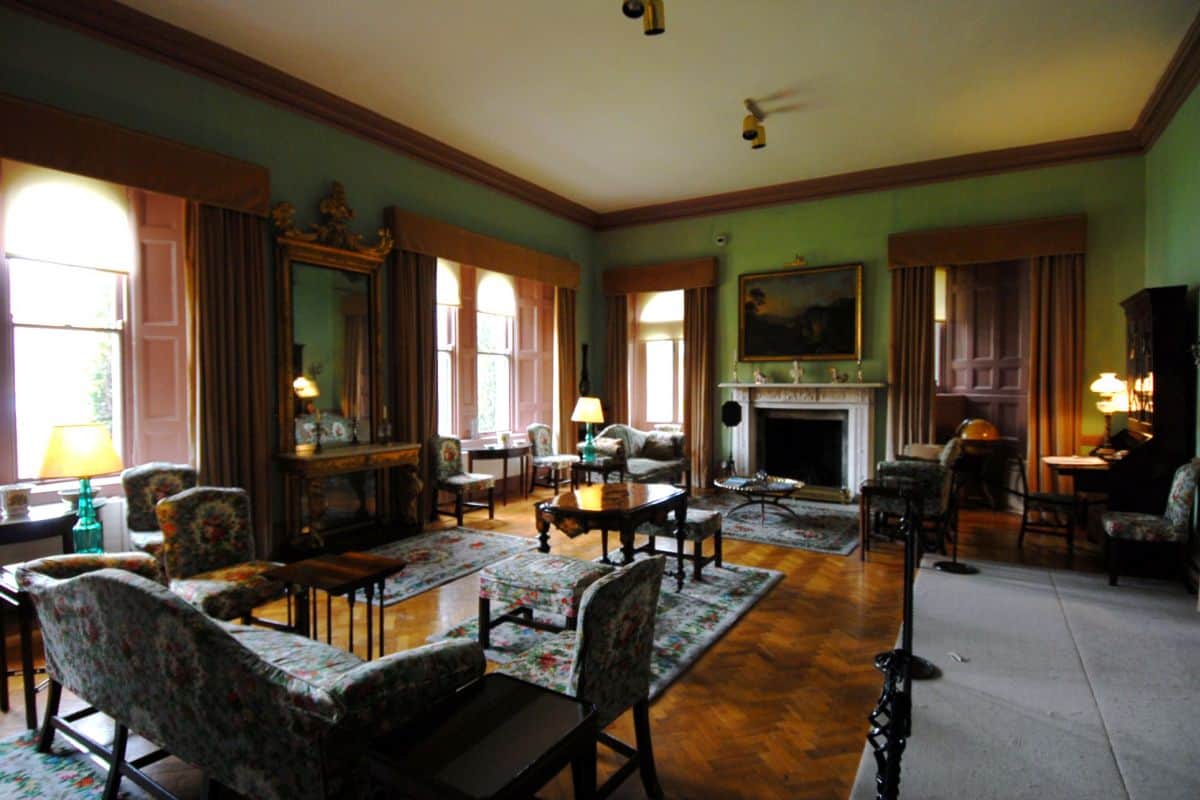 The estate was of course set in an absolutely stunning landscape of mountains and rugged boglands. Henry not only restored the estate but he took great pleasure in developing the gardens.
The Glenveagh Gardens
Henry hired the famous garden designer Lanning Roper from New Jersey and brought him to Ireland to work with the English nurseryman James Russell to create a unique garden oasis. Plants were brought in from the four corners of the world, South America, Tasmania and China.
They added an incredible formal Italian Garden with beautiful statuary, a second walled garden and a neo-gothic conservatory.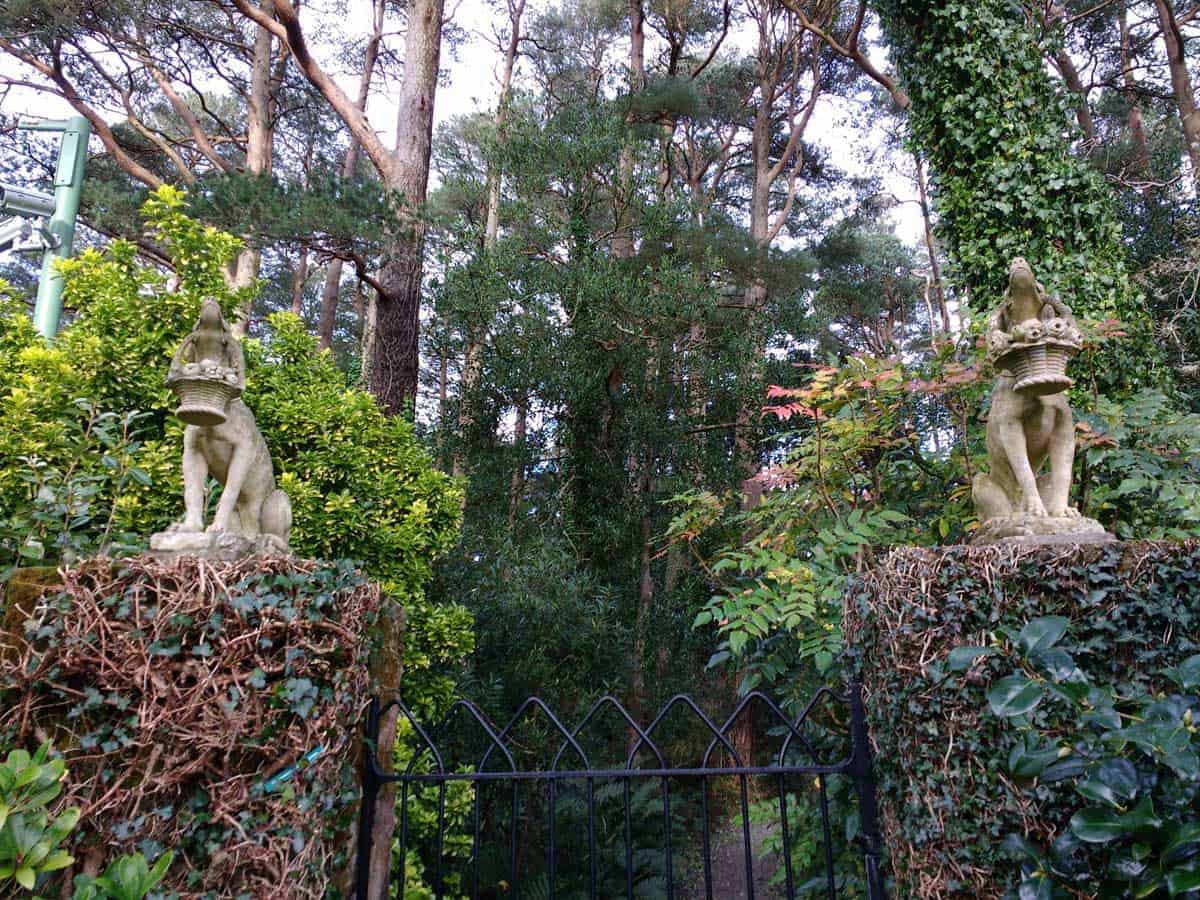 The castle's interior is also remarkable. Each room is designed specifically for a particular function. There is an elegant dining room with all the dishes and tableware designed for the room and some outstanding Landseer paintings. The music room has an antique Irish harp, the library with shelves upon shelves of books.
The Blue Room is American styled furniture of soft pale oak and satinwood, which was purchased by Cornelia Adair. You can take the guided tour of the castle, which costs 7 Euros per adult and is well worth the price. After the tour, you can wander the gardens and take a walk down to the Loch to admire the pool once used by Marilyn Monroe.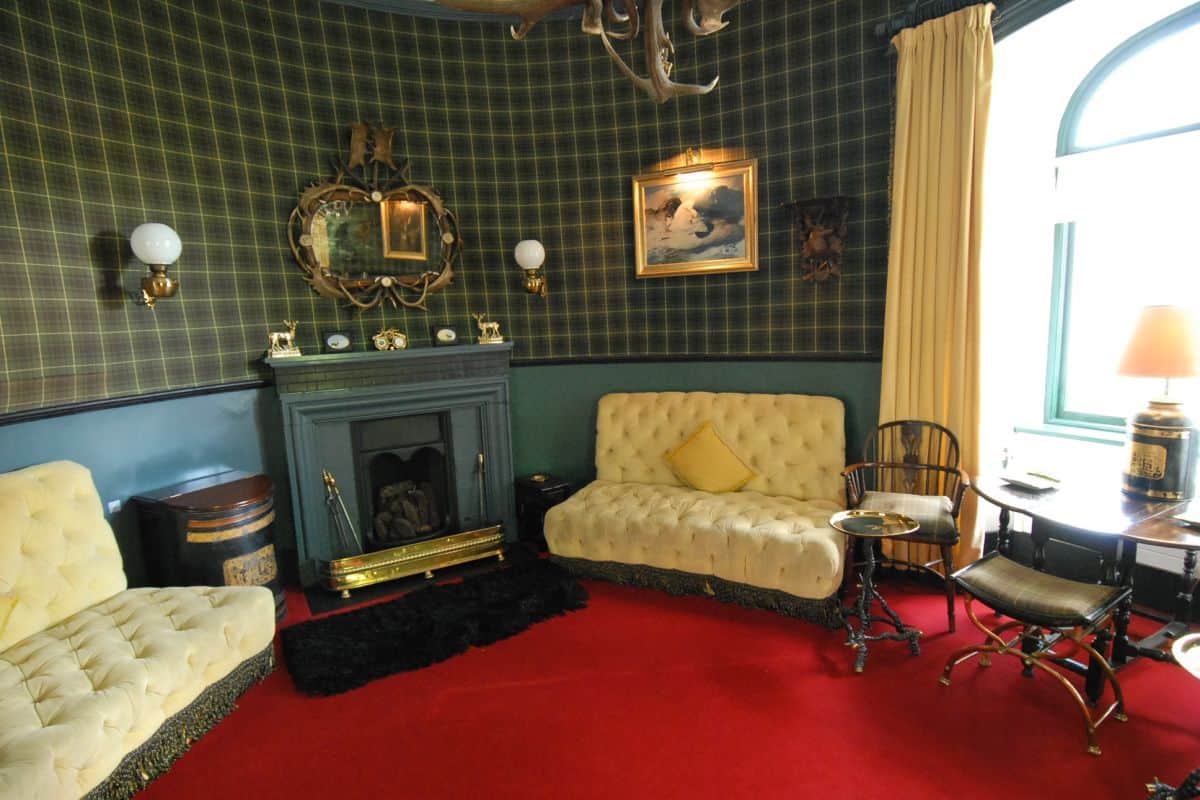 In 1975, Henry sold the Glenveagh Castle estate to the Irish government, who then created the Glenveagh National Park. In 1983, Glenveagh Castle was given to the country and became part of the park. In 1986, Henry moved back to the USA where he passed away and the Irish government opened Glenveagh castle to the world.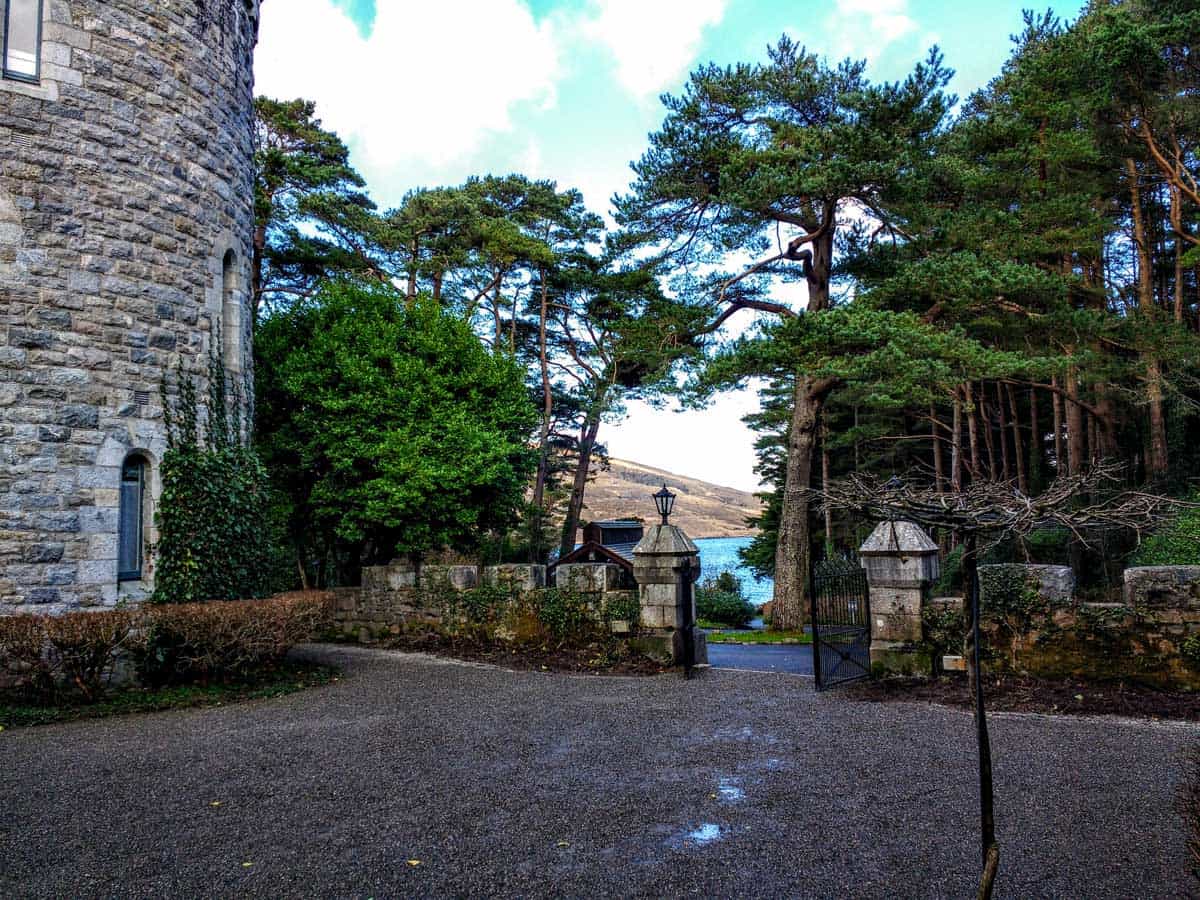 There's a lovely little tearoom called the Thyme Out Cafe right beside the Glenveagh Castle. Sit down take a break and just admire the view with some traditional Irish dishes and a cup of tea.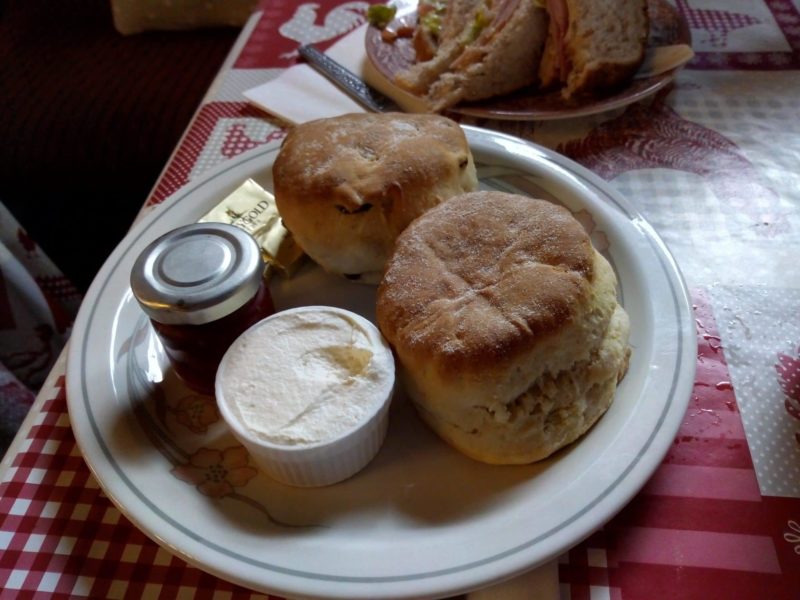 Have you managed a visit to Glenveagh National park and Glenveagh Castle? What was your favourite part?
When you visit Ireland you may want to know what to pack personal experience tells me that I need a carry-on bag with those twisty wheels that go in all directions and has both carrying handles and a pull-out drag bar thingy. I want sturdy fabric, preferably in a day-glow colour so I can see the damn thing if I do have to check it. I also want soft sides that give a little – just in case. My recommended one? Well, I pick the azure blue TravelproTravelpro Maxlite 5 19″ Expandable International Carry-On Spinner. I know it's a mouthful but a great case.
Now this one may seem a little odd but I see a lot of N. Americans complaining on the Irish forums that most hotels and B&B's don't have washcloths. Well, that's true I mean after all who wants to use a used washcloth. Take your own these are great quick-drying washcloths that are reusable and environmentally friendly.
Now if you are really concerned about the whole liquid issue why not take solid shampoo bars and body wash bars. These products are paraben and SLS free, TSA approved (so to speak) perfume-free and chemical-free. That makes them very environmentally friendly and they are so easy to use.
Now you are going to need a 110v to 220v voltage converter so you can plug in hairdryers, phones, laptops or tablets and so on. My personal favourite and one that has lasted me 4 years is the Bestek Universal Travel Adapter.
Trust me on this one you will have more photos than you can store on either your phone or your camera and you don't want to be deleting any to take more before you get home.
This Ultra Scandisk chip will work under adverse weather conditions (we get a lot of those here) and keep your photos or drone footage totally safe. A flash drive for your Smart Phone or Android will also come in very handy.
Here in Ireland a Windproof Umbrella will save your hair and clothes and is a requirement. I really like this small portable travel umbrella. It's windproof, waterproof, and folds down super small and will fit into any purse or suitcase.
I never would have dreamed of bringing a flashlight with me to Ireland, but when it's dark here man it's freaking dark. So one night we wanted to go and see the Northern Lights up in Donegal but we didn't have a torch. Shopping for one here in Ireland became a journey to 5 stores and each one more expensive than the last. This torch is perfect it has 5 modes, is rechargeable, super lightweight and waterproof you couldn't ask for more.
you might also like
53 Ultimate tips for travel to Ireland Céad Míle Fáilte
101 Landmarks in Ireland to see
Ultimate Wild Atlantic Way Route
Ireland's Ancient East – an epic road trip