Experiences and gifts from Ireland
Do you have an Irish fan on your shopping list this holiday season? Or maybe it's you who is in love with Ireland. Perhaps you made a trip and forgot to pick up an Irish gift for yourself. Alternatively, maybe you just want to share your love of Ireland with some unique Irish gifts.
Xyuandbeyond is reader-supported. When you buy through links on our site, we may earn an affiliate commission. You can read my privacy policy here.
Many a time I've walked out of a store thinking should I or shouldn't I and every damn time I totally regret the fact that I didn't and spent the time dithering. I have decided from here on in if it is something, I am going to dither over then it's something worth buying. If I pick up a piece and think pretty but put it down and move on I know it's not for me. This is my little Irish Gift Shop, it's all the things I wish I had bought but didn't the first few times I went to Ireland.
If you are looking for Irish films to watch when you can't get to Ireland I have a great article with over 50 films and movies that were all actually filmed in Ireland and feature Irish stories. You can click here to go to the post and order the movies from Amazon.
These days I am much luckier I actually get to live here so it's all good and I can indulge my love of Celtic gifts all the time. How lucky can a girl get? So in case you want to share the Celtic gift love here is…my Irish Gifts Shop and Guide.
Irish Gift Experiences from Tinggly
I have recently heard of this amazing gift-giving experience called Tinggly and I have to admit to being a bit slow but it took me a moment to understand the concept. When I got it I thought it was a brilliant idea. Imagine not having to think about what to give someone – simply gift them with a gift box – and they get to choose the experience, amazing!
So the way it works is this. They like to say "give stories not stuff". So you head to their website and you will see a series of Tinggly Gift Boxes. You get to choose from a huge selection suitable for everyone and anyone on your gift list. There are Bucket List Gifts, Happy Birthday, Time Together, Dream Weddings, Best Balloon Rides, and many more there is a brilliant selection of gift boxes.
Once you have purchased your choice of gift boxes you then gift that to the person on your gift list. They can then go online to Tinggly and choose their very own personalized experience.
Do you see what I mean? These are definitely stories, not stuff. I can't think of a better gift idea for travellers. Tinggly's menu of choices covers literally hundreds of incredible experiences in over 100 countries. No-one will ever return this gift for a refund. Not only do they cover all kinds of experiences the person who receives the gift box has 24 months to choose their experience.
Gifts from Ireland
An absolute must-have is an Aran sweater made right here in Ireland. This is one I simply love. I like a long sweater with pockets and this one is so perfect it even has a hood so I can wear it under a good coat (the layers thing again ya know) and my head is warm. Best yet it comes in extra-large woo hoo. I do love the green (so Irish ya know) but it does come in a load of colours including (get this only the Irish) parsnip.
For the man in your life, I really like this cardigan sweater with a nice roll type collar and buttons. Like the ladies one, it's 100% merino wool. So soft and warm, and It comes in a nice deep charcoal colour and looks great dressed up or down.
For the little ones in your life this I cannot resist isn't it gorgeous. A lovely hooded jumper in Merino wool with buttons on the side so damn cute.
I love a brooch or a pin whatever you want to call it. I like to wear 5 or 6 on my jackets all together and I do love this Tara Brooch pin based The Tara brooch, a famous and beautiful brooch for all occasions. It is a Celtic Cloak brooch from 700 AD and can be seen in the National Museum of Ireland. Made from gold and silver it contains amber and glass beads.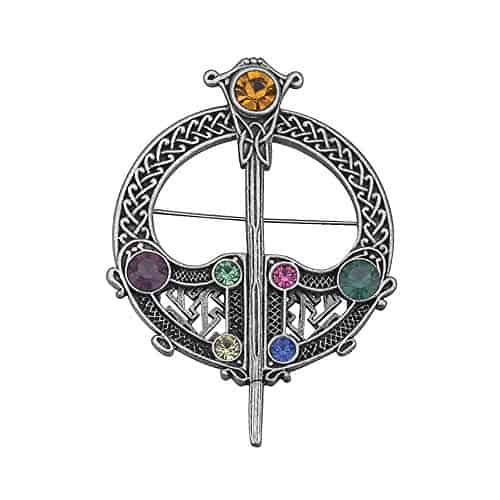 Every woman wants a Claddagh ring and this is one of the nicest ones you can get. It's 14k gold with a trinity band just gorgeous.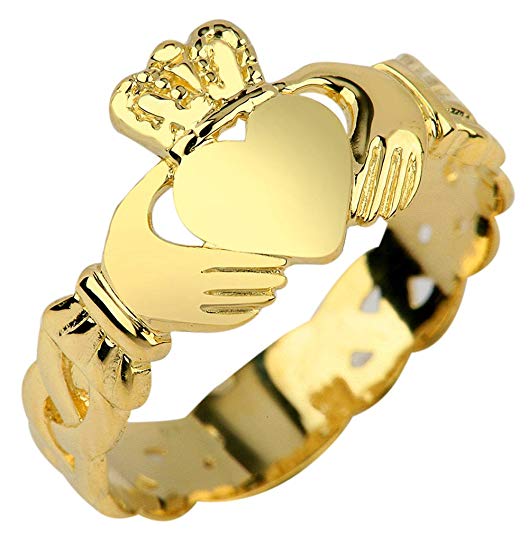 The first thing my hubs bought when we got to Ireland was a flat cap. Now there are two types of flat caps here. The first is the kind of flat cap you see in the TV show Peaky Blinders it's a softer cap with a bill that the top of the hat snaps to as seen here. This Biddy Murphy one is a true Donegal tweed cap that comes in 4 colours and has a nice warm quilted lining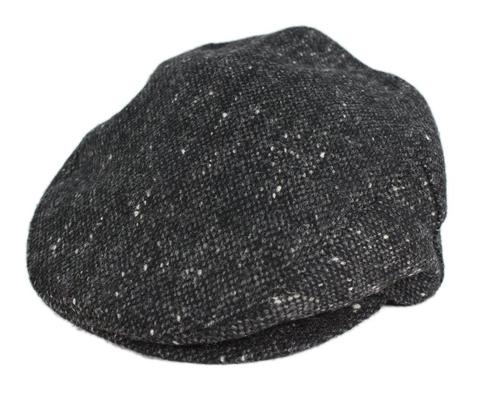 This green one is not as soft and squishy as the Peaky Blinders style but it's a firm more shaped flat cap and the green is just perfect it's also made from pure Donegal tweed.
My favourite door knocker we had one of these on our house for many years it's an Irish Claddagh Door Knocker in solid brass in the shape of the Claddagh. Very heavy and sturdy it includes the mounting scres and it is 5.2″ tall x 4.25″ side perfect for indoor or out.
Here's something so Irish you just can't turn it down, a subscription to Father Ted Ireland's best-loved priest and his antics. You can watch it for free with a Prime subscription because you get 30 days free.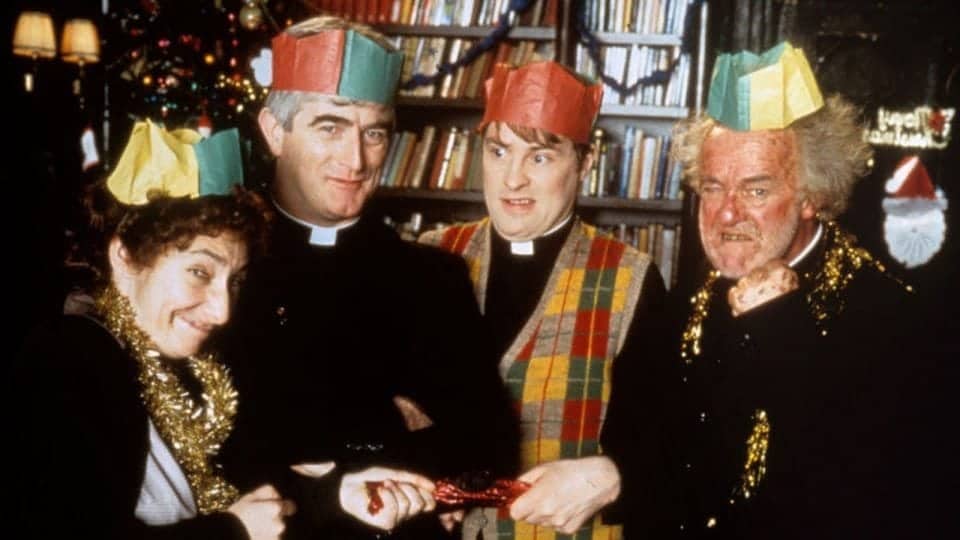 Now, this is absolutely beautiful and really hard to resist. It's called a wedding band but it is so beautiful I would wear it without the husband. It's a women's sterling silver Claddagh band and it's irresistible.
Now onto more musical things. Everybody knows the Irish love a good trad music night and there's nothing more trad than knowing the words to those ancient songs. Well here's The Big Book of Irish Songs that you can't pass by. It has over 70 songs with piano guitar and vocal arrangements. What a great way to learn all those old favourites before you hit the pub.
Fancy a traditional Irish Bodhran? This is a traditional 18″ in diameter Bodhran with a standard tipper and it can be ordered from Amazon and shipped all over the world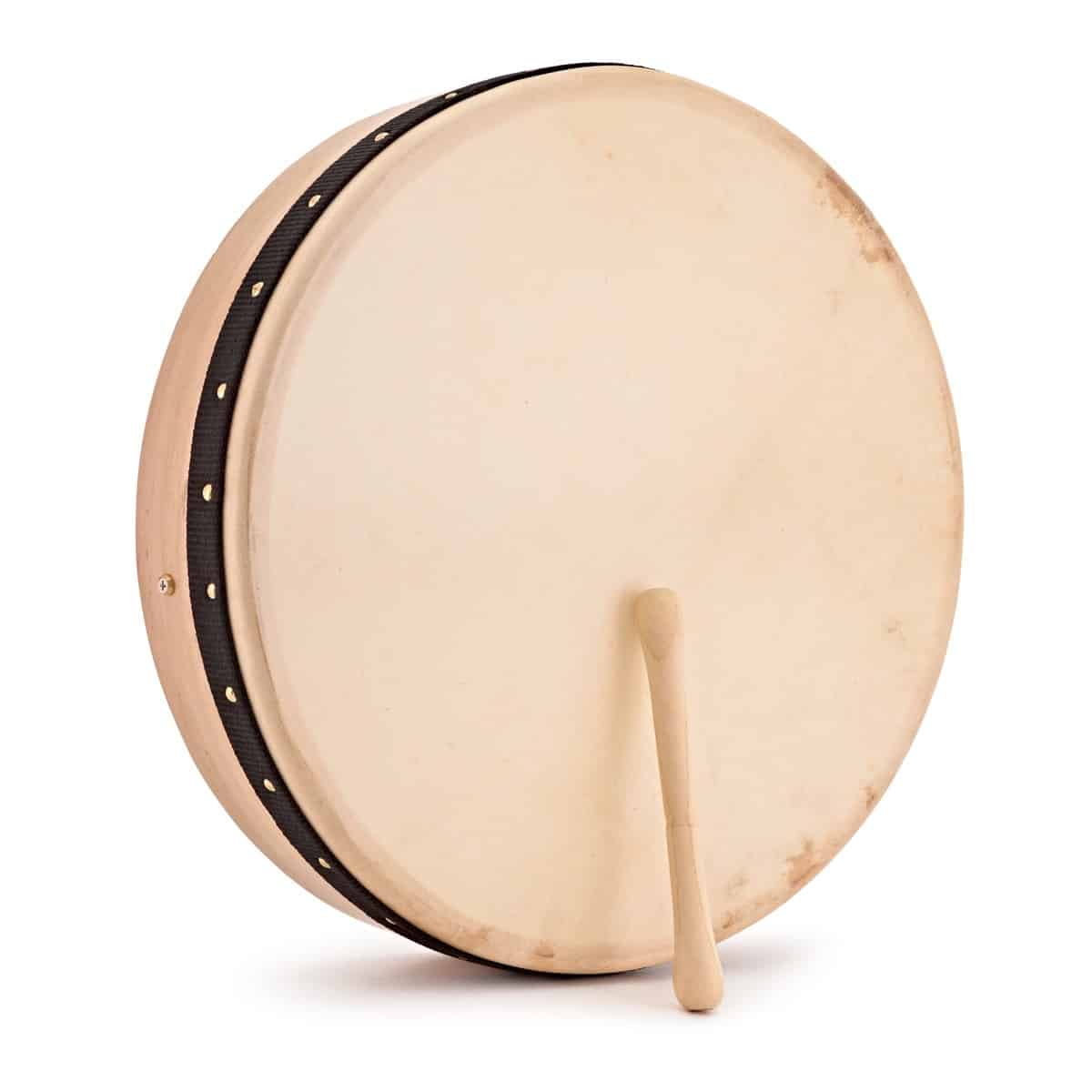 Everybody needs A Massive Book Full of Feckin' Irish Slang That's Great Craic for Any Shower of Savages. With this, you will know exactly what everyone is saying when you hit the pub. The craic will be mighty and you will be able to insult the Irish in terms they will understand, and you will be able to translate what is being said about yourself.
Making Sense of the Troubles: The Story of the Conflict in Northern Ireland is one of the best books written about the conflict between the North and South. Said to be "Compellingly written and even-handed in its judgments, this is by far the clearest account of what has happened through the years in the Northern Ireland conflict, and why. After a chapter of background on the period from 1921 to 1963, it covers the ensuing period—the descent into violence, the hunger strikes, the Anglo-Irish accord, the bombers in England—to the present shaky peace process. "
Ireland's favourite tea has always been Barry's and it can be ordered from Amazon right here.
Remember when you stopped in that beautiful Avoca store for a tour of the ancient mill and the weaving rooms. Like me, you didn't buy that soft as a down throw. and you left the shop glancing back thinking should I buy it shouldn't I buy it and you bloody well didn't. This is partly the reason I wrote this Irish gift guide, I wanted things that reminded me of Ireland and I do all this all the time I say no because I get cheap and then regret it later.
Yeah, me too so now guess what you can buy them online. This fabulous green and pink Avoca throw is 100% lambswool and it is to die for. Alternatively, how about this amazing purple and green cashmere throw, I can wrap myself up in it and it's perfect for a blingy night out or a peaceful night in by the fire. I adore Avoca products.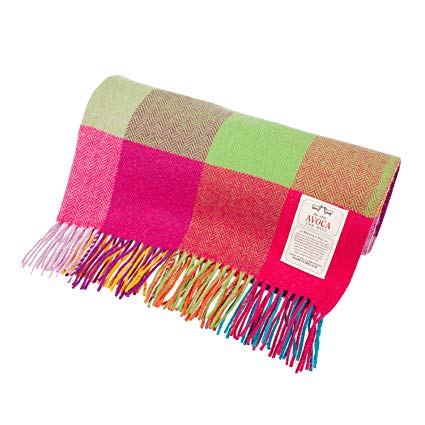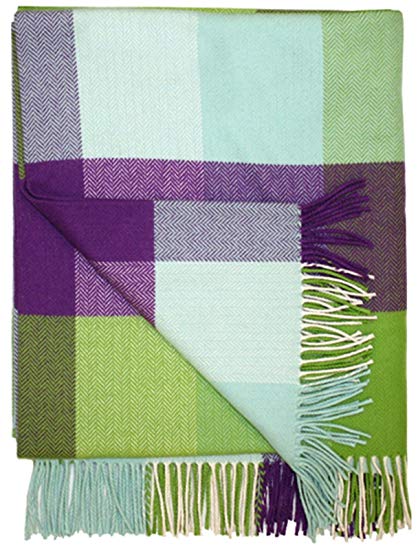 Darina Allen is Ireland's favourite chefs; she founded and runs the Ballymaloe School of Cooking that every foodie worth their Himalayan Pink Salt knows. If you want to surprise one with a fabulous cookbook from Ireland Darina's book Ballymaloe Cookery course is the one to buy. If you want more Irish cookbooks to choose from check out my other website and my favourite Irish cookbooks which you can order.
This Stunning Ireland Photography Book by one of Ireland's favourite photographers. Ireland a Luminous Beauty
Ireland's landscapes and scenery are stunning and this beautiful coffee table book is the perfect way to enjoy them and reflect back on your Irish memories.
Irish gifts from Etsy
A brilliant idea a Northern Ireland slang tea gift pack. This is basically up to 16 teabags packed in handcrafted paper envelopes and each one features a funny Northern Irish slang quote and their translations.
The teas are sourced from well known British tea companies and you have a number of different flavour options to choose from: English Breakfast tea, English Breakfast & Earl Grey, PG Tips, Tetley's Tea, or a selection of mixed flavours (which includes English Breakfast, Earl Grey, Darjeeling, Camomile, Rooibos, Indian Spice Chai, Mint (spearmint), Jasmine Green Tea, Cape Malay Chai, Pure Peppermint, Organic Green Tea and Honeybush).
Inside each envelope is a flavour card or flavour tag explaining which tea flavour it contains.
The Irish Abroad Letterbox Gift Box– Irish Gifts, Irish hamper from Etsy which includes
Mc Donalds Curry Sauce 82g
Erin Pepper sauce 23g
Dairymilk Bar large size 110g
6x Barry's Tea
Cadburys Chomp 23.5g
Cadburys Curly Wurly 26g
Cadburys Crunchie 26.1
Cadburys boost 34g
Cadburys Double-decker 40g
2x Cadbury snack packs 20g each
To remind you of just how incredible Donegal is a stunning painting of Portnoo and Narin. Two divine beaches on the Wild Atlantic Way, Donegal. Watercolour on birch plywood, not necessarily in need of a frame more a piece of driftwood to rest on.
This nutcracker is custom made for the lover's of the Irish; from her signature red curly hair to down to her black boots. she oozes the heritage of the Ireland. She is hand painted with a sparkly shamrock outfit, eye catching Irish top hat, and she's even holding a green beer!
Ornament created from bottle caps from various Irish beers. The perfect gift for the most difficult on your list. Each bottle cap is individually pressed and hammered to achieve just the right shape. The caps are bonded to each other to form the ornament so the inside is hollow. The finished product is more durable than a glass ornament. You won't find these anywhere else in the world. 10% of Kaps for Kids sales are donated to various children's charities.
From a brother and sister duo who left Enniskillen, Co. Fermanagh and who know the pain of living away from home comes a great website for sending Irish care packages. The pair are based in the USA and ship around the world from there. The Shop From over th'eire boxes range from $40 US to $60 US and in the USA there is free shipping. They are adding new boxes all the time and the lastest are some of the cutest gift boxes for furbabies around.
Cártaí Nollag as Gaeilge / Pack of 6, cute animal Christmas cards in Irish, Nollaig Shona, Merry Christmas in Irish. Each card is illustrated by the Irish artist and professionally printed, they are A6 size (10.5 cm x 14.8cm), and will arrive with red envelopes made from recycled paper, packaged safely for the post.
I love this made in Ireland and completely customizable this road sign is weatherproof and will take pride of place on your front door.
I've just ordered this Celtic Tree of Life journal which I love there's a key card inside each journal that will be your road map to discovering the deeper meaning of the art work . Approximately 150 sheets/(300/2 sides) of premium handmade pure linen/cotton parchment paper that can be used for water colors, fountain pens and just about every type of artistic media. It's 5 X 7 inches with brass latch.
I hope you can find some great Irish gifts in this article I can't recommend Etsy enough for some truly unique gifts. You can find Christmas ornaments, t-shirts, paintings and Irish gifts for weddings, baptisms and birthdays.
If you are planning a trip to Northern Ireland and the UK you should join English heritage as you can use your membership for many sites in N. Ireland.
Pin it to save it