Cliffs of Slieve League the magnificent sea cliffs of Donegal
Updated with new information about shuttles and parking 2023
The Slieve League cliffs of Donegal (also known in Gaelic as Sliabh Liag which means grey mountain) are the ultimate virtually tourist-free cliffs to visit, hike and walk in Ireland.
Slieve League is located on the Wild Atlantic Way route in the Gaeltacht region of County Donegal, Ireland. The Slieve League Donegal cliffs are the highest accessible sea cliffs in Europe. The panoramic views across the water over Donegal Bay, into Leitrim, Sligo and Mayo are breathtaking.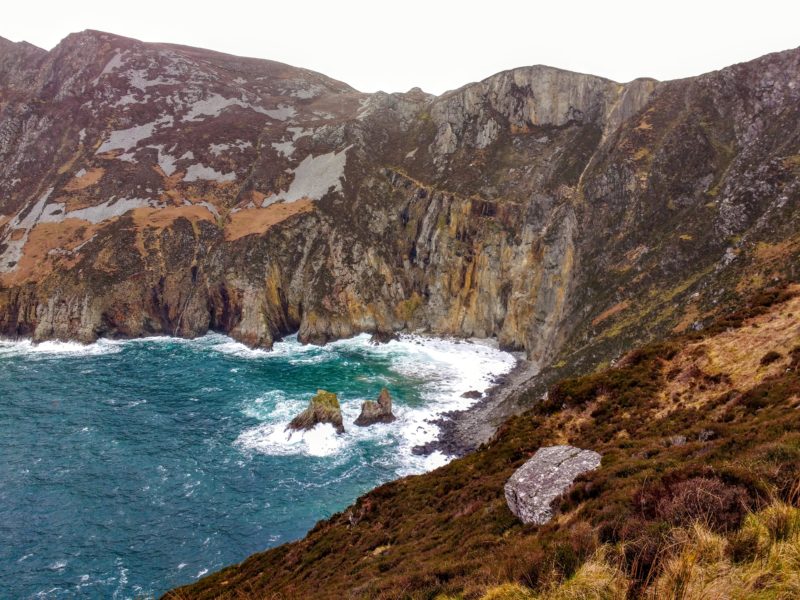 You can feel the raw Atlantic winds battering you when visiting on clear bright winter days and in the summer and spring, the scent of the ocean makes you realize the fumes you inhale in the cities. That unidentifiable smell of Donegal that's a mixture of salt, the ocean, greenery and turf become addictive.
Slieve League is located less than an hour from where I live in Donegal. It's a trip we make often just to enjoy the stunning views and feel a sense of peace and solitude. This is probably why Slieve League was a place of sacred pilgrimage hundreds of years ago. Slieve League makes the perfect stop on a road trip to the Inishowen Peninsula.
Planning a dream trip to Ireland? Everything you need to know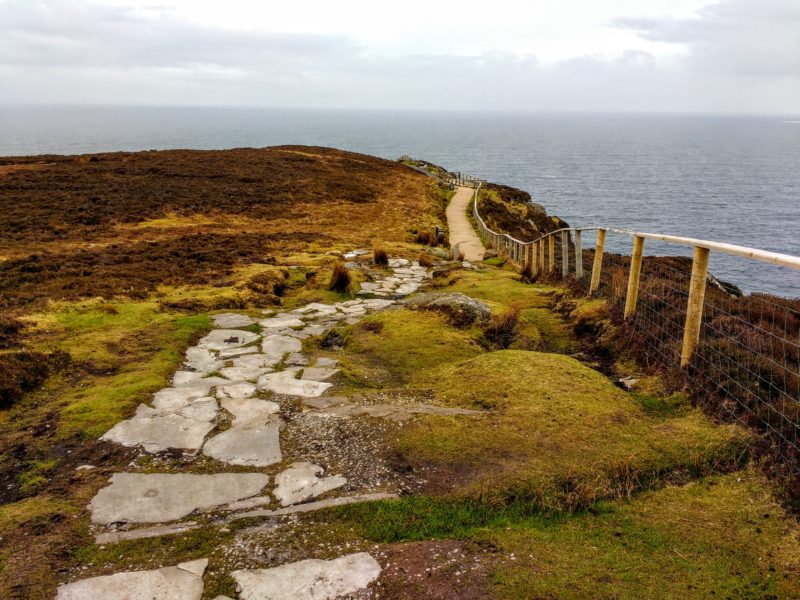 Xyuandbeyond is reader-supported. When you buy through links on our site, we may earn an affiliate commission. You can read my privacy policy here.
Slieve League vs Cliffs of Moher
Most folks when they come to Ireland have the Cliffs of Moher on their bucket lists and while I can attest to their beauty there is nothing like Slieve League. At Slieve League, there are virtually no tourists and the land and outlook remain pristine. There are no youngsters hanging off the cliffs putting their lives at risk to get stupid selfies just the howling winds and a few others trekking the viewpoint.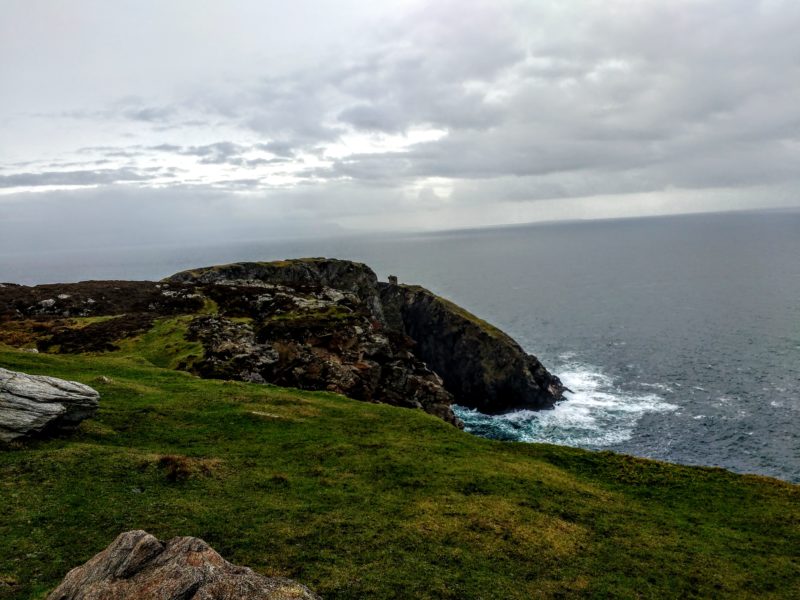 Slieve League is also free of charge, unlike the Cliffs of Moher where you have to park and pay in the giant parking lot (if you can get a space) and trek across the road to the Visitor's Centre. The Cliffs of Moher are always mobbed and no matter the season there will be hundreds of tourists visiting. At Slieve League, there are days when you can head up there and no one is around – now that is outstanding.
Essential guide to renting a car in Ireland
History at Slieve League
Although Ireland did not fight during WWII (they declared themselves neutral) many in Ireland did volunteer and during the war, Ireland had several agreements with the Allied Forces. Slieve League cliffs in Donegal were traversed by planes during the war and an agreement was made to make the airspace safe.
One of those agreements created the Donegal Corridor which was a narrow strip of airspace that allowed the allies to fly over Ireland. There were a few crashes during those years the most well-known of which is a Canadian plane that crashed in Tullan Strand killing all on board.
At that time Ireland placed the word Éire on certain headlands so that the pilots could locate the Island. was placed in stone on headlands around Donegal (you can see another at Malin Head), to act as a navigation aid for those flying above.
These EIRE signs were also to alert German Pilots and crew who had overflown the UK and were running out of fuel, to ditch and parachute to safety. Many airmen lived at the Curragh Camp. They were allowed freedom during the day, eg. they often cycled the lanes and roads to enjoy the peace and quiet and then returned to the Curragh Camp for their curfew hour.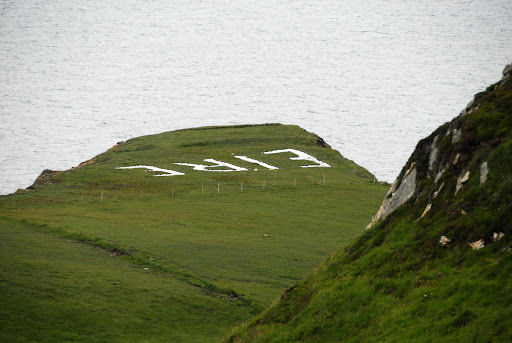 There are 11 Eire signs in Donegal and you can still see the remains of the sign at Slieve League next to the viewing point. There were originally 2 signs here but the viewpoint carpark was built over one of them. The remaining sign is quite indistinct and hard to make out.
Slieve League Cliffs Faqs
How high are The Sliabh Liag Cliffs? The Cliffs reach a height of 1,972 feet/601 meters which makes them nearly 3 times higher than the Cliffs of Moher and twice the height of the Eiffel Tower in Paris. The natural biodiversity of flora and fauna found here on the Cliffs is breathtaking.
How long is the Slieve League walk distance? The actual trail up to the Cliffs is 2.8 kilometres.
How long does it take to climb Slieve League? If you are hiking the Pilgrim's Path from Teelin the hike will take you around 5 hours.
What is the nearest town to Slieve League? The three destinations nearest to the Slieve League cliffs are Killybegs, Donegal Town and Ardara.
Is Slieve League hard to climb? The walk up to the viewing point will take about an hour and a half each way, there are shuttle buses during the season to save you walking.
What are the Slieve League parking charges? Sadly it used to be free to park at the Cliffs but new charges have come into effect. The charges are set to vary from €2 to €5 per hour to between €10 and €15 per day. Annual passes will also be available to purchase.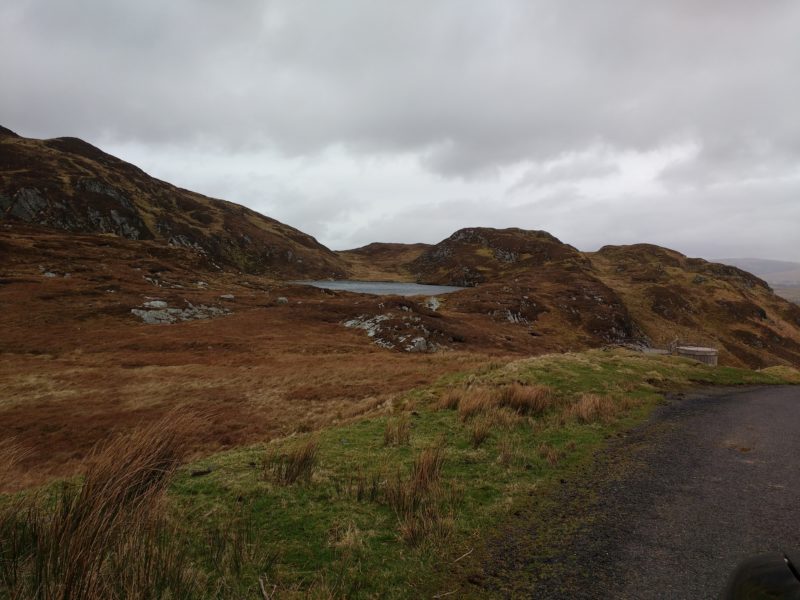 How to get to Slieve League
Slieve League is in South West Donegal which is about a 4-hour drive from Dublin, or 3 from Belfast, or Galway. The cliffs are found just outside Teelin which is located on Donegal Bay the drive from Killybegs to Slieve League is about 22 kilometres from Killybegs and around an hour or so drive from Donegal Town.
There is no public transport to the Slieve League Cliffs but there are several tour companies that will take you to the cliffs. However, Slieve League Tours situated in Teelin offers a special service to individuals and to groups of all sizes who wish to see the cliffs, as access to the cliffs is unsuitable for coaches. They run a guided shuttle service to the Slieve league viewing point from the coach/car park at the Slieve League Cultural Centre and from the village of Carrick.
Donegal tours also run a tour to Slieve League by coach from Letterkenny and Donegal Town. This tour takes in Muckross Head, as well as Glencolmcille Folk village and the Cliffs.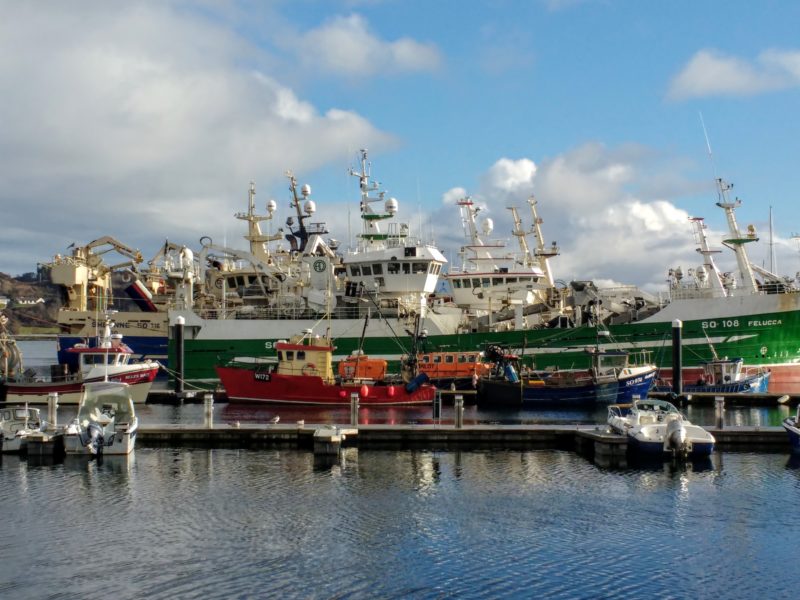 If you are driving from Donegal Town the way to Killybegs is signposted on the road which is the N56. From Killybegs, you can stop at Largy Point were you will find Donegal's, Secret Waterfall. You will see the signs to Slieve League and on the way you will pass the Rusty Mackerel which is a brilliant place for lunch or a rest stop.
From Bruckless which is just before Killybegs, the N56 turns into the R263 follow this road all the way to Carrick (which by the way is where Sarah Jessica Parker and her family come to stay in Donegal). From Carrick drive to Teelin where you will see the road signs to Bunglas Road and the Slieve League Cliffs.
Ultimate Ireland Road Trip Itinerary in 14 days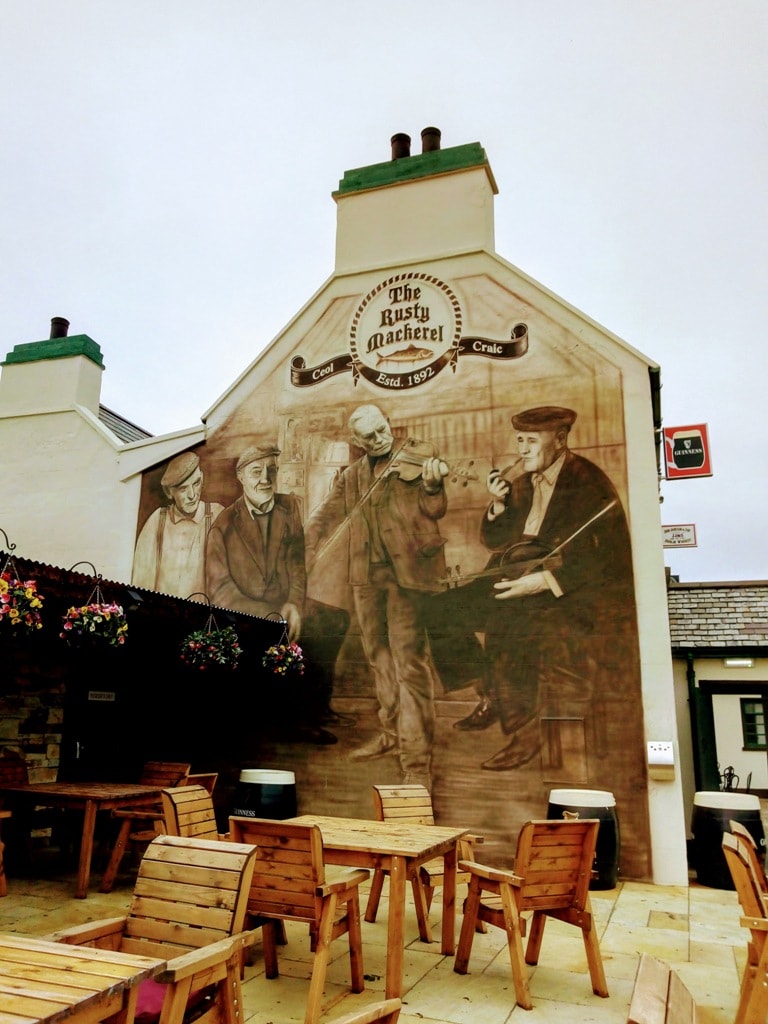 If you pass the Rusty Mackerel on your left you have missed the road to Slieve League and will end up at Teelin Harbour which is a great place to stop for a boat road to Slieve League.
If you are watching carefully you may spot the new Slieve League cliffs centre on your right-hand side. It's set back of the road with a large Slieve League car park and will feature bus tours up to Slieve League, it makes a pit stop where you can access some facilities and information on Slieve League.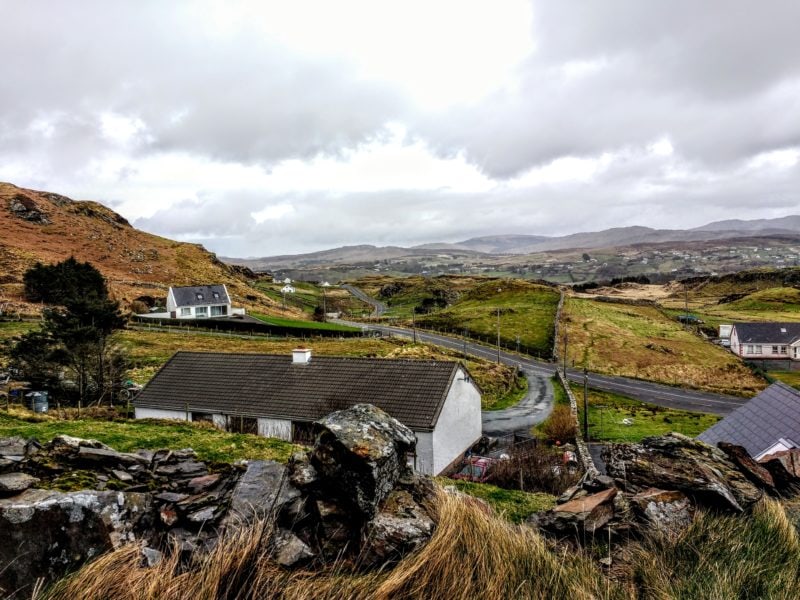 Further, down the road, you will come to The Slieve League Cultural Centre which is home to Ti Linn, a unique coffee shop, craft gallery and tourist information centre offering advice on hillwalking and archaeological tours.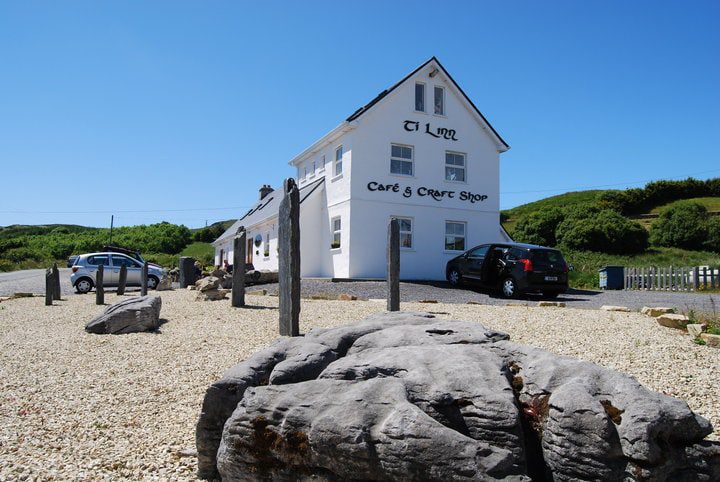 Ti Linn is run by Paddy who has a Masters in Archaeology and is one of Ireland's top-rated tour guides his wife runs The arts and crafts gallery which features local crafts unique to the Donegal area and artworks by local artists.
If you want to hire a guide to hike or walk the cliffs of Slieve League this is where you should book. There is both car and coach parking on-site and they do a shuttle service up to the viewing point to save your feet.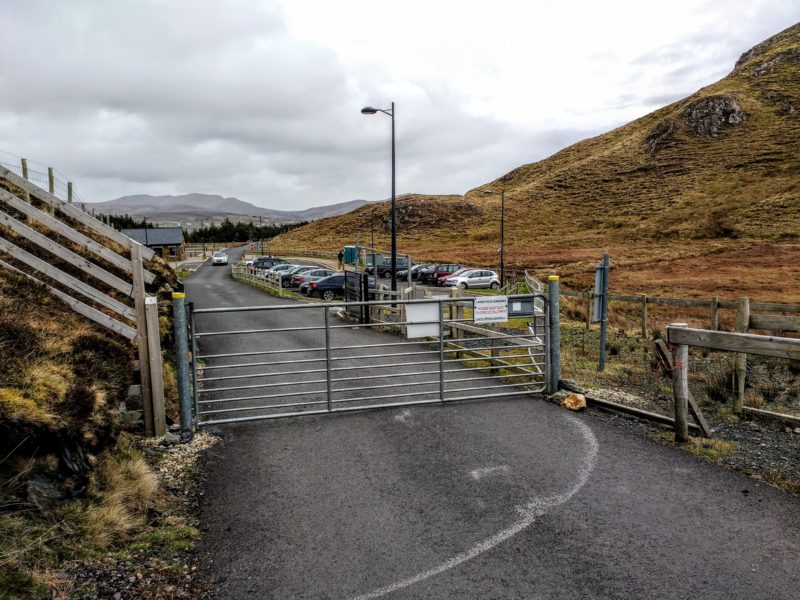 Once you get to this point you can either park the car and walk the 2 miles up to the Bunglas Viewpoint or you can drive through the sheep gate and up to the viewpoint. This may get a little crowded in the summer months, and by crowded the viewpoint only has parking for around 6 vehicles so it may be better to take the shuttle bus up. If you drive please shut the gate or the sheep will run away.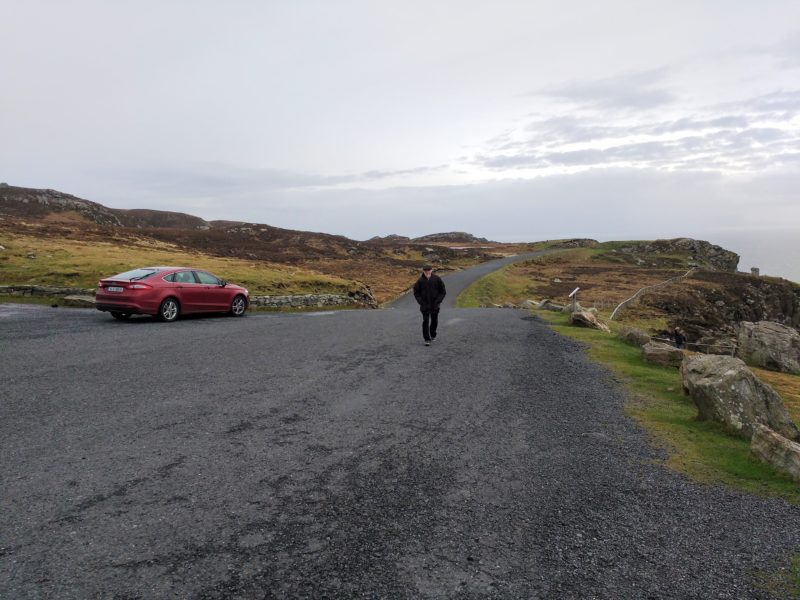 New rules at Slieve League
The Slieve League entrance fee is free but parking is not. A new Shuttle Bus service has been introduced from the Visitor Centre where parking is free. This service will operate daily from 10.10 am until 5.30 pm. An online booking system is available on www.sliabhliag.com with tickets for the Shuttle Bus priced as follows €6.00 per adult, €5 for OAP / Student, €4 for Children or €18 for a family ticket, family tickets include 2 adults and 2 or more children. For those who wish to walk from the Ranger Station carpark, a parking fee of €5.00 per 2-hour or €15 all-day ticket has been introduced.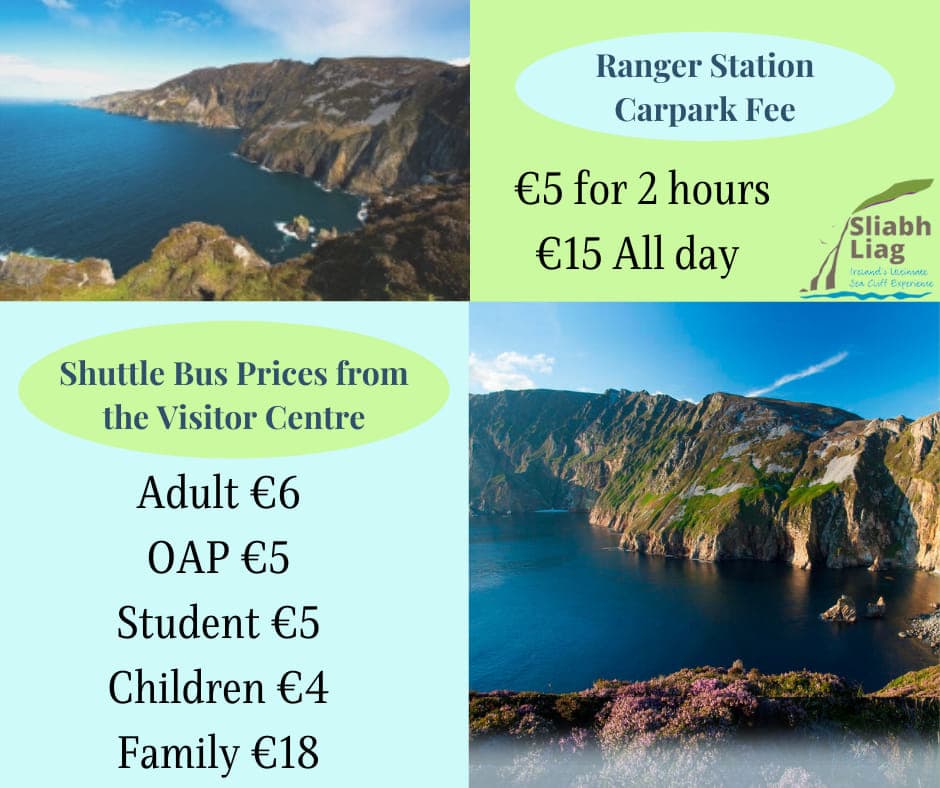 What to See from the Top of Slieve League Donegal
If you decide to hike up to the Slieve League viewpoint it's about a 2-mile walk up. Once you get to the viewpoint there is a little parking space and then the paths to the viewpoints and steps up to the rough trail. This trail takes you along what is called the Pilgrim's Path.
Slieve League Walks
The Pilgrim's Path at Slieve League
The Pilgrim's Path is unmarked and only for very experienced hikers no children or dogs should take this path as it can be very dangerous.
The Pilgrim's Path at Slieve League is about 3km and will take around 2-3 hours, depending on how fast you hike, there and back. It is not for the fainthearted. The path is rough and rocky but the views are stunning.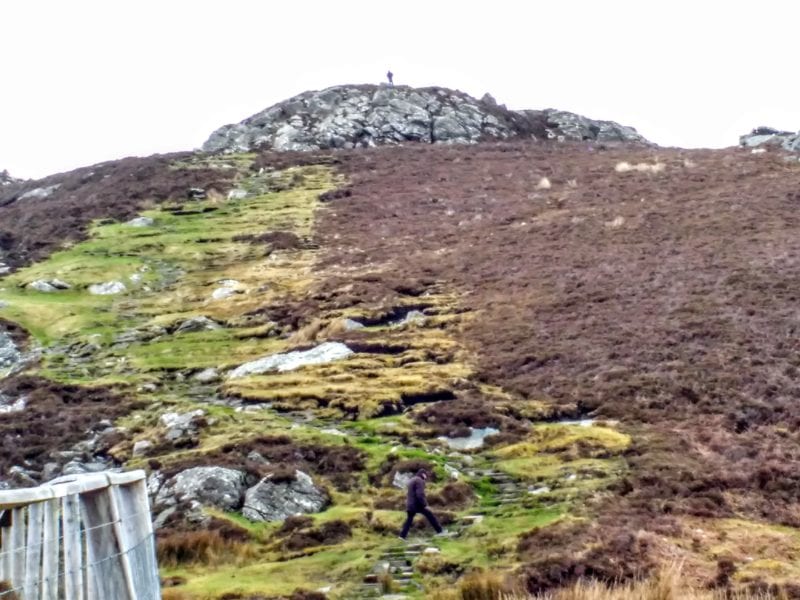 The Pilgrim's Path comes from when official Catholic worship was illegal and the Irish who refused to convert met in secret to hold mass. At Slieve League, there was a makeshift church or a "Mass Rock" along the path you will see the remains of this Mass Rock.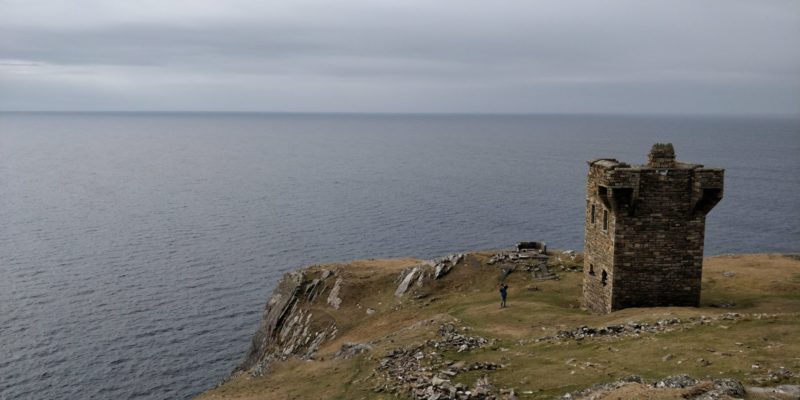 Aside from the Mass Rock, there are the remains of an early Christian monastic site that featured some beehive huts, although only the unrecognisable remnants remain. There are also the ruins of an old signal tower dating back to the Napoleonic wars which were used when the British were worried about a French invasion.
From the Pilgrim's Path, you will spot the island of Rathlin O'Birne, which was once home to a fifth-century monastery.
One Man's Pass at Slieve League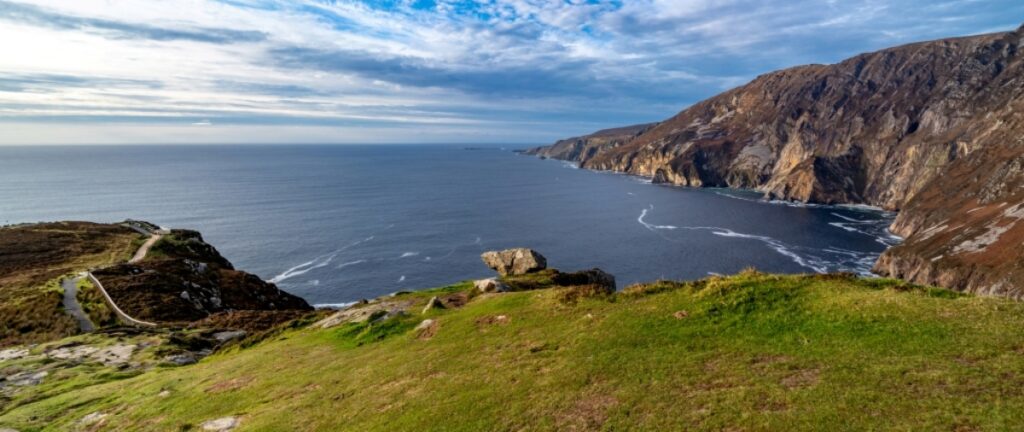 As you continue up the trail you will spot a yellow pole marking the summit. Keep in mind there are no barriers but the panoramic landscapes are outstanding. If you continue on the path you will come to One Man's Pass along the cliffs, you will see why it got the name and this trail is only for very experienced hikers.
One Man's Pass is a very narrow, 400m knife-like craggy edge, the land drops dramatically on each side. Less experienced hikers or those with vertigo can take the path on the right, a longer way that avoids the pass.
Sometimes it is good to take a guide along on these kinds of hikes. Here in Ireland, you have some great guides to choose from. Personally, I can recommend Walking Ireland they are led by John a guide from Donegal Town who has some of the best reviews around. The tours will pick up in Donegal Town, Glenties, Ardara or Killybegs.
There is also Walking and Hiking Ireland and Ireland Walk Hike and Bike tours both of these come highly recommended.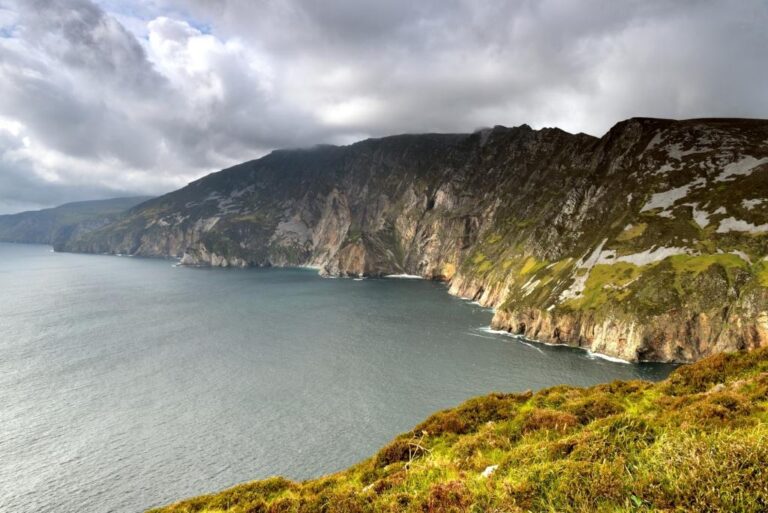 Just a note here you may see that some of the websites in Ireland are noted by Google as "not secure" pay no attention to that they are pretty secure but don't pay through those sites online as you don't want to take a chance on your information being hacked.
This tour is conducted by a qualified tour guide and includes stops at Ireland's premier fishing port – Killybegs, a drive along a section of the Wild Atlantic Way & the rugged coastline of Southwest Donegal, Kilcar, Carrick, The Sea Cliffs at Slieve League, the Silver Strand at Malinbeg and the Folk Village at Glencolmcille. There will be time for a coffee along the way.
Where to stay near Slieve League
Finding a place to stay near Slieve League can be a bit tricky as the area has no hotels and very little public transportation. There are villages close to Slieve League and a few B&B's and here are some suggestions if you plan to head to the area. Teelin is the best area to stay in as it is just a few km from the cliffs themselves.
Want to stay in a traditional Irish Cottage?
The Rusty Mackeral pub – one of my favourite places in Teelin they have great food, and brilliant entertainment, there's parking and wifi and they offer continental or full breakfast options. They are around 2 km from the Cliffs.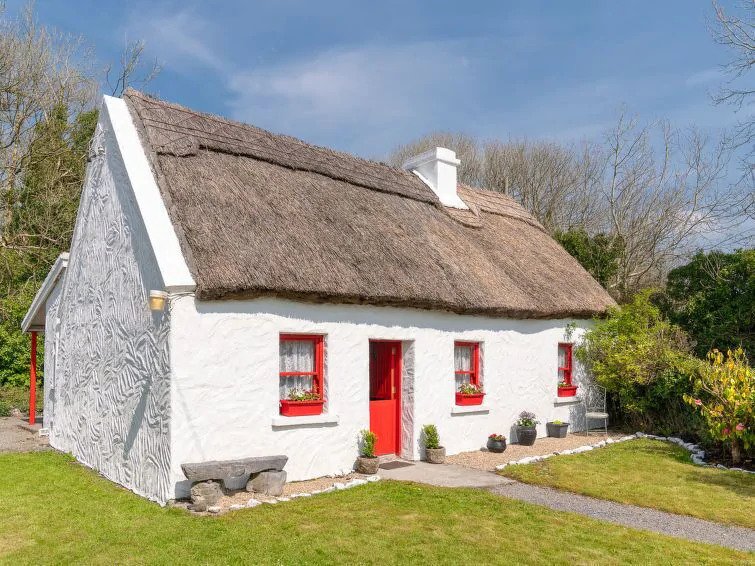 Slieve League Weather
Rest assured in Ireland we can see 4 seasons in one day so you may find yourself on the Slieve League Cliffs of Donegal on a typical foggy rainy day. If this is the case you can wait for a bit to see if it clears up or perhaps head back down for a pub lunch and wait till it clears.

Slieve League boat tours
During the season when the seas are calm, you can find a few boat tours that will take you around the Bay to view Slieve League from the sea.
Sliabh League boat trips depart from Teelin Pier and have been running tours since 1995. They have 2 boats which take up to 12 passengers and they start running in April every year. With luck, you may see wildlife like dolphins, whales, and seals, and in May and June, basking sharks feeding on the plankton can be spotted. There is also a wide range of birdlife (including puffins) that can be seen nesting and hunting.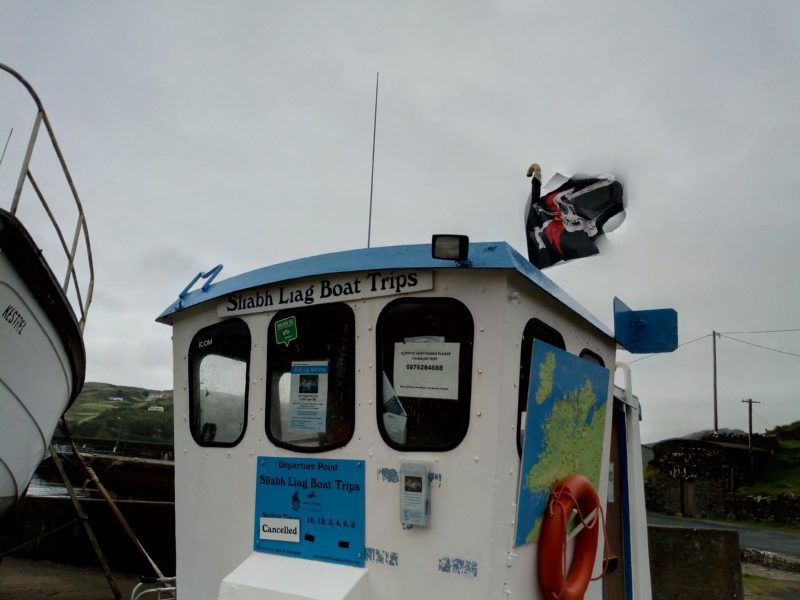 If you have cruised into Killybegs and want to see Slieve League from the sea the perfect option for you is Atlantic Coastal Cruises. The Pirate Queen can accommodate 96 passengers and they provide tours of Slieve League Cliffs from the sea which costs around €30 per adult. The Killybegs Harbour Tour is €20. They are also planning new tours for the 2020 season. Keep in mind this is a slightly longer tour than the one from Teelin but there are more people on board. Check their Facebook page for sailing times.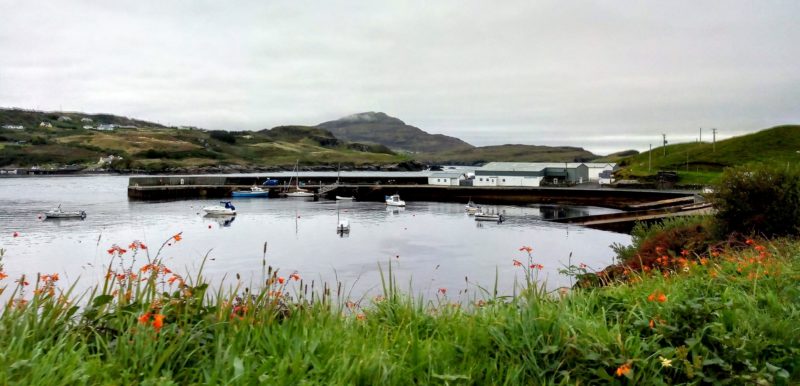 Once you have finished your visit to the Slieve League Cliffs and are heading back make sure to stop off at the Rusty Mackerel for some fantastic Irish food and a pint of the black stuff. A brilliant little pub the Rusty Mackerel has parking across the road and a lovely outside patio for those balmier days in Ireland.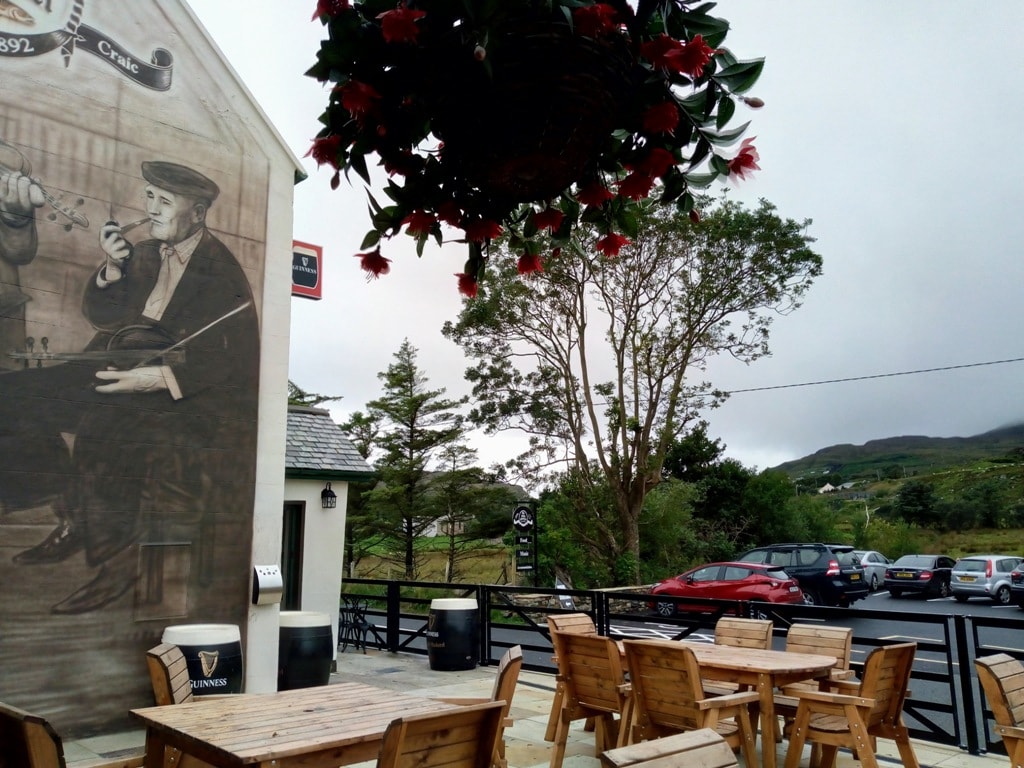 What you should know about flying a drone in Ireland
In uncontrolled airspace, you should never fly above 400 feet and the recommended distance the drone should be from the operator is no further than 300m. But as the laws have changed you can now fly your drone in controlled airspace without a permit, 15 metres (50 feet) above ground level and no more than 300 metres from the operator. You should always avoid flying within 5 kilometres of an aerodrome because you may interfere with a manned aircraft, like a plane coming in or taking off. (from the IAA)
Have you managed to get to Slieve League yet? So what are you waiting for? Here are some more places to check out in Ireland
The Kilkee Cliffs Ireland's hidden secret
Essential guide to the Cliffs of Moher in Ireland
What to do in Donegal Town – best things to see, eat and do
All the best Restaurants in Donegal Town
101 Landmarks in Ireland to see
101 Landmarks in Northern Ireland
Ultimate Wild Atlantic Way Route
Ireland's Ancient East – an epic road trip