24 of the Best restaurants in Donegal Town
If you're in search of the best restaurants in Donegal Town, I've got some great selections for you. As a local (I live just outside Donegal Town) I have eaten pretty much in every single restaurant in Donegal Town and beyond. Can you tell I'm a bit of an obsessive foodie?
Donegal Town is the perfect place in this gorgeous county to visit and since Donegal is known as the coolest place on earth according to National Geographic you will find this an ideal jumping-off spot to explore the 1,100 km of the Wild Atlantic Way's coastline.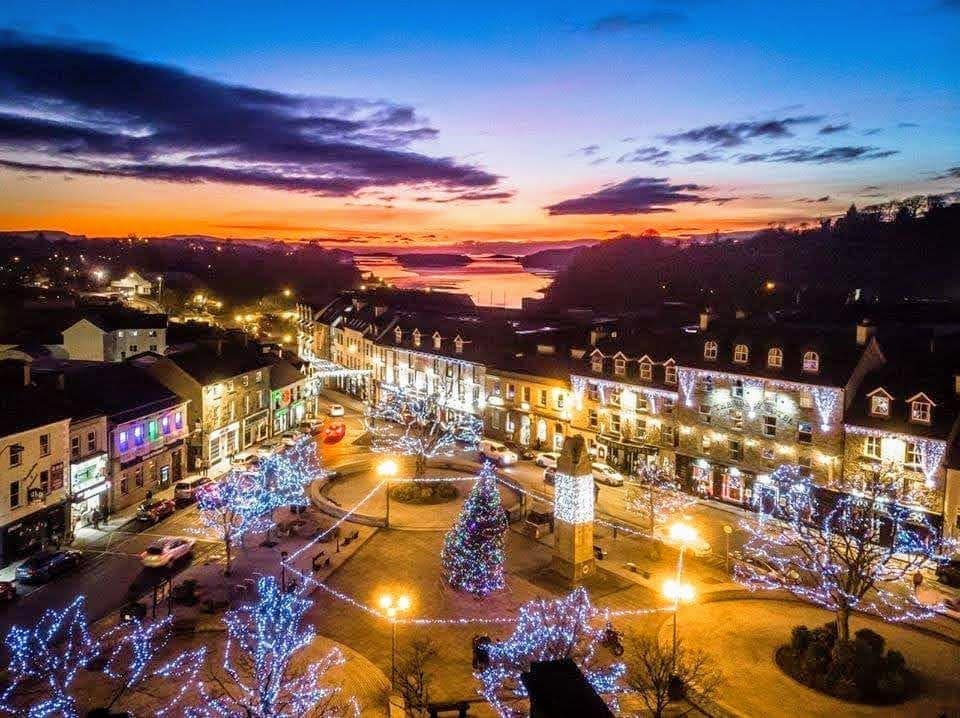 Folks who live in Donegal like to say "it's different up here" and a truer word was never spoken. Donegal's nickname is "the forgotten county" due to its isolated position physically, culturally and even politically.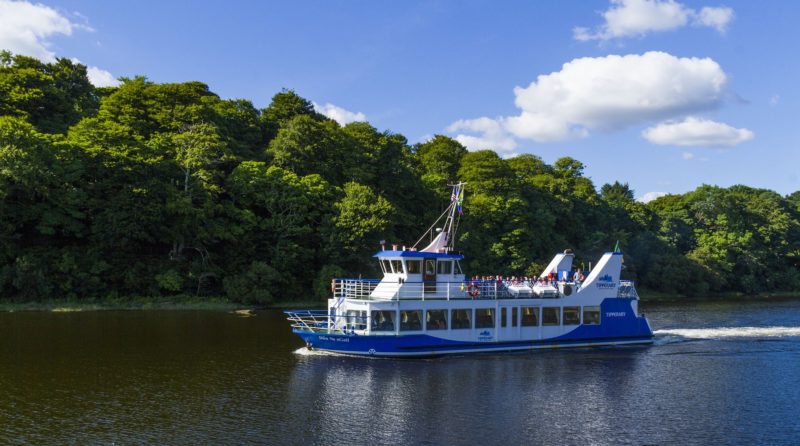 You won't find corned beef and cabbage on a menu in a Donegal restaurant as it is an American dish and not Irish. What you will find is fabulous seafood, hearty Irish brown bread, steaks to die for and some traditional Irish foods like Guinness stew, coddle and champ.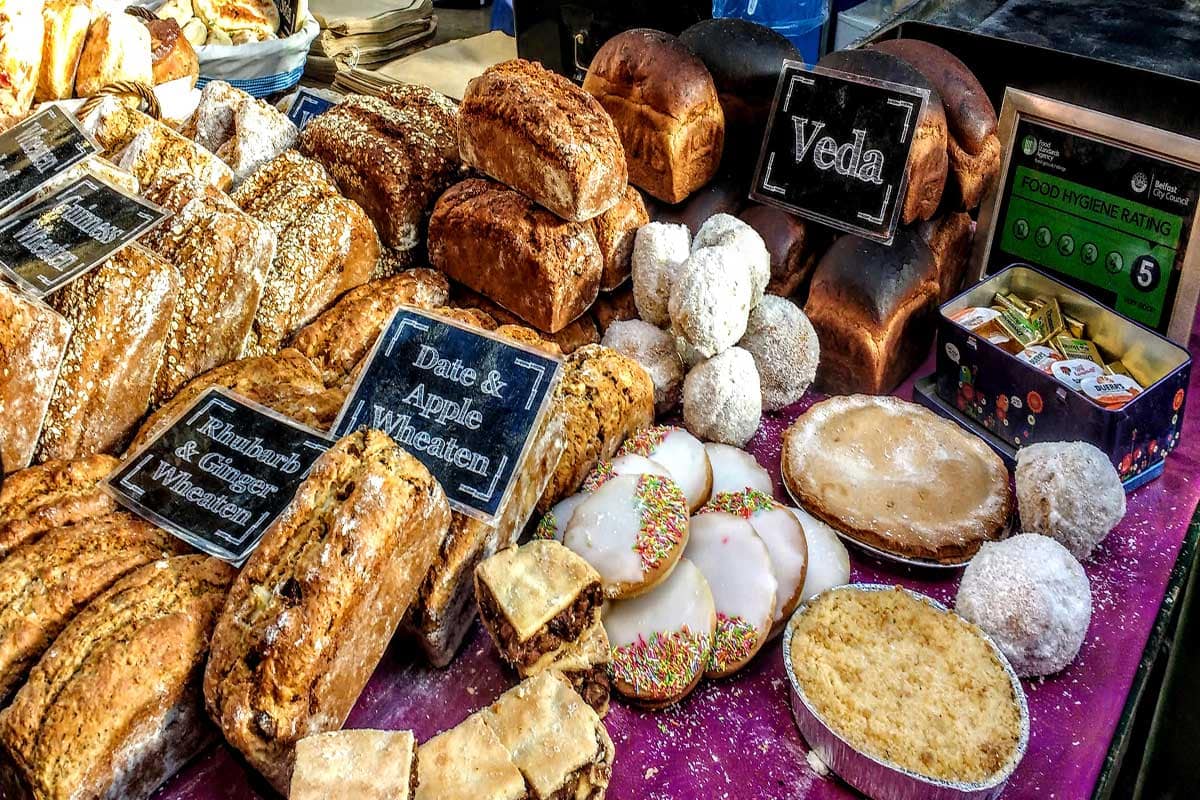 In Donegal Town these days though we are spoilt for choice with the country's best Indian restaurant, fabulous Mexican, Thai and international foods. From a simple café serving up a brilliant Turkey Club sandwich with I might add real turkey to a diner with a great Full Irish breakfast, served with boxty Donegal town restaurants cover all the bases.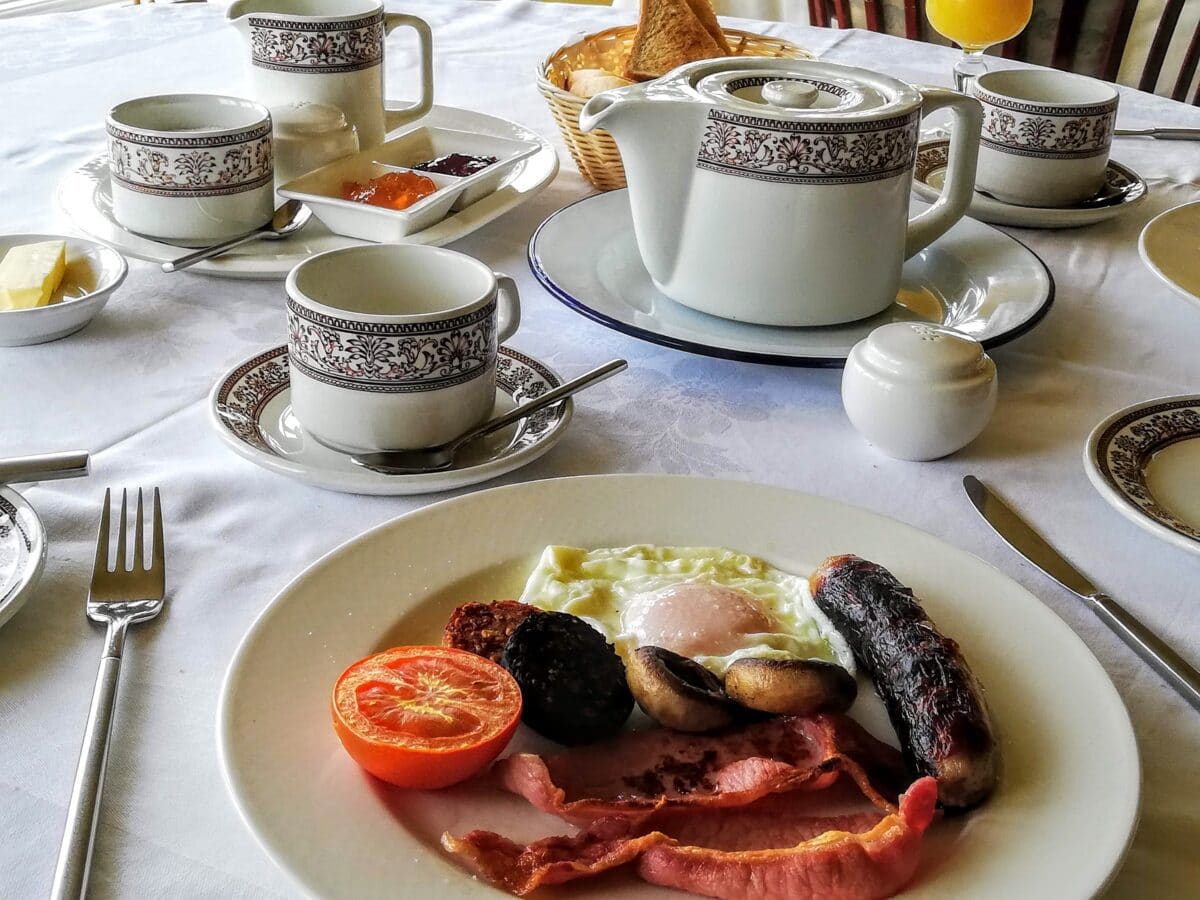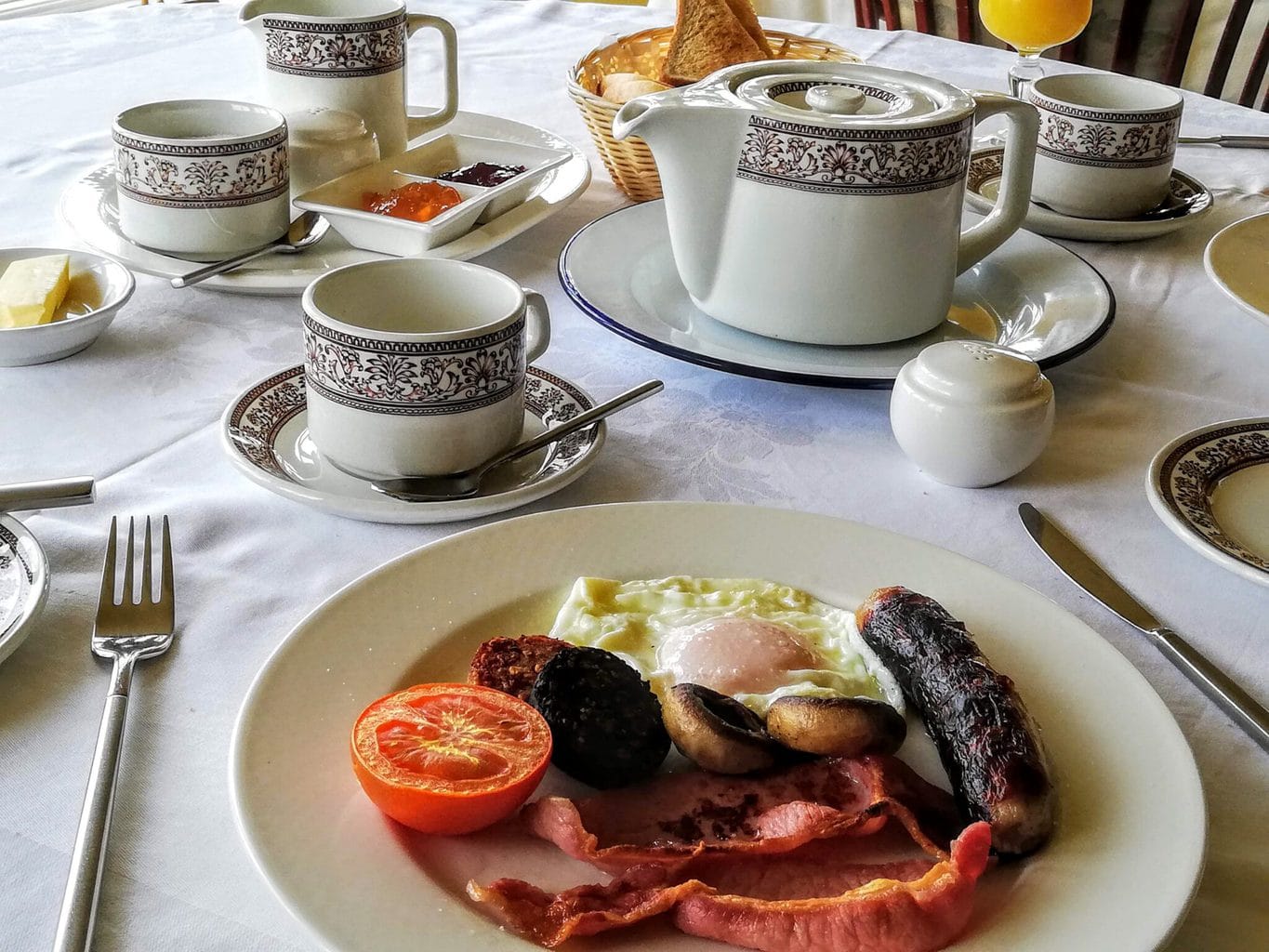 The Best Restaurants in Donegal Town: 24 of the tastiest Places To Eat In Donegal
There are many places to eat in Donegal Town from casual cafes to fine dining to takeaway. Here are 21 of the best places to eat in Donegal town.
Blas
Market House
Little Mamas
Furey's Diner
Marinas Cafe and WineBar
Simple Simons
Blueberry Café
Chandpur
La Fiesta
La Bella Donna
The Old Stone
Quay West
Olde Castle Bar
Weaver's Loft
Dom's Pier
Harbour Restaurant
Kitty Kellys
Central Hotel – Blazers and Chapmans Asian fusion
Abbey Hotel the Food Hall
Cedars Restaurant at Lough Eske Castle hotel
Harveys Point Restaurant
Blas
You can find Blas in the Gateway Lodge which sits just on the edge of Donegal Town. It's a great little café and restaurant with great waffles and lovely breakfast options. It also does a mean lunch and the burgers are off the charts.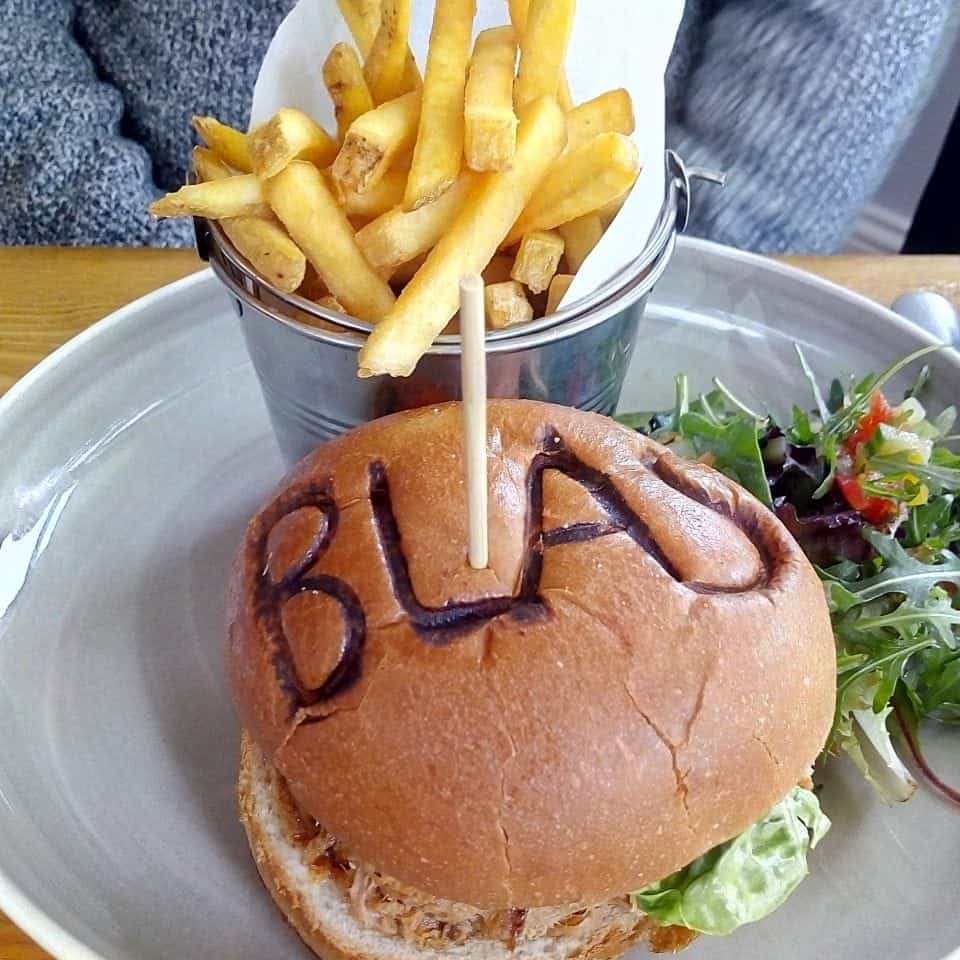 Little Mamas
If you are in the mood for some absolutely to die for ice cream and Italian style sorbet head to Little Mamas. The shop is found on the Port Road on your way into Letterkenny as well as in Donegal Town.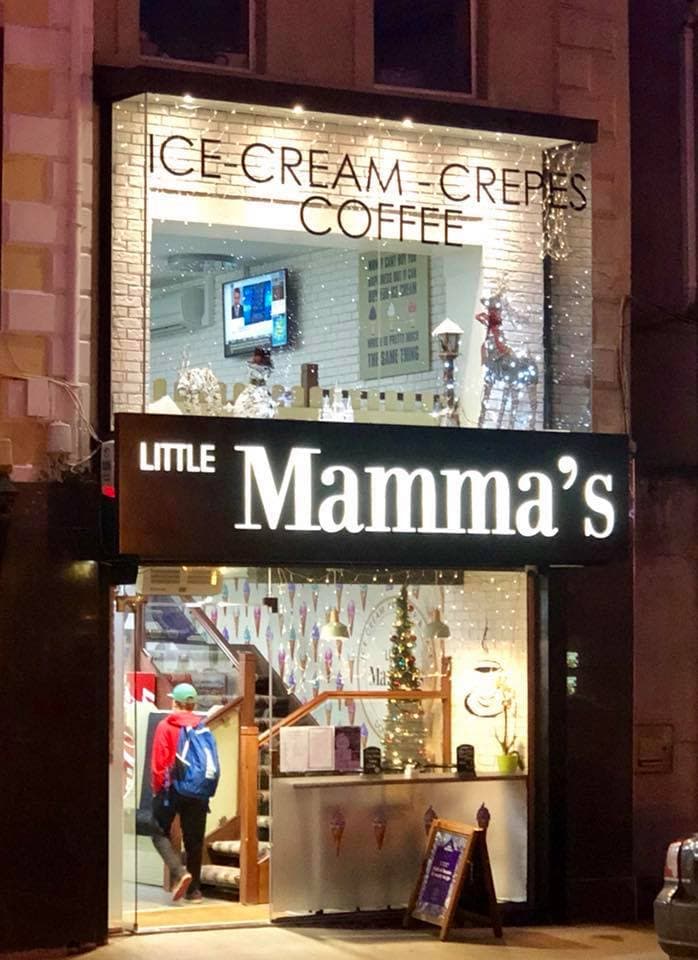 Little Mama's cafe serves great coffee, crepes as well as waffles with their hand-made sorbets in flavours including Parma Violet, and Raspberry White Chocolate.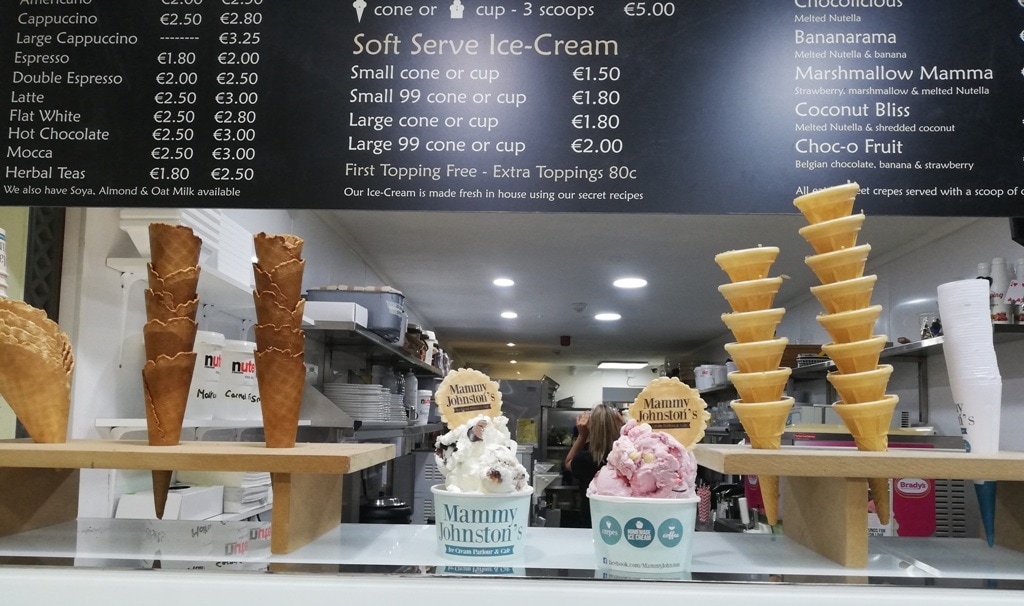 Furey's Diner
Just a hop and skip up from the Diamond (Donegal town centre) Furey's Diner is a great budget option with jam-packed full Irish breakfasts, homemade burgers and pizza's. A nice laid back almost American diner vibe infuses this mother and daughter run business.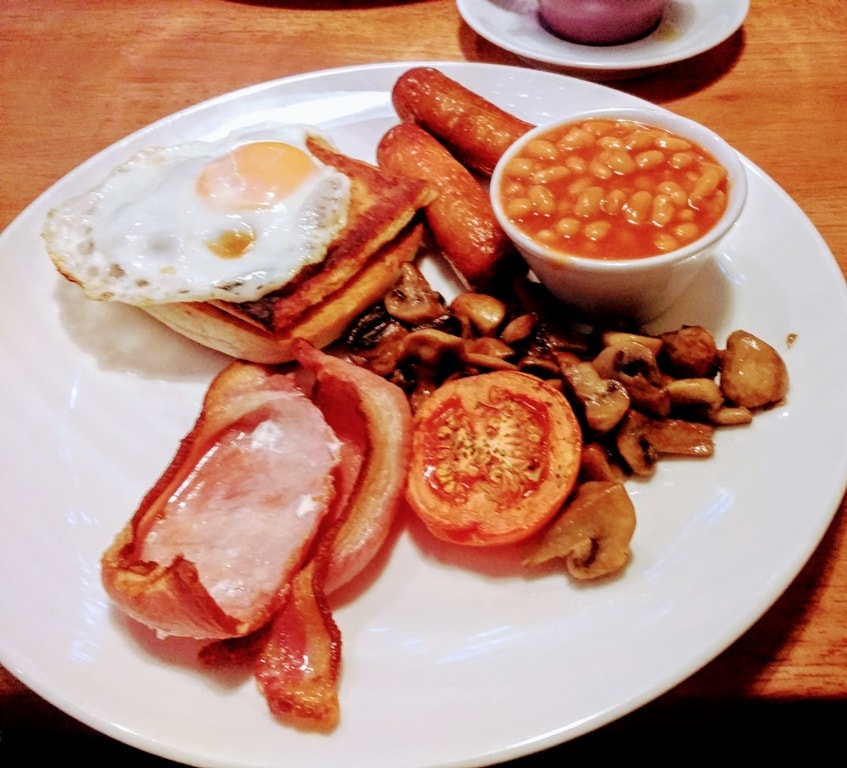 Marinas Café and Wine Bar
Marinas is a café situated on Main Street, Donegal Town and it offers a smiling welcome to all who drop by. The chowder was fabulous and I really enjoyed their Mac & Cheese. They also offer lots of gluten-free items and the prices are extremely reasonable. There's a lovely new terrace out the back and you can indulge in their nachos, with an iced Caramel, Vanilla, Hazelnut or Chocolate Frappes with cream.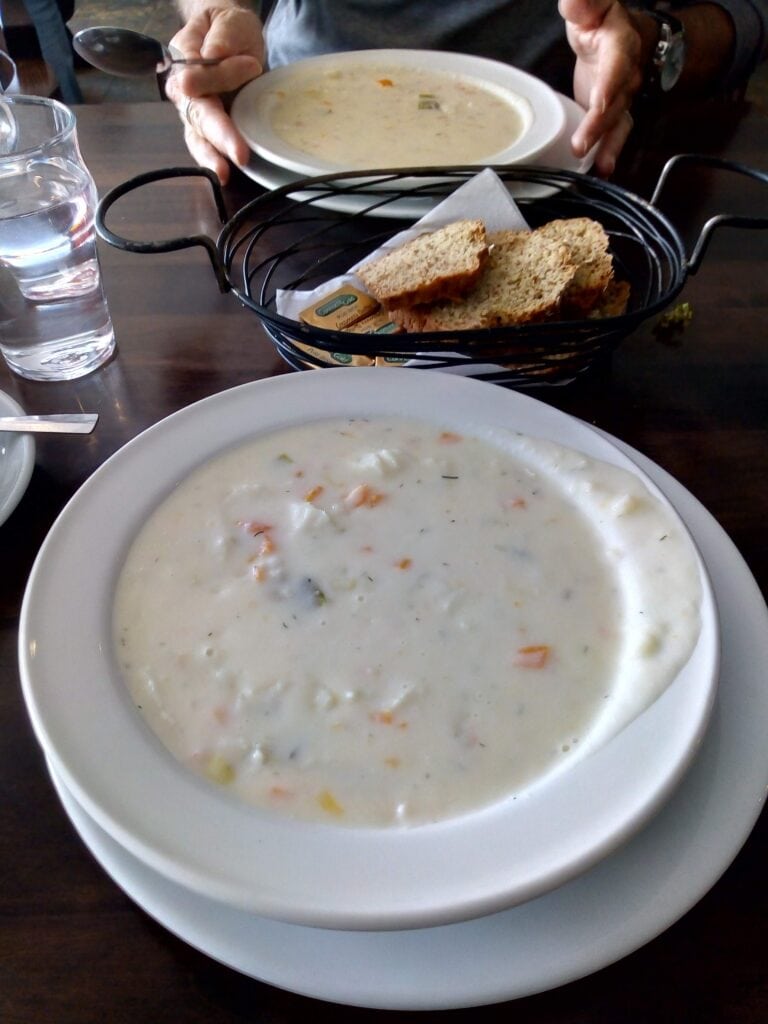 Simple Simons
Simple Simons is just down from the Diamond and it is a brilliant little health food shop with all kinds of organic goodies available. This is where I go to stock up on vitamins, and special items like black beans and quinoa.
There is a small café in the front of the shop and you should definitely try their amazing quiches, light as a feather scones and much more.
Blueberry Tea Room and Restaurant
The Blueberry was the first Donegal Town Restaurant I ate in when I arrived years ago and it still stands as one of my all-time favourites. The prices are excellent and all the food is home-cooked. I have had many a meal here but my favourite is still the Turkey Club Sandwich.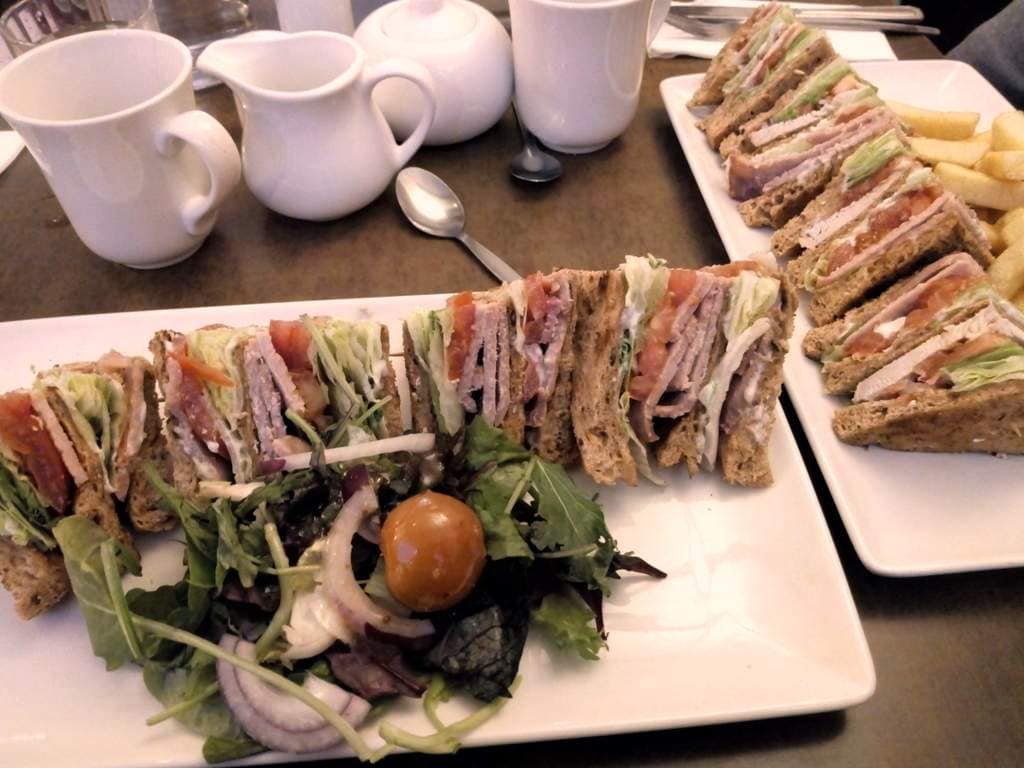 Its interior is full of lovely bric a brac and fairy lights and the staff are simply some of the best in town. Their homemade desserts including sticky cakes and jams are simply to die for.
Chandpur Indian Restaurant
Chandpur which is located in Donegal Town has been the recipient of the Best Indian Restaurant of the Year many times over the years and it simply can't be beaten for incredibly good Indian food.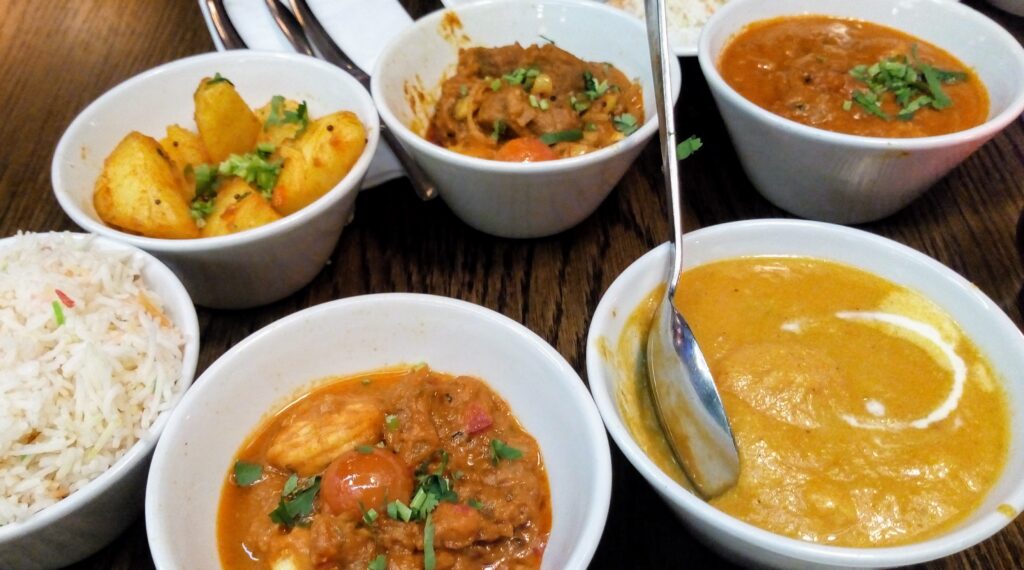 They offer an all you can eat buffet on Sunday's which we often partook of and although it's a small selection all of it is so delicious you will eat until you burst.
La Fiesta Mexican
You couldn't get any further from Donegal Town than Puerto Vallarta Mexico Chefs at La Fiesta in Donegal Town are making their mark on the food scene in Donegal with the finest local ingredients fused with Mexican spices, magnificent Margaritas and outstanding handmade corn tortillas a rare thing in Ireland.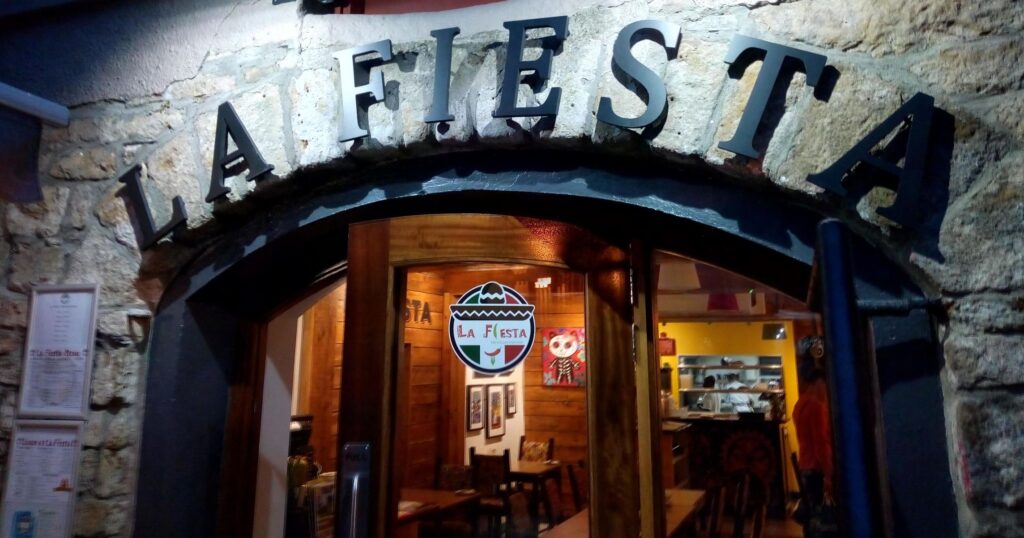 La Bella Donna Restaurant
The first Italian restaurant in Donegal Town this lovely building has been recently refurbished and offers some phenomenal Italian cuisine. It is located just down from the main diamond on Bridge Street. There's an extensive selection of pasta along with steaks, chicken and seafood. You can also partake of the Bellini Cocktail Bar.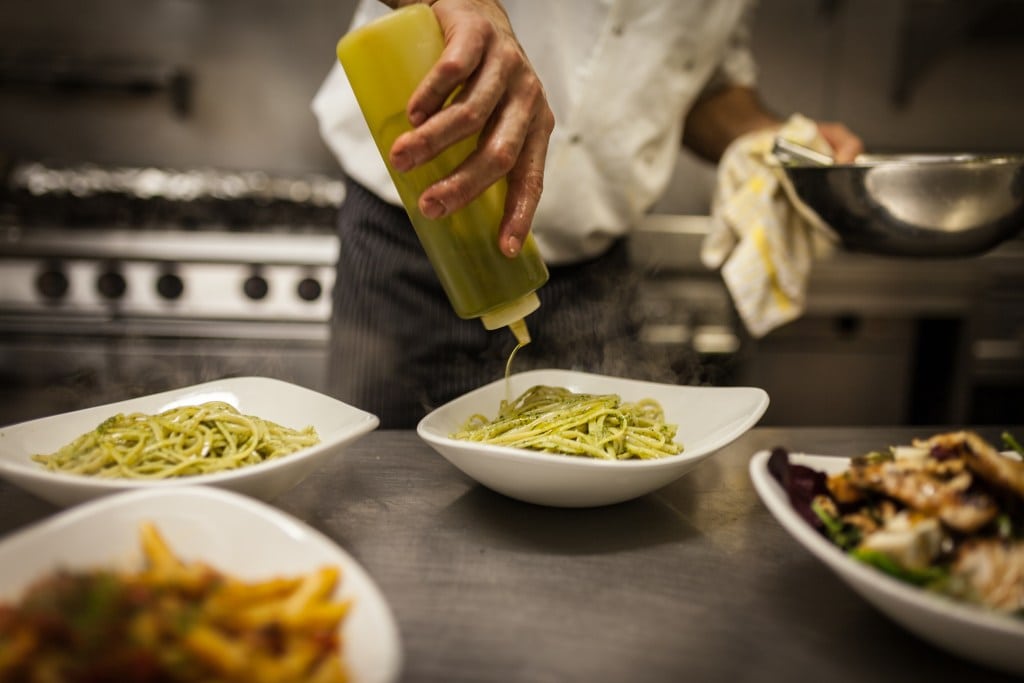 The Old Stone
This is a relatively new restaurant that has opened up in Donegal Town on Main street and they certainly seem to be doing things right. I loved their Avocado on toast with a poached egg. This is the perfect spot for brunch or lunch and bonus it's pet friendly.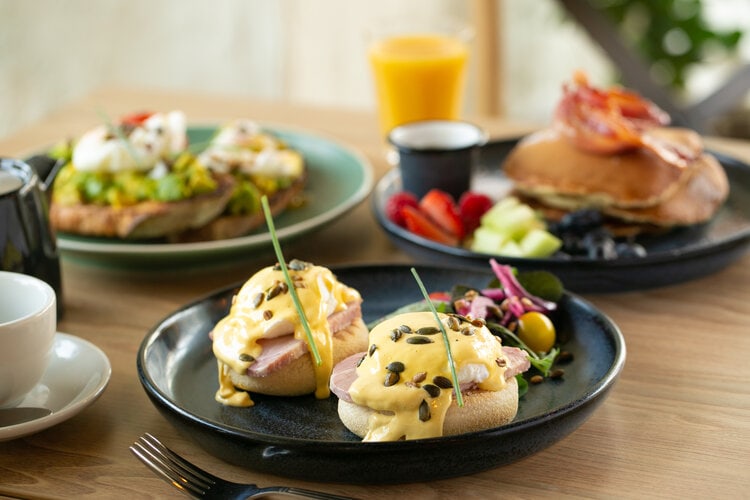 The Old Stone does lots of vegan and vegetarian dishes, light meals and some fabulous fresh pastries with great coffee.
Quay West
Overlooking Donegal Pier just down from the Diamond is the lovely Quay West Restaurant. Every table in the place has wonderful views of the harbour and this is a great place for that romantic dinner. The restaurant is justifiably proud of its menu which includes Killybegs smokies, fresh prawns, tender homebaked brown bread, Aubrac steaks, Fisherman's pie and for dessert and mains they have some great vegetarian dishes.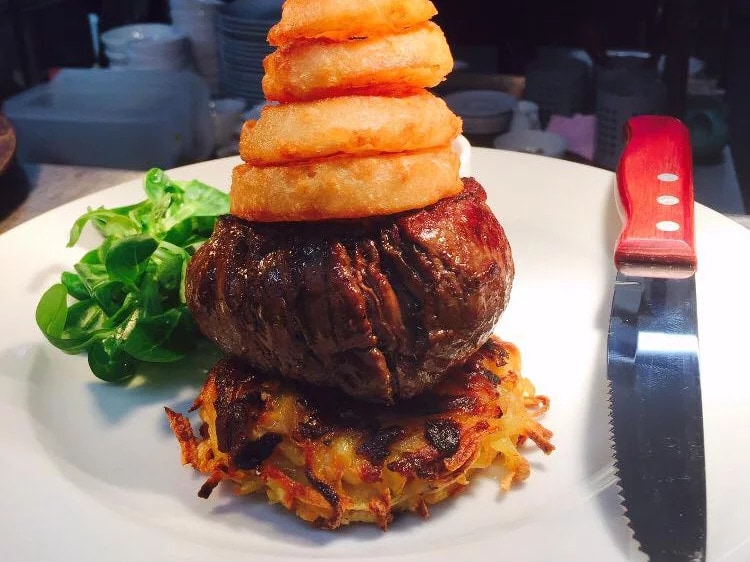 Olde Castle Bar
The Olde Castle Bar is directly opposite Donegal Castle and has been welcoming travellers and guests since the 1700s. This is a brilliant Gastro Pub that concentrates on serving the best Donegal seafood.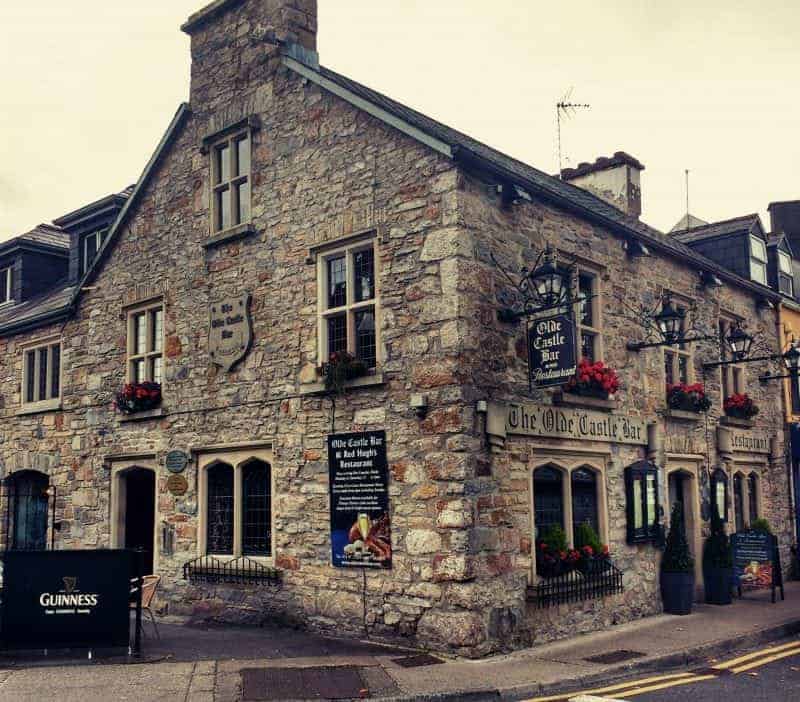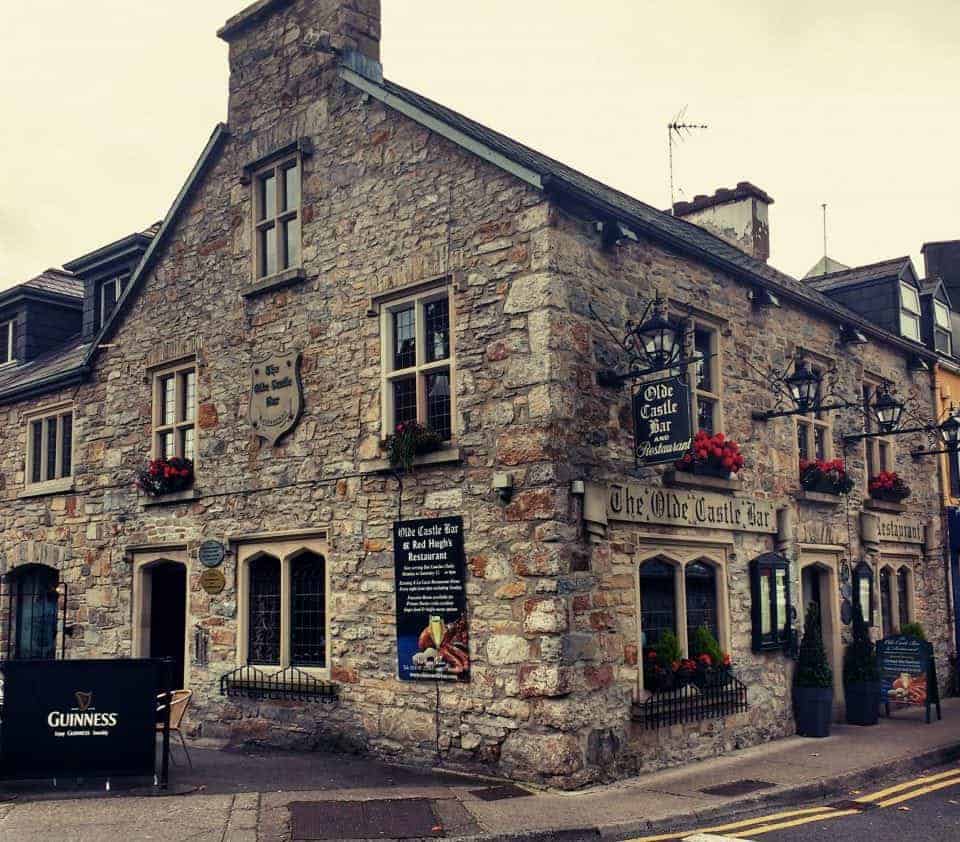 They also serve locally sourced fresh Steaks, Lamb, Pork and Poultry, together with the finest selection of well known and local artisan beers and have an extensive wine list.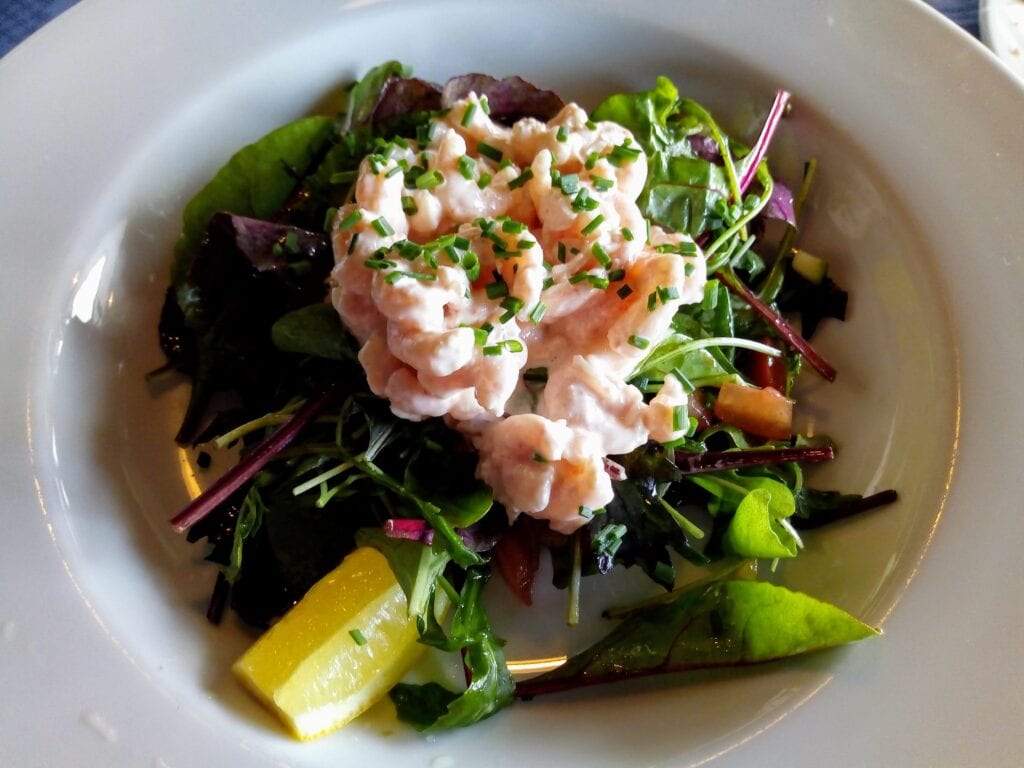 Weaver's Loft
This lovely quiet little café is found upstairs in McGee's well known for their home baking and great light lunches. This place is perfect for a break after a shopping trip in the Diamond. Check out their be-loved Banoffee Pie with a cup of tea.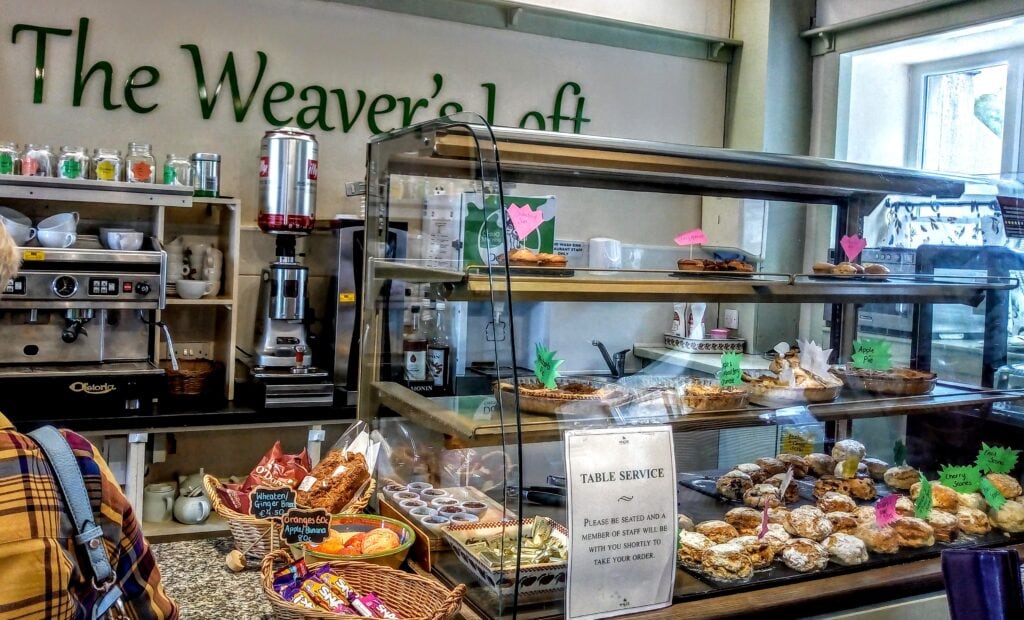 Dom's Pier
Located just off Diamond on Quay Street in Donegal Town, Doms Pier 1 has a range of menus including a kid's one and they offer some fabulous lunch sandwiches – I'm particularly fond of the pulled pork on a Brioche bun. There's a Vegan menu with lots of choices along with an evening menu full of juicy burgers, tender steaks and again lots of vegetarian and vegan offerings.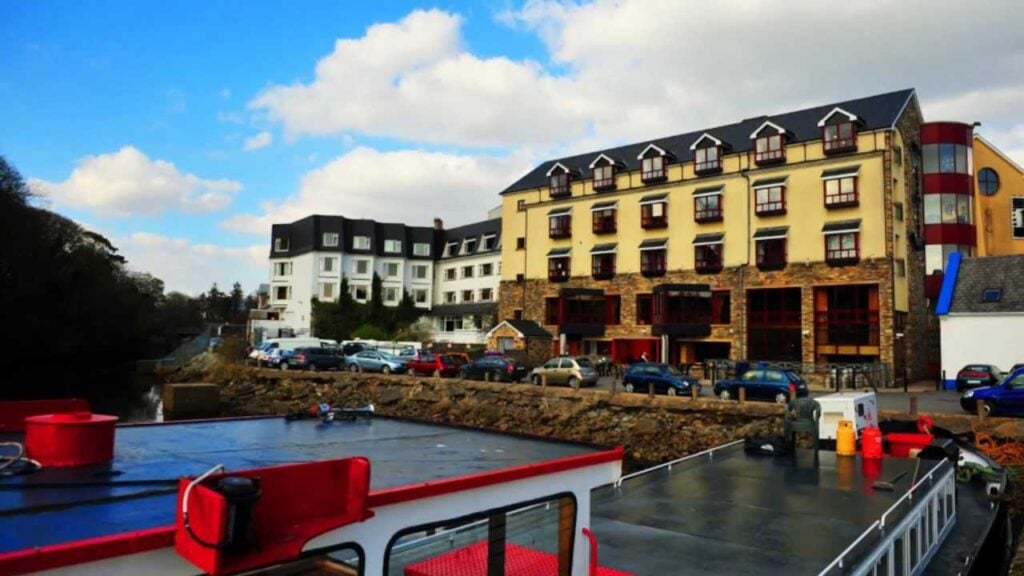 The Harbour Restaurant & Bar
You will find The Harbour on Quay Street this casual restaurant loves a daily seasonal special using locally sourced ingredients. There's a children's menu and the evening menu offers everything from steaks to pizza. And they offer a seafood experience, a vegan experience or a family experience.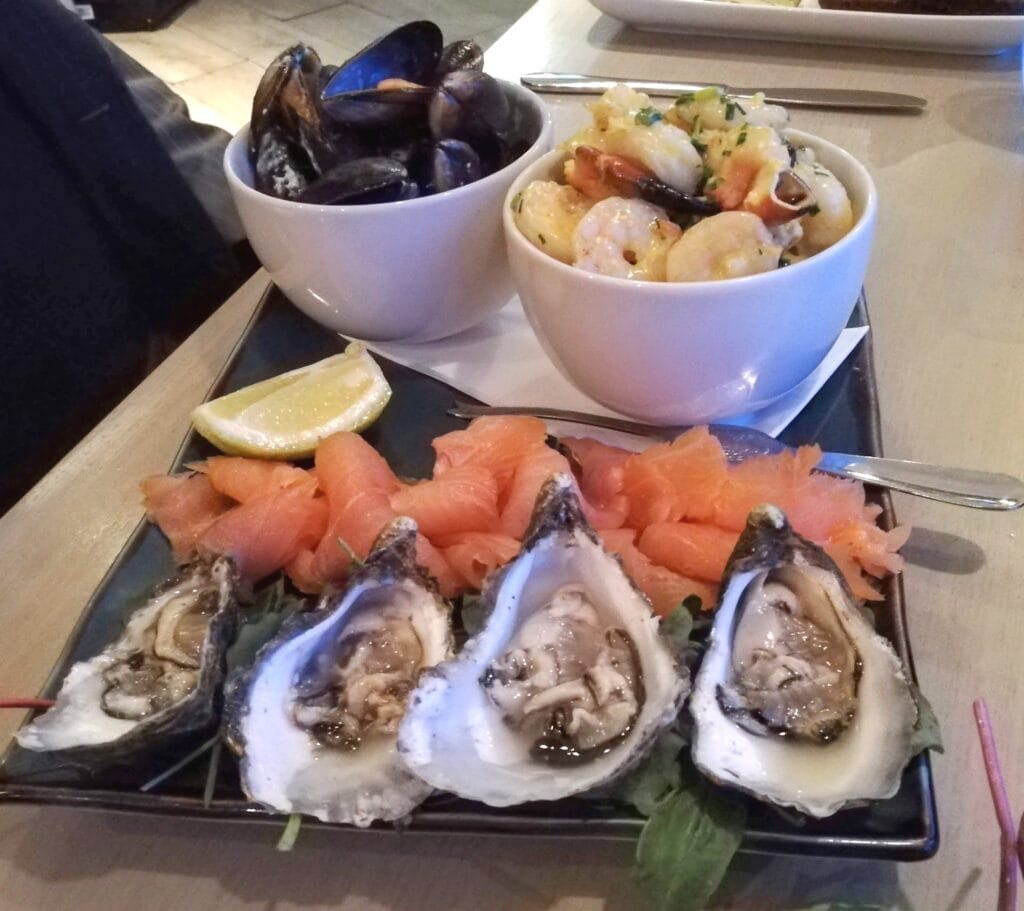 Kitty Kelly's
Years ago one of the best meals I ever had in Donegal was at Kitty Kelly's out near Killybegs on the way to Slieve League. it was a true gourmet experience. Sadly in 2019, the iconic pink building burned down and we all thought that was the end. But joy of joys the new Kitty Kelly's has opened up in Donegal Town, just up from the Diamond on the corner of Upper Main Street.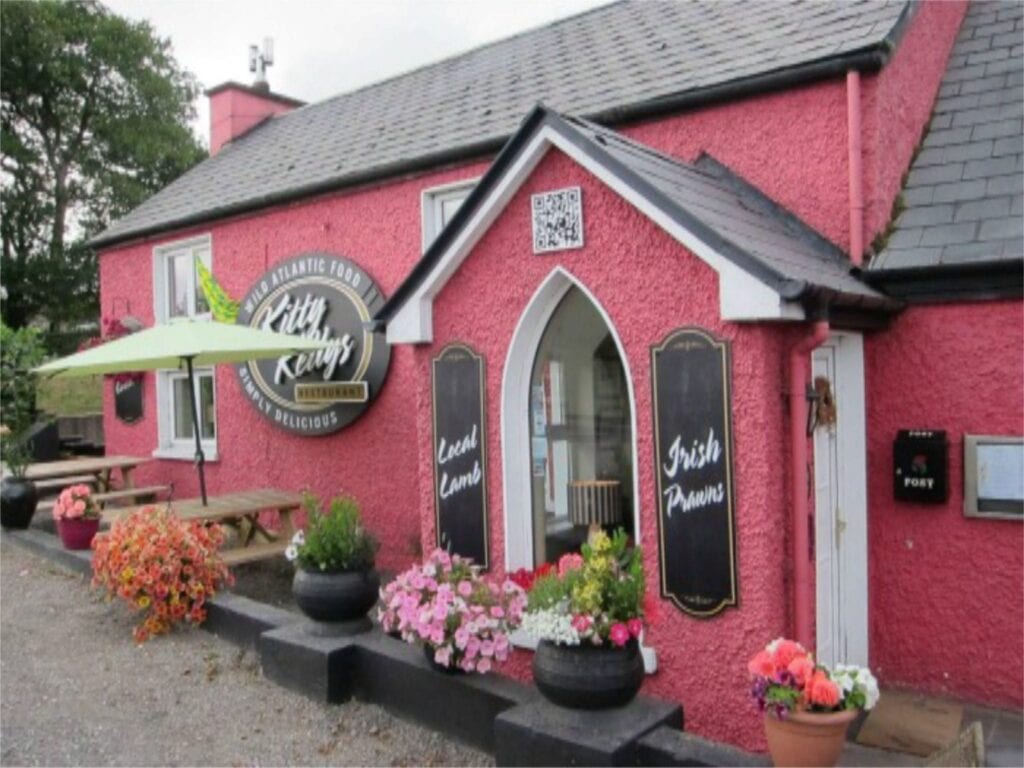 Kitty Kelly's is owned by Remy and Donna Dupuy. Remy is an award-winning chef from France, while his wife Donna runs the restaurant business. Serving a fantastic variety of dishes you can indulge in Lamb Moussaka, an amazing squid starter and actually everything on the menu is first class and heavenly.
Central Hotel
Blazers
Sitting on The Diamond you can have one of the best burgers in Donegal at Blazers which is a casual dining spot that is now firmly a Donegal Town favourite.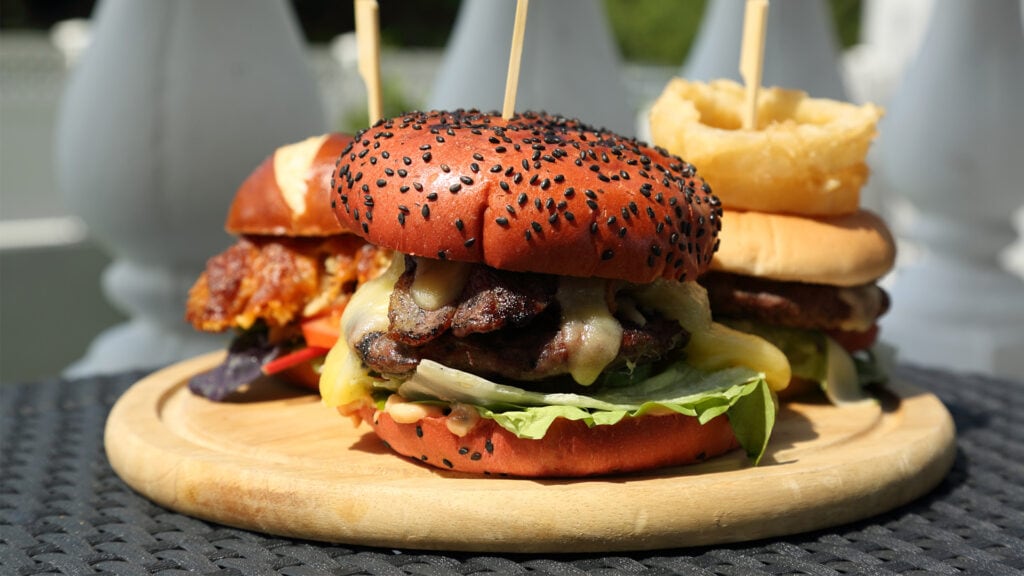 Central Alfresco
Central Alfresco is an outside dining experience on a beautiful terrace overlooking Donegal Bay. A relaxing spot complete with heating lamps and overhead cover (Donegal is pretty rainy it must be said). This terrace is a gorgeous location to enjoy some unique cocktails, local beers and light dishes such as Samosas or fish and chips. You can even have a Magee tweed blanket to wrap up in when the nights turn colder while you sip your Silkies whiskey.
Chapmans
Chapman's offers an Asian fusion menu that includes items like Tom Yam Goong Soup, Crispy Duck Spring Rolls, Mee Goreng, and Pla Koong along with your ubiquitous fries and a great Sticky Toffee Pudding for dessert.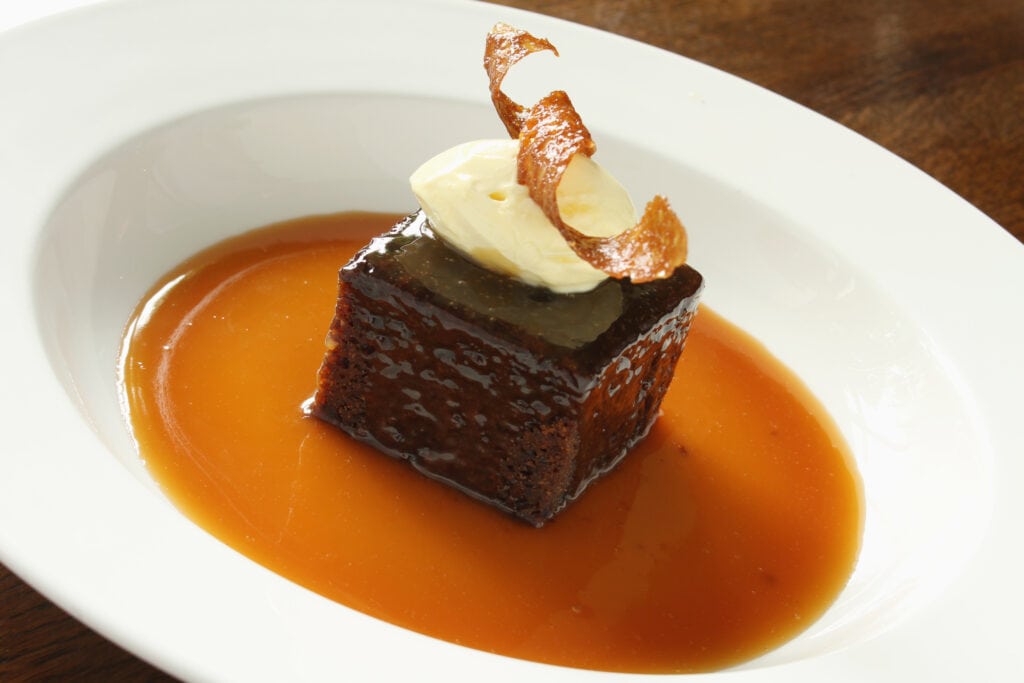 Abbey Hotel
As one of the longest established Hotels in the North West, renowned for its unique setting in the Centre of the Historic Town of Donegal, with idyllic views of Donegal Bay in the background, the Hotel is perfectly located to enjoy the beautiful County of Donegal.
It is also the place to hang out in Donegal Town if you fancy a night full of the Black Stuff, entertainment including Traditional Irish music and clubbing it. If you are lucky you might get 'locked in'.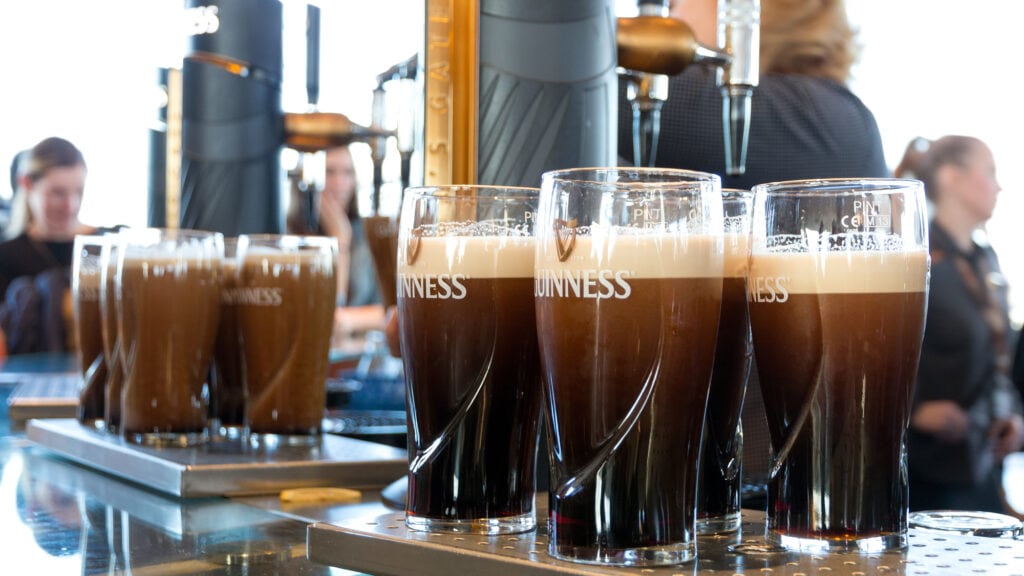 The Market House Food Hall
The Food Hall at The Market House is a lunchtime café serving gourmet Salads, a huge range of that Irish favourite Baked Potatoes, there are Artisan Bread for your sandwich, Daily Specials, Homemade Soups, Sandwiches, Wraps and Baps and Freda's Homemade Bakes.
Market House Restaurant
The Market House restaurant has an extensive menu including fresh seafood from Killybegs and locally sourced meats. Known for its Steak on the Stone which is an 8oz prime fillet served with homemade chips and onion rings and complimented by offerings from the Gin Bar and an extensive wine menu.
The Abbey Bar
The Abbey Bar is the liveliest place to be in Donegal Town for great entertainment from Top Irish Live Bands, with an extensive Bar Food Menu with lots of variety to suit every palette.
Sky Nightclub
SKY nightclub is Donegal Town's most popular venue for the perfect nightlife experience. Celebrate special occasions, Hen Partys, Stag Nights or simply dance the night away to the best Dance, Chart, R&B and Hip-Hop tracks.
I have to make note of these two fabulous locations just outside Donegal Town sitting in the stunning Bluestack Mountains.
Lough Eske Castle – Cedars and the Gallery Bar
Lough Eske Castle hotel used to be a beautiful ruin and was transformed into a 4-star luxury Castle hotel in the jaw-dropping scenic area of the Bluestack Mountains.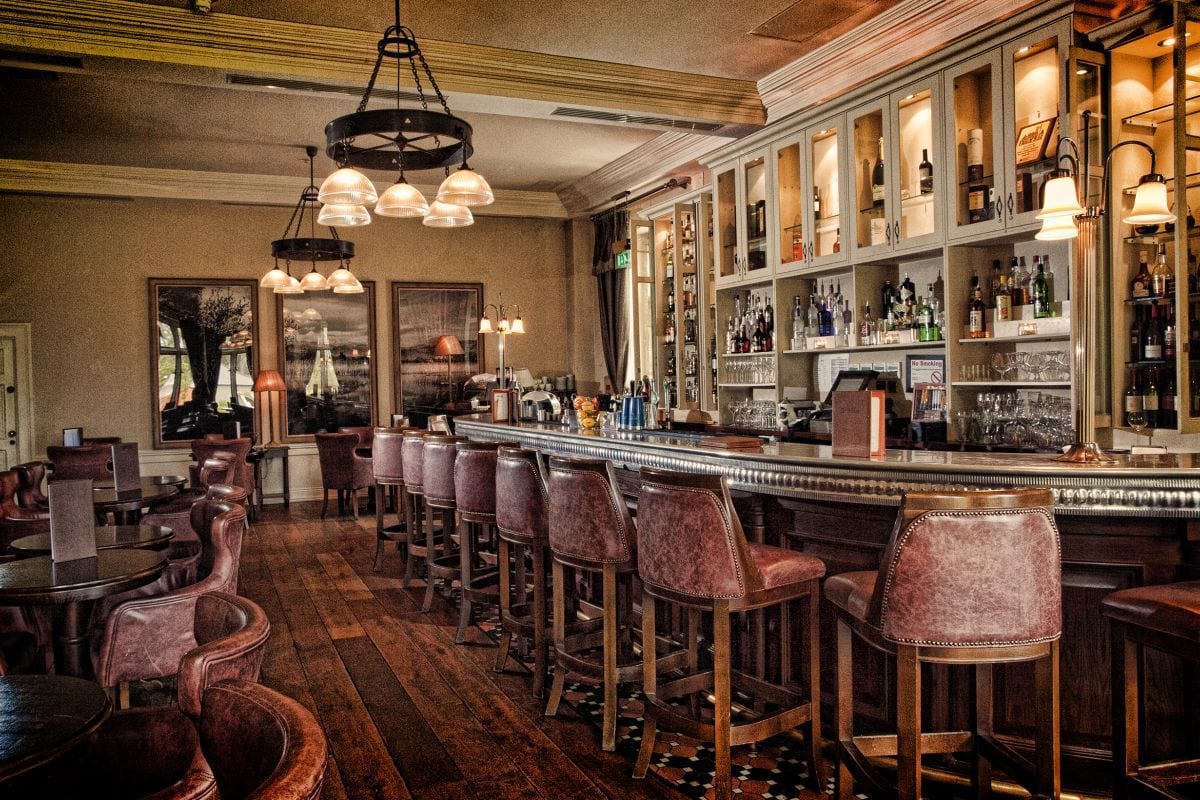 In the Castle, you will find Cedars Restaurant which serves locally sourced fish, seafood and meats. Dishes such as Salmon and Pine starter with gin cured lox, Duck Bergamot and much more. You can also enjoy the Gallery Bar and its Bistro and even take a High Tea at the Hotel.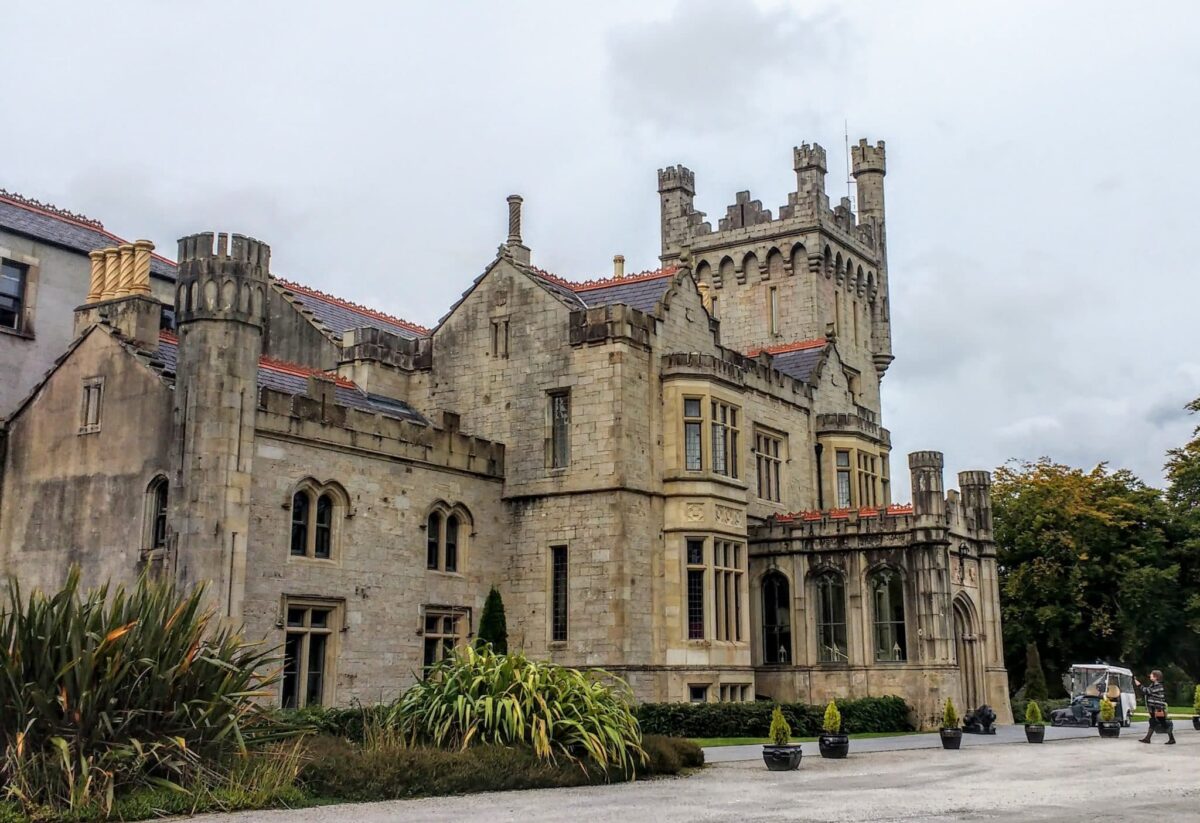 Harvey's Point
Harvey's Point Hotel is a Donegal institution and everyone around here knows the place and has either worked there or been to a wedding here. The views from the dining room are incredible I have to say.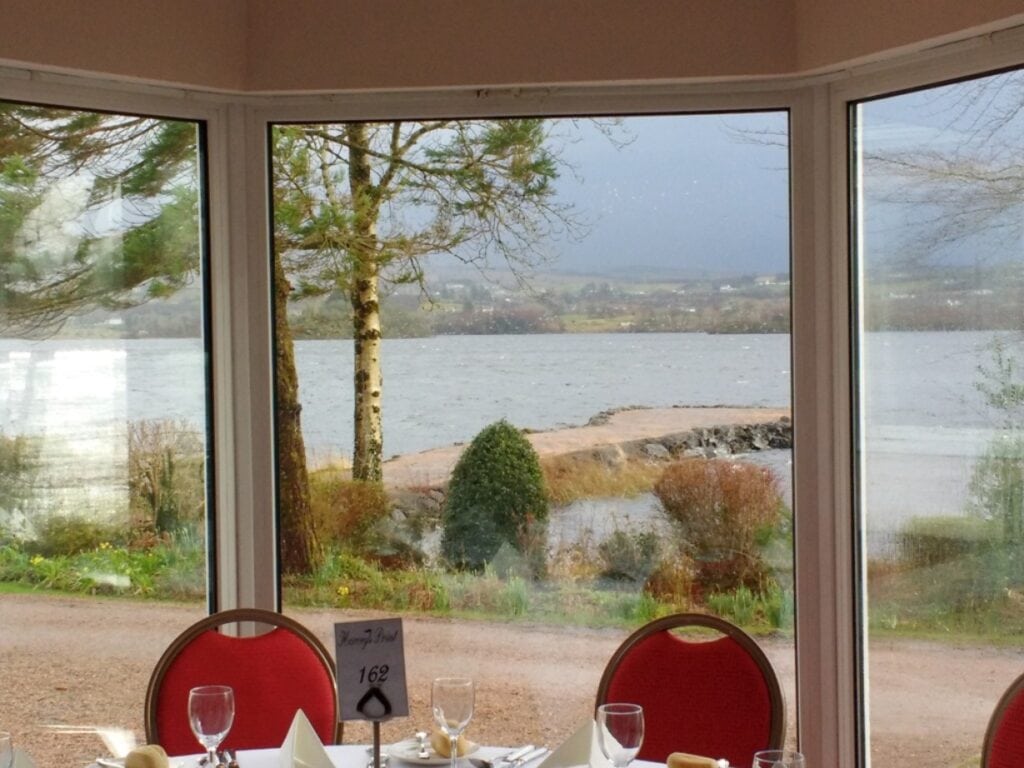 A big deal on Sundays is the Harvey's Point all you can eat buffet. Starring fresh salmon, a meat carvery, salads and amazing desserts this buffet will stay with you for a long time.
What great Donegal Town restaurants have we missed?
I've no doubt that we've unintentionally left out some great Donegal Town restaurants from the guide above. But if you want to know more about Donegal and visiting Ireland here are a few more posts for you.
The best of Irish slang and 100+ Irish slang phrases
101 Landmarks in Ireland to see
101 Landmarks in Northern Ireland
Ultimate Wild Atlantic Way Route
Ireland's Ancient East – an epic road trip
Rough & Rugged Glencolmcille Ireland 5000 years of history
15 tips for celebrating St. Patrick's Day in Dublin
If you have a place that you'd like to recommend, let us know in the comments section below and we'll check it out.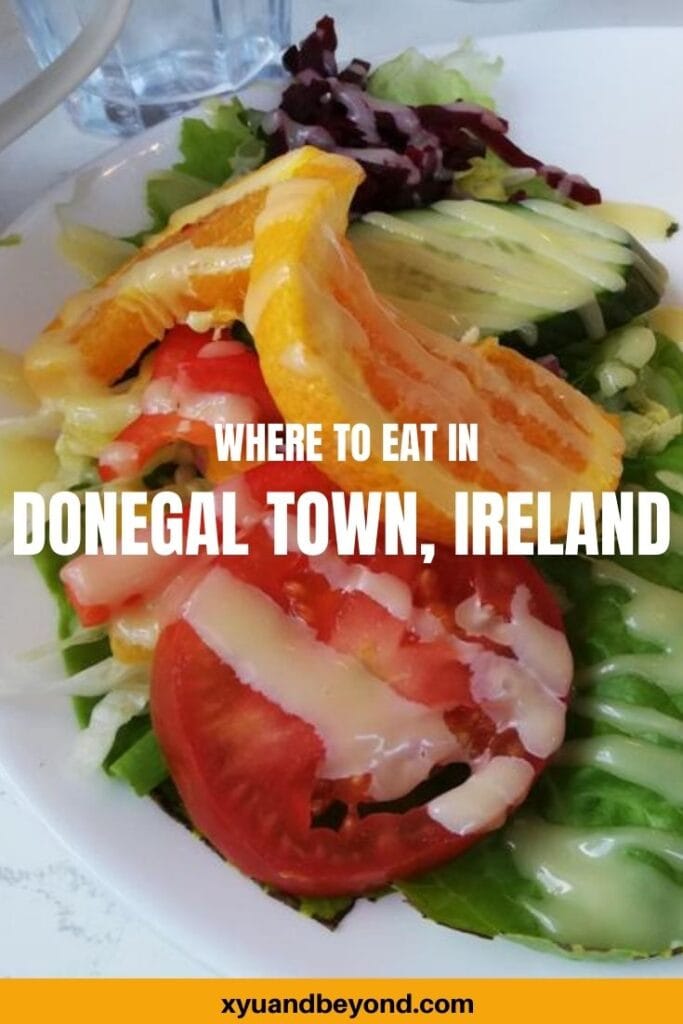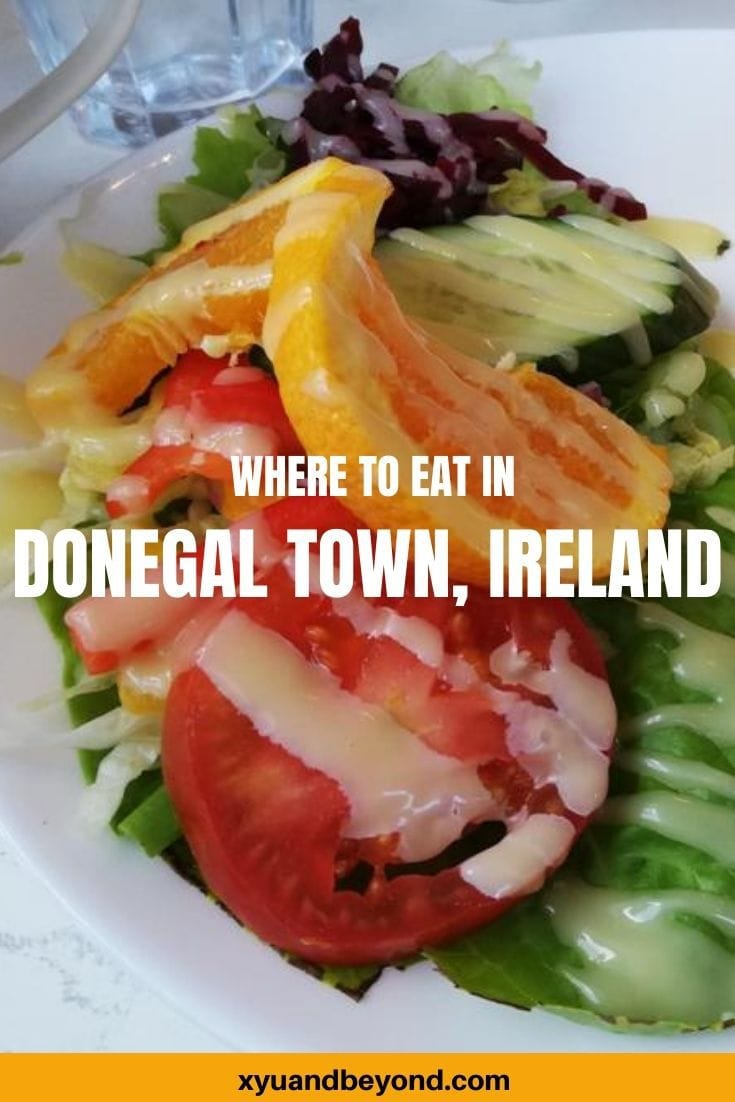 Latest posts by Faith Coates
(see all)