39 of the Best Sandwiches in the world
A discussion that has gone on for years is what is the best sandwich in the world? Well, that's not something we can get anyone or everyone to agree upon to be honest. For me, it's a chip butty that glorious butter dripping concoction with fresh chips (or fries) on basic white bread that has plenty of butter. This British treat has been my personal best sandwich in the world for many years.
However, for others, it could be a Banh mi in Vietnam, the iconic sandwich of New York pastrami on rye. How about the Canadian sandwich a Montreal Smoked Meat? The best sandwich in the world to you depends on where you come from, what your food culture has created. There are hundreds of sandwiches of the world and each one is created from a specific culture, combining local ingredients layered between a bread or pastry of some kind.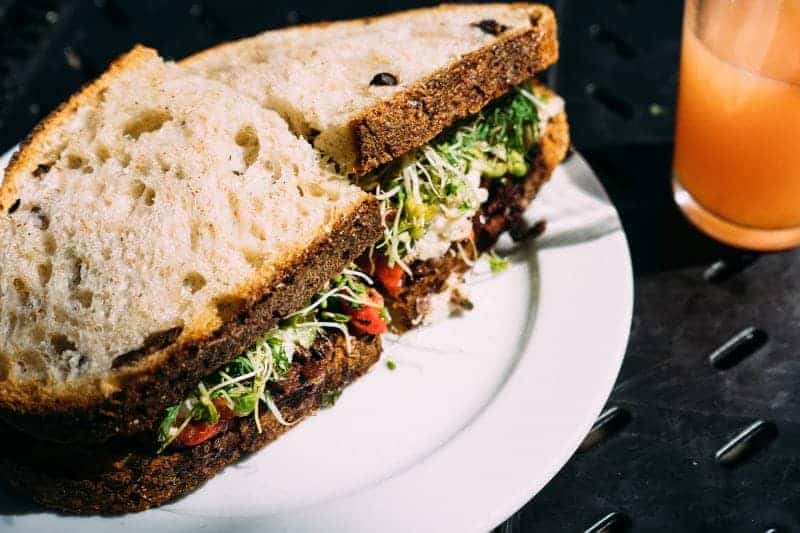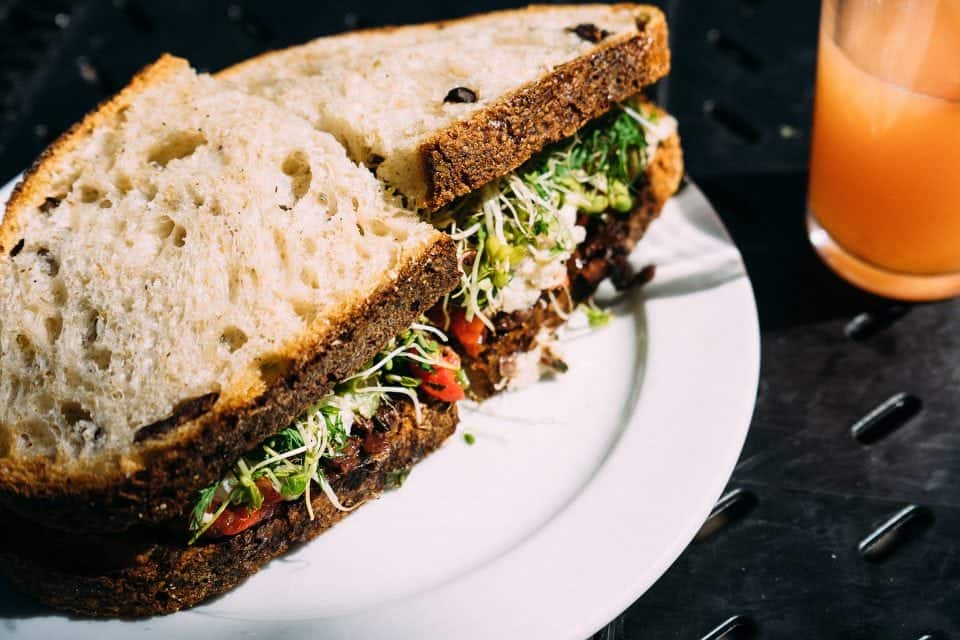 What is a sandwich?
Technically speaking a sandwich is a food that consists of anything placed on or between slices of bread or a wrapper of some kind that encloses a filling. This does not mean that a taco is a sandwich as a taco is not considered bread although it is a flatbread and it doesn't completely enclose the filling. I know seems like some kind of conundrum, doesn't it?
Who invented the sandwich?
It appears the sandwich was given its name by John Montagu the 4th Earl of Sandwich who in 1762 asked his housekeeper to bring him a snack that he could eat without getting up from the gambling table. History was made – well at least this thing was named.
The sandwich concept however has been around for centuries. In France for example, labourers have been stuffing their baguettes with meat and veggies before the sandwich was thought to be invented. The Cornish Pasty, the Bedfordshire Clanger, the taco and the empanada are all versions of sandwiches.
The British even have these days The Sammies an award for the Sandwich & Food to Go Designer of the Year.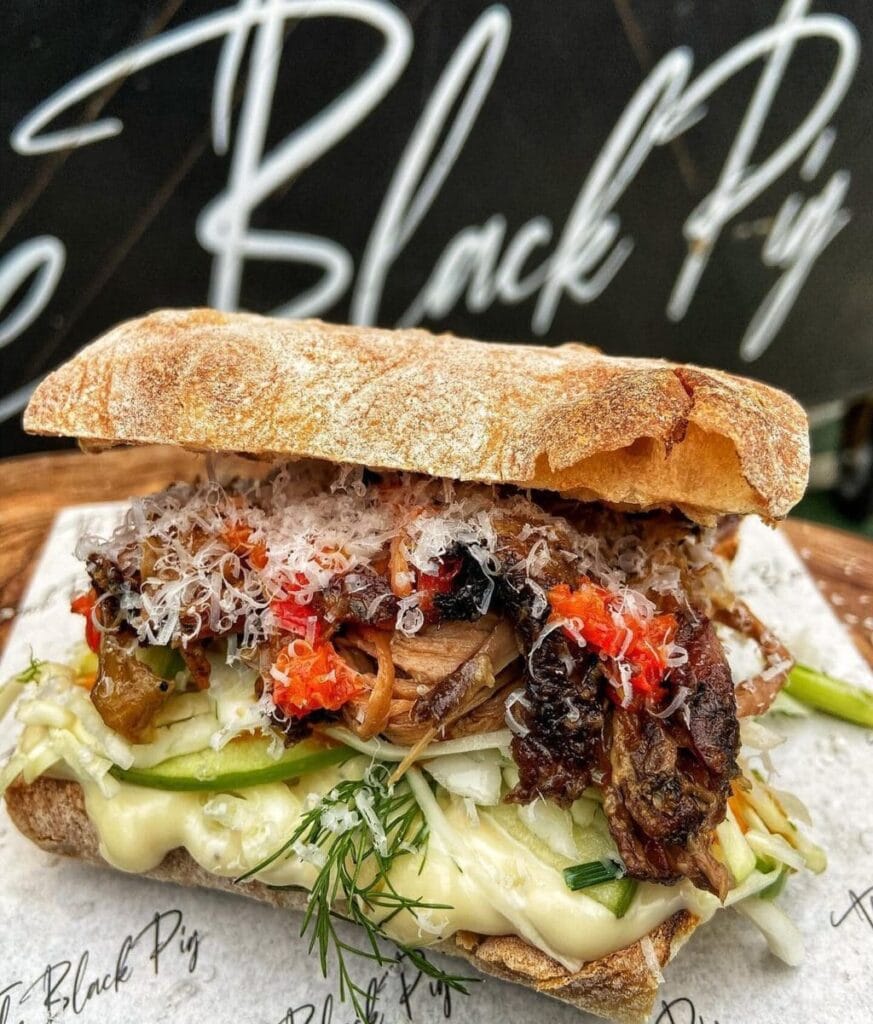 What was the first sandwich?
Hillel the Elder, a Jewish leader and rabbi who lived in Jerusalem during the time of King Herod recommended eating the bitter herbs "sandwiched" in matzo bread.
39 of the world's best sandwiches
There are hundreds of sandwiches to be found around the world it seems that every country has their favourites. You have simple ones like tuna salad, or egg mayonnaise, cheese and pickles, tacos in Mexico, ham sandwiches of every variety, grilled cheese, paninis and many more. Here are 39 of the best sandwiches as taste tasted by those of us who love to travel for food.
International Sandwiches
Chip or crisp butty – UK
For me personally the worlds best sandwich is simple and it doesn't get much simpler than fresh homemade chips or fries loaded onto white bread that has been slathered with good butter or a simpler version of crisps (chips to us N. Americans) stuffed in between two pieces of buttered white bread. Don't laugh these are the perfect late-night snacks after a night at the pub.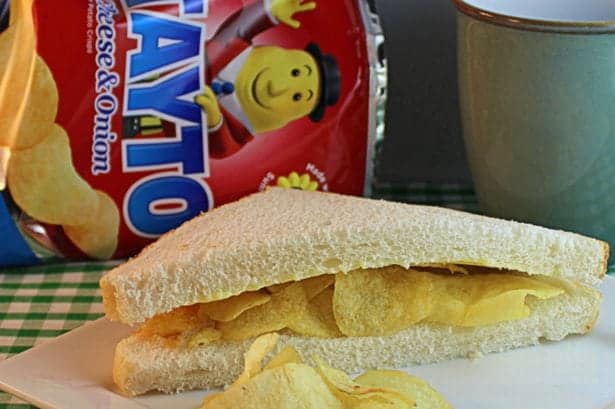 Montreal Smoked, Pastrami & Corned Beef – North America
What's the difference between Montreal smoked, pastrami and corned beef? Corned beef is made from brisket, which comes from the lower chest of a cow. The meat is brined which means soaking in a liquid that includes juniper berries, salt, sugar, pepper, cloves, bay leaves and dill. After brining the meat is then boiled before being sliced and served – preferably in a Reuben. Contrary to belief it was the British who invented corned beef and not the Irish and you won't find corned beef and cabbage in Ireland.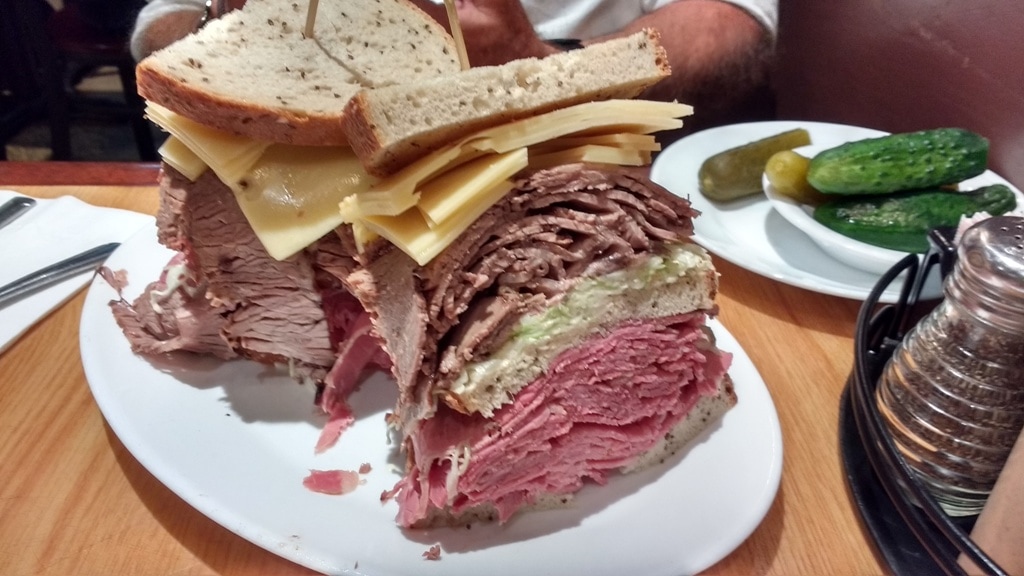 Pastrami is made from beef navel, which is cut from the plate. This is a more fatty cut and it is brined with a similar one to corned beef but after brining the meat is then smoked.
Montreal smoked meat is a very Canadian sandwich and it is made from brisket, and it too is first brined before being smoked. The biggest difference though is in the seasoning used. Montreal smoked brine includes pepper, coriander, mustard seed, garlic and salt and less sugar than pastrami.
Lobster Roll – USA
As iconic sandwiches go you can't get a more famous sandwich than the Lobster Roll. The lobster roll is a Maine speciality found pretty much everywhere along the Atlantic Coast. Freshly cooked lobster meat mixed with a little mayonnaise and drizzled with melted butter and piled high in a hot dog roll – absolutely heavenly.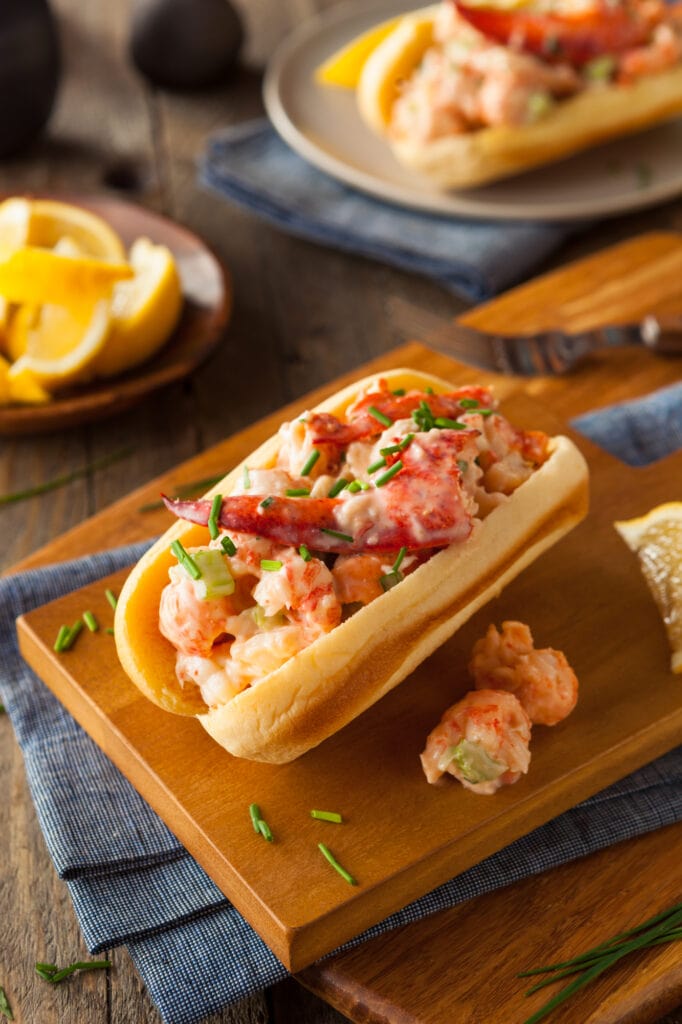 Welsh Rarebit – UK
Not your standard grilled cheese this is gorgeous cheddar or caerphilly cheese mixed with heavy cream, butter and ale with a dash of Worcestershire sauce and then melted over buttered toast. And in truth not really related to Wales although rarebit does mean rabbit in Welsh.
There are several variations including the Blushing Bunny which includes tomatoes and the Golden Buck which has an egg on top.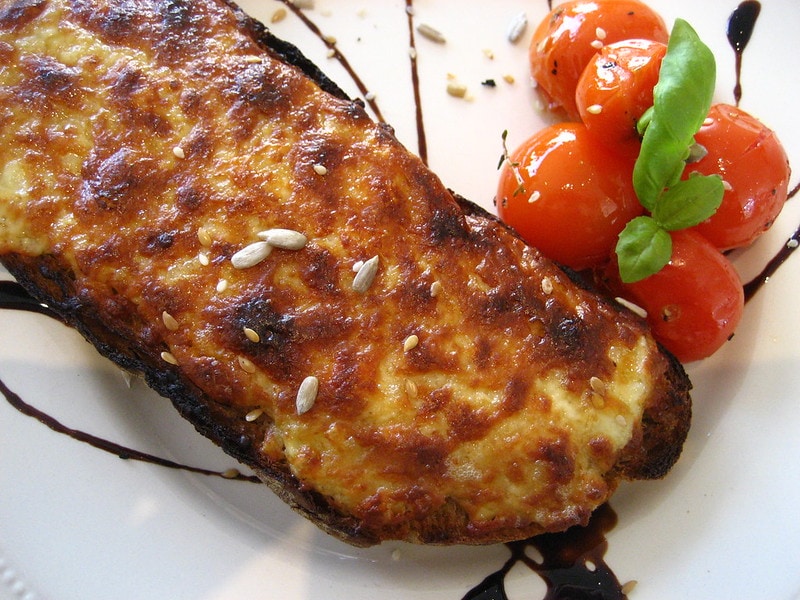 Pambazo – Mexico
The Pambazo is said to be inspired by the shape of a volcano. This favourite Mexican street food snack's flat bread is soaked in a light spicy guajillo pepper sauce then stuffed with chorizo, and potatoes and topped with lettuce cheese and cream.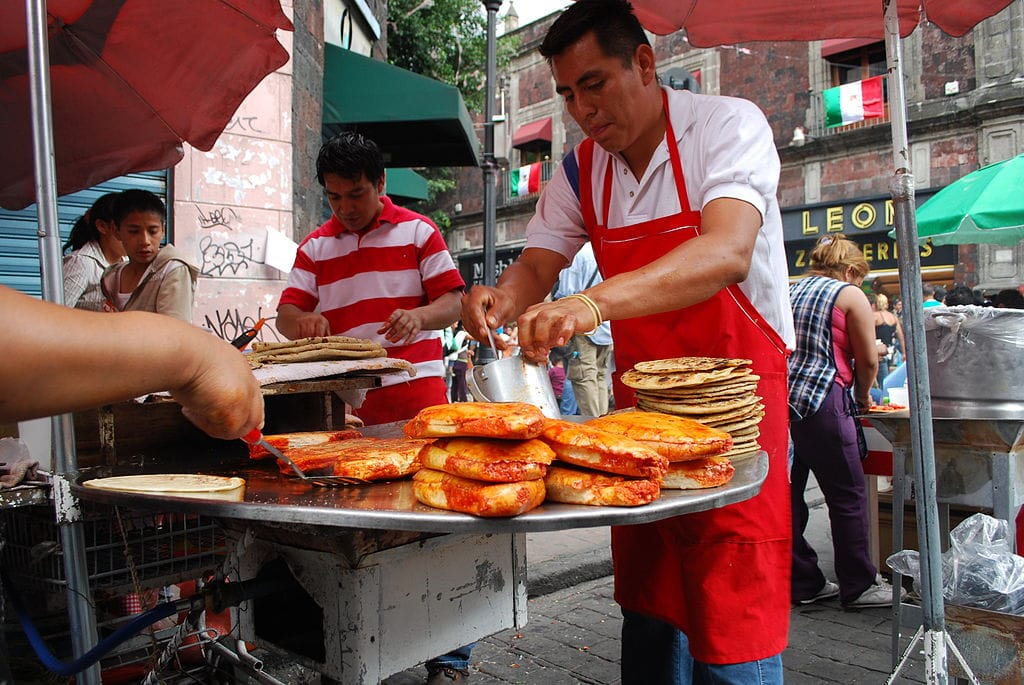 New Orleans Po'Boy – USA
The New Orleans Po'Boy was invented by two brothers during the Great Depression when they offered to feed any striking worker for free. When a worker walked into their shop – "here comes another po'boy was yelled out" the name stuck to the sandwich and a great one was born.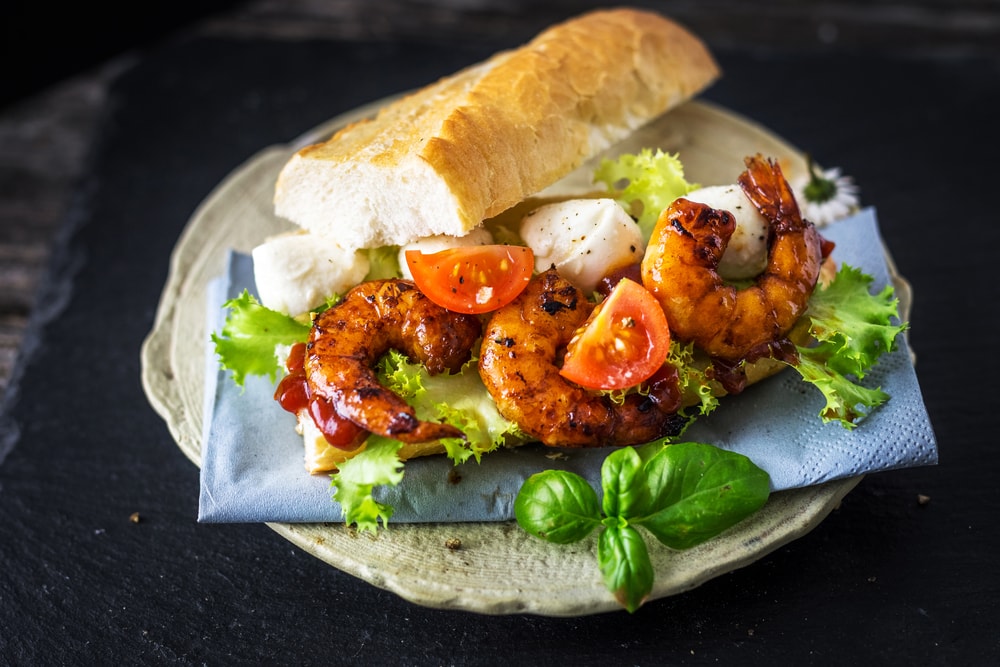 This traditional Louisiana sandwich is usually seafood or meat-based. My personal favourite is of course a seafood sandwich with shrimp – sometimes the shrimp is battered and sometimes just marinated. The filling is always served on a beautiful piece of French crusty baguette.
Fricassee – Tunisia
A street food favourite in Tunisia a Fricassee is a long bun filled with hummus, boiled eggs, olives, potato slices, capers and spicy harissa paste. This can be found at sandwich shops across the country.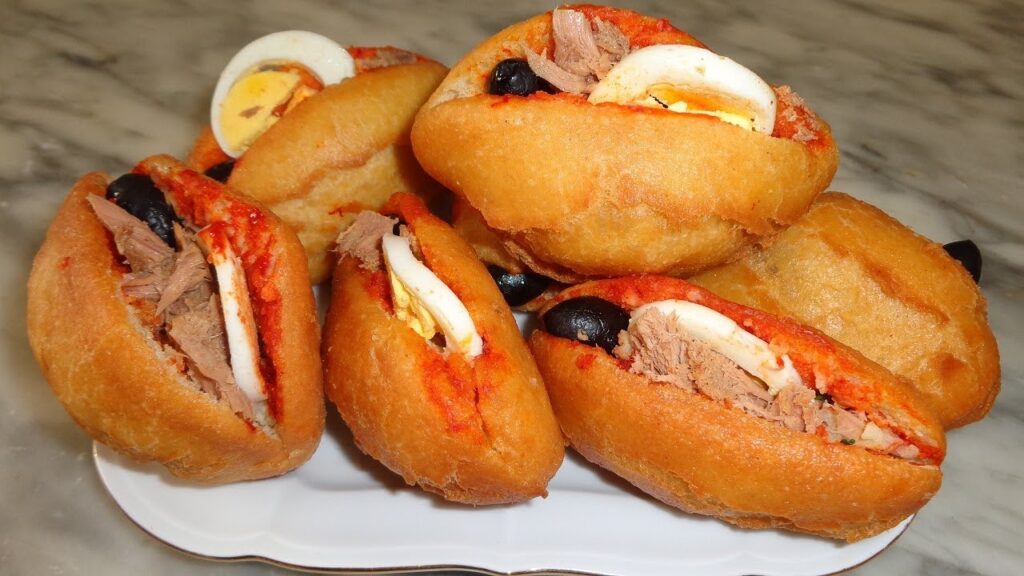 Muffaletta – New Orleans USA
If you know your sandwiches then you will know that the famous sandwiches list will always include a Muffaletta. Italian immigrants who settled into New Orleans' Lower French Quarter in the late 19th and early 20th century invented this quintessential New Orleans sandwich made from round, sesame-covered loaves of Sicilian bread stuffed with layers of salami, cheese, olives, lettuce, tomatoes
Inside the muffaletta, layers of chopped olive salad, Genoa salami, ham and various kinds of cheese (often with Swiss and provolone) mingle to a mouthwatering effect.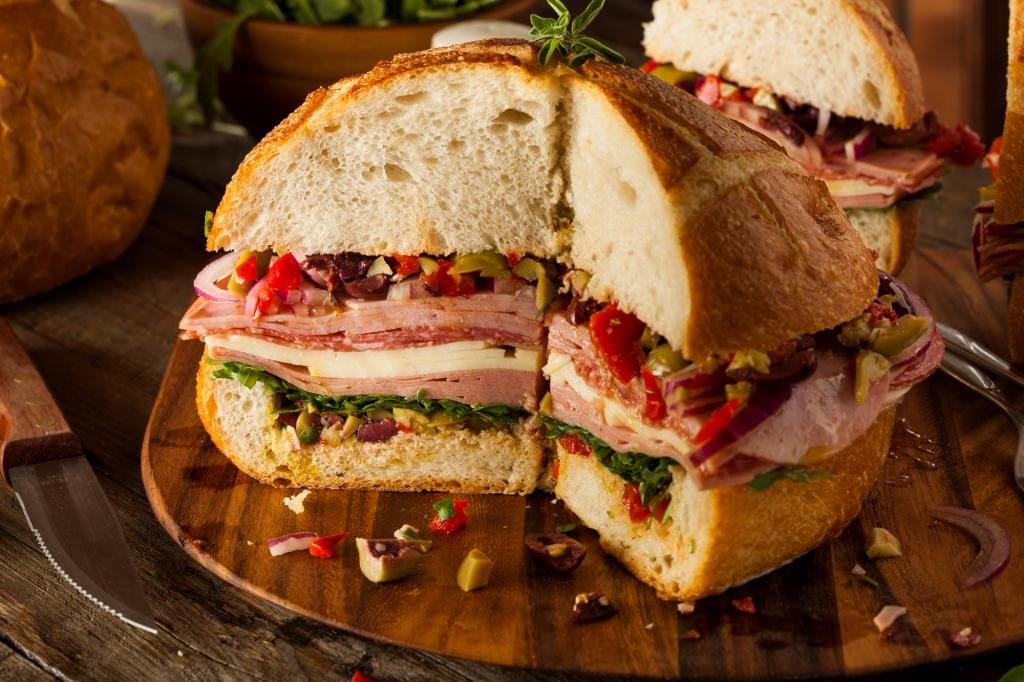 'Nduja Panini, Calabria – Italy
The best sandwich I have ever eaten, and actually, the best meal of that entire year was a crispy toasted panini filled with a melting smear of 'nduja. If you don't know this spreadable, spicy sausage the Calabrians have perfected, you might want to seek it out.
It was my first taste, and it represented one of those holy grails of culinary travel – right up there with brioche con gelato in Palermo. It was the perfect introduction – we finally found it under the best possible circumstances. The E90 may be the main road on the Calabrian coast, but it's just two narrow lanes, especially in the towns it goes through. Roseto Capo Spulico, in the instep of the boot, is one. Promising roadside markets were decked out with garlands of hot peppers – surely destined for making 'nduja.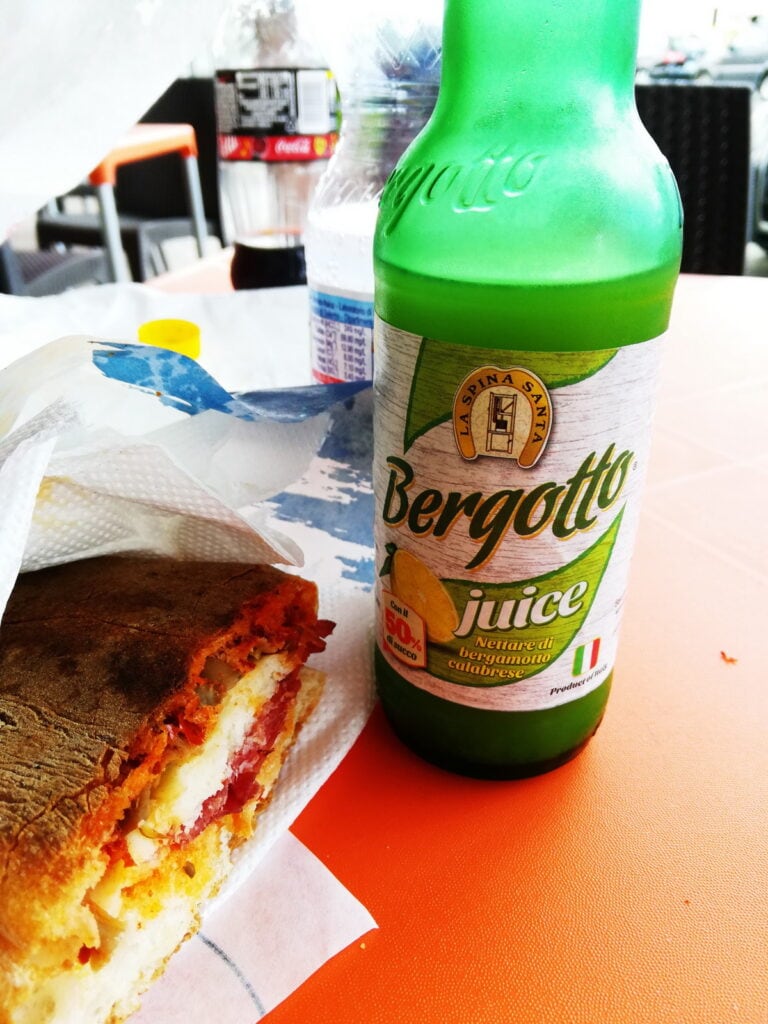 We pulled over, took off our helmets, and went into a small grocery store with a deli counter. Central in the spectacular display of salumi and formaggi was the pride of the shop – a vat of deep red 'nduja. We asked for a 'nduja panini. With what? We gestured helplessly, overwhelmed with the selection. The woman behind the counter touched her chest and reassured us – "Lo facciò io."
We put ourselves in her hands. She spread a thick layer of 'nduja on an airy roll, added some marinated mushrooms for tang, and some mild, melty cheese to bring it together. It is toasted in a panini press until crisp. It wasn't pressed down too hard, so the bread was still airy and light.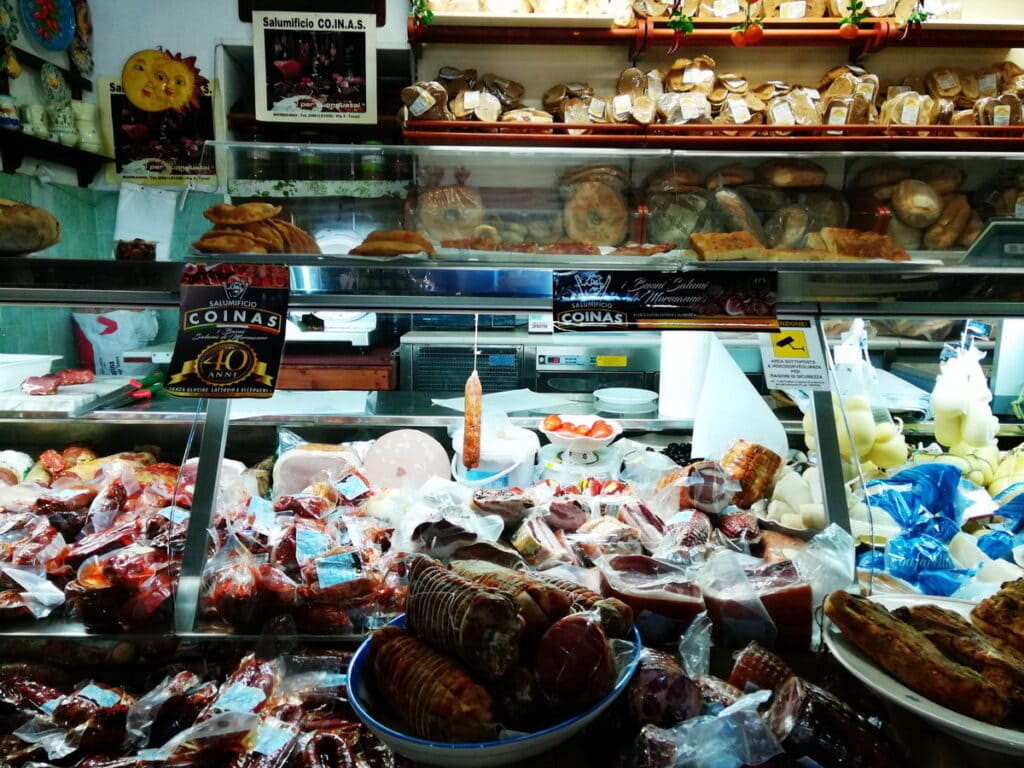 The cheese and the 'nduja had seeped into it. The 'nduja is mouth-wateringly fiery – or maybe we were just tearing up because it was so delicious. We had a Bergotto – a sour and lively bergamot soda – that stood up to the bold flavours nicely. The perfect meal was 7 euros for the two of us. Contributed by Amber Charmei of provocolate.
Smørrebrød – Denmark
Smorrebrod translates as "butter bread," and includes dozens of open-face sandwich combinations. The history of a Smorrebrd sandwich begins with factory workers who packed lunch of open-faced sandwiches using the dense Danish rugbord or rye bread which soaked up all the juices and softened the bread for eating.
These open-faced sandwiches usually used up leftovers but these days are complete works of art.

BBQ Brisket – USA
Beef brisket is a large cut of meat from the breast or the lower chest of a cow. It is one tough cut of meat that melts like butter once barbecued and smoked. Topped with a vinegary BBQ sauce and served with traditional sides of coleslaw and baked beans this is southern comfort food at its best.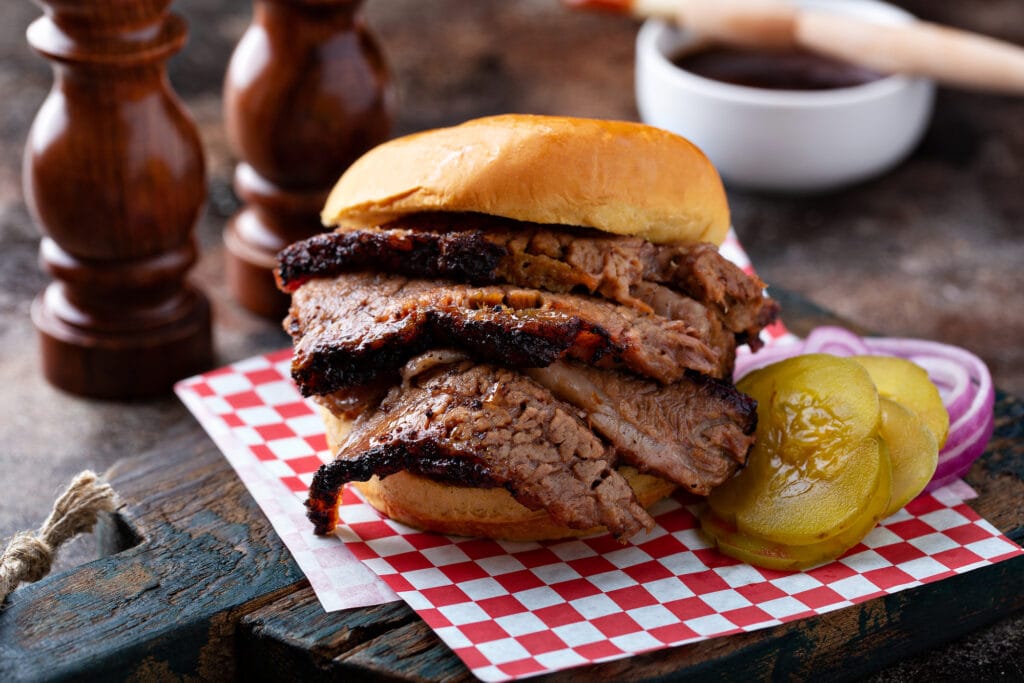 BBQ in the USA Where to find some of the best
Pizza Bun/ Pizza Man – Japan
One of the most unusual sandwiches I've discovered while travelling is Japan's delicious pizza man (a.k.a Pizza Bun). Japan may be known for its fresh seafood and flavorful ramen, but I will never forget the hot steamed buns that I purchased from Japanese convenience stores. While I don't typically seek out convenience stores for great meals, the best travel tip I received was to not overlook the quality and flavour of convenience store specialities in Japan.
Found in a warming container at the front counter of a convenience store, the steamed buns are organized by filling. There are more traditional options with meat or fish and less traditional options such as cheese or curry. After taste-testing a few, it didn't take long to realize, the pizza man stood out as the winner of the pack. The melted cheese, tomato and basil sauce, and Italian seasoning wrapped in an unnaturally orange bun could not be beaten.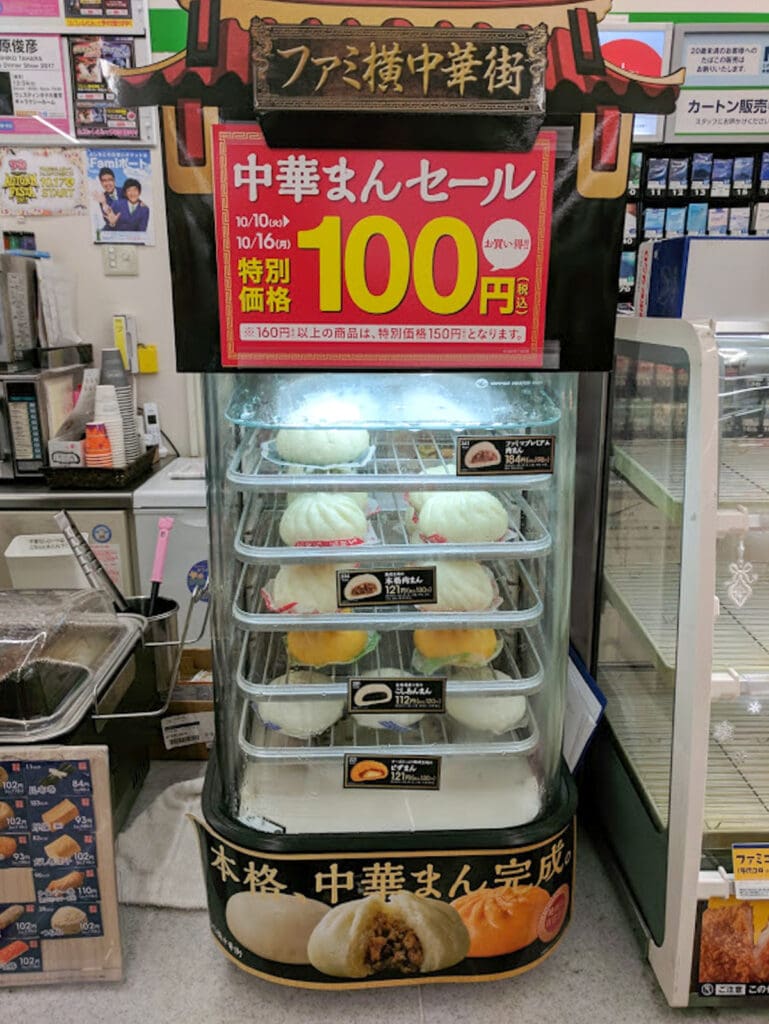 Be sure to think of these hot steam buns if you encounter Japan's rainy weather. After a rainy day in Hakone, with the fog hiding the majestic Mount Fuji, a few pizza man sandwiches instantly brightened my mood. The best part about enjoying a pizza man is that Lawson's or 7-11 can be found almost everywhere in Japan, guaranteeing quick access when the cravings hit! By Meg Alexander of HtwTravel.
Pan bagnat – France
If you like a good salade Niçoise, chances are you'll be a fan of the pan bagnat — a sandwich that similarly hails from Nice in the South of France and is made using crusty pain de Campagne, a boulangerie favourite.
Sliced in half (but not completely through), the bread hinges open to reveal layers of raw vegetables, anchovies, olives, sliced hard-boiled eggs, chunks of tuna and liberally applied olive oil, salt and pepper.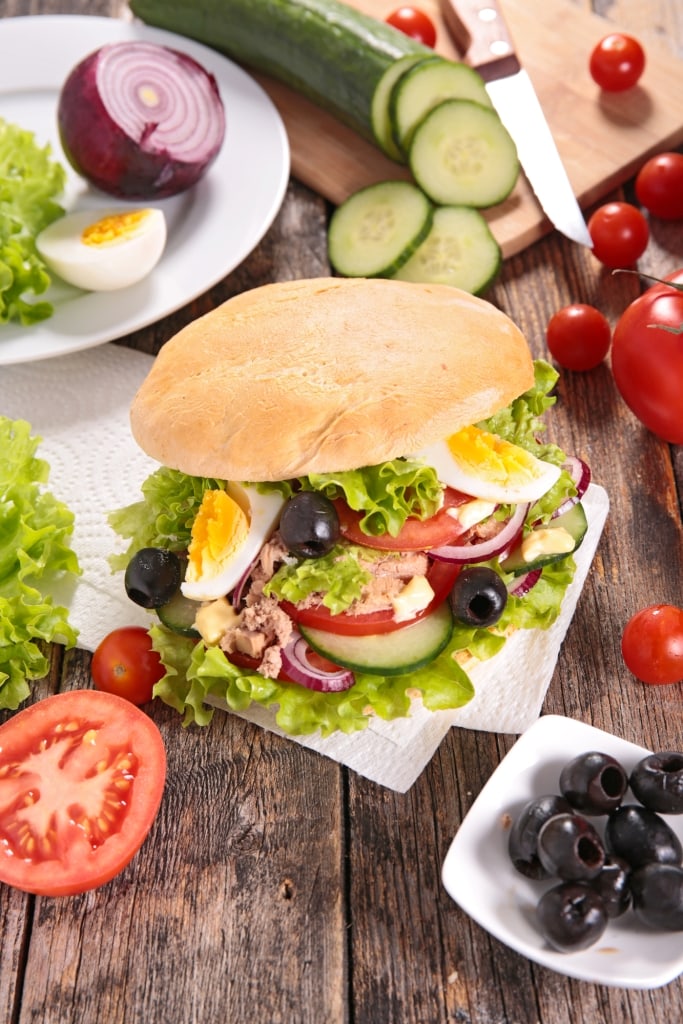 French Food Culture: The Ultimate Guide
Banh mi – Vietnam
When people think of Vietnamese food, one of the first dishes they think of is banh mi. Like pho, it's a Vietnamese national dish and one of the most famous dishes outside of Vietnam. Many consider it to be one of the greatest sandwiches in the world and I wouldn't disagree.
Technically speaking, the term banh mi refers to the personal-sized baguette introduced by the French during their colonization of Vietnam. But it's also used to refer to the sandwich made with the baguette and a variety of ingredients like cold cuts, liver pate, grilled meats, pickled vegetables, cucumber slices, and coriander. As long as it's made with this baguette, then you can fill it with anything and it would still qualify as banh mi.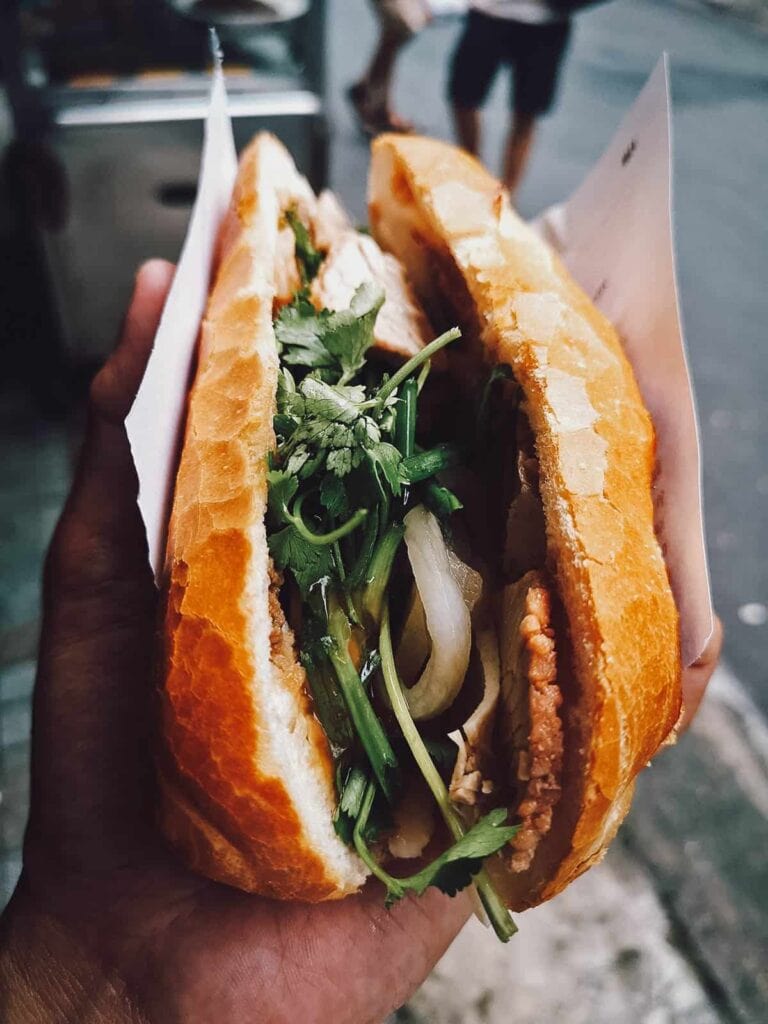 As you can probably guess, the bread is the heart and soul of a banh mi. Some people say that a sandwich can only be as good as the bread it's on which must be why the banh mi is so highly regarded. Reminiscent of a Parisian baguette, it's known for its thin crust and airy crumb that sort of crumbles in on itself when you take a bite. When done right, few sandwiches in the world can compare to a banh mi.
Banh mi is terrific everywhere in Vietnam but the best examples are said to come from central and southern Vietnam. I've had banh mi everywhere in the country and the sandwiches in Hoi An are my favourite. As they say, it's all about the bread and the bread in Hoi An is better than the rest.
When I'm in Vietnam, I could eat banh mi every single day and not grow tired of it. At just VND 20,000-40,000 per sandwich (USD 0.86-1.73), it's hard not to. Contributed by JB Macatulad, Will Fly for Food
Philly Cheese Steak – USA
When visiting Philadelphia, it is not a true and authentic Philly experience without digging into a mouth-watering cheesesteak. The cheesesteak is an iconic experience to have, just as the Rocky Steps and Eastern State Penitentiary are important parts of Philly, too.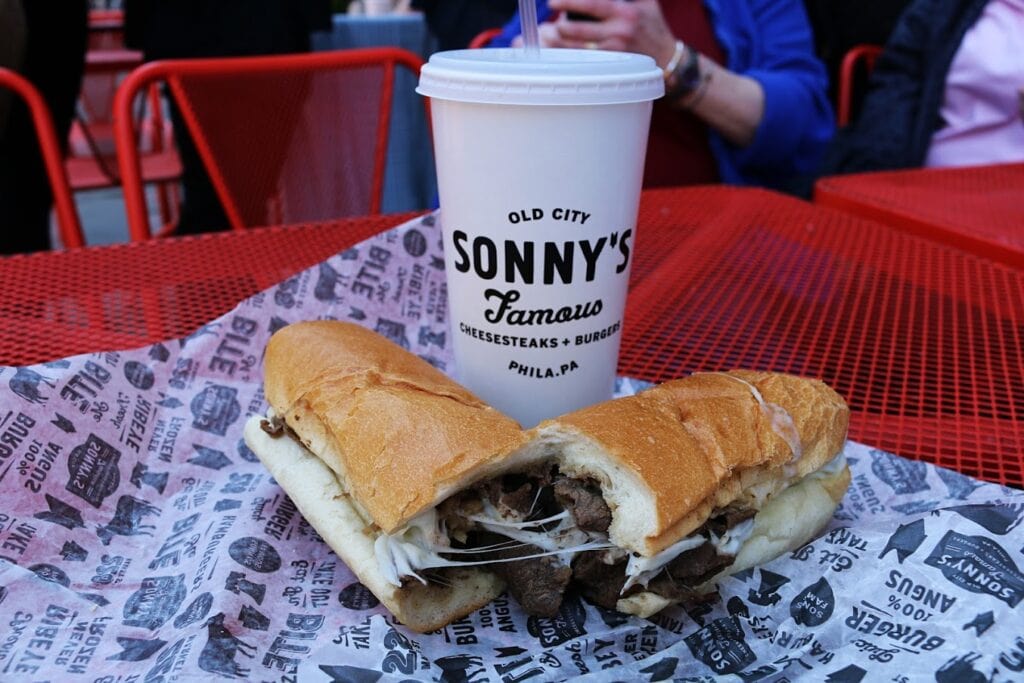 A classic cheesesteak includes a chopped-up and paper-thin sauteed ribeye, covered in a sea of cheese of your choosing (American or whiz) and onions in a fresh and delicious long roll bun. The bun is slightly crusty on the outside but soft in the middle. One bite and you will be in heaven! If you are feeling adventurous, other additional toppings are available on request.
The sign of an incredible cheesesteak is simple. If you have a few drops of liquid drip from the end of your cheesesteak, you know it was a good one.
There are many popular locations around Philadelphia. Cheesesteak sandwiches are such a big deal, that if you were to ask several different people where to go, you would be left with several different answers.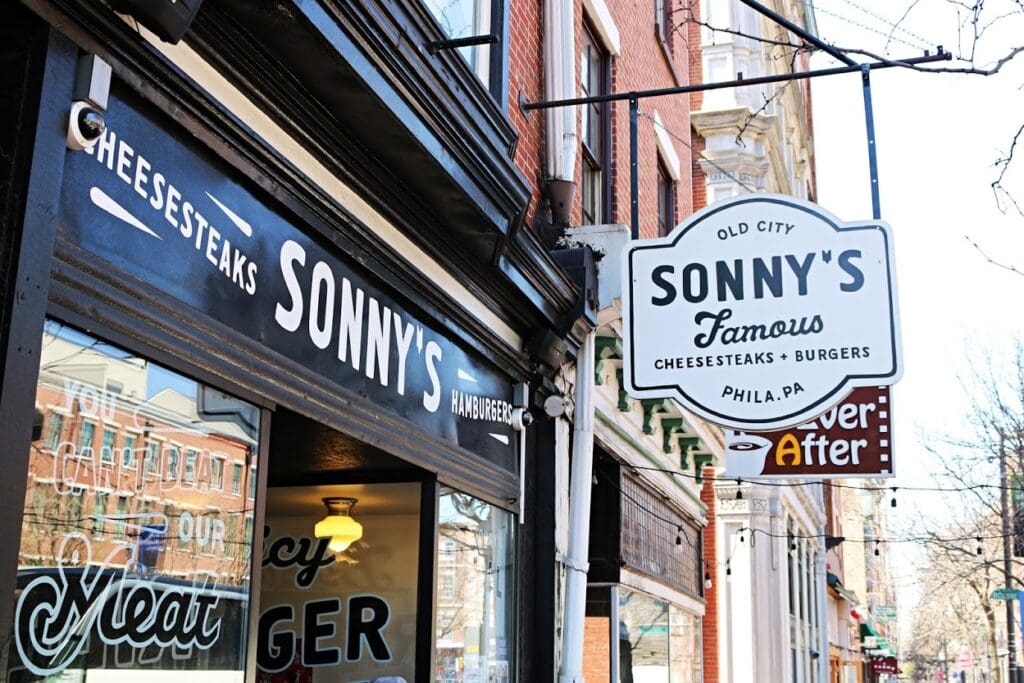 We ended up at Sonny's Famous Cheesesteaks and savoured every bite. It has a convenient location, being a short five-minute walk from The Liberty Bell. A basic cheesesteak will start at around $10US. Contributed by Debbie Fettback from WorldAdventurists.com.
Mozzarella in Carrozza – Venice
The mozzarella in Carrozza is a delicacy born in Naples at the beginning of the nineteenth century, as a preparation for the recovery of stale bread and mozzarella advanced. Later it became very popular also in other Italian cities and in particular in Venice.
The name comes from its shape reminiscent of the wheel of a carriage. The dish consists of slices of mozzarella enclosed in two slices of bread in a box (which act as a "carriage"), which are passed into the egg and milk and then fried.
In Venice a local variant of the mozzarella in Carrozza was made, rectangular in shape and made with a half slice of white bread for sandwiches cut in half vertically, with the addition of anchovy or a slice of cooked ham, mozzarella and the other half a slice of bread, all dipped in a baking mixture and fried.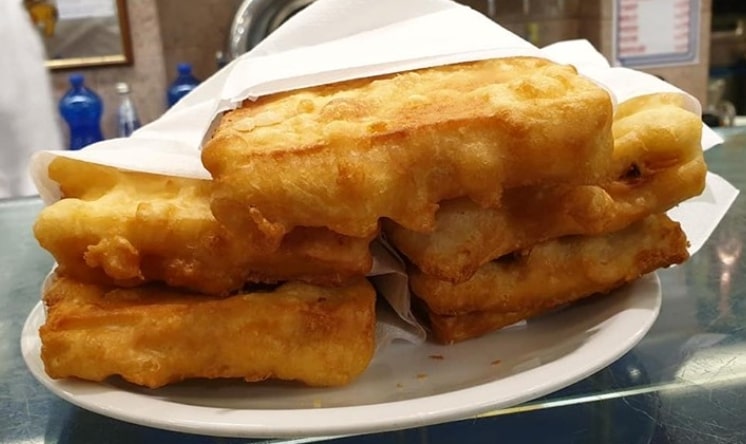 Once ready, it comes with a crispy casing and a soft and streamlined filling. The mozzarella in Carrozza in Venice is a street dish you can find in local called bacari or in the rotisseries to take away. The most famous place to eat it is undoubtedly at Rosticceria Gislon in Venezia. Contributed by Miriam of Miry Giramondo.
Bagel and lox – NYC
A bagel is a ring-shaped yeast bread that is boiled briefly before it is baked. While you can get bagels in lots of cities these days, the best are in New York City. Anything else – from a different city or from the supermarket – just isn't the same. Real New York bagels are tastier, chewier, and a bit saltier.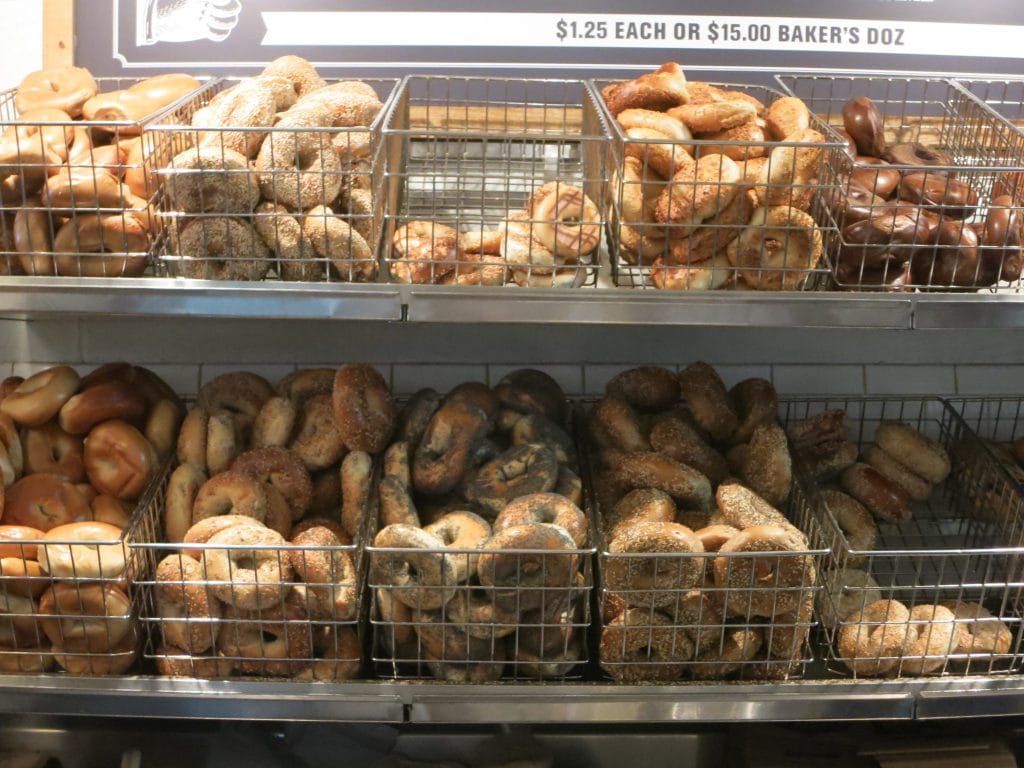 Bagels originated in Poland in Jewish communities. Jewish immigrants opened bagel bakeries when they arrived in New York, but bagels today are popular with pretty much everyone. They come in a number of varieties; plain, sesame seed, poppy seed, salt and onion are the most traditional flavours, but these days there are far more possibilities.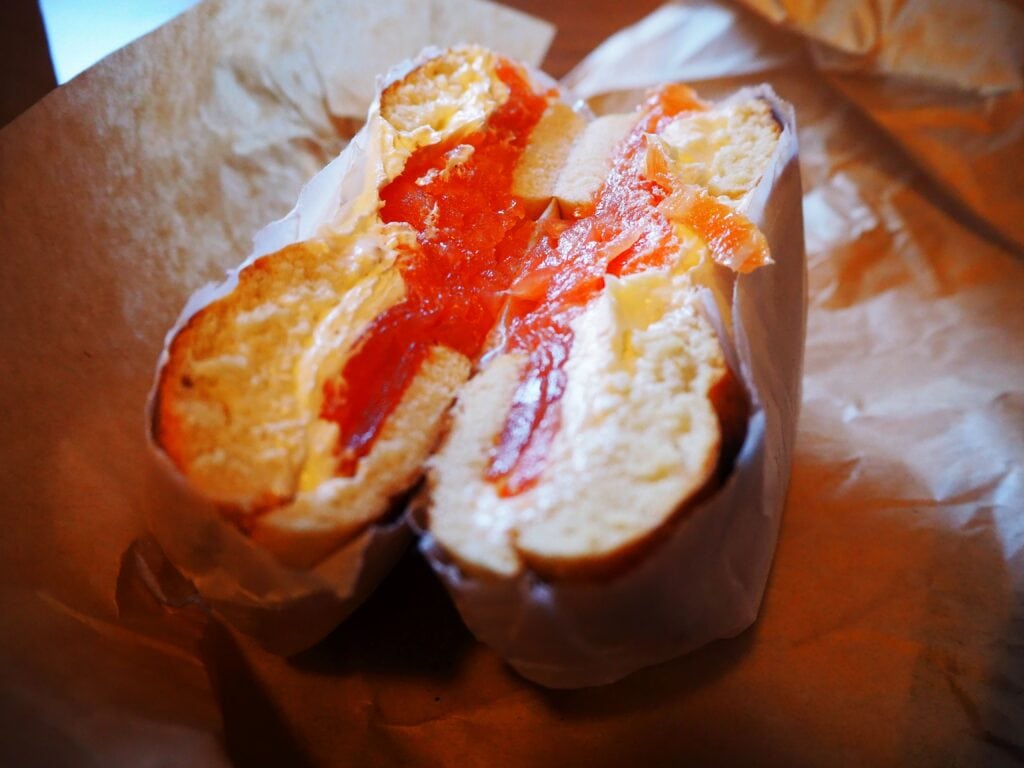 You can put anything on a bagel. Just slice it in half and make a sandwich. But the most traditional combination is the classic plain, sesame seed or poppy seed bagel with cream cheese and lox.
Lox is smoked salmon cut from the belly; it's a bit saltier than regular smoked salmon. Supermarket package labels just say smoked salmon, but if you go to a traditional Jewish deli in New York, you can specify that you want lox. The best kind isn't machine-cut or packaged. The person behind the counter will carefully slice it off a whole smoked salmon.
Something about the combination of these three things – bagel + cream cheese + lox – is just perfect, and perfectly satisfying. Of course, that kind of quality comes at a price. If you are on a budget, ask for "lox shmear" which is cream cheese mixed with small bits of smoked salmon. It won't have as strong a flavour as slices of lox, but it'll give you the approximate idea for less money. Contributed by Rachel of Rachelsruminations.
Jewish food traditions an essential guide
Francesinha – Portugal
Portugal, and Porto in particular, is home to the Francesinha, meaning Little Frenchie. There's nothing little about this epic doorstep sandwich though! Made with bread, ham, linguica (a sausage that's a cross between Spanish chorizo and a chipolata) and steak. That's not all though – once the sandwich is made, it's covered in melted cheese and thick spicy tomato and beer sauce, and sometimes a fried egg.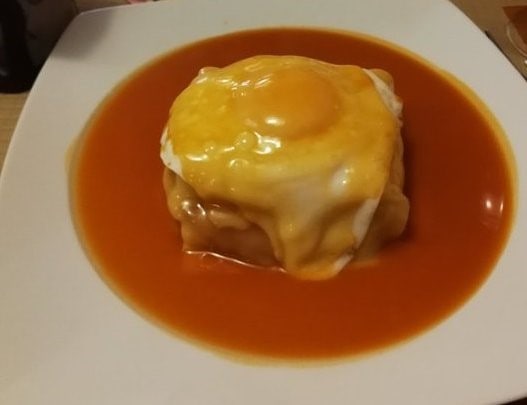 If you're road-tripping through Portugal you must try this enormous sandwich, which you can find in all roadside bars and most restaurants. Porto, which holds the honour of being the home of the francesinha, is the best place to try the sandwich. There is even a place called the Francesinha Cafe in the city, which is well known for its' take on the sandwich.
If you do try this dish, it is enough for the main meal. This is not a light sandwich, perfect to eat as you stroll the city or perch on a wall. This requires cutlery, a large appetite and most definitely a napkin! Expect to pay around €7 for the sandwich in Porto, and look out for a happy hour two-for-one deal. Contributed by Izzy & Phil of The Gap Decaders | Motorhome & Road Trip Travels
Cevapcici – Bosnia and Herzegovina
The closest thing you'll find to a traditional sandwich in the Balkans, cevapcici (Ćevapičići) is a popular street food that's ubiquitous across the region. The exact origins of the dish are unknown but it's thought to have evolved from Ottoman influences. Every country puts their own twist on the staple. One of the most indulgent and moreish variations comes from Bosnia and Herzegovina.
The main component of Bosnian cevapcici is the cevapi, kofta-like meat patties. Typically made from veal, beef or lamb mince combined with spices, they're rolled into small 'sausages' and fried until crisp on a charcoal grill then served with a pile of chopped raw white onion, kajmak (an indulgent creamy cheese spread made with sour cream) and ajvar (a mild red pepper sauce) on the side. Sometimes the sausages come on a bed of fluffy bread. Other times the components will be served 'deconstructed' so you can stuff everything inside a flatbread yourself before chowing down.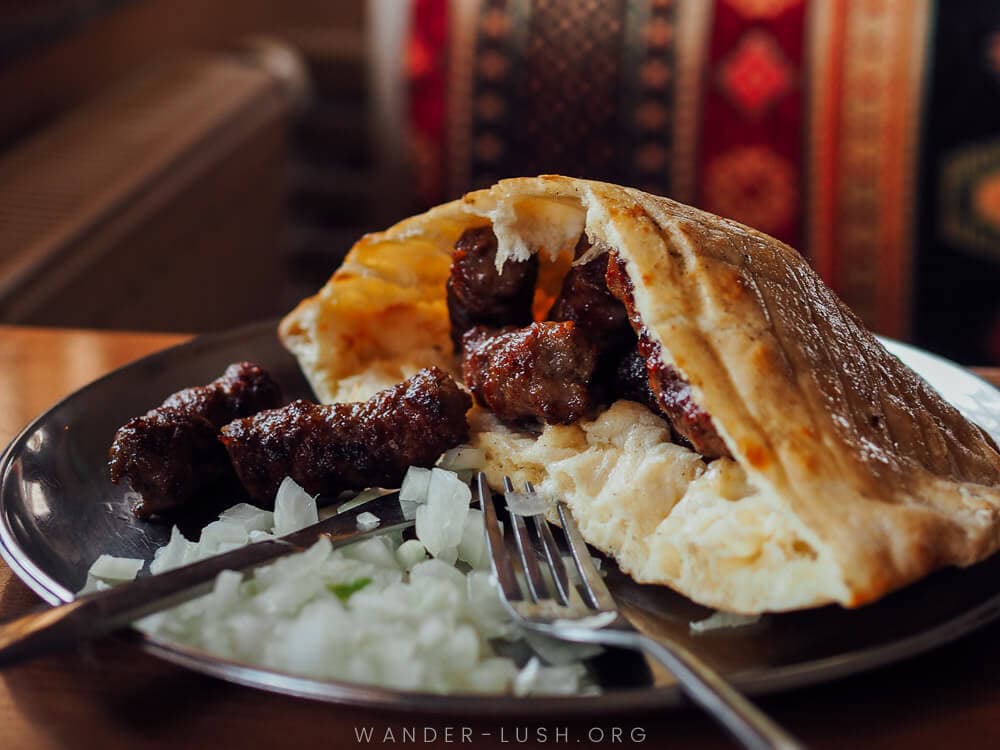 Cevapcici is served at specialised restaurants known as Ćevabdžinica. Some of the countries best can be found around the Old Bazaar in Sarajevo, with Petica Ferhatovic, Mrkva and Zeljo all firm local favourites.
Cevapi are normally sold by the dozen or half dozen with prices starting from 3.5 BAM (2 USD), making this sandwich a terrific choice for a budget-friendly, full-until-you-burst meal. By Emily from Wander-Lush.
Croque Monsieur – France
'One of the tastiest sandwiches I've ever had on my travels was the delicious Croque Monsieur. The iconic dish originated in Paris on the Boulevard des Capucines in 1901. The creator was Michel Lunarca, the owner of a bistro, who one day, ran out of baguette for a sandwich and decided to bake a simple loaf from which the infamous sandwich was born.
A Croque Monsieur is just two slices of buttered 'pain de mie' stuffed with thin slices of Gruyère cheese and lean ham. The sandwich is then toasted and topped with more melting cheese. A few variations of the sandwich include spreading a rich dijon bechamel sauce over the bread before toasting it which creates a delicious sauce or topping it with a sunny-side-up or poached egg which turns the Croque Monsieur into a Croque Madame.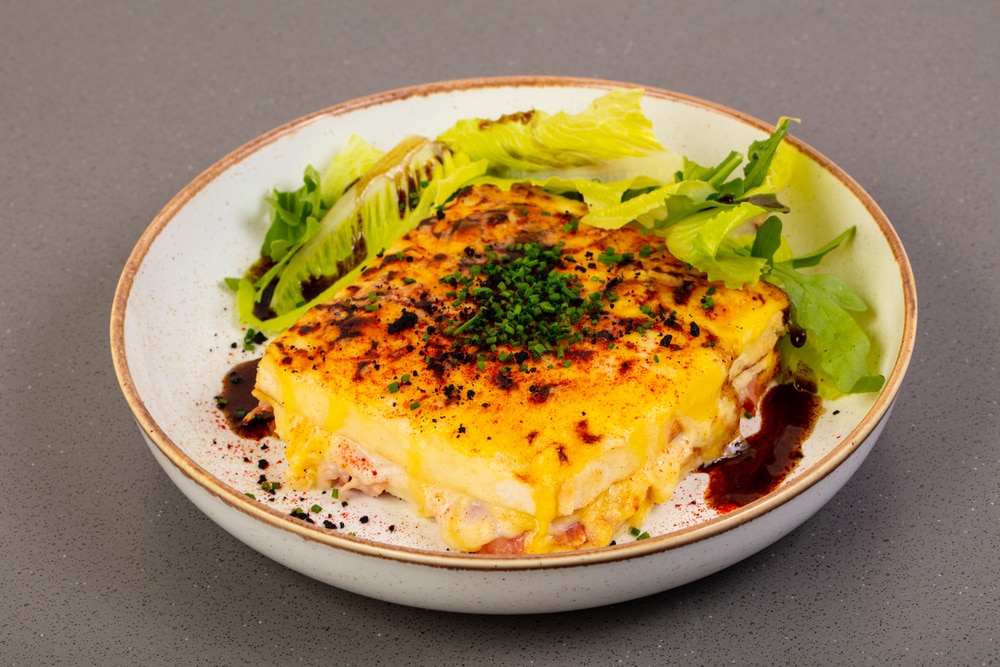 However, the genius simplicity of it is one of the things that make it such a delicious snack. If you're spending a few days in Paris, it's the perfect snack and an absolute must-try during your trip. The combination of the rich sauce, toasted bread and hot, stringy cheese is why I loved it so much and in the typical style of French cuisine, they have turned something so simple into much more than just a cheese toasty.' Recommended by Alice from Adventures of Alice
Calamari Sandwich – Madrid, Spain
When visiting Madrid, one of the foods you absolutely must try is a calamari sandwich (bocadillo de calamares in Spanish). Fried battered squid rings, a crusty bread roll, a bit of aioli, and a caña (a small glass of beer) on the side – it's simple, but when eaten in the right bar or tavern, it doesn't get any better than this. But Madrid is not even close to being a coastal city, so how has this seafood sandwich become such a typical local dish in the Spanish capital?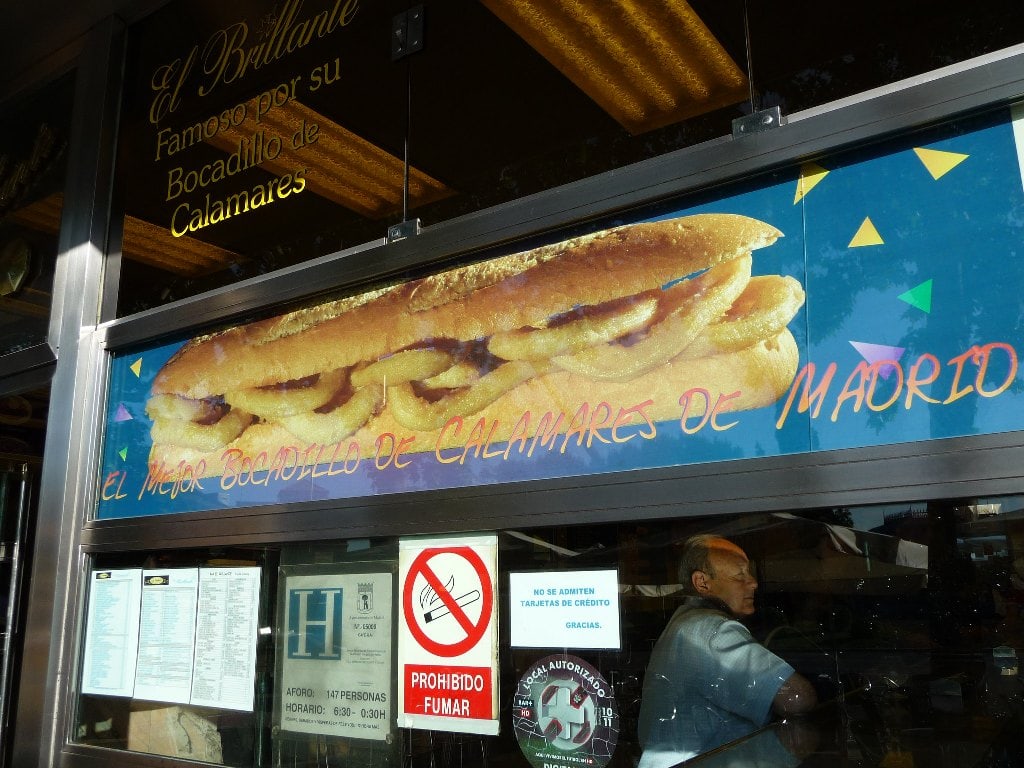 History says that during the 16th century, there were religion-based restrictions on the consumption of meat at certain times of the year, so there was a necessity to import fish and seafood from other regions. Since it was easy to preserve in salt (because ice blocks weren't enough for a 10 to 12-day journey), the squid was one of the main products that were brought to Madrid. As for the batter and deep-frying, they were probably influenced by people who moved to Madrid from Andalucia, which happened a couple of centuries later. Pretty fascinating, right?
Now that you're feeling a bit more hungry, if you're looking for the best places to devour this sandwich (because there are plenty of bad ones), head to Bar La Campana, Casa Rua, or Bar La Ideal. By Or from My Path in the World
Spanish Food: 40 of the best foods in Spain
Braaibroodjies – South Africa
My favourite sandwich is a South African braaibroodjie as they locally call it. A braai is the Afrikaans word for a barbeque and a broodjie is a small sandwich. A traditional braaibroodjie is basically 2 slices of white bread buttered on the outside then filled with grated cheese, slices of tomato and onion and a nice layer of Mrs Balls Chutney (a very popular local apricot and peach chutney) You can also use plain apricot jam. The sandwich is then grilled to perfection on a wood or charcoal braai and is served as a side dish with grilled meat.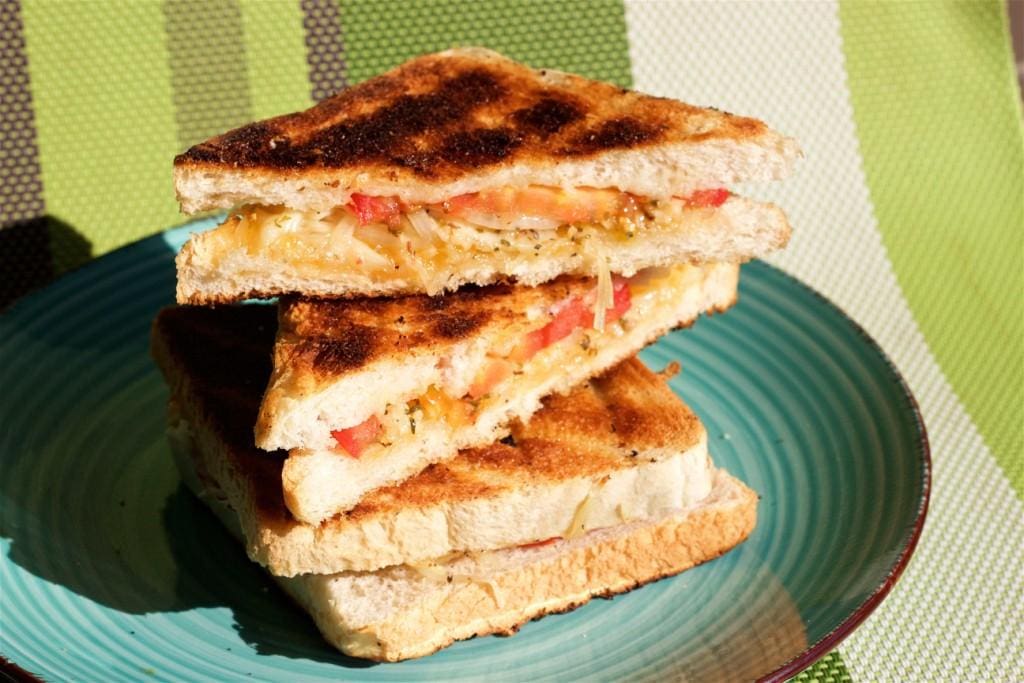 A South African braaibroodjie is not your usual grilled cheese sandwich but is an integrated part of the South African braai culture. Did you know that there is even a public holiday dedicated to the braai? It's called National Braai Day and takes place every year on the 24th of September with, of course, braaibroodjies being the side dish hero of the day. If you ever get the chance to visit South Africa and tour Cape Town try to find a place that hosts a Braai – you won't be disappointed.
It is not a sandwich you buy in a shop or restaurant, instead, it is usually eaten when having a braai with friends, acquaintances or family.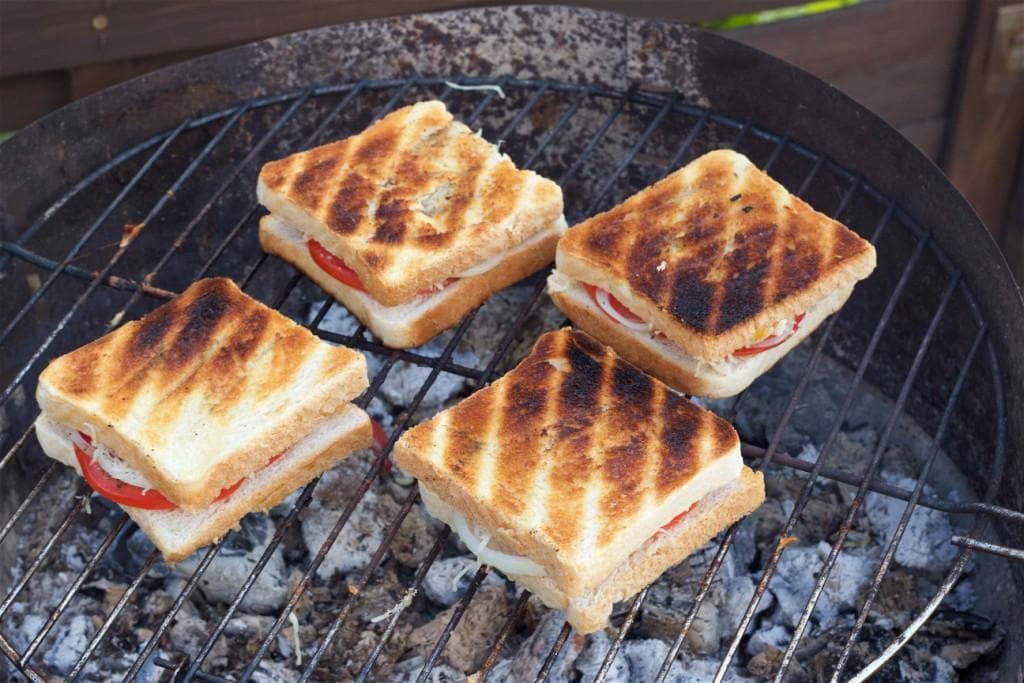 Nowadays people are stepping away from the traditional recipe and combining various other ingredients into a braaibroodjie, like adding different meats, mushrooms and different types of cheeses. Contributed by Sabine from The Tasty Chilli
Ulster Fry – N. Ireland
A traditional full Irish breakfast is my favourite treat but when placed between two slices of potato farls, great soda bread or a fresh Belfast bap this breakfast becomes portable and a brilliant way to contain all those lovely flavours.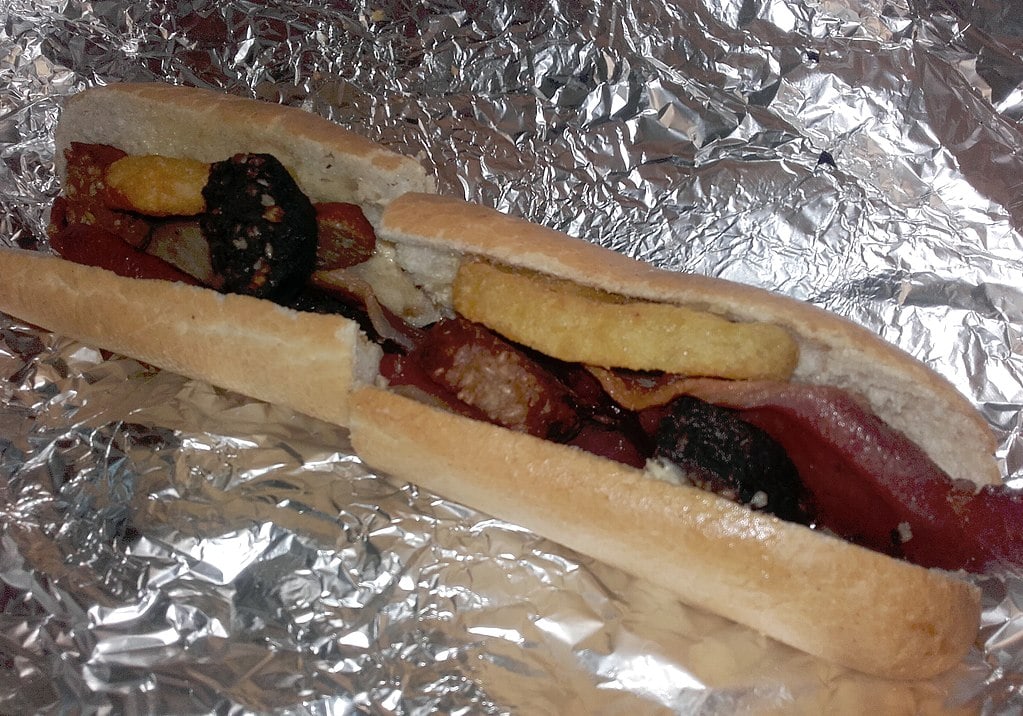 An Ulster Fry traditionally contains egg, Irish bacon, sausage and if you really push the boat out stuff in the tomatoes, mushrooms and beans. The perfect slightly messy but somewhat portable breakfast is available at most petrol stations across Northern Ireland. The cost is usually around the £5.00 mark. Taste tested by Faith of The Worlds Kitchens.
Arepas – Colombia
Made usually from corn and wheat or yucca at times, Arepas are very popular in both Colombia and Venezuela. They can be baked, grilled and even fried and then transformed into something that you never thought of.
If you don't like arepas from the get-go, it's ok. A lot of my ex-pat friends in Colombia described arepa as mostly bland and that's exactly what I thought after trying it more than a few times.
The issue here was that I was trying at the wrong places, in the so-called big restaurants. Apparently, the best arepas were available in small mom-and-pop eateries and street-side food carts. Once my Colombian friends guided me to them, there was no turning back.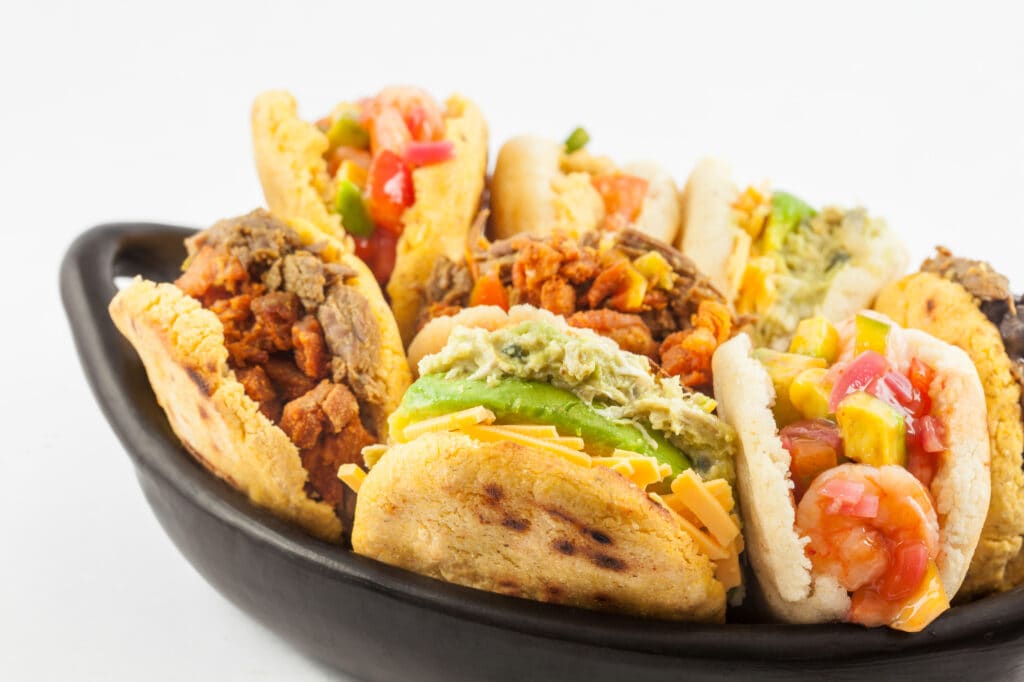 The ones I like the most are the stuffed Arepas, which come with different kinds of fillings starting from chicken to pulled pork, black beans, cheese and some veggies. And the avocado topping only takes it to the next level.
They are great for a light lunch and perfect for dinner. The thing is that while I can't eat sandwiches for dinner twice in a row, I could definitely do that with arepas. They are usually gluten-free, so if you have any gluten issues, they are great. And there are so many varieties to try.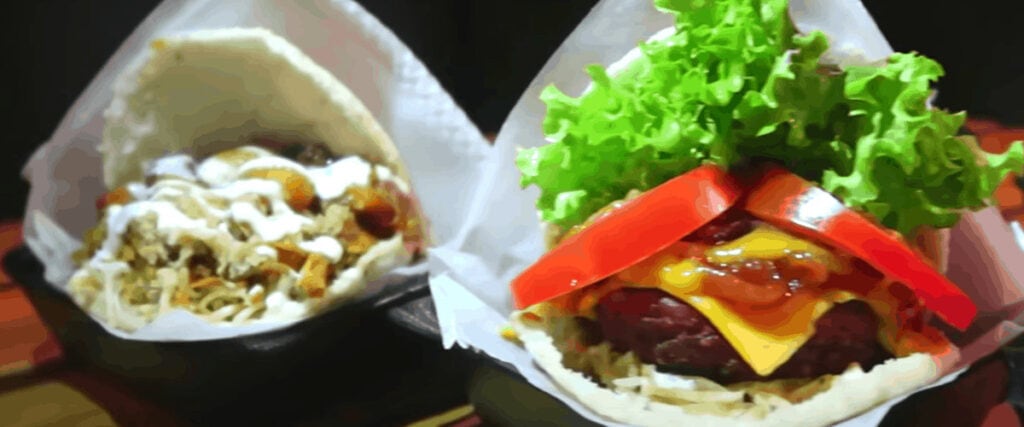 Usually, the stuffed arepas cost somewhat around 4000 to 10000 Colombian pesos depending on where you are eating. So if you are keen on cutting down the cost of living in Colombia when it comes to food, an arepa is a great option. Contributed by Deb from The Visa Project
Prego – Portugal
Prego is a luscious sandwich from Portugal that you can find all over the country, but particularly in Lisbon the capital. Normally it is eaten as a snack with a beer or a cool soda.
Prego is a simple sandwich made with a typical bread roll that we in Portugal call "Papo seco," a thinly-sliced beef steak covered with a special garlic sauce, topped with mustard and hot sauce. Sometimes it can have an egg, but when simple, it is pure comfort food.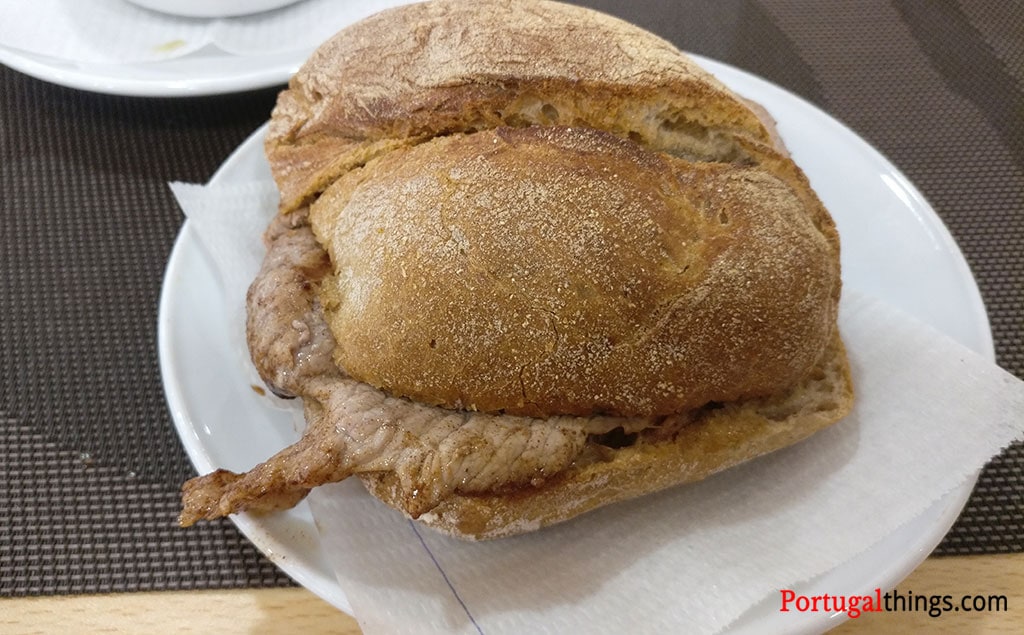 Some places have the option of serving the "prego" on the plate, without the bread, with french fries and fried egg – this is usually called "prego no Prato (prego on a plate). The wonderful thing about this sandwich is that the beef is cooked in a special marinade of garlic, white wine, butter. This sauce is then used to soak the bread, making it absolutely delicious.
Yet, be aware that each restaurant has its own twist and secret. We love eating them in small snack bars in Lisbon. They are great as a snack only to grab a bite or as a light supper. Some of the best places to have a prego are "Rui dos pregos," "sai prego," and, "cervejaria Ramiro". In Lisbon, sometimes Prego is also eaten as a dessert after eating a seafood meal, lobsters, and prawns. By Jorge & Cláudia of Portugal Things
7/11 Toastie – Thailand
Everyone who has ever been to Bangkok knows them, the toasties from 7-Eleven. While they absolutely can't be classified as gourmet food, there is just something about them that makes them so damn tasty. They cost only 25 baht (approximately $ 0,60 US) and since 7-Eleven shops are open 24/7 and can literally be found on almost every street corner, there is no reason not to try them. They offer many different kinds of toasties, including some weird variations like cheese and strawberry.
While they're all tasty (well, most at least), the ham and cheese ones are our favourite, especially because they put your toasties in the toaster to warm them up at checkout, turning it into a delicious grilled cheese sandwich. No matter the time of day, there are always people getting a toasty at a 7-Eleven.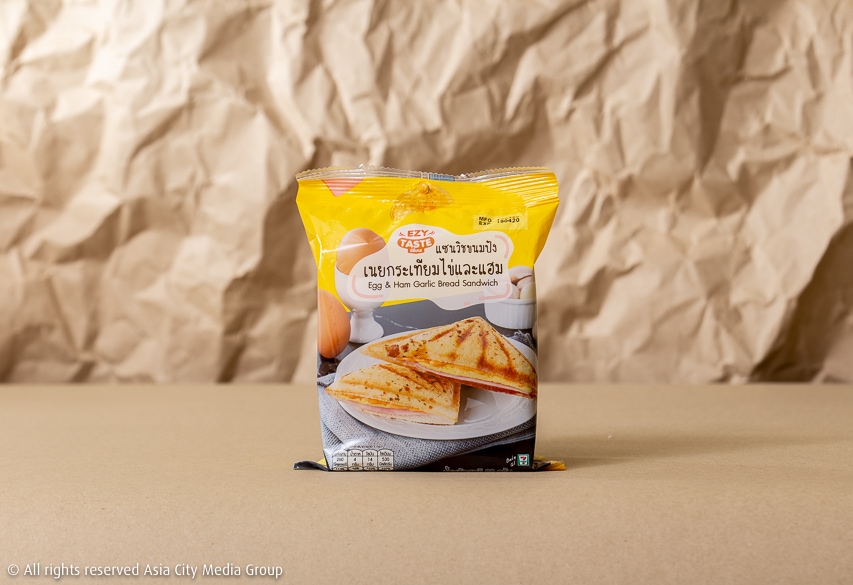 We've seen backpackers have them for breakfast, lunch, a midnight snack and then again the next morning as the perfect hangover food. You might wonder why people would go for something as mundane as a toasty when there is all sorts of delicious Thai food to be found around you, but you're just going to have to trust us on this one. We guarantee you'll understand it once you've tried one. By Tom & Zi from Craving Adventure.
Tapalapa – Gambia
Tapalapa is a traditional bread found in West Africa. It is said to have originated in The Gambia, from where it spread in popularity through Senegal and Guinea.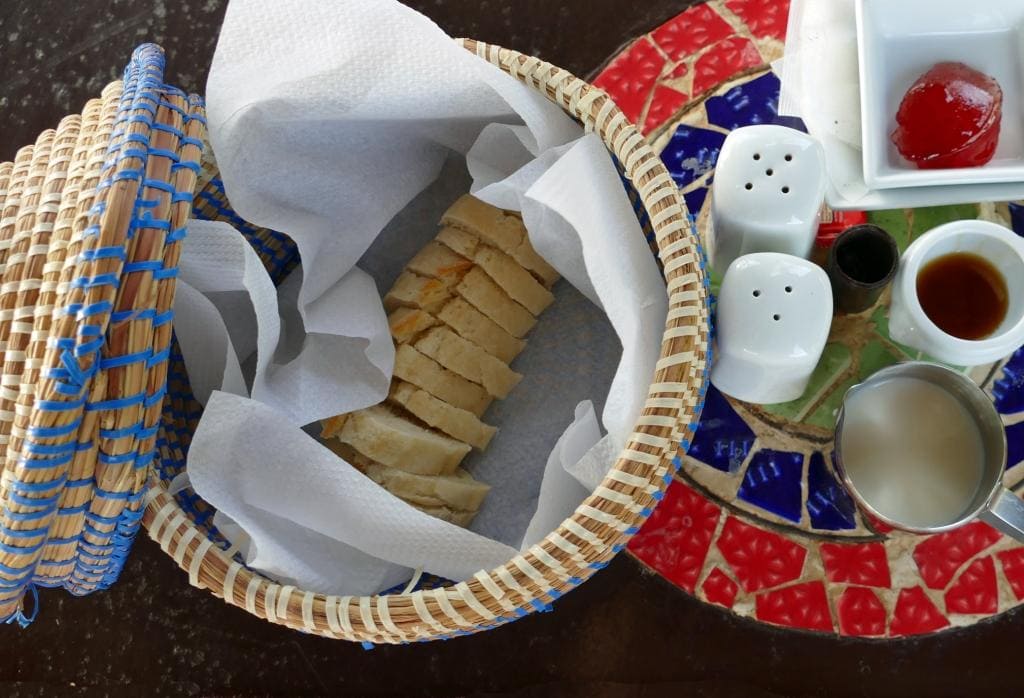 It is made from a mixture of wheat, millet, maize and cowpea flour. At first glance, it looks very much like a short French baguette but its taste is somewhat different. It's crusty on the outside and soft inside but denser than a baguette. Made in local bakeries, it's often sold on street corners most commonly by members of the Fula tribe. A boiled egg filled tapalapa has become a popular breakfast dish but traditionally it was more commonly served with fish or akra, a traditional bean fritter made with black-eyed peas.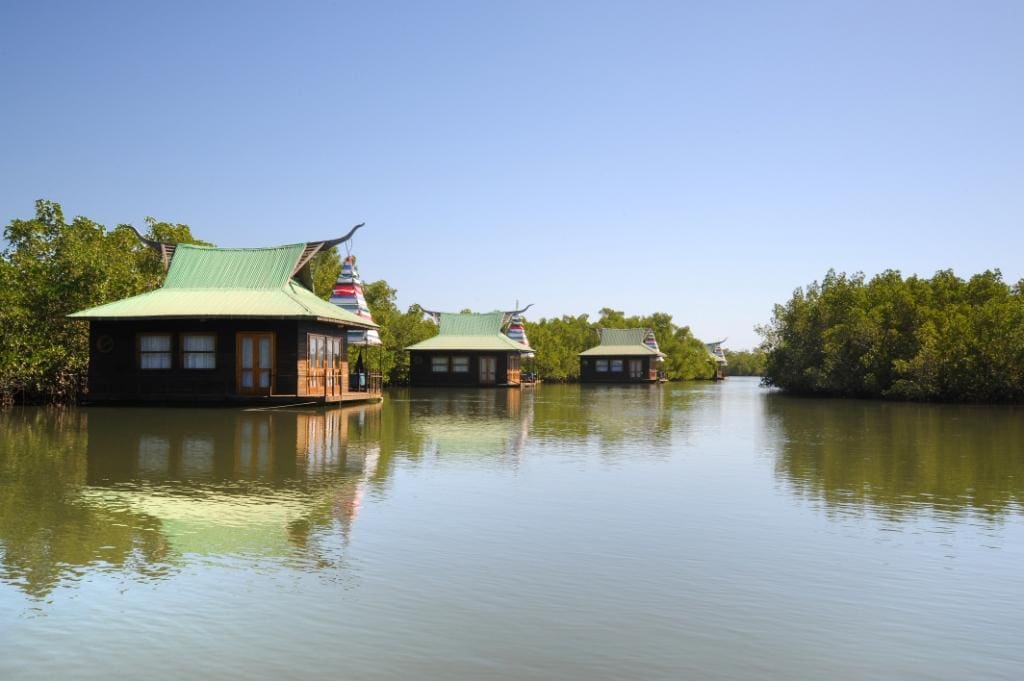 My fondest memories of tucking into tapalapa were on our honeymoon in The Gambia while staying at Mandina Lodges in Makasutu Forest. We'd wake each morning to the sound of the dawn chorus as hundreds of birds started calling in the forest that surrounded our floating river lodge.
A thermos of coffee would be waiting for us to enjoy on our terrace as we watched the river and forest awake. We'd then go off on an early morning wildlife and birdwatching walk through the forest or canoe ride along the river before returning for a hearty breakfast that included plenty of tapalapa bread with local honey. From Kathryn of Mandala Meadow.
Broodje Haring – Netherlands
Broodje haring, also known as herring sandwich, uses the Netherlands' world-famous cured herring as the star of the show. This Dutch cold sandwich is typically made of raw, salt-cured herring, sliced gherkins, and diced onions in a sandwich bun.
They can typically be found at vishandels, or seafood stalls for around 4.50€. If you're on a low-carb diet, you can also order haring with pickles and onions for approximately 3.50€.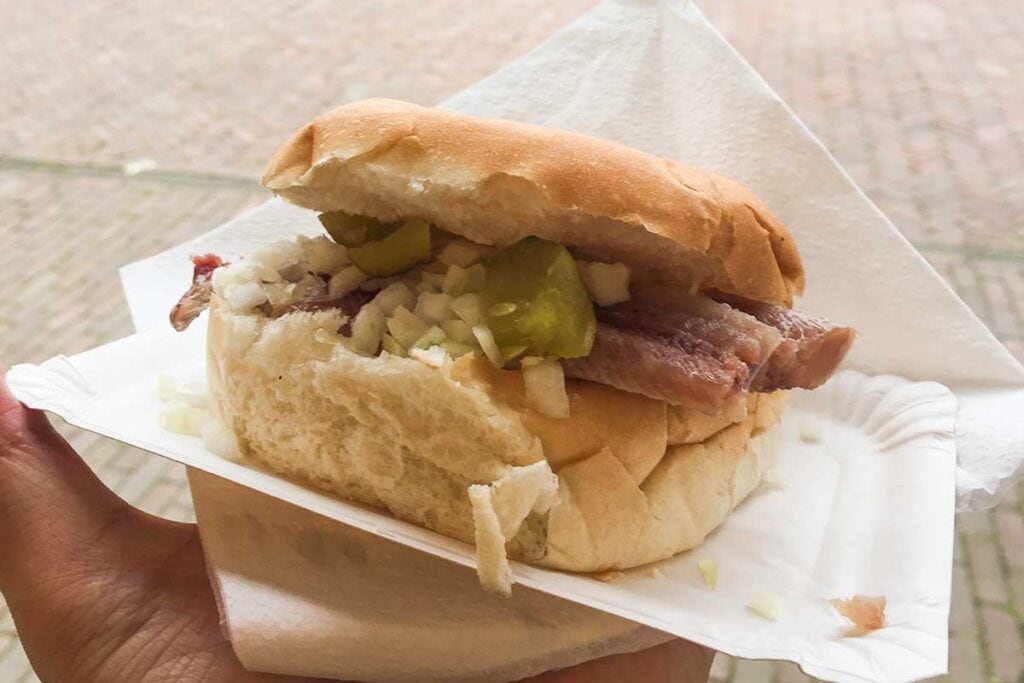 Dutch haring is quintessentially Dutch food and you'll find locals downing the whole little fishies by the tail. If you're squeamish or if you're like me and prefer it in smaller bites, you can go for the sandwich or get the haring cut up.
Though broodje haring can be found throughout the Netherlands, my first taste of broodje haring was at Frens Haringhandel in Amsterdam, one of the most famous spots for haring. Dutch haring is one of my favourite foods because it has a milder flavour, unlike the Scandinavian pickled herring which has a more acidic and "pickle" tart type of taste. Haring is typically a bit savoury with a slightly fishy taste, more reminiscent of Japanese sashimi. No quick trip to Amsterdam is complete without a visit to Frens Haringhandel for broodje haring. Contributed by Constance of The Adventures of Panda Bear.
Toasted Turkey & Cheese Sandwich – Norton's USA
When hunger strikes, a sandwich never seems to fail. If you find yourself in downtown Santa Barbara, California stopping by Norton's Pastrami & Deli is a must. This sandwich shop is a local favourite and was featured on the hit food review show, Diners, Drive-Ins, and Drives. The sandwich you need to get is one of Norton's grilled favourites – the turkey club. A full sandwich is $11.95 and a half sandwich is $8.97.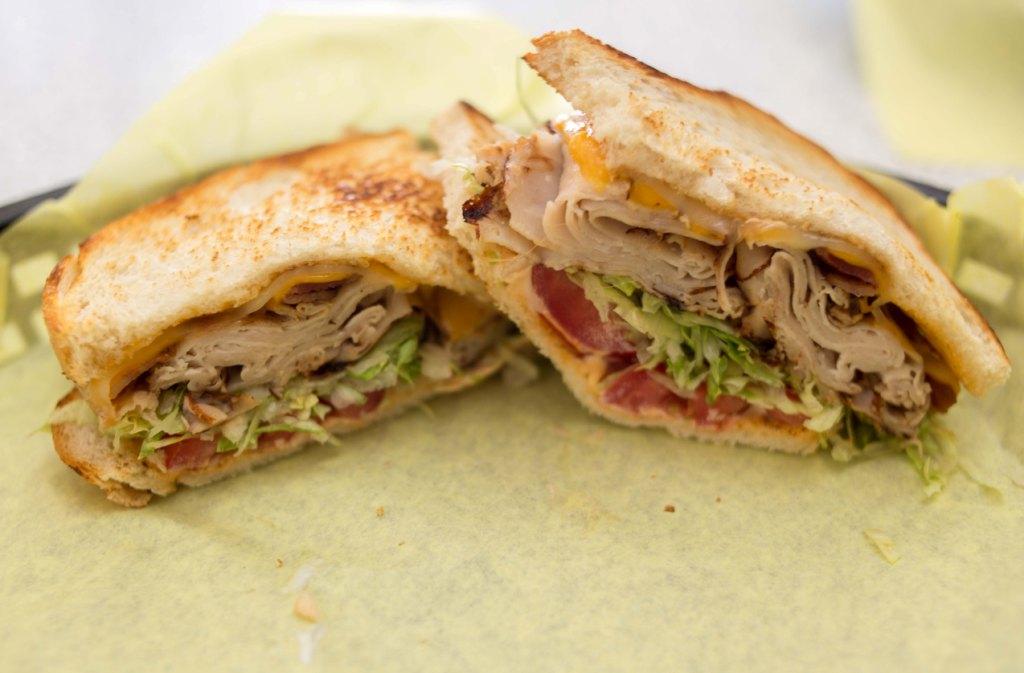 A meal combo of a side and a drink can be added to your sandwich for only $4.36 more. A combination of turkey, ham, bacon, swiss, cheddar, chipotle mayo, lettuce, and tomato on sourdough make up the most delicious and hearty combination. The hot, crispy bread paired with freshly sliced deli meats, gooey cheese, and crunchy lettuce is exactly what anyone needs after a long day of walking and sightseeing.
One may speculate this classic American sandwich can be done anywhere, but no other deli can quite conjure such a delectable arrangement. With sandwiches being their speciality, you are sure to get a quality product done right. You won't want to miss trying this one-of-a-kind turkey club sandwich from a legendary deli (and Guy Fieri agrees!). So don't walk, run over there! Enjoyed by Erin from The SoCal Gal
Chacarero – Chile
Chile is famous for its sandwiches, so if you're lucky enough to travel through the country, you have to give them a try. At the top of the list has to be the classic chacarero sandwich. Named one of the 13 best sandwiches in the world by Time magazine in 2014, it comes highly recommended.
The chacarero sandwich is essentially a steak sandwich. The steak is cooked on high heat, churrasco-style and is sliced onto a soft roll spread with mayonnaise. On top of the steak is a layer of sliced tomato, followed by green beans on the top. A sprinkling of spicy green ají peppers finishes it off. While the idea of green beans on a sandwich can sound a bit odd, the overall combination is delicious – soft, crunchy and just a little bit spicy.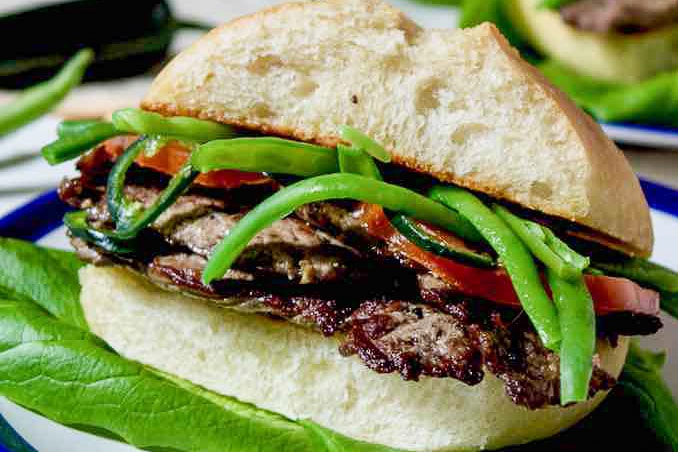 Whether you're in the cities or smaller towns, you should be able to find a chacarero sandwich fairly easily. Visiting one of the local sandwich shops is high on the list of things to do in Santiago, and most will have the chacarero on the menu. One of these sandwiches typically costs between 4.000 and 8.000 clp depending on where you buy it, and is well worth the cost. They're substantial enough to keep you going until your next meal. Enjoyed by Roxanne of Far Away Worlds.
Piadina – Italy
Emilia-Romagna is well known as the culinary heart of Italy. Everyone has heard of Parma ham and Parmesan cheese, Modena's balsamic vinegar or Bologna's famous pasta. However, it wasn't until I visited the area for the first time back in 2012 that I discovered piadina when I learnt how to make it on a farm set amongst the rugged hillsides of Rimini.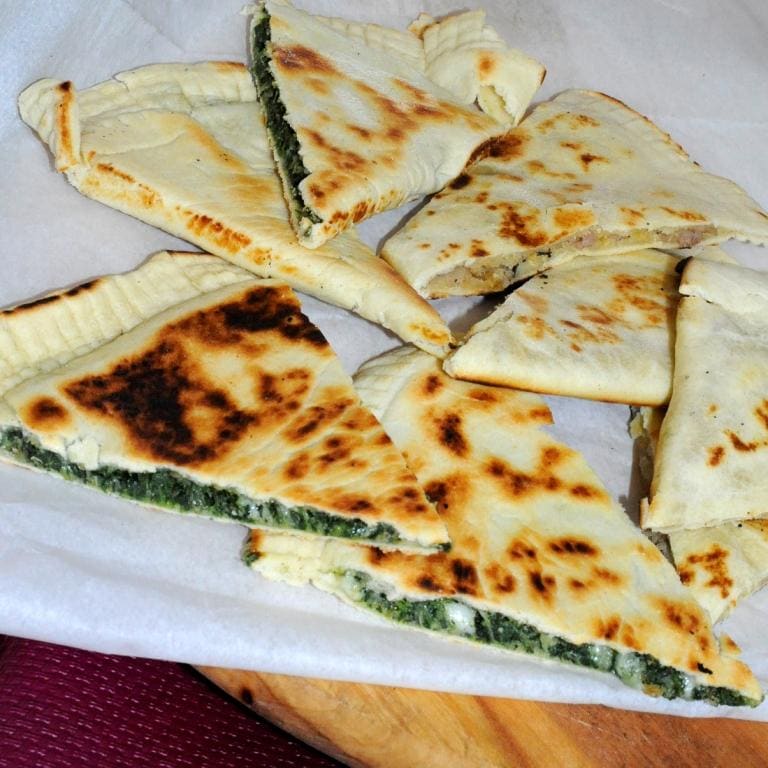 This traditional Italian flatbread is so versatile and easy to make. It doesn't use yeast. It's simply made from flour, milk or water, lard, baking soda, and a little salt, although these days many people tend to use olive oil instead of lard for a healthier option. The exact recipe and thickness of the piadinas vary from one household to another but every mother in the area knows how to make it. If you add the filling of the sandwich before cooking and seal it in, as we did, it's called crescione.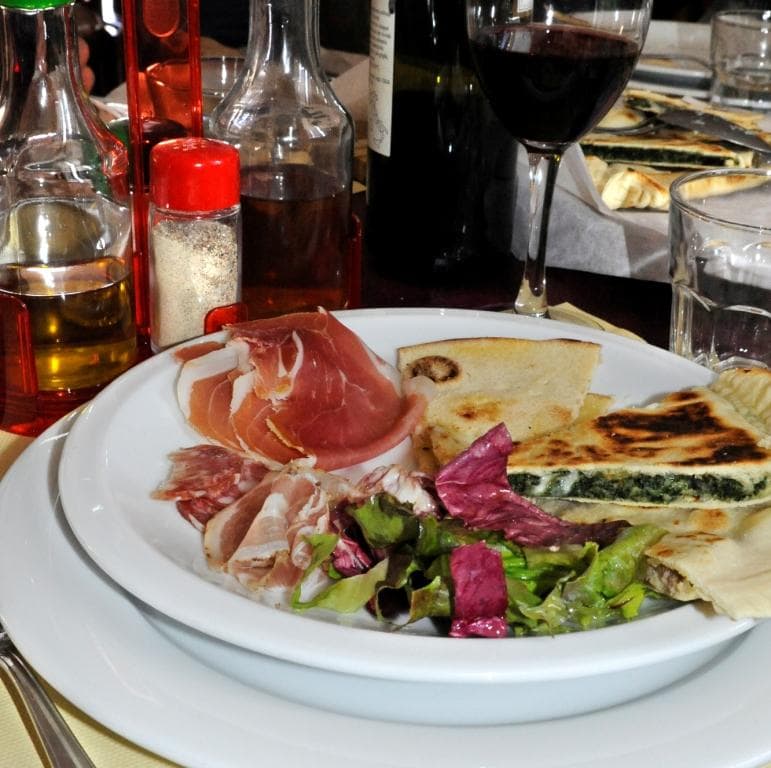 Having discovered it, we ate it several times more during our stay in the area. Each time I tried a different filling such as prosciutto di Parma with rocket or grilled vegetables with local cheese. They were all great. A modern twist is having it with Nutella but my favourite was the crescione we made stuffed with local sausage meat and herbs – there's nothing quite like eating it freshly made having cooked it yourself. Contributed by Kathryn of Travel with Kat.
Bocadillo – Spain
Bocadillo is without a doubt Spain's favourite sandwich. You can find it anywhere and it costs very little, usually just a couple of euros, depending on the filling. Bocadillo is one of the most popular breakfasts in Spain because it is quick to make, and it can be bought and eaten on the go.
It can be surprising for some, but the best breakfast bocadillos include fried eggs, bacon or sausages in their filling. Bocadillos are made using freshly baked Spanish baguette bread, which is crusty on the outside and has a soft interior. The filling is added without any sauce because the ingredients are tasty enough and the sandwich doesn't need any taste enhancement.
One of the most peculiar bocadillo that you can find around Spain is filled with Spanish tortillas, which is a thick potato and onions omelette. Seeing the two together doesn't really make sense until you take a bite and taste the delicious flavour combination.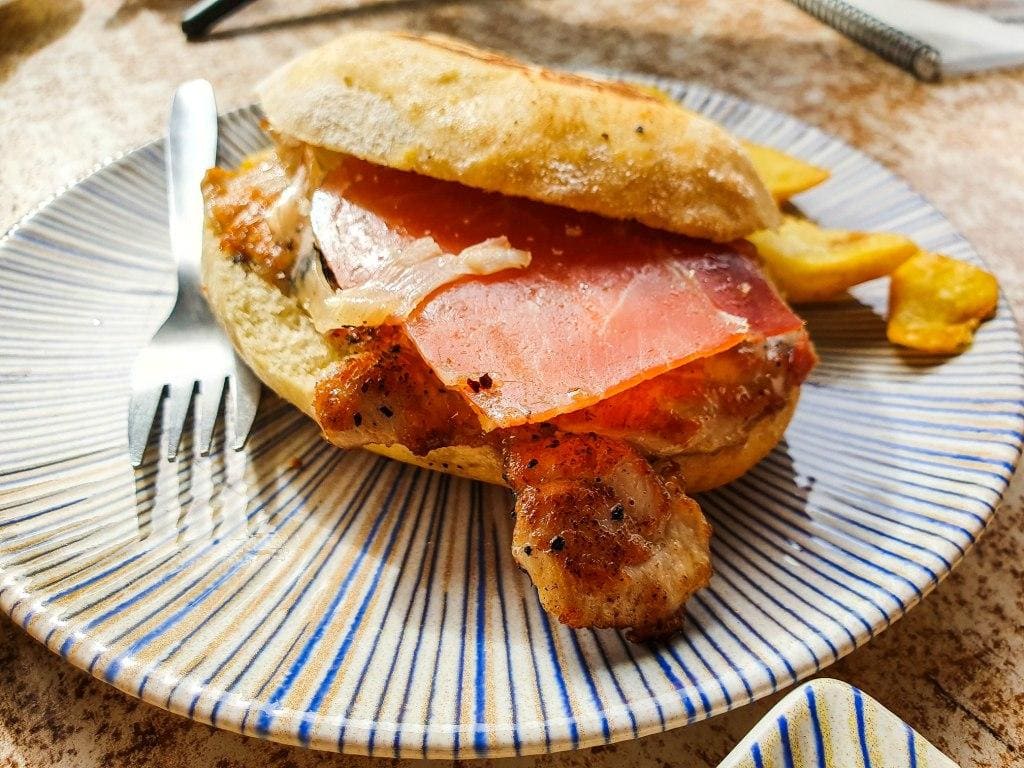 Practically, a bocadillo can be filled with anything, so it doesn't matter if you are vegan, vegetarian, or meat lover, there are numerous combinations that will satisfy your taste. Some of the most popular bocadillos fillings include jamon and manchego cheese; pork lion, serrano ham, Italian peppers and a tomato slice (serranito); tomato, salt and olive oil; fried baby squid and aioli. Contributed by Joanne from The World in my Pocket.
Gyros – Greece
Imagine yourself dining in a seaside village in Greece like Loutro Crete with the sound of waves in the background and a view of white-washed houses all around. Though Gyros can technically be found everywhere in Greece, enjoying a delicious bite of this sandwich with a bottle of Mythos is an unforgettable experience.
Gyros is a Greek version of a sandwich made with meat cooked on a vertical rotisserie, usually chicken or pork, and stuffed over a flatbread called pita. It is then usually served alongside garnishes of tomato, onion, bell peppers, and fries as well as a generous serving of tzatziki sauce.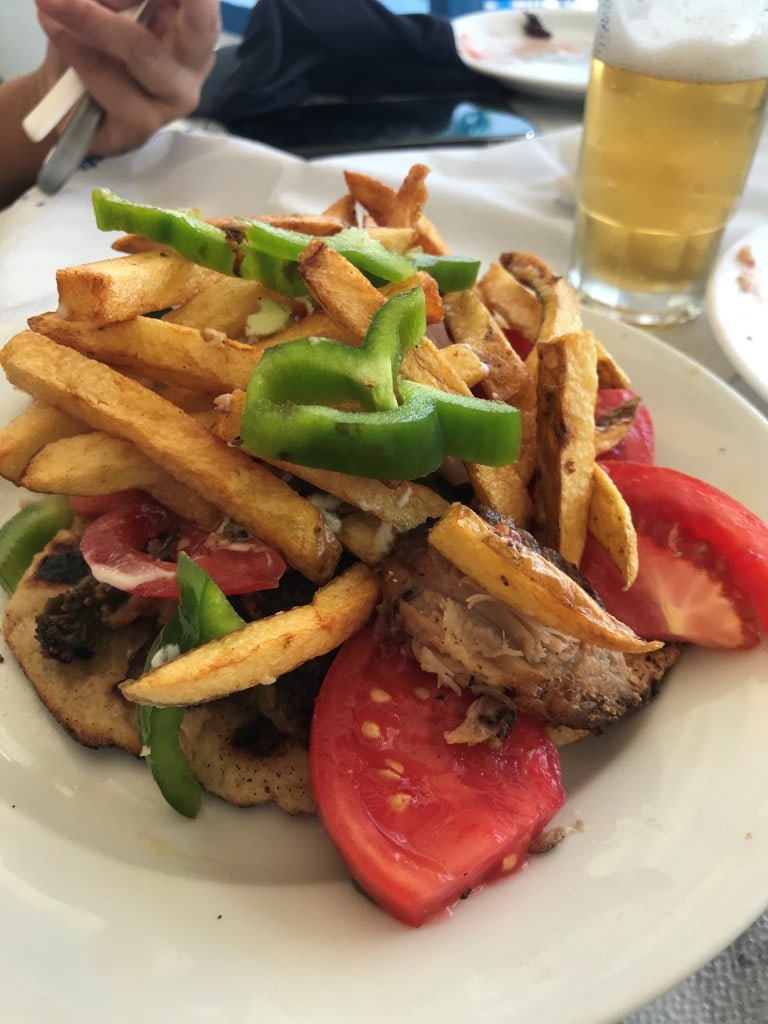 What makes it so unique is the burst of flavours it brings to your taste buds. From the tender and slightly spicy taste of the meat that has been slowly cooked for hours through the rotisserie paired with the freshness of vegetables and the crisp bite of the fries, it's the perfect meal to have whatever the time of the day.
Not only is it tasty, but it is also convenient to eat and very affordable. One portion of Gyros will set you back as low as 3 euros. Contributed by Antoine and Marielle from Offbeat Escapades.
Cuban – Cuba & USA
A true Cuban sandwich involves crusty Cuban bread spread with butter, and mustard, dill pickles a generous slice of pork and or ham and some good Swiss cheese which is then grilled to toasty perfection. Well, this is what you would get in the US if you ordered a Cuban Sandwich the reality in Cuba due to lack of food can be somewhat different.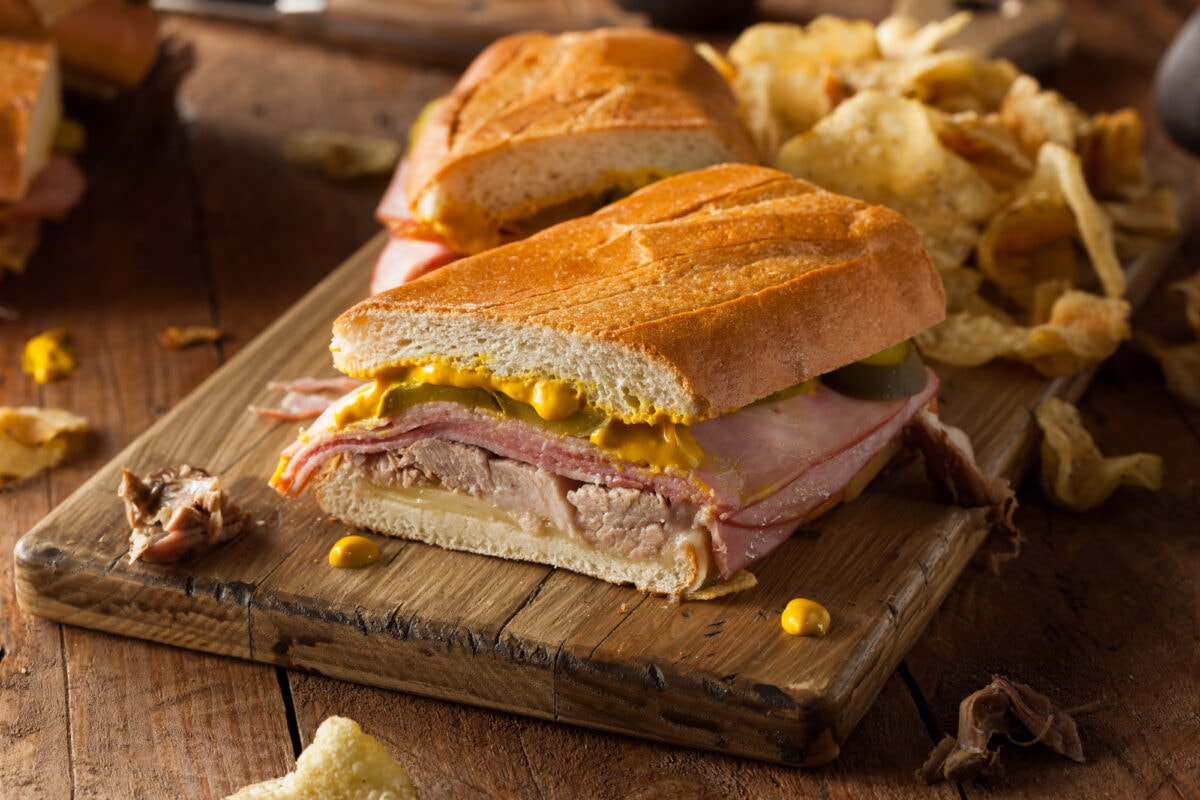 Jambon Beurre – France
The iconic sandwich of France is a simple traditional baguette with French butter and sliced ham. It couldn't get any more classic than that.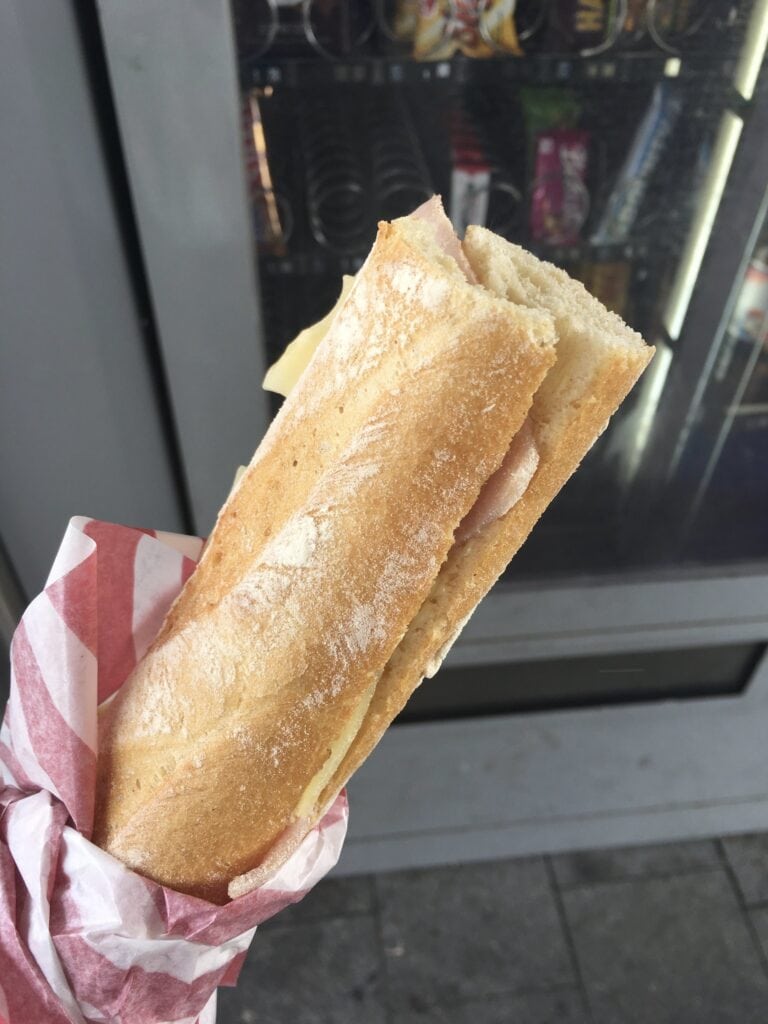 Vegan and Vegetarian Sandwiches
Loads of options here from a Jamaican Jerk Tofu sandwich to a tasty falafel sandwiched in some fluffy pita bread. Virtually any sandwich can be made vegan or vegetarian these days. What's your favourite vegan sandwich?
Vada pav – India
Vada pav, also known as Wada pao, is a delicious Indian street food made of fried potato dumplings sandwiched between two soft buttered bread/bun slices. It is best eaten with a green chutney made of coriander, chillies, lime juice and garlic, a dry coconut garlic chutney and fried green chilli. We had one of the best vada pavs from a cute cafe on our trip to Pondicherry from Bangalore. It is great for anyone who enjoys spicy food and it goes best with a glass of chilled lemonade.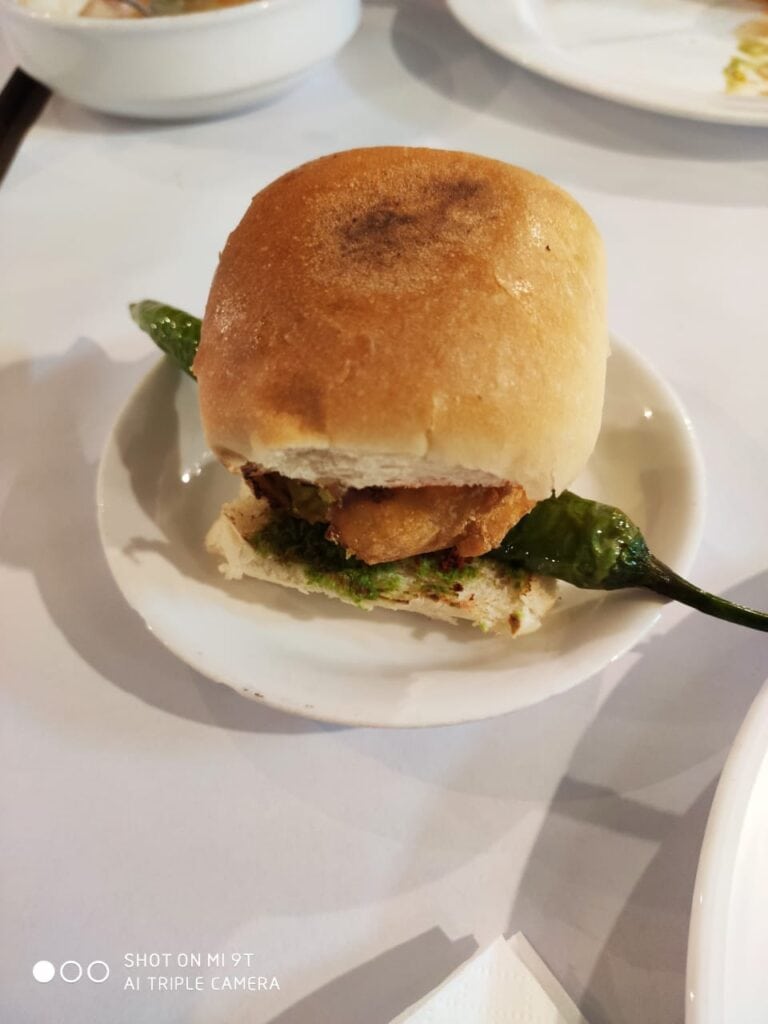 Though originating from Maharashtra, it is one of the most popular street foods all over India. It is quite filling and the rush of flavours from the very first bite is just refreshing. It is known as Bombay burger in many places and is one of the vegetarian snack options to go for.
Apart from the traditional vada pav, you can also try various versions of it including cheese vada pav, methi vada pav and corn vada pav. They are also available in different sizes like single, double or jumbo. They are available in cafes and restaurants and cost around Rs. 30-40. It may be even cheaper if you opt to buy from a street vendor. Contributed by Athul of Our Backpack Tales
Falafel – Lebanon
Chickpea patties made with parsley to give a greenish colour, mild seasonings and set on a bed of lettuce with various veggies trimmings and stuffed into a pita – absolute heaven. A favourite in Lebanon you won't find anything better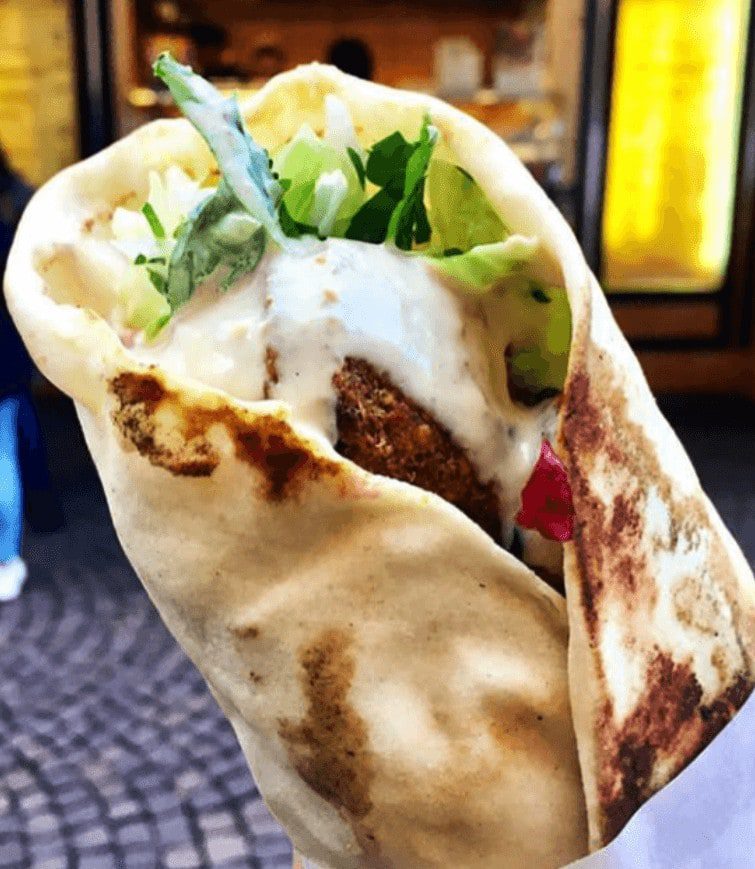 Lebanese Food – 38 traditional Lebanese dishes
Bombay Sandwich – India
A vegetarian take on the Club sandwich filled with cucumber, beet slices, tomatoes, peppers, sliced potato and lots of cilantro chutney. The sandwich is buttered on the outside and then grilled in a sandwich press.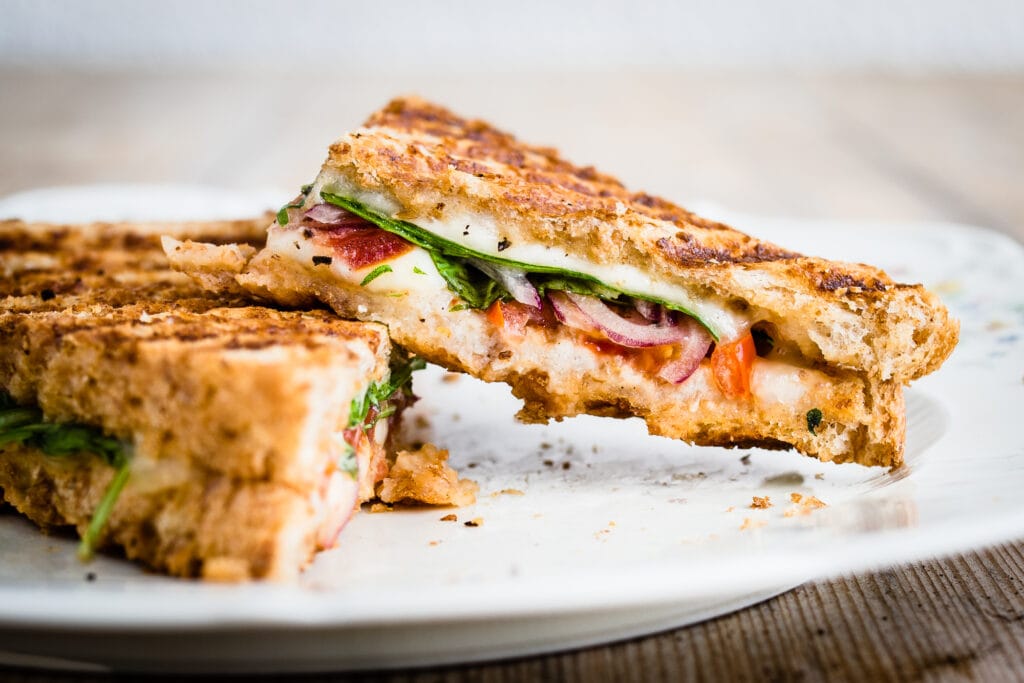 Sabich – Israel
The sabich is an Israeli sandwich very much like a falafel. Pita bread is filled with crispy eggplant, pickles, hummus tahini, cucumber, tomatoes, and sometimes hardboiled eggs are added along with a mango sauce.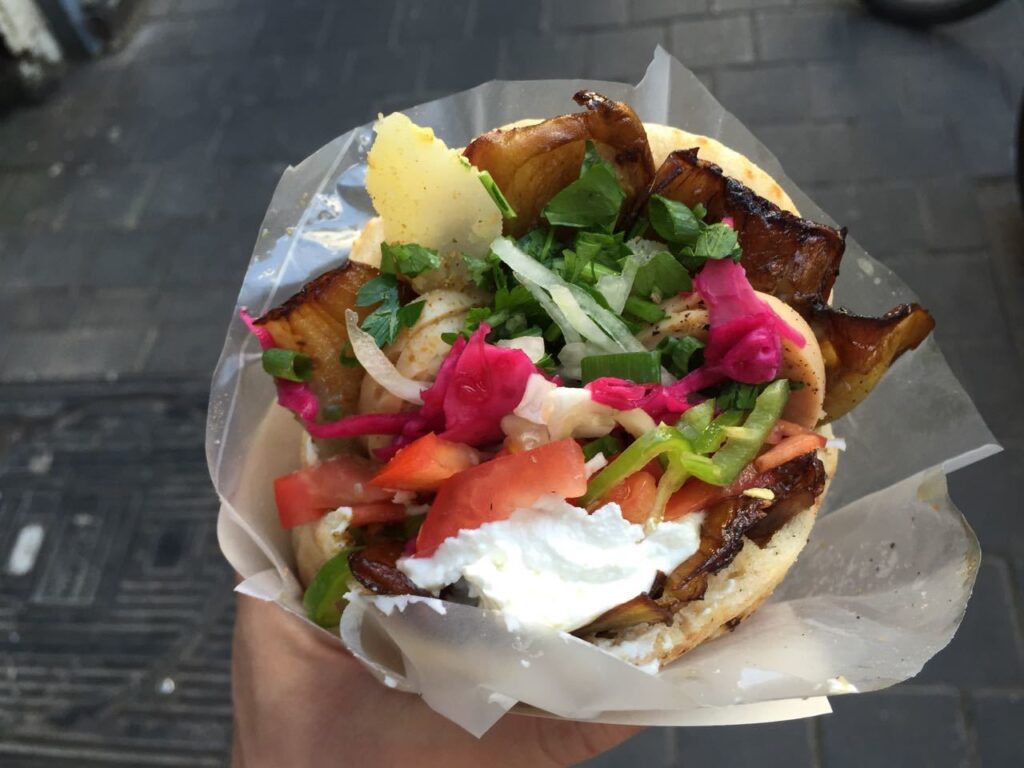 Sandwiches are a universal food that can be found in every corner of the world. From savory to sweet and from simple to complex, each country has its own unique take on this beloved dish. Whether you prefer a classic BLT or an exotic Banh Mi, there is no shortage of delicious options. The best part about sandwiches is that they are accessible and convenient for anyone on the go. So next time you're looking for a quick meal or want to indulge in something tasty, try one of these globally recognized best sandwiches and satisfy your taste buds with flavours from around the world!
Did you know that November 3rd, is National Sandwich Day? What's your favourite sandwich, I'm sure we missed some.
Hungry for More Great Food?
Explore food culture around the world, and partake of some food tourism and culinary escapes. Take a cooking class in Tuscany or find a cooking class or food tour anywhere in the world.
Pin it to save it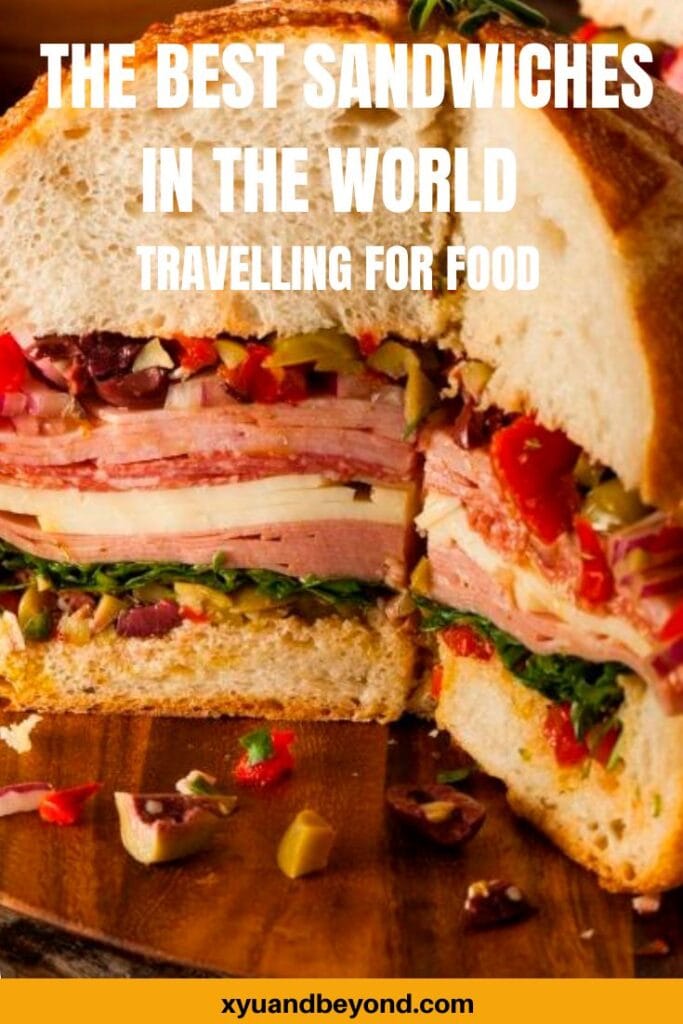 Latest posts by Faith Coates
(see all)