French Food Culture: The Ultimate Guide
Thanks to the world situation in 2020/21 I've been meandering my way through France via housesitting and truly enjoying all the French food culture has to offer. As a foodie, you know that France will be the perfect place to gorge on cheese and wine but there is a lot of difference when it comes to the food culture of France as in when you eat, what you eat when, the way restaurants serve food here, and all the French food traditions it can take some getting accustomed to.
What is French Food Culture?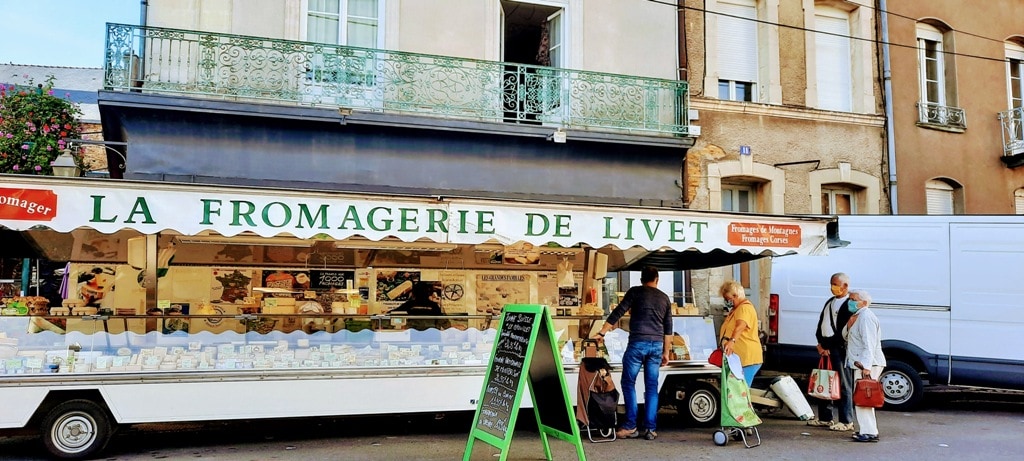 Like the majority of the world, the French enjoy three meals a day these include Breakfast, le petit déjeuner, lunch, le déjeuner (lunch), and le dîner (dinner). Unlike countries like the UK, Canada and the USA the French actually savour and enjoy their meals, they don't gulp down a Big Mac or eat at their desks. They are legally entitled to take a standard lunch break from 12-2 which is why you will find many a shop closed during these times.
French food culture also embodied the rule for lunch breaks in a law that was recently changed due to Covid. On Monday, February 15th, 2020, a law came into force allowing employees in France to eat lunch or dinner at their desks which was previously forbidden under the Code du Travail (labour code).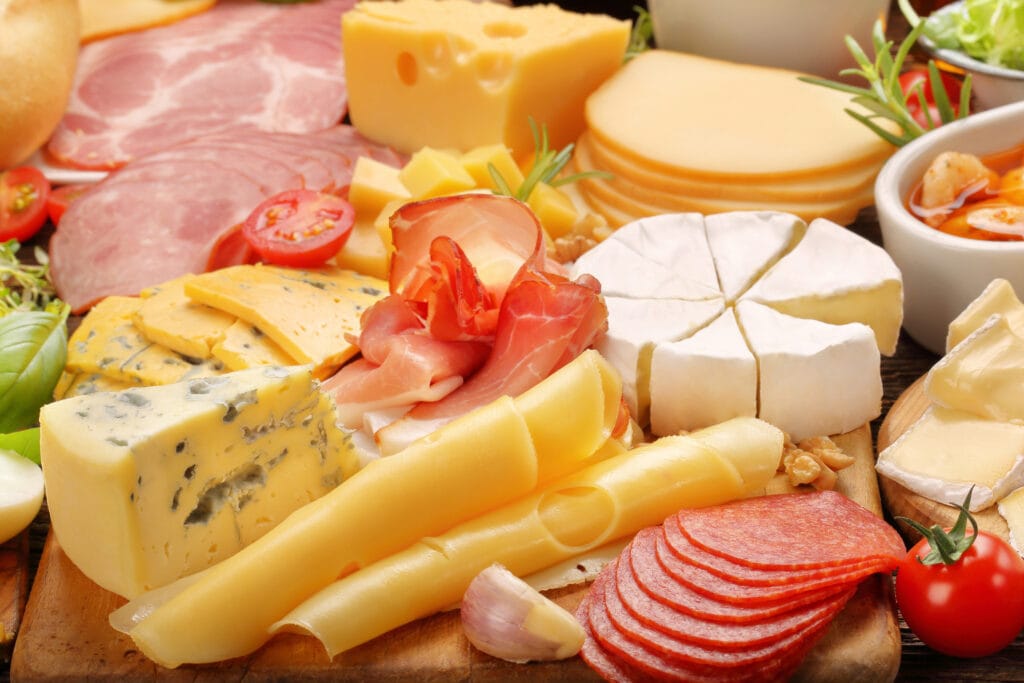 It was also a law that you couldn't get a 'doggy bag' or take home the leftovers of your meals – this was very non-French behaviour and so a law was introduced that French restaurants must allow the 'doggy bag'.
Why is food important to French culture? The French believe that taking a meal should be done in the company of others to relax and enjoy the meal. That applies to workmates, families and any kind of foodie event. Usually, a French meal will take at least 2 hours and is pretty much always accompanied by wine or cider depending on which part of the country you are in.
France is perhaps one of the most intriguing and interesting countries in the world. It has a huge cultural and historical heritage and there has been a lot written on the interesting facts about France. Food culture is just one of the many facets of French culture to experience.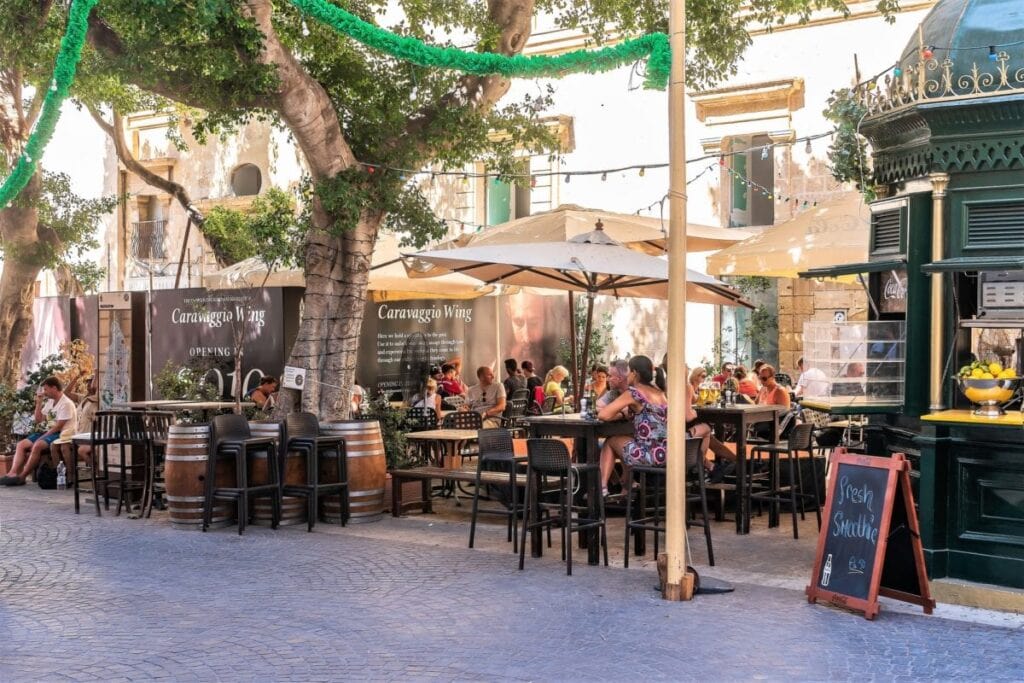 French food is always about French culture. Any French foodie will tell you that in France food is sacred. It is no wonder that in November 2010, French gastronomy was added to UNESCO's list of the world's "intangible cultural heritage".
This post may contain affiliate links. If you make a purchase through a link, I may receive a small commission, at no cost to you. These commissions help keep this website up and running, and I thank you for your support. Read my full disclosure here.
Why the French food Culture is celebrated
French food became the measure against which most 'gourmet' foods were judged. I'm not saying this is right or wrong because for the most part it is wrong and demonstrates a sort of blinkered dominantly white view of the world's food.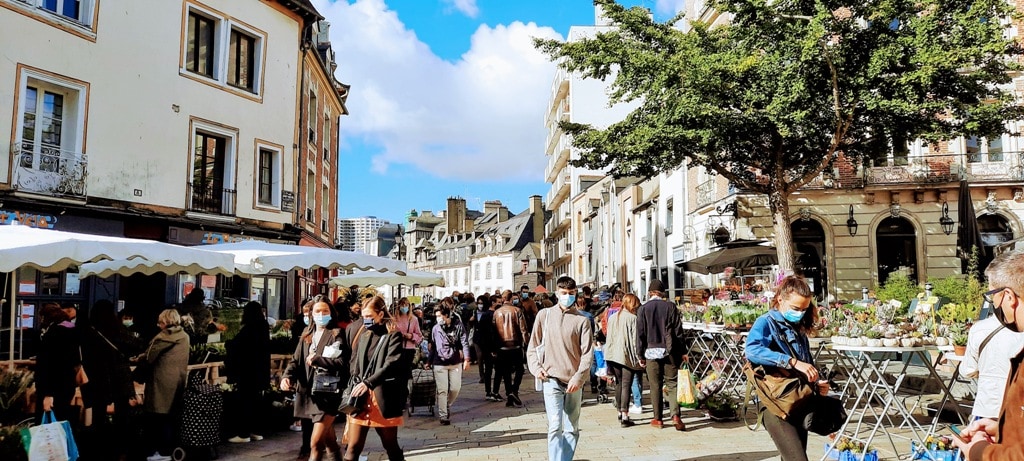 I've also noticed having been in France for a while now that French food is not all it's cracked up to be. The majority of 'French' restaurants I've eaten at are pretty mediocre and all seem to specialize in the great northern American hamburger with frozen French fries or pizza.
However, having said that when French food is good it is not just good it is great and I've had a few dining experiences that were superb.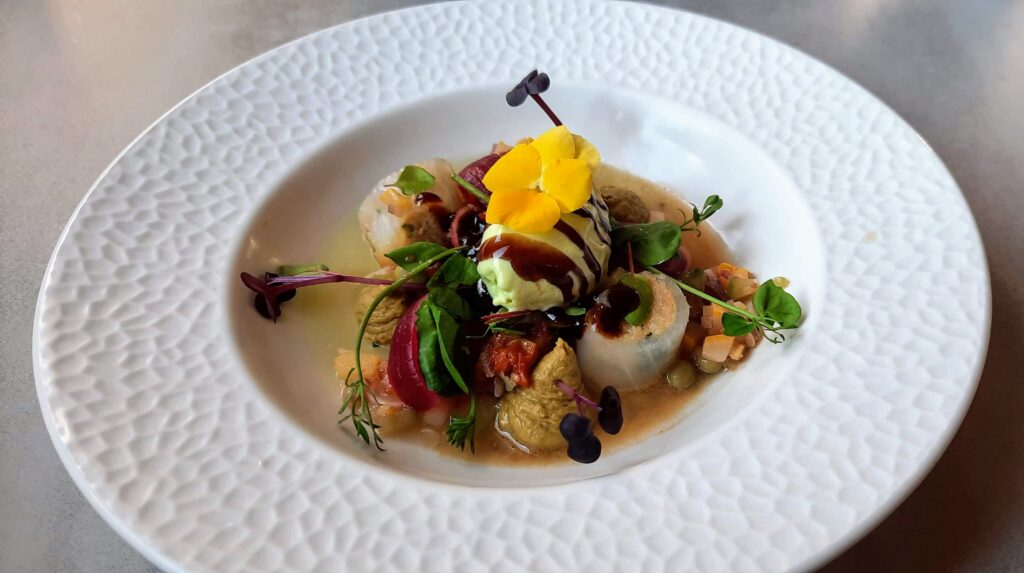 What has impressed me about French food is the variety in the markets, and the fact that virtually every French person around me grows a multitude of fresh vegetables and herbs in their gardens. I've never seen so many gardens turned into veggie patches.
French lifestyle habits
In France life doesn't revolve around work, money, or having the biggest car or TV. The French lifestyle is all about enjoying the best moments in life, whether it's through social gatherings (with the "apéros"), French cuisine, arts, or philosophy.
To really understand French Food you need to know the regions because most areas have regional specialities and the terroir is vitally important.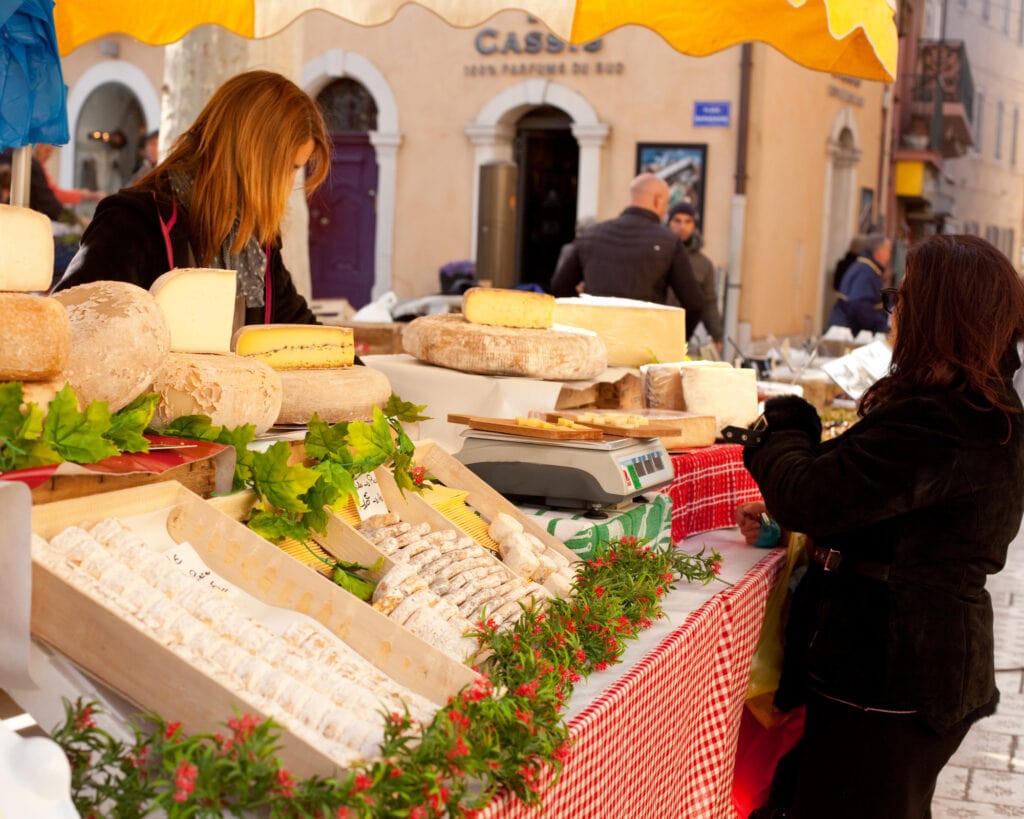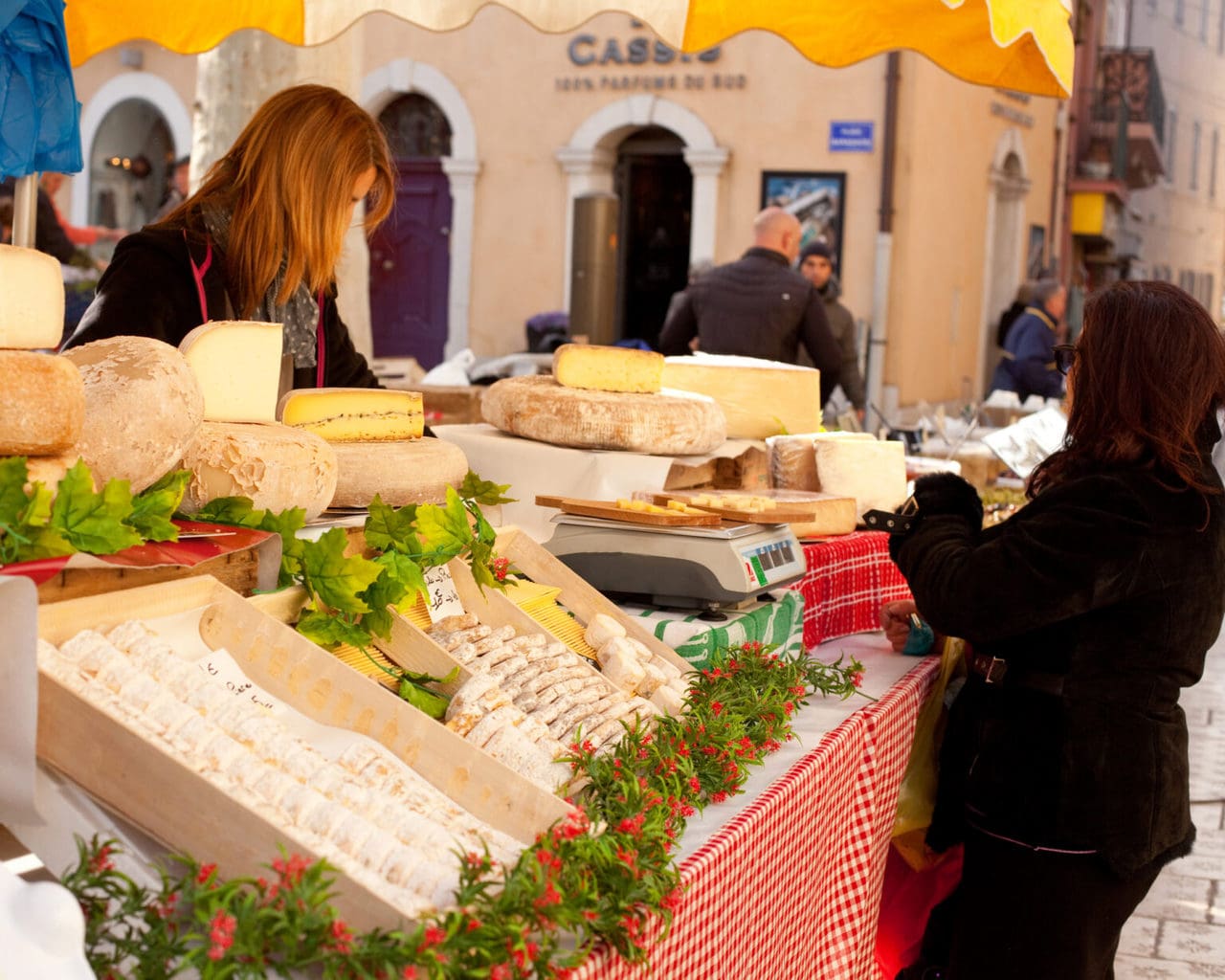 What is terroir or regionally-based French foods?
Usually used for wine terroir simply means "a sense of place." When someone says a wine exhibits terroir, all they mean is that the wine they are drinking tastes the way a wine grown and made in the region where it was grown and made should taste. With respect to specific regions and crops terroir simply means the place where they grow best.
For example truffles, the largest truffle area in France is in the Southeast, mainly Drôme, Vaucluse and the Alpes-de-Haute-Provence, but the truffles that are considered the world best are grown in Villefranche-du-Perigord. Which is home to the world's most famous black truffles, also known as Diamonds of Perigord.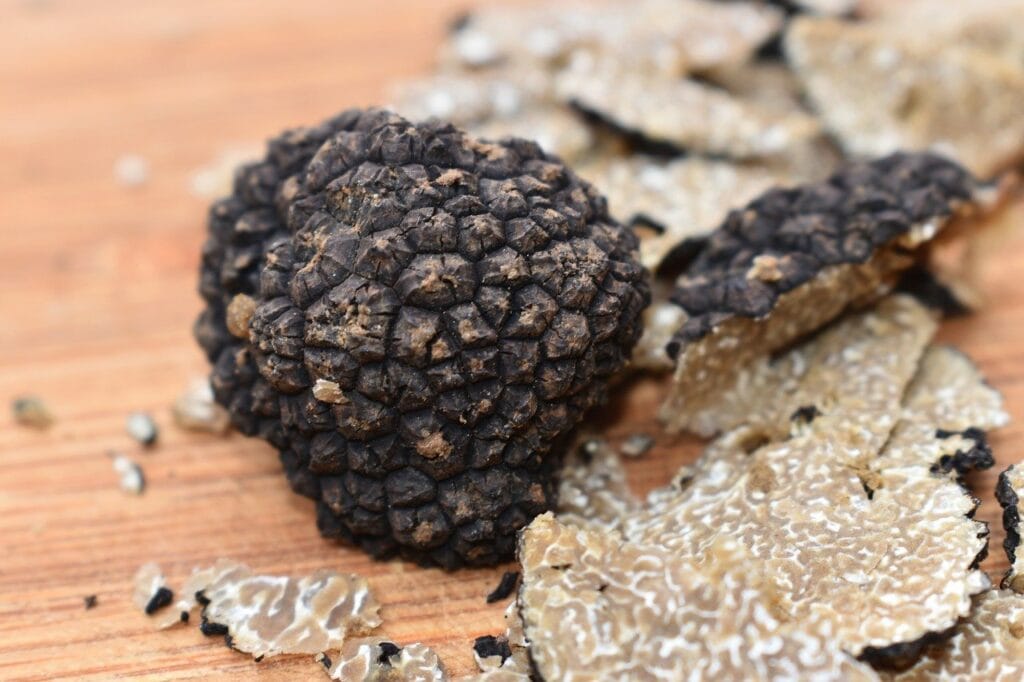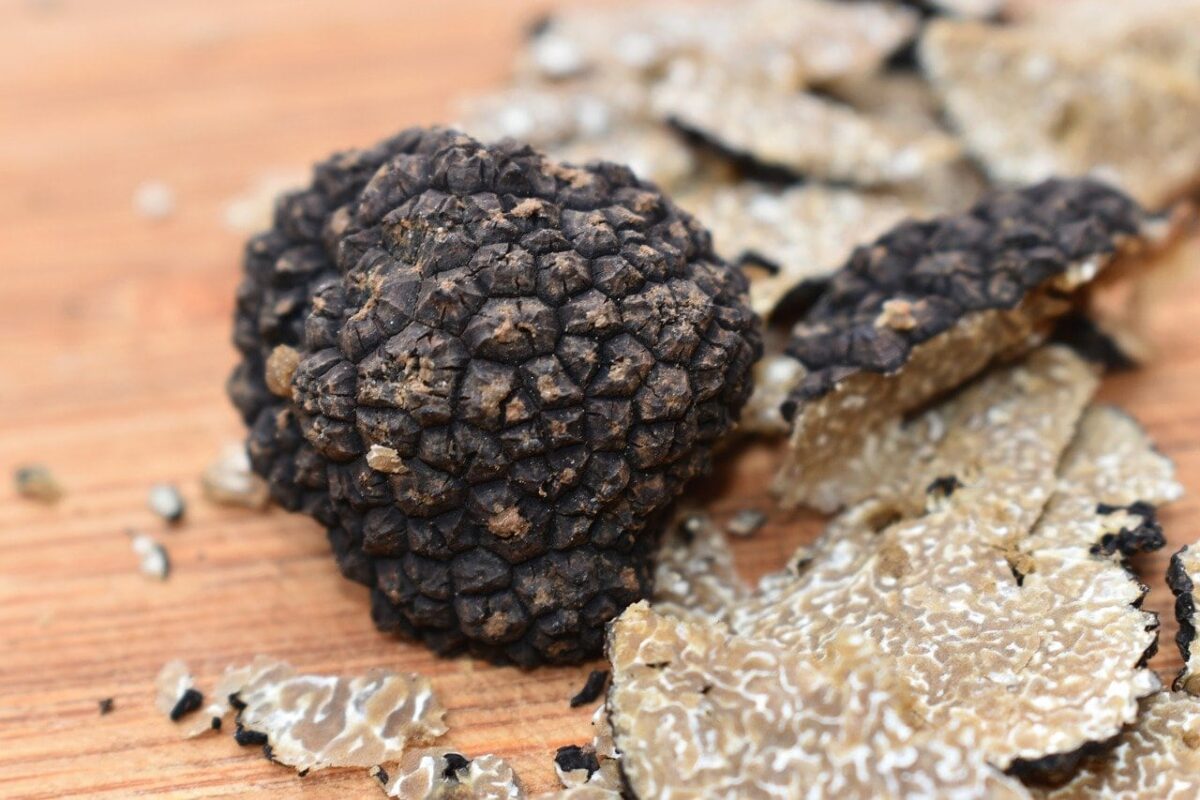 With apples and pears, the best terroir is the northern part of France in Normandy and Brittany both of which are famous for their ciders both apple and pear and of course the Normandaise Calvados. These regions are also home to what at times seems like millions of dairy cows so many of the dishes are heavy on cream.
The northern, southern and western coastal areas of France are famous for their seafood, mussels, oysters from Cancale, any kind of fish, sea snails (whelks) prawns, and langoustines.
The southern part of France in Provence is renowned for olive oil. The cuisine of the area around Lyon is good basic stick-to-your-ribs food with meat being the main feature. From pork in every form including offal, duck and duck livers along with veal this is not the place for vegans.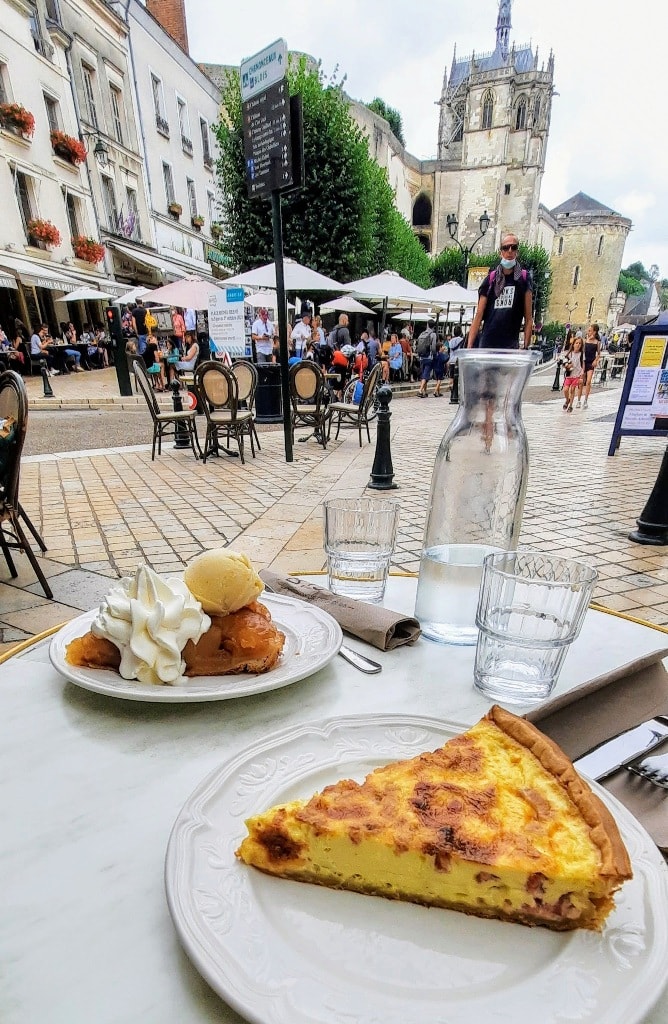 What do the French eat – the French meal
Breakfast – le petit déjeuner
The French prefer a light breakfast no full Irish for them. Often breakfast here is a slice of bread – usually a baguette with butter and jam. It is always almost served with a small coffee or espresso and occasionally augmented with a croissant or yoghurt. On the weekends the French hit up the local Boulangerie for fresh croissants, pain au chocolate, pain aux raisons served with coffee, orange juice or hot chocolate.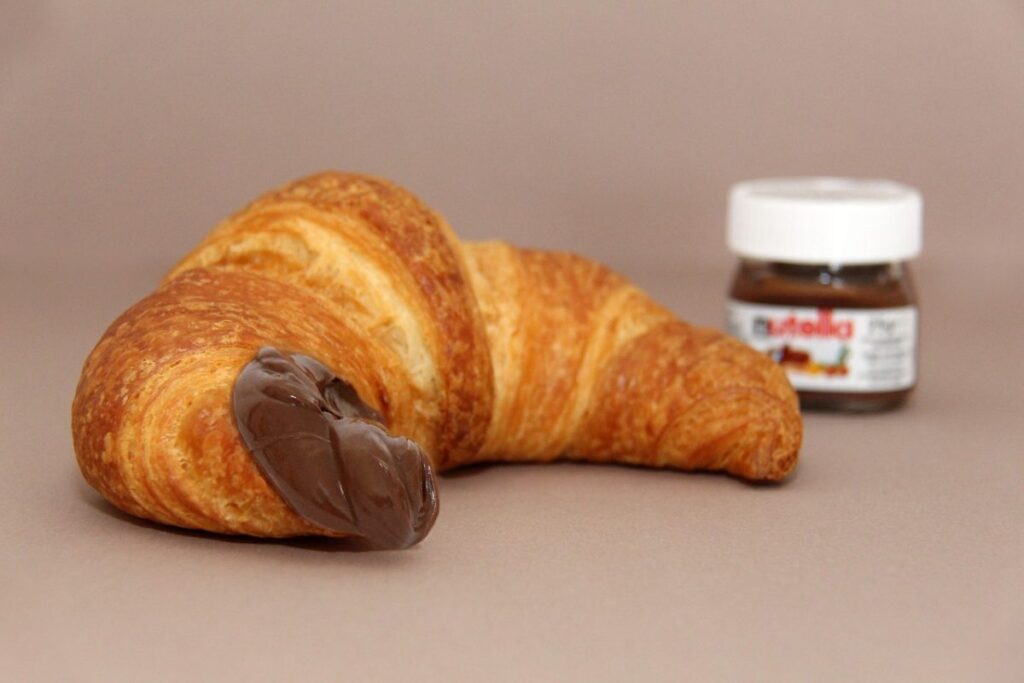 Lunch – le déjeuner
Lunchtime is a leisurely meal for the French since they are allowed up to 2 hours for the meal they tend to take a minimum of an hour and often the meals are 3 to 4 courses served with wine, cider or beer. Many restaurants will offer a plat du jour with several courses at an incredibly reasonable price.
Dinner – le dîner
French dinners tend to be long affairs, the whole family sits down together to enjoy a meal that starts with an entrée (the appetizer), plat (main course), fromage (cheese) and dessert. This is not a written-in-stone rule or anything simply a French tradition.
French Apéritifs and Apéro
Apéritifs and digestifs are the start and finish of a more formal French meal. The apéritif includes a beverage of some kind and small appetizers such as a bowl of nuts or olives. The digestif takes place after the meal when the guests are relaxing and content with food drinks are served to aid in digestion these will include whiskey, bourbon or a liqueur.
If you live in France or visit you may be invited to Apéro by your french friends. Aperitif in France is much more than just appetizers this is a time to gather and socialize with friends and enjoy some nibbles and drinks and is considered a very important gathering in France where you get to relax and concentrate on your private life.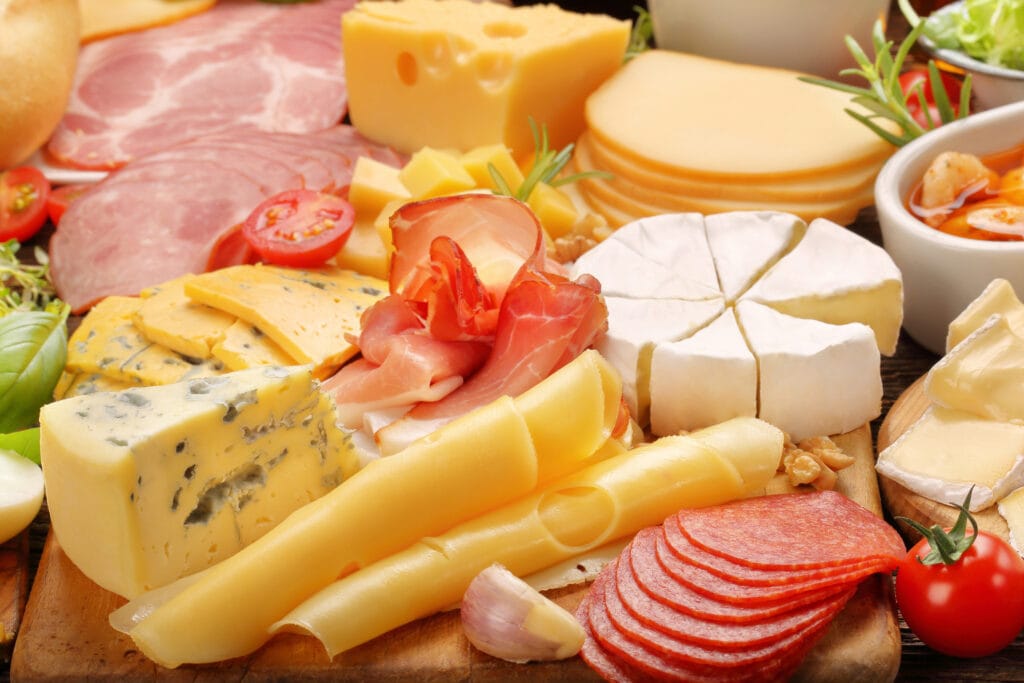 Coffee in France
This is a difficult task I must admit to failing to understand the French coffee scene so I had a really bad coffee experience. Now if you just order a café this will invariably result in an espresso. An American style will be a bigger coffee with milk which is usually horrible. Cappuccinos are ludicrously expensive here although in our local village of Lassay les Chateaux the La Brazza café has a great café au lait which is not common here in France. Usually, you have to order a Café crème which simply means coffee with milk, but if you want a large one make sure you order a grande.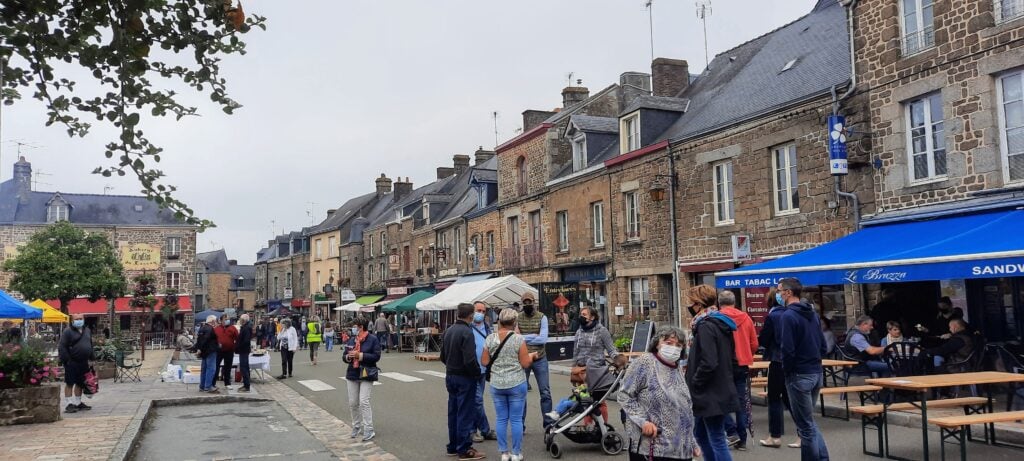 If you want an English-style cuppa don't bother most French teas are either infusions, green or horrible weak no flavour brews. Some places advertise that they serve English tea but again usually no flavour.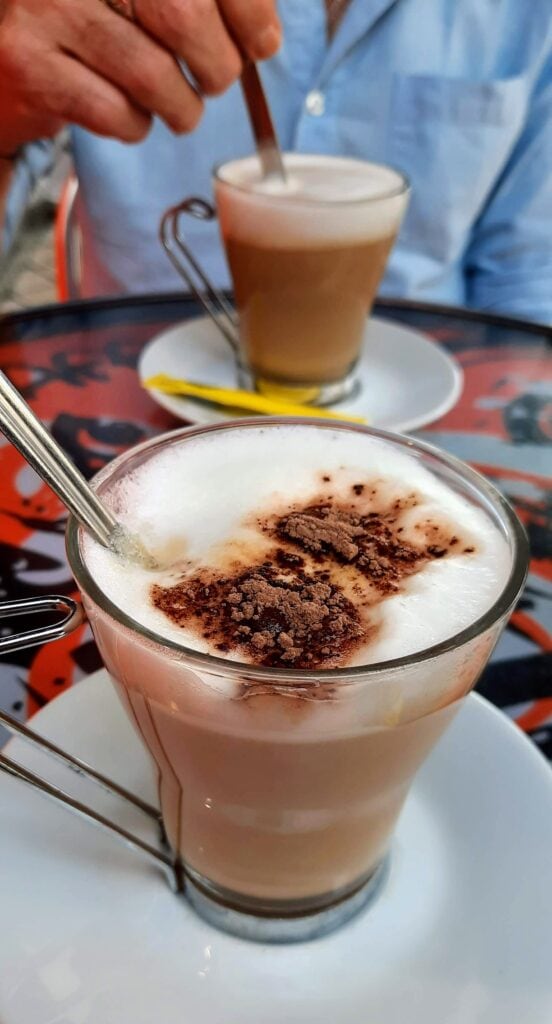 How to order in a French Restaurant
This can be quite confusing sometimes as the menus will state a la carte, or Formule and sometimes simply Plat du jour.
The "Formule" is a way to order an entire meal (usually lunch) for a reduced price. The "Plat du Jour" is a way for the chef to prepare something interesting, not on the set menu (although usually included in the options for the Formule), and usually with fresh, local products. They are usually better value for money as well.
Tipping in France
Tipping in restaurants in France is normal but there isn't a fixed rate such as 15%. You also won't find an add the tip button when you pay by credit card so a normal tip is around 10% of the bill left in coins or small bills on the table. The "service compris" which is on your bill is a service charge and not a tip.
French menus
Ordering from a French menu can be so confusing because some of the same languages you might be familiar with is different in France. For example, a menu is a "menu" or a carte but an "entrée" is actually a starter, not the main meal.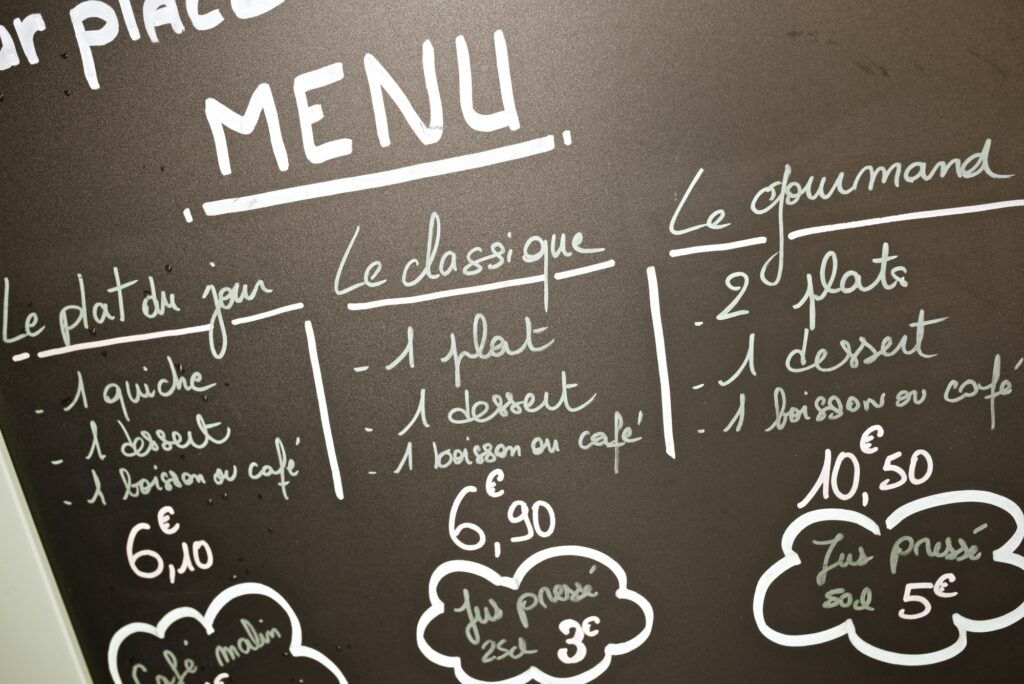 Basic Terms on a French menu
la carte – this is what we call "a menu" also seen in restaurants as à la carte where each item is priced individually.
la formule –is a set price menu which can be either 2, 3 or 4 courses. Sometimes there is a supplement cost for an item that may be 2 or 3€ more. The term "prix-fixe" is rarely used in France.
la carte des vins — the wine menu
une dégustation / Menu dégustation – a tasting menu. It contains an array of small portions of several dishes served by the restaurant.
table d' hôte is a menu where multi-course meals with only a few choices are charged at a fixed total price.
plats du jour – are the daily specials offered by many French restaurants in France
assiette – is the course that the French love at the end of a meal instead of dessert and it will normally be a cheese plate with 3 kinds of cheese or some cured meats. By the way, the French do not serve bread or crackers with these platters.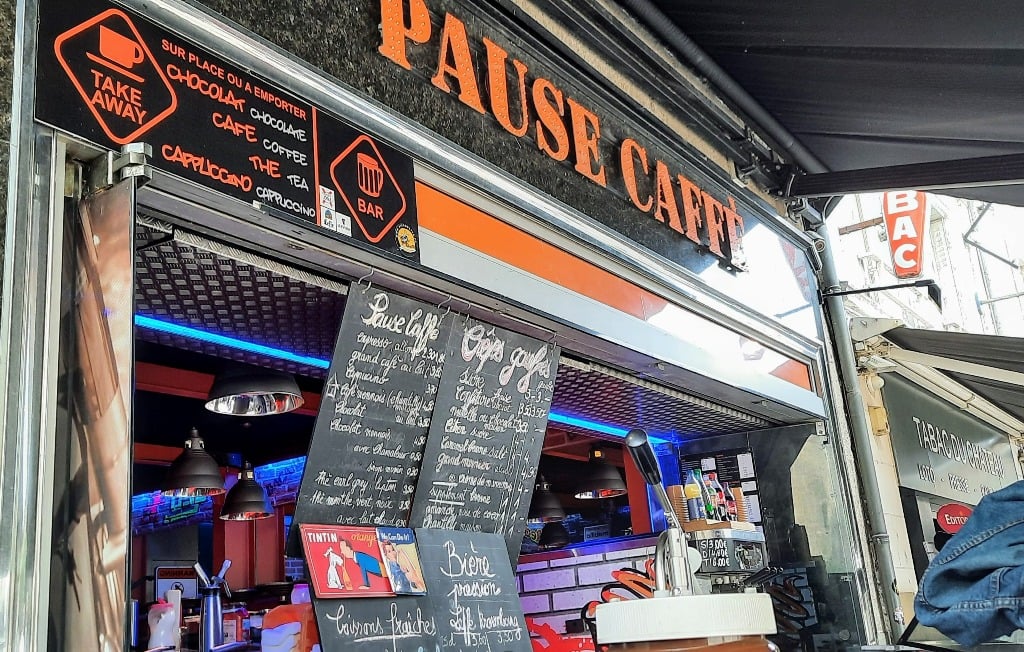 The Different Courses
The set food choices in le menu or formule consist of an entrée, a plat and a dessert followed by the price.
You may have the option to choose between:
Entrée + plat
Plat + dessert
Entrée + plat + dessert
Entrée + plat + fromage
Entrée + plat + plat + fromage + dessert – this will include both seafood and meat mains and then cheese and dessert
You will probably also see the notes for supp. €2 or (+€2). This simply means there is an extra cost for choosing that dish.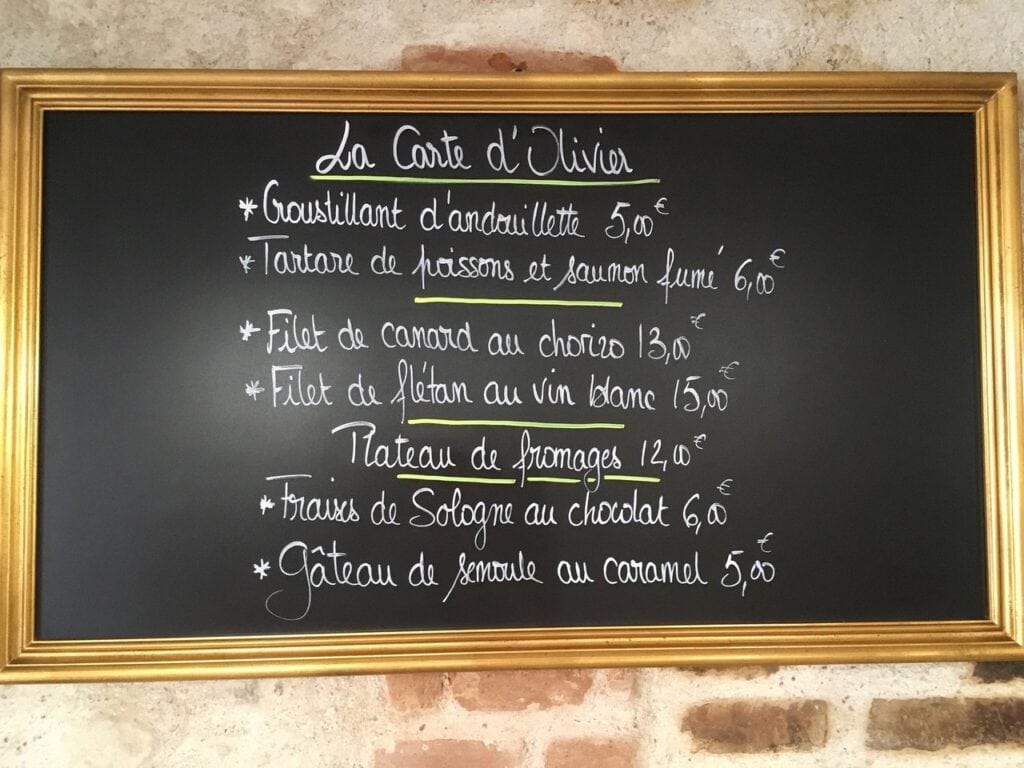 Types of French Restaurants
Bistro
Bistros are intimate, usually family-owned restaurants that serve traditional fare and French wine. You find dishes that are created from locally grown produce and locally sourced meats and other ingredients.
Boulangerie
A bread shop but boulangeries usually don't dabble in pastries or cakes, but you will find croissants, pain au chocolat and baguette sandwiches or pizza topped flatbreads for lunch
Patisserie
A patisserie is a bakery specializing in cakes and sweets. This is where you'll find your eclairs, macarons and petit fours. However, they are often combined with a boulangerie.
Brasserie
Very similar to a British pub brasseries serve traditional French food, coffee and drinks at good prices. They tend to be open all day and serve food all day which is rare here in France.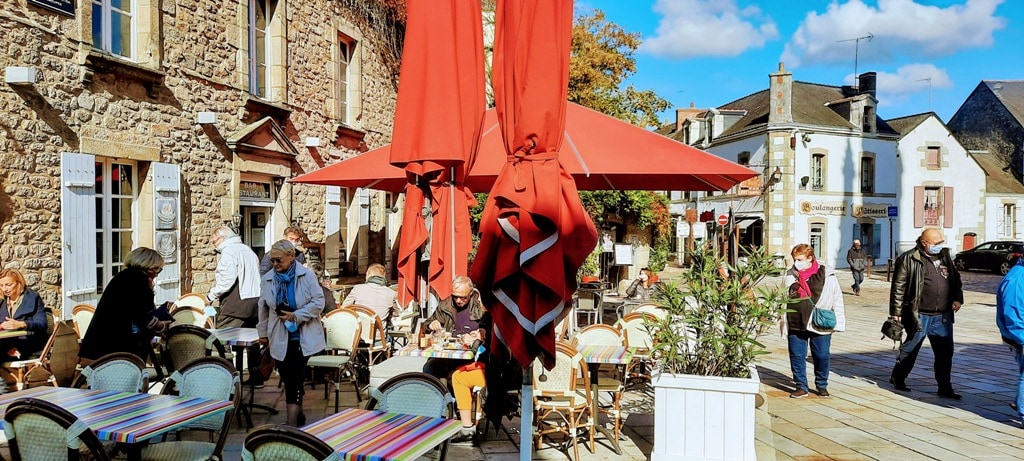 Cafés and Tabacs
Cafes serve both coffee (espresso) and alcoholic drinks, often combined with what is called a Tabac (which sells cigarettes) cafés are primarily for drinking, though some do offer light snacks or sandwiches. A café will usually have an outdoor terrace for people watching.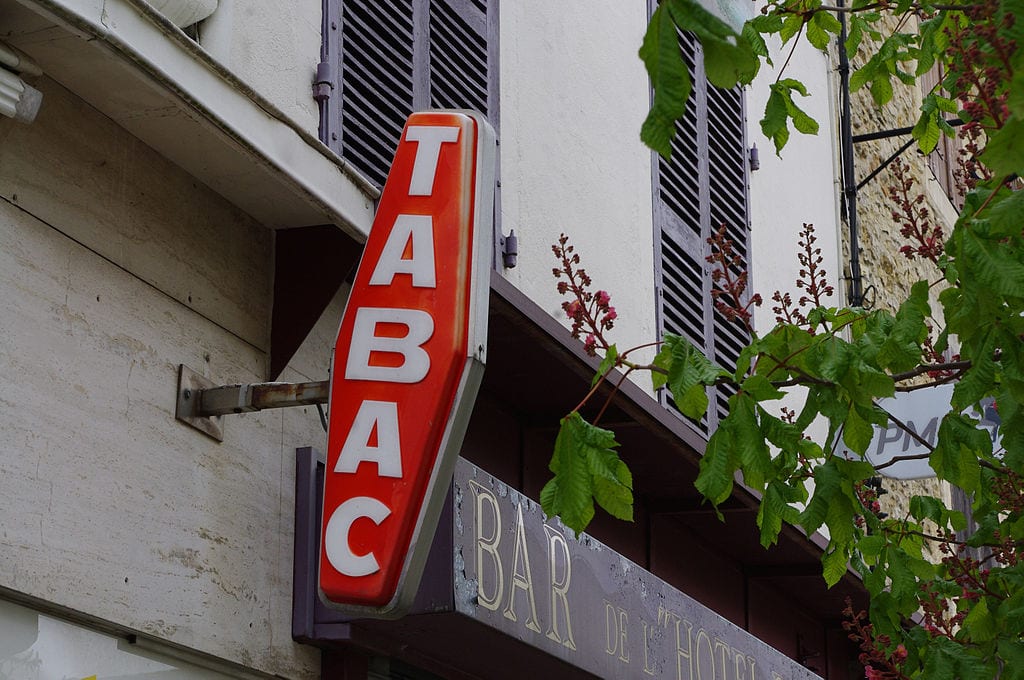 Bouchon
Bouchons are usually a historic business that has been around for a very long time. If you can find one they serve good food at good prices.
Creperie
A restaurant that serves dominantly crepes that are sweet and galettes which are savoury crepes that are gluten-free and made from buckwheat.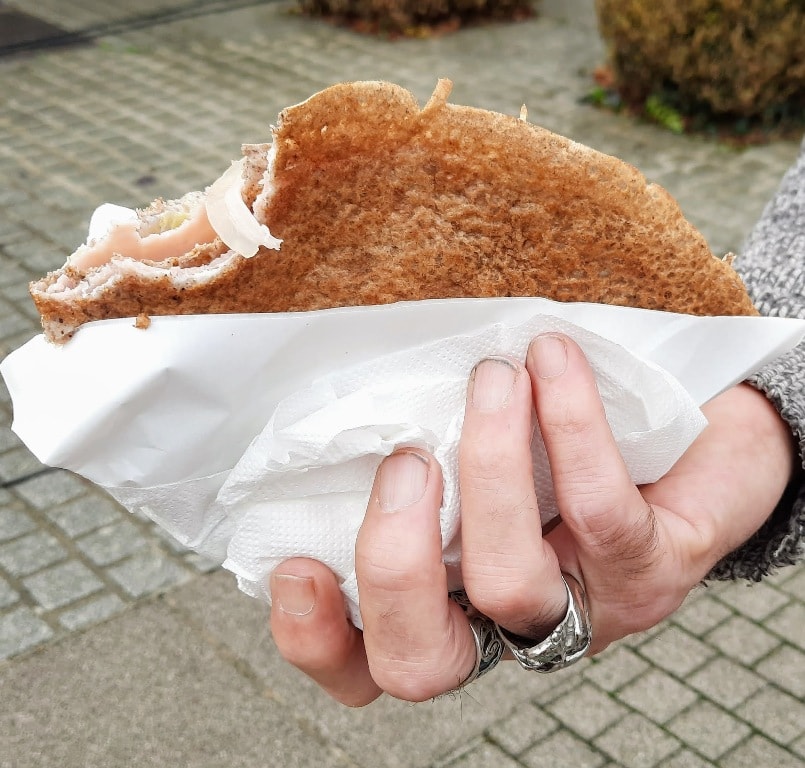 Restaurant
A Restaurant is your best bet for a traditional meal including several courses. Many will offer a wide selection on their a la carte menus and the fixed price will only offer 2 or 3 selections. These types of food places will only open during lunch 12-2 and dinner hours 7-10 and many are closed Sundays and Mondays. Because of the world situation right now these will tend to be reservation only as well.
Auberge
Auberges are usually attached to a rural bed-and-breakfast or hotel that serves up good traditional French cuisine. An auberge terroir uses certified local ingredients. In both cases, a table d'hôte with limited options is usually offered.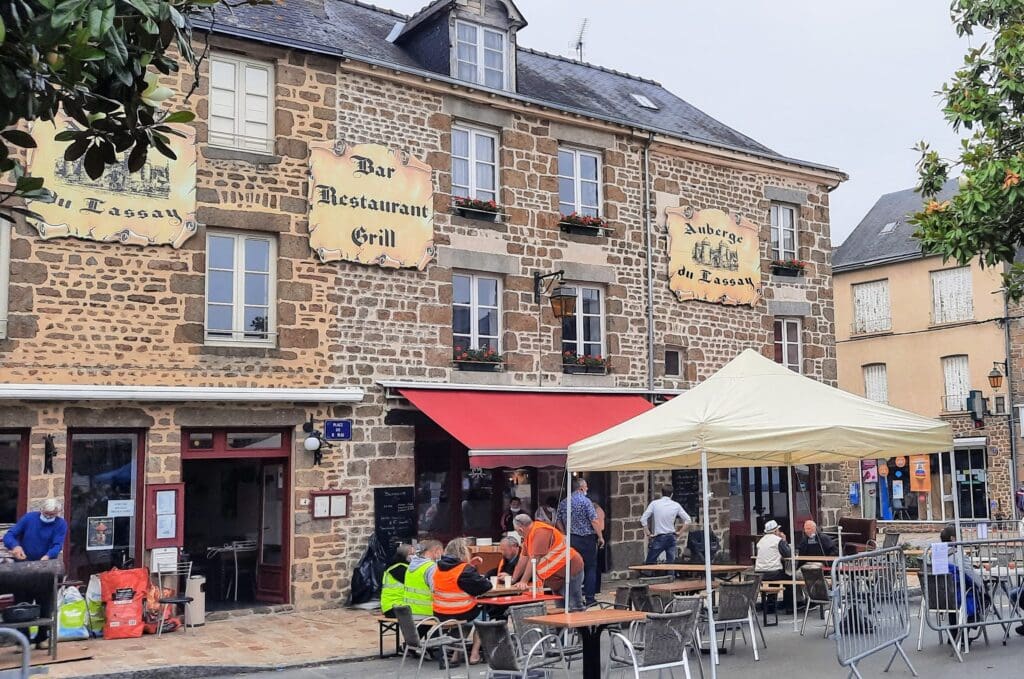 48 famous French cuisine favourites
French cuisine and French Culture is highly dependent on the location so this list covers a wide variety of French foods right across the country.
Croque Madame and Croque Monsieur
Basically a grilled ham and cheese sandwich. A croque madame is simply a croque monsieur with a poached or fried egg on top and béchamel sauce. With a Croque Monsieur, the bread is dipped into a beaten egg (like a savoury French Toast) before cooking.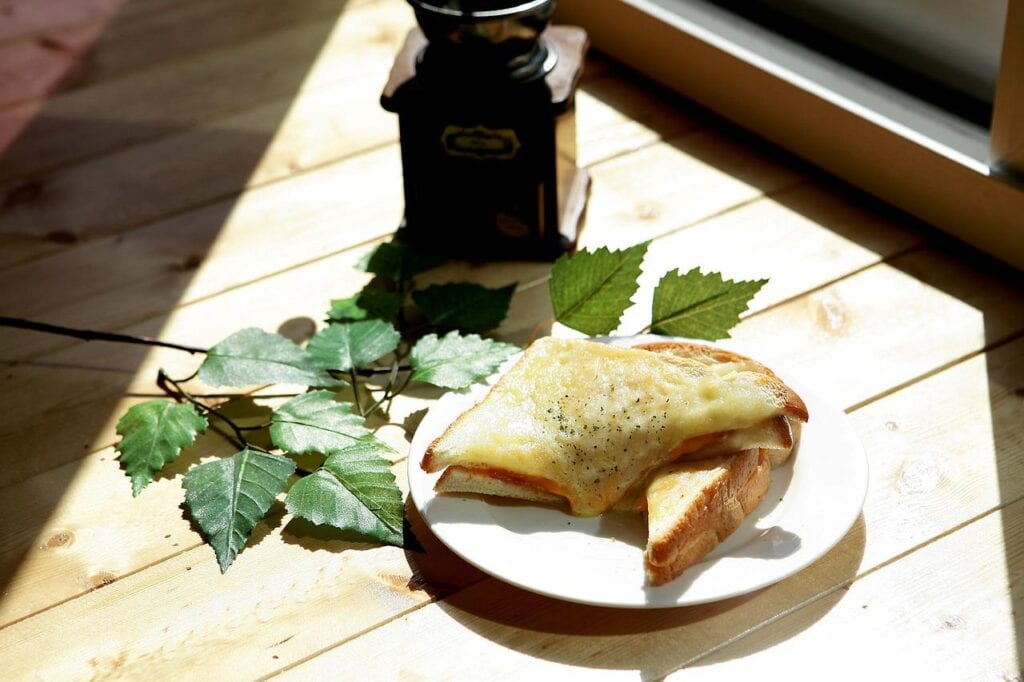 Coq au Vin
The classic French dish that many experienced in Canada for the first time on their trip to Quebec. Originally Coq au vin was made from a coq, or old rooster, and red wine. The tough meat of the rooster was tenderized by the slow, stew-like cooking technique. The rich flavour of the wine permeates the meat, which is garnished with mushrooms and onions.
Galettes and Crepes
Galettes are savory crepes made with buckwheat flour and served with a saucisse (French sausage) or wrapped around ham and eggs or other savoury French favourites. Crepes are the sweet versions and served with lemon and sugar, Nutella and banana or salted caramel for a classic French flavour. Both of these styles of crepe originated in Brittany.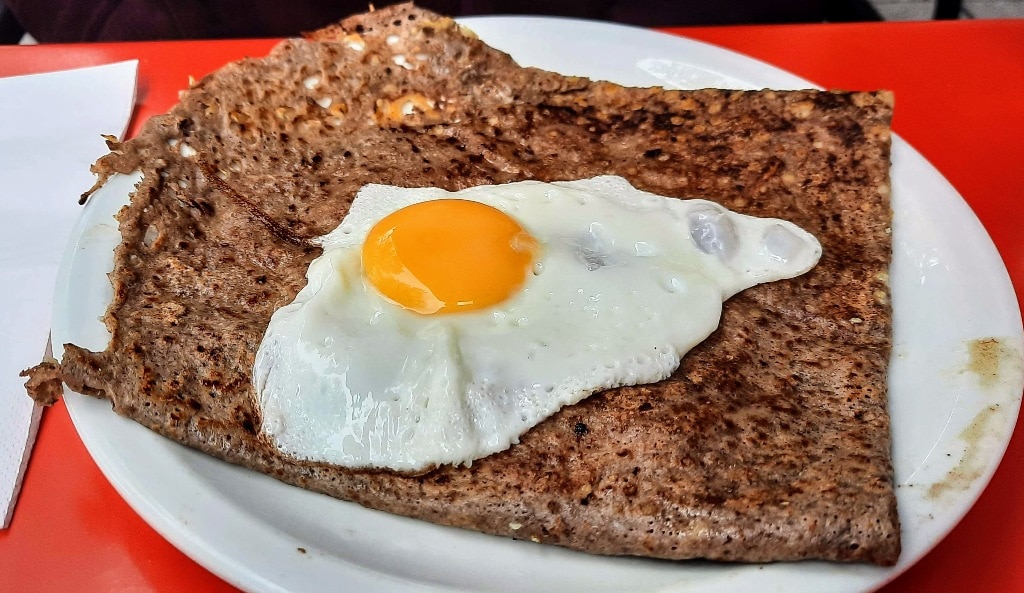 Cheese
A fromage platter will contain three varying kinds of cheese that originate in France they do not come with bread or crackers. Many platters will include a blue, goat or sheep's cheese and a firm cheese so they are completely different but complementary.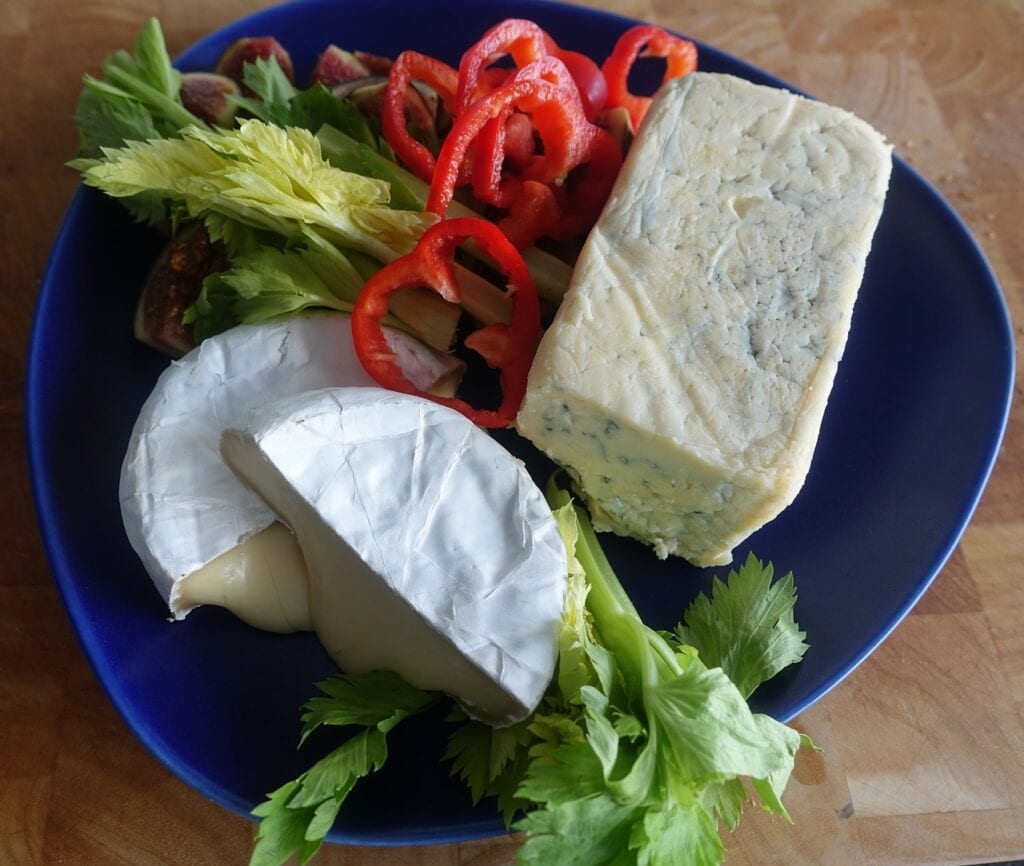 Steak frites and Moules frites
Classic French standard steak and fries or mussels and fries. Be warned the French seem to like their beef blue. These two classic dishes are served all over France and sometimes not well as the steak can be very tough – which is probably why the French love is very rare.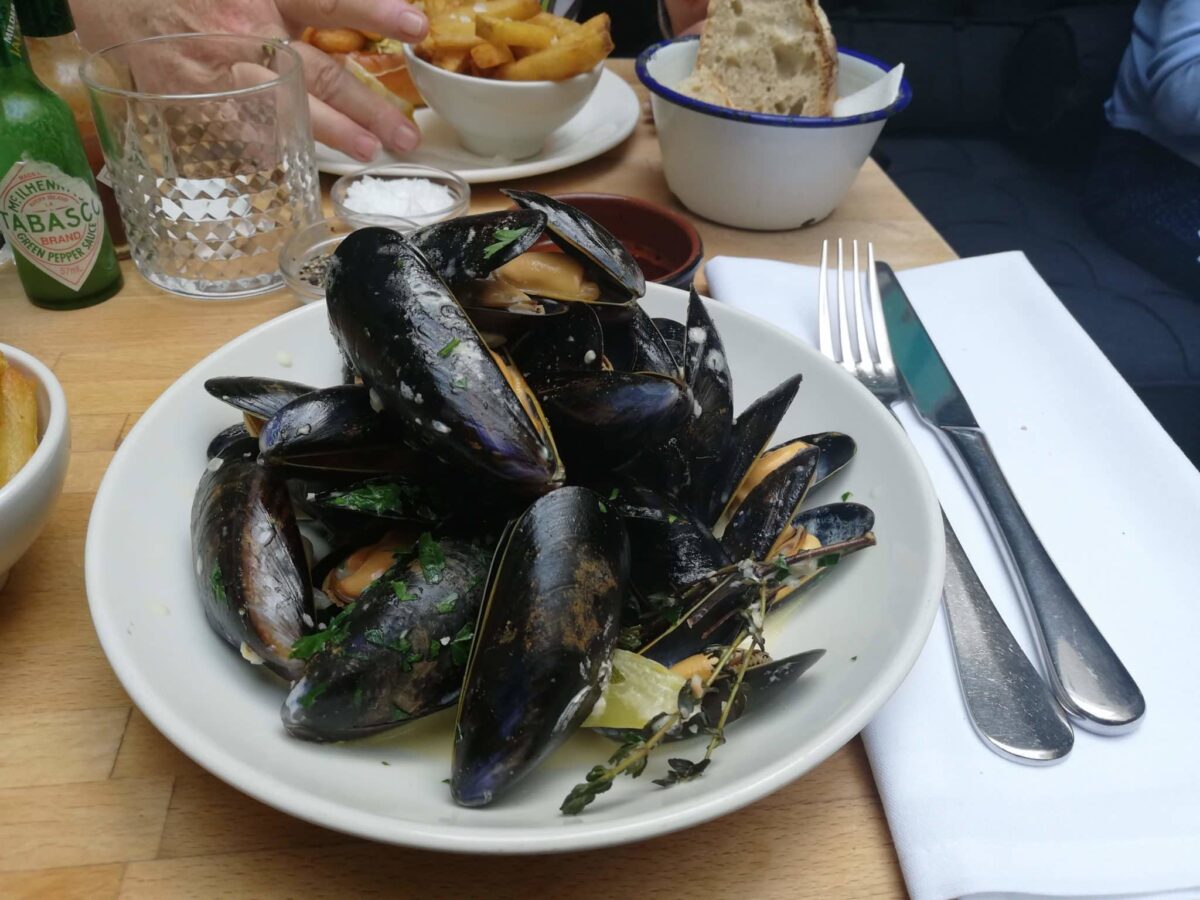 Cassoulet
Dating back to the time of Catherine de Medici (Chateau Chenonceau) a cassoulet is a slow-cooked rich casserole of pork sausages, goose or duck, white beans and herbs plus some tomatoes. The towns of Castelnaudary, Toulouse and Carcassonne are well known as the original proponents of this dish.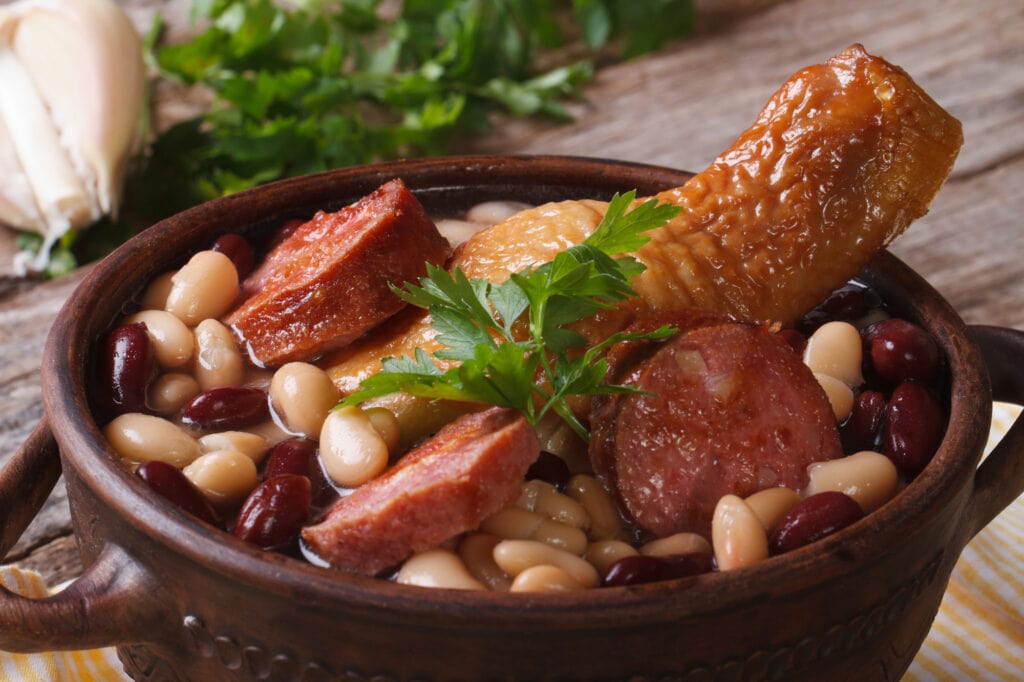 Quiche Lorraine
Everyone knows quiche that lovely eggy centre with bacon and a little cheese. There are as many varieties of Quiche across France and the rest of the world and more are being created every day.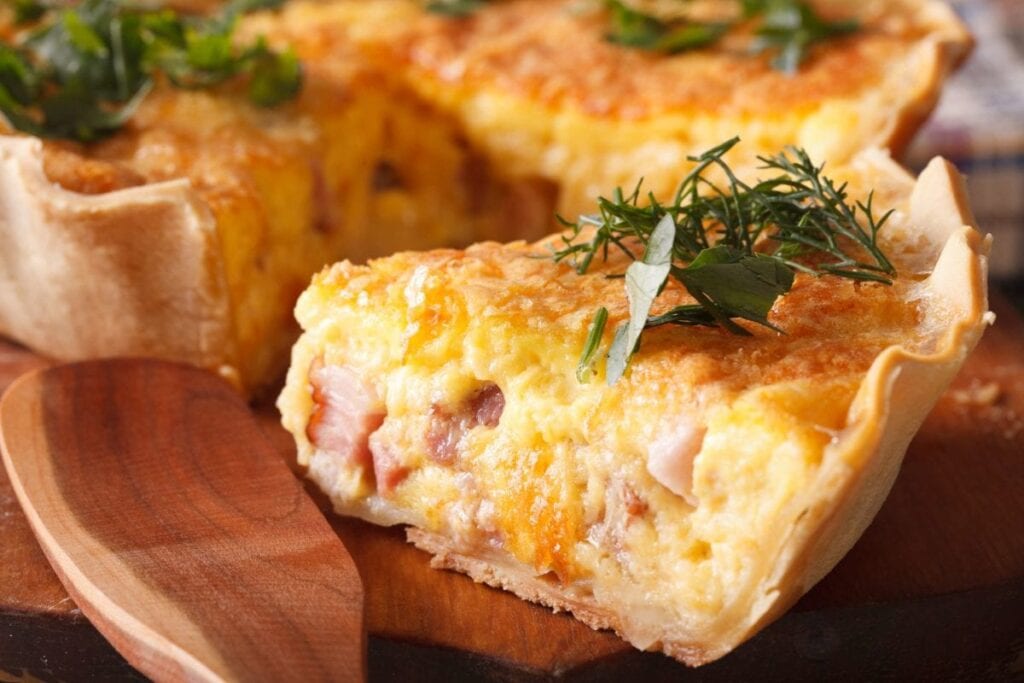 Andouillette – Sausages
Andouille Sausages are unique to France and most definitely not my favourite. These are a favoured delicacy here and they are essentially intestines mixed with some onion, salt and pepper and perhaps garlic and parsley. They are usually cooked in red wine and the locals love them.

French Onion Soup
Hard to find these days on a French menu this classic soup with its deep dark sweet sautéed onions in a beef broth topped with a 'crouton' and cheese – heaven in a bowl.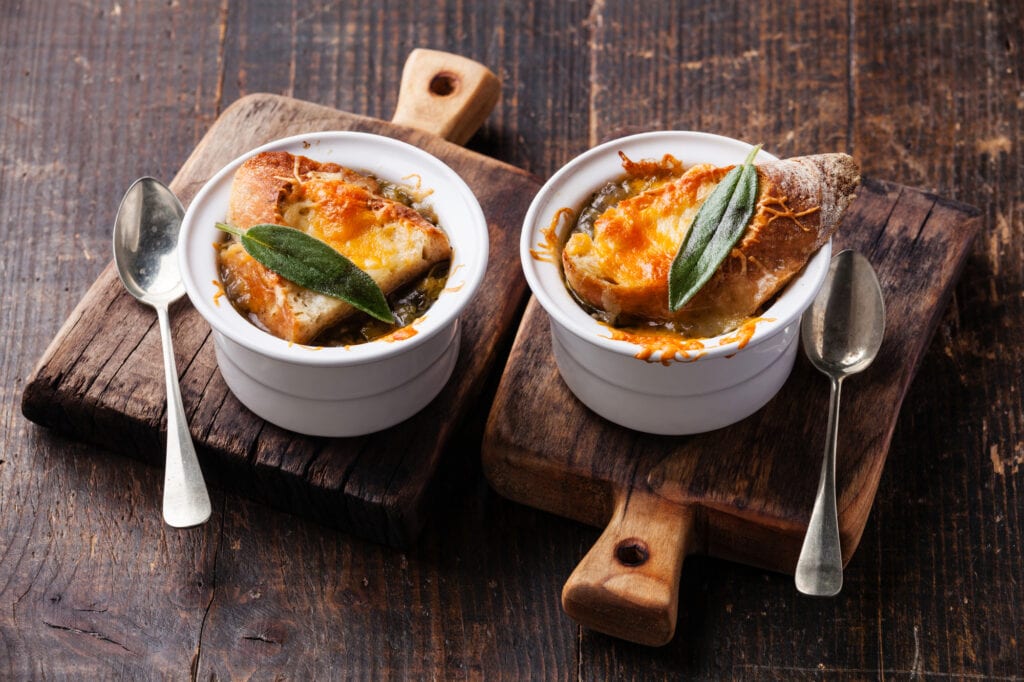 Foie Gras – Duck Liver Pâté
A source of much controversy is fattened duck liver, which can be served hot, or cold and is a major delicacy around the world.

Salade Nicoise
If you don't know this one you can't call yourself a foodie. This lovely summer salad is made with olives, hardboiled eggs, anchovies, tomatoes, and tiny French green beans. Topped with anchovies or lightly seared tuna and is often called one of the world's best salads.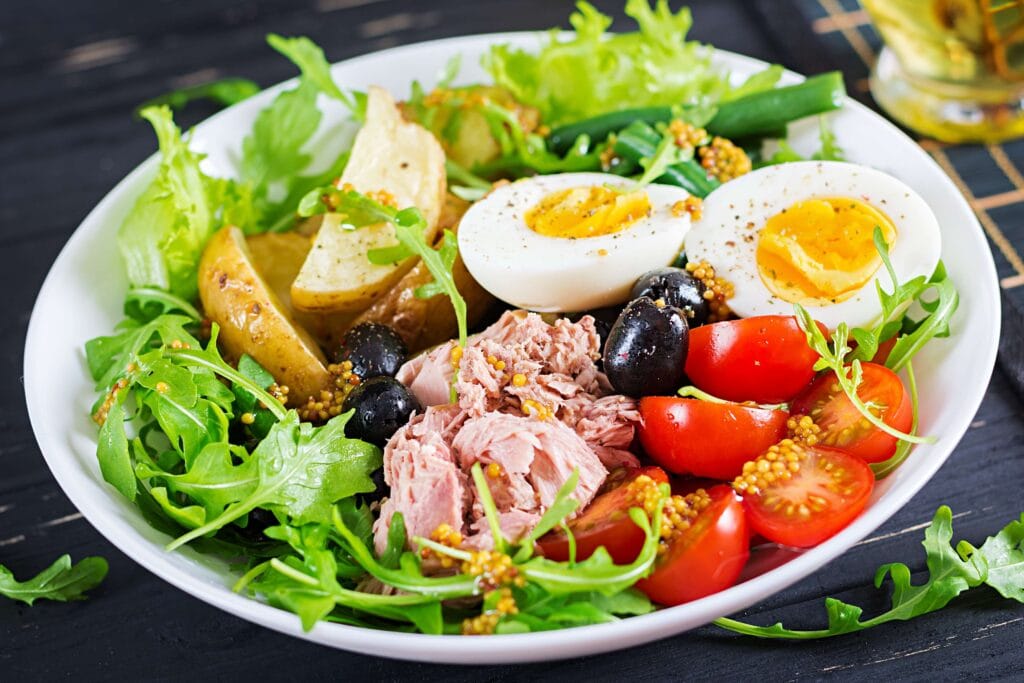 Bouillabaisse – Fish Stew
Coming from the south of France and the Port of Marseille this delectable stew is made with three kinds of fish at a minimum. It may also include shellfish, crabs, sea urchins and octopus along with the standard tomatoes, potatoes, leeks and onions.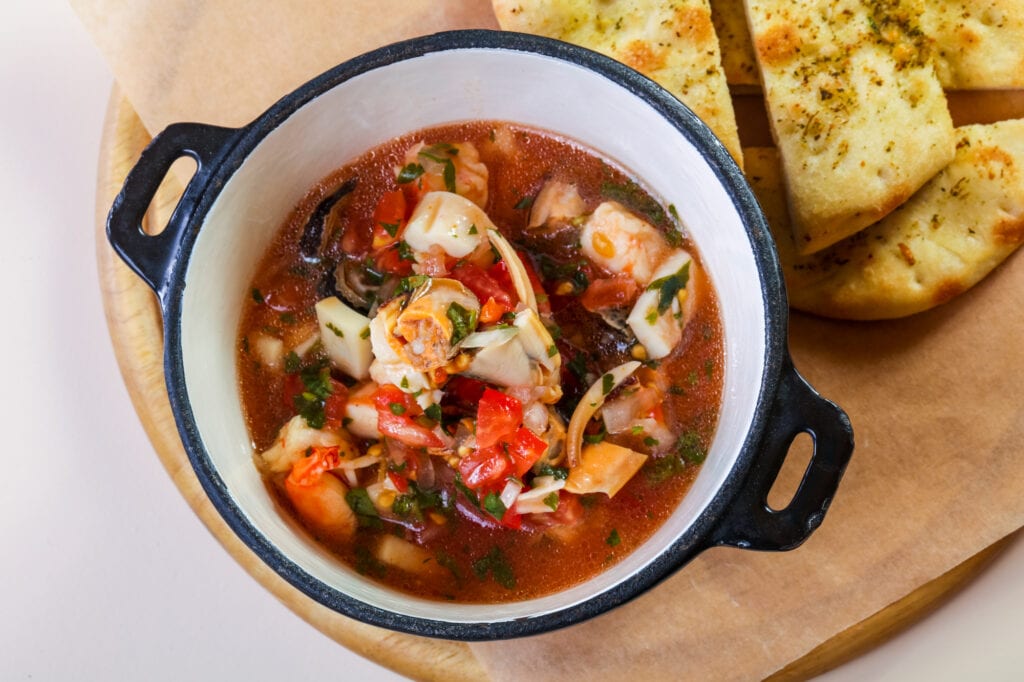 Blanquette de Veau
Another tad controversial French dish is a creamy veal stew made with lots of butter, cream, and carrots. Usually served with rice this is a true peasant dish hearty and warming.
Oysters from Cancale
Apparently, there are no finer oysters in the world than those that come fresh from the sea in Cancale on the Coast of Brittany. Slurped in their thousands by visitors even Gordon Ramsay has been seen here knocking back a cider and some oysters.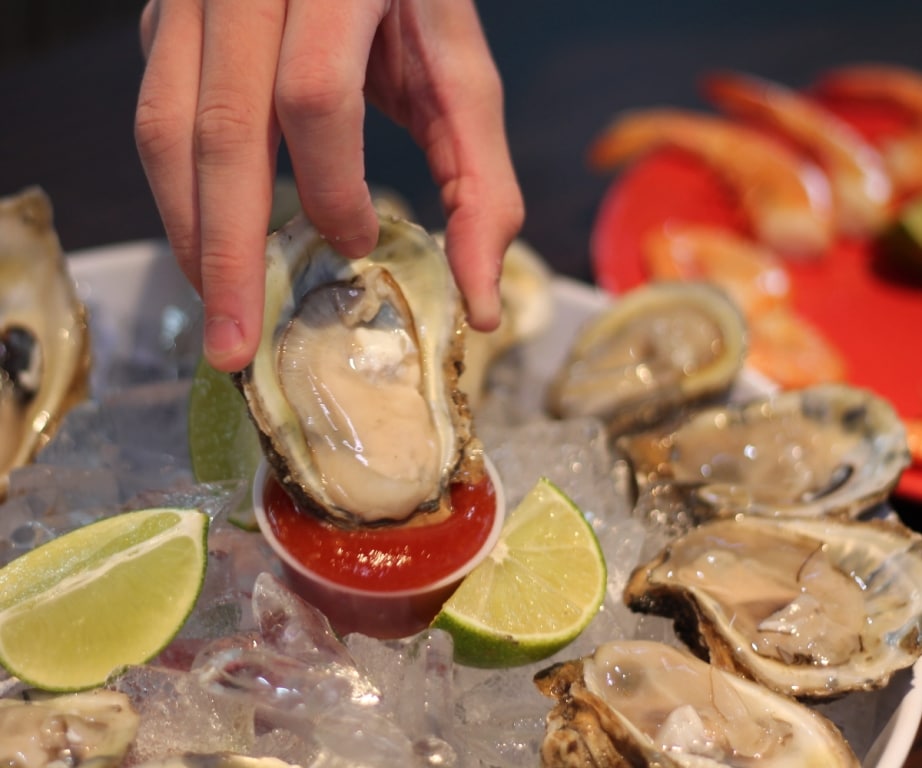 Coquilles Saint-Jacques – Gratinéed scallops
One of my very favourite dishes but only when the scallops are truly superb and lusciously sweet. This dish is made by poaching the scallops in white wine and topping them with a mushroom puree and the sauce made from the poaching liquid. Then topped with some crunchy breadcrumbs and perhaps a little cheese then grilled to perfection.
Plat de Fruits de Mer
The glorious plate of the fruits of the sea. A very traditional French offering that consists of various seafood on a plate full of ice. Typical seafood used in this dish may include whatever is seasonal from a variety of shellfish such as shrimps, mussels, lobsters, crabs, clams, oysters whelks, winkles or whatever is available. This platter is usually accompanied by homemade French mayonnaise and a mustard sauce.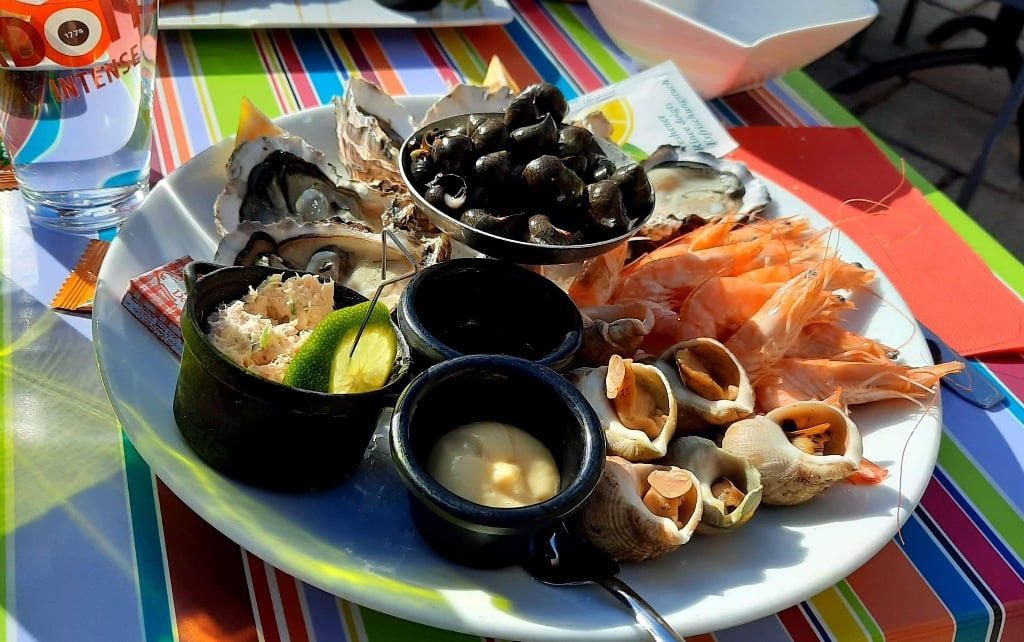 Escargot – Snails
A very French delicacy which can be found all over the country and most definitely not my favourite. There are apparently three kinds of snails that are eaten here and they are removed from the shell cooked and returned and drizzle with butter and garlic.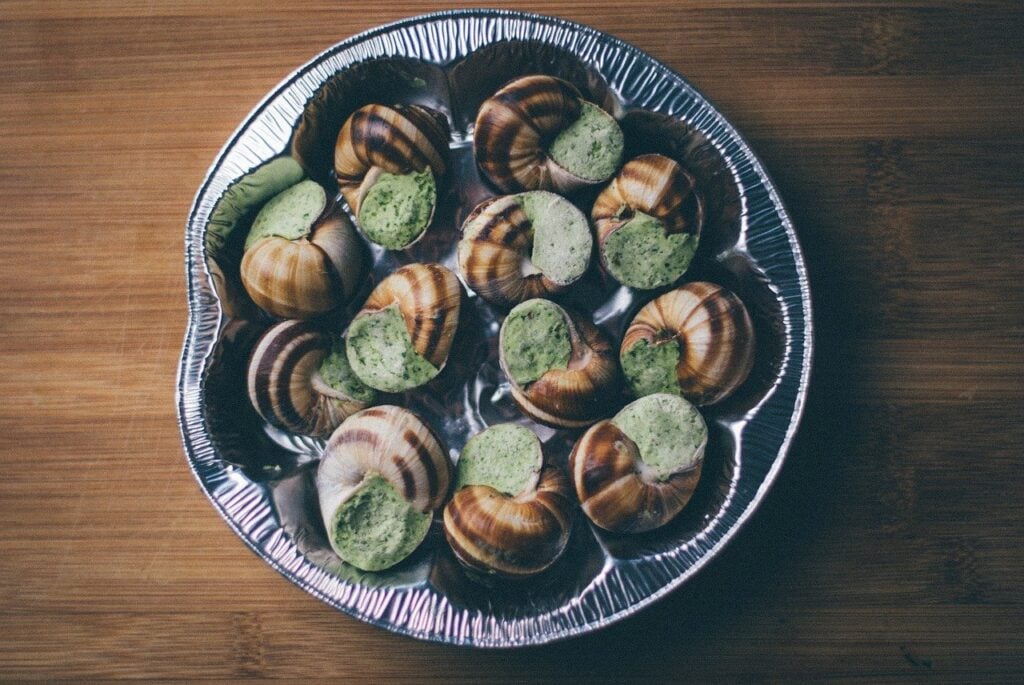 Steak Tartare
Steak tartare is made from finely chopped or minced raw beef and served with onions, capers and seasonings, sometimes with a raw egg yolk on the top.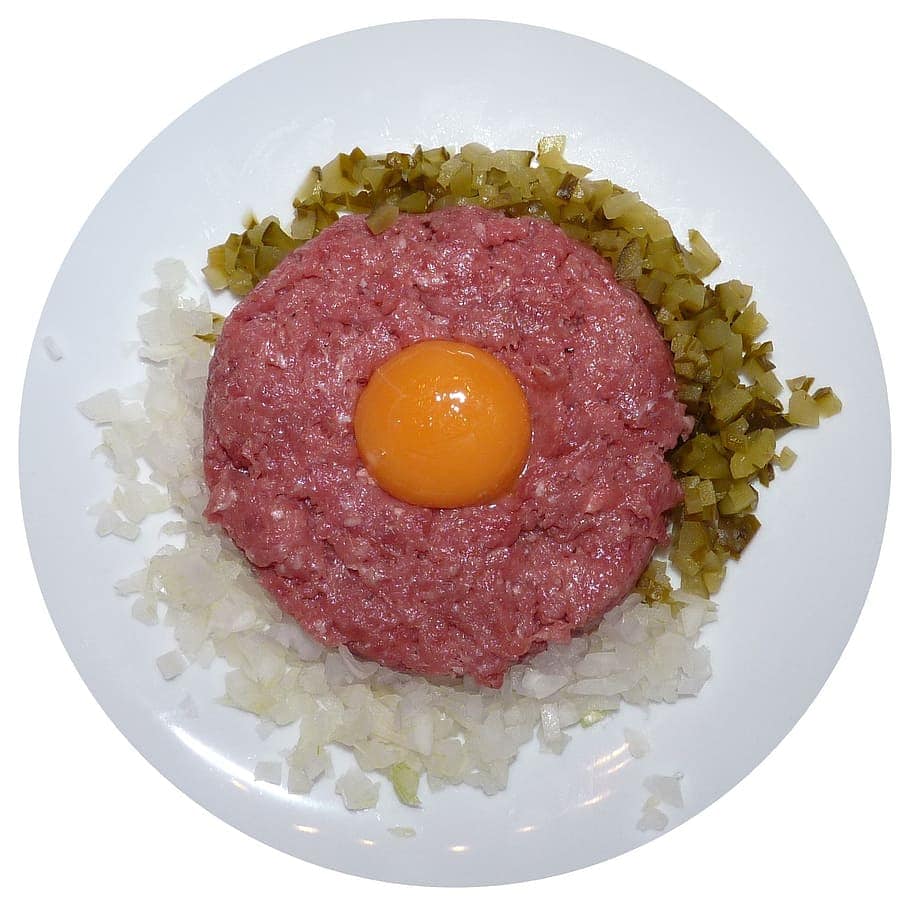 Souffles
The soufflé, which takes its name from the French verb souffler ("to puff or blow"), is attributed to an 18th-century cook. These days a soufflé is considered a bit retro and it is basically an egg yolk base and beaten whites that can incorporate sweet or savoury flavours.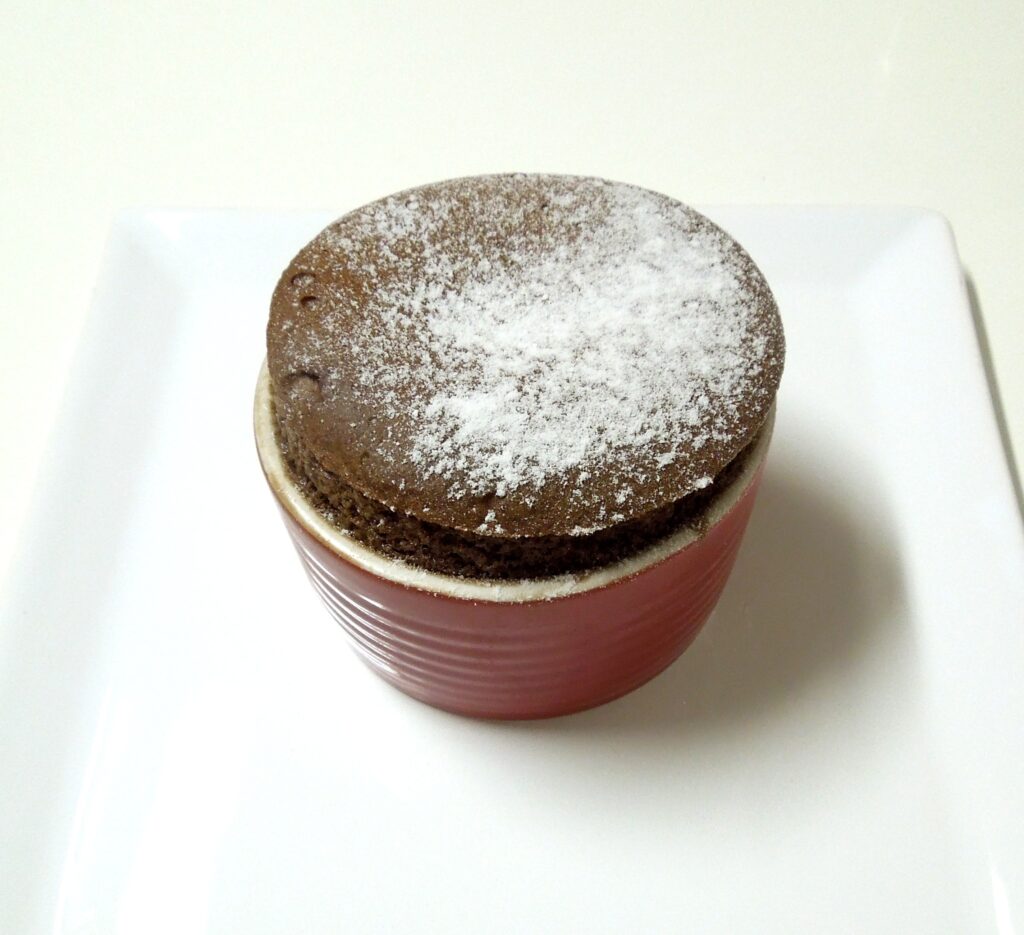 Terrine – pate sort of
A compilation of various meats and vegetables and fat placed in a mould are also created with vegetables such as asparagus or mushroom making them vegetarian and vegan. These days terrines are also made with fruits. They are served cold with salad-style garnishes and you can spot them in virtually any supermarket or fine food establishment.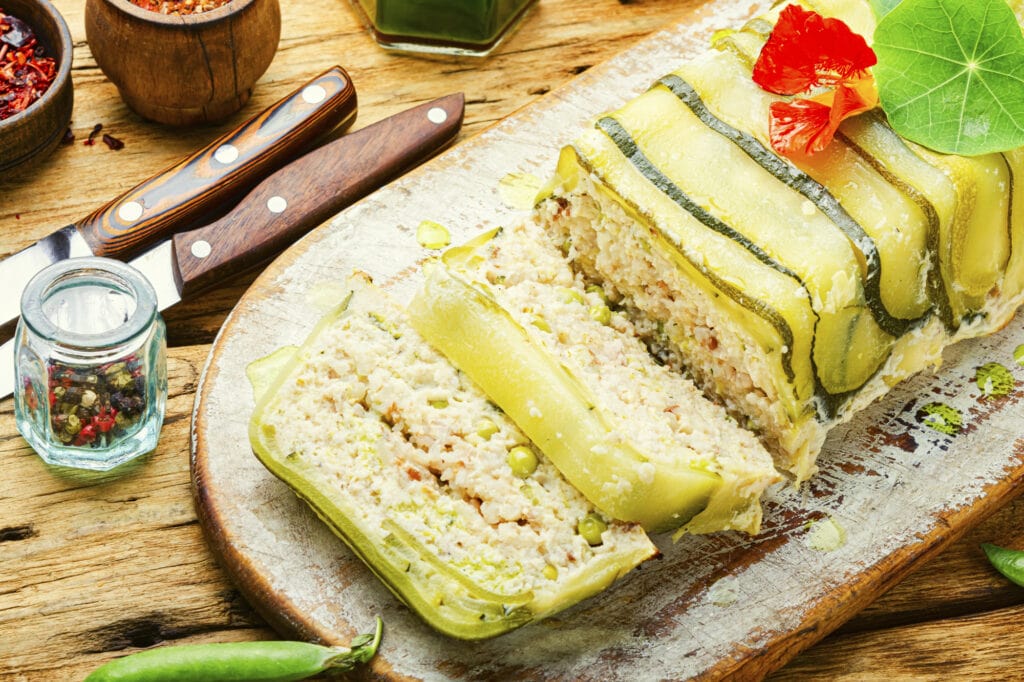 Chateaubriand – steak
Chateaubriand a beautiful centre-cut piece of beef tenderloin (usually enough to serve two), along with a classic red wine sauce.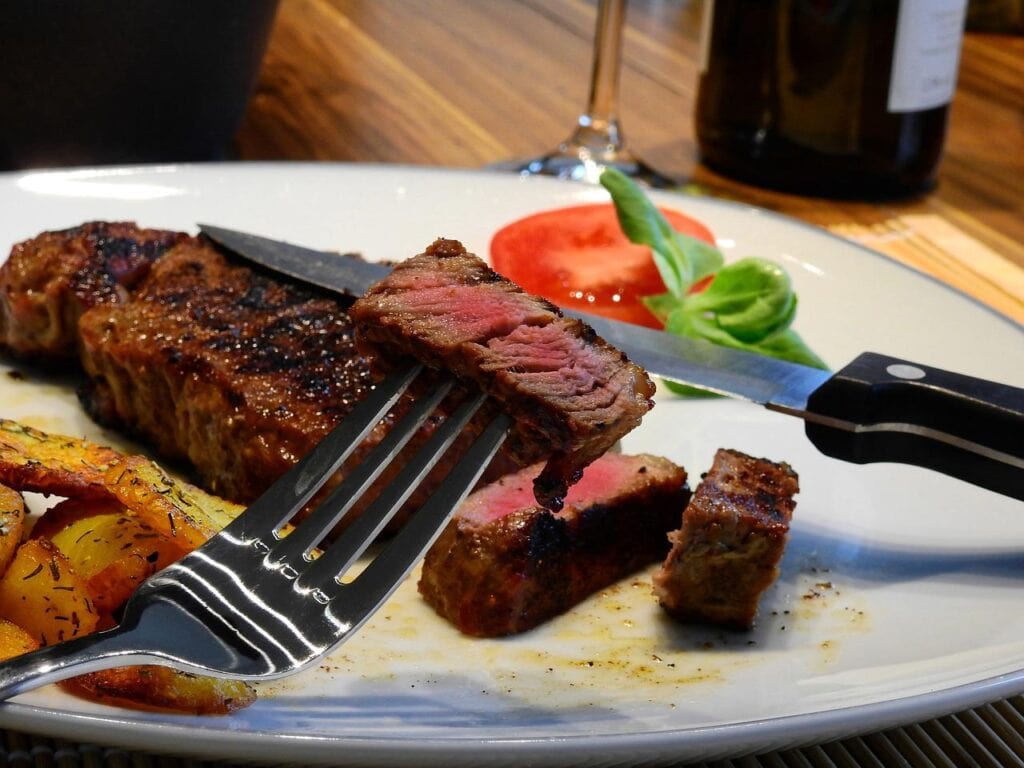 Vichyssoise – cream of leek soup
This thick French soup is made with puréed leeks, onions, potatoes, cream, and chicken stock. Usually served cold and garnished with fresh chives. Food historians argue whether it was created by Gouffe in 1859 in Vichy or by Diat a French chef in the NY Ritz-Carlton.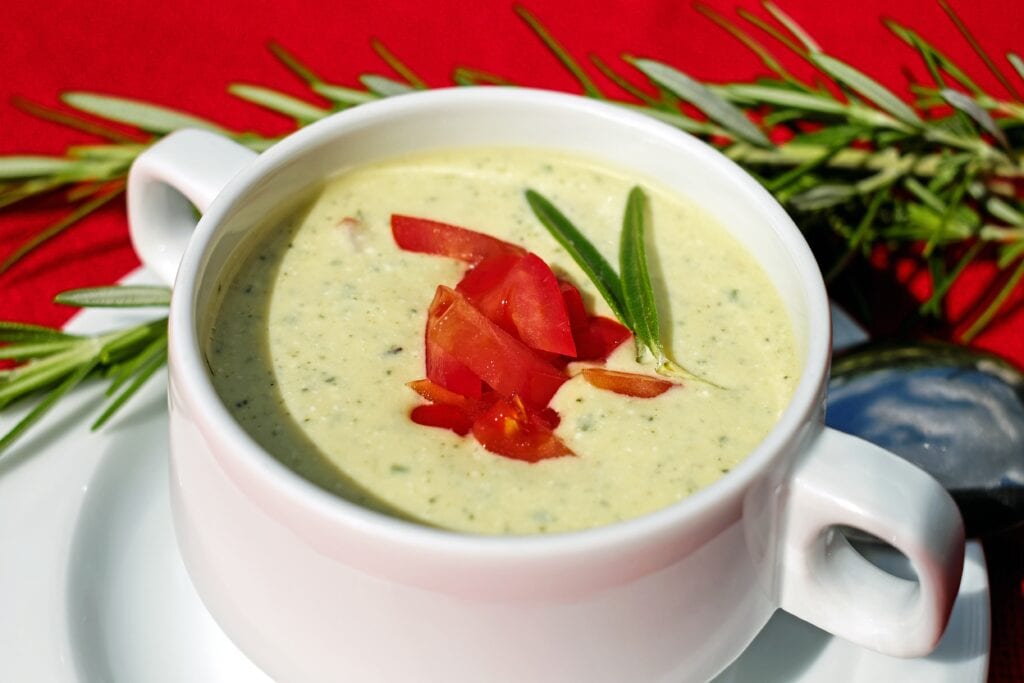 Bisque–cream soups
Bisques were created by the fisherman of Northern France when they used all the portions of their catch that could not be sold. Bisques are made of lobster, crab, shrimp, langoustine or crayfish. cooked in wine and herbs. Once the meat is cooked it is strained and cream is added.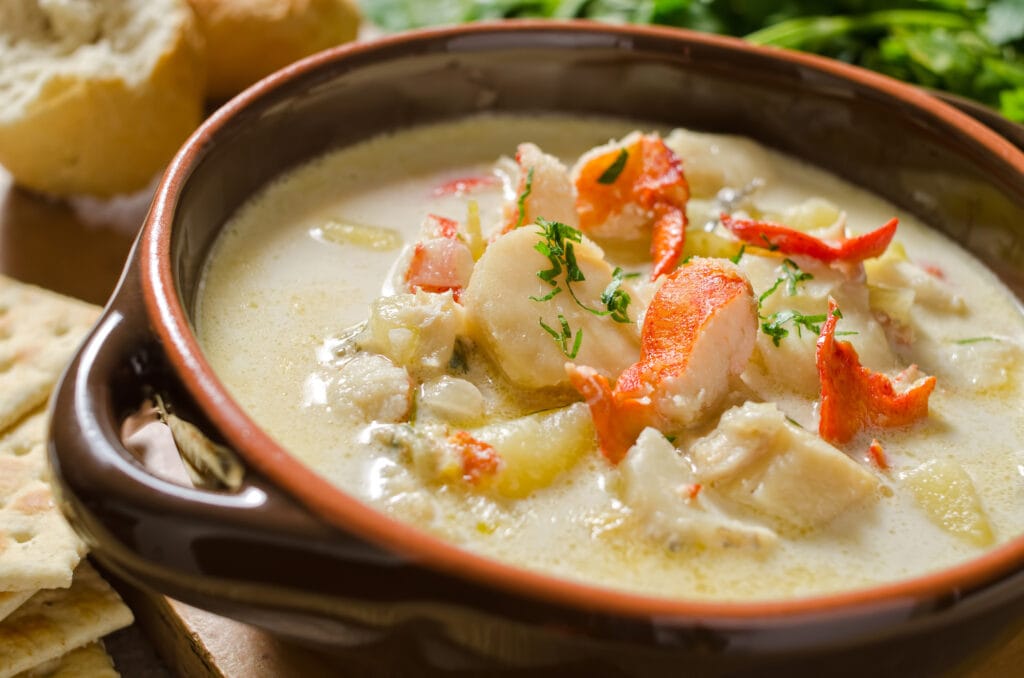 Daube
Daube is a traditional Provençal stew cooked in a pot known as a daubiére, which is specially shaped to stop the evaporation of the cooking liquids. Its ingredients consist of slow-simmered lamb or beef in a broth of wine with vegetables, thyme, bay and other seasonings. You may find this served with la macaronade, which is pasta cooked in a sauce made from the braising juices mixed with a bit of white wine and some mushrooms.
Beef bourguignon – Beef stew
An absolute classic beef cooked in red wine usually a Burgundy and includes carrots, onions, garlic and bouquet garni, then garnished with bacon, pearl onions and mushrooms.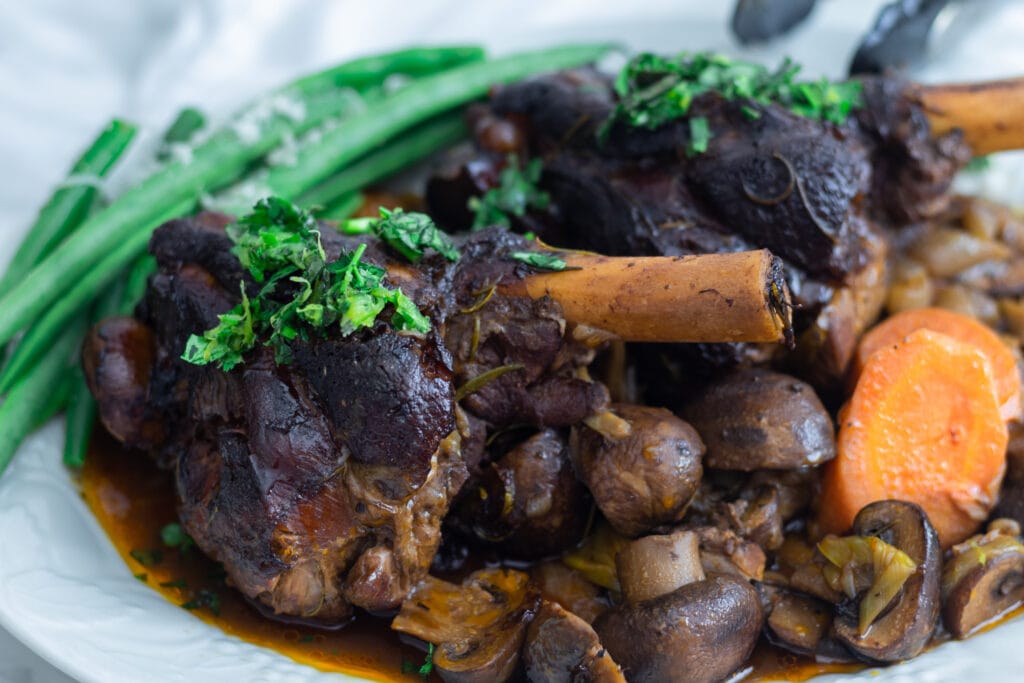 Steak au Poivre – peppered steak
Another Classic French dish the steak is sprinkled with ground fresh pepper and fried in butter and olive oil. Usually presented with shallots and beef stock with brandy poured on top.
Margret de Canard
A beautifully flavoured dish of thinly sliced duck breast that is still a little pink in the middle.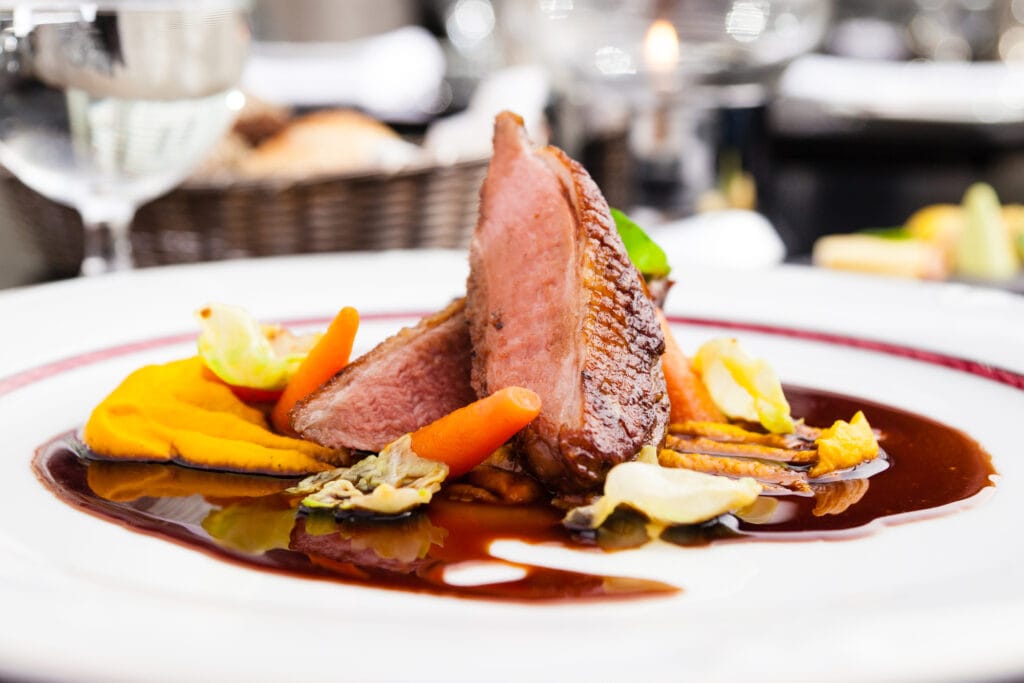 Lyonnaise Salad
A traditional salad from Lyon is comprised of frisée lettuce, tossed in a warm vinaigrette and topped with crispy bacon and a poached egg.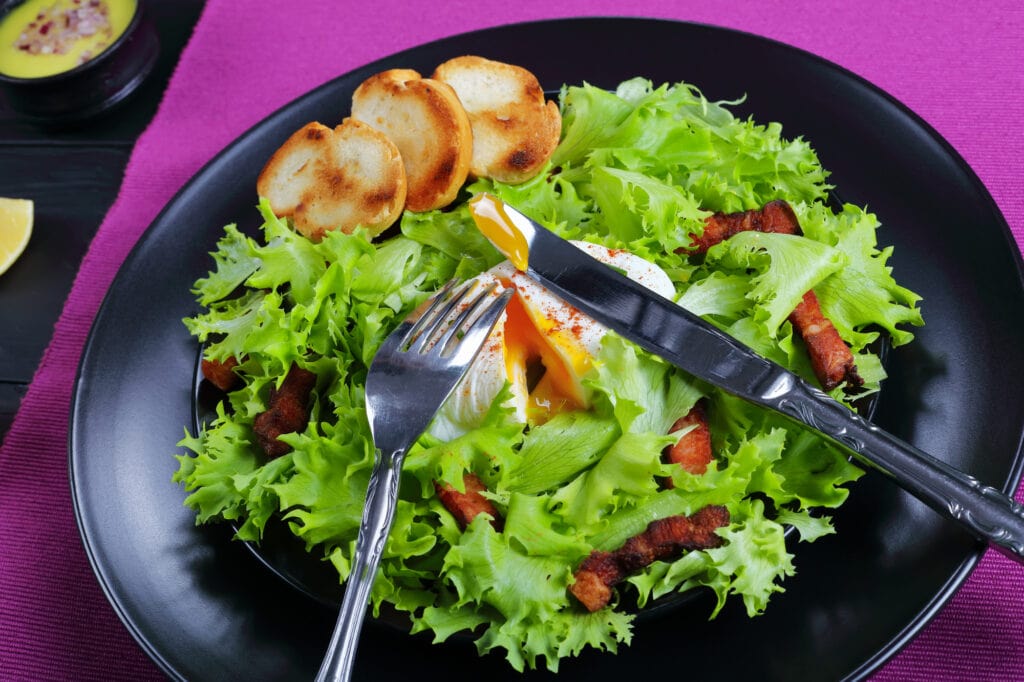 Poule au Pot – Chicken and Vegetables
Famous since the reign of Henri IV who said that all his subjects should have a chicken in the pot on Sundays. A simple chicken and vegetable stew all cooked together the vegetables include pearl onions, garlic, cloves, carrots, leeks, mushrooms, celery, cabbage, peppercorn, parsley, nutmeg and bay leaves.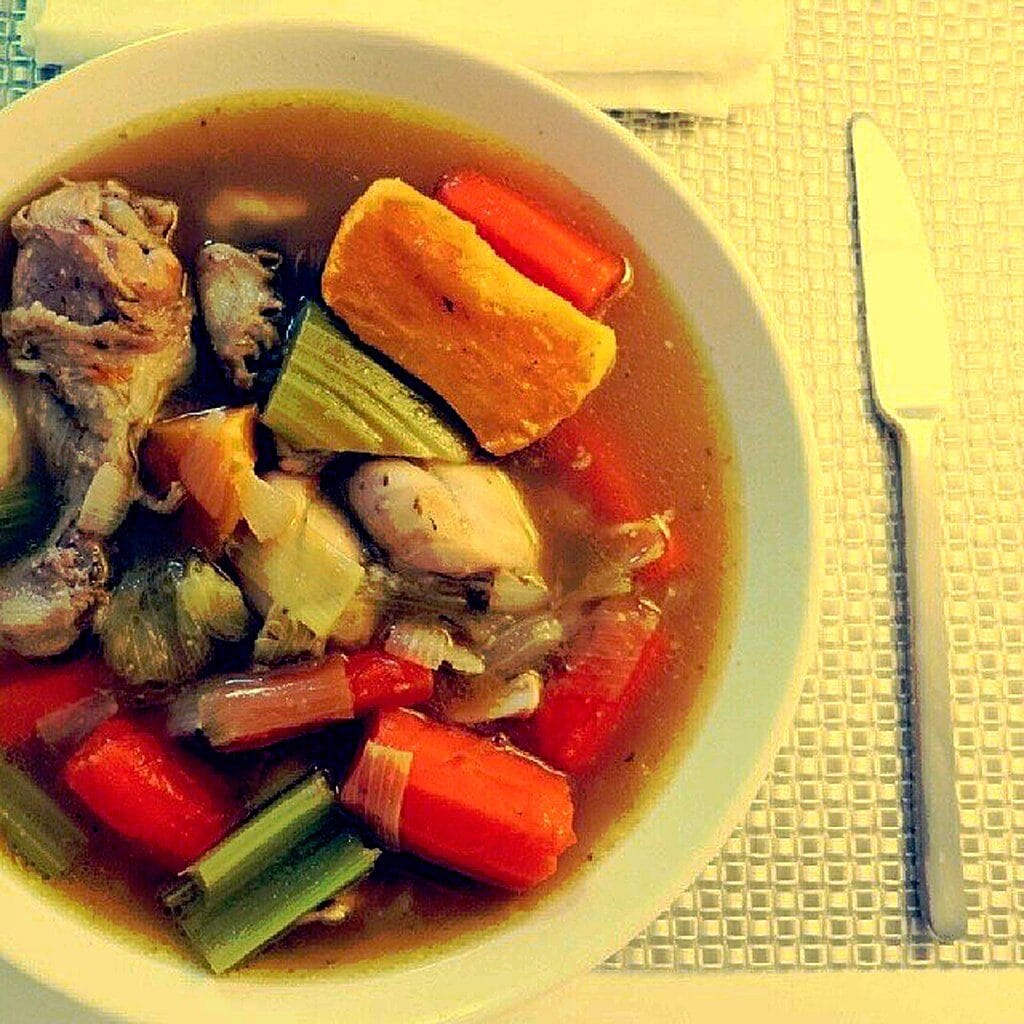 Pot au Feu – Red Meat and Vegetables
Pot au Feu is usually made with two cuts of red meat the brisket or leg on bone pieces and vegetables the same as Poule au Pot. The meat can be lamb, mutton or beef.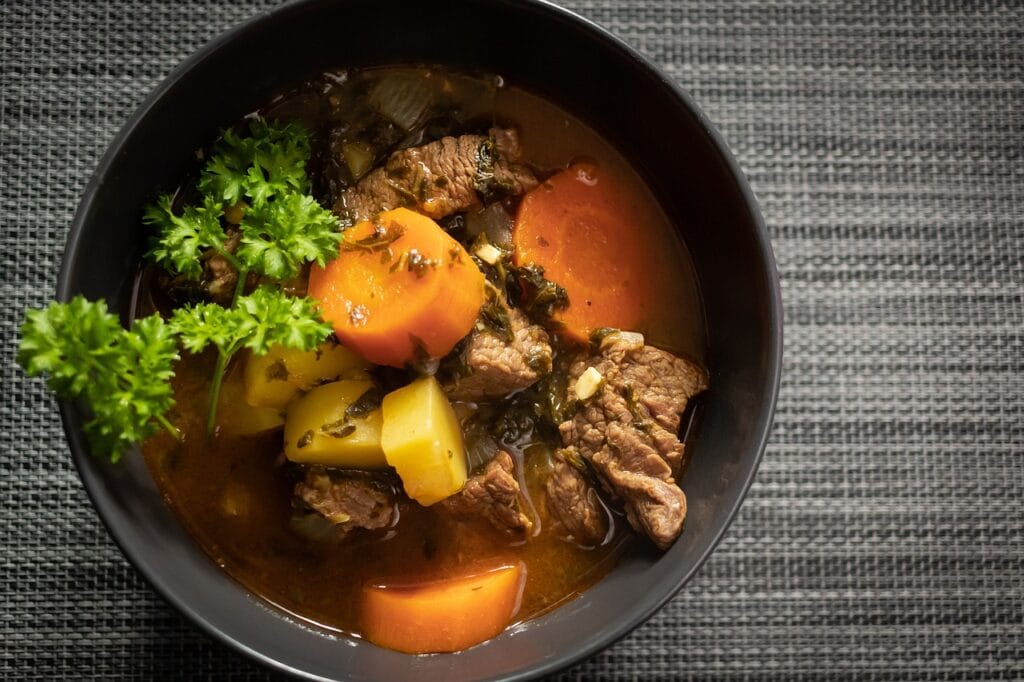 Oeufs en Meurette – poached eggs in wine
Oeufs en meurette is eggs poached in a red wine sauce with bacon, onions or shallots. There are two versions of this dish the eggs are poached in the usual vinegar and water bath which means they stay white or in a broth of the wine which colours the eggs a deep red colour. Occasionally you will find this dish with the eggs poached in white wine with cream added and both versions are served with toasted garlic bread.
Ratatouille – Sauteed Vegetables
Another famous dish but this one is a favourite of vegans and vegetarians Ratatouille is a stewed vegetable dish from French made with a mix of tomatoes, aubergine, zucchini, bell peppers and onions and flavoured with garlic, marjoram, basil, fennel, bay and thyme.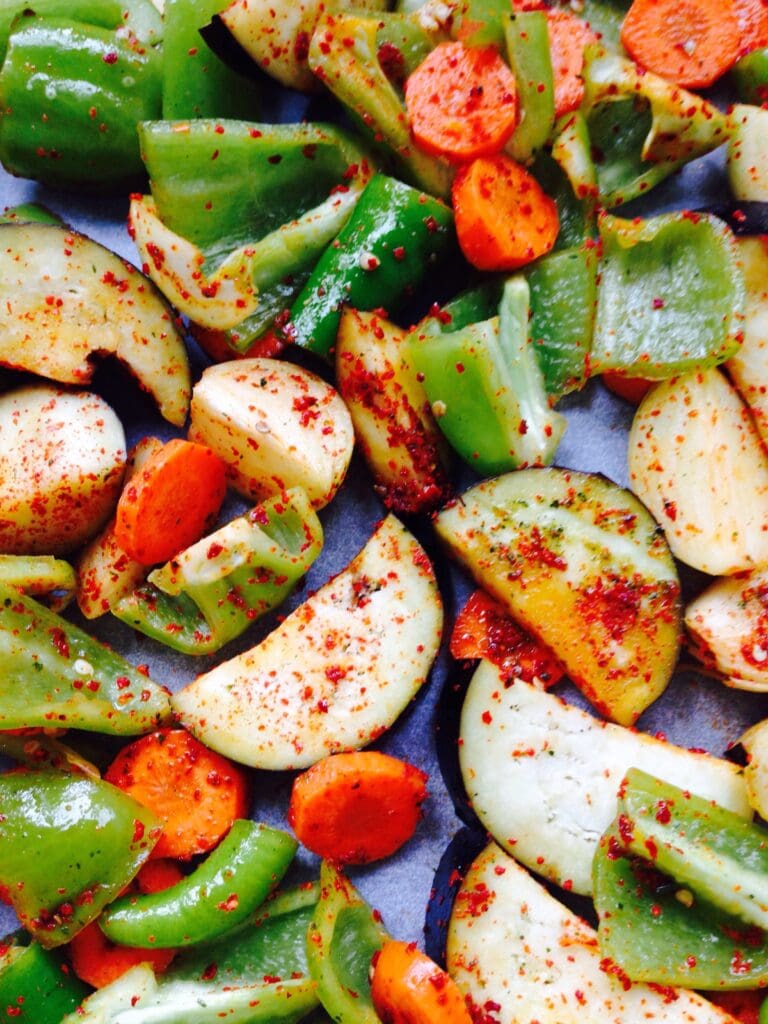 Gratin dauphinoise – Potatoes in Cream Sauce
A super simply but classic way to serve Potatoes similar to scalloped potatoes. A simple cream and cheese sauce mix with the potatoes to give a luxurious side dish.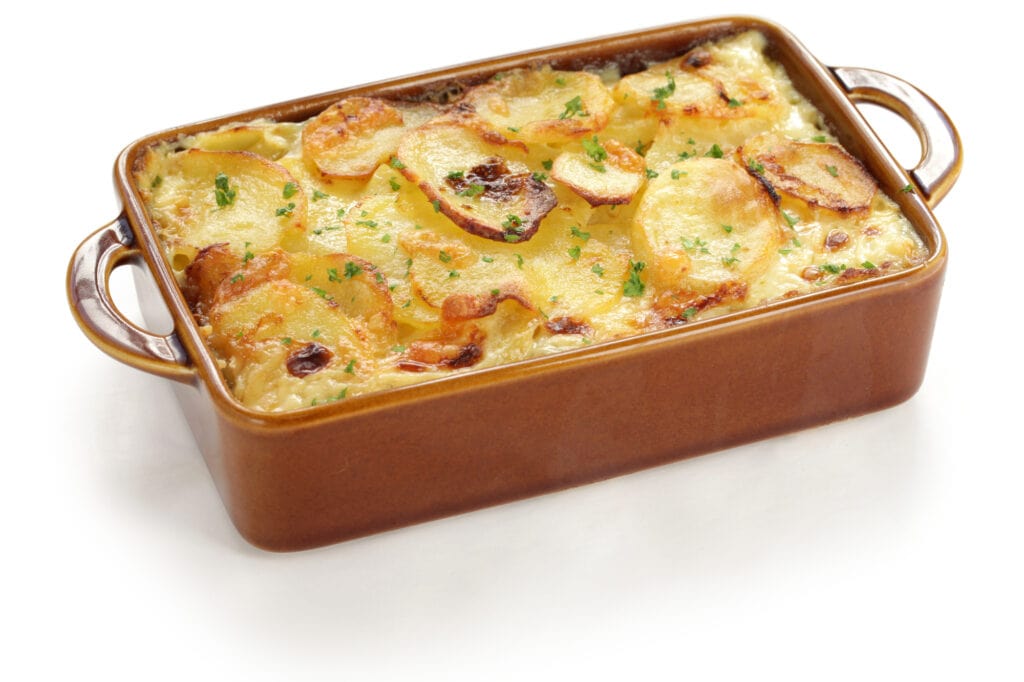 Tartiflette – potatoes with cheese and bacon
A sort of version of Gratin Dauphinoise this dish is made with lots of bacon bits and sautéed onion with a round of Reblochon Cheese melting on top. The perfect marriage of cheese, and potatoes.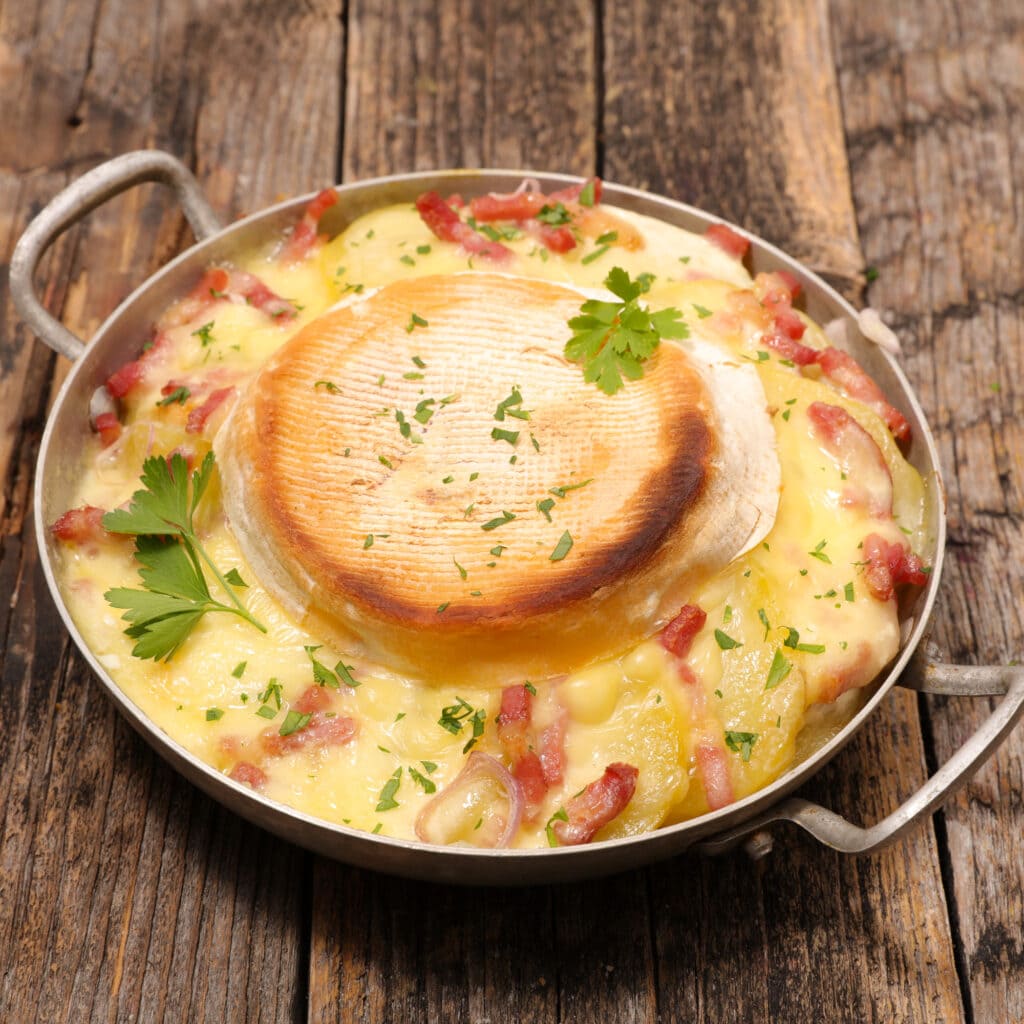 Confit de Canard – Duck Confit
A method of cooking duck that consists of slow cooking the duck in its own fat. The meat when cooked is delicately flavoured with garlic and other herbs and melts off the bone.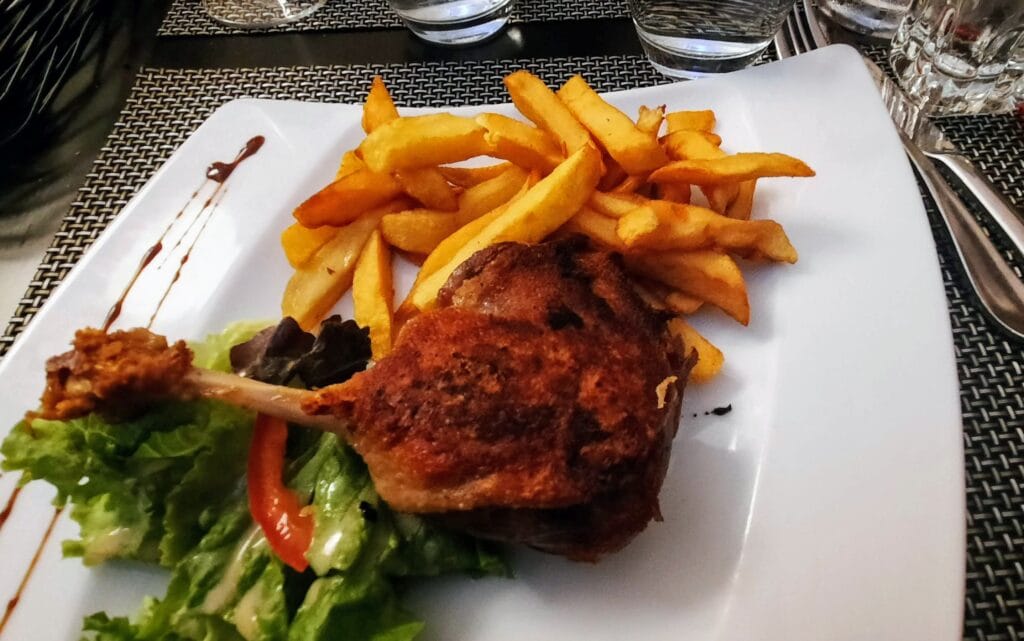 Pissaladière
A pizza by another mother. Hailing from the Provence region it is a simple flatbread topped with caramelized onions, anchovies, black niçoise olives and a little grated Gruyere.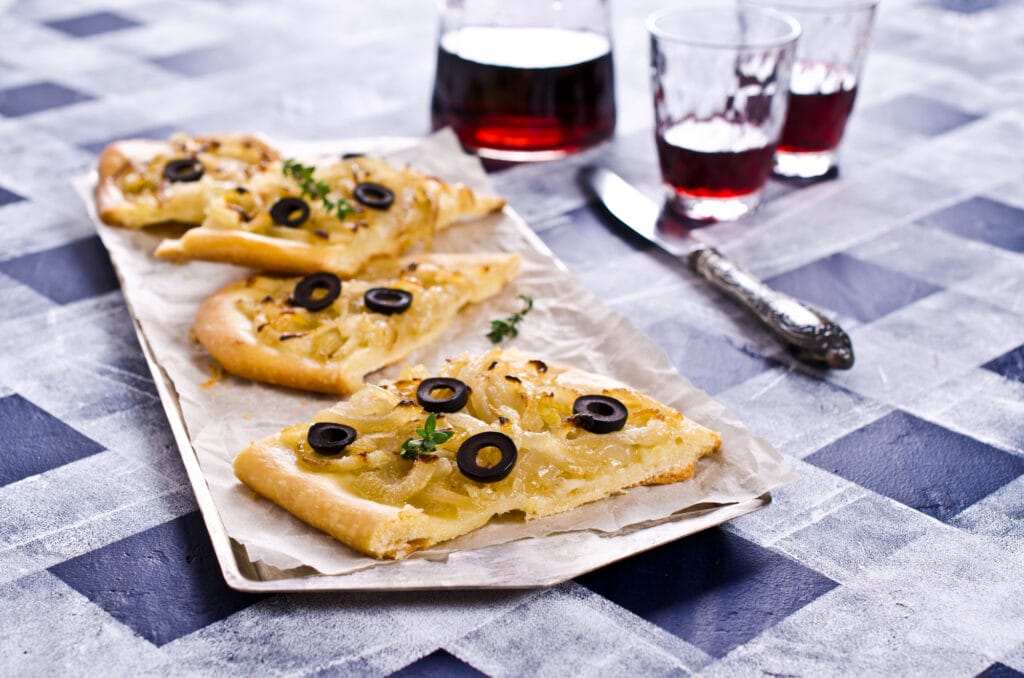 Lamiche – cheese, eggs and vegetable pie
Lamiche is actually 'cake' in Flemish and this is a favourite in Northern France. It is comprised of a puff-pastry crust but resembles a quiche and is filled with a mixture of leeks and cream.
Jambon Beurre
Here in France pretty much the only deli-sliced types of meat you will find are ham, more ham, chicken and more chicken. This means that the traditional fast food on the go lunch is a Jambon Beurre a simple slice of ham on a baguette with lots of butter. People rave about this 'famous' sandwich but it is what it is.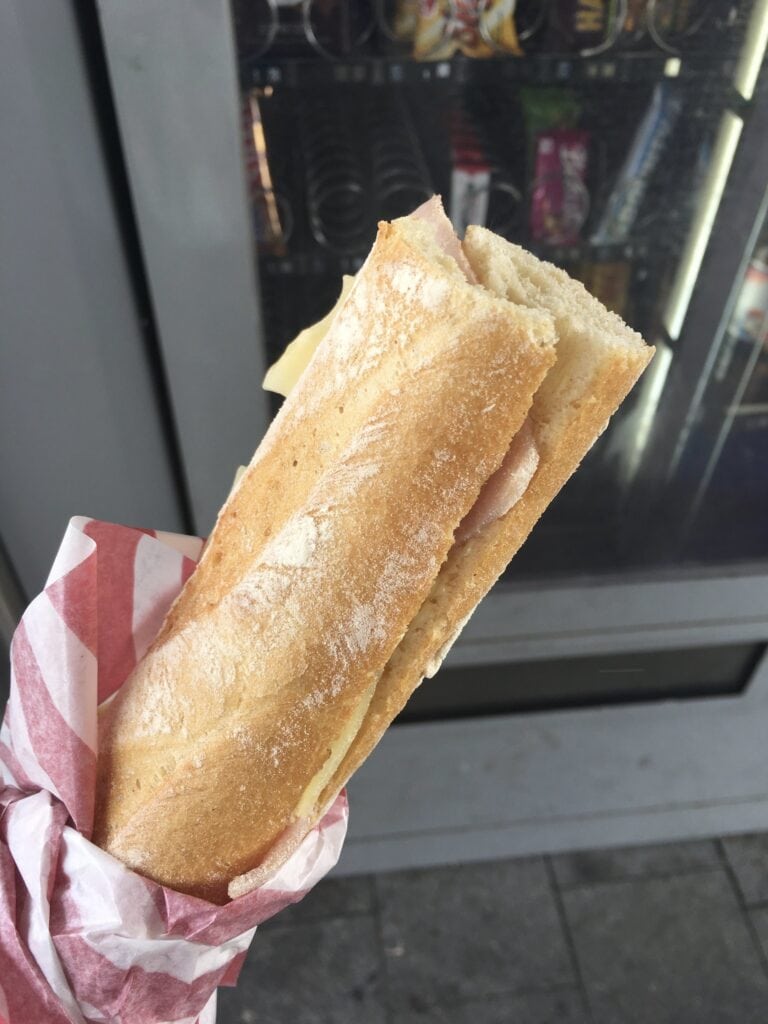 Traditional French pastries
Madeleines – buttery cookie cakes
Madeleines are baked in a special pan that is sort of flower petal-shaped. They are soft buttery cookies said to have originated in the Lorraine region of France.
Chouquettes – Pastry puffs with sugar
I love these but they need to be eaten fresh. They are simply a puff of choux pastry dripping with sucre perlé which is a pearled coarse sugar crystal. They are usually a breakfast or afternoon snack and quite addictive.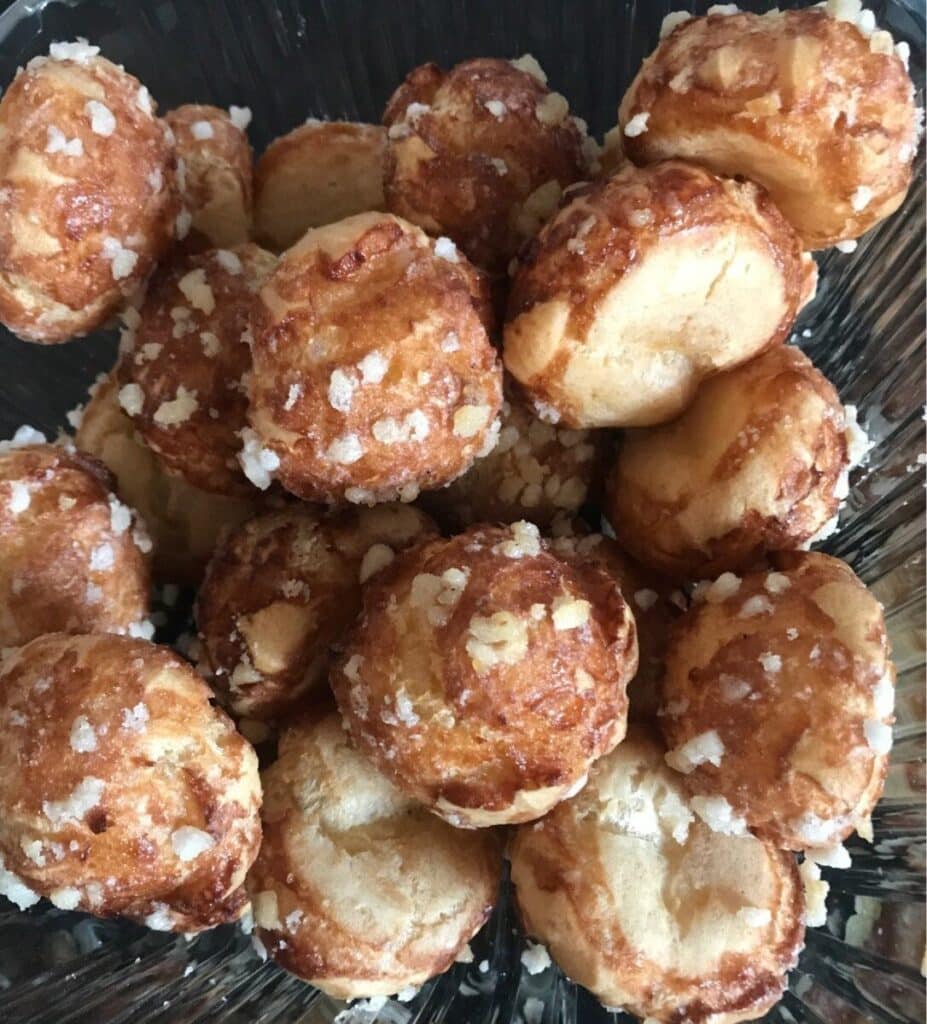 Brioche
These days brioche is very trendy – note all those hamburger joints offering a burger on a brioche bun. Brioche is a sweet dough somewhat of a cross between a pastry and bread here in France. Made with lots and lots of butter, eggs and milk it is soft rich and flaky. It is said that it was invented by the Vikings who came to France in the 9th century and brought their butter-making recipes with them.
Kouign-Amann
Kouign-Amann is a type of pastry from the Brittany region of France. It looks rather unassuming until you bite into its layers of buttery pastry and sugar then you are hooked. Its name comes from the Breton words for cake (kouign) and butter (Amann).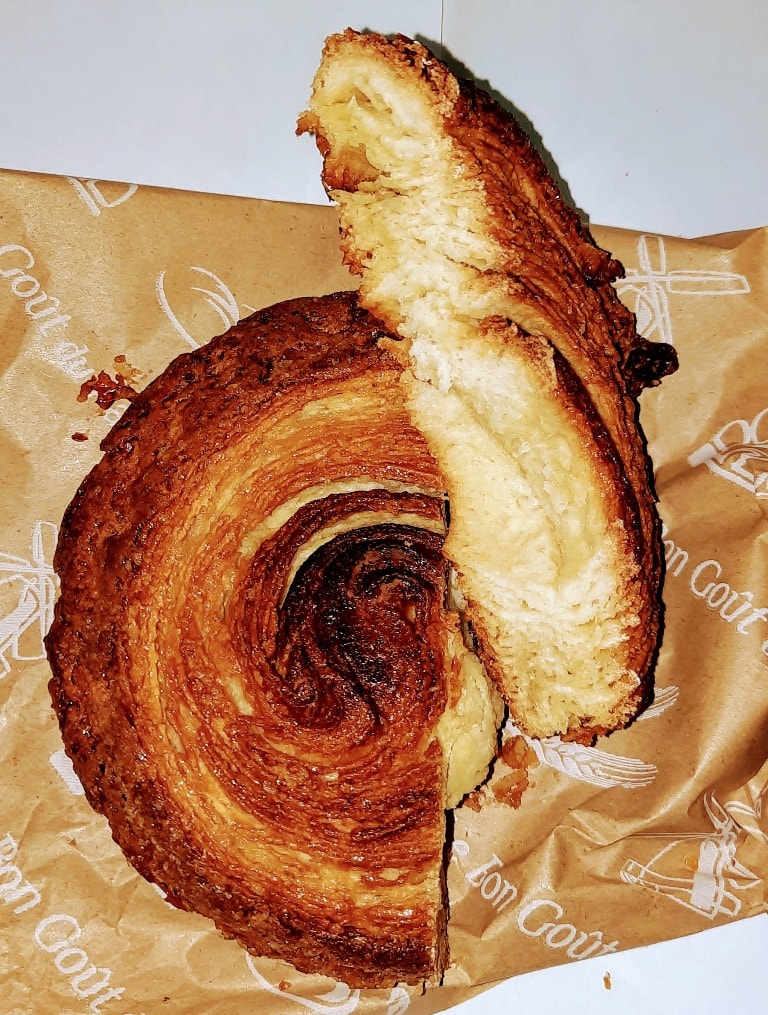 Croissants
What would any list of great French food be without croissants? That lovely flaky buttery pastry that melts in your mouth, how do you describe perfection? I've discovered here in France that every baker has a secret way of making their croissants and yes they can and do taste different depending on the baker.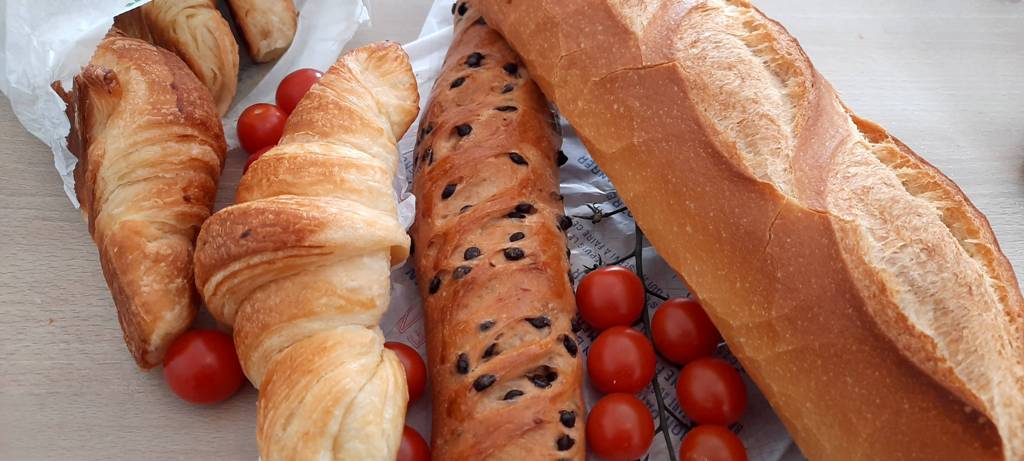 Pain au Chocolat
Say no more, croissant dough surrounding dark chocolate – heavenly.
Macarons
A beautifully coloured small round meringue cookie with fillings to die for. Macarons make the perfect Instagram photo, but I have to say not my particular favourite although one time exploring Harrods Food Hall I tried a pumpkin one which was the best thing ever.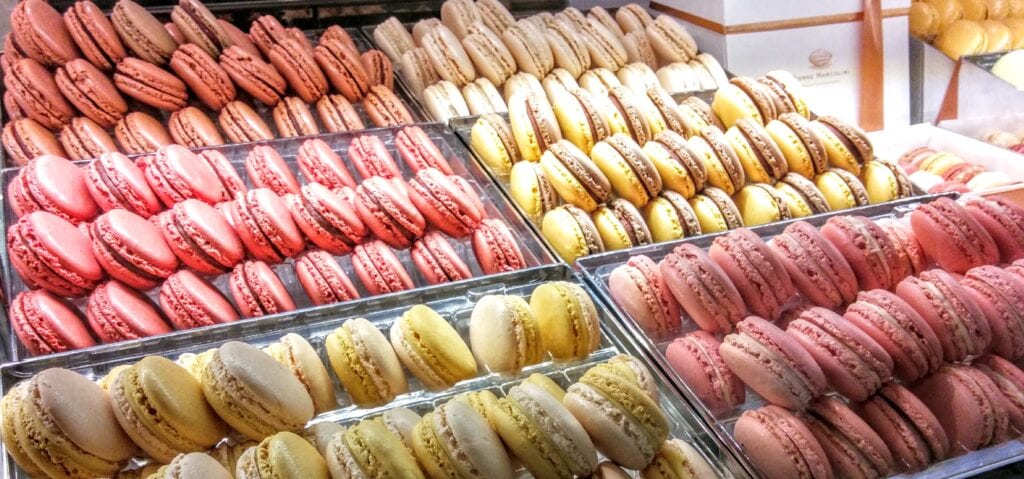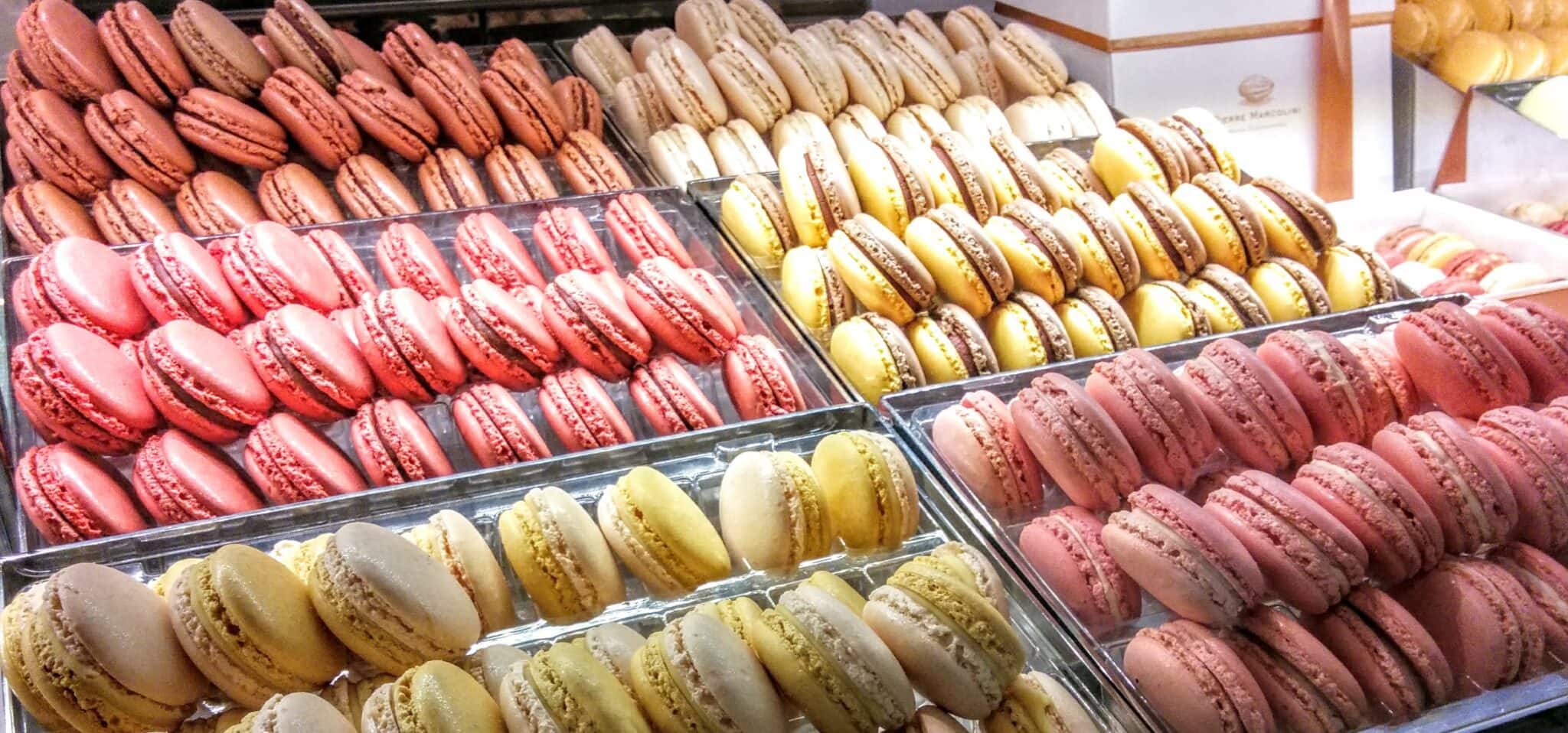 Creme Brulee – Custard with Caramelized Sugar
Hub's favourite dessert is a lovely rich vanilla custard topped with caramelized sugar that must be cracked through with the spoon to reach the rich custard below.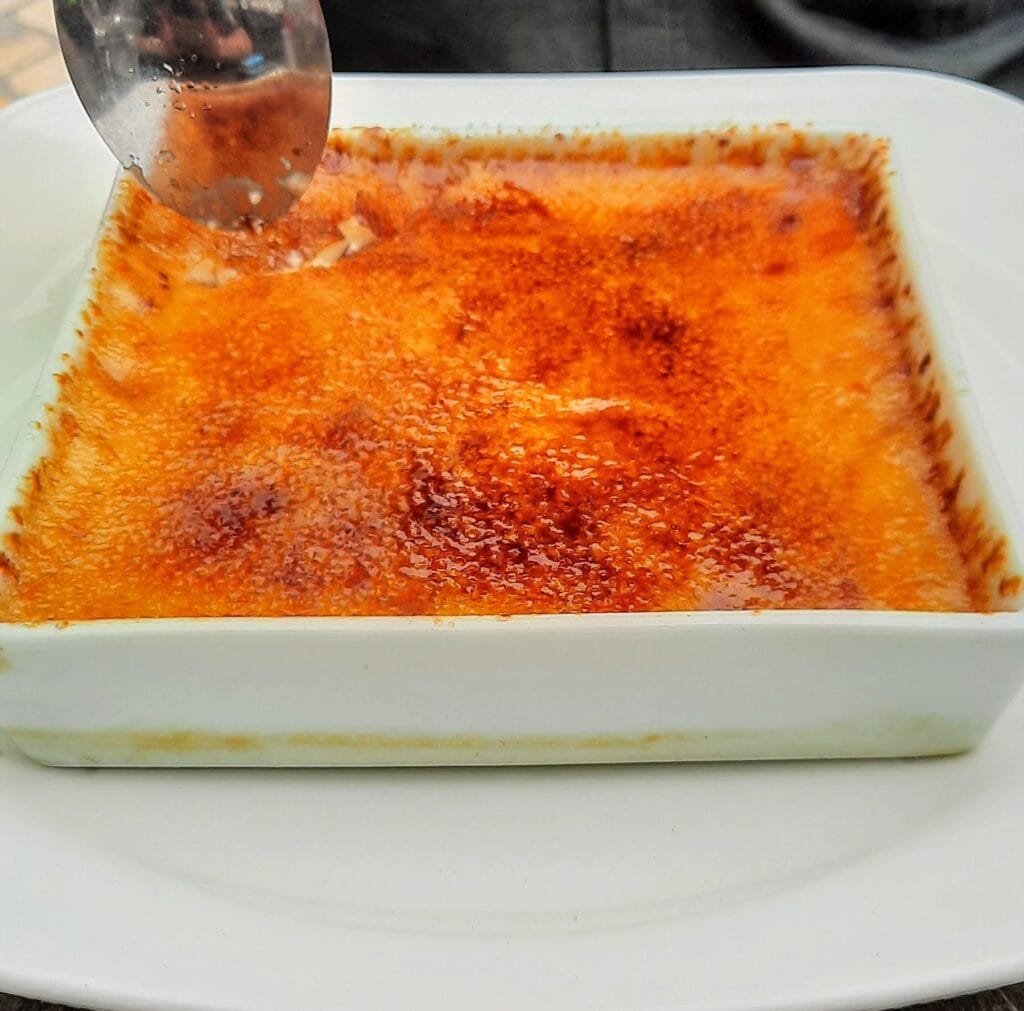 Tarte Tatin
A new favourite of ours is the Tarte Tatin gloriously caramelized apples within a puff pastry crust will send you to foodie heaven. This traditional French pastry is made upside-down so the apples cook in sugar and butter with the pastry added on top and then sent to the oven to puff to perfection.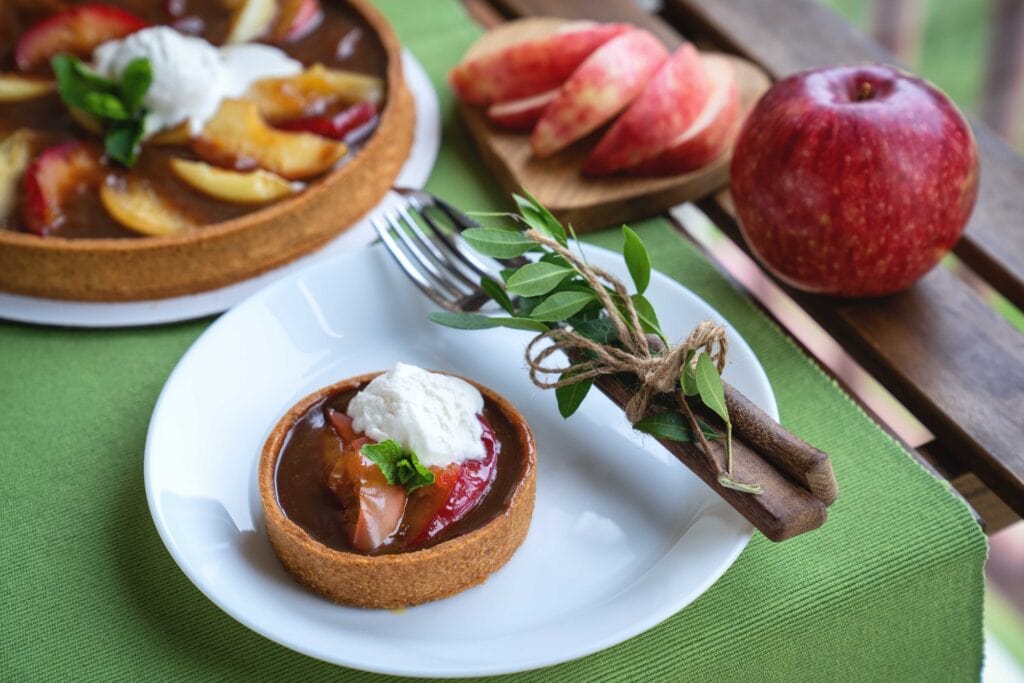 Gougeres
A classic French Cheese puff made with choux pastry and Gruyere cheese – very moreish.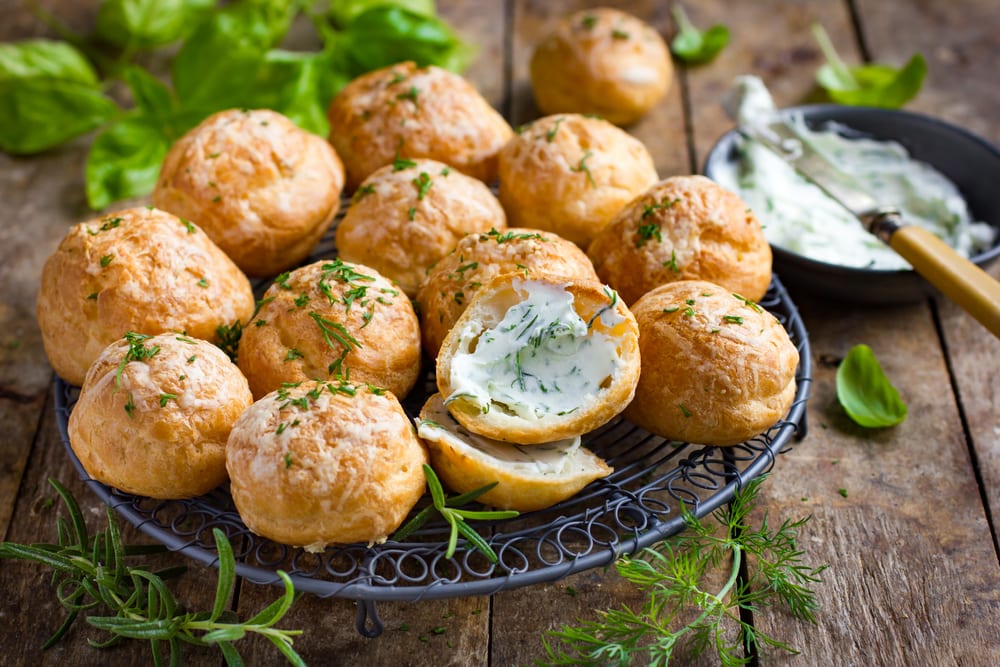 French food culture
France's reputation for fine food and wine still remains but has become somewhat tarnished over the years. The country's acceptance of the North American fast food industry has a lot to answer for.
While the reputation remains it has become harder and harder to find a truly authentic French dining experience when the hamburger or pizza has overtaken French cuisine.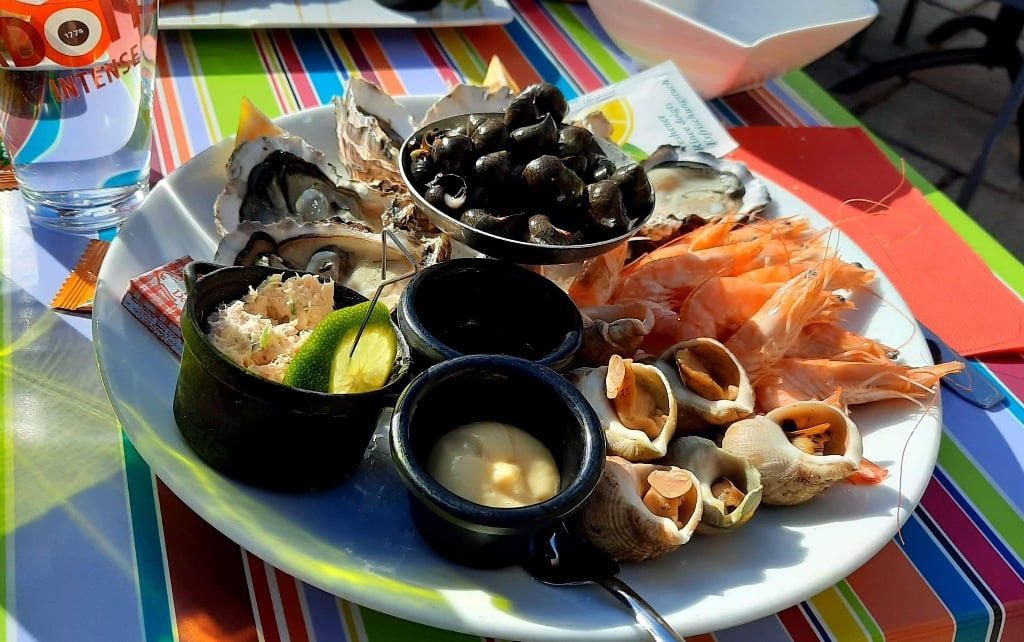 Overall though, French food culture is a rich and vibrant tapestry of flavours, traditions, and history. From the bustling markets to the Michelin-starred restaurants, there is no shortage of delicious dishes to explore in this gastronomic wonderland. Whether you're indulging in a buttery croissant for breakfast or savouring a decadent cheese plate after dinner, French cuisine offers something for every taste bud. So if you have the opportunity to experience this culinary paradise firsthand, be sure to embrace it with an open mind (and an empty stomach!). Bon appétit!
What are your favourite French foods? Which of the top 10 French foods are you excited to try when you visit France? Let me know in the comments!
More about France
How to spend a beautiful day in St. Malo Brittany
Food in Brittany: Fall in love with the food of Bretagne
Castles of the Loire Valley France
Exploring the beautiful Mayenne – Pays de la Loire, France
Dinan France – medieval France at its finest
Beautiful villages in Normandy
Visiting the Captivating Monet's Garden at Giverny