22 of the Most Beautiful Normandy Villages
Normandy is full of outstanding landscapes and its beautiful towns and villages make for a brilliant road trip from Paris. The villages in Normandy contain centuries of history from medieval times to WWII sites that should be visited.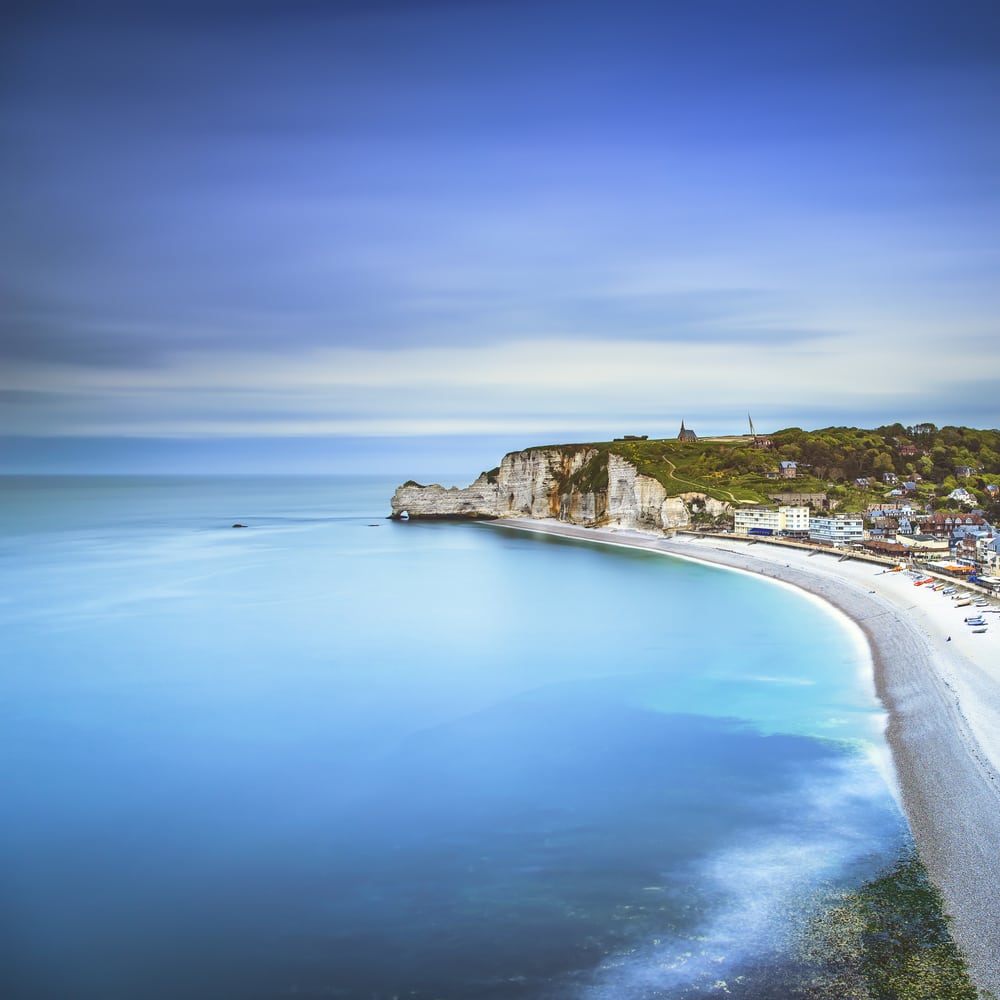 Many of these pretty Normandy villages are easy day trips or weekend getaways from Paris. Deauville and Trouville for example are described as Paris' 21st arrondissement and are known as the playground of the rich and famous.
Being an easy 200 km from Paris, Normandy has long been the luxury holiday destination for Parisians. As the closest seaside resort to Paris, the region of the Côte Fleurie (Flowery Coast) has long been home to French high society's seaside houses and is often referred to as the Parisian riviera. Some of the prettiest Normandy villages include Giverny, Mont St. Michel, Honfleur and Veules les Roses.
Normandy is home to six of the 'most beautiful villages in France', a designation awarded to the most picturesque, traditional villages with a well-preserved historic heritage that provides visitors with an experience to remember. Apart from the designated villages of Normandy, you will find many other picturesque towns in Normandy to visit.
Les plus beaux villages de France – Normandy
In 1982 France developed the idea of the Most Beautiful Villages in France and the designation now has 164 villages spread throughout the country. All these villages in Normandy are easy to reach if you rent a car.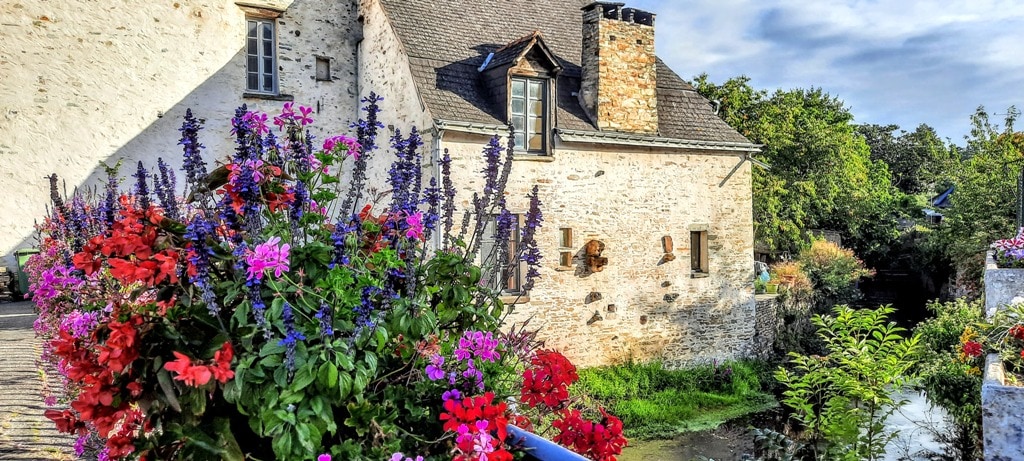 For history lovers, Normandy is the place to visit. From the famous Viking Rollo to William the Conqueror's castles and Joan of Arc Normandy dominated French history for centuries. Normandy villages are a living legacy of WWII and its history has been connected to England for centuries.
Normandy's breathtaking landscapes inspired artists worldwide and was the birthplace of Impressionism. The D-Day beaches commemorate WWII history as do the landscapes of the Somme that bring home the devastation of WWI.
In Bayeux, a 1,000-year-old tapestry tells the story of the battles between the Saxons and the Normans detailing medieval warfare and sieges. Tiny medieval hamlets and villages dot the Normandy landscape full of stunning flower displays, incredible half-timbered buildings, stunning churches and cathedrals and the food of Normandy is a foodies paradise.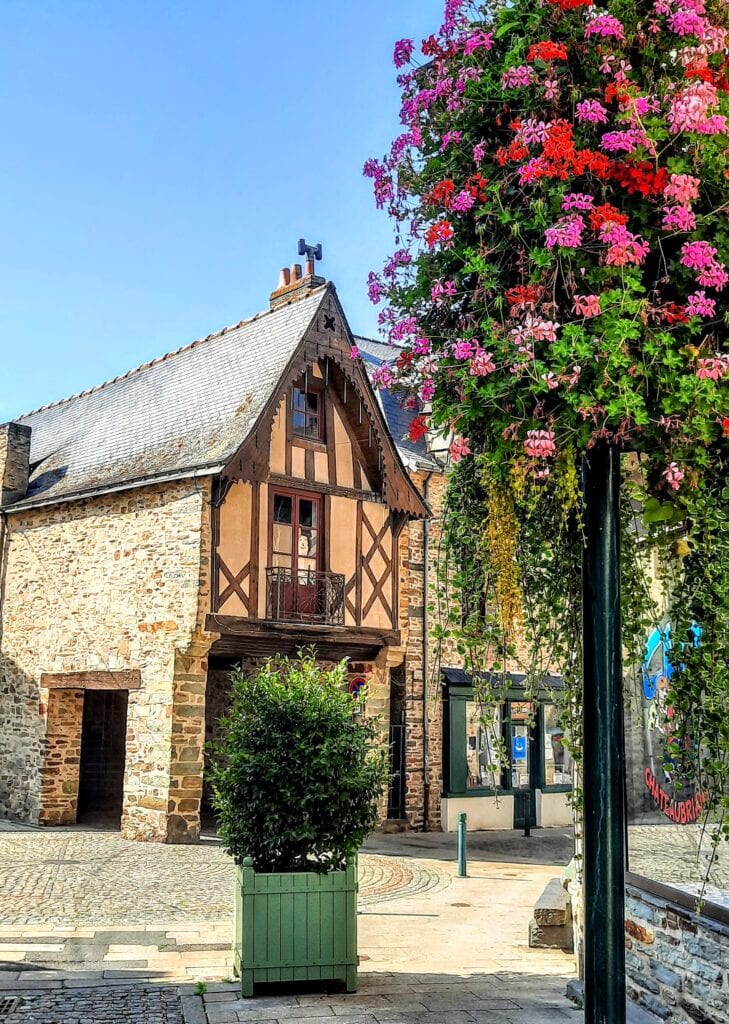 Normandy is home to worldwide favourites from Calvados, pear and apple ciders from ancient trees, the invention of Camembert and of course crepes and galettes.
22 most beautiful villages in Normandy
Bayeux
I have always dreamt of visiting the famous Bayeux Tapestry and when the opportunity came up to spend a few days in Bayeux France I was overjoyed. As it turns out I have to say (outside of Paris of course) that Bayeux is one of my favourite places in Normandy.
Bayeux is a small town almost a village, easily walkable with some phenomenal restaurants and with its proximity to the Normandy beaches and the coastline of Normandy it makes the perfect place to stay while exploring this area of France.
In the main tourist months, you will meet literally hundreds of American tourists visiting the memorials of WWII and walking the beaches of Normandy. From Omaha to Utah, Gold, Swords and Juno the area is dedicated to those brave souls who landed on the beaches to defeat the Germans and the push to take England.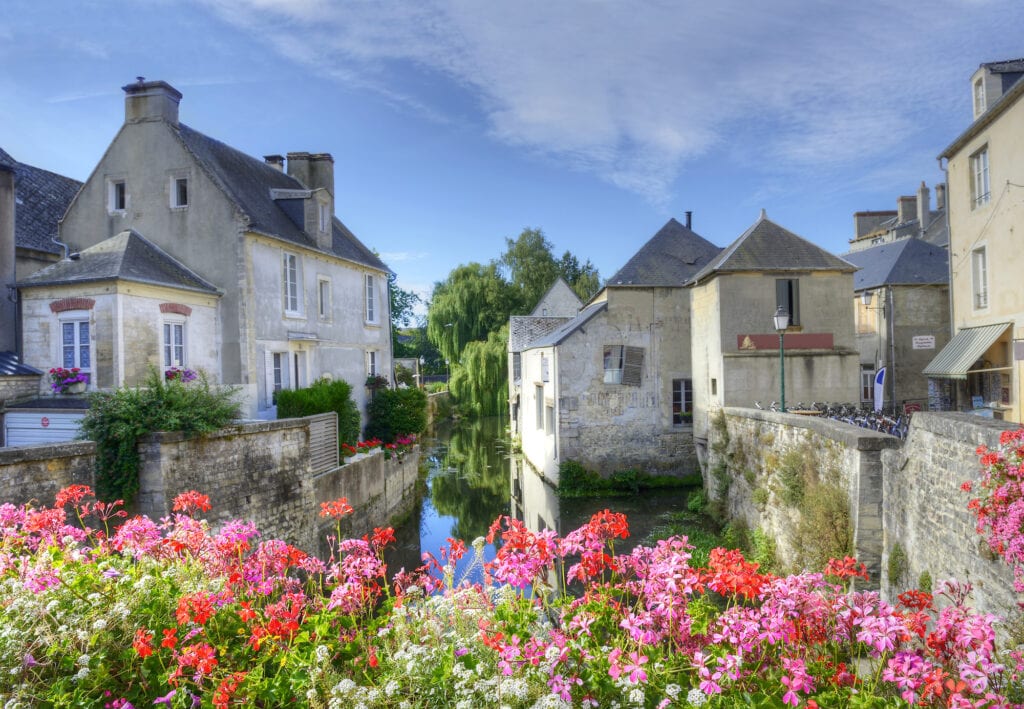 Chartres
Chartres is of course justly famous for its massive Cathedral Notre-Dame de Chartres. The Cathedral was completed in 1220 and features 2 soaring spires, Romanesque sculptures, flying buttresses and elaborate rose windows. It is one of the finest and best-preserved Gothic cathedrals in France and in Europe. Its historical and cultural importance has been recognized by its inclusion on the UNESCO list of World Heritage Sites.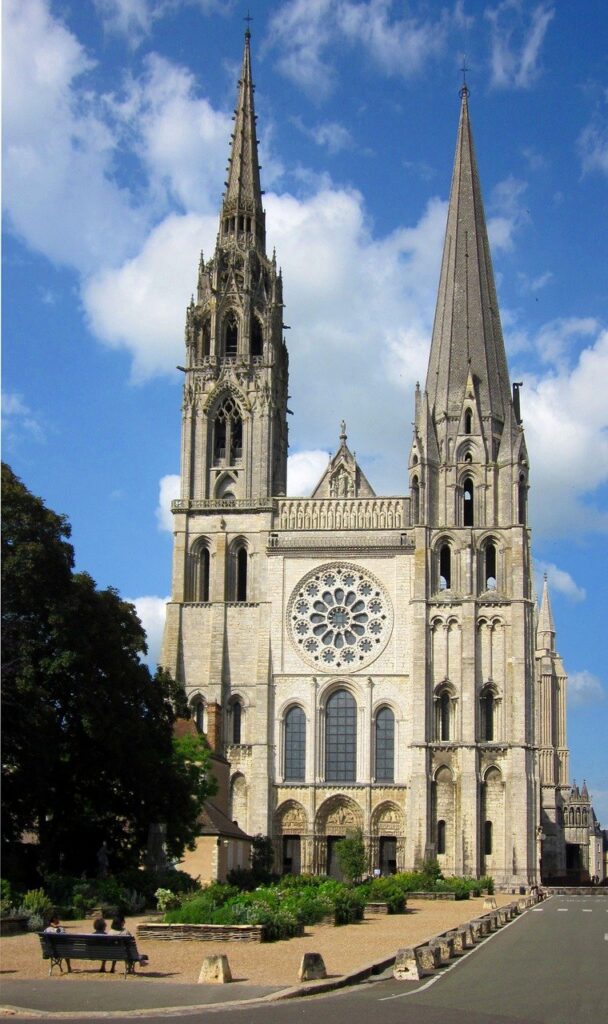 There is more to see in Chartres than the cathedral The International Stained-Glass centre is the only one of its kind in France. Or visit Maison Picasiette which is a house decorated with pieces of broken china created by Raymond Isidore between 1930 and 1961.
Be sure to visit when it is Market Day when you can head to the Covered Market and fill your shopping basket with local delicacies.
Fecamp
Surrounded by the tallest cliffs in Normandy the dramatic location of Fecamp is framed by the Alabaster coast Fecamp was home to the Dukes of Normandy until 1024. Fecamp is one of the best villages in Normandy and it is very much of the beaten path.
During the dark ages, a Benedictine Abbey was established here and said to have obtained a phial of Christ's blood upon which pilgrims flocked to the area. This is where the famous liqueur Benedictine was said to have been created in 1505.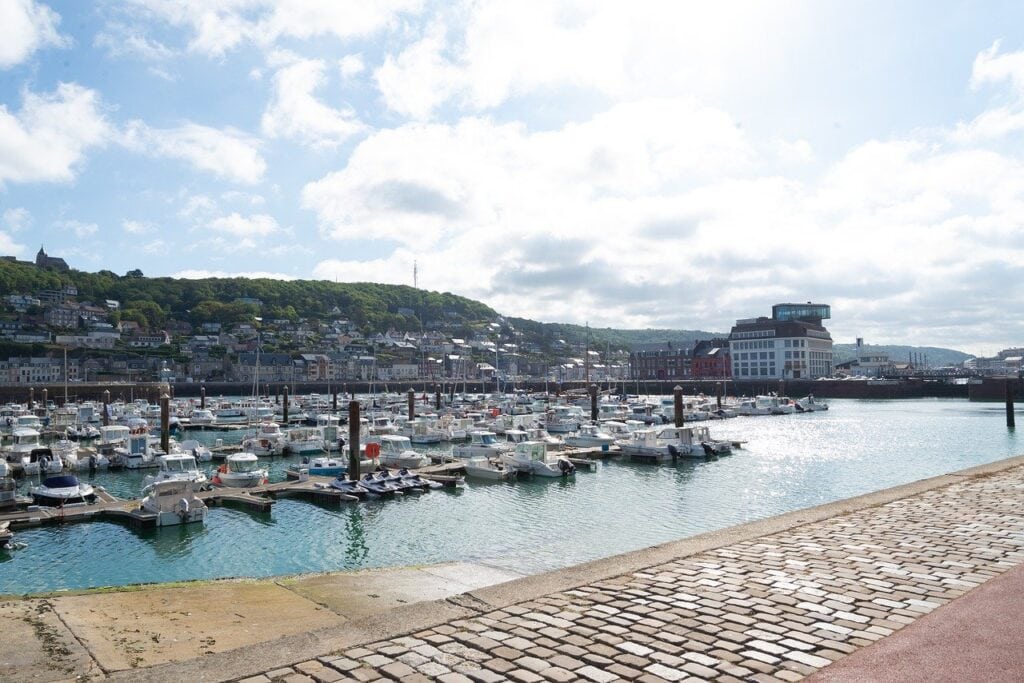 Over the centuries, the port of Fécamp became France's number one cod fishing port. The fishermen of Fécamp fished cod on expeditions heading off to Terre Neuve Grand Banks waters today which is known as Newfoundland, Canada.
Visit the Palais Benedictine a neo-gothic and neo-renaissance style building where you can visit the ancient distillery and a unique collection of religious works mainly from the 15th and 16th centuries, displayed just as they were at the end of the 19th century, and a contemporary art gallery.
Yport
Yport is a traditional fishing village on the Alabaster coast between Fecamp and Etretat. A small village that has a very popular beach for its mainly French visitors. Rows of lovely beach huts line the beach and there are lots of cafes and shops to keep you occupied for a few hours.
The renowned 19th-century French author Guy de Maupassant's novel called 'Une Vie' is set in Yport.
When sea bathing became fashionable Yport built a casino in 1865 which you can still gamble in today. One of the most interesting sites is the Church of St. Martin with its unusual striped stone design. In 1838 the villagers decided to build the church and collected stones and pebbles from the beach to build with.
Arromanches-les-Bains
Arromanches-Les-Bains is one of the most visited villages in Normandy due to its link to the liberation of France following D-Day. The Mulberry Harbour construction allowed 2.5 million men to land on the beaches of Normandy to liberate Europe from Germany.
The village itself has many beautiful 19th-century buildings including the Church of St. Peter a historic monument.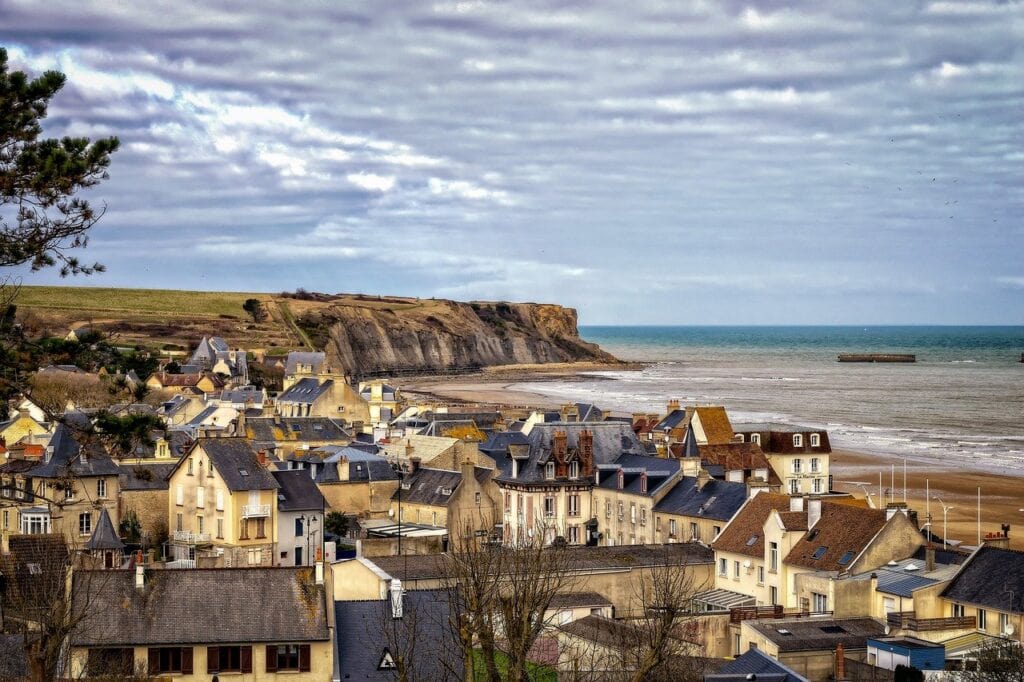 Deauville
An immensely popular upmarket seaside resort Deauville is known for its horse races, polo matches and the annual Deauville American Film Festival.
In Deauville, the beach runs for over 2km with beach huts, sun loungers and lots of bars and cafes to taste some of the brilliant French food. The town oozes class and luxury with world-class golf courses, high-end hotels, lots of boutiques and a stunning thalassotherapy Spa.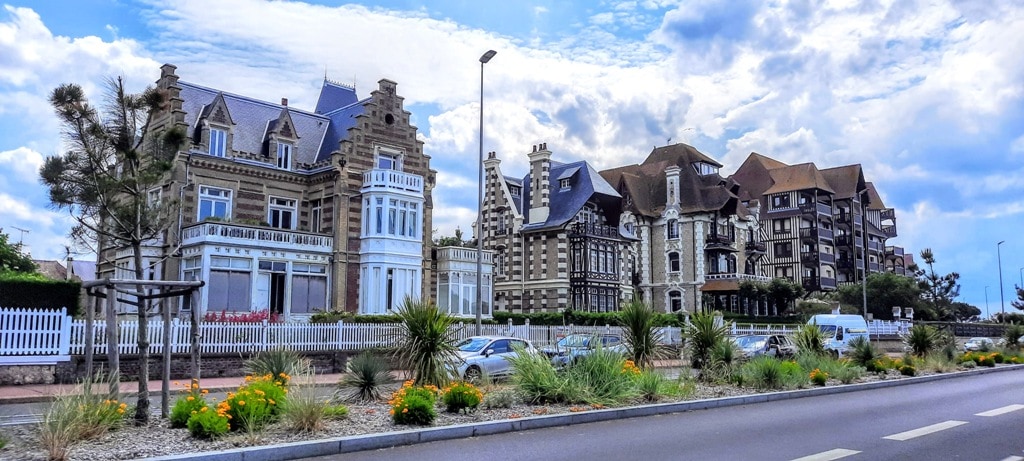 Trouville-sur-Mer
Side by side with Deauville this is an elegant Belle Epoque resort with a stunning golden sand beach that stretches for miles and is dotted with colourful beach huts.
Trouville was beloved by the impressionist artist Monet and Boudin who came to paint the 19th-century citizens parading the seafront. Monet spent his honeymoon here after he married Camille.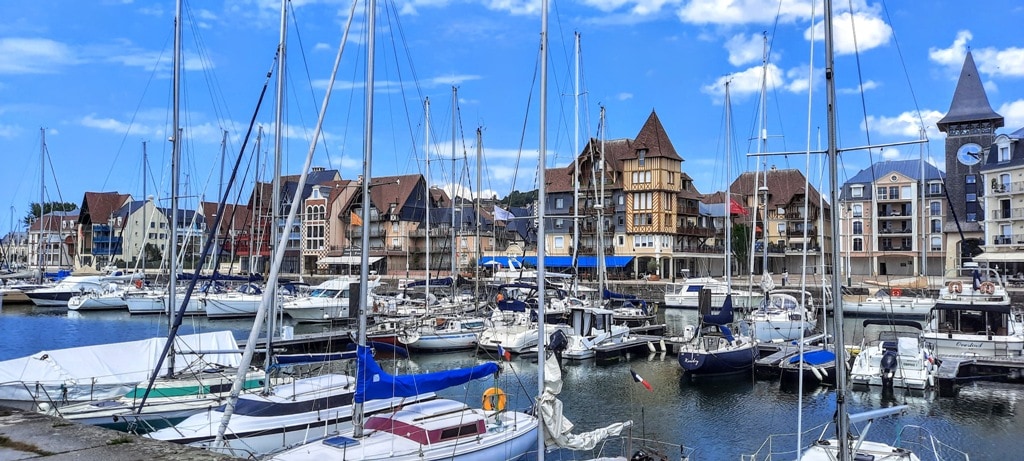 Etretat
Etretat is another location that the impressionist painters flocked to in order to capture the light on the cliffs. It is also the setting for the French Children's books by Leblanc about the gentleman burglar Arsene Lupin.
Etretat is home to the phenomenal Jardins d'Etretat which is an Asian-inspired garden with stunning views across the bay and amazing landscaped gardens.
The small town is very picturesque with lots of restaurants, cafes and shops as well as an incredible wooden covered market and home to the 19th-century villa Le Clos Lupin that you can visit.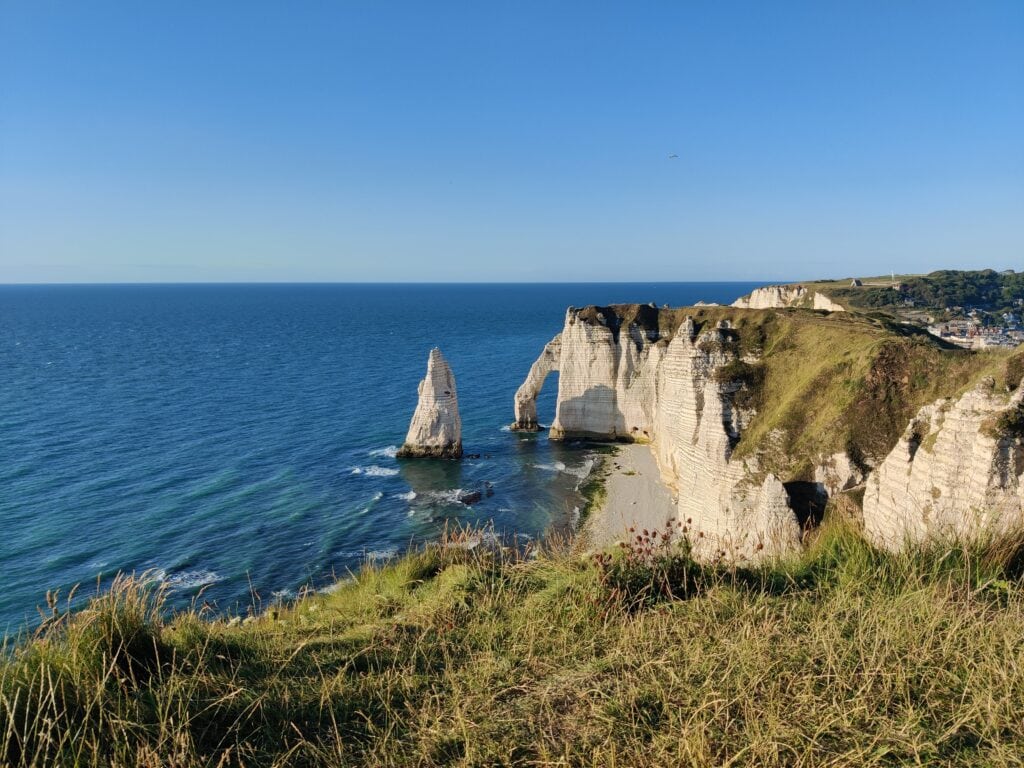 Mont Saint Michel
A visit to Mont St Michel is a trip I dreamed of for many years. It is one of those iconic places that is a must-visit when in France. Mont Saint-Michel is not a castle but it certainly rises out of the sea as if it was. The island shimmers in the haze of a bright summer day and can be seen from numerous vantage points along the coastline of Normandy.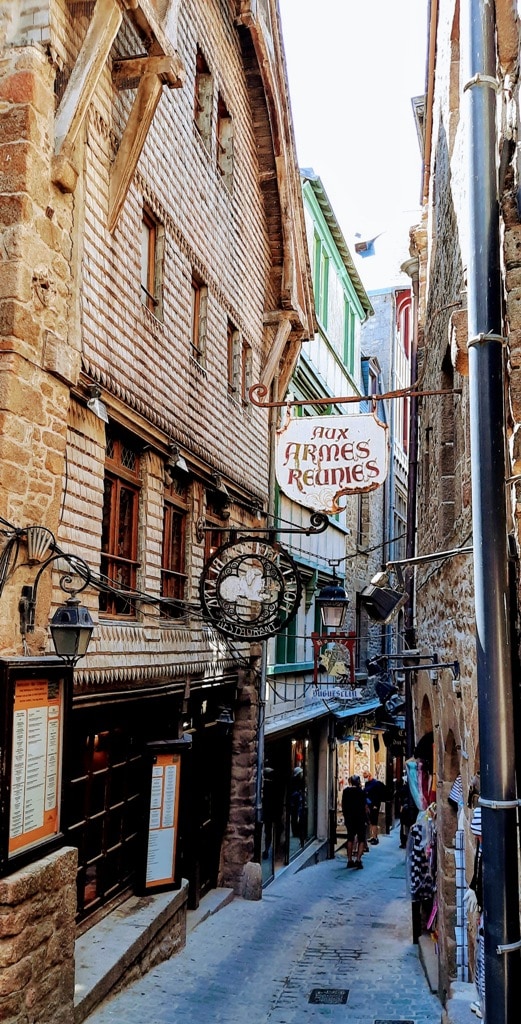 Mont Saint Michel in France is located on a small island just off the coast of Normandy and is a stunning UNESCO World Heritage site. Mont St Michel is not a castle it is a medieval Abbey and village constructed over 1300 years on a tiny island surrounded by the sea.
The building and architecture of the Mont St Michel Abbey and the village are awe-inspiring and a phenomenal glimpse into the expertise and mastery of medieval builders and architects.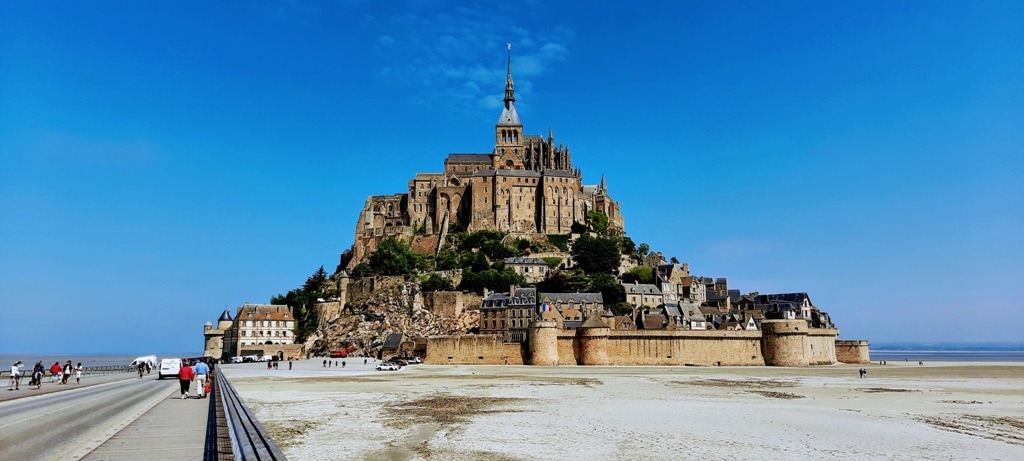 Les Andelys
Another great Normandy village for history lovers. Les Andelys was a favourite of the English King Richard the Lionheart whose heart is buried in Rouen, but his body in Fontevraud.
Considered a cutting-edge example of military architecture in its day, the Château-Gaillard was constructed by Richard the Lionheart on the high chalk cliffs. The ruins which you can visit will give you an absolutely stunning view of the coastline and the Normandy Village of Les Andelys below.
Beautiful seaside villas and a few half-timbered houses give the visitor a chance to wander this picturesque village. Make time to visit the Notre Dame Church with its 16th-century stained glass windows.
Giverny
For those who adore impressionist painters, Monet Giverny is a must-visit. Located just 50 miles from Paris Giverny is where Monet lived for over 40 years.
Giverny is a garden paradise and the artist's great obsession and has become one of the world's most popular gardens. Wandering the garden is like entering one of Monet's paintings. The Clos Normand is the flower and water garden with those famous lily ponds and the Clos Norman is connected to its sister garden with a tunnel that passes under the road.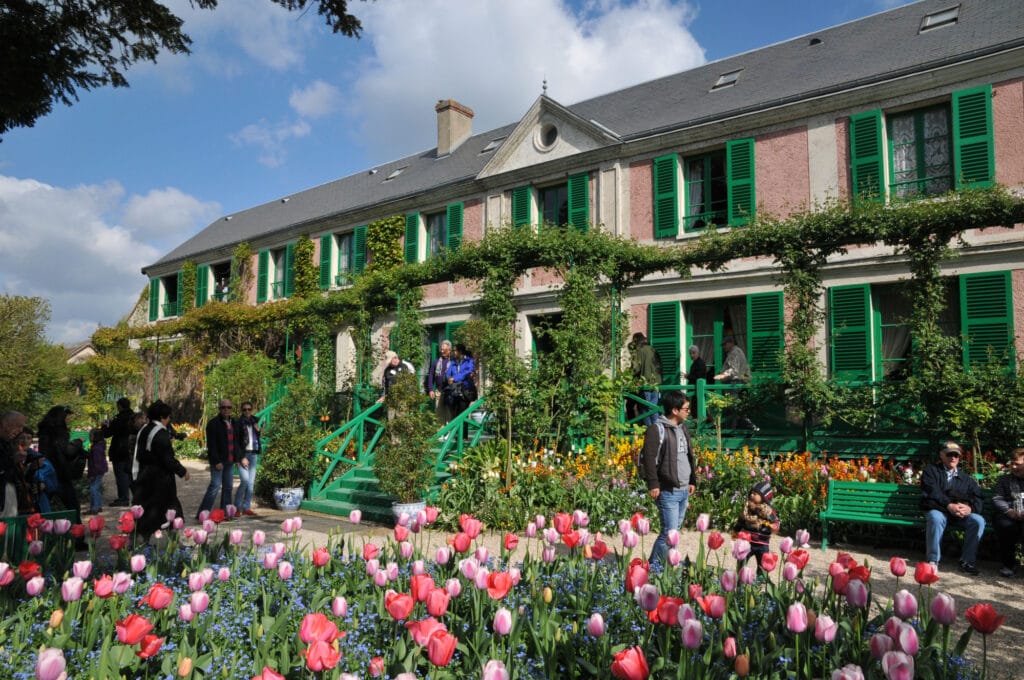 Varengeville-Sur-Mer
Varengeville-Sur-Mer can be found a short drive from Dieppe and on the Alabaster coast of Normandy. This small Normandy village is full of flowers and pretty little houses hidden behind lots of colourful blossoms.
Look for the Church of Saint Valery with its graveyard that clings to the side of a cliff and contains the grave of the famous Georges Braque the painter who lived in Varengeville 6 months out of every year for 35 years. Within the church, you will see a stained-glass window he made.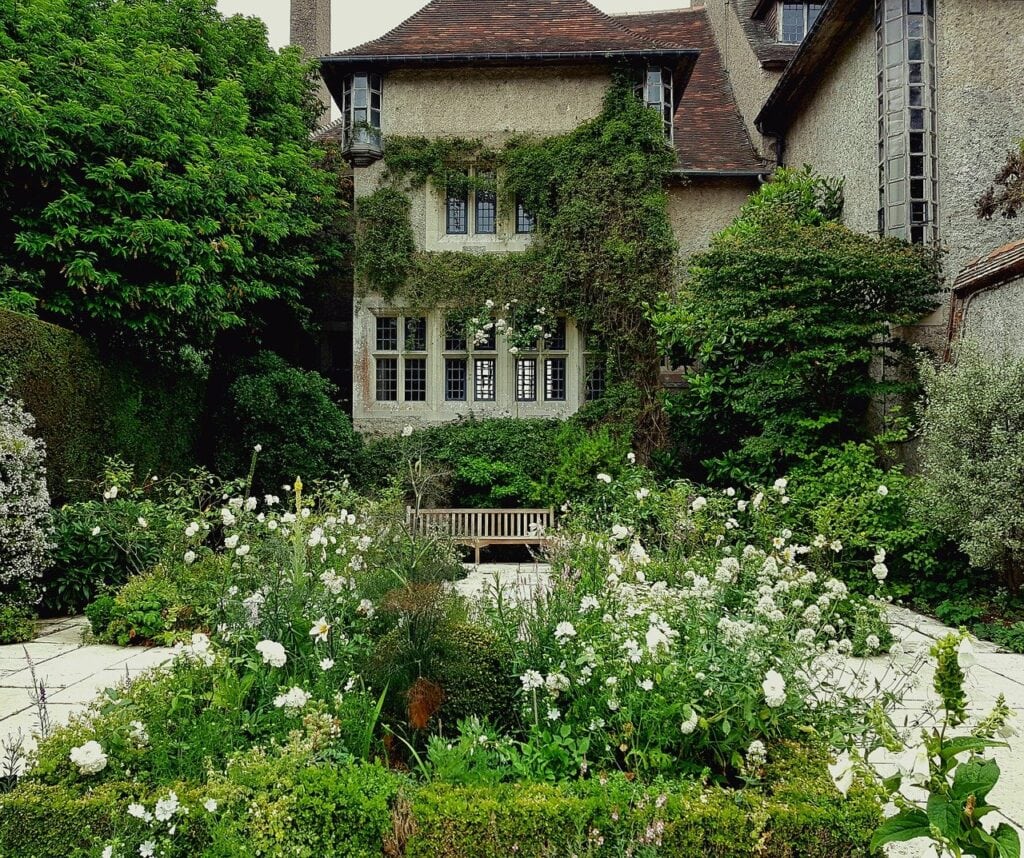 Lyons la Foret
Lyons-la-Forêt has been officially recognised as one of the 'most beautiful villages in France' and it is one of Normandy's hidden gems. It is located in one of Normandy's largest forests which cover 11,000 acres.
Walking through Lyons la Foret you will spot many half-timbered buildings alongside cob houses and pink brick homes. The village has several tearooms and restaurants, and a stunning timber frame-covered market. You can follow the main street to the 12th-century Church of Saint-Denis.
A favourite hideaway of Maurice Ravel the composer who created some of his unforgettable works in this lovely village.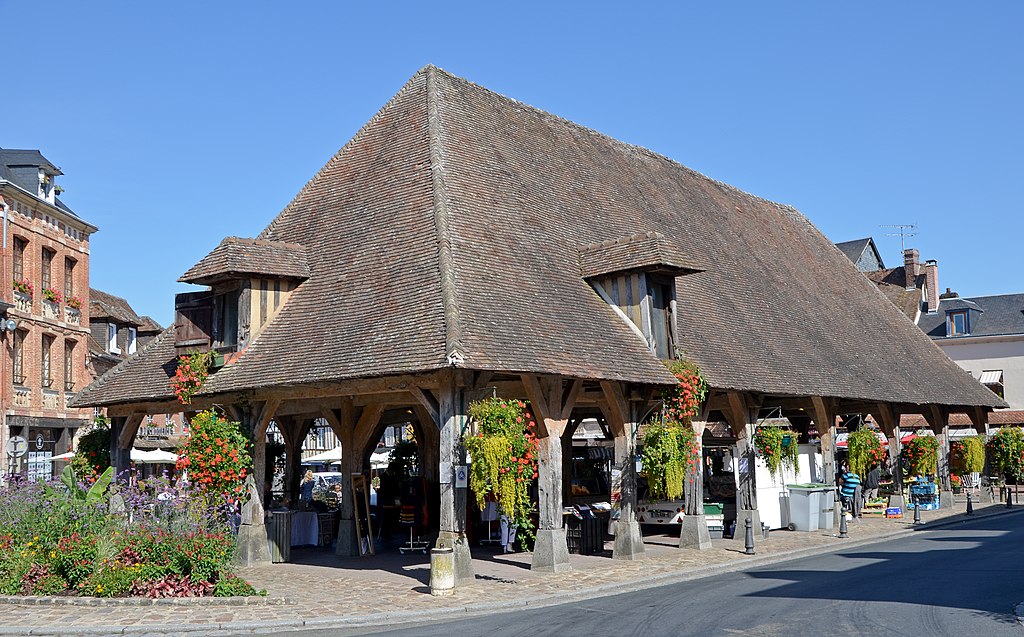 Veules les Roses
For me, this is one of the prettiest villages in Normandy. Veules-les-Roses is another of France's most beautiful villages and is located on the Alabaster Coast around 12 miles from Dieppe. This Normandy village is a cluster of half-timbered cottages and is an absolutely charming escape from the major cities nearby.
The pond of Veules les Roses is used for growing that popular French green watercress and the waters flow into the sea from a gap in the chalk cliffs. A popular painting location it is one of the oldest villages in the Pays de Caux and was a favourite of the writer Victor Hugo.
In the village, you will find several local restaurants that specialize in serving fantastic fresh fish, mussels and oysters all locally sourced.
Bagnoles d l'Orne
Another hidden gem in Normandy is Bagnoles d L'Orne. The only spa town in northwest France and just down the road from where I am housesitting in France in Lassay les Chateaux.
The elegant spa town of Bagnoles-de-l'Orne is a spa town that became very popular amongst the rich set of Paris in the 19th century. This era became known as the Belle Epoque and Bagnoles is the epitome of that style with its stunning mansions and second homes.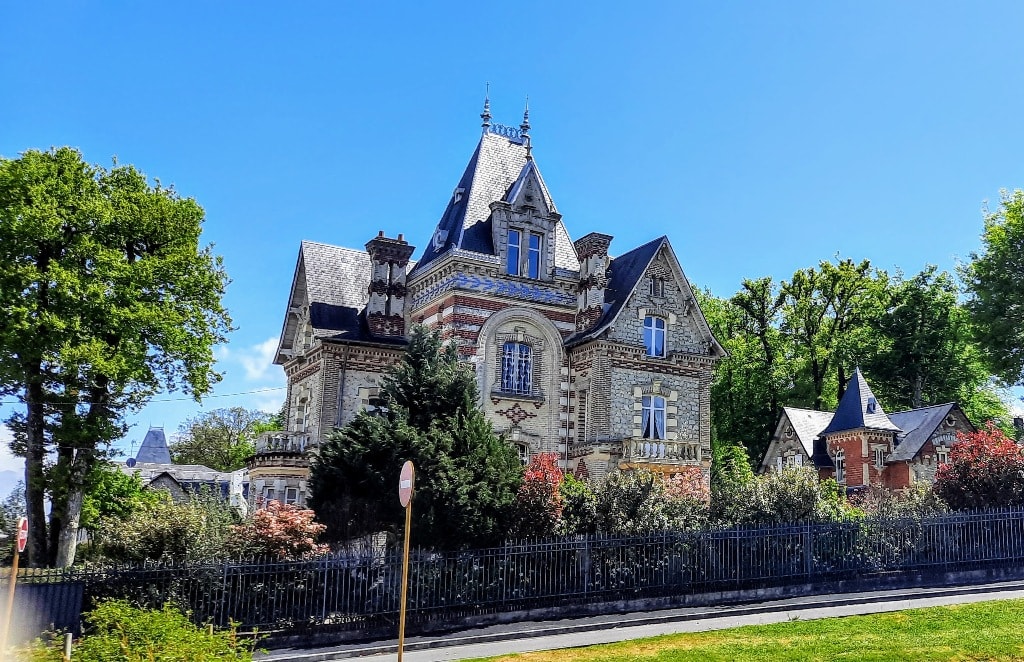 There is a lovely lake in the centre of the village surrounded by shops, boutiques and a Casino that hosts many of Frances's top-rated entertainers. Bagnoles is surrounded by forests that are perfect for mushroom foraging, and there are great hiking and biking routes throughout the area.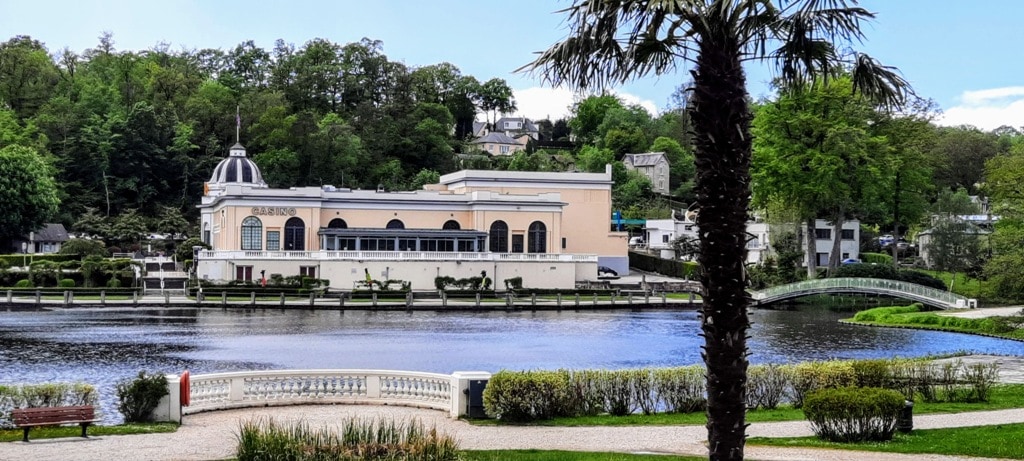 Saint-Céneri-le-Gérei
Saint-Céneri-le-Gérei is a picturesque village officially listed among the 'most beautiful villages in France' (Les Plus Beaux Villages de France®).
The village is around 2 hours from Bayeux and the beaches of Normandy and the best way to visit is by car.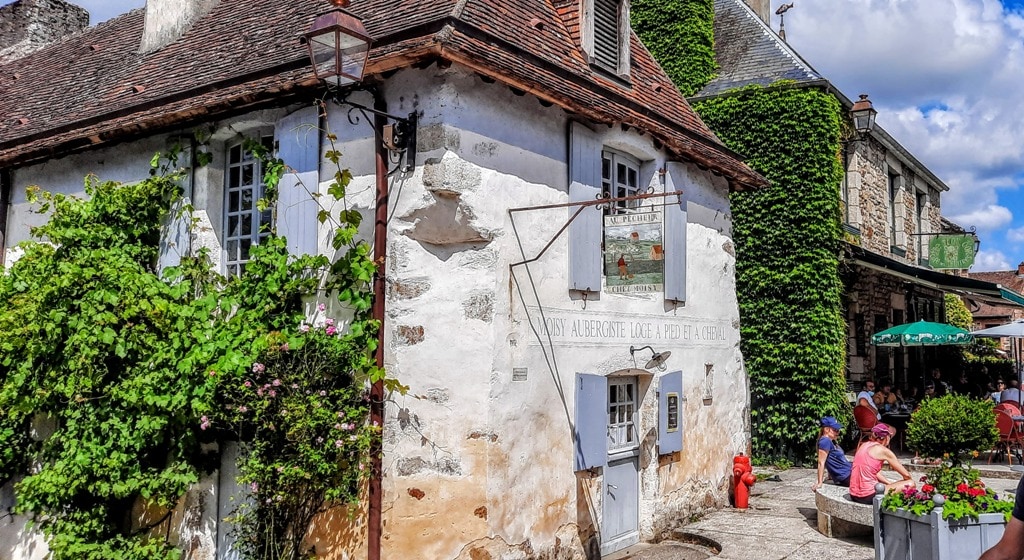 The centre of Saint-Céneri-le-Gérei is an 11th-century Romanesque church with stunning frescoes and on the opposite bank of the river, there is a charming 15th-century chapel. There's also the miracle fountain to discover. Here the legends say that a freshwater spring just appeared where the 7th-century Saint Ceneri was praying. The stories say that the spring has the ability to cure eye problems.
Saint-Céneri-le-Gérei was much loved by artists such as Corot and Courbet and pre-Impressionist landscape painters for its peace and serenity.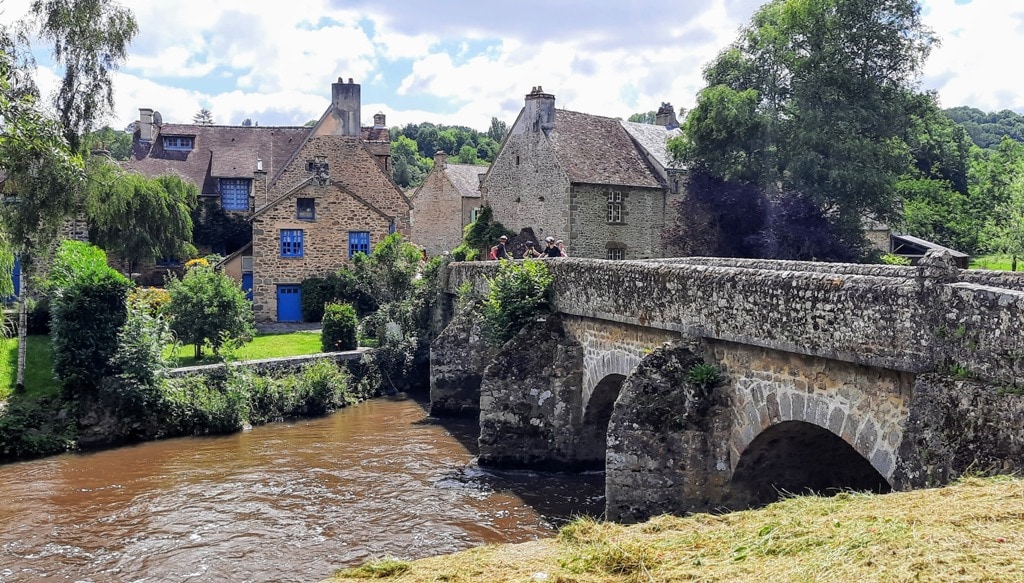 Le Bec-Hellouin
Le Bec-Hellouin is a typical Normandy village that has also been listed among the 'most beautiful villages in France and its history is deeply embedded in the religious fervour of France in medieval times.
The Abbaye Notre-Dame du Bec was founded in 1034 and is now a Historic Monument of France but it is still lived in by the Benedictine monks who produce the pottery that is famous in the area. The magnificent, soaring Saint-Nicolas Tower dominates the surrounding religious buildings, including the 17th-century cloister with its exceptionally peaceful atmosphere.
You can also visit the Eglise Saint-André dating back to 1039 where the tomb of St. Hellouin is found. The monastery Sainte Françoise Romaine is a nunnery at Bec-Hellouin where the nuns make handmade candles and offer retreats.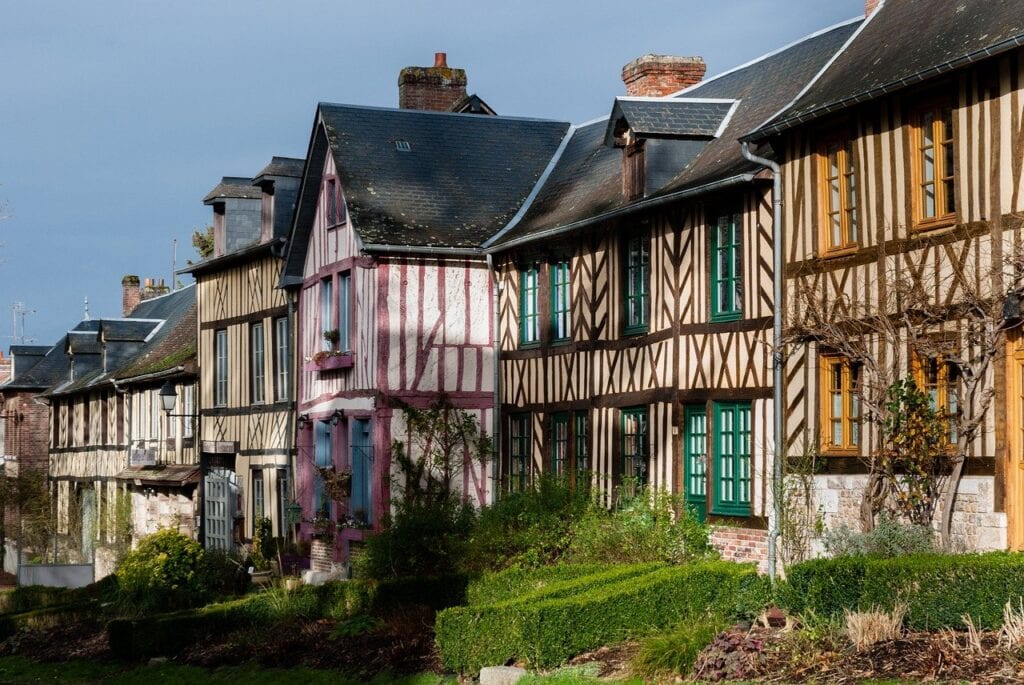 Gerberoy
Gerberoy is located on a strategic hill that long ago was located on the border of the ancient kingdoms of France and England from the 11th to the 15th centuries.
William the Conqueror came here to challenge his own son, and King Henri IV, Louis XIII and Richelieu came through Gerberoy. A Normandy village of many conflicts eventually in the 17th century most of Gerberoy's citizens died of the plague.
It wasn't until the 18th century that the post-impressionistic painter, Sidaner, came to Gerberoy and used the village as a source of inspiration for his paintings. He developed the Italian gardens on the ruins of the castle and shaped the village with flowers everywhere at its heart. He invited Manet, Monet and Rodin to visit and paint here.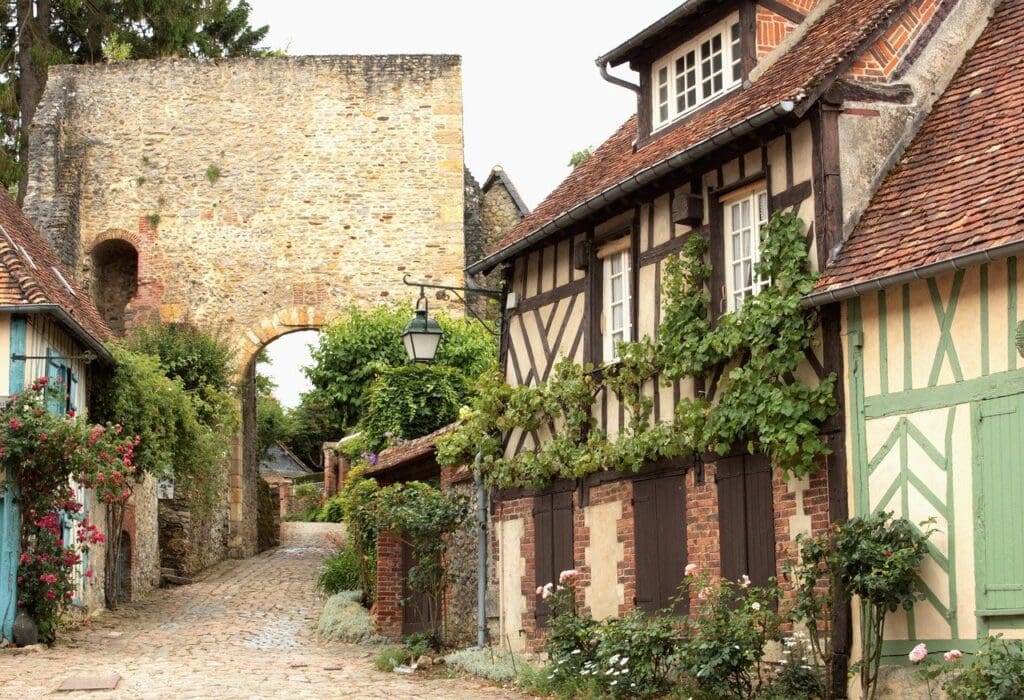 Barfleur harbour
Barfleur has played a role in Anglo-French history for centuries and is a very Norman-looking village. It contains sturdy stone houses and a very Norman church with a square tower. Renowned for its fishing industry and in particular its harvesting of mussels which it is said the best in France come from.
Barfleur is probably the best place in France to enjoy the gastronomic treat of Moule-Frite. These days most mussels are harvested from farms but in Barfleur there is a variety known as Barfleur Blondes which are harvested wild by boat.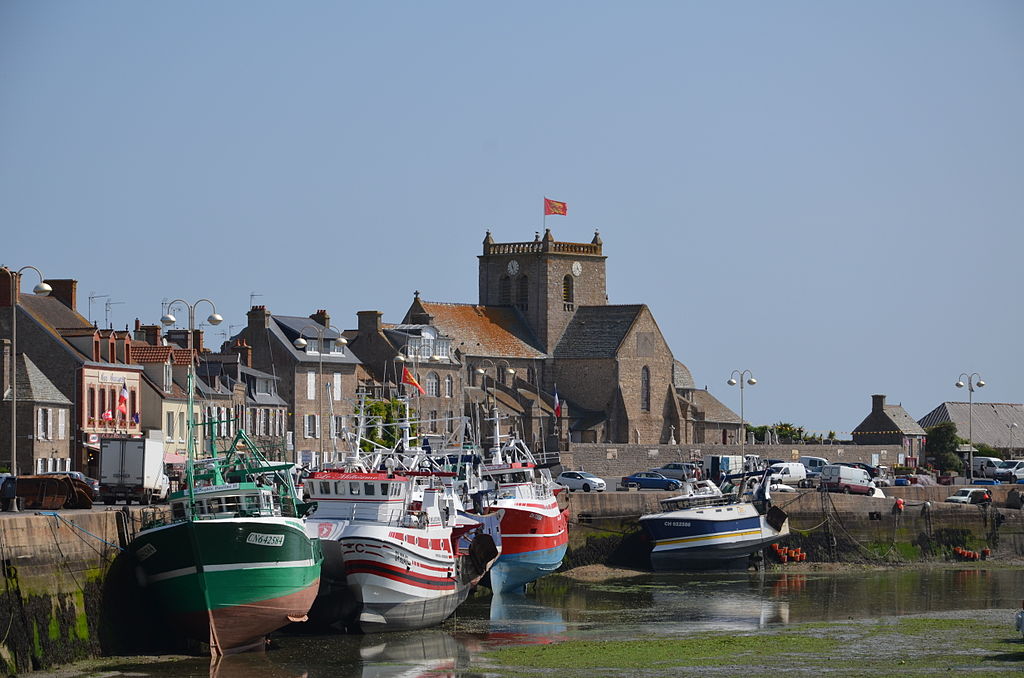 Beuvron-en-Auge
There's a lot to see in Beuvron en Auge, from the 16th-century View Manor, dozens of elaborate half-timbered houses and the 18th-century Auberge de la Coule d'Or.
This lovely Normandy village is on the stunning Côte Fleurie and is a brilliant location for antiquing and picking up some amazing local produce and of course touring the Cider Route.
There are plenty of artisan craft ateliers to visit, this was a favourite place for David Hockney to live and work there are several chateaux you can tour and if you are here in the fall you can take part in the Beuvron-en-Auge cider festival.
Honfleur
Honfleur is an iconic Normandy village complete with narrow cobbled streets, and row houses dating from the 16th to 18th centuries and is considered the 'birthplace of impressionism'. It was here in Honfleur who convinced Monet to paint "en Plein air" which changed the course of art.
Honfleur is called the Jewel of Normandy and Baudelaire declared "Honfleur has always been the dearest of my dreams." The village contains over 95 art galleries, and the largest wooden church in France Saint Catherine's was built in the 15th century by sailors.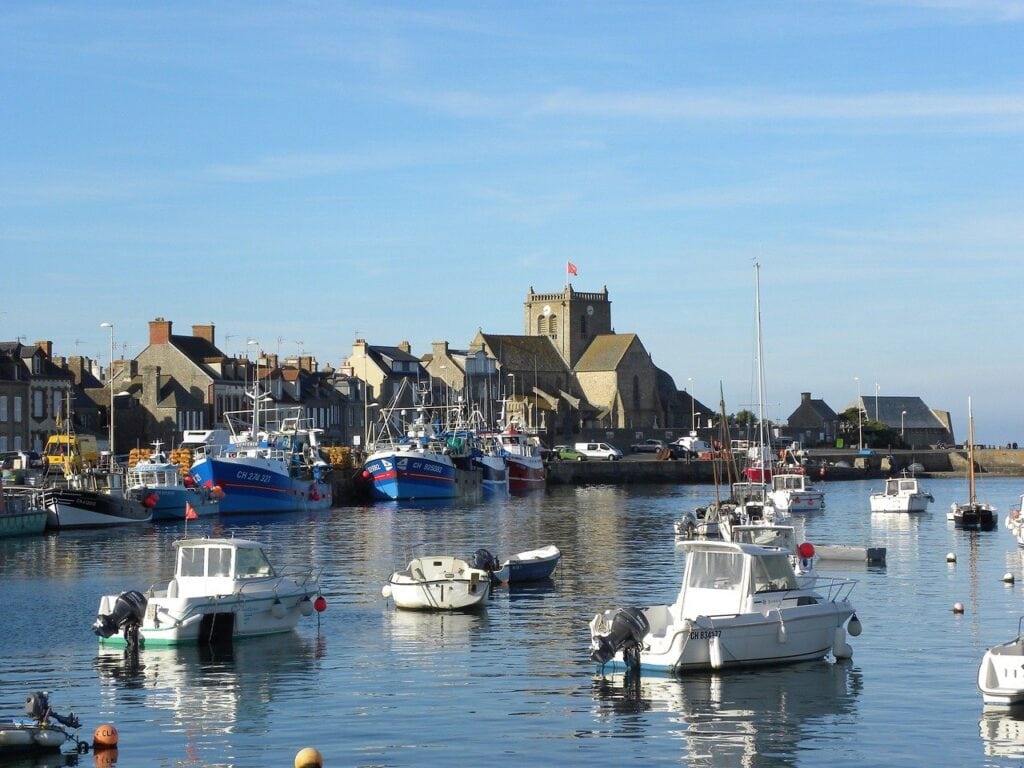 Rouen
You can't come to Normandy and not visit Rouen where Joan of Arc was sentenced to death in 1431. Rouen is over 2000 years old and is one of Normandy's most historical regions. Home to the Cathedrale Notre-Dame de Rouen the Place du Vieux Marche with its great clock and the Joan of Arc Church.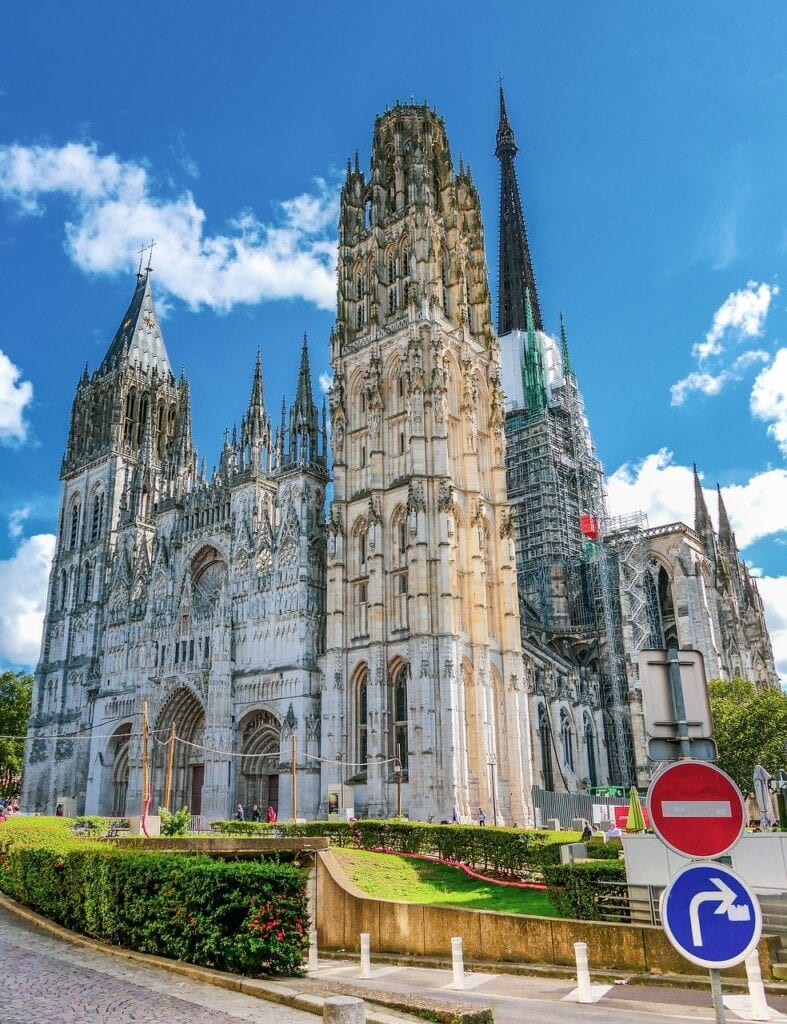 The Notre Dame Cathedral was built between the 12th and 14th centuries and was constructed on a 4th-century basilica. Its spires rise over 151 metres and are the tallest in France. This is where the Dukes of Normandy were crowned and buried and even Richard Lion Heart wanted his heart to be buried here.
Rouen was almost bombed out of existence during WWII and much of it thankfully most of which was rebuilt. The central square is where Joan of Arc, was burned at the stake and the pedestrian main street makes a lovely walk.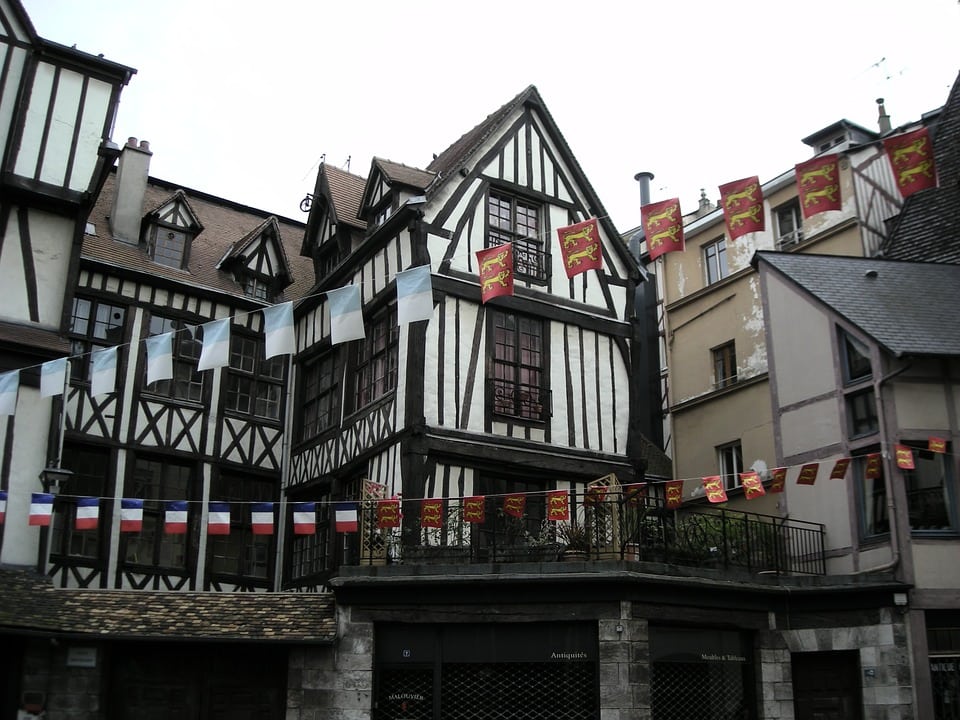 Tips for visiting the Normandy villages
Normandy's public transport system is not great, to be honest, there are very few ways to travel between these Normandy Villages so renting a car is your best option.
There are trains from Paris to Mont St. Michel, Caen, Bayeux and Rouen but the interconnections between these cities just don't exist.
My favourite time to visit the villages of Normandy is in the late spring and early summer when the flowers decorating each village are in full bloom. The weather is warm and the days longer and most of the restaurants, cafes and tourist sites have longer hours.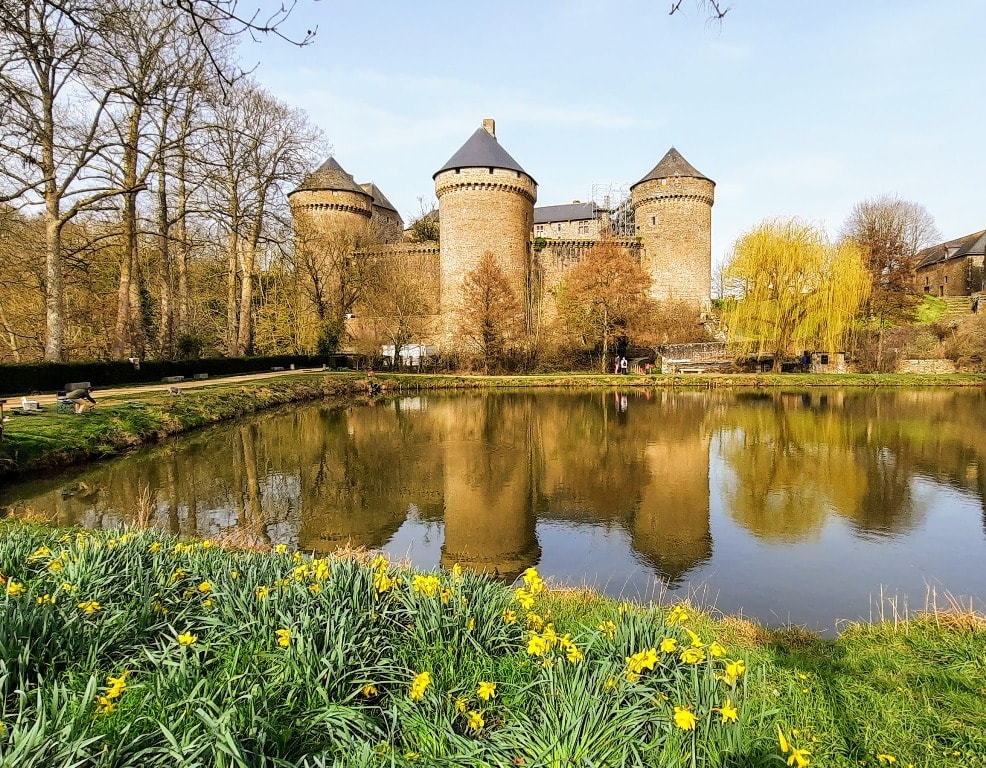 Remember don't leave having lunch too late as most restaurants and cafes close or do not serve food after 2 pm. You will be able to have a coffee or a drink but food can be hard to find between 2 and 7 pm.
Most French shops close from 12 until 2 so don't expect to shop between those hours unless you like window shopping.
Would you like to read more about France?
Dinan France – medieval France at its finest
Sainte Suzanne – One of the "Most Beautiful Villages in France"
Exploring the beautiful Mayenne – Pays de la Loire, France
Castles of the Loire Valley France
The Ultimate guide to visiting Rennes France
Chateau de Chenonceau the ultimate guide