Dinan France – medieval France at its finest
My writing skills are a bit inadequate to describe a place like medieval Dinan France. Here you step back in time to medieval France and let your imagination take you back through its cobbled streets and ancient castle to the days when it was first settled a millennium ago and over the years its feuds and wars with England.
Dinan's Old Town is arguably the most evocative and prettiest town in Brittany. As you walk down the steep cobbled lanes or enjoy a cafe creme at one of the outdoor terraces you can picture knights on horseback heading to the crusades, royal carriages entering the castle and jousting tourneys taking place in the Palace courtyards.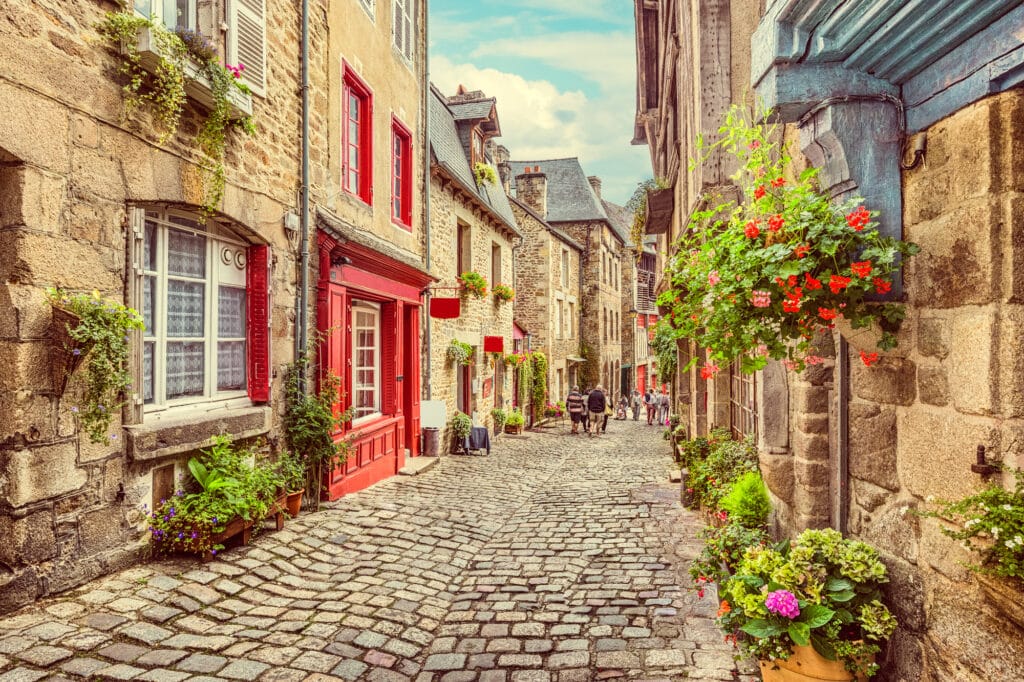 Where is Dinan in France?
Dinan village is located in, northwestern France, in the Côtes d'Armor département, in Brittany which is about 4 hours from Paris. The town stands on a height above the left bank of the Rance river and its walls date from the 11th century and survived two 14th-century attacks by the English. An imposing granite castle, known as the Château de la Duchesse Anne, was built by the dukes of Brittany in the 14th and 15th centuries.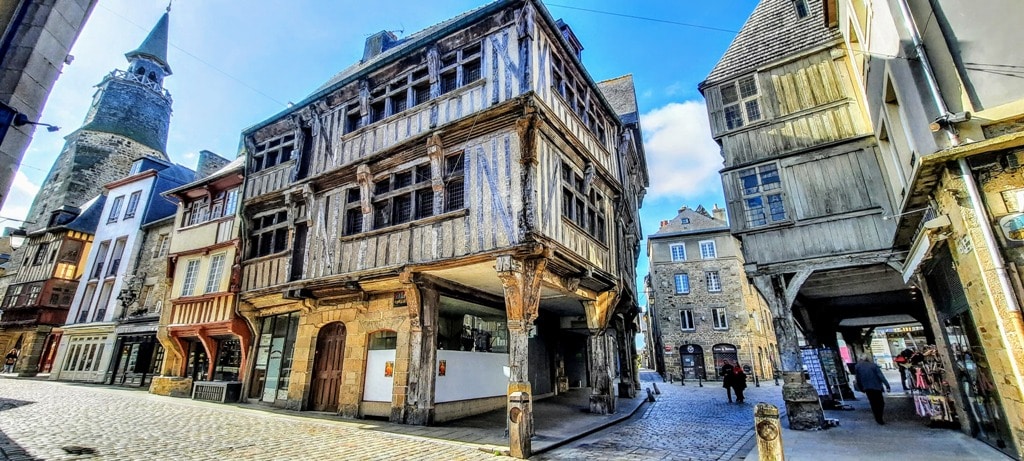 Brittany, although it is now considered France, only became a part of the kingdom in the 16th century and still practices its own customs, language and traditions.
Dinan is the second most photographed town in France. This perfect little gem overlooks a gorgeous Harbour on the River Rance and is home to over 130 half-timbered houses. The tiny narrow streets with their cobblestones and stunning castle ramparts and ancient churches are a history lover's paradise.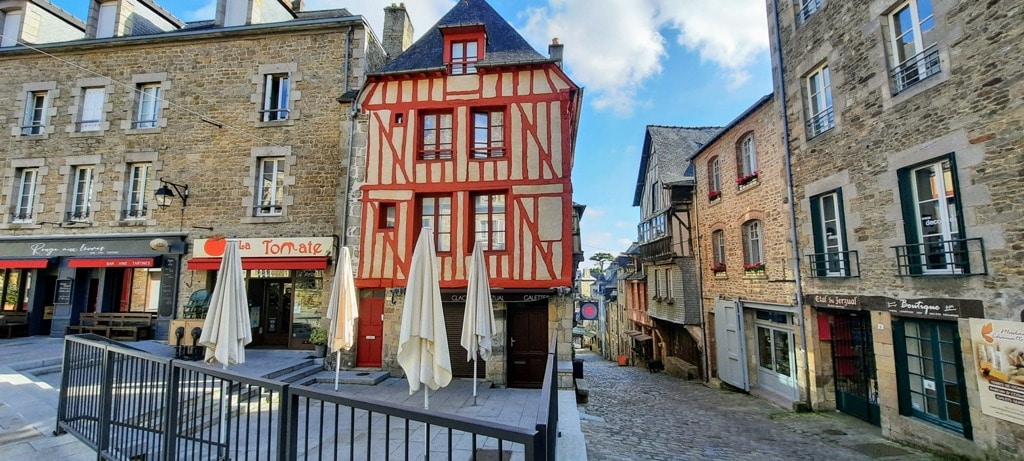 Here's a complete travel guide for what to do in Dinan France; where to go, what to see, where to stay, and where you should eat!
Xyuandbeyond is reader-supported. When you buy through links on our site, we may earn an affiliate commission. You can read my privacy policy here.
Dinan tourist map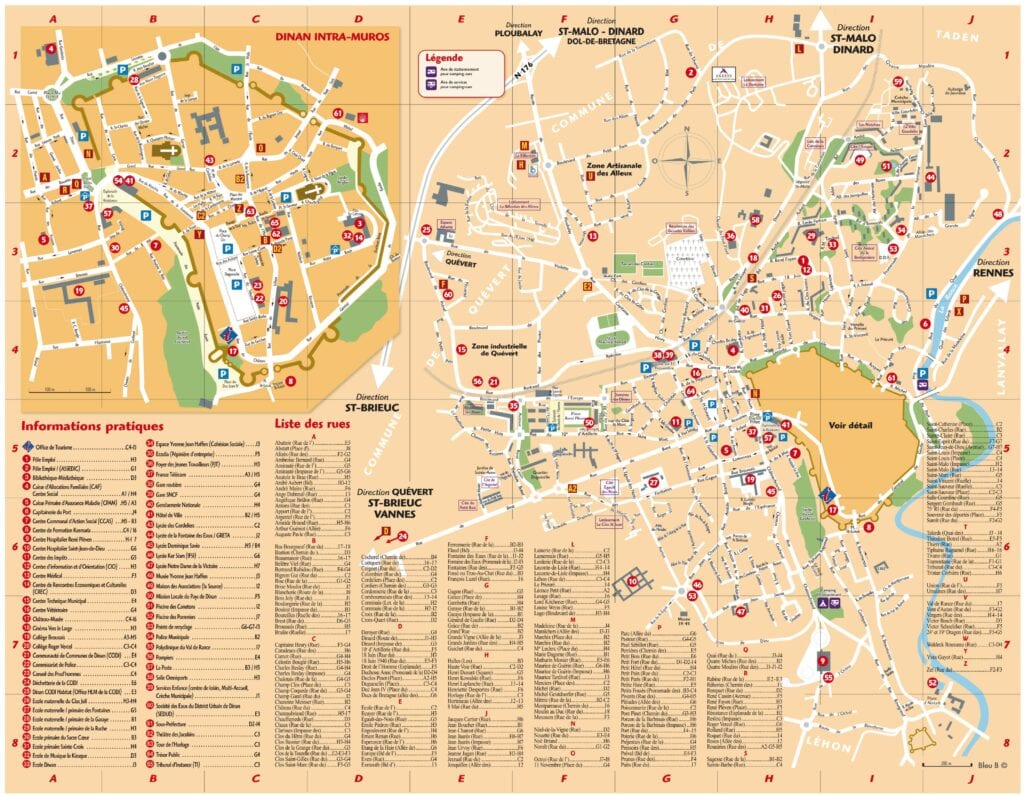 What is Dinan known for?
Dinan is known for its historic architecture, including over 130 timber-framed houses. Many of the buildings in this ancient walled town date back to the 13th century and the town is also depicted on the famous Bayeux Tapestry.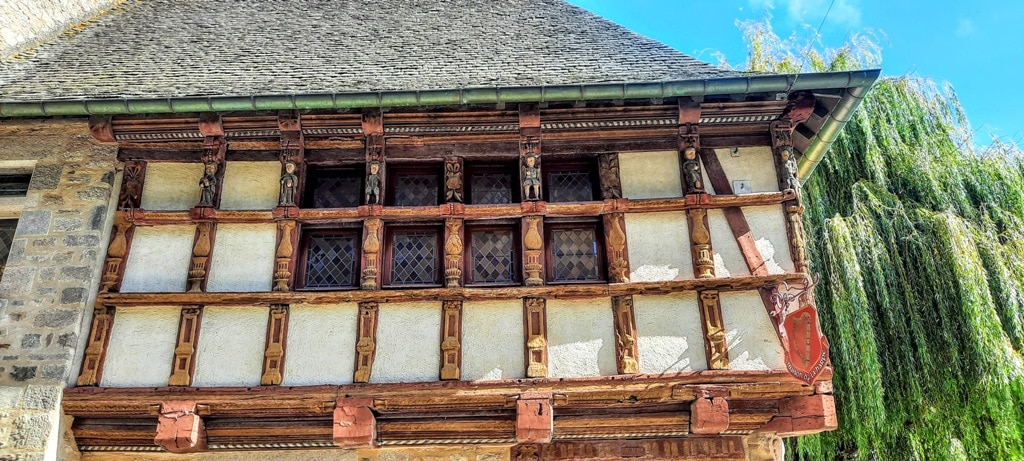 Dinan is an unusual French medieval town as it is quite literally built on the side of a hill. Most medieval villages lie within a valley and the castles are built to oversee these valleys. The village of Dinan is built down a pretty steep hill (more on that later) which leads down to the River Rance.
When is the best time to visit Dinan France?
Dinan is located in Brittany and is an immensely popular village to visit and can be really packed with tourists from France and around the world. We were lucky as we visited in October and during the time of very few visitors to France so we had the place almost to ourselves. Usually, the best time to visit would be spring and fall the shoulder seasons when tourism is less apparent.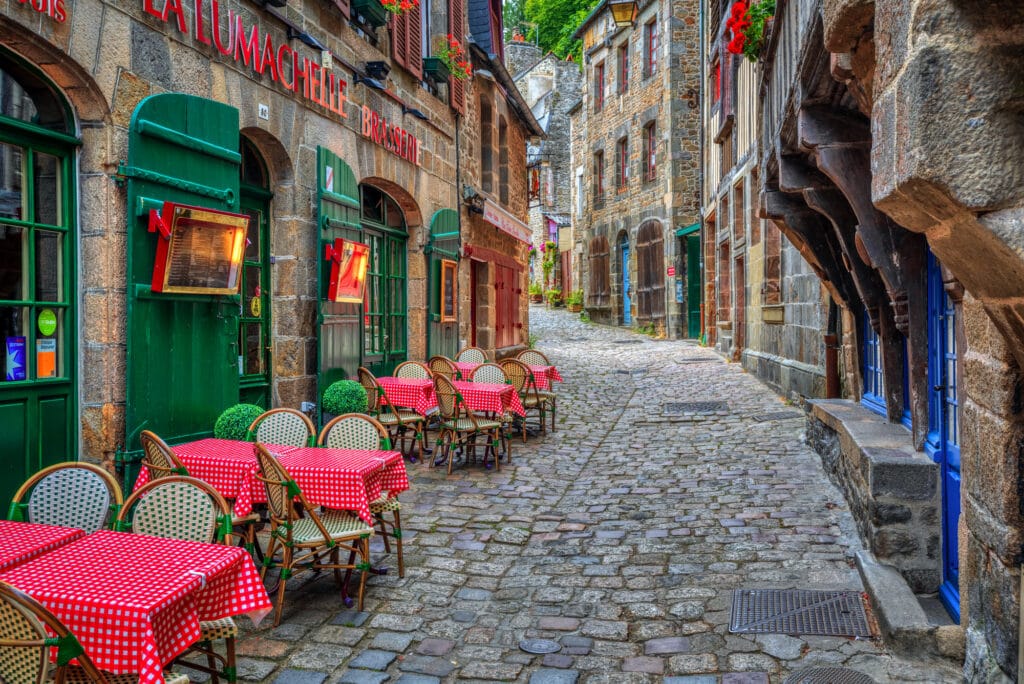 Getting to Dinan
By Car: Dinan is about a 50-minute drive from Mont-Saint-Michel and about 40 minutes from Saint Malo and an easy drive but you won't find parking easily here. The best place is the parking du Guesclin which is just down from the Castle and in front of the Gendarme station. The parking is free and from here you can pretty much walk to anywhere in Dinan.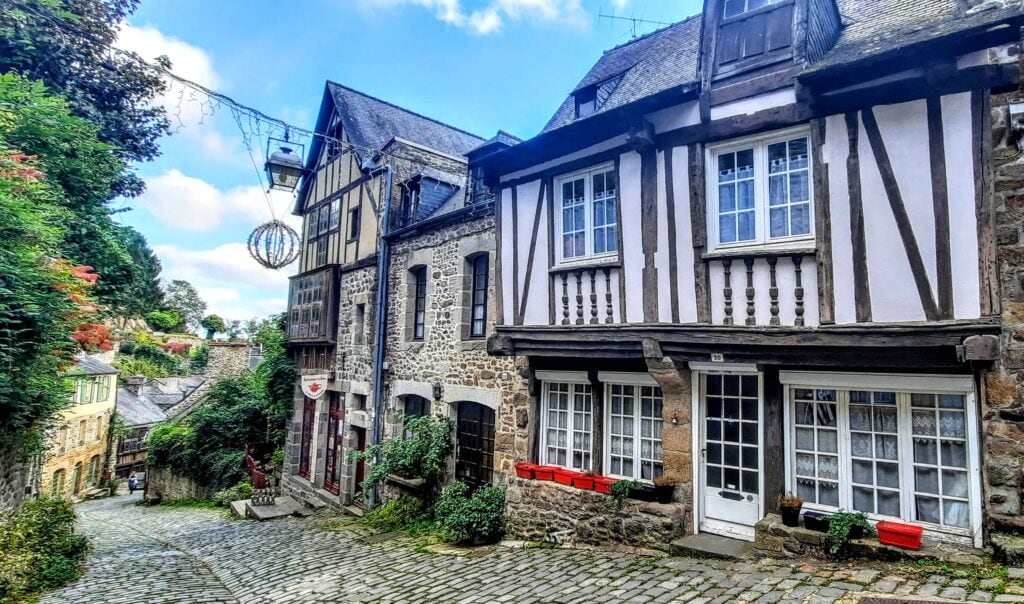 Dinan from Mont St Michel: If you plan to visit Dinan from Mont-Saint-Michel, take the bus to Pontorson and from Pontorson take the train to Dinan. This involves a switch in Rennes or Dol-de-Bretagne.
Saint Malo to Dinan: From Saint-Malo, there is a train service with a switch in Dol-de-Bretagne. From Rennes, there are direct trains to Dinan. You can also take a river trip to Dinan from Saint-Malo, it's about a 6 hour day trip.
Dinan France Map of the town centre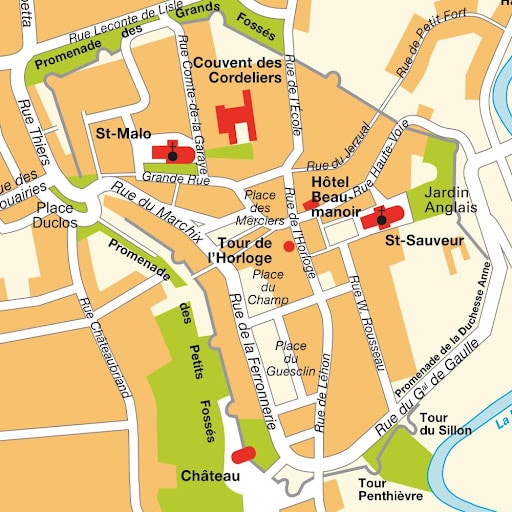 History of Dinan
Dinan's population is now around 11,000 and its history revolves around its feuds with England. In 1357 the Duke of Lancaster invaded the town and held Bernard Du Guesclin's brother Oliver hostage. He was to be ransomed by the English knight Cambridge. Bernard challenged Cambridge to a duel to win back his brother and he won. He continued campaigning for the King of France until he died some 23 years later. You can see the bronze statue which commemorates him on that very battleground, the Place du Champs, which is now a car park.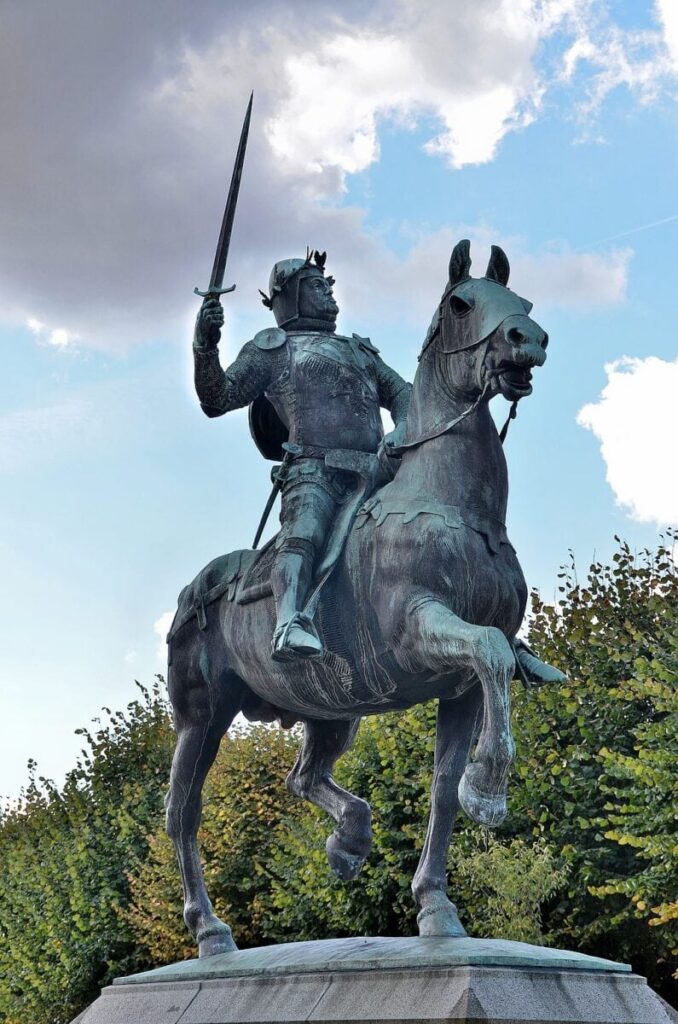 Things to do in Dinan Brittany
There is a lot of beauty to see in the medieval town of Dinan but being realistic it doesn't take more than 2 days if you are staying in the village. We spent 4 days there which was too much during the offseason as there is a lot closed and finding a place to eat on a Monday or Tuesday or even Wednesday is a chore as not much is open.
Dinan is the perfect historic French village to simply wander around with its incredible medieval buildings, stunning cathedral and incredible ramparts walk Dinan will keep you smiling.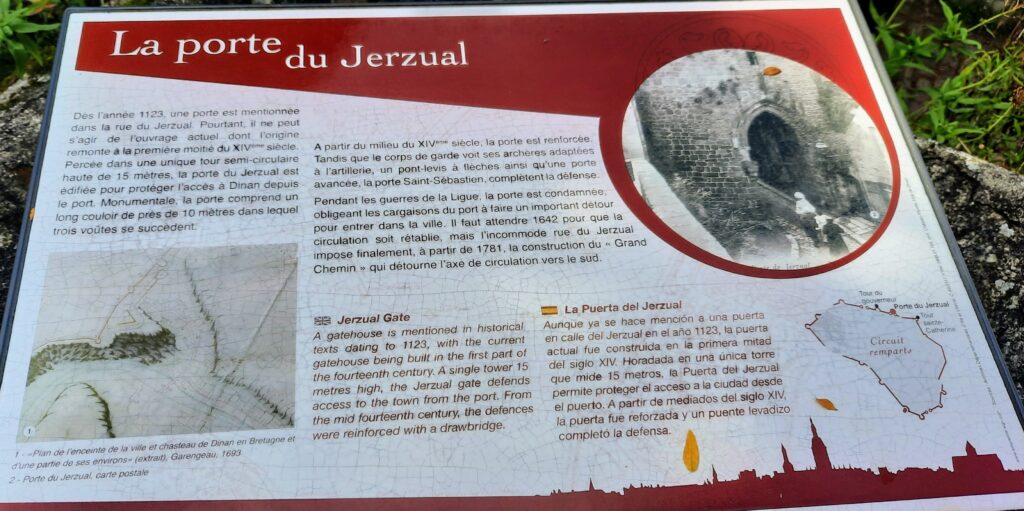 Getting around Dinan France
Dinan is a walking town, parking is usually on the outskirts of the town. If you are staying in the Port area or walking down rue de Jerzual you may find that getting back up the hill is pretty daunting. There is a free bus that takes you back up to town that you can catch just across the river on the Lanvalley side.
You will spot the bus stop at the start of the bridge and the bus is free just flag it down when it drives up to the bridge. You can also take the Little Train that tours the village and you can catch it at the Tourist Office. The usual cost is around 6 euros for an adult.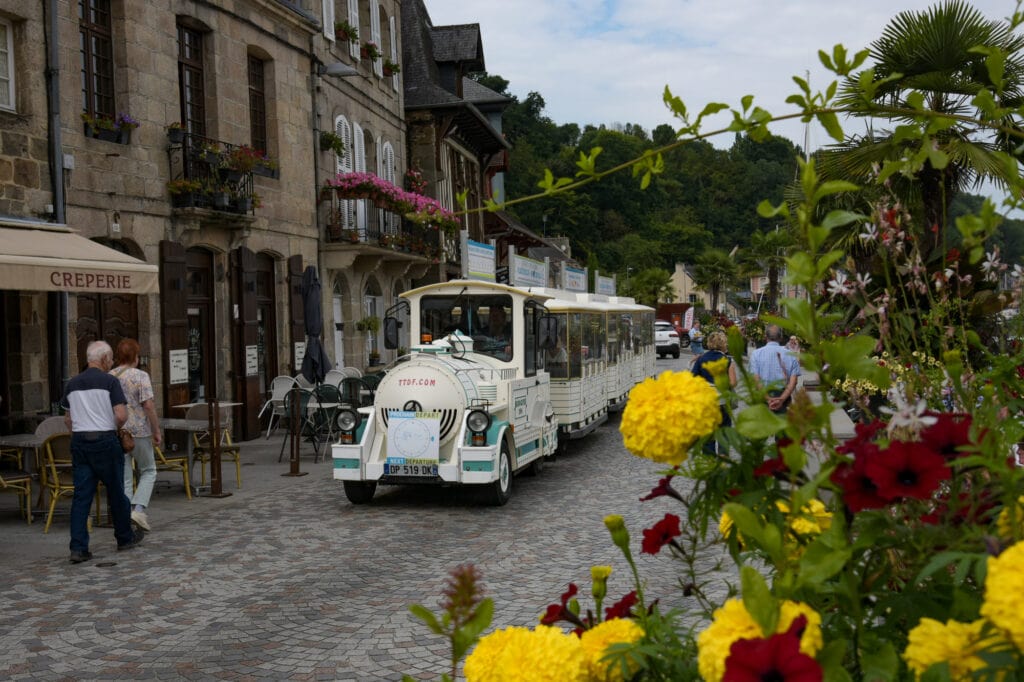 Dinan Port
Dinan may be perched on a steep hill but it was its port that kept Dinan a centre of trade for Brittany. The port is lined with boats, restaurants, bars and cafes and there are incredible views of the river and the viaduct that was built to provide access to the town in 1852.
Here you will find ancient stone houses, shops and bars and you can cross the river to Lanvalley to find even more restaurants. Take a walk down the banks of the Rance on either side of the River and enjoy the scenic views and trails.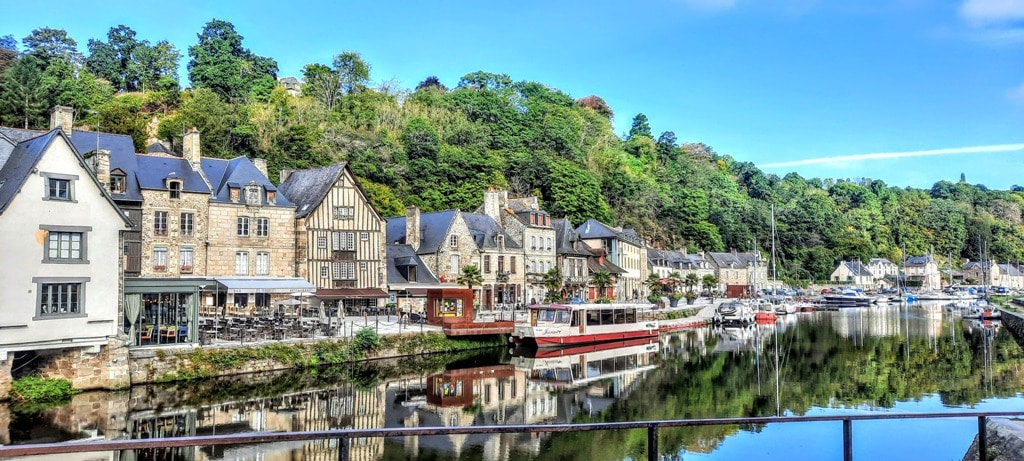 You could also take a boat cruise on the Rance river. You can buy tickets at the tourist office or look for the brown cube hut near les Terraces restaurant at the bottom of rue du Petit Fort.
The boat trip lasts about an hour and travels down the Rance to the little town of Léhon, you can also take a boat to and from Saint-Malo to Dinan, or a dinner cruise.
Rue du Jerzual
If you want to see the best medieval architecture in France you must head to the Rue du Jerzual which is an incredibly steep cobblestone hill that leads down to the port.
This medieval road runs through the centre of Dinan and its street façade has changed very little in the past few hundred years or so. It is jammed with gorgeous timber-framed houses, tiny little restaurants, cafes and artists workshops.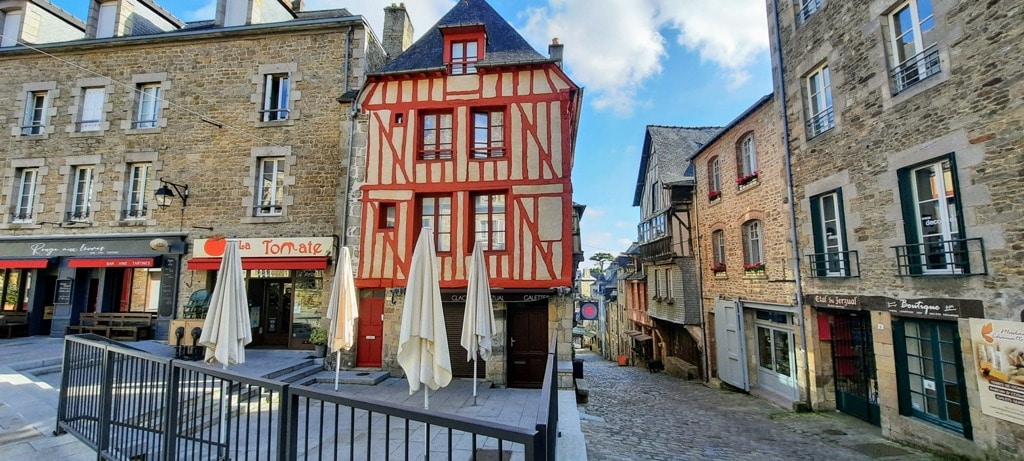 For over 10 centuries this street has teemed with weavers, tanners and assorted medieval craftspeople. These days you will find artists from glass-blowers, graphics, sculpture and painters.
The hill is however lethal and hellava steep with crooked and loose cobblestones all the way down. The street has been around since the 13th century and is so photogenic you may just break your camera snapping photos.
Dinan Medieval Town Centre
Historical attractions in Dinan include the Jacobins Theatre dating from 1224, the flamboyant Gothic St Malo's Church, the Romanesque St Saviour's Basilica, Tower of l'Horloge and the Château de Dinan.
Dinan's Fête des Remparts
A major highlight in the calendar is Dinan's Fête des Remparts. The town is transformed with decorations and many locals dress up in medieval costumes for this two-day festival. The festival takes place over the third weekend in July every even-numbered year.
Dinan Ramparts & the Château de Dinan
You can walk along the ramparts of the city to take in some good views and also see the Château de Dinan, the city's castle from the 14th and 15th centuries. It was built in 1382 by John IV of Montfort. It not only serves as the town's castle it also contains a museum on Dinan's history.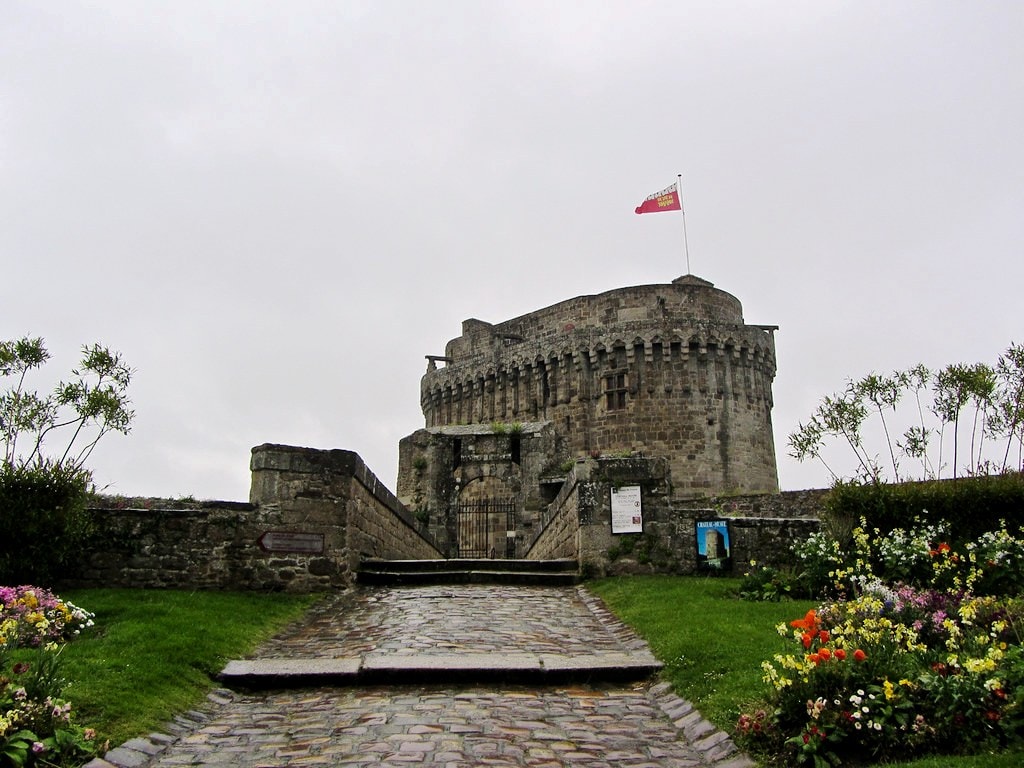 Now here is where France gets very irritating, we saw on the sign for the Castle the opening hours for October, November and December were from 13.30 to 18.30 every day of the week. So we waited and waited for the gates to open and more and more tourists joined us at the gates.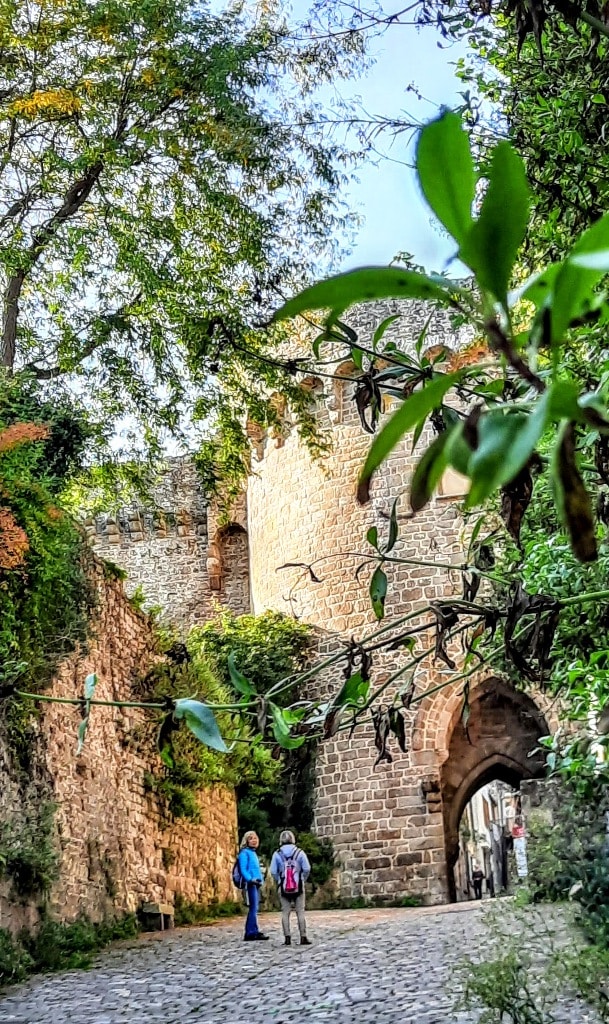 After a very long wait, we went next door to the Tourist Centre to ask why the castle wasn't open. We were told "but it is open" and the woman turned to look at the gates behind her through the window only to see a crowd of tourists waiting for the gates to open. This person went to ask why the castle wasn't open only to be told"oh they don't open Mondays." This is what we call typical French customer service – basically meaning there is none.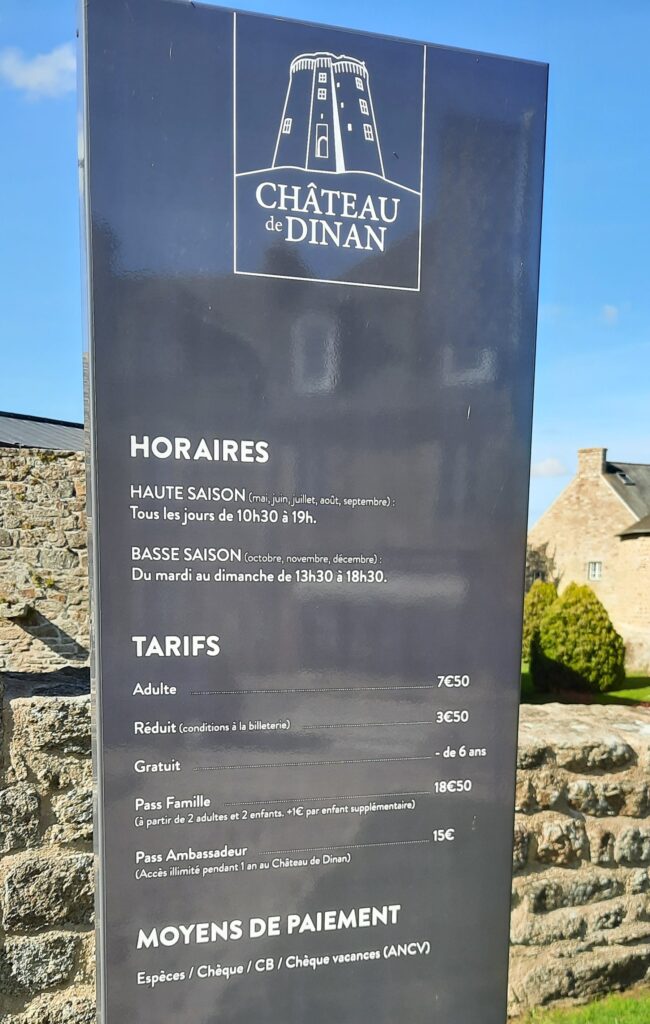 If you do get to walk the ramparts expect a 2 km walk around the old part of town with some incredible views. You can see from the ramparts the River Rance and all the small meandering lanes and cobbled streets throughout Dinan.
St. Sauveur Basilica
The Basilica dates back to the 12th century although most of what you can see today is from the 15th and 16th centuries. The building is a rich blend of high Gothic and Romanesque styles. It stands high on a hill overlooking the Rance River and these days is classed as a French Historic Monument.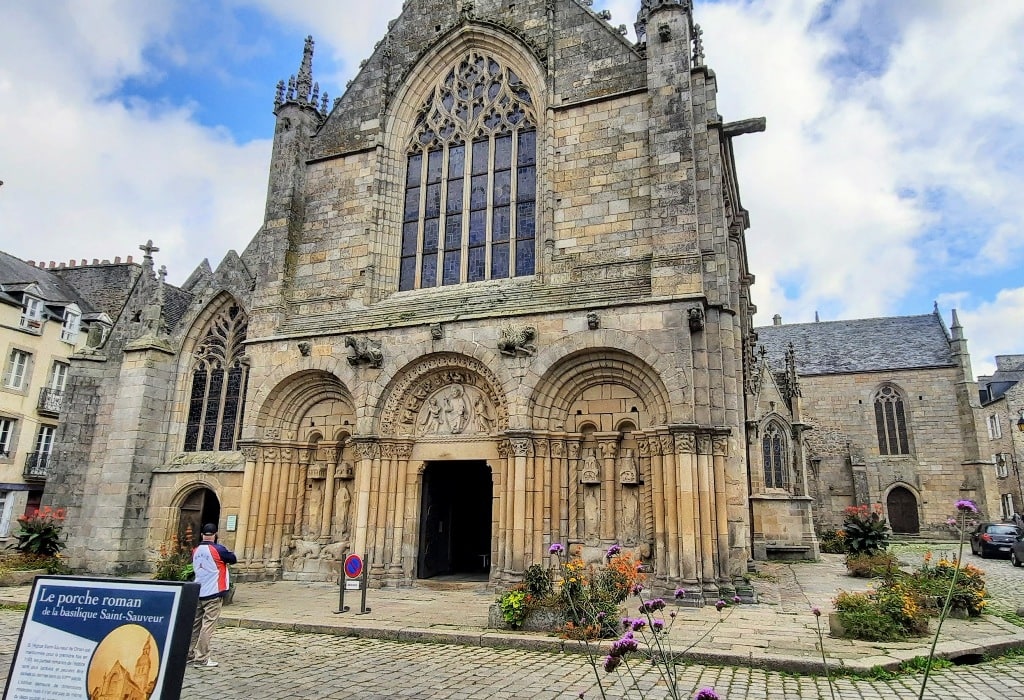 The Basilica was started by a knight who had safely returned from a crusade against the Saracens to thank the Lord (Saveur) for protecting him. Its crowning glories are the stunning stained windows and the main portal which displays large religious paintings.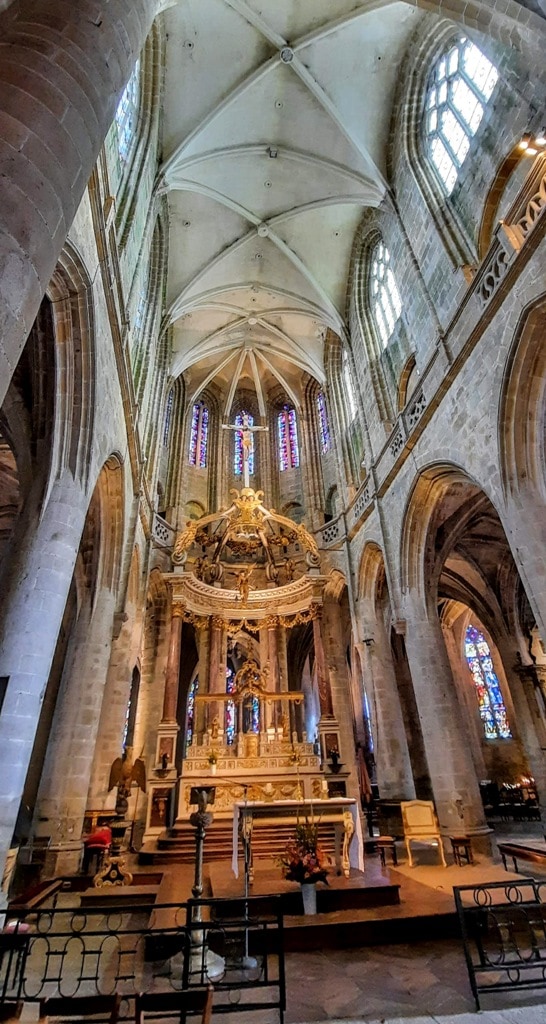 St. Malo's Church
The church of Saint-Malo was founded in the 12th century, but the existing building was built in the 15th century due to the original church being destroyed. Apparently, the Duke of Brittany thought that the French (remember Brittany was independent at this point in time) would use the church as a position of defence when attacking the town.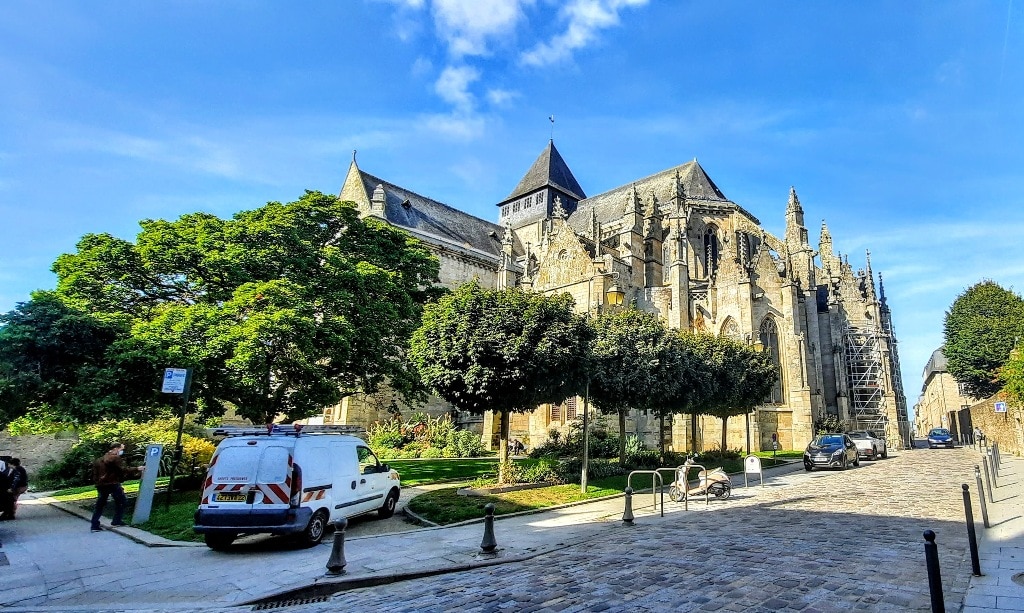 At that time there were two principal churches here because Dinan was divided between two different lords, Olivier II and Alain I (the other is the Church of Saint-Sauveur, which you will also see in the town centre).
Jacobins Theatre
The Jacobins Theatre dates from 1224, and before it was a theatre it was a convent founded by monks in 1232. In 1824, the city bought the building in the 19th century was converted into a theatre.
Sainte Catherine de Dinan Chapel
The historical Chapel Sainte Catherine was built by the Dominicans and has a Jesuit-style façade. The Chapel houses a remarkable collection of statues and is the oldest of all the churches in Dinan.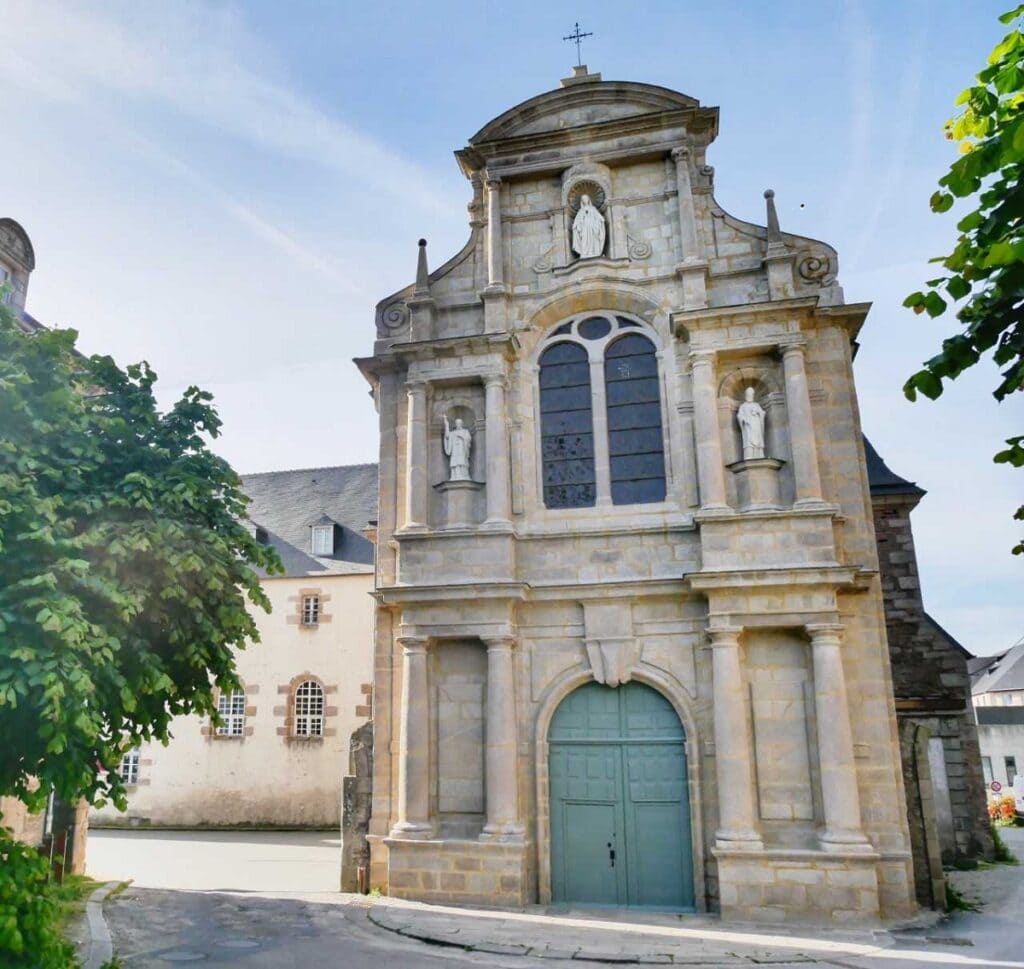 Tower of l'Horloge
The Clock Tower is open from April to September and stands 46 metres high. From here the views of Dinan are simply stunning.
The Tower was built in the 15th century by François II Duke of Brittany. In 1507, Anne of Brittany installed a clock, and bells which these days ring out the time.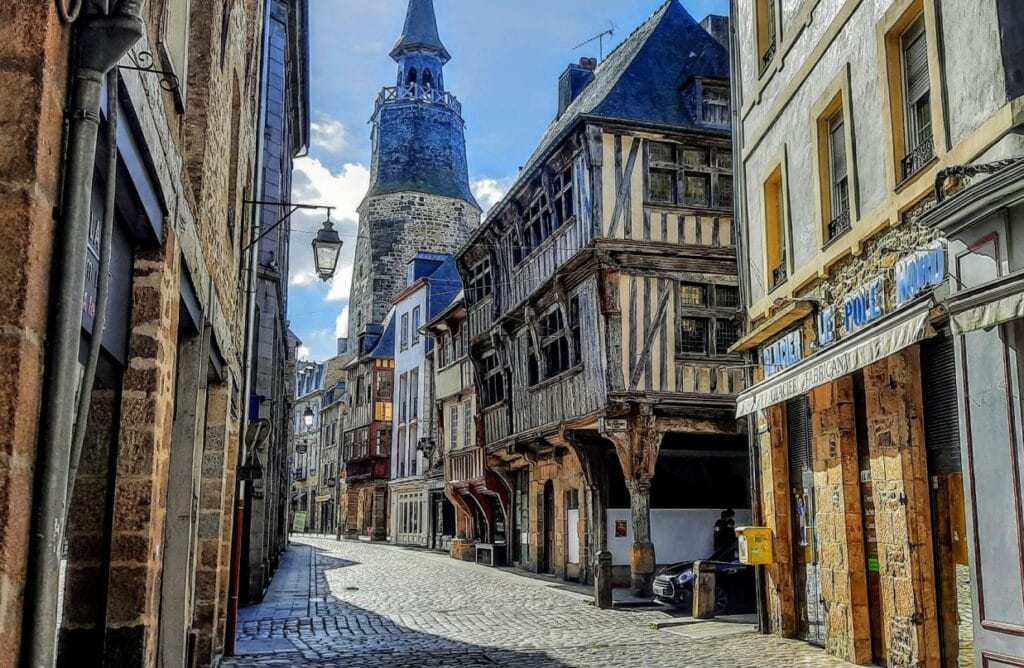 Place des Merciers
Walking the streets of Dinan you will eventually land at the Place des Merciers where you can pick up your tourist gifts and stop for some refreshments and people-watching. This area contains many stylish boutiques and independent shops.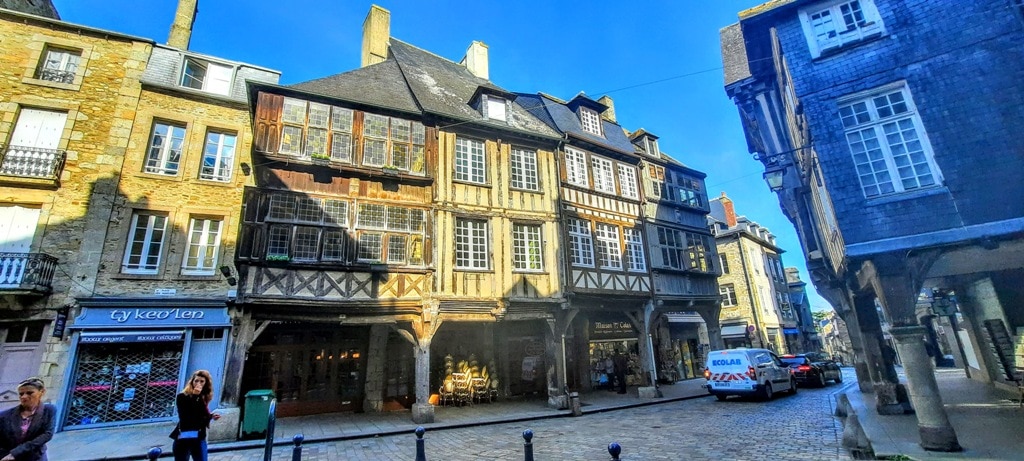 Les Halles de Dinan – la Cohue
Located in the historic heart of the medieval city, the Halles de Dinan, called "la Cohue", was completely renovated in 2009. It is accessed by different entrances: rue de la Ferronnerie, rue de la Mittrie and Place du Petit Bread. This lovely arcade showcases local chefs', Street food, fresh vegetables and some lovely open shops full of herbs and spices – some I've never heard of and had to buy.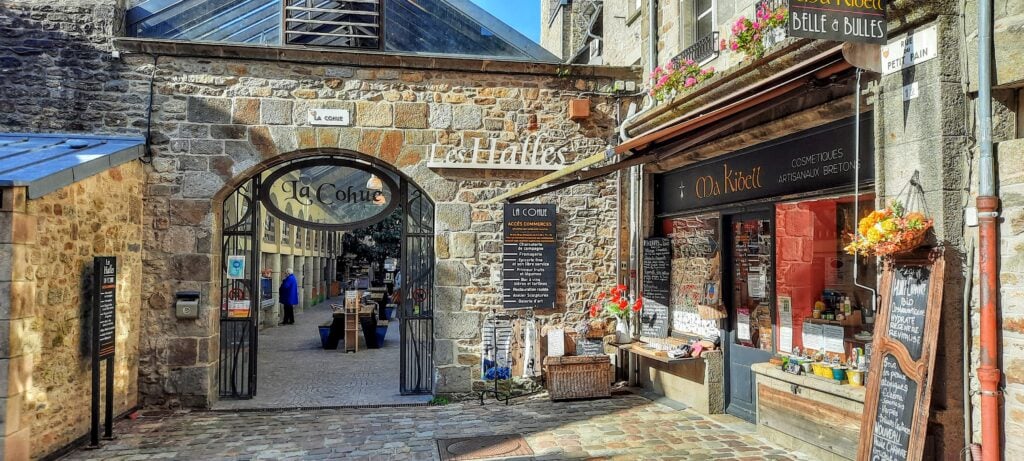 Governors House
This former 15th-century timber-framed house is located in the oldest street of the city, Jerzual Street. The governor's house was a beautiful mansion where merchants and craftsmen lived upstairs, above their shops.
Listed as a historical monument, this residence was to serve as a warehouse, given its imposing size, with shops on the ground floor and apartments on the upper floors. The Governor's house is open in the summer months showcasing temporary exhibitions.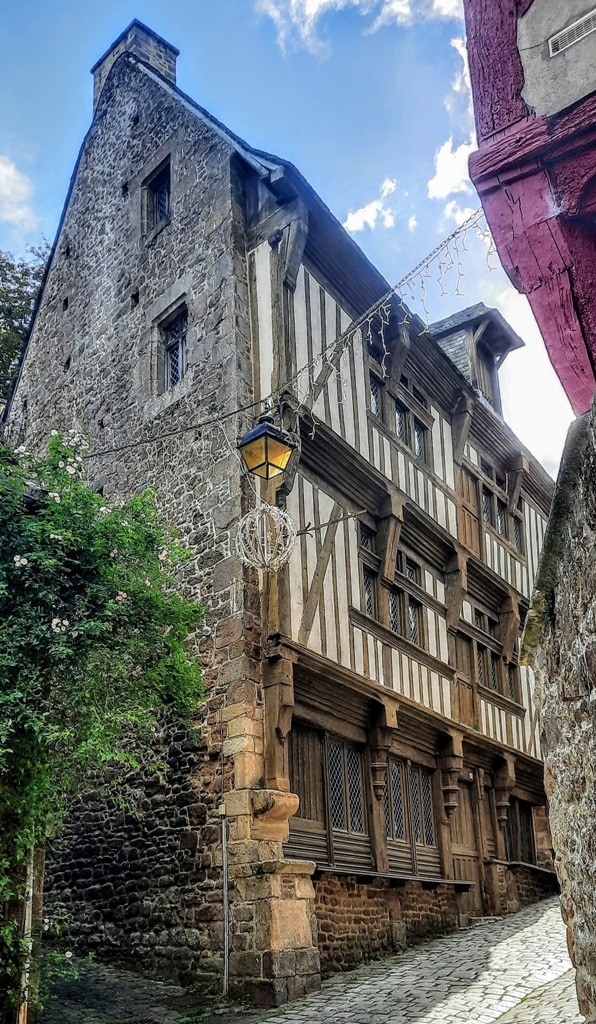 Dinan France Market Day
Thursday mornings see Place du Guesclin full of stalls selling delicious food, flowers, shoes, scarves, toys and other goods. It is lively and you can pretty much see every citizen who lives in Dinan out on that day.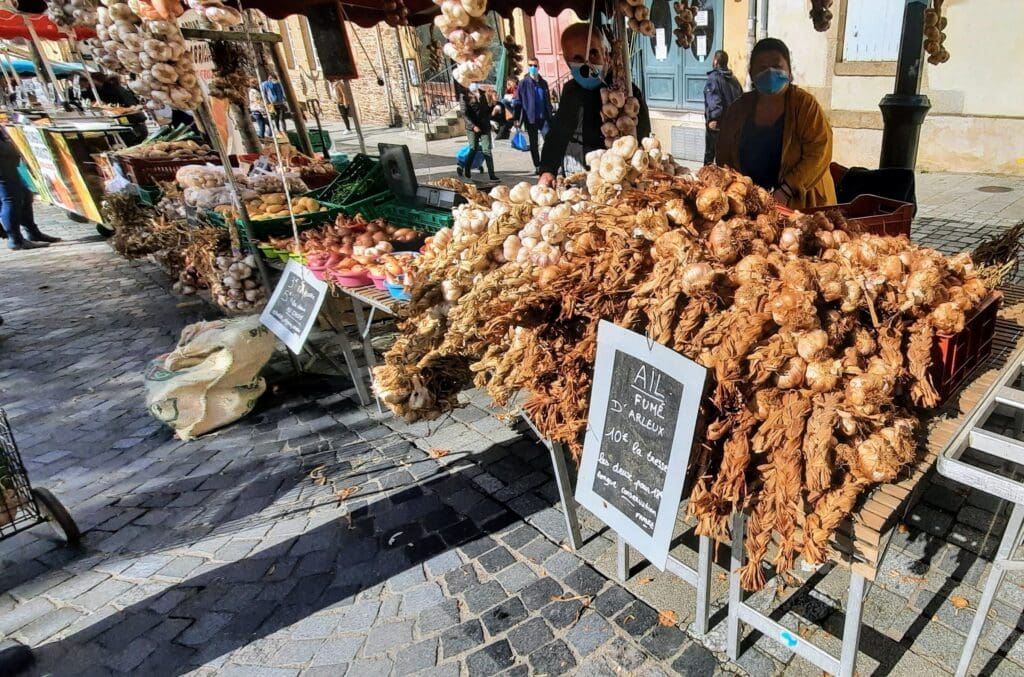 Where to eat, and drink in Dinan
Finding a place for breakfast in France outside of Paris is nearly impossible as most restaurants don't open until noon and the small cafes only serve coffee, tea, hot chocolate and maybe a croissant, muffin or pain au chocolat. However, if you find a café serving a Kouignn-Amann or a bakery where you can buy one don't pass it by.
A Kouignn-Amann is a traditional Breton delicacy that involves lots of sugar, butter and puff pastry. Your sugar high will last all day. The place to buy one is at La Maison De Tatie Jeanne on the 82 Rue du Petit Fort.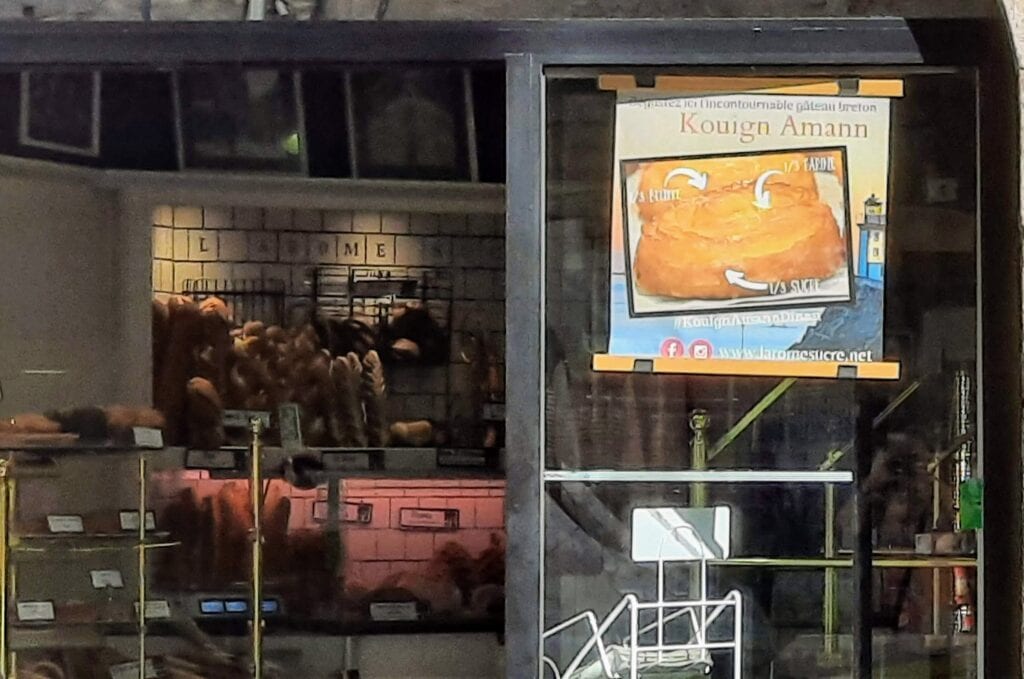 La Fleur de Sel
A Michelin-starred restaurant In one of the old streets of the historical centre, this is the sort of place where you can't go wrong. The food is tasty and has just the right dose of creativity – flavoursome tzukune crab, poached skate wing with a lemon butter sauce, mixed salad a true foodie delight.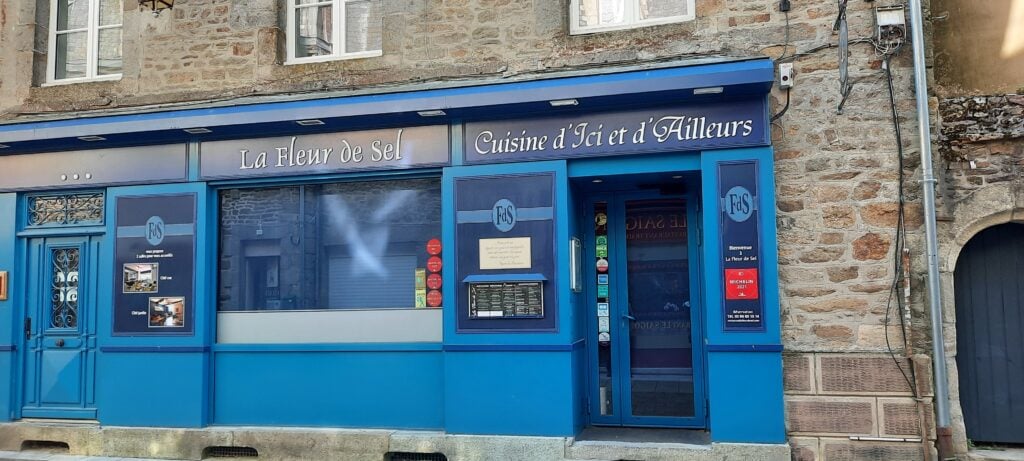 Crêperie de la Tour
You can't visit Brittany and not sample at least a crepe – this crêperie is charmingly picturesque, nestled in the historic centre of Dinan, on the ground floor of the Hôtel de la Tour de l'Horloge a recently transformed and renovated private mansion.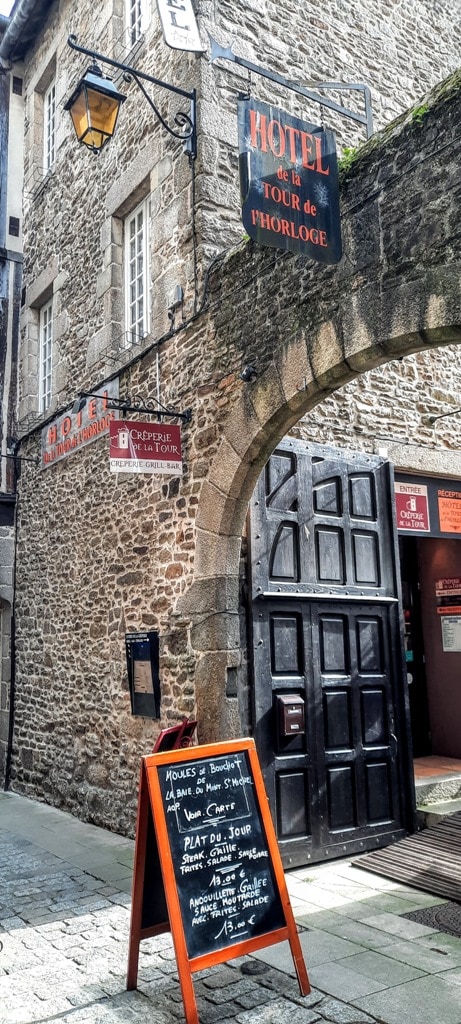 You can taste delicious pancakes prepared with buckwheat flour, a Breton tradition well preserved in this medieval city. You will find on the menu bouchot mussels from Mont-Saint-Michel bay, as well as salads and grilled meats.
Colibri and Little Colibri
Colibri is primarily looking for local know-how and respect for seasonal ingredients. the atmosphere is relaxed and the setting is beautiful. The food is superb with local ingredients and the ability to adjust menus for vegetarians and vegans with super results.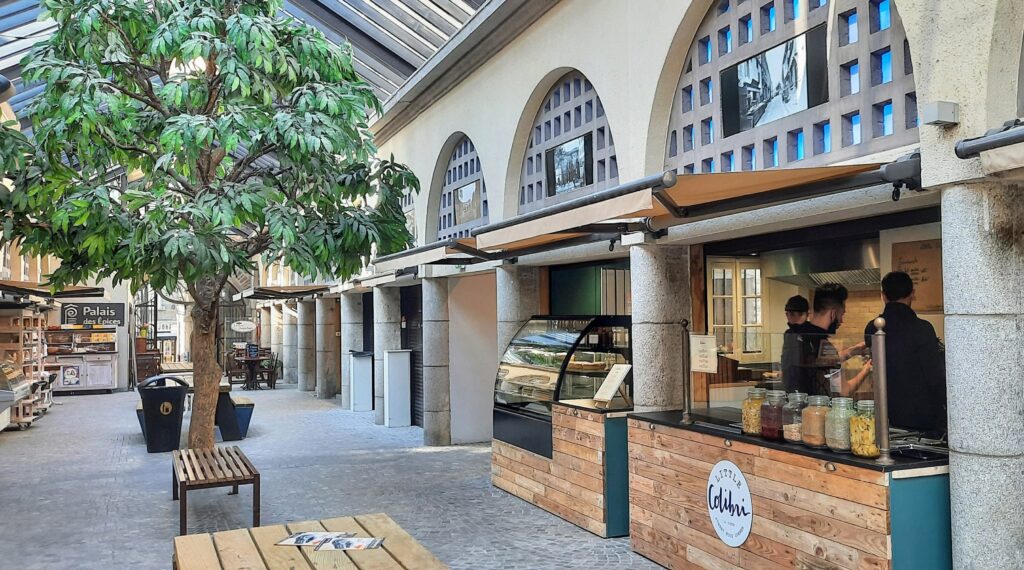 Little Colibri is the street food version found in Les Halles and offers some absolutely delicious sandwiches and take-out food – a must when in Dinan.
Harmonika
You will spot Harmonika when on that killer hill down to the Port. Its address is 34 Rue du Petit Fort which is just before you reach Rue de Jerzual. It is the perfect spot for a coffee and pastry.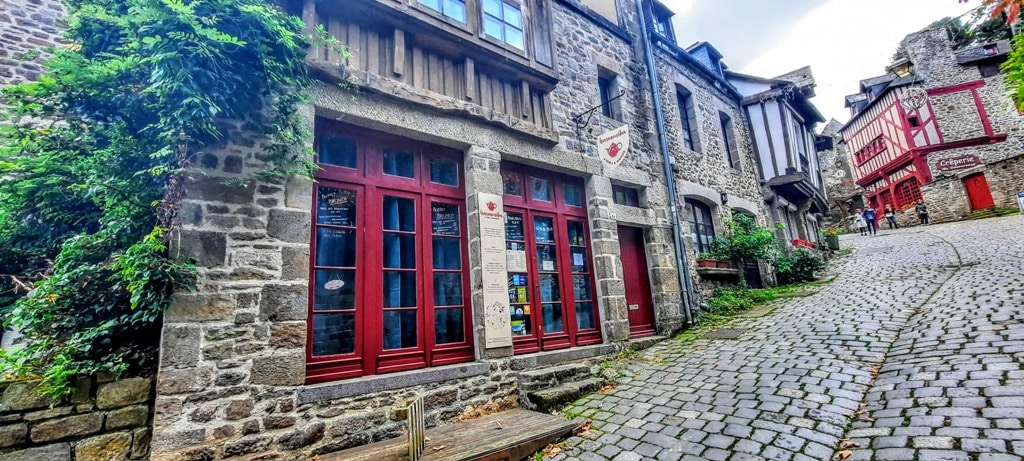 You will also find many restaurants down in the Port area however sadly many were closed when we were there. Although we did find an amazing wood-fired pizza place just before the port called La Lumachelle which was excellent.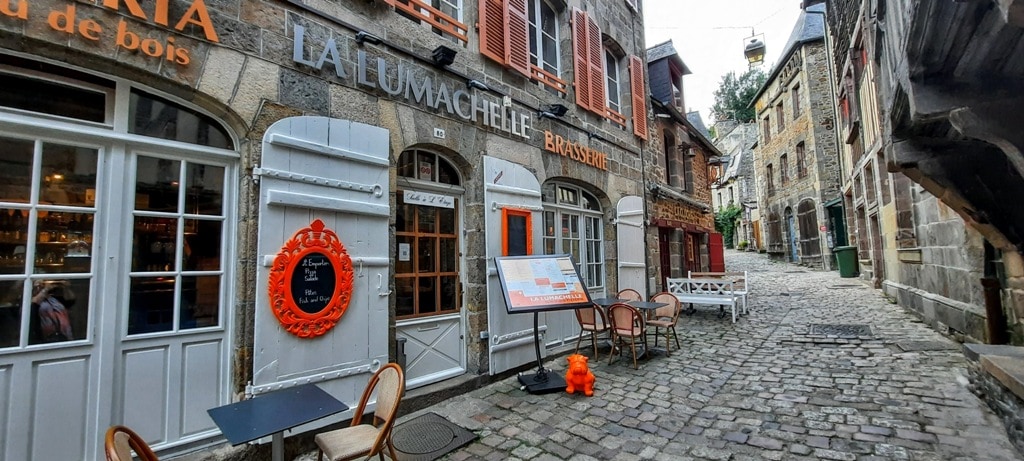 Where to stay in Dinan France
For those looking for the ultimate escape from the hustle and bustle of busy modern-day life, then a weekend in Dinan provides the chance to experience a retreat you won't forget. Just be sure to bring your camera along- you won't regret it! Here are the best places to stay in Dinan:
We stayed at the fabulous Ker Viviane which was a ground-floor apartment located on Rue du Petit Fort. Now it was a killer walking down and up the hill and the parking is all uphill but that's a minor detail. The apartment was perfectly furnished with English TV, free wifi a very comfortable bed and fantastic hosts. I can't recommend this place enough.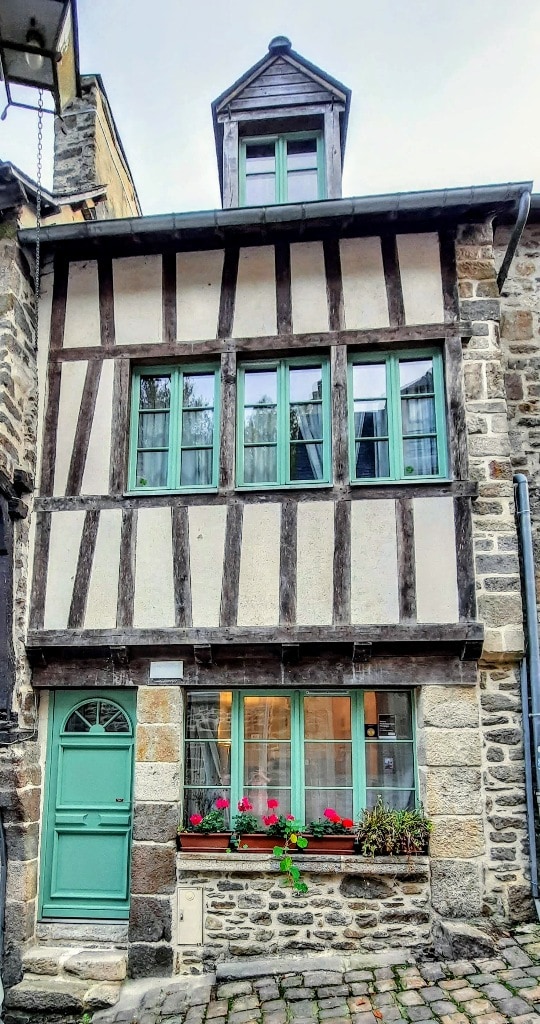 The Hôtel Arvor Dinan can be found near the Theatre Jacobins and is a former convent. It is stunning. There is free wifi and breakfast is available.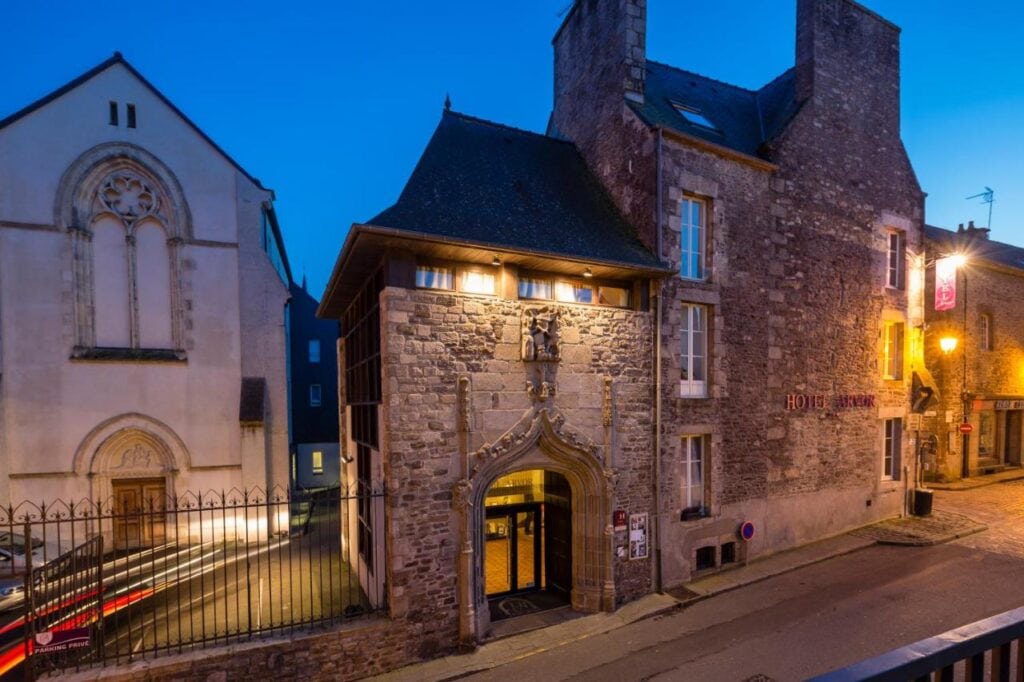 La Villa Côté Cour & Côté Spa is a lovely hotel the property is located a short distance from attractions such as Château de Dinan. Some units at the property have a balcony with a garden view.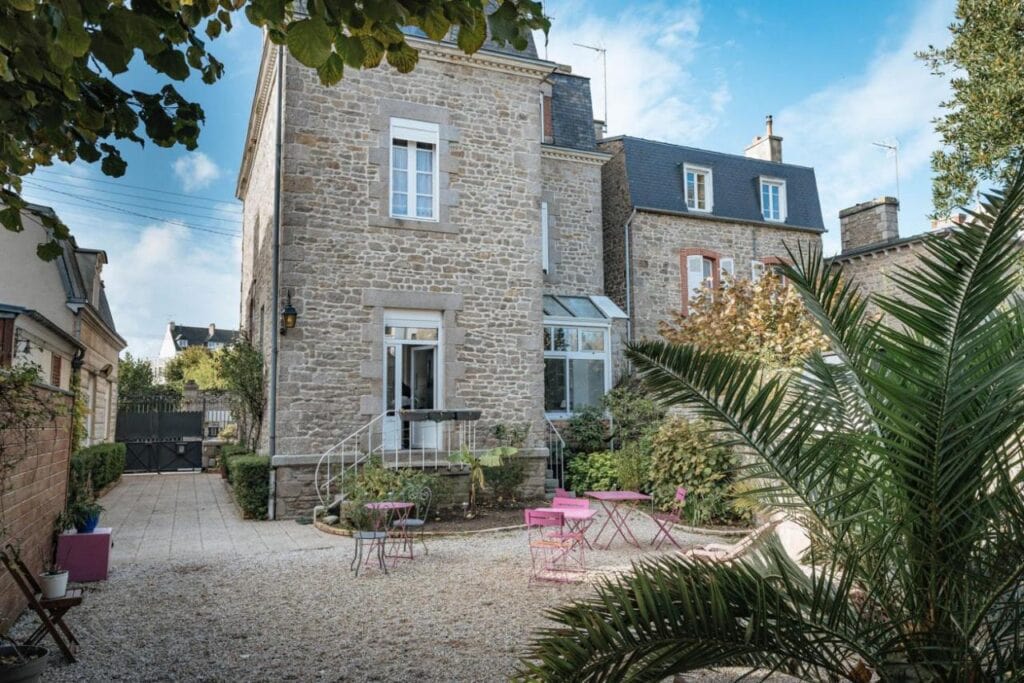 The Hôtel de la Tour de l'Horloge is in the centre of Dinan and is set within a 17th-century building, the guest rooms are equipped with a private bathroom, TV, and minibar. The hotel offers a daily buffet breakfast which is very handy as it seems that only hotels offer breakfast in France.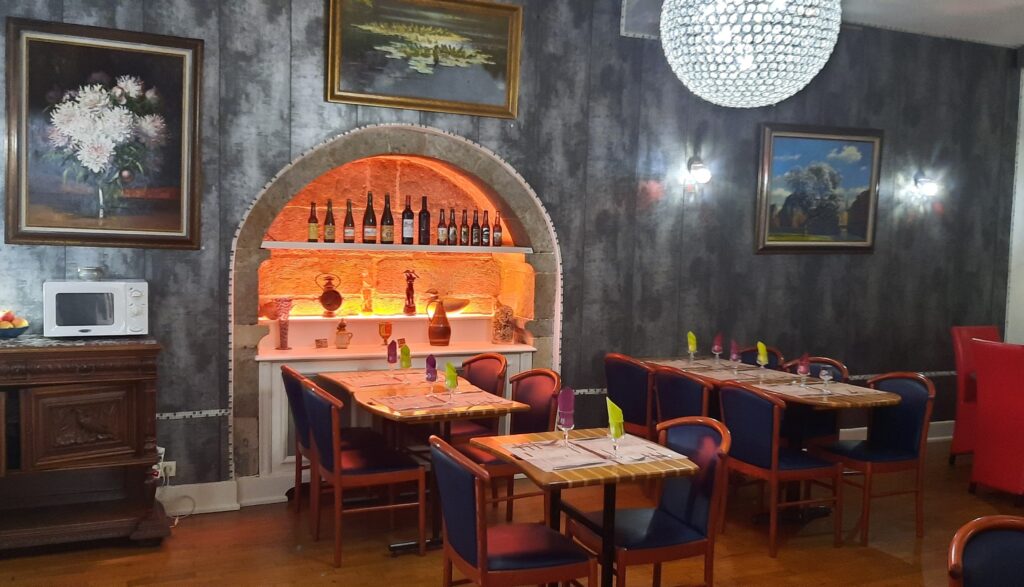 Victor Hugo the famous French writer of Les Miserables once visited Dinan and you can see a plaque on the side of the Hôtel du Château Dinan and stay there yourself. The hotel is located in the historic centre of Dinan, opposite the Château de Dinan and the Saint Louis Gate. Each guest room has a private bathroom, satellite TV and free WiFi. It also serves a buffet or continental breakfast.
If you want to see France at its medieval finest then a visit to Dinan and Brittany is a must. It is a small ancient village full of history and personality and well worth a visit when coming to France. We also visited Bayeux and that incredible tapestry on a day trip from Dinan and decided to stay a few days in this beautiful little city.
Interested in reading more about visiting France? Here are some more articles for you.
The beaches of Normandy – lest we forget
The Ultimate guide to visiting Rennes France
Castles of the Loire Valley France
Chateau de Chenonceau the ultimate guide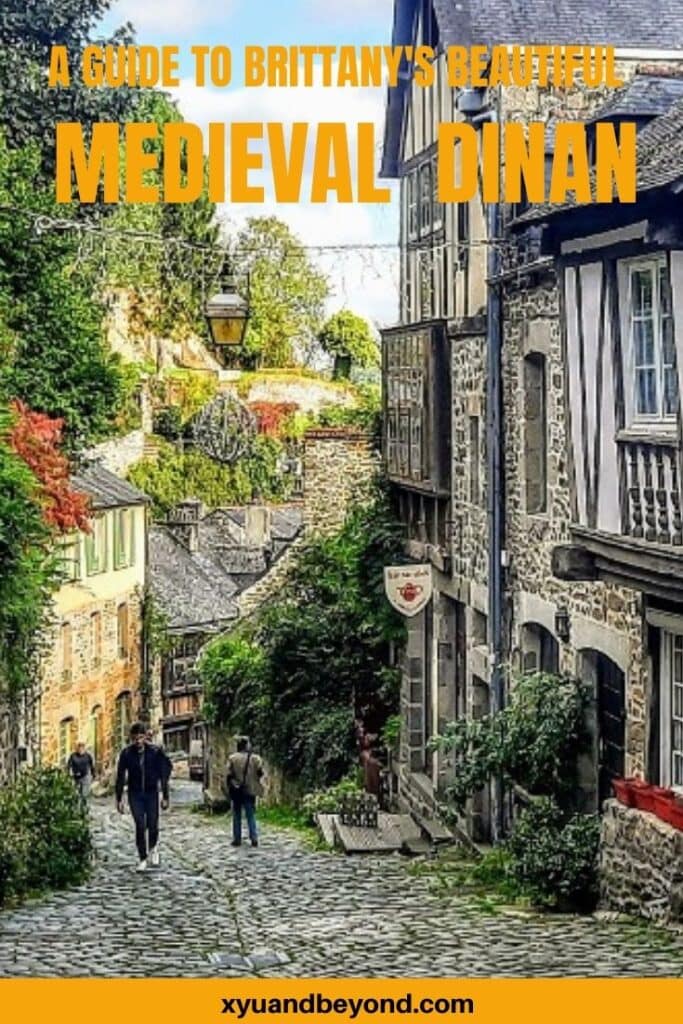 Latest posts by Faith Coates
(see all)