28 of the most Beautiful medieval towns in Europe
Europe is renowned for its rich history and charming architecture, and there's no better way to experience the magic of the past than by visiting its stunning medieval towns. These often hidden gems offer a glimpse into a bygone era, with cobblestone streets, towering castles, and preserved architecture that transport visitors to a time of knights, merchants, and artisans.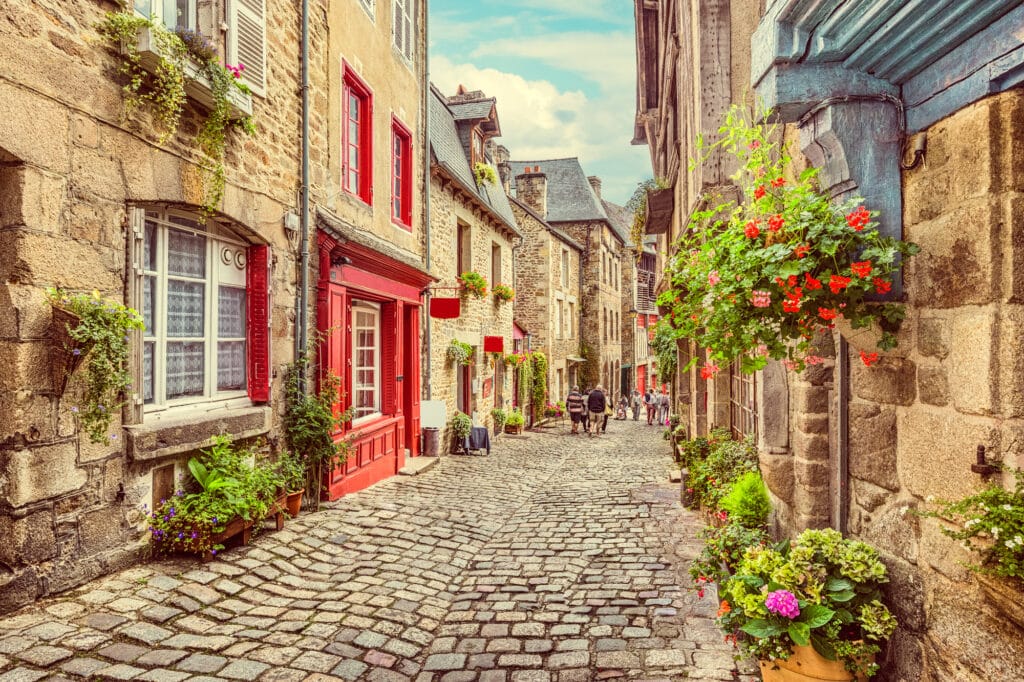 As a North American I am fascinated by the gorgeous medieval towns of Europe and walking those ancient streets and discovering the places where historic moments happened. While I have been to many a medieval town in Europe I asked my travel friends what is their favourite medieval town in Europe that should be on everyone's bucket list. Here is their response 28 incredible medieval towns and villages in Europe you should visit and travel back in time in your imagination.
Brief overview of beautiful medieval cities in Europe
The Middle Ages, also known as the Medieval Period, is a vast period in European history that spanned roughly from the 5th century to the 15th century. It is characterized by significant political, social, and cultural changes that shaped the future of Europe.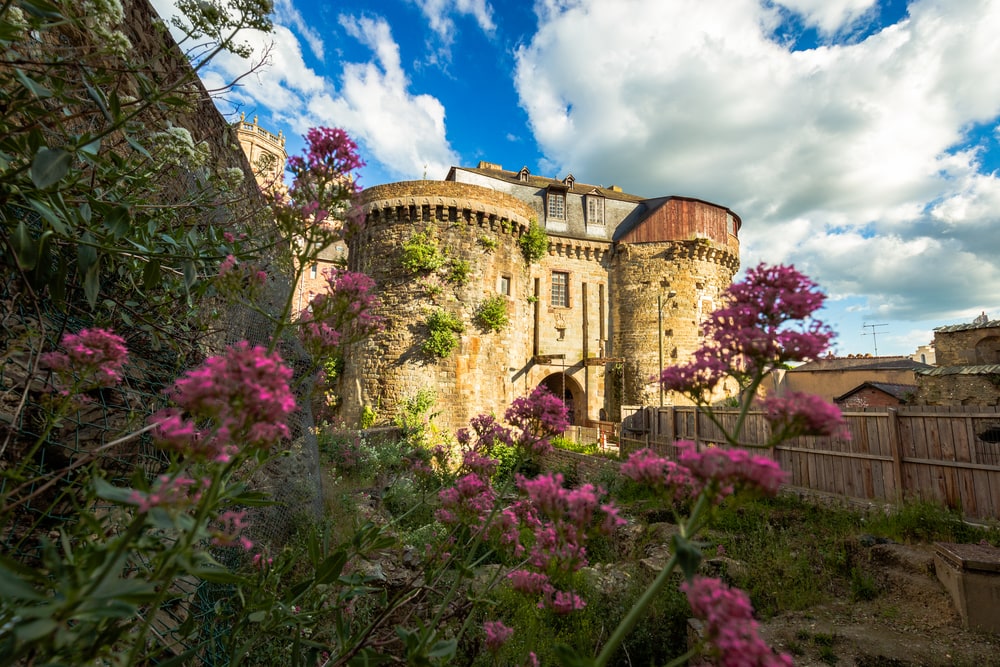 The Medieval period was characterized by feudalism, religion and the social strata that an individual belonged to. The political landscape of medieval Europe was fragmented and the hierarchical system where kings granted land (fiefs) to nobles in exchange for military service and loyalty dominated.
These nobles, known as lords or vassals, ruled over their territories and maintained control through a network of vassalage. Monarchs, such as Charlemagne and William the Conqueror, sought to consolidate power through the establishment of feudal states.
The architecture of medieval towns in Europe was characterized by distinctive features and styles that reflected the social, cultural, and religious aspects of the time. Medieval towns were often fortified with defensive walls and gates. These walls, built with stone or sometimes earthen ramparts, provided protection from external threats. Gates served as entrances to the town and were often impressive structures featuring fortified towers, drawbridges, and portcullises.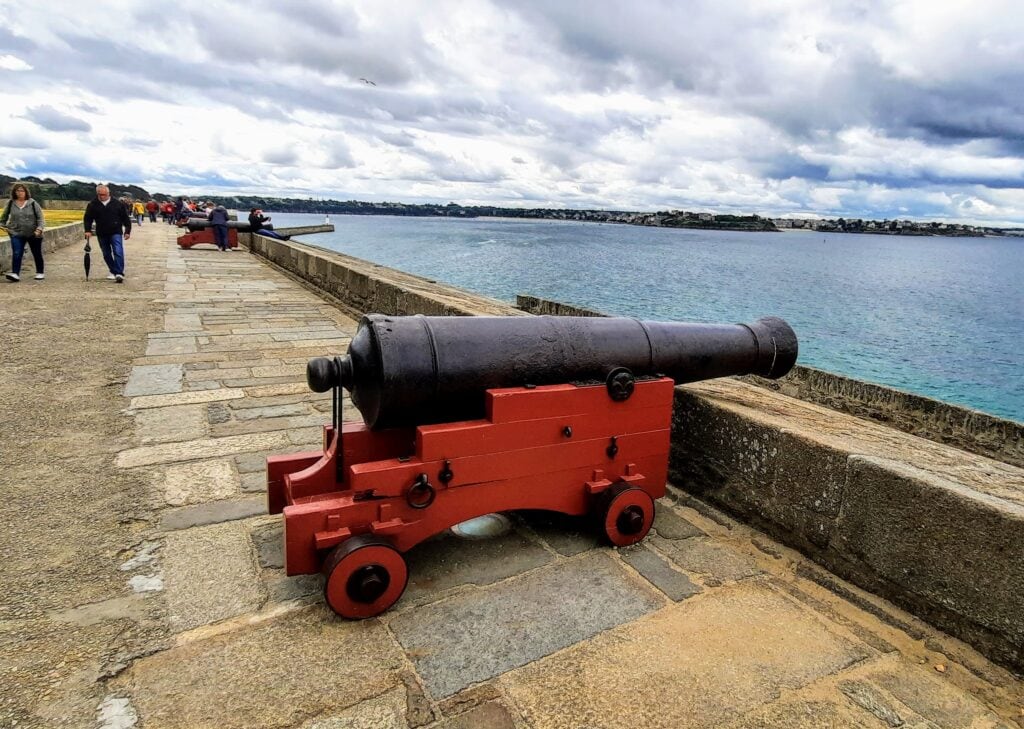 One of the most recognizable architectural styles of medieval towns is half-timbered construction. Houses were built with timber frames, and the gaps between the frames were filled with materials such as wattle and daub or plaster.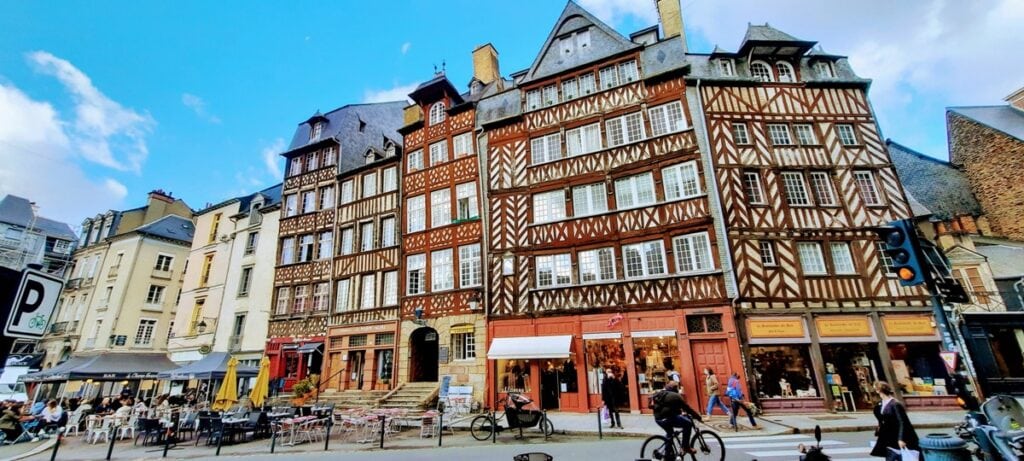 Religion played a central role in medieval towns, and churches and cathedrals were prominent architectural landmarks. Places such as Mont Saint Michel on its island, the stunning cathedrals of England and walled towns like Saint Malo in France. Medieval towns occasionally housed castles or palaces, serving as residences for the ruling nobility. These structures were often fortified and showcased the power and wealth of the noble families.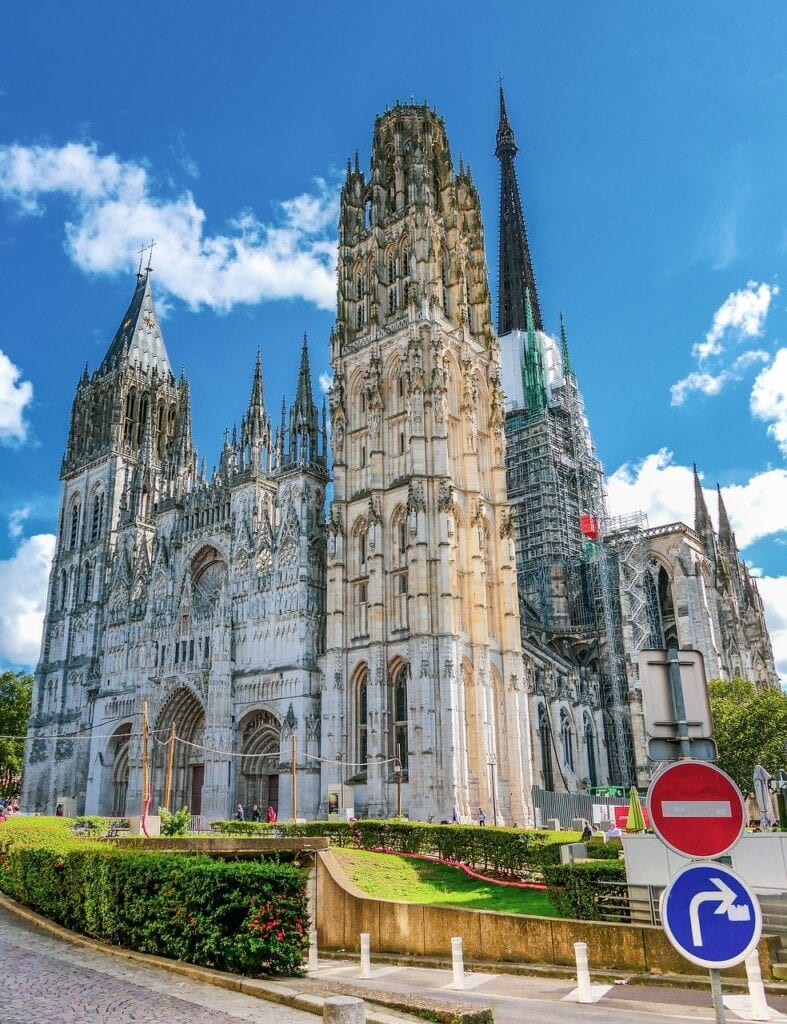 The surviving medieval towns today provide glimpses into the fascinating architectural heritage of the Middle Ages.
28 of the best medieval cities in Europe to visit
Many European cities have successfully preserved their Medieval features, architectural beauty, distinctive ambiance, and character. Ranging from walled cities to quaint villages with ancient castles and splendid Gothic cathedrals and churches, Europe boasts hundreds of beautifully maintained Medieval towns worth exploring.
Best medieval towns France
There are so many beautiful medieval buildings in France that you can see half timbered houses, ramparts, medieval walls and ruined castle throughout the country. Dinan is a perfect example of a preserved medieval town with its cobbled streets and castle. There's the historic Fontevraud Abbey where Eleanor of Acquitaine lies with Richard the Lion Heart, Rouen where Joan of Arc was tried and burned at the stake. Great fortresses such as Chinon and Rennes with its stunning half-timbered buildings.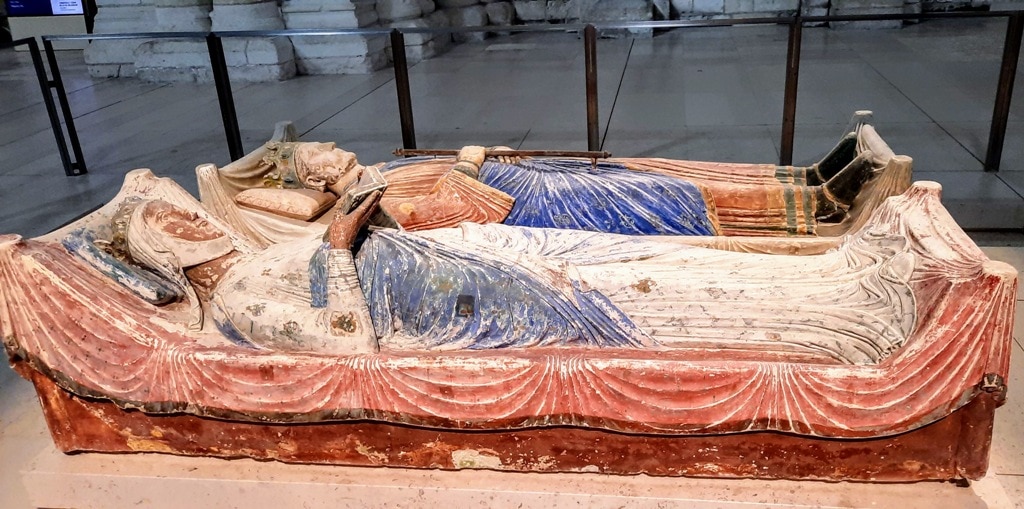 Provins
When you think of medieval towns in Europe, you can't overlook Provins, a small town near Paris, located about 90km (55 miles) from the French capital.
Famous for its fortified ramparts and medieval city walls that date back to the 11th and 13th centuries, Provins hasn't changed much since then! It still has its narrow cobble-stoned streets and half-timbered houses and still exudes the medieval feel.
Though the ramparts were originally constructed for defense reasons since Provins was a major trade area in the Middle Ages, today, they are the highlight of any visit to this little town.
Most of the ramparts were destroyed over the years, except the original gates, but they have since been restored and you can walk on them to take in the town's charm.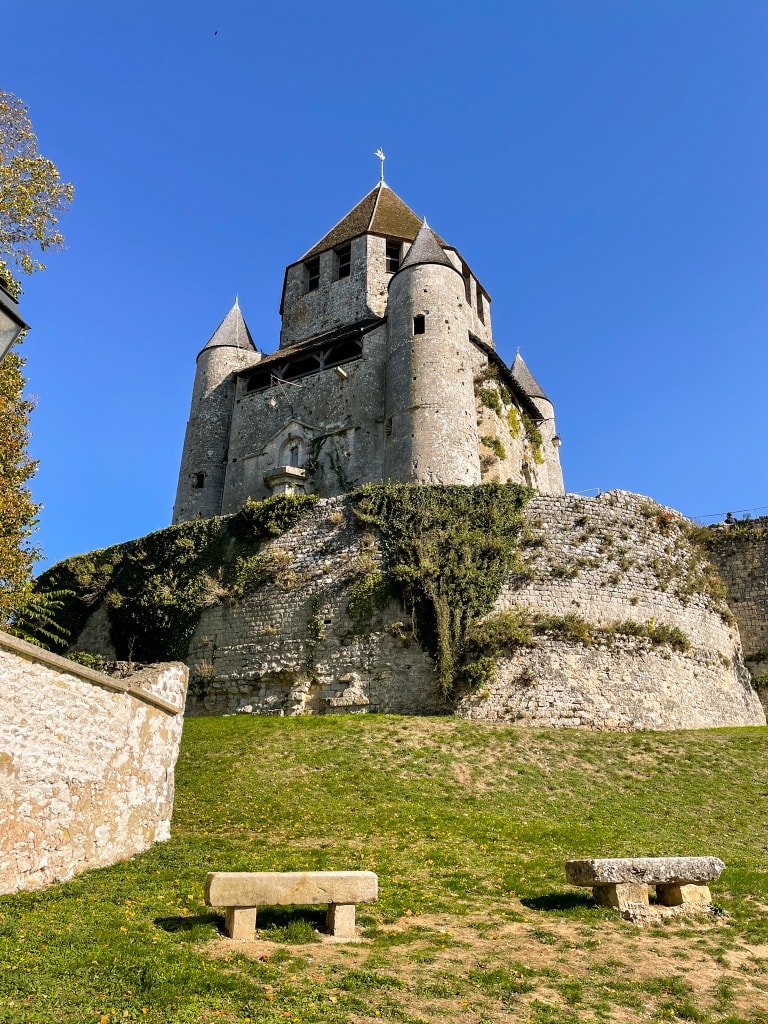 But that's not all there is to do in Provins! You can climb Caesar Tower, a 12th-century monument that has had numerous uses throughout history, from a watch tower and prison to the bell tower of the nearby church, Eglise Collégiale Saint-Quiriace, and now the perfect place to take in the stunning views of the town.
You can also get a glimpse of life in the Middle Ages by visiting the medieval tunnels of Provins (Les Souterrains de Provins), where locals used to store wine and conduct other businesses.
Other things that make Provins worth visiting include Les Médiévales De Provins, an annual festival in June that showcases medieval life from traditional attires, food, dance, and music to parades, and La Légende des Chevaliers spectacle Equestrio, a legendary Knights show that sheds light on the life of the Knights in Provins during the middle Ages.
And the best part is that it can easily be visited from Paris on a train in just 1 hour and 20 minutes. Contributed by Esther of Dreams in Paris.
Arles
Arles, France is one of the best medieval towns in Europe. Arles is in the south of France, in the Provence region. Arles is best known for two things: its Roman ruins (it's recognized as a UNESCO World Heritage site), and the history of artists such as Vincent van Gogh who created masterpieces here.
Arles was once a provincial capital of Rome and is the perfect place to step back in time by exploring the Roman ruins. Sit in the stands of the impressive Arles Amphitheater (a smaller version of the grand Colosseum in Rome), and see the Roman Theater. You can also walk through the Thermes de Constantin (thermal baths) and the Alyscamps, a Roman necropolis.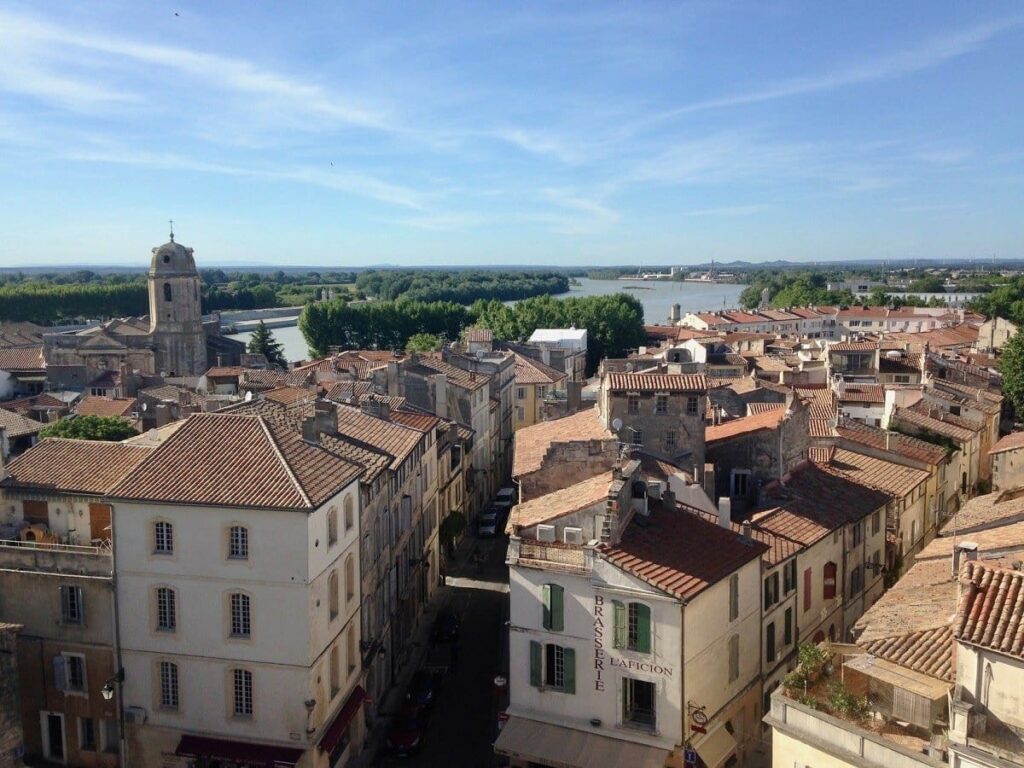 Be sure to visit the Museum of Ancient Arles and Provence to see some incredible mosaics and a Roman barge that was excavated from the Rhône River. The Romanesque Cathédrale Saint-Trophime and its cloister are not to be missed (the elaborate sculptures on the cathedral's façade are especially beautiful). If you know that you want to visit many of these historic sites, save money in France by purchasing an Arles monuments pass.
Arles is also famous for its quality of light, and many well-known artists painted masterpieces in Arles. Artists such as Picasso and Gaugin painted here, but the most famous artist is Vincent van Gogh. Van Gogh created some of his best-known works while he lived in Arles, including Starry Night Over the Rhône. You can follow the 'van Gogh Walk' to see the sites in the city where he painted and see the views which inspired him. Recommended by Lisa Garrett of Waves and Cobblestones
Carcassone
As far as beautiful medieval charm goes you can't beat Carcassonne, in the southern French province of Aude-Languedoc-Roussillon. The Cité de Carcassonne, is situated on a rocky ledge above the Aude River, and has exceptionally impressive ramparts and the best medieval city walls in Europe.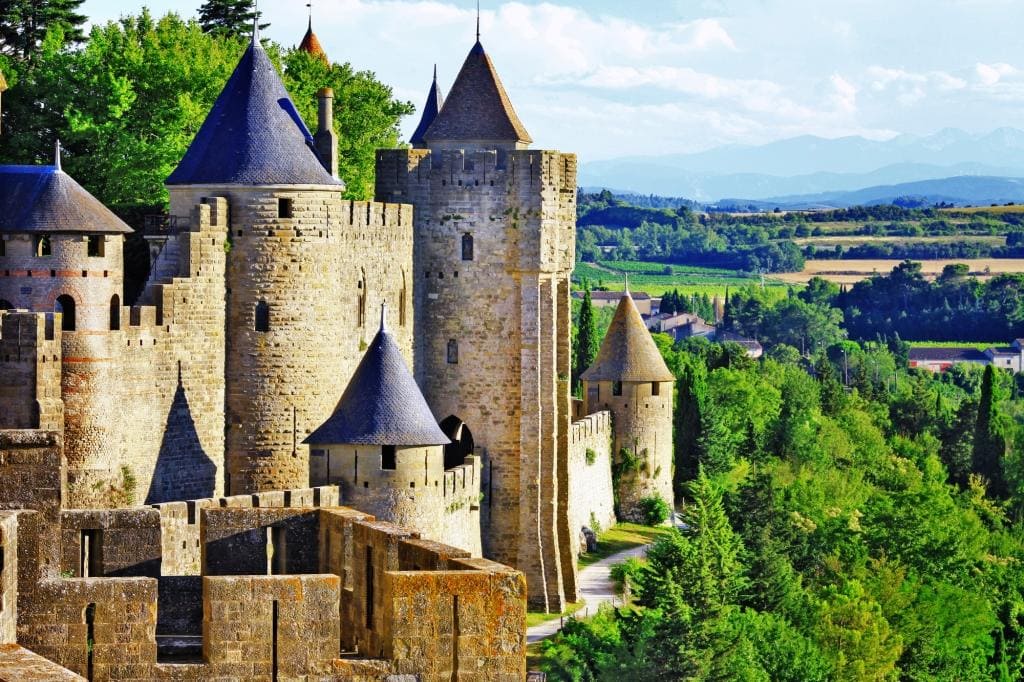 One of the best things to do at Cité de Carcassonne is to stroll along the city's ancient walls. These magnificent walls have witnessed 1000 years of military design and 2600 years of history. Plus, the views from the ramparts are simply breathtaking.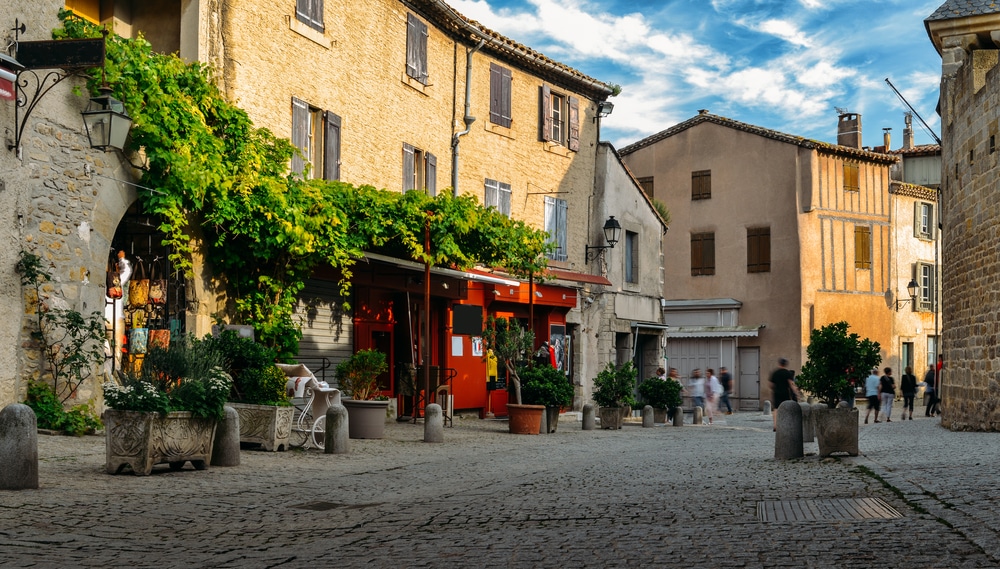 La Cité de Carcassonne is a must-see whether you have any interest in history, French châteaux, or just wish to spend a relaxing weekend in the south of France. Carcassonne is also an east weekend trip from Paris or any other major French city.
You might also like
Pros and Cons of Living in France
Best Medieval Towns: Switzerland
Like France Switzerland also has an association that recognizes "The most beautiful Villages in Switzerland" its aim of preserving, promoting and coordinating these villages for tourism. These 3 are just a tiny portion of all the beautiful medieval towns in Switzerland.
Yvoire
Yvoire is the village to visit if you happen to be in Geneva – even if it happens to be in another country. This stunning medieval village may be in France but it is a quick boat ride from Switzerland, with schedules that allow you to arrive before lunch, visit the village, and sit down for a meal.
Sitting down for a plate of Lake Perch is one of the reasons people extend their stay here, sometimes overnight. Gazing out over Lake Geneva from a restaurant patio with a glass in hand is an experience to look forward to.
In winter, Yvoire is empty, with a two-digit population. Come summer, thousands of people a day stroll through the cobblestoned streets, past ancient buildings that have been lovingly restored and garlanded with flowers.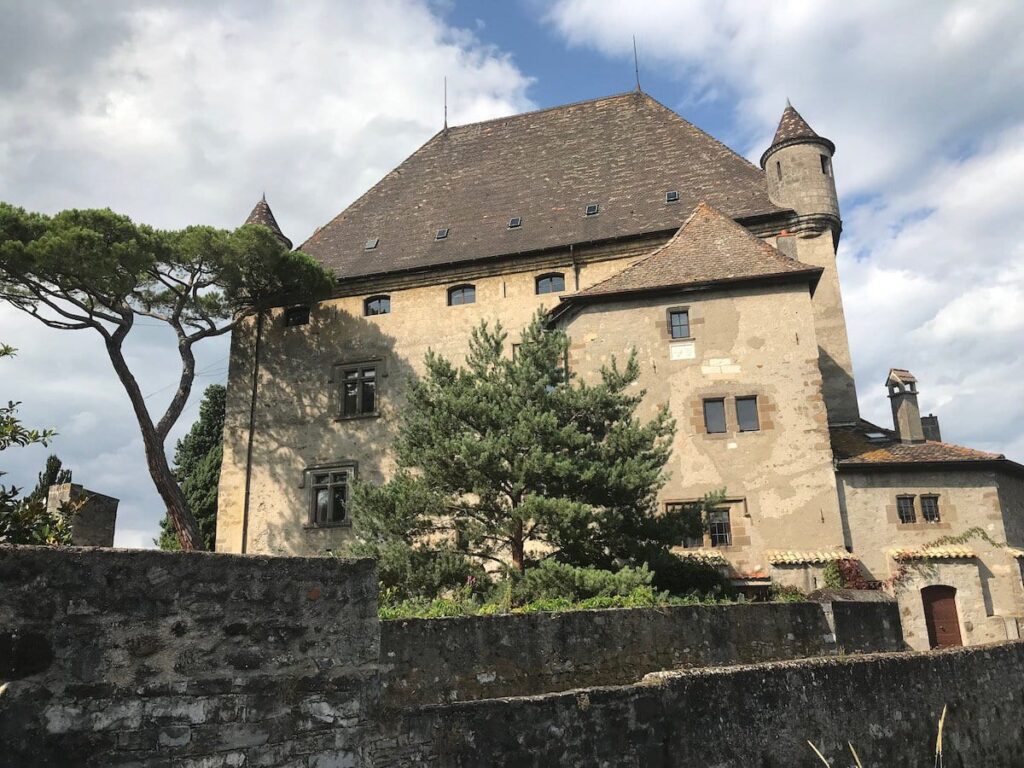 Yvoire's draw goes beyond its quaint architecture and delicious food, although that is a major attraction in a village officially on the list of "France's most beautiful villages". The village has a stunning castle, but it is lived in and closed to the public – unlike its "Garden of the Five Senses", which is a perfect, tiny, sensual square.
In a village this popular, you can expect the requisite souvenir shops stuffed with things you buy on impulse but never use again. Yvoire has those, of course, but it also has a number of delightful artists' outlets where you can buy original ceramics, woodwork and carvings, often made right on the spot. Recommended by Leyla Alyanak of Offbeat France.
Chur
Nestled in a valley surrounded by breathtaking mountains, Chur is a hidden gem in Switzerland. As the oldest city in the country, Chur boasts a rich history that is evident in its charming streets and historic architecture.
A key attraction of Chur is its Old Town, which is one of the best-preserved medieval towns in Switzerland. The town's central location makes it a perfect launching pad for exploring the pristine Swiss Alps, with ski resorts and hiking trails just a stone's throw away.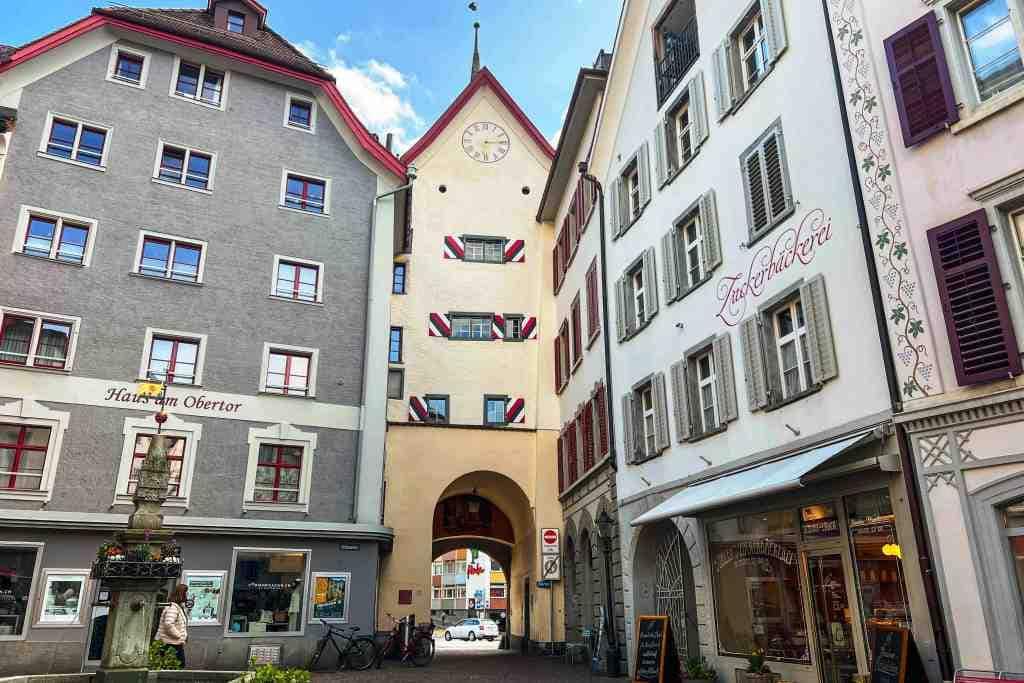 One of the best things to do in Chur is to simply wander through the Old Town, where narrow alleys reveal cozy shops and quaint cafes. Admire the historic buildings which line the cobbled streets, and look out for the Cathedral of the Assumption of Mary, which dates back to the 12th century.
Art lovers cannot miss the Graubünden Museum, located in the heart of Chur's Old Town. The building itself is striking with its unique facade, and the collection inside comprises around 8,000 works of art. From local artists to world-renowned sculptors, the collection has a diverse appeal. It costs 15 CHF for adults and note that it's closed on Mondays.
Chur is a stop on both the Bernina Express and the Glacier Express – two iconic panoramic trains which considered to be the most beautiful train rides in the world. The trains offer stunning views of the surrounding mountains and valleys, and are a must on any Switzerland itinerary. Recommended by Jessie Moore of Pocket Wanderings.
Bern
Have you ever thought of visiting the Swiss capital? The allure of medieval history at every turn, riverside lifestyle and hillside views are perfect for a one day Bern itinerary. Reachable in just less than 2 hours by rail from Geneva or Zurich, Bern makes the perfect day trip.
Bern's compact Altstadt (Old Town) is a UNESCO World Heritage site, featuring winding pathways and terracotta rooftops to be seen from the hillsides. With over 800 years of history, its streets are lined with undercover arcades dotted with countless quality restaurants, local boutiques and specialty stores.
Standing centre stage is Zytglogge, a 15th century astronomical clock which is beautifully decorated with gold and medieval figures. From guard tower to prison, the structure has served many purposes over the centuries.
Visitors may notice insignia of brown bears on flags and buildings throughout the city. This is because Bern has been home to the emblem of the Bernese Oberland region, the brown bear, for over 500 years. It's possible to see living bears up close at Barenpark, along a stretch of the Aare River. Aside from the adorable bears, this hillside enclosure has some of the best views over Bern.
Today, visitors can dine in a cafe within the building that was once Albert Einstein's residence, devour Swiss chocolates from many confisseries, and go on medieval fountain hunt around the city. The Rosengarten should not be missed during spring, as over 100 cherry blossoms burst into pink hues against a backdrop of the Old Town below! Recommended by Alyse of The Invisible Tourist
Best Medieval Towns in England
In the United Kingdom and Ireland there are around 4,000 or so medieval villages some deserted and some still lived in to this day. From the half-timbered houses of Stratford upon Avon, Dunottar Castle near Inverness, Scotland at the foot of the Highlands. To all the incredible medieval castles in Wales such as Cardiff, and Chepstow. In Northern Ireland you have many ruined abbeys and castles to visit. The famous Dunuce Castle, Kells Abbey, the high crosses at Monasterboice and of course the Book of Kells in Dublin.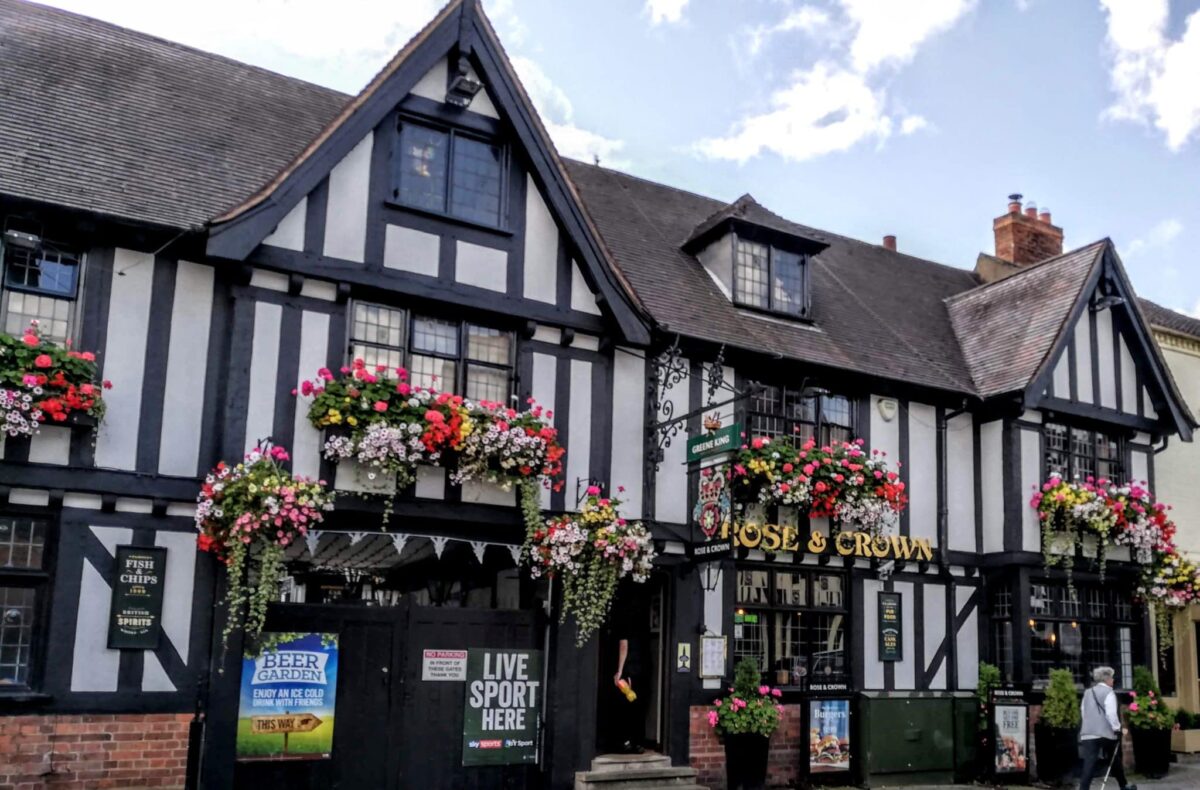 Pros and Cons of Living in the UK
Chester
If you are looking for a beautiful medieval old city in North West England and near Manchester, Chester will be the perfect destination.
It's a very important historical town in England since it was founded by the Romans and then expanded by the Normans.
It's a great destination for people who love everything history related or are looking for a fun day out with kids.
The best thing to do when you arrive in Chester is to head to the centre. Here you can start walking on the Chester walls. You will pass the Eastgate Clock where you can take the stairs down to the main streets.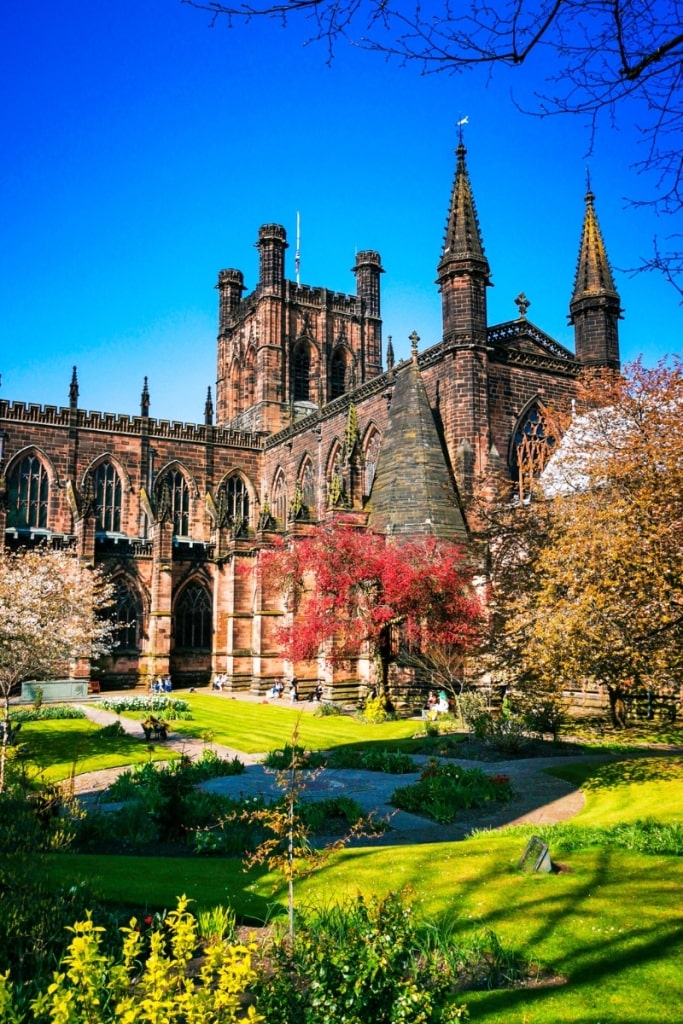 Here you will discover the stunning Tudor-style half-timber houses and covered arcades, called the Rows.
The Rows are the most famous medieval architectural feature in Chester. These half-timbered galleries are located on 4 different streets in Chester (Watergate Street, Northgate Street, Eastgate Street and Bridge Street). They are covered walkways located on the first floor of all the buildings and are full of cute shops and cafés.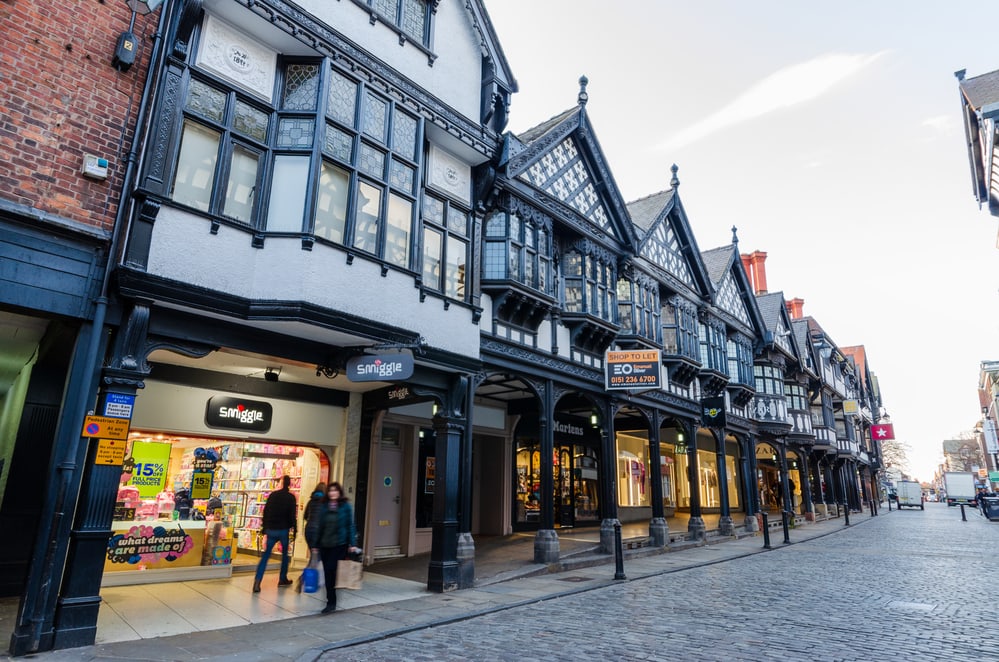 It's also one of the best kept medieval features in Chester since a lot of the half-timbered facade were actually redone during Victorian times and are not original.
Make sure to also go to Chester cathedral which is a beautiful example of medieval architecture. It opened in 1541 and is still one of the most important cathedrals in England.
Finally, if the weather is on your side, head to the River Dee. It's a great place to go for a picturesque stroll. You can also go on one of the sightseeing cruise on the river and get to discover Chester from another point of view. By Pauline from Manchester Pocket Guide
Rye
A visit to Rye, East Sussex, is like stepping back in time. This fairytale place just two hours from London by train is one of the best medieval towns to visit in Europe, and it's packed full of charm and history! Half timbered homes and cobblestones line a labyrinth of alleyways and no two buildings are alike.
This ancient city dates back to the 1100s, and was once a fully functioning port town before becoming separated by sea marsh. It's known to be one of the most famous pirate ports during the 13th century. Remnants of Rye's medieval past can be found at the Landgate, which stands proudly at the edge of town.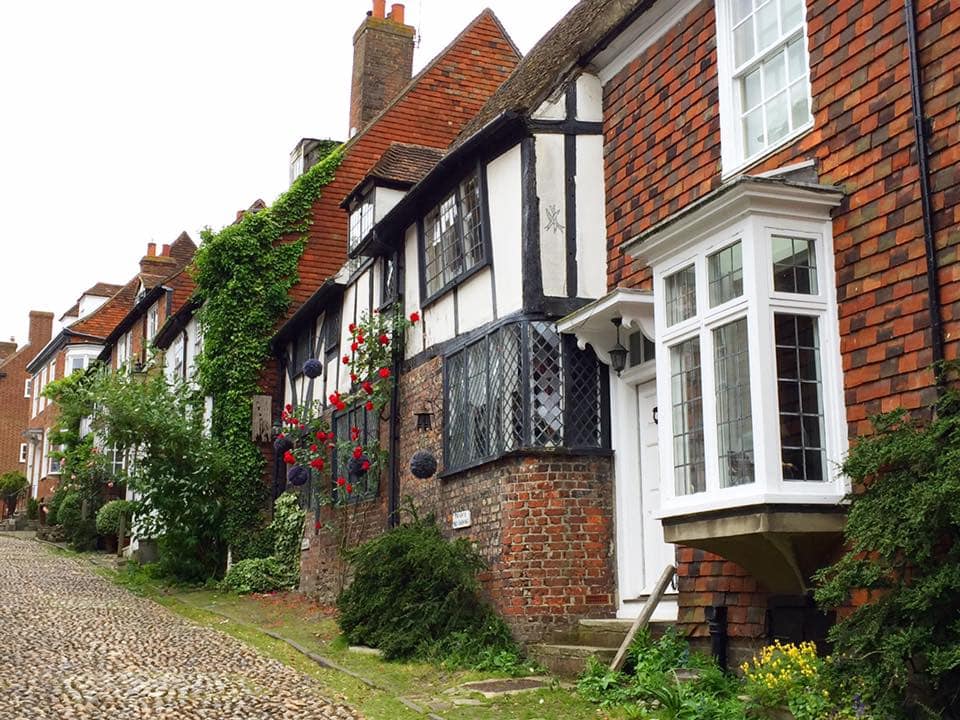 Some of the best things to do in Rye include climbing St Mary's Cathedral for sweeping 360 degree views of Rye and beyond, all the way over to the English Channel. Another worthy stop is the Ypres Castle to gain further insight into Rye's past.
Rye's rich history can also be told by visiting the Rye Model – a scale model of the town with a historic light and sound presentation spanning 700 years of history. Be sure to visit the vintage arcade on the second floor!
Stroll through town and enjoy unique shops ranging from art, handmade goods, and antiques, before stopping for tea at one of the many tearooms dotted around town.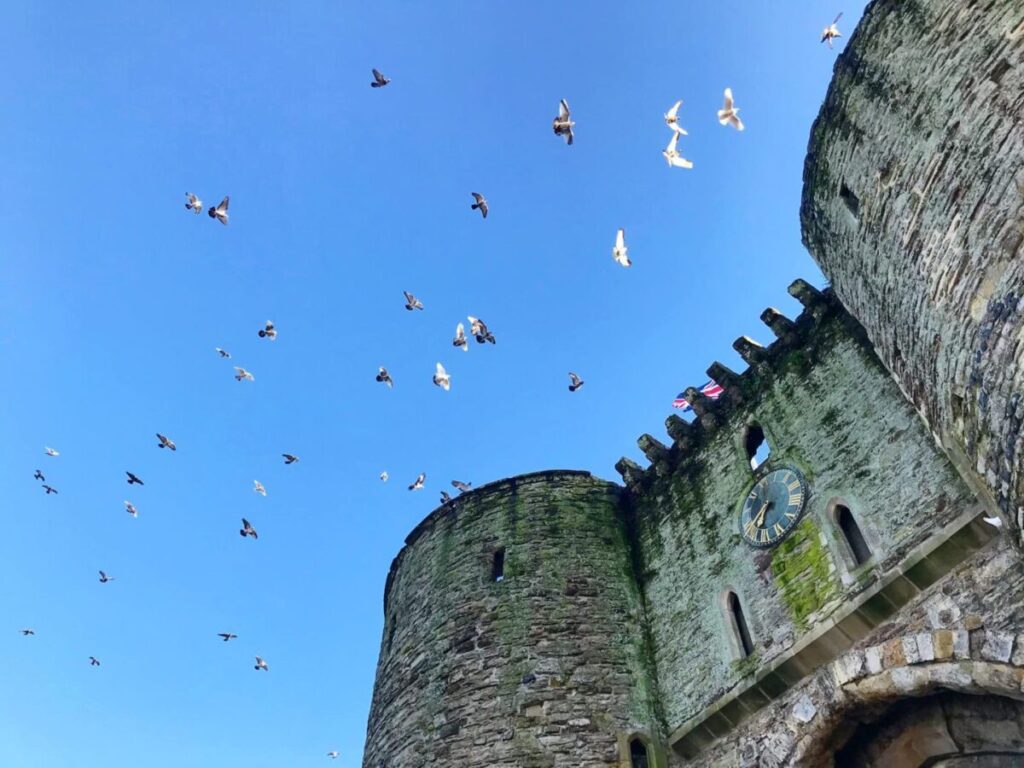 No visit to Rye would be complete without visiting the Mermaid Inn. This pub was rebuilt in 1420! It's a great place for a drink next to the Giant's Fireplace, or head to the restaurant for a locally-sourced meal. Numerous celebrities have frequented the Mermaid, but be forewarned, it's reported to be haunted!
While Rye is a small town, there is no shortage of places to dine with both traditional British food and international selections. Menu items are sourced from nearby farms and restaurants offer a number of organic and vegetarian dishes.
Book accommodations early, as Rye is most popular during the summer months! Recommended by Sarah of In Search of Sarah
Best medieval towns Europe: Germany
Germany's most famous and best preserved medieval town is of course Rothenburg. Germany is an amazing destination for travelers looking for beautifully preserved medieval towns. While Italy, England and France seem to have the lion's share of medieval towns and villages Germany is a must visit to see gorgeous medieval old towns.
Trier
Germany is home to many medieval towns, and Trier is no exception! Trier is one of the most incredible historic towns in Germany.
Nestled in the picturesque Moselle Valley, this charming place, which is often said to be Germany's oldest city, is an absolute gem for history enthusiasts and those seeking a glimpse into Europe's rich past.
Trier is nicknamed "Rome of the North," because of its impressive array of well-preserved Roman ruins and an impressive 8 UNESCO World Heritage sites.
There are many great things to do in Trier, but when it comes to medieval structures, you can't miss the Trierer Dom (the Cathedral of Saint Peter).
The Trierer Dom is the oldest cathedral in Germany, housing an impressive collection of artworks and holy relics. Its construction began in the 4th century AD and was completed only in 1270.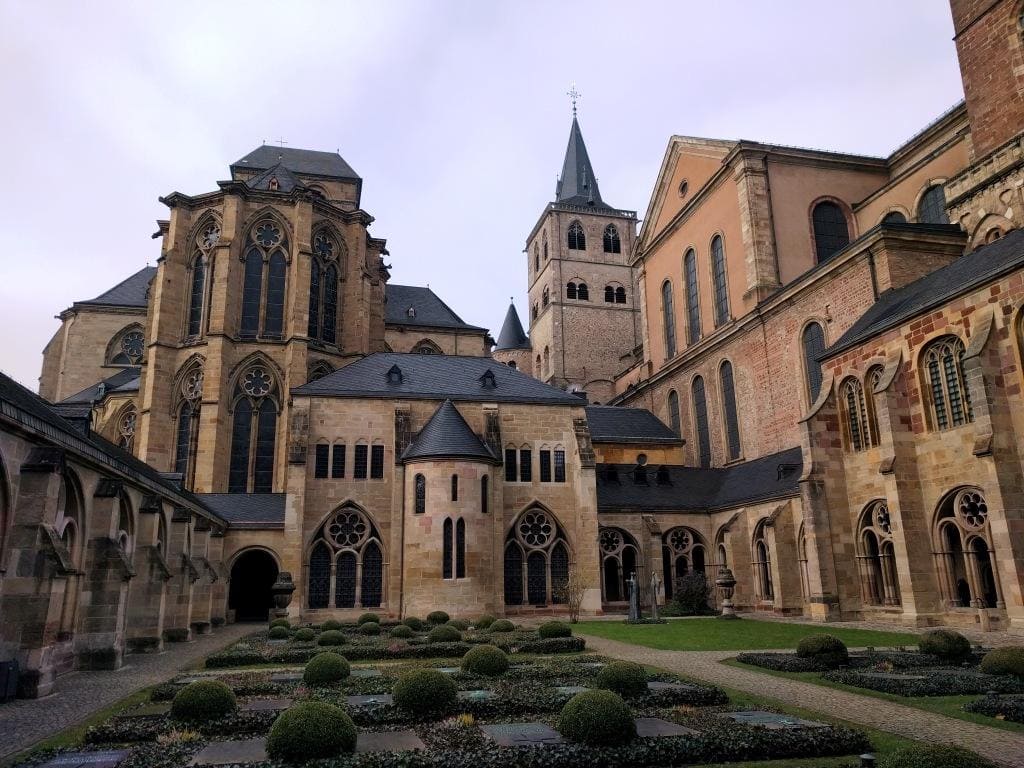 Step into the beautiful courtyard from where you can also see the neighboring church and this way get to admire 2000 years of human history represented in architecture. A unique experience!
Another must-see structure is the Porta Nigra, a magnificent Roman gate that serves as an iconic symbol of the town's ancient heritage.
It's the world's best-preserved Roman city gate and Trier's landmark. Climb to the top for stunning views of the town.
In addition to Trier's many historical sites, Trier also offers picturesque streets lined with colorful houses, charming cafes, and boutique shops, creating a lovely atmosphere for leisurely strolls.
The Market Square, with its bustling farmers' market and historic buildings, provides a vibrant backdrop for soaking up the local culture and indulging in delicious regional cuisine. And, Germany's oldest market cross, dating back to the year 958, can be found on this square. Recommended by Sanne Wesselman of Spend Life Traveling
Rothenberg
If you're on the hunt for a mediaeval town that'll knock your socks off, look no further than Rothenburg ob der Tauber. This picturesque town in Bavaria, Germany, is one of the best places to visit near Nuremberg and is one of the best preserved medieval cities in Europe with a stunning Old Town Hall Square.
Cobbled streets, half-timbered houses, and adorable old-fashioned bakeries are around every corner in Rothenburg ob der Tauber. It looks like it came straight out of a fairytale.
One of the best things to do in Rothenburg ob der Tauber is to walk along the 14th century city walls. Wandering around them will give you the best views of the gorgeous town below. As you wander, you'll also come across the famous Plönlein Tower, which is one of the most photographed spots in town.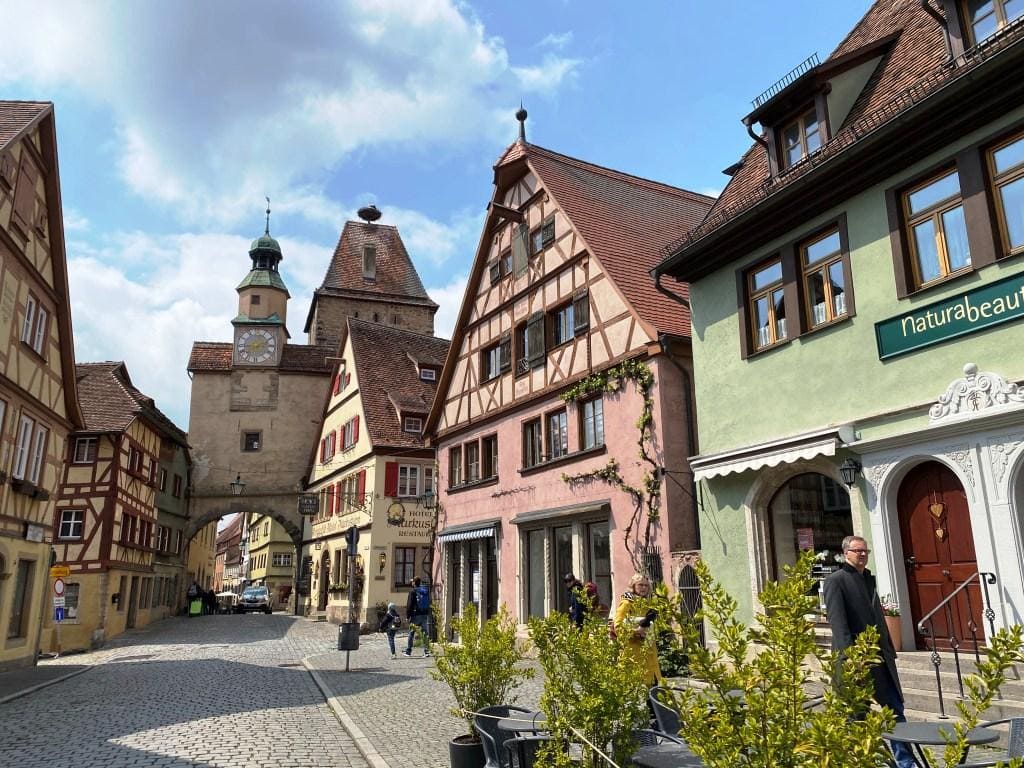 No matter what time of year you visit, the German Christmas Museum is a must-visit in Rothenburg ob der Tauber. As you might expect, it's Christmas every day at this museum, which features exhibits on everything from Christmas traditions to decorations. Inside, you'll be transported to a world of twinkling lights, fragrant evergreen branches, and shiny ornaments – yes, even in July!
What makes Rothenburg ob der Tauber truly special is the way it has managed to preserve its mediaeval character while still catering to modern-day visitors. You won't find any tacky souvenir shops or flashy neon signs here. Walking through its narrow streets and alleys is like stepping into a time capsule where modernity takes a backseat and the magic of the Middle Ages reigns supreme. You won't want to miss it! Recommended by Ella Moore of Many More Maps.
Wurzburg
Würzburg, Germany is a historical city situated along the Main River. Würzburg is home to the Würzburg Residence, which is one of Europe's finest, the Marienberg, which is a medieval castle overlooking the city, and the historical Main Bridge.
Würzburg is a walkable city and most sites can be explored in a single day. It is recommended to start at the Würzburg residence. The Residence has a beautiful garden that is free for visitors. Tours are also available to see the inside of this magnificent building.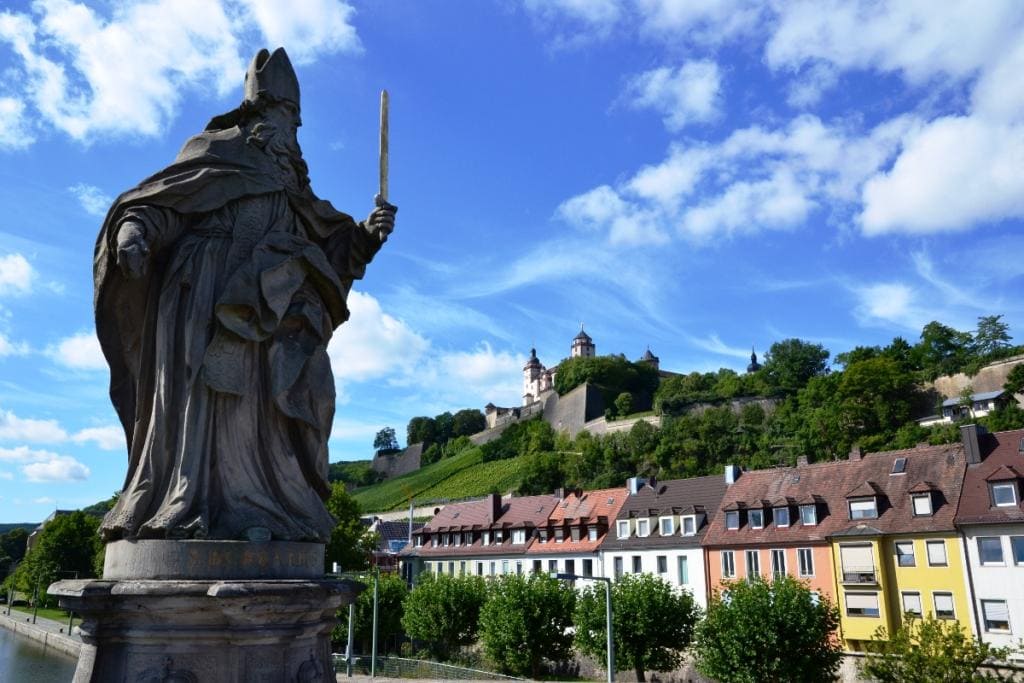 After touring the Residence, walk through the historical town center and visit the Würzburg Cathedral. The original cathedral was built between 787 and 855. Unfortunately, this cathedral was destroyed during WWII but has since been rebuilt in the same location.
After exiting the cathedral, it is recommended to walk across the Old Main Bridge. The Old Main Bridge was built in the mid 1400's. The bridge is unique as it has 12 statues of saints on the bridge.
Finally, after crossing the Old Main Bridge, visitors can tour the Marienberg Fortress, a medieval castle sitting on top of a hill overlooking the city. The Marienberg Fortress started off as an old Celtic castle. After being conquered, a church was placed at the location of the old castle. Overtime the castle was built around the church and expanded into what the castle is today. Recommended by Brandon from Zimmin Around the World.
Quedlinburg
Germany has loads of charming medieval towns and cities, and Quedlinburg is one of the best. It's not as well known by tourists outside of Germany, but it's still popular and a worthwhile town to visit. Quedlinburg is located on the edge of the Harz Mountains, which adds to the beauty of this already gorgeous town. And if you need another reason to visit, Quedlinburg's old town is a UNESCO World Heritage Site.
There are lots of great things to do in Quedlinburg, so many people choose to spend a day or two here. One thing you shouldn't miss is the old town market square, Marktplatz. Here you'll find the impressive Rathaus (town hall) building covered in ivy. Go for a wander around the old town to admire the many half-timbered buildings. The Fachwerkmuseum Ständerbau is the most notable one, and it's one of the oldest in the city and a museum about half-timbered houses.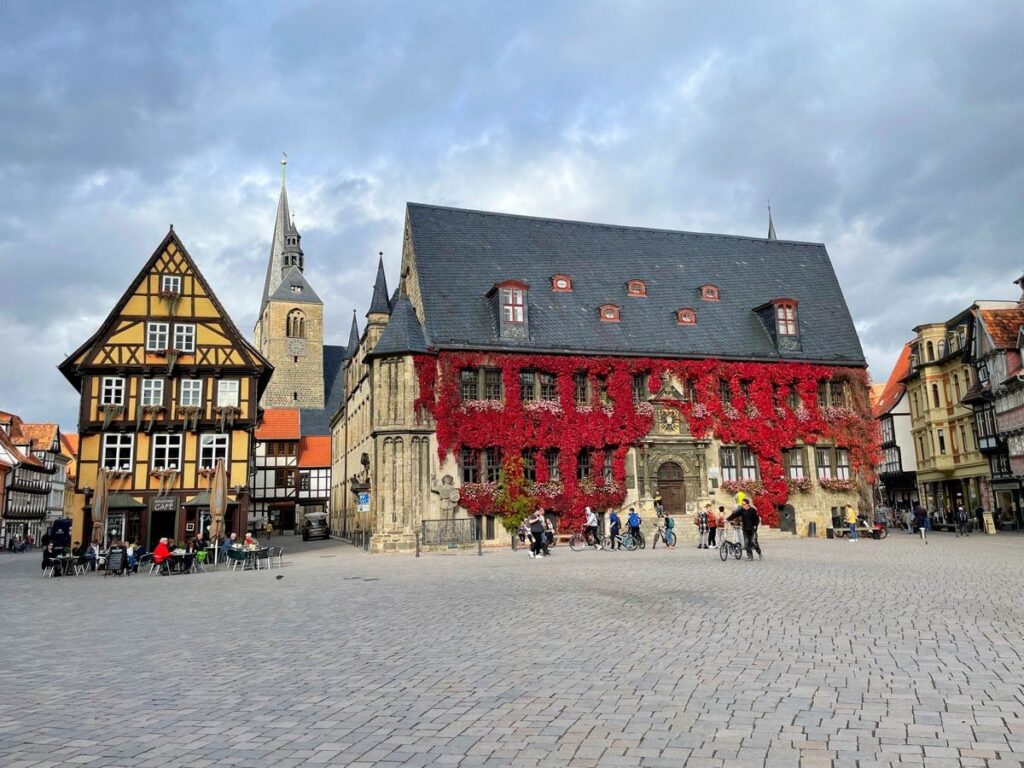 The Quedlinburg Castle is also an impressive site to see. It sits high on a hill, providing sweeping views over the city and out into the surrounding countryside. Plus the museum inside is a great place to learn about the castle's history. Right next to the castle is the Quedlinburg Cathedral, called Stiftskirche St. Servatius. This Romanesque church from the 10th century contains the Domschatz, which is a collection of medieval art, plus many other paintings and sculptures.
If you like views from above, Quedlinburg has lots of options. Aside from the view from the castle, you can climb several different towers. Sternkiekerturm is one of the best and only costs one euro. Recommended by Ali from Berlin Travel Tips.
Best Medieval Towns Italy
Many of Italy's medieval towns begin with a 'Monte'. Montepulciano, Montalcino, Montefalco, Monteriggioni, Montefiasconne. Monte, meaning hill in Italian. These hilltops made it easier to defend the towns and citizens in the event of war or conflict. Italy's medieval towns include the famous San Gimignano that was prominent during the 13th century. Florence which existed since Roman times, Montagnana with its ramparts and ancient walls and of course Verona with it Romeo and Juliet tales.
Viterbo
Viterbo is the main city of Tuscia, a region that spreads across Northern Lazio, Southern Tuscany and Umbria. Situated just about 100 km from Rome, this medieval town actually dates back to Etruscan times, though the new town was founded in the 8th century AD. The lovely Tuscia town couldn't be more different than the Italian capital, both in terms of sights and vibe.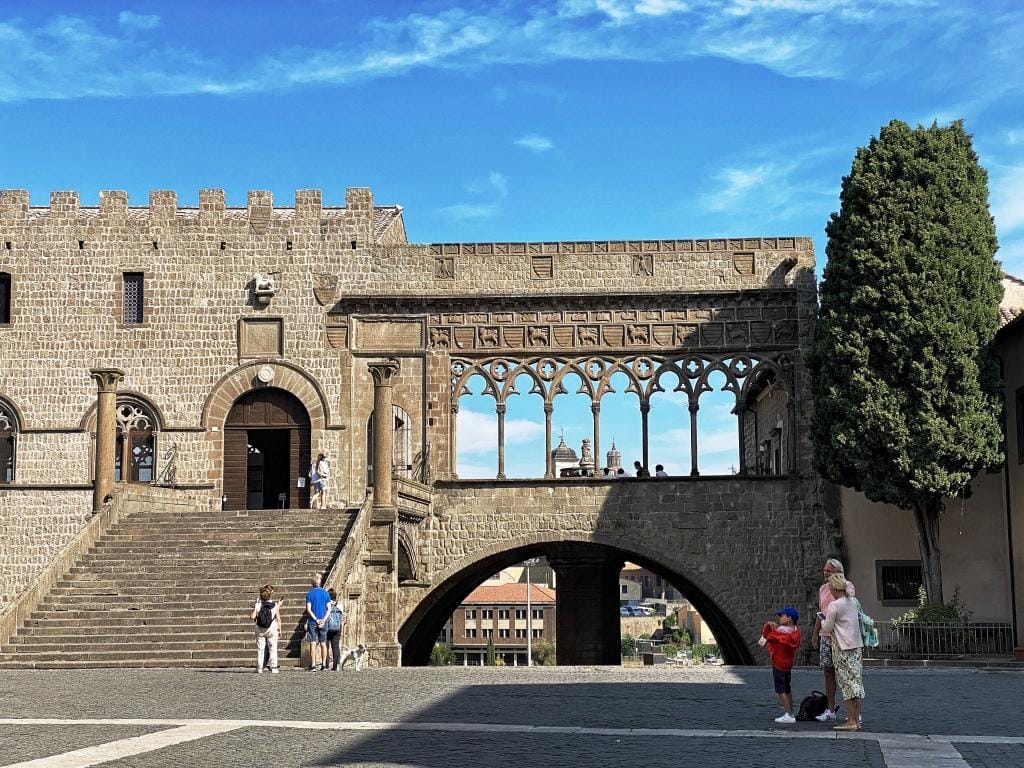 The entire historic center of Viterbo is made in piperino stone, which gives the city its darker look, appropriately medieval. The historic center is a maze of narrow, cobbled alleys. As it is closed to traffic, a wander around here means spotting almost entirely locals going about their daily business: Viterbo remains still untouched by mass tourism, so a trip there means having a very local experience in a beautiful, lesser known part of Italy.
The most popular attraction in Viterbo is its Papal Palace, where the first conclave in history took place in the 13th century. There is a small fee to visit, and you can get audio guides that will guide you through the visit and help you grasp the significance of what you are seeing. Next to the Papal Palace you'll find the Romanesque Duomo, also dating back to the 13th century, is another must see.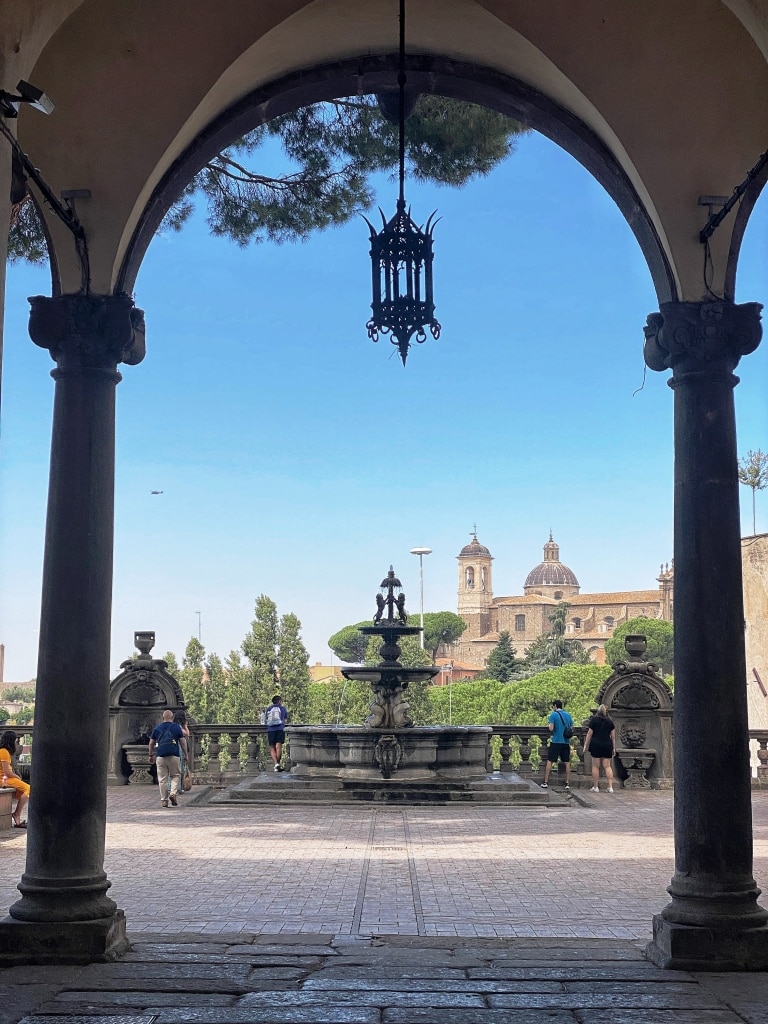 While in the historic center you should also explore San Pellegrino, Viterbo's medieval quarter. This part of town is characterized by beautiful – albeit at times crumbling – buildings, balconies that are nicely decorated with flowers, and arches. It's a pleasant place for a walk.
Finally, to fully relax, consider spending an afternoon at the Terme dei Papi, famous thermal pools once used by the popes' themselves! Recommended by Claudia Tavani, My Adventures Across The World
San Marino
San Marino, the charming microstate nestled within Italy, is a hidden gem and medieval city that is often overlooked by travelers. From the jaw-dropping views to vast history, there are plenty of reasons to visit San Marino.
San Marino's rich history and unique status make it a captivating destination. As one of the world's oldest republics, it boasts a remarkable heritage that spans over 1,700 years. Visitors can explore the medieval old town, perched on Mount Titano, which is a UNESCO World Heritage site. The narrow cobblestone streets, ancient fortresses, and breathtaking panoramic views create an enchanting atmosphere that transports you back in time. Enjoy the museum in the Cesta Tower which is home to over 1500 weapons dating back to medieval times.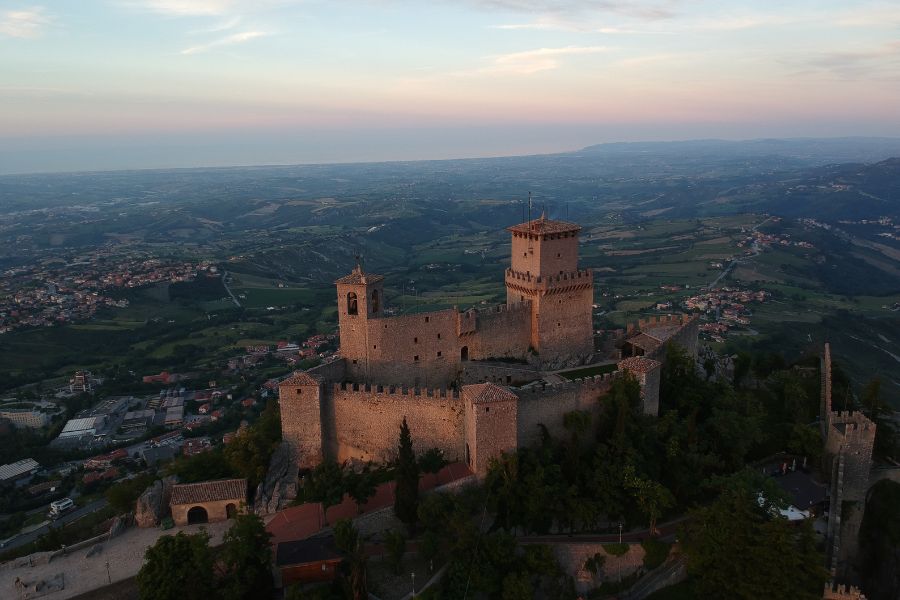 For a more intimate look at the history of San Marino, visit the State Museum of San Marino. It's located in the Piazzetta del Titano, the historic center of the city. While it was moved to this location in 2001, the museum itself dates back to 1865! The museum is divided chronologically and will walk you through the dynamic history of the country.
San Marino hosts a vibrant calendar of cultural events and festivals throughout the year. From the Medieval Days Festival celebration in July, where the town comes alive with jousting tournaments and period costumes, to the International Choir Festival in September, there are plenty of opportunities to immerse yourself in the local traditions and festivities.
San Marino is a hidden gem that offers a delightful blend of history, natural beauty, shopping opportunities, and cultural experiences. Its unique status as an independent republic within Italy adds to its allure. San Marino's charming personality will entice any visitor to fall in love with it. Recommended by Pamela of The Directionally Challenged Traveler.
Lucca
Lucca in Italy is undeniably one of the most charming cities in Europe. Known for its medieval old town with its narrow streets and charming squares, Lucca offers its visitors an unforgettable travel experience. There are so many wonderful things to do in Lucca! On a walking tour, immerse yourself in Lucca's enchanting charm and explore the well-preserved 16th century medieval city walls, which are among the best preserved in Europe. A real insider tip for a perfect visit to Lucca is to take a leisurely bike ride along the city walls to enjoy the panoramic views they offer.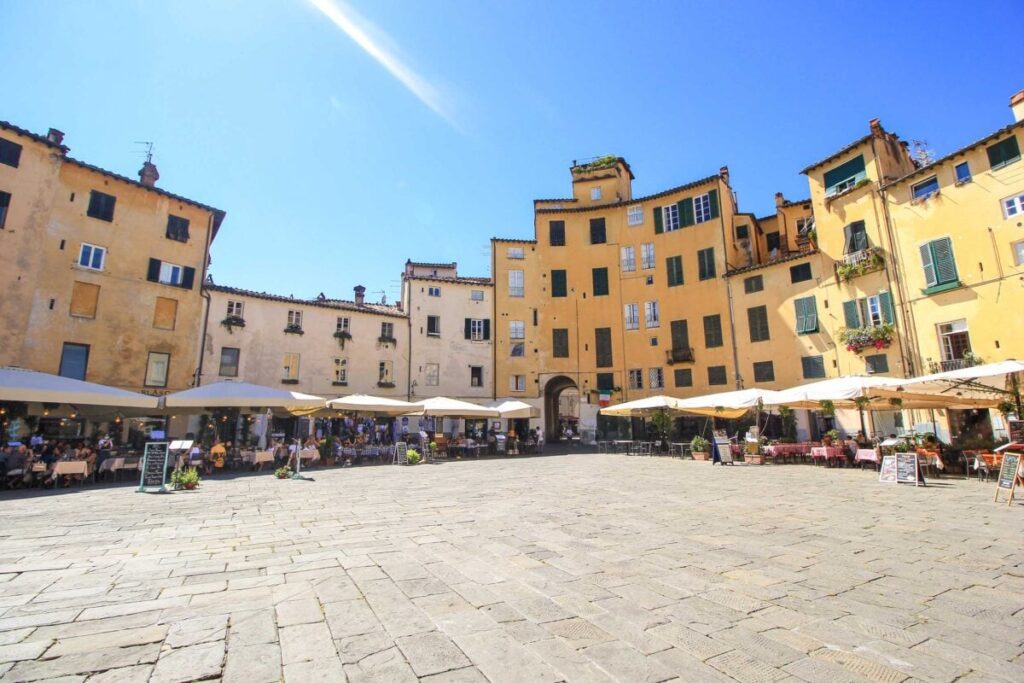 Among the most important medieval attractions are the 14th century Guinigi Tower, topped by an impressive oak tree. Its possible to climb this tower and enjoy from its top the most stunning old town view ever. Moreover, there are numerous churches and picturesque squares to explore when sightseeing. Furthermore, nature lovers will enjoy the Lucca Botanical Gardens, established in 1820 by Marie Louise, Duchess of Parma. It's a stunning oasis of beautiful flora, with a tranquil pond that is also home to turtles.
For a truly memorable stay, consider lodging in Lucca's historic center, where a selection of charming hotels awaits. One such gem is the San Luca Palace, a boutique hotel in the heart of the old town. Lucca also offers a culinary scene that is second to none. Treat yourself to a visit to Osteria Nova, a renowned eatery known for its innovative cuisine and delicious drinks. Recommended by Martina of PlacesofJuma.
Assisi
The medieval town of Assisi is one of the prettiest hilltop towns in Italy. Its perfectly preserved, uniform medieval ambience envelopes you as soon as you step foot in town. You'll be hard-pressed to remember what century you are living in.
Perched on the side of Mount Subasio, above the lush green Umbrian countryside, Assisi is famous for being the birthplace of Saint Francis – one of the most influential figures in Catholicism. But you don't have to be a devoted Catholic to fall in love with Assisi. The town had been inhabited for over a thousand years before St Francis was born in 1181. There is enough to see and do in Assisi to keep you busy exploring for days.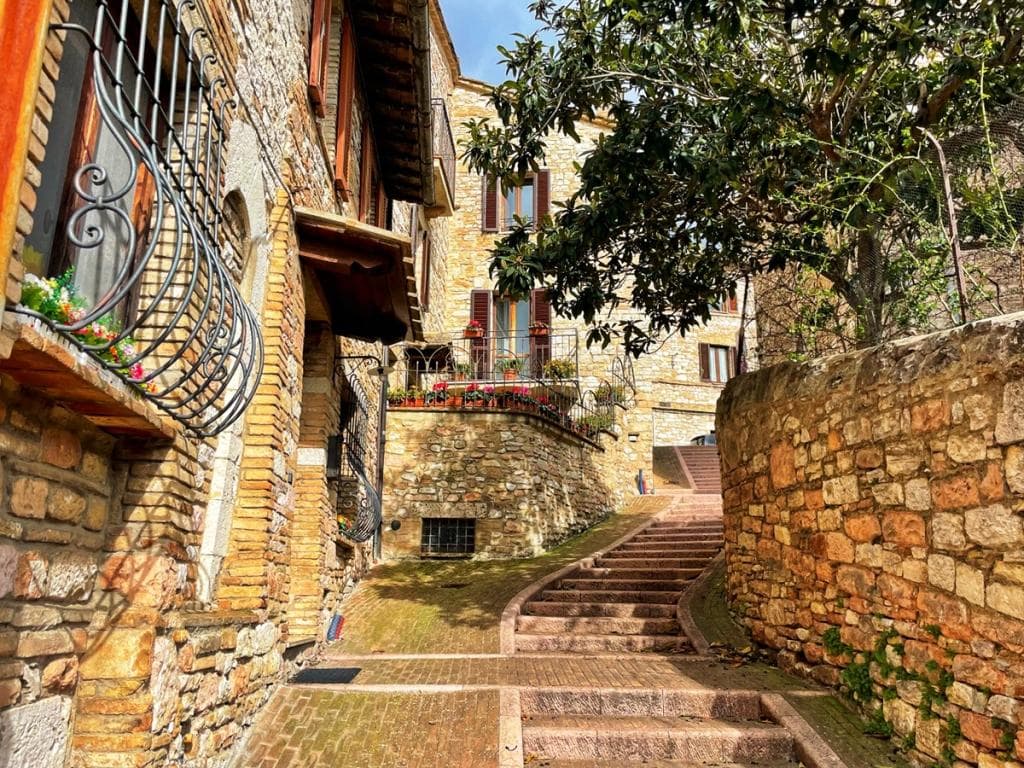 The town's most iconic attraction is the UNESCO World Heritage-listed Basilica of Saint Francis of Assisi. Built in the early 13th century and decorated by Cimabue and Giotto (of Florence Cathedral fame), it is considered one of the most beautiful churches in Italy.
Assisi's main square, Piazza del Comune is dominated by the spectacular colonnade that used to be the front of the Roman Temple of Minerva built in the 1st century BC. The reason the colonnade is so well preserved is that the temple was converted into a church in the 16th century.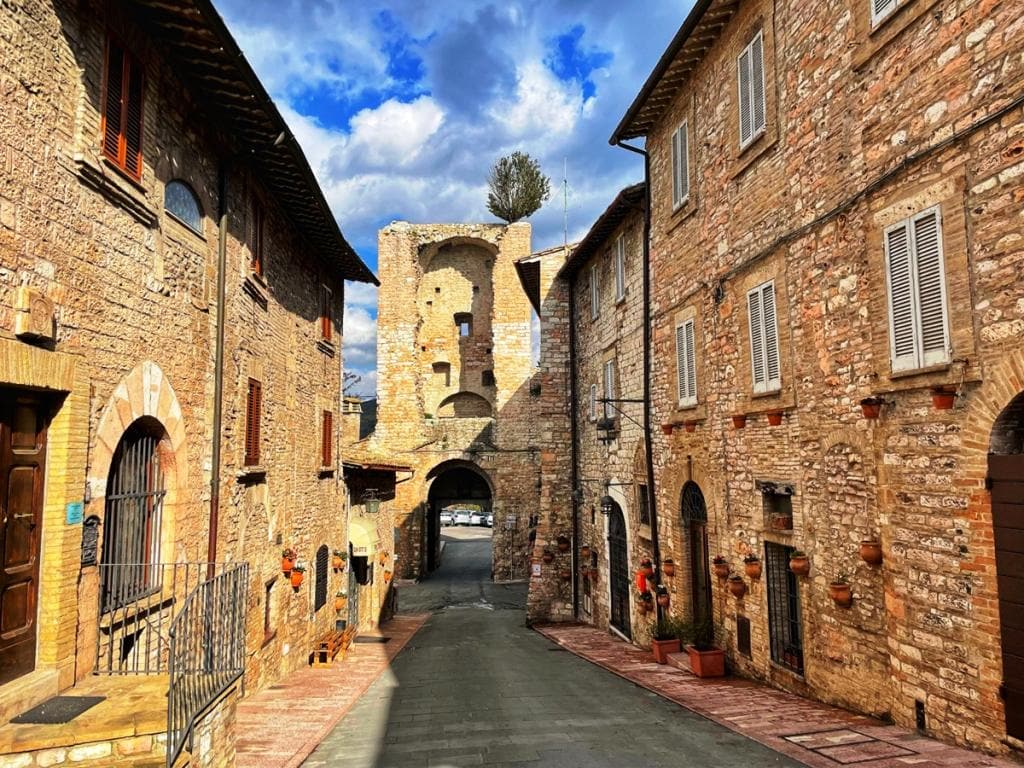 The stately Romanesque Assisi Cathedral, at the eastern end of town, is dedicated to the town's patron saint – Saint Rufino, who wandered into Roman Assisi, preached to convert the town to Christianity and was martyred for his efforts. Beneath San Rufino Cathedral is a fascinating museum that reveals an earlier church that stood on the site, and the foundations of an even earlier Roman Temple. Recommend by Margarita of Old Town Travels.
Castell' Arquato
Just about an hour's drive from Milan, Castell'Arquato is a captivating medieval town nestled near Piacenza. The town's main attraction is the imposing Visconti Fortress, a medieval castle that perches on a hilltop where the ancient town's raise as well. The location is so suggestive, that was used as one of the sets for filming "Lady Hawke". Exploring the castle's interiors and ascending to its tower reward visitors with an incredible 360° view of the surrounding landscape.
Inside the main tower you will also find a small museum dedicated to life in the Middle Ages. Before leaving the main square to explore the cobblestone alleys, don't forget to visit the Collegiata of Santa Maria Assunta, a stunning Romanesque church adorned with breathtaking frescoes that leave a lasting impression.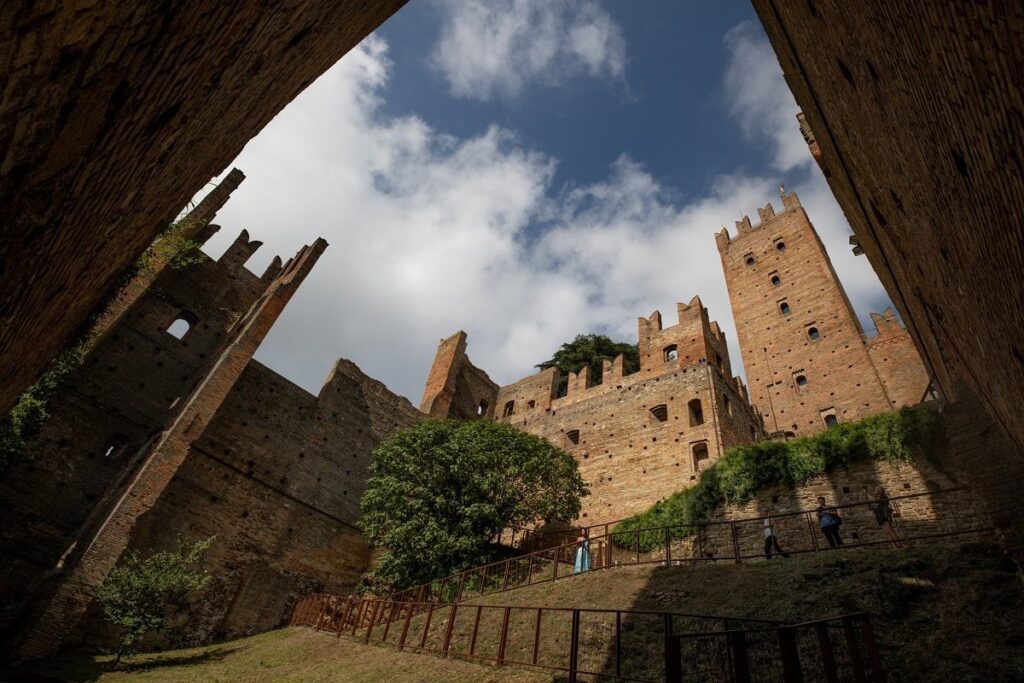 For epicurean enthusiasts, don't forget to try the delicious local cuisine. In Stradivarius restaurant, one of the best in town, you will savor the delights of traditional Italian cuisine. The ones to try? Definitely tortelli di zucca (pumpkin-filled pasta) and pisarei e fasò (a local dish featuring homemade pasta and beans).
To enhance your itinerary, consider extending your stay in the neighboring town of Grazzano Visconti or the beautiful castle of Vigoleno, where you have the extraordinary opportunity to spend the night within its walls! Recommended by Anita of AnitaBeyondTheSea.
Best Medieval Towns in Europe
I can't begin to count the number of medieval towns in Europe as this article would go on forever. From Croatia to Malta, Albania to Sweden and more. Here are just a few examples of beautiful medieval towns in Europe.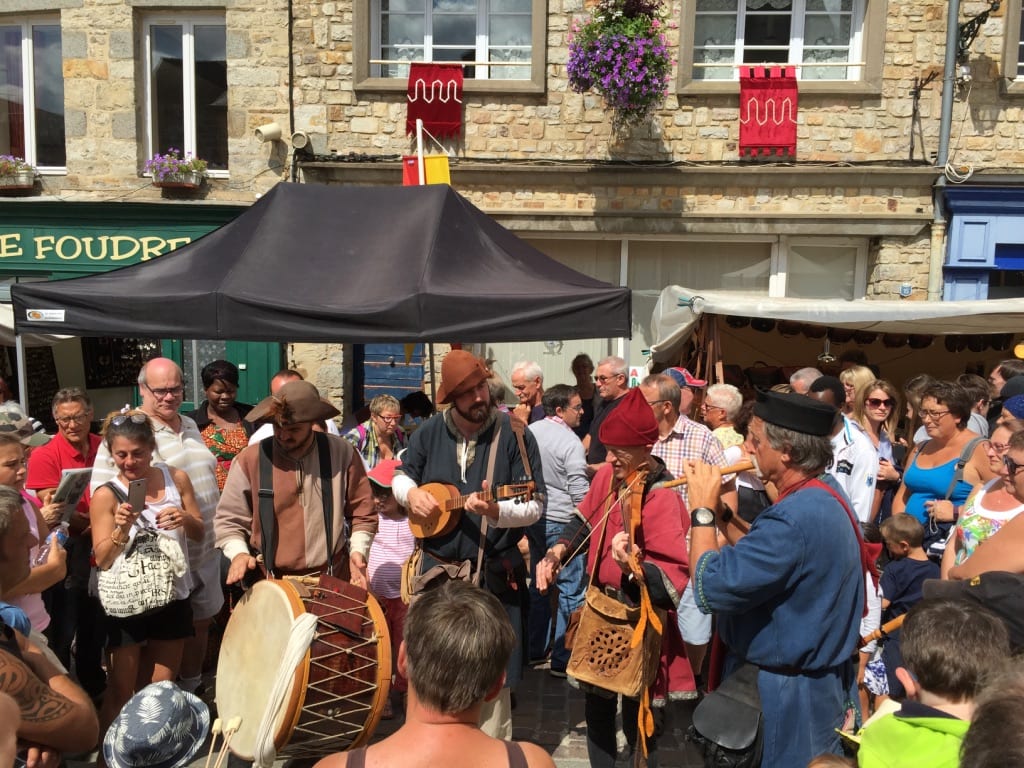 Shkoder, Albania
Shkoder, Albania (also known as Shkodra) is a beautiful and historic small city. It is located in the north of Albania, in the heart of the Balkans. It has been an important trading hub since ancient times and its history can be traced all the way back to the bronze ages!
Shkoder is known for its stunning mountain views, colorful Ottoman-style buildings, and vibrant streets lined with cafes and restaurants. With its rich history and stunning natural beauty, Shkoder is one of Europe's best medieval cities to visit. People often just pass through Shkoder on their way to go hiking in the Albanian Alps but Shkoder is worth visiting in its own right. I recommend stopping in the city for two days at least.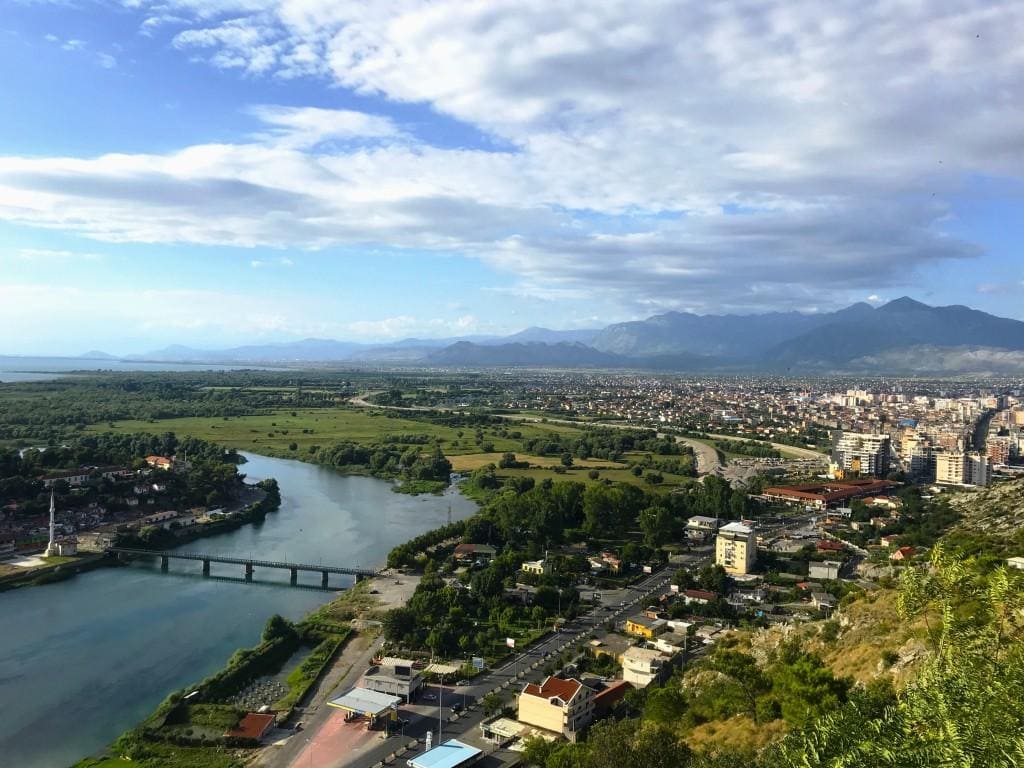 When exploring the city there are two must-see attractions that should not be missed: Rozafa Castle and Mesi Bridge. The impressive fortress of Rozafa Castle has stood atop a hill overlooking Shkoder since the 13th century – making it an incredible sight to behold! Meanwhile, the Ottoman-style Mesi Bridge offers breathtaking views over the River Kir and Albania's Accursed Mountains.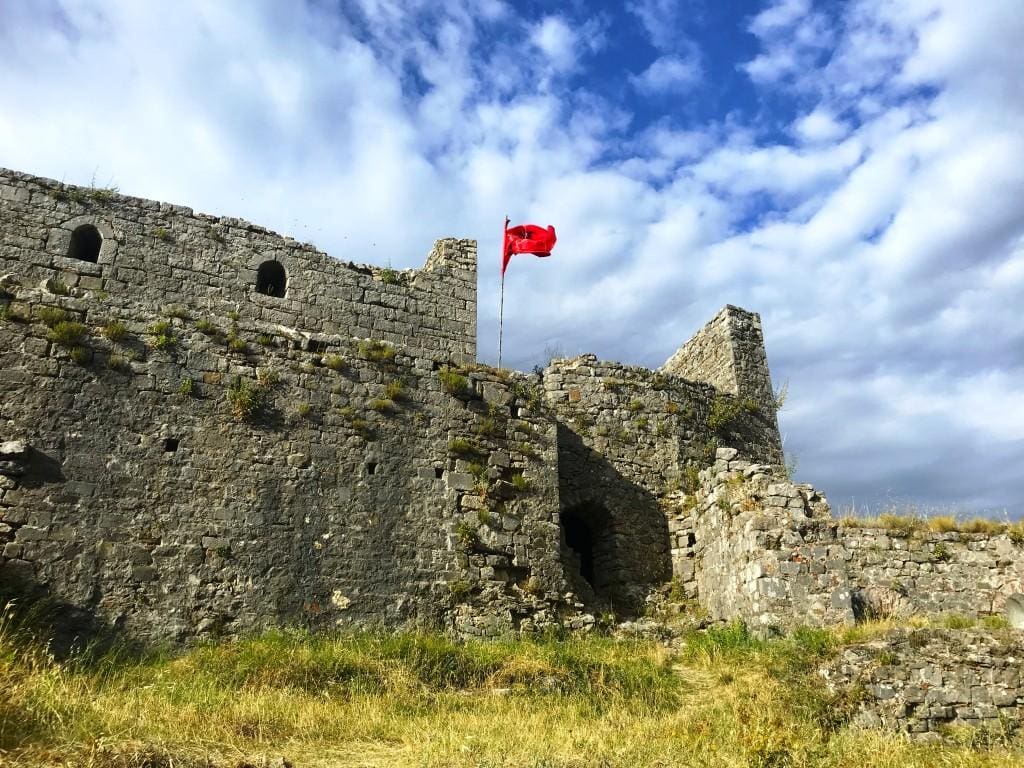 You can also visit Lake Shkoder – one of Europe's largest lakes – from which you can admire some truly spectacular sunsets or spend a day kayaking and paddleboarding on the lake. Shkoder is also home to a wealth of cultural attractions, including churches, mosques, and museums.
Overall, Shkoder truly has something for everyone – from its fascinating history to its stunning natural beauty. It's well worth visiting if you're looking for an unforgettable European adventure! Recommended by JJ of Travel Across the Border Line.
Obidos, Portugal
Obidos is a picture-perfect walled village in central Portugal, just an hour north of the capital, that makes for an incredible day trip from Lisbon. Not only are its cobblestone streets and castle walls remarkably well-preserved, but Obidos also hosts some of Portugal's most unique festivals.
Once a year, Obidos holds a Chocolate Festival, where you can sample gourmet chocolates and other treats from chocolatiers around Portugal. It goes hand in hand with the sour cherry liqueur the area is so famous for since it is served in a chocolate cup.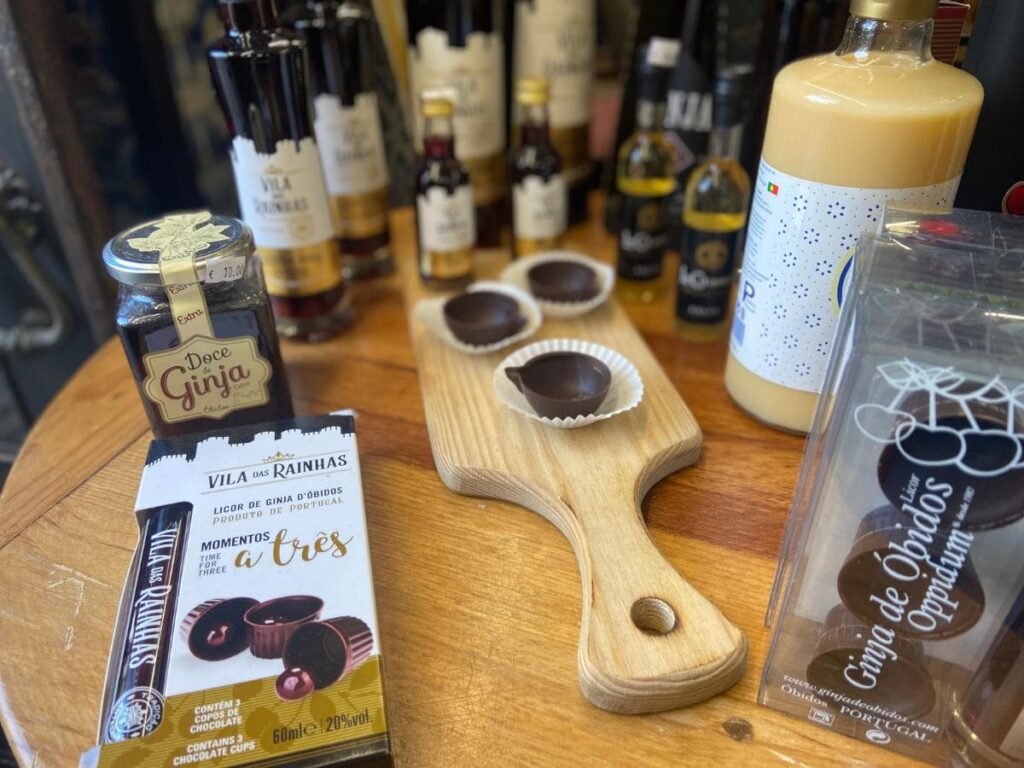 The village's most famous festival, however, is its Medieval Festival each July. For an entire month, locals and visitors alike don medieval garb and the village comes alive with jousting tournaments, feasting, and traditional music, dancing, and workshops for kids. It's like stepping back in time to the Middle Ages!
Obidos has also received the prestigious distinction as a UNESCO Literary City and holds a yearly literary festival which showcases a church that was turned into a fabulous bookshop, as well as a booklined grocer's shop.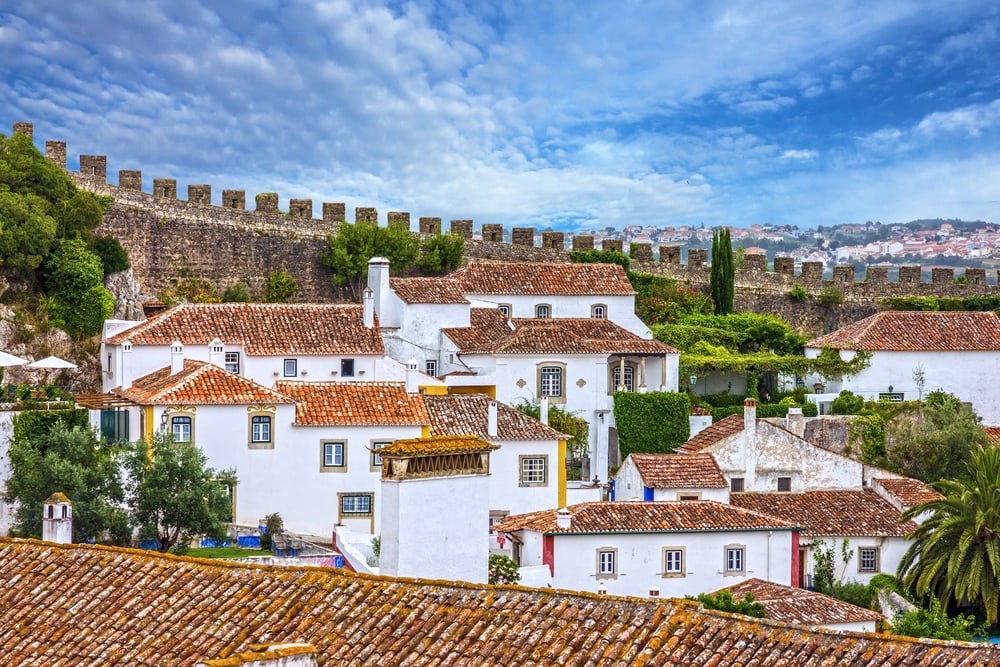 If you can't take in a festival, walk Obidos' ramparts for stunning views of the countryside. The village center has charming shops, cafes, and restaurants serving traditional Portuguese fare and the area's signature ginjinha sour cherry liqueur.
Food is generally worthy of a feast here and many people come for lunch, stay the afternoon and then carry on their merry way. It is however a fabulous place to stay the night, especially since many of the hotels within the castle walls have a castle theme and are particularly inviting. With its fairy tale setting and unique events, Obidos makes for a magical getaway from Lisbon. Recommended by Nancy from Ericeira Family Adventures
Echternach, Luxembourg
Echternach is the oldest town to be found in Luxembourg. Located in the east of the country, Echternach is filled with history and has so much for visitors to explore. If you are a history geek, this town has more than 2000 years of history to unwind.
This ancient town was discovered in the middle ages. Despite the small size, this town has a lot to uncover. This town is worth a visit because it is a wholesome experience in just one trip. You will discover a museum of prehistory, the visitor center, a permanent exhibition at the lake, and much more.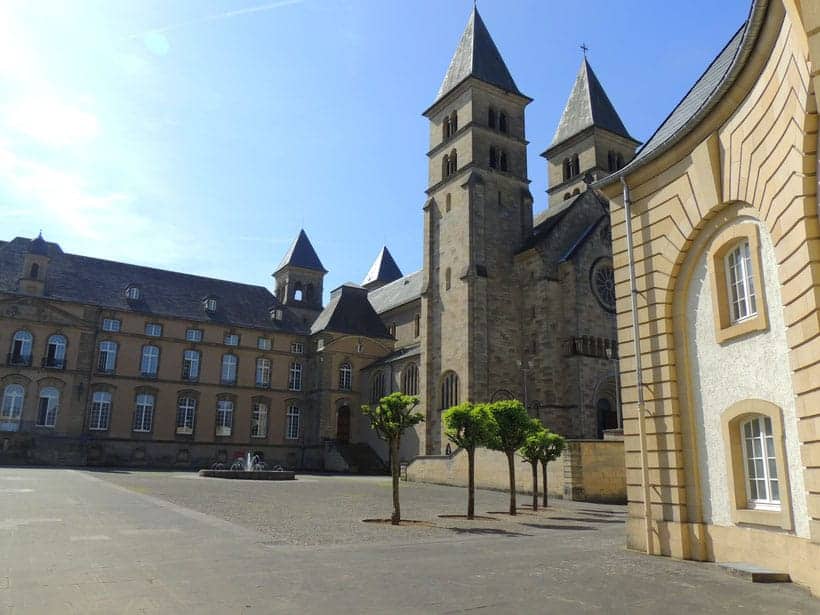 This town is best known for its Benedictine abbey and basilica. Apart from the popular abbey, Echternach is also home to a picturesque town square and cobbled streets. At these exceptional locations, you can still see the five oldest preserved towers among the 20 towers of the original city walls. Its preserved monuments, architecture, and picturesque streets are the main attractions that make this town so beautiful.
If you visit this medieval town, you will have a number of things to do. First up, explore the not-to-be-missed, Abbey of Echternach. First founded in 698, there always has been an abbey on site in the town. This ecclesiastical building is the most famous attraction in town that was once known for its illustrated manuscripts and breathtaking architecture.
After this, visit the prehistory museum to explore the archeological remains from history. Following this, witness the remains of the Roman Villa, which is around two millennia old. Enjoy the ancient walks around this villa and the plethora of displays from the Roman age.
During the visit, if you wonder where to stay in Luxembourg, consider Park Inn by Radisson Luxembourg City. It is reasonable and luxurious at the same time. Recommended by Paulina of Paulina on the Road.
Gammelstad, Sweden
Gammelstad Church Town is a UNESCO World Heritage Site and is one of the best-preserved examples of a "church town" in Sweden. Church towns in Northern Scandinavia developed in medieval times throughout the northern parts of the country.
Because of the sparse population in Northern Sweden, there were only a few churches. People had to travel from far away to attend the mass on Sunday. As a result, simple cottages developed around the church for those that couldn't make the journey in one single day.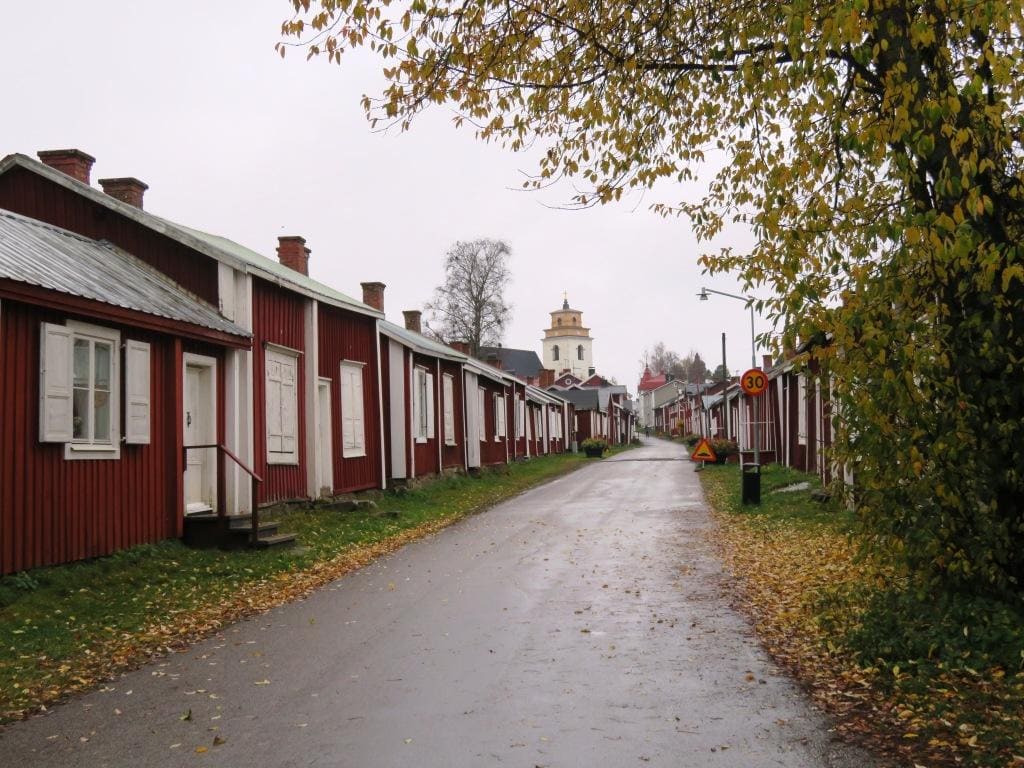 At the center of Gammelstad Church Town is the medieval 15th century Nederluleå Church. An impressive stone church with a simple interior. Around the church are the traditional red painted wooden houses where people stayed when they came to church. These charming houses, with their traditional design and vibrant colors, create a picturesque atmosphere.
Gammelstad Church Town reflects the strong cultural traditions and close-knit communities of the region and offers a unique glimpse into medieval Northern European religious and social practices. People not only came to church, but also came to trade, meet family and friends and even came to look for a marriage partner.
Gammelstad Church Town is still in use. The cottages remain private property and the owners return to celebrate religious holidays. One of the cottages has been opened to the public as an exhibition cottage so visitors can see what they looked like. You can also learn more about the history of Gammelstad Church town in the Hagnan Open Air Museum and the Visitor Centre.
At last, you can visit the nearby Gammelstadsviken Nature Reserve as Gammelstad is surrounded by spectacular nature. Gammelstad Church Town is close to the bigger city of Lulea in Swedish Lapland and it is easy to visit as a day trip from there. Recommended by Ellis of Backpack Adventures
Sighisoara, Romania
A UNESCO World Heritage Site, Sighisoara nestled in the heart of Romania's Transylvania region, is well-known for its well-preserved Citadel, which offers an invaluable look into the Medieval Ages.
While the new city continues to expand, the Citadel remains frozen in time. The best way to explore it is on foot – the cobblestone streets and steep stairways aren't exactly wheel–friendly! But do make sure to wear good hiking shoes.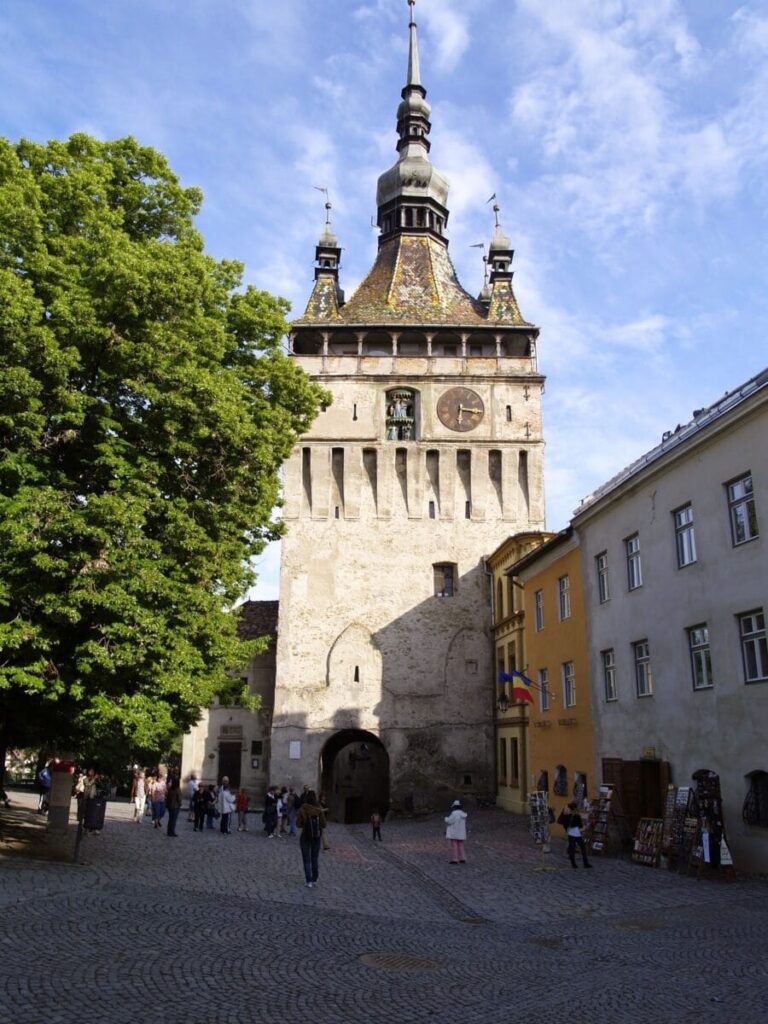 The Citadel can easily be explored even as part of a day trip (from Sibiu, Brasov, or Cluj-Napoca). To get to know it better, though, plan at least for an overnight. There are plenty of gorgeous accommodations within the Citadel itself (or for a more affordable stay, choose the new town).
The Citadel is an ode to the Medieval times. Surrounded by a thick wall with 14 towers, and 5 artillery strongholds, it's easy to be transported back in time! More so, if you visit during July when the Medieval Festival takes place.
The most prominent site is the Clock Tower. Overlooking the Citadel Square, it's home to a museum and a joyous clock – as the name suggests. The views from the top are glorious.
From the tower, continue walking towards the Scholar's Stair -a steep, wood-covered stair that provides shelter for children going to the Church on the Hill and the Josef Haltrich High School. And speaking of the church, it stands atop a 429m (1400ft) hill, offering commanding views of the area. The inside will leave you just as speechless.
Feeling hungry? In the Citadel Square, near the Clock Tower, there's Casa Vlad Dracul. It's where the infamous ruler Vlad Dracul was born. Now, it's a lovely place to have a traditional meal. Recommended by By Cris from LooknWalk.
Skofja, Slovenia
A charming medieval town just a short distance from the country's capital, Skofja Loka is one of the must-visit places in Slovenia. Its beautiful architecture, cobblestoned alleys, and hilltop castle make it well worthy of a stop in any Slovenia itinerary.
Right at the entrance to the town the Capuchin Bridge, a beautiful stone bridge from the 14th century, makes for the perfect photo spot. Nearby you can step inside the Capuchin Church.
The Church of Saint Jacob is a Gothic church with a lovely bell tower. Inside, admire the beautiful black marble altar and the painted ceiling.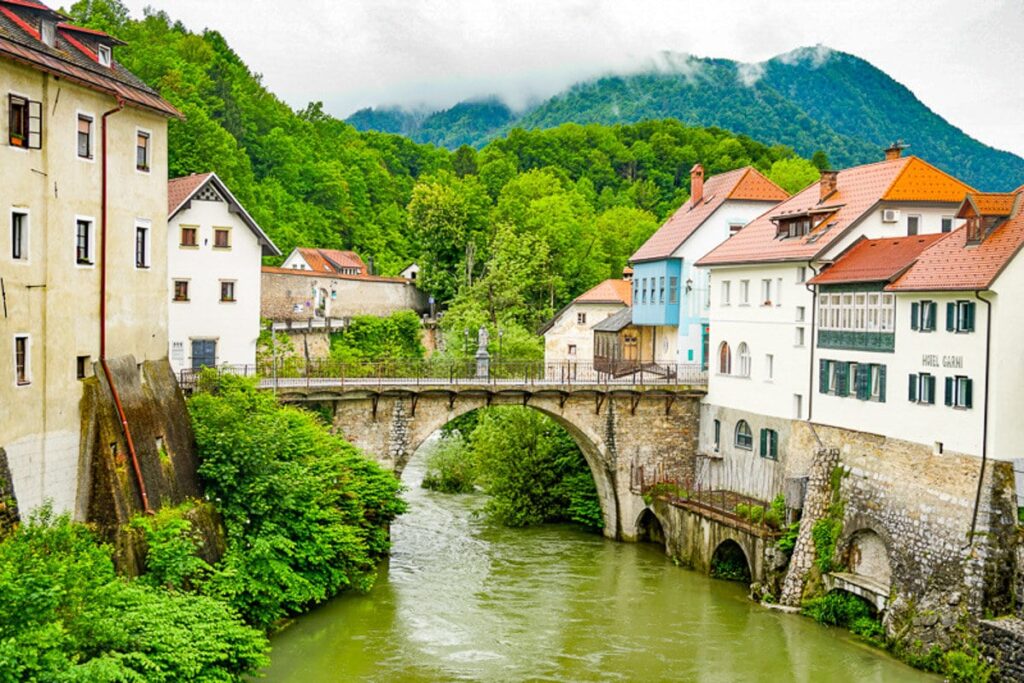 On a hilltop at the end of the main square, you will find the Skofja Loka Castle, now a museum. The views from the grounds of the castle over the rooftops of the town are marvelous, and the ascent is easy.
The best thing to do in Skofja Loka is simply wander around and savor the charm. The main square has many beautiful medieval facades, many of them frescoed. There is also a baroque monument called the Plague Pillar: it was built as a gesture of gratitude for the town having been protected from the dreaded disease.
If you are visiting Ljubljana, you can drive to Skofja Loka if you have a car, or you can take the bus, which drops you a short walk from the entrance to the old town. The journey takes a little over a half hour, so Skofja Loka makes for an easy day trip from Ljubljana.Contributed by Dhara of It's Not About the Miles.
Hallstatt, Austria
Nestled amidst the Austrian Alps you find Hallstatt, one of the most beautiful villages in Europe, and an easy-to-do day trip from Vienna. Its picturesque charm, rich history, and stunning natural surroundings make it a must-visit destination if you're seeking an enchanting experience.
The village's idyllic setting on the shores of Lake Hallstatt, surrounded by towering mountains that reflect in the calm waters, captivates everyone with its serene beauty. The narrow streets that are lined with colorful, traditional Alpine houses and adorned with vibrant flowers, add to this picturesque appeal.
Apart from its natural splendor, Hallstatt is renowned for its cultural significance. The village dates back to prehistoric times and has a fascinating history. It was once a hub of salt production, and its salt mines, which are some of the oldest in the world, have been recognized as a UNESCO World Heritage Site.
While strolling through Hallstatt's charming streets, you can also discover the unique and well-preserved culture of the village. The local heritage museum provides insight into Hallstatt's history, traditions, and archaeological finds, offering a glimpse into the lives of its past inhabitants.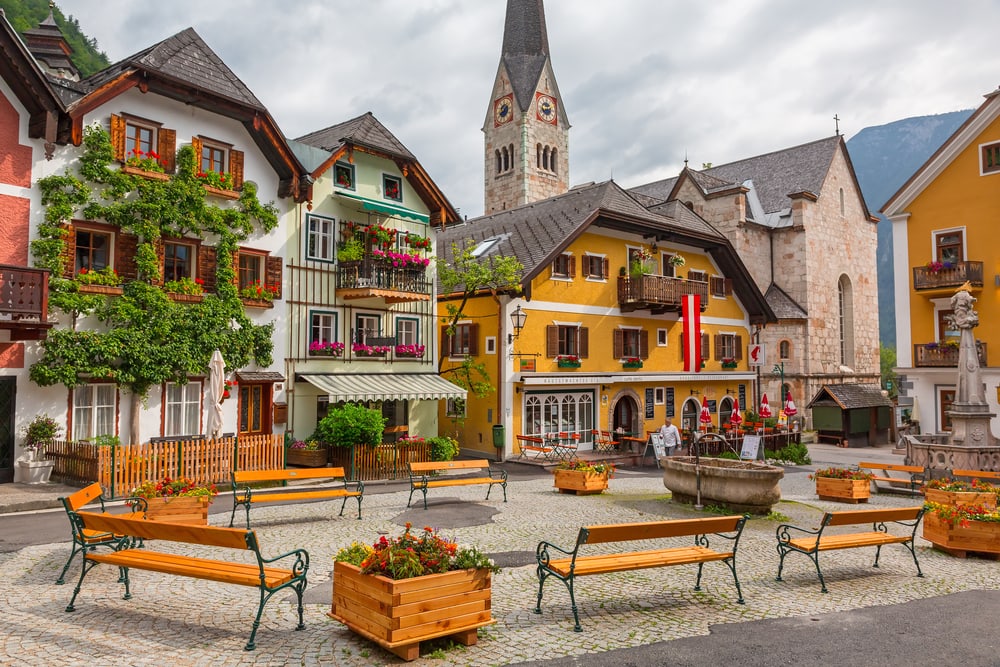 In addition to immersing oneself in the village's history and culture, there are several activities to enjoy in Hallstatt. You can embark on hikes or boat trips to fully appreciate the awe-inspiring Alpine scenery. A visit to the "Skywalk" viewpoint offers panoramic views of the village and its surroundings, allowing you to capture stunning photographs.
Last but not least, don't miss out on experiencing the warmth of the local hospitality by savoring traditional Austrian cuisine in the village's charming restaurants or enjoying a leisurely stroll along the lakeside promenade! Recommended by Alina / World of Lina
Santillana del Mar, Spain
Beautiful Santillana del Mar is one of the best-preserved medieval towns in Spain. As such, the entire town is declared a National Monument of Spain.
Santillana del Mar is in Cantabria in northern Spain. It is about 30 km from Santander, the capital of Cantabria. The famous Altamira Caves, a World Heritage Site, is only 2 km from Santillana del Mar. Because of that and the beauty of the town, visitors often choose to visit Santillana del Mar and Altamira Caves.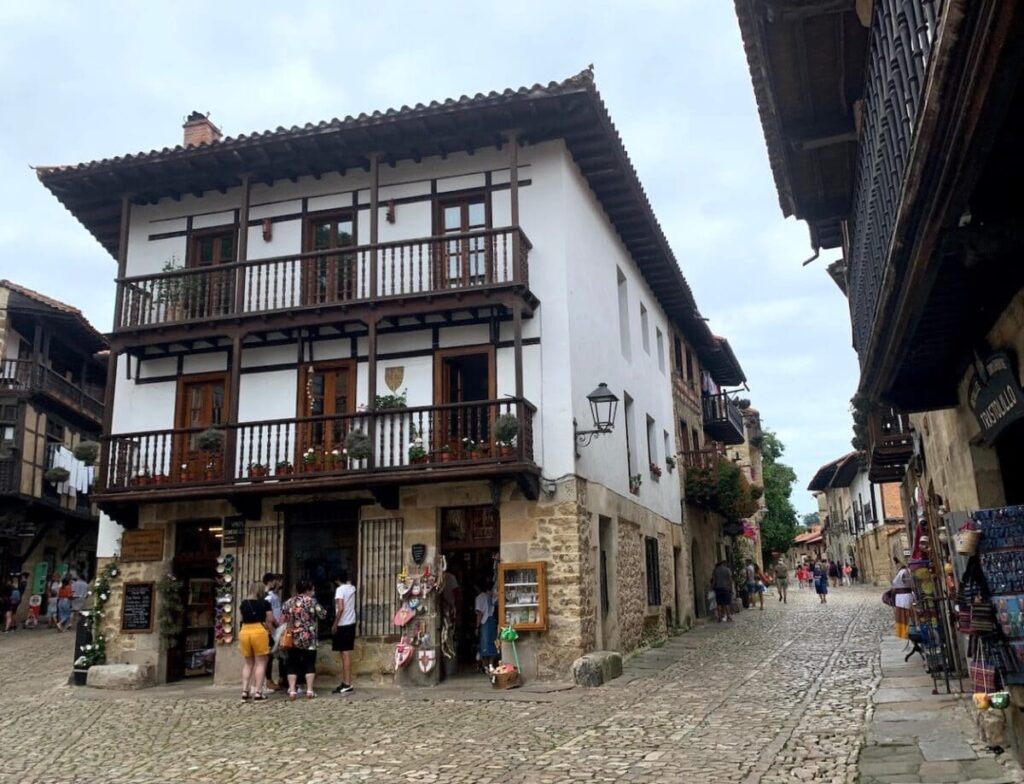 Santillana del Mar is a popular Spanish weekend destination. The well-preserved cobbled streets filled with ancient stone-brick houses take the visitors of Santillana to the Middle Ages. Jean-Paul Sartre described Santillana del Mar as the most beautiful village in Spain in the 1930s. And there are many reasons to agree with him.
Santillana's most famous landmark is the Romanesque Church of the Colegiata. These days, visitors can also tour the museum of Jesús Otero, a local sculptor. The two Gothic towers, Torre del Merino and Torre de Don Borja are another must-see in Santillana del Mar.
Pretty wooden balconies decorated today with air plants adorn the well-preserved medieval houses. Lovely shops, cozy restaurants, and small hotels fill the streets of this charming medieval town today.
Santillana del Mar is a popular piligrims' stop on the Camino del Norte route to Santiago de Compostela. Camino del Norte is the most scenic Camino route that follows the coast of northern Spain.
So, consider taking the Camino del Norte route if you plan to walk Camino de Santiago. Prepare your Camino de Santiago packing list and head to Santiago de Compostela. And don't forget to visit Santillana del Mar on your way to Santiago! Recommended by Milijana of World Travel Connector.
Český Krumlov, Czechia
Český Krumlov is a city in Western Czechia, in the region of South Bohemia and one of the best preserved medieval towns in Europe. It's close to both the German and the Austrian border. This beautiful city is on the UNESCO World Heritage list. It's there due to its well preserved medieval street plan with over 300 historical buildings. The buildings are either in Gothic, Baroque or Renaissance architecture. Český Krumlov has the second largest castle of Czechia, it towers over the old town and can be seen everywhere in the city. The city was founded in the 13 th century and has the river Vltava meandering through it.
During your visit climb up the tower of the castle, enjoy the views from the castle walls on the old town and wander through the castle itself. Inside the tower is a small museum and it has perfect views on the city. Watch the bears roam around in the moat of the castle. They reside there year round, except when the weather is too cold.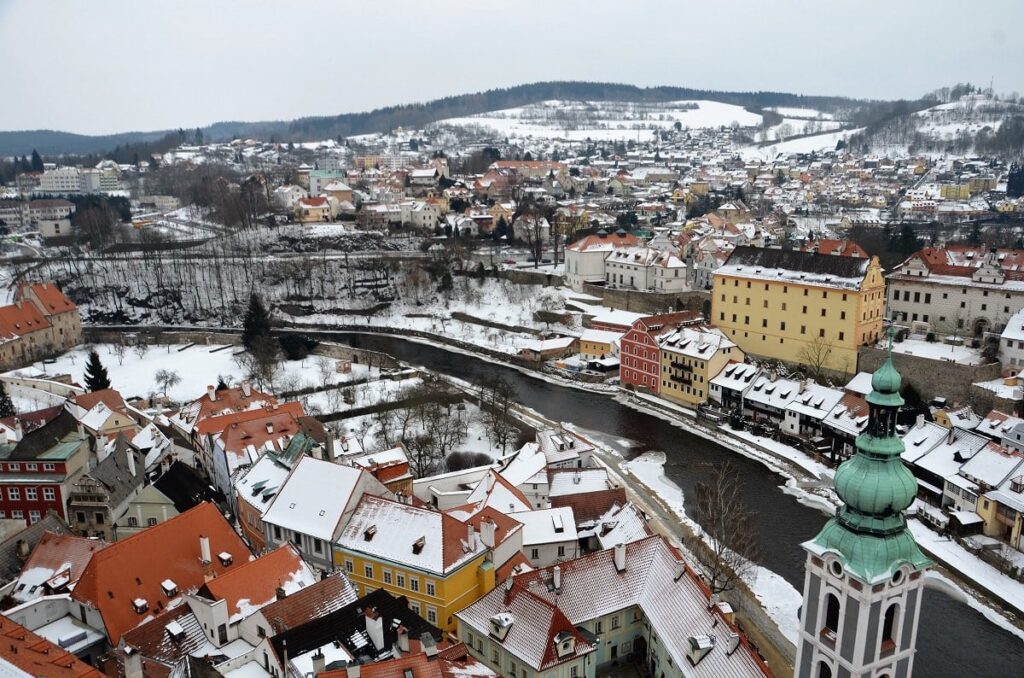 Second visit one of the museums in the city, such as the Torture museum. It has torture devices on display and displays of how people got tortured.
Try out a trdelník, which is a traditional Czech pastry. It's served with ice cream and topped with fruit, sauce and whipped cream. It's really delicious.
The city is beautiful year round, but Český Krumlov in Winter is extra magical. Because in Winter you have the chance to see the city covered in a layer of snow. Recommended by Cosette of KarsTravels.
Počitelj, Bosnia and Herzegovina
Počitelj is a unique, hillside village in South-West Bosnia and Herzegovina, a 20-minute drive from the Croatian border. As one of the best places to visit in the Western Balkans, Počitelj is a fascinating fortress village with plenty of historical significance and a beautiful town.
Modern-day Bosnia and Herzegovina was always a crossroads between the vast Ottoman Empire to the East and the mighty Austro-Hungarian Empire to the West, and the little village of Počitelj is a fascinating blend of the two vastly different cultures.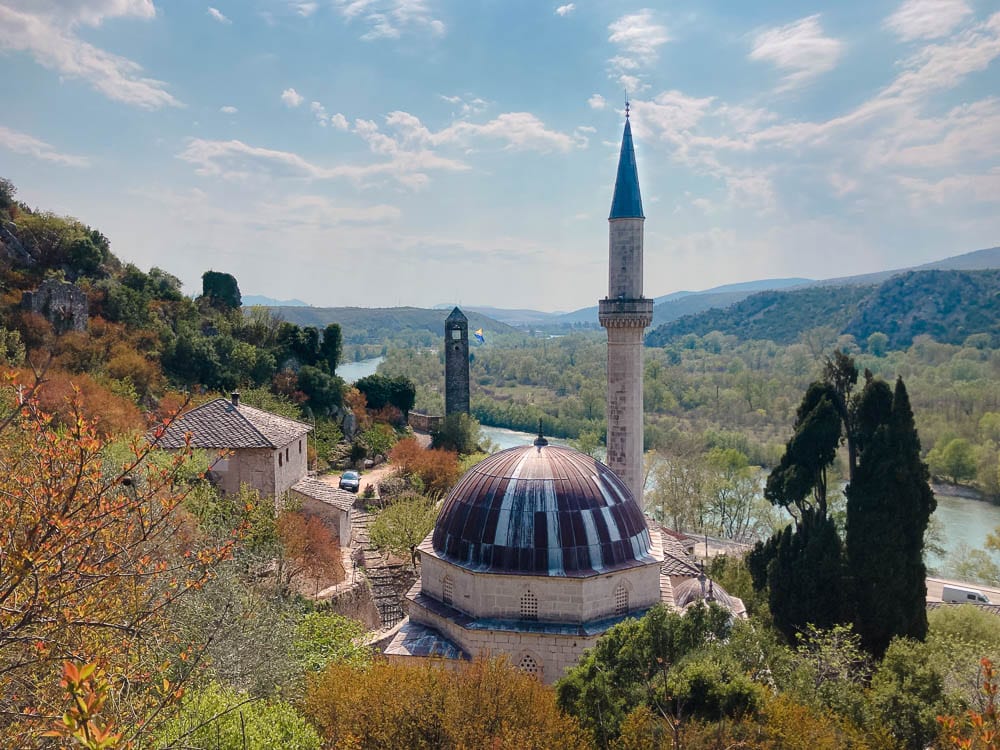 The village is believed to have been built around 1383 by Bosnia's King Stjepan Tvrtko and the fortified walls that still surround the town, bear resemblance of the village's varied past – some parts of the wall are architecturally medieval, while the majority of the wall is made in a distinctively Ottoman-era design, after the Ottoman siege of 1471.
In Počitelj today, you can spend the afternoon walking around the small bazaar at the bottom of the village, or if you're feeling brave, perhaps you could venture to the top of the fortified walls and get a birds-eye view of the magnificent Šišman Ibrahim-Paša Mosque below.
The village is a warren of cobblestone paths and traditional stone-roof houses – Počitelj is one of the best medieval towns in Europe and is a great place to visit to get a true sense of what life was like way back in medieval times. Recommended by Ben of Ticket 4 Two Please
Mdina, Malta
Mdina is a charming jewel tucked away on the island of Malta. Imagine narrow, winding streets lined with ancient limestone buildings and breathtaking views around every corner.
What makes it worthwhile to go? First and foremost, Mdina is steeped in history. It was once Malta's capital and served as a stronghold for various civilizations over the centuries.
Mdina's beauty lies in its perfectly preserved medieval architecture. The city's walls, bastions, and gates are reminders of its fortified past. The contrast between the honey-coloured stone and the blue Mediterranean sky is simply stunning.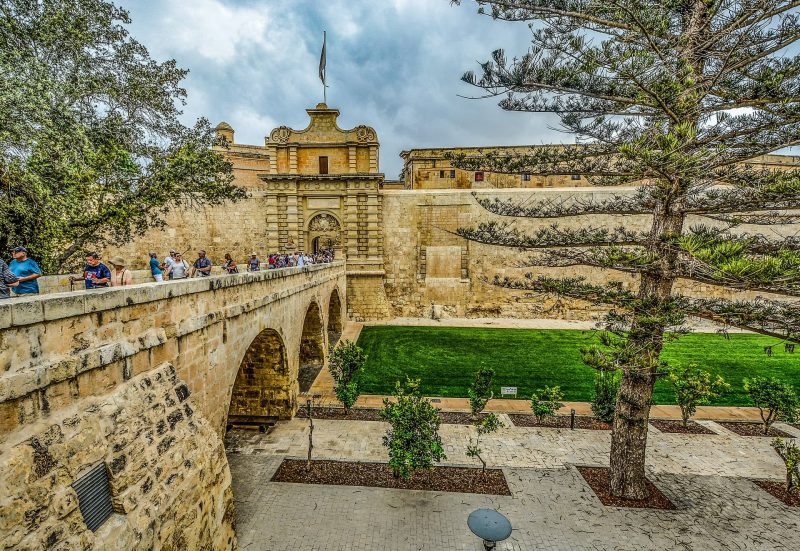 It's no surprise that Mdina is known as the 'Silent City' – the peaceful atmosphere and lack of traffic within the walls contribute to the city's undeniable beauty.
If you're wondering how many days in Malta you need to explore the Mdina, then that's about half to one day. Get lost in the maze of narrow alleys while admiring the architectural marvels. Don't miss Mesquita Square, a picturesque location that captures the essence of Mdina.
Next, pay a visit to St.Paul's Cathedral. This magnificent Baroque masterpiece will take your breath away. Inside, take in the intricate carvings, stunning frescoes, and magnificent architecture. It's a true testament to old craftsmanship. Finally, sample some of the local cuisines. Mdina has some fantastic restaurants serving traditional Maltese cuisine. From savoury rabbit stew to delectable pastizzi (flaky pastries filled with cheese or peas), your taste buds are in for a treat.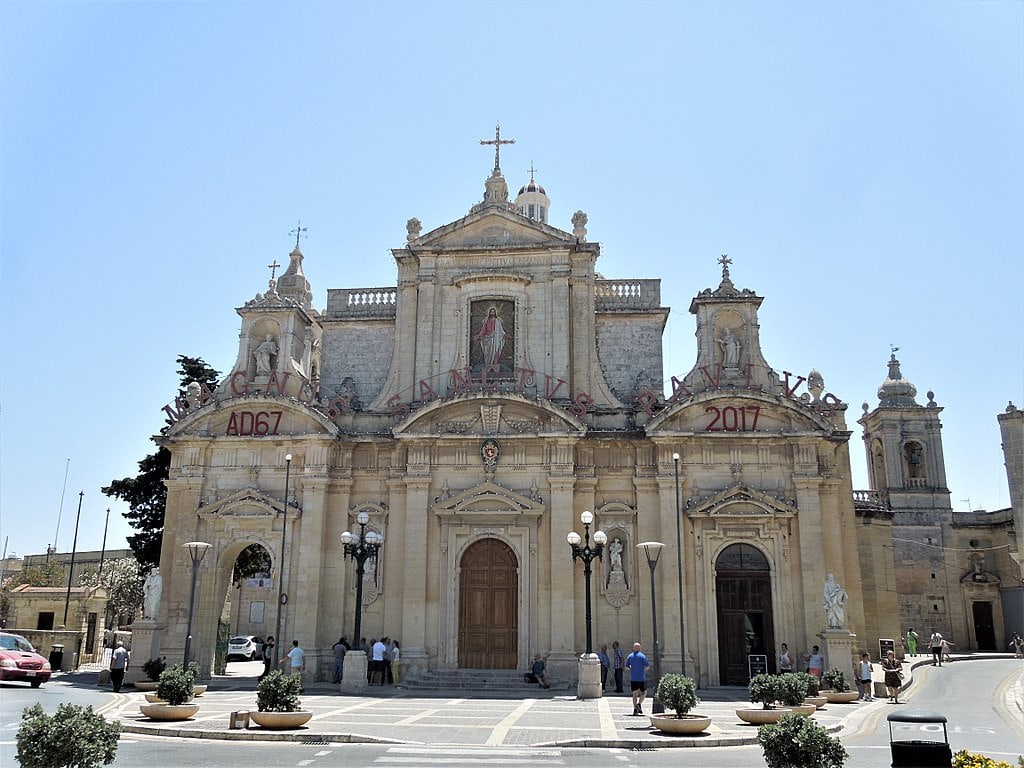 So, don't pass up the opportunity to stroll through its historic streets, admire the stunning cathedral, and savour the island's flavours. You will not be let down! Contributed by: Lavina D'Souza of Continent Hop.
35 Amazing Malta Festivals and Events
Ultimate Malta Solo Travel Guide: What to Expect
Visiting Malta – 2 fabulous days in Malta
There are so many gorgeous medieval towns to visit in Europe. Siena for example in Italy has the best preserved medieval square in Italy and one of the most historic cities to visit. York in England with its ancient Shambles streets and the York Minister one of the largest Gothic cathedrals in Northern Europe with its medieval era stained glass. Travel back in time through visiting medieval castles in Europe from Wales to Romania. There are so many well-preserved medieval towns villages and cities in Europe that have managed to retain their medieval charm it may take you years to visit them all.
These beautiful medieval towns of Europe are a treasure trove of history and culture. Each town has its unique charm and character that takes visitors on an enchanting journey back in time. From the narrow cobblestoned streets to the towering castles and cathedrals, these towns offer a glimpse into a bygone era. Whether you're exploring the winding alleys of Josselin in Brittany or admiring the stunning vistas from atop Mont Saint Michel, there is no shortage of beauty and wonder to be found in Europe's medieval towns.
You might also like to read about these stunning places to visit
Exploring stunning Capri Italy
Domfront Normandy: Centre of royal power struggles
Sainte Suzanne Mayenne France A Charming Medieval Village
Chinon France: A Royal Fortress and a medieval city
Exploring the Charms of Vitré, France: Things to do in Vitre
Pin it to save it

Latest posts by Faith Coates
(see all)