The Shambles York the oldest medieval street in the world
Home to Diagon Alley York & the Shambles Market
Visiting the Shambles in York has been a dream of mine since I read about it in my high school history class many, many moons ago. The appeal of an ancient medieval street and area dating back to the Domesday Book inspired my imagination like nothing else.
From that moment on I was determined to visit the Shambles York, and then came Harry Potter and I learned that the Shambles was the inspiration for Diagon Alley. Since that time several shops that have a Harry Potter focus have opened to much acclaim in the area.
York is an amazing city to wander and I highly recommend spending 2 days in York and simply soaking up everything there is to do. You are also spoiled for choice in York with beautiful BnB's, historic hotels, and excellent youth hostels and I guarantee you won't run out of things to see and do.
It was probably the Romans in York that established the city as Eboracum and sometime around 410 AD they abandoned the area, and the city, like much of Roman Britain, fell into a period of decay and decline. A new invader fell upon the city; the Anglo-Saxons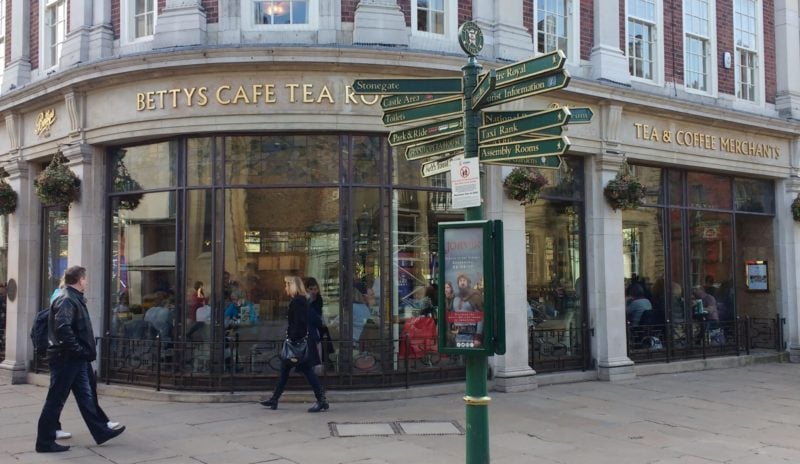 Xyuandbeyond is reader-supported. When you buy through links on our site, we may earn an affiliate commission. You can read my privacy policy here.
Map of the Shambles and sites in York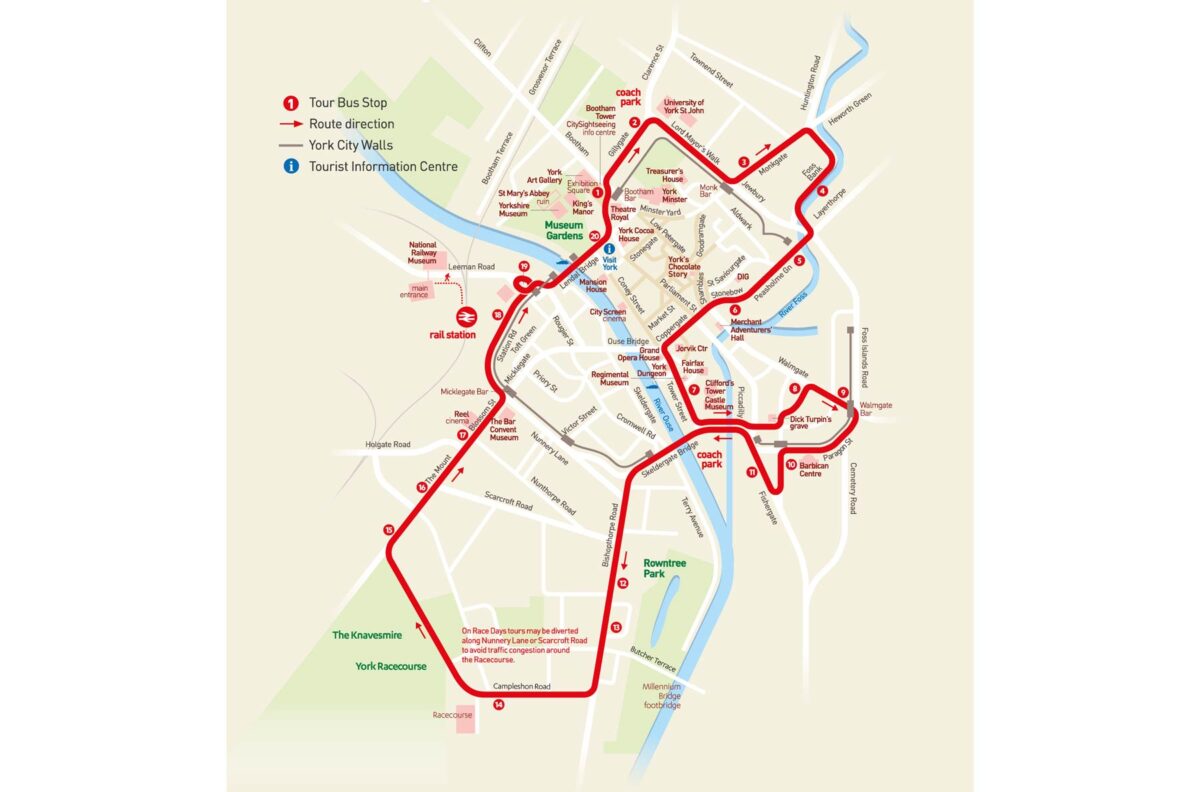 How to get to Shambles York
An easy trip since we were housesitting in Yorkshire so we drove in and left the car in a Park and Ride and took the bus into the City. It's not a large city and you can ask the bus driver where to drop you for Shambles York. It's very accessible from most areas of the City as it is smack dab in the heart of the place.
If you are coming from London you can grab a train at Kings Cross Station that takes around 1 hour 50 mins. From Manchester Piccadilly station, it's 1 hour 20 minutes, and from Manchester Airport 1 hour 40 minutes.
You can easily access the Shambles from York train station, just 15 minutes walk away.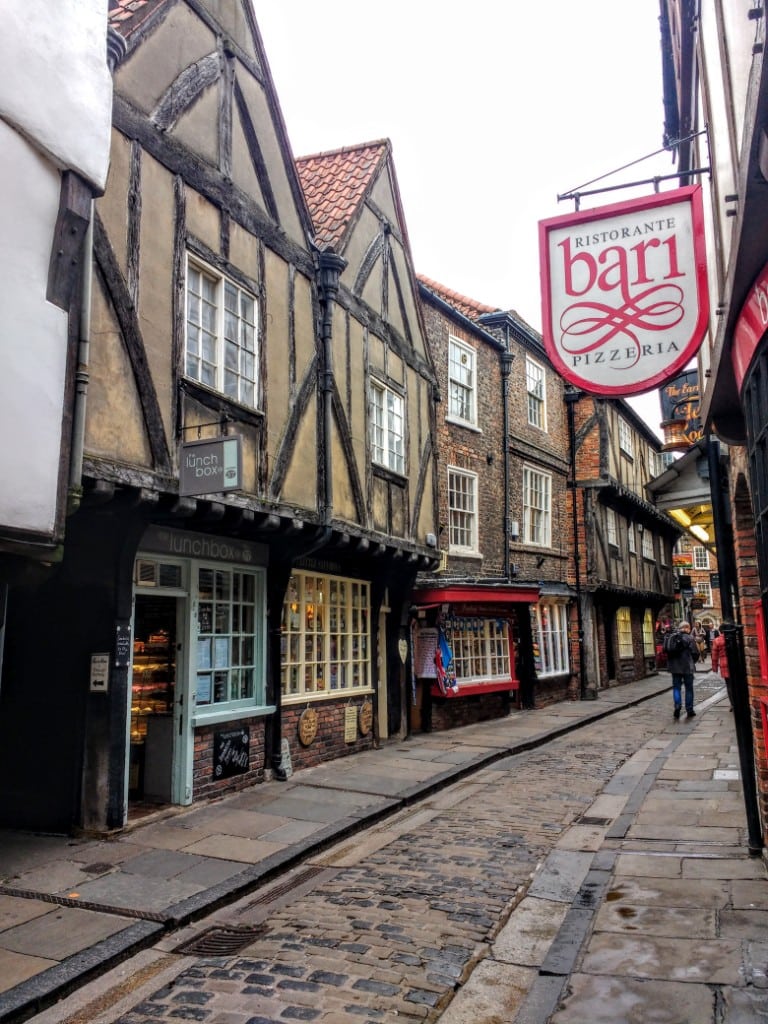 When's the best time to go to the Shambles?
The Shambles York gets particularly busy at the weekends, so for the best shopping and strolling experience, you should plan your visit midweek. Shops are open 7 days a week from 10.00 am to 6.00 pm.
It's well worth taking the time to stay in York for a few days as there is so much to explore in the City.
15 Things to see and do in North Yorkshire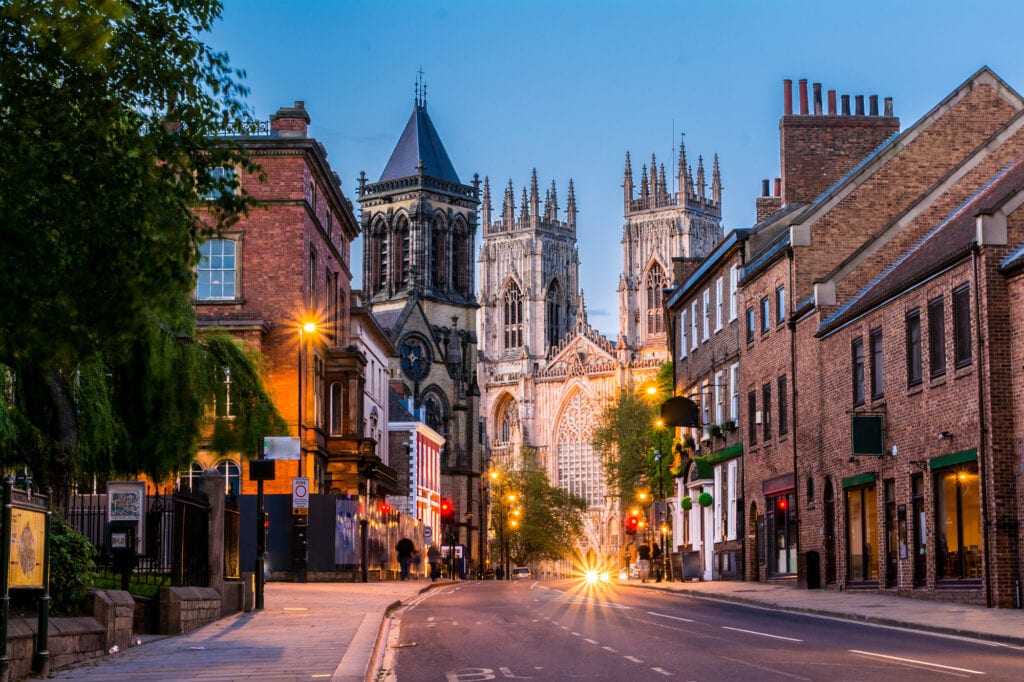 When was the Shambles in York built?
The Shambles as a term is used to describe a maze of narrow twisty lanes in the centre of York. At the heart of the Shambles is the actual lane called The Shambles and it is the best-preserved medieval street in England and the oldest street in Europe. The Domesday Book of William the Conqueror mentions the Shambles in 1086. Many of the existing buildings date back to 1350-1475 and are chock full of stories and interesting history.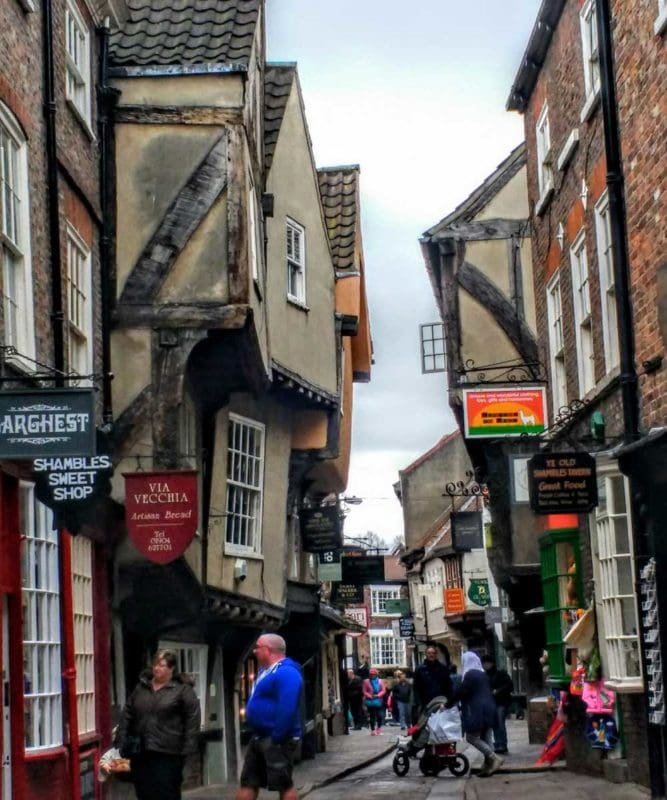 The Shambles was a street of butcher shops and houses, many complete with a slaughterhouse at the back of the premises, where they prepared their own "home-grown" meats. The meat was hung up outside the shops and laid out for sale on what are now the shop window bottoms. With several butcher shops, you will see some of the original butcher's meat hooks attached to the shop fronts.
Given the times, there was a constant issue of how to dispose of the waste produced by the slaughter of animals in the city. One thing that was done that can be seen today is that the pavements are raised on either side of the street so a channel is formed that can be washed with buckets of water a few times a week.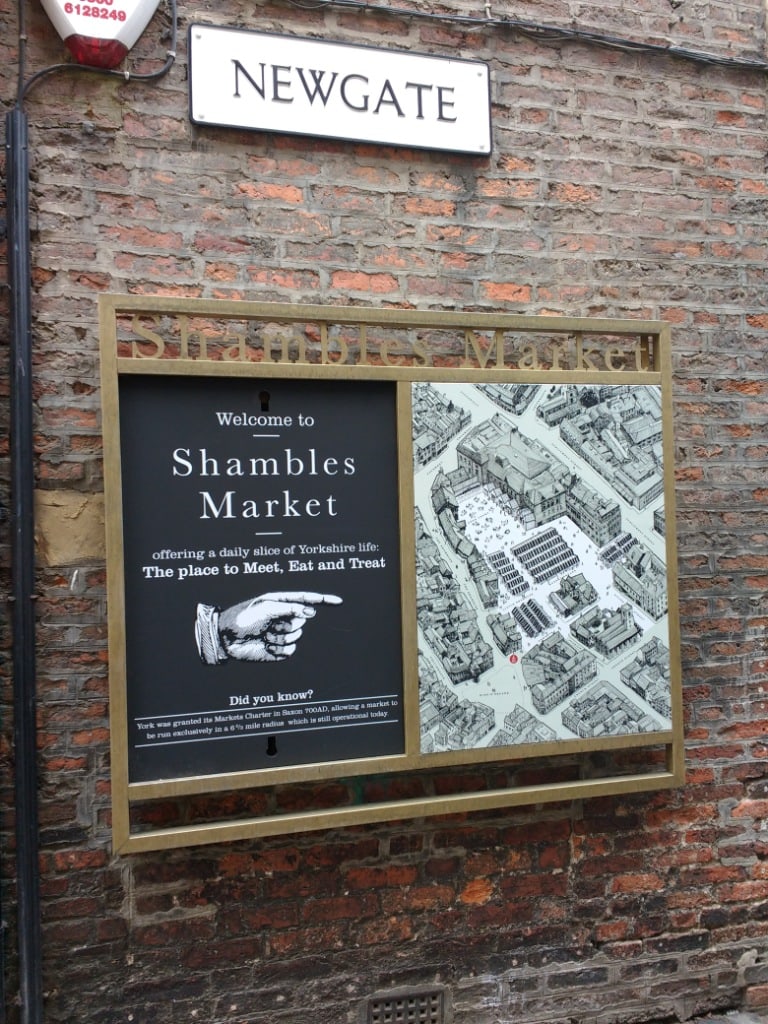 In parts of the Shambles, you will notice that you can touch both sides of the street with your arms stretched out. This has an extremely practical purpose. It not only protected the materials (wattle and daub) that made up the building's outward covering but it kept the meat out of direct sunlight allowing it to last longer without refrigeration.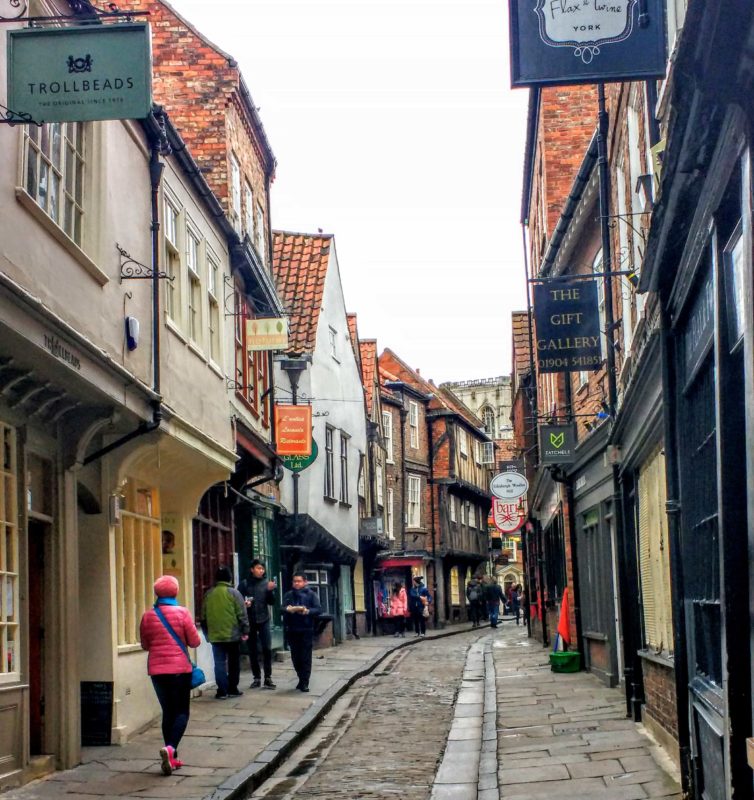 It is believed that the name Shambles comes from the Anglo-Saxon word for shelves which were obviously a major feature of the shops. The name is thought to derive from 'Shammel', an Anglo-Saxon word for the shelves or booth-style shop fronts. The other theory is that it comes from the word flesshammel which means flesh so the original name was thought to be "the great flesh Shambles".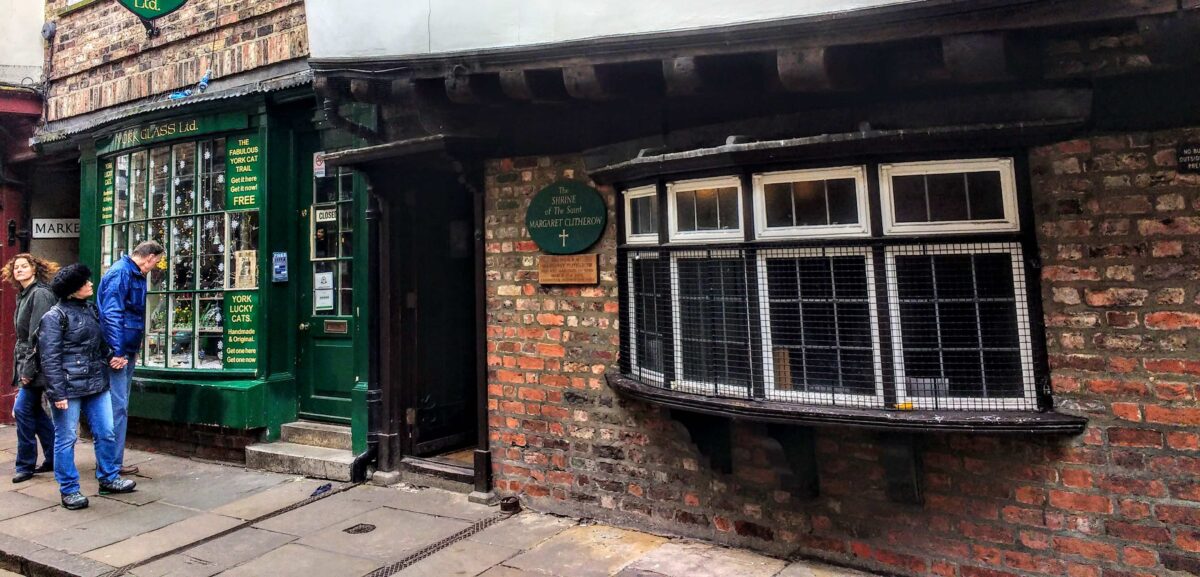 One of the historic attractions in the Shambles York is Margaret Clitherow's house. A butcher's wife who lived in this street, Margaret Clitherow was brought up in the reformed religion. In 1574 she became a Catholic and allowed her home to be used for the shelter of persecuted priests. Over 12 years of hiding them, she was arrested on several occasions and spent over 3 years imprisoned. Margaret refused to speak or plead at her trial and was condemned to be crushed to death, naked under a heavy stone on the Ouse Bridge in York. Margaret was later made a Saint by the Church.
York is also attracting Harry Potter fans or Potterheads from around the world with several Harry Potter-themed shops. Once they learned that the Shambles was the real "Diagon Alley" or rather the inspiration for it the fans came in droves. The unique beauty of The Shambles has been recognised and awarded the title of the most picturesque street in Britain in the Google Street View Awards which asked the public about their favourite historic streets in Britain.
What is the Shambles in York known for?
The Shambles is known these days for its connection with Harry Potter and several scenes in the movie were filmed here. It is also known for its history as the oldest medieval street in the world. Cobbled streets lead you back in time and the wonky overhanging buildings create an atmosphere that brings history to life. The Shambles is also one of the best-preserved medieval shopping streets in Europe.
Is the Shambles in York Diagon Alley?
Often referred to as "Harry Potter Street"; the Shambles York is said to have been the inspiration for Diagon Alley – the iconic alley that appears in several books & movies. Once packed with butchers and meathooks; the beautiful street has been preserved over the centuries; maintaining a range of historic features and its original character.
The street is a must-visit for any true Potterheads, thanks not only to its uncanny resemblance to Diagon Valley; but for the 2 Harry Potter shops that currently reside there…
Things to do in the Shambles, York
Harry Potter Gift Shops in the Shambles
The Shop That Must Not Be Named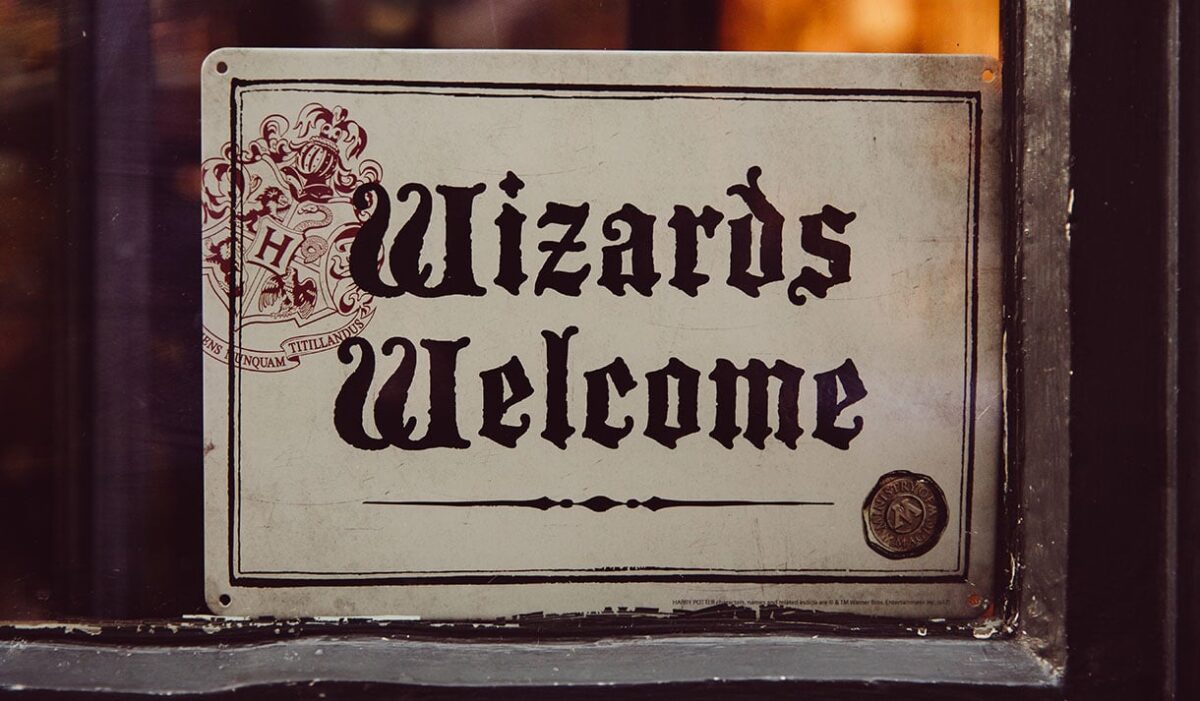 Located at 30 The Shambles, York – The Shop That Must Not Be Named is fabulous. With its free broom parking to the Potterized ice cube trays, this place is a wonderland of Potter merchandise.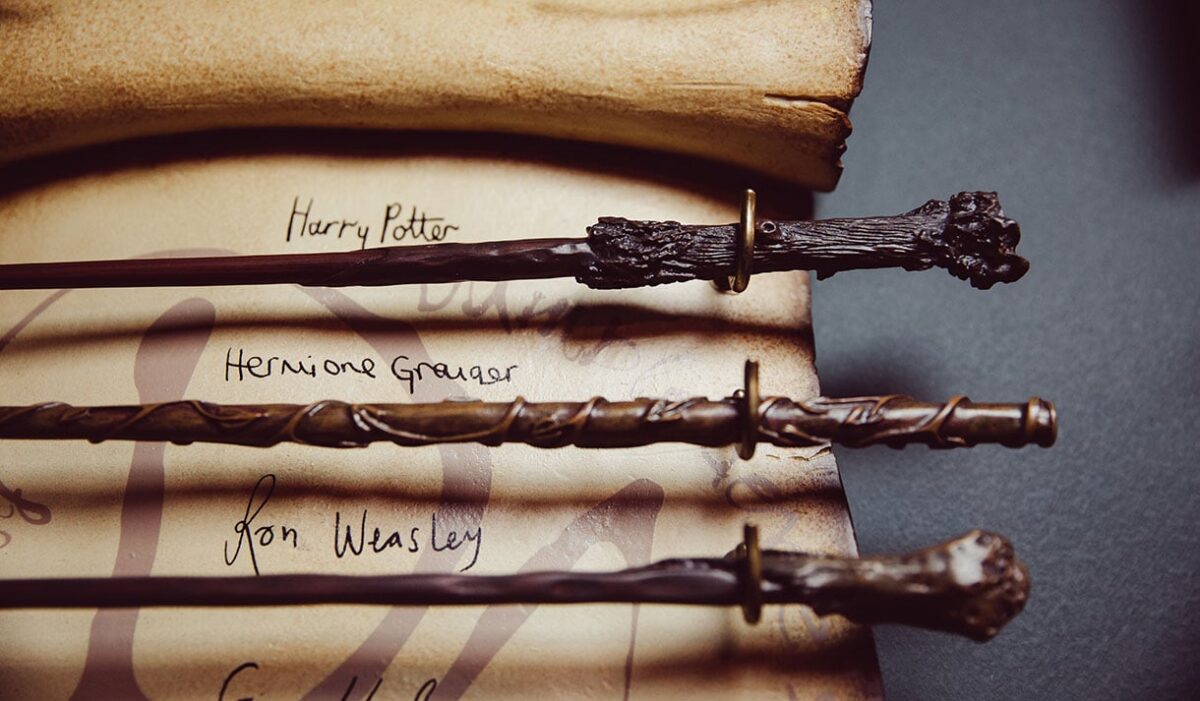 Opened in May of 2017 they offer all the official Harry Potter merchandise including cloaks, wands, spell books, wizard hats, for Potter fans young and old. The shop sells everything a wizard could need, including cloaks, wands and official merchandise. However, I do recommend getting there early as the crowds of muggles do gather early to check it out.
The World of Wizardry
A few shop fronts down is another Harry Potter fan treat The World of Wizardry. So much Harry Potter merchandise the shop is literally overflowing.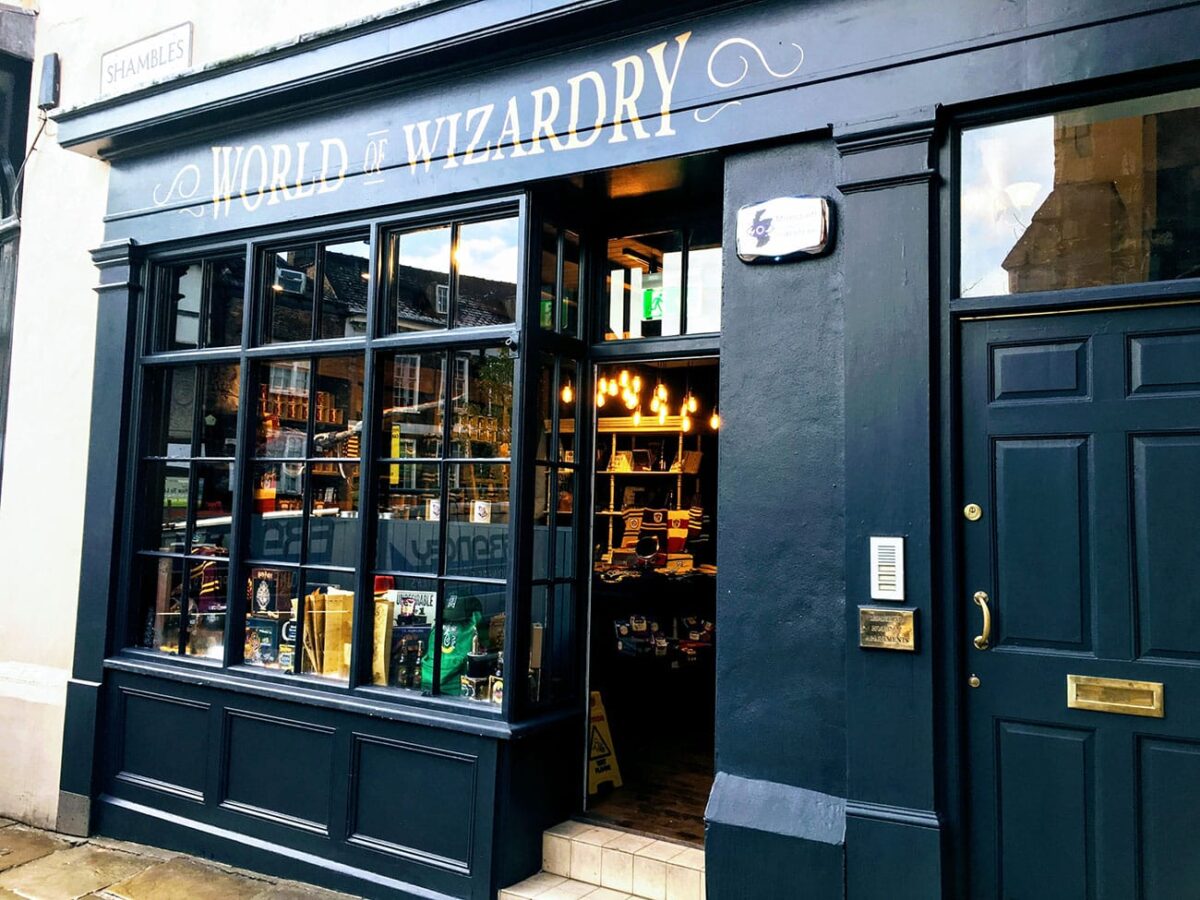 This is more Potter heaven, similar to the Shop that must not be Named you will find Hogwarts students to wait on you and as much Potter paraphernalia as you can carry.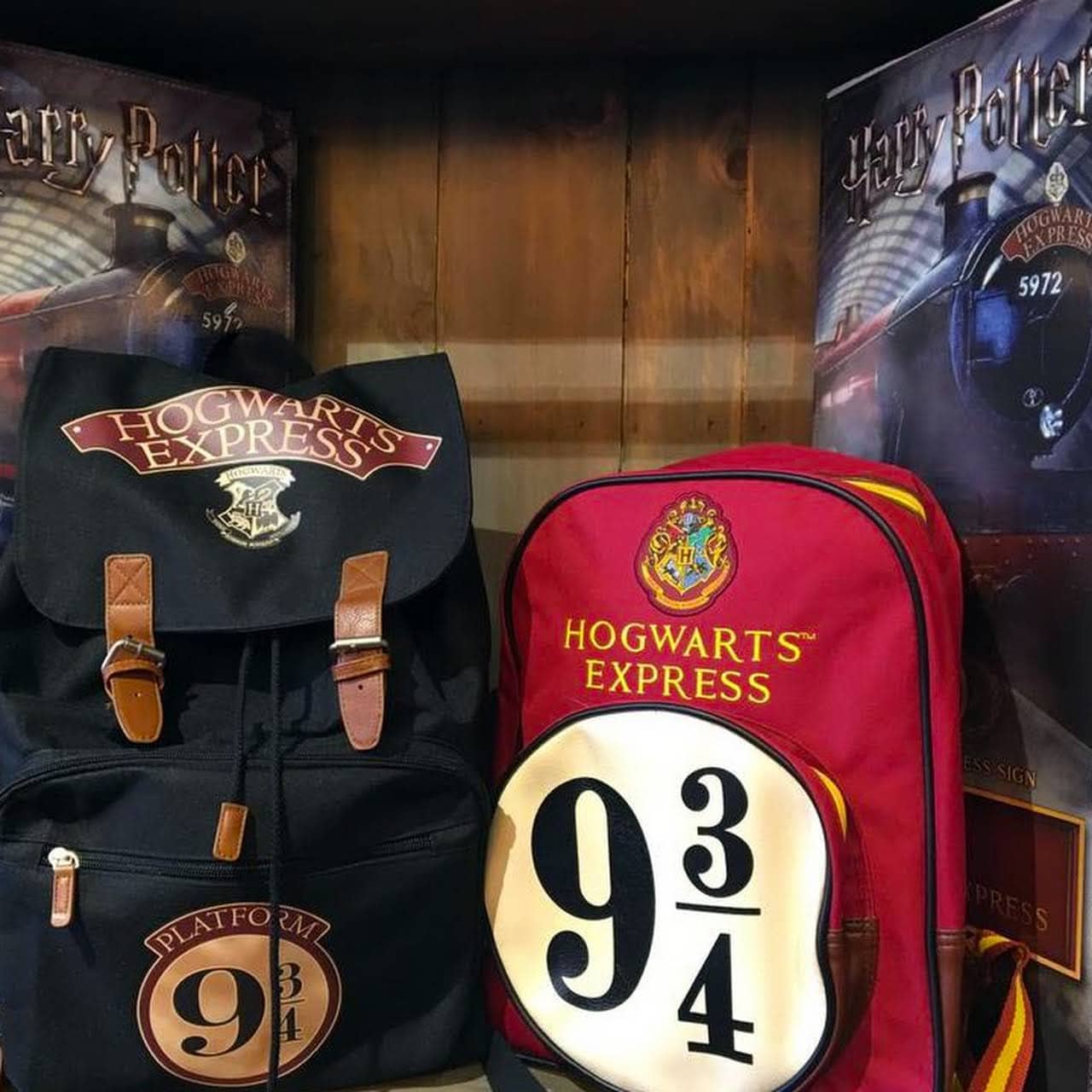 Tucked away in the back of the shop though is some other merchandise for fantasy series fans such as Game of Thrones.
The Boy Wizard
The Boy Wizard has locations in Edinburgh, York and London and in York is the Harry Potter shop with the bright red front. Lots of great merchandise can be found here with some really good discounted prices if you are looking for a bargain.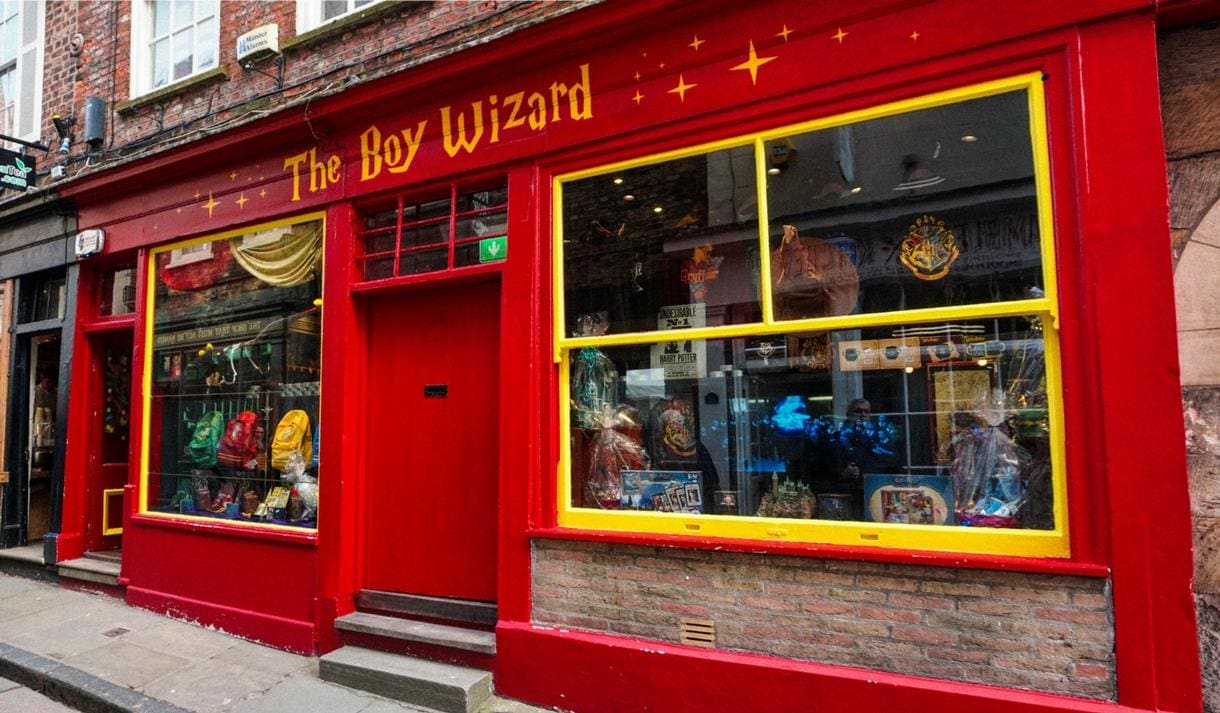 The Cauldrons Potions
The Cauldrons in Shambles York is the place to mix up your own magical potions and become a trainee wizard. A drinks emporium for Wizards they serve the ancient recipes of Agnes de Molay a French witch from the 14th century. They have Serpents Venom, Lions Roar Elixir and Dragon's Breath potions.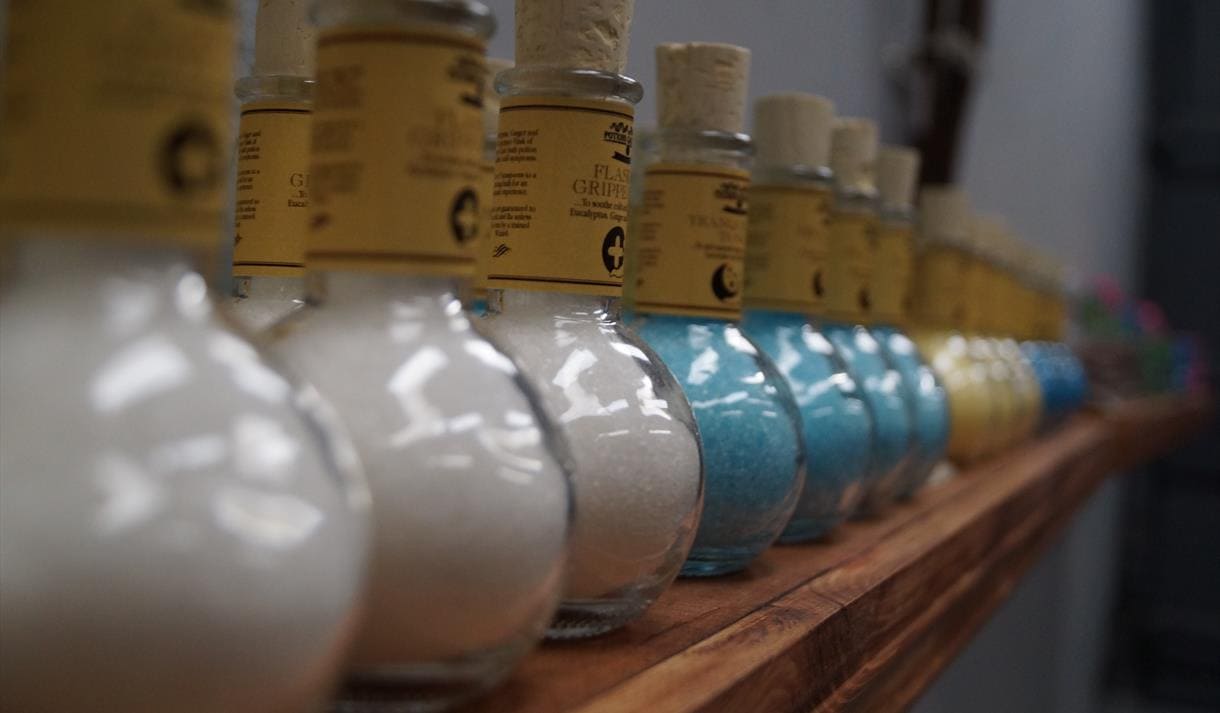 Hidden away in the witch's hole at the back of the shop you can visit beyond the magic wall to see a 6000-piece Hogwarts lego set. Why not drop by and mix up your own versions of Basilisk Blood and Elixir of Love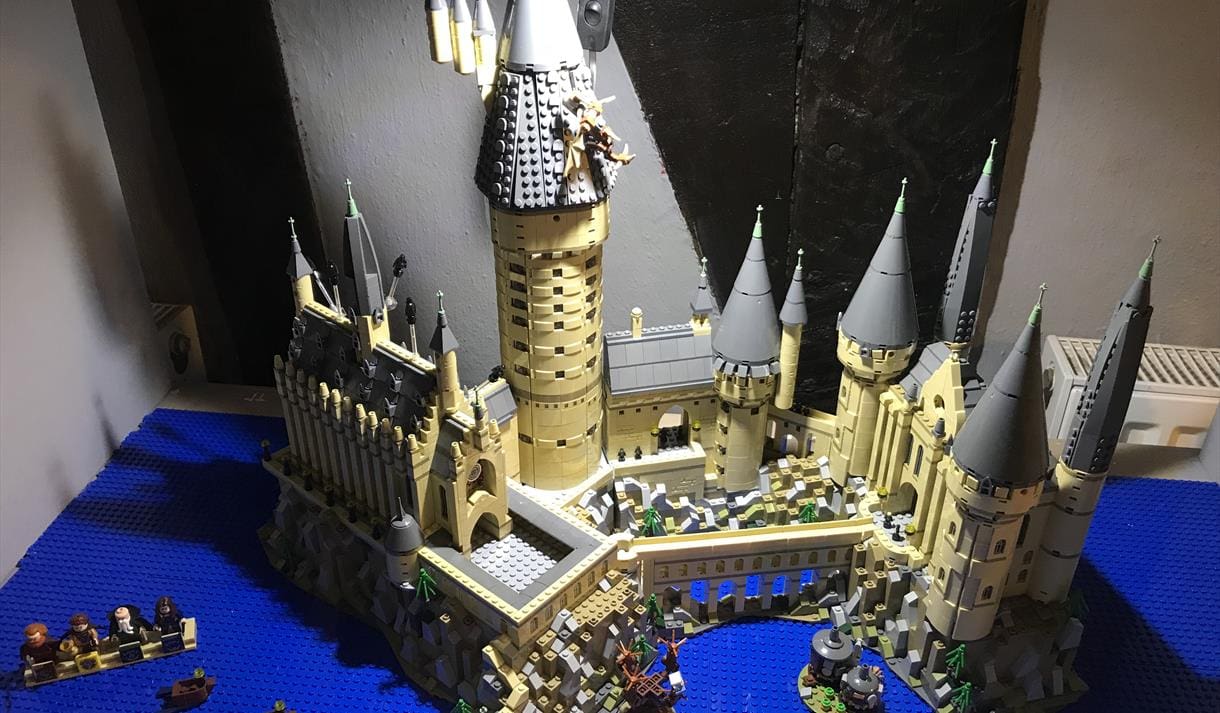 Harry Potter filming sites in York outside the Shambles
York Rail Station
The pedestrian bridge across the platforms at York Station is used as a Harry Potter filming location in The Philosopher's Stone. It looks quite different today though as the barriers are now made of plastic rather than thick metal beams.
Goathland Railway Station – Hogwarts Express Train
A ride on a steam train has always been a dream, but the chance to ride the Hogwarts Express Train to Hogsmeade was an opportunity not to be missed. The famous Harry Potter trains ran on the old steam train lines managed by the North Yorkshire Moors Railway.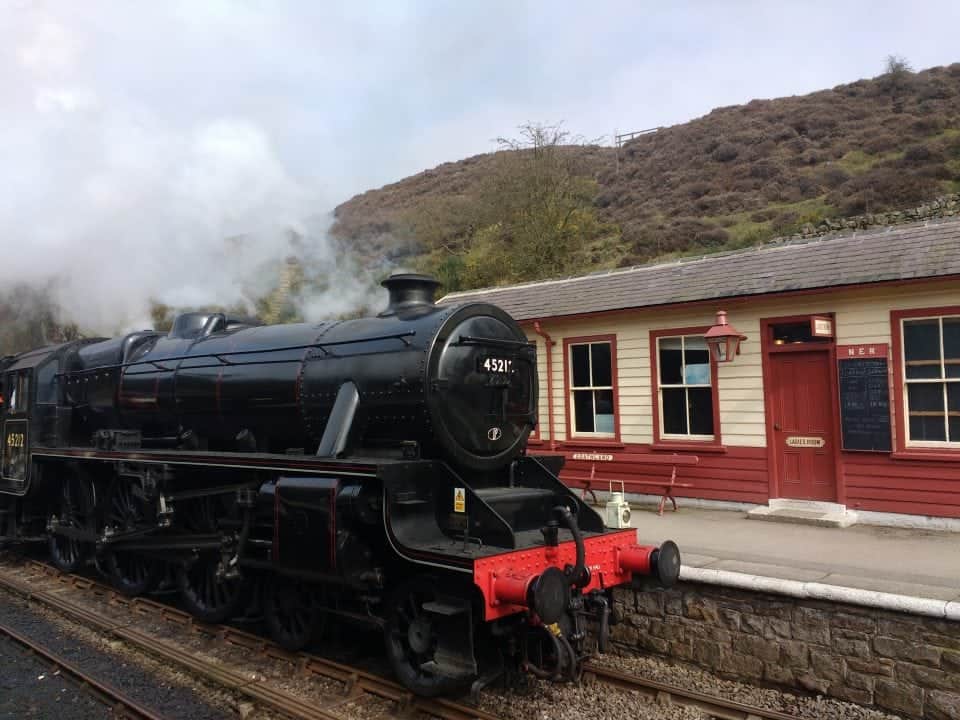 The North Yorkshire Moors Railway (NYMR) heritage steam trains run on the NYMR line from Grosmont to Pickering and include a stop at the famous Harry Potter station in Goathland on its journey. These trains are all maintained and operated by volunteers.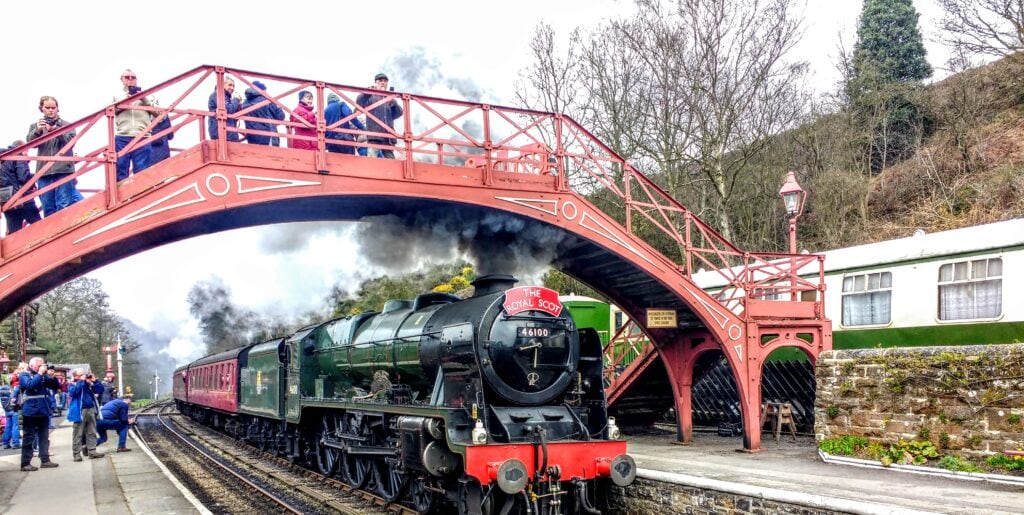 A Whitby / Goathland Return ticket costs £23 per adult and £10.50 per child and you can find out more on the North Yorkshire Moors Railway Website.
Where to eat in the Shambles York
The Shambles Food Court
The Shambles Food Court, Located Within The Shambles Market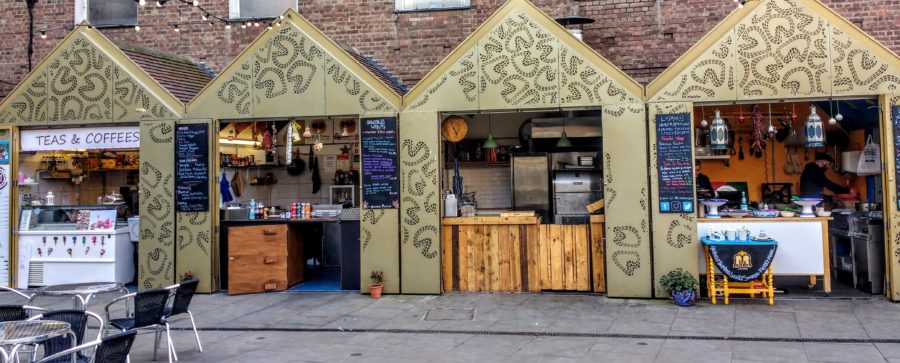 This area has a selection of international foods presented in small "sheds" in the Shambles Market in conjunction with the Shambles Farmer's Market. Some of the sheds include;
Los Moros
Los Moros means the "Moors" in Spanish and has come to mean the people from Berbers, Arabic and Jewish populations that lived in Andalucia in the Middle Ages.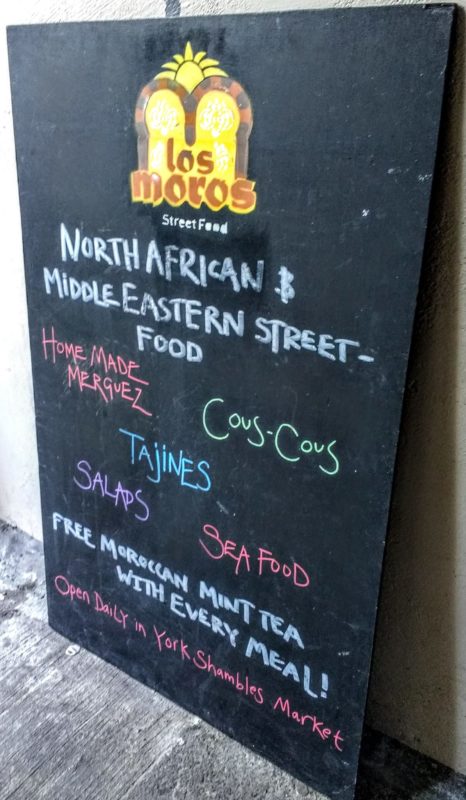 A lovely taste of North African and Levantine street food and they have now opened a restaurant. You can have Chermoula Lamb's Liver with Lebanese spicy potatoes (batata harra) there is some wonderful hummus, vegan falafels and salads so something for everyone.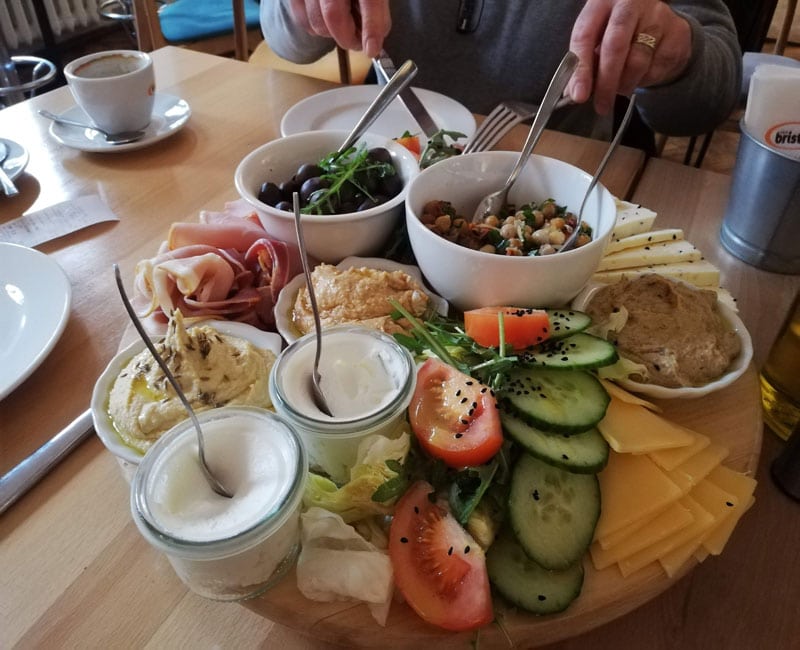 Krep
Krep serves their authentic French Crêpes and Galettes (savoury crêpes) from a vintage Citroen. They also serve amazingly good coffee that is from a local Yorkshire roaster.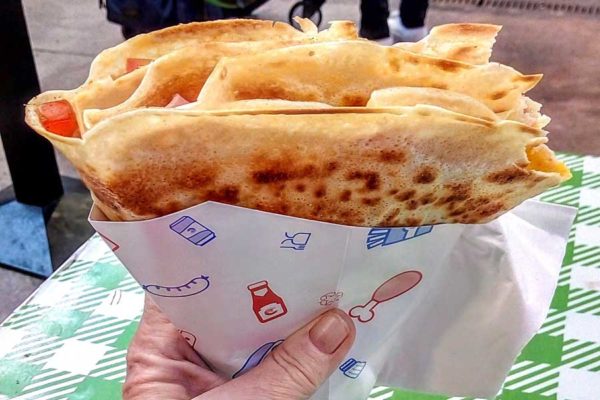 Pizzoli'
Pizzoli' is a real Sicilian street-food experience that serves authentic, Italian, homemade pizza, lasagne and focaccia, and they are known for their pizzolo (a flatbread pizza filled with different ingredients) and arancino (risotto croquette filled with Ragu', ham & cheese or four kinds of cheese).
Shambles Wraps
Shambles wraps is a range of Turkish sautéed meat wraps and grilled kufta kebab options. From grilled lamb to vegan and vegetarian options each wrap comes with a free soft drink.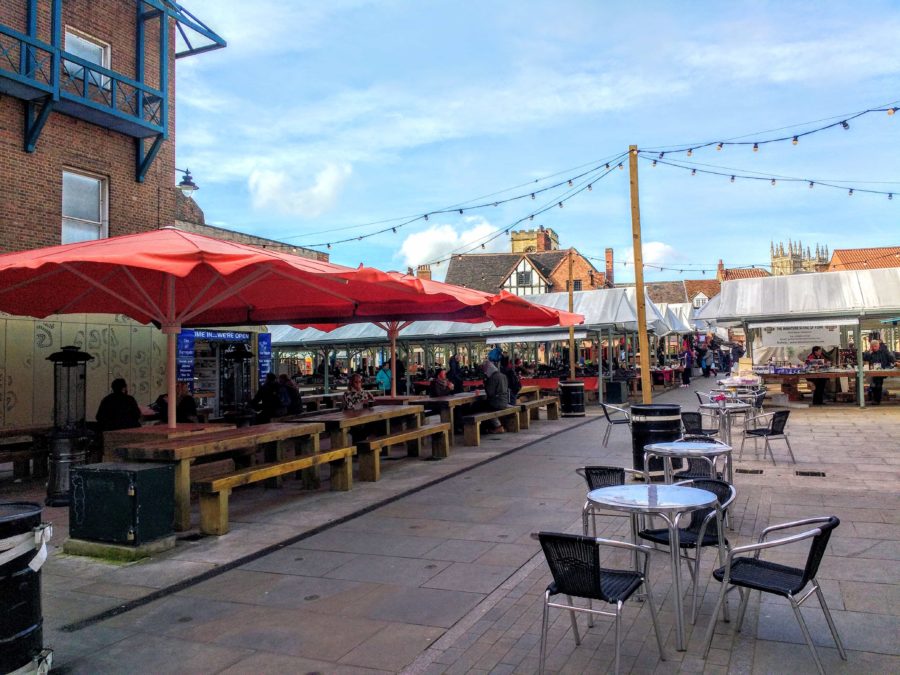 Shambles Kitchen
For gently smoked meat, cooked for hours over oak chips, the Shambles Kitchen's kiosk serves a delightful range from hot sausage, spicy chicken thighs, turkey breast and pork ribs, with tasty sides such as homemade 'slaw, potato salad or twice-fried chips.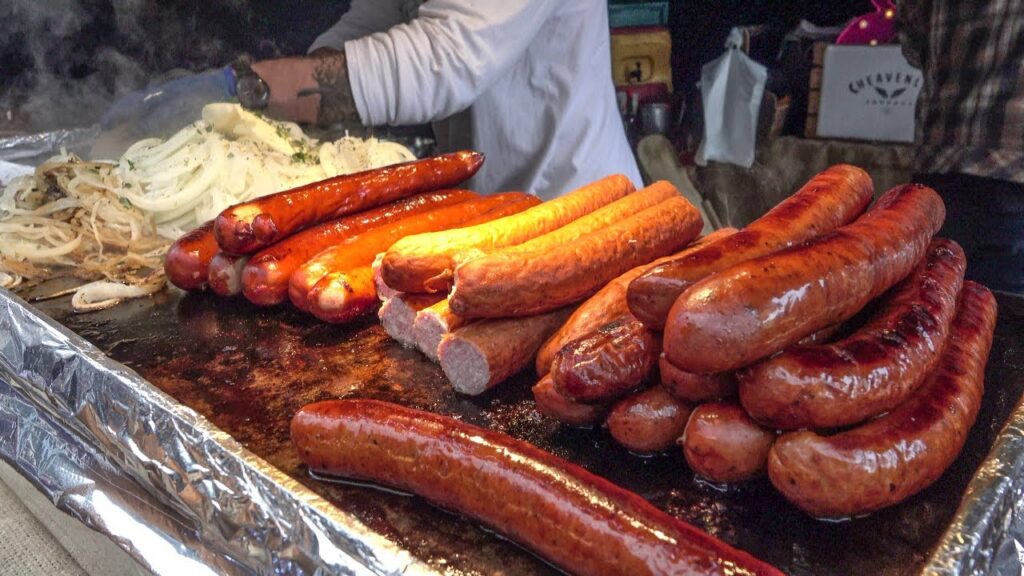 Winner Winner
Treat yourself at lunchtime with a visit to The Chicken Shack for some delectable delights. Local business, Winner Winner have brought their own recipe of marinated and brined (for 12hrs) rotisserie chicken, and their famous chicken wings to the Shambles Market for hungry visitors
Café M
Café M serves delicious nibbles and hot drinks throughout the day. Their range of coffees includes Americano, Latte, Cappuccino, Mocha and their special Turkish coffee. For something less stimulating, pick a tea or herbal infusion; choices include Yorkshire tea, green tea (plain or flavoured with jasmine or lemon), earl grey, vanilla chai, and a range of caffeine-free options such as decaf black tea, redbush, peppermint, Chamomile and refreshing fruit infusions.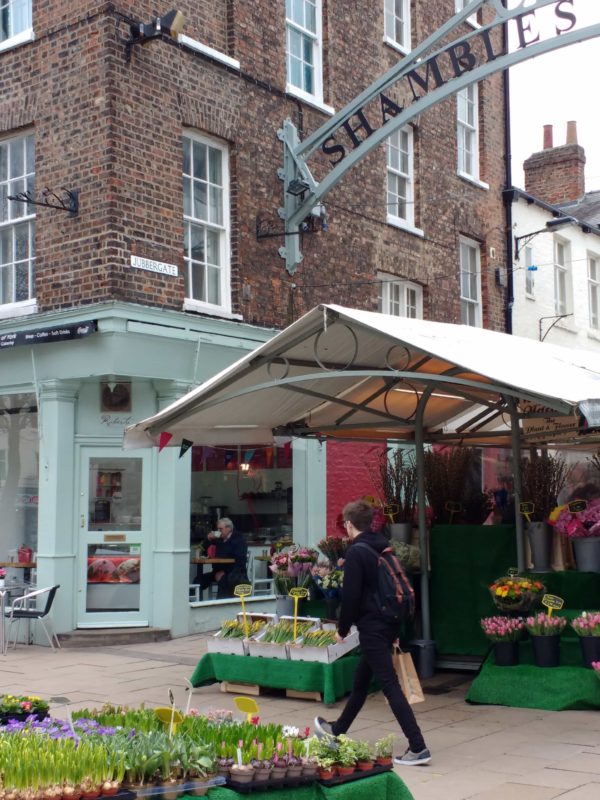 Pubs in the Shambles York
The Shambles Tavern
A great gastropub the Shambles Tavern is well known for its Wall of Ales they offer you a vast selection of Yorkshire cask, keg, and bottled ales for your enjoyment. The food is all sourced locally and the Tavern has won numerous awards.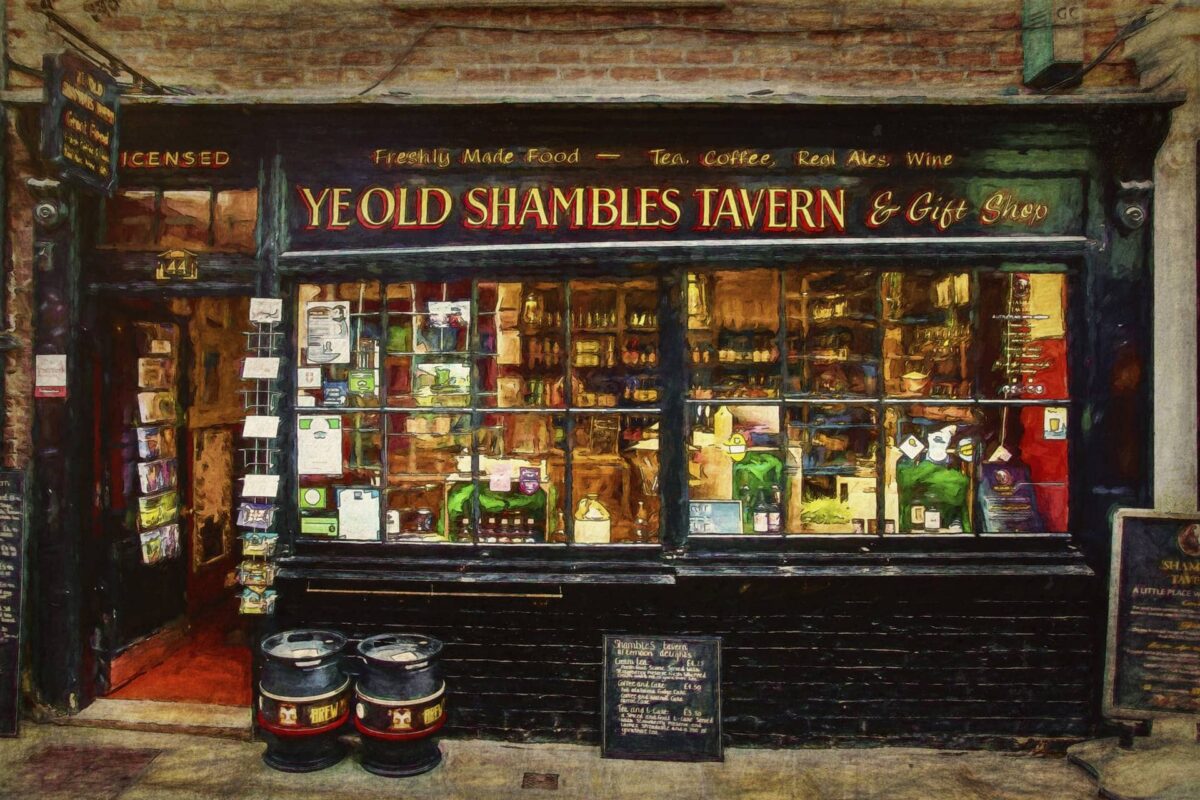 The Punch Bowl Pub
Said to be haunted the Punch Bowl is a traditional pub with a vast range of real ales and great food.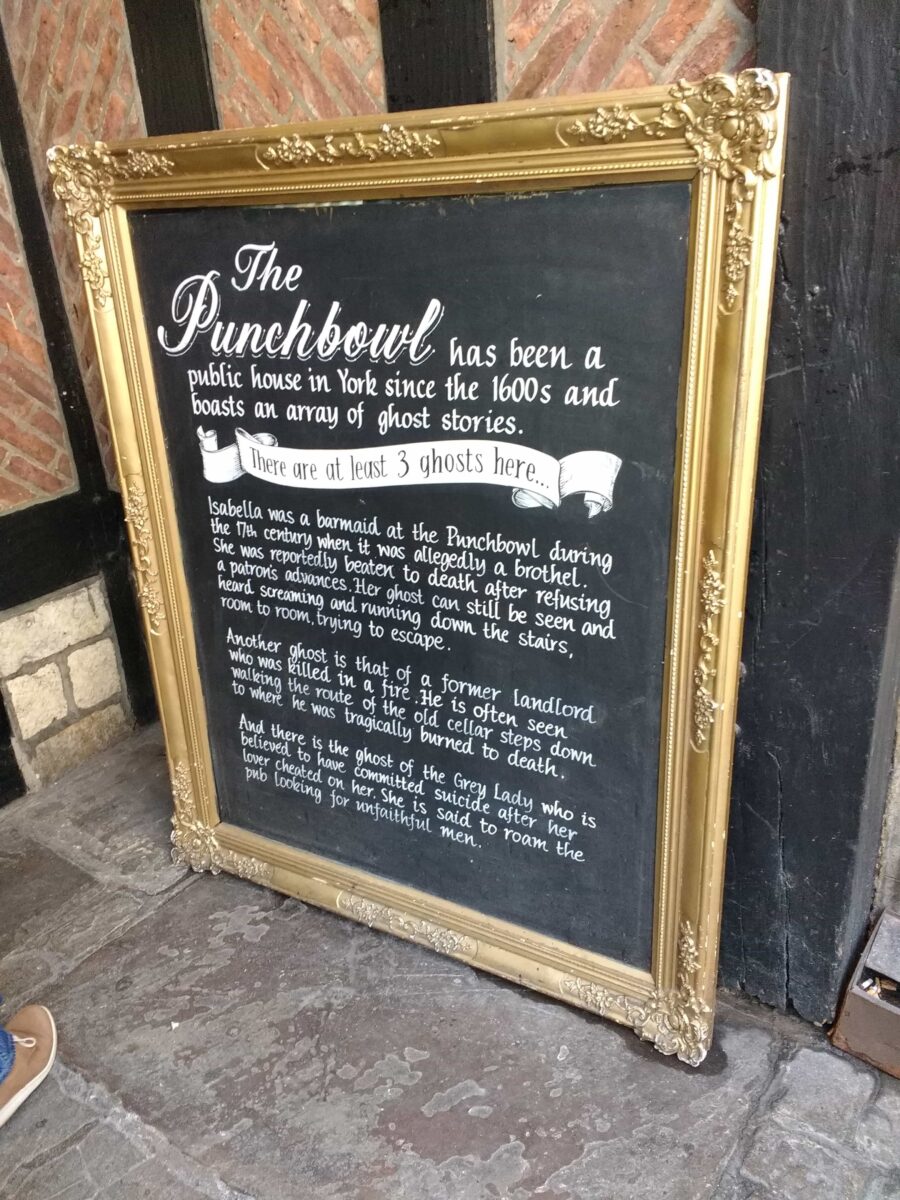 The Punch Bowl has been a pub for over 4 centuries but it has suffered two major fires and been restored. The political connection comes from the Whigs party which preferred punch over claret which was a tory drink.
Gert and Henry's
What a beautiful old building, Gert and Henry's is timber-framed and dates from the 1600s. It has been a restaurant since 1929 and it serves classic English food. We had some traditional fish and chips and a steak pie and some great local ales.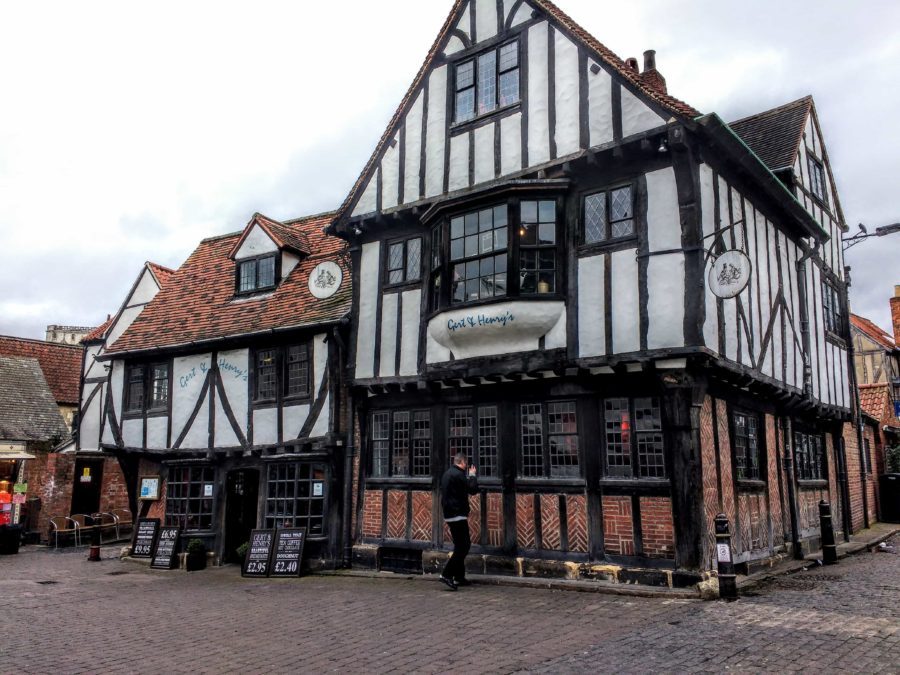 With so many classic pubs, alehouses, restaurants and cafes to choose from and a wealth of heritage, historic and truly unique buildings it is worth a wander and perhaps a stop in every interesting place you find. You certainly won't experience this in N. America lol.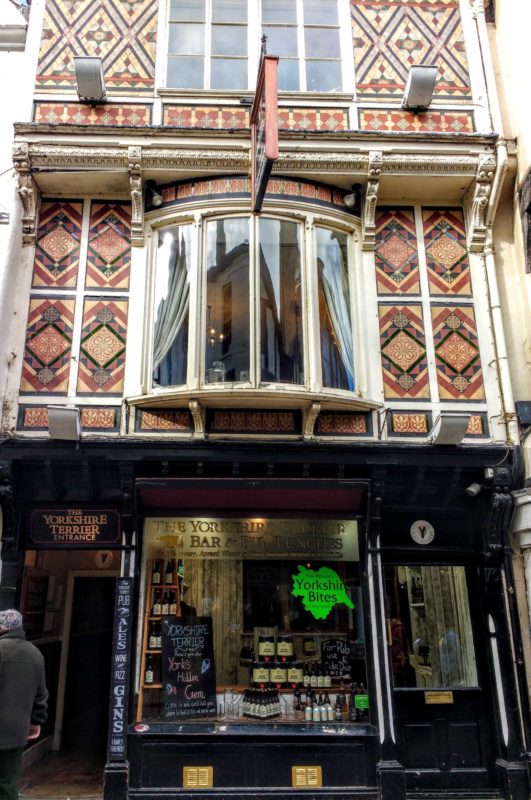 Where to stay in York
From the ultimate in luxury to some pretty quirky places York has all kinds of accommodations. Best to stay within the City walls as it makes York and the Shambles that much more walk-friendly.
Grays Court
Between York Minster and the walls, with a history dating back to the 11th century. With views across York's medieval walls, Grays Court is a beautiful historic house with leafy gardens, an intimate restaurant and free Wi-Fi. The grand house is located beside York Minster and was once home to King James I.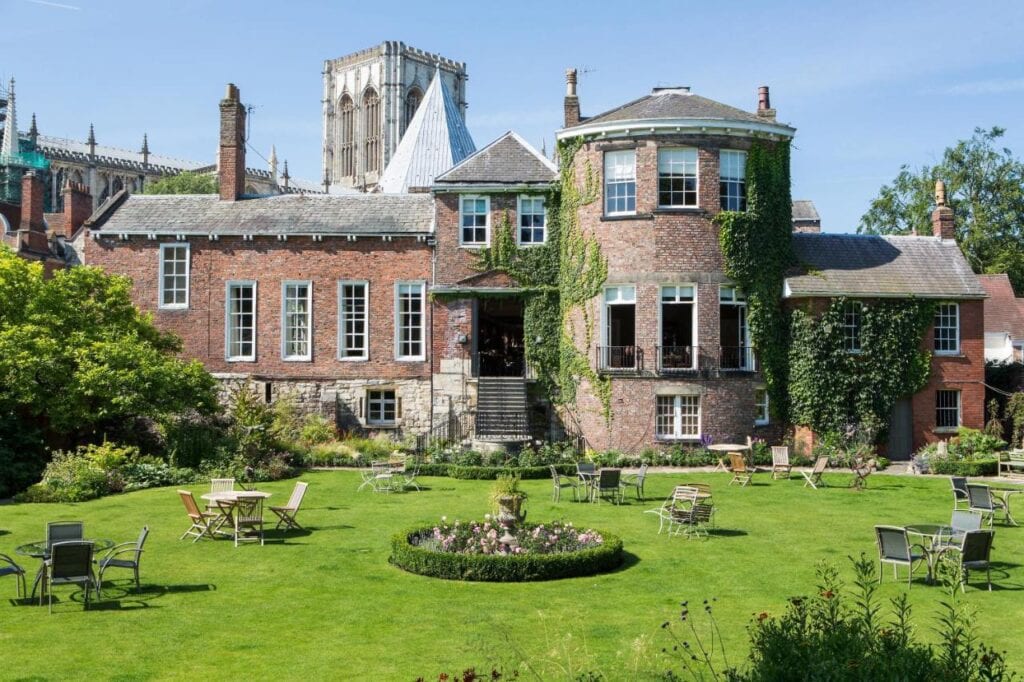 The Bar Convent
As part of a still-working convent in a historic building, this is one of Britain's more unusual guest houses the bedrooms are modest yet roomy and well-equipped, there's a charming café, and peaceful garden and the city is walkable. You can take advantage of lower room prices with a shared bathroom – all in all great value for money.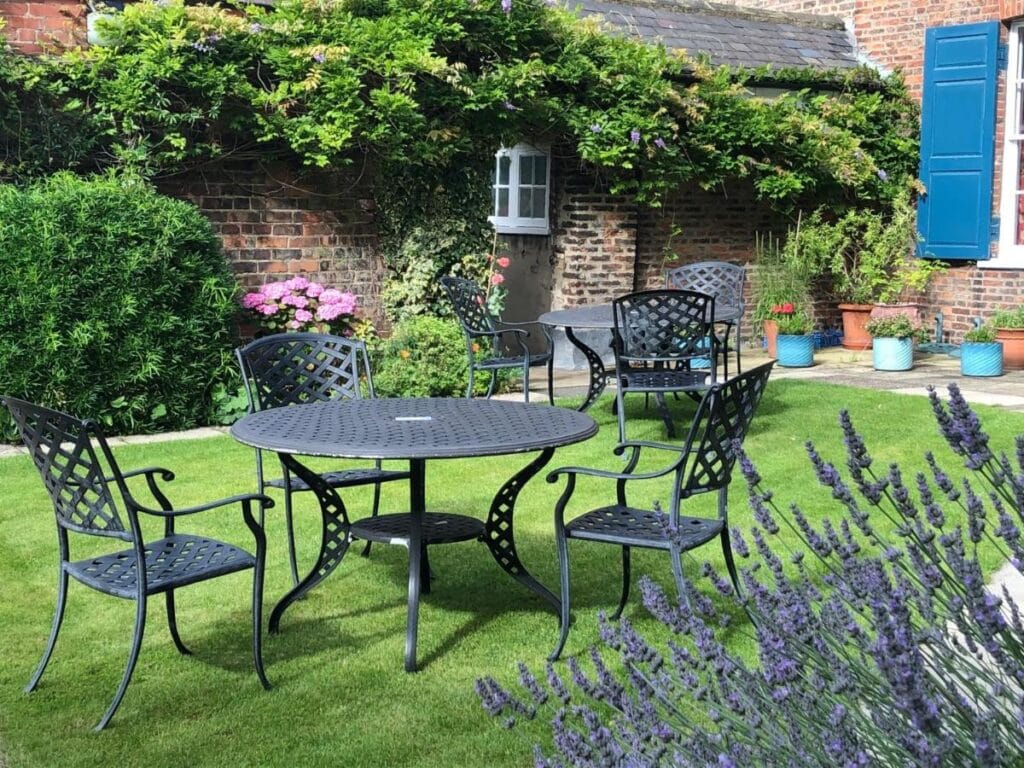 The Grand York
York's only five-star hotel has a luxury vaulted spa available and a swimming pool. Located in a Grade II listed Edwardian building the hotel maintains a splendid aura of luxury.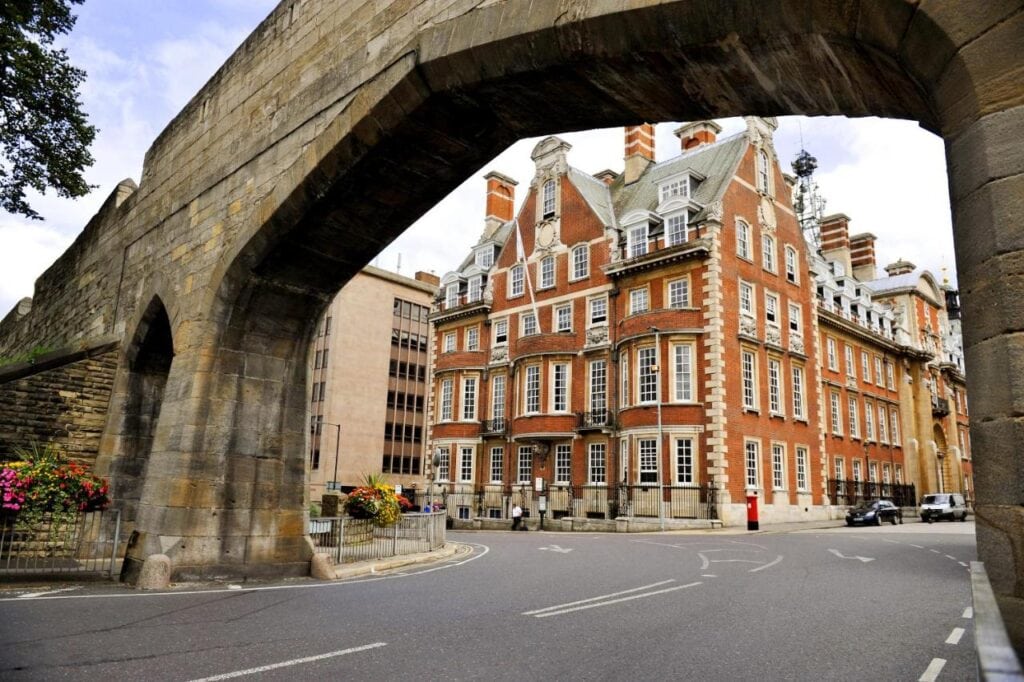 Trembling Madness Apartments
Located in a quiet little medieval courtyard behind the pub The House of Trembling Madness, The Old Gallery and The Chamber apartments offer visitors a quirky and delightful experience. With incredible interiors and ghost stories, this is a brilliant convenient place to hang out while in York. A 10-minute walk from the Shambles and the apartments overlook York Minister.
BOOK THE TREMBLING MADNESS APARTMENT NOW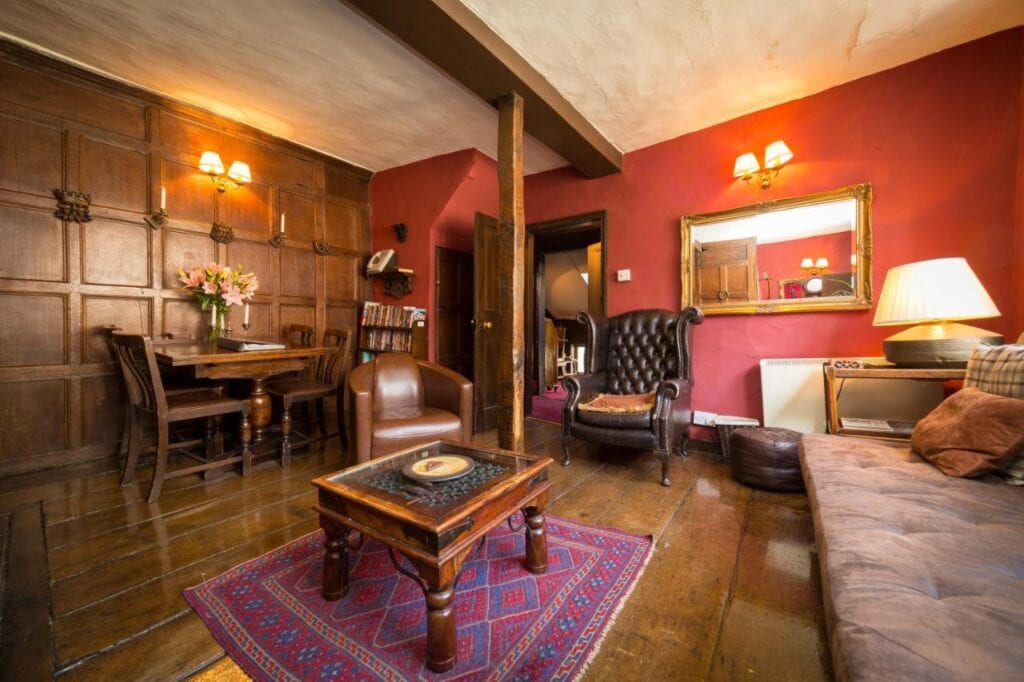 Guy Fawkes Inn
Guy Fawkes Inn was the birthplace of the notorious British traitor. The Guy Fawkes Inn, by Best Western, retains many of its original features including gas lighting, real log fires and the timber staircase. You can also dine by candlelight in the restaurant, which serves classic pub food from locally sourced ingredients and the bar stocks a range of real ales.
The York Ghost Walk Experience leaves from York Minster each Saturday at 19:00 and both York Theatre Royal and the National Railway Museum are just a 5-minute walk away.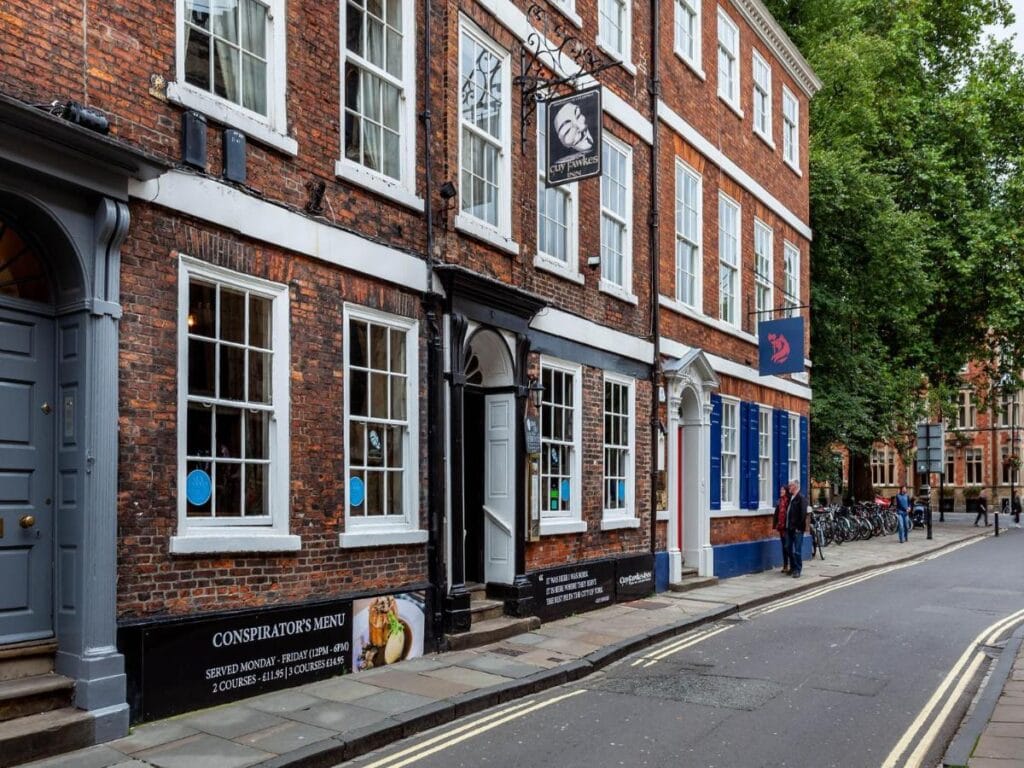 Have you been to Shambles York? What did you like the best?
You might also like
14 Things to do in Whitby England
37 Fabulous things to do in York
The North Yorkshire Coast – 9 perfect seaside places to visit
Whitby Abbey Exploring the gothic masterpiece
16 Evocative Ruined Abbeys in Yorkshire
Helmsley Castle an atmospheric ruin in North Yorkshire
All the best things to do in Pickering North Yorks
16 of the best things to do in North Yorkshire England
Rievaulx Abbey a haunting ruin in North Yorkshire
Yorkshire Market Towns & Prettiest Yorkshire Villages
Pin it for later