The Best Traditional Portuguese Food: feasting in Portugal
When my Irish family arrived in Ontario we discovered a city that was blessed with immigrants from Italy, Portugal, Ireland, Scotland and England. My childhood neighbourhood was full of immigrant kids like me and on the street where we settled there were Portuguese kids who became my friends.
Not only did the Portuguese family welcome me into their homes but they fed me some of the best Portuguese dishes and so began my desire to travel the world and try cuisines from everywhere. My first food memories were of the now-famous food culture of Portugal and of course it made me want to visit Portugal.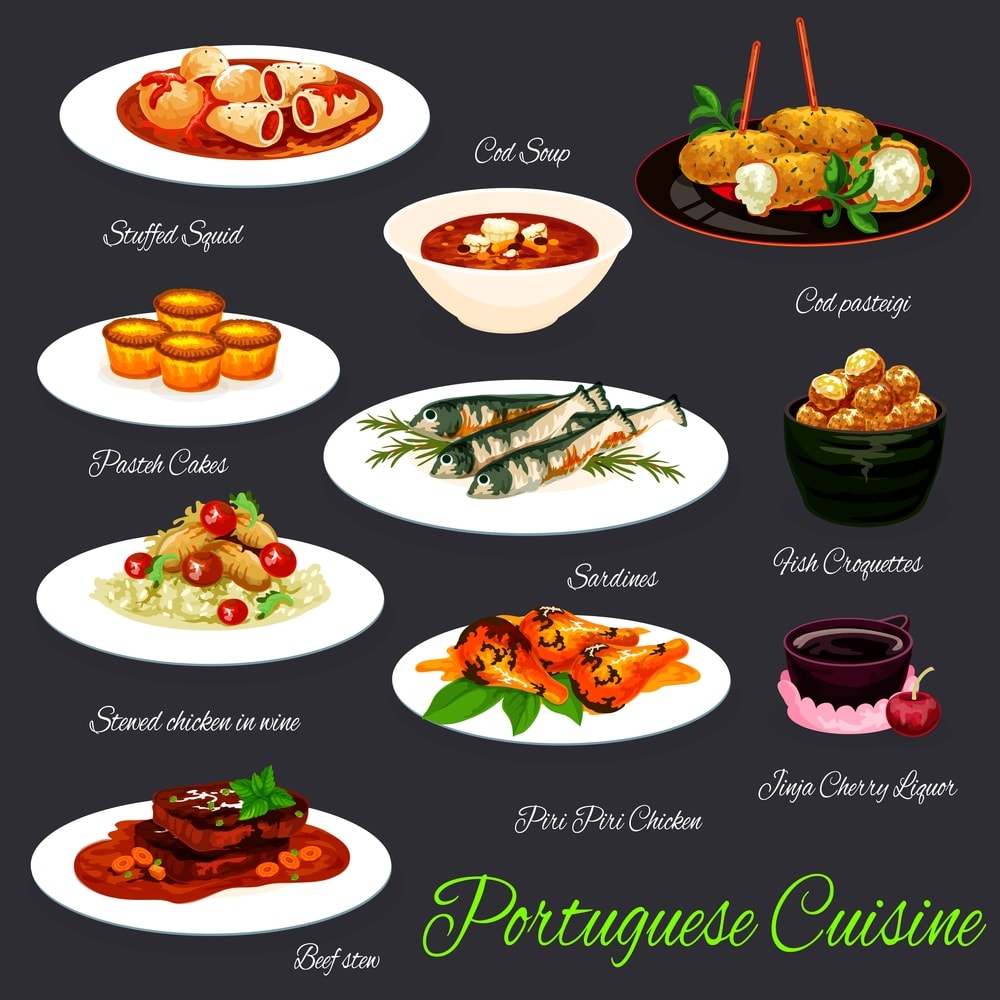 The last of the summer days when the pig arrived at the house was a celebration of all things Portuguese. We ate dishes like crackling in our bifanas, sugared fresh white bread, egg tarts and helped can the summer vegetables and fruits for the long winters in Canada. Compared to my mother's English cooking which was bland and boring the best food in Portugal encouraged me to taste and explore other cultures through their food.
These days typical Portuguese cuisine is pretty trendy and those of us who travel for food or simply travel a lot know all about salt cod, the famous pastel de nata or Portuguese egg tarts. We can buy a bifana at our local market and on street food stalls throughout Canada, and we understand the Portuguese demand for fresh fish, octopus and seafood.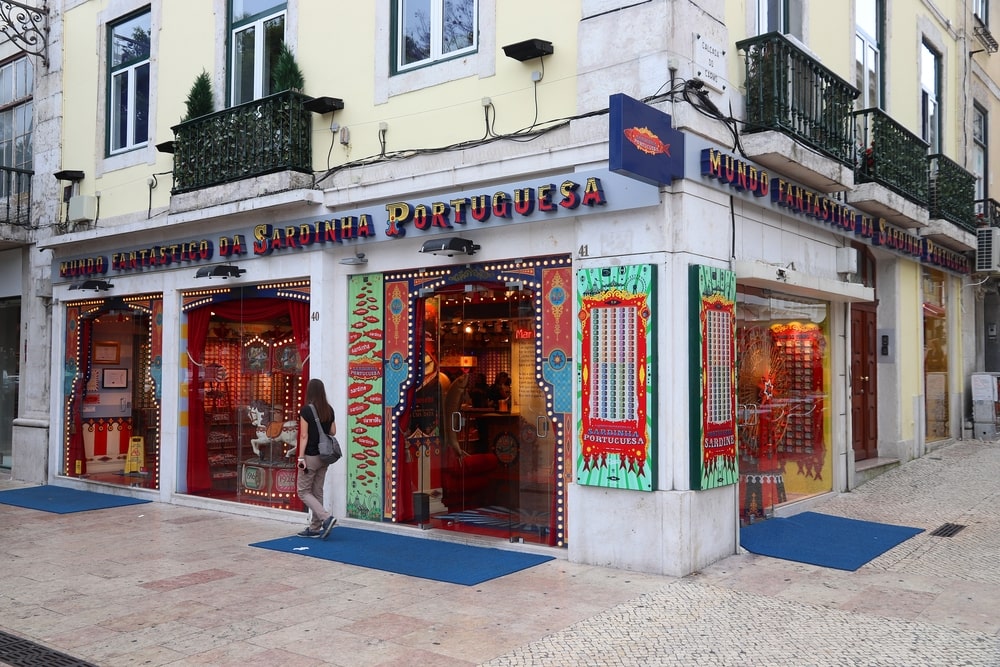 Portuguese food is gloriously simple using the finest fresh ingredients, good olive oil, fresh bread and a variety of vegetables and fruit with an emphasis on good tomatoes, herbs and simple (not hot) spices.
The Portuguese dishes and traditional Portuguese food that I grew up eating depended on vegetables grown in your backyard and of enjoying food days when the family would gather and roast a pig, can the tomatoes and bake fresh bread to be enjoyed by us kids slathered with butter and sugar.
Good hearty Portuguese dishes are made with meat, seafood, beans, and vegetables Portuguese cuisine is a Mediterranean-based cuisine that takes advantage of its exploring heritage with spices including paprika, cumin, clove, allspice, oregano, rosemary, and piri-piri which is a delicate chile that is warm rather than hot and spicy.
Planning a Trip to Portugal? Here's my travel guide to help you choose what to see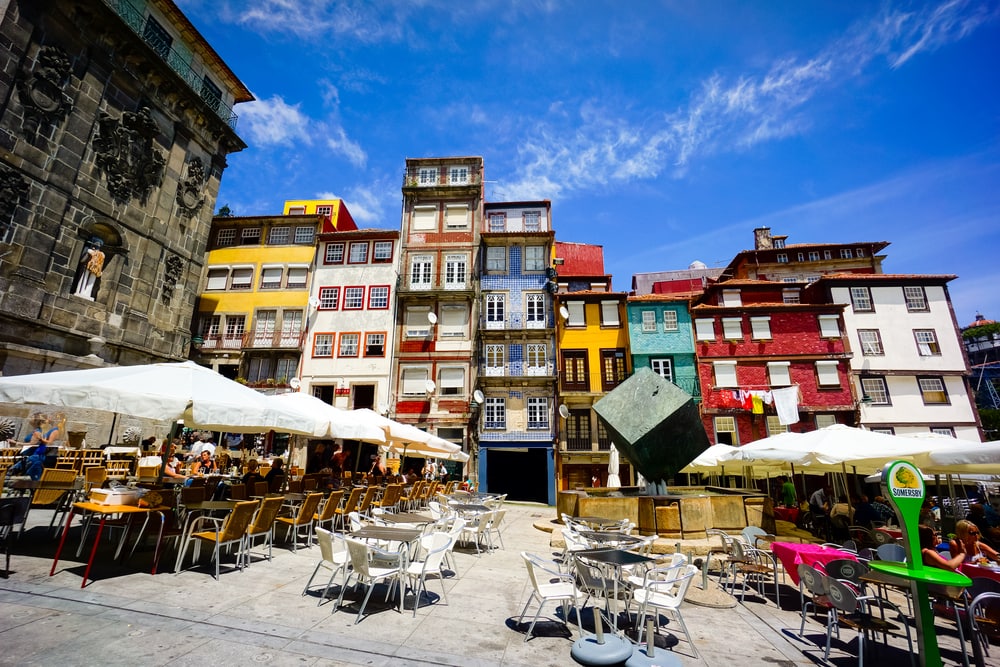 46 Typical Dishes To Eat in Portugal
Traditional foods in Portugal like many European countries where the population left home for a better life, are simple, made from locally grown and raised ingredients or pulled from the sea.
But the influence of Portugal's spice trade in the East Indies, Africa, and the Americas led to a wide variety of spices and herbs being added to traditional Portuguese food.
These spices include piri piri the small, fiery chilli peppers from Africa, white pepper, black pepper, saffron, paprika, clove, allspice, cumin, cinnamon and nutmeg, vanilla, lemon zest, orange zest, aniseed, clove and allspice are used in many traditional desserts and some savoury dishes.
While much of Portuguese traditional food includes meat you can find many vegetarian dishes from crops including fava beans, red beans, white beans, black-eyed beans, pumpkins, collards, kale, potatoes, onions, and carrots, which are all grown in Portugal. When you're I recommend that you start your Portugal food exploration with the following traditional dishes starting with Bacalhau, the national dish of Portugal.
Bacalhau – Salted Cod
If you don't know bacalhau where have you been? As Portugal's National Dish this is a must try in Portugal. The word Bacalhau is the Portuguese word for cod cod but specifically salted and dried cod. This method of preservation of cod has been used in Portugal for over 500 years.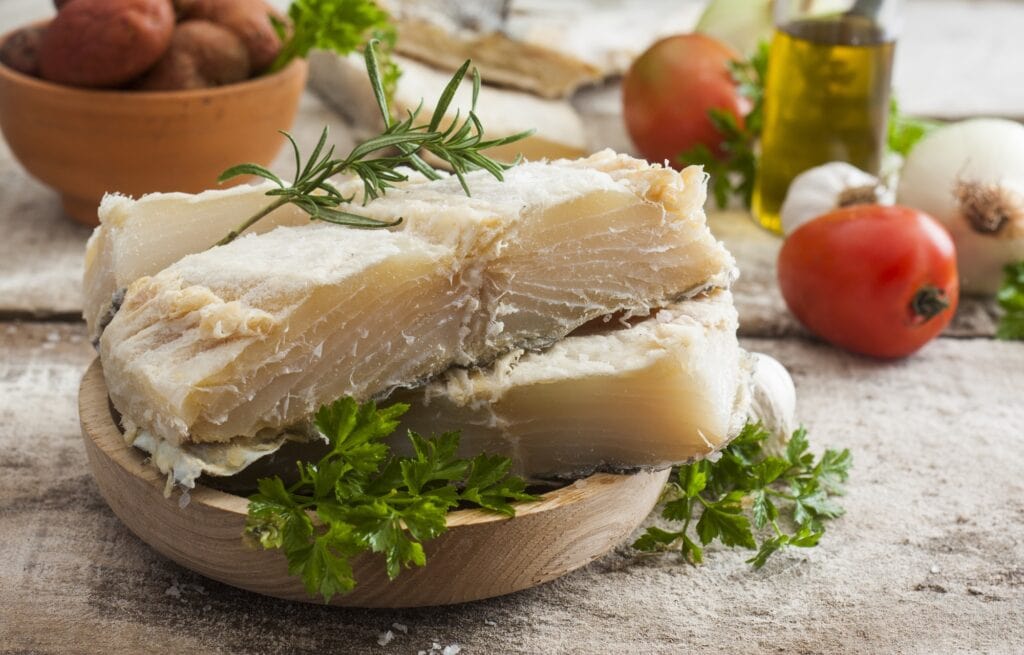 Bacalhau is integral to Portuguese culinary heritage and is served at many important community events or special occasions such as the Christmas Evening meal and during the Catholic period of Lent.
Bacalhau has been an integral part of the Portuguese diet for centuries and for good reason.There are over 1000 recipes for bacalhau in Portugal but the most common one is bacalhau served with boiled white potatoes and rice without a double one of the best Portuguese dishes to try.
Best Places in the Algarve: Hidden Gems of the Algarve
Bacalhau a bras – Shredded Salt Cod
Bacalhau a bras are made with shreds of salt cod, onions, and hand-cut french fries cooked with scrambled eggs.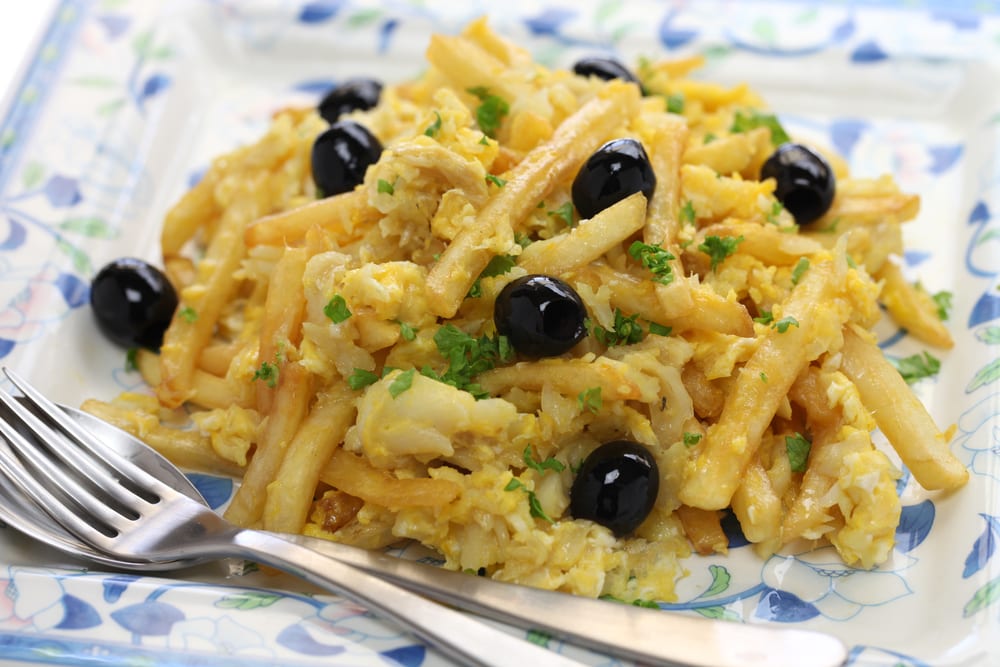 Pastéis de Bacalhau – Salt Cod Fritters
These gorgeous little flavour bombs combine the salt cod with mashed potatoes, finely diced onions parsley and eggs to keep the mixture together. These are then deep-fried and served with a slice of lemon. You will find these tasty little fritters throughout Portugal at most cafes.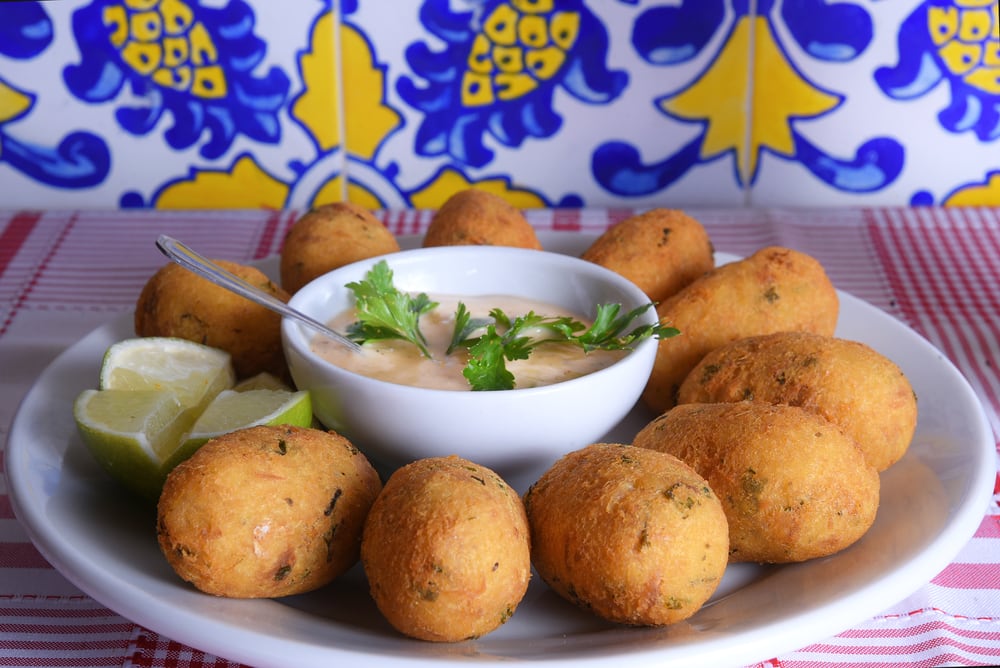 Bife com Ovo a Cavalo – Steak on Horseback or Steak & Eggs
A favourite for lunch this traditional Portuguese dish tops a lean, grilled cut of steak or pork with a fried egg. It's then served with fries, rice, or a crisp, green salad. It is usually made from cheaper cuts of meat that are marinated in Massa de pimentão, a sweet red pepper marinade.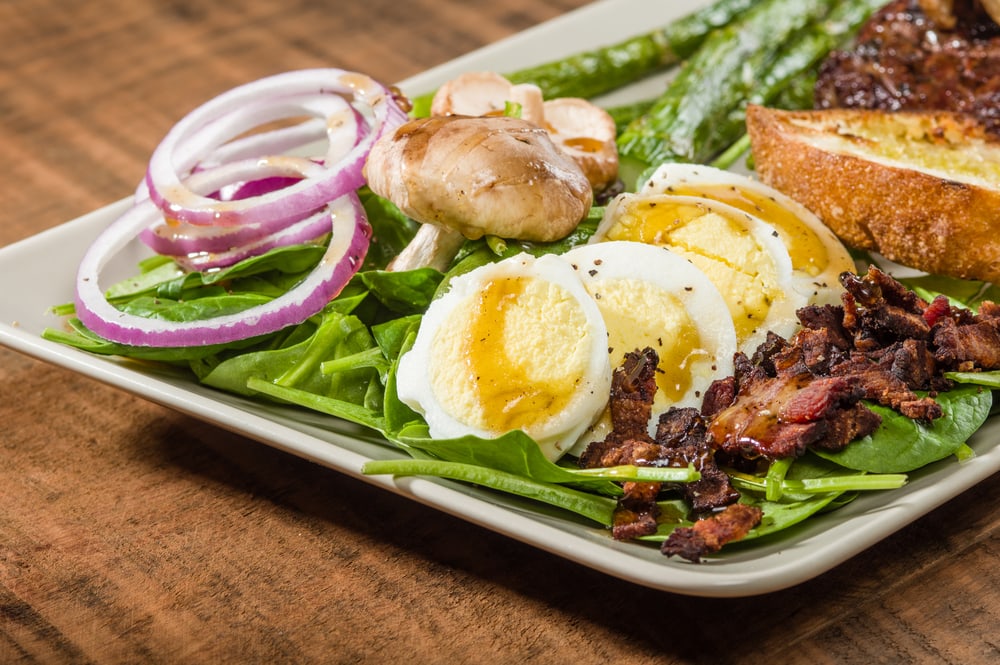 Bifanas
The Bifana is a traditional Portuguese pork sandwich found all over the country. When Portuguese people want a quick almost fast food lunch this is what they choose. The filling is a marinated pork served in a crusty Portuguese bread roll called a Papa Seco. The pork is marinated in paprika, garlic and white wine and the bread has that lovely crackly crust and soft interior. Most cafes and restaurants have a 'secret' marinade for their pork and even a Portuguese Mcdonald's has a McBifana.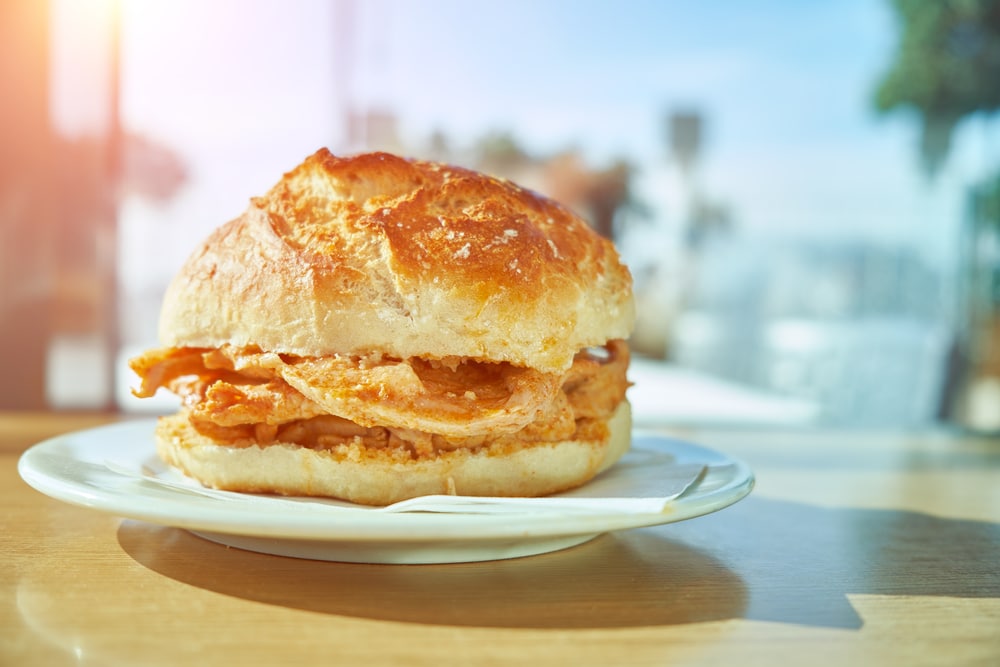 Açorda – Bread soup
A Portuguese bread stew/soup that in a sense is related to the Ajo Blanco of Spain Açorda is a Portuguese soup made with stale bread that has been soaked in a broth of coriander, garlic, and olive oil. Açorda is considered to have descended from Moorish bread soups.
The stew is not cooked but simply mixed into the broth and then served with a poached egg. It is also served with shrimp or bacalhau.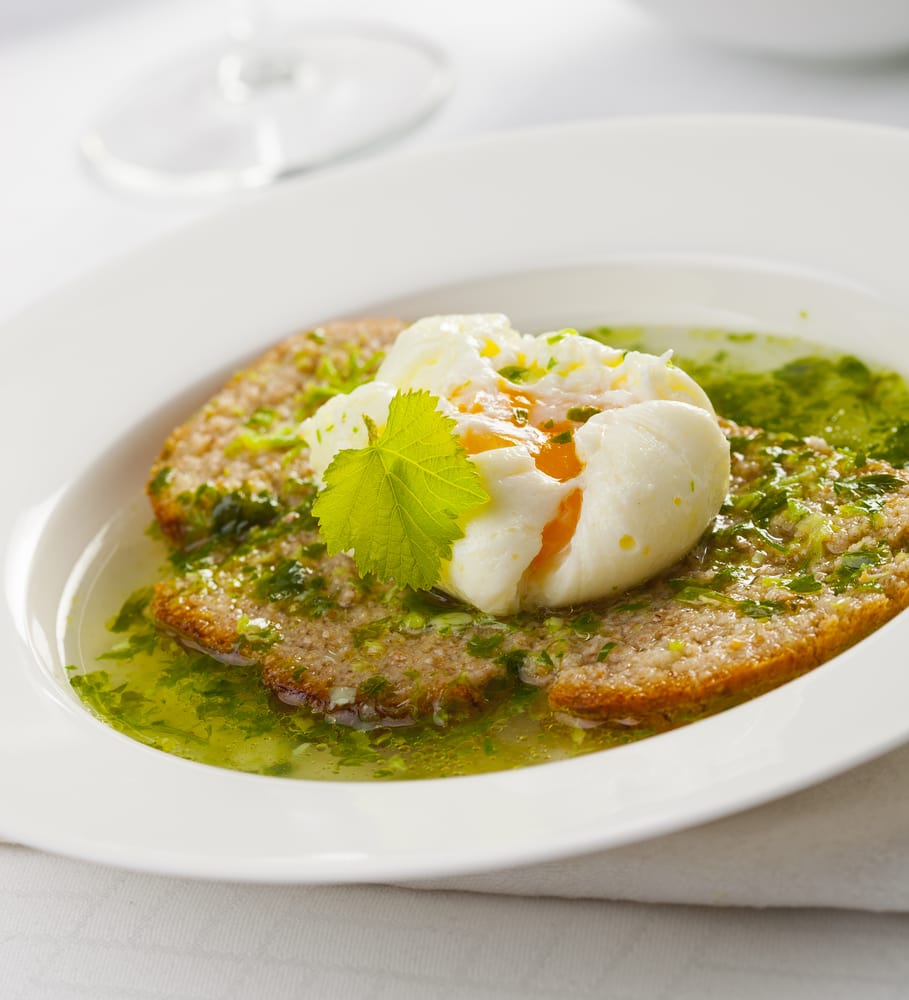 Francesinha – Portuguese Sandwich
Francesinha actually translates to "little French girl" and is said to have come to Portugal via a French immigrant who had a craving for a Croque monsieur.
Found on every menu in Portugal this iconic Portuguese food is a sauce-covered sandwich made with bread, Linguica sausage, ham, beef or steak. It is covered in melted cheese and then topped with a fried egg before being covered in a thick sauce.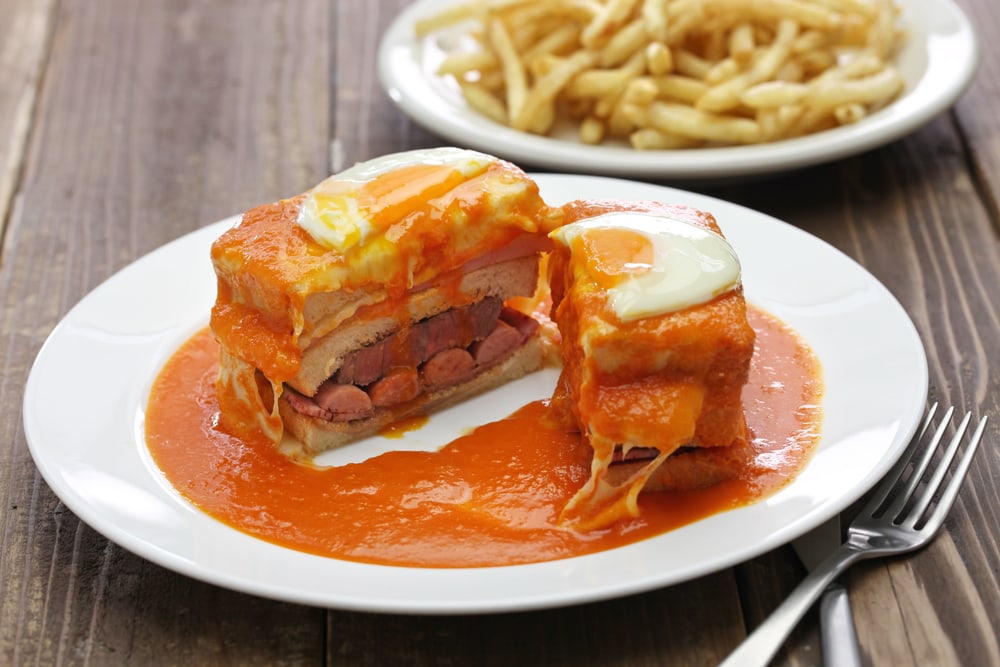 Very popular in Porto, you will see it on almost every menu. Made with bread, ham, sausages, and steak, the sandwich is typically covered with melted cheese and an egg on top and then covered in a thick sauce. The sauce is made from tomatoes, sherry, wine or beer, onions and a touch of peri-peri pepper.
Cachorrinhos
The cachorrinho is one of Portugal's favourite snacks and it is usually Alheira sausage sandwiched in a crusty long roll with cheese and brushed with a spicy sauce. The perfect snack food with a cold beer.
Prego
Prego actually means nail in English and it refers to how the grilled beef is prepared for this sandwich. The meat is tenderized with a mallet and garlic cloves are hammered or nailed into the beef the beef is then marinated before grilling and served on a crusty papa seco bun. Pure and simple but oh so tasty.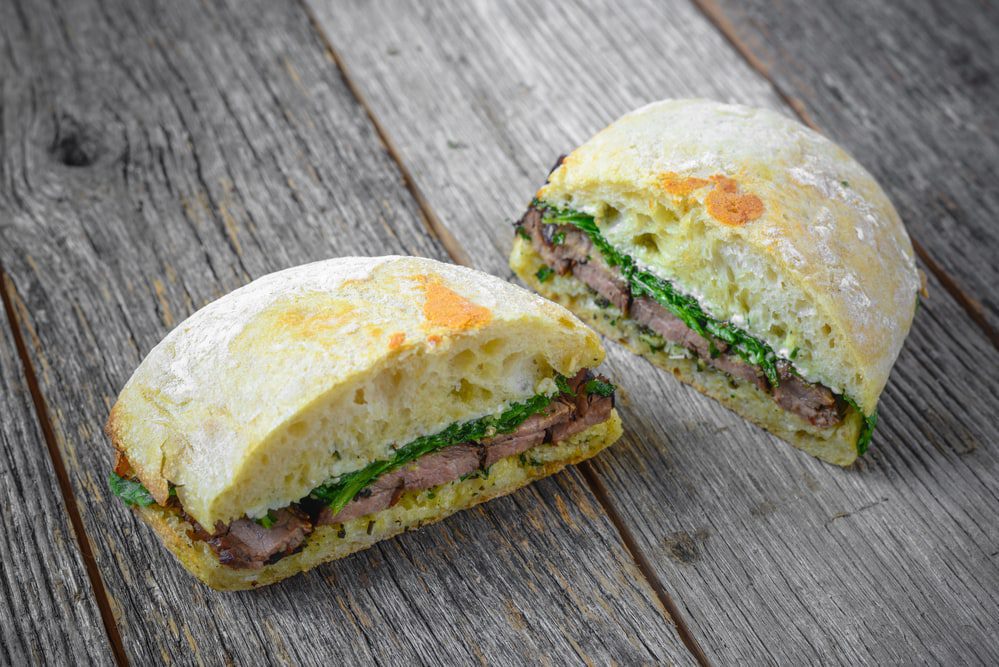 Croquettes
Another tasty bar snack in Portugal is a Croquette. These are usually made with shredded beef or minced a little chourico and some onion. They are then shaped into a sort of football oval and coated in flour and egg then deep-fried.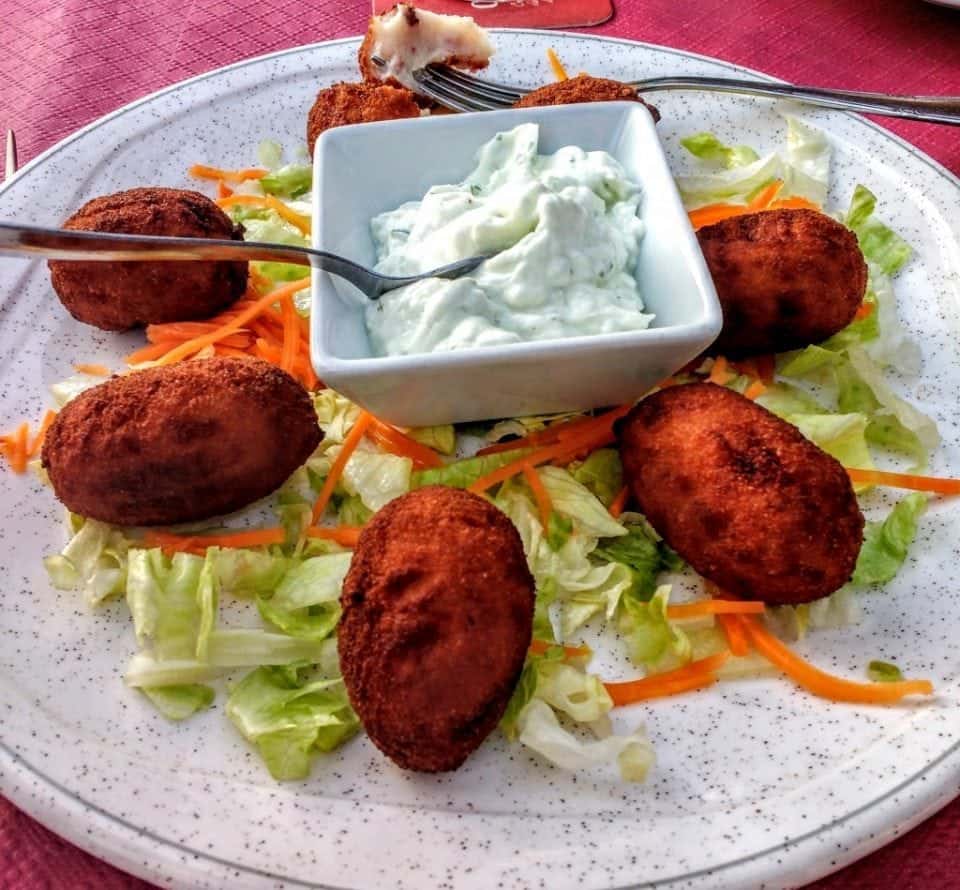 Piri-Piri chicken
The popularity of piri-piri chicken in the UK is beyond belief and you can find a Nando's on every corner and a bottle of Nando's piri-piri sauce in every grocery store throughout the country in the UK but not in Portugal.
In the 15th and 16th centuries, Portuguese explorers were attempting to circumnavigate the world and naturally one of the first stops was Africa due to it being so close.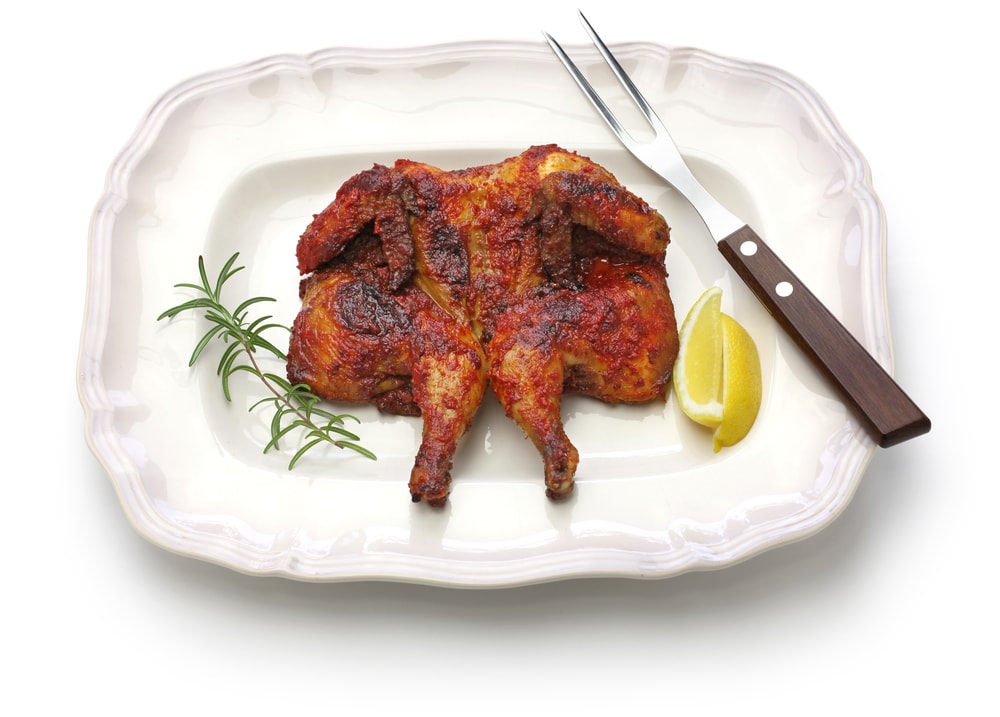 Travelling the coast of Africa they tasted a small spicy chilli pepper called a piri-piri and brought it home with them. This chilli became the basis of piri-piri sauce and the Nando empire.
The chicken is coated in the sauce and served with French fries, and a lettuce, onion and tomato salad. A whole chicken is called a frango and definitely best eaten with your fingers. You can find piri-piri chicken in local joints called Churrascarias.
Caldo Verde
Caldo Verde is Portugal's famous green soup made with Portuguese cabbage, potato puree, slices of chouriço sausage and local Portuguese olive oil, complete this delicious and hearty soup.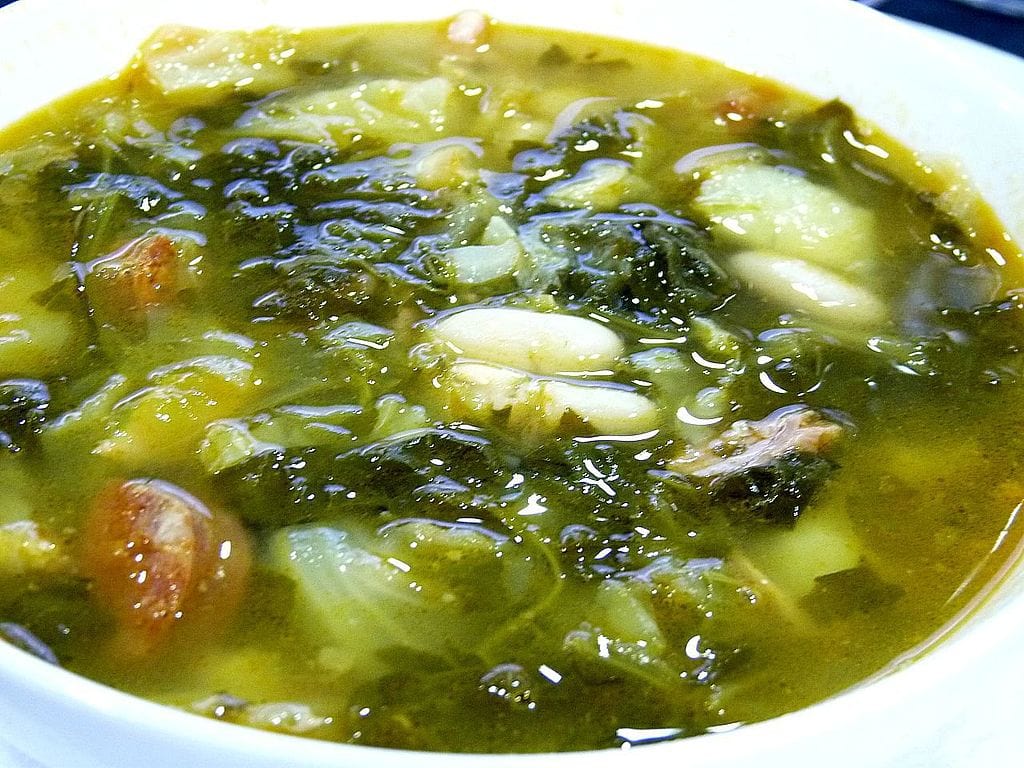 Chouriço – Portuguese Sausage
Portuguese chourico is somewhat akin to Spanish Chorizo and it includes minced pork, pork fat, garlic, paprika, Portuguese wine and of course salt and pepper. The sausage is hung to dry and smoked.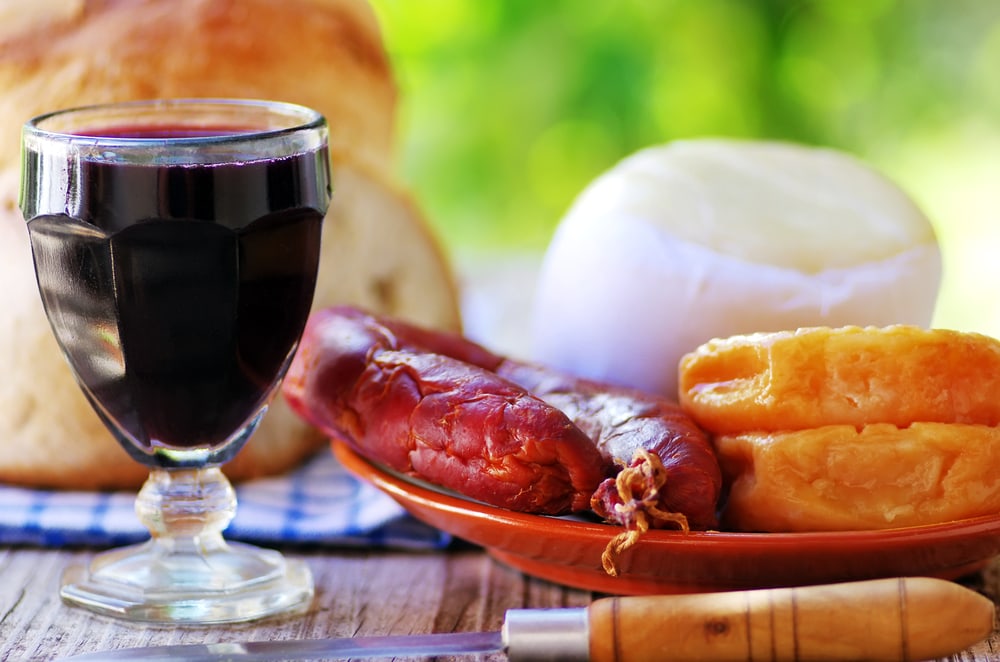 Look for Chourico a Bombeiro on the menu to give this flavourful sausage its best presentation. The sausage is sliced and then put into a casserole dish and flamed cooked with alcohol usually at your table.
Alheira – Smoked Sausage
Another Portuguese smoked sausage this one can be made with different meats including pork, chicken, veal or duck with lots of garlic. These sausages were invented in the 15th century by the Portuguese Jews during the Inquisition who were told to convert to Christianity or be expelled from the country.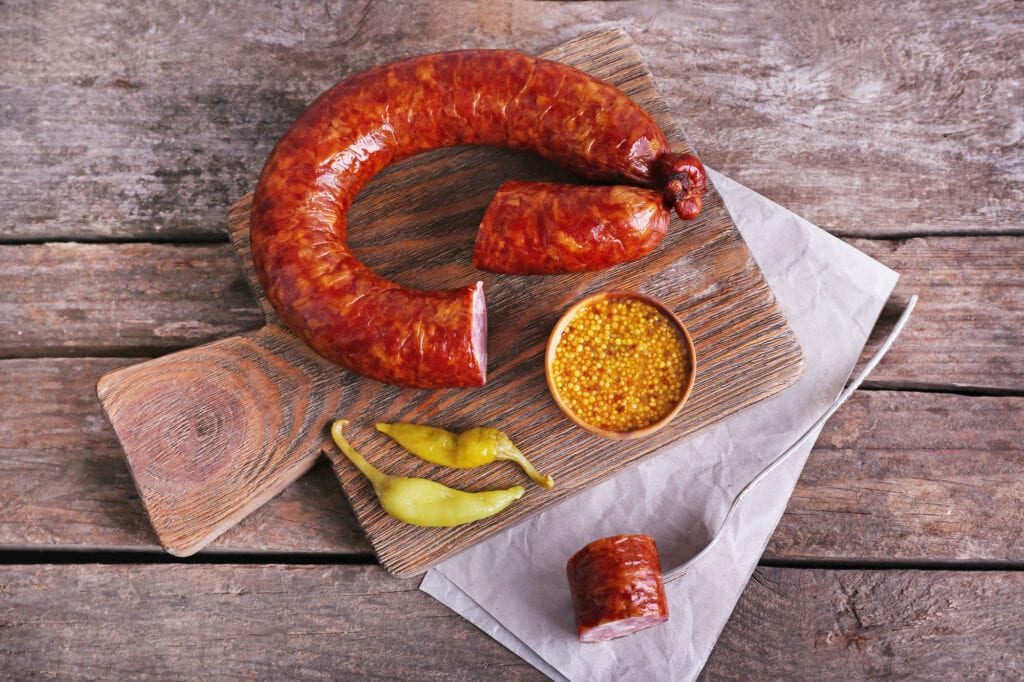 There were 'converts' who secretly kept to their faith and did not eat pork so they created this sausage that could be smoked alongside the pork sausage and tasted like pork to avoid suspicion.
Feijoada – Bean Stew
Often called a South American dish and popular in countries like Cuba, and Brazil where it is the national dish Feijoada actually originated in Portugal dating back to the Roman conquest of Iberia.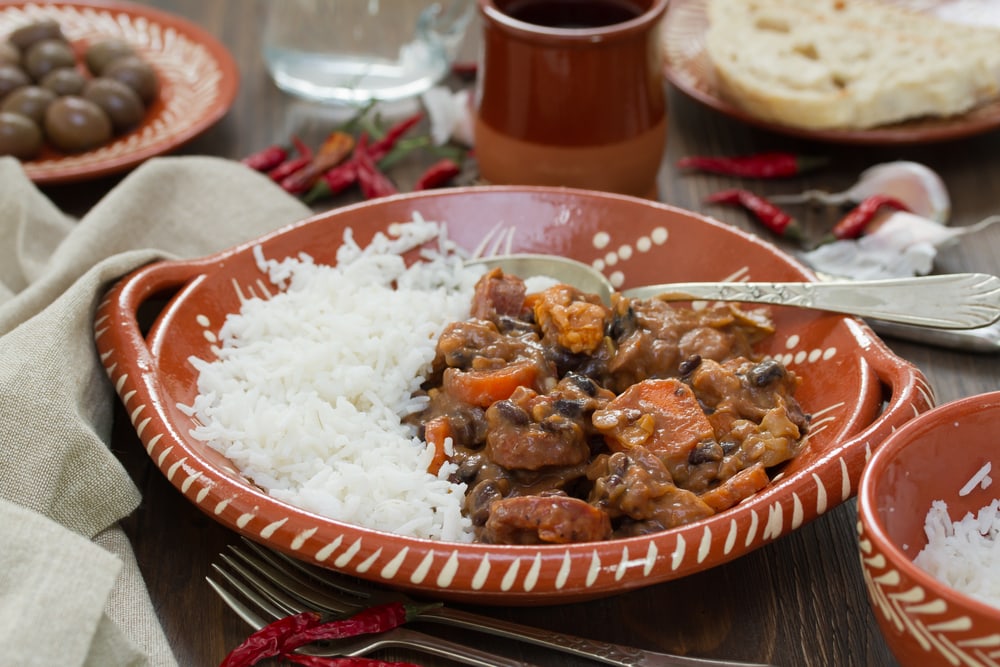 The main ingredients are of course beans (usually red beans in Portugal) stewed with pork or beef and slow-cooked for hours with a bit of garlic and chilli. When ready it is served with white rice.
Porco Preto
If you love Spanish Jamon then Porco preto will be tastily familiar. The Iberian black pig is the same breed that roams the oak forest freely eating a diet of acorns. This jamon is sweet and savoury and melts in your mouth – even I who hates fat of any kind is sinfully delicious. The pigs responsible for creating this exquisite delicacy trace their lineage back to the pigs initially introduced to the peninsula by the Phoenicians. These pioneering breeders crossbred their domesticated pigs with wild boars, resulting in the distinctive lineage that thrives in present-day Portugal and Spain.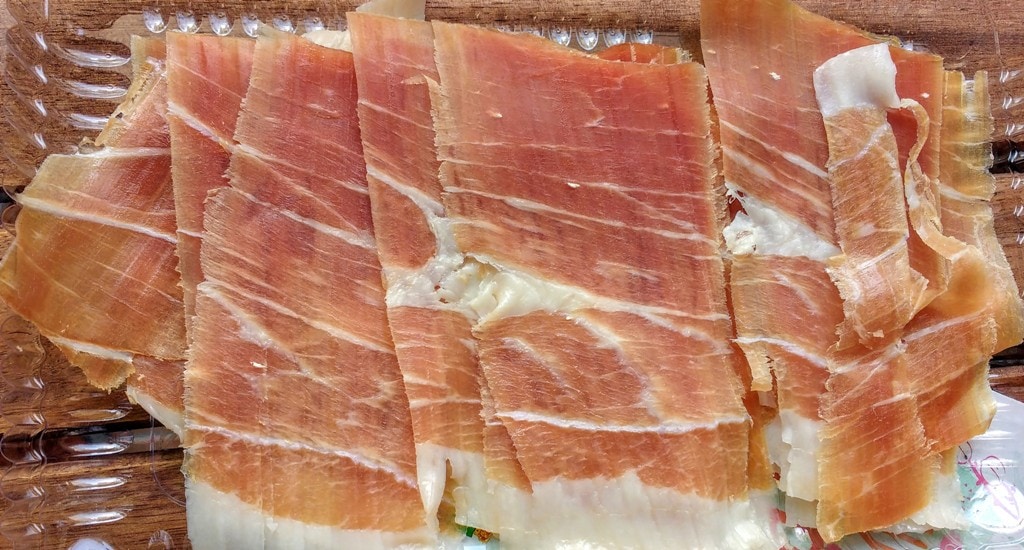 Rojoes – Portuguese pork stew
Rojoes is a Portuguese pork dish traditionally made with roasted chestnuts, trip, pork liver and pig's blood. The ingredients are marinated in white wine, orange juice, cumin bay and garlic and cooked until tender. It is served with fried potatoes or served with Sarrabulho.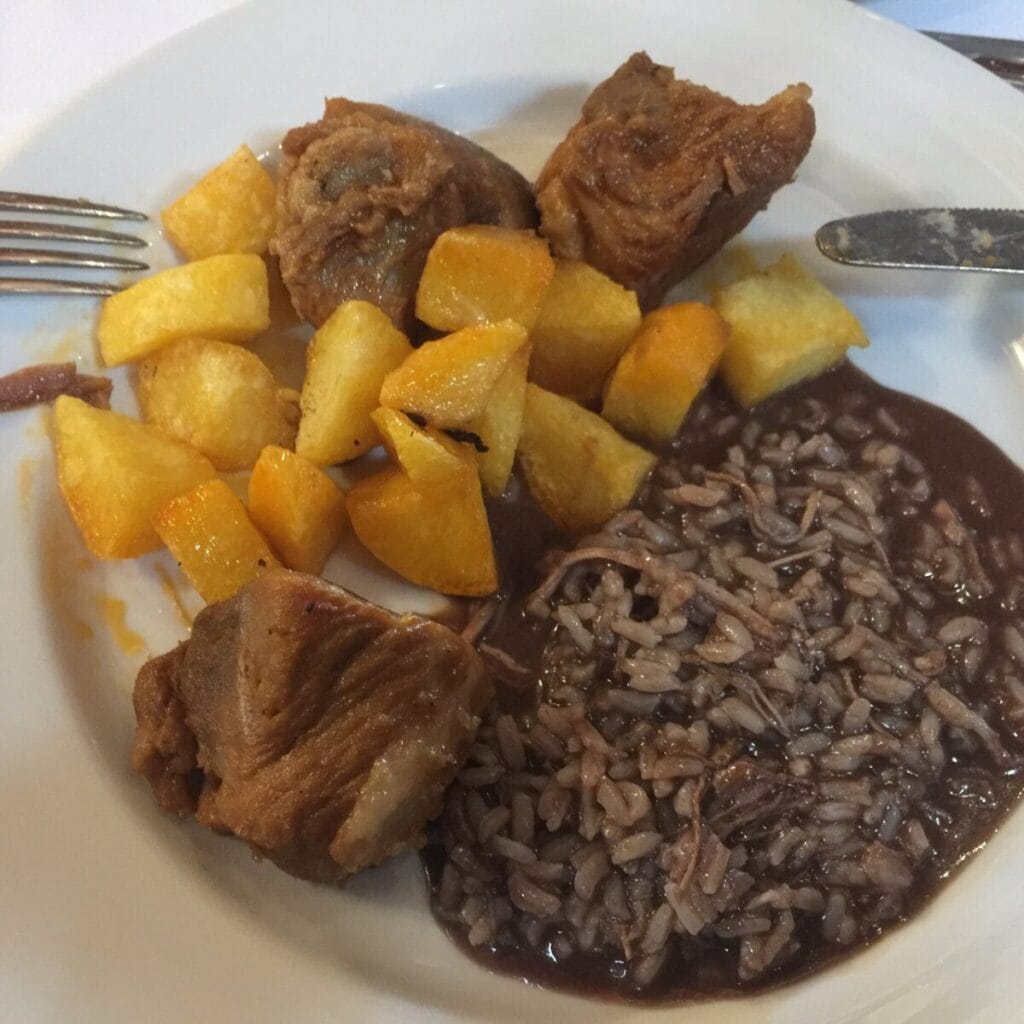 Arroz de Sarrabulho – Portuguese rice
Arroz de sarrabulho is a traditional Portuguese dish made with rice flecked with small pieces of pork and pork blood it is served with some pork blood and bits of meat.
Cataplana de marisco – seafood stew
A cataplana is a copper clam-shaped cooking pot sort of like a Moroccan tagine that allows the seafood to be steamed in its own juice. The mixture can be any seafood ingredient or ingredients that have white wine, spices and herbs added with tomatoes, onions, and peppers.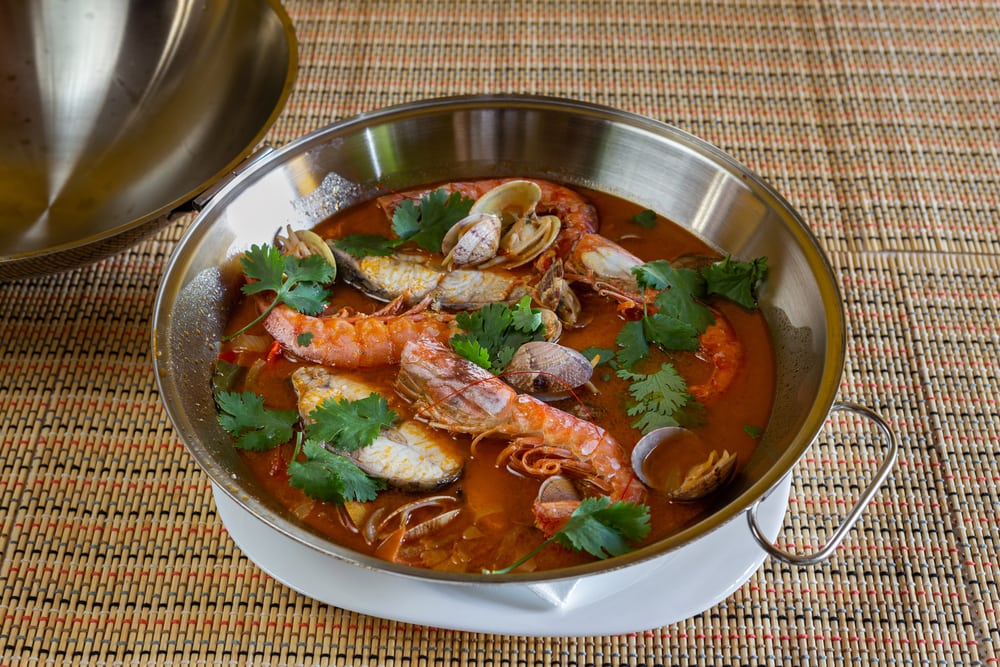 Lapas – limpets/sea snails
A limpet or Lapas as it is known in Portugal is a small sea snail found in Madeira and the Azores. Like Parisian snails, they are served with garlic butter and some lemon and yes they are chewy and rather flavourless.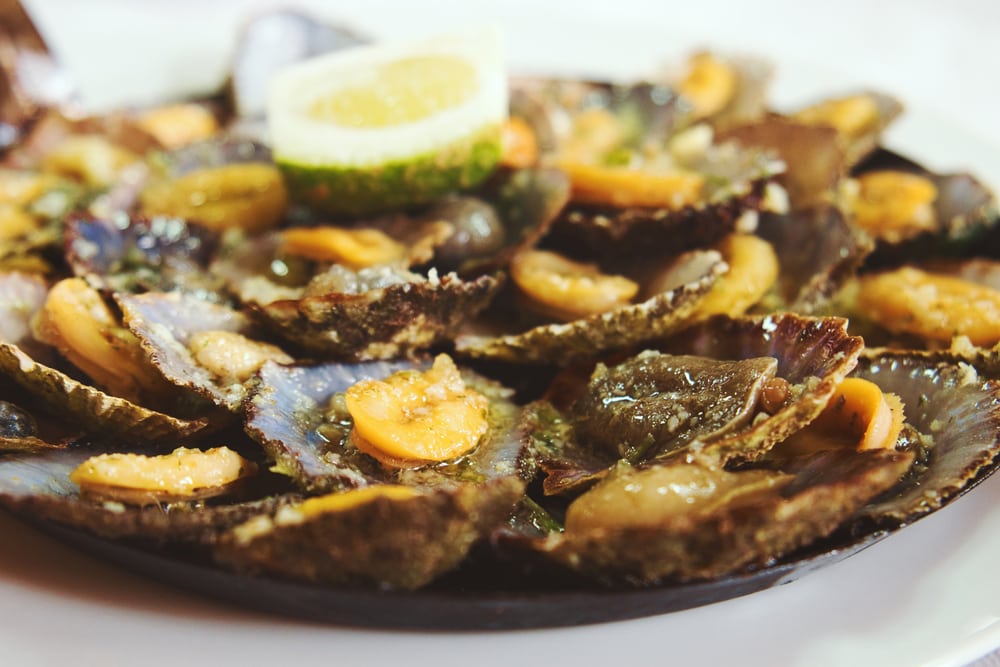 Sardinhas Asada – Grilled Sardines
Grilled Portuguese sardines or sardinhas asadas can be found everywhere in Portugal. They even have a festival The Day of Saint Anthony (Santo Antonio Festival) on June 12th and 13th that celebrates the grilled sardine.
The absolute best time for these beautifully fresh fish is from June to August when they are served fresh from the grill doused with olive oil and served with salad or rice.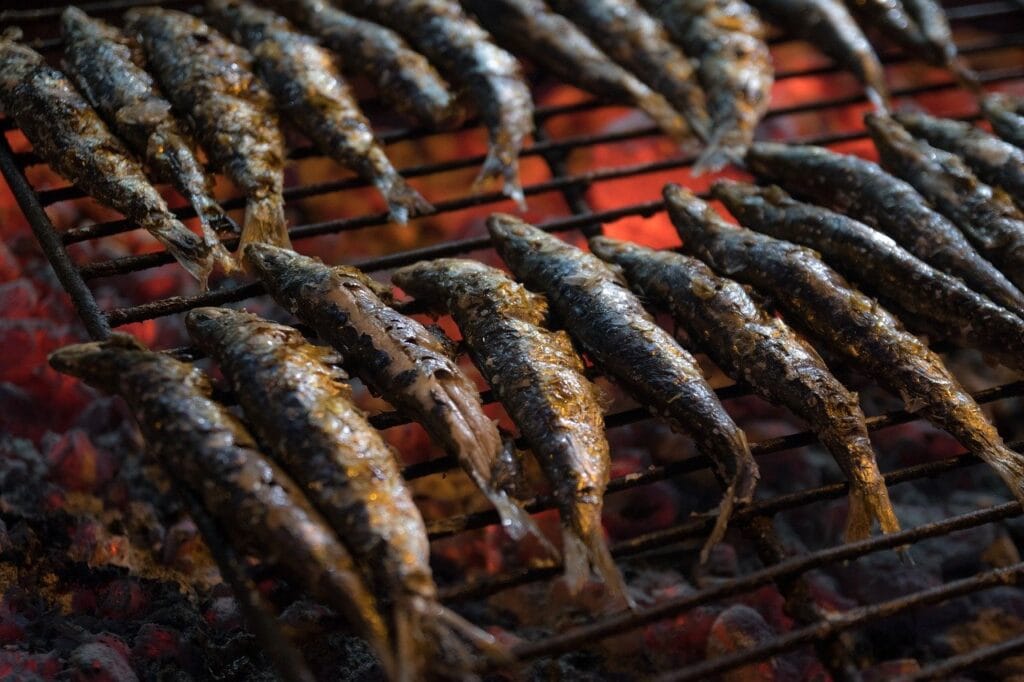 Canned Portuguese Sardines
You may have seen Anthony Bourdain visiting Sol e Pesca during his show on famous Portuguese food this is where he tried the wonderful canned sardines and fish which is canned by the shop and fish restaurant. This is where you can try any tin you want and the fish is served with bread and beer or wine. Captured in vibrant and intricately adorned tins, Portuguese canned seafood holds a revered status as a delicacy, readily available at specialty shops exclusively devoted to conservas.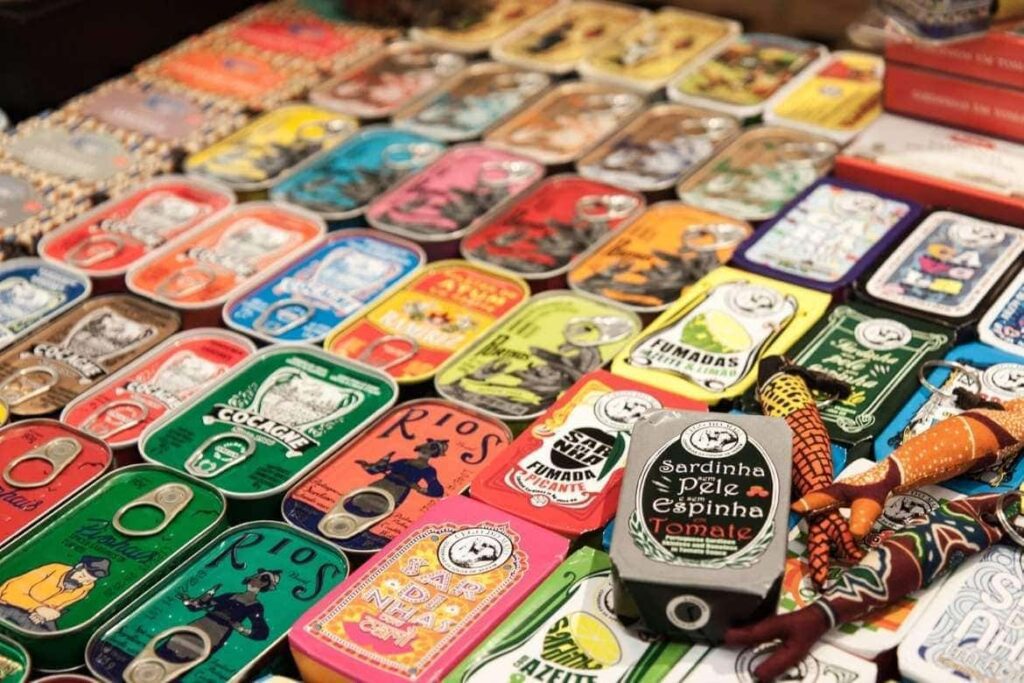 Bourdain tasted the smoked tuna fish, local sardines layered on Alentejo bread, and tuna roe served with sweet potatoes and horse mackerel. Canned fish in Portugal is not like the stuff you buy in North America it is truly gourmet.
Leitão assado – suckling pig
In my hometown, there is a restaurant called the King of Pigs and here they serve the most traditional of Portuguese cuisine roasted suckling pig. The pig is brushed with garlic, salt and pepper and cooked for hours over a wood fire. Served simply with boiled potatoes or soft Portuguese bread this is a show stopper of pig flavour. You will find this being served all over Portugal.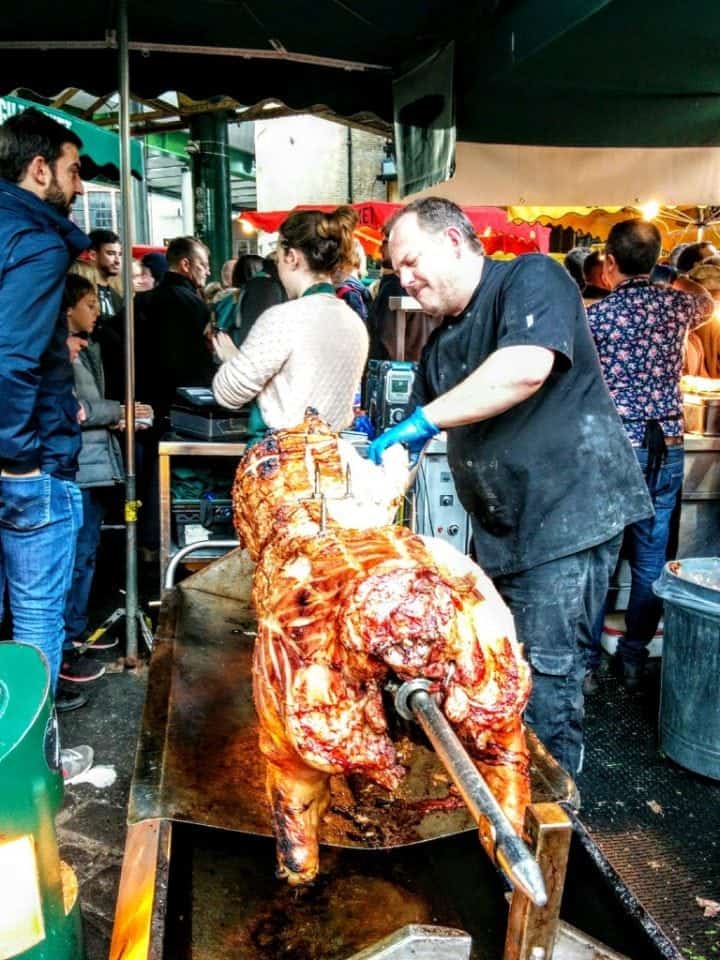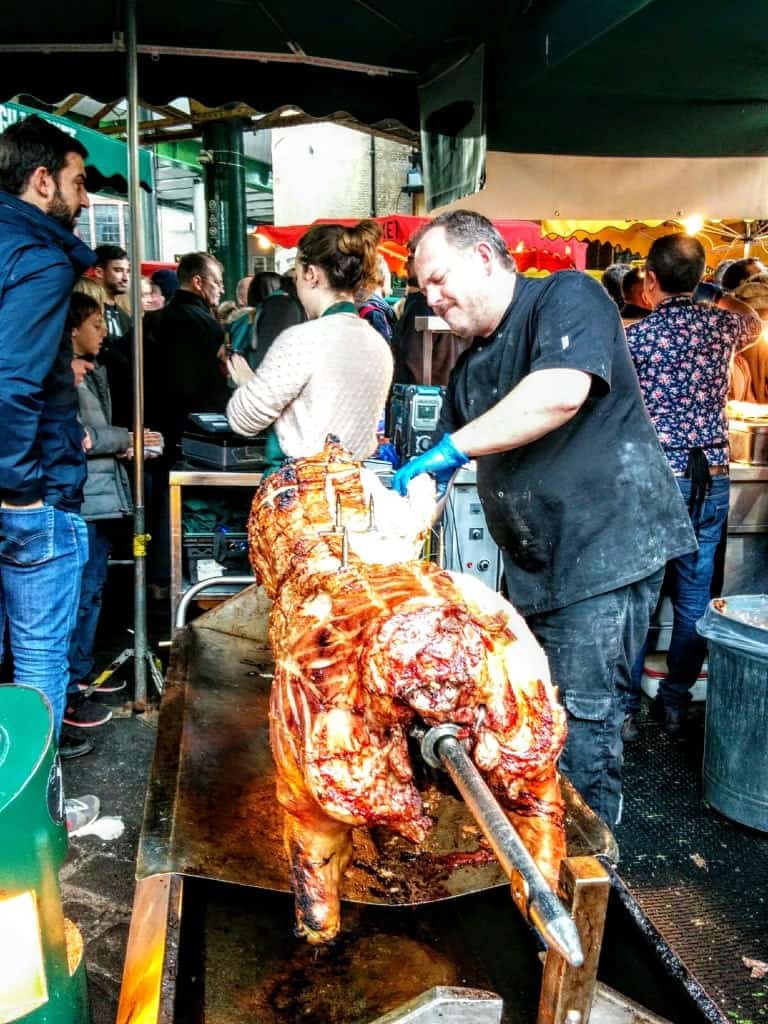 Sapateira Recheada – Stuffed stone crab
Imagine it stone crab stuffed with a mixture of crab meat and roe, shallots, egg, capers, beer, mayonnaise, mustard, and paprika. The crab shell is filled with this stuffing and you spoon this glorious mélange onto soft Portuguese bread rolls or crackers.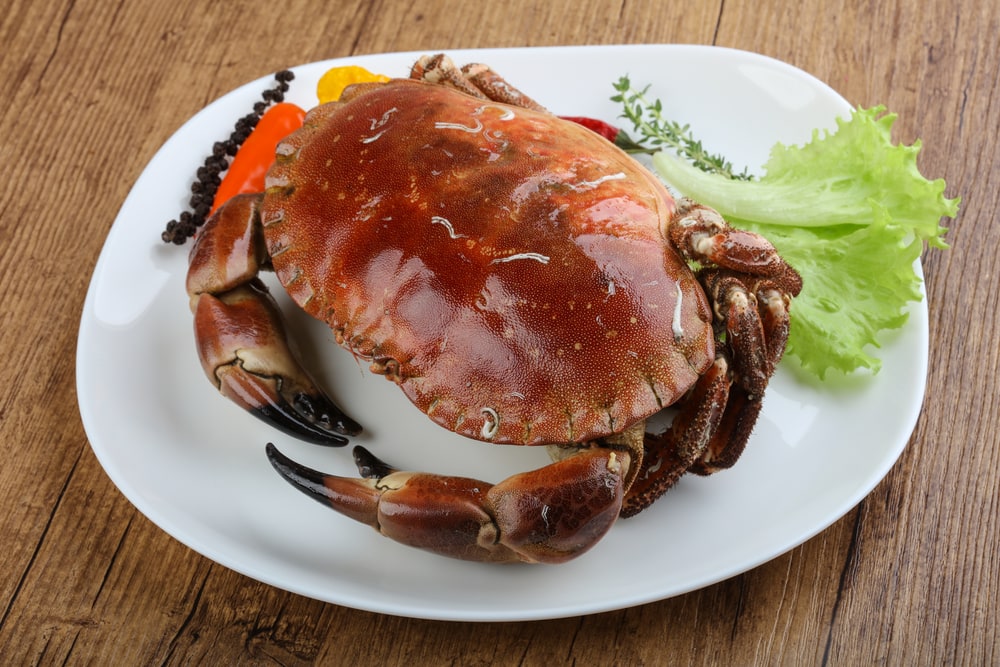 Octopus – Polvo à la Lagareiro
One of the most popular Portuguese seafood dishes is polvo a lagareiro, grilled octopus. The octopus is boiled and then grilled or roasted, it is served with boiled potatoes and is simply dressed with olive oil.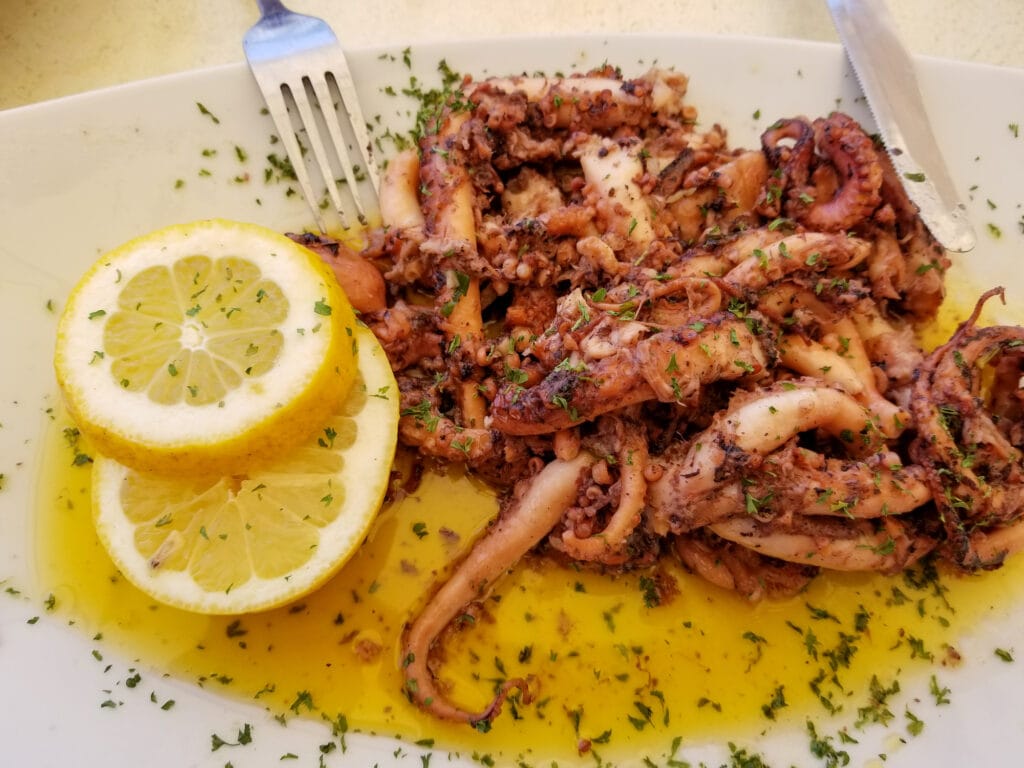 Cozido à Portuguesa – Portugese Stew
Cozido is a classic Portuguese stew made with various types and cuts of meat and different vegetables. It consists of boiled meats including chicken, pork and beef mixed with smoked sausages, cabbage, beans and potatoes. Seasonings include white pepper, salt, cinnamon and occasionally a red pepper paste.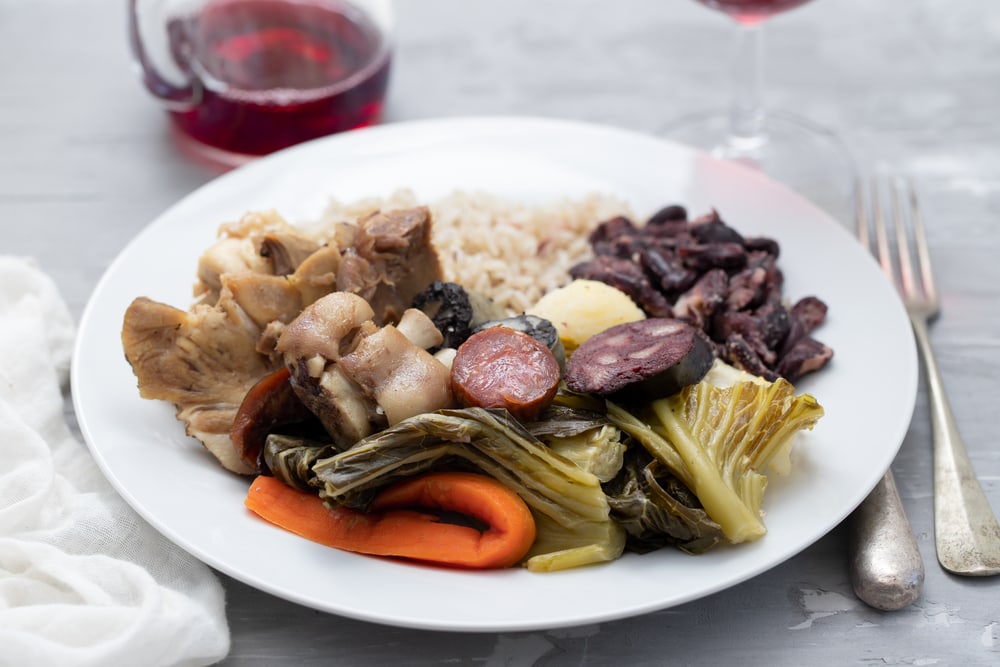 Ameijoas a Bulhao Pato – Clams
A favourite in Lisbon Ameijoas a bulhao pato is clams made with olive oil, white wine, garlic, bay leaves, and cilantro.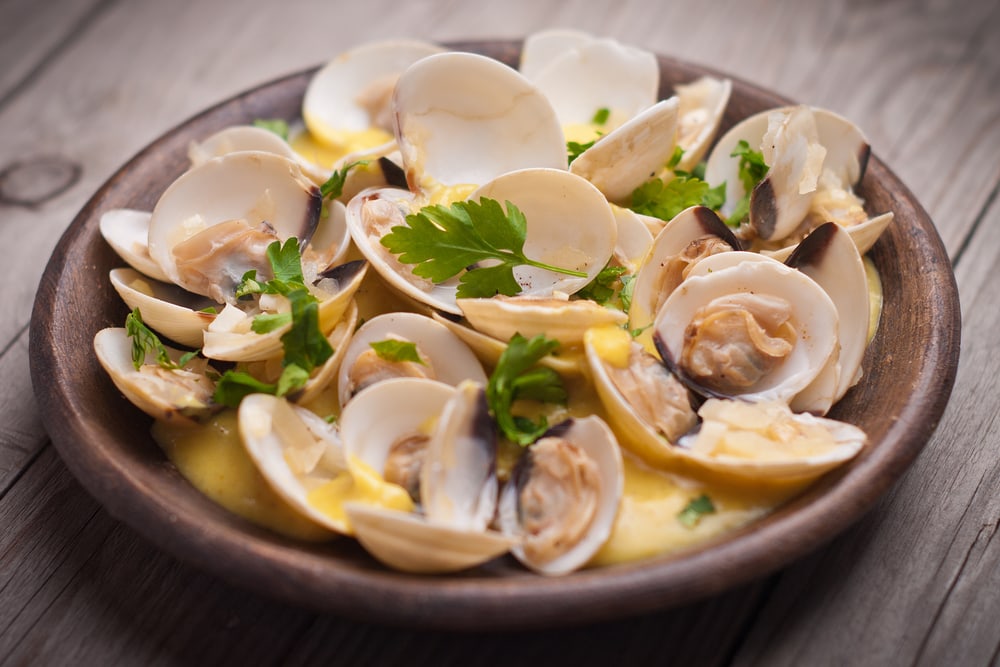 Arroz de Tamboril
Arroz de tamboril is a traditional Portuguese dish of monkfish stew with rice. The monkfish is mixed with tomatoes, peppers, onions, garlic, chilli and coriander and the meat of the fish is firm and meaty.
Percebes – Gooseneck Barnacles
Percebes nicknamed "Lucifer's fingers" are considered a delicacy in Portugal and they are crustaceans that cling to rocks in places that have a strong crashing surf. In Portugal, they're considered a rare and delicious delicacy, thanks to their sweet flesh, which tastes a bit like a cross between lobster and clam.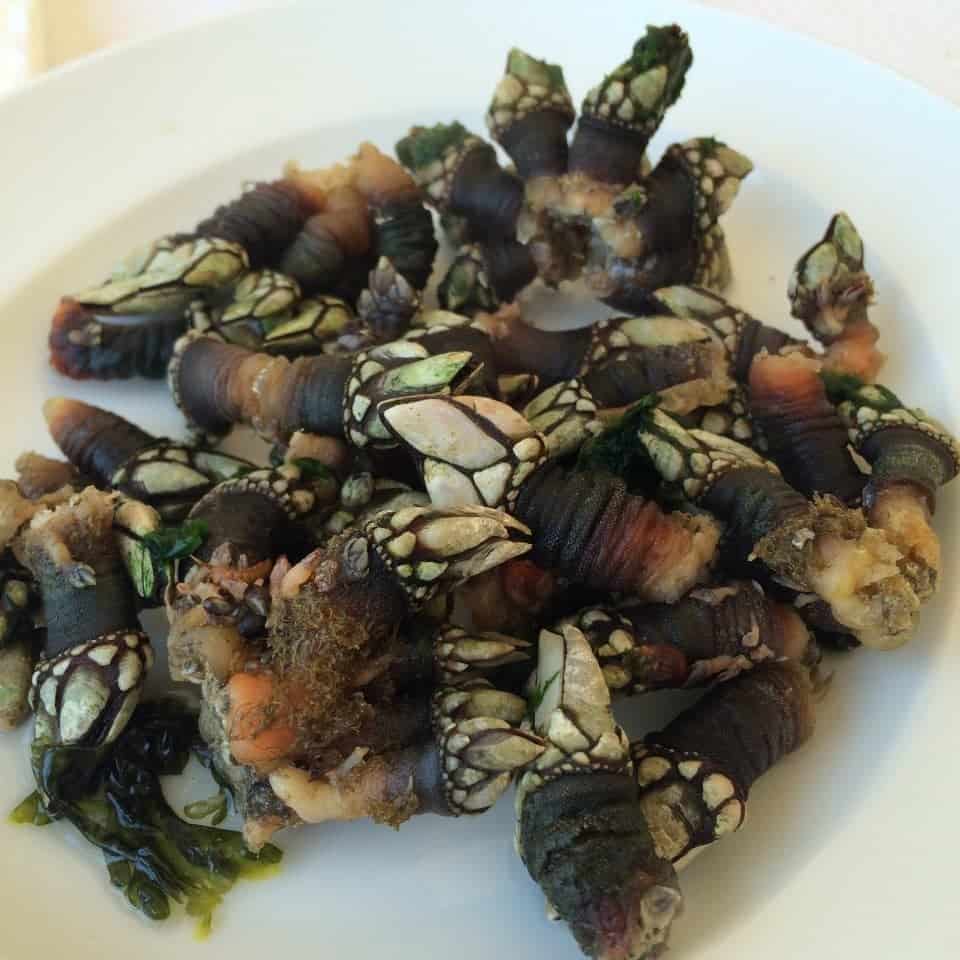 Arroz de pato – duck rice
A very popular rice dish with shredded duck that originated in Northern Portugal and can now be found around the country. The duck is boiled and shredded then added on top of rice which has been cooked in the duck stock. The dish is garnished with chouriço sausage and served with slices of orange.
Arroz de marisco – seafood rice
With the bounty of the sea Portuguese cuisine often includes as much seafood as possible. This sort of Portuguese risotto is chockfull of monkfish, bacalhau, lobster, crab shrimp, clams or any available seafood a winner for the aficionado of seafood.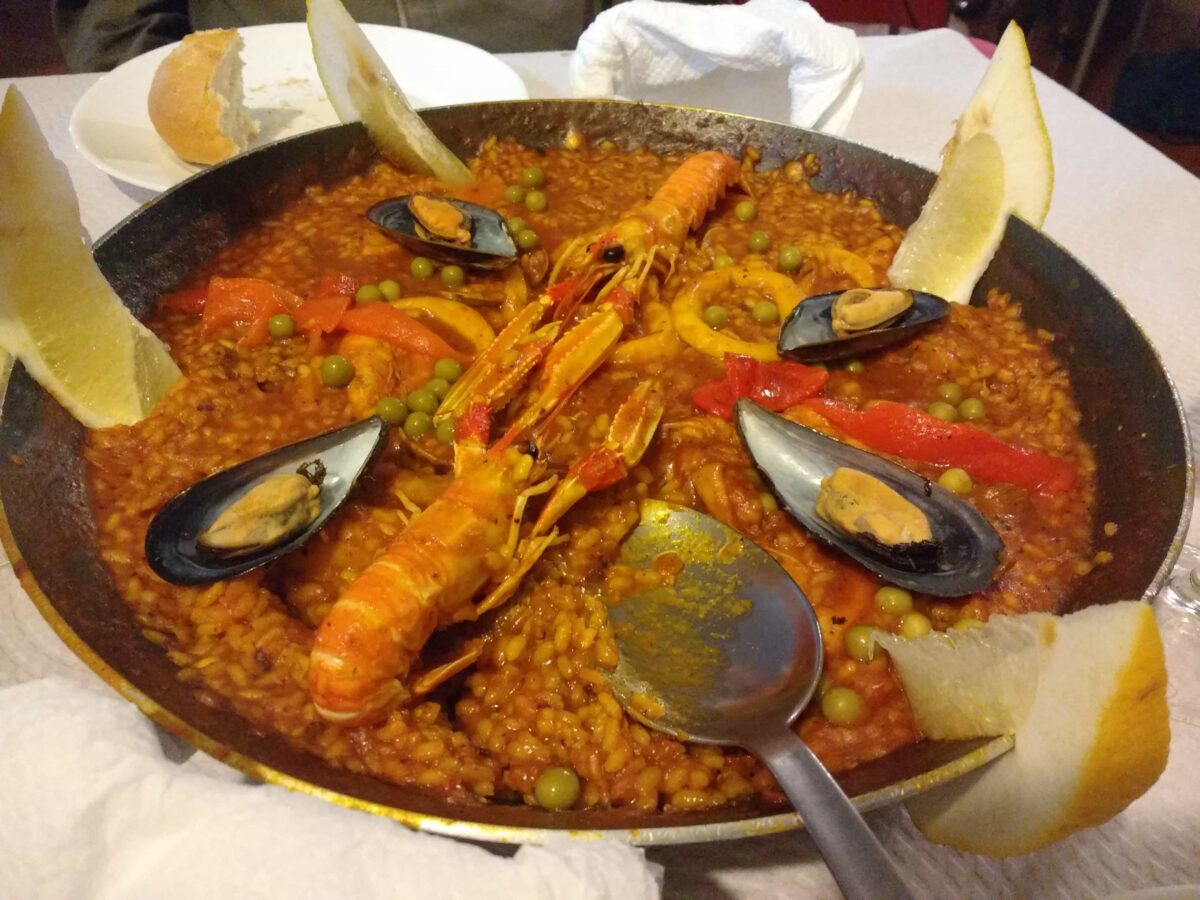 Petiscos – Portuguese Tapas
Pesticos can be as simple as a bowl of olives and bread to a Salada de Polvo (octopus salad) like Spanish Tapa they are small plates usually served with a drink to keep you going before the dinner hour.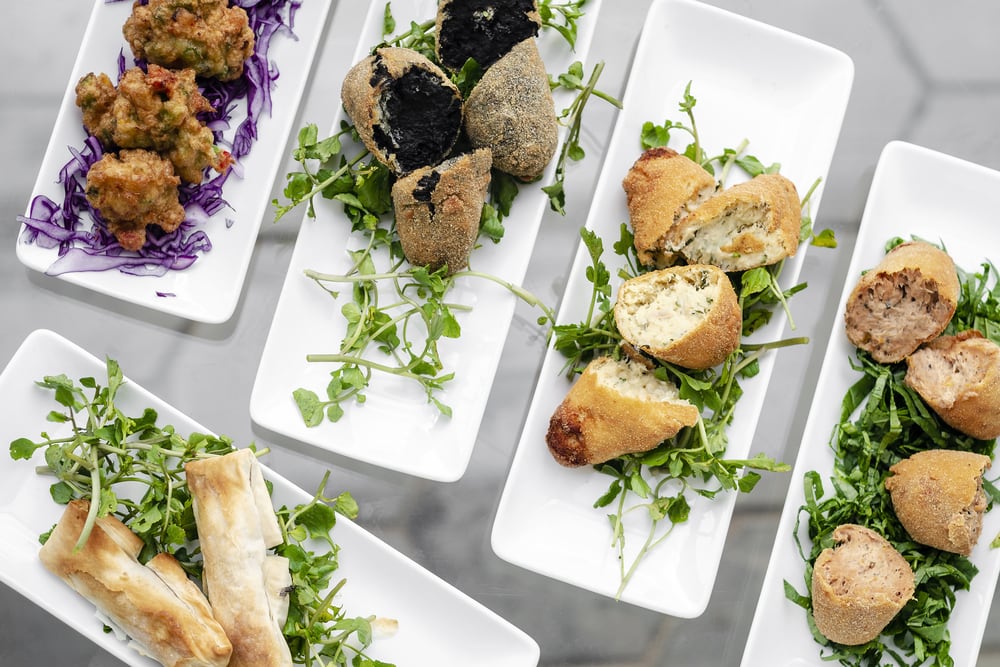 Tripas a Moda do Porto – Tripe Stew
Tripas a moda do Porto as you can tell is a traditional dish served in Porto. There are several types of meat in the dish including tripe, sausages, ham, veal and chicken. These are stewed with white beans, carrots and onions.
Piri Piri Sauce
Piri-Piri sauce is commonly used in Portugal as a versatile condiment. It is often drizzled over grilled meats, such as chicken or seafood, to add a spicy and tangy flavor. Additionally, it can be used as a marinade or dipping sauce for various dishes, or even as a flavor enhancer in soups and stews. Piri-Piri sauce is found on every Portuguese table and highly appreciated for its ability to add a delightful kick to a wide range of Portuguese culinary creations.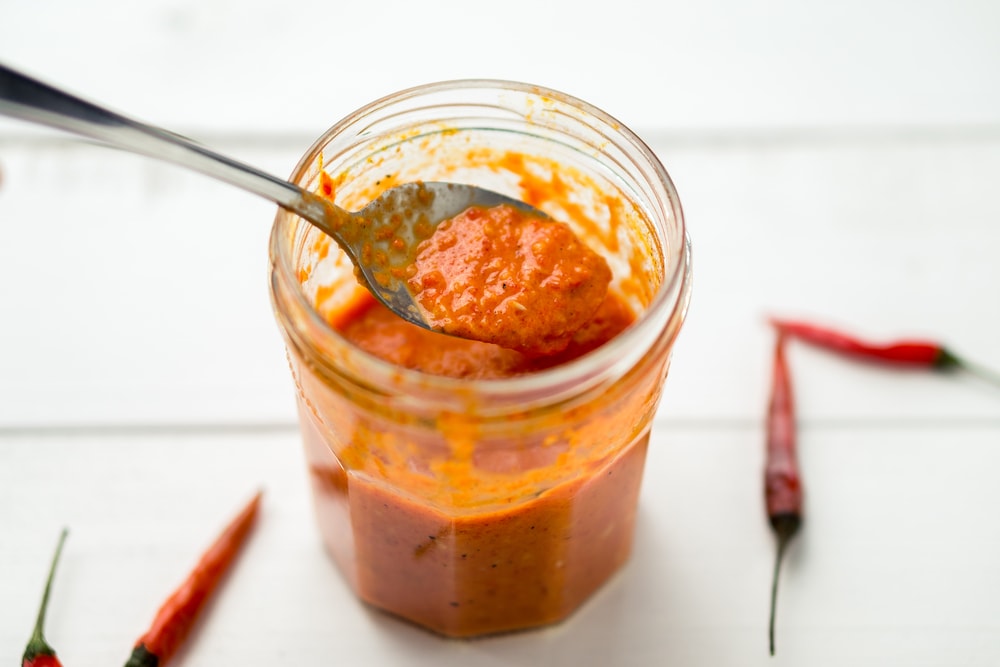 Queijo – Portuguese cheeses
Portuguese cheeses are not particularly well known but a variety of them exist. Slices of regional cheese and ham are often served together with bread, olives and pates as starters. The variety of artisanal Portuguese cheeses may surprise you and here are a few Portuguese favourites.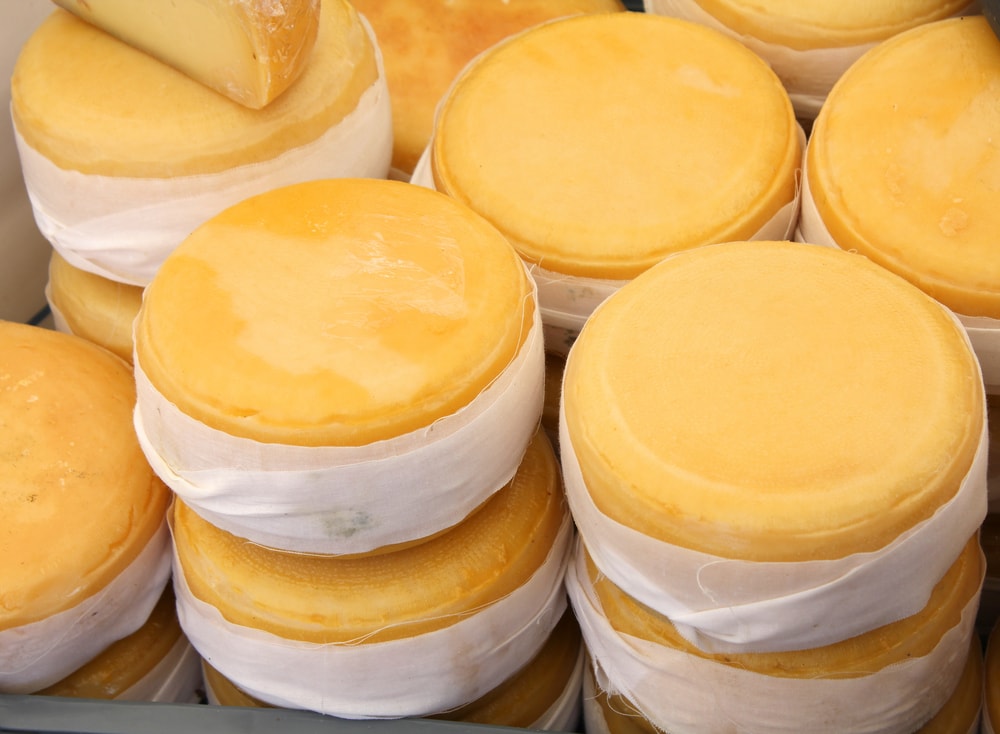 Queijo de Cabra Transmontano
The Transmontano Goat cheese is a cheese produced using the milk of goats of the Serrana breed and it can be matured for up to 2 years.
Queijo da Serra da Estrela
This is the oldest Portuguese cheese and is made from sheep's milk who live in the Serra da Estrela eating grass and thistles. it is a semi-soft or buttery cheese with a white or yellowish colour.
Queijo de Azeitão
The Azeitão cheese is made from sheep's milk and it has a cylindrical shape, with a thin yellowish rind. It is a semi-soft cheese with a buttery flavour.
Queijo de Serpa
This is a cured cheese using sheep milk and it has a strong smell and spicy flavour.
Traditional Food Favourite Portuguese desserts
These are just a few of the many Portuguese desserts to sample when you visit.
Pastel de Nata
Every foodie or dessert-focused person knows of the pastel de nata or Portuguese egg tart. Thanks to the Portuguese emigrants this lovely little pastry is popular in Brazil and as far away as Macau. This is one of the most Iconic desserts of Portugal and one of the best Dishes to Try in Portugal.
The pastel de nata was created by monks at the Jeronomios Monastery in Lisbon in the 17th century. Because they used egg whites to starch their clothing they had an abundance of egg yolks left over from which they invented the custard tart.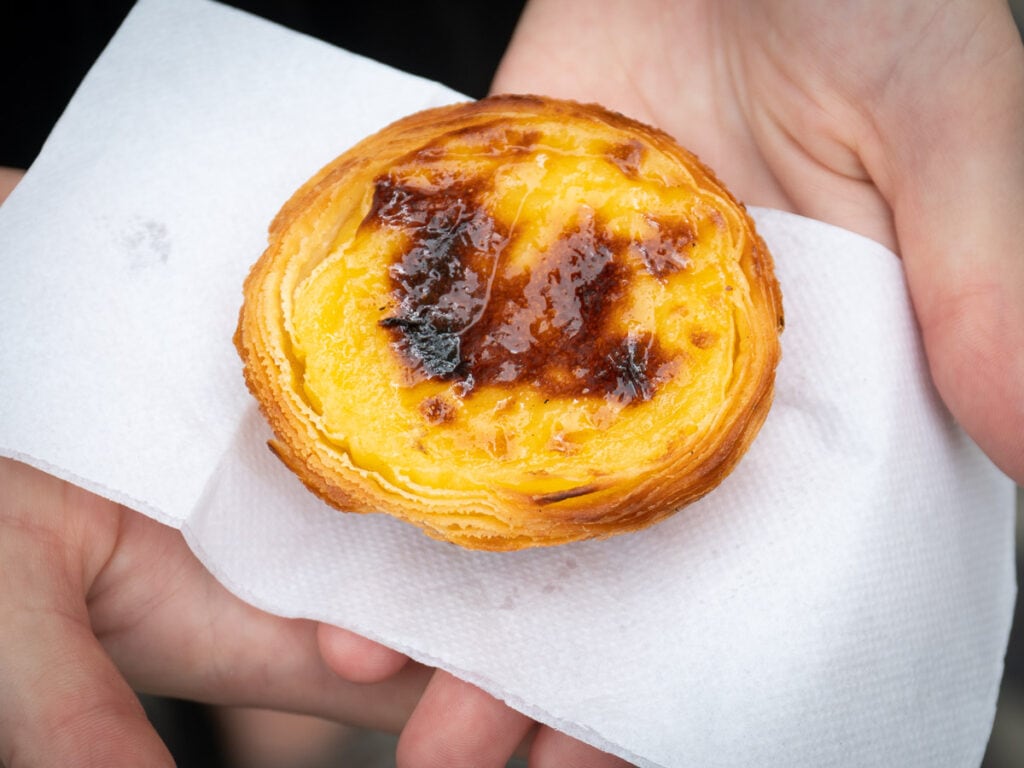 You can try the tarts in their original home Pasteis de Belem in Lisbon which is the location of the original monastery.
Pão de ló – Sponge Cake
The "pão de ló" is a traditional Portuguese cake made with 3 simple ingredients, eggs, sugar and flour this light and airy cake dates back to the Renaissance. Food historians believe it was invented in Spain around the 16th century and originally called pão de Espanha (bread from Spain) or pão de Castela (bread from Castille).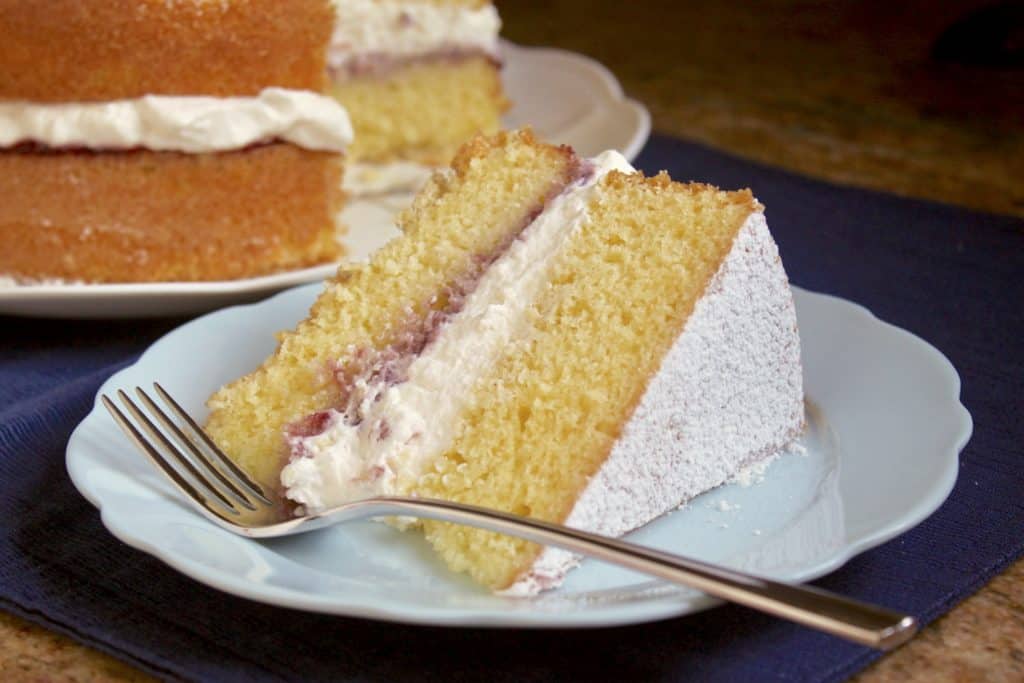 Portuguese croissant
It may look like a French croissant but a Portuguese croissant is totally different. This baked treat is more like a brioche but in the traditional croissant crescent shape. The texture is more like bread instead of being flakey but it is buttery and delicious.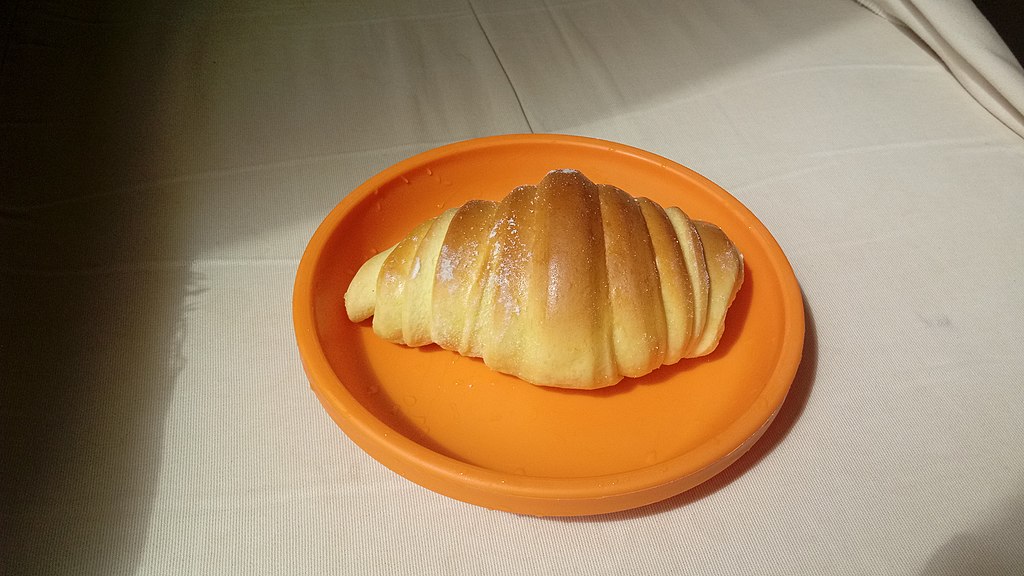 Queijada de Sintra's
This is a traditional Portuguese tart that is found all over the country but was created in Sintra. The ingredients are eggs, cheese, sugar, and milk. The tart is baked and has a crunchy outer layer on top.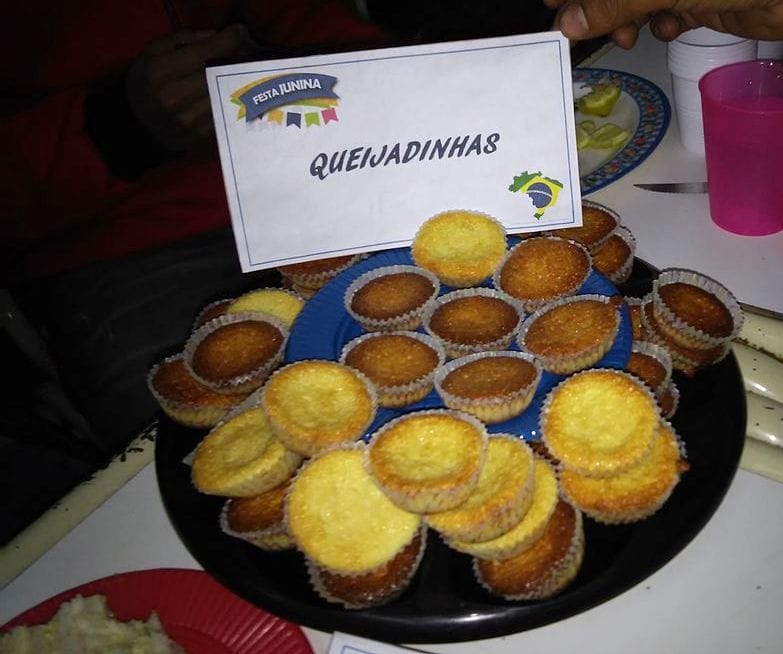 Bola de Berlim – Portuguese Donuts
Bola de Berlim is a famous Portuguese donut made with a sweet enriched dough, deep fried and then stuffed with egg yolk cream (crème patisserie) and dusted with icing sugar. These doughnuts originated in Berlin, Germany and are believed to have been brought over by a Jewish family in the 1930s. They were originally jam filled but were changed to a rich custard filling when they came to Portugal.
The fabulous food of Portugal and its drinks
Traditional Portuguese cuisine has a lot to offer and there are several Portuguese drinks to enjoy while visiting alongside the amazing Portuguese cuisine.
Vinho Verde – Green Wine
Vinho Verde comes from a small region in Northern Portugal and the wines are called green because they are young and not aged. These wines are carbonated and have a lower alcohol content but they are crispy and citrusy perfect for that summer drink by the Mediterranean.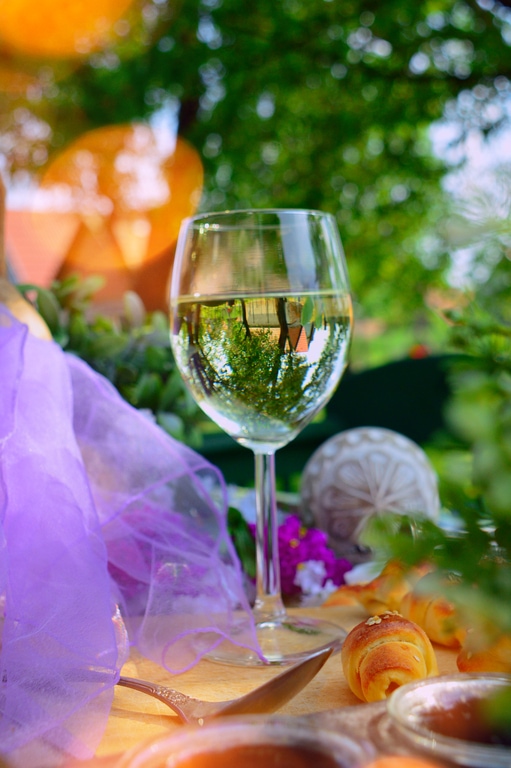 Ginjinha – Cherry Liqueur
Ginjinha or Ginja is a sweet liqueur made from cherries that have been soaked in a distilled alcohol called aguardente. The resulting liqueur is flavoured with sugar and spices including cinnamon and nutmeg. It is served in a small glass or a shot glass made of chocolate as an aperitif.
Licor Beirão
It's a Portuguese favourite and the national drink of Portugal which dates back to the 19th century. This is a sweet liqueur made from distilling herbs and seeds and is mainly enjoyed in cocktails. The most famous one is the Caipirão which has ice and lime juice the perfect refresher on a summer day.
Port Wine
Didn't everyone's granny have a glass of Port after dinner? The most famous Portuguese drink ever port wine is made from distilled grape spirits and originated in the Douro Valley in Northern Portugal.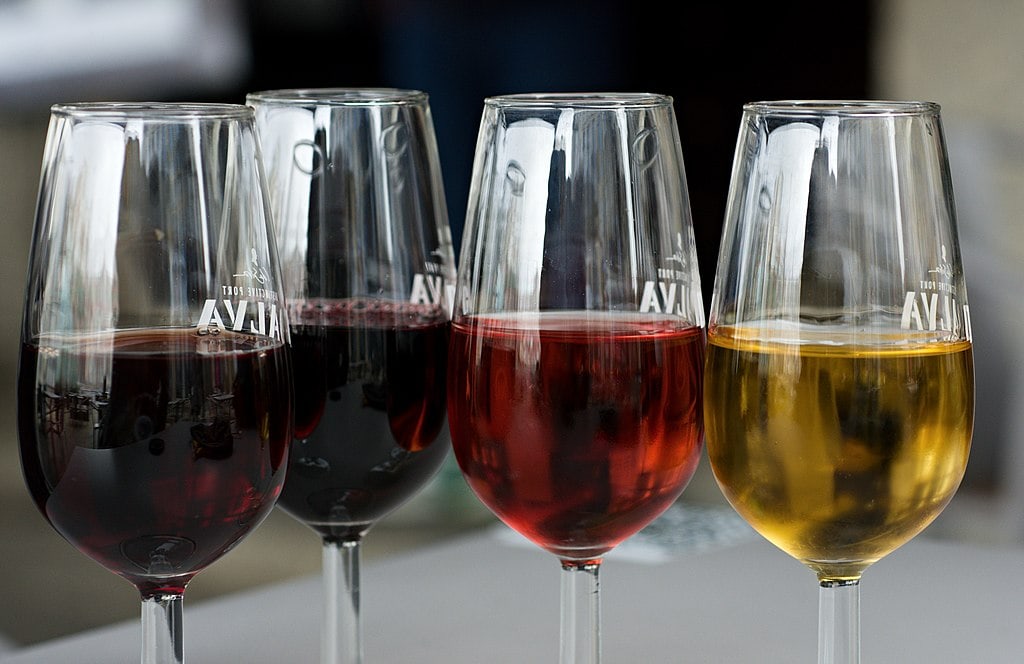 This list of the 46 most popular Portuguese dishes is only an introduction. There are a lot more traditional Portuguese foods to discover as you explore the beautiful country of Portugal.
Portuguese dishes are finally beginning to gain a worldwide reputation and I have no doubt that you will be a huge fan of Portuguese gastronomy. So seek out a Portuguese restaurant in your area, and give some Portuguese cooking a try before your trip to Portugal.
Have you had Portuguese food? What was one of your favourite Portuguese dishes? Leave your comments below.
Bom appetite!
You might also like these articles
UNESCO Intangible Cultural Heritage – food
Food Travel 27 stories of food around the world
No time to read this Portuguese food guide now? Pin it to save it