34 phenomenal Food Markets in Europe Worth Traveling For
To me finding a local food market is the holy grail of travelling and I search out the best markets to head to in whatever city or country I am travelling to. Food markets in Europe are some of the best in the world and often provide us with cultural insights into the local community.
food markets in Europe offer a unique and authentic shopping experience for locals and tourists alike. With their diverse range of products, including fresh produce, meats, cheeses, and baked goods, these markets showcase the rich culinary traditions of each region. They also provide an opportunity to support local farmers and artisans while learning about different cultures through their cuisine. Whether you're looking for a quick snack or ingredients for a home-cooked meal, visiting a food market in Europe should be on every foodie's bucket list.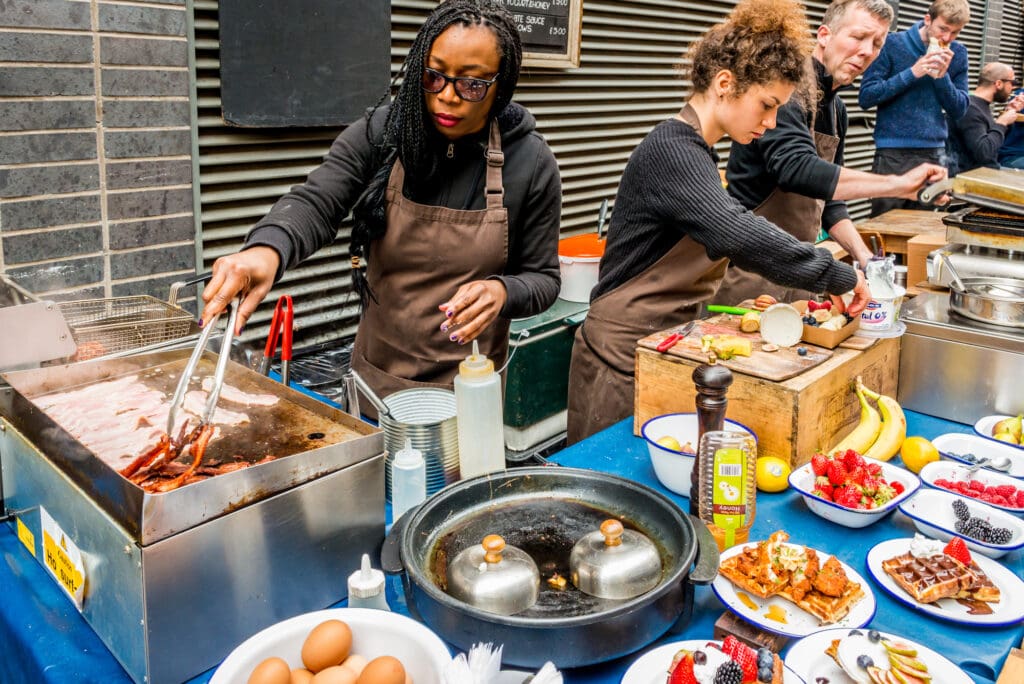 A European food market is a public space that reflects the cities they are based in and are more than just places of business they are critical to social and economic development. Food markets become the heart of the community, they are more than just a business – they are a microcosm of the city, town or village.
European food halls have been around for many years and are now being built in North America. These types of innovative food markets in Europe present a large number of food stalls where you grab a quick meal or sit and enjoy the crowds and dishes not available in traditional restaurants and cafes.
Many of these incredible food markets in Europe are not just about food though, some are flea markets, antique markets some are Farmer's markets that sell vegetables and fruits. Here in Lassay in France, our weekly market covers all the bases they sell mattresses, clothes, fresh vegetables and of course have a couple of food trucks selling traditional Breton crepes.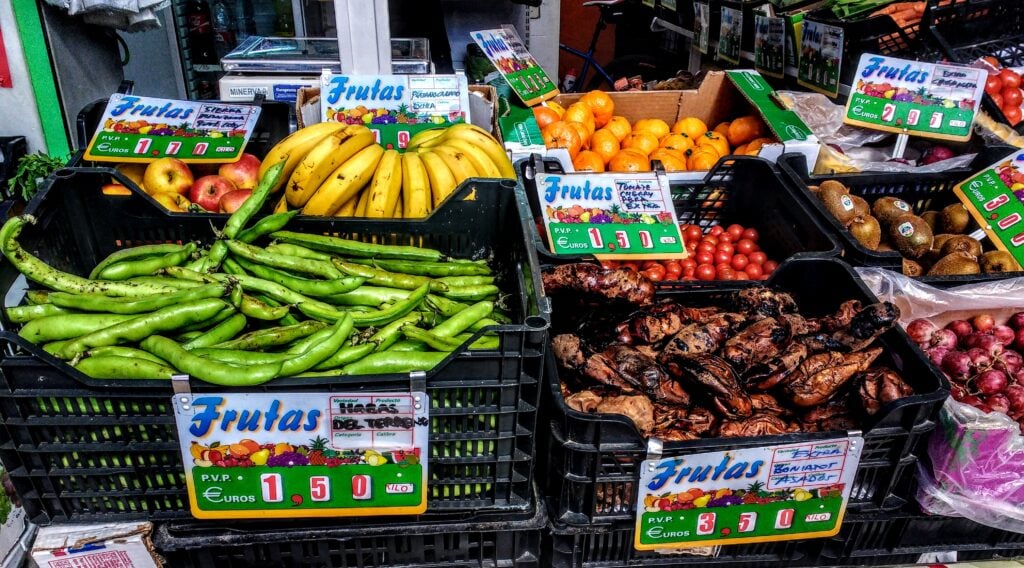 Many an immigrant to a new country will create a startup business that takes the best of their original home country and merge it with their new environment. Markets are the perfect arena to showcase their products and foods to the broader community.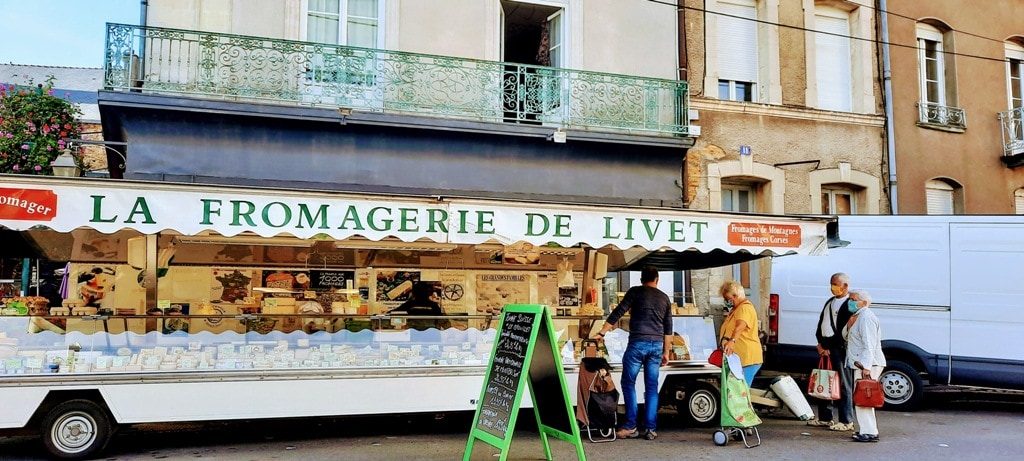 Immigrants often use food as a means of retaining their cultural identity. People from different cultural backgrounds eat different foods. The ingredients, methods of preparation, preservation techniques, and types of food eaten at different meals vary among cultures. Food Halls are a fantastic way for those without huge bucks can start a food business and try it out on the local population.
Xyuandbeyond is reader-supported. When you buy through links on our site, we may earn an affiliate commission. You can read my privacy policy here.
34 food markets that will make you want to travel the world
These are the best markets in Europe and have been visited and enjoyed by many a traveller.
European markets in France
The Marché des Enfants Rouges – Paris, France
The market began in 1615 and is the oldest food market in Paris. It is located in the Haut Marais, a stone's throw from rue de Bretagne. Parisians and tourists stock up on fresh produce while enjoying the colourful and fragrant stalls.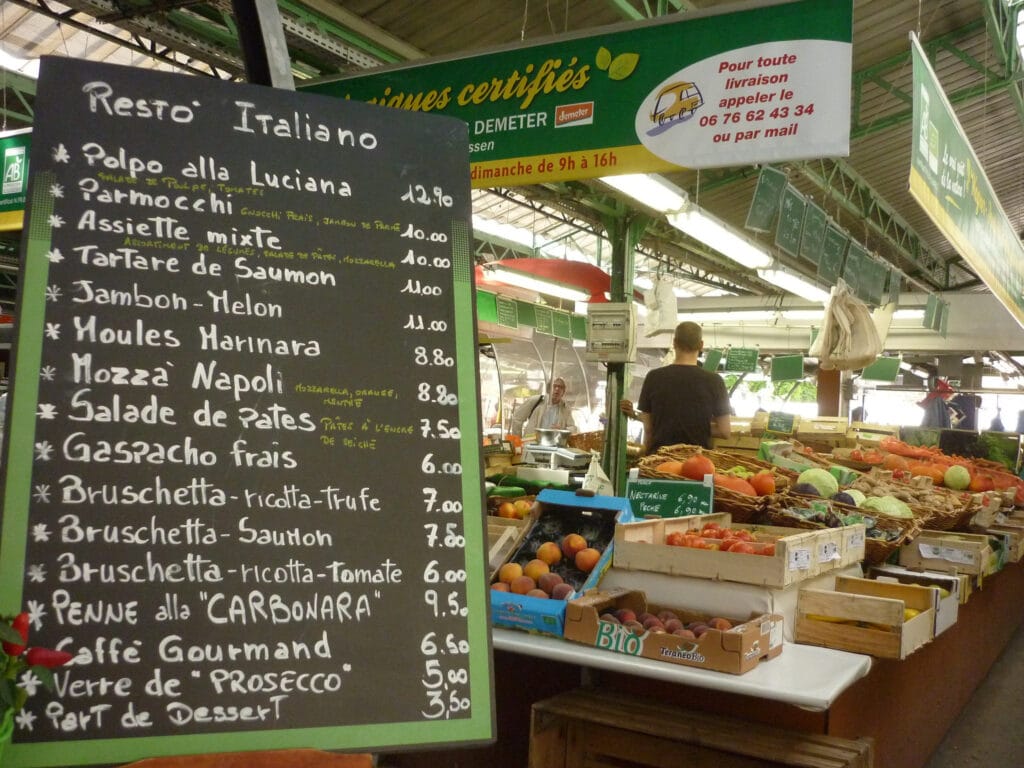 Grab some takeaway at the Italian grocery store, at the organic stand, at the Lebanese caterer or even at the Japanese snack bar. On Sundays, brunch lovers head to Estaminet, a restaurant nestled in the heart of the market, or to La Petite Fabrique.
Tuesday-Saturday, 8.30 am-7.30 pm; Sunday, 8:30 am to 2 pm The Estaminet is open Tuesday to Saturday from 9 am to 8 pm and Sunday from 9 am to 3 pm and Thursday to Saturday from 9 am to 11 pm on sunny days
The Marché d'Aligre – Paris
The Marché d'Aligre is a large, outdoor produce and flea market located in the 12th arrondissement of Paris, and is a great addition to any Paris itinerary where you want to get off the beaten tourist path.
It's several blocks east of the Place de la Bastille and starts at the corner of Rue Crozatier and Rue d'Aligre. Down Rue d'Aligre, vendors are out selling produce, a dizzying array of fresh, juicy strawberries and raspberries, carrots and onions that look to be just plucked from the ground, more varieties of mushrooms than I knew existed, plus, of course, a wide variety of other fruits and vegetables.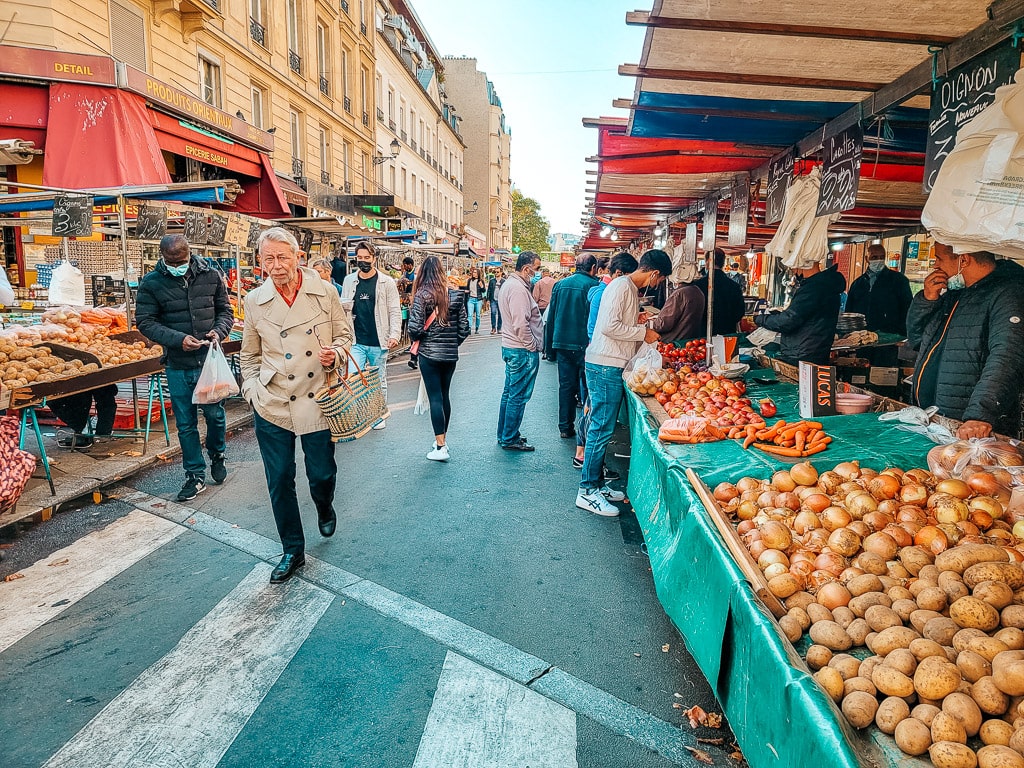 As you continue down Rue d'Aligre, you'll hit Place d'Aligre, a little square that holds the flea market section of Marché d'Aligre. You can wander tables upon tables upon tables of interesting old treasures, including books, jewellery, trinkets, tea sets, clothing, cookware, cutlery, and more.
This is a market designed for locals, so you won't find a lot of touristy things here – that's what gives it so much of its appeal!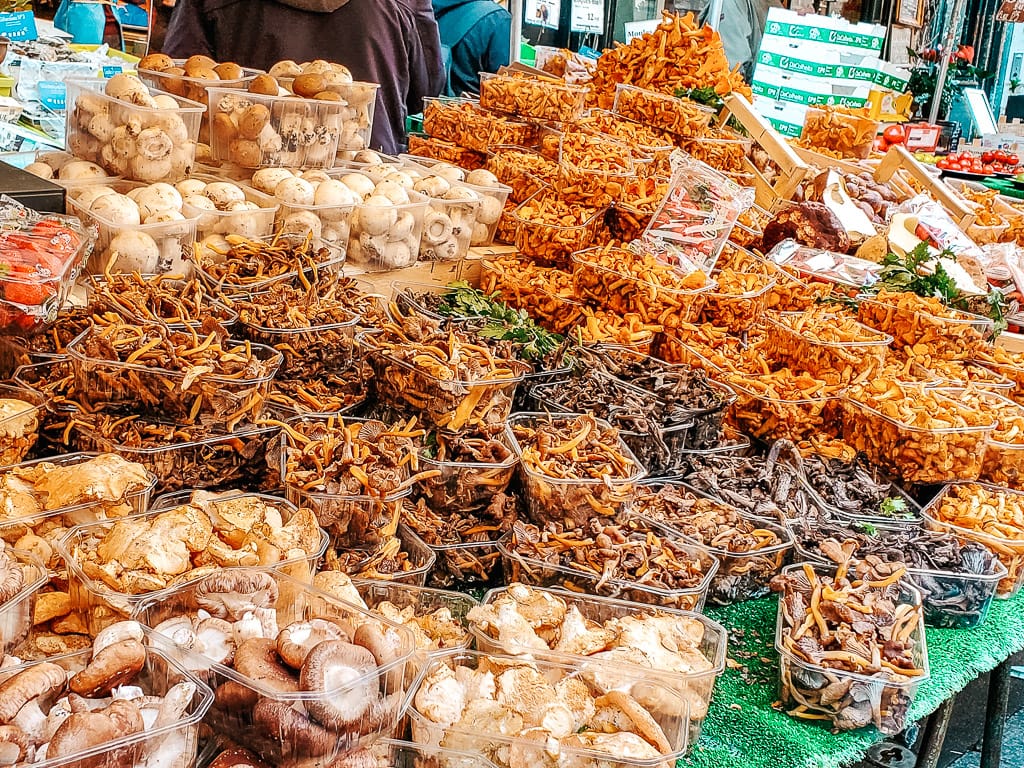 If you're craving something hot and savoury to go with the fresh produce you bought, we ate at the Boucherie Aouadi, found right at the corner right at the beginning of the market. Here we picked up a carton of hot, roasted potatoes and carrots, and another with juicy chicken. Both were delicious!
The Marché d'Aligre is open Tuesday through Sunday, from 7:30 am-1:30 pm on Tues-Fri, and 7:30 am-2:30 pm Sat-Sun. Contributed by Stephanie of Theunknownenthusiast.
Cours Saleya Market, Nice, France
The Cours Saleya Market in Nice, France is one of the best outdoor markets in Europe. Surrounded by colourful buildings in the heart of Old Town Nice, and just a block from the Mediterranean Sea, this market is a must-see for anyone visiting the Côte d'Azur.
Don't let the official name, Cours Saleya Flower Market, fool you. Among the stalls of blooming flowers, you'll find plenty of fresh local produce, local crafts, and traditional Nice foods ready to eat.
In fact, this Nice market happens to have fabulous options for snacking. Try Nice's #1 street food, Socca, a cross between a chickpea flatbread and crepe. There are a few stalls that sell Socca, but Theresa's is the most famous, and it's delicious.
You'll also find pastries, cheeses, bread, dried fruits, olives, and nuts to munch on while strolling around or to eat later. If you prefer a sit-down meal, outdoor cafes and restaurants line both sides of the Cours Saleya. Try Le Safari for some typical Nice cuisine.
Locals come to the market for their dinner ingredients from 6:00 am to 1:30 pm Tuesday-Sunday. Every day at noon a cannon fires to let you know the food & vegetable market is coming to an end. On Mondays, you will not find food or flowers as the stalls are filled with antiques. Contributed by By Denise of Chef Denise
Aix-en-Provence Farmer's Market – Provence, France
Aix-en-Provence once the capital of Provence is located in the south of France. One of the main attractions of the town's historical centre is its daily farmers' market. In fact, there are two separate markets occurring in two different parts of the centre on different days. Because of that, in effect, Aix inhabitants enjoy a daily farmers' market. Both markets are outdoors, no matter the time of the year.
If you are in Aix on Tuesday, Thursday or Saturday mornings, you will be able to enjoy the largest and most varied market the city has to offer. For produce, baked goods, cheeses, grilled meats and preserves head over to Place de Verdun and Place des Prêcheurs. Lavender honey is the best!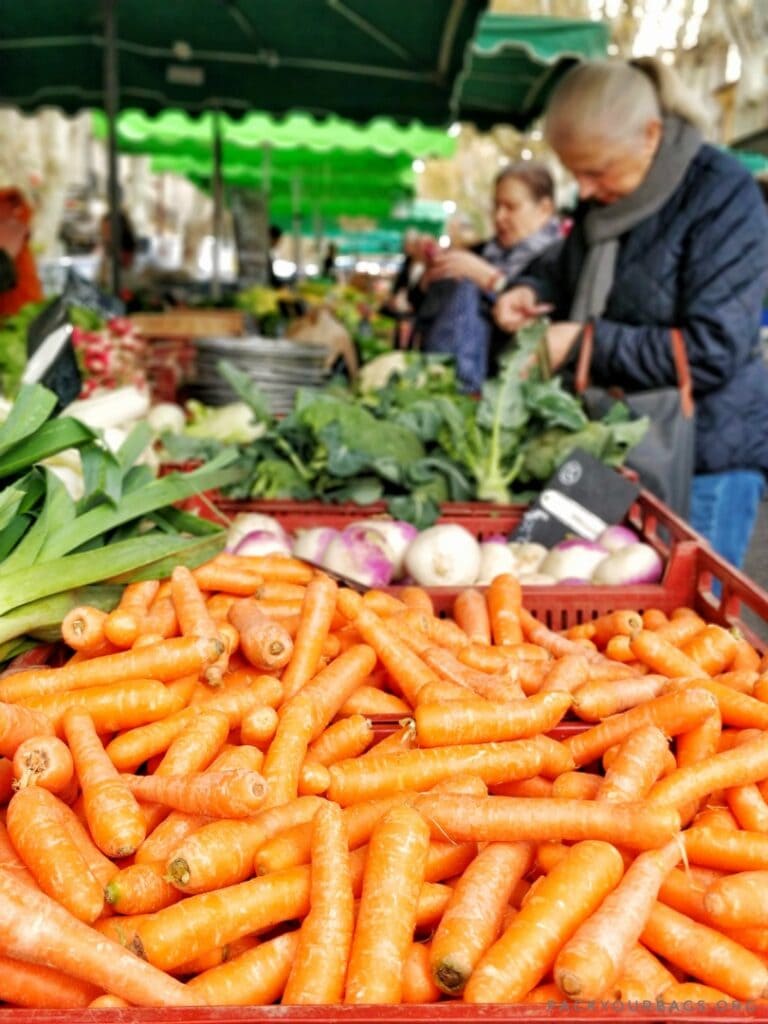 If you are looking for gifts then Rue Thiers is the place to be. And if flowers and plants are what you are after, then head over to Place l'Hôtel-de-Ville, a short walk over from the food market. Finally, the main street of Aix-en-Provence, Cours Mirabeau is filled with clothing and accessory stalls.
And on Wednesday, Friday and Sunday mornings there is a smaller market at Place Richelme where you can buy fresh produce and seafood. This market is officially also open on Mondays but there are only a handful of produce vendors. Aix farmers markets are open from 8 AM to 1 PM but the best time to go is from 9 AM to noon. Contributed by Bea from PackYourBags
Marche des Lices – Rennes France
The Place des Lices is where knights used to joust and is now the location of one of France's largest markets. Food shopping in the incredible Marché des Lices in Rennes at the Saturday food Market is a visit well worth making. The place is chock full of vendors of every type.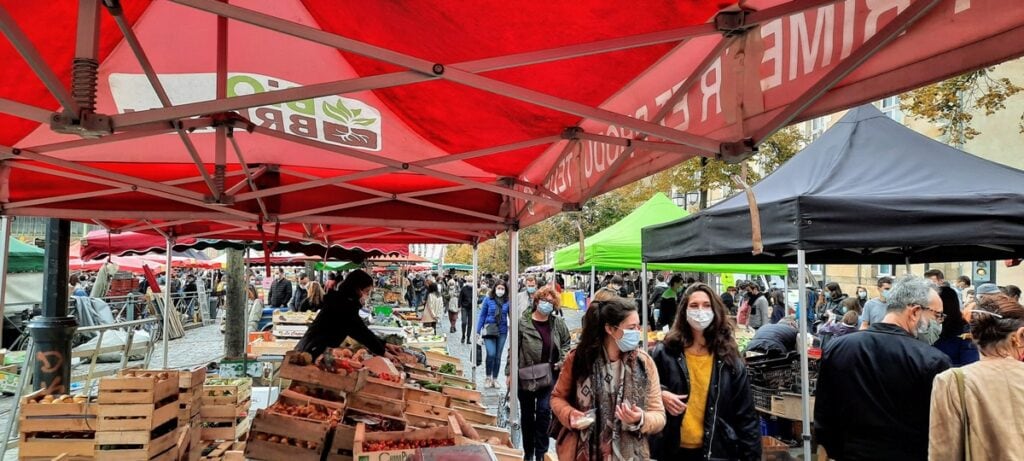 This is the largest market in France outside of Paris. Within the Marché des Lices, you will find fruit and vegetables, but also some spécialités bretonnes like a mind-blowing variety of seafood, oysters locally farmed in Cancale and typical Breton pastry Kouign Amann. There is a cheese Hall and garlic that you have never seen before. Certain areas of the market are dedicated to various items such as flowers and plants, seafood, fruit and vegetables, cheese and dairy products and the market seems to go on for miles.
European food markets – United Kingdom
Durham Market
Located in the heart of Durham City Centre, Durham Market is one of the best and most historic markets in Europe. Durham is a historic town in Northeast England, most famous for its Cathedral and Castle – both UNESCO World Heritage sites. About 5 minutes walk from the cathedral, lies the historic Durham Market – a must-visit tourist attraction in Durham. Founded in 1851, this market is one of the very few privately owned markets in the whole of Britain.
Durham Market has both indoor and open-air markets. In the indoor Market Hall, there is an array of over 40 independent shops – you would find a wide variety of local products, artisan cheese, fresh vegetables, clothes, and jewellery. It's open six days a week from Monday to Saturday.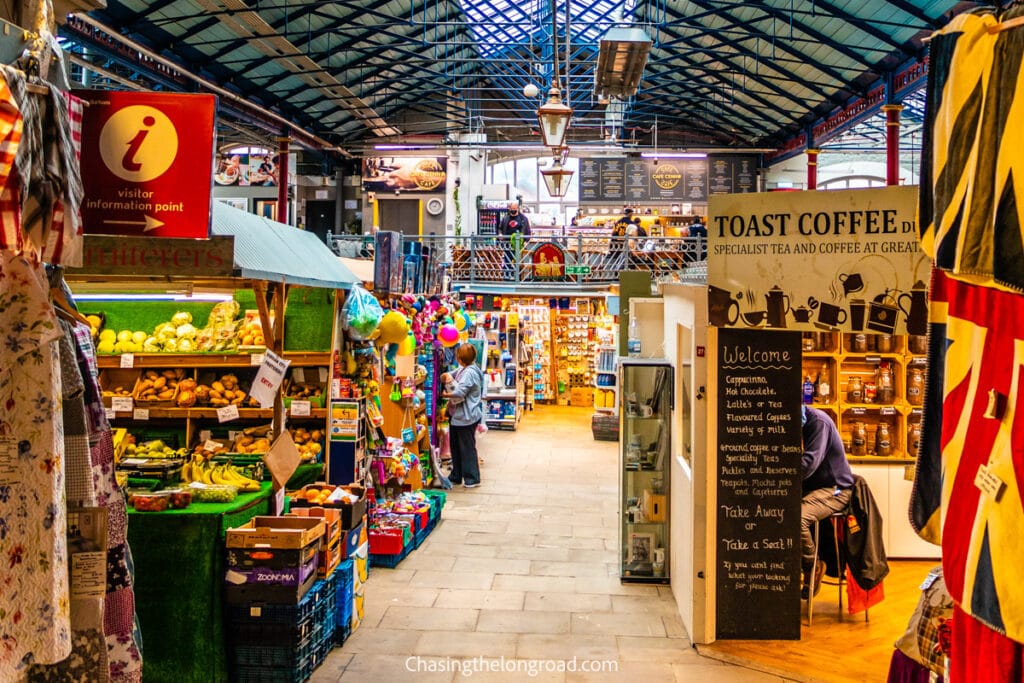 Every Saturday, the outdoor market takes place from 9 am to 4 pm at Durham Market Place, just outside the indoor Market Hall. There you can shop for homewares, funky fashion accessories, and clothes. You will also have many takeaway food stalls selling delicious cakes, fresh coffees, scotch eggs, Greek street foods, and sweet treats. We tasted the gyros from the Greek food stall. It was very tasty. While you are in the open-air market, don't miss the statue of Neptune and the Man on the Horse at Market Place. In earlier years, Durham Market has received the Best Market Award in Britain. Contributed by Mouita & Sankha of Chasingthelongroad.
St. George's Market – Belfast
There has been a Friday market on the St George's site in Belfast since 1604. The Market is open Fridays, Saturdays, and Sundays and each day has a specific focus. The market was also named one of Britain's Best.
On Fridays, it's a Variety Market, which means over 300 stalls selling everything from fish to antiques.
Saturday is the Food and Craft Market where you can try food ranging from French Crepes to Paella and so much more. Head upstairs for a superb Ulster Fry breakfast or simply wander the stalls and pick up some cool t-shirts or hand-made arts and crafts.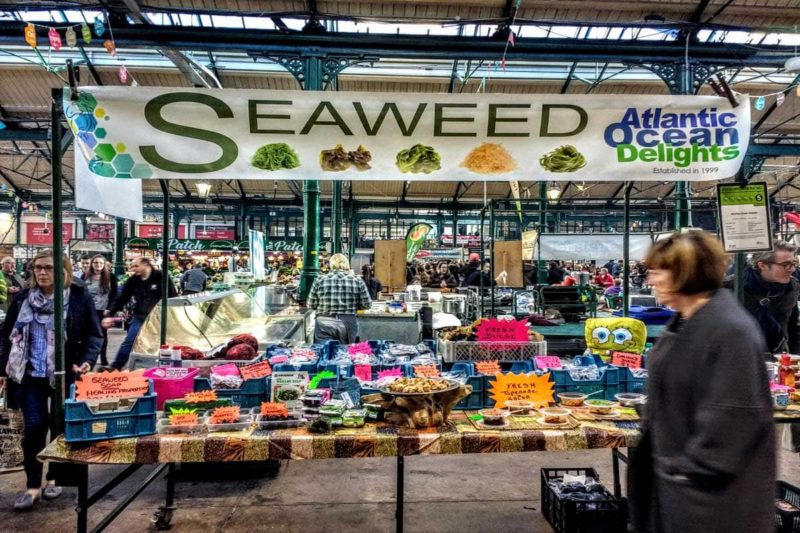 On Sundays, the Market tends to specialize in antiques and crafts although there is still a great selection of food on offer. St. George's Market is one of those great things to do in Belfast with the family.
Borough Market – London
Borough Market has been around in different forms for around 1,000 years. It has always been at the south end of London Bridge, which was the only route across the river from the 990s until later centuries. The market is open from Monday to Saturday from 10 am until 7 pm except on Saturdays when it opens at 8 am.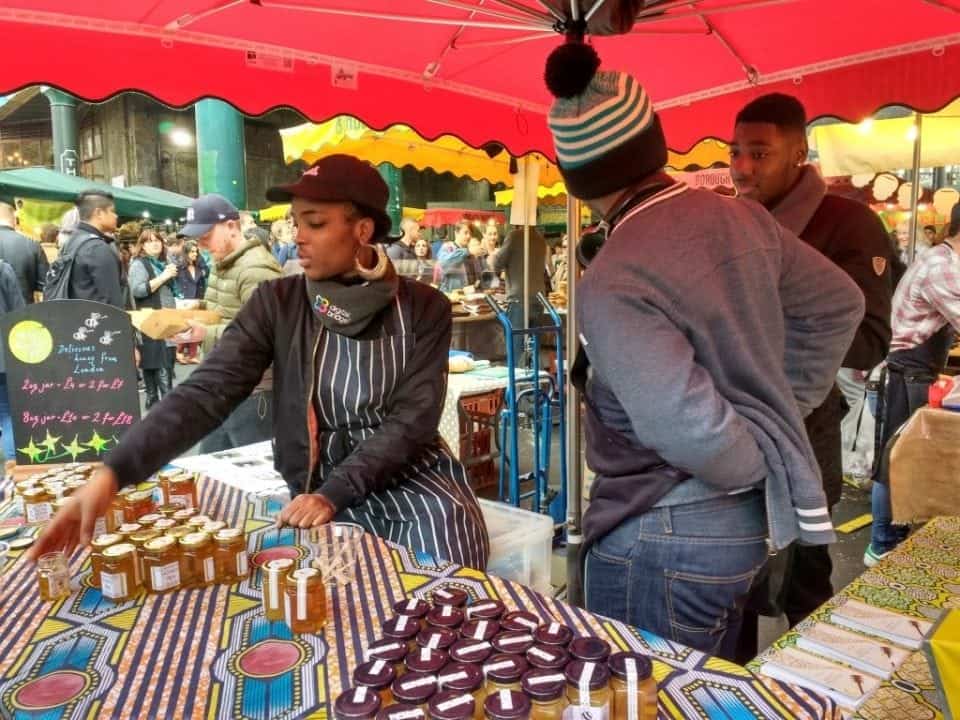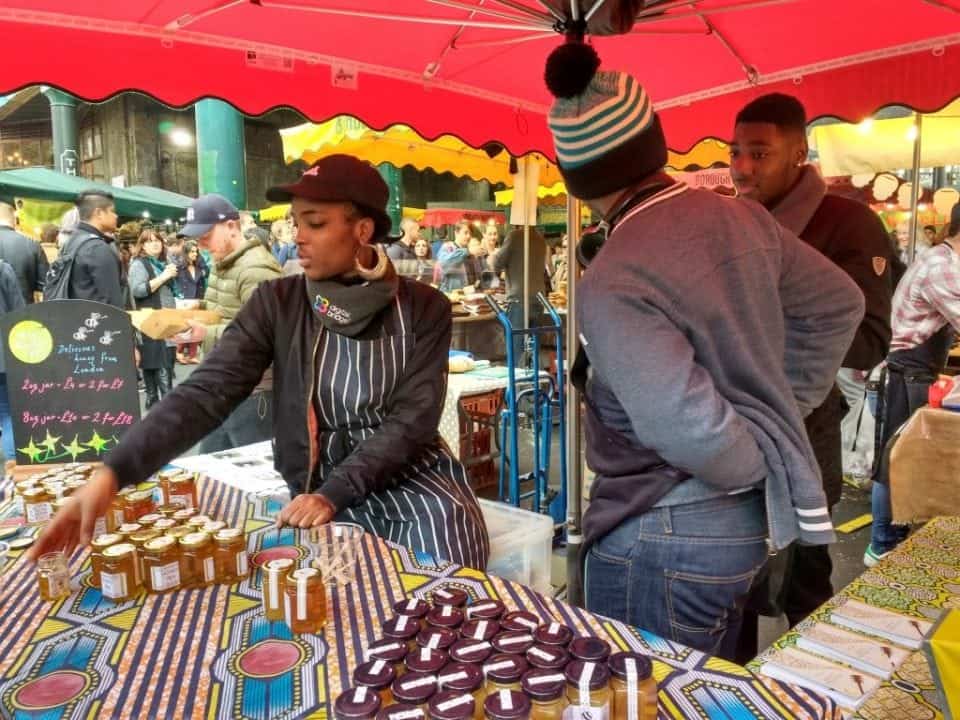 Borough Market today has its roots firmly planted in the revival of interest in artisanal foods that began in the 1990s. Some of the first pioneers at the Market were Neal's Yard Dairy, which has to be absolutely the best cheese shop in London, and Brindisa, which specializes in Spanish foods.
Camden Market – London
The Camden markets are actually six distinct markets and pull in over 100,000 tourists every weekend and I think I was bumped into by most of them. Inverness Street Market is a more "typical" London street market. There are fruit and veg vendors, a huge variety of speciality shops and lots of cafes to stop for a people-watching coffee or tea.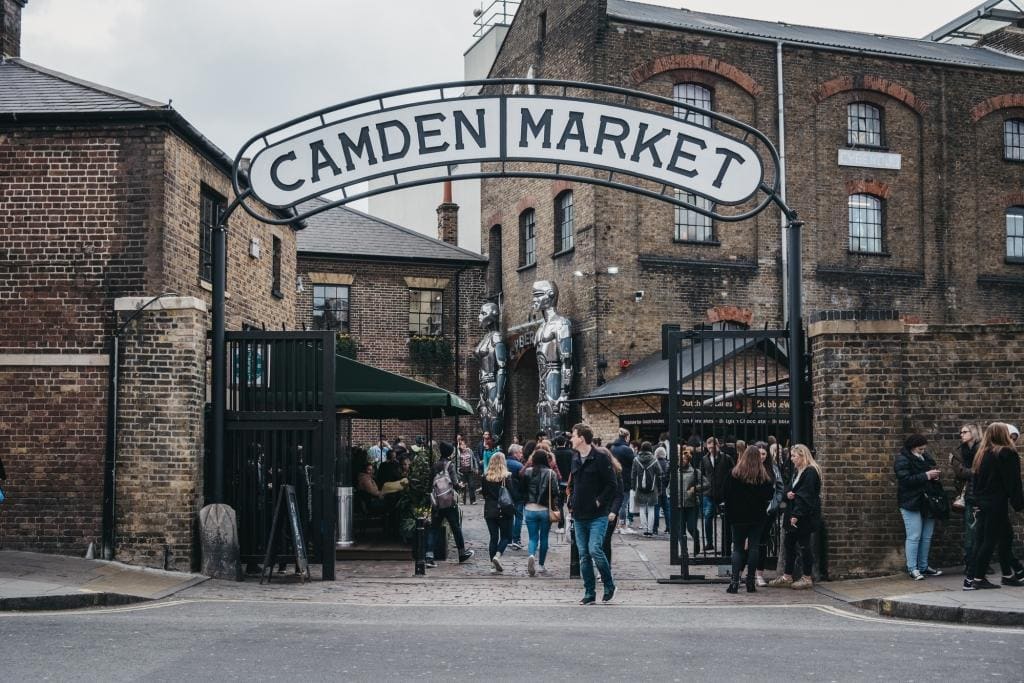 This is one of the original areas of Camden Market and has been around since the early 1900s to serve the local community. The six Camden Markets have their own distinct characteristics. There appear to be no limitations on what you can sell, eat or buy at the markets. from its start as 16 market traders, the Camden market has grown to more than 1,000 market stalls and shops in six main markets, and small clusters of stalls in branches in courtyards and side streets.
I highly recommend trying some arepas at the Arepazo Bros stall, arepas are a traditional Venezuelan food made from corn flour, and 100% gluten-free. At their stall in Camden, you'll find 4 different options: the Pabellon, which is filled with shredded beef, melted cheese, black beans, plantain, avocado and pico de gallo; La Cartelua, like the Pabellon but with chicken. They also have a veggie version called the Domino. We added Plantain Fries to our arepa and I have to say I've eaten a few arepas in my time and these were hands down the best.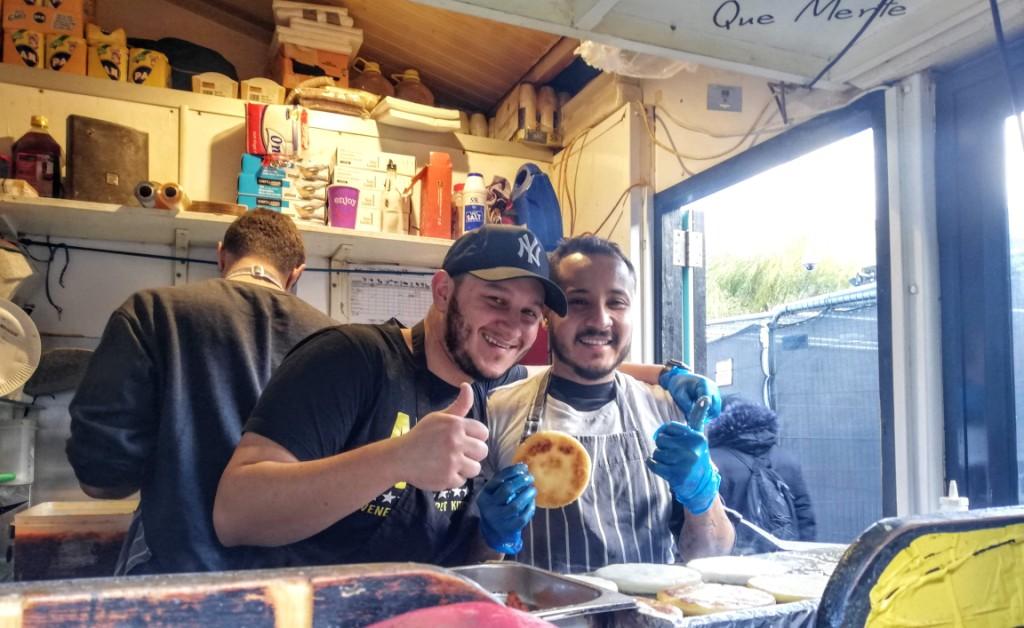 Stockbridge market – Edinburgh
Are you looking for the best local market in Edinburgh? Most tourists go to the market in Grassmarket, just in front of Edinburgh Castle. It's a nice market, but the locals know the best market is in Stockbridge.
Stockbridge is only a ten-minute walk from the city centre, but it feels like it's a cute little village. There are lots of specialist independent shops, the most beautiful architecture in Edinburgh, and the weekly local farmers' market.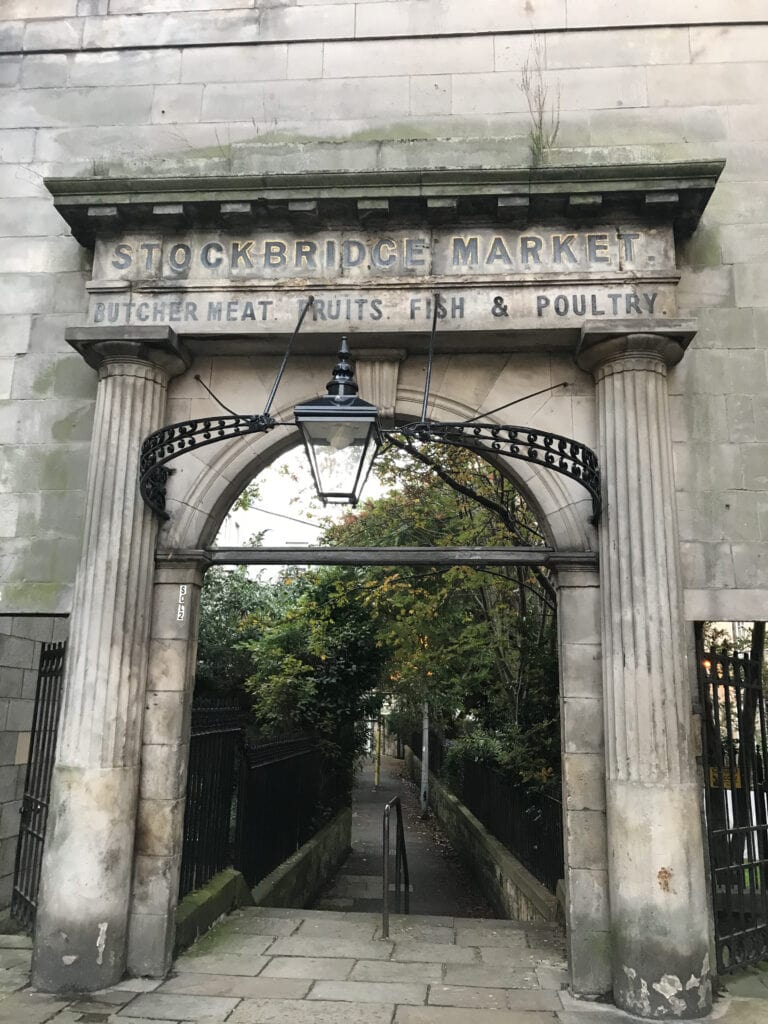 It's an outdoor market that specialises in local food, but there are also a few craft stalls. I went to the Stockbridge Market every weekend when I lived in Edinburgh for two years.
There's also a local cheesemonger across the road, IJ Mellis, that you shouldn't miss. It's worth going just because the building is so beautiful, but the cheese is so good too. Also don't miss Circus Lane, the cutest street in Edinburgh which you've probably seen all over Instagram, which is just across the road from the market.
Are you looking for other ideas for things to do while you're in Scotland? These are the top 3 places I'd recommend:
1. Dunnottar Castle in Aberdeenshire – the best castle in Scotland. Castles ruins perched on a little island jutting out of the sea, surrounded by dramatic cliffs.
2. Isle of Harris – white sand and the brightest blue beaches you've ever seen. I've lived in Australia and the beaches at the Isle of Harris are better.
3. Drive to Skye via Glencoe, Glenfinnan Viaduct, and the Silver Sands of Moray – touristy but the best scenic drive in Scotland.
Address: Corner of Saunders Street and Kerr Street, Stockbridge, Edinburgh, EH3 6TQ Hours: Every Sunday 10 am-5 pm. Contributed by Ashleigh from ashleighsatlas.
Leeds Kirkgate Market
A must-see market in England is Leeds Kirkgate Market at the heart of Leeds, West Yorkshire. Visiting this market is one of the best free things to do in Leeds.
Leeds Kirkgate Market is one of the largest indoor markets in Europe that has around 800 stalls with food, electronics, fashion, jewellery and flowers.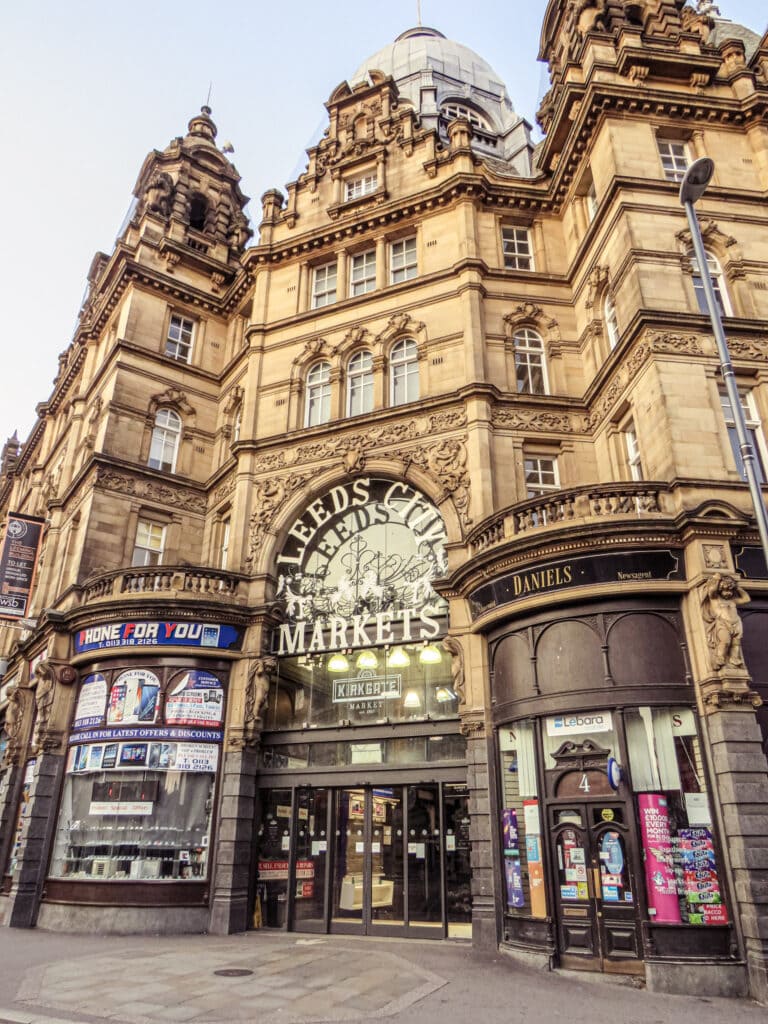 Visiting the market is an experience – its sights, smells and sounds make it a great place to explore regardless of whether you are planning to do some shopping or not.
Apart from being a great place to find anything from food to antiques and real bargains, the market also hosts events and is home to many great restaurants, cafes and food stalls.
In these food and drink places, you can enjoy all sorts of local and international food. If you are looking for traditional food, then you need to go to the Yorkshire Wrap company stall.
Interestingly, this market has a story behind it. It was the founding location of the famous shopping retailer Mark & Spencer. You still can see the beautiful Market Clock, which has the name of the shop, in the 1904 hall.
The indoor market is open Monday to Saturday from 8 am to 5:30 pm, but you can also go to the outdoor market next to the Leeds bus station. In the outdoor market, you'll find fruit and vegetable stalls as well as old CDS, shoes and clothes. Contributed By Cristina of My Little World of Travelling
Norwich Market
Norwich Market is one of the oldest and largest outdoor markets in England. When the Normans arrived in Norwich in the late 11th century, they established a new market to supply Norman merchants and settlers moving to the area following the Norman conquest of England. This market was situated in the area between St Peter Mancroft and the Guildhall, called Gentleman's Walk, and remains there to this day.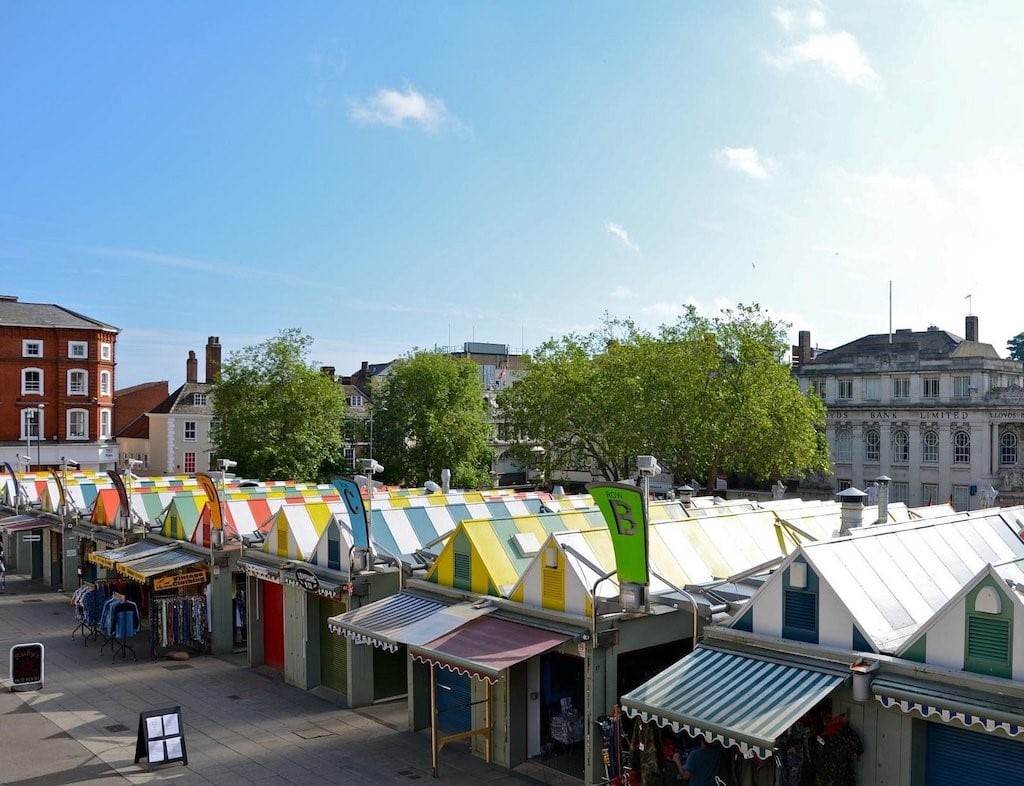 By the 14th century, Norwich was one of the largest and most prosperous cities in England, and Norwich Market was a major trading hub. The market went through a number of changes over the centuries and by the 1990s, the market was becoming outdated and a little tired. In 2006 the market was rebuilt and the old stalls were replaced with steel units of four stalls each, covered with coloured striped roofs, creating the market that you see today.
A must-visit on any trip to Norwich, the market is a vibrant and colourful jumble of stalls. There are 189 of them and you can buy pretty much anything here – from clothing and shoes to mobile phone accessories, flowers, plants, luggage and toys. There are stalls selling fresh bread and cakes, locally caught fish and seafood, as well as meat, fruit and vegetables.
You can also eat your way around the market, trying lots of local Norfolk foods like Cromer Crab, as well as traditional favourites like fish and chips ((Ron's, row D, stalls 94 and 95) and hog roast. There's even a stall dedicated to mushy peas!
European Markets – Ireland
Milk Market – Limerick
The Limerick Milk Market was originally known as the Corn Market and was located in Limerick City. A bustling foodie mecca the Milk Market Limerick has something for everyone. From special events to foodie tastings and cooking classes the Milk Market covers the gamut of gourmet events in the area.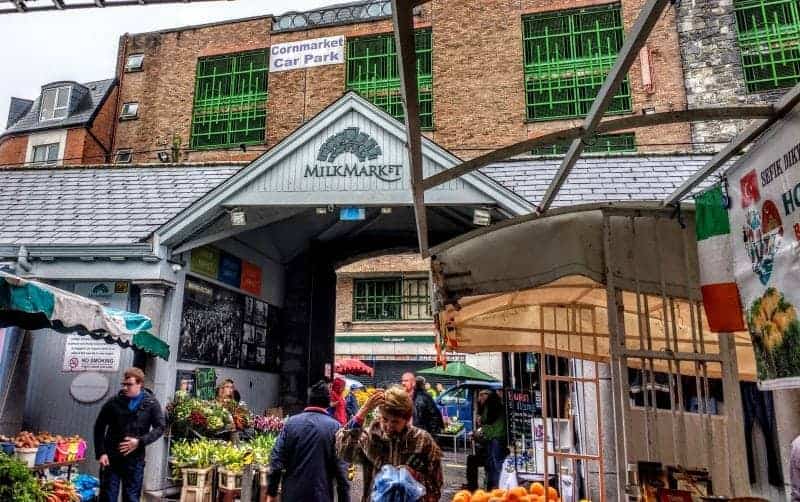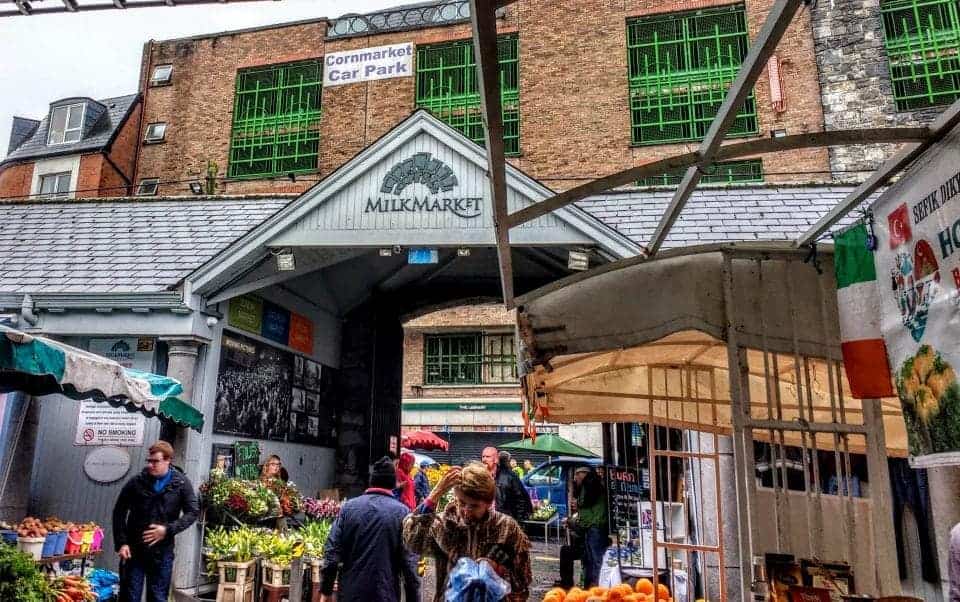 Open Friday to Sunday every week here you will find the freshest locally grown produce speciality bread from gluten-free to beautifully presented wheaten and soda bread plus the to-die-for pastries, cakes and traybakes. You will also see some of Ireland's ancient crafts, gorgeous flowers and much more.
The English Market – Cork
So why is a Market in Ireland called The English Market Cork? Well, it has to do with the fact that in 1788 the market was created by an "English" (or Protestant) Corporation. The English Market Cork is intricately linked to the city of Cork and over its 218 years of history, it has been a bastion of Irish food traditions.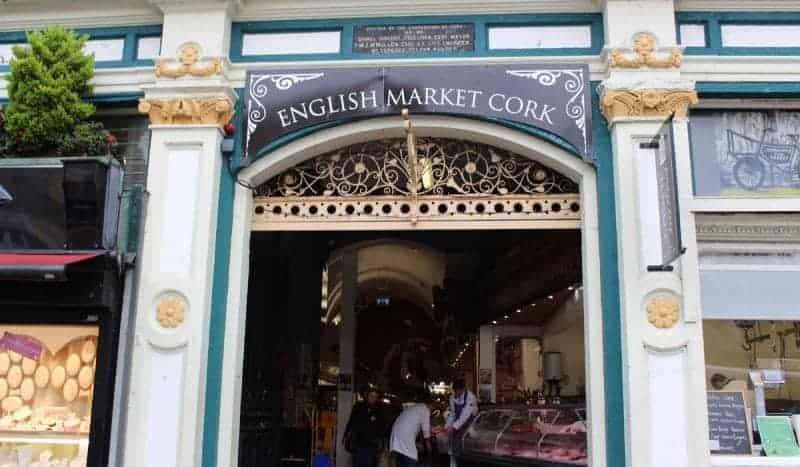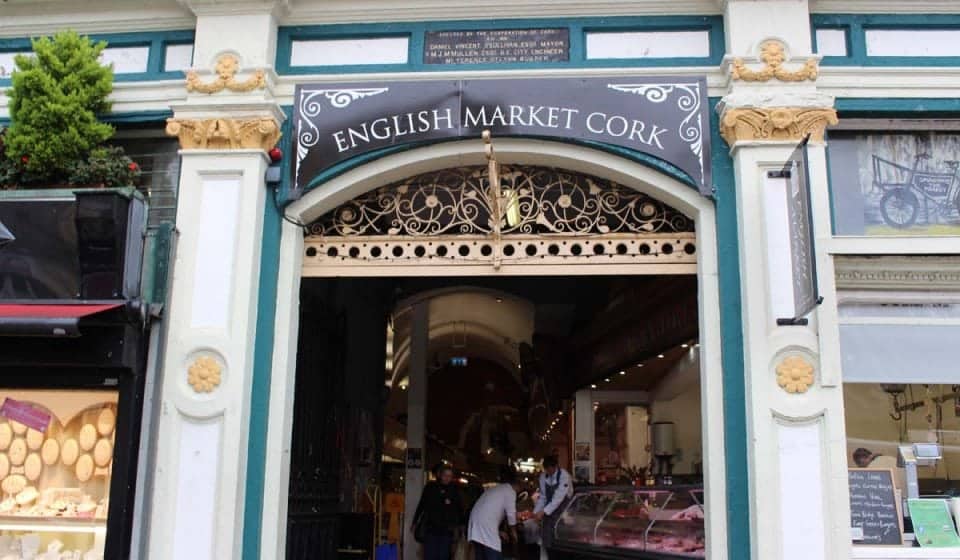 The English Market Cork has a reputation for showcasing the best in local produce, artisanal bakeries, and speciality butchers and the market holds tight to its traditions to provide a fantastic place to meet foodies with tons of events throughout the year. There is also your pick of foods to grab and go or check out the cafe on the second floor.
European markets – Portugal
Mercado dos Lavradores – Madeira, Portugal
Mercado dos Lavradores, also known as Funchal Farmers Market, is located on the Portuguese island of Madeira, about 1000 kilometres off the coast of mainland Europe. The market hall, which lies in the heart of the island's capital city Funchal, was built in the 1930s and is decorated with hand-painted Portuguese tiles. With a variety of colours, aromas and noises, the bustling Mercado dos Lavradores is a real feast for the senses and a mandatory stop on every Madeira itinerary.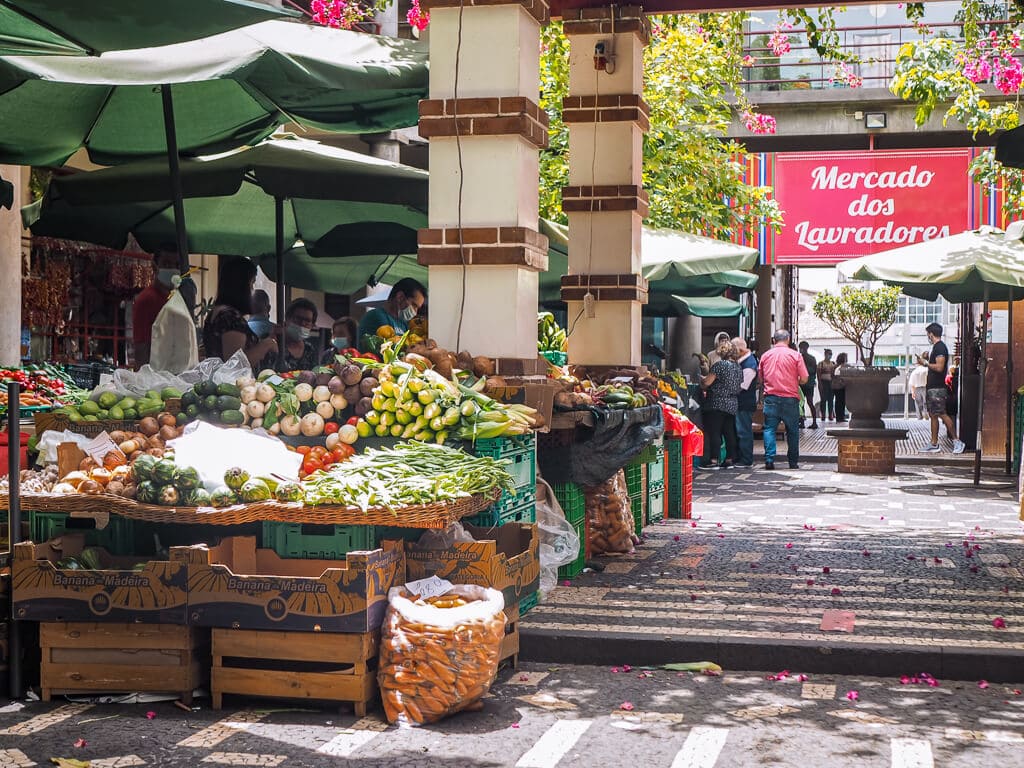 On its two floors, you'll find beautifully decorated stalls selling fresh produce, fish, flowers and spices. The market is best known for its unusual tropical fruit, which you can sample for free. Make sure to taste the various types of dragonfruit and passionfruit (including a passionfruit-banana hybrid) as well as the strange Monstera Deliciosa fruit. Visit also the fish market on the ground floor, where you can see the black scabbard fish. It's the most popular fish in Madeira and is usually served with fried bananas and passionfruit sauce.
Since Mercado dos Lavradores is a popular place among tourists, be aware that the prices can be inflated. If you want to buy anything, make sure to use your bargaining skills.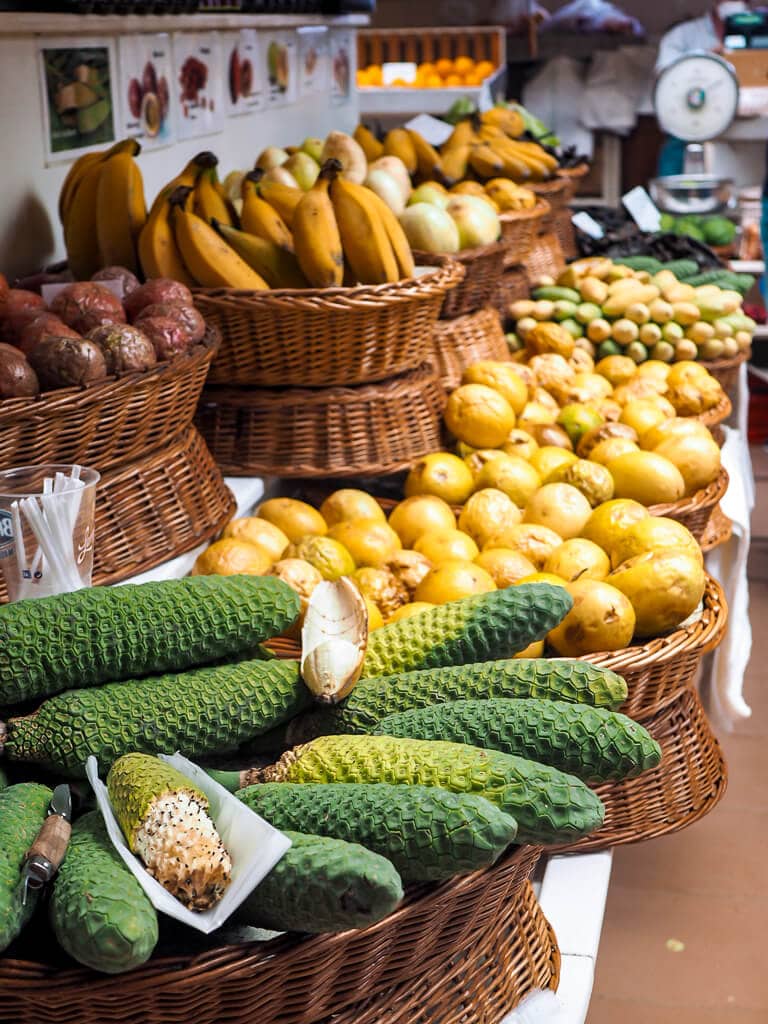 Around the central market area, there are small bistros serving local drinks and snacks. Here you can enjoy a glass of sweet Madeira wine and some warm bolo do caco, a traditional flatbread served with garlic butter.

Mercado dos Lavradores is open from Monday to Friday, from 7 am to 6 pm and on Saturdays from 8 am to 2 pm. Contributed by Marjut of The Smooth Escape travel blog.
Time Out Market – Lisbon, Portugal
If you're looking for a great place to eat in Portugal, you can't miss Lisbon's famous Time Out Market. This popular food hall features an impressive selection of gourmet food and is a must-see attraction on your Lisbon 4-day itinerary. Located in the Cais do Sodré neighbourhood near Pink Street, this covered market boasts 24 restaurants and 8 bars under the same roof.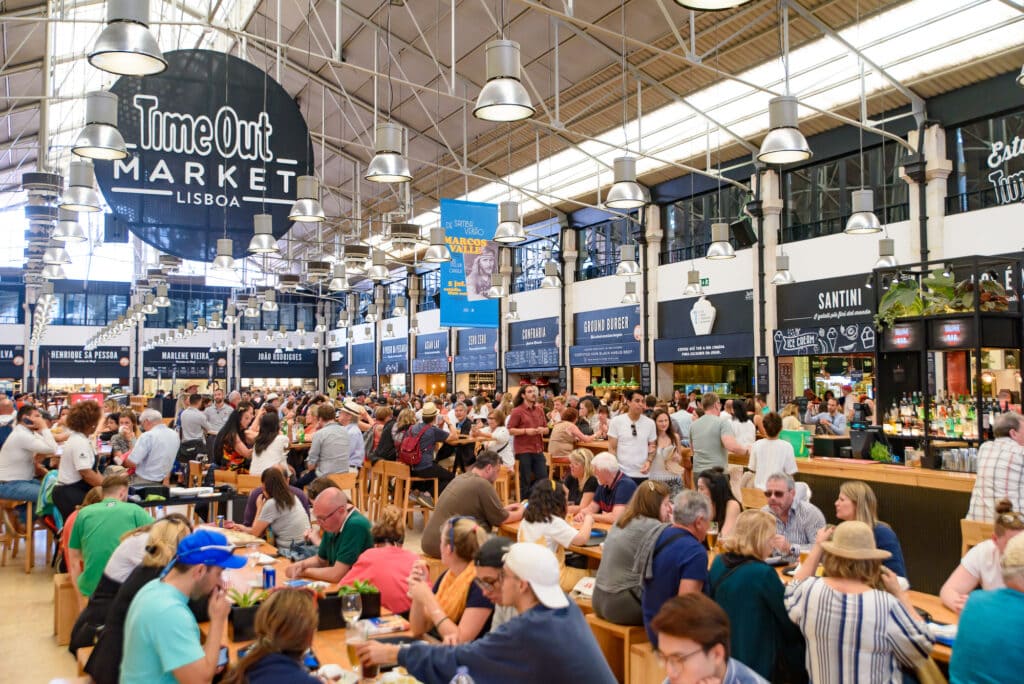 Time Out Market is unique in that the restaurants were all hand-selected by the Time Out Portugal team. These editors for Time Out magazine are closely acquainted with the local food scene and chose only the best vendors for this project.
From French pastries and Italian ice cream to mouth-watering sushi, you can eat around the world at the Time Out Market. Many Portuguese specialities are available as well. Be sure to sample a pastel de nata (traditional egg tart) from Manteigaria and try the bacalhau (cod fritters) from Terra do Bacalhau.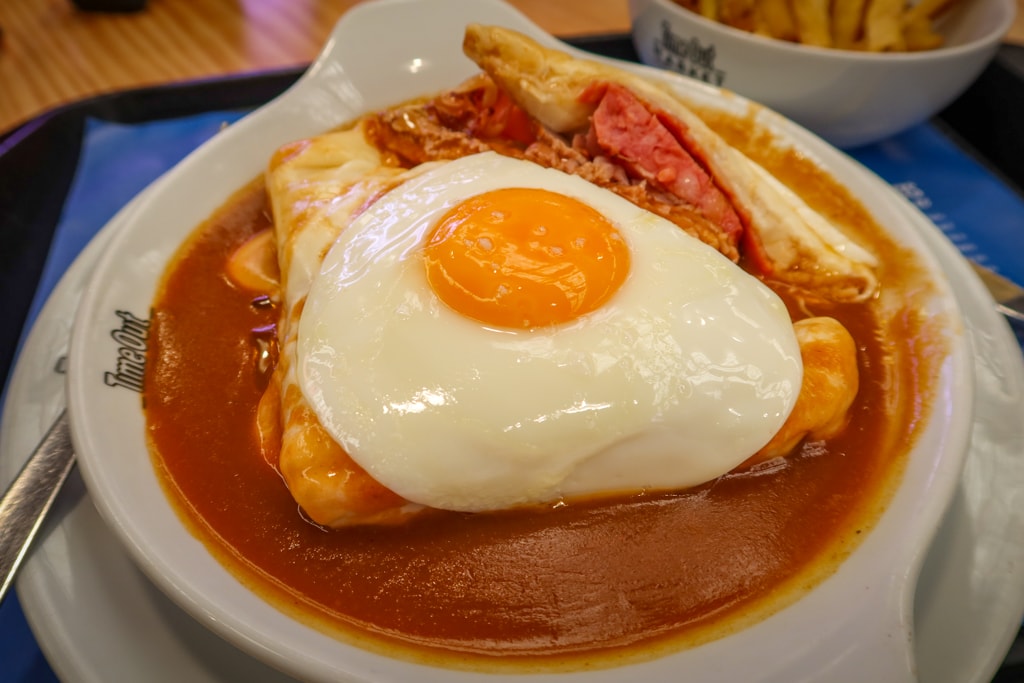 During my visit to the market, I was keen to focus on Portuguese cuisine. My dish of choice was the francesinha, an enormous sandwich that originated from Porto. This beast is traditionally made with a variety of meats such as wet-cured ham, linguiça, fresh sausage and steak – and then covered with melted cheese and a savoury sauce. It was amazing.
Time Out Market is open 7 days a week from 10:00 am to midnight. While you are there, be sure to check out the Mercado de la Ribeira on the bottom floor. This fresh market sells a variety of products and is open every day from 6:00 am to 2:00 pm. Submitted by Katy from A Rambling Unicorn
European Markets – Spain
Mercado de San Miguel – Madrid
In the heart of Madrid sits the Mercado de San Miguel where you will find just about every edible delicacy in Spain. Remodelled in 2009 this modern building is a bustling showcase of the best jamón ibérico, Manchego and other artisanal Spanish cheeses, gorgeously fragranced Paella, tins of fine tuna, anchovies and seafood. There's Mexican food from a Michelin-starred chef, wines, seafood, sherry and Spanish wine and olive oil and of course tapas. You simply cannot miss a trip to this culinary mecca.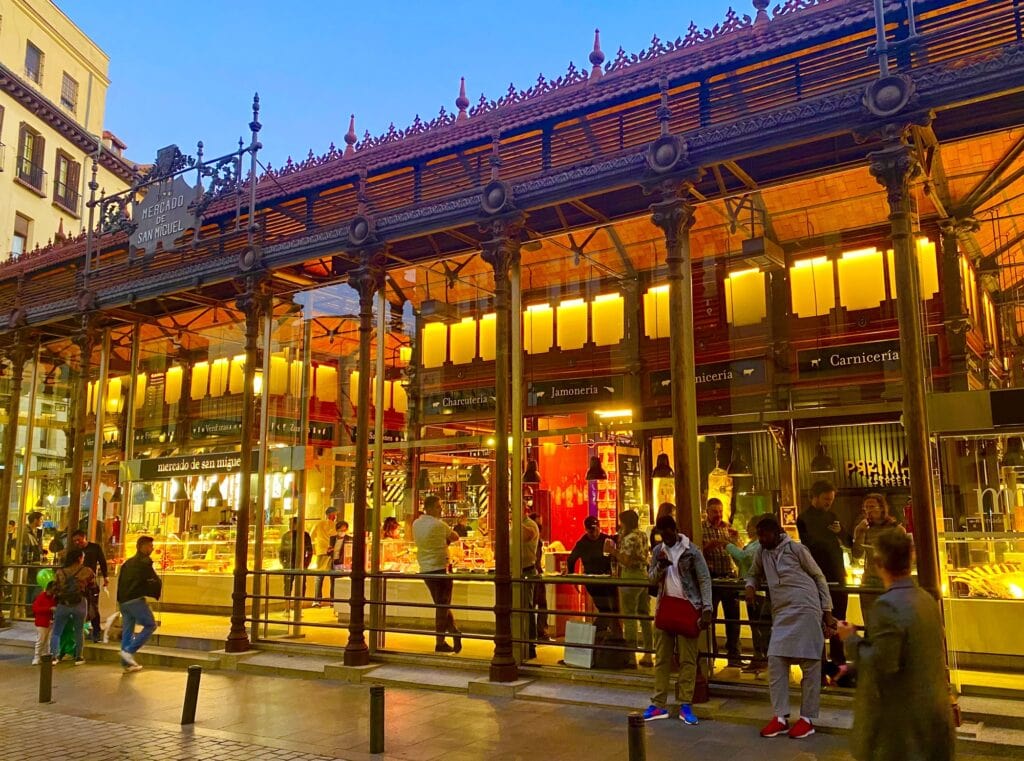 Mercat la Boqueria – Barcelona
The vibrant market of La Boqueria, situated in one of the most beautiful cities in Europe, is the city's heart and a must-see place when visiting Barcelona!
La Boqueria was first opened in 1836, and it was initially an open market that gathered farmers from the nearby villages that sold their products. Today La Boqueria, also known as Sant Josep market, is a lively place where shoppers, as well as tourists, mingle together.
You can find La Boqueria along Barcelona's most famous avenue – La Rambla, which runs between Catalunya Square to the port. The market has an iconic metal and glass structure with a La Boqueria banner – you can't miss it! The market is vast and sells fresh vegetables and fruits, nuts, seeds and other dry products, meat, fish, clothes and home products. It is known for its huge variety and selling products from all over the world!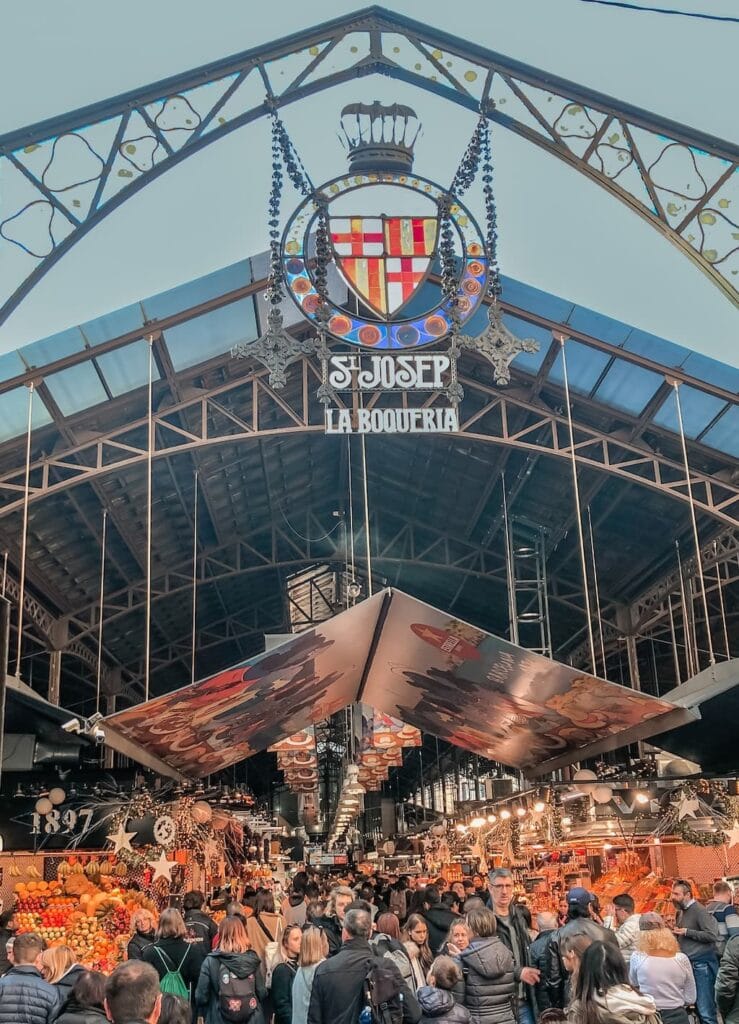 Stroll its bustling alleys to discover all its interesting products. Grab a tasty smoothie or cut up fruit in a bowl from the fruit stand costing only a couple of euros for a snack. La Boqueria is also home to some cool bars and tapas places. If you're visiting the market at lunchtime, sit at one of the tapas places and have a few small dishes while watching the market.
La Boqueria is open from Monday to Saturday between 8:00 am and 8:30 pm. Contributed by Mal from Raw Mal Roams.
The Fish Market – Cadiz, Spain
The fish market in Cadiz is one of the most fascinating places to visit in the city. It starts early in the morning when the fishermen bring the catch of the day to sell it to the market. The fish sold is always extremely fresh, still swimming in the sea the night before.
Both locals and tourists who chose a self-catering accommodation option are roaming around the market in the morning to buy their dinner. You can find anything in the market, from freshly cut tuna steaks to the largest prawns and langoustines you have ever seen.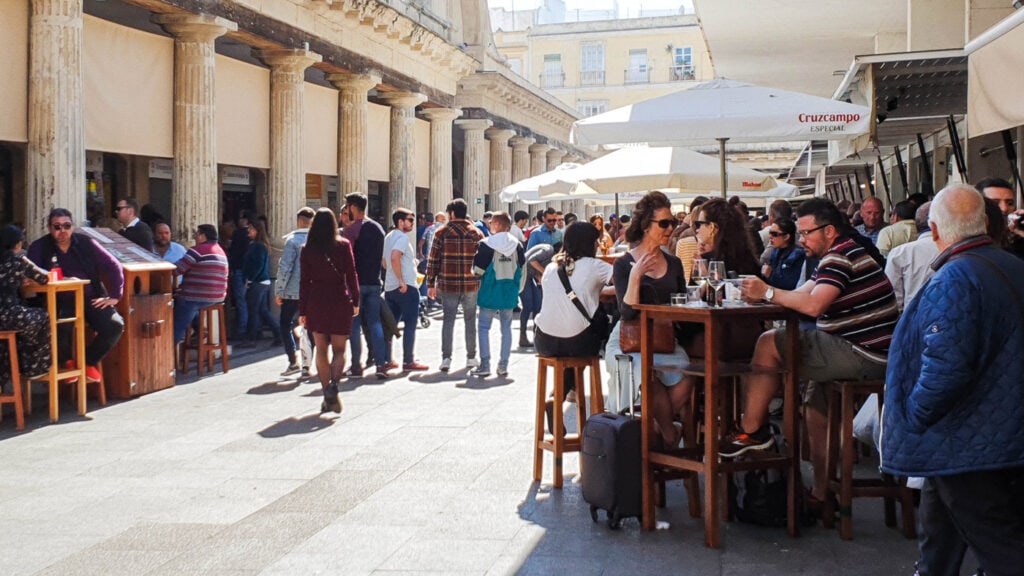 The market is located in a beautiful building with Roman-look-like columns, which was built in 1838. The outside of the market is dotted with restaurants and tapas bars which open when the market closes. They are serving mostly fish dishes, from the market.
You can try here sea urchins, fried boquerones, grilled cuttlefish and freshly opened oysters. The market is buzzing in the afternoons, when the locals go to have their fair share of fish and beer, at the restaurants between the columns. The fish market is a must-add to any Cadiz itinerary. It is a great place to experience the local culture and meet locals. Contributed by Joanna of Andaluciainmypocket.
European Markets – Italy
Quadrilatero & Mercato di Mezzo, Bologna
Bologna is in the heart of the Emilia-Romagna region of Italy, from where we get Prosciutto di Parma, Parmigiana Reggiano and Aceto Balsamico de Moderna – so you know a food market in Bologna is going to be packed with goodies! And that is certainly true of Mercato di Mezzo, which is a covered market offering local food and wine products in the centre of Bologna. There has been a market in this spot since the middle ages and the market is open every day.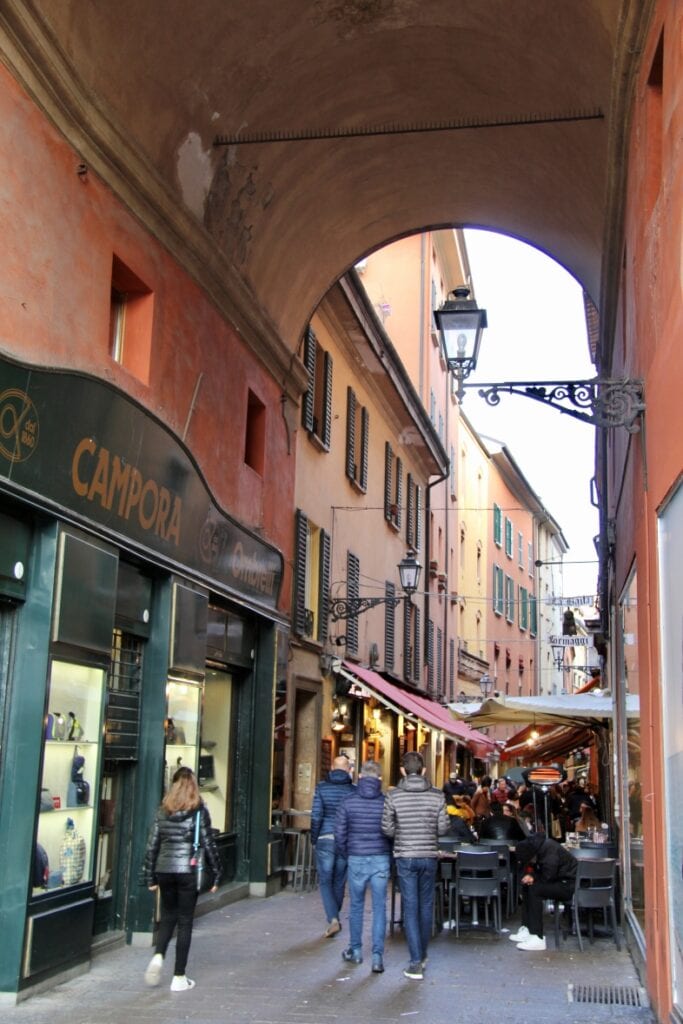 However, the food inspiration isn't limited to the market itself: the market is actually in the middle of a dense network of narrow pedestrian streets known as the Quadrilatero. Together with the market, this roughly square-shaped area has been the centre of food commerce in Bologna for centuries.
There are so many great food shops and cafes to browse and be tempted by, including family-run salumerias and shops selling freshly made pasta, like the Bologna speciality, tortellini. There are also cafes and bars you can sit down in and try local snacks like Lardo Pesto (a small sandwich of tigelle bread filled with lard, garlic and rosemary – it's better than it sounds!).
Exploring the market and the Quadrilatero is one of the many wonderful things to do in Bologna. Contributed by Martha of May Cause Wanderlust
Venice – Rialto Market
If you visit Venice, you can't not go to the Rialto market, it is located near the Rialto bridge, in the beating heart of Venice. The Rialto market is the traditional fish and fruit and vegetable market and is one of the oldest markets in the city since 1097. Initially, the city government moved around 810 from Metamauco, today's Malamocco area. Over time, political and administrative activities moved, leaving space for commercial activities, making it an important centre where merchants from all over the world came for business and trade in goods. La Loggia, the building that houses the fish market looks ancient but was actually built in 1907 in neo-Gothic style by the architect Domenico Rupolo.
Venice – Fish Market
From the early hours of dawn, Venetians and tourists go shopping to prepare the traditional dishes of Venetian cuisine, where fish is an important element. Colours, scents, all the seasonal fruit and vegetables. Flowers, vendors who still shout illustrating their wares, fish jumping on the stalls, fishmongers who cut and clean with a quick and expert hand, carts passing by.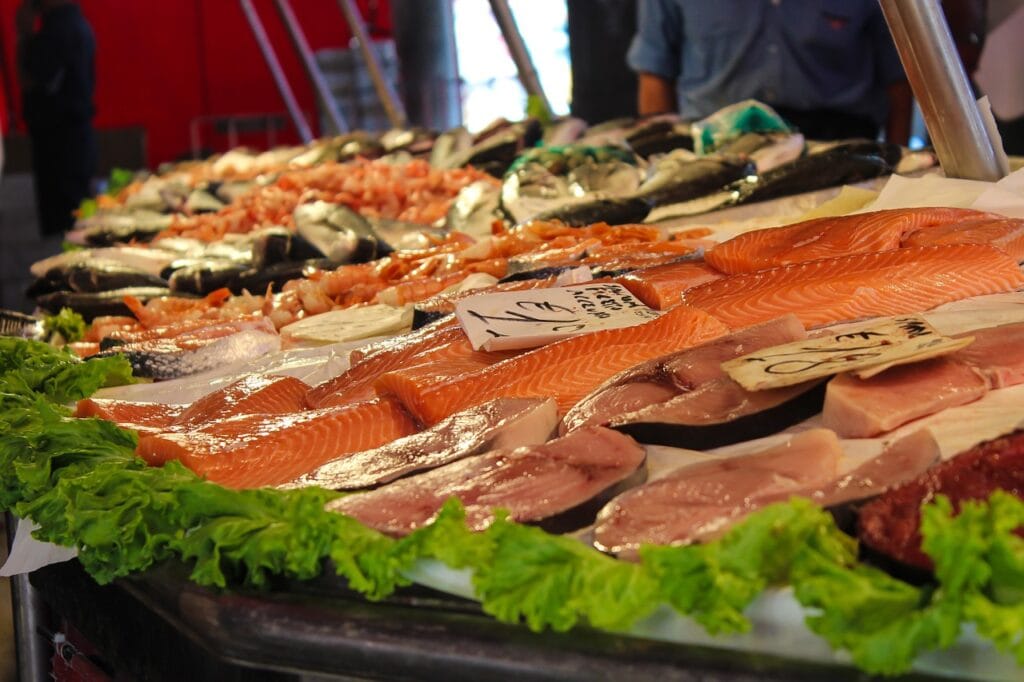 A free show that every traveller must attend. The fish market is open from Monday to Saturday in the morning, the address is Campiello de la Pescaria. Contributed by Miriam at mirygiramondo.
Florence Italy – San Lorenzo Market
Although Florence is known for brand names including Gucci and Pucci, some of its best shopping is found in good old-fashioned markets. The San Lorenzo market is made up of two markets: the outdoor market for souvenirs and leather goods, and the indoor market for fresh ingredients and prepared meals. The indoor food market is known as Il Mercato Centrale.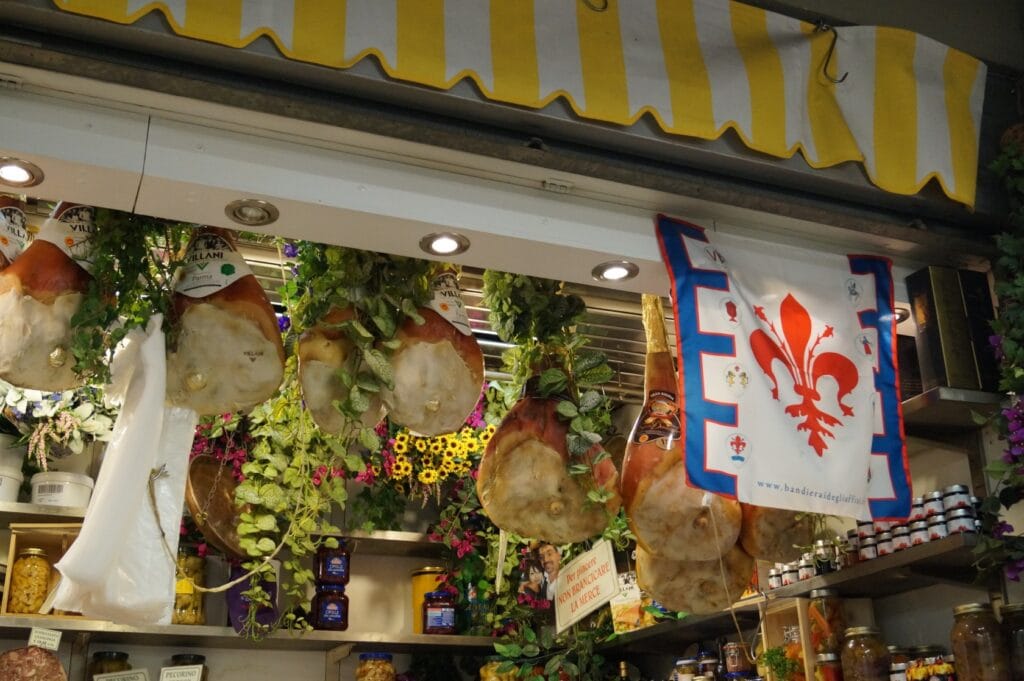 The market is a go-to for locals and travellers alike to taste some of the best Tuscany has to offer. The ground floor is populated with stalls selling fruits, olive oils, meats, and other groceries. Don't skip wandering through the maze of stalls; you'll see some of the most beautiful and unique foods in Italy.
Upstairs, stalls and wine bars will tempt you with prepared dishes like pasta, pizzas, seafood, and even food from other cuisines, like sushi. This upscale food court is open from 10:00 am to midnight, but the downstairs market has different hours. The ground level butchers, fishmongers, and other vendors are open from 7 am to 2 pm during the week, from 7am to 5 pm on Saturdays, and closed on Sundays.
It's super convenient to get to the San Lorenzo markets and Il Mercato Centrale. In fact, the markets are a 5-minute walk from Firenze Santa Maria Novella station. Whether you took the train from Milan, or a bus from Rome to Florence, this is the station you'll arrive at, so your first stop can (and should) be tasting the many wares at Il Mercato Centrale. Contributed by Mary of Mary.bucketlistplaces.
Porta Portese Market
Porta Portese is Rome's biggest and most famous market, taking place every Sunday between 7 am and 2 pm on the southern end of the Trastevere neighbourhood. It's THE market of Rome, the most notorious also due to its being rife with pickpockets and those awful scam card games. There are songs and poems dedicated to it, and several movies have been filmed there including the 'Bicycle Thieves' and 'Sciuscià'. It began after WWII as a home to Black Market trading and now has over 1000 traders.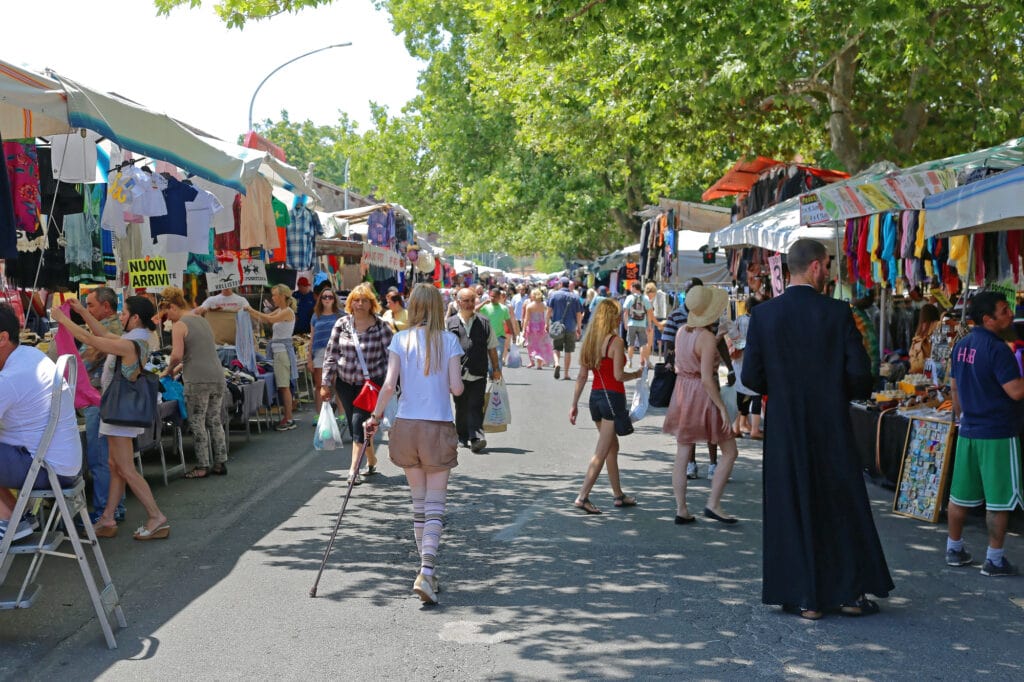 European markets – Greece
Varvakios Central Municipal Market – Athens, Greece
Located on Athinas Street, which connects Monastiraki and Omonia Squares, the Central Municipal Market (also known as Varvakios) is Athens' largest food market and is the place to get quality food at cheap prices.
On one side, the indoor area, the market is brimming with butcher shops and fish stalls. On the other, in the open-air area, you'll find the vegan-friendly area, which features fruits, vegetables, nuts, herbs, and spices. The atmosphere, like in any bustling market, is hectic but the options are endless.
The indoor market is hosted in a building constructed in the late 1870s. Until then, the meat and fish stalls were scattered around the Ancient Agora.
It's not a place for those not accustomed to strong smells or sights of carcasses. It's also recommended to wear enclosed shoes with non-slippery soles (particularly in the seafood area). The market is open from Monday to Saturday from early morning to late in the evening.
There's a small taverna, called Epirus, inside the market and it's THE PLACE to check out and grab food at. Catering to all tastes, you can enjoy traditional Greek dishes such as moussaka, as well as vegan foods. If you are brave enough, the taverna is known for making a great tripe soup.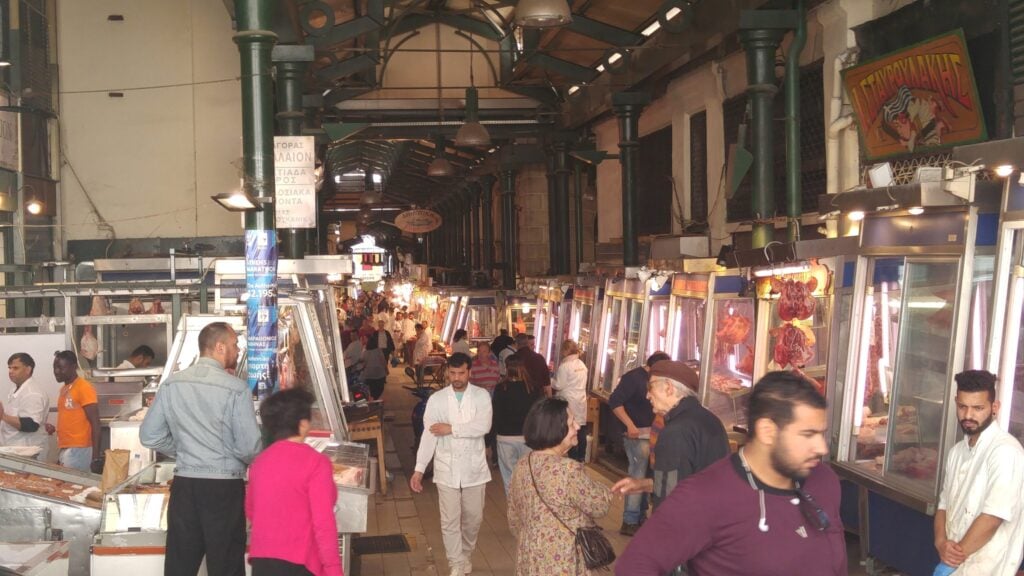 The market is the best place to explore the traditional Athenian way of life and deserves a stop on your Athens' itinerary. Contributed by Cristina from LooknWalk Greece.
European markets – Netherlands
Albert Cuypmarkt – Amsterdam
The Albert Cuypmarkt is the biggest outdoor market in Europe and here you can find anything and everything. This is where to go to get the best stroopwafels in Amsterdam. The Market originated in 1905 and is one of the favourite locations for locals, but also for tourists, students, day-trippers and entrepreneurs.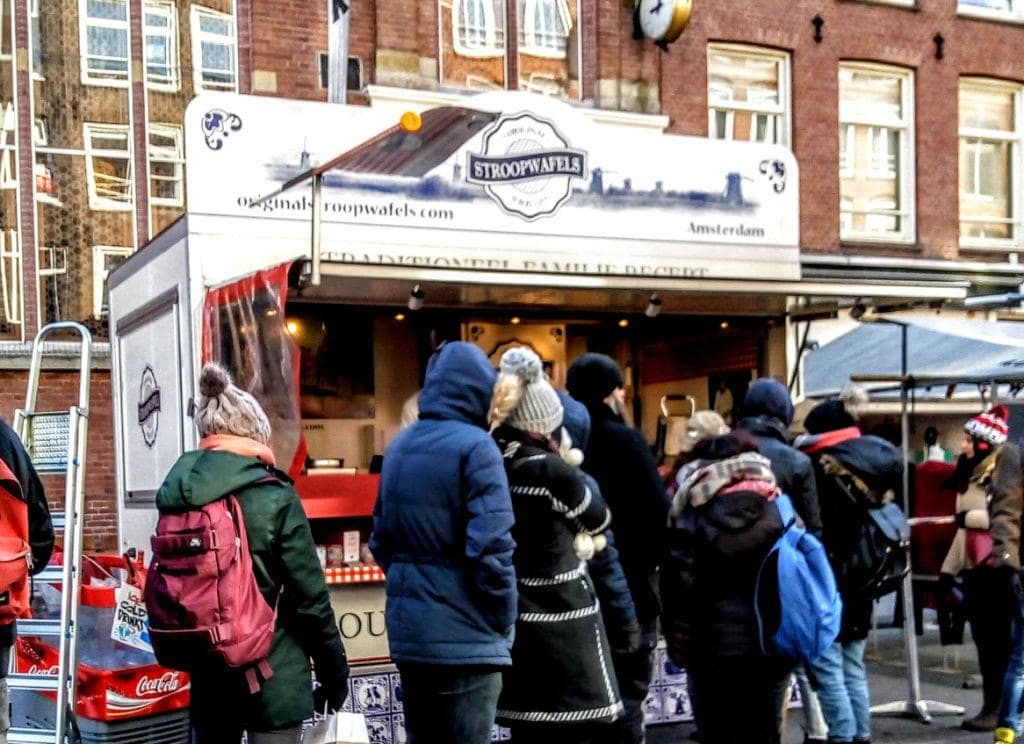 The Albert Cuyp Market is located in one of the most popular areas of Amsterdam. There is no marketplace like the Albert Cuyp Market. The market is open, six days per week, in the heart of the 'de Pijp neighbourhood and is home to 260 market stalls. This makes the Albert Cuyp the biggest market in Europe!
The Hague Market
The Hague Market ('De Haagse Markt') in the Netherlands is one of the largest outdoor markets in Europe and is open Mondays, Wednesdays, Fridays and Saturdays. Antiques, vegetables, fresh coriander, baklava, Sharon fruit, fresh fish and yardlong beans can all be found in this beautiful market. There's an extensive flower market and dozens of clothing and shoe stalls.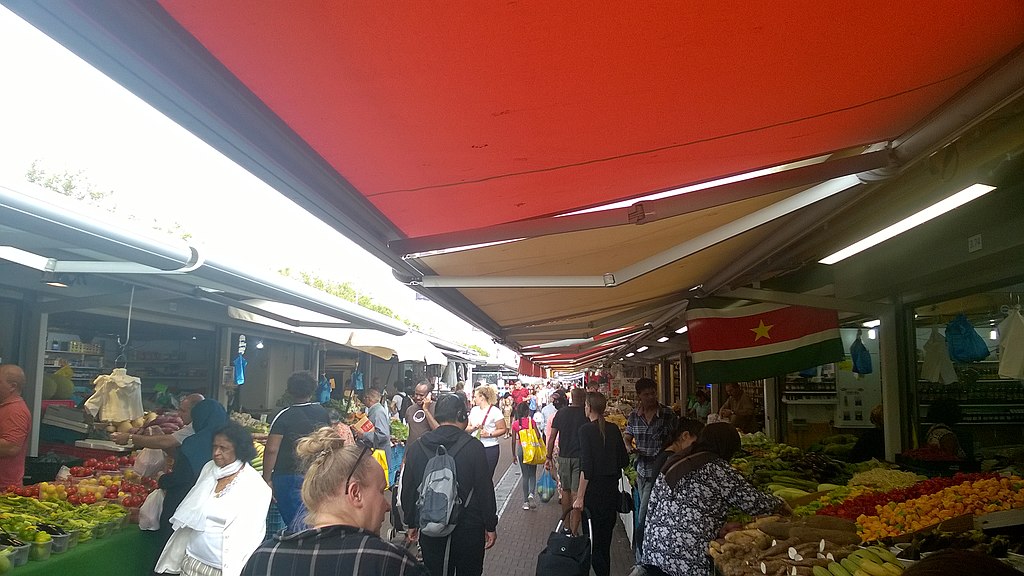 The market is visited by approximately 35,000 people, four days a week. The Hague Market is primarily known for its large range of exotic products, although it does have a very diverse range. From fresh vegetables, fruit, fish and meat to herbs and from women's, men's and children's clothing to electronics.
De Hallen – Amsterdam
Home to the Filmhallen arthouse cinema complex a, boutique hotel, independent creative outlets a weekly indoor craft market, and the fabulous FoodHallen this historic former tram depot has quickly become one of Amsterdam's most popular cultural hotspots and said to be one of the best food halls in the world.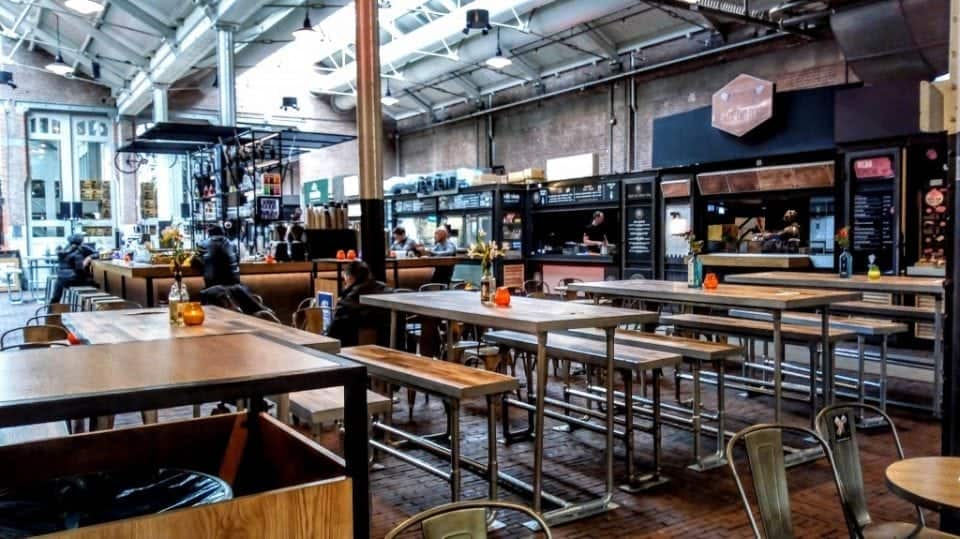 The absolutely brilliant Foodhallen; is an indoor food market lined with stalls of top-notch street food from some of Amsterdam's most respected kitchens, as well as plentiful bars and seating areas.
The ultimate foodie experience at De Hallen you can enjoy cuisine from Japanese to South American. The Hallen is a huge building full of what is essentially street food booths.
European markets – Belgium
Brussels Flea Market
Walking around the capital of Europe you will pick up on a kaleidoscope of different languages, cultures and habits. What makes Brussels truly unique as a destination is the merger of local cultures (Flemish, Walloon and Brussels) with the various different nationalities that make up the population of Brussels (Italian, Moroccan, Turkish… you name it). The quintessential expression of this hotchpotch cultural concoction is the Jeu de Balle flea market in the Marolles district.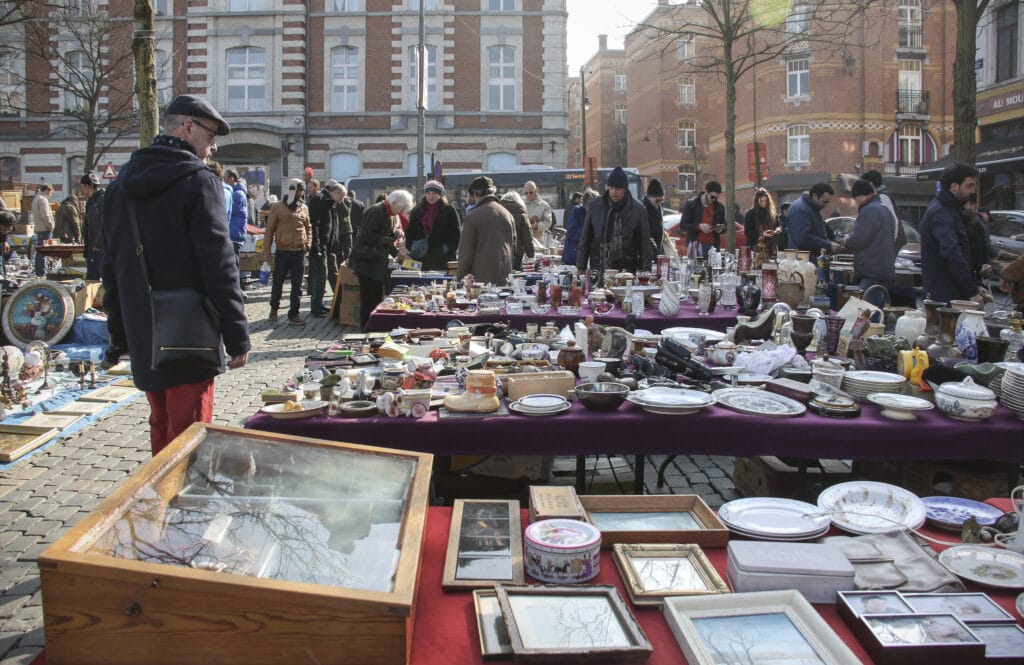 The open-air market is a veritable treasure trove of antiques and trinkets from vintage books to golden mirrors and even the occasional item of furniture. Keep your ears open to hear the illusive Brussels dialect which is still widely spoken in this part of town but oddly nowhere else in the city.
The market is open 365 days a year from Monday to Friday 06:00 AM to 02:00 PM and weekends from 06:00 AM to 03:00 PM on the Place du Jeu de Balle, 1000 Brussels. Although open every day, the largest selection of vendors shows up during the weekends. If you are spending a weekend in Brussels, get up early to ensure you get the best bargains (before 10:00 AM), treat yourself to a delicious brunch in one of the many local eateries dotted around the market and the surrounding streets. Contributed by Caroline of Veggie Wayfarer.
Central European Markets
Dry Bridge Market – Tbilisi, Georgia
Visiting Dry Bridge Flea Market is one of the best things to do in Tbilisi, Georgia. Located within the territory of a dry bridge adjoining the Dedaena Park, the market mainly features second-hand, antique, and vintage items. The best time to visit the market is on the weekend when more sellers bring out their products.
The Flea Market traces its foundation after the collapse of the Soviet Union and the breakout of the Civil War in Georgia. Many lost their jobs or houses and started selling every valuable item they owned to make ends meet.
However, over the years, the market became a thriving one. You can find anything imaginable, including Soviet memorabilia, old USSR medals/coins, old record players, typewriters, vinyl, gramophones, old newspapers and children's books, and even bizarre items such as remote controls and dentist tools. There's a special section of antique china as well.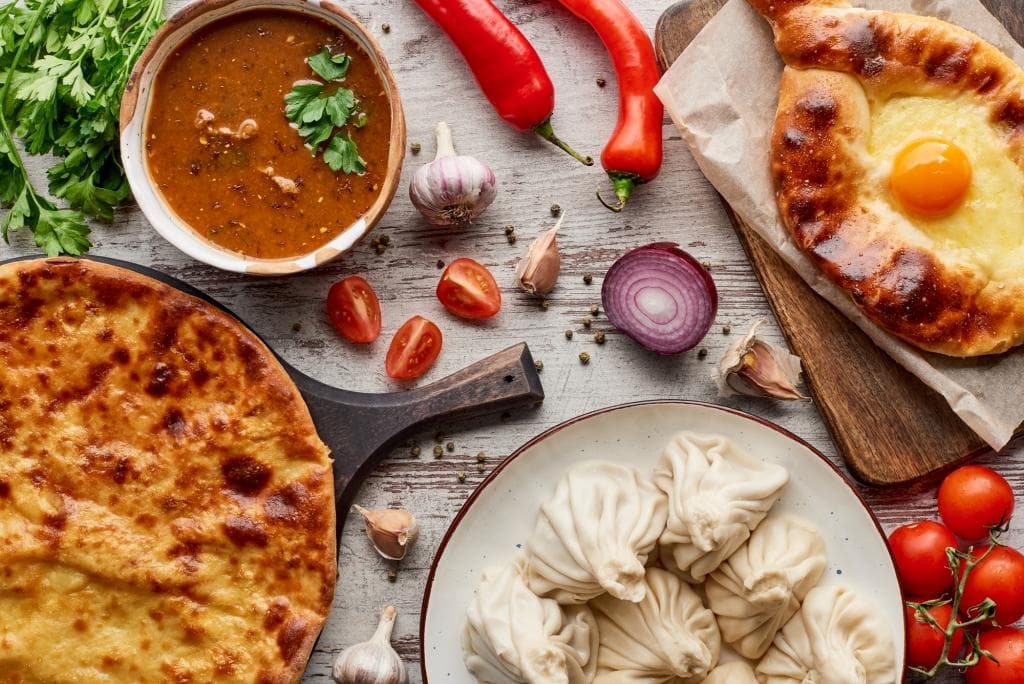 There are some of my great restaurants and cafes located at either end of the market. If you are looking for Khinkali – Georgia's famous dumplings try Cafe Daphna or head to Santino for delicious speciality coffees.
One of the unique features of Dry Bridge Flea Market is that it doesn't have fancy stalls. Instead, all the items are displayed on the pavement, right under your feet, on a piece of cloth. Moreover, you never know what incredible, interesting, or weird item you can find here. Even if you don't plan on buying anything, wandering through the stalls and admiring bygone-era items is a fascinating way to spend a warm sunny day. Recommended by Baia from Red Fedora Diary
Riga Central Market – Latvia
Riga Central Market is the largest food market in Europe with 80,000 visitors a day. The market is in 5 huge buildings. They are in part former airship hangars reused after the First World War to house the market.
Each of these buildings houses different types of produce. There is a meat Pavillion, fish, dairy, vegetable and gastronomical Pavillion. Exploring the pavillions is a real insight into daily life. Not only do you see the locals shopping but you can discover local specialities. These include pig snouts, lampreys and kvass which is a non-alcoholic fermented drink.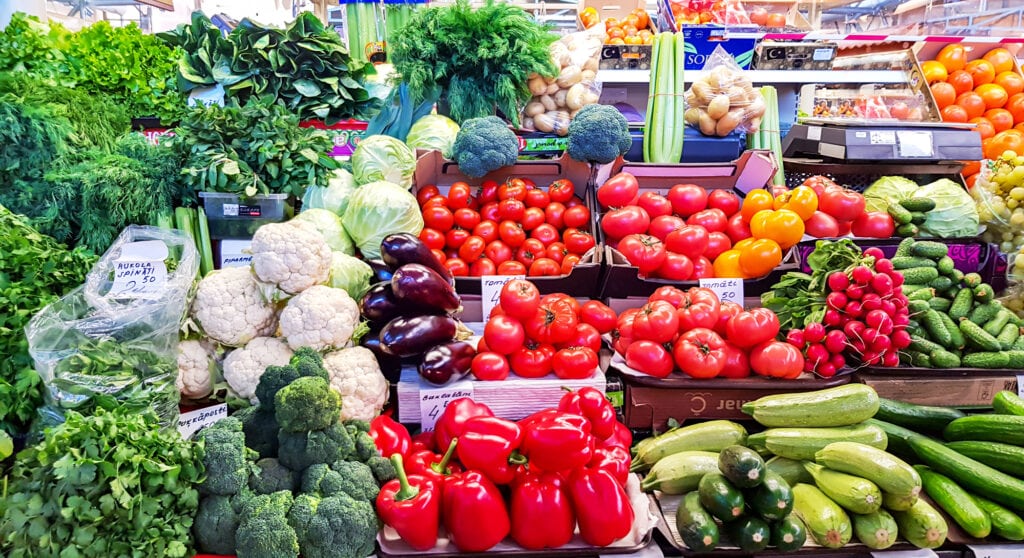 The market is open 7 days a week with all areas being open from 7.30 am – 6 pm Monday to Saturday and 7.30 am – 5 pm Sundays. There are a variety of cafes in and around the market area.
The market buildings themselves are impressive, with art nouveau touches throughout. Underneath the market is a huge network of tunnels and storage facilities.
Visiting the Riga market is a great opportunity to experience local flavours. It is also an opportunity to admire a UNESCO world heritage building from the 1930s. The market is a historic site having survived the Soviet era.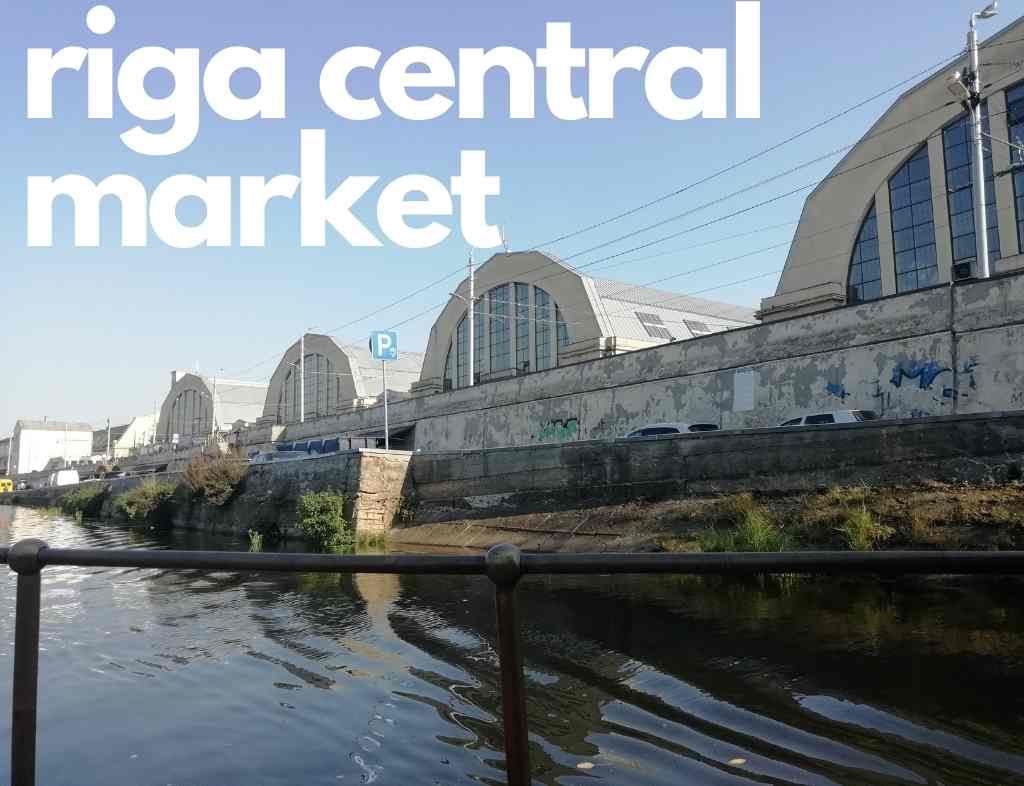 From the old town of Riga, it is around a 15-minute walk to the market. The market is next to the main train station. There are several bus stops around the market. Contributed by Melanie of the Professional Traveler.
Bessarabian Market (Бессарабський ринок) – Kyiv, Ukraine
One of the best things to do in Kyiv on a rainy day is to head into one of the markets. You can reach many of them via the metro and a system of underground tunnels to stay dry. This definitely applies to the Bessarabian Market nearby Khreshchatyk Street, which lies within the triangle of all three metro lines.
The Bessarabian Market is a historic market in Kyiv that opened in 1912. It has a mix of traditional Ukrainian specialities alongside a good dose of hip foods. And though it's located dead centre, its target audience isn't international tourists per se; if you go early, you'll see some Kyivan babusyas doing the shopping as well.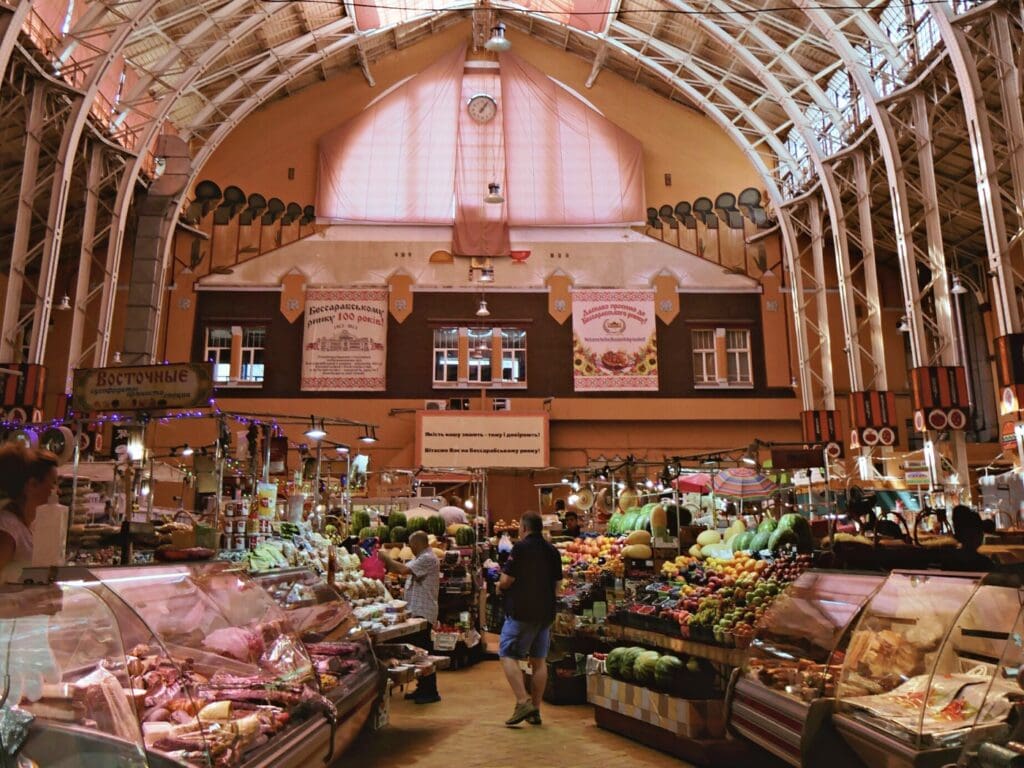 You can find anything from meat cuts and smelly dried fish to fresh fruits, vegetables, and roasted nuts. If you love craft beer but aren't familiar with the concept of 'fresh/live beer', you're in for a treat. Keep your eyes peeled for the shop called Tsypa where you can sample some local craft beer before asking for a freshly-tapped bottle to take home.
But probably the most unexpected thing is the small vegan food court on the ground floor of the market. At VeGaNuTi or Green 13, you can eat a delicious bowl or a birthday-worthy vegan hot dog that will leave you craving more. Sit down for a coffee to enjoy the beautiful metal-and-glass interior and funny atmosphere. Open every day from 6:00 till 22:00 although some shops close earlier. Contributed by Irish Mindofahitchhiker.
The GUM Market – Yerevan, Armenia
The GUM Market stands is one of the most interesting produce markets in the Caucasus and a must-do when visiting Armenia's capital city. A Yerevan institution since Soviet times, the GUM takes its name from the Russian Gosudarstvennyy Universalnyy Magazin, meaning 'Main Universal Store'. When Armenia was part of the USSR, this was one of the biggest shopping hubs in the capital.
Today, it remains a vibrant and popular place to do one's food shopping. The main undercover market floor is roughly divided into two sections. At the front, shops sell dried and candied fruits, nuts, mountain tea, spices and sujukh, a local candy made from nuts dipped in a sweet fruit roux. All these products make for great souvenirs. Stallholders are extremely friendly and as you roam the aisles, you'll no doubt get many offers to try a bite or two of the different products.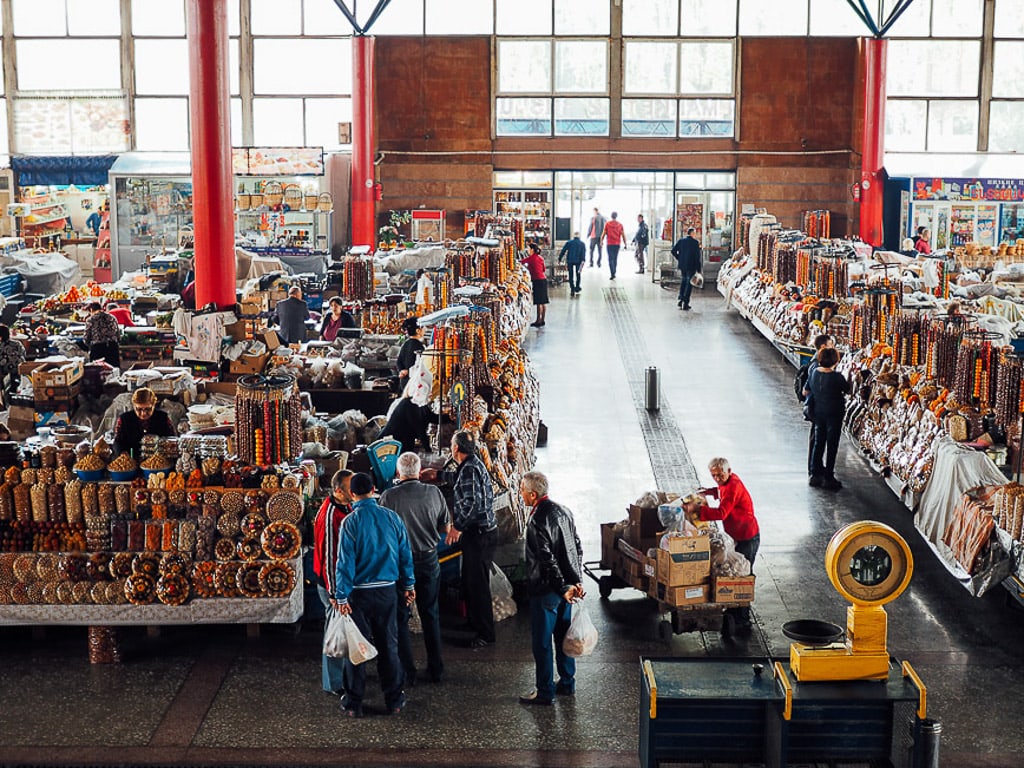 Also in this section is the lavash department, where huge sheets of Armenia's signature bread are prepared and sold. Lavash is a GUM speciality so be sure to take your time admiring the different textures of bread. The back section of the market is devoted to fresh produce: fruit and vegetables, eggs, cheese, and meat. The highlight here is the giant piles of pickles: cured cabbage, carrot and other veg arranged in a picture-perfect technicolour display.
The GUM Market is open every day from 10 am until around 6 pm. It's located a little way from the centre of the city: the easiest way to get there is by taking the metro to Zoravar Andranik station. Contributed by Emily from Wander-Lush
The Piata Obor – Bucharest, Romania
One of the largest and oldest marketplaces in Romania, the Piata Obor (Piața Agricola Obor) is Bucharest's main produce hall and a fabulous place to immerse yourself in local culinary culture. For more than 300 years, the Obor has traditionally been a place for peasants from the countryside around Bucharest to come and sell their farm-fresh goods.
At its peak, the market extended over 16 city blocks. In the 1970s, the original Obor fell victim to Ceausescu's 'urban renewal" project and was completely destroyed, replaced with two modern halls that still stand today. The market sells both fresh food and dry goods (household products, clothing, etc.).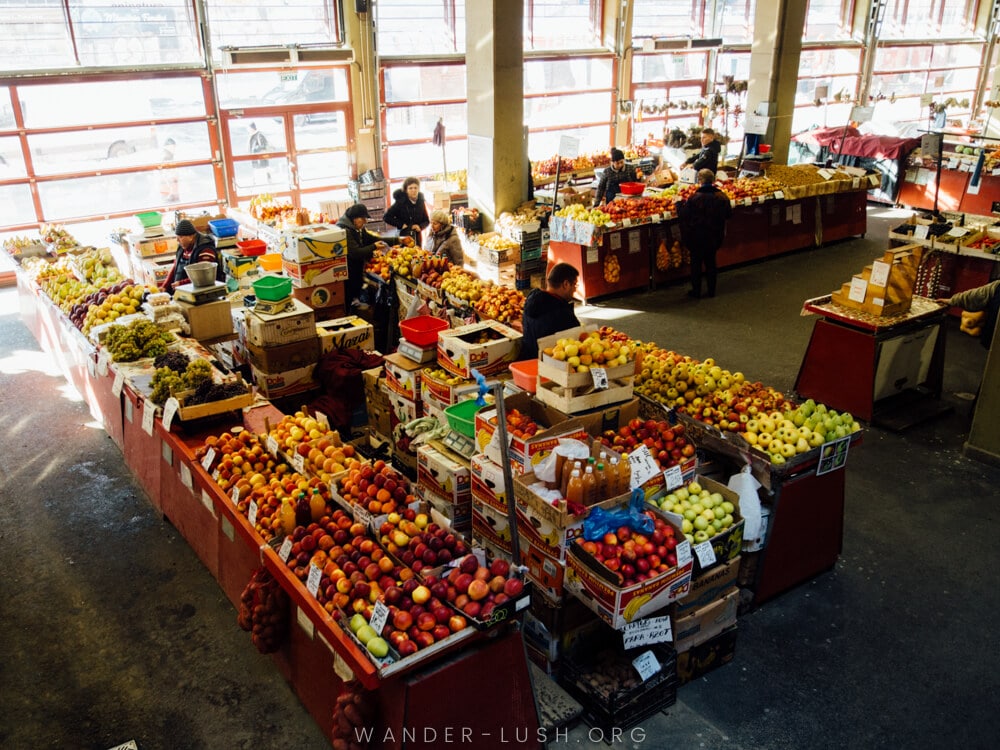 The most interesting area for visitors is the produce section at the back. Split over three levels, the huge hall is a vivid display of fruit and veg. The best array can be seen during spring and summer, but if you're visiting Bucharest in winter, you'll encounter huge piles of blushing apples, dainty pears and earthy potatoes.
Amongst the stalls, you'll find a few quirks, including machines that dispense unpasteurised cow's milk (Romania being one of the few EU states where raw milk can be sold). Upstairs, there are Turkish sweet stalls and little shops selling cured meats and local wine. After a browse, head outside to the terrace where a number of small restaurants cook up hot food. Mici (grilled meatballs) with mustard and bread on the side is the thing to order here, along with a cup of hot wine. The Piata Obor is open every day from 7 am until dusk. Contributed by Emily from Wander-Lush
European food markets are a must-visit destination for any food lover. From the colourful displays of fresh produce to the aroma of freshly baked bread and the variety of cheeses, there is something for everyone at these markets. Not only do they offer an authentic cultural experience, but they also promote sustainable living by encouraging consumers to buy locally sourced products. Whether you're looking to stock up on ingredients for a home-cooked meal or simply want to indulge in some delicious street food, European food markets are sure to satisfy your cravings and leave you with unforgettable memories.
If you love a market like I do here is some more reading for you
Best food markets and food halls in N. America
16 Fabulous food street markets in London
148 National Dishes of countries around the world
Food Travel 27 stories of food around the world
17 of the Most Unusual Foods Around the World | Weird Food

Latest posts by Faith Coates
(see all)