33 of the best Dumplings of the World
The best dumplings in the world are found on every continent and in every country dumplings are the ultimate comfort food. Travelling the world one dumpling at a time to find the best dumplings and experience the food culture in its country of origin is the dream of many a foodie traveller. From Nepalese momos to American Apple dumplings, virtually every country in the world makes a delicious form of stuffed dough with fillings to make you forget your mother's cooking.
The ultimate comfort food no matter what country you are in dumplings can be found in both savoury and sweet versions. For a real authentic dumpling dish head to the country of your choice and get eating. From fufu in West Africa to Kibbeh in the Yucatan, Malaysian Dumplings to Polish pierogi.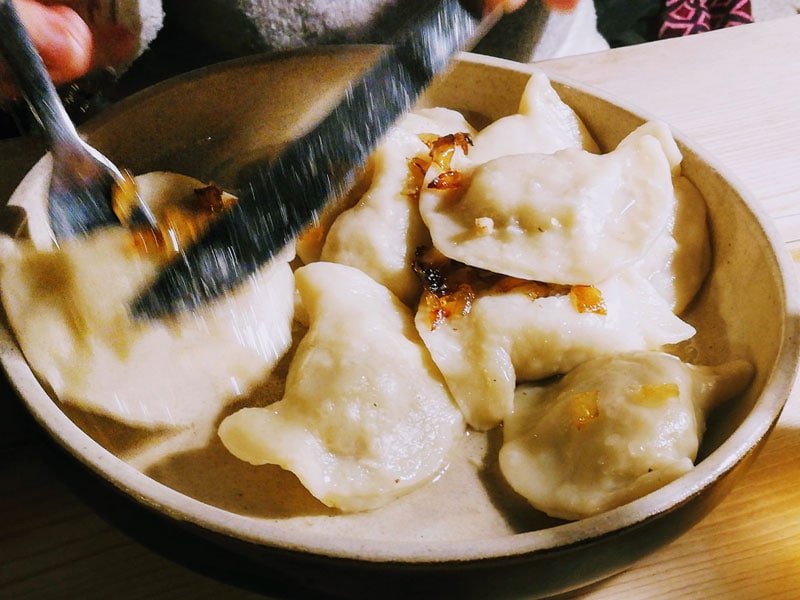 Xyuandbeyond is reader-supported. When you buy through links on our site, we may earn an affiliate commission. You can read my privacy policy here.
What is a dumpling- types of dumplings
According to Wikipedia, a dumpling is "a broad classification for a dish that consists of pieces of dough (made from a variety of starch sources) wrapped around a filling, or of dough with no filling. The dough can be based on bread, flour or potatoes, and may be filled with meat, fish, cheese, vegetables, fruits or sweets. Dumplings may be prepared using a variety of methods, including baking, boiling, frying, simmering or steaming and are found in many world cuisines".
I often see generic articles on dumplings that include items such as samosas, Cornish Pasties, empanadas and knishes but I'm a bit of a traditionalist when it comes to my dumplings. To me, a dumpling is usually a dough that is filled (or not depending on the ingredients in the dough) and then cooked by boiling or steaming and sometimes fried.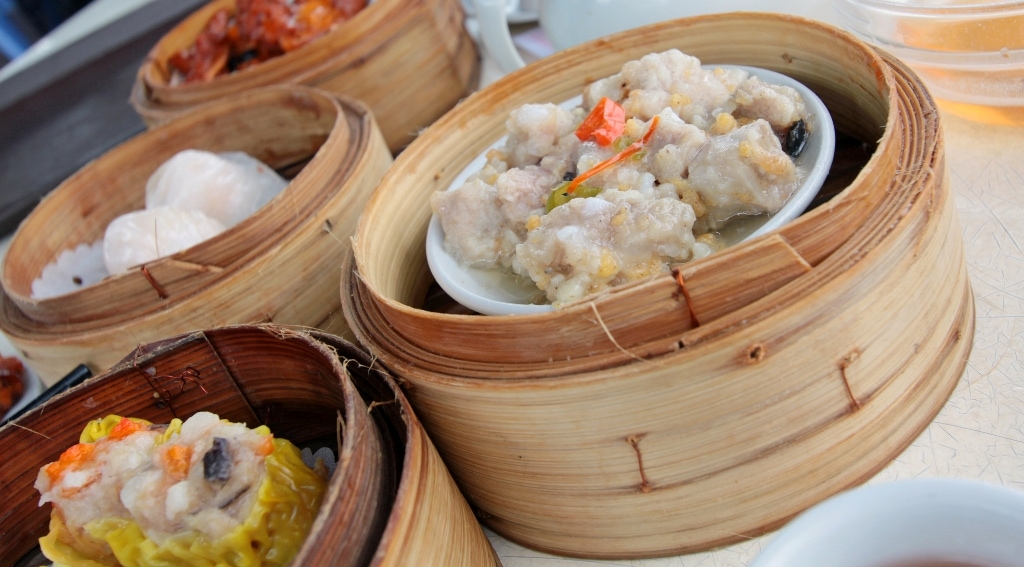 Here is a traveller's guide to the world's best dumplings written by those who have been there and eaten different types of dumplings and want to share their insider dumpling tips.
33 heavenly dumplings of the world
Manti, Armenia
One of the most flavorful dumplings that does not get much recognition outside of its respective region is manti, a small dumpling mostly associated with countries that were part of the Silk Road. While we have tried them in various countries, we have a particular affinity for ones from Western Armenia (modern-day Eastern Turkey) and you can find them at any Western Armenian restaurant in Yerevan these days.
Manti are small, boat-like dumplings filled with lamb or other meat and served in chicken broth. They can be served with a large dollop of garlic yoghurt and a bit of sumac or Aleppo pepper sprinkled on top. You will usually find them baked in large pans and you can purchase them in large numbers at many places for gatherings at home.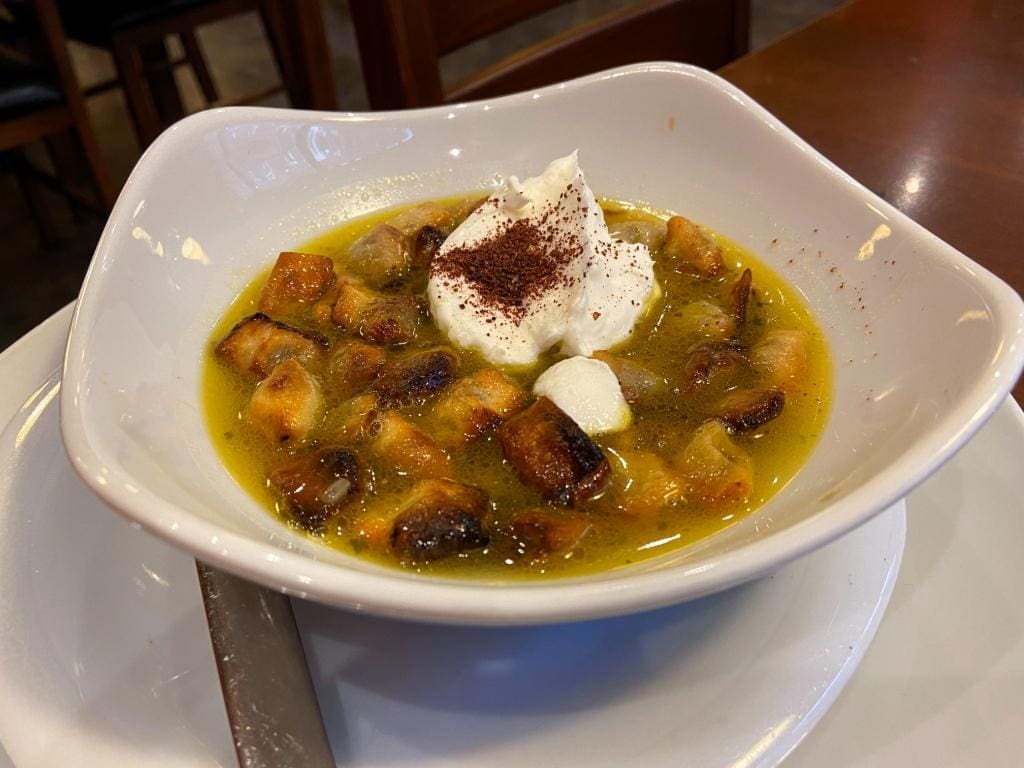 Finding manti is pretty easy if you are in Armenia or somewhere like the Los Angeles area of California (or anywhere with a large Armenian diaspora).
One of the best things to do in Yerevan is to head into the city centre and over to Anteb, a delicious restaurant specializing in Western Armenian cuisine. They have manti on the menu and they are extremely affordable you can taste the flavorful dish for around $2. Armenian food is more diverse than meets the eye and manti is definitely a great thing to try when you're in the country or in a country near Armenian that has it on the menu. From Megan and Aram at Absolute Armenia
Pani Puri, India
They are a delectable treat, one of the world's favourite street foods, and so popular that several regions in India claim them as their own. Known as pani puri in Mumbai (Bombay), they are hollow, fried wheat balls filled with flavoured water, tamarind chutney, and a mouth-watering mixture made of potatoes, onions, chickpeas, and chaat spices. Pani puri is an institution, a ubiquitous Mumbai street food found on many corners all across the city.
But pani puri is not only found in Mumbai. It is also a beloved street food in Delhi known as golgappa, and you can find it in many other places as well. In the state of Haryana, it's called paani patashi, in Bihar, it's known as phuchka and in Odisha, it's Gupshup, for example.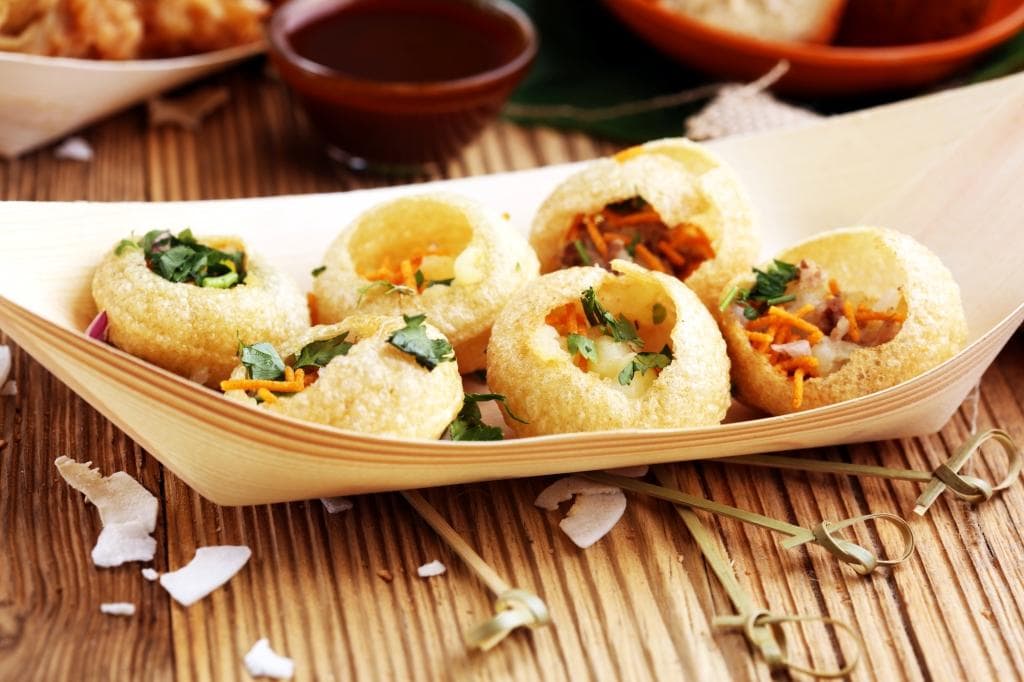 Though it may seem modest in price and appearance, pani puri is considered the king of street food — and it has a history to match. Though there is no real evidence for the origins of pani puri, legend says it was created by Draupadi, wife of the five Pandava brothers in the Indian epic Mahabharat. According to legend, she invented the dish in response to a challenge by Kunti, mother of three of the Pandava brothers — and Kunti was so impressed, she blessed the dish with immortality.
No one knows if this is true or not, but one thing is clear: pani puri has gained immortality. One taste of this melt-in-your-mouth snack, and you will never forget it. From Mariellen at the award-winning travel site Breathedreamgo.com.
Fufu, West Africa
Fufú is usually made from cassava and yams, and sometimes combined with cocoyam, plantains, or cornmeal. In Ghana, fufú is mostly made from boiled cassava and unripe plantain beaten together, as well as from cocoyam. Fufú can also be made from semolina, rice, or even instant potato flakes.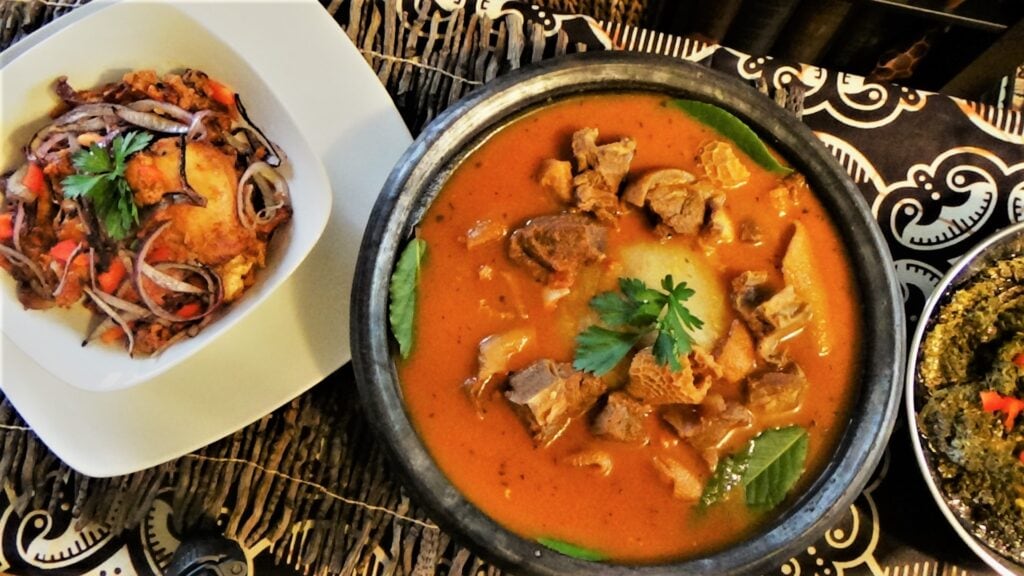 In Western and Central Africa, the more common method is to serve a mound of fufú along with a soup (ọbẹ). After washing hands, the diner pinches off a small ball of fufú and makes an indentation with the thumb. This reservoir is then filled with soup, and the ball is eaten. In Nigeria and Ghana, the ball is often not chewed but swallowed whole – in fact, chewing fufú is considered a faux pas.
Ugali, East Africa
You may have heard of a dish called Ugali which is a very traditional East African food. It is quite similar to West Africa's fufu but made from corn so much like polenta. Shaped like a large dumpling you pull pieces of the dough off and use it to scoop up stews or it is placed in the centre of a bowl and then stews are spooned on top of the Ugali dumpling.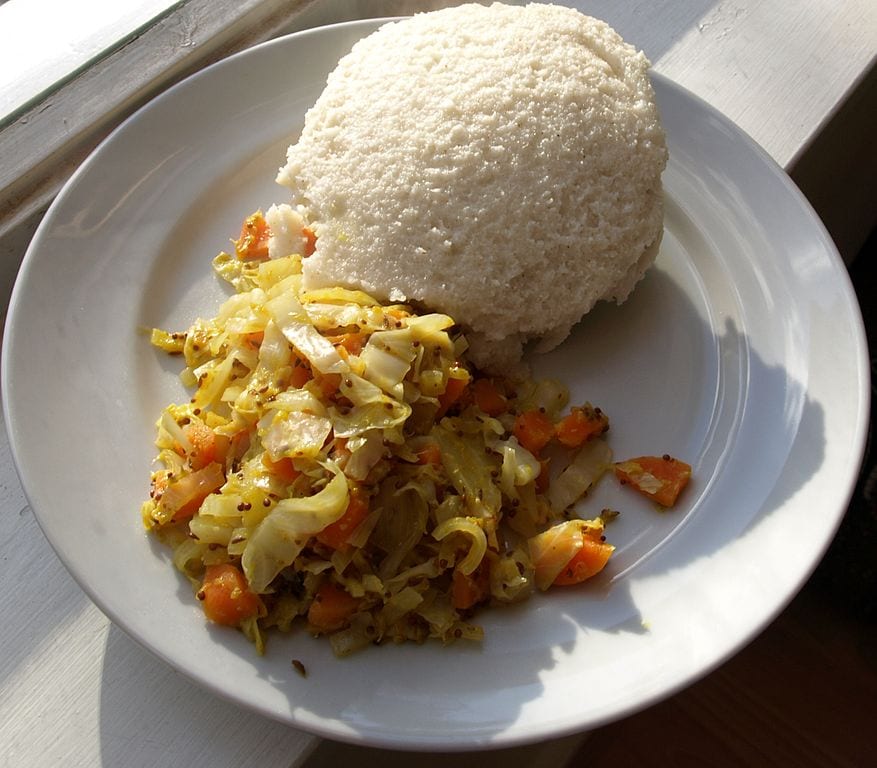 Varenyky, Ukraine
Hardly any other dish in Ukraine is as appreciated by the locals and recommended to the visitors of the country as varenyky.
The word varenyky comes from the Ukrainian verb "to boil", and literally means boiled food. The country inherited the original recipe from the Osman Empire, where the dish was known as dush var.
Small pieces of dough are wrapped around the filling, which can be either sweet or savoury. Ukrainians eat their varenyky with berries, apples, and pears, as well as potatoes and caramelized onions, meat, sour cabbage, cottage cheese, and mushrooms.
The ultimate filling star, however, is cherries. The best time of the year to visit Kyiv, the capital of Ukraine to try the seasonal variation with these sour berries is in summer.
The filling may change, but there is always-always one constant in serving varenyky. Like most of the other dishes in Ukraine, this one should be eaten with cold sour cream.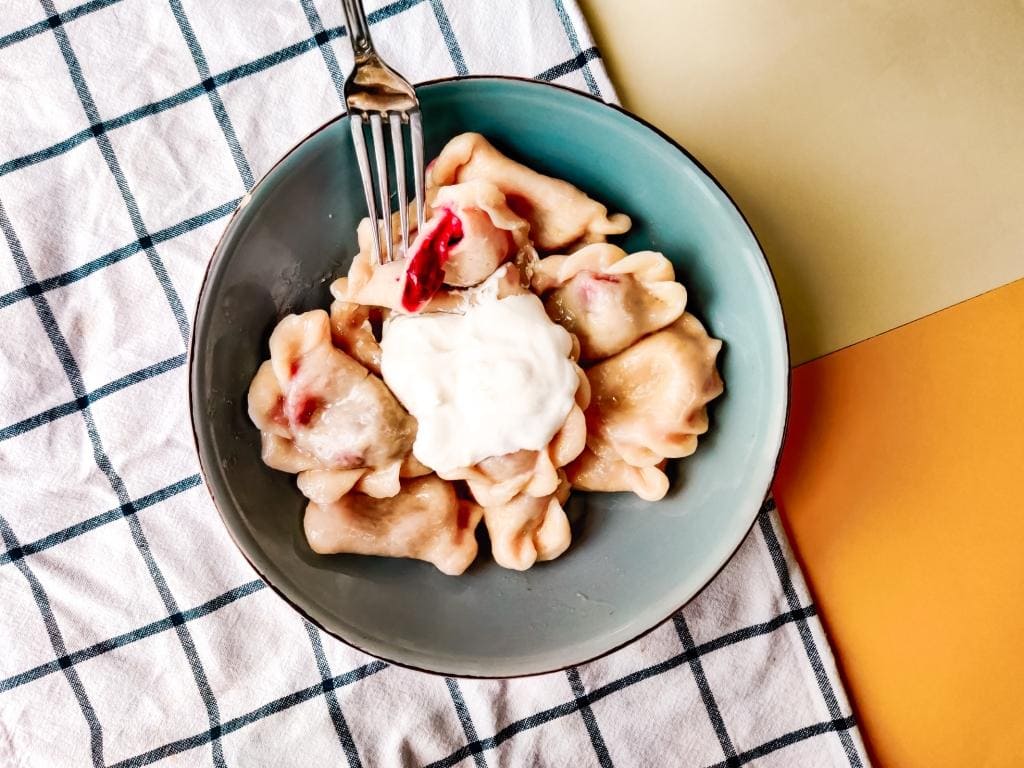 Varenyky are a vital part of many local traditions, with the night before Christmas on January, 6th being one of the most popular. Back in the day, women of the village would gather in the house of a married woman where the ladies would cook the festive dinner. The host usually added a pinch of pepper to some dumplings and served the dish to the single girls. Those of the girls who got the peppered varenyky were destined to be married during the year. From Inessa and Natalie at Through a Travel Lens.
Kreplach, Eastern Europe
Kreplach is kind of like ravioli a stuffed dough filled with finely chopped meats or cheese and seasoned with salt and pepper. They are folded into triangles and then dropped into a soup to cook. They can also be fried. They are particularly popular at holiday times like Purim and Hosha'na Rabbah.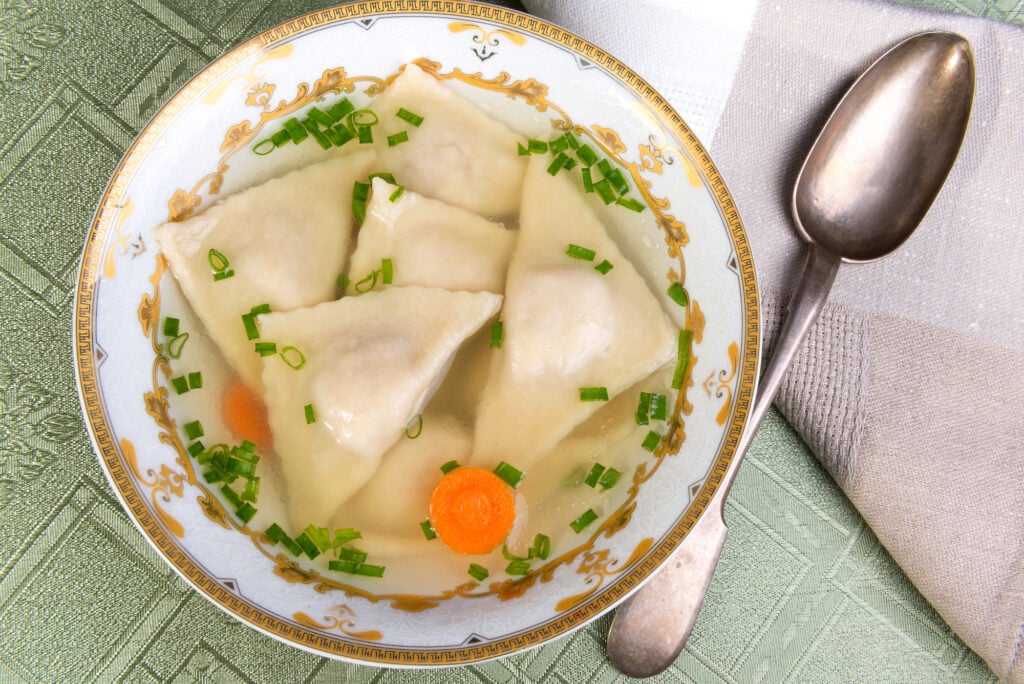 Bryndzové pirohy, Slovakia
One of the best Slovakian foods to try is bryndzové pirohy, a delicious type of potato dumpling stuffed with the most popular ingredient in Slovakia: goat's cheese. This rich, creamy type of cheese is the most popular dairy ingredient in Slovak cooking, also present in the national dish, bryndzové halušky. As you may be able to guess, the word bryndzové translates as goat's cheese.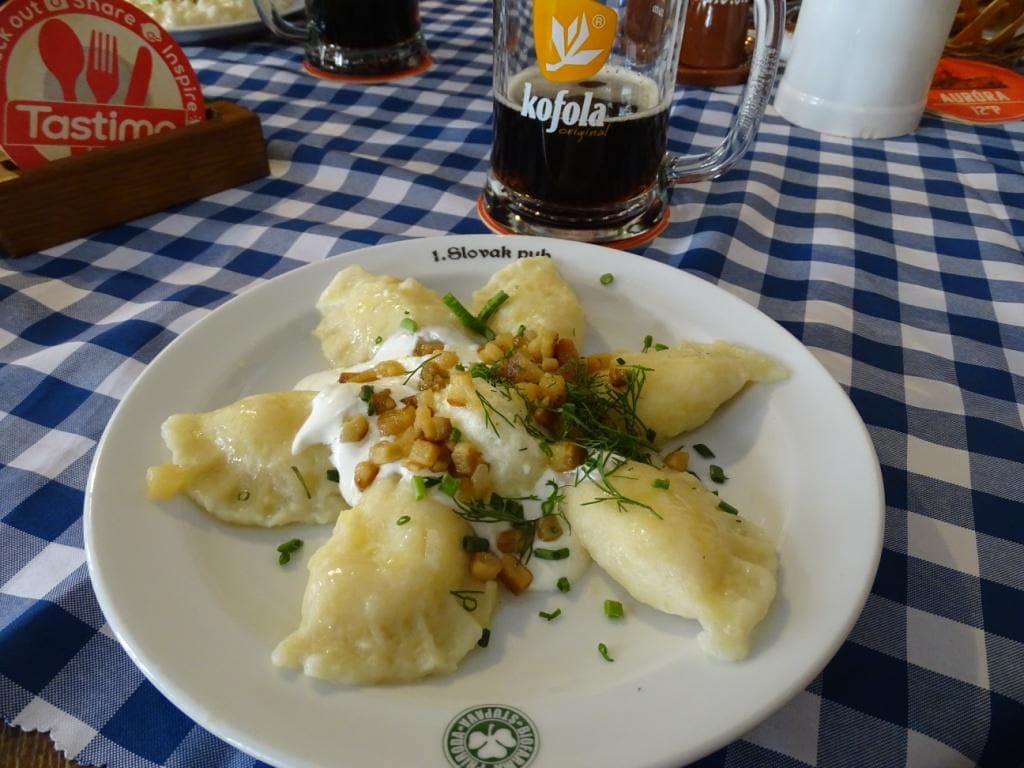 These popular dumplings are made with potato rather than rice or flour, which is typical for Eastern Europe. Bryndzové pirohy typically comes in servings of six. They're a typical starter dish before the main meal, however, you might find them heavy enough that you'll want to eat them for a main. You wouldn't be judged (apart from maybe by the Slovaks): they're incredibly indulgent and calorific.
Not only are bryndzové pirohy stuffed with goat's cheese but they're topped with sour cream, crispy nuggets of bacon and, for your Slovakian dose of daily greens, a sprinkling of chives. These delicious potato dumplings are not healthy by any means but they are a fantastic dish to try in Bratislava or around the rest of the country. From Rose of WheregoesRose
Xiaolongbao, Taiwan
Xiaolongbao is a Chinese type of dumpling that originates from the Jiangsu province; however, they can be found all over China as well as in Taiwan. During our trip to Taipei, we found an amazing little shop selling delicious xiaolongbao. Xiaolongbao translates into something like a little basket steamed bun. They are made with a very thin dough traditionally filled with pork and meat juice. Nowadays there are other varieties too and you can find xiaolongbao with chicken, shrimp or vegetables.
While only a tiny makeshift shop in a non-descript alley in a neighbourhood quite far from Taipei city centre, it was actually quite famous in the area. Each morning many people queued up to buy themselves a little basket with the most tasteful dumplings sold in Taipei and possibly the world. We had breakfast there four days in a row and as we sat at one of the two tiny tables devouring our xiaolongbao we would watch the line get longer and longer.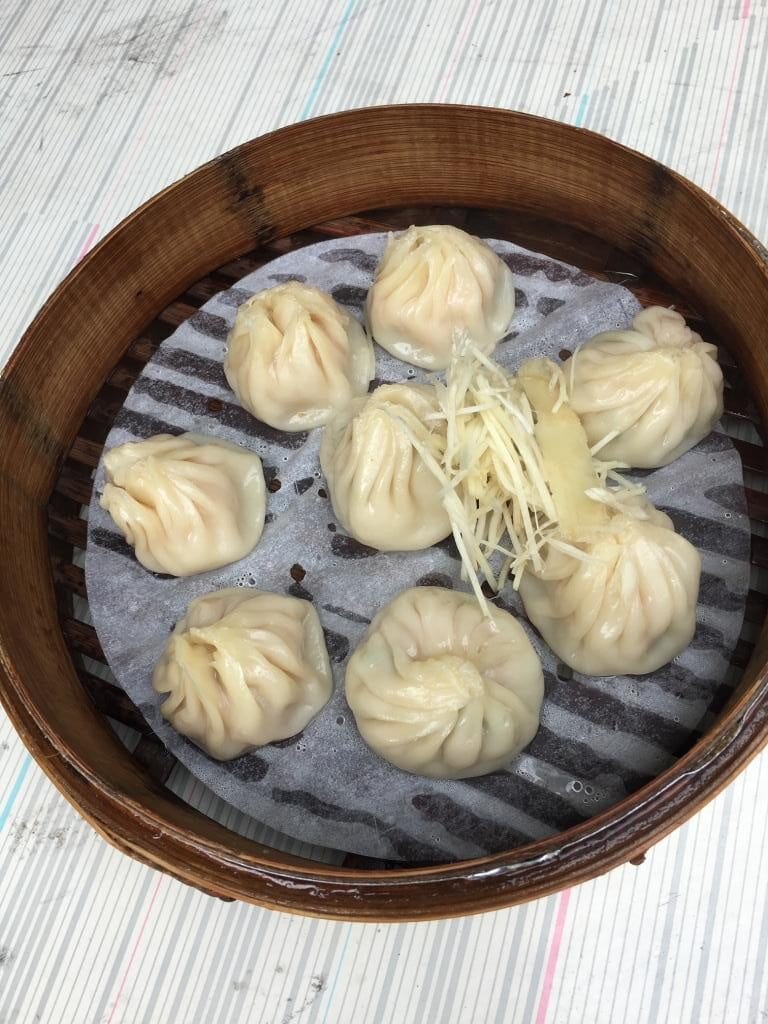 A basket of eight dumplings was a mere 50NT (about $1,70), an absolute bargain for such exquisite dumplings. By Lotte from Phenomenal Travel Blog
Khinkali, Georgia
Khinkali, colloquially known as 'soup dumplings', are a mainstay of Georgian cuisine and one of the country's most beloved dishes. One of the best things to do in Tbilisi, Georgia is to eat and khinkali is just one of the many pleasures.
It's not known exactly where or when khinkali first originated, but some say the dumplings can be traced back to the Mongol influence in the Caucasus region. Khinkali are therefore probably a cousin of Chinese Xiaolongbao.
Simple, satisfying – and normally the size of your palm – khinkali is traditionally a mountain dish prepared and eaten in villages. 'Mountain khinkali', the most basic version, is made with beef mince, while the more flavoursome Khinkali Kalakuri or 'urban khinkali' are ubiquitous in restaurants in Tbilisi and Kutaisi.
This variation uses a mix of pork and beef combined with a healthy dose of spices and fresh herbs. Vegetarian versions are also extremely popular – you can get khinkali stuffed with mushroom, potato, or my personal favourite, nadughi (a soft, creamy cottage cheese).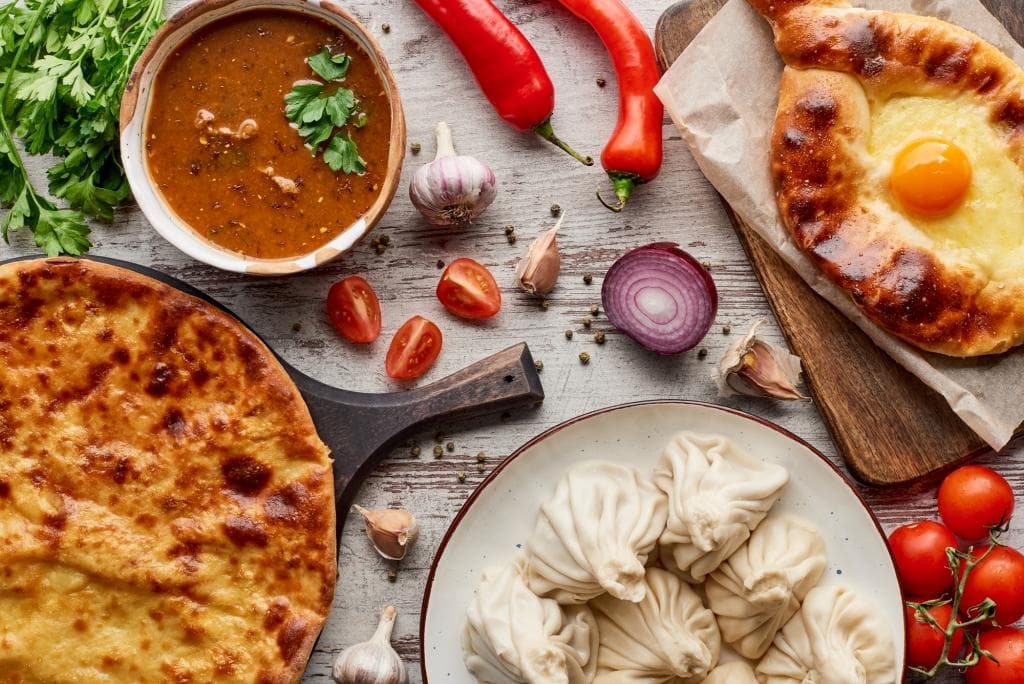 The crux of the khinkali is the simple dough wrapper that gives the fat dumpling its distinctive shape. Once pleated around the top and pinched to form a nob, the dumplings are boiled then served on a platter. The dough traps the meat juices inside, meaning you have to take a small bite and slurp out the soup before you can devour the rest.
For this reason, khinkali are always eaten with hands or by gently pressing the end of a fork into the very tip of the dough 'handle' and raising it to your mouth upside down.
It's considered polite to leave the doughy nob on your plate – but no one will judge you if you gobble the whole thing down. By Emily, Wander-Lush
Canederli from South Tyrol in Italy
The northernmost part of Italy in South Tyrol in the Eastern Italian Alps has its own unique cuisine. Dishes derived from Germanic neighbours to the north are hearty alpine foods. Among these foods are some of the world's most unique dumplings — Canederli (knödel in German) — bread dumplings that are filling and delicious.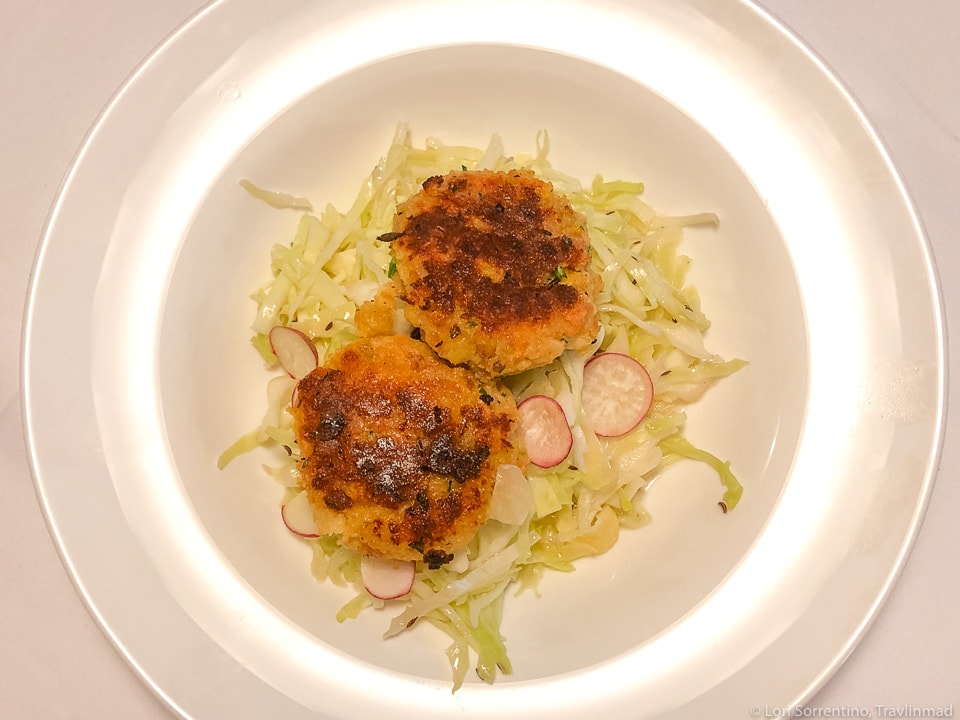 Canederli have been eaten most likely since the 13th century when they were considered a food for the poor. Originally they were simply made by soaking stale bread, adding whatever was available, and then fashioned into bread balls and boiled.
Today Canederli are still made with stale bread and a little flour, but moistened with milk and bound with eggs. Popular additions to the dumplings are spinach, ricotta cheese, speck, and pancetta. Once boiled they can be gently fried or eaten as is, served with a drizzle of butter, in soups and broth, or with meat. Often they are filled with fruit such as apricots and eaten as a dessert. The traditional recipe is always based on what's locally available and recipes vary from family to family.
A favourite of hikers, Canederli are always served at the small inns and mountain huts running through the mighty Dolomites or small valleys like the Antholzertal near the Austrian border and winter enthusiasts and skiers almost always include the dumplings in their evening meal at local restaurants. Canederli were always the warm highlight of our dinners in South Tyrol and paired perfectly with the local beer. Happily Devoured by Lori of Travlinmad
Culurgiones, Sardinia
Culurgiones are one of the most famous dishes in Sardinia. This filled pasta is made with a simple dough re-milled semolina or durum wheat flour, water and a pinch of salt; whereas the filling is prepared with boiled potatoes, pecorino cheese, fresh mint and just a hint of garlic.
What distinguishes culurgiones from other dumplings is their shape – they remind you of a wheat spike. Getting the right shape and size of culurgiones is an art that only the most skilled cooks can perform – it takes years of practice to get it right.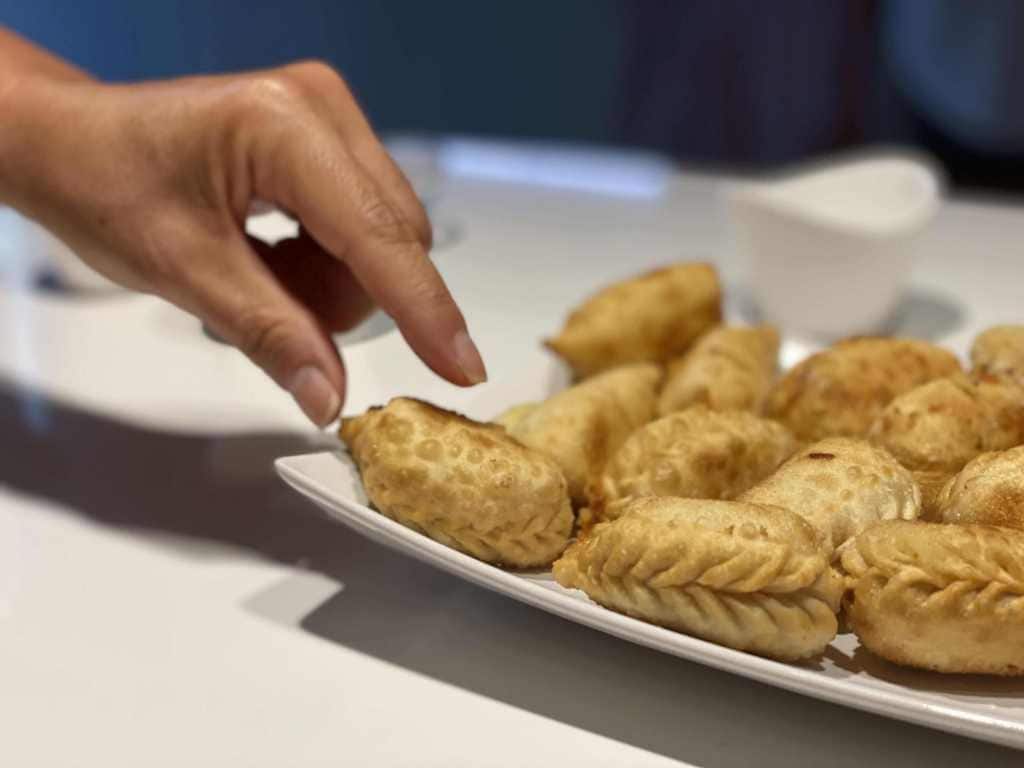 This dish was invented in the Sardinian region of Ogliastra, where each village – in fact, each family – has its own recipe. Each of them is delicious. Locals will often argue about the best culurgiones, with some saying that the ones from Arzana are the tastiest ones, whereas others claim that those from Seui, which call for "cas'e fitta" (a fresh pecorino cheese kept in saltwater which is often associated with Greek Feta Cheese) are the best.
Culurgiones can be eaten boiled with just a sprinkle of grated pecorino (no oil or butter to be added!); with a plain tomato sauce and an abundant dose of pecorino; and even fried for a fantastic aperitif. Submitted by Claudia Tavani from Strictly Sardinia
Khanom Jeeb, Thailand
These steamed dumplings are a staple in street food throughout Thailand, they are found regularly through the endless maze of Bangkok Street Food, and they're even commonly sold as a quick snack to-go at the counters of 7-11 convenience stores found at nearly every other street corner in Thailand. At the 7-11s they are also sold alongside steamers full of bao buns (Sala Pao) and together they do share obvious influences from China as Khanom Jeeb were originally inspired by the Siu Mai dumplings of Dim Sum in Chinese Cuisine.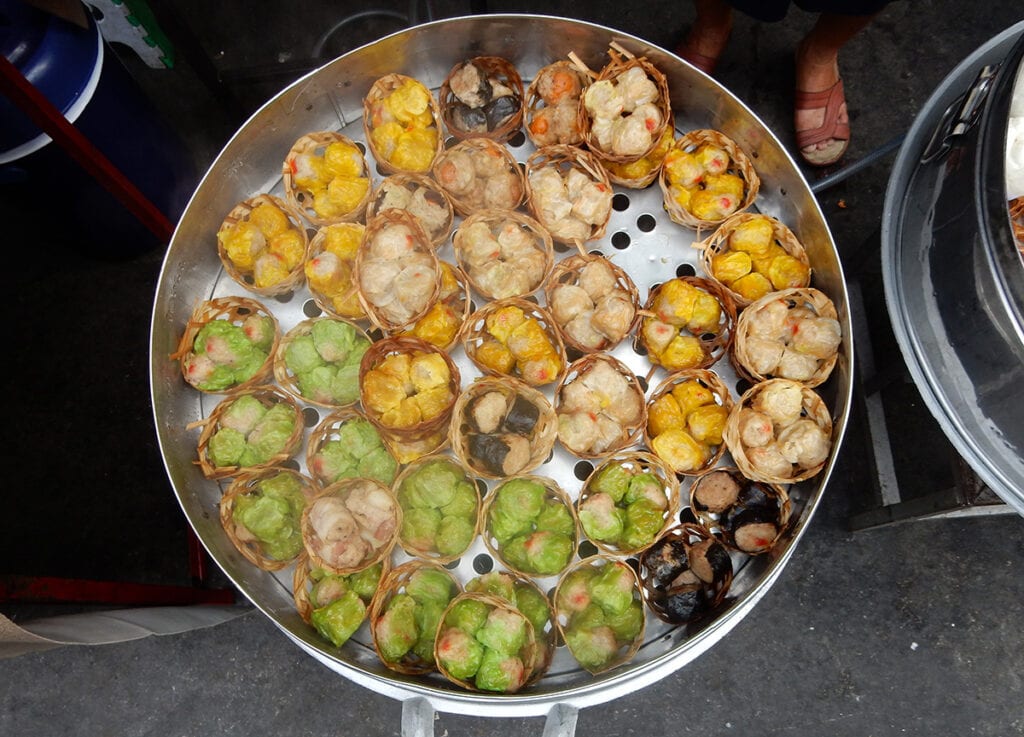 Traditionally as street food, they will be found at roadside steaming trays set over a pan of boiling water with two alternatives of either minced pork or minced shrimp meat set in a wonton wrap and steamed until cooked through.
They will then be served with condiments of soy vinegar known as Nam Jim Khanom Jeeb, and optional, but very much recommended, sprinkles of toasted garlic all added together in plastic bags with a pointy wooden skewer to pick at them. Of course, some are better than others, from the 7-11s, for example, I would drown them in vinegar to make them more palatable. But when in Silom there is an amazing street food vendor on Silom Road that takes Khanom Jeeb to the next level with various wonton wraps, fillings and flavourings, and they even set up early for breakfast. Allan Wilson from Live Less Ordinary
Apple Dumplings, USA
American dumplings let's talk about comfort food. The kind of food that warms your soul. My favourite dumpling isn't from my travels around the world; it's from my childhood home.
Apple season is my favourite time of the year. While growing up in the south of the United States, my dad would travel to the southern states collecting different apples, green and red, sweet and tart. His apple-inspired creations were well known in our neighbourhood: apple butter, apple jelly, pies, pastries, baked and fried apples, and even apple ice cream. But the apple dumplings were what I loved the most.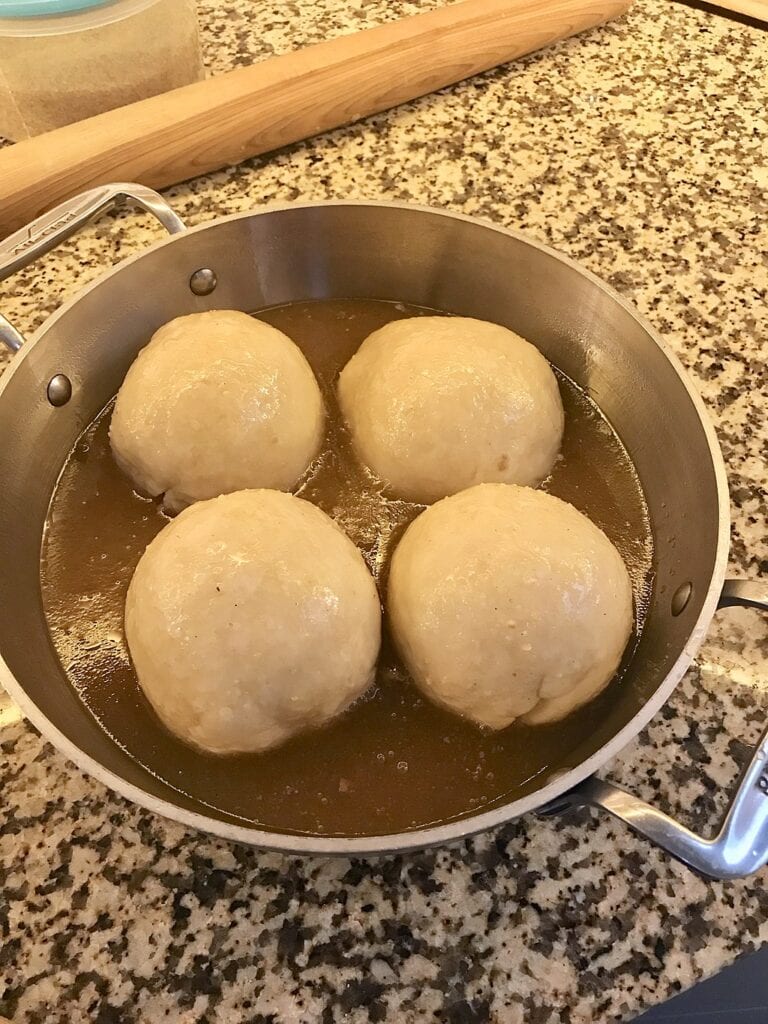 I still dream of those warm, rich, cinnamony apple dumplings, and I will as long as I live. I have spent many years trying to find the perfect apple dumpling, sadly, to no avail. If you find it, please let me know.
My dad never had a recipe; he just gathered ingredients and created them. We watched the event unfold impatiently, with our mouths watering. The process was not to be rushed, he would say.
The final prize is a sweet, soft, baked apple wrapped in a thick, velvety dough and drizzled with a rich, sweet cinnamon syrupy perfection. Happily consumed by Jennifer of www.travelingpartyof4.com
Yuba Gyoza, Japan
Yuba, a.k.a. "tofu skin", is a real local speciality in Kyoto, Japan. Actually, tofu is also a Kyoto speciality, and yuba is the film that forms over the top of a batch of soy milk as it's being boiled to make tofu. Rather than discarding this film, the Japanese have come up with some creative and ingenious ways of cooking with it. There are even restaurants in Kyoto that are exclusively devoted to tofu and yuba dishes.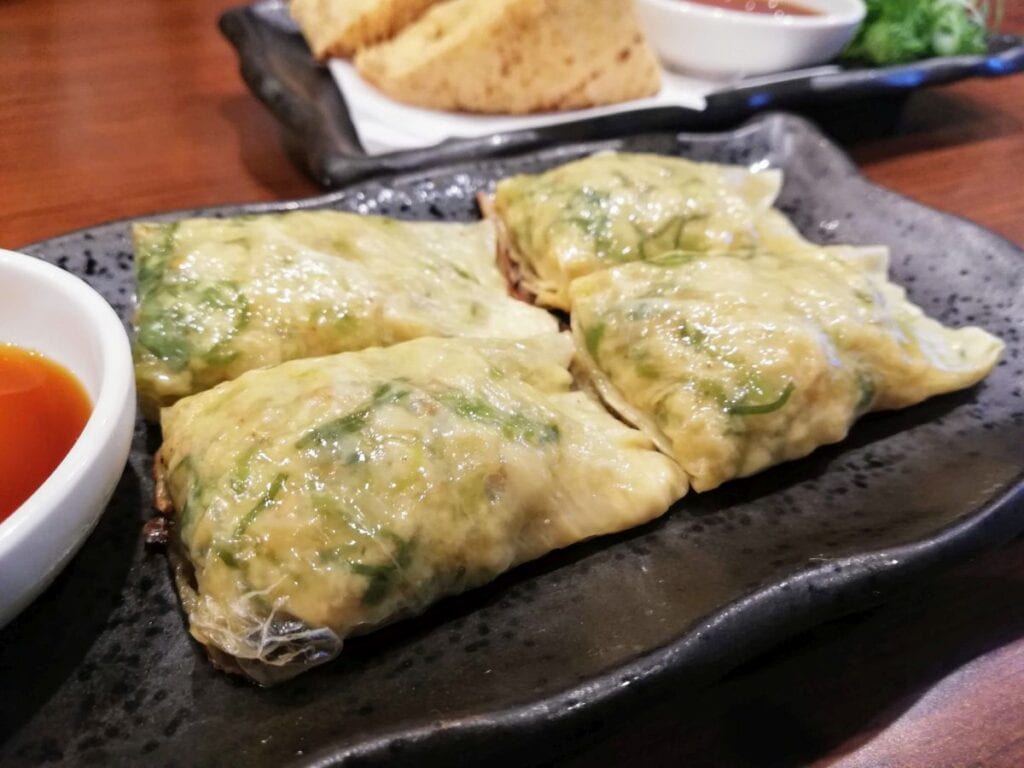 One of the many ways yuba can be used is as a replacement for the usual wheat-based wrappers in gyoza dumplings. A great place to try these unusual dumplings is Gyoza ChaoChao, a small, casual dumpling bar right in the heart of Kyoto. The yuba wrappers are stuffed with freeze-dried tofu, so it's a tofu double whammy!
Although technically yuba doesn't really count as a type of tofu, since it's not produced using a coagulant. It does have a pretty similar flavour, though, and is obviously made from the same base ingredient, namely soybeans.
In any case, these dumplings are completely plant-based, so Gyoza ChaoChao is a great option for eating vegan in Kyoto. Try some of their other types of gyoza while you're here too. They even have sweet ones stuffed with apple pie filling! Contributed by Wendy Werneth of The Nomadic Vegan
Kubeh, Israel
Kubeh is a traditional Israeli dish, with popularity growing in recent years inside and outside of Israel. The Kubeh, also called Kibbeh, arrived in Israel with the Jews from Iraq and Syria in the 1950s. What used to be a niche cultural dish has become one of the best comfort foods in Israel.
The Kubeh is a ball-shaped dumpling made of semolina dough and stuffed with beef, onion, and spices. The balls are then cooked in different kinds of broth, which give the dish its name. Kubeh Seleq is made in a beet soup; Kubeh Bamia is made in a tomato broth with okra; Kubeh Dla'at is made in a yellow broth with butternut squash cubes. The latter is my favourite. There is another version of Kubeh, in which the dough is made with semolina and bulgur and it is then deep-fried. In my family, it is made only for important holidays and celebrations.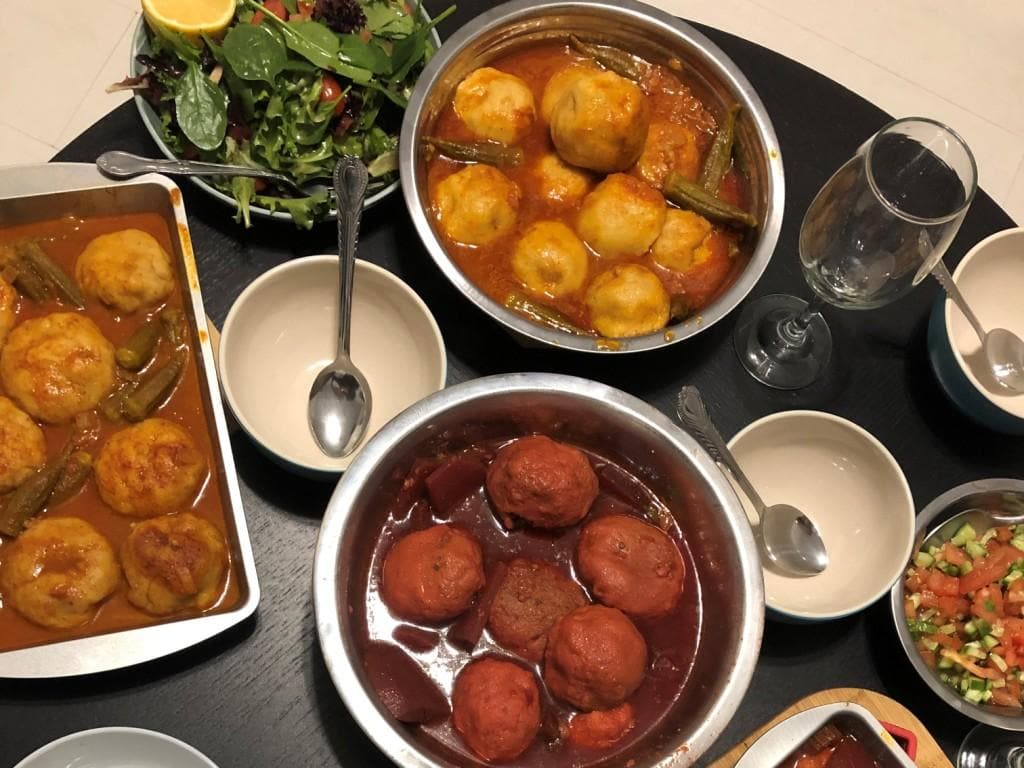 With the rise of veganism in Israel, it is common to find vegan Kubeh. In this case, beef is usually replaced with mushrooms or meat alternatives. For more vegan inspiration, check out this post about vegan restaurants in Tel Aviv.
Making the Kubeh is labour-intensive and not an easy task. It requires time for making the dough, and the special skill of creating the ball shape, stuffing it, and closing it. It used to pass in the family from one generation to the next one but nowadays, you can also learn how to make this delicious food in Kubeh-making workshops. Whoever knows how to make a good Kubeh is considered a proficient cook.
In my travels, I have found Kubeh in Israeli restaurants in NYC and in Mexico, but the best Kubeh is always at home. Written by Moshe, from The Top Ten Traveler.
Pierogi, Poland
Once considered peasant food, you can now say that pierogi are Poland's national dish. These delicious-filled dumplings are such a staple food in the local cuisine that you'll easily find them in every Polish restaurant in every village, town, or city in Poland.
Surprisingly, the origins of pierogi are contradicted. While some legends say they came from China, some claim they were brought from Ukraine, and others say they were consumed in Central and Eastern Europe for centuries and centuries.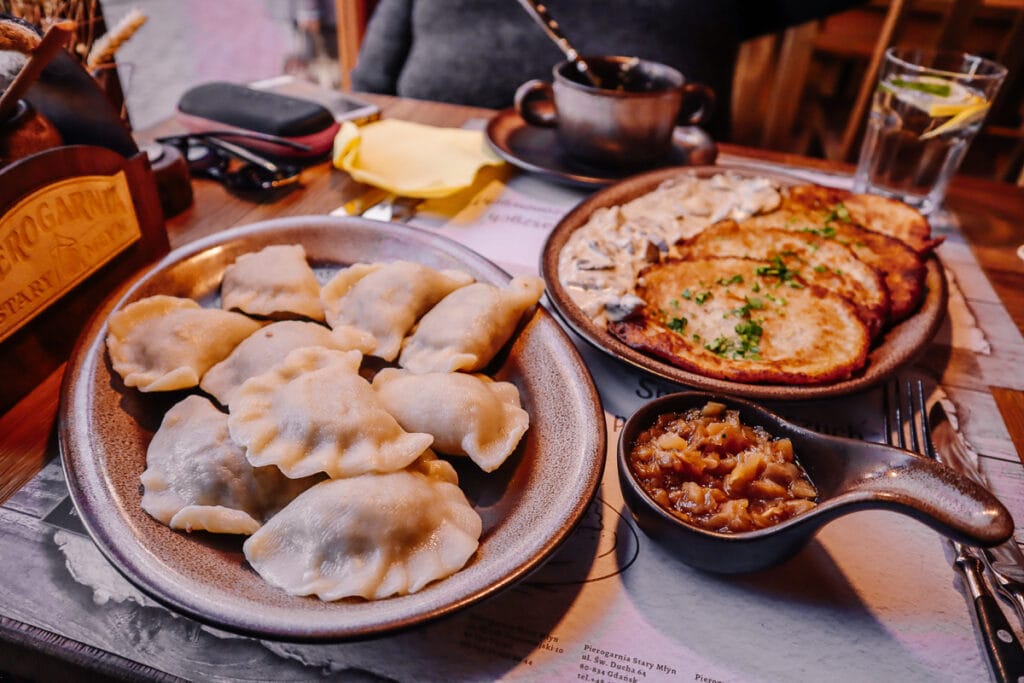 Usually, Pierogi are either baked or boiled (and sometimes pan-fried after the boil) and served with a topping of your choice like fried onions or sour cream. Some of the classic fillings include cottage cheese and potatoes, mushrooms and cabbage, and minced meat, but restaurants are now offering a much larger variety of fillings.
And if you thought pierogi are only savoury, think again because having sweet pierogi for dessert is a must! The classic fillings are usually sweet cheese or berries, but I've seen and tried other flavours like apples with cinnamon, banana and peanut butter, and of course, chocolate.
If you love food festivals, you'll also be thrilled to know that the City of Krakow hosts an annual pierogi festival, taking place in mid-August! From Or of My Path in the World.
Festival, Jamaica
Have you ever eaten something so good it was like a festival in your mouth? In Jamaica, there is an amazing fried dumpling called a "festival" for that reason. Unlike typical Jamaican dumplings, this one is sweet with a crunchy outside and a light, fluffy centre. There are a variety of recipes, but flour, cornmeal, sugar, and baking powder are generally a part of it.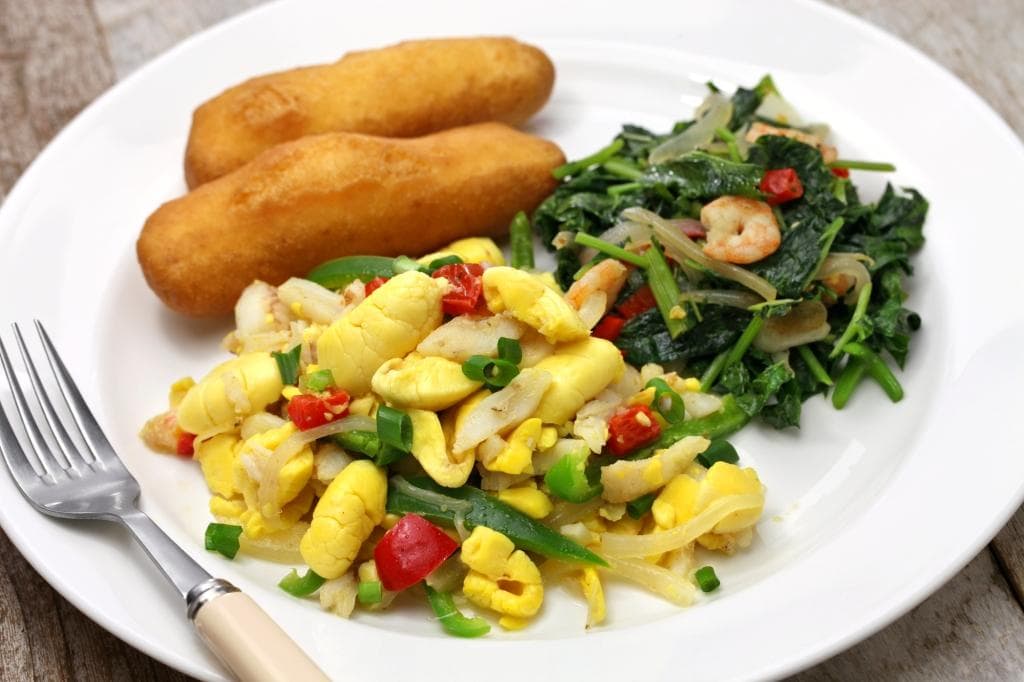 Festival is a street food that is traditionally accompanied by escovitch fish, which is a fried fish topped with pickled vegetables and a spicy sauce. You can also have it with other fried fish, jerk chicken, and more; still, I think it's delicious even by itself!
The best place to find this meal is at Hellshire Beach in St. Catherine, Jamaica. There are many different restaurants to choose from that are scattered in shacks along the beach. Fish and festival is typically priced by the pound and will cost up to around 1800JMD, which is about 12 USD. However, beware of "tourist prices" and get an estimated cost before you order.
It's the best dumpling I've ever tasted and both kids and adults alike love it! Once you have a taste of this sweet fried dumpling, you'll be back for more! From Martina of Stack Your Dollars.
Momos, Nepal
Nepali momos are something you absolutely must try in Nepal. Momos are traditional steamed dumplings made of simple flour and water dough and filled with vegetables and sometimes meat. The most traditional meats used to fill momos are chicken, lamb, pork, and yak. Originally from the Himalayas, momos are comfort food that is eaten for lunch or dinner and served with aachar, a tomato-based dipping sauce.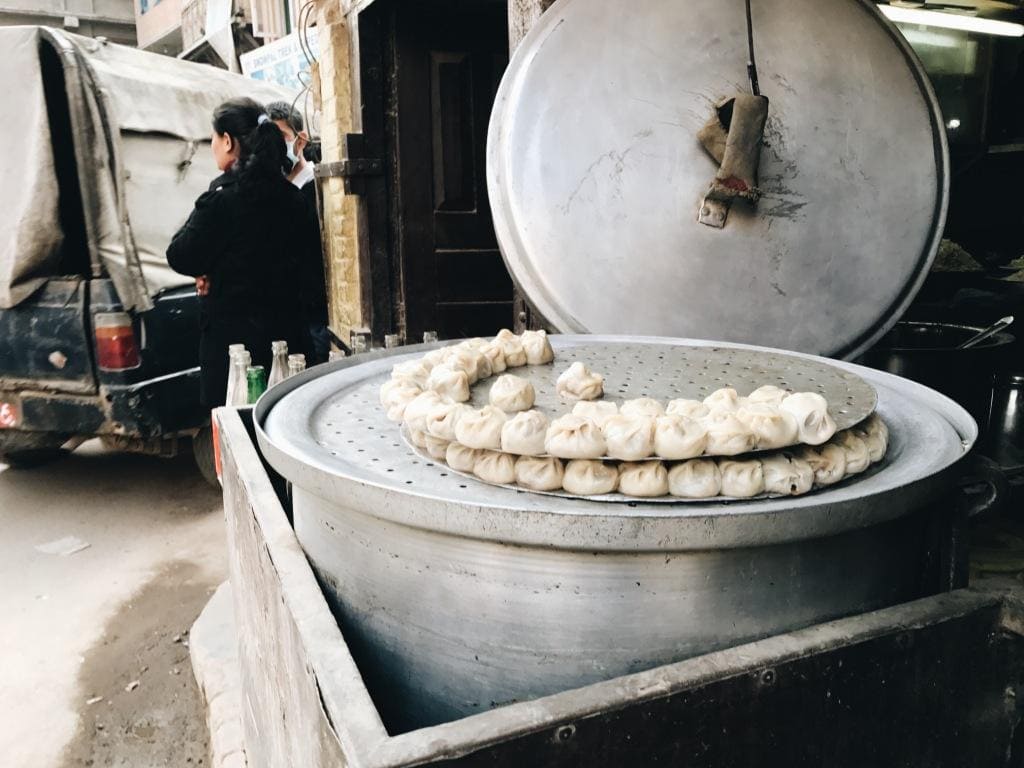 Whilst momos are typically steamed, you can find other varieties of momos around Nepal, which I highly recommend tasting! My favourite variation is jhol momos, which are served in spicy tomato soup, though pan-fried momos are also popular! In some places, you can even find desert momos, filled with pumpkin and chocolate.
If you're looking for good momos, you'll find them all over Nepal. My favourite momos in the country are from Mo2 in Pokhara – have the jhol momos and fall in love! They're perfectly tender and juicy, and the soup that brings the dish together is tangy and bright! Whether you're trekking in the Himalayas or wandering the vibrant streets of Kathmandu, grabbing a plate of freshly made momos will make your trip to Nepal even better. From Anya Carion from Unexpected Occurrence
Choi Pan, Borneo
Initially introduced by Teochew people who migrated from mainland China centuries ago, you can't miss the local delicacy Choi pan or chai kwe when you visit West Kalimantan in Indonesian Borneo.
It's a dumpling filled with various vegetables and beans from chives, yam, taro, and even peanuts. These days, you can also find some with chicken and shrimp in some restaurants. Served steamed or fried with sprinkles of shredded garlic, you can easily choose the variant and fillings according to your liking.
While several places serve Choi pan as a part of their menu, the most authentic one you could try while in West Kalimantan was the one at Tjhia Family House in Singkawang.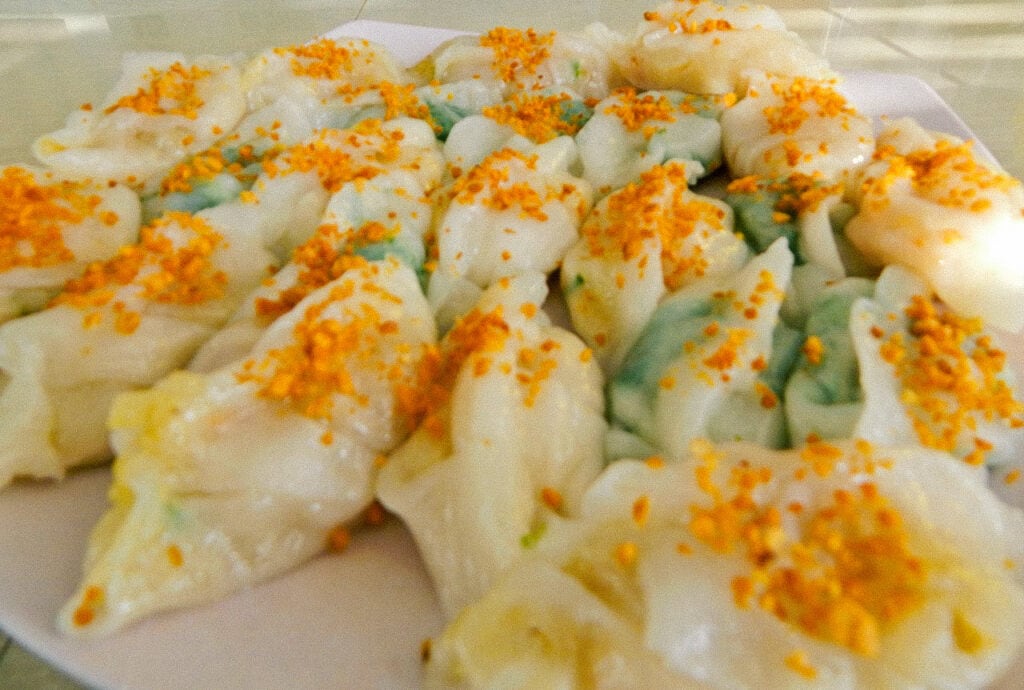 Named as the most tolerant city in Indonesia, Singkawang is mostly known for the Chinese New Year and Cap Go Meh celebrations with their Tatung festival, which combines Chinese and Dayak people rituals.
The Family House has now become one of the city's heritage places in Singkawang, as the house building has been around for more than a century. Built by Tjhia Hiap Seng in 1902, the sixth generation of the Tjhia Family still lives in the house and runs a humble restaurant in their front yard.
Their choi pan is still authentic, as they only serve Choi pan with either yam or chives for the fillings. It is believed that they inherit the recipe from the previous generations.
Nevertheless, when the visitors come to the restaurant, not only they can enjoy the delicious dumplings, but they also experience a piece of history about one of the most notable families in Singkawang. From Marya of The BeauTraveler
Malay Dim Sum, Kuala Lumpur
Malaysian cuisine represents a multi-ethnic culinary fusion of people living in Malaysia, most notably Malays, Chinese, and Indians. The worldwide famous Jalan Alor night market in Kuala Lumpur is one of the most impressive foods night markets in the world serving some of the best foods in the world. Therefore, Jalan Alor in Kuala Lumpur's Bukit Bintang is a well-known foodies' destination.
The incredible Jalan Alor night market hosts amazing hawker stalls with delicious street food and fantastic restaurants with exquisitely flavoursome dishes. However, Malay Chinese dim sum stands out from the rest of the spectacular Jalan Alor gastronomic offer. Unquestionably Chinese dim sum is one of the most famous dishes in the world.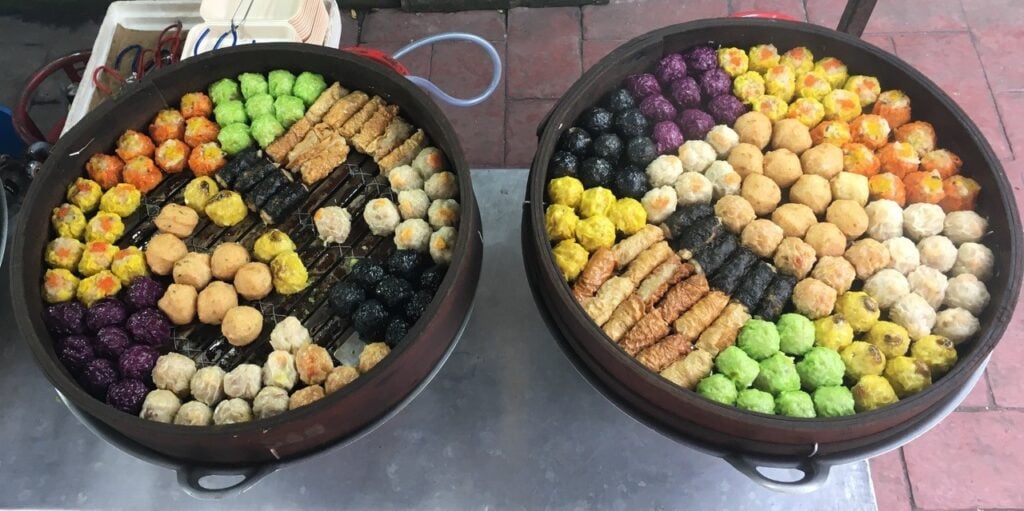 But this tiny bite-sized Chinese dish comes in eye-catching colours at Fat Man Dim Sum stall at the Jalan Alor. Fat Man's dim sum dumplings are not only a delight for the eyes but also a delight for the palate. The multi-coloured dim sum dumplings are prepared in steamers on the stall and filled with pork, chicken, crab, prawns, and cabbage.
No worries if you are not into stuffed dim sum. Plain dim sum dumplings are also offered. But if you have a sweet tooth you would love sweet plum sauce-based purple dumplings!
While dim sum literally means 'touch your heart', colourful dim sum dumplings at Jalan Alor night market undoubtedly have touched the hearts of many people. They have certainly touched mine. If you are a foodie and travelling to KL, don't forget to check out the colourful and mouthwatering dim-sum dumplings at Fat Man Dim Sum in Jalan Alor! Milijana from World Travel Connector
Kniddelen, Luxembourg
Kniddelen is a famous traditional Luxembourg dumpling that you must taste if you're looking for the best dumplings around the world.
The dumplings have a special meaning in today's culture, as there is simply no food better than this that works as the source of binding people together. Luxembourgish Dumplings (Kniddelen) are made of white flour and water and are often served with bacon (lardons) and gravy.
The regular dumplings are inexpensive and easy to make at home, providing a heavenly taste. You can eat dumplings as a side dish or a complete meal with any of the sauces. Plus, the leftover kniddelen can be fried in the pan later as well. Otherwise, taste various shapes, tastes, or styles of dumplings at Luxembourg's restaurants, like- Bei De Bouwen or Am Tiirmschen.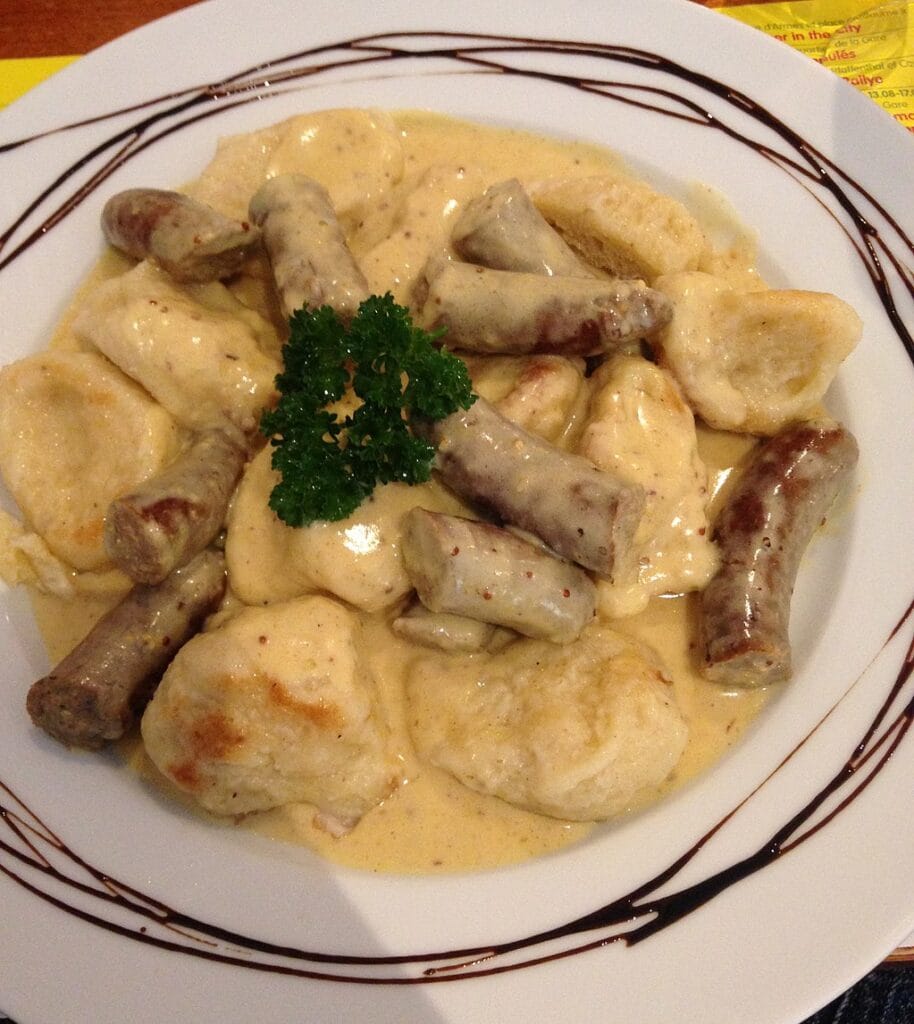 Moreover, Kniddelen dumplings are made out of ingredients, including wheat flour, eggs, milk, black pepper, thinly sliced or smoked bacon, thick batter, butter, and salted water. Interestingly, earlier people even used to make dumplings only with water instead of milk. Additionally, kniddelen are usually served boiled on the first day.
The day after, you can serve them fried in a pan. So, hearing this, if you're too willing to make Luxembourgish Dumplings (Kniddelen) now on your own, they are extremely easy to make. They are one of the most famous Luxembourgish foods and have been depicted in many foods and travel coffee table books. From Paulina of Paulina on the Road.
Ha gow, China
Ha Gow, also known as shrimp dumplings, is one of the most popular and well-known dumplings in the world. This Chinese dumpling is usually served at Cantonese-style dim sum restaurants as a breakfast, brunch, or lunch item typically enjoyed with other dim sum items and hot tea. Ha, gow is considered synonymous with dim sum, and it would be "wrong" to get dim sum for brunch without getting some ha gow!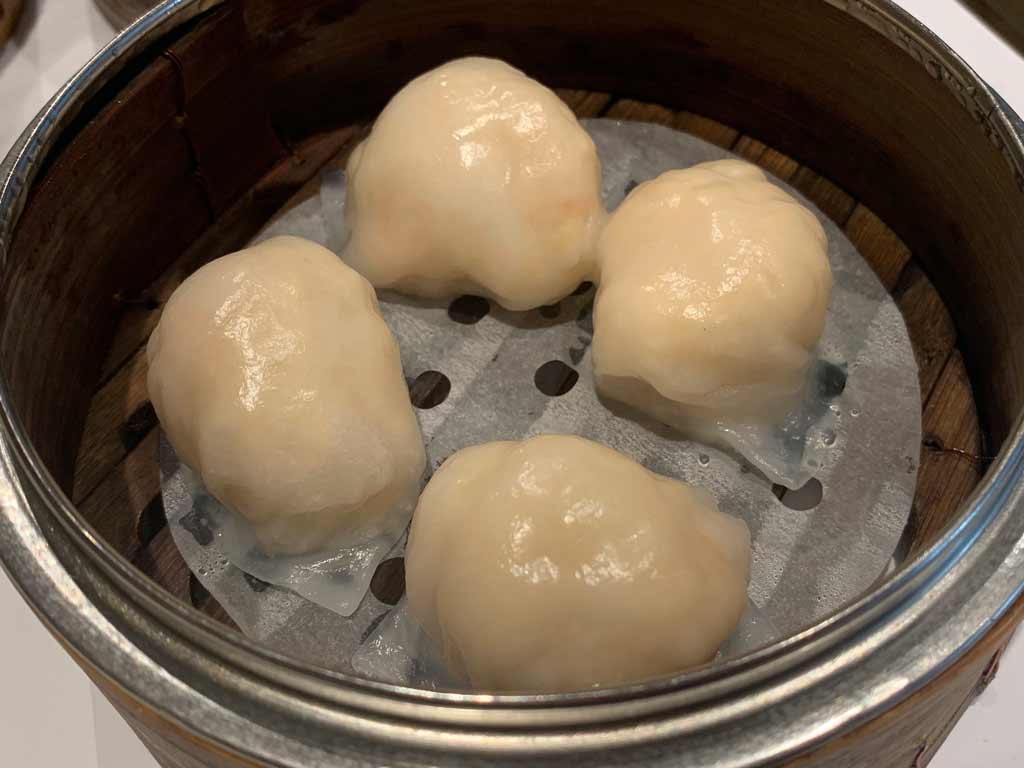 The pouch-shaped shrimp dumplings are characterized by their white, yet translucent and thin dumpling wrappers. This special dumpling skin is particularly fragile and tender, making them prone to splitting during steaming and difficult to perfect. Usually ha gow look white and opaque when freshly taken out of the steamer, but their wrappers become more translucent as they cool.
Legend has it that the ha gow was invented by an owner of a teahouse in the Wucu village, located in the outskirts of Guangzhou. The owner would catch shrimp from the river outside of the teahouse to make fresh stuffing for their ha gow. Today, ha gow can be found at dim sum restaurants all over the world, but they are especially good in Guangzhou and in fact, they are one of the best things to eat in Hong Kong. Contributed by Constance of The Adventures of Panda Bear.
Struklji, Slovenia
One of the best things to do in Ljubljana, the Slovenian capital, is to taste Slovenian dishes. And one of the best dishes we ate was štruklji!
A traditional dumpling dish from Slovenia, štruklji originated in the late 16th century, when a chef in the Austrian city of Graz created the first version, with a tarragon filling. At first, the dish was made only by the well-to-do in urban areas, but eventually, štruklji spread to the countryside as well.
Originally a festive dish reserved for special occasions, štruklji is now cooked and served on an everyday basis. While the dumpling is hugely popular in Slovenia, neighbouring countries like Croatia have their versions as well.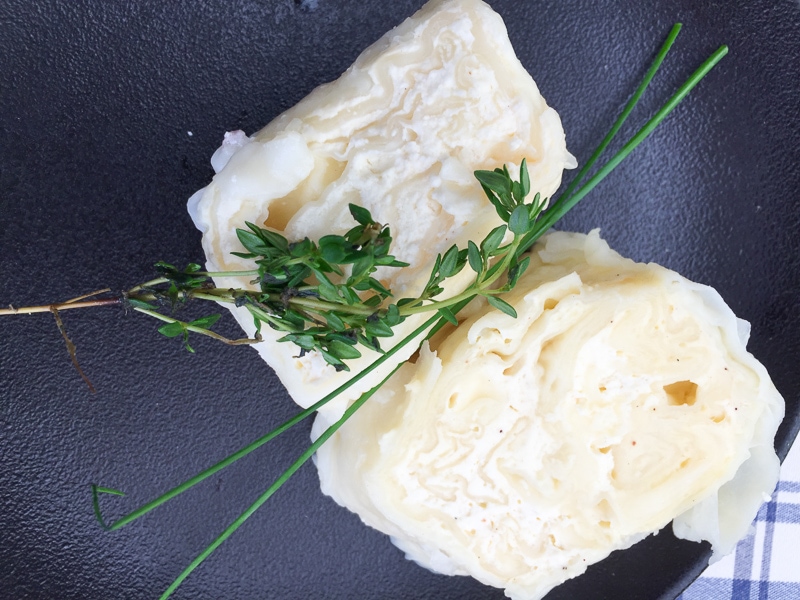 The dish consists of dough made from wheat or buckwheat flour, egg, and olive oil. The dough is rolled out, the filling is placed on it, and the dough is rolled into a dumpling. Štruklji is very versatile and can be steamed, baked, fried, or boiled. They can either be served as is or with a sauce.
Fillings for štruklji can be sweet or savoury. The version we had contained salty cottage cheese with a hint of nutmeg. But you can get štruklji filled with cooked apples, or crushed nuts and cheese: walnuts and honey are very popular fillings.
You will find štruklji at most restaurants in Slovenia, especially in Ljubljana. Dhara from It's Not About the Miles.
Gnocchi, Italy
Gnocchi is a beloved dumpling dish from Italy, that is often described as the ultimate comfort food. Food historians believe the word gnocchi comes from the words nocchio or knot found in wood or the word for knuckle – nocca. This refers to the lumpy shape of the dumpling. The origins of the dish date back centuries, even as far back as Roman times when the hearty dish was served to soldiers to boost their energy.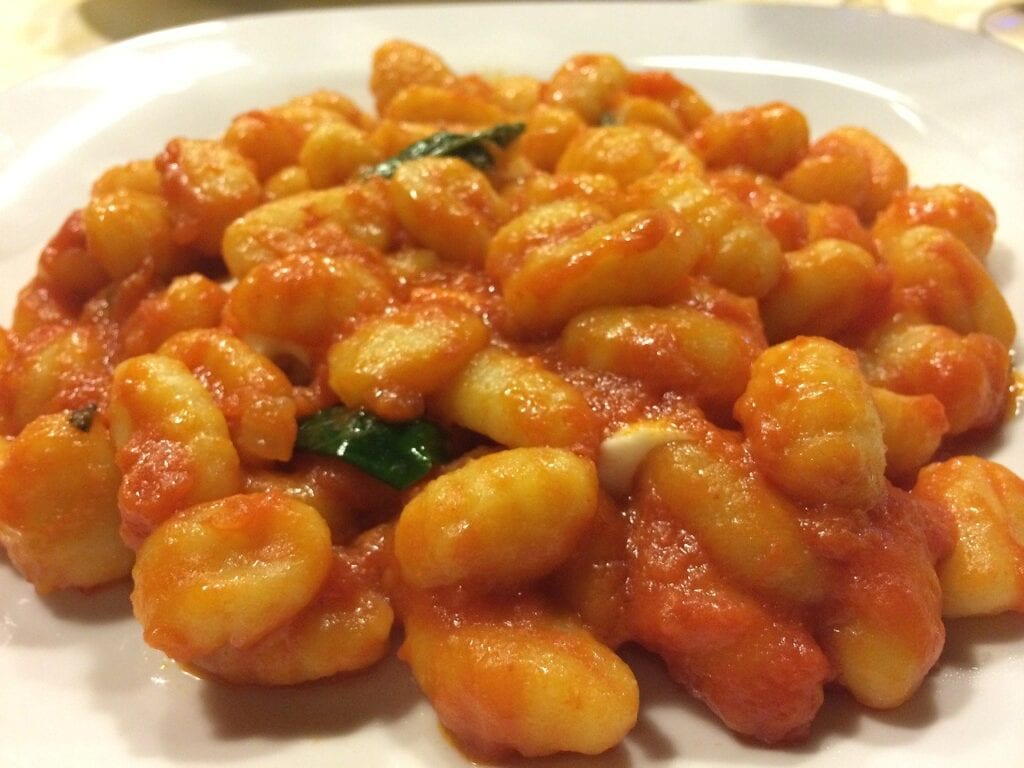 Gnocchi recipes are essentially a combination of flour and potato combined to make the dough. This mixture is then rolled out and cut into bite-sized pieces. The fluffy pillows or dumplings are then shaped to ensure they capture the delicious sauce they are served in the best way possible – usually, a little dent or thumbprint is made.
Once cut, the gnocchi is quickly boiled in salted water and served with sauce. Outside Italy, you'll mainly eat gnocchi with a tomato-based sauce. But, as with all Italian dishes, there are regional variations and this makes for an exciting exploration of flavours, shapes and textures.
Depending on the regional recipe, breadcrumbs, egg, or semolina are added to the dough mixture. In Liguria gnocchi is served with zingy pesto made from basil and pine nuts. Gnocchi from the Lombardy region is dressed simply in butter and sage while a decadent version from Tuscany is made with ricotta and shaved truffle.
Gnocchi is usually served as a primo or first-course dish on Italian menus. But, however they are served, they are delicious and a must-try dish when you visit Italy. Contributed by Katy of Untold Travel.
Xiao long bao, Australia
Din Tai Fung is a worldwide dumpling chain that originated as a food stall in Taipei. Don't let the word "chain" turn you off, though. Despite the fact that your order arrives at your table mere minutes after you order, the care and precision that go into their handmade pork dumplings are a far cry from fast food. Din Tai Fung's open-concept kitchen allows you to watch as each dumpling receives no less than 18 folds and a final weight variance between 20.8 and 21.2 grams.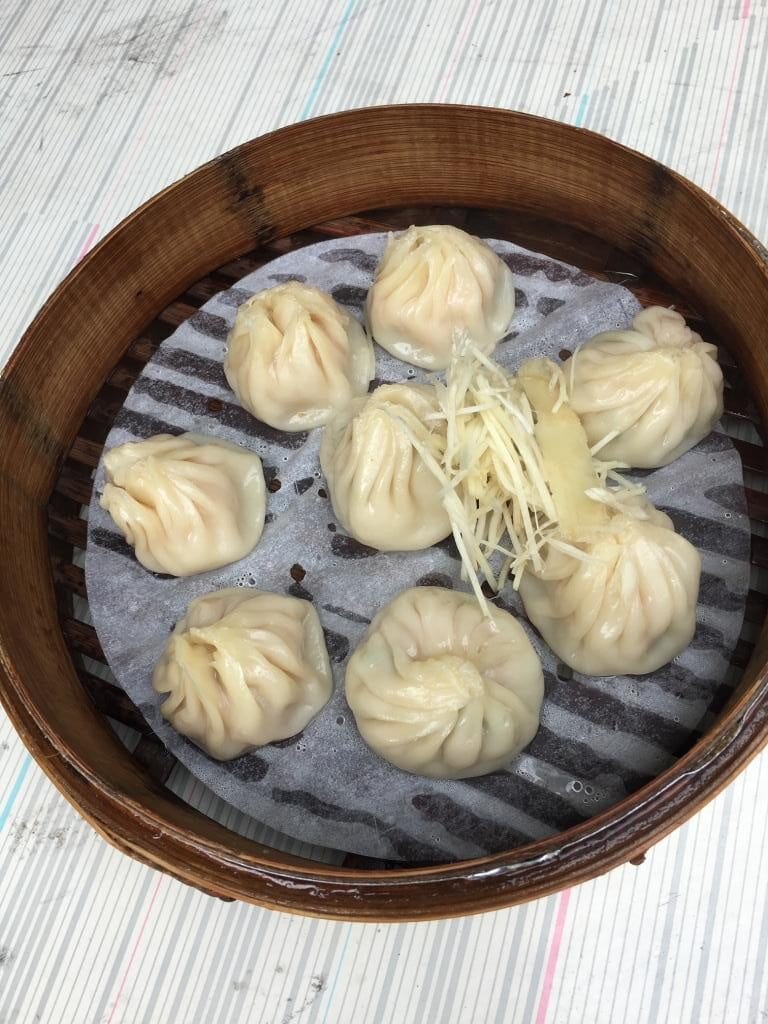 I first experienced their dumplings in Melbourne, Australia— home to some of the most cutting-edge food trends and beautiful cuisine in the world. When I visited, their rainbow dumplings were a featured item, which sold out on a nearly daily basis. Each colour of the rainbow held a different filling. Like many Melbourne trends, the fillings were non-traditional and featured flavours like corn, cheese, and bolognese.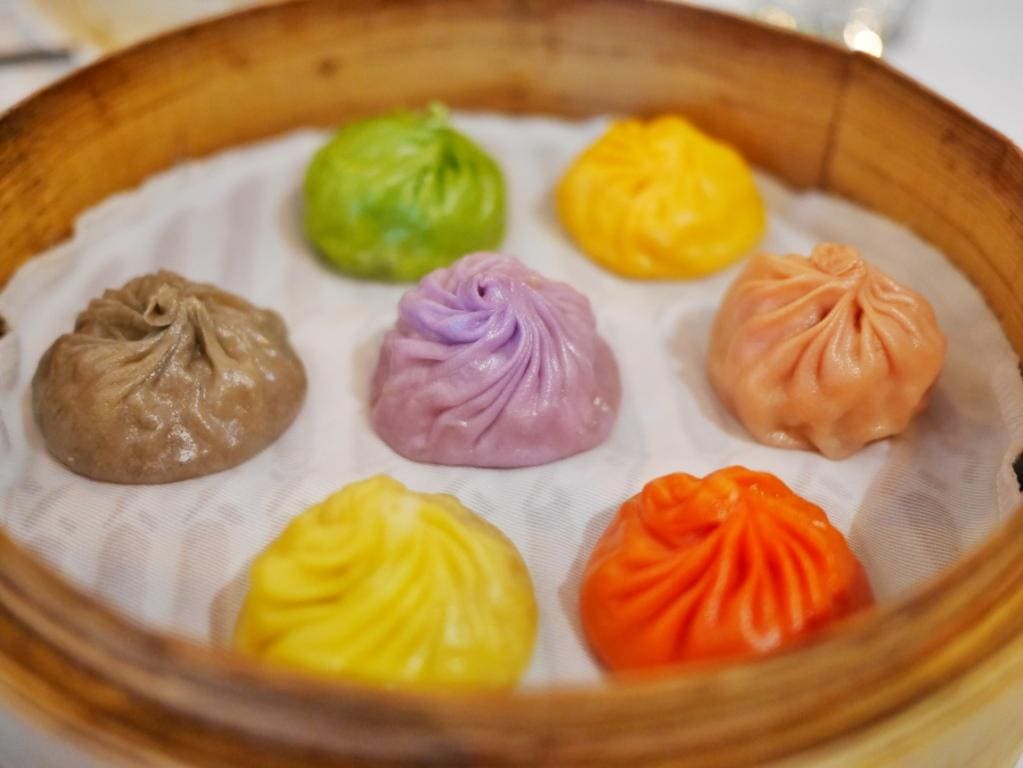 Be sure to check Din Tai Fung Australia's social media accounts for the latest creations. Over the years, they've offered rainbow noodles, giant xiao long bao served with a straw to slurp up the soup before eating the dumpling, and gold-flaked fortune dumplings filled with waygu and black truffle.
The rainbow dumplings are no longer offered, but their xiao long bao soup dumplings are always worth a visit— no matter the colour. Do not leave without an order of their truffle dumplings. The rich flavour is absolutely heavenly! Contributed by Brittany of The Sweet Wanderlust
Kozhakattai, South-India
Kozhakattai or Kozhukattai is a sort of dumpling that has its origins in the south-Indian state of Tamil Nadu.
Often prepared during special occasions and the Ganesh festival, the Kozhakattai or the modhakam has various versions of it. And, it is always a vegetarian snack or prasadam(divine offering).
From the savoury uppu kozhakattai which translates to a salt dumpling, to the pooranam kozhakattai, a sweet dumpling filled with a mixture of jaggery and grated coconut, there is a handful of varieties that are prepared across the Tamil households.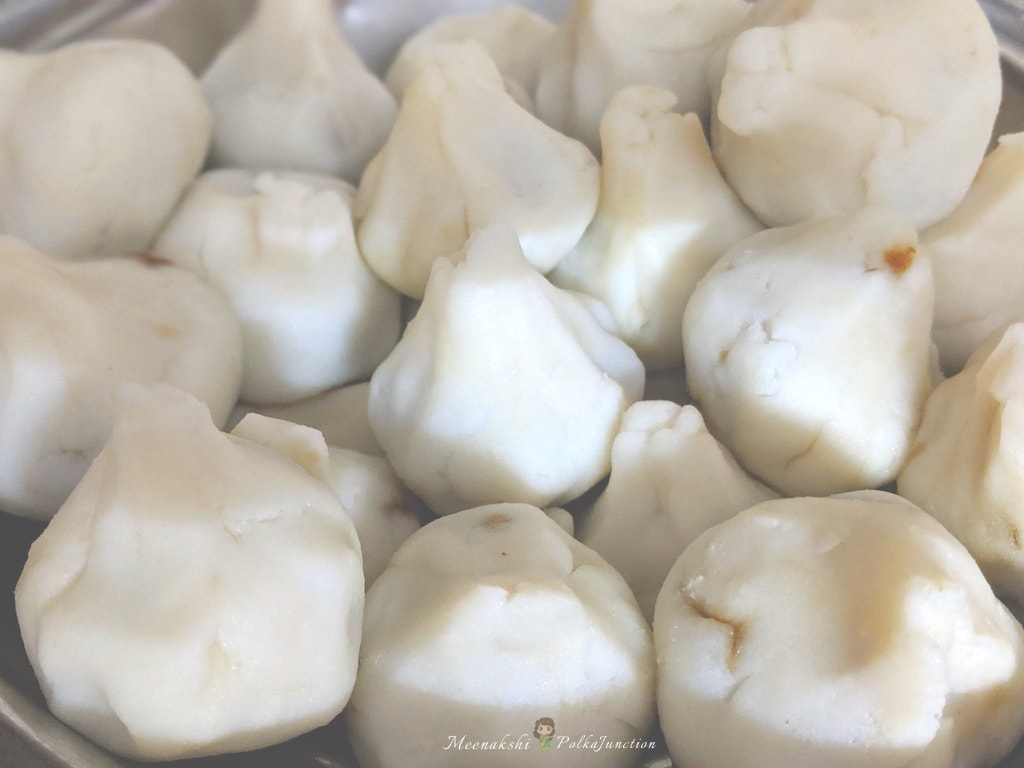 While many dumplings around the world make use of refined white flour as a base, the Kozhakattai uses rice flour for its dough. The process of making a Kozhakattai always starts with the preparation of the dumpling dough.
Soaking the raw rice for an hour or two, air-drying, powdering, roasting it slightly, and cooking with water results in the dough, which is then rolled out into small discs, filled in with either the sweet or savoury mixture, and then artfully folded to be given the shape of a Kozhakkattai. This is then steamed, offered to the gods as a prasadam(divine offering), and then devoured.
The 1600-year-old rock-cut cave temple of Pillayarpatti Karpaga Vinayagar in Tamil Nadu prepares one huge Kozhakattai made of 18 measures of raw rice, on the occasion of Vinayagar Chaturthi( Ganesh Chaturthi) festival. This festival marks the birth of Lord Ganesha — the elephant god. By Meenakshi.J of PolkaJunction
Maultaschen, Germany
Swabia is a cultural and linguistic region of Germany. It's located in the southeast portion of the country. It includes the city of Stuttgart and the surrounding area. If you're planning a trip to Germany, it's a fabulous area to explore. One of the best reasons to visit this part of Europe is the unique local dishes and cuisines.
A delicious Swabian food item is also one of the world's best dumplings. They're called maultaschen which translates, quite literally, to "pockets". They're made from pasta dough that's stuffed with or wrapped around a mixture of meat and spinach with a little nutmeg.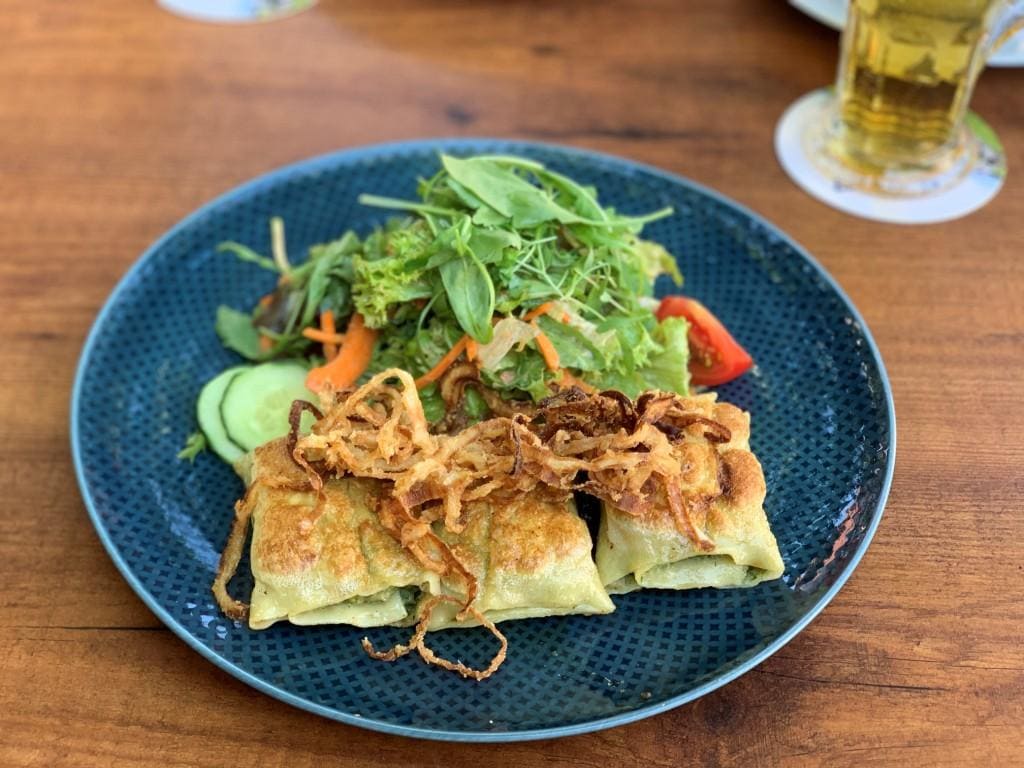 The maultaschen are broiled, added to soup or lightly pan-fried. If served plain, they're topped with fried onions. The recipe is said to have originated from monks of the region. Legend says the monks devised the dish to eat during periods of fasting so that the meat was disguised and hidden from God.
No matter the origin, the result has been handed down for centuries and it's exquisite. It's just one of the dishes that make Swabia a foodie destination in Central Europe. Maultaschen and other Swabian delicacies can be hard to find outside of Swabia, so if you find yourself in the region, make sure to order them from any traditional restaurant. You won't be disappointed by this incredible dumpling! Contributed by Derek and Mike of Robe Trotting.
Knoedel, Austria
A common Central and East European dish, dumplings have a high standing in Austrian cuisine. Before I moved to Vienna, they were not among my favourite dishes, but I have learned to appreciate them while living in Austria's capital.
Made from flour, bread, meat, or potatoes, as savoury side dishes, in soups, or sweet desserts, Knoedel or dumplings are a speciality to be enjoyed year-round, whether you are here for an Austria summer holiday or to visit the Viennese Christmas markets. Interestingly, the German/Austrian name for dumplings – Knoedel – comes from the verb Knoten, which means to knot or to knead, alluding to the method of preparation of the dish.
Their versatile nature comes from the tradition of preparing these filling dishes with whatever was available in the household at the moment (stale bread, vegetables, etc) in order to maximize the use of resources. Leave it to a few hundred years of tradition to transform a simple recipe into a high-class gourmet dish.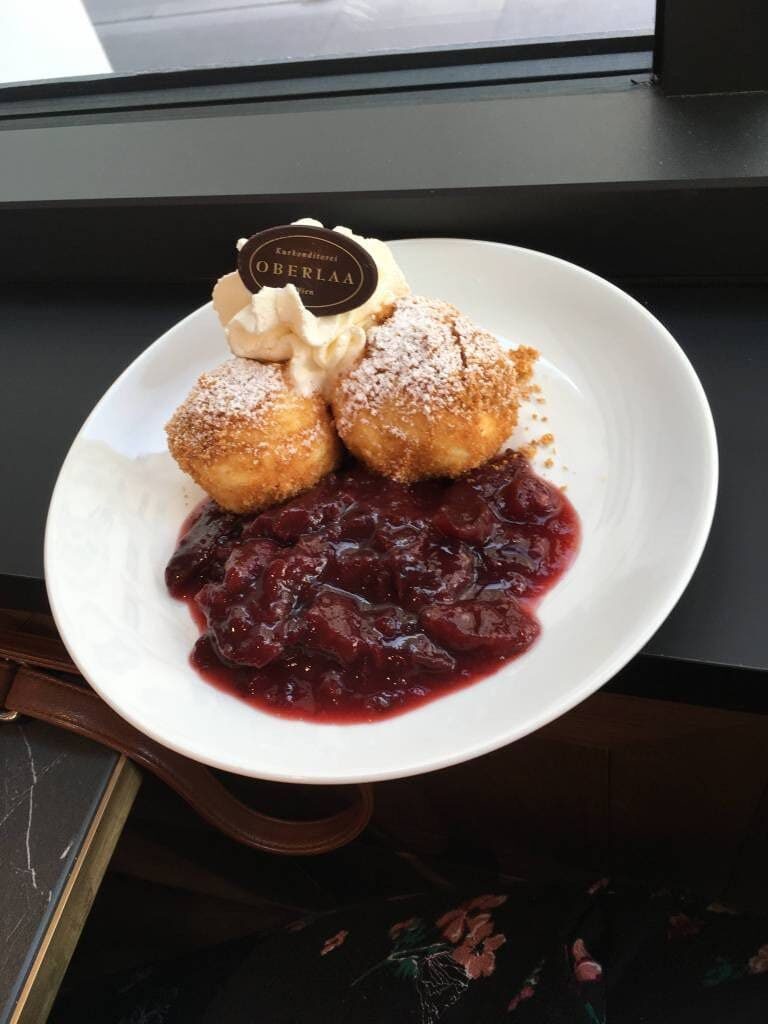 What I appreciate most about knoedel is that they are always freshly prepared and seasonal. Whereas the famous Leberknoedelsuppe (liver dumplings soup) can be enjoyed year-round, there are Knoedel that accompany seasonal dishes such as the traditional St Martin goose in November. In summer, the icecream salon Tichy in Vienna's tenth district serves Eismarillenknoedel, the ice cream variation with apricot in the middle.
Traditional Viennese coffee houses and pastry providers such as Kurkonditorei Oberlaa offer seasonal variations of the sweet dumplings – either with plum or apricot filling, depending on if spring or autumn. My favourite serving contains sweet cheese dumplings (Topfenknoedel) with either apricot or plum jam. Anca from Dream, Book, and Travel
Potato Dumplings, Germany
German potato dumplings are round-shaped dumplings, which come from Bavaria in South Germany. These dumplings are also common in neighbouring Austrian regions because some districts used to be one region at some point in the past 1000 years. The dumplings are commonly served with pork meat and side dishes such as pork roast, sauerbraten, sauerkraut, braised red cabbage, and regional sausages. You can pretty much serve them the way you would serve buttered parsley potatoes.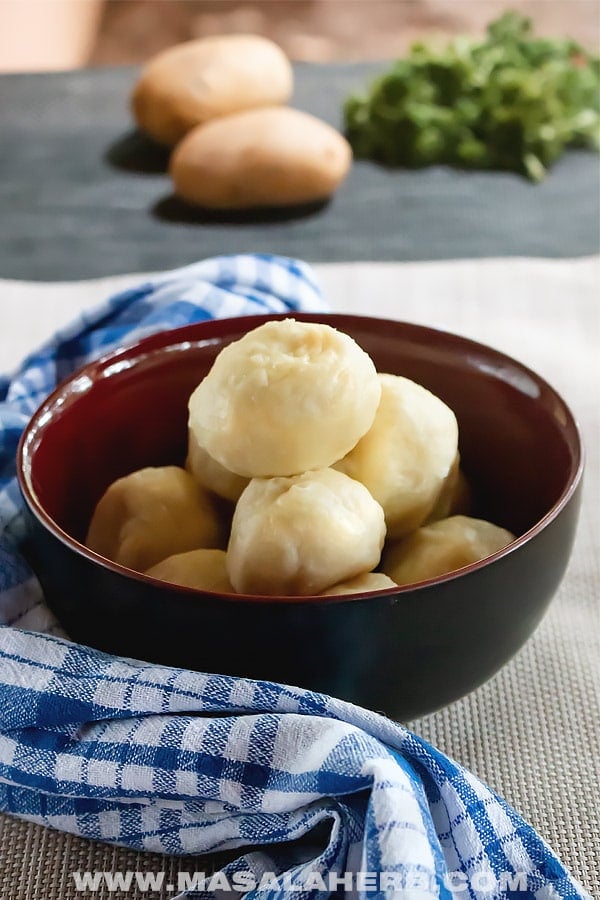 The dumplings mainly call for soft-cooked potatoes and all-purpose flour. These are then shaped into balls before they are boiled in hot saltwater. They are similar to north Italian Gnocchi, which pretty much shows how the regions used to be connected in the past before the world wars.
We usually use leftover boiled potatoes to make these tasty dumplings because boiled potatoes are a typical farmer's dinner meal with cold cuts and cheese. Nothing is ever thrown out and these regions are definitely some of the more food-conscious places in the world. The potato dumplings pretty much validate this point. This year we won't be able to celebrate the fall harvest with the Oktoberfest in Munich, Bavaria, so we will be all making more dumplings at home. Besides making potato dumplings from scratch is so easy, it's great for beginners too.
Jiaozi, China
You will have probably heard of Japanese Gyoza, but did you know the Chinese have their own Gyoza spelt Jiaozi?
Jiaozi are dumplings mostly filled with ground meat or vegetables and are steamed in big bamboo baskets. Most of the time they are accompanied by a dip made of oil and spices, but in some parts of China, jiaozi is served in a soup.
One theory suggests that these delicious dumplings were invented during the Eastern Han Period between AD 25 and 200 while another one is sure Jiaozi is much older than that and was invented during the Western Han Period between 300 BC and 25 AD. What is sure, however, is that these dumplings were already a big part of Chinese cuisine by 550 as the book Guangya by Zhang Yi makes mention of Jiaozi.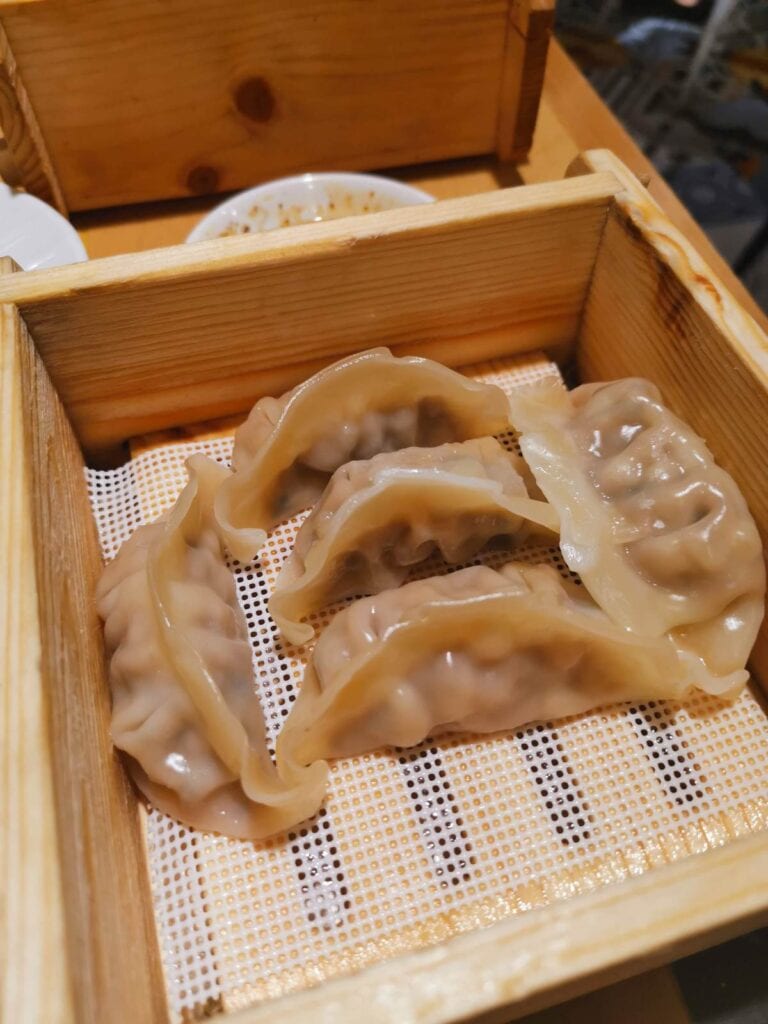 The importance of Jiaozi in Chinese life can also be seen in the bowls of Jiaozi found in the Turfan tombs of the Tang dynasty.
Jiaozi can be steamed, boiled, pan-fried or even boiled in a soup. Depending on where you visit in China you will be experiencing a completely new variety of Jiaozi. You can find them with all kinds of different fillings, from pork and mutton to celery and tofu.
One of the things that makes Jiaozi so special is the fact that many food historians agree that Jiaozi is the great-grandfather of many of the area's dumplings. From the Tibetan and Nepali momo to Gurze from Azerbaijan and even Gyoza in Japan: if you want to know what the original tastes like you should try some authentic Chinese Jiaozi. contributed by Lieze of Glitter Rebel.
Unusual dumplings around the world
Pelmeni, Russia
Similar to the Turkish manti dumplings Pelmeni are crescent-shaped dumplings filled with meat, mushrooms or cheese and boiled in salted water. Pelmeni though is never filled with sweet things like fruit.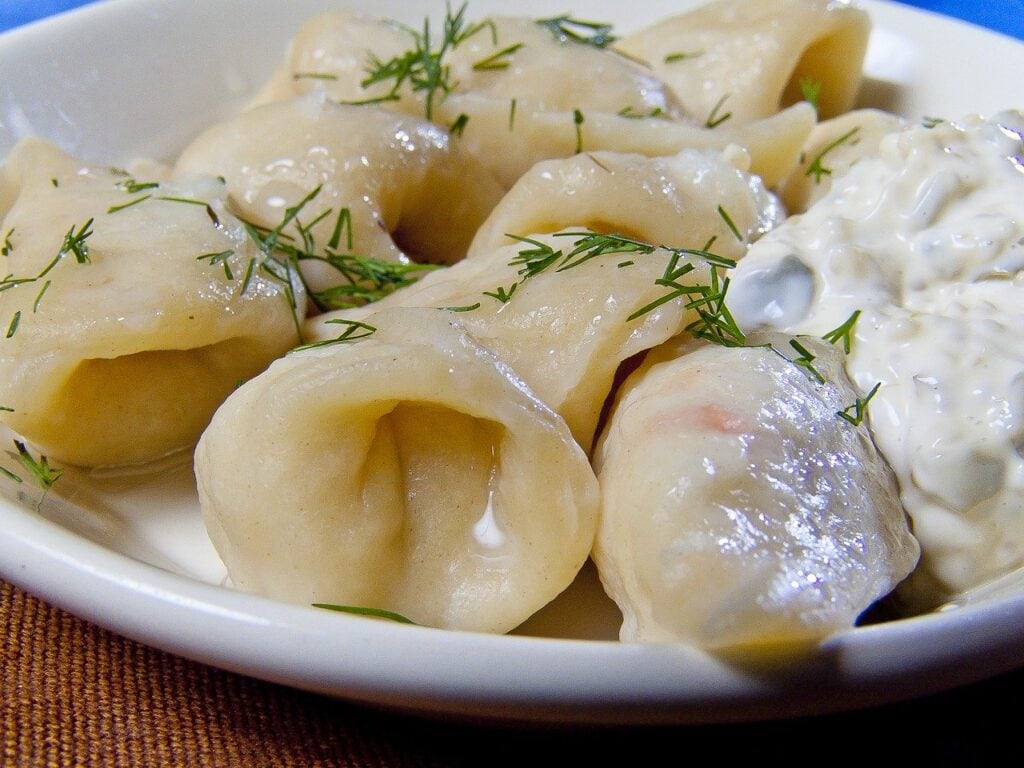 Aushak, Afghanistan
Aushak is a pasta style of dumpling that is filled with spring onions and served in a dish similar to a spaghetti bolognaise but topped with yoghurt and mint.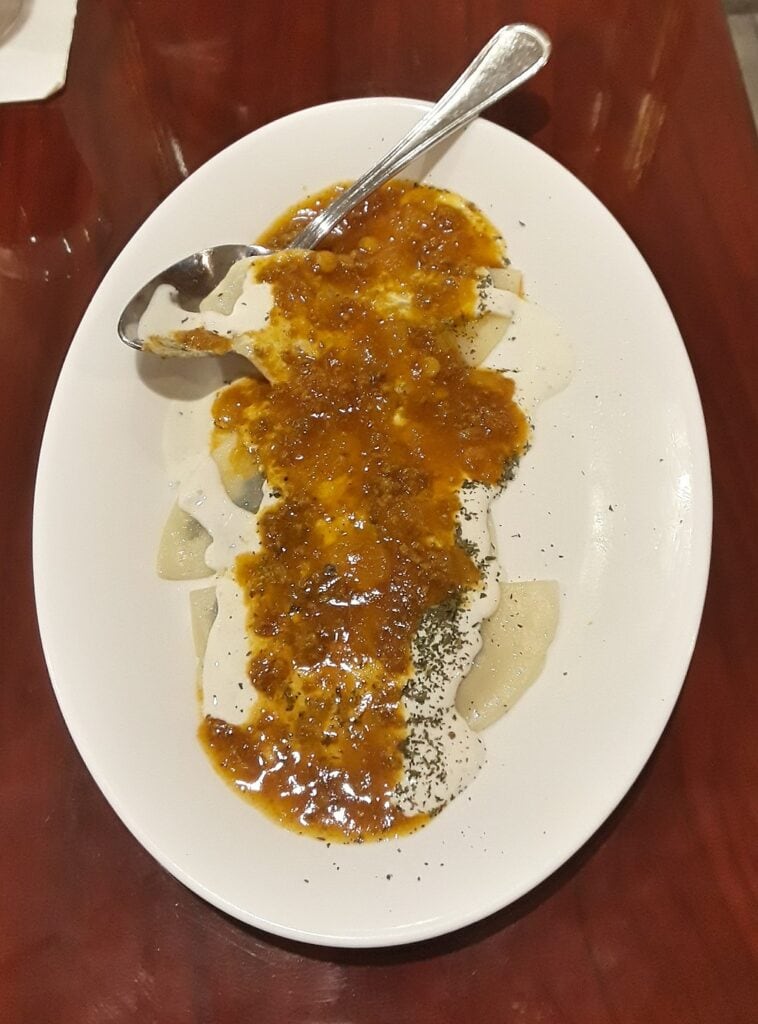 Kroppkaka, Sweden
Kroppkaka is a Swedish potato dumpling that is filled with a mixture of bacon and onions and seasoned with allspice. The potato mixture is combined with barley flour and when cooked it is served with butter and lingonberry sauce.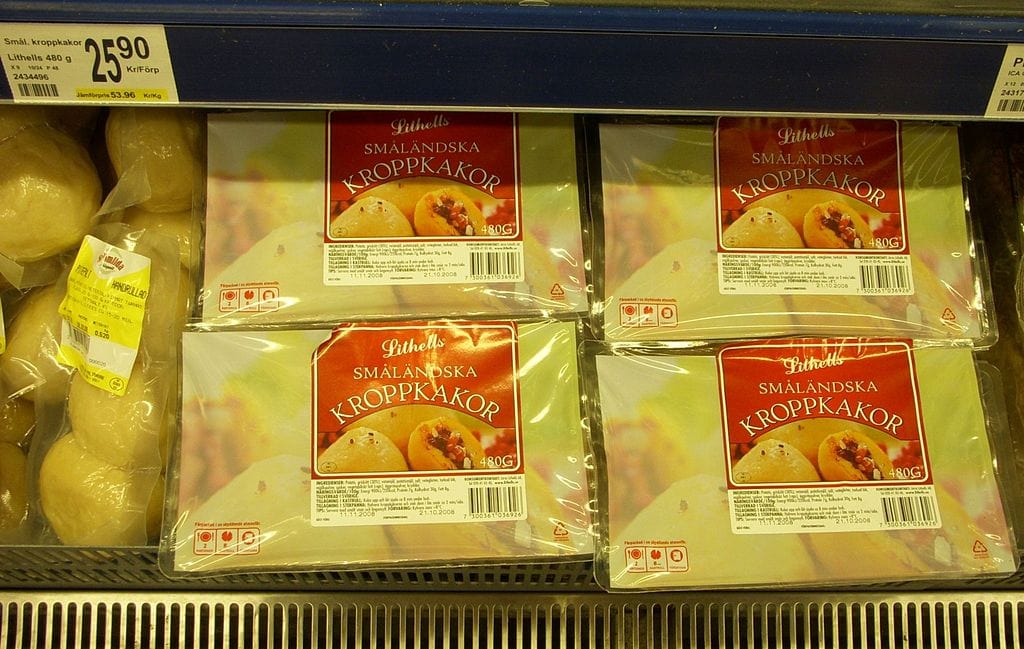 There are many types of dumplings of the world; from sweet dumplings to the Ghanaian Banku which is made from fermented cornmeal, and Hungarian Shlishkes, to a Buuz dumpling from Mongolia which is stuffed with mutton. Some consider things like samosas and handheld pies such as Jamaican patties and Cornish pasties to be dumplings. But we haven't counted those in this around the world in 33 dumplings.
There are so many versions of dumplings around the world I'm absolutely sure we have missed some – so what is your favourite dumpling?
For those foodies who love food tourism here's a few more articles.
UNESCO Intangible Cultural Heritage – food
Food from Oaxaca – the joy of Oaxacan Food
59 Traditional British Foods – from the sublime to the WTF
Bosnian Food – 33 delicious dishes you must try
Indigenous foods around the world
Pin it to save it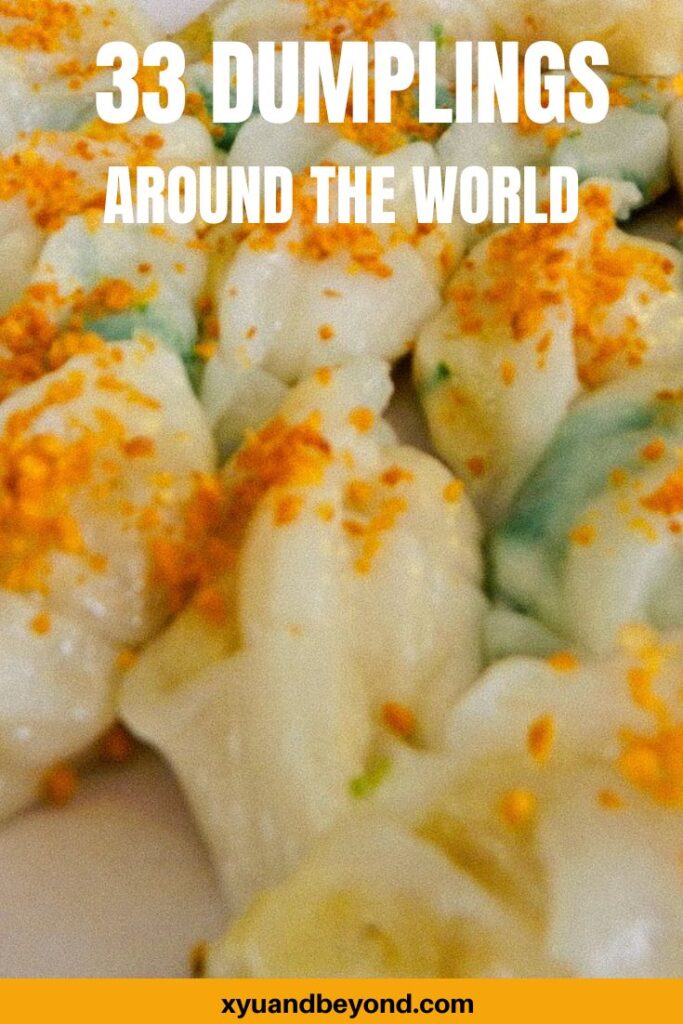 Originally posted on The Worlds Kitchens.

Latest posts by Faith Coates
(see all)