26 Delectable hand pies from around the world
I have to admit I do love a pie and I particularly love a pie I can hold in my hands. Hand pies as they are called in the U.S are a beautifully convenient meal or dessert wrapped in pastry. The pastry can be shortcrust, flaky, fried, or baked but the pastry effectively encloses a delicious filling.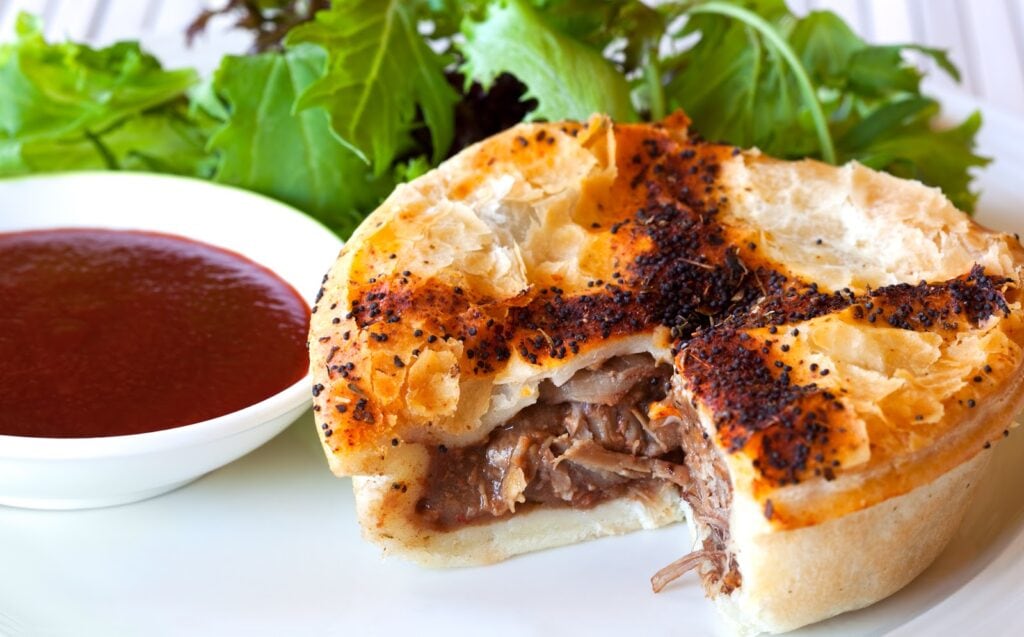 In Britain and Ireland, a pie is a glorious thing with fantastic pastry of any kind. Wiktionary says that handheld pies are a "semi-lunar pastry with either a sweet or savoury filling, formed by placing a dollop of filling onto a circular piece of biscuit-style dough and then folding it over and crimping it shut. They may be baked, fried or deep-fried."
That may be all well and good but I know personally of all kinds of what might be called hand pies that are not crescent moon shaped. Truly a hand pie can be any shape as long as it can be eaten on the go with no utensils required.
A History of Hand Held Pies around the world
Traditional meat hand pies came about thanks to working men who needed a lunch to keep them going during the hard labour they had to endure.
Which came first empanada or Cornish pasty? The history of hand pies around the world can easily be traced back to the Cornish Pasty which dates back to 19th-century Cornish tin miners. Cornwall is famous for its pasties, which is essentially a meal of meat, potatoes and vegetables enclosed in golden pastry, although it has evolved over the years. The humble pasty is part of Cornish food culture that has spread around the world.
Cornish pasties have been mentioned in texts from the Medieval period, and a letter has even been found addressed to Henry VIII's third wife, Jane Seymour, asking her if she enjoyed her pasty!
Cornish tin was a finite resource, and when it started running out in the 19th century, Cornish men, women and children began leaving to find employment opportunities elsewhere.
As Cornish men were so well trained in mining, many considered moving abroad, where there were still many resources to mine. This resulted in the Cornish diaspora, which extends across countries like Australia, the USA, South Africa, Latin and South America, and Mexico. Where Cornish people went, Cornish pasties went with them.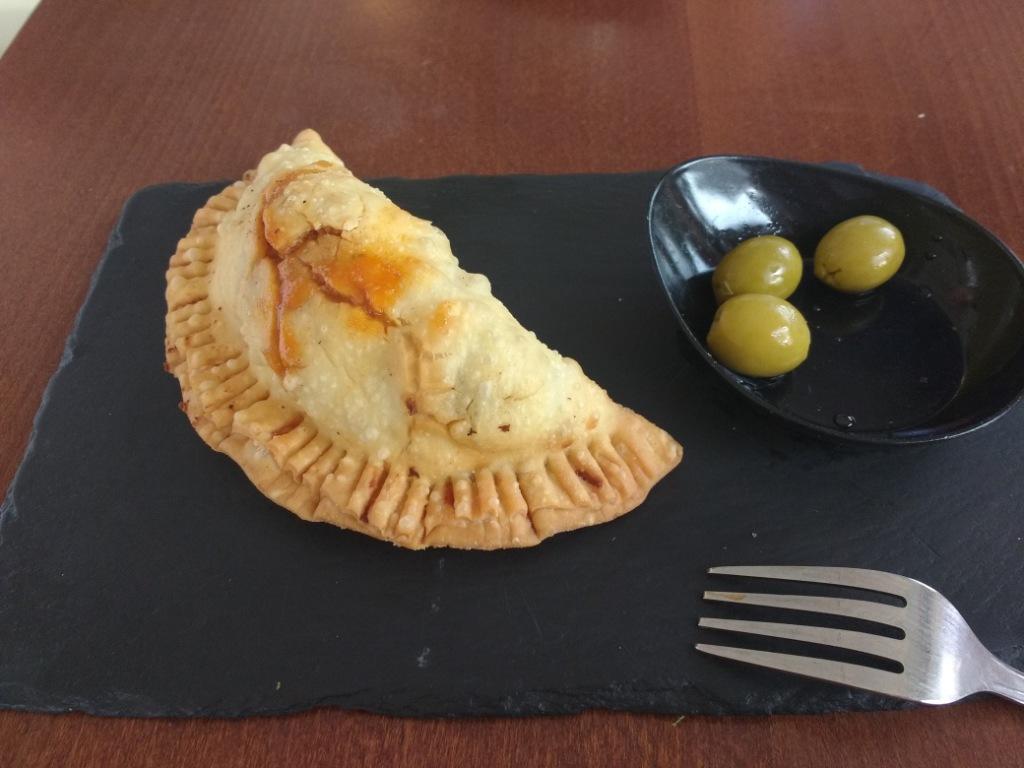 The samosa which is another perfect hand pie originated during the 10th century in the Middle East region. The first official mention of samosa was found in Iranian history where it was referred to as 'Sambosa'.
Burek, or Börek which you will find all over Turkey and other eastern European countries are usually made with phyllo pastry and filled with meat or cheese. Historic research suggests that it was likely invented by the nomadic Turks of Central Asia at some point before the seventh century. Other variations of burek exist in North Africa, namely in Tunisia and Algiers.
Empanadas in South America and Mexico, are directly descended from the Cornish Pasty. The Jamaican patty and the Nigerian meat pies are also Cornish descendants.
The Russian piroshky was first made in the 1700s, the original Piroshki was known as the Russian miner's pie – just like the Cornish pasty. The difference is in the yeasted bread that encases a Piroshki compared to a Cornish Pasty.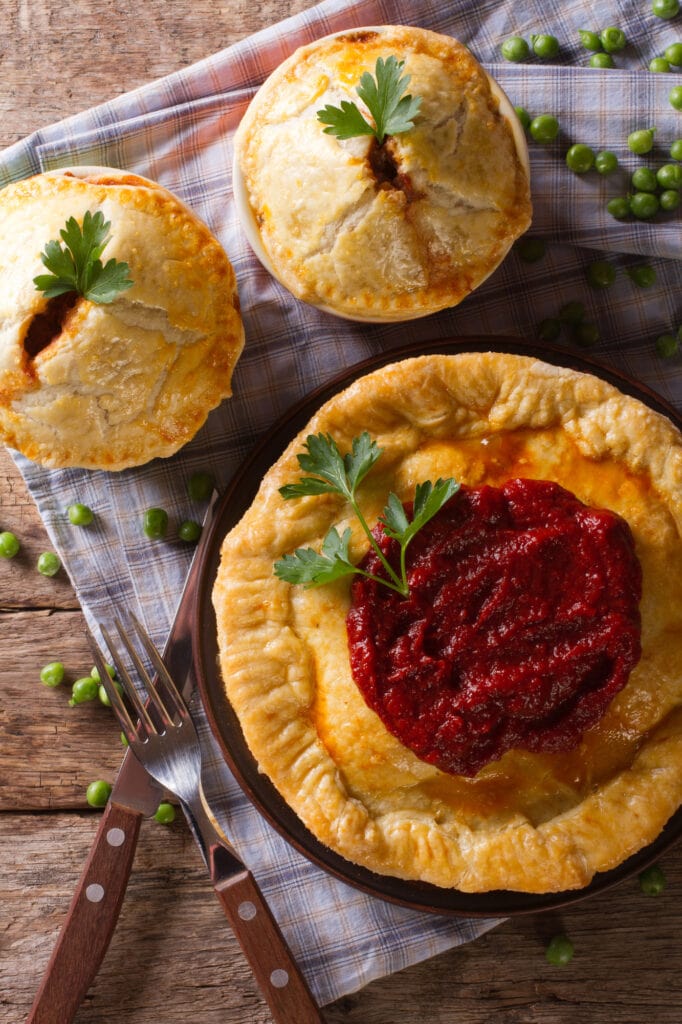 The first pie recipe was published by the Romans and was for rye-crusted goat cheese and honey pie. But pies were around during the middle ages, in order to keep the meat moist and stop all the juices dripping out the fillings were encased in a thick pastry crust. This crust was inedible and often handed out to the poor.
During Medieval times of England, they were called pyes. Instead of being a sweet dessert, they were mostly filled with meat like beef, lamb, wild duck, magpie, and pigeon and with simple spices of pepper, and salt, or currants and dates.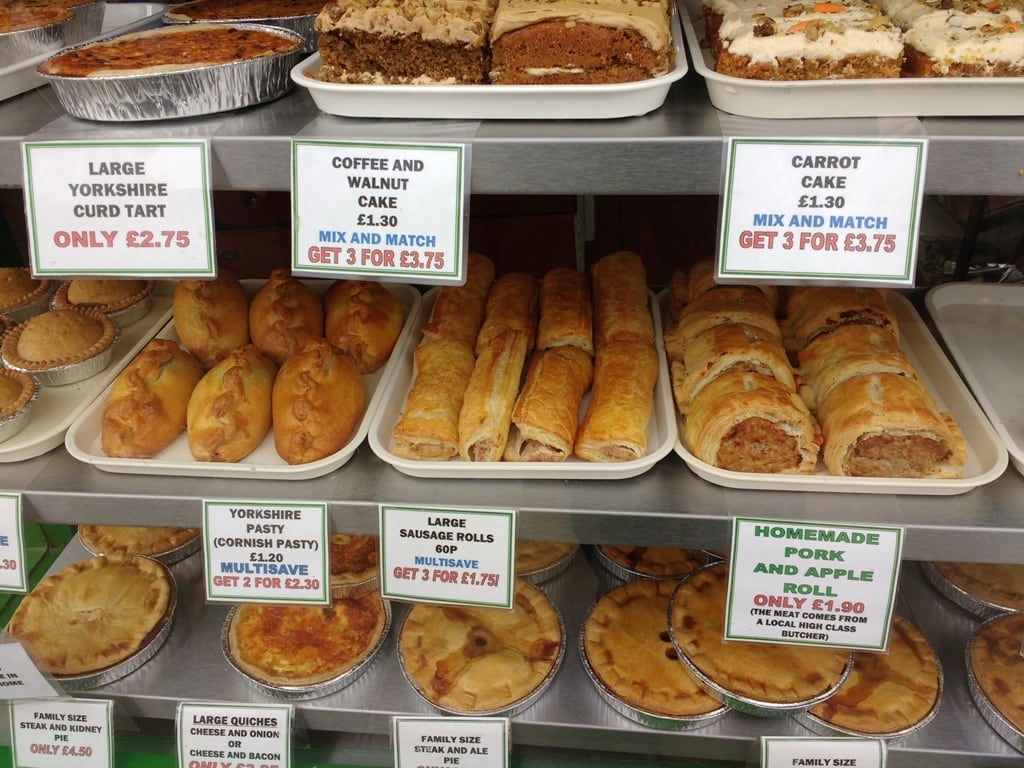 Historians like to trace the meat pie's origins to the Greeks. The Romans, on the other hand like their pies sweet. Meat pies were also part of Roman dessert courses but they had a sweet version called secundae mensea.
Pie came to America with the first English settlers. The early colonists cooked their pies in long narrow pans calling them "coffins" like the crust in England. As in Roman times, the early American pie crusts often were not eaten, but simply designed to hold the filling during baking. It was during the American Revolution that the term crust was used instead of coffyn.
26 handheld meat pies around the world
Nigerian Meat Pies – Nigeria West Africa
Nigerian meat pies are another hearty hand pie featuring ground meat, potatoes, carrots, and onions. Nigerian cooks adapted the Cornish pasty by adding an African curry spice blend and green bell peppers.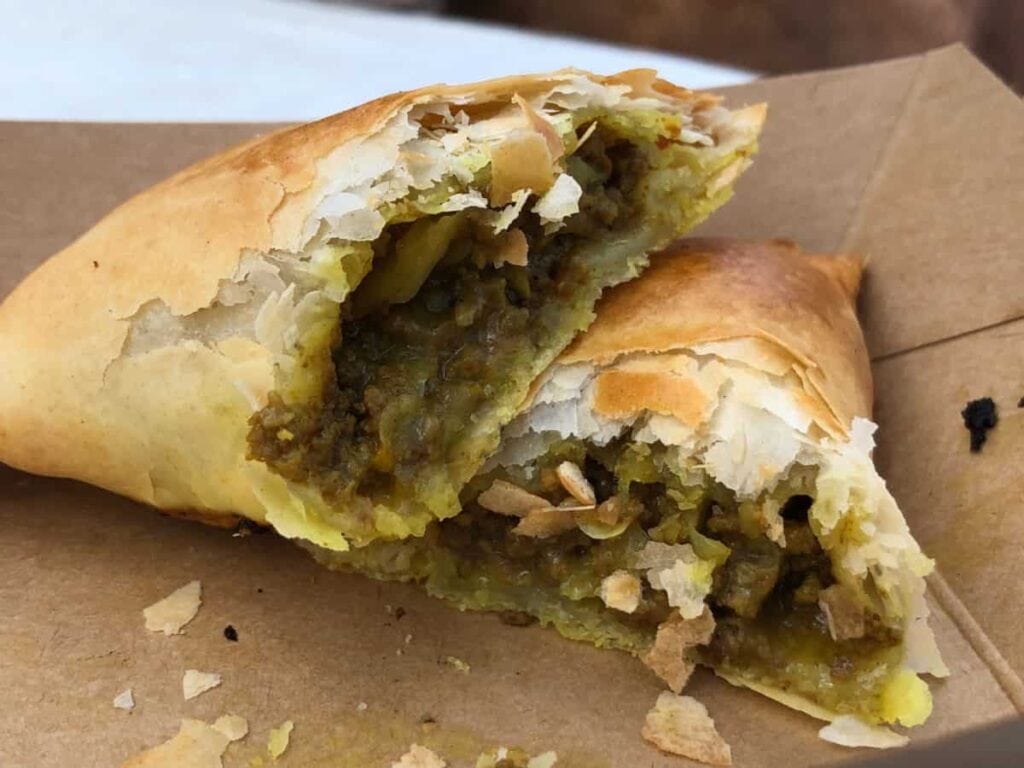 Zimbabwean meat pies – Zimbabwe Southeast Africa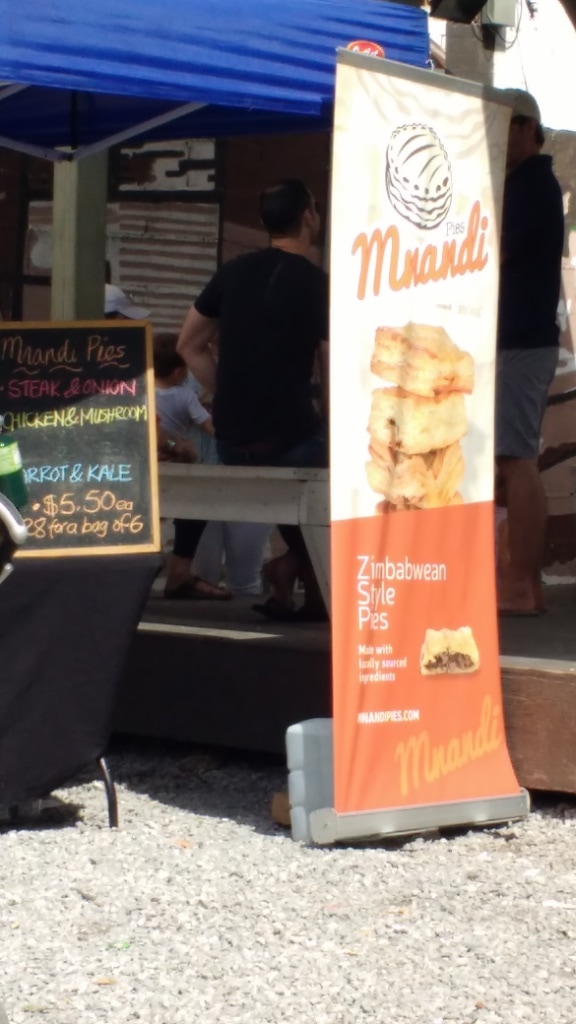 A simple meat pie that originated in Zimbabwe where the meats are cooked with a blend of spices called braai. Braai is primarily used in BBQ's throughout the southern African nations A warm but not spicy seasoning with the savouriness of nutmeg and cloves with a tinge of savoury thyme, oregano and sage. It's akin to a masala, which makes sense as Indians were brought over to southeast Africa by the British as indentured labourers in the 1800s.
Jamaican Patties
Although known throughout the world as Jamaican patties this little handheld pie can be found all over the Caribbean. The dough is a simple one and sometimes coloured with turmeric, it can also be baked or fried depending on which island it comes from.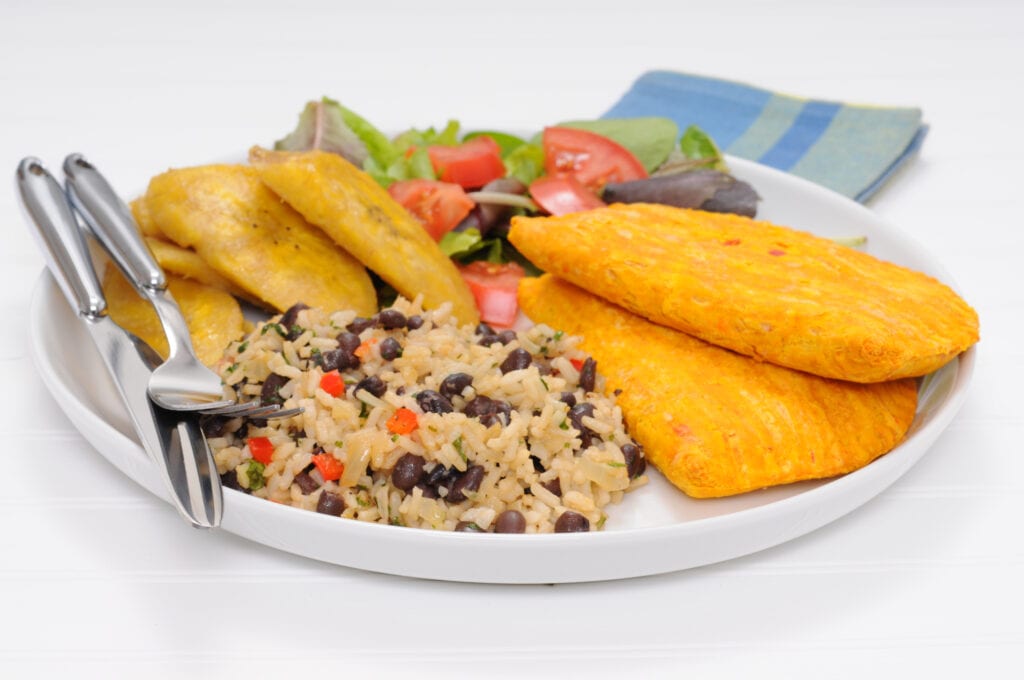 The pie fillings range from spicy ground beef to vegetarian and vegan versions. My memories of sitting on the beach downing several of these little pies is one of my fondest when visiting Antigua.
Chilean Empanadas
You may think empanadas are all the same but you would be wrong. The Chilean empanada combines the sweet and salty with ground beef, raisins, onions, black olives and hard-boiled eggs. There are of course many variations but this one is the most traditional and is called a Pino.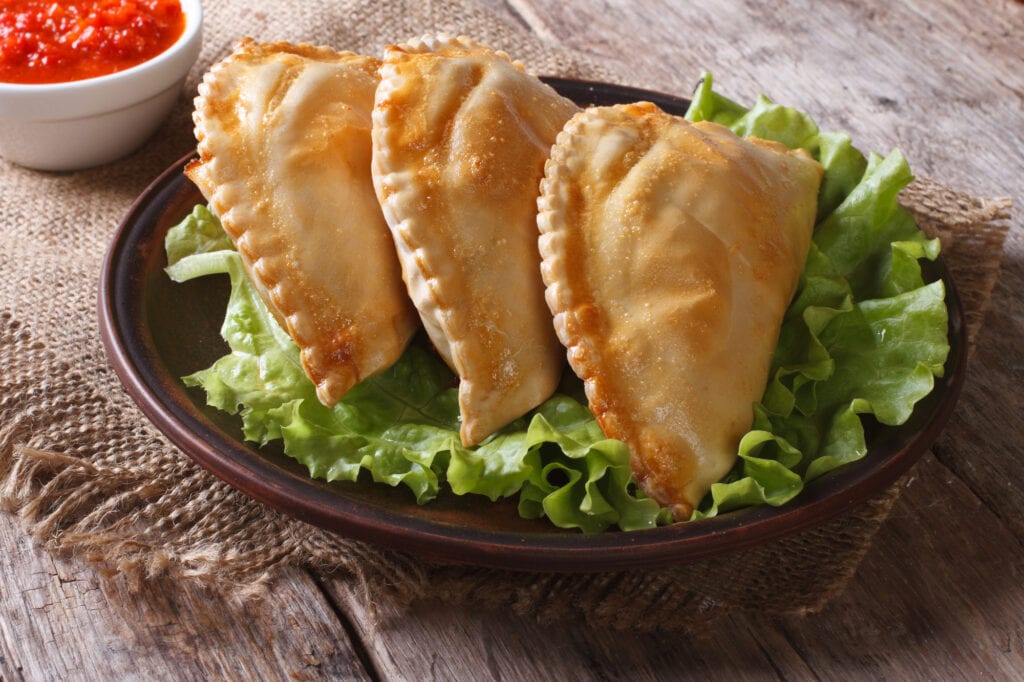 Colombian Empanadas
A Colombian empanada on the other hand is made of a cornmeal dough pastry stuffed with ground pork or beef, potatoes, garlic, cilantro, and onions. They are served with ají Picante, which is a thin Colombian hot sauce made of chiles, lime juice, and spring onions.
Salvadoran Empanadas
Salvadoran empanadas can be sweet or savoury, the savoury uses a corn or plantain crust which is flavoured with Annatto which turns the pastry a yellow or orange colour. The filling is usually ground beef or pork with cabbage, carrots, tomatoes, garlic, green beans or whatever vegetables are to hand.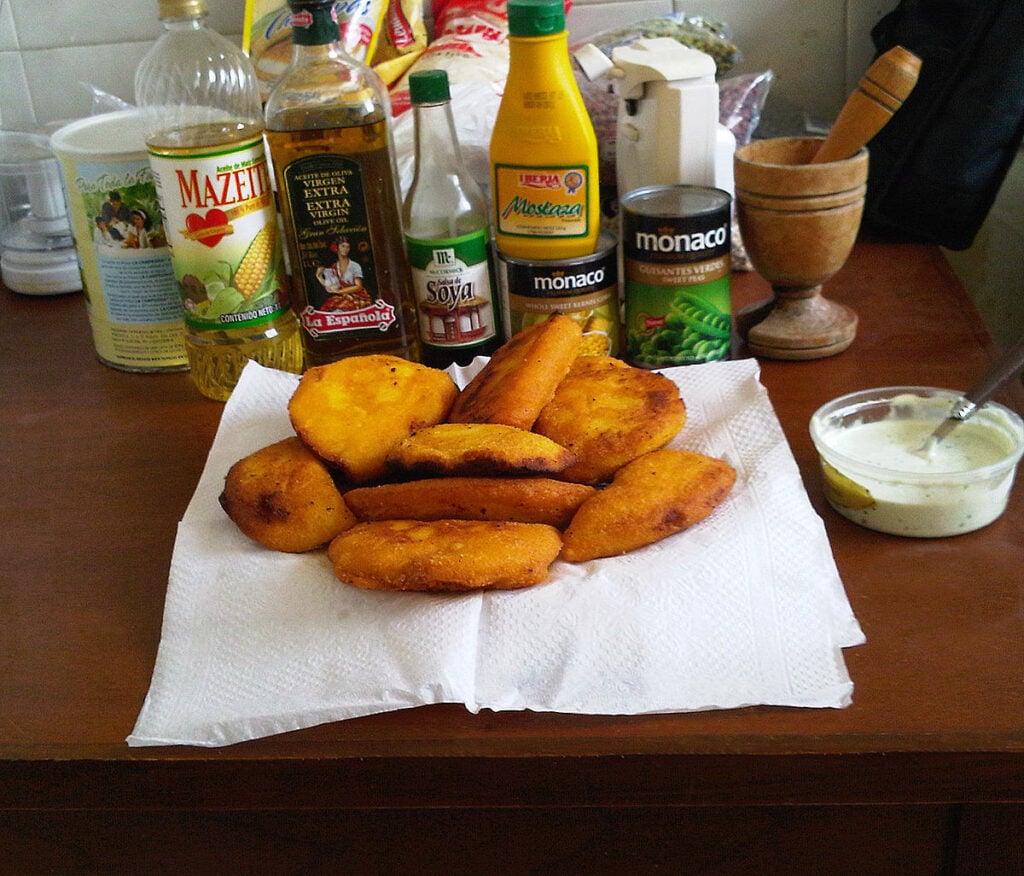 Piroshki – Russia
Piroshki, come from Russia and the Balkans, and the fillings are encased in soft yeasted bread. Piroshki hand pies are available in savoury or sweet versions. Savoury versions can contain any number of items from braised cabbage, lots of dill, ground beef with onion and hard-boiled eggs, mushrooms, cheese and onion. Sweet versions well any fruit combined with sugar, cinnamon, vanilla and spices like clove and nutmeg.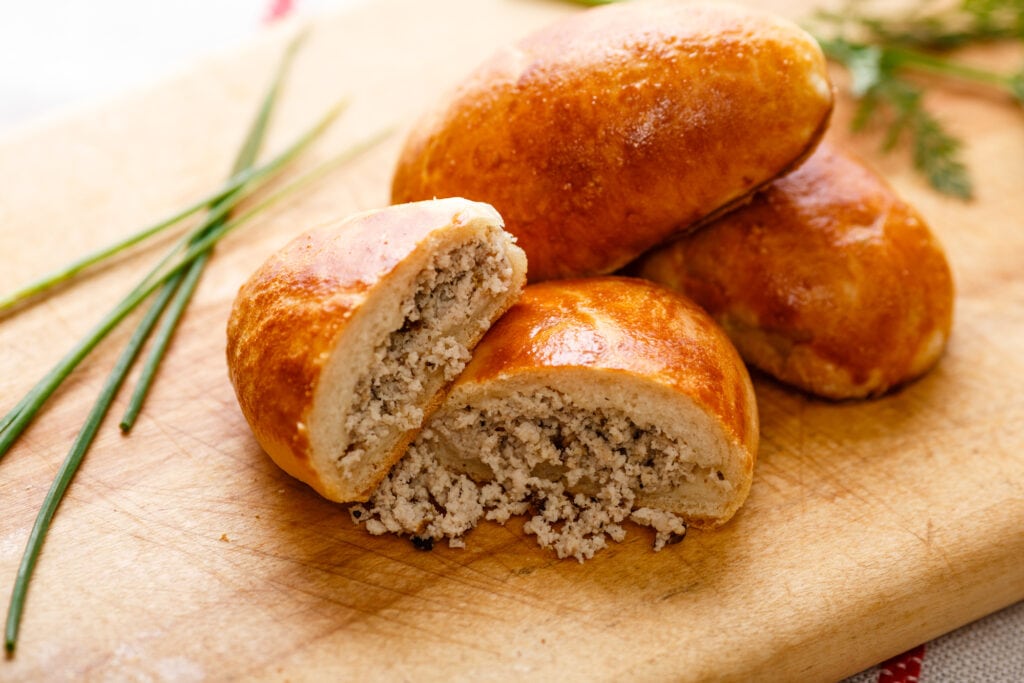 Salteña – Bolivia
The Salteña is a sort of baked empanada from Bolivia, they usually contain beef, pork, or chicken, and various vegetables. Where Salteñas differ from an empanada is in the gravy in which the meats and vegetables lie in. The stew is made and gelatin is added to make the stew almost hard when it sits in the fridge. When baked the gelatin releases created a lovely gravy and juicy filling.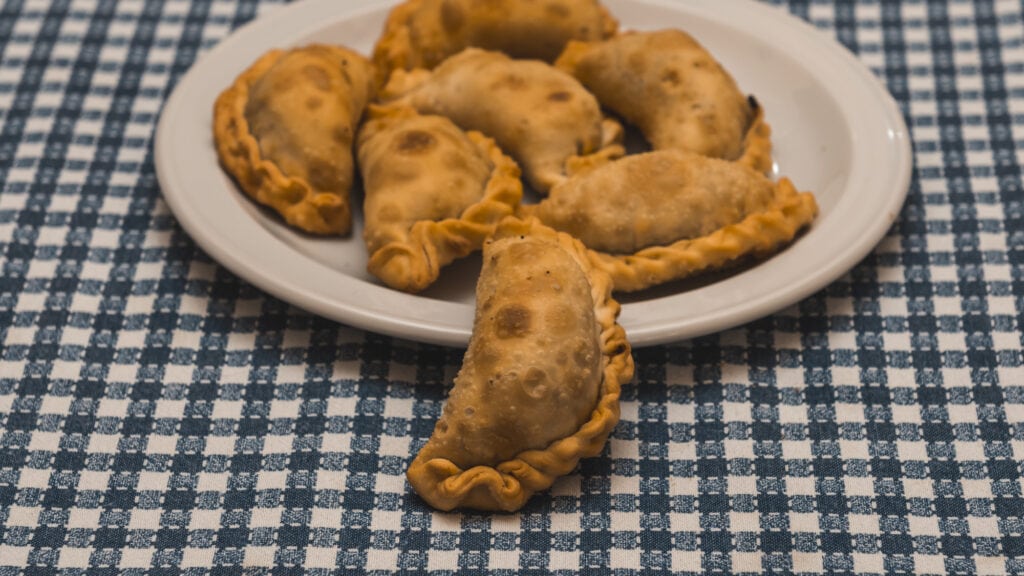 Calzones – Italy
Calzones originated in Naples as a casual, standing-on-the-street way of eating pizza, and they vary in terms of ingredients and techniques in different regions in Italy. Generally speaking, the dough is similar to pizza dough which is layered with ingredients like ham, mushrooms, cheese and tomato sauce. The dough is folded over the ingredients and pinched closed then baked. The panzerotti is similar but is fried instead of baked.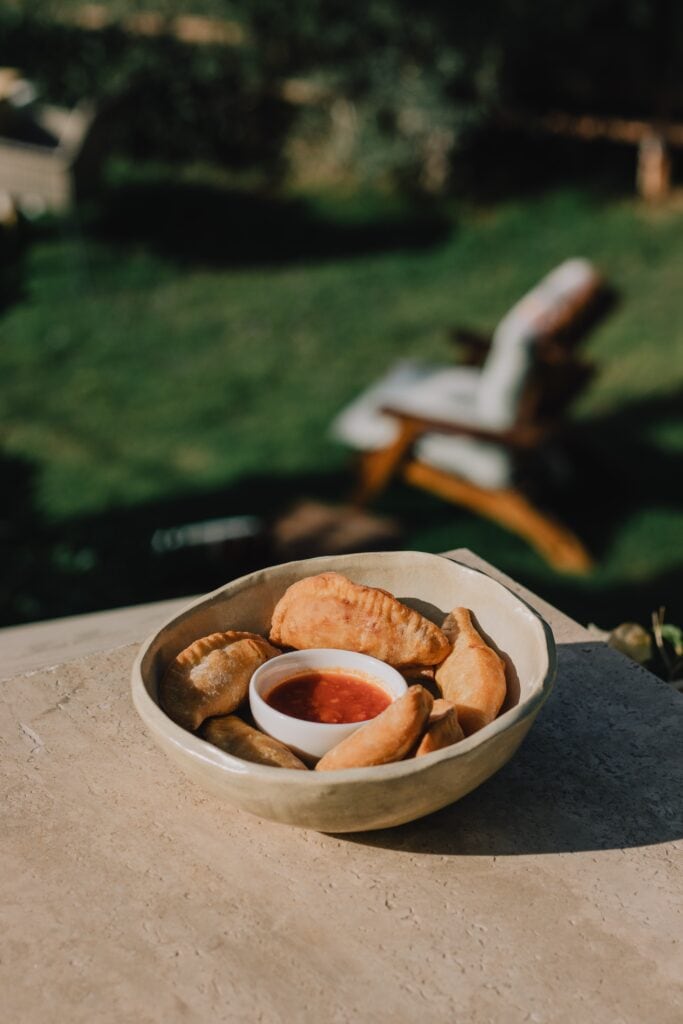 Sfeehas – Lebanon
A Sfeehas is a Lebanese savoury meat pie. Created with a yeasted dough these little hand pies are filled with lightly spiced ground beef with onions, garlic, and spices and sometimes flavoured with pomegranate molasses.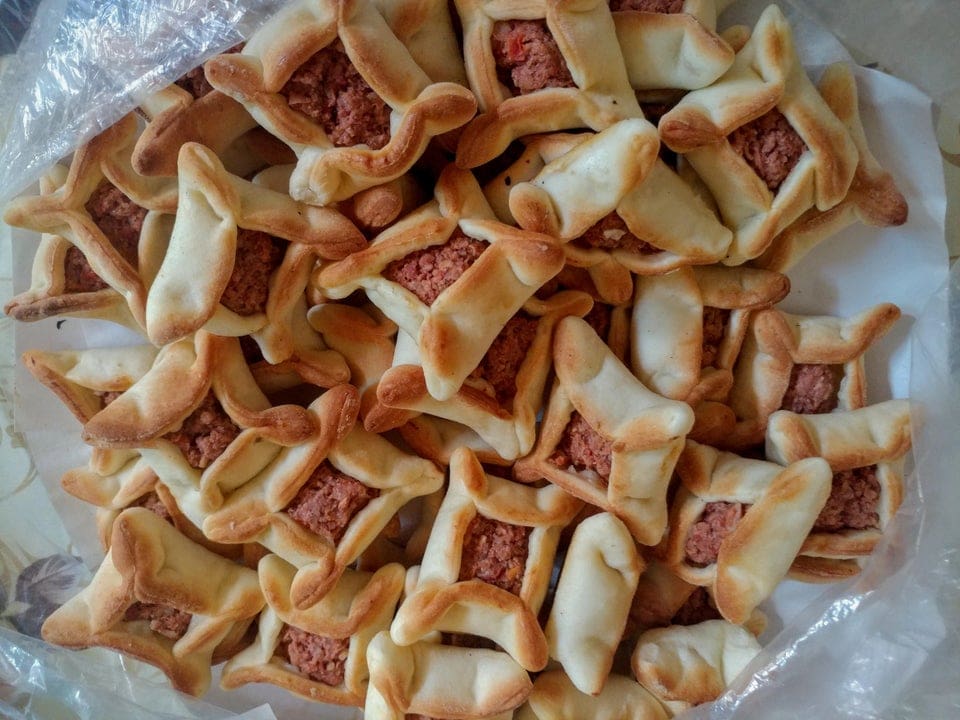 Bánh Patê Sô – Vietnam
Based on the French Pâté Chaud which is a French pork pate the Bánh Patê Sô is a simple puff pastry surrounding a pork pate. In some areas, other ingredients such as vermicelli noodles, fish sauce, cilantro and carrots are added to the pate mix filling.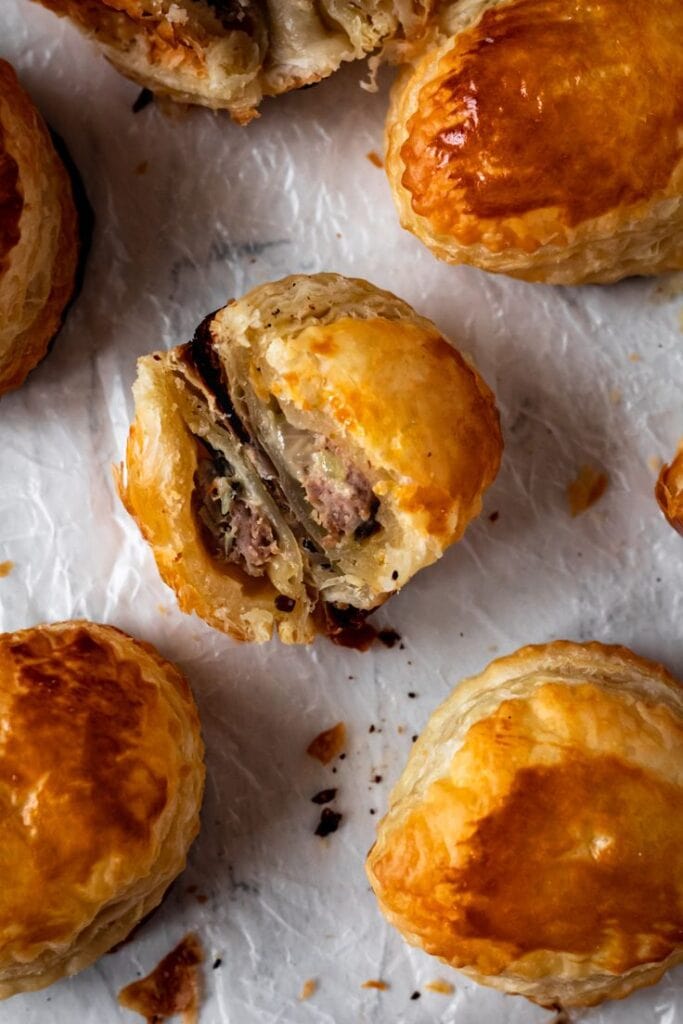 Bureks – Turkey
Who doesn't love a Burek? A golden filo pastry enclosing a lightly spiced beef mixture or how about one filled with spinach and cheese – heavenly. Bureks can come in a coil shape, triangle or even cigar-shaped. Bureks originated in Central Asia. Then it was adopted by the Ottoman Turks and spread through their military empire. Other variations of burek exist in North Africa, namely in Tunisia and Algiers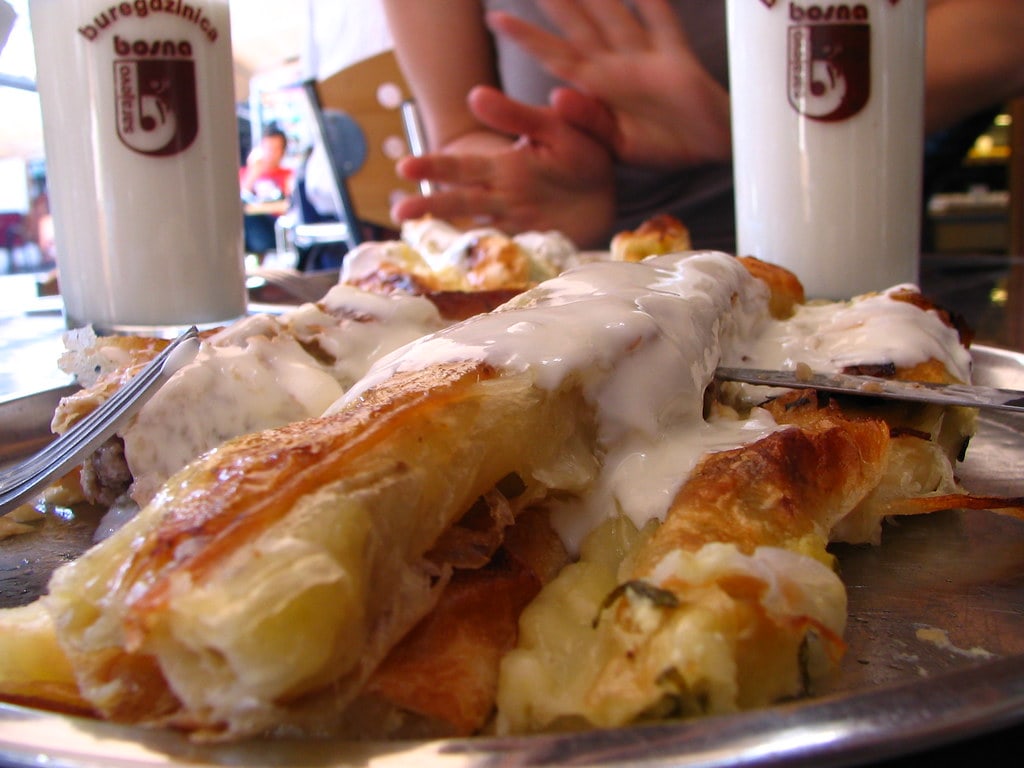 Natchitoches Meat Pies – USA
A traditional hand pie from Louisiana and the state's official food. Named after the town that invented them they are filled with a mix of pork and beef and seasoned with oregano, thyme, paprika and of course salt and pepper. These are fried hand pies that you will find all over Louisiana.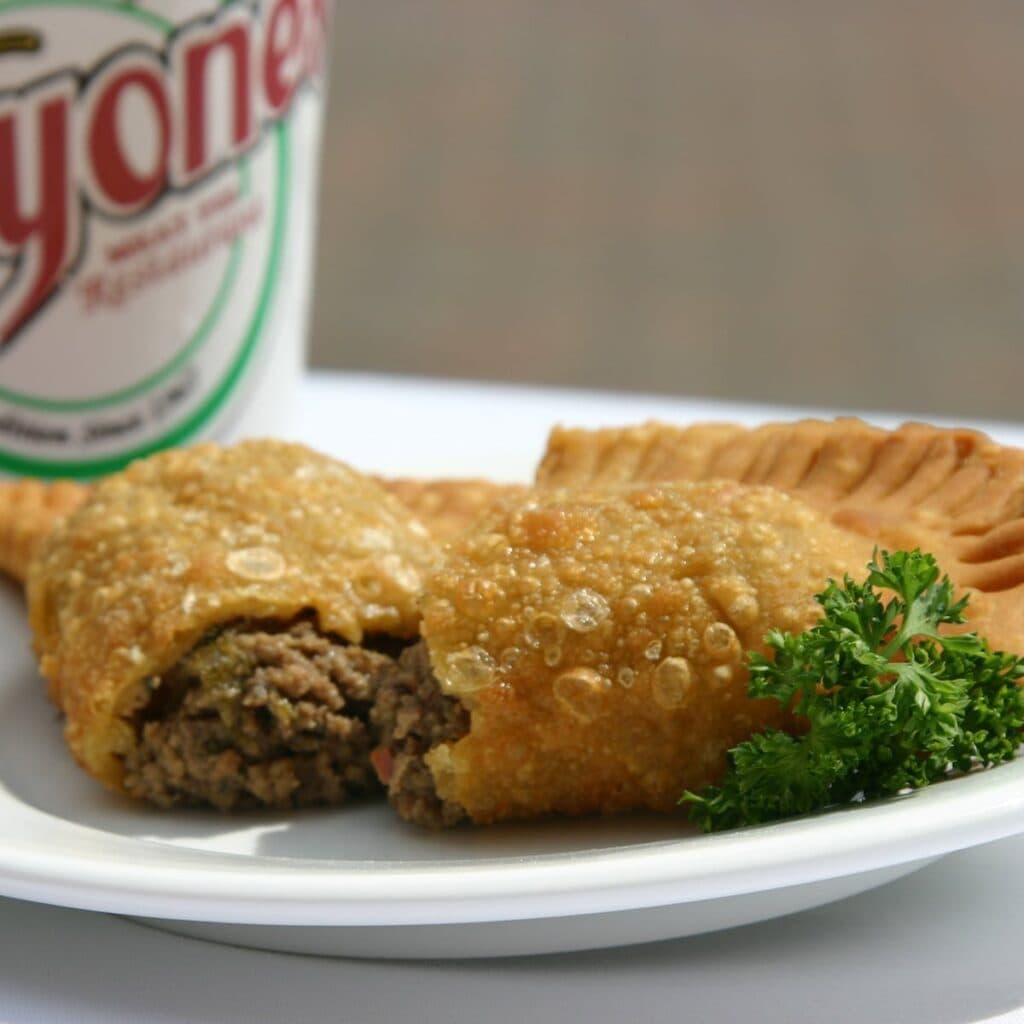 Bedfordshire Clanger – England
A double-duty hand pie the Bedfordshire Clanger is a long suet crust pie with a sweet filling on one end – usually jam or fruit and savoury on the other. Talk about needing no cutlery – dessert and mains in one pie.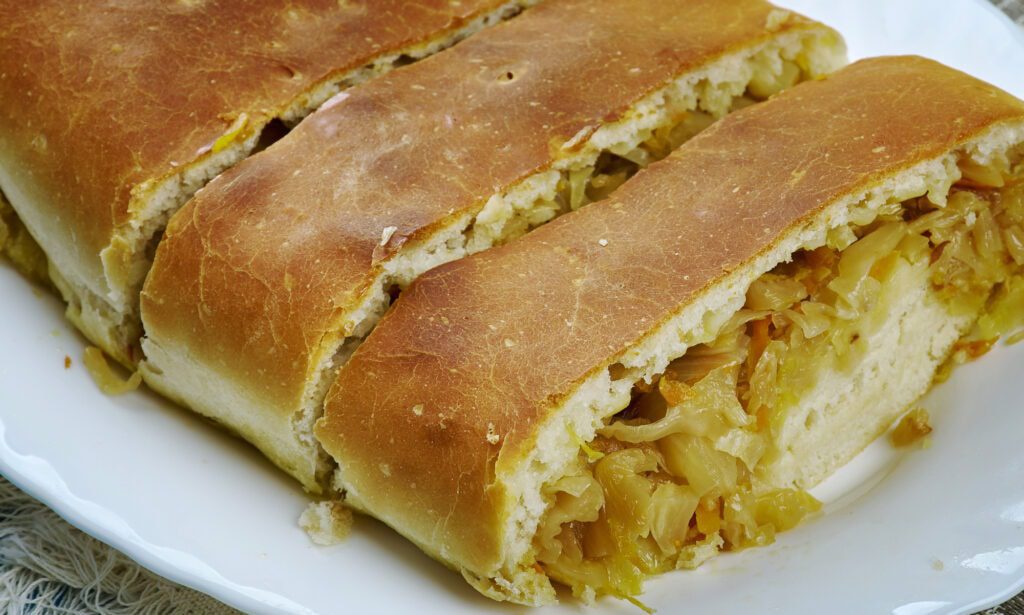 Aloo pie – Trinidad
Very similar to the Samosa which is more than likely its ancestor the Aloo pie is a fried hand pie whose pastry is made of simple flour and water dough. The filling is spiced, boiled mashed potatoes and other veg such as green peas and onions.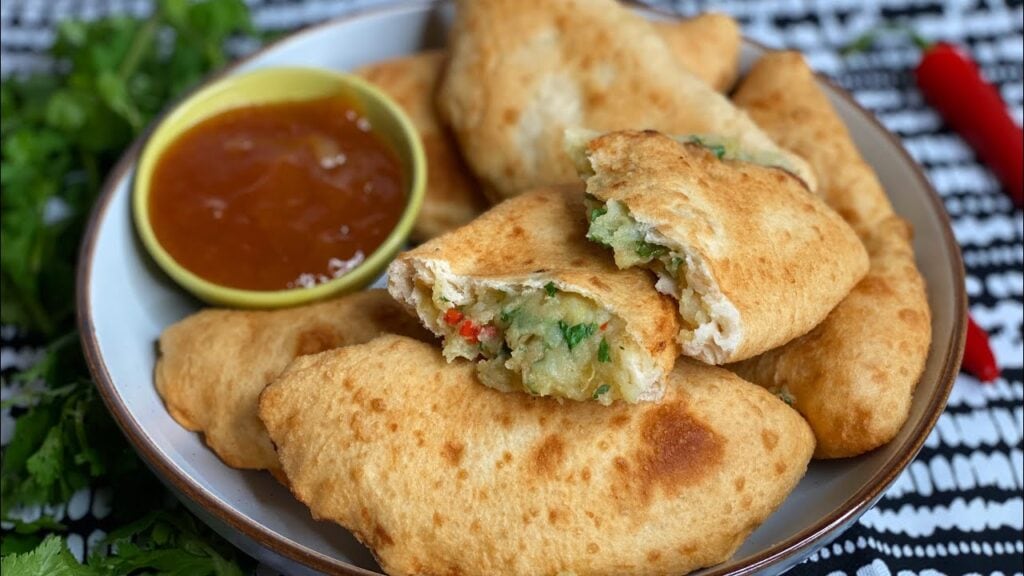 Bougatsa – Greece
This pastry, made of phyllo dough and vanilla cream with semolina, is also available in several savory versions. Similar to a burek with filo pastry the bougata can be sweet or savoury.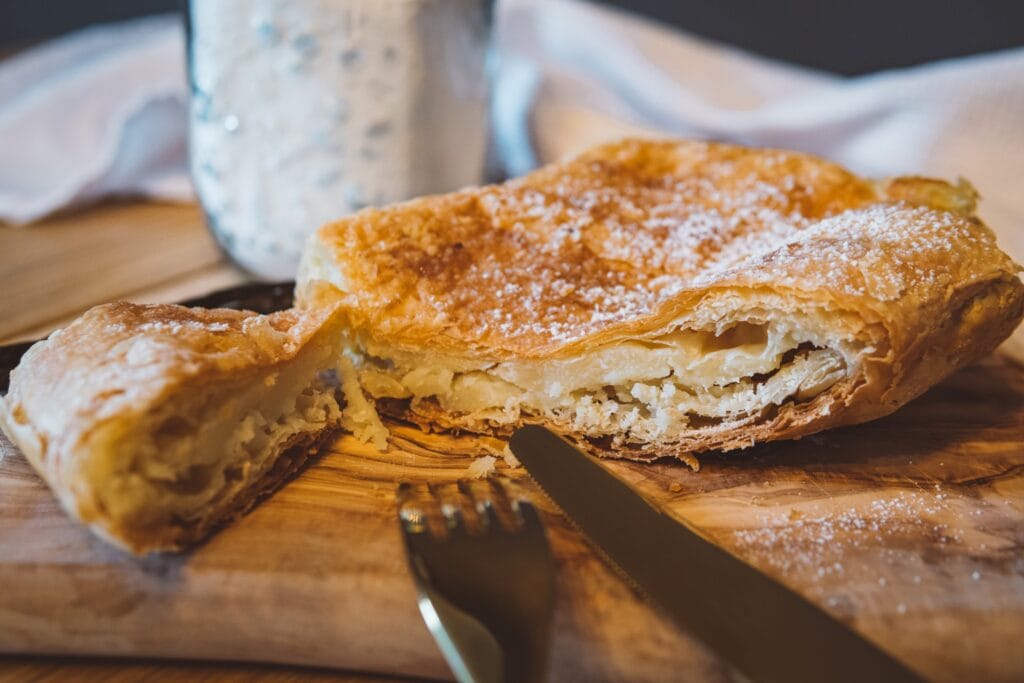 Bridie – Scotland
A small Scottish hand held pie to enjoy filled with minced steak, butter, onions and beef seasoned with salt and pepper. The name apparently comes from the pies being served at weddings or possibly to Margaret Bridie who sold the pies at the Buttermarket in Forfar.
Öçpoçmaq – Russia
The Echpochmak or Öçpoçmaq as it is called in Russia is a savoury triangle of pastry filled with minced beef, onion and potatoes. This is considered the Tartar national dish.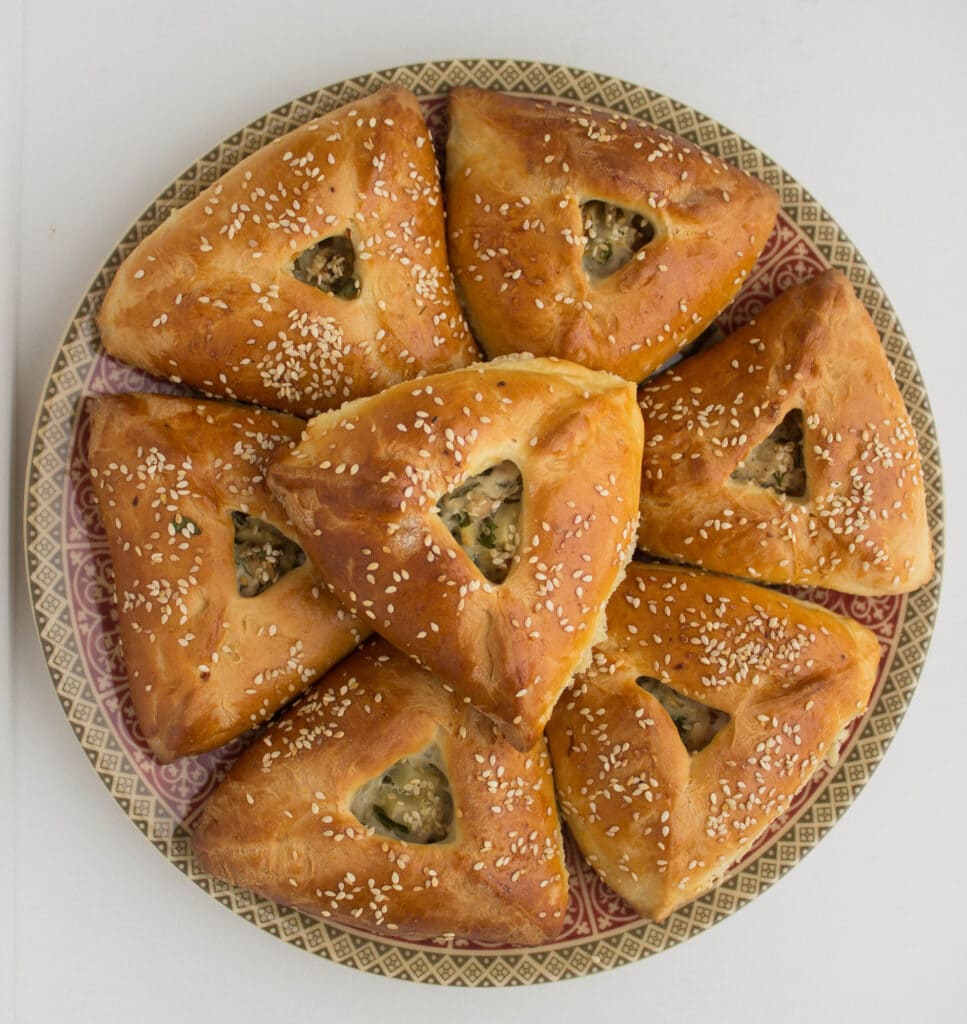 Cornish Pasty – Cornwall U.K
A simple shortcrust pastry enclosing beef chunks, potato, swede (turnip)and onions and simply flavoured with salt and pepper. Don't call it a hand pie or the Cornish may get insulted.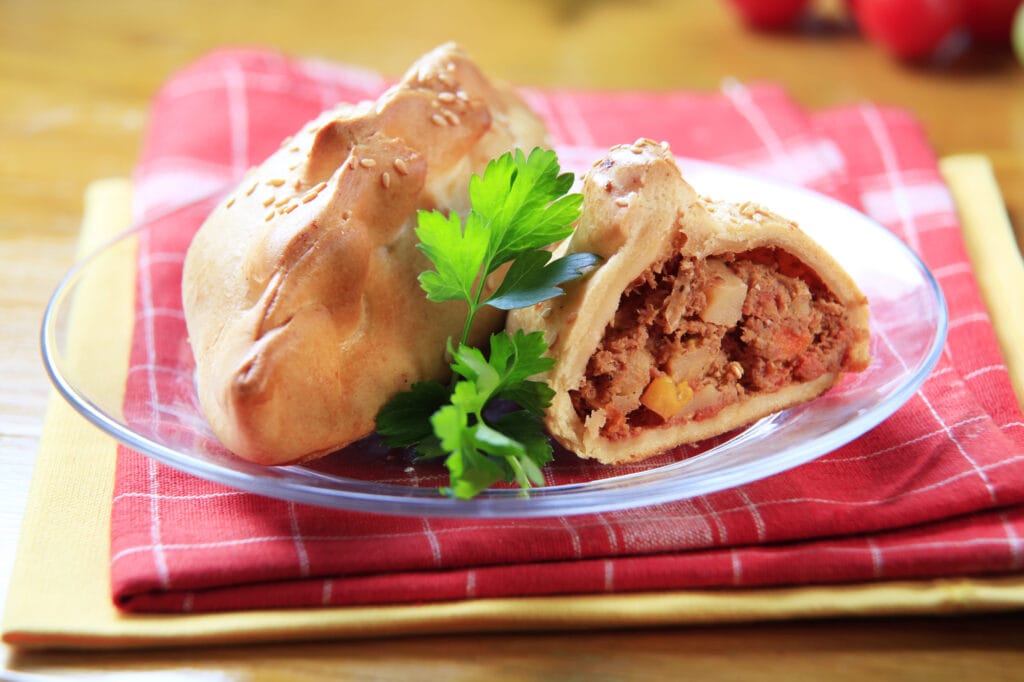 Empanada vs Cornish pasty? Empanadas are usually semi-circular, while pasties are crescent-shaped. Empanadas have a variety of fillings, including meat, cheese, and fruit, while traditional Cornish pasties contain diced beef, potatoes, onions, and rutabaga (turnip or swede in England).
Samosa – India
The samosa which is believed to be Indian is actually from Iran according to history. A samosa is a triangular pastry made from maida flour which is white wheat flour that can be substituted with all-purpose flour. They are stuffed with various fillings from the vegetarian with potatoes, onions, carrots and peas to lentils, chillies, curry blends and ground beef fillings.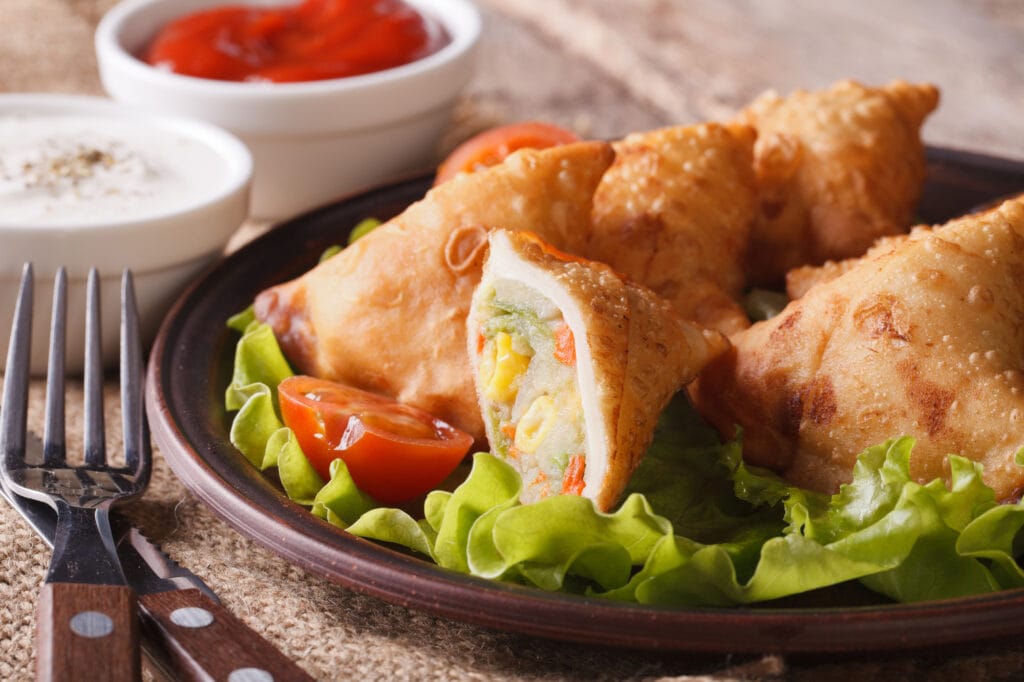 Spanakopita – Greece
You may not think spanakopita is a hand pie but it can be when it is a filo-filled snack full of layers of onion, spinach, feta cheese and sometimes egg. Biting into a handheld spanakopita and watching that lovely flaky filo go everywhere is a true Greek treat.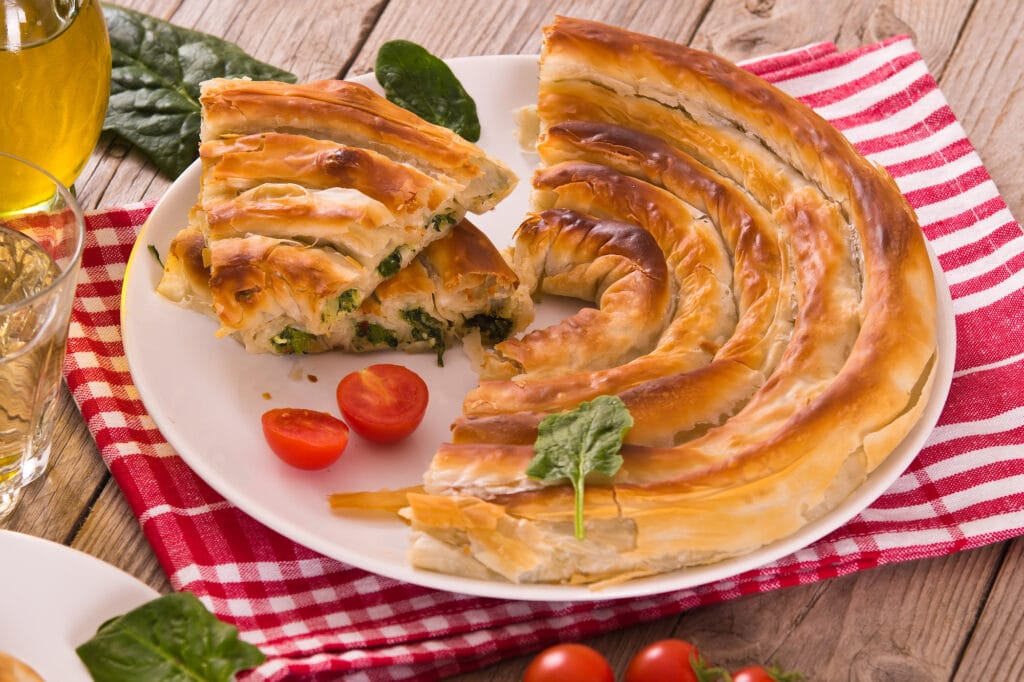 Xian Bing – China
The xian bing originally comes from the western city of Xi'an you may not think of this as a hand pie but this dumpling-shaped bun has a dough made from flour and water and salt. The meat for the filling is marinated in spices, soy sauce, and onions. The meat filling is then stuffed into the pastry, flattened and fried.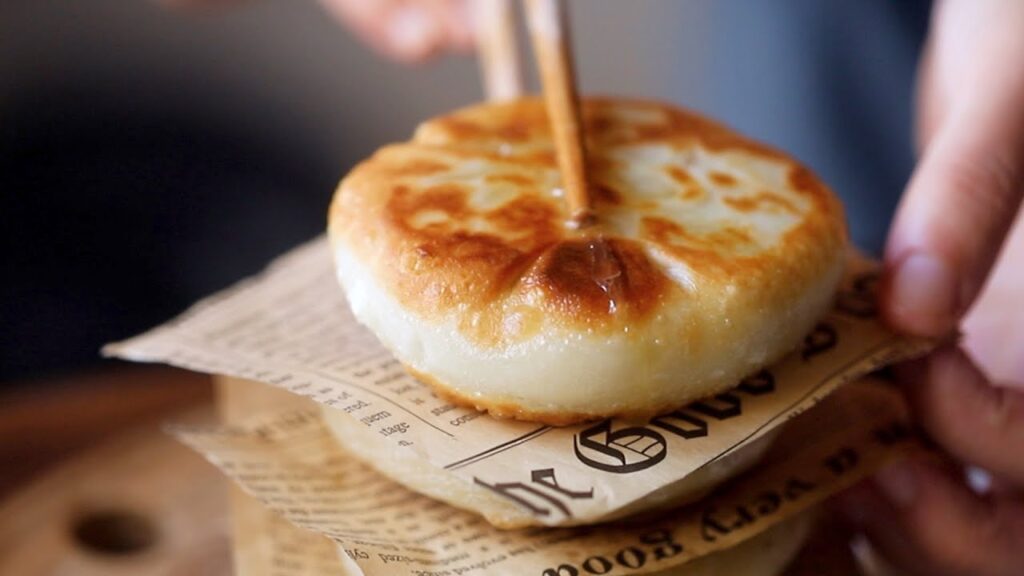 Meat Pie – Australia & New Zealand
Mention grabbing a meat pie to an Aussie and watch them grin from ear to ear. More of a real pie shape than traditional hand pie the Meat Pie is a simple snack with its shortcrust pastry stuffed with – you guessed it meat. Usually served with ketchup it is a national obsession.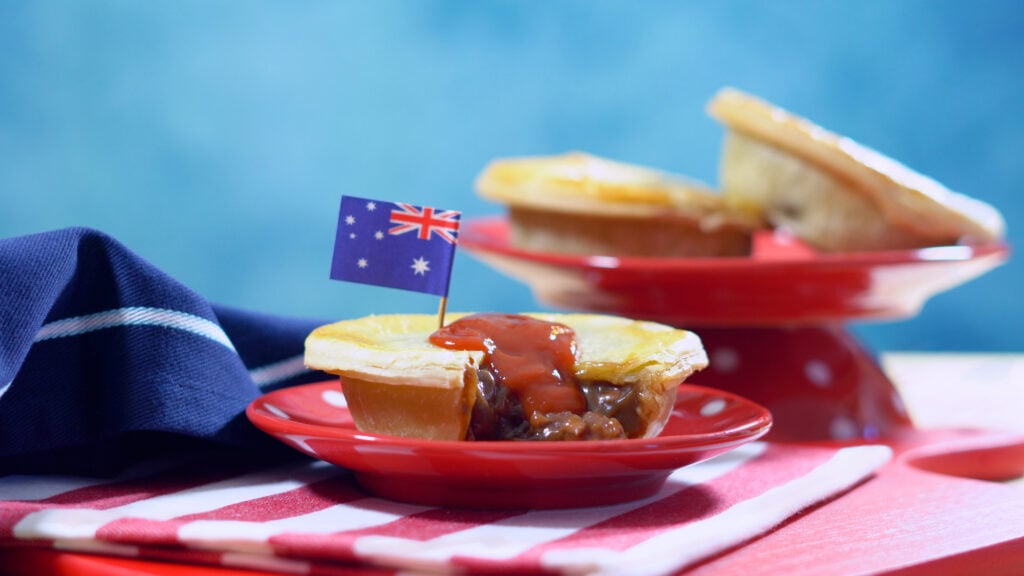 Pork Pies – England
Again not a traditional quarter moon-shaped pie but a hand pie nevertheless. The iconic British pork pie has been around since it was invented in 1390. Modern pork pies are a direct descendant of the raised meat pies of medieval cuisine, which used a dense hot water crust pastry as a simple means of preserving the filling. Its perfectly formed round shape makes a perfect pocket-shaped snack.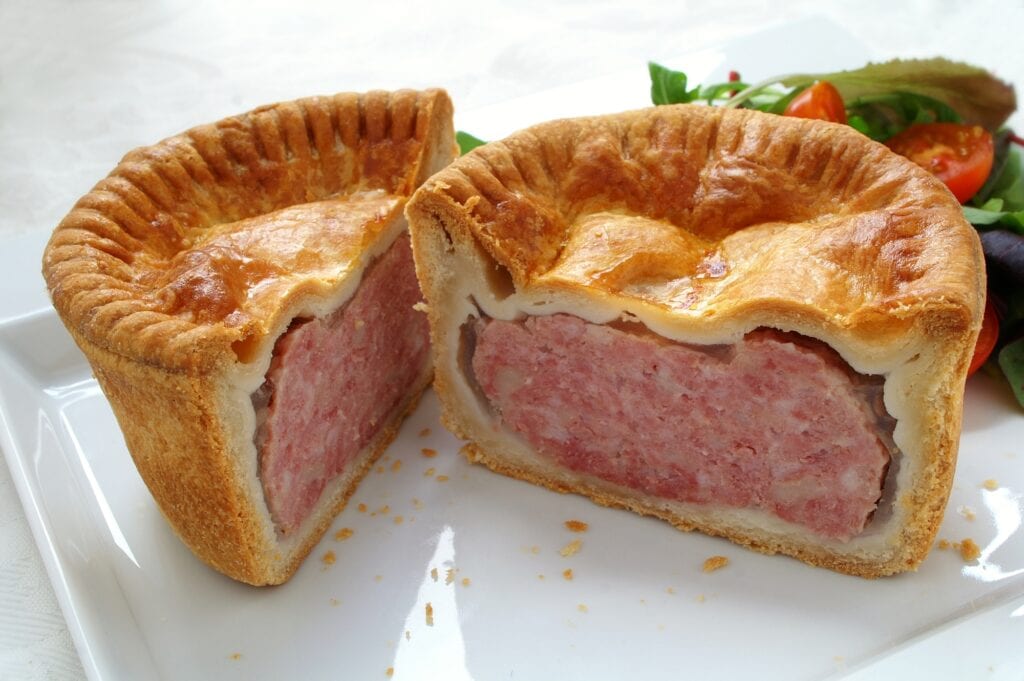 Pie Mash – England
Traditional British comfort food that was once a staple of London's working class in the city's East End. It consists of a minced-beef filling (historically, leftover scraps of meat and vegetables) baked in a pastry crust and served with mashed potatoes and a thin green parsley sauce called liquor (which actually contains no alcohol). Since the 19th century, a common side dish has been jellied eels, and the liquor sauce was traditionally made with the liquid left over from stewing or boiling the eels.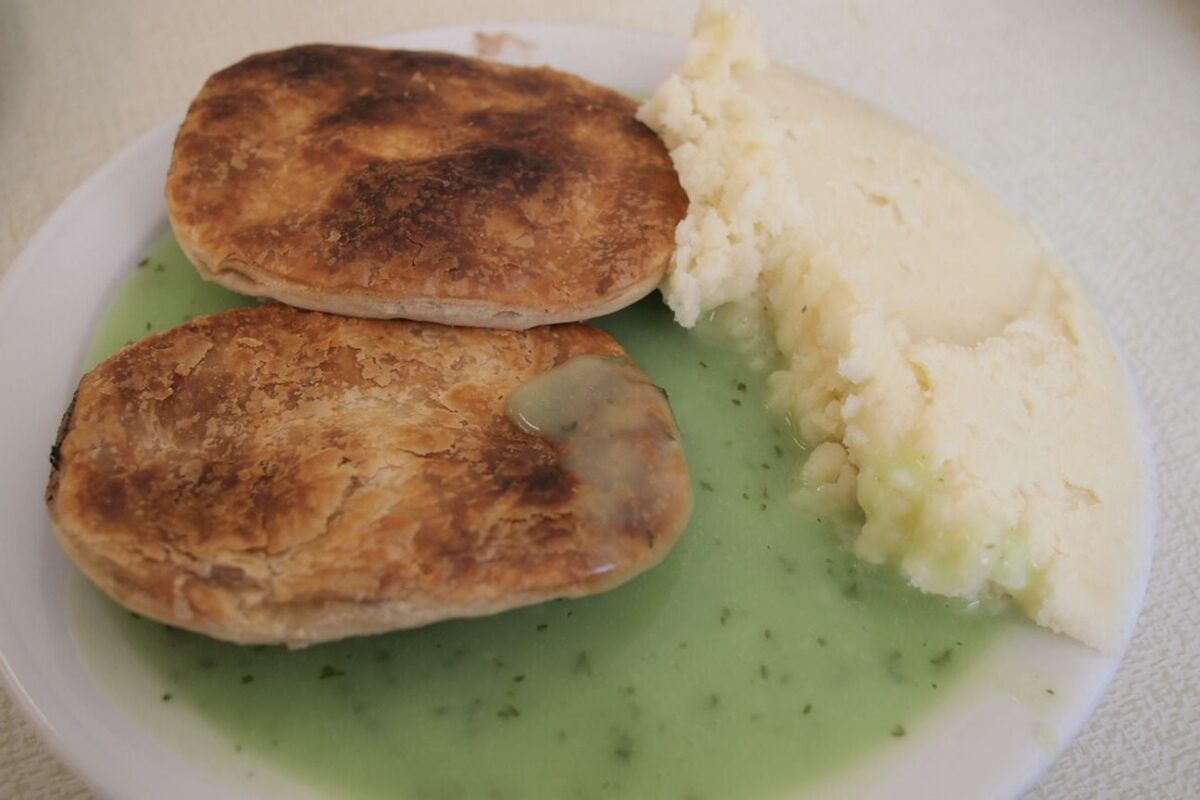 Scotch Pie – Scotland
Mutton pie or Scotch pie is the traditional pie of Scotland, with a well-seasoned minced mutton filling packed inside a crisp pie shell and topped with pastry.
The difference between a Scotch pie to other mince pies is the pastry, called "hot water pastry". It's more like a crust rather than a flaky pastry.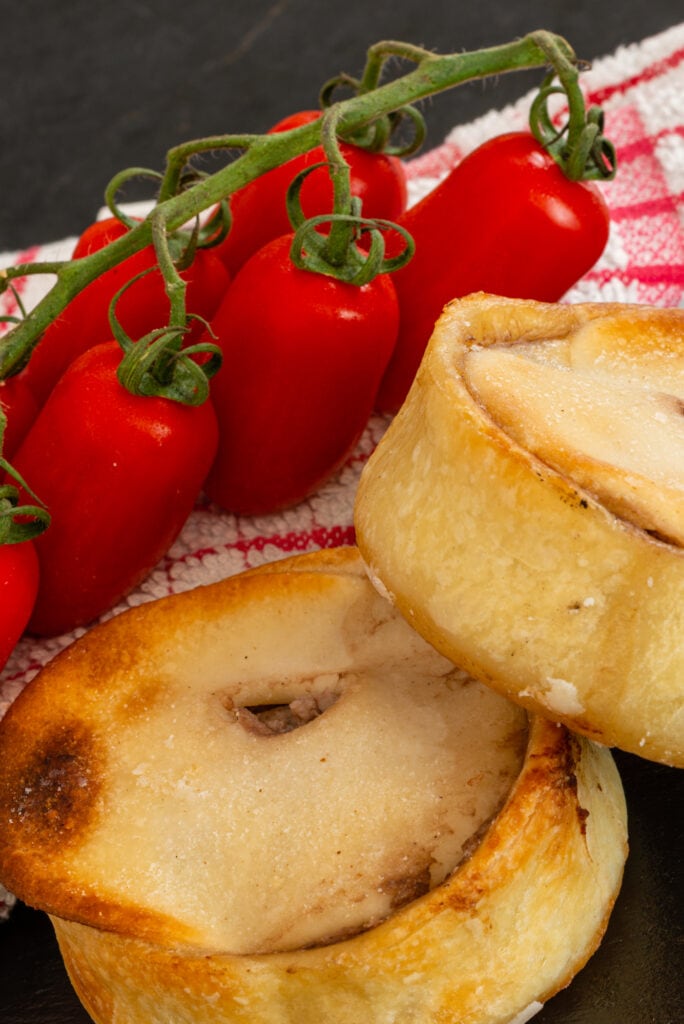 There are of course many sweet hand pies from the deep-fried Apple Pies you can find at McDonald's to any number of sweetly satisfying fried pies found in the deep south of the USA.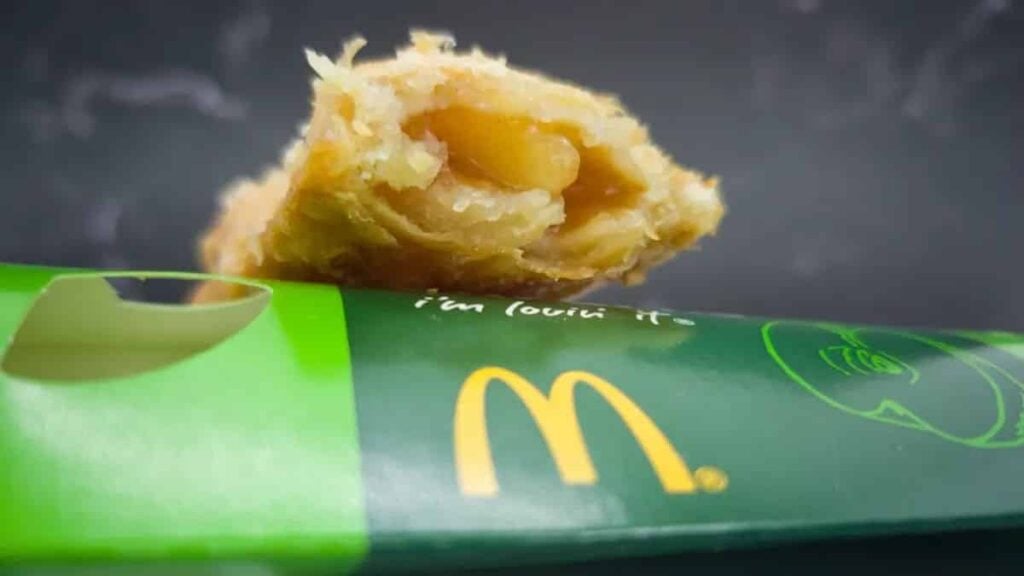 Fiadoni Dolci con Ricotta – Italian ricotta Easter pies
These Easter hand pies have an oil-based pastry dough encasing a lightly sweetened ricotta filling. Wikipedia defines fiadone as large sweet ricotta-stuffed ravioli, served mainly at Easter.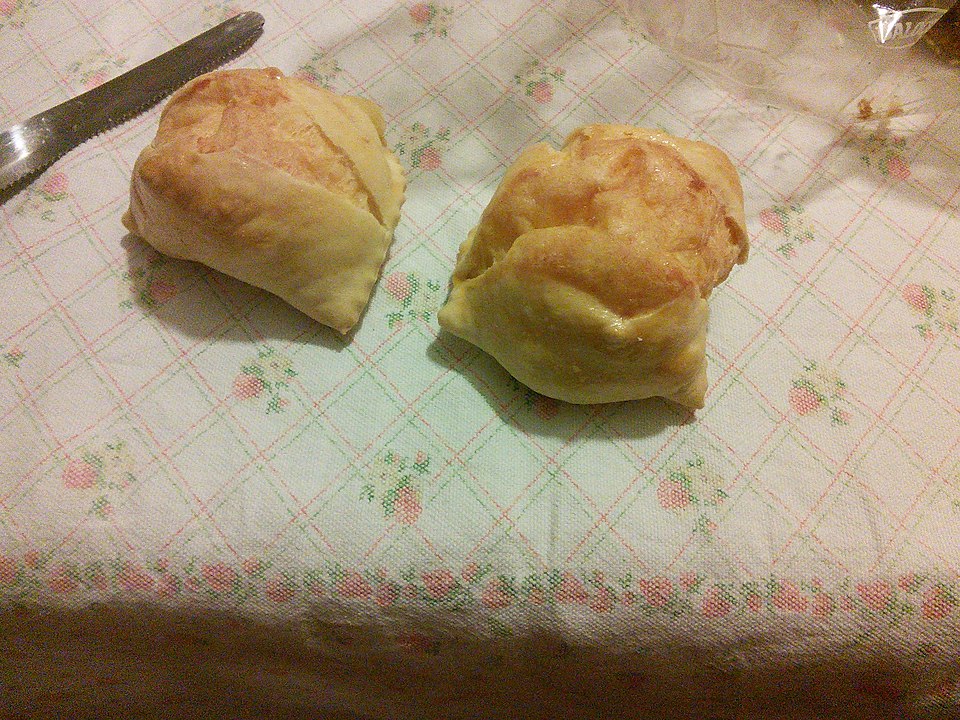 Have you found any handheld pies on your trips around the world?
If you love food you might also like these articles
Scottish foods – 53 Scottish favourites
25 Traditional Welsh food dishes
47 of the best traditional Canadian foods
Armenian food – 45 Armenian dishes you must try
Traditional food of Iceland – 36 dishes to try
Bosnian Food – 33 delicious dishes you must try
BBQ in the USA Where to find some of the best
Pin it to save it