Scottish foods: Fabulous Scottish cuisine to enjoy
Scotland land of kilted warriors, risqué and side-splitting comedians – think Billy Connolly, fabulous musicians – think the Proclaimers but not food. The food of Scotland is probably best known for caloric treats such as deep-fried Mars bars and Scottish dishes like haggis.
But you might be surprised by the delights of traditional Scottish foods, fresh wholesome free of preservatives and additives and local – very local. Scottish cuisine has come a long, long way from the deep-fried Mars Bar but you will still see that everywhere.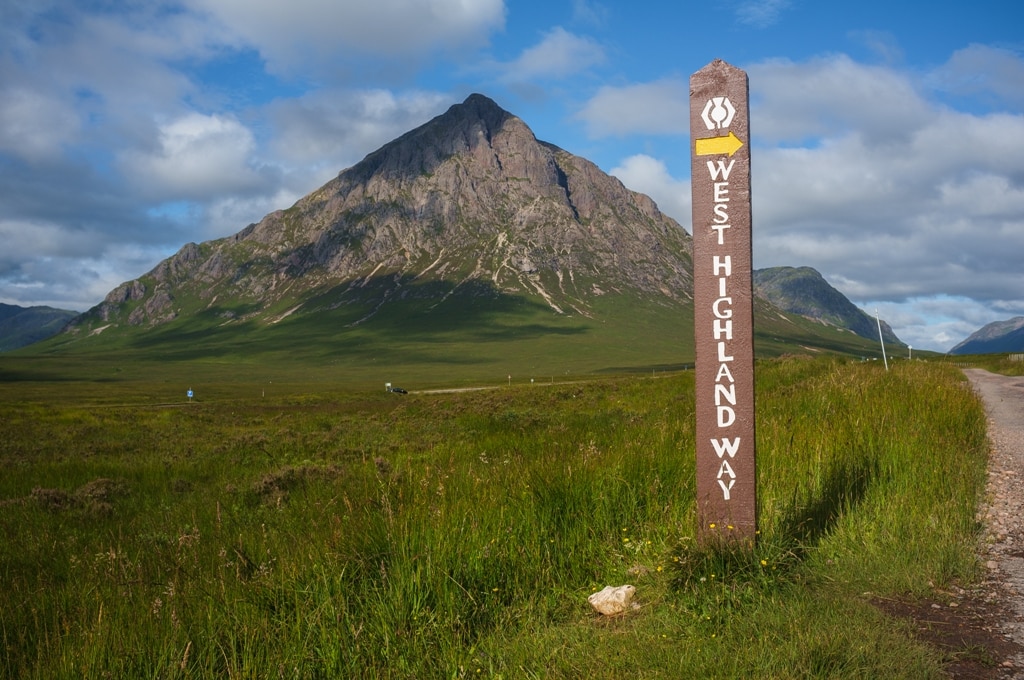 Scotland is a country steeped in history, culture and tradition. From the breathtaking landscapes to the iconic bagpipes, Scotland has always been known for its rich heritage. One of the many ways this heritage is expressed is through Scottish cuisine. With an abundance of fresh produce and a long-standing culinary history, Scottish food has become world-renowned for its unique taste and quality ingredients.
Famous Scottish food and drink include things like Haggis and Whiskey but Scotland has a lot more to offer when it comes to Scottish cuisine. Scotland's beef is superb. Although you might not know it, Scotch beef is recognised as some of the best in the world. It is now worth more than £400 million a year to the Scottish economy and is the single most important sector of Scottish agriculture.
Xyuandbeyond is reader-supported. When you buy through links on our site, we may earn an affiliate commission. You can read my privacy policy here.
History of the food of Scotland
History and Archaeology tell us that the first people arrived in Scotland in the North around 800 to 1000 BC and they were known as the Picts. The ancient Picts were hunter-gathers as were the Celtic people that came next.
Archaeologists studying the remains of Pictish longhouses in Glen Shee have turned up evidence that the early Picts were growing rye, barley and wheat or oats with a large number of cattle, and some sheep also kept. Crucially, it is believed the three houses were byre houses, which were split into large enclosures for wintering cattle with a smaller living area for the farmers.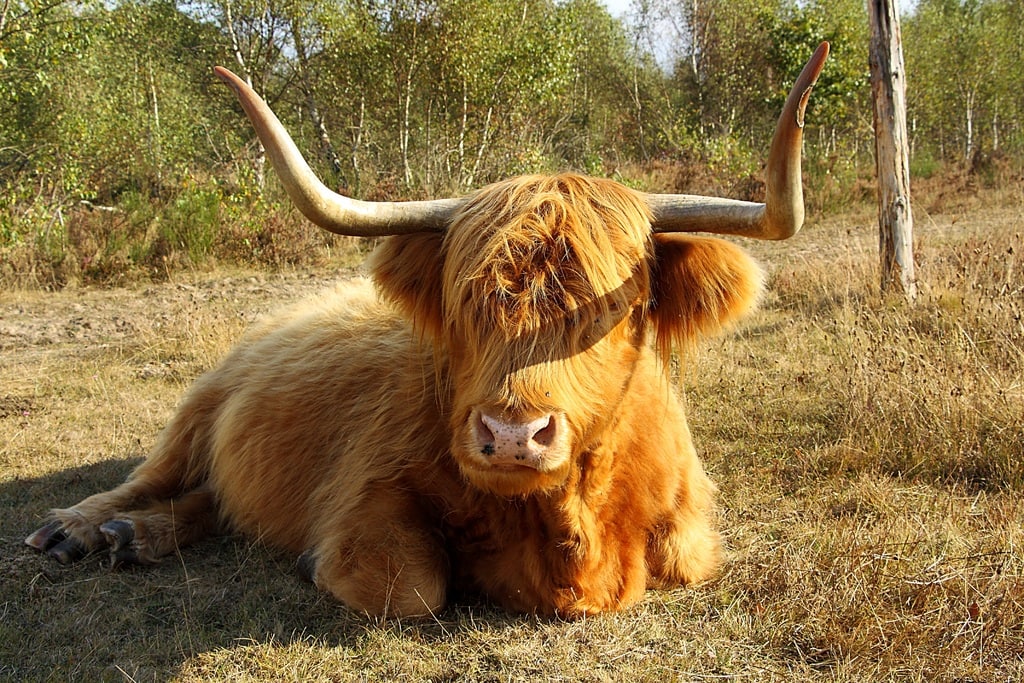 Thanks to the rains of Scotland it also has incredibly fertile soil for growing crops that included bere (a form of barley), oats and sometimes wheat, rye and legumes. The more extensive outfields were used largely for oats. The most important European crops grown during the medieval period were barley, oats, rye, and wheat. Various vegetables were grown along with apples, cherries, and some root vegetables such as turnips (neeps), and cabbage.
The arrival of the Vikings in Scotland – the first raid of Scotlands' northern isles is believed to have happened at the end of the 8th century and this new food culture added new ways of preserving and cooking the food available to the Scots.
These new methods included both the method of smoking to preserve foods with salting. It is also suggested by historians that the Aberdeen Angus cattle began with cows brought to Scotland by the Vikings along with rabbits which became a popular food.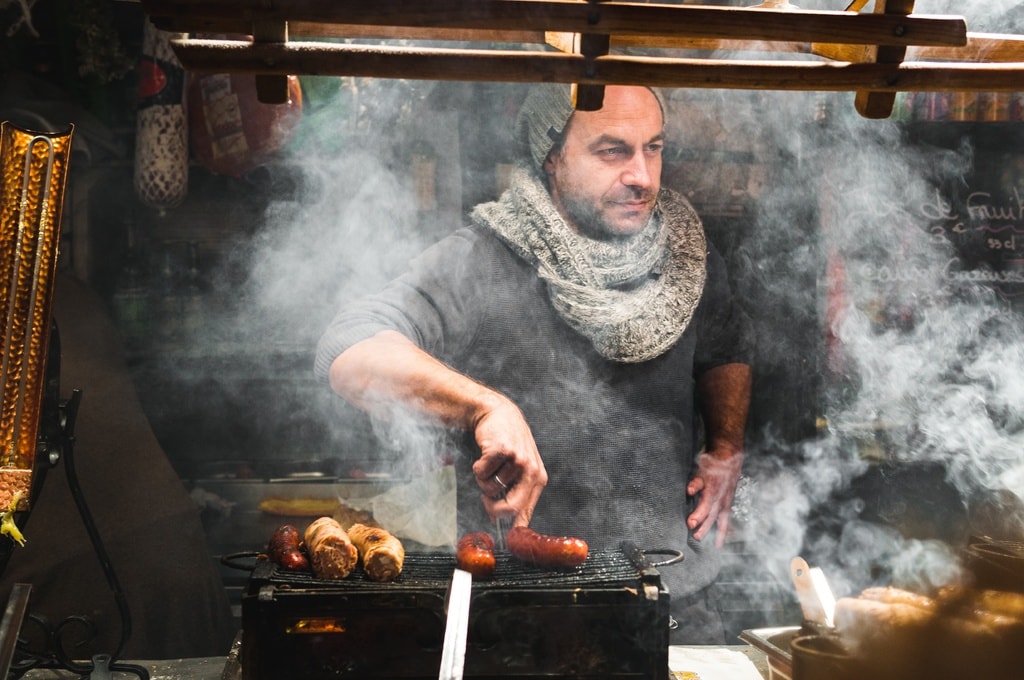 Most ancient cultures were reliant on two types of cooking – on an open fire like BBQ and one pot methods. This meant that meals were based around items like stews, broths, fish, soups, and porridge all of which were pretty tasteless without seasoning.
Most spices only reached Scotland when crusading knights brought them back from the Holy Land in the 1100s, but even then they weren't accessible to all. Herbs were common flavourings, but spices were only available to the rich for a very long time.
In the middle ages, items like seasonings of salt and pepper were reserved for the rich and most of the peasants did not eat meat as they used the cattle for dairy such as milk, cheese and butter. Along with dairy eggs were an important part of the medieval diet.
Potatoes were first cultivated near Stirling in 1739, but they were not found in the Highlands and Islands before 1743 and, bread was the main source of carbohydrates. Scotland's damp climate made it difficult to grow wheat so bread was made from oats or barley.
Early Scottish society was largely pastoral so people needed food that wouldn't spoil quickly. It was common to carry a bag of oatmeal that could easily be transformed into a basic meal of porridge or oatcakes.
Food was sweetened with honey. Though some sugar was brought back to Britain by knights after the Crusades, it was a rare luxury until the 1600s. These days the best Scottish food harks back to the days of fresh from the fields, seasonal foods and innovative cooking.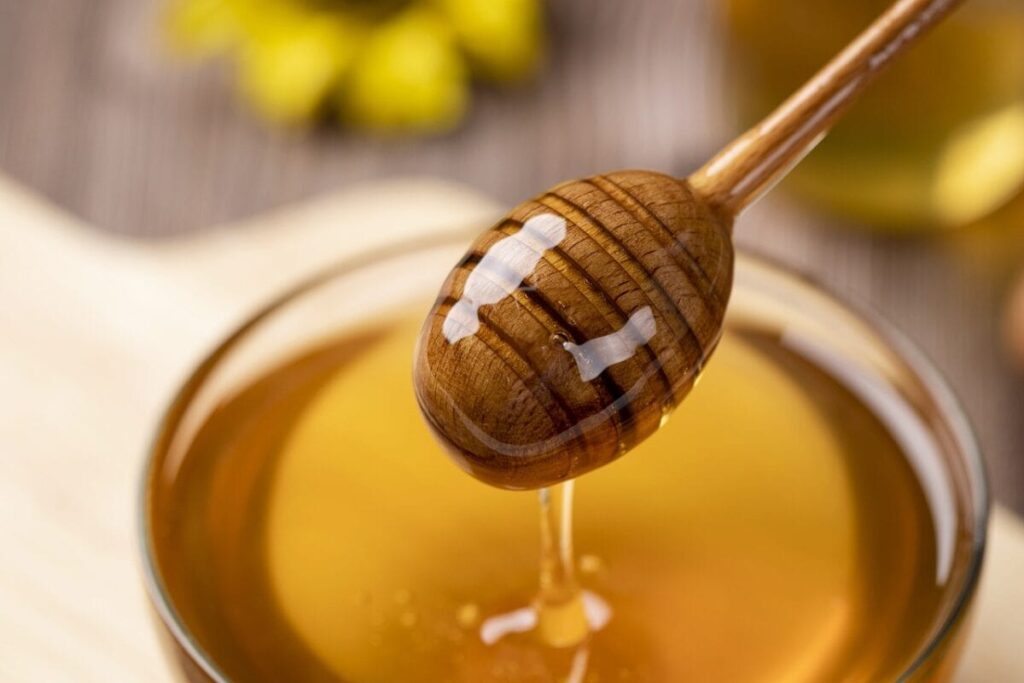 Food in Scotland
Typical food in Scotland includes dishes that have become famous including the national dish of Scotland Haggis, deep-fried Mars Bars, tatties and neeps, and Cranachan. This list of Scottish food and drink has 53 dishes you should try on your Scottish culinary travels. Scottish food traditions are part of the culture of this incredible county and the best food in Scotland will delight you.
The Scots tend to prefer a hearty breakfast to start the day and usually that will be porridge or once in a while a Full Scottish Breakfast. Scottish main dishes tend to be meat and potato based, prepared simply with good ingredients.
Scotland's national dish – Haggis
Talking of Scottish food the most famous of Scotland's foods is of course haggis. The debate around the origin of haggis has gone on for centuries. Some historians believe it was a Viking dish of offal that was packed into a sheep's stomach lining and salted to preserve it. Others believe it came from France since the Scottish and French were allies and it might have been brought over with them after 1295. French food culture in the middle ages was dependent on items such as tripe, saucisse, and the famous rank andouilette.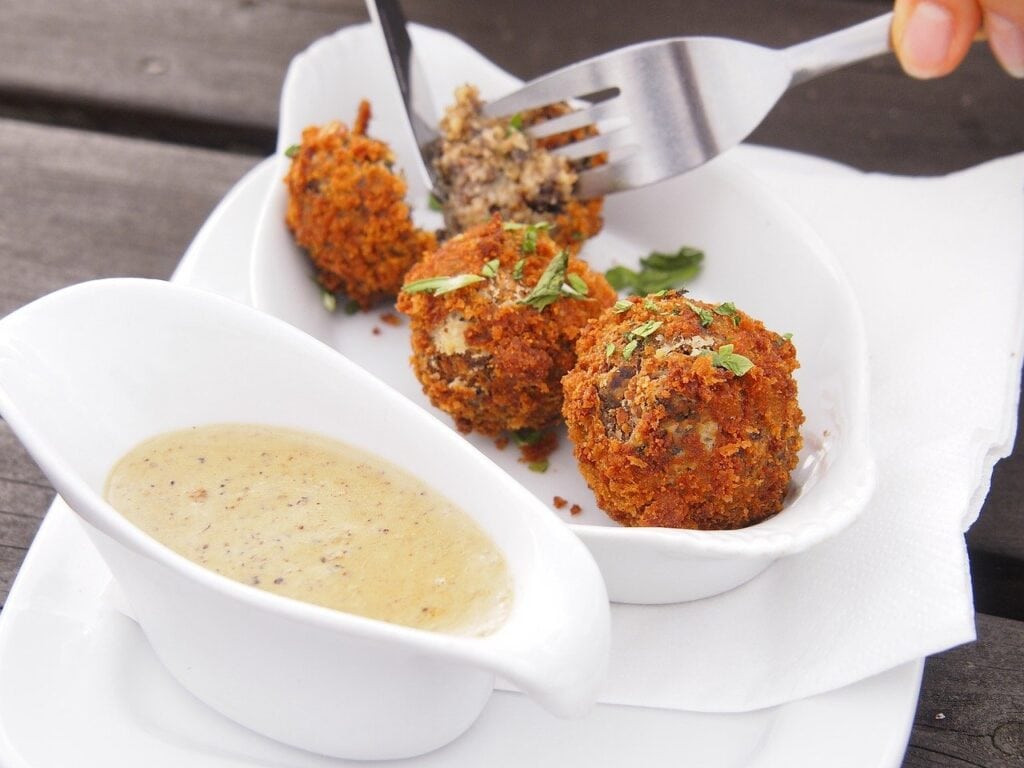 Although the name "hagws" or "hagese" was first recorded in England in 1430, the earliest references to a dish similar to haggis come from England. It is found in The Forme of Cury (1390) and was created for the King. The modern version of haggis is considered traditionally of Scottish origin. It is even the national dish, as a result of Scots poet Robert Burns' poem "Address to a Haggis" of 1786.
The Haggis Address
The Haggis Address is a traditional and ceremonial performance of Robert Burns's famous poem "Address to a Haggis." The first cut of the haggis is made in the third verse of the poem. When the tribute to the dish ends, the haggis is served and enjoyed.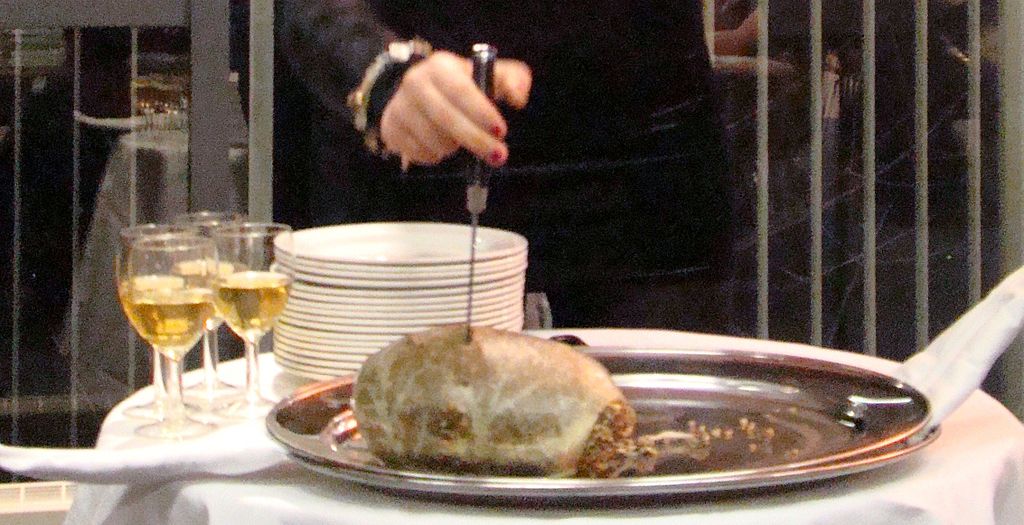 Scottish Snacks and Starters
These are the types of Scottish foods that are found all over the country usually quick and easy snacks and starters can be found in pubs and cafes.
Toasties
Toasties are what the Scottish call a toasted sandwich – generally speaking, it is a cheese toastie. A cheese Toastie not only contains cheese on the inside of the sandwich but it has cheese on the outside and the entire sandwich is placed under the grill to warm and melt the cheese. Some cafes and bistros have gourmeted up the toastie by adding items such as the beautiful gammon ham available here or even haggis.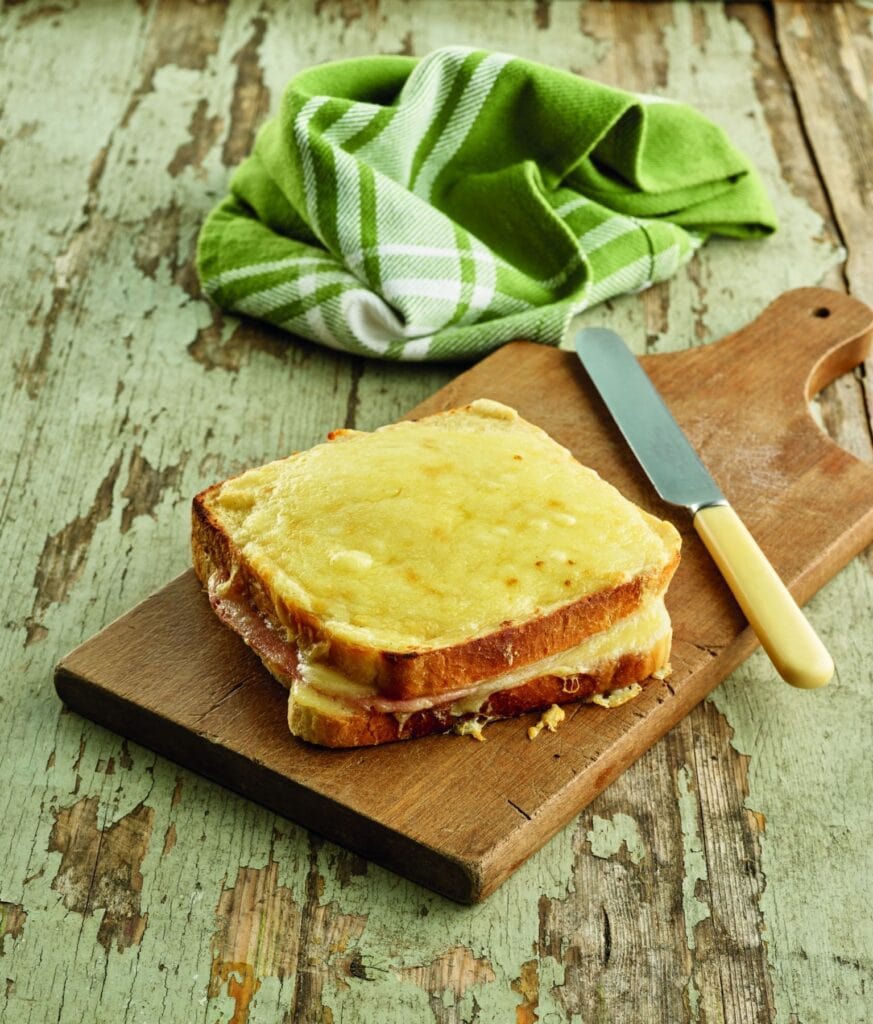 Cock-a-Leekie Soup
Traditional Scottish food and Scotland's national soup, cock-a-leekie soup dates back to the 16th century and is the perfect antidote to Scotland's rainy, damp weather. The soup is a traditional Scottish starter served at events such as Burns Night, Hogmanay and St Andrew's Night.
The recipe dates back to the 16th century and probably originated in France. Scottish Cock-a-leekie is made by boiling a chicken, with sautéed leeks basic seasonings such as salt and pepper and the added touch of sweetness provided by prunes. The soup is occasionally thickened with rice or barley.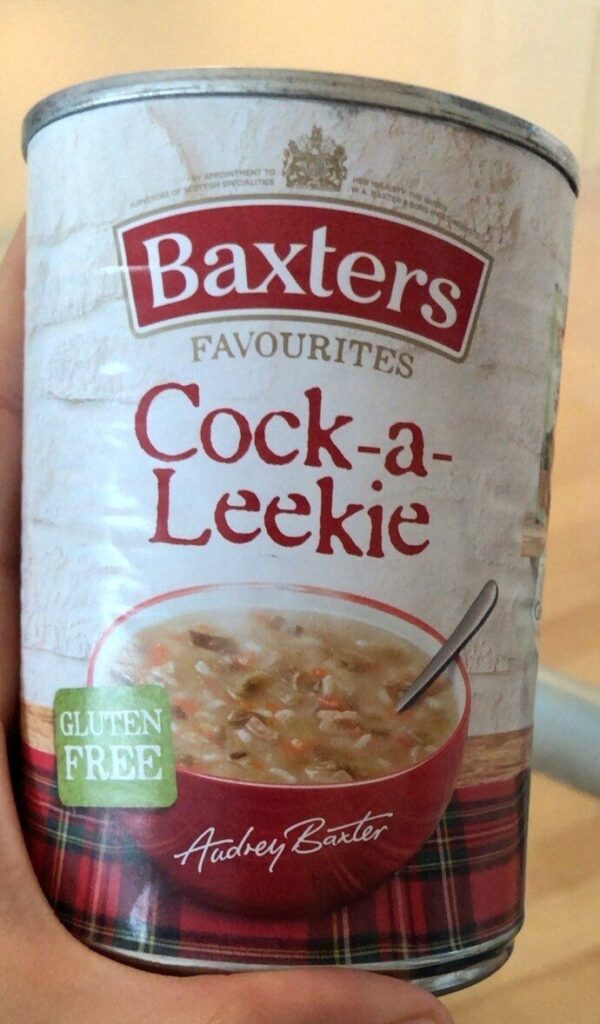 Cullen Skink
Cullen Skink is a speciality of the northeast area of Scotland on the coast of Moray in Cullen and one of those Scottish delicacies that need to be tasted. Traditionally skink means a broth made with the scrapings of beef but these were hard to come by and in Cullen, there was lots of fish and so they began to use smoked haddock and added milk, onions and potatoes.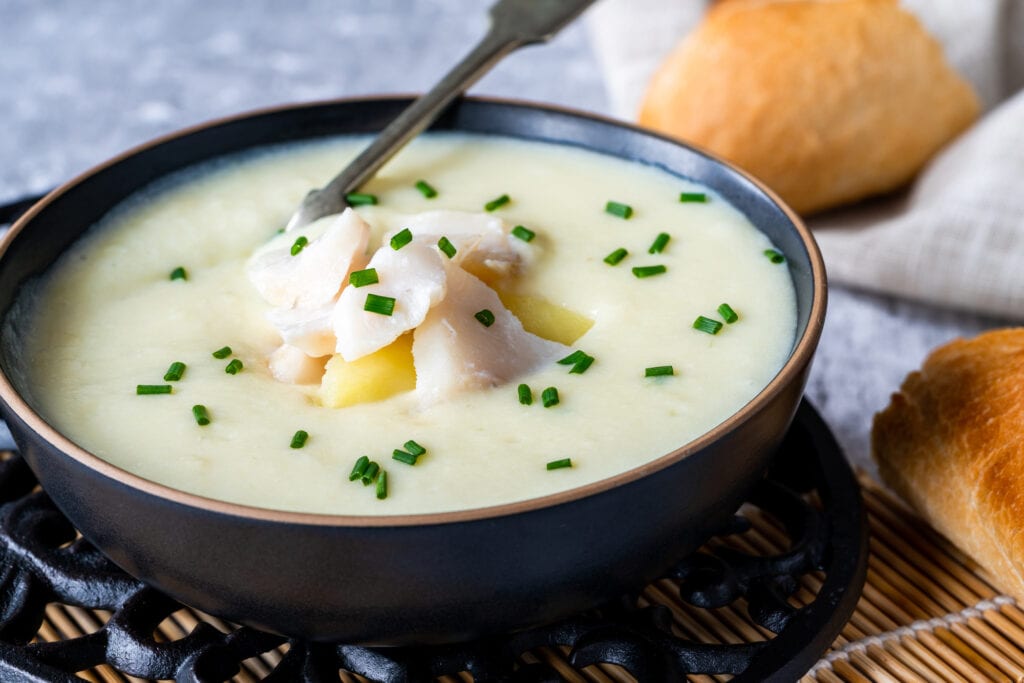 Leek and Tattie Soup
A simple but exceedingly tasty Leek and tattie soup is a creamy dish of sautéed leeks, lots of diced potatoes, and of course milk. Not necessarily a Scottish invention the Leek and Potato soup was more than likely invented or improved in Wales which is the British centre for leek growing.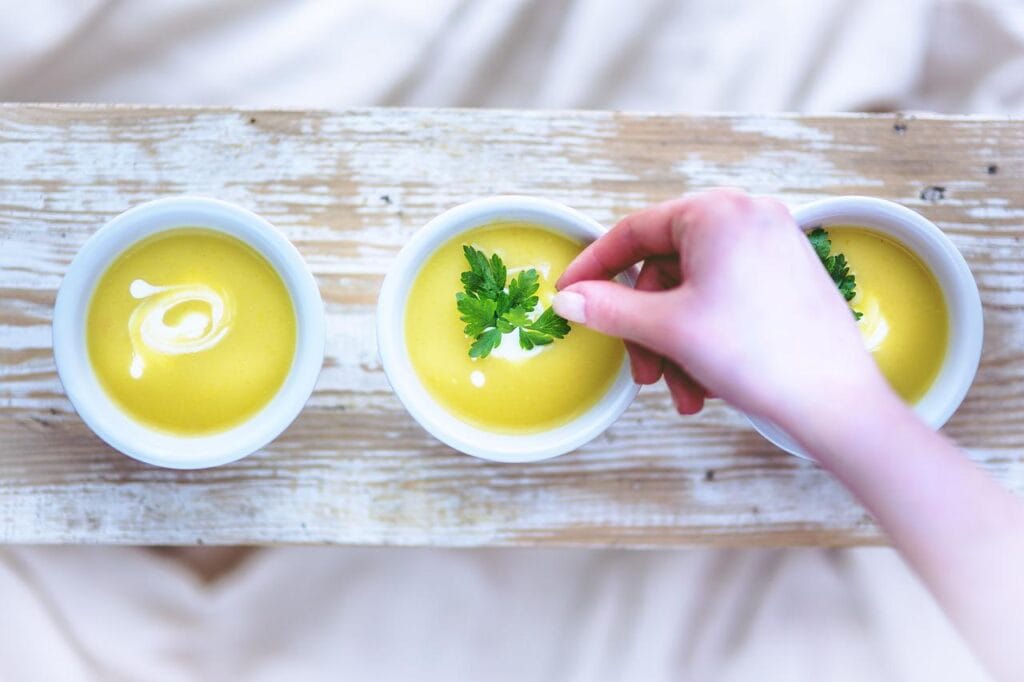 Scottish Oatcakes
Scottish oatcakes are usually served with a cheese platter or a Ploughman's lunch. They are simple crackers with a bit of sweetness and are perfect for a cheese board.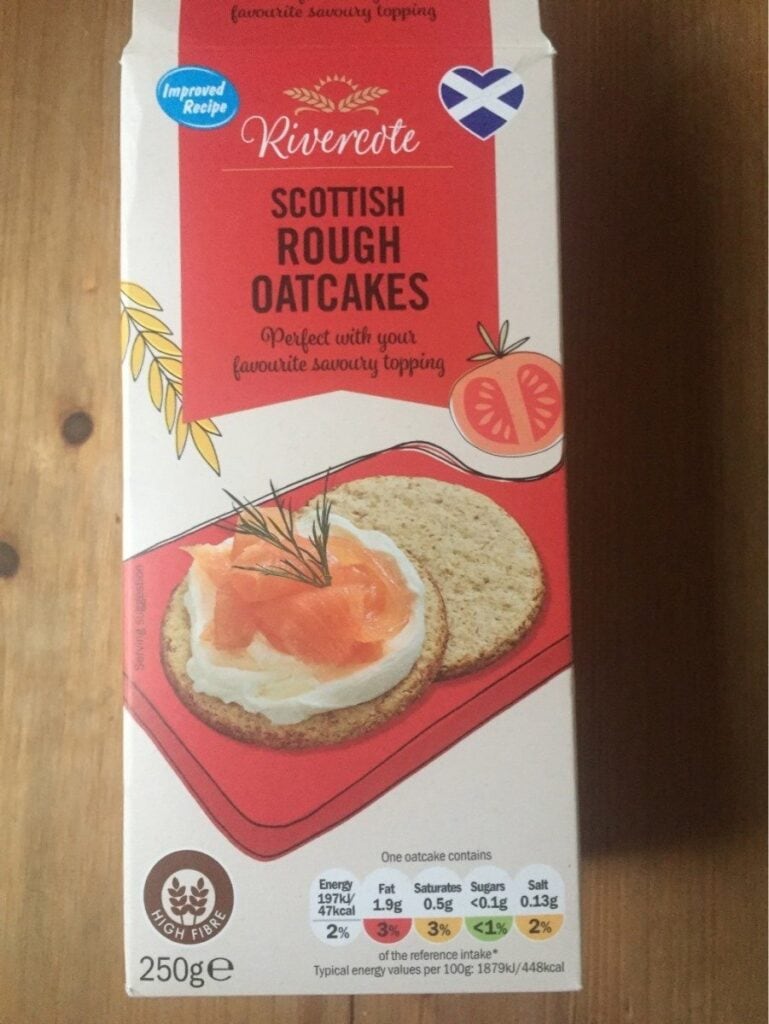 Buttery
Also called an Aberdeen roll, a Buttery is a savoury bread roll first baked in Aberdeen. They are flaky and buttery and served with jam and butter and the iconic cuppa. Legend has it that butteries were made by fisherman's wives who wanted easy food for their menfolk. Being rich in fat the buttery doesn't get stale quickly and it's a source of energy from the fat content.
Scones
Scones are said to have been named after the Stone of Scone (or Stone of Destiny) and were first made around 1500. They can be sweet or savoury and are served with an afternoon tea. The usual accompaniments are clotted cream and jam.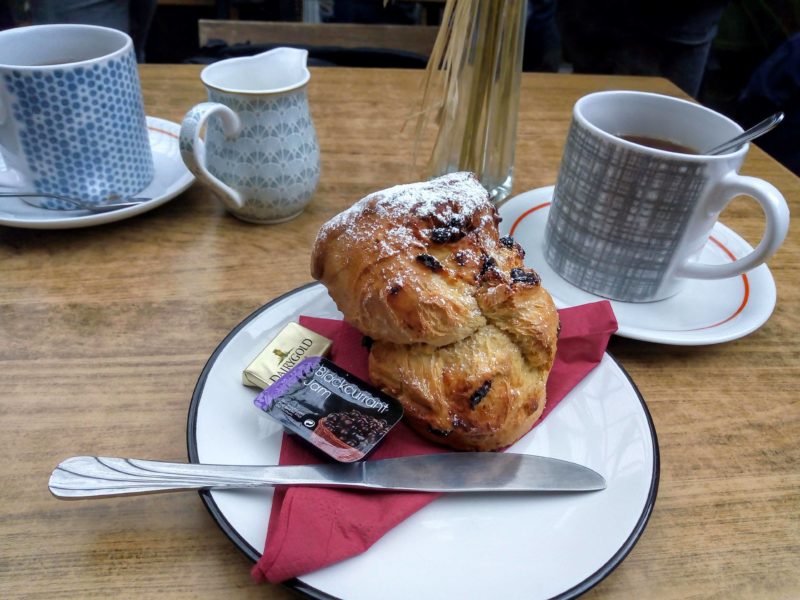 Shortbread
Shortbread is a lovely melt-in-your-mouth biscuit (cookie) made with cornflour, sugar and butter and sometimes plain flour. My Glaswegian friends swear it should be made only with cornflour which gives it that crumbly melt-in-your-mouth sensation. Shortbread may have been made as early as the 12th Century, however, its invention is often attributed to Mary, Queen of Scots in the 16th Century. Petticoat Tails were a traditional form of shortbread said to be enjoyed by the queen.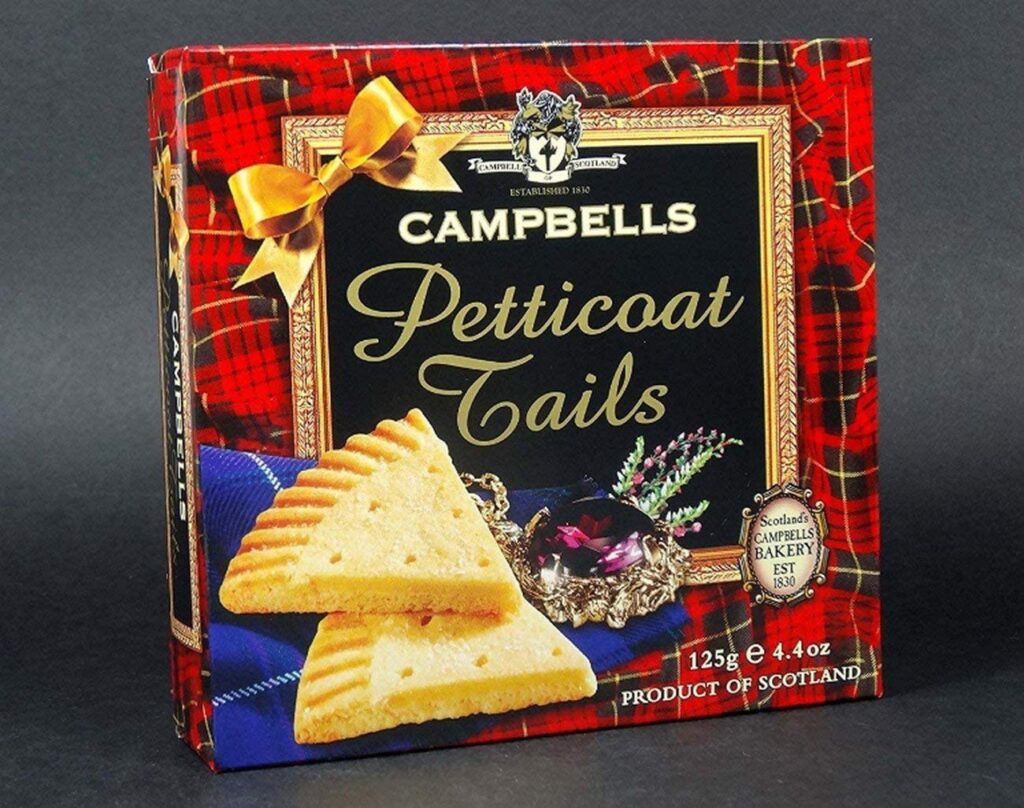 Edinburgh Rock
Edinburgh Rock is distinctly different from the hard crunchy rock you find in the rest of the UK. This rock is made from sugar, water, and cream of tartar with flavouring and colour added. It has a crumbly soft texture and is found in a stick shape. Alexander Ferguson invented the rock in Glasgow and moved his factory to Edinburgh in the 19th century. These days the Rock is produced by Ross's, which has been producing Edinburgh Rock since 1880 and is currently the only company making the confectionery in the country, they recently nearly declared bankruptcy but were saved at the last minute.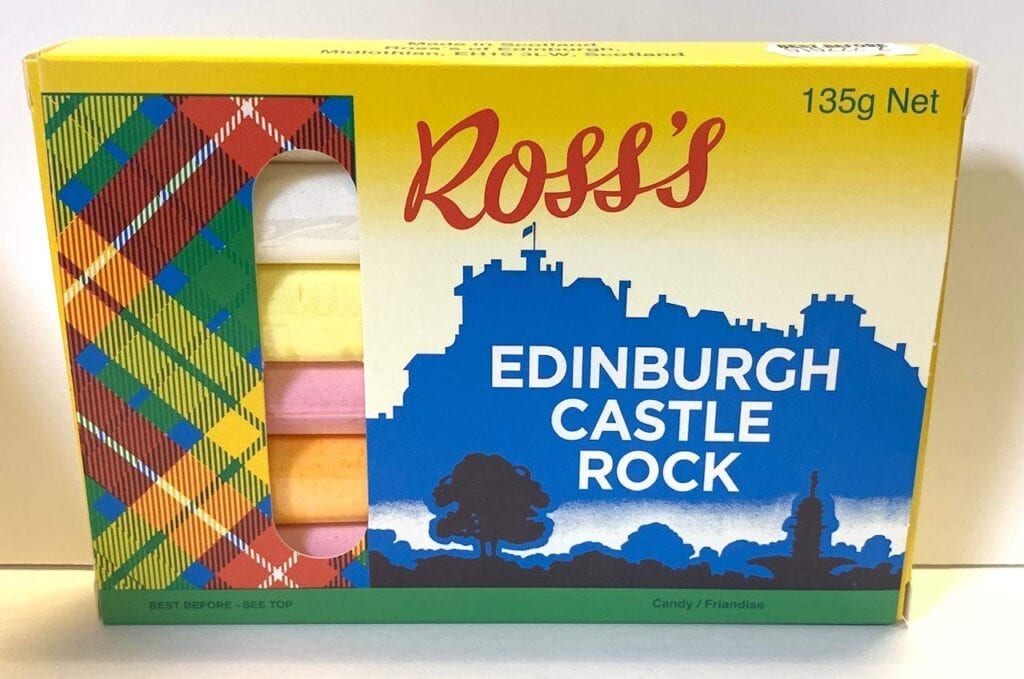 Tunnock's Tea Cake
My best friend's ma felt that Tunnock's were the perfect treat to have with a cuppa and she was overjoyed when we found them in Canada for her. Tunnocks are small round shortbread biscuits topped with marshmallow meringue and then doused in a chocolate covering and then wrapped in iconic red and silver foil.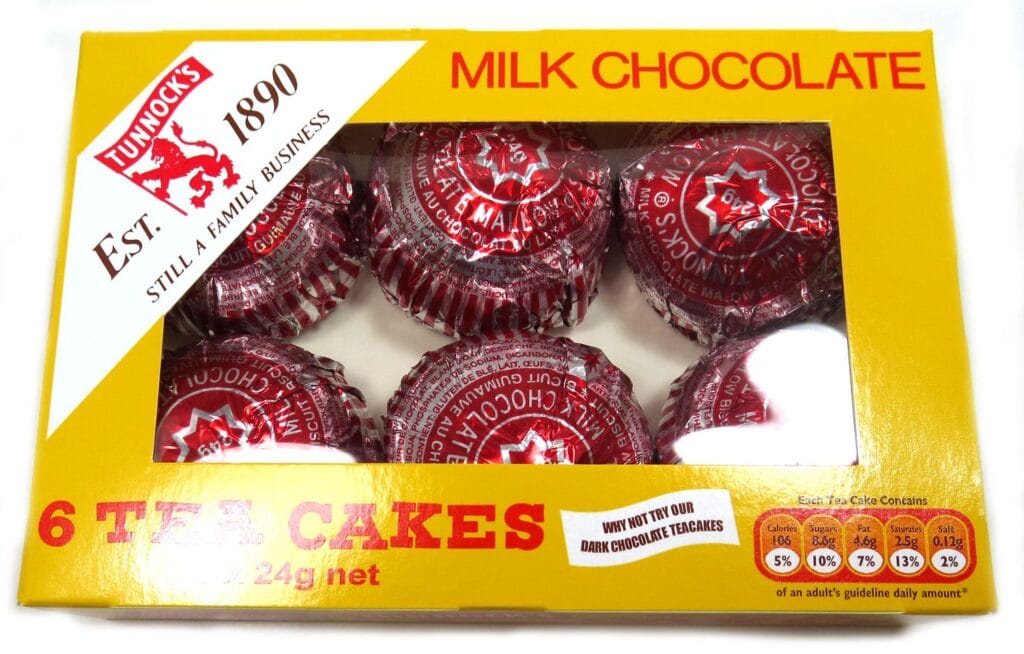 Scotch Egg
Although one of my favourite snacks Scotch eggs were not actually invented in Scotland. You may be surprised to discover that the London department store Fortnum & Mason claims to have invented the Scotch Egg in 1738 for the upper classes to take on picnics.
A Scotch egg is a hard-boiled egg with a runny creamy yolk preferably, wrapped inside seasoned sausage, coated in bread crumbs and then deep fried.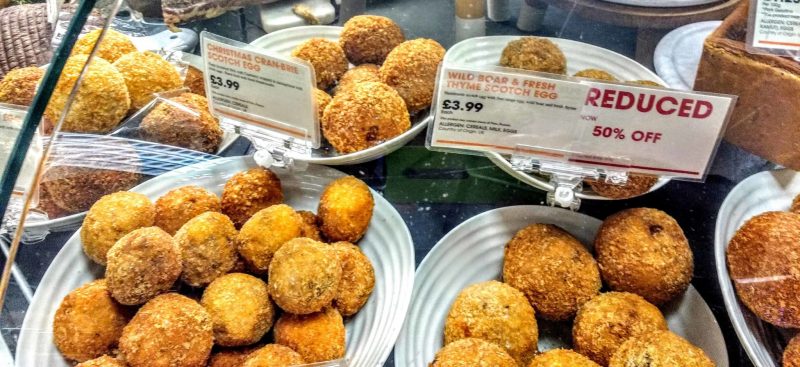 Bacon Butty or Bacon Roll
One of Scotland's preferred snacks along with England, Wales and Ireland is simply good British bacon in a bun with loads of butter and served with red sauce (ketchup) or brown sauce (HP).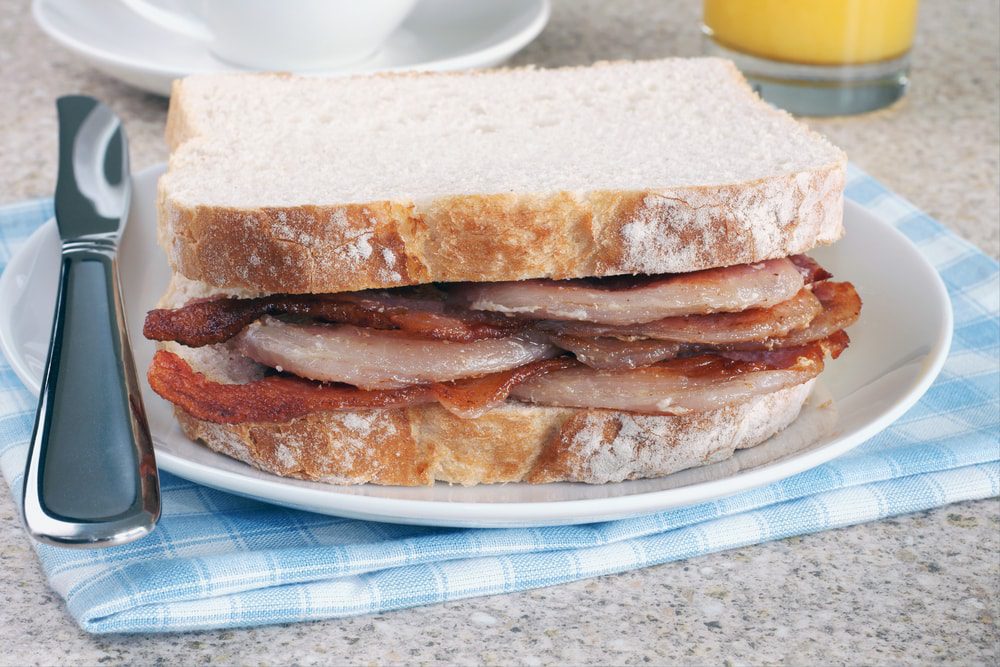 Fried Mars Bars
Deep-fried Mars bars are a sweet and unique dessert concept that was invented in 1992 by a man named John Davie in the Haven Chip Bar in Stonehaven, near Aberdeen. The famous European chocolate bar is battered with a mixture of flour, eggs, and milk, then deep fried, resulting in melted chocolate enveloped in crispy batter. You can find this delightful snack sold in fish and chip shops (also known as chippers) throughout Scotland.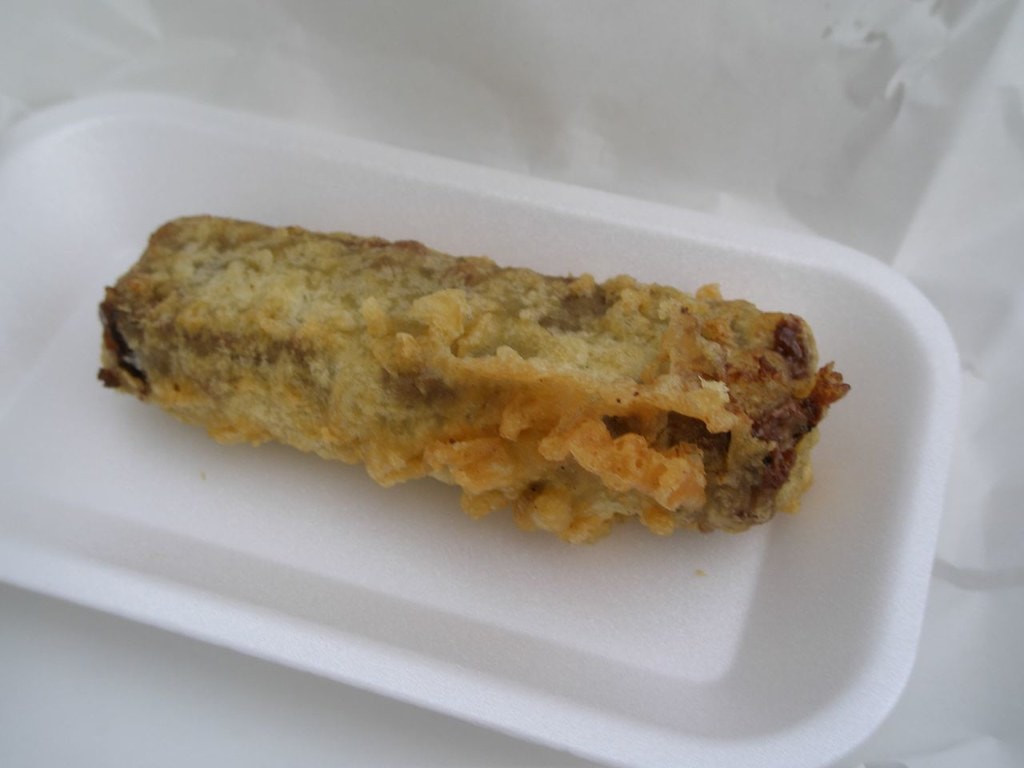 Traditional Scottish cuisine
Rumbledethumps
A traditional Scottish border dish very similar to the Irish Colcannon. Rumbledethumps is mashed potatoes mixed with cabbage (or turnip/neeps) and onions and sometimes a little bacon. The potatoes are served along with traditional Scottish dishes such as pork sausages and gravy.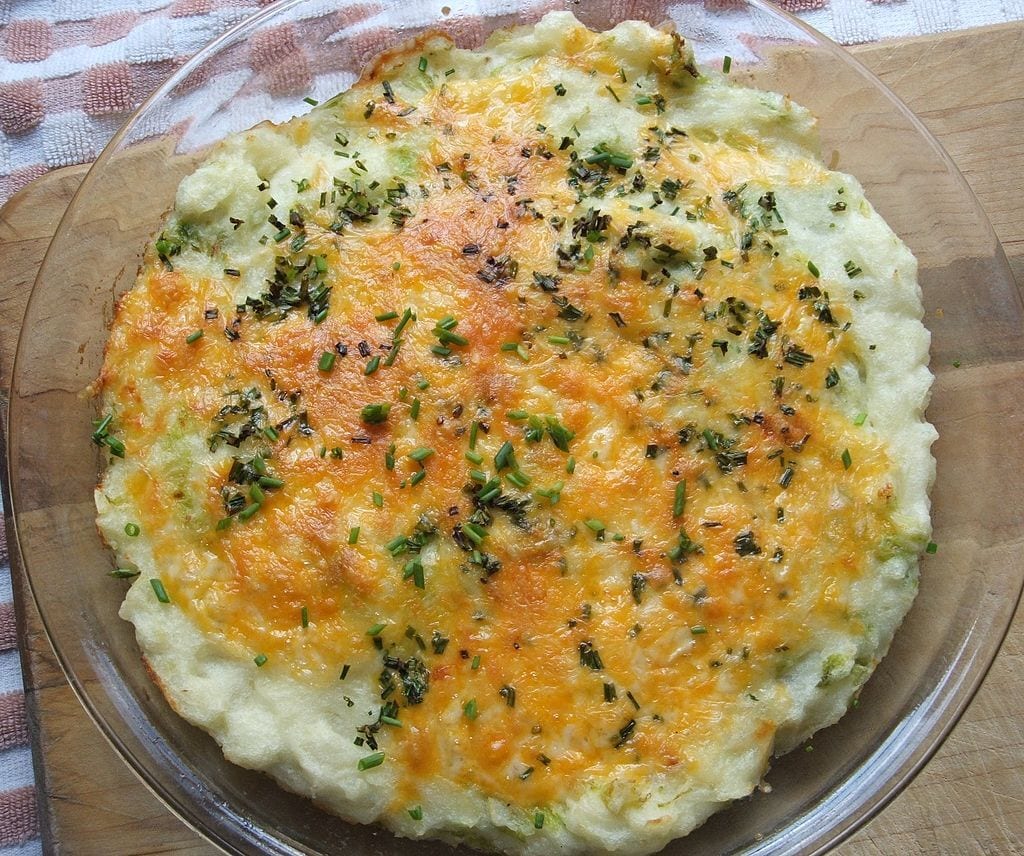 Scottish Bannock
Bannock is a traditional flatbread made without yeast. You may have also heard of Bannock as a First Nations bread in North America. In Scotland usually, grains and oats are added to the mixture.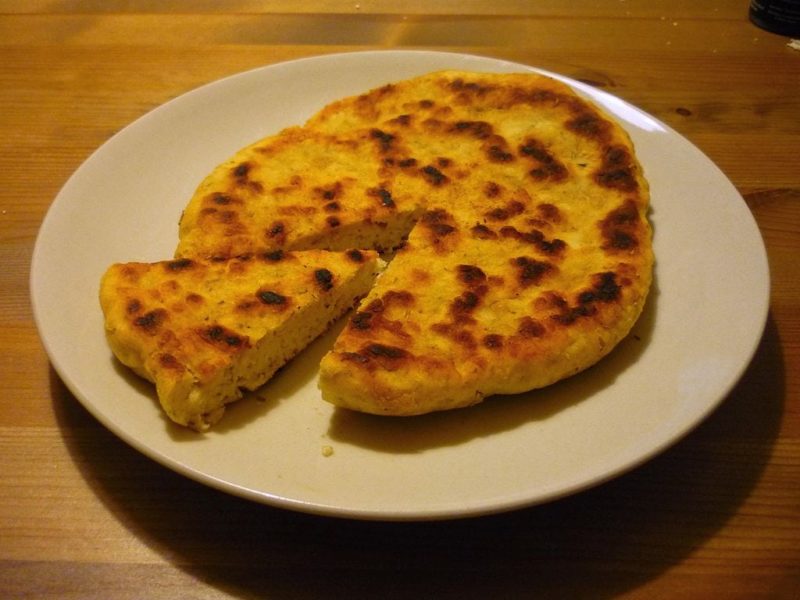 Howtowdie
Howtowdie comes from the old French word hétoudeau, which means young chicken. This is a classic Scottish dish of braised chicken. Traditionally, the bird is either stuffed with skirlie, a mix of oatmeal and onions sautéed in fat, and seasoned with nutmeg, coriander and ground black pepper.
Serving Howtowdie with poached eggs is optional. In traditional recipes, the eggs (dropped, or drappit, into hot water) were served on a bed of spinach, on the chicken platter. Adding chicken livers to the cooking juices, for the final sauce, is also an old tradition, helping to thicken and colour the cooking liquor. Howtowdie is usually served on a bed of kale, cabbage or creamed spinach, then topped with poached or drappit eggs.
Chicken Tikka Masala
Traditional Scottish food in Glasgow – Glasgow is the Curry Capital of the UK, with literally hundreds of Indian restaurants to choose from. An MP has called for Glasgow to be officially recognised as the home of Britain's favourite curry, the Chicken Tikka Masala.
Some believe that it was invented in the 1970s by a Bangladeshi chef in Glasgow, Scotland, who, in order to please a customer, added a mild tomato-cream sauce to his chicken tikka. Chicken tikka is a simply creamy spiced orange-coloured sauce with chunks of chicken.
the most popular dish is the age-old British favourite, chicken tikka masala, with its sinfully creamy spiced orange sauce and perfectly cut chunks of chicken. A Glasgow culinary institution, Shish Mahal is hands down one of the best spots for this dish. The founder of a restaurant called Shish Mahal is credited with inventing it. The 'legend' of Chicken Tikka is that the restaurant had a complaint that the curry was too dry so they added some extra ingredients with cream and tomato soup and the legend was born.
Scottish Deep-Fried Pizza
Not something I will ever try but a good drinking sesh calls for some munchies, and in Scotland, Deep-fried pizza was born. It is exactly what it says on the tin a pizza is fried instead of being baked and is usually found in Chippies where there is no oven.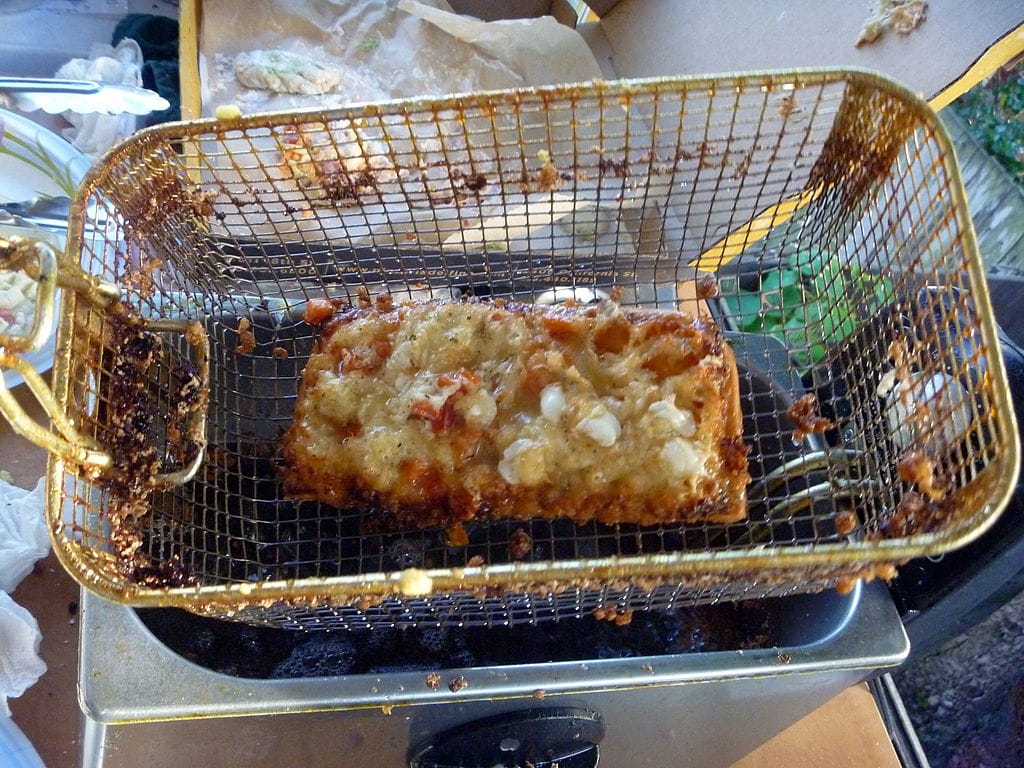 Pakora
One of the most popular Scottish savoury snacks for after the drink is a pakora a small, spicy fritter containing pieces of vegetables or meat, made usually with a batter of chickpea flour and deep-fried.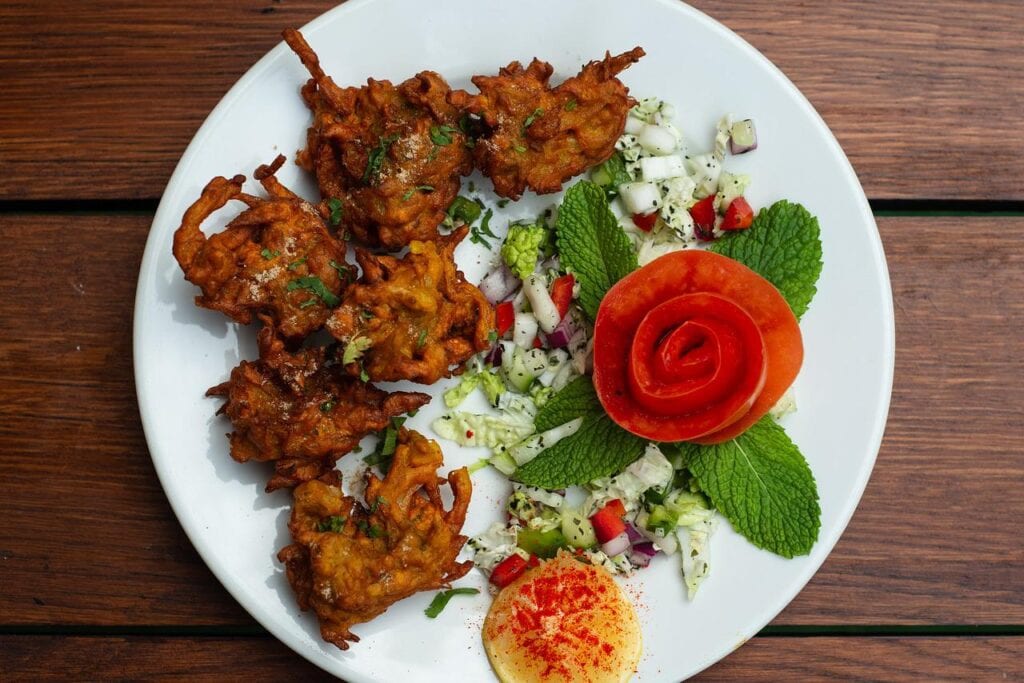 Scottish foods – 52 Scottish favourites
Scotch Pies
I do love a Scotch pie perfectly eaten with one hand this double-crust pie filled with either the traditional seasoned mutton or beef can be eaten hot or cold and are available everywhere in Scotland. The Scottish Bakers trade association has held hosts a World Scotch Pie Championship every year, where people from all over the world can compete to win the iconic Scotch pie trophy.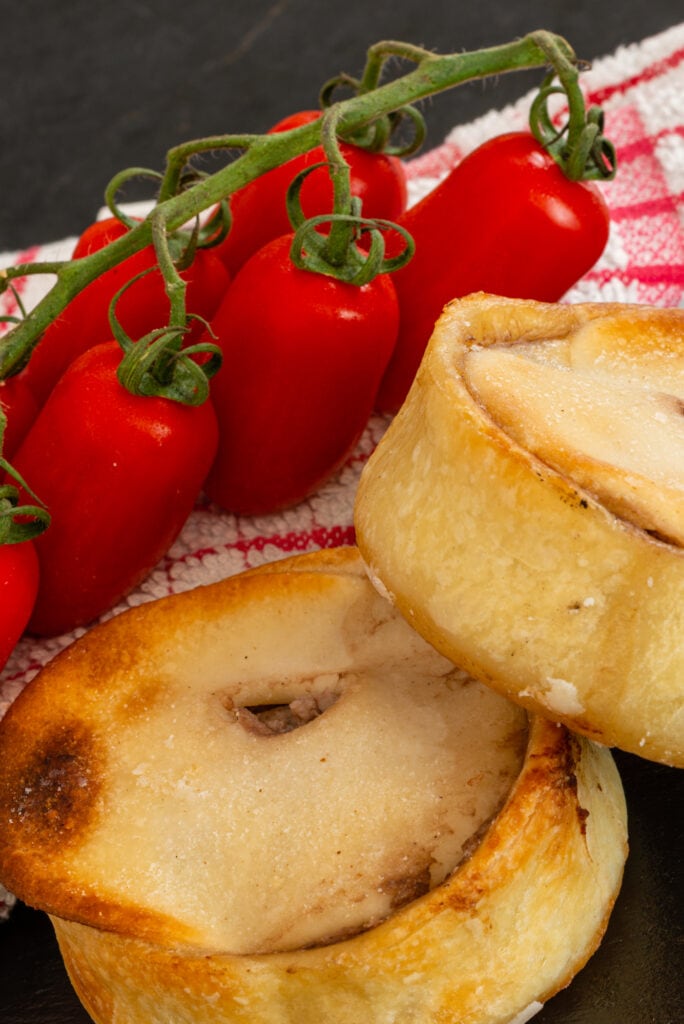 Neeps and Tatties
Scottish dinners are often a meal of neeps and tatties. It took me a while to translate this when my Glaswegian friends made it. So neeps are turnip or as we call it in Ireland swede and in Canada horse turnip. It is usually a side with haggis and is made of mashed turnips and tatties are of course mashed potatoes. On Burns Night celebrations it is always served with Haggis and called a 'Burns Supper'.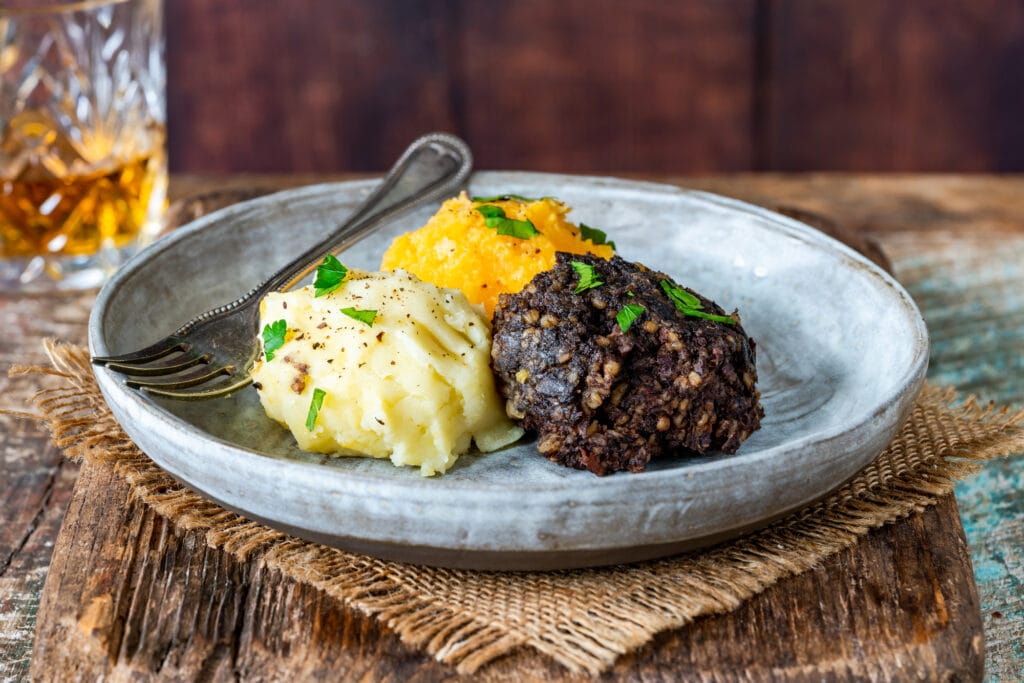 Stovies
Simply put stovies are a one-pot meal of potatoes, sausages, and leftover roasted meat if on hand and placed in a pot with a little stock to keep it all very moist. Seasonings are simple salt and pepper and a stovie is the perfect meal for a wet cold Scottish evening.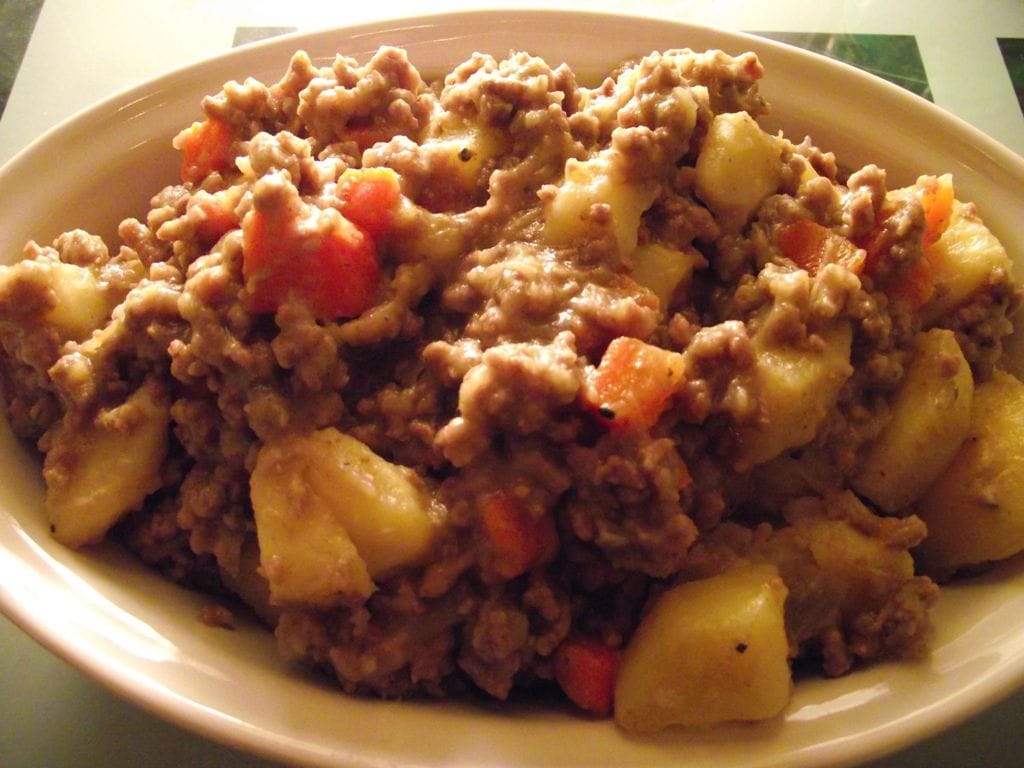 Munchy Box
Ireland has the Spice Bag and Scotland has the Munchy Box. It is essentially a pizza box stuffed with kebab meat, chips, deep-fried chicken, pizza, ribs, cheese, onion rings, pakora, naan bread and chicken tikka curry. Oh, and maybe a little salad and coleslaw, which will probably end up in the bin. It all began in Glasgow and it's safe to say it is not a healthy lunch but hey you are in Scotland who cares!
Scottish Salmon
You simply cannot beat Scottish salmon which is some of the best in the world. The freshly caught salmon you can buy at the fishmongers or have in a restaurant will put you off that frozen or tinned stuff.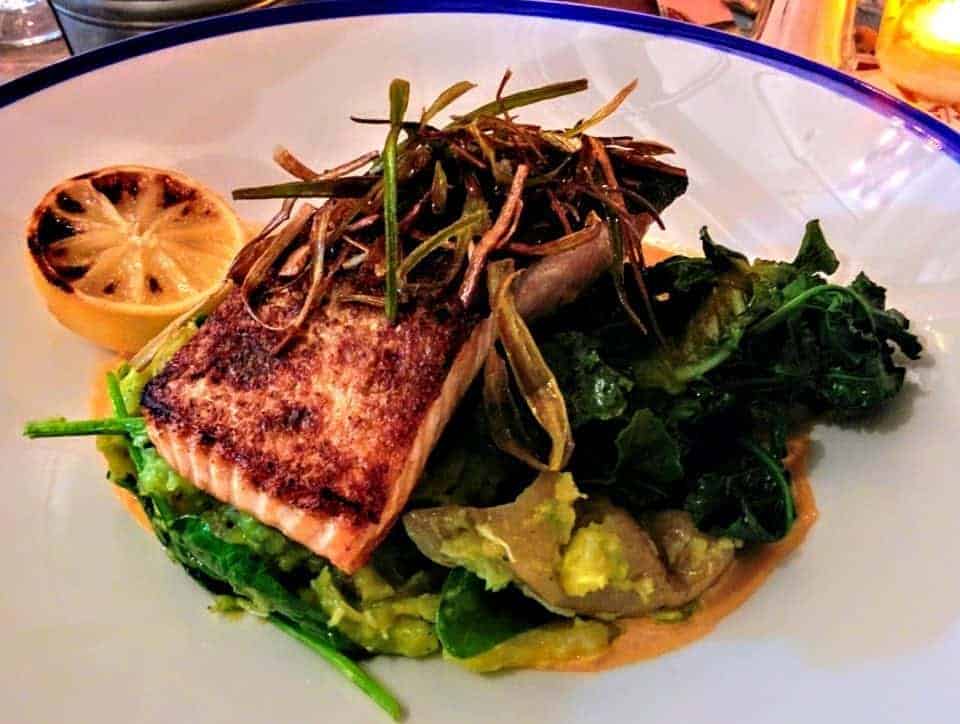 Fish Supper
Fish and Chips in Scotland are called a 'fish supper' obviously bought from a fish and chippie shop and usually haddock which is deep fried and served with either a single chip which is a small portion or a muckle with is a large portion of fish. Fish suppers are served with salt, malt vinegar and if need be brown sauce.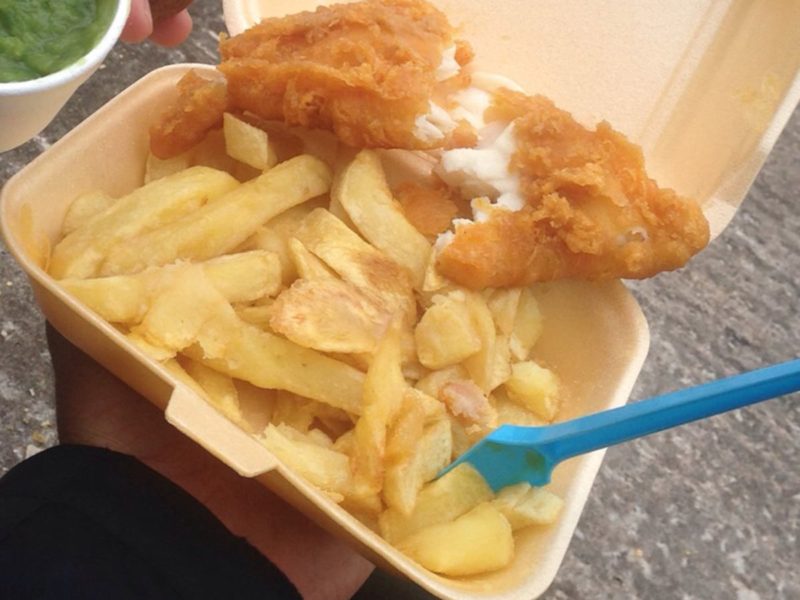 West Coast Scallops
These scallops are an expensive delicacy as they are sustainably sourced and the divers fetch the scallops by diving and plucking by hand. They are expensive but deliciously sweet seafood that you have to try.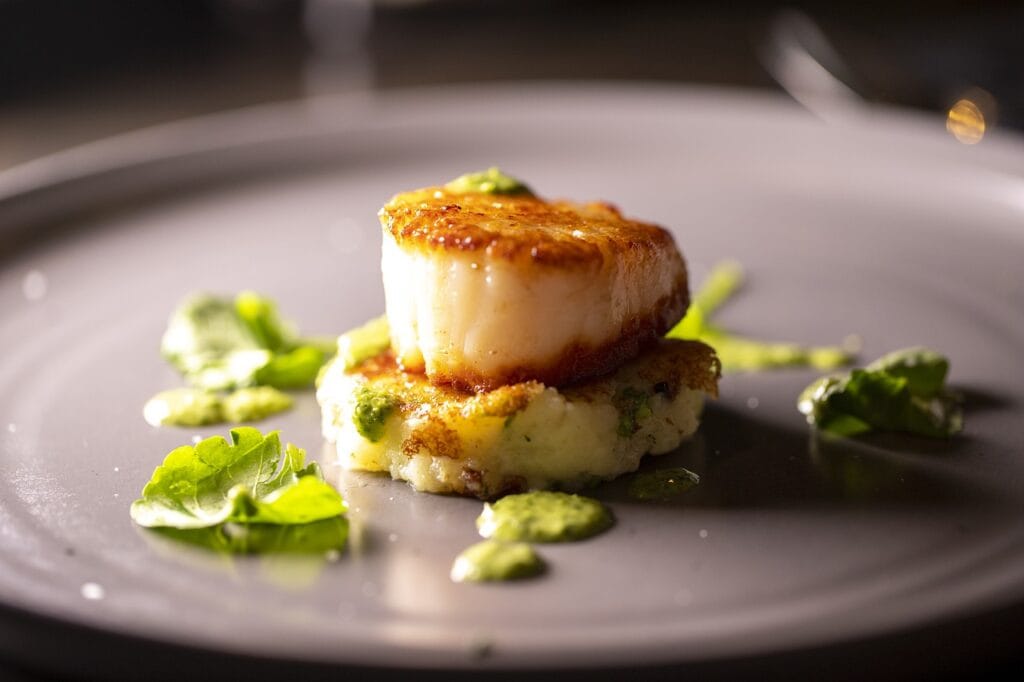 Roll and Fritter
Down the West Coast of Scotland, a fritter roll or roll and fritter is common. A potato fritter – mashed potato, battered and deep-fried – is added to a bread roll and can be served with salt and vinegar, curry sauce or any other traditional chip shop sauces.
Chips and Cheese
It used to be in Glasgow you could get your chips with curry sauce and then there were chips and cheese. Not just any cheese it had to be processed cheese melted to perfection on top of hot chips. These days the Glaswegians have taken to adding more and more toppings to their chips so loaded chips are a thing.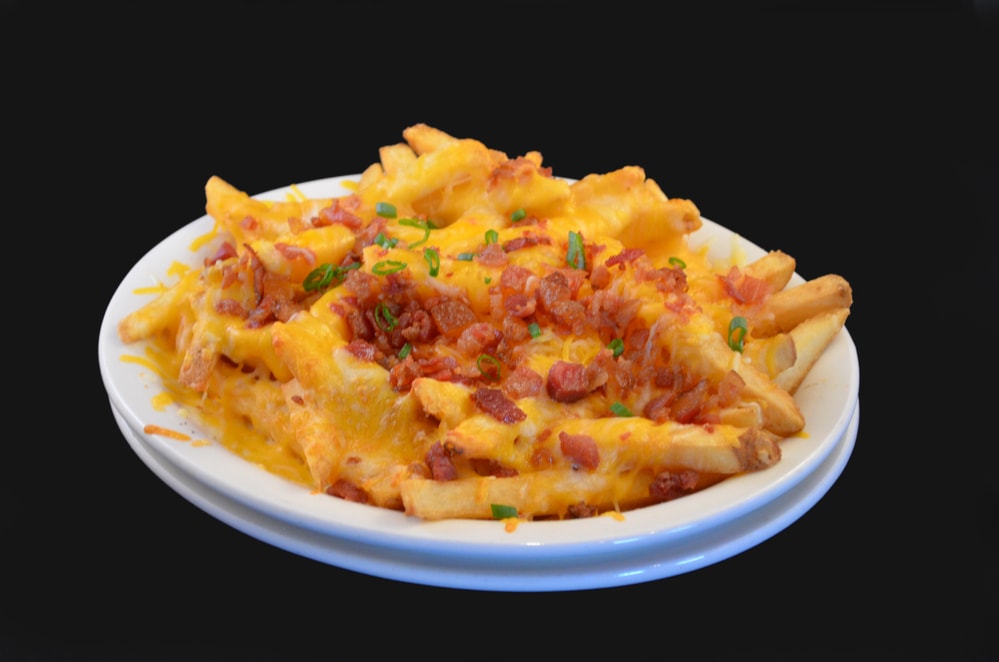 Mac 'N' Cheese Pie
The dish goes way back to the 18th century, with a recipe appearing in Elizabeth Raffald's book The Experienced English Housekeeper, from 1769. An Italian version dates even further back, to the 15th century. It is pretty simple macaroni and cheese in a thin pie shell. Only in Scotland is the pastry made with lard and boiling water, which makes it stronger and firmer than a shortcrust, and there is no lid to the pie but there is a beautifully browned cheese crust.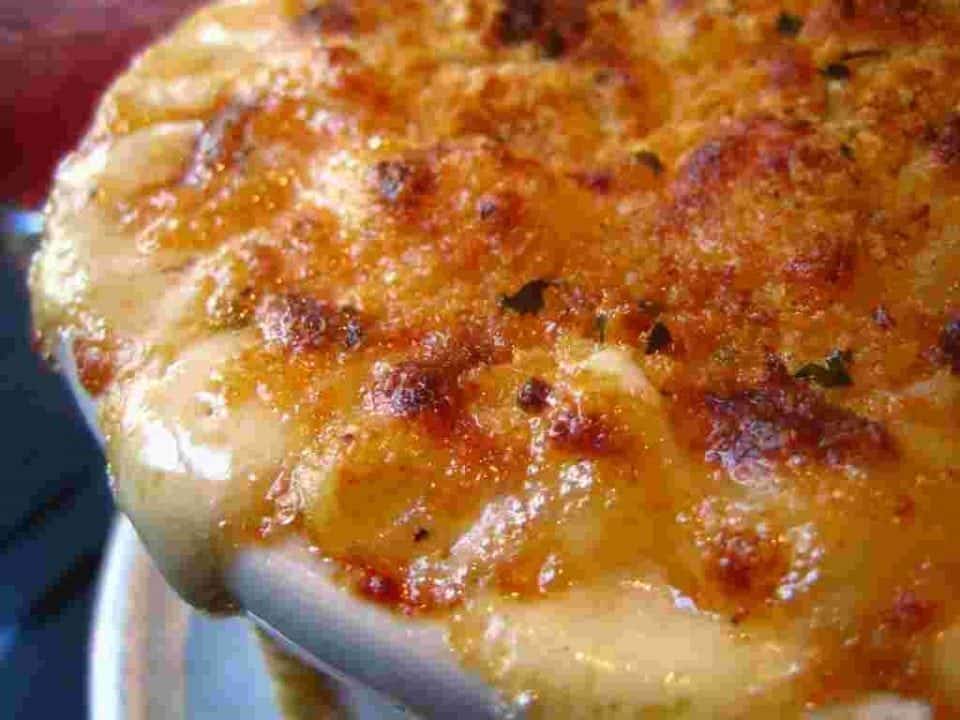 Traditional Scottish Breakfasts
Porridge
Scottish porridge is made with salt instead of sugar this doesn't necessarily make it savoury but salt just boosts the oat flavour. When milk, sugar or berries are added it makes the perfect breakfast.
There is the World Porridge-Making Championships, a quintessentially Scottish event that awards one winner a Golden Spurtle — a wooden stick traditionally used to stir the porridge pot.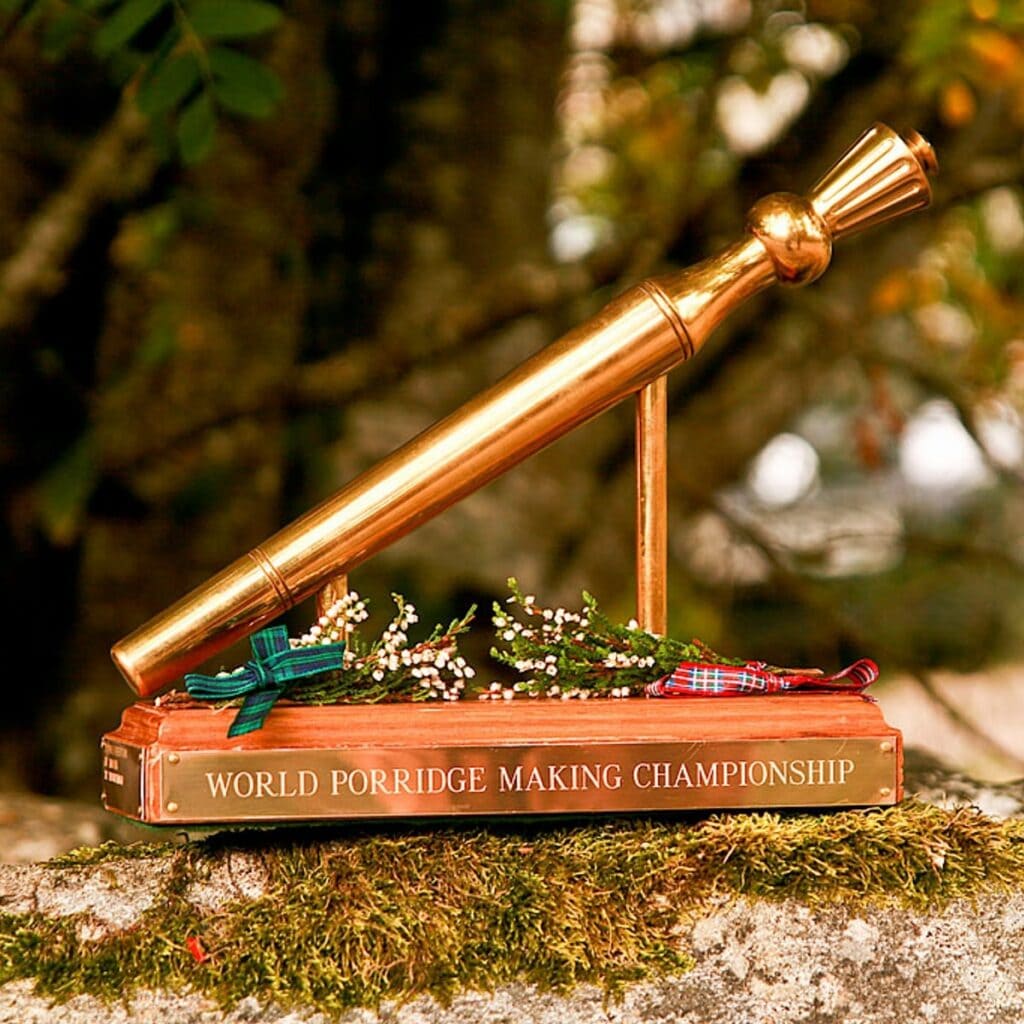 Stornaway Black pudding
I personally never tried black pudding until I had some Scottish black pudding when I was in Ireland of all places. I was very impressed it was flavourful and very tasty. Black pudding is made by mixing pork blood with oatmeal and herbs like Pennyroyal, marjoram, thyme, and mint are all traditional flavourings: pennyroyal was known as pudding-yerb in the North Riding of Yorkshire for its use in black puddings. Other herbs and spices sometimes used in traditional black puddings include cumin, rue, and parsley.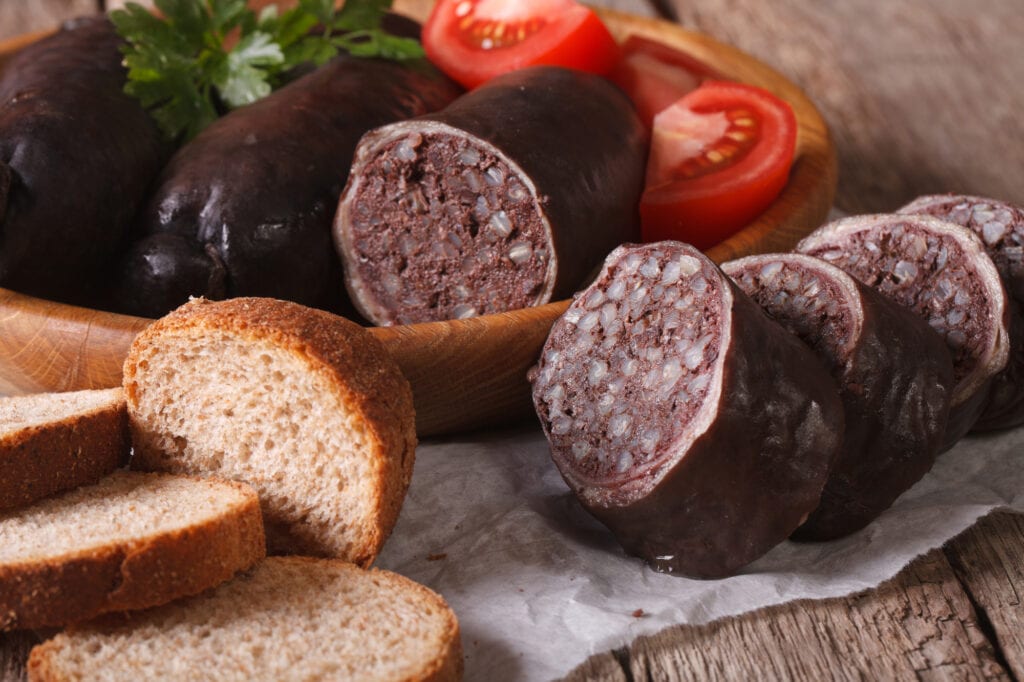 Finnan Haddie
Finnan haddie is one of my favourites it is cold-smoked, flavoured haddock. The fish is often roasted or grilled over high heat, but it can also be poached in milk and served for breakfast. It is believed that the dish was originally called Findon haddocks, after Findon, Scotland, the place where it was first invented in the 18th century.
Tattie Scone
In Ireland, we call these potato scones, boxty, potato pancakes, or fadge. You simply cannot beat a tattie scone with breakfast. The scones are made with mashed and raw potato mixed with flour and then cooked on a griddle. These should always be served with a Full Scottish Breakfast but sadly sometimes the nasty American hash brown has replaced them.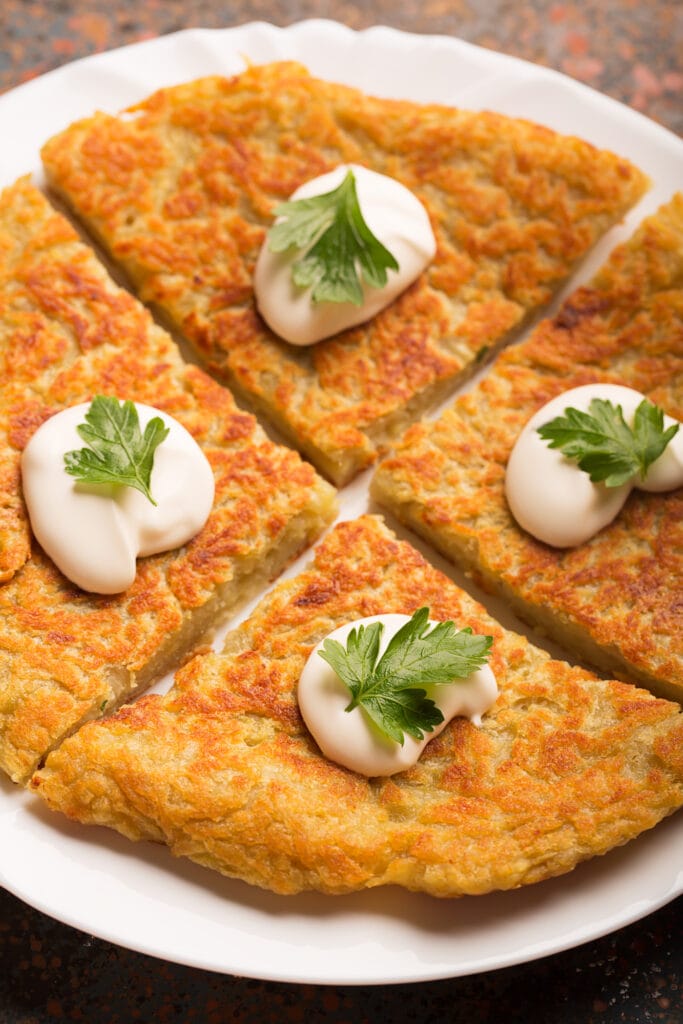 Lorne Sausage
Again something I had never heard of until I stayed with friends in Glasgow. Lorne sausage is made with ground beef, rusk and spices like nutmeg, black pepper and cilantro along with salt and pepper. It is also called a 'square slice' here in Scotland.
Once the sausage has been set into a square pan and left in the fridge to go cold it is sliced and then fried or grilled and served in a Full Scottish breakfast.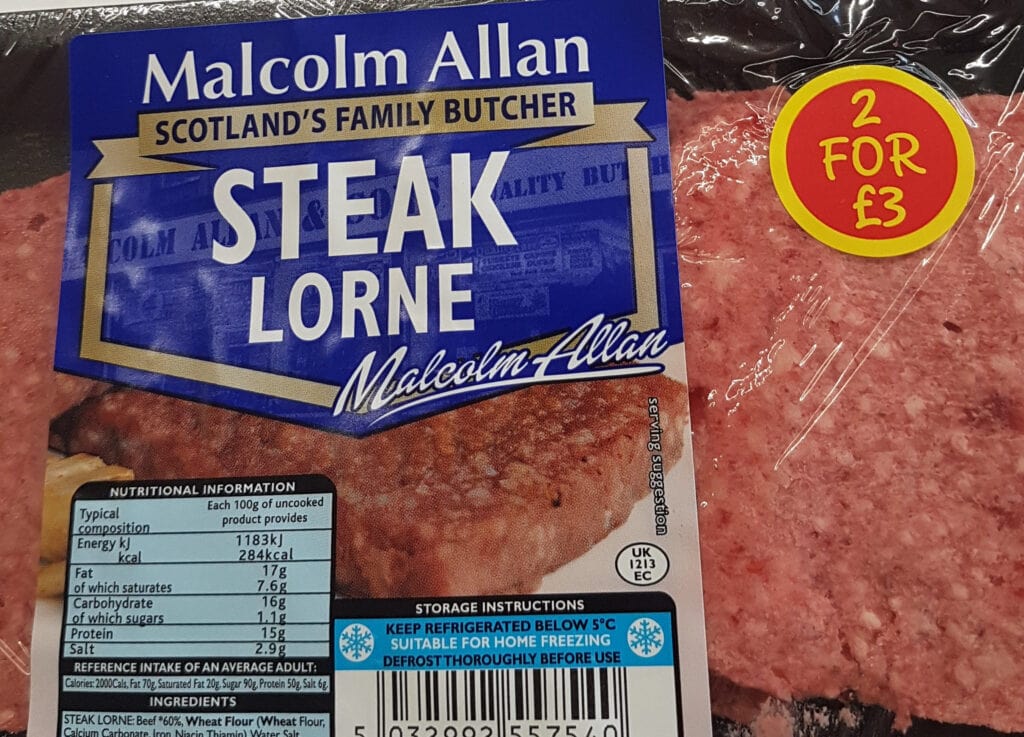 Arbroath Smokies
A traditional process of smoking that dates back to the 1800s in Arbroath the fish are salted and left overnight then hot smoked over flames for around an hour. The heat is intense and smokey and gives the fish that spectacular flavour that is perfect for serving with eggs for breakfast.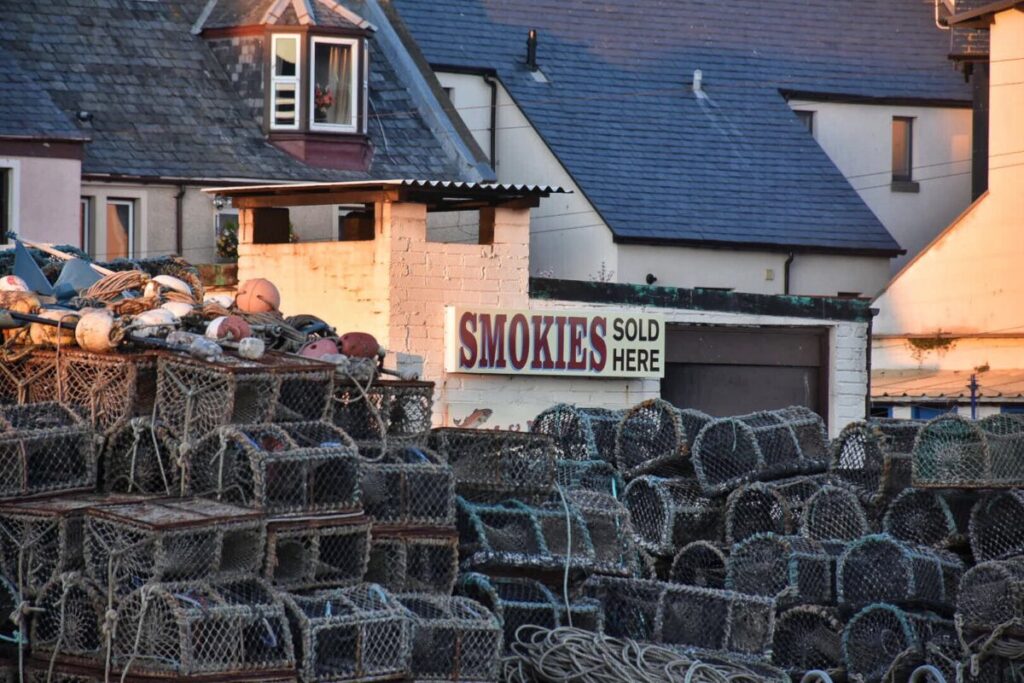 Fruit Pudding
Fruit pudding is a Scottish dish which is a mixture of wheat or oatmeal flour or breadcrumbs, beef suet, brown sugar, raisins, sultanas, currants and seasonings including salt and cinnamon. The pudding is rolled into a sausage shape and set in the fridge. When ready it is cut into slices and fried often served with breakfast it is sometimes used as a dessert.
Marmalade
Dundee Marmalade was invented by James Keiller and his wife in Dundee (obviously) around 1797. The bitter Seville orange was used and the story goes that a ship broke down in the port and they had a large cargo of oranges that needed to be preserved thus marmalade was invented. Dundee Marmalade is known for its large chunks of orange peel.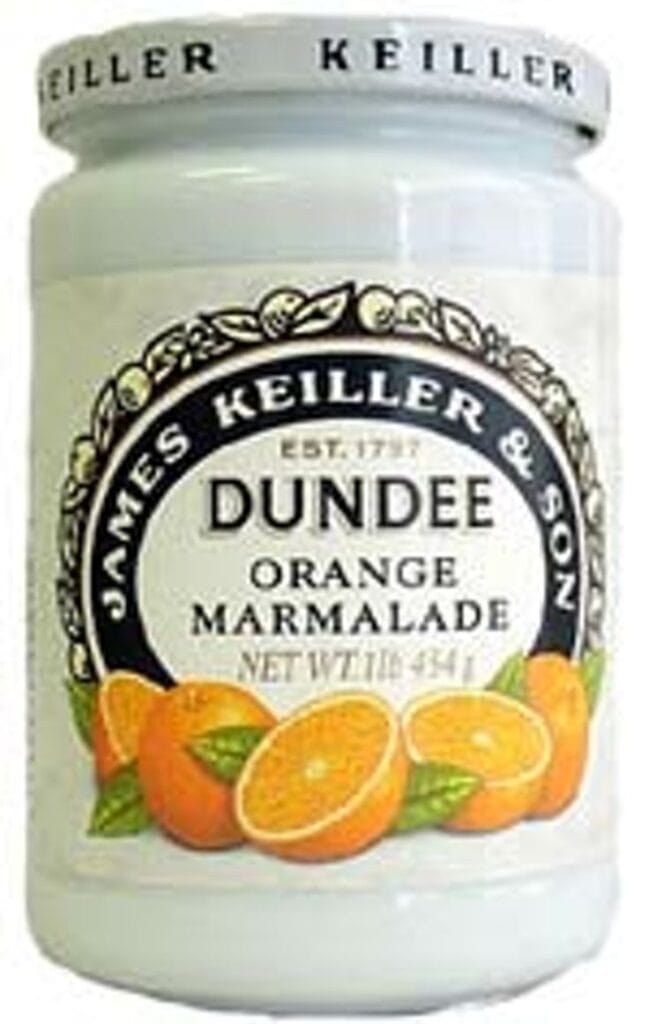 What's in a full Scottish breakfast?
Full Scottish vs full English
Very much like the Full Irish Breakfast or the Full English, a Full Scottish breakfast will include the following:
Back bacon
Fried eggs
Lorne sausage
Black pudding
Fruit pudding
Grilled or fried tomatoes
Baked beans
Mushrooms
Potato scones
Fried bread
Tea
Toast & Scottish Marmalade
Now add some toast and marmalade or jam, and a cup of strong, hot tea and you'll be set up for whatever the day may bring!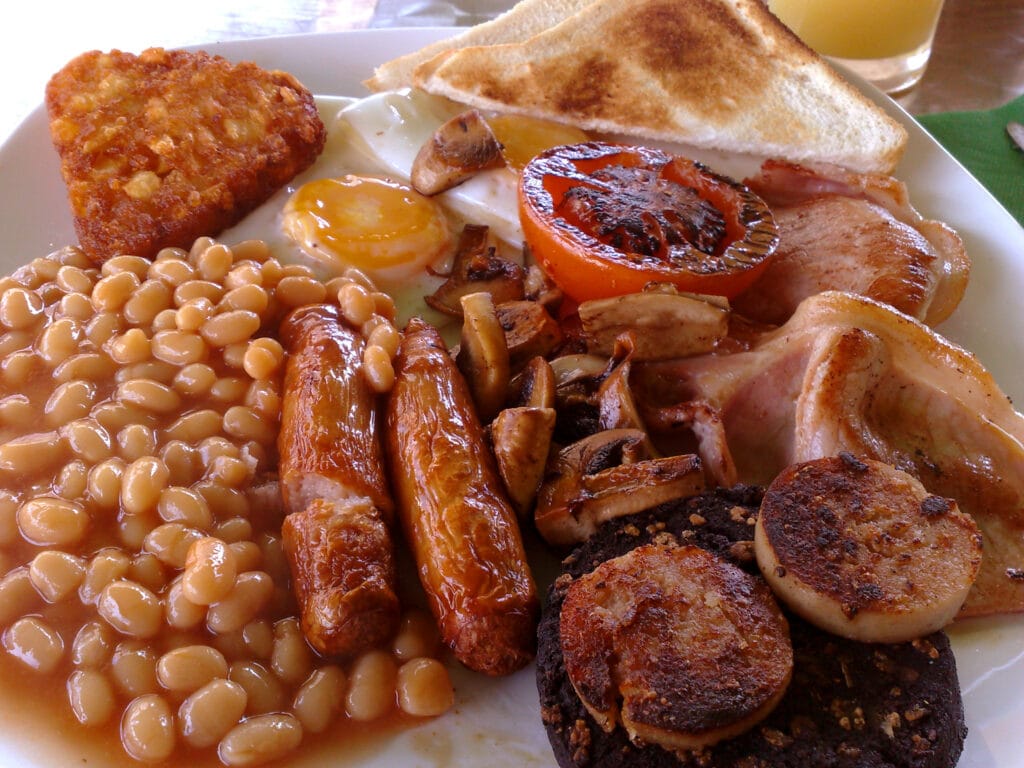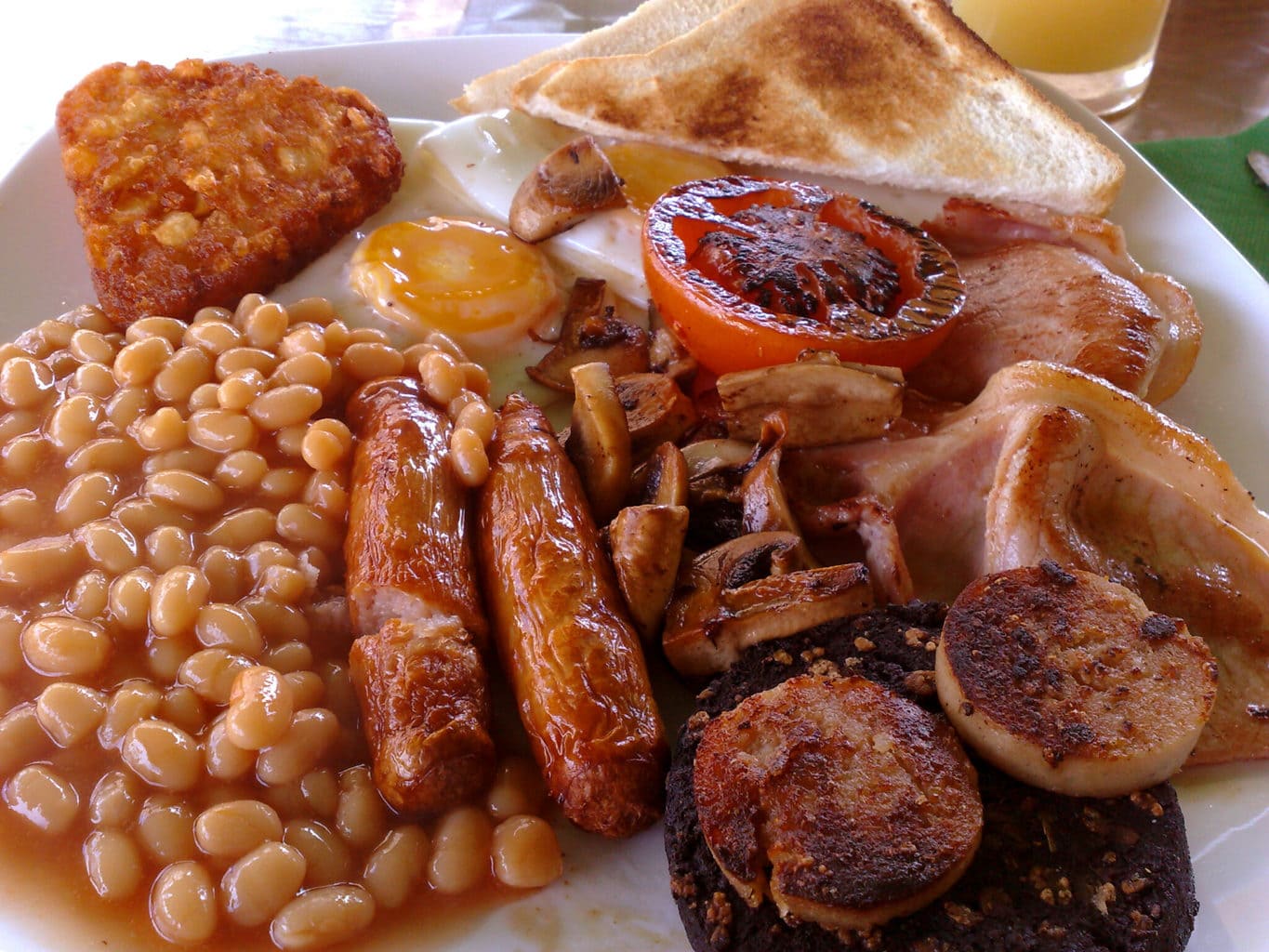 Breakfast roll
Available nationwide if you require a handheld full Scottish breakfast with any or all of the above ingredients popped into a soft white bun with lashings of butter.
Traditional Scottish desserts
The Scots do have a sweet tooth and are known for their buns and cakes full of dried fruits and currants. Think Dundee Cake with its topping of almonds and a myriad of dried fruits within. The Black bun is another kind of fruit cake and then there are the crumbles and pies. All of which are absolutely delicious.
Scottish Crowdie
Crowdie is a soft cheese often eaten as a dessert with an oatcake. There are various versions of Crowdie such as Black Crowdie which is made similar to cranachan with double cream, mixed with pinhead oatmeal and crushed black peppercorns. There is also a savoury version called Hramsa which is crowdie mixed with wild garlic and white and red pepper then rolled in crushed almonds and hazelnuts.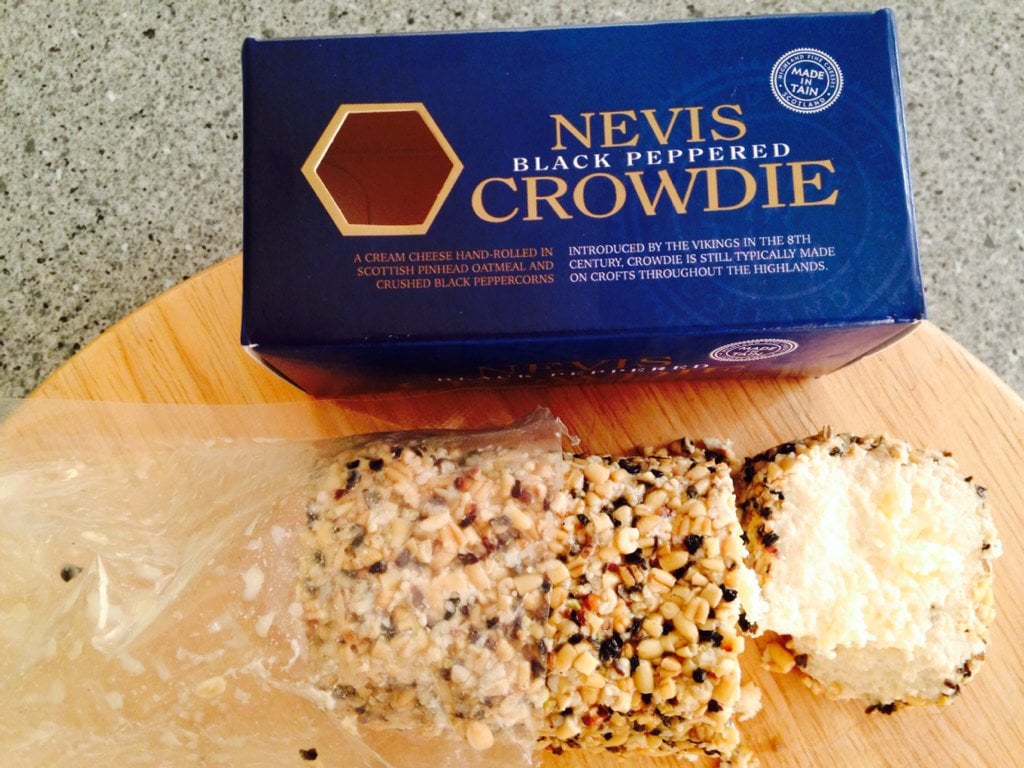 Cranachan
You will find Cranachan a traditional Scottish dessert on virtually every restaurant menu in Scotland. Cranachan is a gaelic word and originally the dessert was made after the raspberry harvest in June. Fresh berries are mixed with cream, oats, honey and whiskey is a traditional Scottish dessert.
Scottish Tablet
This stuff will make your teeth hurt and I have a terrible sweet tooth but tablet is almost too much for me. Somewhat like fudge but a little harder Tablet is made with sugar, condensed milk, and butter, and then placed in the fridge to harden. It is then cut into squares and served.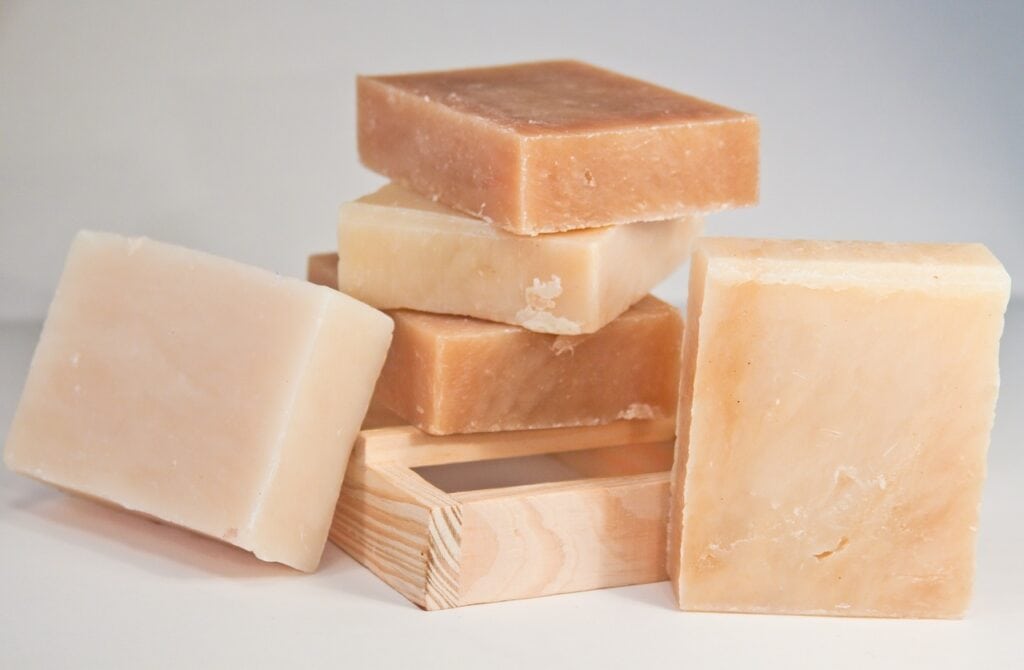 Clootie Dumpling
The name Clootie Dumpling comes from the floured cloot (cloth) that the pudding is boiled in. While the ingredients of a Clootie Dumpling vary, it must always be wrapped in a cloth. A Clootie Dumpling is traditionally made of dried fruit, spices, oatmeal or breadcrumbs, flour, and beef suet.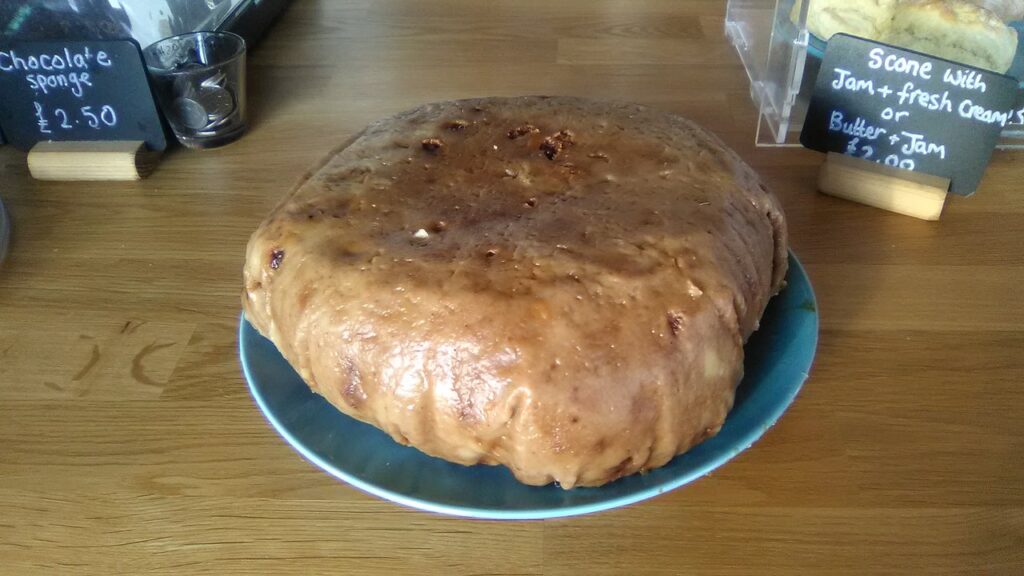 Sticky Toffee Pudding
It is a sponge cake consisting of chopped dates and toffee sauce. It's also typically paired with vanilla ice cream or custard because it complements the dish so nicely. Scots argue that it was first served at the Udny Arms Hotel Aberdeenshire, Scotland in 1967, where it is still served to this day. But the Canadians say it can be traced back to two Canadian air force officers and a British hotel manager. During the Second World War, the officers lodged at a hotel in Lancashire. While there, the chaps gave the recipe to the hotel manager, a woman named Patricia Martin.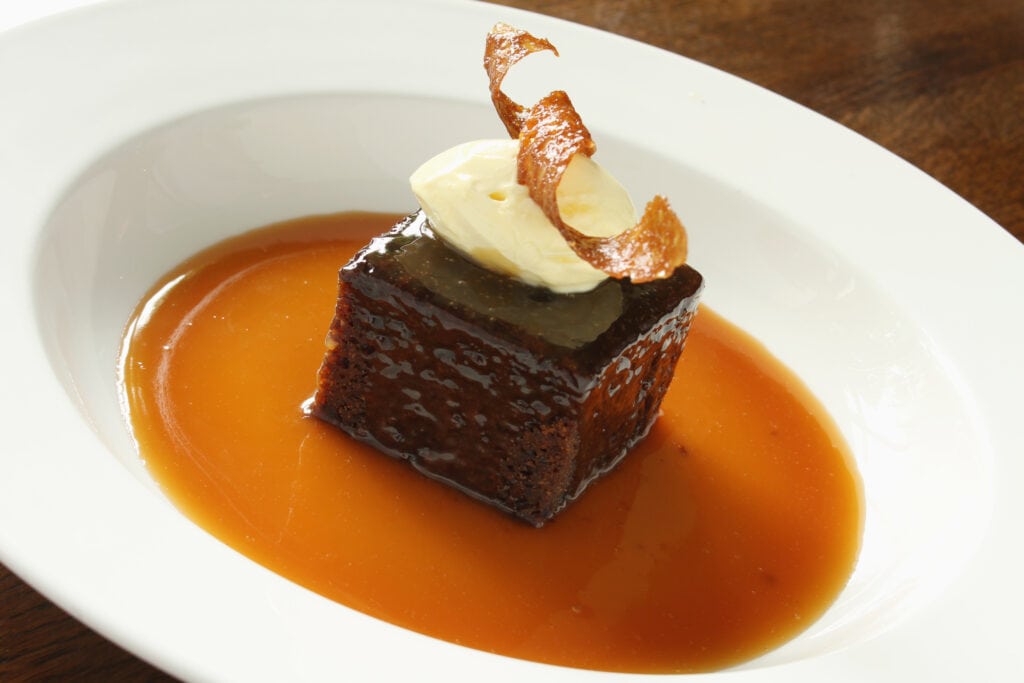 What to drink in Scotland
Whisky
Irish whiskey is made differently from Scottish Whiskey as it is a blend of malted and unmalted barley Scotch uses only malted barley. The malted barley used in Scotland is dried over peat smoke which gives it that distinctive "peaty" flavour.
Scotch is split into five categories – single malt, single grain, blended malt, blended grain, and blended. Usually served without any additions but sometimes a glass of water is brought with the whiskey to cleanse the palate.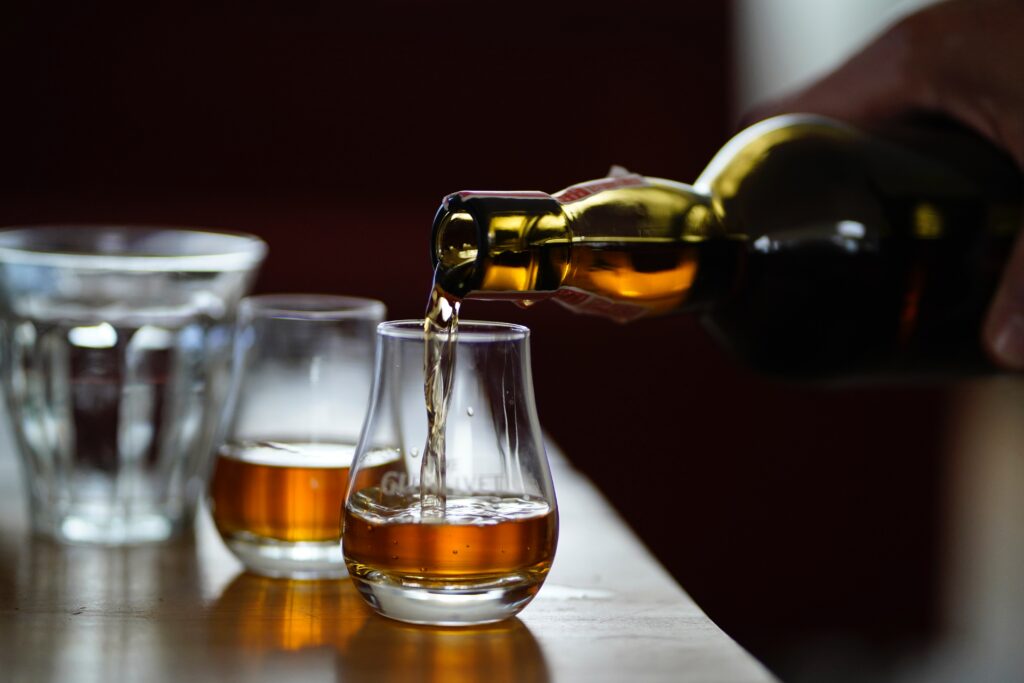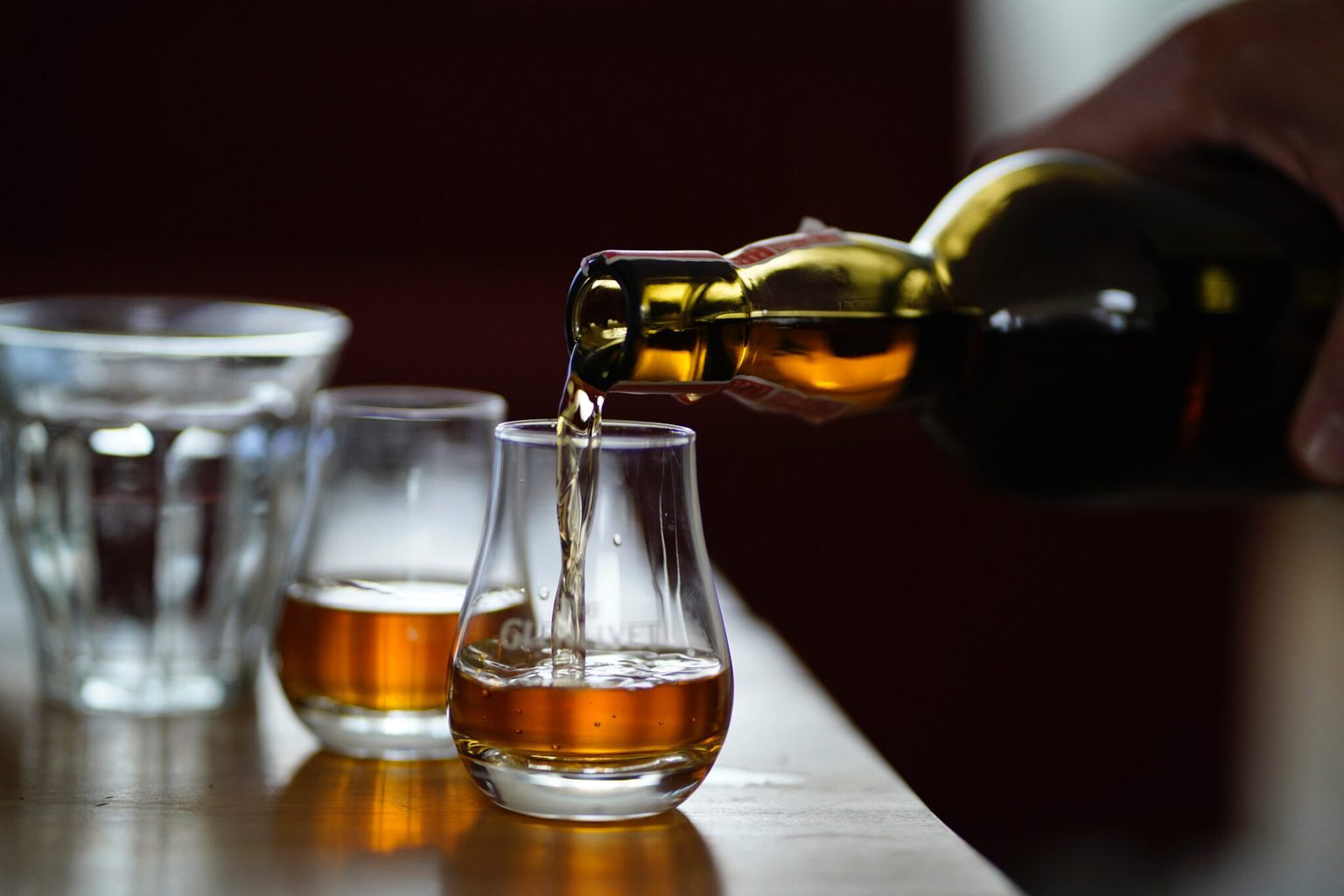 Irn Bru
Irn-Bru is loved by millions worldwide, but the taste is often highly debated. Marketing for the drink used to say 'it's made of girders' which kind of explained the metallic edge in the flavour. The taste is often said to be from Bubblegum, tutti-fruity, orange, or cream soda but it still remains rather undefined. It is made in Glasgow and known for being a bright orange colour and was invented in 1901 and contains a mere four ingredients: carbonated water, sugar (sucrose), salt, and flavourings. It contains far less sugar than most American carbonated drinks.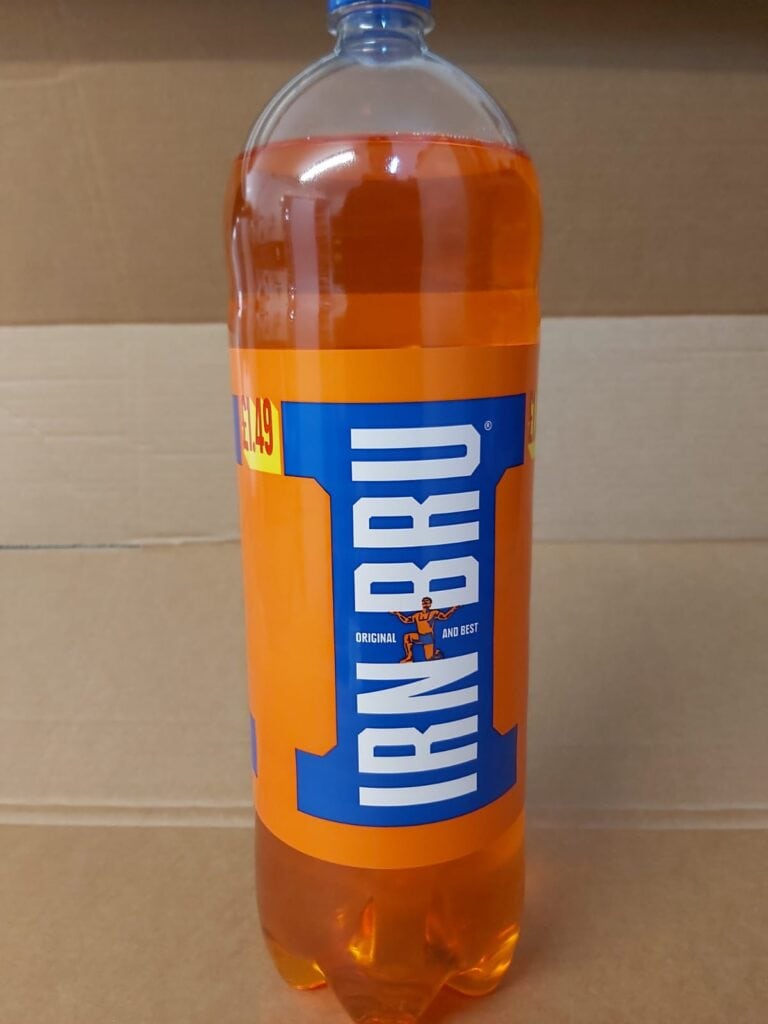 Drambuie
Drambuie is a whisky liqueur. A blend of aged Scotch whisky, spices, herbs & heather honey. Its origins can be traced to a secret recipe created for Bonnie Prince Charlie by his Royal Apothecary in the 18th Century. The name Drambuie is derived from the Scots Gaelic 'An Dram Buidheach' and means "The Drink that Satisfies".
Rusty Nail cocktail
There are a few stories as to where the name came from – the most popular is that it was originally stirred with a rusty nail. Others insist the name came from the rusty nails that held the cases of Drambuie together, or it could be that the golden tones in the finished drink are what inspired the name. A rusty nail will get any Glaswegian singing in the pub or outside of the pub for that matter.
Whipkull
This traditional Scottish drink that is made from egg yolks, sugar, rum and cream was once served at the breakfast table of Shetland lairds.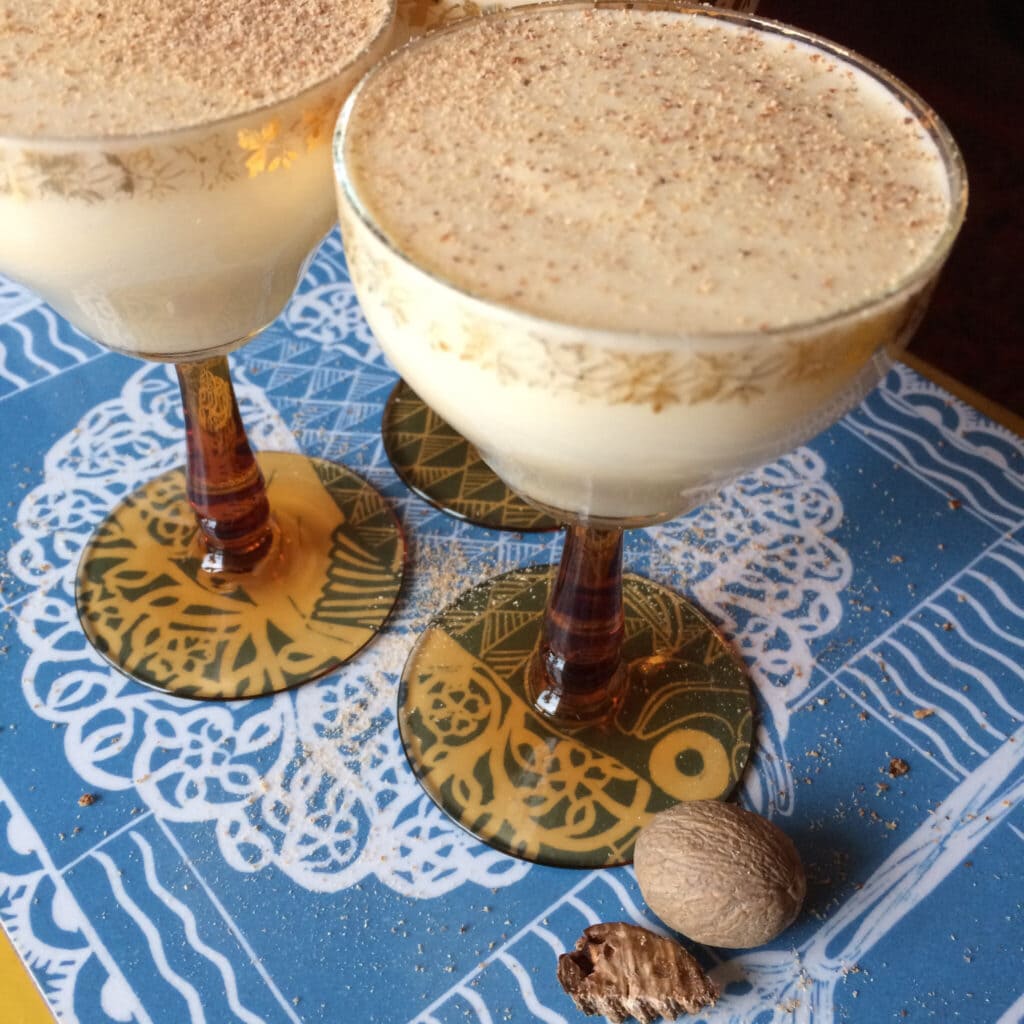 Hot Toddy
Again my Glaswegian friends swear by a Hot Toddy to fix anything from a hangover to a cold and fever. Mixed a little whiskey with some honey and hot water to soothe your sore throat or beat off that nasty cold.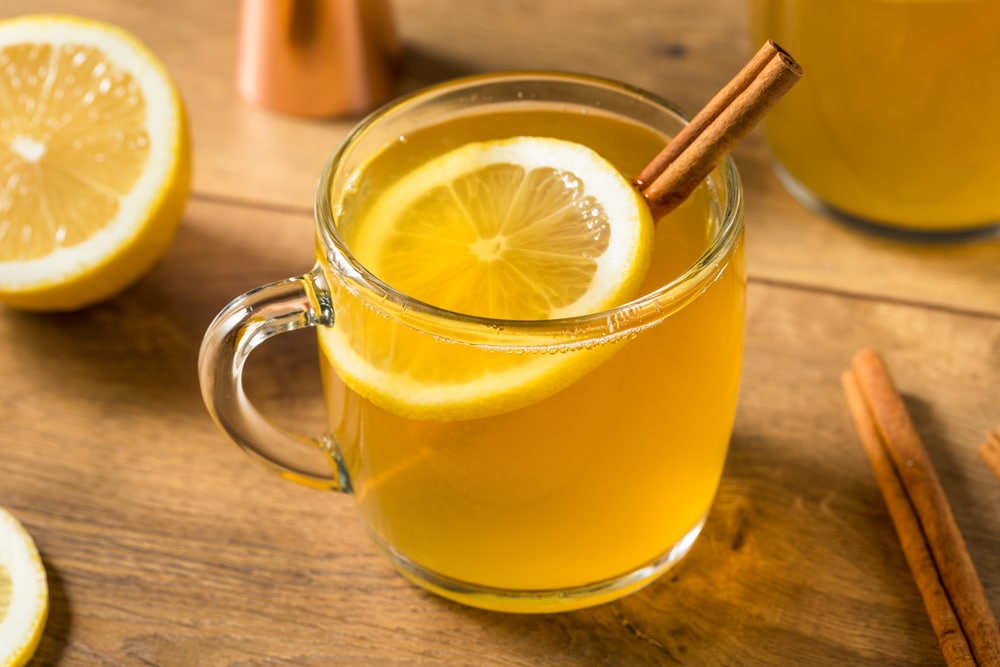 Beer
The Scottish do love their whiskey but these days there is much to choose from in the Artisanal beer category. Brew Dog is a Scottish beer that is now sold worldwide and of course, there is Tennants a highly popular lager drunk everywhere.
Scottish food has much to offer us foodies, fresh flavourful and local and you have to try some of the authentic traditional Scottish foods such as haggis, tatties and neeps and cranachan.
Scottish cuisine has a rich history and offers a diverse range of flavours that are sure to delight any palate. From traditional dishes like haggis and neeps to modern twists on classics like Cullen skink or cranachan, there's something for everyone to enjoy. Whether you're exploring the bustling streets of Edinburgh or the rolling hills of the Highlands, be sure to try some of these delicious foods and experience the unique culture and traditions that make Scotland such a special place. So come raise a glass of whisky, tuck into some hearty fare, and discover all that Scottish cuisine has to offer!
Have you been to Scotland what was your favourite Scottish food to try?
You might also like
Scotlands Castle Hotels – 36 Charming Hotel Castles
Journey to the Black Isle of Scotland the amazing mysterious isle
Things to do in Dumfries exploring a literary heritage
The 13 most Interesting Things to do in Inverness, Scotland
Witch Trials in England: 33 Witch Sites to Visit
The perfect Ireland and Scotland Itinerary
148 National Dishes of countries around the world
Top 23 Glasgow Attractions – the best places to visit in Glasgow
59 Traditional British Foods – from the sublime to the WTF
Pin it to save it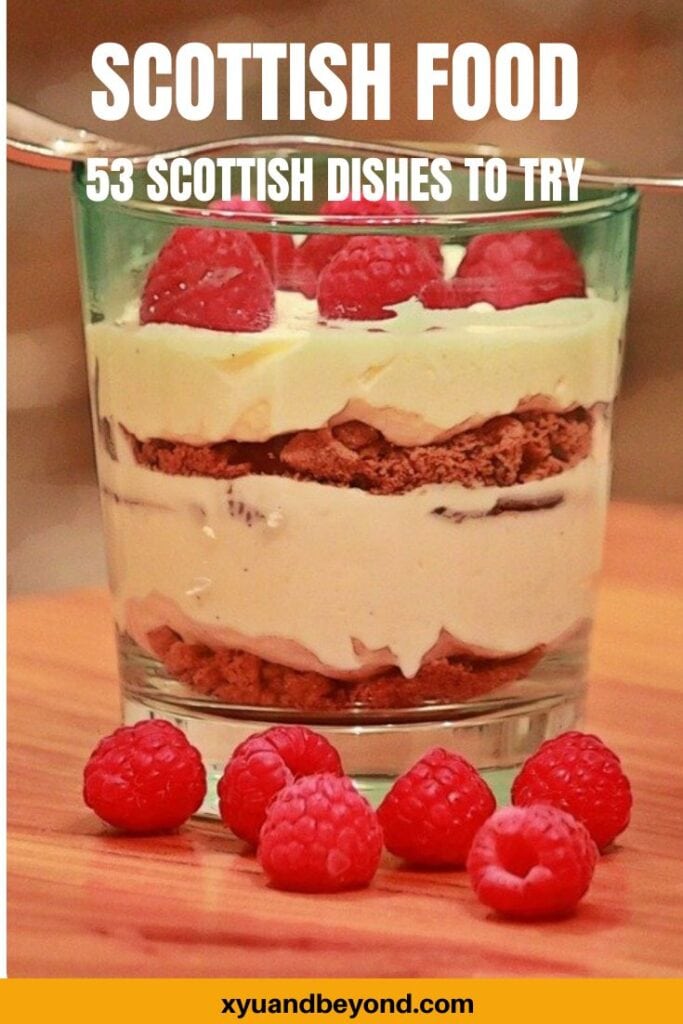 Latest posts by Faith Coates
(see all)