21 Top Attractions in Edinburgh: Historic Heart of Scotland
Edinburgh, the historic capital of Scotland, is home to historic sites, modern restaurants, pubs, and nature. Although Edinburgh is on many travellers' radar, it isn't as bad as Paris or London for massive crowds of tourists though during the Fringe it is jam-packed with visitors.
A visit to beautiful Edinburgh is perfect for travellers looking for a low-key, historic, culture-filled city. You also can't go wrong finding amazing Harry Potter sites to visit when in Edinburgh, visiting the Fringe Festival or the many historical sites in the City. This is my compilation of all the best things to do in Edinburgh.
In Scotland, Edinburgh is affectionately called "Auld Reekie", which is Scottish Gaelic for Old Smokey. During the 1800s Edinburgh was usually covered in a smokey miasma from the many chimneys within the City.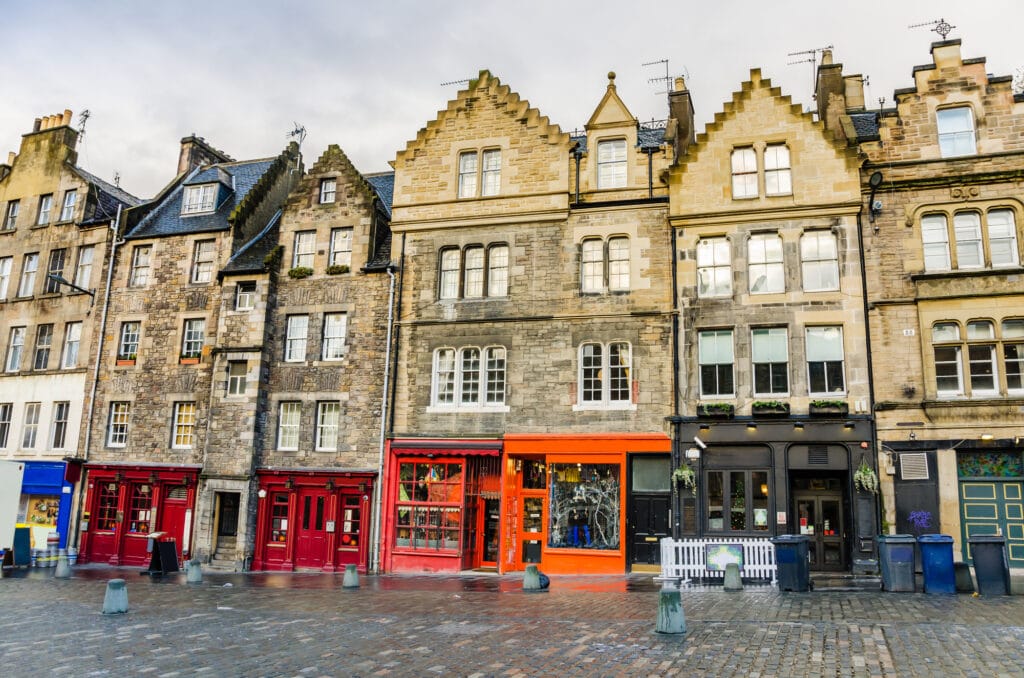 Xyuandbeyond is reader-supported. When you buy through links on our site, we may earn an affiliate commission. You can read my privacy policy here.
Want to travel to both Ireland and Scotland? This itinerary could be helpful
The weather in Edinburgh is akin to the Irish which means rain and wind. normally rainy and windy. This does lend an air of mystery and I hesitate to use the word grimness to the city but it gives it a brooding air of mystery. But when the sun shines so does Edinburgh.
Edinburgh is the second most visited city in the UK after London. Every year over two million tourists visit Scotland's capital city. From Edinburgh you can pretty easily get to other areas of Scotland, the Highlands are a trip well worth making and take the time to visit Glasgow where you get to experience a different side of Scotland.
Here are some tips to make sure your trip to Edinburgh is enjoyable.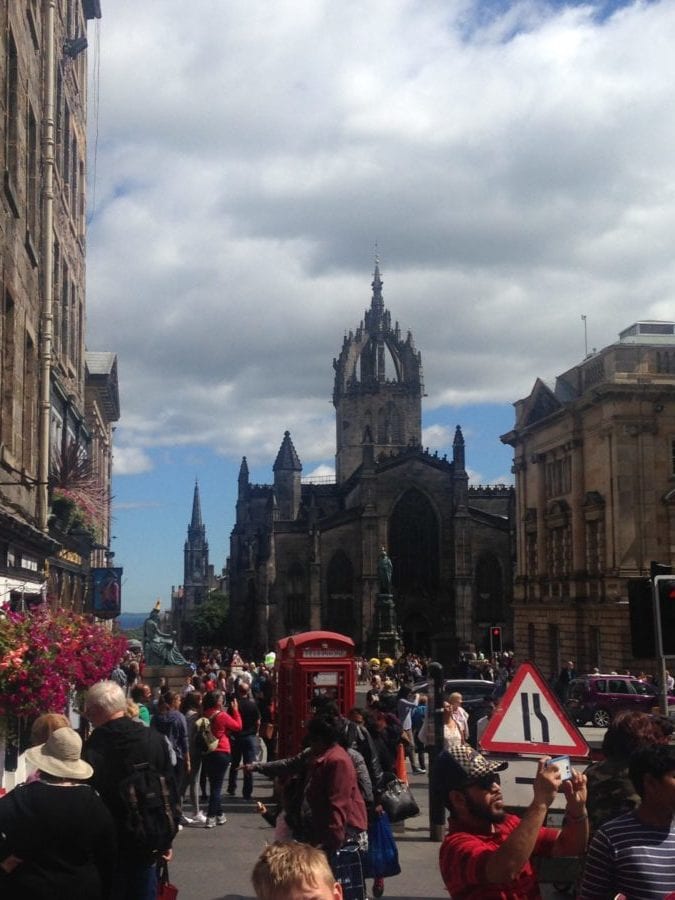 Scotlands Castle Hotels – 36 Charming Hotel Castles to stay at
How to get to Edinburgh
There are a variety of ways to get to Edinburgh. If you are travelling from abroad you may want to fly directly to Edinburgh Airport. Flying there can get expensive. One way to find a better deal is to fly into Reykjavik, Dublin, or London and catch an economy flight from there on airlines such as Ryanair or Easyjet. Flights can get as low as $50.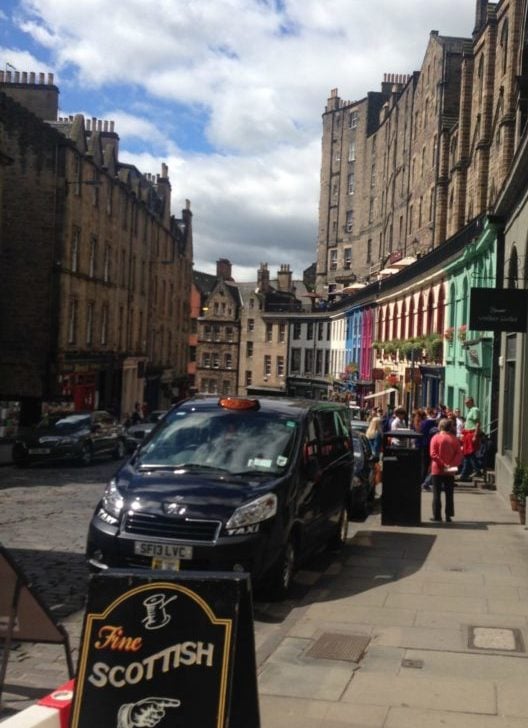 Edinburgh is also accessible by train. The train ride up from London is quite breathtaking. The train takes approximately 4 hours which is great if you have the time to spare. Many people prefer the train to fly because it eliminates the stress of being in an airport. The cost varies – if you purchase tickets far enough in advance it can be quite a bit cheaper than flying.
Scottish foods – 53 Scottish favourites to enjoy
Is Edinburgh expensive?
Is Scotland expensive? If I'm honest it can be but then again that all depends on where you stay and how you travel. If you plan to stay in a castle and travel first class then yes it can be very expensive. However, if you plan carefully and manage your budget it can be as affordable as any other place in the world.
Another advantage of taking the train is your ability to walk around the train car and enjoy some snacks.
Taking the bus (or driving) is also an option. Taking a bus might be less than a train, but that, or driving, will take you over 7 hours to get from London. When you get there, Edinburgh is a town where you'd want to stay at an inn vs a hotel. The city is full of charm and there are plenty of inns that will give you the cosiest experience possible.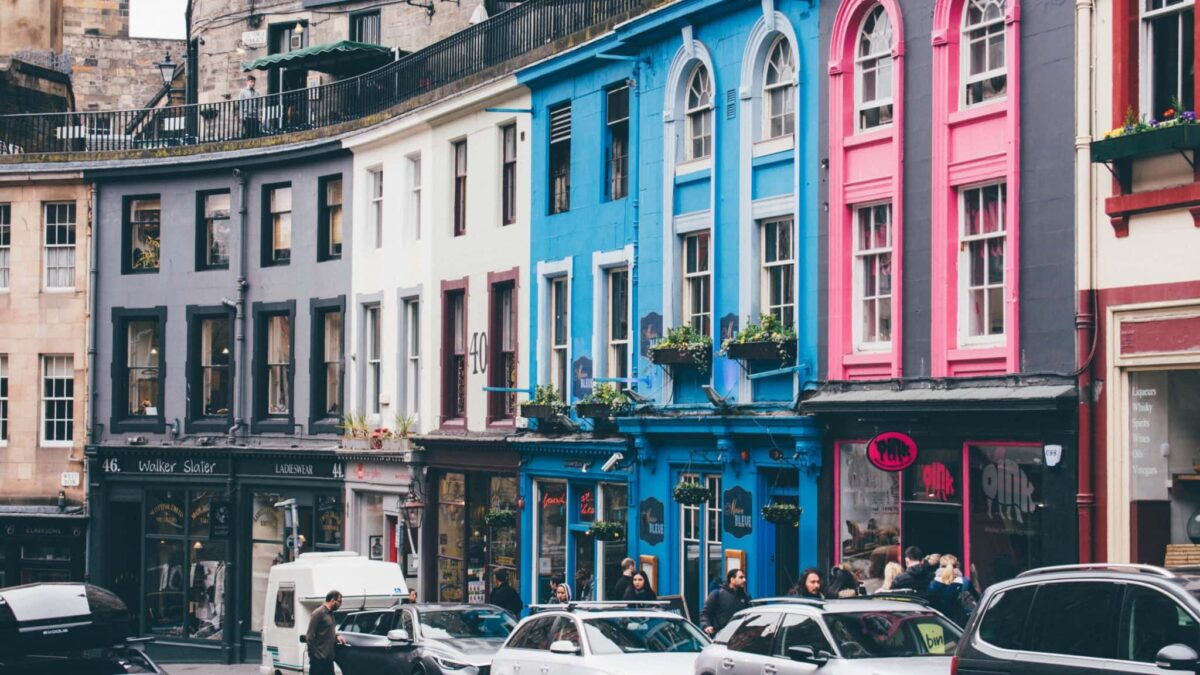 How to plan your trip to the UK, Ireland and Scotland
21 Things to do in Edinburgh
What are the top attractions to visit in Edinburgh? There are a number of things to experience in Edinburgh depending on what you like to do while travelling. Your Edinburgh visit will include many iconic sites so make sure there is plenty of room on your camera.
The best time of year to visit Edinburgh is literally anytime of year the city holds so much to see and do and there are plenty of pubs to nip into if it starts to rain and it will.
The Royal Mile
The Royal Mile is the beating heart of Edinburgh's Old Town. At the bottom, it begins at the Palace of Holyroodhouse and goes up to Edinburgh Castle. The Royal Mile is around 1.8 km long Its name comes from its tradition as a processional route for kings and queens for the last 500 years.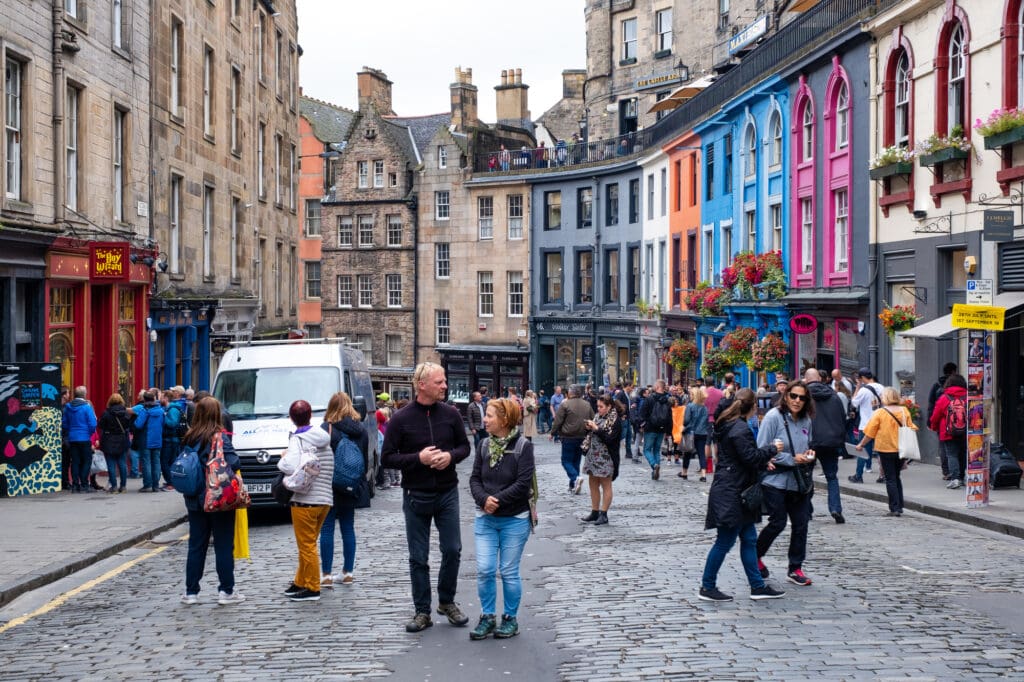 Real Mary Kings Close
One of Edinburgh's hidden secrets Beneath the Royal Mile lies the Real Mary King's Close lies a warren of hidden streets where real people lived, worked and died between the 17th and the 19th centuries. On a one-hour tour led by a character tour guide depicting a former resident of the Close, guests will delve below to learn the real stories from Edinburgh's incredible past between the 16th and 19th centuries.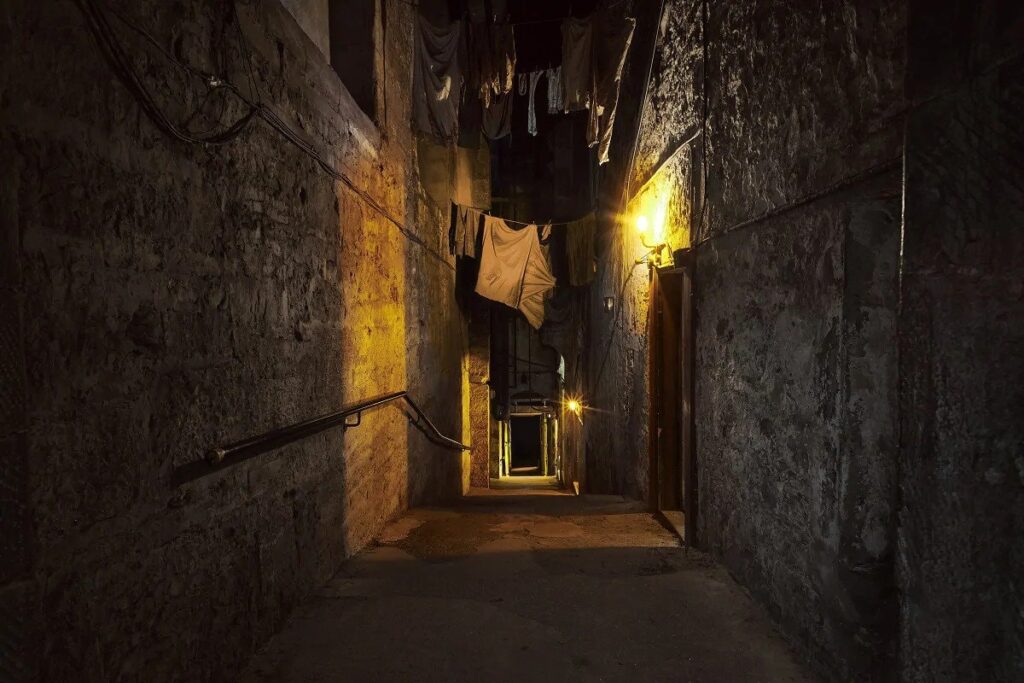 Learn about the horrendous plague, why it was wise to avoid the streets at 7 am and 10 pm, hear the stories of the people who lived, worked and died on these streets and discover how all social classes lived together stacked on top of each other in tenements that are said to have been the world's first skyscrapers!
Royal Botanic Gardens
Set on 72 acres just outside the city centre, the Royal Botanic Garden Edinburgh started life as a 17th-century physic garden. This stunning garden has thousands of plant varieties, an enormous, slightly otherworldly lily pond and a Chinese garden on a hillside. But the biggest draw is its Victorian glasshouses: made up of 10 huge structures, each with a different climate, they teem with ancient palm trees, giant lily pads, and orchids.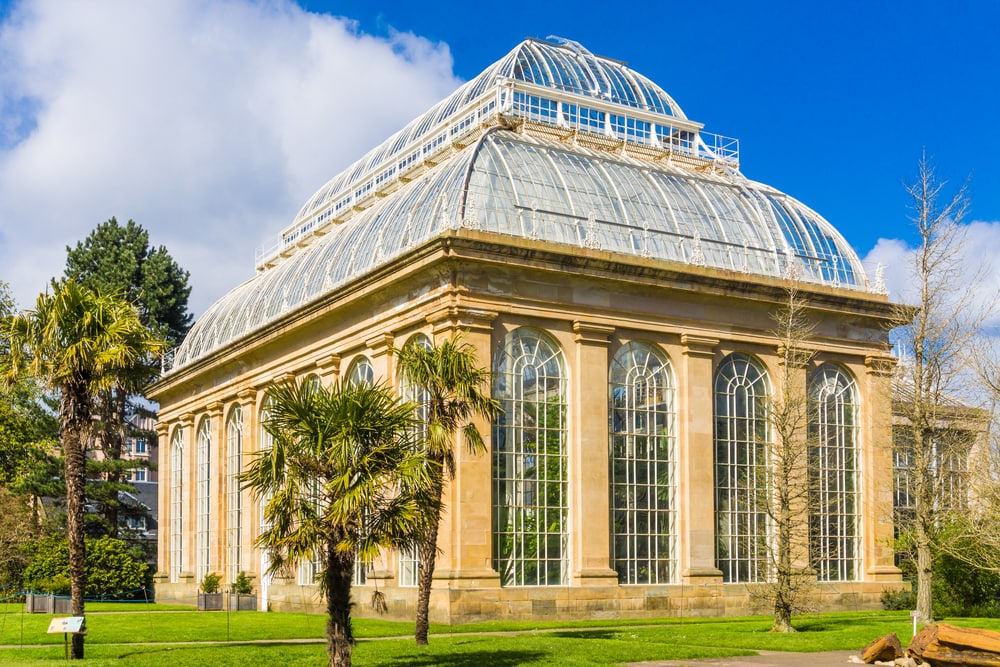 Visit Edinburgh Castle
What is the most visited place in Edinburgh? Edinburgh Castle dates back to the 12th century and has a long, crazy history. The castle holds the Crown Jewels of Scotland among other historic artefacts and the National War Museum of Scotland.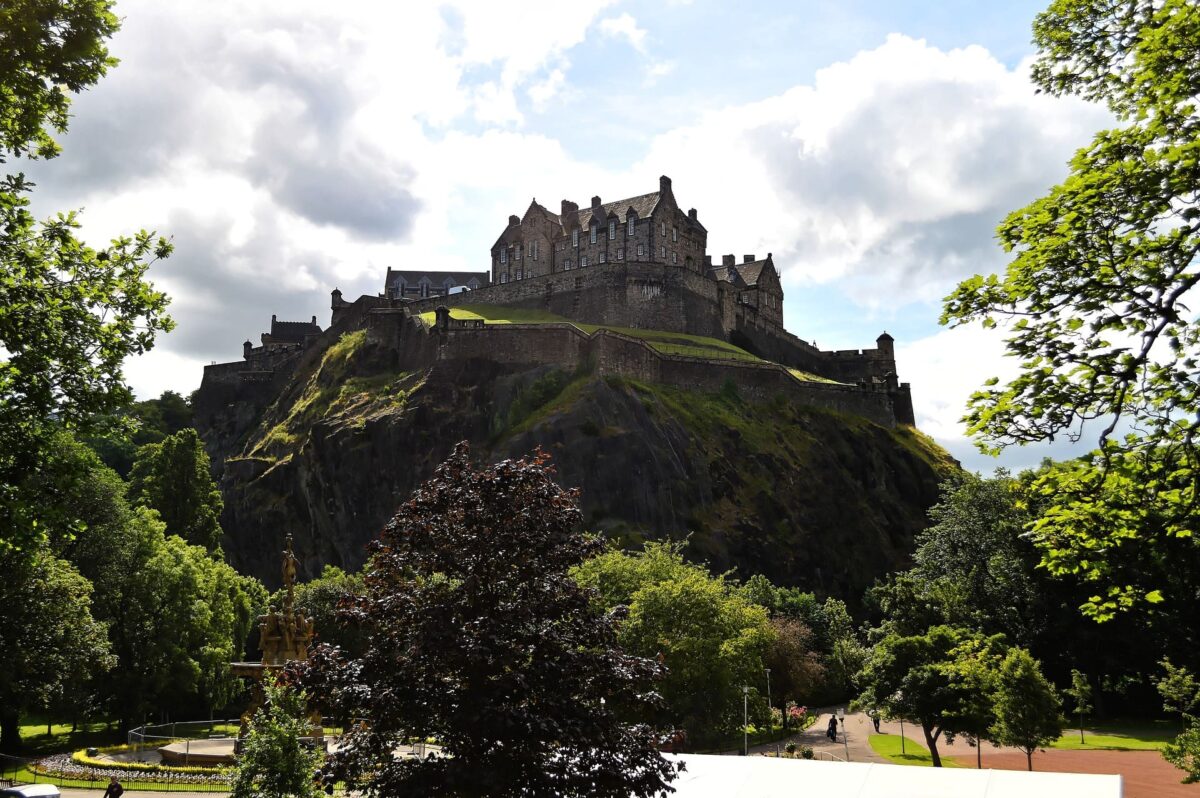 When visiting the Castle you take an audio tour or a guided tour. Neither is required – you can also walk the castle at your leisure.
Edinburgh castle tickets – the Castle is open most days from 9:30 am to 5 pm and costs £18.00 online and £21.00 at the gate
This is the place that most tourists head to as it is central to many of Edinburgh's tourist attractions. No visit to Edinburgh would be complete without seeing The Royal Mile.
Grassmarket
In the heart of Edinburgh's historic old town, behind the castle, Grassmarket is one of the most vibrant, picturesque and lively areas of the city. A paradise of designer shops, funky merchandise, artists, bars and restaurants the Grassmarket is simply bursting with some of the best shopping Edinburgh has to offer. The area is well known for being home to some of the best restaurants in Edinburgh as well as some of the most animated and eclectic bars.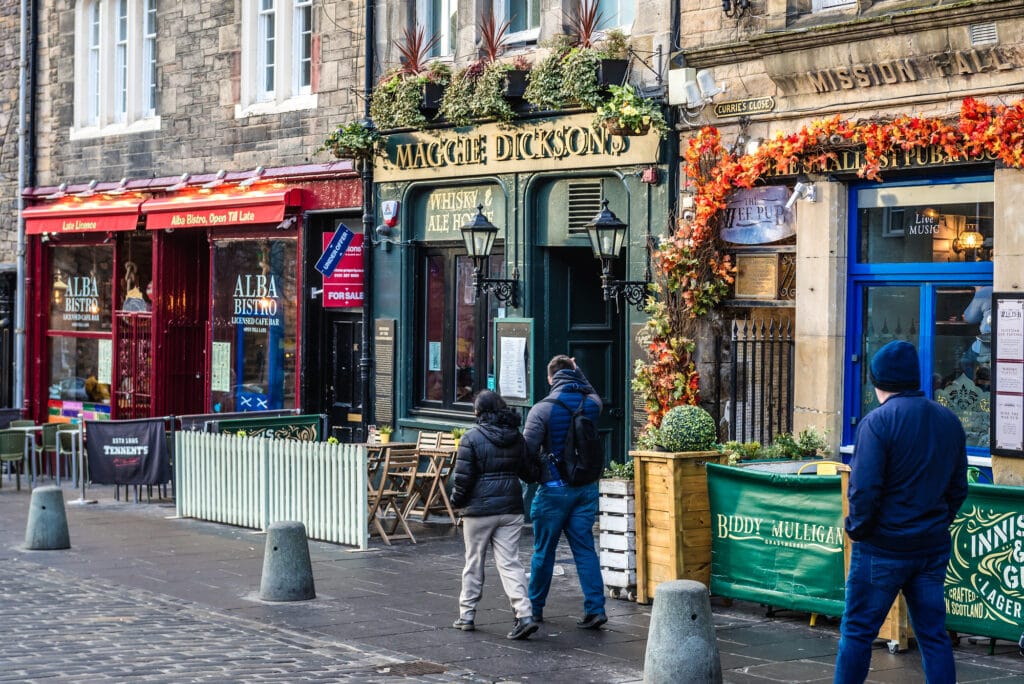 Camera Obscura and World of Illusions
The Camera Obscura & World of Illusions is located in Outlook Tower on the Castlehill section of the Royal Mile close to Edinburgh Castle. The original attraction was founded by entrepreneur Maria Theresa Short in 1835 and was exhibited on Calton Hill. Outlook Tower has been a museum since the late 1890s and is currently home to many interactive exhibits, including the original Camera Obscura.
The tower is the oldest attraction in Edinburgh and one of the oldest in the United Kingdom. On the top floor, the Camera Obscura projects a "virtual" tour of the city and the rooftop terrace has stunning views of Edinburgh.
The floors beneath the Camera Obscura hold the "World of Illusions", which offers interactive exhibits demonstrating aspects of optical illusions, light, and colour. There are also puzzles, a mirror maze, and a vortex tunnel.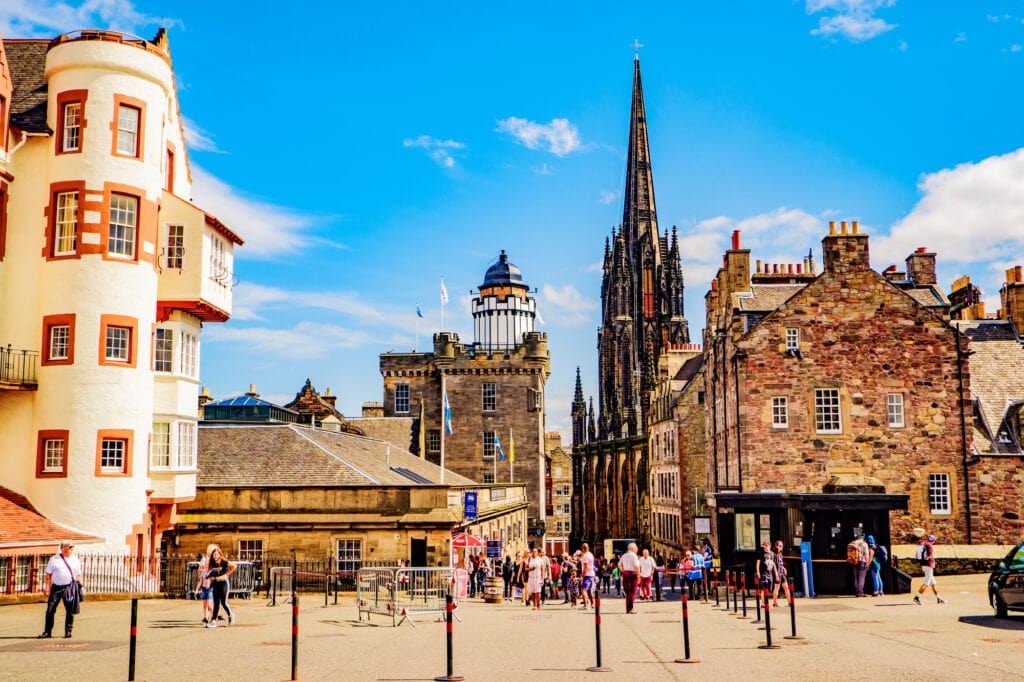 St Giles' Cathedral
Located on the Royal Mile, St Giles' is a stunning Medieval gothic cathedral and is the oldest religious building in the city. It was built in the 12th century but had to be rebuilt in the 15th because of the terrible fire that destroyed much of Edinburgh in 1385.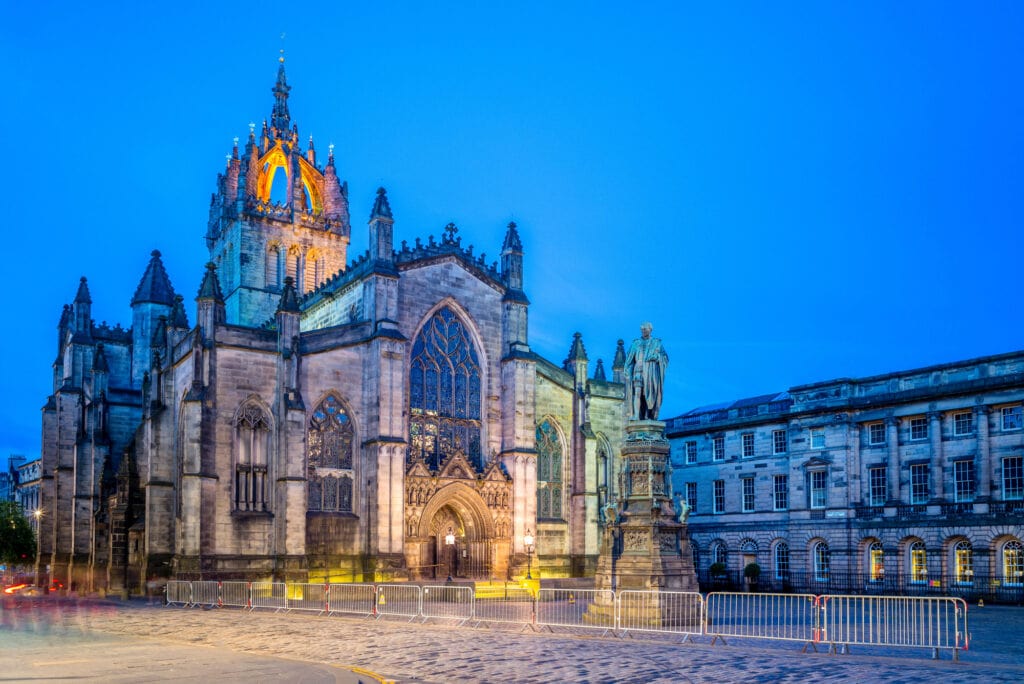 John Knox was a Scottish priest who converted to Protestantism in the 1540s and fled into hiding and exile. In Geneva, he befriended the French reformer, John Calvin. On his return to Scotland, he marched an army of followers into St Giles' and preached there for the first time. The following week he was elected its minister and the building was stripped of its Catholic decoration.
There was a long-held complaint that Edinburgh lacked a significant memorial to Robert Burns. In 1985 St Giles' agreed to install a stained-glass window to Burns above the entranceway and selected Icelandic artist Leifur Breidfjörd to complete the design. The Window celebrates major themes of Burns' work in a semi-abstract style; nature, humanity and love. The topmost tracery contains a depiction of the sun, blossoming "like a red, red rose".
This stunning building on Edinburgh's Royal Mile is famed for its distinctive crown spire and historic Thistle Chapel, home to the Order of the Thistle. The interior is incredible you can see absolutely outstanding stained glass windows Tours of the clock tower are available and booking is essential.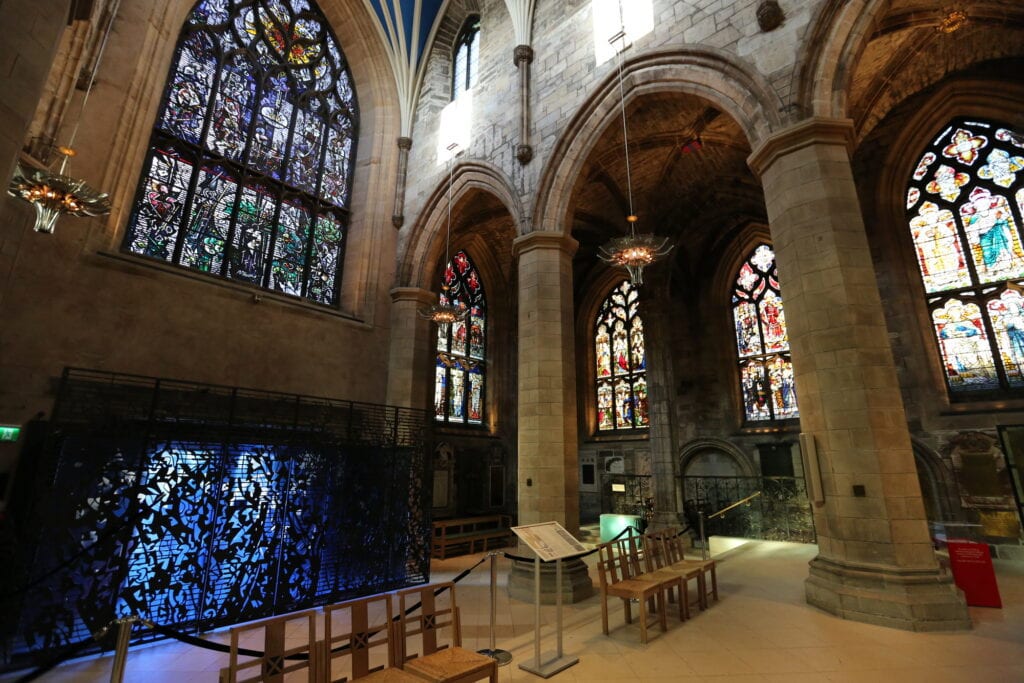 Museum of Edinburgh
The Museum houses spectacular collections of decorative art which reveal a rich history of Scottish craftsmanship, from beautifully cut and engraved glass and intricately made silver from Edinburgh and Canongate, costumes, longcase clocks, along with Scottish pottery and Scottish porcelain dating from the 1760s.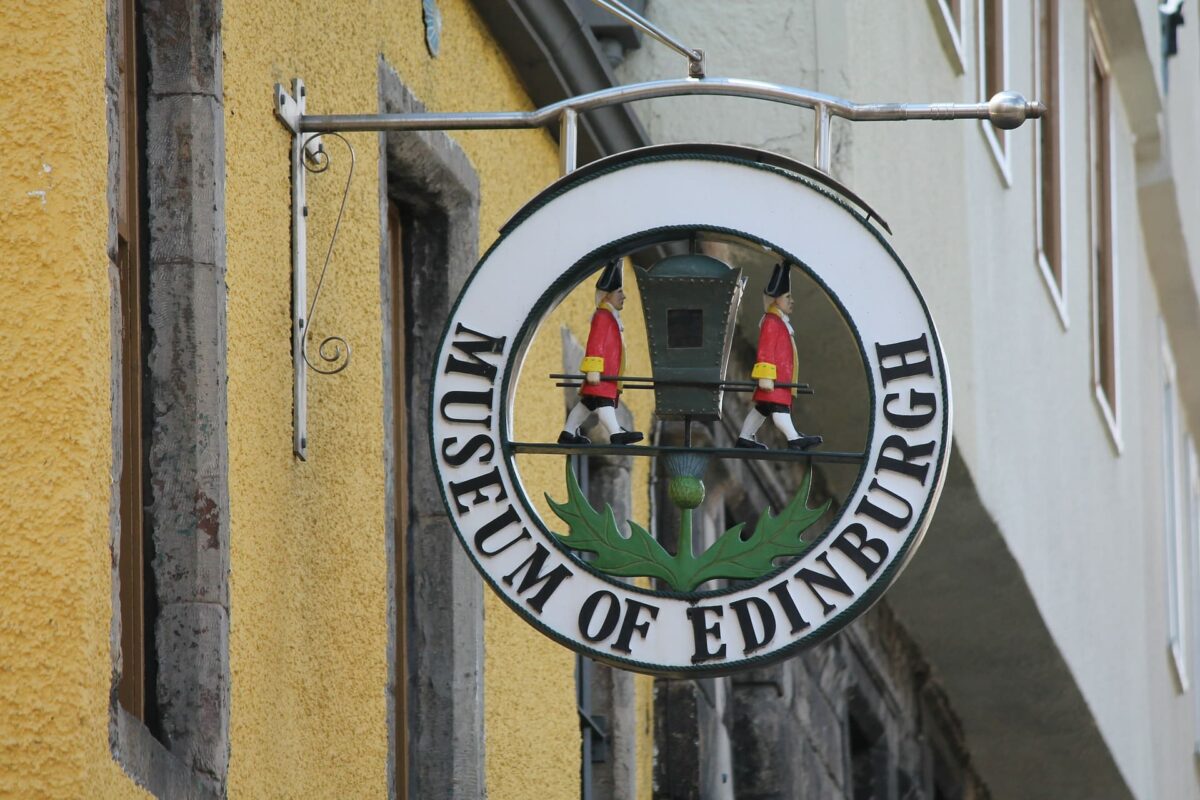 Rosslyn Chapel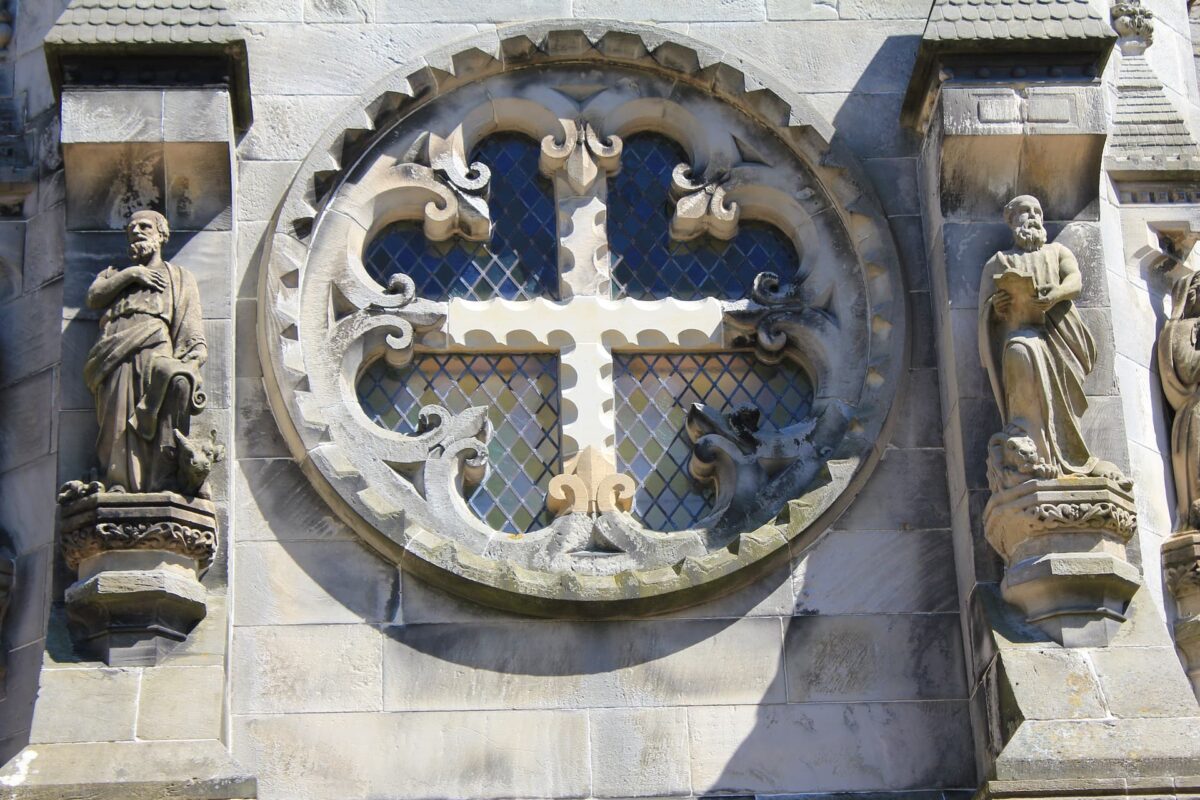 Rosslyn Chapel is slightly outside of Edinburgh but worth the visit. The Chapel was built in the 1400s – it took over 40 years to build – and is the site of numerous myths and theories. The Chapel even made an appearance in Dan Brown's book The Da Vinci Code. There is a small charge for admittance. If you enjoy old churches stop by to see ornate carvings, gothic architecture, and beautiful stained glass.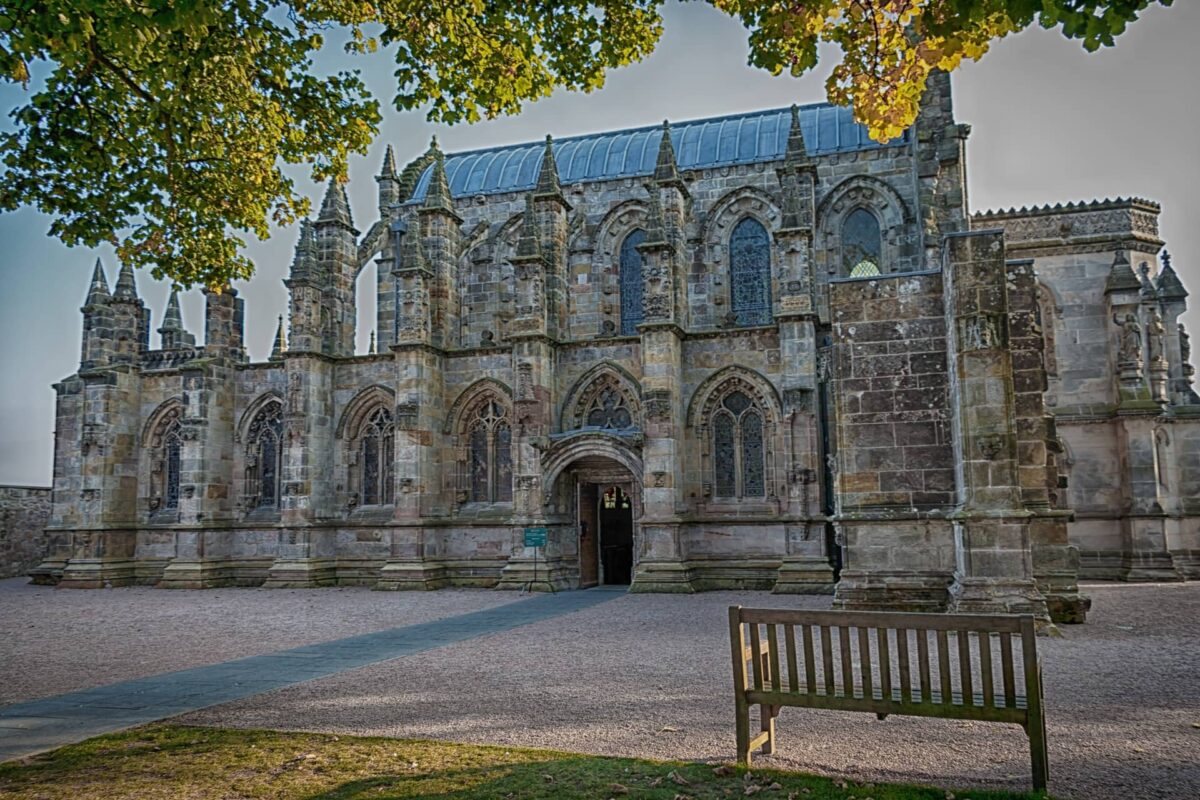 Dean Village
A historic centre of Edinburgh, Dean Village is a quaint subset filled with old buildings and gushing waters. A picturesque town with a history to back it up.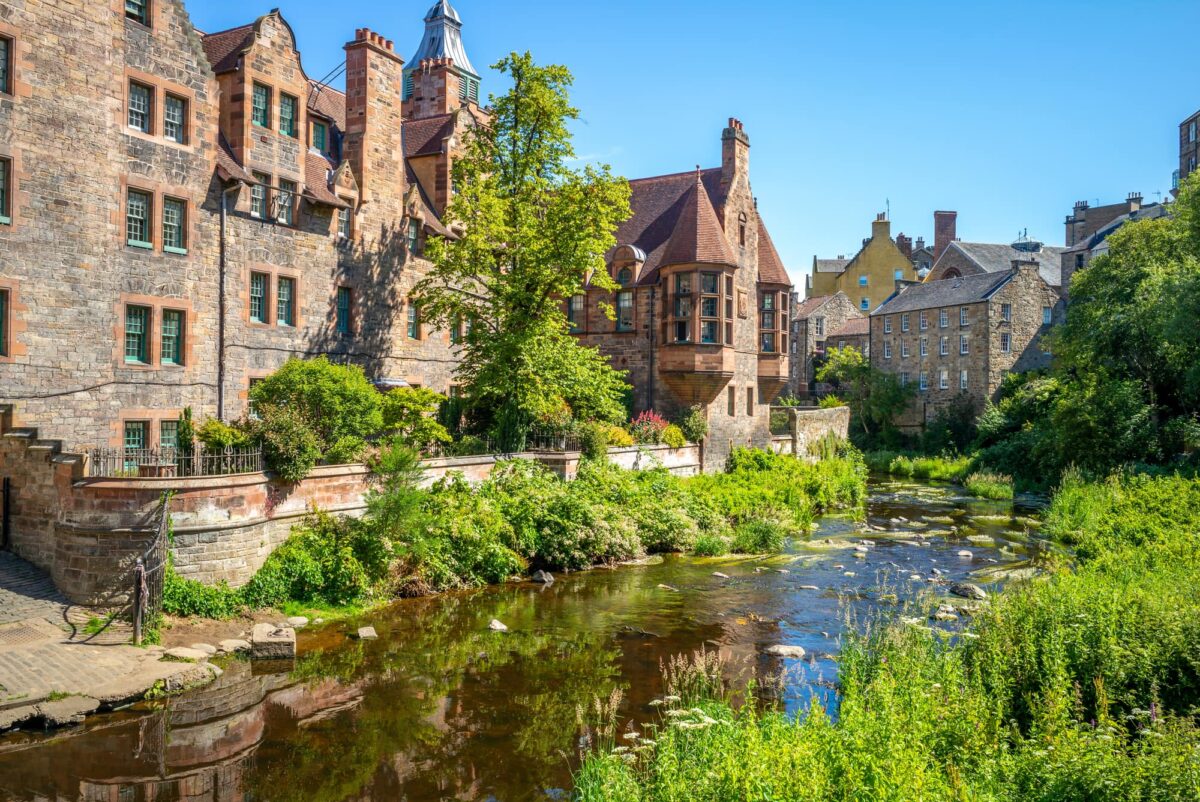 At the heart of Dean Village is Well Court which was built in the 19th century to house workers. The building is one of the most iconic in the area.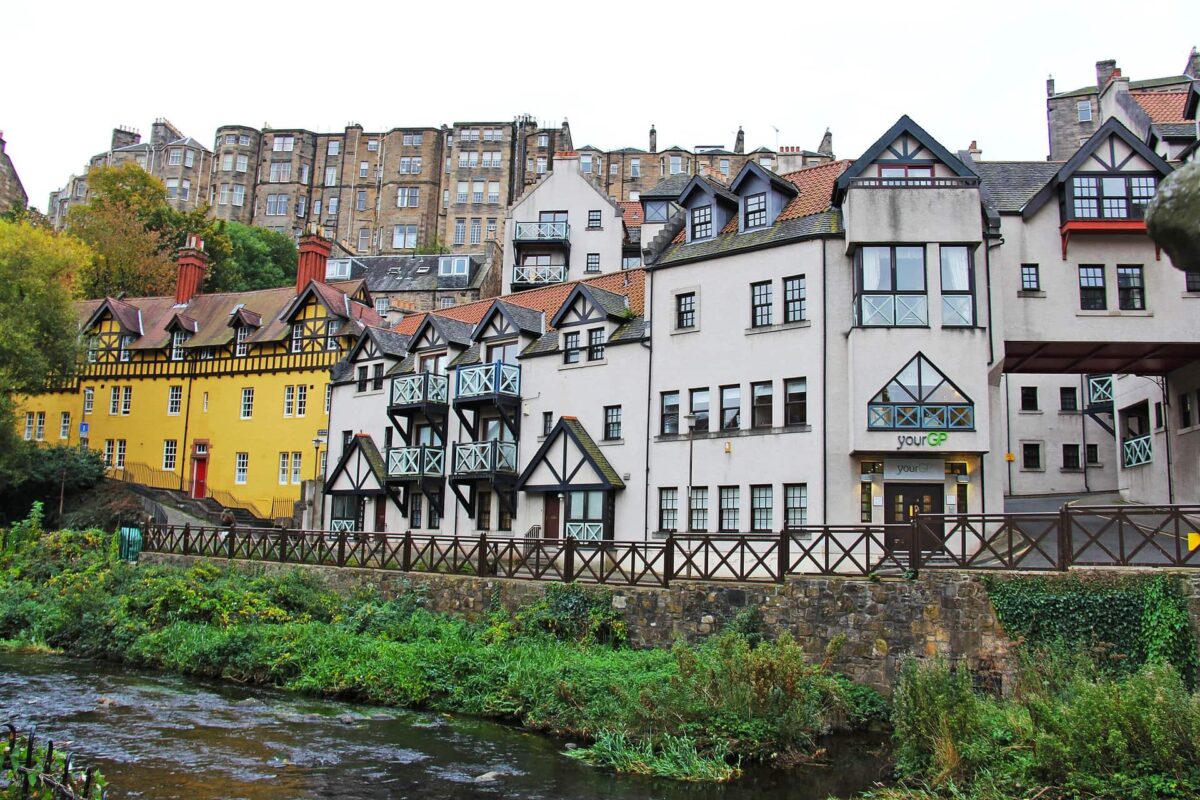 The Royal Yacht Britannia
Visiting the Royal Yacht Britannia is another fun thing to do in Edinburgh! The Britannia is one of the most famous ships in the world and it is open for visitors. A Royal residence for over 40 years, The Royal Yacht Britannia sailed over 1,000,000 nautical miles on 968 state visits with the Royal Family. You can tour the Royal Yacht and discover stories of life at sea for both the Royal Family and the 220 Royal Yachtsmen who served on board.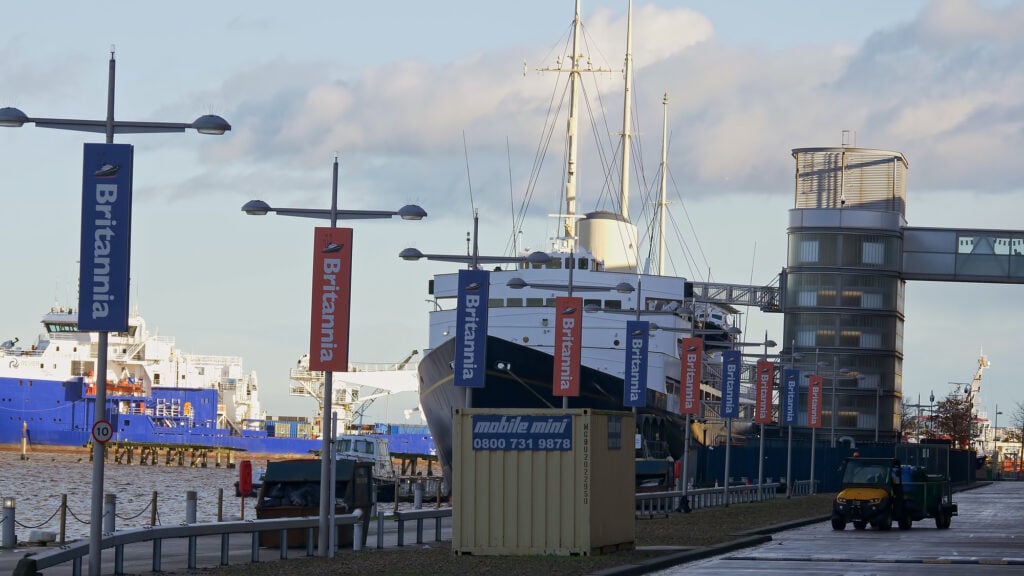 You can even have gorgeous Tea on the Royal verandah. The menu includes speciality coffees and cocktails, tasty soups and sandwiches and mouth-watering cakes and scones, all made on board in the Royal Galley. Perhaps treat yourself to a Champagne Cream Tea in the very same spot where the Royal Family would have played deck games and entertained?
Palace of Holyroodhouse
Opposite Edinburgh Castle, you will find the Palace of Holyroodhouse. This palace was Mary Stuart's and now is one of the Queen of England's second homes which she stays at for a few days every year.
You will be able to see the interior of the Palace, the State apartments, the Abbey ruins and the incredible gardens.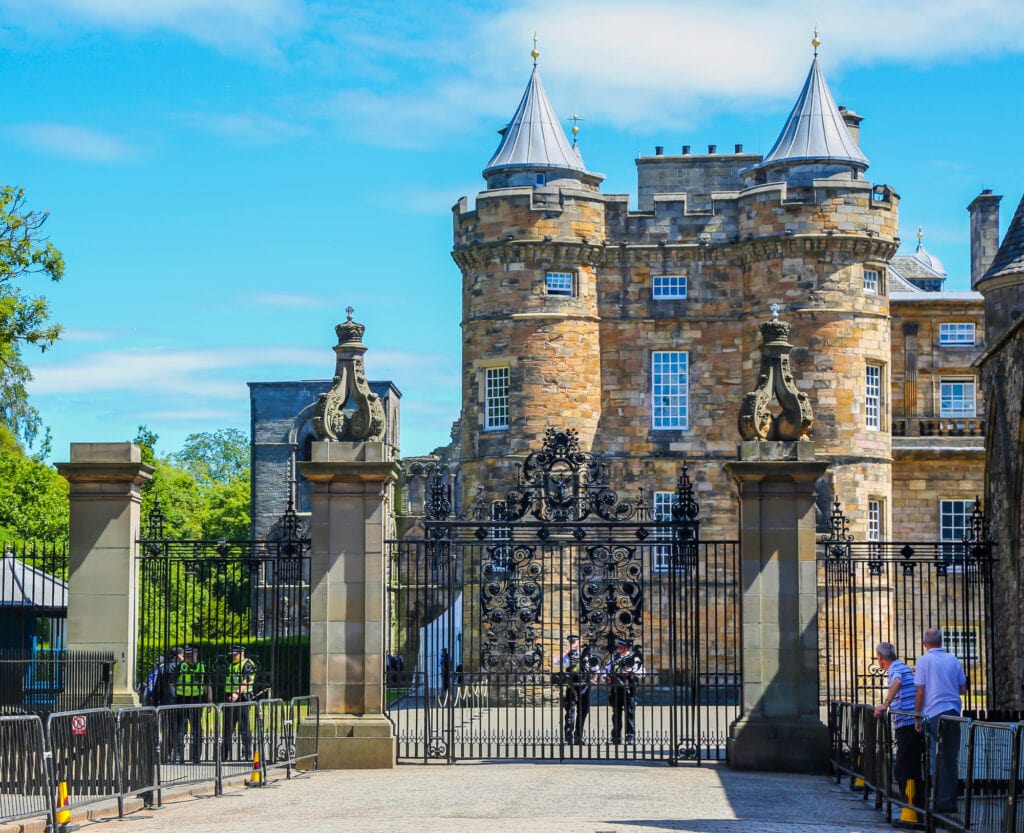 Scottish National Gallery
The Scottish National Gallery displays some of the greatest art in the world, including masterpieces by Botticelli, Raphael, Titian, El Greco, Velázquez, Rembrandt, Vermeer, and Van Dyck, Tiepolo, Landseer, Gainsborough, Constable, Turner, and Angelica Kauffmann amongst many others. The most comprehensive part of the collection covers the history of Scottish painting – including Ramsay, Raeburn and Wilkie.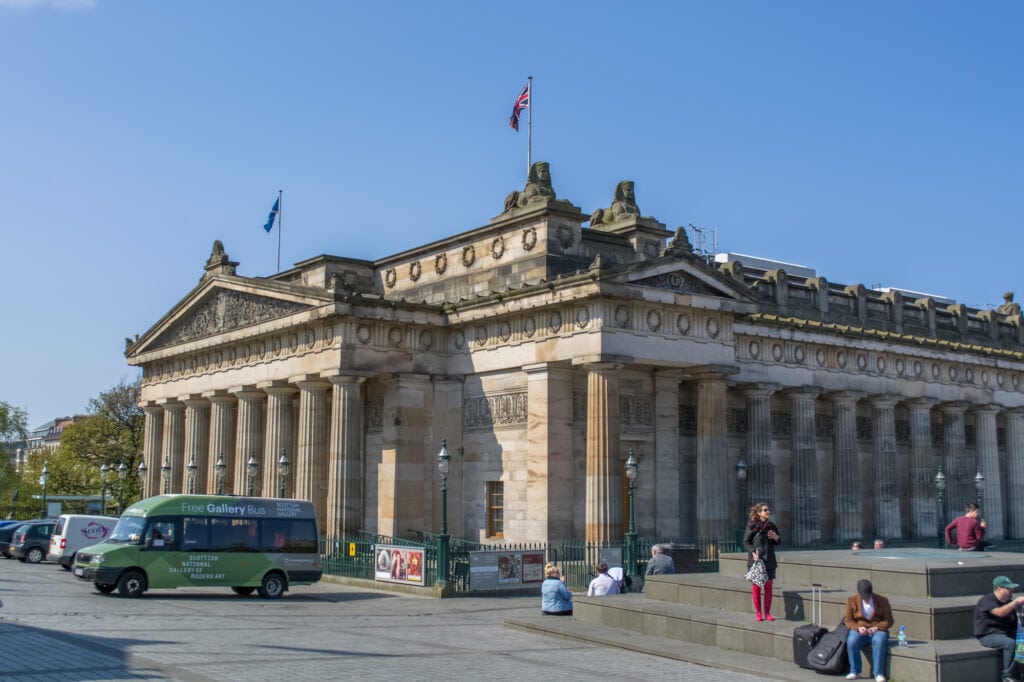 The Scottish National Gallery comprises both the National Gallery Building and the Royal Scottish Academy Building. Both of these buildings, designed by William Henry Playfair, stand in the heart of Edinburgh.
Scottish National Portrait Gallery
The Scottish National Portrait Gallery is one of Edinburgh's most remarkable buildings – a great red sandstone neo-gothic palace which sits proudly on the city's skyline. The Gallery was designed by Sir Robert Rowand Anderson as a shrine for Scotland's heroes and heroines. It opened to the public in 1889 as the world's first purpose-built portrait gallery.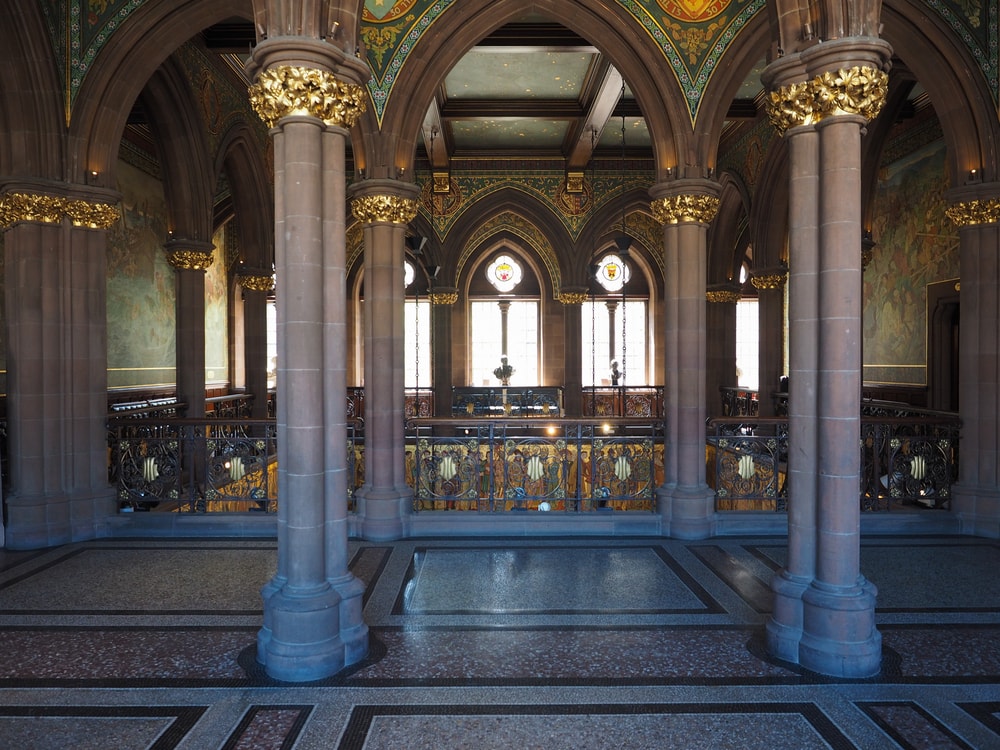 Displays at the Gallery explore different aspects of the story of Scotland and her people, told through a wealth of imagery including portraits of famous historical figures such as Bonnie Prince Charlie, Mary Sommeville, Sir Walter Scott and Robert Burns, through to more recent pioneers in science, sport and the arts including Emeli Sandé, Billy Connolly and Tilda Swinton.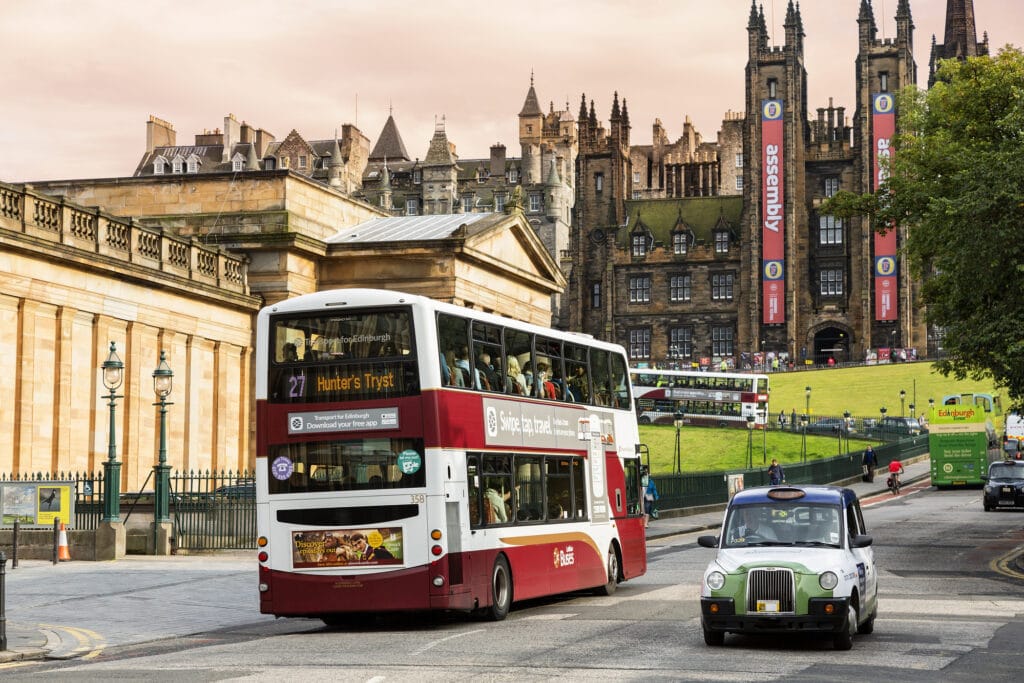 Scottish National Gallery of Modern Art
The Scottish National Gallery of Modern Art is home to Scotland's outstanding collection of modern and contemporary art. It comprises two galleries, Modern One and Modern Two. Modern One is housed in a neoclassical building, which was designed by William Burn in 1825. Modern Two was originally built in 1833 and in 1999 it was converted into a Gallery.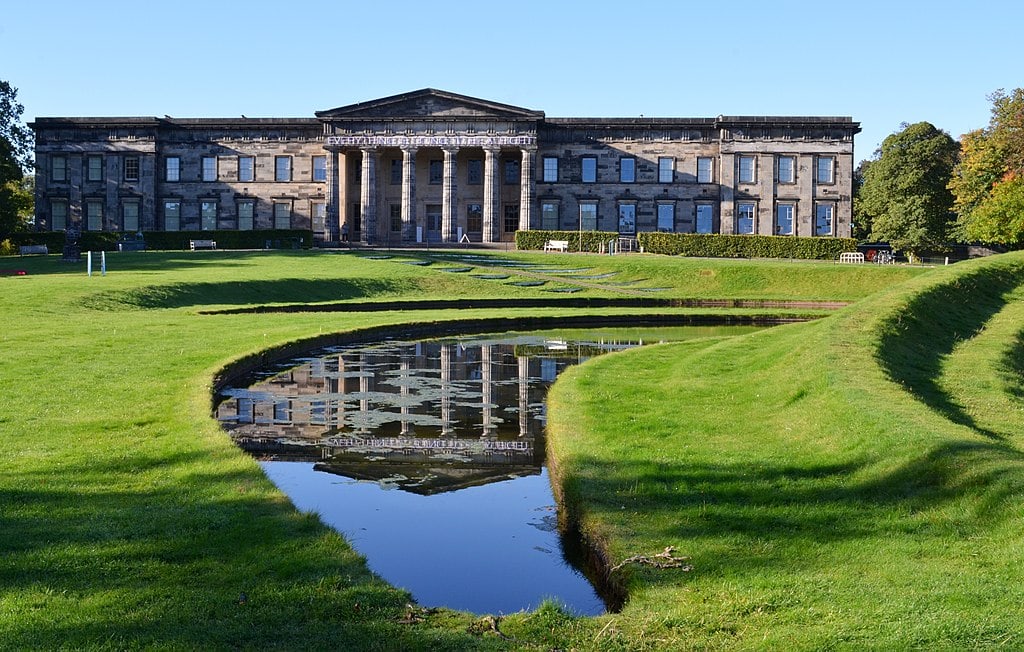 Calton Hill
Calton Hill is a hill situated beyond the east end of Princes Street and is included in the city's UNESCO World Heritage Site. Views of, and from, the hill are iconic images of Edinburgh.
Calton Hill is also the headquarters of the Scottish Government, which is based at St Andrew's House. The Scottish Parliament Building and other prominent buildings such as Holyrood Palace lie near the foot of the hill. Calton Hill is also the location of other Edinburgh monuments and buildings: the National Monument, the Nelson Monument, the old Royal High School, the Robert Burns Monument, the Political Martyrs' Monument and the City Observatory.[3][4]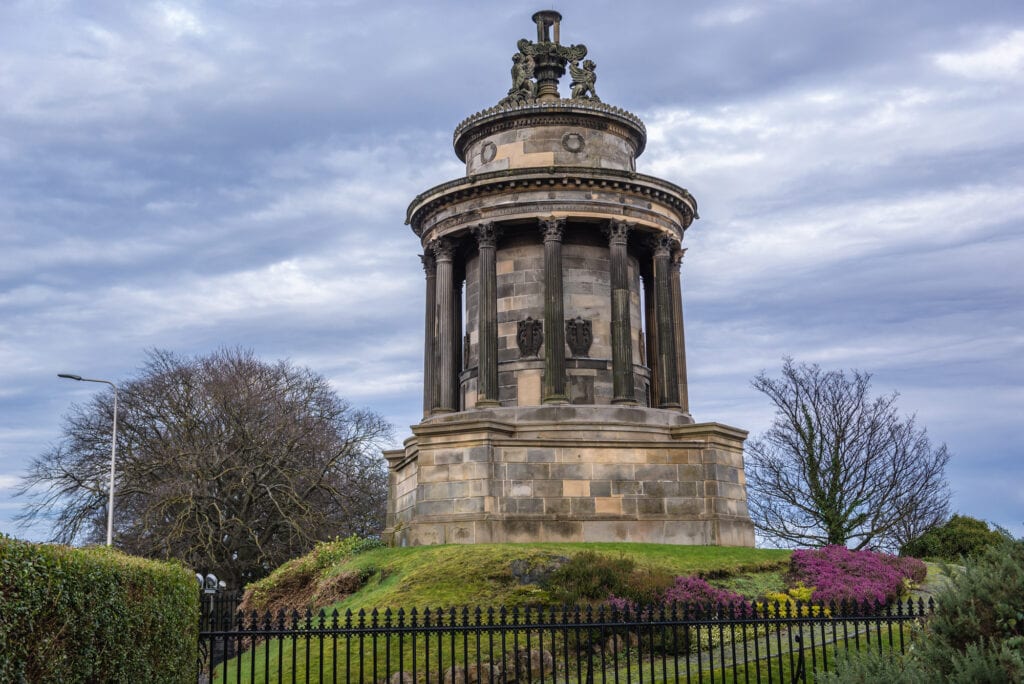 Princes Street Gardens
Princes Street Gardens are two adjacent public parks in the centre of Edinburgh. If you need to take a break from visiting Edinburgh Castle you will find the gardens at the foot of the castle. The Gardens were created in the 1820s following the long draining of the Nor Loch and building of the New Town, beginning in the 1760s.
The gardens run along the south side of Princes Street and are divided by The Mound, on which the National Gallery of Scotland and the Royal Scottish Academy buildings are located. The larger West Princes Street Gardens cover 29 acres and extend to the adjacent churches of St. John's and St. Cuthbert's.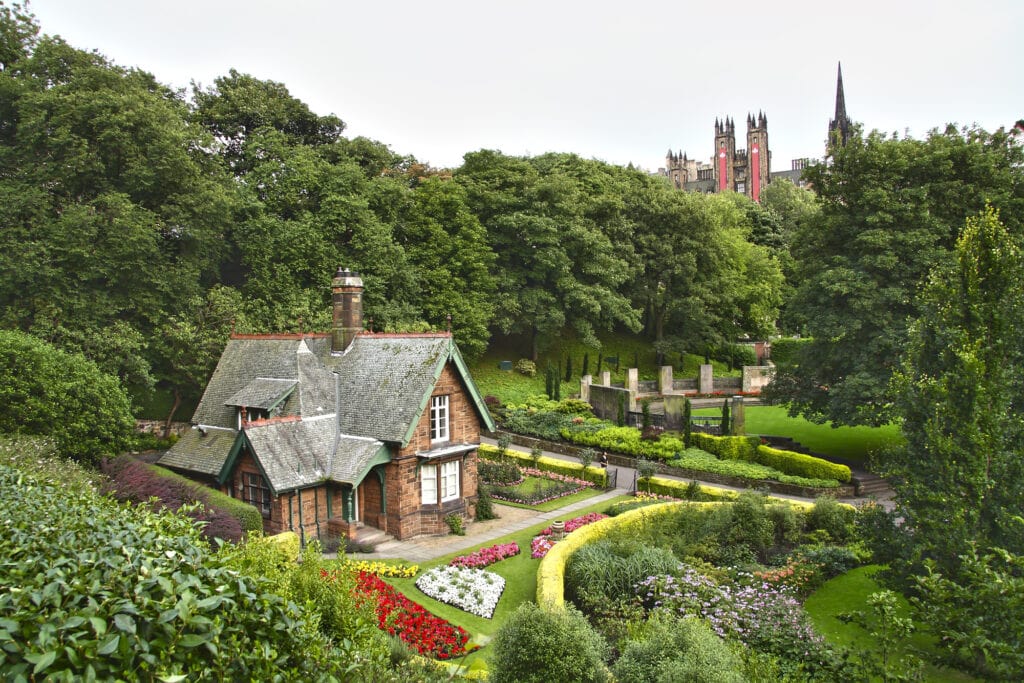 Edinburgh Fringe Festival
You can't mention Edinburgh without talking about the Fringe Festival that takes place every August packing out the City and causing mayhem and merriment wherever you go. The Edinburgh Festival Fringe is the single greatest celebration of arts and culture on the planet.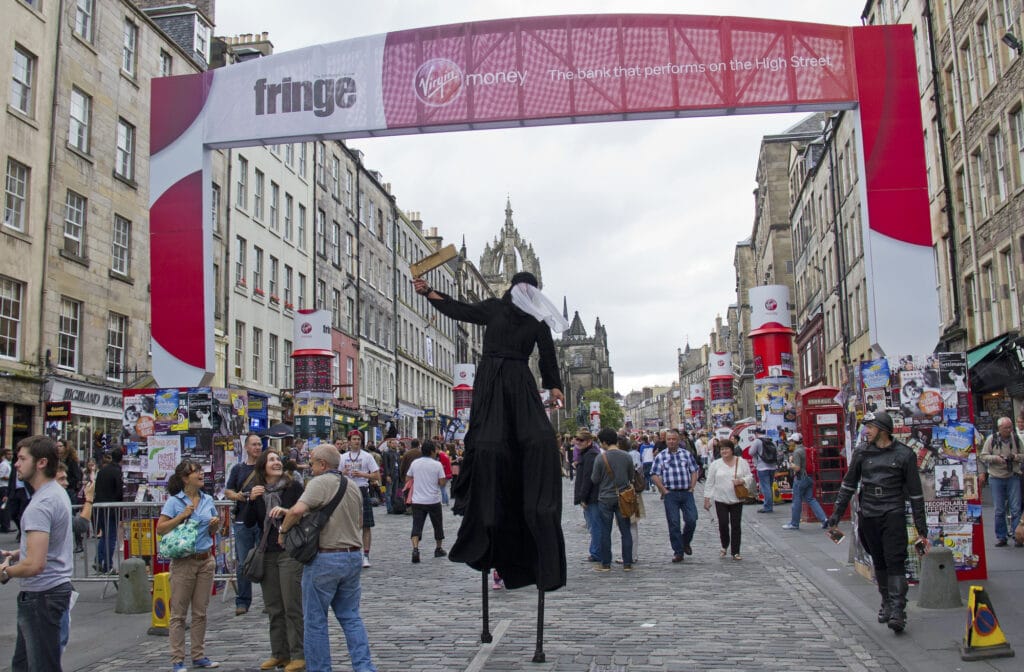 Artists and performers take to hundreds of stages all over the city to present shows for every taste. From big names in the world of entertainment to unknown artists looking to build their careers, the festival caters for everyone and includes theatre, comedy, dance, physical theatre, circus, cabaret, children's shows, musicals, opera, music, spoken word, exhibitions and events.
Scottish Whiskey Tasting
When in Edinburgh you have to partake of a Scottish Whiskey tasting. Scotch Whisky is made from malted barley and generally has a fuller, heavier taste than many other whiskies. Irish whiskey, by contrast, uses a combination of malted and unmalted barley and is renowned for its smooth flavour and hints of vanilla.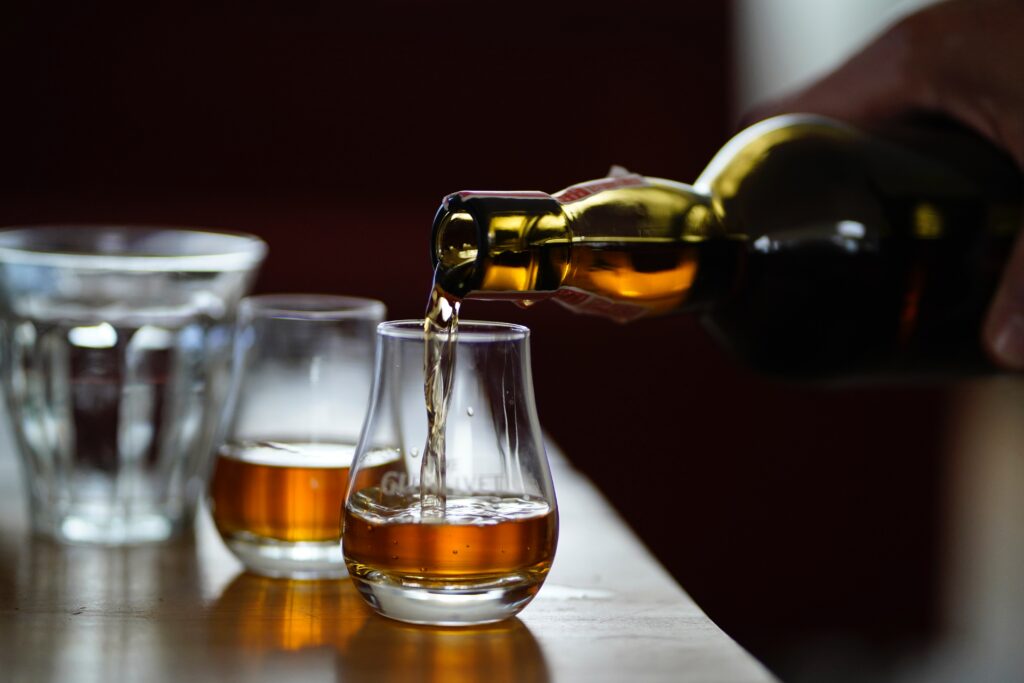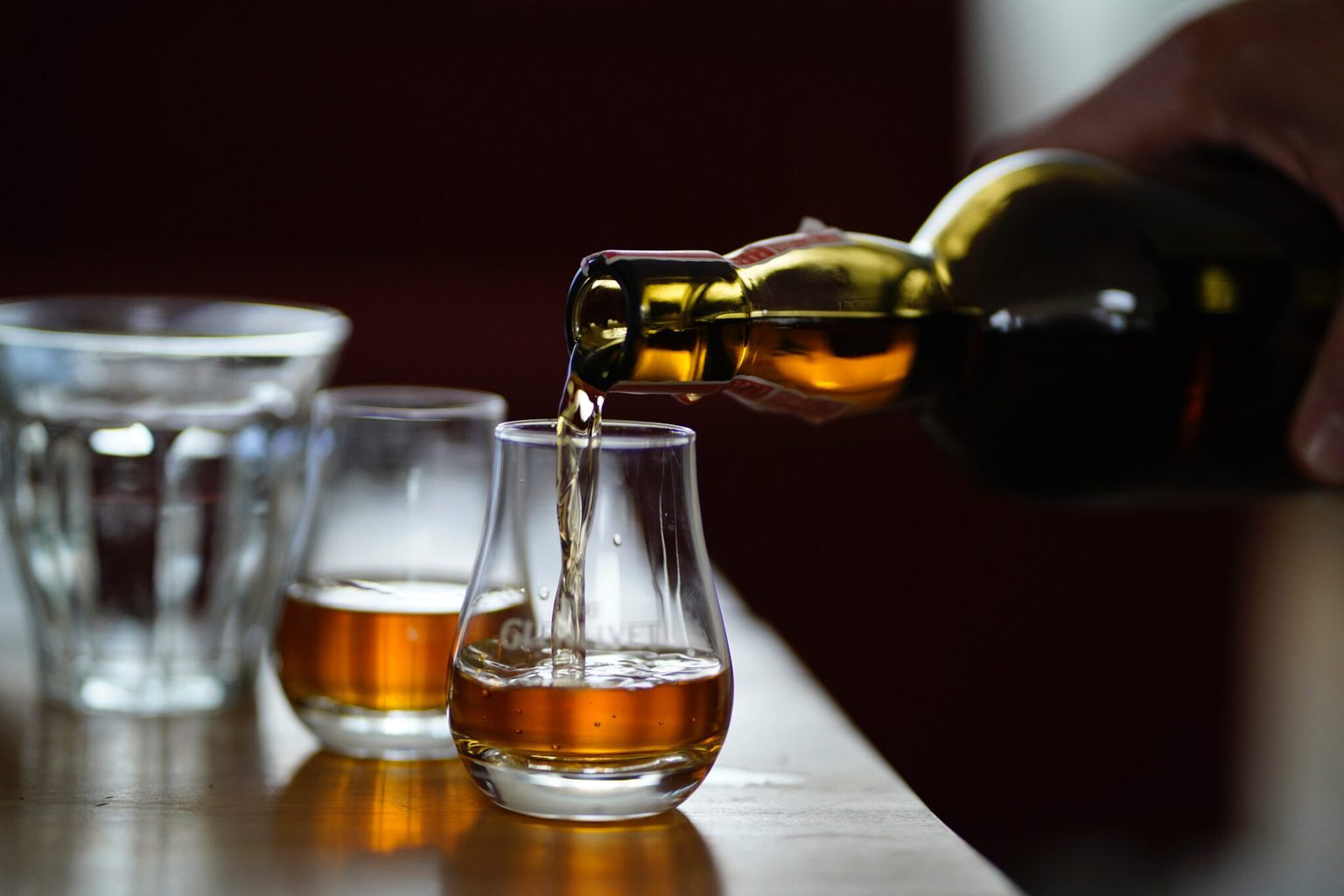 The Scotch Whisky Experience is a five-star visitor attraction at the top of Edinburgh's Royal Mile, where they have been educating visitors to Edinburgh about the joys of Scotch whisky for over 30 years.
You can take a tour, visit the shop or restaurant, or enjoy an event or tasting here in the heart of Edinburgh.
Edinburgh for the active traveller
Despite the chilly weather people come from all over the world to be active in Edinburgh. The top 3 things to do for the more active traveller are golfing, hiking, and visiting underground caves. It is also a fantastic place for long-distance cycling.
Golfing in Scotland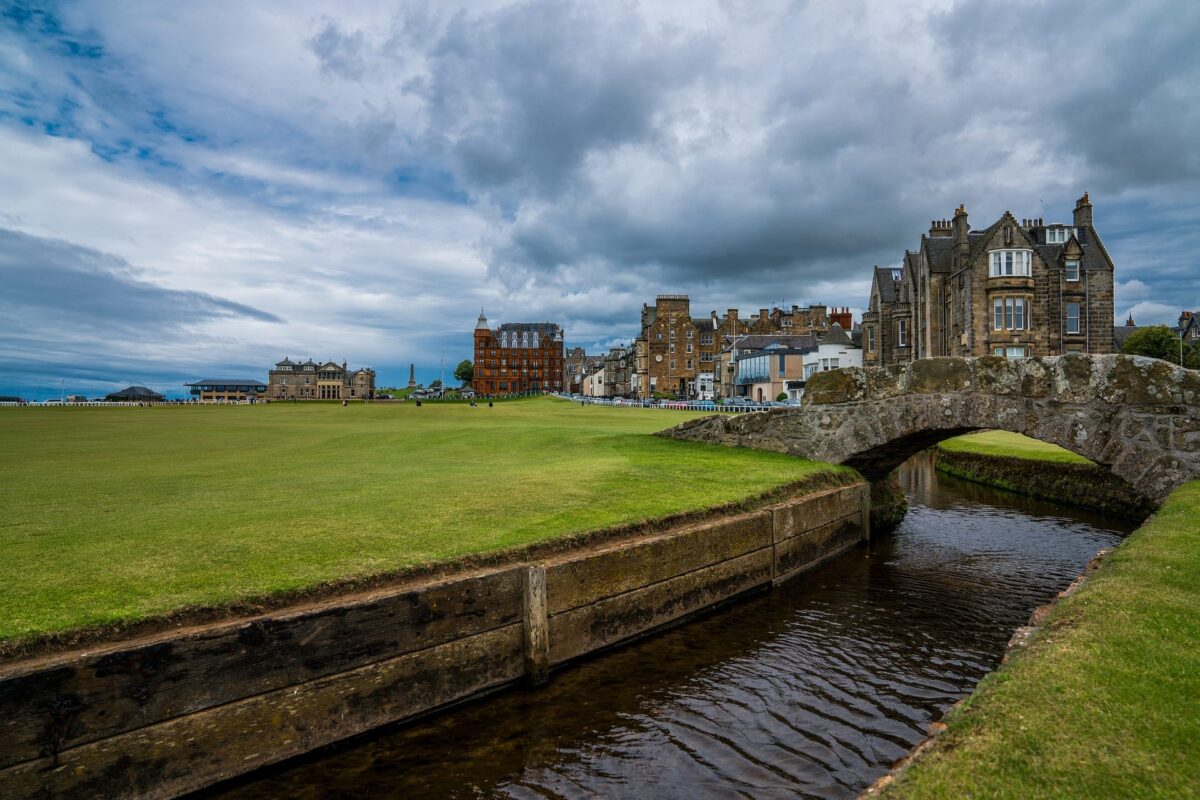 Golfing in Edinburgh is nothing short of beautiful. Crisp cool air, light breezes, and ocean smells on every course. There are a variety (over 20) of courses to choose from. When choosing a place to golf in Edinburgh consider the distance from the city centre, cost, and if they allow visitors. Similar to many country clubs in America and the United Kingdom, golf clubs may be members only.
Arthur's Seat at Holyrood Park
If you enjoy hiking, you must go to Holyrood Park. A short bus ride from the city centre (or a longer walk) is a large park with walking trails. This isn't extreme hiking like you would experience in Colorado, but it can get to be a steep walking path that is rocky. It is best to come prepared with comfortable clothing and good shoes.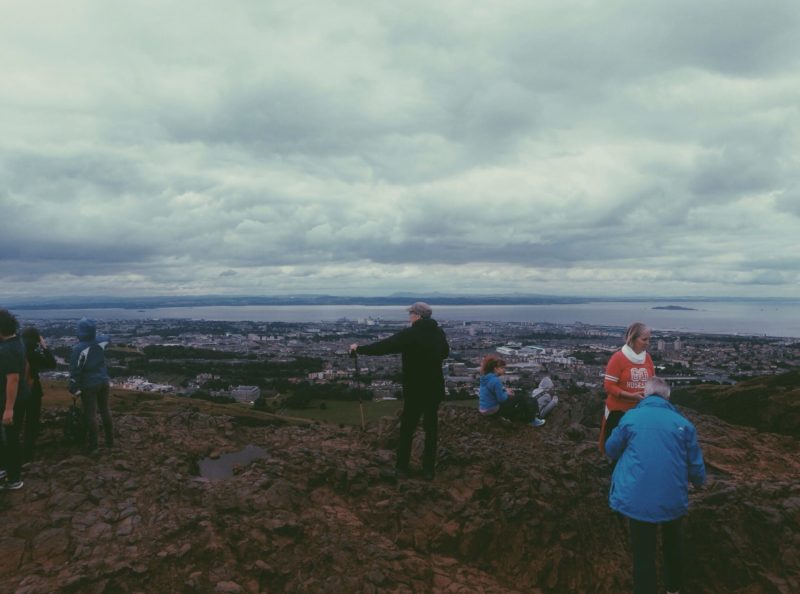 While you're at Holyrood Park, head up to Arthur's Seat. Arthur's Seat is the peak of hills in the middle of Holyrood Park. This isn't just any hill – it's an ancient volcano!

From the top of Arthur's Seat, you can see the best view of Edinburgh. Look over the entire city and point out Edinburgh Castle. It takes about 30 to 45 minutes to make it to the top. Bring a backpack with some drinks and snacks to have a small picnic at the top before heading back down.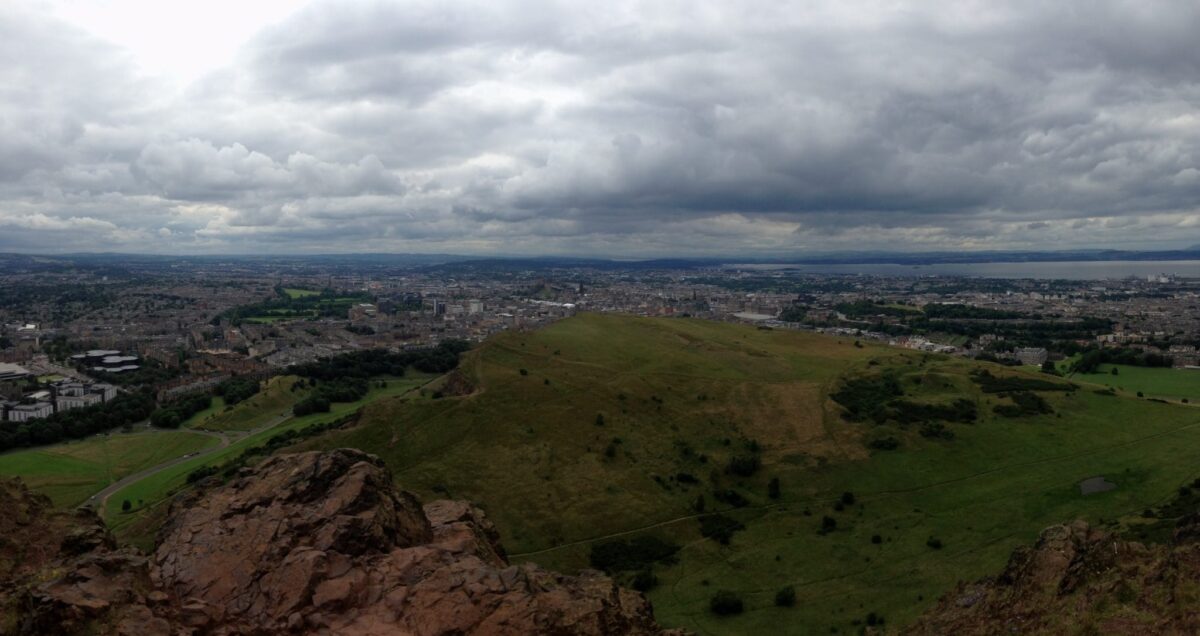 Where to stay in Edinburgh
Looking for something a little different, off the wall perhaps? You can find it in Edinburgh.
What about a Castle stay? Historic Liberton Tower, built-in 1453, with its breathtaking panoramic views of Edinburgh, is situated just 2.5 miles from the city centre. The Tower has been painstakingly restored to a high modern standard whilst still maintaining the historic, rustic feel of a 15th-century castle. It comprises three floors and a cellar.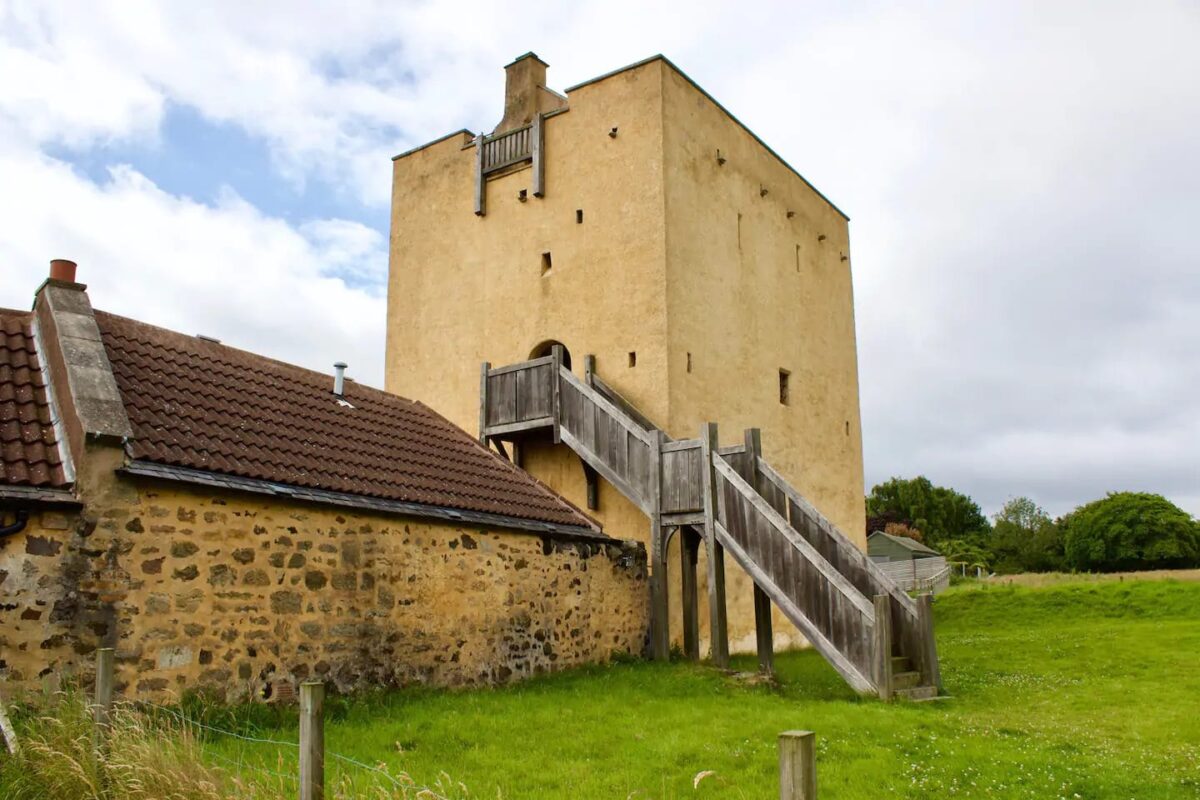 A first for Scotland, The Four Sisters Boatel is a luxury, four-star, self-catering, canal barge, accommodation located in the very heart of Edinburgh city centre and has been awarded 4 stars by the Scottish Tourist Board.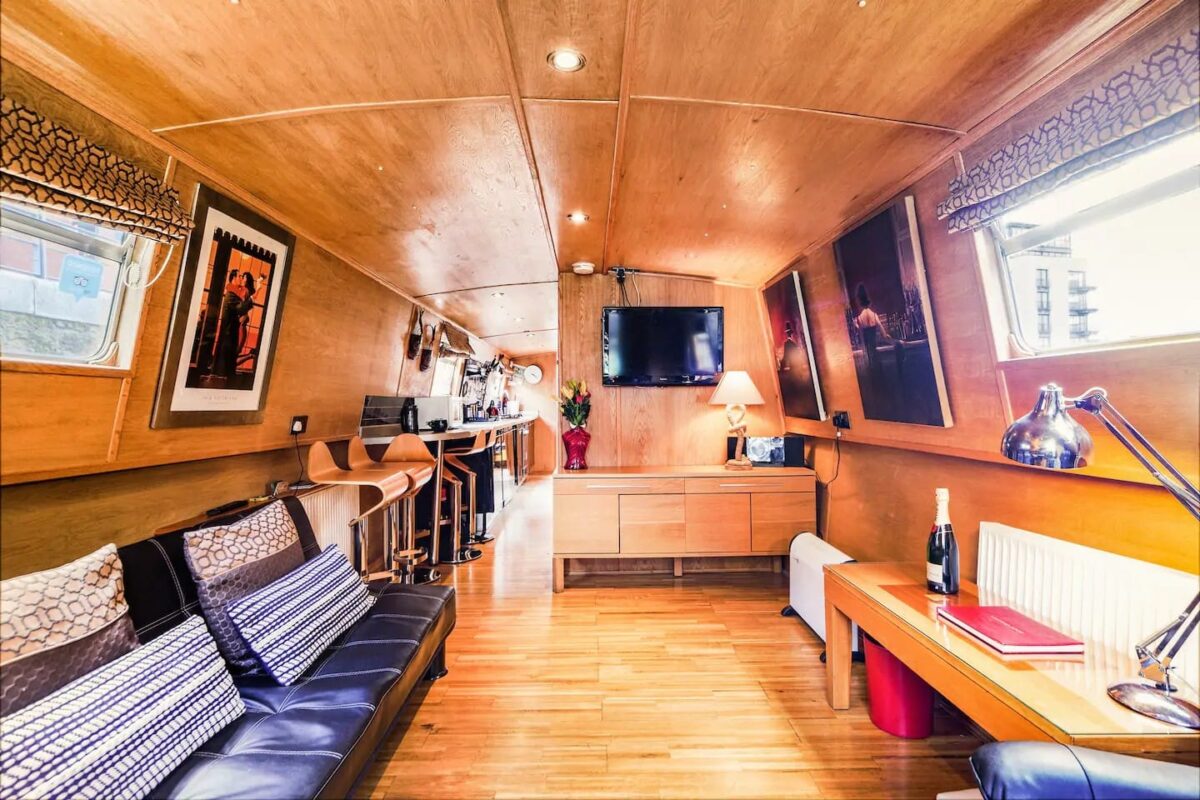 The Witchery by the Castle
The Witchery by the Castle offers a range of opulent suites in Edinburgh, each one unique with its own special features.
Lavishly furnished suites display gothic touches, with large oak beds and 4-posters, velvet-lined walls and flamboyant red and gold décor indicative of the style. There are separate seating areas and large bathrooms with free-standing silver baths.
Each of The Witchery's 9 suites is different, but walk-in dressing rooms, love seats and tapestries set the tone. Some rooms overlook Edinburgh's Royal Mile, looking down towards Princes Street, or across to the old town.
An indulgent breakfast hamper will be served in the room each morning or guests can choose to have a cooked breakfast served in the restaurant at no extra cost.
Kick-Ass Greyfriar
Look no further for a great budget option the Kick-Ass Greyfriars is an 18+ hostel in Edinburgh that provides adults-only accommodation with a bar, a shared lounge and a terrace. With free WiFi, this 4-star hostel offers a tour desk. The accommodation features evening entertainment and a 24-hour front desk.
There's also the Kick-Ass Grassmarket which is similar to Greyfriars.
Weather in Edinburgh
What's the weather like in Edinburgh? In short – it's chilly. Even in peak summer, the highs can be as low as 65 degrees Fahrenheit. Their warmest month is August. If you want to avoid the cold, wait to visit Edinburgh until July.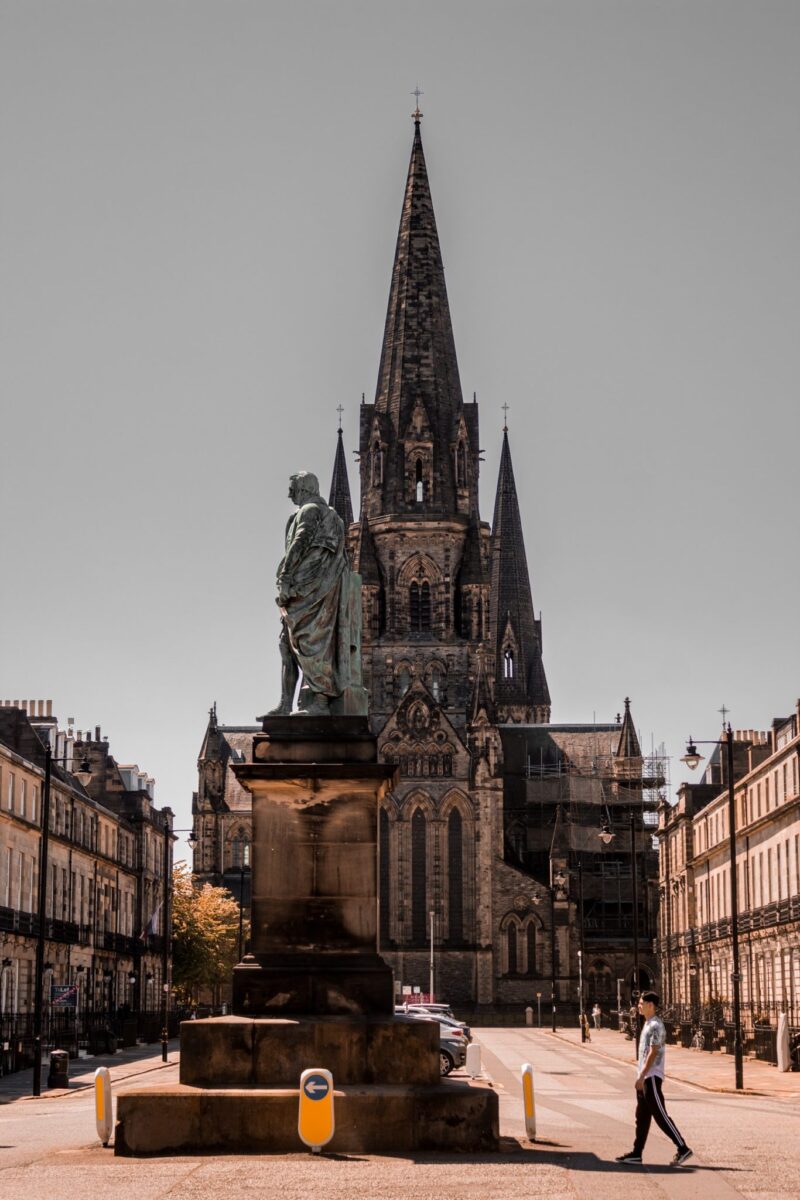 Edinburgh is also cloudy and rainy. According to World Weather and Climate Information, on average Edinburgh gets 1400 hours of sunshine per year. If you want a beach vacation Edinburgh is not for you.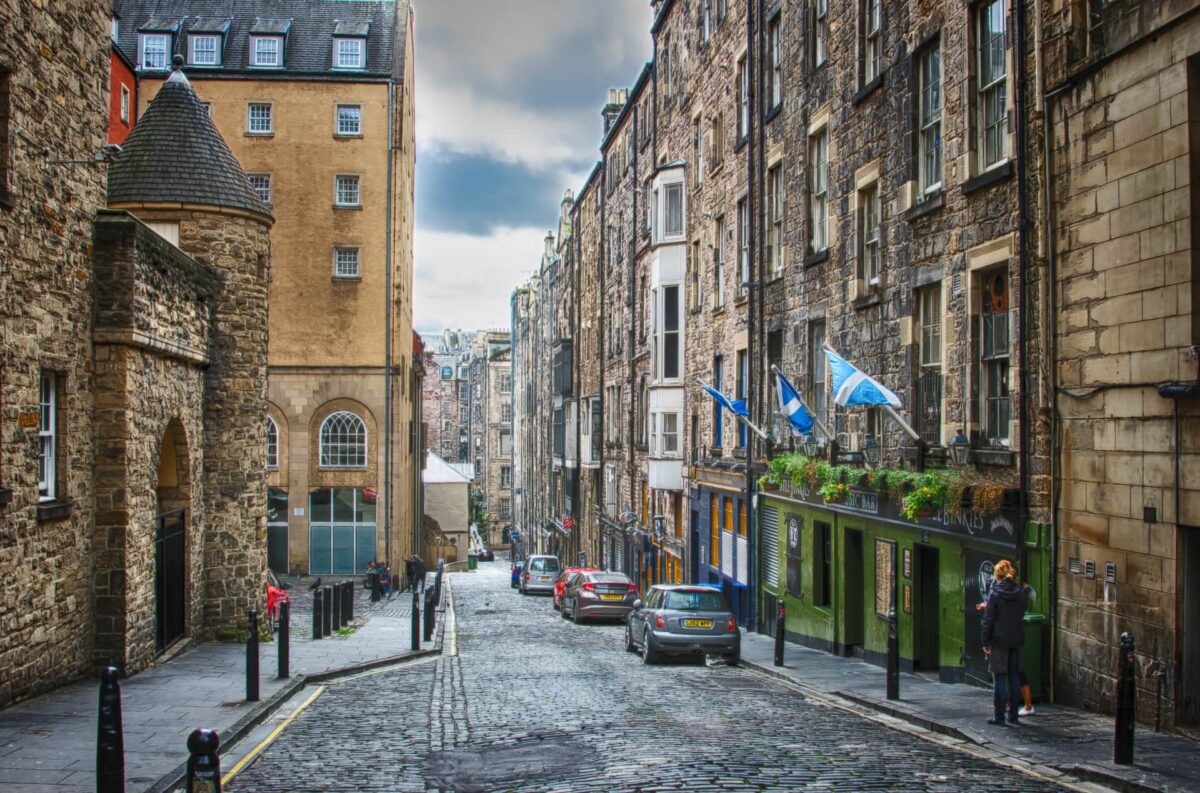 The weather in Edinburgh is the traditional Scottish cold and dreary – which makes sunshine all the better! Colder weather is perfect to be holed up in museums, and castles, sipping the best whiskey in local pubs and purchasing local wool scarves. You won't need to worry about air conditioning as well.
What to wear in Edinburgh
Weather Tip: Come prepared and ready to be a little chilly. Sip hot coffee and enjoy their soups to stay cosy. Don't let the chilly air prevent you from seeing what you came to experience. People do live in colder places after all!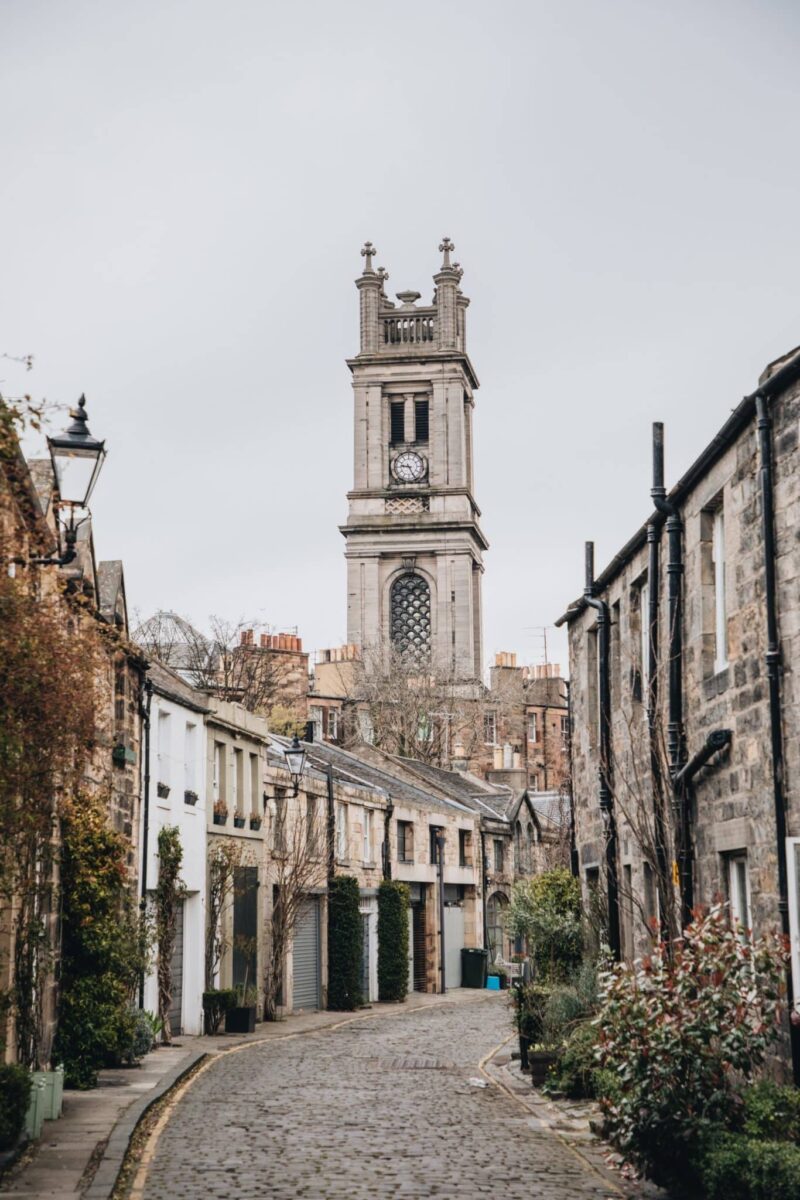 Given the temperature and weather in Edinburgh, we recommend bundling up for your visit. While visiting be sure to bring the following items:
Scarves

Long sleeve shirt

Sweater

Pants

Jacket (preferably a raincoat)

Umbrella

Warm socks

Shoes that aren't slippery
If you forget a scarf or sweater don't fret. Edinburgh has some of the best locally-made wool scarves, sweaters, mittens and more. The craftsmanship of their wool will last you for many years and keep you cosy while you wander the streets.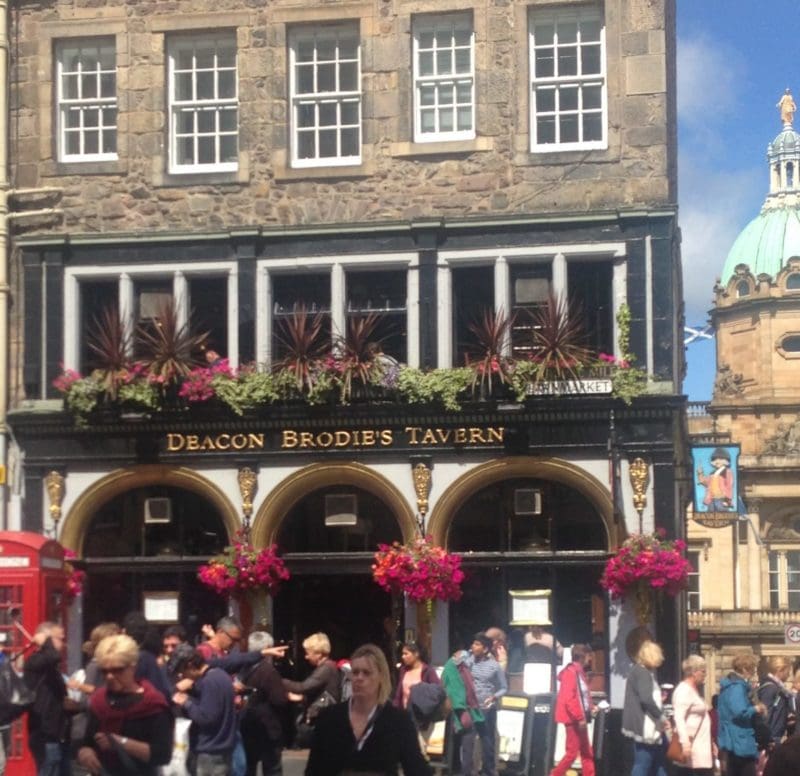 Pack comfortable shoes that won't slip around on wet cobblestones. It rains often in Edinburgh which can make the streets slick.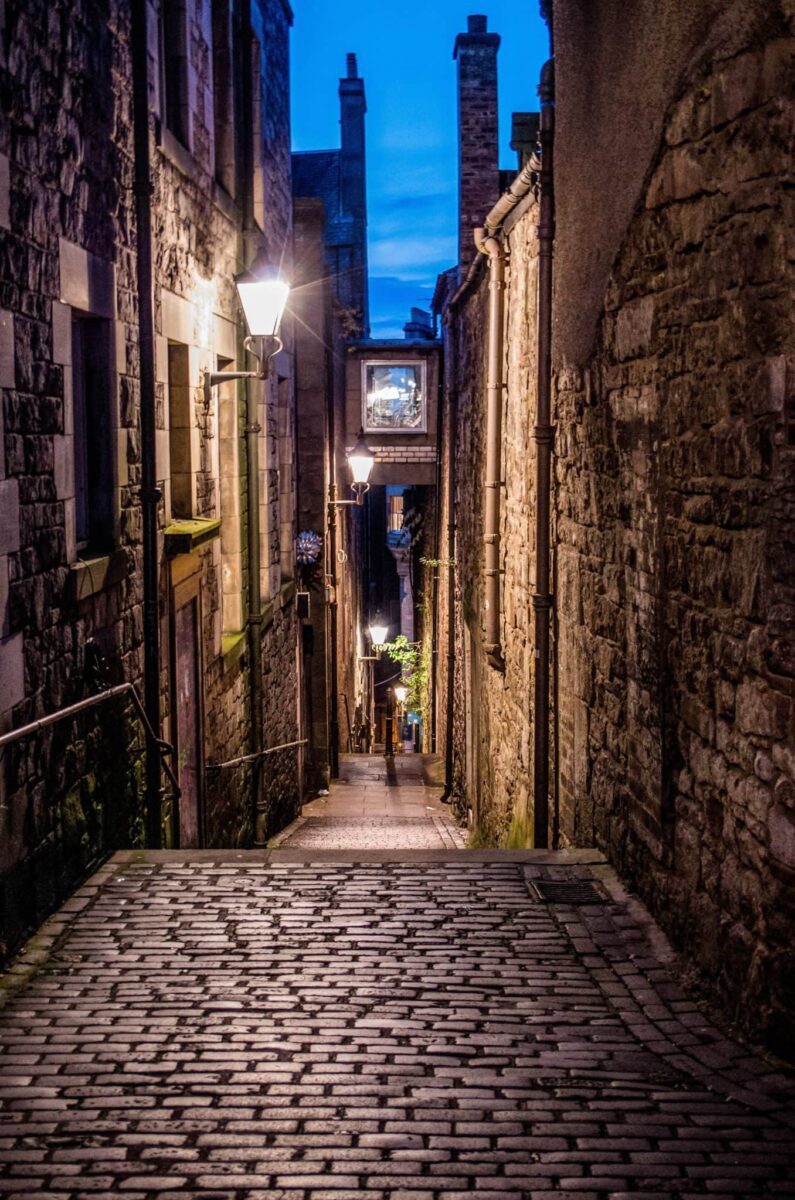 Most streets are made from stone which can be dangerous if you aren't paying attention. Skip the high heels and flip-flops and pack your best pair of walking shoes.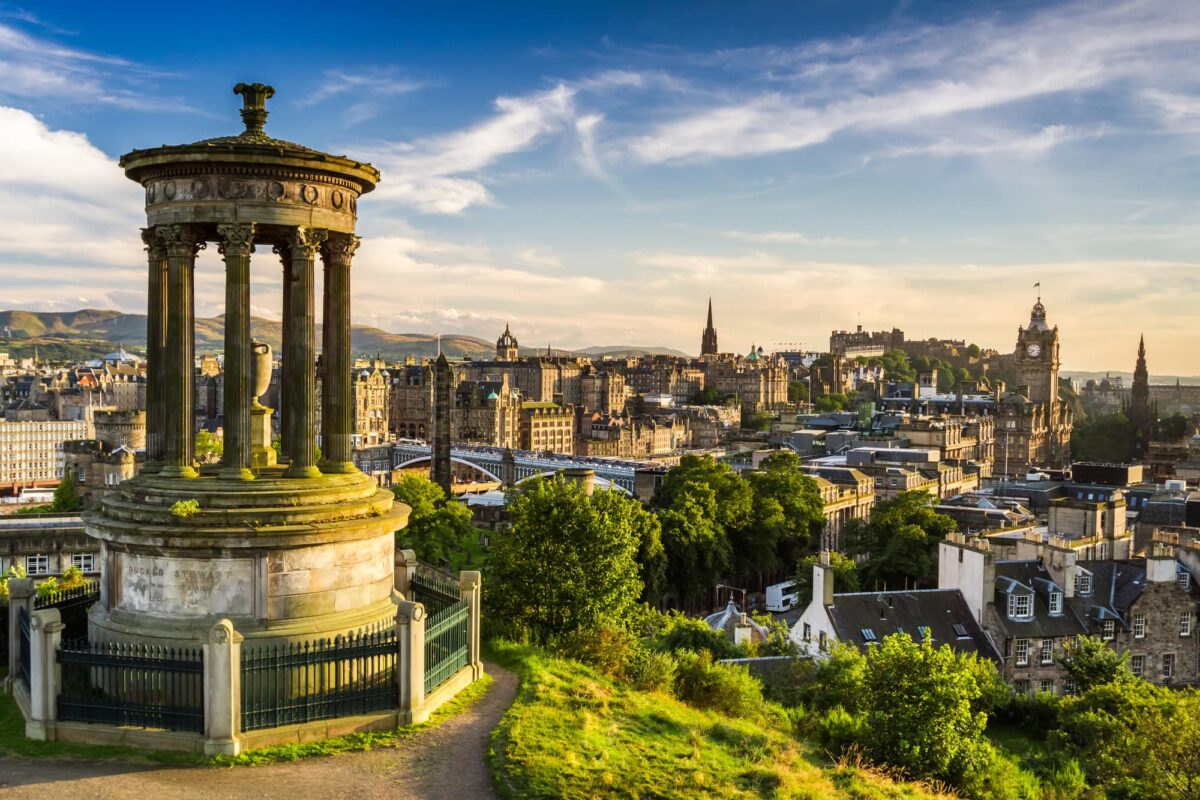 Enjoy your visit to Edinburgh
Edinburgh is perfect for travellers looking for a low-key, historic, culture-filled city. Whether you come to Edinburgh to visit the museums, practice golf, or hike up ancient volcanoes, you will be sure to enjoy yourself. Edinburgh was one of those cities that made me obsessed with travelling.
While Edinburgh makes a great stop for a weekend if you want to travel around Scotland for a real chance to see the country you need at least a week. Marty and Michelle from That Texas Couple have written a great Scotland 7 day itinerary and it includes staying in some fabulous castles.

If you are looking for that perfect cafe in Edinburgh, look no further Paula of La Vie en Marine has written a great article on the Best Cafes in Edinburgh. You can drink coffee and people-watch to your heart's content. If you have ever wanted to have a High Tea experience there are many places in Edinburgh to enjoy this. Imagine it scones, jam and cream all enjoyed while people-watching or how about a real High Tea with mini finger sandwiches, cakes and proper tea in a pot heavenly.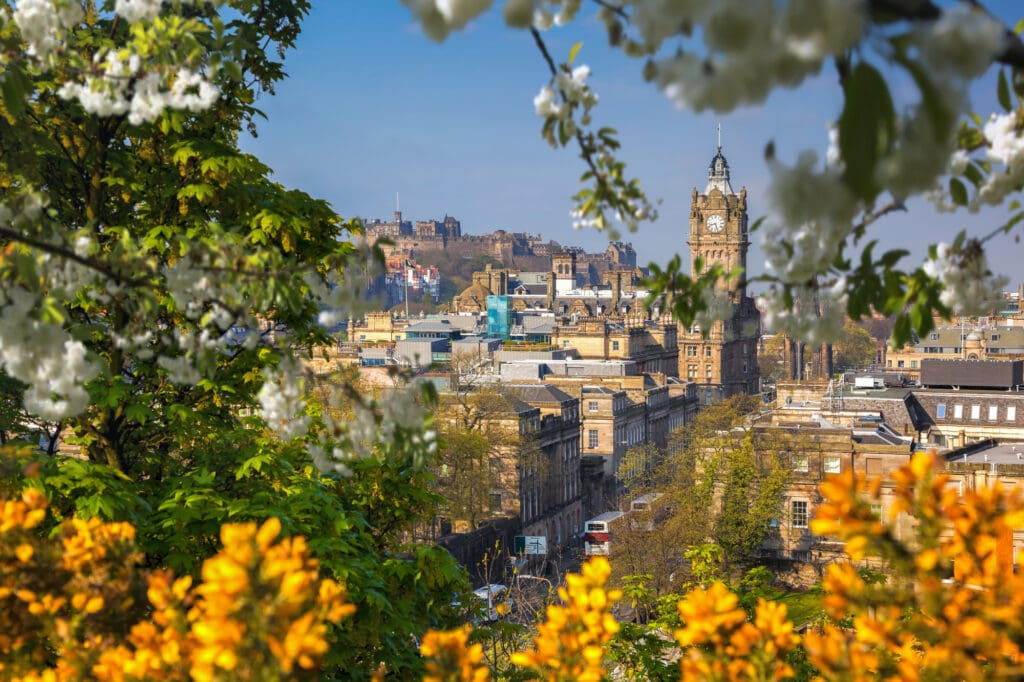 Edinburgh is a city with a rich history and culture that offers visitors a wide range of attractions to explore. From the iconic Edinburgh Castle to the charming Royal Botanic Garden, there is something for everyone in this vibrant Scottish capital. Whether you're interested in art, and history, or simply enjoying the stunning natural scenery, Edinburgh has it all. So if you're planning a trip to Scotland anytime soon, be sure not to miss out on these top attractions and experience everything this beautiful city has to offer!
You might also like
Journey to the Black Isle of Scotland the amazing mysterious isle
Touring the extraordinary Scottish Highlands – 42 Places to visit
Dumfries and Galloway Scotland exploring a literary heritage
The 13 most Interesting Things to do in Inverness, Scotland
The perfect Ireland and Scotland Itinerary
Have you been to Edinburgh? Let us know in the comments below. I'd love to hear from you.
This is a guest post by Via Travelers, a modern travel blog focused on the best tips and itineraries to help you explore the world. Via Travelers is focused on helping you travel the world through our travel tips, itineraries and travel hacks.