Easter food around the world: 29 traditional Easter dishes
Our Easter celebrations were pretty non-religious and for me, one of the best parts of Easter was the traditional Easter foods we got to eat. Our Easter dinner table groaned with glazed ham, leg of lamb, roast potatoes, stuffing, Yorkshire puddings (not traditional I know) carrots, peas, Brussels, gravy all the usual celebration foods. The other was – in our family getting new clothes, oh and chocolate lots and lots of chocolate Easter Eggs.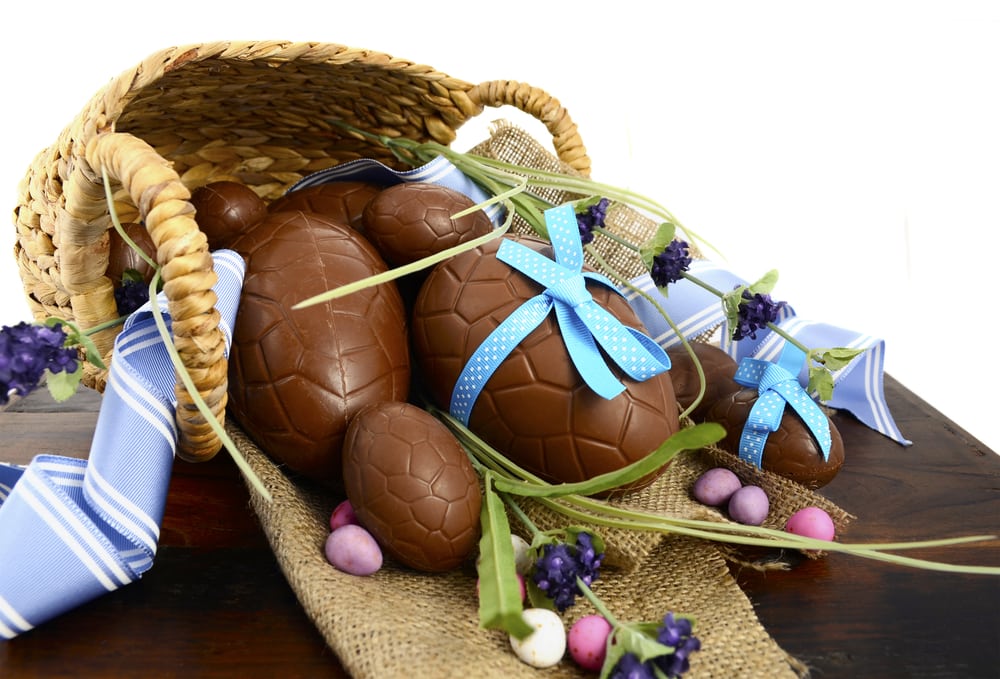 Dating back to the 15th century, the superstition is that wearing new clothes at Easter bring good luck. In 300 A.D. Roman emperor Constantine even declared his court would be required to wear their nicest new clothing on Easter Sunday.
Easter food traditions have evolved over the centuries to include items that have great significance to this Christian holiday.
4 Essential Easter foods
Lamb
Lamb is a meat that goes far back to the Jewish Passover where a sacrificial lamb is roasted as a reminder of the angel of God passing over their homes in Egypt. The Angel painted the Jewish citizen's doorposts with the blood of the lamb in order to spare the firstborn sons. In many parts of Europe, families will make a lamb made of butter, pastry, or sugar to be a centrepiece.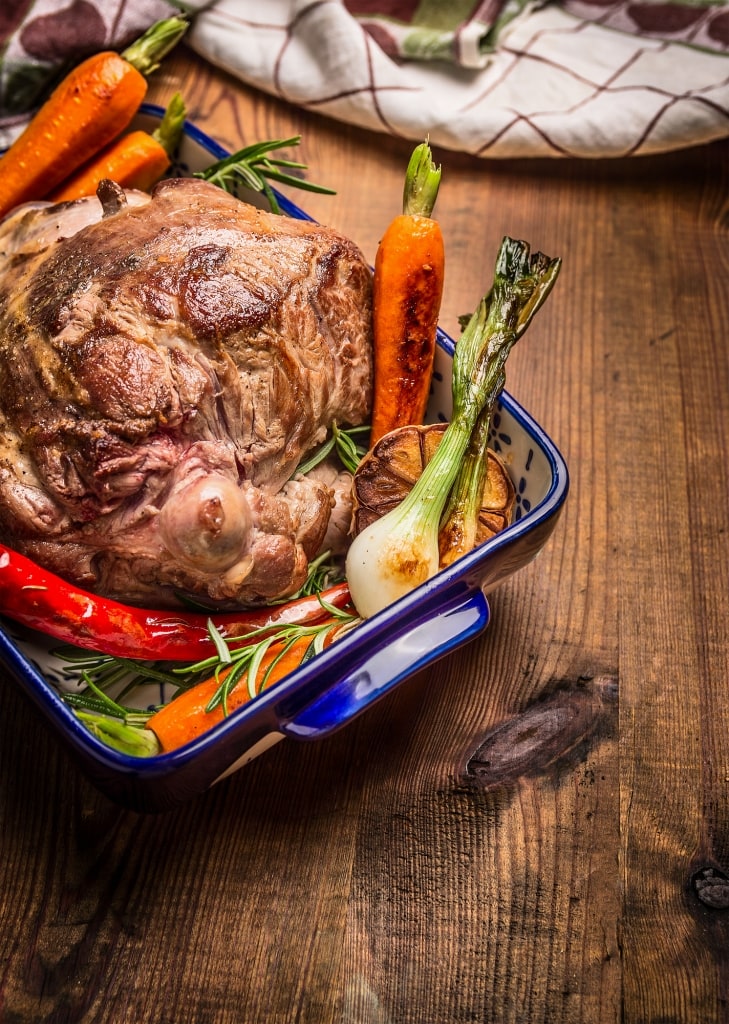 Roasted lamb became an important part of the Passover seder plate and roasted leg of lamb is popular for Easter in Mediterranean countries such as Italy and Greece. Within the Christian faith, the lamb represents Jesus himself as he was referred to as the lamb of God. The lamb embodies purity and goodness but also represents sacrifice.
Pretzels
It is believed that pretzels were created In the seventh century when the Catholic Church declared that during Lent fasting rules had to be strictly obeyed. The pretzel is an old European symbol that has become associated with bakeries. The origin of the pretzel goes back to 610 AD in an area near Aosta, Italy. The legend goes like this: A young monk was preparing unleavened bread for Lent, the Christian period of fasting and penitence before Easter.
The pretzel is said to represent the trinity with the three holes created by the arms and the arms themselves are praying.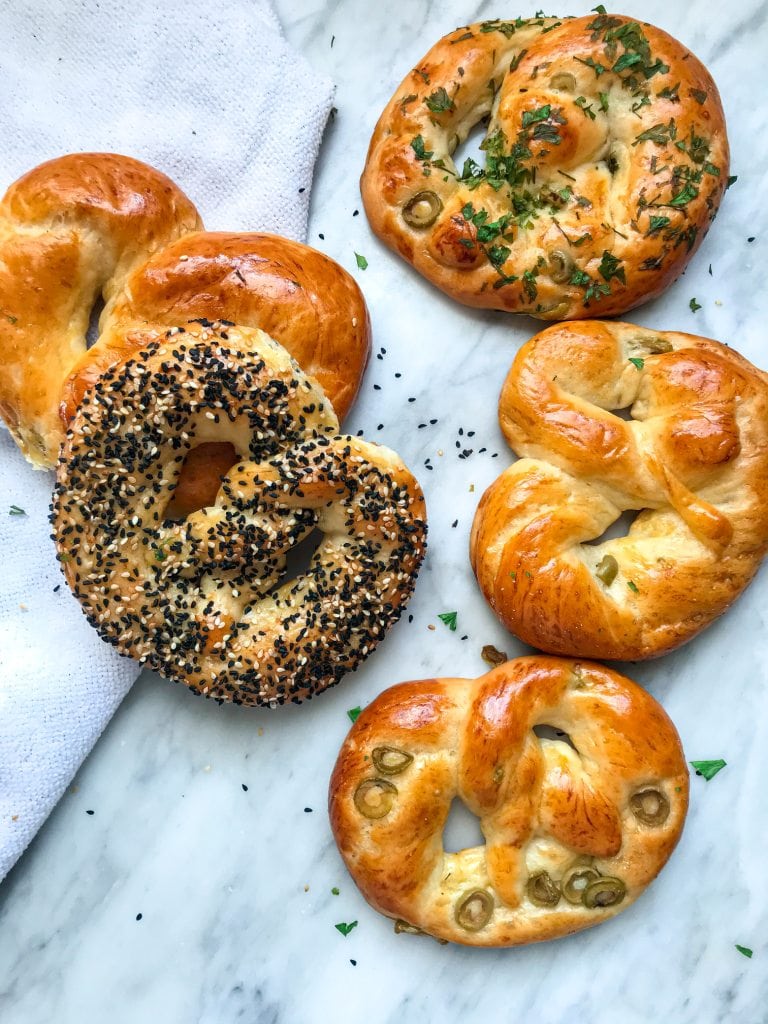 Easter Eggs
The egg has of course been a symbol of new life, fertility and rebirth and became to Christians in particular a symbol of spring and new life. In Judaism, eggs are also a very important part of Passover and for some Christians, they symbolize the tomb out of which Christ emerged when he was resurrected.
Eggs were also forbidden during the 40 days of Lent but in order not to waste eggs that were laid during this time the eggs were collected and decorated in vegetable dyes. Among Orthodox Christians, a gift of a crimson egg is given in honour of the blood of Christ.
In parts of Eastern Europe, beautiful designs made on eggshells called pysanky are made for Easter. In Germany and other countries, decorated eggs are pierced and made hollow so that they can be suspended from shrubs and trees during Easter Week.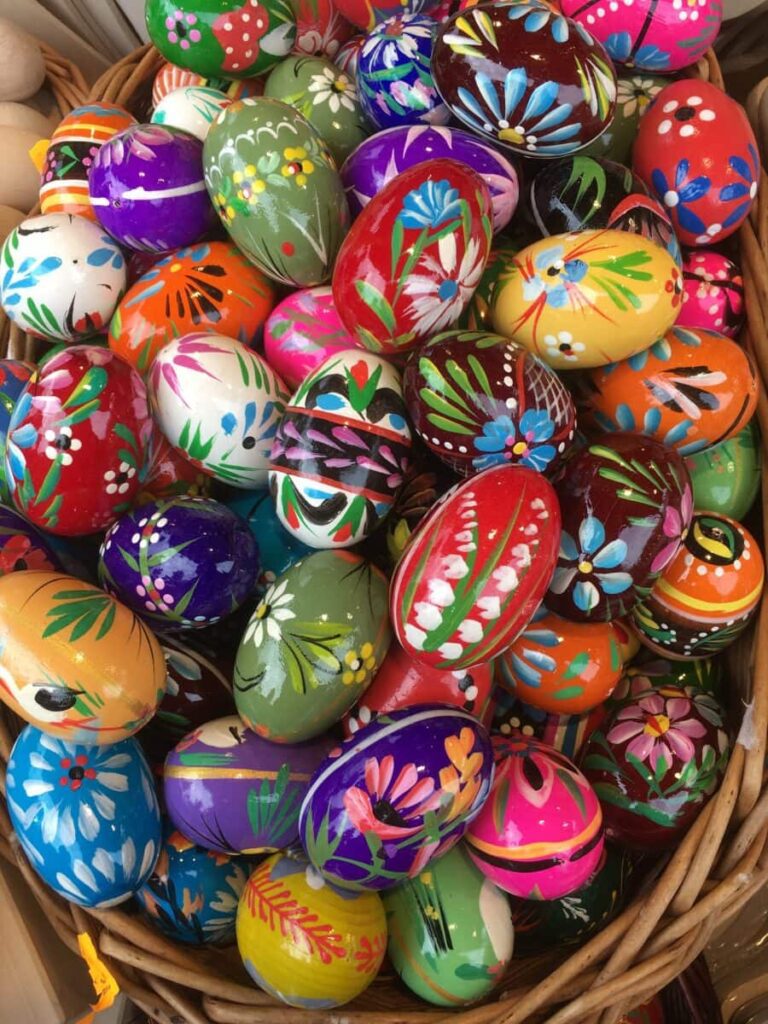 Of course, there are many places worldwide that host egg hunts for the children and egg rolling parties which can be traced back to the Sunday school picnics and parades during Easter.
Ham
The pig is an ancient symbol of good luck and prosperity witness the piggy bank. Smoked or cooked hams, as well as lamb, have been eaten by most European nations from ancient times and are a traditional Easter in North America. Actually, the reason for this is a bit more pragmatic. Fresh pork that hadn't been eaten before Lent had to be cured to preserve it. The curing of ham was a slow process and generally, the first hams were ready around Easter and so became a traditional Easter food.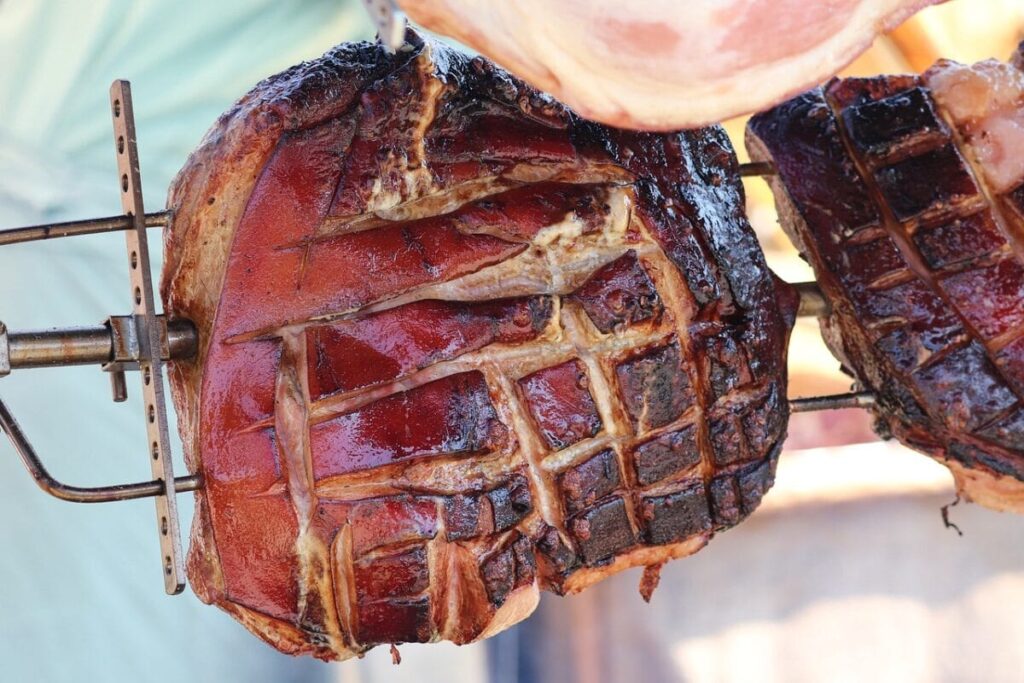 25 Easter food traditions around the world
Stol – Netherlands
In the Netherlands, there are two days of Easter celebrated, on Sunday and Monday. People start both days with a large breakfast or brunch with family. Although things vary a bit on each table, some items are mandatory and will be present at every traditional Dutch Easter breakfast or brunch.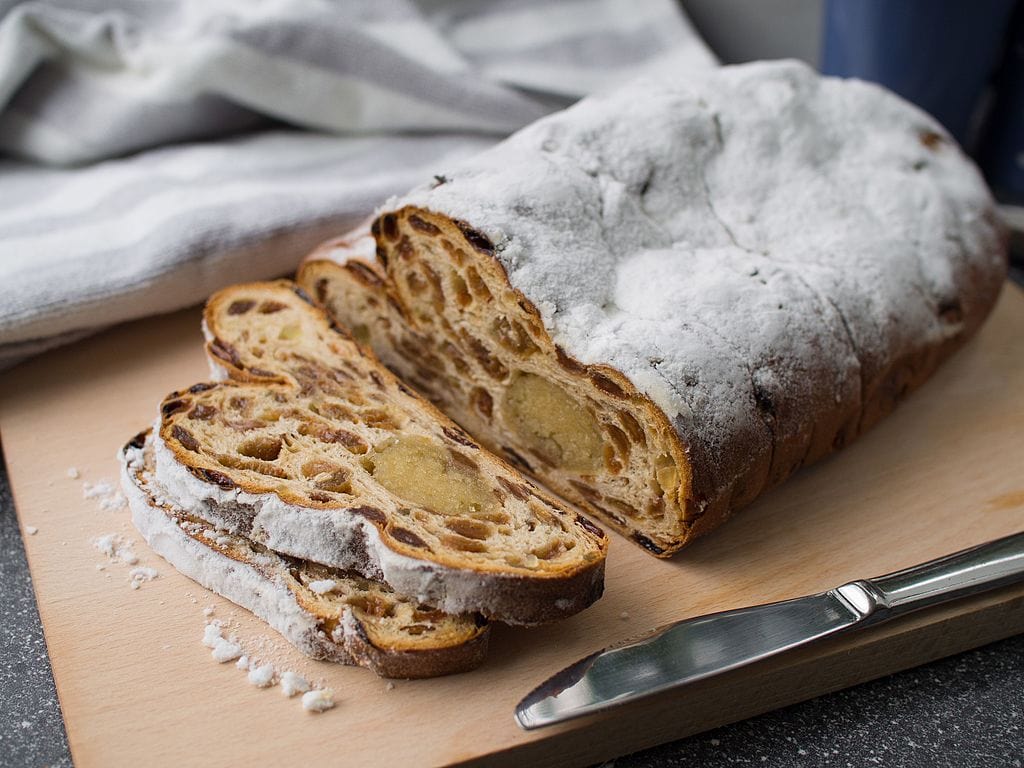 Boiled eggs have to be present, as are (preferably freshly baked) bread and/or buns. Around Easter, you can get buns in an Easter bunny, rooster or braid shape. It's fluffy white bread. Next to that, there's a stol on the table. A stol is traditionally also served with Christmas and Pentecost. They're called Paasstol, Kerststol or Pinksterstol, but the ingredients are the same. At last cream, butter should not be missing on the table to be richly smeared on a slice of stol.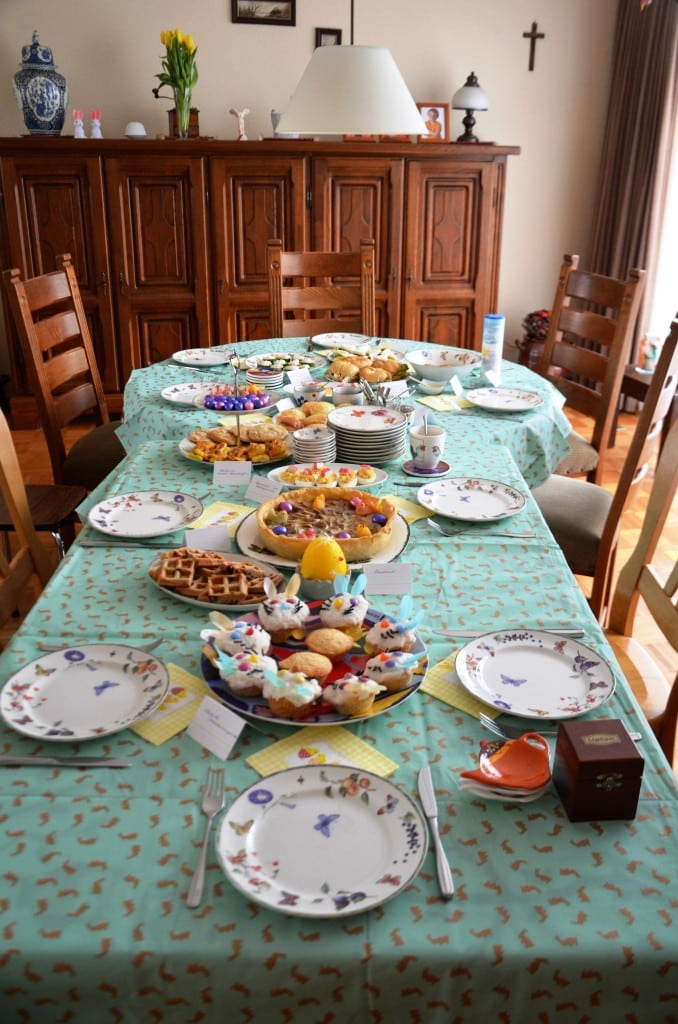 Usually, various dishes are added to these traditional items. Salads, like egg salad, are placed on the table. A quiche, sausage buns, or dishes with asparagus or spinach in them. Smoked salmon is a luxury item and chocolates such as chocolate eggs will be present or pigs in a blanket. Soup, croissants, avocado or an advocaat (egg nog) cake are also presented.
A lot of these items, such as asparagus, are being served since they are truly spring items. They're usually only available for a short period of time. An egg is served with Easter since it's seen as a fertility symbol. With that, it represents the risen Christ and the start of Summer. Contributed by Cosette from Cosette is Cookin'.
Sorpotel – India
Most people in India who are either Christian or celebrate Easter have roots in Goa. While many local festivals are celebrated throughout the year, in Goa, Christmas and Easter are the most significant festivals.
Indians, in general, make sure that when it comes to festivals, there's no dearth of food, and Easter is no different.
A variety of dishes are prepared specifically for Easter. Some of these are Sanna (rice cakes made with toddy), Ale Bele (crepes made with a filling of coconut and jaggery), but the most important is Sorpotel.
Sorpotel is eaten for lunch and dinner and is the main dish accompanied with Sanna, rice or chapatis. Sorpotel is made from pork. A mix of pork meat, fat and skin are boiled first and then cut into tiny pieces once done. After which, it is fried, and then these pieces are added to a curry made from fiery red chillies.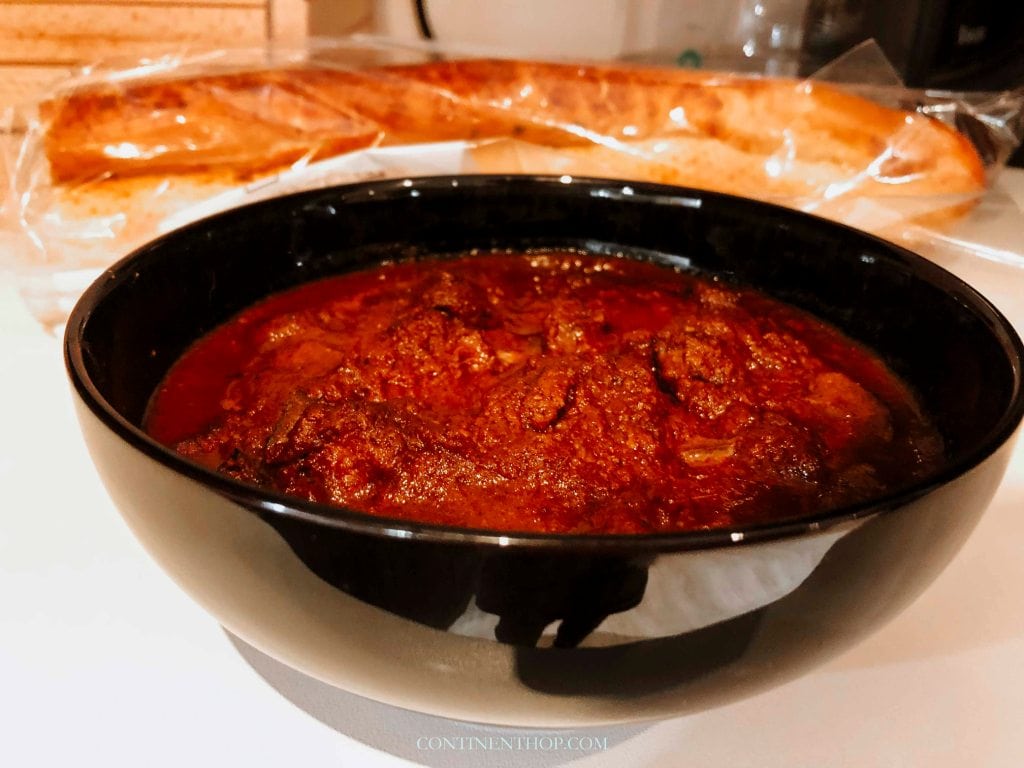 The best bit about sorpotel is that it tastes better the next day. So while on Good Friday, please prefer to fast and end the fast with hot cross buns after attending mass; on Holy Saturday, many use the day to clean the house and prep and prepare the Easter feast. Many even cook sorpotel and let it sit over so that the meat absorbs the flavours and tastes even better the next day.
Food in Goa has a lot of influences from the Portuguese, and this is just one of many that are an excellent mix of Indian and Portuguese cultures. What makes this dish special is the amount of time and effort that goes into it; hence it is made only a couple of times a year. Contributed by Lavina of ContinentHop.
Zurek – Poland
A soup that is seen on virtually every menu in Poland. This is a sour rye soup with potato, sausage or an egg, sometimes served in a bread loaf. It has a very distinctive taste that does take some getting used to. It's not sour like lemons or vinegar but more sort of sourdough.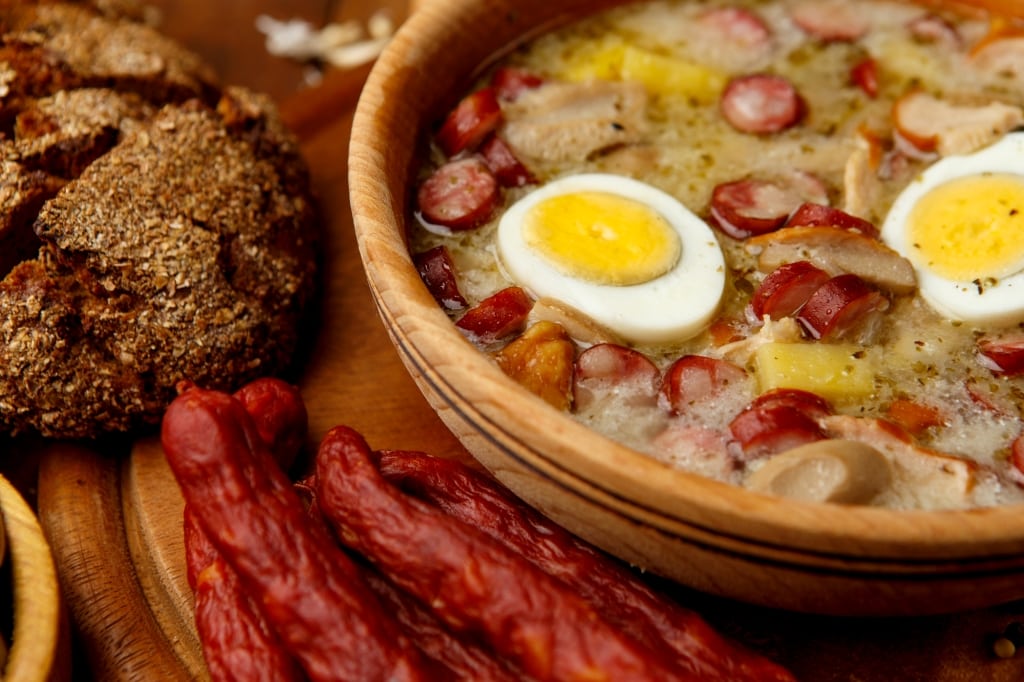 This flavour comes from fermented rye flour. A traditional soup to serve at Easter zurek soup is often served in a bread bowl. Accompaniments include hard-boiled eggs and a white Polish sausage that is boiled before adding to the soup.
Traditional Easter dinner – USA
In the United States, Easter meals vary slightly in each home. But typically, the main foods of an American Easter meal include ham, potatoes, eggs, and chocolate (though not all on one plate!). Traditional Easter meals in many homes typically include ham, scalloped potatoes, vegetables, and are usually followed by an Easter cake. Sometimes families include stuffing or other vegetables and side dishes.
Often this meal is served for lunch or dinner, often after children are finished looking for plastic eggs filled with chocolate and have discovered their Easter baskets. The baskets often include a variety of small toys or activities and a chocolate bunny. Our family tradition includes children searching for eggs that have some with chocolate and some with coins. A few lucky eggs have paper money inside!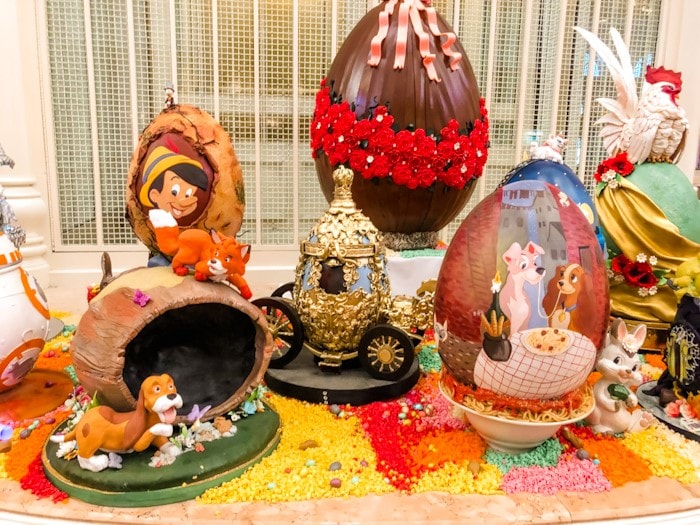 Some families enjoy an Easter brunch instead of or in addition to a large Easter meal, and often brunch occurs after church. In our family, an Easter brunch includes an egg casserole or strata, which often includes eggs, ham, and vegetables. It is also common for restaurants to offer a large Easter brunch with egg dishes, fruit, and a special Easter dessert.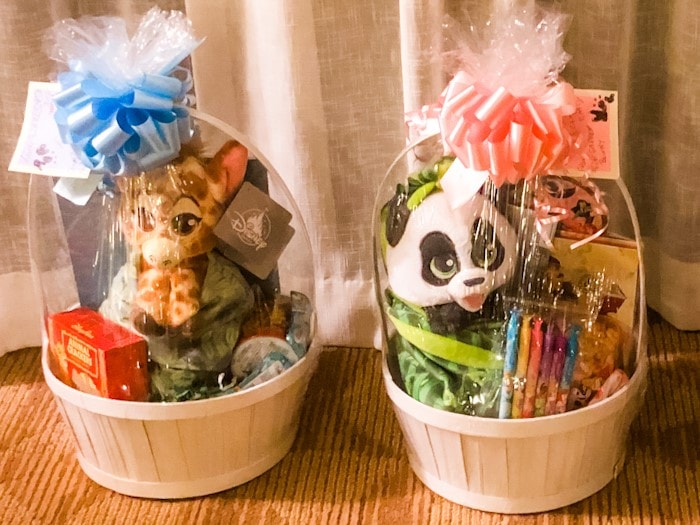 If you happen to be visiting Walt Disney World in Orlando over Easter, many hotels showcase exquisitely decorated chocolate eggs that are simply a work of art. You can also find many elaborately decorated Disney World snacks and Easter treats that are a feast for the eyes and the tummy. Easter is a time for families to gather together, and enjoy a special meal in the United States. But often the Easter chocolate is everyone's favourite part. By Keri at Bon Voyage With Kids
Red Eggs & Tsoureki – Greece
If you find yourself spending Easter in Greece, there are two foods you'll definitely see, no matter where you are in the country: red eggs and tsoureki, traditional Greek Easter bread. These appear in the shops in the lead-up to Easter and invoke the sights and smells (and tastes) of the holiday.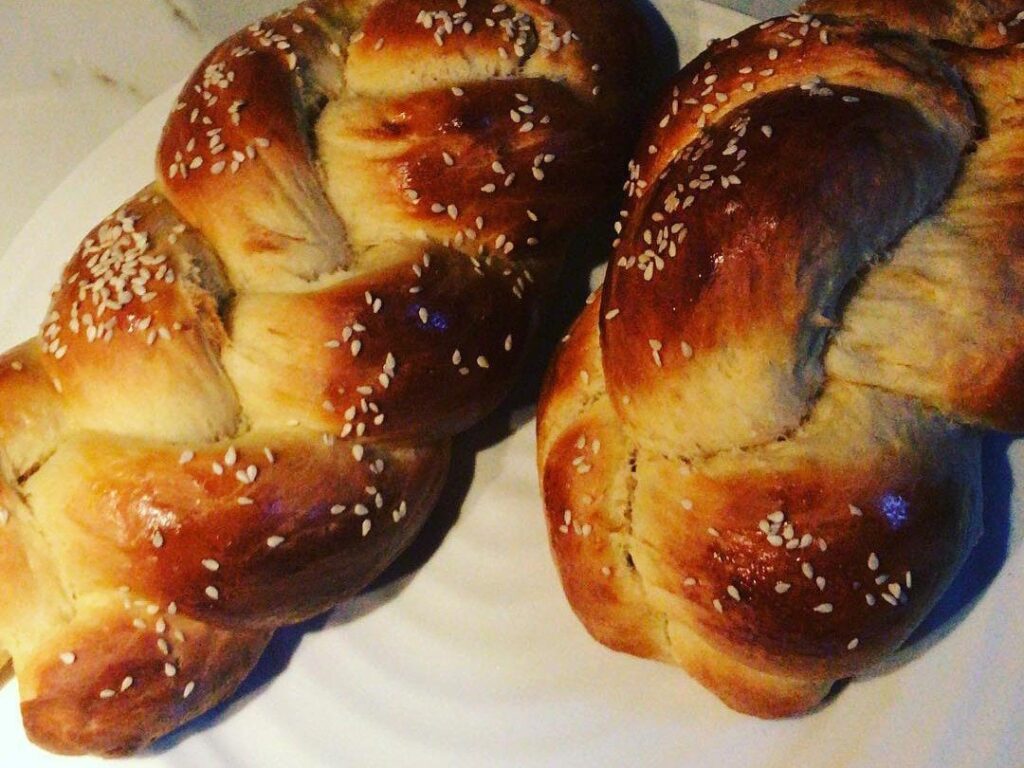 The red eggs are strongly associated with Greek Easter throughout the world and have strong symbolic importance. Eggs have been associated with rebirth since ancient times (Easter was traditionally a spring festival, after all) while the red dye symbolises the blood of Christ.
Traditionally, families would dye eggs red on Holy Thursday, just days before Easter. Nowadays, it's easy to buy red eggs from shops and markets. The eggs are used for decorations (you'll often see them in shop displays) and traditionally are cracked together in a game called tsougrisma. The point is to crack the other person's egg while keeping yours unbroken – this is said to bring good luck throughout the year.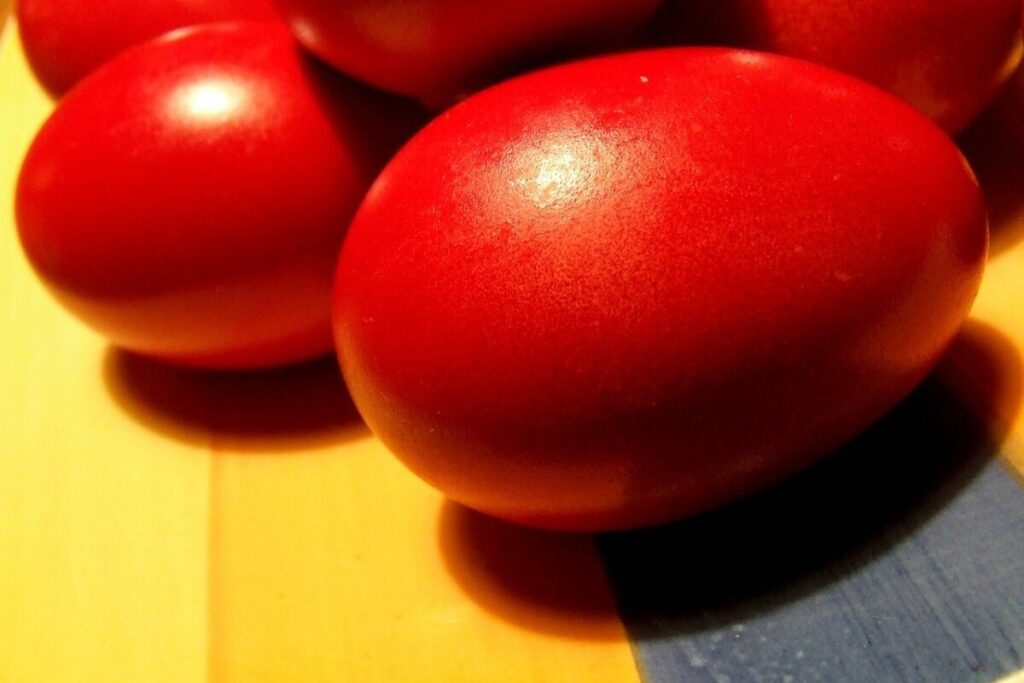 Tsoureki is a type of plaited bread usually made before Easter (although it can be eaten at other times of the year too). Three strands of dough are braided together to make the bread, which symbolises the Holy Trinity. The bread itself is soft and slightly sweet, with a brown crust. It gets its distinctive flavour from two aromatic spices – mastic, a resin from Chios, and mahlab, which is made from ground cherry seeds. The bread is often served with coffee and is ubiquitous on Easter tables around the country. Contributed by Roxanne of Farawayworlds.
Le Gigot d ́Agneau Pascal – France
From Brittany to the south of France the main course of the traditional Easter foods is of course lamb. The symbol of the lamb of God who sacrificed himself to save the world. In France, on Easter Sunday it is common to prepare Le Gigot d'Agneau Pascal, a lamb shank roasted and served with beans and potatoes or a leg of lamb cooked in the oven with provençal herbs, cumin, garlic and olive oil. The lamb is usually served with potatoes cooked in the oven, green beans or flageolet beans.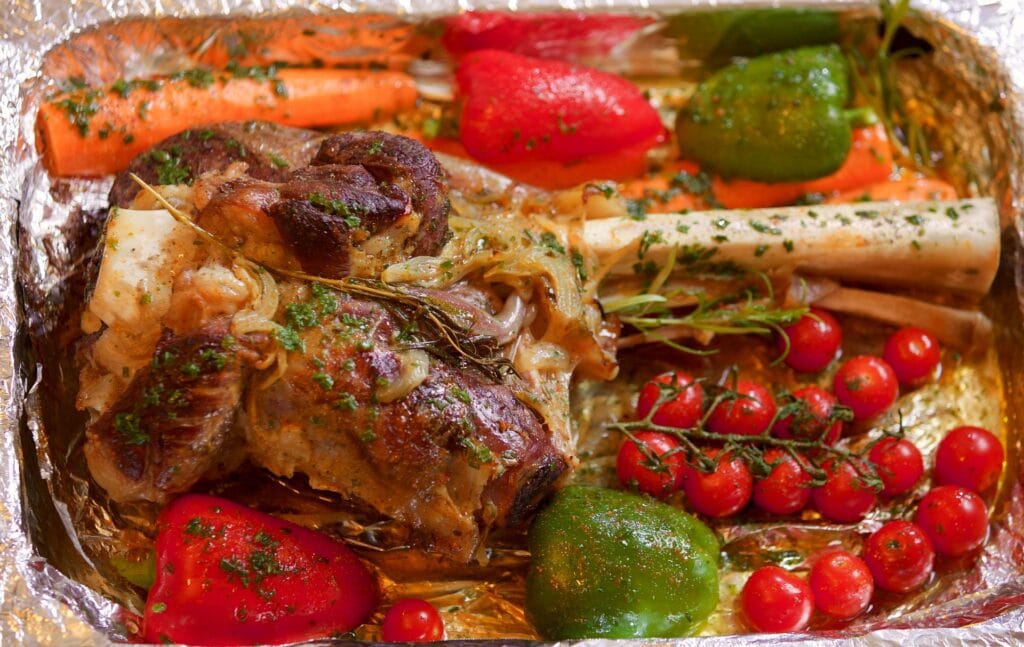 Drob – Romania
Drob is a traditional Romanian appetizer that is usually made to be eaten during the Easter holidays. In Romania, the holiday meals usually find the family around a big table, with lots of food being served during the day. The Easter meal starts with a large appetizer, which consists of many different cold cuts, cheese, coloured eggs, fresh spring onions, tomatoes and cucumbers, different salads and drob. Then, the traditional dish of Romanian, sarmale, is served, followed by lamb stew. For dessert, there is a selection of small cakes and cozonac – a traditional sweet bread filled with cocoa, walnuts, raising and/or Turkish delight.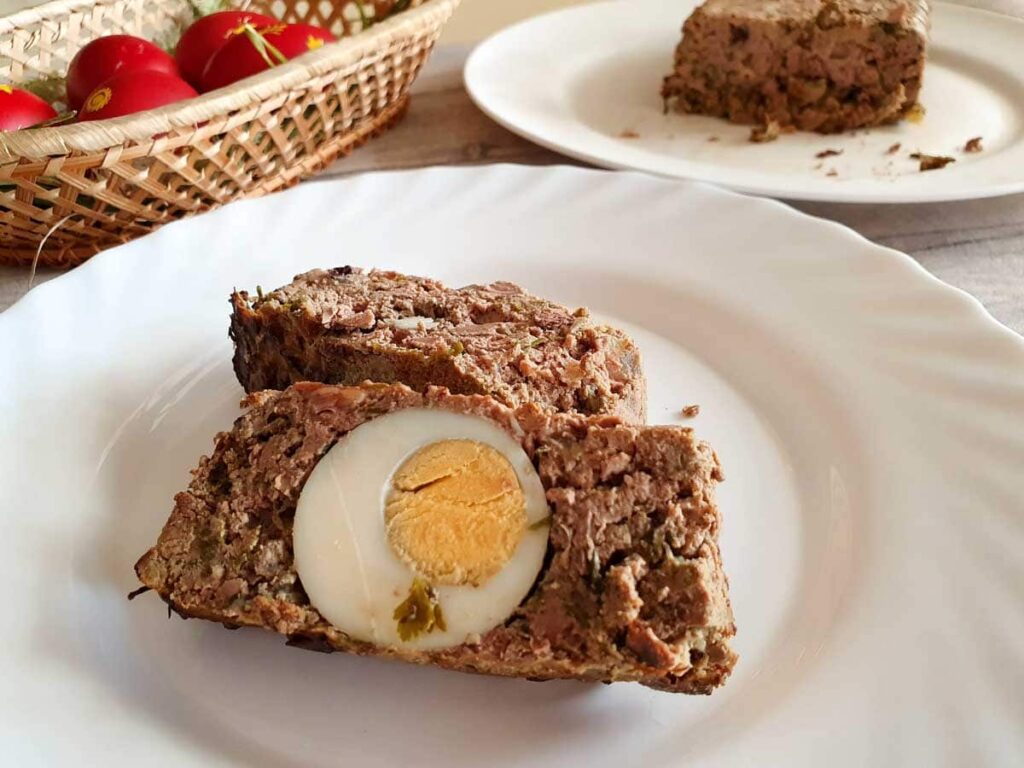 Drob is a cold appetizer made from lamb offal such as livers, lungs, and hearts. The meat is fried, and then mixed with spring onions and green garlic. Once everything is cooked, the mixture is passed through a grinding machine or chopped really small. It is then mixed with raw eggs, chopped parsley and dill.
Drob usually has eggs inside its mixture, so, when it is put inside the loaf pan, they are added in the middle. The drob is then put in the oven to bake for around 40 minutes. Once it is cooked, it is let to cool down and then put in the fridge overnight. Only after it is cut.
The result is a delicious meaty patty, with a surprise egg in the middle. The taste resembles the liver pate, but it's much more flavoursome. The texture is quite creamy, but still firm. Drob is usually served with fresh spring onions, radishes, and mustard. Contributed by Joanna TheWorldinmyPocket.
Capirotada – Mexico
As most Mexicans are Catholic, they abstain from eating meat during Easter or Holy Week, and fish and shellfish are the main dishes eaten during that week. There are tamales, stuffed chiles and a variety of fish and shellfish cooked with vegetables. The significant Easter dish though is Capirotada which is a bread pudding made with local fruits. The ingredients that must be present are bread which symbolizes the body of Christ, cinnamon sticks which symbolize the cross and cloves which represent the nails.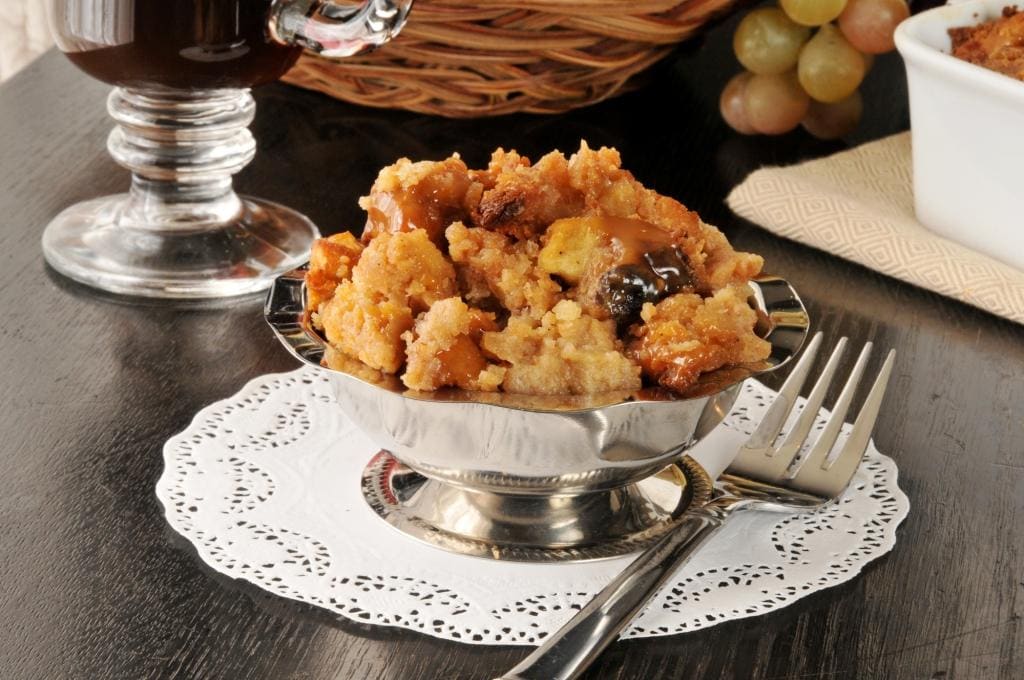 Habichuelas con Dulce – Dominican Republic
Habichuelas con Dulce, which translates to "Beans with Sweet" or simply sweet beans, is the most typical Easter snack you can find in the Dominican Republic. It is made out of red beans, sweet potatoes, cinnamon, sugar, some spices, raisins, and milk (cow milk and evaporated milk), topped with sweet cookies. The dish gets cooked very slowly the entire day at the beginning of the Holy Week and is later served as a dessert. Preparing Habichuelas con Dulce usually resembles a kind of ceremony and involves the entire family.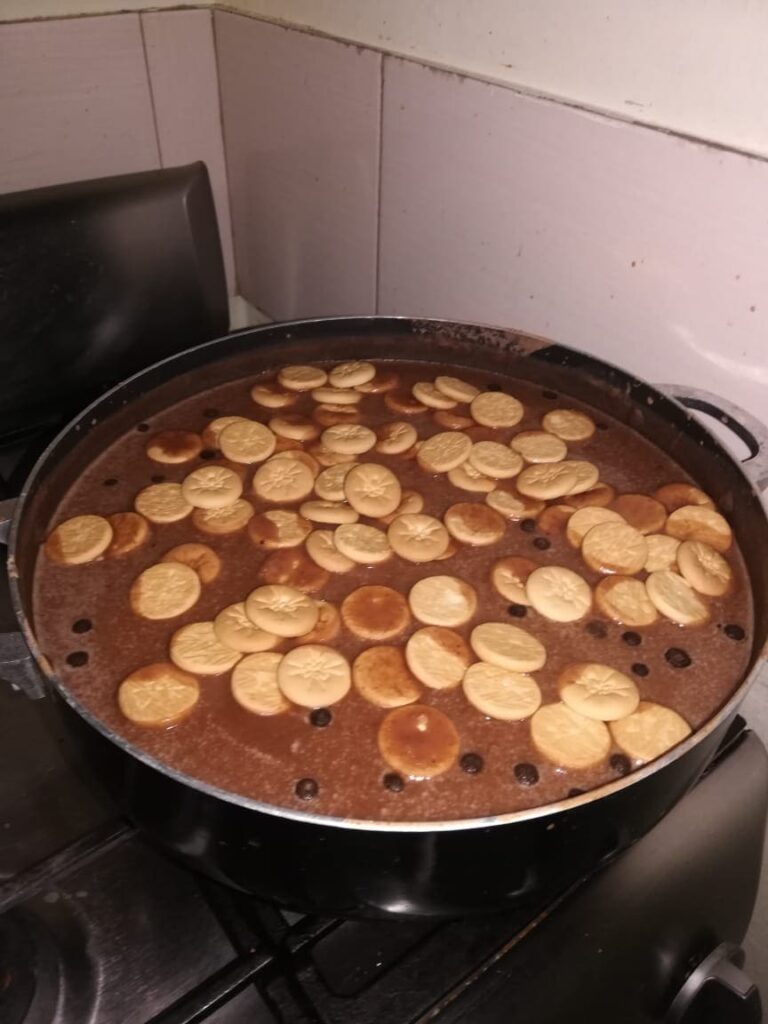 As you can see already from the ingredients, it is a super sweet snack, which is mainly served as a dessert and can be obtained on many roadside stalls when being on a road trip in the Dominican Republic during the Easter week, which is called Semana Santa. When exploring the Dominican Republic with a rental car during this time, you can recognize families selling this snack when you see a big silver pot on the sidewalk, especially in small villages. A portion shouldn't be more than 50 to 75 Dominican Pesos, which is between 0.90 and 1.30 USD.
The tradition is that you prepare the dish at the beginning of the Holy Week and eat it multiple times during the festive days. Furthermore, you share your Habichuelas con Dulce with the neighbours and your family – and they do the same. This results in a Dominican family trying at least 5 or 6 different Habichuelas con Dulce during the Easter week. Contributed by Chris from Punta Cana Travel Blog.
Escovitch – Jamaica
As an island surrounded by waters filled with incredible fish of course Jamaica's traditional Easter food will be fish-based. Served on Good Friday Escovitch is usually a Kingfish or snapper which is marinated in a spicy creation of onions, carrots and peppers including Scotch bonnets. The next day it is fried and served with bammy a manioc/cassava bread.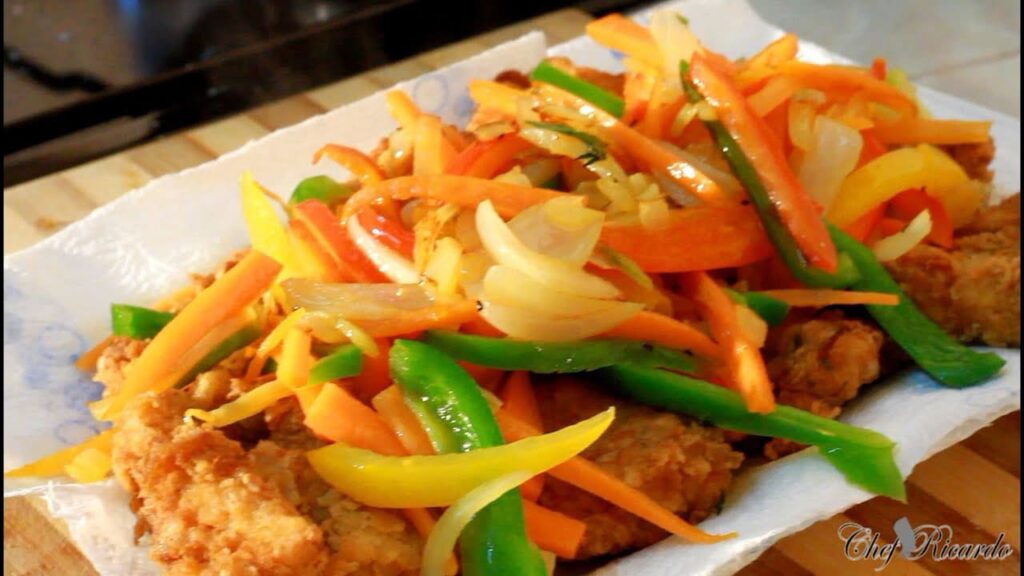 Bun & Cheese – Jamaica
Bun and Cheese is one of the first things a Jamaican will have at Easter. These are loosely based on British hot cross buns but the Jamaican style is made with sweet molasses or brown sugar and always partnered with cheese.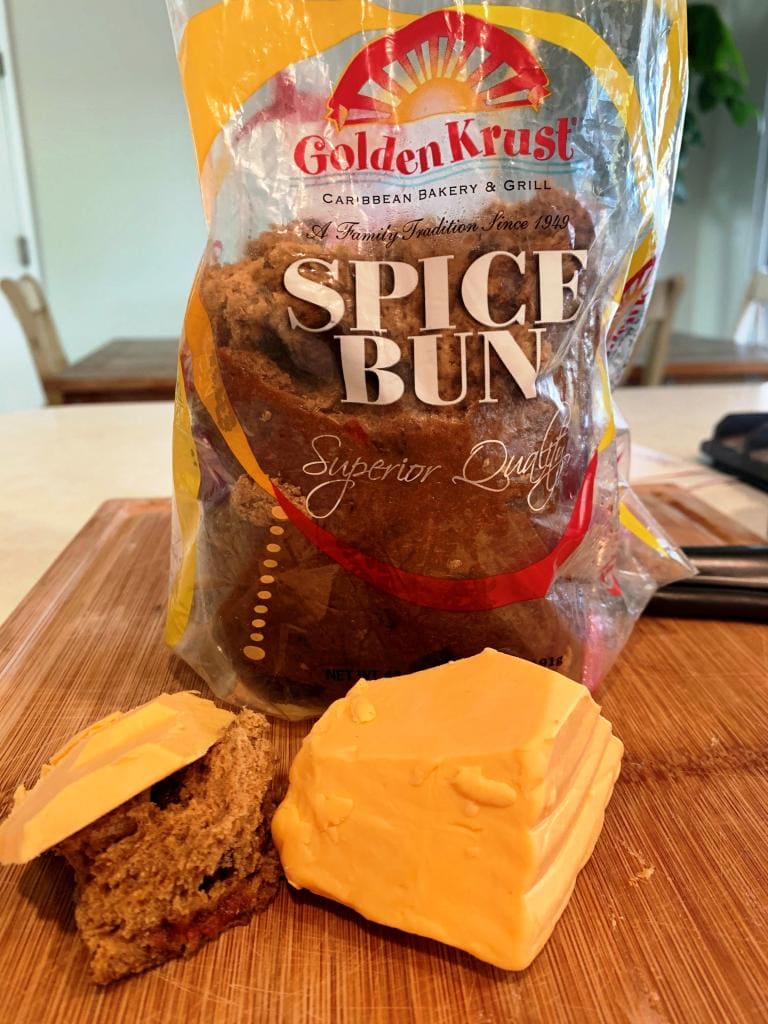 Easter Brunch – USA
Here in the U.S., especially in the South, many families attend church on Easter morning. Christians here often consider their church a second family. Many churches offer several services on Easter morning with an Easter brunch in between services to provide fellowship. Each family brings a casserole to share at the brunch. Sharing food usually revolves around potluck dishes and BBQ.
Casseroles usually include breakfast meats such as bacon, ham, or sausage. They also contain egg, cheese, and cubed bread or potatoes. However, I prefer using tater tots instead of bread cubes. I also leave out the meat. Some people get fancy and use cubed French toast. Several people have started making vegetarian casseroles, but since they all contain eggs and cheese, this is not a vegan-friendly event.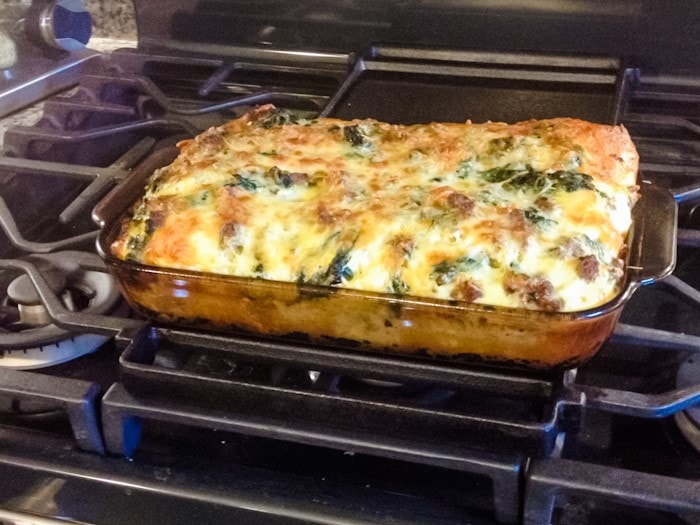 While a lot of eating goes on at these events, they are really about the fellowship. People gather together with their church family to celebrate the risen Christ. The tables are decorated with flowers, symbolizing life. People renew relationships with people that they don't see often because they attend different services.
These casseroles are filling, so people usually skip lunch to save room for Easter dinners at home with relatives later on. Donnamarie from Explore the Road with Donnamarie
Corallina – Rome, Italy
In Rome, classic Easter food always starts with an appetizer of corallina which is a salami that began as an Umbrian delicacy for Easter but is now available all over Italy. Corallina is served with cheese bread (sometimes called pizza) but in Rome, it is crescia and decorated with hard-boiled eggs.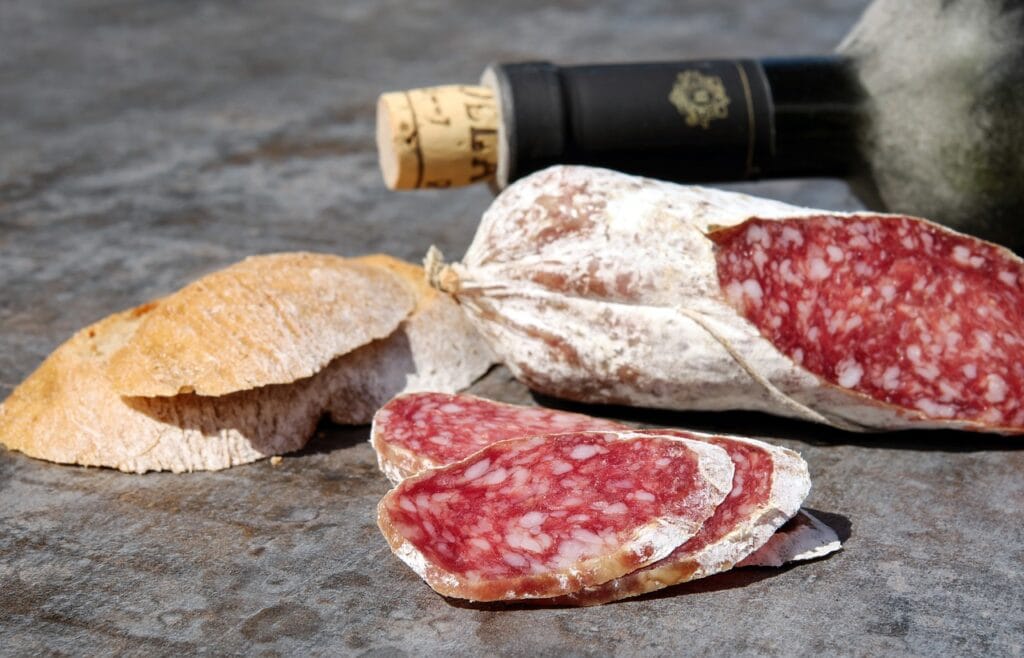 Hot Cross Buns & pickled fish – South Africa
South Africa is home to a large mix of traditions and cultures. Easter is widely celebrated by the large Christian population of the rainbow nation accompanied by a variety of traditions. A true Easter treat, the hot cross bun is served across cultures with a multitude of dishes.
A hot cross bun is a spiced sweet bun made with currants or raisins and marked with a cross on the top. These buns have been served in the UK over Easter for hundreds of years and different culinary traditions surrounding hot cross buns developed in historically Commonwealth countries such as South Africa.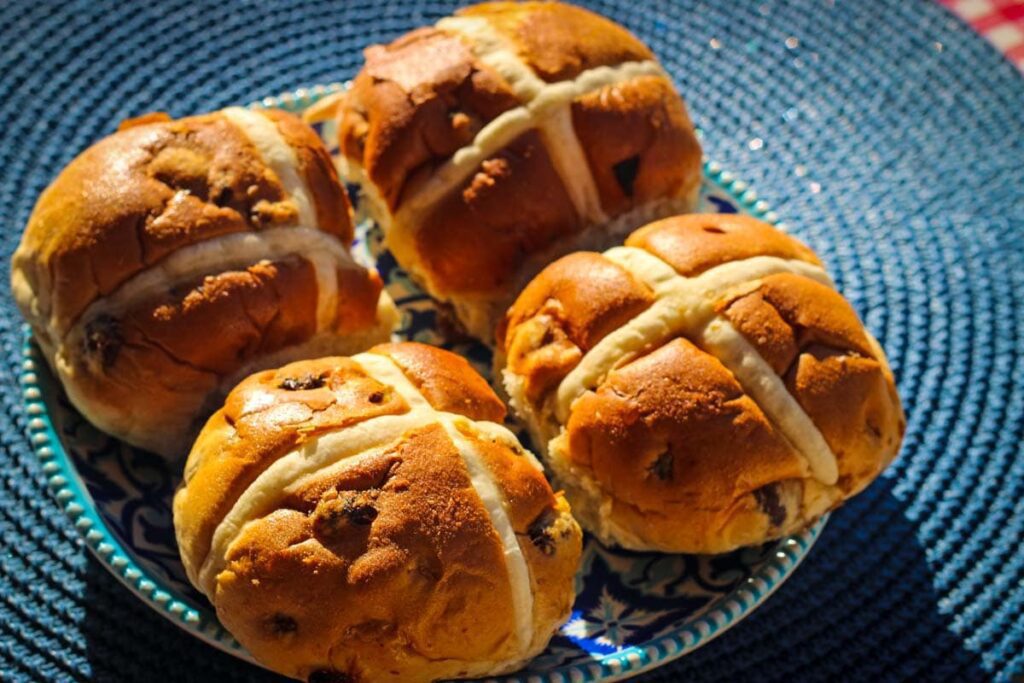 Starting the day around Easter time with one of these spicy buns filled with cheese and apricot jam with a cup of coffee is very typical in South Africa. Traditionally Cape Malay-style pickled fish is eaten during Easter on Good Friday in South Africa alongside hot cross buns.
The origin of this tradition in the Western Cape is not clear. Some say it comes from the belief that eating fish pickled in vinegar on Good Friday symbolises Jesus being offered vinegar to drink at his crucifixion. A more practical explanation is that because fishing boats didn't go out over the Easter weekend fish had to be pickled for preservation before fridges and freezers existed.
Lamb is another meal traditionally eaten during Easter in South Africa, eating lamb during Easter has its origins in the Jewish holiday of Passover. Lighting the fires, making fresh salads and having a big 'braai' or barbeque with fish or meat and other local dishes is a very common way to enjoy the fantastic summer weather over the Easter holiday in South Africa. Contributed by Alya and Campbell of Making Salads blog.
Torta Pasqualina – Italy
Torta Pasqualino is a pie made with a flaky pastry and inside it contains those traditional Easter symbols of boiled eggs, this is paired with ricotta cheese and finely diced spinach or chard and artichokes. It is said that this pie should have 33 layers in the crust to celebrate the number of years that Jesus spent on Earth.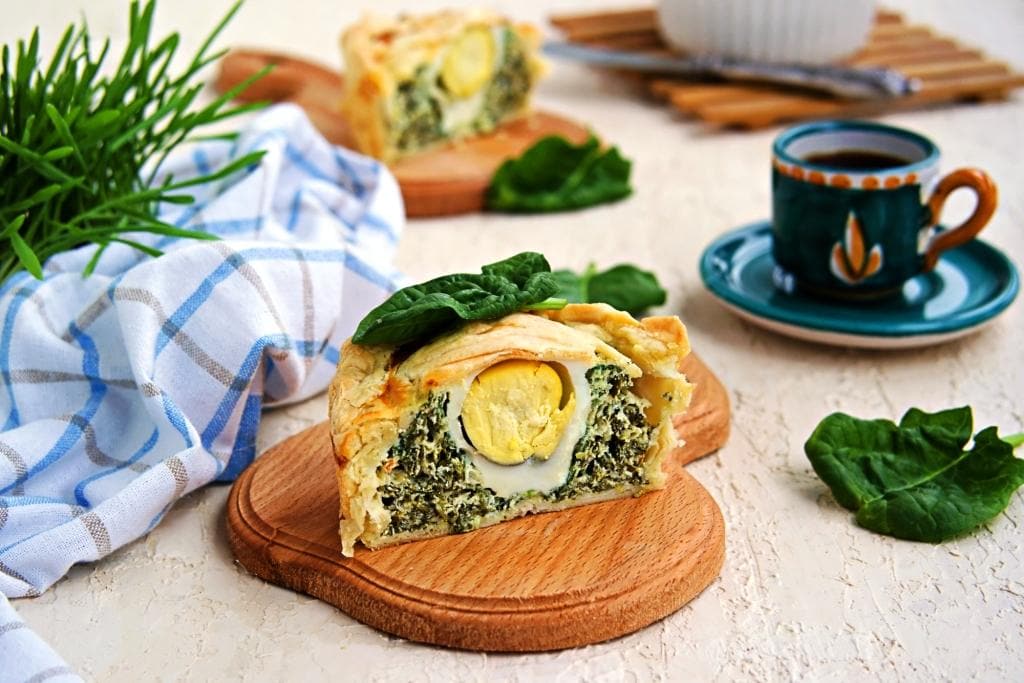 Bacalhau – Portugal
Bacalhau is a traditional dish in Portugal, Galicia, in former Portuguese colonies and the northwest of Spain. It is specially cooked as a tradition on Easter in places like Portugal.
It is a popular Portuguese dish, which has also become a staple for Brazil. It is made with salt cod, onions, potatoes, hard-boiled eggs, olive oil, and olives. As said, it is served as a tradition on Good Friday but residents also enjoy it throughout the year. People have been practising drying and salting cod for at least 500 years. When there was no refrigeration, people used this technique to preserve the cod.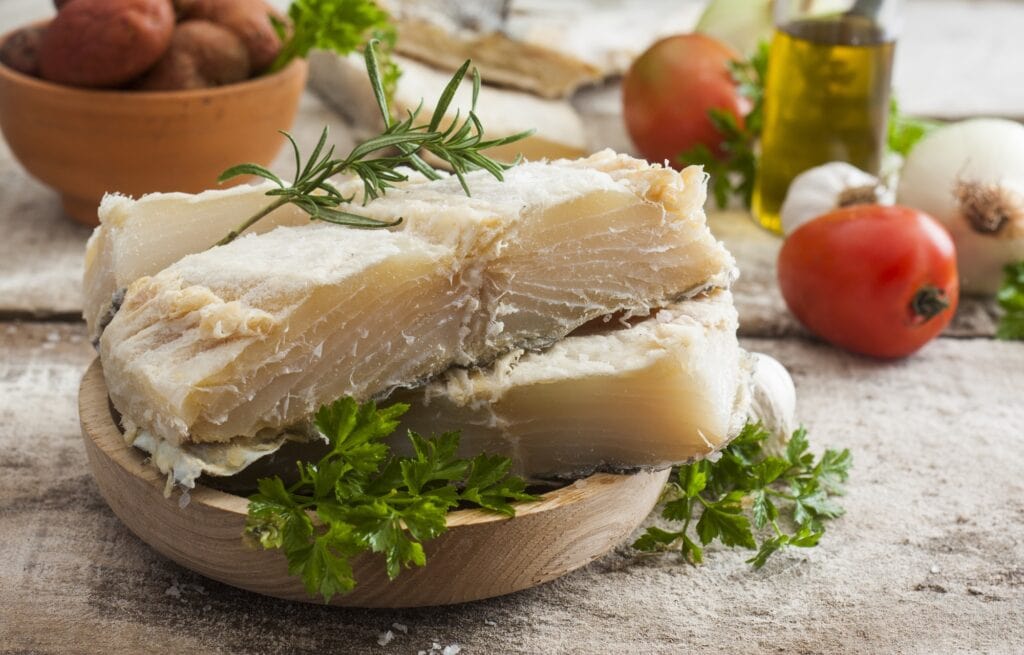 Residents of Portugal follow this food tradition dating back before the Age of Discoveries. It was discovered by sailors of Portugal who travelled across the world during the 15th to 18th centuries. It is the symbolism of their 'voyages of discovery. The popularity of bacalhau may have risen because it was cheap and easy to preserve food for Catholics who needed to preserve meat during religious events and holidays. Today, the Portuguese know about 365 different ways to serve bacalhau.
A side dish Portuguese widely served with this food is called Pasteis de Bacalhau. They are fried fishcakes made with egg, onion, potatoes, and parsley.
You may find a number of recipes while tasting the bacalhau for the first time. One of the easy-to-make recipes is Bacalhau à Lagareiro. This recipe bakes cod fillets and is served with potatoes, smothered in olive oil. Making a visit to the centre of Portugal near Viseu may make you come across this common recipe.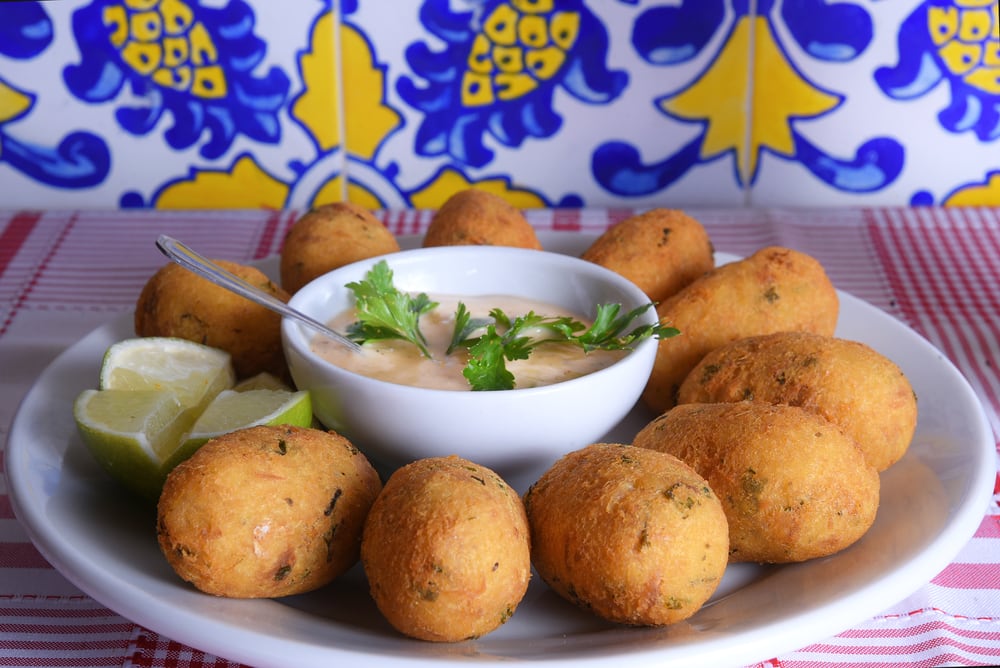 To experience more than one recipe of Bacalhau, plan a longer vacation, especially staying in the Algarve is a great way to explore unexpected cod dishes. Contributed by Paulina of Paulina on the Road.
Paskha – Russian, Ukraine
Another dish that contains the forbidden during Lent thanks to the dairy ingredients used in its making. The Paskha is made in a mould shaped like a flattened pyramid which symbolizes the first Passover and is decorated with traditional religious symbols, such as the Orthodox three-bar cross, and the letters X and B which are Cyrillic letters that translate to Christ is Risen.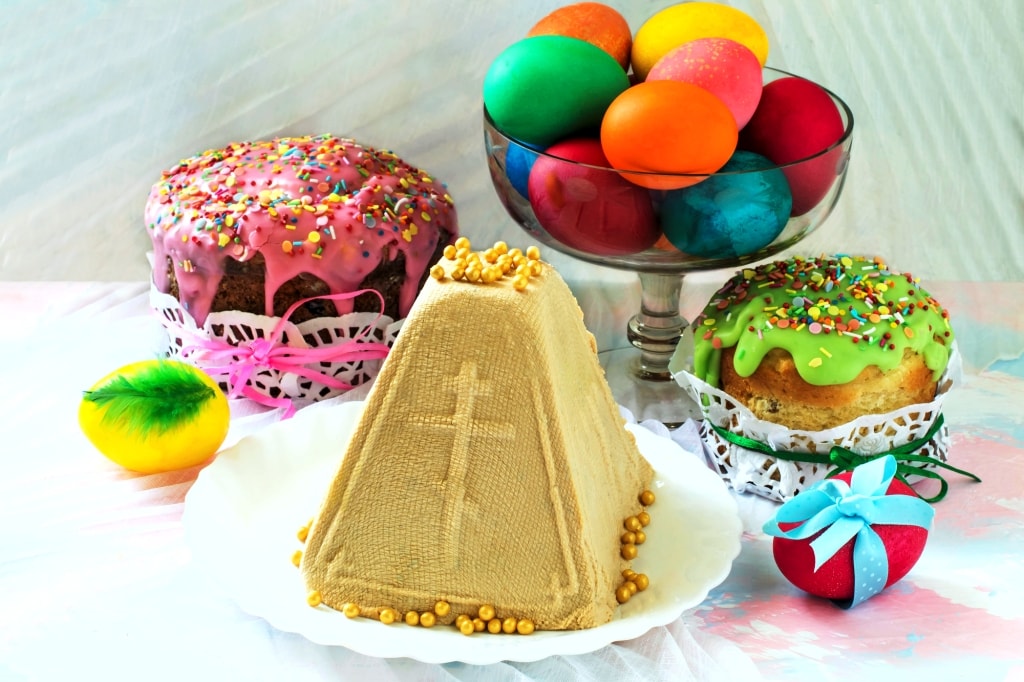 Pasha – Finland
In Finland Paskha is known as Pasha it is a traditional Easter food that arrived in Finland about the same time as the Orthodox religion. This culinary tradition originated in ancient Karelia, between the White Sea and the Gulf of Finland, which was then part of Russia.
Mämmi – Finland
One of Finland's other traditional Easter foods is Mämmi, which is sort of a cross between a pudding and a spread. Made from rye flour, malt, molasses, water salt and orange zest it is a time-consuming dish as it can take up to 4 days to "mature" in the fridge before being eaten.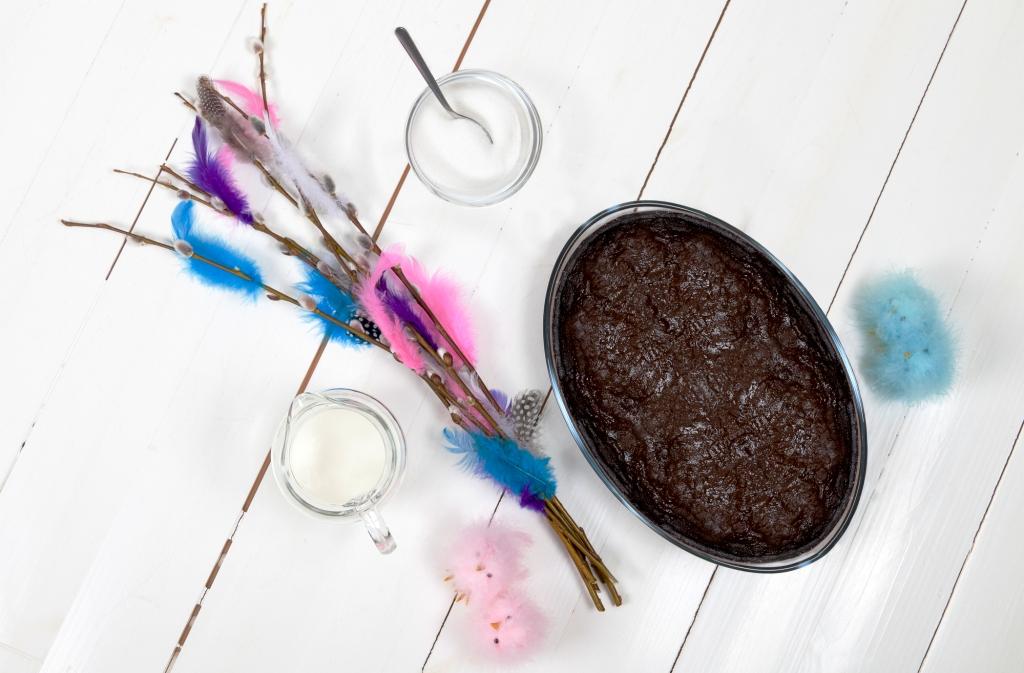 It is a dish served with cream and sugar on Good Friday the day on which you are supposed to avoid all household chores and eat simple cold meals.
Souvla – Cyprus
Souvla is a lamb meat skewer that Cypriots have for lunch on Easter Sunday. The meat is marinated in a simple herb and salt mix and then grilled over charcoal.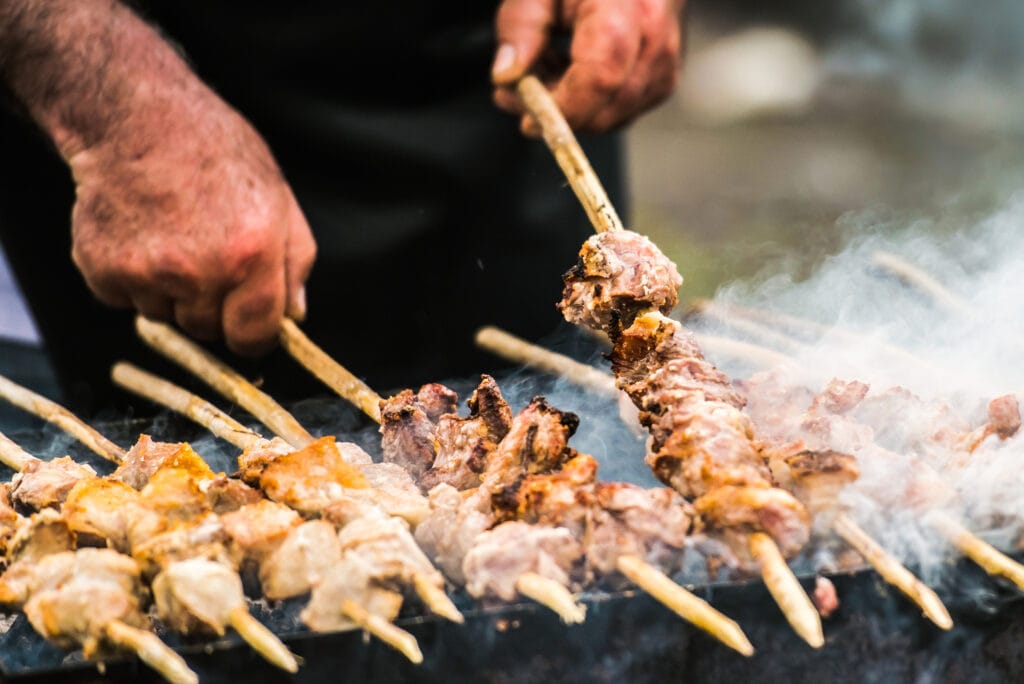 Fesikh – Egypt
In Egypt, Fesikh an Easter food staple, is a salted and fermented grey mullet fish is served with bread and vegetables. The fish is pretty smelly and bitter. The other type of fish eaten at Easter is smoked herring for Egyptians consisting of salted fish and exotic vegetables.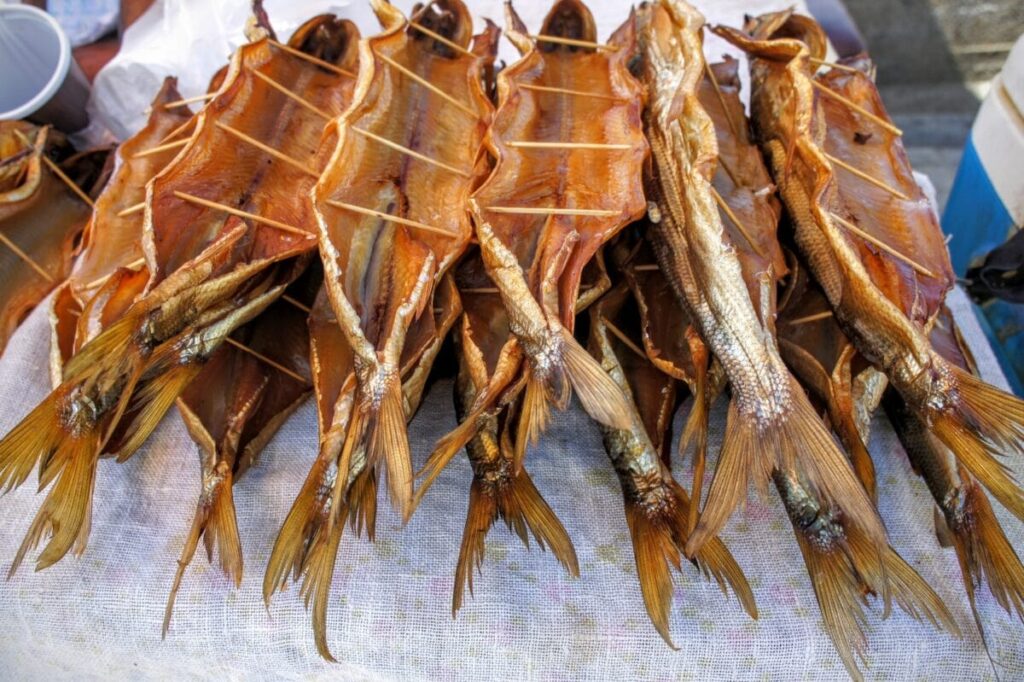 Molouha is another common Easter dish that is a salted and smoked herring served with lettuce, onions and green chickpeas.
Chile Relleno – Mexico
As an ex-pat living in Mexico, I spent many Easters in this country and was quite amazed by how these celebrations are very important to their culture, particularly in putting food on the table.
Mexicans love parties. They will have an excuse to celebrate anything and apart from the unlimited tequila that each local home serves, there should always be food.
One of my favourite Easter food in Mexico is chile Relleno which is stuffed pepper. Many foreigners think it's spicy but it really isn't. It's just a common impression that every chilli type in Mexico is spicy but the one they use for chile relleno is not. The chilli type used for this dish is called "poblano peppers," which is native to Puebla, Mexico.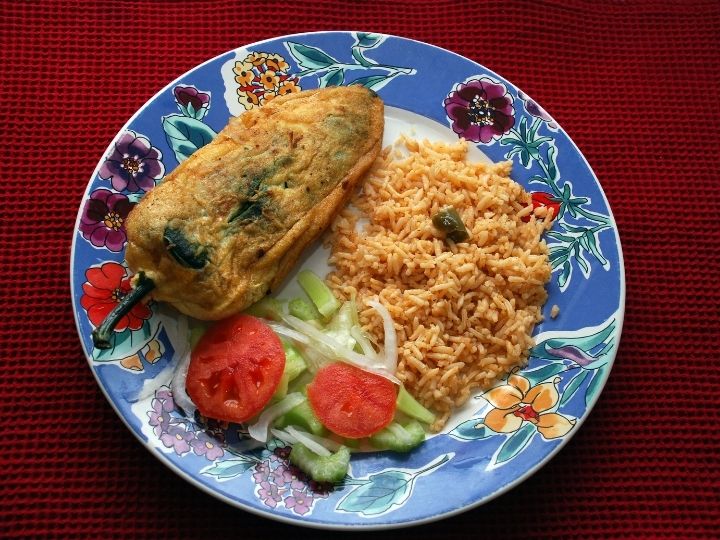 Depending on who's making it, you can stuff the poblano pepper with ground beef, chicken, or for vegetarians, just cheese. They put cheese in everything anyway! Oaxaca cheese is the most popular when it comes to making chile relleno.
As a tourist, you won't really see chile relleno served as a typical Mexican food in restaurants as it is quite tedious to make. Whenever I see chile relleno in my Mexican friends' homes means it's a special occasion.
Chile relleno is commonly topped with tomato sauce and served with rice, beans, and vegetables on the side. It is truly one of the best dishes in Mexico and I can't guarantee you can try it as a tourist. But come to Mexico during Easter and you will see this a lot on people's tables! Contributed by Trish of Psimonmyway.
Jollof Rice – West Africa
Is a tomato-based rice dish that is believed to have originated in Senegal and spread to West African countries and it is a staple in many African countries. Jollof is a rice dish based on long-grain rice with curry powder and endless variations of spices, meat, chiles, vegetables and onions.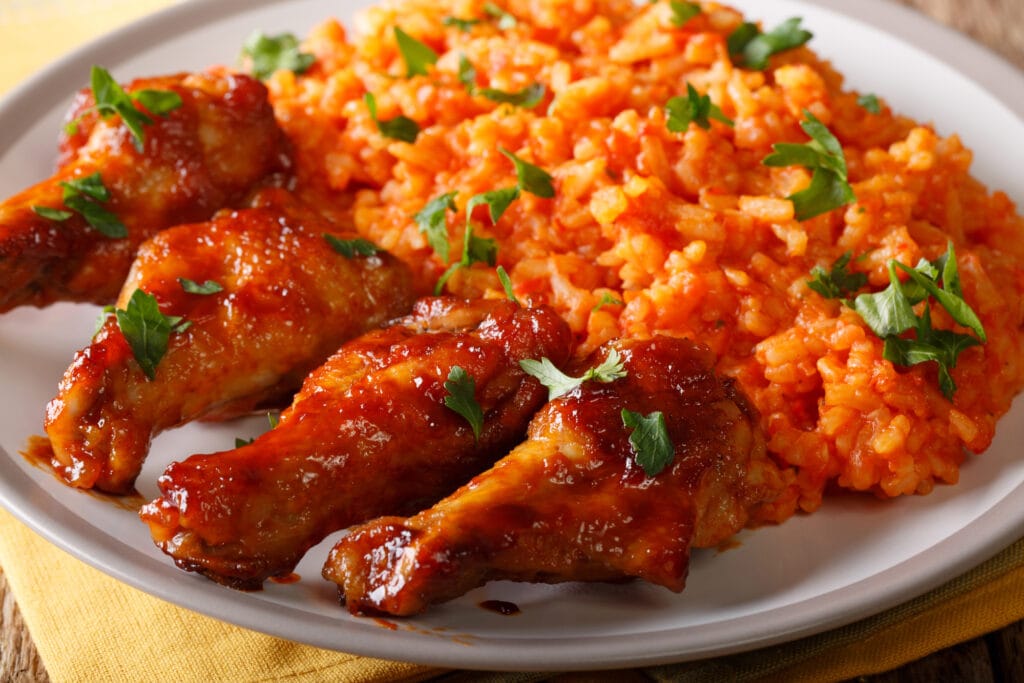 Boiled and decorated eggs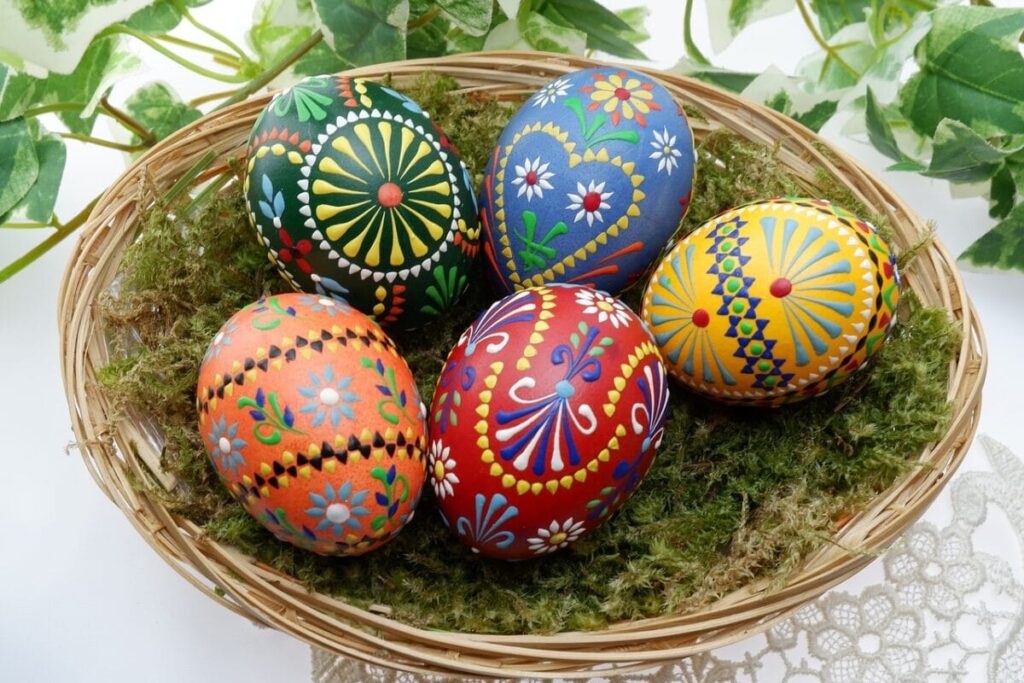 Eggs are a symbol of life, renewal and rebirth dating back thousands of years. Early Christians adopted eggs as a symbol of the resurrection of Christ. During Lent, eggs were not allowed and so to preserve them the people would boil them and it became traditional to decorate them and then serve them at Easter.
How do you celebrate Easter? What are your favourite Easter foods?

Latest posts by Faith Coates
(see all)