Food from Oaxaca – the joy of Oaxacan Food
When travelling to Oaxaca, many visitors have one thing on their mind — authentic Oaxacan food! As one of the culinary capitals of Mexico, Oaxaca (pronounced wa-ha-kah) is well known for its amazing restaurants, bustling local mercados and delicious street food.
Though among the more unique Mexico destinations for some travellers, foodies in the know have been seeking out Oaxaca for years. Now, thanks to features on popular TV shows like Netflix's Street Food: Latin America, Oaxaca, Mexico, is fast becoming a household name.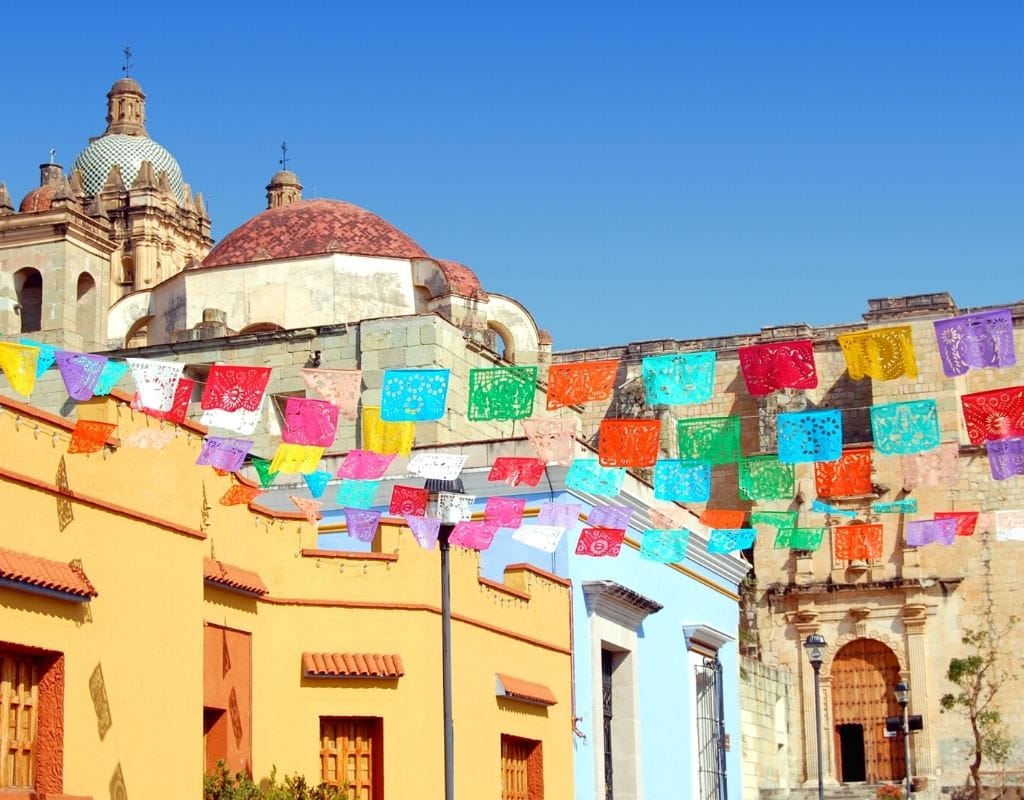 Though Mexico has a thousands-year-old food culture, many assume it's all just tacos and burritos. However, neither tacos nor burritos play a big part in Oaxacan cuisine; though you can of course eat both while in Oaxaca.
This Oaxaca food guide is for foodies headed to Oaxaca City, the state's capital and tourism epicentre, you'll encounter some lesser-known Mexican foods. Traditional Oaxacan street food and drinks include mole, tlayudas, tamales oaxaqueños, memelas, and tejate, a prehispanic chocolate/corn drink.
While these traditional foods are largely unfamiliar to many, UNESCO has declared traditional Mexican food an "Intangible Cultural Heritage of Mankind" — so rest assured you're in for a culinary treat anywhere you go in Mexico.
Food from Oaxaca – 7 must-try dishes

Within Mexico, some states and regions are more highly regarded than others; but you'll find Oaxaca at the top of this shortlist. Ready to discover seven of the must-try Oaxacan delicacies? Let's get to it, starting with the king of Oaxacan cuisine, mole.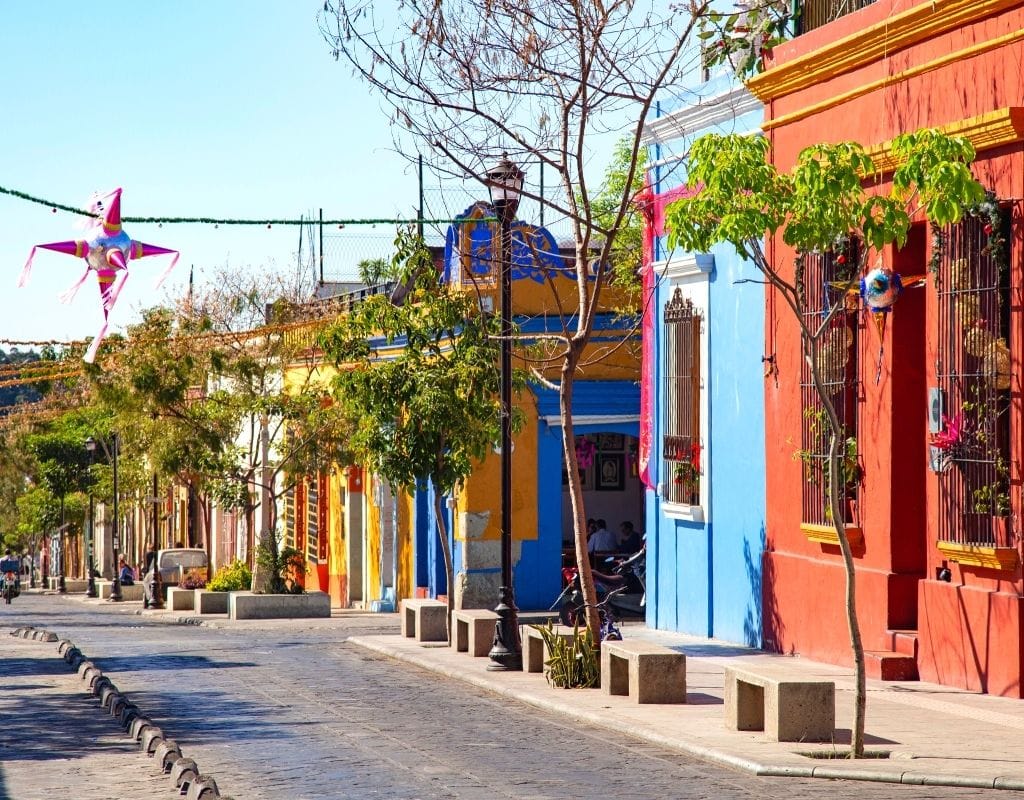 Mole
There's no way to discuss Oaxacan food without mentioning its most famous dish, mole (pronounced moe-lay). In fact, mole is actually the national dish of Mexico so it's also made in other states, particularly those that border Oaxaca.
In Puebla state, located just north of Oaxaca, they have their famous mole poblano. It is also a common dish in the state of Chiapas, which borders Oaxaca to the west.
Mole is unique in that it's both a marinade for cooking and a sauce served with the food. You can find it as a stand-alone dish, or used as a sauce to top things, as with enmoladas. This is an Oaxacan take on enchiladas, traditionally topped with salsa, but mole is used in Oaxaca.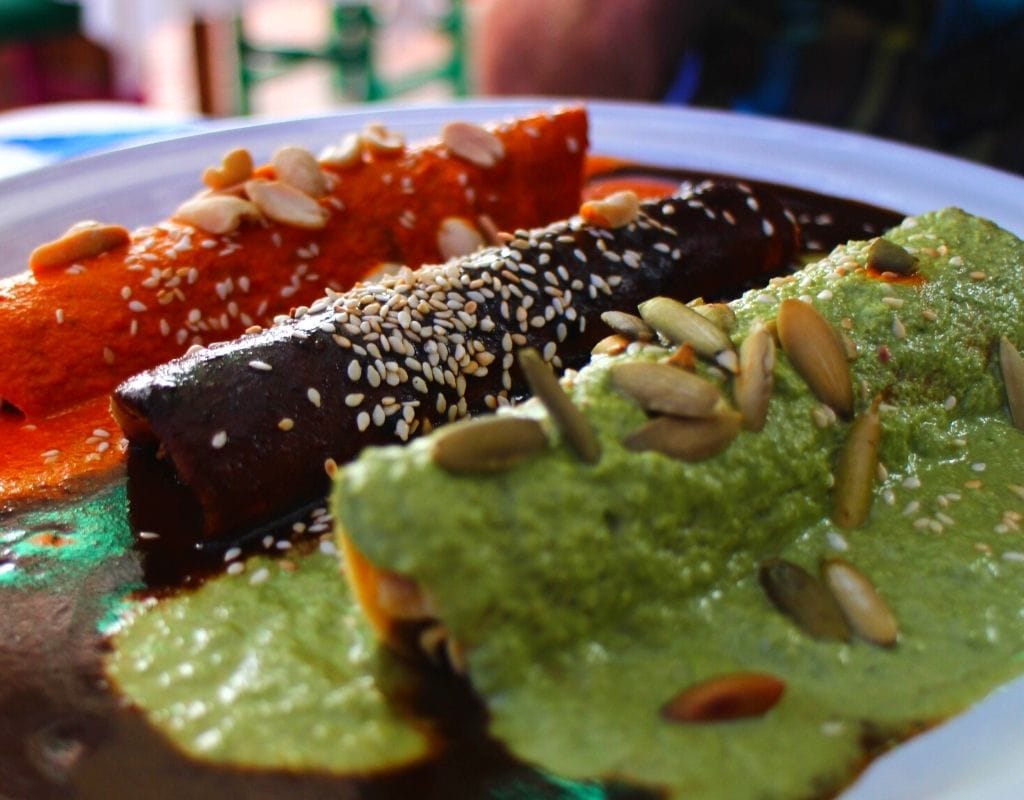 There are seven types of mole with varying combinations of spices, nuts, fruits, chiles and more — and some moles have up to 30 ingredients, though 12-15 is more common. In fact, the word mole comes from the Nahuatl word molli, meaning a sauce or concoction.
The most popular type in Oaxaca is mole negro (black mole), which gets its colour from chocolate. There are many other dark-coloured ingredients in mole negro as well, like the black chilhuacle chilli, which helps give the dish a beautiful spicy-sweet balance.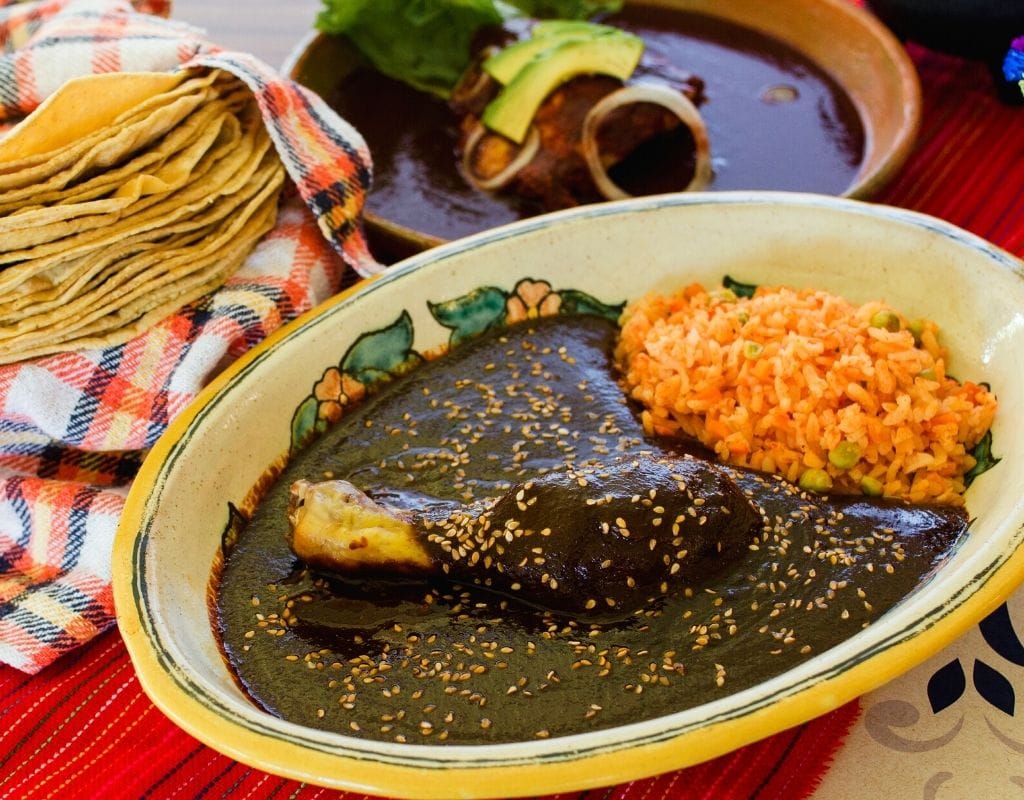 While mole negro is commonly eaten in restaurants, there is another type, mole Amarillo (yellow mole), which you can find from street vendors. In Oaxaca, keep your eyes peeled for street-side food carts offering empanadas de mole amarillo (yellow mole empanadas).
For those unfamiliar with empanadas, they are a type of handheld pie or turnover, often stuffed with meats, veggies and cheeses. Empanadas de mole amarillo have chicken in yellow mole sauce inside; a sauce made with a yellow chilli pepper called chilhuacle.
Tlayudas
The most beloved of all Oaxaca street foods is the tlayuda (pronounced tuh-lie-you-da). If you're wondering, What is a tlayuda? it looks like a Mexican pizza. It is sometimes referred to that way, however, there are no other similarities to Italian pizza.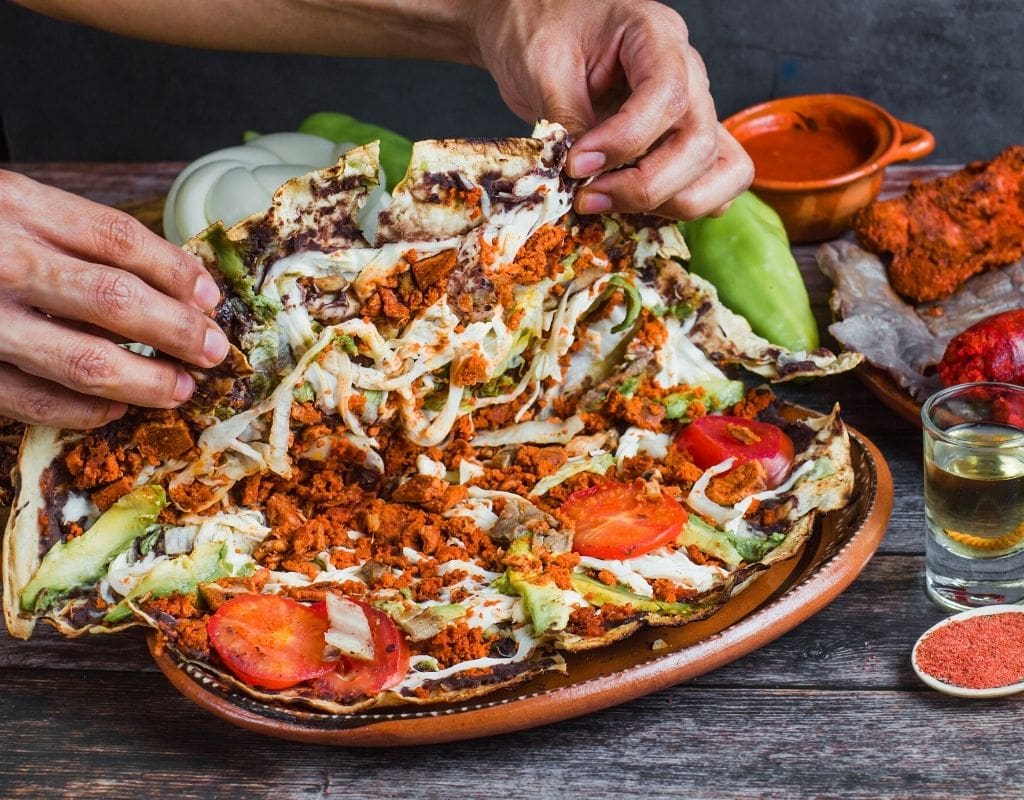 Tlayudas are made on a huge corn tortilla, brushed with asiento (pork lard), and toasted over a charcoal grill or on a cooking comal. A comal is a flat, circular cooking surface, used in many traditional Mexican and Oaxacan foods.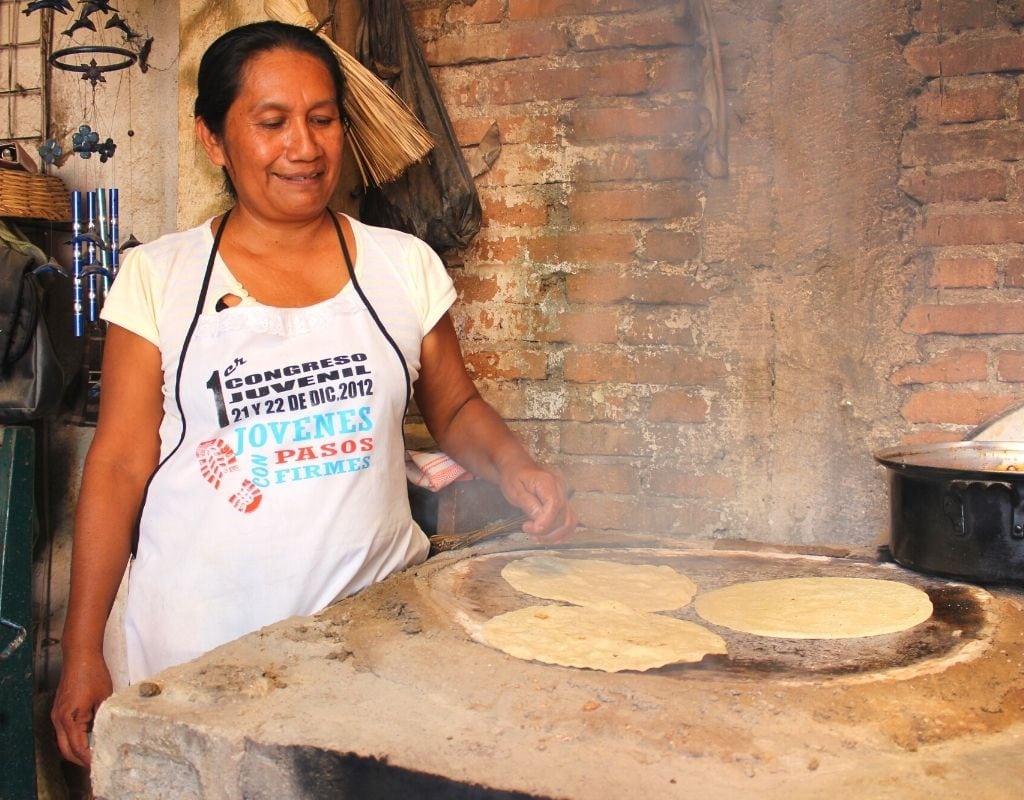 After the tortilla gets toasted, refried beans, tomato, onions, avocado and queso Oaxaca are placed on top. Throughout Mexico, queso Oaxaca (Oaxaca cheese) is very well known; though in Oaxaca, it's referred to as quesillo. This is string cheese, similar to Monterey Jack in flavour.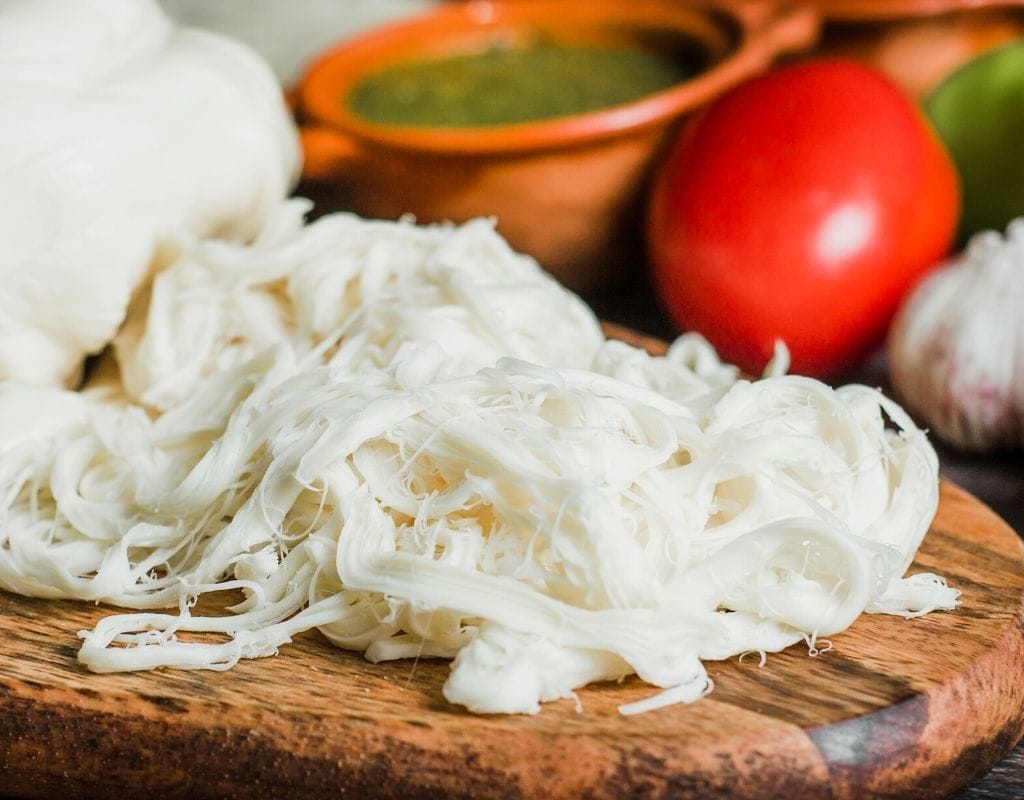 After cooking for a few minutes to melt the cheese and heat the veggies, the tlayuda is folded closed. For those who also want meat, you can add cecina (salted/dried steak meat) or chorizo (sausage), which is served placed right on top of the folded tlayuda.
Tlayudas are more of a nighttime food in Oaxaca. However, to cater to Oaxaca visitors, you'll find some shops selling them day and night. If you can hold out on eating one, wait till after the sun goes down to try a tlayuda with the locals.
At night, you'll start to see vendors setting up small charcoal grills on the street outside of their restaurants. These are for making the tlayudas, which you can grab and go or eat inside the restaurant.
Memelas
Memelas (pronounced mem-ell-uhs) are common in Oaxaca, and its neighbouring state, Chiapas. A memela is essentially an open-face taco but made with a thicker tortilla. They are topped with cheese, beans, meat, salsas and more, and cooked on a comal.
You can try them all over Oaxaca City, but thanks to the "Oaxaca" episode of the Netflix Street Food: Latin America show, there's one place visitors now seek out.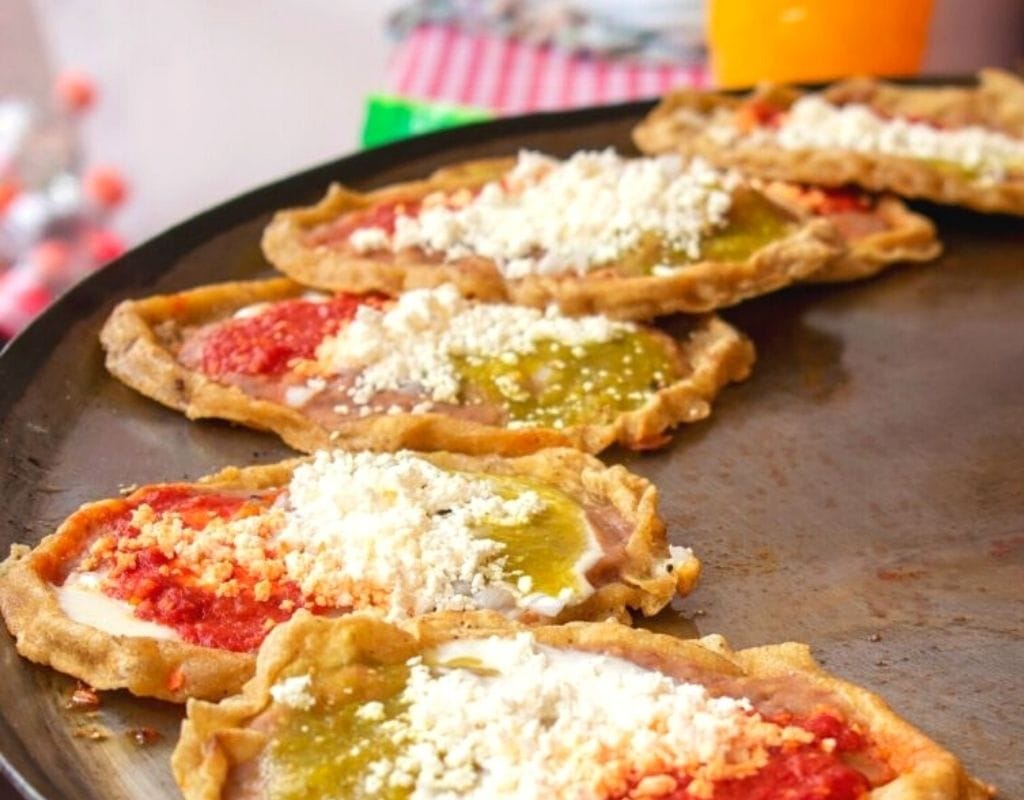 Located in Mercado Central de Abastos, Memelas Doña Vale is an Oaxaca must-try. The chef, Doña Vale (Ms Vale), is well known for her memelas and also her salsa Morita. She makes the salsa by hand with chile Morita, a smoked jalapeño pepper that's similar in taste to a chipotle.
Tamales
Tamales are a favorite all over Mexico; however, tamales oaxaqueños (Oaxacan tamales) have a unique preparation.
Though all tamales in Mexico are made from a masa (corn) mixture, tamales oaxaqueños are cooked in a banana leaf, rather than a cork husk. For this reason, you may see them called tamales hojas (leaf tamales) — as hoja, is the Spanish word for leaf.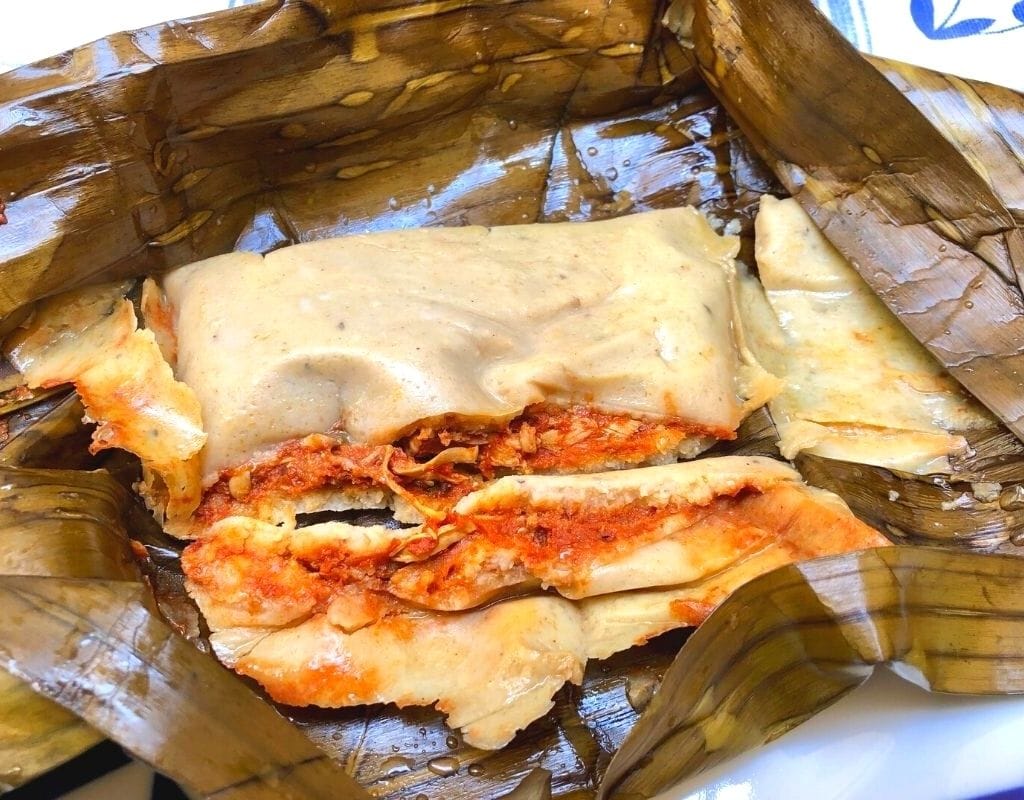 Oaxacan tamales come stuffed with everything from mole con pollo (mole with chicken) to chipil (a common Oaxacan herb) to rajas (roasted poblano peppers). There is even a dessert version called tamales dulces (sweet tamales), made with macerated fruits.
Tamales are a staple food all over Oaxaca City, but head to Mercado 20 de Noviembre to try all the different types in one place. The dining section of this bustling Mercado (market) is set up like a food hall, with different stalls offering all varieties of tamales oaxaqueños.
Chapulines
Like most traditional Oaxacan food, eating chapulines (grasshoppers) dates back to pre-Hispanic times. These small insects are basically fat-free, high in protein and readily available for much of the year, so they were an integral part of the Central Mexico ancestral diet
Today, you can find chapulines (pronounced chap-pull-lean-es) from street vendors and in mercados. They are sold by weight and placed into a bag for the customer. In Oaxaca, it's not uncommon to see a local snacking on a bag of grasshoppers, just like popcorn.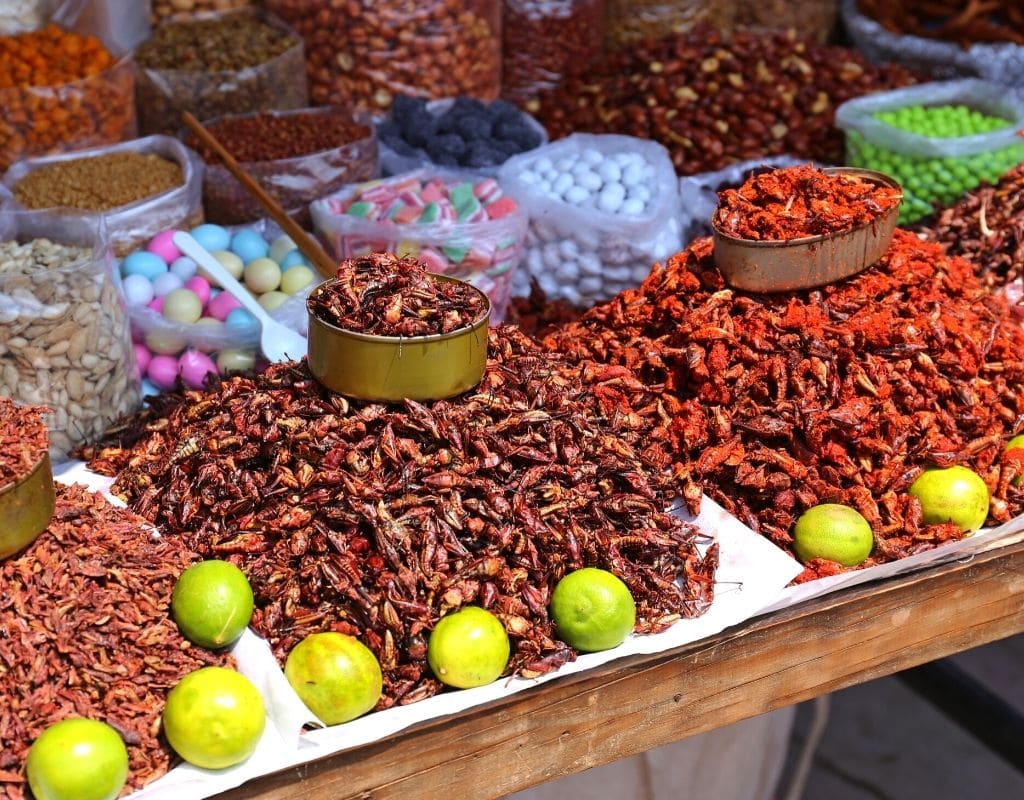 The grasshoppers are cooked over a comal and then left to cool before eating. Many people eat them plain, but some add toppings like lime juice, salt and salsa. It's also common to see them served in guacamole, which adds a crunchy texture.
Tetelas
Tetelas (pronounced tet-tell-uhs) are similar to empanadas or hand pies, though triangular in shape. They are popular for breakfast, as a lunchtime appetizer, or as a snack. For vegetarian food in Oaxaca, these are the go-to option.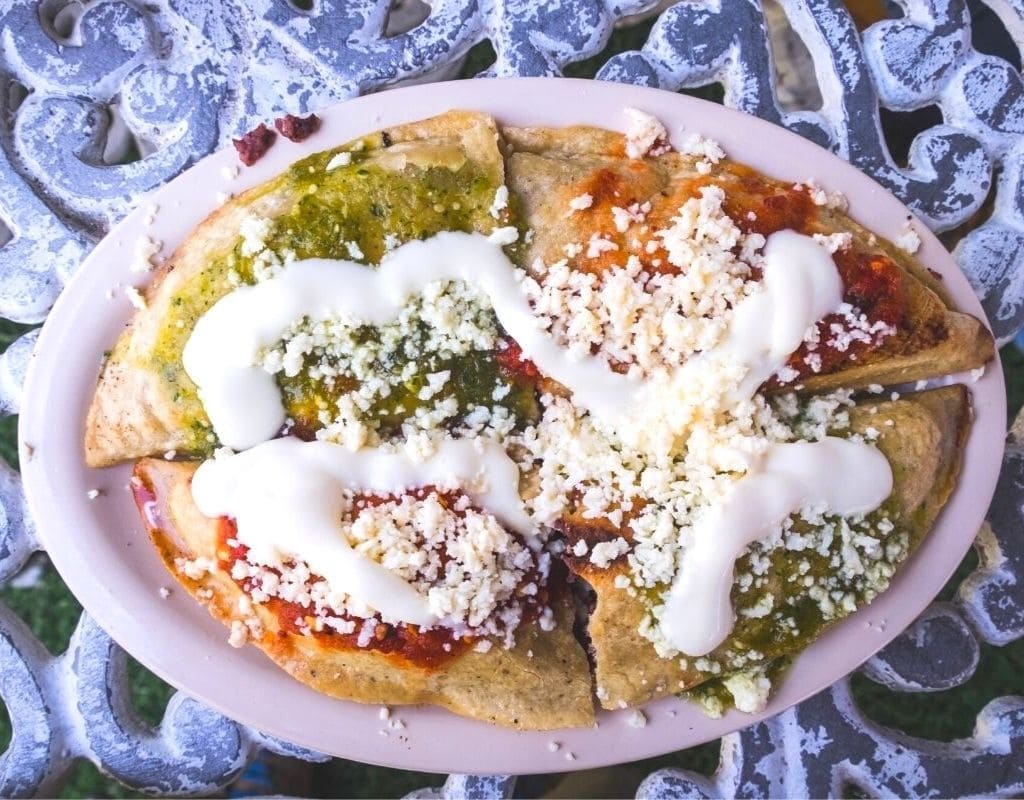 Traditionally, tetelas come stuffed with quesillo, black bean paste and hoja de santa (holy leaf/Mexican pepper leaf), a pepper plant leaf used in many Oaxacan dishes. You can also find them stuffed with chicken and other veggies, though most are vegetarian.
Cooked on a comal, tetelas are served hot so the quesillo (Oaxaca cheese) is fully melted. They can be eaten in a restaurant or taken as grab-and-go food from a street vendor.
Tejate
While admittedly, the combination of corn and chocolate doesn't sound appetizing, tejate (pronounced tay-ha-tay), is a prehispanic chocolate/corn drink that proves otherwise. In fact, the people of Oaxaca love it so much, they call it the bebida de los dioses (drink of the gods).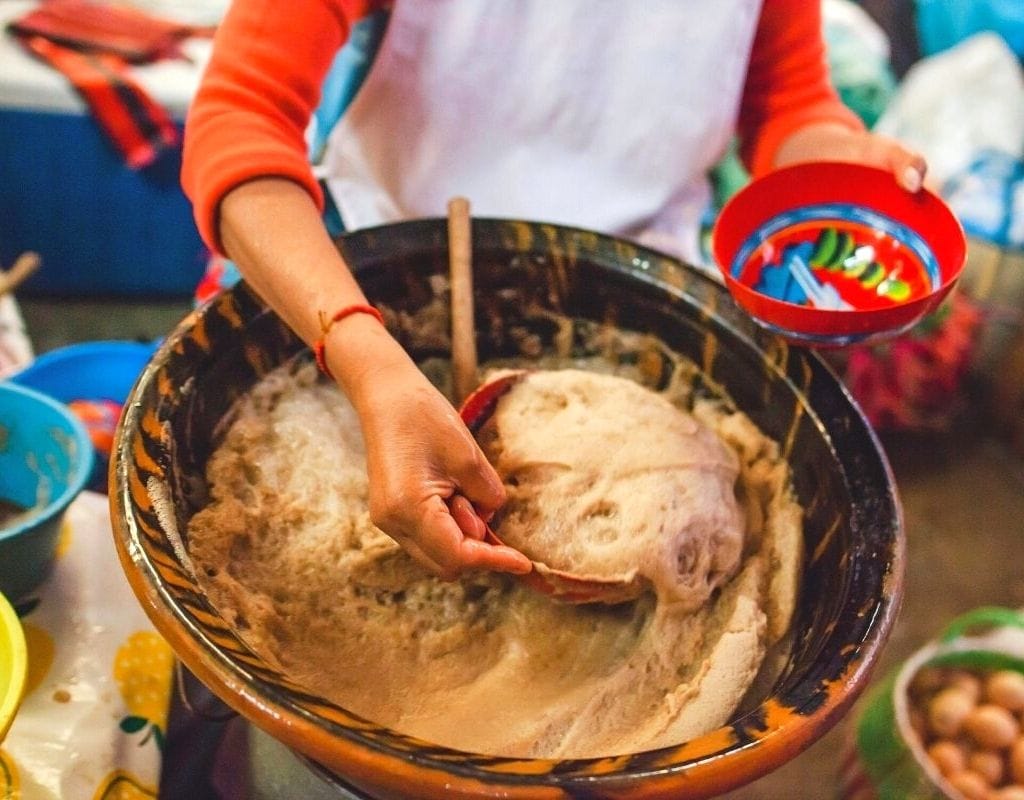 Tejate is prepared by hand in large clay bowls from a liquid mixture of flor de cacao (cacao/chocolate flower), toasted maize (corn), toasted pits of mamey (a tropical fruit), and fermented cacao (chocolate) beans. It is served cold, and quite refreshing on a hot Oaxaca day.
This beloved Oaxacan beverage dates back to prehispanic times. As it has been made for so long, different regions, cities and families have their own unique way to combine the ingredients. As a general flavour profile, tejate tastes like chocolate milk, though much more complex.
Final Thoughts: Oaxaca Food
This list just scratches the surface of all the delicious food to try in Oaxaca, Mexico! However, hopefully, you now see there's more to Mexico than just tacos and burritos — especially in Oaxaca, which is considered the Foodie Capital of Mexico.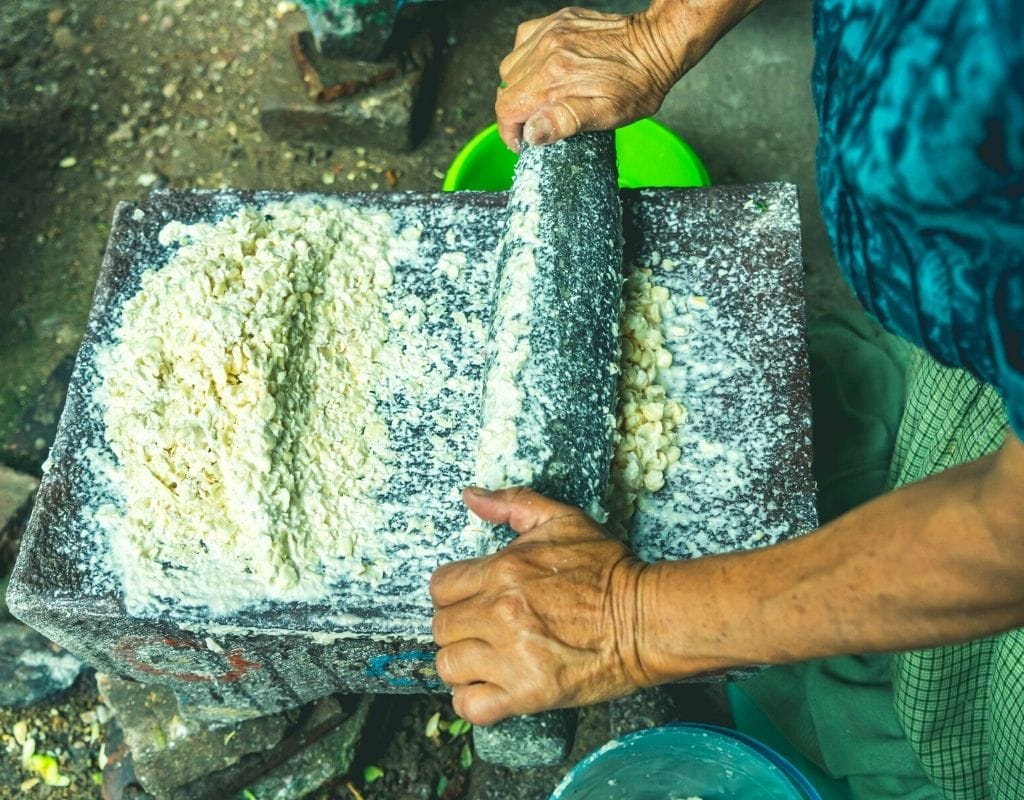 Oaxacan cuisine is still very much connected to its pre prehispanic roots, as is the entire state. Oaxaca itself feels charming and humble, with a deep connection to its past and all the rich traditions that make it unique.
Oaxaca Ancestral Food Experience Tour
This is a private tour and a deep dive into less well known foods in Oaxaca. You will visit local markets, restaurants, and stroll through some of the best neighbourhoods in Oaxaca.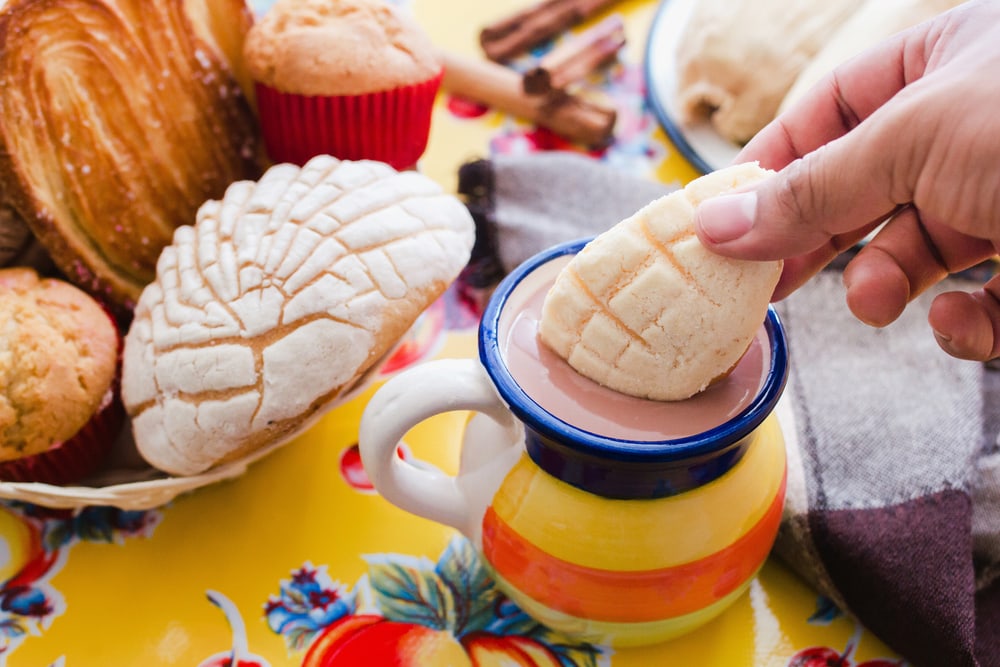 Which Oaxacan food from this list do you want to try first?
Are you a foodie? Here are some more articles you might enjoy
UNESCO Intangible Cultural Heritage – food

Latest posts by Faith Coates
(see all)