Popular Dutch food to eat in the Netherlands
Dutch food has always been a secret pleasure of mine. Growing up one of my best friends was Dutch and I loved eating her family's traditional Dutch foods. I grew up with a terrible cook (my mother) who even microwaved Christmas dinner. From oliebollen to Bami and Nasi my introduction to the world of Dutch food traditions was a revelation in flavour.
A long time ago my friend and I went to Amsterdam together and we got to experience all the treats and Dutch dishes her family had been serving for years. We wandered the streets of Amsterdam eating anything and everything we could find. A few of those things stick with me today and I can't resist a sign for Indonesian foods or a Bitterballen.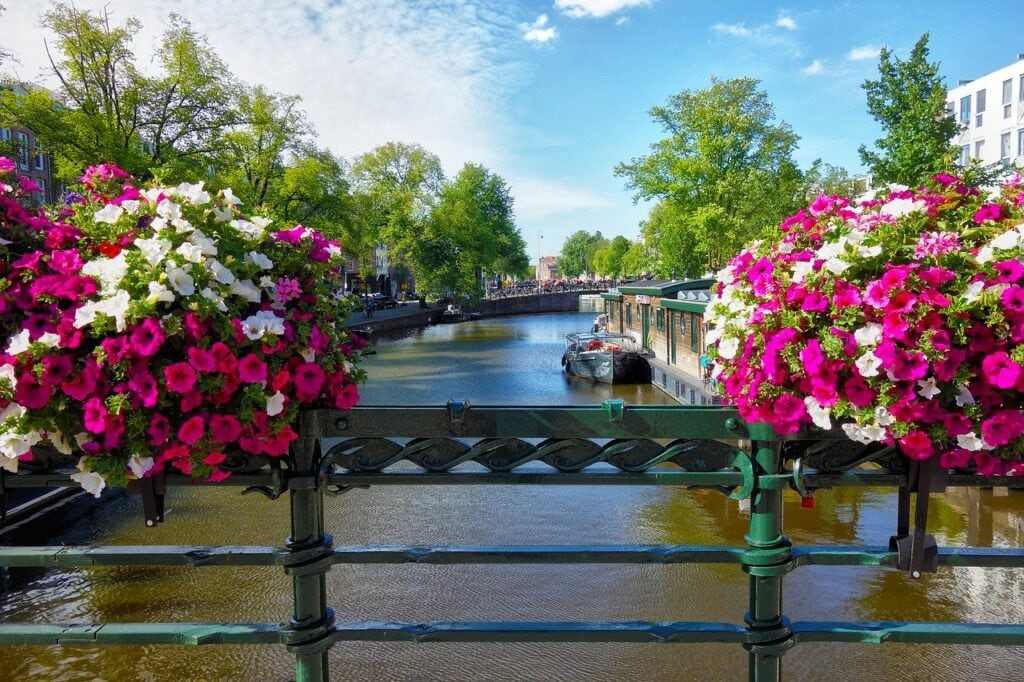 If you only have 36 hours to spend in Amsterdam check out Sam's post 36 Hours in Amsterdam a Complete Guide with loads of ideas and cool things to do.
Dutch cuisine has never taken the world by storm and traditional Dutch food is pretty mainstream in meat, potato and veg.
What are typical dutch foods? Like any other working class cuisine the staples of Dutch food are based on things like stews and casseroles. What the Dutch did excel at was finding the spice routes to the Far East.
dutch gastronomy depends on 5 factors surrounding the foods the Dutch eat. They are health – what you put into your body and how healthy it is. Nature – how close to nature of how natural the food is. Quality – where is the food produced and to what standards. Value – how to eat better and leave a better world. And finally culture which demands that the dishes they eat reflect these values, incorporates local ingredients and is open to adaption and change.
The Dutch eat relatively early starting from 5 to 7 p.m., families mostly eat together around the dinner table. A typical Dutch dinner meal consists of potatoes, meat and vegetables, served with gravy. A Dutch dinner is often followed by a dessert in the form of yoghurt or coffee.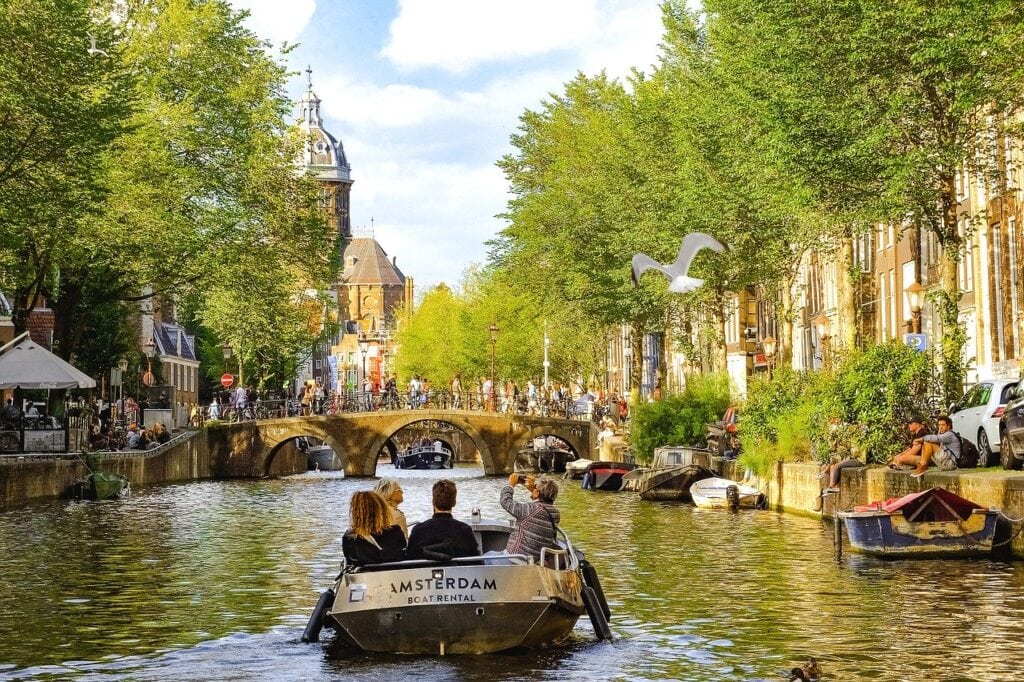 Xyuandbeyond is reader-supported. When you buy through links on our site, we may earn an affiliate commission. You can read my privacy policy here.
What to eat in the Netherlands: Traditional Dutch foods
What is traditional Dutch food? The Dutch foods that are enjoyed here are krokets, bitterballen, herring, kibbeling, cheese, or French fries. Snacks that are eaten everywhere are poffertjes, pancakes, liquorice, and stroopwafels.
What is a typical Dutch lunch? A typical Dutch lunch is a broodje kaas or bread with cheese, sometimes with a apple syrup drizzled on top.
Everybody studied the Dutch East India Company in history. It traded with India and countries in Indonesia bringing back a world of new spices and herbs to Holland. This was also when the Dutch began their lifelong love affair with hot pastes like Sambal Olek and Indonesian Rice Tables. by virtue of the Dutch East India Company, Dutch food culture changed dramatically.
The Absolute Best Places To Visit in the Netherlands. A collaborative article with both travellers and native Dutch writers talking about their favourite places in the Netherlands
Dutch Snacks and finger foods
Speculaas
Not to be confused with Speculoos, Speculaas biscuits contain a number of different spices while Speculoos biscuits often include only one spice: the cheaper version of real cinnamon: cassia. The Dutch say that speculaas biscuits originated in the Netherlands in the 17th century, a time when spices brought to Europe by the Dutch East India Company were becoming more widely available.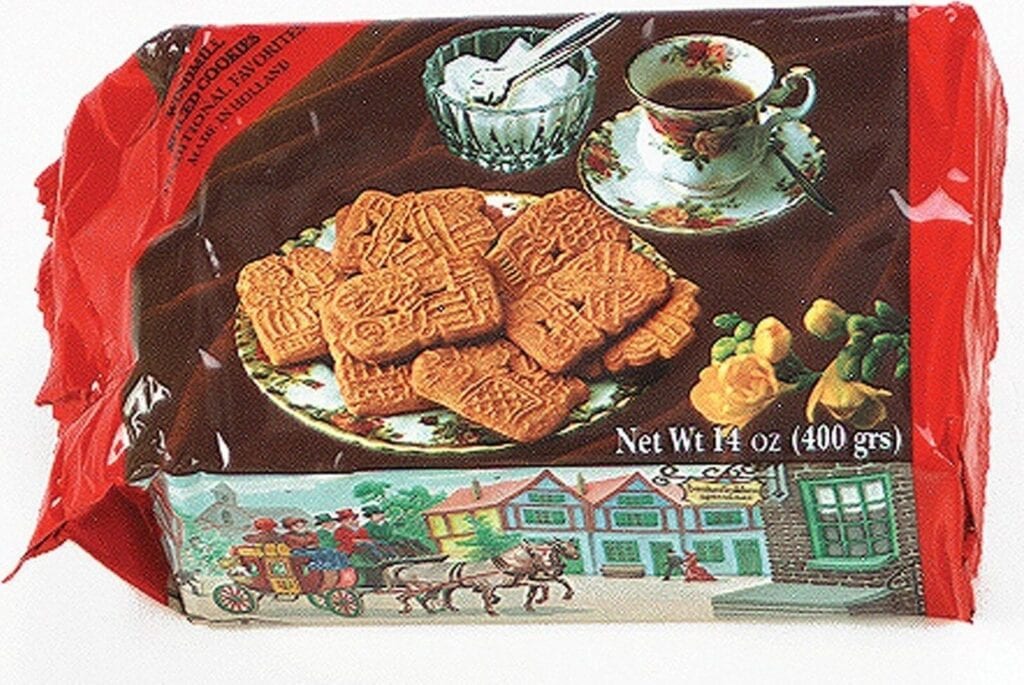 Raw Herring – Hollandse Nieuwe
Famous food in the Netherlands and great Dutch snacks is haring or 'Hollandse Nieuwe' (Dutch new herring) is one of the basic foods in the Netherlands, and almost everybody eats this as a snack. However, I find personally that it is an acquired taste. The herring is traditionally eaten raw with onions, and pickles. This is one of the Netherlands' favourite Dutch street food.
Herring can only be called 'Hollandse Nieuwe' if the fish is caught between May to July. The preparation is pretty specific and must be done according to Dutch tradition. The herring is cleaned, the head is removed and it is preserved in a special way (with salt). To be honest this is one Dutch food that I can do without give me sushi any day.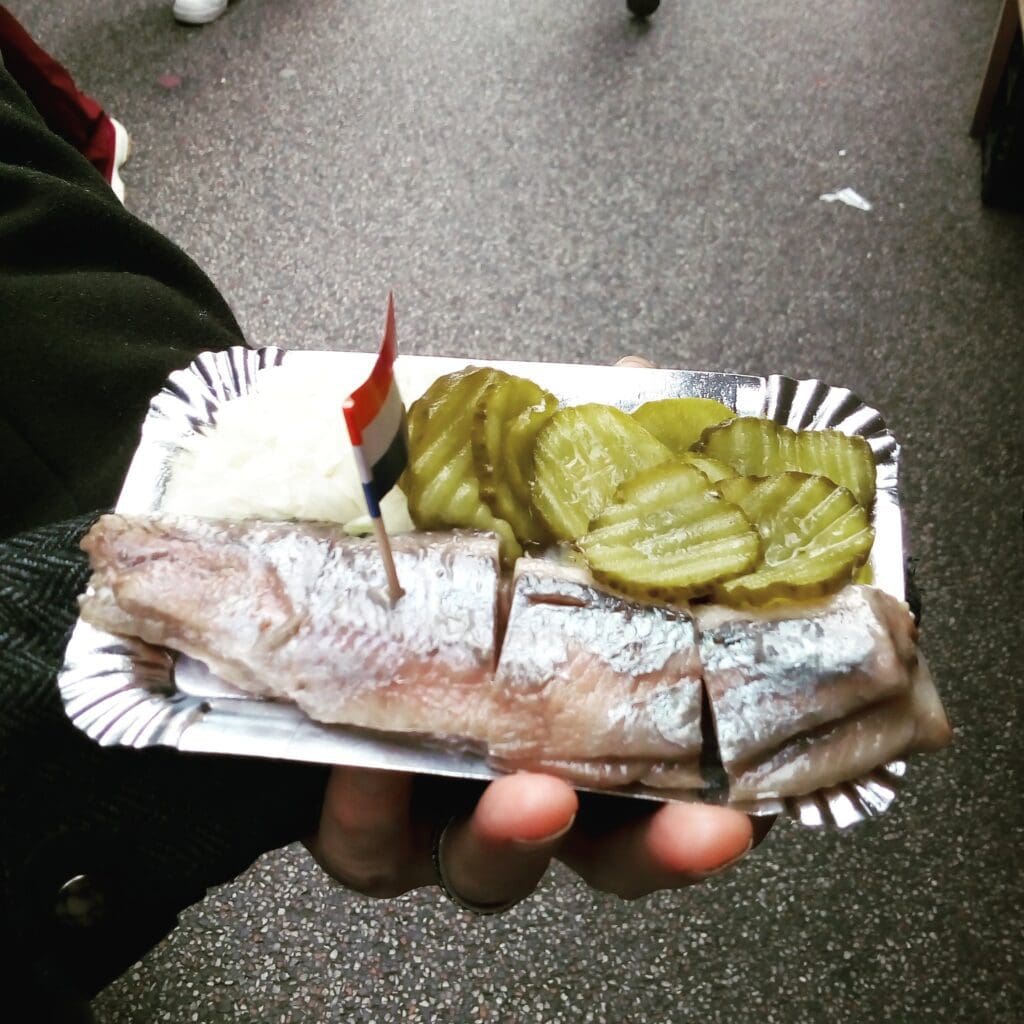 Stroopwafels
A must try Dutch food and probably one of the famous Dutch foods is the Stroopwafel a thin pastry or biscuit that is sliced into two pieces. It is then drizzled with the "Stroop" or caramel syrup and sandwiched together. Best eaten warm these days you can find Stroopwafels sold all over Amsterdam they are sometimes dipped in chocolate and then the chocolate edge is coated in marshmallows, salted caramel, chocolate chips or any other dip of your choice. Stroopwafels make fantastic Dutch souvenirs to bring home from Amsterdam so you can enjoy them and remember the wonderful time you had in Amsterdam.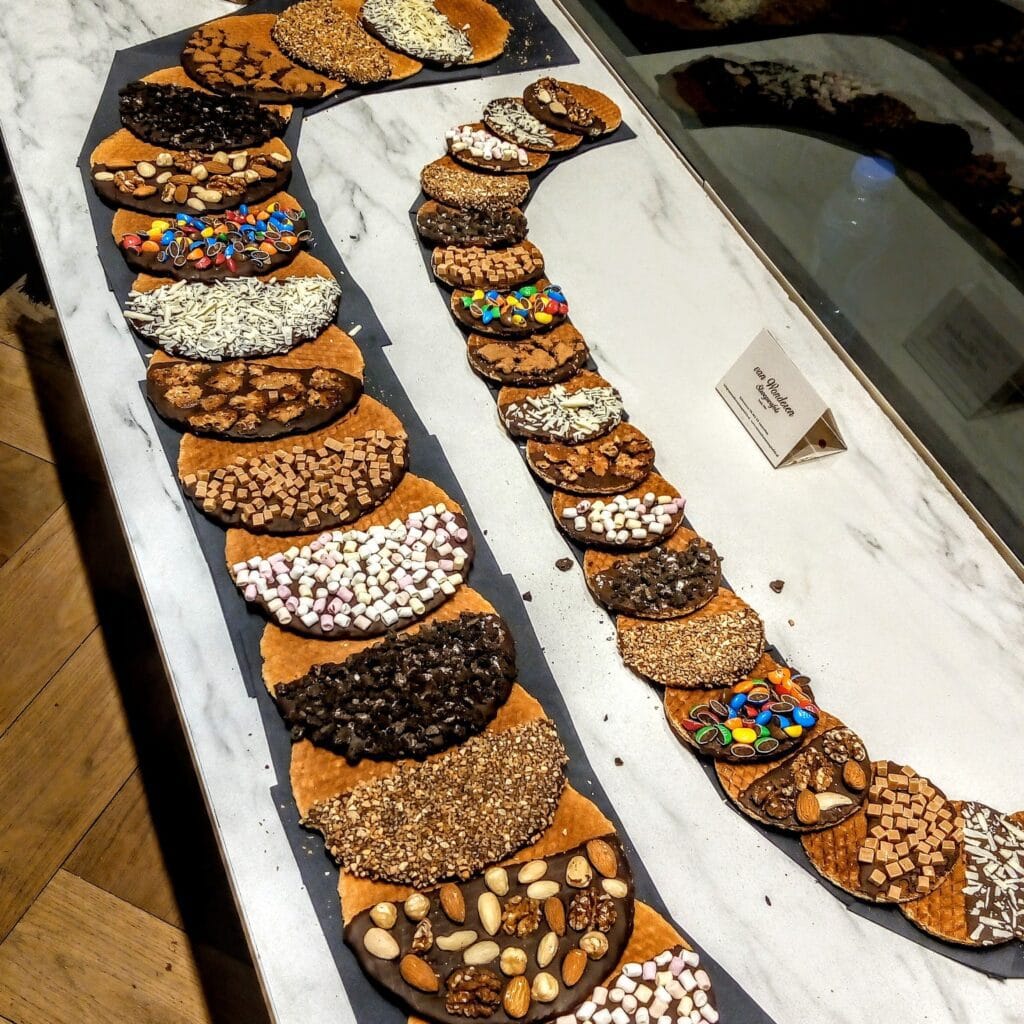 The most famous place to buy Stroopwafels is in the Albert Cuyp Market – you can't miss the stall you will see the line up for miles.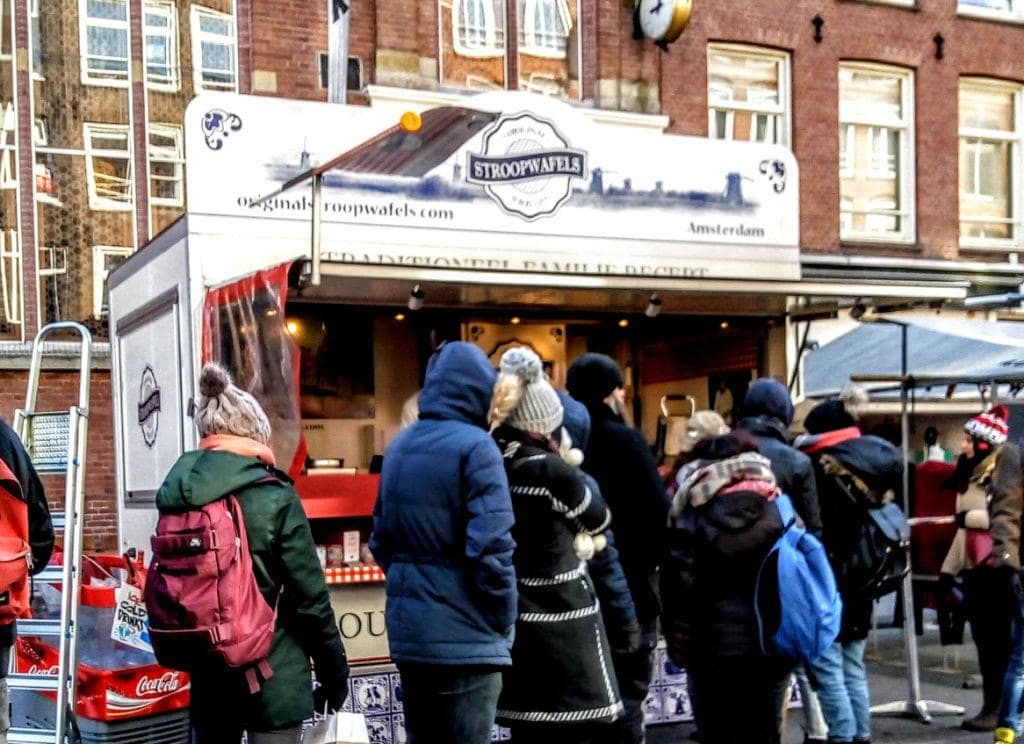 Dutch Croquettes or Krokets
This was my Dutch friend's favourite snack she dreamed of being in Amsterdam and eating croquettes. This is a must try food in Netherlands.
The 'kroket' is essentially a deep-fried meat roll, covered in breadcrumbs. The original Dutch 'kroket' is made from beef or veal, but these days there are many different flavours like chicken satay, shrimp, goulash or even a vegetarian 'kroket'. Virtually every Dutch menu in the Netherlands will have a version of the Kroket on it.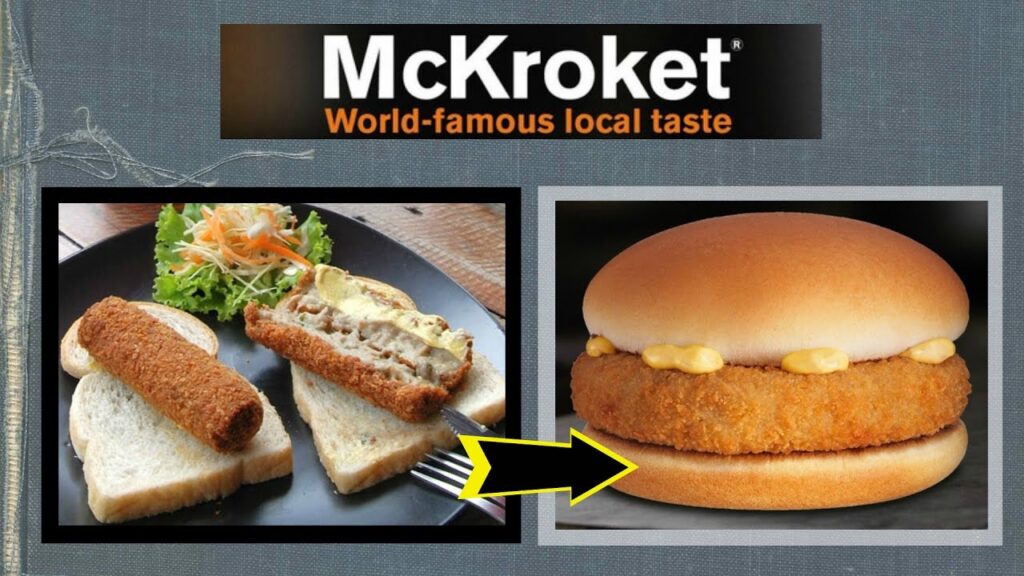 In Amsterdam, you can buy krokets anywhere even McDonald's has a version. The most common place to buy them is from a street vendor or a Febo. A Febo is a walk-in snack bar with vending machines there are three locations in Amsterdam where you can find these. You can eat a 'kroket' as a snack, but most of the time they are served on sliced white bread or hamburger buns with mustard on the side.
Frikandel
Very similar to Krokets but more sausage or hot dog shape, Frikandel are a very popular Dutch Street food. Frikandel is made with a mix of meats including beef, pork and chicken and then seasoned with allspice, nutmeg, onion powder and seasoning. The meats and spices are blended with a little whipped cream to help bind them together before being pushed through a sausage stuffer.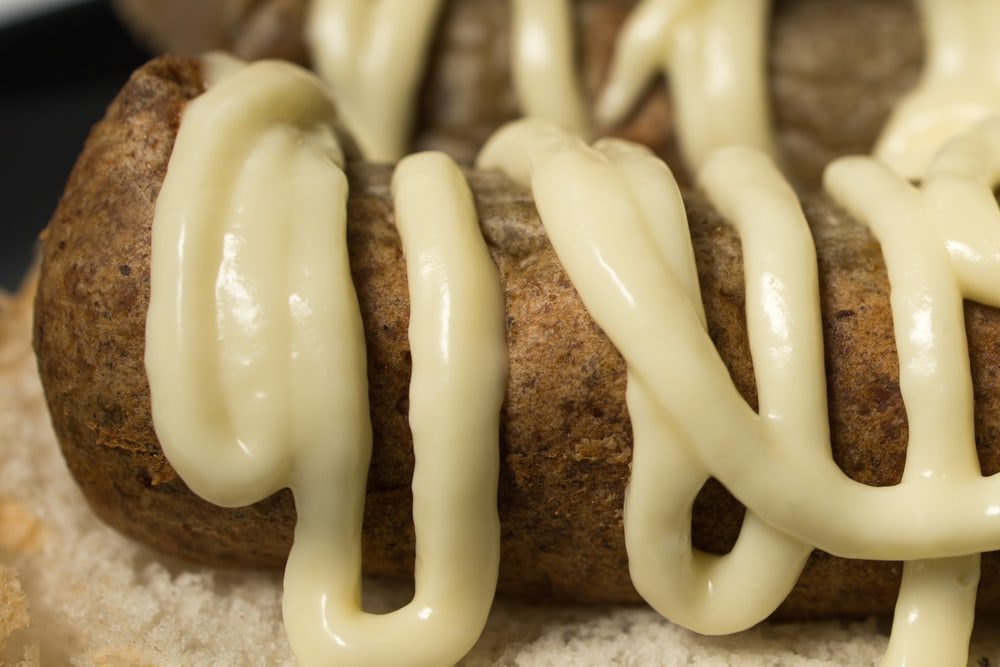 Bitterballen
A favourite Dutch finger food Bitterballen appears to be the most popular snack in Amsterdam and is mainly consumed with some of the best beer in the world. It is similar to Krokets but in a tiny meatball size. There are rolled in crunchy breadcrumbs and deep-fried. A typically Dutch snack they are served with mustard for dipping. They are immensely tasty when dipped I can see the reason the Dutch are addicted to these little tasty morsels.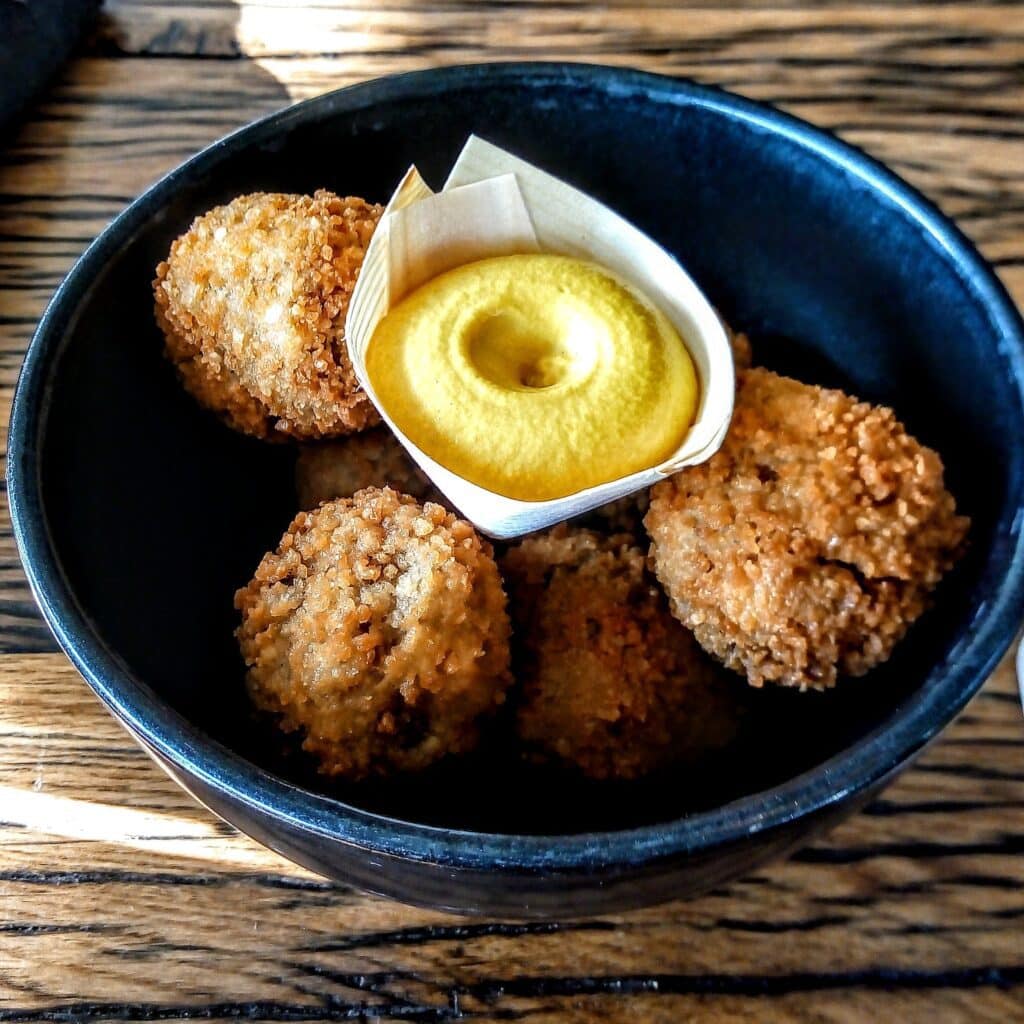 Frites
What is the most popular Dutch food? Who doesn't like piping hot chips or French fries from hand-cut potatoes? Then these steaming hot chips are served in a cone with a vast selection of sauces to choose from. Heavenly Dutch Food. The Dutch call them: 'Friet', 'Frites', 'Patat' or 'Vlaamse frieten'.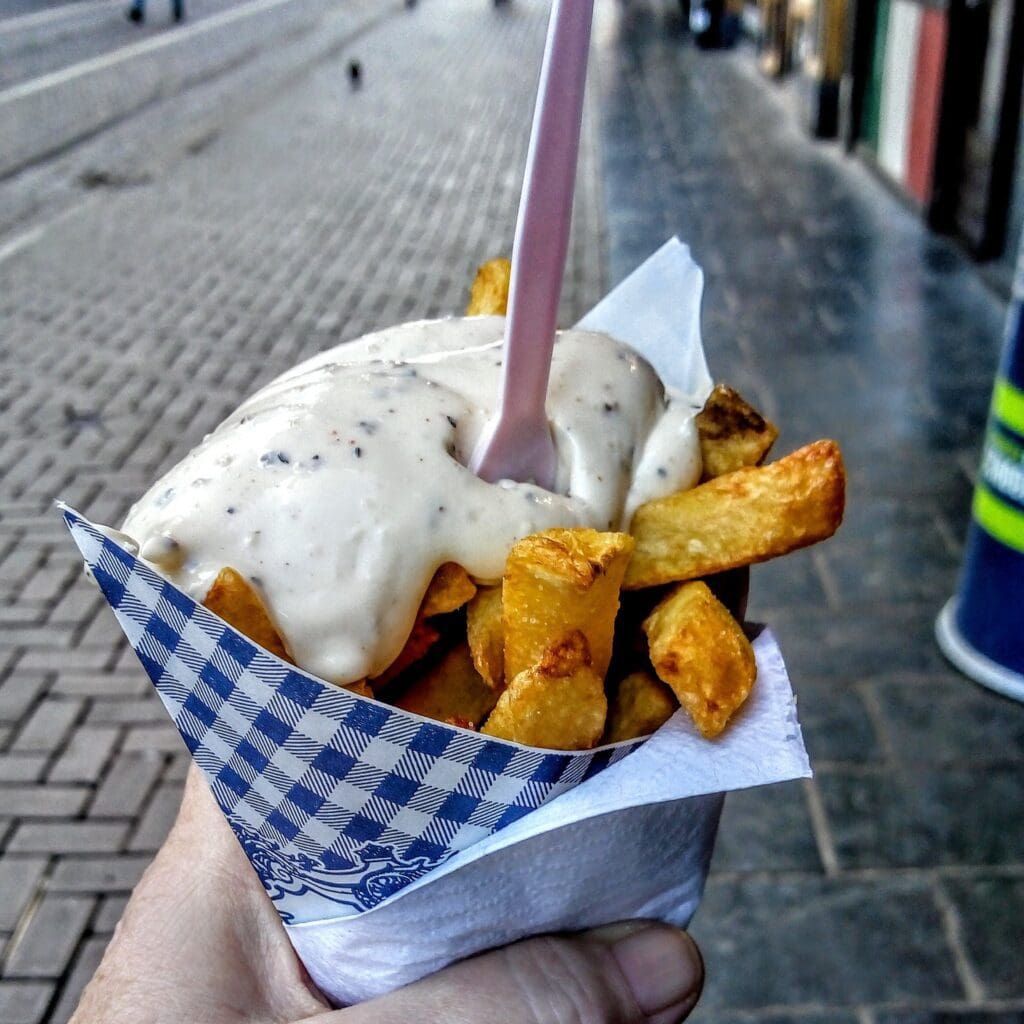 These chips are cut quite thick (apparently Belgian style). The most popular sauce is called patatje oorlog or fries at war this is a combination of toppings including mayonnaise, raw onions and a peanut satay sauce. You can get curry sauces, hot sauces with sambal olek and my personal favourite a truffle mayo. That foodie memory of walking the streets of Amsterdam with my frite cone will stay with me forever.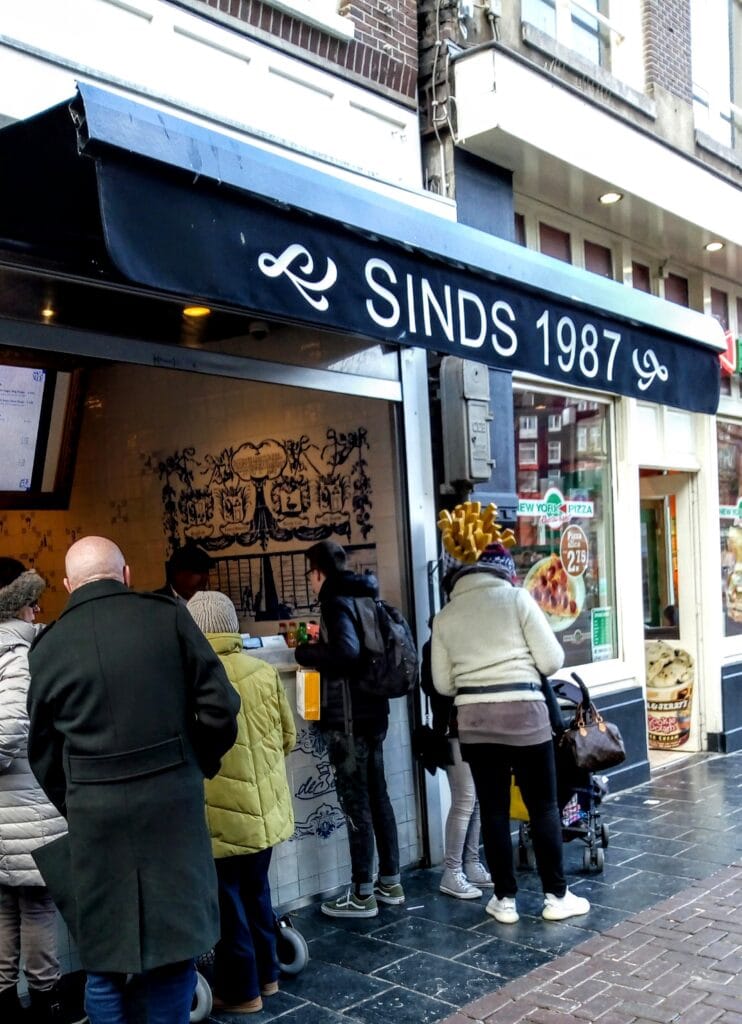 Dutch Dinners
Saucijzenbroodjes en worstenbroodjes
Saucijzenbroodjes en worstenbroodjes are small handheld pies made using puff pastry or bread dough. Saucijzenbroodjes are stuffed with sausages and wortenbroodjes are made with minced meat filling exactly like sausage rolls. The pies are available in snack sizes and larger sizes for a more substantial meal.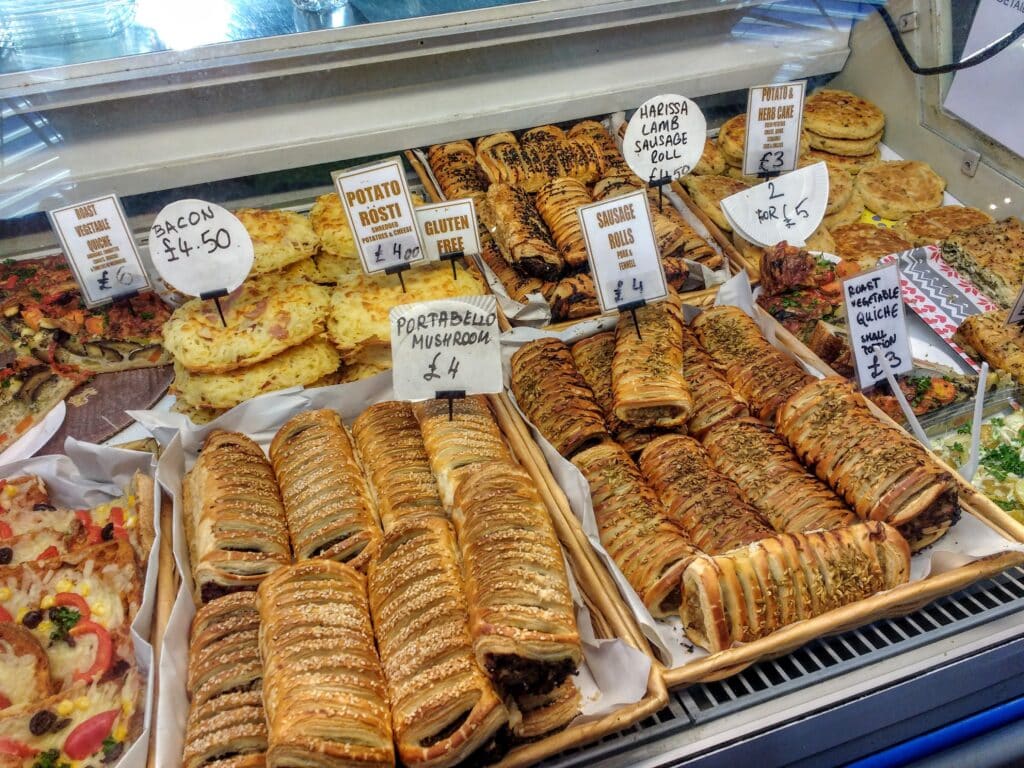 Stamppot
What is the national dish of Netherlands? Stamppot is a very traditional Dutch food tradition. Similar to Colcannon in Ireland it is mashed potatoes mixed with cooked vegetables. Traditionally Stamppot was made with kale but it can be made with any in-season vegetable like carrots, spinach, or endive. It is topped with sauerkraut and a traditional 'rookworst' sausage. It is available in many Dutch restaurants and there even is a small company in Amsterdam called "Stamppotje", which serves only Stamppot. This is what Dutch comfort food is all about.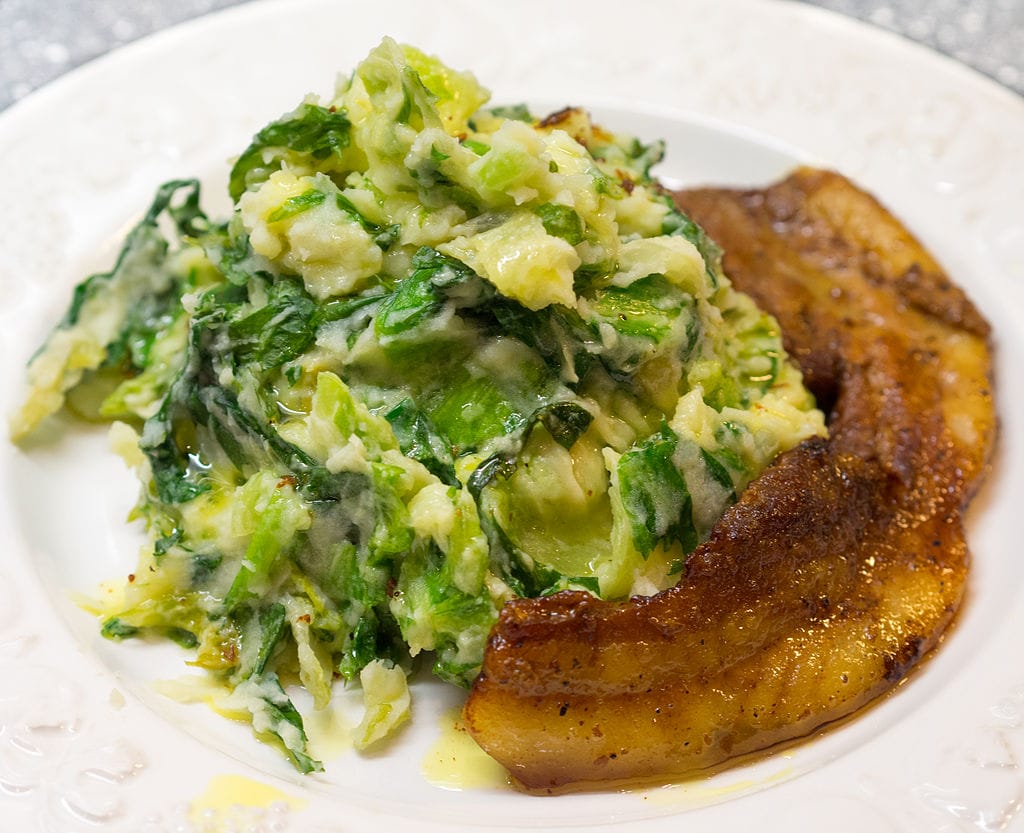 We were reliably informed by a local that the best place to eat Stamppot was at Cafe Sonneveld which is in the Jordaan district across from Westerkirk. Oh, and they were right it was excellent.
Erwtensoep: Snert – split pea soup
This is a deeply satisfying bowl of split pea soup that you can turn your spoon upside down and the soup hangs on. Made with split peas, celery, carrots, pork, leeks and occasionally potatoes are added. In the winter months, slices of smoked sausage are added and the soup is served with rye bread and Dutch bacon. A truly warming hearty Dutch food favourite.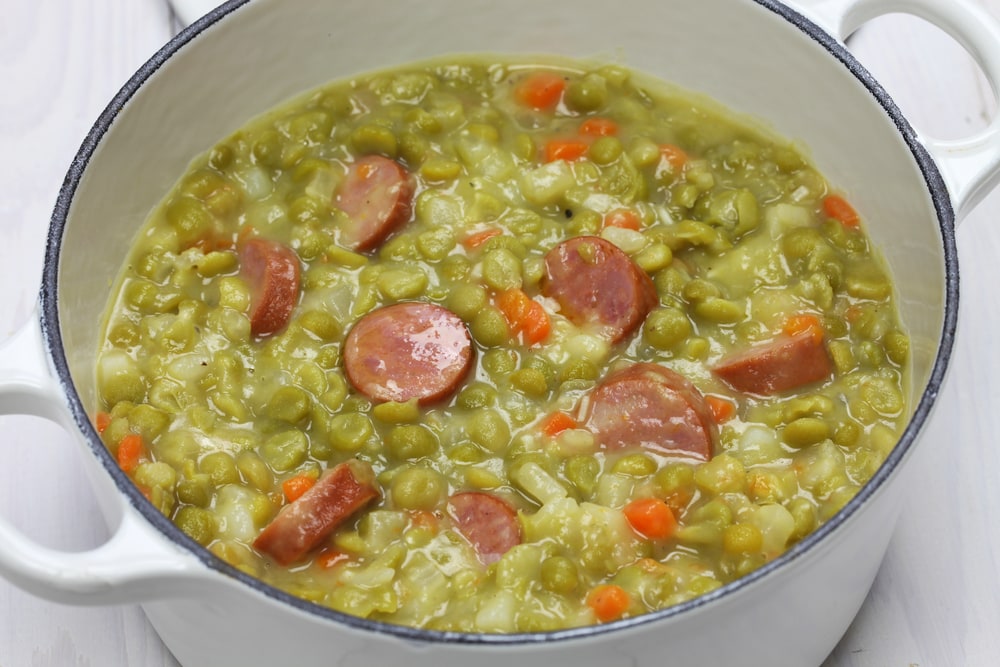 It's customary to serve this hearty winter soup with slices of rookworst (smoked sausage) and rye bread topped with katenspek (a type of Dutch bacon that is first cooked, then smoked).
Dutch Indonesian Rijsttafel
What is Rijsttafel? Not exactly Dutch Food but a tradition in the Netherlands that brought us great foods via the spice trade. A Rijsttafel is an Indonesian rice table which basically means a dozen or more small dishes of different Indonesian foods. Traditionally served with basmati rice you help yourself to any of the dishes you fancy and dig in. It consists of rice with many small dishes of spiced vegetables and meats.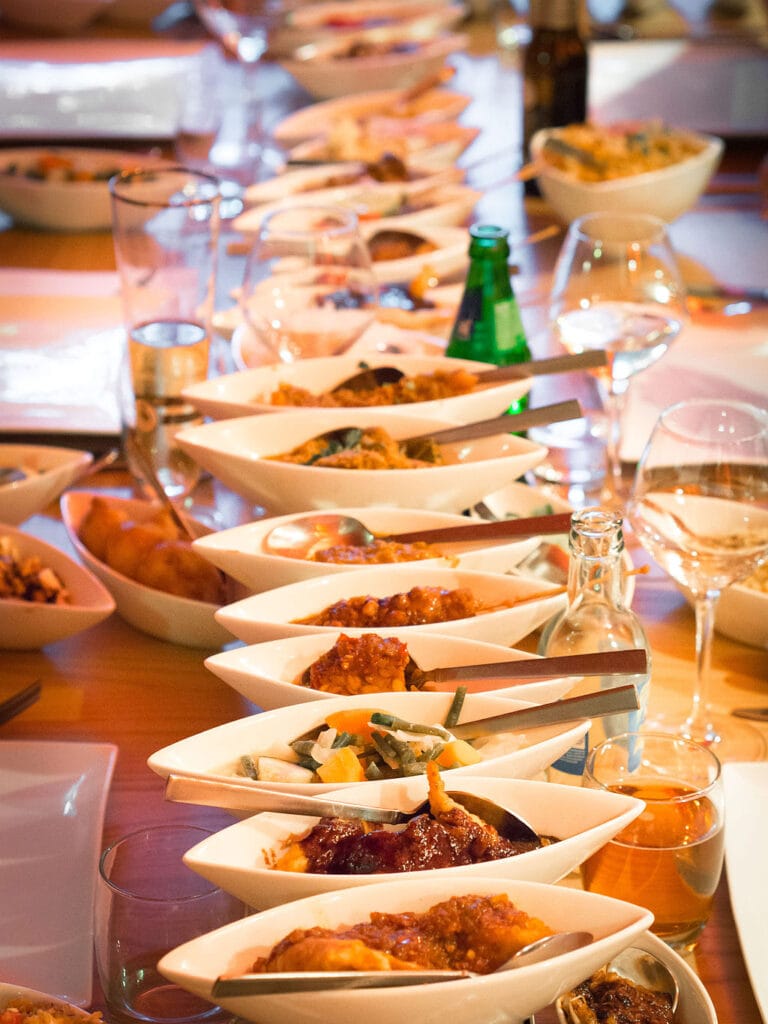 Essentially, rijsttafel allows you to sample regional dishes from Indonesia brought home to the Netherlands from Indonesia. The main basis is the rice and then you get a selection of small appetizer-sized dishes which include seafood, beef, satays, vegetables and so much more. It is an absolute burst of flavour. From lemongrass to hot peppers and peanuts your rijstaffel is not cheap but it is immensely flavourful.
We had Rijsttafel at Indrapura right beside Rembrantsplein and it was really good. Sampurna which is in the Flower Market is also superb.
Bami Goreng
Bami is thin egg noodles that are stir-fried with garlic, onion, meats (my Dutch friends always used good ham), vegetables, egg and chilli. In Canada, my friends served it with a fried egg on top.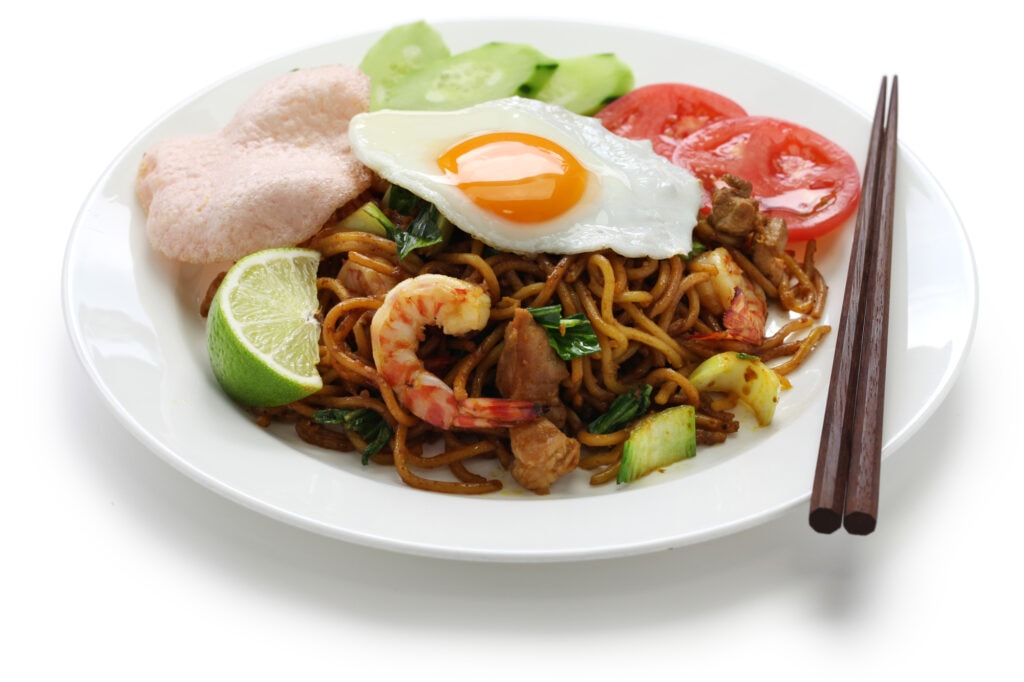 Nasi Goreng
This is basically a fried rice dish with a totally different flavour from Chinese stir-fried rice. It includes a caramelized sweet soy sauce called Ketjap Manis which adds a very distinctive flavour. It also includes powdered shrimp paste meat (usually chicken or pork) the flavour is quite distinctive and it is much stronger in taste than bland fried rice.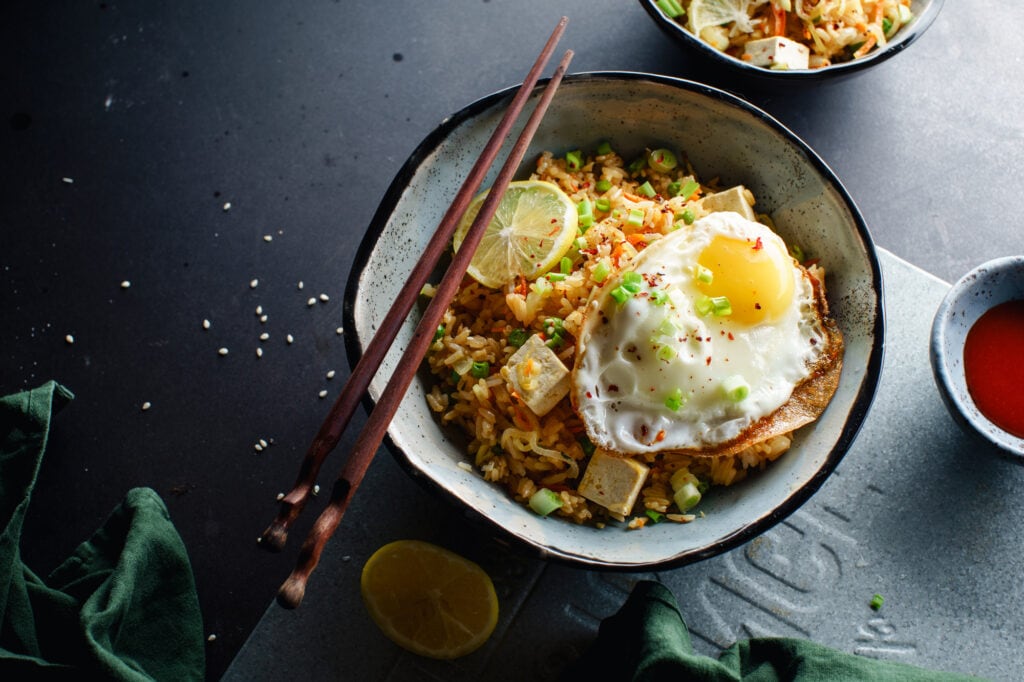 Ekkerbekje / Kibbeling
One of the very popular Dutch foods is sort of a Dutch fish and chips without the chips. Lekkerbekje and Kibbeling are battered and deep-fried white fish usually cod or whiting. Kibbeling is cut into chunks and lekkerbekje isn't. They are served with mayonnaise-based sauces kind of like tartar sauce or garlic sauce. This is sold in any of the street markets in Amsterdam.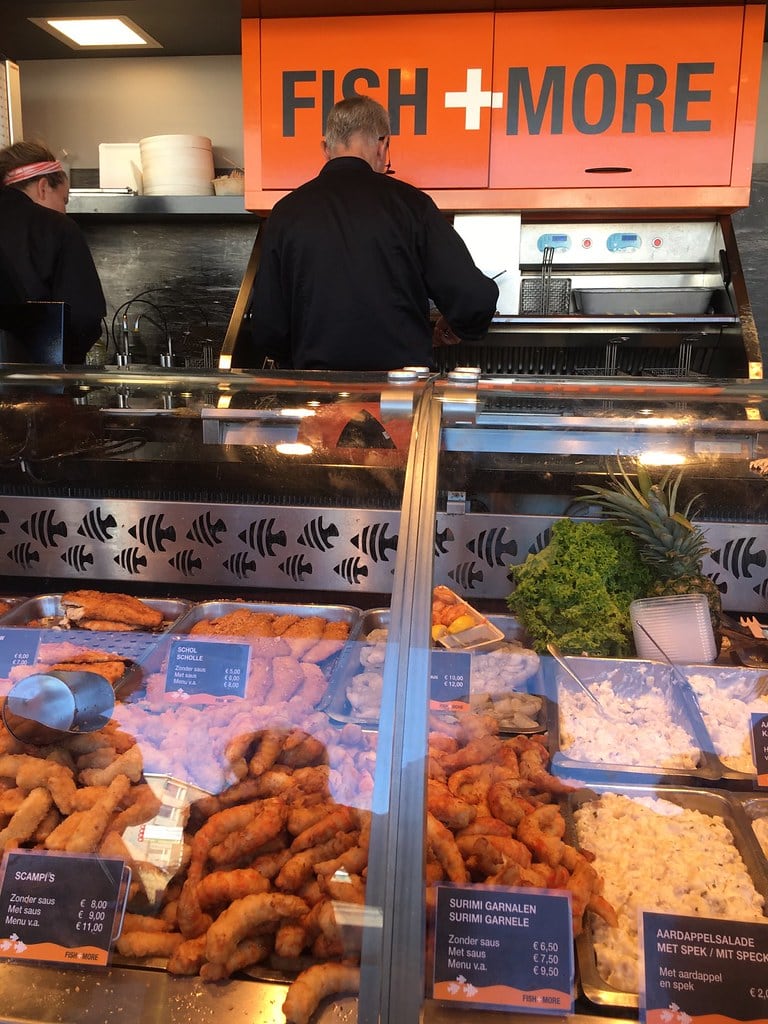 The Dutch Bakery
Stol
A stol is traditionally served at Easter, Christmas and Pentecost. They're called Paasstol, Kerststol or Pinksterstol, but the ingredients are the same. At last cream, butter should not be missing on the table to be richly smeared on a slice of stol.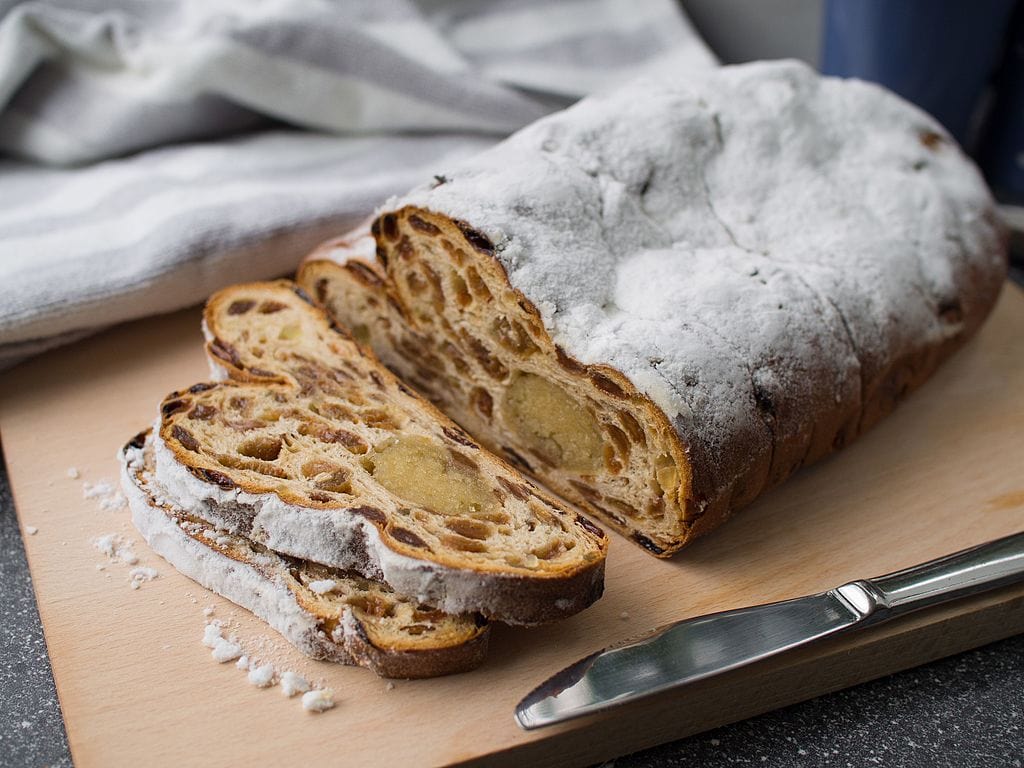 Oliebollen
My best friend's mum used to make these on special occasions and I always managed to be at their house for those special occasions. Oiliebollen is a sort of deep-fried round ball of doughy goodness similar to a doughnut. These special doughnuts were traditionally served on New Year's Eve coated in powdered sugar. My friend's mum made two kinds a plain one and one with raisins, sultanas and currants. Licking the powdered sugar off your fingers was such a treat.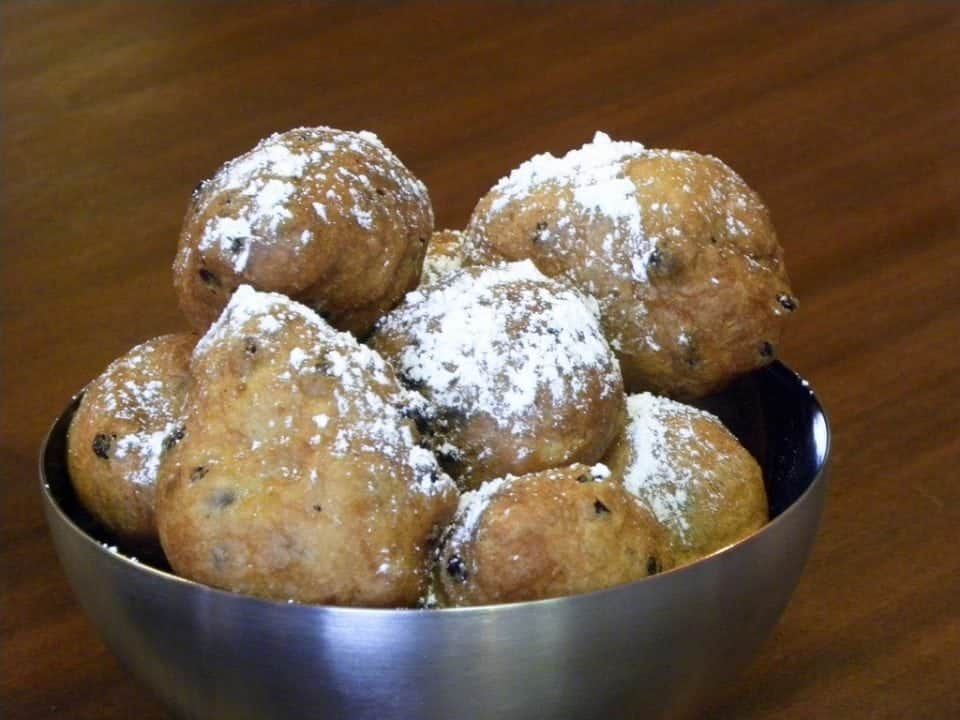 Appelflappen and Appeltart
Appelflappen, also known as Appelflap, is a traditional Dutch food. These are deep fried apple rings dipped in batter and then when ready dusted with icing sugar. They also come in a traditional triangular shape and are found all over the Netherlands.
A Dutch appeltaart is a deep pie which is filled with slices of apple mixed with sugar, cinnamon, lemon juice, and sometimes raisins or currants.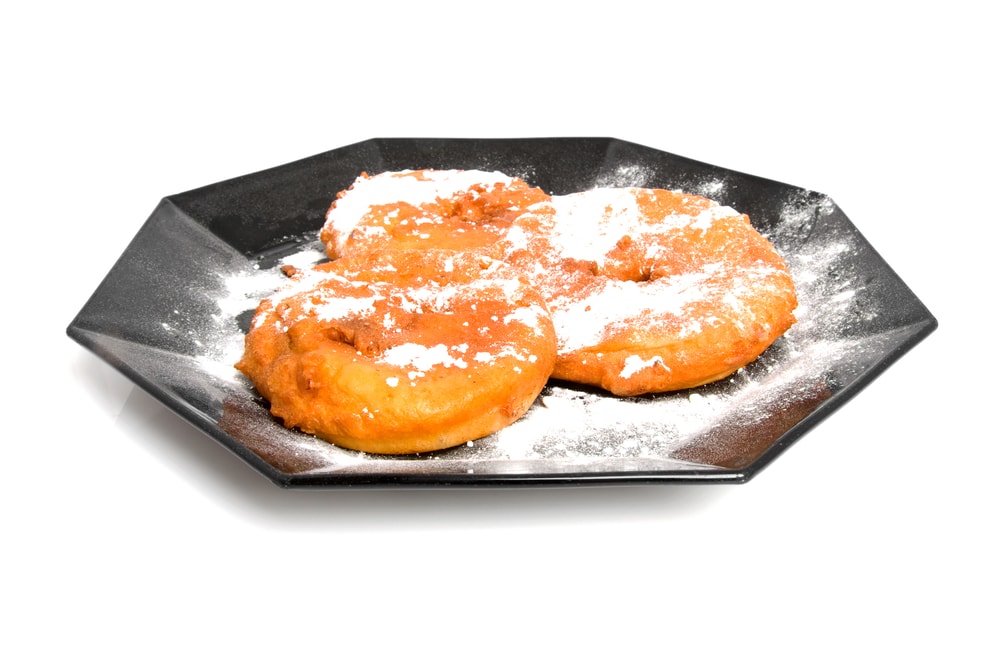 Banketstaaf
This is a Dutch almond paste-filled pastry with a flaky pastry dough encircling an almond paste. This is a real Dutch Christmas treat.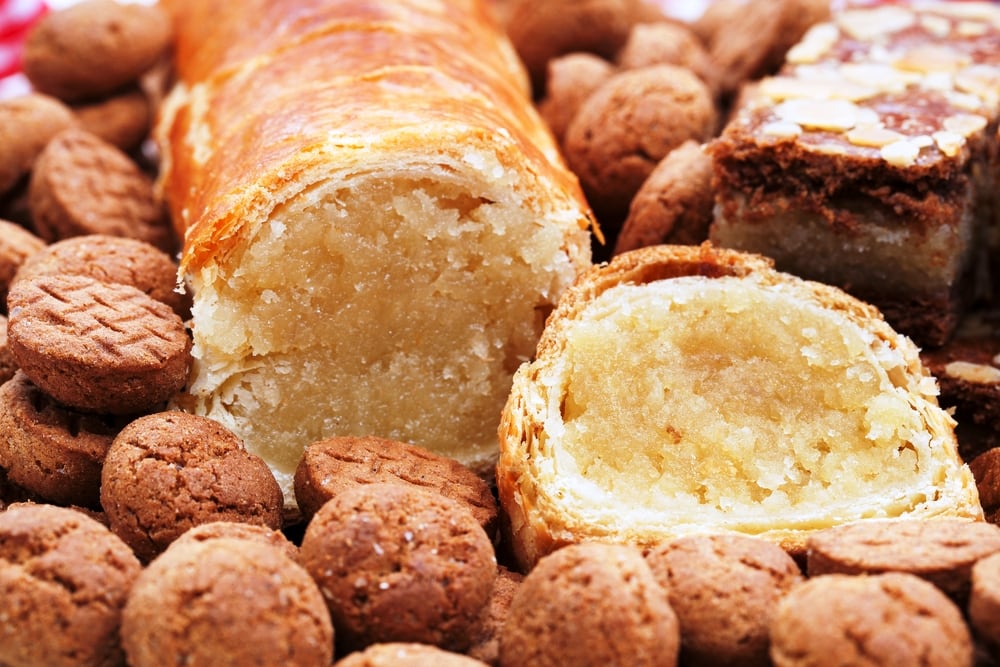 Dutch Breakfast
A typical Dutch breakfast is not necessarily pancakes (poffertjes) or crepes (Pannenkoeken) it is usually bread, toasted or plain with cheese, meat, and butter or sweet toppings like chocolate spread, sprinkles and flakes. In addition to a sandwich, Dutch people also often eat rusks, gingerbread, currant bread or a plate of porridge.
Poffertjes
Probably one of the most famous Dutch delicacies, poffertjes are small pancakes, baked in an iron skillet, and traditionally served with melted butter and dusted with icing sugar. Poffertjes are little pancakes, almost. They are puffier and fluffier and sit in a pile coated with powdered sugar. They are a yeast-based type of pancake but made with buckwheat. They are usually served with butter and powdered sugar but you can add strawberries and whipped cream or syrup if you like. A decadent treat to be nibbled on when walking through one of the markets in Amsterdam.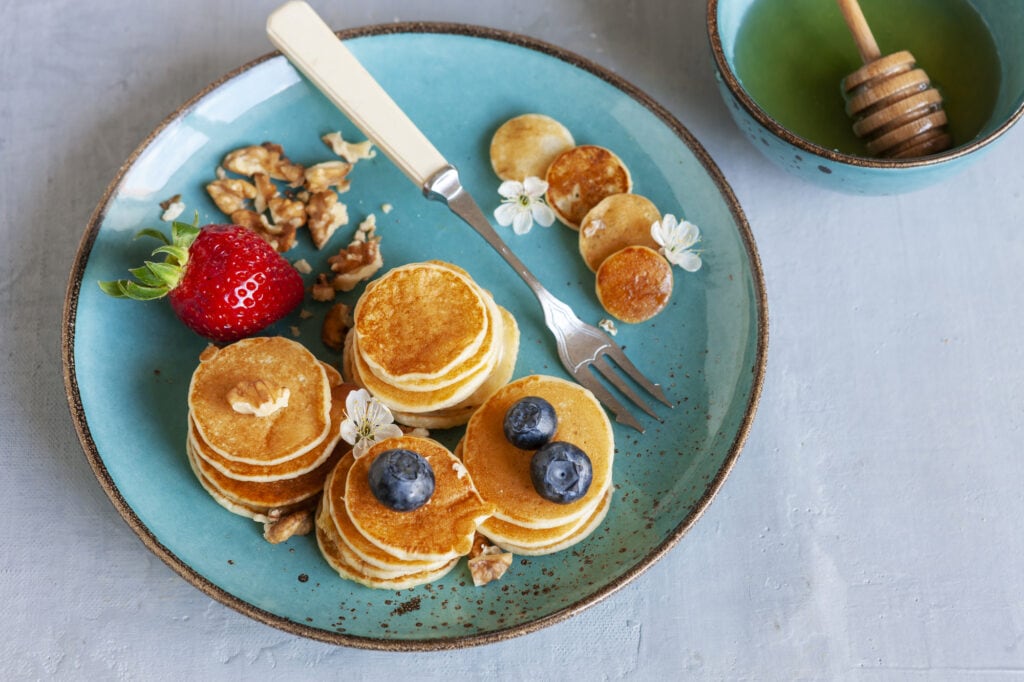 Pannenkoeken
Dutch pancakes or Pannenkoeken are sold everywhere. They are larger and thinner than North American pancakes but not quite as thin as a crepe. In Amsterdam, they are commonly eaten for dinner and are more akin to an American-style pizza with savoury toppings instead of sweet ones.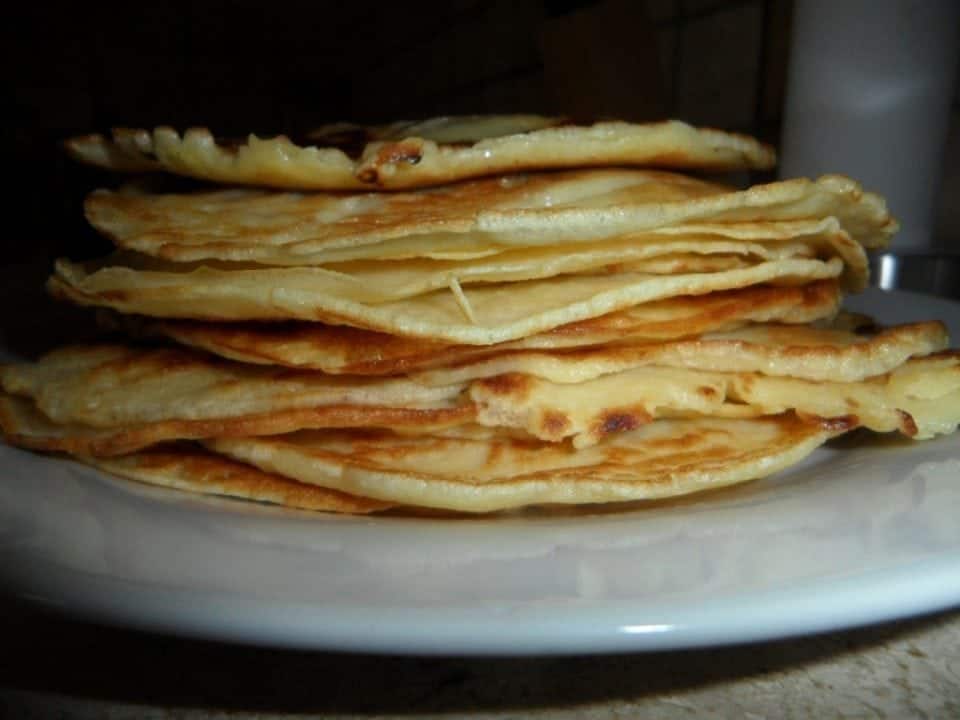 For a sweeter touch, Dutch pancakes are often eaten with sugar syrup and sprinkled with powdered sugar. A brilliant way to try out the Dutch Pannenkoeken is on the Pannenkoeken boat cruise. All the pancakes you can eat and a tour of the canals in Amsterdam who could refuse?
Hagelslag
At my Dutch friends' house when I was a kid they had chocolate on toast for breakfast, can you imagine it? This was unheard of in Canada but oh what a treat. Hagelslag is chocolate sprinkles on hot toast or in a sandwich. What treats chocolate for breakfast is enough to make you run to Amsterdam or at least a Dutch store near you. Hagelslag also comes in an anise flavour or fruit flavoured – I feel you need to stick with the familiar chocolate.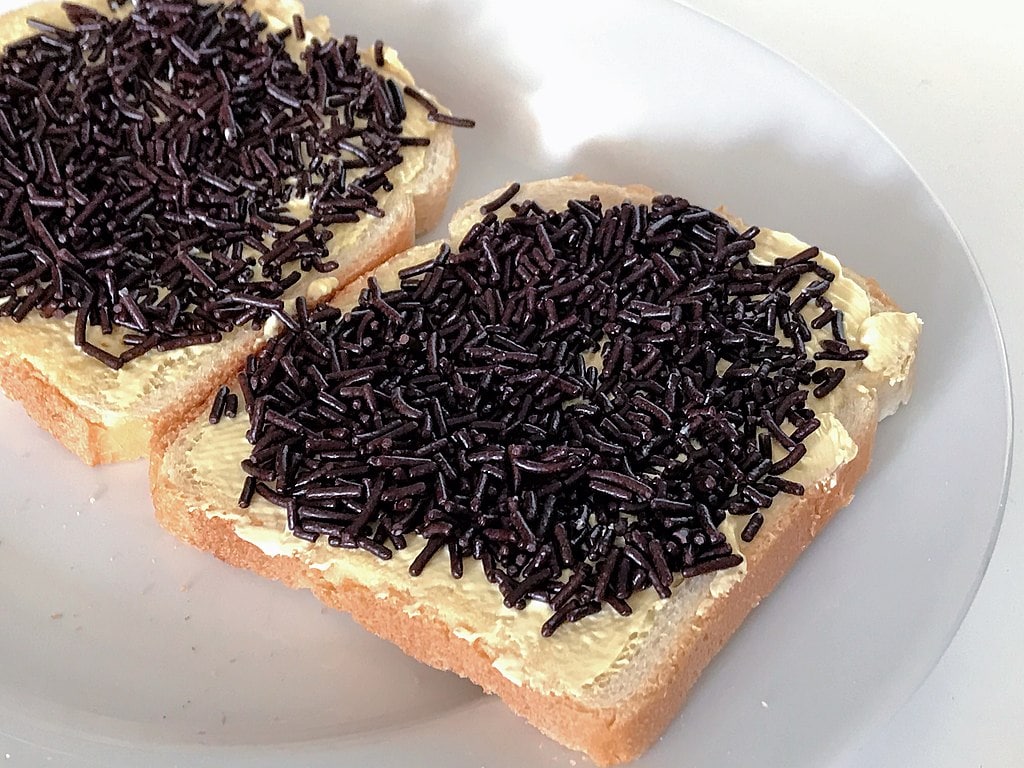 Dutch Candy
Drop
Not my favourite but all my Dutch Canadian friends considered Drop a true treat. This is really strong liquorice which comes salty or sweet. It is incredibly strong and most of the Dutch friends I know eat the salty version.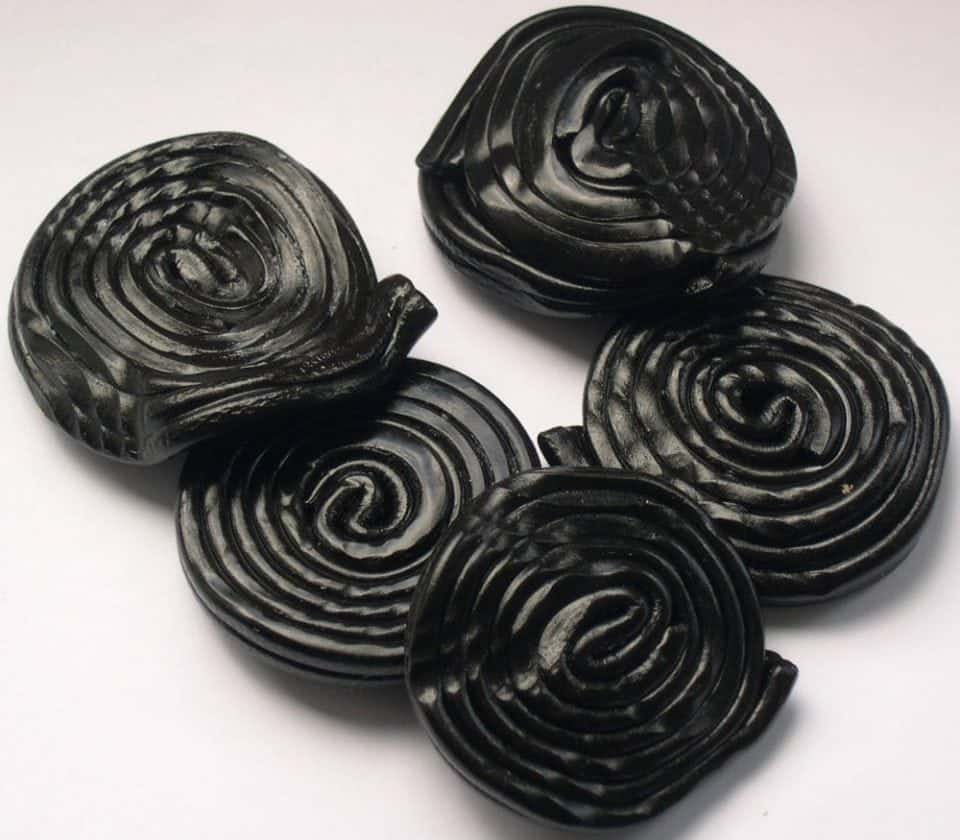 Guide to the Keukenhoff Tulip Festival.
Dutch Cheese – Dutch food specialties
It wouldn't be a trip to the Netherlands without trying some cheese or visiting any of the dozens of cheese museums dotted around the city. The Dutch have been making cheese for over 1600 years and after all that time they have become pretty good at it. You can get your fill of cheese in a day by simply walking into any cheese shop (trust me there are lots of them) and tasting your way through samples of some of the best Edam and Gouda cheese you have ever had.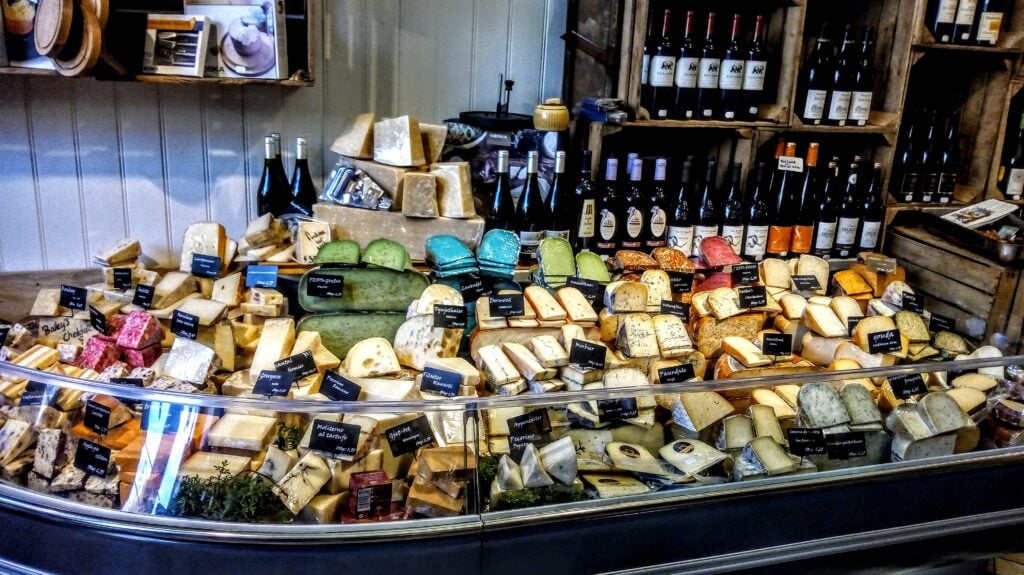 Cheese-making in the Netherlands is high art and is deeply embedded in the culture of the Dutch. There are cheese markets all over the Netherlands and traditional cheese markets are held regularly in Alkmaar, Gouda, Edam and Woerden.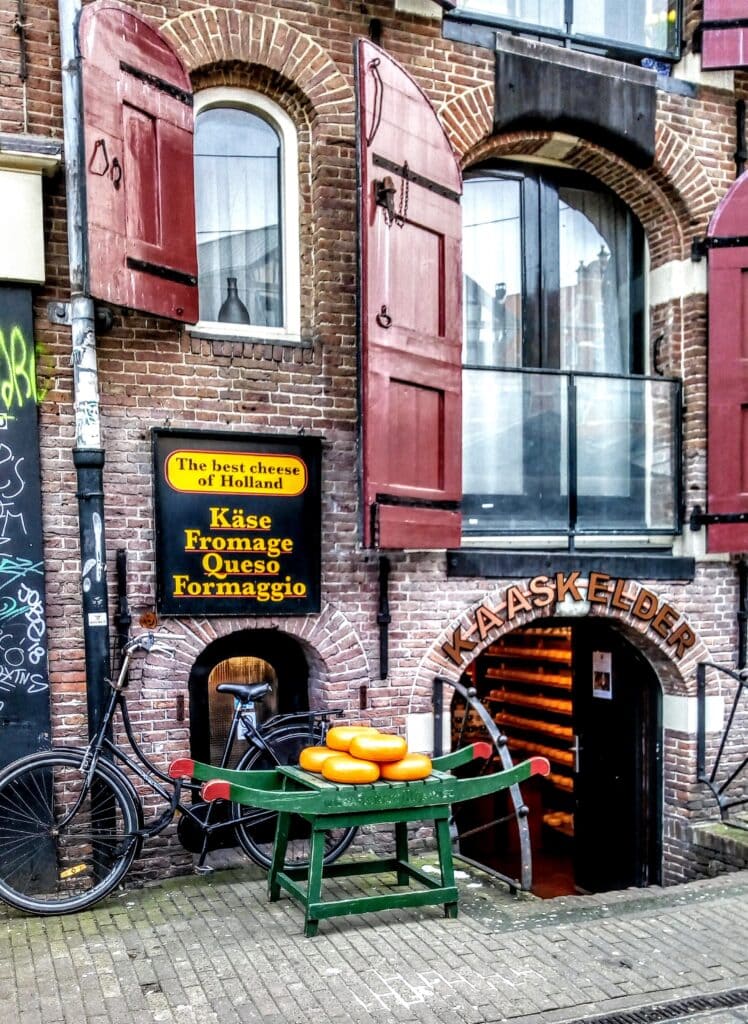 Dutch Beer
It also wouldn't be a complete guide to food in Amsterdam unless I mentioned the beer. Dutch beer is excellent and there is a huge variety of beers locally brewed to choose from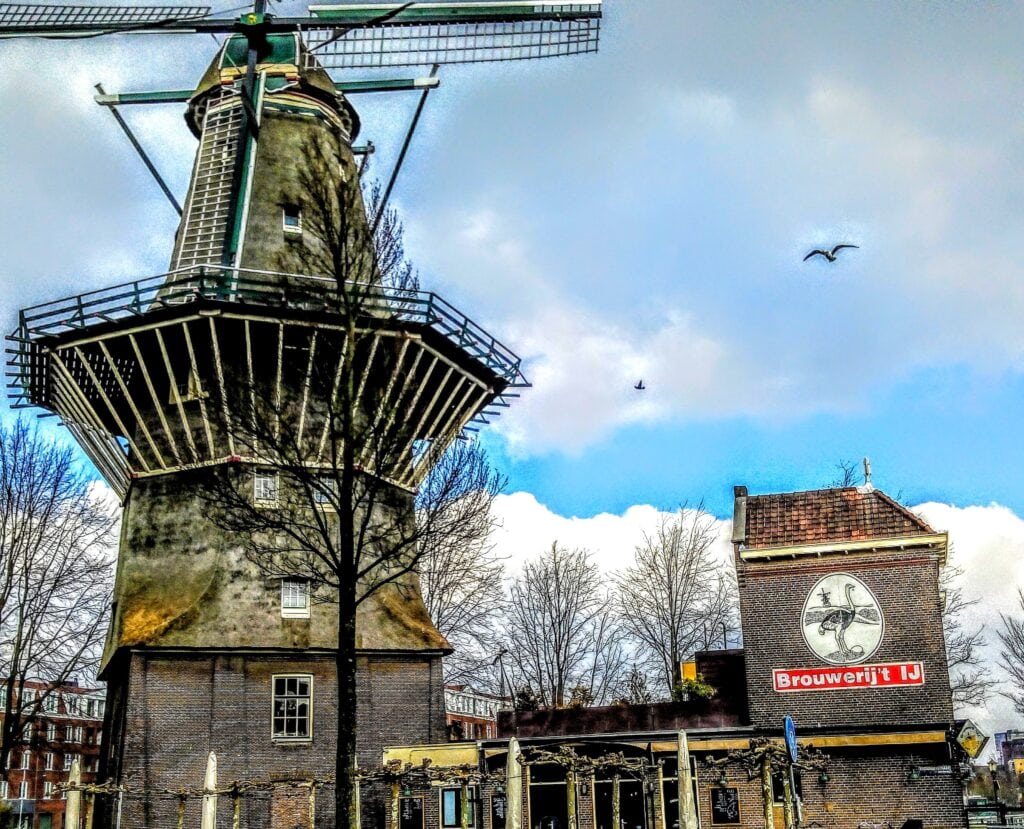 We went to a local brewery rightly famous for its brews and the brewery itself is located right next to the only windmill that remains in Amsterdam. Brouwerijhetij has been brewing its artisanal beers in Amsterdam since 1985. They have a fantastic range of beers from ones regularly on the menu to those speciality beers created for events and happenings throughout the Netherlands.
There you have it 19 of my top Dutch food favourites and of course some great locally brewed beer. As you can see Dutch cuisine is far more interesting than you ever thought. Now it's your turn to get out and enjoy Amsterdam.
Dutch cuisine may not be as well-known or glamorous as its European counterparts, but it certainly has its unique charm. From the humble stroopwafel to the hearty stamppot, there is something for everyone to enjoy. So next time you're in the Netherlands, don't just stick to the tourist traps – venture out and try some of these delicious dishes for yourself. Who knows? You might just discover your new favourite food (or at least have a good story to tell). And if all else fails, there's always cheese – because let's face it, who doesn't love cheese?
More to read on Amsterdam
If you really want to know how to have fun in Amsterdam here is Your Guide to the Most Fun Things to do in Amsterdam
Amsterdam can be a very expensive city to stay in these days, with so many tourists finding accommodation can be a nightmare this article The best places to stay in Amsterdam will help you find exactly the right place to lay your head, from budget to luxury these are recommendations from travel writers with personal experience.
Looking for an awesome place to stay in Amsterdam? Then look no further and have a read of Will's article from The Broke Backpacker Where to Stay in Amsterdam it's an incredibly thorough no-stress guide to the various neighbourhoods and where to stay in this beautiful city.
Amsterdam is one of the safest cities in the world for solo travellers and as my fellow travel writer, Kelly knows there are a lot of amazing things to do as a solo traveller in this beautiful city.
148 National Dishes of countries around the world
UNESCO Intangible Cultural Heritage – food
Best Cities to visit in the Netherlands
How to move to the Netherlands From Asia