Traditional Welsh food: 25 Most popular Welsh foods
In England, culinary traditions tended to filter down from the upper levels of society. In Wales however Welsh food traditions were based on what could be grown or produced from the land itself. The traditional dishes of Wales were and still are to a crtain extent based on home-grown vegetables, locally raised cattle, pigs and lamb and of course what comes from the sea.
Traditional Welsh cooking has been making a comeback so to speak in the past 10 years. Sustainable agricultural methods, and sourcing locally grown produce, meats and fish have all had a wonderful impact on Welsh traditional foods and the foodie scene across the country.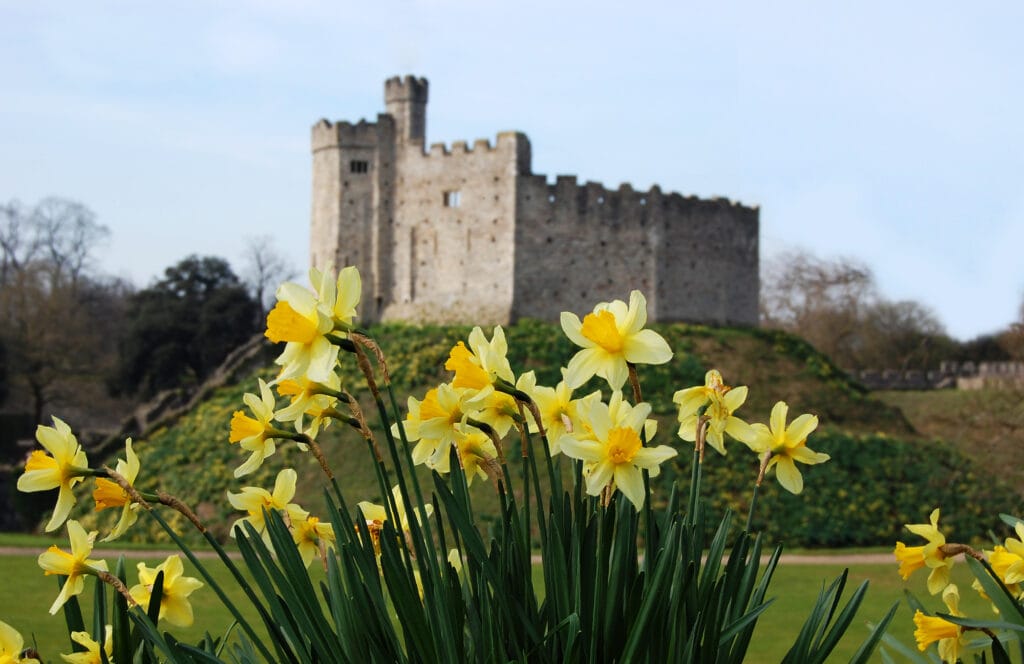 The Welsh are fiercely independent people who retain aspects of their culture that are totally different from those of their English neighbours. Wales is a country of high mountains, deep valleys, shaded woodlands, marshes and many rivers, it is breathtakingly beautiful. Wales was brought into the Kingdom of England in 1536 and suffered at the hands of the Normans rampaging over the island of Britain.
The Vikings did come to Wales around 852 and there were several Viking raids written about these raids in Gwynedd and Anglesey. However, they did not gain a foothold in Wales thanks to Rhodri Mawr who was the ruler of Gwynedd and led the Welsh in battling the Vikings trying to settle here.
With its strong streak of Celtic blood, the Welsh fought hard to retain their ways, language and history. Hywel the Good implemented many Welsh laws that were contrary to the English and he codified Welsh law in the Laws of Hywel Dda.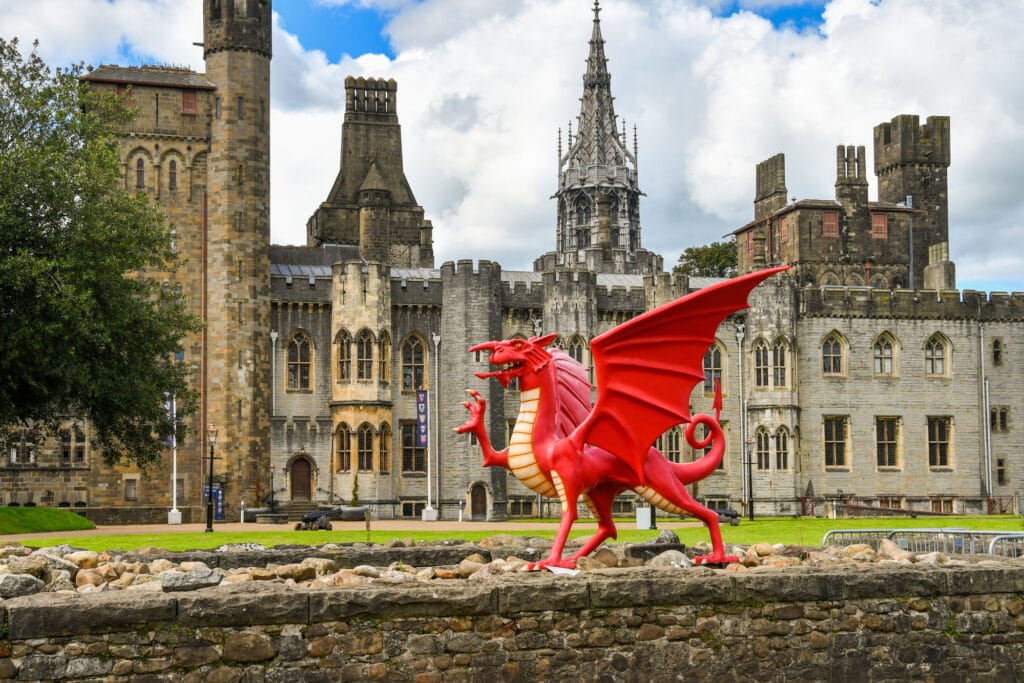 These laws were incredibly reasonable and compassionate when compared to the English. Hywel's laws were based on common sense and the recognition of the rights of women. These days the Welsh fiercely guard their ancient traditions and the Welsh language was revived in the late 20th century and is now taught in most schools. The British government worked with the Welsh people to create The Welsh Assembly in 1997 which finally gave the Welsh decision-making authority over most local matters.
Ten years ago it was difficult to find traditional Welsh cooking in the larger Welsh cities of Swansea or Cardiff but an initiative called "Wales, the True Taste" was created to celebrate Welsh cuisine throughout the country, each year producers are awarded accolades for products they create from Welsh ingredients.
Xyuandbeyond is reader-supported. When you buy through links on our site, we may earn an affiliate commission. You can read my privacy policy here.
What to eat in Wales 25 Most Popular Welsh Dishes
Many different types of speciality foods are grown and prepared in Wales, from leeks and cabbage to honey, ham, cockles, whiskey and of course laver bread.
The Welsh Black cattle is the country's only native breed and is used extensively for both dairy and meat. It is a hardy breed that lives of the land and is easy to manage.
Cawl – the national dish of wales
The famous food in Wales is Cawl although it is probably unheard of outside the country. A classic Welsh dish, Cawl is a slow-cooked leek and lamb soup with the additions of bacon and cabbage. A classic one-pot meal and perfect for those cold rainy days that are pretty common in Wales.
Welsh Recipes do vary depending on where you are in Wales and can include swede (turnip), carrots, potatoes and other veg. In some parts of the country, broth is served separately and followed by meat and vegetables. Cawl is seasoned liberally with black pepper and typically served with a dollop of cream and some freshly made crusty bread spread with Welsh butter.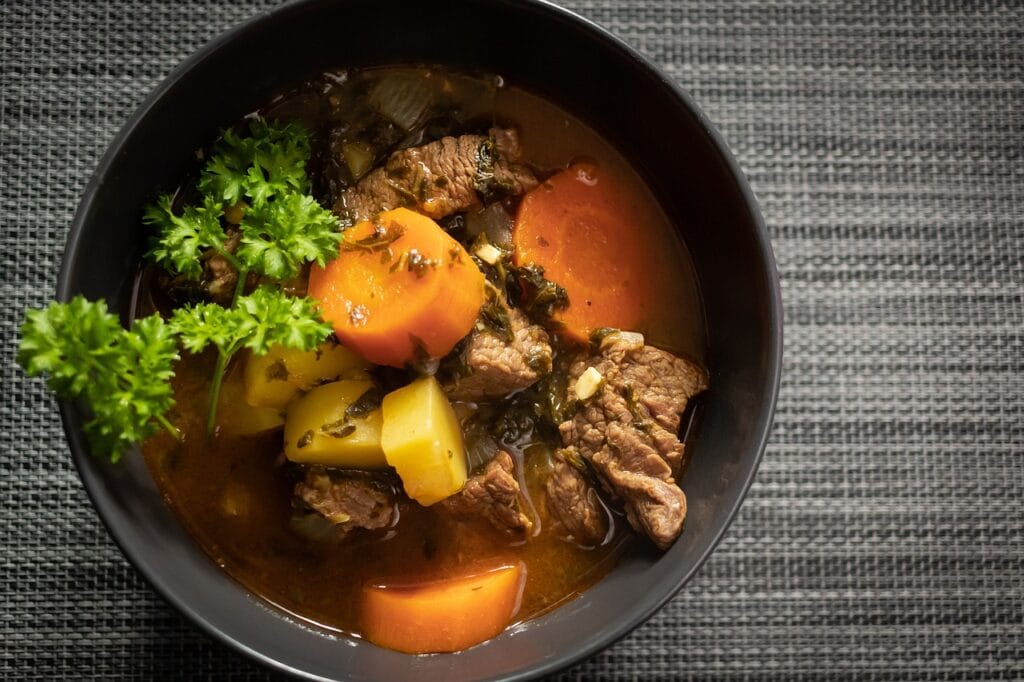 Leeks
You can't talk about Welsh foods without mentioning the leek one of the emblems of Wales and a symbol worn for centuries on St. David's Day. Legend has it that St. David himself only ever ate leeks during his fasts and one ancient story says that Welsh warriors used to wear leeks on their helmets to distinguish themselves from the enemy.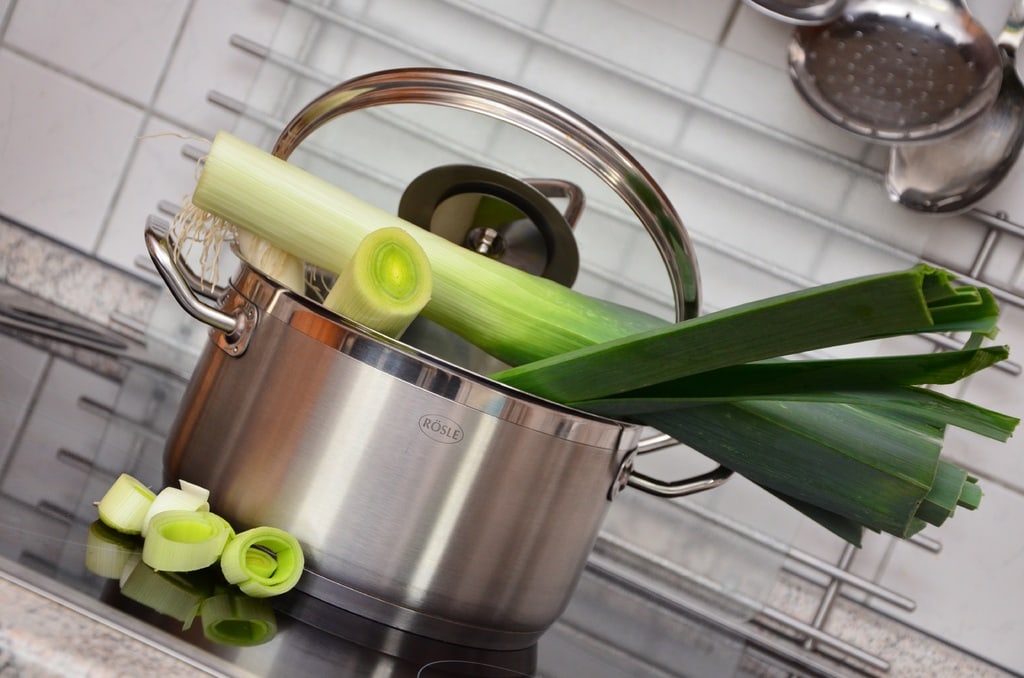 Leek and Potato Soup – cawl cennin a thatws
Cawl means soup in Welsh and there are variations of this soup but the dominant ingredient is of course leeks. Leek soup or cawl cennin is a soup based on leeks, a small number of potatoes, chicken broth and heavy cream. Seasonings are simple and usually just salt and pepper with garlic added by some chefs.
Called vichyssoise in France, the story has it that it was Julia Child who brought leek and potato soup to the attention of the United States when she published a recipe in her book Mastering the Art of French Cooking.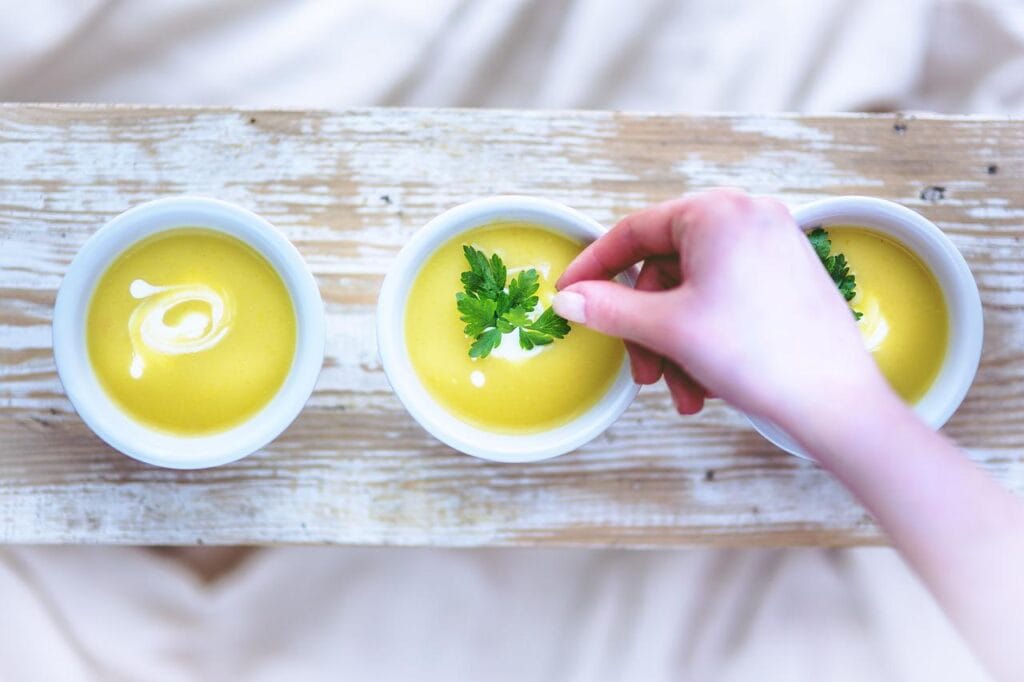 Welsh Layered Stew – Tatws Pum Munud
Tatws Pum Munud which in English means five-minute potatoes is a traditional Welsh dish made from bacon, potatoes and stock along with root vegs like carrots, turnip, onions and peas. The ingredients are all sliced thinly and then layered into a large flat pan. When the budget allows mince beef is added that is liberally seasoned with salt and pepper.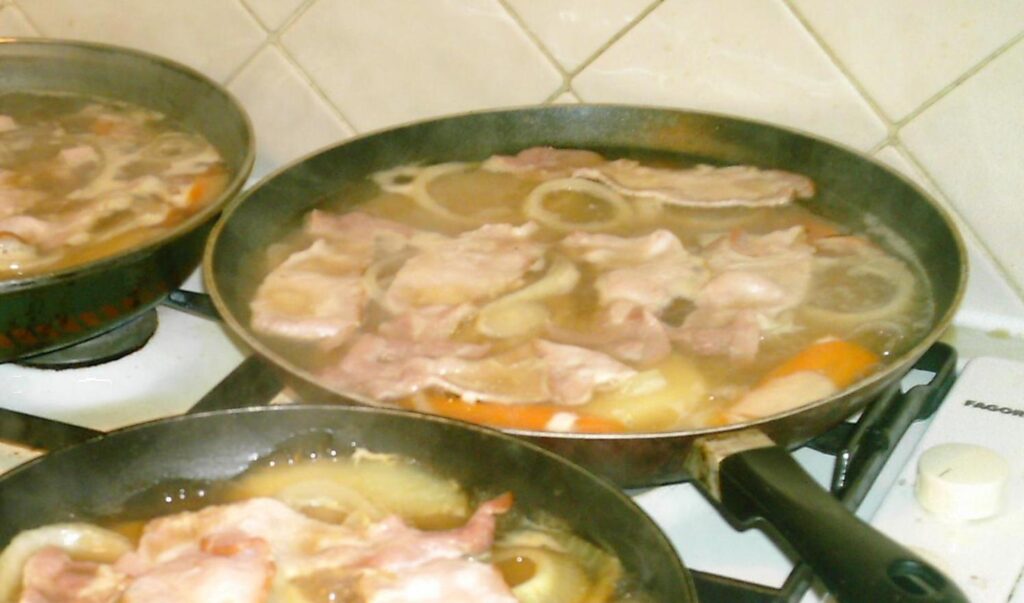 Welsh Oven Potatoes – Tatws Popty
An easy one-pot meal Tatws Popty translates to 'oven potatoes', and it is made by putting chunks of potato in a casserole dish with leeks, onions and swede that is baked until golden brown.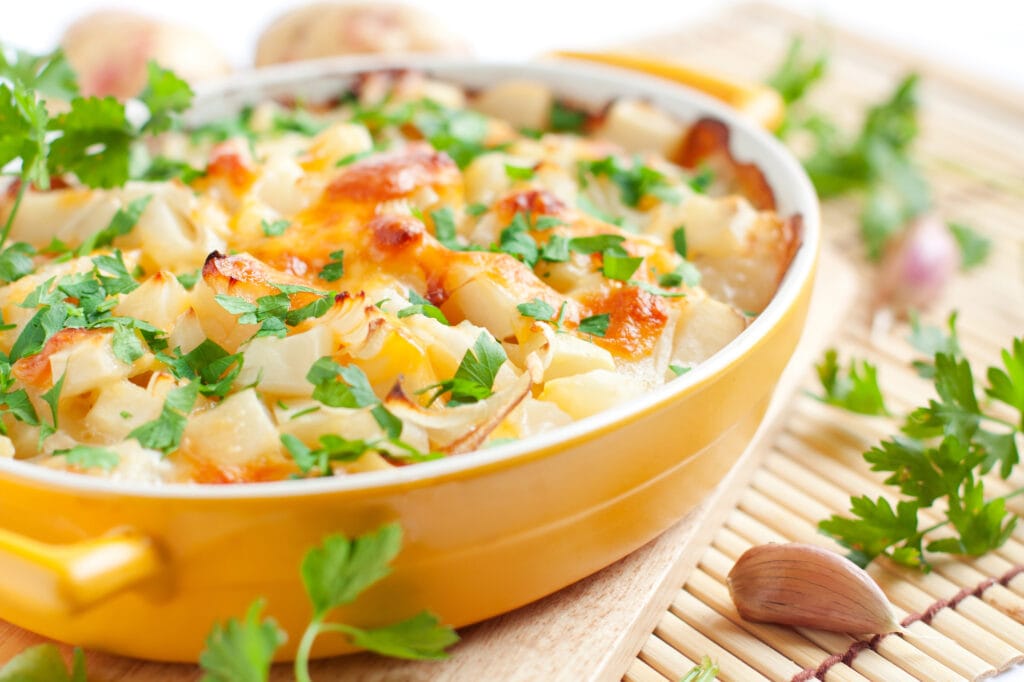 Bacon and Potatoes – Gwledd y Cybydd
Gwledd y Cybydd – nicknamed the Welsh Misers Feast, is a traditional Welsh recipe for a classic, frugal supper of potatoes, onions and bacon rashers boiled in one pot until tender.
Laverbread – Bara Lawr
Laverbread has been eaten in Britain for centuries, and the first known record of it was in Camden's Britannica in 1607. There is vividly described the springtime gathering of "Lhawvan" from the beach of Eglwys Abernon near St David's in Pembrokeshire.
Wales, Ireland and Scotland all commercially process this edible seaweed that is harvested from the seas of their coasts. Known as 'Welshman's Caviar' the seaweed is cooked for hours until it resembles a black lumpy paste. The Laver is then spread on toast and enjoyed with a Welsh breakfast. It is pretty intense in flavour and if you are a healthy eating fan it is rich in iron and iodine.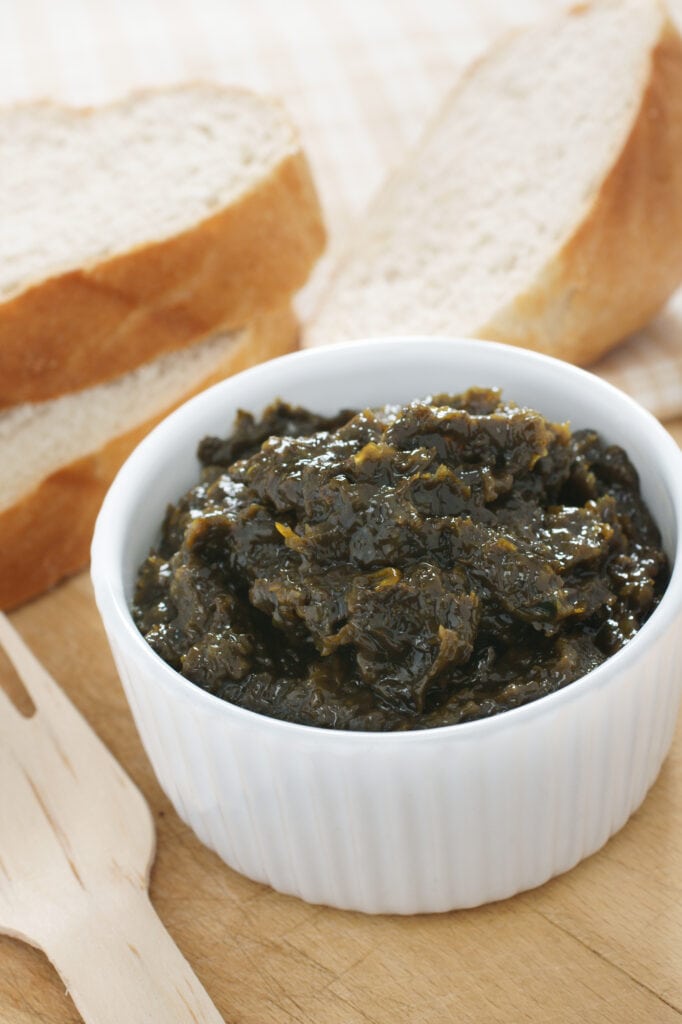 Salt Marsh Welsh Lamb
Salt-marsh lamb grazes on the waterlogged coastal areas and is free-range. The meat is sweet and tender and allowed to age for much longer than usual. The lamb is usually available between July and October.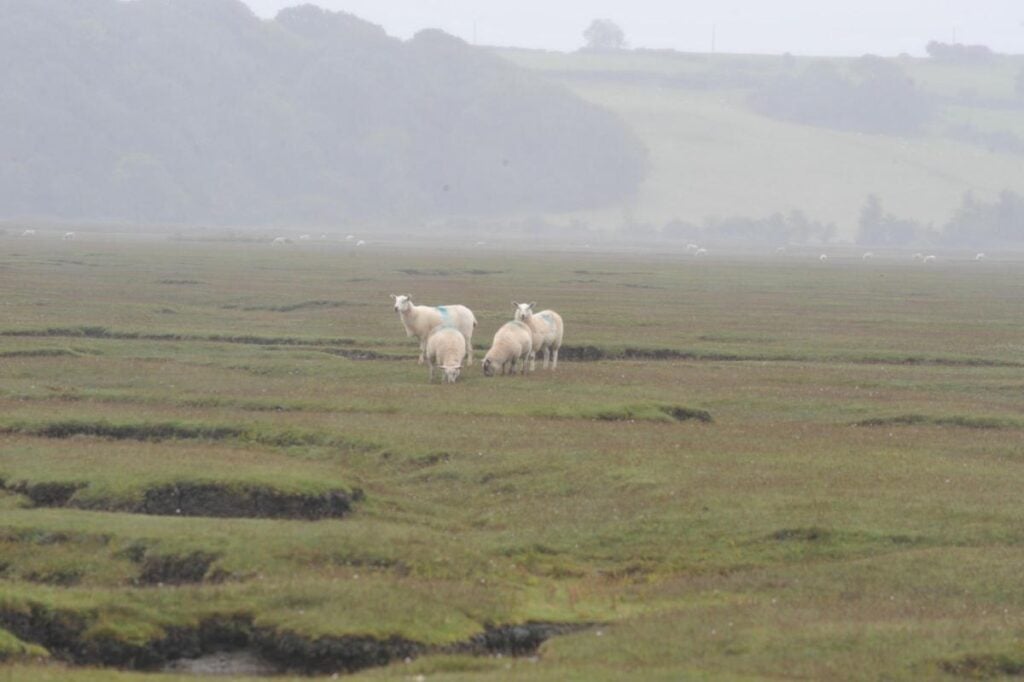 Samphire
Samphire (or glasswort, as it's also known) isn't a seaweed, and it tends to grow around tidal creeks and estuaries. It has bright green stalks similar to young asparagus but is distinctly salty. Samphire is eaten by Salt Marsh sheep and it gives the lamb a distinctive taste.
Samphire can be used fresh but can be salty and is generally boiled or steamed for a few minutes before adding to a salad or main dish.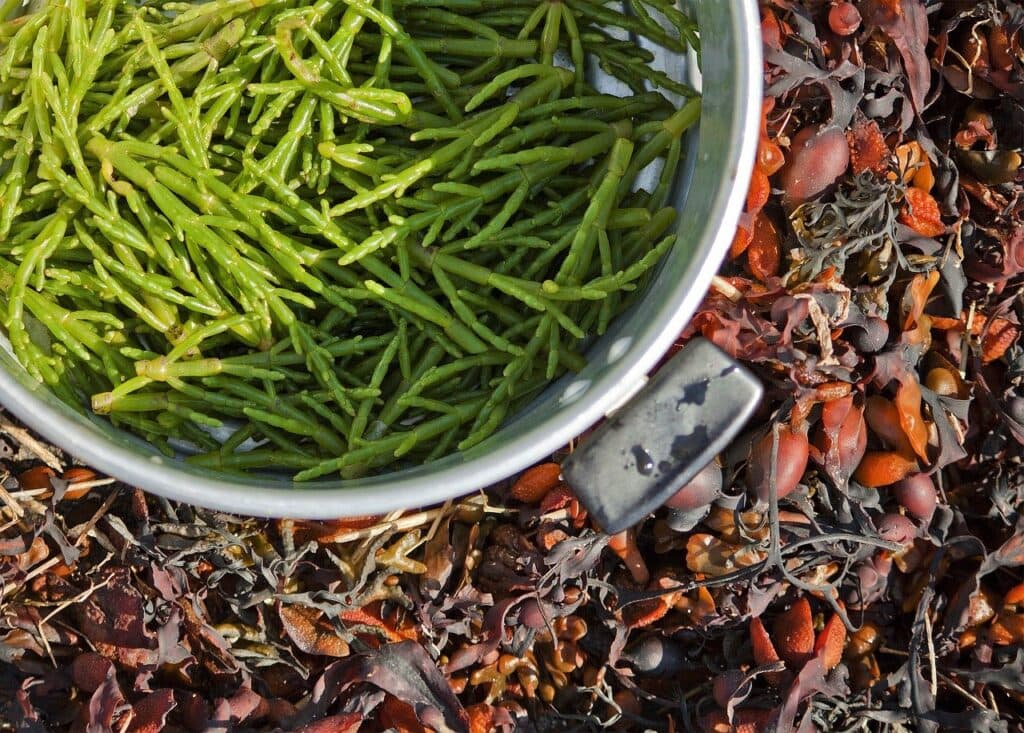 Conwy mussels
Conwy in North Wales is the place to find these spectacular mussels. The only UK town to be called the most beautiful place to visit in Europe Conwy sits on an estuary where the Irish sea meat the River Conwy.
The combining of the fresh and salt waters combines to give the Conwy mussels their incredible flavour. The mussels are grown in beds with time off for breeding allowing the mussels to be a seasonal treat but one that will make you only want to eat these mussels forever.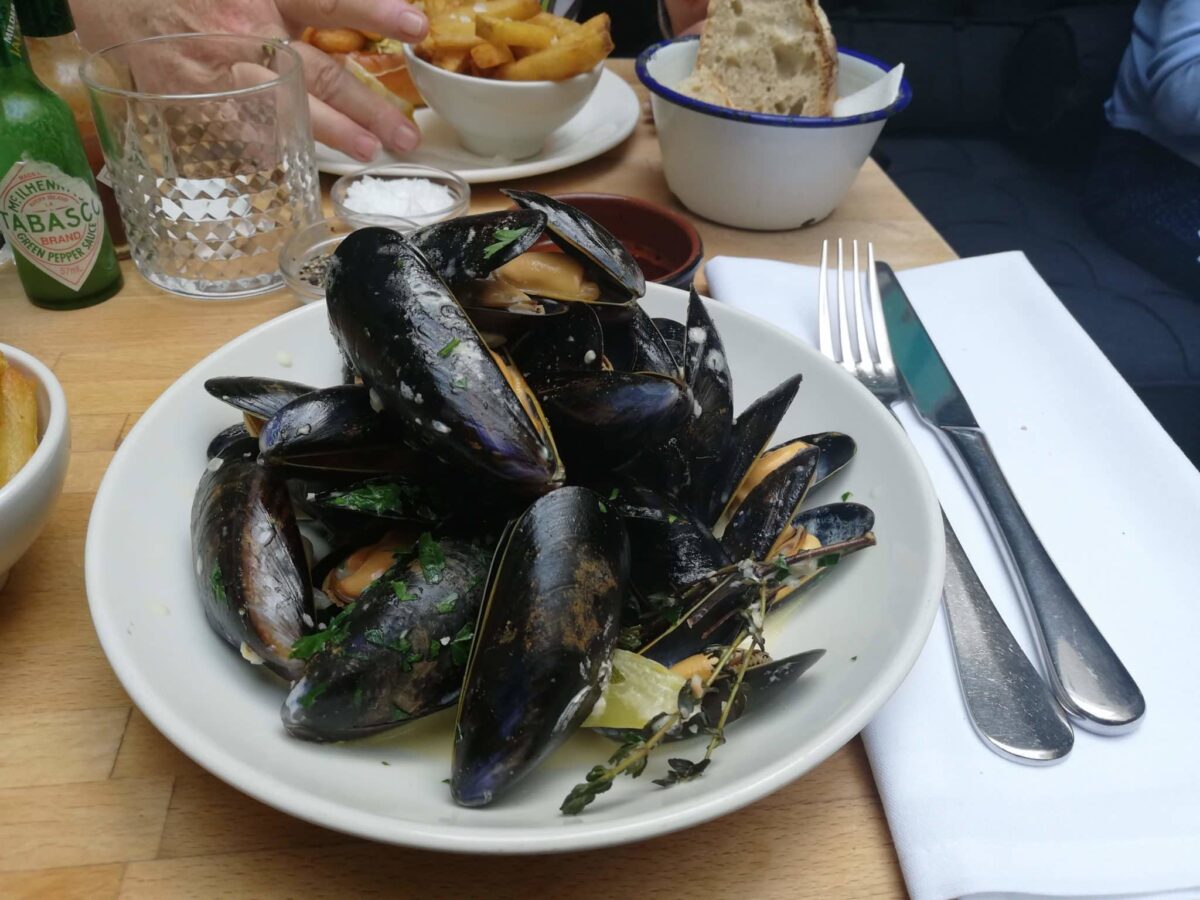 Sea Trout – Sewin
Sea trout can only be fished during the summer months this sea trout has a rosy pink colour due to its diet of shrimp and it is hugely popular along the coastal areas of Wales served with Samphire.
Glamorgan Sausages – Selsig Morgannwg
Selsig Morgannwg is a sort of vegetarian sausage whose recipe dates back to the 1850s. Rumour has it that it was during WWII that the Glamorgan sausage became a staple food in Wales due to the shortage of meat and the subsequent rationing in Britain.
Glamorgan sausages are simple they mix grated Welsh cheddar, usually Caerphilly, with leeks and breadcrumbs spring onions and parsley. This mixture was formed into sausage shapes dipped in egg and more breadcrumbs and then fried in lard or beef dripping.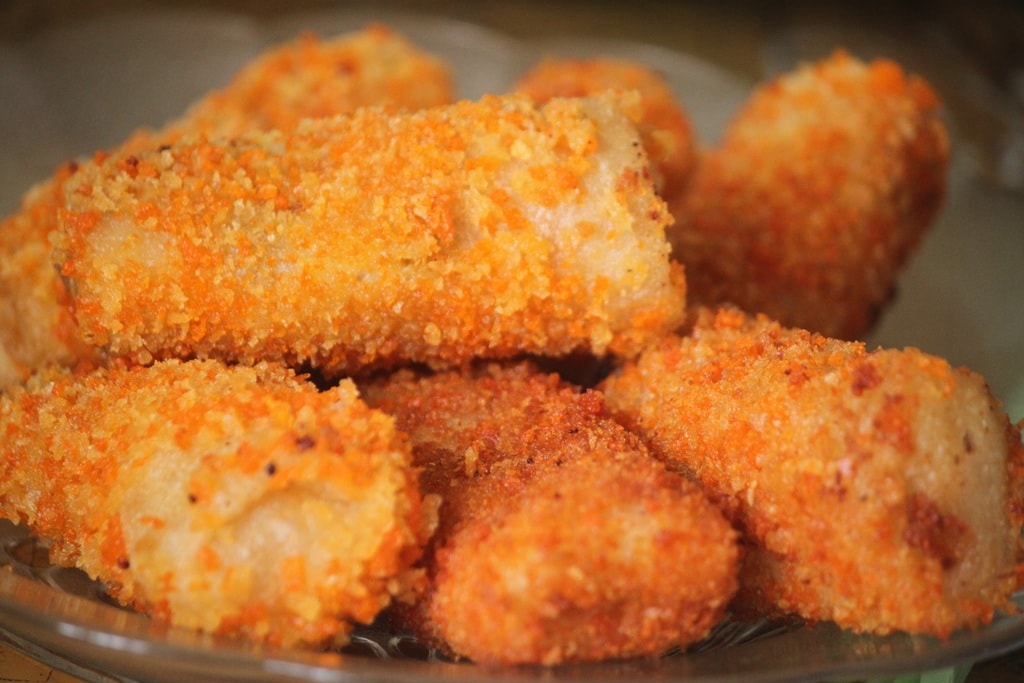 Welsh Cheese
Caerphilly is a hard crumbly white cheese which originated in South Wales and was believed to have been created for miners' lunches down the pits.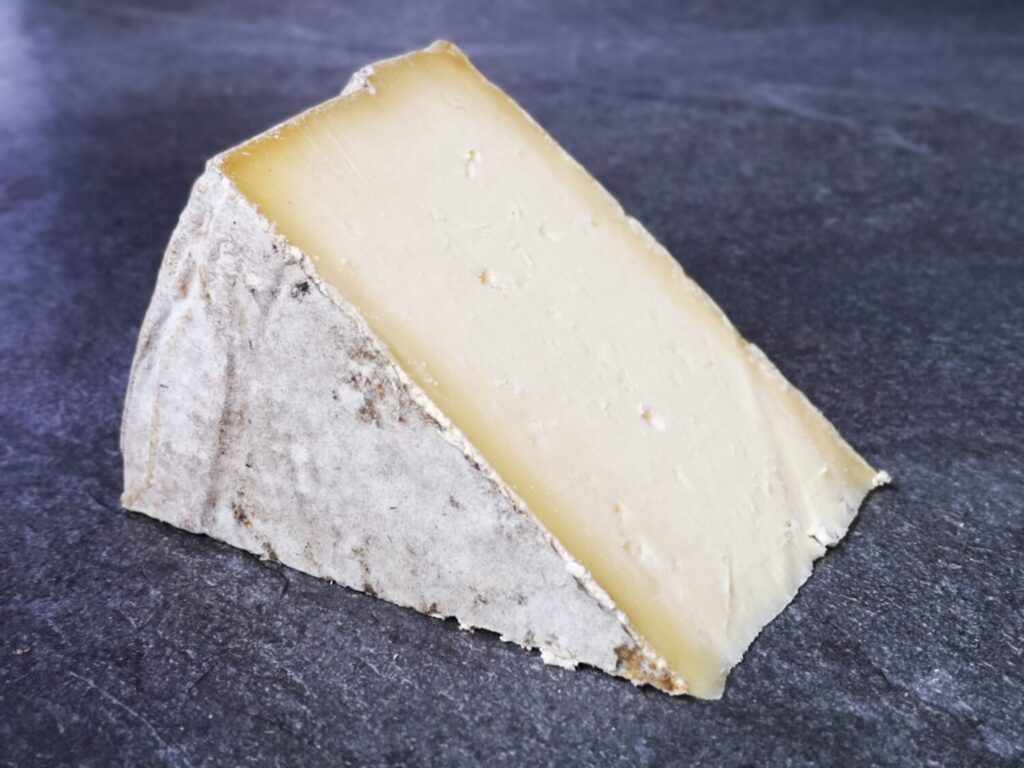 Perl Las – Caws Cenarth
One of Wales' best-known cheeses, Perl Las is a golden-coloured blue cheese with a creamy and delicately salty taste that grows stronger with maturity.
Perl Wen
A creamy, white-rinded cheese Perl Wen translates as 'white pearl' in English the lumpy rind conceals a soft buttery centre with a hint of citrus.
Golden Cenarth – Caws Cenarth
This semi-soft cheese is washed in cider to produce a mild taste when young, but a stronger pungency when matured. With its nutty and savoury flavour, it's delicious served at room temperature or baked in the oven.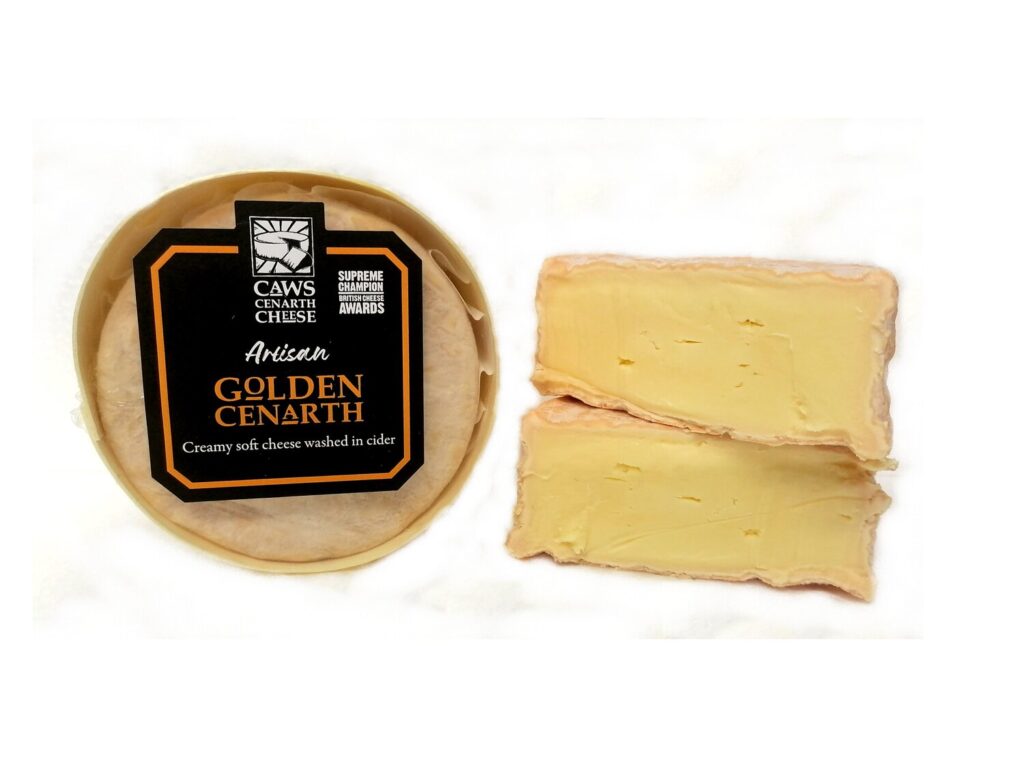 Welsh Rarebit
The most popular snack in Wales is Welsh Rarebit. Originally known as Welsh Rabbit but never containing any rabbit this is the best cheese on toast in the world. welsh rarebit is a grilled cheese-based sauce made from cheese, flour, beer and often added egg. A Welsh rarebit includes such ingredients as beer or ale, Worcestershire sauce, cayenne, mustard, and paprika. If an egg is served atop the dish, it is called buck rarebit.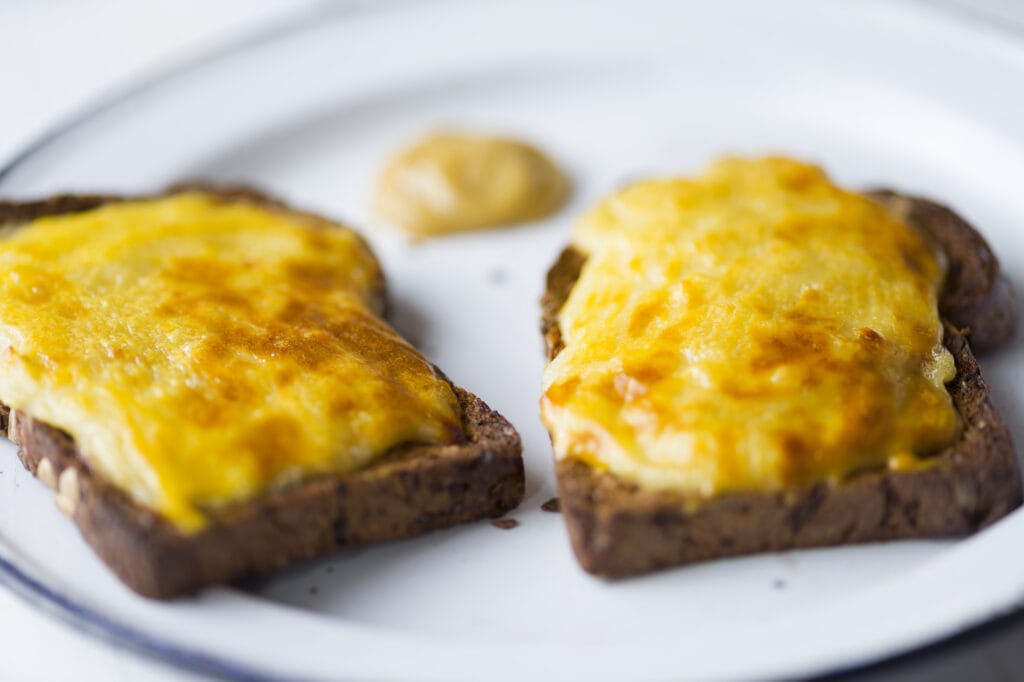 Faggots and Peas
Faggots are meatballs made from offal and minced meat and slathered in gravy. They were and are cheap and cheerful and usually served with chips or mash and frozen peas
Anglesey Eggs
A traditional Welsh dish whose ingredients include hard-boiled eggs that are baked atop mashed potatoes and topped with a sauce of leeks, butter and cheese and then top the sauce with another layer of cheese. Usually served with sausages for breakfast or as a main meal with pork chops.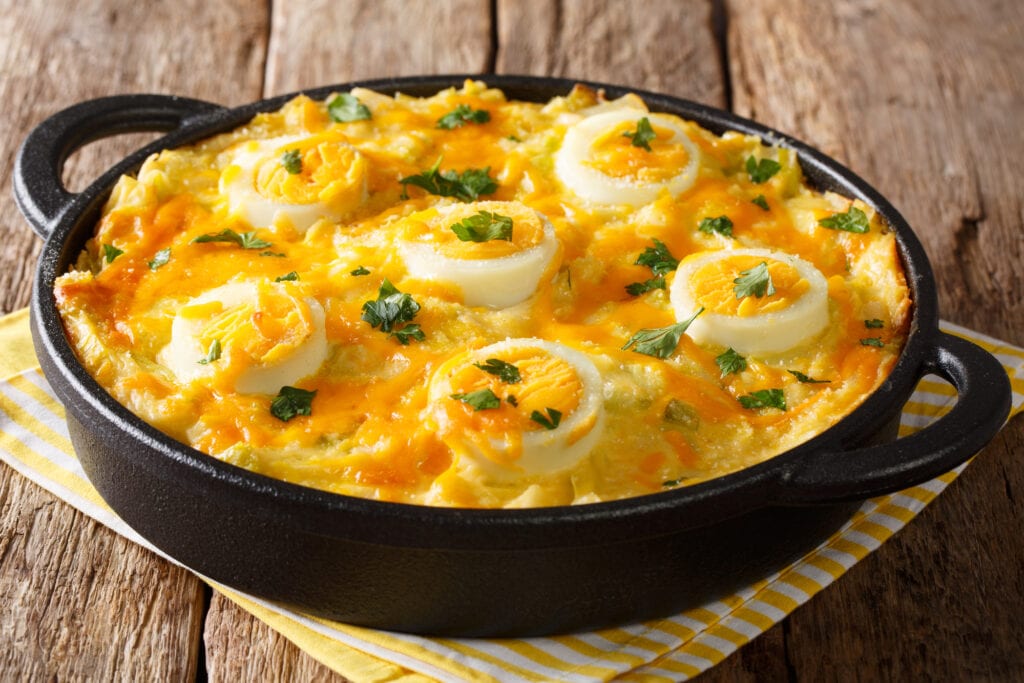 Welsh Pancakes – Crempogs
Crempogs are small buttermilk pancakes that are drizzled with butter and honey or Golden Syrup and served for breakfast. A leaving of baking soda or baking powder is used in the mix to give the pancakes a slight 'puff'. Crempog is served in Wales, particularly on Birthdays, Shrove Tuesday, St. David's Day (1st of March) and Bonfire Night (5th of November).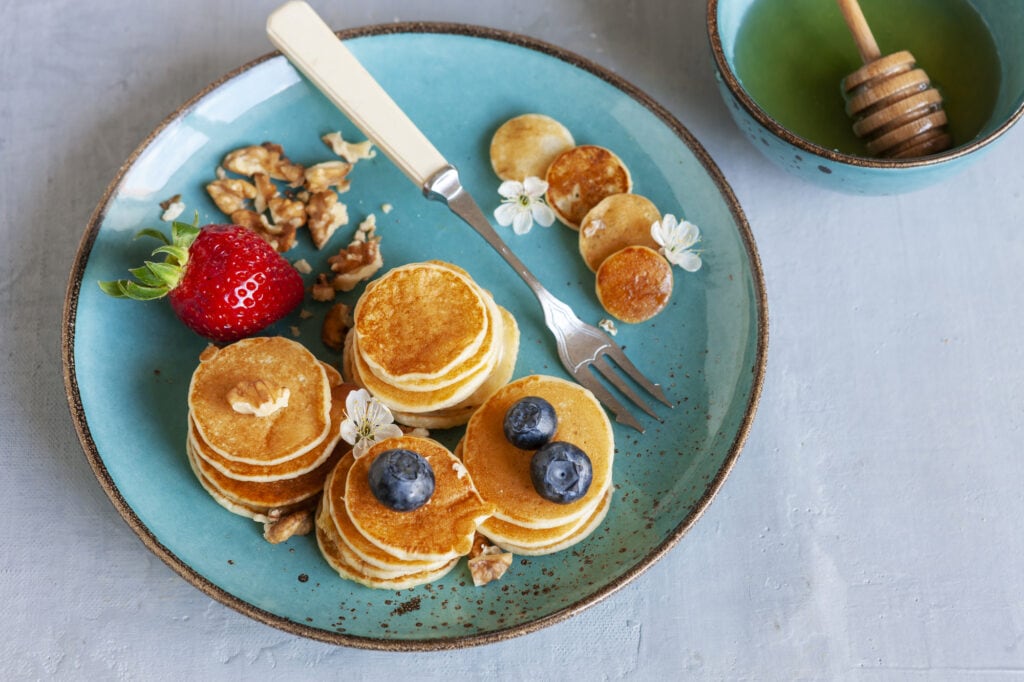 Pikelets
In Wales 'bara pyglyd', was called the poor person's crumpet and was made by dropping the batter directly onto the griddle to cook instead of using the expensive crumpet rings.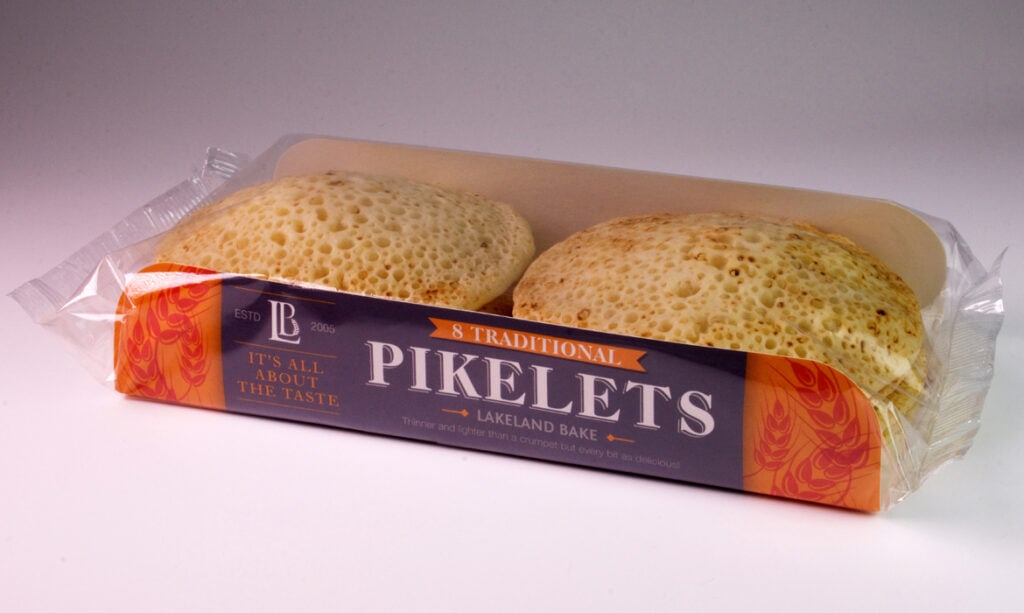 Welsh Cakes
In Wales, these are also known as "bakestones" because traditionally they were cooked on a bakestone which is a cast iron griddle that was placed on the fire or stovetop. Served both hot or cold, they are similar to a pancake mixed with a scone and can be served with jam and cream if you so desire.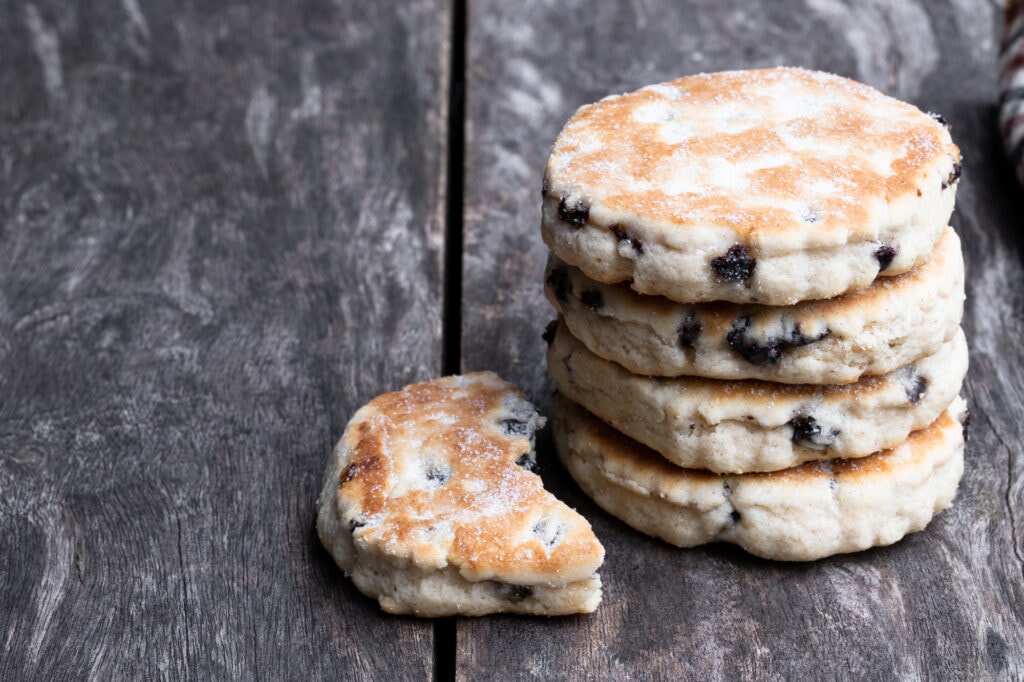 Welsh oatcakes – bara ceirch
There are two different types of oatcakes the first looks like a pancake but is made with bacon dropping to add flavour and then used in a sandwich. The second doesn't use any bacon fat and is slightly thicker, this type is used to thicken stews and soups to absorb the flavour and the broth kind of like a dumpling.
Onion Cake – Teisien Winwns
It may be called an Onion Cake but it is made from layers of thinly sliced potatoes and soft sautéed onions drench with melted butter and seasoned with salt and pepper. Occasionally cheese is added making it similar to a North American scalloped potatoes or a French tartiflette.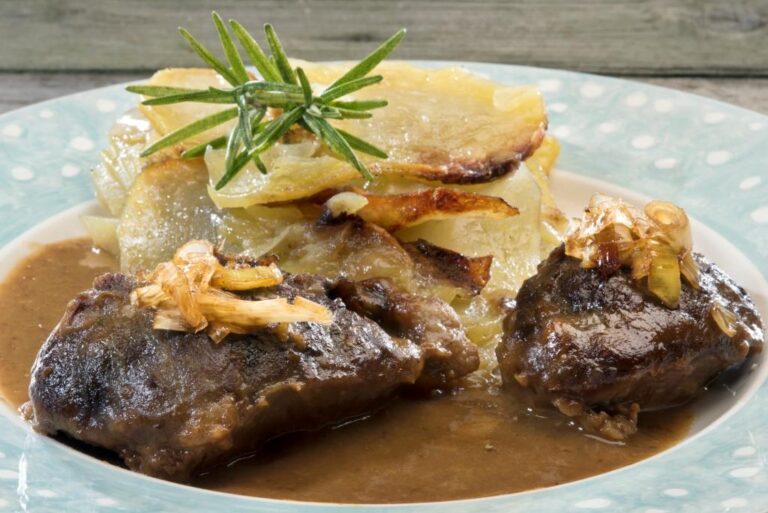 Potato Cakes – Teisennau
Just like the Irish boxty or fadge a potato cake is made simply with flour, mashed and raw grated potatoes, salt and fat like melted butter then griddled and cut into triangles. You can also add sugar to the basic recipe to make a sweet version.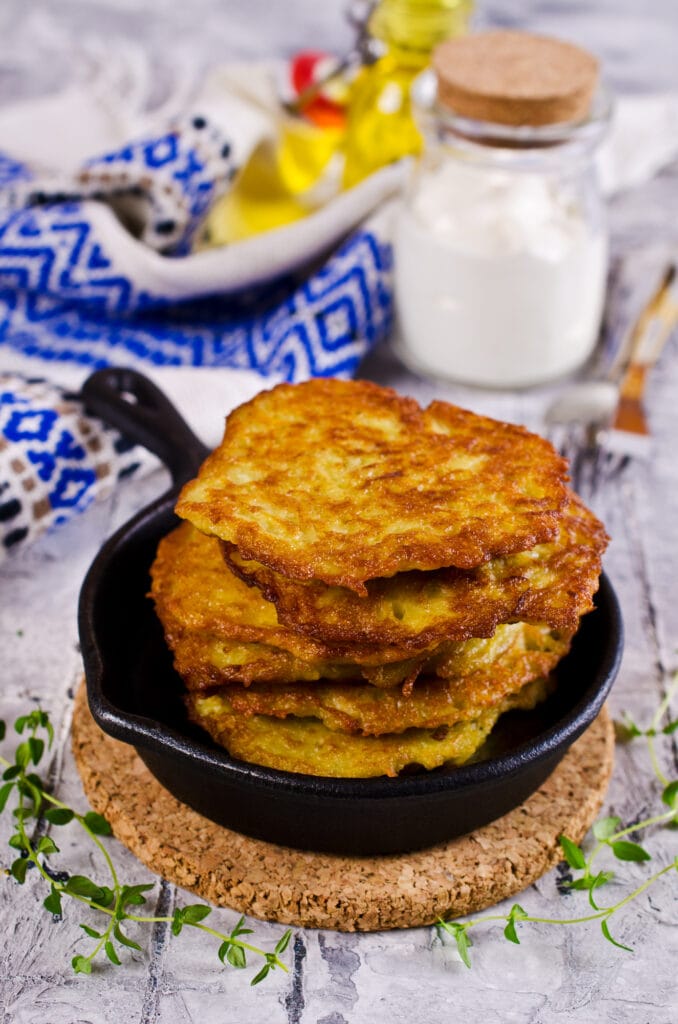 Bara Brith
Is the ultimate Welsh teacake it is a traditional fruit cake made with the liquid from a cold pot of tea. Its name is Welsh for speckled bread and the dried fruit in the recipe should be soaked in strong tea overnight to ensure that particular tea flavour. The dried fruit usually includes currants, raisins, and sultanas along with butter, eggs and flour.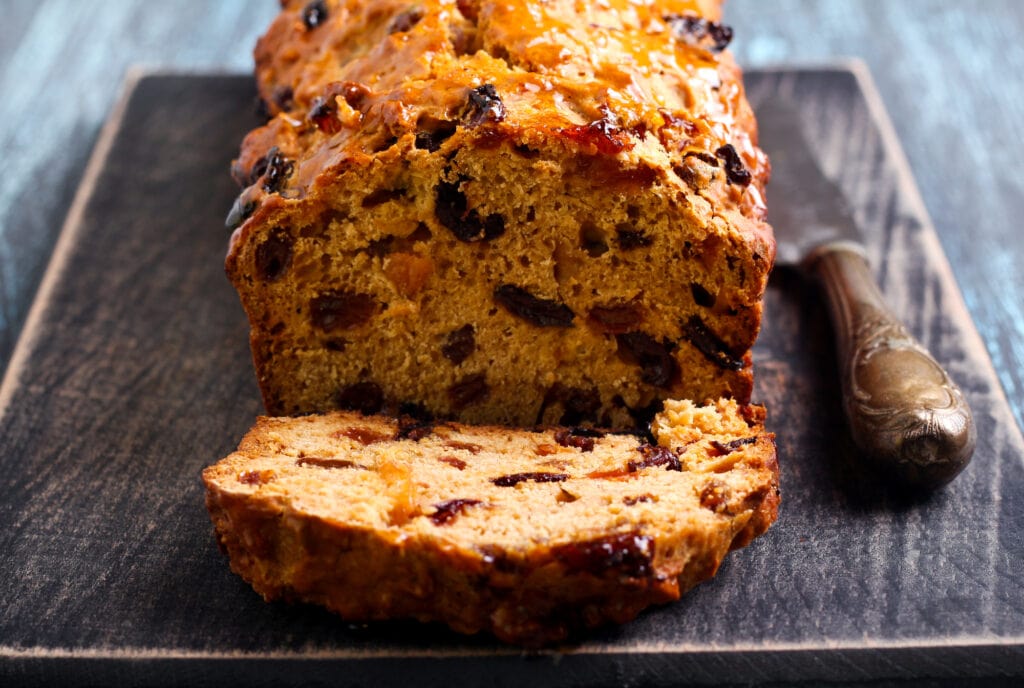 Welsh Foods Summary
Welsh traditional foods are hearty and nourishing, moulded by the land and what it provides and influenced by Welsh culture and Welsh history whatever your taste there is something here in Wales to tantalize your tastebuds.
Welsh food is a reflection of the country's history, culture and geography. From its coastal seafood to its hearty lamb dishes, it offers a unique blend of flavours and ingredients that are sure to tantalize any taste bud. While some traditional dishes may seem unusual or even unappetizing to outsiders, they are an important part of Welsh identity and heritage.
Today, Wales boasts a growing culinary scene with an emphasis on locally sourced ingredients and modern twists on classic recipes. Whether enjoyed in a cosy pub or at a Michelin-starred restaurant, Welsh cuisine will leave you feeling satisfied and inspired by this small but mighty country's rich gastronomic traditions.
You might also like
All the Best Things to Do in Anglesey: A Comprehensive Guide
North Wales Coastal Path the famous Pilgrim's Way Route
7 of the most beautiful beaches on the Pembrokeshire Coast Wales
38 Seaside towns in the UK to visit
27 Utterly awesome things to do in Wales
22 Historic Towns in Wales You Should Visit Now
Pin it to save it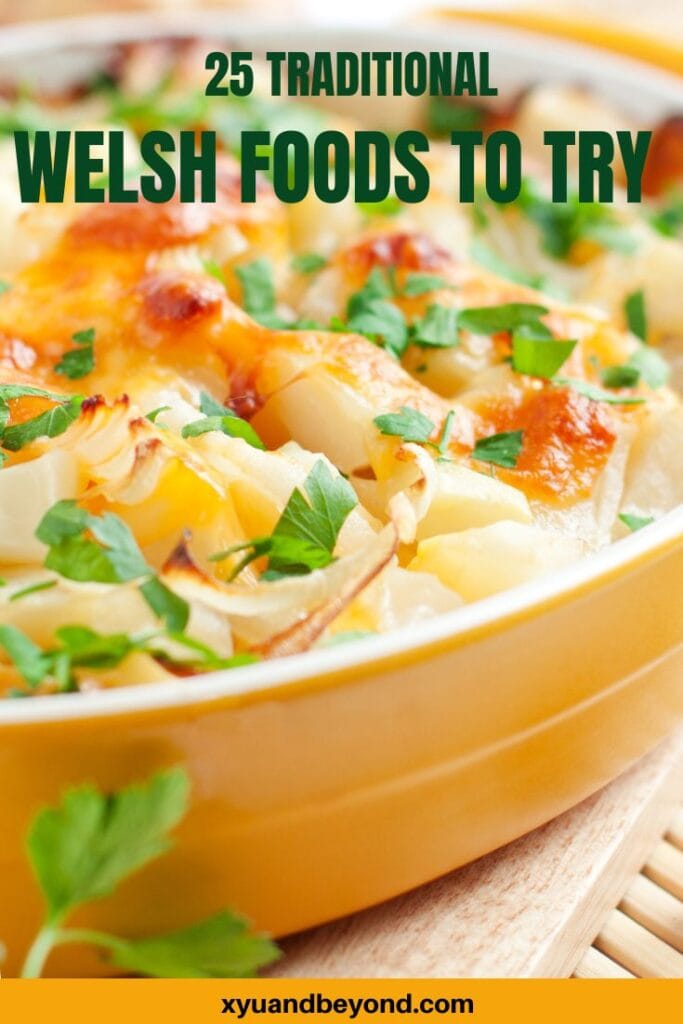 Latest posts by Faith Coates
(see all)