11 Best Castles in Wales
Wales is a country, part of the United Kingdom, and steeped in history, Celtic heritage and Welsh culture. Wales is a country famous for its castles with stories and history dating back thousands of years.
Did you know? Wales has the most castles per square capital in Europe so there are plenty to choose from. There are around 45 castles in Wales which is a vast amount for such a small country.
CADW is the Welsh government's historic environment service that cares for many of the castles and surrounding sites and they have lots of information on their website here.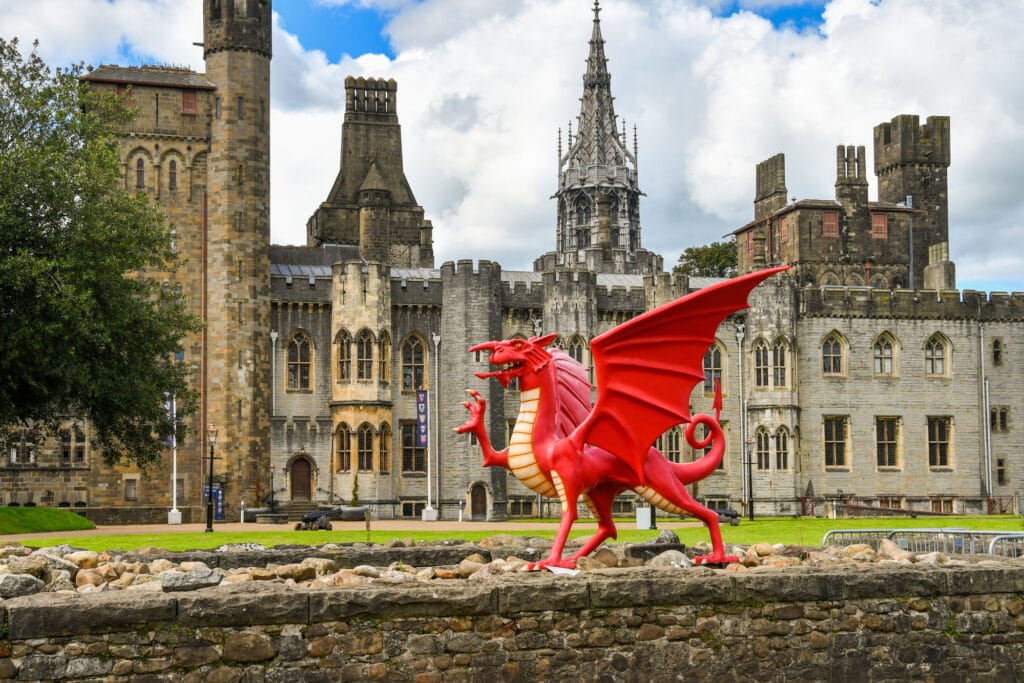 Many of these castles are must-visits on Wales trips with interesting facts, history of monarchs and wars, and one has been used for an ITV reality TV show!
11 best Castles in Wales to visit
As much of Wales is on the coast there are lots of castles stationed along the coast and used as a defence mechanism to stronghold the land. Today, visitors can walk the Wales Coastal Path to learn about the history of the best castles in Wales from the many billboards and information boards.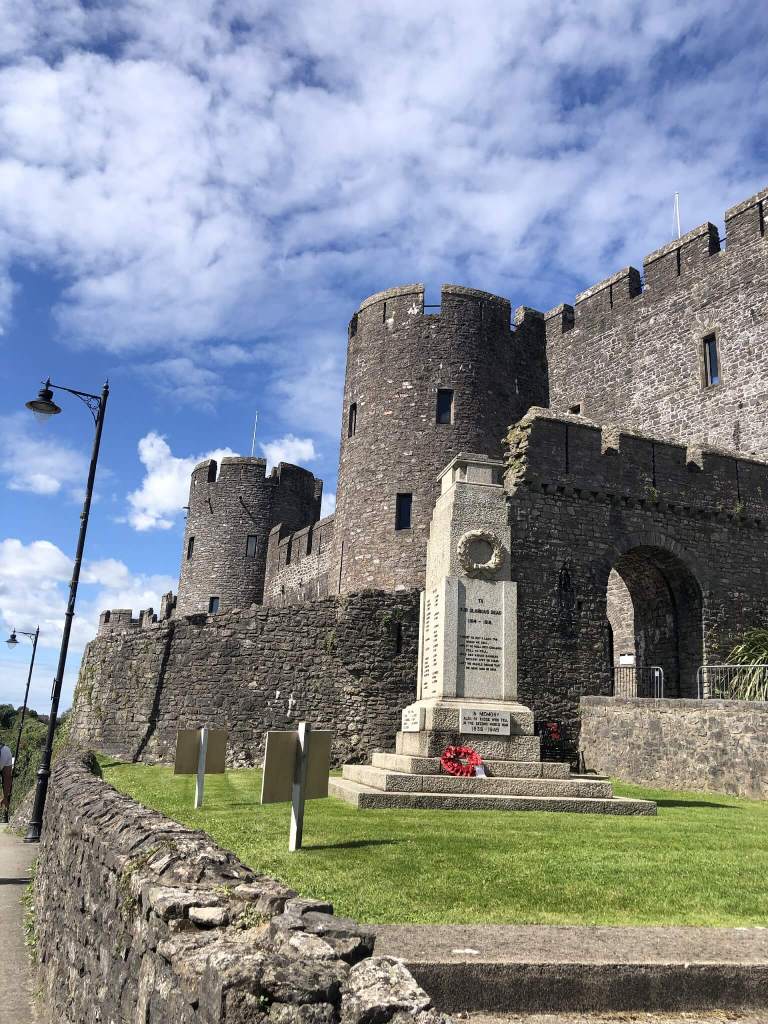 South Wales Castles
South Wales is home to the capital city of Cardiff and counties such as Vale of Glamorgan, Swansea and Gwent. There are many castles to visit, some are ruins and others are still huge forts that hold interesting stories seeped in the still-in-tact rooms you can explore on guided tours. You will also find some simply superb Roman ruins in Caerleon which is located very close to Newport in South Wales.
Cardiff Castle
Cardiff has been the capital city of Wales since the 1950s yet has always served as a powerhouse for the world trade of Coal, been home to dynasties and Earls and Cardiff Castle has been the target of attacks and occupation.
Cardiff Castle and the surrounding park were given to the people of Cardiff by the fifth, and last, Marquess of Bute and serve as a tourist attraction today. You can buy tickets to enter the grounds or purchase a guided tour for information on the rooms, forts, moat and gardens.
The castle can be found in the heart of the city centre, just a 5-minute walk from the central train and bus stations.
Address: Castle Street, Cardiff, CF10 3RB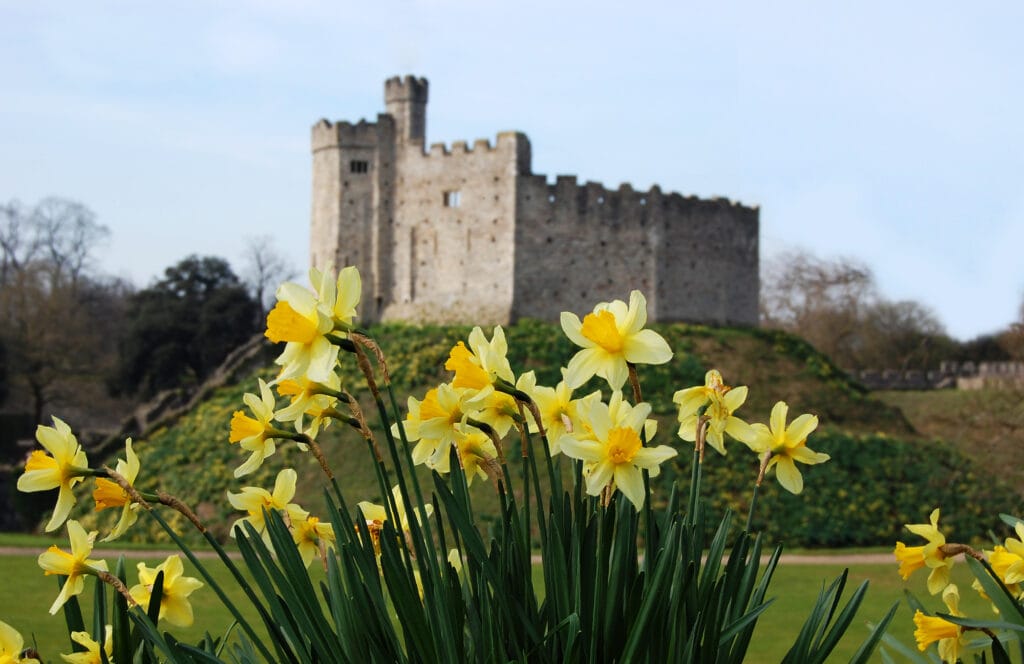 Caerphilly Castle
Neighbouring Cardiff is the town of Caerphilly, home to a great mountain and medieval castle and a gateway to the South Wales Valleys. Caerphilly Castle is the largest castle in Wales and the second largest in the United Kingdom, after the royal residence of Windsor Castle!
The site covers 30 acres containing towers (including the leaning tower of Wales), bridges and walls. The main fortress is surrounded by water, built purposefully for defences in the 13th century. Visits to the castle today can be explored independently or guided. Watch out for the Green Lady, a scorned woman who haunts the grounds of Caerphilly Castle.
Follow this guide to visiting Caerphilly Castle and climbing Caerphilly Mountain for all the information needed to find and explore the Caerphilly attractions.
Address: Castle Street, Caerphilly, CF83 1JD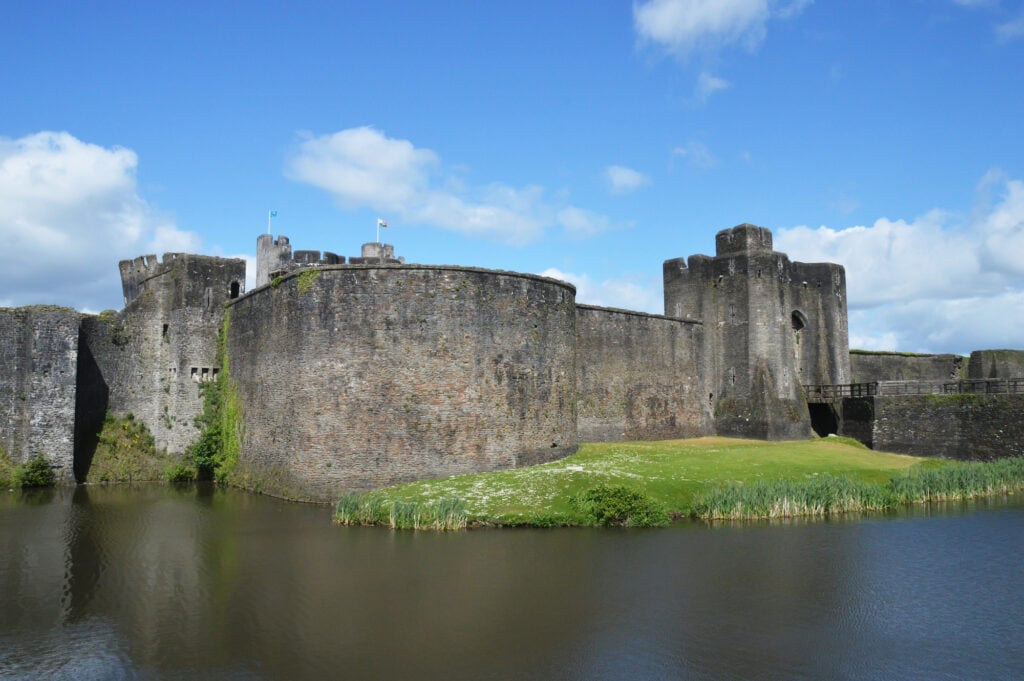 Castell Coch
The same Marquess of Bute who gifted Cardiff Castle to the city had a 'retreat' type of castle which was used to entertain friends and escape the city centre. This castle was built for the purpose of leisure and looks like something from a fairytale or Harry Potter.
It's definitely worth a visit to Castell Coch which translates as the Red Castle because of its grandeur and beauty. It's a half-hour drive from the city centre and can be seen emerging from the mountains on the drive. Castell Coch is surrounded by Forest Fawr, a popular, circular walk to take on the trip.
Castell Coch can be found best by car following the A470 or public transport from Cardiff Central to Tongwynlais train station.
Address: Castell Coch, Tongwynlais, Cardiff CF15 7JS
Castles in West Wales
Moving to West Wales, castles found here were the home of monarchs, inspiration for literature and filming location for British comedy goldies.
Pembroke Castle
In the town of Pembroke, in the county of Pembrokeshire, is the medieval Pembroke Castle, rising over the town and the Pembroke River and featuring Norman motte-and-bailey, fighting platforms, huge walls, arrow slits and gateways.
The most famous fact about Pembroke Castle is that it was the birthplace of Henry VII, the only Welsh-born King of England and father to the infamous King Henry VIII.
Tip: Pembroke Castle is one of the best castles to photograph from Northgate Street Bridge!
Address: Pembroke Castle, Pembrokeshire, SA71 4LA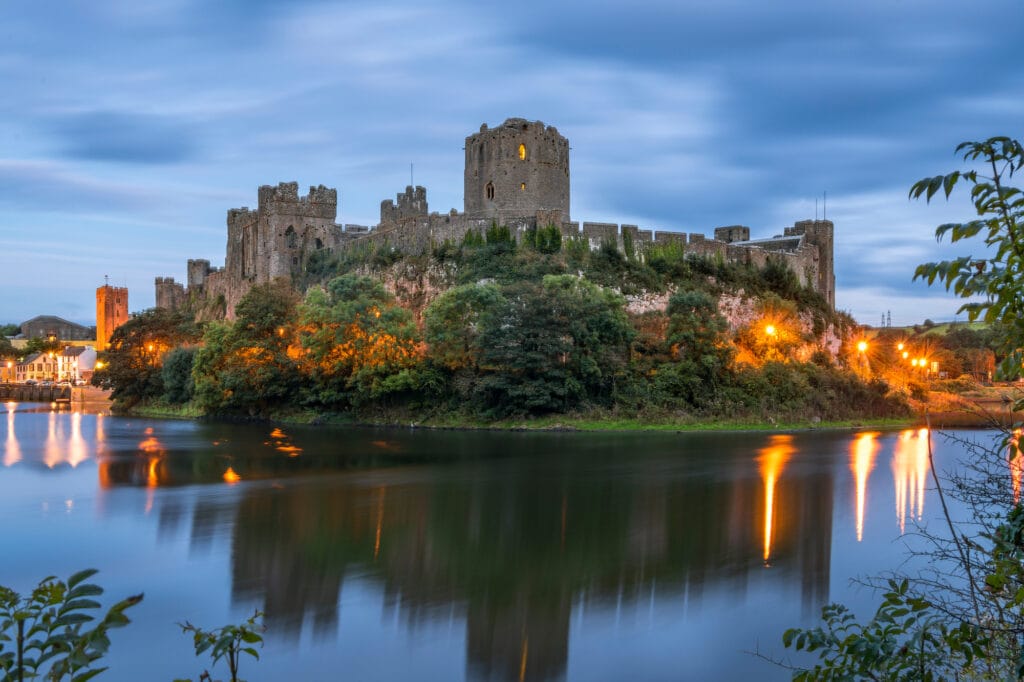 Laugharne Castle
Firstly, Laugharne is pronounced 'Larne' and can be found in Carmarthenshire county but reasonably close to get to from South Wales if you're on a Wales road trip.
Laugharne is a small town with a gorgeous coastline and was the home of famous Welsh poet, Dylan Thomas who said that Laugharne was his favourite place. He lived next door to Laugharne Castle and used it as a base for his writing. Visit the castle along with Dylan Thomas's boathouse and writing shed.
Address: King Street, Laugharne, Carmarthen, SA33 4SF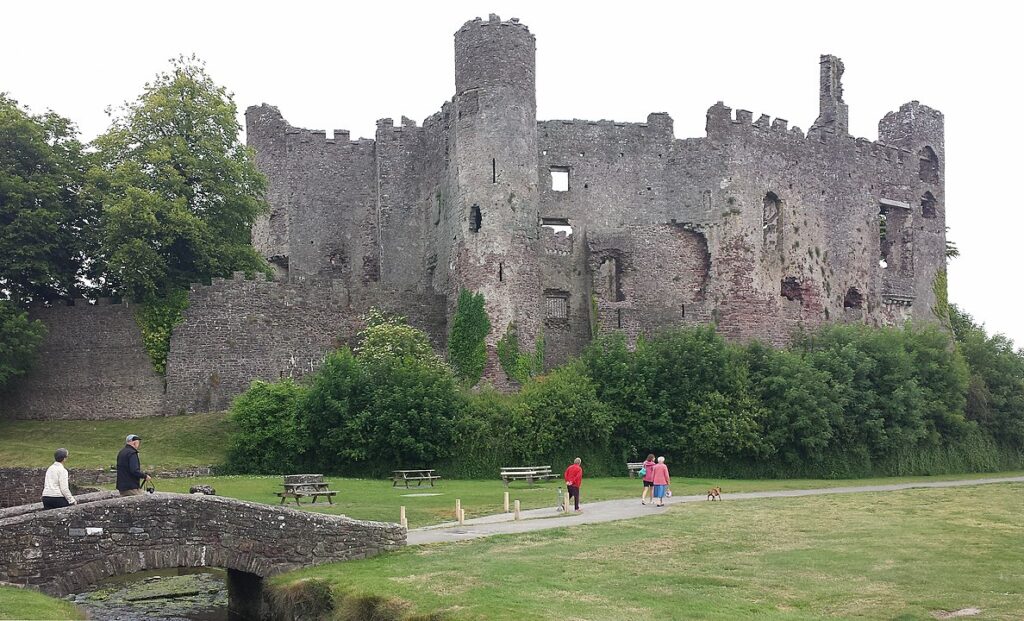 Kidwelly Castle
Also found in Carmarthenshire is Kidwelly Castle with views over the River Gwendraeth. Kidwelly Castle is a unique castle to visit given its interesting architecture in the interior. Kidwelly Castle is best known for being in the opening scene of ​​Monty Python and the Holy Grail film series.
Visit Wales describes the defences of Kidwelly Castle as a killing zone that has changed rulers over the centuries but is now safely looked after by Cadw and available for tourists to explore.
Address: Castle Road, Kidwelly, SA17 5BQ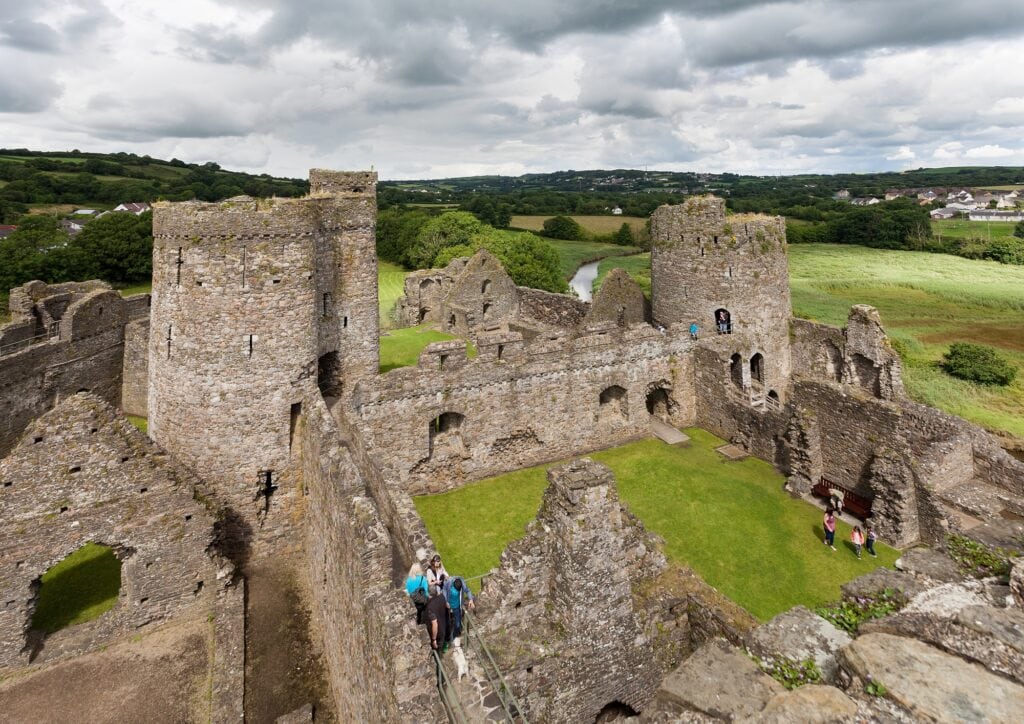 North Wales Castles
North Wales is home to UNESCO World Heritage sites, stories of King Arthur, many British TV shows and films were made here. The first four castles on this list of castles in North Wales all make up one UNESCO World Heritage Site, named Castles and Town Walls of Edward I World Heritage Site, built by King Edward I and his architect Master James of St George in the 13th century as fortresses in North Wales.
Conwy Castle
A castle that is intrinsic to the make-up of a place is one that towers over the town and can be seen on arrival, from anywhere within the town, and upon departure. That's Conwy Castle and it's a striking castle to witness considering it was built over 700 years ago.
Conwy is a great place to visit in North Wales to visit the smallest house in Britain, enjoy some seafood and see the castle.
Address: Rose Hill Street, Conwy, LL32 8AY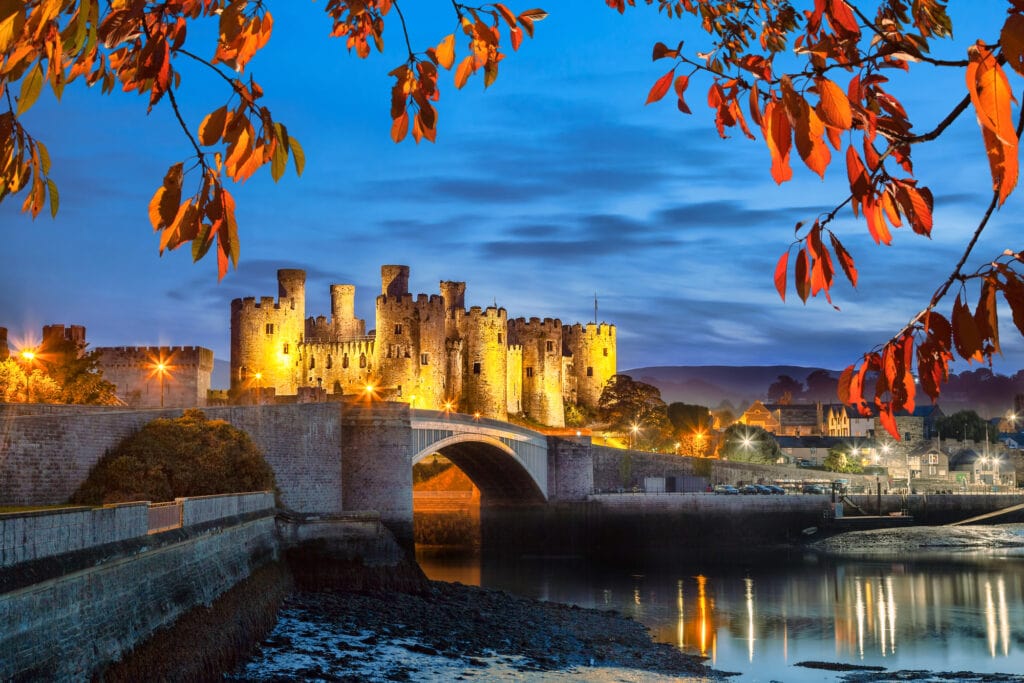 Beaumaris Castle
Heading to the Isle of Anglesey, one of the first towns to visit is Beaumaris to see the gorgeous pier and impressive castle. Although the castle was never finished, it is still remarkable to photograph with its layered walls and watered moat.
Address: Castle Street, Beaumaris, LL58 8AP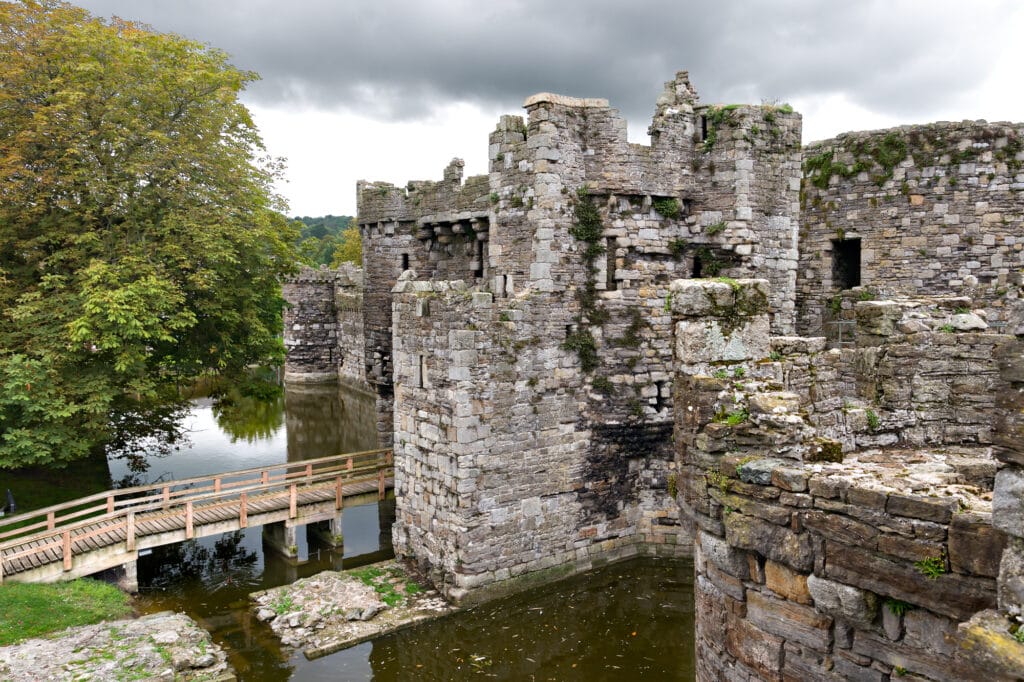 Harlech Castle
Harlech Castle was a military stronghold that can be seen from miles away with its high location and is another striking castle of Edward I's to gaze at especially with Snowdon, Wales's highest peak, in the distance. Take the floating footbridge to explore in detail.
Harlech Castle is also featured on Michael Ball's Wonderful Wales TV series.
Address: Harlech, LL46 2YH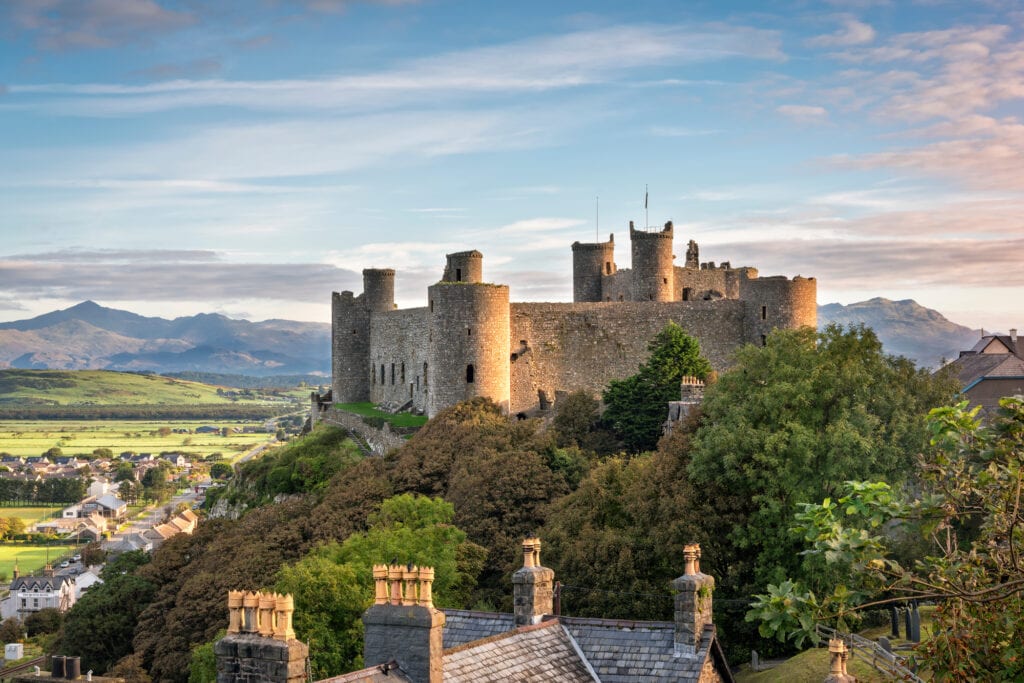 Caernarfon Castle
Last, but not least, the castle to make up the four castles of the UNESCO World Heritage Site is Caernarfon Castle and has certainly made an impact on British history.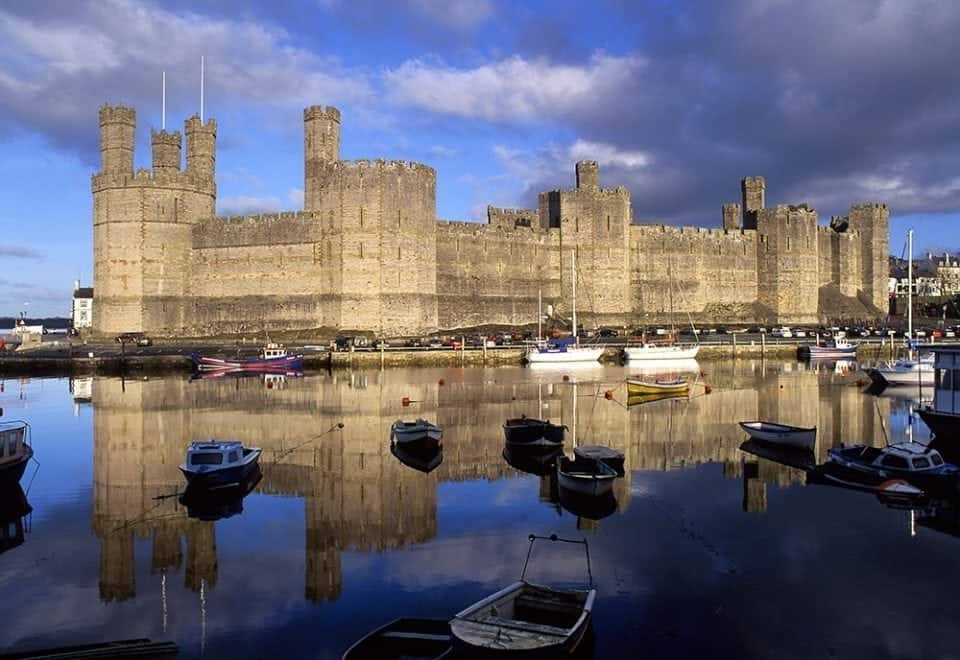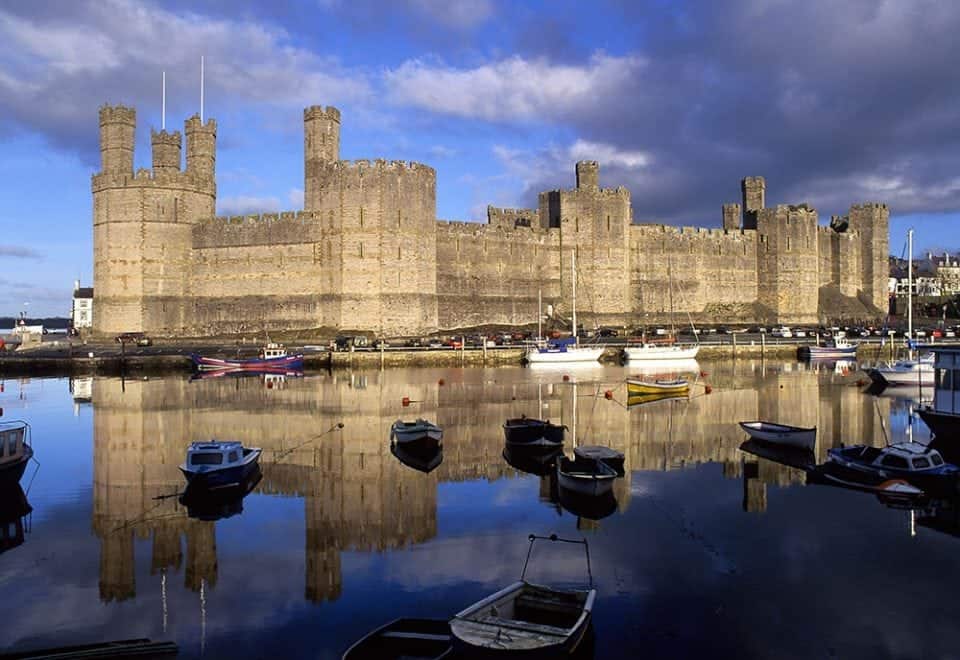 The two investitures of the Prince of Wales of the 20th century occurred here including that of Prince Charles. An investiture ceremony is when someone has been rewarded an honour and receives it from the Queen or a Member of the Royal Family. In 1969 the ceremony was held to acknowledge the new Prince of Wales, Prince Charles in the manner of a coronation.
Note: The English for this castle is sometimes known as Carnarvon Castle.
Address: Castle Ditch, Caernarfon, LL55 2AY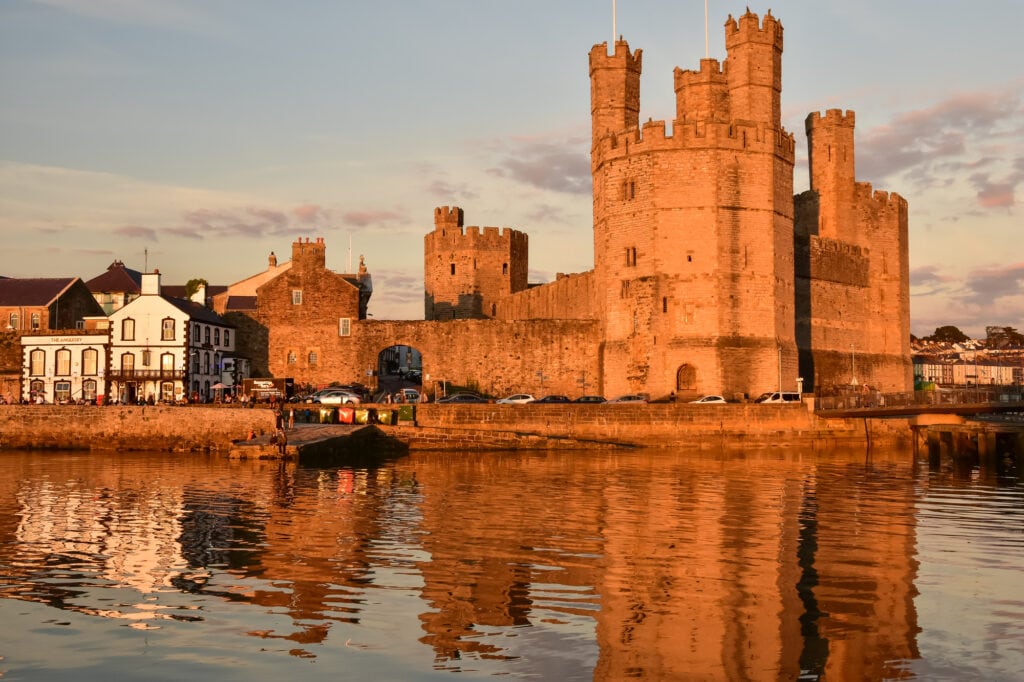 Gwrych Castle
In the county of Conwy in the very North of Wales is Gwyrch Castle overlooking the Irish Sea built in the 19th century as a country house. The castle has been used over the years as a place of refuge for Jewish people during WWII, and today to the celebrities who can't make it to Australia.
For 2020 and 2021, ITV's I'm A Celebrity … Get Me Out Of Here! Used Gwrych Castle as the home for the show that pushes celebrities to the limits for the entertainment of the British public.
There's Welsh folklore around Gwrych Castle about monsters and screams heard from the road which has caused superstitions among locals who avoid this road completely. There's also a possibility that the Vikings raided this area due to its proximity to Dublin and access via the Irish Sea.
Address: Llanddulas Road, Abergele, LL22 8ET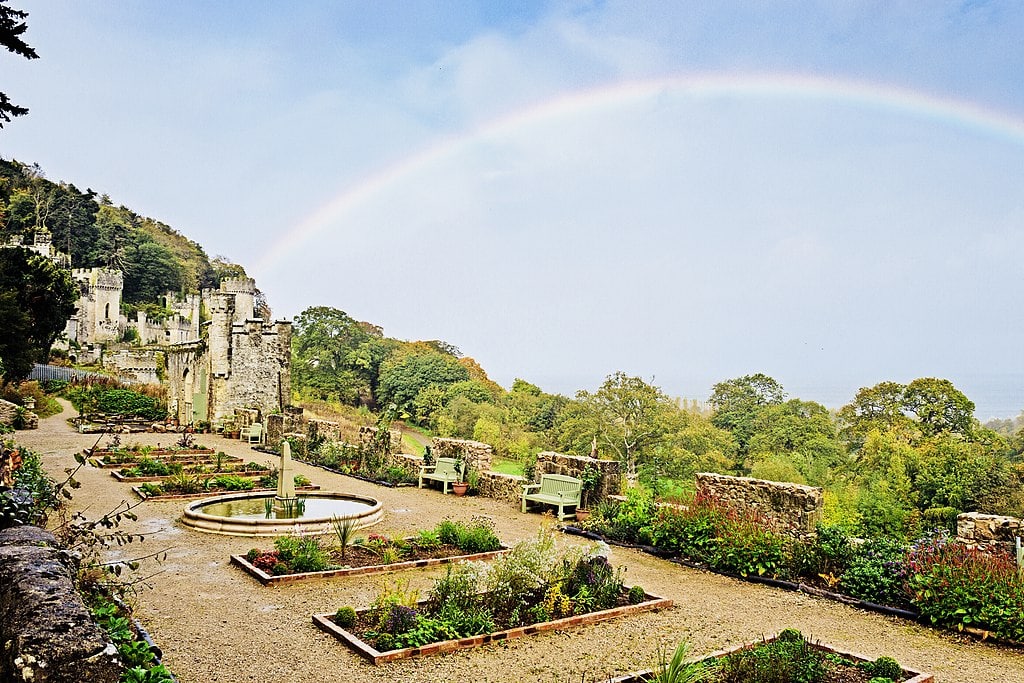 Wherever you travel in Wales, you'll be comforted to know that there is always a castle around the corner just waiting to impress you, educate you or scare you. These are 11 of the best castles in Wales to visit out of a total of 427 of them.
You might also like
27 Utterly awesome things to do in Wales
25 Traditional Welsh food dishes
North Wales Coastal Path the famous Pilgrim's Way Route
7 of the most beautiful beaches on the Pembrokeshire Coast Wales
27 Utterly awesome things to do in Wales
22 Historic Towns in Wales You Should Visit Now
38 Seaside towns in the UK to visit
47 Awe-Inspiring Historical places in the UK to visit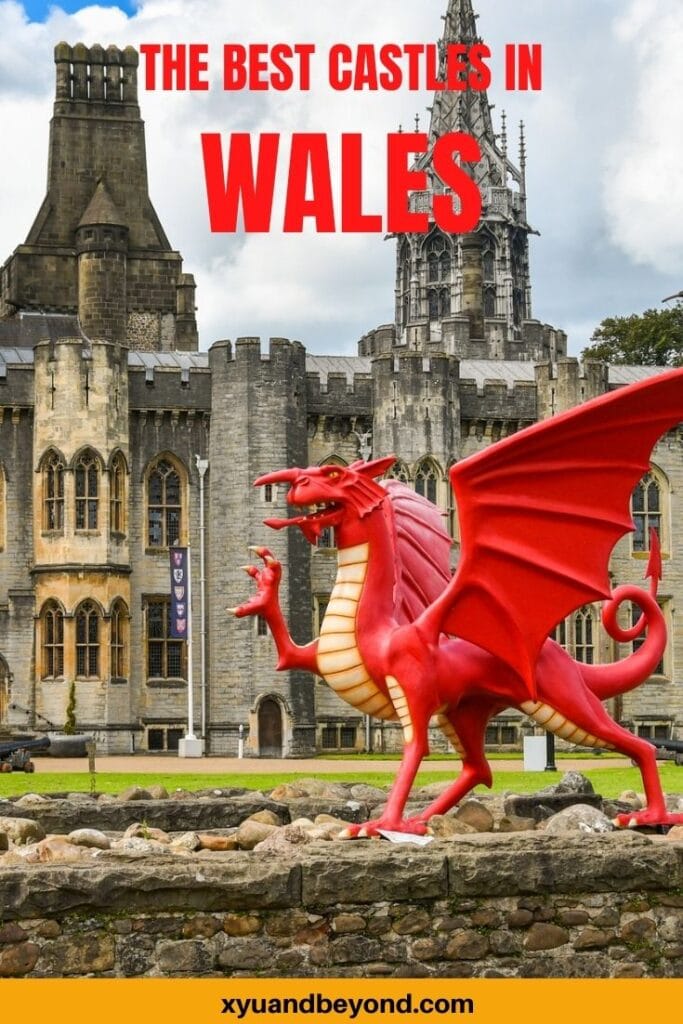 Author Bio
I'm Shireen and I run the travel blog The Happy Days Travels focusing on stories, food and books on travel. My favourite things to do while travelling is tasting local cuisines, meeting locals and travellers alike and reading books from a travel perspective.