Things to do in Campeche: Mexico's cotton candy city
The ex-pats all told us we must visit Campeche Mexico if we wanted a true Mexican-style staycation. They raved about the rainbow prettiness of Campeche's Old Town and its colonial-era architecture and guaranteed us that any visit to Campeche would have us wanting to move there. They were right we loved the area and found so many things to do in Campeche we wanted to spend longer than a few days.
Since we already lived near Merida a drive down the Yucatan Peninsula was an easy trip. We actually picked up a couple backpacking Mexico on the journey to Campeche and it was cool to hear their stories of travelling all over the country.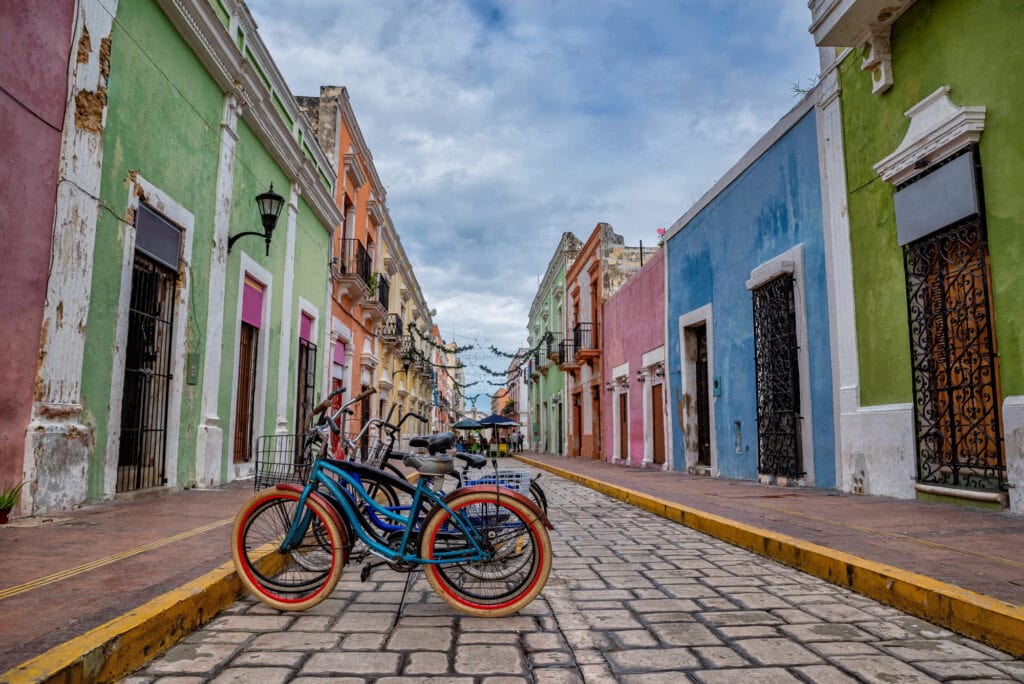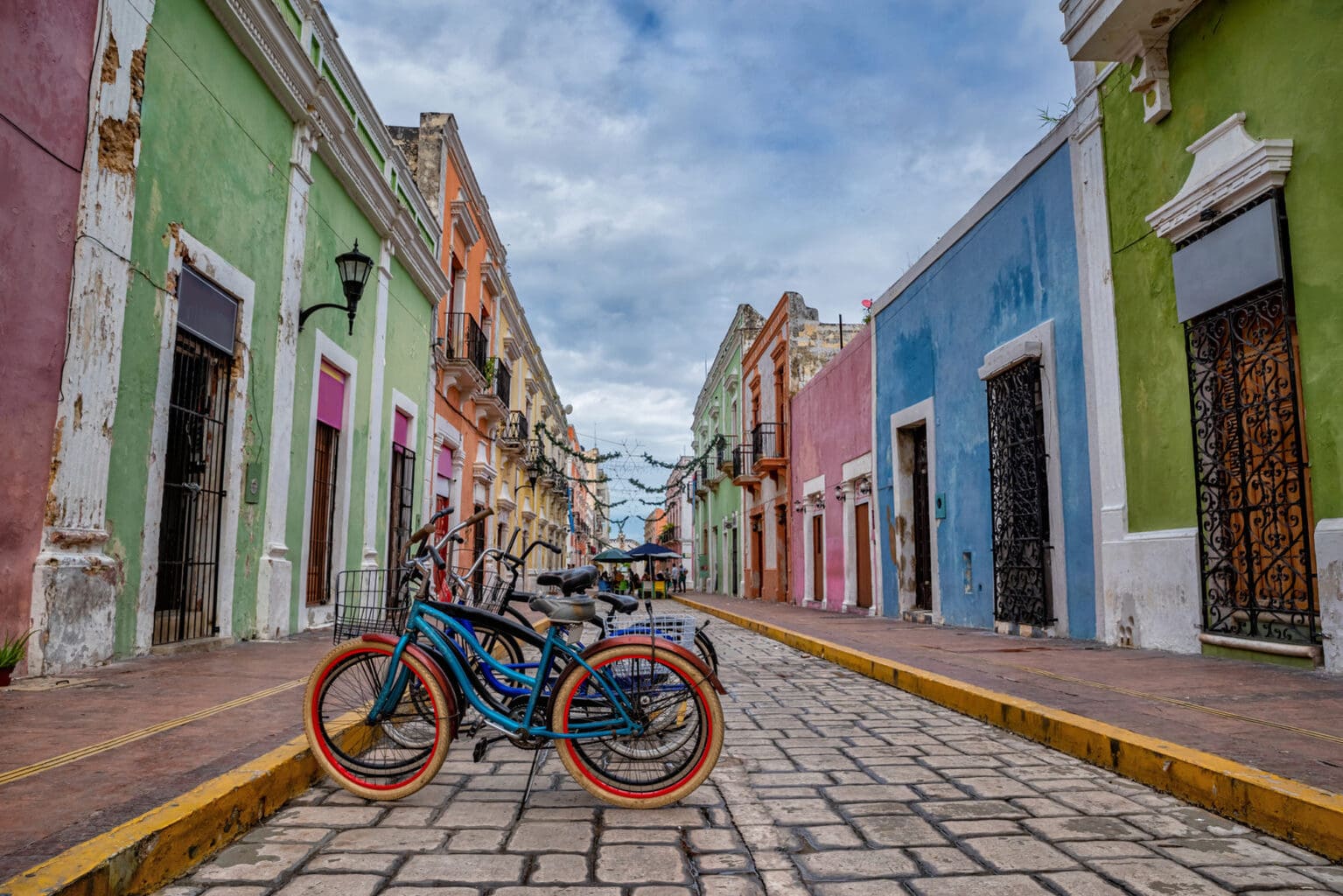 They were right Campeche is an absolutely stunning UNESCO World Heritage site that has surprisingly few tourists, they really don't know what they are missing. Surrounded by some major Mexican archaeological sites it's worth spending a few days in the area.
Xyuandbeyond is reader-supported. When you buy through links on our site, we may earn an affiliate commission. You can read my privacy policy here.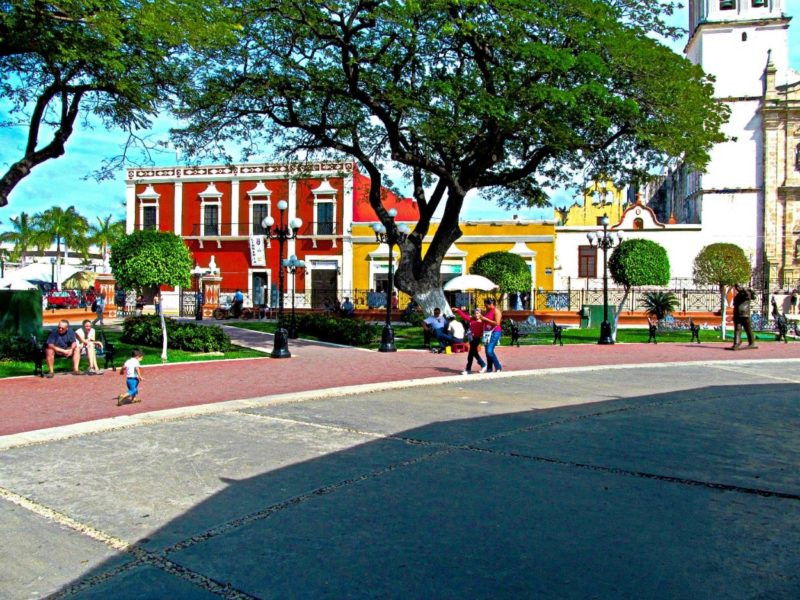 Mexico is full of fascinating sites, fabulous food and history and most people just don't appreciate all there is to know about Mexico here's an interesting fact about Mexico – did you know the earliest stone tools in Mexico date back 23,000 years?
Visit the secret hidden garden at Uxmal and be prepared for a surprise
Faqs about Campeche
How to get to Campeche
The State of Campeche is just down the Ruta Puuc from Merida to Campeche which took around 4 hours. We found Campeche itself to be relatively easy to drive although there are a lot of one-way narrow streets. Campeche is located in the state of Campeche on the Gulf of Mexico.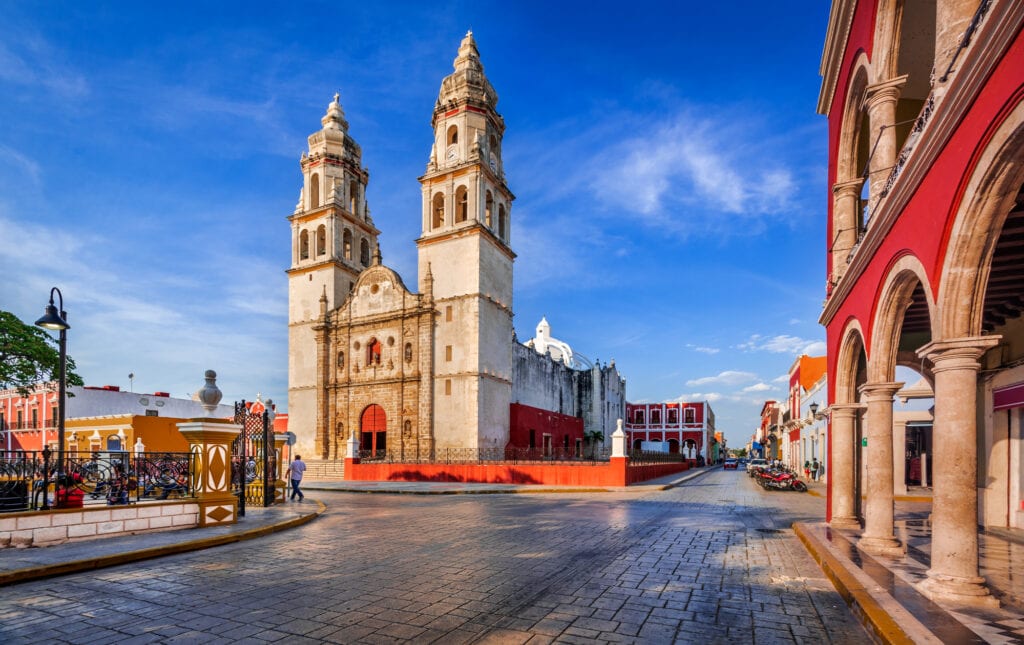 It's a really easy drive and if you want to know more about Renting a Car and Driving in Yucatan Kat's got you covered. Campeche is not only the state but also the state capital which was declared a Unesco world heritage site in 1999.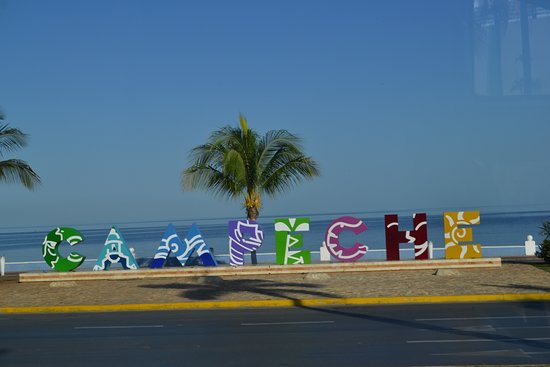 Campeche centre is Old Town this historic site earned a UNESCO designation because of the old town with its fortifications and outer walls designed to defend against Pirate attacks.
The main wall itself came about a little too late to actually do any good. The fortified baluartes (bastions) have survived though and can be seen around the Old Town area.
Old Town has over 2000 historic protected buildings and a beautiful Malecon along the seaside where the citizens stroll in the evening.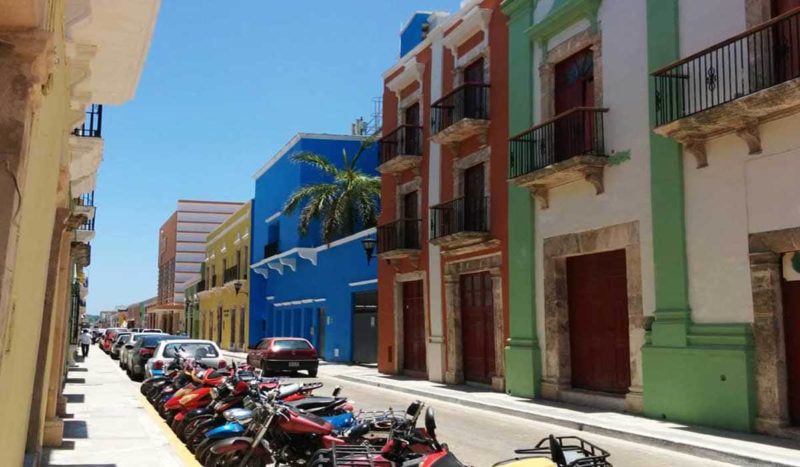 Mexico's magical little people the aluxes can bring you bad or good luck
Things to do in Campeche City
The beautiful streets of Old Town are a fabulous pastel-coloured sorbet. The old cobblestones and simply perfect little shops make for wandering and lusting after cool stuff a must-do.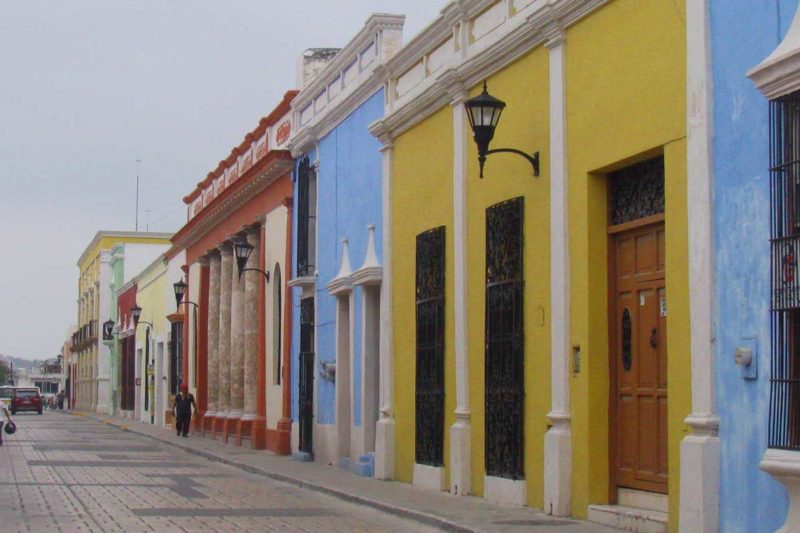 Take a peek into some of these colonial beauties and marvel at the amazingly detailed plaster ceilings and stunning staircases.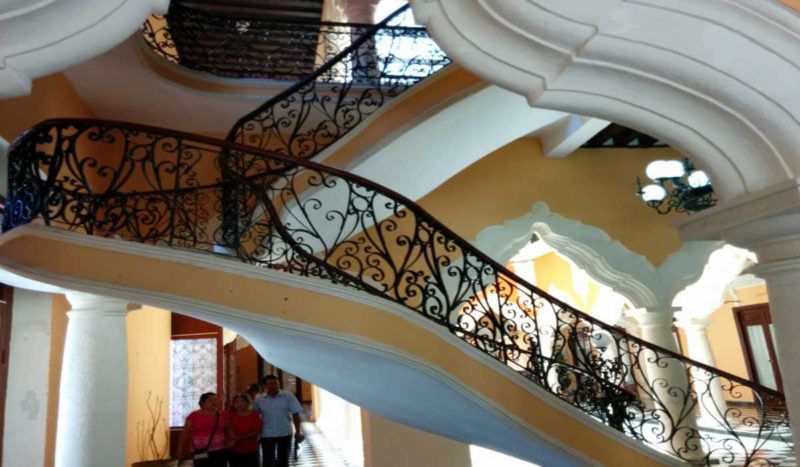 Independence Plaza
Although the exact date of when the Plaza de la Independencia was built is not known, it was likely to have been late in 1540 or early in 1541, with the founding of the town. This is a beautiful square with lots of activities taking place.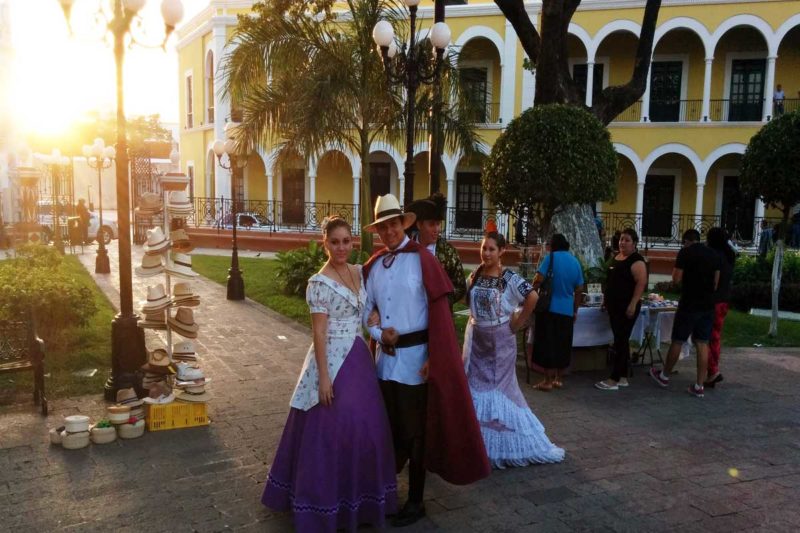 When we visited there was a political protest and costumed actors taking a stroll around the Plaza and entertaining the visitors and people of Campeche. It was a lovely chance to walk around in the cooler part of the evening and just enjoy the atmosphere.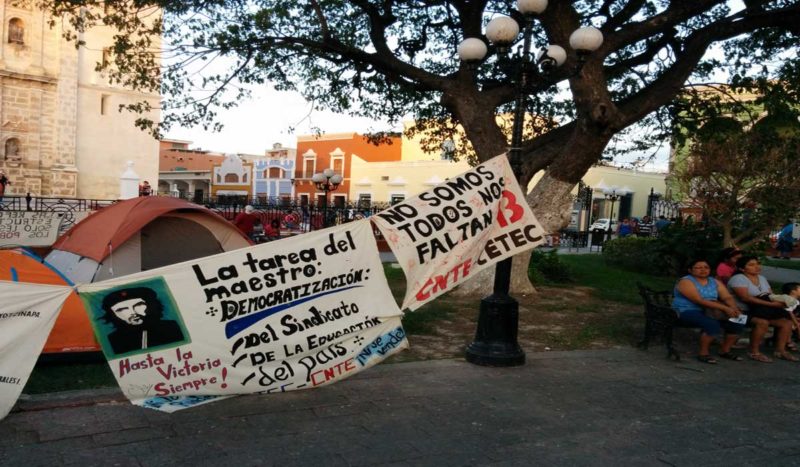 How to visit the Dzbilchaltun Cenote near Merida
The Catedral de Nuestra Señora de la Purísima Concepción
The Cathedral hides a very austere interior with an outstanding baroque façade.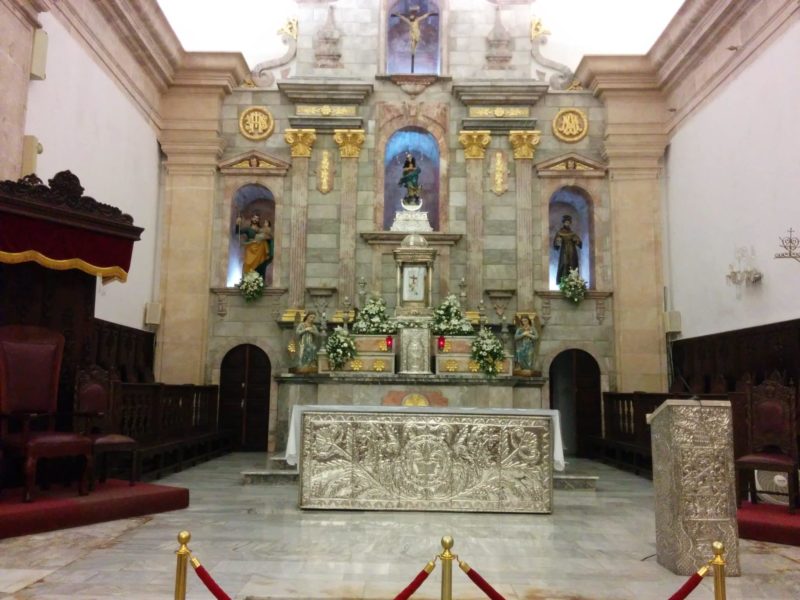 A beautiful limestone building it stands quite tall and on the inside are some remarkable statues of sacred art, highlighting a monument called "The Holy Burial" that represents a coffin with the figure of Christ.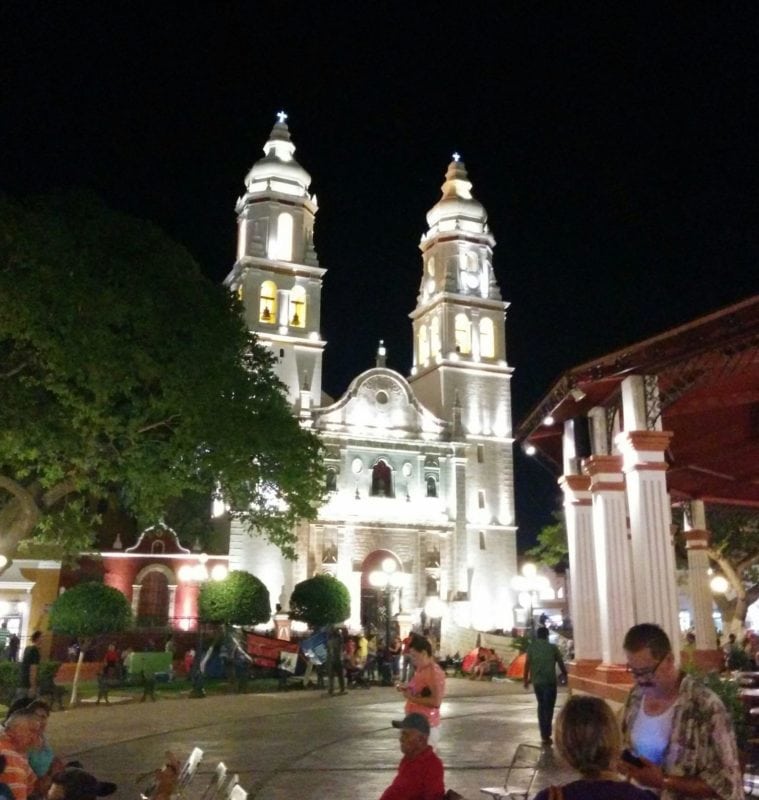 Street art of Campeche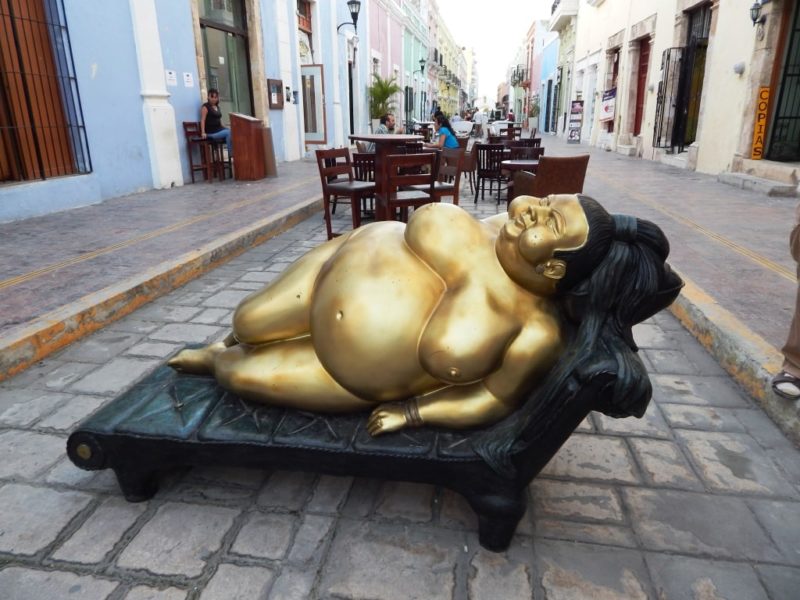 You won't find a ton of street art in Campeche but you will see some incredible statues and of course the candy-coloured houses.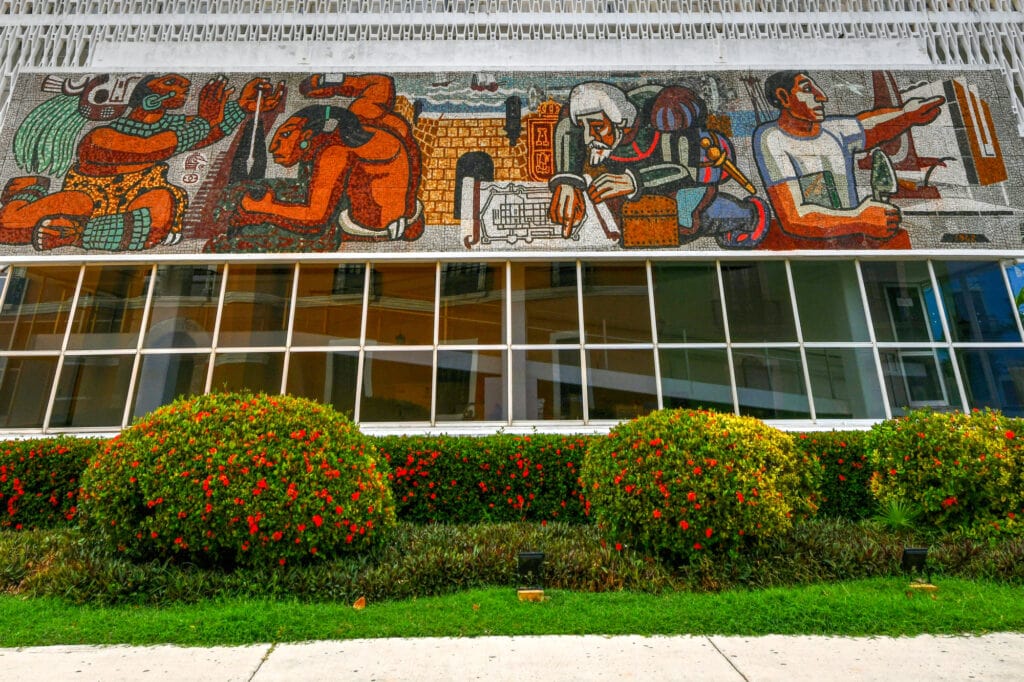 You will see some murals dedicated to the Mayan culture as in the photo above which is from the Secretary of Government of the State of Campeche Building.
Museo de la Arquitectura Maya
The museum concentrates on areas around the state of Campeche and the various Mayan sites and styles of the region. Four of the architectural regions of the Mayan culture, include Peten Norte, Rio Bec, Chenes and Puuc. There are thousands of Mayan treasures here with graphic representations and inscriptions in English. There are grave goods from Calakmul and a stunning Mask of the god K'Wiil from Villamar.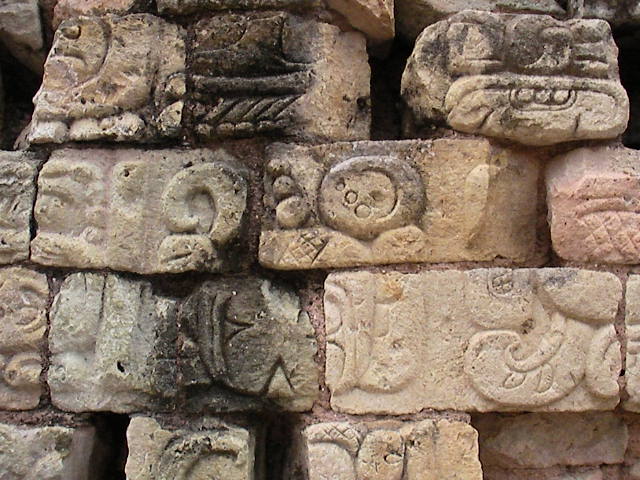 Casa 6 Historic Museum
Right across the street from the Cathedral sits Casa 6 a small museum that was an upper-class house before the revolution. There are 5 rooms but 2 of which are a gift shop and library. Not exactly the most edifying of museums but entry is only a couple of bucks.

Museo de la Ciudad
This is a free museum right on the main square and it showcases the city's history from the Mayans through to Campeche role in the fight for Mexican Independence. There is a pretty cool exhibit that showcases a room on a pirate ship, a great exhibit of period clothes and weapons. All the signs are in Spanish and in English.
A stroll around Mexico Campeche City Walls
Campeche's huge defensive walls reach 26 ft high and surround the entire city centre. There are 8 bastions which are basically lookout points with several views and four massive doorways. Construction took 18 years and was finally completed (albeit too late) by 1704.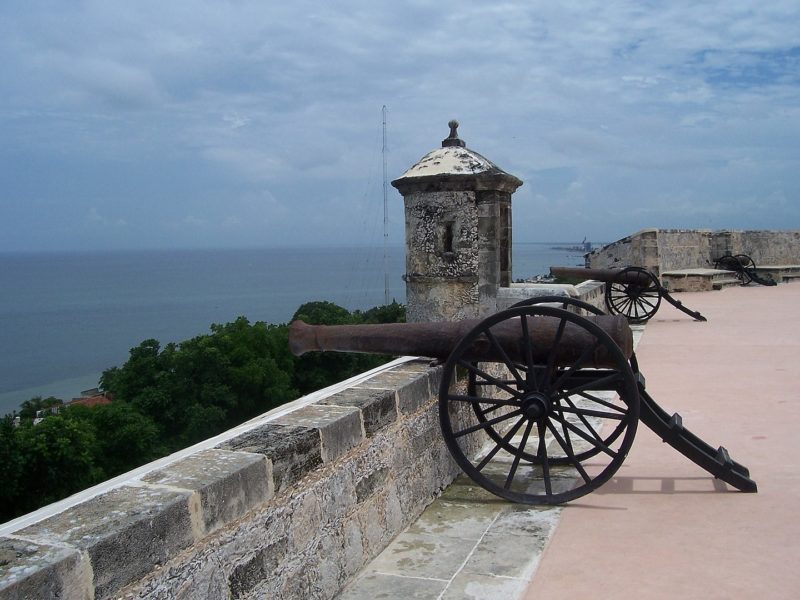 Beaches in Campeche Mexico
In total there are 14 beaches and the most popular is Playa Sabancuy. Long straight beaches dominate the coast of Campeche. The beaches are great places to relax but beware many do not have any shade so come prepared for the scorching sun.
The Earth Door – Puerta de Tierra
The Earth Door or Puerta de Tierra makes for a stunning entrance gate to the City. It is located on the southwestern wall and has some elaborate doors and beside the gate sits a small museum. The Museum is called the Sitio en Baluarte. Inside there is a replica pirate ship and there is a light and sound show hosted on Saturday nights at a cost of around $2.50 US.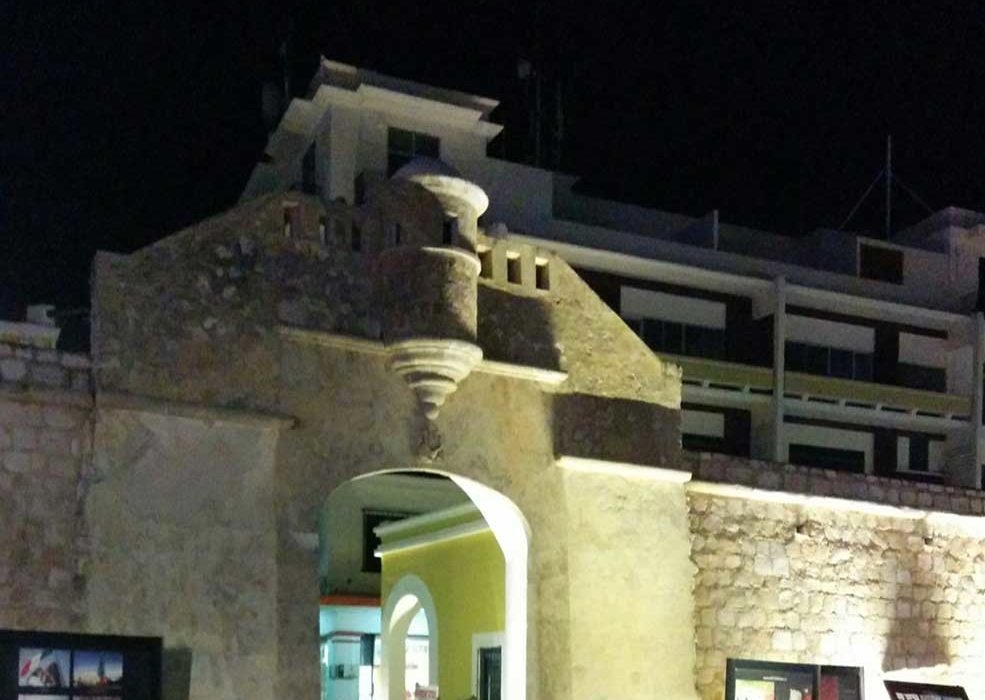 You can buy a ticket for the walls for around $5.00US and walk around almost all of the walls surrounding the city.
Centro Cultural "El Palacio" & Museo de Fortificaciones, Comercio y Navegación
This is true maritime education, with the Cultural Centre, which is on the northern side of the main plaza. The museum details the seagoing culture of Campeche. From the fortifications to shipping, and ocean navigation The Cultural Center is on the northern side of the main plaza and is well worth visiting. Many rooms throughout the wide structure combine to create an educational museum. Information about the fortifications, commerce, and ocean navigation are all within. There are really good guided tours and if you have a sailor in the family as I do, the ship replicas could keep them entranced for hours.
Jardin Botanico Xmuch'haltun
A tiny little gem of a botanic garden is found on the northeast corner of the walls. Entry is only the equivalent of $2.50 US and the garden features native plant species and a tiny little fish pond.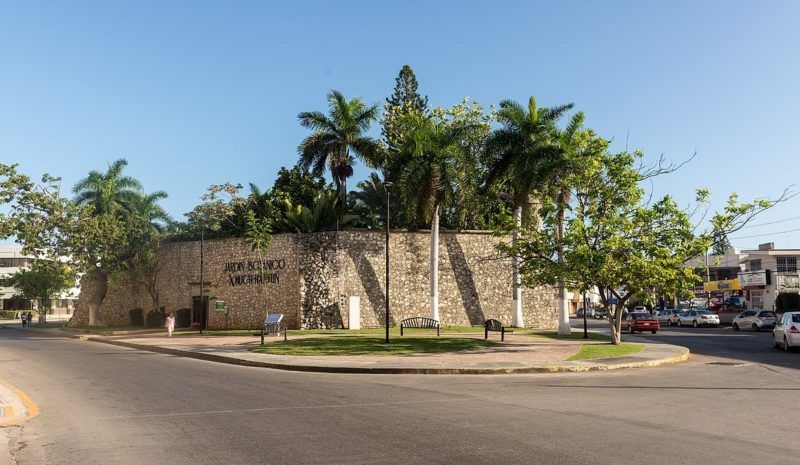 Where to eat in Campeche
So while there are lots of choices when it comes to Campeche food we tried some of those recommended by Trip Advisor and a few others.
Many of the restaurants and cafes can be found on Calle 59. It is a pedestrian area and the little cafes and restaurants set out tables on the road and serve a variety of food and drink. A great place to people watch there is plenty of choices. I would not say however that Campeche is a foodie paradise, it isn't.
Marganzo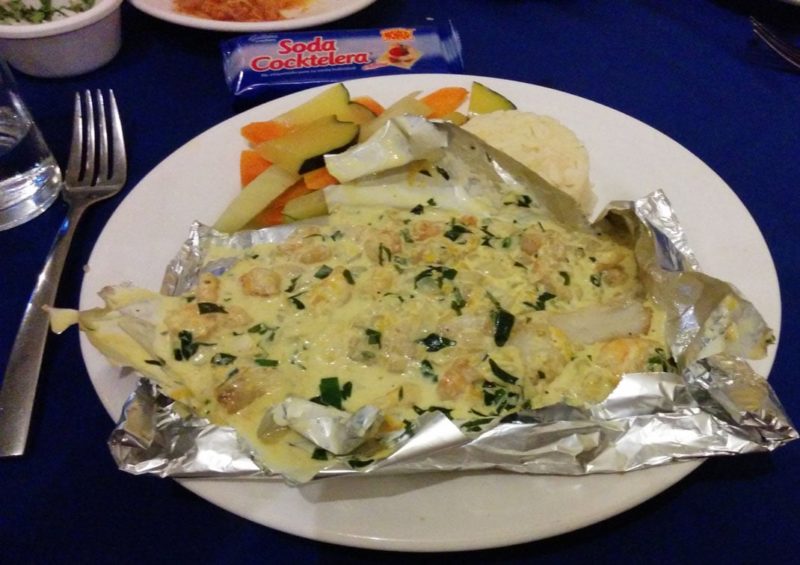 This place came highly recommended by Lonely Planet but we were very disappointed. It gets lots of bus tours and is always crowded. Supposedly the place for seafood in Campeche the fish we had was pretty tasteless and unappetizing looking, the shrimp cocktail was swimming in water and it just wasn't a great meal and the price was really overinflated.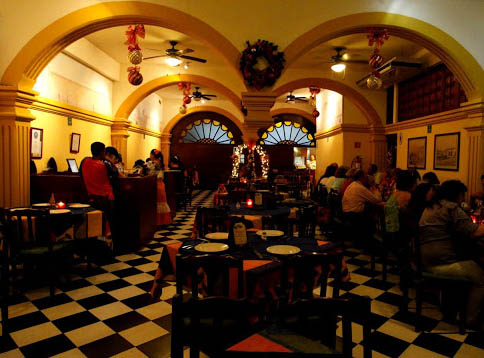 La Parroquia
This was a stop we made for lunch it's where they say the locals go for inexpensive traditional Yucatan foods. We decided we were going to try the Campeche specials of Pan de Cazón which is not shark as you would think but a fish known as the Dog Fish. It is layers of tortillas with cooked fish, black beans that are refried and a sauce of tomato over the entire stack. Can't say it smelled very appetizing and the taste was even worse.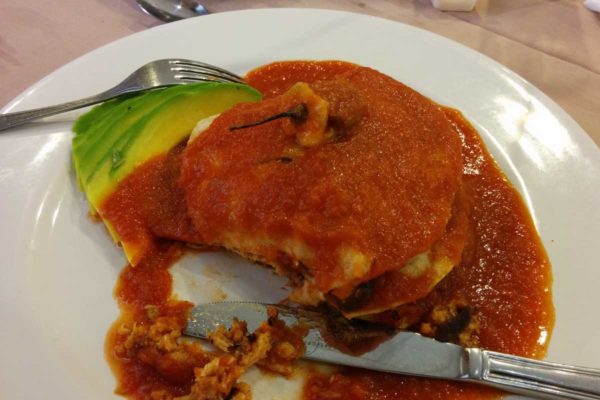 I had Queso Relleno which is the star dish of Yucatan Cuisine. Merging the Dutch culture with Mexican it takes a hollowed-out Edam cheese rind which is filled with spiced pork mince. This is then coated with a sort of Bechamel sauce and finally, the whole dish is drenched with tomato sauce. The white sauce is known in the Yucatan as Kol or K'ool. It is made by boiling the meat and using the water left after the meat is removed. The sauce is rather tasteless but some add a Yucatan chile to the sauce as xcatik which is often used in Tamal making.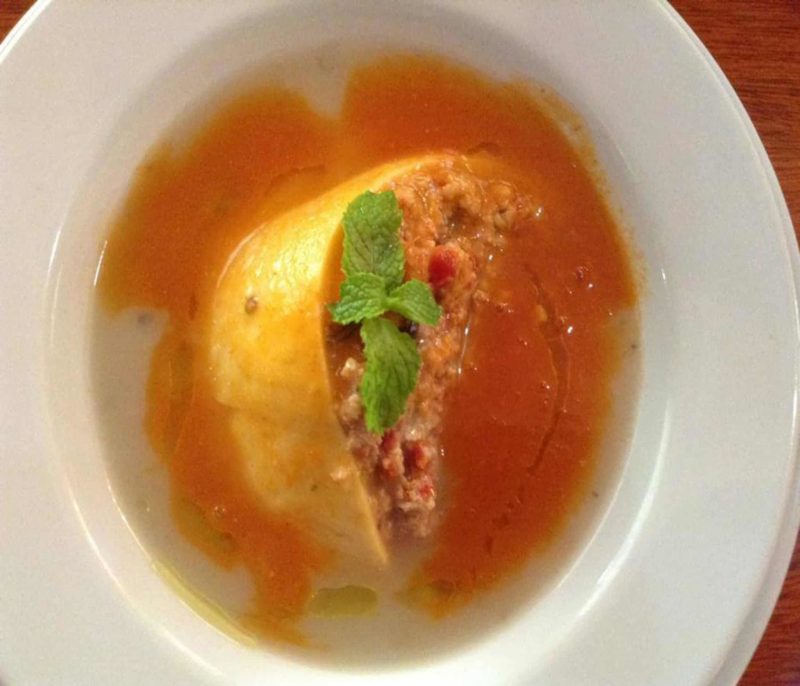 My favourite dish though was Camarones al Coco which is basically coconut shrimp where the shrimp is coated in shredded coconut and bread crumbs. It is served with a dipping salsa which was incredibly hot but delicious.
Interested in learning more about the food of the Yucatan? Yucatecan cuisine is very different from the rest of Mexico and street food here is not just your average taco why not try some marquesitas or elotes. Drinks here are known as refrescos and bebidas and there is a great deal to choose from so learn your horchata from your tequila with this guide to Mexican drinks.
Where to stay in Campeche – Campeche hotels
Casa Don Gustavo
A lovely boutique hotel the Casa Don Gustavo restaurant serves a nice selection of regional dishes. I adored the Sopa de Lima and the panuchos and hubs had his favourite tamales and panuchos. If you want to learn to cook authentic Yucatan tamales you can find a recipe and full instructions in this article How to Make the Best authentic Yucatan Tamales.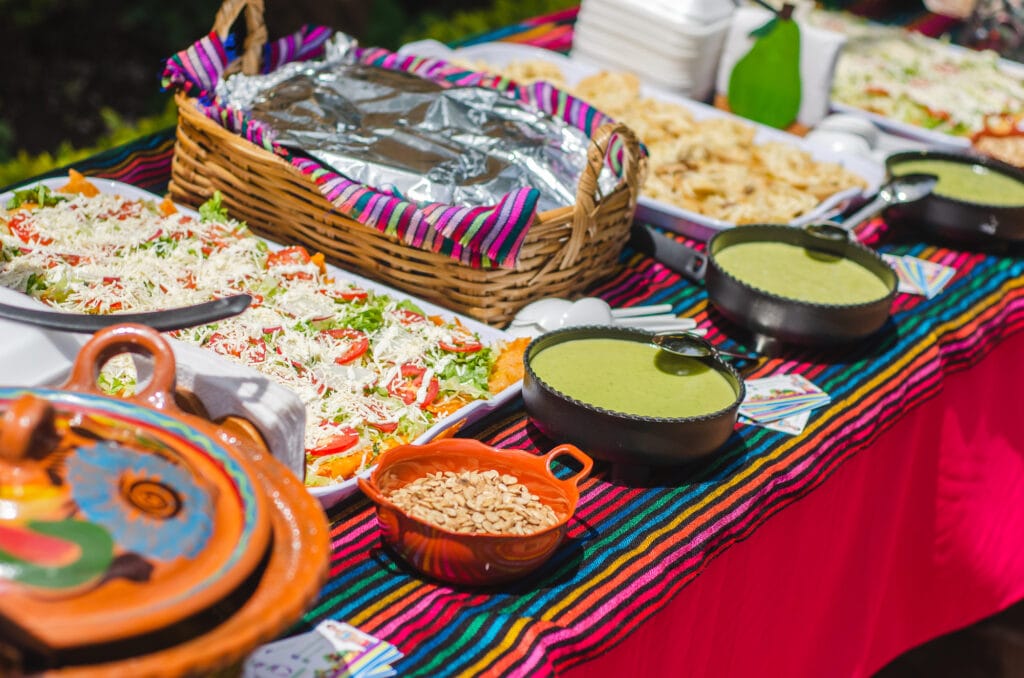 In Campeche, the restaurants automatically add in a 15% gratuity/propina. So check your bill before you leave a tip.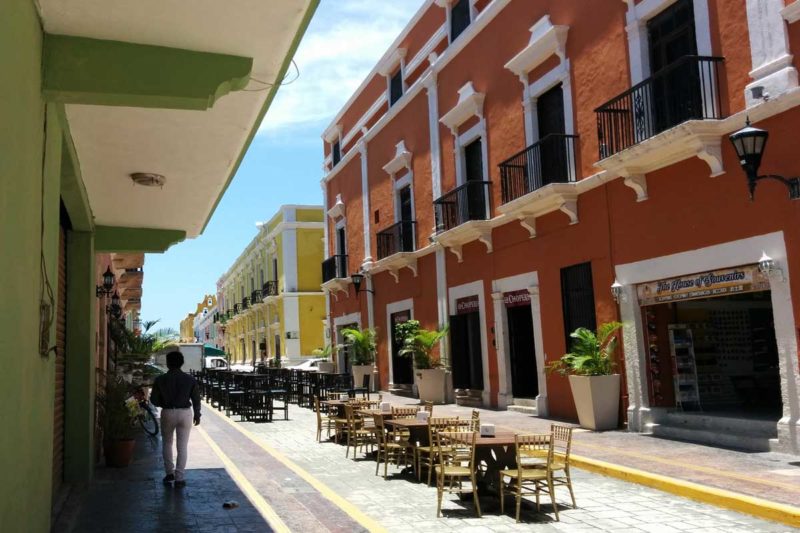 Hotel Francis Drake is a mid-priced, centrally situated 24-room hotel with large, air-conditioned rooms and a restaurant.
The popular, 40-bed Monkey Hostel, located on the western edge of Plaza Principal, has balconies overlooking the street and a fun rooftop bar with unbeatable views over the square and the cathedral.
The historic, 24-room Hotel Castelmar, painted a striking sky-blue, has a swimming pool with deck, a shady terrace and modern conveniences like wifi.
If you are into Luxury then you may want to stay at a true colonial hacienda the best two in Campeche are Uayamón and Puerta Campeche, part of Luxury Collection) are waiting for you in Campeche. Its facilities, decoration and location are awesome.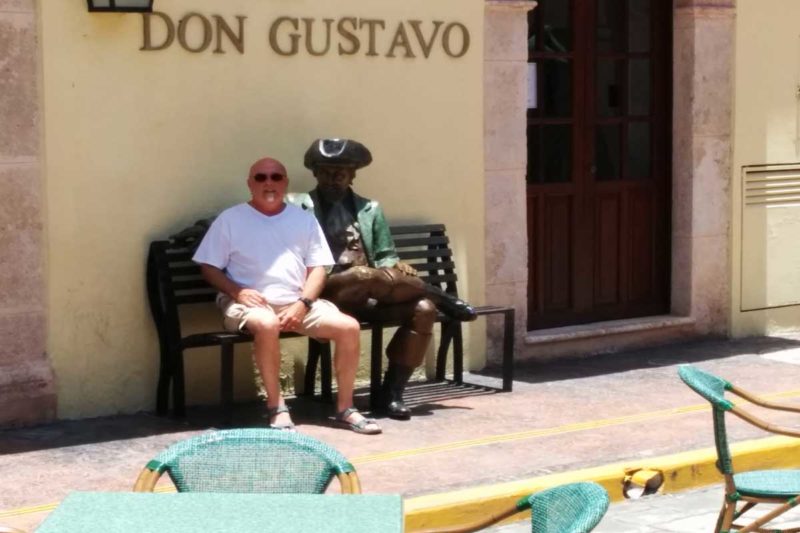 We loved the Hotel Boutique Casa Don Gustavo and would recommend it not only for the rooms but also the restaurant and it has a pool.
Campeche Beaches
Campeche is a city on the water but the beaches are not ideal for swimming or water sports. Head to the little fishing village of Lerma which is only a few kilometres away and look for Playa Bonita.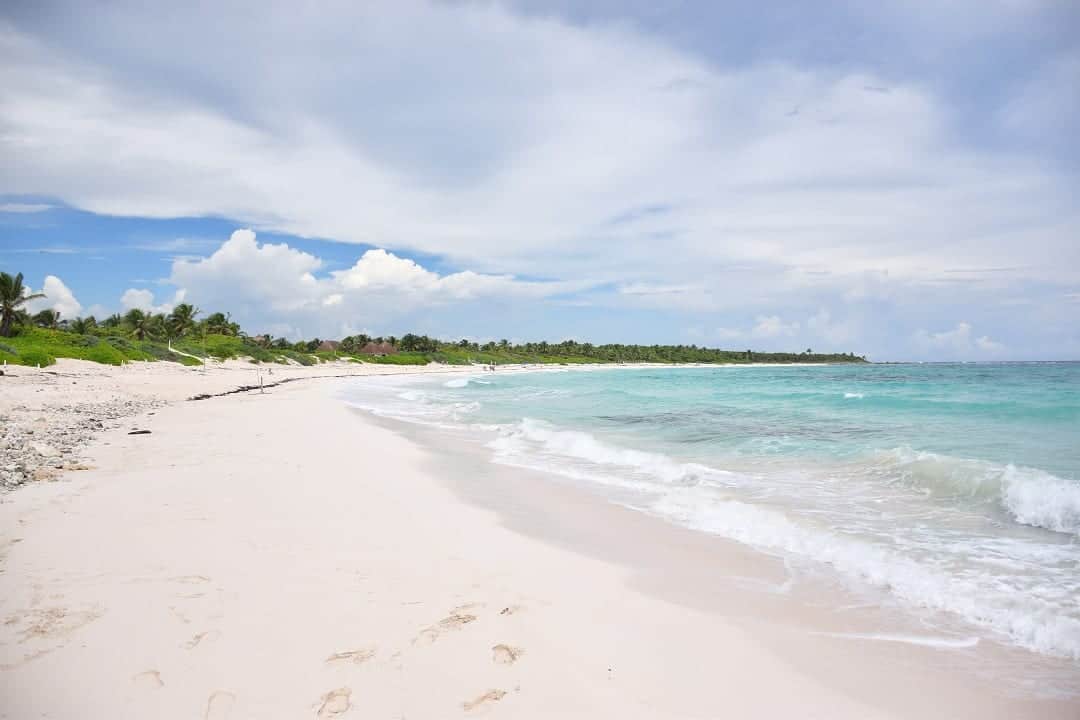 The truth is there is not a lot in Campeche for tourists but it is a lovely peaceful city to visit if a bit overpriced. The streets in the central old town are really pretty with all their candy colours and the citizens of Campeche are truly a friendly bunch and as helpful as can be.
Here are some more articles on Mexico in particular the Yucatan where we lived for a few years.
Merida tours the best day trips from Merida Mexico
Top 10 tips for living in the Yucatan Mexico gulfside
14 Must Do's in Merida | Things to do in Merida the safest city in Mexico
Dzibilchaltun a Cenote and Mayan Site in Merida Mexico
The Phenomenal Mayan Ruins of Uxmal
Mysterious Aluxes the little people of Mexico Mayan Legends
The secret Templo de los Falos at Uxmal Mexico
Have you visited Campeche yet?