Wales coastal path: Discover the Wales Coast Path
Wales was the first country ever to design and build a footpath along its entire coastline. This 870-mile-long Coastal path runs from Queensferry in the north to Chepstow in the South. Exploring this Coastal path is a real adventure from spotting whales and dolphins to miniature railways, lighthouses, ancient ruins and some of the most amazing pubs, cafes and bistros along the way.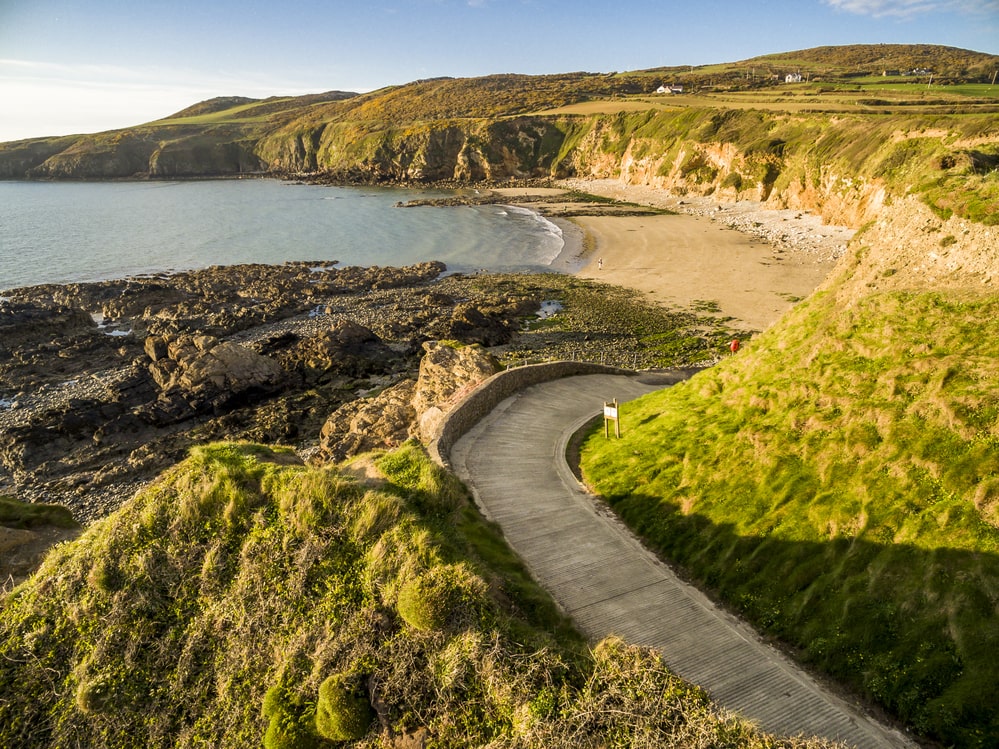 The Wales Coast Path is not designated as an Area of Outstanding Natural Beauty (AONB) itself, but it passes through several areas that do hold AONB status due to their exceptional natural landscapes and conservation value.
The Wales Coast Path that runs from the English Border up to Anglesey is very different from the famous Llyn Peninsula and Pembrokeshire coast path but don't underestimate the beauty of this area and its walking trails. The Wales Coast Path route follows a magnificent coastline, from the border with England, near Chester, and Chepstow, South Wales .It's full of sandy beaches, and limestone headlands and it passes into Snowdonia where you can walk the mountains of the Carneddau.
The diverse Landscape of the South Wales/Severn Estuary Home to the three sprawling cities of Cardiff, Newport and Swansea, the South Wales Coast Path/Severn Estuary marks the end of The Wales Coast Path on the south coast.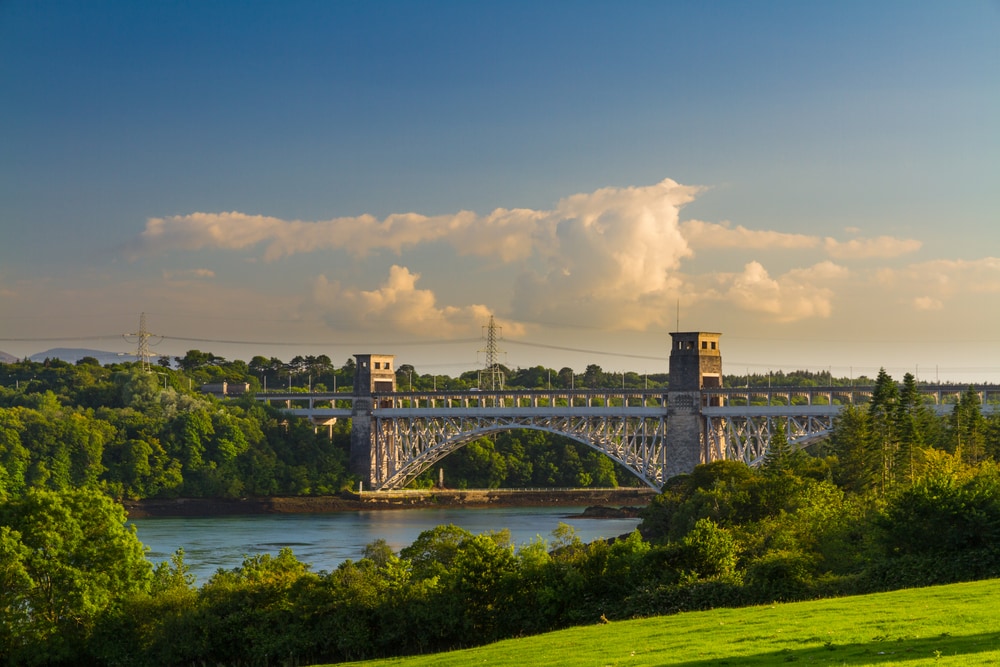 For a history lover, there are castles, ancient copper mines, holy wells, and prehistoric dykes to explore. In the 12th century, Pope Callixtus II declared that three pilgrimages to Bardsey Island gained the same spiritual benefits as a single journey to Rome. The Wales Coastal Path as it has become known as is a 75-mile along the northern coast of Wales to Anglesey.
Decorated with three massive and famous castles that immediately grab tourists' attention the Wales Coastal Route is peppered with Welsh treasures. Bardsey is a remote island off the Llŷn Peninsula in North Wales that still attracts pilgrims into the 21st century, and the journey there along the main medieval route (the Wales coastal path) is a wonderful trip through some of the most jaw-dropping landscapes in the UK, with some beautiful ancient churches to discover.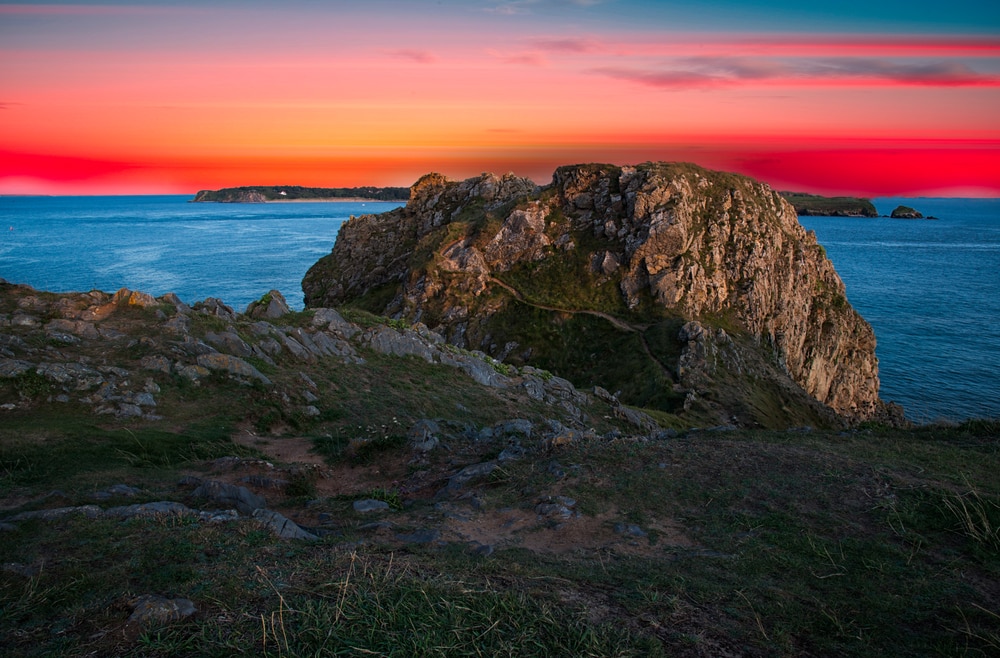 While the Wales Coast Path is not entirely an AONB, the fact that it passes through or near several designated areas makes it an extraordinary journey through some of the most beautiful and ecologically significant coastal landscapes in the UK.
The Wales Coast Path comprises several stunning sections, including the Pembrokeshire Coast Path, Anglesey Coastal Path, and Ceredigion Coast Path. Each of these paths offers its unique attractions and breathtaking sites. Here are some of the best sites along these coastal paths.
Since you are in North Wales you mustn't miss Snowdonia National Park it is one of Wales most incredible treasures you can read all about Tasha's camping trip in Snowdonia's Natural Beauty.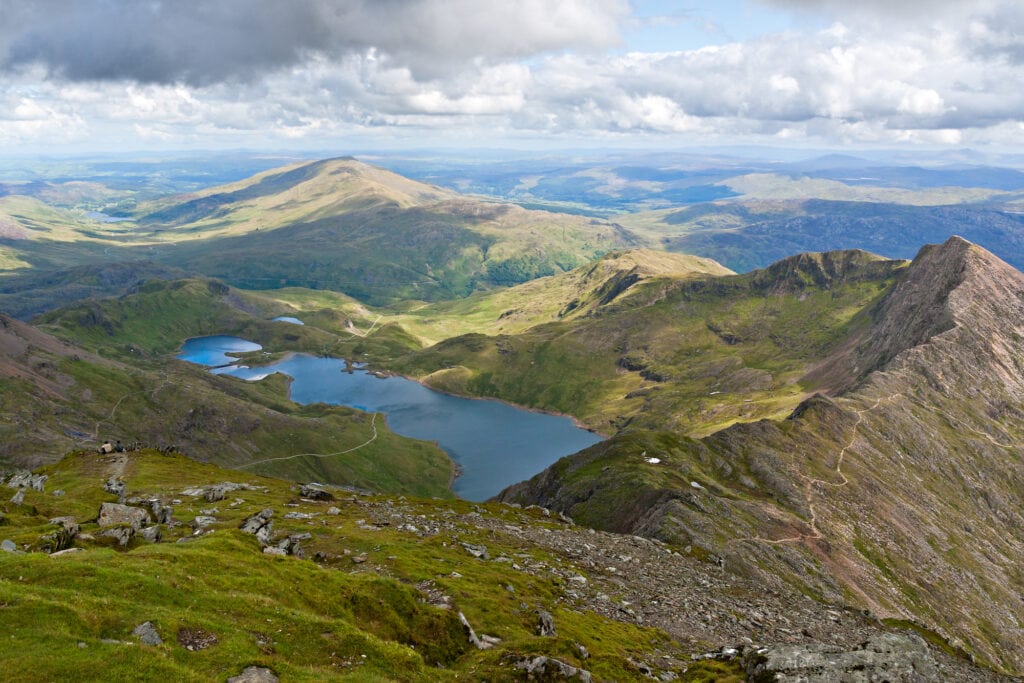 Xyuandbeyond is reader-supported. When you buy through links on our site, we may earn an affiliate commission. You can read my privacy policy here.
Walk the Wales coast path
Pembrokeshire Coast National Park – Pembrokeshire Coast Path
The Pembrokeshire Coast Path, which forms a significant portion of the Wales Coast Path, traverses the Pembrokeshire Coast National Park. This area is designated as an AONB and offers some of the most stunning coastal scenery in the UK. With its rugged cliffs, sandy beaches, and diverse wildlife, it's a haven for nature lovers and outdoor enthusiasts. You can explore gems like St. Davids Head, Ramsey Island, and Barafundle Bay, frequently ranked among the world's best beaches.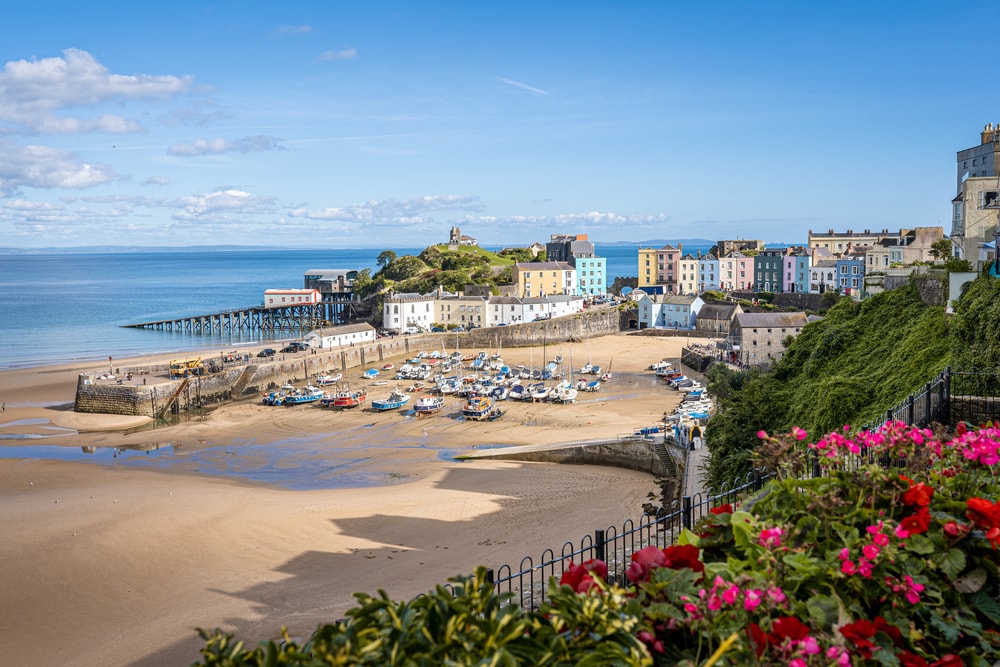 St. Davids Head
St. Davids Head is a dramatic headland on the Pembrokeshire Coast, featuring rugged cliffs and panoramic views of the sea. It's also home to the historic St. Non's Chapel and Well, a place of pilgrimage.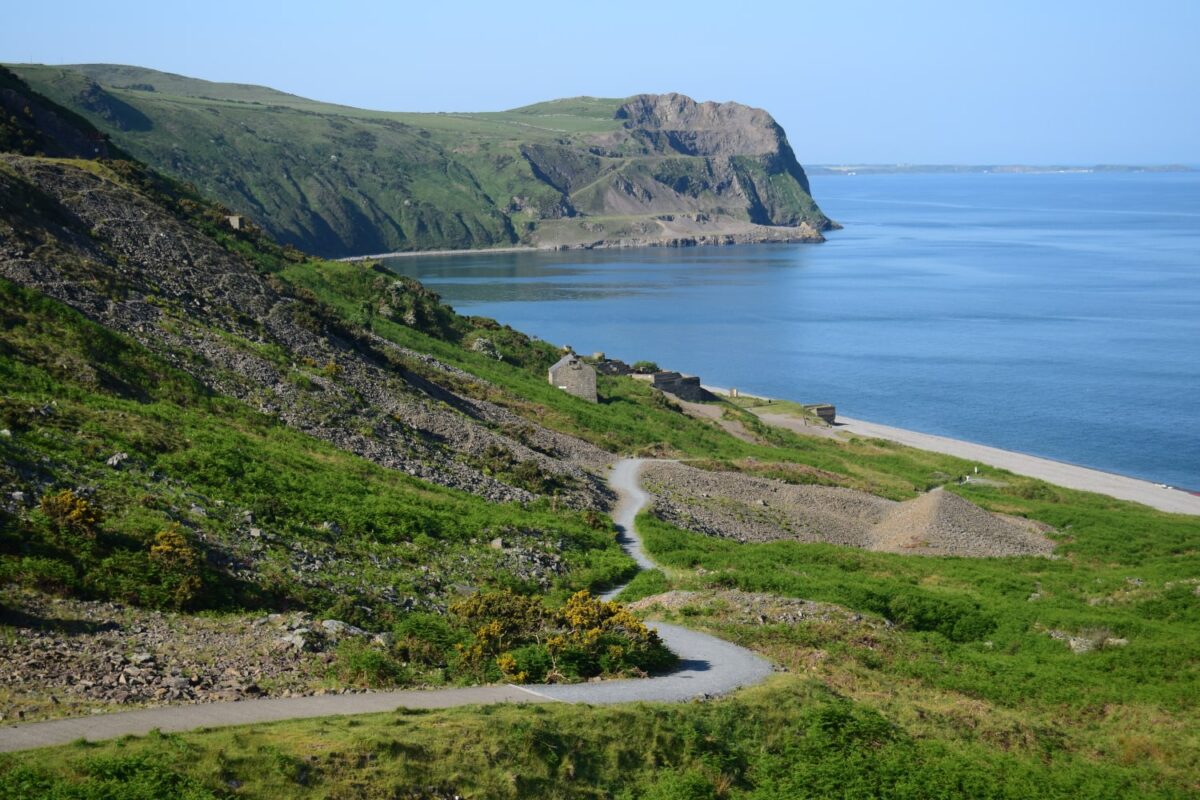 Barafundle Bay
Considered one of the most beautiful beaches in the UK, Barafundle Bay boasts golden sands and crystal-clear waters. Accessible by foot from Stackpole Quay, it's a true hidden gem.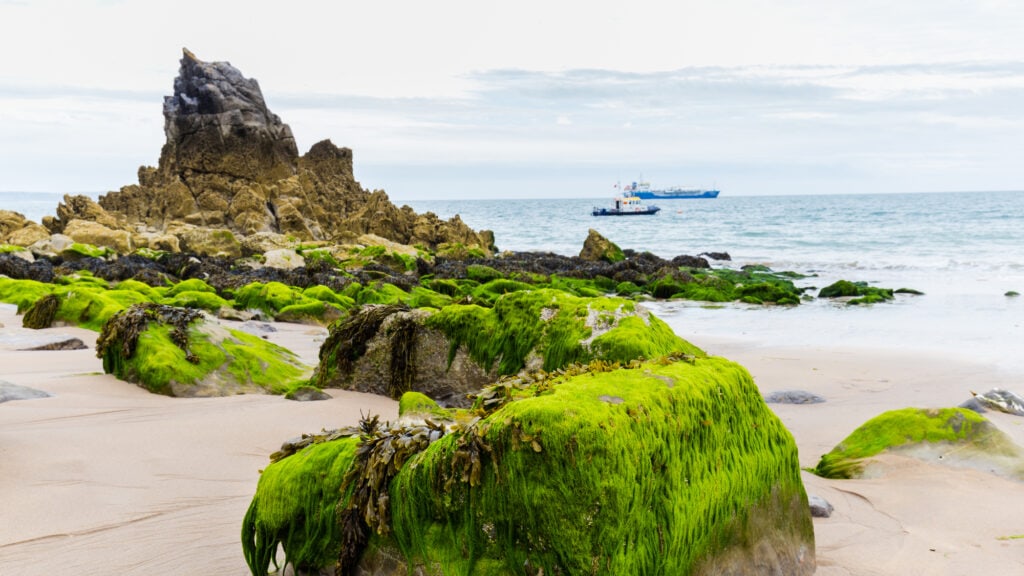 Skomer Island
Though not directly on the path, Skomer Island is a must visit site that is accessible by boat. It's worth a visit for its rich wildlife, including the adorable puffins and other seabirds. Boat trips can be arranged from Martin's Haven.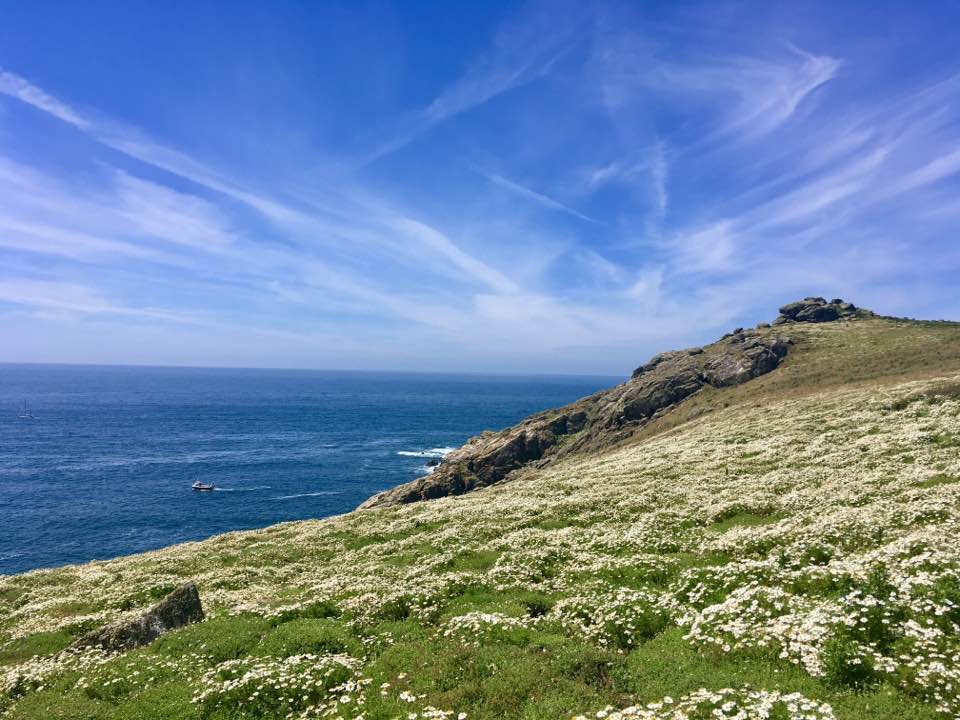 Marloes Sands
Marloes Sands is a stunning beach surrounded by cliffs and rock formations. It's a great place for coastal walks and observing marine life.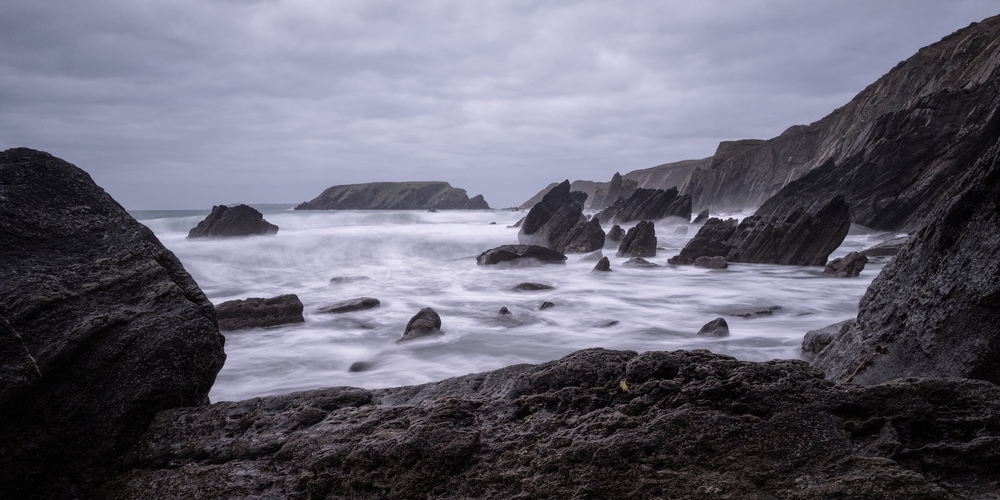 Anglesey Coastal Path
The Anglesey Coastal Path, another section of the Wales Coast Path, travels through the Anglesey Area of Outstanding Natural Beauty. The Isle of Anglesey coastal path is on an island known for its beautiful coastline, sandy bays, and rich history.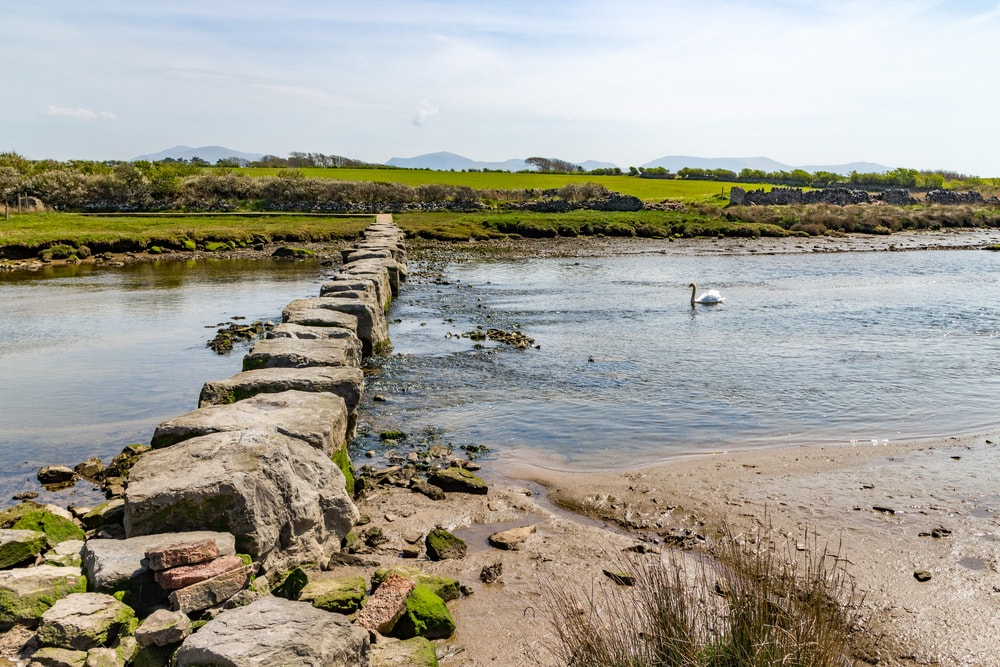 Off the northwest coast of Wales is Anglesey Island which has long been associated with the Druids. There are many menhirs or rock tombs, cromlechs and megalithic monuments on Anglesey and for walkers, there is some spectacular scenery and wildlife to be seen. Be sure to keep your eyes peeled for the dolphins off shore.
Beaumaris
Start your journey in this picturesque town, known for its medieval castle and charming streets and ancient medieval Castle.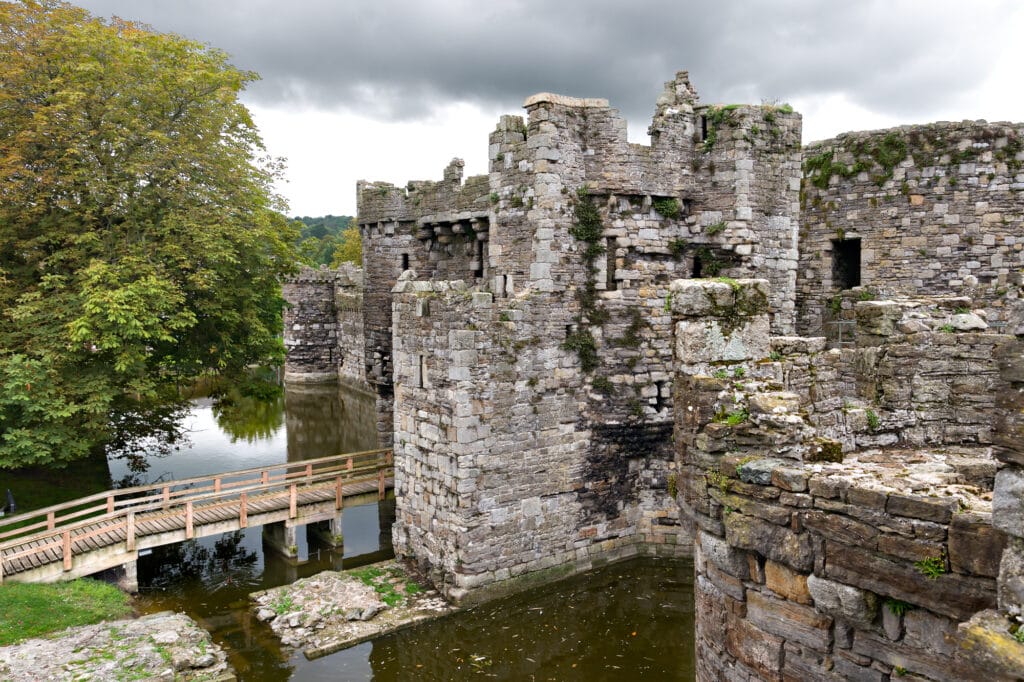 Penmon Point
A beautiful spot with views of Puffin Island and the Great Orme in Llandudno.
Puffin Island
As the name suggests, this island is home to a large colony of puffins. Boat tours are available for a closer look.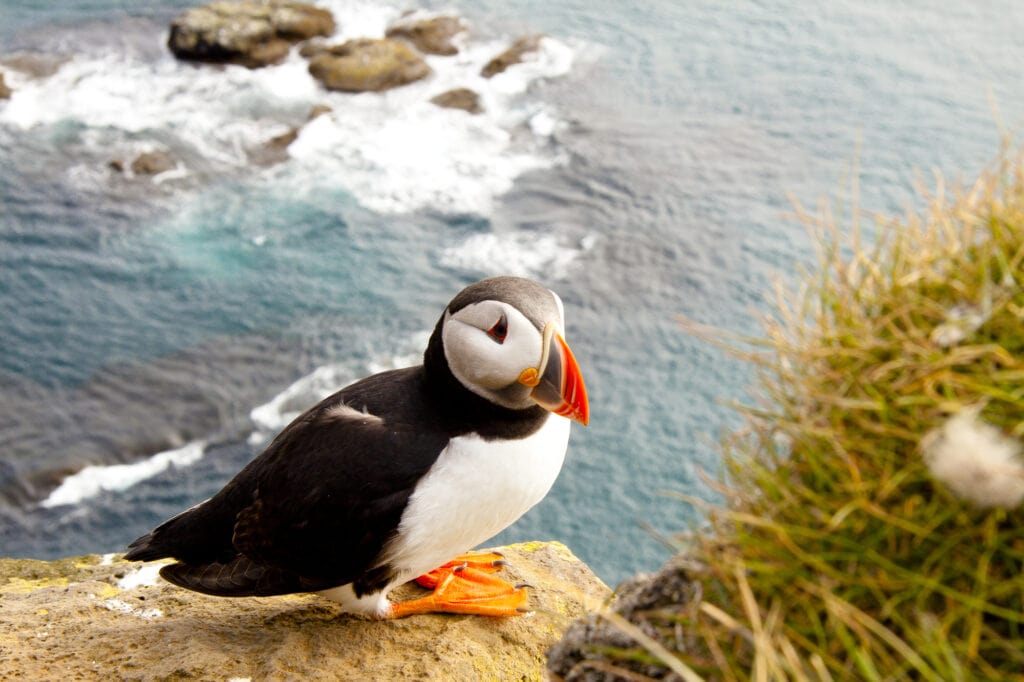 South Stack Cliffs and South Stack Lighthouse
Marvel at the dramatic sea cliffs and the South Stack Lighthouse. Located on Holy Island, the South Stack Lighthouse is an iconic landmark with breathtaking views over the Irish Sea. The nearby cliffs also offer excellent birdwatching opportunities.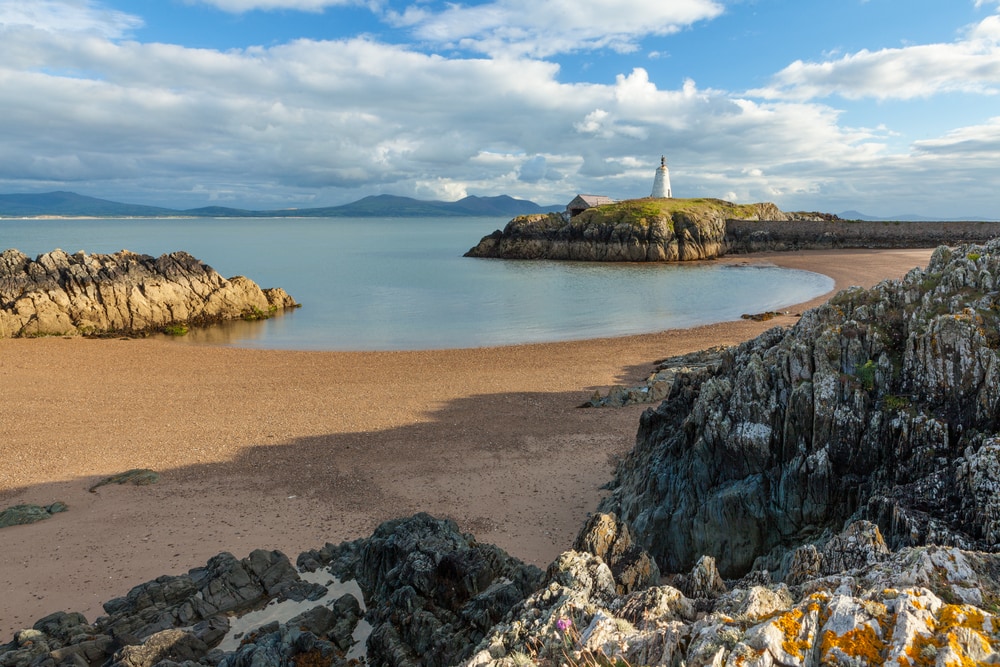 Cemaes Bay
Cemaes Bay is a charming fishing village with a picturesque harbor and lovely sandy beaches. It's a perfect spot for relaxation and enjoying coastal walks.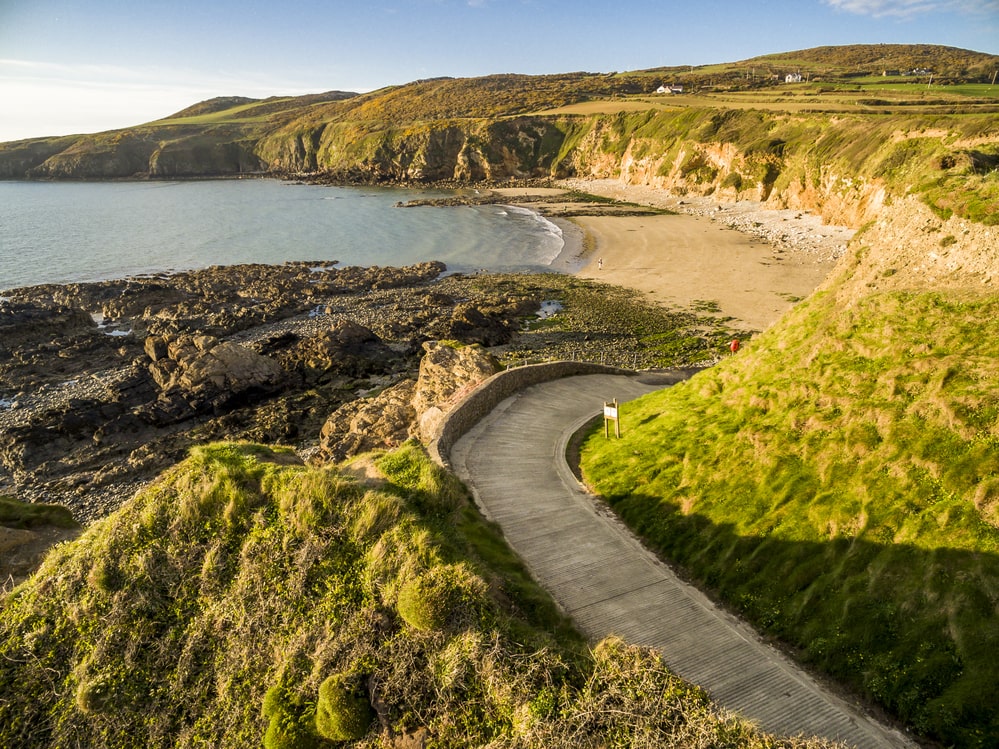 Llanddwyn Island
Located at the southwestern tip of Anglesey, Llanddwyn Island is a magical place steeped in Welsh mythology. It features a lighthouse, old ruins, and stunning views across to Snowdonia.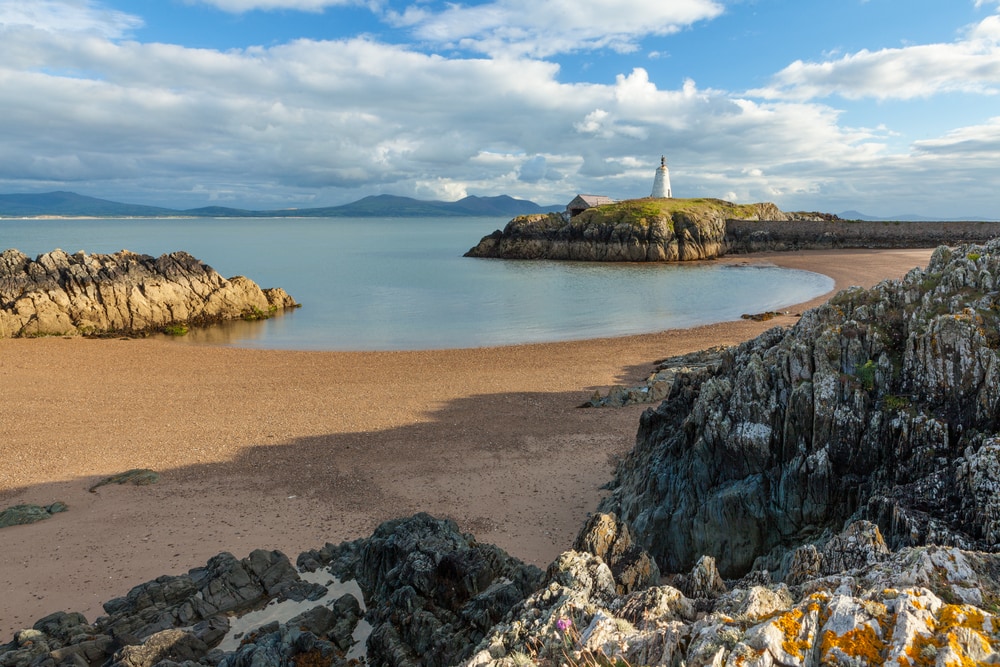 Llŷn Coastal Path and Peninsula
The Llŷn Peninsula, also part of the Wales Coast Path, is designated as an Area of Outstanding Natural Beauty. It features a breathtaking coastline, ancient sites, and traditional Welsh villages.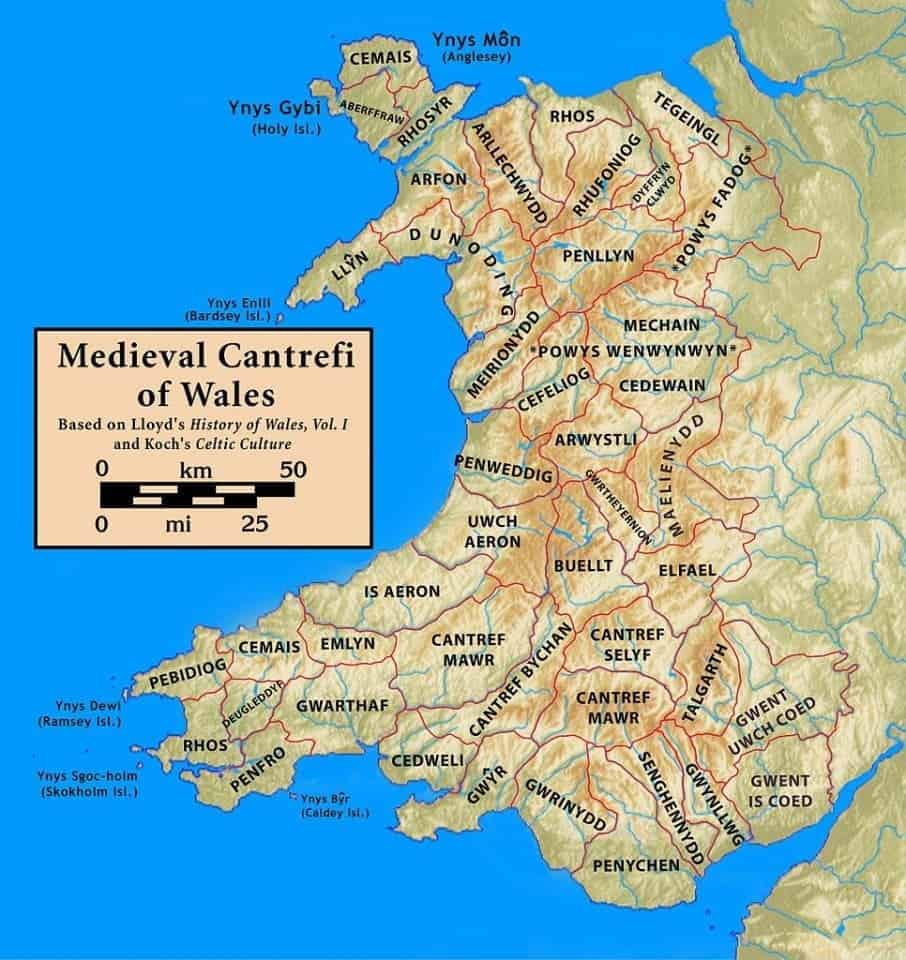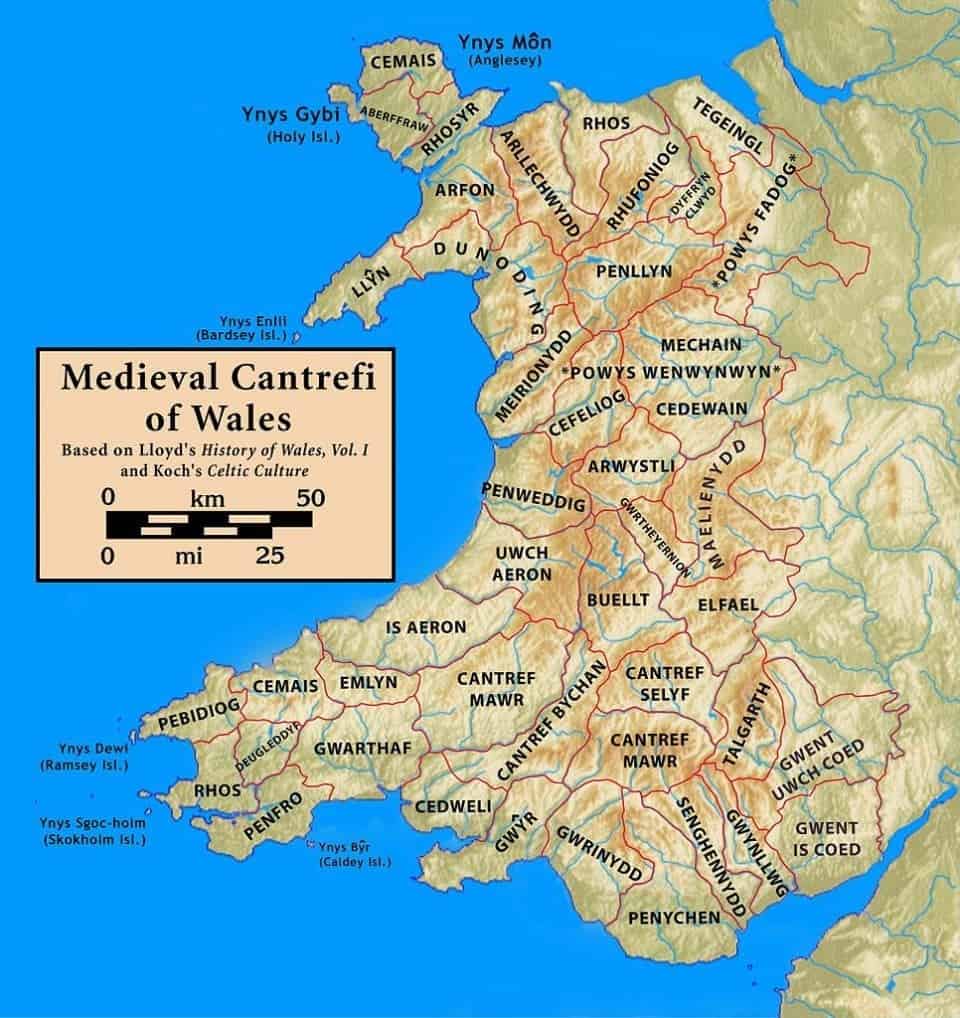 The logical place to start the journey down the Llŷn (sometimes Anglicised to Lleyn) is Caernarfon, home to the mighty Castle at the point where the Seiont river flows into the Menai Strait. The Castle and town walls have been a UNESCO World Heritage Site since 1984, and if you're in North Wales for any length of time, it really is a must-see. The formidable castle walls were modelled on the city walls of Constantinople and were never breached.
Tre'r Ceiri
Tre'r Ceiri – the Town of Giants – is one of the most evocative ancient sites in Wales. It's a large Iron Age settlement, an amazingly preserved bastion with outer walls and hut circles spread across one of the three summits of Yr Eifl. It's one of the most rewarding short hikes in Wales, and if you love photography you have to pack your camera as you'll be blown away by what you find up there.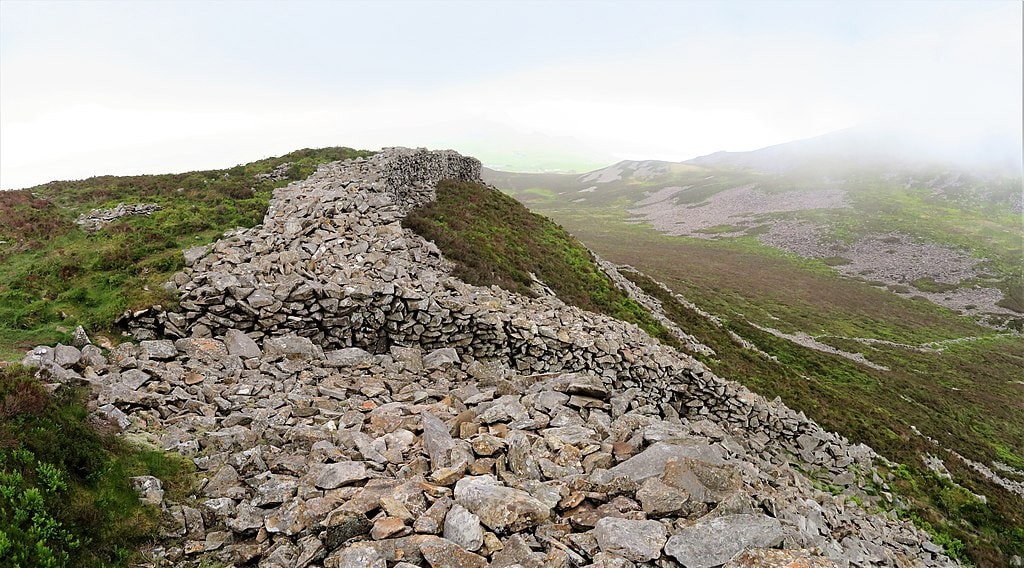 Nefyn
Nefyn is one of the larger towns on Llŷn, and a possible overnight stop – the Nanhoron Arms is ideal, right on the main street. It's only a short drive here to sister village Morfa Nefyn, and on to one of the highlights of North Wales, the tiny harbour village of Porth Dinllaen.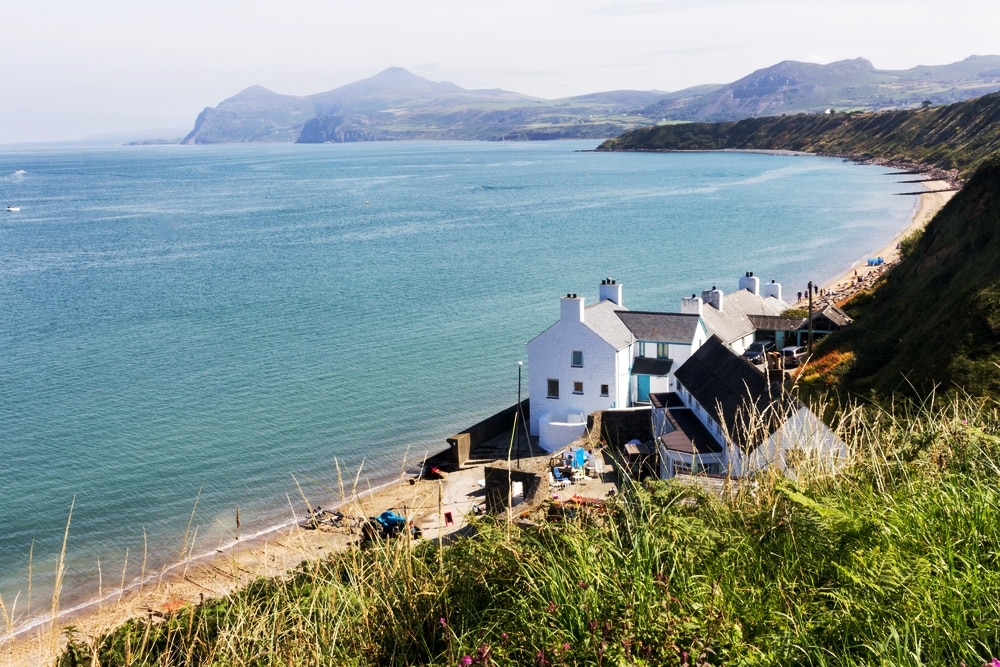 It's hard to imagine that this peaceful little cove was once mooted as the main departure point for ferries from North Wales to Ireland, but it was, and Holyhead was chosen for that particular purpose. Porth Dinllaen is a wonderfully romantic spot, a dozen or so houses huddled along the seashore, sheltered from the prevailing south-westerlies.
One of these buildings is the Tŷ Coch Inn – the red house is right on the beach, one of the best settings you'll ever find for a pub This is where you can take a breather and stop for a pint and a Welsh Rarebit and no it's not just a toasted cheese sandwich.
Llyn Coast Beaches
This section of the north Llŷn coast has some tremendous beaches. Traeth Penllech is the closest, a fine sweep of white sand backed by high cliffs. Further down the coast, Porth Iago is a gorgeous secret cove accessed down a farm track, and Porth Oer – better known as Whistling Sands, after the squeaking sound the sand makes beneath your feet.
Aberdaron
Aberdaron is a wonderful base to explore this remote corner of Wales. St Hywyn's Church sits in a prime position just above the beach – this was the last posting of Welsh poet R S Thomas, who was vicar there until his retirement in 1978. The village also has a lovely whitewashed café, Y Gegin Fawr ('The Big Kitchen'), which was a hostelry for medieval pilgrims. It also has a couple of great hotels, one the Tŷ Newydd, backing onto the beach.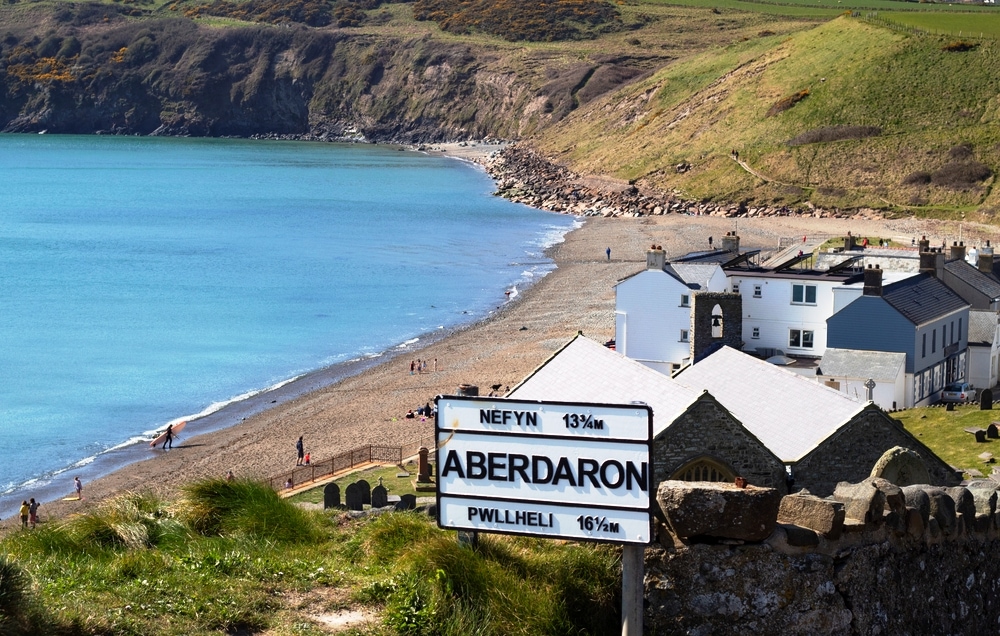 Welsh food covers the gamut from the North East Wales Coastal Dining which is seafood oriented to inland where lamb and Welsh cakes are favourites. Don't forget to try Cawl Wales' National dish a delicious stew of lamb and fresh local vegetables.
Yr Eifl
As you drive along the narrow minor road, the landscape of the Llŷn reveals itself, dominated by the three jagged peaks of Yr Eifl (often called 'The Rivals') looming over Caernarfon Bay. It's worth following the backroads past Caernarfon Airport to see the outstanding beach at Dinas Dinlle, one of the most scenic on the entire North Wales coast, before heading inland to join the A499 road south.
Bardsey Island – Ynys Enlli
Bardsey's Welsh name is Ynys Enlli, the Island of the Currents, and crossings are often subject to cancellation. It's also known as the Isle of 20,000 Saints. The Breton St Cadfan founded an abbey there in the 6th century AD, and some saints were buried there, as well as many monks. The monastery remained for over a millennium, until Henry VIII dissolved it and every other one in the country.
Nowadays, Bardsey is as well-known for its wildlife – primarily seals and migrating birds – as its history.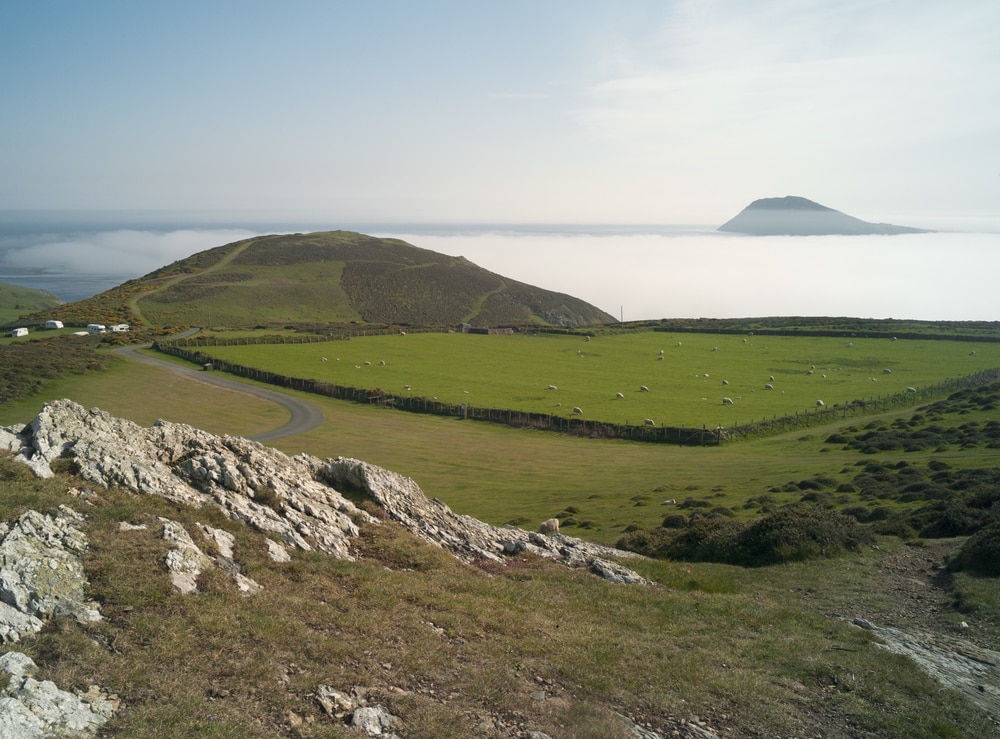 Gower Peninsula
Though not part of the Wales Coast Path itself, the Gower Peninsula lies just outside Swansea and is the UK's first designated Area of Outstanding Natural Beauty. The path offers stunning views of this area's cliffs, beaches, and rugged landscapes.
The Welsh poet Dylan Thomas famous for the poem "Do Not Go Gentle Into That Good Night," was born in Swansea. The Wales Coast Path offers a chance to follow in his footsteps, discovering some of the places linked with his legacy.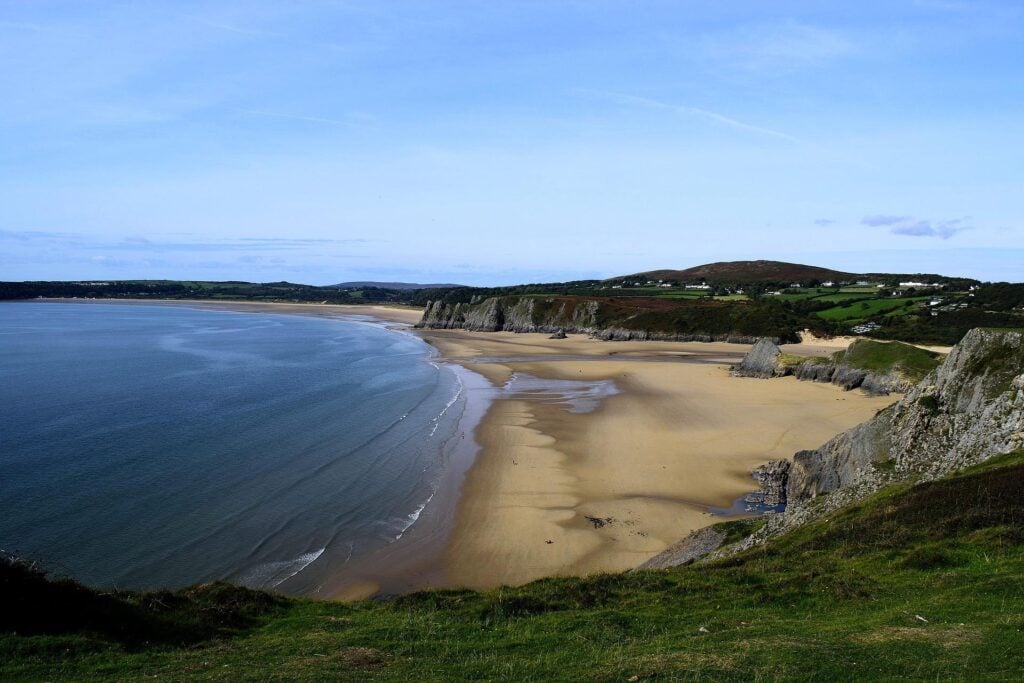 Three Cliffs Bay
Located near Swansea, Three Cliffs Bay is one of the most iconic and picturesque spots on the Wales Coast Path. It features three limestone cliffs rising from the shoreline, forming a dramatic landscape against the backdrop of sandy beaches and clear blue waters.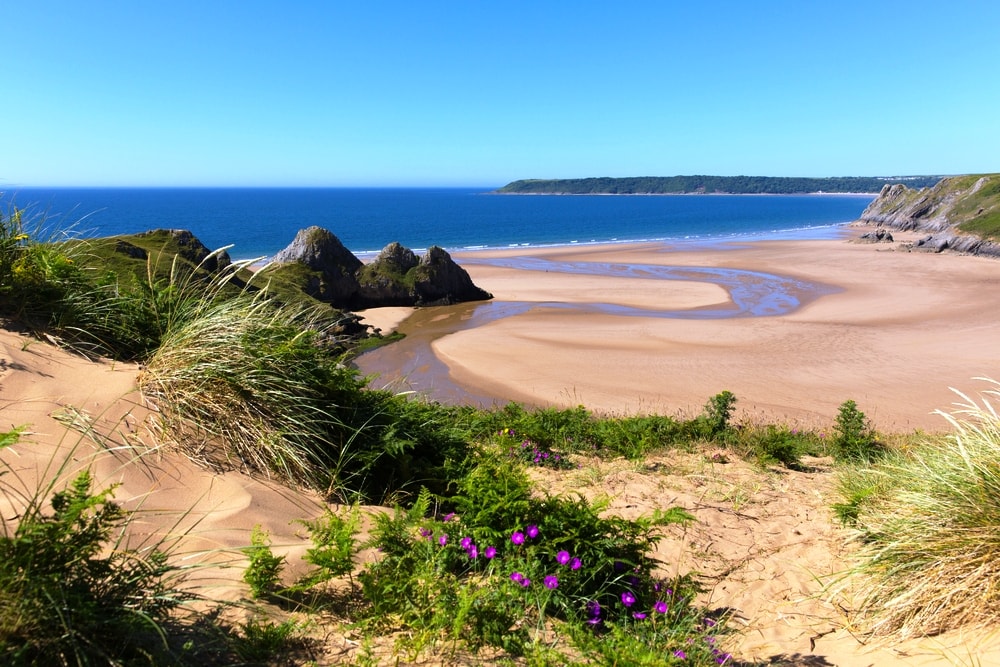 Worm's Head
Jutting out into the sea from Rhossili Bay, Worm's Head is a tidal island accessible during low tide. Its unique shape and stunning views make it a popular destination for hikers and nature enthusiasts.

Ceredigion Coast Path
The Ceredigion Coast Path, as a section of the Wales Coast Path, passes through the Ceredigion Coast Area of Outstanding Natural Beauty. This area is known for its diverse wildlife, sandy beaches, and picturesque harbors.
New Quay
This delightful coastal town is famous for its resident bottlenose dolphins. Visitors can take boat trips to spot these intelligent creatures in Cardigan Bay.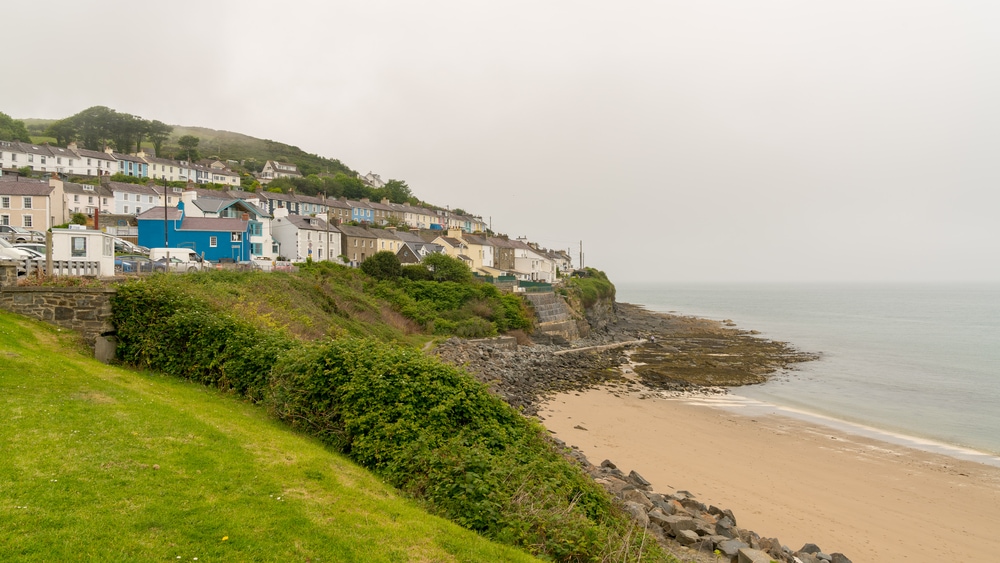 Aberystwyth
A lively university town, Aberystwyth has a beautiful seafront promenade, the remnants of Aberystwyth Castle, and a vibrant cultural scene. Aberystwyth: A lively university town along the Wales Coast Path, Aberystwyth is known for its beautiful seafront promenade and the ruins of Aberystwyth Castle. The town's charming atmosphere and the nearby Vale of Rheidol Railway add to its appeal.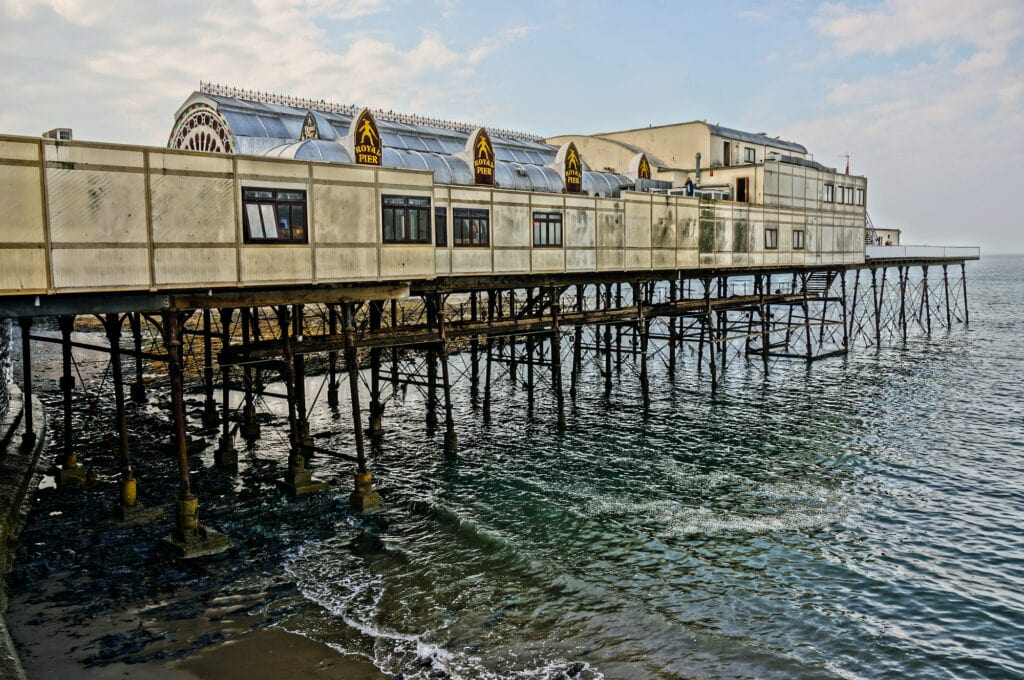 Ynyslas Sand Dunes
The sand dunes at Ynyslas are part of the Dyfi National Nature Reserve and offer a unique ecosystem to explore. It's an excellent spot for birdwatching and wildlife enthusiasts.
Remember that each of these coastal paths offers a multitude of beautiful landscapes, charming villages, and historical landmarks to discover. Whether you're a nature lover, a history enthusiast, or simply seeking a serene escape, the Wales Coast Path has something to offer for every adventurer.
These sites represent just a fraction of the beauty and diversity you'll encounter along the Wales Coast Path. As you venture along the path, you'll discover many hidden gems and breathtaking vistas that will leave you with lasting memories of this extraordinary journey. You can check out the Wales Coast Path Website for detailed information on walking and hiking the path.
If you are an avid hiker you can combine the Wales Coast Path with the Offa's Dyke Path (177 mile/285km), running along the border with England, to create an epic 1047-mile (1685km) ring around the entire circumference of Wales.
Pin it to save it

Latest posts by Faith Coates
(see all)