Pembrokeshire beaches: 15 of the most beautiful
Pembrokeshire Wales Coast beaches, you're spoiled for choice when it comes to this area.
How many beaches are there in Pembrokeshire? There are over 50 of them in total. And according to Visit Pembrokeshire, almost all have won awards. It's easy to understand why Pembrokeshire claims to have the best beaches in Wales. There are also some rumours that Vikings came to this part of Wales to either trade or settle.
How many beaches in Wales? Wales has over 2,700km of coastline, and more than 150 incredible beaches in total including the beaches of Pembrokeshire.
How many Blue Flag Beaches in Pembrokshire? In 2023 22 Welsh beaches were awarded the blue flag.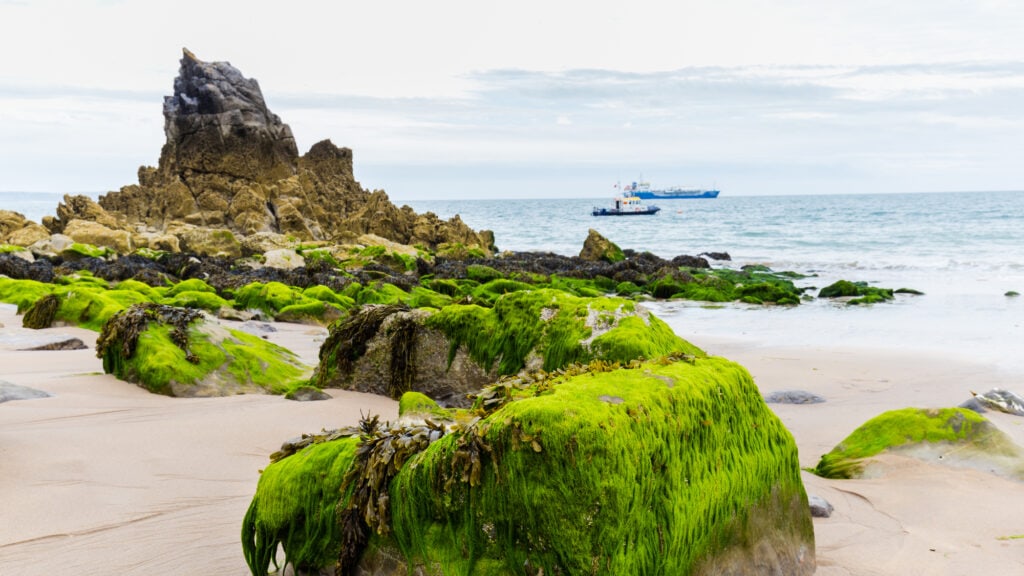 Honestly, I'd argue that they have some of the best beaches in the entire world. Perfect for families, so pack a picnic and if you have kids don't forget buckets and spades and easy transport of beach gear with a beach wagon. Surfing is also incredibly popular on the Welsh coast and you can check out Magic Seaweed Pembrokeshire for all your surfing reports.
This is why it's so difficult to recommend just a few of them for anyone thinking of seeing some for themselves. That said, there are definitely a few places you can't miss on visiting Wales and these beaches are just the beginning.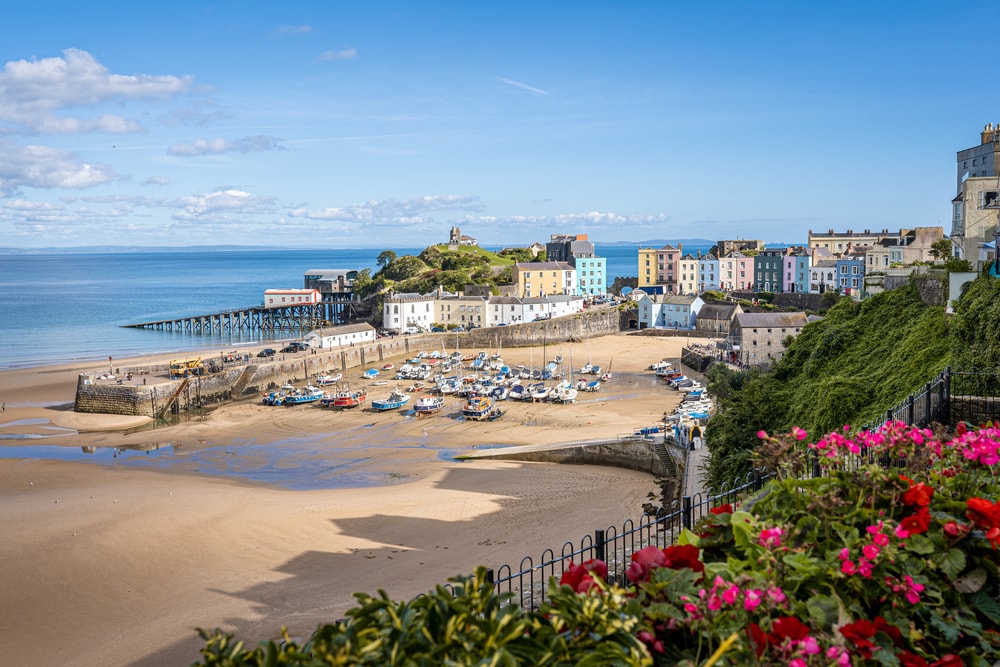 Pembrokeshire Coast Path National Trail
The Pembrokeshire Coast Path is a spectacular 186-mile (299 km) long National Trail and the beaches and coastal scenery stretch from St Dogmaels in the north to Amroth in the south. Both the Wales Coast Path and the International Appalachian Trail follow the route of the Pembrokeshire Coast Path through Pembrokeshire.
If you are travelling the Pembrokeshire Coast take time to visit Skomer Island, which lies less than a mile off the beautiful coast, and is a world-renowned wildlife paradise. The exposed headlands, towering offshore rocks, and sheltered inlets of this fascinating island are home to an incredible variety of wildlife, both above and below the surface, and is the best place to see Puffins in Wales.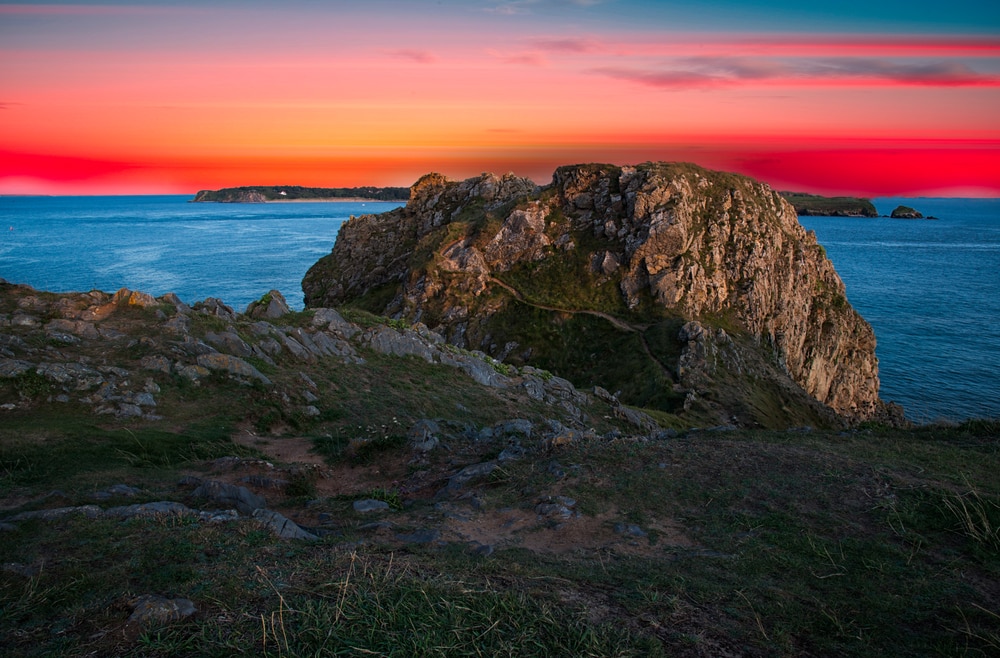 15 of the Best Pembrokeshire Wales Beaches
Here are 13 of my favourite Pembrokeshire Beaches that I believe anyone should visit if they have the chance.
Barafundle Bay
What is the nicest beach in Pembrokeshire? I'd feel amiss if I started a post on the 'best beaches in Pembrokeshire' with one other than Barafundle Bay.
You might have heard of it. After all, it was voted one of the best beaches in the entire world in 2004. And from then it's gone on to receive all manner of other accolades. And I'd say they're all well-deserved.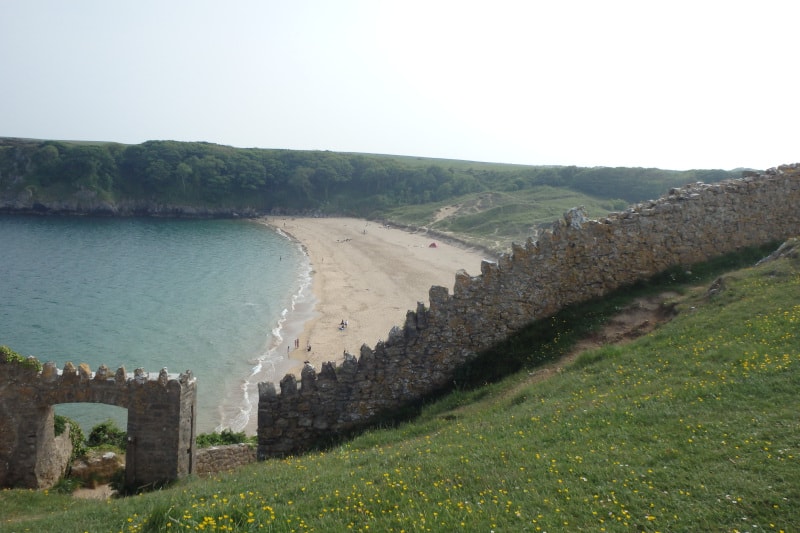 Approximately half a mile's walk away from the car park where you pull up, the effort to access Barafundle lends it a level of charming seclusion that it would otherwise most certainly lack.
Upon arrival, you find yourself on an untouched stretch of crescent-shaped sand, protected on both sides by a headland. It's the ideal setting to spend the day, revelling in a space that somehow maintains its magic in spite of its notoriety.
If you have one beach to visit in the whole of Pembrokeshire, it's arguable that this should be the one.
Manorbier Beach
Often described as one of the most beautiful spots in Wales, Manorbier Bay is surrounded by dunes and cliffs and is one of the area's most popular beaches a portion of the famous Pembrokeshire Coastal Path runs from Manorbier to Tenby.
Swimming and surfing are two of the most popular water activities at Manorbier, but the beach is a great location for a variety of activities including canoeing and angling. At low tide, rock pooling is also a favourite way to while away the hours on the beach.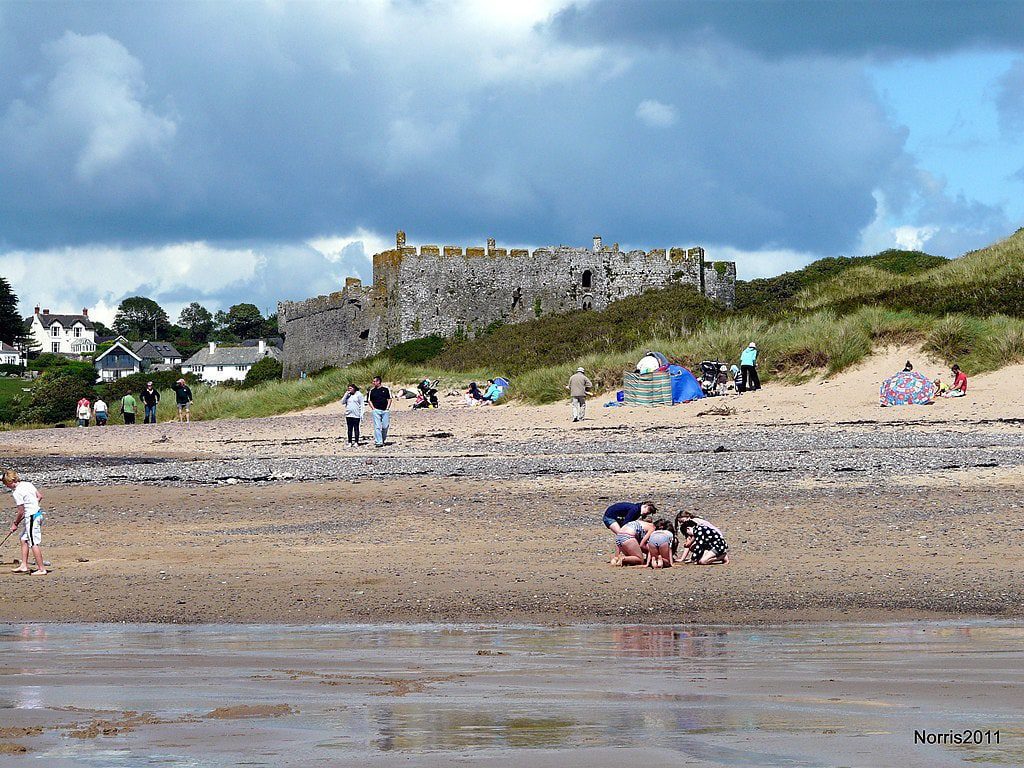 Manorbier Bay is overlooked by the 12th Century Church of St. James and the medieval Manorbier Castle. For history and archaeology lovers, the King's Quoit, a Neolithic chambered tomb that also sits above the bay, is of particular interest.
Freshwater East Beach and Freshwater West Beach
Freshwater East Beach is one of the most exquisite beaches along the Pembroke coast, catering to a diverse range of interests. An ideal destination for families, the beach has the perfect swimming conditions, although although there is no lifeguard. And this beach welcomes dogs, allowing you to include every member of your family in your visit.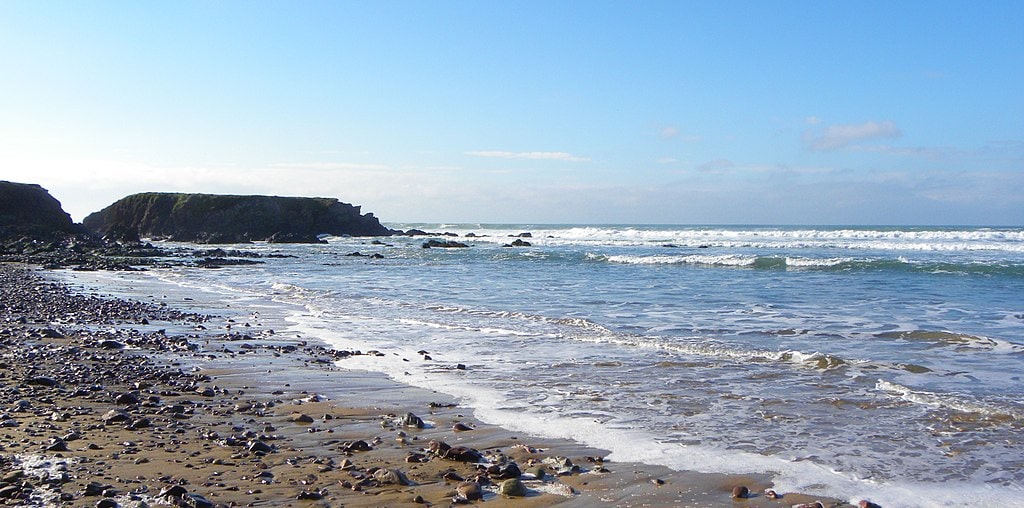 Freshwater West Beach is a popular beach for surfing the beach is wide, sandy and backed by an extensive system of dunes which are fragile so no camping or barbeques are allowed. Positioned to face the southwest, this beach boasts unrivaled waves within the county. Nevertheless, it's crucial to highlight that these waves are for adept and strong swimmers with considerable surfing experience, given the rip currents that characterize this shoreline.
Broad Haven South
Not to be confused with 'Broad Haven Beach' (and 'Little Haven' just next door) to the northwest- a well-known and loved the beach in its own right. The Broad Haven beach I'm talking about is in Bosherton.
Broad Haven beach is one of many sumptuous stretches of coastline along the Pembrokeshire Coastal Path. Run by the National Trust you can park in the car park there, before taking the few steps down to the beach.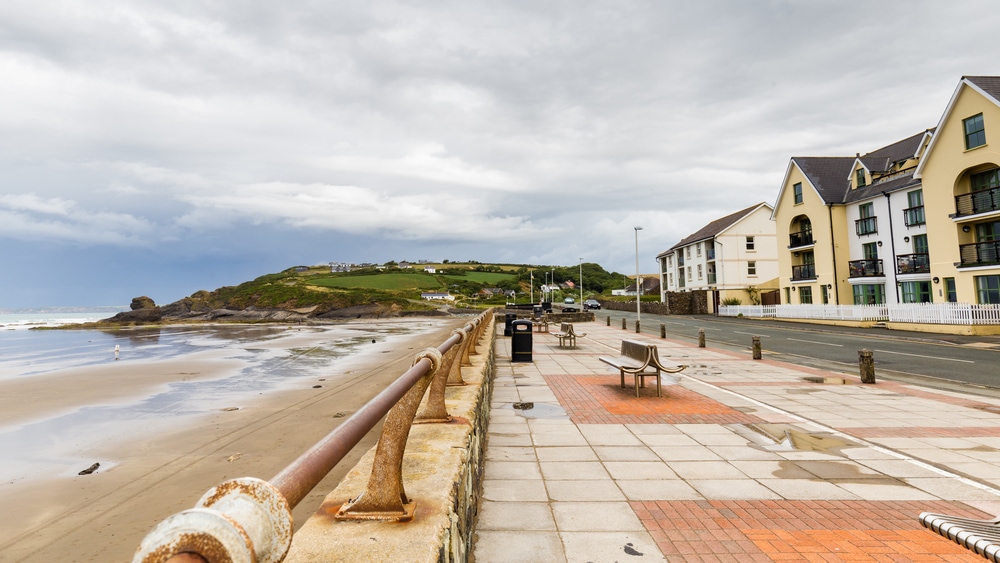 Crescent-shaped and protected by headland at either end, this is a popular spot for local (and foreign) water lovers, who come to swim, go coasteering and generally get out on the water. Beautiful is a word I'm sure I'll overuse in this piece, but it's difficult to overstate the beauty of Broadhaven.
Sheltered white sands. Perfect water. Rocky outposts jutting up in the distance. It's picture-perfect.
And if you've made it to Broadhaven Beach you should definitely make the short trip to St.Govan's Chapel, just to the south.
This understated, but magical place is steeped in history and legend. Set just down from the coastal path, you'll find the tiny chapel at the foot of a stone staircase. It's a special sight that you should think twice about missing.
10 of the best Irish beaches in Donegal Ireland for surfers to families
Monkstone Beach
Of the seemingly endless number of Pembrokeshire beaches I had the pleasure of visiting during my time in Pembrokeshire, Monkstone Beach was my favourite.
And with such a giant selection to choose from, that's no small statement.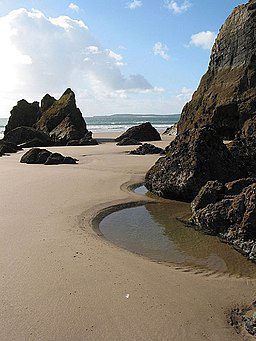 It's just south of the popular harbour town of Saundersfoot, away from the bustling holiday atmosphere there (though connected by a short coastal walk). Starting inland (adjacent to the lovely Trevayne Farm campsite) you descend to the beach through a steep forested area that opens up to a wondrous stretch of secluded coastline.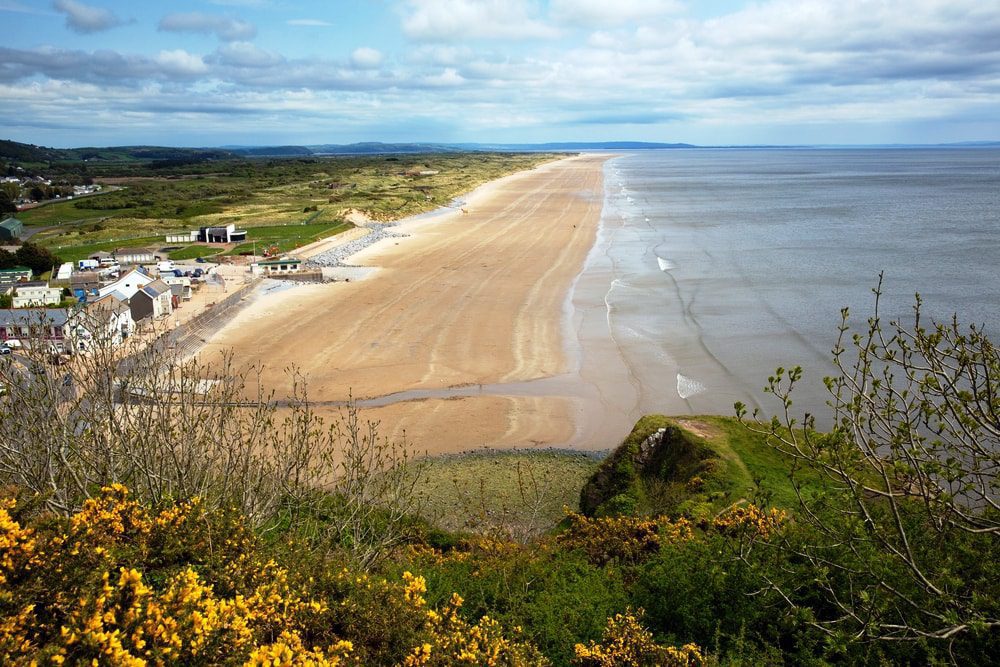 The atmosphere was different here. Bordered by the dense forest at its rear, with nothing but open expanses of ocean to look out at, I felt I'd stepped into a lost world. It felt raw and untouched.
At the right time of year (as with other parts of Pembrokeshire, I should add) you can spot seals and dolphins from the shoreline too!
Rhossili Bay
On the Gower Peninsula make sure you stop at Rhossili Bay which has been voted one of the top four beaches in Britain for 4 years running. Rhossili Bay has 3 miles of gorgeous sand and coastline. Perfect for walkers, watersports and wonderful views! Bring your boards as well as it has some of the finest surfing in Wales.

Tenby Beaches – South Beach, North Beach, Castle Beach and Harbour Beach
Tenby North Beach
Tenby is an absolute gem of an ancient harbour town on the southern coastline of Pembrokeshire. Tenby North Beach is a golden sandy beach dotted with rock pools and the imposing Goskar Rock. North Beach is sandwiched between the harbour beach and the north cliffs and is overlooked by a promenade and Tenby town, which overlooks Carmarthen Bay.
Tenby Harbour Beach
Harbour beach is the smallest of Tenby beaches and is beautifully located in the harbour itself. On either side of this picturesque beach, there are steps and roads leading back to town and a raised walkway across the cliff base to North beach.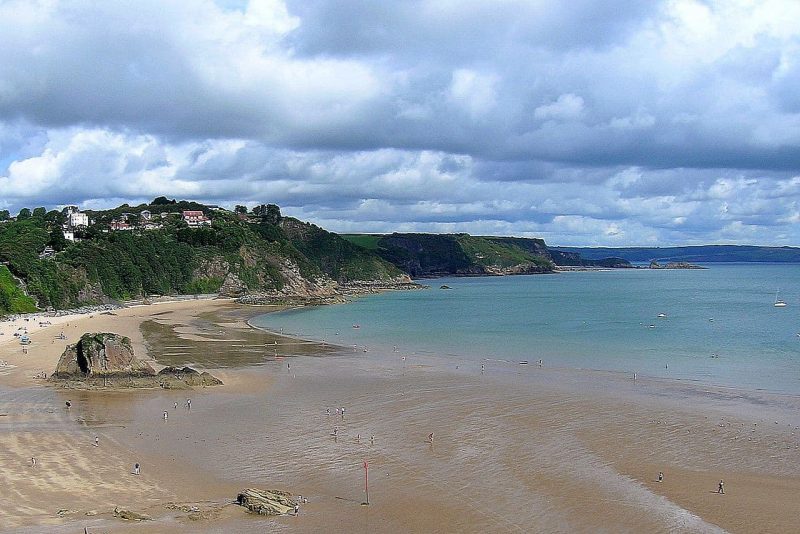 Tenby Castle Beach
Castle Beach is located between Castle Hill and the East Cliff in a cove. It is feasible to walk out to St. Catherine's island at low tides, but caution should be exercised to avoid being cut off by the tide.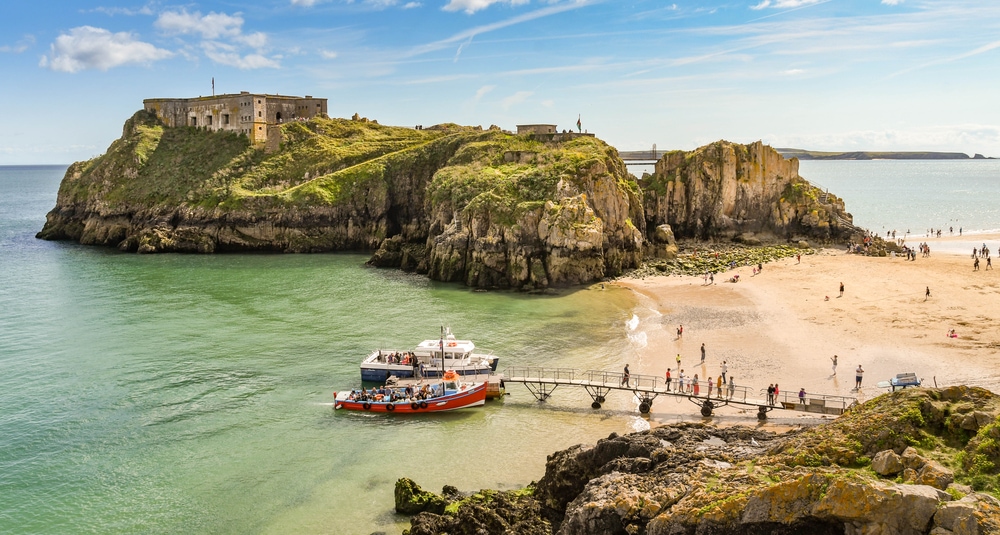 Tenby South Beach
With two kilometres of golden sands, South Beach stretches from St. Catherine's Island to Penally Beach onto Giltar Point. The beach is surrounded by sand dunes and faces Caldey Island.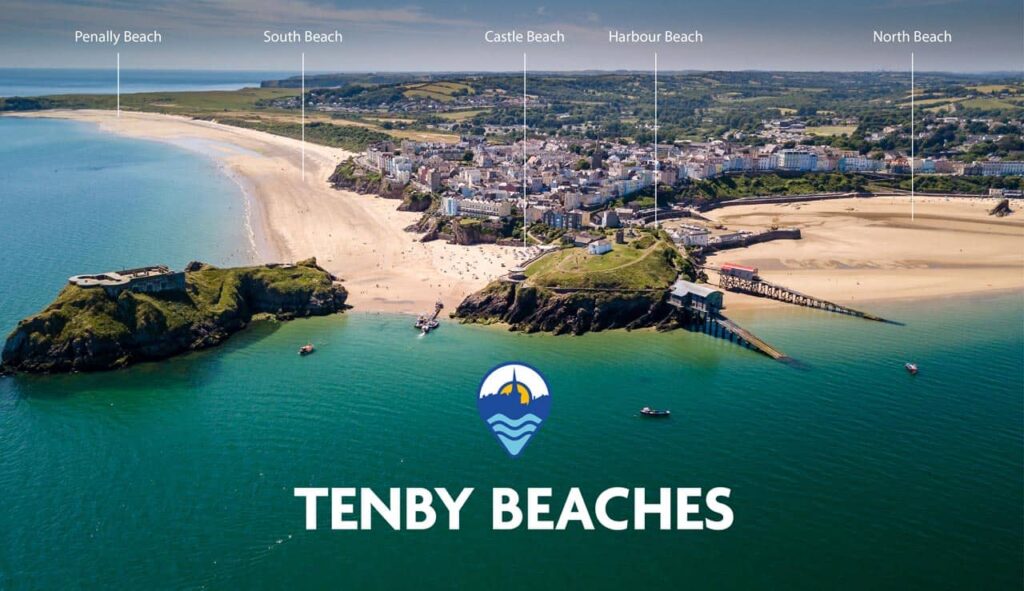 Tenby is a historic place, with 13th-century town walls and tiny streets that weave their way through various sites of interest. Not least of these are the ruins of Tenby Castle which sit on a rocky outcrop above the beach (which you can pay to explore at low tide).
Whitesands Bay
Situated on the western side of Pembrokeshire you'll find Whitesands Bay.
It's a popular place. Even in the offpeak season, you'll often find masses of tourists and locals lining the sands here. But you can't blame people for flocking here. With white sand and turquoise waters, it's no small wonder everyone wants a piece of it. And with an impressively low tide, there's plenty of room for everyone anyway.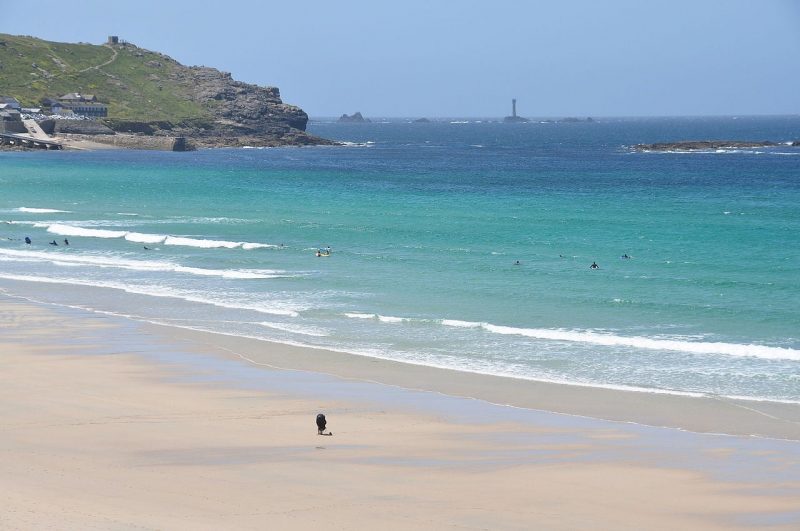 So special is Whitesands Bay that it's hard to believe you're still in the UK. You feel you've magically crossed over to somewhere like the Bahamas.
And behind the beach, there's the mighty Carn Llidi- an imposing hill that juts impressively from the ground. Make the easy climb to the top to revel in views of the area.
Marloes Sands Beach
If you want a taste of coastal Welsh wilderness, then be sure to head west, past Marloes and on to the National Trust car park that marks the entry point to one of the most striking parts of the country.
It's an impressive place. Atop the cliffs that descend dramatically into the waters at their feet, you wander along and gaze out over mile upon mile of open water and coastline. It's stunning.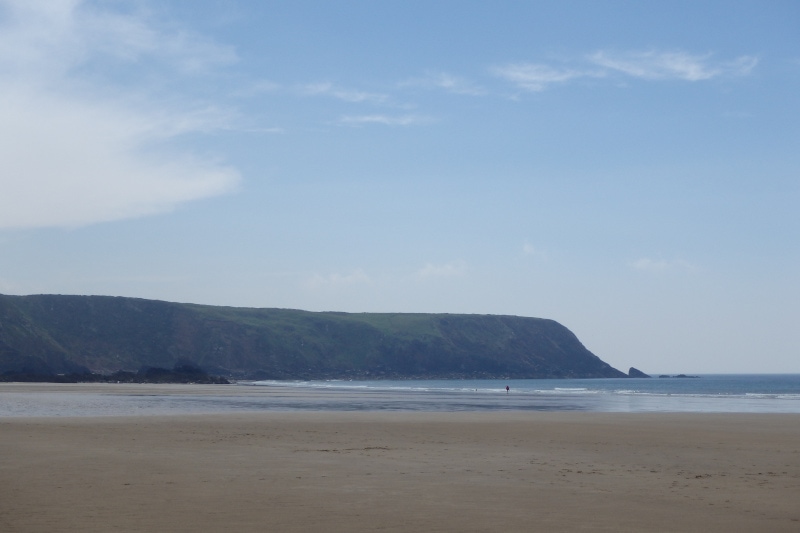 Walks here abound, but one route, in particular, will take you to Marloe Sands Beach.
After a straightforward circuitous path around the coastline, you'll eventually descend to the beach itself. Windswept and wonderful, at low tide you'll find yourself on wide-open expanses of perfect golden sand, with the sea stretching to the horizon. Join the other walkers enjoying this magical space and immerse yourself in nature in all its glory.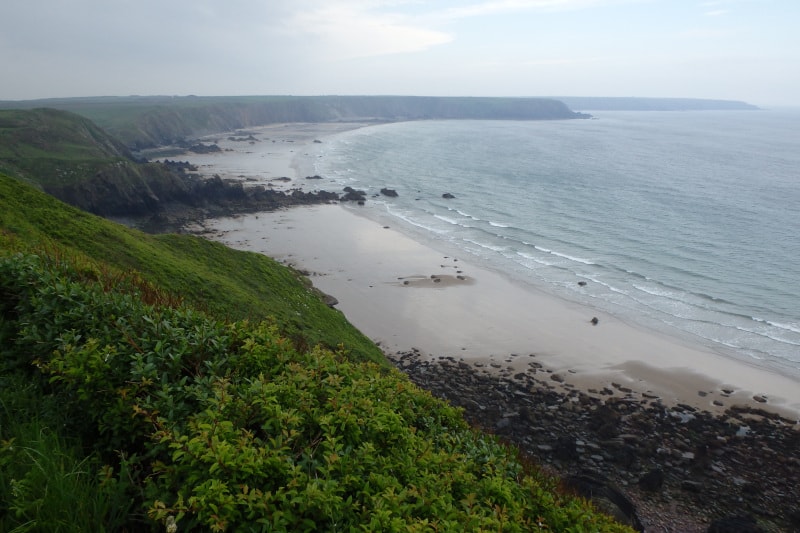 FYI, if you're a fan of birdwatching you can catch a boat to a nearby island from the visitor centre (near the carpark), from where you can witness rare breeding seabirds too.
Nolton Haven Beach
You're unlikely to find this name on many other Pembrokeshire beach guides.
But that doesn't make this beautiful beach any less worthy of its position on this list. This cute little cove is an absolute gem. You'll find it tucked away on the coastal road just south of the better-known Newgale Beach (also well worth a visit!) on the western side of Wales.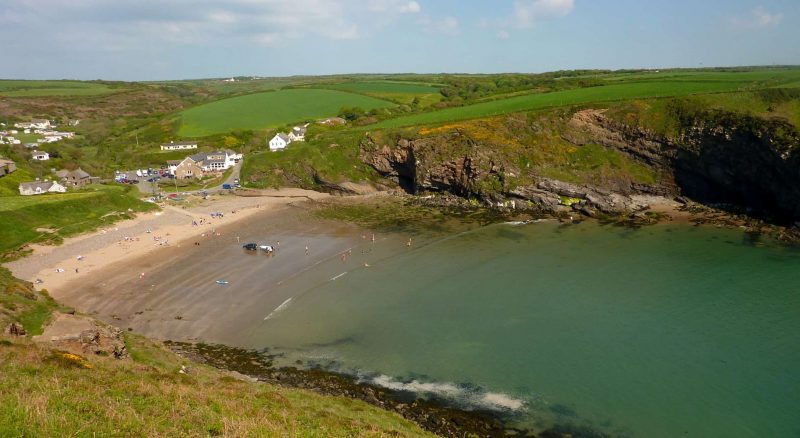 The beach at Nolton Haven's got a totally different atmosphere to many of the other inlets around Pembrokeshire. Protected on both sides by the headland, a cluster of buildings surrounds it, including various forms of accommodation. The vibe's relaxed, with locals and families alike frolicking on the golden sands and glimmering waters.
It'd also be a great stopping point for the Pembrokeshire coastal path that runs right through Nolton's doorstep.
Bonus Pembrokeshire Beaches: All the Tiny Coves
Alongside the well-known beaches of Pembrokeshire, you find an abundance of tiny coves and inlets too.
You're spoiled for choice: these picturesque places are dotted all around the Pembrokeshire coastline and don't forget to visit the magnificent Pembroke Castle when you are in the area.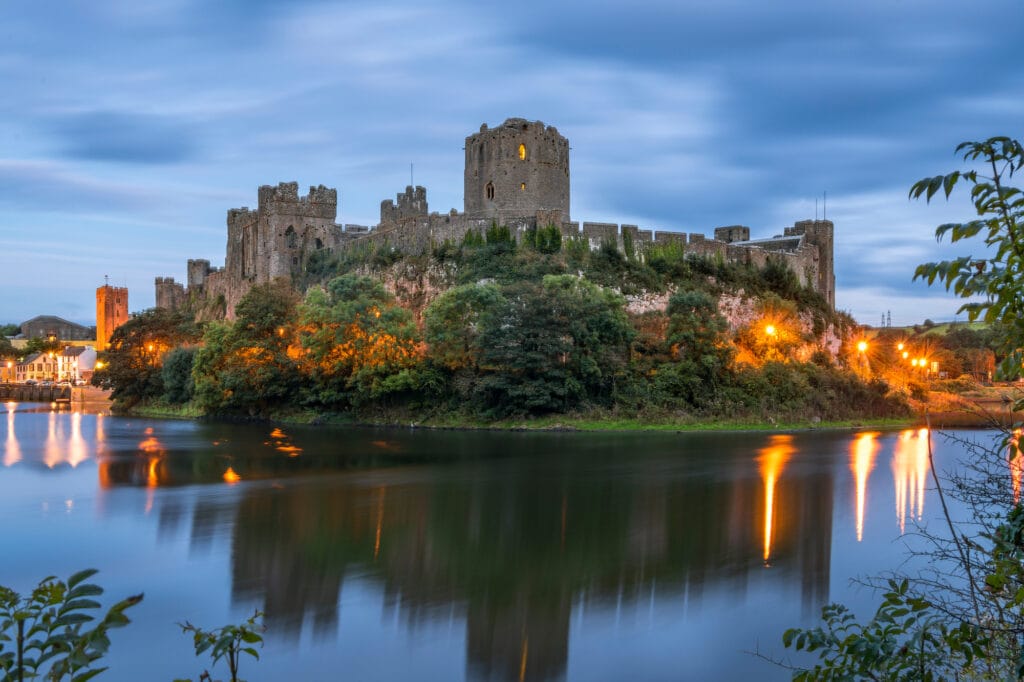 If you want to escape the hustle and bustle of better-known beaches, I wholeheartedly recommend speaking with locals and stepping off the beaten path to find these heavenly places.
In this wonderful part of the world, you don't have to travel far to do so.
Time to Wrap Up
There you have it: 15 beautiful beaches not to miss in Pembrokeshire, Wales.
With 50 to choose from, it would have been easy to include far more on this list. And rest assured that any beach on which you find yourself in this part of the world will be beautiful beyond words.
But these seven are undeniably special. If you're heading to Pembrokeshire, I wholeheartedly recommend you begin your beach adventures with those included on this list.
Now it would be great to hear from you! Which beach do you think sounds the best? Barafundle Bay? Or maybe Monkstone Beach?
Ellie Quinn has an answer to that question in this article Ellie explores the Best Pembrokeshire Beaches in one day
This guest post was written by Danny of What's Danny Doing. Danny is based in the UK, he hasn't ditched his day job yet but he's working on it.
Let us know in the comments which beach is your favourite!
You might also like.
25 Traditional Welsh food dishes
North Wales Coastal Path the famous Pilgrim's Way Route
22 Historic Towns in Wales You Should Visit Now
47 Awe-Inspiring Historical places in the UK to visit

Latest posts by Faith Coates
(see all)