Best Surfing Beaches in the UK
The sound of crashing waves, the salty sea breeze, and the rush of adrenaline as you catch the perfect wave – there's nothing quite like the thrill of surfing.
While the UK may not be the first place that comes to mind when you think of surfing, it's actually home to some of the best surf beaches in the world.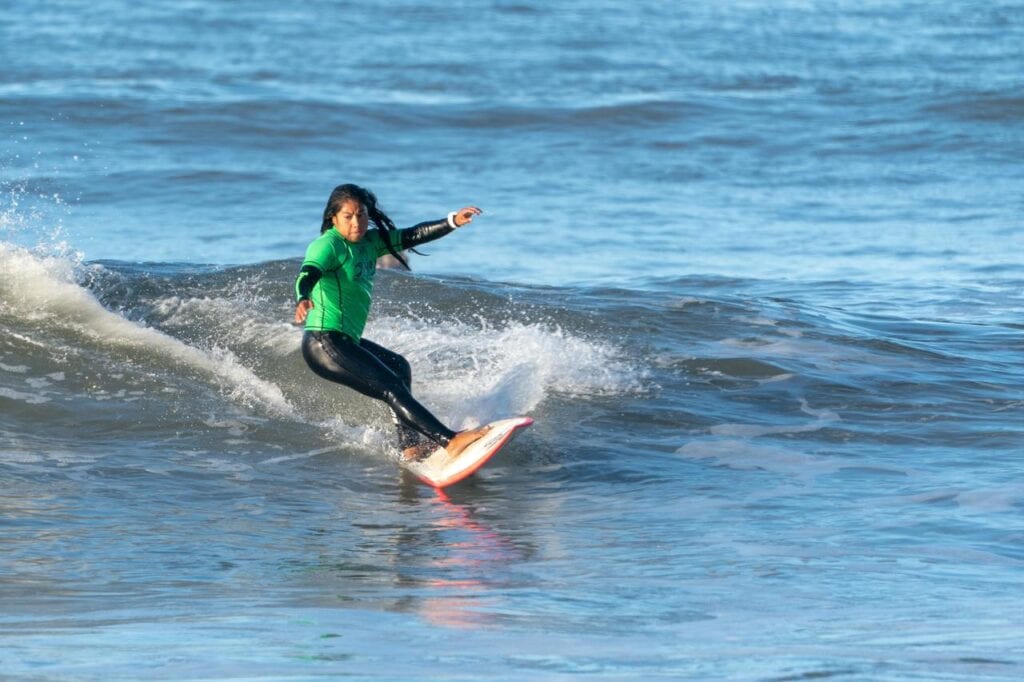 From the rugged coastlines of Cornwall to the wild beauty of Scotland, the UK has something to offer every type of surfer.
Whether you're a seasoned pro or a beginner looking to catch your first wave, you won't be disappointed by what these beaches have to offer.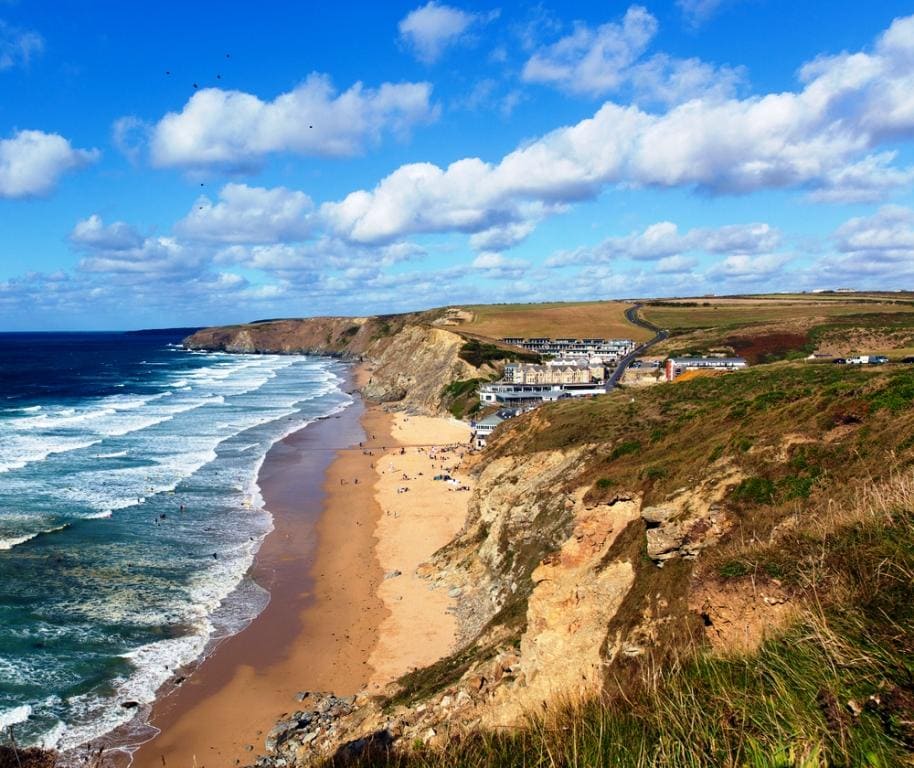 Go find your board, throw on some wax, and get ready to ride the waves at some of the best surf beaches the UK has to offer.
Top Surfing Destinations in the UK
Cornwall
When planning your next surf trip in the UK, Cornwall is a must-visit destination. With its stunning coastline and fantastic waves, it's no wonder this beautiful county is considered the heart of UK surf culture. You'll be stunned at the choice of Cornish surf beaches! Simply put: it's a world-renowned surf location suitable for all levels with Fistral taking the title as the home of British surfing. Other great options include Perranporth, Watergate Bay, Porthleven, and Sennen Cove. The warm Gulf Stream currents and guaranteed swell mean you can enjoy an extended surf season here.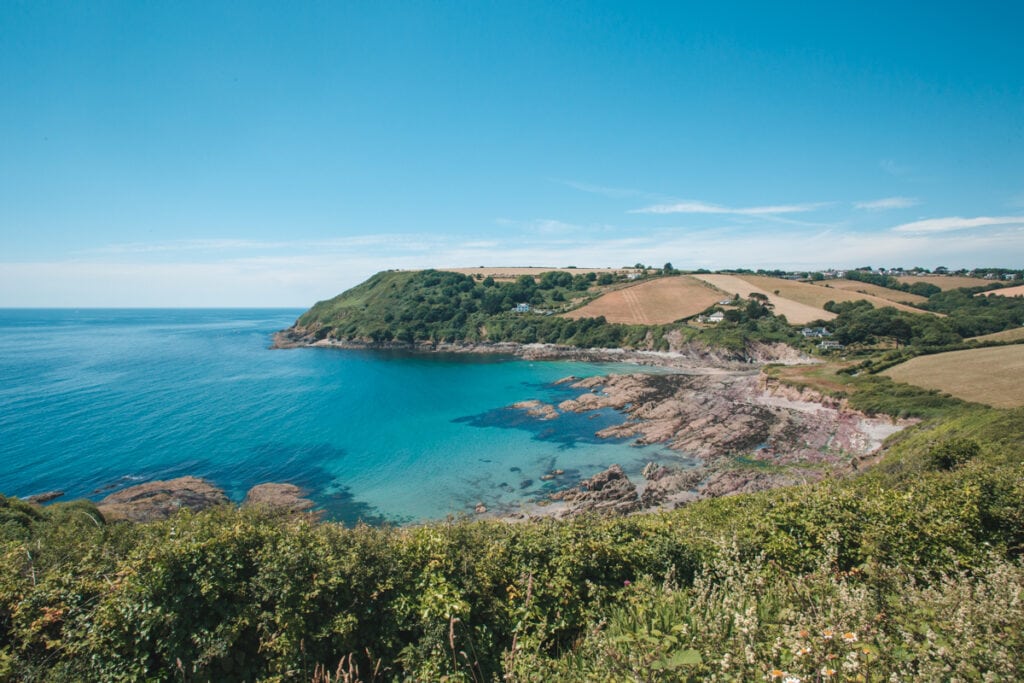 Devon
Head to the beautiful county of Devon for more fantastic surf spots. Saunton Sands, located in North Devon, has right or left beach breaks suitable for all levels. The wide, sandy beach provides ample space for catching a wave, and its consistency makes it an excellent choice for seasoned surfers and beginners alike.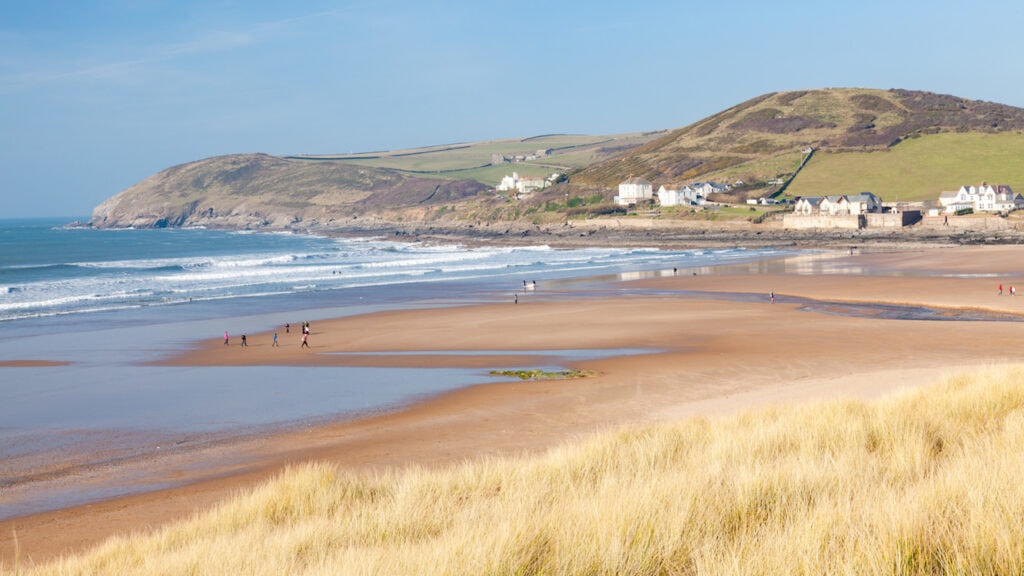 Wales
Wales offers an array of impressive surf spots along its dramatic coastline. Rest Bay is a top choice due to its consistent and rideable waves for learners. Additionally, Llangennith and Freshwater West are well-regarded surf destinations, with the latter offering a challenging reef break for experienced surfers.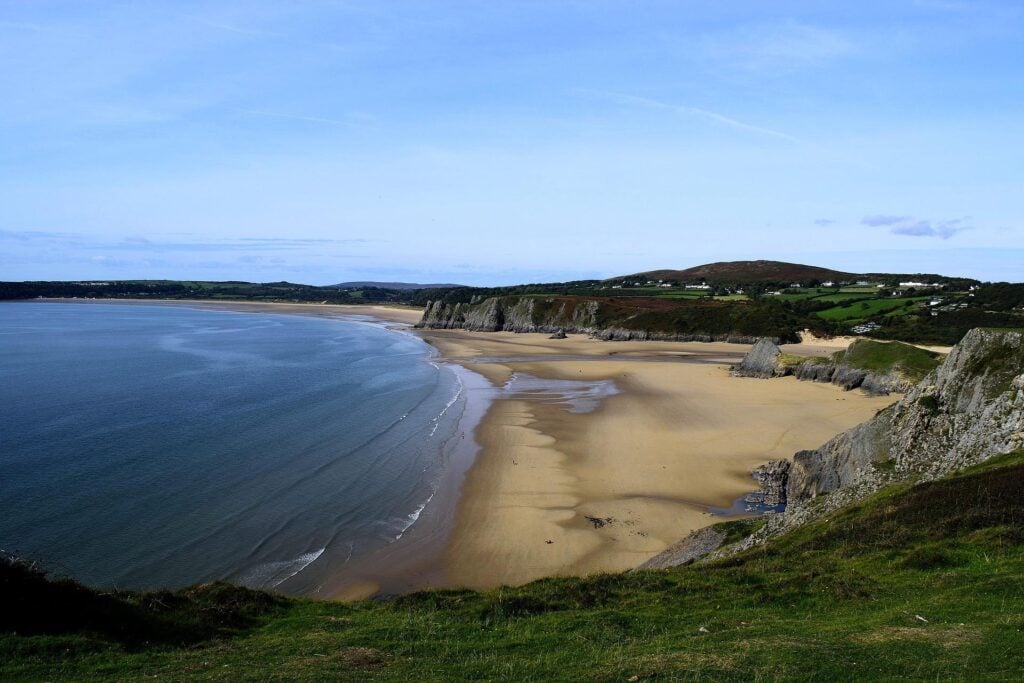 Scotland
Home to some of the UK's most powerful waves, Scotland's rugged coastline has impressive surf options. Thurso East is known for its world-class right-hand point break. This spot is for advanced surfers seeking an adrenaline-filled session in cold waters.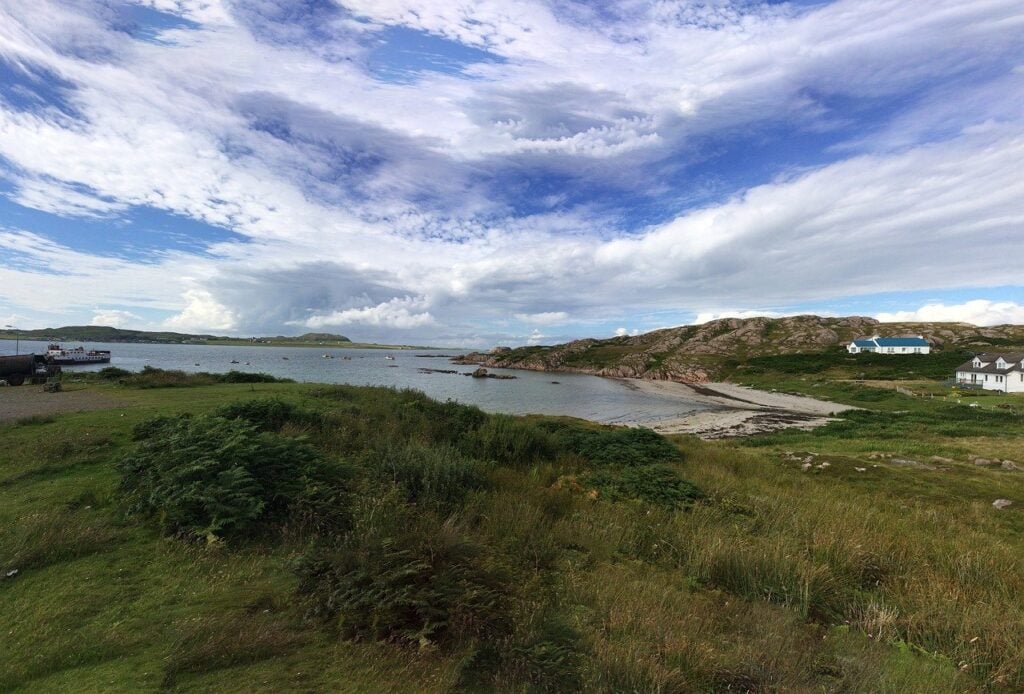 Northern Ireland
Finally, visit Northern Ireland's beautiful coast for more amazing surf opportunities. Portrush is a popular surf town where you can enjoy a number of superb surf spots, such as East Strand. This particular beach is ideal for beginners, boasting smaller waves that are perfect for getting your feet wet.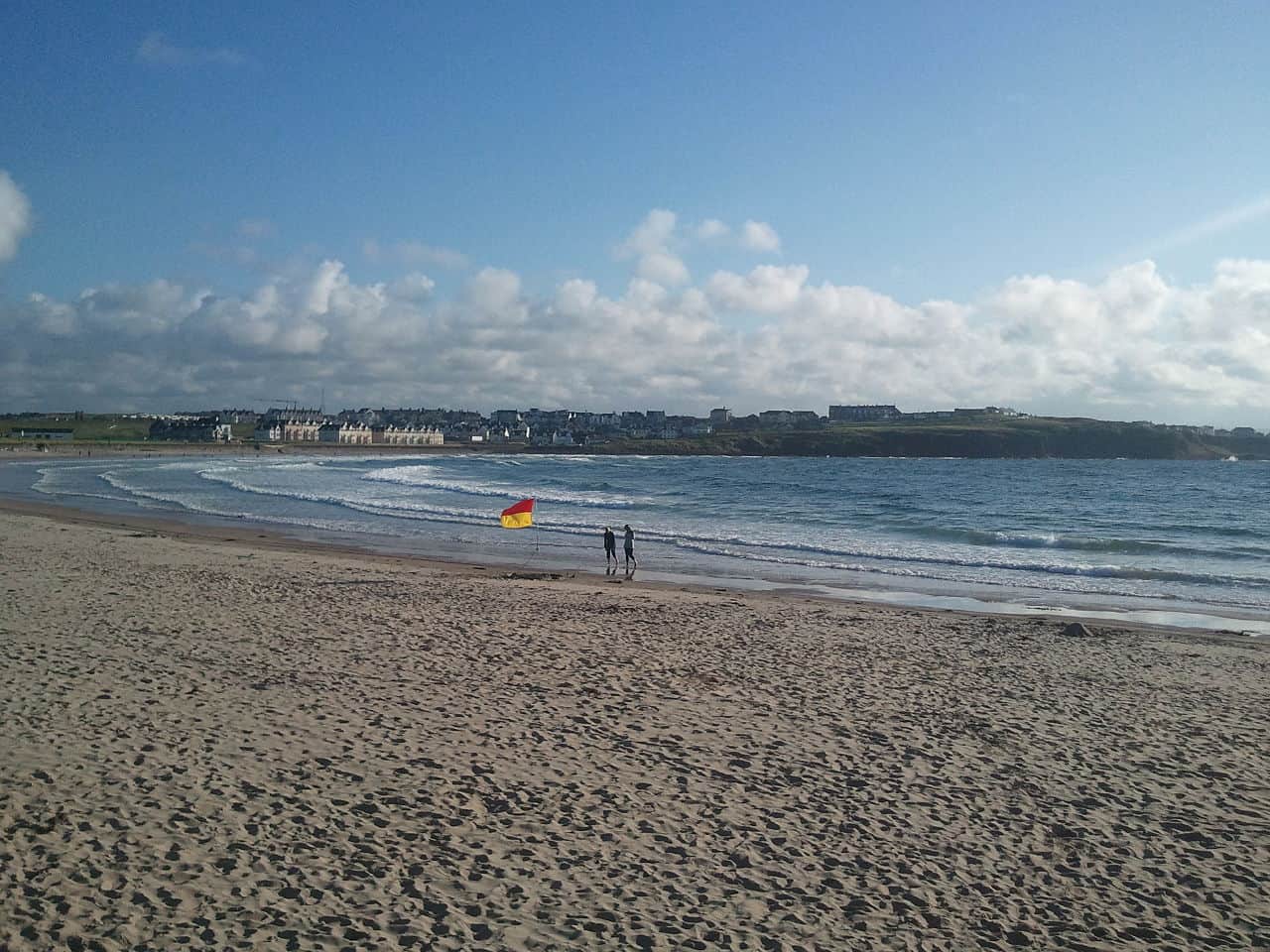 Coastlines all around the UK boast a fantastic selection of surf beaches for all levels, thanks to its diverse coastline and influence from the Atlantic and Gulf Streams. From Cornwall to Northern Ireland, you'll find beautiful spots that cater to your surfing dreams.
Best Beaches for Different Skill Levels
No matter your surfing skill level, the UK offers an array of beaches perfect for beginners, intermediates, and advanced surfers. Let's explore the top spots tailored to each surfing category.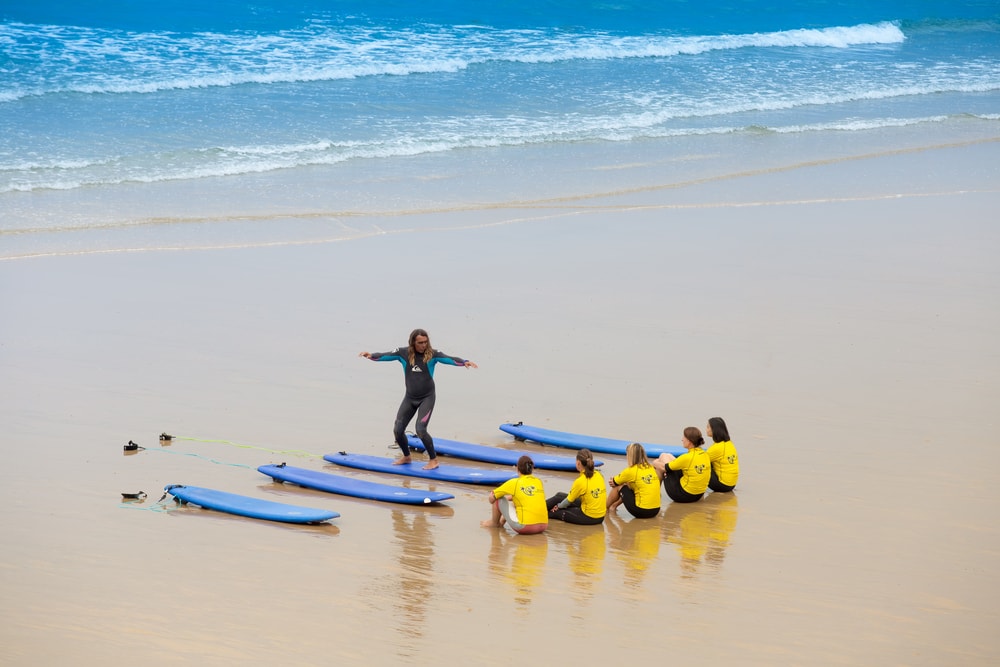 Beginner Surfing Beaches
Newquay has several amazing surf beaches lining the town. Any of these are amazing for your first waves. There's always a wide choice of surf schools, rental, and lifeguarded areas to choose from. Plus facilities and refreshments (and Cornish pasties!) are a few steps away from the sand.
Saunton Sands in North Devon is a great spot to start your surfing journey. This beach features a forgiving right or left beach break, allowing you to develop your skills with ease.

Saltburn in North Yorkshire offers a friendly atmosphere and mellow waves perfect for beginners. Plus, you can find surf schools in the area willing to provide expert guidance.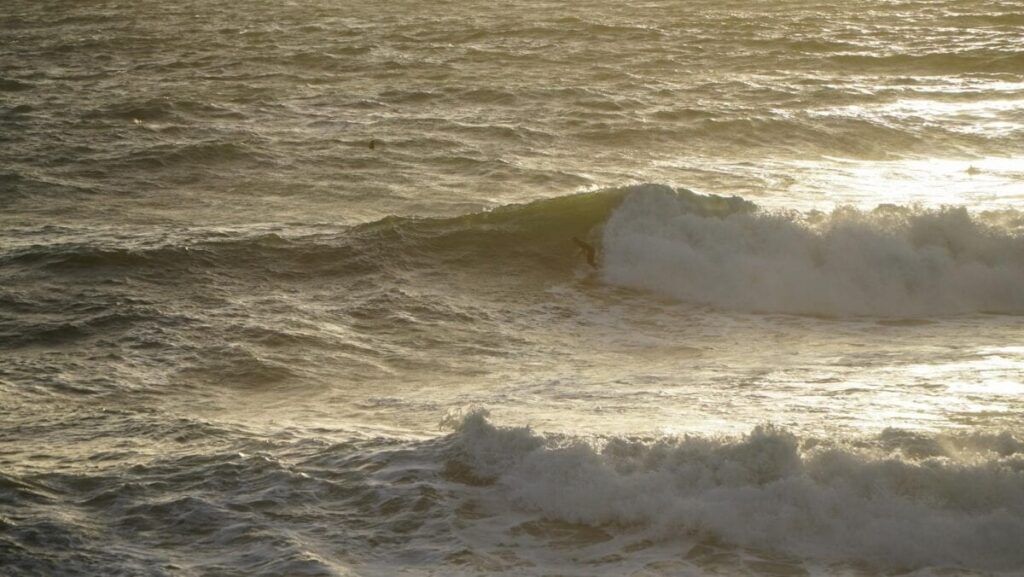 Intermediate Surfing Beaches
Croyde Beach in Devon is one of the best surfing beaches in the world, offering consistent, challenging waves suitable for intermediate surfers looking to enhance their skills.

Llangennith in Wales provides various surf options, from longboard-friendly spots to heavier shore breaks, perfect for those with some surfing experience under their belt.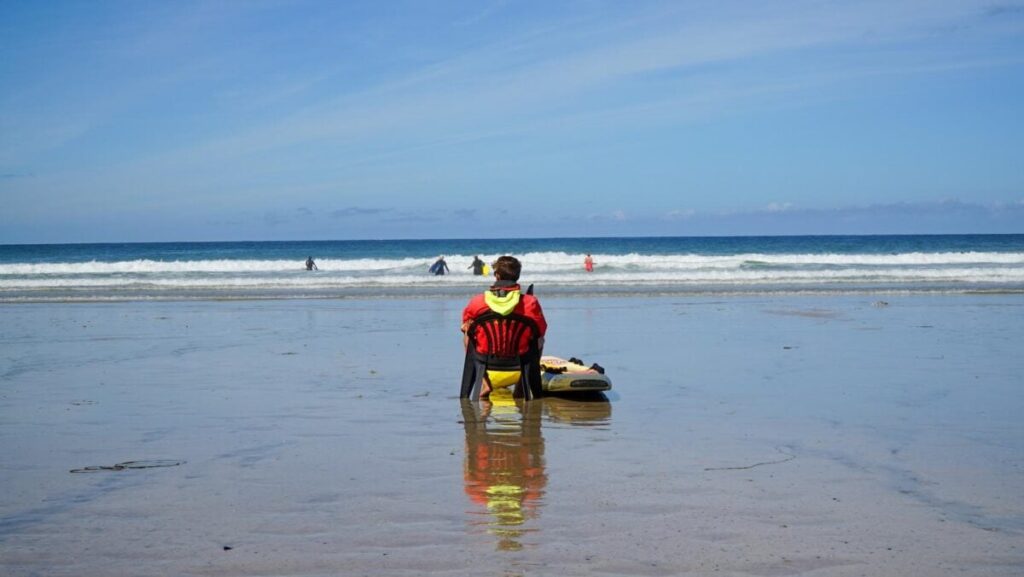 Advanced Surfing Beaches
Thurso East in Scotland is the ultimate surf spot for advanced surfers. Famous for its powerful right-hand point break, experienced surfers can expect thrilling rides amidst picturesque scenery.

Porthleven Beach in Cornwall is a reef break known for its consistent, powerful waves that draw in advanced surfers from across the UK. Be cautious of the rocks and respect the locals when surfing here.

Freshwater West in Wales is another superb option for seasoned surfers. Its heavy waves and strong rip currents make it ideal for those looking to challenge themselves.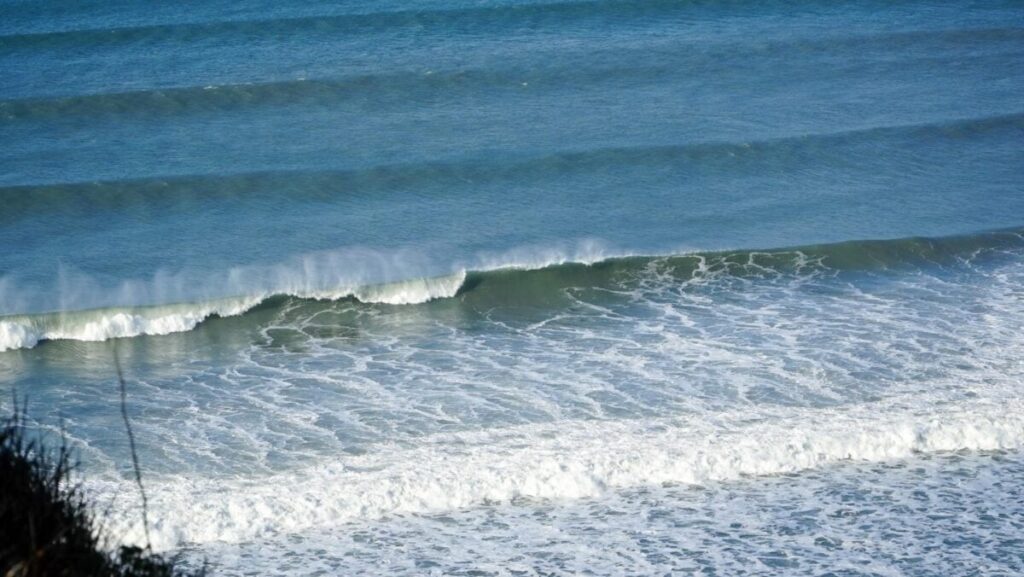 Now, go ahead and make the most of your time exploring these top UK surfing beaches!
Popular Surfing Beaches with Great Facilities
Fistral Beach
Fistral Beach, located in Newquay, is a famous surfing destination in the UK. Known for its consistent waves and beautiful scenery, it attracts both beginners and experienced surfers. Facilities at Fistral Beach include: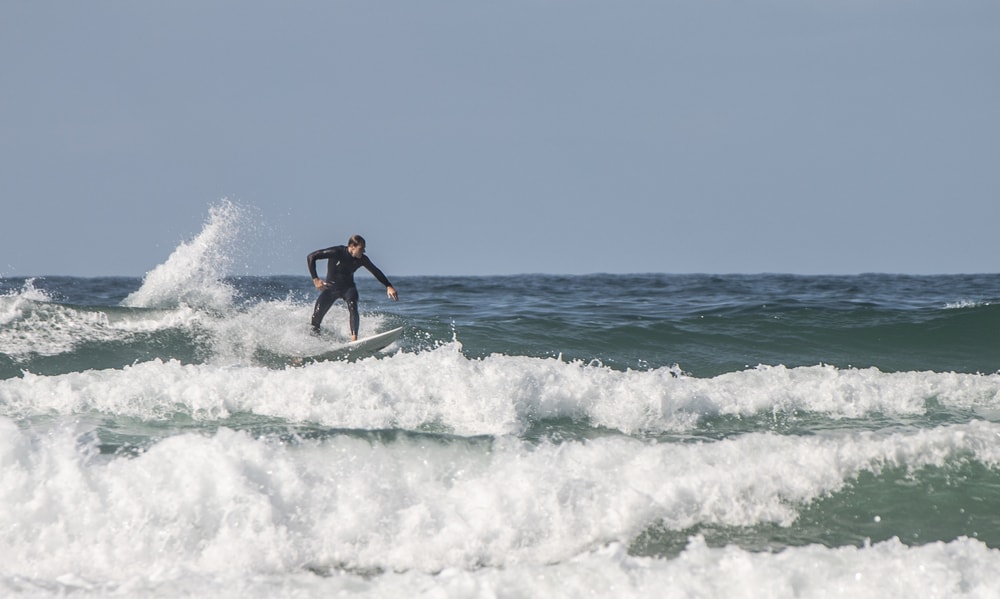 Surf schools and rental shops
Beachfront cafes and bars
Lifeguard services during peak season
Perranporth
At Perranporth on the Cornish North Coast, you'll appreciate easy access to parking spaces close to the beach, as well as the availability of public transport. This beach break is perfect for all levels of surfers with regular swells.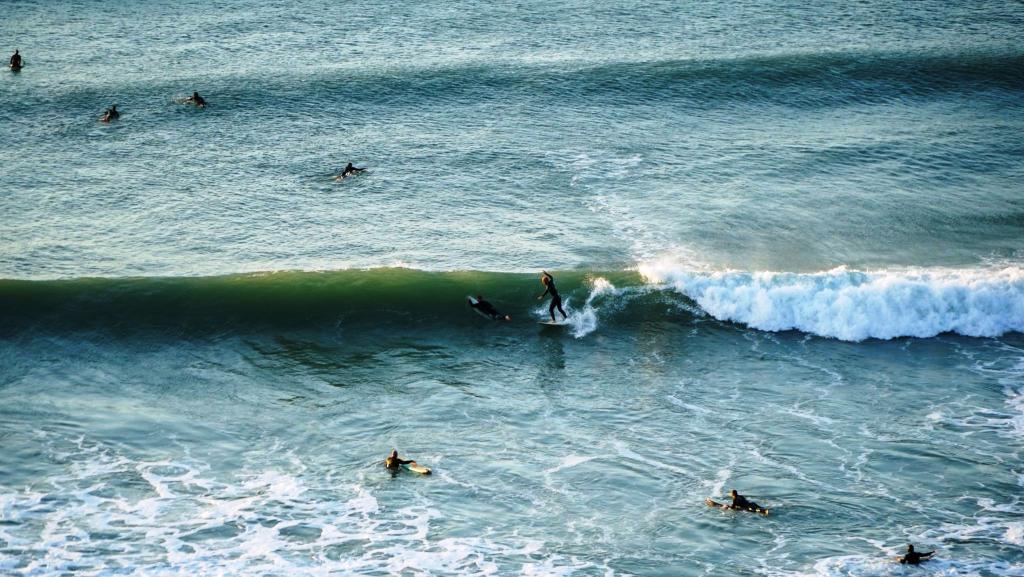 Regular swell for all levels
Easy access to the big beach
Surf rental and surf schools
Croyde Bay
Croyde Bay in North Devon has gained a reputation as one of the UK's premier surf spots. Nestled between Woolacombe and Saunton Sands, Croyde offers: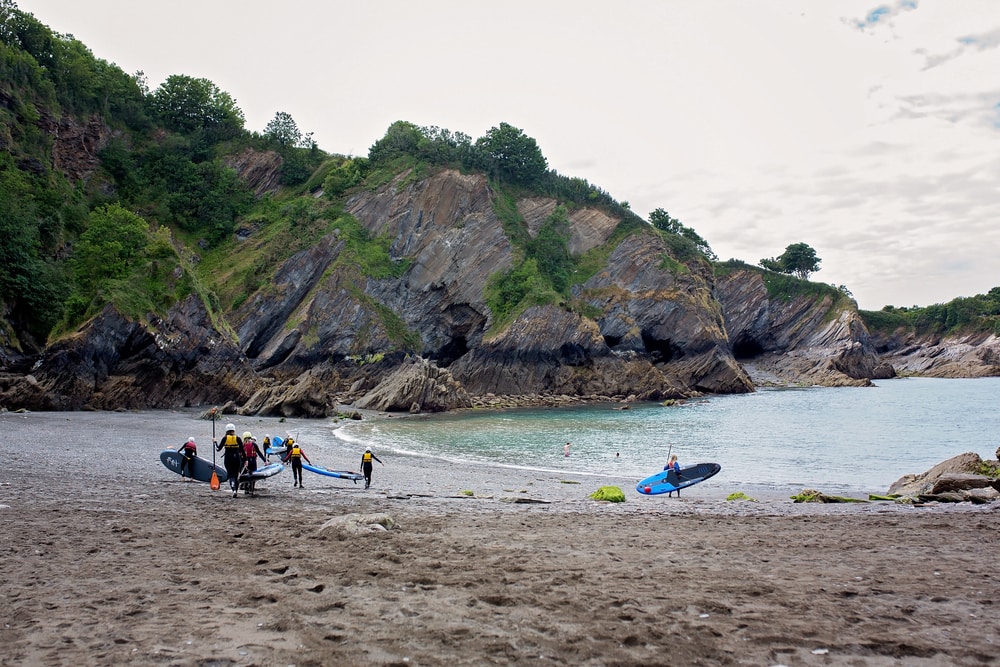 Surf schools and equipment hire
Nearby holiday accommodation
Excellent waves for beginner and intermediate surfers
Llangennith
As the heartland of the Welsh surf scene, Llangennith boasts a three-mile stretch of golden sand and impressive beach breaks. Among the available facilities here, you'll find: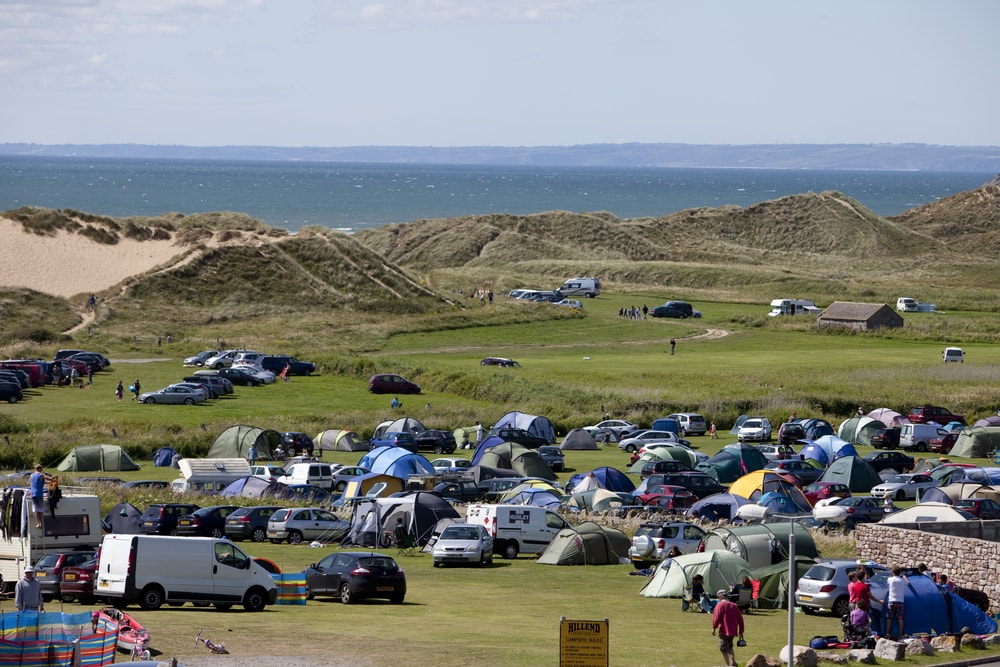 Surf schools for all skill levels
Camping and caravan sites nearby
Local pubs and eateries
Thurso East
Thurso East is a renowned surf spot in the Scottish Highlands. Situated near the beautiful Dunnet Bay, this area offers great surfing opportunities for beginners. Facilities in the area include: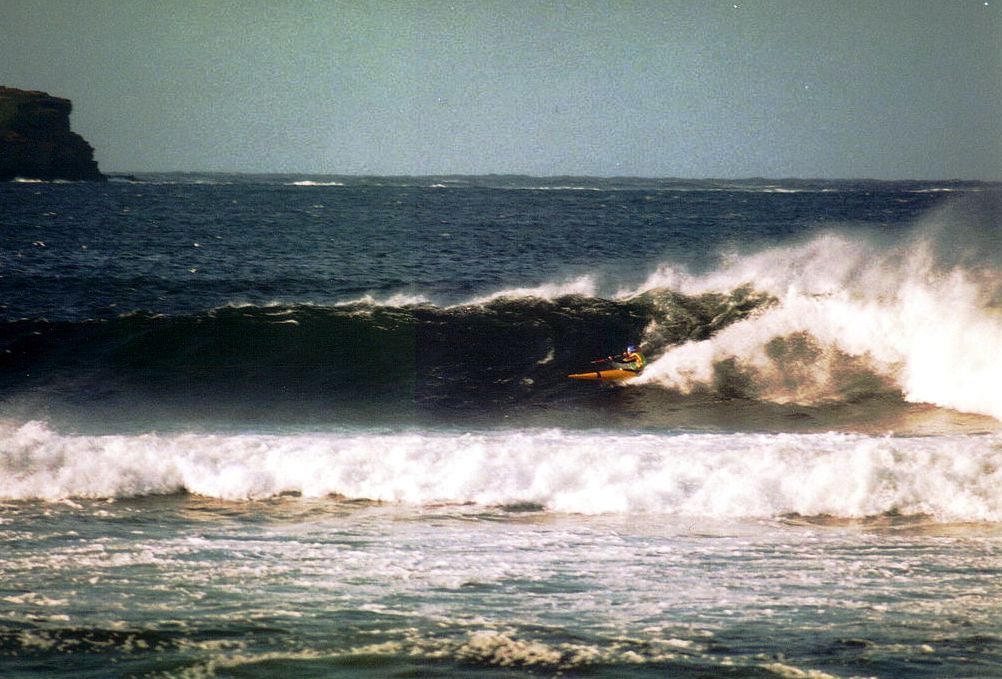 Surf shops and equipment rental
Local accommodation options
Picturesque coastline views
Saltburn
Located in North Yorkshire, Saltburn is a popular surfing beach with consistent waves suitable for all skill levels. With a friendly surf community and a Victorian charm, it provides the following amenities: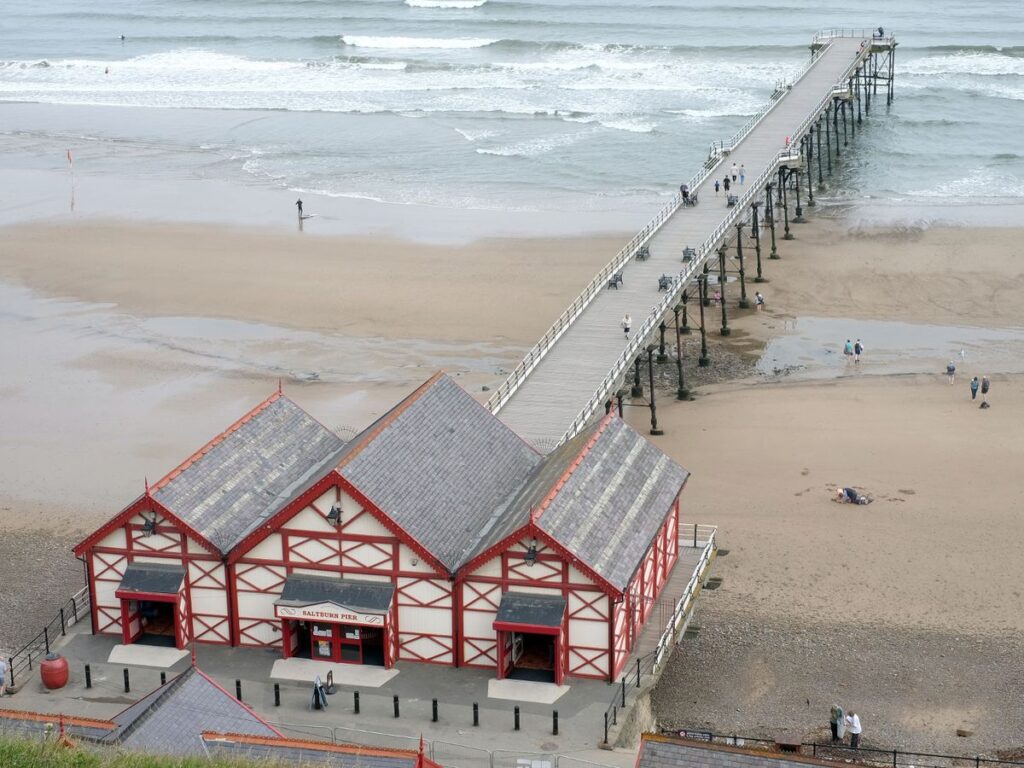 Surf schools and board hire
Coastal walks and trails
Friendly local pubs and cafes
During your visit to these popular surfing beaches, make sure to take advantage of the facilities and enjoy the UK's stunning coastline. Happy surfing!
Surf Schools and Lessons
If you're looking to learn to surf or improve your skills, there's no shortage of excellent surf schools at some of the best surfing beaches in the UK. From beginner courses to advanced lessons, you'll find the right surf school to suit your needs.
One top surf destination is Portrush in Northern Ireland, with its famous surf spot Troggs. At Troggs Surf School, you'll be able to choose between two areas, West and East Strand, each boasting powerful waves perfect for honing your skills.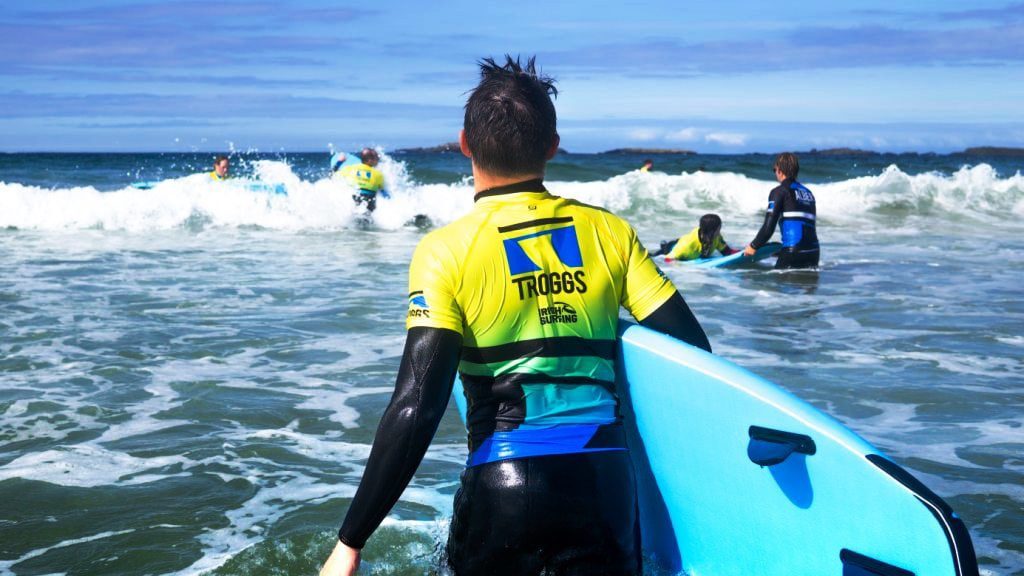 Over on the east coast of England, you can find the well-established Saltburn Surf School, which offers lessons for all levels. The school runs sessions from March through November, and on flat days, you can even switch it up and try stand-up paddleboarding or coasteering.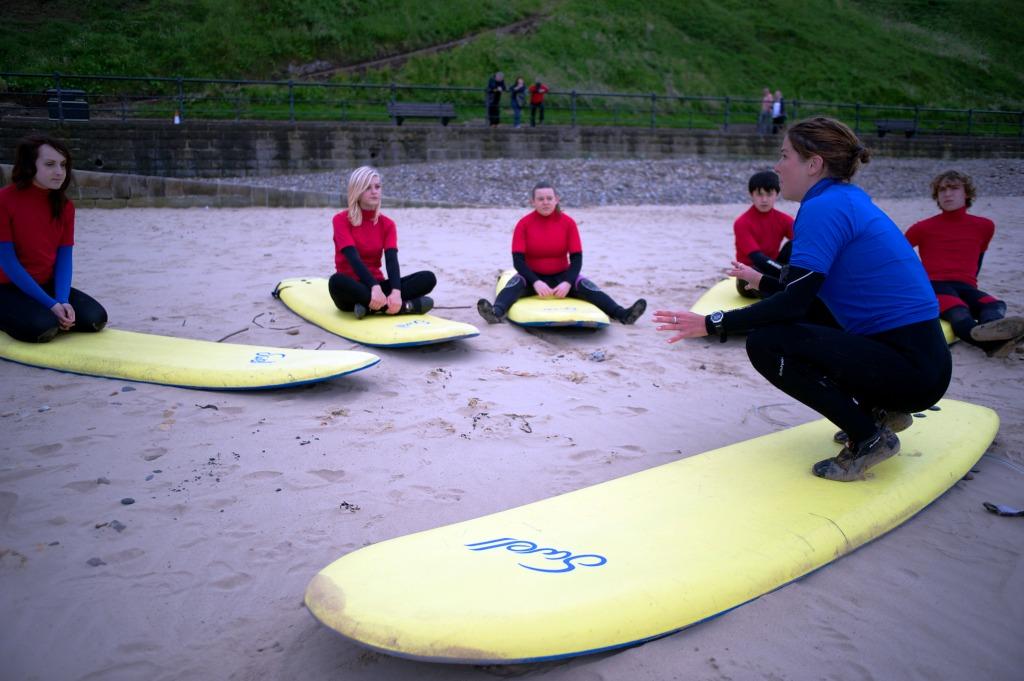 In Cornwall, the Newquay Surf School provides lessons and board hire, making it easy for you to enjoy the ample beaches around in the town. Offering lessons for £40 for two hours and a half, the centre caters to surfers of varying skill levels. Additionally, you can rent a board for £12 a day and enjoy the breaks at your leisure.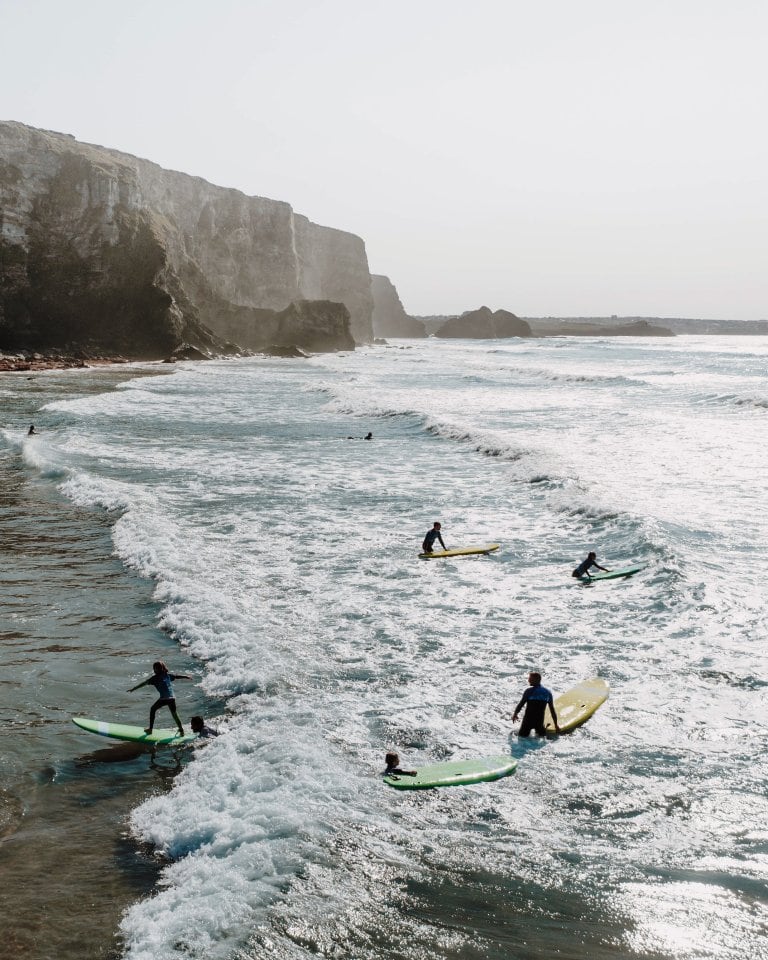 No matter which surf school you choose, you're bound to have a fantastic experience diving into the world of surfing. Embrace the waves, improve your technique, and most importantly, have fun! So, grab your wetsuit and wax your surfboard, because it's time to hit the waves at these top surf school locations in the UK.
Water Conditions and Surf Seasons
When it comes to surfing in the UK, you'll find various conditions depending on the season and location. In this section, we'll explore water conditions, surf seasons, and where to find the best waves.
During summer, water temperatures usually reach their peak, offering you more comfortable surfing compared to the colder months. The southwest coast, especially in Cornwall, offers some of the best summer surf spots, thanks to the varied coastline direction that attracts consistent Atlantic swells.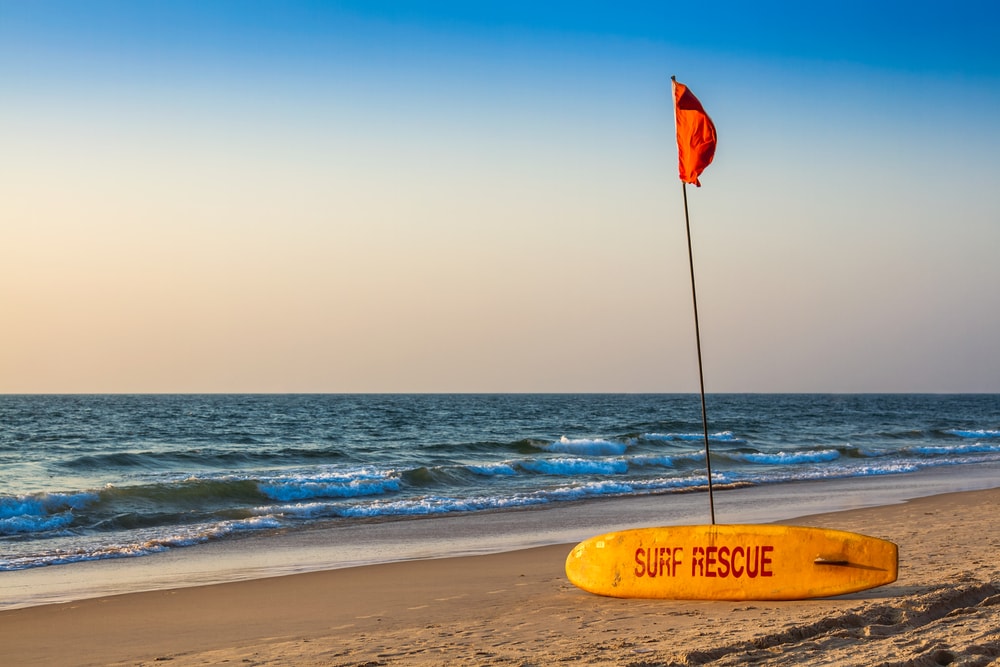 However, the autumn season presents larger swells and more consistent waves, making it a popular time for experienced surfers. Many consider autumn as the new summer surfing season when even hidden coves in Yorkshire start producing some impressive waves.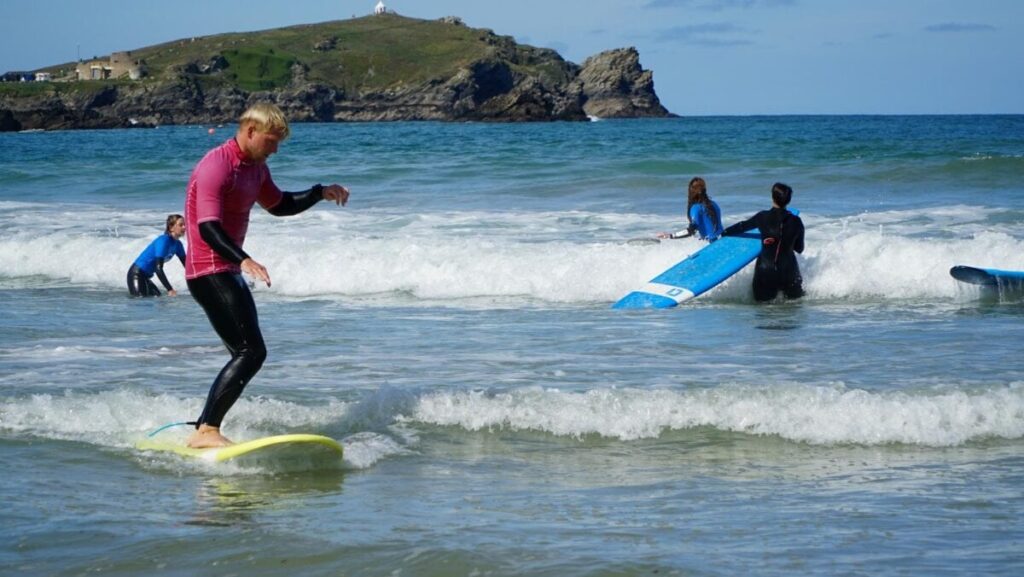 When looking for prime surfing conditions, keep an eye out for the following factors:
Swell: Swells are crucial in creating surfable waves. England's coastline receives a more steady swell supply during autumn and winter, while summers can sometimes be less consistent.
Offshore winds: Offshore winds (blowing from the land to the sea) create clean, well-shaped waves. Check out the forecast to find days with suitable wind conditions for your favourite surf spots.
Water temperatures: While summer water temperatures may be comfortable around 16-18°C, in winter, temperatures can drop to as low as 6-8°C. Always make sure to wear appropriate wetsuits and follow safety guidelines.
Keep in mind that different regions experience varying conditions. For example, North Devon and Cornwall have waves all year round, while different surf spots in northern England might be more seasonal.
Your perfect surfing beach would depend on your experience level, preferred wave conditions, and travel season. Whether you prefer summer's warm waters or the bigger waves during autumn, the UK's diverse coastline will always have the option to suit your needs. Happy surfing!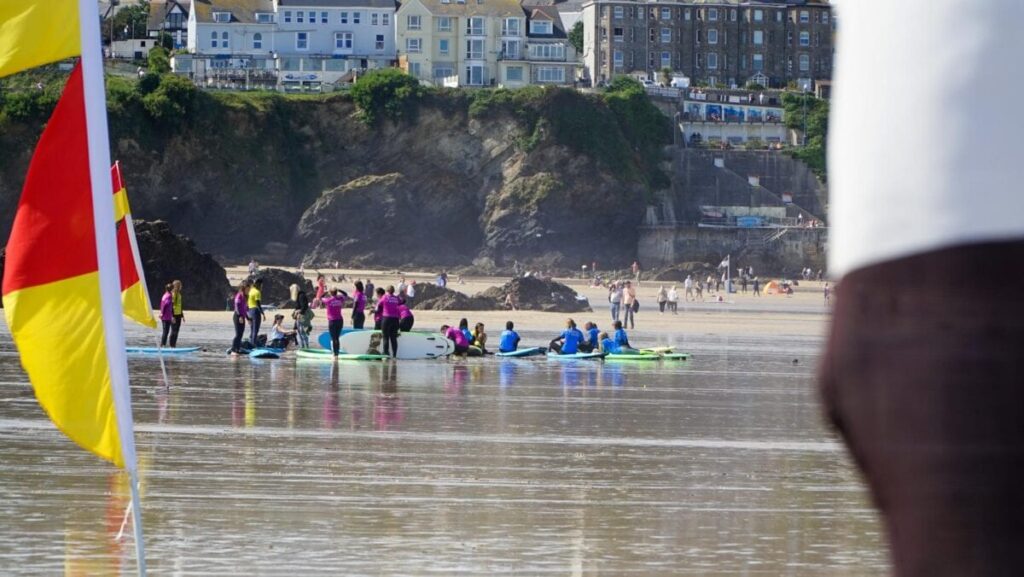 Safety and Environment
When you visit the best surfing beaches in the UK, it's crucial to ensure both your safety and protect the surrounding environment. Firstly, it's always recommended to choose beaches with lifeguards, as their presence can make a significant difference in your overall safety while enjoying the waves. Beaches are not always lifeguarded. In fact, during the winter months, most beaches are unattended.
The RNLI mainly roll out their team from May until October to cover the busy periods. The lifeguarded surf zones are marked by black and white flags for the safest spots – this is the best zone to enter the water for beginners or if you are new to an area.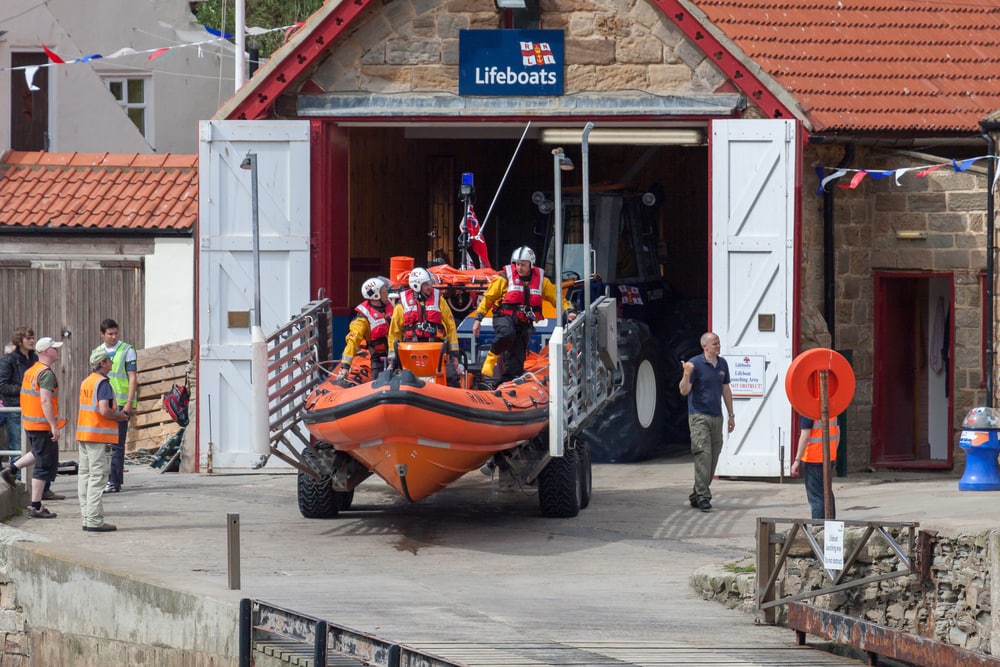 To make your surfing experience even safer, you should always check the tide and weather conditions before venturing into the waters.
Plus as you travel to different surfing locations in the UK, be mindful of reducing your carbon footprint with car sharing and public transport.
And it goes without saying -always remember to clean up after yourself and avoid littering. By preserving the cleanliness of these beautiful beaches, you are not only contributing to a healthy environment but also ensuring the safety and enjoyment of others.
Adding to this, you can use the Surfers Against Sewage app to check water quality and any recent dumps into the ocean from water companies!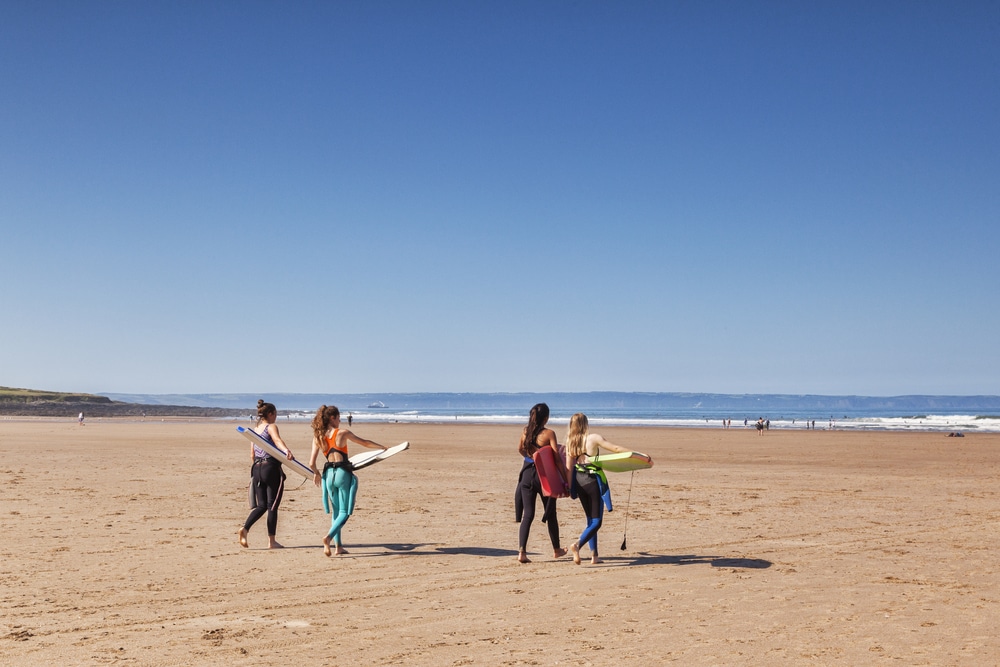 So, as you set out to explore the best surfing beaches in the UK, remember to prioritise safety and respect the environment. Doing your part makes a difference and enhances the overall experience for everyone.
Time to Get Surfing at Beaches Across the UK
So there you have it – the best surf beaches in the UK! From the thrill of riding the waves at Fistral Beach to the stunning scenery of Sandwood Bay, these beaches offer something for every surfer.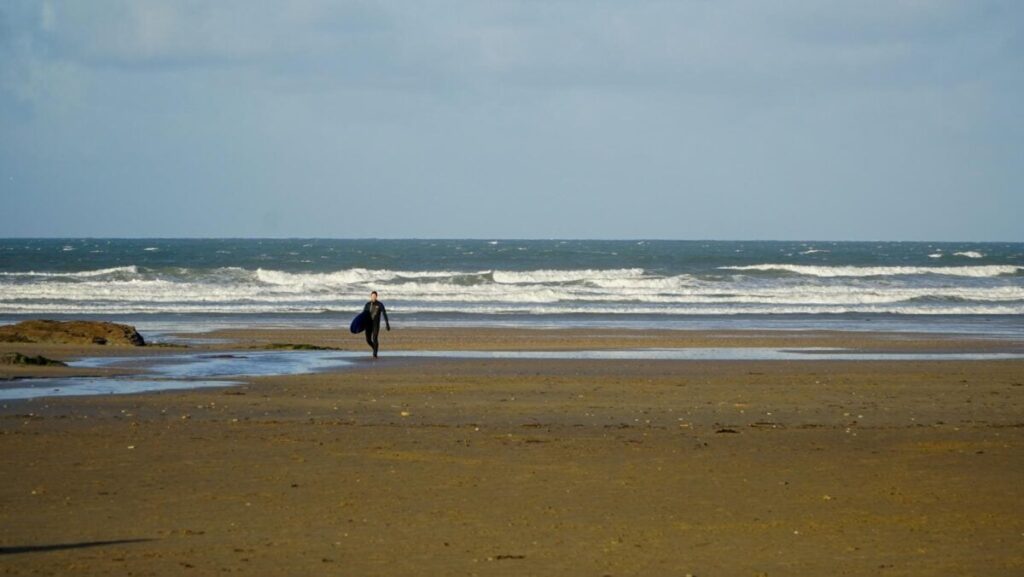 Whether you're a seasoned pro or a beginner looking to catch your first wave, the UK has a wealth of surf spots just waiting to be explored.
So what are you waiting for?
Grab your board, head to the coast, and experience the rush of surfing at some of the best beaches the UK has to offer.
The waves are calling – are you ready to answer? Pin it to save it
Author: Eliot's love for the outdoors and the ocean means you'll find him chasing waves across the UK. Most of the time he'll be hiding on his home beaches of Cornwall and writing about his adventures over at Cornish Vybes.