10 romantic things to do in Santorini for couples – the ultimate guide
Are you looking for the best things to do in Santorini for couples? Then I got you covered!
Santorini, with its stunning white-washed buildings, crystal-clear waters, and breathtaking sunsets, is an amazing destination for couples and honeymooners seeking a romantic getaway.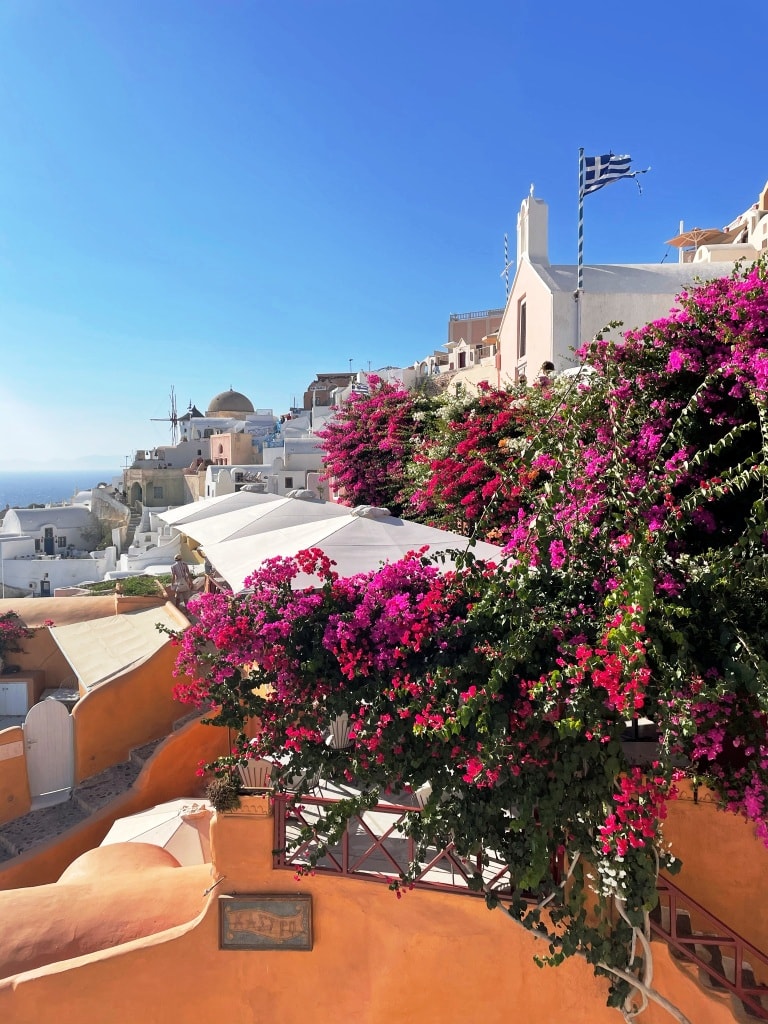 The beautiful Greek island has a charm that is hard to resist. I have been to Santorini many times and it is without a doubt the most romantic place on earth for me.
Sadly, it can be a bit hard to find authentic and romantic experiences with tourists overflowing the island. To save you the pain of researching endlessly, I have created this blog post.
In this blog post, I will share with you some of the top things to do in Santorini for couples. From watching the sunset to relaxing in hot springs, I've got you covered. So, grab your partner's hand, and let's dive into it!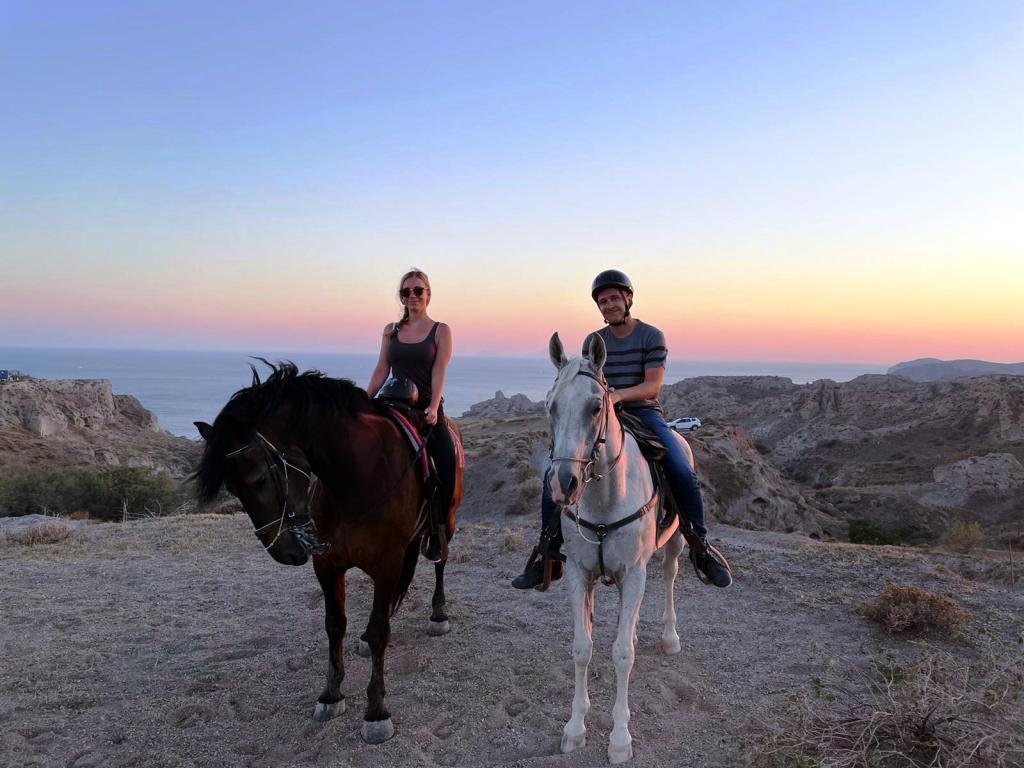 Xyuandbeyond is reader-supported. When you buy through links on our site, we may earn an affiliate commission. You can read my privacy policy here.
How to get to Santorini
Getting To And Getting Around In Santorini
Between May and October, there are non-stop flights to Santorini from many European cities, and if flying into Athens you will find connections to the Greek Islands all year round.
There are daily ferry services from Athens, Naxos, and Paros to Santorini. The morning trips from Athens leave between 7 am and 8 am from the Piraeus Ferry Terminal, and the high-speed ferry takes five hours.
From Santorini airport, it is best to rent a car or opt for a private transfer or taxi to get to your accommodation and many hotels offer a free shuttle from the airport.
Romantic Santorini: Things to do for couples
Watch a stunning Santorini sunset!
Santorini sunsets are famous for their unique beauty. The unobstructed views of the horizon and the Aegean Sea are somewhat next level.
The island's stunning natural beauty adds to the magic of the sunset. The combination of the white-washed buildings and the remnants of a volcano in the background make the sunsets that much more special.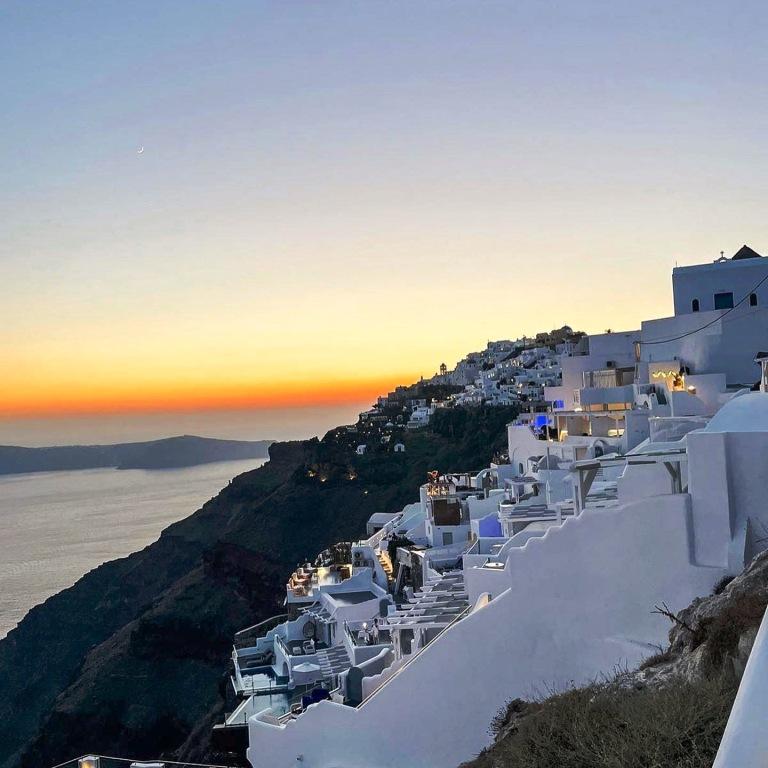 While most travel guides will send you to Oia for the sunset, I have a better alternative. Oia gets incredibly crowded during sunset time and the experience is anything but romantic.
Watching the sunset from Pyrgos, a cute little elevated village on the island, is so much more magical. Walk all the way up to Castle Pyrgos or make a reservation at Pyrgos restaurant for the sunset.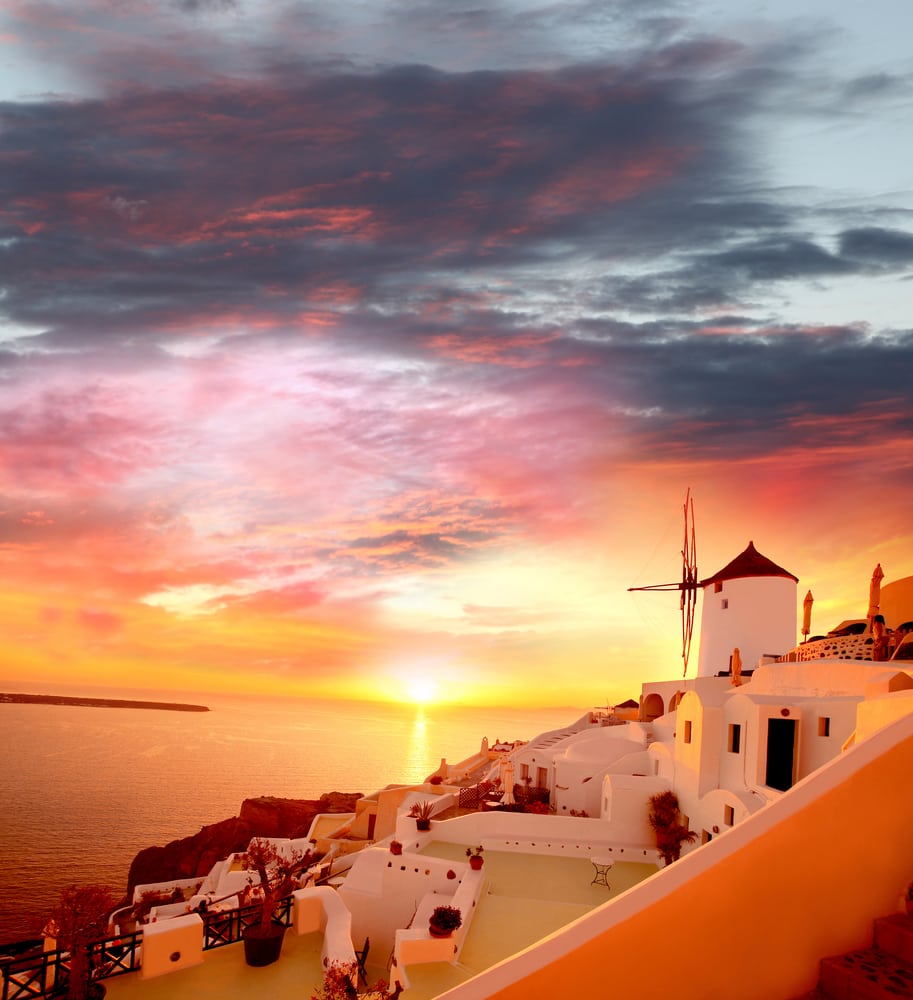 If you love some adventure, drive up to Mount Profit Ilias from Pyrgos, the highest point of the island. The views from up there are truly incredible.
Taste authentic Santorini wine!
Wine tastings are one of my favourite things to do with my partner. And Santorini offers some of the most exciting wine-tasting experiences in the world.
The volcanic soil of Santorini creates unique flavours in the wine and Santorini wine-making has a history dating back to ancient times.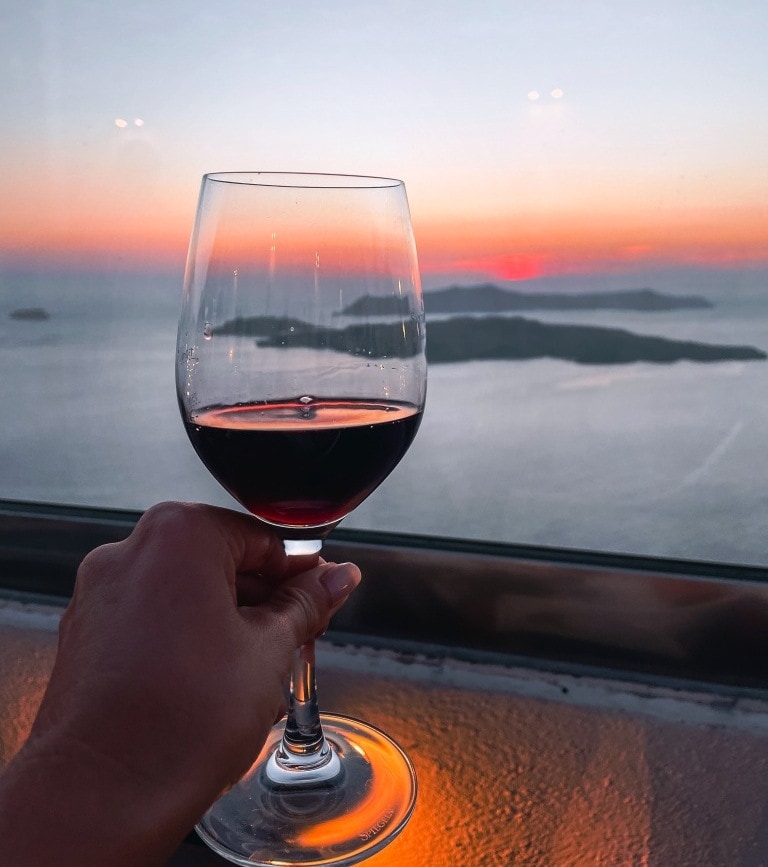 Many of the wineries offer stunning views over the Aegean Sea. My favourite romantic wine tasting in Santorini is held at Santo Wines Winery. Their terrace has the best view of the sunset, and their wines are of the highest quality.
Canava Roussos should also be on your list if you love wine tastings. Their lovely garden is the perfect place to sip wine and try some delicious local snacks. They even have a special wine called "The Love Wine".
If you are an absolute lover of wine, you can even take a pre-arranged wine tour of the island and visit up to 5 different wineries.
Have a romantic dinner in a great atmosphere!
Dinners in Santorini can be incredibly romantic – so you absolutely cannot miss this.
Many restaurants on the island offer beautiful views of the Aegean Sea. This creates a romantic atmosphere for couples to enjoy their meal and watch the sunset while eating.
The combination of delicious Greek cuisine, excellent wine, and stunning views can make for an unforgettable and romantic dinner. Many restaurants have candlelit tables and soft lighting, adding to the ambience.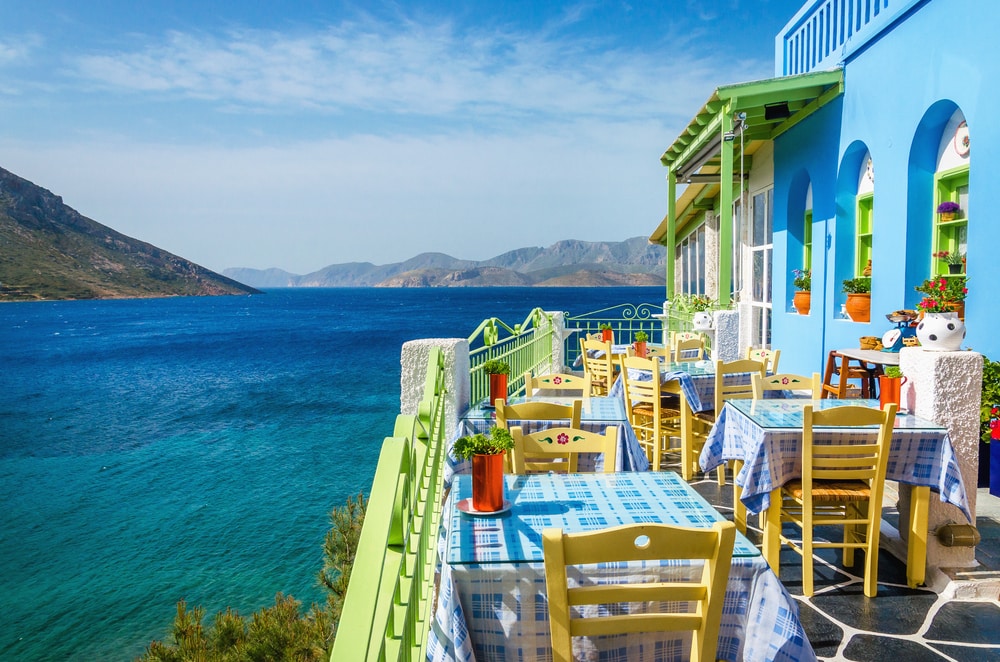 Keep in mind that restaurants in Oia are extremely expensive and in general more touristic.
For a truly magical experience try out restaurants in Imerovigli, Firostefani, Pyrgos, or Megalochori. They are even more charming and typically a lot more affordable.
Book a sunset sail and explore the hot springs of Nea Kameni!
A Sunset cruise in Santorini is my favourite way to experience the island's stunning beauty while having some fun on the way. Most of these boat tours depart in the afternoon and will take you on a scenic tour of the caldera. The caldera is the volcanic crater that Santorini is famous for.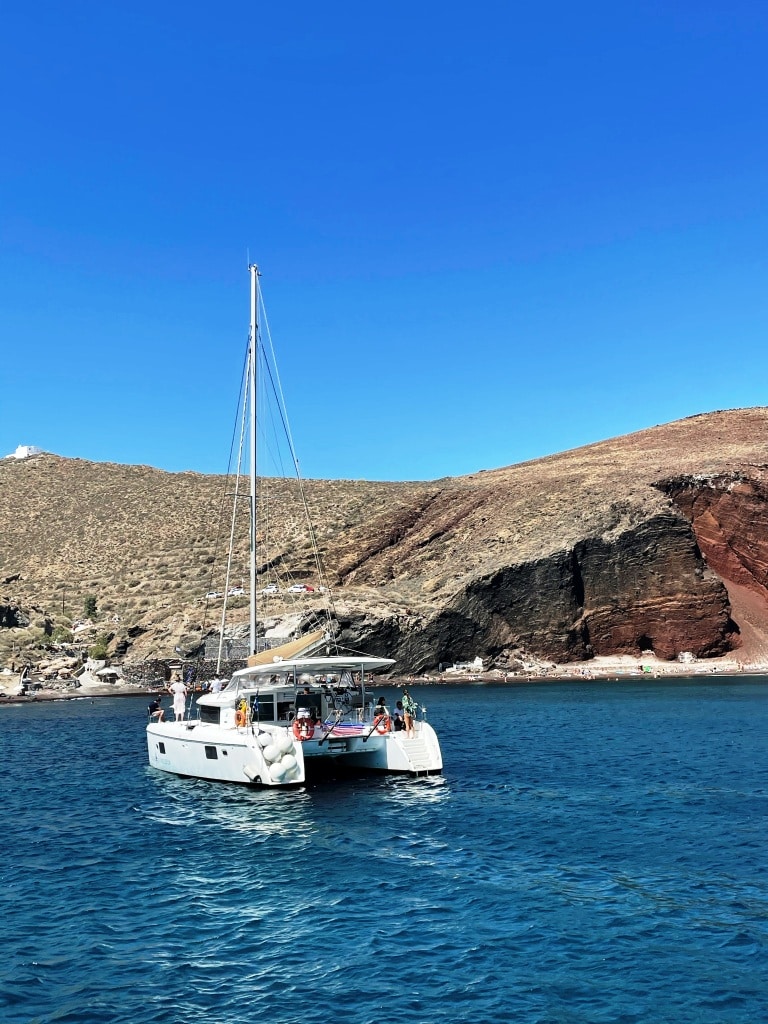 One of the stops on many sunset sail tours is Nea Kameni. Nea Kameni is a volcanic island located in the centre of the caldera.
After visiting Nea Kameni, the sailing tour continues to the hot springs of Palea Kameni. There you can take a swim in the warm waters created by the volcano's thermal activity. The hot springs are said to be super relaxing – so make sure to try it out with your sweetheart.
As the sun begins to set, the boat will take you to a lovely spot overlooking Oia for sunset. Usually, these cruises offer an open bar, so grab a glass of wine and get ready for the ultimate romantic thing to do in Santorini.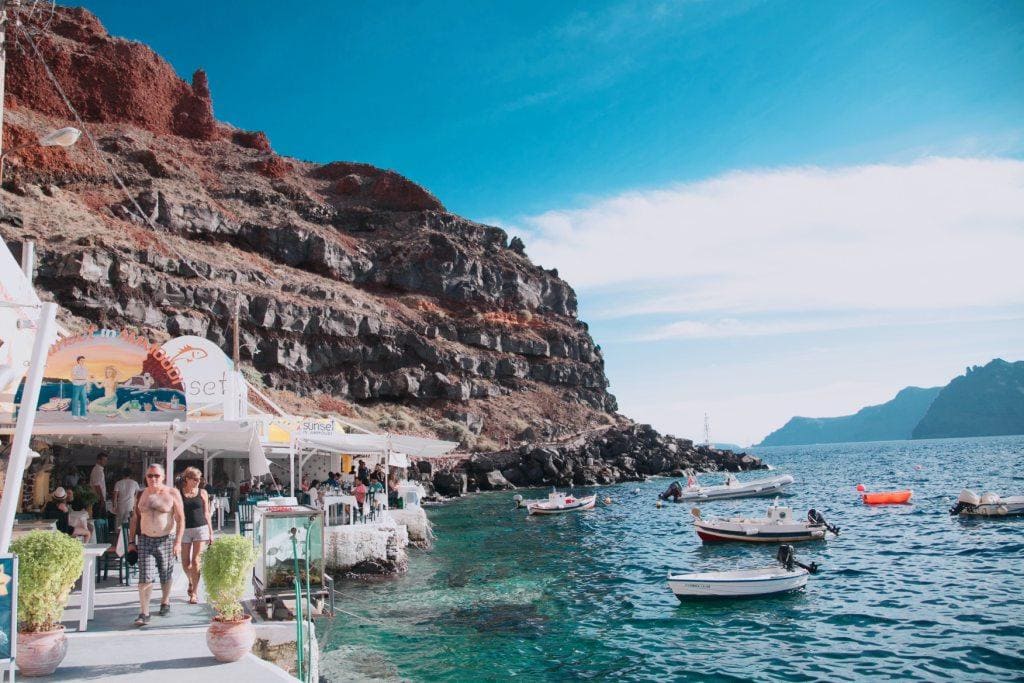 Alternatively, you can also book a catamaran day trip and sail around to all the famous beaches on the island.
Explore the island off the beaten path with an ATV
Exploring Santorini with an ATV can be a fun and adventurous way to see the island. From experience, I know that this is a great bonding activity.
Santorini is a relatively small island, and an ATV allows you to easily navigate around all the small streets. You can explore the island at your own pace, with the freedom to stop wherever you like.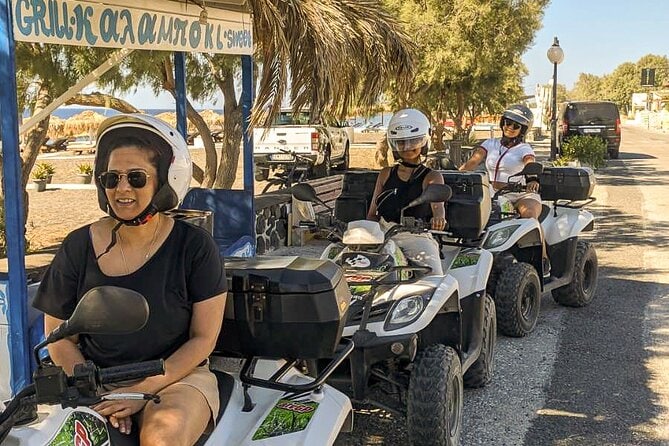 Enjoy Santorini with a guided ATV-Quad tour is a great alternative to your average cultural tour. You will be able to see first-hand and learn about the local beaches and villages. However, a traditional island without fish and sea is not possible. This exhilarating experience will satisfy your need with a delicious dish featuring freshly caught grilled fish, of course, accompanied by ouzo, raki or wine!
Read more about ATV-Quad SEAFOOD LOVERS Tours
Make sure to visit the ruins of Akrotiri and Ancient Thira as well as the beautiful lighthouse. Explore cute little villages like Pyrgos, Kamari, and Megalochori or simply drive along the coastline.
Maybe even stop for the open-air cinema or a cooking class off the beaten path.
Go beach hopping in Santorini
Santorini might not be known for its fabulous beaches, but there are still some hidden gems that you should check out with your partner.
Here are my favourite beaches to visit in Santorini for couples:
Red Beach: Located near the ancient site of Akrotiri, this beach gets its name from the red volcanic rocks that surround it. You can enjoy a walk along the cliffs and a dip in the crystal-clear waters. Red Beach is also an amazing spot for snorkelling. It can be a bit hard to reach, but it is well worth it.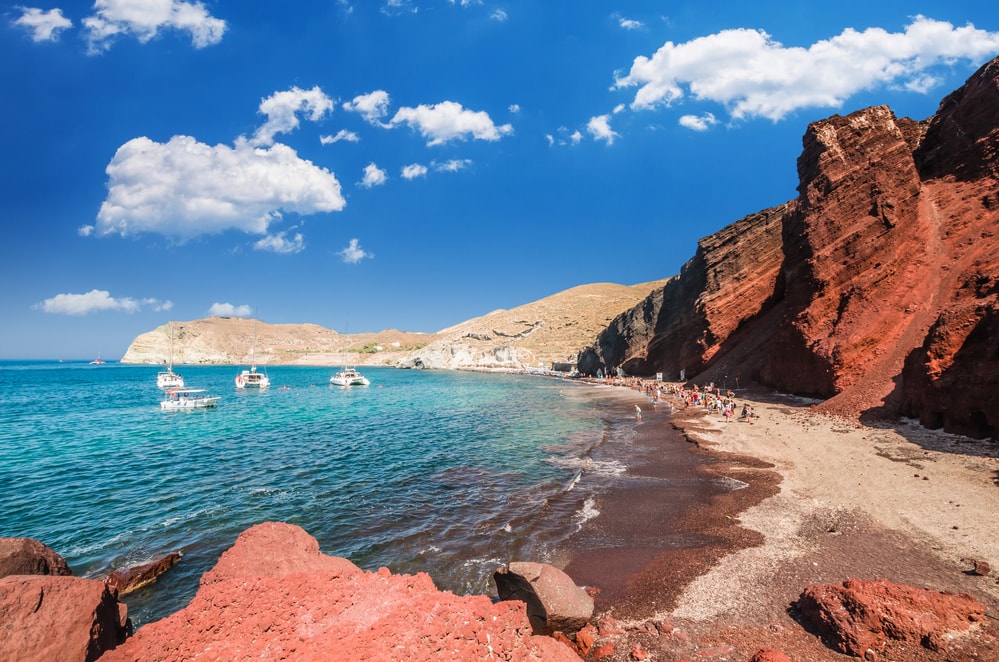 Vlychada Beach: This secluded beach is known for its dramatic landscape of white rock formations. The beach is super picturesque and a lovely spot to lounge in the sun
White Beach, also known as Aspri Beach is a beautiful and unique beach that you should visit. It is located near the stunning Red Beach, and its name comes from the white volcanic cliffs that surround it
Kamari Beach is a black sand beach that has a lively boulevard attached to it. You can enjoy a swim in the clear waters and take a stroll along the promenade, which is lined with cute restaurants and chic beach clubs.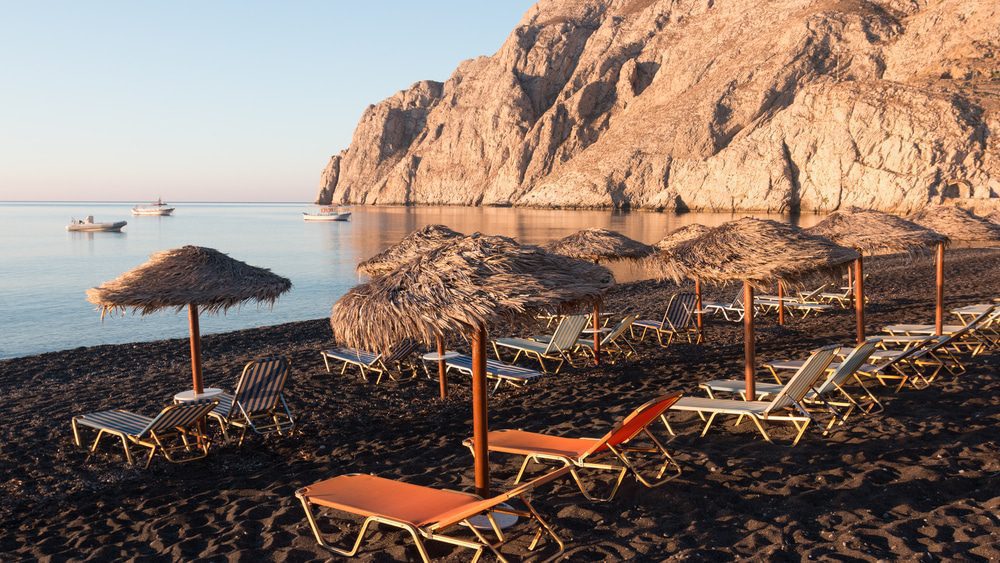 Ammoudi Bay and Beach are located right beneath the famous city of Oia. You can walk the path all the way down to the bay and have an amazing day there. This is also a prime spot to eat some seafood. The restaurants there are famous for their freshly caught fish.
Perissa is the famous black beach of Santorini. There are lots of beach bars, tavernas, pizzerias and cafe places along the main beach road of Perissa and there are lots of sea activities too (diving school, jet ski rental places, beach volleyball courts). The black sand is a result of the volcanic eruption and is a mixture of volcanic ash and lava.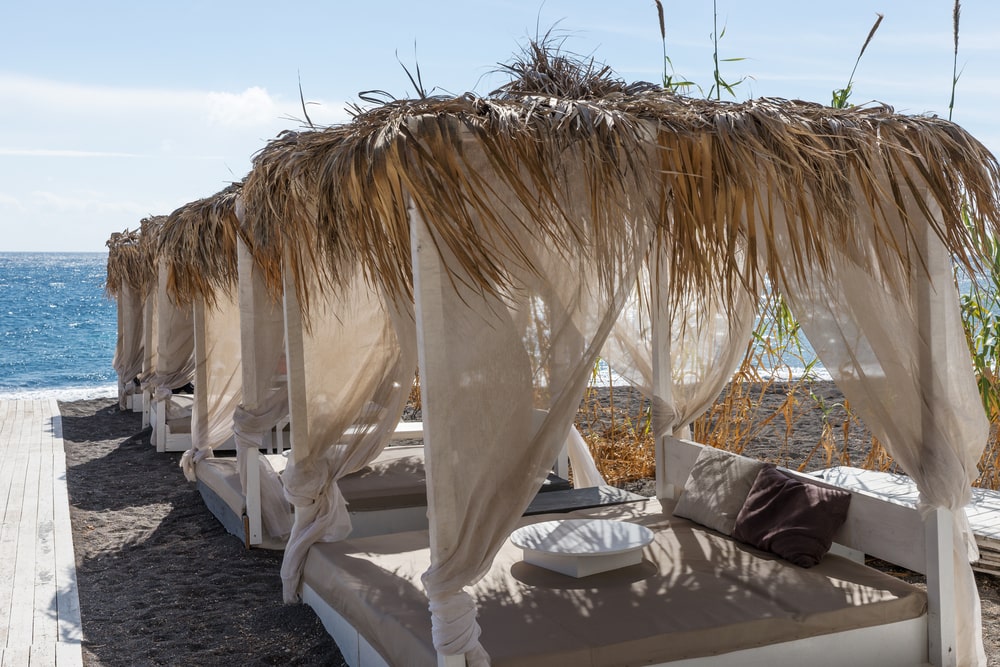 Have breakfast in Oia
Oia is an amazingly picturesque village with white-washed houses and blue-dome churches. Sadly, Oia gets super crowded later in the day and especially during sunset time.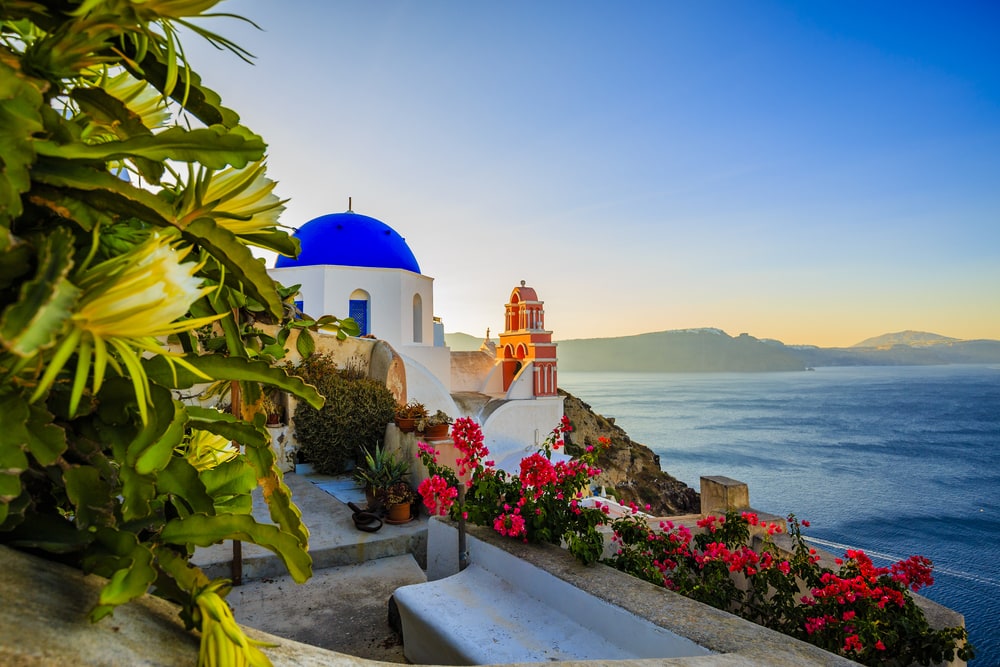 However, Oia is still worth visiting. I found the best time to go there is for breakfast.
The small, winding alleys will still be empty earlier in the day, and you have the beautiful town almost to yourself.
Grab a coffee at one of the cute little cafes or hike up to the Old Castle of Oia. Don't forget to stroll around the lovely streets hand in hand, and snap some amazing photos as a reminder of your trip!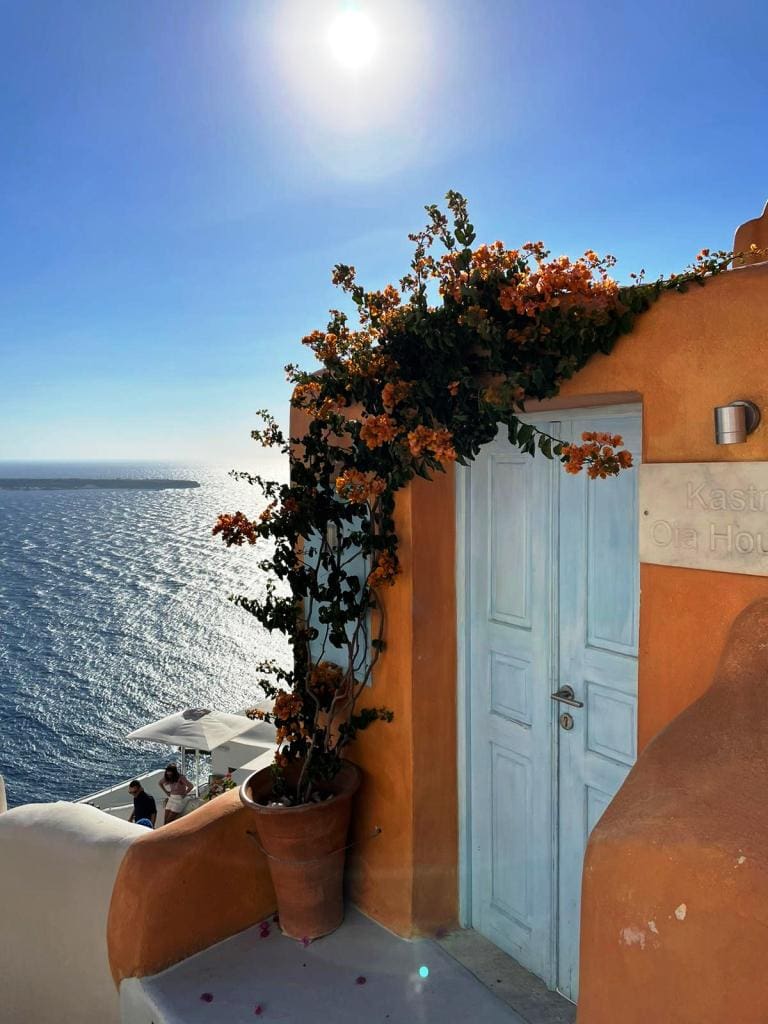 Hike to Skaros Rock
Adventurous couples may consider starting their day with a hike. The most famous hike in Santorini is Skaros Rock. If you start in Imerovigli, it's a moderately difficult 1-mile loop that can be completed in about 40 minutes. If you are looking for something a bit more challenging, you can start your hike in Oia and hike to Imerovigli. This would be a 6-mile hike that takes about 3 hours to complete.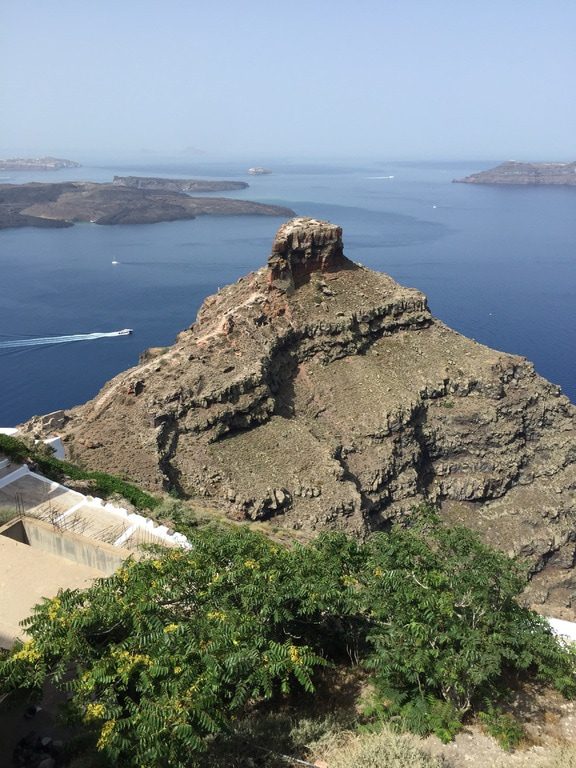 Have a spa day and be pampered!
Relax and unwind with a couples spa day at one of the island's luxury spa hotels. The choices are almost endless, as the island lives and breathes luxury and relaxation.
Indulge in a massage, soak in a hot tub, and enjoy a range of pampering treatments designed to help you both unwind and de-stress. This is one of my favourite things to do in Santorini for couples.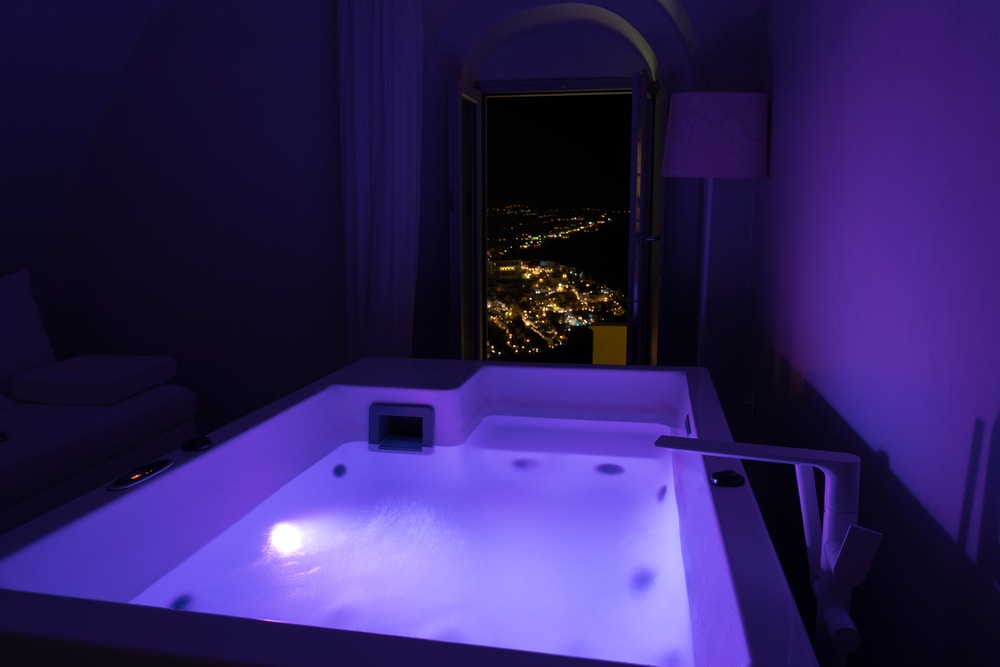 The best spas on the island are Grace Santorini, Canaves Oia Epitome, Astra Suites, and Mystique Santorini. Make sure to book your massage or treatment well in advance, it can get quite busy.
Book a romantic photo shoot!
Many professional photographers in Santorini specialize in capturing romantic photo shoots for couples. This is a great and fun activity in Santorini – and you get some pretty nice souvenirs out of it.
Many of these photo shoots often take place at some of the island's most picturesque locations, such as Oia or the capital city of Thira. Sometimes the photographers take you to some real hidden gem locations – since they are usually locals.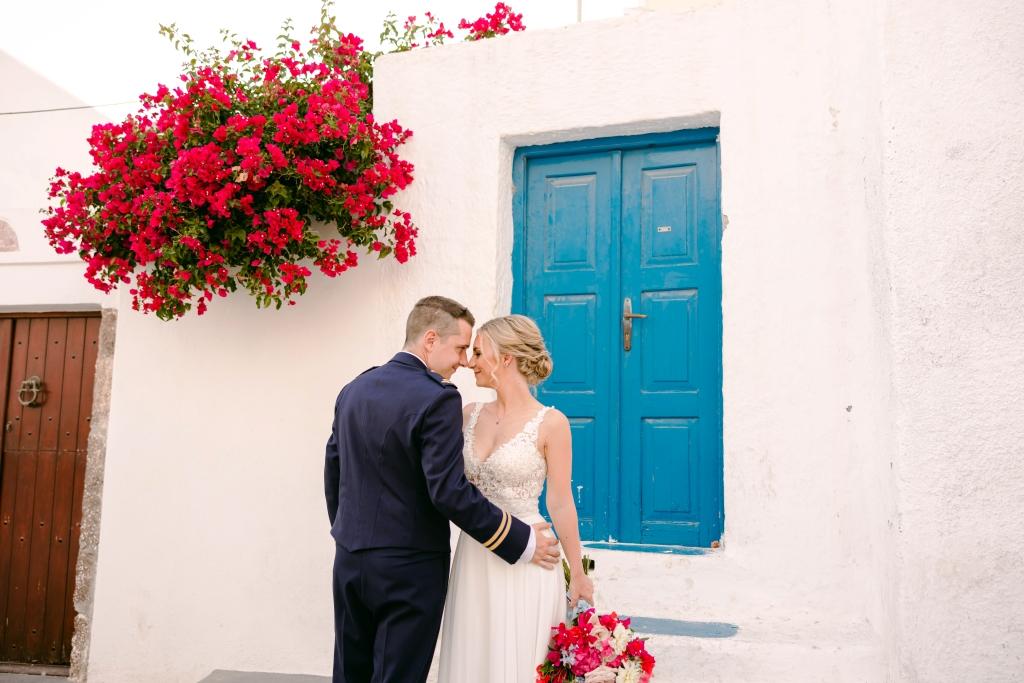 They usually offer different packages that include transportation, hair and makeup services, and multiple locations. But you can also find more basic packages that include a set number of photos and limited time.
I was really excited about the shooting, and even my partner had some fun in the end.
Take a private helicopter tour
See the island from a whole new perspective by booking a private helicopter tour that will give you stunning aerial views of the island and the sea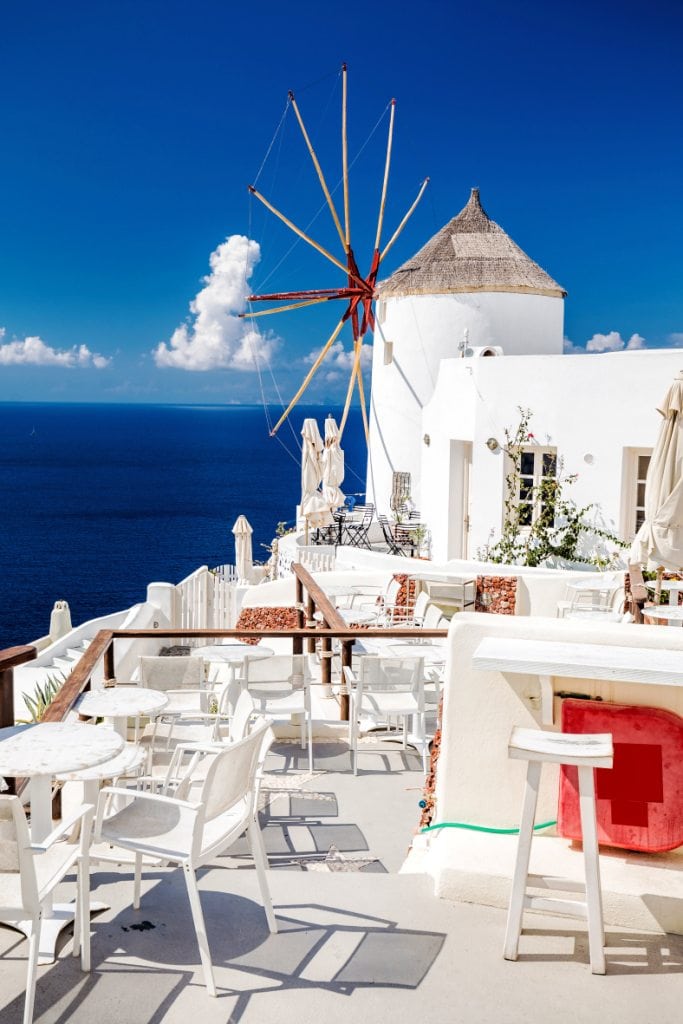 To be honest, this experience is a little bit more expensive, but in my opinion totally worth it. The views from the sky are unmatched, and you get to enjoy them without other people around.
Romantic Santorini Hotels
For a truly romantic experience in Santorini, I suggest staying outside the famous cities of Oia and Fira. While the hotels look super romantic in the pictures, in reality, you might have all the tourists standing right next to your "private" terrace.
Staying in Pyrgos, Megalochori, or Imerovigli are great alternatives. The hotels there are just as luxurious, but at a much better price point.
Perivolas Hotel: 5 Star luxury in Oia where you can stay in one of 22 incredible cave houses. The hotel is situated on the cliffs high above the Aegean a short walk from Oia. The infinity pool has magnificent sea views, and there is a Spa and fitness centre. Housed in a restored wine cellar, the Perivolas Restaurant serves Mediterranean and Greek cuisine prepared with local products the tables are candlelit with views out to sea.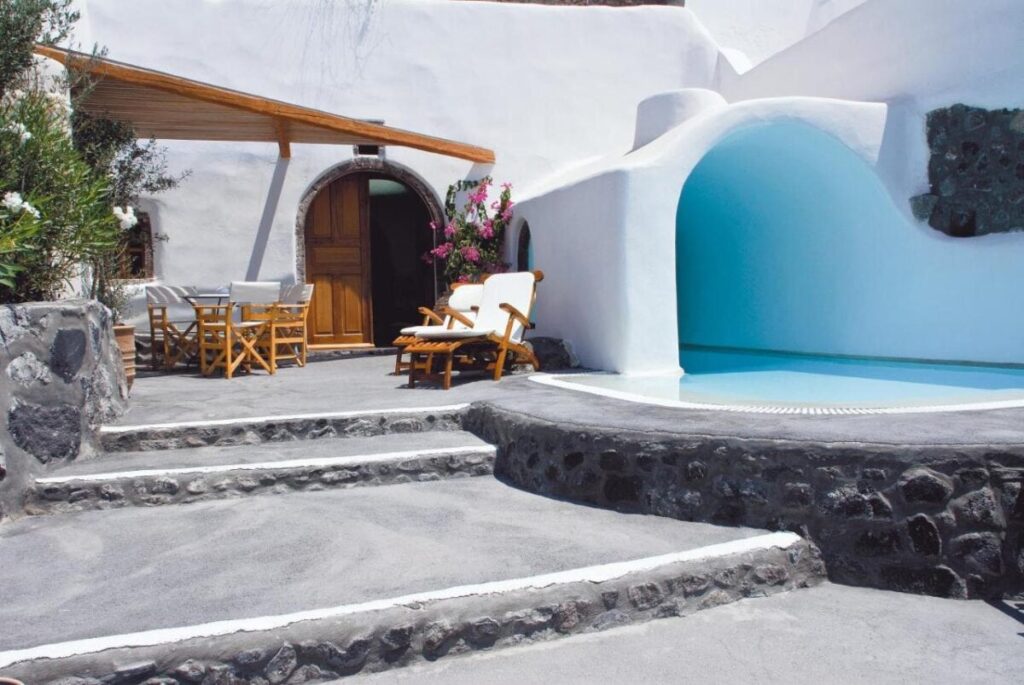 Azanti Suites in Megalochori is my favourite hotel on the island and it's an adult-only hotel. Their honeymoon suite has a private infinity pool with an amazing view over the island. This is truly the most romantic hotel on the island.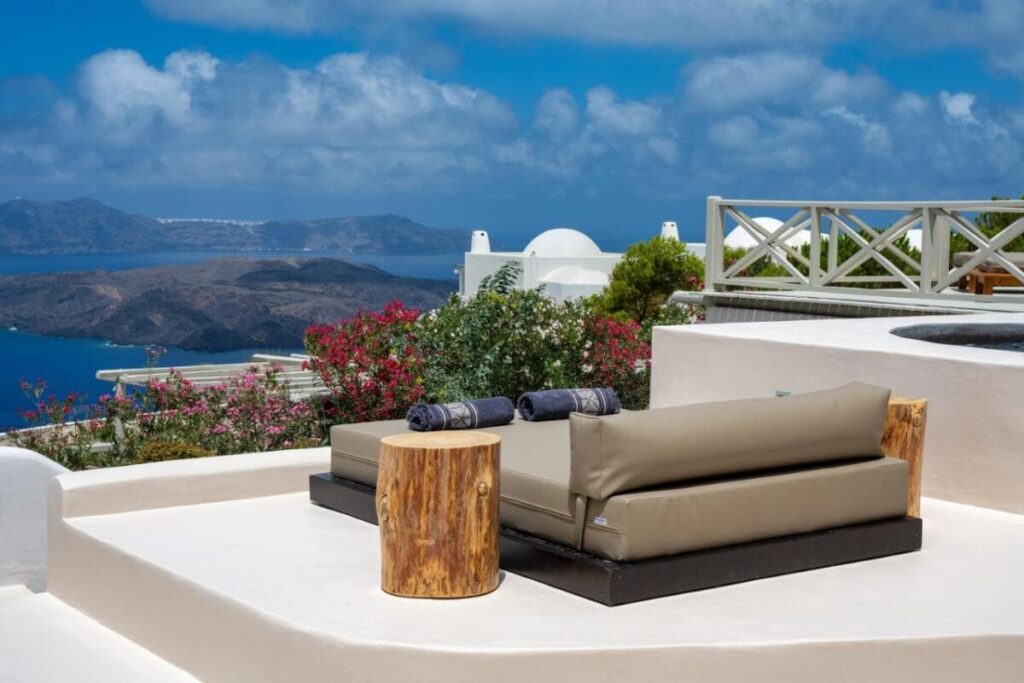 Grace Hotel Immerovigli is A hotel cut from the cliff's edge with wow factor views and indulgent surroundings. All white rooms, suites and a palatial villa with fabulous private balconies, some units also have a separate seating room and a plunge pool overlooking the sea. and hot tubs. Lovely Mediterranean restaurant and an extensive spa. Truly romantic and luxurious.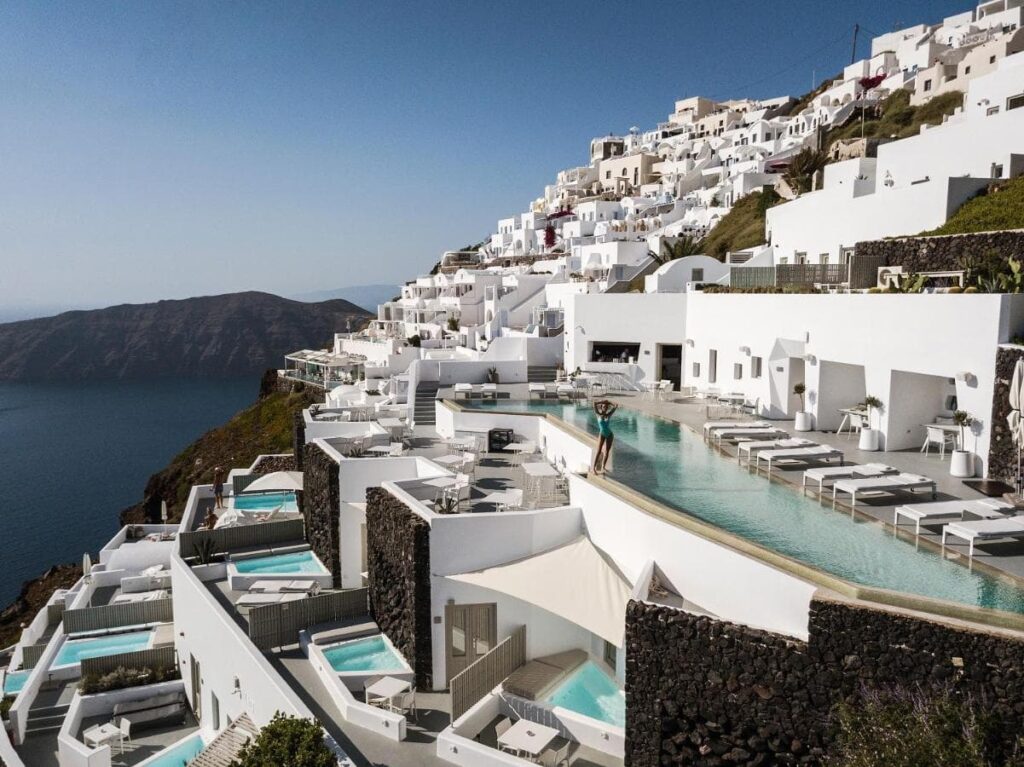 Conclusion: 10 most romantic things to do in Santorini for couples
Santorini is undeniably one of the most romantic destinations in the world. With its breathtaking sunsets, stunning views of the Aegean Sea, and charming villages perched on cliffsides, it's no wonder why couples flock to this Greek island for honeymoons and romantic getaways.
From its stunning sunsets to its picturesque villages and impressive beaches, the island is the perfect place for a romantic getaway or even an elopement.
Whether you're looking to unwind and relax, explore the island's history and culture, or simply spend quality time with your loved one, Santorini has something to offer everyone.
These were my 10 favourite romantic things to do in Santorini for couples – and I hope you will love them just as much.
17 Best Things to Do in Naxos, Greece
3 Days in Santorini Itinerary: A Bewitching Greek Island
Greek Food Guide: 49 Traditional Dishes to Look For in Greece
Pin it to save it