Greek Food Guide: 49 Traditional Dishes to Look For in Greece
I fell in love with the food of Greece long before I ever managed to visit. When I was in Greece (Corfu to be exact) many years ago as a budget traveller. I was living in London and a friend who wanted to return to Corfu and meet her boyfriend insisted that I accompany her. Not a problem I was all in for that.
We landed at Corfu airport and the first thing I wanted to do (naturally) was to try some authentic Greek Food and a few ouzos. I had eaten Greek food many times in my life prior to arriving in Greece and was happy to discover that my home town in Ontario with its plethora of Greek-owned restaurants was serving classic Greek food.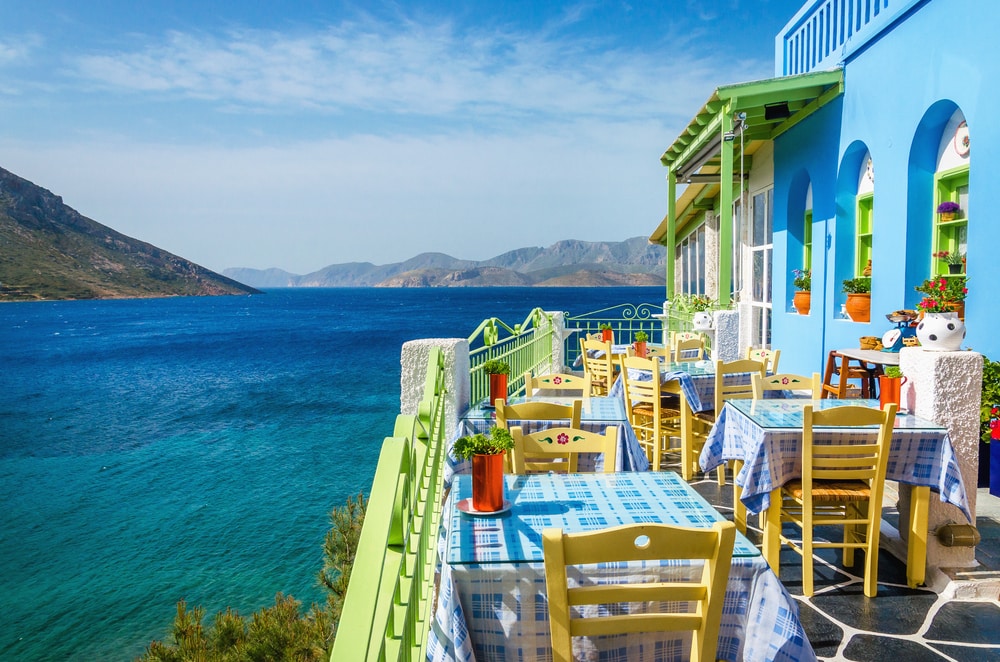 Of course, anyone who loves food is sure that the most popular Greek dishes includes items like saganaki, dolmadakia, moussaka, taramasolata and of course feta cheese.
The Origins of Greek Food
As you know food culture is a way to understand a country and its people but its history is also found in the foods cooked and served by the people in that country.
Archaeology and history tell us that the first residents of Greece were the Minoans. They arrived around 2700 BC and brought with them sheep, goats and grains. These grains included wheat and barley although lentils and fava beans were already being grown across Greece.
The Minoans adopted Greek cuisine which includes almonds, wild grapes, and olives which they learned to press for its oil and which gave birth to the economic foundation of ancient Greece.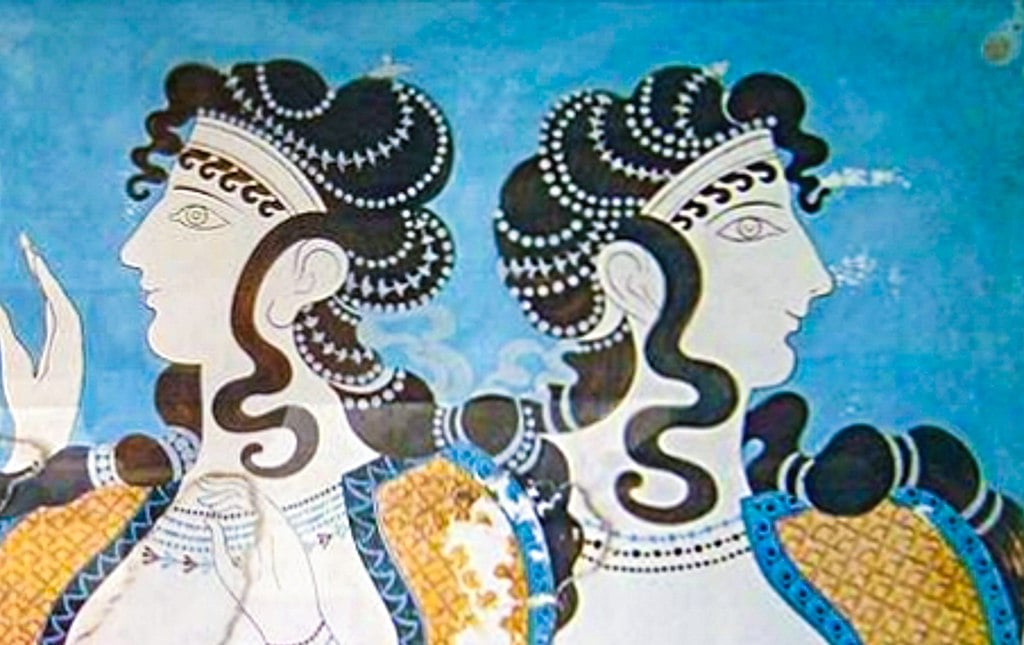 Greece's culinary traditions date back hundreds of years (if not thousands) and have evolved over time to absorb many diverse influences including those from the Ottoman Empire along with the Levant, Arabia, Turkish, Byzantine and Persian culinary roots that have all melded into the Greek cuisine we know today.
Food in Greece emphasizes ingredients not used as heavily in other Mediterranean cuisines such as oregano, dill, bay, thyme, fennel and mint. Parsley is often a garnish and in the northern part of Greece spices used include cinnamon and cloves.
Of course, Olive Oil is almost mandatory in most dishes and is exceedingly heart-healthy. Lamb is a favoured meat and the use of fish, and seafood alongside healthy grains and vegetables such as eggplant gives Greek food a fantastic nutritious balance.
Meals in Greece are typically light at breakfast and lunch and more substantial at dinner time. Dinner is usually eaten quite late and these days dinner times are between 9 and 10.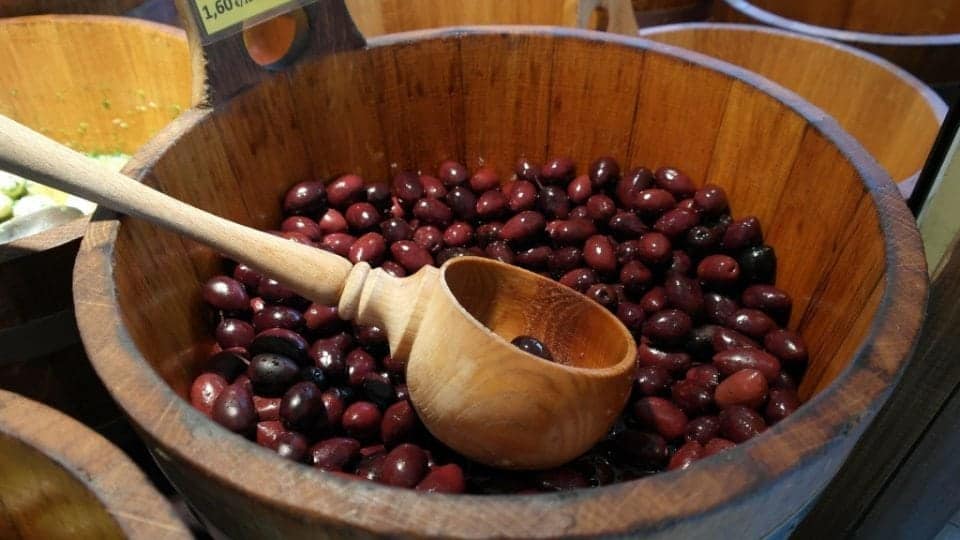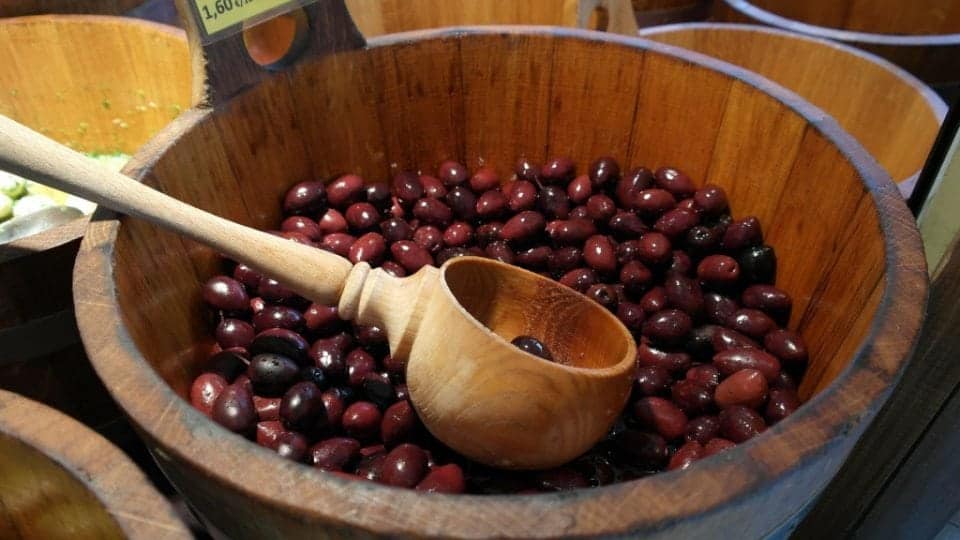 If you want to taste the absolute best Greek dish, then be sure to look for some of these 49 traditional Greek dishes on your next trip to Greece, make it a food tourism adventure.
What Is Traditional Greek Food?
Just like other cuisines of the Mediterranean and Adriatic seas such as Spanish, Italian, Croatian, Malta and Cyprus the food in Greece was created on a base of olives, grapes and grains. These staple crops influenced all the cuisines of this region.
Due to Greece's terrain and climate goats and sheep tend to be favoured as they are easier to raise on rocky hills. Naturally along the coastline fish and seafood are the prominent ingredients in Greek cuisine.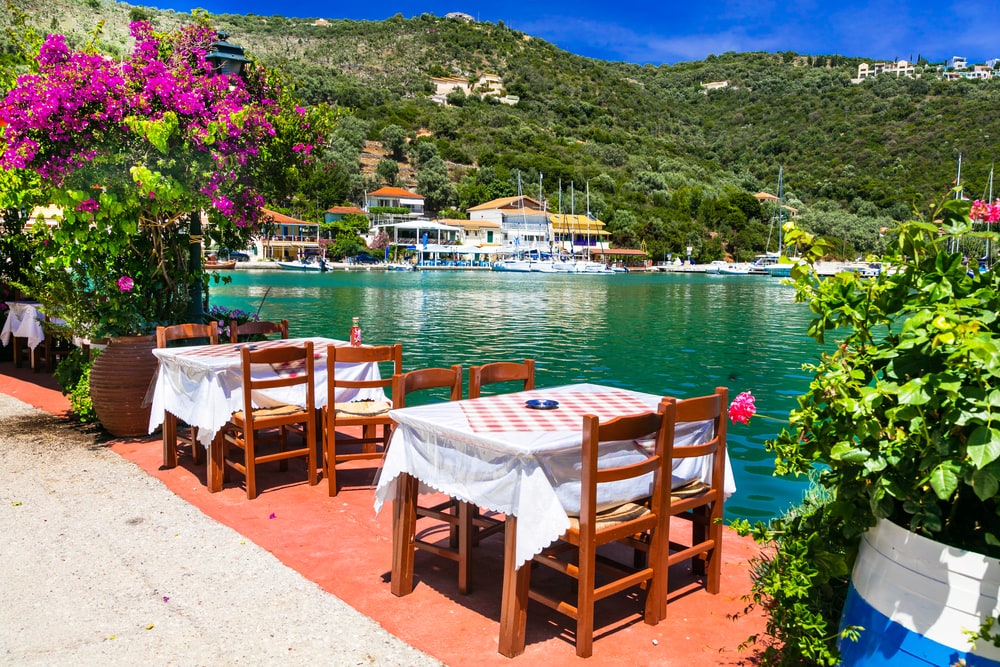 49 delicious Greek food dishes
Here is my compilation of traditional Greek foods that you may want to try when visiting Greece.
Greek Cheeses
Feta Cheese
Greece is of course known for various cheeses from sheep and goat's milk the most famous of which is feta. The first mention of feta cheese is believed to have been in a Byzantine poem.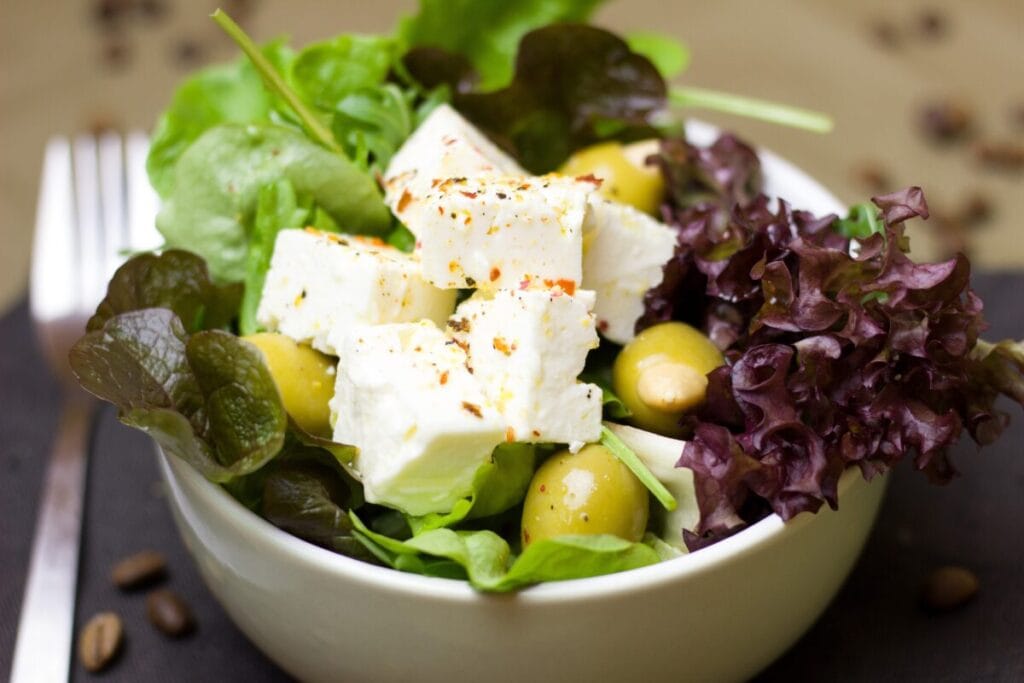 Kasseri Cheese
Kasseri is a popular cheese originating from the times of Ottoman rule in the country. The word derives from the Turkish word "kaşer," which in turn refers to the Latin "caseus." It is semi-hard with a unique, flavour that is mild and faintly sweet. It is lightly salted and quite buttery in texture.
Kefalotyri Cheese
Kefalotyri is considered the oldest of the hard cheeses in Greece. It takes its name from its head-like, rounded form and it is made from either goat's or sheep's milk. It is a salty hard cheese with a high melt point so it can easily be grilled.
The Best Food in Greece
These are some of my all-time favourite Greek dishes. I first tasted moussaka in Greece and it quickly jumped to my top 10. As for taramasolata I never in my life thought I would enjoy fish eggs but this dish is just heavenly with some good pita to dip.
Greek Vegetarian Dishes
Greek Salad
The very first dish I tried in Greece was a simple classic Greek or Horiatiki Salad. Most Greek foods are simple dishes that highlight the freshness of their ingredients. No Greek dish exemplifies this better than the classic Greek or horiatiki salad which simply means Village salad.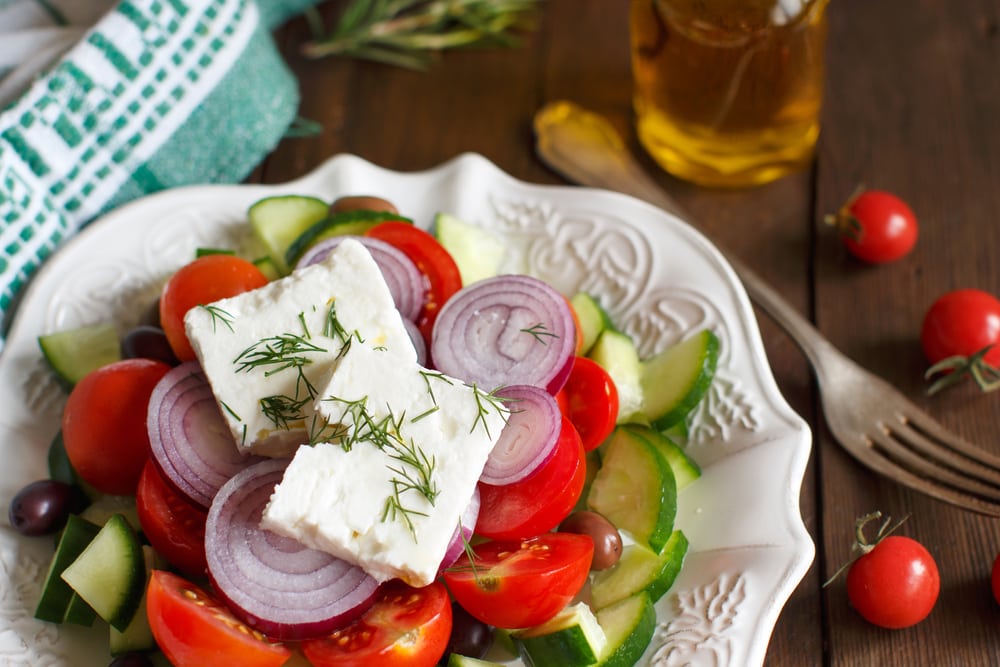 Made with the freshest ingredients including tomatoes, cucumber, onion, kalamata olives and capers it is dressed with crumbled feta cheese, olive oil, oregano, salt and pepper. In Santorini, it is made with the famous Santorini cherry tomatoes.
Dolmadakia – dolmades
Stuffed grape leaves or dolmadakia in Greek for a mix of ground meat with parsley, mint, dill, rice and onion or a simple vegetarian version with no meat. These fillings are then rolled inside a grape leaf or cabbage leaf. They are then boiled until the leaves are tender and served drizzled with extra virgin olive oil and lemon juice.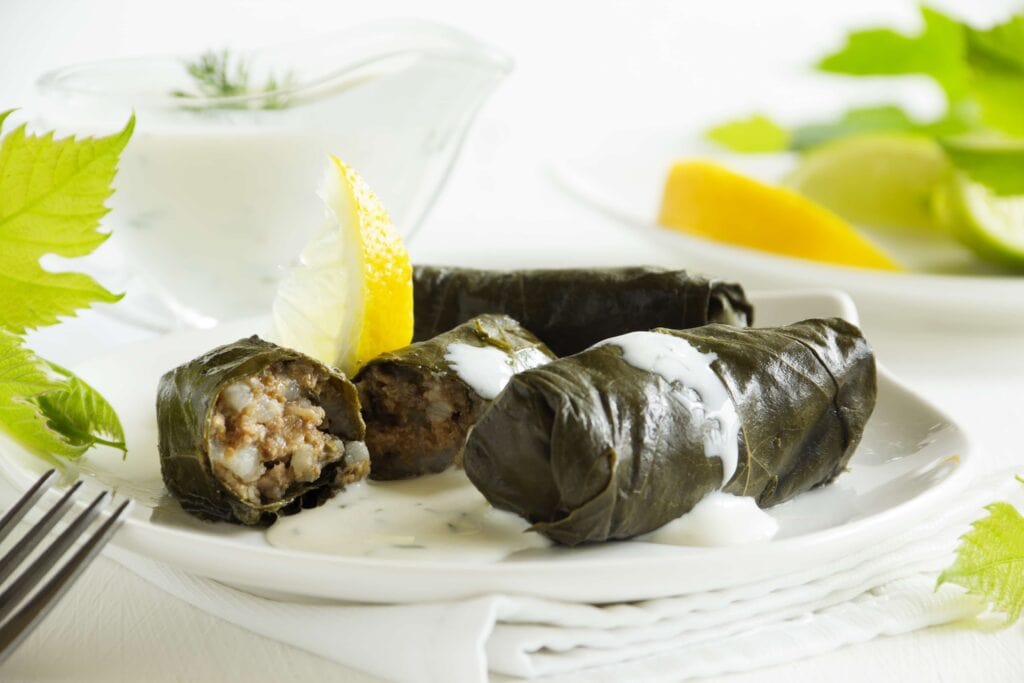 Spanikopita
I do love a handheld pie and Spanikopita is definitely a favourite. A very popular Greek food this is a phyllo-wrapped small pie stuffed with spinach and feta cheese. Spanakopita is typically made with spinach, feta cheese, onion, herbs, and egg. Feta is the main type of cheese although it can also be found with kefalotiri cheese. This tasty little morsel is eaten as a snack, for breakfast or as a dinner starter and yes it originated in Turkey.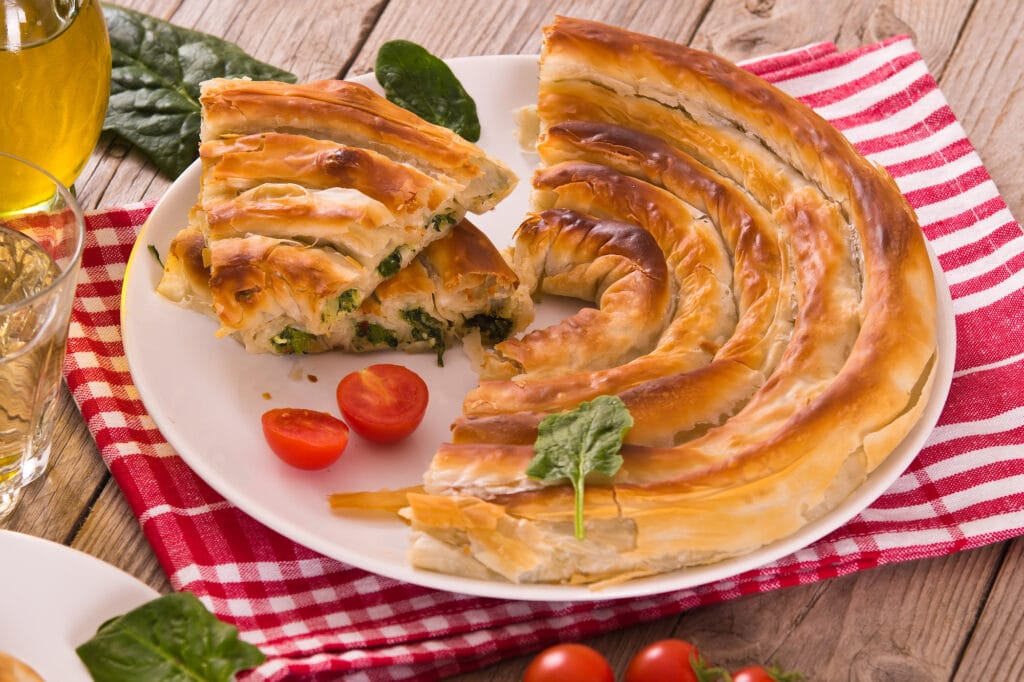 Tiropita/Turopitakia – Greek Cheese Pie
Tiropita is usually eaten for breakfast or lunch and it is similar to Spanakopita but without spinach and it uses Feta and two other kinds of Greek cheese. This is actually the handheld pie in a triangle shape.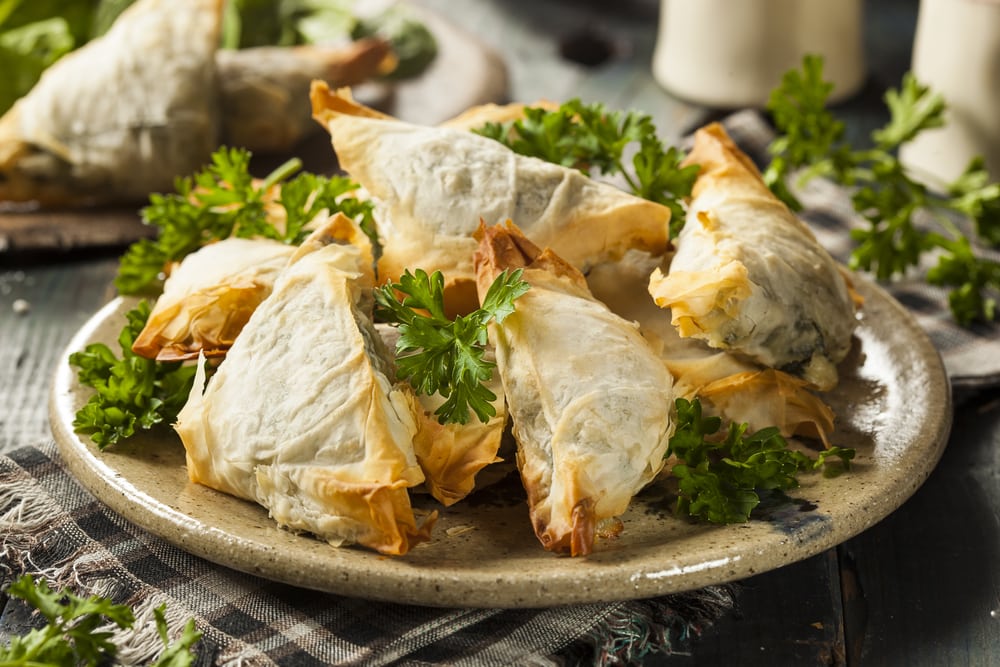 Marathopites – Fennel pie
A speciality of Crete is a simple pie filled with fennel, onions and seasonal wild greens (horta) in a fragrant mix of herbs, stuffed in pastry dough and then fried in olive oil until golden.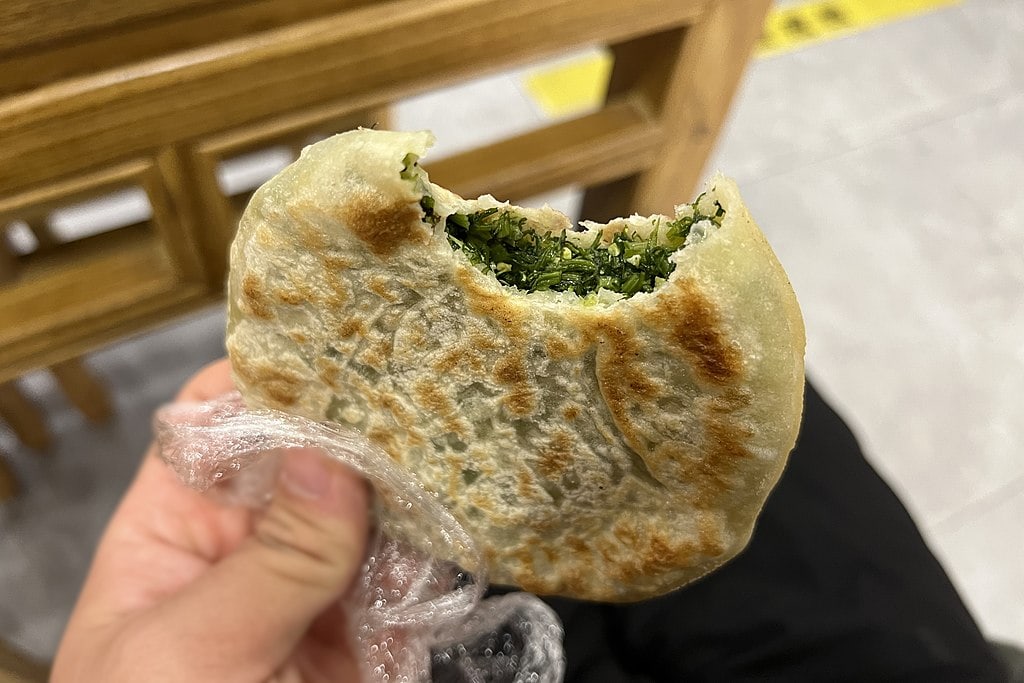 Ntomatokeftedes – tomato fritters
Santorini is famous for its Ntomatokeftedes, a crispy tasty tomato fritter made with the cherry tomatoes that grow there.
Keftedes in Greek means meatballs which are a Greek staple however in areas where meat is hard to come by they are made with a wide variety of vegetables, beans or pulses and herbs. The ntomatokeftedes in Santorini are made with cherry tomatoes, onion, pepper, mint, and oregano and deep fried.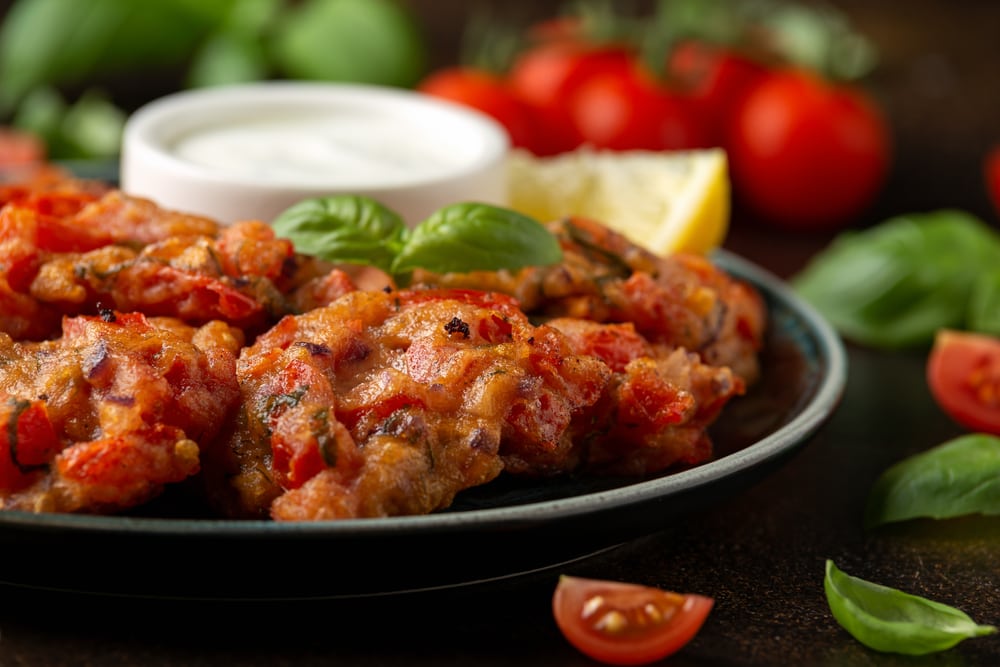 Feta Cheese with Honey
Like a French pastry-wrapped Brie in Greece, feta cheese is wrapped in phyllo pastry and when baked drizzled with honey and a sprinkle of sesame seeds.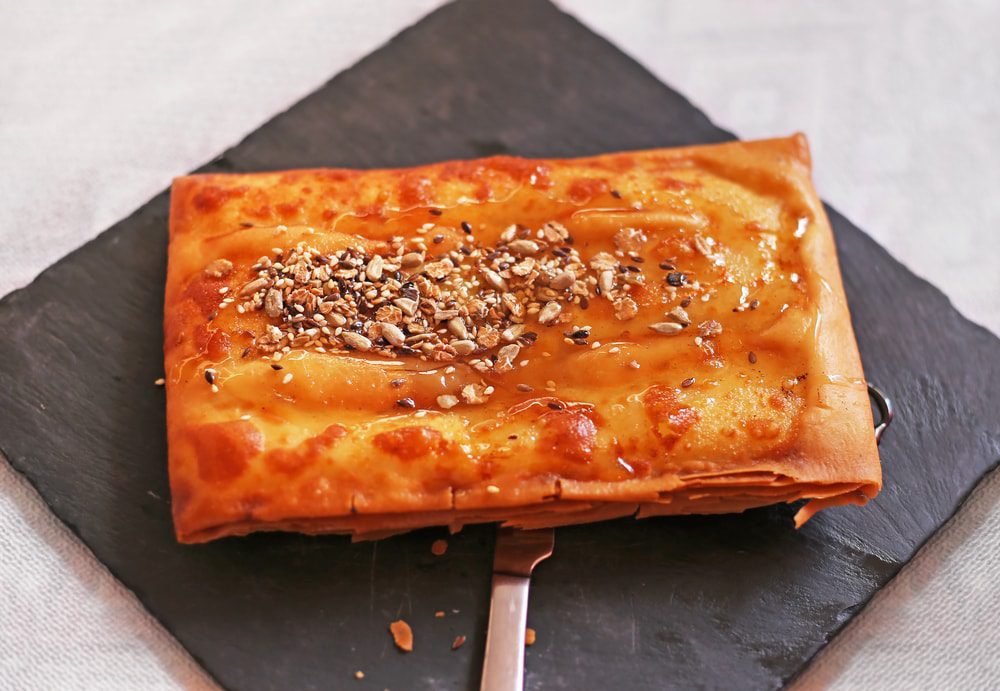 Horta – Boiled Greens
Horta is a staple Greek vegetable dish comprised of gently boiled greens including chicory, dandelion, and mustard simply seasoned and served with olive oil and fresh lemon juice.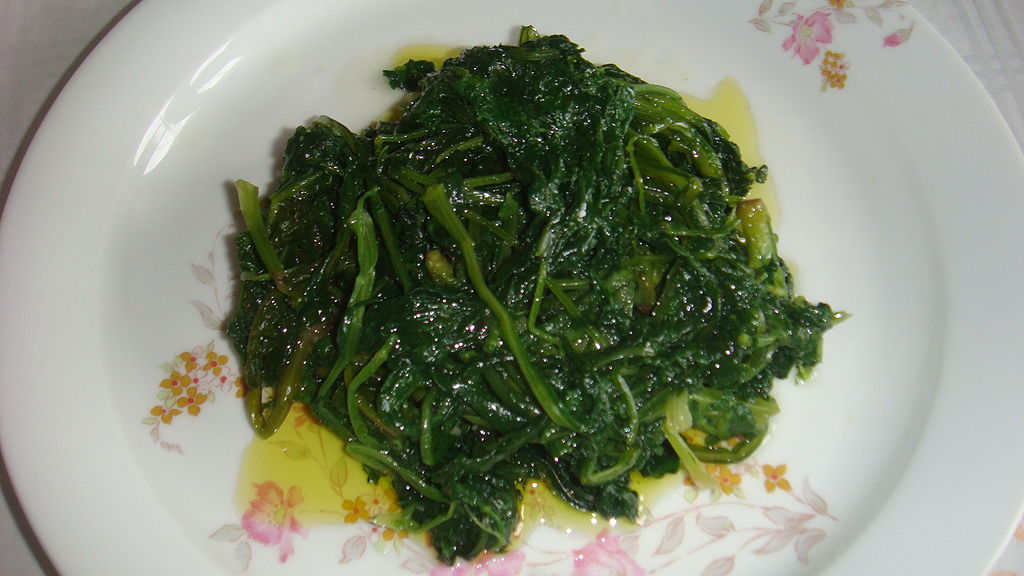 Briam – Roasted Vegetables
Briam is a mixture of vegetables including potato, zucchini (courgette for you British), onion and eggplant. Rather like a French ratatouille, the veggies are mixed with tomatoes and seasoned with garlic, olive oil salt and pepper and then baked and garnished with fresh oregano.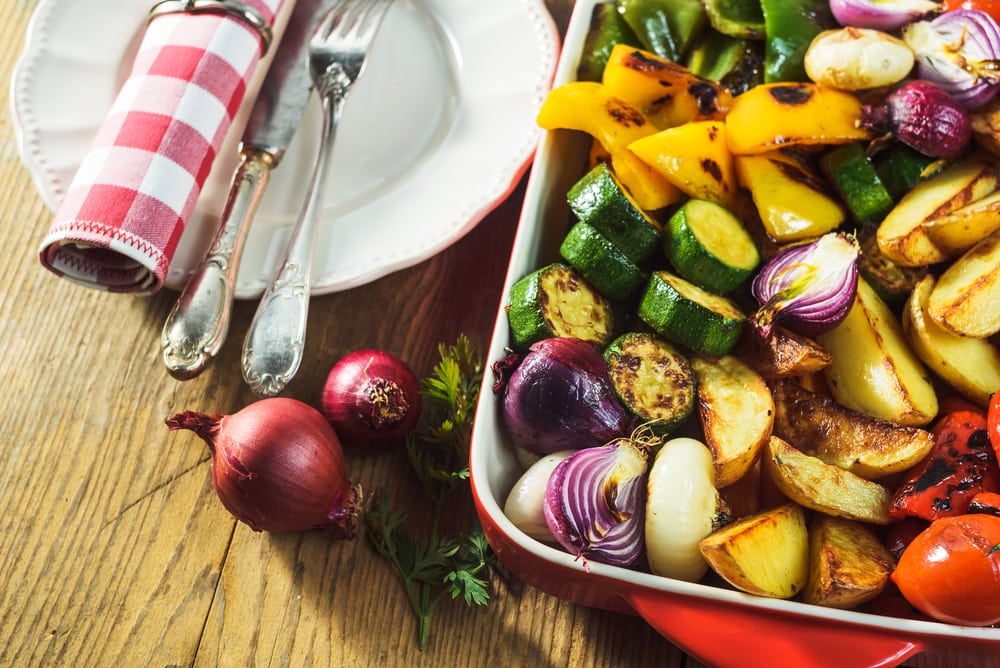 Tirokroketes – Fried Cheese Balls
Tirokroketes are usually eaten as an appetizer and the ingredients are bread crumbs mixed with various kinds of cheese like feta, gouda and graviera and rolled into a ball and deep fried.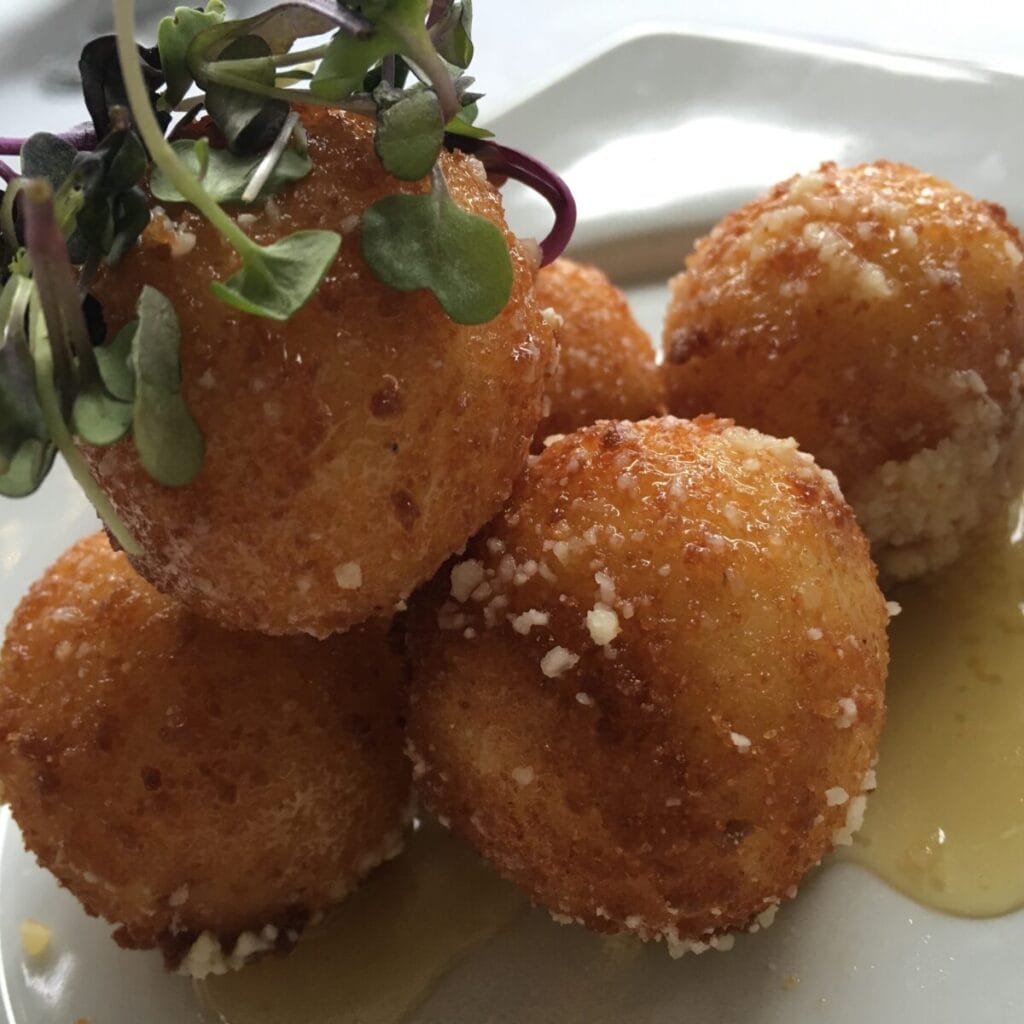 Saganaki
Classic Greek food includes fried cheese and who doesn't love it? Saganaki is usually brought to your table in a flaming dish of deliciousness in North America with the waiter shouting "opa".
Not in Greece here saganaki the cheese is cut into thin blocks and then flamed or fried until it gets a lovely crusty outside. Saganaki actually means the small cast iron frying pan the cheese is fried in which is how the dish got its name. The cheese used can be halloumi, graviera and kefalograviera, you will also see shrimp and mussel saganaki.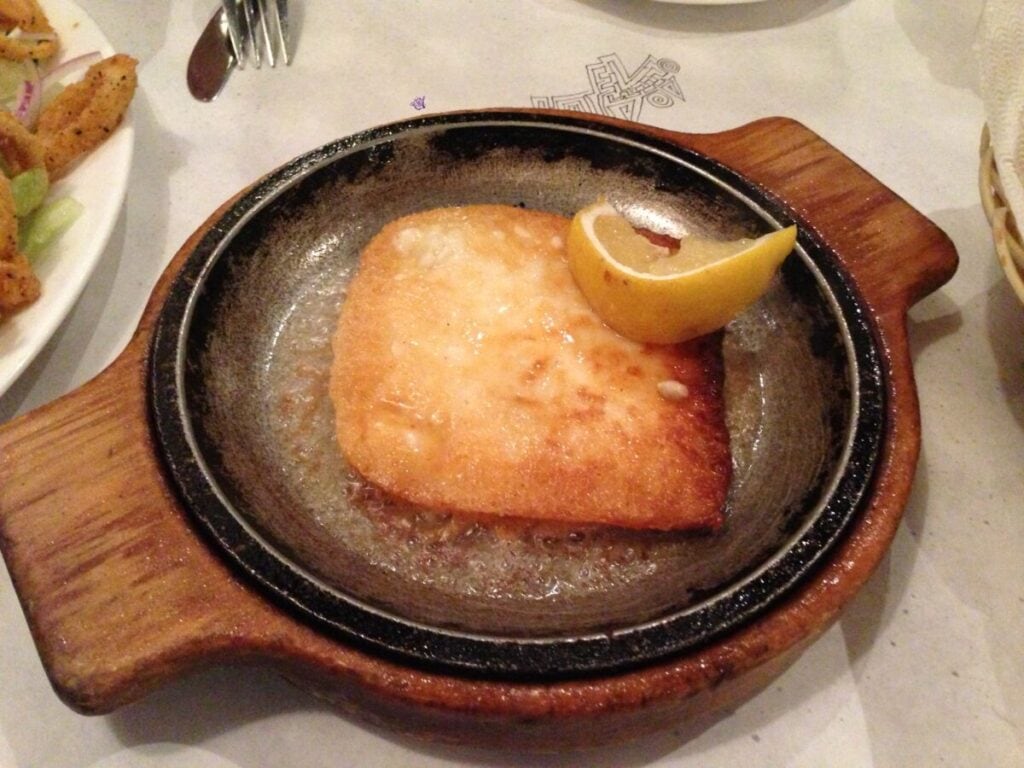 Gigantes
Exactly what it says a giant bean that is baked in tomato sauce and fresh herbs, British baked beans have nothing on these giants. The dish is garnished with fresh herbs and feta cheese.
Gemista – Stuffed Vegetables
Gemista is simply stuffed vegetables with rice, meat is sometimes added but not necessary. The vegetables to be stuffed can include tomato or peppers and the rice and herb mix is stuffed into them perfect for vegans and vegetarians.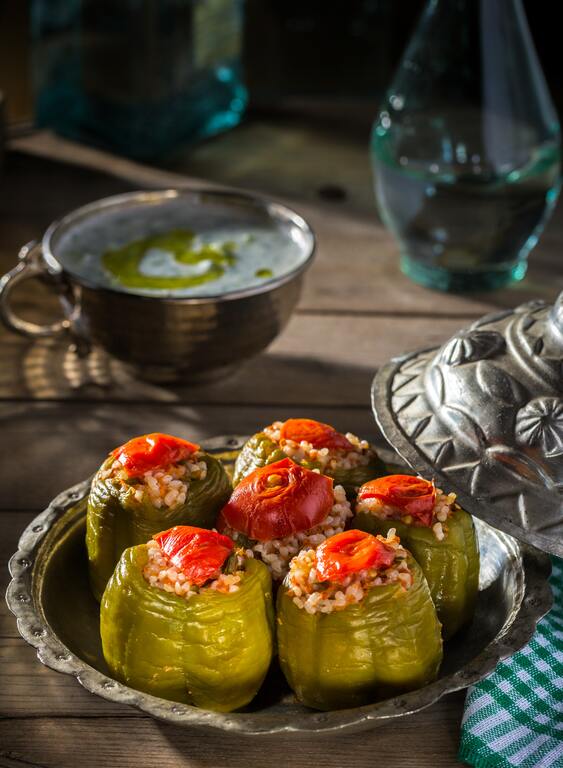 Yemista – stuffed tomatoes
A traditional Greek dish Yemista is simply tomatoes stuffed with rice and kefalograviera cheese and then baked until sweet and caramelized and served with Greek pita flatbread.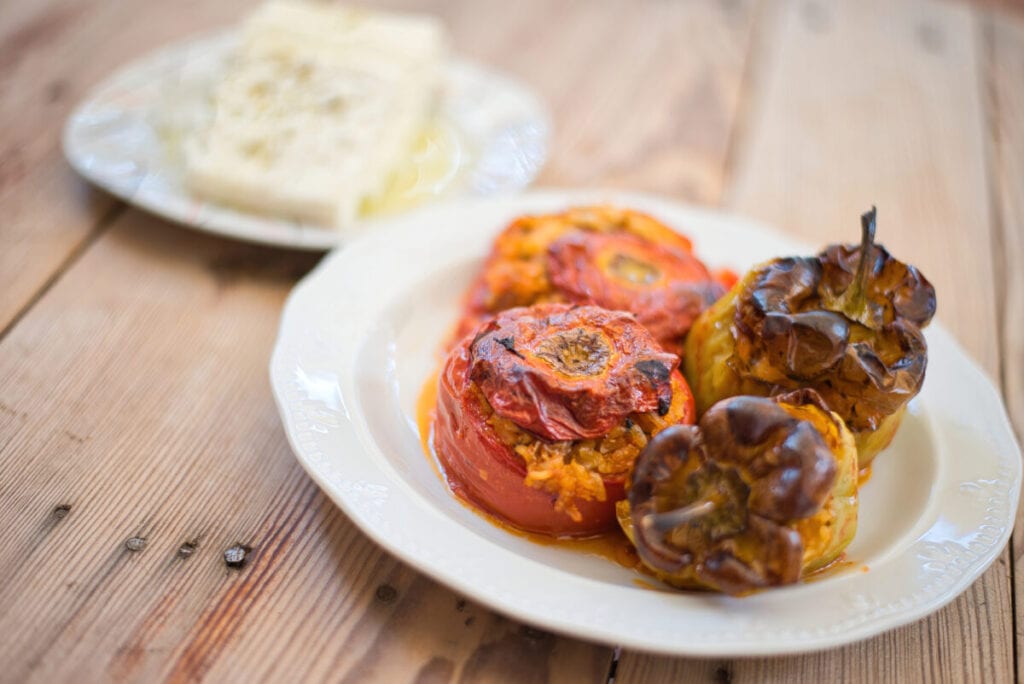 Kolokithokeftedes – Fried Zucchini/Courgette
Kolokithokeftedes hail from the gorgeous island of Crete. They are a simple fritter snack often served as a meze. Zucchini is mixed with mint, feta and olive oil and sautéed till lovely and browned then served with tzatziki they make a great appetizer.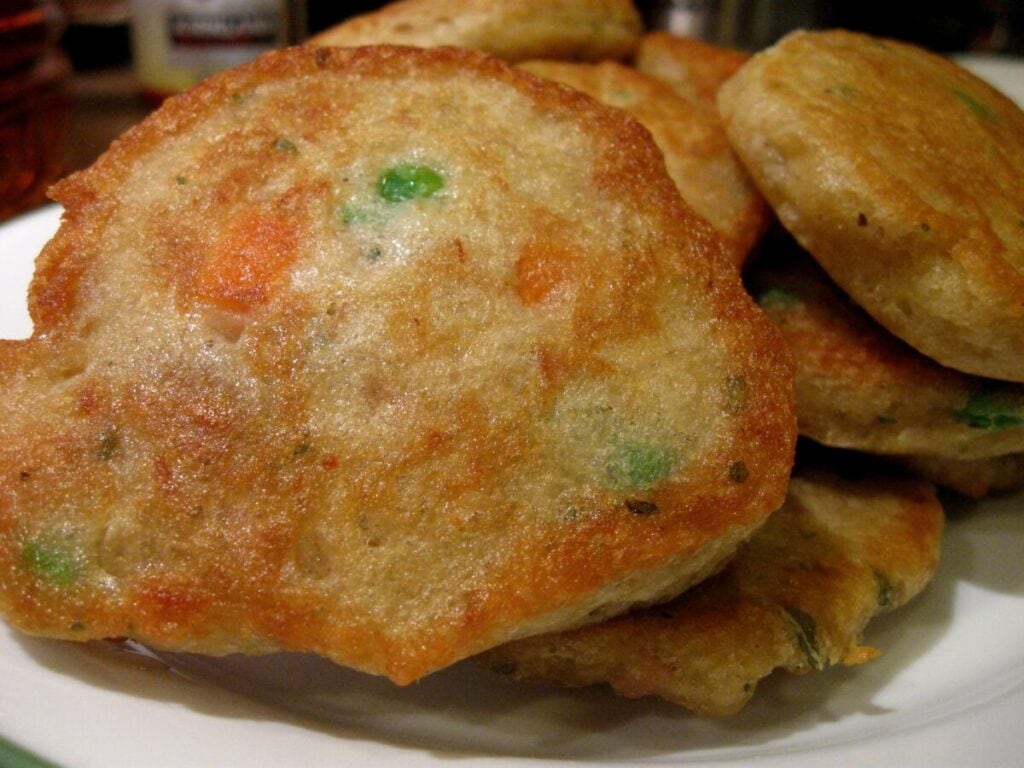 Kolokithakia avgolemono – Stuffed summer squash
Another version of stuffed zucchini this Greek recipe calls for stuffing summer squash with a rice and meat filling seasoned with parsley, dill and mint. Once cooked the stock that the squash was cooked in is blended with an egg and lemon mixture to create an Avglolemono sauce which tops the stuffed vegetables.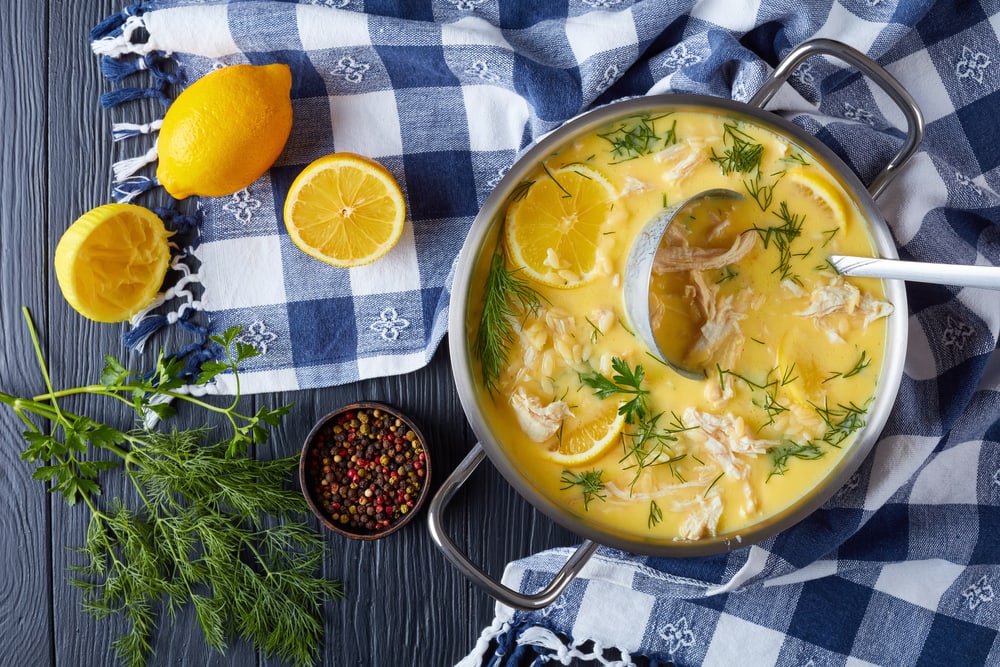 Avgolemono – soup
Avgolemono is a classic Greek sauce of chicken broth, egg yolks and lemon juice; the addition of a bit more chicken broth, rice and shredded chicken turns it into a satisfying soup.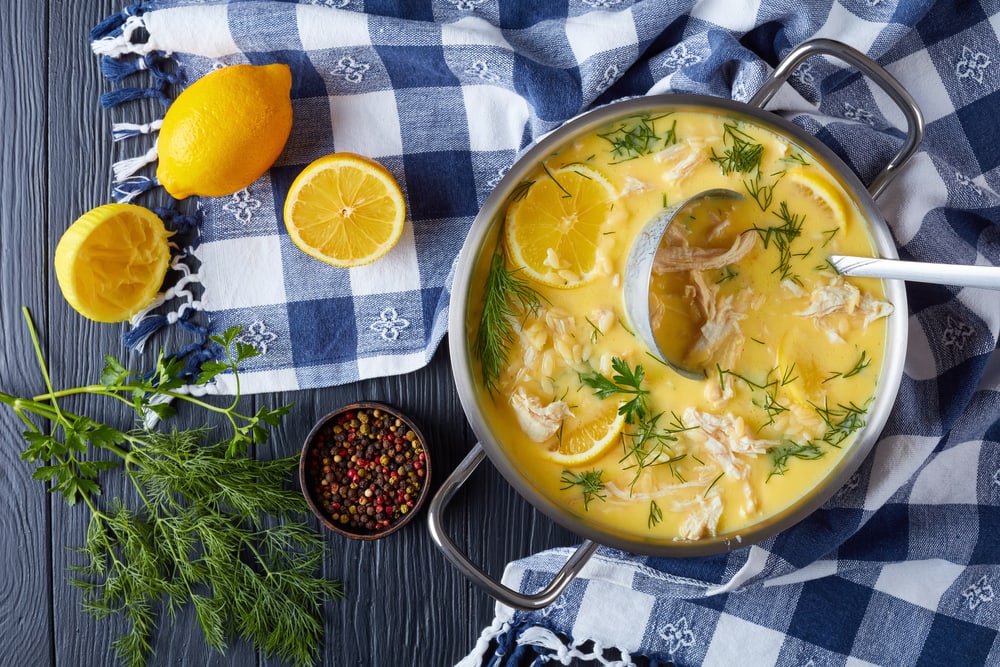 Soutzoukakia – Greek Meatballs
Originally from Turkey, these meatballs are a sort of oblong shape similar to kofta. The meatball is made with ground pork and beef with cumin, olive oil salt and pepper and cooked in a red wine tomato sauce. They are usually served with rice.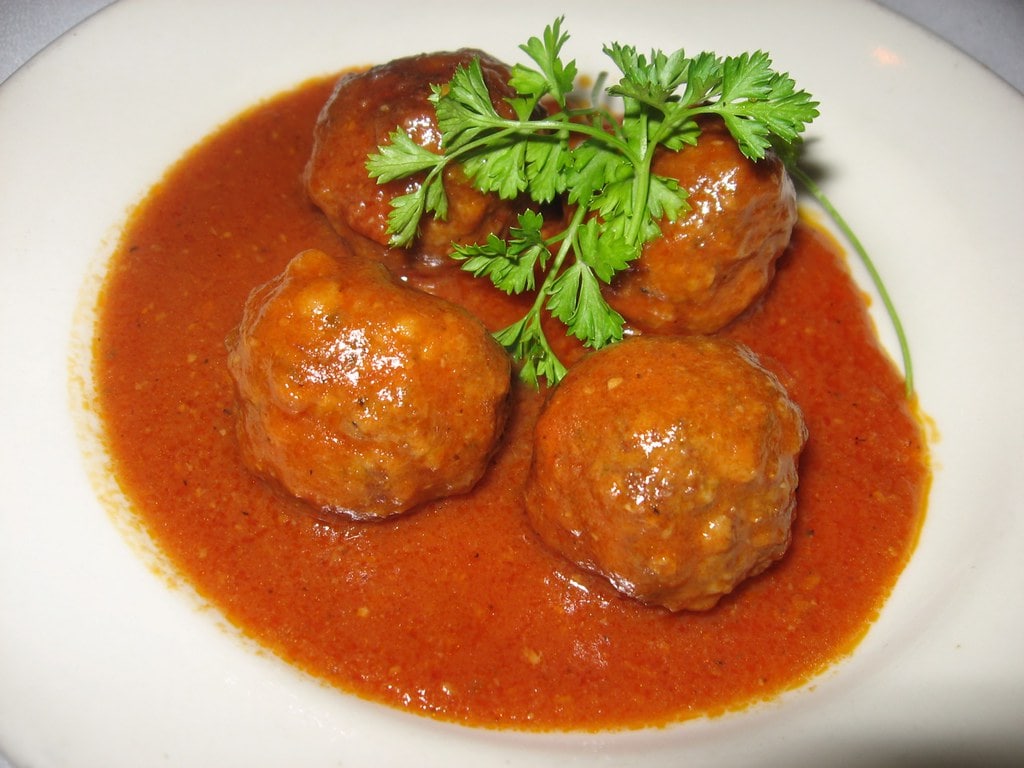 Fassolatha – fasolada
A beautifully simple Greek bean soup – also considered the national dish of Greece. Its recipe goes back to ancient times and consists of beans, crushed tomatoes, celery, carrot and onion and seasoned with thyme, bay and parsley.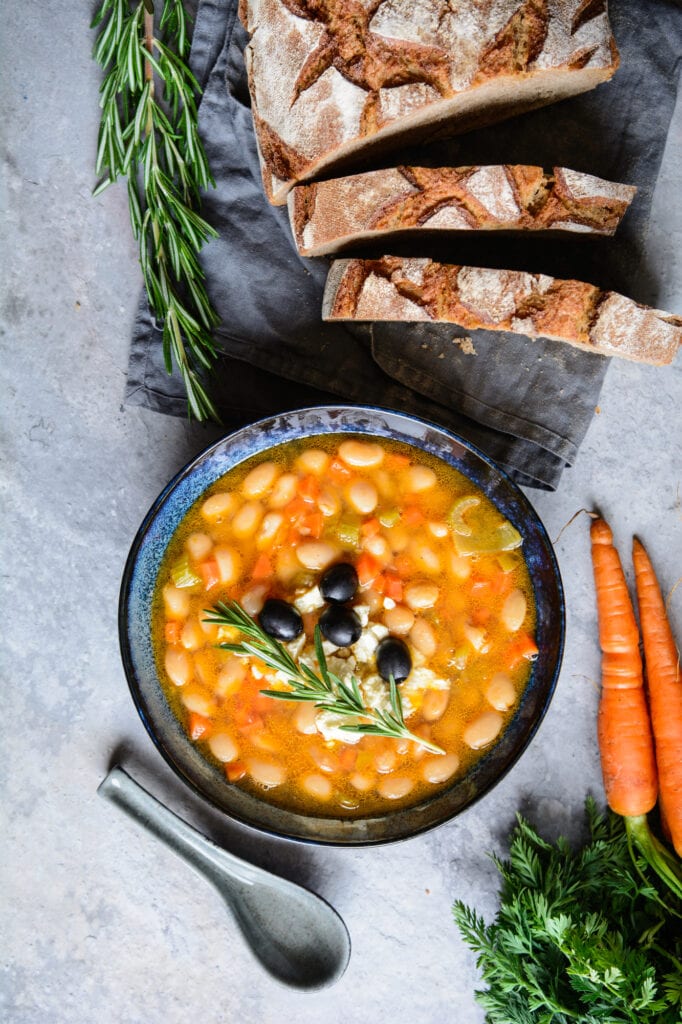 Fava
Speaking of beans the classic Greek dish fava is not made from fava beans but yellow split peas. The dish is very popular on Santorini and it is made with pureed yellow split peas and served with lemon, olive oil capers and onions.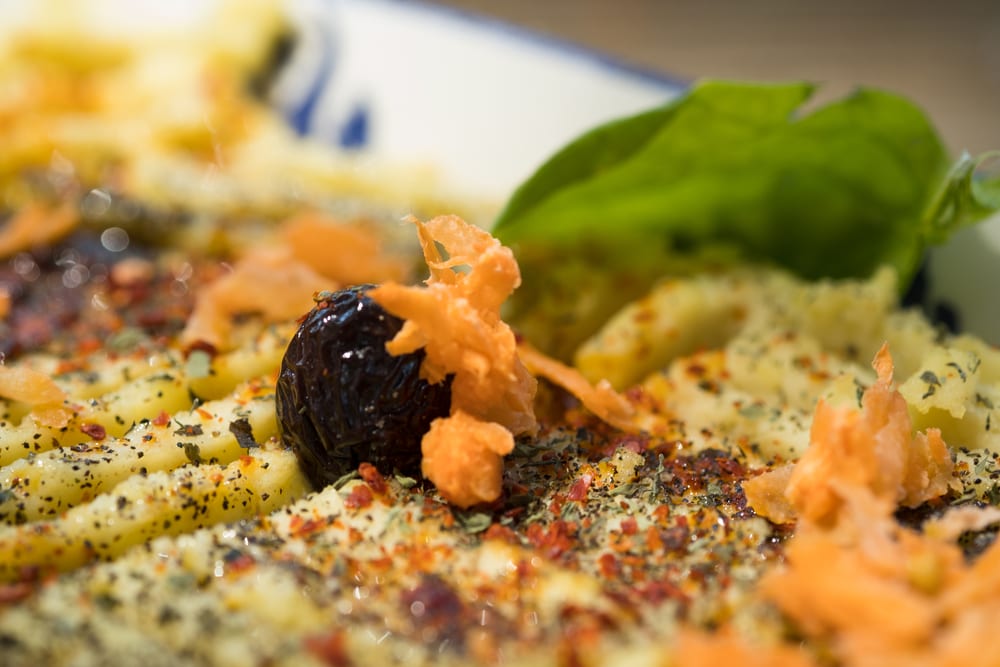 Papoutsakia – Little Shoes – stuffed eggplant
These are eggplants that are baked until soft and then filled with a tomato and meat sauce topped with béchamel and then baked until golden brown.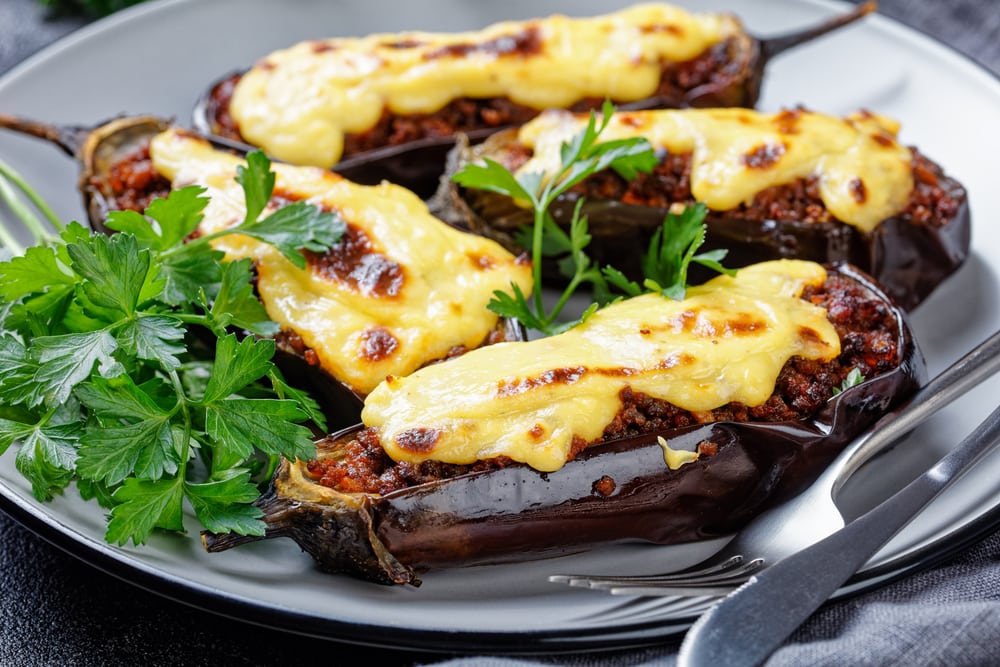 Tzatziki
If you don't know tzatziki where have you been for years? This is the most popular Greek dip made with yoghurts, cucumber, garlic salt and olive oil and sometimes fresh herbs like mint, dill and parsley. My personal favourite is mint so damned refreshing on a hot summer day. It's the perfect dip for pieces of pita bread or fresh crunchy veggies.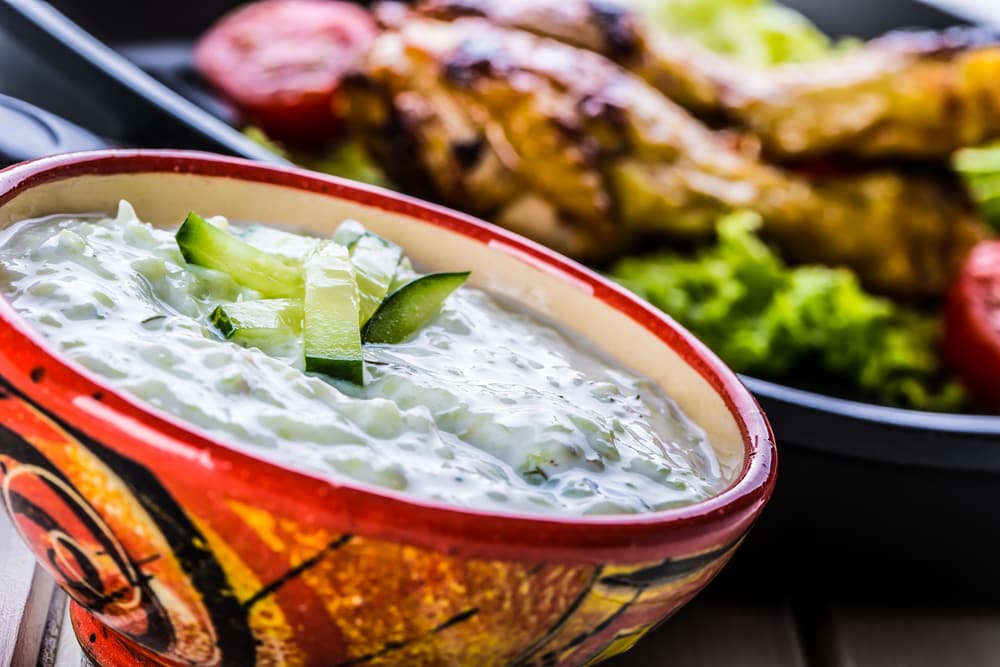 Taramasalata
Never in my life did I think I would appreciate Taramasalata which is a traditional Greek dish made from tarama, the salted and cured roe of cod, carp, or grey mullet fish mixed with olive oil, lemon juice and stale bread of potatoes. Eaten as a dip or meze you dip your bread or veggies into it and enjoy.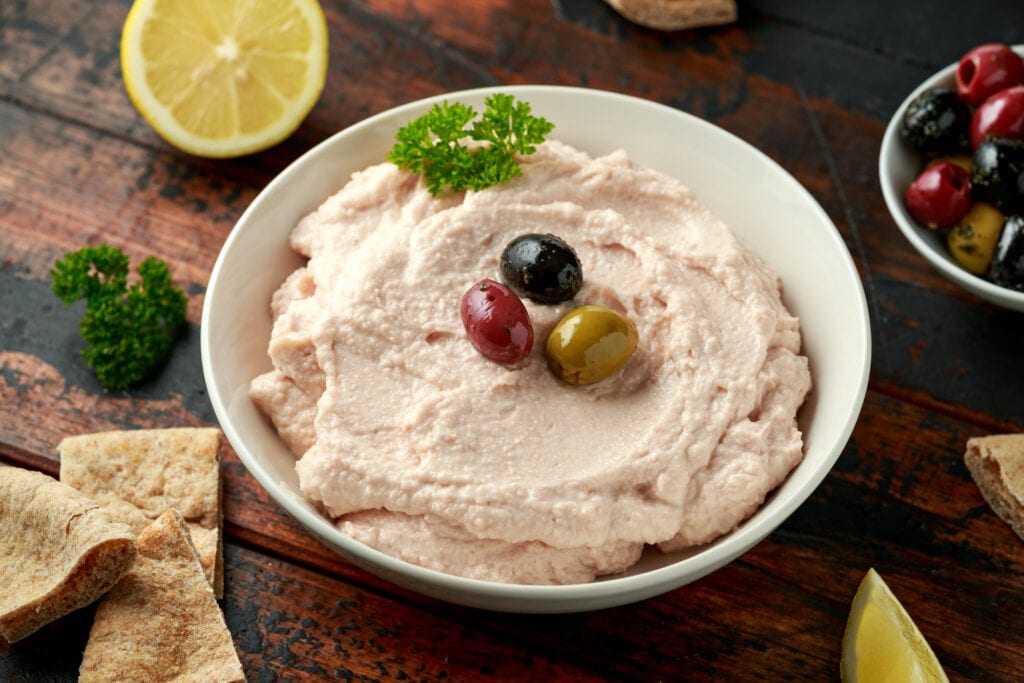 Tirokafteri – spicy cheese dip
A simple dish of creamed Feta and yoghurt mixed with spicy peppers is the perfect appetizer or meze dish.
Giouvetsi
Giouvetsi is a baked pasta made with lamb, beef or chicken in a tasty tomato sauce that has onions, beef stock, red wine, garlic and spices such as allspice, cloves, bay and cinnamon. The dish is baked with noodles such as orzo known as kritharaki of small square noodles called hilopites. The dish is served with grated cheese.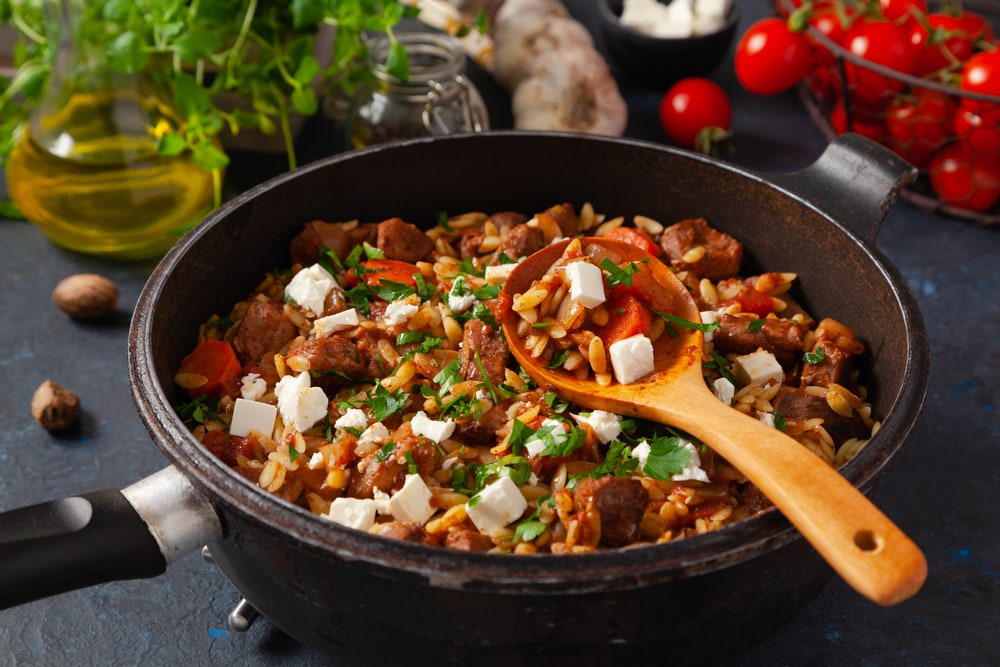 Moussaka
Probably one of the most famous Greek dishes and of course the National Dish of Greece is Moussaka. I have always hated eggplant but this Greek culinary masterpiece changed my mind.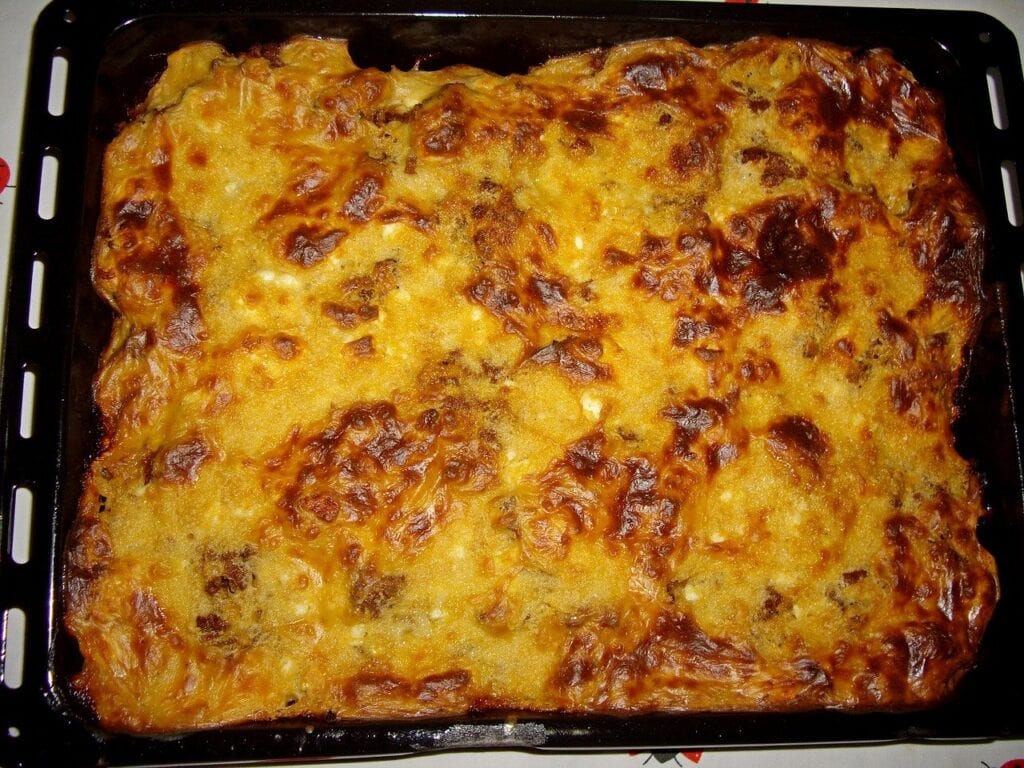 Moussaka is made of layers of eggplant and sometimes potato and ground lamb topped with a béchamel sauce which is browned and has lovely crispy edges. The spices and flavourings include cinnamon, nutmeg, ginger, and allspice, all combined to give the dish a complex flavour.
Pastitsio – Greek lasagna
Pastitsio is a delicious blend of ground beef in a rich tomato sauce, mixed with bucatini or tube pasta, topped with béchamel sauce and cheese grilled to caramelized perfection.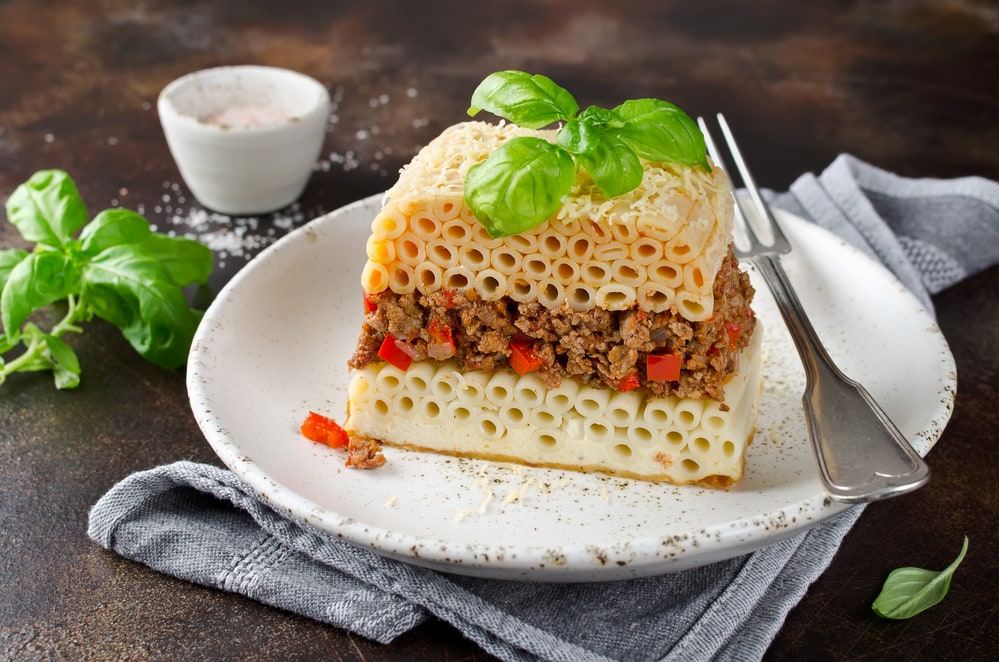 Magiritsa – Lamb soup
Another national dish magiritsa is a filling soup made with lamb offal, onions and greens. This is the soup that breaks the Greek Orthodox Lent fasting. In Canada, my Greek friends called this Easter soup as the lamb is symbolic of the lamb of God.
Keftethes – meatballs
In Greek cuisine, keftethes (or keftedes) are meatballs of ground beef or lamb mixed with spices and herbs and served as a meze with pita and tzatziki or Greek yoghurt.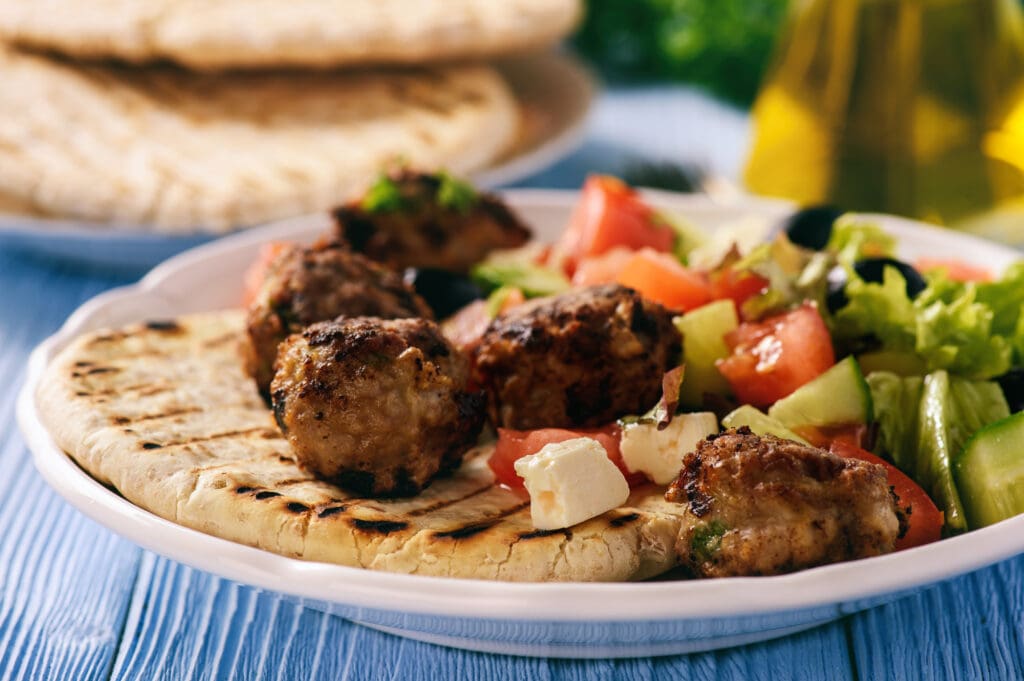 Kleftiko
A very traditional Greek lamb dish that is cooked long and slow with lemon juice, olive oil and garlic. Kleftiko in Greek translates to stolen and is said to relate to the Klephts who were anti-Ottoman insurgents who would steal lambs and cook the meat in hidden underground ovens so the smell would not attract their enemies.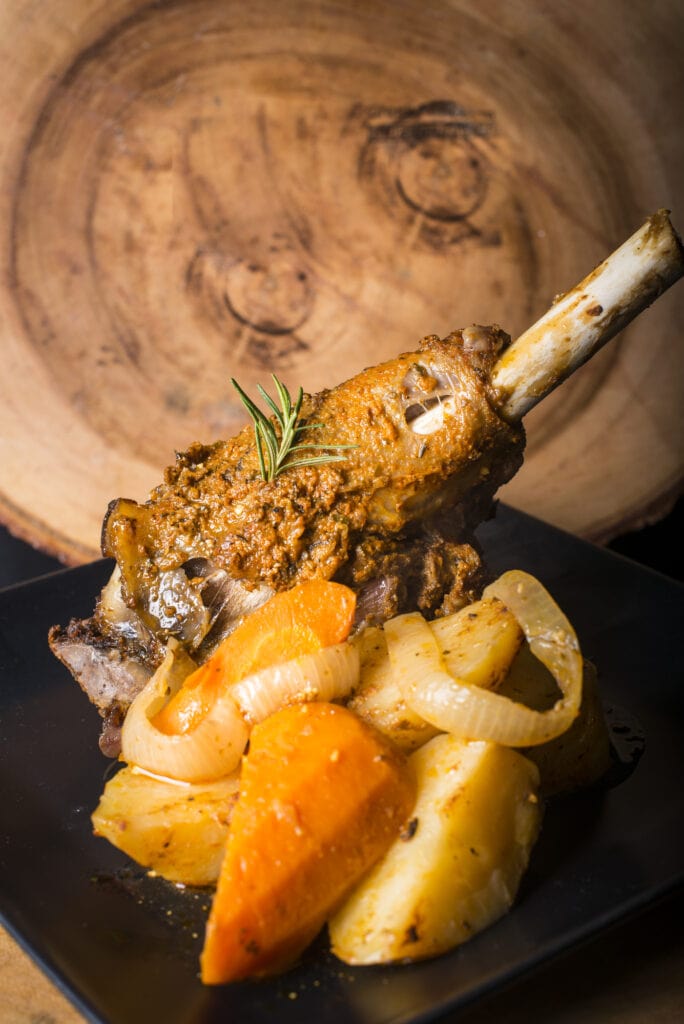 Paidakia – Lamb Chops
This dish takes lamb chops and marinades them in mustard, thyme, garlic and olive oil then the chops are grilled over hot coals. These are then served with lemon wedges and Greek roasted potatoes.
Patates sto fourno – Lemon Roasted Potatoes
These gorgeous taters are roasted in lemon juice, olive oil, and oregano with crispy exteriors and soft fluffy interiors these are simply addictive.
Stifado
Stifado is the perfect Greek comfort food. A slow-cooked beef stew with large chunks of meat stewed until tender in a tomato sauce with red wine, vinegar, garlic and kokaria" onions, which are small white sweet onions. It is served with pasta such as orzo or French fries. The dish traces back to the Venetians who introduced it to Greece but with rabbit as the main meat.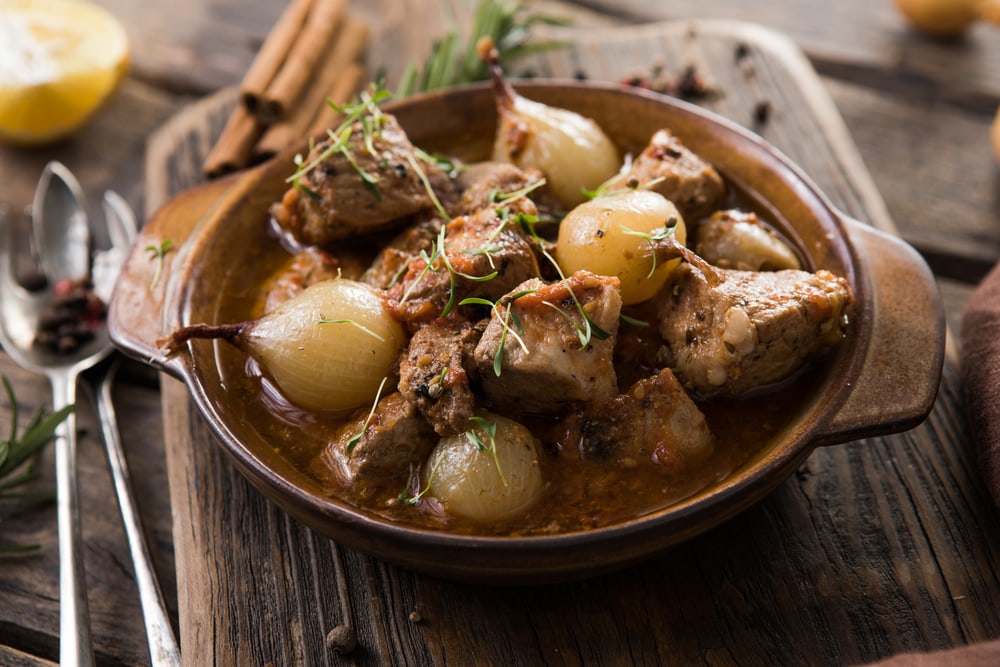 Gyros
Gyro is a traditional Greek dish it is similar to Doner Kebab. Gyro is traditionally ground lamb and beef marinated in Greek spices. Raw white onions are usually part of the marinade. It is cooked on a vertical broiler and like its Turkish cousin, it is served inside Greek pita bread and topped with tzatziki sauce.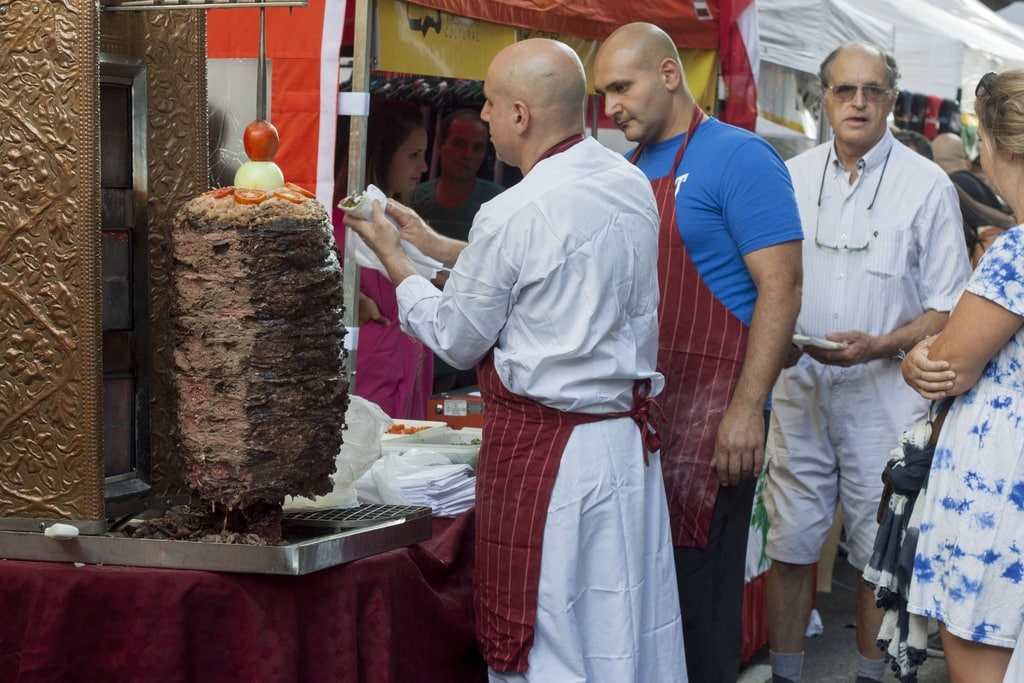 Souvlaki
A popular street food dish world wide it is similar to Gyros but it is small pieces of meat that are skewered and then grilled. The meat is then served with vegetables, potatoes, pita and tzatziki and can also be more portable by served in a pita bread.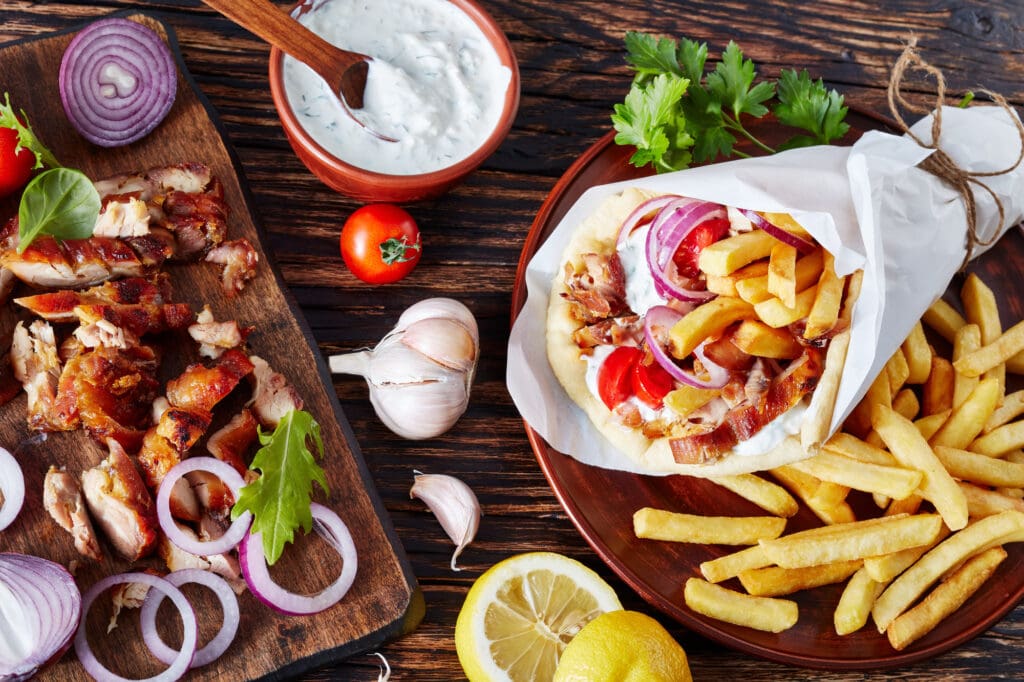 Koulouri – bread rings
A bagel or ring-shaped bread roll covered with sesame seeds and eaten as a snack on the go.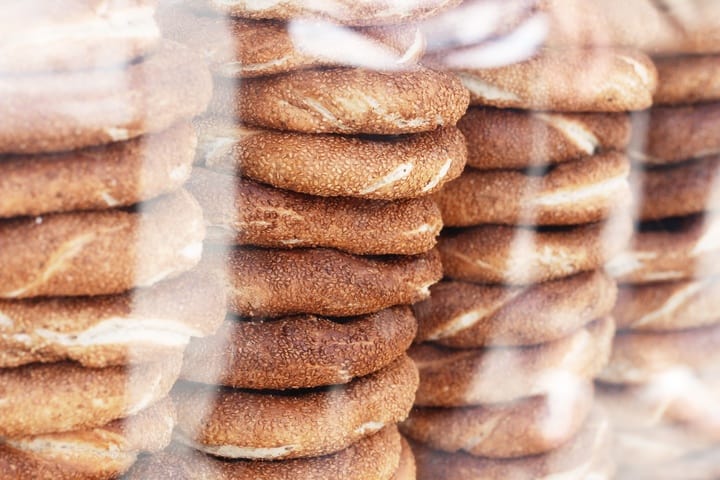 Greek Seafood
It's no surprise that some great seafood can be found in Greece as they are surrounded by some of the best waters for fish, octopus, shrimp, mussels, lobster and squid.
Garides Saganaki – Shrimp Saganaki
Shrimp saganaki is a classic Greek seafood dish, served in the traditional small frying pan the shrimp are cooked in ouzo, tomatoes with paprika, garlic and oregano and then topped with feta cheese.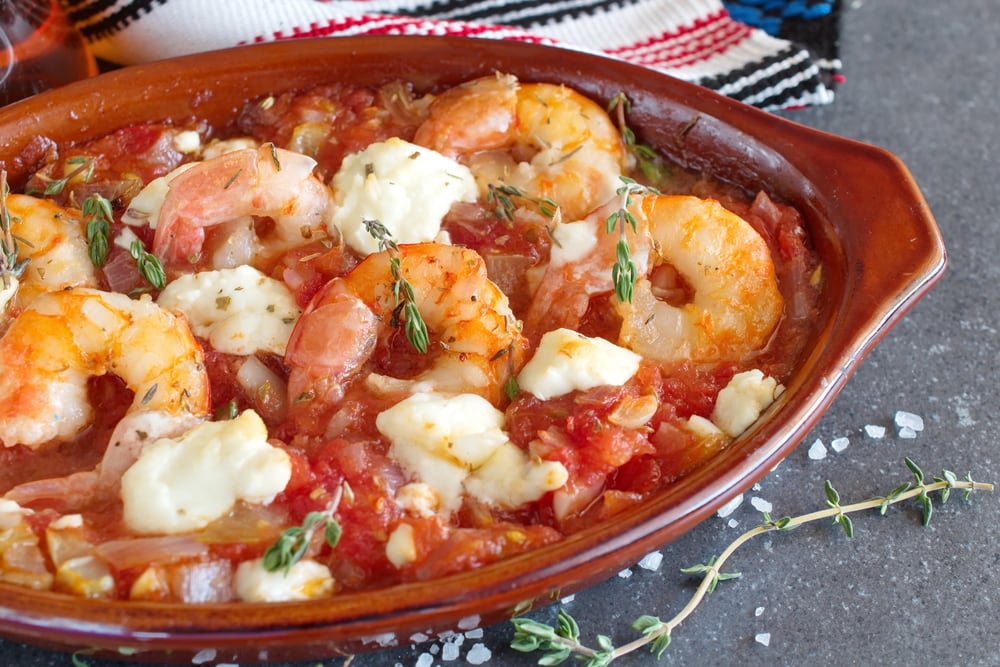 Grilled Octopus
Fresh octopus simply grilled and served with fresh herbs, extra virgin olive oil and lashings of lemon can't be beaten.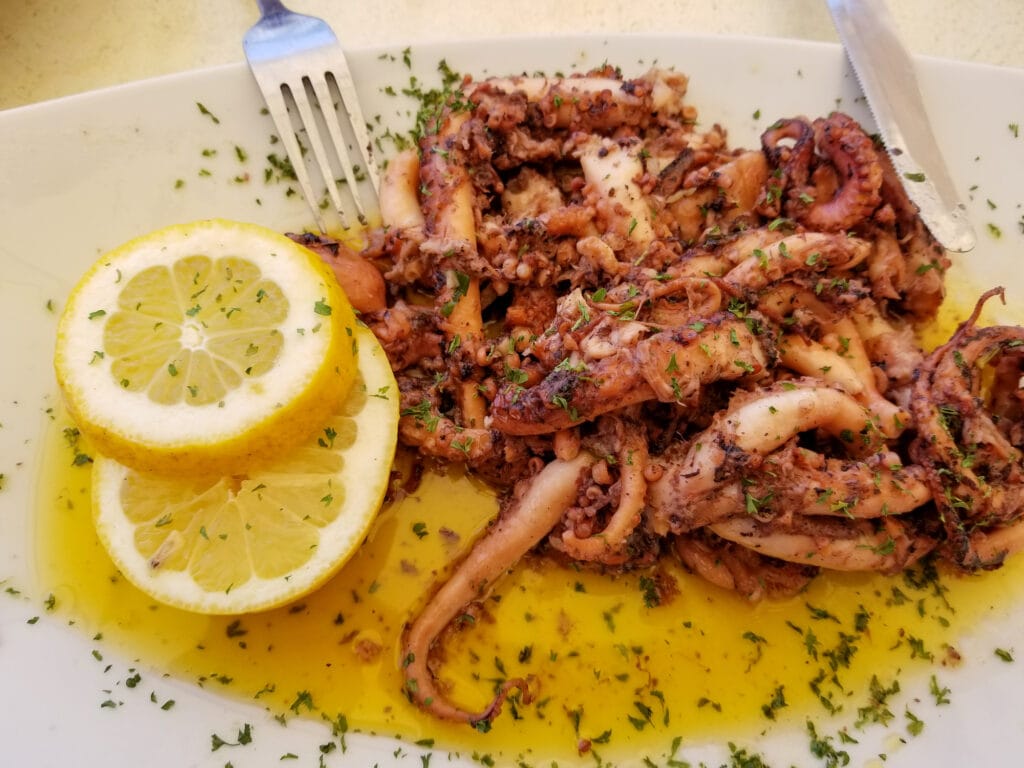 Deep-Fried Kalamari
A must-have appetizer in any Greek restaurant this is known as kalamarakia tiganita. The Kalamari or squid is battered and deep fried absolutely delicious and not rubber or elastic band like as is often served in North American restaurants.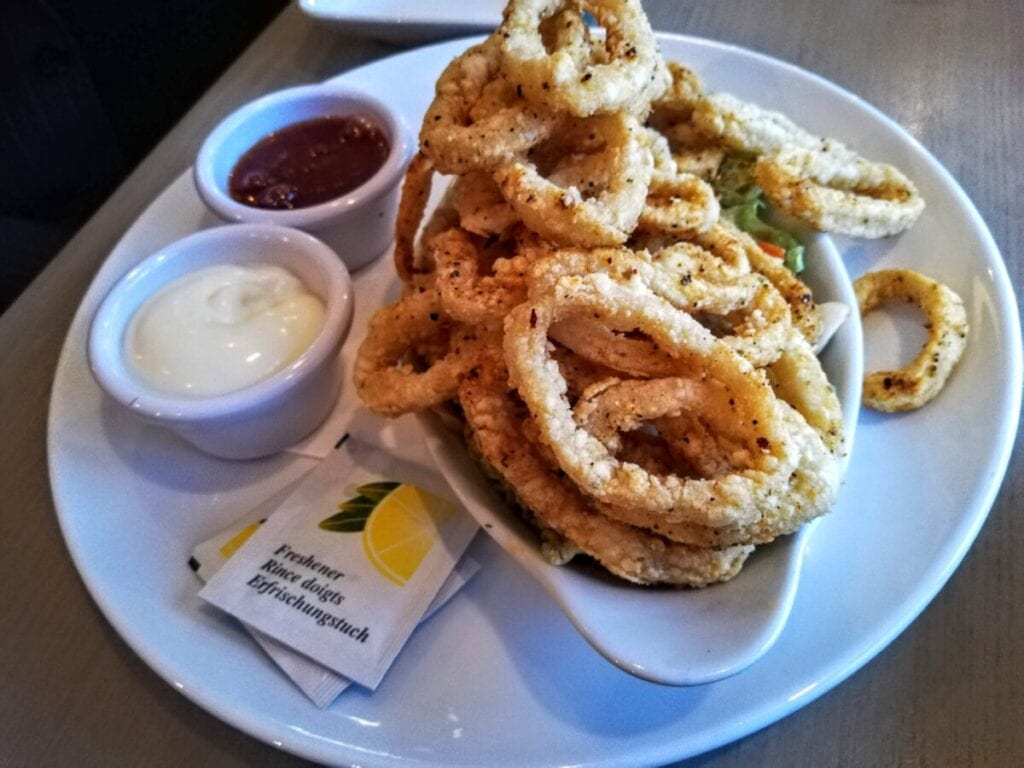 Marides – whitebait
These are small whitebait fish that are dusted with flour and deep-fried in olive oil. Often served as a starter or with a mezes platter they are eaten whole with just some lemon squeezed over them.
Bakaliaros – cod fritters
Bakaliaros or cod fritters are delicious meze served with a rich garlic sauce and are sometimes called bakaliaros skordalia. Bakaliaro meaning codfish and skordalia refers to the garlic aioli.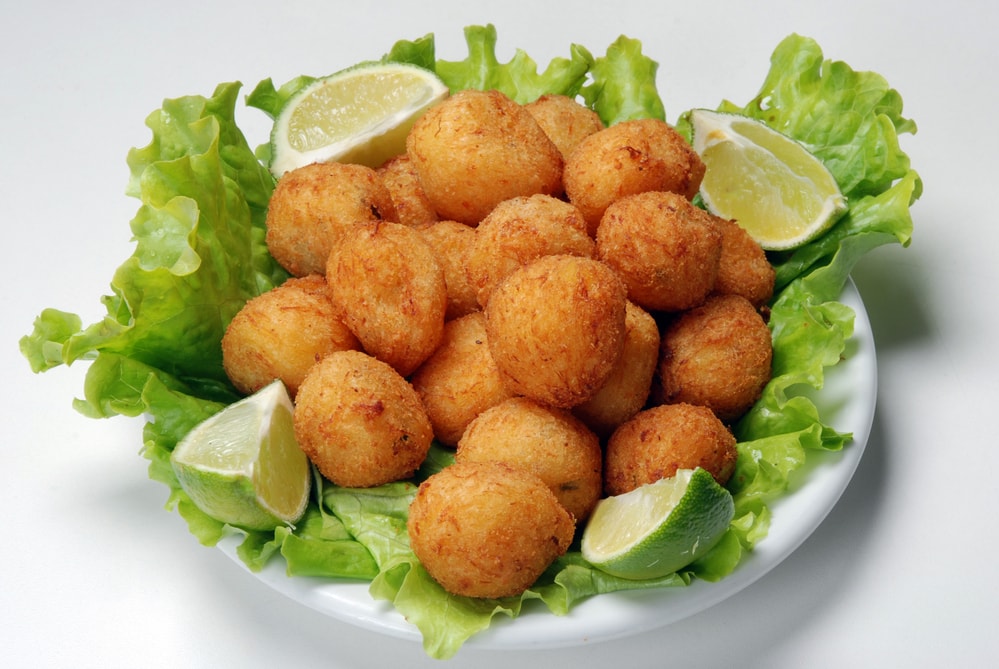 Greek Desserts
Bougatsa – Custard Pie
Bougatsa is a Greek breakfast pastry that can be made either sweet with custard and topped with cinnamon and sugar or savoury with cheese. The filling is wrapped in phyllo and baked.
Bougatsa originated from Byzantium when Constantinople was Greek before the city fell to the Turks.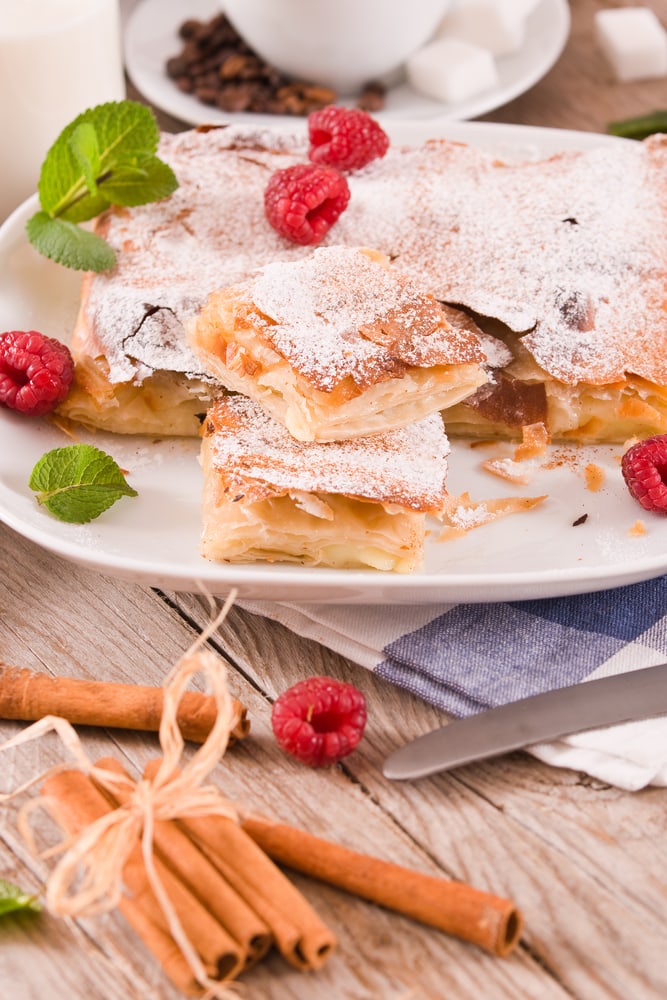 Amygdalota – Almond Cookies
Tiny bite-sized cookies Amygdalota are gluten-free almond cookies They can be sweetened with honey and flavoured with orange flower water or rose water.
Baklava
Baklava is originally from Turkey, Greece, and the Middle East and is a worldwide Greek favourite dessert. In Greek "Phyllo" means "leaf" but historians say that baklava originates from the Byzantine era.
In Greece, baklava is supposed to be made with 33 dough layers, referring to the years of Christ's life. The dough is layered with honey, walnuts, and cinnamon and then baked to perfection.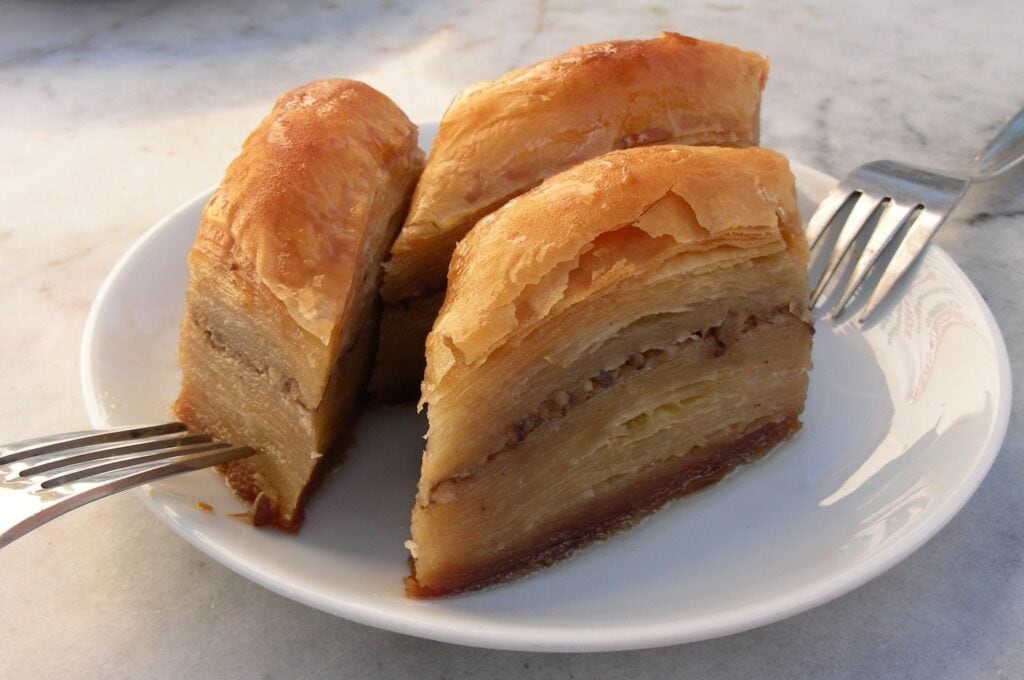 Galaktoboureko – custard pie
Galaktoboureko is a traditional Greek dessert pie and its name combines 'galakto' meaning 'milk' in Greek and 'boureko', which is the Turkish word for something stuffed in filo pastry. Galaktoboureko is made with phyllo layered on top and at the bottom sandwiching a sweet semolina custard. It's coated with a clear sweet syrup and may be flavoured with lemon, orange, or rose.
Revani – semolina sponge cake
A simple semolina sponge cake Revani is a very popular dessert in Greece. It is made with lemon or orange zest, semolina, ground almonds, yoghurt and citrus zest. After baking, it's drenched with citrus syrup, and the top is sprinkled with coconut, whole or crushed almonds, or pistachios.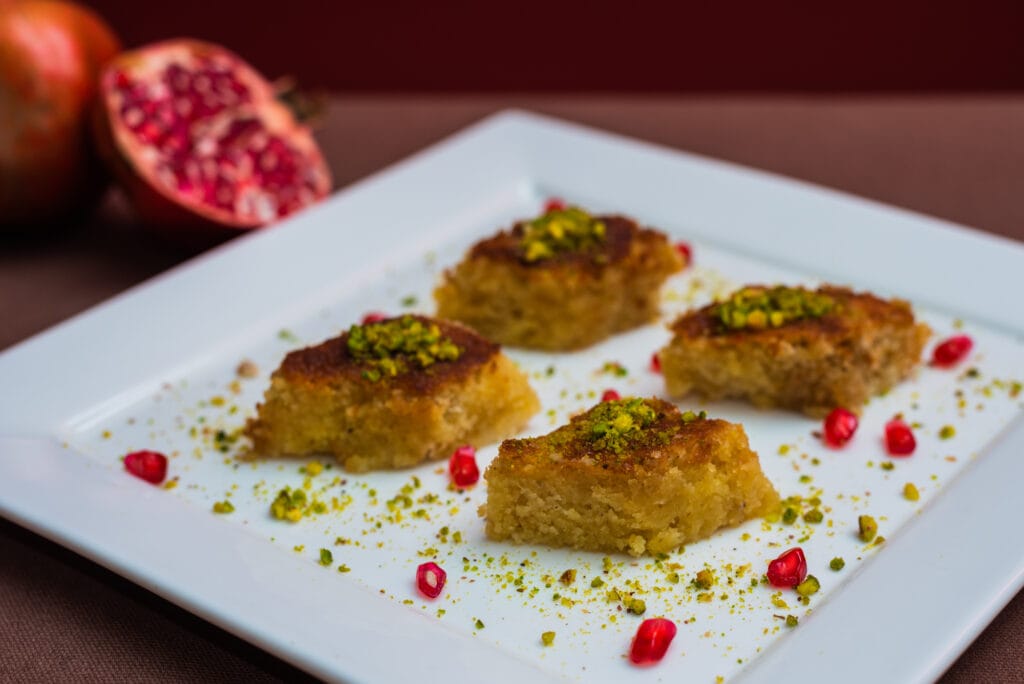 Halva
Halva originated in Persia centuries ago and can now be found all across Greece and the Middle East. Halva has a nutty, rich sweetness thanks to the toasty flavours of sesame seeds combined with sugar syrup. This flavour can change depending on additional flavourings or toppings—whether that's rosewater, cardamom, swirls of caramel, a coating of dark chocolate, or a sprinkling of pistachios or hazelnuts for added crunch.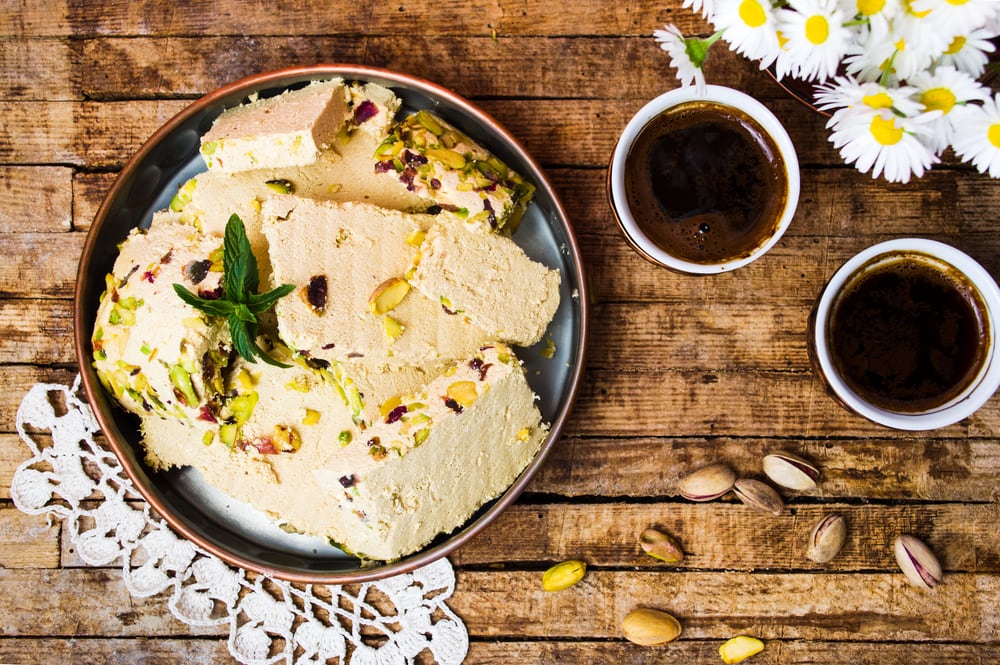 Kataifi
Traditionally Kataifi Pastry was made with a mixture of flour, cornstarch, salt, oil, and water which forms a batter which is then spun to make fine strands or these days a phyllo pastry is finely shredded and then filled with a mixture of nuts and coarsely chopped pistachios. After cooking, the kataifi is soaked in cinnamon-flavoured sugar syrup.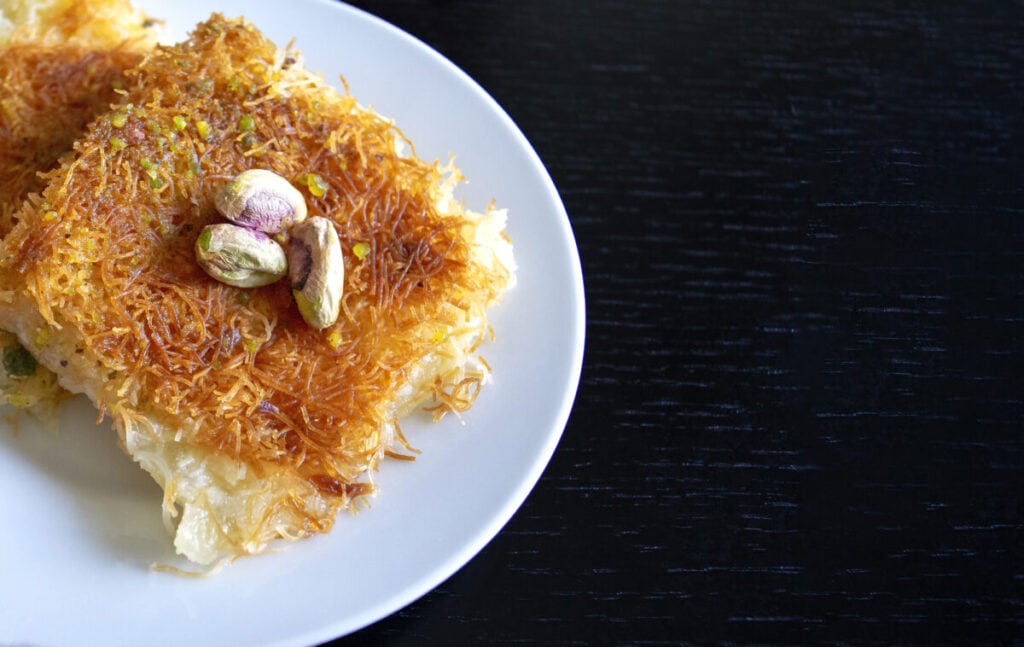 Loukoumades – Greek donuts
Loukoumades are small bite-sized Greek doughnuts that come sprinkled with sugar syrup, walnuts and cinnamon.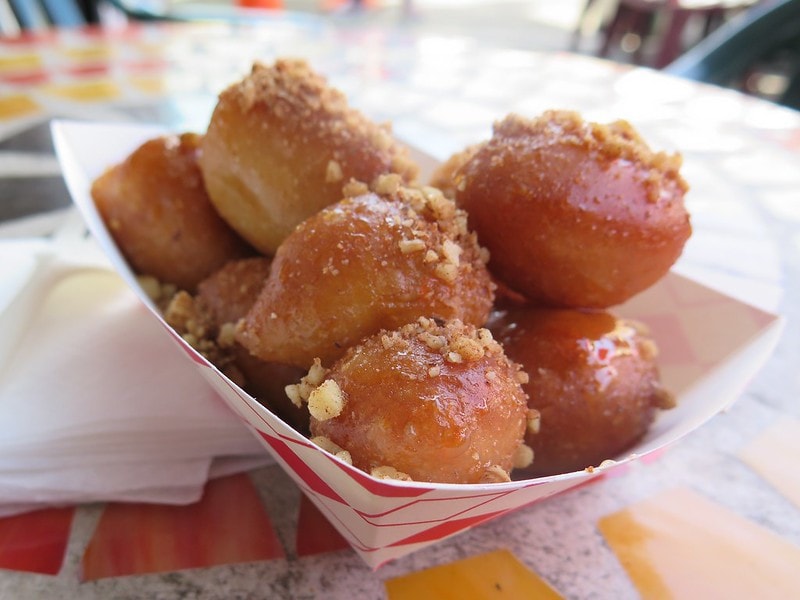 Pasteli
References to pasteli can be found all over ancient Greek and Byzantine texts and this simple sweet snack is made from two ingredients honey and sesame seeds. In Greece, they sometimes add different nuts such as walnuts, almonds or pistachio. These are the original power bars.
Ellinikos – Greek Coffee
Ellinikos coffee was originally from Yemen centuries ago. It is a method of brewing coffee more than a type of coffee. The coffee is served in a briki or a long-handled copper pot similar to Turkish coffee. It is pretty strong but you can order three different types of Ellinikos. Vari Glyko which is strong & sweet with honey, Metrios a medium sweet version and Sketos without any sweetener or sugar.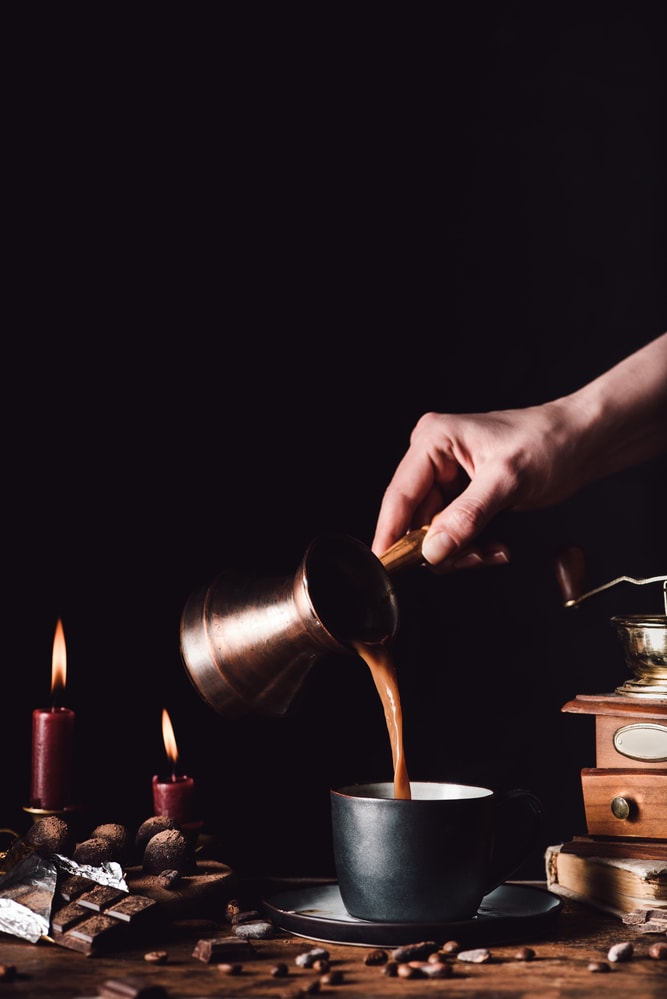 Frappe – iced coffee
Frappe in Greece is simply an iced coffee made with instant coffee, sugar, water and milk and it is quite sweet The frappé was invented through experimentation by Dimitris Vakondios, a Nescafe representative, in 1957 in Thessaloniki.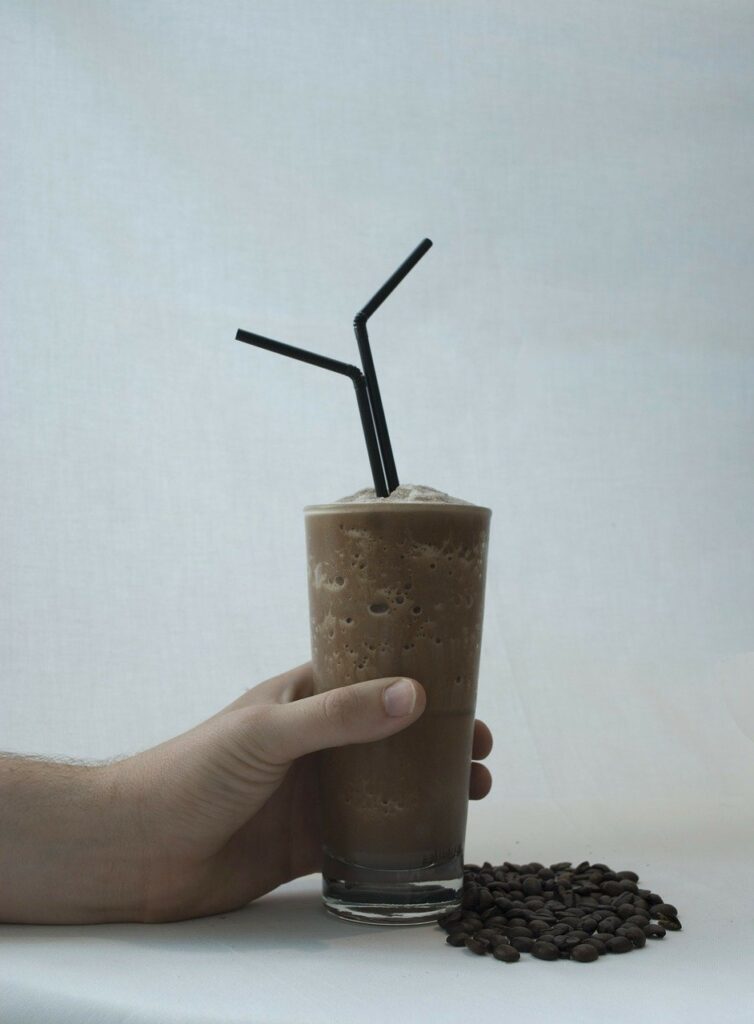 Retsina
An ancient wine that has been around in Greece for over 2000 years. Not my favourite by any stretch and many a potted plant was my Retsina recipient back in the day.
The containers that the wine is kept in are sealed with pine resin which is where the name comes from and it tastes like pine as well very much an acquired taste.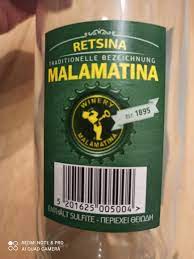 Ouzo
Anthropologists say that ouzo was created by monks of Mount Athos during the 14th century who used the pulp of grapes to produce a distinct aniseed flavour. Ouzo is usually drunk with water or 7-up added which turns the drink milky white. it is infused with strong flavours, such as cloves, coriander or fennel, it is recommended to drink it sip by sip, with a bit of food, such as mezes. Experience tells me it leaves a vicious hangover and you may choose (like I did) to never experience it again.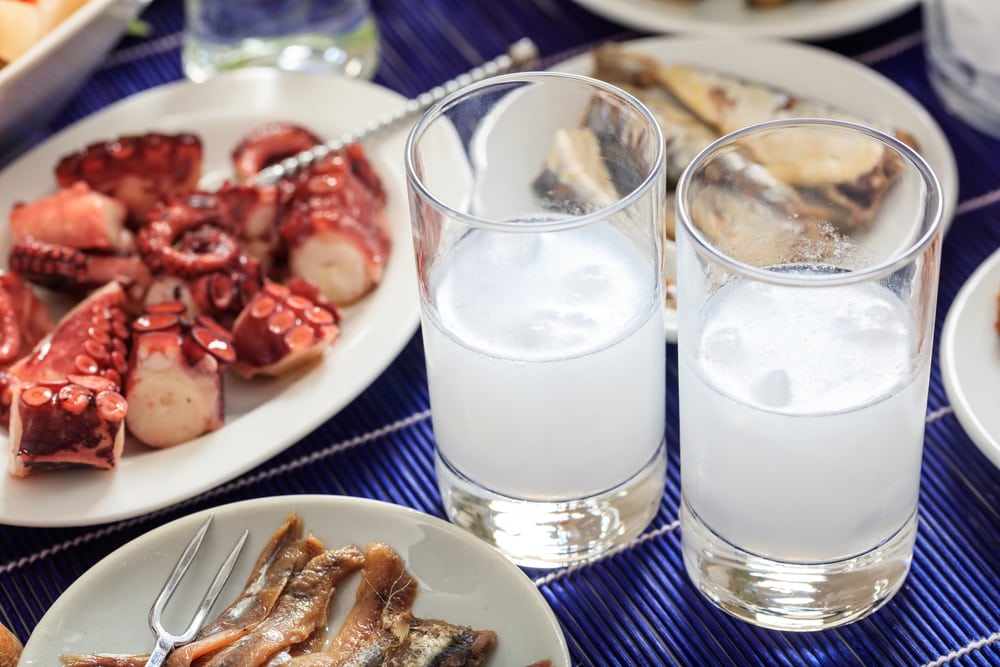 Final Thoughts on Traditional Greek Cuisine
Being raised in Canada with a very high percentage of Greek and Italian immigrants I was very privileged to be raised in neighbourhoods with great Greek and Italian population and to be friends with the kids of these immigrants.
That was incredibly lucky for me because I think it is what made me a huge fan of various food cultures and gave me the desire to learn more about food around the world and made me a food tourist.
As a result of this immigration back in the '70s many Greek and Italian restaurants and cafes were available to us and each one introduced us gently to the national cuisines of those countries.
What cuisines have influenced your foodie travels? Is there a Greek dish you particularly enjoy?
You might also enjoy
17 Best Things to Do in Naxos, Greece
3 Days in Santorini Itinerary: A Bewitching Greek Island
10 romantic things to do in Santorini for couples – the ultimate guide
UNESCO Intangible Cultural Heritage – food
Pin it to save it