3 Days in Santorini Itinerary – A Bewitching Greek Island
Santorini is a volcanic island in the Aegean Sea. It's one of the most popular and well-known Greek Islands for many reasons. Consider the natural beauty of this rugged landscape carved by volcanic forces, the black, and red sand beaches, and legendary sunsets. This 3 day Santorini itinerary is just enough to get a taste of the ideal location for sunbathing, swimming, snorkelling, boating, hiking, and pretty much any adventure activity you can think of!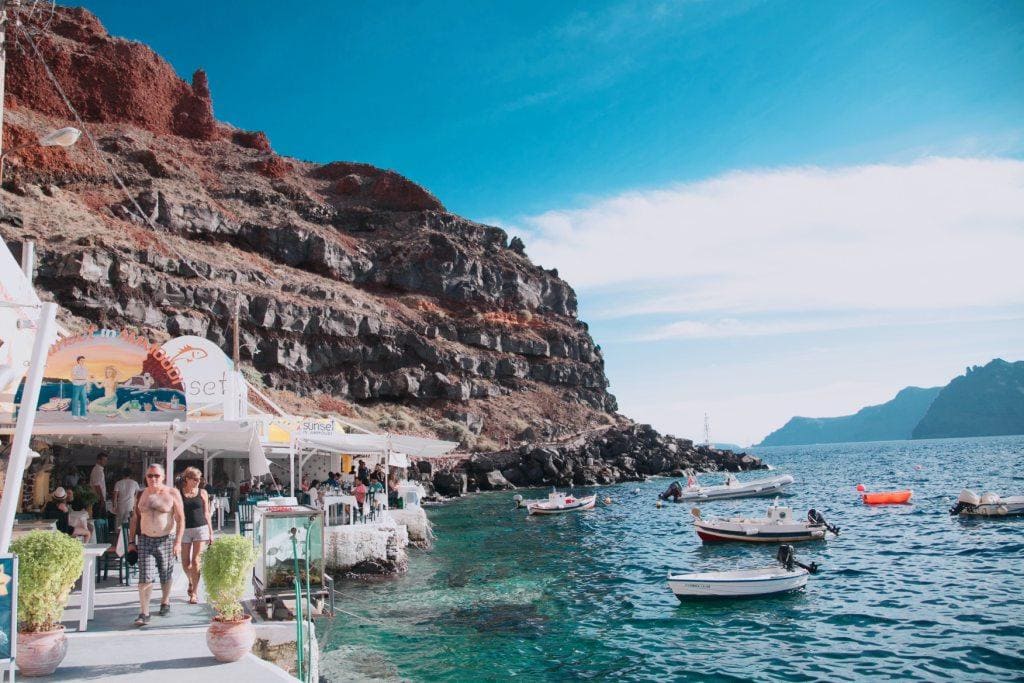 Santorini is also world-famous for man-made landscapes featuring white-washed, cubic-style, buildings that lie low to the group. These structures give the island a romantic coastal cottage aesthetic. They're also functional. The white, porous, stone walls help to keep rooms cool in the winter and warm during the summertime. The low-lying designs serve as protection from the high-force winds that sweep across this island. The unique appeal of the island's architectural style makes it an ideal place for photography.
While visiting Greece, many choose to go 'island hopping.' Ferries are the fastest and easiest way to get from one island to another. Some islands, like Santorini and Naxos, do have airports that you can fly into. Before you get to Santorini, be sure to download a tourist attractions map for offline use.
Xyuandbeyond is reader-supported. When you buy through links on our site, we may earn an affiliate commission. You can read my privacy policy here.
Your 3 day Santorini Itinerary
Day 1 in Santorini
On day 1 of your Santorini itinerary, you'll hike to Skaros Rock in the morning. In the afternoon, you'll learn more about the island's early inhabitants at an archaeological museum. Finally, you'll close out your day with a mind-blowing sunset in Oia.
Many accommodations on Santorini Island provide guests with free breakfast options. If you happen to pick a place to stay that does not offer free breakfast service, worry not! Simply pull up your offline Google map of Santorini and search 'bakery.'
The classic breakfast item to try in Greece is spanakopita. It's a flakey filo dough pastry stuffed with spinach and feta. Yum!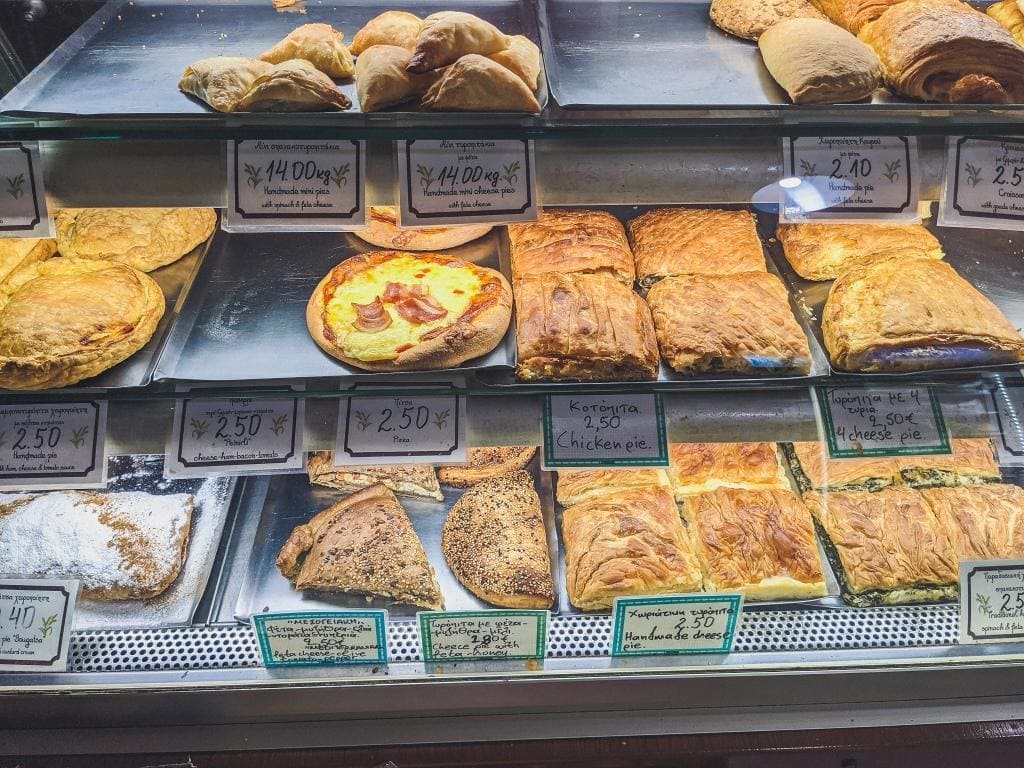 Hike to Skaros Rock
Active tourists may consider starting their day with a hike. The most famous hike in Santorini is Skaros Rock. If you start in Imerovigli, it's a moderately difficult 1-mile loop that can be completed in about 40 minutes. If you are looking for something a bit more challenging, you can start your hike in Oia and hike to Imerovigli. This would be a 6-mile hike that takes about 3 hours to complete.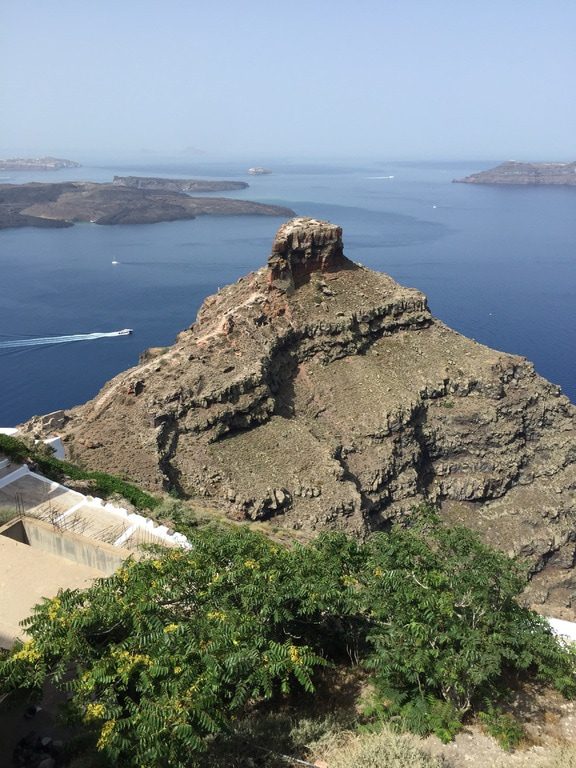 If you decide to go with the more challenging trek, you must have a snack when you arrive in Imerovigli! Grab a coffee, baklava or fresh fruity drink at Altana Cafe Bar.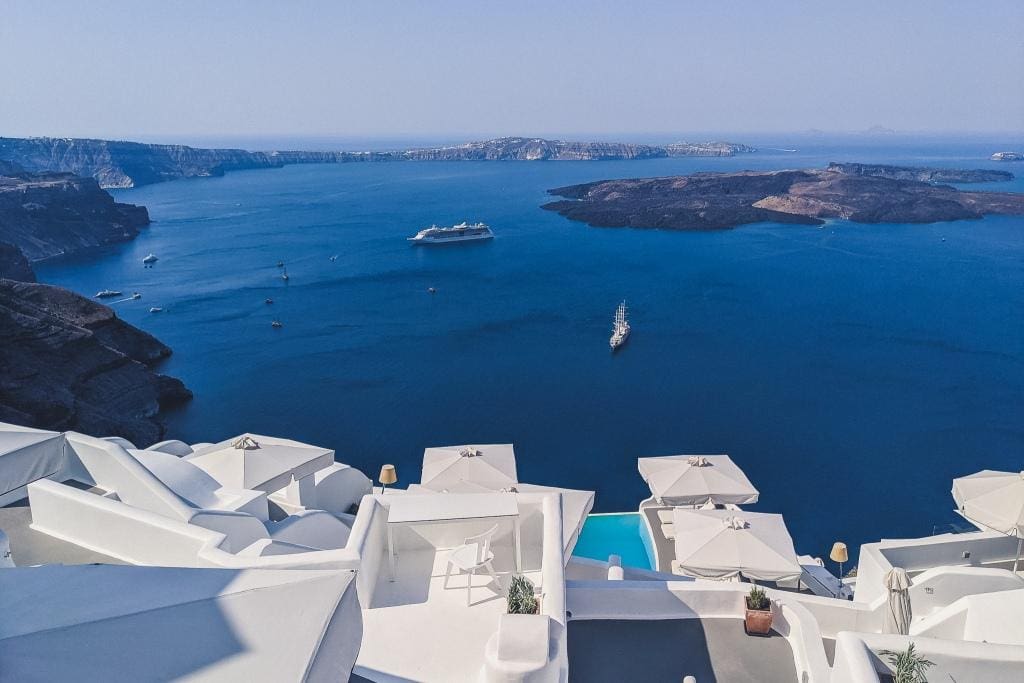 Archeological Museum of Thera
While you are in Imerovigli, be sure to check out the two small museums. There is the Archeological Museum of Thera and the Museum of Prehistoric Thira. Check out these museums especially if you don't have time to visit the Akrotiri archaeological site.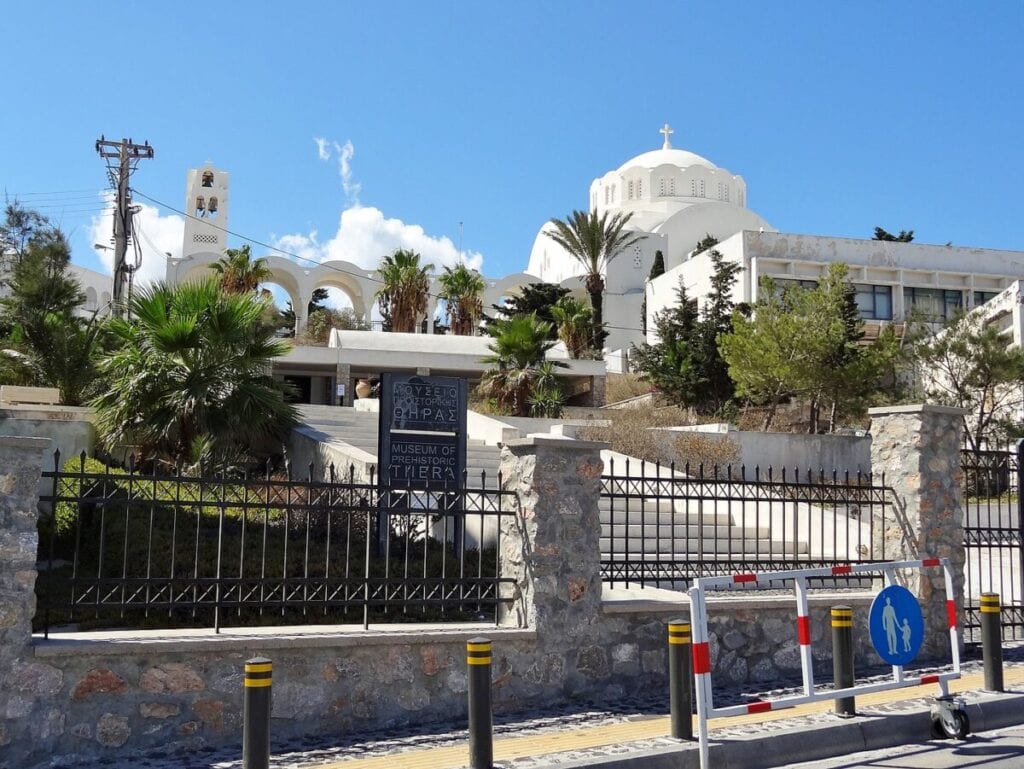 The Archeological Museum of Thera displays interesting art and artefacts recovered from the Mesa Vouno Mountain. There are many artefacts from the Hellenistic Period including amphoras, clay pots, and statues.
Nearby, the Museum of Prehistoric Thira is another excellent place to view artefacts from the Akrotiri site. You'll find pieces from the Neolithic and Cycladic periods.
Le Moustache Pool Bar
Head over to Le Moustache Pool Bar for a tasty lunch that includes access to the property's infinity pool. You can rent loungers and order a bottle of prosecco, or just jump in for a swim after your meal. This is an especially nice place to visit if your hotel does not offer access to an infinity pool. The views are spectacular!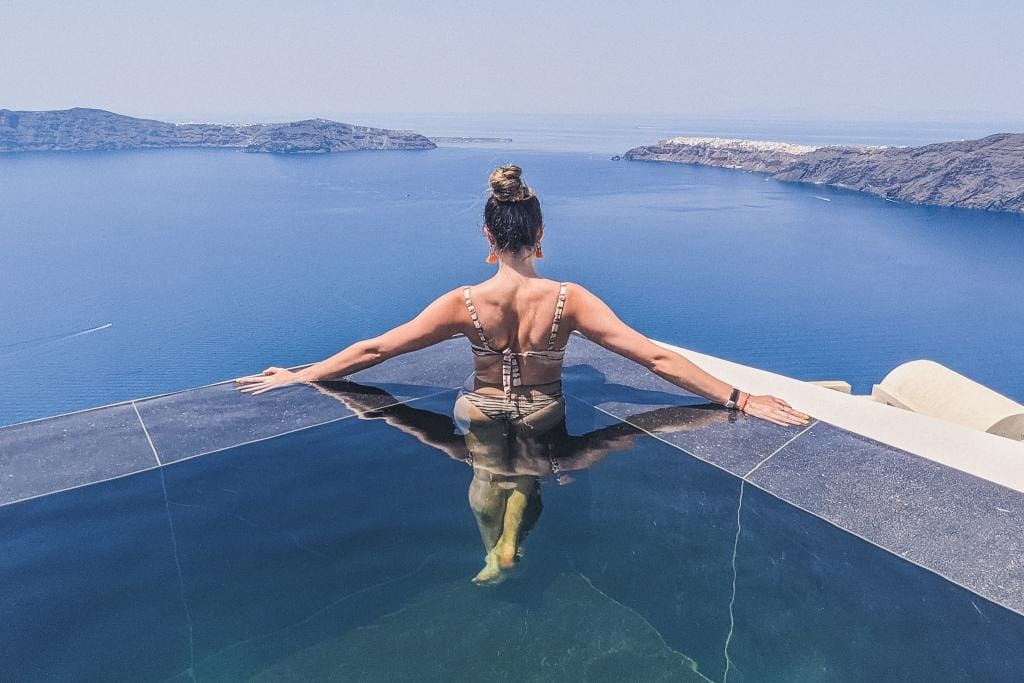 Famous Santorini sunset
In the evening on your first day in Santorini, head over to Oia. You must experience one of the island's million-dollar sunsets. There are a few places in Oia where you can appreciate the setting sun.
The Byzantine Castle ruins are located right off the main walking and shopping artery in Oia so it's hard to miss and it is the place to get that perfect photo of Santorini. The castle of St. Nicholas dates back to the 15th century. It was one of the most significant residences on the island as it was home to the Byzantine aristocracy as well as highly educated people and also a place for storing crops. Later the fortification of the castle was amplified to Ammoudi Beach. Unfortunately, the big earthquake in 1956 destroyed its major part so just a fraction of it remained preserved until today.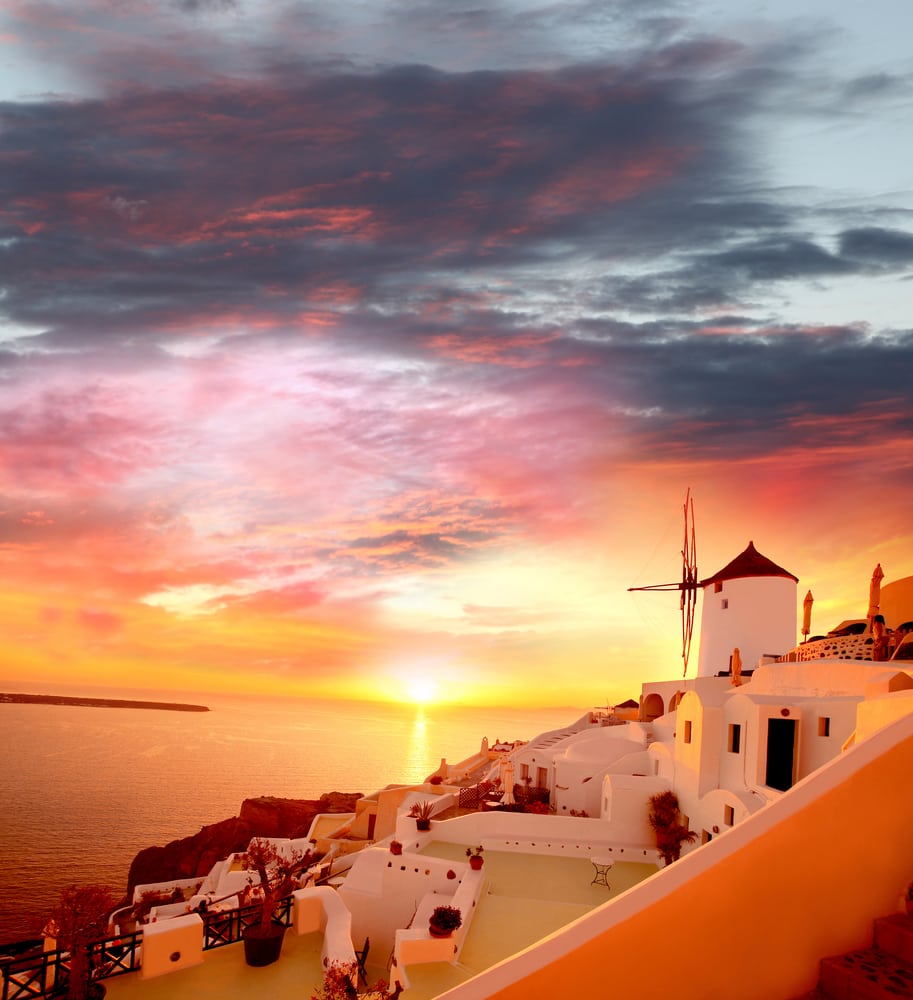 Another option is to make a reservation at one of Oia's sunset restaurants. Consider the gourmet cuisine and fabulous views at Santorini's Sunsets restaurant.
Day 2 of your Santorini Itinerary
On day 2 in Santorini, you'll enjoy the most picturesque locations in Oia and photograph the famous blue domes without worry or hassle from crowds. You'll also enjoy a bit of adventure and hearty seafood in Amoudi Bay. Then, you'll eat gyros and embark on a sunset sail.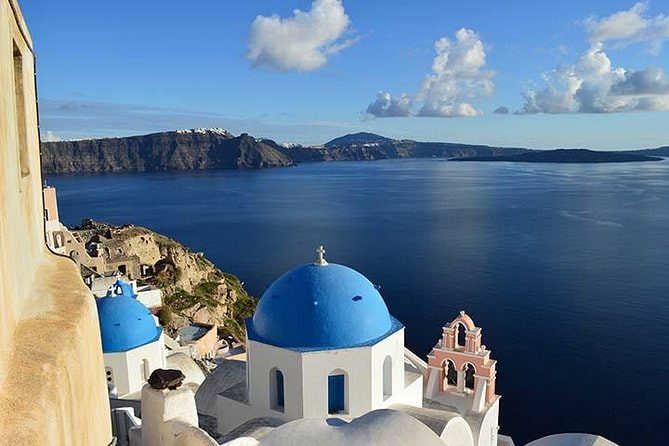 Santorini Caldera
The crescent-shaped Caldera of Santorini is the biggest gem in the Aegean and one of the most impressive places to visit in the world! The caldera was formed more than 3500 years ago when a huge volcanic eruption altered the Mediterranean topography for good. Some experts believe that the Caldera is where Atlantis lies.
Boat Tours of Santorini
Santorini Luxury Caldera Cruise with Full Greek Meal and Drinks: Experience Santorini's beauty, hot springs and beaches on a catamaran cruise. Select a daytime or sunset cruise, and sail around the island and caldera on a deluxe catamaran. Stop to bathe in the Nea Kameni springs; swim, snorkel or unwind at beaches; and enjoy complimentary Santorini wine and Greek beer, plus a Greek meal prepared on board. On the evening cruise, be treated to awe-inspiring sunset views.
Read more about Santorini Luxury Caldera Cruise with a Full Greek Meal and Drinks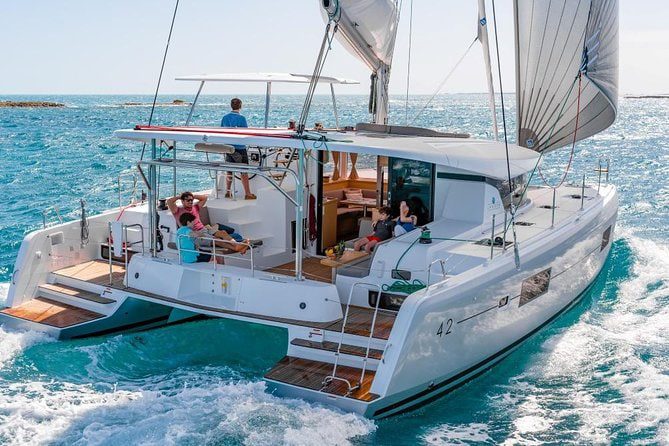 Oia Photoshoot
Oia is the most photographed location on the island. The whitewashed villas, the blue domed churches, the tiny cobblestone paths. Swoon. This is where you'll find the most famous instagrammable locations in Santorini. The best way to beat the tourist buzz is to go early. This is the best place to see the sunset from. Go as early as you can! Sunrise or just after sunrise is your best-case scenario. Hello, golden hour!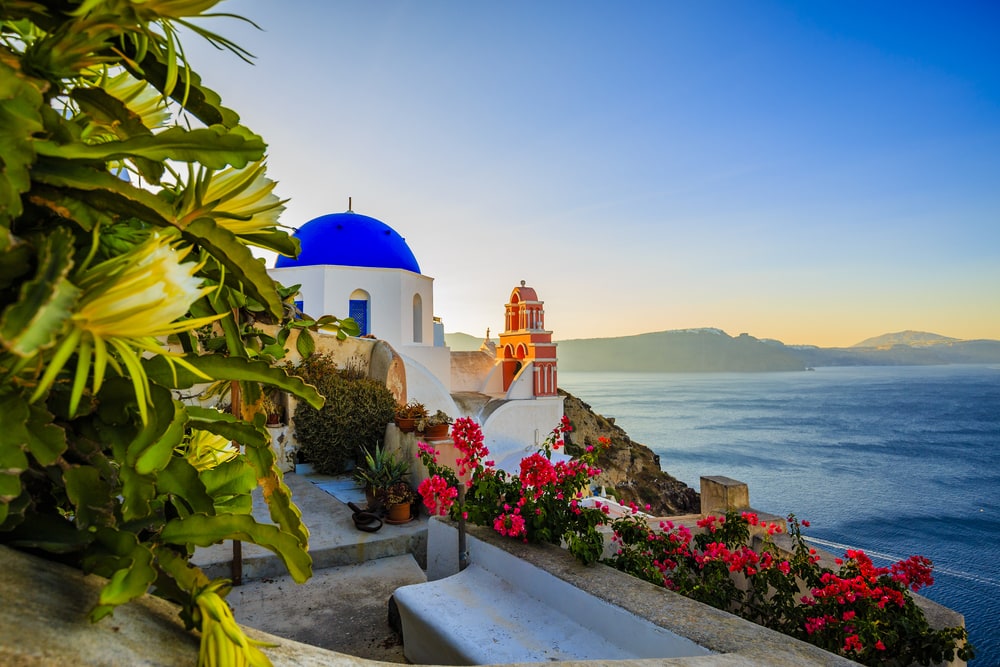 As you are exploring Oia, you can start at the Church Anastasis. This is one of the classic blue dome churches that you've probably seen in photos. Next, you can head to the Kastro Oia Houses. Near this hotel is where you will find the Oia Scenic Lookout. This is another popular sunset spot. It offers a sweeping panorama of the island.
Continue your walk to the Oia Castle especially if you didn't visit here yesterday. Next, you'll want to get a shot at the classic Windmill. By the time you complete your photo tour of Oia, you'll start running into more and more people and you'll be very pleased with yourself for arriving early.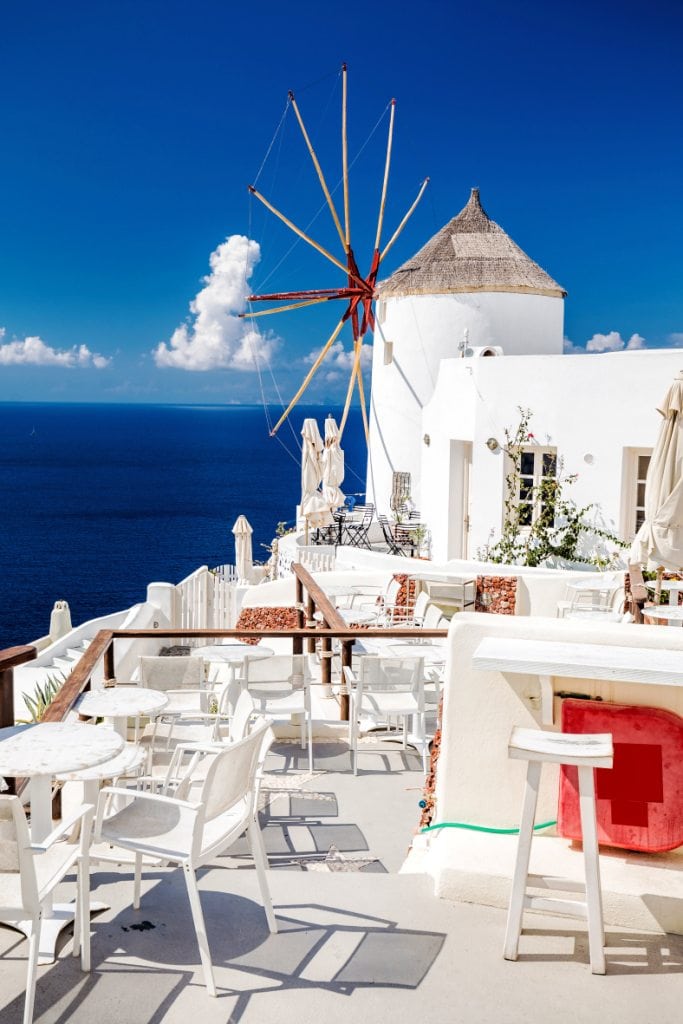 Santorini Day Tour with Sunset in Oia: Enjoy a day of discovery on Santorini island on this tour from Fira. With an itinerary that covers all the must-see sights, the tour lets you find your own favourite spots on the island. Visit the volcanic Red Beach, Akrotiri Archaeological Site, a winery, and the Prophet Elias Monastery. Then, finish on a high note as you watch the sun slip into the sea from Oia village. A tasting of Santorini's distinctive wine is included.
Read more about Santorini Day Tour with Sunset in Oia
Ammoudi Bay
While in Oia is the perfect time to explore Ammoudi Bay. From Oia, you'll take a steep cobble path down to the shore. You can get there in about 15 minutes. Be aware that this is a mule trail. So, you'll have to mind where you step. Also, be warned that the smell of the trail, for the aforementioned reasons, is less than ideal, especially on a hot Santorini day.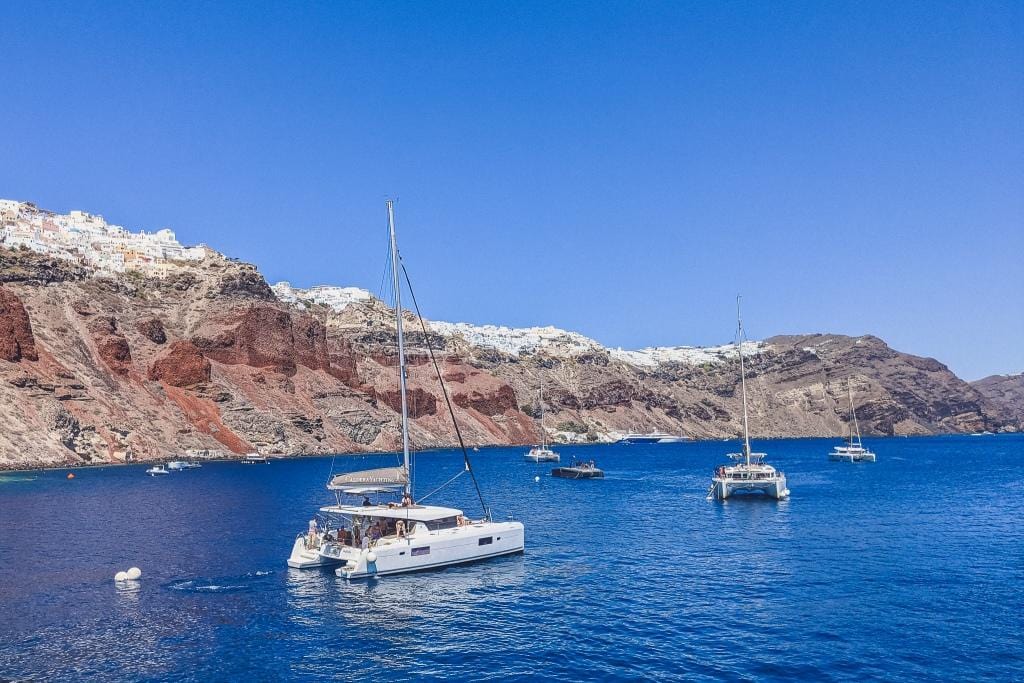 However, if you can brave the walk, Ammoudi Bay is really worth it! Once you arrive, turn left (or walk South). Continue a short way until you arrive at a secret beach. The beach has access to a jumping platform built into a boulder. Swim up and brave the rocky facade to ascend to the platform, or you can take the easy staircase climb on the far away side. The platform offers 15 and 20 ft jumping ledges. This is the most thrilling thing you can do in Santorini!
Once you have had your fill of adventure, you can enjoy the freshest catch at one of the Amoudi Bay restaurants. Sunset in Ammoudi is a top pick. If you are looking for a quick bite or a more casual setting, Pitogyros in Oia is fantastic.
Wine Tasting Tours
In the late afternoon and evening, have a Santorini wine adventure. Santorini has quite an extensive history of winemaking. Wine has been produced on the island since ancient times. Santorini's volcanic soils add unique mineral characteristics to the wines produced here. The top grape varietal grown here is the Assyrtiko grape. The wines can be aged for up to 2 years in Oak Barrels. The finished product is a high-acid white wine with a full body and rich flavour.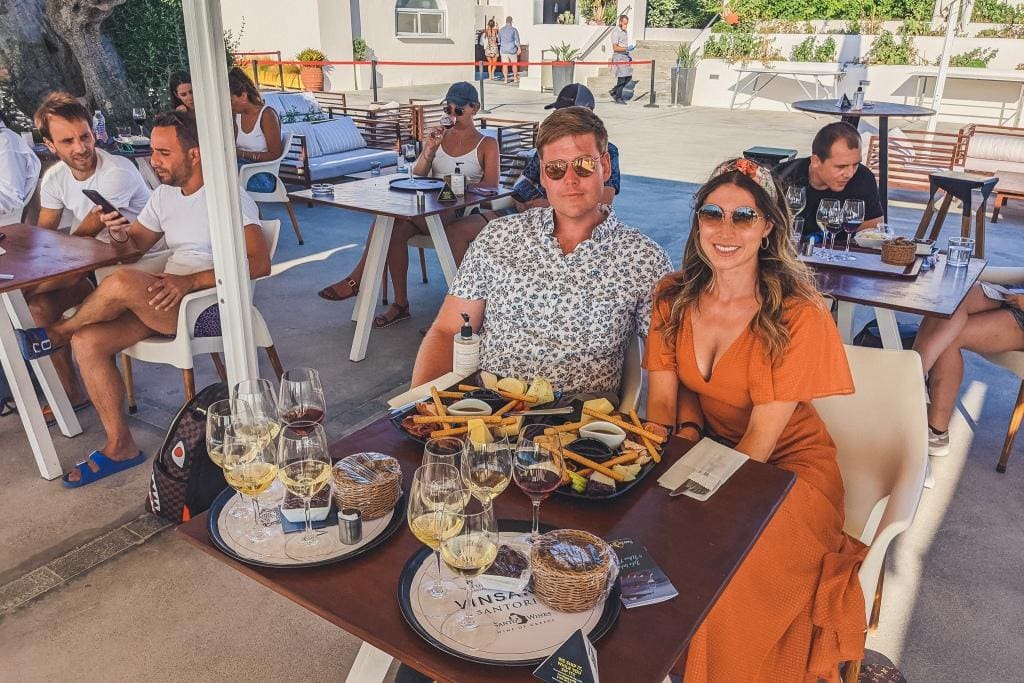 One of the best places to visit on the island is Venetsanos Winery. It has been a family-owned business since 1947. The property's tasting terrace is just stunning. Arguably, the best caldera views on the whole island. After a wine tasting, be sure to check out some of the cool historic winemaking equipment on display.
Next, you can head to Santo Wines. This is the most touristy winery on the island. It has a sprawling sundeck with ocean views. Settle here just in time to catch a front seat to watch the setting sun.
Small-Group Santorini Wine Tasting and Vineyard Tour
Sip on Santorini wine during this small-group tour of the island and three of its wine estates. As you explore, learn about wine production in the area, and hear about the local varieties such as assyrtiko. Explore a vineyard with a guide and walk around wine cellars. If you want to make the tour extra special, upgrade to enjoy an evening excursion.
Read more about Small-Group Santorini Wine Tasting and Vineyard Tour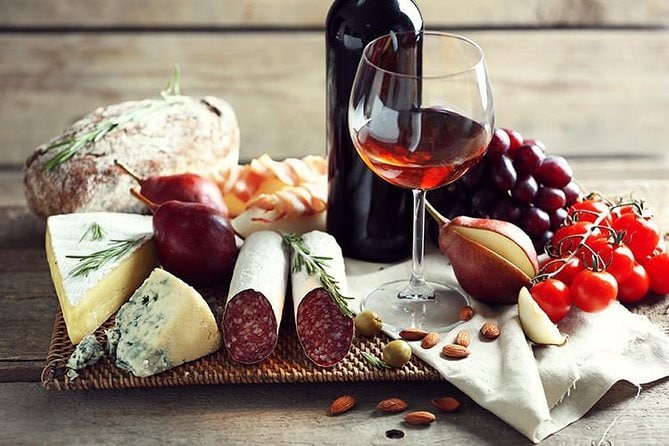 Day 3 of your Santorini Itinerary
On day three of your Santorini itinerary, you'll have another adventure. Rent ATVs and set out on a fun journey across the island to Santorini's Red Sand Beach. While you are on this side of the island, you'll take the opportunity to visit the Akrotiri Lighthouse. You'll end your third day with dinner at one of the best restaurants on the island.
ATV Experience
Exploring Santorini by ATV is one of the most classic things to do on the island. There are many companies that offer ATV rental. It's pretty easy to set up once you arrive, or you may prearrange a rental online in advance. Some hotels even offer to help arrange ATV rentals.
ATVs are the transportation vehicle of choice for several reasons. Firstly, they're much easier to park than a car. Also, it's pretty easy to learn how to ride an ATV. Each quad bike can carry two people.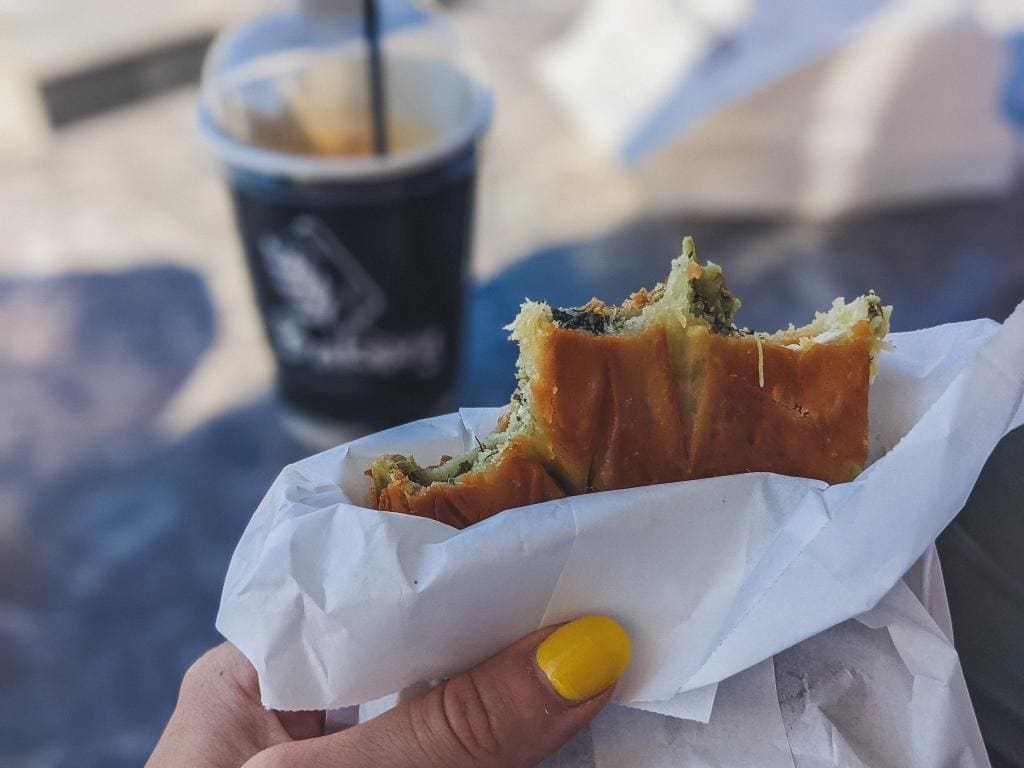 Before you set out on your ride, stop by a shop to pick up items for a picnic. Bring plenty of water, snacks, sandwiches, a twist-off bottle of wine, and more! Now, you'll be ready to ride to the Akrotiri Lighthouse. You may also consider bringing snorkelling equipment.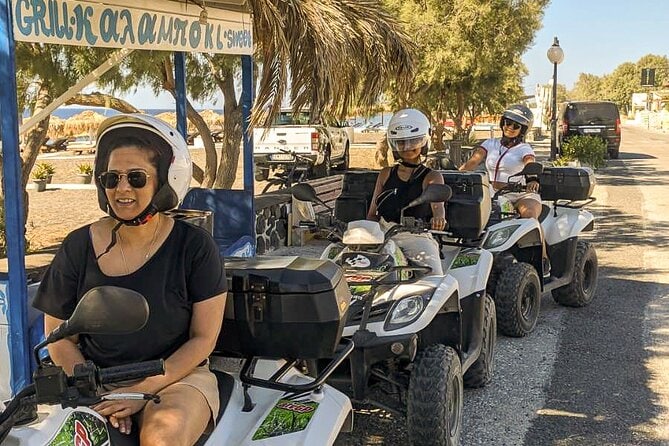 Enjoying Santorini with a guided ATV-Quad tour is a great alternative to your average cultural tour. You will be able to see first-hand and learn about the local beaches and villages. However, a traditional island without fish and sea is not possible. This exhilarating experience will satisfy your need with a delicious dish featuring freshly caught grilled fish, of course, accompanied by ouzo, raki or wine!
Read more about ATV-Quad SEAFOOD LOVERS Tours
Akrotiri archaeological site – the Lighthouse
The Akrotiri Lighthouse is located on the western corner of Santorini. It is a 19th Century building that was in operation until World War II. It's one of the oldest lighthouses in Greece. This is one of the most beautiful places in Santorini offering a completely different perspective on the coast than Oia or Fira.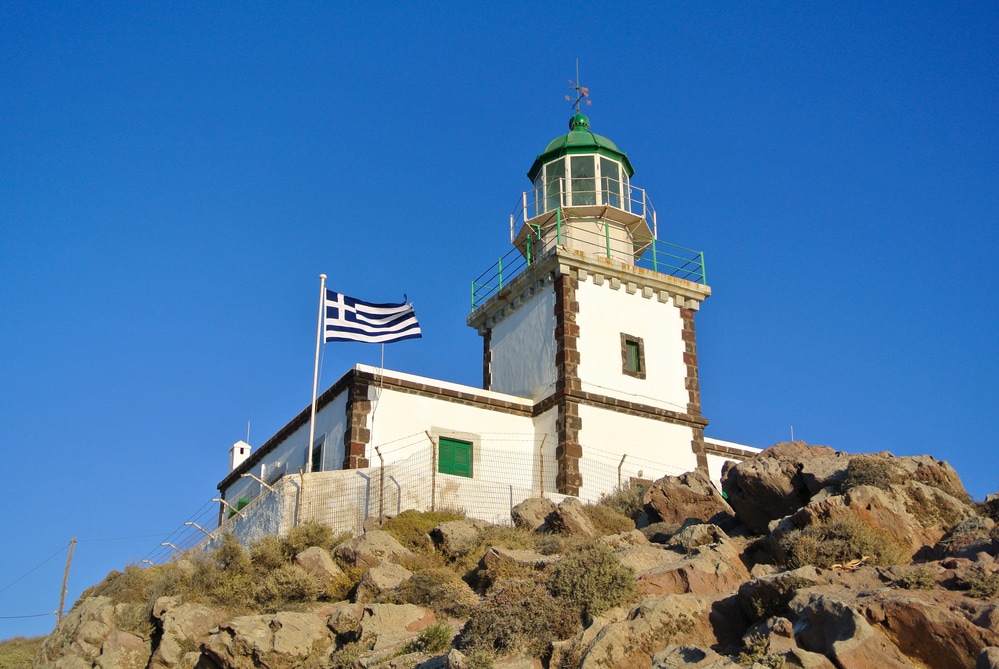 Red Sand Beach
Head over to Red Sand Beach for your picnic. It's one of the low-key beaches in Santorini because it is far removed from the most touristy places. Although, it's undoubtedly one of the most impressive beaches. The red scenery is unreal!
If you brought snorkelling equipment, this is the place to use it. Interesting rock formations at Red Sand Beach are home to teeming wildlife. The beach is rocky, so water shoes can be helpful.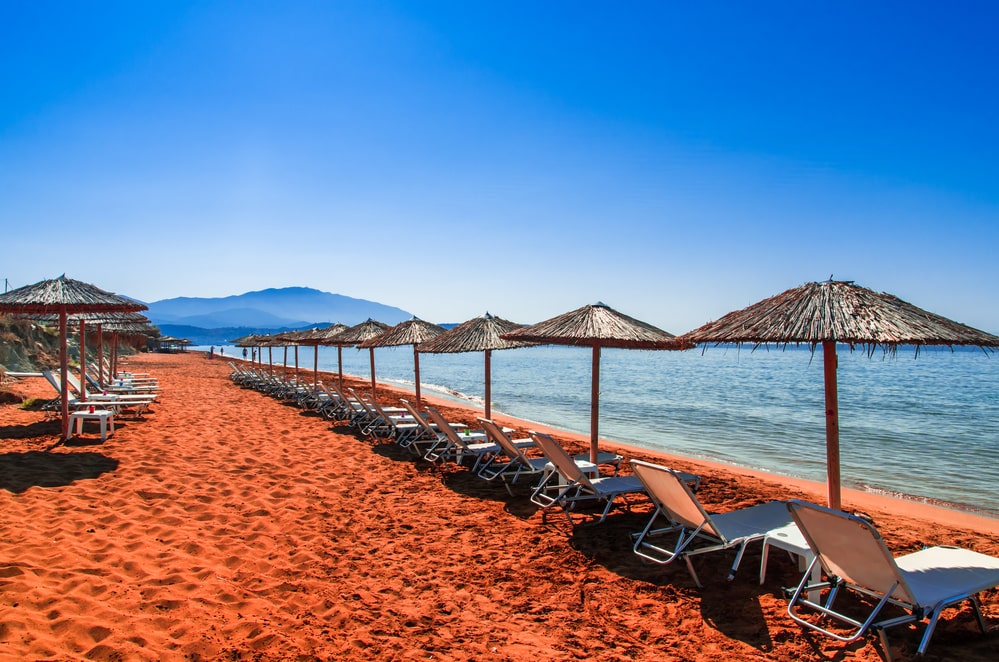 Black Sand Beaches
There are six black sand beaches on Santorini over 3,600 years ago a volcano erupted and the island was covered in volcanic ash and lava it was this that gave birth to the black sand beaches.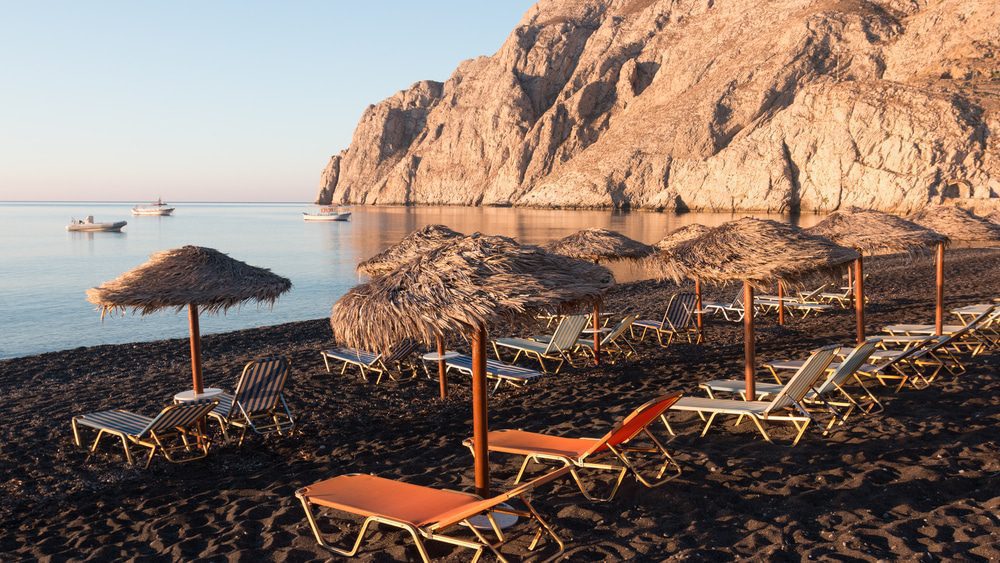 Kamari Beach is the longest and biggest beach and the most popular and the area is full of cafes, restaurants and nightclubs. Perissa Beach is a Blue Flag beach like Kamari and it is separated from Kamari by a small mountain. This popular black sand beach has a water park for the kids along with its sunbeds and lots of cafes.
Orthodox metropolitan cathedral of Santorini
If you have time go and see the Orthodox Metropolitan Cathedral of Fira on Santorini which is located in the lower part of the city. From the cathedral, there is an excellent view of the Santorini volcano and caldera.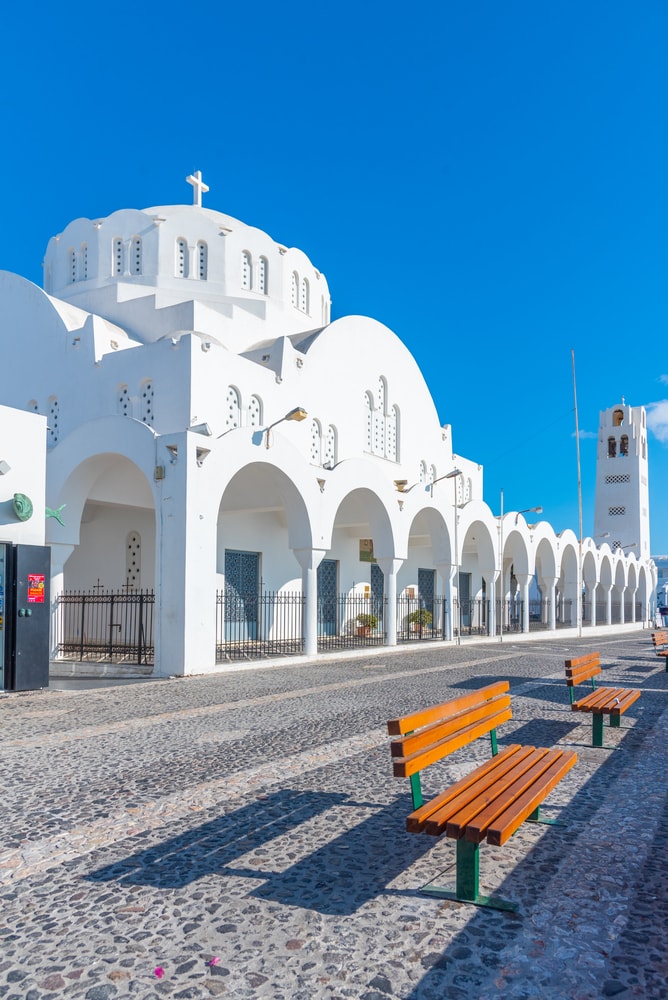 If you visit this building, be sure to look out for the frescoes decorating it created by local artist Christoforos Asimis. He was born on Santorini and it took him seven years to paint the frescoes in the Cathedral of Fira, which cover almost the entire interior of the cathedral.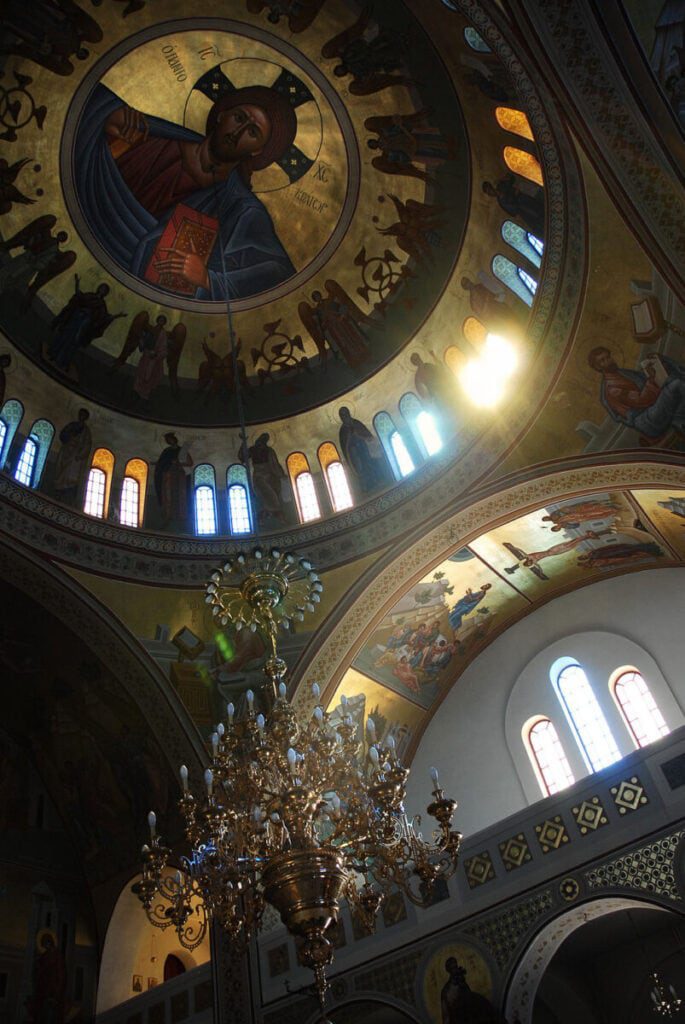 Ambrosia Restaurant
End day 3 in Santorini with a very romantic impressive dinner at Ambrosia Restaurant in Oia. Make a reservation in advance and request a 'scenic table.' If you're lucky, you'll have a chance to look over the perch as the quint village while the sun sets.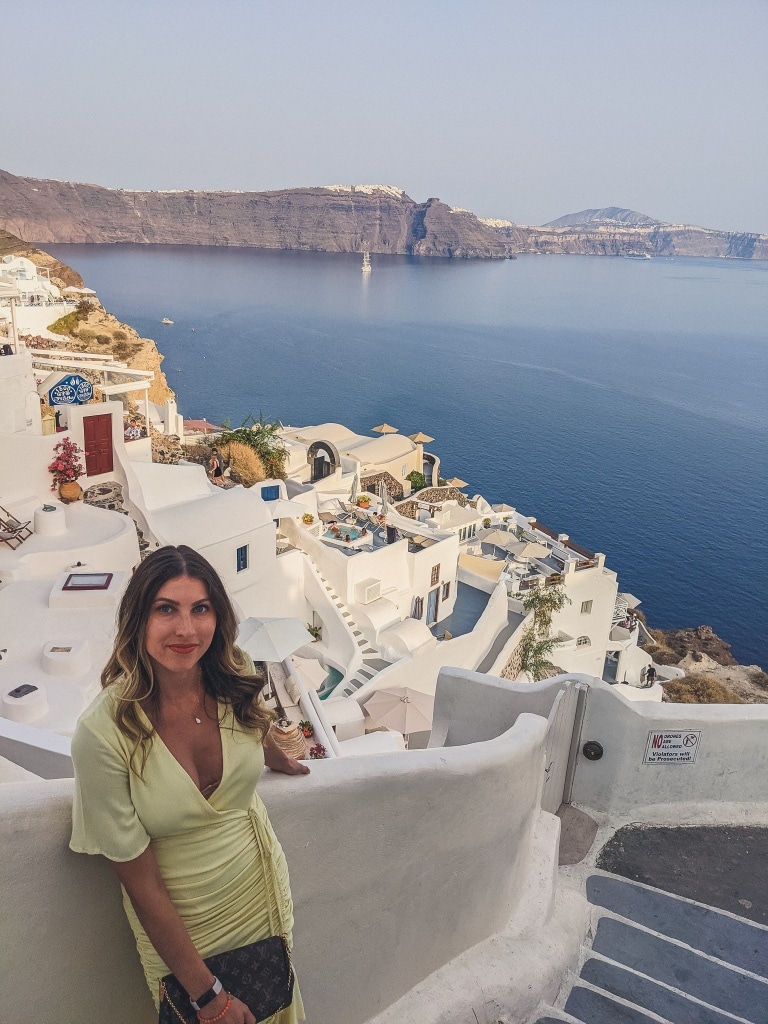 Where to Stay in Santorini
The price of accommodations in Santorini varies widely by season. Hotel stays will be the most costly from June through August. Prices will generally dip in May and September. They are markedly reduced from October through April. When considering the weather, a visit in May or September is recommended for economically-minded travellers.
Budget: Alta Vista Suites
Alta Vista Suites is located in Fira and features cave villas overlooking the volcanic caldera. Your stay includes breakfast, and there's a pool on site.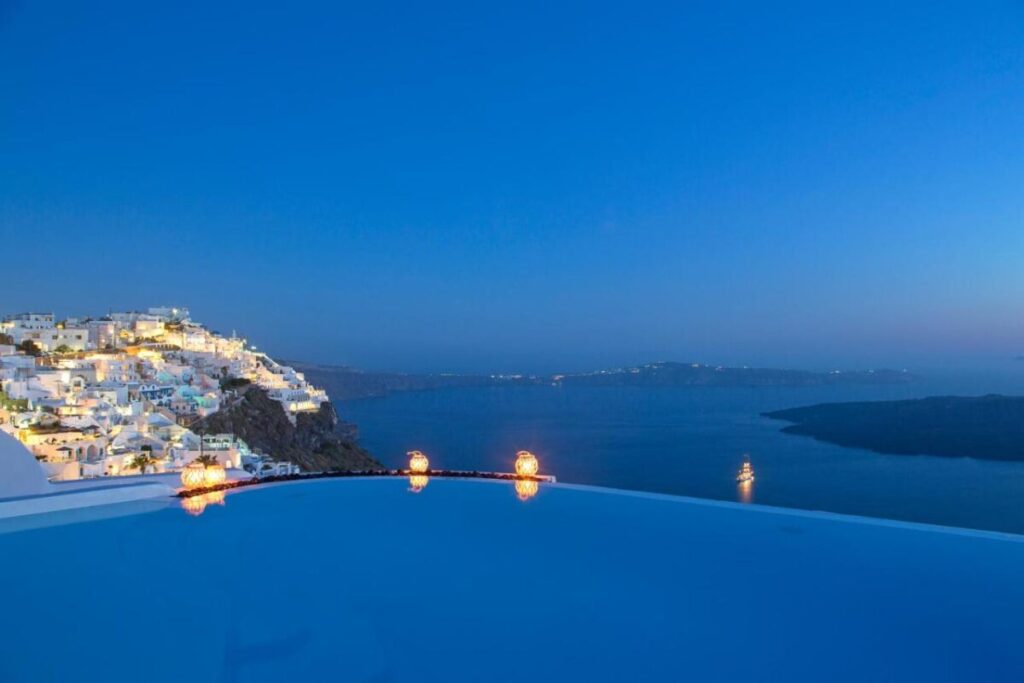 Mid-Range: Ikies Santorini
Ikies is located in glamorous Oia. It's the best village to stay in if you want to snap photos in the early morning without crowds.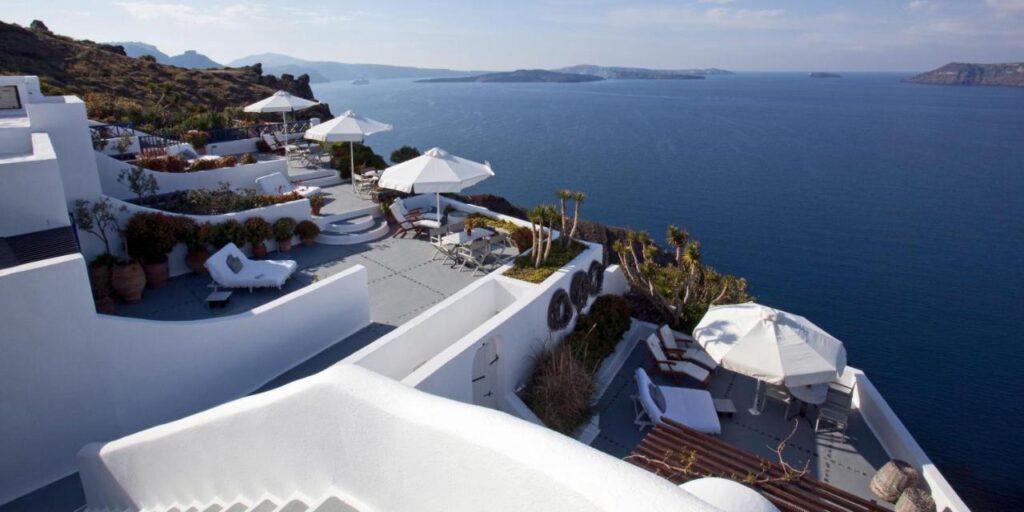 Luxury: Cavo Tagoo
Cavo Tagoo is the most luxurious place you can stay on the island. You'll have access to a private outdoor space with a jacuzzi as well as a shared infinity pool.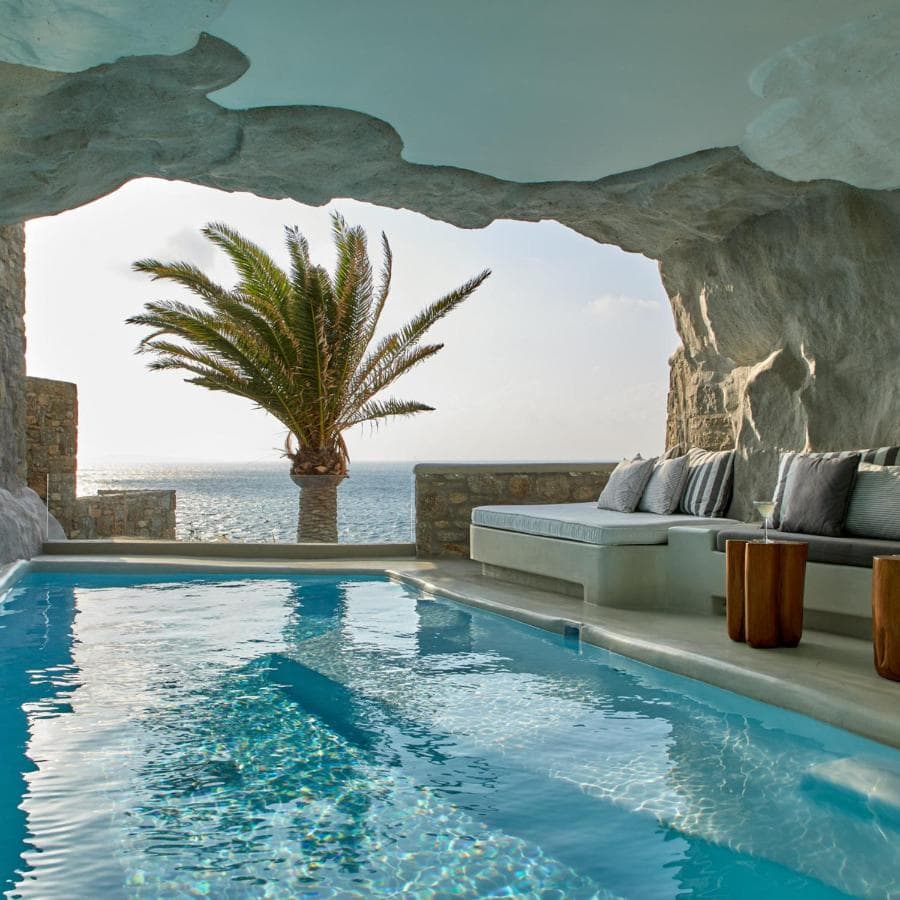 I hope you enjoyed this three-day Santorini Itinerary and took some magnificent photos but most importantly that you enjoyed your time here and can't wait to get back to the Greek Islands.
Spending 3 days in Santorini is an unforgettable experience that should be on everyone's travel bucket list. From the stunning sunsets to the picturesque villages and delicious cuisine, there is something for everyone on this beautiful island. Whether you're looking for a romantic getaway or a fun-filled adventure with friends, Santorini won't disappoint. With its charming atmosphere and warm hospitality, it's no wonder why so many people fall in love with this Greek paradise.
You might also like to read
17 Best Things to Do in Naxos, Greece
Pin it to save it
This guest post was written by Valentina of Valentina's Destinations. Valentina has always been obsessed with researching, organizing, and planning her vacations. She knows that many people don't have the time and energy to do this, but they still want to get the most out of their travels. Valentina's Destinations allows her to help other busy professionals maximize their experiences. Valentina is originally from Serbia, but she grew up in Chicago. She loves hunting down local restaurants, unique experiences, and hidden gems.