Taste of Prague: Exploring the Delicious Food Scene in the City
When it comes to things to eat in Prague in the Czech Republic, traditional Czech food is a must-try for any tourist visiting Prague. From hearty stews to savory dumplings, traditional Czech cuisine is an explosion of flavors that will leave your taste buds craving for more. If you're wondering what to eat in Prague, we've got you covered. In this article, we'll take you on a culinary journey to discover the best food in Prague.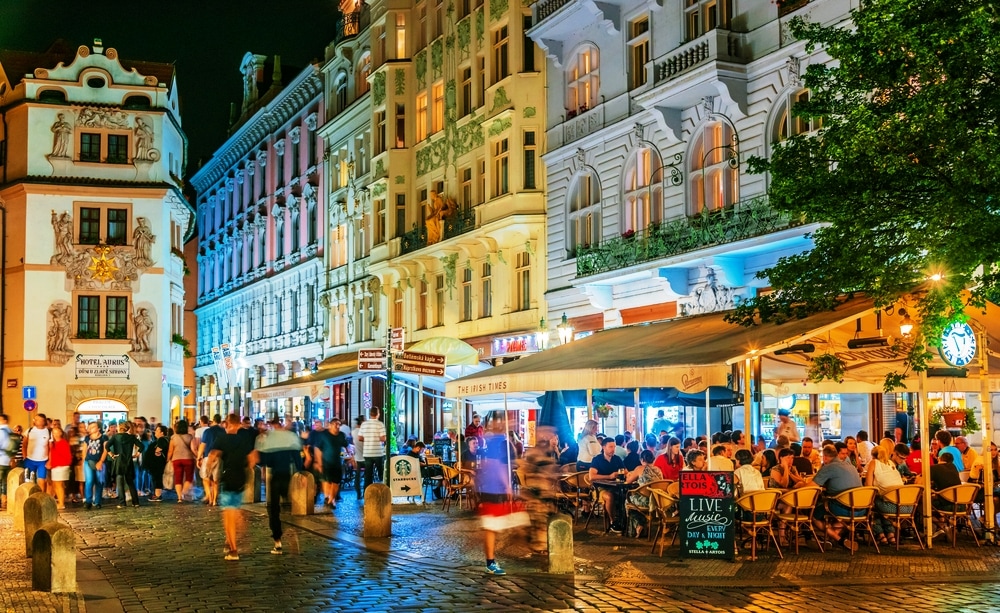 Traditional Czech Food a Prague food guide
When it comes to traditional Czech cuisine, there are a few dishes that you simply can't miss. One of them is the famous Czech goulash. This hearty dish is made with tender beef, onions, and paprika, and served with dumplings, a staple in Czech cuisine.
You should also try Svickova, a dish made with a tender beef sirloin, served with a creamy vegetable sauce and topped with a dollop of whipped cream. Other must-try dishes include Kulajda, a creamy soup made with potatoes, dill, and mushrooms, and Bramboraky, Czech potato pancakes.
What is the Czech national dish?
Vepřo knedlo zelo – roast pork and dumplings
A classic Czech dish and also the national dish of the Czech Republic, and one you must try in Prague is Vepřo knedlo zelo and will be on the menu in many of the best restaurants in Prague. This dish made of pork roast, knedliky, and sauerkraut is one of the top favourites with its traditional flavours.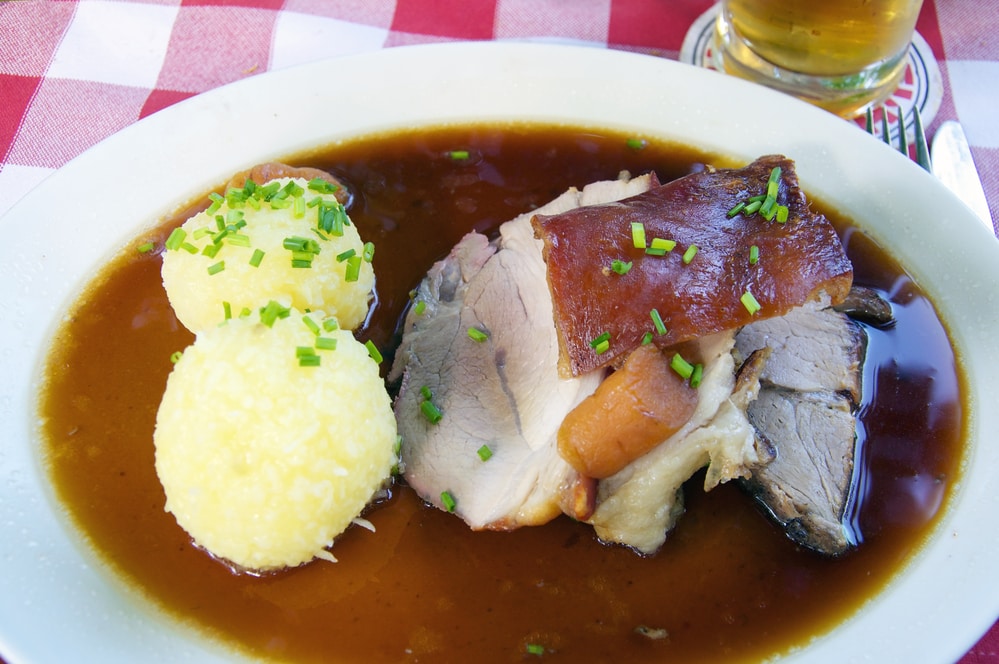 Prague Street Food
If you're looking for a quick, delicious, and affordable snack, Prague food has plenty of street food options. Try a trdelnik, a sweet pastry made with dough that is wrapped around a spit, grilled, and coated with a cinnamon sugar mixture. Langos is another popular street food in Prague. It's a deep-fried dough that is topped with cheese and garlic sauce.
Chlebíčky – open-faced mini sandwiches
Chlebíčky are a type of open face small sandwich very similar to the Danish Smørrebrød. The sandwich dates back to the days of when Czechoslovakia declared independence from the Austro-Hungarian Empire. Various toppings and garnishes are used, and they are often served as an appetizer dish or as a snack.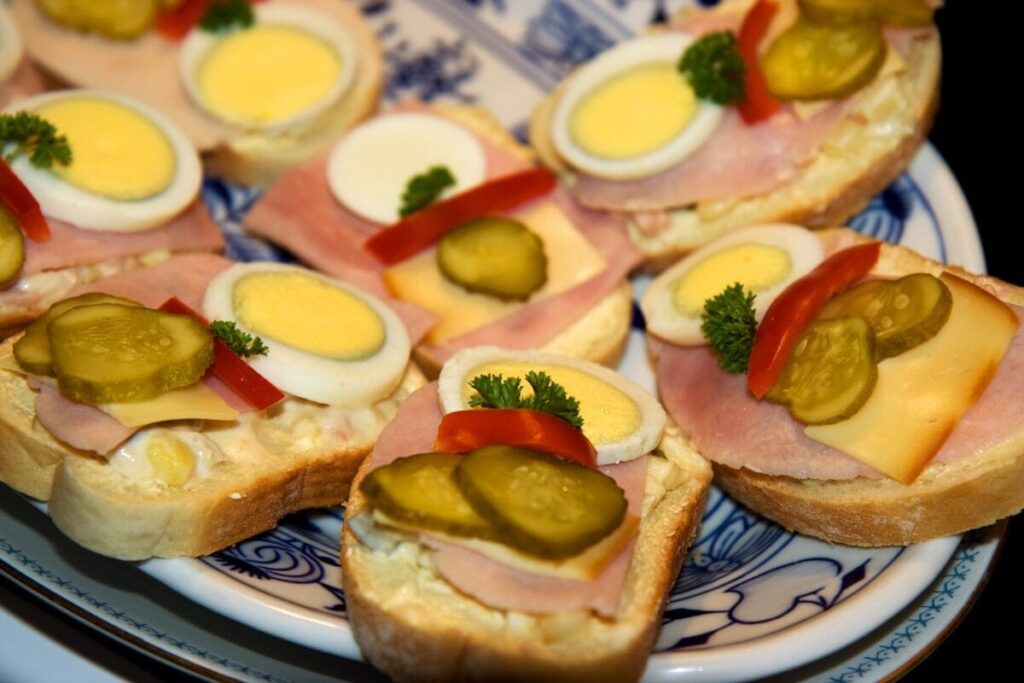 Klobása Sausage
Similar to a Polish kielbasa sausage and the Czechs love their sausages and a must when visiting Prague is the eating of a sausage from one of the food stalls in Prague's Wenceslas Square. These are usually made from pork and have a lovely snap when bitten into. There are some who say you must be drunk to eat them but tourists love them.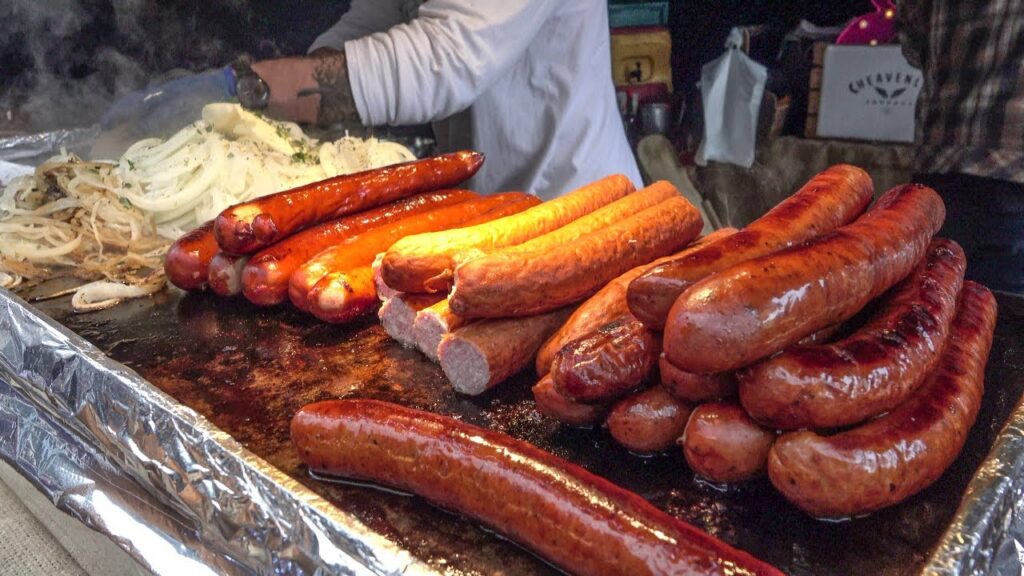 Smažený sýr – deep fried cheese
This sandwich is a form of Czech fast food and it is a slice of Edam cheese that is breaded and then deep fried. Usually served as a sandwich occasionally with ham and then topped with tartar sauce or mayonnaise. In a café they are served with fries or boiled potatoes as a starter.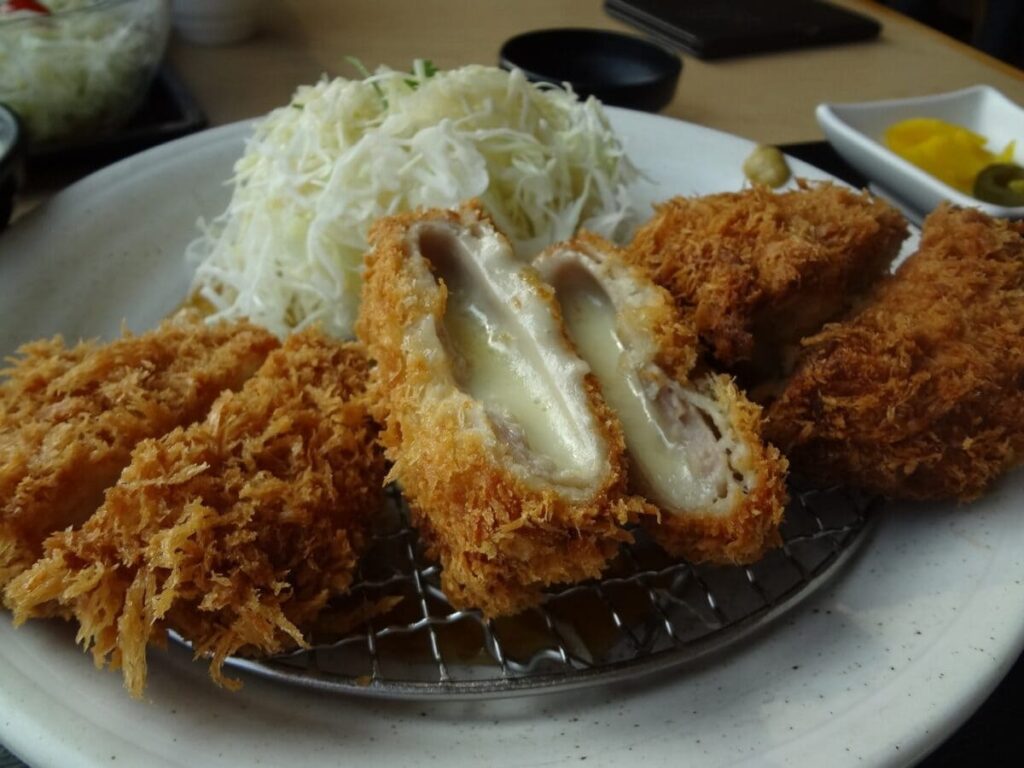 Bramboráky – Potato cakes
Very similar to the Jewish latke or even the hash brown these are simply grated potatoes with a little chive or onion shaped into a pancake or round shape and then deep fried. They can be served with sweet or savoury dishes.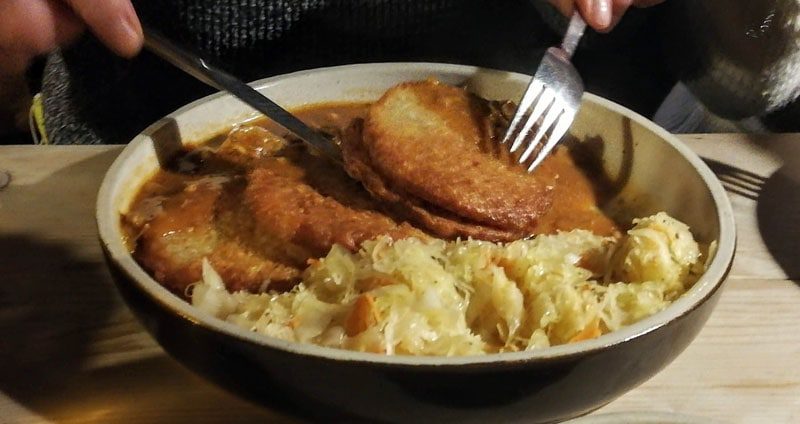 Trdelnik – Chimney Cake
A typical Czech sweet snack the Trdelnik is pastry shaped around a stick and then cooked over a flame. Once the pastry is cooked it is taken off the mold and brushed with cinnamon sugar and various fillings. If you are taking a tour of Old Town of Prague or a Prague food tour be sure to stop to try these irresistible spiral-shaped treats. You will see lots of these food booths in front of Prague Castle. I would point out that Trdelnik is not a traditional Czech dish as it originated in Hungary.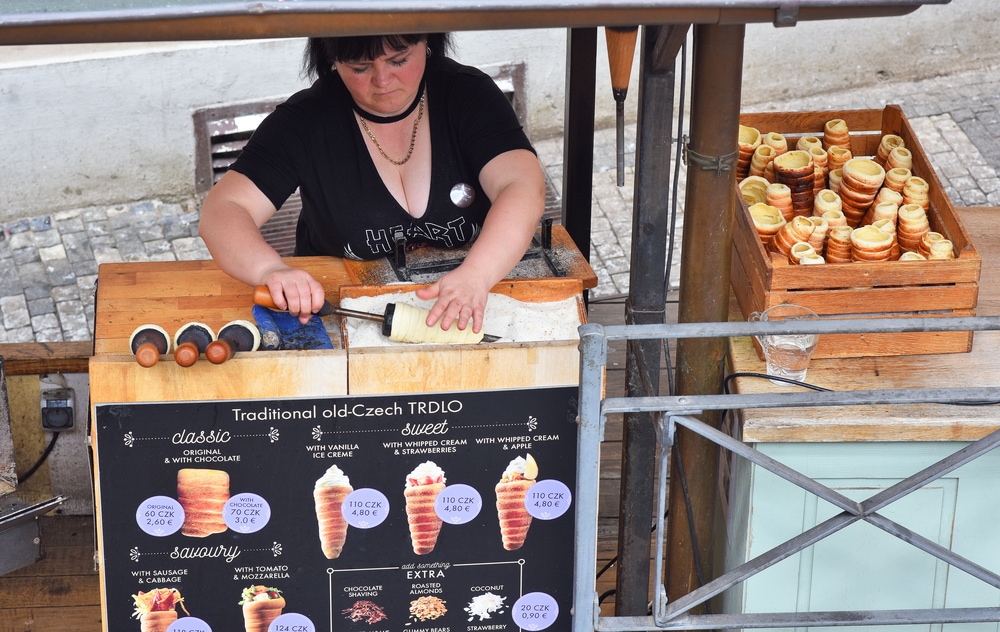 Traditional Czech Foods
Guláš – Czech goulash
Czech goulash is a little different from Hungarian in that it tends to have more meat and fewer vegetables. It incorporates onions and sweet paprika and is occasionally made with beer and it is always served with knedlíky. You won't have to look far to find this dish as you can get it at virtually every Czech restaurant in Prague often served in a bread bowl.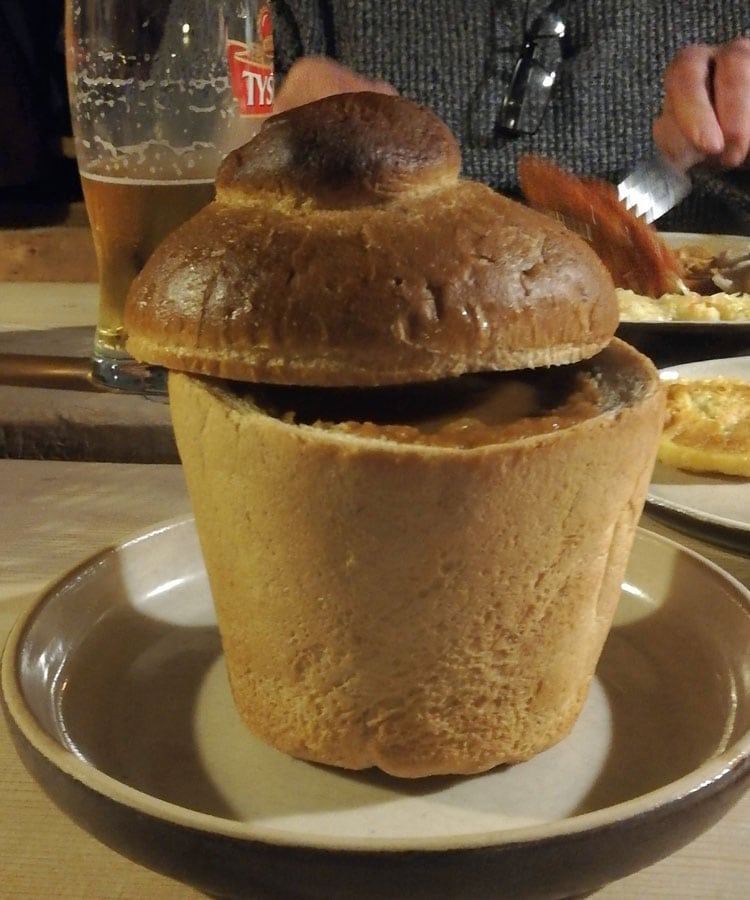 Knedlíky – dumplings of a sort
Knedlíky dumplings are made from either bread or potato may be called a dumpling, one version is a bread dumpling, or houskový knedlíky, which diced stale bread bound together with flour, milk, eggs, and leavening.
It is sometimes also called knedlo, knödel, kniddel, and canederli depending on the country or culture of origin including Germany, Poland, and Hungary.
Another, bramborové knedlíky are potato dumplings, made with mashed potatoes, eggs, flour, sometimes butter and seasonings.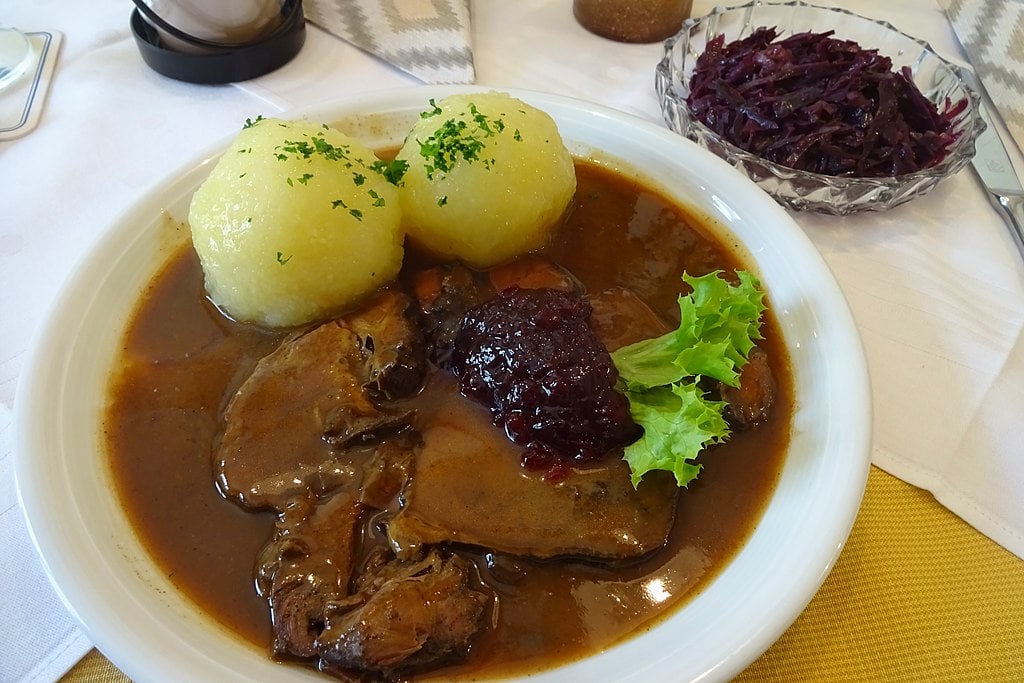 Kulajda – mushroom & potato soup
This traditional Czech soup is pretty different from the usual Cream of Mushroom as it is traditionally made with mushrooms, butter, and cream, and sugar, lots of dill, vinegar and beef broth. It's slightly sweet taste makes it very moreish. The soup is sometimes served with a poached egg on top.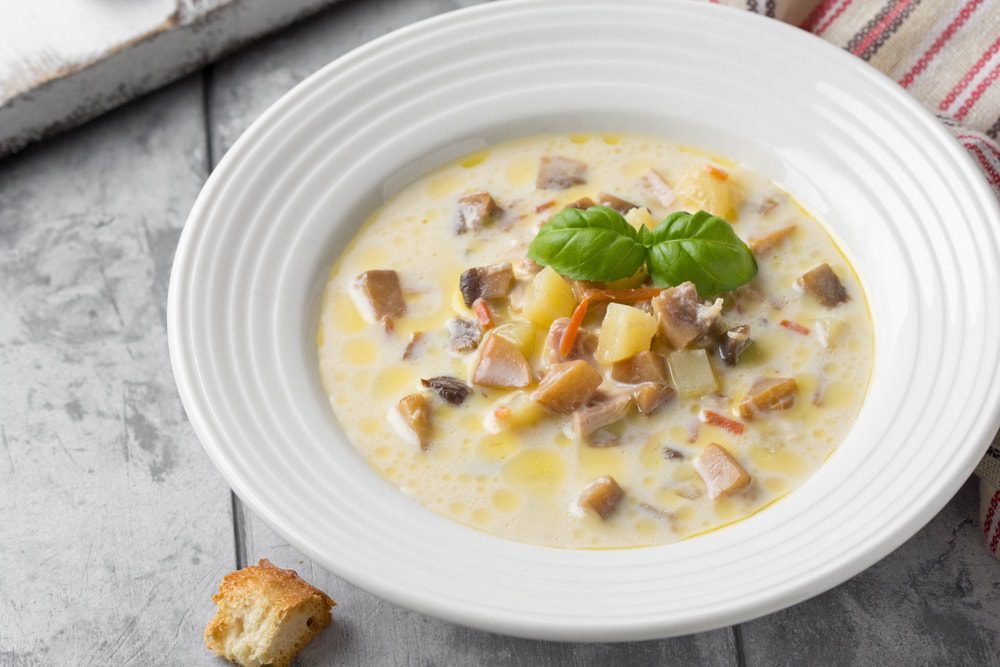 Zelňačka – sauerkraut soup
Zelňačka is a traditional Czech soup made from Sauerkraut (kysane zeli in Czech). Ingredients include onions fried in lard and seasoned with caraway and sweet paprika. Potatoes are then added along with small pieces of Klobása.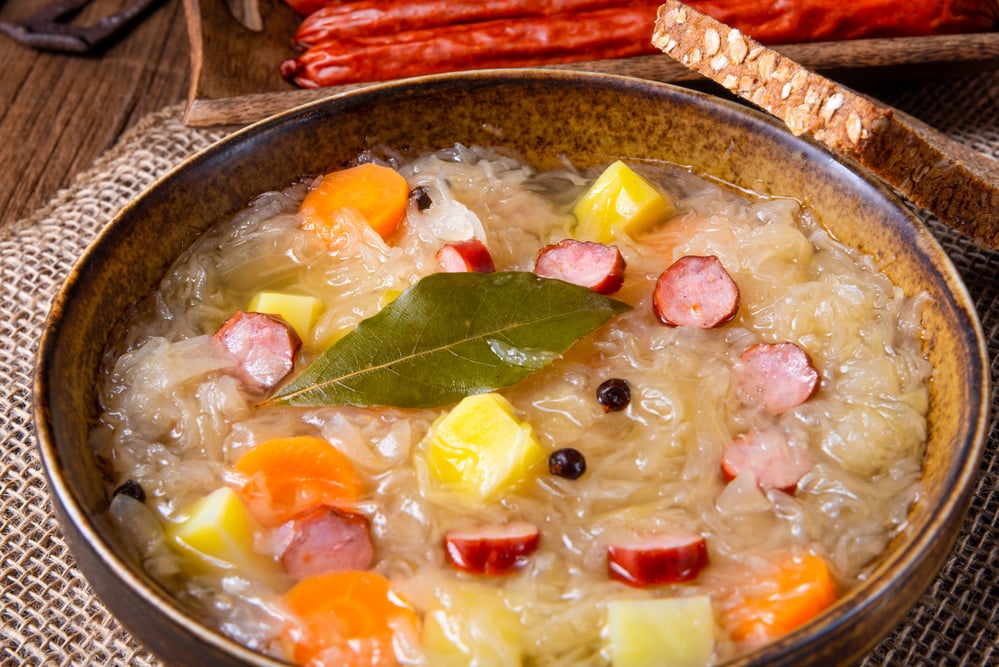 Česnečka – garlic 'hangover' soup
This is often called a 'hangover soup' but given how much garlic is in you it may also ward of the worst of the common cold. The soup is essentially potatoes, garlic, and lots of it, caraway seed, in a beef broth. Always served with rye bread croutons to soak up the lovely garlicky lushnesss it can also be found with lots of cheese added.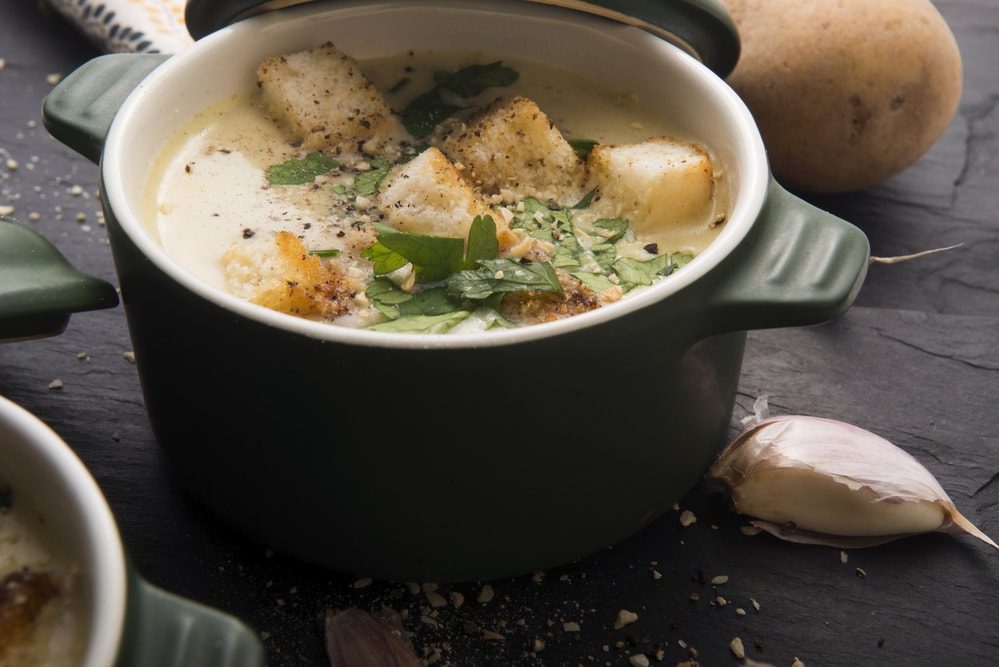 Buřty na pivu – sausages in dark beer sauce
Czech sausages called "spekacky" which is a beef, speck and pork sausage containing garlic, pepper and a touch of nutmeg are the main ingredient. The sausages are peeled and cut lengthwise then placed in a baking dish, covered with a dark beer sweetened with honey and seasoned. These are usually served with a good dark rye bread.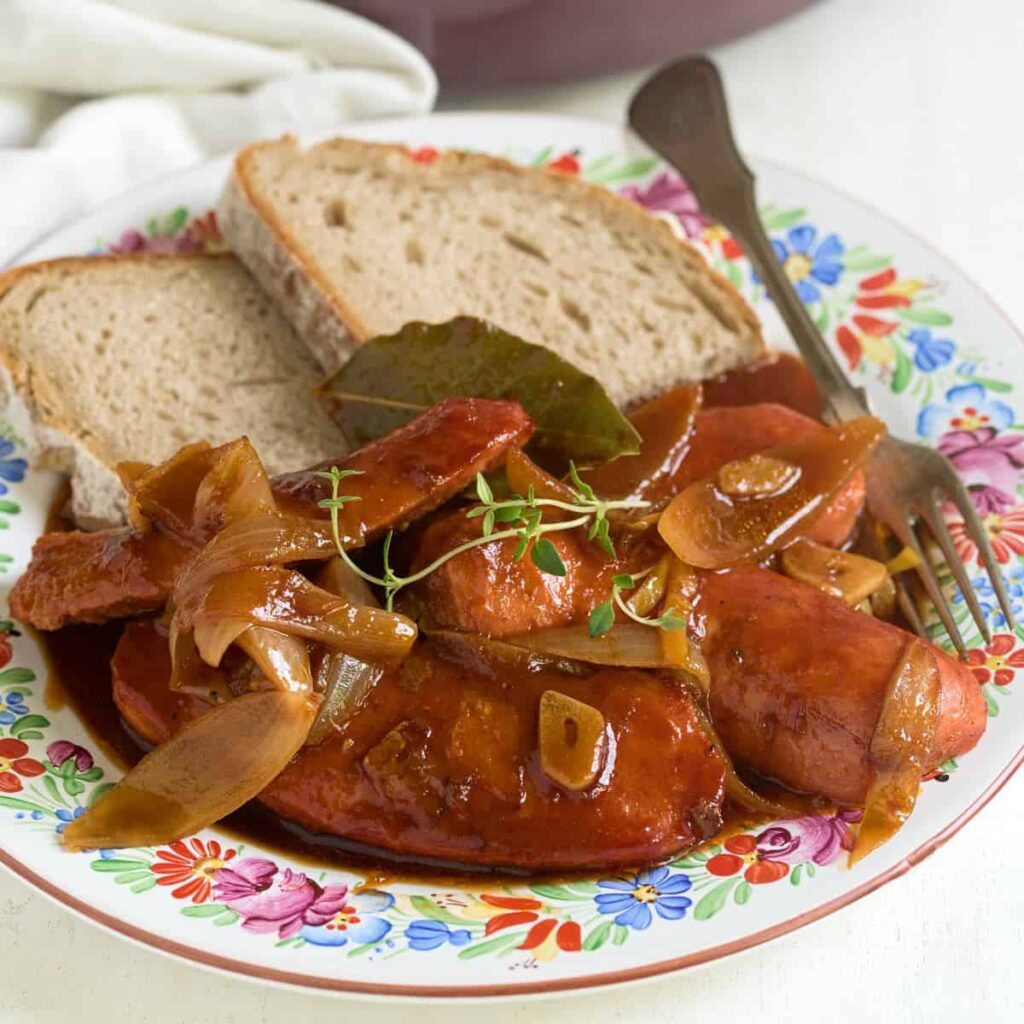 Pražská šunka – Prague ham
Virtually every country in Europe from Spain to France has a salt cured ham. Prague ham is produced from boneless pork hides which are brine-cured, stewed and mildly beech wood-smoked. The finished product has a typical oval shape and a decorative surface coating, consisting of a thin layer of pork fat or fat and skin. The ham is served on a charcuterie board or in good homemade bread.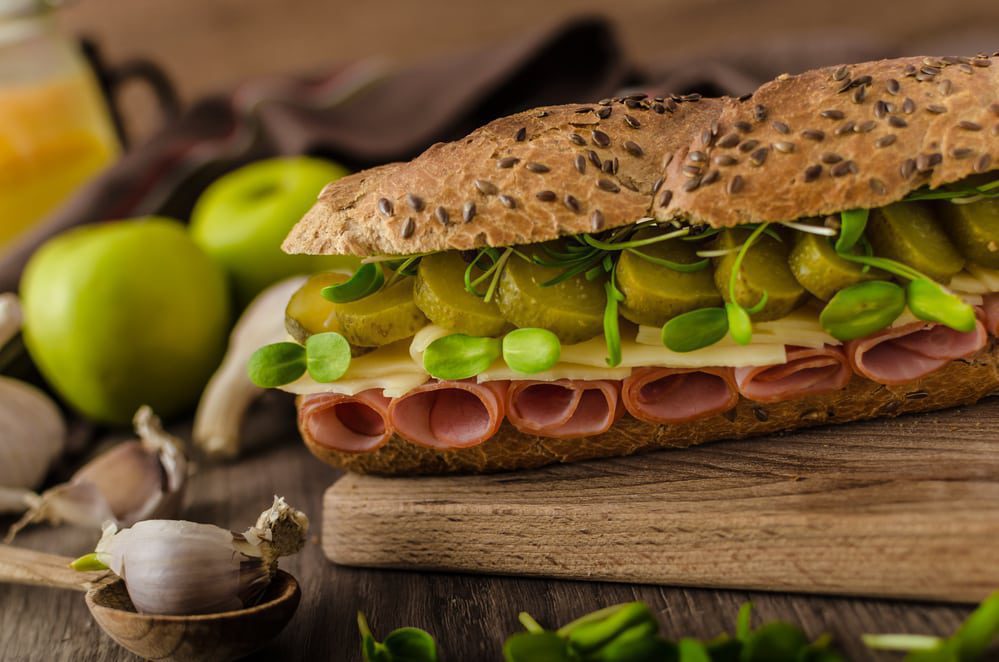 Tatarák – Steak Tartare
A raw steak is ground up and served with a raw egg and toast. Accompaniments include salt, pepper, minced onions, mustard, Worcestershire sauce, ground sweet peppers, and other spices are placed around the meat. You can mix everything or add only the ones you like according to your personal preference. Spread the mixture on toast and enjoy it with beer or wine.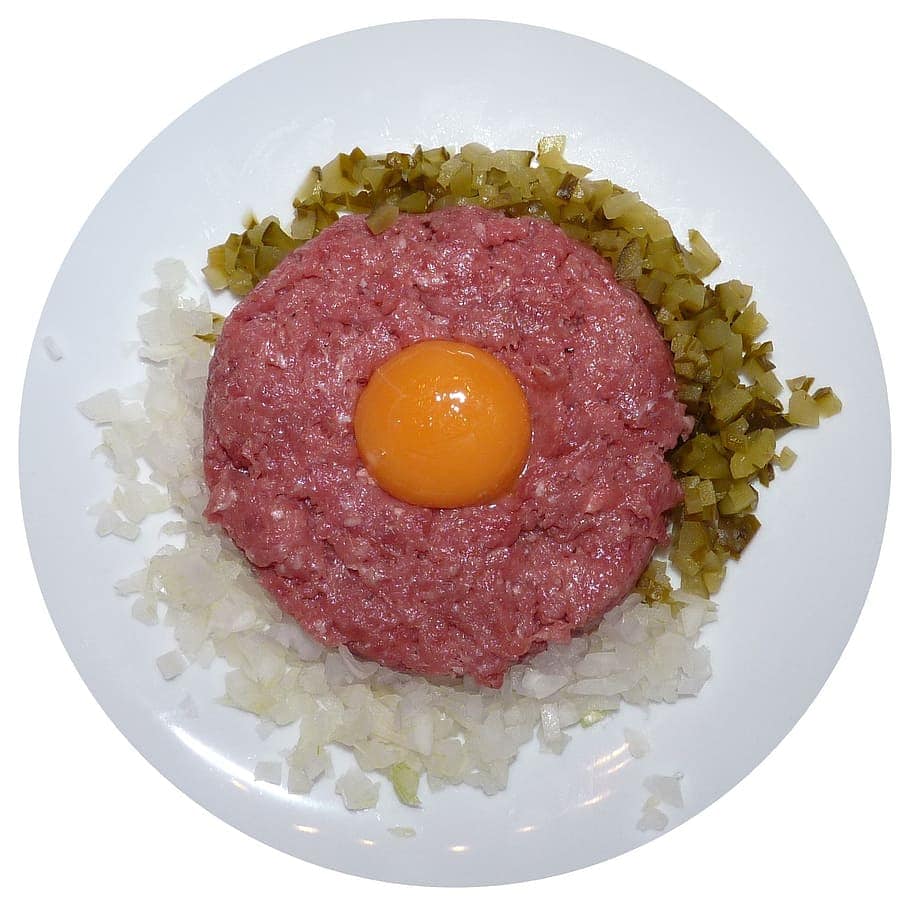 Bramboračka – Potato soup
Bramboračka is a hearty potato soup made with mushrooms, onions, and root vegetables such as carrots and celeriac the seasoning must include marjoram and this is absolutely delicious.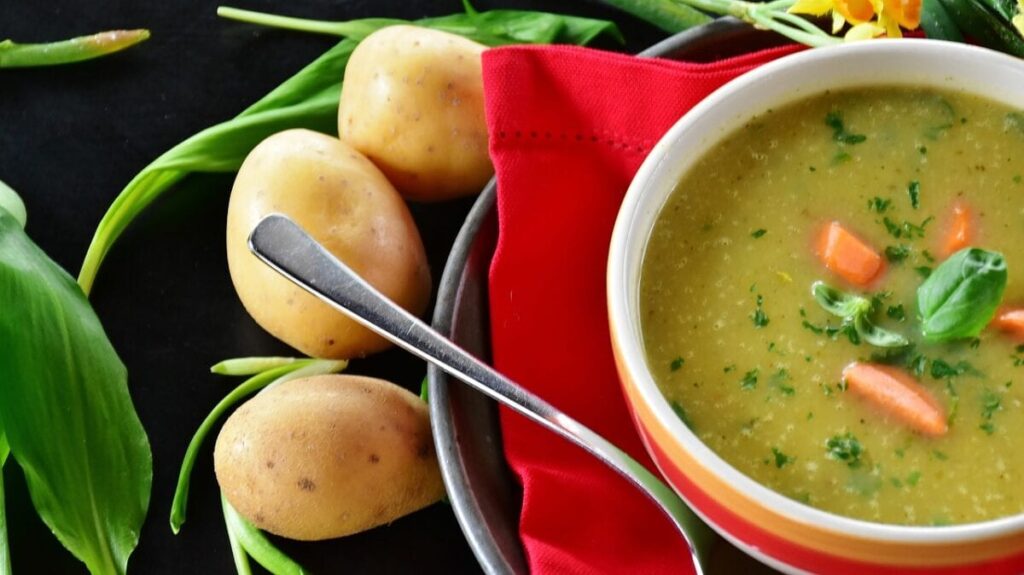 Pečené vepřové koleno – roasted pork knuckle
A very popular dish in the Czech Republic the knuckle is marinated and slow-roasted in dark beer and herbs for hours until tender. Then the pork is broiled to crisp up the skin. This is usually served whole to be carved with bread, pickled vegetable and horseradish.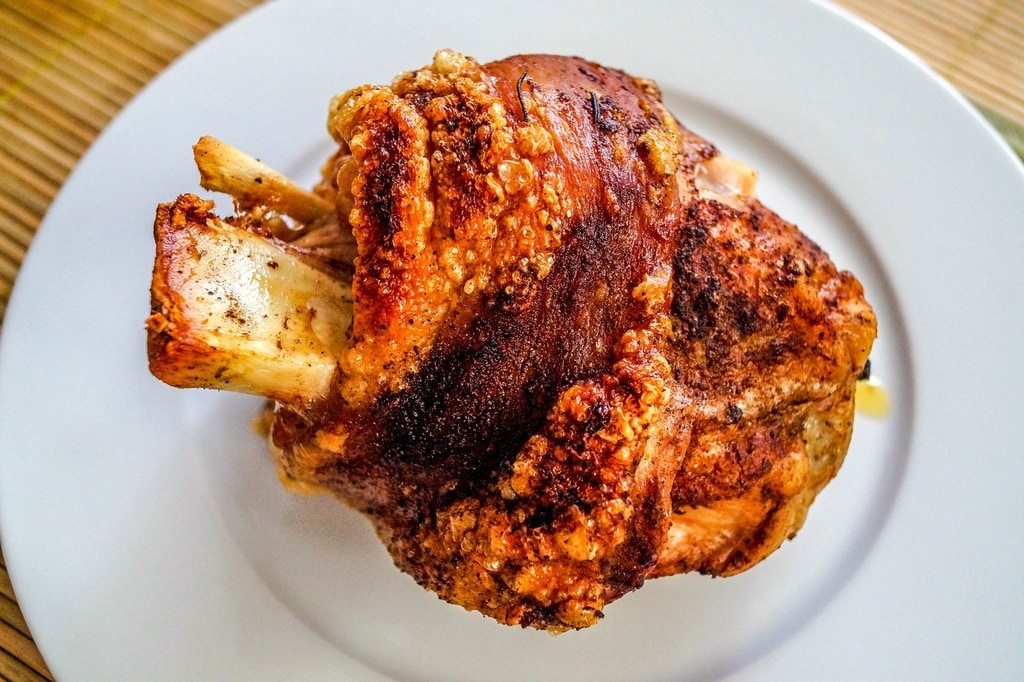 Svíčková – Sirloin served in cream sauce
Svíčková na smetaně is a hearty dish of beef that has been marinated for days and then slow cooked with vegetables and seasonings including onion, carrots, apples and spices such as bay leaves, peppercorn (black pepper berries), and allspice. The beef is removed from the pot when tender and cream is added and the mix is pureed to create the cream sauce. The dish is then served with a garnish of a slice of lemon, whipped cream and a spoon of cranberry sauce.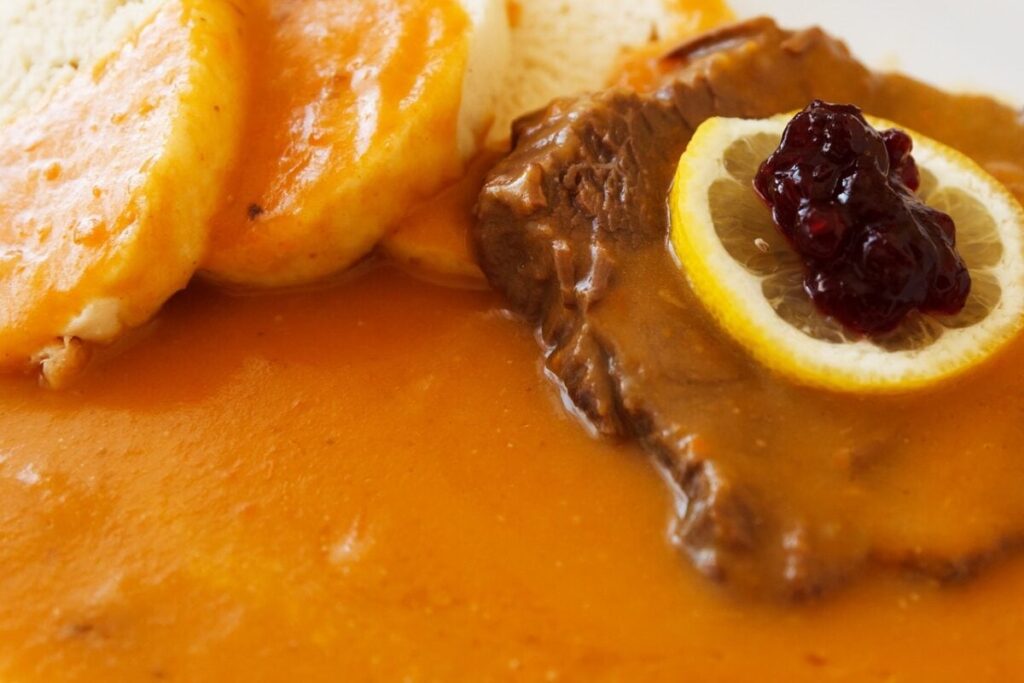 Řízek – Pork schnitzel
Popular in Czech cuisine is Řízek is a Czech version of Austrian Wiener schnitzel, consisting of thin, tenderized pieces of meat coated in a combination of breadcrumbs, flour, and eggs. The Austrian version is exclusively made with veal and the Czech version with pork. This is usually served with a warm potato salad and a traditional Czech version is a mix of potatoes, carrots, hard-boiled eggs, onions and pickles, with mayo, mustard, brine from the pickles and salt and pepper.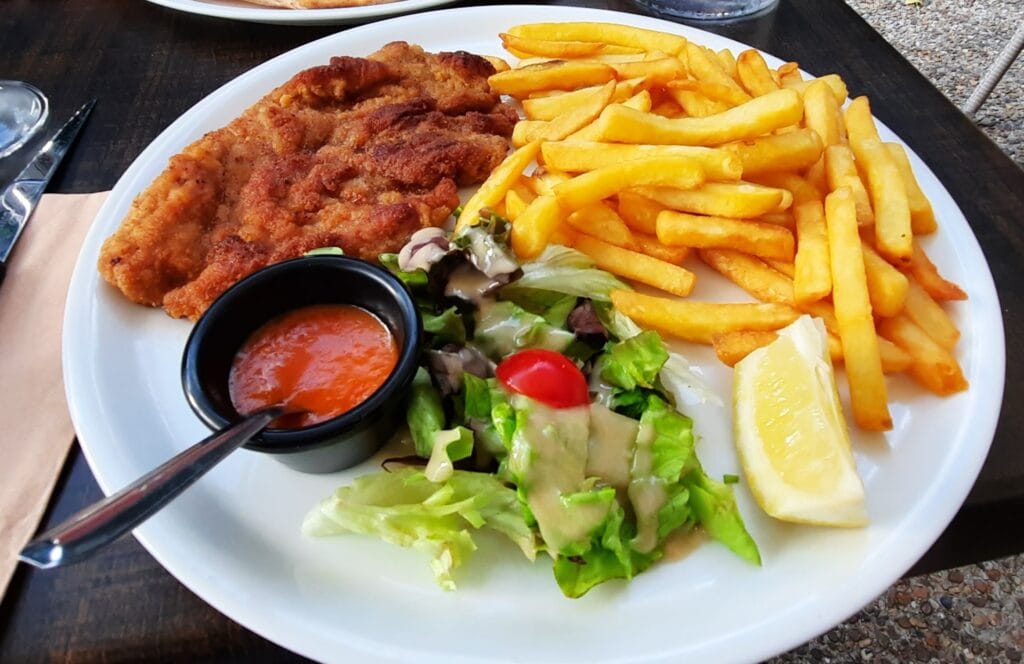 Halušky – Czech dumplings
You can find halušky all over the place and it is a great street food and well known Czech dish. The base ingredient is potato dumpling but after that it can be served in a variety of ways. What starts as plain potato dumpling then ingredients are added like bacon or cured ham, hot sweet cabbage (usually white) and sometimes cumin or caraway seeds.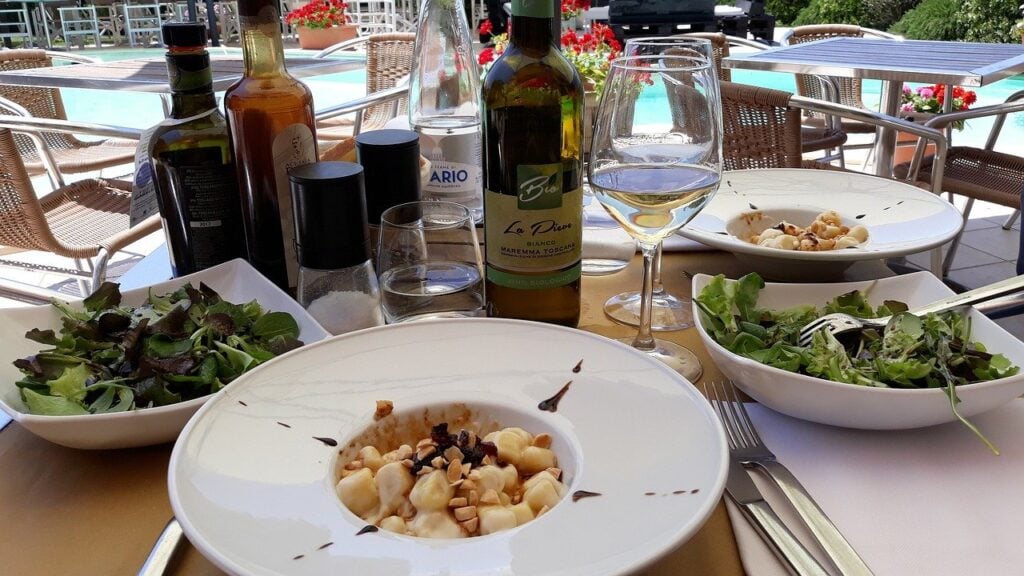 Czech Desserts
No meal is complete without a sweet treat, and Prague's desserts are simply divine. Try a traditional Czech dessert like the Palačinky, thin pancakes filled with jam or fruit, or try the medovnik, a honey cake layered with cream.
Kremrole – cream-stuffed puff pastry
A hollow roll of crispy puff pastry which is drenched in sugar and then filled with anything from plain sweet cream to salted caramel, nutella and custard.
Palacinky – Crêpes
Crêpes may have originated in France and refined in Brittany, but in the 17th century it spread to the rest of Europe. These very thin pancakes are served in Prague filled with various ingredients from fruit jam to chocolate and whipped cream.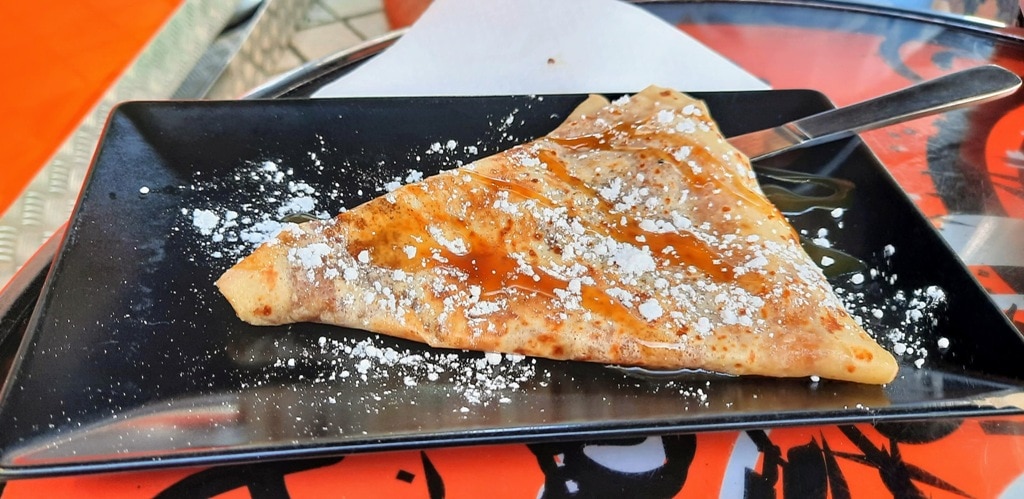 Ovocné knedlíky – fruit dumplings
Ovocné knedlíky made with yeasted dough that is then filled with fruit, and cooked in boiling water. These are then served dusted with icing sugar a drizzle of melted butter and then paired with either a crumbled farmer's cheese or ground poppy seeds.
Jablečný štrůdl – apple strudel
The perfect dessert for anyone who loves apples and pastry served warm with cream or cold vanilla ice-cream, strudel at its best.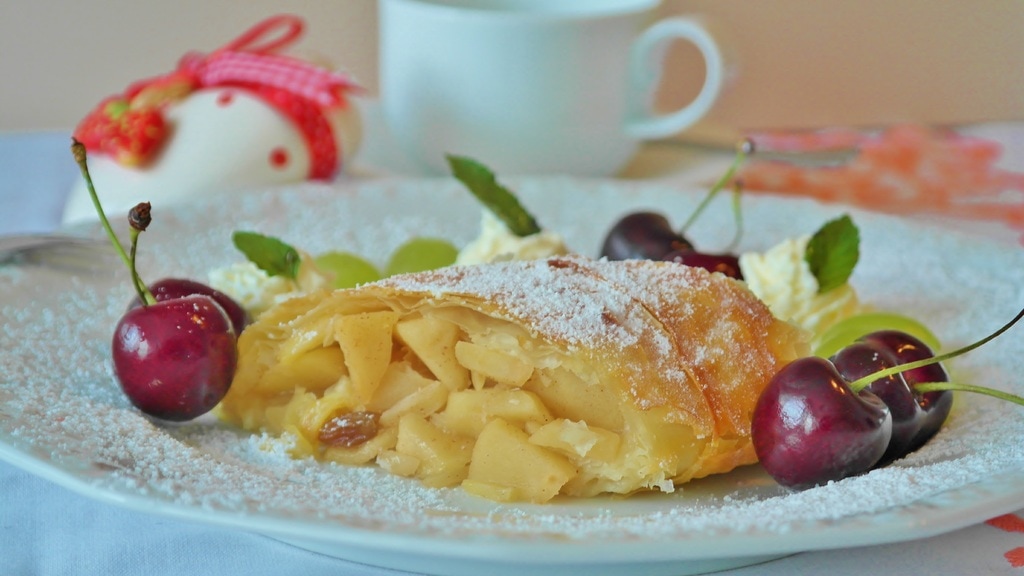 Koláče (kolache) – sweet rolls
In the Czech language kola means wheels or rounds and filled with fruit jams, raisins, poppy seeds, nuts, or sweet cheese very similar to North American Danish.
Beer in Prague and alcoholic drinks
In the Czech Republic, beer is much more than just a drink. It is one of the nation's symbols and an internationally renowned product.
This drink is so important that the Czech Republic even has its own National Beer Day, held every 27 September, and its own Protected Geographical Indication (PGI). So head to the Prague Beer Museum to try some of the best beer in town.
Czech Beer
Prague is of course famous for its beer and the most popular in the area is a lager called Pilsner Urquell.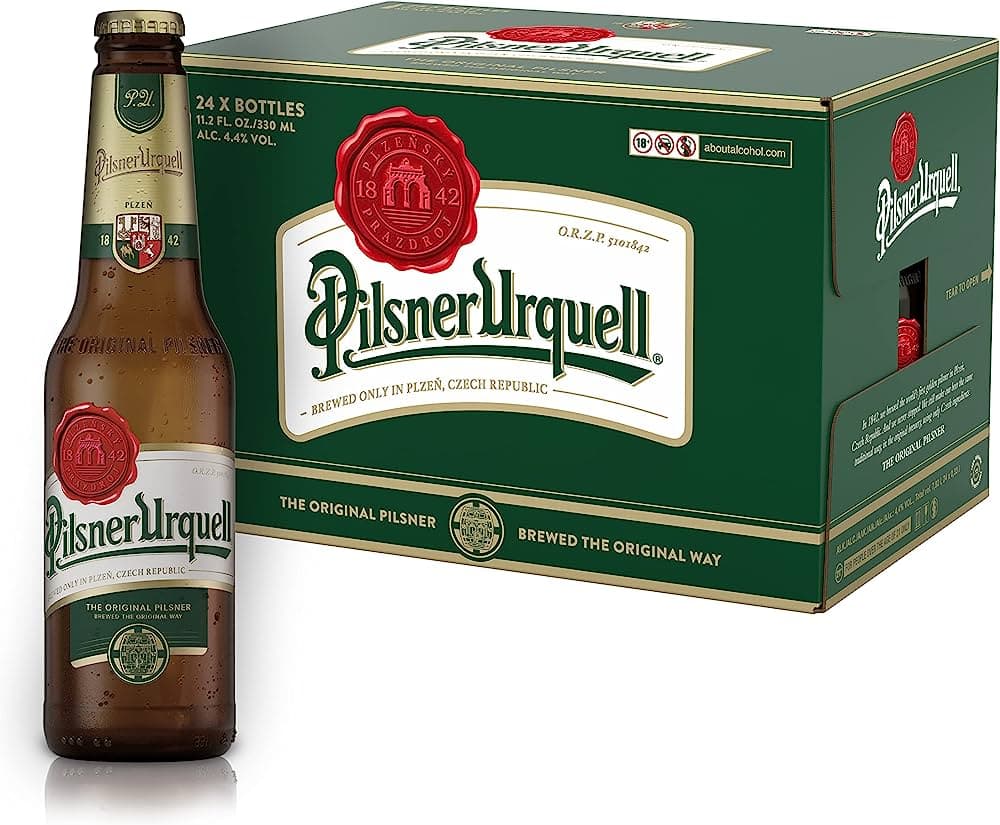 Becherovka
This is herbal liquor made from a secret recipe of mineral water and herbs from King Charles IV's Spa or Carlsbad which is famous for its springs of mineral waters. Visited by Ludwig van Beethoven, Wolfgang Amadeus Mozart, Franz Kafka, Alphonse Mucha, and Casanova.
Fernet
Fernet is another herbal liqueur that It is flavoured with approximately 14 herbs, imported from the Mediterranean and the Alps. There is a sweet version and a bitter one.
Slivovice
Slivovice is a fruit brandy made from plums. Its name comes from the Slavic word for plum Slivka.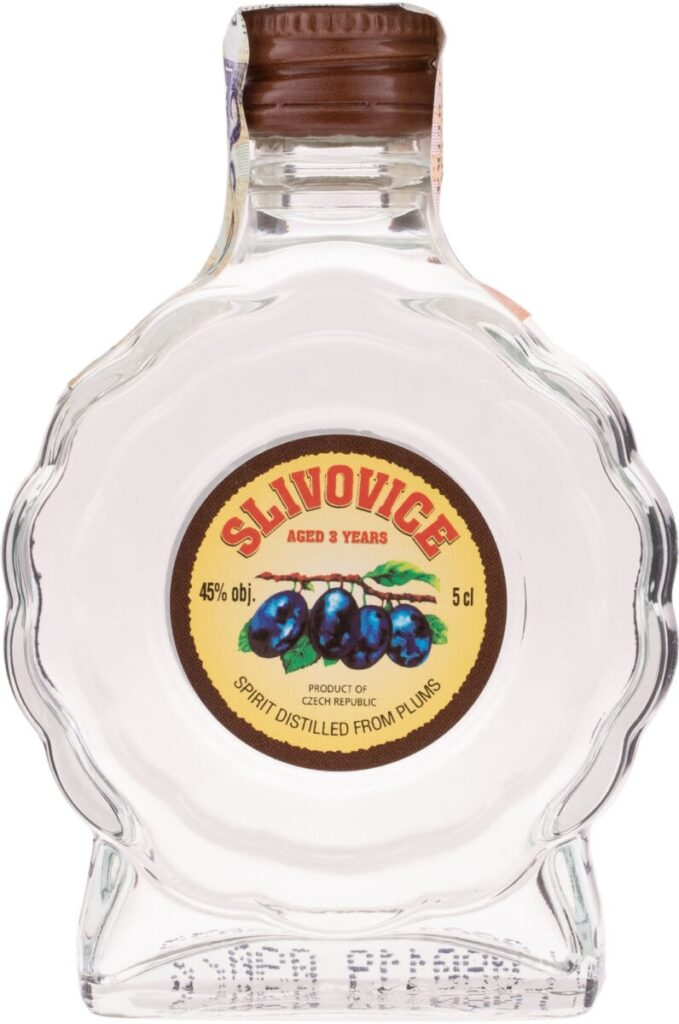 Prague, the capital city of the Czech Republic, offers a delightful culinary experience to locals and tourists alike not to mention a host of things to do in Prague. Traditional Czech cuisine is rich and hearty, with influences from surrounding countries. Throughout the city, visitors can find numerous street stalls, cafes and restaurants serving amazing traditional Czech cuisine.
Prague offers a wide range of international cuisines due to its multicultural influence, satisfying the taste buds of all types of food lovers. Whether it's traditional Czech dishes or international flavors, Prague has something to satisfy every craving. Don't forget to pair your meal with a glass of local Czech beer for a truly authentic experience.
Pin it to save it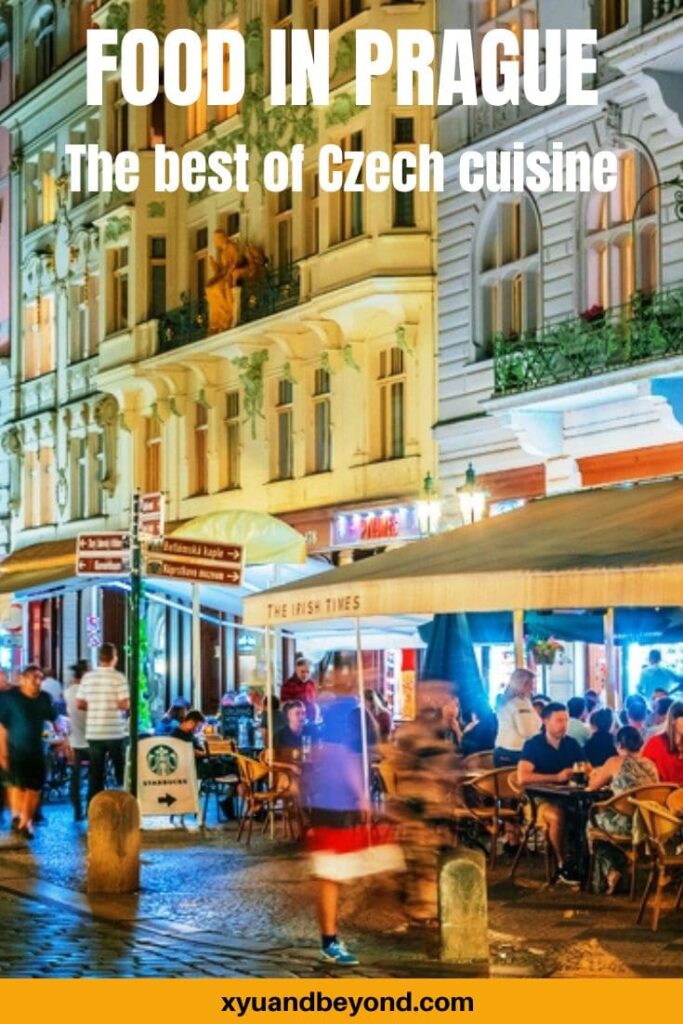 Latest posts by Faith Coates
(see all)