29 Unique Things to Do In Prague, Czech Republic
Known as the "The City of a Hundred Spires," Prague is a historic city with a captivating culture and ambiance. The city of Prague makes the perfect weekend getaway and there is so much to see and do on your trip to Prague and this is a list of some of the essential things to do in the city that you may enjoy.
The name Czechia (pronounced CHEK-i-yah or CHE-ki-yah, with a "k" sound in the middle) was officially standardized and internationally recognized in 2016 as the short name for the Czech Republic, while the Czech Republic has been the formal name since 1993.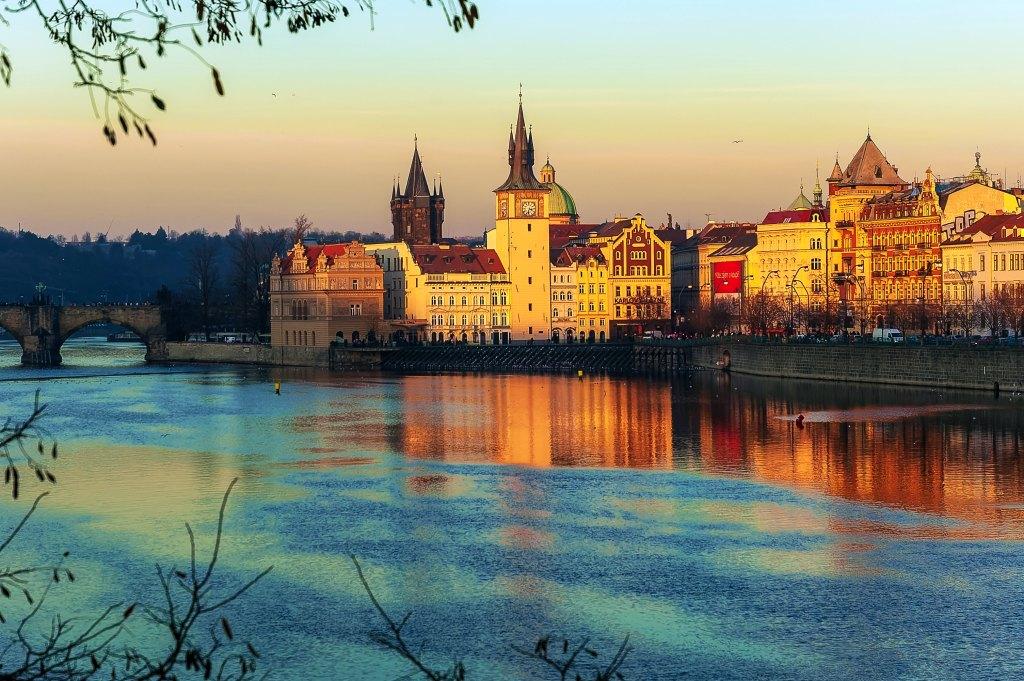 Whether it's the picturesque baroque structures, winding cobblestone streets, or cordial community, this is a flourishing capital city with ample to offer. You can enjoy Czech cuisine, drink some of that great Czech beer, visit old town Prague and enjoy some of the best things to do in Prague with this guide.
For those spending a few days in Prague, it's important to put together a comprehensive itinerary of things to do. One way to get the lay of the land so to speak is to take a Hop on Hop off Bus tour this will allow you to get the most of your stay in Prague by seeing the highlights and determine your Prague places to visit priorities.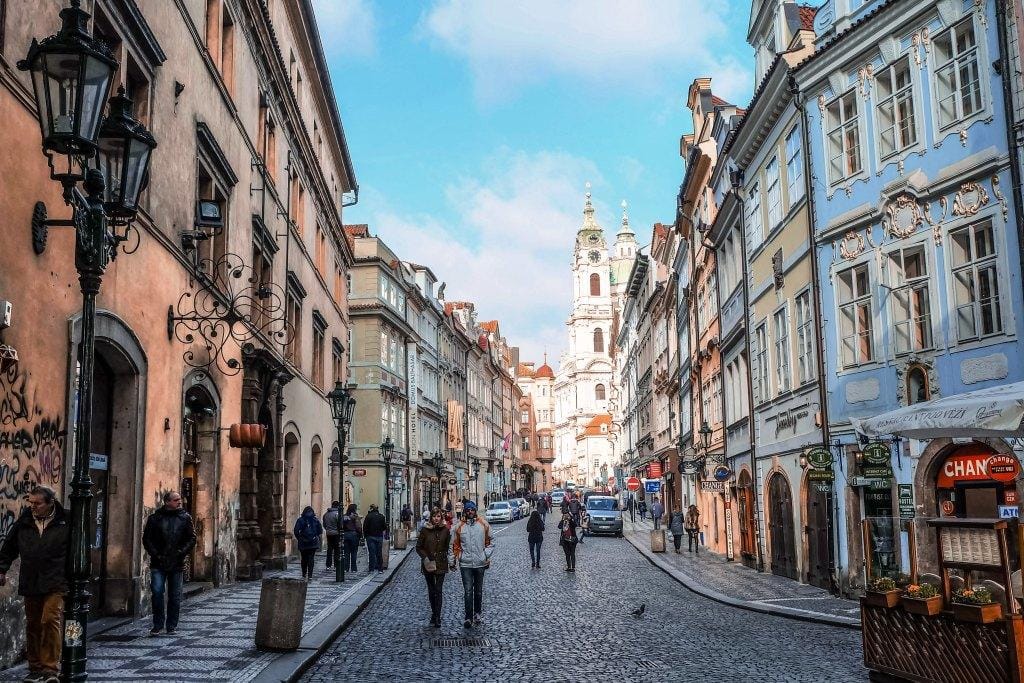 Prague, was built from the 11th to the 14th centuries, is abundant in grand structures that stretch across the Vltava River. The ancient Charles Bridge links the Old Town and New Town on one side to the Prague Castle district and Mala Strana on the other side. The city is highly pedestrian-friendly and navigating through the transportation system is effortless.
Here is a list of things to do in Prague according to locals and tourists.
29 of the best things to do in Prague
Best Time to Visit Prague
The best time to visit Prague is during the spring or early fall. March, April, May are good months and then September to October.
This is when the rush dies down in the capital city from tourists that arrive during the summertime.
See Prague from the River
Situated along the picturesque Vltava River, Prague offers a remarkable experience for visitors looking to immerse themselves in the city's enchanting atmosphere. Among the most captivating activities to indulge in during the evening is embarking on a memorable River Cruise. As darkness falls, the city transforms into a breathtaking spectacle, illuminated by a myriad of lights.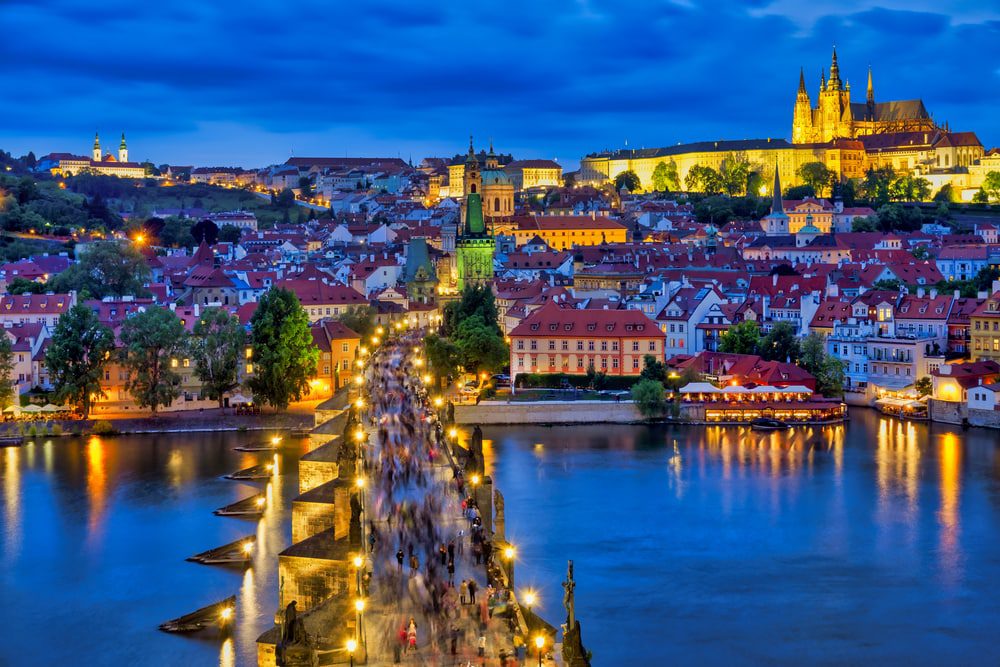 Cruising along the river, you'll be treated to a fascinating narration about Prague's iconic landmarks. The cruise will take you past the world-famous Charles Bridge, the architecturally intriguing Dancing House, the majestic Petřín Tower, and the historically significant Vyšehrad fortress. This magical journey allows you to see Prague in a whole new light, creating unforgettable memories as you uncover the city's treasures under the shimmering night sky.
Visit Historic Wenceslas Square
Wenceslas Square is one of the most significant places in the Czech Republic. It's been home to innumerable historic events over the years including momentous disputes. Spending time on a tour around this extraordinary place is imperative for those who want to appreciate the history of Prague and how it's developed over the years.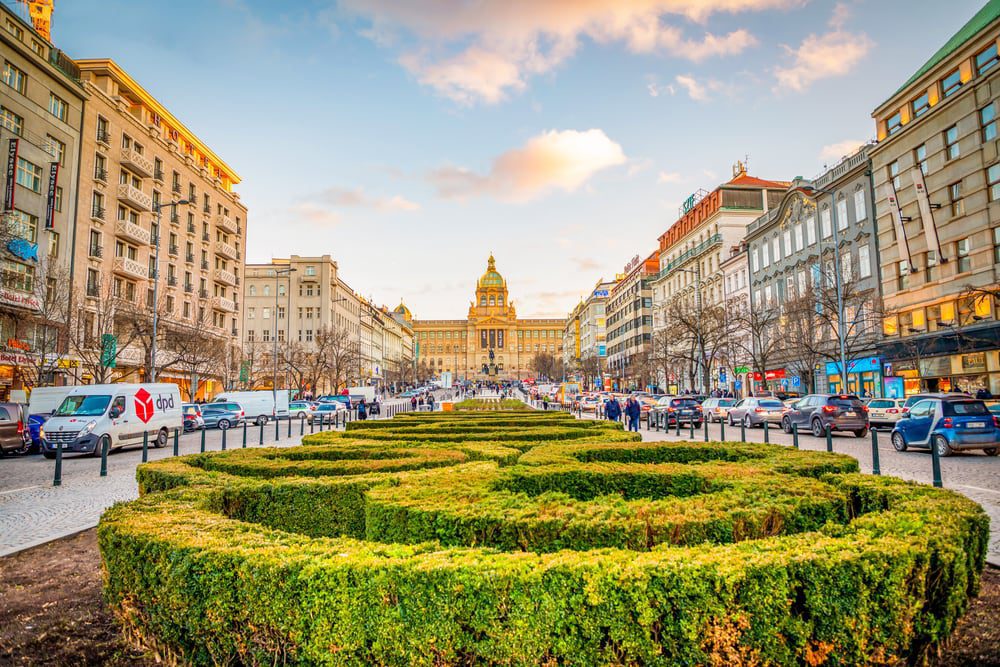 Along with its notable importance, the Wenceslas Square also offers access to a wide array of contemporary stores, cafes, and restaurants. St. Wenceslas Day, the 28th of September, is a national holiday, celebrating Václav I's legacy of helping unify Bohemia. But he is also considered the patron saint of beer.
Address: 110 00 Nové Město, Czechia
Walk the Charles Bridge
The Vltava River bisects Prague making it an integral part of the capital city's geography. For those wanting to observe the flowing river in greater detail, the Charles Bridge is a pleasing starting point.
This bridge offers a picturesque view of the river while acting as a link between two parts of the city. It's recommended to walk on the bridge, take photos, and enjoy its attractive design.
Address: Karlův most, 110 00 Praha 1
Visit the Old Town Hall Clock Tower in the heart of Prague
The Old Town Hall Clock Tower, nestled in the heart of Prague, is a renowned symbol of the city's rich history and architectural beauty. This iconic tower, with its intricate Gothic design, stands tall as a prominent feature of the Old Town Square.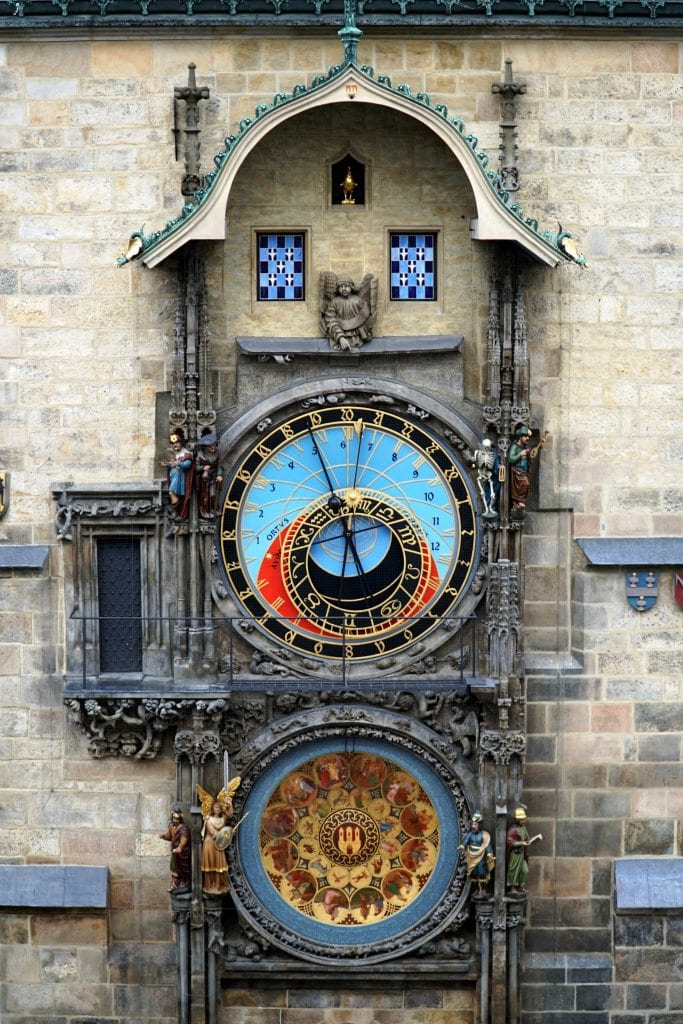 At the top of the tower, the famous astronomical clock, known as the Prague Orloj, captivates visitors with its stunning craftsmanship and intricate mechanisms. Every hour, crowds gather to witness the procession of the Twelve Apostles, as they make their appearance from the clock's windows.
Climbing to the top of the tower rewards visitors with the best view of the city, showcasing the breathtaking skyline of Prague.
Address: Staroměstské náměstí 1/3, 110 00 Prague 1,
Palac Lucerne
The Palac Lucerne is a tourist-friendly hotspot in Prague it is an entertainment and shopping complex in the New Town quarter of Prague. It is generally known for the upside-down horse sculpture designed by David Cerny that sits in the main passage of Lucerna Palace in downtown Prague. Černý's 1999 "Horse" portrays Saint Wenceslas (Václav) on an upside-down dead horse as a parody of the Czech patron saint who had been a heroic duke of Bohemia and was assassinated in 935.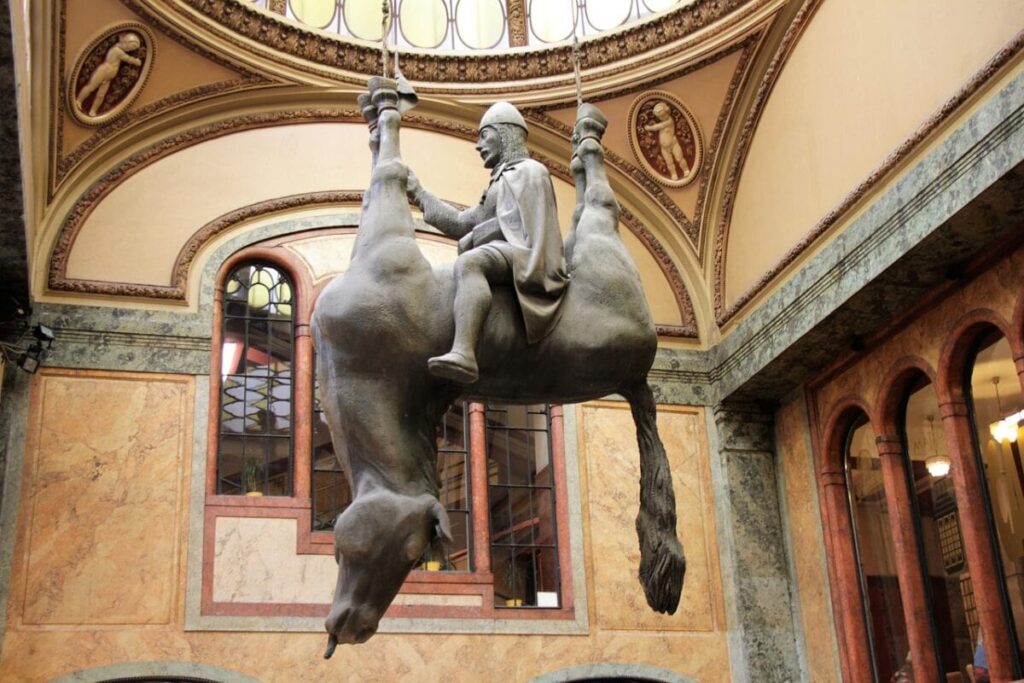 The Palace Lucerne is one of the most interesting modern Prague palazzos was built between 1907-1920. The builder was Vácslav Havel whose grandson – Václav Havel – later became President.
Along with the enchanting sculptures, it is also a quaint location with classic European architecture from one end to the other. It's a joy to walk around the area, sip on a coffee from the cafe, enjoy a Prague beer or some fine Czech cuisine and spend time going from one place to the next along the passage.
Address: Vodičkova 704/36, 110 00 Nové Město
Old Town Square
A walking tour of the Old Town Square is paramount for anyone in Prague. It has been around for centuries and is jam-packed with celebrated moments. Along with the square itself, the area offers access to some of the most fundamental attractions in Prague such as the Astronomical Clock.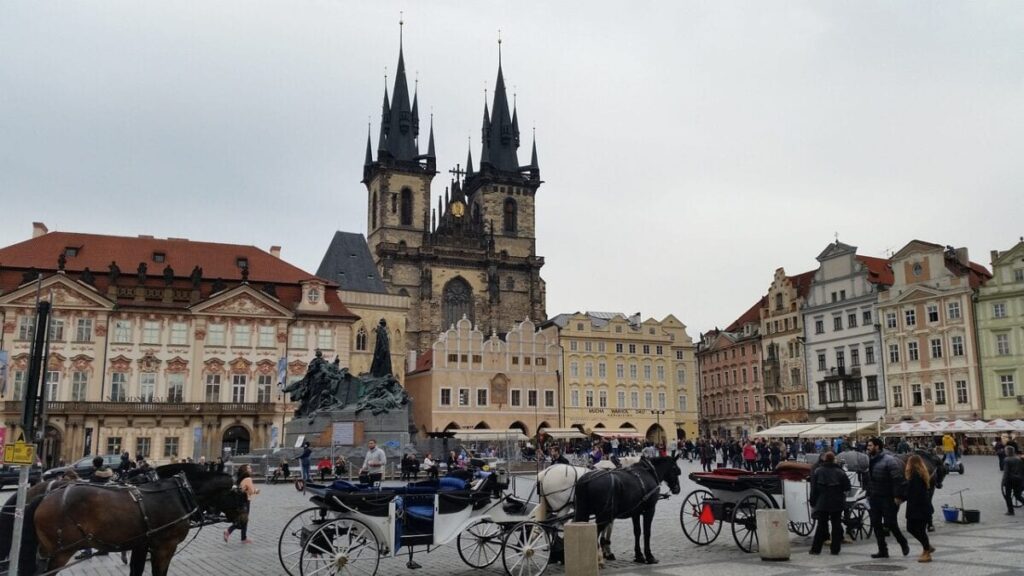 It's common for this area to be full of people throughout the day and it's suggested to come earlier in the day to get a better glimpse of the various attractions around the area.
Address: 110 00 Staré Město
World Class art at the Rudolfinum
The Rudolfinum Gallery is an exceptional place and its exhibitions are world-class for those who love relishing the creative elements. These exhibitions are free of cost and you can stroll through the gallery during specific hours during the day.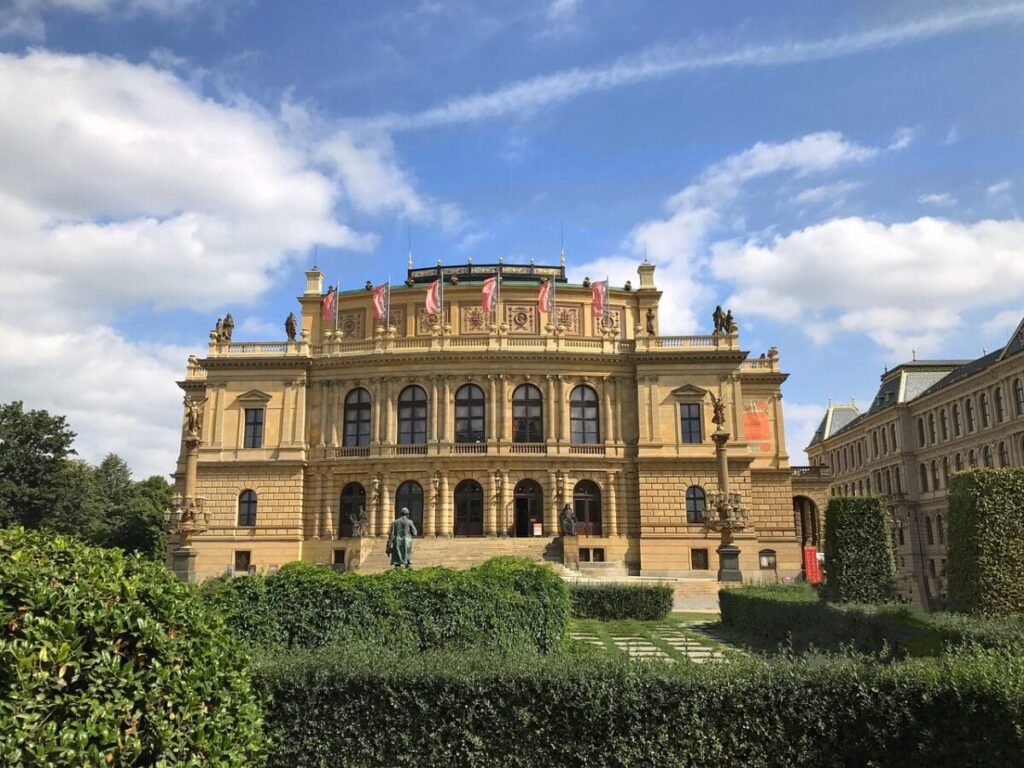 Art lovers are recommended to devote a few hours walking throughout the upstairs room while witnessing the wide array of artistic exhibits. It can be breathtaking to take a look at these masterpieces.
Address: Alšovo nábř. 79/12, 110 00 Staré město-Staré Město
Zizkov Farmer's Market
This farmer's market is first-class and it delivers a chance to appreciate local desserts, fruits, and greens. Take the time to walk through the farmer's market depending on the time of year while soaking in the ethos of the community in full flow.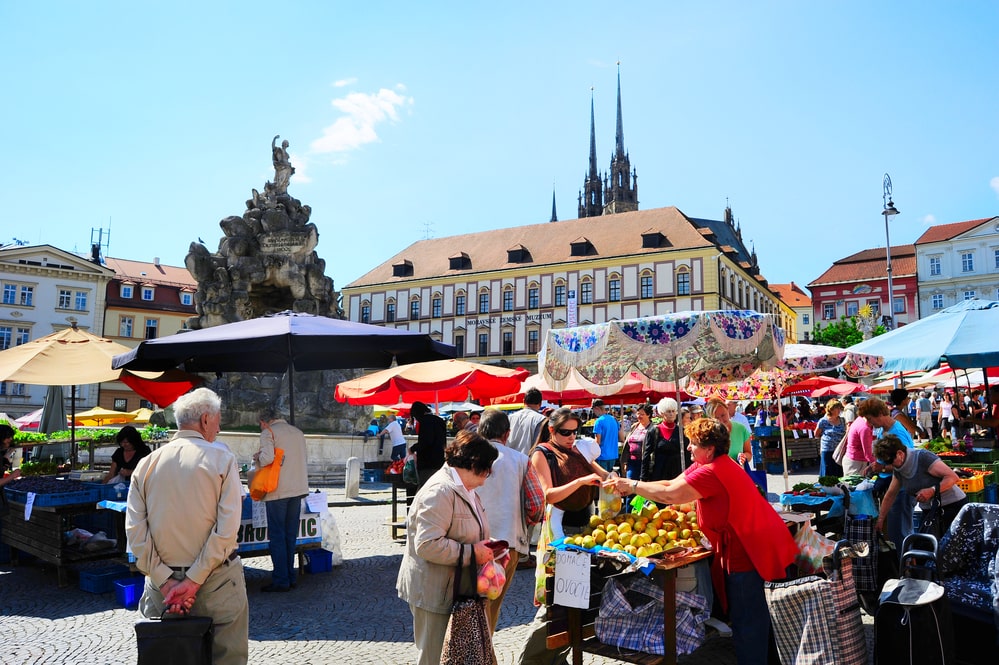 Whether you are picking out high-quality fruits or getting yourself a warm apple pie, there are numerous options with each one being better than the next.
Address: 7, nám. J. z Poděbrad 1685, Vinohrady, 130 00 Praha 3
Frantiskanska Zahrada – Our Lady of the Snows garden
A small garden by the Church of Virgin Mary of the Snow between the squares Václavské náměstí and Jungmannovo náměstí was originally a much greater medieval garden of the Carmelite Monastery in 1348. This stunning peaceful space is close to the Wenceslas Square and it's highly recommended to check out both at the same time.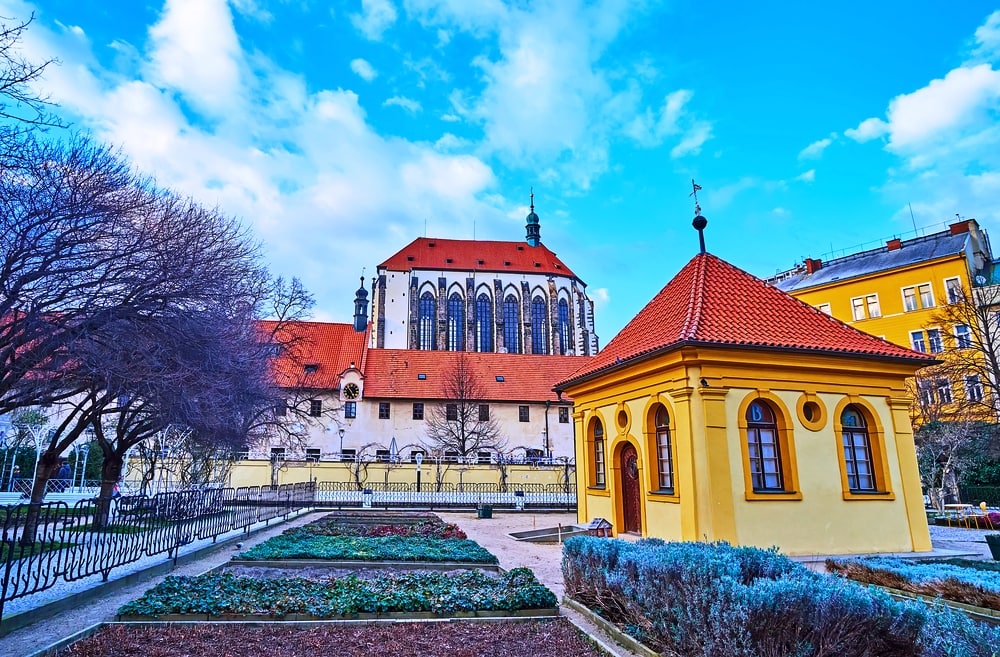 A wonderfully relaxing place with a variety of shops, cafes, and more. This unique natural oasis has benches, sitting beneath arches covered in roses and lawns with yew hedges. There are several interesting sculptures, fountains, a gazebo, a playground, fruit trees and herb beds, which go back to the former owners, the Carmelites and the Franciscans, who once grew herbs and spices here.
It's best to stroll through the area, stop for a cup of coffee, and then relish what the beautiful gardens have to offer.
This can be a serene experience for those who want to relax, enjoy the view, and explore the natural charm of Prague.
Address: Vodičkova, 110 00 Nové Město
Catch a film at the Bio Oko
Cinema lovers will need to have Bio Oko on the schedule. This is a location designed for movie enthusiasts wanting to recreate a quainter way of watching films.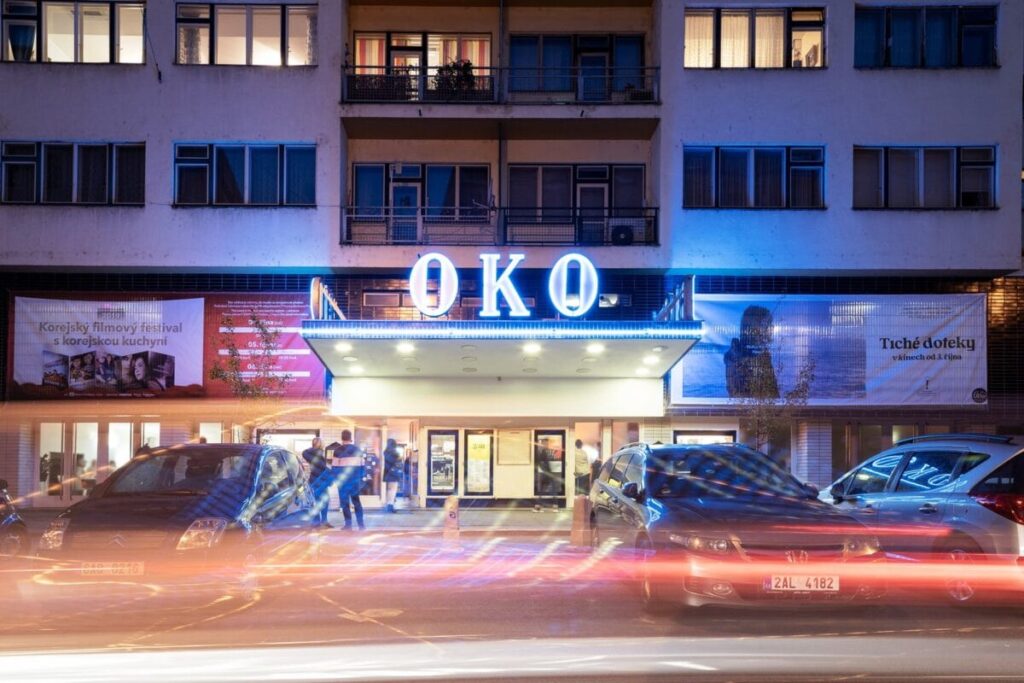 Bio Oko tends to show diverse films every day including art films, mainstream movies, and more. It is also common for film festivals to be hosted at this location as it provides loads of space and is perfect for those wanting to unwind.
Address: 15, Františka Křížka 460, 170 00 Praha 7
Strelecky Island – Archer's Island
Not the name comes from the fact that under the reign of Charles IV, Prague longbow and crossbow shooters had the privilege of training here. Strelecky Island is a tranquil place with enchanting wildlife, elegant greenery, and an intriguing set of sights. This includes an unforgettable view of the celebrated Charles Bridge.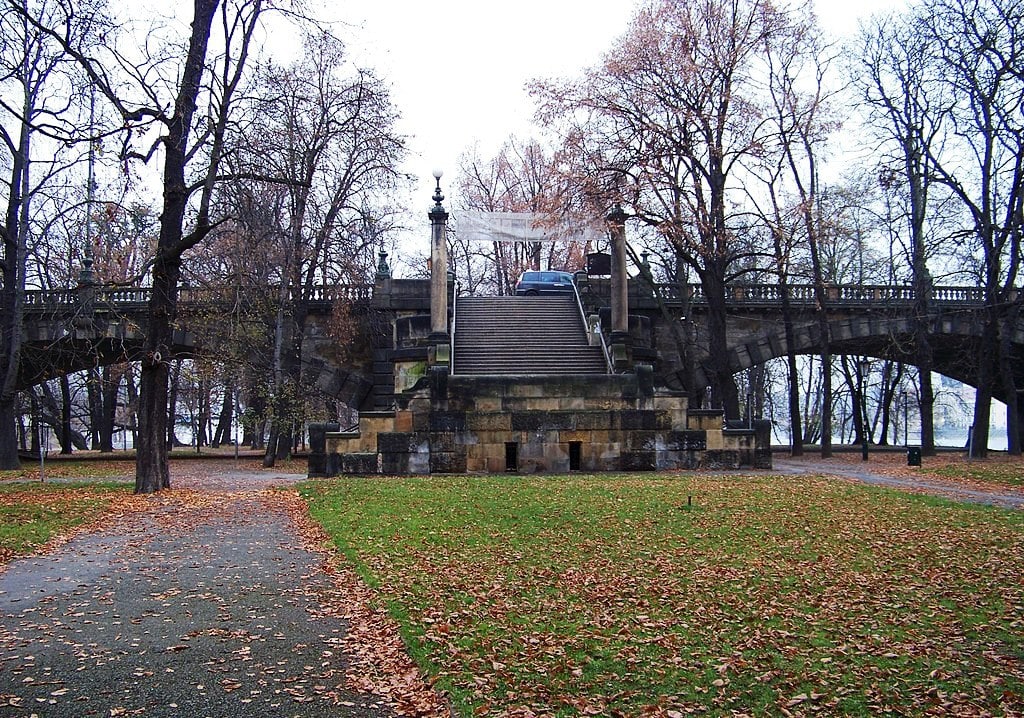 This is a fabulous hotspot for families wanting to settle in and appreciate the weather with their loved ones. The island also delivers a tremendous selection of bars and food carts as the river flows nearby.
Address: 110 00 Praha 1
Klub Vzorkovna
This underground bar is renowned for its oversized dog, unique chip-based entry system, and entertaining seats. Walking into this bar, which is also called the Dog Bar means having a wonderful night out at an appealing establishment.
While enjoying a drink at this bar, you can enjoy spending time with the locals as it's often brimming with people both from Prague and elsewhere.
Address: Národní 339/11, 110 00 Staré Město
U Pinkasu
U Pinkasu is associated with the Church of Our Lady of the Snows and is an old-fashioned beer garden. Those who want to appreciate the pleasures of a good, Czech-approved brew and classic Czech cuisine will want to head over to U Pinkasu as soon as they can.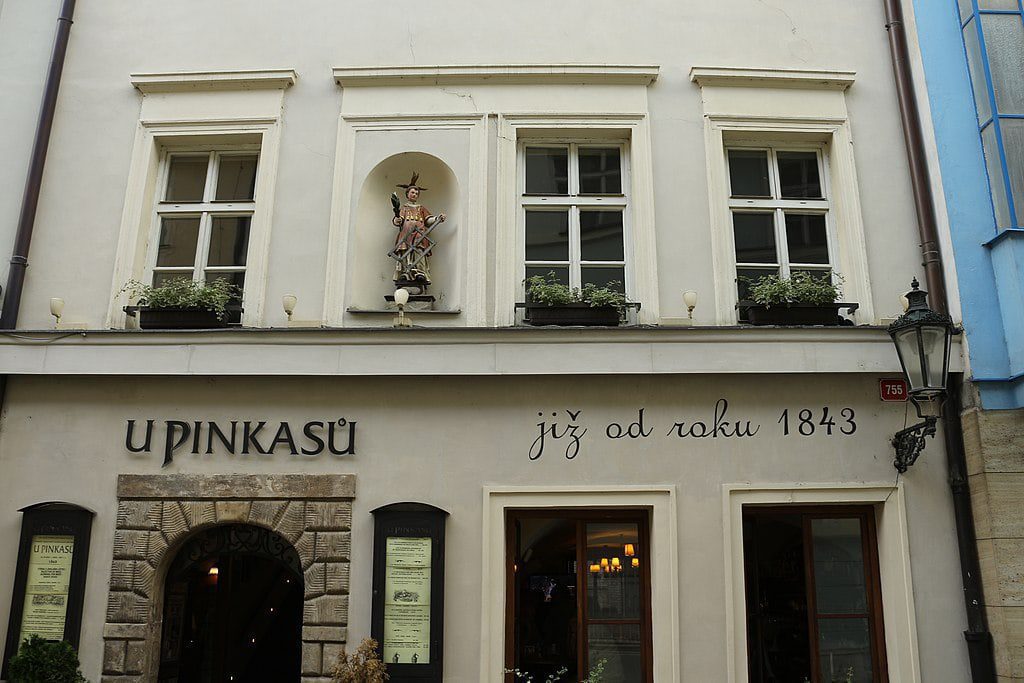 This is the place to be during the hot summer months as the garden offers ample space, shade, and joy.
Address: Jungmannovo nám. 756 /16, 110 00 Můstek
Grab some Czech Vegan food at the Loving Hut
Loving Hut is a well-established vegan chain in the heart of Prague and its ideal for those who want to eat high-quality vegan dishes. The delightful blend of dishes from across the world makes it a wonderful place to stop by for a meal.
It's affordable, friendly, and a great option for foodies in Prague. Feel free to stop by during lunch hour and go through a great selection of deals to find one that suits your taste buds.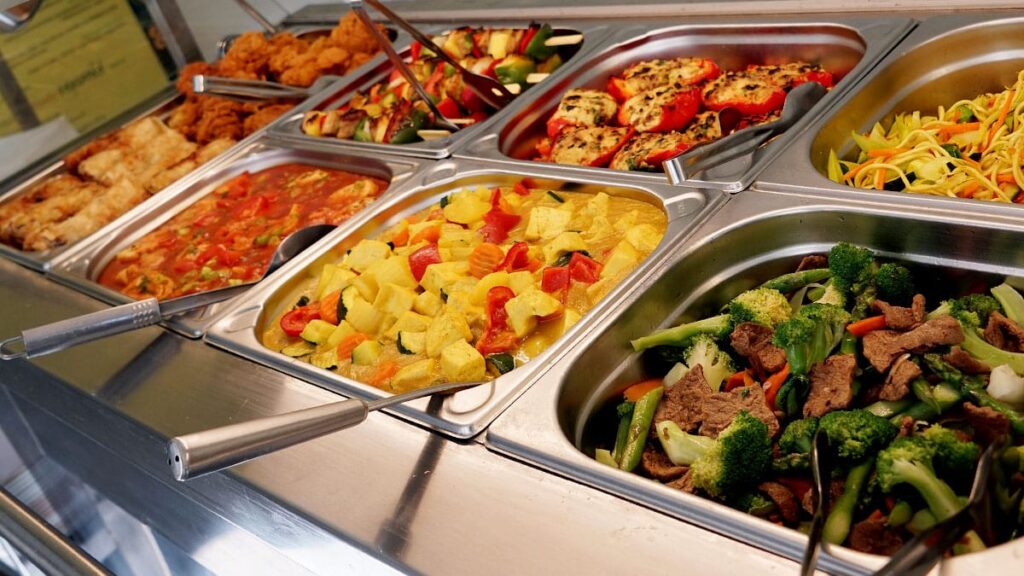 Address: Dům Černá labuť, Na Poříčí 25, Petrská čtvrť, 110 00 Prah
Letna Park
Letna Park is a chocolate-box spot and is one of the best places to go to for sight-seeing. Nestled alongside a charming peppering of quaint shops and houses, this park offers an incredible view of the city from atop.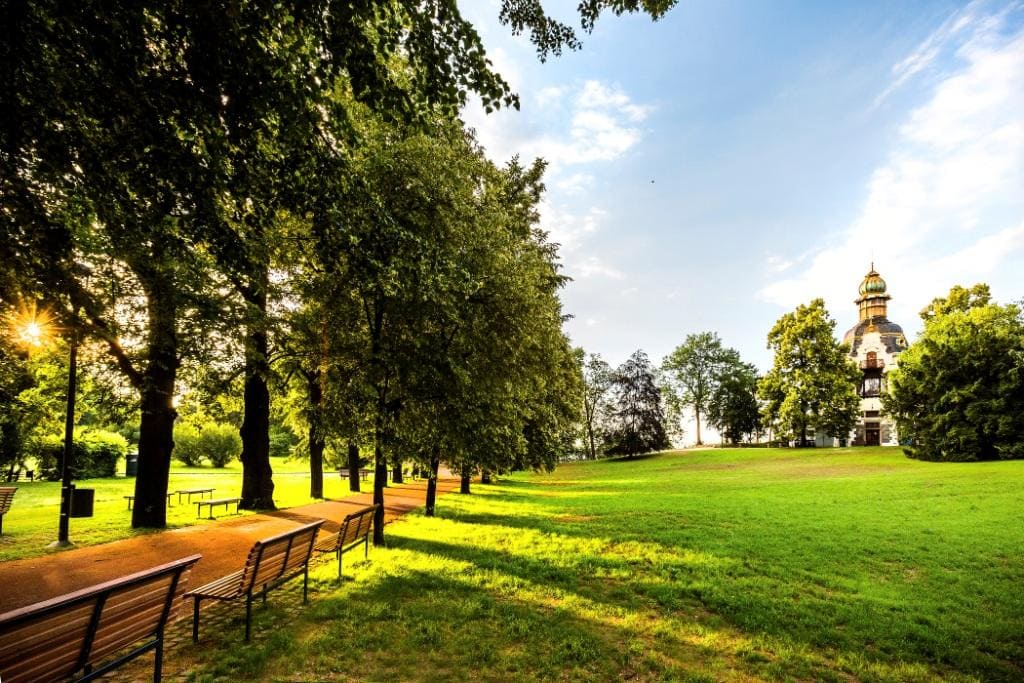 On a beautiful sunny day, Letna Park is the place to be. Settle on one of the park benches, observe the nearby sights, and soak in the local culture in this beautiful setting.
Address: Letná, 170 00 Prague 7
Tour the stunning Prague Castle
Prague Castle stands proudly atop the city, commanding the skyline and creating an awe-inspiring sight as it overlooks incredible views of Prague and the Charles Bridge and Mala Strana.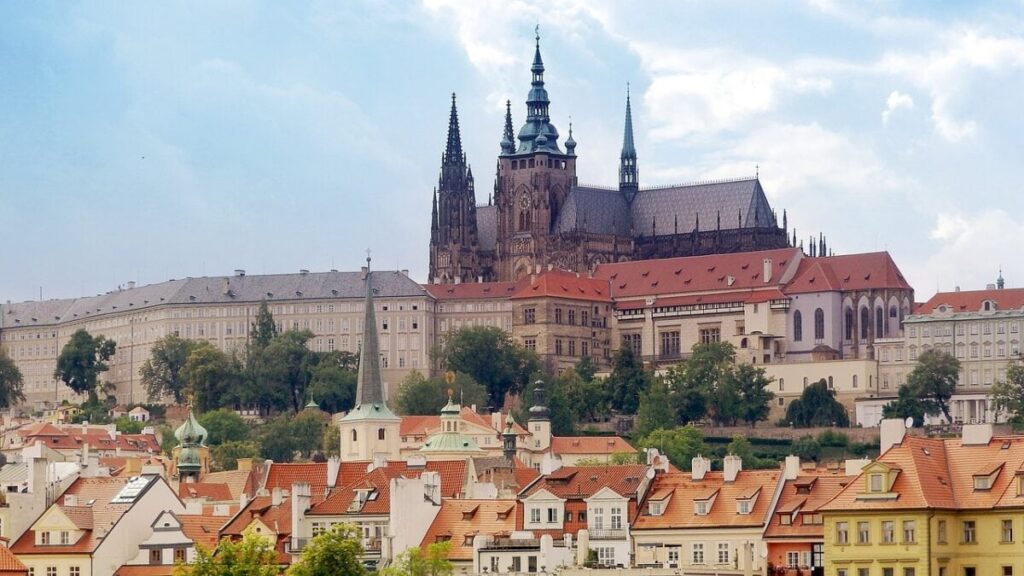 It is an absolute must-see when visiting Prague, as the castle complex holds an abundance of historical and cultural significance. Throughout its illustrious history, it has served as the residence for esteemed figures, including kings and emperors, shaping the destiny of the nation. Its grandeur and historical importance make it an essential destination for any visitor eager to experience the rich heritage and architectural splendor of Prague.
Take a tour of the castle's architecture, historic artifacts, and battlements while soaking in its remarkable beauty. Whether it's the exterior of the castle or its extraordinary rooms, there's a lot to see at this magnificent attraction.
St. Vitus Cathedral
St. Vitus Cathedral is an architectural marvel that captivates visitors with its grandeur and rich history. As the largest and most important cathedral in the Czech Republic, it stands as a symbol of national pride and religious significance.
Its construction began in the 14th century, but it took several centuries to complete, resulting in a breathtaking fusion of architectural styles, including Gothic, Renaissance, and Baroque.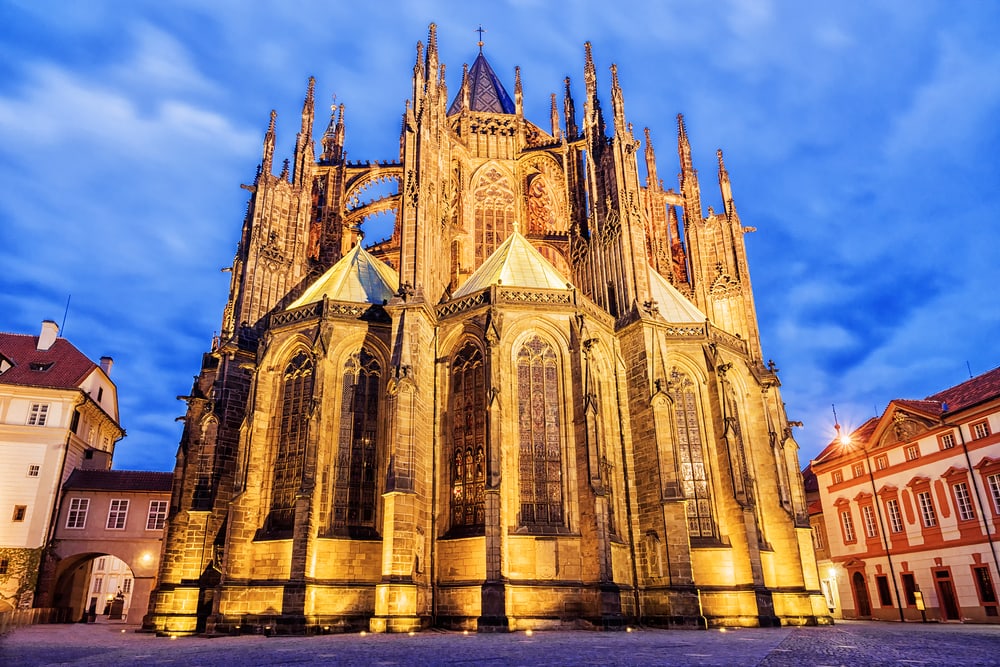 The cathedral's towering spires, intricate stone carvings, and magnificent stained glass windows leave visitors in awe of its beauty. Inside, the vast interior houses remarkable works of art, including the ornate St. Wenceslas Chapel and the stunning silver tomb of St. John of Nepomuk.
The cathedral also holds great historical importance, serving as the coronation site for Czech kings and queens. With its towering presence and cultural significance, St. Vitus Cathedral remains a must-see attraction that showcases the rich heritage and architectural splendor of Prague.
Address: Hradčany, 119 08 Prague 1
A perfect place for your Instagram feed – Visit Vysehrad
Vyšehrad is a historic fort just over 3 km southeast of Prague Castle, on the east bank of the Vltava River. Vyšehrad is renowned as the oldest residence of Czech princes. Its origins can be traced back to the mid-10th century when the local settlement first took root. Perched atop a rocky promontory overlooking the majestic Vltava River, this historic site offers awe-inspiring vistas of the city.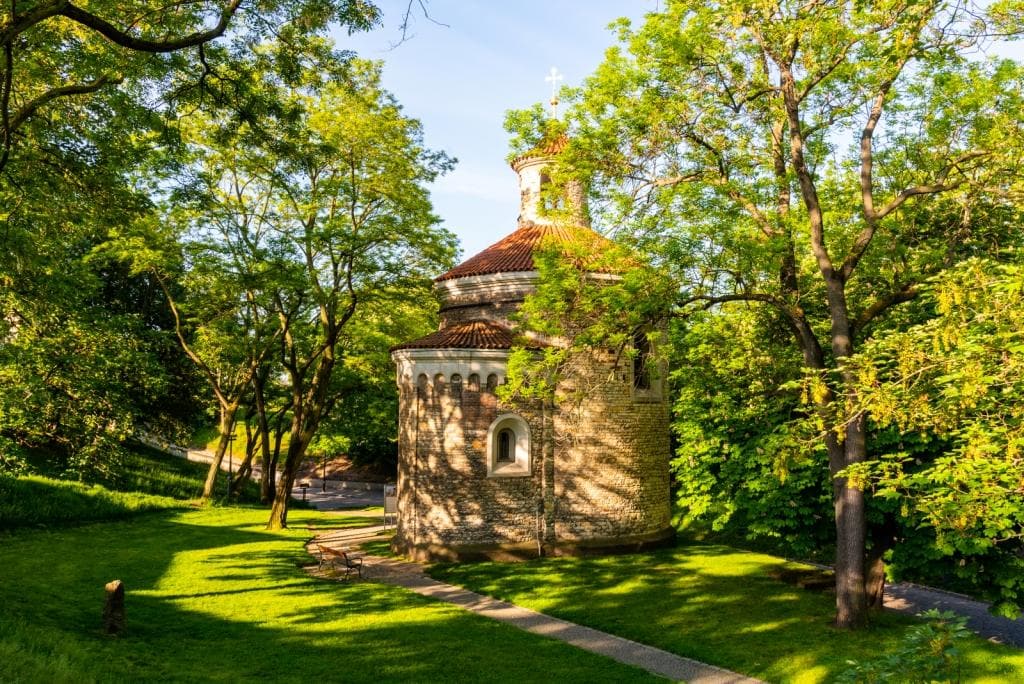 Within its sprawling parklands lie concealed architectural gems, including the exceedingly rare Romanesque Rotunda of St Martin, the neo-Gothic Church of Sts Peter and Paul, the national cemetery known as Slavín, and subterranean casements that house a collection of original Baroque statues from the Charles Bridge.
Itis an Instagram-worthy hotspot for influencers, tourists, and locals wanting to make the most of its unforgettable sights. The area is highlighted by its parks, which welcome everyone with a charming cathedral and garden. Roaming around the area also helps explore the nearby beer garden while enjoying the scenic hills.
Address: Vratislavova 66, 120 00 Praha 2-Vyšehrad
St. Cyril and St. Methodius Cathedral
St. Cyril and St. Methodius Cathedral hold a special place in every local's heart. It has been associated with several historic events over the years including a time when Czech Republic was divided. Religious has been an important part of Prague's history and this is often associated with those moments.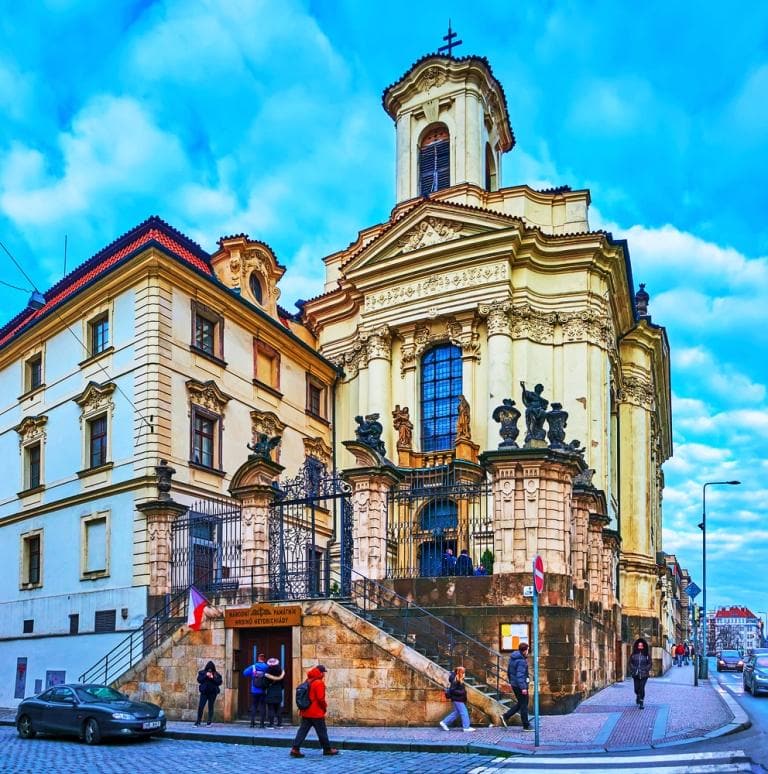 It's recommended to walk through the associated museum and see the various exhibits while learning more about what happened here. History buffs have to put this as a must-see on their itinerary.
Address: Resslova 9a, 120 00 Nové Město
Kasarna Karlin
Creativity reigns free at Kasarna Karlin. This is a prominent arts complex in Prague and has been transformed over the years with an emphasis on illuminating progressive Czech art.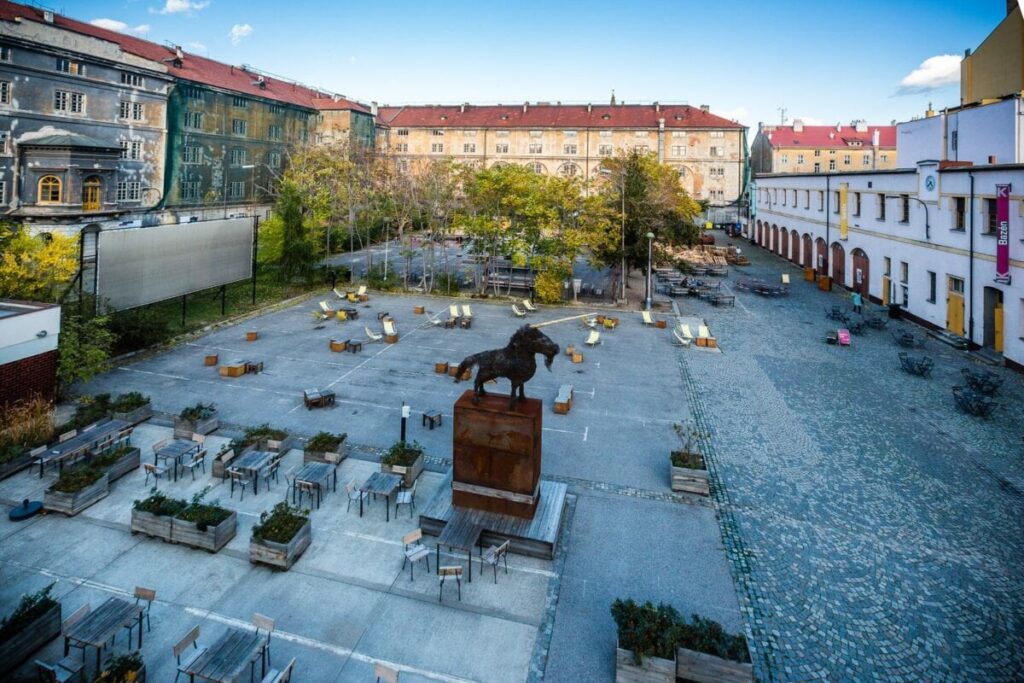 In its current state, Kasarna Karlin is a great place to view art pieces, grab a bite, and drink to your heart's content. It's common for events to be hosted at this location whether it's hot or cold outside. There's always something going on here during the year.
Address: Prvního pluku 20/2, 186 00 Karlín
SmetanaQ
With gentle Czechian music filling the environment and the breathtaking sight of Vltava River, SmetanaQ is a welcoming café in the perfect spot. The natural aroma of pastries and coffee sifts through the air as you settle in for a cup yourself. It's common for the locals to enjoy the coffee here and it provides a beautiful glimpse into the culture of the city.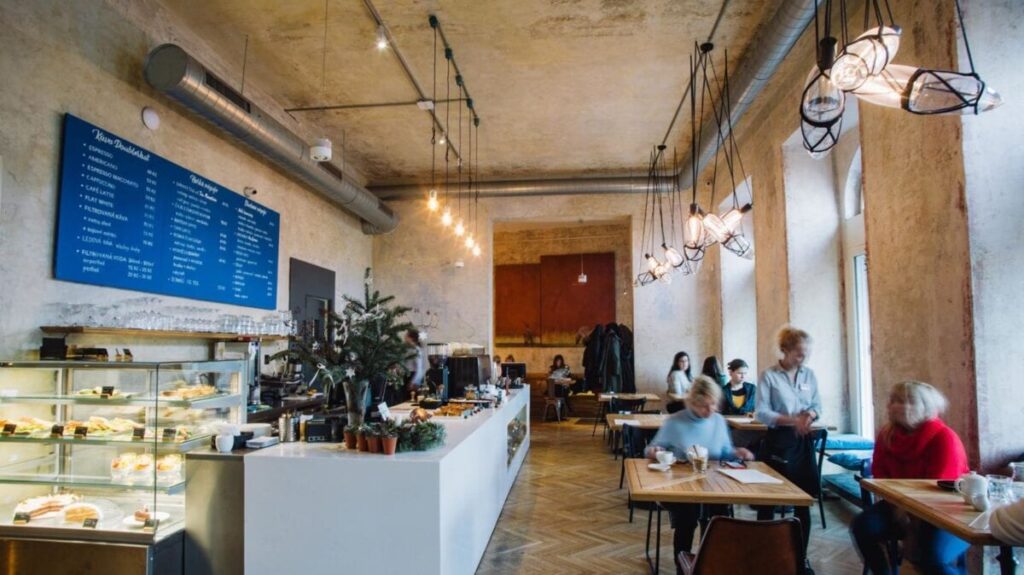 Address: Smetanovo nábř. 334/4, 110 00 Staré Město
Riegrovy Sady
The Riegrovy Sady is known for its pictorial view of the sunset. Time it right and you are going to see a view that is memorable. The sun will slowly descend behind the nearby infrastructure providing a natural glow that's impossible to look away from.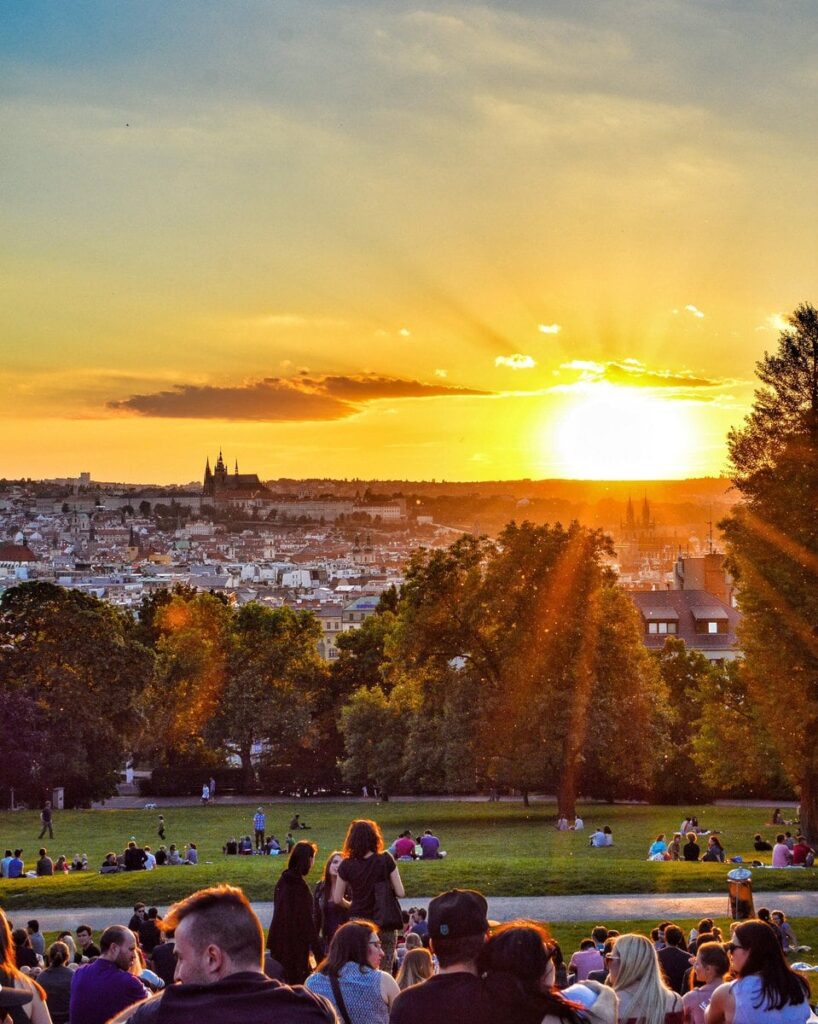 It's best to head to what is known as the Great Lawn to get the best possible view of the sunset.
Address: Vinohrady, 120 00 Prague 2
Main Post Office
The Main Post Office might not sound like a place you would want to visit but there's something fascinating about this one in Prague. The location is close to the Wenceslas Square due to its fascinating architecture.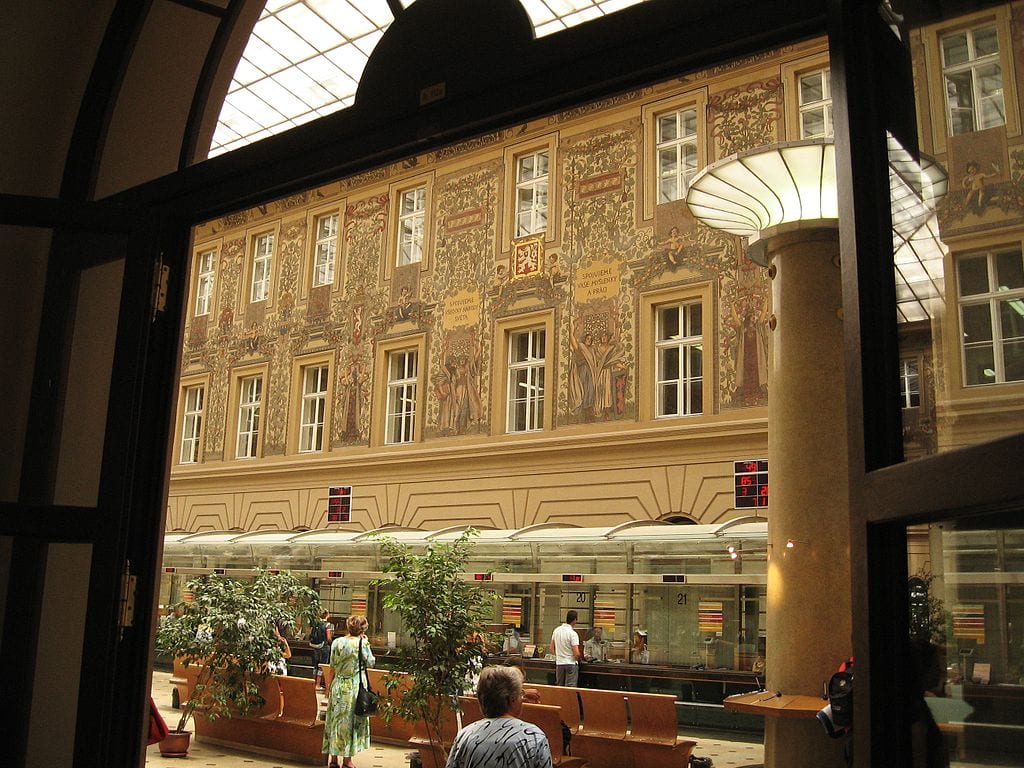 It's remained an integral part of the city and is often used by locals for delivering letters. Tourists are recommended to take a small tour of the office, observe the unique nature of the post office, and see what makes it such a treasured attraction in town.
Address: Jindřišská 909/14, 110 00 Nové Město
John Lennon Wall
The John Lennon Wall in Prague is an iconic symbol of peace, love, and freedom of expression. Located in the Lesser Town neighborhood, near the French Embassy, the wall is adorned with colorful graffiti, murals, and messages inspired by John Lennon and the ideals of peace and unity. Initially, it started as a spontaneous tribute to Lennon after his assassination in 1980, and it quickly became a gathering place for young Czechs expressing their dissent against the communist regime.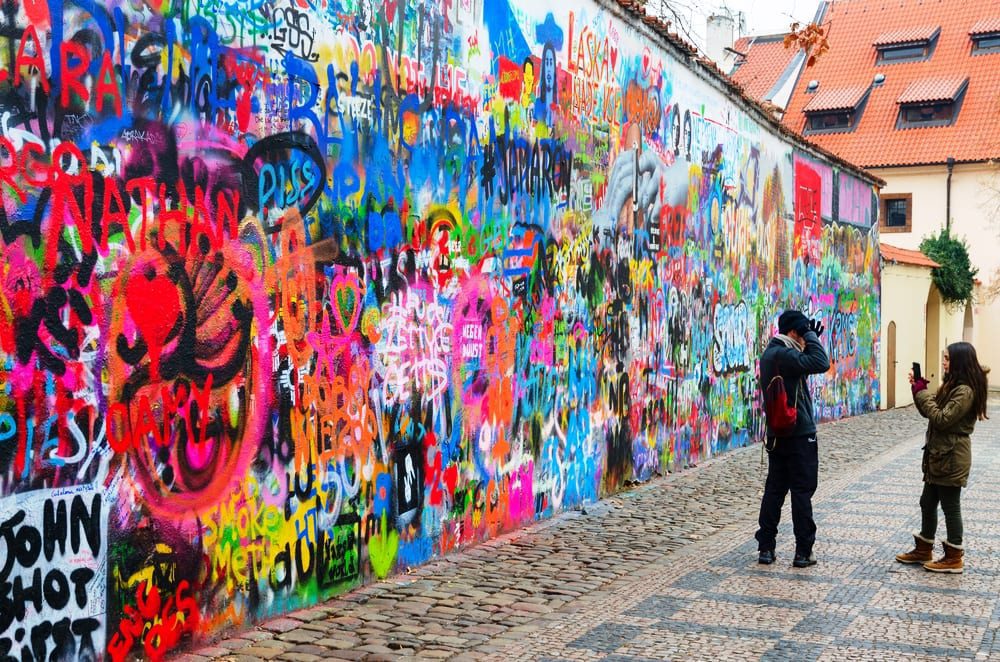 Despite multiple attempts to whitewash and suppress the messages, the wall has continuously been repainted by artists and activists, serving as a powerful reminder of the spirit of freedom and creativity. Today, it remains a popular tourist attraction and a testament to the enduring legacy of John Lennon's music and ideals.
Address: Velkopřevorské náměstí, Mala Strana, Prague 1, Czech Republic
Infant Jesus of Prague
The Infant Jesus of Prague, also known as the Child of Prague, is a famous and revered statue of the infant Jesus located in Prague. This small wooden statue is a significant symbol of faith and devotion for many Catholics around the world.
The statue depicts the infant Jesus dressed in royal robes, holding a globe and giving a blessing. It is believed to have been created in the 16th century and has a rich history of miraculous healings and answered prayers associated with it.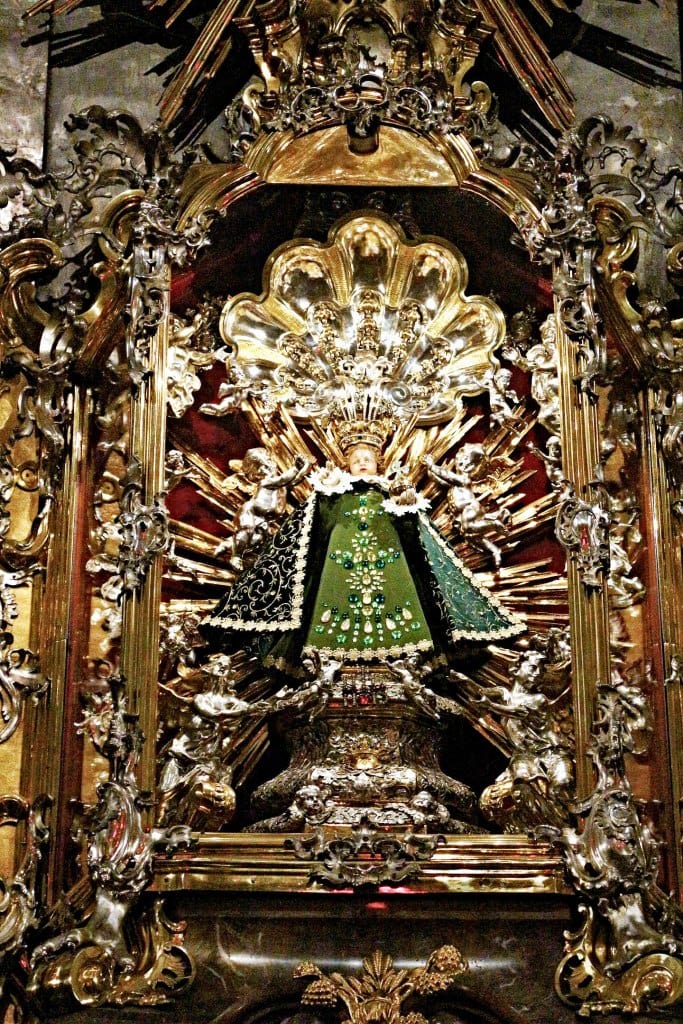 The Infant Jesus of Prague attracts countless pilgrims and visitors who come to seek solace, guidance, and blessings. It is housed in the Church of Our Lady Victorious in the Lesser Town neighborhood of Prague, where it is displayed and stands as a cherished religious icon.
Address: Church of Our Lady Victorious Karmelitská 9 118 00 Prague 1 – Lesser Town
Prague's Jewish Quarter
Prague's Jewish Quarter, also known as Josefov, is a historically significant and culturally rich neighborhood that bears witness to the long Jewish heritage in the city.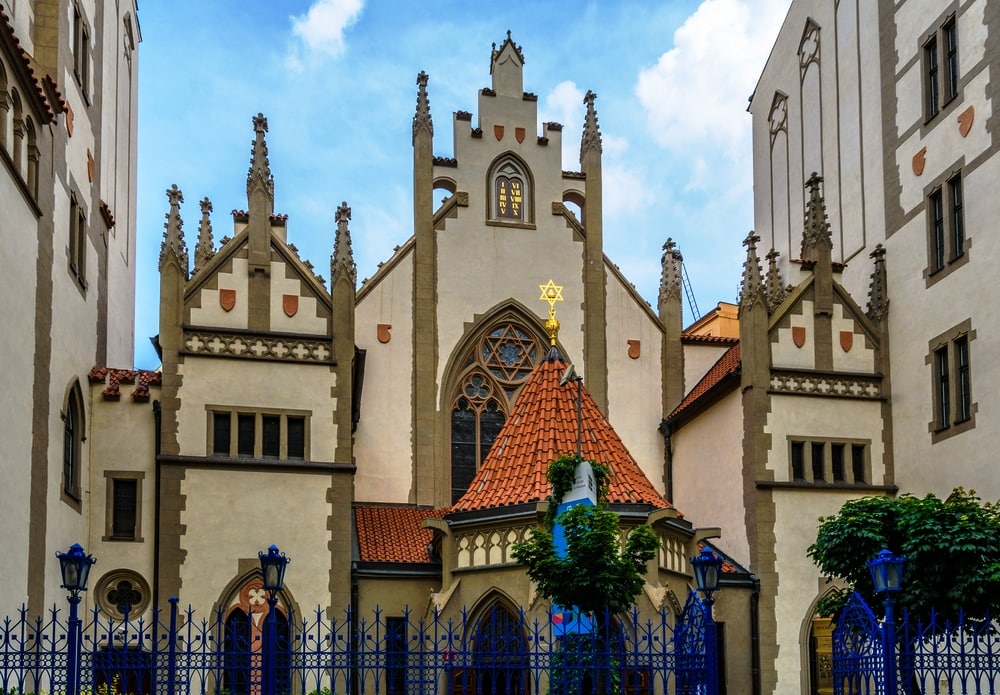 Located between the Old Town Square and the Vltava River, it encompasses several synagogues, a cemetery, and a museum, offering a profound glimpse into Prague's Jewish history.
Highlights include the Spanish Synagogue with its stunning Moorish Revival architecture, the Old-New Synagogue, one of the oldest active synagogues in Europe, and the poignant old Jewish cemetery with its layered tombstones.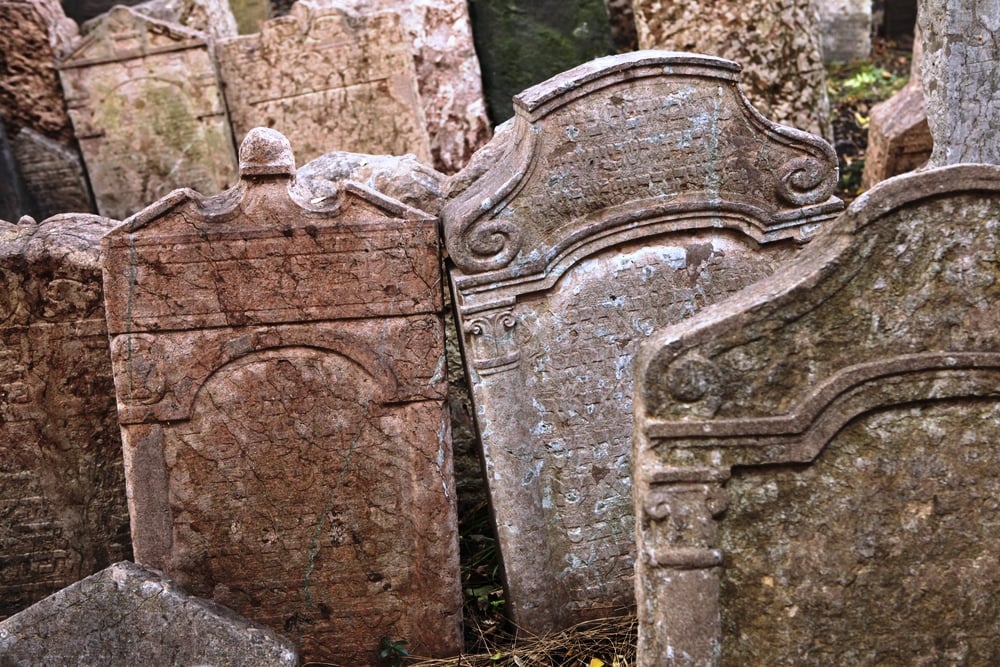 The Jewish Museum, located within the quarter, exhibits artifacts and documents that shed light on the rich Jewish cultural and religious traditions.
Address: Josefov, Prague 1, Czech Republic
Speculum Alchemiae – Museum of Alchemy
The cobblestone streets near Speculum Alchemiae hold the incredible rich history of Prague and its scientific history.
During the renovation of one of Prague's oldest historic buildings a remarkable find emerged—the newly unveiled alchemical laboratories. This architectural gem, protected by UNESCO, miraculously withstood the demolition of the Jewish quarter in the late 19th century, preserving its rich history.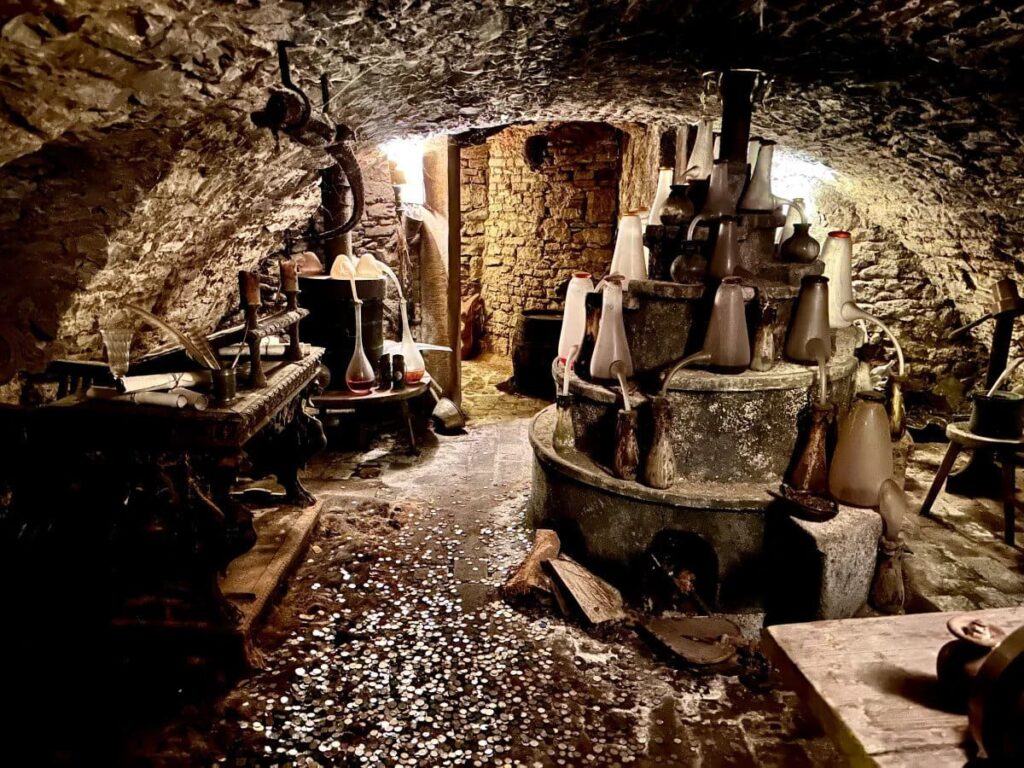 Visitors now have the unique opportunity to explore the very chambers where alchemists once working attempting to create the legendary elixirs of eternal youth, the elusive Philosopher's Stone, and transforming base metals into gold.
Historical records indicate that in the 15th century, a herbal pharmacy occupied these premises, serving as a platform for alchemists to offer their potions and elixirs to the public. Later, in the 16th century, Emperor Rudolf II chose this very house as the location for his own alchemical laboratory, attracting renowned alchemists from far and wide to collaborate within its walls.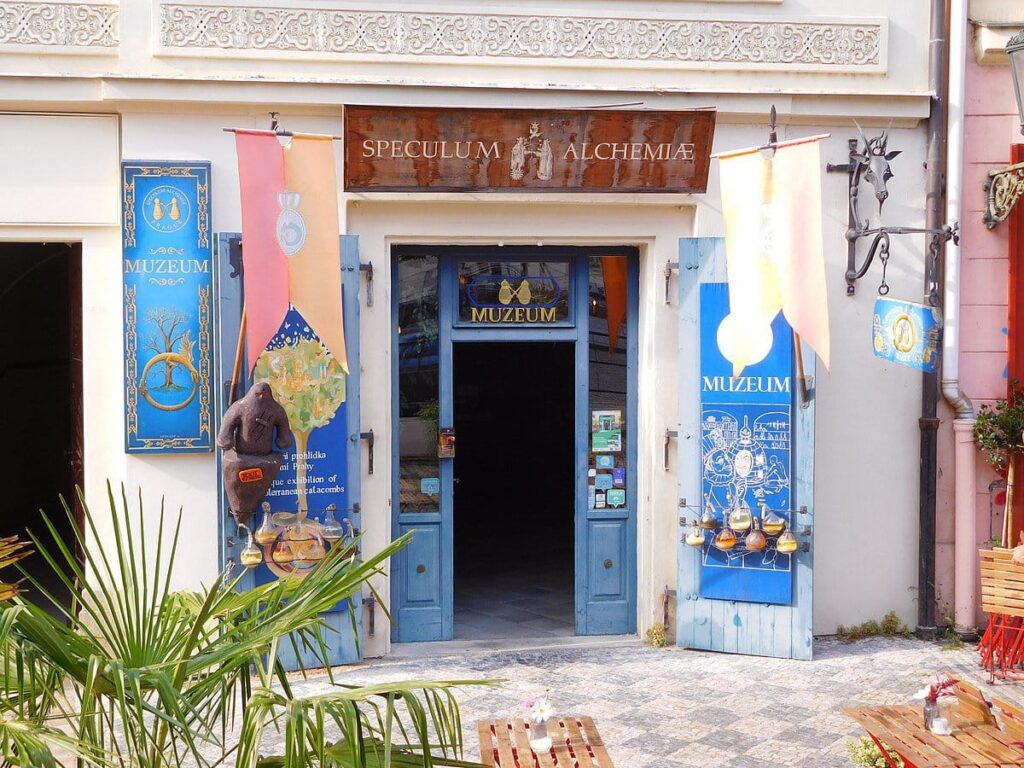 Remarkably, not only were alchemical workshops unearthed beneath the building, but a network of subterranean tunnels was also discovered. These tunnels served as vital passageways connecting three of the most significant sites in the city—the grand Prague Castle, the historic Old Town Hall, and the esteemed Barracks.
Address: Haštalská 1, 110 00 Staré Město
Enjoying Czech beer
In the Czech Republic, beer is much more than just a drink. It is one of the nation's symbols and an internationally renowned product.
This drink is so important that the Czech Republic even has its own National Beer Day, held every 27 September, and its own Protected Geographical Indication (PGI).
Prague Beer Museum
One of the best places to visit for beer lovers is the Prague Beer Museum a haven for beer enthusiasts and a celebration of Czech brewing traditions. Located in the heart of Prague, this unique museum offers visitors an immersive and educational experience dedicated to the country's beloved beverage.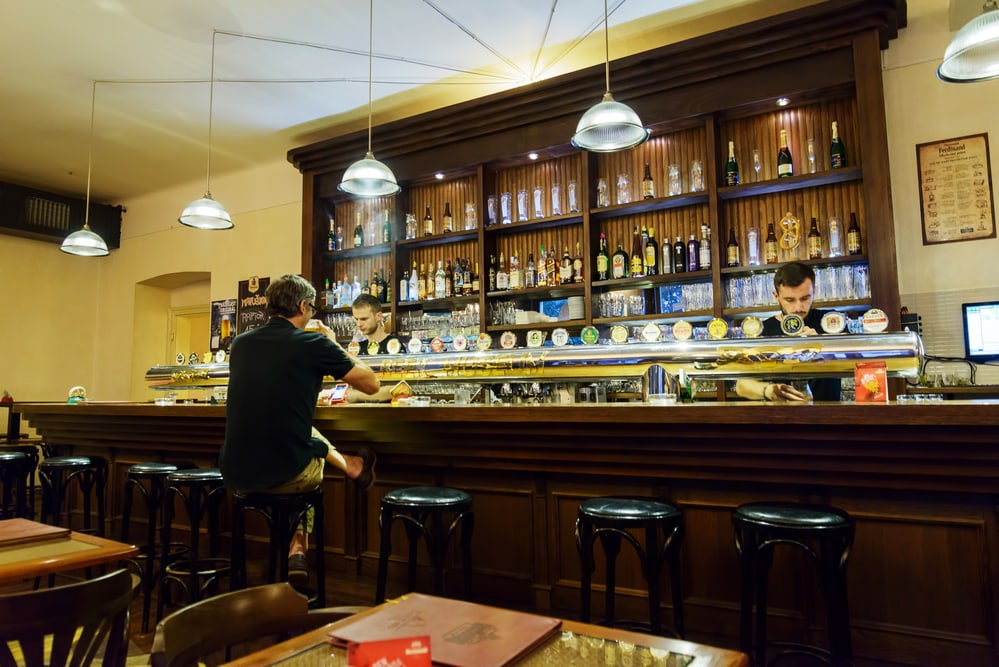 With over 30 beers on tap, ranging from traditional Czech brews to innovative craft beers, the museum provides a comprehensive exploration of the country's beer culture. Visitors can indulge in tasting flights, sample different beer styles, and learn about the brewing process. The museum showcases an impressive collection of beer artifacts, historical memorabilia, and interactive exhibits that delve into the rich history and significance of beer in Czech society.
Whether you're a beer connoisseur or simply curious about Czech beer, the Prague Beer Museum is a must-visit destination that allows you to savor the flavors and traditions of this iconic beverage while gaining a deeper appreciation for its cultural importance.
Address: Dlouhá 46, Prague 1, Czech Republic
Prague's oldest beer pub – the best beer in Prague
U Fleků is Prague's oldest beer pub, a historic establishment with a tradition of brewing and serving beer that dates back over 500 years. Located in the heart of the city, this iconic pub offers visitors a unique and authentic beer-drinking experience.
Stepping inside U Fleků is like stepping back in time, with its rustic interior, wooden furnishings, and lively atmosphere. The pub is renowned for its signature beer, Flek's Dark Lager, a rich and flavorful brew that has been crafted using the same recipe for centuries.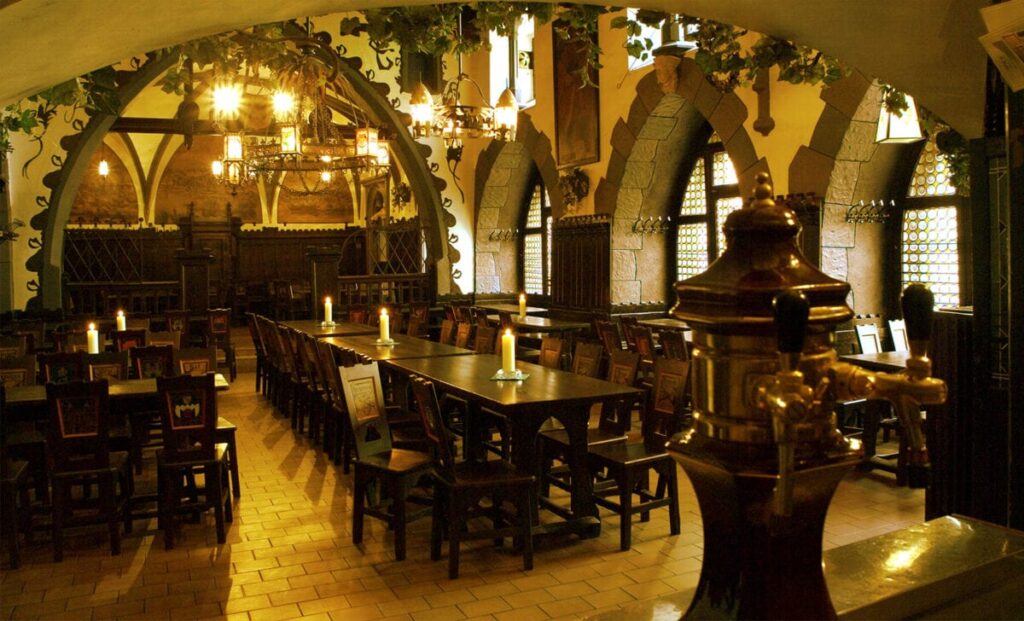 Alongside the excellent beer, U Fleků also serves traditional Czech dishes, allowing guests to enjoy a complete and satisfying dining experience. Whether you're a beer enthusiast or simply looking to immerse yourself in Prague's brewing heritage, U Fleků is a must-visit destination that offers a taste of history and a chance to savor authentic Czech beer in a truly historic setting.
Address: at Křemencova 11, Prague 1,
Final Thoughts on visiting Prague
Visiting Prague is a captivating experience as you dive into a beautiful blend of history, European architecture, and natural beauty. The capital city is jam-packed with unique things to do while traveling, hillside sights, and of course various viewpoints of the Vltava River.
Create a personalized itinerary with these attractions and have a great time in the heart of the Czech Republic.
Pin it to save it

Latest posts by Faith Coates
(see all)