Food in Brittany: Fall in love with the food of Bretagne
Brittany is the most northwestern part of France and one from which many ferries flow back and forth to Ireland and the UK. A stunningly beautiful region of France its rugged coastline is dotted with beaches including the WWII sites, medieval seaside towns like Dinan, St. Malo, and Granville with its gorgeous pink granite coast and ancient prehistoric menhirs draw tourists in their tens of thousands.
Another fantastic reason for visiting is the food of Brittany or rather Bretagne food. The cuisine of Brittany is deeply embedded in the food culture of a commune (as they are known here) that was one of the poorest in France and the food of Brittany is based on what is fished from the sea and grown in its lush valleys. Breton food is accompanied by amazing wines and of course the very traditional and local Breton Ciders (cidre) and a few great Breton beers.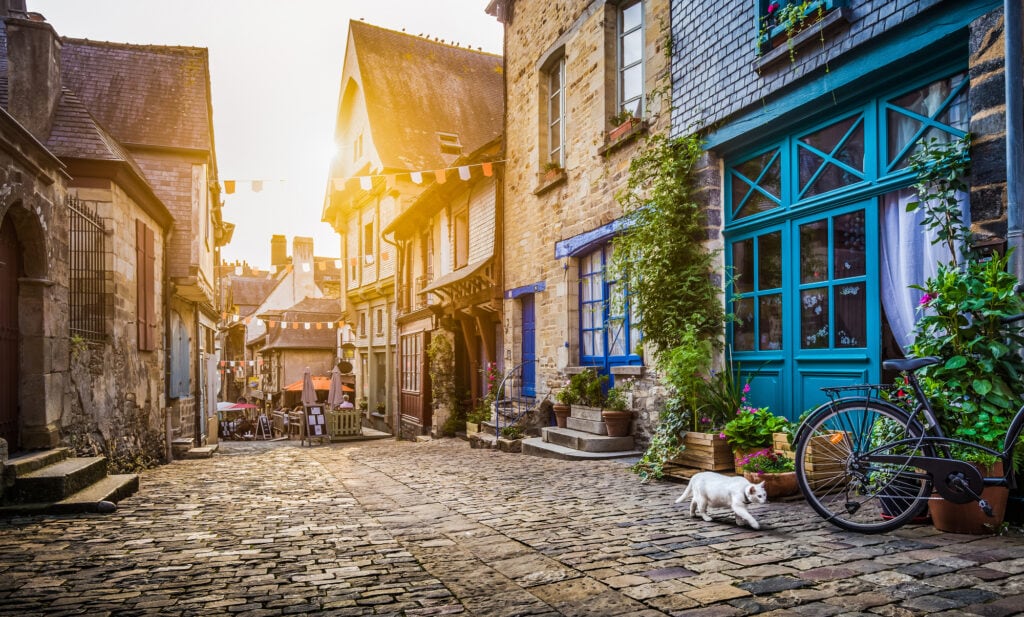 Xyuandbeyond is reader-supported. When you buy through links on our site, we may earn an affiliate commission. You can read my privacy policy here.
Brittany got its name after the Romans withdrew and the Celts from Britain seeking sanctuary from the Saxon invaders moved into the area. Brittany is of course Celtic and has its own language Breton which is undergoing a renaissance.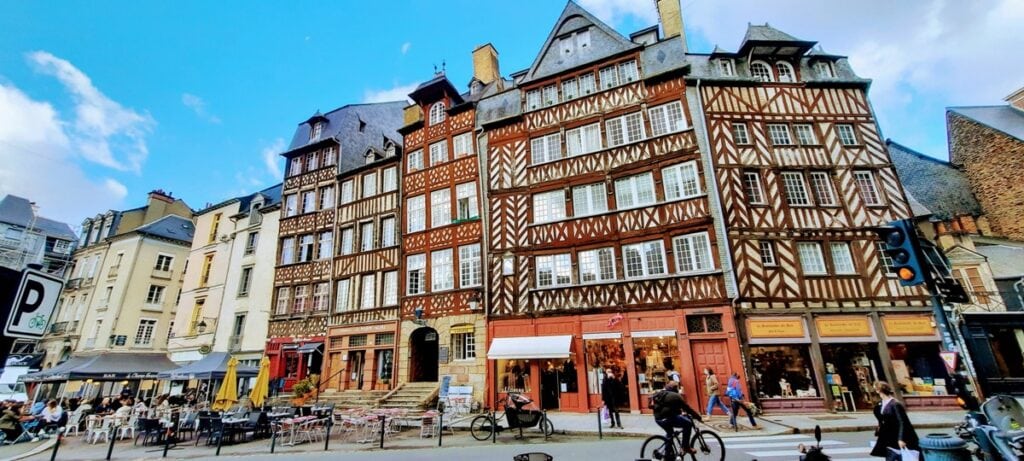 Rennes which is the capital of Brittany was voted one of the best towns to live in – in France and has a superb medieval town centre with some fabulous restaurants and cafes. Here you will find every kind of crepe and galette possible and they would probably be considered the national dish of Brittany – Paris is another city that worships the crepe and galette.
Since we arrived in France and prior to lockdowns and curfews, we had the chance to sample as much of the food of Brittany as we could stuff in our faces. We are so looking forward to all this ending so we can get on with our food tourism or pilgrimage as we like to call it. So without further ado, this is our list of food in Brittany that you absolutely must try.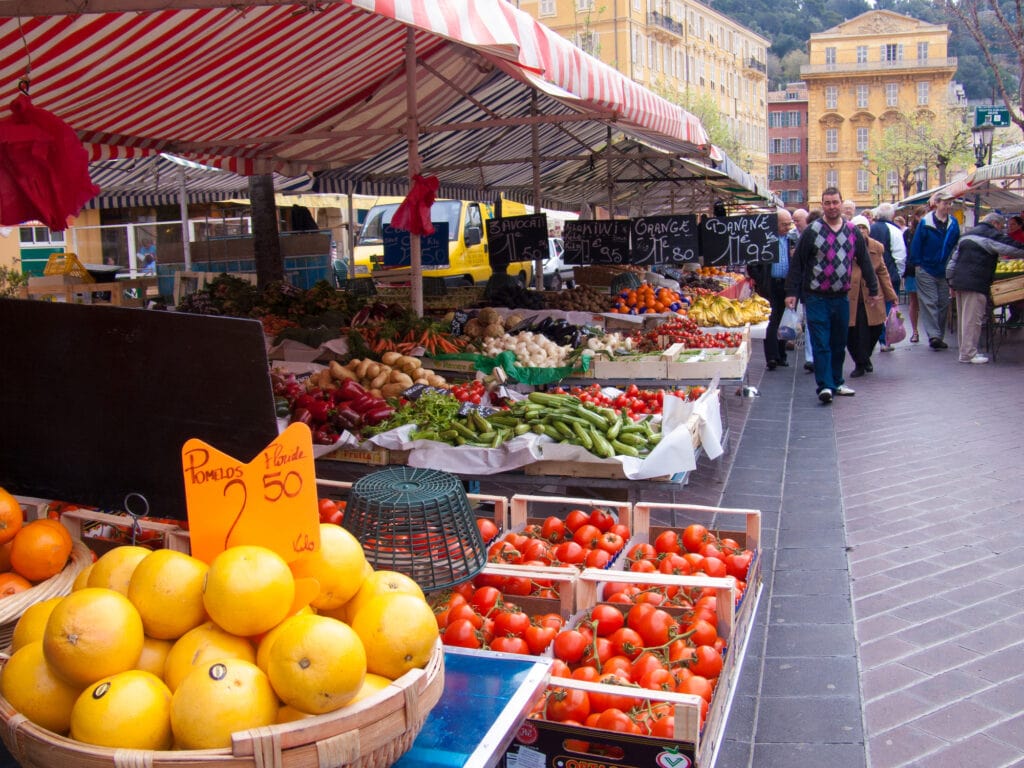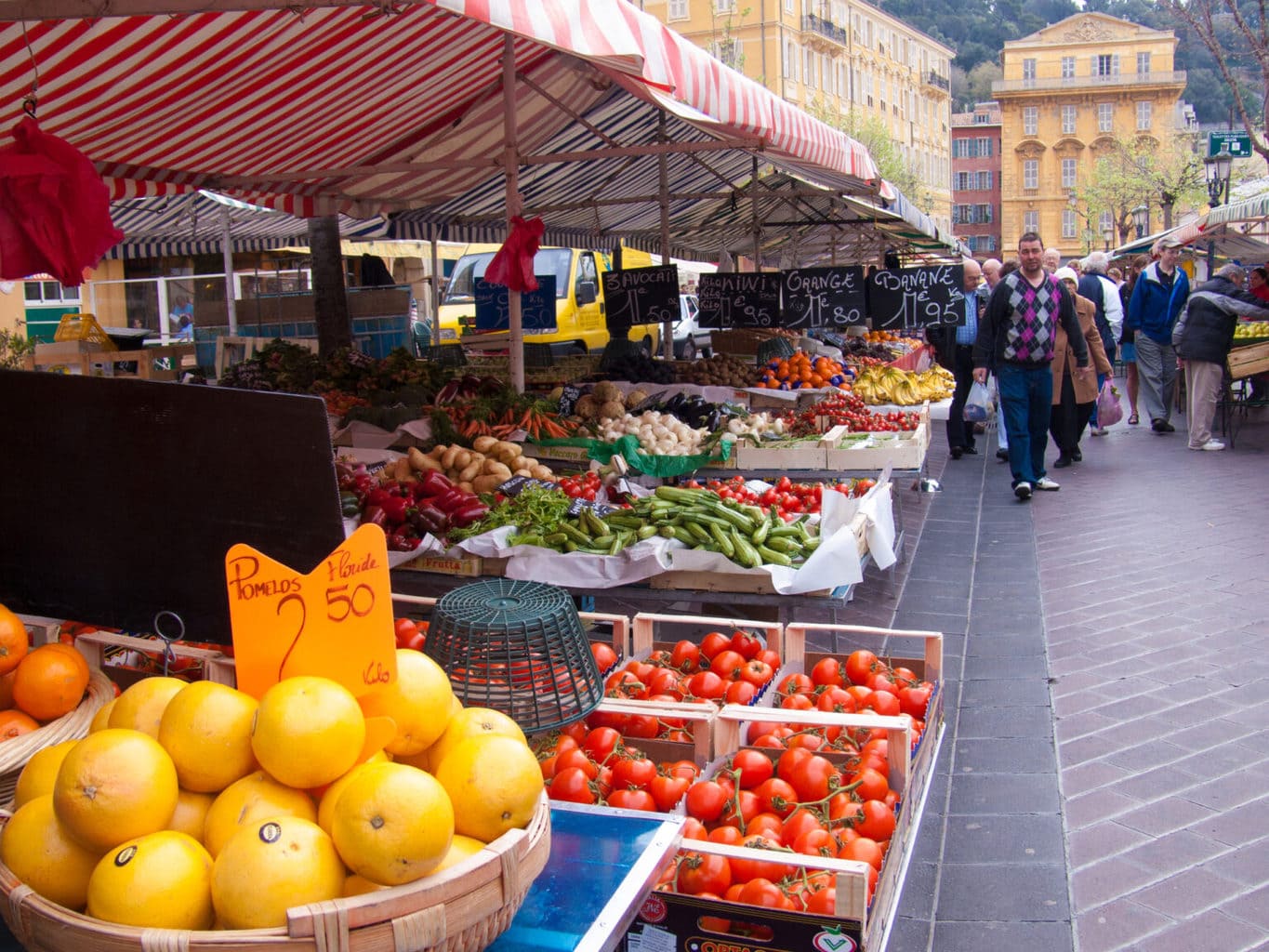 Bon appetit!
What to eat in Brittany
Crêpes and Galettes
Here in Brittany crêpes are sweet super-thin pancakes made from all-purpose flour and mostly served with traditional things like lemon and sugar, fruits and cream or with the perennial French favourite Nutella. Hubs of course add Maple Syrup to his (Canadian naturally) but I do like the lemon and sugar option.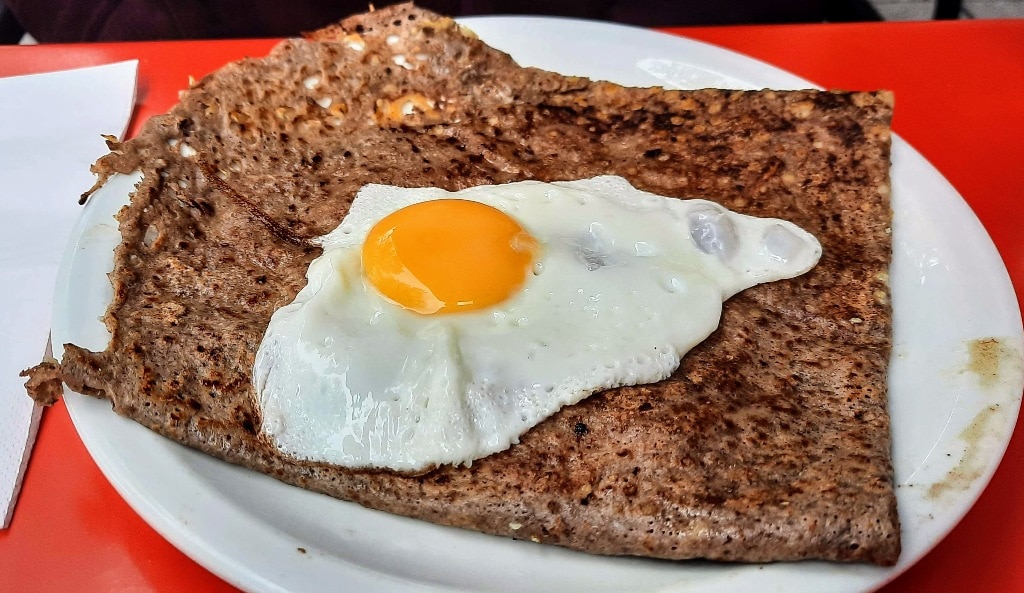 A galette however is a savoury pancake made from buckwheat flour. Buckwheat is related to other grains like wheat but luckily for those who are celiac, it is completely gluten-free.
The galette is served with savoury fillings from tartiflette (scalloped potatoes on steroids) to breakfast favourites such as ham, cheese and eggs. Depending on which restaurant or take out place you buy them they range from super thin and sort of crispy to slightly thicker and chewier. Both versions are fine by me.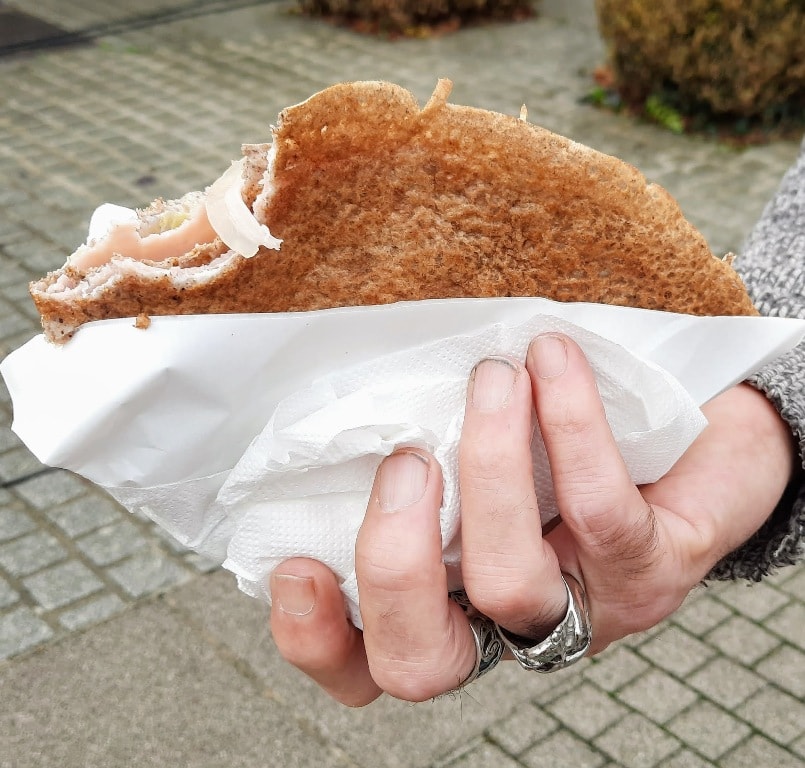 Galette-saucisse
Almost every galette street food van or café serves a galette-saucisse. This is simply a really good pork sausage served up hot in a cold galette. Locally here in Lassay les Chateaux, the vans serve it with a few different sauces. You could have the standards: Ketchup, mayonnaise, BBQ, steak sauce or andalouse and if you like it, hot – Samurai.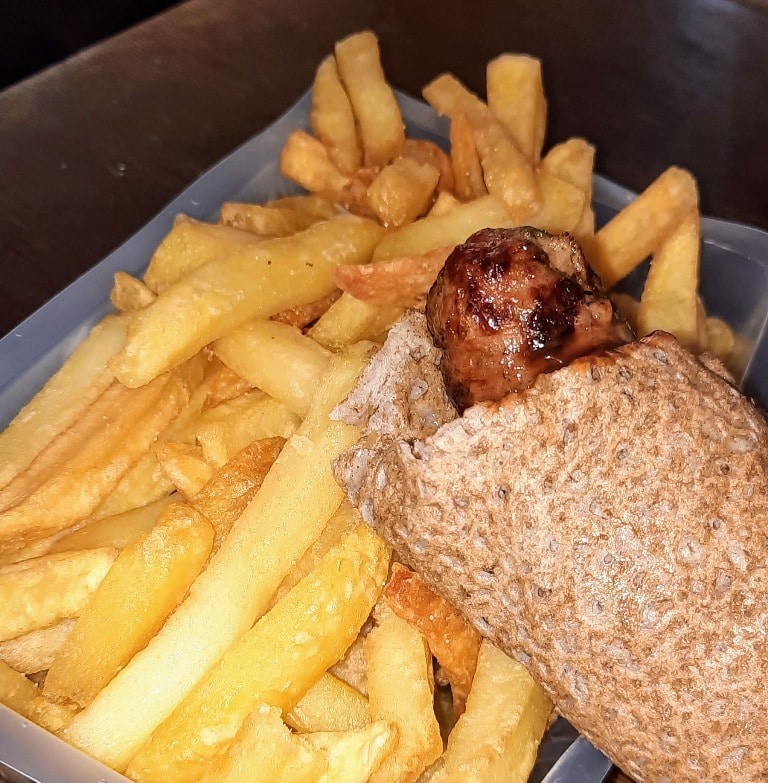 Sauce Andalouse
Sauce Andalouse is very similar to Thousand Island dressing. It's a sweet tomato/mayo-style sauce that tastes great on anything really. The French add it to frites, salads, sandwiches and seafood.
Sauce Samurai
Samurai sauce is a spicy concoction of mayonnaise, ketchup and a hot sauce such as harissa or Sambal Oelek.
Salt
It may be somewhat mundane to North Americans but here in France salt is highly prized and in particular the salt of Guérande. The lagoons in Guérande have been harvested for their salt since the 3rd century, during the Roman period and probably earlier.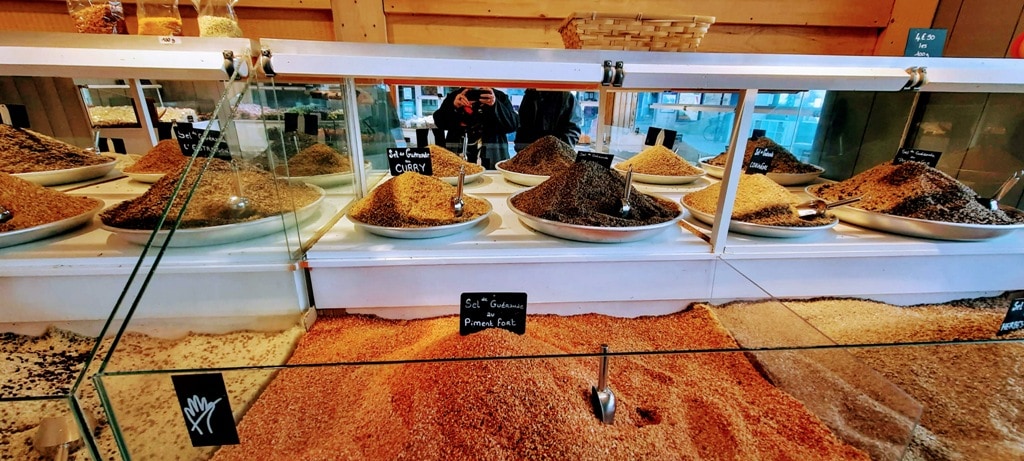 Thanks to a salt tax on butter created anywhere else the Breton salted butter became a much-in-demand item. A preference for sea salt-laced butter grew in the region and around France.
Fleur de sel
Known as the most expensive salt in the world it is a finishing salt with a crunchy texture that is used to season finished food – think salted caramel.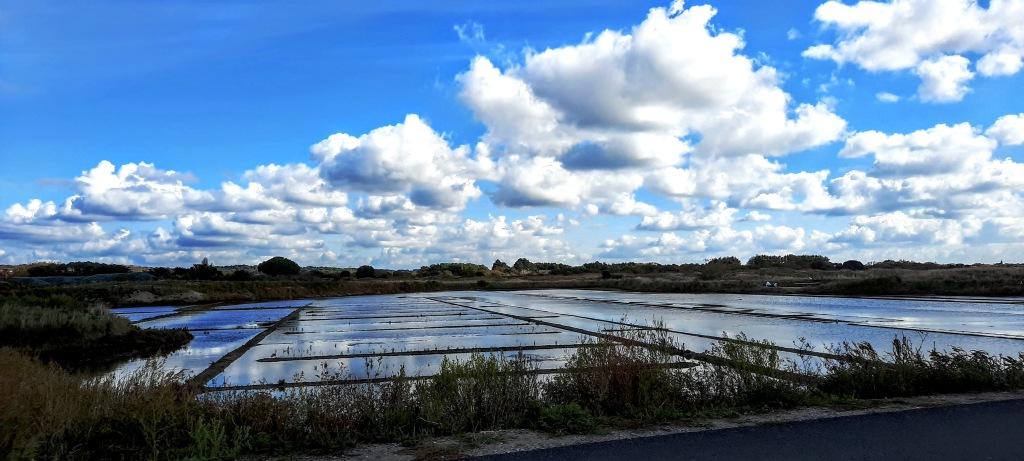 Crêpe dentelle
In 1886, when a crêpe maker forgot to take a crepe off the griddle she rolled up the crispy crepe and invented the crêpe dentelle. This delicate snack requires that the crepe is rolled up 8 times and the resulting biscuit is called a Gavotte in tribute to the traditional Breton dance.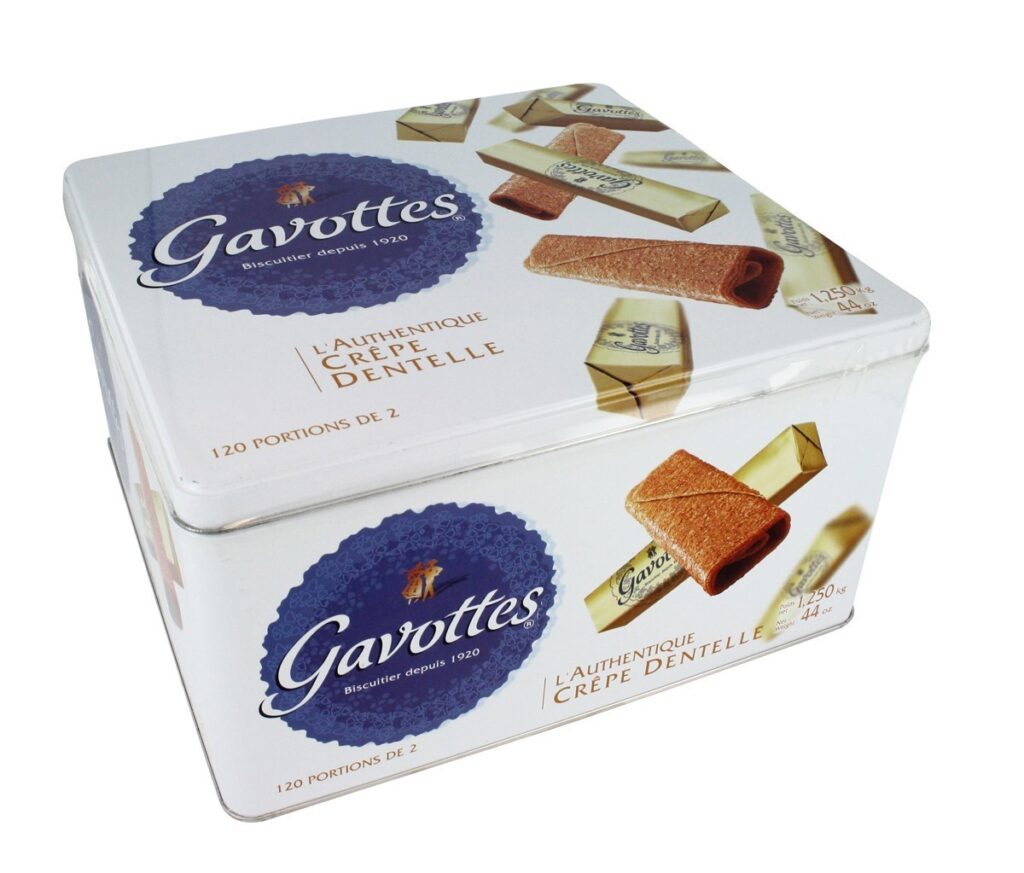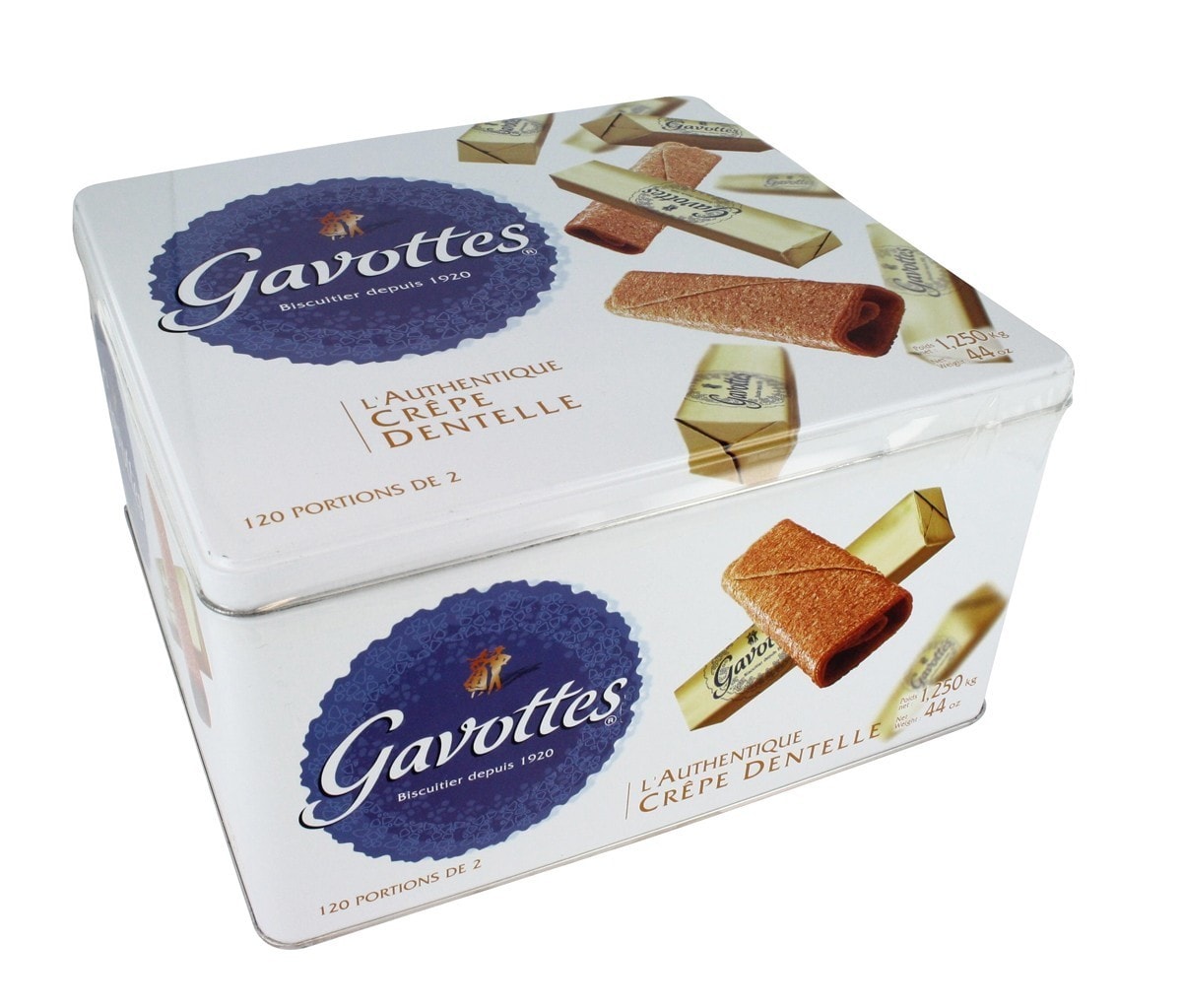 Salted butter
Le beurre salé de Bretagne (salted butter from Brittany) comes in demi-sel which is half-salted to fully salted with large Guerande salt crystals. Shapes will range from simple rectangles to hand-shaped pyramids and rounds. These are two magnificent kinds of butter that are loved by chefs around the world.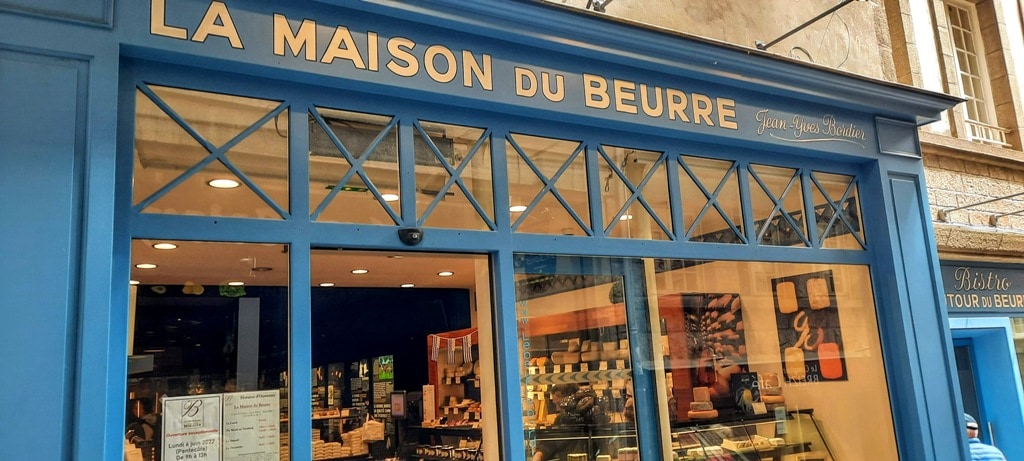 Le Beurre Bordier
Maison du Beurre creamery created Le Beurre Broder in Saint-Malo. This hand-kneaded butter is considered one of the finest in France.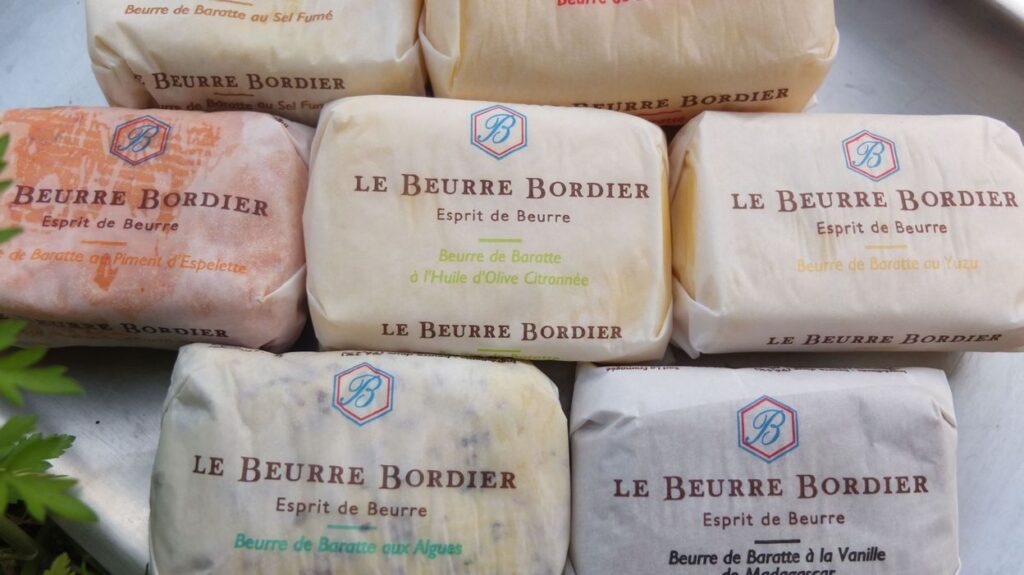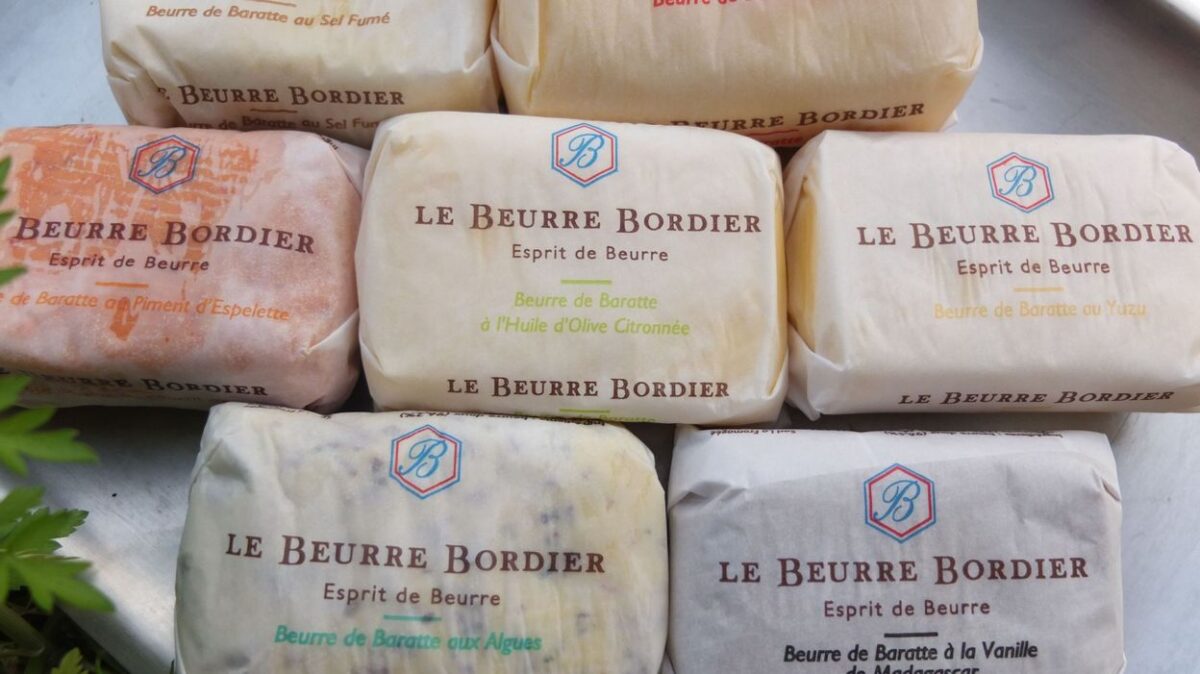 Beurre de Ponclet
This is a raw milk butter produced from an exclusive breed of cows that graze near Mont d'Arrée. The cream is matured cream for three days before it is hand-churned and beaten. It is said that the flavours change according to the different kinds of milk used in its making. This butter is not sold in stores and can only be specially ordered.
Breton desserts
Kouign-Amann
When I first saw the Kouign-Amann (pronounced queen a man) on a baking show in the UK while housesitting I thought that's an absolute must. So it was one of the first things I looked for in Brittany when I arrived.
My first impressions were meh – looked like nothing really a sort of shiny round pastry. However, the real test was in the eating, heavenly. Crunchy on the outside and meltingly soft on the inside it quickly became addictive.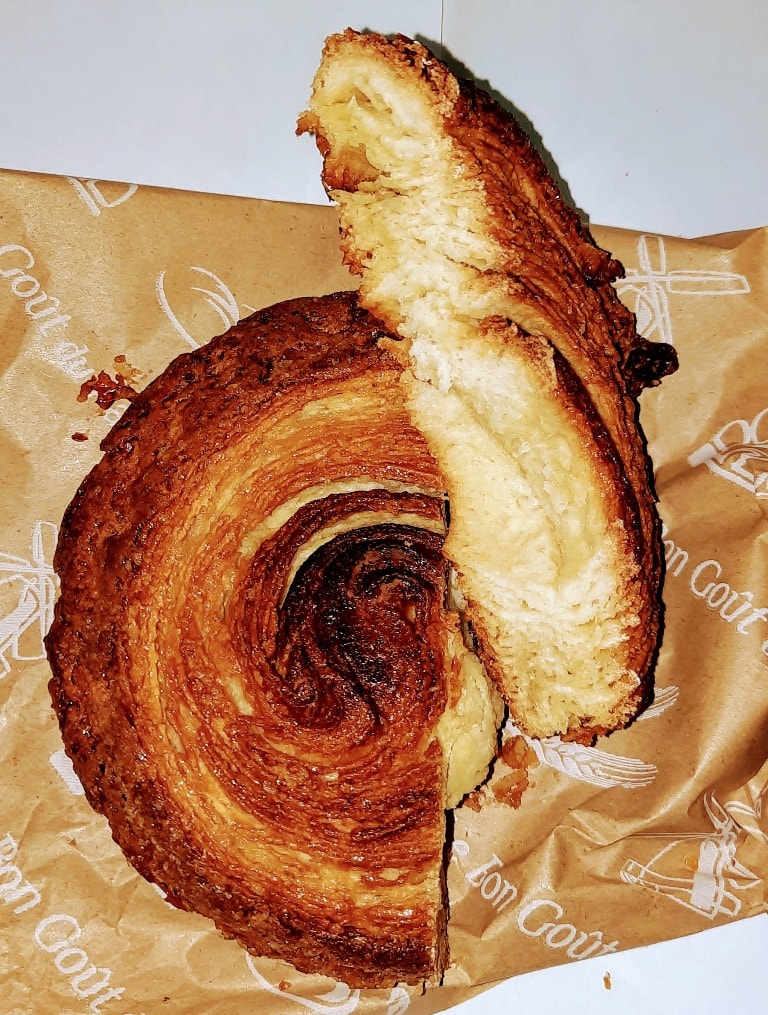 It is made with butter, sugar and a yeasted dough that bakes in soft layers until the butter melts and the sugar becomes caramelized. The recipe is quite strict in its ingredients which requires a ratio of 40% dough, 30 % butter, and 30 % sugar.
Caramels au beurre salé
Salted caramel is all the rage these days and foodies seek them in all kinds of recipes. Traditional French salted caramels are made with Breton Salted butter, heavy cream, sugar and some fleur de sel. Simple and totally extravagant.
Gâteau Breton
A simple circular shortbread style biscuit that was invented as a traveller's biscuit because it would keep for several weeks. The biscuit or Gâteau Breton must contain 20% butter to be called by the name and it can be filled with prunes or salted caramel it even has its own trade guild or confrérie (trade guild), which defends the unique recipe.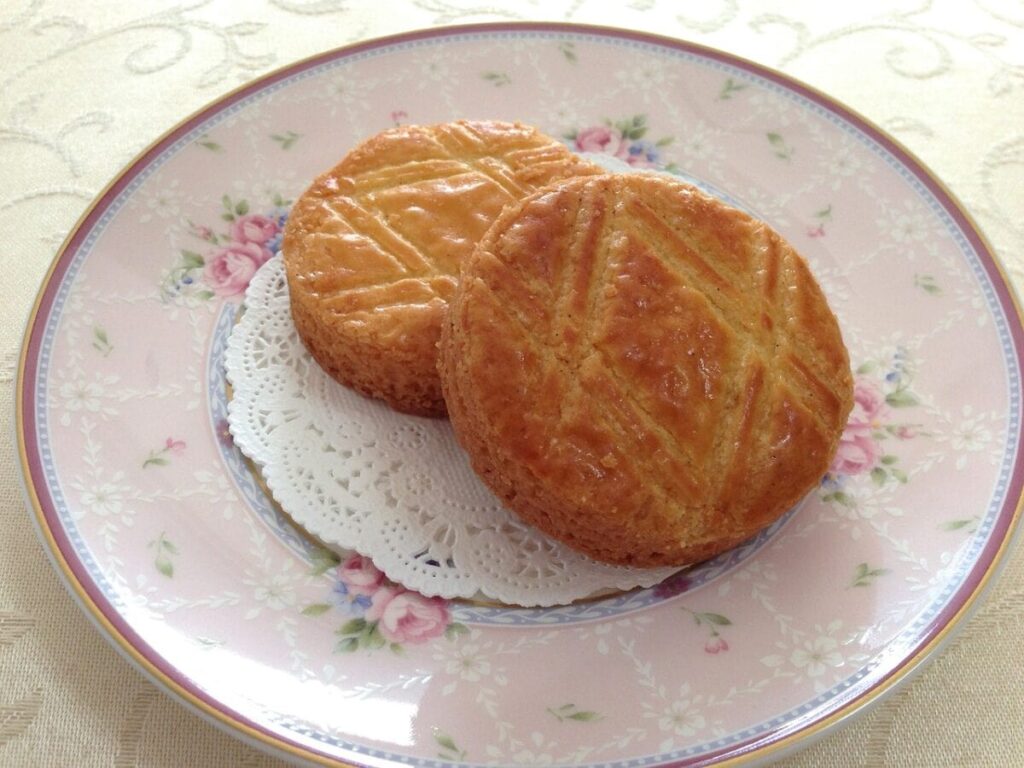 Fondant Baulois
This Chocolate desert has a meringue-like crust and the fondant or custard has a delicate hint of salted caramel. Only buy the authentic version in a pretty blue and white box with a red seal.
Far Breton
Is a smooth thick custard of eggs and milk and is found in virtually every patisserie (bakery) throughout France. It usually contains prunes or plums. Since this is not a fruit found in Brittany it may seem unusual. Legend has it that the inhabitants of Agen (where plums are grown) traded their plums and prunes for Brittany's cod fishing bounty.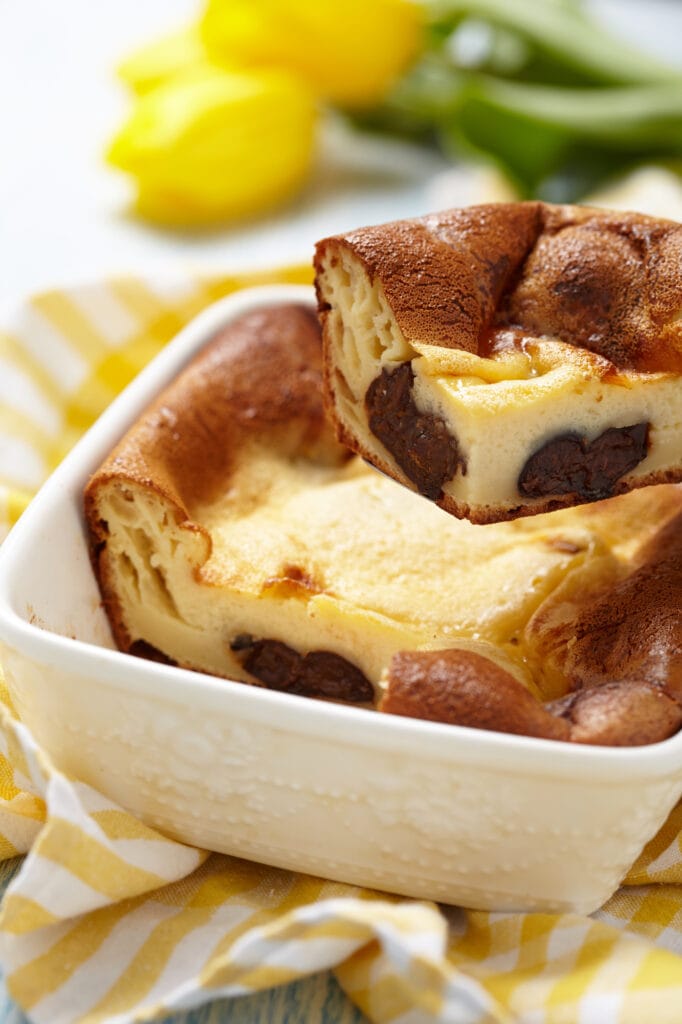 What to drink in Brittany
Cidre – Breton Apple and Pear Ciders
Cider has been made here in Brittany for hundreds of years, apples and pears were brought to the area by Norman explorers who learned about it from the Spanish Basque people. Brittany grows over 600 varieties of apples and some of the best come from the region around Quimper which has been granted an Appellation d'Origine Controllé certification in 1996, Brittany's first cider AOC.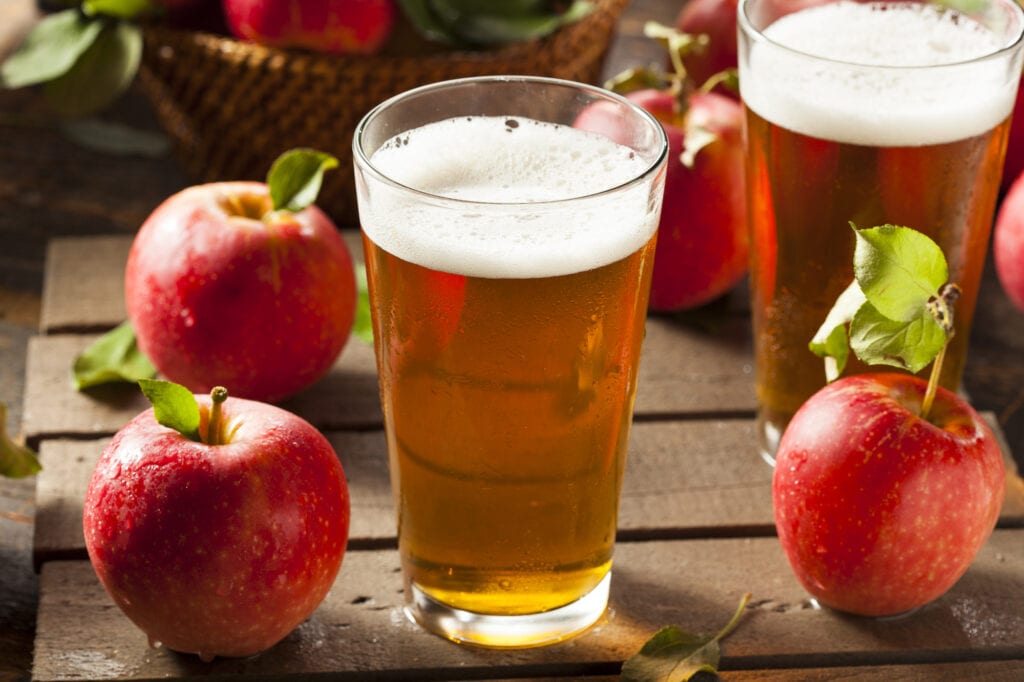 Cidre de Poiré & Breton Perry
Perry is a sparkling pear wine that goes back hundreds of years in Brittany. Forgotten for a while due to the popularity of Apple Cider the type of pears used almost disappeared as they were wild and not cultivated. It is now being brewed from specific perry pears and its manufacture was included in the inventory of intangible cultural heritage in France in 2019.
Cidre de Poire is created in the same way that Apple Cider is made. The pears or apples are fermented with yeasts used to ferment wines. This allows the juices to turn the sugar into alcohol and et voila – bubbly sparkly cider.
It is very important here in Brittany that you choose the right Cider to go along with your galettes.
Sweet cider – 1.5-3% alcohol goes with pancakes or desserts and is very fruity. Semi-dry cider is 3-5% vol. while dry or brut cider is 4% or higher and slightly more bitter and more sparkling. It usually accompanies galettes.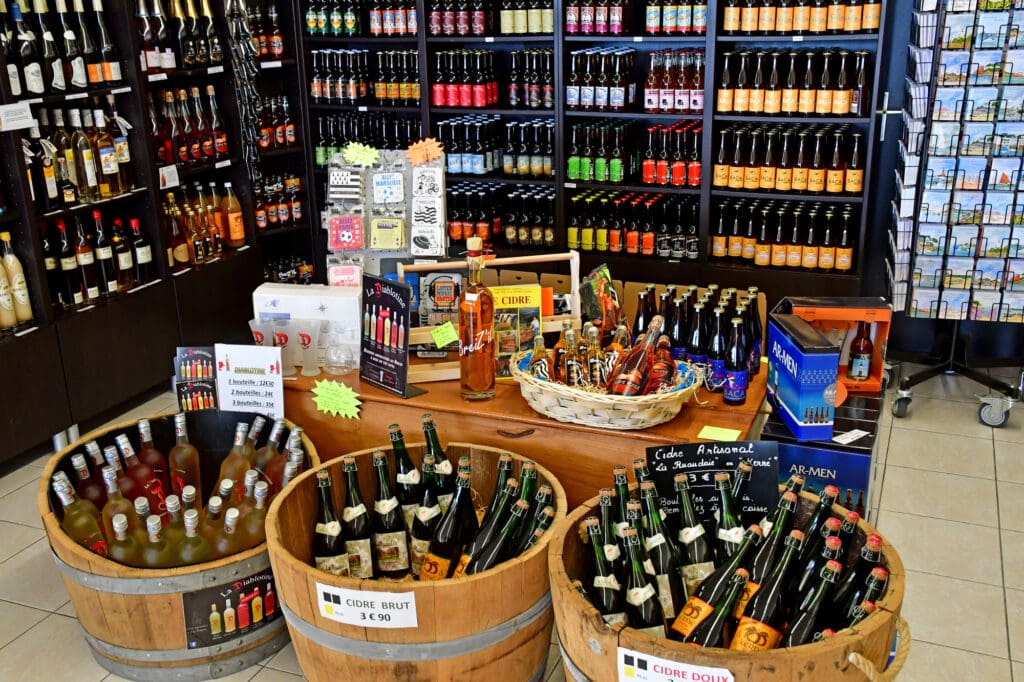 Eau-de-vie – Fine de Bretagne
This is a distilled liquor made from cider that has been aged in oak barrels for a few months. The aged cider is then distilled in copper alembics and then that liquor is put into oak barrels for ageing and kept for over 10 years. It is called Eau-de-vie to distinguish it from the famous Calvados of Normandy.
Pommeau de Bretagne AOC
A minimum of 75 varieties of apples goes into the Pommeau de Bretagne. This lovely French aperitif is made from 2/3 apple juice and 1/3 cider brandy and aged in oak barrels for at least 14 months. It has an Appellation d'Origine Contrôlée, and it should always be enjoyed as an aperitif or digestif at 8°C to 10°C as an aperitif or digestif.
Chouchen or apple mead
Mead is one of the oldest drinks in the world produced from fermented honey but the Breton mead includes apples and is called chemillard or chamillard in areas where Gallo is spoken. This 13% vol. spirit, with its golden colour, should be drunk cold as an aperitif or digestif.
Royal Guillevic or "Breton champagne"
This is really a cider but it has earned the Label Rouge in its use of Guillevic apples, grown near the Gulf of Morbihan, and its delicate flavour is a firm favourite here in Brittany.
Whiskey
As a Celtic area, Brittany (it should come as no surprise) has recently started producing some amazing whiskeys. In particular, they have created a 100% buckwheat whiskey called EDDU which literally means buckwheat in Breton. This whiskey is made from buckwheat grown completely fertilizer and chemical-free.
Breton Beer
Craft beer is brewed in Brittany although prior to WWII there was a huge variety of beers available it died out and is now reborn. There's a Buckwheat beer called Black Harp with a liquorice undertone, Ambre is a beer that combines roasted and unroasted malt to produce a clear, reddish drink. The Rousse beer uses a mix of both pale and more toasted amber or caramel malts and Blanche is a wheat beer. Many Breton beers add in a variety of additional ingredients from elderberries and honey to herbs, spices and seaweed.
Brittany's seafood
Cotriade
This popular coastal fish stew or soup was originally a fisherman's dish dating back to the 1870s. After each fishing expedition, the fishermen were given a small amount of the catch which was called a cotriade and it was from this that they made a hearty meal for the family. The more variety of fish in a cotriade the better. It is made with potatoes, tomatoes and seasonal vegetables.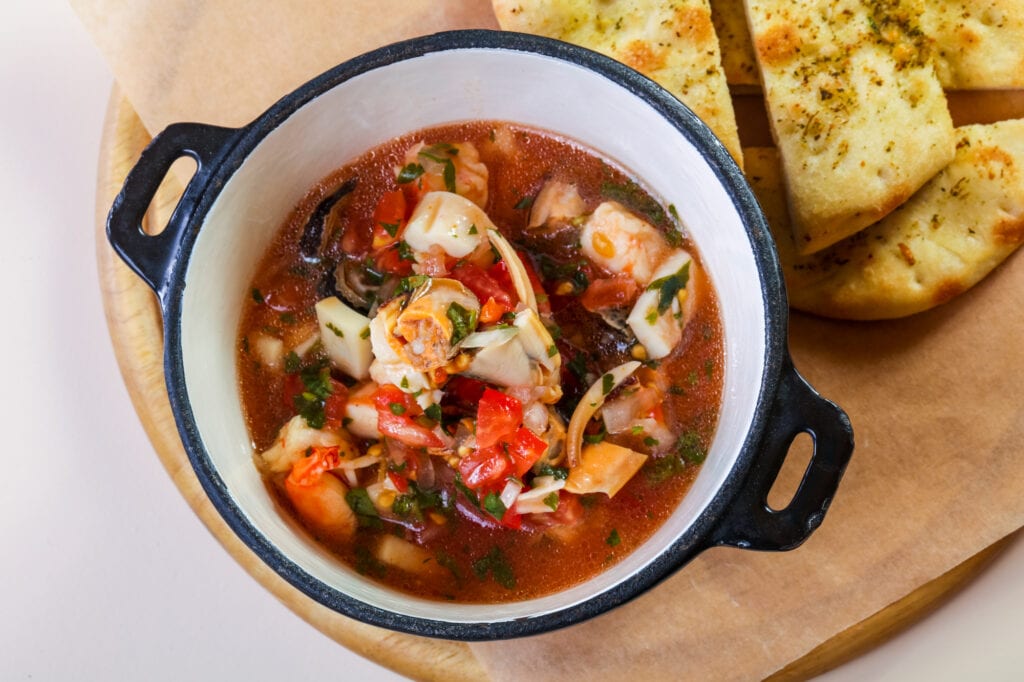 Brittany – Cancale Oysters
Cancale is renowned worldwide for its oysters and produces over 15,000 tonnes of them every year. Farmed for centuries since Roman times they are served everywhere in Cancale. Usually served raw with some lemon they are slurped merrily all over the place. Not my favourite I have to say and I always wonder who first discovered the joys of this wet, cold jellyfish type of shellfish?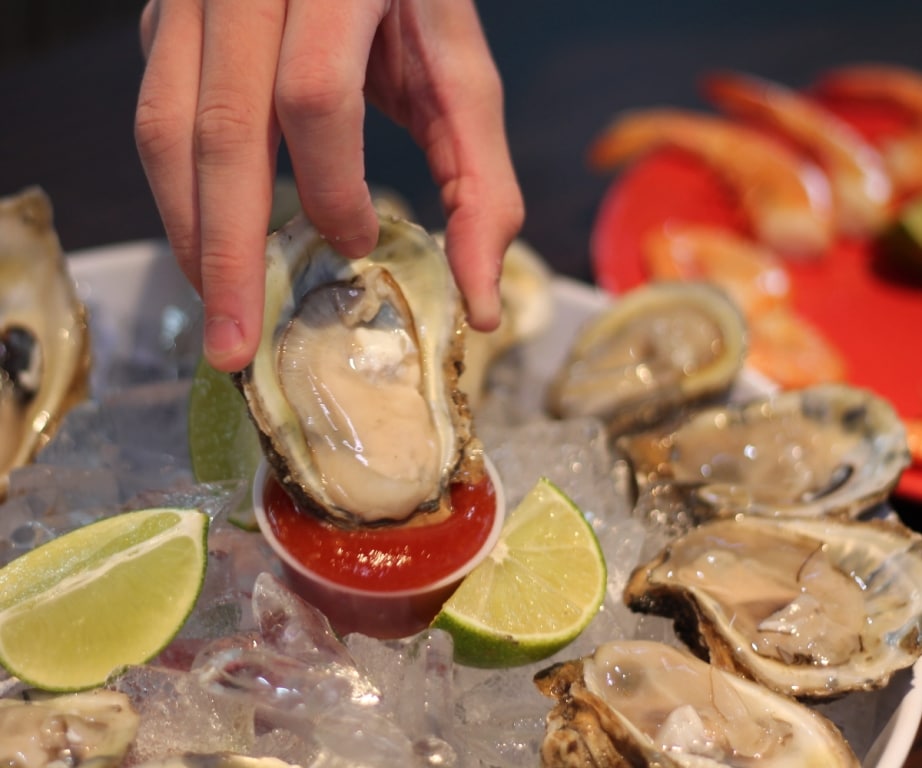 Breton Sardines
You may think tinned sardines are just one of those cheap nourishing foods that you can buy in any supermarket. Here in Brittany is where the canning of these little delicacies began.
In the 1800s French fishermen off the coast of Brittany used to fry sardines and preserve them in clay jars. At the time the French government was looking at a way to preserve the fish to be able to ship it across oceans. Along came a Chef from Paris called Appert who was friends with a Breton fisherman.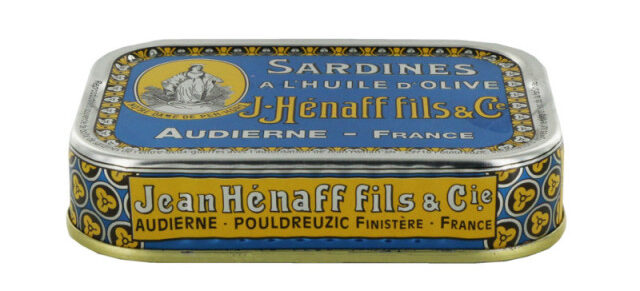 The result of this friendship was Appert creating a method to can the sardines and the market grew exponentially. In 1836 over 30,000 tins of sardines from Brittany were sold throughout the world and France became the leader in tinned-sardine sales.
If you have travelled to Spain or Portugal you know that much of the best seafood including sardines are canned and that good tinned sardines actually get better with age. One of the best comes from La Quiberonnaise, which are aged for a year.
Coquille Saint Jacques
These tasty little scallops served in a shell used to be the highlight of a dinner party in the '70s and here in Brittany they still reign supreme.
Brittany's best scallops are to be found in the bay of St Brieuc and you'll find them served in restaurants all along this section of the coast.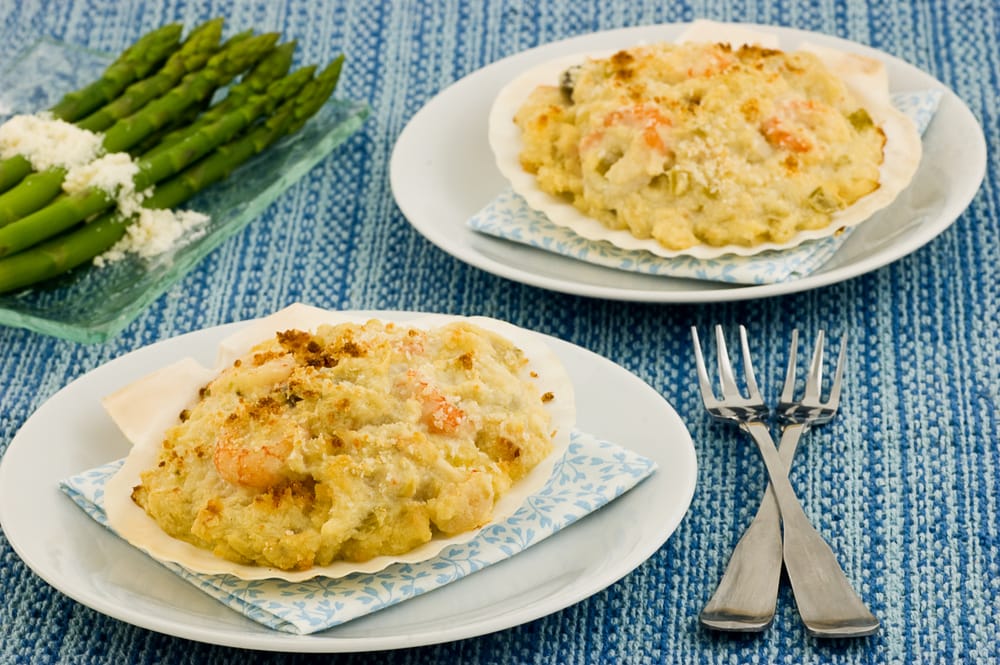 Breton Lobster
The cold waters off the coast of Brittany make for some of the finest lobsters around. Breton lobsters have a black shell with petrol-blue highlights. Served hot or cold this is a real treat for the lobster lover. Here in Brittany, it is usually served with a mayonnaise-based sauce called Amoricaine.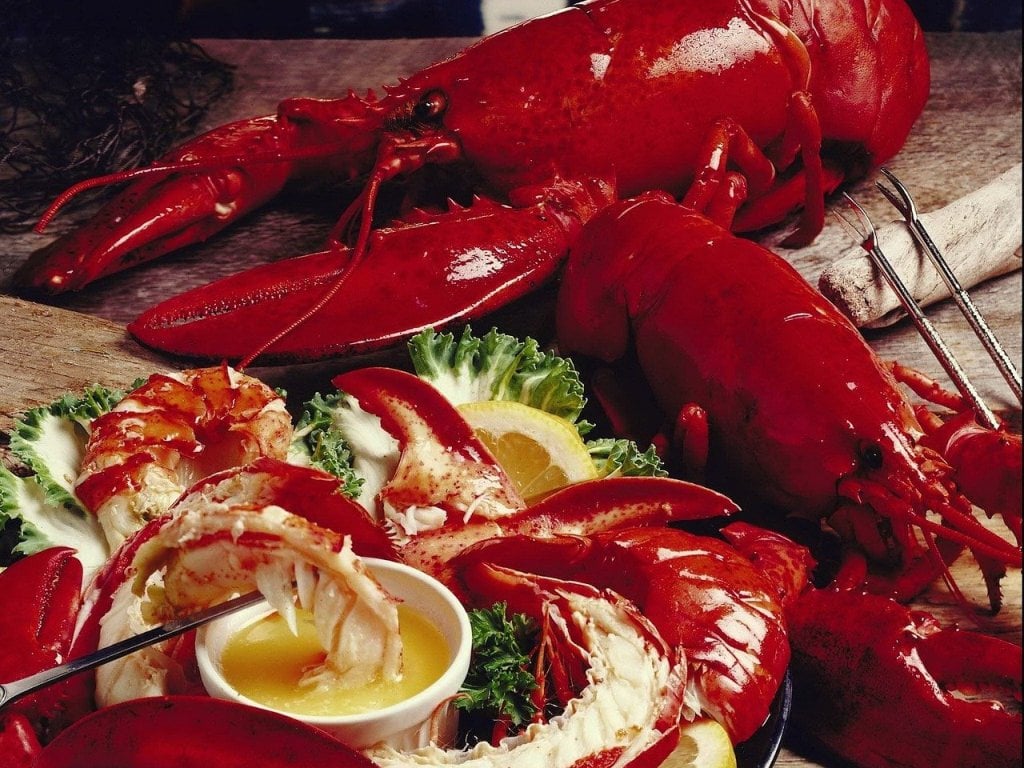 Amoricaine Sauce
Armoricaine (or American) Sauce is a classic French sauce that contains white wine, shallots, tomatoes, garlic and herbs and is flamed with cognac. It was created by a French Chef who had worked in the US and was named after his experience.
Moules Frites
Anybody who is a good food lover has heard of moules frites. A speciality of Brittany this dish is simply steamed mussels that are cooked in white wine with shallots (moules marinières) and served with the famous French fries.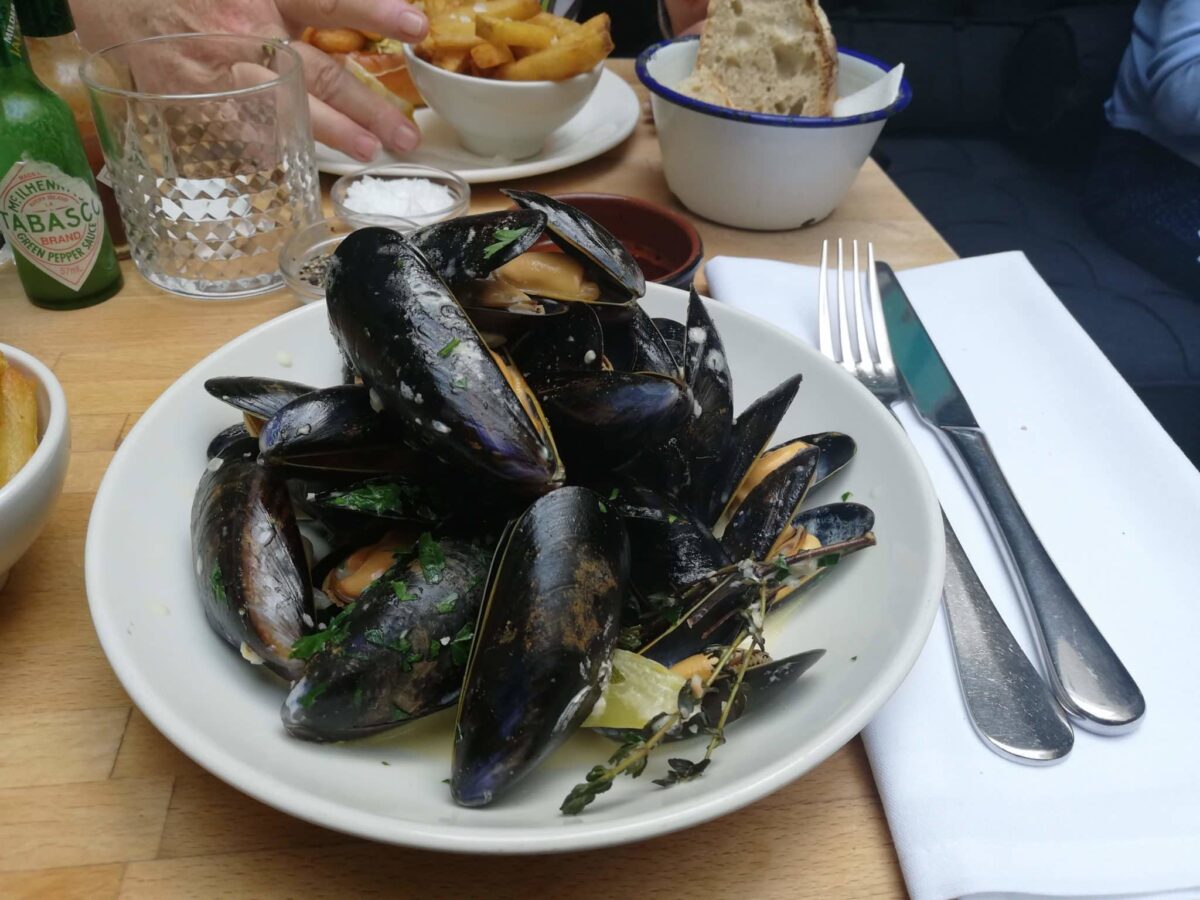 I was never a fan of mussels until I tried the fresh ones in Ireland and I changed my mind immediately. What a difference in flavour and tenderness I was amazed and am now a mussel fan.
Bigorneaux (winkles)
These tiny little sea snails are so small the meat has to be dug out with a pin. They are simply boiled in seawater and when served you dip them in garlic mayonnaise. Hubs tried them and found them a bit rubbery and sea-salty he said, you could taste the ocean but he doesn't think it's something he will eat again out of choice.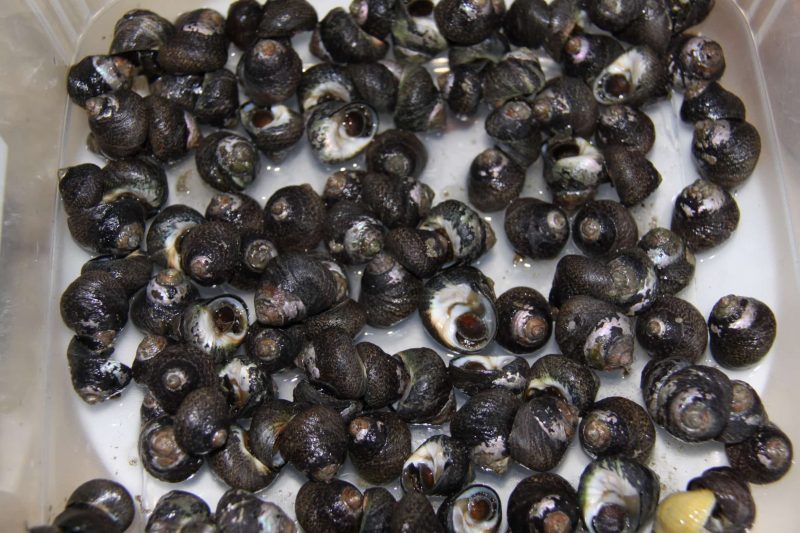 Bulots – Whelks
Another popular treat that has been served in England for centuries, like winkles and whelks are sea snails but bigger. Hubs tried these as well and found them similar in flavour to the winkles.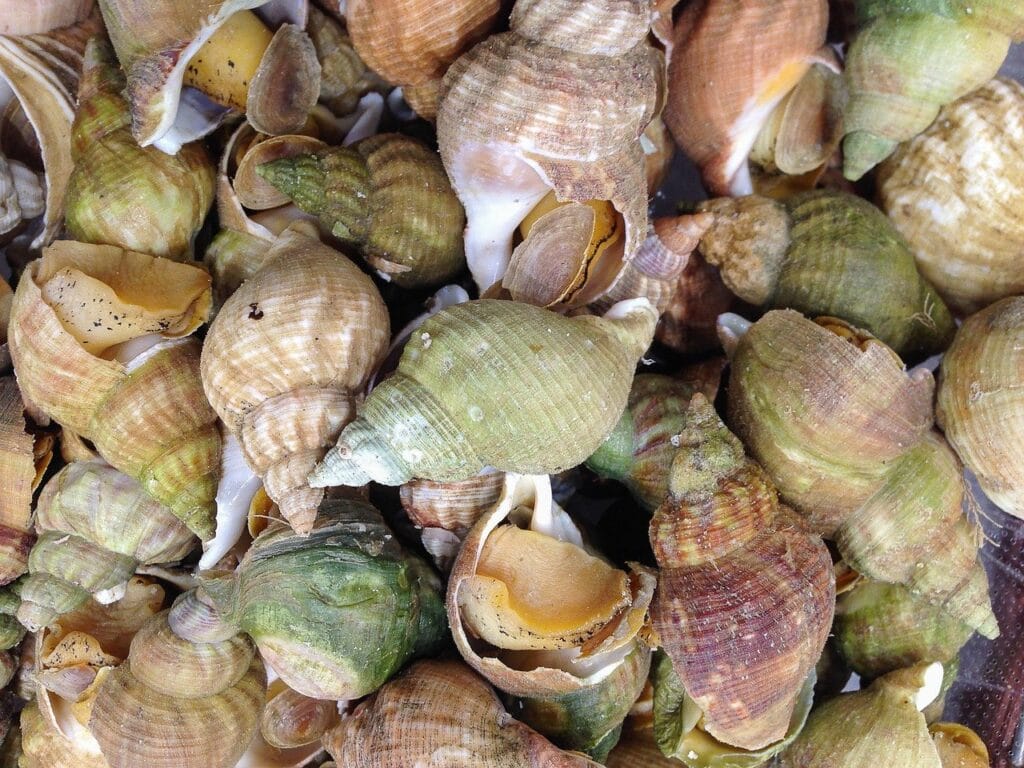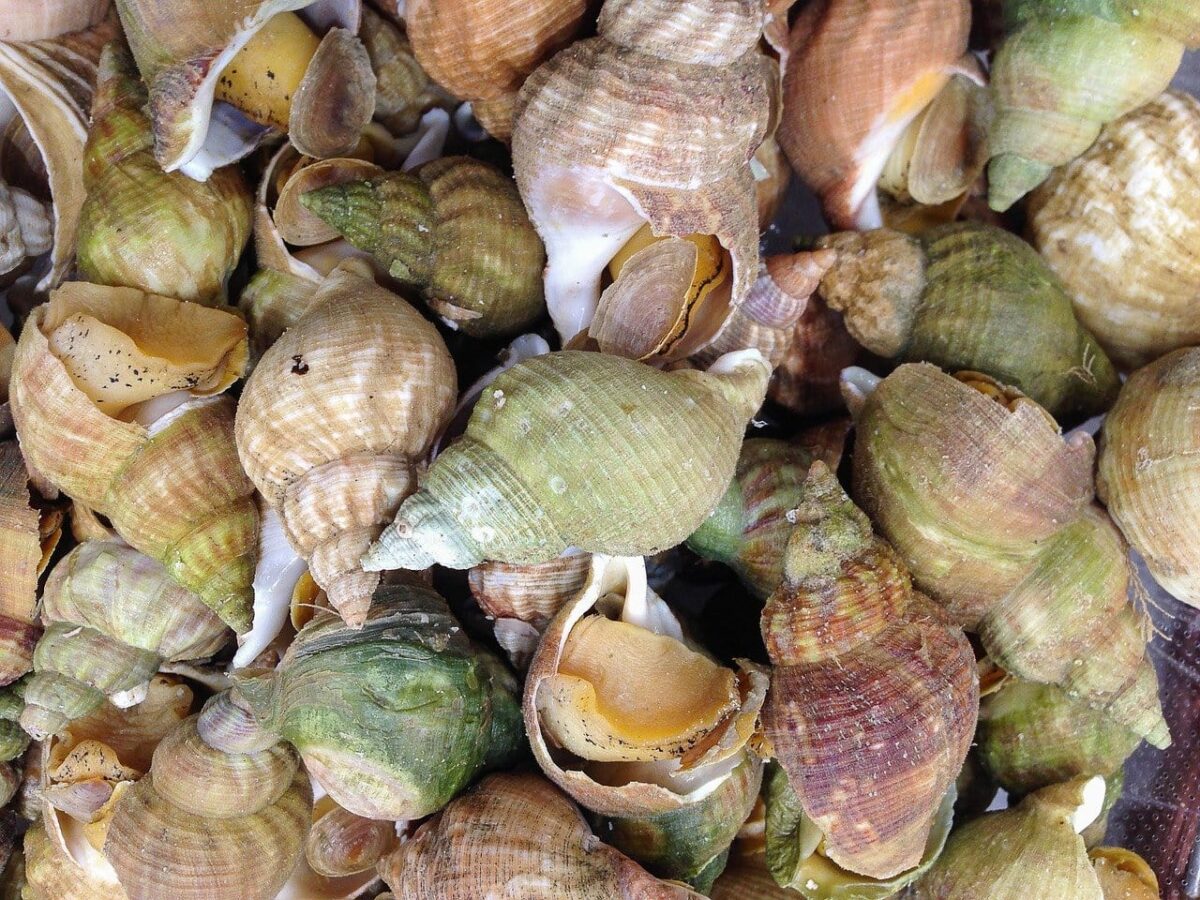 Langoustine
Known by a lot of other names the langoustine can be called a Norway lobster, Dublin Bay prawn, or scampi. It is essentially a small lobster it is small, orange-pink in colour, sweet and delicate and an absolute treat.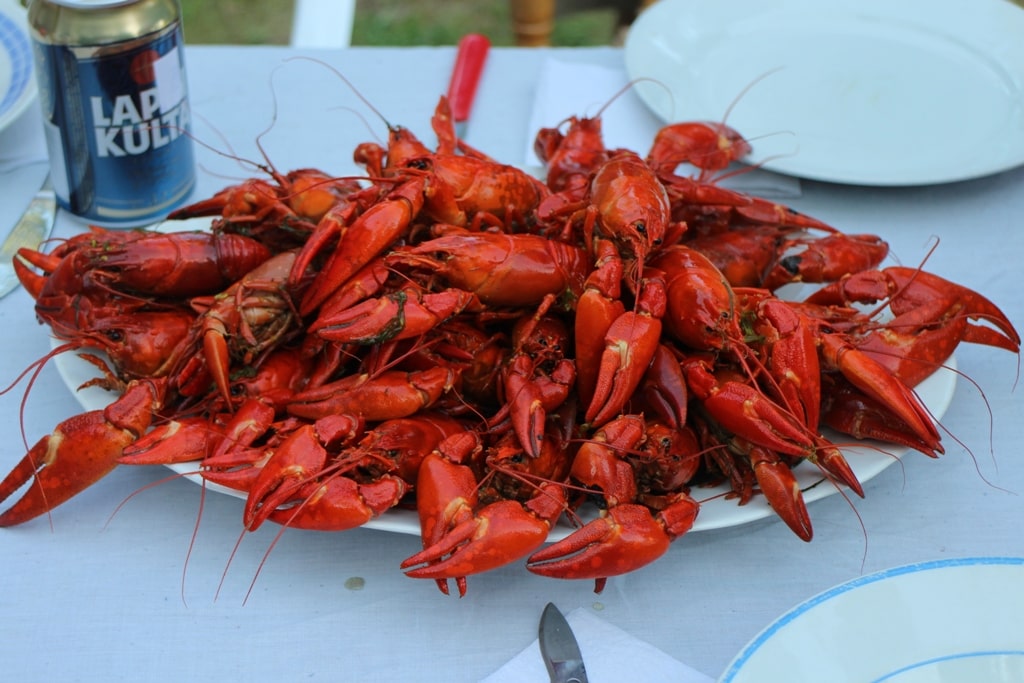 Crab
Brittany is also home to a variety of crabs, such as the common crab, velvet and spider crab. The common crab or tourteau is eaten year-round but the best are harvested in July.
The velvet crab or l'étrille is a small flat red-eyed brown crab they are said to be the tastiest of all the crabs.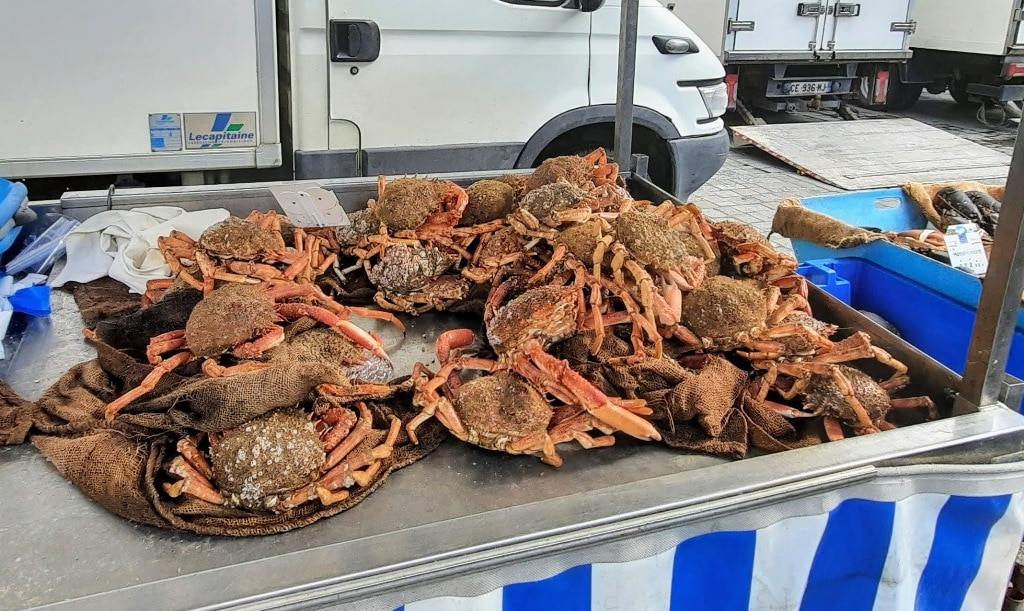 The spider crab or l'araignée de mer tends to be a winter crab and is found hiding in the sand. This may be the ugliest or scariest crab but its exterior conceals a sweetmeat some say is even better than the velvet crab.
Poularde – clams
Poularde is a Breton clam that hubs says isn't as sweet as the Vongole (Italian clams). I wouldn't know since I don't eat them but he loves them dipped in garlic mayo.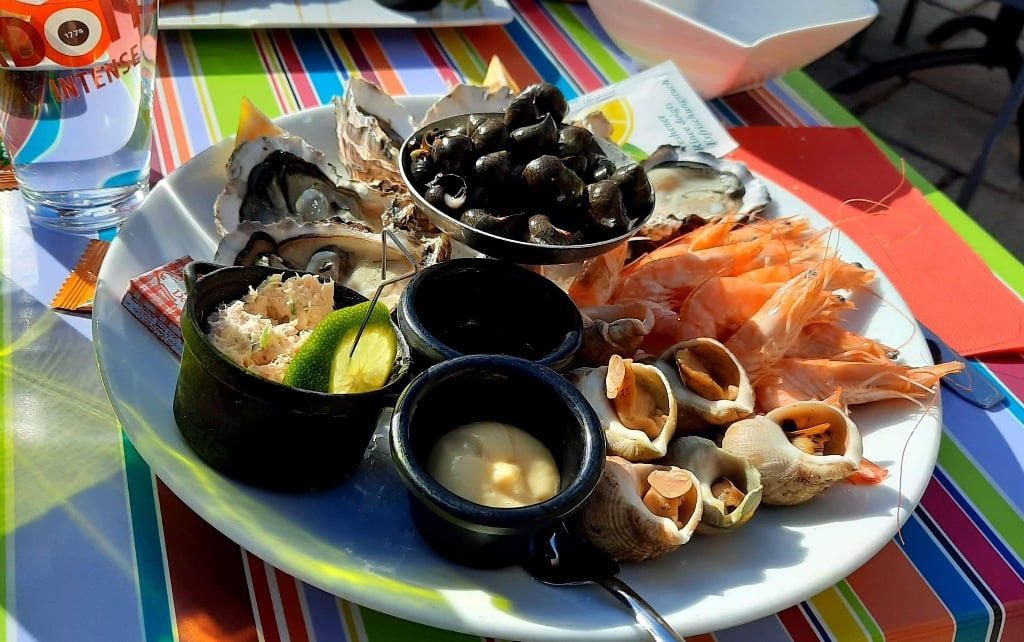 Meat in Brittany
The most popular meat in Brittany is pork because most poor folks didn't have access to beef so having a pig was considered riches and every single part was used.
Salted grease or 'graisse salée'
You may see this on "authentic menus" or in some speciality shops. It is made of pork, chopped and mixed with onions, salt and pepper. It can be eaten with crêpes, used to cook onions and potatoes and spread on a baguette.
Pâté
Breton pâté is also a must-taste, you will see pâté everywhere here and in many different flavours in particular the famous pâté Hénaff which can be found in Pouldreuzic. You can tour the museum and factory and buy some of this world-famous pâté.

Andouille – andouille de Guémené
Guémené-sur-Scorff is a small town in central Brittany famous for its andouille sausage. Easily recognizable with its concentric circles when sliced. The sausages are made from pigs' intestines and stomachs, the sausages are then smoked and hung to dry for months before being cooked in broth. Served with galettes or in a baguette this is a firm Breton favourite. Personally, I find these absolutely horrible both taste and smell wise they are definitely not for this Canadian.

Bacon
Bacon in France is not the same as in the UK or even North America. Made from tenderloin it is found in rounds in most grocery stores and most resembles a slice of ham.
Poitrine is the streaky bacon most North Americans will be familiar with and this can usually be found with the lardons in the grocery. Lardons are simply small nuggets of bacon used in many French recipes they are thicker cut than bacon bits and have more fat.
Kig ha farz
Traditionally Kig ha Farz is served with pot-au-feu which is a French stew and the farz is a sort of dumpling. The Farz though is made from buckwheat mixed with eggs, milk, butter and of course salt which is placed in a muslin bag and then cooked within the pot-au-feu. The resulting "dumpling" can be crumbled into what has been nicknamed Breton couscous or sliced and served with stew dolloped on top.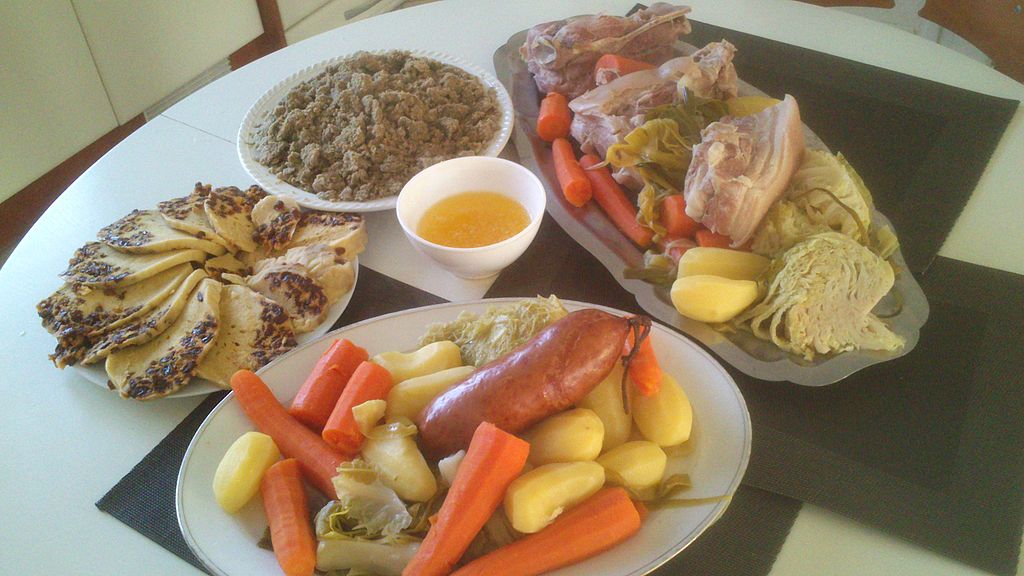 Agneau de pré-salé
Salt meadow lamb comes from Brittany and Normandy and the lambs is raised on the salt marsh meadows. These salty pastures result in highly flavoured meat which is only found between July and February. It is always served rare.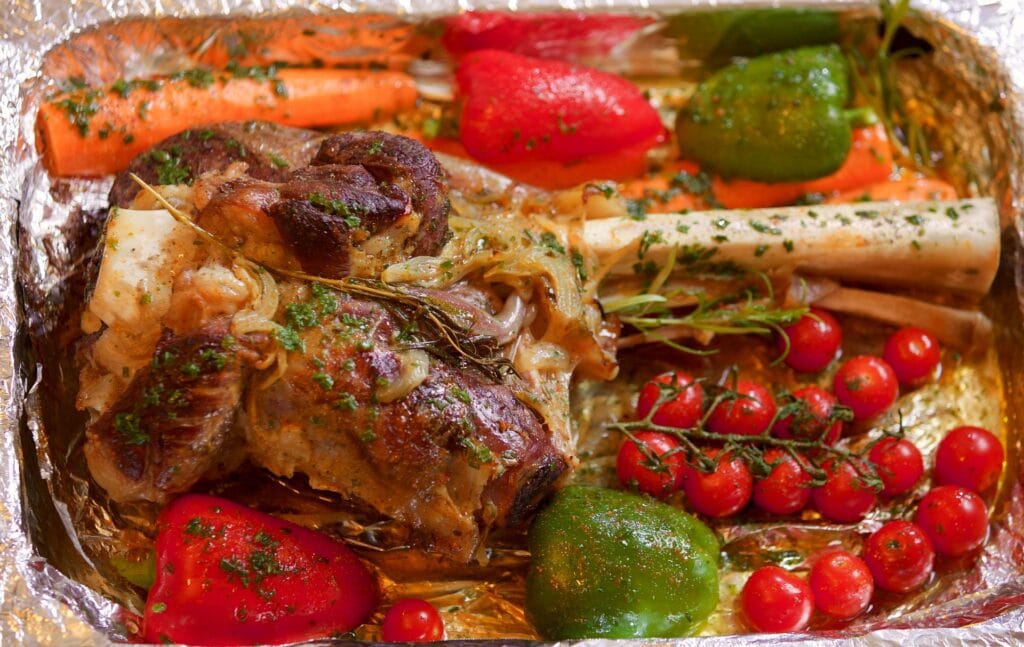 Rillettes
In Quebec, we call them cretons but they are based on this ancient French paté-like paste. They are made from pork slow-cooked until it shreds this mixture is then combined with salt and the fat it was cooked with and served on toast or crusty bread. You will also find all kinds of seafood and duck rillettes.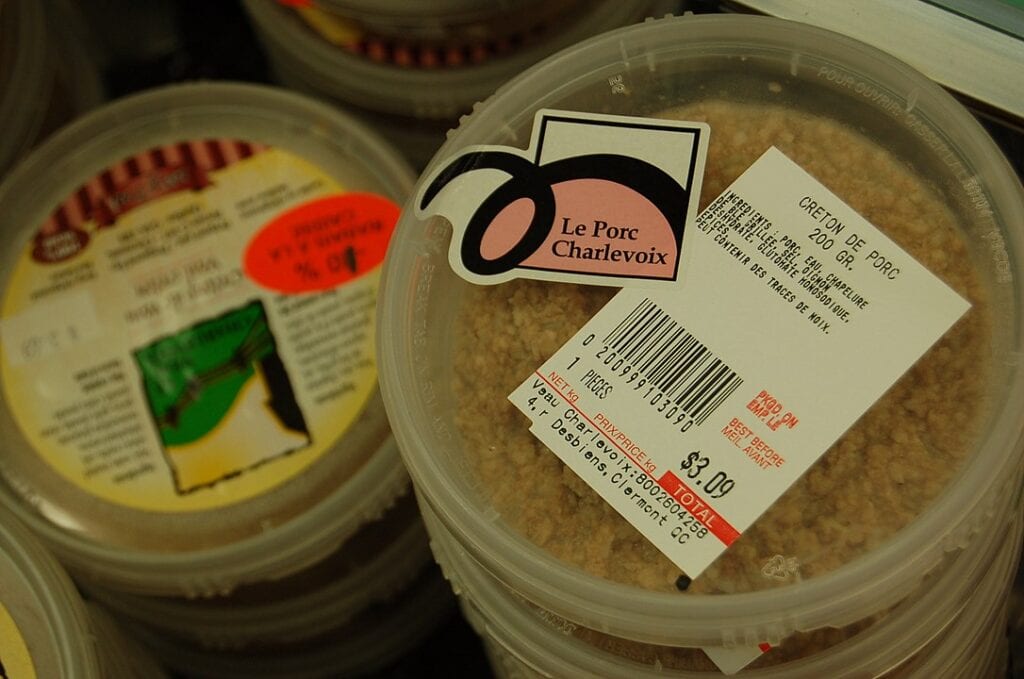 Sea Salad
All coastal people have been eating seaweed for centuries and Brittany's inhabitants have been no different. Seaweed is a growing star in many Chefs' dishes and of course, they are vegan and vegetarian, here in Brittany, you can find wakamé, spirulina, kombu royal, sea spaghetti, lithothamne and the widely used nori and dulse. In all, close to 800 different seaweeds are native to these waters – the richest diversity of such species in the world.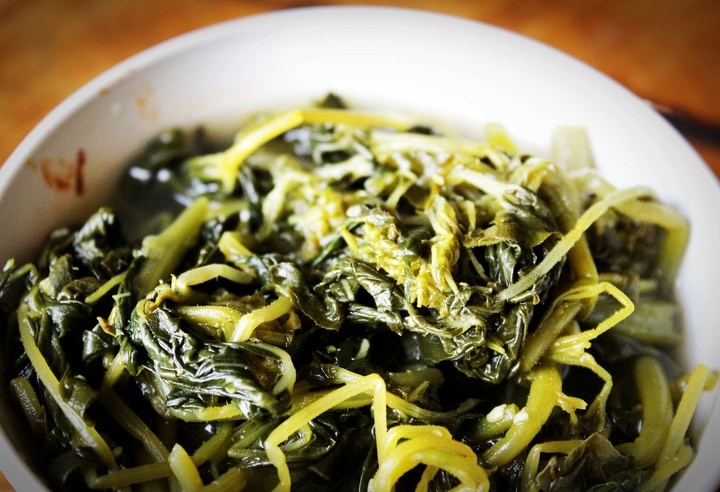 Breton Vegetables
Brittany has hundreds of acres of fertile green fields that produce the majority of Frances' cauliflower crop but is also rightly famous for artichokes, cabbage, onions, potatoes and garlic. White beans Coco de Caimpol are a favourite here and are presented in many dishes.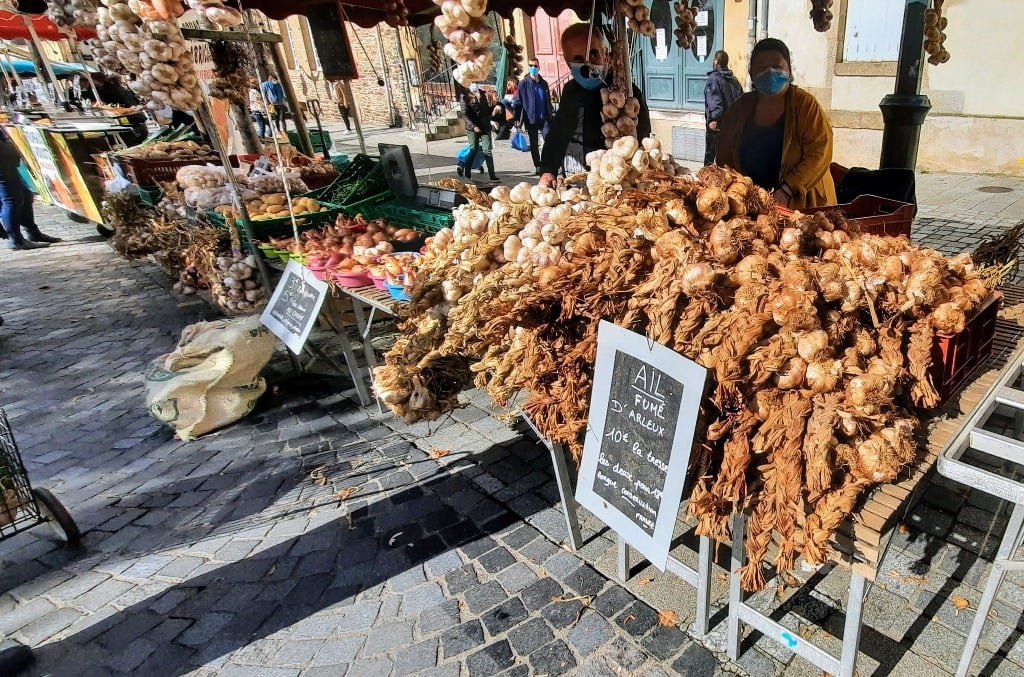 Cheese in Brittany
Brittany is primarily known for delicious cow's milk cheeses. Two of the best cow's milk cheeses here are Saint-Paulin and Emmental. Emmental cheese, originally came from Switzerland but is produced here in Brittany in vast quantities as it is the favourite hard cheese here for everything from pizza to sandwiches and fondues.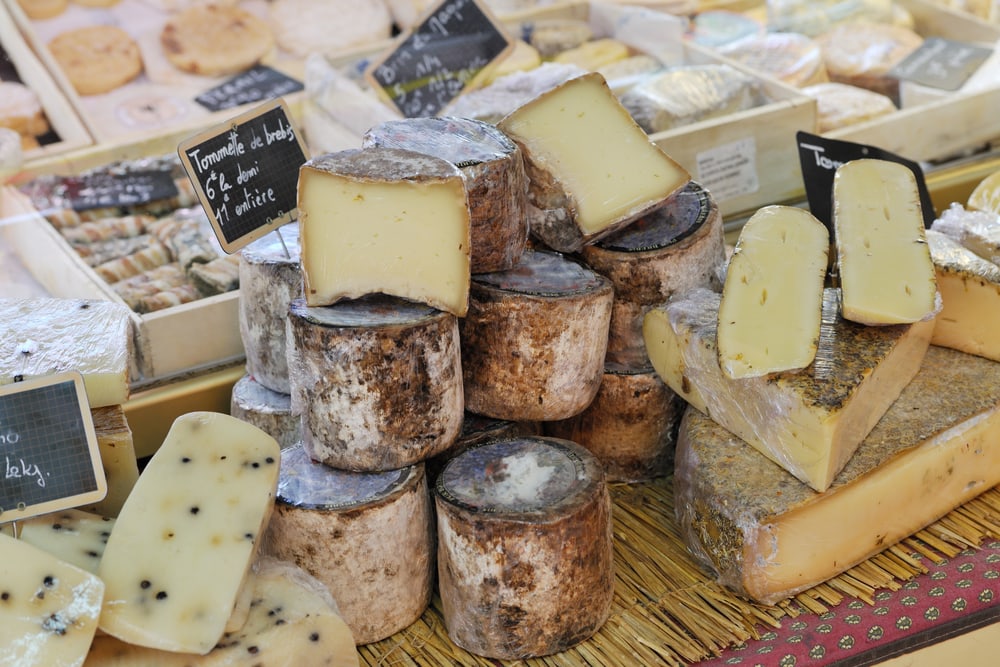 Saint-Paulin is a creamy soft cheese, with a gorgeous orange rind and a sweet, buttery taste that pairs perfectly with fruit or a light wine.
Timanoix is a cow's milk cheese that is semi-soft and produced by Trappist Monks at the Abbaye Notre Dame de Timadeuc.
Another Abbey-produced cheese is L'Abbaye-de-Campénéac which is another full fat pressed cheese but with a slightly sourer taste. These cheeses have washed rinds which simply means the rinds were washed with salt to encourage the right bacteria to flavour the cheese. These cheeses are often very stinky and powerfully flavoured.
Abbaye de Timadeuc is produced by the monks at the Abbaye Cistercienne Notre-Dame de Timadeuc. The cheese is made from pasteurized cow's milk and it's usually left to age from 2 to 3 weeks before consumption.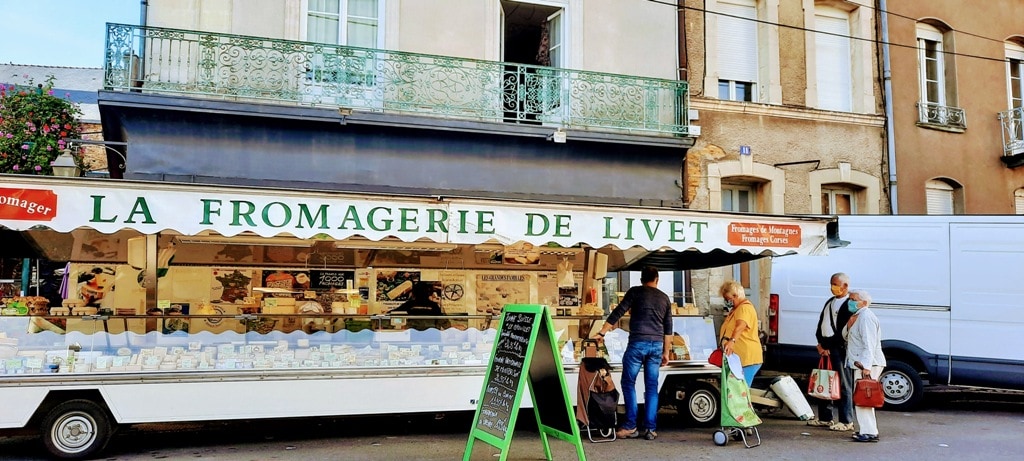 Madame Loïk is a cheese made from cow's milk. Described as a whipped cheese or fromage fouetté, the texture is creamy, fluffy, and light, while the flavours are mild and fresh and it is lightly seasoned with Guérande sea salt.
In Brittany, you are spoiled for choice if you love Goat's milk cheeses. You could try Petit Billy, which is produced from pasteurised goat's milk, or the Petit Billy Cendré which is covered in a sprinkling of black ash. Le Ménez Hom is also ash coasted but made from raw goat's milk. And then there's Kailh Breizh, a delicious pure goat's cheese made with raw milk.
Every town and village in France has a market day and you will generally always find a cheese vendor. They will either be producing independent cheese or selling artisanal cheese.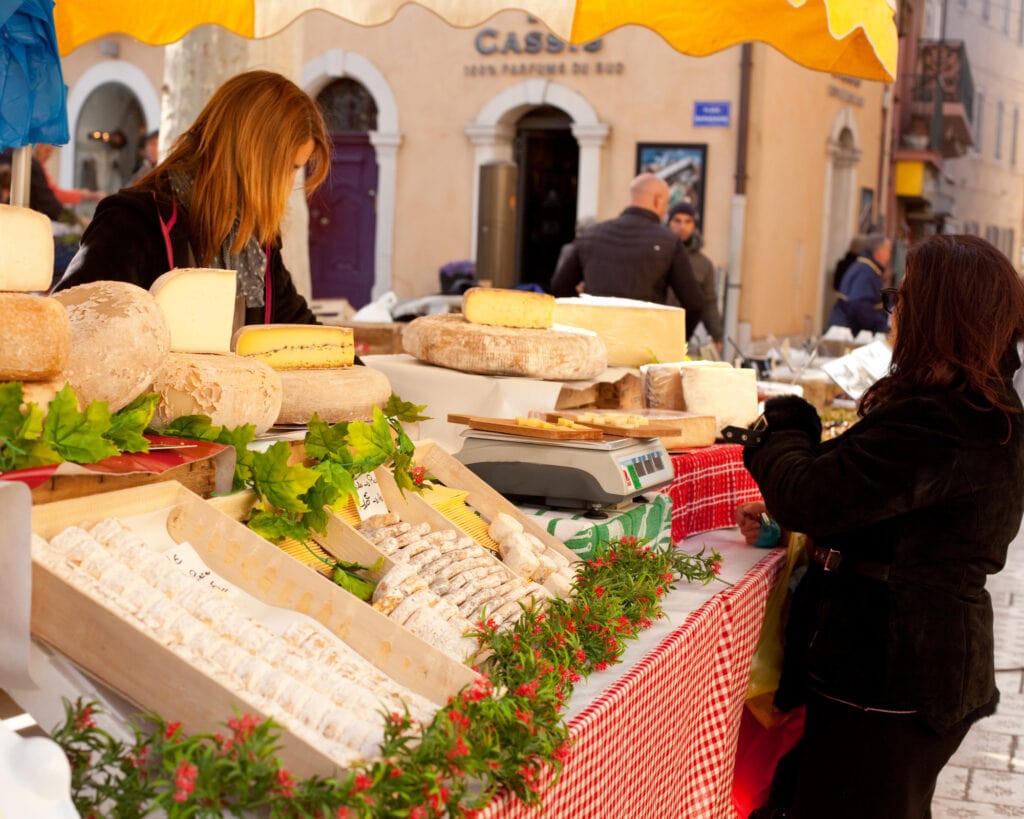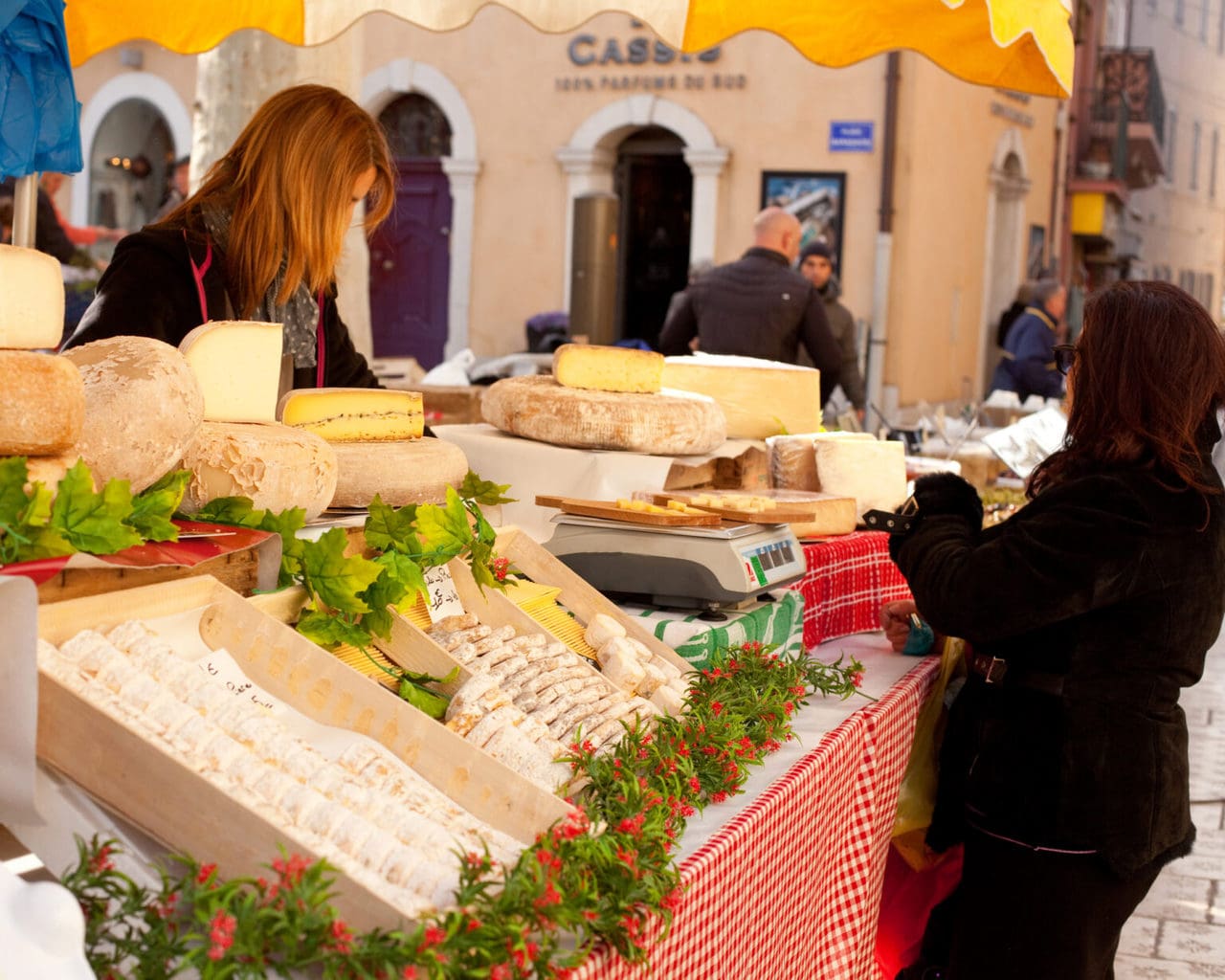 A word here about tartiflette, raclette and fondue. As I mentioned before I call tartiflette – scalloped potatoes on steroids. A stellar dish of sliced potatoes with onions, bacon pieces (lardons) and tartiflette cheese.
Although not invented in Brittany tartiflette has become an iconic French creation first created in the French alps to sell Reblochon cheese.
Raclette is made traditionally with raw milk cheese and served with a raclette grill which gives each diner an individual pan to melt the cheese in.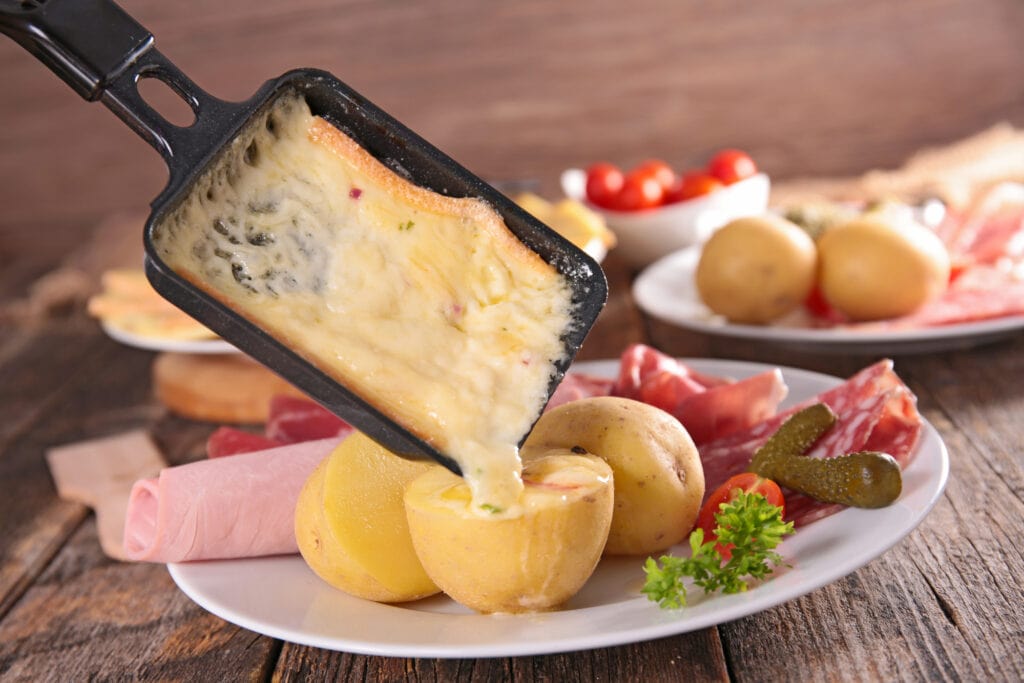 A fondue is of course a pot of shared cheese that is melted with Gruyère or Emmental, wine or wine and kirsch and was immensely popular in the 1970s in North America.
Have you been to Brittany? What did you think of the food, what was your favourite?
More on France for you
Visiting Mont St Michel the ultimate guide to this UNESCO site
Castles of the Loire Valley France
Pin it to save it