Cancale the charming oyster capital of France
A mere 27 minutes from St. Malo along the northwest coast of France you will find Cancale, Brittany – which if you know your foodie programs was a favourite location of Anthony Bourdain's and many other Chefs to eat glistening fresh oysters pulled from the sea that day.
Cancale comes from "Cancaven," in the old Breton language, and it means an inlet from the sea, fed by a river. This beautiful peninsula in Brittany enjoys a spectacular location with far-reaching views across St. Michel Bay. Oh, and by the way, it is pronounced con cal.
Cancale is famous for its oyster beds which lie just offshore and can be seen from the viewpoint above the Port and you can watch the harvest from the seafront.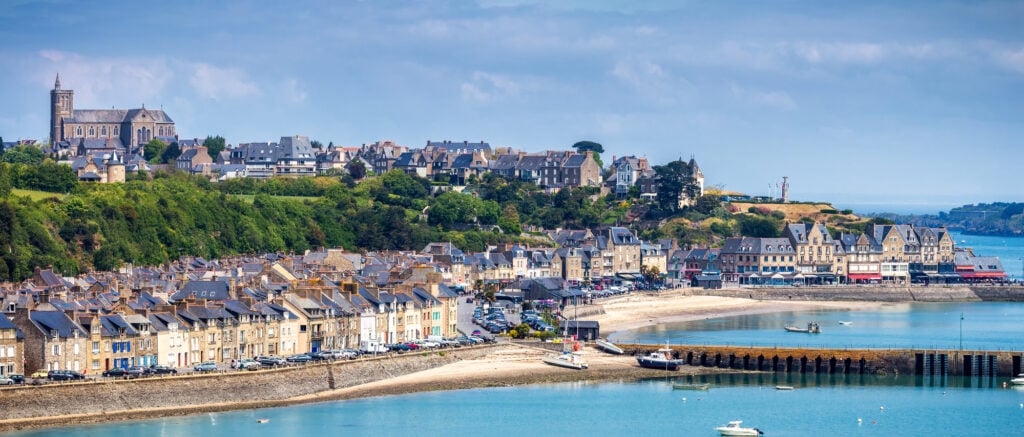 Cancale is a town that is combined of two parishes – La Houle, today the port of Houle and the town, Cancale d'en Haut, with its houses grouped around the old church of Saint-Méen de Judicaël.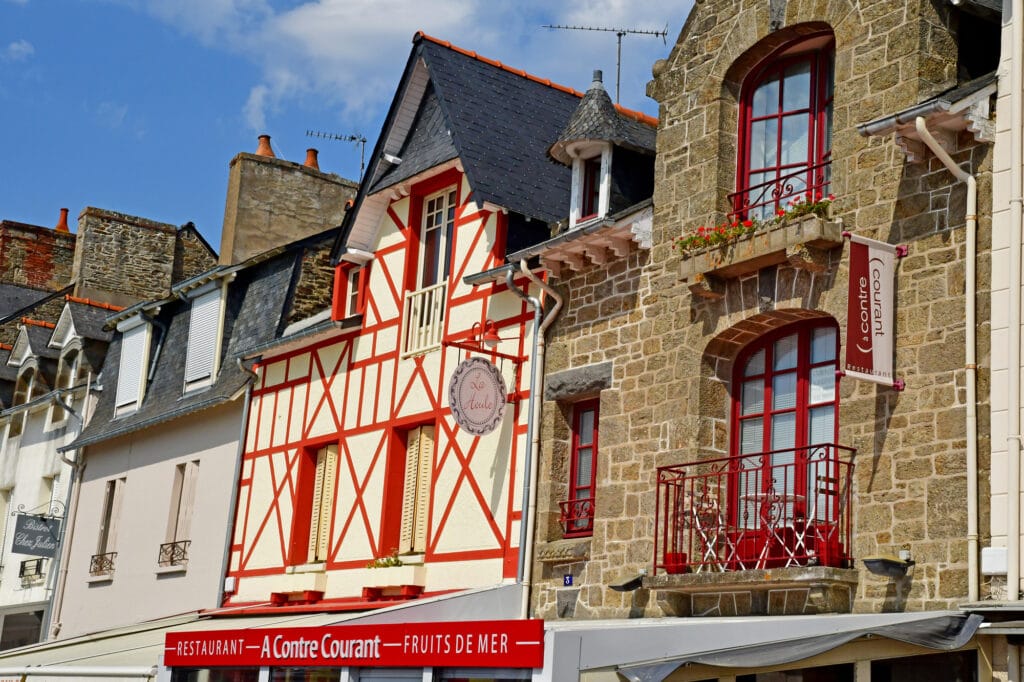 Xyuandbeyond is reader-supported. When you buy through links on our site, we may earn an affiliate commission. You can read my privacy policy here.
How to get to Cancale Brittany
If you are heading to Cancale to visit and taste the oysters you want to head to La Houle which is the Port area where you will find the restaurants and oyster sellers.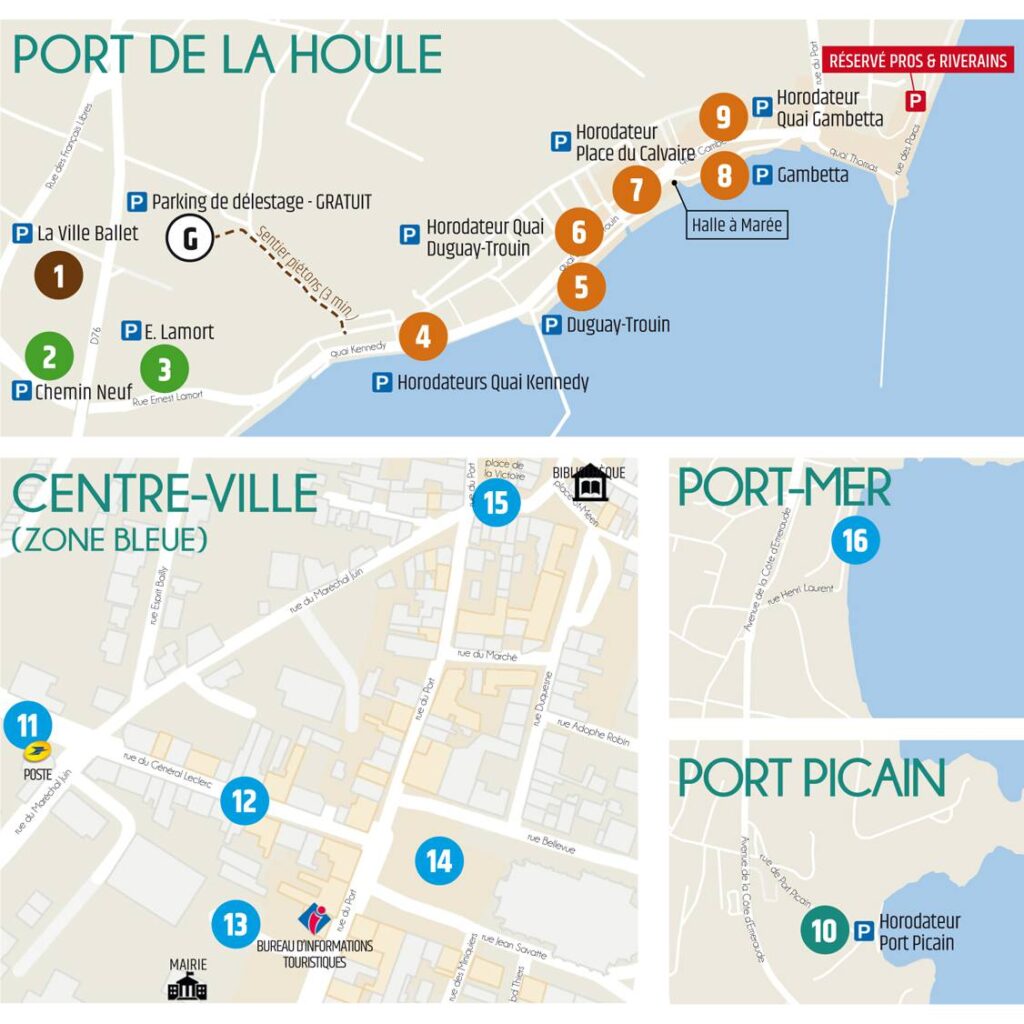 Understanding Oysters from Cancale
The oysters from Cancale France are thought to be some of the best oysters in the world and in 1994 Cancale was classified as a 'Site remarquable du goût', a town remarkable for the taste of its oysters! Each year Cancale produces 5000 tons of oysters farmed in its 'parks' in the bay and 1000 tons fished from the bay generally.
Cancale oysters have been on the UNESCO List of Intangible Cultural Heritage since 2019 and they can be enjoyed any time of the year.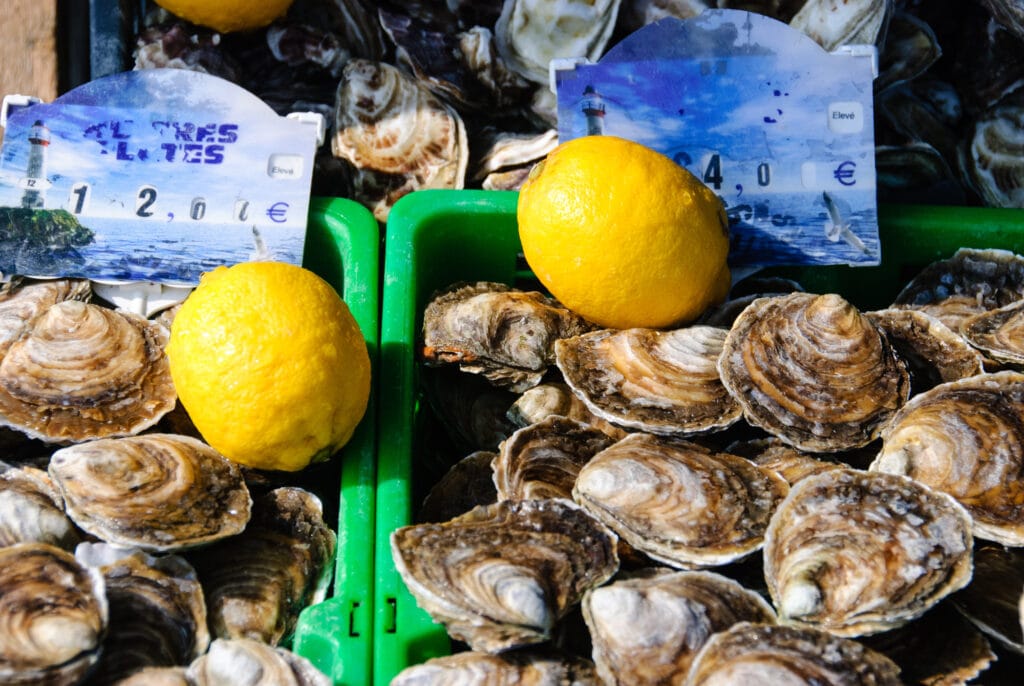 Eating oysters with an R in the month
You can enjoy fresh oysters like those from Brittany at any time of year. From May to August, the height of the reproductive season, oysters produce a soft roe which does affect the taste and can give a milky appearance to the oyster. Eating a spawning oyster won't make you sick, but the texture is soft and creamy, and lacking in meaty substance. To over this oyster farmers in Cancale grow sterile oysters which do not become milky.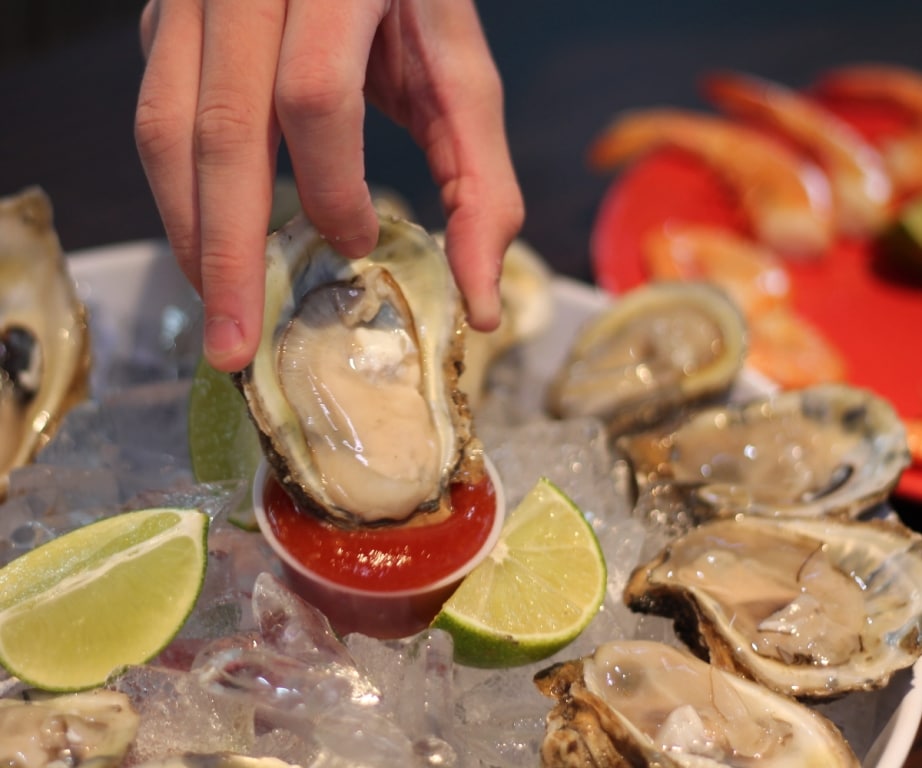 Types of Oysters
Though the flat oyster, also known as Belon, originated in Cancale most of the oysters harvested are the rounded style, with the flat-shelled Belon making up approximately 2% of France's overall production. Flat oyster populations have declined since the 1970s although the two varieties grown are Pacific oysters, whether 'wild' or farmed, and the Belon oysters that have a hint of hazelnut.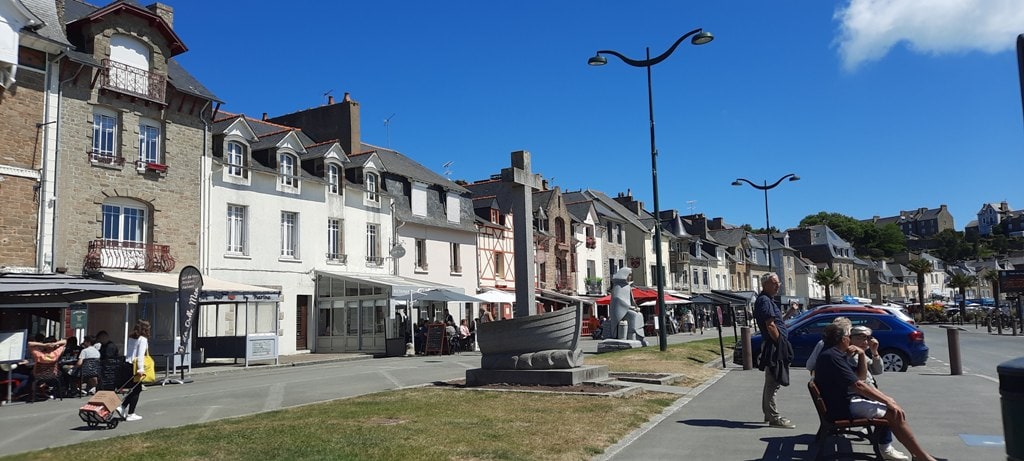 How are Oysters prepared?
The oysters of Cancale are best eaten raw and seasoned with a squeeze of lemon juice, a hint of pepper or with a wine-vinegar and shallot dressing.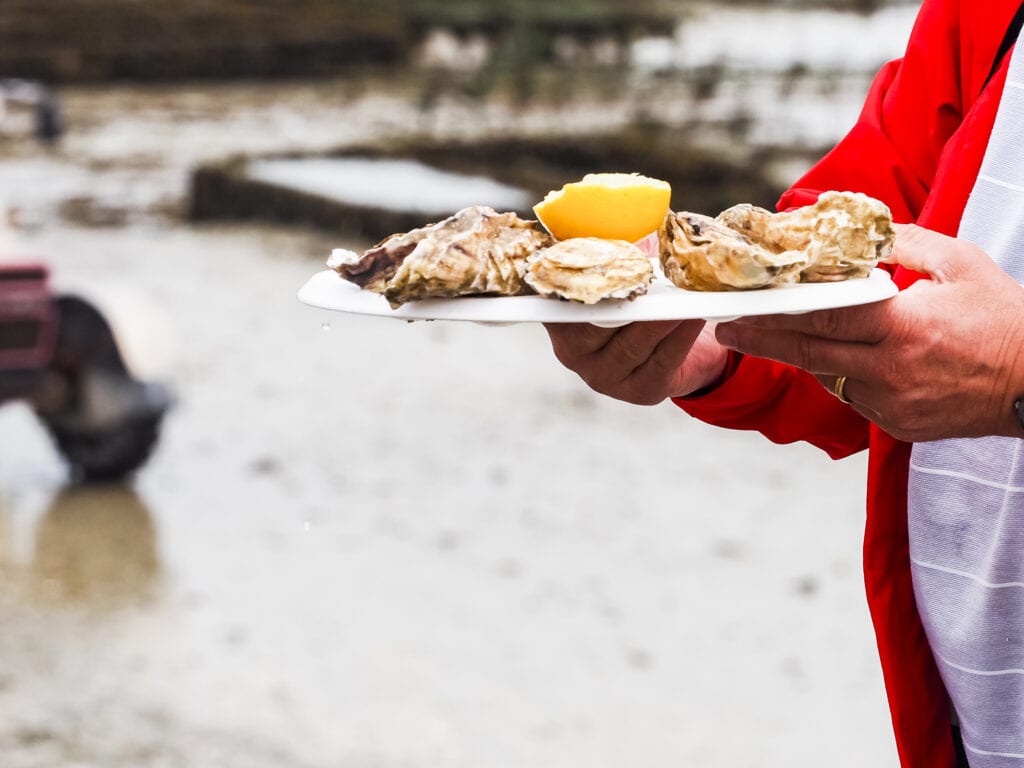 How to eat oysters like the French
To really enjoy the Breton oyster and eat them like the French do stick to lemon alone, and use it lightly -only a few drops per shell and perhaps a touch of pepper. Oysters are often served in France with a Mignonette is a kind of vinegarette made with a combination of vinegar, minced shallots and cracked pepper.
Sometimes people like to slurp them straight down without chewing. But according to the French oysters must be chewed which allows you to enjoy the full flavour of a fresh oyster.
Oysters in France tips
Oysters in French are called huître.
Always make sure that the oyster is alive before eating it. To test if the oyster is alive it should flinch when poked with the point of a knife.
Pied d'Cheval is also the term for oysters that are fished from the sea, rather than farmed.
What to see in Cancale
Start your visit to Cancale at the seafront. If you are driving there are 3 parking lots right along the seafront where you can park for a few euros but you may have to wait in line to find a spot as it gets incredibly crowded.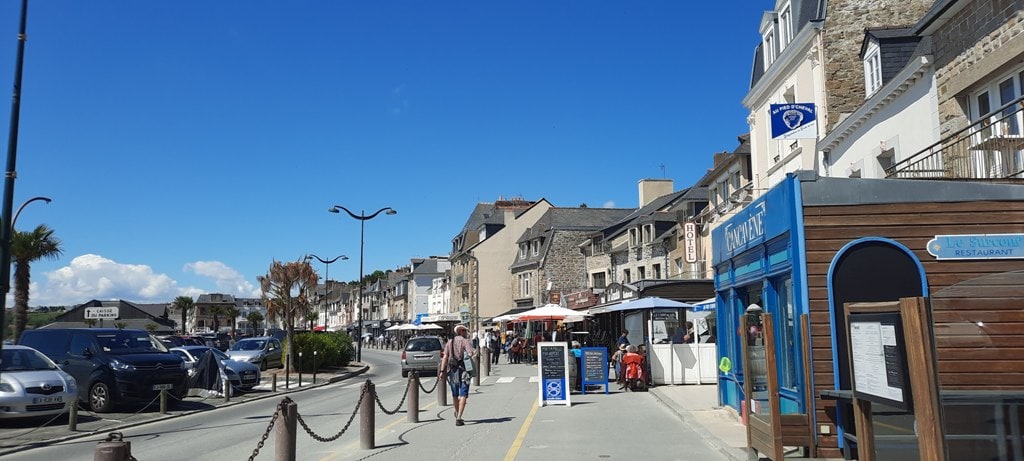 Pointe du Hoc
You could also park up at the viewpoint Pointe du Hoc just above La Houle where you can get some stunning views across the bay to Mont St. Michel and see the 7 square kilometres of oyster beds from high up. There is a walking path down to La Houle from the Pointe.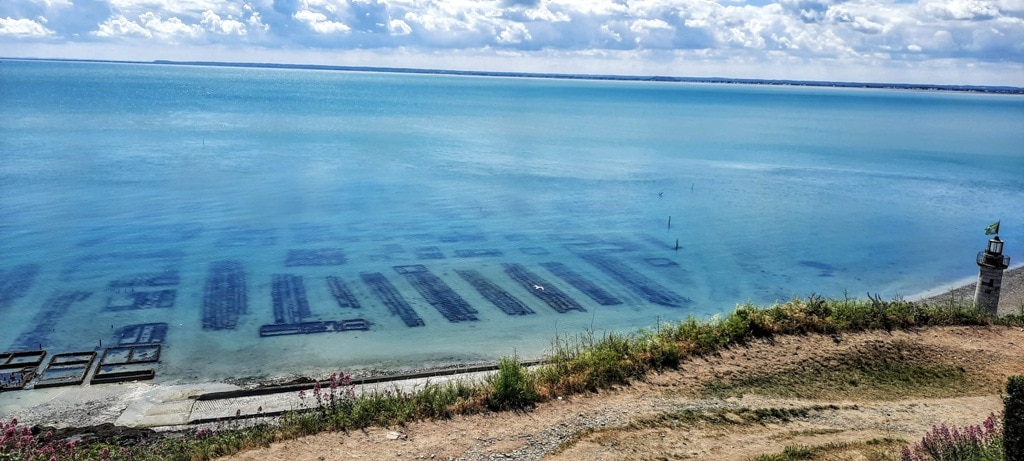 Sentier des Douaniers
If you love a hike along the cliffs with magnificent sea views take the Customs Officers' Path known as the Sentier des Douaniers which meanders along the coastline for 11km. It takes you from House Harbour to Pointe du Grouin opposite Ile des Landes, a site classified as a bird reserve. This hike has outstanding views of Mont-Saint-Michel Bay marked by the tides, clouds of birds and passing boats.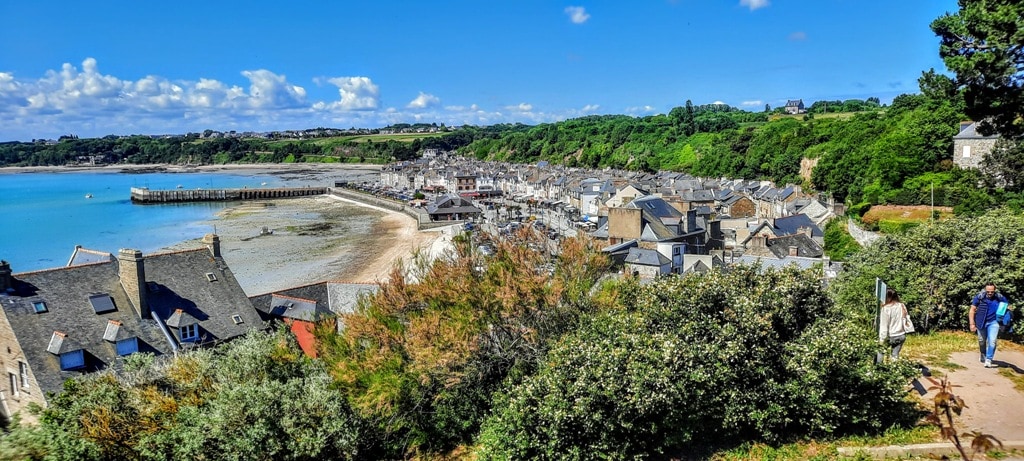 La Houle
The harbour (at La Houle) is surrounded by pretty old fishing houses many of which are now restaurants and gift shops. There are also a few stalls on the seafront selling fresh oysters each day and the town also has a 'Museum of Oysters'.

Oysters of Cancale
Cancale is best known as being the oyster capital of Brittany. The oyster harvest began around 2000 years ago when the Romans invaded France. Centuries later fisherfolk discovered the riches of the sea including the oysters and began to build villages along the coastline.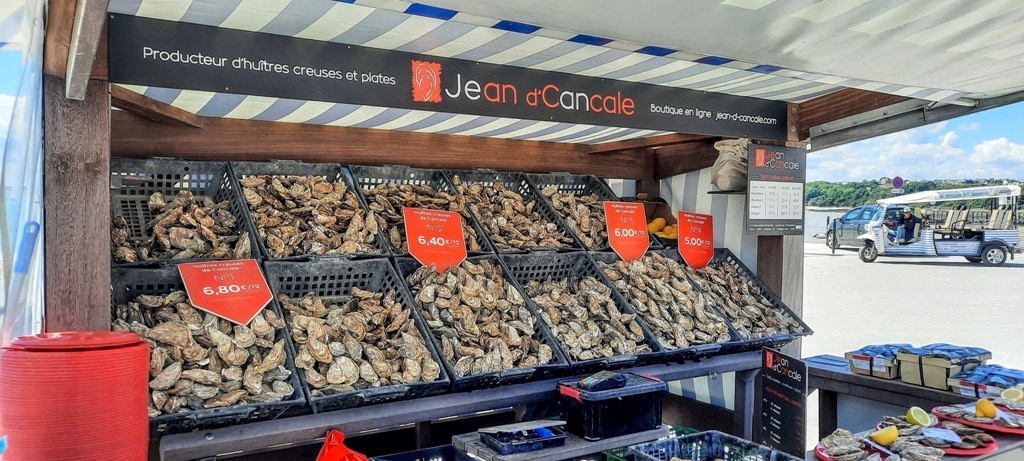 These fishermen supplied oysters and other sea delicacies to the Sun King, Louis XIV but it wasn't until the 1920s that the oyster began to be considered a delicacy when the rich of Paris flocked to the seaside to take in the fresh clean air and build their Belle Epoque mansions.
Marché aux huîtres – Cancale oyster market
One of the most enjoyable ways to try oysters is from the Marché aux huîtres which is the small market area at the end of the main waterfront walk. You can choose the size and quantity you want, then grab a seat along the sea wall and drop your oyster shells over the wall like millions of others before you.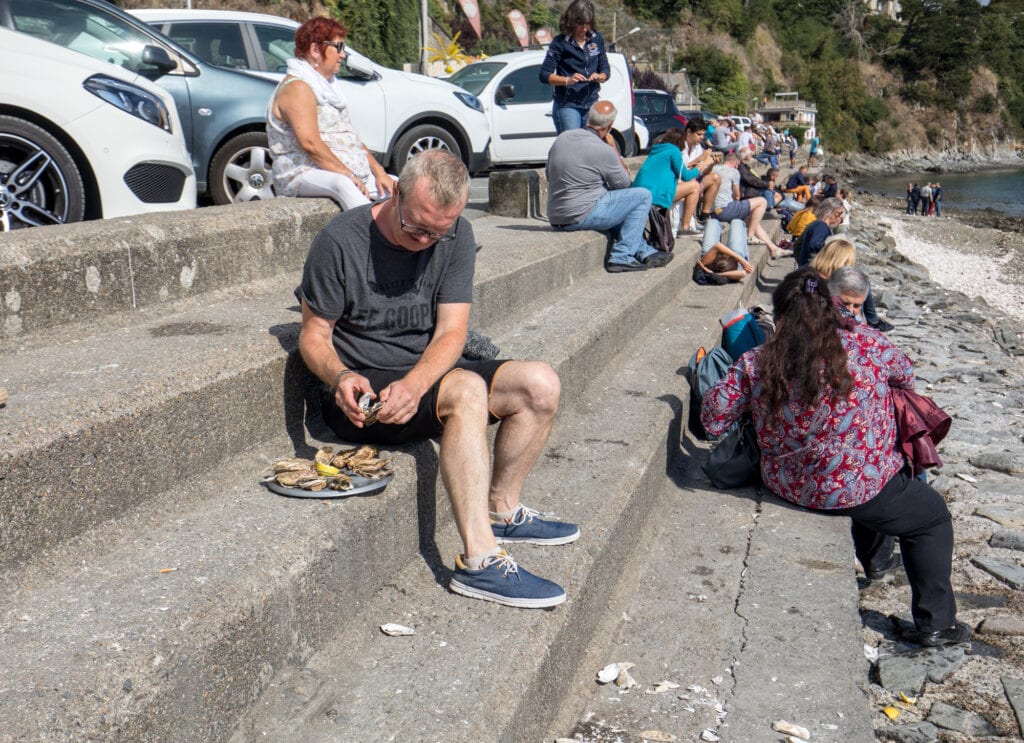 From here you will have a brilliant view of the oyster beds at low tide and you can watch the harvesters at work during the later afternoon.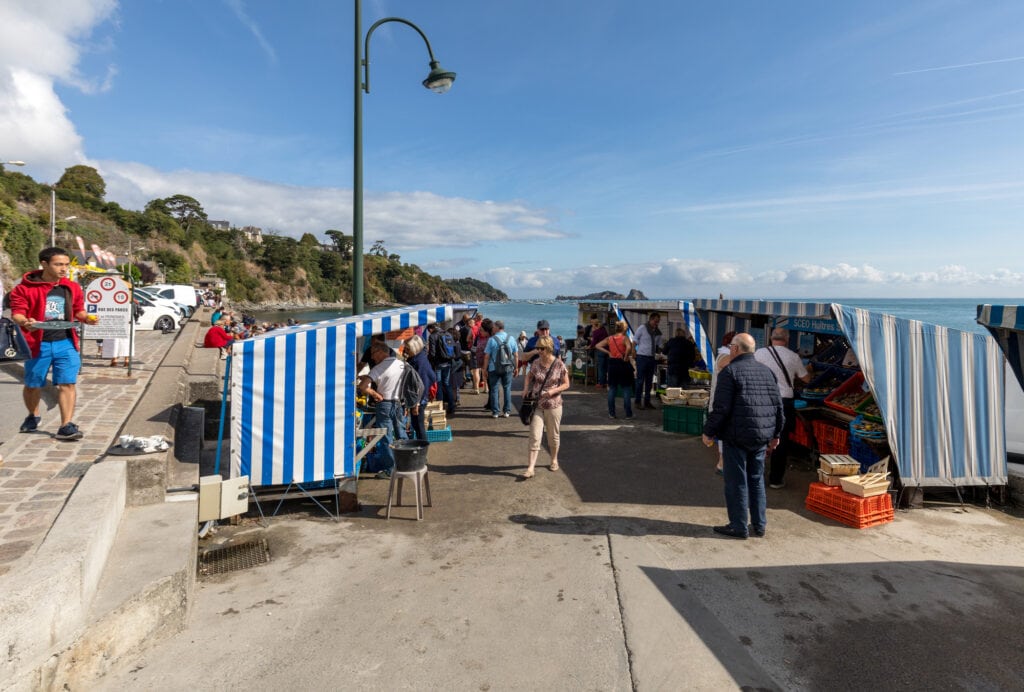 Oyster Museum
The Oyster Museum is around a 15- 20 minute walk from the Port area the museum is located on a steep site. However, they can receive visitors with reduced mobility, but only if they are accompanied and equipped with a non-electric wheelchair
In 1989 the Marine Farm opened its doors to the public. The aim was to familiarise visitors with the specifics of oyster farming.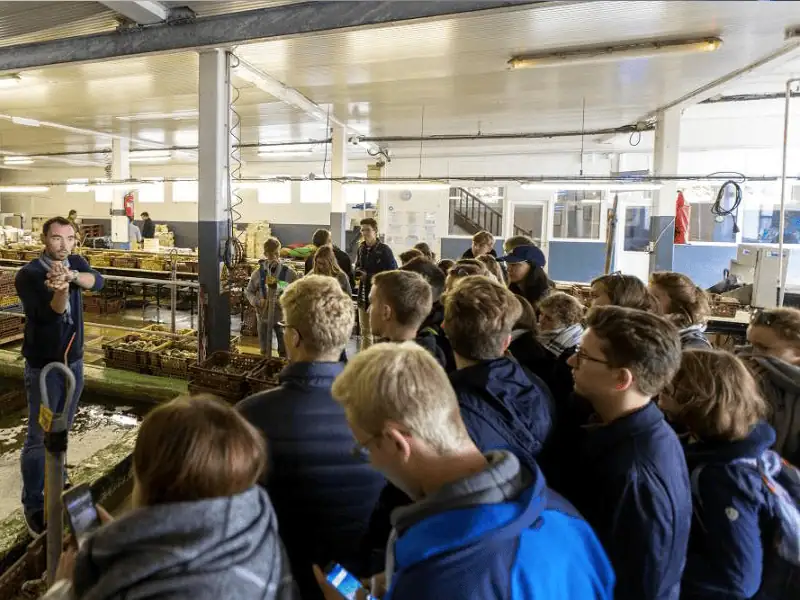 Situated in a magnificently preserved environment, the site offers a breathtaking view of the port of Cancale and its bay. A short documentary will present the hard work of the oyster farmers in the oyster beds. You can then explore the sorting and packing workshops. The tour ends with an oyster tasting and there is a lovely souvenir shop to pick up your gifts to take home.
Don't forget to check out the Shell Exhibit where you will see the most unusual inhabitants of the oceans – Nautilus, sea urchins, horseshoe crabs and The Stoup, the largest shell in the world.
Guided tours cost Adults: 9.50 € and Children (from 5 to 14 years old): 5.50 €.
Cancale Oyster Farming Tour
You can tour the oyster beds with oyster workers and nature guides who are trained, biologists and marine environment facilitators. Reservations, information: 06 33 61 04 82 / [email protected]
​The tour lasts for an hour and a half and you will meet at the end of the Oyster Market. Price: 10 euros/person. Free under 5 years. Payment is in cash and includes rubber boot rental so bring or wear your socks.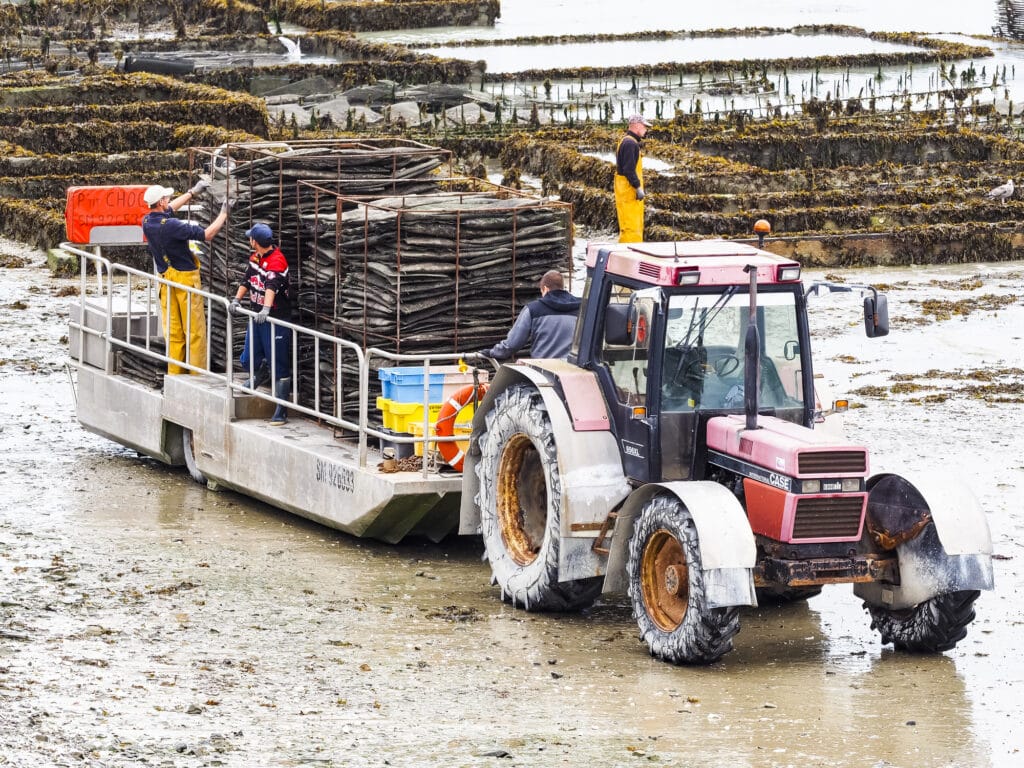 La Cancalaise Cruise
This traditional fishing boat is called a bisquine and the replica La Cancalaise sails from April through to October. There is a half-day cruise for €42 and a full-day tour for 75 Euros. La Cancalaise can accommodate 24 people in addition to the crew and a full-day tour includes a cruise to the Chausey archipelago with a stopover. The half-day cruise is around the bay of Cancale. The website is in French but you can use google translate and sign up for a cruise, information and pricing can be found in the 2023 brochure.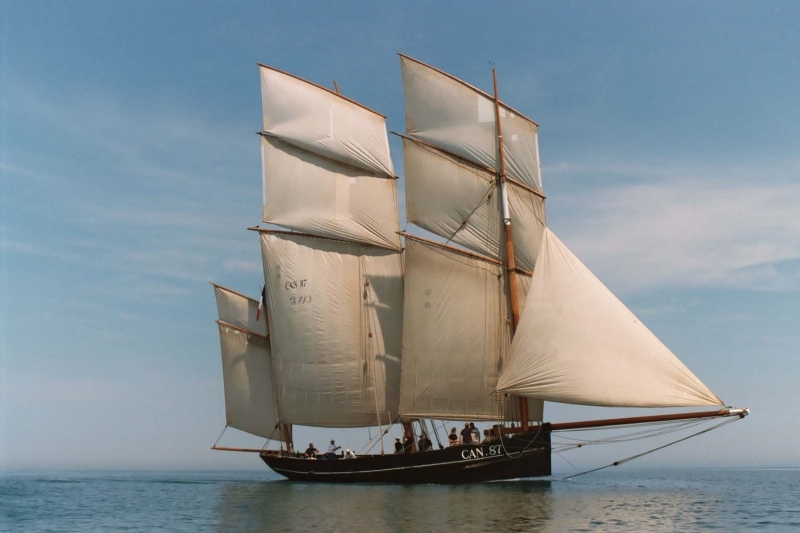 Poine du Grouin
When you've eaten your fill of oysters why not take a beautiful panoramic hike to Pointe du Grouin, a few kilometres north of Cancale? The Pointe du Grouin is the mid-point of two coasts. One overlooks the bay of Mont St. Michel and the other is known as the Emerald Coast. There is 13 km of coastal paths to take in the rugged coastlines and landscapes of this area of Brittany.
Beaches of Cancale
There are two beaches near Cancale if you fancy a lie in the sun.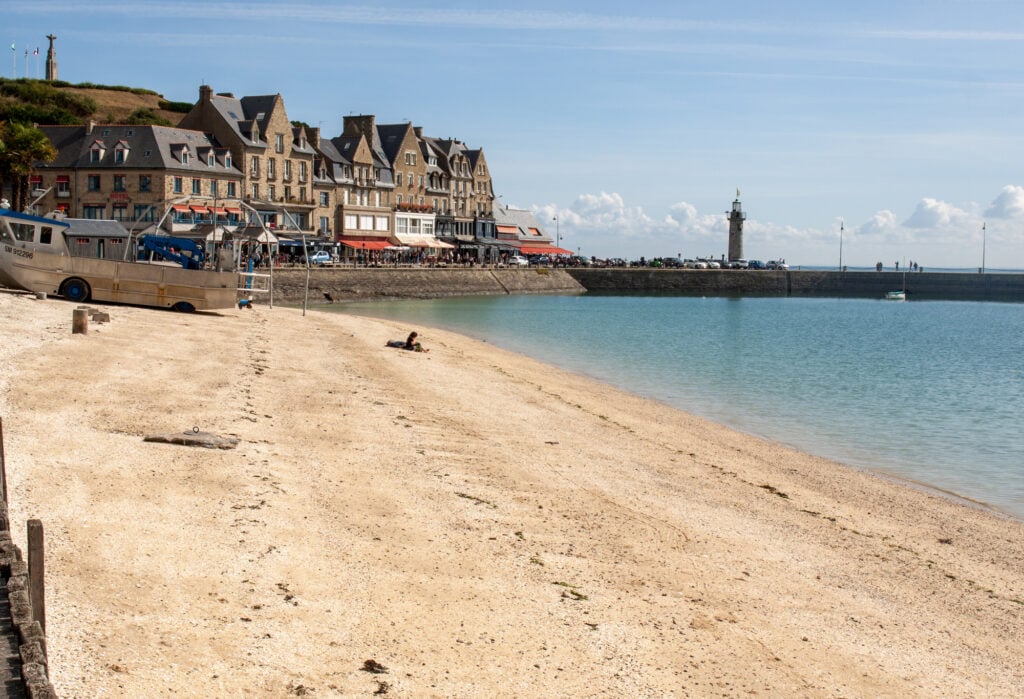 Saussaye Beach is considered one of the most beautiful coves in the area. It is located northwest of the centre of Cancale, on the road to Saint-Coulomb. This is the favourite beach of locals and is uncrowded There is a small parking area and a 5-minute walk down a path to the beach. The beach has no lifeguards and can be considered dangerous with rough seas.
Verger Beach is located in the town of Cancale this is a long sandy beach that gets very busy during the summer months as it has calm seas, a first aid station and a nearby parking lot. There is also a snack bar and it has a naturist beach near the tip of the Mouliere.
Top restaurants for oysters in Cancale
In Cancale, the Atelier de l'huître is the place to have your oysters the choices include Belons, Pacific and Pieds de cheval oysters, all accompanied by a glass of dry white wine.
If you want a more informal dining experience choose from Le Surcouf or Au Pied d'Cheval.
For the ultimate in French food culture head to Le Coquillage this is a restaurant that is the epitome of fine dining and it is inside the Chateau Richeux.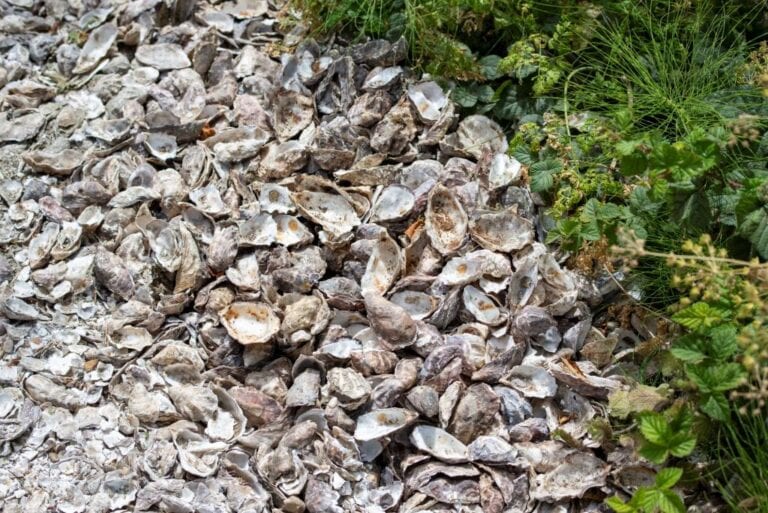 Where to Stay in Cancale
There are a handful of hotel options in Cancale, the best ones being those that take advantage of the beautiful coastline. But there are also great oyster farms and farms that have been converted to accommodations that make great places to stay while visiting Cancale.
Hotels in Cancale
Chateau Richeux (Le Buot, Saint-Méloir-des-Ondes) luxury Relais-Chateau property on the cliff run by the Roellenger family. With absolutely fabulous guest rooms and a Michelin-designated restaurant, this is the epitome of elegance and superb food.
La Mere Champlain This property is a 1-minute walk from the beach. Located in the heart of Cancale Port, La Mère Champlain offers modern accommodation by the English Channel. Guests are invited to al fresco dining on the terrace while taking in the view of the Mont Saint Michel.
The en suite rooms are equipped with a flat-screen TV and satellite channels. Serviced by a lift, rooms have free Wi-Fi access and feature marine-themed decor. Regional cuisine and seafood is available in the hotel's on-site restaurant.
Guests can park their car for free, only at night in the public parking nearby. Saint-Malo is reached by car in just 25 minutes.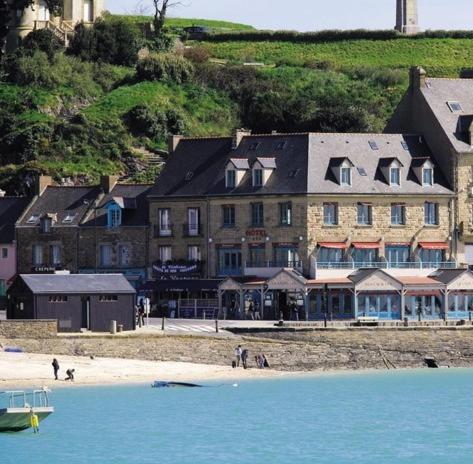 Le Querrien is ideally located in the harbour of Cancale, Le Querrien is 47 km from the Mont Saint-Michel. It offers a restaurant and free Wi-Fi access.
Recently renovated, Le Querrien offers comfortable rooms combining a navy-inspired decoration and a modern elegance. The rooms offer a view of the Mont Saint-Michel or the narrow streets of the fishermen's village. With a view of the sea and a terrace, the hotel's restaurant serves seafood and fish specialities in a boat decor, to make you go back to the time of corsairs.
Manoir Des Douets Fleuris The Manoir des Douets Fleuris is housed in a 17th-century building in Cancale, between Saint Malo and Mont Saint Michel. The manor offers spacious rooms with free WiFi access, as well as a large garden with a duck pond.
Free private parking is provided at the Manoir des Douets Fleuris, making it easy to explore Brittany by car. Saint-Malo is only 15 minutes away and the beaches of the Emerald Coast are within easy reach.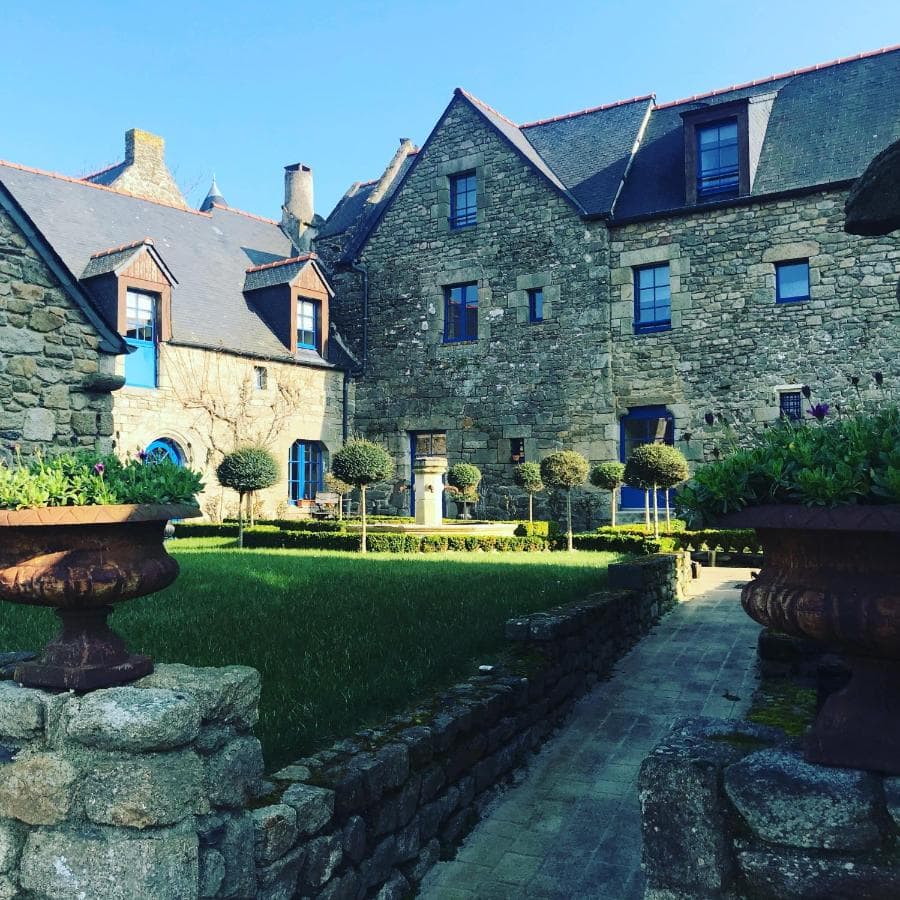 Tours to Cancale
Private Tour of St Malo Cancale Cap Frehel and Dinan from St Malo
Experience Brittany on a private tour from Saint-Malo. Explore medieval towns, and learn about history and folklore about pirates, sailors, and famous battles from your guide. Enjoy a fresh seafood lunch and visit an oyster farm to learn all about how shellfish are produced. Conclude your tour with a walk along Cap Frehel, a stunning peninsula, with sunset views. Learn local history and folklore including tales about pirates and battles Enjoy a fresh seafood lunch in Cancale including local abalone in the right season Visit the medieval town of Dinan and take in gorgeous sunset views Convenient, round-trip transportation from your Saint-Malo hotel

Read more about the Private Tour of St Malo Cancale Cap Frehel and Dinan from St Malo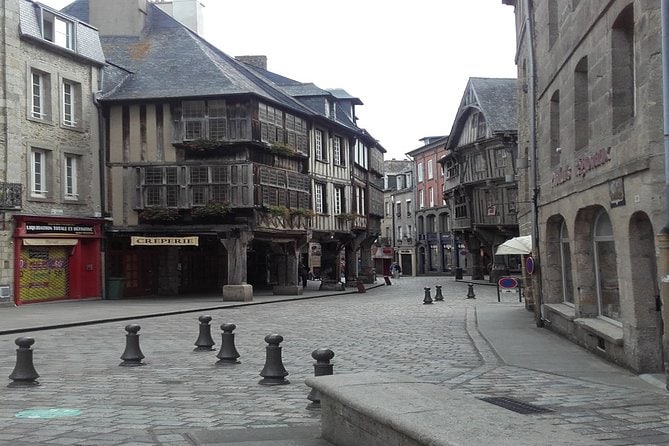 Day trip with a local driver to Mt Saint-Michel Cancale and Saint-Malo from Rennes
Discover the Wonder of West France with a local driver in English, Spanish or Italian. Start the tour in Rennes and visit the Mont Saint-Michel climbing its hundreds of steps to reach the abbey, walk on the fortifications and see the medieval village. After a scenic drive along the bay listed as a UNESCO heritage, you will stop in Cancale…oysters, seafood, galettes, and crepes, this tasty town will offer you a large choice for a local lunch. In the afternoon, you will discover the pirate city of Saint-Malo where you could enjoy the beauty of the emerald coast. Your driver will give you all the keys to enjoy the best place. Saint-Malo is also a nice town for shopping.

Read more about a Day trip with a local driver to Mt Saint-Michel Cancale and Saint-Malo from Rennes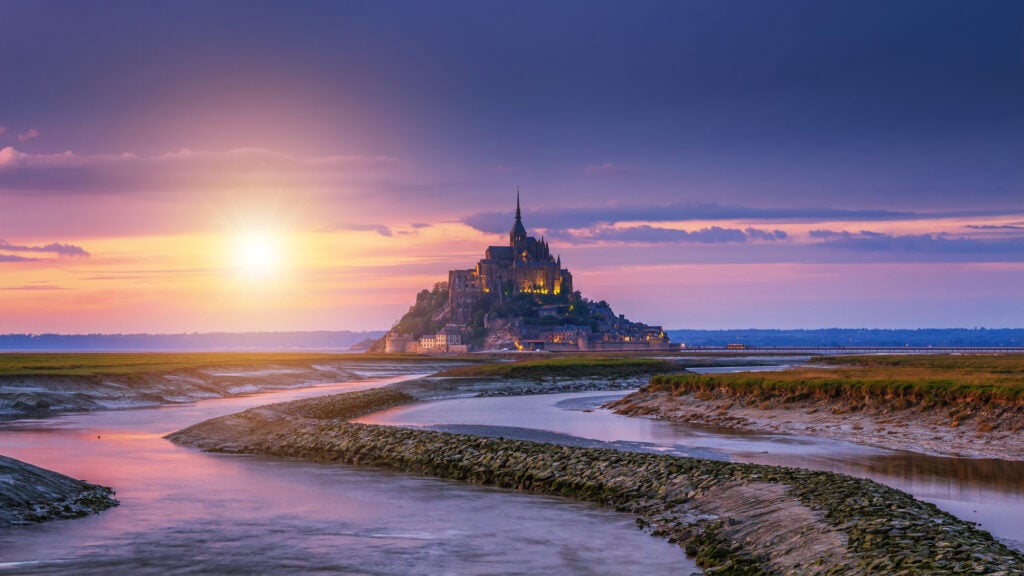 The legendary Mont-St-Michel including Cancale & St-Malo (TGV Train from Paris)
Paris visitors looking for a scenic day trip often forget about Mont Saint-Michel, since it's quite far from the City of Lights. But with this high-speed train tour, you can visit Mont Saint-Michel—with direct travel from Paris—all in just one day. After an easy Paris train station transfer, you're whisked to Rennes where your local guide picks you up and leads the way. Visit Mont Saint-Michel, Saint-Malo, and Cancale, where you refuel with an included seafood lunch, before the train back to Paris. Visit Mont Saint Michel on a high-speed train tour, with travel from Paris Don't worry about getting around, with a guide to pick you up in Rennes. Get great value, with a train, lunch, and Mont Saint-Michel guide included Hassle-free train station transfer—in Paris and Rennes—included in the tour

Read more about The legendary Mont-St-Michel including Cancale & St-Malo (TGV Train from Paris)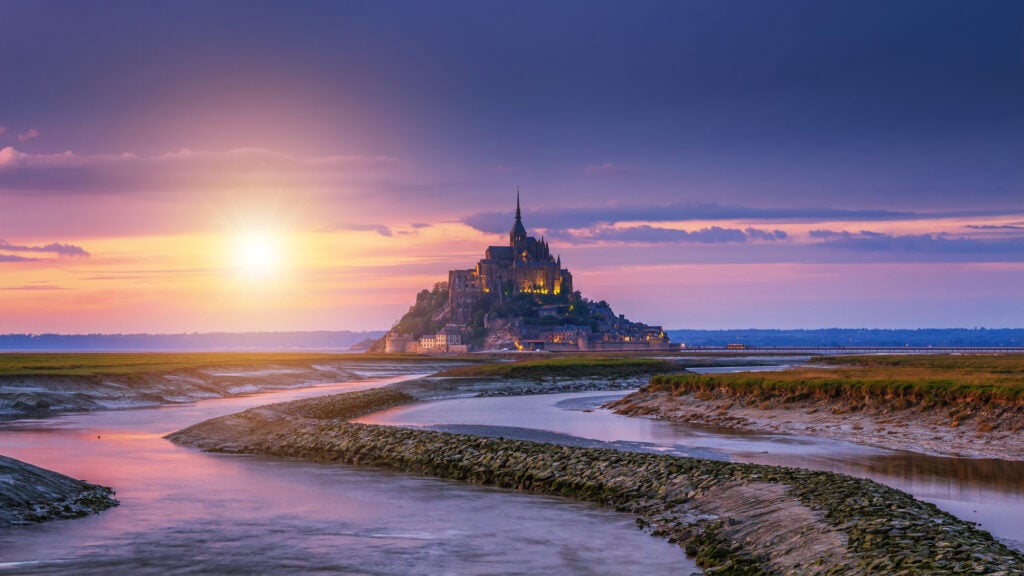 Cancale By Car from Paris
From Paris, the drive to Cancale will take around 4 hours but there are plenty of interesting stops to make along the way. For example, take a detour to Normandy to see the Normandy beaches and memorials, or visit Bayeux and see the magnificent tapestry.
If you want to avoid tolls which can add up to €40 euros take the N12 to Cancale which will take around 5 hours to drive. If you are fine with paying tolls you can take the N11 which does have tolls and will take around 4 hours.
Train from Paris
Cancale has no train stations but you can take a TGV from Gare Montparnasse in Paris that heads to Rennes and then change for St. Malo where you can catch a bus which takes around half an hour to get to Cancale. Rennes is a beautiful city to base yourself in when touring the Brittany area.
If you don't like oysters don't worry there is plenty of restaurants serving Brittany's authentic foods such as crepes and galettes and you can always find a burger or pizza anywhere in France.
Eating oysters in Cancale is an experience that should not be missed. The town's rich history of oyster farming and its beautiful coastal location make it a perfect destination for seafood lovers. From the traditional way of shucking to the unique flavours of different varieties, there is something for everyone to enjoy. Plus, with restaurants and markets offering fresh oysters throughout the year, visitors can indulge in this delicacy whenever they please. Whether you are a seasoned oyster connoisseur or just looking to try something new, Cancale is the perfect place to satisfy your cravings for these delicious molluscs.
You might also be interested in
Where to find the sublime lavender fields of France
Château de Josselin – A 1000 years of history in the heart of Brittany
Visiting the Captivating Monet's Garden at Giverny
Exploring the beautiful Mayenne – Pays de la Loire, France
French Food Culture: The Ultimate Guide
Castles of the Loire Valley France
Pin it to save it

Latest posts by Faith Coates
(see all)