Where to find the sublime lavender fields of France
A bucket list for France will always include finding fields of Lavender in France in the south. This means a road trip to southern France where you will find some of the best lavender fields in the country.
The French love their flowers, everywhere you travel in France you will see signa indicating a Villes et Fleuris. The establishment of the Conseil national des Villes et villages Fleuris (CNVVF) took place in 1959, a time when France was undergoing reconstruction efforts following the devastating impact of World War II. Particularly in the northern and eastern regions, communities were striving for renewal, and the cultivation of flowers played a vital role in this process. Presently, close to 5,000 municipalities proudly bear the village fleuri label, with 257 among them having achieved the prestigious distinction of being awarded the maximum four flowers.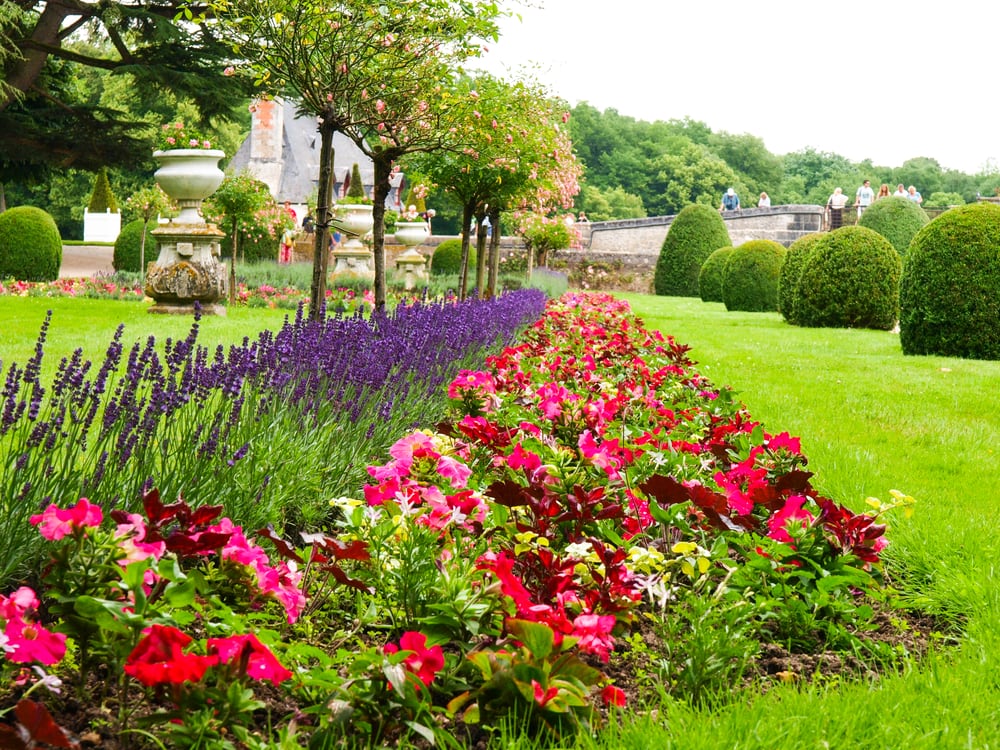 There are several places in the south of France to find the lavender fields but do you know your French lavender from your English lavender?
French lavender is bigger than English lavender and is more colourful and the scent is slightly piney and sweet and often described as camphor-smelling. English lavender is hardier than the French and will grow better and survive colder winters and has a sweeter smell.
English Lavender
Known by its Latin name Lavandula angustifolia is what many people in the aroma industry refer to as "true" lavender.. This variety is a widely grown garden plant and produces an essential oil that is delicate, floral, and a bit sweet.
English lavender can be used in all types of culinary dishes and personal care products as the scent and taste are somewhat sweeter than French lavender.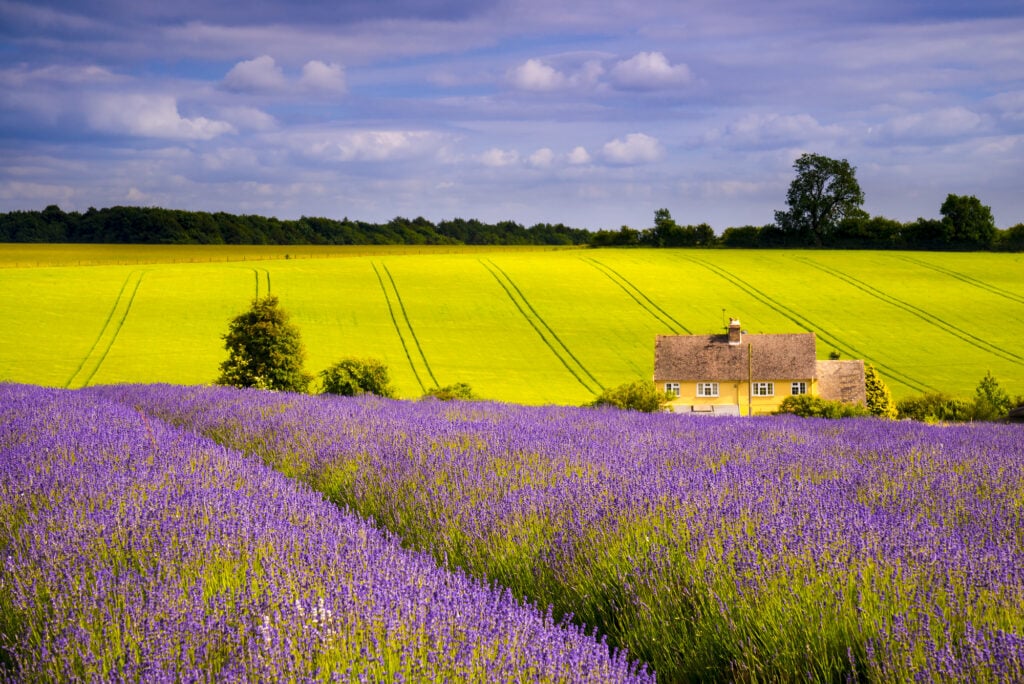 French Lavender – Lavandin – Hybrid Lavender
Lavandin is a naturally occurring hybrid between two lavender species: Lavandula angustifolia and Lavandula latifolia also called "Spike Lavender. Spike lavender is a type of lavender grown in France. It is a pungent-smelling lavender that produces up to 10x more essential oil than English lavender.
French lavender can be used in cooking but remember it has a strong pine flavour that you should be careful with. French lavender is perfect for cleaning products and making your home smell amazing.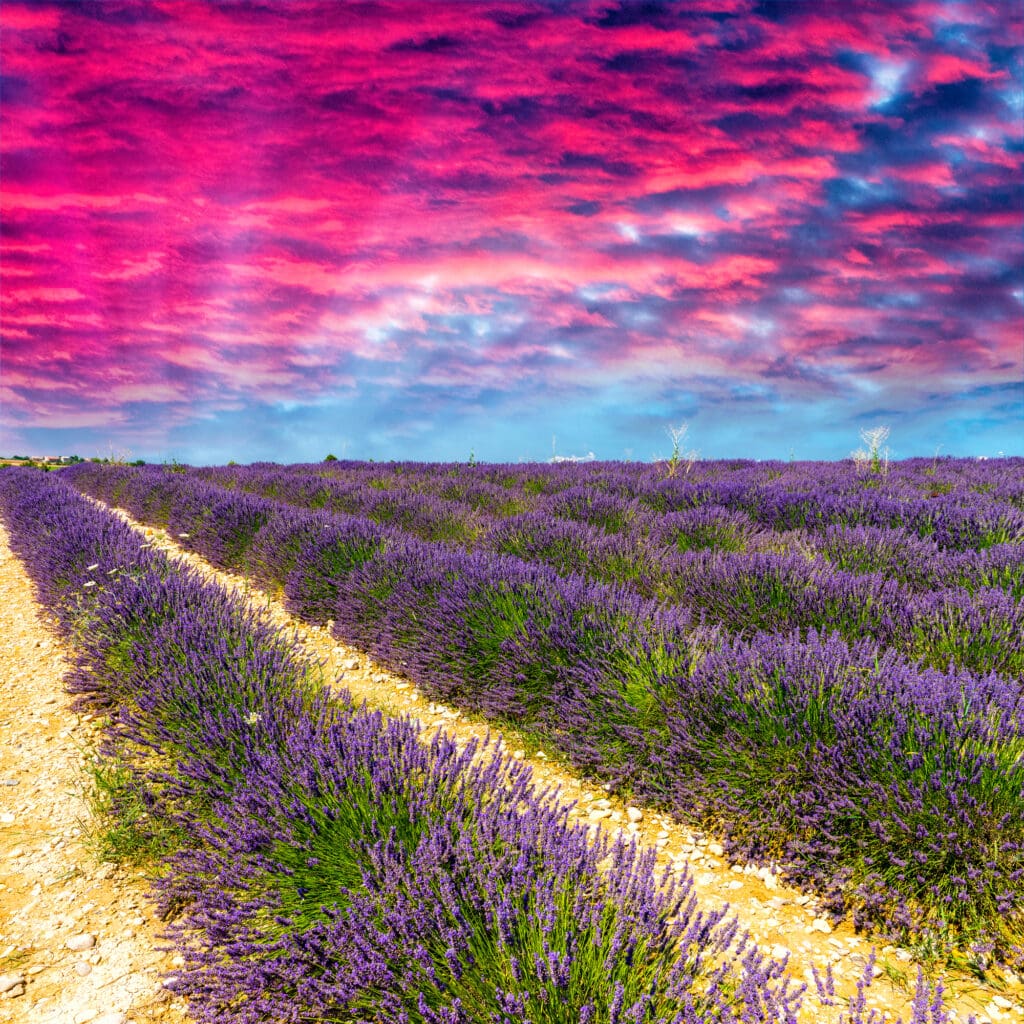 Xyuandbeyond is reader-supported. When you buy through links on our site, we may earn an affiliate commission. You can read my privacy policy here.
Best time to visit Provence France lavender
When is the lavender Provence season? The lavender fields start blooming from early to mid-June until approximately mid-August when the lavender is harvested and many of the towns have festivals celebrating this fragrant purple flower.
You will also see fields of sunflowers, poppies, roses and more throughout the area.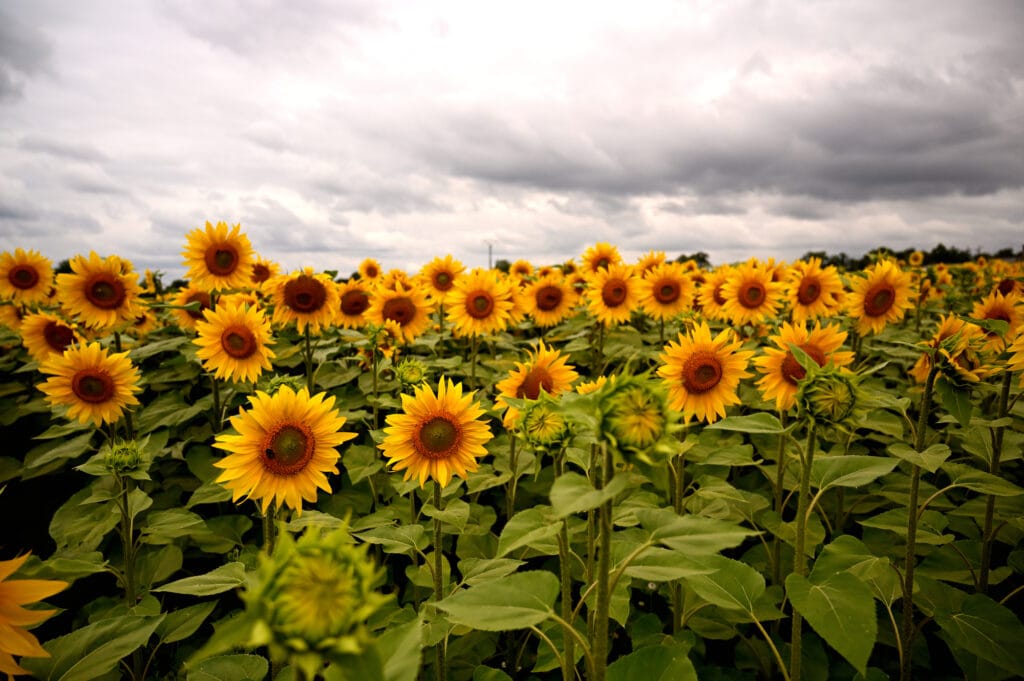 The Lavender Route of France – Routes de la Lavande
By Car or Bus
Visiting lavender fields works best if you have a car, so my advice is to rent a car if you can. It can be very difficult to reach the various lavender fields by public transport so if you don't have a car you can take guided tours of the lavender fields of France.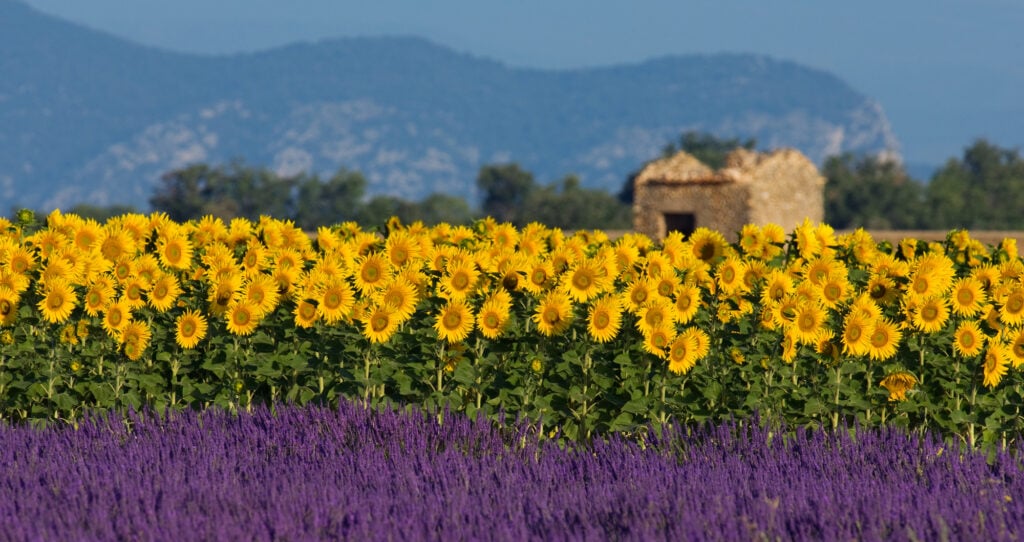 Map of lavender fields in France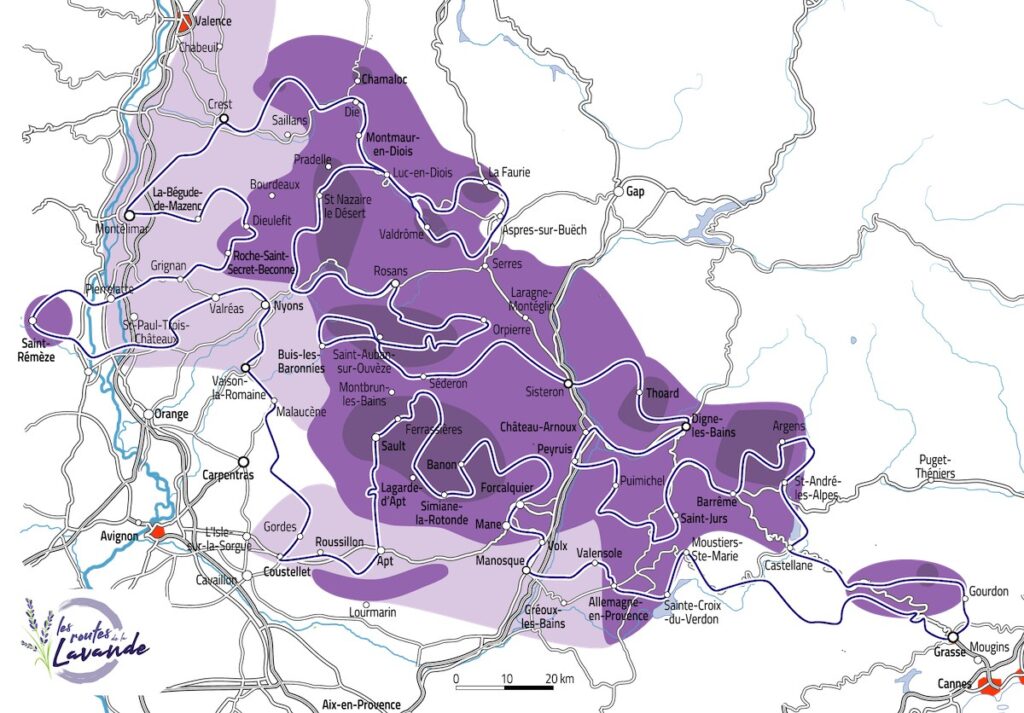 The best lavender fields in France
Grasse Lavender Fields
If you know perfume then you probably have heard of the flower fields of Grasse. Grasse is world famous for its stunning fields of various flowers from roses to lavender and the resulting fine perfumes that include essential oils distilled from these flowers and plants.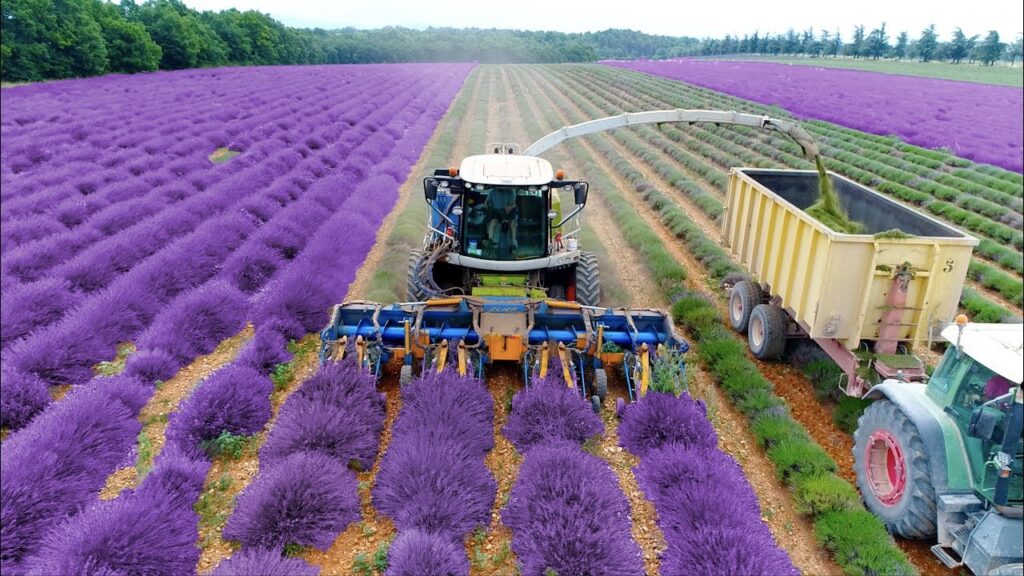 Grasse is probably the most easily accessible of the lavender fields. Not only its cultivated fields but what is known as the wild or "Sauvage" fields.
Grasse is of course the perfume capital of the world but the village itself is stunning. Full of gorgeous architecture from the 17th and 18th and you can explore the perfume manufacturing processes in three perfumeries Fragonard, Galimard and Molinard perfumeries are open to guided tours.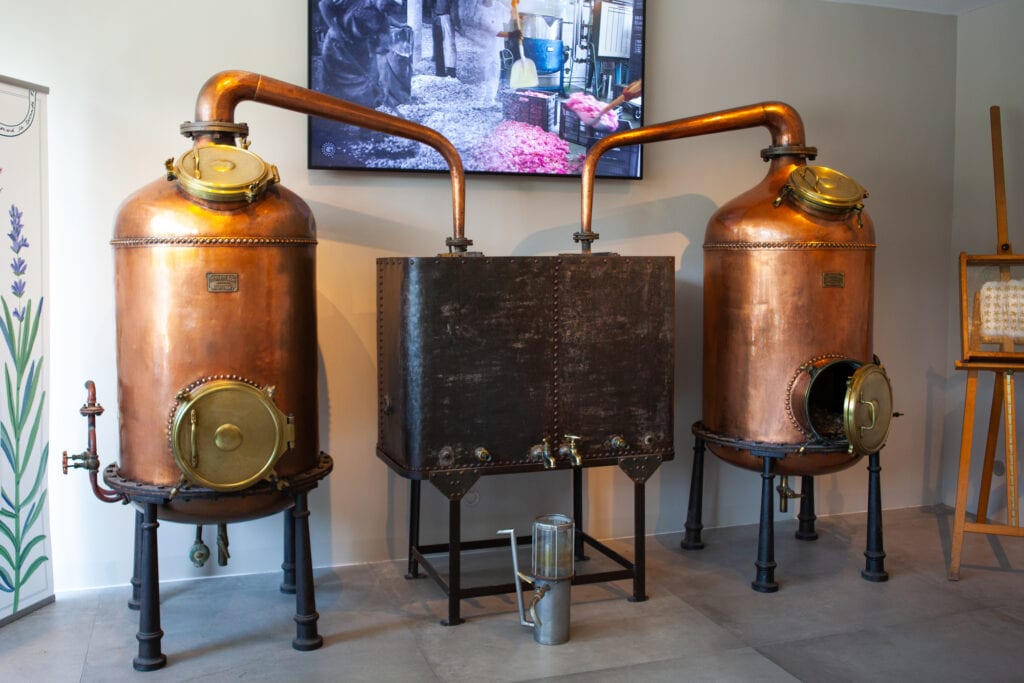 A must in the city, you can learn how to develop your perfume, from picking flowers to putting them in bottles. The Galimard perfumery is the oldest of all, founded in 1747.
The lavender fields are not within the city of course but a short drive north of the village. If you love a good hike you can head to the Plateau de Calern. Make sure you stop at Gourdon one of the most beautiful villages in France it overlooks the valley.
Luberon and Sault Lavender Fields
One of the best places to see lavender is to visit Lagard-d'Apt a village that is surrounded by lavender fields. A must visit is le Chateau du Bois with its outstanding organic lavender fields.
Lagarde d'Apt is uniquely a church, a restaurant and two lavender distilleries there is no village square bordered by ancient houses, no labyrinth of winding streets, or neighbours discussing the weather… there are only 33 inhabitants.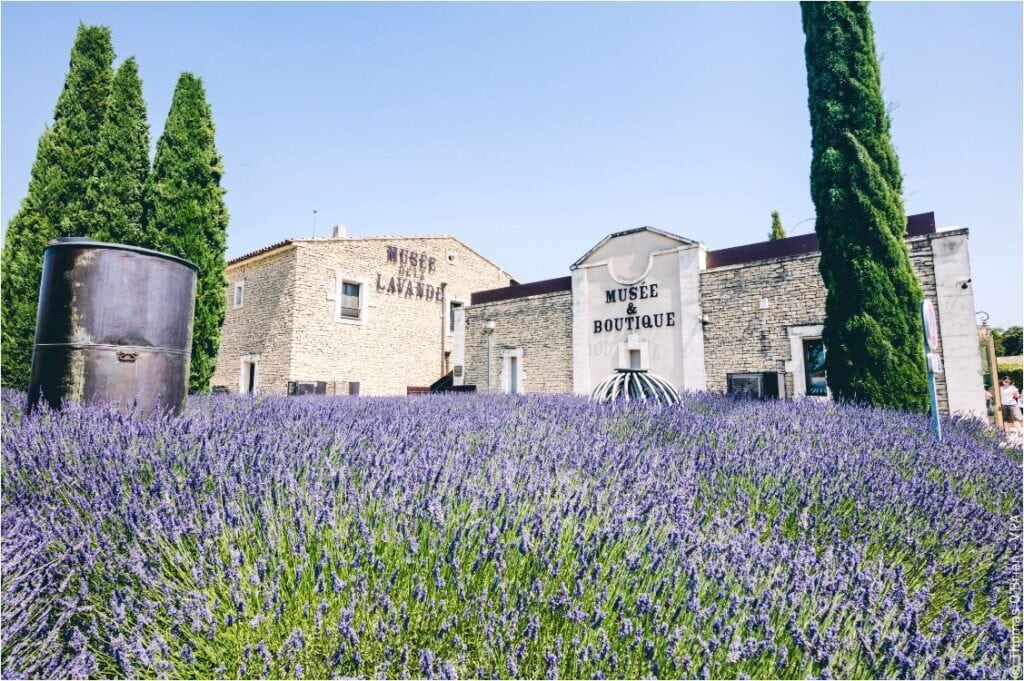 Since 1890, Le Château du Bois grows harvests and distils Officinal Lavender in Provence's mountains. Its name has great importance, as it is the only lavender to be officially recognized for its therapeutic properties, that is why its Latin name is « officinalis ». Fine lavender is a rare and precious plant as it only grows in Provence's mountains at an altitude of 800 to 1300 meters.
You can arrange tours of the fields at the Chateau. The Chateau also has an incredible Lavender Museum Provence where they offer workshops, events and tours.
Sault is a village near Avignon is called the Lavender Capital of France and they host a yearly Lavender Festival every August. You can see the lavender fields walking around the village and view them from the hilltop.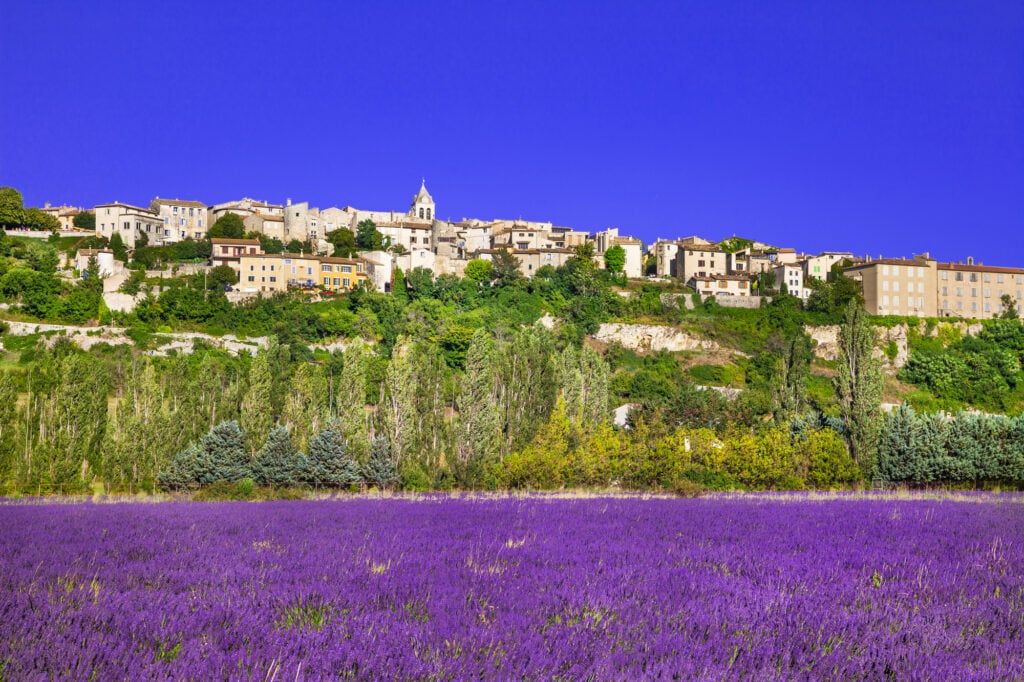 The area around Sault has many fields and just driving around you will spot many to photography. The most visited field is the one at the Chemin des Lavandes which is a 5-kilometre hike by many gorgeous fields.
The most famous lavender field in the area is at the Senanque Abbey near Gordes. Notre-Dame de Senanque is a Cistercian abbey near the village of Gordes. The Senanque Abbey was founded in 1148 under the patronage of Alfant, bishop of Cavaillon, and Raymond Berenger II, Count of Provence, by Cistercian monks.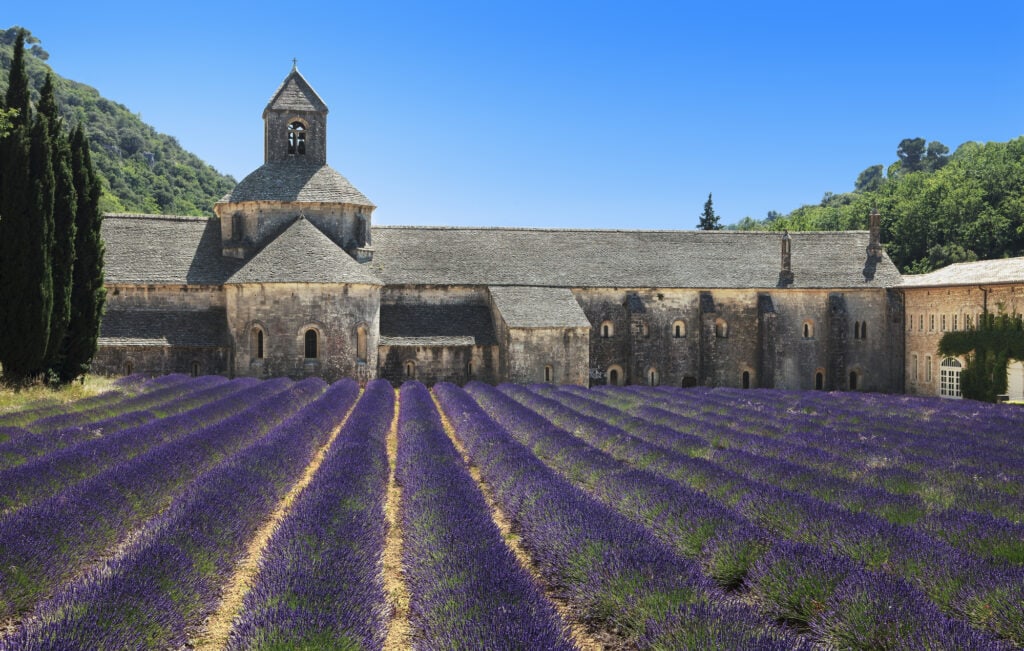 Access to the lavender fields is forbidden to preserve the peace of the monks of Sénanque but you can take photos from the roadside.
Valensole Lavender Fields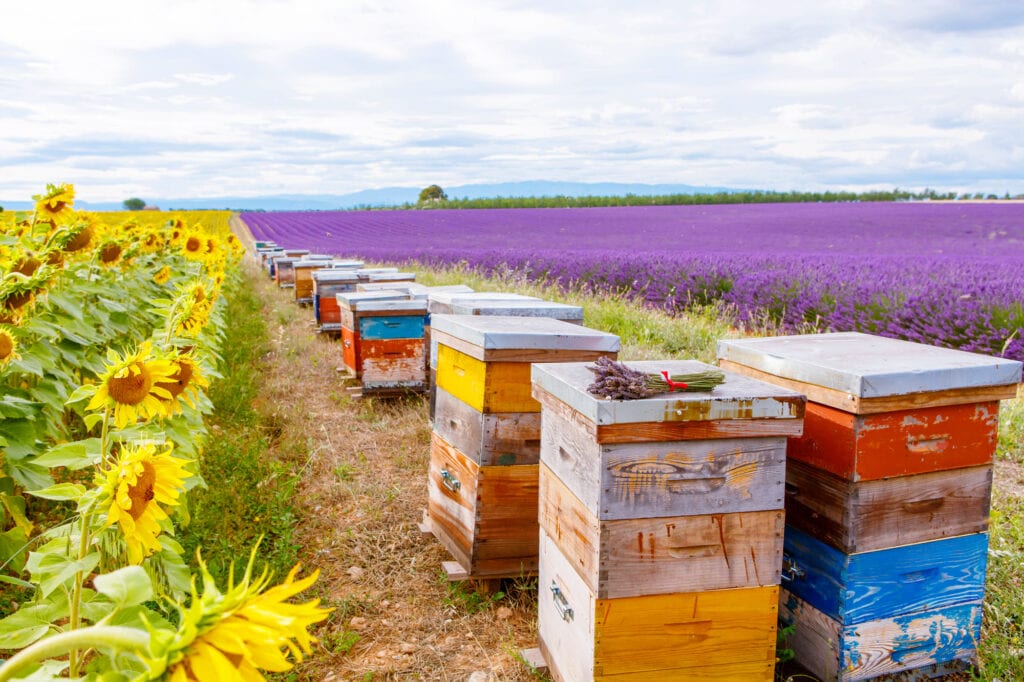 Valensole is the most famous of all the places to see lavender fields in France. These purple flowers are everywhere in Plateau de Valensole and regardless of whether you want to visit a specific field just drive and take in the glorious purple flowers everywhere.
The most popular lavender field is Lavandes Angelvin and you will more than likely spot a few "influencers" changing clothes to match the flowers.

Drôme
This region, sometimes known as Drôme provençale, is much less crowded than the better-known areas for lavender fields in France and from mid-June to mid-July is the best time to come and see the fields of lavender.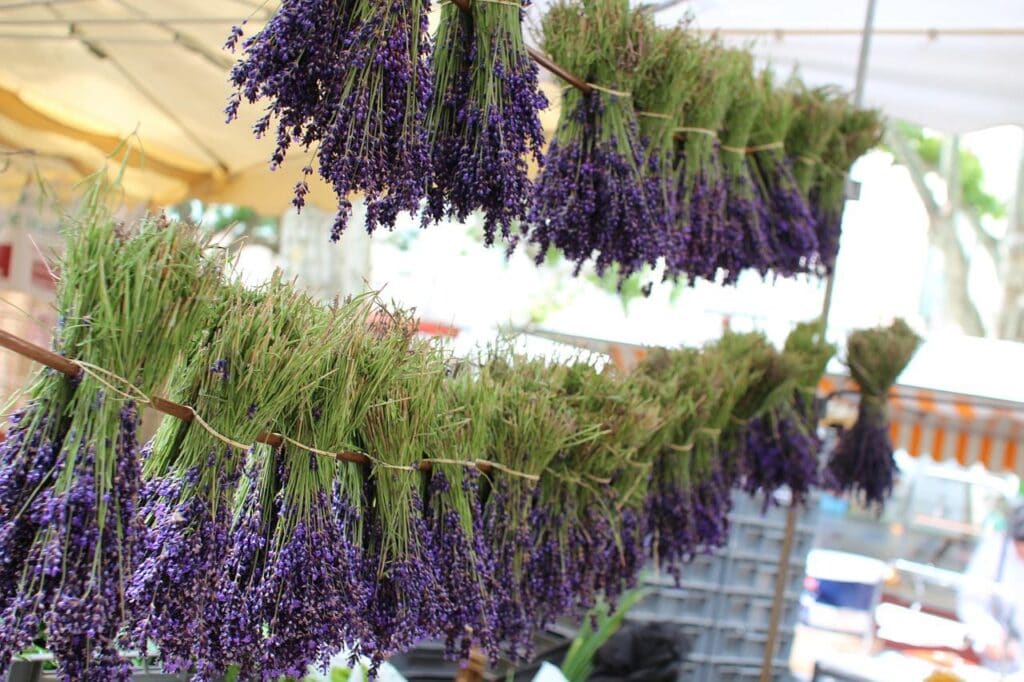 Take a moment or two to visit the villages of Le Poët Laval and La Garde Adhémar perched on the hills or Grignan with its 17the century chateau. These three are all among the Most Beautiful Villages in France.
Grignan is set on a rocky promontory above a landscape of lavender, grapevines, truffle fields and scrubland. It has been occupied since prehistoric times with a majestic Renaissance château at the very top of the village.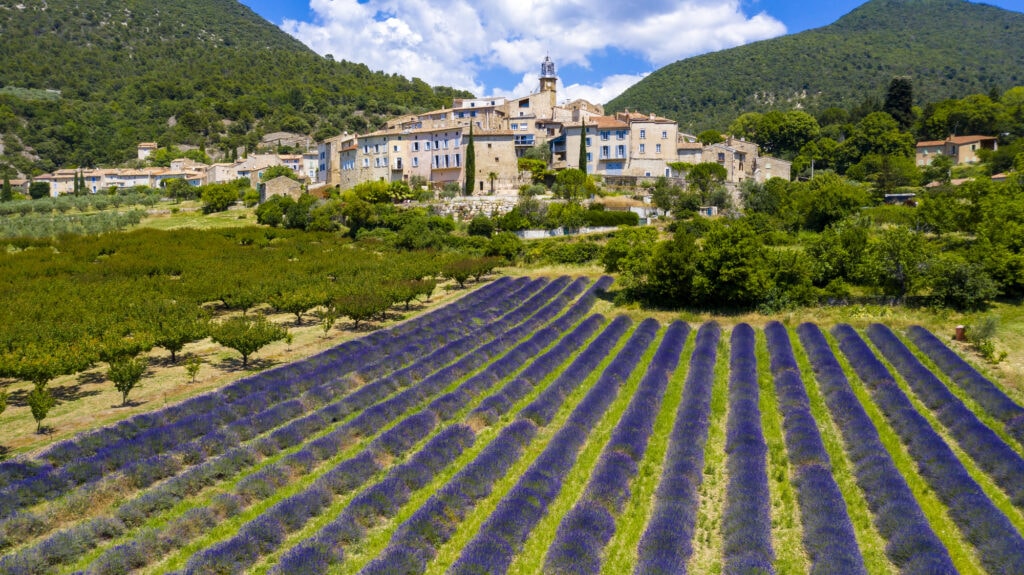 Lavender festivals in Provence
The first of the year is in the town of Ferrassières, on the Plateau D'Albion, which is on the first Sunday of July and is a quite relaxed low key affair.
The town of Valesole hosts possibly the most famous Fête de Lavande in Provence on the third Sunday of July every year.
Sault celebrates Around 14 and 15 August, with a cutting festival, and flower floats.
Riez: Last fornight in July, Fête de Lavande
Digne les Bains in Haute Provence, to the northeast of Valensole, has a 'Corso de la Lavande, with flower floats, dancing, and music with all kinds of lavender scented items and foods to enjoy.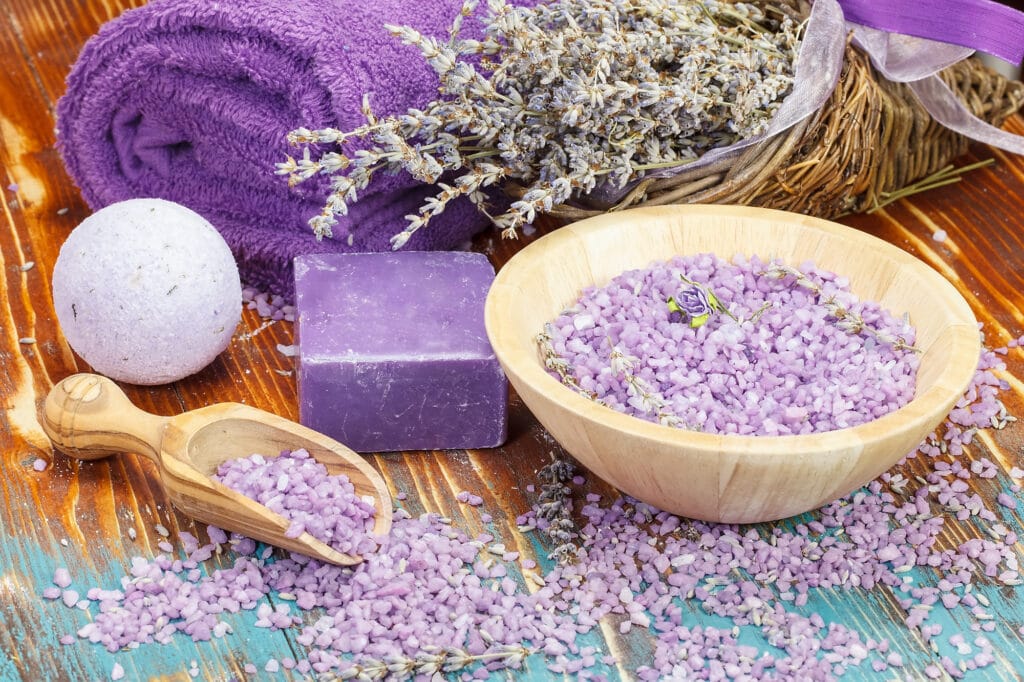 Where to stay when visiting the French Lavender Fields
Chateau du Grand Jardin: Set in a 17th-century château with manicured gardens, this B&B is located in the Verdon Regional Park. Meals are served in the former wine cellar and guest rooms feature period furniture.
A view of the garden is offered from the individually decorated rooms, and some rooms also feature a terrace or a fireplace. A continental breakfast is prepared every morning at the Château du Grand Jardin, and guests are invited to dine in the dining room, upon reservation. After dinner, relax in the lounge, which features a piano.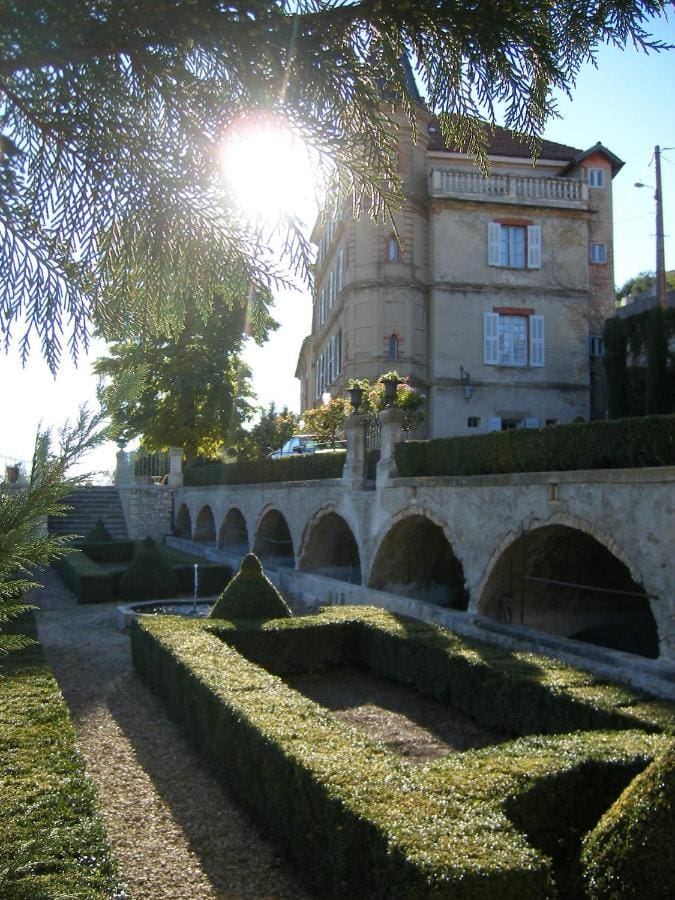 Le Mas de la Rose: Le Mas de la Rose offers genuine luxury in a gorgeous rural setting surrounded by 75 acres of its own lavender fields, olive groves and pine woodlands.
The farm buildings date back to the 17th century and have been beautifully renovated into what is now surely one of the finest hotels in rural Provence.
Their fantastic food deserves a special mention too, with much of the fruit, vegetables and herbs involved coming from the adjoining organic gardens.
La Bastide de Marie: Near both Gordes and Ménerbes, in Provence's Luberon region is a gorgeous property; a beautifully restored 18th-century manor house surrounded by 57 acres of vineyards, gardens, olive trees and lavender groves.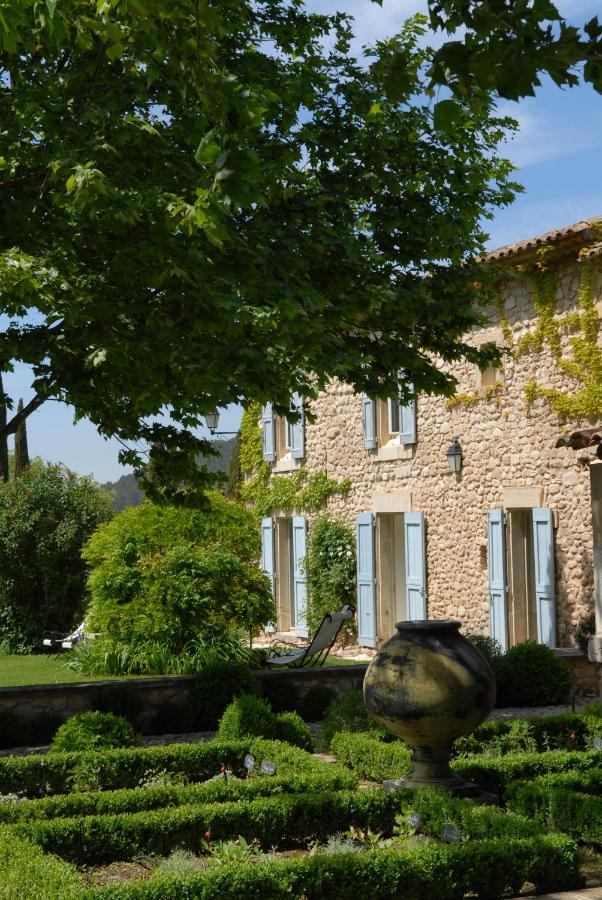 La Coquillade: Coquillade is located in a 13th-century wine-making village surrounded by almost 90 acres of vineyards and lavender plants. A stunning retreat and the perfect luxury stay for touring the French lavender fields.
Au pays de la lavande : Is set in Valensole. The air-conditioned accommodation is 45 km from Digne-les-Bains, and guests benefit from complimentary WiFi and private parking available on site. This house is for 2 fully fitted and kitted out with a lovely terrace and easy walks to the lavender fields.
Lavender fields – tours
Provence Lavender Fields Tour from Aix-en-Provence
Saturate yourself in the aromatic fields of lavender in Provence on this guided tour from Aix-en-Provence. Choose between a morning, afternoon or full-day tour and then set out with your guide to wander around the violet-coloured fields. Learn about the history of lavender production in the area, wander around a lavender farm and take some time to pose for pics in the middle of a lavender field.

Read more about Provence Lavender Fields Tour from Aix-en-Provence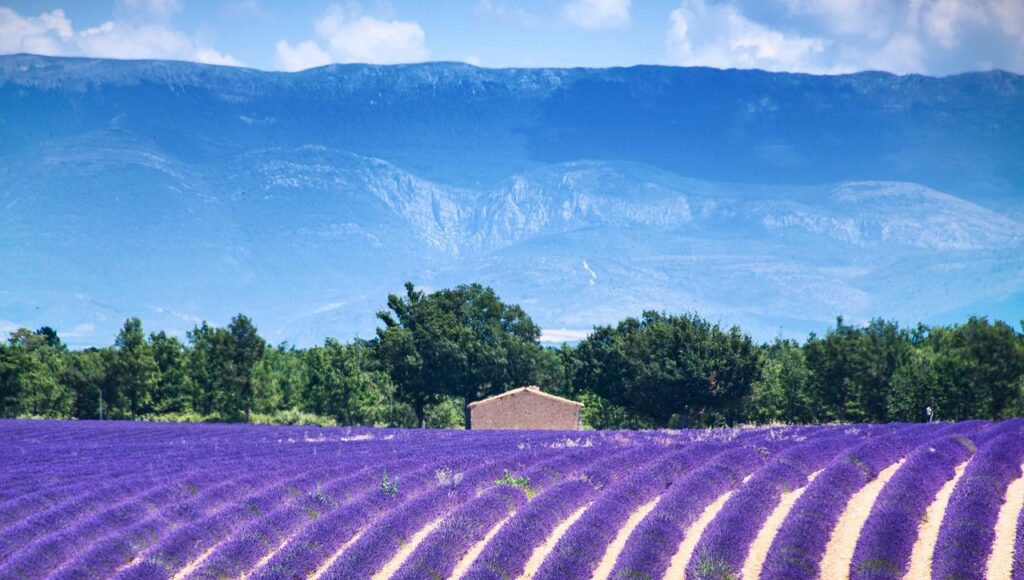 Private Tour of Aix-en-Provence & Valensole from Marseille
Discover the magic of southern France on this 8-hour trip through lavender-laced Provence. On this private tour from Marseille, visit the chic town of Aix-en-Provence and cross the breathtaking Valensole Plateau. Soak up the signature beauty of farms bursting with fragrant lavender – particularly in summer – and explore Valensole village, where you can purchase a bouquet and some essential oils to take home.

Read more about Private Tour of Aix-en-Provence & Valensole from Marseille
Provence in One Day Small Group Day Trip from Avignon
Explore the breathtaking Provençal countryside on this small-group tour from Avignon. In a comfortable coach, wind through hills blanketed in grapevines and lavender, stopping at area highlights such as the UNESCO-listed Pont du Gard and the Antiques of Saint-Rémy-de-Provence. Visit the rocky perched towns of Les Baux de Provence, Roussillon, and Gordes, where you enjoy splendid views, architectural tours, and souvenir shopping.

Read more about Provence in One Day Small Group Day Trip from Avignon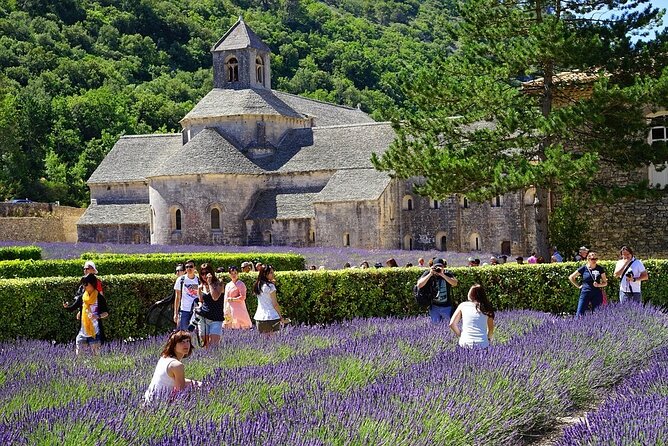 Small Group Provence and Lavender Museum Day Trip from Avignon
Soak up Provence's exquisite natural beauty on a full-day tour from Avignon. Cross expansive plateaus are covered in lavender blooms as you travel to several enchanting French villages such as Sault and Roussillon. Browse lavender shops and markets, visit the hilltop town of Gordes and learn all about Provence's symbolic flower at Lavender Museum in Coustellet. The small-group format ensures a flexible and personalised tour.

Read more about Small Group Provence and Lavender Museum Day Trip from Avignon
Lavender in Luberon Small-Group Half-Day Trip
Take in the stunning French countryside on a half-day tour of Provence's lavender fields from Avignon. In a small group, wind through undulating hills and fragrant seas of lavender, and stop in the charming village of Sault to peruse local soaps, flowers, essential oils, and honey. Visit a lavender producer and discover the fascinating distillation process and learn the benefits of lavender essential oil. You will also enjoy multiple photo stops throughout Sault and the surrounding lavender fields.

Read more about Lavender in Luberon Small Group Half-Day Trip
The South of France is one of the most visited regions in France and in particular those looking for the Lavender France route. And just think you can stay in a chateau or a beautiful Lavender farm and enjoy all the wine and gourmet offerings to be found in the region.
You might also like
Chateau de Chenonceau the ultimate guide
French Cheese – 23 amazing types of French cheese
Beautiful villages in Normandy
Exploring the beautiful Mayenne – Pays de la Loire, France
14 Fabulous French Castles to visit
Pin it to keep it