148 National Dishes around the world
Most countries have a favourite or national dish. National dishes from every country are generally one of the first things that tourists and visitors seek out when travelling to a new country.
What are the national dishes of the world? A national dish is a culinary dish that is strongly associated with and by a particular country. A national dish in a sense defines the country's food culture which in turn defines the cultural identity of a nation.
There are some countries that do not have a national dish because the country is so large. India for example is a region that has several national dishes because of the diversity of the area.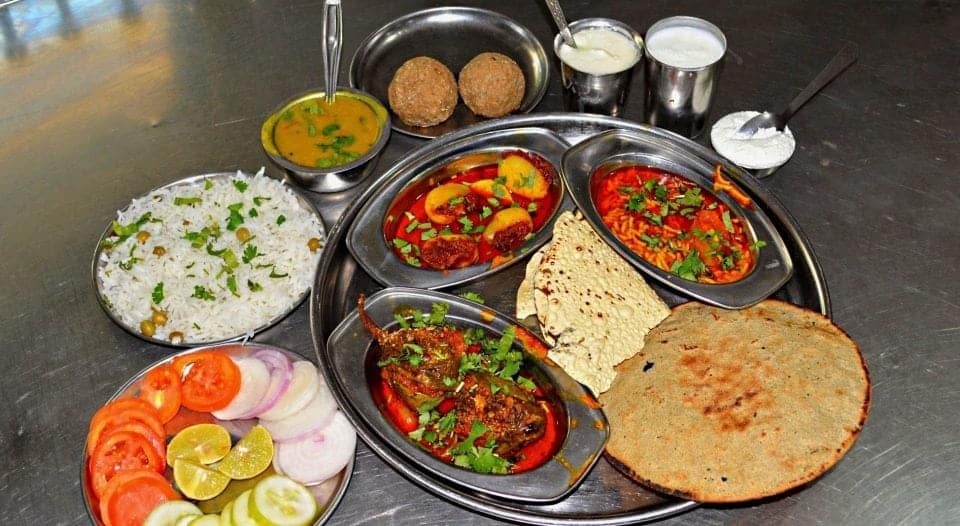 There are countries such as Spain and Mexico along with several Central and Latin American countries that share a cuisine. This generally means that the conquering nation such as Spain had a great influence on that country.
What country has the best national dish? I suspect that since pizza is the world's most popular food some would consider Italy to have the best national dish.
In places like the Americas, the national cuisine would be the indigenous foods developed over centuries by the original inhabitants that were devastated by the colonization of those nations.
Fortunately today there is a growing recognition of the importance of indigenous cuisines in the world of food anthropology and food travel. Many nations over time have become melting pots of diverse culinary cultures that finding one national dish becomes almost impossible.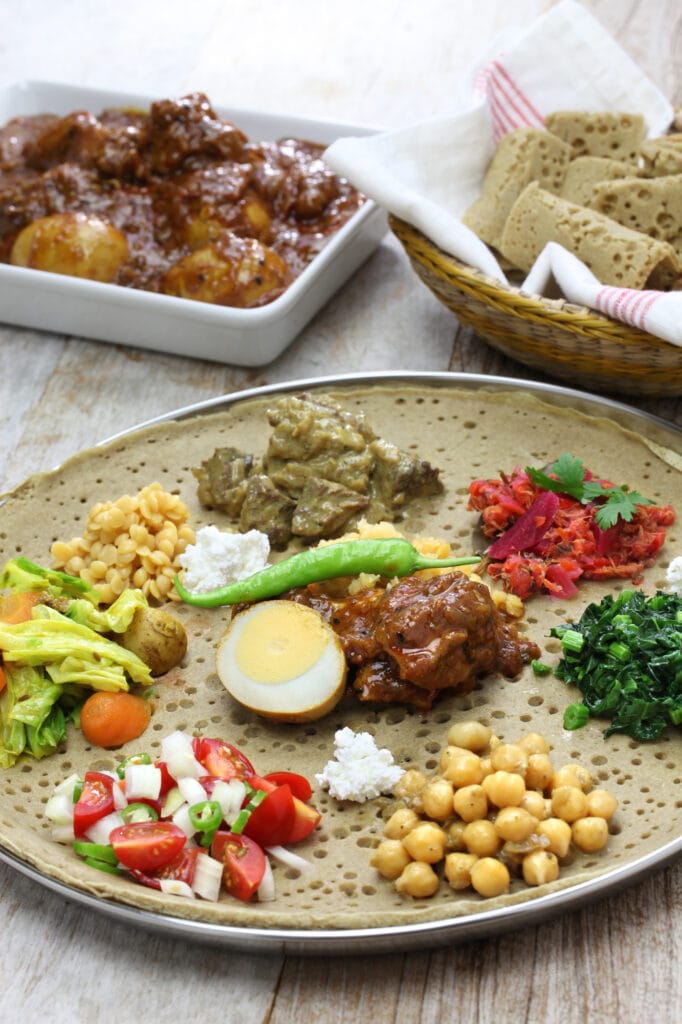 This article is an attempt to learn about national dishes from around the world. Since it isn't possible to include every national dish from around the world this list of 149 are some of the most common along with the most unusual.
149 national dishes to try
National dishes form part of a country's identity they are the history and the culture of a place summed up in one or more dishes that define the food culture of a place. National dishes connect the people of an area to their heritage.
National dishes of Eastern Europe
Eastern Europe includes 15 countries and many of the national dishes are similar dishes. For example the Russian pelmeni and the Polish pierogi.
National dish of Azerbaijan – Plov
Plov is riсe cooked with saffron, cinnamon, aromatic herbs and fried mutton, chicken, beef or lamb and can include dried fruits and seasonal vegetables.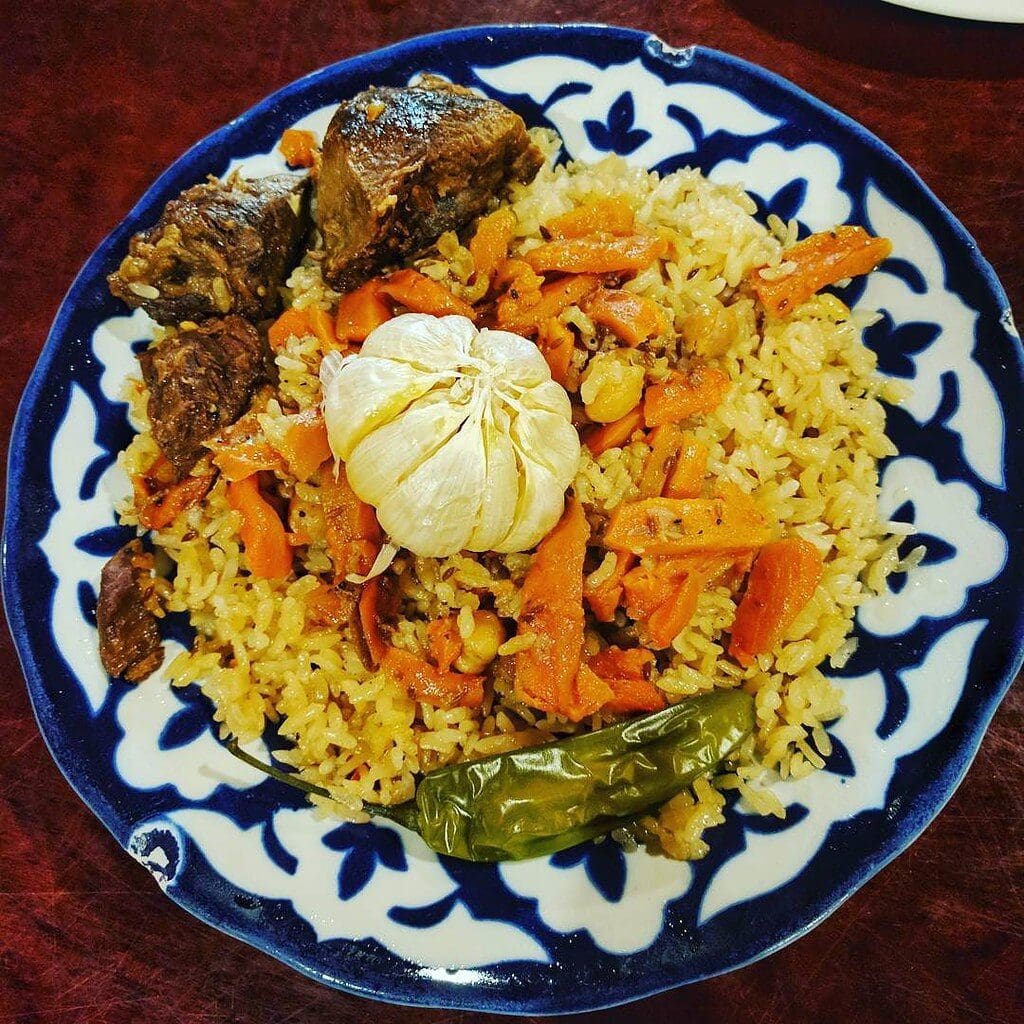 National Dish of the Czech Republic – Vepřo knedlo zelo – roast pork and dumplings
A classic Czech dish and also the national dish of the Czech Republic, and one you must try in Prague is Vepřo knedlo zelo and will be on the menu in many of the best restaurants in Prague. This dish made of pork roast, knedliky, and sauerkraut is one of the top favourites with its traditional flavours.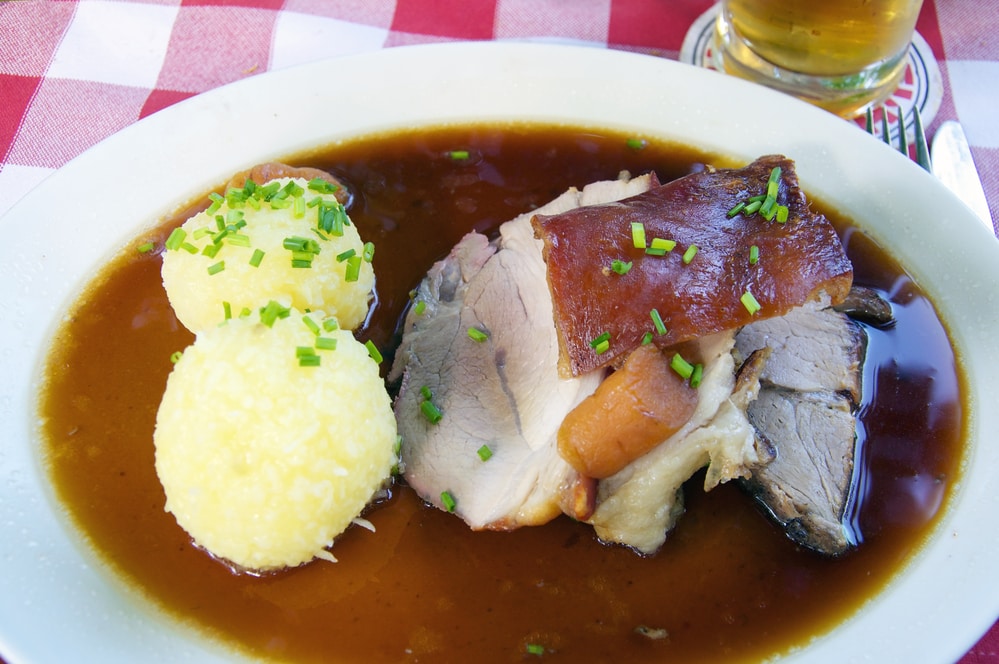 29 Unique Things to Do In Prague, Czech Republic
National dish of Bosnia & Herzegovina – Ćevapi
This is a barbecued kebab made of ground beef shaped around a skewer and served with chopped raw onions.
Bosnian Food – 33 delicious dishes you must try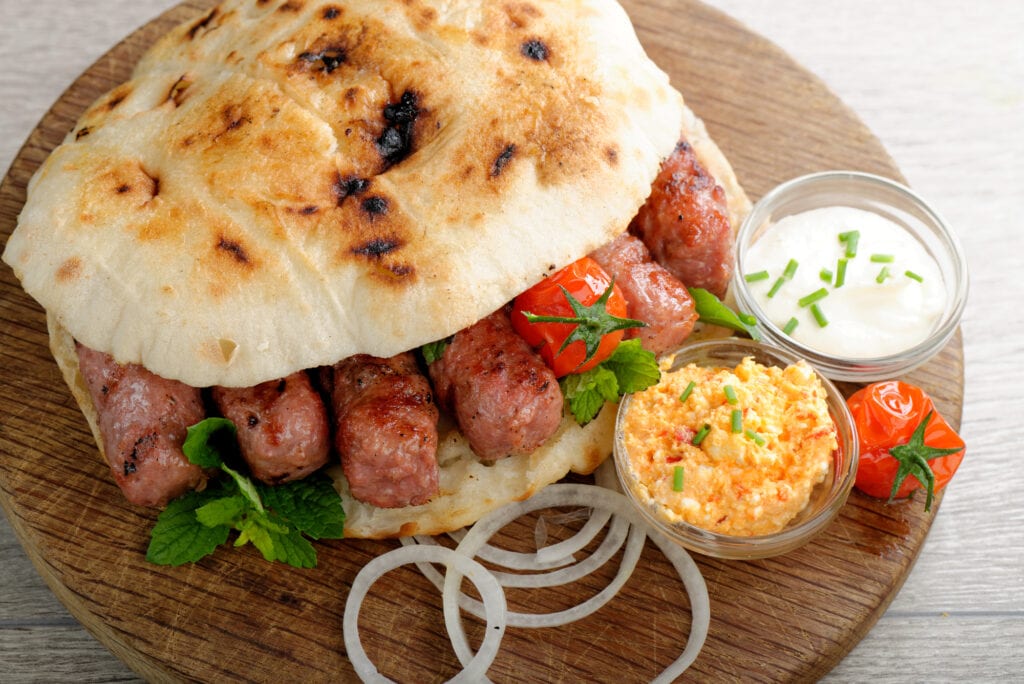 National dish of Georgia – Khachapuri
This is a Georgian cheese bread that is baked and formed into different shapes. When cooked the bread is served with butter and a soft-boiled egg.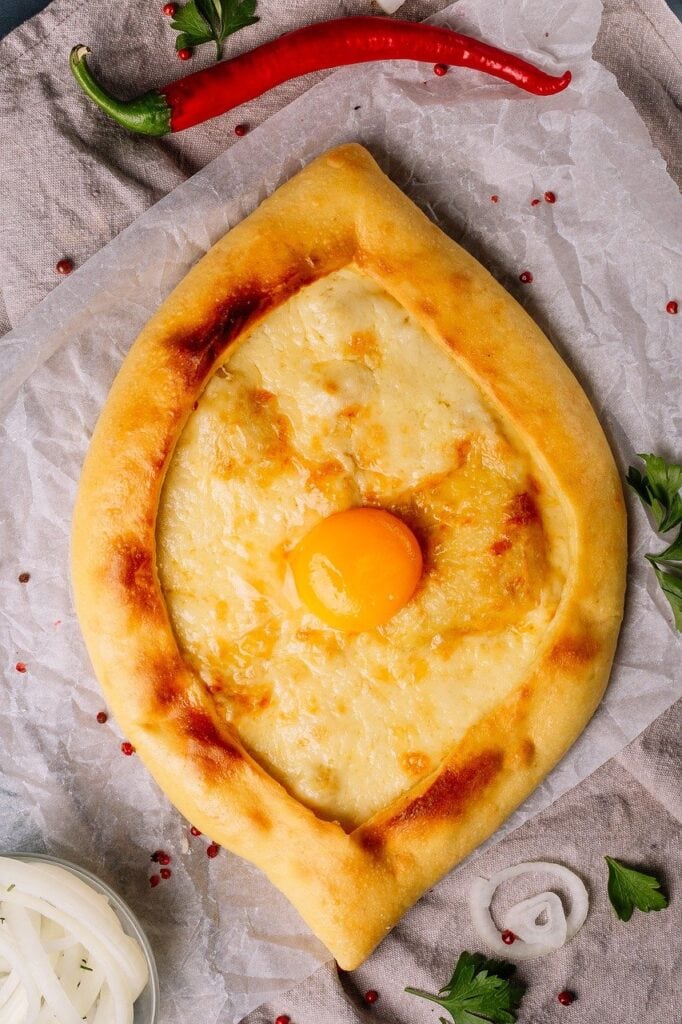 National dish of Hungary – Goulash
The National dish of Hungary is a paprika and tomato-based stew that includes beef, vegetables, onions and spices.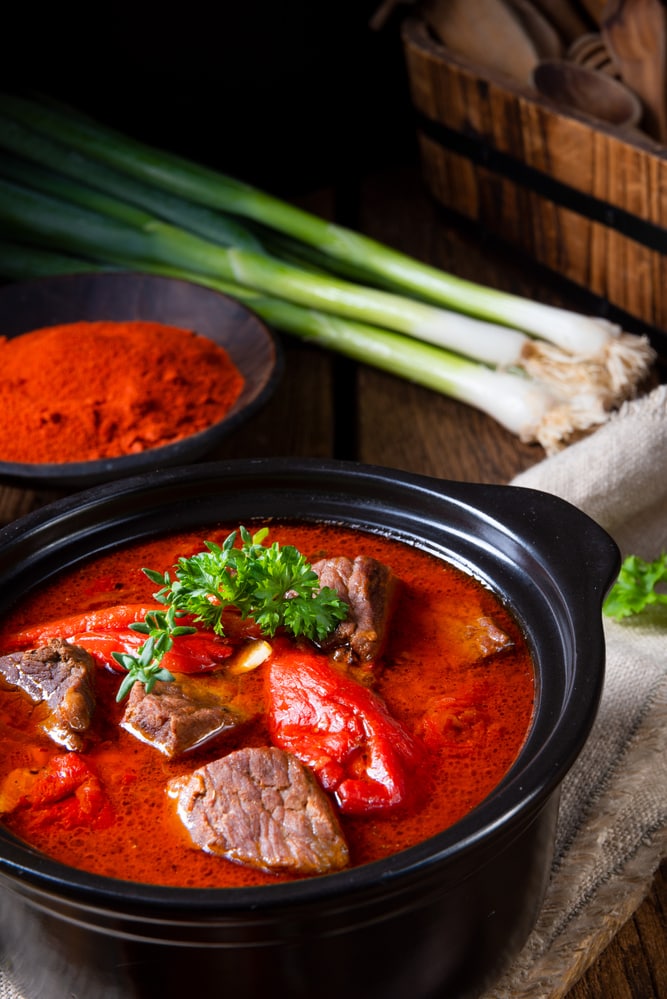 National dishes of Poland – Bigos
A hunter's stew of cabbage, sauerkraut, mushrooms various meats as it depends on what is available.
The absolute best things to eat in Krakow Poland
Things to do in Krakow: 44 extraordinary sites to explore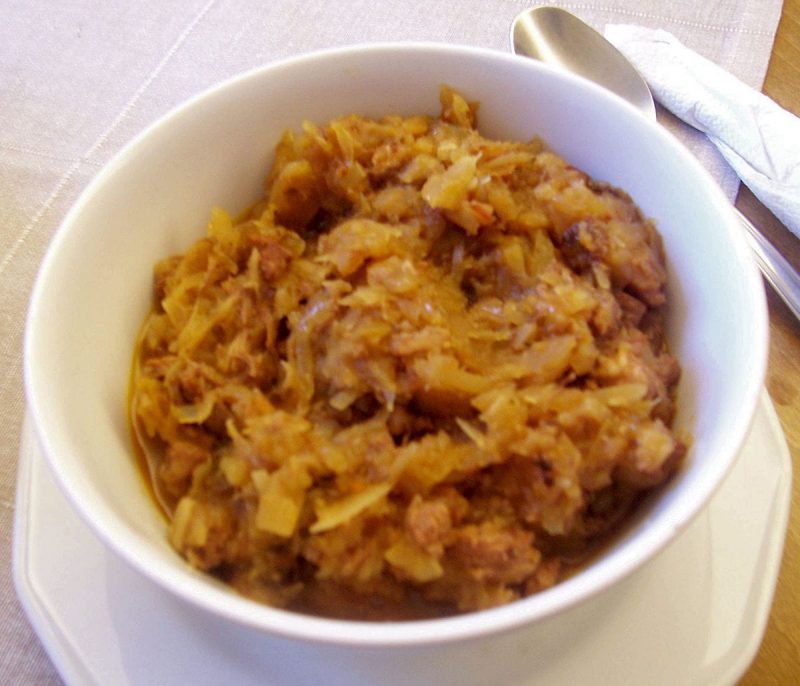 Pierogies
Usually, Pierogi are either baked or boiled (and sometimes pan-fried after the boil) and served with a topping of your choice like fried onions or sour cream. Some of the classic fillings include cottage cheese and potatoes, mushrooms and cabbage, and minced meat.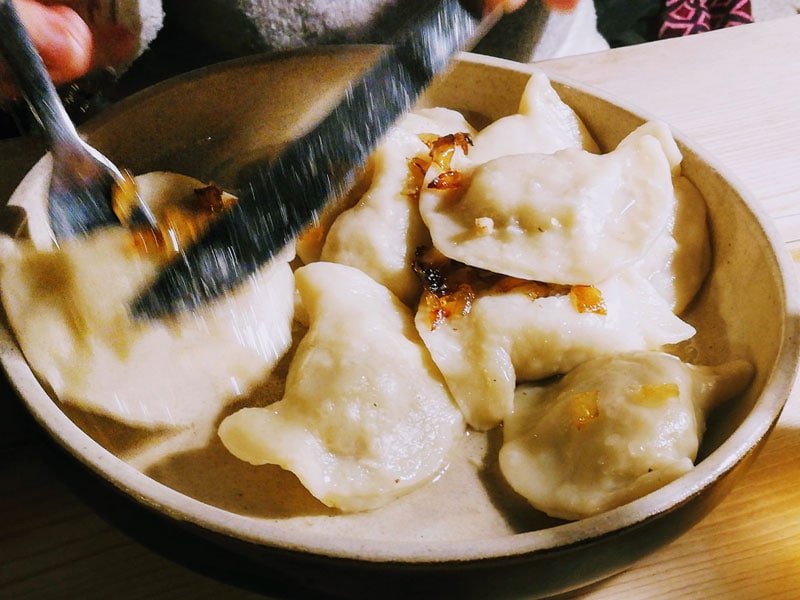 National dish of Russia – Pelmeni
The Russian version – is said to be the original. Pelmeni is a simple dough-shaped dumpling filled with beef, pork and mutton and simply seasoned with salt and pepper.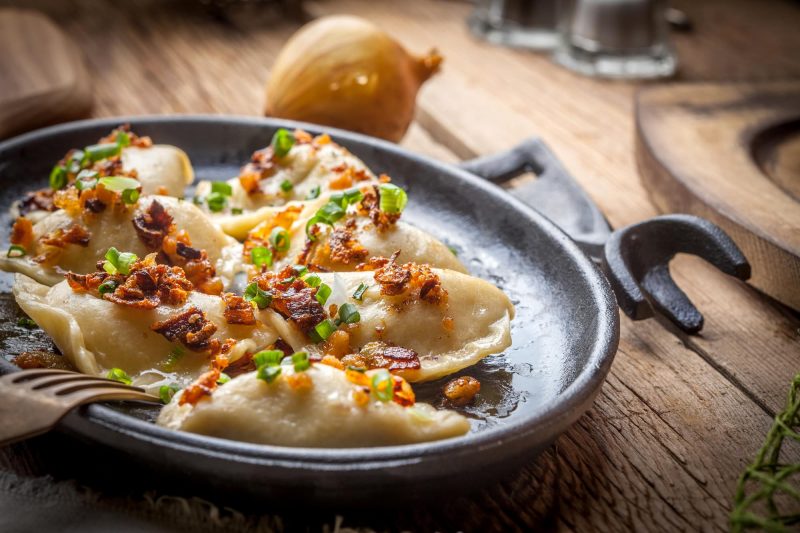 National dishes of Turkey – Döner Kebab
Sliced or shaved slices of lamb/veal or beef folded in lavash flatbread with tomatoes, onions, lettuce, and cucumbers.
42 scrumptious traditional Turkish foods to try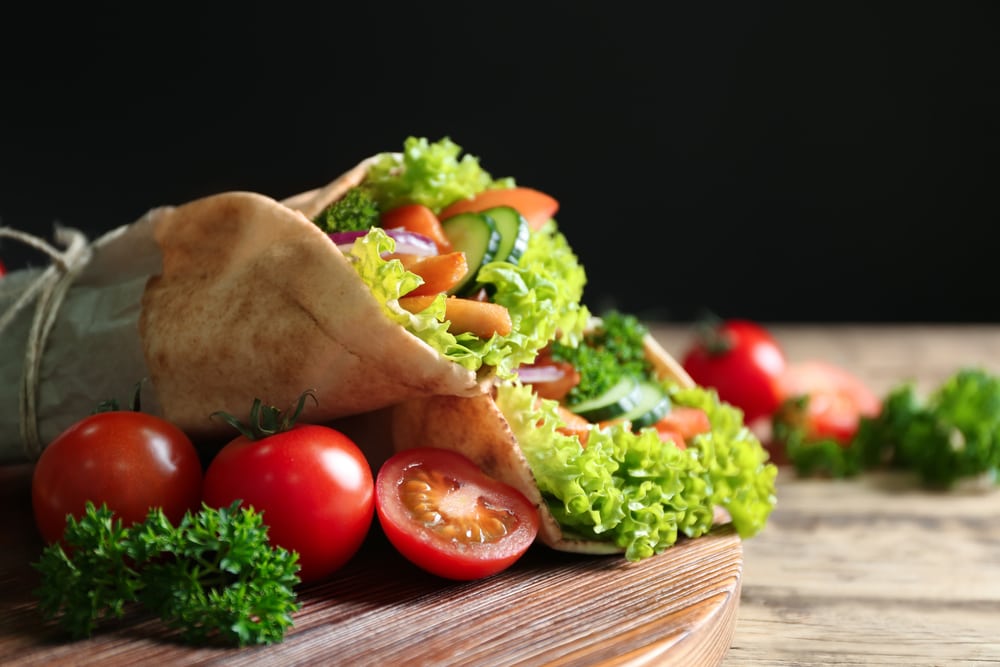 Manti
Manti is one of the classic Turkish dishes that most people consider Turkey's National Food. There is however no limit to delicious Turkish food as long as you are willing to try the local authentic Turkish cuisine.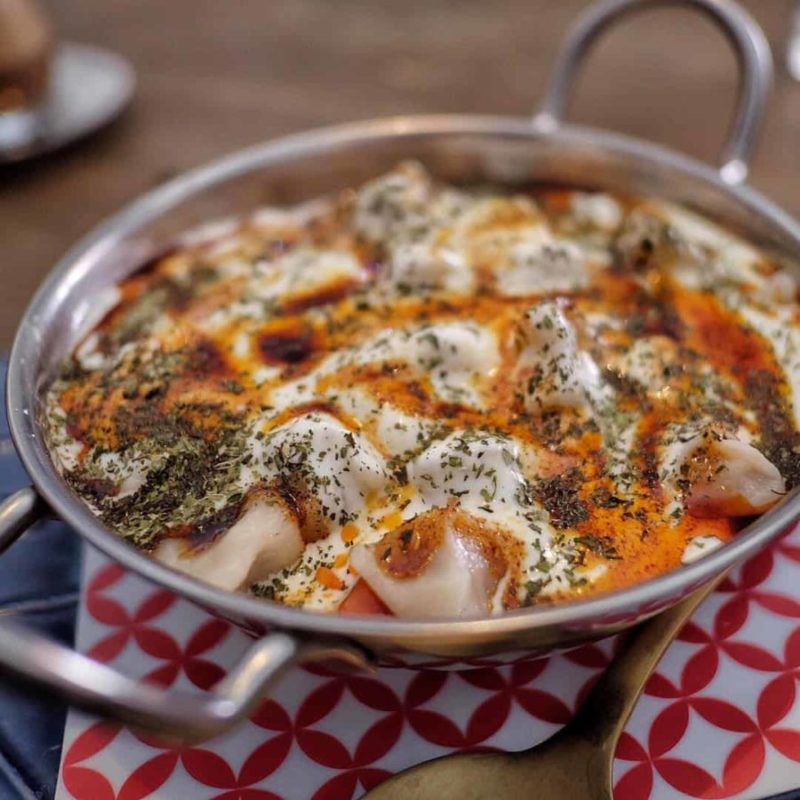 This is a dish that some say reminds them of ravioli. Manti is, however, very different. The little dumplings are stuffed with fillings consisting of either beef or lamb and then fried or boiled. The meat is, according to a 15th Century Ottoman recipe, flavoured with simple seasonings it is the condiments that are served with Manti that make it special. There are various little dishes to spark up the Manti and they range from spicy red pepper to yoghurt, mint, crushed garlic, sumac and melted butter.
National dish of Latvia – Pelēkie zirņi ar speķi
Pelēkie zirņi ar speķi is the national dish of Latvia. This type of stew is made with local grey peas (similar to chickpeas), fried onions, and diced speck. The peas are soaked overnight and then sautéed with bacon, salt, and pepper.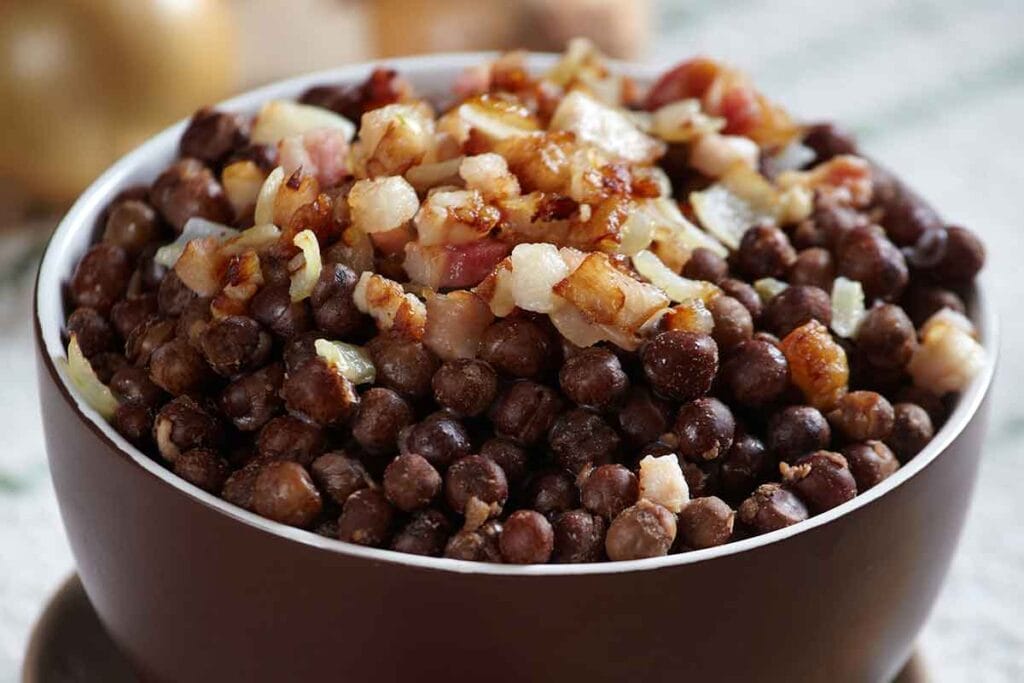 National dish of Moldova – Mămăligă
Similar to polenta rough ground yellow corn is made into a porridge and served with fresh cheese and sprinkled with herbs as a side dish.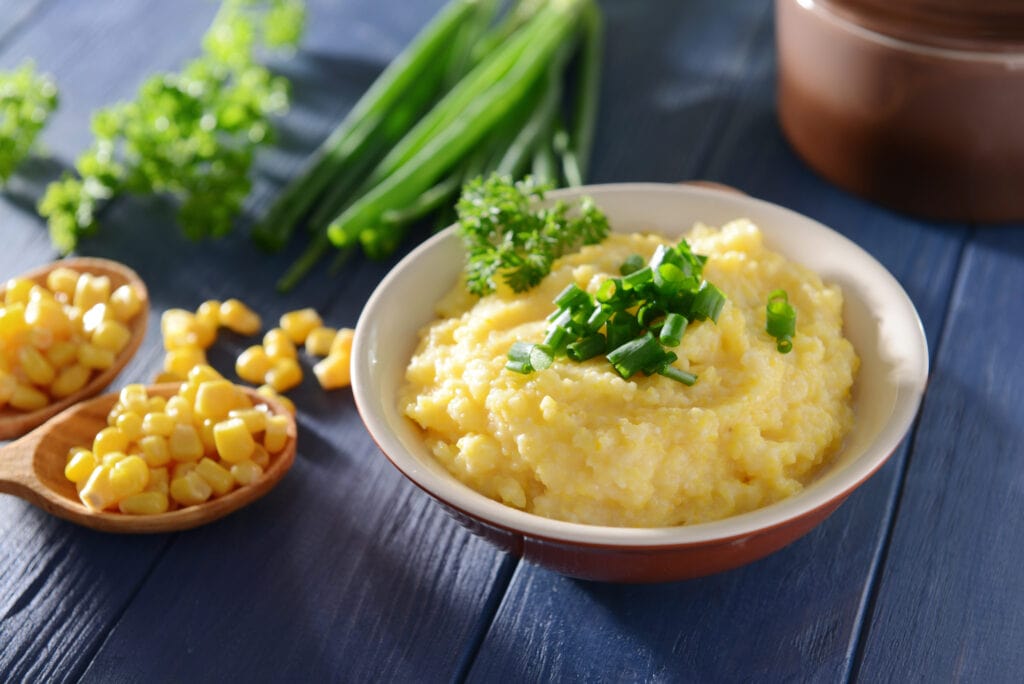 National dish of Ukraine – Borscht
Beetroot soup with pork or beef broth base.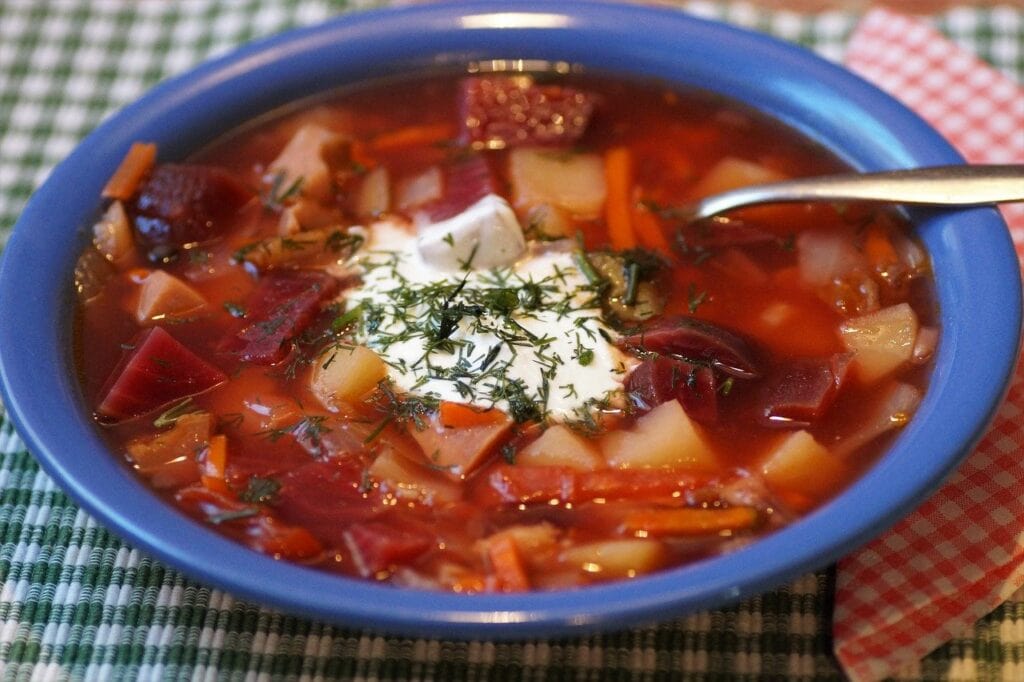 National dish of Uzbekistan – Plov
A one-pot rice dish with meats and vegetables usually lamb, carrots and onions with garlic. It is topped with raisins and fried crispy onions.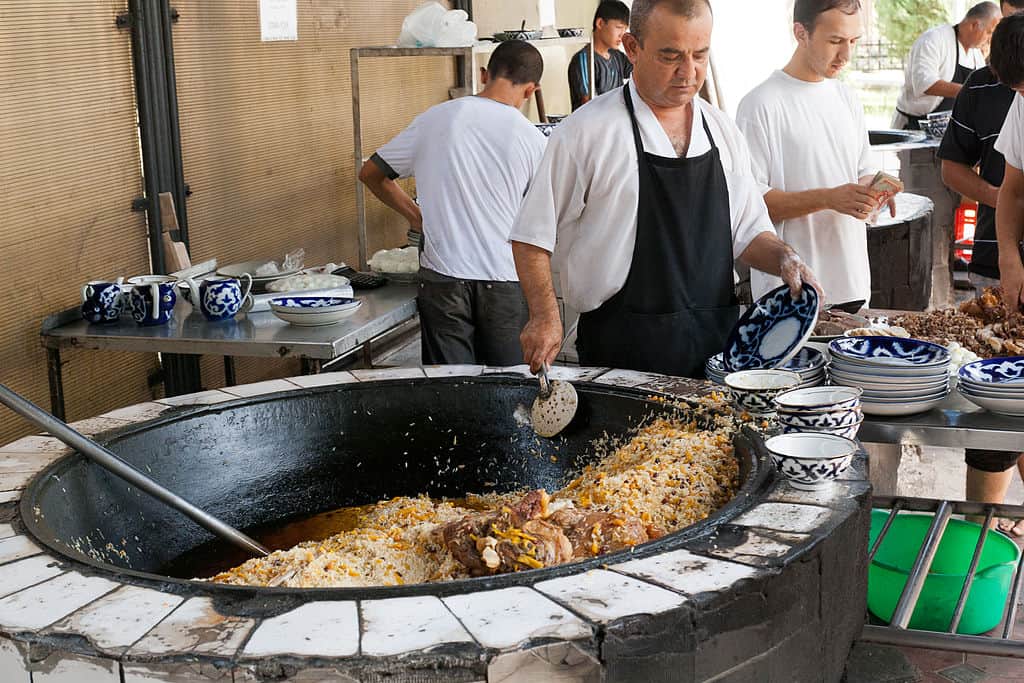 National dish of Slovakia – Bryndzové halušky
Potato dumplings stuffed with sheep's cheese.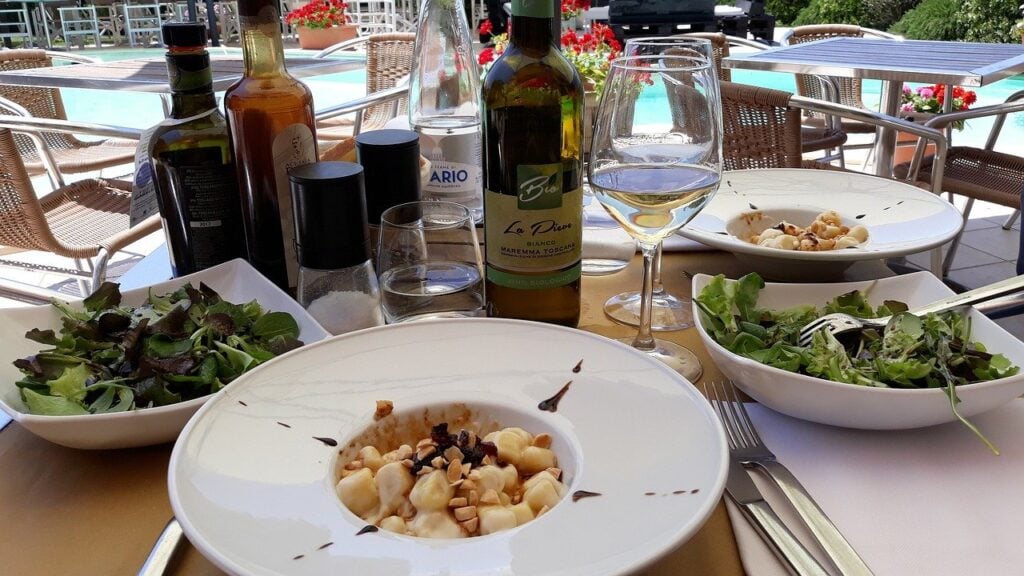 National dish of Kazakhstan – Beshbarmak
Beshbarmak is usually made from finely chopped boiled meat (lamb or horse), tossed with flat noodles with an onion sauce. This is a traditional sharing dish with the diners helping themselves with their fingers to the dish.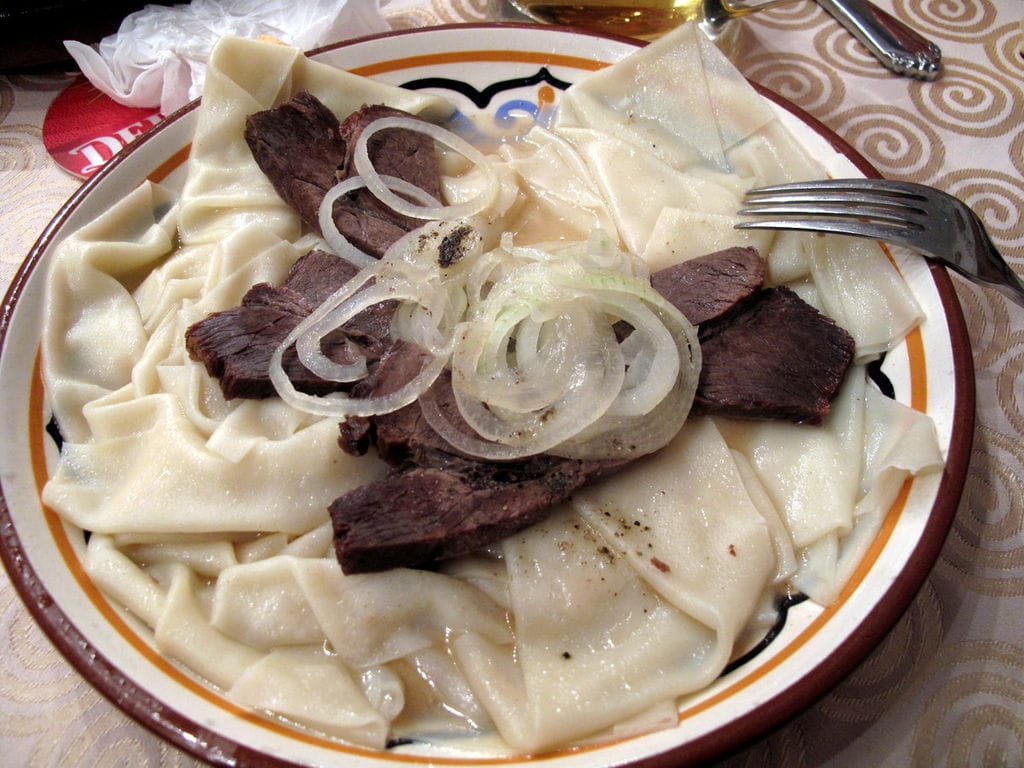 National dish of Estonia – Verivorst
Verivorst is a traditional Estonian blood sausage and the country's national dish. It is a typical winter meal, usually served during the Christmas festivities, when piles of verivorst sausages are roasted together with potatoes and pork. The sausage consists of barley, onions, allspice, marjoram, and blood.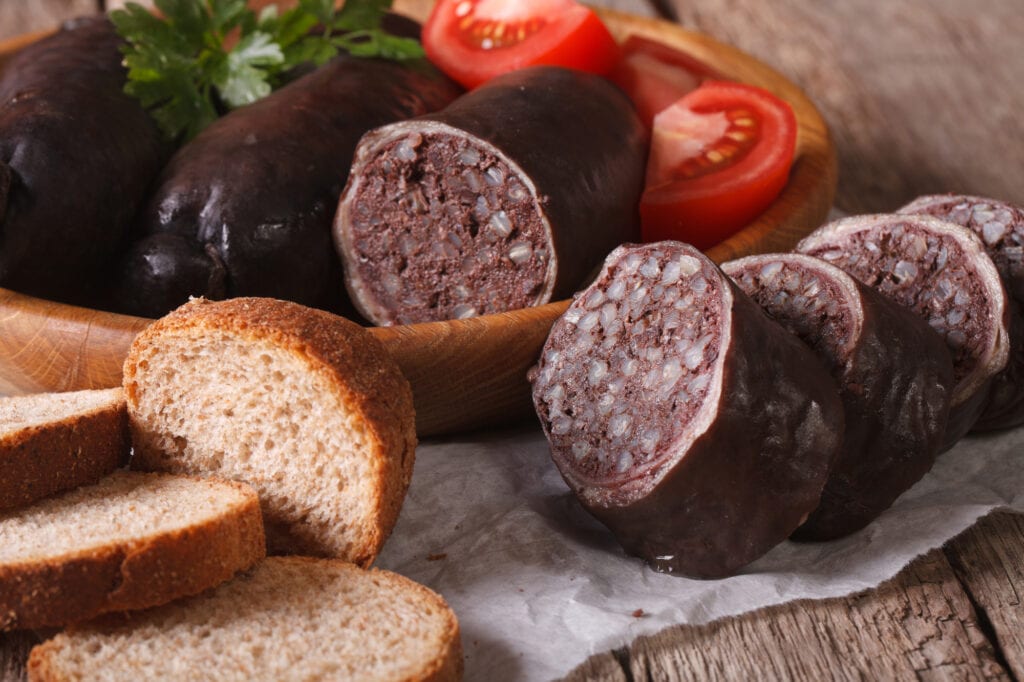 National dish of Cyprus – Fasolada
Fasolada is considered to be the national dish of Cyprus. It is a bean and vegetable soup, cooked and served with plenty of olive oil.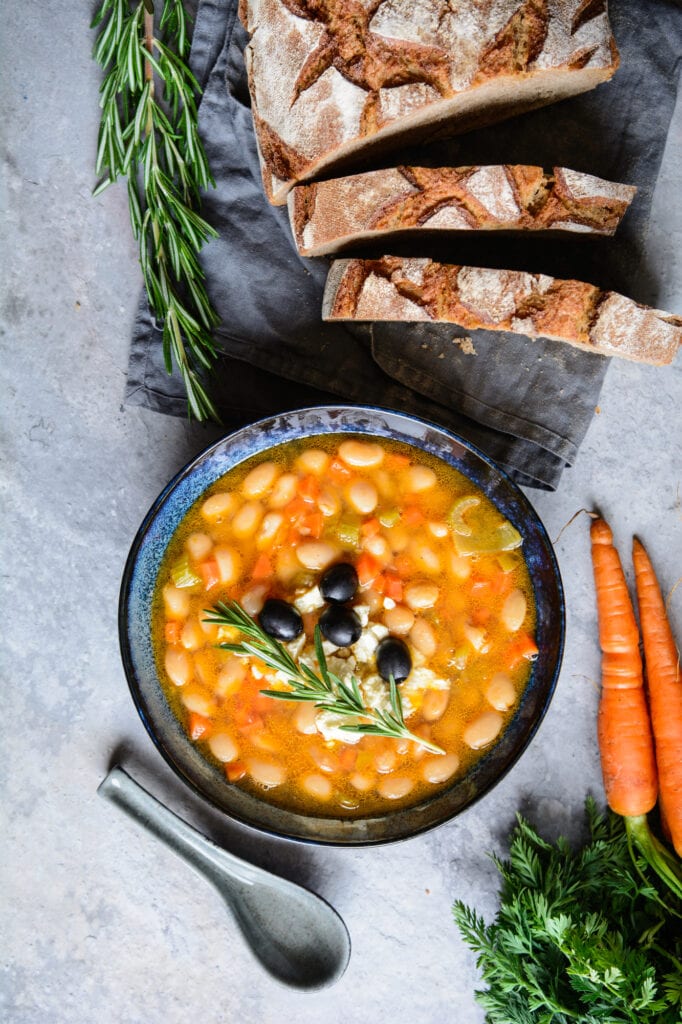 Western Europe National Dishes
Western Europe is comprised of 12 countries but these include the nations of Great Britain as Scotland, Wales and Northern Ireland all have their national dishes.
National dish of Austria – Wiener Schnitzel
A flattened piece of veal is coated with bread crumbs and then fried in butter. Traditionally garnished with lemon slices and parsley.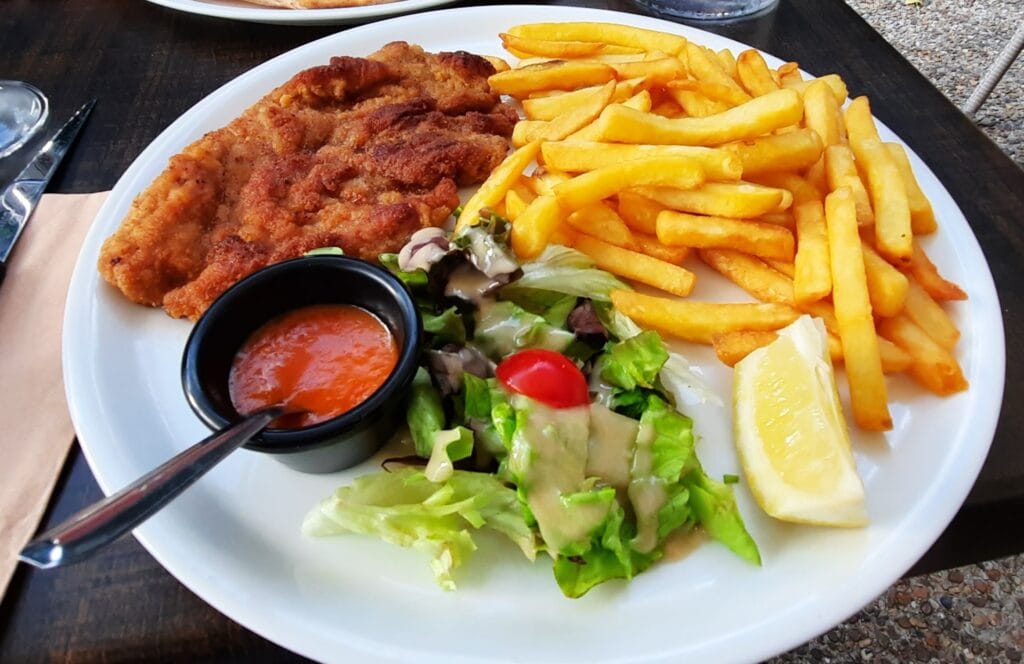 National dish of Liechtenstein – Käsknöpfle
A pasta dumping like spätzle served with a cheese sauce and sweet onions on top.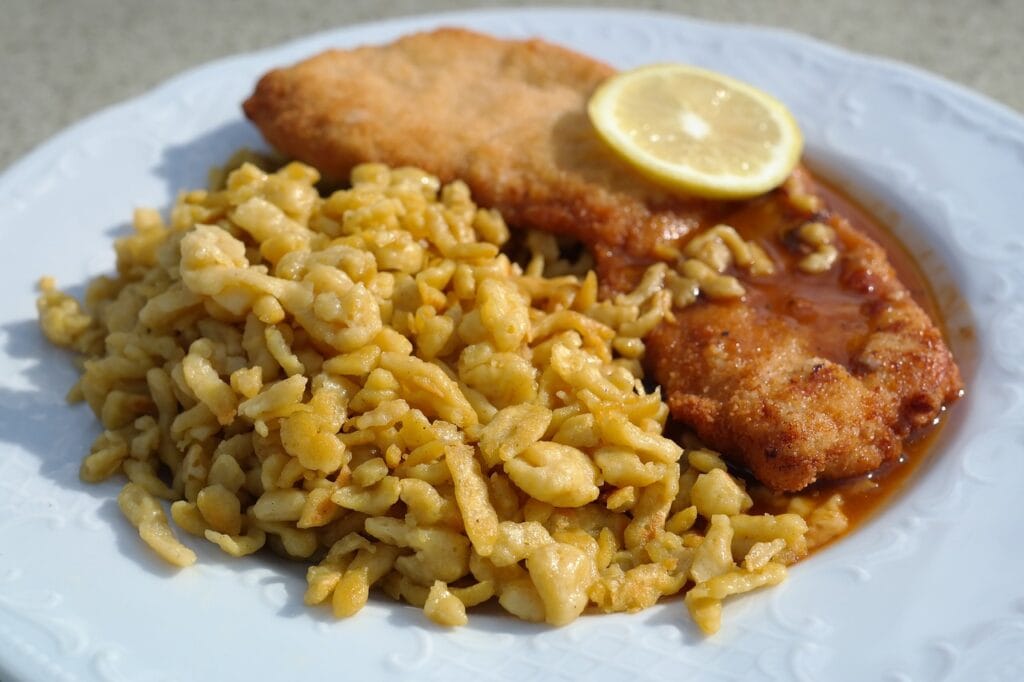 National dish of Luxembourg – Judd mat Gaardebounen
The national dish of Luxembourg is a stew of pork collar with vegetables including leeks, broad beans, carrots, onions, celery, bay leaves, cloves, savory, salt and pepper and braised until the meat is very tender.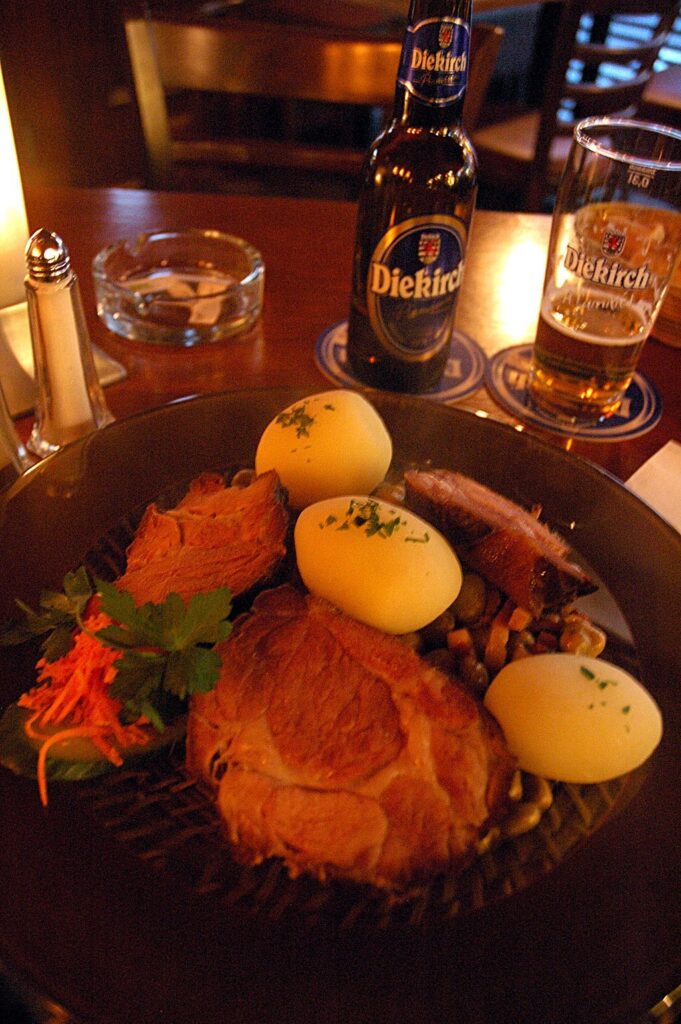 National dishes of Portugal – Bacalhau
A Portuguese salt cod stew layered with soaked salt cod and baked in the oven. Made with salt cod, potatoes, hard-boiled eggs, onions, olives, and lots of olive oil,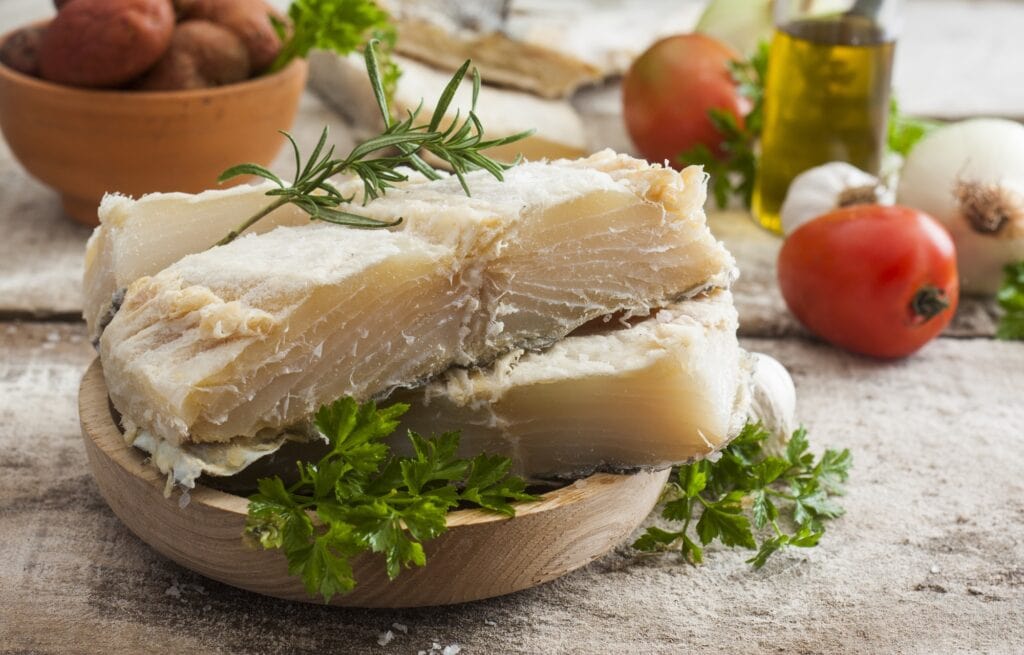 Pastéis de Nata
The famous worldwide pastéis de Nata is a custard-filled tart dusted with cinnamon in a flaky pastry shell and carefully baked until the top caramelizes.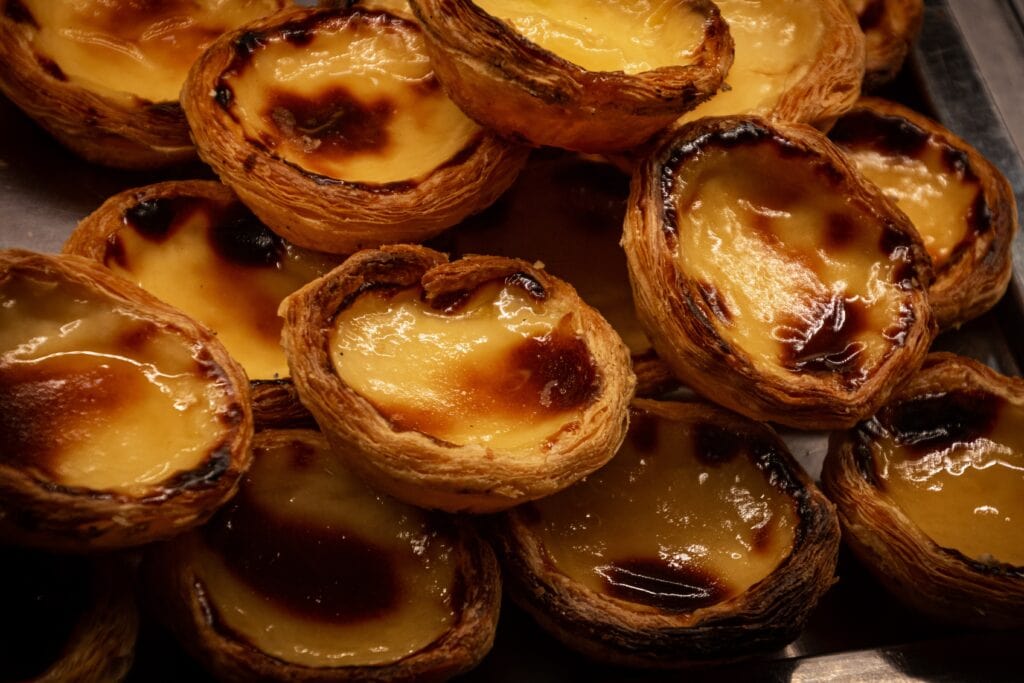 National dish of Belgium – Moules-frites
Fresh mussels cooked in olive oil and white wine with garlic, thyme, and shallots, and served with fries and mayonnaise.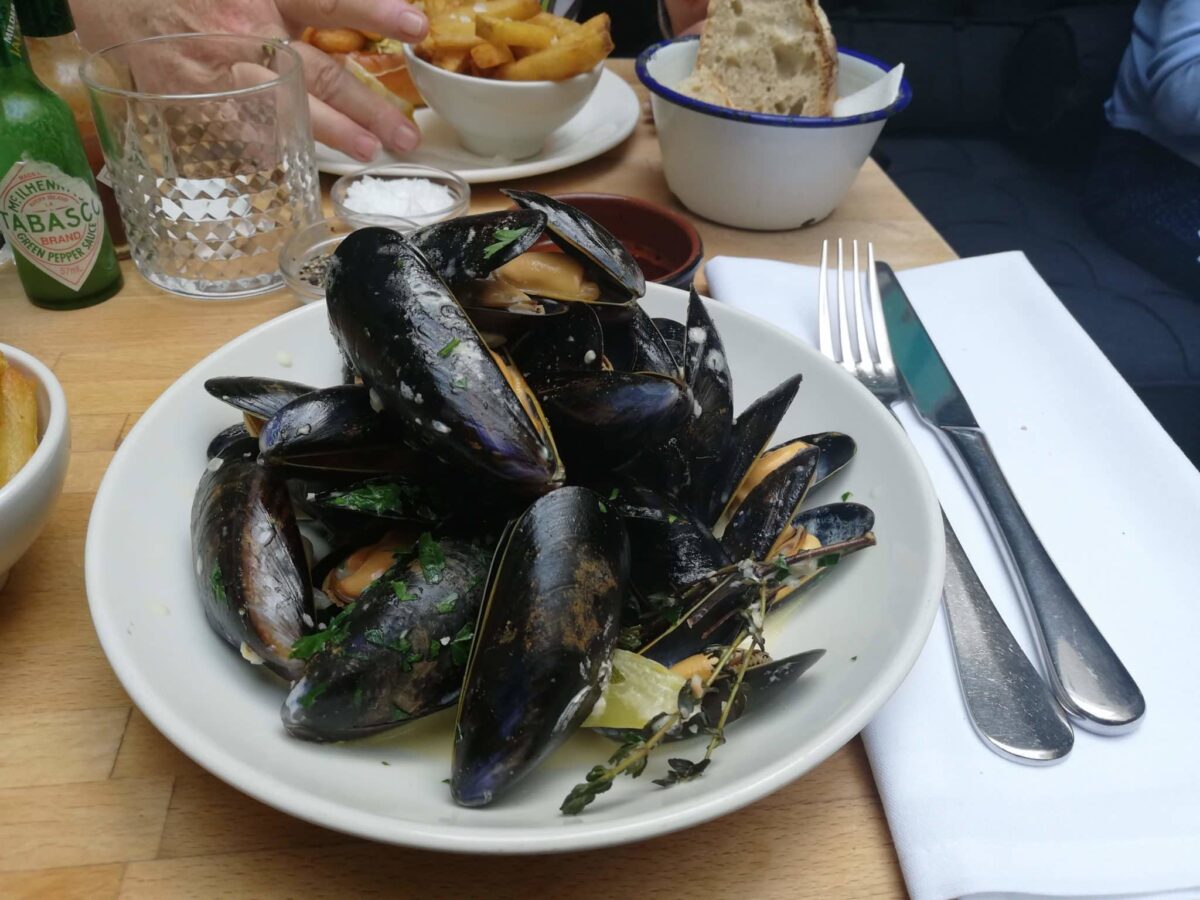 National dishes of England – Roast Dinner
A favourite throughout the British Isles a Sunday roast always includes some kind of roasted meat usually beef. It is served with Yorkshire pudding, roast potatoes, and a variety of vegetables on the side. There must be great meat gravy to pour over the top.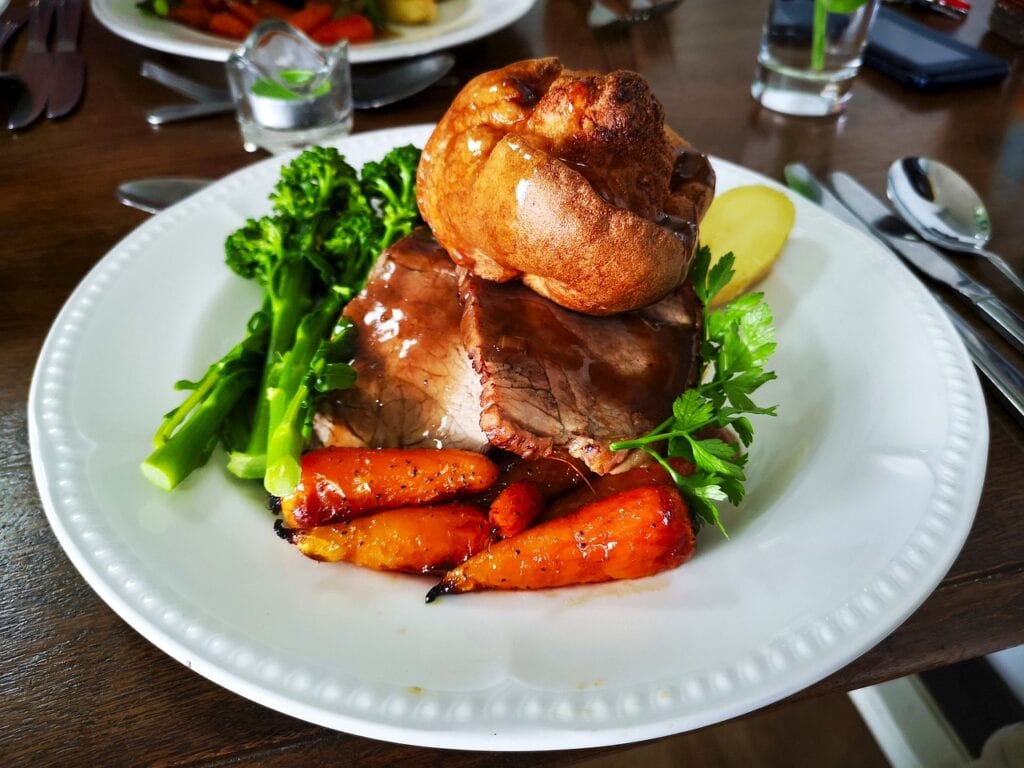 Fish & Chips
The iconic British dish was brought to England by Jewish immigrants. Battered fish is deep-fried and served with chips and mushy peas. You must sprinkle with malt vinegar and salt before eating with your fingers preferably after a night of drinking or by the seaside.
59 Traditional British Foods – from the sublime to the WTF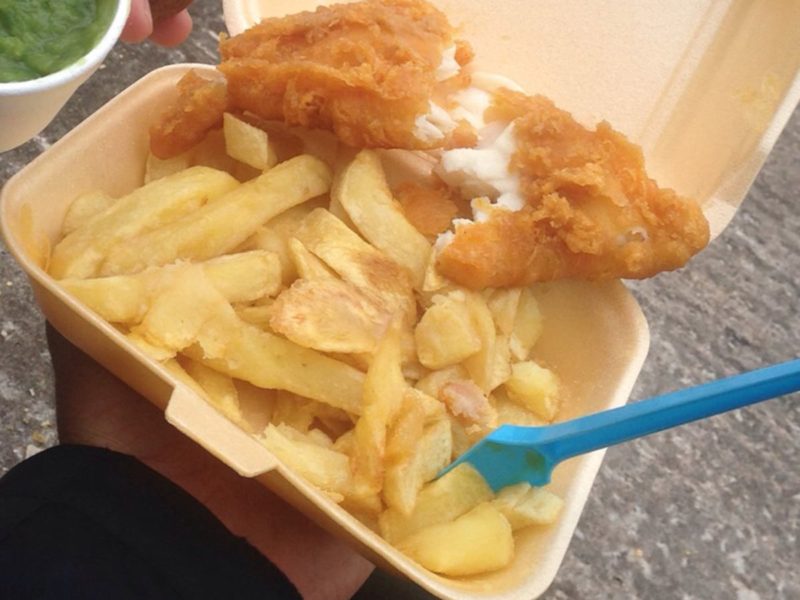 Ireland National Dishes
Irish Stew
Irish stew is supposed to be made of mutton braised very slowly with potatoes, onions, carrots and parsley. These days versions include beef, Guinness and beer to help tenderize cheaper cuts of meat.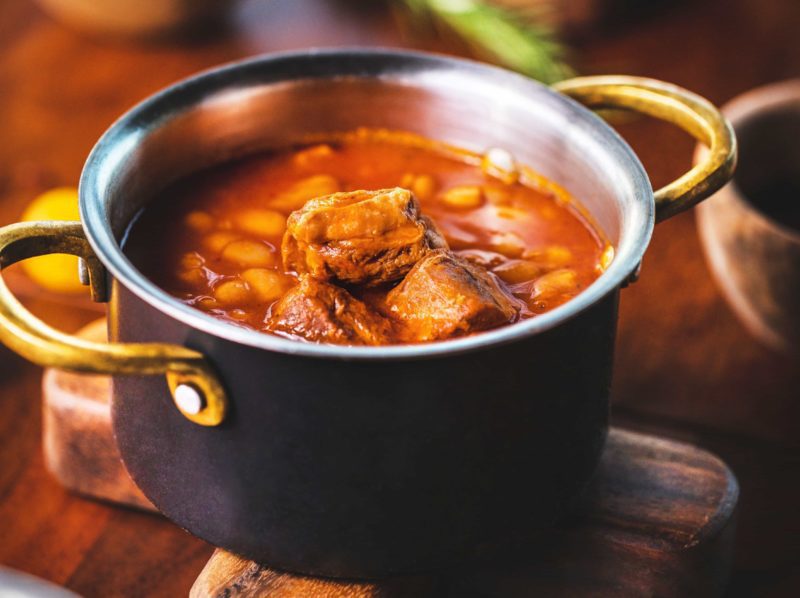 Colcannon
A simple dish of creamy mashed potatoes mixed with either cabbage or kale.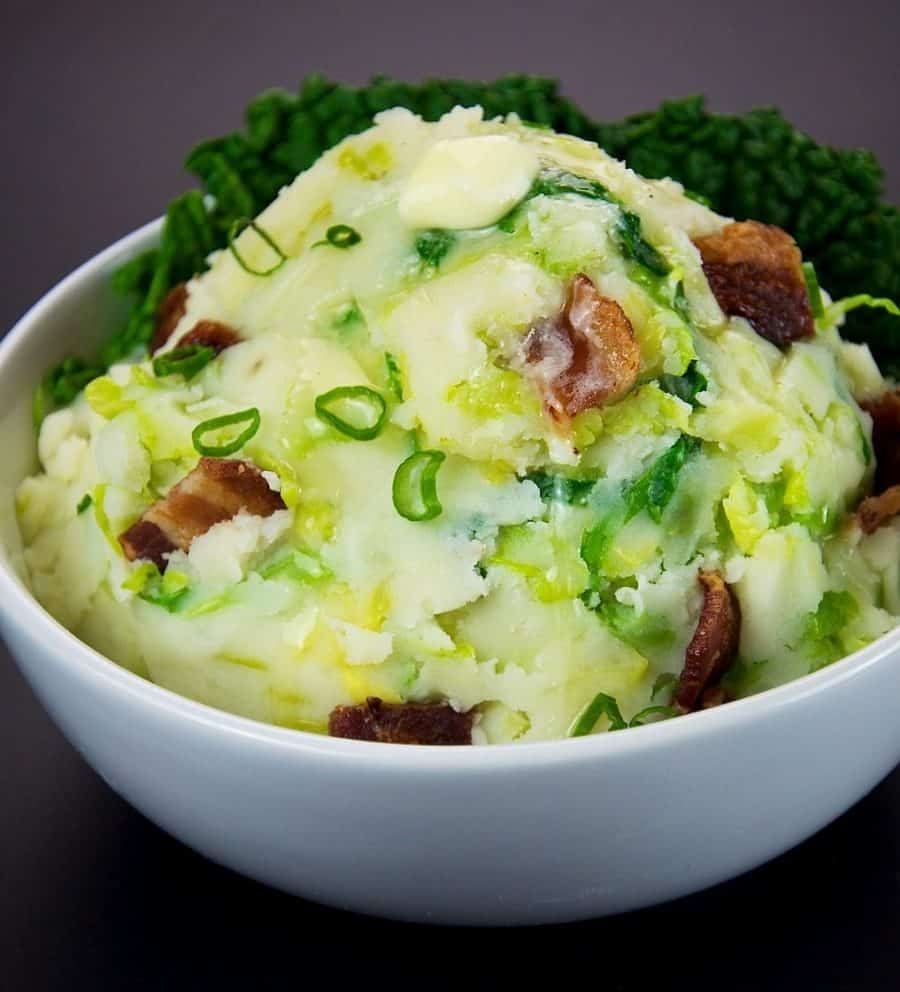 Boxty
A potato pancake that can be made thin or thick and usually served with breakfast. These days it has become a culinary speciality and is used as a sweet or savoury dish.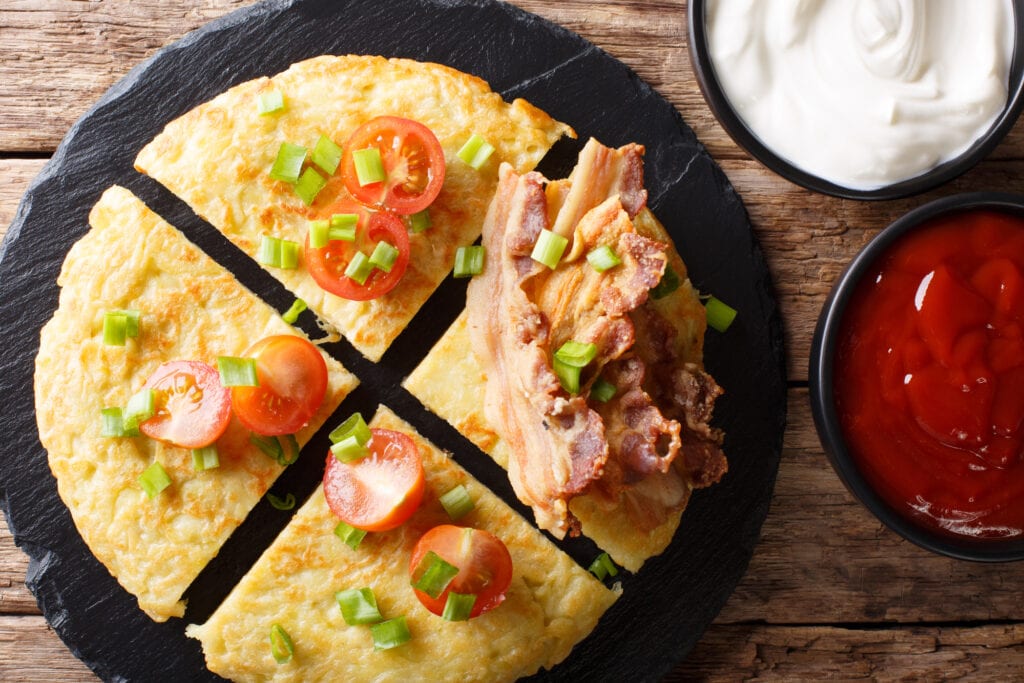 Irish Brown Soda Bread
A non-yeast-raised bread, simple to make and best served the same day. Irish soda bread is easy to make and a tradition all over Ireland.
Traditional Irish food 25 of the most popular Irish dishes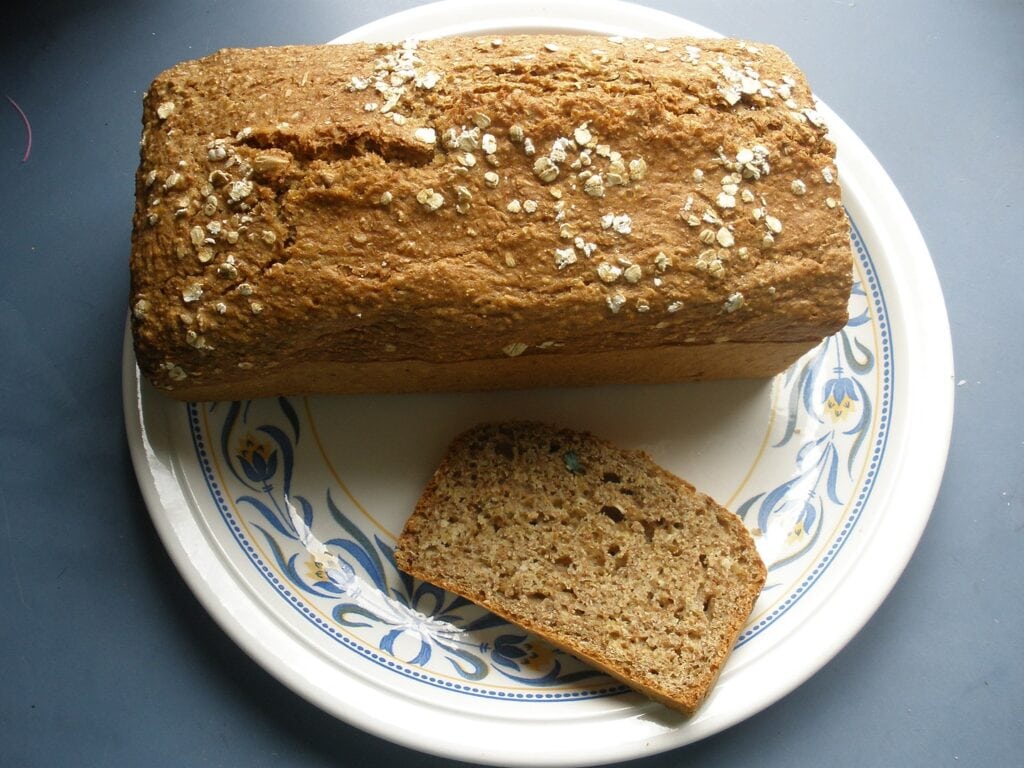 National dishes of Wales – Cawl
This is a kind of soup called cawl it is usually a one-pot dish made up of Welsh lamb, leeks and potatoes.
Laver Bread
Laverbread has no bread in it and it is a puree made from edible seaweed. It is usually served with a full Welsh breakfast.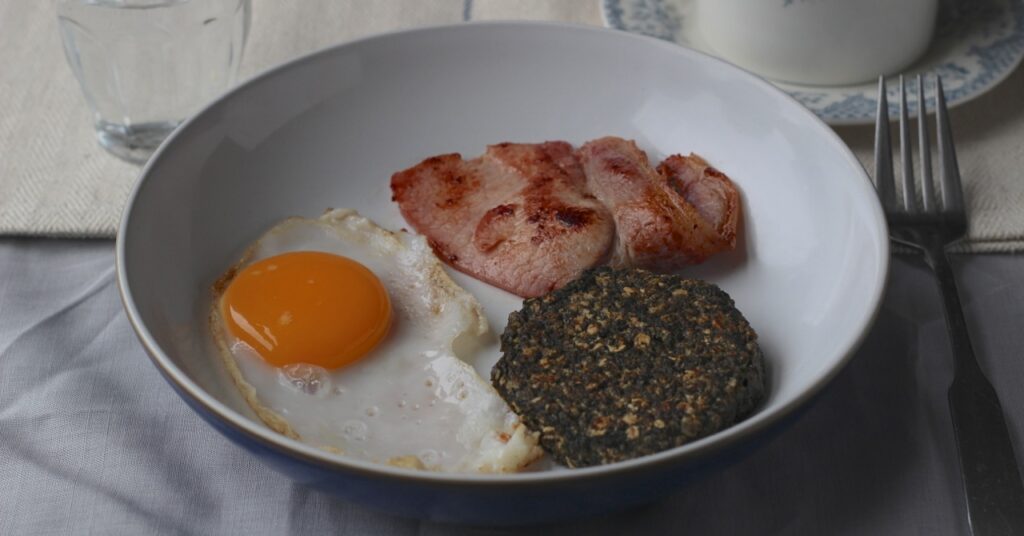 Welsh Cakes
A flat round 'cake' that is made from simple ingredients such as flour butter, eggs and milk and sometimes currants and other flavours are added.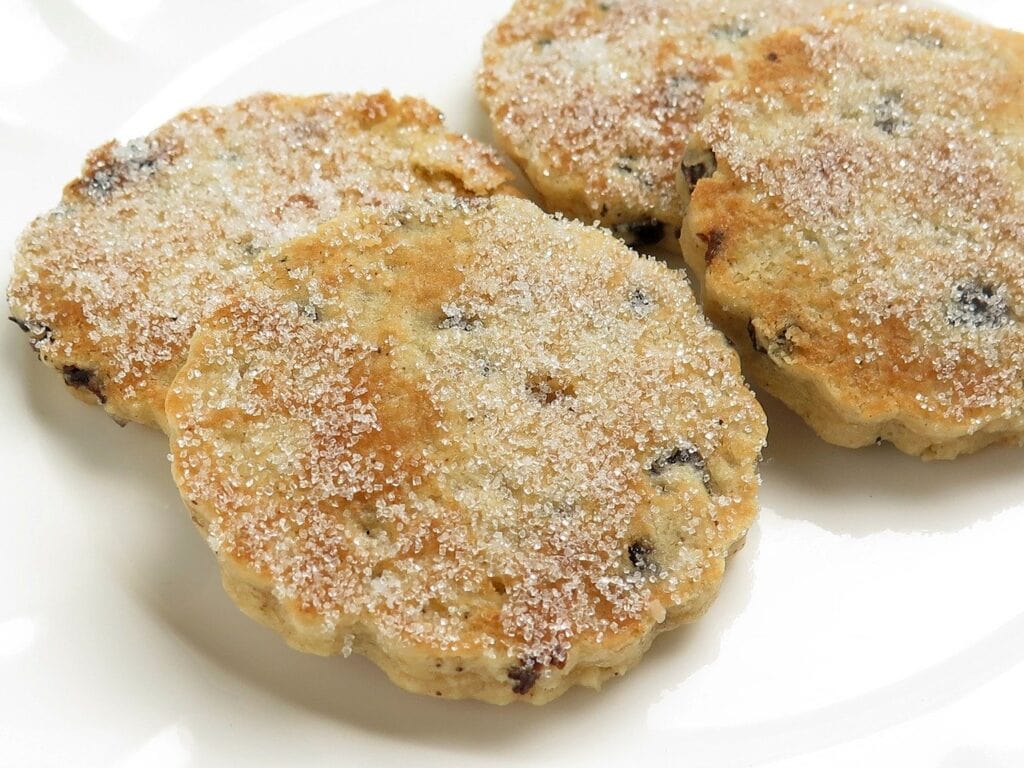 25 Traditional Welsh food dishes
National dish of Greece – Fasolada
A greek white bean stew ( just like the Cypriot one) made with lots of olive oil, tomatoes, carrots, potatoes and celery with simple seasonings. A hearty inexpensive stew served all over the country and considered the National Dish of Greece.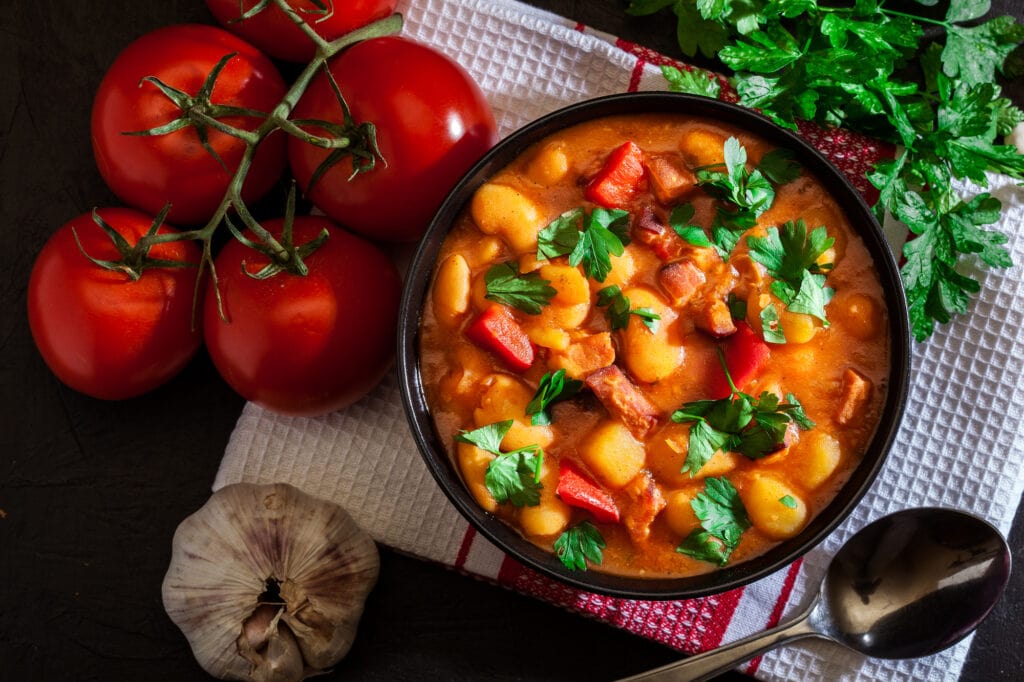 National dish of Malta
Malta's national dish is "Fenek Moqli" or "Rabbit Stew." Rabbit stew is a traditional Maltese dish that has deep historical and cultural roots in the country. It is made by marinating pieces of rabbit in wine and spices, then slow-cooking them in a tomato-based sauce with vegetables such as onions, garlic, and carrots. The dish is often seasoned with herbs like bay leaves and rosemary, giving it a rich and savory flavor.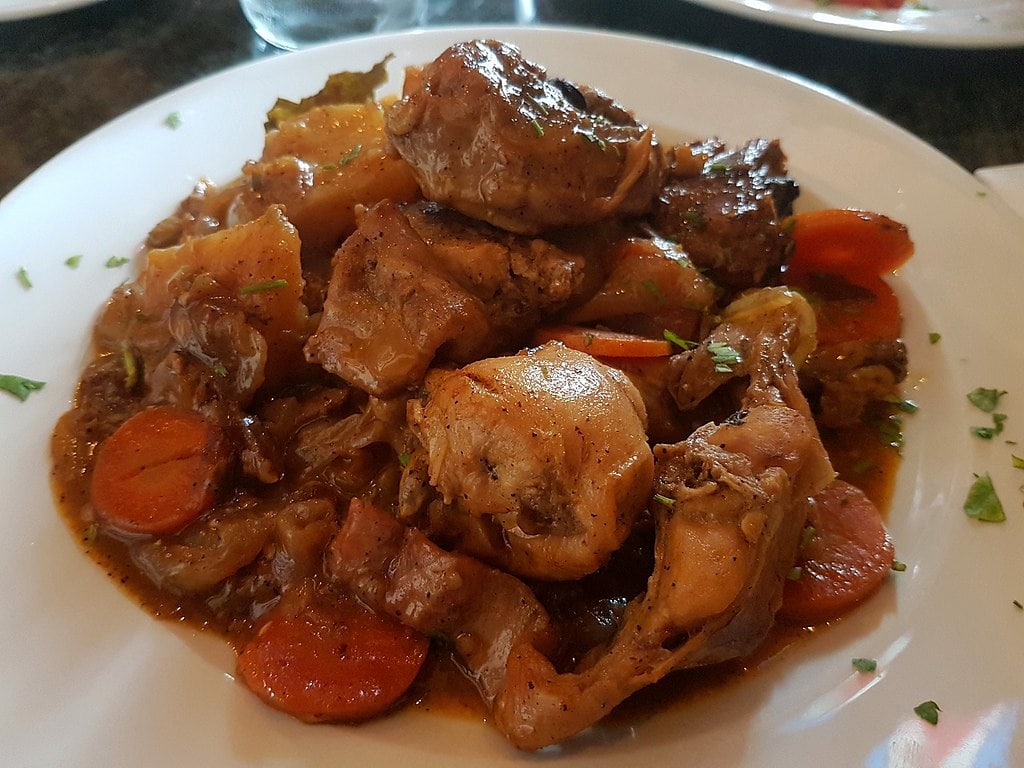 Fenek Moqli is typically served with a side of crusty bread or traditional Maltese bread called "hobz biz-zejt." It is considered a delicacy and is widely enjoyed by both locals and tourists in Malta.
35 Amazing Malta Festivals and Events
Ultimate Malta Solo Travel Guide: What to Expect
Visiting Malta – 2 fabulous days in Malta
National dishes of Spain – Paella
Many consider Paella as the National dish of Spain and it was invented in Valencia. It has as many variations as there are cooks preparing it across the country. The dish takes its name from the wide, shallow traditional pan used to cook the dish on an open fire, paella being the word for a frying pan in Valencia.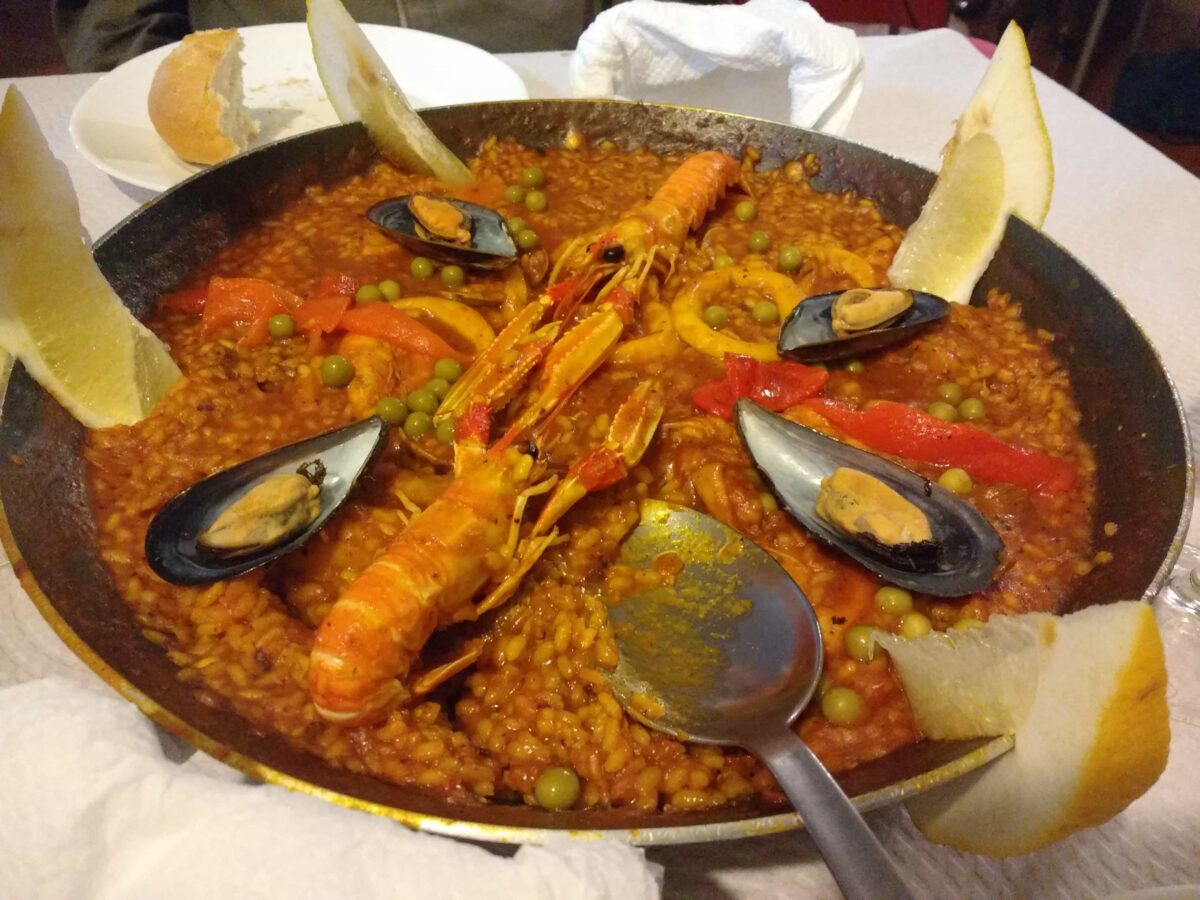 Gazpacho
Until I went to Spain the thought of cold soup that wasn't dessert-like put me off trying it. But gazpacho is amazing, silky sweet tomatoes blended with bread and various herbs are so refreshing as to be addictive.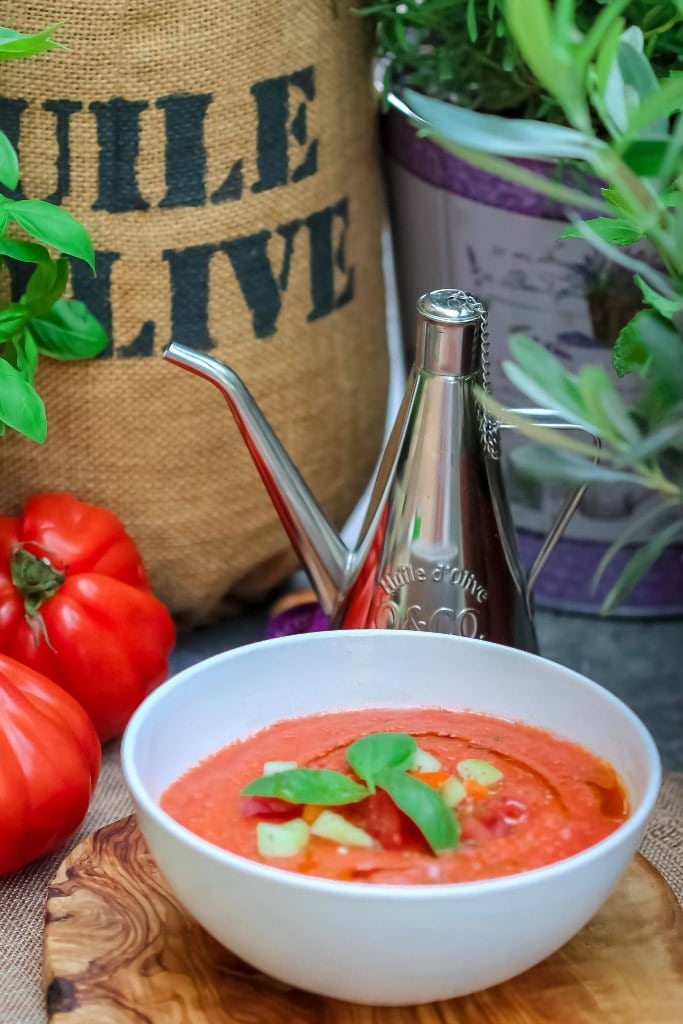 Tortilla Espanola
Seen everywhere in Spain this is not your Mexican tortilla but essentially a quiche where the crust is made from potatoes. The omelette can have bacon bits, cheese and onion within it and it is served hot or cold and even used as a sandwich filling which we had at the Alhambra.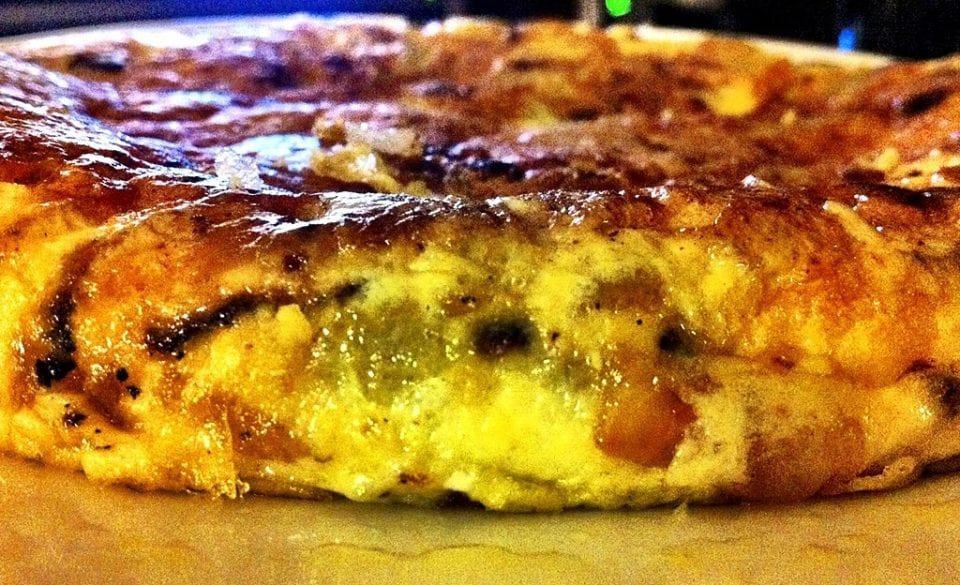 Iberico Jamon
A sweet dark red ham from the Iberico pig who only eat acorns in a specific region of Spain. The ham melts in your mouth with a sweet-salty hit of pork.
Spanish Food: 40 of the best foods in Spain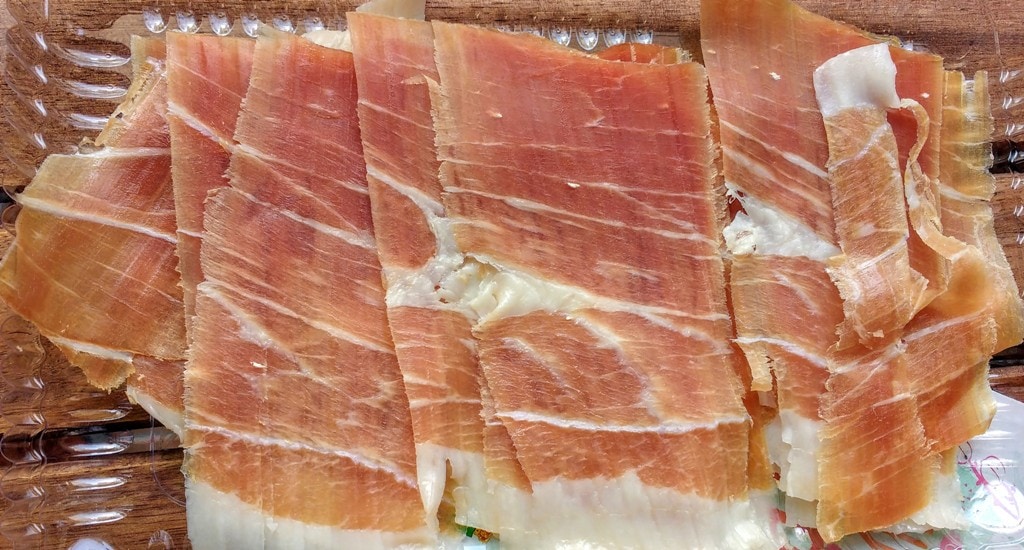 Switzerland national dish – Rösti
A simple dish of grated potatoes mixed with a little flour sometimes to hold it together and then pan-fried in butter or oil. Served at any time of the day but best with breakfast. In the Jewish culture, rosti is known as latkes and served hot or cold, sweet or savoury.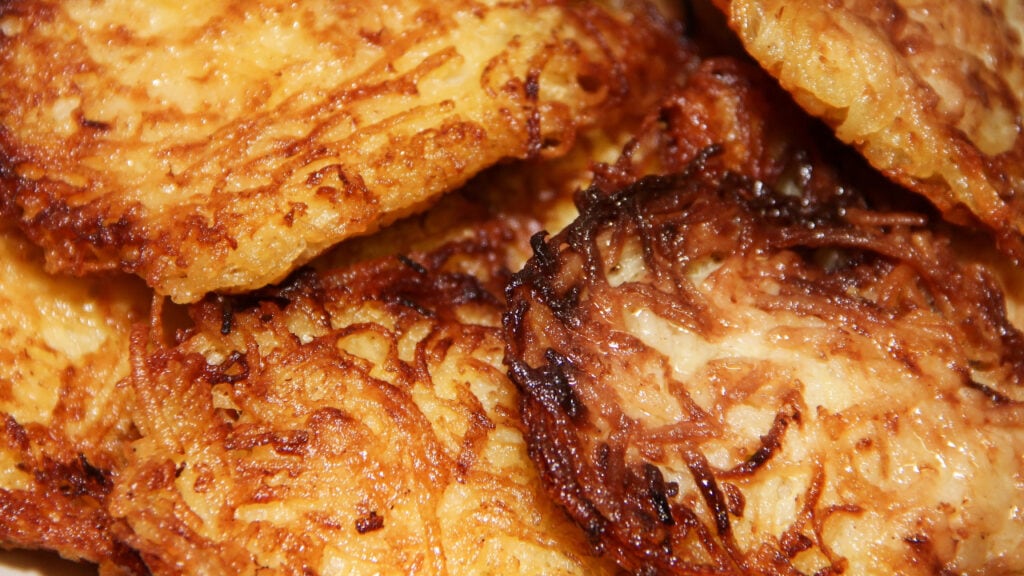 National dishes of Germany – Sauerbraten
A marinaded piece of beef, usually an inexpensive cut that is braised in red wine vinegar, nutmeg, cloves, peppercorns, cinnamon, juniper berries and ginger. Served with fabulous potato dumplings and red cabbage.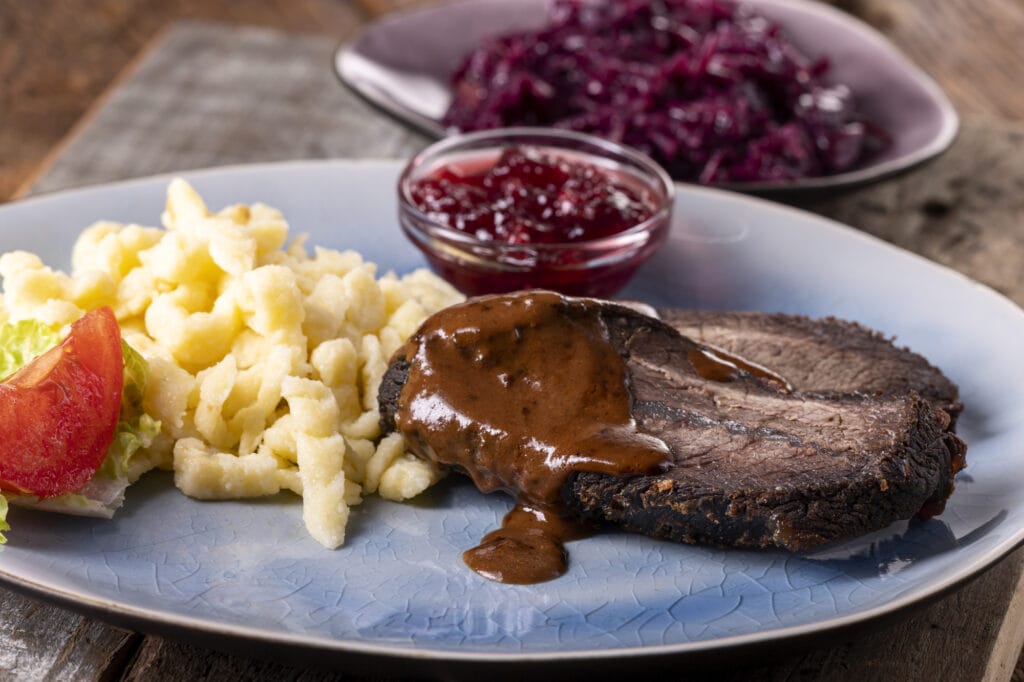 Currywurst
The ever-popular street meat in Germany has become an iconic part of Germany's street food scene. This is a boiled and then fried bratwurst sausage that is served with a rich curry-spiced sauce
34 Tantalizing German foods – what to eat in Germany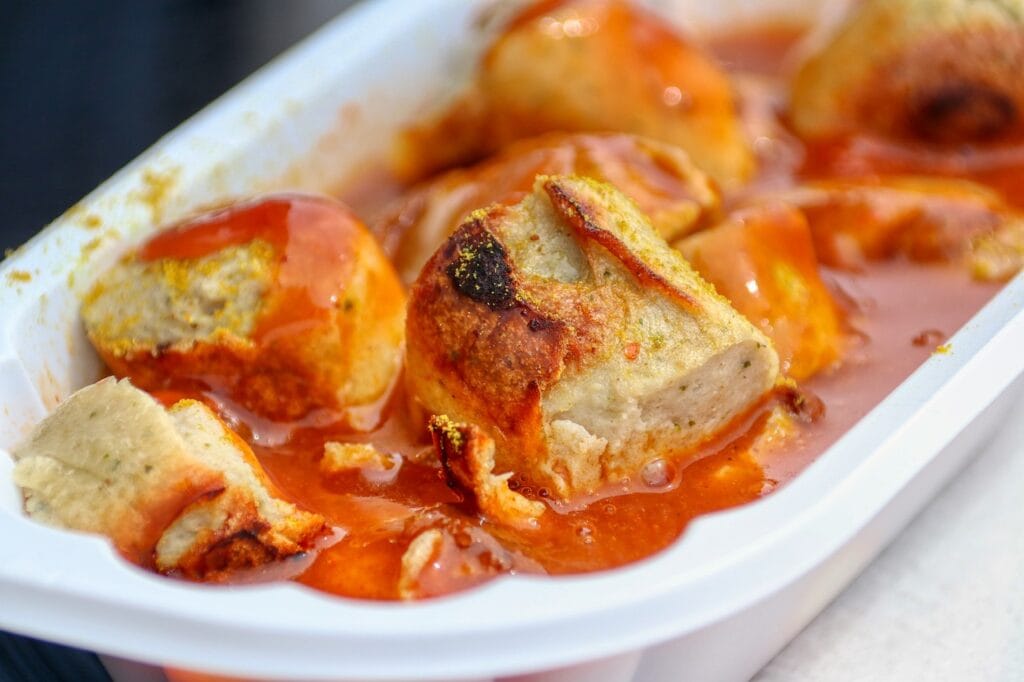 National dish of Greece – Moussaka
A kind of Greek lasagne with layers of sautéed eggplant and/or potatoes and spicy ground lamb topped with Béchamel sauce and baked.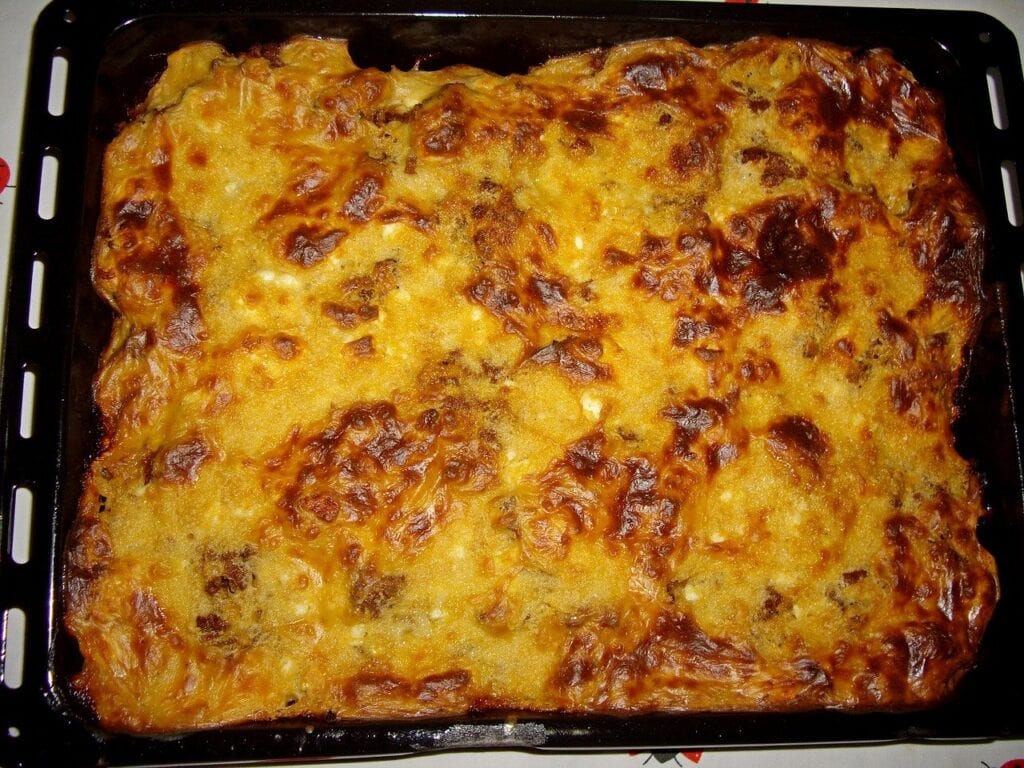 Greek Food Guide: 49 Traditional Dishes to Look For in Greece
Italy – national dishes
Ragu alla Bolognese
Ragu alla Bolognese is recognised as the national dish of Italy. It has a meat-based sauce prepared with pork, beef, or veal, onions, carrots, pancetta, and butter. It is traditionally served with tagliatelle.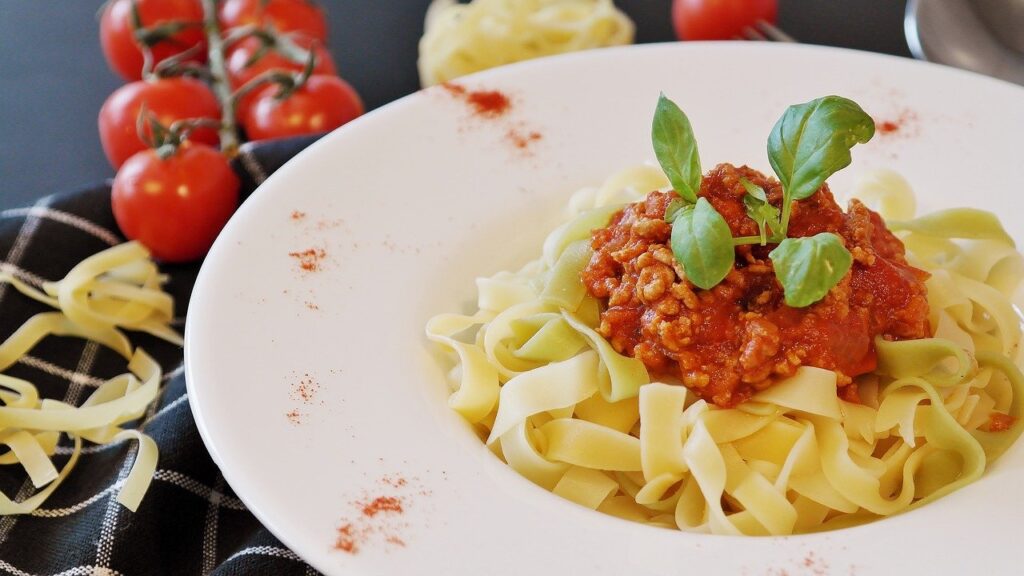 Napoletana Pizza
The famous Margherita pizza invented in Napoli consists of a flat round of dough topped with fresh tomato sauce, mozzarella and basil. An absolute classic.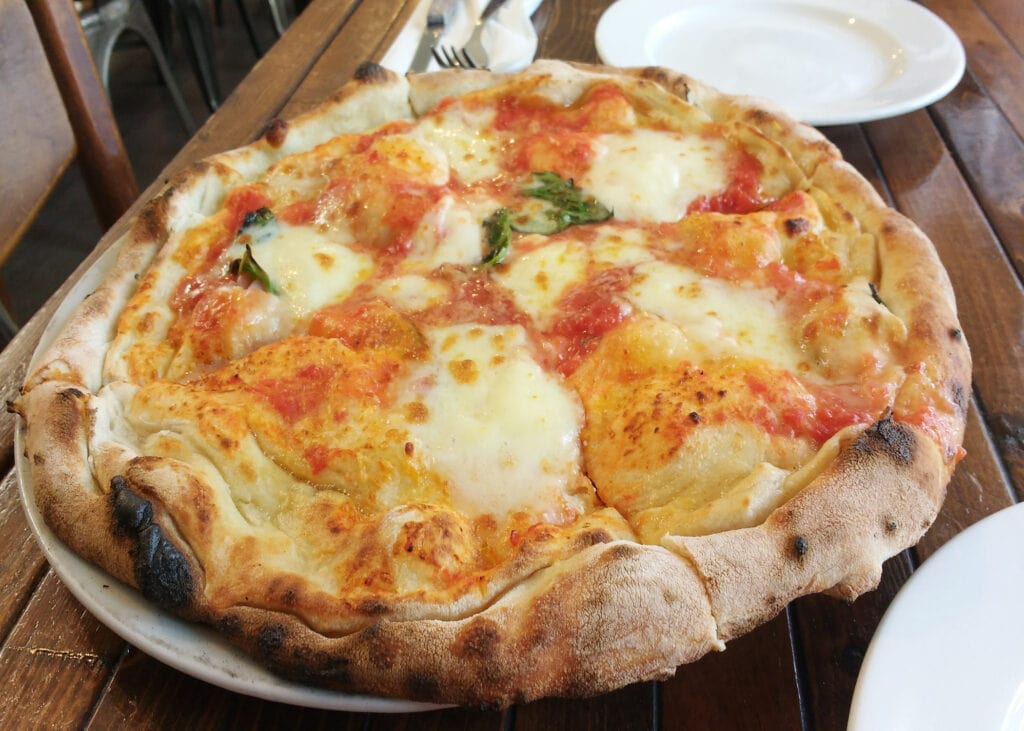 Fiorentina Steak
Nearly every Tuscan home cook is an expert at bistecca Fiorentina, a traditional Florentine steak recipe where the steak is seasoned with local spices and grilled over red-hot coals.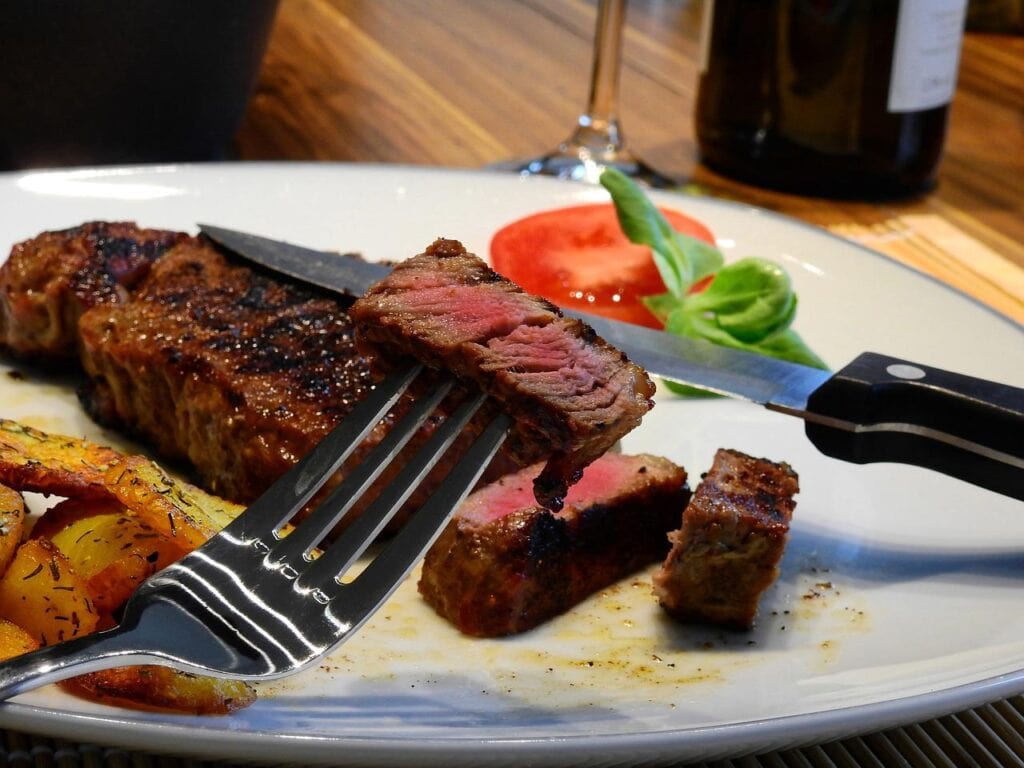 Risotto
Risotto is made by cooking arborio rice which is short-grain rice with stock over a long period of time so the grains of rice absorb all the stock. It is creamy and starchy and delicious.
What to eat in Rome and 27 places to find it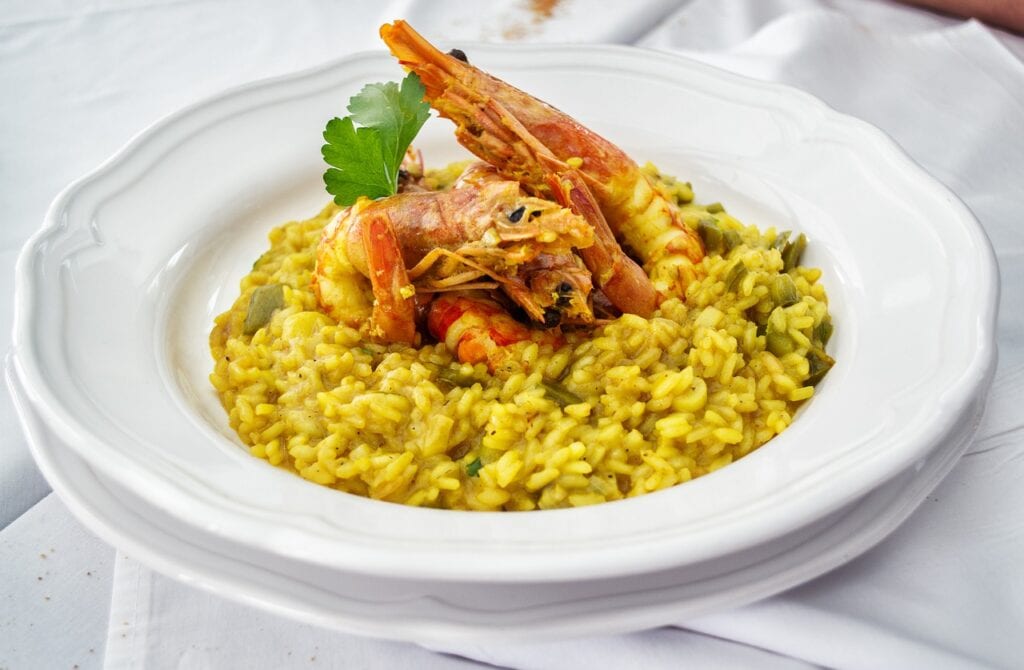 Prosciutto di Parma
Parma ham is similar to Jamon in Spain. Old breed pigs are used and the process is quite detailed but with only four things to consider that is pork, air, salt and time.
Dining in Italy – 19 Do's and Don'ts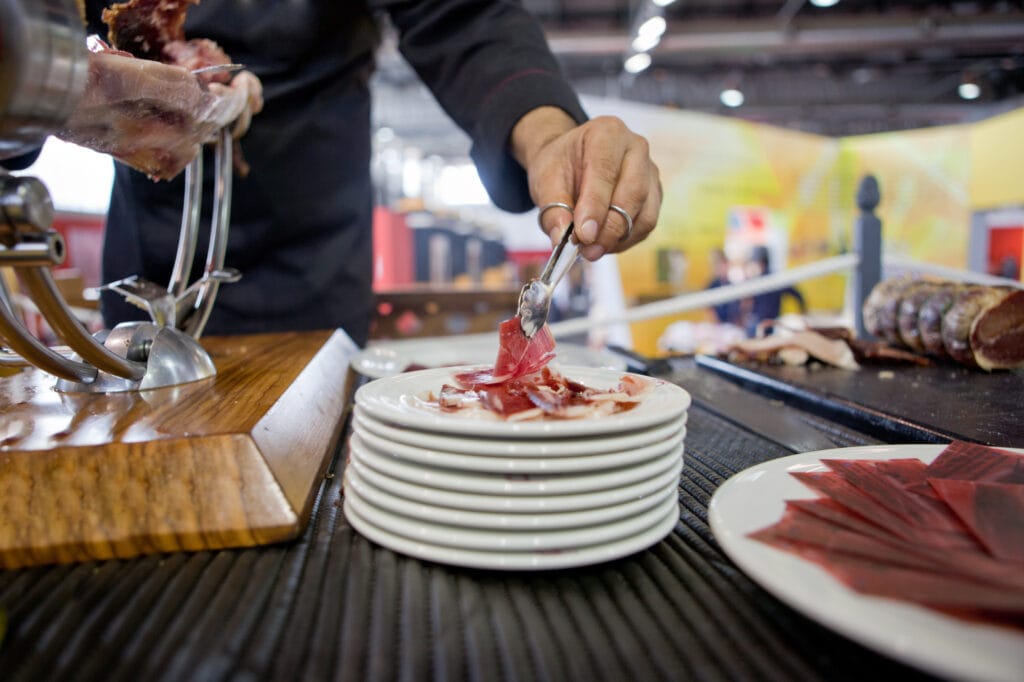 National dishes of the Netherlands
Stamppot
Stamppot is a very traditional Dutch food tradition. Similar to Colcannon in Ireland it is mashed potatoes mixed with cooked vegetables. Traditionally Stamppot was made with kale but it can be made with any in-season vegetable like carrots, spinach, and endive. It is topped with sauerkraut and a traditional 'rookworst' sausage.
18 traditional Dutch foods to eat in the Netherlands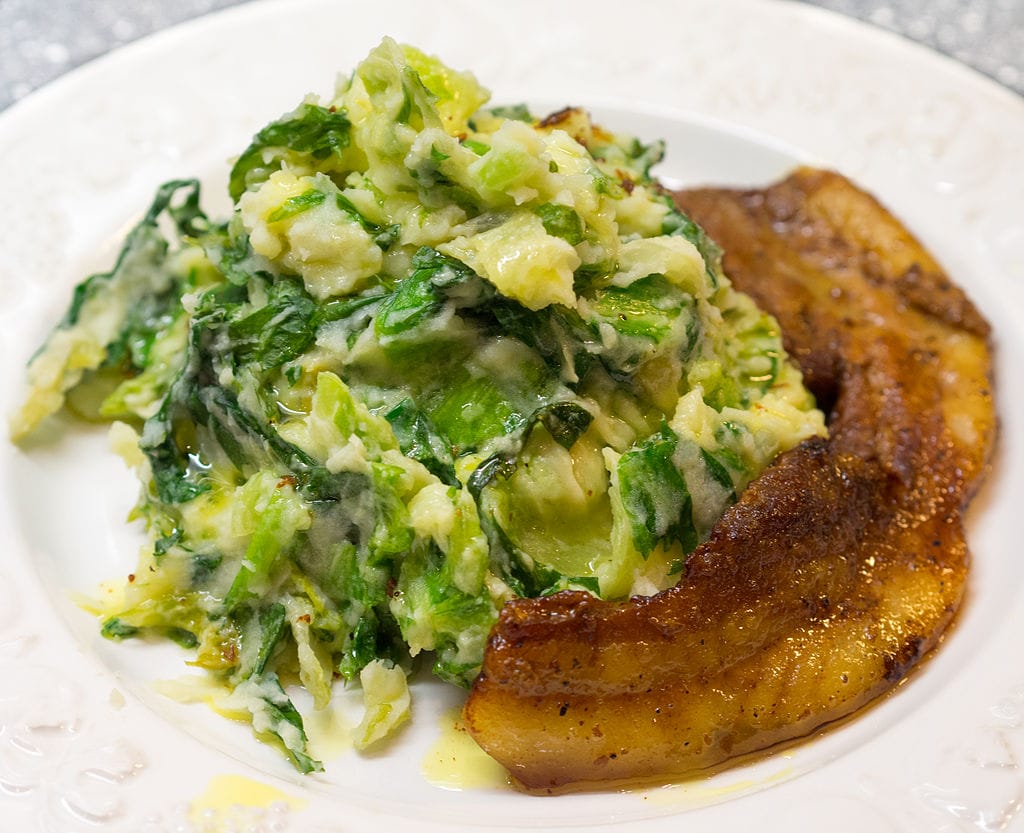 Herring
Haring or 'Hollandse Nieuwe' (Dutch new herring) is one of the basic foods in the Netherlands, almost everybody eats this as a snack. The herring is traditionally eaten raw with onions, and pickles.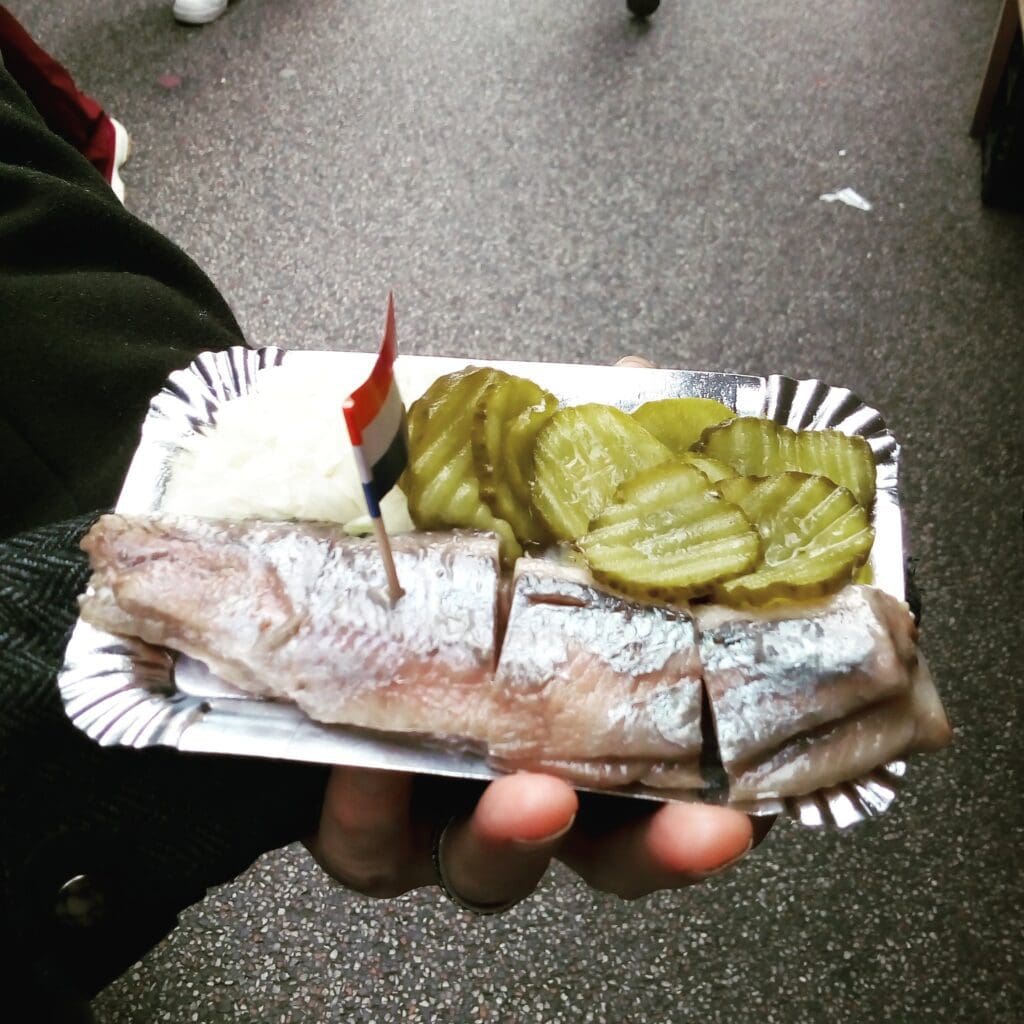 Stroopwafels
The Stroopwafel is a thin pastry or biscuit that is sliced into two pieces. It is then drizzled with the "Stroop" or caramel syrup and sandwiched together. Stroopwafels are sometimes dipped in chocolate and then the chocolate edge is coated in marshmallows, salted caramel, chocolate chips or any other dip of your choice.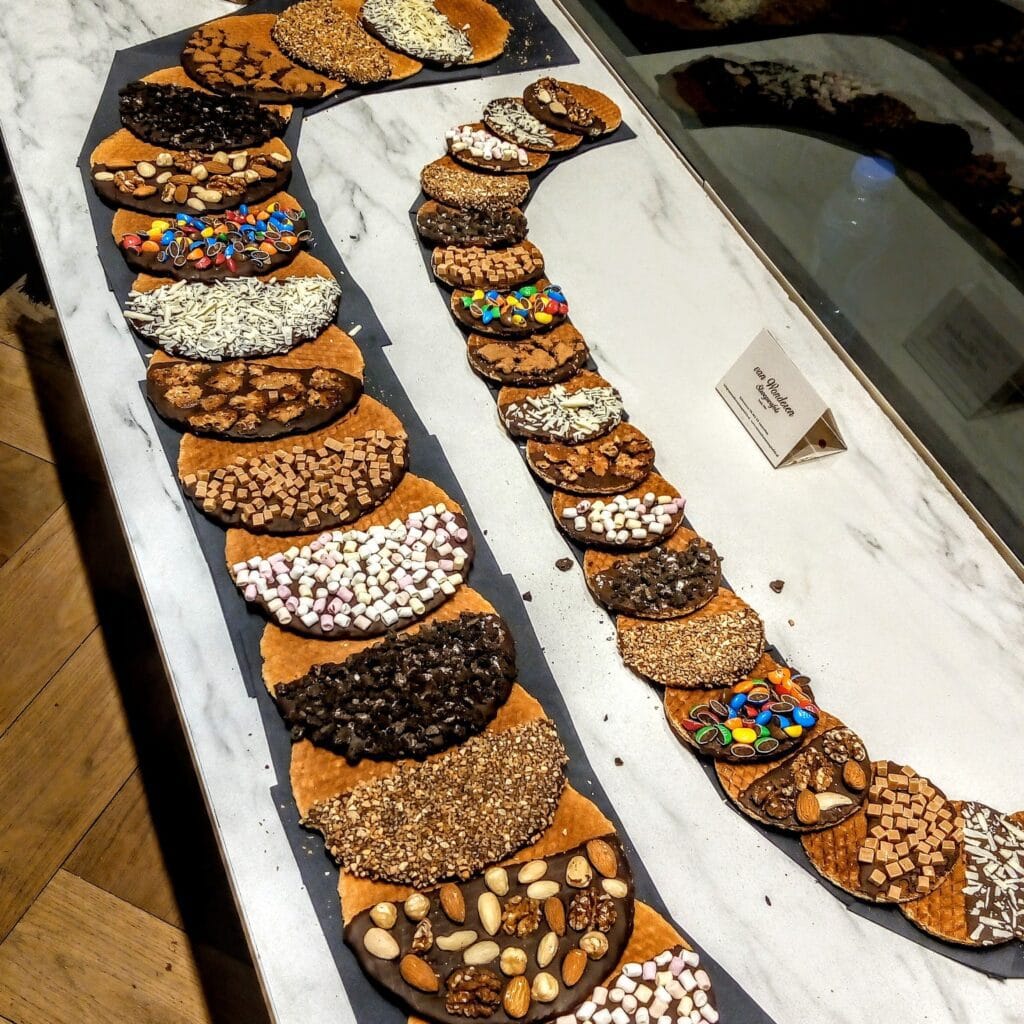 National dishes of Scotland
Haggis
Like a round, sausage haggis is a sheep's stomach filled with ground sheep's heart, liver, and lungs sautéed with onions and oatmeal. A traditional Scottish dish served with a ceremony on Robbie Burns Day.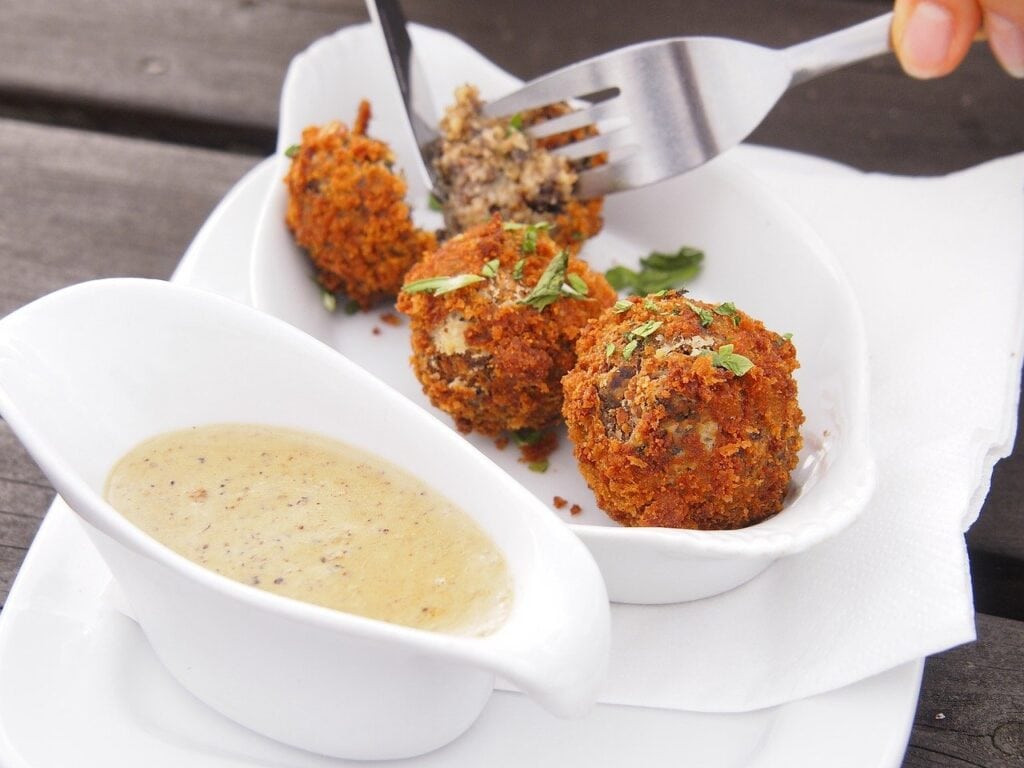 Cullen Skink
This classic Scottish soup with smoked haddock, potatoes and leek should really be made with Finnan haddie, a cold-smoked haddock from Aberdeenshire.
Scottish foods – 53 Scottish favourites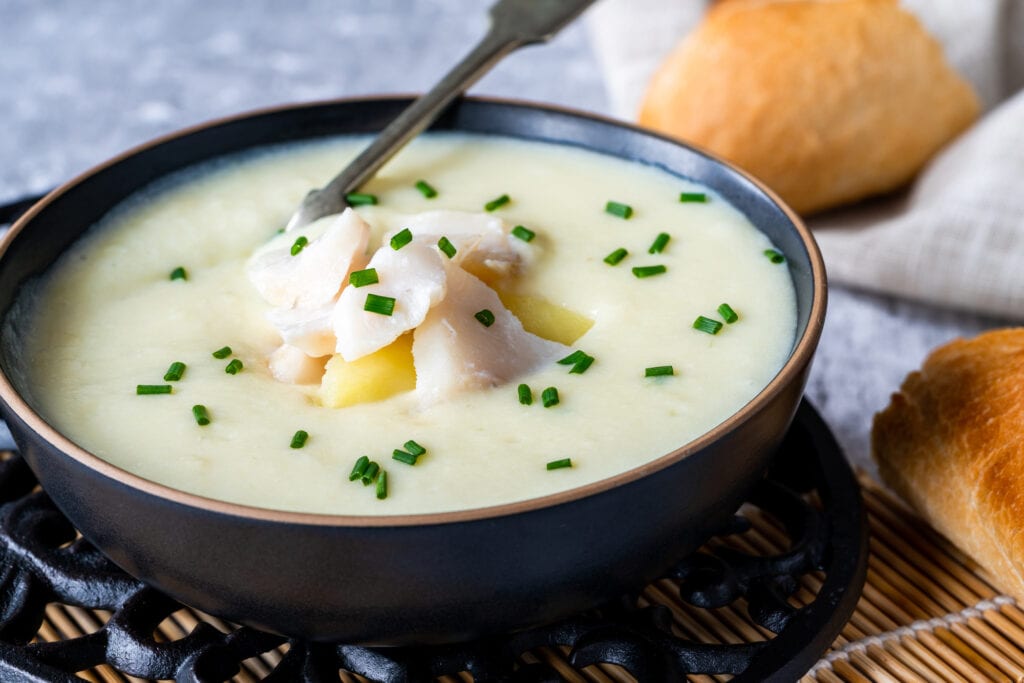 Tablet
A tooth-achingly sweet like fudge made with sugar, butter, milk and condensed milk with some vanilla added.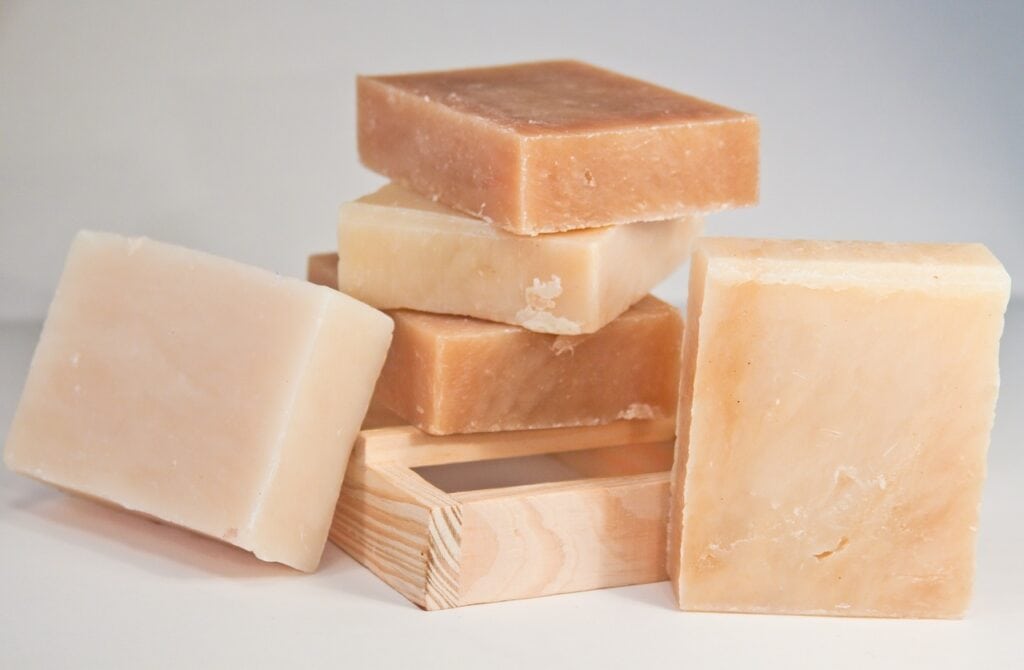 National dishes of France
Crêpe & galettes
The famous Breton galette is made of buckwheat flour and is always served savoury with fillings like saucisse, ham, cheese and a fried egg. The thin flour crepes are usually a dessert and served with chocolate sauce, whipped cream, fruit or preserves.
Food in Brittany: Fall in love with the food of Bretagne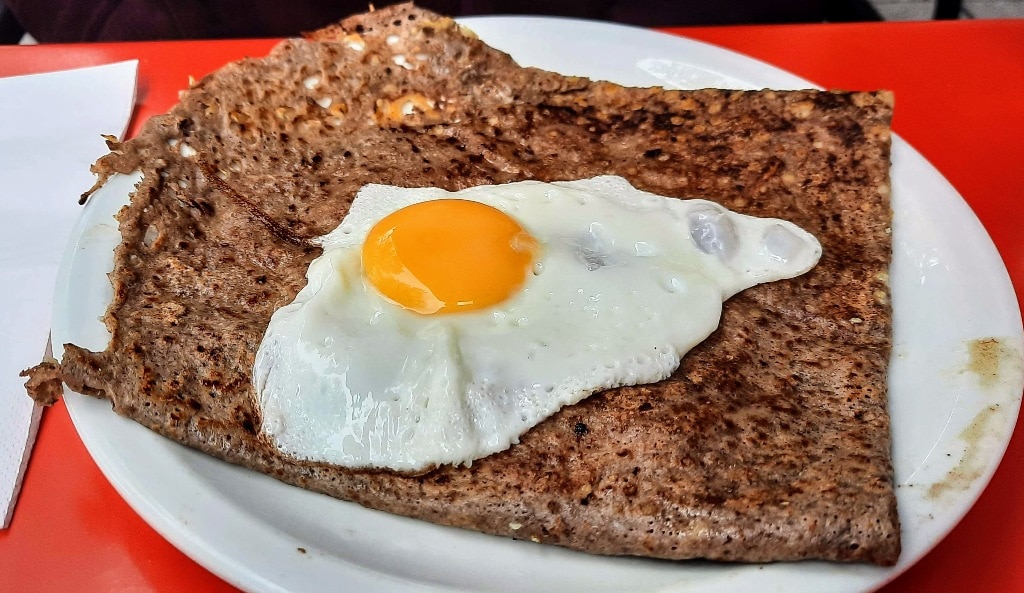 Pot-au-Feu
A hearty stew of beef, root vegetables herbs and spices. Usually served with the meat separated from the broth.
French Food Culture: The Ultimate Guide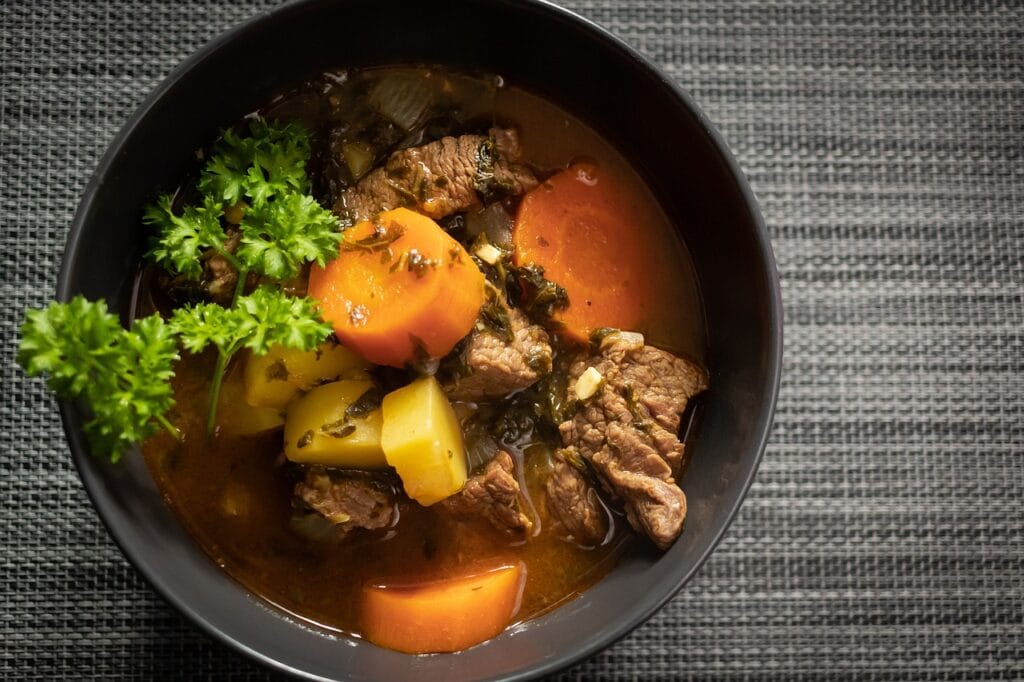 Cheese
French President Charles de Gaulle asked, "How can you govern a country which has two hundred and forty-six varieties of cheese?" There are so many differences in the terroir of France that it leads to what some may claim as around 1,0000 to 1600 distinctive types of French cheese.
French Cheese – 23 amazing types of French cheese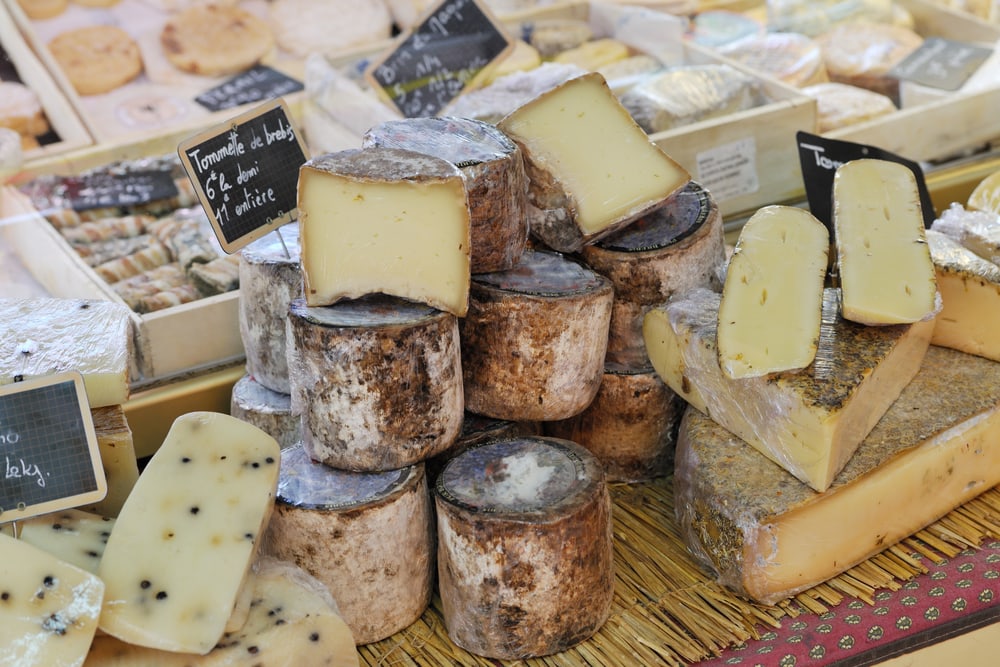 Croque Madame and Croque Monsieur
Basically a grilled ham and cheese sandwich. A croque madame is simply a croque monsieur with a poached or fried egg on top and béchamel sauce. With a Croque Monsieur, the bread is dipped into a beaten egg before cooking.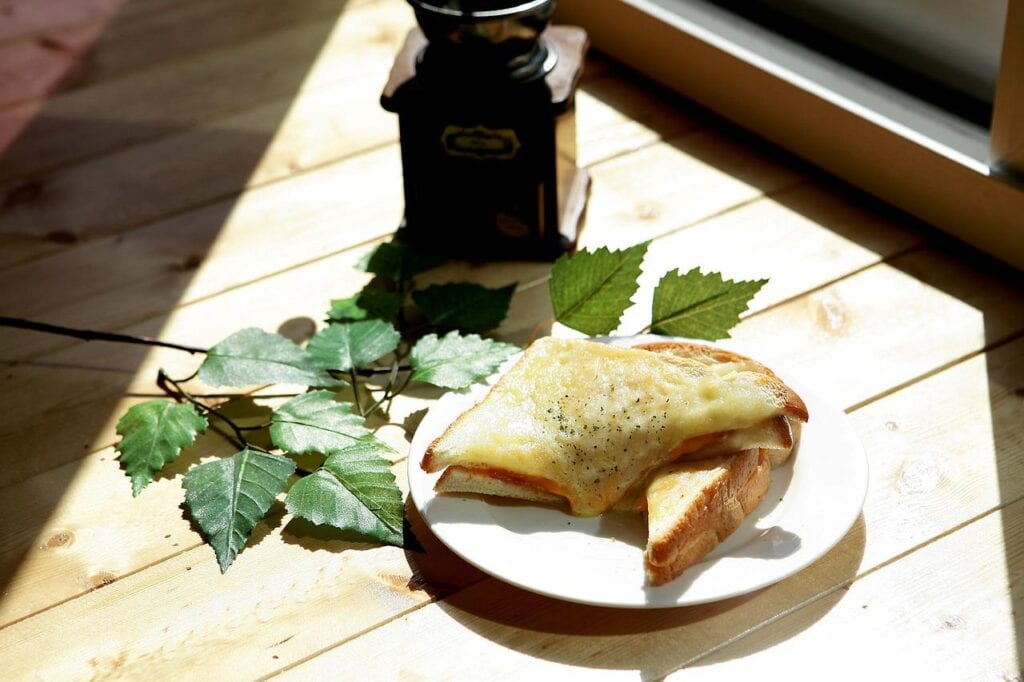 Cassoulet
Dating back to the time of Catherine de Medici (Chateau Chenonceau) a cassoulet is a slow-cooked rich casserole of pork sausages, goose or duck, white beans and herbs plus some tomatoes.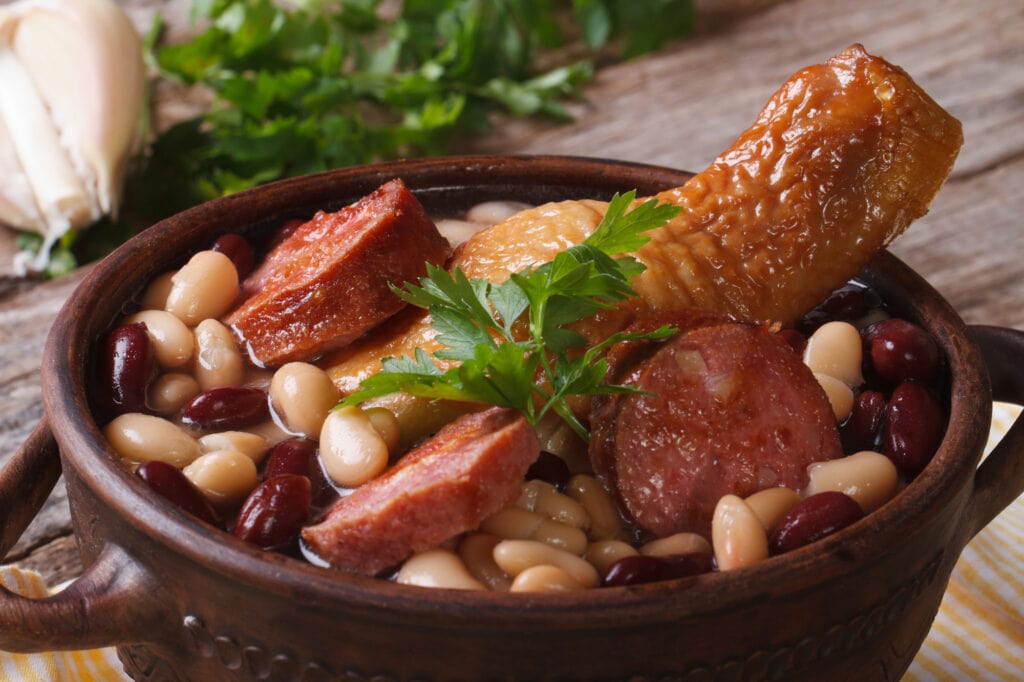 French Onion Soup
Hard to find these days on a French menu this classic soup with its deep dark sweet sautéed onions in a beef broth topped with a 'crouton' and cheese – heaven in a bowl.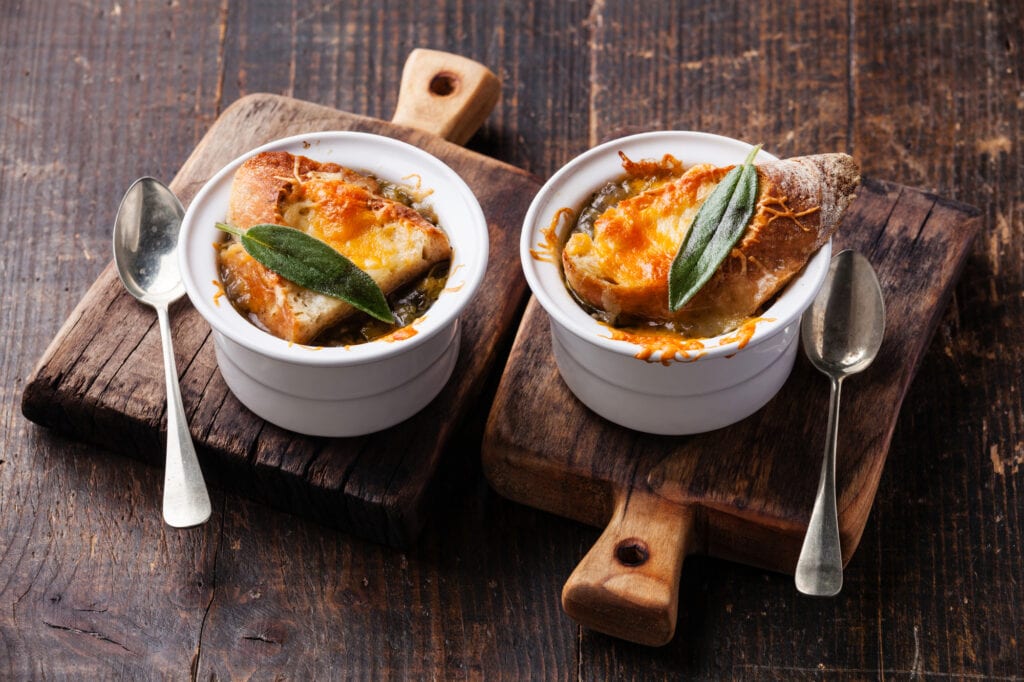 Escargot
A very French delicacy which can be found all over the country and most definitely not my favourite. There are apparently three kinds of snails that are eaten here and they are removed from the shell cooked and returned and drizzle with butter and garlic.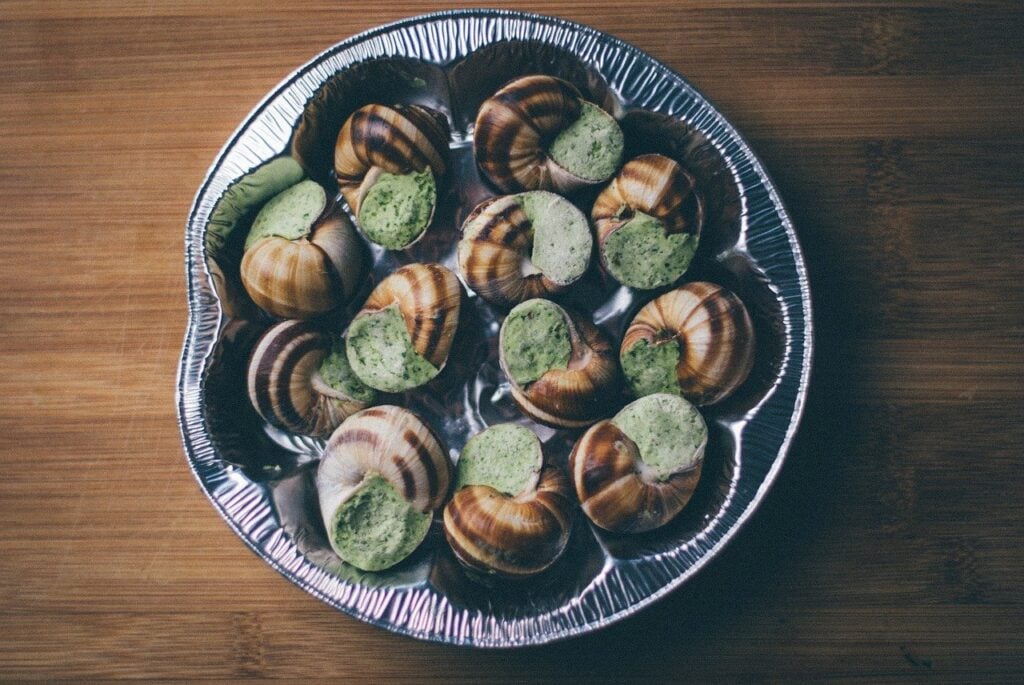 Jambon et Beurre
Here in France pretty much the only deli-sliced types of meat you will find are ham, more ham, chicken and more chicken. This means that the traditional fast food on the go lunch is a Jambon Beurre sandwich a simple slice of ham on a baguette with lots of butter.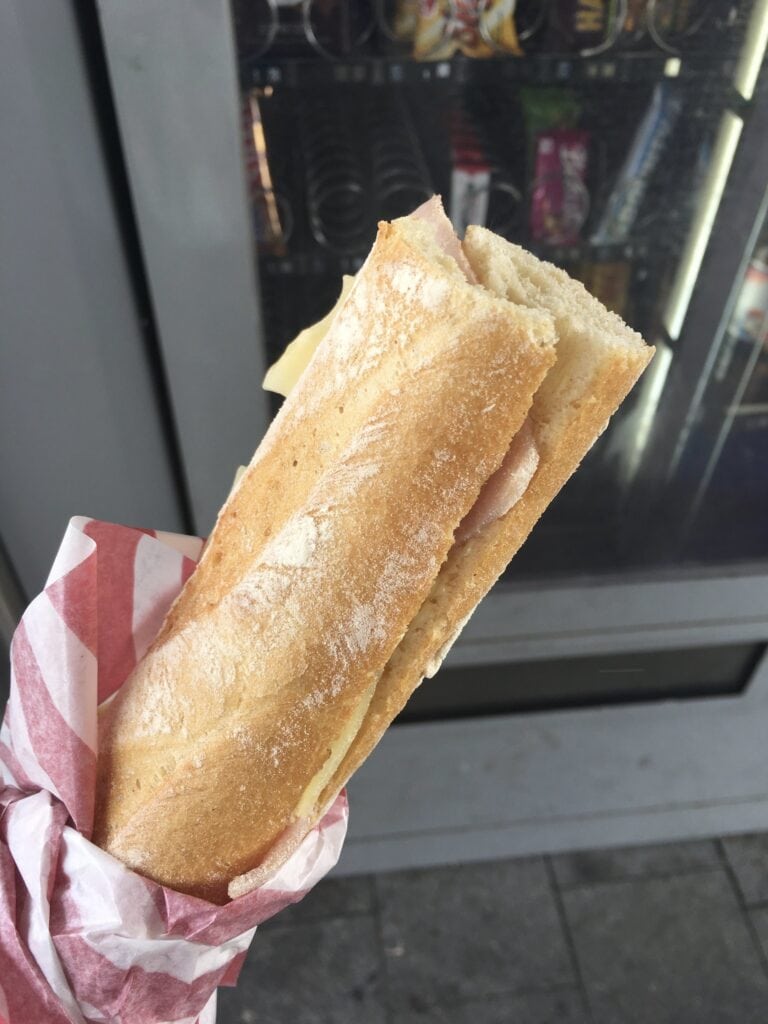 National dishes of the Nordic region
The Nordic Region includes Denmark, Norway, Sweden, Finland, and Iceland, as well as the Faroe Islands, Greenland, and Åland. Nordic dishes are becoming well-known throughout the world and Skyr yoghurt is one of the most talked-about due to its healthy properties.
National dish of Denmark – Frikadeller
Frikadeller, loosely translated, means "meatballs". These are usually made with pork or a mixture of ground pork and beef. These can be found all over Copenhagen and most of Denmark and are a very popular street food.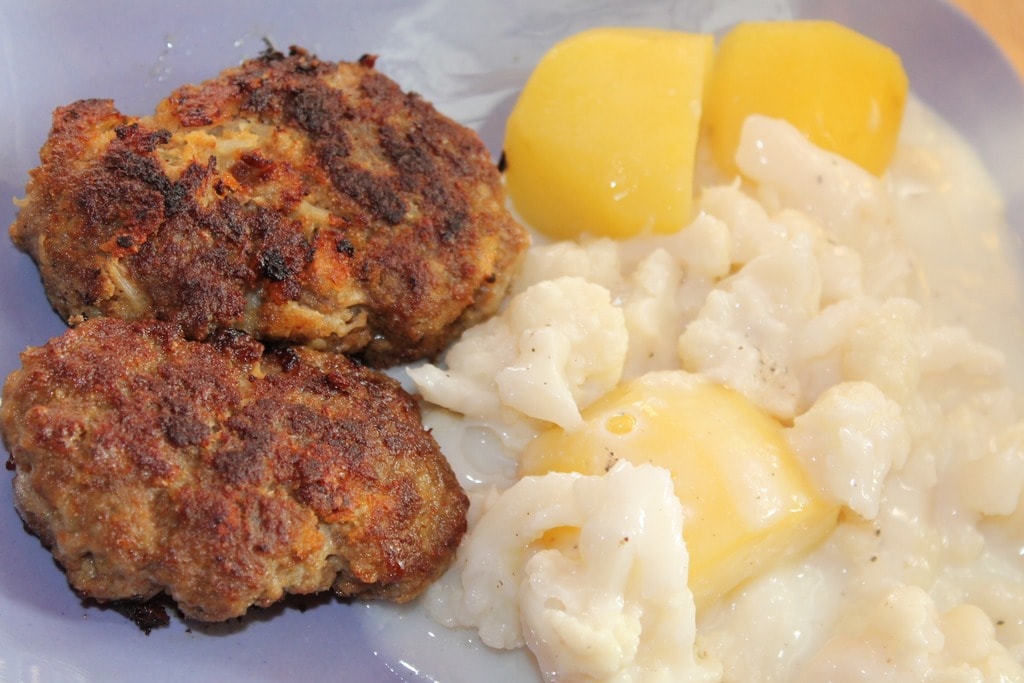 National dishes of Iceland
Skyr
Skyr has been described as a cross between a thick creamy yoghurt and cottage cheese. In Iceland, it is served with a tart jam for breakfast or for dessert.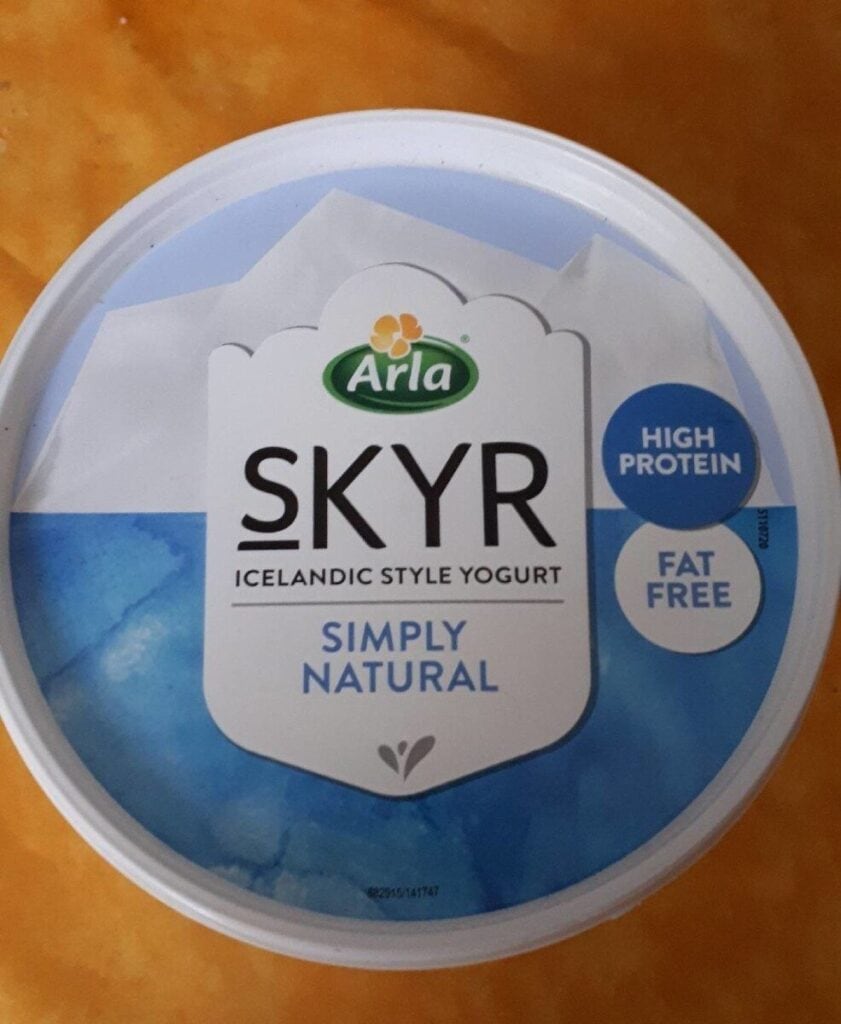 Hákarl – Fermented Shark
These days this dish is fermented in vinegar and served with a shot of unsweetened schnapps called Black Death.
Rye bread and butter
Icelandic rye bread, or rúgbrauð, is served in many ways you can eat it with smoked salmon and cream cheese or pureed and blended into icecream. Icelandic rye bread is traditionally made in a pit oven and its texture is more cake like than bread.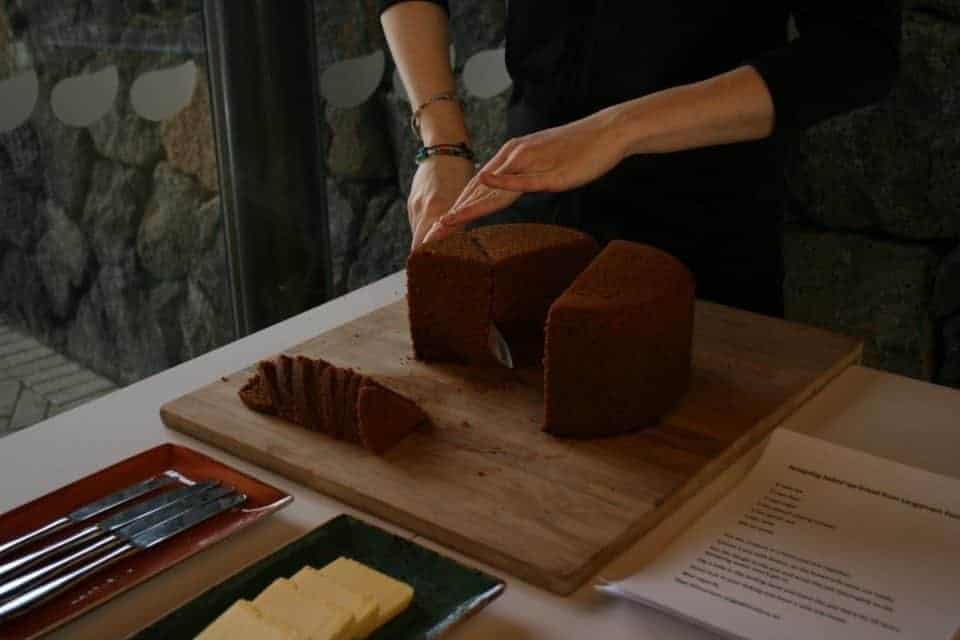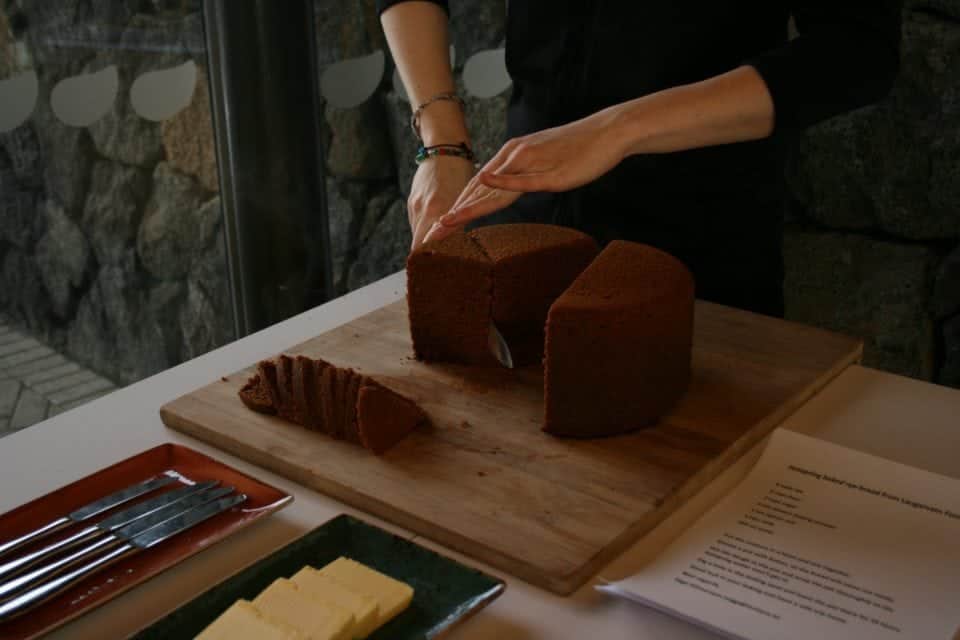 Wildlife in Iceland and sustainable tourism
Traditional food of Iceland: 36 dishes to try
National dish of Sweden – Swedish Meatballs
Ground beef meatballs served with gravy, pickled cucumber, and lingonberry jam which can be bought in any IKEA store across the world.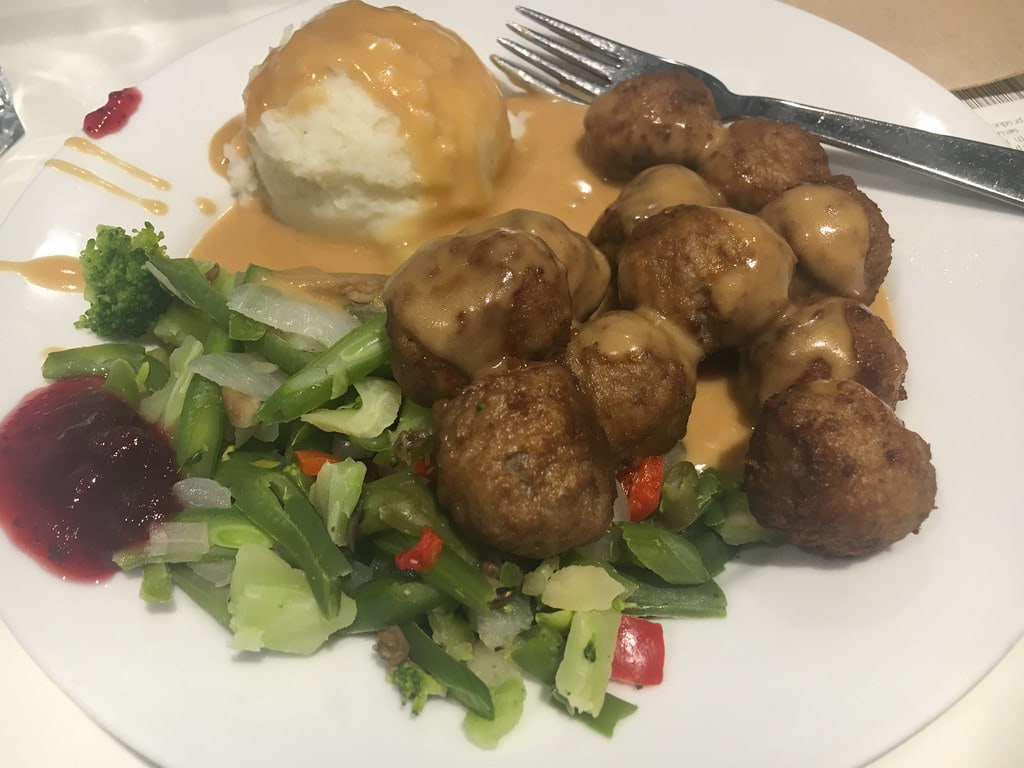 The Pros and cons of living in Sweden
National dish of Norway – Farikal
Farikal is a long cooking stew made from mutton with bones and cabbage added. Simply seasoned with salt and whole black pepper it has to be braised for a long time to tenderize the mutton.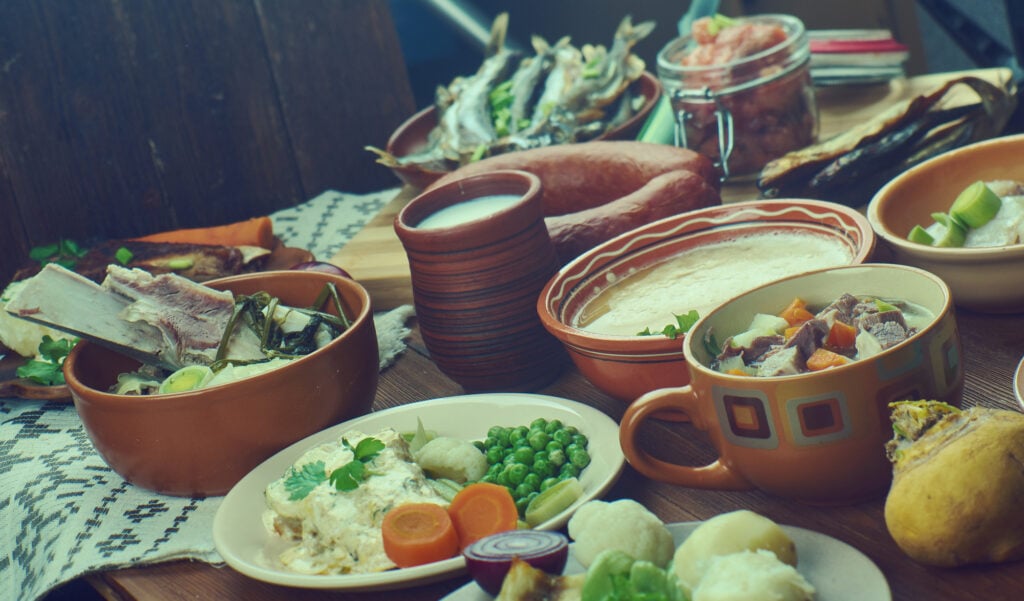 National Dishes of the Americas: United States, Canada, Mexico
A melting pot of many cultures the Americas includes cuisines from all around the world. In the Americas, you will find Jewish dishes such as mile-high pastrami on rye to Barbecue and Tex Mex favourites.
National Dishes of Canada
Poutine
Canada's favourite dish – poutine – a mélange of fries topped with squeaky cheese and rich beef gravy.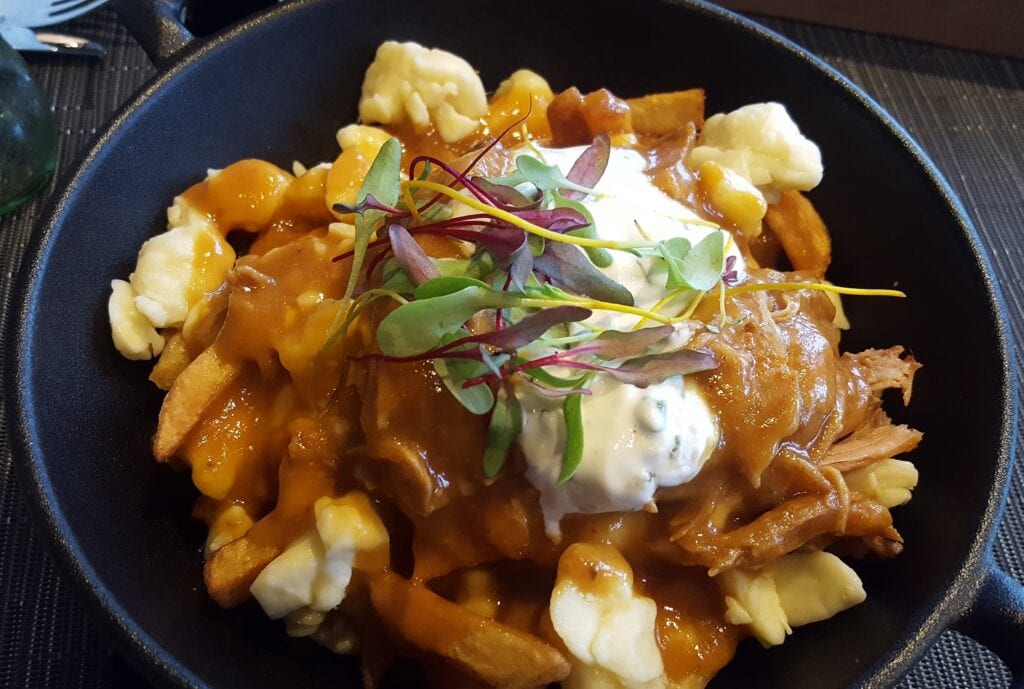 Butter Tarts
A good butter tart is made from simple ingredients butter and sugar in a shortcrust pastry. Traditionalists would say it should have raisins but there are also plain versions and those with walnuts or pecans. I like my butter tarts gooey with crispiness from the caramelized sugar on the bottom.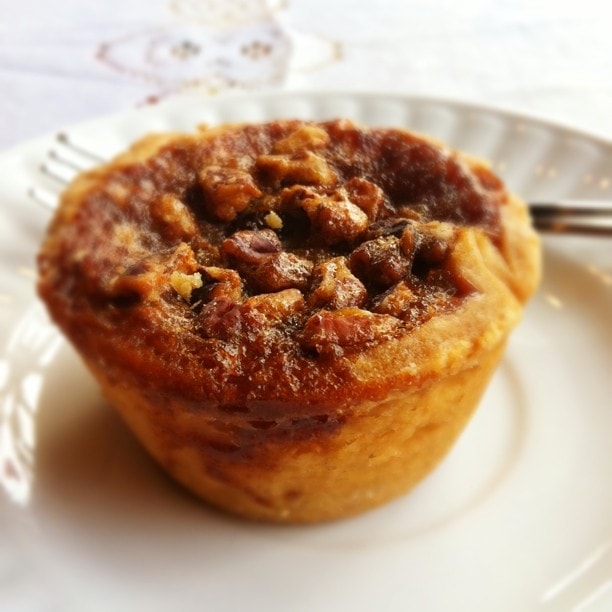 Nanaimo Bars
If you think butter tarts sound teeth-achingly sweet try the Nanaimo Bar. They must have three layers, a base of cracker crumbs and coconut. Sweet custard for the middle and a chocolate ganache-like topping. You can now get these is all kinds of flavours but a traditional one is these three layers.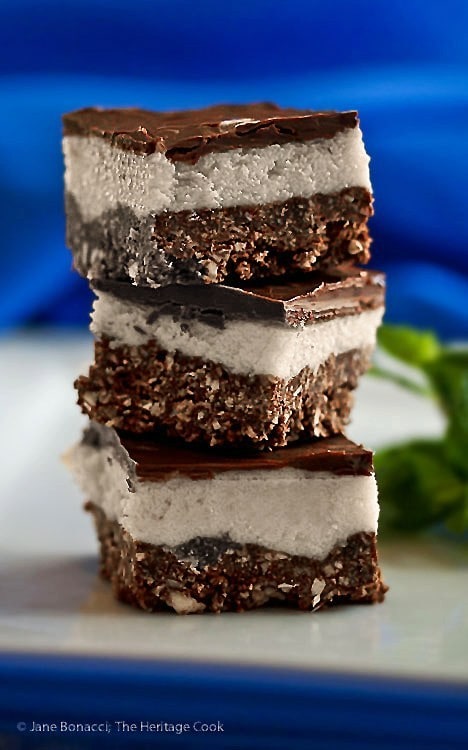 Montreal-style Smoked Meat and Bagels
Pastrami is usually made with dense, fatty beef plate although it is now common in the United States to see it made from beef brisket, beef round, and turkey. Smoked meat comes from leaner, stringier brisket. Pastrami is usually brined while smoked meat is dry-rubbed with curing salt.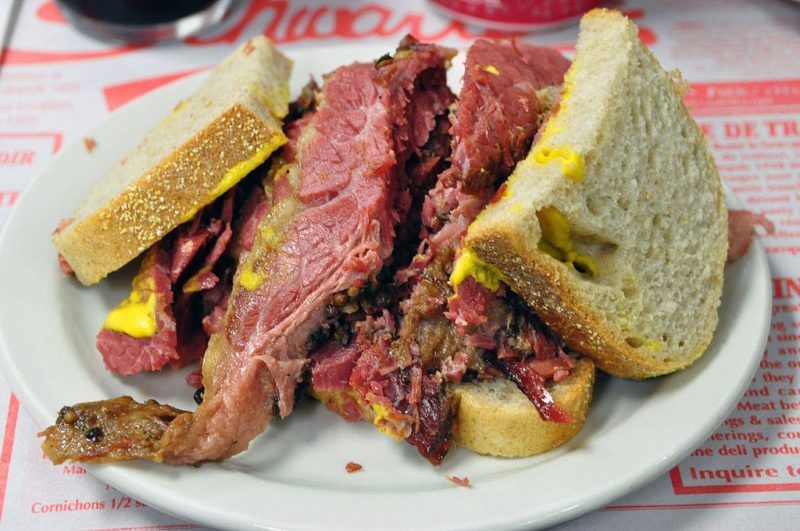 Montreal's bagels are boiled in water with honey and are a little sweeter than NY style. The biggest difference though is that Montreal's are cooked in wood-fired ovens giving them a much deeper, richer crunchier crust.
Pros and cons of living in Canada by a Canadian Immigrant
16 Free Things to Do in Niagara Falls, Canada (From a Local)
10 Most Haunted Places in Canada
Things to do in Toronto: Best experiences in Toronto
National dishes of the USA
Now being a melting pot the USA doesn't have a national dish but you could count things like "as American as apple pie" or perhaps all things Barbecue would constitute an American National Dish. But here are 3 that I think cover the USA and are loved by many.
BBQ in the USA Where to find some of the best
Hamburgers
A basic 85 to 15% fat ground beef is mixed together and formed into a patty. The patty is then barbequed or grilled and served with a huge array of potential toppings.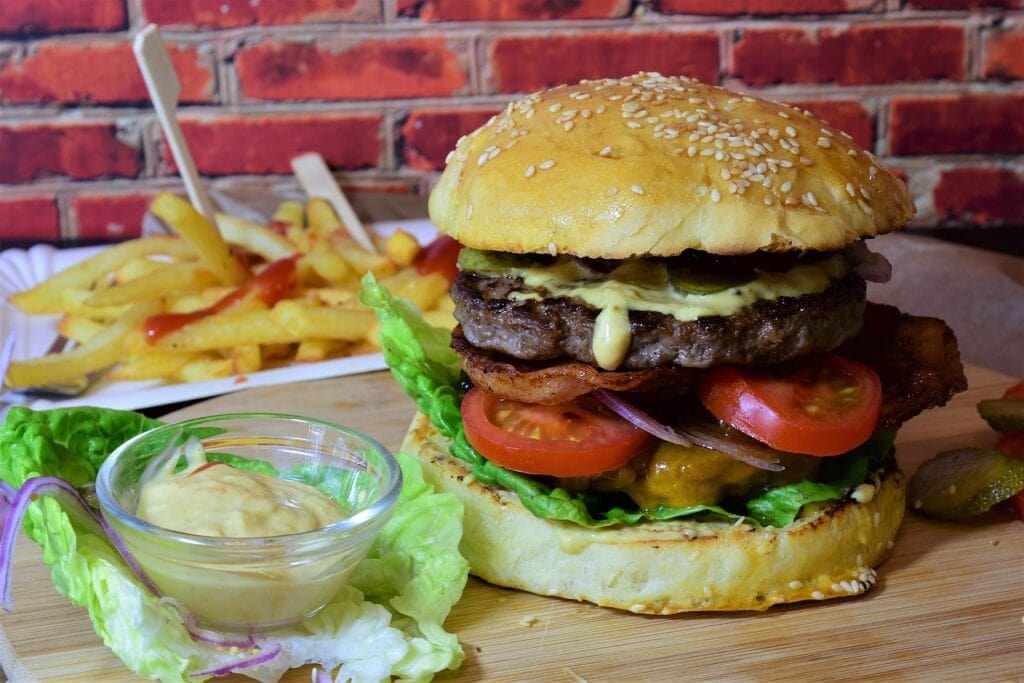 Frankfurter – hot dogs
Originally these emigrated with the Germans who came to America but it was adopted by the Americans who perfected the perfect 'dog'. The sausages are made from beef or chicken that is cured, smoked, cooked and then served in a long bun. The toppings again like hamburgers are numerous.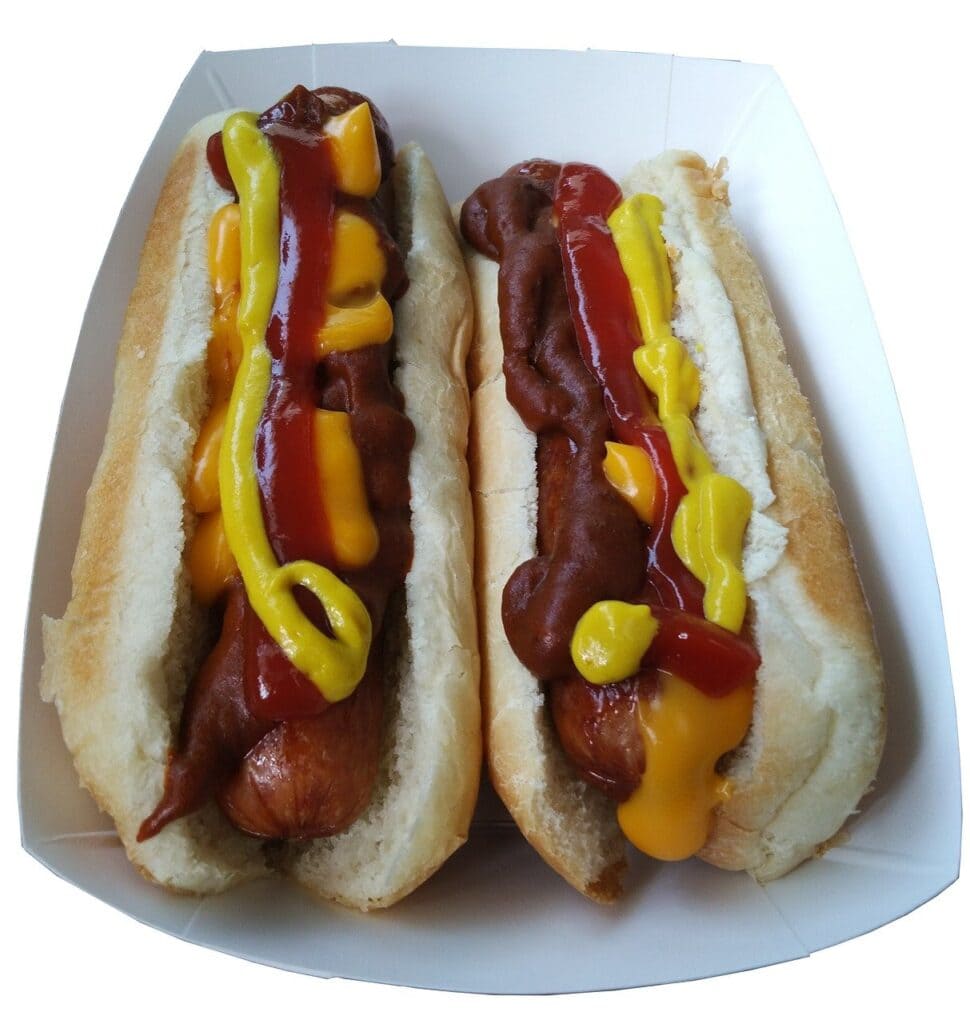 Mac 'n' Cheese
North American favourite Kraft Mac 'n' Cheese is luminescent orange colour but loved by many in N. American. When cooked at home either a good white or orange cheddar is used with elbow macaroni. The top is grilled to a brown bubbly cheesy perfection.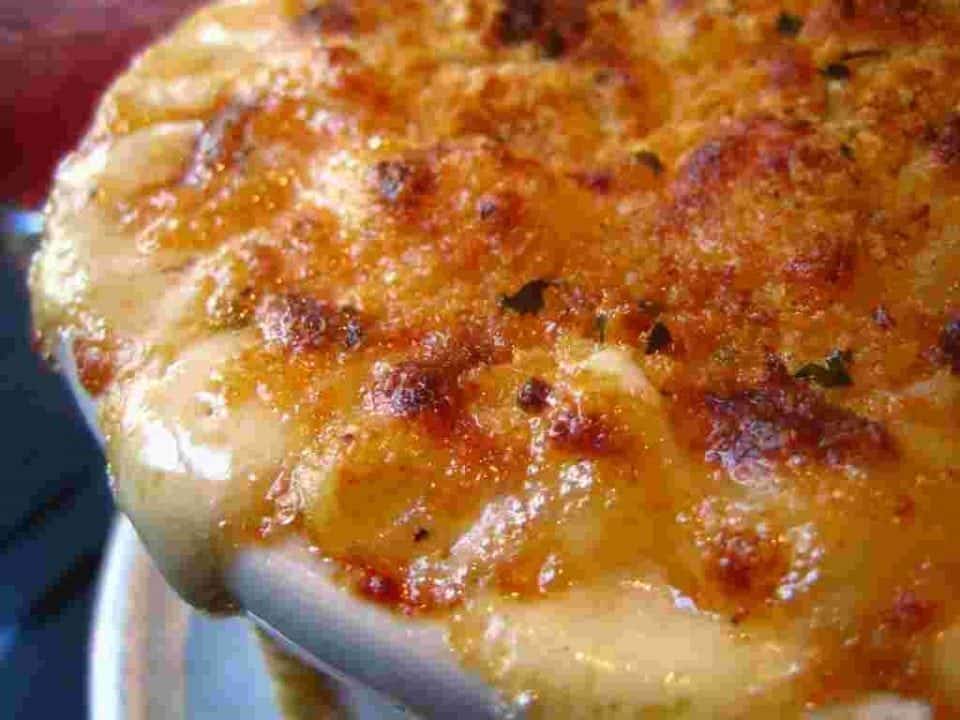 National dishes of Mexico
Taco
Tacos in Mexico (unlike in the USA) are usually a soft corn tortillas filled with ground beef or shredded pork or chicken and then topped with cheese, and salsa. The heat of the chillies the meat is cooked in is tempered by the addition of sour cream and guacamole.
23 of the best Mexican Street Foods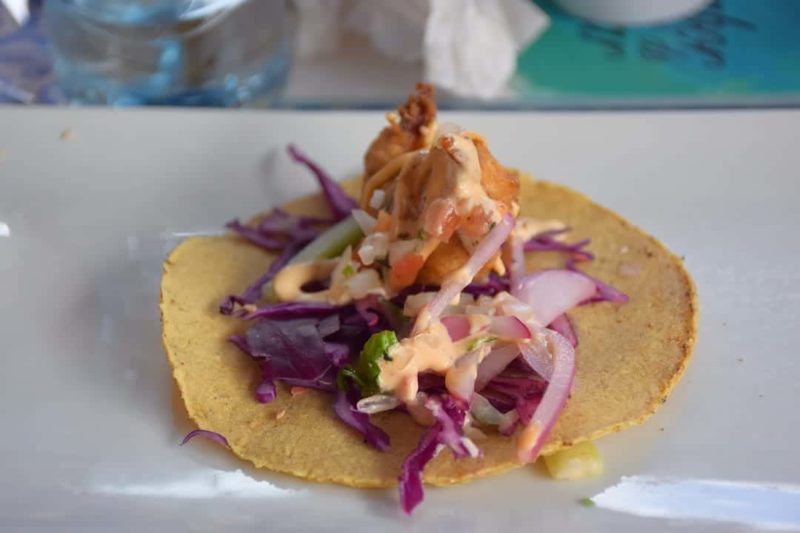 Mole Poblano
An ancient dish native to the state of Puebla, it has been called the national dish of Mexico. It is a sauce that is poured over enchiladas or various meats including turkey, chicken, beef or vegetables.
You'll be surprised to learn that the national dish of Mexico isn't one dish but many, as there are several different types of mole. Among the Mole Poblano, you will find up to 4 different kinds of chilli, cacahuate (nuts), chocolate, and ajonjolí (sesame seeds).
A Guide to Mexicos Best Drinks
Chiles en Nogada
Chiles en nogada is the signature dish of Mexico with its colours of the Mexican flag this is a mild chile stuffed with meat and topped with a walnut sauce decorated with pomegranate seeds.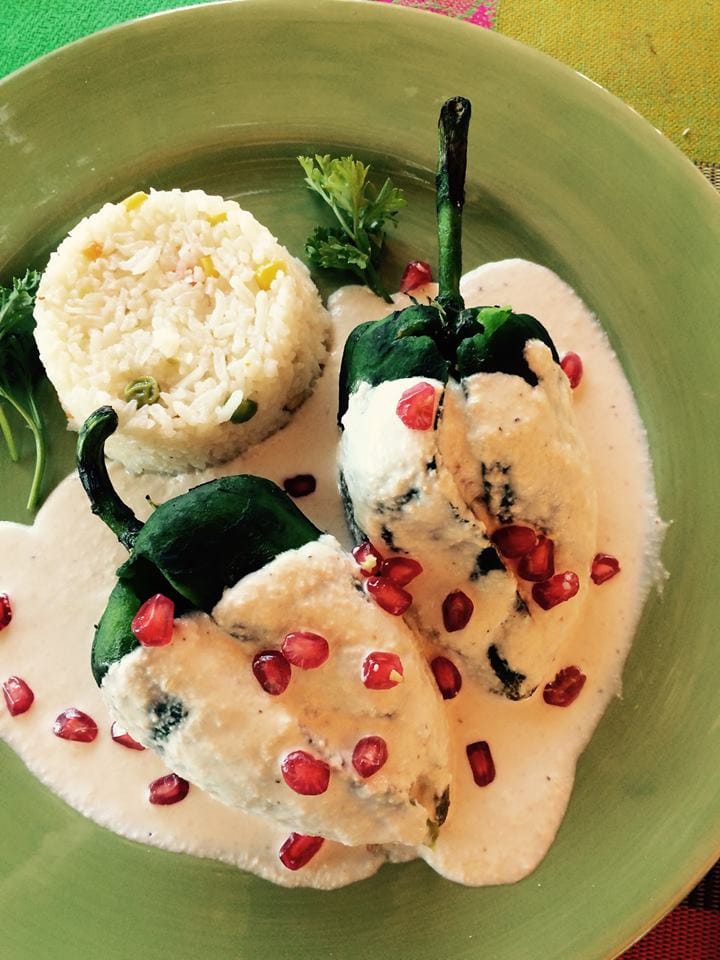 Tamales
From the Yucatan to Mexico City tamales are the mainstay of many Mexican celebrations. A cornmeal type of smooth filling is paired with a variety of meats and cheese or vegetables and rolled in a banana leave or corn husk then steamed for hours.
National dishes of the Caribbean
Here are a few of the national dishes of some Caribbean nations. The national dishes are a mixture of cuisines brought by the slaves, immigrants from the far east and southern Asia as well as the colonisers and slave plantations.
National dish of Guyana – Pepperpot
Pepperpot is a meat stew usually of mutton, beef or pork that is heavily flavoured with cassareep a sauce from the cassava root, lots of hot peppers, cinnamon and any other ingredients you might have at hand.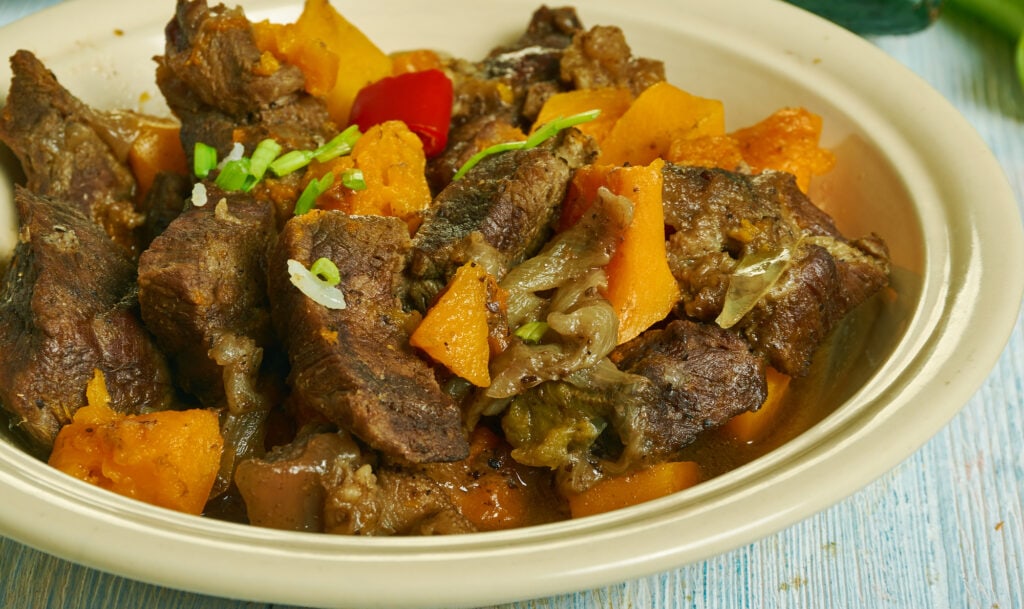 National dish of the Bahamas – Cracked Conch
Cracked conch is a deep-fried conch served with fries (and sometimes rice), and a spicy dipping sauce. Although it looks a bit like deep-fried calamari, cracked conch has a lot more flavour
National dish of Barbados – Cou-Cou and Flying Fish
Cou-Cou is made with cornmeal, flour, and okra, and served with steamed flying fish and gravy on the side.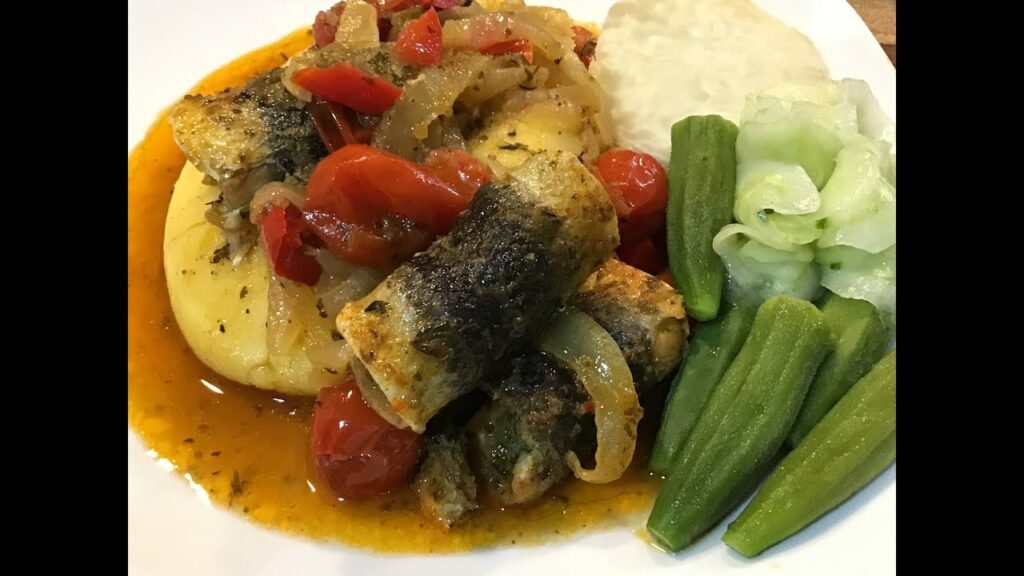 National dish of Haiti – Fried Pork with Rice & Beans
Fried Pork with Rice and Beans just like it sounds like but served with pork chops on the side.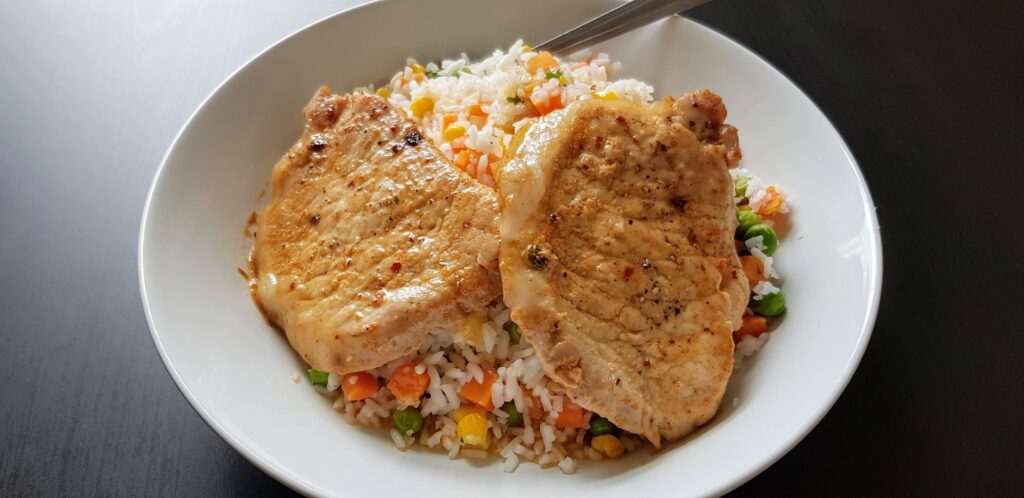 National dish of Antigua & Barbuda – Fungee & Pepperpot
Fungee is the name given to cornmeal cooked with okra in salted water and boiled to a paste and pepperpot combines a variety of meats and vegetables boiled to a soup-like finish.
National dish of Dominica – Callaloo
Callaloo is the green leafy tops of either the amaranth plant (called callaloo or bhaaji) or taro root (sometimes called dasheen) and coconut milk.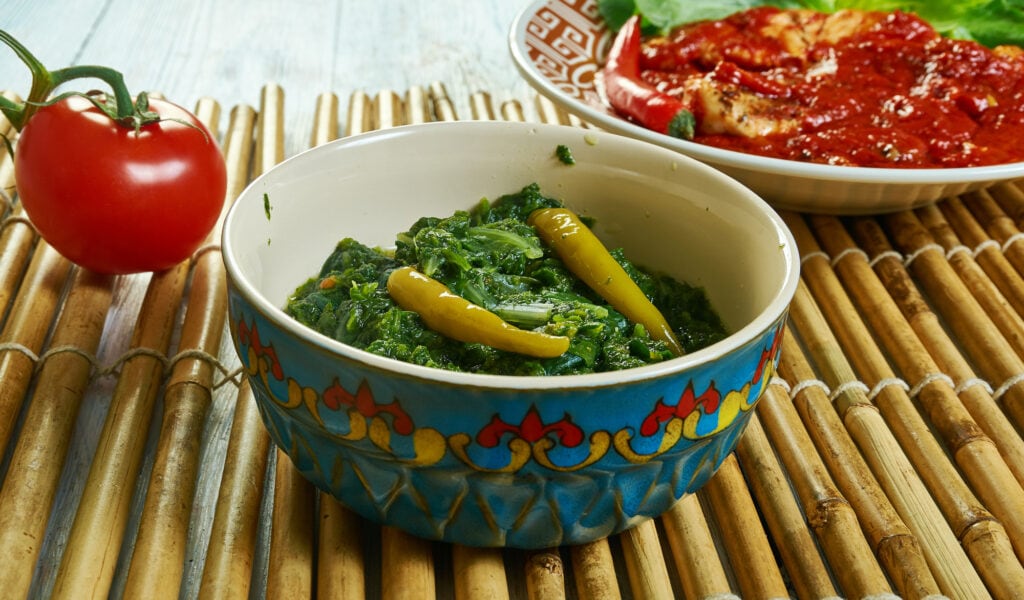 National dish of Cuba – Ropa Vieja
Ropa Vieja in English means old clothes and it is shredded flank steak cooked in a tomato sauce and served over, rice, with sweet plantain fritters. This national dish of Cuba is served everywhere.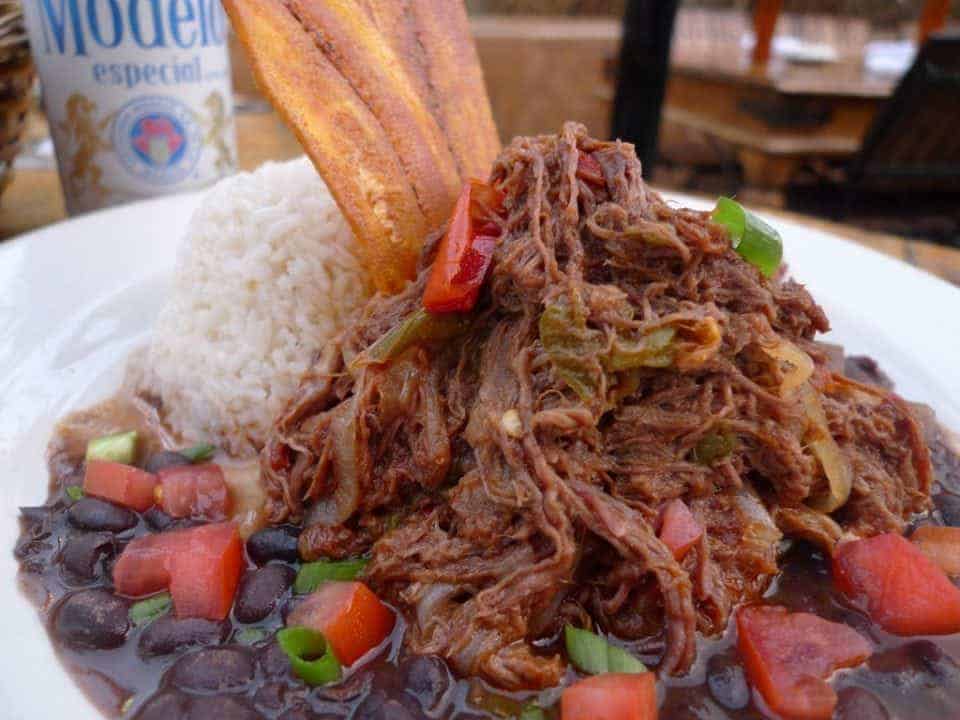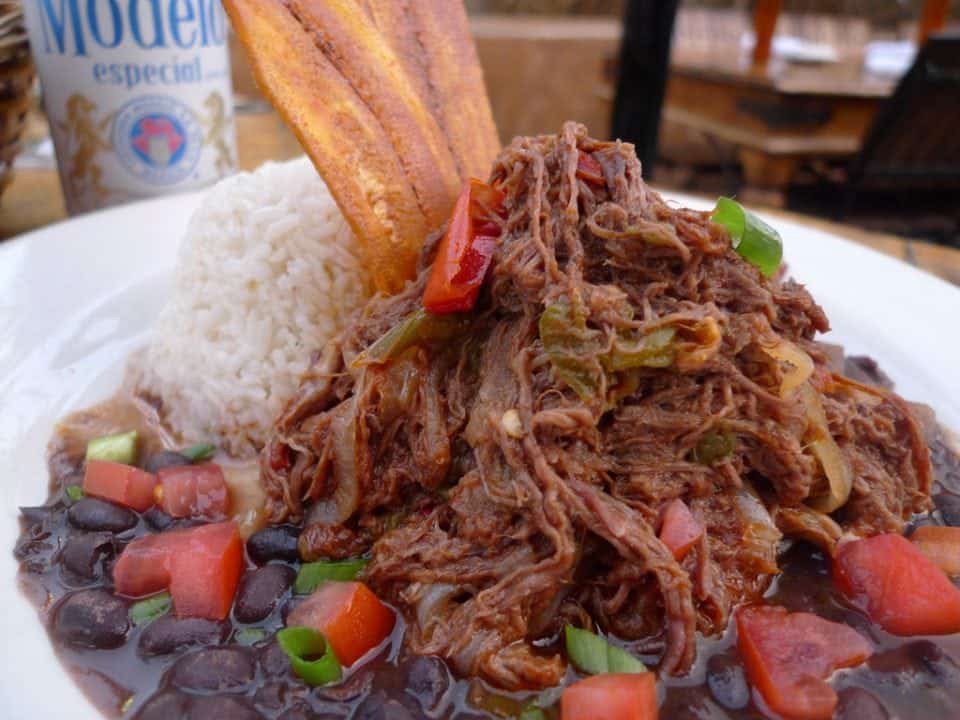 National dishes of Jamaica
Ackee and Saltfish
Ackee is a buttery-nutty flavour, that looks like a scrambled egg when boiled. The ackee is boiled with saltfish, onions and tomatoes and then served on top of bammy deep-fried cassava cakes with fried plantains.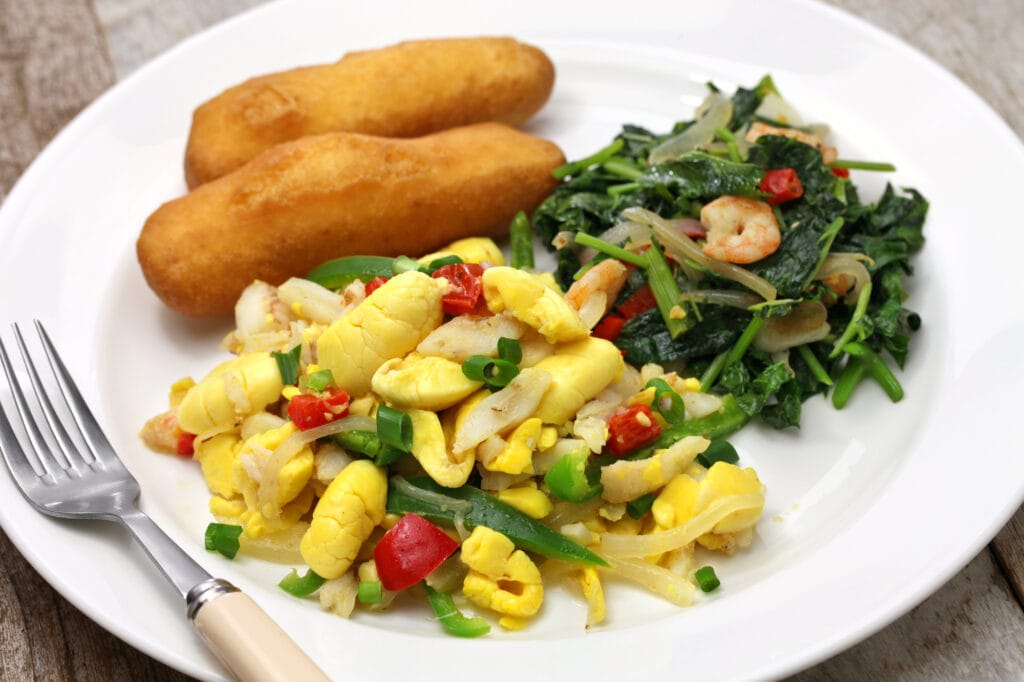 Rice and Peas
Pigeon peas or kidney beans can be used in Jamaica's national dish. The pigeon peas are combined with coconut milk, onion, garlic, allspice, hot peppers, thyme and ginger.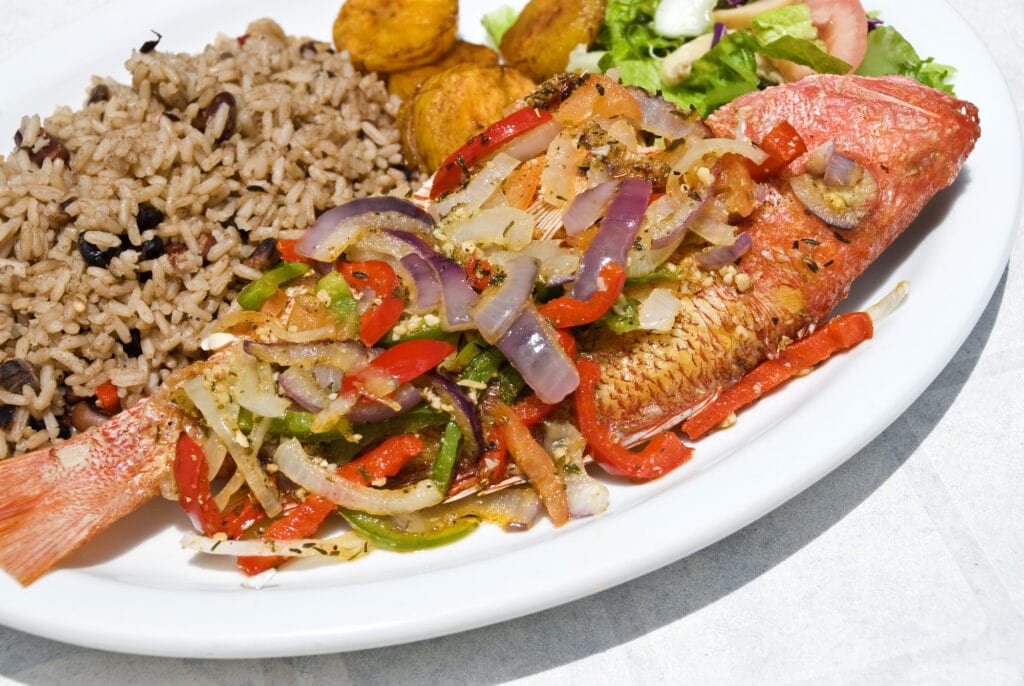 National dish of Dominican Republic – La Bandera
A meal of red or black bean stew, white rice, meat curry, fried plantains, and a side salad.
National Dishes of Central America
Central America includes Guatemala, Honduras, Nicaragua, El Salvador, Costa Rica, Panama, and Belize. Another melting pot of various culinary traditions and deeply influenced by the Spanish conquerors.
National dish of Costa Rica – Gallo Pinto
Another rice and bean dish with cooked rice, beans, a few seasonings, and Lizano sauce which is a sweet and spicy sauce a favourite in Costa Rica. In Spanish gallo pinto means "spotted rooster"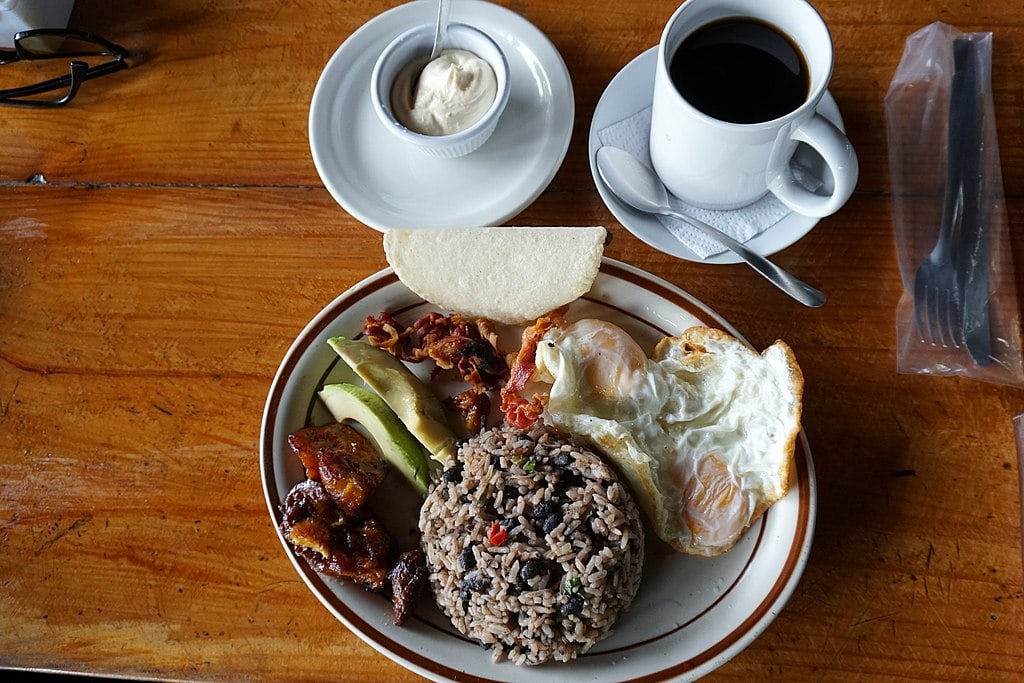 National dish of Nicaragua – Gallo Pinto
Similar to most other rice and bean dishes this one uses leftover rice which is sauteed in oil with onions and garlic.
National dish of Honduras – Plato Tipico de Honduras
Plato Tipico is a dish of Honduran favourites and is considered the national dish of the country. Grilled meat and pork sausages, stewed beans, chismol, fried plantain, and rice. These are served with sour cream, white fresh farmer's cheese, avocado and corn tortillas.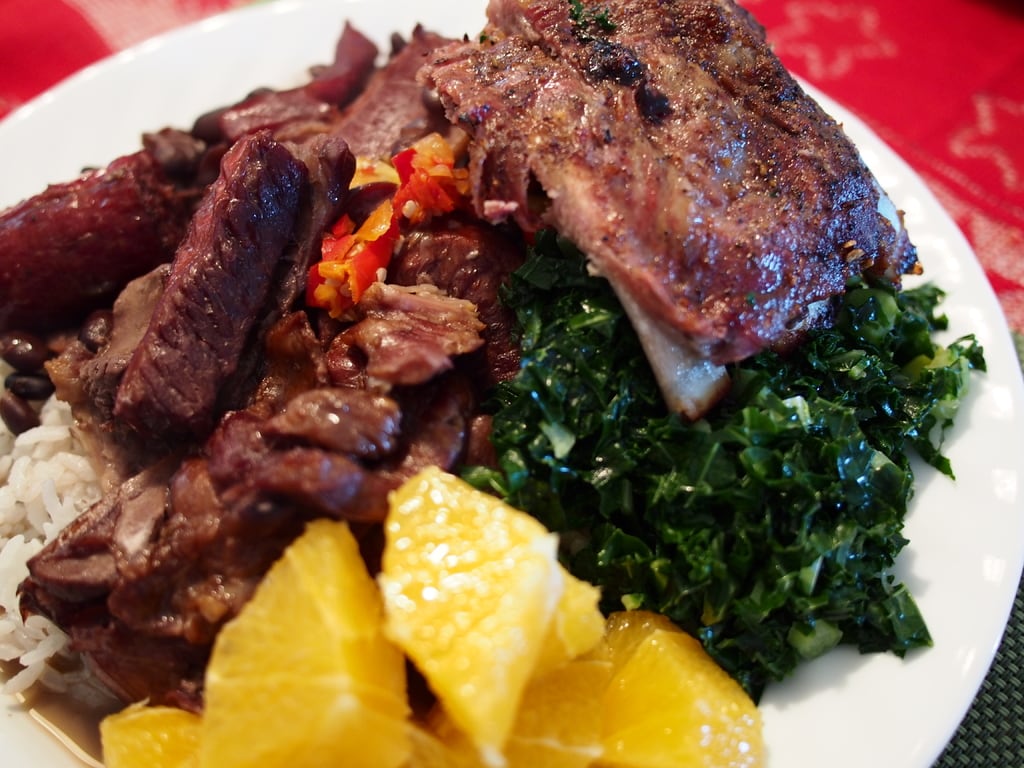 National Dishes of Latin America
Latin America includes Argentina, Bolivia Brazil, Chile, Colombia, Ecuador, Paraguay, Peru, Venezuela
National dish of Brazil – Feijoada
Feijoada is a bean and pork or beef stew. A hearty stew with toasted cassava flour is used to thicken the gravy the stew can contain a variety of nose to tail ingredients with vegetables such as onions, carrots, tomatoes and potatoes added.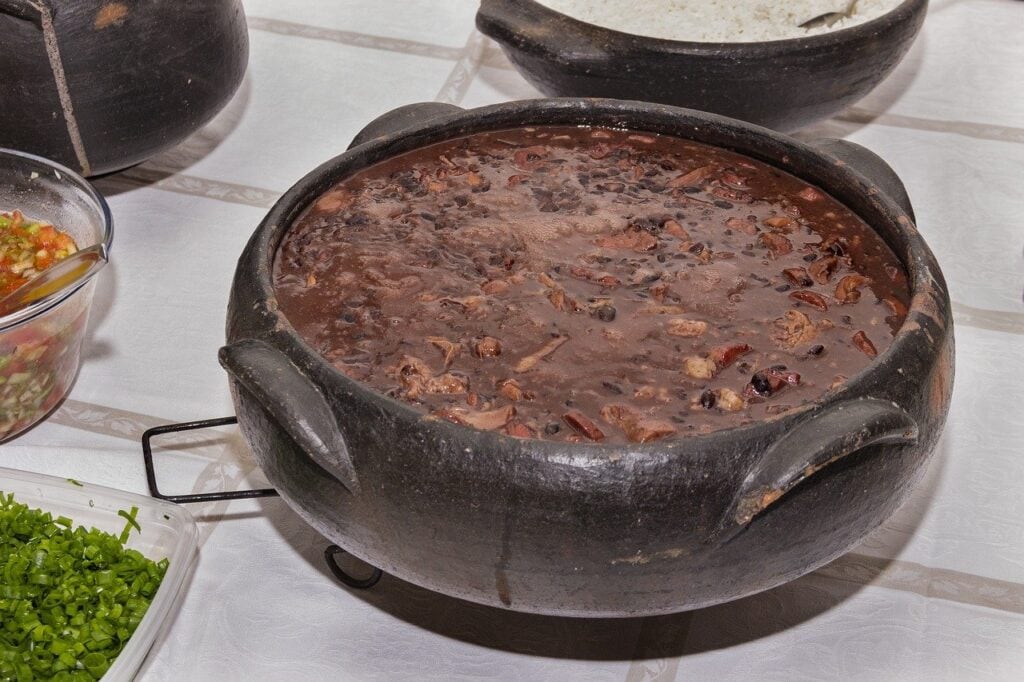 National dishes of Colombia
Bandeja Paisa
Another full meal platter contains red beans, white rice, a fried egg, fried plantains, chorizo, black pudding and arepa, chicharrones (fried pork rinds) avocado and a Colombian Hogao Sauce. The sauce is a sort of salsa with tomatoes, onions and garlic.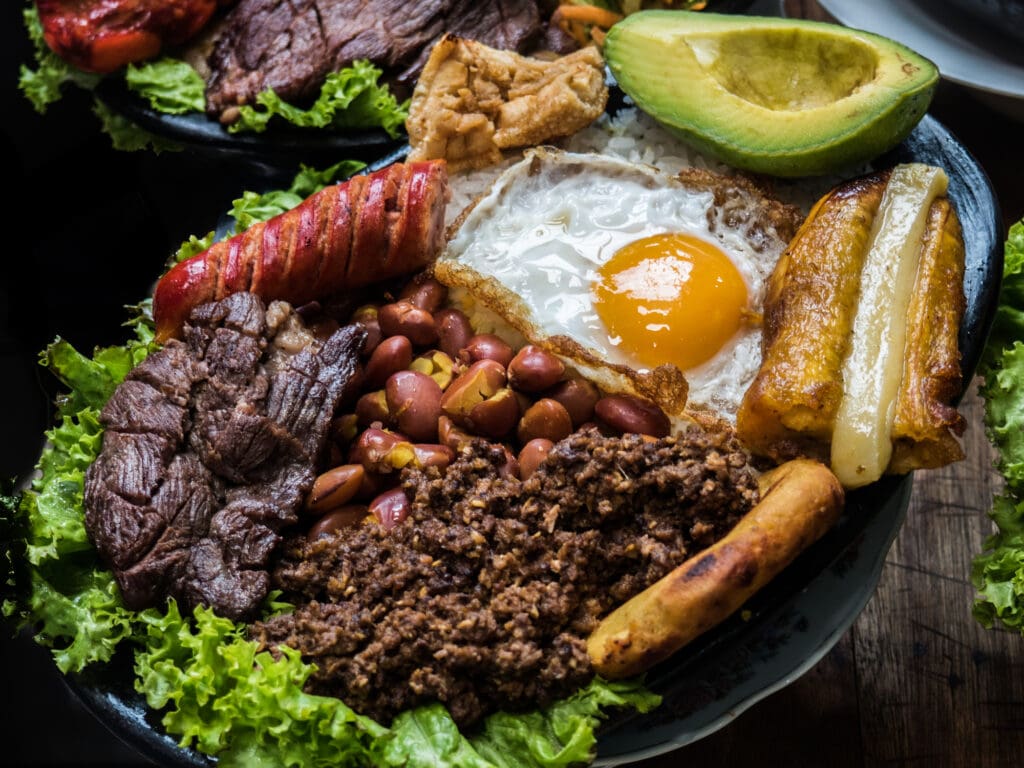 Arepas
Arepas are mostly known as corn cakes made out of corn dough or precooked cornflour in a flat circular shape, similar to a pancake. It can be cooked on a grill, fried, or roasted. The Colombian arepa is usually served plain with a bit of salt and butter or stuffed with cheese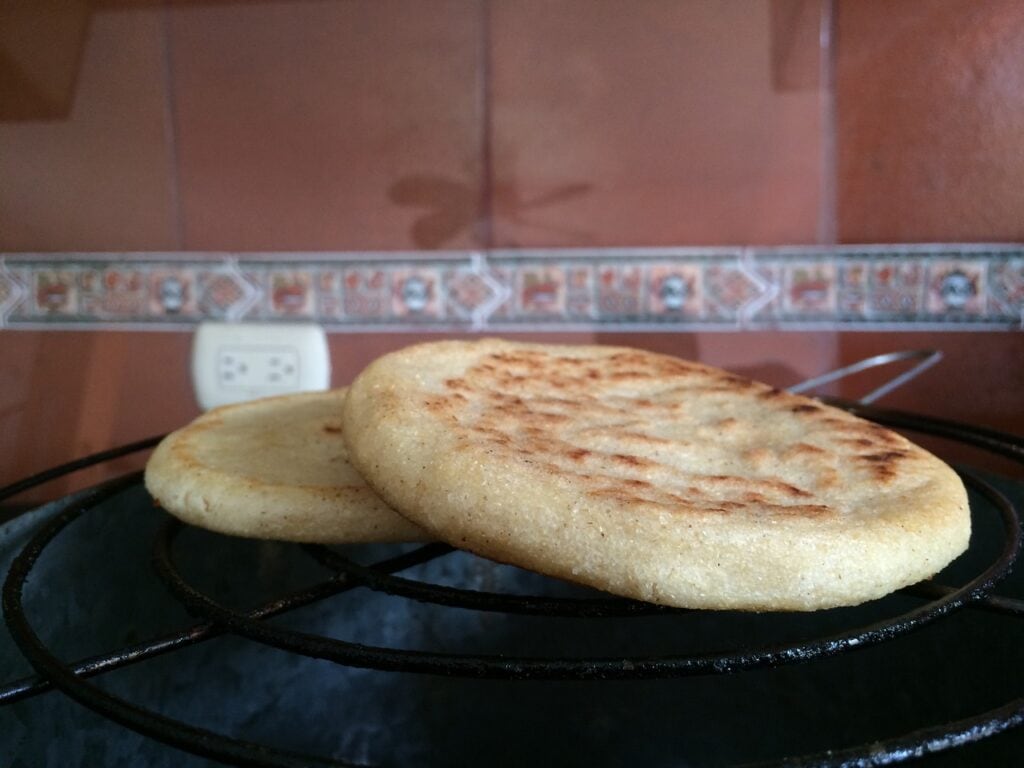 National dish of El Salvador – Pupusas
The pupusa is the national dish of El Salvador. Pupusas are like a thick tortilla made with masa de maiz, which is also used in Mexican tortillas and tamales. Traditionally, pupusas are stuffed with refried beans, Salvadorean cheese, chicharron( fried pork belly), loroco and other fillings like chicken, shrimp and more. They are served with curtido, a cabbage and carrot salad with a vinegar dressing.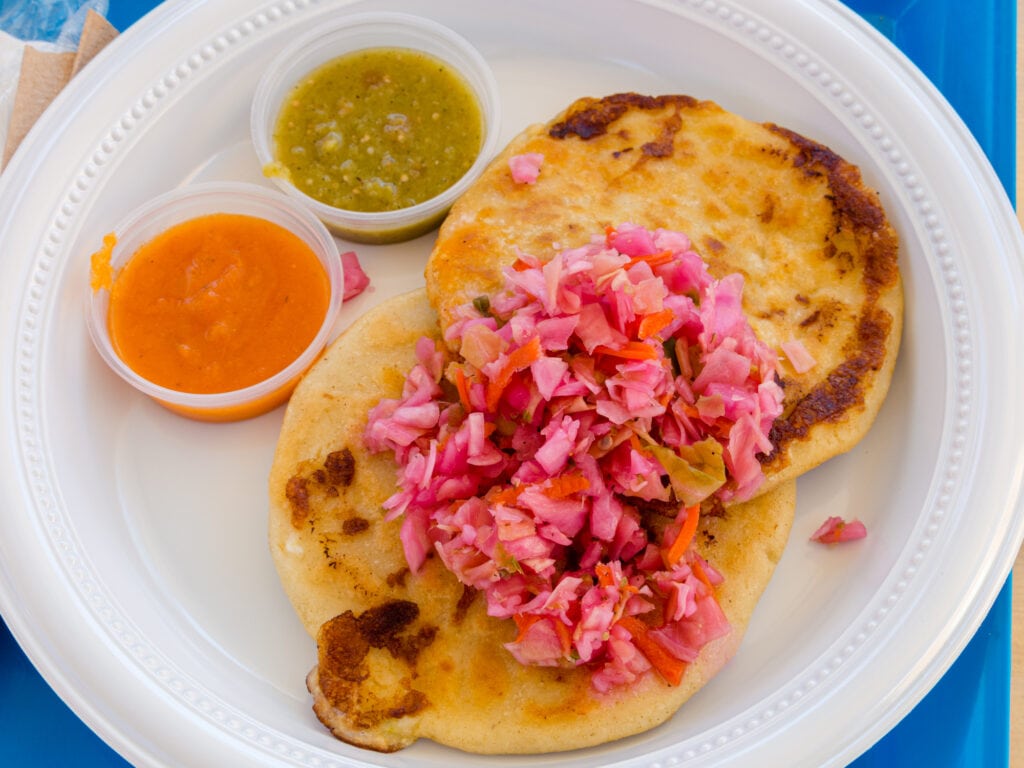 National dish of Chile – Pastel de Choclo
A Chilean beef and corn sort of a version of Sheperd's Pie. The ground beef mixed with onions, boiled eggs, olives, and raisins are placed in the baking dish and then topped with the creamed sweetcorn crust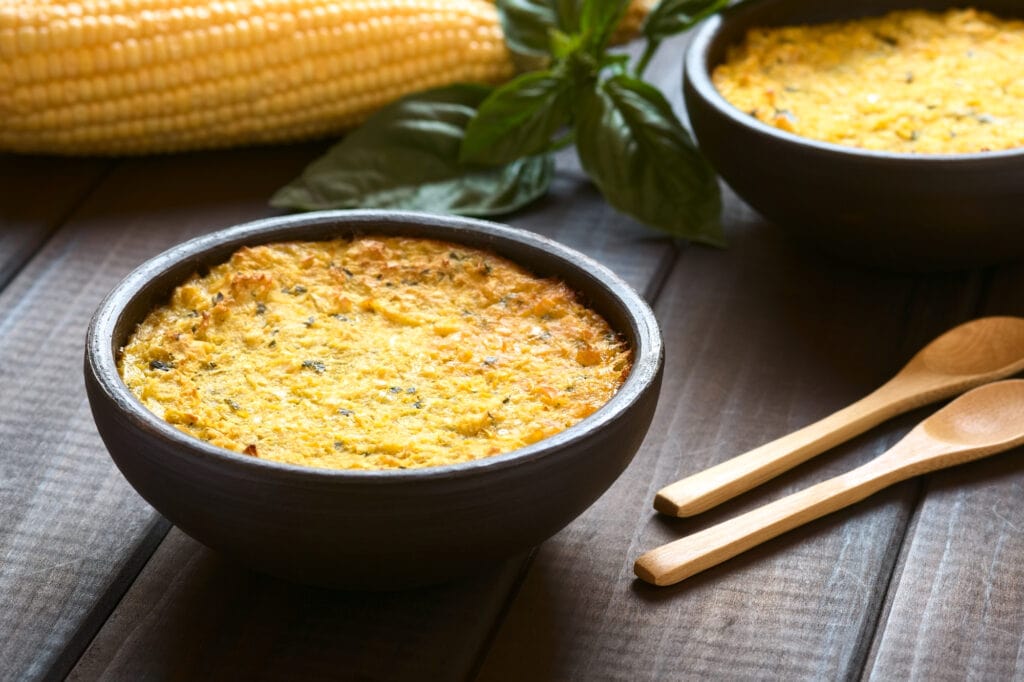 National dish of Peru – Ceviche
Chunks of raw fish marinated in lime juice essentially cook the fish and it is mixed with onions, chilli peppers, and garlic.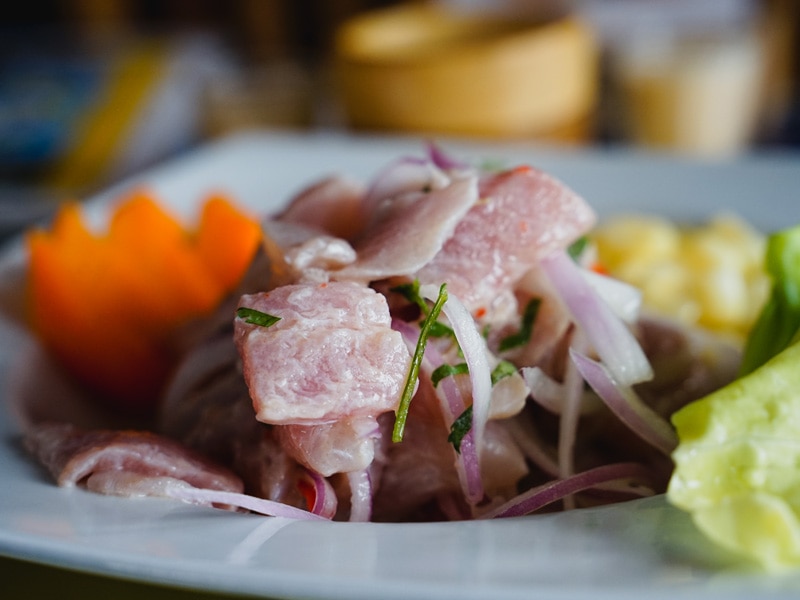 National dishes of Venezuela
Pabellón criollo
Like the Cuban dish Ropa Viejo, this is plain rice topped with shredded beef, black beans, and plantain fritters.
Arepas
Slightly different to the Colombian arepa the Venezuelan arepa is stuffed with different ingredients they can be sweet or savoury.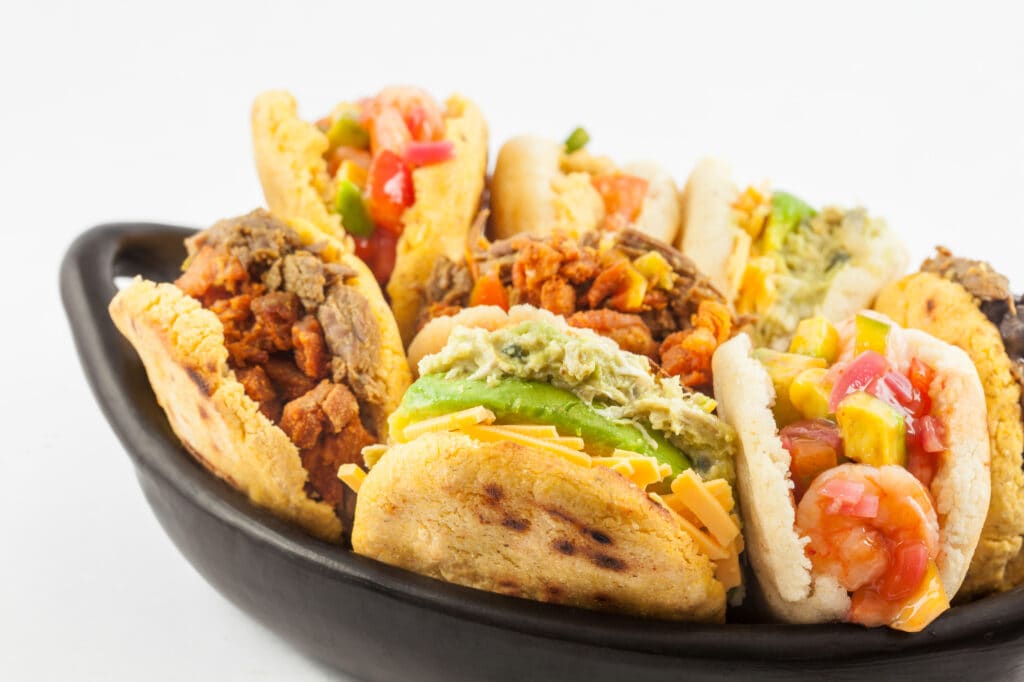 National dish of Ecuador – Ceviche
Most ceviche's in Latin and South America follow pretty much the same recipe lime juice-marinated raw fresh fish spiced with chillies combined with tomatoes, onions, cilantro, cucumber, avocado and jalapenos or another spicy chile,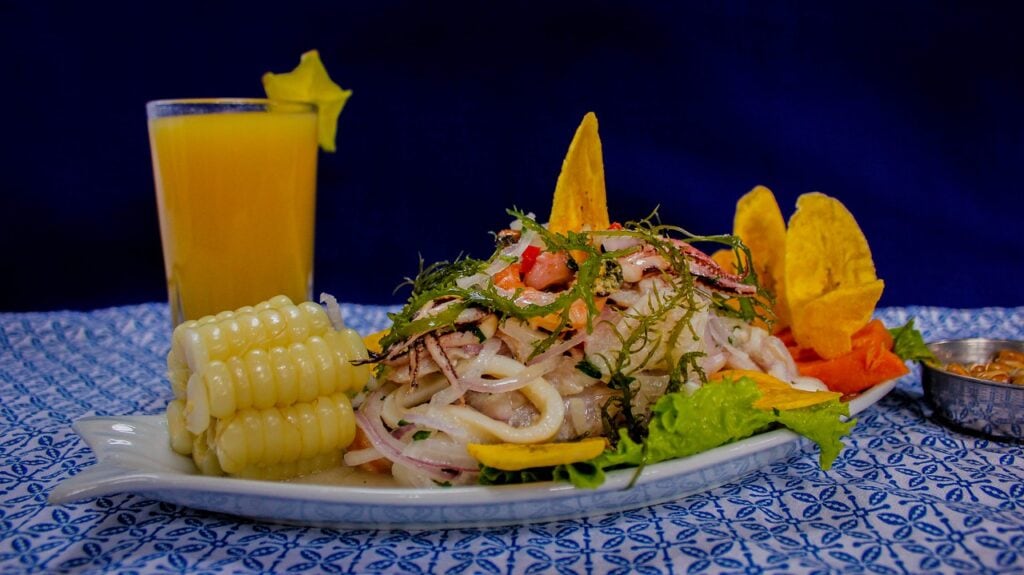 National dishes of South Asia
South Asia includes Bangladesh, Bhutan, India, Pakistan, Nepal, and Sri Lanka; Afghanistan and the Maldives.
National dish of Afghanistan – Kabuli Pulao
A beautiful rice pilaf studded with lentils, carrots, lamb, almonds, pistachios, lentils and cooked in a meat broth.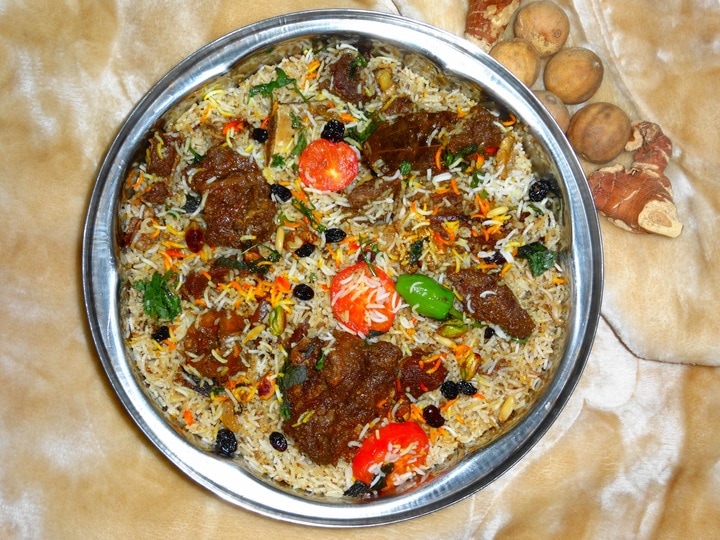 National dish of Bangladesh – Fish and Rice
Ilish fish which is a freshwater fish is marinated and steamed in a banana leaf and then served with white rice.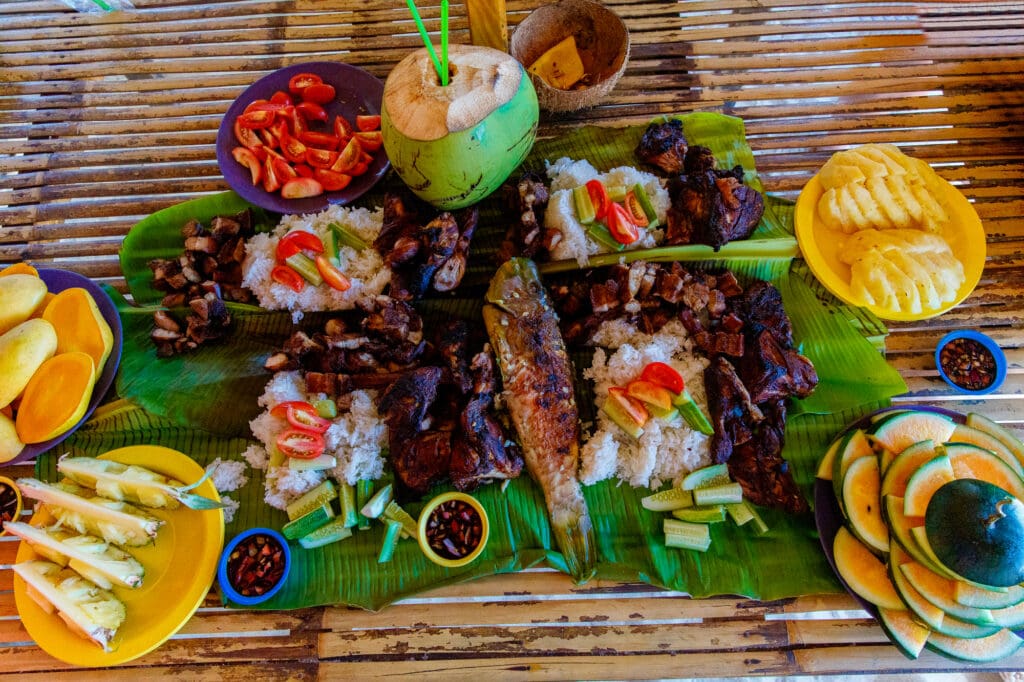 National dish of Bhutan – Ema Datshi
Ema Datshi is considered Bhutan's national dish and it is a simple plate of spicy chillies cooked in yak or cow's milk cheese and served piping hot.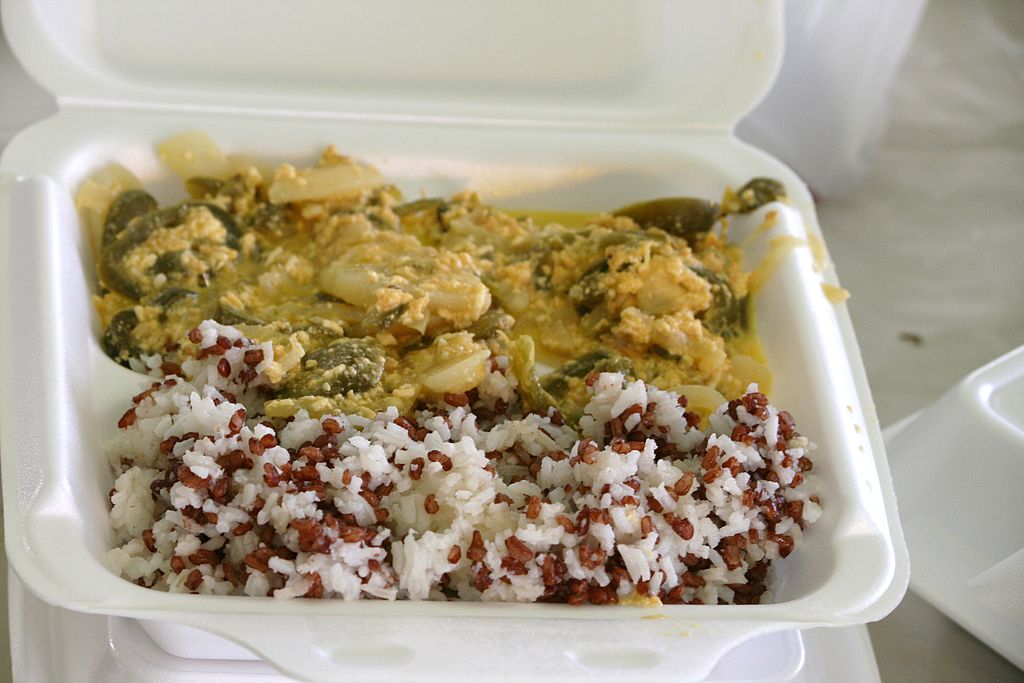 National dishes of India
Biryani
Biryani is usually a long-grained Basmati type of rice cooked within a flavoured broth with spices and meat. Toppings will include crispy fried onions.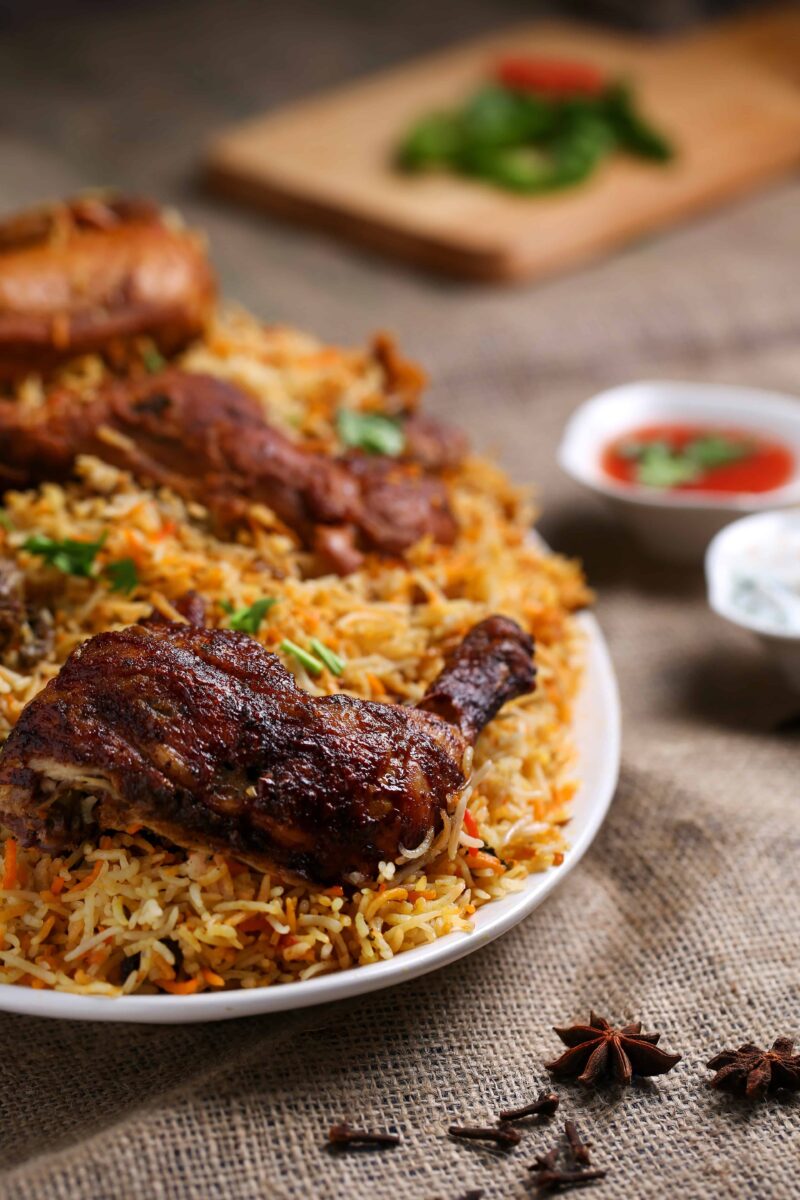 Tandoori Chicken
Chicken marinated in a flavourful yoghurt sauce with spices that turn the skin of the chicken red and baked in a tandoor oven.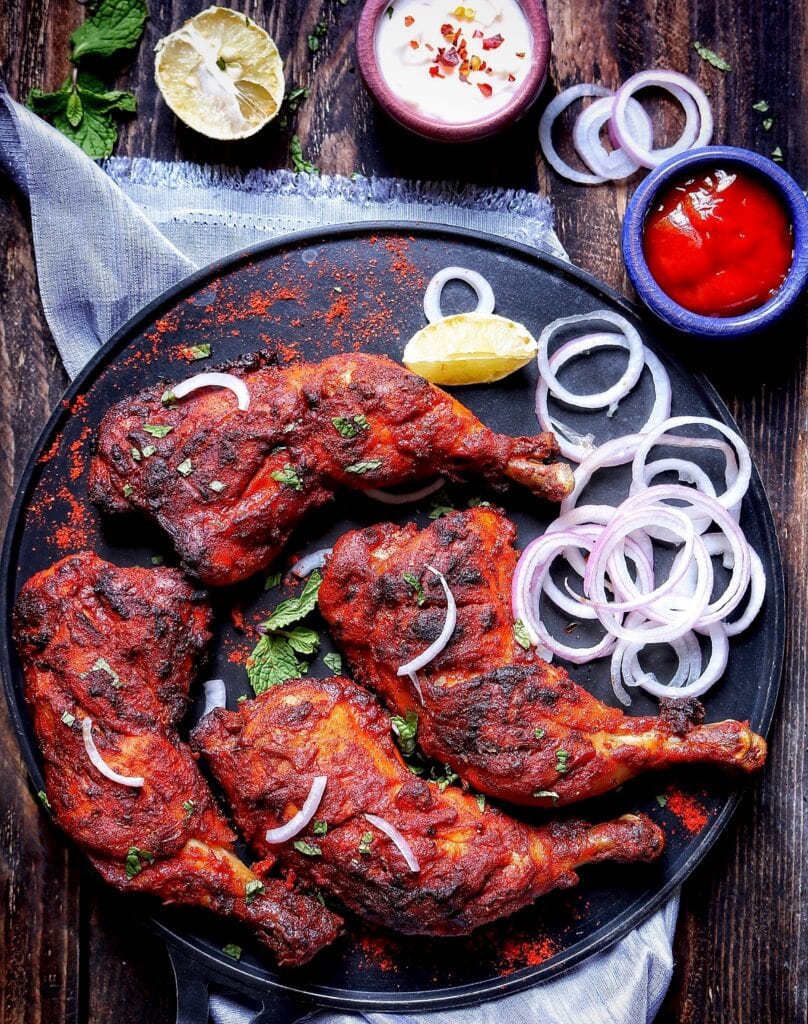 Masala Dosa
A very thin and crispy pancake made from a fermented batter and filled with either spiced lentil dhal or a lovely spicy potato mix.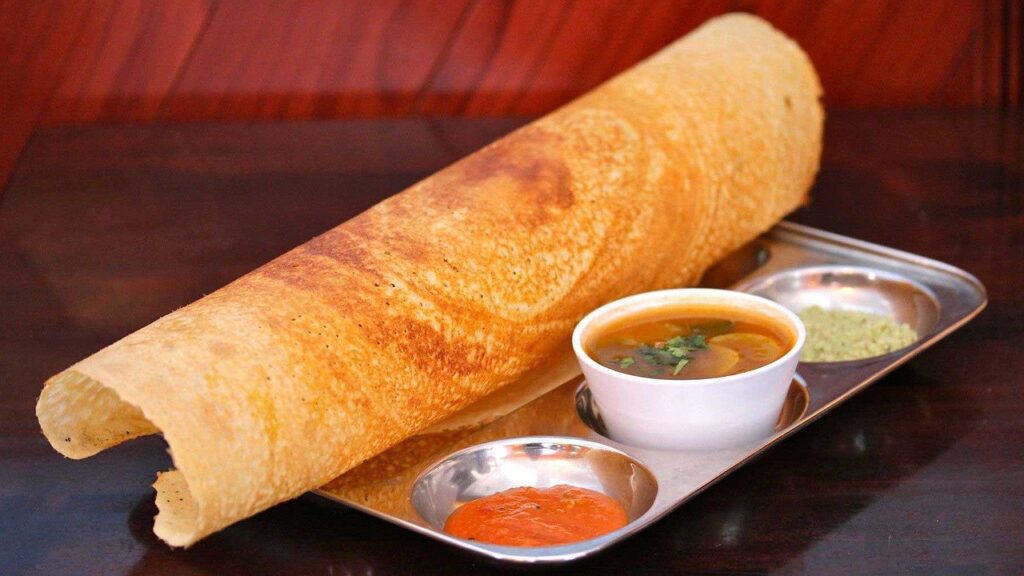 National dish of Nepal – Dal Bhaath
Dal Bhaath is a white rice dish with lentils that is served with vegetable curry, spicy vegetable pickles and assorted greens along with papadoms.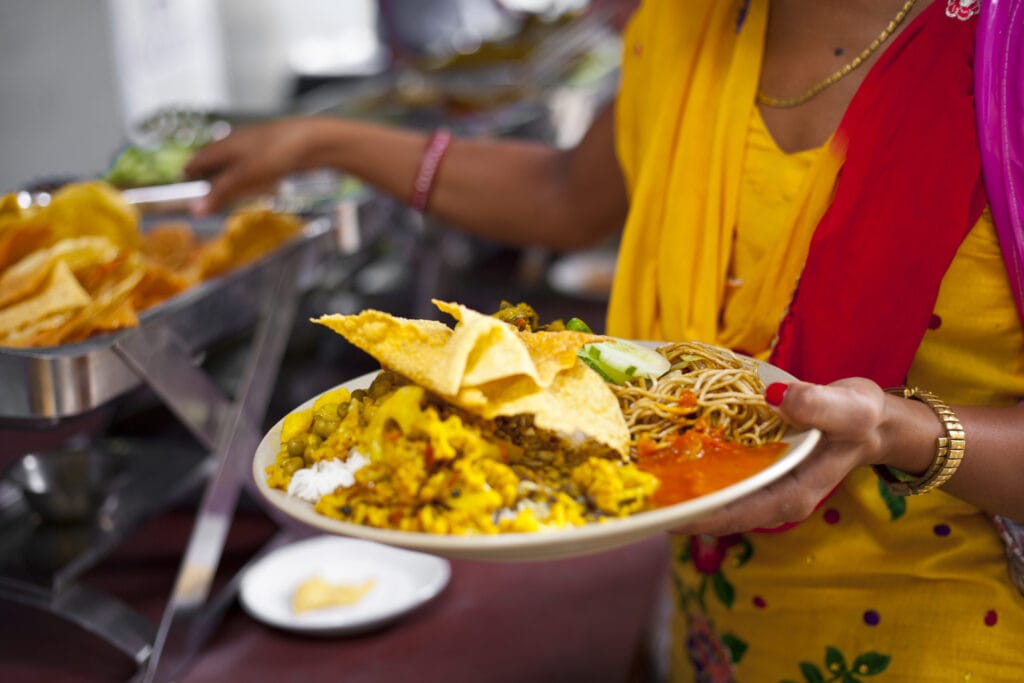 National dish of Sri Lanka – Rice and Curry
A traditional Sri Lankan dish that is exactly what it says plain rice (coconut milk can be used for the rice) served with various curries that could include chicken, meat, or vegetables. Sambals are served with it along with papadoms.
National dishes of Pakistan
Nihari
The food of Pakistan mixes several influences that include Afghan, Persian, Indian, and Central Asian traditions. Nihari is considered to be the national dish of Pakistan and it is exceptionally delicious. The lamb is cooked overnight in a variety of mild spices giving you a dish of deep flavours.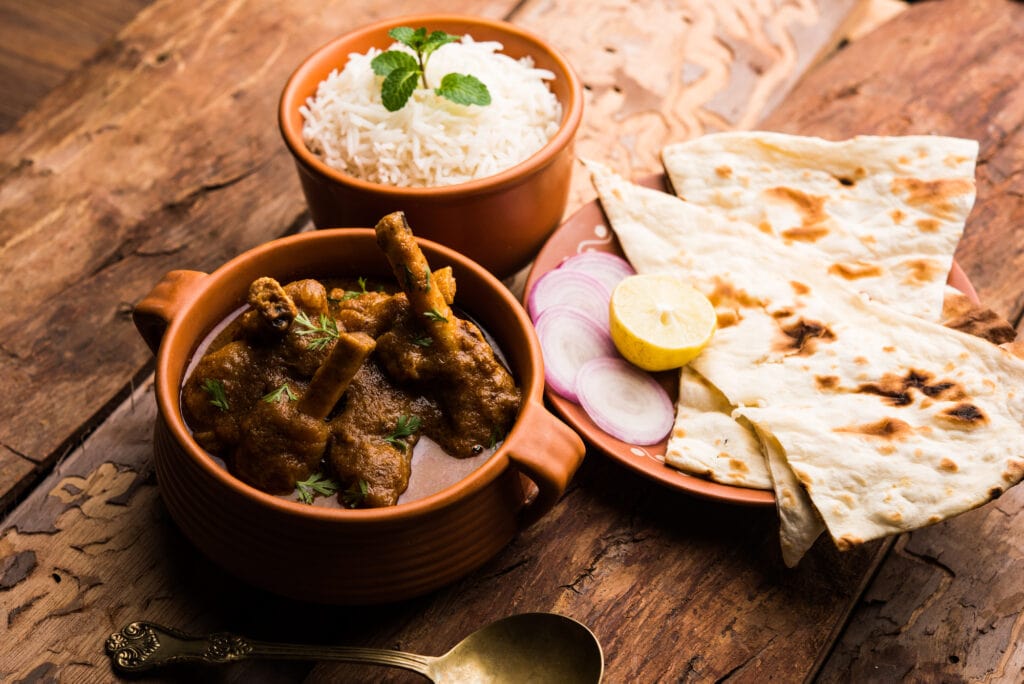 Biryani
Some consider Biryani a national dish and the favourite is Chicken Biryani.
National dishes of South East Asia
South-East Asia includes China, Hong Kong, Japan, Macau, Mongolia, North Korea, South Korea, and Taiwan, Philippines Burma, Thailand, Laos, Cambodia, and Vietnam Malaysia, Singapore, Indonesia, the Philippines, Brunei, East Timor.
National dish of Singapore – Hainanese Chicken Rice
Moist poached chicken is tossed in a garlic-soy-ginger-chilli sauce and served with white rice that is cooked in coconut milk.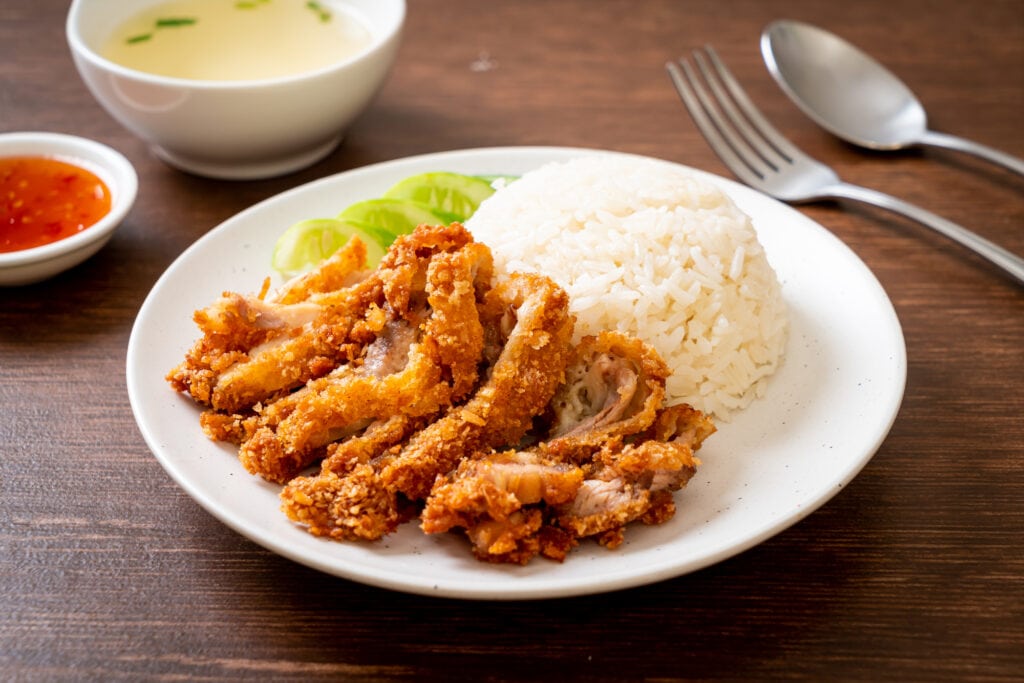 National dishes of Korea
Kimchi
The iconic dish of Korea Kimchi is fermented cabbage seasoned with salt brine, ginger, garlic, and chillies and pretty much served with every Korean dish.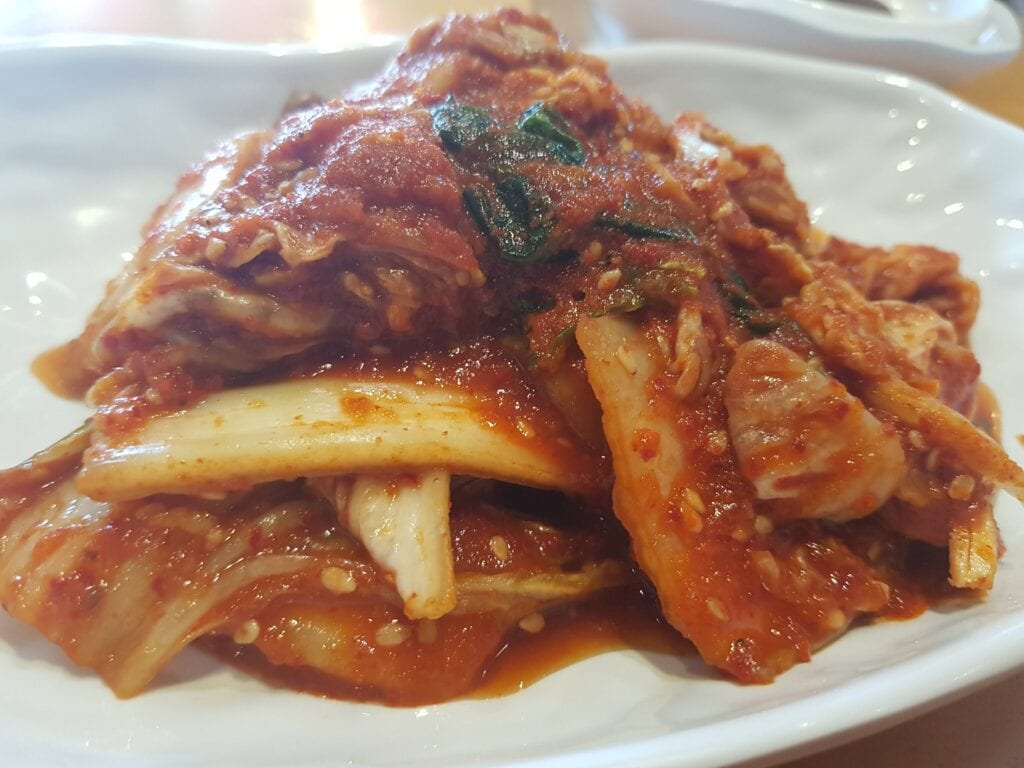 Beef Bulgogi
Beef bulgogi is a dish of thinly sliced, cuts of meat marinated in a mixture of soy sauce, sesame oil, garlic, onions, ginger, sugar, and wine and then grilled. It is often eaten wrapped in lettuce or spinach leaves and accompanied by kimchi.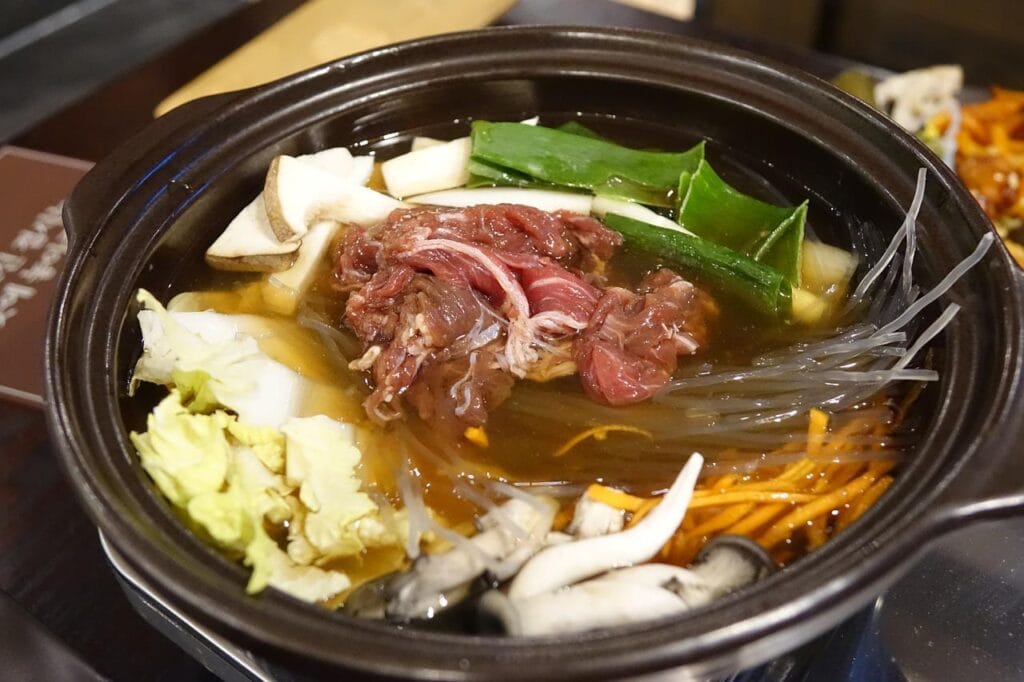 National dish of China – Peking duck
Peking Duck is marinated in sherry and honey then hung to air dry for days after which is slow-roasted to create that crispy skin. Once cooked it is served with thin pancakes into which the duck is placed with cucumber and spring onions and then drizzled with hoisin sauce.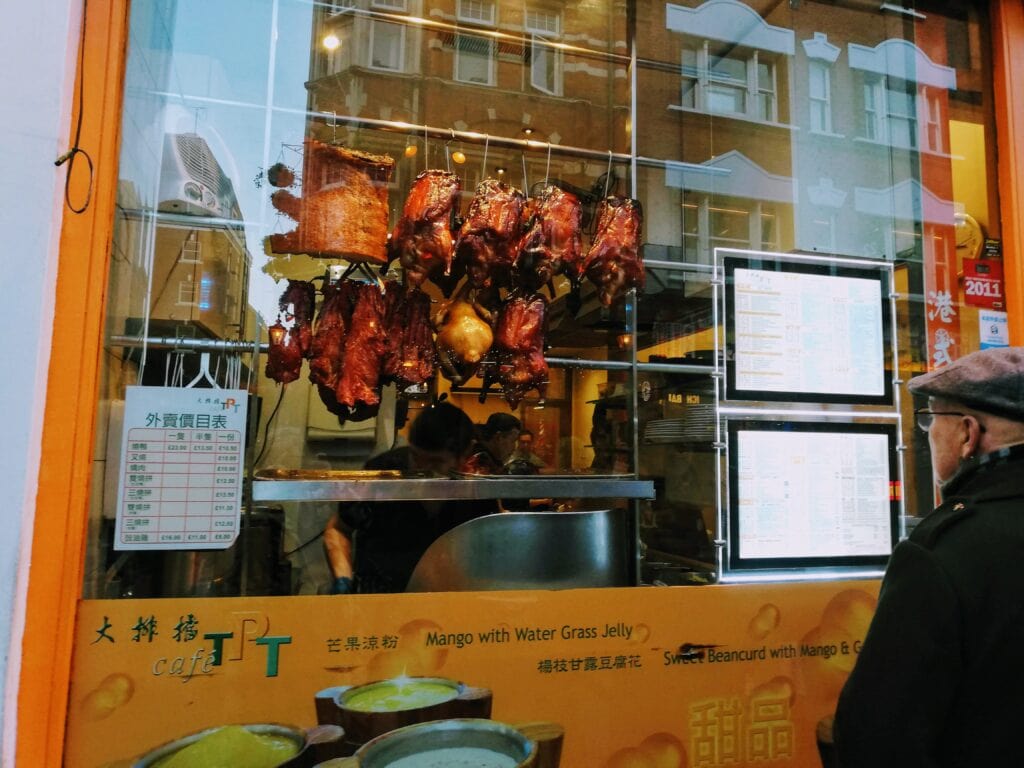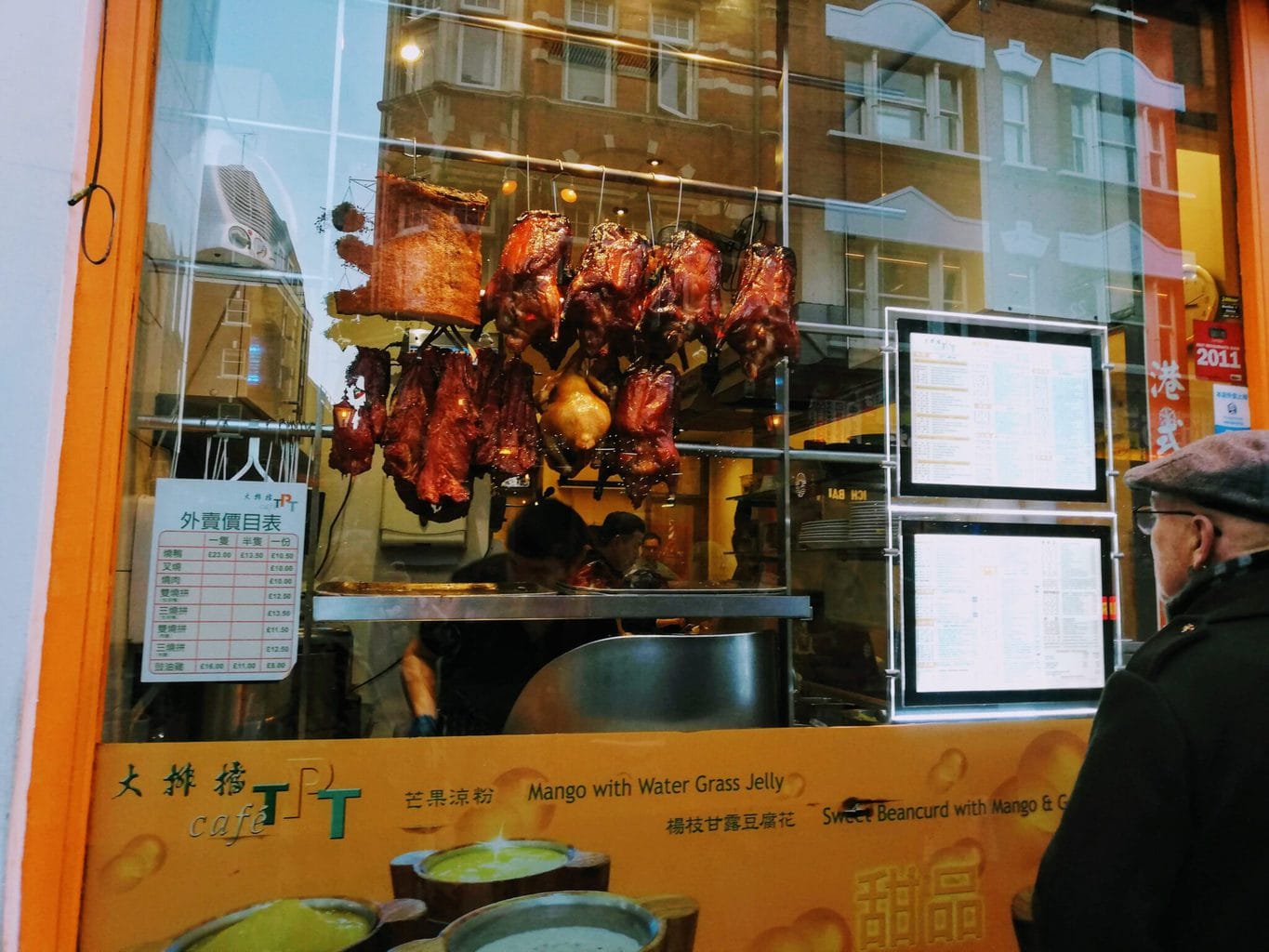 National dish of Thailand – Pad Thai
Pad Thai is known worldwide now with its rice noodles and jewels of chicken, seafood, scrambled eggs, the occasional piece of carrot, spring onions, bean sprouts and seasoned with fish sauce, tamarind and topped with crushed peanuts.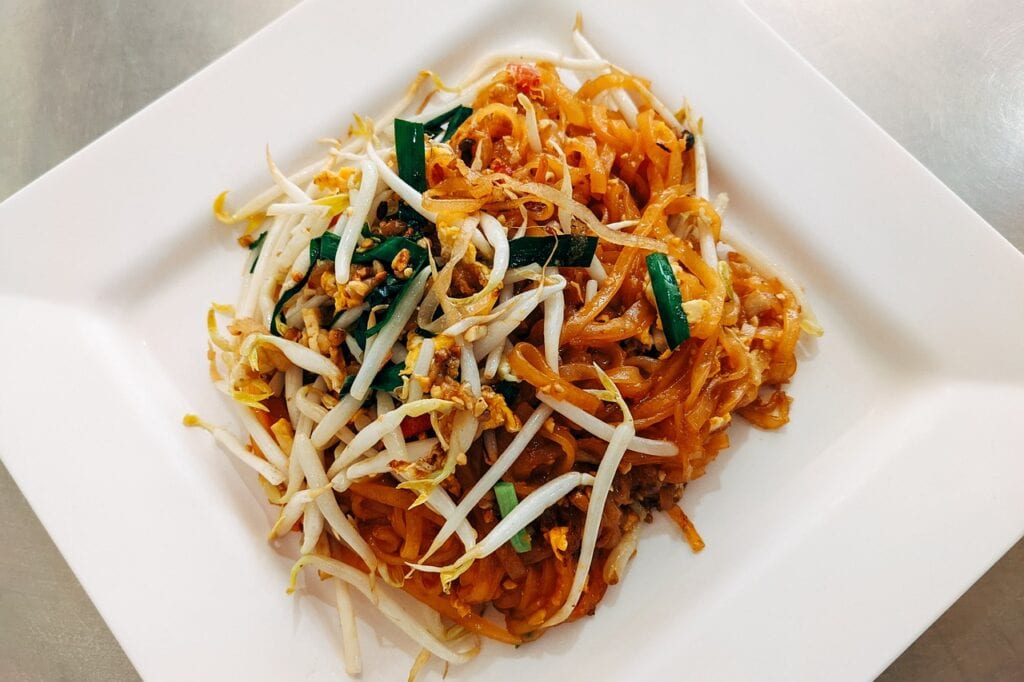 National dish of the Philippines – Chicken Adobo
The Chicken is marinated in garlic and vinegar and then shallow-fried in oil, and simmered in its own vinegary marinade and served over white rice.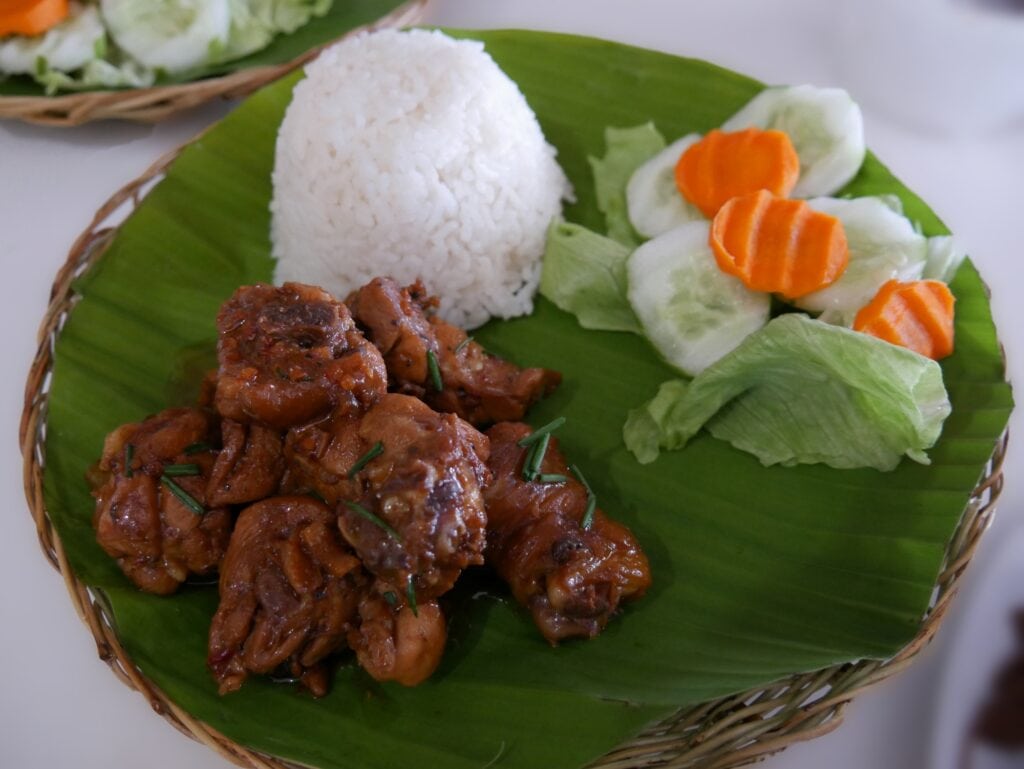 National dish of Hong Kong – Dim Sum
The word dim sum comes from the Cantonese tim sam, "appetizer," or literally, "touch the heart." Dim Sum is a variety of foods served in small single-serving portions. There are dumplings, buns, noodle rolls and wraps that are filled with a mixture of fresh seafood, meat and vegetables.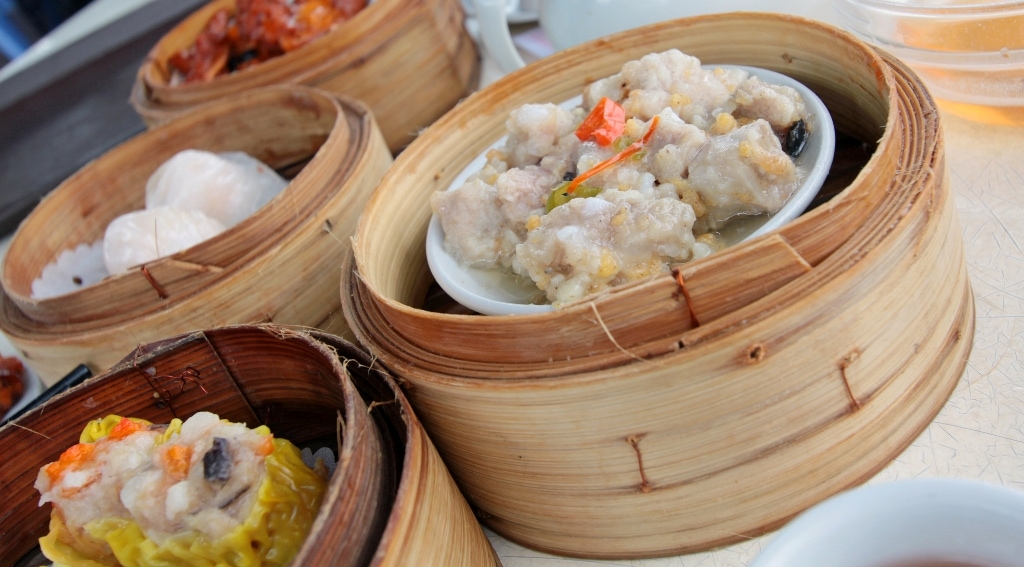 National dish of Cambodia – Amok Trey
Amok Trey is Cambodia's national dish and it is a fish curry that is steamed in a banana leaf after being coated with coconut milk and a spicy Cambodian chile paste. The fish is seasoned with galangal, and turmeric and then served in a coconut leaf cup with a little coconut cream on top with chillies.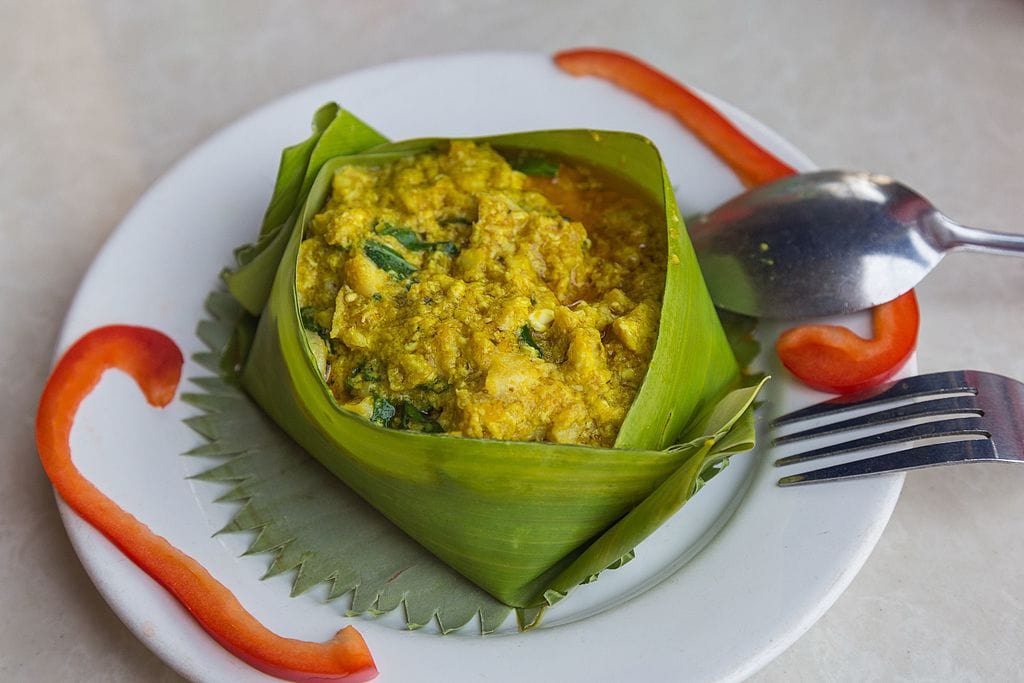 National dish of Taiwan – Beef Noodle Soup
Lots of warm spices go into this dish which is a braised beef brisket, with vegetables including bok choy, and noodles cooked in beef broth. The dish includes tomatoes, onions, garlic, soy sauce, spices, sugar and doubanjiang a Sichuanese fermented chile bean paste.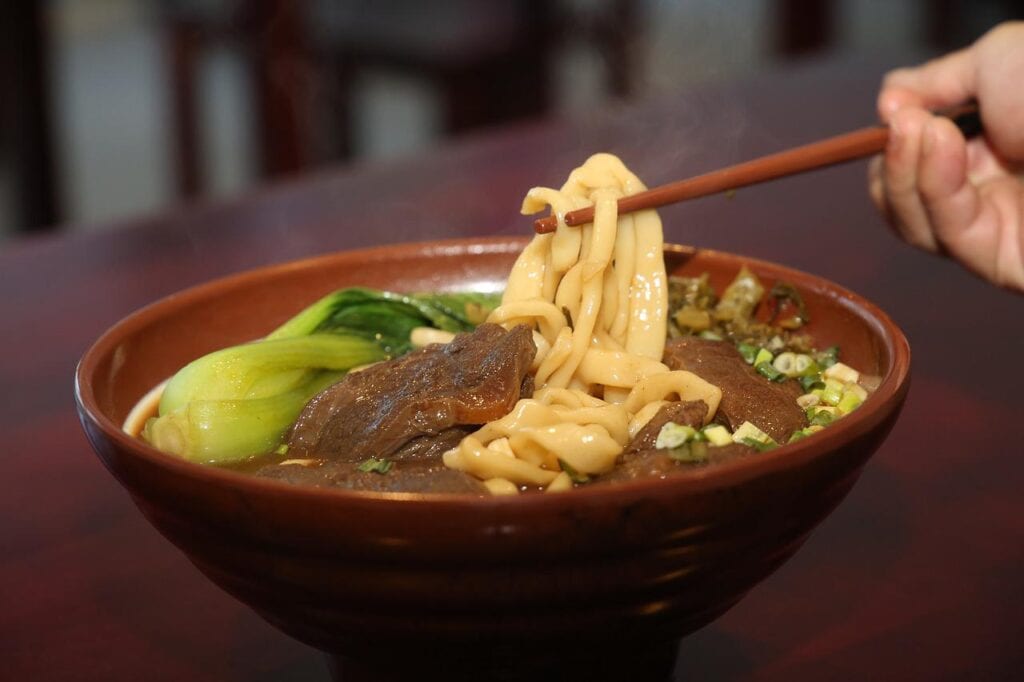 National dish of Vietnam – Pho
A spicy pot of Vietnamese soup that includes rice noodles in a deeply flavoured beef broth with thinly sliced beef or chicken added to various vegetables.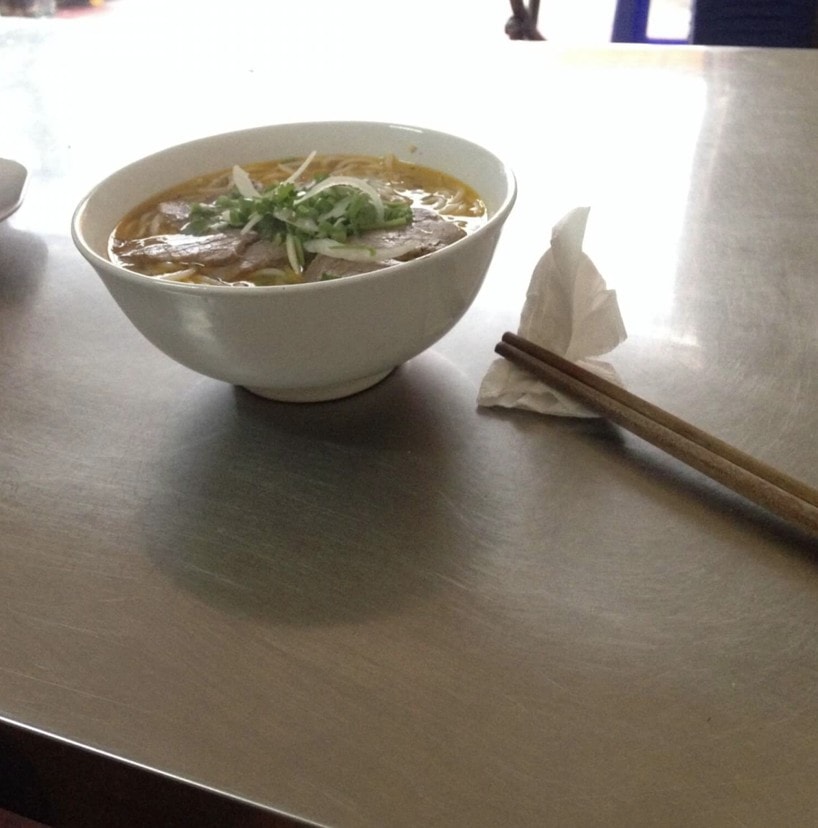 National dish of Indonesia – Nasi Goreng
This is basically a fried rice dish with a totally different flavour to Chinese stir-fried rice. It includes a caramelized sweet soy sauce called Ketjap Manis which adds a very distinctive flavour. It also includes powdered shrimp paste meat (usually chicken or pork) the flavour is quite distinctive and it is much stronger in taste than bland fried rice.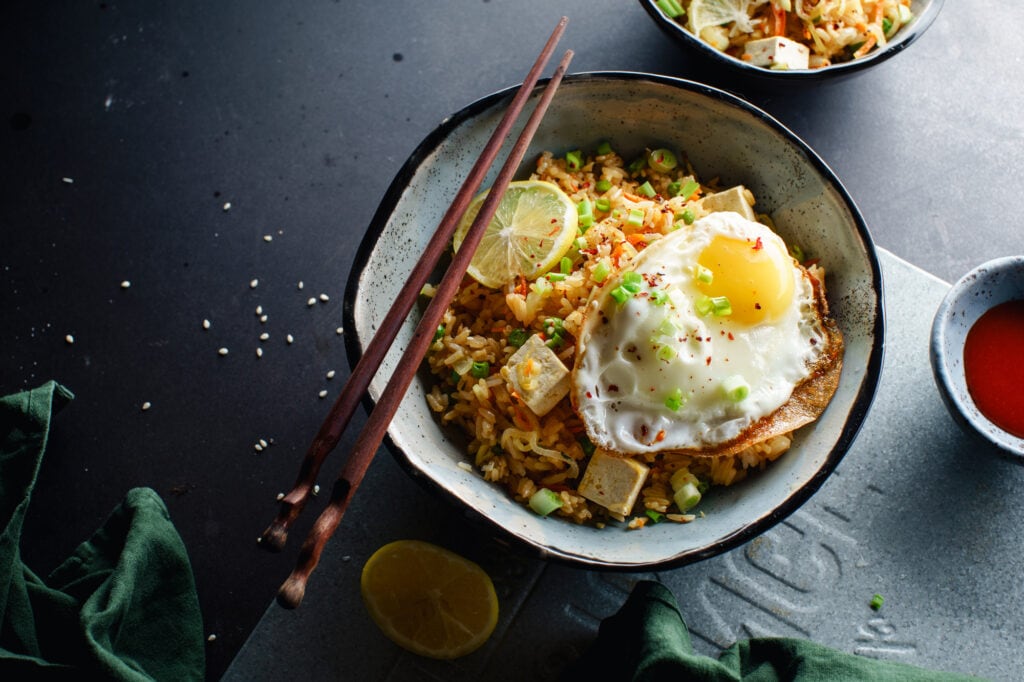 National dishes of Japan
Japanese Curry
While a Japanese curry does come from India the Japanese prefer a more delicate version which is often sweeter than the original. There are no real rules to the curry meat, vegetables and rice is often served with honey, apples or even chocolate and it is eaten with a spoon, not chopsticks.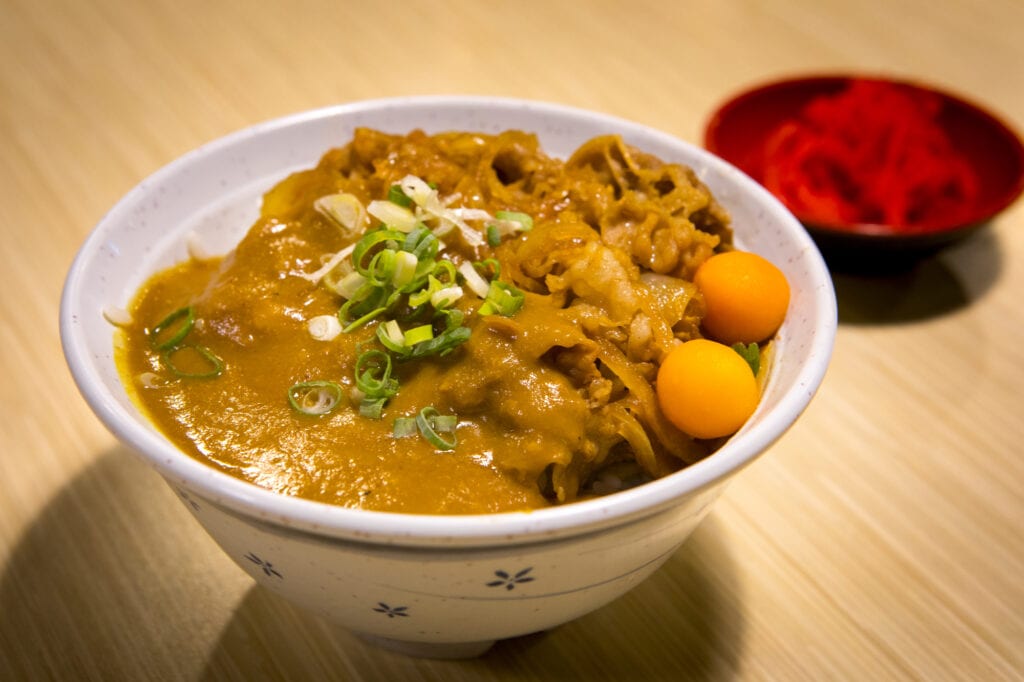 Katsudon
Katsudon is called the national dish, which is a popular Japanese rice bowl topped with pork cutlet, eggs and vegetables.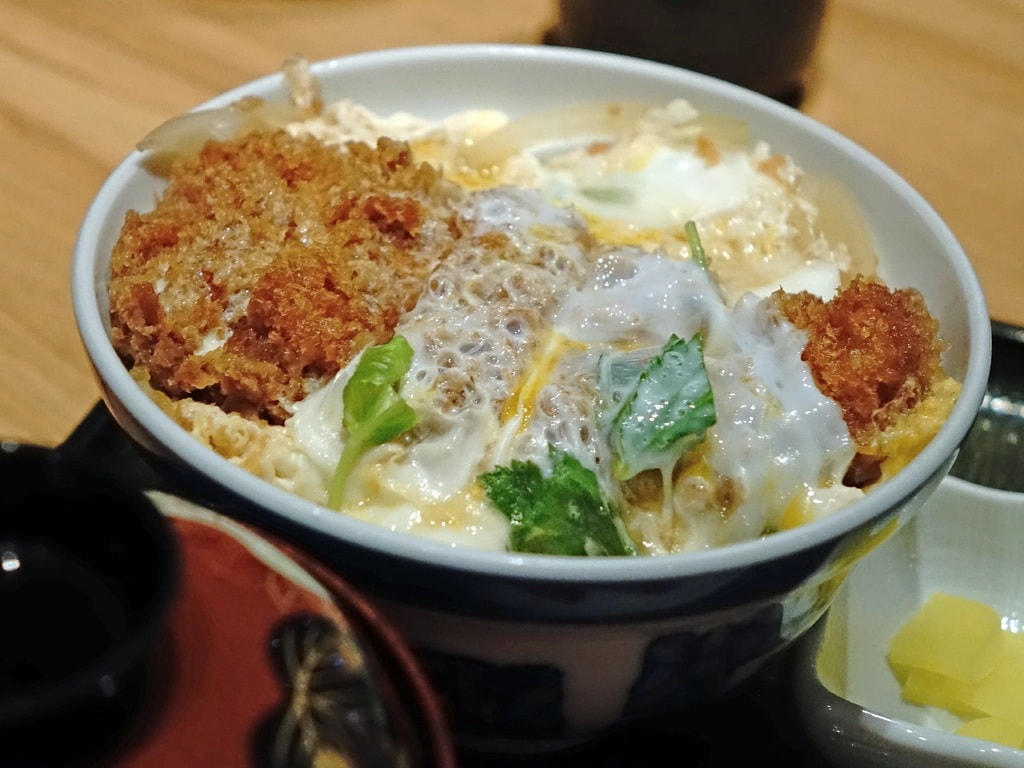 Japanese Sushi & sashimi
Sushi is the type of rice roll that comes with shaped sticky rice and a piece of fish or tofu on top of the rice. Sashimi is very thinly sliced fish or seafood with no rice. Sushi rolls are generally speaking a western invention that rolls various fillings with rice and a seaweed (Nori) wrapper.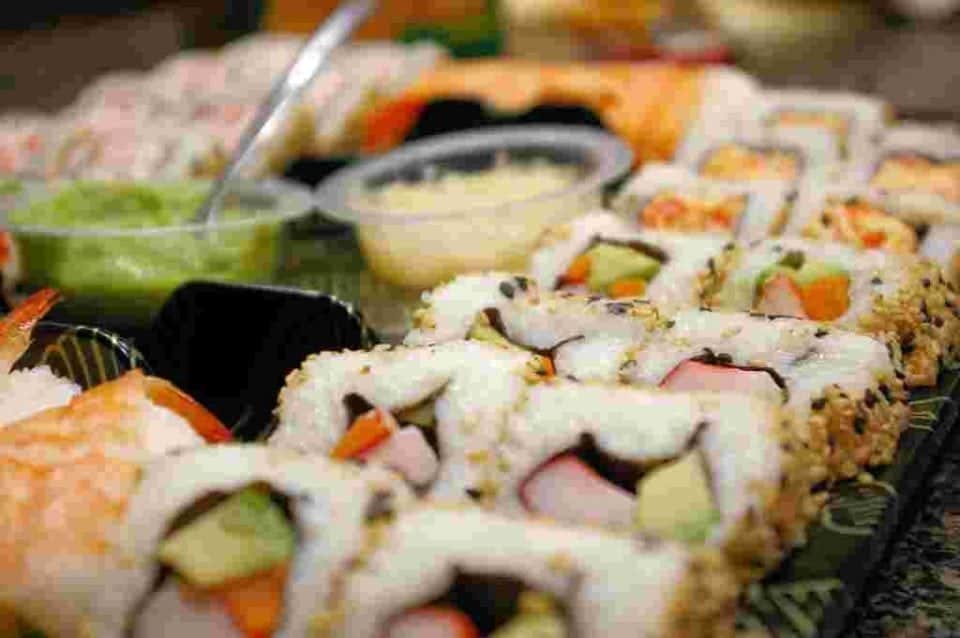 Ramen
A bowl of hearty ramen will keep you going for hours. The dish contains noodles in a fish or meat broth full of flavour and is served with sliced pork, seaweed, bean sprouts, soft boiled eggs, finely sliced carrots, chillies and peppers.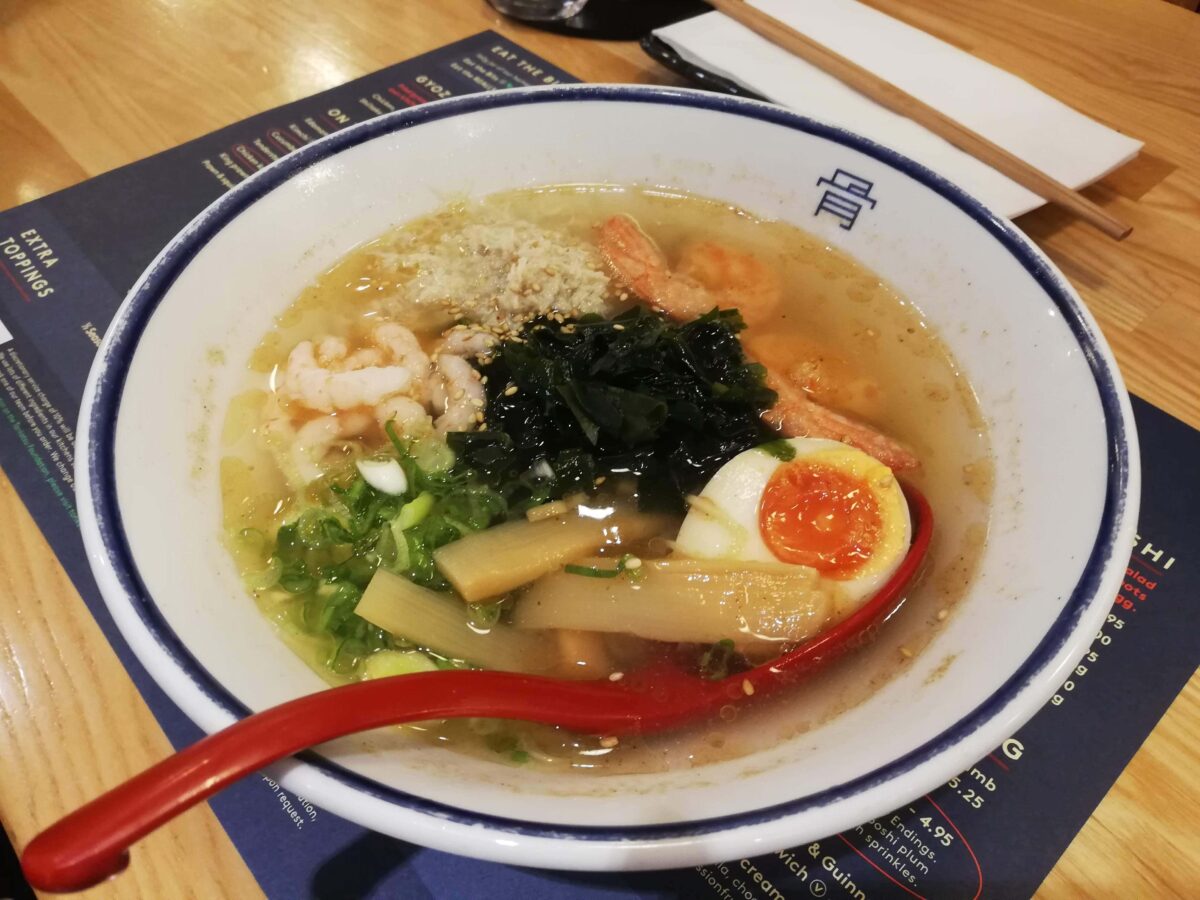 National dish of Laos – Larb
Larb is ground pork that is seasoned with fish sauce, lime juice, chilli, mint and ground roasted rice and served in a lettuce leaf wrap.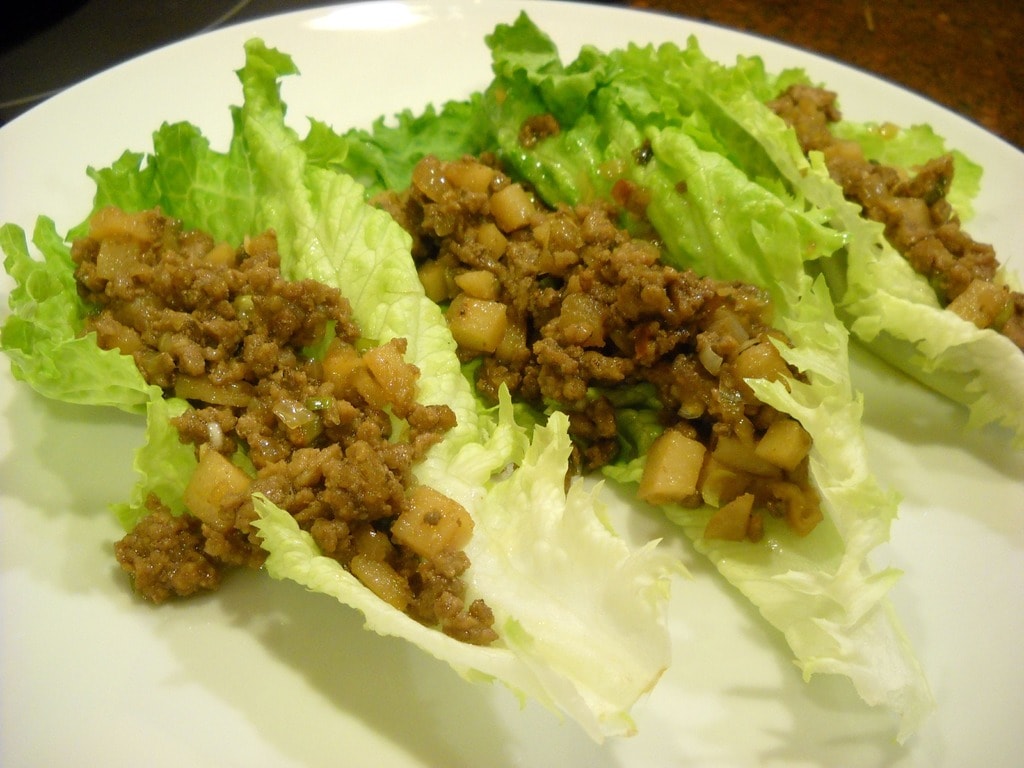 National dish of Malaysia – Nasi Lemak
Nasi Lemak is rice that has been soaked in coconut cream overnight and cooked with pandan leaves, ginger, lemongrass and various spices. It is served with fried anchovies, boiled eggs, sambal paste for the heat and crushed peanuts.
National dishes of Africa
Africa is not a monolithic entity or a country, there are 54 different countries in Africa and here are just a few of those countries' national dishes.
National dishes of Morocco
Tagine
The word tagine means two things first it is the cone-shaped dish/pot the dish is made in and it also refers to the stew that is cooked in the pot. The stews are rich in spices, vegetables, meat, olives and preserved lemons or dried fruits.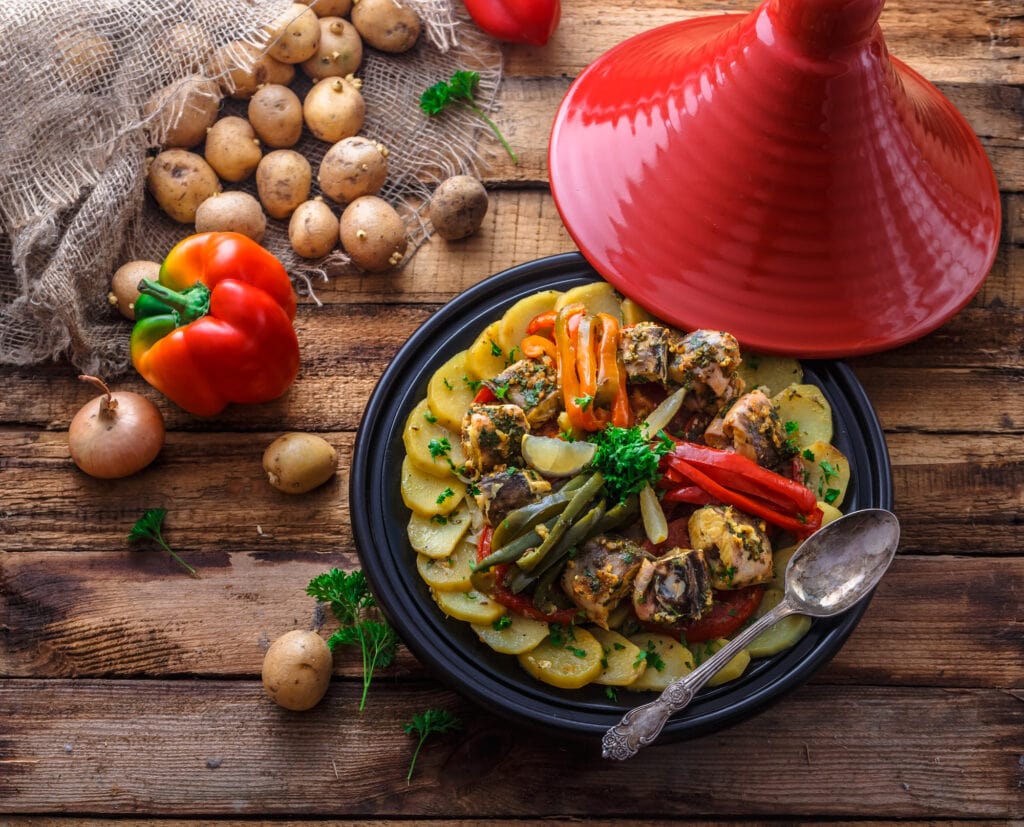 Couscous
Couscous is often referred to as the national dish of Morocco and this small pasta grain is carefully prepared and steamed to provide a base for much of the country's dishes. Couscous is also the national dish of Libya, Tunisia and Algeria.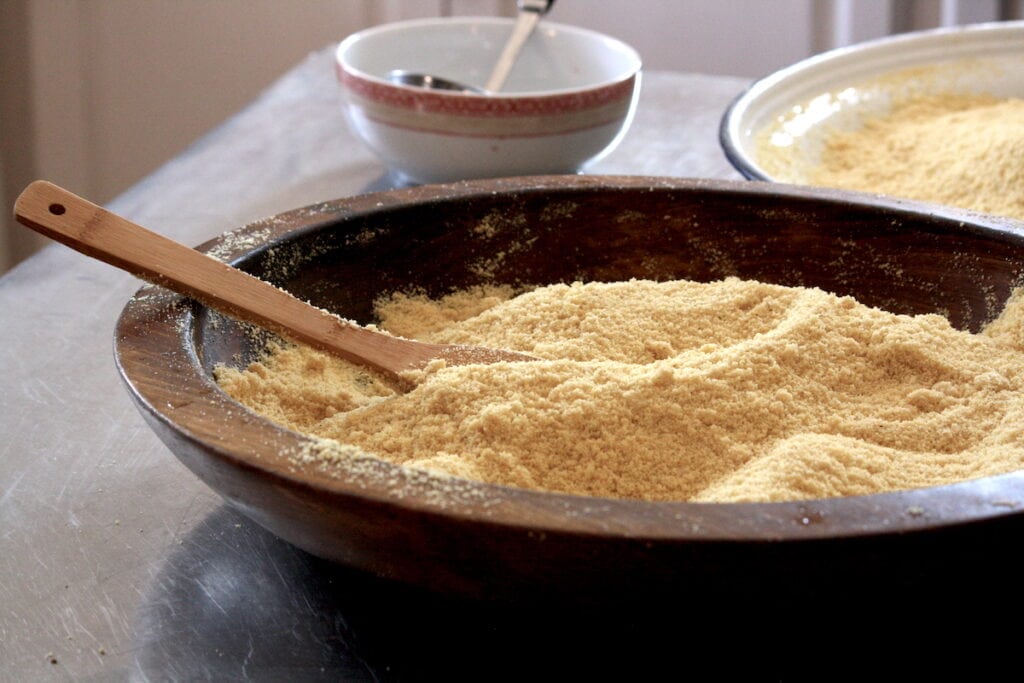 National dish of the Ivory Coast – Aloco
Deep-fried plantain that is marinated in a spicy paste of ginger, chilli, and aniseed.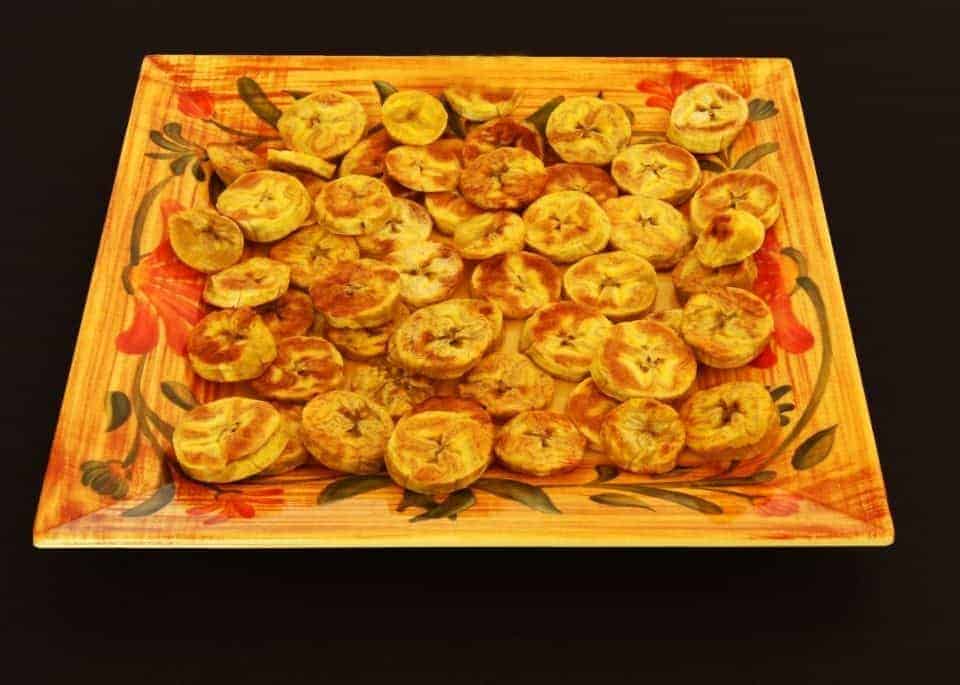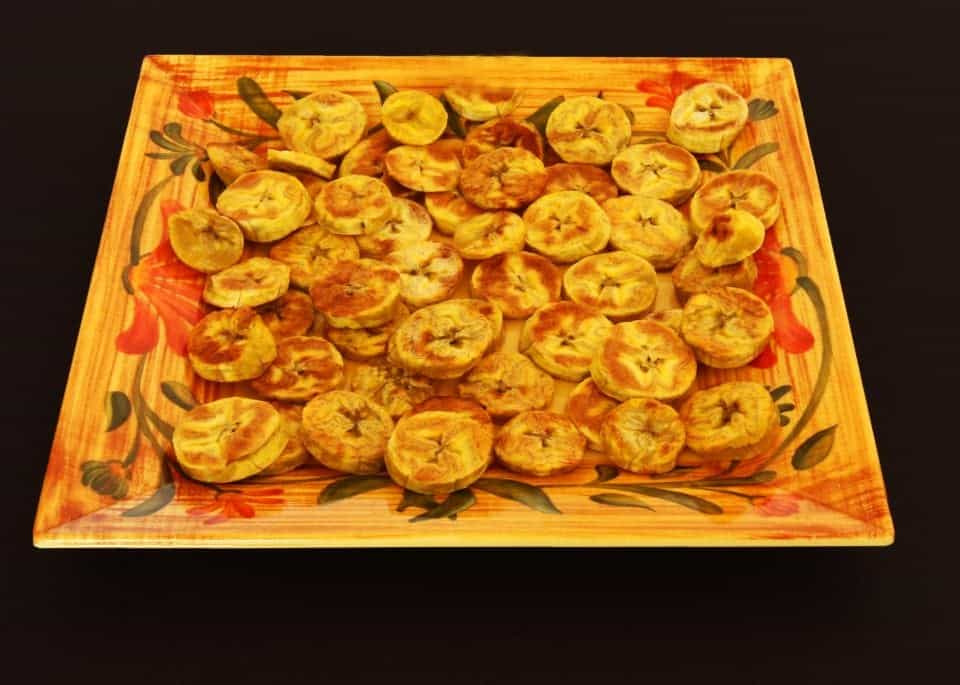 National dish of Benin – Kuli Kuli
Kuli-kuli is Benin's national dish, it is a simple meal of ground peanuts shaped into a ball or roll shape and deep-fried.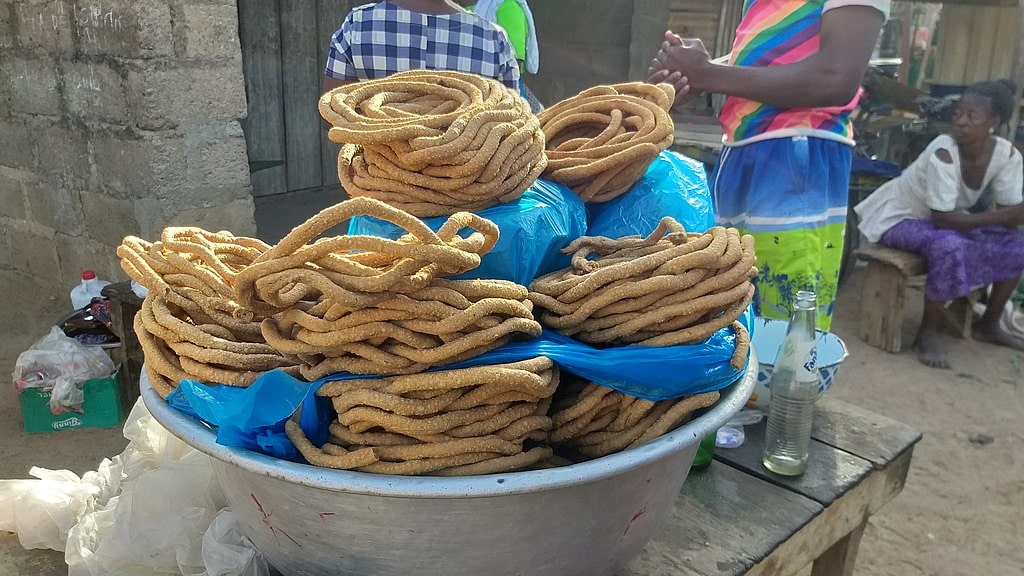 National dish of Ghana – Fufu
Dough-like dumping made from boiled and ground plantain or cassava. This is the national dish of several African countries.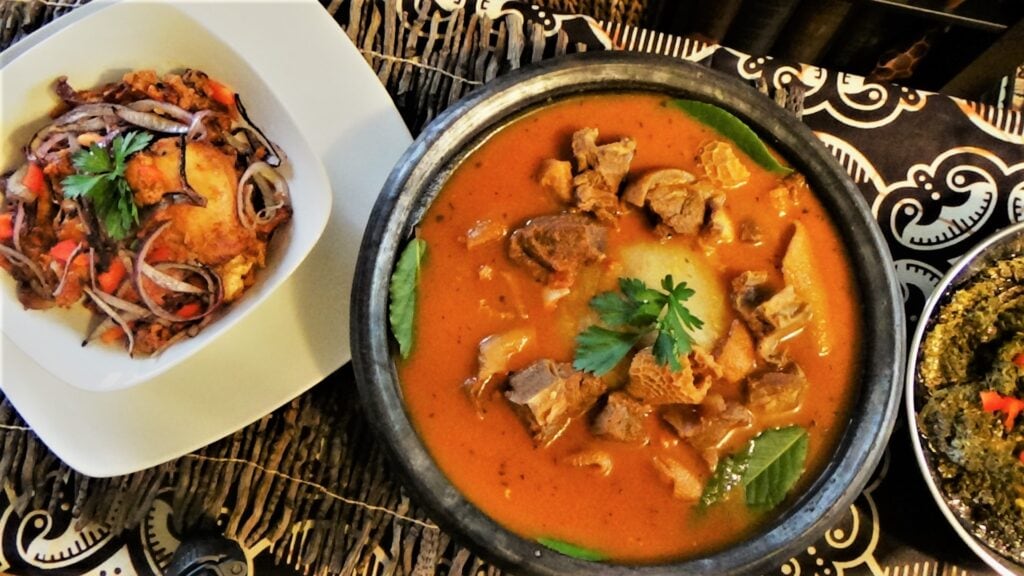 National dish of Nigeria – Jollof Rice
Another dish is the national dish of several African nations. Jollof rice is Nigeria's national dish and it is a spicy dish of rice cooked with a tomato sauce and broth with finely diced onion, peppers, and spiced with habanero, allspice and various seasonings.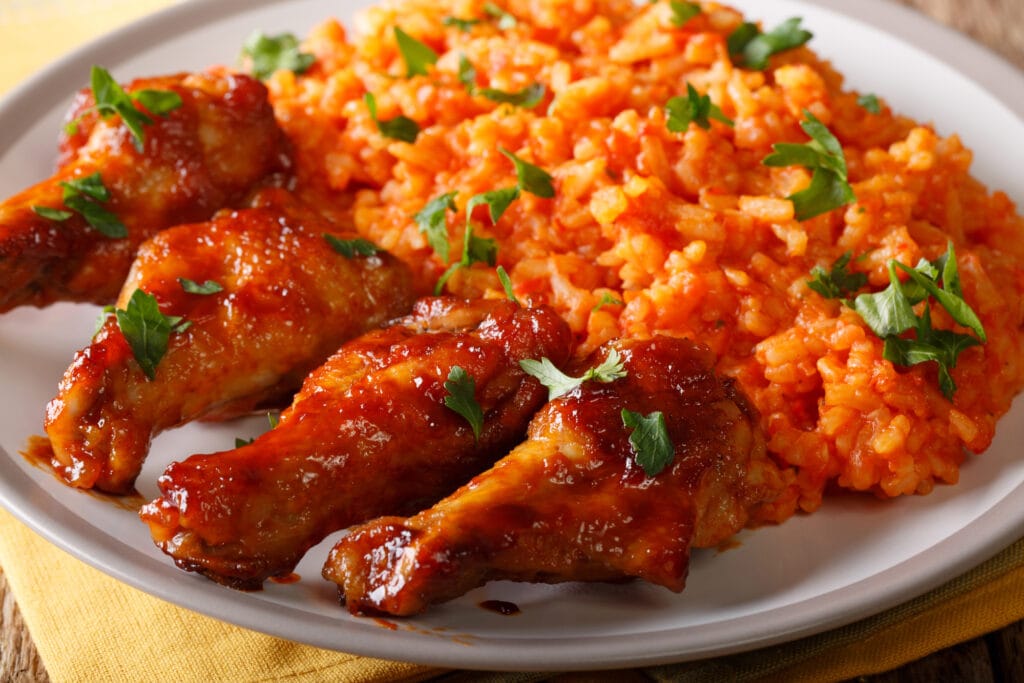 National dishes ofSouth Africa
Braai
Braai is almost the national dish of South Africa Braai is a type of grill with plenty of meat. A Braai is not a braai if it is a gas grill it must be meat cooked over coals.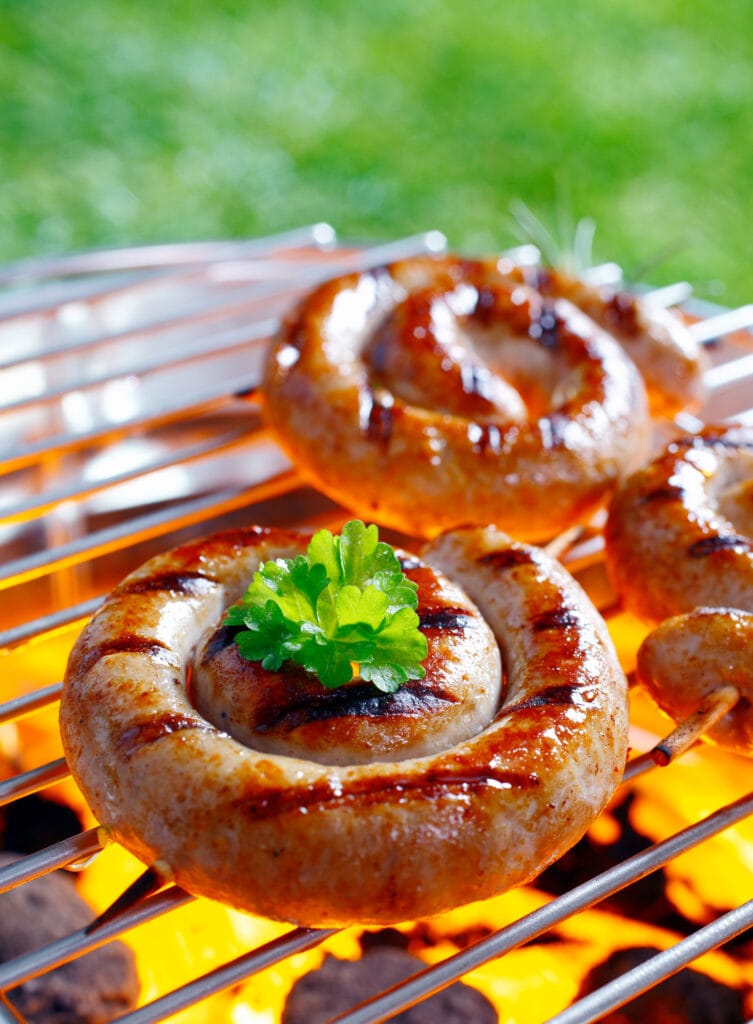 Bobotie
Bobotie consists of ground meat simmered with curry spices, herbs and dried fruit. When cooked it is topped with a mix of egg and milk which is baked until set.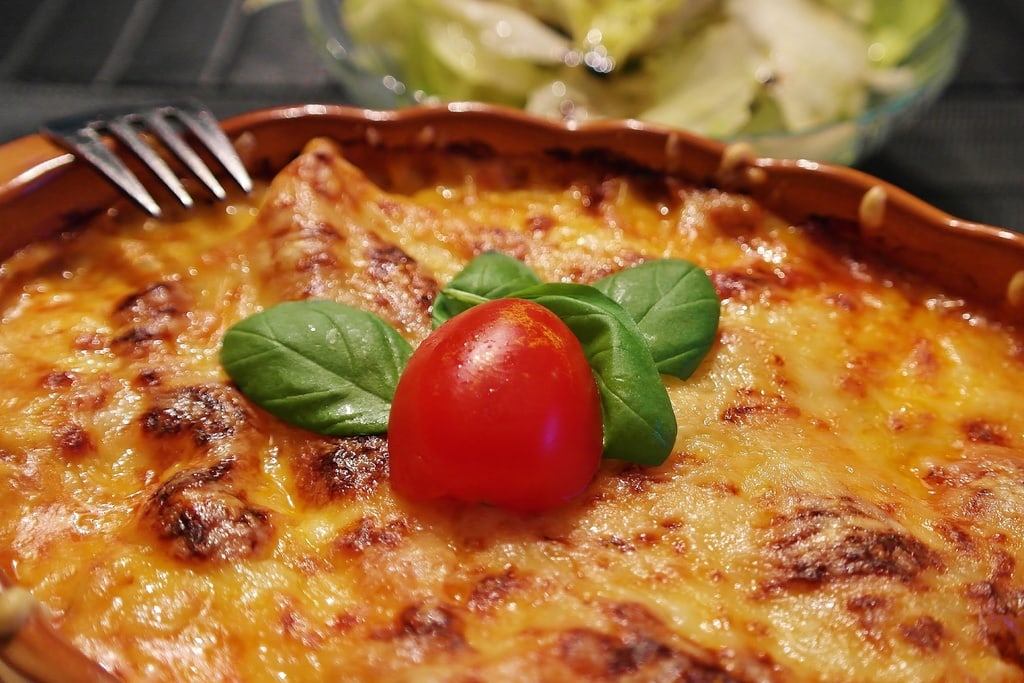 National dish of Ethiopia – Wat with injera bread
A Wat is a deeply spiced stew that is the national dish of Ethiopia. A Wat can be lamb, beef or vegetable-based and is cooked in a berbere blend of hot chillies, garlic, ginger, basil, ajwain, nigella and fenugreek. The wats are served on top of the spongy injera bread which is used as a fork or spoon where you grab a piece of the bread wrap it around a morsel of the wat and then eat.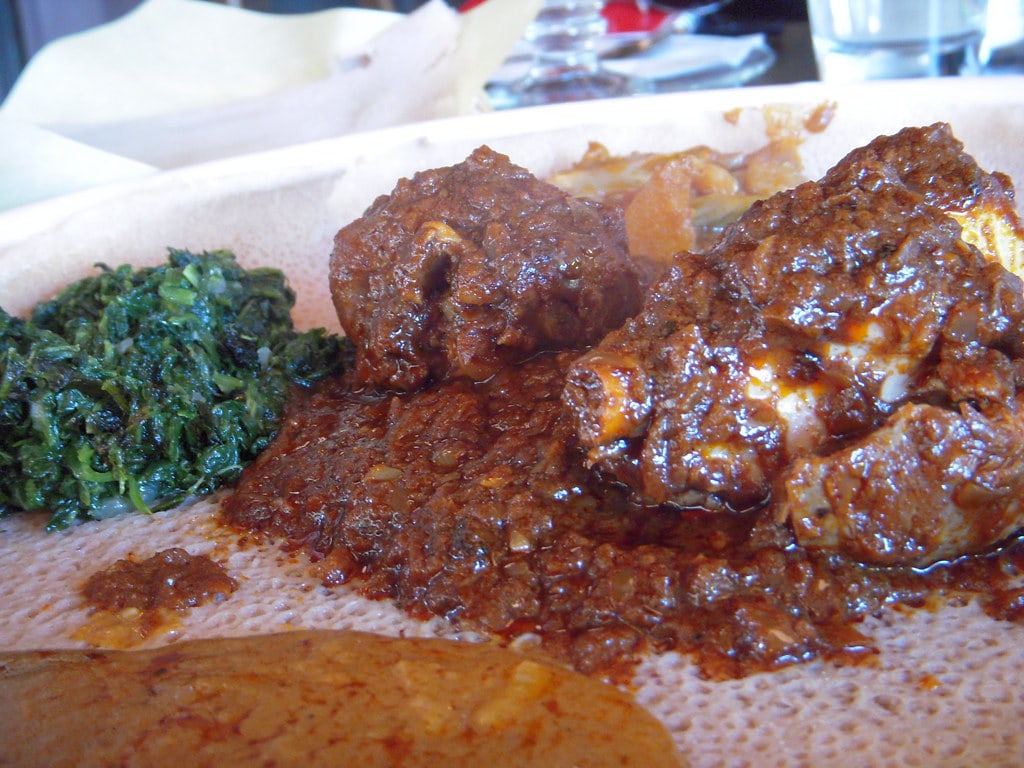 National dish of Kenya – Ugali
a thick, stiff porridge made from white cornmeal or red millet. In Kenya, ugali is one of the most common dishes you can find. Served with meat or mashed vegetables, it's practically the national dish.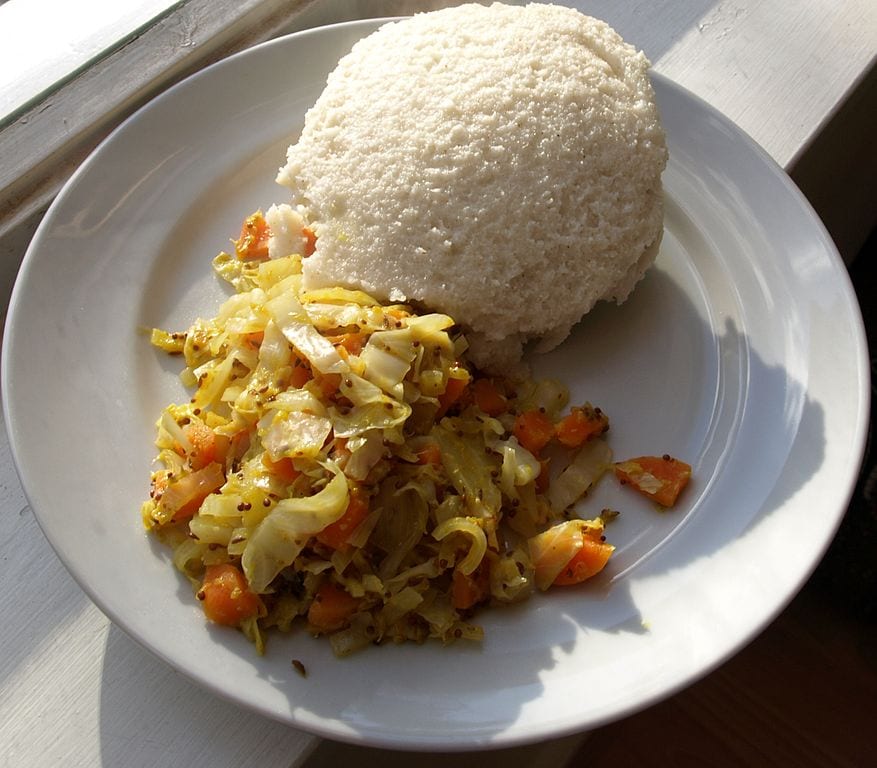 National dishes of Egypt
Ful medames
This is a dish of mashed fava beans with a hint of cumin very much like hummus.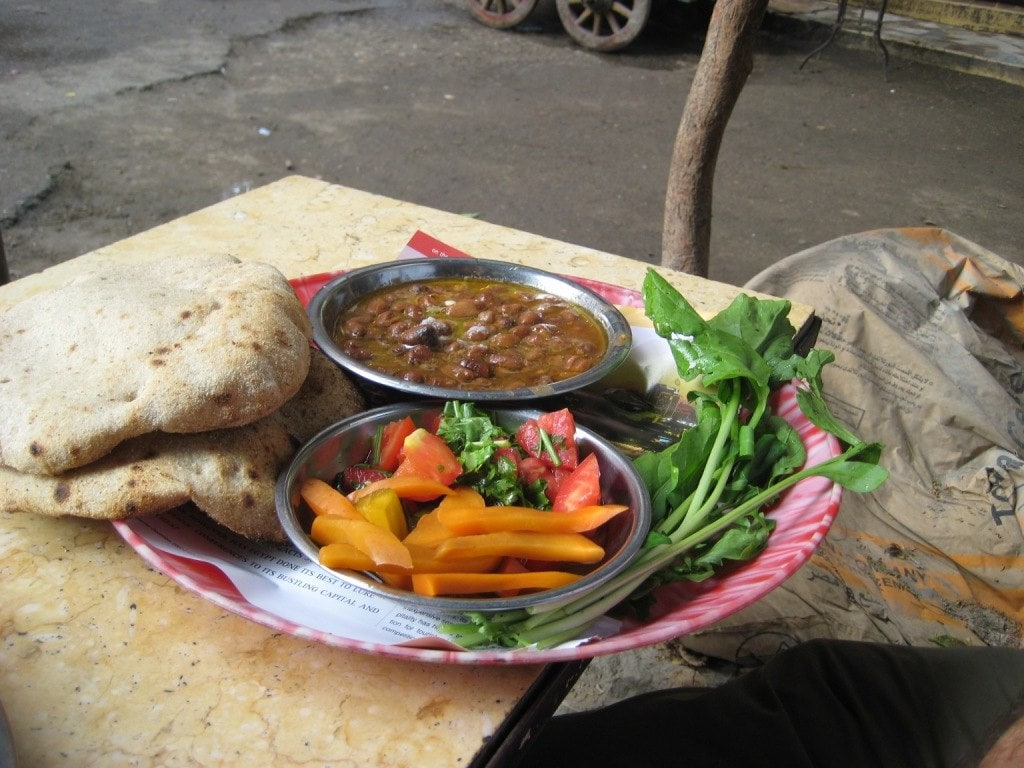 Kushari/Koshari
An odd but very tasty mixture I had when I was travelling to Egypt. Lentils are cooked with rice and elbow macaroni in a tomato-based sauce and then topped with crispy deep-fried onions.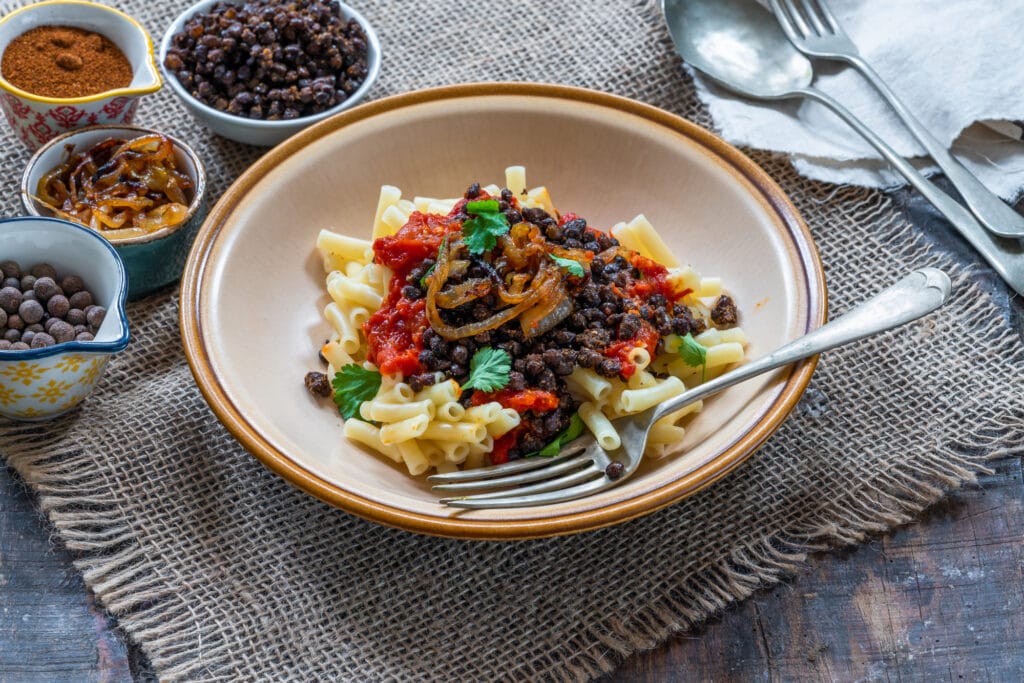 National dishes of the Middle East
Middle East: Algeria, Bahrain, the Comoros Islands, Djibouti, Iran, Iraq, Jordan, Kuwait, Lebanon, Libya, Mauritania, Oman, Palestine, Qatar, Saudi Arabia, Syria, the United Arab Emirates, and Yemen.
National dish of Iran – Chelo Kebab
A Chelo Kebab is either ground lamb or beef wrapped around a skewer and grilled then served with saffron rice and grilled tomatoes.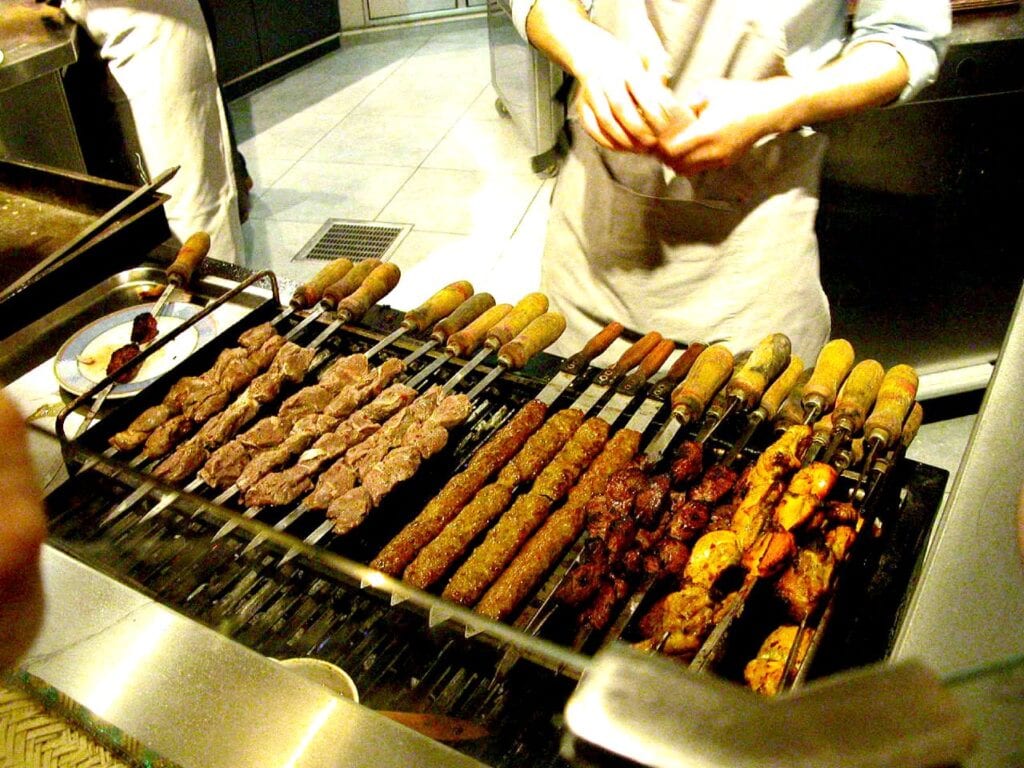 National dish of Lebanon & Syria – Kibbeh
Lebanese Kibbeh is made of bulgur wheat, chopped onions, finely ground meat (beef, lamb), chillies, and spices. Kibbeh can be baked or fried.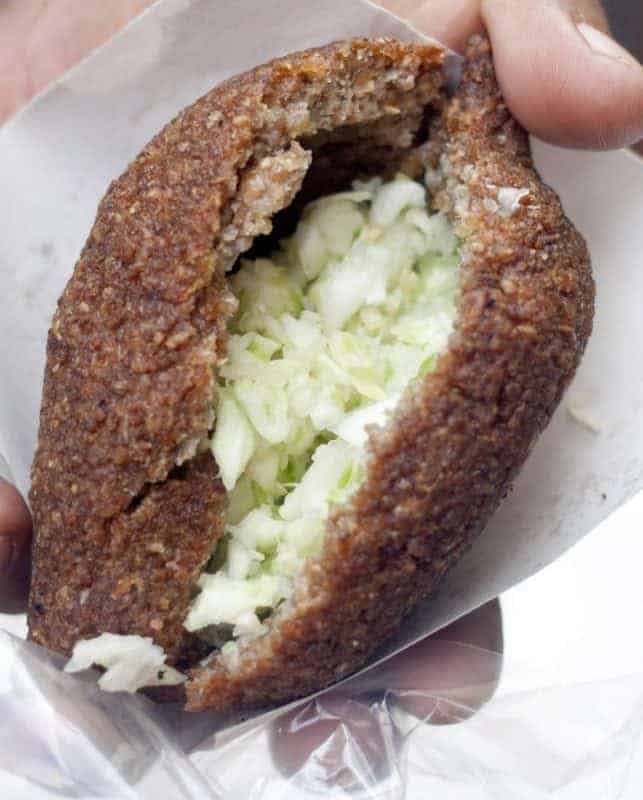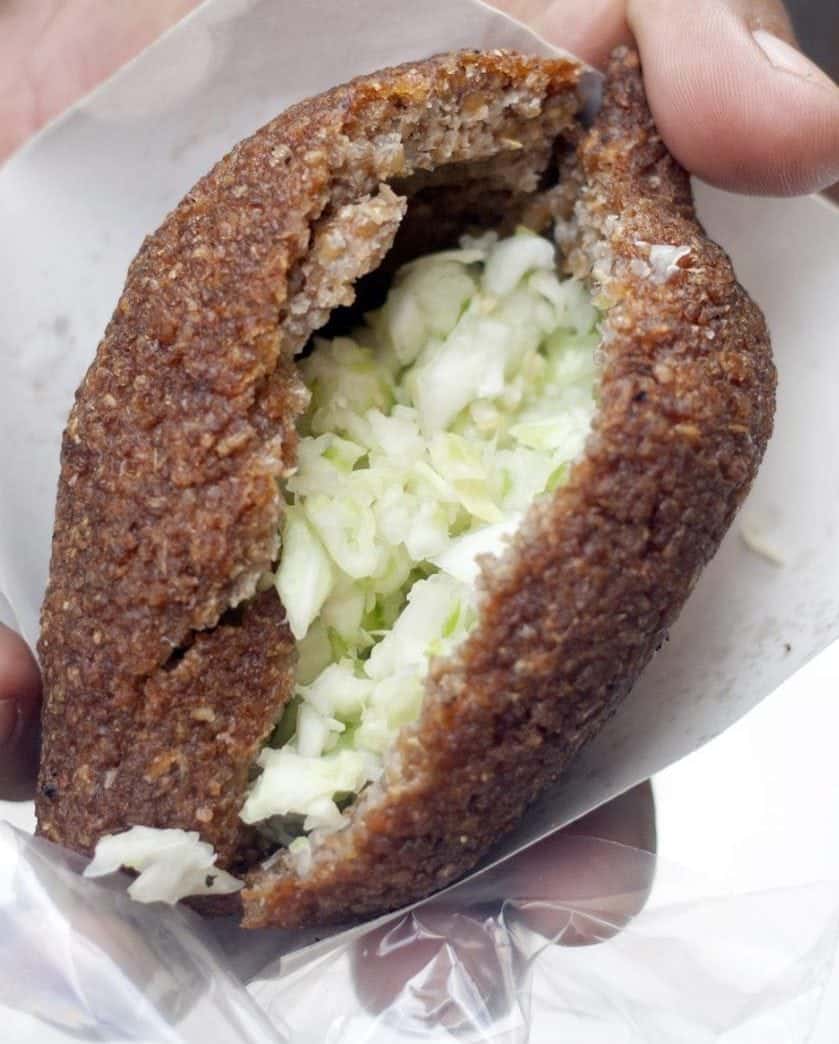 National dish of Jordan – Mansaf
Mansaf is a dish of tender lamb that is cooked with jameed, which is a dehydrated salty yoghurt, that is reconstituted with water. The yoghurt is a goat's milk preserved with salt and then shaped into small balls.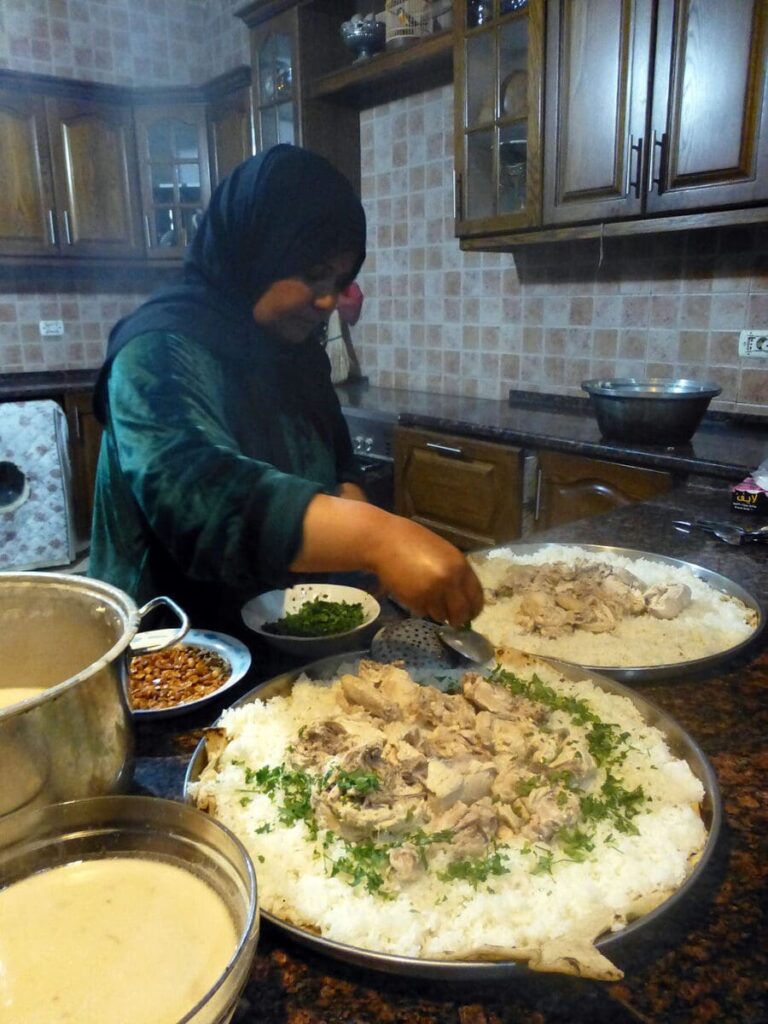 National dishes of Australia and New Zealand
Australia
Meat Pie
The Australians love their meat pies. These are single-portion pies filled with ground beef, gravy and cheese they also have onions and occasionally mushrooms and when cooked served with ketchup.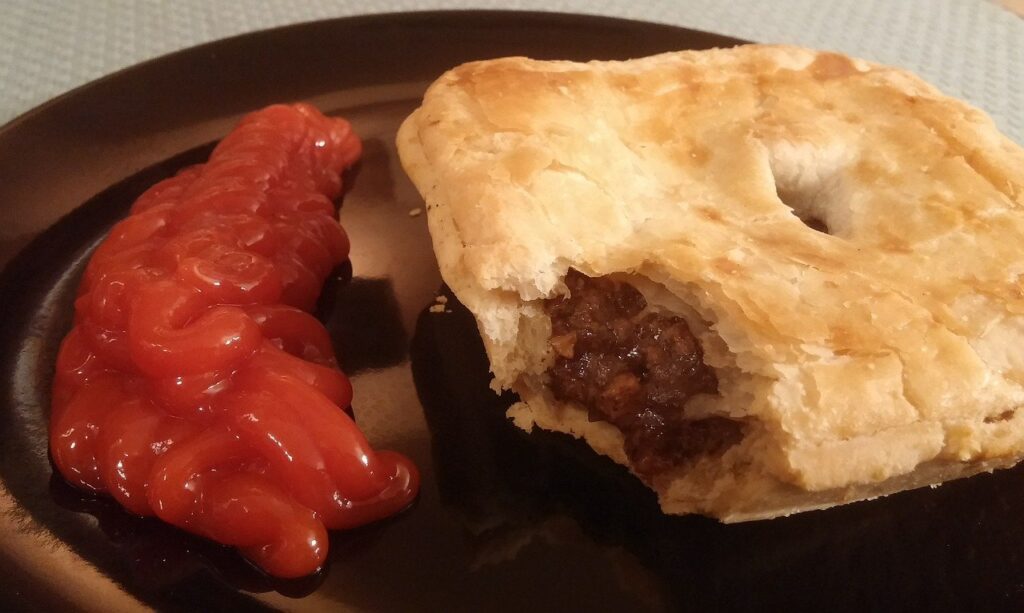 Roast lamb
Roast lamb has been declared Australia's national dish.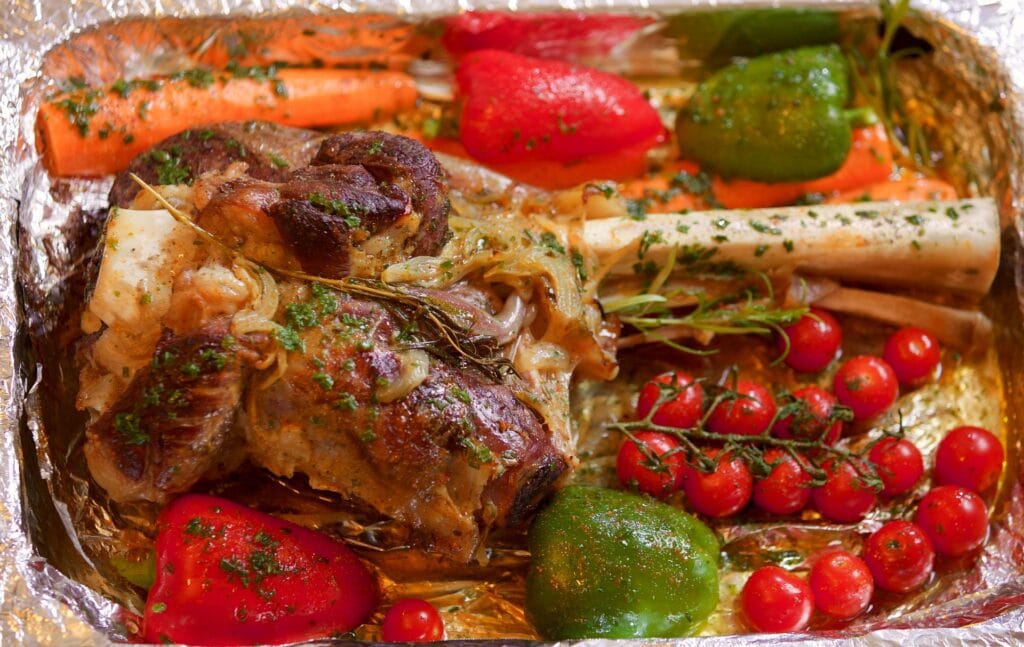 Lamingtons
A lamington is a dessert that is basically a sponge cake coated with chocolate sauce and coconut.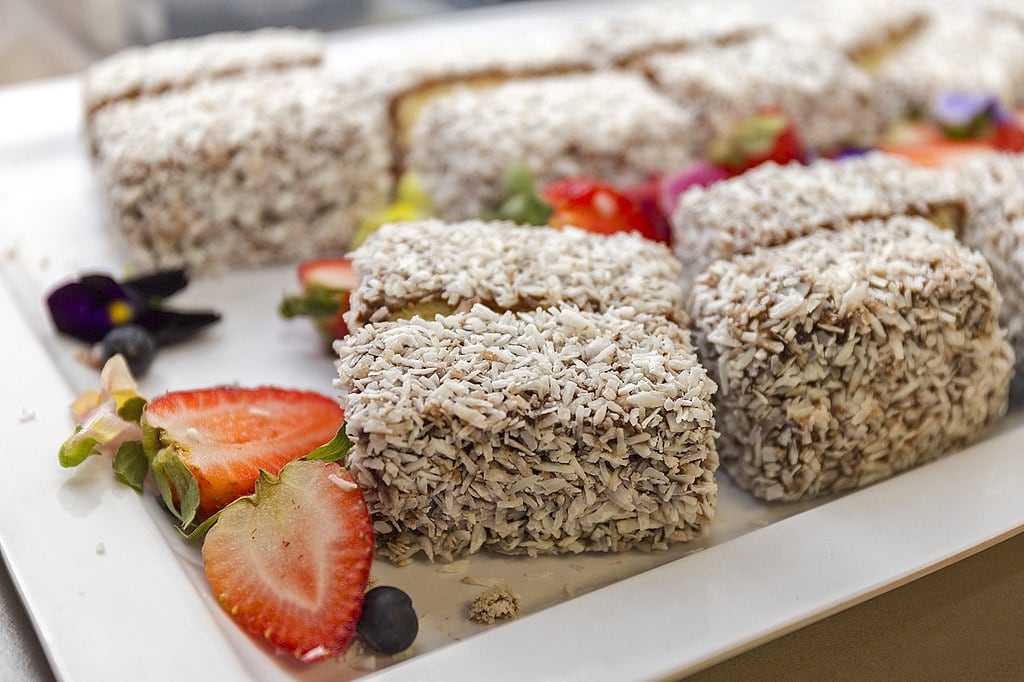 Barbecued snags
Barbecue snags are thick Australian sausages, usually with a mild flavour and made with beef, pork, garlic, and onions. They are a staple of almost every Australian barbecue party, where the sausages are accompanied by mashed potatoes, grilled onions, tomato sauce, barbecue sauce, salads, and chutney.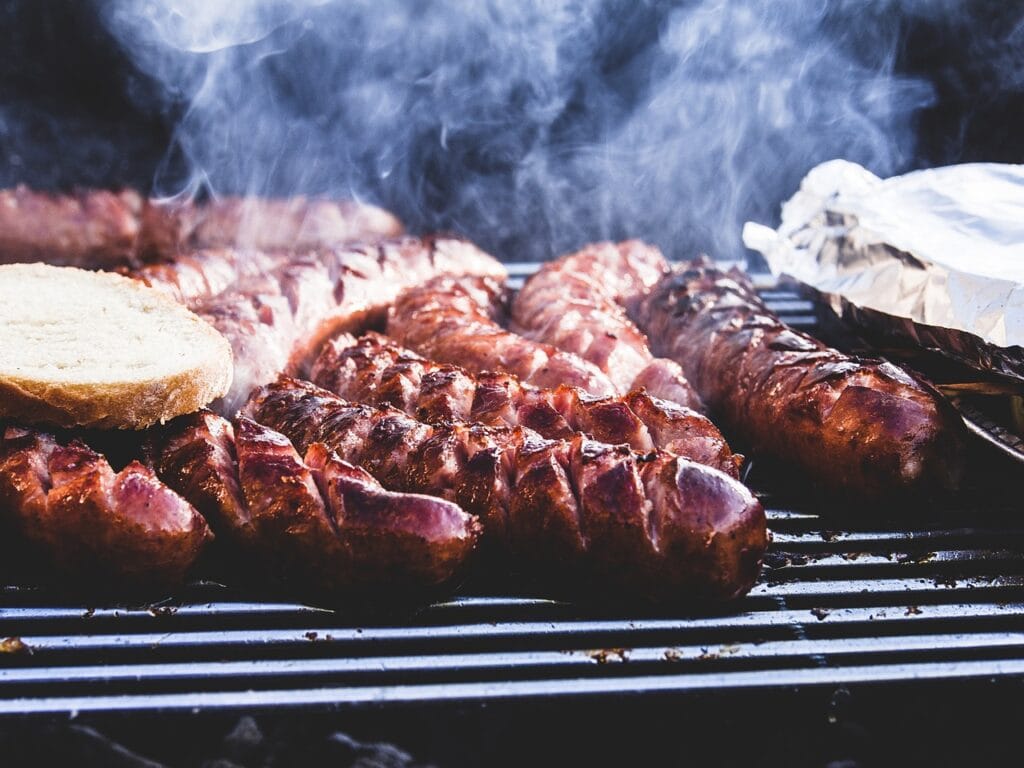 New Zealand
Pavlova
A dessert named after a ballerina. Light-as-air meringue is served with whipped cream and fresh fruits.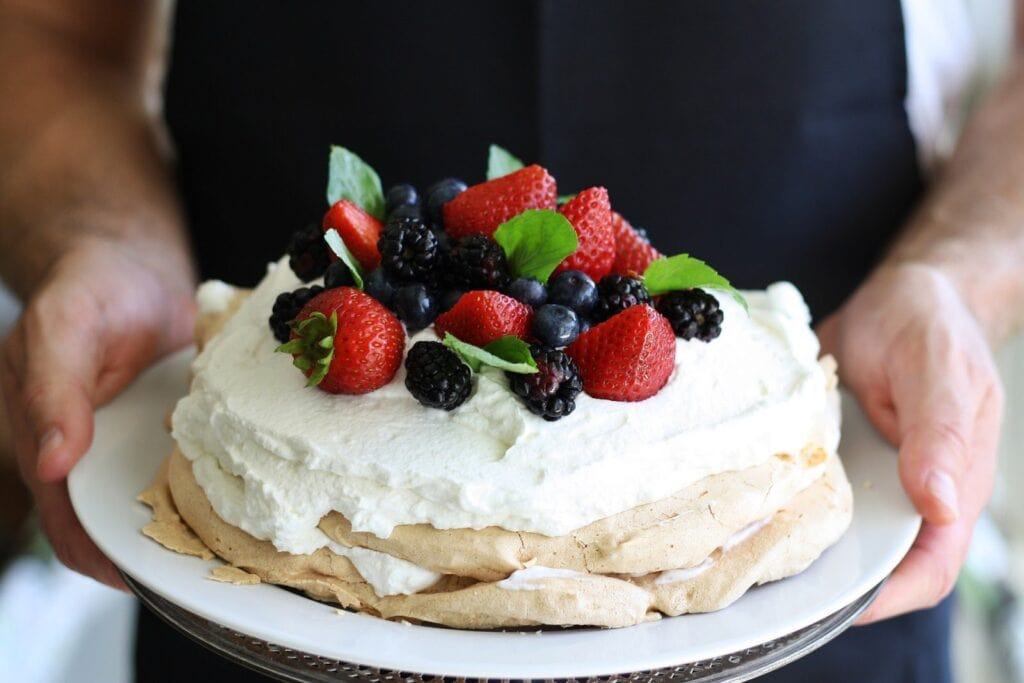 The Hangi
The hangi is a traditional Maori form of cooking, where food like fish, meat and kumara are smoked in a pit dug into the ground. This 'earth oven' is the perfect way to bring people together and cook a feast, and is still used for special occasions around the country.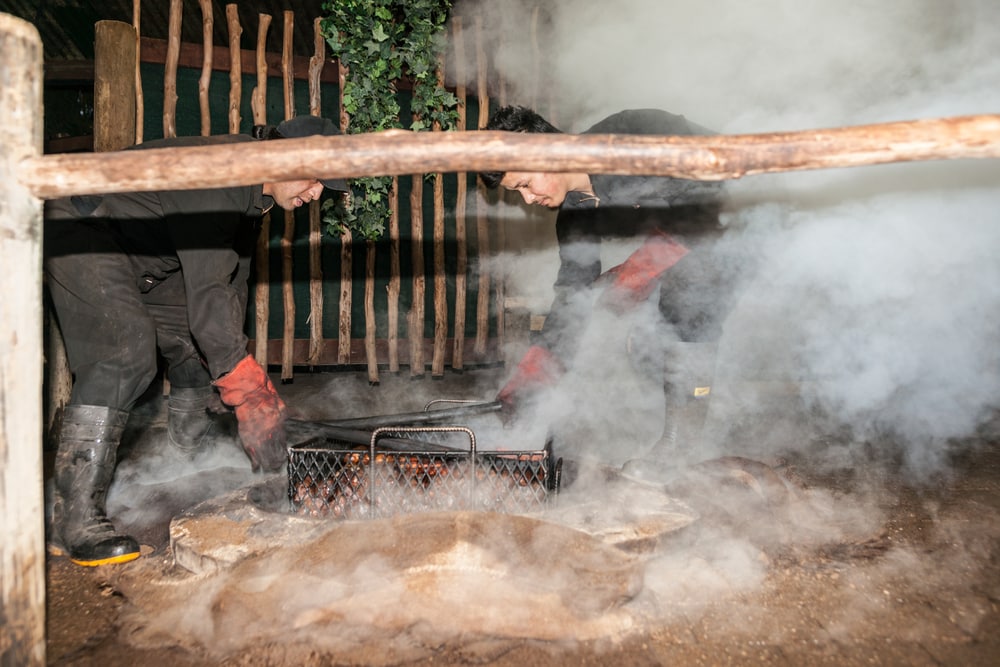 Kiwi Pie
Almost identical to the Australian meat pie the fillings include but are not limited to; steak, lamb, chicken, mince and cheese, seafood, bacon and egg, kumara (sweet potato) and feta and potato and Indian favourites like butter chicken or curry.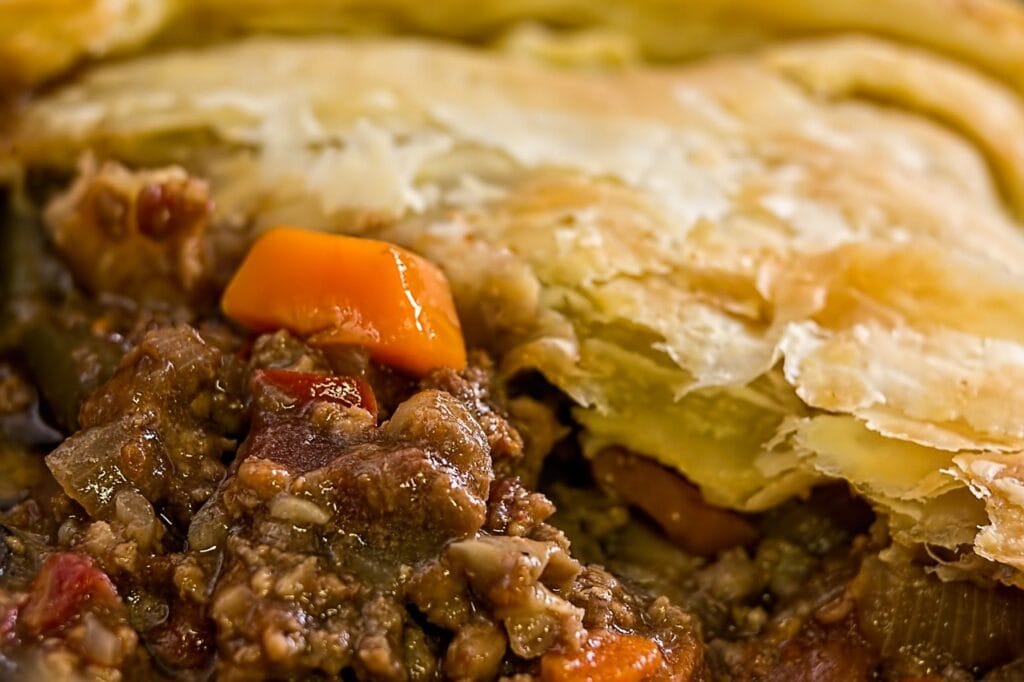 What a country eats can tell you a lot about its culture and travel for food or culinary tourism has become a way for smaller lesser-known countries to boost their economic independence. Visiting markets throughout the world, eating in local cafes, and dining with families are all great ways to explore the culture of a new – to you place. It can also help support the people who live there.
A national dish sums up the country in a specific way, it teaches us the history of the place. With its ingredients, it shows us how the people have survived over the centuries and how they used their resources, what immigrants brought with them, and how the indigenous people's of that region assisted the newcomers with sharing food traditions.
You might also like
Food Travel 27 stories of food around the world
17 of the Most Unusual Foods Around the World | Weird Food
Armenian food – 45 Armenian dishes you must try
Pin it to save it