Wildlife in Iceland and sustainable tourism
Iceland is more than just the country of the aurora borealis and seeing the northern lights in January. Although most people don't think of it as a wildlife-rich country, the reality is very different. From whales to horses and birds such as puffins, Iceland can truly be a paradise for wildlife lovers.
Visitors plan to see dramatic scenery and waterfalls, glaciers and the Blue Lagoon Iceland's geothermal hot spring. Visiting the hot springs and Lagoons in Iceland is a wonderful way to see and experience the raw beauty of Iceland and its nature parks. There is no wildlife near these hot springs but you can go horse riding, whale watching, or puffin spotting.
The government of Iceland is determined to protect the wildlife of Iceland with its commitment to:
"Protection of biological diversity in Iceland aims at strengthening and preserving for the future those species which have from its earliest days created Icelandic nature and have thrived in the country for millennia, and to prevent the extinction of species through human activities."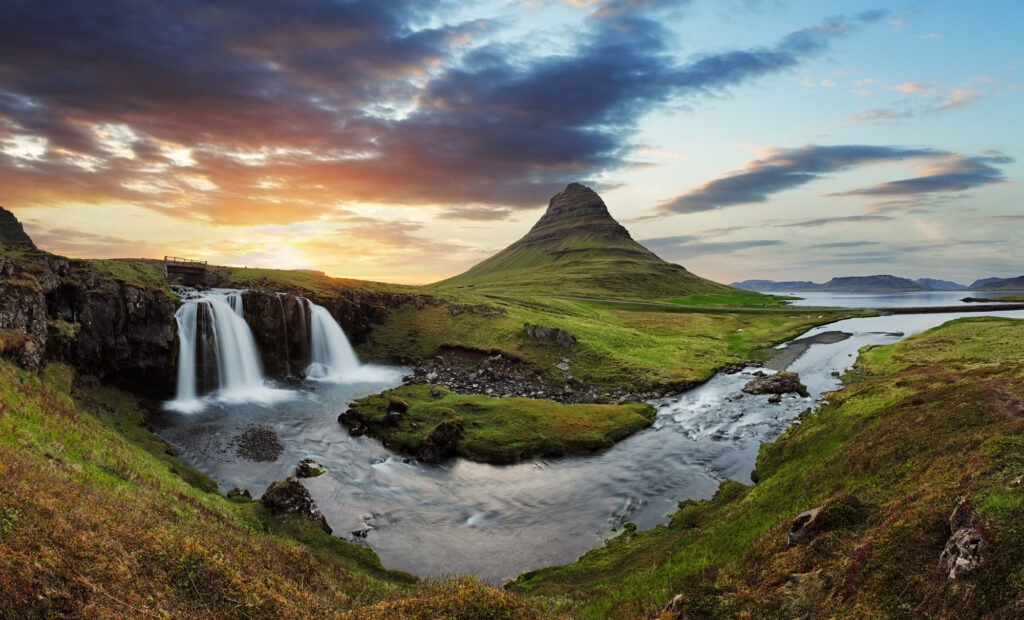 Xyuandbeyond is reader-supported. When you buy through links on our site, we may earn an affiliate commission. You can read my privacy policy here.
A History of Wildlife in Iceland and Marine Animals
Iceland was first settled in the Viking Age, but it is believed that prior to the Vikings Irish monks arrived and lived there but left with the landing of the Vikings.
The only animal in Iceland at that time was the Arctic Fox which was believed to have come to the Island at the end of the Ice Age when the sea was frozen along the coast of Iceland.
Icelandic horses, sheep, and reindeer were brought to Iceland by immigrants who settled here over the centuries. People have over the years asked if there are polar bears in Iceland, The answer to that question is "NO" there are no polar bears in Iceland. Polar bears are identified as the only bear species classified as marine mammals, as they spend most of their lives on the sea, and are largely seen inhabiting the Arctic circle, sourcing their food in the Arctic Ocean and dwelling in it.
Here are some of the best-known of Iceland's wildlife species and where they can be seen and experienced safely and sustainably.

Whales
The first instances of whaling in Iceland can be traced back to as early as the 12th century. This was primarily in the form of spear-drifting, where marked spears would be thrown from open boats to hit the whales, thereby killing them slowly. And the carcasses would be pulled out of the water a few days later, mainly for consumption and harvesting the body parts.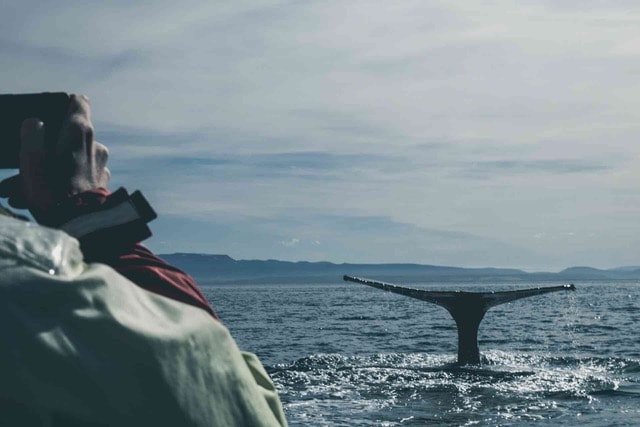 The International Whaling Committee (formed around the 1940s to protect the global whale population) pledged in the early 1980s to stop commercial whaling within the next 6 years. A ban was formulated for this purpose, but Iceland got leeway in the form of a "scientific" whaling project. This allowed the country to kill dozens of whales each year till 1989. Not only that, but it also left the committee suddenly in 1996, only to join back in 2002 with a "reservation" against the ban. Subsequently, Iceland resumed the whaling of minks and fin whales in 2006 under a special commercial status. This continued right until 2018, with almost 900 minks killed through the years.
The Story of Keiko and whale watching tourism in Iceland
Whale watching as a tourist activity gained popularity after the tragic story of Keiko spread around the globe. A native Icelandic male killer whale; he spent his life performing in several aquariums before playing the lead in the 1993 Hollywood flick Free Willy.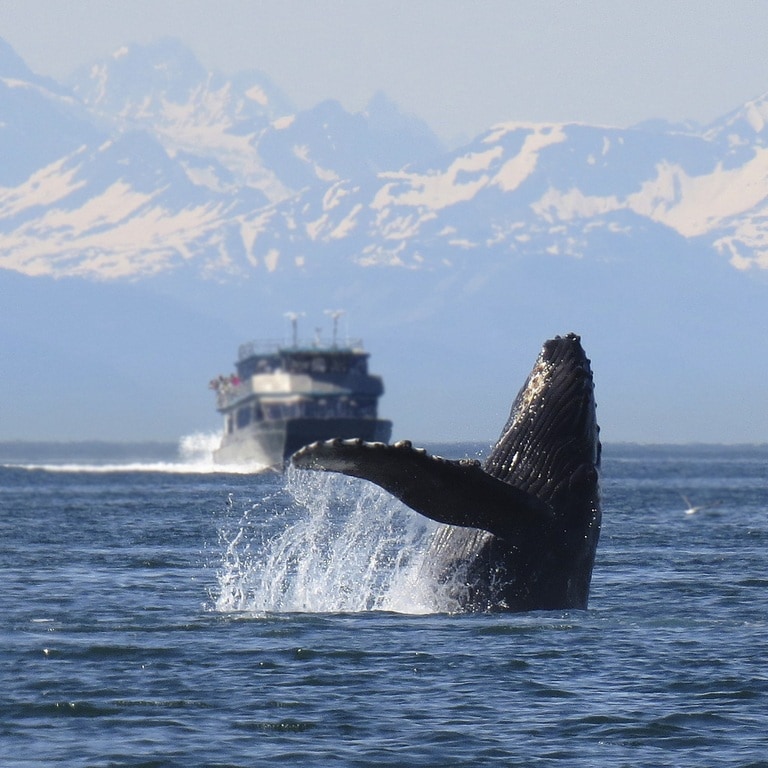 Later, a Free-Willy foundation was instituted, which freed Keiko and released him in the Vestmannaeyjar islands. It also trained him to live his natural life in the wild and then released him to join a group of orca whales in Iceland. However, the attempt failed horribly, as Keiko was found a month later in Norway seeking human contact and died shortly after.
Whaling in Iceland hasn't ceased completely, with two companies leading the industry. One of them hunts fin whales for exporting to Japan, and the other hunts minkes to supply meat to the local market.
However, whale meat isn't a local delicacy per se, as it isn't really a part of the native culinary history or tradition. In hindsight, it can be thought of as an attempt to add something "exotic" to the restaurant menus.
Nevertheless, there has been a drastic reduction in the number of whales being killed now. And this is due to two major factors: the rise of whale-watching as one of the top contributors to the tourism economy and the growing consensus about whales among modern Icelanders.
In fact, the 2010 campaign called "Meet us, don't eat us" was adopted by the International Animal Welfare Fund to remove whale meat from local restaurants. It believes that the best way to "get close" to these majestic creatures of the ocean is through sustainable whale-watching tours that take all the necessary precautions to safeguard whales and their natural habitat.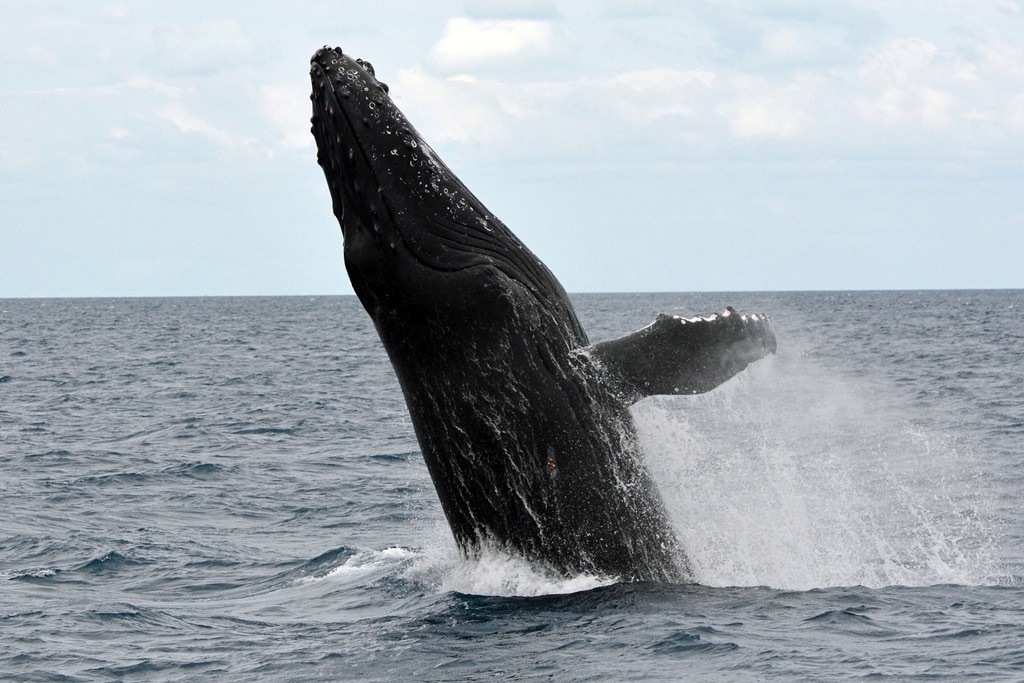 In this regard, tourists can opt for whale-friendly whale-watching tours operating from almost all significant harbours of the country. You can book the best ones by going through reviews on websites like Whale Watching Iceland. Head to the 'About Me' section to learn more about how the tours are evaluated.
Iceland is one of the best places in the world for whale-watching and is a massive part of the country's ecotourism. There are over 20 species of whale that visit the waters around Iceland, from killer whales (which are actually a type of dolphin) to blue whales to humpbacks.
There are tours available throughout summer, and sometimes into the shoulder seasons due to the warming of the seas, and you can get a tour from most coasts. If you're short of time, you can get one from Reykjavik. In the north, Húsavík is considered the whale-watching capital. Snæfellsnes Peninsula may provide sightings of orcas, and the longest fjord in the country, Akureyri and Eyjafjörður, also have some amazing summertime tours.
Whilst out there, you may also catch a glimpse of some other infamous Iceland animals, such as dolphins or seals!
Whale Watching on the Black Isle of Scotland – the amazing mysterious isle
Birds in Iceland
National animal of Iceland
The gyrfalcon is considered to be Iceland's national animal. This bird of prey is large and fast, symbolising freedom and power. Other native birds that come to Iceland at some point in the year include gannets, guillemots, ravens, razorbills, cormorants, gulls and kittiwakes, among others.
Seals in Iceland
Wildlife in Iceland includes numerous seal colonies that can be easily spotted in many breathtaking locations around the country.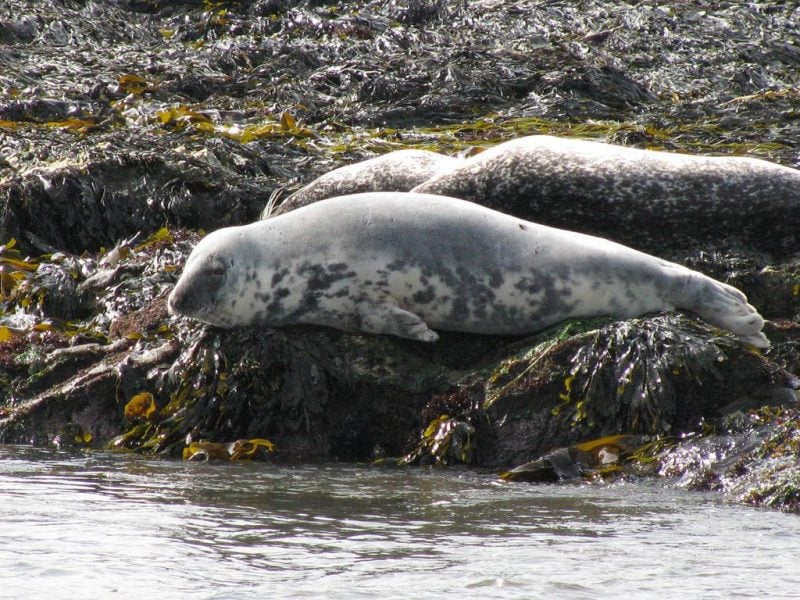 The Jökulsárlón glacial lagoon is one of Iceland's most popular tourist attractions. Visitors marvel at the massive icebergs, breaking from the tongue of a glacier and slowly making their way across a tranquil water's surface to the ocean.
It is a site of immeasurable beauty, drawing people from the world over, but for the local seals, it is home. Frolicking between the ice flows, riding in the surf along Diamond Beach, or simply relaxing on the icebergs the seals make what is already a magical experience that much more charming.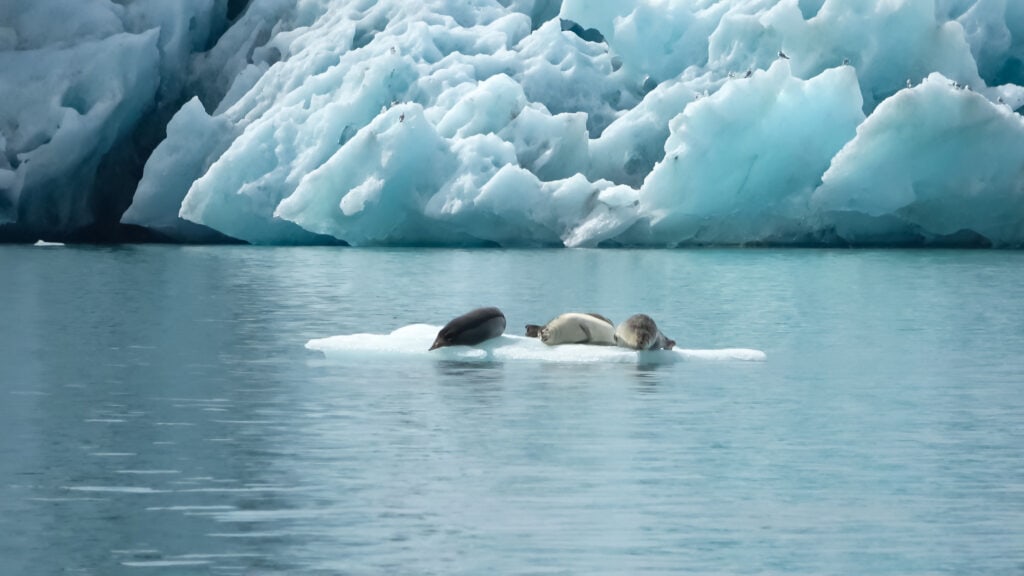 Icelandic Horses
The Icelandic horses are among the oldest inhabitants of the land, as they were brought by the Vikings around the 9th century. These well-behaved and obedient animals were initially used for travel and transportation through snowy landscapes, and they have been bred in their purest form ever since!
Although they resemble ponies, their "small" build doesn't stop them from being one of the world's most resilient, fastest, and most versatile breeds. And keep in mind that referring to Icelandic horses as "ponies" is offensive! Icelandic ponies have thicker fur during winter, and a gorgeous double-sided mane, the Icelandic horse is the only breed of horse in Iceland, as it's illegal to import other breeds and horses that have left the country aren't allowed back in, to minimise the risk of disease.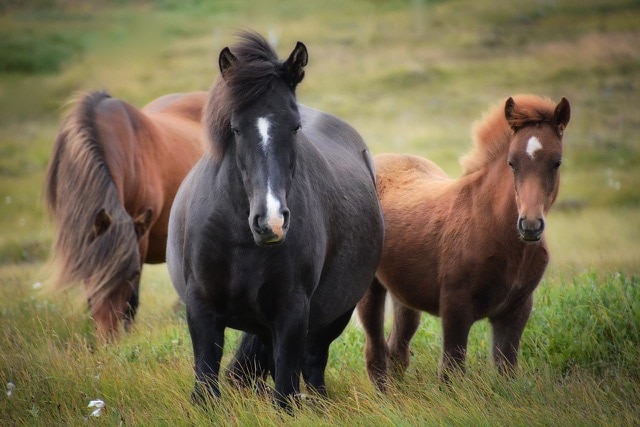 What really separates them from their peers is their ability to perform 5 gaits, as opposed to the 3 or 4 usually performed by other breeds. Besides, they have a special place in the hearts of locals as well as the region's mythology and folklore.
As with many countries, horse riding in Iceland started as a means of travelling through the cold terrain. Even today, many Icelanders prefer riding horses, especially for activities like sheep herding.
However, their resilience to survive extreme weather conditions while maintaining speed and agility made them an important part of the tourism industry. You definitely wouldn't want to miss the experience of a horseback ride across the 300-kilometre stretch of the Golden Circle while enjoying the scenic beauty of the area.
It's safe to say that Icelandic horses have always lived life king-size! Although they have been commercialized, the care and maintenance practices have always been top-notch. Unlike other countries where you usually come across different horse breeds, Iceland has only one.
Such is the extent of preserving their "purity" that no horse from outside can be brought into the country. Likewise, any Icelandic horse leaving the country cannot come back.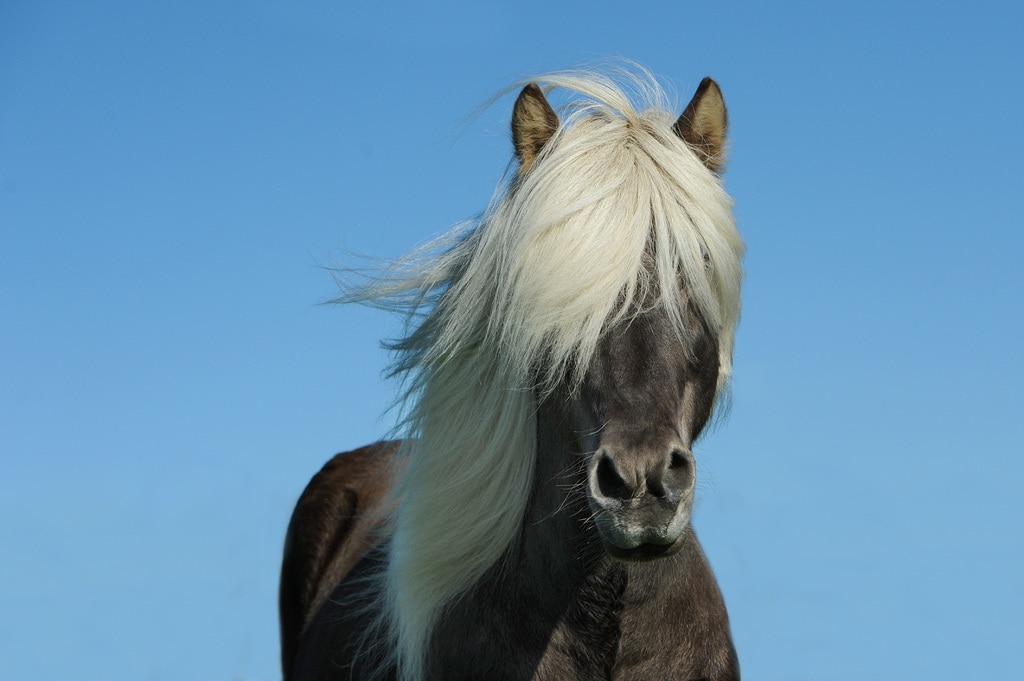 Furthermore, there are strict regulations that tourists should abide by. For instance, these horses shouldn't be petted anytime, as this may cause them to develop violent behaviour. Besides, they shouldn't be petted or rode upon without supervision, and feeding them anything outside their diet is a complete no-no.
Not wild animals, they are definitely worth keeping an eye out for as they often wander freely during the summer.
Get close to nature in the way of old Icelanders on this horseback riding experience from Reykjavik, dependent on the transfer option. Hop on a small, sturdy, Icelandic horse, a breed originally brought here by the Vikings, and enjoy a relaxing ride through lava-laden scenery past mountains, lakes, and moors. Your ride is matched to your ability and led by an instructor. Hot drinks, riding equipment, and guidance is included. Icelandic horseback riding experience from Reykjavik Ride on a gentle Icelandic horse Ride through lava fields and moors past mountains and lakes Choose a beginner, intermediate, or advanced ride Refuel with coffee, tea or hot chocolate after your ride Choice of morning or afternoon departure
Read more about Icelandic Horseback Riding Tour from Reykjavik
Sheep
The History Of Icelandic Sheep
The Icelandic sheep also accompanied the Vikings when they settled in Iceland. Soon after, their high-quality wool came to the rescue as protection against the harsh cold.
Much like the horses, the purity of Icelandic sheep has also been protected. Although there have been attempts for cross-breeding, the resultant breeds had very low survival rates.
How Did Sheep Rearing Become Popular?
The numero uno reason behind the popularity of Icelandic sheep is their unique, chemical-free wool, which comes in distinct colours like white, black, and grey. Moreover, this livestock plays an important role in boosting tourism, as hundreds of tourists flock to the southern part of the country to witness the traditional sheep gathering event.
What's The Current Situation?
Sheep welfare is a top priority in Iceland, both in terms of disease control and shearing. It's not unusual for tourists to see these animals roam freely in the wild pastures during the summer months. Hence, they're always advised to drive carefully.
Besides, shearing is done under the careful supervision of expert farmers, which ensures the quality of wool. This also prevents the animals from any unnecessary harm or injury.
Also commonly farmed across the country, you will likely come across sheep, perhaps wandering across the road, so once again, be careful while driving!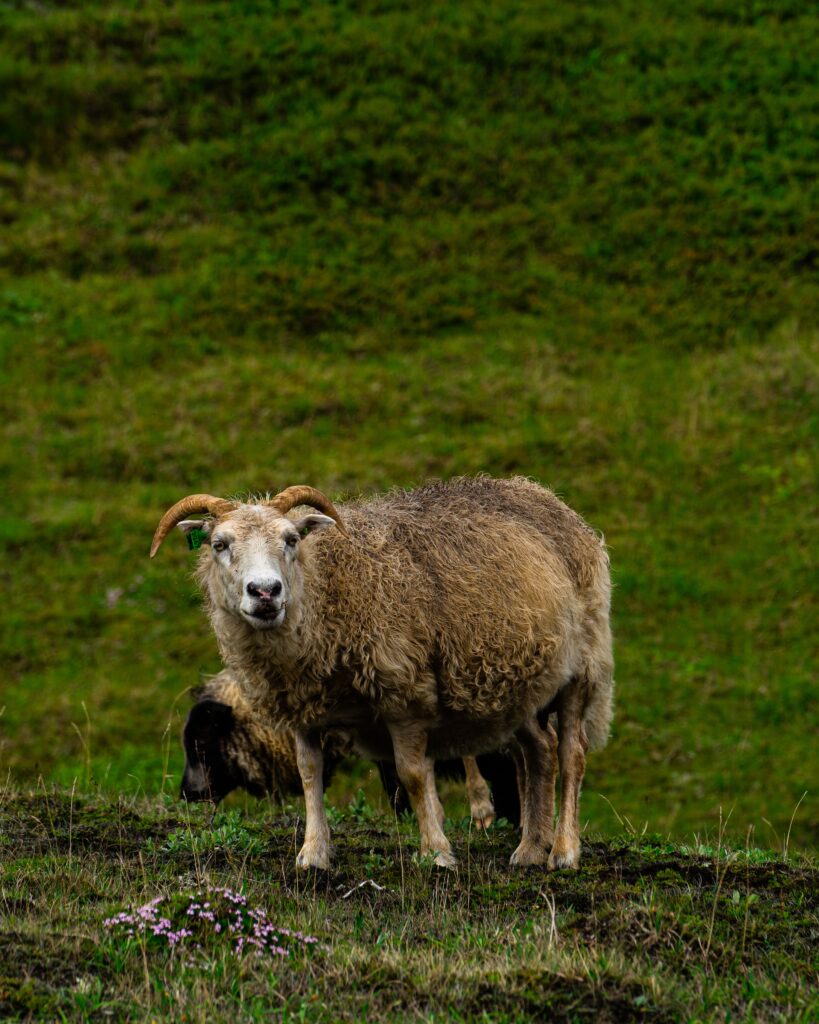 Lambing season occurs in May and June, so you may see some of the adorable lambs on the farms. Don't approach or try to feed them, as they tend to be very skittish, and may harm either you or themselves.
You can see them anywhere you go in Iceland, so keep your eyes peeled and camera ready for these adorable animals!
Sveitagardurinn – Farm Zoo in South Iceland
Sveitagardurinn first opened in the summer of 2018 but was a big hit from the get-go. Located near Selfoss only about an hour away from the capital it is a fantastic stop to make on a road trip out from the city or when exploring the South Coast. Their farm animals include all the most popular ones; Icelandic horses, calves, sheep, goats, hens and pigs but also a variety of other animals such as ducks, guinea pigs and rabbits.
They offer daily horseback rides in the afternoon, where children can ride around on Icelandic horses carefully tamed by the farmers. There is also a great playground and a small café where you can enjoy coffee, sodas, candy or ice cream – Very welcomed when the weather gets warm. Then, just when you think this place has already ticked all the boxes you learn that they have a huge bouncy castle for the energetic children.
They are open from begin of June until the end of August.
Daladyrd – Farm Zoo in North Iceland
Daladyrd is located in between Illugastadir and Vaglaskogur, an area known for having calmer weather and complete serenity. The farm is run by a family who takes care of the animals and will show you around when you visit. They are very interested in what they do and it really shows in the way they introduce you to the playful flock. Daladyrd has a wide variety of Icelandic horses, sheep, dogs, goats, pigs, hens, roosters, bunnies and doves that have already gotten them popular. They are open from mid-February until mid-November.
They have a small café where you can grab a coffee with a slice of homemade pie in a cosy family-friendly setting. Daladyrd is the perfect day trip to take out from Akureyri. You can follow the Daladyrd Facebook page for information or just your daily dose of cuteness!
Reindeer
Reindeer aren't native to Iceland, as they were imported to the land somewhere around the 18th century to help with transportation in agriculture. However, they couldn't survive the harsh climate and lack of food supply initially. As a result, most of them went almost extinct during the late 1930s.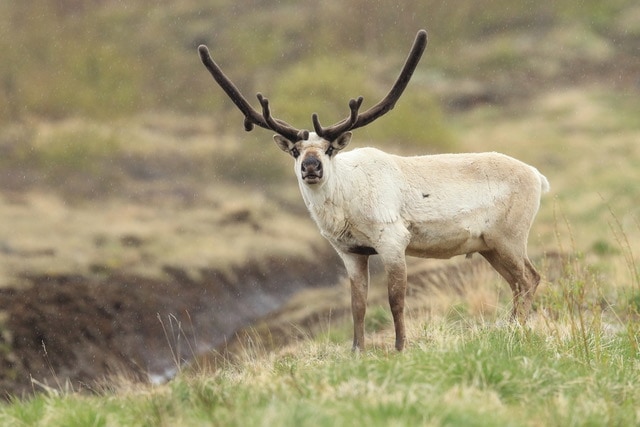 Only a hundred of them could survive the odds in the Eastern part of the country, and the present ones are believed to be their direct descendants. Reindeer in Iceland are primarily used for pulling sleds, especially to see the majestic Northern lights. Trust us- this is an experience you wouldn't want to miss!
Beyond that, you can opt to observe them in their habitat during the winter. This is the time they come to the lowlands in search of food.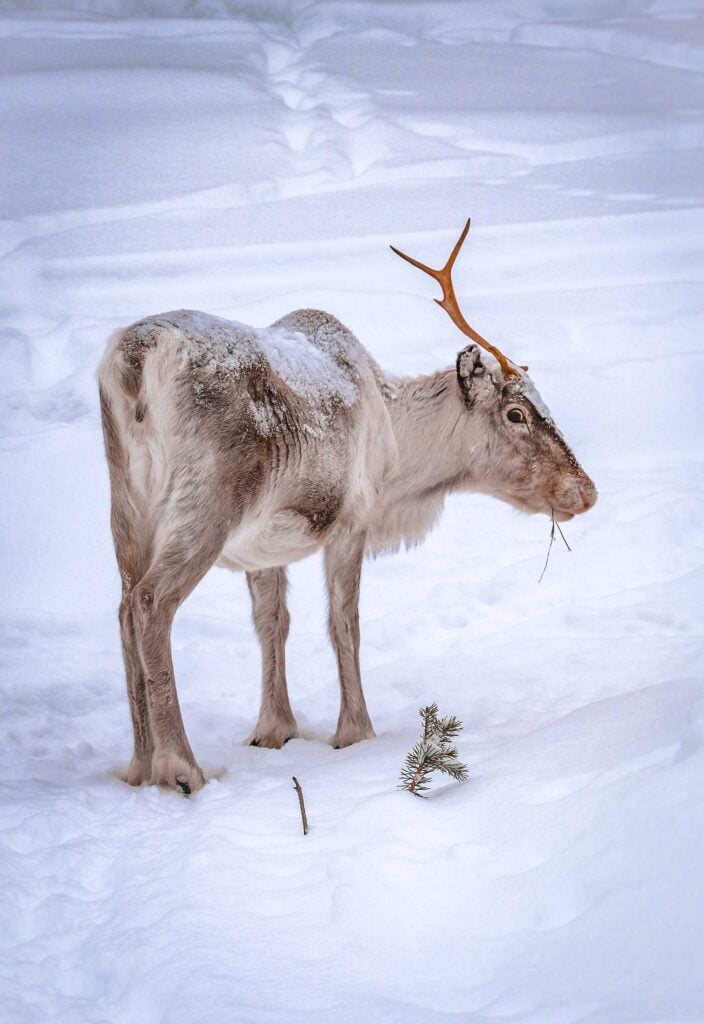 The ever-growing reindeer population in the country has always been protected by the law of the land. Although reindeer hunting isn't prohibited, there are hunting licenses issued every year for locals and tourists for a short period of time. This is due to the fact that the reindeer have no natural predators and the population must be controlled.
At Skjöldólfsstaðir in Jökuldalur, East Iceland Aðalsteinn Ingi Jónsson runs a guesthouse which is dedicated to the reindeer in Iceland. Besides the guesthouse, with its various memorabilia connected to reindeer, reindeer hunting and other things reindeer, Aðalsteinn runs a small zoo where the animals can be seen close up.
Puffins in Iceland
Atlantic puffins are widely regarded among the natural inhabitants of Iceland (as there isn't any evidence to suggest otherwise!). Flocks of these seabirds were followed by Vikings to find suitable places for building settlements; plus, they were hunted for their meat and eggs.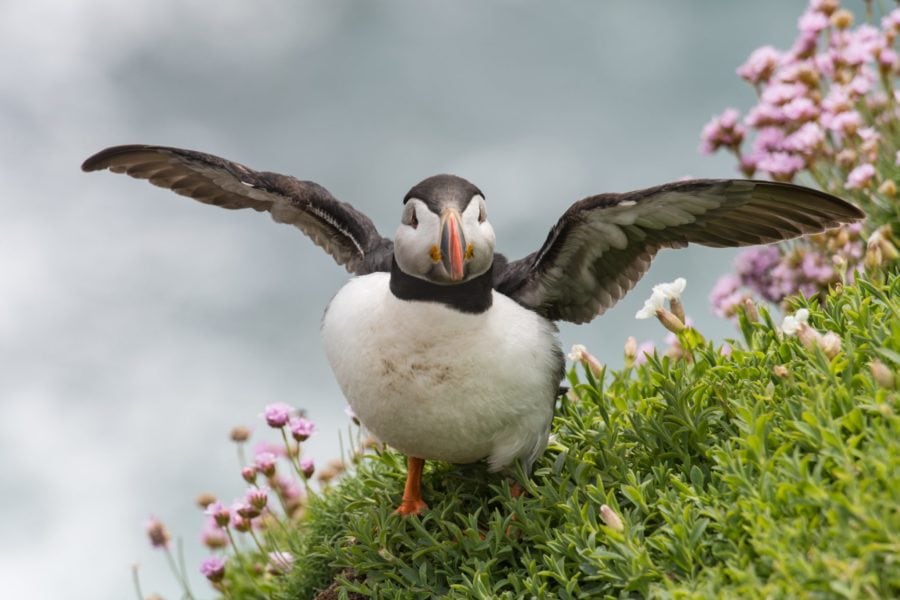 Slowly, puffin hunting became a tradition of the land, especially in the Westman Islands- something which has continued to date.
The rise in popularity of puffins can be traced to the tourism boom in the country, as people wanted to see more and more of these cute airborne creatures in nature. In fact, Puffins were considered just another type of seabird before Iceland became a sought-after tourist destination.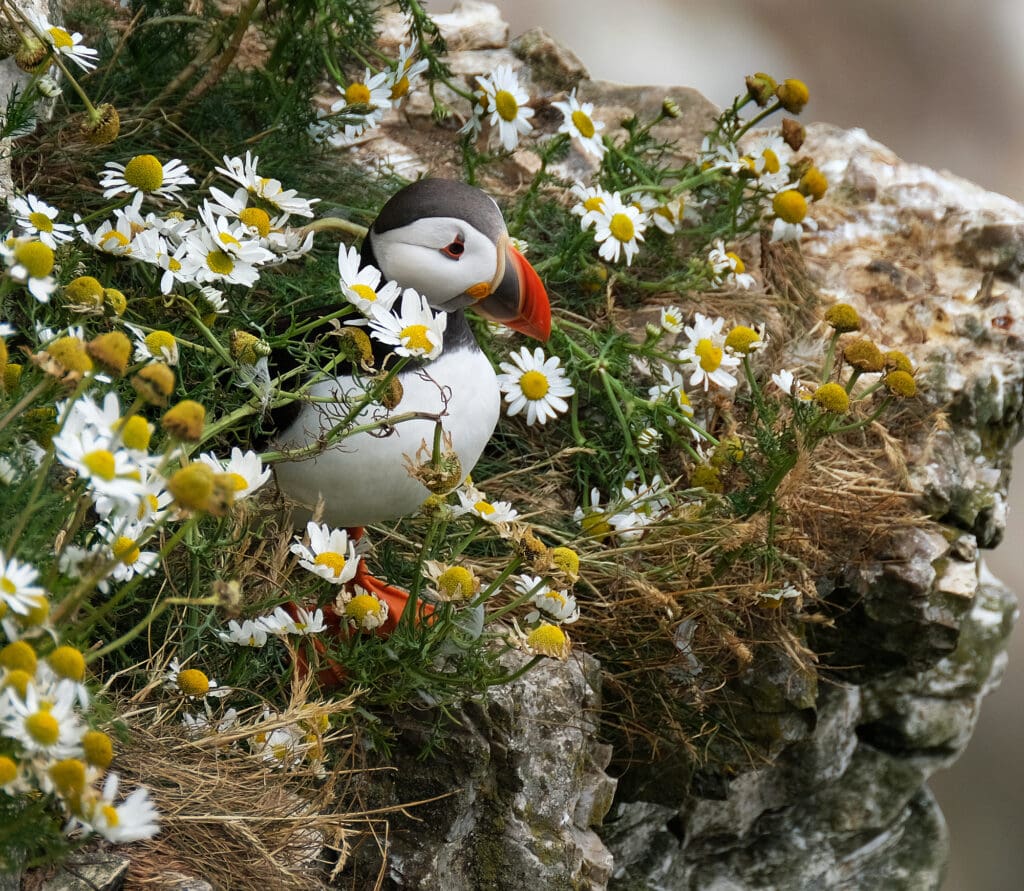 Summer, between May and August, is the best time to see puffins. They arrive in Iceland in late April or May and stick around until late August or early September. During the day, they are often out fishing, so it is best to try to see them in the evening when they are most active.
Puffin Cruise and Whale Watching tour
Discover the natural majesty of Iceland with the Reykjavik Super Saver, a combination of two popular tours at a discounted price. Realize your dreams of seeing wild whales during a 2.5- or 3.5-hour whale-watching tour and marvel at adorable puffins as you sail the rugged shores of Akurey island on a 1-hour puffin cruise.
Enrich your knowledge of the majestic creatures while listening to commentary from a knowledgeable guide on each captivating cruise. Reykjavik Super Saver offers two incredible tours for a discounted price Spot marine life, including harbour porpoises and humpback whales, on a whale-watching tour Choose between a 3.5-hour whale-watching cruise or a 2.5-hour high-speed boat version Learn about some of Iceland's most majestic native wildlife from expert guides on both tours
Read more about Iceland Super Saver: Puffin Cruise plus Whale-Watching Tour from Reykjavik
The best places to find Atlantic puffins in Ireland
Arctic Fox
The only native mammal was the arctic fox, which is very well-adapted to life in Iceland Small and shy, it can be hard to catch a glimpse of the animal. Their coat changes colour with the season. For some, it goes from light brown to a snowy white or blue in the winter. For others, they are brown for the whole year, and their coat goes lighter in the summer.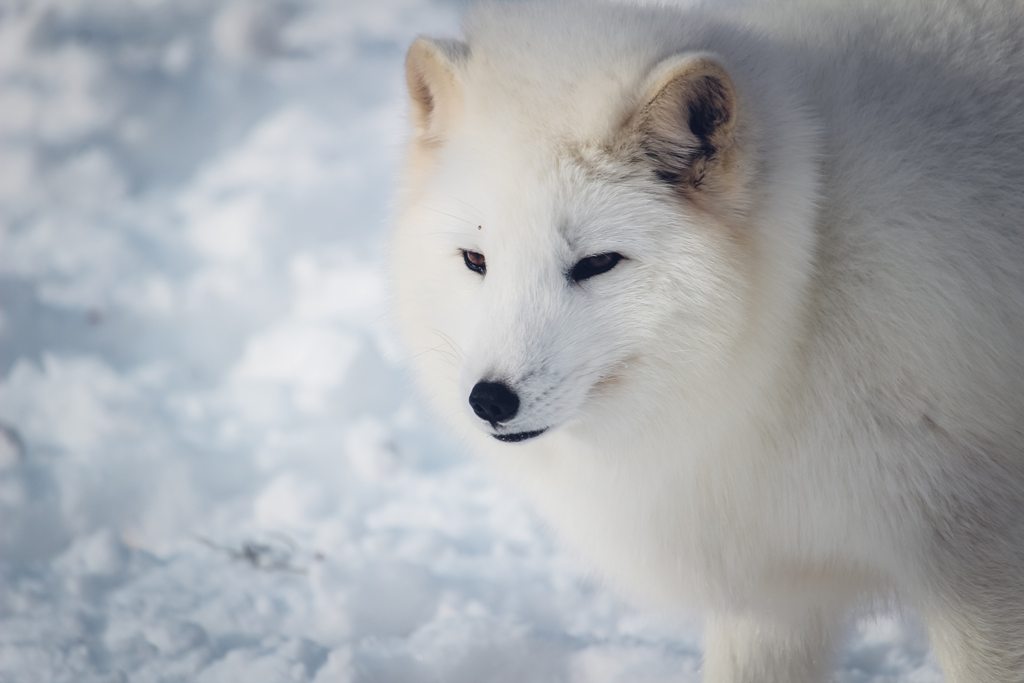 To catch a glimpse of the elusive animal in the summer, you have a small chance in the Þorsmork valley, just north of the glaciers Eyjafjallajökull and Mýrdalsjökull. To increase your chances, you have to hike into the Hornstandir Nature Reserve in the northern Westfjords, where they are protected from hunting. You could also get a tour and the ferry from Ísafjörður.
The Arctic Fox Centre
The Arctic Fox Centre is a non-profit research and exhibition centre, focusing on the arctic fox – the only native terrestrial mammal in Iceland.
To learn more about them, visit the Arctic Fox Center in Súðavík, Westfjords. Here they participate in developing sustainable wildlife tourism in Iceland, collaborating with the authorities and other interested parties.
Wildlife is an important part of every country's ecological balance, and the local authorities here in Iceland are doing their part to preserve the animals of the land. But it's the collective responsibility of tourists and locals to complement them in their efforts.
Guest post contributed by:
For the last 17 years, Niels Thomas has been working as a marine mammal specialist and wildlife expert. With his work, he focuses on aquatic wildlife conservation in Iceland. Protecting whales, dolphins, seals and manatees and educating the public has always been a top priority for him.
Pin it to save it
You might also like
Traditional food of Iceland – 36 dishes to try