Tea cultures of the world
I used to be a coffee drinker and was addicted to that rush of caffeine throughout my day, but these days I am tea obsessed which of course sends me off on a learning journey to discover the tea cultures of the world.
The culture of tea begins in China where Archaeologists discovered the world's oldest tea buried with the ancient Chinese emperor Jing Di. The Emperor died in 141 BC and tea leaves were found buried with him. Since that time tea cultures have spread around the globe.
Originally tea was only cultivated and drunk as herbal medicine to treat everything from sore throats to digestive issues. Monks began to drink it for its calming effects and soon it began to be more widely used. Over time the various Chinese tea ceremonies went from being religious activities to social and cultural activities.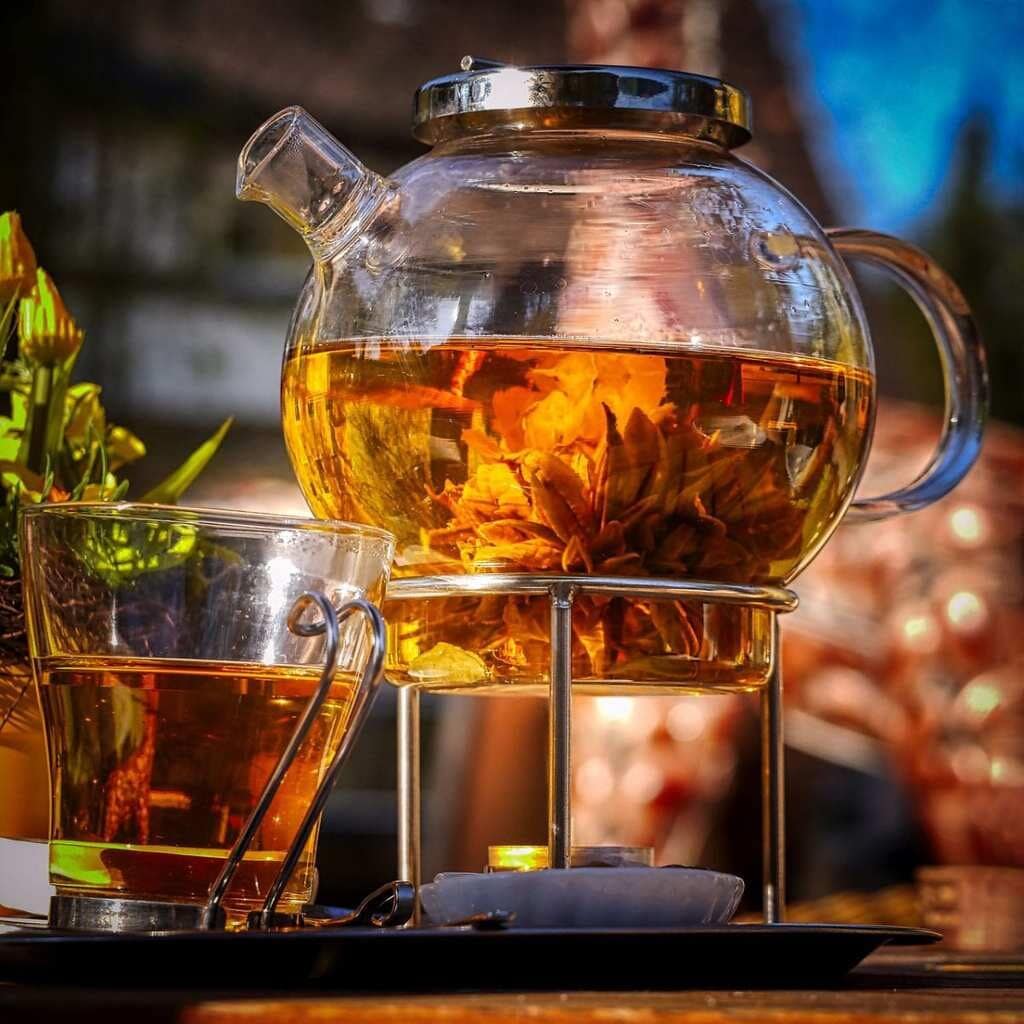 The history of tea & tea culture around the world
As we all know the British do love a cup of tea and tea arrived in England in 1610. Brought to England by the Portuguese. Interestingly tea was first introduced to London coffee houses. The first coffee house to offer tea was Thomas Garway, whose coffee house was in Exchange Alley. He marketed tea as 'making the body active and lusty, 'preserving perfect health until extreme old age.
Tea quickly gained popularity and by 1700 over 500 coffee houses sold tea to their customers. However, it did cut sales of gin and beer and this meant that the government's tax revenue was cut.
11 Quirky Afternoon Teas In London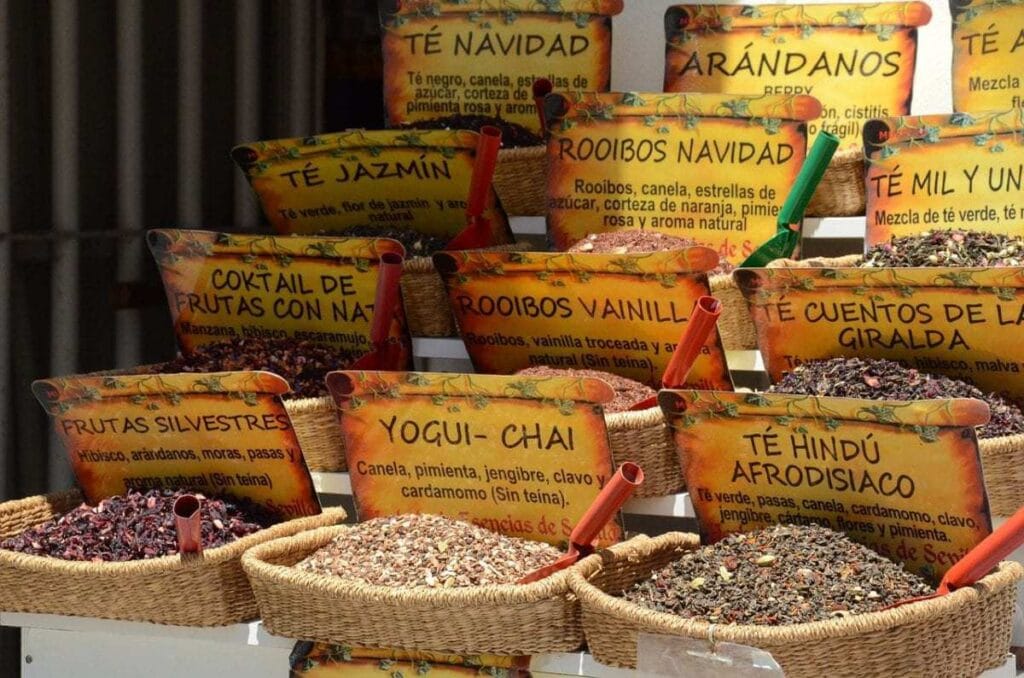 There were laws brought in making the sale of tea illegal but it was so unpopular it was impossible to enforce. So tea began to be heavily taxed and coffee houses had to obtain a special license to sell tea. The taxation of tea became so heavy that by the mid-18th century a whole new business had begun – tea smuggling.
In the 1800s the Dutch East India Company was given a monopoly on the tea trade and in order to bring the tea into England, they created faster ships known as Clippers. There were big bonuses for Captains of the Clippers to bring in their cargo. The most famous of these clipper ships was of course the Cutty Sark which is exhibited in Greenwich.Table Of Contents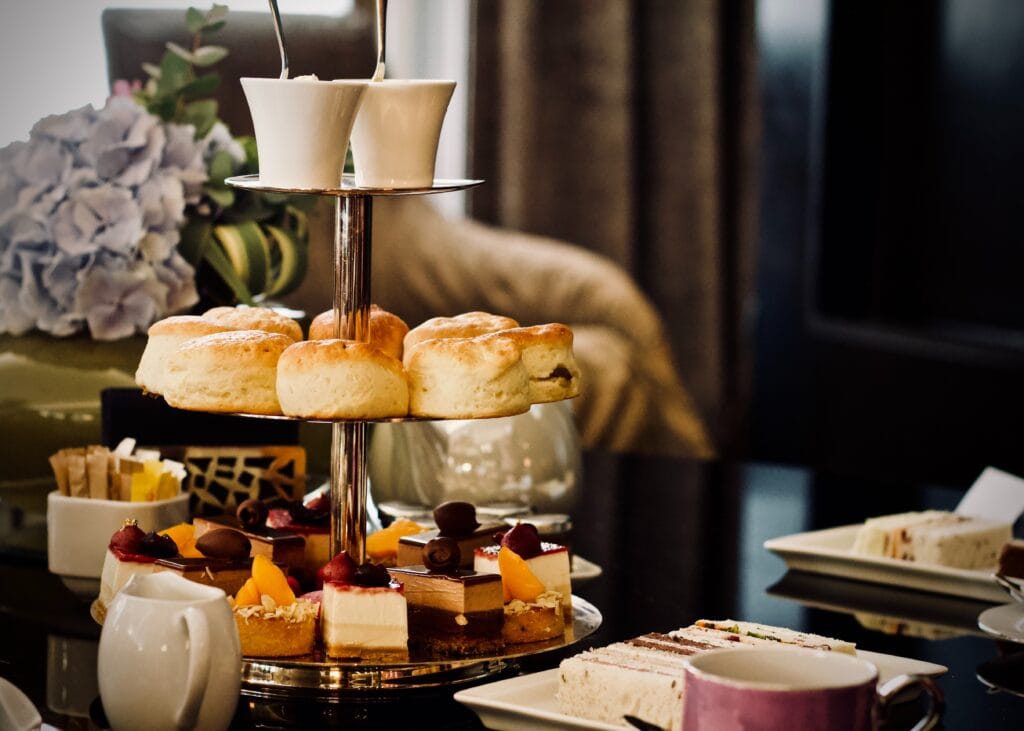 The Cultural significance of tea
Tea is often associated with respect, and it is seen as a way to show hospitality and respect to guests. One of the most famous is Gongfu Cha, which translates to "making tea with skill." This is a traditional Chinese tea ceremony known for its meticulous preparation and appreciation of tea. The Japanese tea ceremony is about connecting on a spiritual level while in Morocco tea is served as a sign of hospitality.
Facts about tea cultures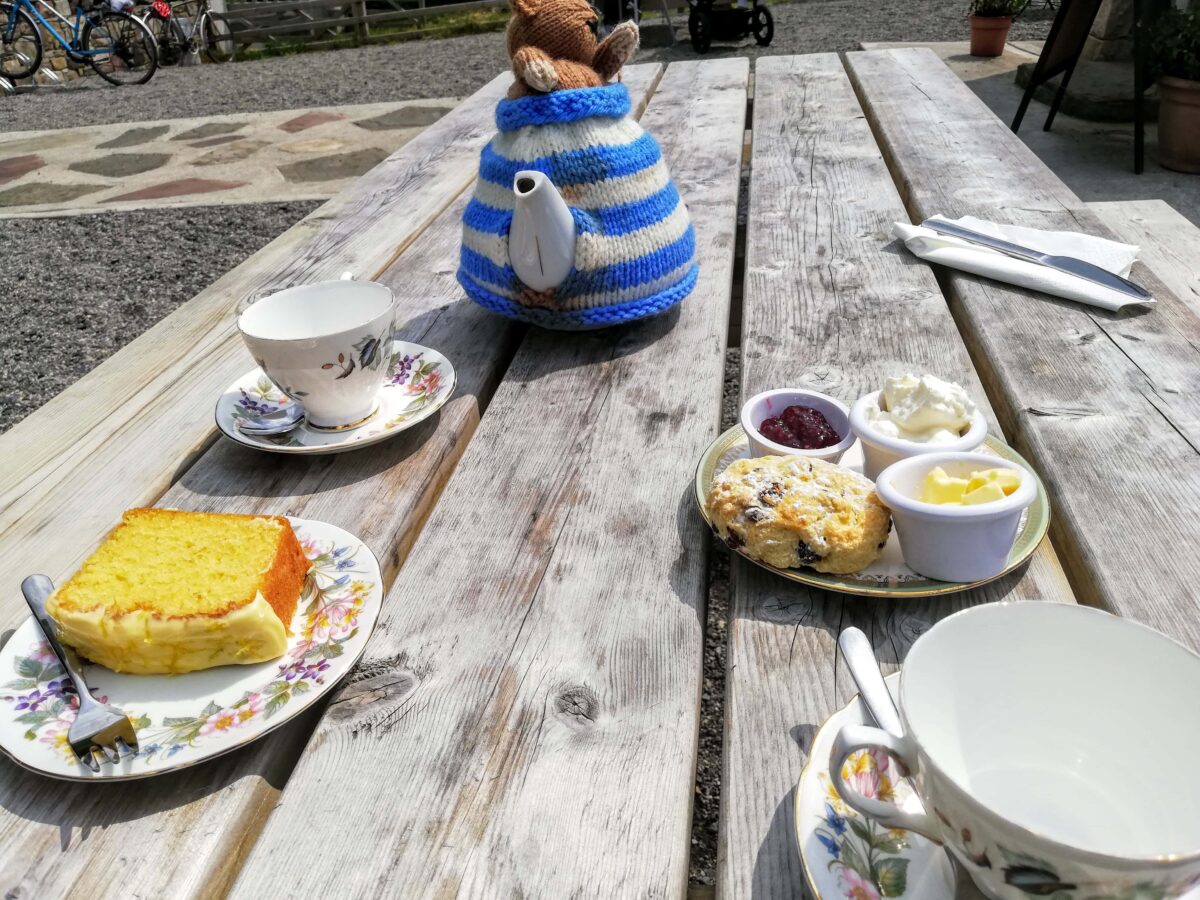 24 Tea Cultures of the world
Gongfu Tea Ceremony – China
One of the most famous tea ceremonies in China is the Gongfu tea ceremony. Its name — Gongfu cha — translates into "making tea with skills" and stands for the ceremonial preparation of oolong tea and serving it to guests as a sign of respect. The whole ceremony usually lasts 20–25 minutes with the last step being the actual drinking of the tea. For that, the guests hold the cup with both hands and drink it in three sips.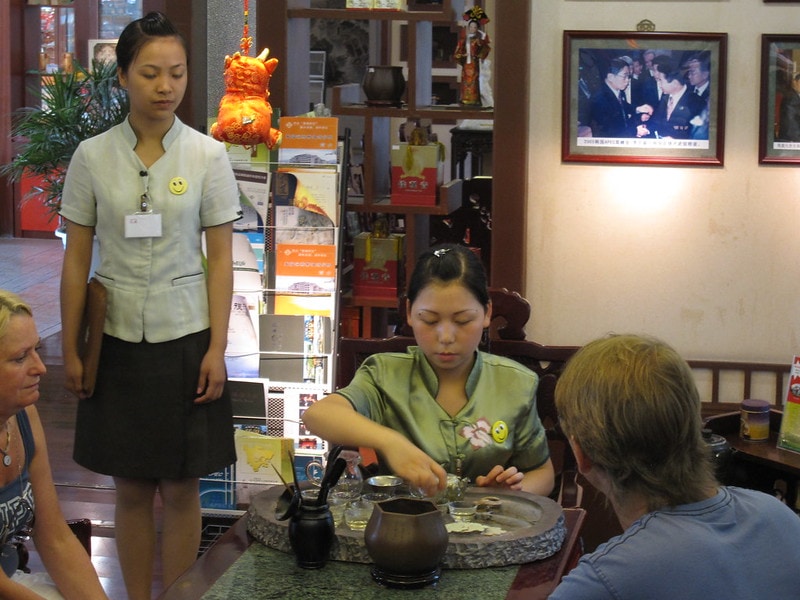 Salt Tea & Tumuru Tea – Pakistan
The north of Pakistan is a hostile environment, especially during winter. Surrounded by the night mountain ranges of the Hindu Kush, Himalayas and Karakoram, some of the tallest mountains in the world are located here like K2 and Nanga Parbat.
The harsh climate has led to some interesting dietary choices by the locals, the people of Hunza have been drinking savoury or salted tea for centuries now.
The usual way is to make a cup of milk tea and then take a salt stone and stir it in the cup until it is salty enough for your taste. The salt stone is usually presented to guests as well rather than using ground salt which is considered manufactured and impure by locals.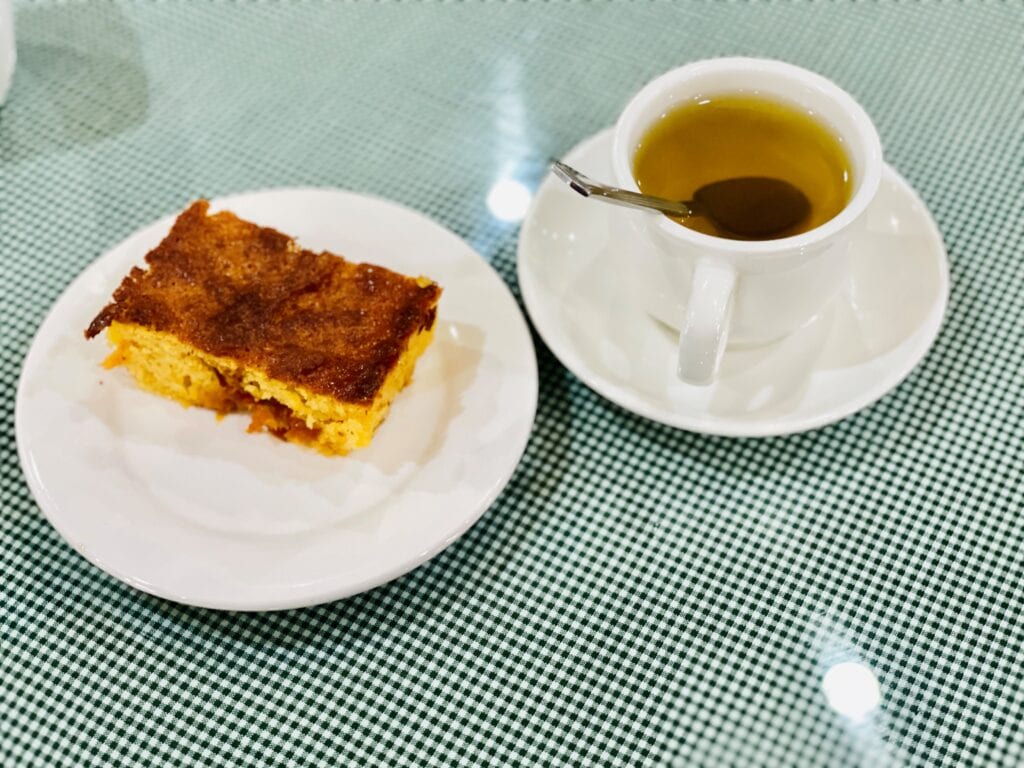 The best way, however, is to drink it with Tumuru Tea which is wild thyme tea that grows on the high mountains. It is considered a source of energy and has great healing powers for mountain dwellers including clearing your throat and stomach after food.
The tea is steeped and then poured into cups and then a salt stone is used to make it savoury. The best way to experience this is to enjoy this tea with a slice of soft spongy apricot cake, a speciality of the region. A cup of savoury Tumuru tea with a slice of apricot cake overlooking Hunza valley or Passu cones is a pleasure that's unmatched in the entire world. Contributed by Ucman from BrownBoyTravels.
Argentinian Mate
Yerba mate, also known as mate, is an herbal tea. It's a traditional drink in Latin and South America. It's made by steeping dried leaves from the yerba mate plant in hot water. Yerba mate can be served cold or hot. Mate is the Argentinian national drink. Mate tea is made from the yerba mate (pronounced 'yehr-bah mah-teh,') a South American holly tree similar to the tea plant. It's not strictly "tea" as it's not made from the tea plant, Camelia Sinensis, but it has similar benefits to tea since it's similarly high in antioxidants and contains caffeine. In South America it's drunk from a hollow gourd with loose leaves, hot water and a metal strainer straw, in Argentina nearly everyone walks around with the iconic cups in their hand.
Turkish tea rituals
From Istanbul to Cappadocia, street corners, tea gardens and shops are full of locals sipping a glass of sweet black tea. Although Turks today consume an amazing 4 cups of tea a day on average, the drink only became popular in the early 20th Century. Before that coffee was the drink of choice.
At the wish of Ataturk, the founder of Turkey, people turned to drinking tea in the aftermath of World War I. During the war Turkey lost some of their lands to the south where coffee was grown and as a result coffee prices rose. However, tea could still be grown in Turkey.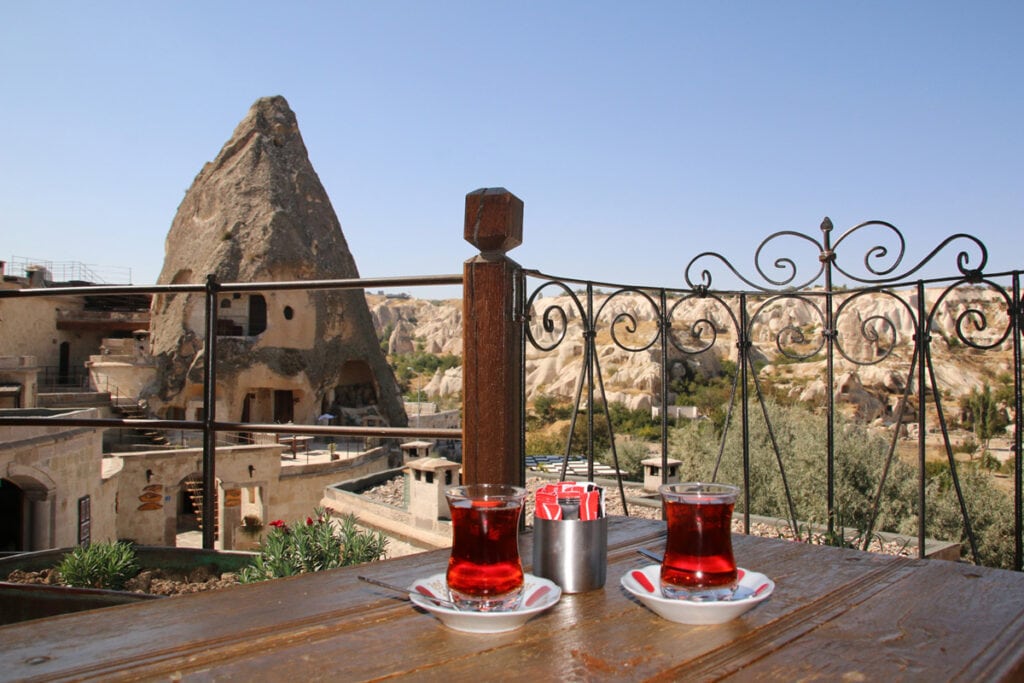 Turkish tea is made in a special pot called Caydanlik. The pot has two parts stacked on top of each other. Water is brought to a boil in the lower part and in the upper part, loose tea leaves and a little bit of water produce a strong black tea. It is always served with a few lumps of sugar in a small tulip-shaped glass on a small saucer.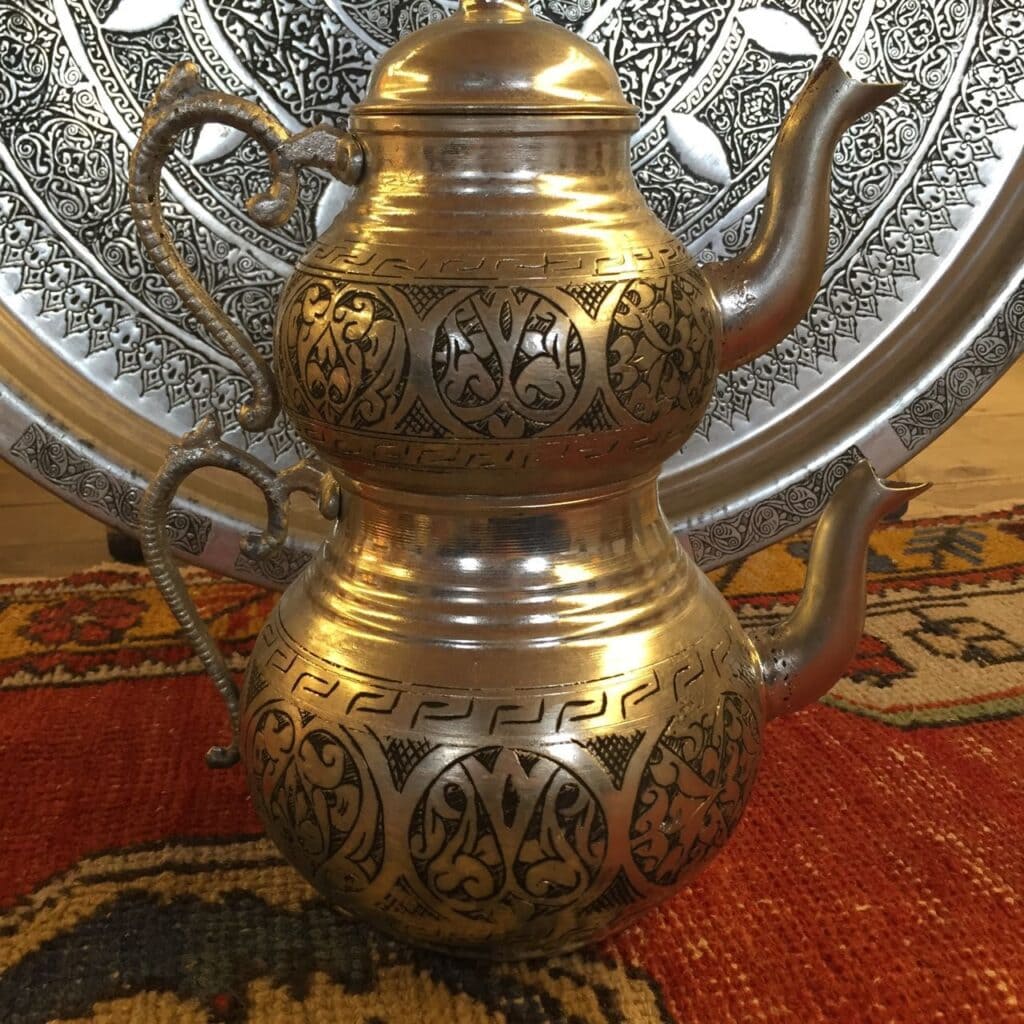 Many menus feature tea with fruit flavours, such as apple, but this is only for tourists. You will never see one of the young boys hurrying through the souk carrying anything other than strong, black tea. Contributed by Kristin from Adventures with Ensuite
42 scrumptious traditional Turkish foods to try
Bedouin Tea – Jordan
The culture of tea drinking in Jordan is based on Arabic and Islamic elements, with the ritual of taking tea much more than a hot beverage. Traditions of tea drinking are steeped in history, following methods of preparation that have been followed for centuries and treasured by Jordanians.
Although today much of Jordan's Bedouin population has evolved towards a life more intertwined with modern conveniences, the traditions of tea culture have not shifted. The most common tea in Jordan is prepared with water and sugar brought to a boil over tea leaves until the liquid takes on a beautiful golden colour. A sprig of mint is added for flavour and the tea is served on a central tray in small, short glasses without handles.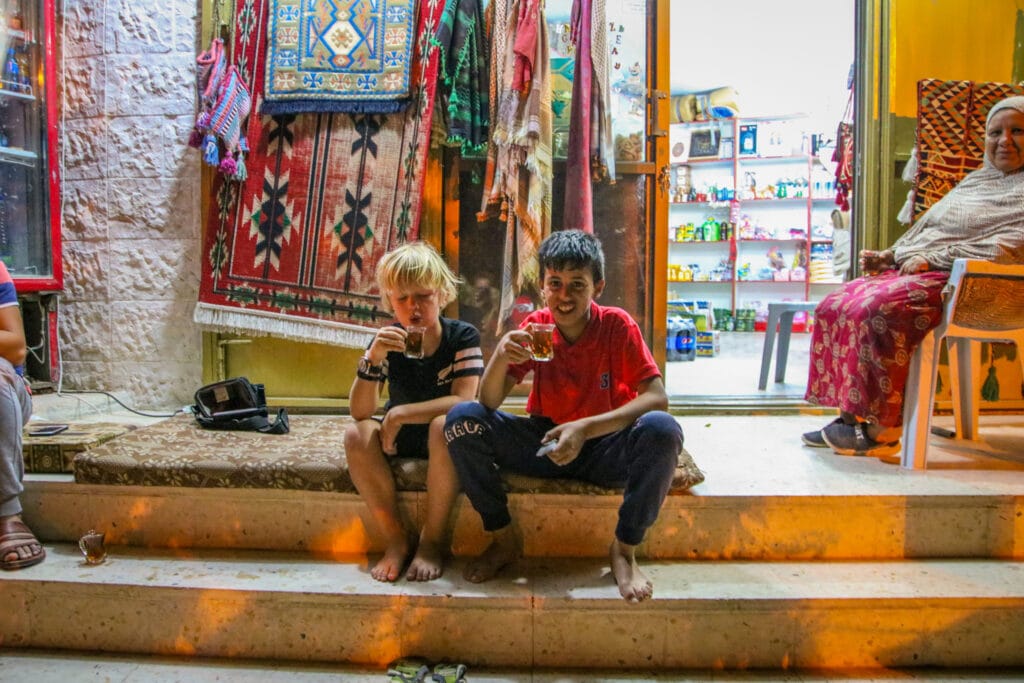 Innate character traits of the nomadic Bedouins who have survived for centuries seeking shelter, food and drink in the deserts of Jordan mean hospitality is extended to any stranger or visitor they meet. As a traveller in Jordan, you will be welcome to share tea on any day and at all times. Evenings in Petra and the surrounding villages come alive with locals all sitting on the steps and in the doorways of their homes and shops, drinking tea and carrying on traditions of Bedouin life. Contributed by Sarah Steiner of Away with the Steiners.
Cameron Highlands Tea Plantations
For a taste of the British tea tradition in South East Asia, look no further than the Cameron Highlands. Located in the Pahang district of Western Malaysia, this hilly area is home to a thriving tea and vegetable production industry. It is quite easily reached from Kuala Lumpur or Penang by road and is popular for its refreshingly cooler temperatures.
The Cameron Highlands was named after a British explorer who first discovered the area in the 1880s. Several decades later it was developed into a hill station – fast forward to the 21st century and the area is defined by its rolling green tea plantations as far as the eye can see. The British influence on the Cameron Highlands is noticeable, from Tudor-style buildings to menus featuring cream teas and beef Wellingtons.
Visitors to the Cameron Highlands can enjoy a tour of the Boh Sungei Palas Tea Plantation, where you can learn all about the tea culture and harvesting. Follow the tour with a pleasant afternoon tea and a side of cake at the café, which offers stunning panoramic views of the plantations. Contributed by Jessie Moore from Pocket Wanderings.
Iced Tea – Thailand
'A lot of people are drawn to Thailand because they love the food, the culture and the country's natural beauty. But there is one thing that many visitors miss out on: Thai iced tea.
What is it about Thai iced tea that makes it so special? For starters, this deliciously sweet drink has a rich history behind it. It was originally used as a herbal remedy in China for treating colds and sore throats. And ever since then, this refreshing beverage became a favourite among locals and foreigners alike who have visited Thailand.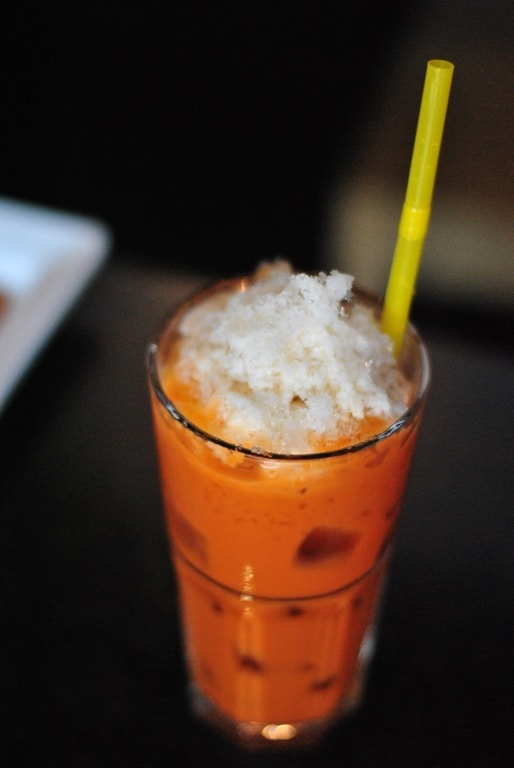 Although the traditional Thai drink has now been around for centuries and the recipe hasn't changed. It's typically made with black tea, sugar, and cardamom-infused water, but there are many variations in the recipe as well. The colour of the drink ranges from dark brown to light caramel depending on how much milk has been added to it. You can add milk, coconut milk, and honey.
The iconic beverage is drunk daily by locals (much like we drink a daily coffee) and can be found on nearly every street corner. In Bangkok and Chiang Mai there are street vendors everywhere selling Thai iced tea for around $1 or less. It's refreshing, sweet and delicious, with just the right amount of caffeine to keep you awake without feeling jittery during the day. Recommended by Alice from Adventures of Alice
Masala chai – India
Masala Chai: the spicy, sweet, creamy, zingy and herbal steaming concoction can be found all over the streets of India from local chaiwala stalls to upscale restaurants. The drink has been a popular tea ritual in India for over a century.
In the 1830s during the British occupation of India, the East India Trading Company invested in growing local tea plantations in the Assam region to thwart the growing monopoly of China on the tea trade. While the tea plantations' yield grew, the tea was not yet favoured. That was until the India Tea Association released an advertisement to encourage factories and workplaces to allow for a tea break for their workers. Today, the Assam black tea leaves act as the base of the Ayurvedic medicinal elixir.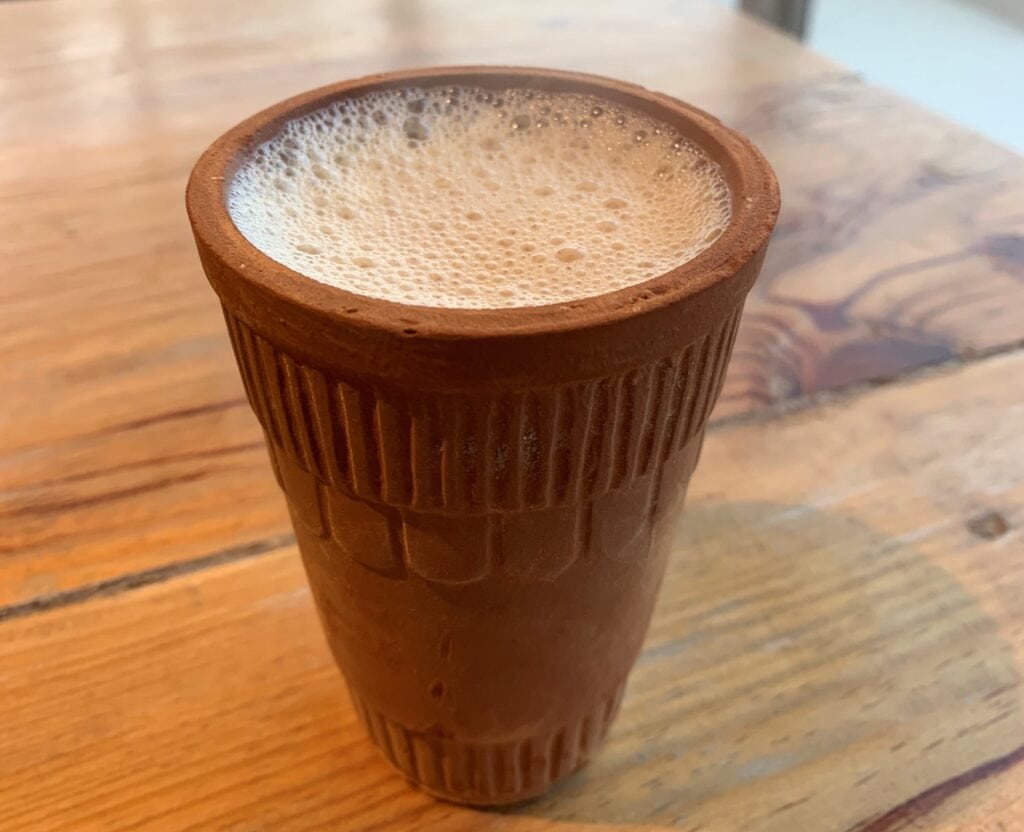 Masala Chai is prepared using black tea leaves, and for the majority, a combination of cardamom, black pepper and ginger. There are variants of this base mixture throughout different regions in India where ingredients such as cloves, cinnamon, star anise, fennel seed, honey, vanilla and even rose petals are added.
The blend is steeped until it reaches a rich brown colour. Sugar and milk are then combined using an airing technique where the tea is poured from high above into the cup several times over. Traditionally, Masala Chai is served in a small clay cup so that it can be smashed and repurposed to make more. This way of serving Chai is still present today. Contributed by Haley Blackall from HaleyBlackall.com
Tea – Belize
Hugging the shores of the Caribbean, Belize is a Central American country that might not be known as a country with tea culture to the travelling masses. And yet, tea is a popular drink here because of the country's colonial past.
A former British colony, Belize was formerly known as British Honduras and gained independence in 1981 after a long political campaign. While the country has been changing over the last decades, many British traditions are alive and well in Belize and tea time is one of them.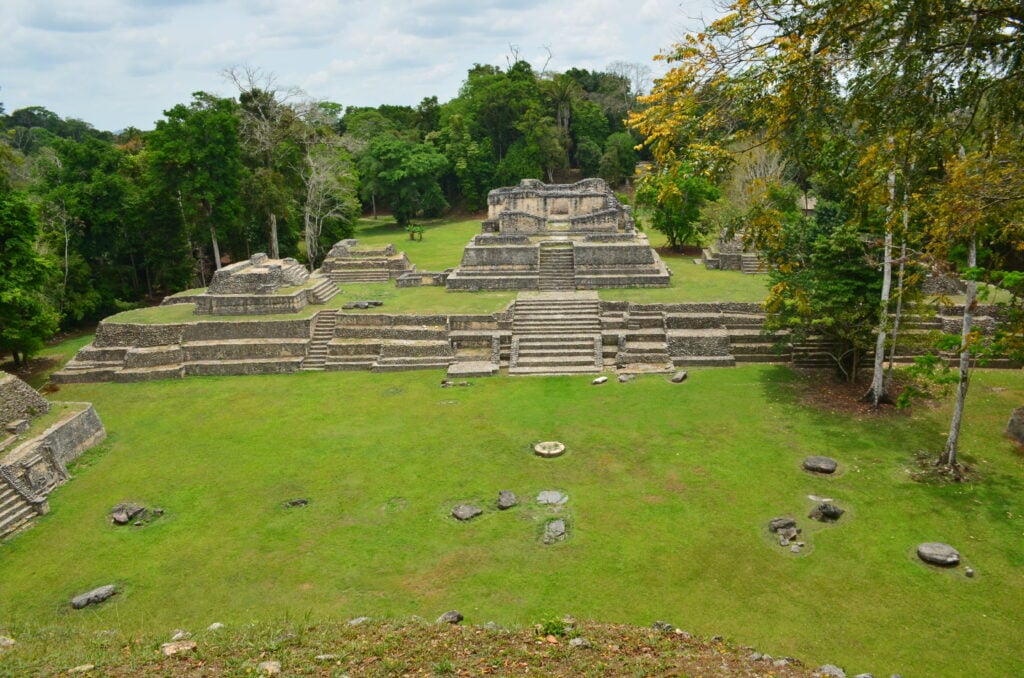 Belizeans drink tea normally during breakfast or during dinner. A meal is also served during tea time and it typically includes hot fried jacks, freshly baked flour tortillas, beans and eggs.
Just the country's eclectic identity, food in Belize is delicious and can be mixed any way you want. Contributed by Daria from the Discovery Nut
Ceylon Tea – Sri Lanka
Sri Lanka is one of the fourth-largest tea producers and the third-largest exporter of tea in the world. Most of the tea grown in Sri Lanka is Ceylon tea. This is a variety of black tea with a high content of caffeine and a full-bodied taste. The tea gets its specific taste because of the conditions it grows in, at higher altitudes, in a rainy, cold environment. Ceylon Tea is part of Sri Lanka's heritage and culture. When you visit the country, you will find Ceylon tea everywhere, from the breakfast buffet of your hotel to tea shacks on the side of the road.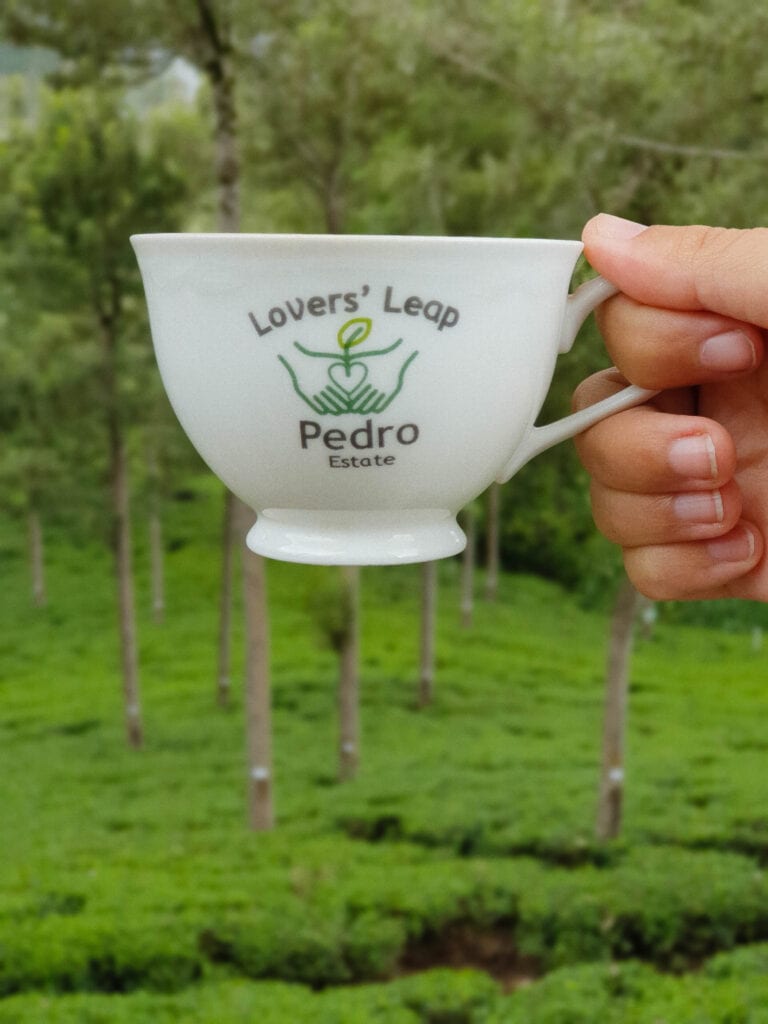 In Sri Lanka, Ceylon tea is usually drunk in the afternoon, to unwind after a busy day. Because of the high content of caffeine, Ceylon tea is a perfect energy booster but also a fantastic antioxidant. As it's quite strong, the Ceylon Tea is served with milk and sugar. To make it less strong, for people who are not used to it, it is recommended to brew it only half of the recommended time. A great way to learn more about Ceylon tea is by visiting the tea plantations in Sri Lanka's Highlands. Contributed by Joanna of The World in My Pocket.
Teh – Singapore
Singapore is a melting pot of diversity with a mix of Chinese, Indian and Malay, making it an exciting place to discover tea culture when travelling.
Teh (as in Teh Tarik – pulled Tea) originated from the Indian-Muslim immigrants who first arrived to work on the rubber plantations. Teh is very different from Chai (which is well regarded in India) as it is heavily sweetened with condensed milk and is derived from pulling the Tea during the pouring process.
There are several ways to have teh, which include Teh Ais (sweetened with condensed milk and served cold with ice cubes), Teh Tarik Madu (blended with honey and served cold), Teh Halia (served with ginger), Teh-C (made with unsweetened evaporated milk) and Teh-O (refers to black Tea)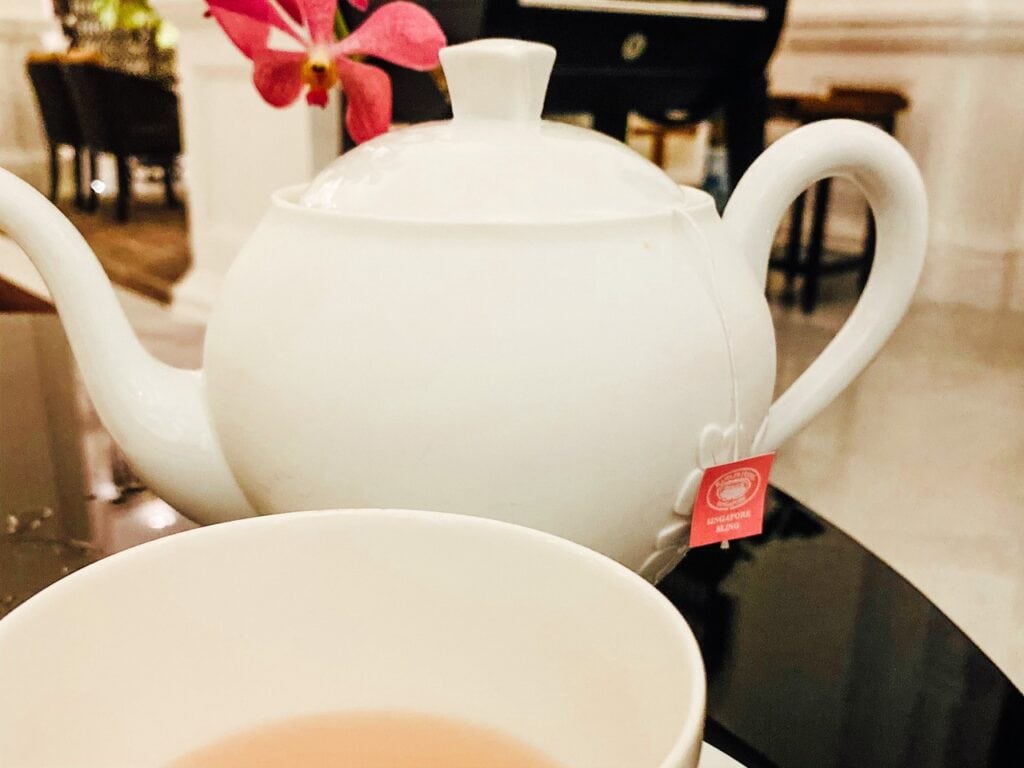 Chinese Tea is everywhere in Singapore; you can pretty much order it at any cafe, tea house or restaurant. Whether you opt for something soothing like a blended jasmine green tea or you would rather have the bitter matcha, you may have it hot or cold, replacing a coffee or as a side drink with your lunch. The choice is yours, and it is in abundance. There are loads of little (medicinal) tea shops, and more well-known tea shops dotted all around Singapore.
High Tea is everywhere in Singapore, first introduced by the British but now loved by everyone. You can have everything from Perakan-style high tea to a middle eastern high tea extravaganza. Hotels, restaurants and cafes all offer High Tea, and although the main focus is the food, the teas that accompany the little bite-size food usually come in varying flavours and regions.
Bubble Tea is also prevalent in Singapore. Although it may have originated in Taiwan, it has become a staple to many Singaporeans, with little stalls popping up everywhere on this tiny red dot. Contributed by Paula of Truly Expat.
Milk Tea – Hong Kong
The food scene in Hong Kong is vibrant and diversified making exploring different kinds of dishes in Hong Kong is an exciting experience. Began your journey at a Cha Chaan Teng (Hong Kong-style café), where not only the food but also its style and culture became a sensation in the world; Hong Kong-style cafes are now opening in many China towns, and also featured in many movies and pop culture. If you are a first-timer, one thing that you should not miss is the milk tea and there is no place better to taste it in where it came from – Hong Kong.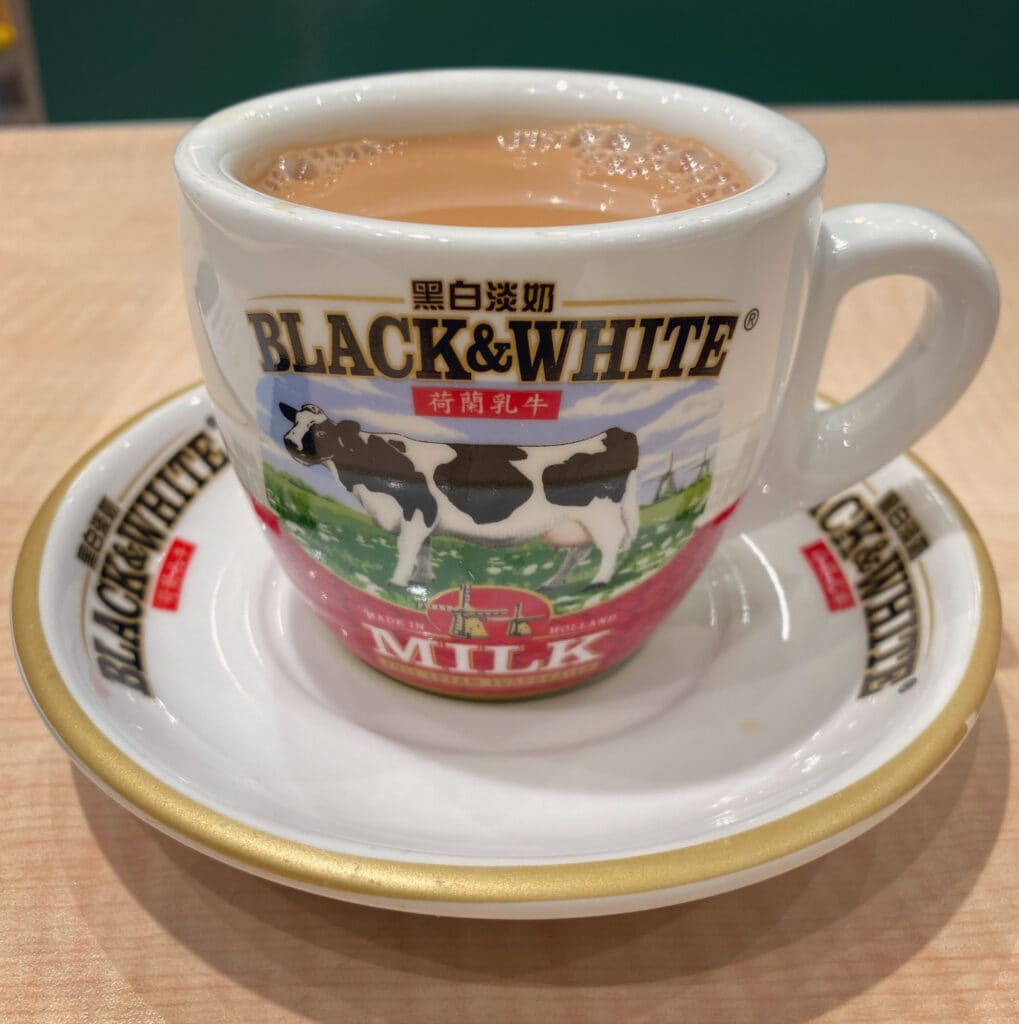 Nicknamed "pantyhose" milk tea, Hong Kong adopted various tea cultures around the world and made it their own by pouring a black tea blend into a sackcloth bag repeatedly, adding evaporated milk or condensed milk, creating a smooth and silky texture with a multi-layered and strong after taste. Locals had made it their comfort drink that many cannot go without having one in the morning.
While the black tea blend changes from place to place, the ability to brew a good cup of milk tea has become a standard for any Cha Chaan Teng. The most authentic milk tea is always served in a "Black & White Company" mug, a local dairy producer in Hong Kong with a long history. Contributed by Kenny of Knycx Journeying
Chaii – Iran
Iran is one of the world's greatest tea-drinking nations. It is the drink of choice that is served for breakfast, lunch, dinner and in between. It is so central in Persian cuisine that it's the first thing offered to a guest. Travelling in Iran, therefore, means lots of invitations for a cup of tea.
Tea was introduced to Iran from India and China somewhere in the 18th century. Now Iran grows its own tea in the lush green mountains of Gilan. Iranian tea has a unique taste and the reddish-brown colour is an indication of the tea's quality.
Iranians like their tea sweet. They often serve it with sugar cubes that Iranians put in between their teeth. As they sip the tea the sugar will melt. Guests are often served nabat. This is crystallized sugar on a stick that you use to stir your tea.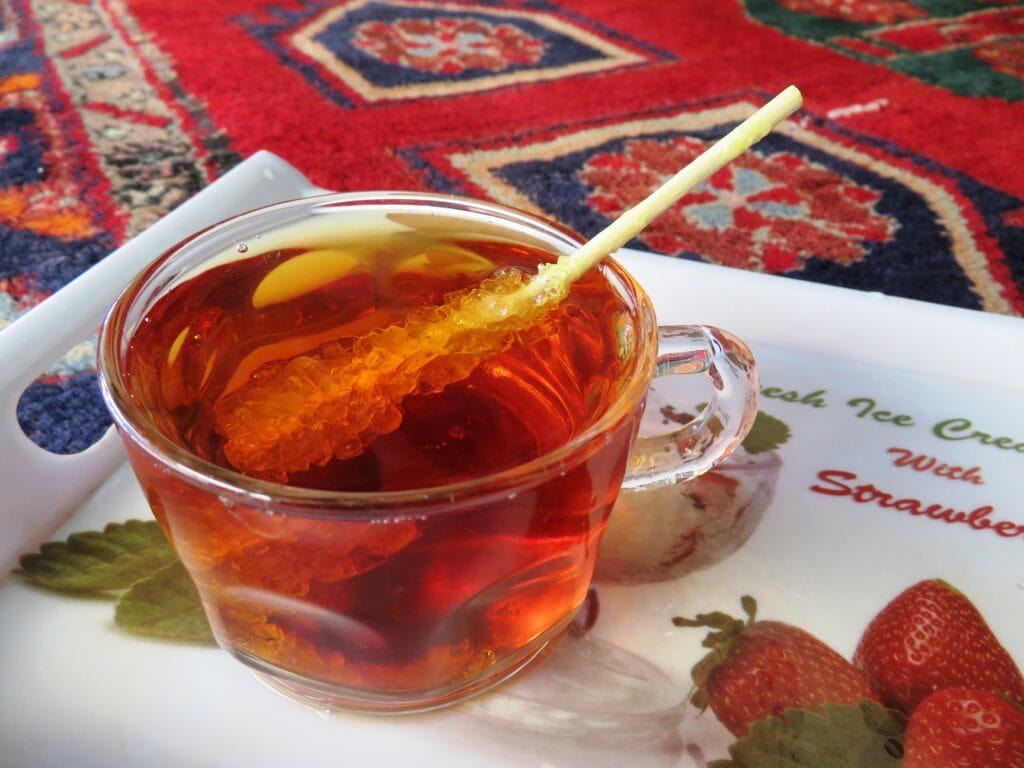 Most homes have a samovar, a large kettle with boiling water that keeps the tea warm that is in the teapot on top. The tea is often very strong and can be diluted with water from the samovar. Turning the samovar on is one of the first things people do when they wake up and it will be on till late at night. The tea is made from loose-leaf black tea with cardamom pods added to the brew.
Tea is also served on the streets of Iran. There are plenty of tea houses and in the city's parks and bazaars, you will see vendors with large thermos that sell cups of tea to passersby. A warm cup of tea really is never far away in Iran. Contributed by Ellis Veen of Backpack Adventures.
Cha – China
The story of tea began in China thousands of years ago, and today tea is still the beverage of choice all over the country. Drinking tea is always accompanied by a small tea ceremony, even when drinking tea by oneself or with family or friends.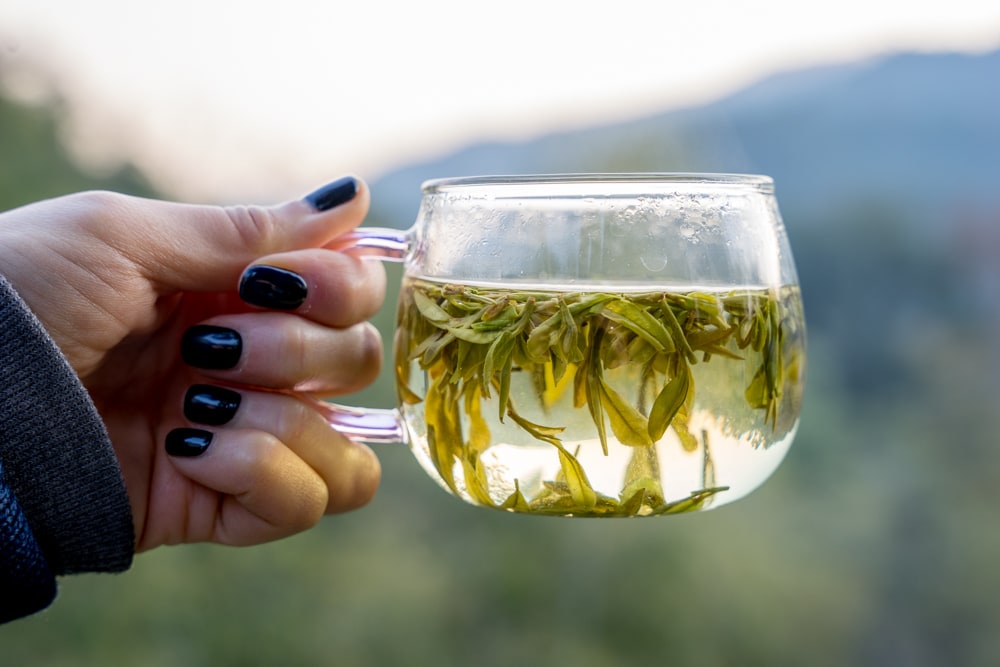 First, the leaves are washed by pouring boiling water over the leaves and then immediately throwing it out into the small cups. This washes both the tea leaves and the cups and is not drunk.
The second brew is supposed to be steeped for only 15 seconds before serving. Add ten seconds of steeping time for every pot after this. The host will keep the tea flowing until the guests make it clear that they've had enough. As part of the tea ceremony, the host will pour tea not only in the cups but also on tea pets and other ornaments on the tea tray. These ornaments either change colour, spurt out water or move when in contact with the hot tea.
Black, green, white, oolong, jasmine and flower tea are all very popular across China and come as loose leaves, never in a tea bag. Fermented Pu-erh tea from Yunnan province comes in a compressed brick and, like wine, gets better with age.
For the best green tea in the country, head to the Longjing Tea plantation in Hangzhou where you can pick your own leaves (in Spring), or enjoy a cup of China's finest green tea in its natural habitat. Contributed by De Wet & Jin of Museum of Wander.
Bubble Tea from Taiwan
Bubble tea culture has its origins in Japan-invaded Taiwan in the 1940s when cold drinks or eating or drinking for pleasure were not yet popularized. In those years, Chang Fan Schu opened a tea shop selling unique rich and creamy tea shacked in a cocktail shaker which gave the tea nice air bubbles. Then in the 1980s, a Taiwanese entrepreneur came up with an idea to add tapioca balls to the tea and popularised that trend which quickly became a Taiwanese icon.
Bubble tea also has a deeper meaning for the Taiwanese, which see it as a symbol of a society transitioning from old to new that was taking place at the same time bubble tea was invented.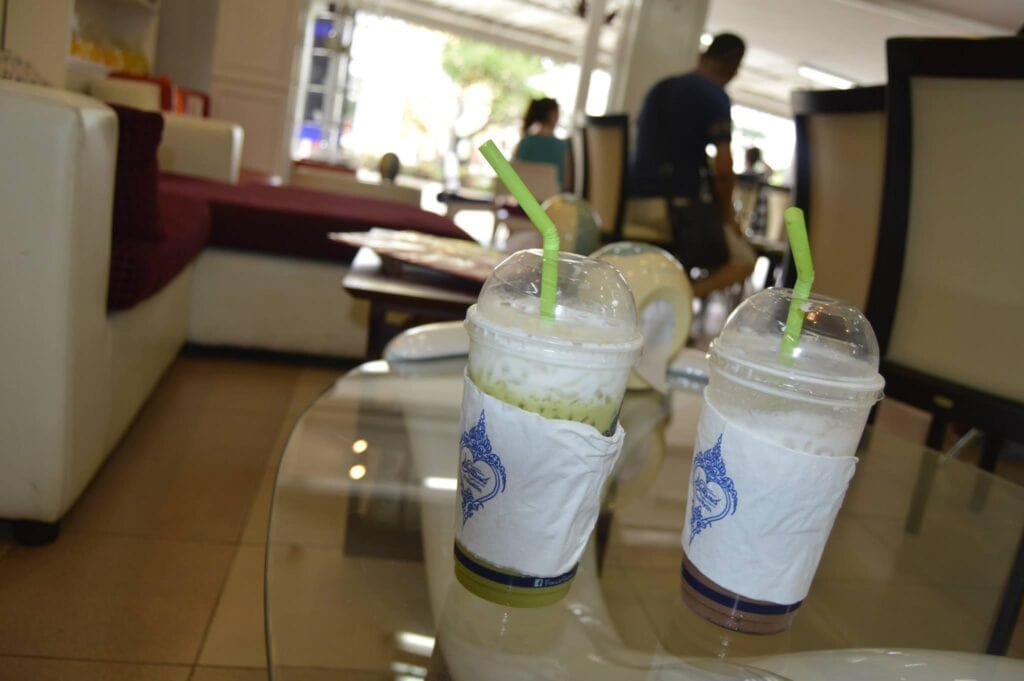 What is bubble tea? Bubble tea, also called boba tea or black pearl tea, is basically tea with milk and bubbles either made of tapioca or jelly. It is shaken and drunk cold. Today, it comes in different flavours such as fruit tea, green bubble tea or bubble latte. Most people in the world have tasted bubble tea at least once in their lives, as the trend and bubble tea franchises managed to spread worldwide with great success. Contributed by Mal from Raw Mal Roams
Trà Mạn,Trà xanh, Trà ướp hương – Vietnam
Tea is an important part of Vietnamese culture. Tea drinking happens at home, at work, during formal ceremonies, and during celebrations, and is offered on shrines to ancestors. It is common for hosts to greet their guests into the home with tea and small snacks while sitting and chatting on a patio or in the living room.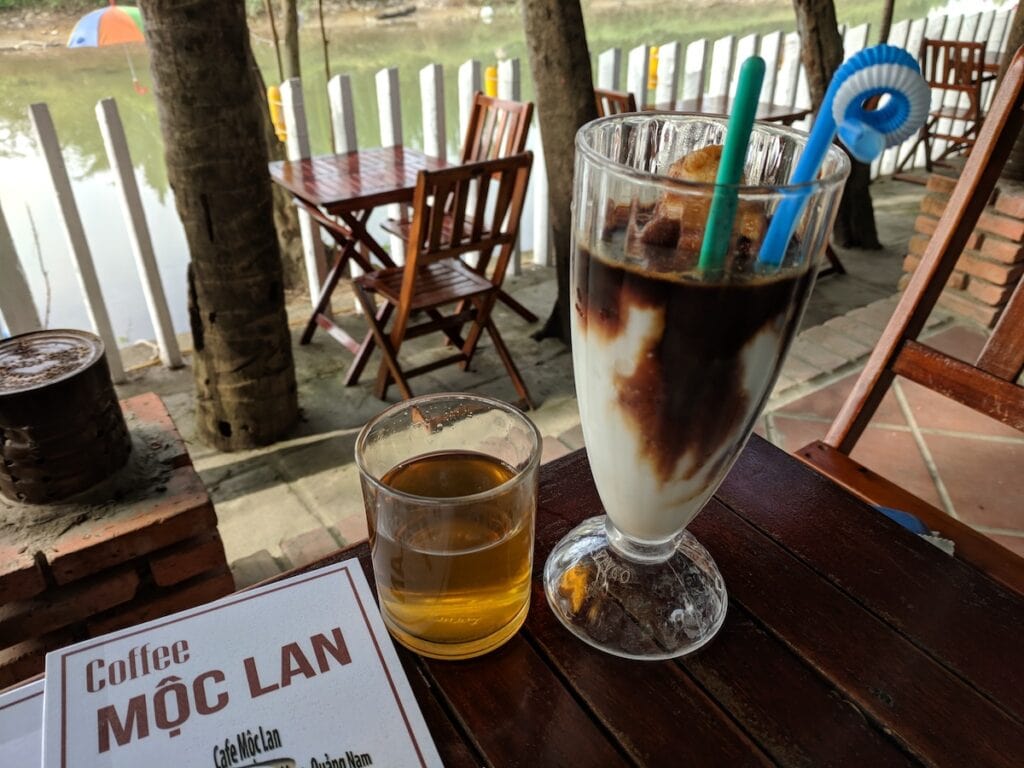 The ritual of tea even shows up in Vietnamese cafes. Often patrons of a cafe will be served a free cup of hot green tea upon sitting down. Even when ordering a coffee, the customer may be served complimentary hot tea as well. This may seem unusual to outsiders, but it's a symbol of hospitality that some businesses choose to demonstrate to their customers.
The three types of tea available in Vietnam include Green Tea, Black Tea and scented tea. Scented tea is made with lotus blossoms and it takes a very long time to infuse the tea leaves with the flavour and scent so the tea is very expensive.
There are many types of tea available in the country. In the popular destination of Hoi An, in Central Vietnam, one of the most common complementary teas served is made from pandan leaves. While not easily found in tourist shops, it can be purchased at nearly any grocery store in town. Pandan tea has a subtle flavour and pain-relieving properties. Contribution by Michelle C. from IntentionalTravelers.
Atay – Morocco
While it isn't illegal to have alcohol in Morocco, tea is more popular and consumed the most. Social gatherings and events traditionally involve brewing and then drinking hot mint tea. Moroccan mint tea isn't just for the mornings or after meals but is brewed and served fresh throughout the day.
Making tea is considered a sign of hospitality and friendship, and no matter if you're family or a traveller visiting Morocco, chances are the host at your lodge will make some for you. I had some at my lodge in Marrakech, and it was highly refreshing!
While women are in charge of the meals, the 'man of the house' traditionally undertakes the task and uses tea leaves, mint leaves and lots of sugar to brew it.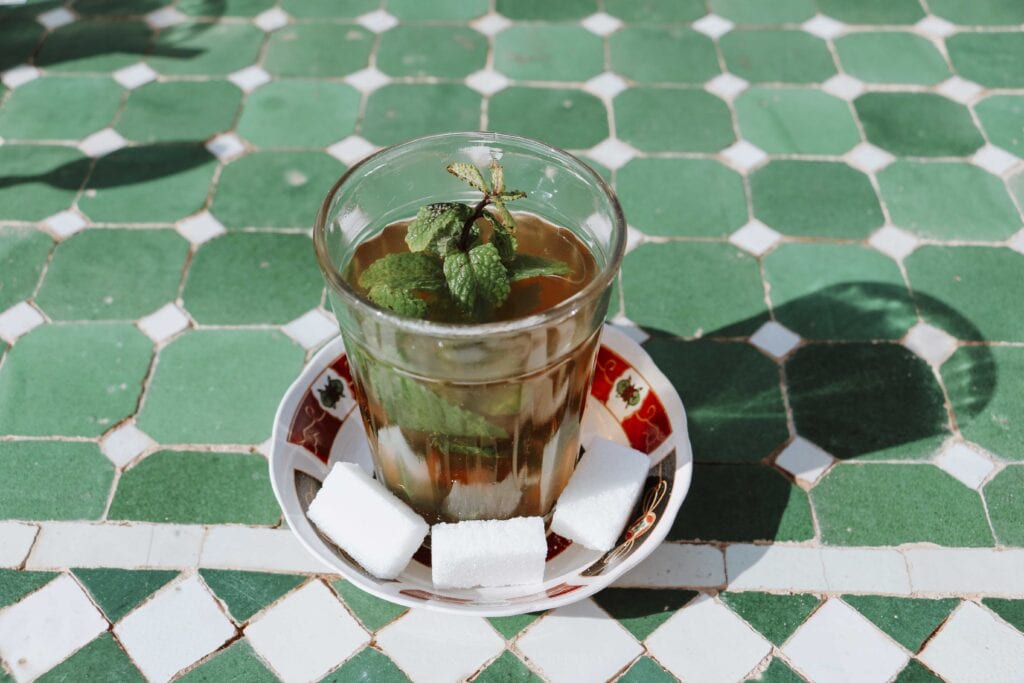 Tea leaves are boiled in hot water and then strained into the teapot. Sugar and mint leaves are then added at last. Once ready, the tea has to be poured from a height of at least 12 inches in such a way that it causes the foam to form at the top of the glass. Only when it does is the tea considered ready to be drunk.
Sometimes, if the foam doesn't form it is poured back into the teapot and brewed for a little while before repeating the process again. Tea here is served in tiny tea glasses that look like shot glasses. Having tea is a ritual enjoyed slowly while you have a chat and enjoy your surroundings and company. Contributed by Lavinia from Continent Hop
Tea Ceremony – Japan
The Japanese Tea Ceremony is a way of preparing and drinking green tea and is typically done in a traditional tearoom. Kyoto is a great city to experience a tea ceremony for the first time. Some tea houses in Kyoto will offer classes to tourists who want to learn the traditional tea ceremony and will also encourage you to wear kimonos they provide.
Guests who are part of a tea ceremony ideally sit in a seiza position on a tatami floor. A seiza position is where your legs are bent and knees are forward, and you are sitting on your heels. (For some people, this is very uncomfortable!)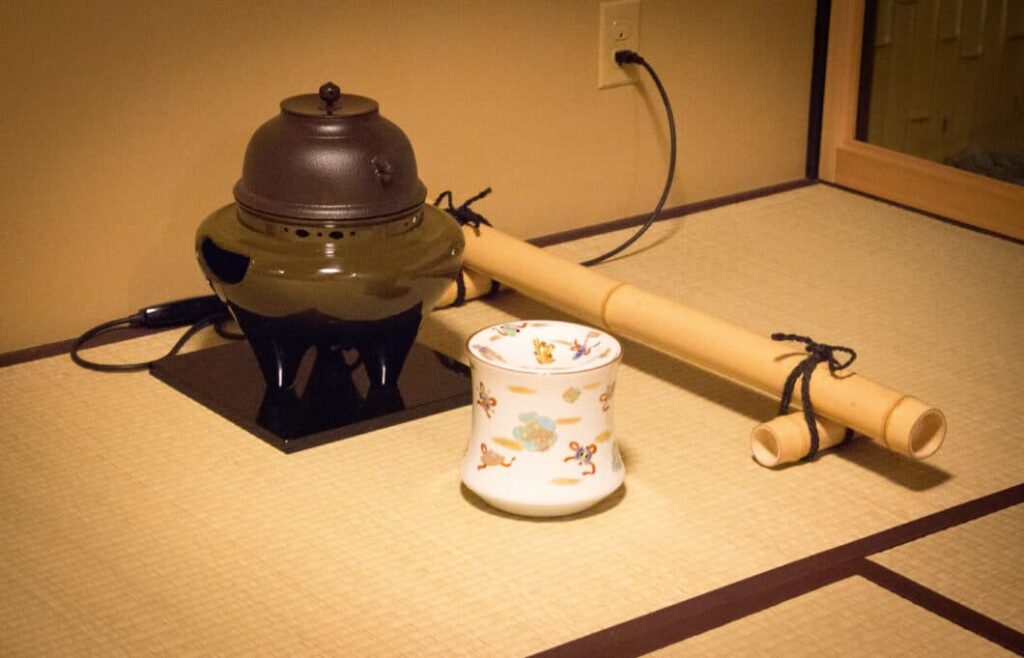 Once seated, the host of the ceremony typically prepares the tea in front of the guests. A tea whisk, a container filled with powdered green tea, a tea bowl, a kettle and a brazier are the main pieces of equipment needed for the ceremony.
A sweet will typically be served first. Then, the tea bowl is placed in front of a guest, with its front facing them. They will pick it up with their right hand and place it on their left palm. Then turn it clockwise so that the front is not facing them. The tea should then be drunk in a few sips and set back onto the floor.
Slurping the last sip of your tea is actually a sign that you enjoyed the tea and is a compliment to the host. A formal tea ceremony can take several hours. However, most tea ceremonies nowadays are much shorter in length. Contributed by Lindsey Puls of Have Clothes, Will Travel
Teh – Bali
Bali might not be the first place you think of when it comes to tea ceremonies. While Indonesia has a lot to offer, tea is not what people tend to associate with it. However, in the heart of Bali, close to Ubud you'll find that tea tastings are actually quite common. The best part is that they're usually free!
Bali is actually known for speciality coffee, not tea. Luwak coffee is actually made from beans that were digested by little ferret-like animals called luwaks. The coffee plantations have become a tourist hotspot and not all visitors know that a lot of different teas are also produced here. Both the teas and coffees are sold on-site and to promote their products most plantations offer their tastings for free. You can simply come by without having to pre-book anything. You'll get a quick tour of the location and even an introduction to the process of how the teas and coffees are made.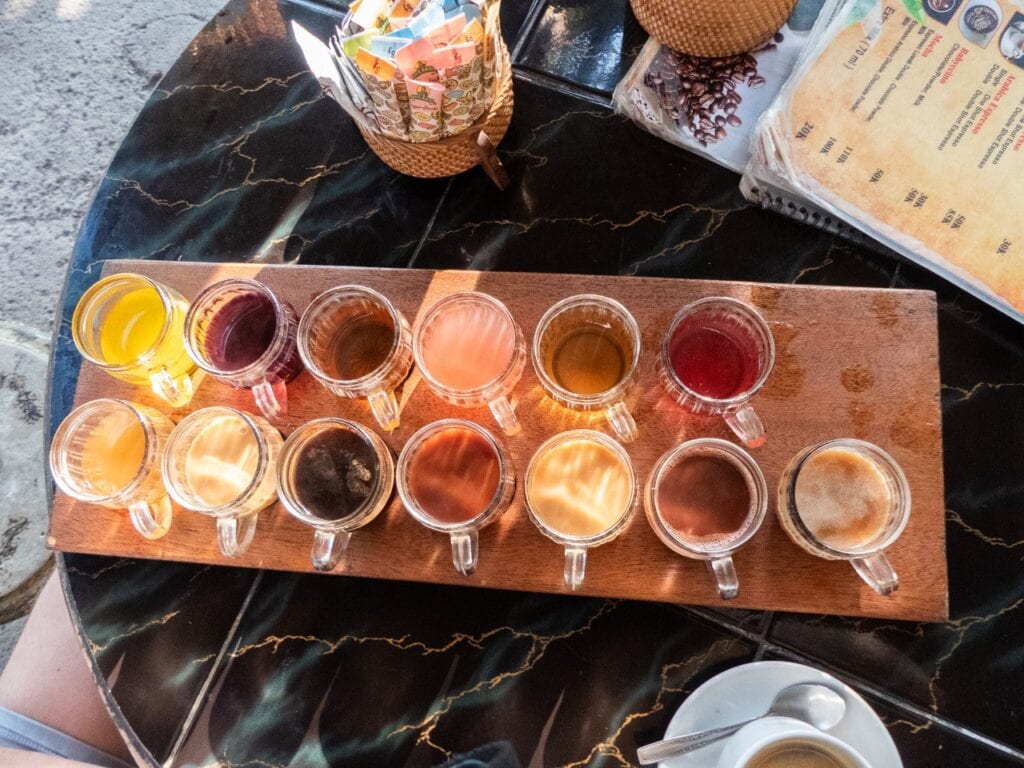 Then you'll get to try thirteen different coffees and teas with unique flavours. These include things like Rosella Tea, Ginseng, Vanilla, or Mangosteen. You'll be amazed at the variety and how delicious they are. If you enjoy a flavour you can buy it right then and there. No pressure to spend money though! You can simply leave without buying anything as well. Contributed by Victoria of Guide Your Travel.
Tea – Malta
Malta's strategic importance as a trading post and the naval base has made it an attractive place to possess. Arabs, Romans, Crusaders, French, and British, among others, colonized the islands at various times. Each group left its mark on Malta's language, architecture, customs, traditions, and food.
These influences extend to tea. Given its location and colonial influences, it's not surprising that tea enjoyed throughout the archipelago runs the gamut of the varieties enjoyed elsewhere around the world. But what is traditional Maltese tea? At the heart of Malta's tea culture is pastizzi and it is only when one orders pastizzi and tea that traditional Maltese tea is revealed.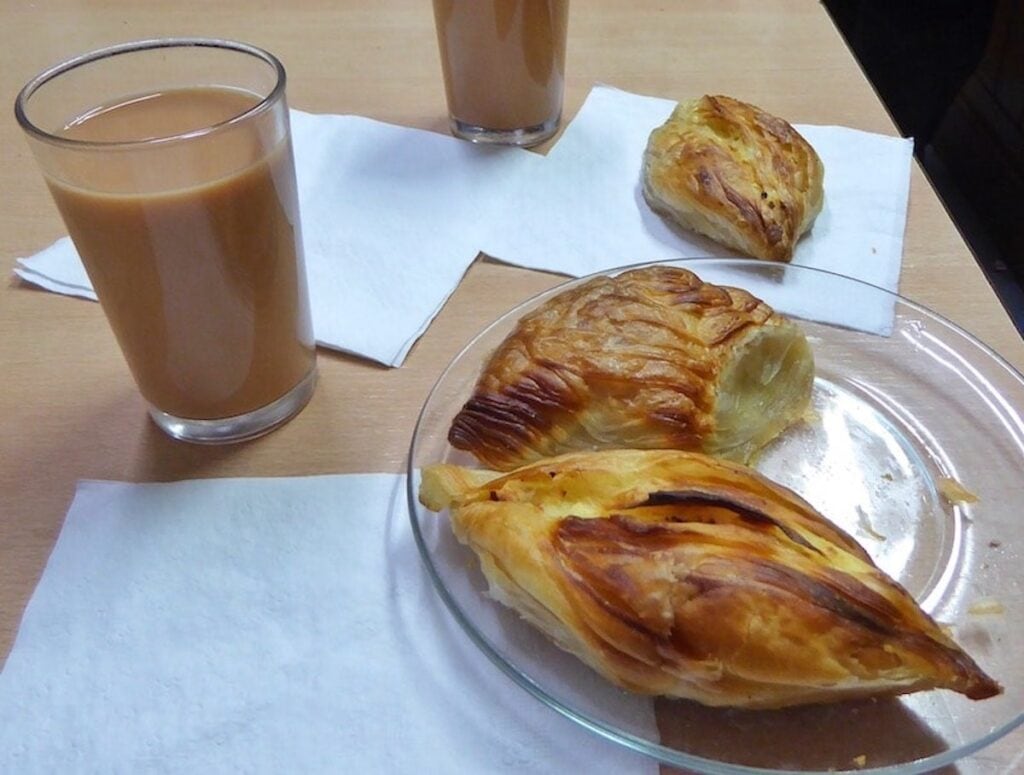 What are pastizzi? Pastizzi are a popular savoury snack resembling a small diamond-shaped croissant. These pockets of flaky goodness are stuffed with either salty ricotta cheese or mushy peas. They're widely available and typically bought from pastizzerias found in every village. The most famous pastizzeria is Is-Serkin (Crystal Palace) in Rabat on the island of Malta. Its status is legendary; its pastizzi is reputed to be the best in the islands and oft-cited as one of the many interesting things to do in Malta.
Ask for tea with pastizzi and it will be served in a glass. It will be black milky tea, with the milk from a can of evaporated milk. Contributed by Anne Betts from Packing Light Travel
Food in Malta – the ultimate guide
Karak Chai – Qatar
Ever since it was introduced to the country in the 1950s by migrant workers, Karak Chai has become a staple beverage in Qatar and a part of the nation's culinary heritage. Similar in appearance to Masala Chai, this tea tradition's Indian-Pakistani roots are undeniable. But the addition of Qatari cardamom makes the flavour completely unique.
It was workers who first brought the recipe to Qatar and local cafes that put their own spin on it. For travellers, grabbing a glass or two at one of the restaurants or roadside stalls around Souq Waqif is the perfect way to start your day in Doha.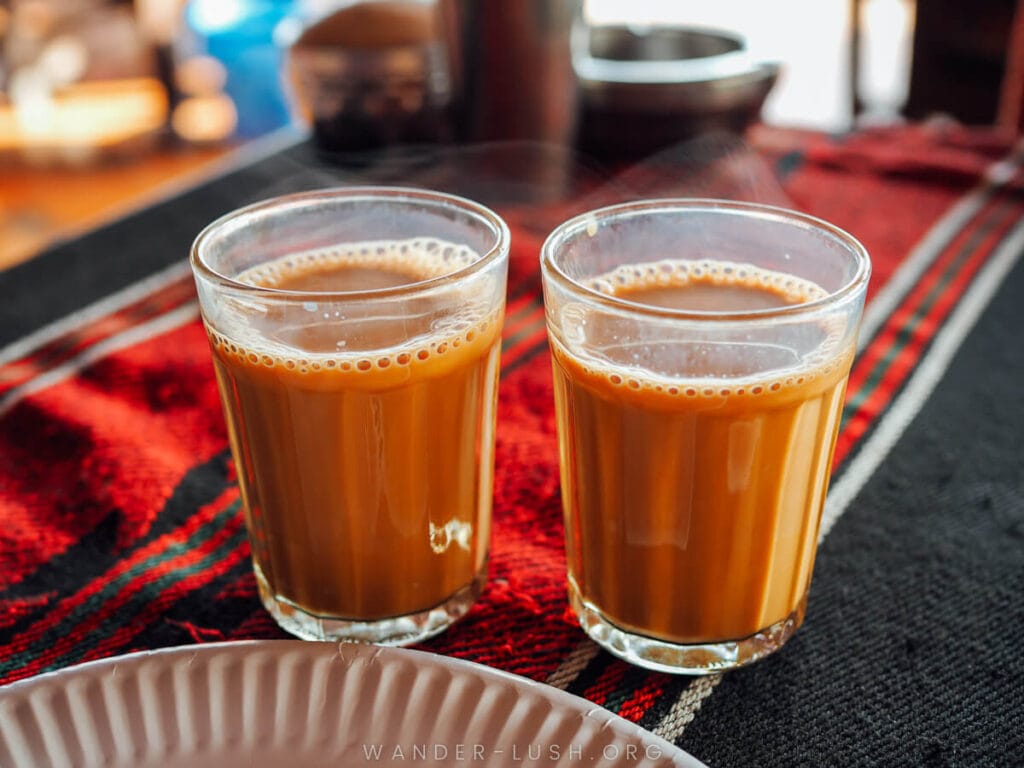 The main ingredient in this classic spiced milk tea is Qatari cardamom. Sometimes cinnamon, cloves and/or ginger are also added. Karak tea is made by boiling loose black tea leaves and spices along with milk (either fresh or evaporated) over low heat to infuse the flavour. It's then served in small glasses with a healthy spoonful of sugar added to bring out the fragrant spices.
The ritual of sipping Karak tea with friends, perhaps with a hookah pipe and a plate of dosas to share, is an ingrained part of Qatari culture. As well as cementing social bonds, the tea itself is said to be good for your gut, helping to ease inflammation. Contributed By Emily from Wander-Lush.
Tea and biscuits – United Kingdom
Did you know that there is a booming tea tradition in the United Kingdom? England is not just famed for its fish and chips and red phone boxes. Over the years tea drinking has become more popular than drinking water for many people.
Even though you'll find some of the best coffee in the world in the UK, it is said the Brits drink up to 165 million cups of tea every day. So not only is tea an integral part of the British identity, but it is also a cultural mechanism that has supported the rise of the British Empire.
You can find tea houses and tea rooms all over the UK and even iconic brands such as Twinings, which have had tea shops in London for centuries. Many other original tea brands still exist today. It is a custom to drink tea mixed with milk and sugar which was one of the hooks that saw even more Brits armed with the nation's favourite hot drink.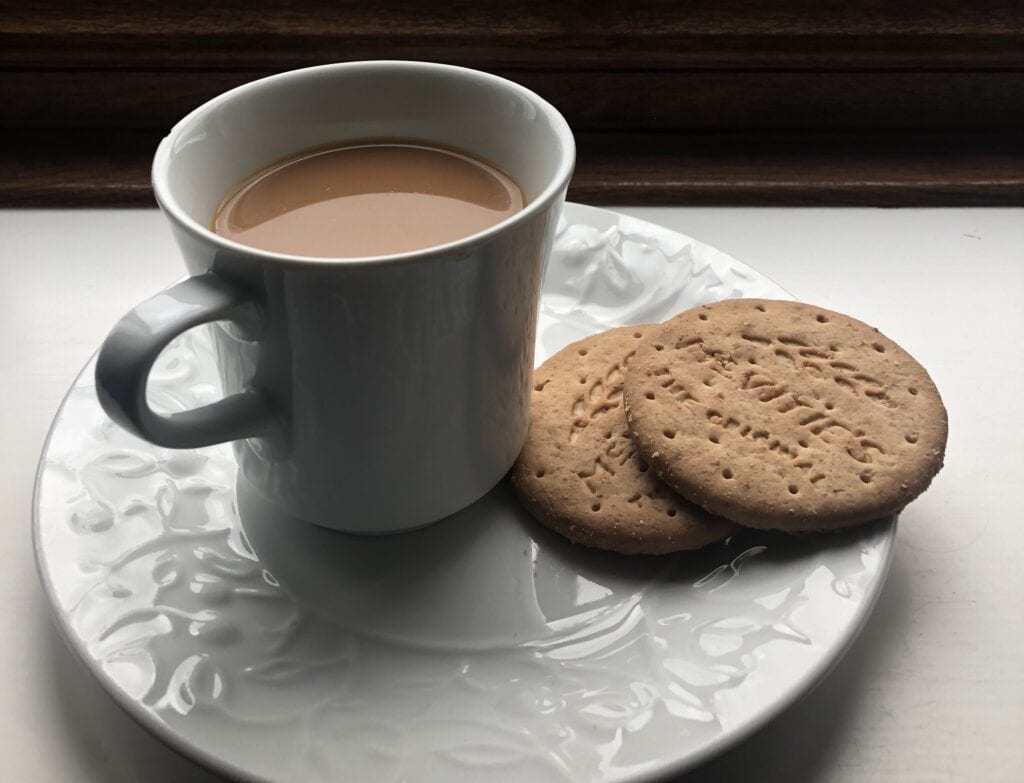 Today it's common to dunk your biscuit in your tea which is somewhat of a custom that has even been outlawed in certain British tea rooms. However, this is a favourable trait for anyone who is accustomed to drinking copious amounts of tea on a daily basis. You'll find that Mcvitie's Digestives are one of the favourites amongst many tea drinkers who can not resist dunking. Contributed by Daniel of Layer Culture
59 Traditional British Foods – from the sublime to the WTF
Cay – Istanbul
Tea in Istanbul is not so much a separate ritual as it is a constant. You're never far from a shapely small glass of hot, strong tea. The sweet chiming of little spoons against the sides of tea glasses is as much a part of the soundtrack of the city as the calls of the seagulls are. Many drink their tea sweet here. And those sugar cubes resting in the deep saucer next to the tea glass – they're wrapped, like a little present.
There is tea alongside the rich Turkish desserts and sweets they enjoy in the afternoon. There are lush tea gardens – çay bahçesi – tucked between buildings, oases for respite and conversation. There are tea stalls at the train station, in the grand bazaar, and even – from the back of a little tricycle truck – in the middle of the Galata bridge.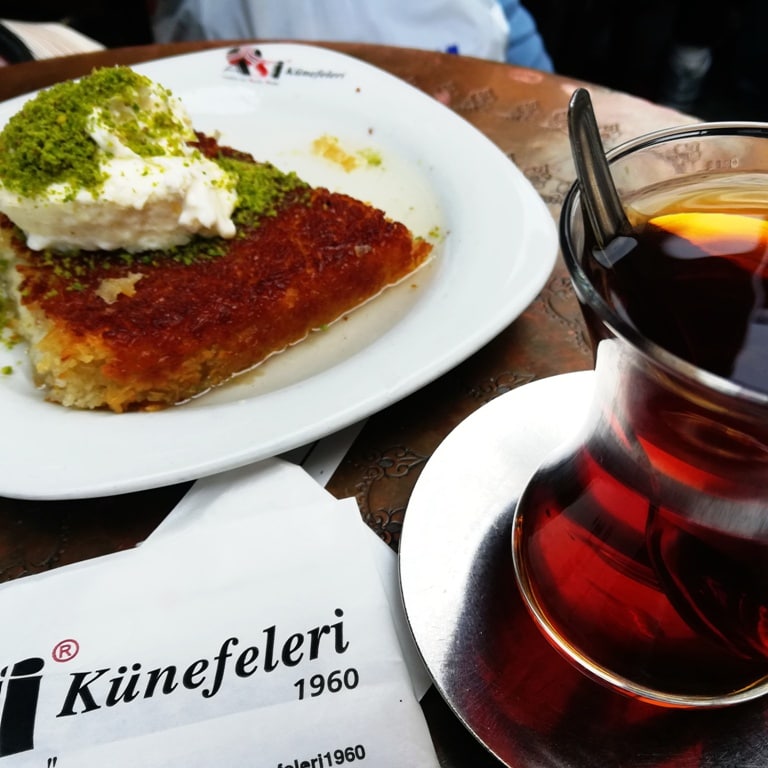 If you're serving your own tea in your hotel, you'll need to know how to do it. People drink a lot of tea throughout the day, and everyone has a preferred strength, so as to pace themselves for a day of many glasses of tea. There usually are two samovars – one is filled with super-strength brewed tea, and another one is filled with hot water to dilute it to the ideal strength. Try filling your glass by perhaps just a third with the strong tea, then topping it off with hot water to start. Sometimes there are fresh mint leaves to add.
For a classic – yet completely different – Istanbul tea experience, book a table for the afternoon tea at the Pera Palace. This magnificent hotel was built to accommodate the passengers of the Orient Express in style. The grand salon of the hotel is spectacular, fragrant with tall arrangements of fresh flours, gleaming with polished wood everywhere.
A ceiling of six high leaded glass domes fills the space with gentle light. Tea is British style, served in cups with handles and with milk on the side. Scones and pastries and savouries are piled onto tiered trays. There is also a French tea, with more savouries. This may not be Istanbul's most classic tea experience, but it's surely the grandest. Contributed by Amber of Provocolate.
Myanmar tea culture
Myanmar is a nation of tea-drinking fanatics! Tea shops are the hub of neighbourhood or township gossip and endless cups are consumed starting from very early in the morning.
Myanmar food culture is extremely important and there are many rituals and festivals that involve cooking and eating. Tea leaves are eaten in ritual and everyday snacks and salads.
There is no ritual around the way in which tea is made, poured or consumed, but drinking tea in tea shops is a fundamental part of everyday social life.
Tea is grown in the northern, eastern and some central parts of Myanmar. Black tea with milk or condensed milk is sold in tiny cups but black herbal tea is also produced in enormous quantities!
Tea shops are often just the concrete or wooden and tin shell of a building. They are often dark inside. Tiny stools are placed around low tables. In cities, regular-sized tables allow for meals rather than snacks to be more easily eaten with tea.
Tea is the first thing you will be invited to have with locals in Myanmar. It is boiled for about twenty minutes and then kept hot in a large thermos to be offered to guests throughout the day. By Monique at Trip Anthropologist
Butter Tea – Ladakh India
Cut off from the rest of the country by the mighty Himalayas, even the tea in Ladakh is different from the plentiful chai throughout the rest of India. Served across the Himalayan region, Butter Tea is milky, salty and a little oily to the taste and is designed to ward off the harsh mountain weather.
Take a trip to Thiksey Monastery outside of Leh for your chance to experience Butter Tea in the company of young monks. Although the tea ceremony is popular and sometimes touristy, it's well worth it for the stunning views out onto the Ladakhi landscapes. Butter tea is traditionally made with Yak Butter and is designed to provide energy and warmth for those living in the high-altitude Himalayan region where the air is thinner and exercise is more tiring. The tea provides a burst of energy.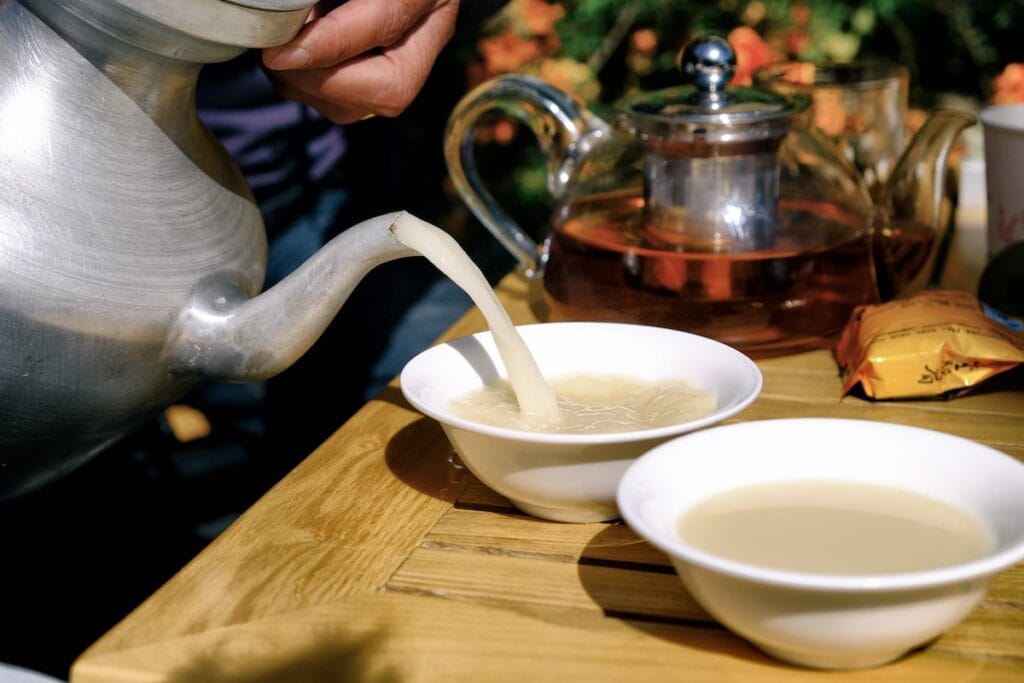 Butter Tea is served to visitors at Thiksey Monastery if you come for the morning Pooja (prayer ceremony) with the novice monks and their elders between 6 am – 8 am. It's worth the early start – Thiksey is one of the largest gompas (monasteries) in Ladakh and its towering presence can't fail to impress. Contributed by Ellie of Soul Travel India.
Black tea, green tea, herbal tea flower tea and all the rituals surrounding the tea we love is fascinating to me. I remember my mother having a brown ceramic teapot that was never washed because it would ruin the flavour of the tea. Personally, I don't have a favourite tea but would love to try them all how about you?
You might also like
The ultimate guide to coffee around the world – 33 coffee traditions and rituals
UNESCO Intangible Cultural Heritage – food
Bosnian Food – 33 delicious dishes you must try
Weird American food – 32 dishes to try
Jewish food traditions an essential guide
World of Drinks – the weird and wonderful
A Guide to Mexicos Best Drinks
Article originally published on The World's Kitchens
Pin it to save it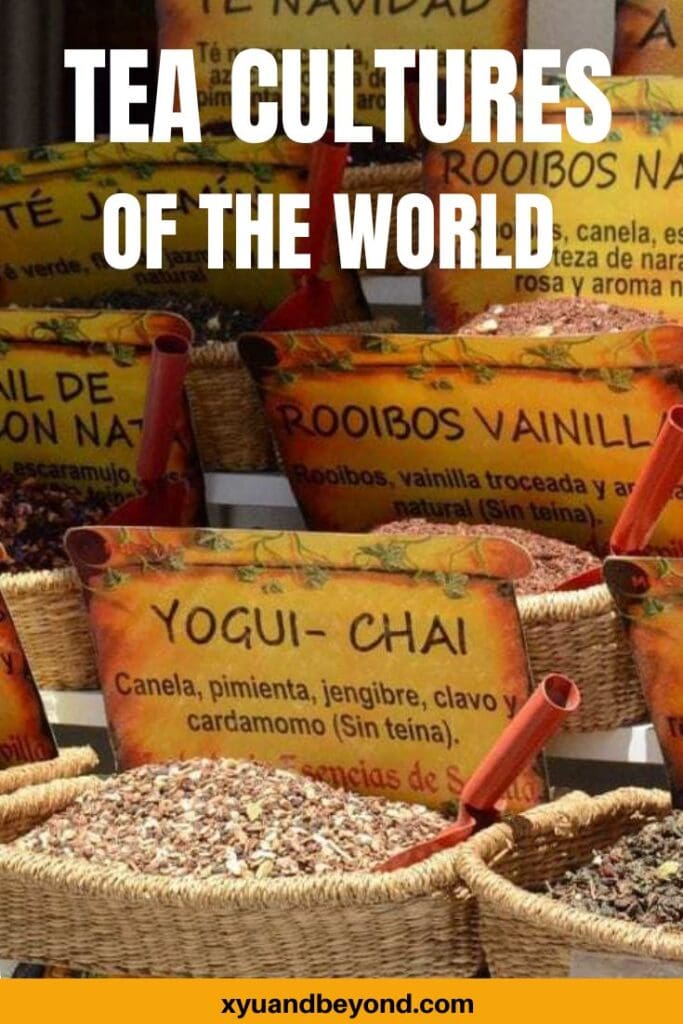 Latest posts by Faith Coates
(see all)