Bosnian Food – 33 delicious dishes you must try
Bosnia and Herzegovina cuisine is not your traditional Balkan cuisine but a carefully balanced food culture representing both Eastern and Western food influences. The food of Bosnia combines Balkan, Middle Eastern, Austro-Hungarian and Mediterranean influences which can be seen in Bosnian cuisine around the country.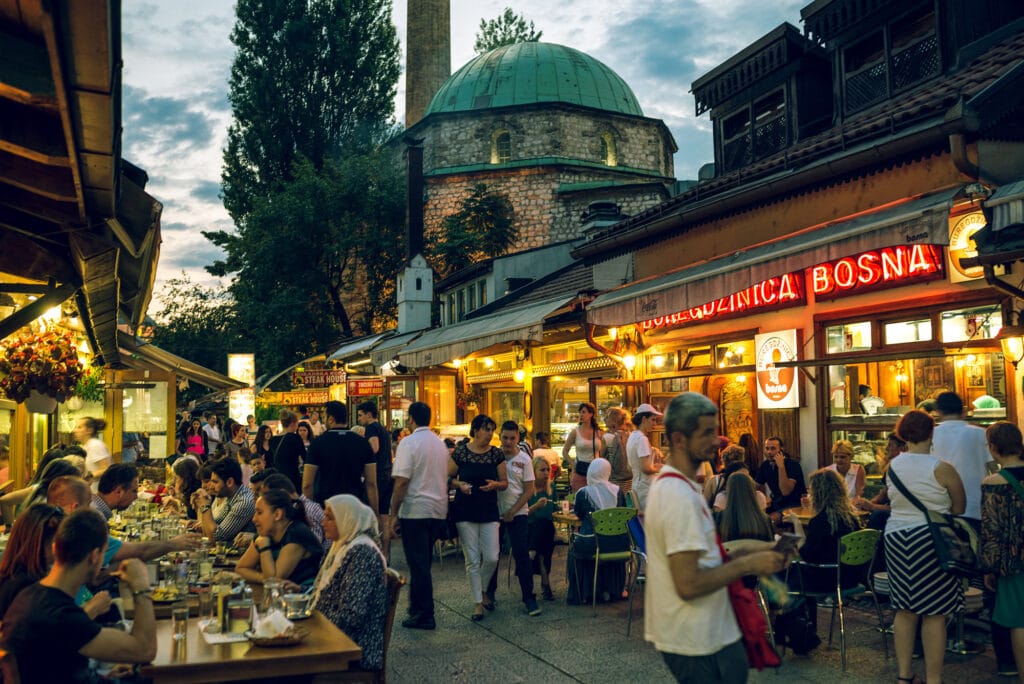 Bosnia and Herzegovina is a small country located in Southeastern Europe. Bosnia is located in the Balkans. The capital and largest city is Sarajevo. Bosnia and Herzegovina border Serbia to the east, Montenegro to the southeast, and Croatia to the north and southwest. Bosnia has a small piece of the Adriatic coast of around 12 miles long. The larger region of Bosnia occupies the northern and central parts of the country, and Herzegovina occupies the south and southwest.
Bosnia does share a lot of culinary traditions with neighbouring countries such as Greece and Turkey and traditional Bosnian food harks back to the Ottoman Empire. With a large Muslim population, you will see food that is Halal and for Muslims, that means no pork but many typical Bosnian dishes revolve around vegetables and beans which are harvested locally.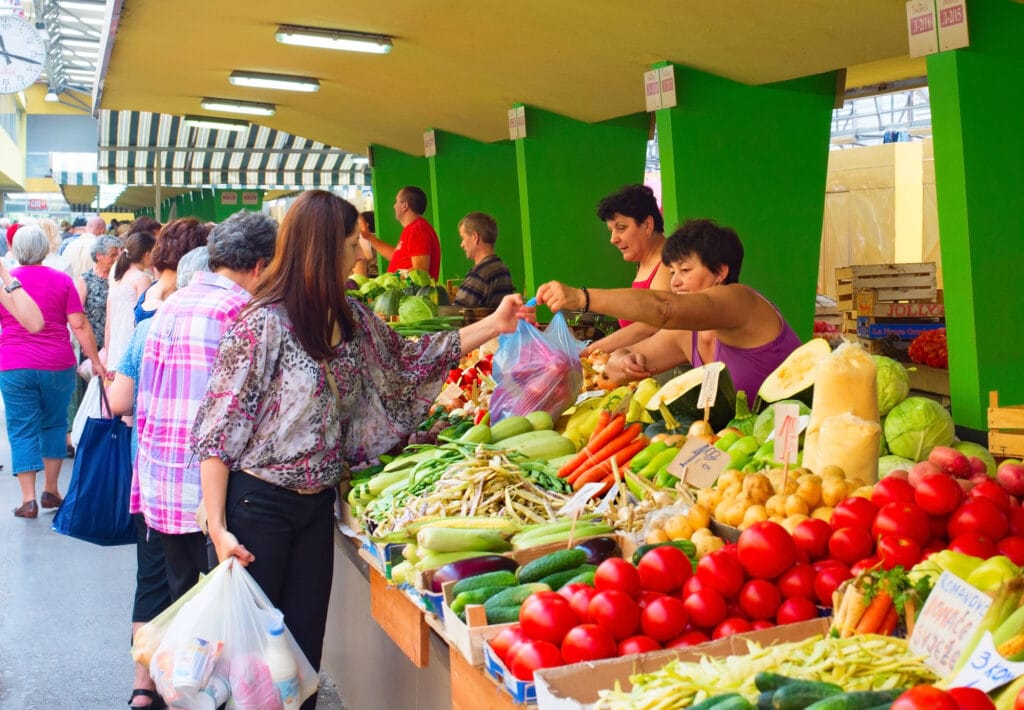 Bosnia and Herzegovina foods
Bosnian meat dishes tend to be beef and lamb based and served grilled or stewed. Few spices are used in Bosnian recipes but the dishes are really flavourful. Bosnians love a good hearty stew or soup and many dishes in Bosnia are rice-based or include stuffed vegetables and beans. Grah is a traditional Bosnian bean soup and Prebranac is a rich tasty version of baked beans made with Lima beans.
If you are looking for an 'authentic' Bosnian dining experience, you should check out an aščinica. These are traditional Bosnian cafeteria-style restaurants. In Sarajevo, aščinice began to open at the end of the 15th century and beginning of the 16th century, and are located mainly in the old part of BiH cities.
Bosnian spices include include ground paprika, pepper, salt, parsley, bay leaf and celery and Bosnians don't typically use a lot of spices or seasonings apart from salt and pepper allowing the flavour of the ingredients to shine through.
In Sarajevo aščinice, which are traditional Bosnian dishes are served in the aščinica restaurants. This is similar to a Turkish or Cypriot Meze of numerous small dishes. These places offer stuffed peppers, shish kebab, small kebab, hadžijski ćevap, stuffed cabbage, japrak, sogan-dolma, duck, tripice or škembići soups, veal and lamb served in various ways and klepe, and for dessert, there is kadajf and hurmašice.
What is the National Dish of Bosnia?
Bosanski Ionac – Beef stew
The national dish of Bosnia alternates layers of vegetables and beef into a stoneware pot and is cooked for hours until the meat just melts in your mouth. Vegetables can include anything grown in the garden including tomatoes, potatoes, cauliflower, carrots, peppers and garlic.
A famous Bosnian food and Bosnia's other national dish is cevapi which is a sort of sausage-like meat that is made from minced beef or mutton. Cevapi is the Bosnian kebab and is served in most restaurants along with raw onions, sour cream and somun.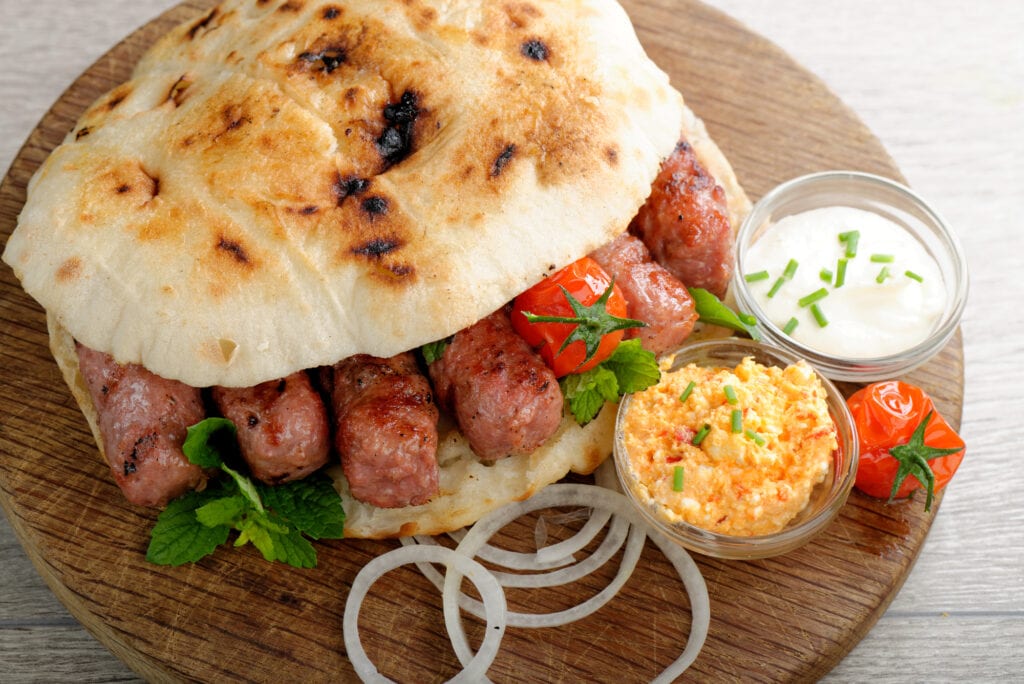 Somun
Somun is a pita style of flatbread it came originally from Turkey where it is known as pide and in the west as pita. Somun has a very important place in the celebration of Ramadan.
Ramadan somuni are sprinkled with black cumin seed, which gives a special flavour and aroma to the bread that Bosnians adore. In the Islamic world, the black cumin seed is called Habbatul barakah (the blessed seed), because the prophet Muhammad said that the black seed-black cumin contains medicine for all diseases except death and that this plant brings luck and prosperity.
What do Bosnians eat for breakfast?
Cornflour Porridge – Pura s lučinicom and Cicvara
This porridge style of dish is a traditional Herzegovinian dish made with corn flour. Corn flour is not the stuff you can buy in the Western world as it is a rougher heartier grain that has been stone milled. It is mixed with water and kajmak which is like a clotted cream and cooked. When ready is drizzled with butter, homemade sour milk, and honey.
Savoury Donuts – Ustipci and Peksimeti
Pronounced "ush-teep-tsee" these are little balls of fried dough and in Bosnia, they are served savoury sprinkled with salty and spread with Kaymak they are a quick on-the-go snack or breakfast. You will find them served in place of bread in many Bosnian restaurants and cafes.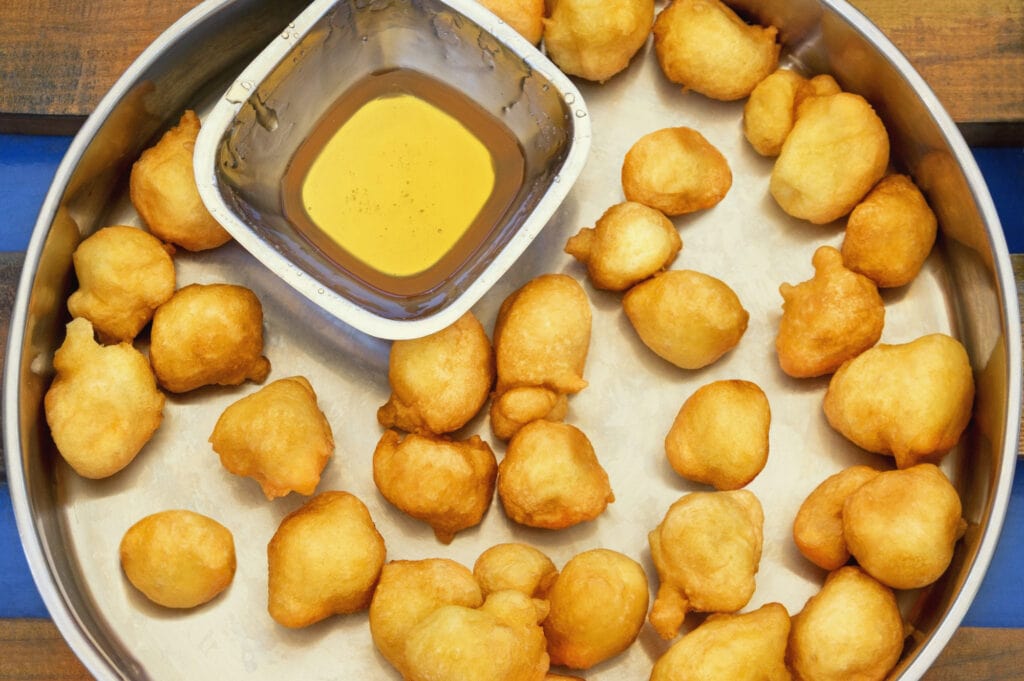 Palačinke – Crepes
Crepes are served all over Europe, not just in France and here in Bosnia, they are available everywhere. They can be served sweet or savoury and sometimes deep-fried or baked. Sweet crepes will have fillings like chocolate or Nutella, whipped cream, walnuts, honey, sugar, jam, or marmalade.
Similar to the Breton galette but made with regular flour the savoury crepes are filled with everything from cheese to various sliced meats and ham.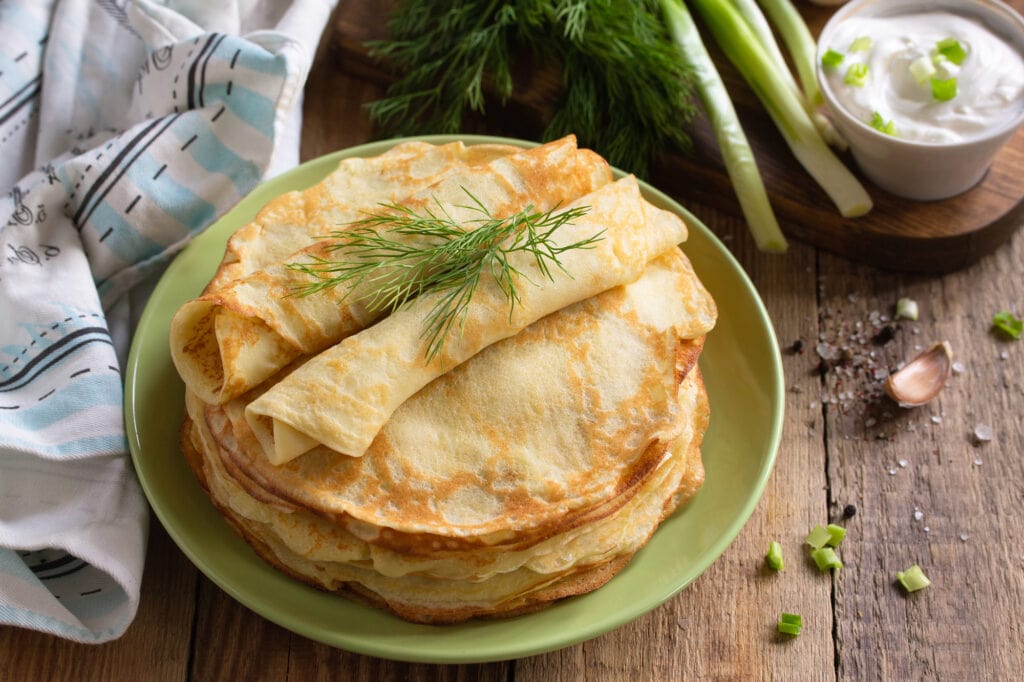 33 Bosnian foods you must try
Bosnian Pita – Burek or Borek
You may never have heard of a Bosnian pita but this is a burek by another name and one of my favourite things on earth. Bureks are made with massive sheets of filo dough that you can literally read a newspaper through. The dough is then rolled up with fillings that could include seasoned minced beef, this is a burek.
A sirnica is a version with cheese and a krompiruša is filled with potatoes you will find these lovely morsels at a buregdžinica which is a specialized bakery.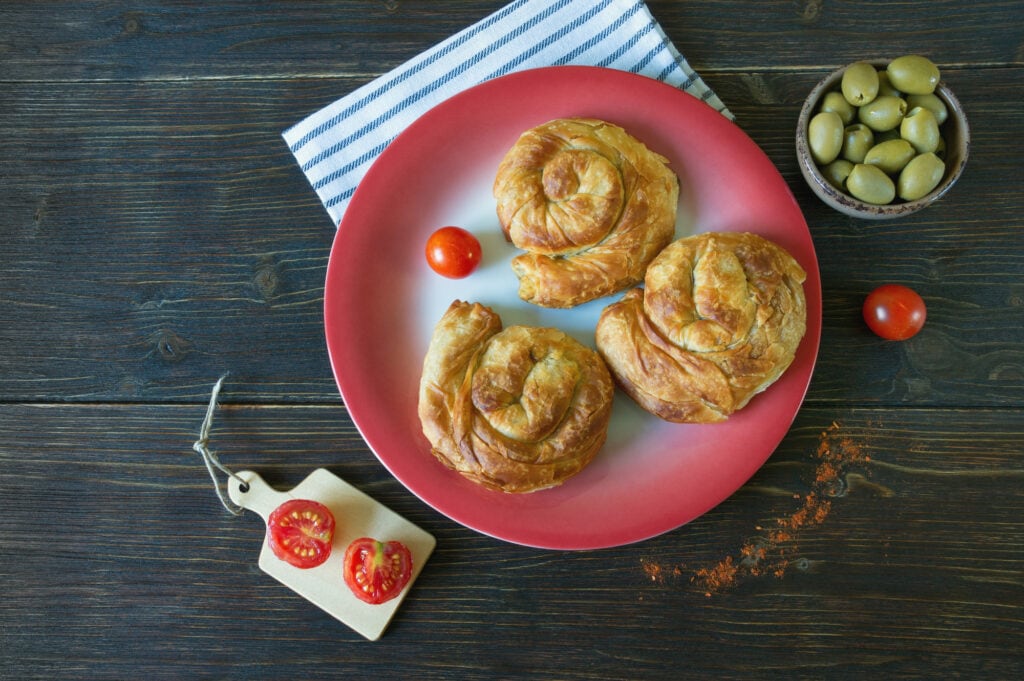 Klepe – Dumplings
If you love dumplings (and who doesn't) you will love klepe. This is a small steamed dumpling stuffed with either cheese, beef or lamb with the meat versions including onion. Served with garlic sauce and yoghurt.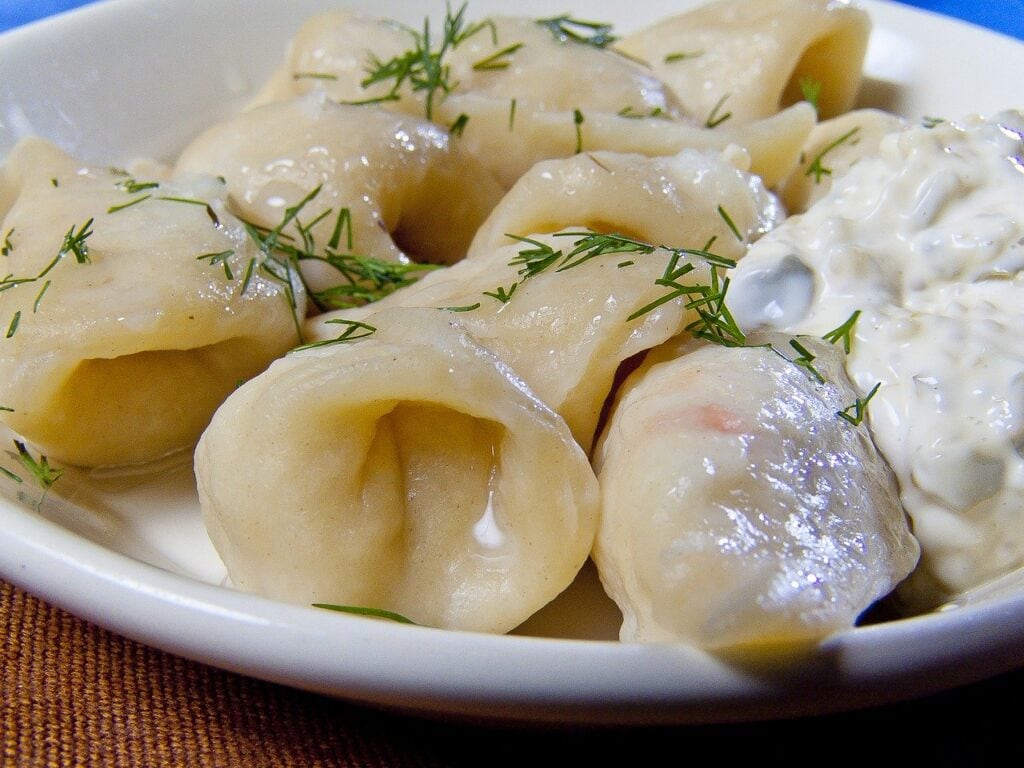 Dolma – stuffed vegetables
If you know dolma you know it's a meat and rice-based stuffing inside a grape leaf. In Bosnia, the stuffing is put into zucchini, bell peppers or eggplant. You can have either rice stuffed or meat stuffed and rice dolma is served with a garlic sauce and the meat-based is served with a lemon-based sauce. The dish can be made vegan or vegetarian.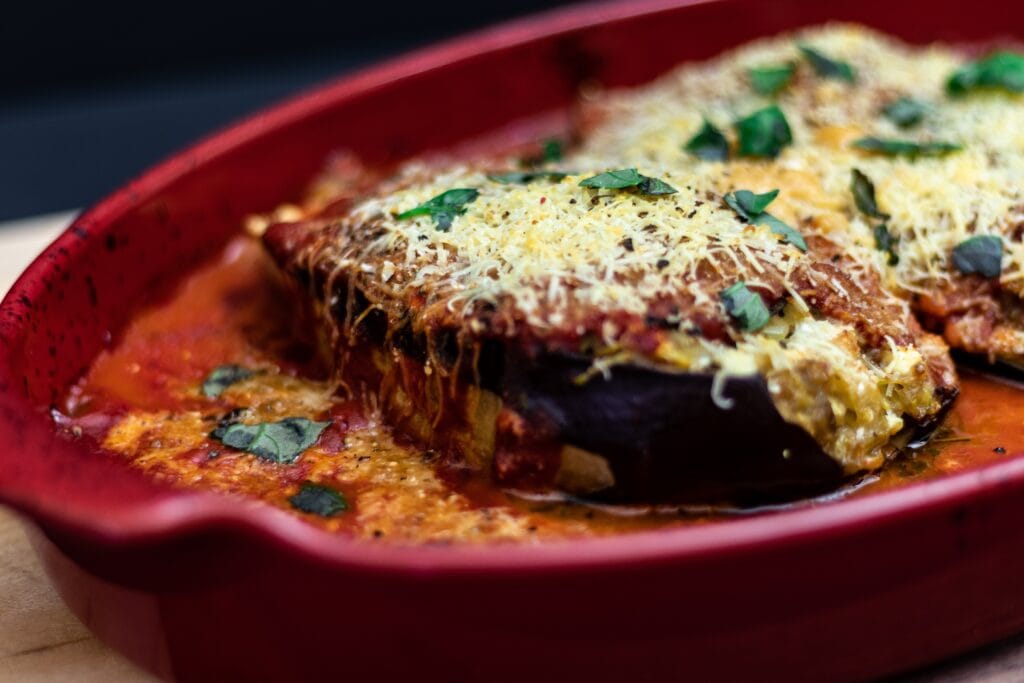 Sogan Dolma – stuffed onions
Sogan Dolma is a traditional Bosnian dish of a stuffed onion, the stuffing is seasoned beef in a sweet onion.
Punjena paprika – stuffed bell peppers
Small sweet peppers are stuffed with seasoned meat and rice and cooked in a tomato sauce.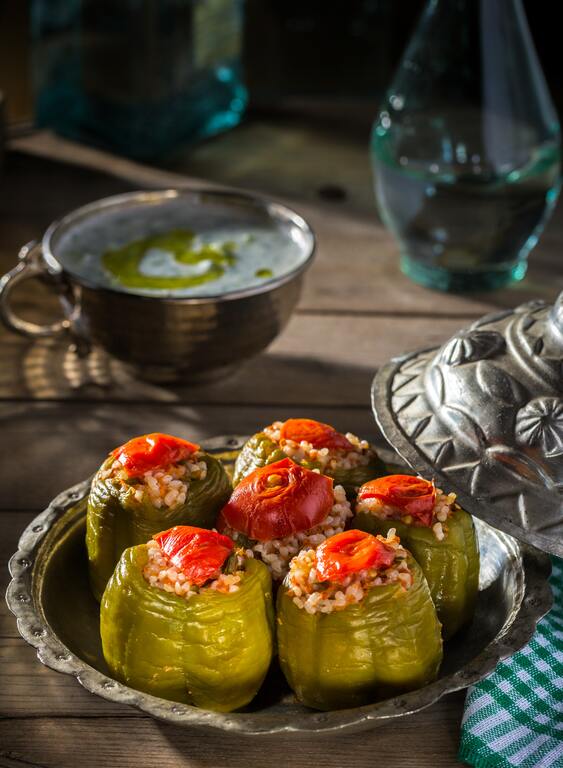 Grah – bean soup
As mentioned above Grah is a Bosnian bean soup made with a large white bean called a peruano. The soup also contains beef, onions, carrots, peppers and various seasonings.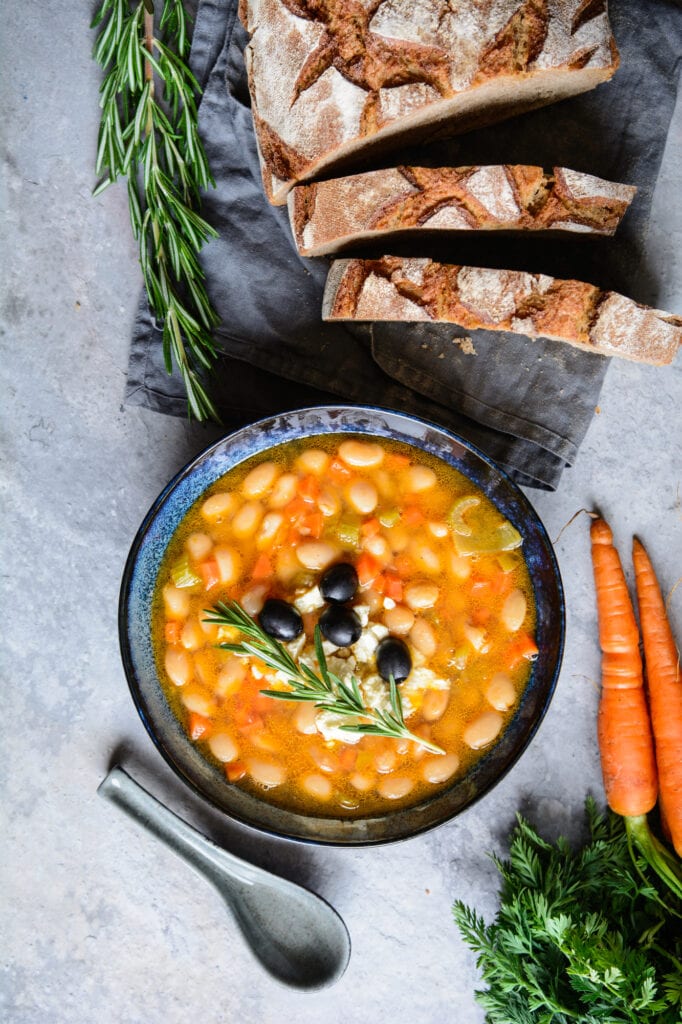 Pasuli Soup – white bean soup
This is a Serbian white bean soup made using the tetovac bean which is a large flat white bean rather like a butter bean. The recipe blends tomato, paprika and creamy white beans with peppers and is tangy and warming on a cold day.
Prebranac soup – baked beans
A dish of usually lima beans with lots of paprika, sweet onion and flavoured with bay leaf. This is also served as a soup and is vegan.
Tarhana corbasi soup – Fermented grain soup
Tarhana corbasi is originally from Turkey Tarhana is a dried food based on a fermented mixture of grain and yoghurt or fermented milk with a coarse crumb. Tarhana is made into a popular winter soup with stock, water or milk, with onions, tomatoes, red and green peppers, mint, and yoghurt. It has a rather sour taste but is a popular traditional Bosnian dish.
Begova Corba – Bosnian chicken soup
Chicken is cooked slowly with sour cream, dried okra, celery and carrots in a clay pot. Traditionally known as Bey's Soup it is a recipe descended from Ottoman cuisine. It is served with sour cream and fresh or dried herbs sprinkled on top.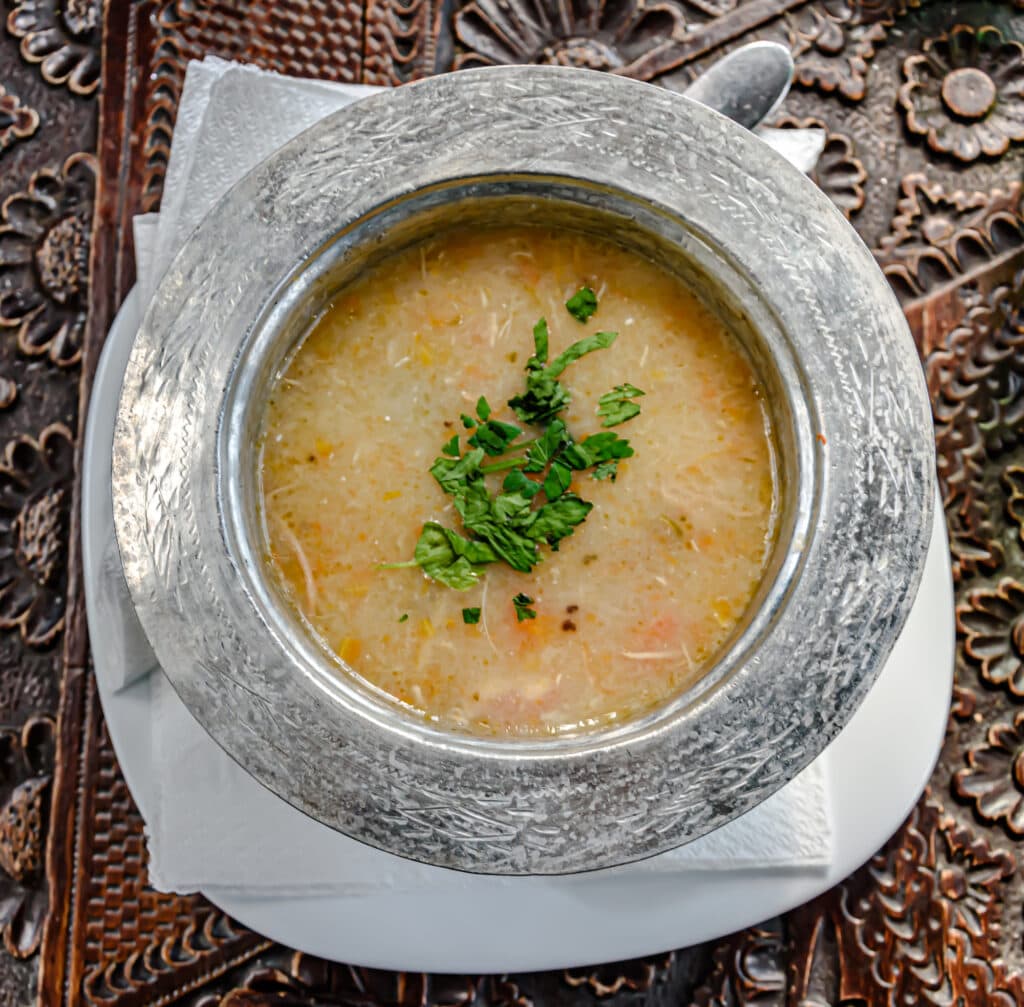 Rostilj – Barbecued Meats/Mixed grill
A rostilj usually contains many types of meat but cevapi is always on the platter. Other meats include sudzuk beef sausages, steak or grilled chicken, and on the side are baked potatoes, fries or salad.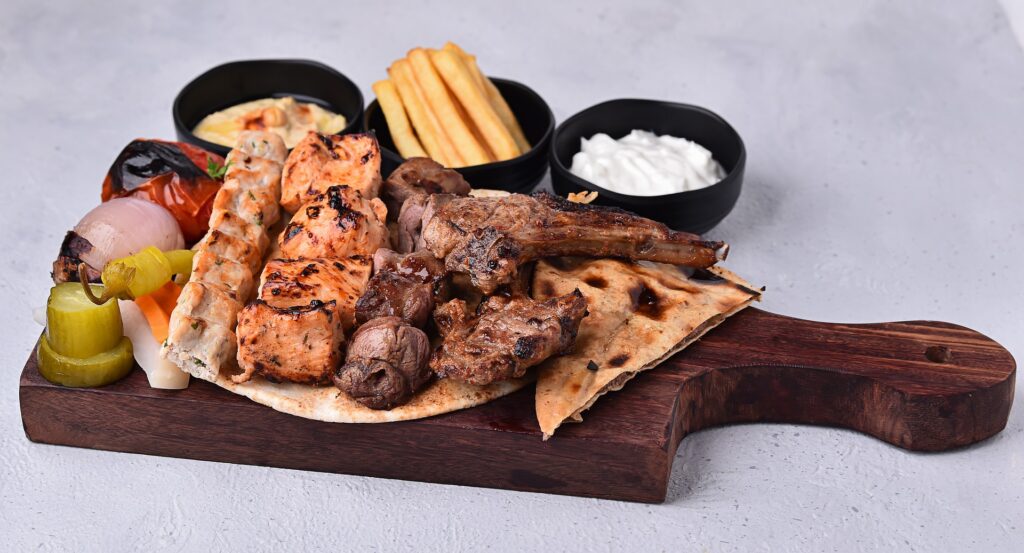 Sataras – mixed vegetables
A Bosnian staple that reminds me of ratatouille in France. Summer tomatoes are combined with peppers, onions, salt and pepper and slow cooked until everything is tender and sweet. This is served either as a side or with rice for a vegan meal.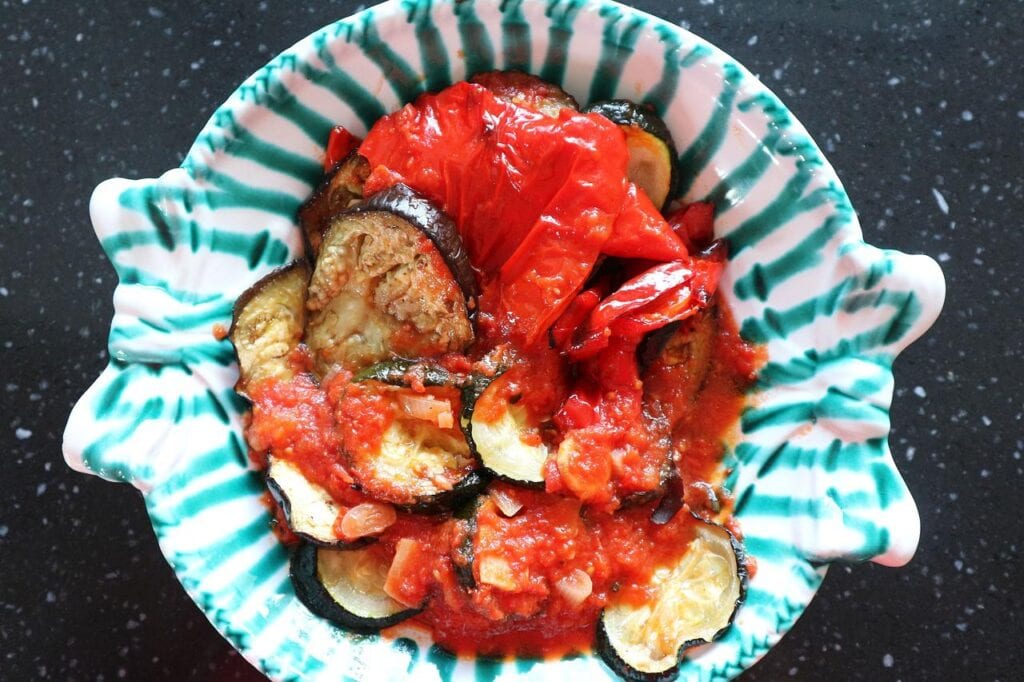 Pljeskavica – meat patties
Pljeskavica is one of Serbia's national dishes and is essentially a large flat meat patty. This is a mixed-meat patty made with any combination of ground beef, lamb and pork. It is usually served in a somun or pita with various toppings and sides like a burger.
Cufte – Meatballs
Cufte means crushed meat and these meatballs probably came down from Ottoman kitchens. These meatballs are made with beef or lamb and served in a rich tomato sauce.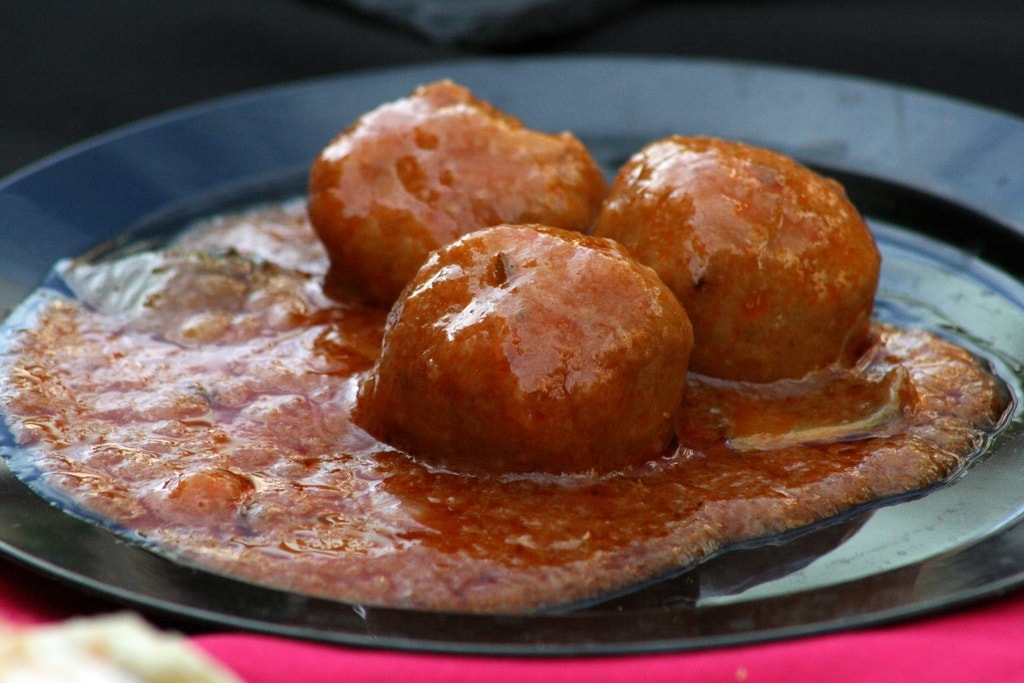 Djuvec – Bosnian Rice
A vegetarian rice dish that has at its heart a variety of vegetables but definitely peppers in addition to aubergines, tomatoes, peas, or beans. This is traditionally cooked in a clay pot and takes around two hours to meld all the flavours. It is served with Ajvar which is a condiment made from sweet or spicy roasted peppers or eggplant.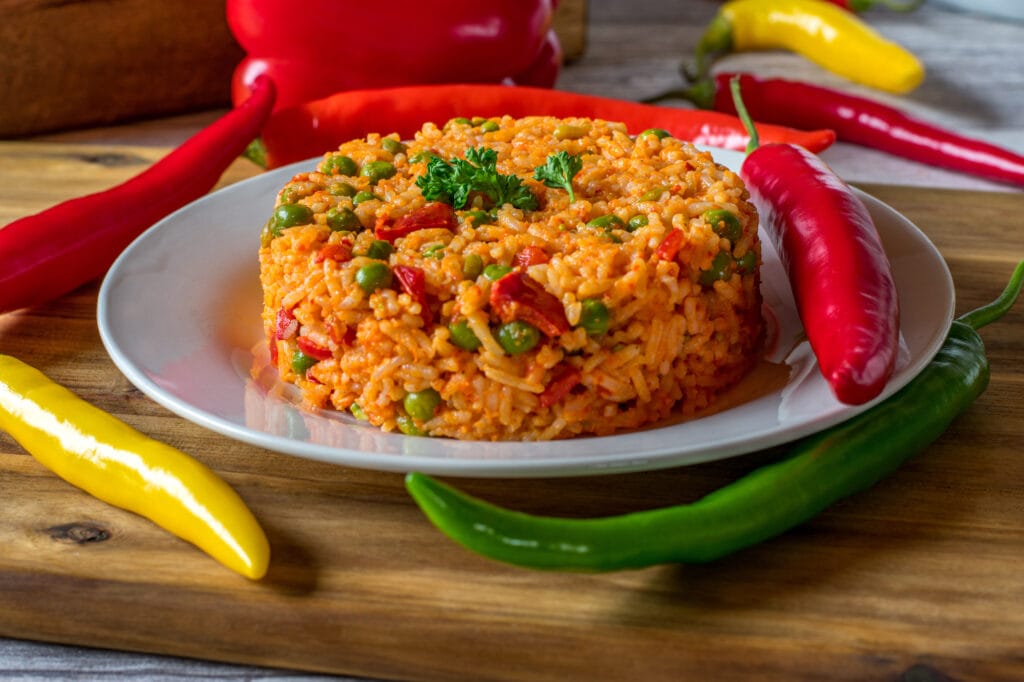 Vlašić cheese
Vlašic/Travnik cheese is a white cheese that matures in brine. Traditional Vlašic/Travnik cheese is made with raw sheep milk. However, it is also possible to use a combination of cow and sheep milk for its production. It is produced in the mountain Vlašic, in shepherds'" huts' (katuni) and is usually kept there during the ripening period. It is being produced in central Bosnia and Herzegovina, on the slopes of the Vlašic Mountain.
Vlašic Mountain is well known for its cheese. It is considered one of the best cheeses in the central Balkans. It is believed that the technology for this cheese was brought by nomadic herders, people coming to this area from the East who called themselves Vlasi.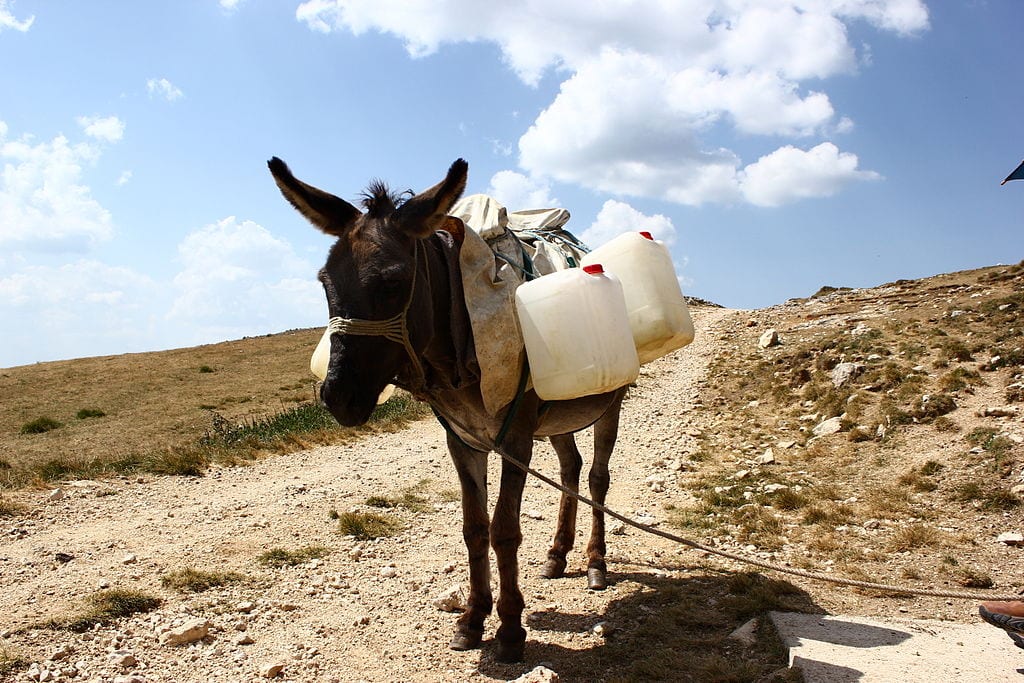 Traditional Bosnian desserts
Tufahija – Poached apple
Tufahija is an apple poached with sugar syrup and when tender stuffed with chopped walnuts and cream then served cold with a Bosnian coffee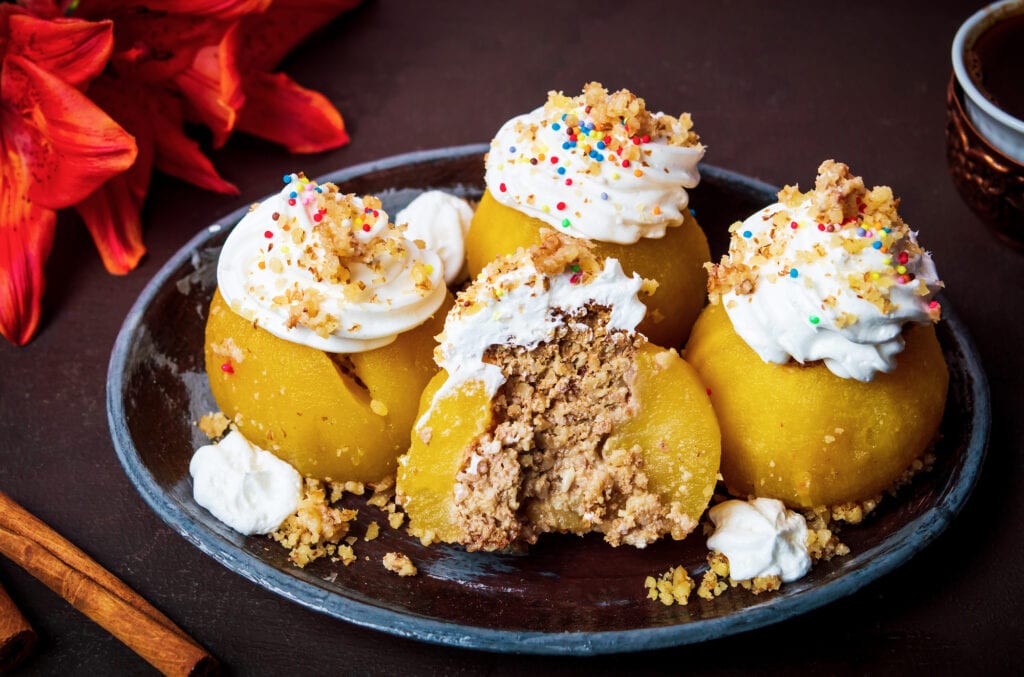 Hurmasice – Shortbread With Syrup
The shortbread dough is made from butter, flour, yoghurt, oil, eggs and walnut pieces when baked the finger-like cookies are drenched in a sugar syrup with lemon and served – yes it will make your teeth hurt like baklava.
Ružice – Rose pie
Ružice or rose pies are made exactly the same as baklava but the layering method is slightly different. The dough is rolled and cut so that each slice resembles a little flower.
Baklava
Speaking of Baklava this is a traditional Bosnian food but it is available everywhere and was of course introduced to Bosnia by the Ottoman Empire.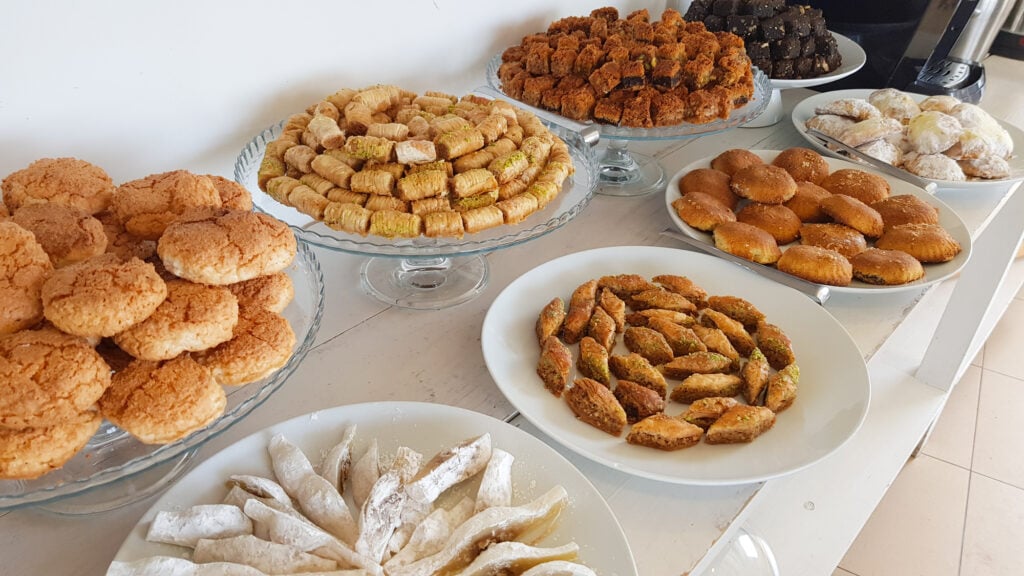 Roasted Chestnuts
More familiar to those in Europe roasted chestnuts are a favourite treat around Christmas time in the UK and in France and they are popular at this time in Bosnia as well.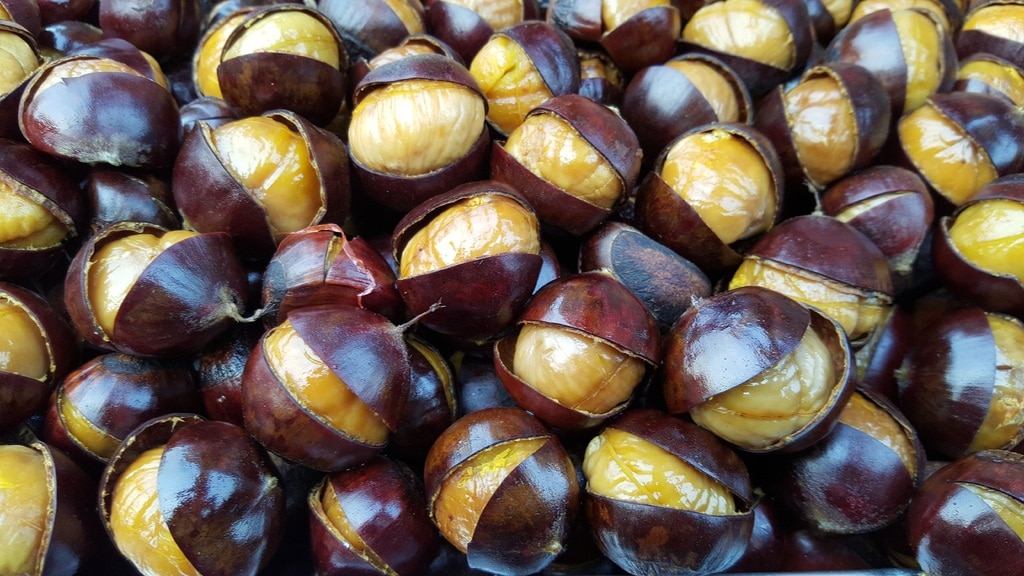 Traditional Bosnian drinks
Zova – Elderflower Cordial
Zova is a cordial which simply means it's a non-alcoholic syrup that is mixed with either water or soda water to give you a lovely light refreshing drink. Very popular in the UK Elderflower drinks are very common and can be made at home.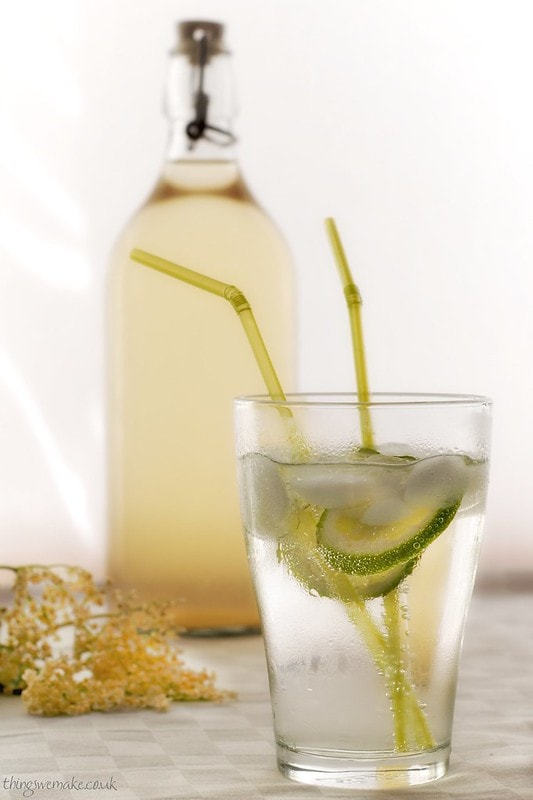 Bosanska Kahva – Bosnian Coffee
Coffee in Bosnia is served in a small cup and is very strong like espresso. Served with a sugar cube on the side Bosnian coffee is drunk by first dipping the sugar cube in the coffee and then tasting the cube and drinking the coffee. Plain water is served with your coffee to cleanse the palate between mouthfuls of the bitter coffee.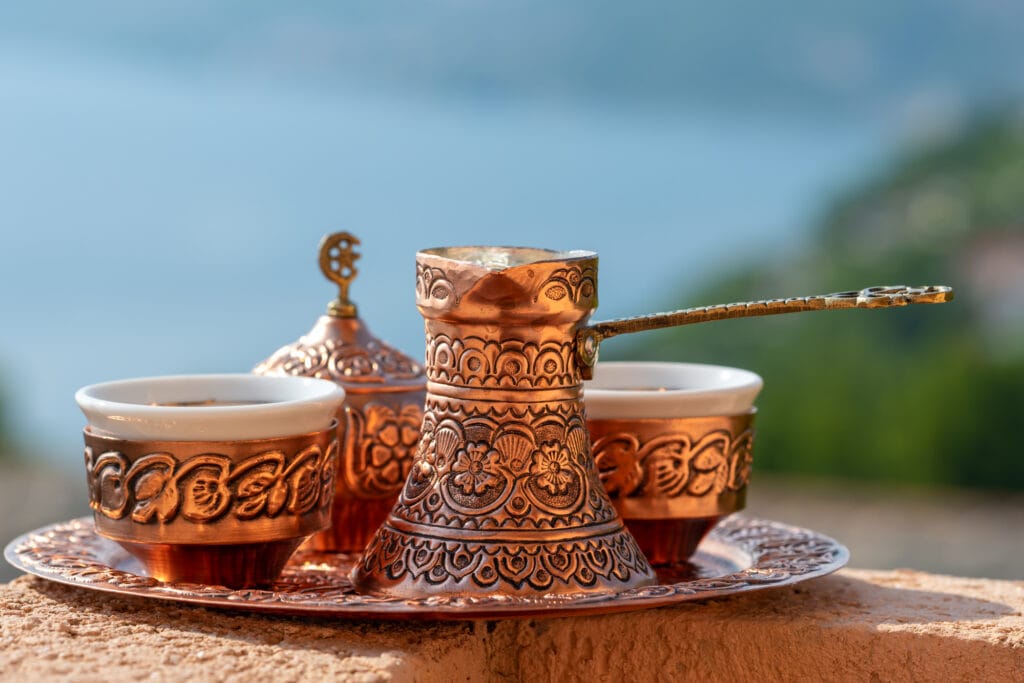 Rakija – Fruit brandy
The Bosnians make their fruit brandy from a wide variety of fruits found in different regions. And Rakija is the national drink. Common flavours are produced from plums, apples, quinces and apricots.
Medovina – Mead
Medovina is usually a milder thank rakija as it is made and distilled from fermented honey and water mixed with herbs and spices. Think of it like wine that's made from honey instead of grapes.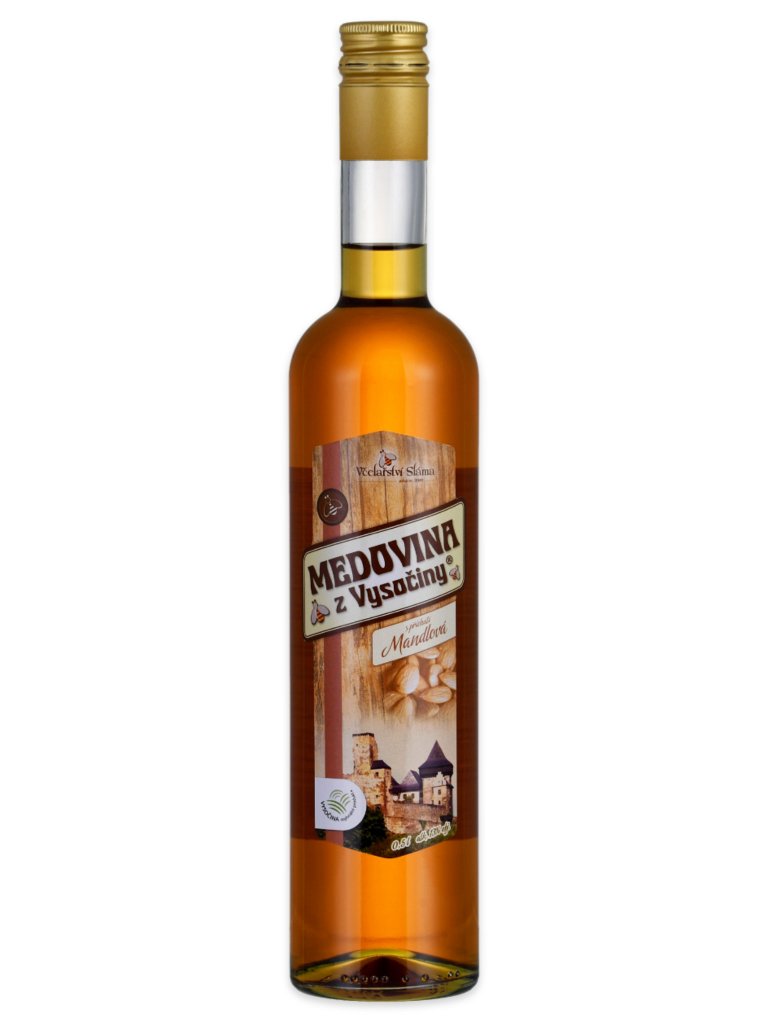 Višnjevača – Sour Cherry Liqueur
Višnjevača is a liqueur made by fermenting sour cherries and sugar in rakija these are left for up to 6 weeks minimum and only stirred a few times during the fermentation process. It is very strong and very sweet so very easy to get very drunk.
Bosnian Beer
Bosnia is not known for its beer but it is something that young Bosnians are changing with some artisanal varieties made locally with fresh spring water.
Balkan, Middle Eastern, Austro-Hungarian and Mediterranean Bosnian food combines all these influences into a melting pot of delicious foods to try when you visit.
You might also like
Croatian food – Discovering the delicious food of Croatia
UNESCO Intangible Cultural Heritage – food
Lebanese Food – 38 traditional Lebanese dishes

Latest posts by Faith Coates
(see all)